---
Uncategorized News Items
---
If I owned a newspaper, this is what you'd see in it. These are news item of which you probably haven't heard, if you get all your information from television. Some of these stories have appeared in the "mainstream media" briefly but they deserve additional publicity. Special attention is given to stories which show the alarming growth rate of the federal government's size and power, and abuses of that power, as well as especially bad ideas which are being given undue consideration. The links will be removed when they get stale or when they are no longer valid. As a general rule, the most recent and the most important items are at the top of the page.
The stories that interest me the most are the ones that show blind over-reliance on technology — especially GPS-related systems and computers in general. There is no shortage of minimum-wage clerks who believe anything that pops up on a computer screen. (That's why electronic voting is a very bad idea.) But there are apparently a lot of politicians and cops who assume that GPS tracking devices are infallible, too.
This page is for stories that the mainstream press seems to have overlooked. On the other hand, the stories that appear to have been intentionally squelched are on this page.
News items that are more than about two years old are now located on a spin-off page, which you can find here.
More odd/weird news that imply little or no political controversy can be found on this page.
---
Dutch Priest on Pope Francis: 'I Rightly Think He Is a Heretic'. Rev. Cor Mennen, a retired priest in the Netherlands, recently wrote on his blog that he thinks Pope Francis is a "heretic," and explained that excessive respect by Catholics towards the papacy is not a virtue given that Christ Himself rebuked the first Pope, St. Peter, ordering him to "Get thee behind me, Satan!" Fr. Mennen, 74, was ordained a priest in 1969. He also holds a degree in ecclesiastical law and is vice chairman of the board of the Latin Liturgy Association. He lives in Vlijmen, east of Rotterdam, still participates in events for the diocese, and is often interviewed on Radio Maria. In an Oct. 28 blog post, Fr. Mennen criticized some of the pagan events that occurred at the Vatican during the Amazonian synod, such as the veneration of a wooden statue of an Earth goddess named "Pachamama" in the Vatican gardens.
So much for "peak oil."
Iran discovers new oil field with over 50 billion barrels. Iran has discovered a new oil field in the country's south with over 50 billion barrels of crude, its president said Sunday [11/10/2019], a find that could boost the country's proven reserves by a third as it struggles to sell energy abroad over U.S. sanctions.
The Editor says...
Let the Iranian terrorists drown in oil. The United States should never buy oil from Iran again, because the U.S. has plenty of it.
Socialist Bolivia heading for the ash heap of history? Like all dictatorships, every socialist hellhole dictatorship eventually falls. It's a law of nature, and with socialism inherently unsustainable as both a political and an economic system, it's a law about as certain as 'what goes up, must come down.' Which brings us to Bolivia, where embattled far left Hugo-Chavez-trained socialist dictator Evo Morales, now on his fourth term in a grossly rigged election, has for the first time wobbled in fear in response to protests.
Bolivian Leader Evo Morales Steps Down. President Evo Morales of Bolivia, who came to power more than a decade ago as part of a leftist wave sweeping Latin America, resigned on Sunday after unrelenting protests by an infuriated population that accused him of undermining democracy to extend his rule. Mr. Morales and his vice president, Álvaro García Linera, who also resigned, said in a national address that they were stepping down in an effort to stop the bloodshed that has spread across the country in recent weeks. But they admitted no wrongdoing and instead insisted that they were victims of a coup. "The coup has been consummated," Mr. García said.
70-year-old man on electric scooter dies in car crash. The Boston Globe reports the Falmouth man, who police did not identify, was struck and killed at an intersection on Wednesday while riding the scooter.
The Editor says...
I'm surprised this doesn't happen every day. Advertisements for electric scooters portray them as a way to ride around effortlessly, safely, and quickly, anywhere in town! Many of the people who buy electric scooters think they are getting a one-seat electric car. (Purchased by Medicare, of course.) I sometimes see a fat old person trying to make a round trip to the grocery store on an electric wheelchair. I suspect the grandkids have to come and pick up grandma fairly often, when the batteries run out. Electric scooters are not street legal. You shouldn't even go outdoors on one of these things.
How Dystopian Los Angeles Measures Up to Rwanda. [Scroll down] I asked our guide how the Rwandans manage to keep their city so clean. "Umuganda!" he shouted. "Before Umuganda, there were piles of garbage everywhere! Look! Now, no one is now allowed to even use a plastic bag, no one is allowed to buy water in a plastic bottle. We are solar. Rwanda is green!" He explained that on the last Saturday of every month, all able-bodied Rwandans (18-65), including the president and his Cabinet members, are required by law to go out and clean the areas around their homes and businesses. The police fine eligible citizens who fail to participate 5,000 Rwandan francs (about U.S. $5.00). These fines and traffic tickets are sent via text to the violator's mobile phone. The fine is paid via the phone. Mobile phone transactions have all but overtaken those involving currency in Rwanda.
I wonder if the Cardinals knew this before they elected him.
Report: Pope denies bodily resurrection of Christ. Pope Francis already has been accused of heresy by prominent Catholic clergy, but now his longtime friend and interviewer is claiming the South American-born pontiff denies one of the foundational doctrines of the Christian faith, that Jesus Christ rose from the dead in bodily form. Eugenio Scalfari, a left-wing atheist journalist, published the remarks in the periodical he founded, La Repubblica, and in a new book, CNS News reported.
Heresy:
Scalfari: Pope Denied Jesus' Bodily Resurrection, Said It Was 'Semblance of a Spirit'. In his new book and in the periodical he founded, La Repubblica, Eugenio Scalfari, a long-time friend of Pope Francis and frequent papal interviewer, claims that the Pope told him that Jesus Christ did not rise bodily from the dead but "in the semblance of a spirit." This notion is a contradiction of Church teaching and the Gospels.
Pilot Who Chased The UFO: Some Of The Tapes Are "Missing". Another interesting tidbit has surfaced in the story of U.S. Navy Cmdr David Fravor (Ret), the pilot who engaged in the now-infamous encounter with the "tic-tac" UFO in 2004. While flying his F/A-18F Super Hornet, he was sent to observe unidentified craft showing up on radar, flying from the USS Nimitz carrier battle group, leading to the bizarre run-in with the tic-tac. This encounter produced one of the three Navy UFO videos that have been making the rounds in the media for the past couple of years. During an interview earlier this year, however, Fravor indicated that there were more tapes, including video and radar tracking information, that simply "disappeared" after the event. And so, the mystery deepens further.
Bill Gates says meeting Jeffrey Epstein was a 'mistake'. Bill Gates said Wednesday that he "made a mistake" when he decided to meet with convicted pedophile Jeffrey Epstein while seeking money for his global health campaign. Gates made the mea culpa while speaking to The New York Times Dealbook Conference — saying that by sitting down with Epstein he helped legitimize the convicted sexual predator. "I made a mistake in judgment that I thought that those discussions would lead, literally, to billions of dollars going to global health. It turned out that was a bad judgment," said 64-year-old Gates.
The most and least affordable places in America to rent a home. Average rent in the U.S. recently dropped for the first time in two years, with prices waning in more than half of the country's largest renter hubs. The declines aren't uniform, though, and for people trying to stick to a tight budget, some areas are still significantly more affordable than others.
Turkey: Arming Genocide of Christians in Nigeria? [Scroll down] He then played an intercepted audio of what he said were Mustafa Varank (currently Turkey's Minister of Industry and Technology) and Mehmet Karatas (a manager at the partly state-owned Turkish Airlines). The gist of their brief conversation in Turkish, according to the Arabic transcript, is that weapons were being transferred from Turkey to Nigeria — and that there was a concern that the weapons might kill not just Christians but Muslims.
Planeloads of Cash From Russia Have Been Shipped to Venezuela. Hundreds of millions of dollars in cash has been shipped from Russia to Venezuela, providing a lifeline to the South American country as U.S. sanctions limit its access to the global financial system. A total of $315 million of U.S. dollar and euro notes were sent in six separate shipments from Moscow to Caracas from May 2018 to April 2019, according to data reviewed by Bloomberg from ImportGenius, which compiled Russian customs records it obtains through private sources. The cash came from lenders run by the countries' governments and went to Venezuela's development bank, the records show.
TPUSA Officers at KSU Quit En Masse. All of the officers of the Kansas State University chapter of Turning Point USA announced on Thursday that they are stepping down from their positions because the purported conservative organization no longer reflects their conservative values. In a statement, Jaden McNeil, the former president of the KSU chapter of TPUSA listed several reasons why he was quitting, including what he called the group's "fair weather conservatism," their refusal to promote social conservative values, their tone-deaf views on immigration, and the group's "culture of censorship."
Pentagon releases incredible footage of Abu Baghdadi raid. The Pentagon has released footage showing the raid that resulted in the death of ISIS leader Abu Bakr al-Baghdadi. Marine Corps General Kenneth F. McKenzie Jr, commander of U.S. Central Command, released the footage at a press conference on Wednesday [10/31/2019] at the Pentagon. McKenzie was the operational commander of the Delta Force raid, which took place on Saturday in northwest Syria, and resulted in the death of Baghdadi after the terror leader detonated a suicide vest to avoid capture. [Video clip]
The Editor says...
When the Pentagon releases footage of this sort, it is always blurry, fuzzy, monochrome video that looks like a fourth-generation VHS dub. Come on, fellas! We should be seeing these explosions in 4K by now. Quit showing us the muddied-up version.
House Dem Katie Porter wears Batgirl costume in Congress. Rep. Katie Porter, D-Calif., wore a Halloween costume and kept her mask on during a vote Thursday in the House Financial Services Committee. At one point, Porter reportedly yelled at a reporter about her outfit. "It's Batgirl!" she told Washington Post reporter Mike DeBonis. She wore her outfit on the same day Democrats voted for a resolution on ground rules for the impeachment inquiry surrounding President Trump. For Republicans, Porter's display was inappropriate.
The Editor says...
That kind of behavior might be okay in a California high school, but not in Congress. Grow up.
Fox News's Catherine Herridge Contract Lapses, Heads To CBS. Catherine Herridge, a beloved investigative correspondent at Fox News, is leaving the network after 23 years to go to work for CBS News. Media reporters like CNN's Chief Media Correspondent Brian Stelter are taking the moment to gloat, insinuating that Herridge's departure marks another defection from the network. Shepard Smith recently resigned from Fox News after also working there for 23 years.
Catherine Herridge, Fox News Veteran, Moves to CBS News. Catherine Herridge, a Fox News Channel veteran who has been with that network since it was founded in 1996, is moving to rival CBS News. She will work as a senior investigative correspondent out of Washington, CBS News said, and will start in November. Herridge is the second long-serving Fox News journalist to leave the Fox Corporation-owned cable-news outlet in recent weeks.
Ex-CIA boss Brennan appears to partly back Hillary Clinton's theory Tulsi Gabbard is a Russian asset. When it comes to Hillary Clinton's controversial suggestions about 2020 Democratic hopeful Tulsi Gabbard, it seems that maybe, John Brennan is with her. Speaking at the "2020 Vision: Intelligence and the U.S. Presidential Election" event at the National Press Club, the former CIA director was asked about Clinton recently raising the suggestion that Gabbard, a Democratic candidate for president, is a Russian asset. [...] "Something is a Russia asset even if it is not intentionally advancing their interest," the ex-CIA boss said.
X-37B spaceplane lands after record-breaking 780 days in orbit. The Air Force's X-37B Orbital Test Vehicle Mission 5 successfully landed at NASA's Kennedy Space Center Shuttle Landing Facility Oct. 27, 2019, at 3:51 a.m. The spaceplane conducted on-orbit experiments for 780 days during its mission, recently breaking its own record by being in orbit for more than two years.
Poll: 7-in-10 Voters Believe in 'America First' Agenda Ahead of 2020 Election. Ahead of the 2020 presidential election, the overwhelming majority of likely voters say they believe in the doctrine of "America First" when it comes to national public policy, a new poll reveals. A poll by Selzer and Company/Grinnell College finds that the vast majority of American adults say they are America First voters, while less than 20 percent identify as socialists. Overall, about seven-in-ten — or 70 percent — of likely voters say they are believers in America First — the nationalist-populist doctrine that guides President Trump's agenda on immigration, trade, healthcare, and foreign policy, among others.
DC Circuit Halts Disclosure Of Mueller Grand Jury Materials Just Hours Before Release. The U.S. Court of Appeals for the D.C. Circuit temporarily halted the release of grand jury materials from former special counsel Robert Mueller's investigation Tuesday, just hours ahead of their scheduled distribution. A three-judge panel issued a short directive saying the grand jury documents will be temporarily withheld while it considers an emergency appeal from the Department of Justice (DOJ), which hopes to shield those materials on a permanent basis.
California Power Outages — A Look Into The Future. Pacific Gas and Electric began shutting down power early the morning of Oct. 9, when electricity was cut to more than 140,000 customers in Sonoma, Napa, Solano, and Marin counties. Those outages and the ones that followed were ordered because there was a high risk of wildfires. [...] PG&E labeled the disruption a "public safety power shutoff." The utility industry calls it "de-energization," a sort of euphemism that sounds less serious than "blackout." It's not a word that should be used in the 21st century in California. But there it is. This state has long considered itself a model of progress, always pressing forward. Yet California now chooses darkness. And rather than being a rare exception, these autumn blackouts are more likely a preview of coming long night.
Missouri man charged with starting 13 forest fires in California. A man found himself in handcuffs while trying to fly home to Missouri after allegedly setting 13 forest fires in California. Freddie Graham, 68, was apprehended before boarding a plane in San Jose and charged with starting forest fires in the Milpitas foothills. Graham had flown to California on Sept. 19 and spent two days in the state before attempting to fly back to Kansas City. The fires in question burned 128 acres. Graham was charged with 15 counts of committing arson, two of which were heightened charges because the fires were started during a declared emergency.
Al-Baghdadi's Right-Hand Man Killed In U.S. Airstrike. ISIS leadership continues to crumble with the official spokesman of the terrorist organization being the latest to fall. Sunday reports claimed the CIA targeted and killed Abu al-Hassan al-Muhajir. U.S. officials have confirmed the missile attack, which was targeted at the high level ISIS official in the Aleppo province of Syria. The Texas-born man was named the official spokesperson for the militant group in 2016. Muhajir climbed the ranks of ISIS, advancing to be the right-hand man of Abu Bakr al-Baghdadi. U.S. officials have reassured the public that a strong surveillance operation continues in the region, despite the withdrawal of troops.
Top Secret Spaceplane Lands in Florida After Spending Over 2 Years in Orbit. The U.S. Air Force's top secret spaceplane, the Boeing X-37B, landed in Florida early Sunday after 780 days — over 2 years and one month — in orbit around the Earth. And we still have no idea what it was doing while it was up there. The X-37B Orbital Test Vehicle-5 (OTV-5) mission was the fifth time that the uncrewed vehicle has flown around the world, beating the duration of the fourth mission, which landed in May of 2017 after 718 days in orbit. This most recent mission launched from a SpaceX Falcon 9 rocket on September 7, 2017.
1 In 3 Millennials See Communism As Favorable, Survey Finds. A growing number of Millennials show support for communism and socialism, a survey from the Victims of Communism found. The survey, conducted by the Victims of Communism and polled by the research and data firm YouGov, found that 70% of Millennials are likely to vote socialist and that one in three Millennials perceive communism as "favorable." The survey is part of the Victims of Communism's report "U.S. Attitudes Toward Socialism, Communism, and Collectivism," which polled 2,100 people in the United States who were 16 and older with a margin of error of +/- 2.4%.
Syrian Kurdish forces say they killed close al-Baghdadi aide. One of Abu Bakr al-Baghdadi's last audio messages was an appeal for his followers to do everything in their power to free Islamic State detainees and the women being held in jails and camps in northeastern Syria.
Baghdadi's aide was key to his capture - Iraqi intelligence sources. In their long hunt for Abu Bakr al-Baghdadi, Iraqi intelligence teams secured a break in February 2018 after one of the Islamic State leader's top aides gave them information on how he escaped capture for so many years, said two Iraqi security officials.
George Soros on Lifelong Funding of Leftwing Causes: 'Tide Has Turned Against Me'. Billionaire George Soros, who has spent his fortune promoting leftwing politicians, media, and organizations, said over the weekend that he hasn't failed in his lifelong quest to put socialism in place in the United States, but has been impeded by his opposition, including President Donald Trump. "Between the election of President Trump and Britain's ongoing debate over Brexit, the billionaire philanthropist George Soros recognizes that populism is on the rise and that his brand of liberal democracy is faltering," said Michel Martin, host of All Things Considered on taxpayer-funded National Public Radio (NPR).
PG&E will cut power to more than 3 million people over 'historic wind event'. New evacuations were ordered Saturday for at least 90,000 people across a huge swath of Northern California as millions of Californians prepare to have their power cut — the third time in as many weeks — due to the wildfires whipped up by strong winds. The entire communities of Healdsburg and Windsor were ordered to evacuate ahead of severe winds that could lead to erratic fire behavior near the blaze burning in wine country. The Sonoma County Sheriff's Office said it is expected to be the biggest evacuation in the county in more than 25 years.
Scientology spread its magazine across Clearwater. Residents aren't happy. Gertrude Zullinger woke up on Monday morning [10/26/2019] to about 10 calls from concerned neighbors. Somebody had entered the three buildings of the 55-and-older Imperial Pines complex — where Zullinger is president of the condo association — and hung copies of the Church of Scientology's Freedom Magazine on all 168 doorknobs. "We have gates. Each building has a lobby that's locked," Zullinger said. "They felt violated. They were very upset about it." One day after the Tampa Bay Times published an investigation showing companies tied to Scientology had bought much of the property in the center of downtown Clearwater, the church responded by spreading its own story across the city.
California enters uncharted territory: Massive blackouts, historically dangerous wind. Northern California braced for a weekend in uncharted territory as Pacific Gas & Electric prepared to shut off power to more than 2 million people as the region faced one of the worst periods of fire weather in a generation. It's a perilous combination that left many anxiously planning for blackouts and the potential for more destructive wildfires, fueled by 36 hours of intense winds. Some fear they will have to confront fires without power, an experience those who fled this week's Sonoma County fire described as terrifying.
ICE deports Russian operative Marina Butina. The woman at the center of a Russian influence-peddling scheme has been deported, ICE announced Friday evening [10/25/2019]. Maria Butina was convicted last year of acting as an unregistered agent of a foreign government, as part of the FBI's efforts to combat the Russian government's meddling in the 2016 election. She was sentenced to 18 months, was released Friday [10/25/2019], and deported back to Russia the same day, in a flight from Miami to Moscow, the agency said.
Somethings Up: Tusli Gabbard Will Not Run For Congress Next Year. [Scroll down] If she is calculating that her announcing over a year early she is not running again for her seat will make her look more viable for the Presidential run, I personally don't see how. Maybe she has started off the 4th quarter raising more money than her campaign anticipated after the Hillary dust-up. Possibly she just doesn't like being a congress critter anymore after traveling to Iowa and New Hamshire. Could it be that MSNBC wants to hire her after she drops out as a commentator on the network that currently is offering every excuse in the book for Hillary? This is one of the stranger moves I have ever seen for someone who does not have a viable path to the nomination of her party.
Tulsi Gabbard announces she is not running for re-election to House of Representatives. Bad things tend to happen to people who find themselves on Hillary Clinton's enemies list. Just days after being attacked by Hillary Clinton for being a favorite of the Russians and for allegedly being "groomed" (by Republicans, her spokesman later claimed she meant) to run as a third-party candidate, Rep. Tulsi Gabbard announced late last night that she will not seek re-election to the House of Representatives, where she has served since winning election there in 2012. It is an odd coincidence that becoming an official enemy of Hillary Clinton preceded this surprise announcement that offered no new reason for the decision announced on Twitter beyond her desire to serve as president. Curiously, the announcement came just after she was interviewed for ten minutes on Sean Hannity's Fox News program (video embedded below) during which she made no mention of her decision.
DNC Announces All-Female Moderator Panel for Next Debate amid Neutrality Concerns and Sinking Viewership. The Democratic National Committee (DNC) announced that its upcoming presidential primary debate will be moderated by an an all-female panel amid concerns over the event's neutrality and sinking viewership. The debate, which is being sponsored by The Washington Post and MSNBC in Georgia on Nov. 20, will be moderated by NBC News's Andrea Mitchel and Kristen Welker, The Washington Post's Ashley Parker, and MSNBC host Rachel Maddow.
The Editor says...
This proves that the debates are all sizzle and no steak. Nobody wants to hear about global warming, so let's put some women on display! If the viewers were interested in substantive discussion of the issues, it wouldn't matter who the moderators were. The debate would draw much better ratings if the moderators were Sean Hannity, Mark Levin, and Rush Limbaugh.
The Deep State Is Assassinating Julian Assange. WikiLeaks founder and journalist Julian Assange appeared in court to fight his extradition to the United States, sluggishly reciting his name and date of birth in a zombie-like state — displaying signs of either sleep deprivation, torture or poisoning — but quickly recovered to state the rigged case against him to the judge when he was asked if he understood what he was facing. Assange responded, appearing to fight back tears at his case management hearing, "I can't think properly, I don't understand how this is equitable. This superpower had 10 years to prepare for this case and I can't access my writings. It's very difficult where I am to do anything but these people have unlimited resources."
Josh Hawley Has Had Enough Of The Federal Government In The Swamp. Missouri Republican and arguably the most MAGA member of the Senate, Josh Hawley, introduced a bill on Wednesday [10/23/2019] that would move numerous federal agencies out of the District of Columbia, and disperse the offices throughout cities in the country The bill was co-introduced by Republican Marsha Blackburn of Tennessee and is officially known as the "Helping Infrastructure Restore the Economy (HIRE) Act." "Every year Americans' hard-earned tax dollars fund federal agencies that are mainly located in the D.C. bubble," Sen. Hawley said in a statement. "That's a big part of the problem with Washington: they're too removed from the rest of America. The HIRE Act will move policymakers directly into the communities they serve, creating thousands of jobs for local communities and saving taxpayers billions of dollars along the way."
Senate GOP bill seeks to move 90% of jobs in 10 federal departments outside D.C.. The decision to move the Bureau of Land Management headquarters to Colorado's Western Slope should be viewed not as a one-off, but a good start, as far as some Senate Republicans are concerned. GOP Sens. Josh Hawley of Missouri and Marsha Blackburn of Tennessee introduced Wednesday legislation to move 90% of positions in 10 executive departments — including Agriculture, Education and Energy — to 10 states outside Washington, D.C., and "into the heart of economically distressed regions across the country."
The Editor says...
The relocation of the Departments of Agriculture, Education, and Energy, is a waste of money. All three of those agencies should be shut down. Drain the swamp, don't just spread it around.
FBI chases down increasing number of Chinese nationals in costly corporate spy cases. A federal judge last week sentenced a Chinese national to nearly four years in prison for trying to steal U.S. space technology, the latest corporate spy snared by an FBI that has ramped up protection of American businesses amid President Trump's trade war with Beijing. Over the past year, the Justice Department has brought public charges against Chinese nationals and entities in 10 separate trade secret cases. That represents a rapid increase from the three the department brought during the previous year, according to The Washington Times' review of Justice Department records.
Venezuelans trade cigarettes, candy bars for gas as economic crisis worsens. Motorists in socialist Venezuela have long enjoyed the world's cheapest gasoline, with fuel so heavily subsidized that a full tank these days costs a tiny fraction of a US penny. But the economy is in such shambles that drivers are now paying for fill-ups with a little food, a candy bar or just a cigarette.
94 hospitalized and 4 dead from disease outbreak at hot tub display. More than 100 people have been infected with Legionnaires' disease after stopping by a public hot tub display at the North Carolina Mountain State Fair. The fair, which took place Sept. 6-15 in Fletcher, North Carolina, was the common link among those diagnosed. So far, 133 cases of Legionnaires' disease have been reported to the North Carolina Department of Health and Human Services, 94 of which resulted in hospitalizations. Four of those diagnosed with the disease died.
Convoy of Trucks Seen Emptying Obama-Linked Former Ukrainian President Poroschenko's Palace — Confidants Arrested and Flee. Poroshenko was known for his strong ties to the Obama Administration, specifically Obama's point man for Ukraine: Now this: A convoy of trucks were seen emptying former President Poroshenko's home this weekend. [...] If the reportes are accurate this will be horrific news for the Democrats and Biden Crime Family. Poroshenko was behind all of the dirty dealings between the corrupt Obama admininstration and the Biden family corruption.
Drudge leaves Conservatives, follows Fox down the liberal rabbit hole. The Drudge Report seems to have lost its conservative-leaning. More and more the headline aggregator, whose claim to fame was Monica Lewinsky's semen-stained blue dress, is highlighting articles that are anti-Trump, anti-Republican, and pro-Impeachment. It has been an obvious trend during the Trump Presidency that is accelerating as we get closer to the House Impeachment farce and the 2020 election.
Federal prosecutors interviewed multiple FBI officials for Russia probe review. Federal prosecutors who are looking into the origins of the government's Russia probe have interviewed about two dozen people, suggesting that the inquiry is further along than previously known, The New York Times reported Saturday [10/19/2019]. The prosecutors have asked witnesses about whether former FBI officials that have been frequent targets of President Trump hold anti-Trump bias, former officials and others familiar with the review told the Times. U.S. Attorney John Durham, who is leading the investigation, has not interviewed all of the FBI officials who were instrumental in opening the Russia probe in 2016, sources told the newspaper.
'Start Your Day With Maximum Gay:' Kellogg's Launches LGBT Cereal. Have you ever eaten Froot Loops and thought, "This cereal isn't gay enough?" Do you seek a safe space to eat your Rice Krispies? Are you concerned that your Corn Flakes aren't sufficiently woke? Well, now Kellogg's has the solution! [...] Kellogg's chief diversity officer (why does a cereal company need such a thing??) Priscilla Koranteng said, "At Kellogg, we are firmly committed to equality and inclusion in the workplace, marketplace and in the communities where we work and live."
The Editor says...
Why do manufacturers of consumer goods feel compelled to inject left-wing politics into their products and risk alienating their customers? I'm no longer a regular consumer of breakfast cereal; but when I was, the least of my concerns was the level of "equality and inclusion" at the cereal factory. If the product tastes good, I don't care if the factory workers all look alike, nor do I care how little they are paid. Any salary paid to the "chief diversity officer" is wasted, because workplace diversity adds nothing to productivity. For example, the Japanese economy is thriving, yet Japan has the least diverse work force in the world. God himself originated workplace diversity at the Tower of Babel, and inflicted it upon mankind — as punishment! — to stop the entire project overnight.
Sallie Mae paid for employees to go on Hawaiian retreat to celebrate $5 billion in sales. Student loan servicer Sallie Mae paid for more than 100 of its employees to go on a Hawaiian retreat in August to celebrate a record $5 billion worth of sales. "We said, 'Hey, look, Maui is a pretty nice spot," Ray Quinlan, CEO of Sallie Mae, said to NBC News while on the grounds of the Fairmont Resort on Hawaii's Wailea beach. The trip celebrated a year of $5 billion in sales to 374,000 borrowers. The sales came as combined U.S. student debt topped $1.6 trillion.
'Women for America First' March to 'Stop Impeachment'. Women for America First organized the march which will take place around the Capitol building in D.C. and in dozens of other cities. "We want our President to know he is not alone and we stand with him," an announcement of the march states. "Our President needs us more than ever before. We must not let him down."
Mark Sanford kicked off his presidential campaign against Donald Trump in Philly. One person showed up. The bell in the Independence Hall tower rang at 9 a.m., and Mark Sanford took a deep breath. He grabbed a giant check for "one trillion dollars," stood next to a tiny wooden lectern, and asked me if I was ready for him to kick off a news conference announcing his bid to challenge President Donald Trump in the 2020 Republican primary. It didn't really feel like a news conference. I was the only reporter there.
Dems Decimated in Louisiana: GOP Gains Senate Supermajority, Dem Governor Now on the Ropes. In Louisiana's Saturday [10/12/2019] election, Republicans had a lot to cheer about. Among statewide office-holders, the incumbent GOP Lieutenant Governor (68 percent), Attorney General (66 percent), Treasurer (60 percent, and Agricultural Commissioner (58 percent) were all re-elected without the need for a run-off, under the state's 'jungle primary'-style system.
No fool like an old fool: Hanoi Jane Fonda makes another comeback. Does anyone need this? Eighty-one year old Jane Fonda, whose claim to fame is hopping up on and bouncing around a communist North Vietnamese anti-aircraft gun engaged in downing American fighters as her way of protesting the Vietnam War nearly 50 years ago, has now taken to getting herself arrested at global warming protests in Washington. She's says she's actually moved to the city for four months for such a mission, undoubtedly leaving a [substantial] jet carbon compound trail behind her.
Half of millennials and 75% of Gen Zers have left their job for mental health reasons. Cases of burnout have been increasing at an alarming rate in recent years among millennials and Gen Zers. It's a growing problem in today's workplace because of trends like rising workloads, limited staff and resources and long hours. It's no surprise, then, that a recent study by Mind Share Partners, Qualtrics and SAP reveals that half of millennials and 75% of Gen Zers have left a job for mental health reasons. The study, which looked at mental-health challenges and stigmas in the U.S. workplace, polled 1,500 respondents ages 16 and older working full-time. Another recent study, by the American Psychological Association, found the percentage of young adults experiencing certain types of mental health disorders has increased significantly in the past decade. In particular, the percentage of people dealing with suicidal thoughts increased 47 percent from 2008 to 2017.
Kurds Report Turkish Shelling of Prison Filled with Islamic State Jihadis. Kurdish officials in Syria on Thursday [10/10/2019] accused the invading Turkish army of shelling the Chirkin prison, which is filled with captive Islamic State jihadis from 60 different countries. The Turkish government did not immediately respond to the allegation.
Goodbye, iTunes: Once-revolutionary app gone in Mac update. It's time to bid farewell to iTunes, the once-revolutionary program that made online music sales mainstream and effectively blunted the impact of piracy.
Victoria's Secret, Under Siege, Lays Off Employees at Headquarters. Victoria's Secret is laying off about 15 percent of the brand's employees at its Columbus, Ohio, headquarters as the beleaguered lingerie chain struggles to reshape its image and the chief executive of its parent company remains under scrutiny for his ties to Jeffrey Epstein. The cuts, which took place on Wednesday and Thursday, involved about 50 people and range from senior leaders to junior staff, according to three people with knowledge of the situation who spoke on the condition of anonymity because they were not authorized to speak publicly.
Intelligence agent arrested for spilling secrets to journalists. The feds busted a Defense Intelligence Agency worker Wednesday for leaking classified national defense information to two journalists in 2018 and 2019 — one of whom he was shacking up with. Henry Kyle Frese, 30, a counterintelligence analyst from Alexandria, Virginia, who had a Top Secret security clearance, was indicted Tuesday [10/8/2019] on two counts of willful transmission of national defense information to persons not entitled to receive it. "Frese was caught red-handed disclosing sensitive national security information for personal gain," said John C. Demers, assistant attorney general for national security, who cited ex-Attorney General Jeff Sessions' vow to pursue leakers as the motivation for the probe.
In-N-Out Burger Joins Chick-fil-A as a Company That Openly Celebrates Its Christian Values. I say "joins," but In-N-Out Burger hasn't necessarily been secretive about the fact that it's a Christian establishment. It has printed John 3:16 on the bottom of its cups. However, like Chick-fil-A before it, the owner and heiress of the burger chain, Lynsi Snyder, is letting everyone know just how much Christ means to her publicly. Snyder gave an interview with The Christian Post and divulged that her life was on a downward spiral until she came to Christ, leaving behind drug and alcohol addiction, broken marriages, physical abuse, and more. The burger empire heiress said that she "finally found that the deep need in my heart can only be filled by Jesus and my identity in Him."
BoJo to Trump: Return diplomat's spouse to face vehicular homicide charge. This has the potential to get very awkward for both leaders who are depending on each other a little more than usual recently. The US whisked a State Department official's spouse out of the United Kingdom after an accident that killed a motorcyclist, claiming she had diplomatic immunity. Responding to the outrage at home, Boris Johnson is now demanding her return to face charges, and plans to challenge his key ally Donald Trump — who has problems of his own on international relations at the moment.
Mother stopped possible school massacre by turning in her own son. A Washington state mom turned her 17-year-old son in to police upon finding plans in his journal to carry out a school shooting on the anniversary of the Columbine High School massacre. "It's devastating. I know I did all I can do and that I made the right choice," the mother, who only identified herself as Nicole, told CBS News about the decision that led to her son's Sept. 17 arrest on harassment and bomb threat charges. The teen, in his journal, said he'd use guns and a variety of explosives to carry out the attack on College Place High School, according to police records obtained by KTEL News.
CrowdStrike and the Impeachment Frenzy. [Scroll down] The time stamps contained in the released computer files' metadata establish that, at 6:45 p.m. July 5, 2016, 1,976 megabytes (not megabits) of data were downloaded from the DNC's server. This took 87 seconds, which means the transfer rate was 22.7 megabytes per second, a speed, according to VIPS, that "is much faster than what is physically possible with a hack." Such a speed could be accomplished only by direct connection of a portable storage device to the server. Accordingly, VIPS concluded that the DNC data theft was an inside job by someone with physical access to the server. VIPS also found that, if there had been a hack, the NSA would have a record of it that could quickly be retrieved and produced. But no such evidence has been forthcoming. Can this be because no hack occurred? Even more remarkable, the experts determined that the files released by Guccifer 2.0 have been "run, via ordinary cut and paste, through a template that effectively immersed them in what could plausibly be cast as Russian fingerprints." In other words, the files were deliberately altered to give the false impression that they were hacked by Russian agents.
Florida woman arrested after parents find 24 pipe bombs in her bedroom. A 27-year-old Florida woman was arrested after her parents found two dozen pipe bombs in her bedroom and called the local sheriff's office, authorities said Friday [10/4/2019]. Michelle Louise Kolts was arrested early Friday [10/4/2019]and booked on 24 counts of making, possessing, throwing, projecting, placing or discharging a destructive device. "I can only imagine how hard it is to call in about any family member," Hillsborough County Sheriff Chad Chronister said, according to Bloomingdale Patch.
The Editor says...
Yes, this is apparently a person who needed to be arrested. But how does one "project" a destructive device? This sounds like a law designed to be broad enough to convict anybody.
De Blasio's subsidized ferry primarily used by rich white people: report. Mayor Bill de Blasio has touted his heavily subsidized ferry service as a tool in his war on economic and social inequality — but long-awaited ridership data released Tuesday [10/1/2019] tells an entirely different story. Ferry users are overwhelmingly white, wealthy and come from waterfront neighborhoods, according to surveys of over 5,000 riders conducted in June by the city's Economic Development Corporation, which manages the service. Just 36% of riders are people of color, while 65% make over $75,000 per year, the survey found.
The Editor says...
That's a misleading mix of percentages, but anyway, the cost of living is extremely high in New York City, so $75,000 per year isn't that much.
Never Forget Trash Day Again, Thanks to This Terrifying New AI Garbage Can. I have been pretty disappointed with "the future" we are inhabiting. I was promised flying cars and robot maids. Instead, all we seem to have is boys in the girls' locker rooms and politicians banning plastic straws. Until today, that is. Because today I learned that some genius somewhere has invented garbage cans that take themselves to the curb.
U.S. Ambassador to Germany Saves Taxpayers $20 Million. The Trump administration's ambassador to Germany has saved the U.S. taxpayer some $20 million during the last two fiscal years, according to an announcement from the American mission in Berlin. Under the leadership of U.S. ambassador Richard Grenell, the foreign mission managed to come in $6 million under budget in fiscal year 2018 and $14 million under budget in fiscal year 2019. By streamlining operations and cutting down on burdensome bureaucracy, Grenell has been able to carry out the Trump administration's agenda abroad with limited wasteful expenditures.
Giuliani Reveals Trump Admin, Including Himself and Others, May Sue Congressional Democrats! Trump Attorney and former New York City Mayor Rudy Giuliani told Laura Ingraham on Tuesday night [10/1/2019] that the Trump administration is considering a lawsuit against Congressional Democrats. [...] Rudy Giuliani added, "We have to raise their violation of constitution and civil right! This is worse than McCarthy."
Dutch Farmers in Mass Revolt Against Green Fascism. Thousands of Dutch farmers descended on the Netherlands capital to protest against onerous environmental restrictions that threaten their livelihoods. The demonstrations were sparked after the coalition government proposed that "Dutch livestock farming should be slashed to meet commitments on reducing nitrogen emissions," reports Dutch News NL. Farmers traveled to the Hague in their tractors, causing tailbacks in excess of 620 miles and huge traffic jams around and in the city.
Tractor Trail Of Protesting Dutch Farmers Snarls Traffic for Hundreds Of Miles. Thousands of Dutch farmers rolled their tractors over highways to The Hague to protest a possible crackdown on nitrogen emissions from livestock and farming operations. The angry farmers snarled traffic for hundreds of miles in what has been called the Netherlands' busiest morning rush hour. Brightly colored rows of the tractors rolled slowly down main roads all morning on Tuesday. The Dutch automobile association ANWB says it recorded more than 700 miles of traffic jams at the peak of rush hour, mostly due to the protest.
The Editor says...
Nitrogen is not a pollutant. More than 78 percent of the atmosphere is nitrogen already. Just like carbon dioxide, nitrogen is plant food. It's about as harmless as a gas can be, without being completely inert. I see truckloads of liquid nitrogen on the highway every day. Wherever those trucks deliver their payloads, the nitrogen will eventually return to the atmosphere. The radical left is trying to outlaw the emission of everything but oxygen — although that might be next — by anyone engaged in agriculture, industry, or daily life. They are doing this to obstruct capitalism and obtain leverage and power where they currently have none.
San Francisco tour guide is accused of being a Chinese spy after 'delivering digital cards with classified national security information' to Beijing's Ministry of State Security. A citizen of the United States is facing federal charges for allegedly spying on behalf of the Chinese government. Xuehua 'Edward' Peng, 56, delivered classified information relating to national security to the Chinese government according to a complaint that was unsealed on Monday and obtained by DailyMail.com. The complaint alleges he retrieved four SD cards from hotel rooms between October 2015 and June 2018, and in each instance traveled to Beijing shortly thereafter. Peng also left behind $20,000 cash in an envelope four times in that same period.
Trump: 'Rep. Adam Schiff Must Resign From Congress!' As we reported yesterday [9/28/2019], Republican Congressman Andy Biggs wants his fellow Congressman Adam Schiff censured. The reason, of course, is that Schiff making up dating quotes during a congressional hearing about the conversation President Trump had with Ukraine's leader. Biggs is now joined by President Trump himself, who takes it one step further. He calls on Rep. Schiff to resign from Congress.
Police feared Odessa shooter was planning attack — 8 years ago. When Amarillo, Texas, police officers arrived at her home the night of February 7, 2011, they found what they interpreted as preparations for an attack — a machete hidden in her son's bed and an underground shelter he had dug in the backyard. In a recording the mother shared with police, her son declared, "911 will bow down before me." The officers were so troubled by what they encountered that they recorded floor plans of the property and shared the information with the city's SWAT team, according to incident reports. The woman's then-28-year-old son, they concluded, was volatile and might hurt somebody someday. Those concerns were tragically realized when the woman's son — Seth Ator — engaged police in a wild shootout not unlike what officers feared might happen eight years earlier.
Study: Top Motivation For Hating Capitalism Isn't Compassion, It's Resentment. With the 2020 presidential election around the corner, Democratic presidential hopefuls and lawmakers have put forth bold proposals such as returning the top marginal income tax rate to 70 percent, levying wealth taxes as Sens. Bernie Sanders and Elizabeth Warren have proposed, or "taxing the [heck] out of the wealthy" as New York City Mayor Bill de Blasio put it. Others such as Rep. Alexandria Ocasio-Cortez claim that capitalism is "irredeemable" and a system that "allows billionaires to exist" is "immoral." Sanders recently declared he does not think "billionaires should exist."
Colorado governor's staff urges newspapers to remove story. The press office for Colorado's liberal Democratic governor, Jared Polis, is facing criticism after asking two small-town newspapers to take down an online news story reported by what it calls a biased news organization affiliated with the conservative Koch family.
Susan Rice: Obama Put Call Transcripts On Top Secret Server, Too. Former national security adviser Susan Rice acknowledged last night [9/27/2019] that the Obama administration moved transcripts of conversations with foreign leaders onto the same top-secret server where the Trump administration stored his recent phone call with Ukrainian President Volodymyr Zelensky.
US Attorney John Durham looking into Ukrainian involvement in 2016 election. The Justice Department revealed that U.S. Attorney John Durham, picked by Attorney General William Barr to look into the origins of the Trump-Russia investigation, is investigating whether Ukraine was involved in any 2016 election efforts. "A Department of Justice team led by U.S. Attorney John Durham is separately exploring the extent to which a number of countries, including Ukraine, played a role in the counterintelligence investigation directed at the Trump campaign during the 2016 election," DOJ spokeswoman Kerri Kupec said Wednesday [9/25/2019]. "While the Attorney General has yet to contact Ukraine in connection with this investigation, certain Ukrainians who are not members of the government have volunteered information to Mr. Durham, which he is evaluating."
Mattel unveils gender-neutral dolls for 'all kids to express themselves freely'. Mattel Inc. has unveiled a new line of customizable dolls that are free of gender labels in a step toward more "inclusive" play, the company said Wednesday [9/25/2019]. The Creatable World line allows children to create their own characters with "extensive" wardrobe options, accessories, hairstyles and up to six skin tones, Mattel said in a press release.
Federal Judge Throws Out Guilty Verdict for Flynn Partner and Acquits. In a stunning and very rare move today [9/24/2019] Federal Judge Anthony J Trenga has thrown out the conviction of a Mike Flynn's partner Bijan Rafiekian (Flynn Intel Group) and granted the defendants' motion to acquit. [Hat Tip to Techno-Fog for the ruling] This is a huge blow to the DOJ-NSD who framed their special counsel case on sketchy FARA violations and bamboozled the jury with dubious legal theories. This type of intervention by a federal judge is very rare.
Pope Announces Global Compact On Education For 'New Humanism'. The global event, set to take place at the Vatican on May 14, 2020, is themed Reinventing the Global Educational Alliance. According to a Vatican statement issued on Thursday, Sept. 12, the Pope is inviting representatives of the main religions, international organizations and various humanitarian institutions, as well as key figures from the world of politics, economics and academia, and prominent athletes, scientists and sociologists to sign a "Global Pact on Education" so as to "hand on to younger generations a united and fraternal common home."
Sorry, Greta: Trump skips UN climate summit. [Scroll down] Throwing the U.N. into this pathetic record of failure — it can't even run a credible peacekeeping operation without a new pedophile scandal — is pretty much piling failure upon failure. Would China and India bother to cut their greenhouse gas emissions if the U.N. told them to? Something says no. This points to the wisdom of Trump's refusal to even bother with this United Nations clown show. It's a new takeover bid from unelected leftist bureaucrats to rule the U.S., which has the most pristine record on climate emissions anyway.
U.S.-Pakistan Alliance After 9/11 Was 'One of the Biggest Blunders' for the Country, Imran Khan Says. Pakistani Prime Minister Imran Khan has said his country's alliance with the U.S. in the immediate aftermath of 9/11 was one of its biggest "blunders," citing the huge death toll and economic cost inflicted on the nation as part of the ongoing War on Terror. Speaking at a Council on Foreign Relations event in New York on Monday [9/23/2019], Khan also admitted his country's role in funding and training Al-Qaeda militants to fight in Afghanistan, the Hindustan Times reported.
Democrats Wrote to Ukraine in May 2018, Demanding It Investigate Trump. Democrats wrote to the Ukrainian government in May 2018 urging it to continue investigations into President Donald Trump's alleged collusion with Russia in the 2016 presidential campaign — collusion later found not to exist. The demand, which came from U.S. Senators Robert Menendez (D-NJ), Dick Durbin (D-IL), and Patrick Leahy (D-VT), resurfaced Wednesday in an opinion piece written by conservative Marc Thiessen in the Washington Post.
Attorney Representing Whistleblower Against Trump Worked For Hillary and Schumer. One of the attorneys representing the person who anonymously filed a complaint against President Donald Trump claiming Trump asked Ukraine President Volodymyr Zelensky to investigate former Vice President Joe Biden and his son Hunter has a resume that includes working for Senators Chuck Schumer (D-N.Y.) and Hillary Clinton (D-N.Y.). As The Federalist reports, "Andrew Bakaj, now a managing partner at the Compass Rose Legal Group, interned for Schumer in the spring of 2001 and for Clinton in the fall of the same year, according to Bakaj's LinkedIn page." The Federalist notes that Bakaj's resume also includes stints at the CIA and Pentagon and specializing in whistleblower and security clearances. The anonymous official, although acknowledging a lack of firsthand knowledge of the conversation between Trump and Zelensky, filed the complaint alleging that Trump asked Zelensky to check into the Bidens' dealings with a Ukrainian energy company.
GOP rep introduces resolution to remove Nadler as Judiciary panel chairman over impeachment probe. A Republican congressman introduced a resolution on Tuesday calling for the ouster of House Judiciary Committee Chairman Jerrold Nadler, D-N.Y., from his panel post for pursuing impeachment proceedings against President Trump. The proceedings were formally backed late Tuesday by House Speaker Nancy Pelosi, D-Calif. Lance Gooden, R-Texas, said in a release that Nadler has acted against the will of the House of Representatives, which never gave his committee explicit authorization to begin impeachment proceedings. The body voted 332-95 in July to table an impeachment resolution from Rep. Al Green, D-Texas.
China buys 10 boatloads of US soybeans after mid-level trade talks. Chinese companies imported roughly 10 boatloads of soybeans from American farmers on Monday following mid-level trade talks, Reuters reported. The deals for about 600,000 tons of soybeans were similar in size to a wave of buying earlier this month, two traders told Reuters.
Modi, Trump and protesters converge on Houston's NRG Stadium. Charismatic, controversial Indian Prime Minister Narendra Modi is expected to draw 50,000 adoring supporters to "Howdy, Modi!," an event at Houston's NRG Stadium this morning — as well as U.S. president Donald Trump and thousands of protesters outside. Supporters praise Modi, who was first elected prime minister in 2014, for modernizing India's economy, addressing climate change and ecological issues, and dramatically improving sanitation for some of the world's poorest people. But critics say that under Modi's Hindu nationalist government, human rights, including religious freedom, are endangered. They point to this summer's crackdown on largely Muslim Kashmir, an autonomous territory between India and Pakistan.
We've lost sight of the real scandal. What will Department of Justice Inspector General Michael Horowitz's latest investigation reveal? Will Congress hold hearings about it? Will former acting FBI Director Andrew McCabe actually get indicted? After all, it's said that a motivated prosecutor can "indict a ham sandwich" if he really wants to. We're so wrapped up in the daily tick-tock, we could be losing sight of a big picture that's come into focus over the past two years. For the first time in our nation's history, an inspector general — one appointed by President Obama — has determined that at least two men who sat in the top spot at the FBI committed multiple violations that warrant possible prosecution. That in itself is a scandal with national implications deserving of headlines, congressional hearings and promises to overhaul a broken system. Of course, the complicating factor in the whole mess is that the government entities responsible for addressing any wrongdoing are the same ones inextricably tied to the alleged wrongdoing.
Trump Deploys Troops To Saudi Arabia, UAE After Oil Attacks. The Pentagon announced it will be deploying U.S. troops and military equipment to Middle Eastern allies, Saudi Arabia and the United Arab Emirates, following Iran's attack on Saudi oil facilities last weekend. "The president has approved the deployment of U.S. forces, which are primarily defensive in nature and primarily focused on air and missile defense," Defense Secretary Mark Esper said on Friday, as reported by The Hill. "We will also work to accelerate the delivery of military equipment to the Kingdom of Saudi Arabia and the UAE to enhance their ability to defend themselves."
Saudi Arabia oil attacks: US to send troops to Saudi Arabia. The US has announced plans to send forces to Saudi Arabia in the wake of attacks against the country's oil infrastructure. Secretary of Defence Mark Esper told reporters the deployment would be "defensive in nature". Total troop numbers have not yet been decided. Yemen's Iran-backed Houthi rebels have said they were behind the attacks against two oil facilities last week.
Scientology policy enabled years of child sexual abuse, lawsuit says. In the third lawsuit filed against the Church of Scientology and its leader, David Miscavige, in three months, a 25-year-old woman alleges she was repeatedly sexually assaulted as a child in Scientology's care, including at the church's Clearwater Academy. On top of the abuse, the lawsuit explains how church officials allegedly knew it was occurring and did nothing to stop it or alert law enforcement, actions rooted in policy written by Scientology founder L. Ron Hubbard. When the woman spoke of her alleged abuse after leaving Scientology in 2018, the church deployed a campaign of harassment against her, a tactic also based on Hubbard's Fair Game policy aimed to destroy those labeled as enemies.
Inspector General Michael Horowitz Testifies on Matters of High Interest — FISA, Comey, McCabe, SpyGate. DOJ Inspector General Michael Horowitz testified before congress today on matters relating to the overall IG office. However, with Democrat majority chairs refusing to call Horowitz for testimony on the recent Comey Report, republicans on the House Oversight Committee took advantage of the opportunity to ask questions about the FISA investigation and the prior IG reports on James Comey and Andrew McCabe.
Snowflake Nation: Most Millennials Say Life More Stressful for Them Than Our Ancestors. Are many millennials embracing socialism — which most of them can't even define — for lack of perspective? Do they see the glass as half empty when its three-quarters full, and when for most of history it contained, materially speaking, the equivalent of bitter dregs? A recent survey of millennials, and an analysis of it, point to this being the case.
Merriam-Webster Adds Gender-Neutral Pronouns to Dictionary. Merriam-Webster announced Tuesday [9/18/2019] that gender-neutral pronouns "they" and "themself" have been added to the dictionary, along with more than 530 other words. Added to "address the complex ways we view ourselves and others," the word "they" is "used to refer to a single person whose gender identity is nonbinary," meaning that they do necessarily not identify with the binary language of male or female. Nonbinary and gender nonconforming people have existed throughout history and across cultures, but as Merriam-Webster noted, "we've struggled to find the right language to describe these people — and in particular, the right pronouns."
Two labs in the world keep a live smallpox sample. The one in Russia just had an explosion. An explosion sparked a fire Monday at a Russian biological research center known for being one of two places in the world that holds live samples of the smallpox virus. A gas cylinder exploded on the fifth floor of a six story laboratory building at the Russian State Centre for Research on Virology and Biotechnology in the city of Koltsovo, the center said in a statement Monday. A sanitary inspection room was being repaired when the blast hit the center, also known as VECTOR, causing a fire that spread 30 square meters. No biohazard material was held in the room where the explosion occurred and only one person was injured, according to the statement.
The Editor says...
Yeah, but it's Russia, so who knows if that's really true.
The Navy Says Those UFO Videos Are Real. The U.S. Navy has confirmed that three online videos purportedly showing UFOs are genuine. The service says the videos, taken by Navy pilots, show "unexplained aerial phenomena," but also states that the clips should have never been released to the public in the first place.
The Pope Lies. [Scroll down] The lies were understandable because he was making a political statement against capitalism and against America, two of his favorite bugaboos. Yet is it ever all right for the Pope to lie? I shall leave that matter for the theologians. I do wonder, though, who is hearing the Pope's confession these days? His most obvious lie came when he said that his conservative critics, mainly in the United States, have criticized him for saying what he claims were "the same things" as previous conservative popes have said about capitalism. He mentioned Pope John Paul II, who is dead and cannot rebut him. Pope Francis said, "They are the same things John Paul II said. The same! I copy him."
'These kids have all vaped': Wisconsin doctors were first to warn of a sudden surge of mystery lung illnesses. It was June 11 when a teenager showed up at Children's Hospital of Wisconsin short of breath. He had lost a lot of weight, was fatigued and couldn't do routine activities. A chest X-ray showed something doctors found odd: interstitial pneumonia. Unlike the more common viral or bacterial pneumonia that infects one or two of the lungs' five lobes, interstitial pneumonia looks like a complex spider web crisscrossing the entire lung. "It's usually associated with bad disease," said Michael Meyer, medical director of the Pediatric Intensive Care Unit.
Purdue Pharma files for bankruptcy as part of settlement. Purdue Pharma, the company that made billions selling the prescription painkiller OxyContin, filed for bankruptcy in White Plains, New York, days after reaching a tentative settlement with many of the state and local governments suing it over the toll of opioids. The filing was anticipated before and after the tentative deal, which could be worth up to $12 billion over time, was struck.
Purdue Pharma's Sackler family used hidden accounts to transfer $1B: court docs. The Sackler family, which owns Purdue Pharma, used Swiss and other hidden bank accounts to transfer around $1 billion from the company to themselves, the New York attorney general's office claimed Friday [9/13/2019]. The family stands to lose billions after a litany of lawsuits claiming that their company marketed the painkiller OxyContin as nonaddictive despite knowing otherwise.
China Buys Soybeans, Exempts Pork and Beans From Additional Tariffs. In a quiet admission of food dependency, China purchased 600,000 tonnes of soybeans yesterday [9/12/2019], and simultaneously announced that U.S. pork and soybean imports would be exempt from further tariff increases. The surface message Beijing is selling, surrounds their magnanimous panda narrative of reaching out to diminish trade friction. However, below the surface everyone knows China cannot feed itself, and if food prices keep rising they could likely have growing unrest.
A penthouse, limousines and private jets: Inside the globe-trotting life of Bishop Michael Bransfield. It was billed as a holy journey, a pilgrimage with West Virginia Bishop Michael J. Bransfield to "pray, sing and worship" at the National Shrine in Washington, D.C. Catholics from remote areas of one of the nation's poorest states paid up to $190 for seats on overnight buses and hotel rooms. Unknown to the worshipers, Bransfield traveled another way. He hired a private jet and, after a 33-minute flight, took a limousine from the airport. The church picked up his $6,769 travel bill. That trip in September 2017 was emblematic of the secret history of Bransfield's lavish travel. He spent millions of dollars from his diocese on trips in the United States and abroad, records show, while many of his parishioners struggled to find work, feed their families and educate their children.
Secretary Ben Carson Cleared of Any Misconduct in the Furniture Controversy of 2017. The Department of Housing and Urban Development's (HUD) inspector general cleared Secretary Ben Carson and his wife of any misconduct in the controversy surrounding an order for expensive furniture in late 2017. The watchdog's report, first obtained by Fox News, confirmed that Carson and his wife did not violate HUD policy when they instructed staffers to buy dining room furniture to replace the old furniture in Carson's office. "We found no evidence indicating that either Secretary or Mrs. Carson exerted improper influence on any departmental employee in connection with the procurement," the report states, according to Fox News.
U.S. to disclose name of Saudi official redacted in 9/11 FBI report. The U.S. said Thursday [9/12/2019] that it will disclose the name of a Saudi citizen sought by lawyers for victims of the Sept. 11 attacks who want to link the kingdom to the terrorist plot.
Virginia Lt. Gov. Justin Fairfax files $400 million lawsuit against CBS. Lt. Gov. Justin Fairfax filed a defamation lawsuit against CBS on Thursday seeking $400 million. CBS News aired interviews with two women who have accused Fairfax of sexually assaulting them. CBS News anchor Gayle King interviewed both Vanessa Tyson and Meredith Watson earlier this year, where they described their encounters with Fairfax. He denies the encounters were non-consensual.
'Not a wandering tourist': Guilty verdict for woman accused of trespass at Trump's Mar-a-Lago. A Chinese businesswoman was found guilty Wednesday of trespassing at Mar-a-Lago and lying to a federal agent about why she was at President Donald Trump's private Palm Beach club, capping a bizarre federal trial where the enigmatic defendant's true purpose in coming to the resort was never answered. Was Yujing Zhang, 33, just a bumbling tourist or an agent of Beijing's government? One thing is certain: Zhang, who has been in federal custody since her arrest March 30, now faces up to one year in prison on the trespassing charge and five years on the false-statement offense. She showed no reaction to the verdict.
Chinese Mar-a-Lago Intruder Found Guilty. The Chinese woman who tried to lie her way into Mar-a-Lago was found guilty today [9/11/2019]. [...] From the BBC: "Despite the guilty verdict the trial did not establish why exactly she was there. She told agents after her arrest a friend in China had encouraged her to speak to a member of Trump's family about Chinese-US economic relations."
Why Did the Deficit Just Top $1 Trillion? Here's Another Clue. The deficit this year will be larger than the entire budget was in 1987. [...] Spending increases were across the board. Social Security costs climbed 5.7%; Medicare, 6.5%; Medicaid, 4.6%. Defense spending is up 7.9%, but spending on everything else in the budget has climbed by 4.5%. Here's the really worrisome figure: Interest payments on the national debt is up 14% over the prior year. It should go without saying that these levels of spending growth are unsustainable.
The whole city is full of perverts. Why would anyone want to go there?
Times Square's 'creepy' costumed characters are out of control. The Times Square Elmo busted for grabbing a 14-year-old girl's rear while posing for a photo is far from an isolated incident, according to a new report that found the handsy panhandlers touched an average 24 people per hour without consent. "This is Times Square. Quirky is fine, but creepy is not," said Tim Tompkins, president of the Times Square Alliance, which commissioned the report and also found that more than a third of American tourists had a gripe with the costumed creeps. Forty-seven percent of New Yorkers said that they've had an "unpleasant interaction" with one of the pushy plushies or other street hustlers at the Crossroads of the World in the past year.
Couple spends $120,000 mistakenly deposited in their account — then are arrested. Robert and Tiffany Williams of Montoursville, Pennsylvania, in May reportedly received an unexpected deposit of more than $120,000, the result of a BB&T bank teller's mistake, according to a police criminal complaint provided to CBS News by the Pennsylvania State Police. The money was supposed to have been deposited to an investment firm. Rather than checking with the bank on the nature of the deposit, the pair allegedly spent more than $100,000 on a number of household items, including a $15,000 down payment on a 2015 Chevy Traverse, two four-wheelers for about $10,000, a $4,500 camper and a race car.
The Editor says...
The jury in this case, if it goes to trial, would have been less likely to convict this couple if they had spent the money on necessities rather than an assortment of vehicles they could do without. On the other hand, the bank made a mistake. (How is that possible?) So the bank should bear some of the responsibility. After all, if you call the bank and insist that your account has half the money it's supposed to have, the people at the bank will insist that the computers never lie.
The Shocking Paper Predicting the End of Democracy. [Scroll down] As one of the lions of the profession, 68-year-old Shawn Rosenberg, began delivering his paper, people in the crowd of about a hundred started shifting in their seats. They loudly whispered objections to their friends. Three women seated next to me near the back row grew so loud and heated I had difficulty hearing for a moment what Rosenberg was saying. What caused the stir? Rosenberg, a professor at UC Irvine, was challenging a core assumption about America and the West. His theory? Democracy is devouring itself — his phrase — and it won't last.
Christians Massacred, Media Look the Other Way. In an interview with Italian paper La Stampa, Pope Francis said that one of the biggest challenges to the Amazon region is the "threat to the life of the populations and territory which derives from the economic and political interests of the dominant sectors of society." The program for the Amazon's synod in Rome talks about "life threatened", "inculturation and interculturality", "extractivist destruction" and "indigenous peoples", among other matters. There is, however, another group of "indigenous people" whose life has been "threatened" and who live under an existential physical "destruction." They are the persecuted Christians, and the Vatican should dedicate the next synod to them. "They asked him to deny Christ and when he refused they cut off his right hand; then he refused [again], they cut to the elbow. In which he refused, before they shot him in the forehead, the neck, and chest," a Nigerian Christian, Enoch Yeohanna, recently recounted about his father's murder in 2014. The trial of Nigerian Christians has been defined "a global nightmare." But it is happening in many countries.
Fed Chair Jerome Powell Throws Cold Water on Latest Media Conspiracy. Federal Reserve Chairman Jerome Powell spoke with Thomas J. Jordan, chairman of the Swiss National Bank, in Zurich, Switzerland on Friday. The talk was hosted by the Swiss Institute of International Studies. During his remarks Powell said he does not foresee the U.S. sliding into a recession soon, despite a slowdown in global growth and uncertainties surrounding the U.S.-China trade war. "I wouldn't see the recession as the most likely outcome in the U.S.," he said during his remarks in Zurich.
Is China trying to elect a Democrat? For the last three years, Democrats have obsessed over Russia's relatively trivial participation in the 2016 election. But if they have any concern about China's reported interest in 2020, they haven't shown it. Why? Because China's leaders want to get rid of Donald Trump and replace him with a Democrat who will be more compliant.
China Is Using Fentanyl as 'Chemical Warfare,' Experts Say. Behind the deadly opioid epidemic ravaging communities across the United States lies a carefully planned strategy by a hostile foreign power that experts describe as a "form of chemical warfare." It involves the production and trafficking of fentanyl, a synthetic opioid that caused the deaths of more than 32,000 Americans in 2018 alone, and fentanyl-related substances. China is the "largest source" of illicit fentanyl in the United States, a November 2018 report by the U.S.-China Economic and Security Review Commission stated. That same commission said that since its 2017 report, they found no "substantive curtailment" of fentanyl flows from China to the United States. They also noted that in "large part, these flows persist due to weak regulations governing pharmaceutical and chemical production in China."
Nunes suing Glenn Simpson and ethics group, claiming conspiracy. Republican Congressman Devin Nunes of California has filed a lawsuit claiming a left-leaning transparency nonprofit conspired with a research firm to damage his reputation. The lawsuit in federal court in Alexandria, Virginia, follows two that Nunes filed in state court against parody Twitter accounts, Twitter, a Republican strategist and the media company McClatchy for mocking him.
Harry Reid: Only a Democratic president can issue a proper executive order. Former Senate Majority Leader Harry Reid said executive orders can only be executed properly and appropriately when a Democrat occupies the White House. "We need a Democratic president for a number of reasons," the Nevada Democrat said Wednesday [9/4/2019] during a conference call with reporters about climate change-related issues. "We've learned over the last few years from trying to govern the country by executive order that there's a lot that can be done legally with executive order," Reid said, a reference to President Trump's unilateral moves on immigration, climate, deregulation generally, and other issues. "Only the Democratic president can get that done."
The Editor says...
Why do reporters care about Harry Reid's opinion? He's a has-been.
Bill de Blasio eyes license requirement for bike riders. New York City Mayor Bill de Blasio said he is considering requiring bicyclists to be licensed and registered like automobile drivers currently are. According to a report in the New York Daily News on Wednesday [9/4/2019], the mayor also wants to expand the city's safety regulations, which already have won it a nanny-state reputation, to include requiring Citi Bike renters to wear helmets. Mr. de Blasio called the idea of forcing cyclists to have licenses and registration a "valid discussion," the Daily News reported, and added that he also plans a crackdown on cyclists who break traffic laws.
The Editor says...
The mayor is making a crime out of something that's not a crime: riding a bicycle without a license. (What about unicycles, skateboards, and dockless scooters?)
Devin Nunes Sues Fusion GPS Over False Media Smears And Bogus Ethics Claims. The former chairman of the House Intelligence Committee sued Fusion GPS and its founder in a sweeping suit alleging conspiracy to obstruct investigations into Russian interference in the 2016 election. In the suit, Rep. Devin Nunes, R-Calif., alleges Fusion GPS worked directly with a tax-exempt organization to intimidate and harass him over his investigation into Russian meddling in the 2016 election. That organization, Campaign for America, filed bogus ethics complaints with the Office of Congressional Ethics to sideline Nunes as he investigated Fusion GPS's role in the false claims that President Donald Trump treasonously colluded with Russia to steal the 2016 election from Hillary Clinton.
Meet the 'super pro-cop' gorgeous young Latina running for Congress who calls herself 'the anti-AOC'. Catalina Lauf is 26-years-old and running for Congress in Illinois, hoping to unseat a Democrat incumbent and push aside Alexandria Ocasio-Cortez as the youngest woman ever to be elected to Congress.
Woman Told to Remove 'Obsolete' 9/11 Memorial Stone from Property. An Illinois woman has been ordered to remove a 9/11 memorial stone from her property, according to reports. Leigh Gardella-Wood has lived on the property in Winthrop Harbor with her family since 2011. The land was once the site of Spring Bluff Elementary School before it closed down the year she bought it. Reports said Gardella-Wood got a letter from Winthrop Harbor Village saying she must remove "all obsolete signage" related to the school from the property, including the memorial stone.
The Editor says...
The big stone with a plaque embedded in it sounds like it has Ebay written all over it.
Meat the Neighbors: Giant Cookout Planned for Outside Vegan's House. Thousands of Aussie meat eaters are planning to attend a mass community BBQ outside the home of a vegan woman who has been fighting neighbors over the smell of their outdoor cooking of meat and fish. As Breitbart News reported, a "devastated" Australian vegan has taken her neighbors to court alleging they deliberately waft barbecue smoke rich in meat and fish smells across their shared boundary fence and into her property.
The Editor says...
Your vegetarian neighbors may be misguided troublemakers, but to blow smoke in their faces is un-Christian behavior. 1 Cor 8:13.
Cherokee Nation Names First Delegate To Congress. The Cherokee Nation has named its first delegate to the U.S. House of Representatives. Former Obama appointee Kimberly Teehee's nomination was approved by the tribe's council on Thursday [8/29/2019]. Although the treaty that created this nonvoting position is almost 200 years old, it had never been filled.
Voice Of America Currently Employs A Former Russian Anti-U.S. Propagandist. The taxpayer-funded Voice of America (VOA) currently employs a reporter for its Russian website who formerly produced anti-U.S. propaganda videos for a Russian outlet. Ilya Kolosov is a "contractor with the VOA Russian language service TV team," Bridget Serchak, Director of Public Relations at VOA, told the Daily Caller News Foundation. He was previously employed at ONT, a Belorussian state-run TV station and RTVI, a Russian station, according to a report by Belsat. VOA is a U.S. government-funded and state-owned news agency, reaching more than 275 million people around the world every week. VOA is part of the U.S. Agency for Global Media (USAGM), which is a government agency overseeing all U.S. international broadcasting.
'National security imperative': Military spouses struggle to find employment. Between 35% and 50% of military spouses work in fields that require occupational licenses or certifications, which are not always recognized when couples move to a new state or country. With the constant moves military life requires, the difficulty drastically increases. Lawyers and teachers are some of the hardest hit, but thanks to the work of advocacy groups across the country, they are seeing some relief from federal and state governments.
DOJ IG Reveals Deputy Assistant Attorney General Lied Under Oath About Viewing Porn on Govt-Issued Computer, Declined Prosecution. First it was reported Thursday [8/29/2019] that the DOJ declined to prosecute James Comey despite the fact that he mishandled classified information and leaked to the media, then it was revealed another member of the Justice Department lied under oath to investigators and escaped prosecution!
The Character Assassination of Amy Wax and Her Response. On August 23rd, the New Yorker ran a hit piece with the sensationalized headline, "A Penn Law Professor Wants to Make America White Again." The writer, Isaac Chotiner, had interviewed Amy Wax, who had recently received considerable attention after a speech she made at the National Conservative Conference in Washington D.C. last month. Part of the speech included the controversial comment that "we are better off if our country is dominated numerically, demographically, politically, at least in fact if not formally, by people from the first world, from the West, than by people from countries that had failed to advance."
A surprising number of Americans are retiring the idea of retirement. Ah, those much-anticipated halcyon days of retirement — sleeping in, golf at will, travel too, leisurely day after leisurely day. No more whining colleagues, carping bosses, endless meetings with no result, tedious commutes. Of course, few retirements turn out that way. And now a new Associated Press poll finds that for a variety of reasons about a quarter of Americans have no intention of ever retiring at all.
Report: ISIS Fighter Blows Himself Up After His Drone-Bomb Runs Low on Batteries. Since President Trump defeated ISIS, the once-formidable terrorist organization that came into power under Barack Obama, has been forced back into hiding. The dismantled terror group has suffered so many losses, that they've been reduced to conducting lone-wolf attacks. And some of those attacks aren't going so well, according to a recent report. Karma delivered a hefty blow to an ISIS terrorist who had his sights set on killing his enemies in Mosul, Iraq. The terrorist was using a drone-bomb in his attack — however, his plans went haywire and blew up in his face (literally) when the drone ran out of battery power.
DHS bars Dem staffers from visiting border facilities after 'rude' and 'disruptive' behavior. The Department of Homeland Security (DHS) has barred Democratic staffers from the House Oversight Committee from visiting Customs and Border Protection (CBP) facilities at the U.S.-Mexico border as part of a planned trip this week after committee staff allegedly were "disruptive" and refused to follow instructions during their last trip, Fox News has learned. Committee Chairman Elijah Cummings, D-Md., had sent his staff to visit border facilities for "oversight inspections" last week and planned to send staff again to view Immigration and Customs Enforcement (ICE) and CBP centers.
Bad Law Keeps People Poor. Why does most of Africa stay poor while other parts of the world prosper? People blame things like climate, the history of colonialism, racism, etc. But I say Senegalese businesswoman Magatte Wade gives the right explanation: too many rules. "Once you hire someone, good luck getting rid of them for any reason," Wade complains. Her government must approve every firing. "Then the tax code is so complicated... worth at least two or three truckloads of paper."
Investigators scrutinizing video outside Epstein's cell find some footage unusable, according to people familiar with the inquiry. At least one camera in the hallway outside the cell where authorities say registered sex offender Jeffrey Epstein hanged himself earlier this month had footage that is unusable, although other, clearer footage was captured in the area, according to three people briefed on the evidence gathered earlier this month. It was not immediately clear why some video footage outside Epstein's cell is too flawed for investigators to use or what is visible in the usable footage. The incident is being investigated by the FBI and the Justice Department's inspector general's office, which are attempting to determine what happened and how to assess whether any policies were violated or crimes committed.
US Air Force's mysterious X-37B space plane sets new record after spending 717 days in orbit. A pilotless space plane operated by the US Air Force has completed a record 717 days in orbit — and, we still have no idea what its mission is. [...] While it isn't the longest flight ever, the feat marks a personal best for this line of craft, with each pushing a bit further than the mission before.
Fake buyers raiding medicine cabinets at open houses to steal opioids from home sellers. People are sneaking into open houses under realtors' noses and stealing home sellers' prescription opioids. As the flood of opioids into vulnerable communities has grown, realtors have had to be on guard to prevent drug theft while hosting open houses and to educate home sellers about their roles in prevention, including hiding their medications in the same way they would firearms.
Hasbro Has a New 'Monopoly: Socialism' Game and Socialists Are Not Happy. A few weeks ago, my wife and I took a deep breath and then reluctantly replied "sure" to our kids' request that we play Monopoly for family game night. As most of us can attest, Monopoly requires a level of commitment that no family game night should require, and it's not really that fun to begin with. Hasbro's new "Monopoly: Socialism," though, sounds like a hoot and a great way to continue to teach my kids why socialism is for the math-, economics-, and history-challenged among us.
North Carolina Police Officer Suing Former Department For Religious Discrimination For 'Billy Graham Rule'. A police officer in North Carolina is suing for religious discrimination after being fired for following the "Billy Graham rule." The officer in question is 51-year-old Manuel Torres, who served as a deputy for the Lee County Sheriff's office for five years. He was then asked to train a new female deputy in July of 2017, but refused to do so on religious grounds. Torres, a practicing Baptist, cited that his belief is that "the Holy Bible prohibits him, as a married man, from being alone for extended periods with a female who is not his wife."
Federal energy program suggests keeping thermostat set at 78 degrees — 82 while you sleep. To keep your home cool with central air conditioning while also optimizing energy efficiency (and therefore cost), keep the temperature at 78 degrees Fahrenheit or higher. The suggestion comes from Energy Star, a federal program managed jointly by the Department of Energy and the Environmental Protection Agency that provides information to consumers about energy efficiency practices that not only save consumers money, but also improve air quality and protect the environment.
Update:
DOE Issues Statement on Energy Star Thermostat Report. After quite widespread discussion on the Energy Star Thermostat Report, and the ridiculous recommendations to set thermostat to 82° when sleeping, the U.S. Department of Energy (Secretary Rick Perry) issued the following statement: "It is the position of DOE that Americans should set their thermostats to whatever temperature they choose."
Made in Mexico: Money for the Democratic National Committee. Desperate for cash — even the deepest blue Democratic vendor has to be paid but the significant Democratic National Committee (DNC) debt does not inspire payment confidence — the DNC, under chairman Tom Perez, has decided to outsource some of its fundraising to Mexico, where an estimated 1.5 million American expats reside. And so next month there will be a series of events in Mexico City, featuring Perez himself, for the American citizens living there eager to help their party in the old country.
Barr: Epstein's Death Looks Like A Suicide To Us Too. "Serious irregularities"? You betcha. A murder-for-hire to benefit Jeffrey Epstein's friends-cum-extortion-targets? Naah, says William Barr. Despite a noticeable lack of cooperation from the people at the jail where Epstein died, the Attorney General says investigators have found no evidence that anyone other than Epstein himself was behind his hanging death earlier this month.
Poll: 63 Percent of Voters Expect a Trump Victory in 2020. As President Donald Trump's approval rating remains stable, an increasing amount of voters say he is "somewhat likely" to be re-elected as president, according to a survey. Scott Rasmussen's latest 2020 poll revealed 63 percent of American voters believe President Trump will serve a second term in the White House, which is up 17 percentage points from February.
Amazon's CEO Owns a Terror-Linked Paper. Millions of Americans brought Alexa into their homes only to learn, belatedly, that not only software, but human beings, were listening in on them. Amazon employees and contractors from Costa Rica to India were caught reviewing thousands of recordings, of casual requests, private conversations and intimate moments, and sharing clips that they thought were funny in chat sessions with each other. The Amazon product is always listening and maintains recordings of your conversations indefinitely. But now there's something bigger at stake than privacy violations. Amazon expects a $10 billion cloud contract for the military.
ABC Fined $395K by FCC for 'Jimmy Kimmel Live!' Emergency Alert Misuse. A Jimmy Kimmel Live! bit making fun of President Donald Trump is going to cost ABC $395,000, as the FCC is cracking down on use of the emergency alert tone in entertainment. The network agreed to pay a fine to the agency after late-night host Jimmy Kimmel in October used a simulated tone during a monologue about the nationwide presidential wireless emergency alert test. According to the FCC filing, ABC says it was a "misunderstanding that the use of the tone was permissible."
The Editor says...
I worked in broadcasting for 48 years. There are only a few low-level newcomers in broadcasting who don't know that emergency alert tones are not to be used as sound effects. The FCC has made this abundantly clear on several occasions. Somebody in the production control room of the Kimmel show should have know better. I'm surprised that the fine was not much higher. A mere $400,000 just blends into the background cost of doing business.
This is what juries are for:
Phoenix father beats a man to death for accosting daughter in bathroom. A Phoenix father is facing second degree murder charges for allegedly killing a man who allegedly harassed his young daughter. Police say Melvin Harris, 40, admitted to beating Leon Armstrong, 26, to death after he attempted to break into the teenage girl's stall at a QuikTrip convenience store bathroom. Harris was waiting for his daughter and her two friends in the store's parking lot when Armstrong approached his car asking for money. Harris gave him change, then Armstrong walked into the convenience store, police said
Robert F. Kennedy Jr. and fellow anti-vaxxers call on judge to delay law barring unvaccinated kids from school. Robert F. Kennedy Jr. and his fellow anti-vaxxers flooded an Albany courtroom Wednesday [8/14/2019] as they implored a judge to overturn a state law barring kids who haven't been vaccinated from attending school. Hundreds of white-clad supporters later descended on the Capitol to leave photos of their children outside Gov. Cuomo's office in an attempt to draw the governor's attention to thousands who will be affected. Rita Palma, the founder of a group called My Kids, My Choice, said new law, which ended an exception for kids whose parents objected to vaccines on religious grounds, will keep 26,000 children out of school and daycare.
New York Times: Lawns Are Symbols of Racism and Bad for Global Warming. While most Americans are spending time this summer enjoying the sun in the comfort of their houses' yards, the New York Times is out with a new exposé on how lawn care is problematic, once viewed through the lens of social justice. Lawns are contributing to pollution and climate change, asserts narrator David Botti, and their origins are far from woke, in a seven-minute video on the history of American lawns.
Also posted under everything causes global warming.
Venomous snake has been missing inside Bronx Zoo for a week. The venomous mangrove snake that escaped its enclosure at the Bronx Zoo was still loose Tuesday — marking a week since it went on the lam. The 3-foot, tree-climbing serpent got free from its Jungle World exhibit Aug. 6 — when zoo officials claim it escaped via a mesh-covered vent in its glass case — and was still nowhere to be found Tuesday [8/13/2019]. Concerned guests were assured it was still safe to go inside Jungle World, with one ticket vendor even joking to several scared children: "If you see him, let us know!"
Facial recognition misidentified 26 California lawmakers as criminal suspects. San Francisco Assemblyman Phil Ting has never been arrested, but facial recognition technology developed by Amazon links his image to a jailhouse mugshot. Ting is one of 26 state legislators who were wrongly identified as suspected criminals using the technology, according to results from a test released Tuesday by the American Civil Liberties Union of Northern California.
Minneapolis Bans New Drive-Thrus. One of the hottest trends in the restaurant world right now is delivery — and Minneapolis just gave people one more reason to stay home and place their food orders online: The city has placed a ban on the construction of new drive-thru windows. Be it restaurant or coffee shop, pharmacy or bank, the Minneapolis City Council approved the new rule this past Thursday [8/8/2019], leaving current drive-thrus untouched (as well as businesses that are currently waiting for approval), but preventing the construction of any new ones within the city.
The Editor says...
In cases such as this, where a decision is made in a Democrat-controlled city, and it makes no sense at all, one can easily surmise that it must be an effort to stop global warming, or some kind of irrational nonsense of that sort. Either that, or it's another incremental step to push us all onto mass transit.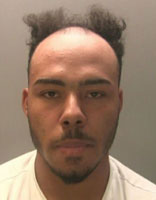 Mocking [a] suspect's hairstyle could get you prosecuted, police warn. Police have warned social media users they could face arrest if they "troll" a wanted drug dealer by mocking his distinctive hairstyle. An online appeal to catch the criminal has resulted in tens of thousands of people posting joke comments. Jermaine Taylor, 21, is wanted for breaching his licence [sic] conditions after being released from prison in December 2018. Gwent Police launched the social media appeal to find the convicted drug dealer, but it backfired when people began making jokes about his hairstyle, with one saying it had been "pushed back more times than Brexit".
Jeffrey Epstein Accuser Names Powerful Men in Alleged Sex Ring. A young woman who says financier Jeffrey Epstein and socialite Ghislaine Maxwell kept her as a sex slave also accused a host of high-powered men of being involved in Epstein's alleged sex-trafficking ring, according to court records unsealed Friday [8/9/2019]. Virginia Giuffre, who says that Epstein and Maxwell trafficked her to powerful people for erotic massages and sex, claimed in a 2016 deposition that Maxwell directed her to have sex with former New Mexico Gov. Bill Richardson, Britain's Prince Andrew (whom she has accused before), wealthy financier Glenn Dubin, former senator George Mitchell, now-deceased MIT scientist Marvin Minsky, and modeling agent Jean-Luc Brunel, as well as "another prince," a "foreign president," and the owner of a "large hotel chain" in France. None of the men named in the deposition have been charged with a crime or even sued in civil court in connection with the Epstein case.
Jeffrey Epstein's alleged 'sex slave' reveals the men she claims she was forced to sleep with. Jeffrey Epstein's alleged teenage "sex slave" claims she was ordered to sleep with powerful men — including a former US senator, the former governor of New Mexico, a prominent hedge fund manager and a late longtime MIT professor. The identities of the men were revealed in some 2,000 documents unsealed Friday in Manhattan federal court related to Virginia Giuffre's defamation lawsuit against British socialite Ghislaine Maxwell. In a deposition, Giuffre, née Roberts, claimed she was trafficked to MIT professor Marvin Minsky, who died in 2016 at age 88, as well as former Maine Sen. George Mitchell, ex-New Mexico Gov. Bill Richardson and money manager Glenn Dubin, whose wife, Eva, is an ex-girlfriend of Epstein's.
A 15 Year-Old Girl Was Allegedly Held Hostage on Epstein's Island. Newly unsealed court documents contain a slew of horrifying allegations against the billionaire sex offender Jeffrey Epstein and those in his inner circle, including claims that a 15-year-old Swedish girl was essentially held hostage on his private island, and that friends of Epstein's had taken her passport and phone, and demanded sex from her. These claims come from nearly a huge tranche of documents recently unsealed by the United States Second Circuit Court of Appeals related to the defamation lawsuit filed by Epstein victim Virginia Roberts Giuffre against his associate Ghislaine Maxwell.
While media were focused on mass shootings, explosive revelations about the Russia Hoax came out in a Sunday morning interview. Maria Bartiromo has immersed herself in the details of the Russia Hoax and has used her weekly Fox News program, Sunday Morning Futures, to tease out details of information from current and former Republican congressmen who have seen documents and interviewed witnesses that the public has not yet had access to. The picture that emerges is ugly, indeed. Yesterday [8/4/2019], in an interview with former House oversight committee chairman Trey Gowdy, she exposed new details — outrageous behavior by a U.S. intelligence asset — in the setting up of George Papadopoulos in order to obtain a FISA warrant to spy on the Trump campaign and (unsuccessfully) attempt to lure him into a chargeable crime.
In China, Big Brother is watching you even as you sort your trash. The Chinese state is taking surveillance to the next level. Vast networks of cameras are not just aimed at reducing crime but also enforcing recycling laws, encouraging civic behaviour. Privacy concerns aside, the tools are reshaping the relationship between government and citizen.
IBM bans all removable storage, for all staff, everywhere. IBM has banned its staff from using removable storage devices. In an advisory to employees, IBM global chief Information security officer Shamla Naidoo said the company "is expanding the practice of prohibiting data transfer to all removable portable storage devices (eg: USB, SD card, flash drive)." The advisory stated some pockets of IBM have had this policy for a while, but "over the next few weeks we are implementing this policy worldwide."
Narrative of rampant white nationalist mass shootings overblown. Seven times this year, a gunman has opened fire in a U.S. public place, killing at least three people. One shooter is suspected of being a white supremacist. One was an Elizabeth Warren supporter. And two were black. Yet fears over rising white nationalist attacks after the El Paso massacre threaten to obscure what studies describe as the big picture about mass killings: that they represent a small fraction of annual gun deaths, that they are not surging, and that about half are committed by whites, not a share out of line with the general U.S. populace.
France [is] Slowly Sinking into Chaos. France today is a country adrift. Unrest and lawlessness continue to gain ground. Disorder has become part of daily life. Polls show that a large majority reject President Macron. They seem to hate his arrogance and be inclined not to forgive him. They seem to resent his contempt for the poor; the way he crushed the "yellow vest" movement, and for his not having paid even the slightest attention to the protesters' smallest demands, such as the right to hold a citizens' referendum like those in Switzerland. Macron can no longer go anywhere in public without risking displays of anger. The "yellow vests" seem finally to have stopped demonstrating and given up: too many were maimed or hurt. Their discontent, however, is still there. It seems waiting to explode again.
Ohio gunman described himself as pro-Satan 'leftist' who supported Elizabeth Warren. The Ohio gunman described himself on social media as a pro-Satan "leftist" who wanted Joe Biden's generation to die off, hated President Trump and law enforcement, and hoped to vote for Sen. Elizabeth Warren for president. In the early hours of Sunday morning [8/4/2019], rifle-wielding Connor Betts rampaged through a Dayton entertainment district, killing his sister and eight other people and leaving dozens of others wounded before police killed him. "I want socialism, and i'll [sic] not wait for the idiots to finally come round to understanding," he wrote in one tweet, according to Heavy.com.
Chinese Aluminum Billionaire Indicted in $1.8 Billion Tariff Evasion Scheme. We previously outlined Mr. Zhongtian Liu as part of the early 2018 explanation for how China was exploiting the NAFTA loophole as an end-run around tariffs. Today the Central District of California U.S. Attorney announces his indictment.
Chris Wray's FBI continues to cover for Team Comey's Russia shenanigans. The FBI is going to court to fight the public release of a small number of documents the State Department sent to agents from Christopher Steele, the British intelligence operative and Hillary Clinton-paid political muckraker, during the 2016 election. Normally, such Freedom of Information Act cases don't merit public attention. This one does. To hear the FBI tell it, the release of former Deputy Assistant Secretary Kathleen Kavalec's documents is tantamount to giving up the keys to President Trump's nuclear briefcase, aiding the enemy or assisting terrorists.
This supercomputer will perform 1,000,000,000,000,000,000 operations per second. A government laboratory in Illinois will receive the fastest supercomputer in the United States in 2021, and it will be the first to hit what's called exascale-level processing. The mammoth machine, called Aurora, will live at Argonne National Laboratory, and will be able to accomplish tasks like simulating complex systems, running artificial intelligence, and conducting materials-science research. So what's the point of a supercomputer? Experiments like crash-testing a car are expensive, complicated, and sometimes dangerous. A supercomputer simulation, however, allows researchers to carry out those tests virtually, and track and change countless variables as they play out. Some supercomputers even simulate nuclear blasts, which is best done virtually, and not in the real world.
Illinois tied for nation's most lax lawmaker/lobbyist revolving door laws. Illinois is one of the only states in the U.S. that has no rules against lawmakers leaving office on a Friday and returning Monday as a registered lobbyist. A new analysis of each state's lobbying restrictions for lawmakers by consumer advocacy nonprofit Public Citizen shows Illinois — along with Idaho, Michigan, Nebraska, New Hampshire, Oklahoma and Wyoming — are the most lax in their rules about lawmakers leaving office only to return as lobbyists. Government affairs lobbyist Craig Holman says the pay that these former lawmakers often see is a stark contrast from their days in public office.
132 House Republicans Vote Against Trump-Pelosi Spending Deal, But House Democrats Push It Through. The debt-and-spending deal that House Speaker Nancy Pelosi (D.-Calif.) made with President Donald Trump and the congressional Republican leadership was rejected by a large majority of House Republicans — 132 voted against it — but it was pushed to passage on Thursday with overwhelming support from House Democrats. The final vote on the deal was 284-149. The 284 who voted for it included 219 Democrats and 65 Republicans. The 149 who voted against it included 132 Republicans, 16 Democrats and 1 Independent.
Tainted alcohol killed 19 people in Costa Rica last month. At least 19 people in Costa Rica have died after drinking alcohol tainted with toxic levels of methanol, local officials said Sunday [7/21/2019]. The Costa Rica Ministry of Health said fourteen men and five women[,] ranging in age from 32 to 72[,] died in June from what appeared to be methanol poisoning, local outlet the Tico Times reported.
New York office towers ordered to set their AC thermostats at 78 degrees to save energy [...] ahead of dangerously hot weather.
The Editor says...
Left-wing environmentalists want to do away with air conditioning, in order to "save the earth." What then are we supposed to do during "dangerously hot weather?"
Has the duration and extent of heat waves gone up or down in the last century? Answer: Not just down but way down. According to Chris Martz of Weather Facts, the average duration of heat waves is 41 percent shorter than it was in the 1930s. They lasted nine days then to six and a half now. Not only that, average high temperatures in the 1930s, when industrialization was minuscule compared to today, were considerably above (roughly two degrees) what they are now.
Who is "anti-science" now?
Protesters continue to block telescope construction in Hawaii. The protesters believe the telescope project will desecrate Mauna Kea. Their protest is based on primitive, Earth-worshiping paganism. On the other hand, I suspect most of the astronomers who would benefit from the project are secular humanists, bent on disproving the Biblical account of creation.
Ousted UK ambassador leaked US intelligence. Leaked U.K. diplomatic cables critical of President Trump have led Britain's ambassador, Sir Kim Darroch, to announce his departure from Washington earlier than expected. But the story is not yet concluded. According to one current and one former U.S. government official speaking on the condition of anonymity, Darroch repeatedly leaked classified U.S. intelligence information, including highly classified information, to a journalist for a U.S.-based media outlet. The sources are consolidated by the reaction my related inquiries have received from other government officials. These leaks are unrelated to the diplomatic cables which sparked Trump's anger and Darroch's departure.
Overpopulation:
Our New Planet Is Going to Be Great! For example, in 1991, when Omar's family fled Somalia due to their complicity in the genocidal regime of the dictator Siad Barre, the population of Somalia was only 7 million. Today, 28 chaotic years later, Somalia has more than doubled in size to 15 million despite immense outflows of emigrants. The U.N. forecasts that Somalia's population will reach 35 million in 2050 and 76 million in 2100. Alternatively, millions of Somalis (or, quite possibly, tens of millions of Somalis) might prefer to follow Rep. Omar to the Magic Dirt of the first world. According to a Gallup poll, at present one-third of the population of sub-Saharan African wants to migrate, and it's unlikely that additional population growth will make Africa more attractive.
These Are The Most And Least Obese States In America. According to the Centers for Disease Control (CDC), their most recent estimate is that 30.1% of adults are obese as of 2017. The obesity rate in the United States has doubled since 1990 when 15% of the population was classified as obese. Further, estimates for the costs of obesity range from $147 billion to nearly $210 billion per year. As consumers, we're footing the bill. [...] The state with the highest levels of obesity in America is West Virginia. [...] West Virginia just beat out Mississippi, the state with the second highest obesity rate in the country. Mississippi ranks as the state with the lowest life expectancy in America.
New York's power is coming back after Manhattan spent hours in the dark. [Scroll down] ConEd CEO John McAvoy said the company is working to understand the cause of the outage and needs to do a full engineering analysis. The city's fire department responded to numerous transformer fires, the first of which occurred in Manhattan on West 64th Street and West End Avenue, officials said. [7/13/2019]
The Editor says...
Why would "numerous" transformers catch fire simultaneously in a small area? Was it a chain reaction, or something else?
American Parents 'Are Afraid of Their Own Kids,' Physician Says. Family physician and author Dr. Leonard Sax has made a name for himself by seeking to restore common sense to today's crazy world of child-rearing. He continues this quest toward restored sanity in a recent interview with the Centre for Addiction and Mental Health. As Dr. Sax explains, there is a great difference between parents in European countries, such as the U.K., and those in the U.S. That difference, Sax explains, is fear.
Attention Correction Feature in iOS 13 Beta Enables Appearance of Eye Contact During FaceTime Calls. A new feature in the latest iOS 13 beta makes users appear as if they're looking directly at the camera to make eye contact during FaceTime calls, when actually they're looking away from the camera at the image of the other person on their screen.
Real Hedge-Fund Managers Have Some Thoughts on What Epstein Was Actually Doing. Long before Jeffrey Epstein pleaded guilty to prostitution charges in Florida more than a decade ago, his fellow Palm Beach resident and hedge-fund manager Douglas Kass was intrigued by the local gossip about his neighbor. "I'm hearing about the parties, hearing about a guy who's throwing money around," says Kass, president of Seabreeze Partners Management. While stories about young girls swarming Epstein's waterfront mansion and the sex parties he hosted for the rich and powerful were the talk of the town, Kass was more focused on how this obscure person, rumored to be managing billions of dollars, had become so wealthy without much of a track record.
Axios: Breitbart Defines Democratic Presidential Field by Dominating Social Media. Despite widespread, documented cases of bias against conservative media by social media platforms, Breitbart News and other conservative media have dominated online coverage of the Democrat party primaries, according to Axios. In an article titled "Axios-NewsWhip 2020 attention tracker: The might of right-wing media," Axios published data from its online media tracker, which tracks the attention received by individual Democrat presidential candidates from stories shared on social media.
American Psychological Association Pushes Polyamory. Remember when psychologists' goal was to help people live balanced and ordered lives? Now, it seems, the profession's highest purpose is to empower and validate people's deepest desires and sexual urges without having to suffer "stigma" or any adverse judgments from themselves or society. Hence, the American Psychological Association has launched the "Non-Monogamy Task Force," the goal of which seem to be the promotion of sexual anarchy and the muting of polyamorists' moral consciences.
APA Task Force Promotes Multiple Sex Partner Status as Legally Protected Class. The American Psychological Association (APA) has created a task force to promote "consensual non-monogamous relationships" (CNM) and a petition seeking legal protected class status of individuals with multiple sex partners.
Ross Perot, self-made billionaire and presidential candidate, dead at 89. Ross Perot, the fiery, self-made Texas billionaire whose failed but memorable White House bids as a third-party candidate garnered a sizable slice of the popular vote, died Tuesday [7/9/2019]. He was 89.
Barr's recusal from Epstein case should give Democrats the willies. [Scroll down] Now Democrats can have a field day against Trump with the investigation entirely in their hands, right? Don't think so. On the surface it may appear to be bad news for President Trump — another rat fleeing a sinking ship? — and the left may be secretly cheering. But if they are, they don't know Barr very well. Barr is a canny player in ways that Sessions was not, and more likely, he's clearing the floor to keep any hint of politics out of this bona fide child-molestation case.
Did someone mention Jeffrey Epstein?
A warning about the stalemate in Venezuela. Colombia has a recent history of one group of bad guys replacing another. When Pablo Escobar and his M-19 Marxist guerrilla buddies were knocked out in 1990, the Cali Cartel took over. When the Cali Cartel as knocked out, FARC took over. When FARC got its vaunted yet locally rejected "peace" deal, they were knocked out (but got free stuff). Now it's ELN's turn.
New 7.1 earthquake hits Southern California — 1 day after largest temblor in decades. A magnitude 7.1 earthquake hit Kern County in California on Friday evening [7/5/2019] — just a day after a magnitude 6.4 earthquake that was the largest temblor in the region in two decades, the U.S. Geological Survey confirmed. Shaking on Friday evening was felt as far away as Las Vegas and Los Angeles and into northern Mexico. The USGS said there was a 5 percent chance a larger quake could still follow.
Act removed from Du Quoin State Fair lineup. A band has been removed from the Du Quoin State Fair lineup. Confederate Railroad will no longer perform on August 27. The Du Quoin Weekly reports the band was removed because of their name.
Venezuela Forces Killed Thousands, Then Covered It Up, U.N. Says. Venezuelan special forces have carried out thousands of extrajudicial killings in the past 18 months and then manipulated crime scenes to make it look as if the victims had been resisting arrest, the United Nations said on Thursday [7/4/2019] in a report detailing wide-ranging government abuses targeting political opponents.
Venezuela's implosion is becoming Colombia's security nightmare. As Venezuela's economic and political situation continues to plumb new depths, analysts fret that the crisis is bound to spill over its borders sooner or later. The most obvious candidate for destabilization is Colombia, which lies just across a long, porous, heavily populated border region that stretches over the Andes and down through the Amazon jungle. It's no picnic having a failed state on your border. As Rwanda found out in the '90s when the perpetrators of its genocide set up camp across the border in the vast, ungoverned jungles of Congo, security threats quickly become unmanageable if your foe has a safe harbor just across a lightly patrolled border. And while the scale of violence in the northern tip of South America is much less, the basic dynamic looks distressingly similar.
UN finds a torture den in Venezuela's detention centers. Where are Ocasio-Cortez's fake tears at the fence? Alexandria Ocasio-Cortez is one of the few Democrats who's openly stood up for and defended the socialist Venezuelan regime even as millions of Venezuelans seek to dislodge it from power. [...] Now a report from the United Nations high commissioner of human rights is out, on Venezuela, and it's profoundly ugly. [...] Can we draw one conclusion about her? She's not about humanitarian concerns. She's about seeking raw power, using people's emotions about what's humane to achieve her ends. Socialism is always given a pass.
US customs agents seize rat meat at Chicago's O'Hare Airport. Officials say U.S. Customs and Border Protection agents at Chicago's O'Hare International Airport thwarted a man's attempt to import several pounds of African rat meat.
Border Protection stops illegal Giant African snails that were smuggled into US in luggage from Nigeria. Two keen-nosed Beagles at a Georgia airport are being hailed for sniffing out two, illegal Giant African snails which were stashed inside an international passenger's luggage. US Customs and Border Protection revealed that Candie and Chipper — members of the CBP's 'Beagle Brigade' — were on duty at the Hartsfield-Jackson Atlanta International Airport in Atlanta, Georgia, on June 23 when they alerted their handlers to the presence of contraband in a traveler's checked luggage. The traveler, who has not been identified, had arrived in the US from a flight originating in Nigeria.
The Editor says...
From the two articles immediately above, one can reasonably infer that the residents of Africa, where the ten poorest countries in the world are located, are so poor they have to eat snails and rats. While there is no doubt that slavery was a disgraceful facet of this country's early history, it seems to me that the descendants of African slaves should be glad they live here.
July 4: Feds Warn of Possible Terror Attacks as ISIS Threatens New York, White House. Federal authorities, in the days leading to Independence Day, warned of potential, not specific, attacks against revelers at the hands of "homegrown terrorists," referring to those inspired by overseas jihadi groups such as the Islamic State (ISIS/ISIL) and al-Qaeda, according to an intelligence bulletin issued to law enforcement. The warning came as ISIS threatened to target the celebrations marking the birth of the United States in the nation's capital and New York.
Charlie Kirk Launches 'Turning Point Action' to Organize 1 Million Trump-Supporting Students. Turning Point USA founder and executive director Charlie Kirk, who has launched Turning Point Action, a national get out the vote initiative for President Donald Trump's 2020 reelection campaign, announced the acquisition of Students for Trump on Tuesday [7/2/2019]. TPUSA's sister 501(c)(4) organization, Turning Point Action (TPA), announced on Tuesday its expansion with the acquisition of Students for Trump, and "all associated media assets." The new initiative is seeking to organize one million student Trump-supporters in an effort to get out the vote in 2020.
Speaking on behalf of the internet, I'm shocked!
Toll House shocks the internet with surprise raw cookie dough announcement. Raw cookie dough has always been a popular snack food, but it hasn't always been safe. Health officials warn that it can cause sickness and infections, such as salmonella. While that hasn't stopped a lot of people from risking it over the years, several companies have introduced safe-to-eat raw cookie dough over the last few years. Nestle Toll House just entered the uncooked-cookie market with their own brand of raw cookie dough.
The President, China and the Spooks. Why is it that every time Donald Trump gets together with Xi Jinping, someone gets busted on a sanctions violation? I'm not privy to the inner workings of our cops and spooks, so I'm just asking. While Trump and Xi sat down to dinner at the November 2018 Group of 20 meeting in Argentina, the chief financial officer of Huawei was arrested in a Vancouver airport transit lounge. Now that Trump and Xi are meeting again next week at the Osaka Group of 20 meeting, there are reports of a contempt-of-court order against Chinese banks for violation of North Korea sanctions.
Second world war bomb explodes after three-quarters of a century. The second world war may be long over, but its weapons remain deadly. This huge crater in a field near the town of Limburg, Germany was created when a bomb exploded without warning during the early hours of 23 June. Nearby residents heard the explosion during the night. The next day they discovered the crater, which is 10 metres wide and 4 metres deep. Bomb disposal experts think it was created by a 250-kilogram bomb. It may have been faulty or failed to explode because it hit soft soil rather than a hard surface. Around 75 years later, it seems a decaying detonator finally triggered the explosion.
The Editor says...
Maybe that was the last one of its kind. Or maybe it wasn't.
Former White House lawyer: 'I'm not aware of any situation like' Elaine Chao's reported conflicts of interest. Department of Transportation Secretary Elaine Chao's personal connections are raising concerns on Capitol Hill and beyond amid recent reports of various conflicts of interest. Recent reports found that the Trump cabinet member created a "special path" for projects favored by Senate Majority Leader and husband Mitch McConnell for his home state of Kentucky; she retained shares in a construction-materials company for more than a year after promising to relinquish them; and she has "extraordinary proximity to power in China" given her family's American shipping company is largely based in China.
Facebook to hand over identity data of users suspected of hate speech, report says. Facebook has struck a deal with France to turn over identity information on users suspected of posting hate speech on the platform, Reuters reported Tuesday [6/25/2019]. Digital Affairs Minister Cédric O said he reached an agreement with the social media site, according to the report. Facebook has also been using artificial intelligence technology to combat the increasing problems of fake accounts, fake news and hate speech. Between October 2018 and March 2019, Facebook took down more than 3 billion fake accounts, estimating that around 5% of monthly active accounts are fake.
Oregon Republican senator threatens state troopers, warns them to 'come heavily armed'. After Senate Republican Leader Herman Baertschiger Jr. said Tuesday [6/18/2019] that his caucus was "prepared to take actions" to prevent passage of a major climate change bill, Gov. Brown announced on Wednesday that she was ready to answer Republican stonewalling by calling lawmakers back for a special session. Brown hinted that she would be willing to send state troopers to round up Republicans if they walk out in the final days of the regular legislative session, saying in a statement that she is "in close communication with Oregon State Police." That's an option Democratic senators and the governor did not use earlier this year, when Senate Republicans first brought the Senate to a standstill by walking out and preventing the necessary quorum.
The Editor says...
The Democrats did the same thing in Texas in 2003, [see this and this] but they had sense enough to leave the state and hide out in Oklahoma, beyond the reach of the Texas state troopers.
92% of left-wing activists live with their parents and one in three is unemployed, study of Berlin protesters finds. The vast majority of left-wing protesters arrested on suspicion of politically-fuelled offences in Berlin are young men who live with their parents, a new report found. The figures, which were published in daily newspaper Bild revealed that 873 suspects were investigated by authorities between 2003 and 2013. Of these 84 per cent were men, and 72 per cent were aged between 18 and 29.
Monsignor Rossi Boots Me From D.C. Basilica on Corpus Christi Sunday. For now, Rossi enjoys the PC immunity of the press and the protection of the utterly hypocritical Church of Pope Francis, which preaches poverty by day and practices decadence by night. Pope Francis goes on and on about "self-interested clericalism" than protects and promotes its most obvious practitioners. The McCarrick-Bransfield-Rossi triumvirate, with its beach houses, boy toys, and ballooning bank accounts, resembled nothing less than self-interested clericalism on steroids. [...] With one hand, Rossi invites Nancy Pelosi and company to Communion; with the other, he calls the police and his praetorian guard on me.
Pink Floyd frontman David Gilmour sells guitars for over $21 million in auction to combat climate change. Pink Floyd guitarist David Gilmour sold over 120 of his guitars for a charity that combats climate change. According to NBC News, the former frontman's auction raked in $21.5 million, all of which will be donated to ClientEarth, a nonprofit environmental law organization that prides itself on using the law to "combat climate change" and "defend habitats and wildlife," according to its Facebook page. Gilmour tweeted about his decision to sell the guitars on Friday [6/21/2019], writing, "The choice really is that simple, and I hope that the sale of these guitars will help ClientEarth in their cause to use the law to bring about real change."
The Editor says...
This fellow wants to halt climate change, but then he says he wants "real change." So he's not against changes. But he is.
Why The Delay in Public Release of Key Documents? [Scroll down] The Inspector General report on FISA abuse has apparently been delayed due to the new angle of interviewing Christopher Steele. Given the nature of this new aspect; and considering the process for a report assembly after investigation all the way to release (a minimum of a month); it is highly unlikely we will see the IG report until the end of July or August 2019, which triggers suspicions of the proverbial DC can-kicking process.
Feds Seize 16.5 Tons of Cocaine at Philly Port Worth over $1 Billion. Federal authorities have confiscated 16.5 tons of cocaine from a ship at a port in South Philadelphia. The U.S. Attorney's office reported the illegal drug was found in a ship at the Packer Marine Terminal on Tuesday, Fox 32 reported. Officials estimate the seized shipment of 33,000 pounds of cocaine has a street value of over $1 billion.
The Editor says...
If this took place in Philadelphia, wouldn't that be Fox 29? Fox 32 is in Chicago.
Pro-Life Rep Speaks Out After He Was Uninvited to a Security Conference Over Politics. Pro-life Republican Texas Rep. Will Hurd responded Tuesday [6/18/2019] after his invitation to speak at a high-profile cyber security conference was rescinded. "One of the things that's disturbing, I think, this is one more data point in a trend where people are uncomfortable or unwilling to engage with people who disagree with them," Hurd said on "Fox and Friends."
Can the swamp be drained?
City of Secrets: Estimated 10,000 people in DC are spies. Waves of civil servants, military and law enforcement officers, business people, students, diplomats and tourists saturate the city. That is the scene on a typical weekday in the world's most powerful city — whose business revolves around secret meetings, information and documents. Woven into that orderly bedlam are sophisticated networks of foreign nationals whose sole purpose is to steal secrets. They are spies. According to the International Spy Museum in D.C., an educational and historical center of U.S. intelligence documentation and artifacts, there are "more than 10,000 spies in Washington." While there may be some quibbling about the actual numbers, the FBI agrees with the premise.
Disney World Raises Prices for Annual Passes. As of Tuesday [6/18/2019], the lower-cost Epcot After 4 pass was $309, up from $289. Disney's Silver Pass went up from $479 to $519. The Gold Pass increased $90, from $609 to $699. Prices for the higher-tier annual passes also went up. The Platinum Pass now costs $899, up from $749. The Platinum Plus Pass jumped from $849 to $999, an increase of $150. The price for the Theme Park Select Pass remains the same. Prices also increased on the annual passes offered to out-of-state residents. The Platinum Pass now costs $1,119, while the Platinum Plus Pass increased to $1,219.
The Editor says...
I wouldn't be seen in Disney World if they gave me a lifetime Uranium-plus ultra super duper pass, and free parking, and the air fare to get there.
Oh, by the way...
Dozens of Disney World workers arrested in child sex stings. Almost three dozen Disney theme park workers have been arrested for alleged kiddie-sex crimes since 2006, according to a broadcast report. The 35 busts have been for possession of child porn or trying to meet a minor for sex, CNN found after combing through law enforcement and court records. So far, 32 of those busted have been convicted and the other cases are pending. Two cases of child porn allegedly happened on Disney property. Disney spokeswoman Jacquee Wahler said these scary arrests represent only a tiny fraction of the company's workforce.
Trump supporters line up over 36 hours early for President's Orlando rally. President Donald J. Trump is holding a rally at the Amway Center on Tuesday evening to announce his re-election campaign. The event does not begin until 8 p.m. However, people from across the United States began to line up outside of the Amway Center on Monday morning [6/17/2019]. Fox 35 was on scene and spoke to Maureen Bailey, a supporter of President Trump.
Foreign Meddling: [The] Department Of Education [is] Going After Elite Colleges For Allegedly Taking And Hiding Foreign Cash. The Department of Education is going after U.S universities over supposed ties to foreign governments, after some allegedly took huge quantities of foreign cash and hid it from regulators. At the top of the list are Georgetown University and Texas A&M, which have taken hundreds of millions of dollars from the government of Qatar, a middle eastern nation with suspected links to international terrorism. Both schools received letters from the Department of Education Thursday [6/13/2019] saying they should have disclosed that funding but their filings "may not fully capture" the activity, the Associated Press reported. The letter warned that they could be referred to the attorney general to "compel compliance."
GOP Congressman Nixed As Keynote Speaker For Cybersecurity Conference. The effort by the left to de-platform conservative speakers continues. This time it is Rep. Will Hurd, former CIA officer, and cybersecurity expert, who has been disinvited to be a keynote speaker at a cybersecurity conference. The reason? He's a pro-life Republican politician. No, really. This slight doesn't make any sense at all except to highlight the fact that there is no tolerance from the pro-abortion left for pro-life politicians. What does a pro-life position have to do with cybersecurity? The answer is absolutely nothing.
Indian election reveals role of money, questionable morality. Nearly 43% of the new members of [India's] lower house of Parliament that convenes Monday [6/17/2019] for the first time since the election won despite facing criminal charges. More than a quarter of those relate to rape, murder or attempted murder, according to a report by the civic group Association of Democratic Reforms.
Hong Kong and China Give In to Protesters, Suspend Extradition Bill. Hong Kong Chief Executive Carrie Lam said on Saturday [6/15/2019] that a proposed extradition bill will be suspended, handing a stunning victory to thousands of protesters who packed the streets for a week to oppose legislation strongly desired by the mainland Chinese government.
DOJ Admits FBI Never Saw Crowdstrike Report on DNC Russian Hacking Claim. The foundation for the Russian election interference narrative is built on the claim of Russians hacking the servers of the Democrat National Committee (DNC), and subsequently releasing damaging emails that showed the DNC worked to help Hillary Clinton and eliminate Bernie Sanders. Despite the Russian 'hacking' claim the DOJ previously admitted the DNC would not let FBI investigators review the DNC server. Instead the DNC provided the FBI with analysis of a technical review done through a cyber-security contract with Crowdstrike.
23 House Republicans Suspect DOJ Cover-up in Progress? — Request "Prompt" Declassification from President Trump. Twenty-three House republicans request declassification of documents directly from President Trump as soon as possible. Despite the executive office directive to AG Bill Barr, the republican group seemingly do not trust the DOJ and FBI institutional interests. It's a smart move to keep the pressure on.
Children should have the right to tell doctors to vaccinate them if parents have 'flawed' anti-vaxx beliefs, rules American Medical Association. Children should be able to get vaccines even if their parents don't want them to, top doctors in the US have ruled. The American Medical Association — the country's largest doctors' union — this week voted to give 'mature' children as young as 12 the power of consent.
Denver elects an Ocasio-Cortez wannabe to its city council. Is the Alexandria Ocasio-Cortez phenomenon spreading through the country? In Denver, it looks like the Bronx congresswoman has got an imitator, and not just in the Latina looks department, we're talking the bad stuff, the Hugo Chavez socialist department.
Avowed Communist Wins a Seat in the Denver City Council. Candi CdeBaca, an avowed Communist, just won a seat in the Denver City Council. She knows literally nothing but firmly believes in communism. "I don't believe that our current economic system actually works," she said. "Capitalism by design is extractive and in order to generate profit in a capitalist system, something has to be exploited. That's land, labor or resources. And I think that we're in late phase capitalism and we know it doesn't work and we've got to move into something new."
Is Stacey Abrams being groomed for higher office? The practice of opposing a party rebuttal to the president's State of the Union speech was started in 1966, when Republicans Senator Everett Dirksen and Rep. Gerald Ford responded to Democrat President Lyndon Johnson's State of the Union on television. Since then, it has become an annual event. Until 2019, all previous responses were delivered by contemporary senators, representatives, or governors. Since 2011, there have been two responses — one in English and one in Spanish. And here I was, under the illusion that English is our national language. So how did Stacey Abrams, an ungracious loser with no national elective office, become the Democrats' choice to deliver a response?
Meadows: 'There's a Cover-up Within Certain Realms at the FBI'. Rep. Mark Meadows (R-N.C.), in an interview on "Sunday Morning Futures with Maria Bartiromo," touched on a wide range of issues including the investigation by Justice Department (DOJ) Inspector General Michael Horowitz, the potential testimony before Congress of former special counsel Robert Mueller, the release of new documents this week, and whether people in the FBI and DOJ will be held accountable. About the investigation by Horowitz into alleged FISA abuse, Meadows said that he expects the report to be delayed. "Only Michael Horowitz knows the exact timeframe of when it's coming out. Obviously, the attorney general had indicated that he hoped to see it in June. I'm not as optimistic now. And one of the reasons for that is additional information has been given to the inspector general for them to investigate," Meadows said.
Good! It was the students that got you into this mess.
Oberlin College to Jury: We're cash poor and big punitive award to Gibson's Bakery will hurt students. The witness testimony completed today [6/12/2019] in the punitive damages hearing, which follows the $11.2 million compensatory verdict last Friday in the lawsuit Gibson's Bakery v. Oberlin College. The jury could award up to double damages, meaning $22.4 million on top of the $11.2 million, bringing the potential total to $33.6 million, plus a recommendation that the judge award attorney's fees. [...] Gibson's lawyers spent considerable time going over Oberlin College's IRS Form 990, showing over $1 billion in assets and numerous employees earning over $100,000[.]
'Homework gap' shows millions of students lack home internet. In classrooms, access to laptops and the internet is nearly universal. But at home, the cost of internet service and gaps in its availability create obstacles in urban areas and rural communities alike.
The Editor says...
That's what books are for. That's what the library is for.
Record High Employment — Available Jobs Exceed Labor Pool by 1.6 Million. The Job Openings and Labor Turnover Summary, aka "JOLTS report", lags behind monthly employment reports by a month as the 'hires' and 'quits' are contrast against available job openings. In the latest JOLTS report we find evidence why the May employment numbers were less than expected. The data shows the economy is expanding; businesses are hiring; and the reason for lower new hires has nothing to do with an economic slow-down. In essence, the labor market is tight, very tight, and Main Street businesses are having a hard time finding qualified workers.
The Editor says...
There will always be a shortage of qualified workers because the public schools are not teaching young people to learn and think for themselves.
Mississippi River floods right after climate alarmists predict water shortages. The Mississippi River is inundated with water this spring, defying climate alarmists' claims and predictions that global warming is drying up the Midwest. Reuters published an article in February asserting global warming will cause less precipitation and more drought in the Mississippi River basin. The article, titled "U.S. faces fresh water shortages due to climate change, research shows," claims, "The pressures of climate change and population growth could cause water shortages in most of the United States." The article specifically mentions the Midwest, where the Mississippi River flows, as one of the regions poised for reduced rainfall and water shortages.
The Toronto School Board's New Marxist 'Dress Code' Is A Huge Red Flag. The Toronto District School Board recently announced changes to their official dress code. Shaping the direction of the new code is the TDSB's push to ensure that school attire reflects "individual expression of identity, socio-cultural norms, and economic factors," which it deems "important factors to a person's health and well-being." What has so far caused the most controversy is that the new policy allows students to wear hats in class while the national anthem plays at the start of the day. In a tone-deaf move, the news broke the morning Canadians were paying their respects to those who fought at Juno Beach on D-Day.
PG&E Is Cutting Off Power In California So They Don't Get Sued Over Another Wildfire. There have been a series of blackouts in northern California recently, but these don't have anything to do with storms or equipment failure. Pacific Gas & Electric (PG&E) has been intentionally, proactively shutting off the juice in areas where red flag warnings for potential wildfires have been posted. This has led to numerous complaints (mostly justified or at least understandable) from people losing service, particularly those who rely on electricity for home medical equipment. But the actions by PG&E are equally understandable.
Oberlin College's identity crisis led to its Gibson's Bakery train wreck. [Scroll down] There are two things about this case that are very important, of which some of the commenters and tweets I read are missing. The first is that Oberlin College, in the minds of the jury, wasn't guilty only of what they did, but also what they didn't do. They had opportunities early on to see the [nonsense] flying in their faces — thrown by the social justice warrior students — and didn't have the good sense to see a basic problem and recognize the simplest of solutions. What happened here is that Oberlin College and many universities have lost the understanding of their identity and basic purpose, and when that happens with most of us, when we don't know who we are, we tend to do stupid things. That's what happened here.
Oberlin College ignored the First Law of Holes responding to the jury verdict against it. Lack of respect for juries can be very, very costly. The landmark jury verdict awarding $11 million (with the possibility of triple damages to come) to members of the Gibson Family, owners of a 5-generation bakery boycotted and slandered by students with the encouragement of a College official, is looking to be as much about social class as it is about the excesses social justice warriors (SJWs).
Gibson's Bakery v. Oberlin College: More than $11 million awarded. A Lorain County jury on Friday awarded the owners of Gibson's Bakery more than $11 million from Oberlin College in finding that the college inflicted emotional distress, interfered with business relationships and libeled the family-owned bakery in downtown Oberlin. The jury also found that Meredith Raimondo, the college's vice president and dean of students, libeled the family and business. "All the Gibsons ever wanted was for the truth to come out," Lee Plakas, lead attorney for the Gibson family, said afterward. "All they ever asked from the beginning, from Oberlin College, was to use its power and influence and might to tell the truth, and that letter never came. But the jury sent the letter that was louder and more visible and more public. I think the Gibson family is grateful for that and grateful for the jury to have the courage to be able to send a letter that no one else would send for the last almost three years."
Catering to the PC mob is going to cost Oberlin College big bucks. Oberlin College, which has become one of the most politically correct campuses in the United States, has just discovered that allowing and encouraging social justice warriors to damage their perceived enemies can be expensive. A local jury has just awarded Gibson's Bakery, a five-generation institution in Oberlin, Ohio, $11 million in its lawsuit against the college for throwing its support behind a student-led boycott over false charges of racism. This amount could triple to $33 million if punitive damages — intended to punish and disincentivize egregious behavior — are awarded in proceedings Tuesday next week.
Arrogant Conceit and Pratfalls. It's foolish to think that this case impacts only Oberlin. Insurance companies are not as stupid as the Oberlin administrators and surely are reviewing the fees they charge colleges and universities for tortious liability claims. Every one of them will pay more. Will this come out of the payroll of the very bloated administrative salaries they are paying? Not unless trustees finally get off their duffs and do their job of fiscal and policy oversight. I do not see Oberlin long surviving this and that's as it should be. The staff may have cushy, protected jobs but people like Gibson do not.
California utility proactively cuts power because of weather. Pacific Gas & Electric implemented a controversial practice of cutting power to selected portions of Northern California on Saturday to guard against wildfires as the weather turned very windy, dry and hot.
Backlash when House Dems propose Congressional pay raise. House Democrats apparently believe all of their hard work chasing impeachment, collusion and obstruction claims against President Donald Trump deserve a reward. Tone-deaf Congressional Democrats are now proposing a pay raise for themselves, lifting a nearly decade-long pay freeze that would effectively give them an extra $4,500 next year, according to The Hill.
Jury awards Gibson's Bakery $11 million against Oberlin College. The Jury in the Gibson's Bakery v. Oberlin College case has reached a verdict. According to our reporter in the Courtroom, the jury awarded $11 million. Here are the details: Allyn W. Gibson was awarded $3 million, David Gibson $5.8 million, Gibson Bros. $2,274,500. Next Tuesday [6/11/2019] there will be a separate punitive damages which could be a double award (meaning tripling the $11 million to $33 million).
Construction to Begin Soon on Taller White House Fence. The White House is getting a new 13-foot fence, almost double its current height, to help keep intruders out.
Liberals are gunning for your 401(k). Shareholder activists are taking direct aim at companies — such as oil companies and gun-manufacturers — by abusing rules that publicly traded companies must follow to promote a far-left agenda. Instead of trying to pass gun control laws through Congress, they are forcing public companies to bend to their will. What they are doing is dangerous. The most recent example happened to the legendary gun-maker Smith & Wesson. As The Free Beacon reported, an obscure women's group called the Adrian Dominican Sisters has organized its 600 members to become marginal shareholders in gun companies to pass far-left political resolutions. [...] Other asset-managers and hedge fund leaders are willing to cave to activists — in the form of "virtue-signaling" — because they fear retribution and take actions not in the shareholders' best interest.
Leftwing Academic Calls On Bill Barr To Investigate A Surprising Player In The Russia Hoax Scandal. Now that the popular consensus in the nation has shifted from "Trump is Putin's tool" to "Trump didn't want to help Mueller destroy his presidency" it is interesting to see some of the folks claim that they never ever supported the whole Russia hoax. [...] What shows that Steele dossier is looking more and more Chernobyl-like is the fact that the left is beginning to run from it. Stephen F. Cohen, professor emeritus of Russian studies at Princeton University and New York University, who is also Mr. Katrina vanden Heuvel, definitely a lefty, and a contributor at The Nation, thinks that Bill Barr might be onto something.
A New Player Emerges In The Russia Investigation: Who Is Walter Soriano? One of the most interesting and maddening things about Special Counsel Robert Mueller's Russia collusion investigation and report is that it has always felt less than comprehensive. It has been rightly criticized as only lightly touching on the role Hillary Clinton played in hiring Fusion GPS, to name one example. Now Politico reports there's a new name added to the mix, discovered as part of an ongoing investigation by the Senate Intelligence Committee's probe into Russian interference in the 2016 election. That name is Walter Soriano, and no one really seems to know much about him.
Pope Francis Approves Change To Lord's Prayer. Pope Francis finally approved the changes he has long wanted to implement to the Lord's Prayer by replacing "lead us not into temptation" with "do not let us fall into temptation," reports UCatholic.
The Editor says...
The Pope should attend to his own prayers. The Pope presumes to know more than Jesus, by editing His model prayer.
Healthy Texas couple dies from mysterious virus in Fiji. A young and healthy Texas couple on a dream vacation in Fiji died suddenly after they both contracted a mysterious illness. Family of David and Michelle Paul said the Fort Worth couple began feeling unwell the day before they were supposed to leave Fiji and return home two weeks ago.
Texas couple who died in Fiji said hands went numb in message: reports. The Texas couple who died suddenly from a mysterious illness in Fiji last month sent messages to relatives saying their hands went numb and that they had been throwing up for at least eight hours prior to rushing to a local doctor to be examined. David and Michelle Paul of Fort Worth, Texas, were in their 30s and both healthy when they arrived in Fiji on May 22. According to relatives, the couple were in and out of the hospital due to a violent illness that caused vomiting, diarrhea, extreme weakness, shortness of breath and hand numbness.
An Ornery Old Man. [T]he Mississippi River, the world's most economically significant watershed, is coming to the end of its lease and considering relocation. Old Man River is a frightening and uncooperative beast in the best of times. It's an alluvial river, meaning the Mississippi's bed isn't solid rock like, for example, the Colorado. At its bottom the Mississippi flows on top of sand and mud, and it moves that sediment hither and yon as it pleases while draining half the North American continent from western Canada to the Appalachians down into the Gulf of Mexico. Which means every thousand years or so the Mississippi will choose for itself a new channel.
De Blasio blames his staff for missing 9/11 memorial event. Mayor de Blasio's staff threw themselves under the bus Friday to protect their boss from the fallout over his blowing off a memorial event for those who died from toxic exposure to Ground Zero after 9/11. A spokesman for de Blasio claimed the mayor was missing from the ceremony for the unveiling of the 9/11 Memorial Glade because nobody told him about it.
New York City Is Facing A Rat Invasion. Back in 2017, Mayor Bill de Blasio declared war on rats demanding "more rat corpses." The city council mobilized and minted $32 million for the war. So, what are the results? After a small drop, rat sightings are again on the upswing.
Commonwealth: You unwittingly pay billions for political agendas in your electric bill. Already, these agendas add up to about $300 a year for the average electricity bill.
What if Green Energy Isn't the Future? What's Warren Buffett doing with a $10 billion bet on the future of oil and gas, helping old-school Occidental Petroleum buy Anadarko, a U.S. shale leader? For pundits promoting the all-green future, this looks like betting on horse farms circa 1919. Meanwhile, broad market sentiment is decidedly bearish on hydrocarbons. The oil and gas share of the S&P 500 is at a 40-year low, and the first quarter of 2019 saw the Nasdaq Clean Edge Green Energy Index and "clean tech" exchange-traded funds outperform the S&P.
WHO will no longer categorize transgender as mental disorder. The World Health Organization will no longer categorize transgender people as having a mental disorder, according to reports. "Gender Identity Disorder" was removed from the organization's classification of diseases as of last weekend and will now be referred to as "gender incongruence," included in WHO's section about sexual health, Time reported.
Also in the news, the same day:
Burnout is an official medical diagnosis, World Health Organization says. It's a feeling of extreme work stress that's long been embedded in the cultural lexicon, and now it might be codified in your medical records as well. Burnout is now a legitimate medical diagnosis, according to the International Classification of Diseases, or the ICD-11, the World Health Organization's handbook that guides medical providers in diagnosing diseases. Burnout now appears in the ICD-11's section on problems related to employment or unemployment.
There aren't that many dope smoking hippies, even in Oregon.
Oregon, awash in marijuana, takes steps to curb production. Oregon is awash in pot, glutted with so much legal weed that if growing were to stop today, it could take more than six years by one estimate to smoke or eat it all.
Why the UFO story is far more interesting than you think. The New York Times has made waves with a new report on sightings by U.S. Navy aviators of unidentified flying objects between 2014 and 2015. But the UFO issue, which follows a similar 2017 story, is far more interesting than the reporters let on.
JPMorgan Chase accused of purging accounts of conservative activists. Conservative activists are calling out America's largest financial institution, charging they are being targeted. JPMorgan Chase is under fire for closing the bank accounts of several customers in the conservative movement as other right-wingers are threatening to close their accounts unless the bank plays nice. "If Jamie Dimon can't absolutely guarantee that Chase Bank won't ever discriminate against conservatives, conservatives should consider banking elsewhere," warned David Almasi, vice president of the conservative-leaning National Center for Public Policy Research, referring to JPMorgan's chairman and CEO.
How's that legalized pot working out? Is the War on Drugs over yet?
42 arrested across metro Denver in massive black market marijuana bust. Authorities said Friday [5/24/2019] they raided hundreds of black market marijuana operations in Colorado that flouted the state's cannabis law by growing tens of thousands of plants in Denver-area homes and selling it out of state. Investigators seized more than 80,000 plants and 4,500 pounds of harvested marijuana, state and federal prosecutors said at a news conference. Officers raided 247 homes and eight businesses and arrested 42 people in Denver and seven nearby counties.
Americans' Life Savings Disappear From Mexican Bank Accounts. In late December, Kathy Machir called Marcela Zavala Taylor, her banker of nine years at Mexico's Monex Casa de Bolsa, to get cash for contractors building her retirement home in San Miguel de Allende. Typically, Zavala would wire money or dispatch her assistant, Juan, on his motorcycle with an envelope full of pesos. Monex, with $5.2 billion in assets and operations in the U.S., was woven into the lives of Machir and the 10,000 other Americans who've moved to San Miguel de Allende. The transfer didn't happen. Juan didn't show, Zavala didn't return calls, and Kathy and Jim Machir discovered that their nest egg was gone. When the Machirs and other San Miguel expatriates met with Monex officials in early January, the bankers told some of them that about $40 million was missing from as many as 158 accounts, many belonging to English-speaking Americans.
Wendy's employee takes bath in kitchen sink, restaurant still passes inspection. This doesn't count as washing your hands before returning to work. An employee at a Wendy's in Florida brought his home hygiene routine to the fast food restaurant, washing up in an industrial sink, a revolting viral video shows. The 93-second footage, posted Tuesday [5/21/2019] on Facebook, shows a Snapchat video of a shirtless young man without shoes or socks climbing into an oversize sink in the Milton restaurant's kitchen.
FDA looks to swap out 'sell by' dates for 'best if used by'. The Food and Drug Administration announced Thursday [5/23/2019] that it will work with food manufacturers to use the label "best if used by" to refer to food quality, rather than the phrase "sell by," which can create the impression the product is not safe by a certain date. The FDA said that the new label will curb food waste. Setting expiration dates on foods is not an exact science. The "best if used by" date on milk or eggs means that the products will be the highest quality until a certain date, not that they will expire after that date. The "best if used by" date shows consumers that the products are still safe by the date indicated, but doesn't lead them to think they have to immediately toss the milk or eggs in the trash after the date.
Sometimes the swamp drains itself:
USDA staffers quit en masse as Trump administration eyes moving offices out of DC. Employees at the U.S. Department of Agriculture are quitting at a rapid clip as Secretary Sonny Perdue prepares to move forward with plans to relocate two offices far outside the Washington, D.C., Beltway. Federal employees at the Economic Research Service (ERS) and the National Institute of Food and Agriculture (NIFA) — two small but important agencies within the USDA — are unhappy with Perdue's plan, announced last August, to move the majority of their staff from current offices in the capital to an area closer the country's agricultural centers.
The Editor says...
Here's a better idea: After all the employees walk out in protest, eliminate the USDA completely. If anybody misses the USDA, a private company will pop up to take its place.
FBI Warns of New Twist in Virtual Kidnapping Scams. The FBI and our law enforcement partners are warning the public about a new, concerning twist on virtual kidnapping for ransom scams (VKFR), where criminals are convincing U.S. victims to cross the border into Mexico. Law enforcement agencies have been warning the public of virtual kidnapping schemes for some time. Virtual kidnappings happen when a victim is told, over the phone, that his or her family member has been kidnapped. Then, through deception and threats, criminals coerce victims to pay a ransom. The criminals also threaten harm to the party(s) if they call law enforcement or alert authorities. No one is physically kidnapped in these schemes, but they are often traumatic for everyone involved.
After the global warming alarmists were defeated...
ASX closes $33 billion higher at 11-year high. The S&P/ASX 200 has closed [5/20/2019] 1.7 percent higher at 6476, the highest since 14 December, 2007. The gains are thanks solely to the financial sector, which had multiple negative overhangs removed with the Coalition's victory on Saturday [5/18/2019].
3 Hectares of Poppy Crops Near Tijuana, BC = 2 Million Plants. A poppy field of approximately three hectares was located by agents of the State Preventive Police at the height of El Veladero Hill, in the Natura district, in Tijuana. The first data provided to ZETA that at 4:38 pm on Friday [5/17/2019] they reported to the emergency line that from Camino Vecinal street in Colonia Natura a poppy field was visible.
The Editor says...
That's a surprise, but is that really an emergency?
Jesse Jackson Wants To Help Fix The Venezuelan Embassy Standoff. After the United States recognized Juan Guaido as the interim President of that country, he appointed a new ambassador to our country named Carlos Vecchio. But Ambassador Vecchio hasn't been able to get into the Venezuelan embassy in Washington because it's being "occupied" by protesters who support Nicolas Maduro. They're primarily comprised of Code Pink members and other random socialists, but they've locked themselves in for some time. In response, officials have cut off the power and, allegedly, the water (the utility company denies the water was cut off), and counter-protesters have not allowed anyone to bring in food. This has been going on for a couple of weeks.
Microsoft uses artificial intelligence to push what liberals think you should write. Microsoft has decided that you need help in understanding what words to use when you write. After all, what you write and how you want to write it should take a backseat to what liberals think you should write. Fox News reported, "Microsoft is harnessing the power of artificial intelligence to boost the use of 'inclusive language' in Word. The feature is part of Ideas in Word, a forthcoming AI-powered online tool designed to improve users' writing ... In addition to 'familiar fixes for spelling and grammatical errors,' Ideas in Word will also offer 'advice on more concise and inclusive language,' according to Microsoft. In the blog post, [John] Roach used the example of 'police officer,' instead of 'policeman.'"
If Globalization Meant China Could Turn off Your Fridge, Would You Still Like It? The pill many people take in the morning may have come a long way to the breakfast table, from the other side of the world, in fact. "America needs generic drugs. They make up 90 percent of the American drug supply. Without them, every large-scale government health program — the Affordable Care Act, Medicare Part D, the Veterans Health Administration, charitable programs for the developing world — would be unaffordable." In the fall of 2012, an FDA employee tasked with "inspecting the Indian manufacturing plants that make many of America's low-cost generic drugs" discovered that its reputation as "the world leader in aseptic manufacturing" was a fraud.
California May Go Dark This Summer and Most Aren't Ready. A plan by California's biggest utility to cut power on high-wind days during the onrushing wildfire season could plunge millions of residents into darkness. And most people aren't ready. The plan by PG&E Corp. comes after the bankrupt utility said a transmission line that snapped in windy weather probably started last year's Camp Fire, the deadliest in state history. While the plan may end one problem, it creates another as Californians seek ways to deal with what some fear could be days and days of blackouts.
'America Needs Men and Women of Integrity... Freedom of Religion Is Under Assault'. Vice President Mike Pence on Saturday [5/11/2019] delivered the commencement address at the 46th graduation ceremony at Liberty University — and spoke bluntly to the new graduates and their families and friends [1] as over 50,000 people gathered at Williams Stadium on the Liberty University campus in Lynchburg, Virginia. More than 8,000 graduates were in attendance to hear the vice president's remarks. The university graduated more than 20,000 students — 80 percent of whom earned their degrees via the school's online programs, as the university noted in a press release.
Soon, Microsoft Word Will Edit Your Document for Political Correctness. Is Microsoft trying to rehabilitate the image of Clippy? [...] I'm not sure anything can replace that stupid paperclip, but according to the business magazine Fast Company, Microsoft is rolling out a series of features called "Ideas in Word" to help users with their writing — and one of those features will have to do with whether your writing is sufficiently woke. "Microsoft will soon preview a version of Word that will use artificial intelligence to make your writing not just grammatically but politically correct," Fast Company reported Wednesday [5/8/2019].
Intelligence analyst charged with leaking Top Secret information to left-wing reporter Jeremy Scahill. A former intelligence analyst and Afghanistan veteran has been charged with leaking classified information to the media. Daniel Everette Hale, 31, of Nashville, Tenn., was arrested on federal charges Thursday [5/9/2019]. The reporter that Hale leaked this information to is not named in the indictment, but the charging document identifies him as Jeremy Scahill of the Intercept, an outspoken critic of America's military activities overseas. Hale "printed off a series of Secret and Top Secret documents through his position with the National Geospatial-Intelligence Agency, many of which he then provided to the reporter."
Secret Knife Missile That Kills Terrorists Without Harming Civilians. The U.S. has developed a secret missile to kill terrorists in precision strikes without harming civilians nearby, and it has already proven its worth in the field, The Wall Street Journal reported on Thursday, citing more than a dozen current and former US officials. The R9X is a modified version of the Hellfire missile. Instead of exploding, the weapon uses sheer force to kill its target. "To the targeted person, it is as if a speeding anvil fell from the sky," The Journal wrote.
FCC warns about 'one ring' robocall scam: Do not call numbers back. Don't call back phone numbers that ring once and hang up, the Federal Communications Commission (FCC) has warned. People throughout the U.S. have been receiving "One Ring" or "Wangiri" robocalls in bursts, according to officials. The calls are targeting specific area codes "often calling multiple times in the middle of the night."
Nadler Schedules Vote To Hold Barr In Contempt Of Congress. House Judiciary Committee Chairman Jerry Nadler scheduled a vote Monday [5/6/2019] to hold Attorney General William Barr in contempt of Congress for not giving the committee special counsel Robert Mueller's full unredacted report. The New York Democrat gave Barr a deadline of 9 a.m. Monday to turn in the full report with no redactions, which many Republicans believe would be dangerous due to the possibly sensitive material, which could be leaked.
Does this come with a fair trial, or just a decree of guilt?
Democrats prepare to hold William Barr in contempt. The House Judiciary Committee will proceed with a vote to hold Attorney General William Barr in contempt of Congress on Wednesday [5/8/2019], Chairman Jerry Nadler (D-N.Y.) confirmed late Monday, as the Justice Department attempts to fend off the effort ahead of a negotiating session with the Democratic-led committee on Tuesday. Nadler's firm stance comes as he seeks punitive actions against the attorney general for defying a subpoena for special counsel Robert Mueller's unredacted report on the Russia investigation and its underlying evidence.
Imprisoning Bill Barr is left's new rallying cry. The battle between congressional Democrats and the Justice Department over Special Counsel Robert Mueller's Russia report has reached new levels of vitriol, as some on the left call for Attorney General Bill Barr to be physically dragged in to testify or even locked up for defying congressional subpoenas. The demands have escalated after the attorney general refused to appear before the House Judiciary Committee last week amid disagreements over the format of the hearing.
Ken Starr: Leak of Mueller's 'whiny' letter to Barr was an 'unforgivable sin'. Former independent counsel Ken Starr on Monday sharply criticized the leak of Special Counsel Robert Mueller's letter to Attorney General William Barr following Barr's summary of the Russia report, calling the release of the letter an "unforgivable sin." "His letter, that was then leaked on the very eve of Bill Barr's testimony, was essentially, I believe, an unfair, whiny complaint," Starr argued on "The Story with Martha MacCallum." Details of the March 24 letter went public shortly before Barr testified before the Senate Judiciary Committee in a tense hearing last week.
Is Venezuela's military really loyal to Maduro — or its own survival? The Venezuelan military officers, summoned to the feared headquarters of the Military Counter Intelligence Agency, found themselves in a room wondering what was looming behind the piece of cloth covering the bulletin board facing them. Having to be there was bad enough. The agency, known by its acronym DGCIM, is notorious for holding some 200 to 300 officers and military personnel who have been sent over the years for punishment after being arrested on accusations of conspiring to depose the socialist regime headed by Nicolás Maduro. Reports of dire conditions and torture abound, the term "hell" often used to describe what it's like to be in DGCIM custody.
WaPo reports that Maduro had advance knowledge of Guaido's plans. Somehow in the events leading up to the May Day protests that rocked Caracas over the last three days, Maduro got advance word that his military leaders were about to defect, forcing acting president Juan Guaido to start his street protests a day earlier than scheduled. The leak to Maduro also forced military, now on its backfoot, to show an exaggerated sort of loyalty to the Maduro dictatorship to keep themselves out of the torture chambers, or maybe just plain dead — which is why we saw such a brutal military response to the protests in the streets, with in one instance, the military running a truck over protestors.
Conservatives want Catholic bishops to denounce pope as a heretic. A group of 19 Catholic priests and academics have urged bishops to denounce Pope Francis as a heretic, in the latest ultra-conservative broadside against the pontiff over a range of topics from communion for the divorced to religious diversity.
Marco Rubio: the narrative that Nicolás Maduro is winning in Venezuela is 'ridiculous'. Venezuela's self-declared president may have tried and failed this week to overthrow and expel the country's embattled ruler, but U.S. Sen. Marco Rubio said Friday that Juan Guaidó is winning a power struggle with Nicolás Maduro. Appearing in the heart of South Florida's Venezuelan exile community with U.S. Sen. Rick Scott and U.S. Rep. Mario Diaz-Balart, Rubio argued that Maduro maintains control over the military but can't move around his own country amid a popular uprising. He described Maduro as a man with reason to be paranoid, and limited time left on the life of an administration propped up by the Cuban and Russian governments.
McConnell: Senate won't take up bill preventing US withdrawal from Paris deal. Majority Leader Mitch McConnell (R-Ky.) said Thursday that the Senate will not take up a House bill that would force President Trump to keep the U.S. in the Paris climate agreement. "This futile gesture to handcuff the U.S. economy through the ill-fated Paris deal will go nowhere here in the Senate," McConnell said from the Senate floor. "We're in the business of actually helping middle-class families, not inventing new obstacles to throw in their paths."
Ukrainian Embassy confirms DNC contractor solicited Trump dirt in 2016. The boomerang from the Democratic Party's failed attempt to connect Donald Trump to Russia's 2016 election meddling is picking up speed, and its flight path crosses right through Moscow's pesky neighbor, Ukraine. That is where there is growing evidence a foreign power was asked, and in some cases tried, to help Hillary Clinton. In its most detailed account yet, the Ukrainian Embassy in Washington says a Democratic National Committee (DNC) insider during the 2016 election solicited dirt on Donald Trump's campaign chairman and even tried to enlist the country's president to help.
Ukraine Embassy Says DNC Operative Reached Out For Dirt On Trump In 2016, Report Says. A new bombshell report released on Thursday evening alleges that an operative for the Democratic National Committee (DNC) reached out during the 2016 presidential election and asked for dirt on Donald Trump. The Hill reports that Ukrainian Ambassador Valeriy Chaly's office said in written answers to questions that DNC contractor Alexandra Chalupa sought information on Paul Manafort because Chalupa wanted to force Manafort's business dealings in front Congress.
Journalism Institute Poynter Tries to 'Blacklist' 29 Conservative Outlets as 'UnNews'. The attack on the conservative internet has reached a new low. Poynter, the journalism institute responsible for training writers and reporters, decided to promote a left-wing smear of conservative groups online. The result was a hit job written by someone who works for the anti-conservative Southern Poverty Law Center for a journalism organization funded by prominent liberal billionaires such as George Soros and Pierre Omidyar. Poynter, which has started the International Fact-Checking Network, shared the new report and dataset called "UnNews," declaring at least 29 right-leaning news outlets and organizations to be "unreliable news websites."
The Editor says...
I was disappointed to see akdart.com did not make the list.
But then, the very next day...
Poynter Shelves Entire Blacklist Of 'Unreliable' News Outlets Following Backlash. The Poynter Institute, a journalism nonprofit organization, has completely disabled a list of what they labeled as an extensive list of "unreliable" news websites on Thursday night after facing scrutiny in the days since its publication. A litany of conservative publications, including The Washington Free Beacon and The Washington Examiner, were lumped into the list of "unreliable" publications and it received nearly instantaneous condemnation from them.
Poynter pulls list of 'unreliable' news sites. Well, that was quick. Yesterday [5/2/2019], I reported that the Poynter Institute for Media Studies had published a list of 515 "unreliable news websites" that included this blog. Today I am pleased to report that the list has been pulled with Poynter's apology, albeit a qualified one.
Update:
Poynter 'Blacklist' of Conservative News Sites Was Created by SPLC Employee. A journalism institute released a "blacklist" of media outlets they deemed as "unreliable" that was created by an employee of the left-wing Southern Poverty Law Center and overwhelmingly contains conservative new media outlets. The Poynter Institute for Media Studies, a Florida-based nonprofit journalism school, released the list on Wednesday [5/1/2019] and declared dozens of mainstream conservative sites such as the Washington Free Beacon, Daily Caller, Daily Signal, CNS News, and Breitbart as "unreliable" while listing few liberal sites," Newsbusters reports.
For Alexandria Ocasio-Cortez, Bernie Sanders — Utopia looks like Venezuela. The already ruined nation of Venezuela descended further into chaos this week. Opposition leader Juan Guidó has called on the military to overturn the leftist regime of Nicolás Maduro. The government has blocked CNN from the nation's airwaves. Every storm cloud has a silver lining. Doctors have treated at least 50 injured demonstrators, including one woman shot in the abdomen. A military tank crushed protesters attempting to flee. Amnesty International reports a systematic policy of repression throughout the country, including widespread extrajudicial executions. More than one-third of Venezuelans eat just one meal per day. "We eat what people give us," one desperate mother of three explained to the Miami Herald. "My husband works as a watchman, but his salary is not enough to buy food. We have gone up to two days without eating." So she waits with hundreds of other hungry Venezuelans in breadlines at her local church.
Brutal: Maduro's Thugs Run People Over With Heavy Trucks in Venezuela. The situation in Venezuela is deteriorating by the minute as President Guan Guido continues to encourage the military to stop taking orders from Dictator Nicolas Maduro. During opposition protests Tuesday [4/30/2019] in Caracus, Maduro's thugs deliberately plowed into a crowd of people, running them over and causing severe injury.
Venezuela's Guaido makes a bold new push for military uprising. We've had so many false alarms it's tempting to just ignore this one. Wake us when it's over. Venezuela's democratic acting president, Juan Guaido, called for a giant rally on May Day, a bid for the Venezuelan public to come out into the streets and protest yet again. Not very original, but there isn't much else he can do, given that the Venezuelan military, the traditional avenue for power shifts in that country, hasn't significantly joined the side of the democrats. And, it's hard to top the avalanchas of protest that have flooded Venezuela in the past. How could this one be any bigger? What's more, given that none of the past demonstrations ever brought forth any change, it's hard to see how this one will. In Venezuela, it seems it's just all there is to do. But there are some details that suggest maybe a corner is being turned.
Venezuela's Guaido calls for military uprising while flanked by soldiers at Caracas airbase. The power struggle between embattled Venezuelan President Nicolas Maduro and the opposition met its most bold action on Tuesday when Juan Guaido called for a military uprising to oust the socialist leader. Emboldened crowds took to the streets of Caracas — and around the country — after the 35-year-old leader of the opposition-led National Assembly and a small contingent of heavily armed soldiers appeared in an early morning video promoting the "final phase" of his putsch to oust Maduro.
Watch Ben Rhodes Squirm as He Denies Obama White House Involvement in Trump-Russia Probe. During an interview last week with PJ Media's Nick Ballasy, Ben Rhodes, former deputy national security adviser to President Obama, strenuously denied that the Obama White House had anything to do with the improper surveillance of the Trump campaign. Echoing a familiar Obama refrain, Rhodes, in fact, insisted that he "literally" read about the FBI's counterintelligence investigation into Trump for the first time in the newspaper ("the [...] Washington Post" to be exact).
Muslim Murders US Soldier - Canada will Apologize to Him and Give Him $10,500,000. A Toronto-born Muslim is set to receive an apology from Canada's justice and public safety ministers plus pay him more than $10,000,000.00 after he pled guilty to five war crimes, including killing an American soldier. Omar Khadr, 30, pleaded guilty to five war crimes before a military commission in 2010. The allegations against him occurred in 2002 in Afghanistan when he was just 15 years old.
Nepal Deports US Citizen, Arrests Four on Allegations of Converting People to Christianity. Nepalese authorities arrested four people Tuesday and deported a U.S. citizen on allegations of illegally converting people to Christianity by "allurement," sparking outcry from Christian advocates. Police officers arrested two men and two women, one of whom is a resident of Colorado, around 8 a.m. Tuesday [4/23/2019], a day after the group of four attended a one day conference for pastors with 70 others at a local church, according to Christian Solidarity Worldwide.
U.S. Broadcaster Under Scrutiny for Disseminating Autocratic Propaganda. Federal officials are scrutinizing the U.S. government's Radio Free Europe / Radio Liberty news service, established to promote democratic values abroad, after complaints it has distributed foreign propaganda favorable to authoritarian regimes in Central Asia, according to the network, its employees and an internal State Department memo. State Department officials sent a six-page memo to the leaders of Radio Free Europe / Radio Liberty earlier this year criticizing a pro-government stance by the service's Tajikistan network and urging them to intervene following repeated complaints by U.S. diplomats, network employees and academics specializing in Central Asia. They said the network was providing programming favorable to Tajikistan's president, Emomali Rahmon, his government and family.
Navy SEAL combat veteran told that age 37 is too old become a New York firefighter. A Navy SEAL, 37, who served four combat tours in Iraq and Afghanistan has been told he is too old to become a New York firefighter. Special Operations Chief Shaun Donovan is due to leave the Navy next year and was planning to join the Fire Department of New York. He enlisted after the 9/11 terrorist attacks, which took place on his twentieth birthday. [...] He took a written exam in October and scored within the top 1% of the nearly 44,000 applicants. He returned to New York in January for the physical exam and passed that as well. The two trips from San Diego, Calif., cost him $1,331 and military leave time.
Video: Officer who fatally shot man said she had no choice. A North Carolina police officer who fatally shot a black man in a parking lot after repeatedly ordering him to drop his gun said multiple times that she had no choice, according to a bodycam video released Wednesday [4/24/2019].
The Editor says...
Despite the news media hype, there is nothing extraordinary about this. If you don't want to get shot, drop your gun when the cops tell you to.
Chinese family paid $6.5M to admissions scam mastermind. A Chinese family allegedly paid a whopping $6.5 million to crooked college prep adviser William "Rick" Singer in the nationwide admissions scandal — but still haven't been charged in the case, according to a new report. Prosecutors mentioned the eye-popping figure last month when announcing they'd busted dozens of rich American parents for allegedly paying Singer to bribe their kids' way into top colleges — but none of those families were accused of paying anywhere near that much. The Wall Street Journal on Friday [4/26/2019] revealed that the deep-pocketed family in question is from China, and have not been charged.
Mississippi flag ordered out of park near Statue of Liberty. New Jersey Gov. Phil Murphy is ordering that the Mississippi flag be replaced by the American flag at a state park that overlooks the Statue of Liberty because it has a Confederate emblem on it.
So much for E Pluribus Unum.
New Jersey's Dem governor says Mississippi flag won't fly in park near Statue of Liberty. New Jersey Gov. Phil Murphy ordered the Mississippi flag removed from a state park Friday [4/27/2019] over the Confederate emblem that adorns it, as the nationwide debate rages over symbols honoring the antebellum South. Murphy, a Democrat, ordered the flag be replaced with an American flag at Liberty State Park, a preserve of more than 1,200 acres in Jersey City that overlooks Ellis Island and the Statue of Liberty, just across the harbor from New York City, NorthJersey.com reported. The park has traditionally flown the flags of all 50 states.
The Editor says...
The liberals have to inject politics into everything. The socialists are bent on destroying American traditions. Draw your own conclusions about the New Jersey Governor.
Trump denies paying North Korea $2 million for Otto Warmbier's medical care. President Donald Trump denied that the U.S. paid North Korea $2 million for Otto Warmbier's medical care after reports emerged Thursday [4/25/2019] that the regime forced U.S. officials to sign a pledge to do so. "No money was paid to North Korea for Otto Warmbier, not two Million Dollars, not anything else," the president tweeted. Warmbier, an American college student detained by North Korea for allegedly stealing a propaganda poster, died six days after he was freed by North Korea and handed over to U.S. officials in June 2017.
Lettuce weigh the pros and cons.
Lettuce-Farming Robots Might Grow Your Next Salad. Your next salad might include leafy greens grown by robots in California greenhouses. About 75 percent of the lettuce farmed in the U.S. comes from that state's Central Coast and San Joaquin Valley. Cultivating it requires warm temperatures, not too much rain, and lots of time and labor. Startups such as Iron Ox, a maker of agricultural robots, and big players such as John Deere are investing in artificial intelligence to raise produce more efficiently.
President Trump Speech During NRA Convention at the Indiana Convention Center. Earlier today [4/26/2019] President Trump delivered exceptional remarks during the National Rifle Association 148th Convention, Indiana Convention Center. One very important aspect to point out in this speech is the remarks about the "coup" and "overthrow" were not off-the-cuff additions[,] they were written into the teleprompter[.]
Clinton-Era State Department Employee Pleads Guilty to Conspiring With Chinese Agents. The Department of Justice announced Wednesday that a former State Department employee who also happened to be a Clinton appointee, pleaded guilty to conspiring with foreign agents. The FBI arrested Candace Marie Claiborne on March 28th, 2017. She made her first appearance in the U.S. District Court for the District of Columbia the following day. According to the DOJ, Candace Marie Claiborne, a former employee of the U.S. Department of State, pleaded guilty Wednesday [4/24/2019] to a charge of conspiracy to defraud the United States, by lying to law enforcement and background investigators, and hiding her extensive contacts with, and gifts from, agents of the People's Republic of China (PRC), in exchange for providing them with internal documents from the U.S. State Department.
2020 candidates are too old, warns Obama's former doctor: 'We're asking for trouble'. The entrance of former Vice President Joe Biden into the 2020 White House race adds yet another septuagenarian into the crowded field of contenders. Of the 20 Democrats and two Republicans who are running for president, six are nearing or over the age of 70. If Sen. Bernie Sanders, I-Vt., wins, he would be 79 by the time he reaches the White House, becoming the oldest president in history; Ronald Reagan was 77 years and 349 days on the day he left office. President Trump, who turns 73 this summer and has long batted back scrutiny about his health, is the oldest president when first sworn in.
The writer of this article sounds like a Russian propagandist, or maybe he reads too many comic books:
Russia reveals its new submarine armed with nuclear-tipped drones capable of wiping out a city by triggering a tsunami. Russia has launched its latest nuclear-armed submarine under the watchful eye of President Vladimir Putin. The sub, named Belgorod, was launched from the Sevmash plant in northwestern Russian on Tuesday [4/23/2019] while Putin observed via teleconference. Belgorod is designed to carry nuclear-armed Poseidon drones, a doomsday weapon that Russia says will be capable of destroying entire cities by triggering a tsunami.
Bad air days on the rise: The nation's most polluted city is... California's reign as the U.S. state with the worst air pollution continues as Los Angeles is again the nation's smoggiest metro area, according to a report released Wednesday [4/24/2019]. LA isn't alone when it comes to smog-choked cities in California: seven of the nation's top 10 smoggiest cities are in the Golden State, including other sprawling cities such as San Francisco, San Diego and Sacramento.
The Editor says...
Note that all ten of the smoggiest cities have been run by Democrats for years.
Pulitzer Prize administrator defends process after prize goes to board member's wife. The Pulitzer Prizes organization has been accused of being an exclusive club in which members give awards to each other, and the institution did nothing to dispel that notion last week by honoring the wife of a prominent board member. Author Eliza Griswold won the 2019 Pulitzer Prize for general nonfiction for Amity and Prosperity: One Family and the Fracturing of America. Her husband is Steve Coll, dean of the Graduate School of Journalism at Columbia University, which hosts the prizes, and a Pulitzer board member since 2012.
Vaccine skeptics under siege. [Scroll down] As for efficacy, consider this new data: A recent whooping cough outbreak at the private Harvard-Westlake School in Los Angeles last week resulted in 30 students contracting the illness, all of whom were vaccinated. Of 18 unvaccinated students, none caught the disease.
Democrats Can Kiss Ohio Goodbye. You have to go all the way back to 1960 and JFK to find a president who got elected without Ohio. If I could pick football teams the way Ohio picks presidents, I'd be a very wealthy man. Ohio hasn't elected a Democrat to state office since Obama took the state by a solid three points (50.6% to 47.6%) over Mitt Romney. And yet Donald Trump, for all his supposed unelectability, scored nearly 52%, beating Hillary Clinton by a whopping eight points.
Mulvaney: Trump Personally Wrote Pro-Life Comments in State of the Union Speech. Acting White House Chief of Staff Mick Mulvaney praised President Donald Trump's personal commitment to the protection of religious liberty while speaking at the 15th annual National Catholic Prayer breakfast on Tuesday [4/23/2019]. Mulvaney told the audience of Catholic leaders gathered in Washington, D.C., that in addition to emphasizing religious liberty during his public speeches, during private meetings at the White House Trump also speaks with world leaders about the importance of protecting the rights of Christians. "He will look at them and say, 'You're not doing enough to take care of the Christians in your country,' or 'Thank you for helping the Christians in your country,'" Mulvaney said.
Half of England Is Owned by Less Than 1% of Its Population, Researcher Says. Land ownership in England, a source of enormous wealth, is often shielded by a culture of secrecy harking back to the Middle Ages. But a researcher says that after years of digging, he has an answer: Less than 1 percent of the population — including aristocrats, royals and wealthy investors — owns about half of the land, according to "Who Owns England," a book that is to be published in May. And many of them inherited the property as members of families that have held it for generations — even centuries.
49% of workers are stressed out: here are some of the biggest office culprits. On the heels of April being dubbed National Stress Awareness Month, a new survey found that nearly half of Americans workers are battling the condition at work. While not all stress is bad, too much of it could lead to extreme health problems like obesity, heart disease and asthma.
Vatican makes history: Pope allows Islamic prayers, Koran readings. For the first time in Vatican history, the pope allowed for the reading of Islamic prayers and Koran readings from the Catholic facility.
Documents reveal attempts to 'smear the brand' of Gibson's. An associate professor at Oberlin College wrote that the protests conducted by students outside of Gibson's Bakery in 2016 to "smear the brand" of the business had been achieved. [...] The transcript of [associate professor Jan] Miyake's message was included in a recently unsealed court filing made by the attorneys for Gibson's as part of the lawsuit filed against the college and Meredith Raimondo, vice president and dean of students, for libel, slander, interference with business relationships, interference with contracts, deceptive trade practices, intentional infliction of emotional distress, negligent hiring and trespass.
Venezuela's Guaidó waging election-style campaign in a country with no plans for an election. This is not how it was supposed to go for Guaidó. The National Assembly leader declared himself Venezuela's interim president in January and quickly won recognition from the United States and dozens of other countries as he prepared to take control of the struggling South American nation. But three months later, the military has remained loyal to President Nicolás Maduro, and increasing U.S. sanctions and threats have yet to dislodge him. So this is Plan B: An election-style campaign in a country with no plans for an election. Guaidó is traveling Venezuela, addressing crowds and meeting with interest groups, as aides develop a governing platform, recruit local committee members and try to raise money. Organizers say the effort is modeled, in part, on a presidential run — and on one level, it's working.
Virus identified as a cause of paralyzing condition in Minnesota children. A virus appears to be the cause behind a rash of polio-like illnesses that struck Minnesota last fall, causing paralyzing symptoms in several children, including one girl who lost all motor function and remains hospitalized. Researchers from Minnesota and the U.S. Centers for Disease Control and Prevention reported Thursday [4/18/2019] that they found Enterovirus-D68 in the spinal fluid of one of six children who suffered acute flaccid myelitis, or AFM. The virus caused the condition in that child and is presumed to be the cause in the other five, according to the researchers, who described their finding as a key development in addressing a puzzling national outbreak.
Secret 'Memorandums Of Understanding' Among House Democrats; It's Almost As If They Don't Trust Each Other. Investigative journalist Sara Carter reported that House Oversight Committee Chairman Elijah Cummings and House Finance Committee Chairwoman Maxine Waters allegedly "executed a secret Memorandum of Understanding (MOU) to "target" President Trump and subpoena all his financial and banking records." Carter obtained a copy of a letter from Rep. Jim Jordan, ranking member of the Oversight Committee, sent to Cummings on Monday [4/15/2019]. She reports that, "The letter also indicates that other MOUs have apparently been signed and agreed to with House Intelligence Committee Chairman Rep. Adam Schiff, D-Ca, who has promised to continue investigations into the president despite findings by Special Counsel Robert Mueller's office that there was no conspiracy between the Trump campaign and Russia."
No one, not even the Secret Service, should randomly plug in a strange USB stick. The case follows a Chinese national, Yujing Zhang, who is accused of trying to sneak into President Trump's private Florida resort Mar-a-Largo last month. She was caught by the Secret Service with four cellphones, a laptop, cash, an external hard drive, a signals detector to spot hidden cameras, and a thumb drive. The arrest sparked new concerns about the president's security amid concerns that foreign governments have tried to infiltrate the resort. Allegations aside and notwithstanding, what sent alarm bells ringing was how the Secret Service handled the USB drive, which cannot be understated — it was not good.
Putting American flags on police cars sparks backlash in Laguna Beach. A decision to affix an American flag graphic to the side of freshly painted Laguna Beach police cars is dividing residents, who are alternately praising the image as patriotic or panning it as too aggressive. After hearing the criticism and acknowledging that the image they approved didn't quite match the final results, officials agreed to reconsider their February decision to paint the Laguna Beach Police Department's fleet of 11 squad cars. The City Council will take up the issue again at its Tuesday [4/16/2019] meeting.
What is kratom? And why is it being promoted as a 'wellness' product to our kids? Mitragyna speciosa, commonly known as "kratom," comes from a tropical tree native to Southeast Asia — primarily Malaysia and Thailand. Most commonly the leaves are brewed as a tea or even chewed directly. My son tells me that the tea form is most common, and a tea labeled "green tea and kratom" is quite popular and being sold in most stores around his campus. However, kratom is not a safe, benign plant. In fact, emerging data is providing strong evidence that kratom and its compounds work on the same central (brain) nervous system receptors as opioids, and therefore have the potential for addiction and abuse. It is because of this opioid association that people are using kratom for pain relief and the euphoric high. But patients are also, according to the FDA, using kratom to treat opioid withdrawal symptoms. Alarmingly this can lead to further dependence, withdrawal and abuse.
Trump goes after Ilhan Omar with dramatic video using 9/11 footage. President Trump Friday tweeted out a jarring video juxtaposing remarks last month by Rep. Ilhan Omar, D-Minn., which some charged minimized the 9/11 tragedy, with archival footage of the destruction of the World Trade Center. Writing "WE WILL NEVER FORGET," Trump tweeted a video that repeatedly displays Omar's reference to the terrorists as "some people" and then cuts to planes crashing into the buildings and the towers tumbling to the ground.
GOP trolls 'Georgia' Dem over residency claims, gets her to accept gift basket at 'real home' in Tennessee. Georgia Democratic Rep. Lucy McBath was the target of some creative trolling by the Republican Party over her widely disputed claim that she actually lives in Georgia, after receiving and signing for a gift basket the GOP sent to her address — in Tennessee. McBath, a racial justice activist who defeated Republican incumbent Karen Handel in November, has been dogged with questions since the election campaign on whether she actually lives in the state she now represents.
Tesla's Sentry Mode has already caught a suspected car thief. At the start of the year Tesla teased Sentry Mode, a security feature for its EVs that leverages a 360 dash cam to record damage and attempted break-ins. It rolled out in February, and it's already earning its keep. According to ABC 7 news, the feature has resulted in the arrest of a would-be thief. San Francisco-based Jed Franklin received an alert on his phone informing him that Sentry Mode had been activated. On arriving at his vehicle, he found that the window had been broken, but that the perp had fled empty-handed.
Senior Obama Cyber Official [is now] Lobbying for China. China's government-linked telecommunications giant Huawei Technologies has hired a senior Obama administration cyber security official as a lobbyist, according to a congressional filing. Samir Jain, former senior director for cybersecurity policy at the White House National Security Council, notified Congress March 27 that he is registering as a lobbyist for the Shenzhen-based Huawei Technologies Co., Ltd. Jain is now with the lobbying firm Jones Day.
Hackers attacked California DMV voter registration system marred by bugs, glitches. California has launched few government projects with higher stakes than its ambitious 2018 program for registering millions of new voters at the Department of Motor Vehicles, an effort with the potential to shape elections for years to come. Yet six days before the scheduled launch of the DMV's new "motor voter" system last April, state computer security officials noticed something ominous: The department's computer network was trying to connect to internet servers in Croatia.
Ukrainian to US prosecutors: Why don't you want our evidence on Democrats? Ukrainian law enforcement officials believe they have evidence of wrongdoing by American Democrats and their allies in Kiev, ranging from 2016 election interference to obstructing criminal probes. But, they say, they've been thwarted in trying to get the Trump Justice Department to act. Kostiantyn Kulyk, deputy head of the Prosecutor General's International Legal Cooperation Department, told me he and other senior law enforcement officials tried unsuccessfully since last year to get visas from the U.S. Embassy in Kiev to deliver their evidence to Washington.
Socialist Venezuela now an exploding supernova of spreading infectious disease. So much for all that free health care. Now for what it looks like up close: Socialist Venezuela is an exploding supernova of spreading disease vectors, with its three million fleeing refugees bringing measles, malaria, diptheria, typhoid fever, tuberculosis, AIDS, Zika, leprosy, dengue, chikungunya virus, and other diseases long thought to have been eradicated in the early 20th century, with them. What an advertisement for socialism that is. It's the effect of the collapse of the country's medical system, brought on by socialism's unsustainable economics and Venezuela's Maduro dictatorship (unlike a lot of starving African countries) refusing to permit any aid to enter.
Venezuela: The Next Syria. Venezuela has been transformed from an oil-rich nation into a failed state by the late Hugo Chavez and his successor Nicolás Maduro. Many of its people are literally starving, unable to barter or buy the essentials of life and living in near-constant nationwide blackouts at night. Months ago, the only thing holding Venezuela together was Maduro's military which — when it isn't oppressing the people — is feeding itself from the profits it derives from drug trafficking. But now, with about 500 Russian mercenaries, at least 100 Russian regular troops, an unknown number of Iranian Revolutionary Guard Corps troops, and who-knows-how-many Cuban troops, Venezuela is being transformed into a major Russian-Iranian power base in South America.
The Chinese woman caught at Mar-a-Lago. The Chinese woman arrested at President Trump's Mar-a-Lago club with four cell phones on her last month entered the U.S. on a business visa that allowed her to make repeat trips to the country for a period of a decade. Yujing Zhang, who had a bond hearing in Florida Monday [4/8/2019], entered the U.S. on a B-1/B-2 visa, according to documents released by the government. Her visa allowed her to travel to the U.S. for a period ranging from 2016 through 2026. Those visas are designed for people who need to be in the country on a temporary basis, such as to attend a business conference, or to seek medical treatment. They allow for repeat visits.
Chinese Woman Arrested at Mar-a-Lago Had Device to Detect Hidden Cameras. A Chinese woman charged last week for bluffing her way into President Donald Trump's Florida resort, Mar-a-Lago, had a device used to detect hidden cameras and thousands of dollars in cash in her hotel room, prosecutors said April 8. Yujing Zhang appeared at a Florida court for a bail hearing on April 8, where prosecutors said a search of her Florida hotel room turned up a signal detector — a device used to detect hidden cameras — nine USB drives, five SIM cards, and over $8,000 in cash, the Washington Post reported.
Chinese Woman Had Additional Spy Tech During Security Breach at Mar-a-lago. During a bond hearing today prosecutors say the FBI is still investigating whether a 32-year-old Yujing Zhang, the Chinese woman accused of lying to illegally enter President Trump's Mar-a-Lago estate in Florida, is a spy. After a search warrant, additional spy tech was found in her hotel room including: $7,500 in one hundred dollar bills; a signal detector device to find hidden cameras; nine USB drives, five SIM cards and an additional cell phone.
Trump fires Secret Service director after agency ducks blame for Chinese malware carrier at Mar-a-Lago. President Donald Trump followed the ouster of his Homeland Security secretary with another pink slip on Monday, reportedly axing the director of the U.S. Secret Service. Trump ordered acting White House chief of staff Mick Mulvaney to fire Randolph 'Tex' Alles. CNN first reported the move. U.S. Citizenship and Immigration Services Director Lee Cissna is also leaving, according to CBS News. So are DHS undersecretary for management Claire Grady and general counsel John Mitnick. A person with knowledge of USCIS's front office, however, said late Monday that Cissna was still in his job. And Alles told his agency's staff that he wasn't forced out.
Update:
Judge in Mar-a-Lago Chinese Spy Case Denies Bail. The Chinese woman who tried to lie her way into Mar-a-Lago appeared in court today [4/15/2019] to plea 'not guilty'.
'Restore Public Trust' Blacklists Former Trump Administration Employees. A number of organizations are coalescing to actively blacklist people who have worked for the Trump administration, including former Secretary of the Department of Homeland (DHS) Security Kirstjen Nielsen. Nielsen resigned Sunday, but could face opposition finding new employment. A group known as "Restore Public Trust" is targeting her and others in a letter sent Saturday [4/6/2019] that warns corporate America that these purported pariahs may "seek refuge in their corner offices or boardrooms."
Frightening Drug-Resistant Infection Cropping Up Around The World. The New York Times reported Saturday morning [4/6/2019] that an elderly man was admitted to Mount Sinai Hospital's branch in Brooklyn for abdominal surgery. After getting his blood tested, it was revealed that he was infected with Candida auris, a fungus that was recently discovered but has been identified in patients around the world. The fungus is most deadly to those with already weak immune systems. The elderly man, who was not named by the Times, was isolated in the intensive care unit, but died 90 days later. What makes his case so frightening is that after his death, doctors tested his room and discovered the fungus was everywhere.
Former Sen. Harry Reid loses civil lawsuit over exercise-device injury. After about an hour of deliberations Friday, a jury in Las Vegas rejected former U.S. Sen. Harry Reid's lawsuit against the maker of an exercise band that Reid claimed was responsible for injuries he suffered in January 2015. The injuries included blindness in one eye for Reid, 79, a Nevada Democrat and former party leader who asserted in his lawsuit that his injuries forced him to retire early from the Senate, where he had served for three decades.
The Editor says...
If a man served in the Senate for three decades, and retired at age 79, that is not early retirement. That's long overdue retirement.
The Arms Race in Space Is Here. Last week, the world was up-in-arms over the fact that democratic India, one of the world's leading economies with nuclear arms, launched an anti-satellite test. Codenamed "Mission Shakti" by India's military, the test of their anti-satellite capability was a resounding success: the target was a derelict Indian weather satellite in low-Earth orbit (LEO). By launching a missile at the dead weather satellite, India was sending an unmistakable signal to the world that it was a major power and not to be messed with. Presently, India is experiencing what some might call a quasi-war with its Muslim-majority neighbor of Pakistan and the tensions between India's other major neighbor, China, have long been an issue.
Hate-Based Faith. [Scroll down] DNA technology is also making it harder to get away with murder. For example, in the Queens jogger murder case that was decided this week in New York, the cops started out with the assumption that the pretty young speech pathologist had been killed by "two jacked-up white guys from Howard Beach." But when the DNA found under her fingernails turned out to be of black ancestry, the NYPD obtained samples from 384 sketchy black guys in the area. Law enforcement has recently been making arrests in cold cases from decades ago. Killers and rapists are tracked down via their relatives posting their own DNA online.
Collusion? Russians Gave $35 Million to Company with John Podesta on Board. Hillary Clinton's 2016 campaign manager, John Podesta, played a central role in another potential Russian collusion scandal that has not yet been investigated. Podesta, the former chief of staff to President Bill Clinton, served on the board of Joule Unlimited, a now defunct alternative energy company, from January 2011 to January 2014. He resigned from the company's board to accept the powerful job of Counselor to President Barack Obama. During Podesta's tenure on the board of Joule Unlimited, a significant investment in the company by a firm owned by the Russian government escaped review and scrutiny by the Committee on Foreign Investment in the United States.
A Mysterious Infection, Spanning the Globe in a Climate of Secrecy. The germ, a fungus called Candida auris, preys on people with weakened immune systems, and it is quietly spreading across the globe. Over the last five years, it has hit a neonatal unit in Venezuela, swept through a hospital in Spain, forced a prestigious British medical center to shut down its intensive care unit, and taken root in India, Pakistan and South Africa. Recently C. auris reached New York, New Jersey and Illinois, leading the federal Centers for Disease Control and Prevention to add it to a list of germs deemed "urgent threats."
Scientists Discover World's Tallest Tropical Tree In Borneo. Scientists have discovered the world's tallest tropical tree in the tropical rainforest of Sabah, Malaysian Borneo. The previous record holder is also from the same region. [...] The tree has since been named Menara which means "tower" in Malay, and it stands at 330 feet (100.8 meters) from ground to sky. The previous record holder for tallest tropical tree was also from the same region and from the same genus as Menara.
US health officials alarmed by paralyzing illness in kids. One morning last fall, 4-year-old Joey Wilcox woke up with the left side of his face drooping. It was the first sign of an unfolding nightmare.
Pope Francis Says God Only 'Permits' Islam to Exist. Pope Francis walked back an earlier statement Wednesday [4/3/2019] on God "willing" a plurality of religions, saying that in reality God only permits the existence of many religions. In a joint statement with the Grand Imam of Al-Azhar Ahmad Al-Tayyeb, Pope Francis said in February that the plurality and diversity of religions "are willed by God in His wisdom," just as God wills a plurality of colors, sexes, races, and languages.
The Editor says...
By the same token, God only permits Catholicism — which is based on superstition, monetized indulgences, bureaucracy, communication with the dead, and the worship of the Pope — to exist, for the moment.
Conservative Wisconsin Supreme Court Candidate Shocks Liberals With Surprise Victory. It was a statewide race that only the nerdiest of political nerds were following at the national level, but suffice it to say that we'd be hearing a lot about it if the expected outcome had come to pass. By way of background, Wisconsin's Supreme Court has been decidedly conservative for years, but when a liberal justice won a resounding 12-point victory last fall (Badger State voters choose Supreme Court members in nominally "non-partisan" elections), the Left immediately set it sights on the 2019 contest. If a left-leaning candidate had defeated another right-leaning jurist — as was widely anticipated by political experts — liberals believed they'd have a very real shot at wresting ideological control of the state's high court in 2020. But a funny thing happened on the way to that liberal judicial renaissance. Voters intervened.
A Big Win for Conservatives in Wisconsin? In Tuesday's [4/2/2019] Wisconsin supreme-court election, conservatives appear to have scored a shocking upset victory. With only a handful of precincts left to report, conservative-backed Brian Hagedorn leads liberal-backed Lisa Neubauer by nearly 6,000 votes out of 1.2 million cast, according to unofficial results. The liberal Neubauer called for a recount, which a losing candidate may do — if she pays for it herself — when the margin is less than one percentage point. (Taxpayers pick up the tab at margins less than 0.25 points.) But a lead of 6,000 votes would almost certainly be insurmountable in a recount, assuming there were no unusually large tabulation errors Tuesday night, as there was in a 2011 supreme-court election in the state.
Chinese woman carrying thumb drive with malware arrested at Trump's Mar-a-Lago resort. Secret Service agents arrested a Chinese woman after she bypassed layers of security and gained access to the reception area of President Trump's Florida resort this past weekend, saying they found she was carrying two passports and a thumb drive containing malicious software, according to court documents. The incident renews concerns about how secure the president and his advisers are during their frequent stays at his Mar-a-Lago Club, which stays open for its members and their guests when the president is there.
A Paralyzing Illness In Kids Is On The Rise, But Continues To Mystify Doctors. It starts with just a droopy eye and a slightly slumped face. Within just a few days, reflexes begin to lose their sharpness, while the arms and legs become weaker. If left without therapy, the nervous system continues to become damaged, the ability to breath becomes strained, and paralysis can take hold. More and more children are falling sick with this polio-like illness. However, there are currently few solid ideas about how it develops, how it can be treated, or even what it is exactly.
Children of Jamal Khashoggi receiving homes, 'blood money' from Saudis: report. Saudi Arabia has given multimillion-dollar homes and monthly five-figure payments to the children of Jamal Khashoggi, the Washington Post writer who was killed in a Saudi Consulate in Istanbul last October, as compensation for their father's death, according to a report. The reported payments to Khashoggi's two sons and two daughters are part of a long-term arrangement to ensure they refrain from speaking out, the Washington Post reported, citing information from current and former Saudi officials.
John Huber leaves Congress in the dark on FBI probe. Attorney General Jeff Sessions thought he had already answered calls for a special counsel to look into the FBI's handling of sensitive political investigations when he named a Utah prosecutor to conduct an inquiry and report back. Nearly 18 months later, there has been nary a public peep from U.S. Attorney John Huber, the man Mr. Sessions assigned to get to the bottom of things. Likely witnesses say Mr. Huber has never contacted them, and members of Congress say they are still in the dark despite regular pleas to see progress.
Conversion is not your mission, pope tells Catholics in Morocco. Pope Francis told the tiny Catholic community in predominantly Muslim Morocco on Sunday [3/31/2019] that their mission was not to covert their neighbors but to live in brotherhood with other faiths.
Chicago Isn't The Only Town With A Problem In The Office Of Its Chief Prosecutor. [Scroll down] This is about the office of St. Louis Circuit Attorney, Kim Gardner. You may recall that Gardner's office was the driving force behind the prosecution (subsequently dropped) of former (now resigned) Missouri Governor Eric Greitens over his alleged photographing of his mistress in a state of undress prior to taking office. Even at the time, Gardner's actions were questioned and criticized. Since then, a grand jury probe has been opened into Gardner's handling of that matter and, in particular, her hiring of ex-FBI agent William Tisaby as an investigator and his purported perjury in that matter. And it's not been a good look for Gardner.
CNN and MSNBC ratings plummet, Fox News triumphs in wake of 'no collusion'. Starting on Sunday [3/24/2019] and continuing all day Monday, CNN and MSNBC — the two cable "news" channels that over the past two years have morphed into high-impact electronic facilitators of the anti-Trump resistance — saw their ratings plummet... precipitously. Meanwhile, the Fox News Channel (FNC), the only mainstream media outlet to even question the whole collusion meme from the outset, trounced the competition.
Devin Nunes Prepares Criminal Referrals for Next Week Delivery to AG Barr. Two MAGA freight trains are heading full-speed toward each other and there ain't no spur between em'. The conductor of one engine is HPSCI ranking member Devin Nunes who will be sending criminal referrals to AG Barr next week based on existing evidence and testimony. The conductor of the opposing engine is Senate Judiciary Chairman Lindsey Graham, who wants AG Barr to ignore the criminal referrals and instead launch another Special Counsel which will be guaranteed to carry into the 2020 election year.
Is Europe About to Break the Internet? The European Parliament is about to vote on contentious new regulations that threaten to reshape how the internet operates. This will end a debate started in 2016 over two key provisions to the EU's Copyright Directive, Article 11 and Article 13. These changes turn internet policy on its head, moving the web from a world of permissionless innovation to a world where platforms and websites must proactively police internet users. And given the borderless nature of the internet, America and the rest of the world also will suffer the consequences of Europe's internet makeover.
Sketchy Cesar Sayoc Pleads Guilty to Federal Charges of Mailing "pipe bombs". Everything about last year's headline story just two-weeks before the mid-term election was weird; including the refusal of the FBI to state what 'specifically' was the material suspect Cesar Sayoc was accused of using to create his Acme looking pipe bombs. You might remember: FBI Director Christopher Wray outlined during his remarks that the devices consisted of PVC pipe, clocks, batteries, wiring and "energetic material that can become combustible when subjected to heat or friction". The FBI director went out of his way to state: "these were not hoax devices." The DOJ then moved to seal all court filings and the case against the nut continued behind the curtain of 'national security'.
The Editor says...
Just about anything "can become combustible when subjected to [sufficient] heat or friction." This guy's "pipe bombs" were a lot less convincing than the gadget built by Clock Boy in 2015.
Mark Kelly Returns $55,000 From Paid Speech in United Arab Emirates. Mark Kelly, a Democrat running for the Senate in Arizona, this week returned $55,000 that he received from a paid speech in the United Arab Emirates last year. Kelly, a former astronaut and the husband of former Rep. Gabby Giffords (D., Ariz.), delivered the speech with his twin brother and fellow astronaut Scott Kelly at an event sponsored by the Crown Prince of Abu Dhabi, Sheikh Mohamed bin Zayed Al Nahyan, as part of a lecture series, CNN reported Friday [3/22/2019]. While Kelly, who is challenging Sen. Martha McSally (R., Ariz.), has vowed to refuse donations from corporate political action committees, he has faced scrutiny from one of his potential challengers, Rep. Ruben Gallego (D., Ariz.), for breaking his "no corporate PAC money" pledge.
Eight Years of Corrosive Lies about Syria. [Scroll down] But, then I come across another story about Syria in the Wall Street Journal, suggesting that the United States may leave 1,000 troops in that country after all. The president, if you'll remember, announced a complete withdrawal of troops from Syria months ago. Then, weeks later the White House announced that a small force of 200 would stay behind. Now, the Journal was reporting that it would actually be 1,000. A few hours later the chairman of the Joint Chiefs of staff said the original plan remained unchanged. I realized that I no longer knew what to believe.
With Personal Connection to Crash, Ralph Nader Takes on Boeing. Mr. Nader, the high-profile consumer crusader in the twilight of his career, is determined to translate his family's anguish into action. He is on a personal mission to find out what caused the Boeing Co. 737 MAX jet to plunge to the ground minutes after takeoff from Addis Ababa. His goal is to get the plane maker — along with U.S. air-safety regulators who certified the jetliner — to assume legal and moral responsibility for the tragedy and an earlier 737 MAX crash in Indonesia.
Hannity's warm welcome for Donna Brazile has fans changing the channel in disgust. On Tuesday [3/19/2019] longtime Fox News host Sean Hannity welcomed former Democrat National Committee chairwoman Donna Brazile to the network by inviting her onto his show, "Hannity," so he could grill her to smithereens in a fast-paced "lightning round" debate over various issues. The scorching, oftentimes hilarious grilling started right away thanks to the former DNC chair's refusal to stick to the "lightning round" rules and keep her answers sweet and to the point.
Green New Deal Would Spark Yellow Vest-Style Protests. Democrats are predicting a climate-change-fueled apocalypse 12 years from now, but 3,800 miles away in Paris, we're seeing a preview of the real doomsday scenario that would result from radical policies such as the Green New Deal. For the 18th weekend in a row, violent protests broke out in the streets of one of Europe's oldest cities as French citizens protested their government's efforts to make them bear the costs of transitioning to clean energy. The mouvement des gilets jaunes, or Yellow Vests Movement, started in response to French President Emmanuel Macron's decision to raise gas taxes by 12 cents per gallon for gasoline and 24 cents per gallon for diesel, prompting the working-class protesters to complain that "the government talks about the end of the world. We are worried about the end of the month." With gas prices at nearly $6 per gallon, driving in France is already very expensive, and while public transportation is available in urban centers, most people in rural areas have no realistic alternative to driving.
NYU Students Blame Chelsea Clinton for New Zealand Attack over Condemnation of Rep. Ilhan Omar's Antisemitic Comments. A group of students confronted Chelsea Clinton on Friday night [3/15/2019] at NYU where they accused the former first daughter of stoking "Islamophobia" and facilitating, with her words, the recent terror attack in Christchurch, New Zealand, that left 49 people dead and dozens of others wounded. The former first daughter was berated by students as she tried to attend a vigil honoring the victims of the New Zealand terror attack in what turned out to be a bizarre confrontation as students blamed the mosque shootings on her "rhetoric."
The Editor says...
"Islamophobia" is not even a phobia, it's just the word most commonly used for denunciation of Islam. "Islamophobia" does not cause terrorist attacks. Criticism of Muslims only rarely induces Islamic terrorism. The Koran and the daily preaching of hatred in mosques all over the world are the principal causes of Islamic terrorism.
New Zealand Mosque Shooting Leaves Dozens Dead. [Scroll down] Some people reading this will note that I am diametrically opposed to Islam, but this is plain murder. The people were not attacking anyone and no one's life was in danger. These shooters deserve the same thing I said Anders Behring Breivik deserved: justice, a swift execution. Furthermore, there is no doubt that New Zealand will attempt to encroach more on the people's God-given rights to arms in light of this attack by a few people, which only makes the people more defenseless no matter what their religion is. They already have fairly restrictive regulations against civilians owning handguns, semi-automatic weapons or fully automatic weapons, but pay no attention to the fact that those "restrictions" didn't stop these people from possessing them to murder unarmed people.
Christchurch, Conservatism, and Fascism. At the time of writing, 49 people have been killed at two separate Christchurch mosques, with dozens more left injured by the shooter. Both media and public officials, in New Zealand and elsewhere have chosen to lay the blame for the killings on "conservatives." In fact, conservatism had nothing to do with this. [...] How do we know that the shooter isn't a conservative? For starters, he explicitly says that he detests conservatism twice, once in the "Q&A" and again in his more ideological section, where he devotes a whole page to it.
How Sears Lost the American Shopper. Over the last four decades, a succession of CEOs have tried to reinvent, reimagine and, finally, save Sears. One discussed merging with rivals Best Buy and Home Depot, talks not previously reported. Another opened the door to hedge-fund billionaire Eddie Lampert, who went on to slash spending with little investment in stores. Amid changing shopping patterns, technology shifts and Sears's own missteps, customers fled.
Report: Lori Loughlin's Daughter Skipped First Week Of Classes At USC To Vacation In Fiji. It is not surprising that a child of privilege with zero interest in school, whose parents allegedly had to commit a federal crime just to get her into USC, would decide to blow off the first week of classes for a vacation in a tropical paradise. What continues to surprise is that someone this young, good-looking, connected, and vacuous doesn't already have her own reality show.
U.S. seeks input on GM petition to deploy cars without steering wheels. U.S. regulators will ask the public if robotic cars should be allowed on streets without steering wheels or brake pedals as they try to set the first legal boundaries for their design in the world's second largest vehicle market.
DA: Urgent care clinic in Los Gatos charged someone $700 for a pair of foam slippers. The owner and manager of the facility, Los Gatos Urgent Care Clinic, have been charged with insurance fraud after billing patients' insurance for a range of egregious expenses, according to the Santa Clara County District Attorney's Office. The eye-popping bills include one instance in which the clinic allegedly billed a patient who stepped on a sea urchin $700 for a pair of foam slippers that cost less than $10. [...] The pair behind the clinic are a married couple from Monte Sereno, Ali Moayed, 53, and Dr. Farzaneh Tabrizi, 50.
College Scam: That's Not the Half of It. "The biggest college scandal in our history!" exclaims a news reader, referring to the indictment of William Singer, who organized a scheme so the wealthy could bypass the college admissions process and get their children into prestigious schools through a combination of fraud, deceit, and bribery. The scandal might not have received the attention it generated had it not been for actresses Lori Loughlin and Felicity Huffman getting caught in the FBI's net. If there are celebrities involved, the story must be important. As offensive as this scandal is, it is nowhere near the biggest college scandal in our history. Our colleges and universities have long been mired in ongoing scandals, but they are so common that we hardly consider them newsworthy.
You Know Who Hates People Who Cheat To Get In To College? Elizabeth Warren. Yesterday's top news item, that dozens of parents — including two Hollywood actresses — lied and cheated to get their kids into top colleges, is still getting talked about today. To be fair, it should be, as the corrupt admissions process should be exposed for all to see. However, there is one person I figured would avoid any questions about it. One 2020 hopeful who needed to stay away from the subject of lying or cheating to get into a college or university. "Surely," thought I (perhaps a bit naively), "she wouldn't speak on this issue. She can't possibly think it would go over well."
Russian ship with 'vomit-inducing weapon' spotted off UK coast. A Royal Navy warship has been scrambled to follow a Russian vessel believed to be carrying a "vomit inducing" weapon as it sails close to UK territorial waters. HMS Defender was deployed at weekend to keep watch on the frigate Admiral Gorshkov and three auxiliary ships. [...] The Gorshkov is reportedly fitted with Russia's Filin 5P-42 device — a "visual optical interference" weapon which can cause "dizziness, nausea and feelings of disorientation".
How bad is Venezuela's economy? Even the criminals are struggling to get by. In one of the strangest consequences of this oil-rich country's collapse, cash has virtually disappeared. With soaring hyperinflation, the government can't print money fast enough to keep up, so many Venezuelans have switched to debit cards — not that they have enough money on them.
Government Jobs Drop by 5,000. As the number of people employed in the United States climbed to a record 156,949,000, the number of people working for government in the country declined by 5,000, according to data released today [3/8/2019] by the Bureau of Labor Statistics.
Senate Confirms High-Priority Trump Judges Without Any Democrat Support. Senators confirmed three high-priority Trump judges to the federal appeals courts last week without a single Democrat voting for any of them, with one of those new judges replacing an irreplaceable conservative judicial icon, Judge Alice Batchelder. The Senate confirmed Allison Jones Rushing on March 6 as a judge on the U.S. Court of Appeals for the Fourth Circuit, which covers five states in the middle of the Eastern Seaboard.
New York man with 600-square-foot apartment gets $38M Con Edison bill: report. A New York man reportedly received a Con Edison monthly bill of $38 million on Monday [3/11/2019] for his 600 square foot apartment. [...] "Our customer ops team is looking into it and we'll definitely work on it and fix it," a ConEd spokesperson told the New York Daily News, saying that it was most likely a computer error.
The Editor says...
Most likely a computer error, they say. There's still a chance that he actually consumed that much electricity in a month. To believe this, and to insist on payment, you would have to believe that his electric meter could pass that much electricity without burning up. In the case of my very modest house, for example, the main breaker will handle no more than 70 amperes. That limits the electric consumption to about 17 kilowatts. In 31 days, I couldn't possibly consume more than 12,650 kilowatt-hours; and even if I paid the highest rates in town (which I might be, I don't know), that would produce an electric bill of only about $2,000 dollars. Obviously Con Edison has no sanity checking software in their billing computers.
Felicity Huffman, Lori Loughlin among 50 snared in elite college cheating scam, authorities say. Actresses Felicity Huffman and Lori Loughlin were among more than four dozen people charged in a nationwide college admissions cheating scandal that involved wealthy individuals paying up to $6.5 million to place their children into elite universities, according to court records revealed Tuesday [3/12/2019].
"Leaving Neverland" — Hollywood's pedophilia problem exposed. The Michael Jackson estate is suing HBO to the tune of $100 million. The suit says the documentary makers failed to reach out to the Jackson family for comment on the sexual allegations. And estate attorneys also claim HBO violated a "non-disparagement agreement" they made as part of its contract to broadcast the pop star's "Dangerous" world tour in 1992.
Scrutinizing Fake Business Reviews Online. More than 80 percent of people sometimes check reviews for businesses, but half wonder if they can be trusted, according to the Pew Research Center — and they have good reason to, according to experts in online reviews.
Robot workers can't go on strike but they can go up in flames. Machines may be efficient and safe workers, but their environment is not designed for human intervention when disaster strikes. [...] Fashion brand Asos has had three warehouse fires since 2005. The online grocer said on Feb 5 that the fire started in what is called the ambient grid, where food is stored at room temperature. A spokesman declined to comment further on the cause. The blaze began high in the warehouse and was so difficult to reach that firefighters had to cut holes in the roof, according to chief officer Neil Odin at Hampshire Fire and Rescue Service. A sprinkler system only contained the fire in its early stages.
Venezuela: Socialism Dies in the Darkness. "A major power outage hit crisis-stricken Venezuela on Thursday [3/7/2019], according to Reuters ... a problem the government of President Nicolas Maduro quickly blamed on "sabotage" at a hydroelectric dam that provides much of the country's power." National life ground to a standstill, telecommunications — including the internet — stopped working, hospitals were plunged into darkness and cities of millions lay helpless without electricity. As the outage continued into Friday spreading to every Venezuelan state, it became clear this was going to become the biggest of the blackouts yet and Maduro's officials increasingly pointed a finger at the United States. But the national electric grid had also been teetering for a long time. "Crumbling infrastructure and lack of investments have hit Venezuela's power supply for years." Outages had become a way of life and there was no easy way of proving this wasn't "sabotage" but only more of the same dysfunction.
Venezuela Goes Dark In Worst Blackout In Decades, At Least 17 People Dead. Venezuela entered its fourth day of blackouts in an "electricity crisis" that plunged most of the country's 23 states, including the state home to the Venezuelan capital of Caracas, into complete darkness. Reuters reports that international non-governmental organizations estimate that at least 17 people have died, nine of whom were waiting for emergency medical attention. Reuters was not able to independently verify the numbers, but they are being tabulated by the non-partisan NGO, Doctors For Health, which has been treating patients in Venezuela.
They're still in the dark in Venezuela, and it's really ugly. [Scroll down] These reports describe the terrible conditions in just Caracas — in the rest of the country, the situation is reportedly far, far worse. And yes, the result looks as though it's going to be famine. And coincidence of coincidences, it comes just as dictator Nicolas Maduro is under fire from millions and millions of Venezuelans to get out and allow acting president Juan Guaidó, who's there through democratic mechanisms, to take over. Guaidó returned to the country last week without much fuss and says he's calling for protests, and now the blackout has followed. The internet has been shut off, and the subways are out. Both of those things are instrumental in getting word out of protests and transporting protestors to locations. Shut. Down. How very convenient for Maduro. And by another coincidence, Maduro has had high-level contacts with Russians in recent weeks — and the Russians just happen to be the masters of blowing out power grids.
Nationwide blackout in socialist Venezuela is more than just turning the country into North Korea. It's the spectacle of a whole country going dead, with its socialist rulers turning the nation into something quite similar to parts of eastern Nigeria, where the impoverished locals in remote rural areas live with little electrical infrastructure (Lagos and Abuja have no such problems), or, even more similarly, into Pol Pot's inhuman communist regime, which was a nationwide project by Khmer Rouge central planners to rebuild the entire society from the ground up. I have my doubts that this nationwide blackout was just the characteristic incompetence of socialism and its Cuban masters. Cubans have made a hash of the electrical grid in Venezuela, it's true, but they also seem to be following the plan of doing what it takes to make Cuba the electrical disaster it also is.
Republicans notch streak of special election victories, ousting Democrats. Republicans picked up a Kentucky state Senate seat earlier this week, marking the latest in a series of under-the-radar wins at the state level for the GOP since the November midterms. The pickups have the party claiming momentum going into 2020, after having lost control of the U.S. House last fall. Republican Phillip Wheeler defeated Democrat Darrell Pugh in a special election to fill an eastern Kentucky state Senate seat. Wheeler will succeed a Democrat, making it a Republican pickup.
Black journalists' group places CNN on 'special monitoring list'. The National Association of Black Journalists (NABJ) said Tuesday that it would place CNN on a "special media monitoring list," citing a lack of black representation among the network's leadership ranks. NABJ said in a statement that its preliminary research showed that CNN has no black employees reporting to CNN President Jeff Zucker. It also showed that the news organization has no black executive producers as well as no black vice presidents or senior vice presidents on the news side. CNN disputed the group's finding that there are no black vice presidents on the news side, according to NABJ. But the news network did not provide the name or position of the vice president or vice presidents, NABJ said.
Geraldo Rivera defends AOC, 'generosity' of socialism. Geraldo Rivera, in a heated debate on Fox News with host Sean Hannity and guest Dan Bongino, defended Rep. Alexandria Ocasio-Cortez by saying she was a too-easy target of the ideological right and that conservatives should just leave her alone because, by gosh, "she has heart" and socialism "is so yesterday" and mean old Americans were killing the dreams of all these youthful idealists.
Apple CEO Tim Cook to Conservative Employees Who Feel Shunned: 'Come Talk to Me'. Apple CEO Tim Cook recently encouraged any conservative employees who felt discriminated against due to their political views to speak with him directly. Business Insider reports that Apple CEO Tim Cook recently encouraged conservative employees at the Silicon Valley giant to speak with him directly if they felt discriminated against or shunned due to their beliefs. Cook's statement was in response to a question at the company's annual shareholder meeting; the questioner stated that a friend of hers worked at Apple and this friend did not "share the left-wing view" and suggested that her friend felt discriminated against by her fellow workers as a result.
The Editor says...
Usually, when the CEO of a giant company tells you to come and speak to him directly, it means your employment is about to end.
JetBlue black history display honored convicted killer. JetBlue has taken down a poster of a convicted murderer that it had included as part of a Black History Month tribute at New York's Kennedy Airport. The airline said Saturday [3/2/2019] it removed the poster paying tribute to Assata Shakur last month after being alerted via Twitter that Shakur is "a convicted cop killer."
Canadian Economy Halts — GDP Growth Drops to 0.1 Percent, and No-One Is Talking About Why. The Canadian government shocked the professional financial and economic media with their latest fourth quarter GDP release showing the economy has essentially come to a grinding halt at 0.1% growth. [Compare to U.S. GDP growth of 3%] The Canadian Q4 GDP growth isn't one percent, it's one-tenth of one percent: 0.1%, essentially halted; but everyone discussing this is missing something very important.
The Awful Truth of Michael Jackson's Depravity. Fair warning for those curious about exactly what Michael Jackson did to little boys: The two-part, four-hour documentary Leaving Neverland goes into gruesome, nauseating, nightmarish detail about the King of Pop's depredations. But it's also disturbing for another reason, one you might not have anticipated. Debuting on HBO March 3 and 4 after a previous series of screenings at the Sundance Film Festival, this enraging film by Dan Reed inspired a lawsuit against the pay-cable channel from Jackson's estate, which desperately wants people not to see a story that may significantly diminish the value of his brand. It's a wonder that there is any brand left to defend, given that four men have now made detailed, credible claims that Jackson sexually abused them as minors over extended periods of time.
'Social justice' is killing organized religion. A fascinating article by Joel Kotkin in The Tablet describes the precipitous decline in membership to organized churches and synagogues, with a primary reason being the growing influence in these religious organizations of leftists and leftist dogma. The numbers are shocking. It's not just the decline of members that's concerning; it's the aging of the church-going population that jumps out at you. For example, attendance at conservative and reformed synagogues is declining at a time when the average age of Reform congregations is 54, and only 17 percent of members say they attend religious services even once a month. It's just as bad for Christians. [...]
Millennial Repo: Car Loan Defaults on the Rise. An interesting data nugget percolated the other day about a "sharp worsening" — that is to say, an increase — in the number of car loan defaults among borrowers under 30 years old. According to Bloomberg Financial News, the rate for the Millennial demographic was 4.04 percent last quarter vs. 2.36 for the general population, or about twice as high.
There's A Vladimir Lenin Statue In Seattle, and Republican Lawmakers Want It Gone. In the Fremont neighborhood of Seattle (because, duh, it's Seattle) stands a 16 foot tall statue of communist revolutionary and innovator of mass starvation and firing squads, Vladimir Lenin. Republican lawmakers in Washington have now introduced a bill "to study and make recommendations on an appropriate historical figure to replace the statue of Lenin, and to represent the state of Washington."
People Search Garbage Truck For Food In Socialist Venezuela. Starving Venezuelans rummaged through a trash truck this week in a search for food, following Venezuela's collapse due to its socialist policies. "Amid the increasingly dire situation in Venezuela, Univision's left-leaning anchor Jorge Ramos traveled into the rapidly imploding socialist country for an interview Monday with dictator Nicolas Maduro," The Daily Wire reported. [...] In a video posted on the "Real American with Jorge Ramos" Facebook page, Ramos "said the last straw for Maduro was when the Mexican-American journalist held up his iPad and showed him footage he had filmed himself of three children on the streets of Venezuela rummaging through the back of a garbage truck for scraps of food," Fox News reported. "He just couldn't stand it," Ramos said. "He didn't want to continue the interview. He tried to close my iPad. They confiscated all of our cameras, all our videos."
Venezuela to deport Univision team after Maduro shown 'garbage eating' video. U.S. television network Univision said on Monday Venezuela was deporting a news team led by anchor Jorge Ramos after they were briefly detained at the presidential palace because their line of questioning upset President Nicolas Maduro.
George Pell: cardinal found guilty of child sexual assault. Cardinal George Pell, once the third most powerful man in the Vatican and Australia's most senior Catholic, has been found guilty of child sexual abuse after a trial in Melbourne. A jury delivered the unanimous verdict on 11 December in Melbourne's county court, but the result was subject to a suppression order and could not be reported until now.
PayPal CEO Admits Partnership with Far-Left SPLC to Blacklist Conservatives. PayPal CEO Dan Schulman admitted during an interview with the Wall Street Journal that PayPal works with the far-left Southern Poverty Law Center (SPLC) when it considers blacklisting conservatives. After being asked by the Wall Street Journal what "values" PayPal identifies with," Schulman replied, "Probably the most important value to us is diversity and inclusion."
Venezuela Ex-spy Chief Reveals Maduro's Ties To Hezbollah, Drugs. Former head of Venezuela's intelligence services Hugo Carvajal revealed powerful ties between the administration of President Nicolás Maduro and the Hezbollah terrorist group, as well as wide-spread corruption and drug activity, the New York Times reported on Thursday [2/21/2019]. The nefarious activities were directed by Maduro himself as well as Interior Minister Néstor Reverol and former vice-president Tareck El Aissami.
Women May Have to Register for the Draft as Men's Group Wins Selective Service Lawsuit. On Friday [2/22/2019], a Texas judge ruled that the Selective Service System (SSS) violates the Constitution by requiring only men to register for the draft. The court ruled with the National Coalition for Men (NCFM) in a lawsuit claiming the male-only draft constitutes discrimination against men. NCFM's lawyer told PJ Media that even if the SSS appeals, they are likely to lose again. He also suggested the Pentagon will not end the draft, so women may have to register.
The Corruption of the Vatican's Gay Elite Has Been Exposed. I spent much of this week reading and trying to absorb the new and devastating book by one Frédéric Martel on the gayness of the hierarchy at the top of the Catholic Church, In the Closet of the Vatican: Power, Homosexuality, Hypocrisy. It's a bewildering and vast piece of reporting — Martel interviewed no fewer than "41 cardinals, 52 bishops and monsignori, 45 apostolic nuncios, secretaries of nunciatures or foreign ambassadors, 11 Swiss Guards and over 200 Catholic priests and seminarians." He conducted more than 1,500 interviews over four years, is quite clear about his sources, and helps the reader weigh their credibility. He keeps the identity of many of the most egregiously hypocritical cardinals confidential, but is unsparing about the dead. The picture Martel draws is jaw-dropping. Many of the Vatican gays — especially the most homophobic — treat their vows of celibacy with an insouciant contempt. Martel argues that many of these cardinals and officials have lively sex lives, operate within a "don't ask, don't tell" culture, constantly hit on young men, hire prostitutes, throw chem-sex parties, and even pay for sex with church money. How do we know this? Because, astonishingly, they tell us.
Catholic Cardinal Marx says files on child abusers 'destroyed'. Vatican officials worked to silence the victims, senior German Cardinal Reinhard Marx has told the summit on tackling pedophilia within the church. He said files on the abusers were often destroyed. Germany's top cardinal, Reinhard Marx, slammed the Catholic Church officials for their response to the decadeslong pedophilia scandal at a conference called by Pope Francis in the Vatican on Saturday [2/23/2019].
Projection:
Pope Francis decries critics of church as 'friends of the devil'. Pope Francis has said that those who constantly criticise the Catholic church are "friends of the devil". Speaking to pilgrims from southern Italy, the pontiff said that defects of the church needed to be denounced so they could be corrected, but that those who condemned "without love" were linked to the devil. "One cannot live a whole life accusing, accusing, accusing, the church," he said. People who did, he said, were "the friends, cousins and relatives of the devil". His remarks come as dozens of victims of clerical sexual abuse gathered in Rome ahead of an unprecedented Vatican summit on the issue.
Brian Stelter Reports CNN Staff 'Up in Arms' Over Hiring of Ex-Trump Official as Editor. Many media figures were instantly horrified by CNN's hiring of former Trump Department of Justice official Sarah Isgur Flores as a political editor, and according to CNN's Brian Stelter, so are many of CNN's other staffers. Stelter spent much of Tuesday night [2/19/2019] tweeting updates about the hiring, then published a detailed story on the controversy that included extremely dissatisfied comments from several unnamed CNN staffers.
Chinese Cardinal: Vatican Has Kept Secret the Text of Deal With Atheist Regime on Naming of Bishops. Cardinal Joseph Zen, bishop emeritus of Hong Kong, said in a video interview with CNSNews.com that the Vatican has kept secret the text of the agreement it made in September with the government of the People's Republic of China on the appointment of Catholic bishops. According to the U.S. State Department, the government of China is controlled by the Chinese Communist Party, whose members are required to be atheists. "The People's Republic of China (PRC) is an authoritarian state in which the Chinese Communist Party (CCP) is the paramount authority," says the State Department's latest report on human rights in China, which was published on April 20, 2018.
Congress Wants To Bring Thousands More Acres Under Federal Control. The US Can't Afford It. A lengthy public lands package sitting in Congress adds hundreds of thousands of acres of federally protected wilderness without securing funding to manage it. The House is preparing to vote on a bipartisan land package next week that is roughly 660 pages and composed of 118 different bills. The Senate version passed its version, the most comprehensive land package in a decade, on Feb. 12 in a 92 to 8 vote. "It touches every state, features the input of a wide coalition of our colleagues, and has earned the support of a broad, diverse coalition of many advocates for public lands, economic development and conservation," Republican Senate Majority Leader Mitch McConnell said, according to The Washington Post.
Democrats took $60,000 junket to attend Beyonce concert in South Africa. Five members of the Congressional Black Caucus took an official three-day trip to South Africa to be feted as VIPs at a Beyonce and Jay Z concert, according to congressional disclosure records. The stated purpose of the $60,000 trip in December was to attend the "Global Citizen Mandela 100" concert, the stated purpose of which was to celebrate the centenary of the birth of the late Nelson Mandela and raise awareness of global poverty. The extravaganza was headlined by Beyonce, Jay Z, Ed Sheeran, Pharrell Williams, and Chris Martin.
Chase Bank Shuts Down Personal Account of Vocal Trump-Supporting US Army Combat Vet. Chase Bank abruptly closed the personal account of US Army combat veteran Joe "Rambo" Biggs. Mr. Biggs is a very vocal Trump supporter with a bluecheck verified Twitter account and has over 200,000 followers. "Chase bank just closed out my account!" Biggs said on Twitter Saturday [2/16/2019]. [...] Joe Biggs is a huge supporter of the 2nd Amendment and also makes documentary films focused on the border crisis but he says YouTube has taken down most of his videos and demonetized his channel. Tyranny from big tech and big banks in the US is reminiscent of the 'social credit score' in China which is used to silence and control the population.
What is the purpose of a secret Facebook account?
Malia Obama's secret Facebook account reveals just how much former First Daughter hates Trump. Malia Obama described President Trump as 'evil' on a secret Facebook page where she exchanges messages friends including Joe Biden's granddaughter, DailyMail.com can reveal. The Facebook page operates under a pseudonym and does not appear to have been publicly updated since 2017.
Defrocking McCarrick Before the Abuse Summit. With his "abuse summit" a few days away, Pope Francis finally got around to defrocking the sexual predator Theodore McCarrick this week. The move appears to have been driven by optics more than anything else. It would have simply been too embarrassing for the pope to conduct the summit with the McCarrick matter still unresolved. The pope's ostensible hope in delaying the abuse summit until this year was that interest in the scandal would dissipate. It hasn't.
Former Air Force intelligence officer charged with revealing classified information to Iran. The Justice Department on Wednesday unsealed an indictment against a former Air Force counterintelligence officer on espionage charges for allegedly revealing classified information to Iran. On a Wednesday [2/13/2019] conference call with reporters, the Justice Department said former Air Force officer Monica Witt defected to Iran in 2013, where she is still suspected to be located. She allegedly provided the code name and mission of a secret Department of Defense program and information about her former intelligence colleagues to Iran's Islamic Revolutionary Guard Corps.
House Democrat counters Trump with resolution declaring climate change a national emergency. Democratic Rep. Earl Blumenauer of Oregon said Friday he intends to introduce a resolution declaring climate change a national emergency. Blumenauer, who has endorsed the progressive Green New Deal resolution and is active on environmental and renewable energy issues, circulated a letter to colleagues Friday seeking support for a resolution that would declare the "sense of Congress" that climate change is a national emergency. Blumenauer's resolution would swipe President Trump for declaring a national emergency Friday to build a border wall and address what the congressman called a "manufactured crisis."
The Editor says...
That's all very nice, except that The climate isn't changing.
This is the man who delivered the death blow to Amazon deal. The watershed moment that led Amazon to reconsider coming to Queens came on Feb. 4, when a fierce political foe was appointed to a state board with the power to thwart the project, said sources involved in the discussions. That was the day state Senate Majority Leader Andrea Stewart-Cousins nominated Sen. Michael Gianaris as her appointee to the obscure Public Authorities Control Board. Gianaris, who represents Long Island City, where Amazon was planning to build one of its new headquarters, bitterly opposed the $3 billion in subsidies offered by the city and state and was miffed that Gov. Andrew Cuomo and Mayor Bill de Blasio didn't consult him on the deal, according to sources.
Amazon's cancellation of move to NYC is catastrophic and could hurt far-left Dems at polls. Amazon's announcement Thursday [2/14/2019] that it is abandoning plans to construct a second corporate headquarters New York City is a catastrophic loss for the city, New York state and the metropolitan region. As a New Yorker, I find it immensely disappointing to see the immediate economic impacts and future economic losses of this unfortunate move. I wholeheartedly believe that New York is a global city that should always strive to diversify its economy and compete on the world stage.
After Venezuela exchange, the case grows for throwing Ilhan Omar off the House Foreign Affairs Committee. The unfitness of Rep. Ilhan Omar for the House Foreign Affairs Committee has already been brought up based on her persistent anti-Semitism, her strange habit of repeating Russian propaganda, and her apparent abuse of U.S. immigration law. Now a new and very big reason has come up: Her cringe-inducing ignorance of actual foreign affairs.
Judge voids Paul Manafort plea deal, says he 'intentionally' lied to the FBI, special counsel and grand jury. Paul Manafort "intentionally" lied to special counsel Robert Mueller's office, breaking the plea agreement that made him the star cooperator in the Russia probe, a federal judge found on Wednesday [2/13/2019]. Manafort "made multiple false statements to the FBI, the OSC and the grand jury concerning matters that were material to the investigation," including his contacts with his Russian associate during the campaign and later, Judge Amy Berman Jackson wrote on Wednesday [2/13/2019].
This means they really don't know, or they DO know but won't say.
Feds don't know what caused romaine lettuce food poisoning outbreak. U.S. food regulators say they weren't able to identify a contamination source for a food poisoning outbreak that prompted them to warn people to avoid romaine lettuce this fall. The Food and Drug Administration says it wasn't able to determine how a water reservoir on a Santa Barbara County, California, farm became contaminated with E. coli. It also says the water reservoir doesn't explain how lettuce from other farms may have been contaminated. The FDA says leafy greens' short shelf life makes it difficult to investigate such outbreaks.
The Editor says...
The two most likely causes, in my opinion, are: [1] Illegal aliens defecating in the water supply, or out in the lettuce fields (lettuce hope not!), or [2] small-scale Islamic terrorism designed to destabilize the US economy.
Tech Elites, Donor Class Unite with GOP/Dems to Outsource White-Collar American Jobs. Silicon Valley's business elites and donor-class billionaires are uniting with elected Republicans and Democrats to ensure that white-collar, middle-class American jobs are swiftly outsourced to mostly Indian and Chinese nationals. A plan known as the Fairness for High-Skilled Immigrants Act, introduced in the Senate by Sens. Mike Lee (R-UT) and Kamala Harris (D-CA), as well as Reps. Zoe Lofgren (D-CA) and Ken Buck (R-CO), would eliminate the U.S. country caps in the legal immigration system and would fast-track outsourcing of white-collar American jobs to mostly Indian and Chinese nationals imported to the country by businesses, outsourcing firms, and multinational corporations.
Mysterious Turkish Firm Helped Maduro Move $900 Million in Gold. Two months after Venezuelan President Nicolas Maduro visited his counterpart Recep Tayyip Erdogan in Ankara, a mysterious company called Sardes sprang into existence. The firm started business with a bang in January of 2018, when it imported about $41 million worth of gold from Venezuela, the first such transaction between the two countries in records that go back 50 years. The next month its volume more than doubled, with Sardes transporting almost $100 million worth to Turkey.
Pope signs pact with Islam declaring 'diversity of religions' is 'willed by God'. Almost without notice from the global media, Pope Francis held a historic meeting last week in the United Arab Emirates with Grand Sheikh Ahmed el-Tayeb, head of Egypt's al-Azhar University, the world's most authoritative institution on Islamic law. El-Tayeb, while touted as a "moderate" by some in the West, unapologetically teaches that Muslims who leave Islam for other religions, or no religion at all, are guilty of apostasy and should be killed. So what is the Pope of Rome, the supposed Vicar of Christ, doing cavorting with such a man?
Pope Francis Leading His Flock to the Slaughter? The two foremost representatives of Christianity and Islam, Pope Francis and Sheikh Ahmed al-Tayeb — the Grand Imam of Al Azhar who was once named the "most influential Muslim in the world" — just signed "A Document on Human Fraternity for World Peace and Living Together." The Document "forcefully rejects," to quote Vatican News, "any justification of violence undertaken in the name of God," and affirms "respect for believers of different faiths, the condemnation of all discrimination, the need to protect all places of worship, and the right to religious liberty, as well as the recognition of the rights of women." The Document is being portrayed as a "historic pledge of fraternity" and applauded as a "historical breakthrough." The problem is that one of the two men who signed it, Dr. al-Tayeb, has repeatedly contradicted — when speaking in Arabic and appearing on Arabic media — all the lofty sentiments it highlights.
Panera Bread's Socialist 'Pay What You Want' Experiment Fails Miserably. Panera Bread has shuttered the last of its ideologically driven "pay what you want" restaurants. The socialist-tinged ventures were called "Panera Cares" and the higher-ups have finally figured out that "caring" is not synonymous with "viable business model." On February 15, the final Panera Cares, located in Boston, will close. [...] If Panera had cared more about making money than promoting a constantly refuted ideology, its employees would still be receiving paychecks. Frighteningly, though, a growing segment of the populace seems to be allergic to common-sense economic principles.
Panera's Socialist Pay-What-You-Want Restaurant Implodes: Students, Homeless Mob The Place. According to Eater, after nine years of being in business, Panera Bread's socialist pay-what-you-want restaurant, Panera Cares, will officially be closing shop on February 15 due to the business model's unsustainability. While Panera Cares billed itself as a "non-profit" restaurant designed to feed low-income people, the business model was anything but. Rather than create a charitable organization that distributes food to needy families or a discount outlet or even a $1 menu (like every other fast-food restaurant), Panera tried to create a socialist system in which meals were offered at a suggested donation price. That means some people would pay more while others would pay less based on what they felt like or could afford. By not simply offering food at a low price (hat-tip, Dollar Tree), Panera completely removed any incentive for patrons to meet even the lowest standards of consumer/retailer exchange. The result: some people paid their fair share while others enjoyed a "free lunch."
Why didn't the Panera Cares social experiment pay off? The concept was introduced in 2010, when Panera Bread Co. opened its first Panera Cares location in a suburb of St. Louis, where the company is based. Under the chain's nonprofit arm, the stores operated on a pay-what-you-can model. Customers could pay as much or as little as they wanted for sandwiches, soups, and other menu items, which carried only suggested prices. The hope was that enough of them would "pay it forward" for those who were less well off. To make it work, the company figured, 60 percent of patrons would need to fork over the full price, about 20 percent would have to offer more money, and another 20 percent could leave less than the suggested price, or even pay nothing. In December 2012, when the Boston Panera Cares was about to open at 3 Center Plaza, company founder Ron Shaich that it would be a place where people could eat with dignity, no matter whether they could afford a meal. "It's a powerful study of humanity," he said. "Will people do the right thing?" The answer, apparently: Some did, but not enough to make the restaurants sustainable.
Surprise! Panera's Socialist Restaurant Closes Due To People Not Paying For Their Food. Panera Cares'll be officially closing on February 15th. As it turns out, when you don't make people pay for stuff, people don't pay for stuff.
The Editor says...
The "pay whatever you feel it's worth" idea is suitable only for a moral and religious people. It is wholly inadequate for any others. The liberal Left has created a culture of entitlement, and there is an abundance of freeloaders in this country who feel they are entitled to take whatever they can get, free of charge.
China and Russia loaned billions to Venezuela — and then the presidency went up for grabs. Venezuela is in the middle of a power struggle at the highest level, and that could mean trouble for its two biggest foreign allies: China and Russia. The socialist petrostate is home to the largest oil reserves on the planet, but endemic corruption has devastated its economy. Beijing and Moscow have helped the country stave off collapse by repeatedly extending financial lifelines — to the tune of tens of billions of dollars over the last decade. For the most part, those oil-for-debt swaps were good for all parties involved. But that may be changing.
Denton County measles case is first in Dallas-Fort Worth, seventh in Texas. One case of measles has been confirmed in Denton County, raising the statewide total to seven, according to health officials. Denton County Public Health confirmed the case Wednesday [2/6/2019] and is working to identify and contact other people who may have been exposed. The case has not been linked to any other cases, the health department said. The department did not release any information about the person who contracted measles, citing patient confidentiality.
The Editor says...
I suppose it's a sign of the times: The privacy of the person with the measles is more important than the health of the general population. What's all the fuss about the measles, anyway? I had the measles when I was a kid, and it was no big deal.
Yup, Iran/Hezbollah Really Is In Venezuela. Ghazi Nasr Al-Din fundraisers for and with Hezbollah. He also is a player in operational issues which includes a Hizbollah community center and operations office in Venezuela. He speaks Arabic and Spanish. Born in Beirut, Lebanon, he has been on the FBI Most Wanted List for several years. Al Din along with Fawzi Kan'an are based in Venezuela and have been since at least 2008.
Earth's Magnetic North Pole keeps moving about and it could be a problem. Earth's North Magnetic Pole has been drifting so fast in the last few decades that scientists say past estimates are no longer accurate enough for precise navigation. On Monday [2/4/2019], they released an update of where magnetic north really is, nearly a year ahead of schedule. The North Magnetic Pole is wandering about 34 miles a year. It crossed the international dateline in 2017 and is leaving the Canadian Arctic on its way to Siberia.
Getting the gold out: The rats are fleeing Venezuela's sinking ship. You can tell that things are not going well for Venezuela's Maduro socialist dictatorship, based on how they're behaving now. All signs are out now that the rats are fleeing a sinking ship. Giant contractors, even from Venezuela's allies Russia and China, are pulling out, meaning the money's running out. Just as interesting are the huge 757 Russian off-radar cargo jet flights into Caracas bearing the name of a newly-founded company, which sounds like a front for the Russian government. They came and went, with unknown purpose, but lots of room for anyone who might want to ... smuggle out the nation's gold.
Plan to pull nearly $1B in gold out of Venezuela reportedly halted. Plans by Venezuelan officials to ship 20 tons of gold overseas have reportedly been halted as the embattled presidency of Nicolas Maduro faces international pressure to cede power to a transitional government and protect the country's hard assets. The gold bars, worth around $850 million, were weighed and separated in the central bank but won't be leaving the country anytime soon, according to reports. On Tuesday, reports emerged that the gold was ready to be loaded onto a Russian airliner that arrived in the Venezuelan capital of Caracas a day earlier.
How the feds pulled off University of Farmington sting. Federal agents who created a phony university to bust immigration fraud had help from straw men, a state agency, a national college accreditation group and a dead-end post office box, public records show. The tapestry of tricks added a sheen of legitimacy to the University of Farmington, a fake university used by Homeland Security agents to arrest eight recruiters who are accused of visa fraud conspiracy and harboring aliens for profit. The recruiters helped at least 600 foreign nationals illegally remain and work in the United States by recruiting them to enroll as students at the fake university, according to federal prosecutors.
And now they're stuck with a lifetime of student loan debt!
Homeland Security made fake university to lure illegal immigrants. The Department of Homeland Security created a fake university in Detroit to lure — and arrest — illegal immigrant students and recruiters, according to newly unsealed court documents. The University of Farmington existed in Farmington Hills, Michigan — but had no real teachers, curriculum or actual classes. Instead, undercover Homeland Security agents posed as "owners and employees" of the school as "part of a federal law enforcement undercover operation designed to identify recruiters and entities engaged in immigration fraud," according to a federal indictment filed Jan. 15 but unsealed Wednesday [1/30/2019].
Russian Boeing 777 in Caracas set to haul 20 tons of gold from central bank, report says. About 20 tons of gold from Venezuela's central bank was ready to be hauled away Tuesday [1/29/2019] on a Russian airline's Boeing 777 that landed in Caracas a day earlier, a Venezuelan lawmaker wrote on Twitter. The destination of the $840 million in gold bars was unknown, but a source told Bloomberg News that it represented about 20 percent of the country's holding of the metal. The gold was set aside for loading, the report said.
Senator's huge financial win after neighbour tackled him in lawn maintenance dispute. A jury in Bowling Green, Kentucky, deliberated less than two hours before delivering the award to Republican Rand Paul, who had been attacked while doing yard work at his home. During the three-day trial Mr Paul told the court he feared for his life as he struggled to breathe after Rene Boucher, an anesthesiologist, slammed into him in late 2017. The jury awarded $375,000 in punitive damages and $200,000 for pain and suffering, plus $7,834 for medical expenses.
Struggling Newseum Sells Building to Johns Hopkins for $372.5 Million. The financially struggling Newseum which moved from Virginia to D.C. in 2008 announced that it has agreed to sell its Pennsylvania Ave. location to Johns Hopkins University for $372.5 million. The Newseum will remain open through 2019 while museum executives search for a new and presumably less costly location at which to operate.
Democrat Who Laughed Out Loud at Pledge of Allegiance will Deliver Dem's SOTU Response in Spanish. On Tuesday [1/29/2019] it was announced that California Attorney General Xavier Becerra will deliver the Dems' State of the Union response in Spanish. Schumer and Pelosi praised the incredibly corrupt California Attorney General with more Marxist doublespeak.
Failed gubernatorial candidate Stacey Abrams gets a SOTU response participation trophy. On Tuesday [1/29/2019], Senator Chuck Schumer announced that he is pleased that failed gubernatorial candidate Stacey Abrams had accepted the invitation to give a televised rebuttal directly following President Trump's State of the Union address on February 5. Given that she's not an elected representative, it's an odd choice [...] It is likely that Democratic leaders are offering Abrams as a sacrificial lamb, considering the failed rebuttal given by the frothymouthed Joe Kennedy last year, which led to thousands of memes and harsh criticisms about his flat and wet delivery. Before he gave his speech, he was considered the "rising star" of the Democratic Party. Afterward, he fell back into obscurity.
Israel Kamikaze Drones are Destroying Syria's Air Defenses. On January 21, Iranian, Syrian and Israeli forces unleashed a hail of missiles upon each other in what is becoming yet another flare-up of violence along the Syria-Israel border. Afterwards, the Israeli Defense Force released a video depicting unidentified munitions eliminating two or three short-range air defense systems--apparently including Russia's latest short-range system, the Pantsir-S2. In fact, the recent raids may reveal improvements to Syria's air defense forces due to ongoing Russian training and weapons transfers. However, they also reveal Israel's continuing ability to defeat, including through likely use of kamikaze-drones.
Thanks to Trump, China's economy is rapidly decelerating — Here's what could happen next. The Chinese government recently announced that its GDP growth for 2018 of only 6.6 percent — the country's slowest rate of economic development since 1990. Growth in the fourth quarter declined to 6.4 percent. For the second half of 2018, Chinese investment, consumer spending, manufacturing and exports all slowed markedly with the current trade war with the U.S. hurting China more than anticipated. And that's assuming the numbers are accurate. Economists have long questioned the accuracy of China's official economic data. In any event, China's economy is rapidly decelerating — and that's no coincidence.
Yes, Venezuela Is a Socialist Catastrophe. Conspicuous by its absence in much of the mainstream news coverage of Venezuela's political crisis is the word "socialism." Yes, every sensible observer agrees that Latin America's once-richest country, sitting atop the world's largest proven oil reserves, is an economic basket case, a humanitarian disaster, and a dictatorship whose demise cannot come soon enough. But ... socialist? Perish the thought. Or so goes a line of argument that insists socialism's good name shouldn't be tarred by the results of experience. On Venezuela, what you're likelier to read is that the crisis is the product of corruption, cronyism, populism, authoritarianism, resource-dependency, U.S. sanctions and trickery, even the residues of capitalism itself.
Venezuela Erupts Against Dictator Maduro as His Socialist Regime Starts to Completely Collapse. Hundreds-of-thousands of people took to the streets in Venezuela Wednesday afternoon in protest of illegitimate President Nicolas Maduro and in support of internationally recognized President Juan Guadio. [...] On Wednesday afternoon [1/23/2019] the Trump administration, in partnership with a number of Central and South American countries, officially declared Maduro is no longer recognized as the leader of Venezuela and that Guadio is the legitimate President of the country.
Bernie Sanders warns about US, not Russian, intervention in Venezuela. The story out of Venezuela is revolting: mass Egypt-style protest to get a leftist dictator who's put the country in ruins out, and the whole thing stopped by Russian intervention. [...] Russian president Vladimir Putin's warnings, delivered yesterday via his administrative minions, threatening civil war and hell to pay if Maduro is thrown out, is a clear signal that somebody's rice bowl is threatened in Moscow if Maduro exits and that Russia itself is trying to intervene. By the wildest coincidence, they just happen to be the Venezuelan military's arms-supplier, supplying the weapons that, so far, are being aimed at Venezuela's protesting people. China, which has loaned Venezuela billions in exchange for oil at below-market rates, is another one. And Cuba, which literally runs the critical parts of the Venezuelan government, including much of its military, has the dirtiest hands of them all.
Most supporters of socialism ignore Venezuela's collapse — with one exception. Bernie Sanders, Alexandria Ocasio-Cortez, and most other fantasy-embracing leftists are uncharacteristically silent about the collapse of socialism, even as President Trump calls out the real-world refutation of the suddenly trendy failed ideology in the experience of Venezuela.
Trump announces temporary end to partial government shutdown; vows to build wall despite no funding deal. Both chambers of Congress passed the short-term spending bill to re-open the government, temporarily ending the 35-day partial government shutdown on Friday [1/25/2019], sending the measure to President Trump's desk for him to sign into law. Trump and congressional Democrats arrived at an agreement Friday to support a short-term spending bill to re-open the government, temporarily ending the partial government shutdown that has dragged on for 35 days, in a move to separate the controversial issue of border security from funding of the government.
Desperate Embrace At Europe's Core. Europe's most powerful personages on Tuesday [1/22/2019] signed a treaty for the "unification," of Western Europe's biggest countries. French President Emmanuel Macron and German Chancellor Angela Merkel inked the deal at Aachen/Aix la Chapelle. It was there in the chapel that Charles de Gaulle and Konrad Adenauer had knelt at Holy Mass to celebrate the signing of the 1963 Franco-German treaty of cooperation that sealed their peoples' vow of friendship and cooperation. In the ensuing half century, it produced just that. France and Germany became the core of the Common Market and then of the European Union. Today's treaty, its pretensions notwithstanding, is between regimes that are overwhelmingly occupied trying, with decreasing success, to fend off domestic challenges to their legitimacy. The treaty is a desperate attempt by France and Germany to change the subject from their internal struggles. Nevertheless, the treaty cannot but have major and deleterious effects on intra-European relations as well as on relations between Europe and the United States.
Venezuelans set fire to Hugo Chavez statue. Operation Boot Maduro seems to be moving to stage two. Following this week's military mutiny, which was squelched, but not before locals ran out and attempted to defend the troops in pitched street battles, now at least sixty — sixty! — neighborhoods in Caracas have erupted into riots — big riots, with people reported shot dead. Take a look at the series of tweets posted by Caracas Chronicles on its Twitter feed enumerating the names of the neighborhoods now in open revolt.
That weird silence from Democrats over Venezuela's massive rejection of socialism. All over the world, nations and leaders are throwing expressions of support and praise for Venezuela's leaders and people, who after many years of oppression and missteps, have come together with a courageous plan to non-violently shake off a detested socialist dictatorship that has left their country in ruins. Television pictures from yesterday's demonstration covered the story in spades, showing the magnificent human spectacle to U.S. viewers. President Trump and Vice President Pence have been right there for them. The Organization of American States and the Inter American Development Bank are loudly supporting them. The European Union is openly encouraging them. There also are the skunks, such as Russian President Vladimir Putin's government, an official of which dismissed the millions-strong effort to shake off socialism and finally have food to eat, muggers in jail, a full roll of toilet paper and hospitals with sheets, running water and Band Aids as "an attempted coup." Then there are the Democrats, who are curiously, weirdly silent.
Astronomers Aren't Pleased About a Russian Plan to Put Billboards in Space. Russian company StartRocket is proposing to use Cubesats, small satellites with inexpensive launch profiles, to put billboards in space. At an altitude of about 450 km (280 miles), the satellites would unfurl a mylar sail about 9 meters (30 ft.) long. A group of CubeSats would work together to create a singe billboard, and the result would be a pixelated billboard with a viewable area of about 50 sq. km., visible in morning and evening twilight, when they catch and reflect sunlight. StartRocket thinks of their billboards in space as the creation of a new media. The company calls them Orbital Displays, and each one would only last about a year. They would be easily visible on clear nights, but not overbearingly bright.
Socialists can't stand to see capitalism succeed.
Progressives target Amazon. Amazon has become a recurring symbol of economic inequality for newly emboldened progressive Democrats.
Like in Nigeria, 20 Mexican oil pipeline thieves die in fire. Stealing fuel from oil pipelines appears not to be a peculiar Nigerian habit. It is also a problem in Mexico, where the theft cost the government about $3 billion in 2018. At least 20 people were killed and 54 were injured on Friday [1/18/2019] when a pipeline ruptured by suspected fuel thieves exploded in central Mexico as dozens of people tried to fill up containers, state and federal authorities said.
Update:
At least 66 dead, dozens injured after pipeline explosion in Mexico. Forensic experts attempted to separate and count charred heaps of corpses in central Mexico on Saturday after a massive fireball erupted at an illegal pipeline tap, killing at least 66 people.
More updates:
Pipeline explosion witnesses describe scene where 73 died. Grief-stricken family members and witnesses to Friday's pipeline explosion in central Mexico — which killed at least 73 people, burning many to just bones or ash, and injured at least 74 — were still reeling from the tragedy Saturday [1/19/2019]. [...] Isaias Garcia, a farmer who witnessed the explosion from a distance, explained why so many had come to the area. "Everyone came to see if they could get a bit of gasoline for their car," he said. "There isn't any in the gas stations."
Death toll rises in Mexico pipeline blast. Mexico's state oil firm, Pemex, did not close the valve at a leaking gasoline pipeline when first notified because it was not initially thought to be an "important" leak, Mexico's security minister said on Sunday [1/20/2019]. The number of people who died from the explosion in central Mexico has risen to 85, Mexico's health minister said on Sunday. An additional 58 people were hospitalized, Health Minister Jorge Alcocer told a news conference.
Death toll in Mexico gasoline pipeline blast climbs to 96. The number of people who died in a gasoline pipeline explosion in central Mexico late last week has risen to 96, government officials said on Tuesday [1/22/2019], from 91 reported a day earlier.
The Editor says...
This horrific tragedy was caused by gasoline thieves drilling into a pipeline to get free gas. This event will probably be used by anti-pipeline activists as evidence that pipelines are dangerous, but that is not true, at least in the United States. Pipelines are safe if you leave them alone.
The 'Pelosi Rule' — "Sen. Joni Ernst Proposes Legislation to Keep Lawmakers in DC During Shutdowns. On Friday night Speaker Nancy Pelosi was spotted at Reagan International Airport in Washington DC flying commercial as the president suggested. This was after President Trump grounded Speaker Pelosi and Democrats taking a "public relations tour" to trash the administration in Europe and Afghanistan. On Friday [1/18/2019] Sen. Joni Ernst (R_IA) proposed legislation to force lawmakers to stay in Washington and meet twice per day until their work is done on national budgets.
The Tense Debate Over Gay Priests. Since last summer, the Catholic Church has been roiled by accusations that retired Archbishop Theodore McCarrick of Washington, D.C., molested male minors and sexually harassed adult seminarians and priests over more than two decades. The case has reignited a long and tense debate among Catholics over the question of homosexuality in the all-male priesthood. Some bishops, other clergy and laypeople have cited Archbishop McCarrick's rise to power, despite widespread rumors of sexual misconduct, as evidence of a "homosexual subculture" in the hierarchy that they blame for allowing sex abuse and covering it up.
GOP Senators: No Official Travel for Pelosi or Anyone If Budget Deadlines Aren't Met. After President Trump yanked funding for Speaker Nancy Pelosi's (D., Calif.) Democratic delegation trip to Afghanistan, a trio of GOP senators are pushing a proposal that would bar any congressional travel if Congress can't meet its budget deadlines. The bill would also prevent Congress from leaving Washington if lawmakers fail to complete their job of funding the government on time in an effort to fix the broken budget process and avoid future government shutdowns, stop-gap funding extensions, and bloated, last-minute, "omnibus" spending deals.
Another FBI Lawyer is Under Criminal Investigation for Leaking to the Media. Former FBI attorney James Baker is reportedly under criminal investigation for improperly leaking sensitive information the media. [...] Baker reported to fired FBI Director James Comey, who has also been the subject of investigation by the Department of Justice Inspector General for his leaking habits and potential improper handling of classified information. Comey openly admitted to leaking memos about his conversations with President Trump during a congressional hearing in June 2017. He said his goal was to launch a special counsel investigation into the president.
Freshman Democrats frustrated with leadership over shutdown impasse. While Democratic leadership holds the line, apparently refusing to come to the table to negotiate, the resolve of House Speaker Nancy Pelosi and Senate Minority Leader Chuck Schumer in holding out might not be trickling down into the freshman class. A number of newly sworn-in Democrats have reportedly voiced frustration with the leaders within their own party. Some are suggesting that they might be willing to at least negotiate and see what kind of a deal could result.
You don't know what's in those vaccines.
Leading cancer expert dies suddenly after routine yellow fever jab. A leading cancer expert has died suddenly after a routine yellow fever jab. Martin Gore[,] once described by the Duke of Cambridge as an 'inspiration[,]' suffered total organ failure shortly after having the injection. The jab is recommended to anyone visiting Sub-Saharan Africa, South and Central America and the Caribbean, reports The Times.
America's progressives are so busy extolling virtues of socialism that they want you to ignore this. Venezuela is in deep trouble: hyperinflation, food shortages, scarce medical supplies, and soaring violence born of desperation. It's all the doing of former Venezuelan President Hugo Chávez, his successor Nicolás Maduro, and their fellow kleptocrats. Though America didn't cause Venezuela's problems, the Trump administration is trying to be part of the solution. Its primary motive: to ease the intolerable suffering caused by the socialist regime and its destabilizing effects on the entire region. Nearly three-quarters of a century ago, Winston Churchill described socialism as "the equal sharing of misery." Venezuela under Maduro shows that description holds true today.
Libertarian Party Organizes National Park Cleanups. Republicans and Democrats may be sniping at each other over the partial government shutdown, but it's the Libertarian Party which is putting words to action. Libertarians have organized multiple national park cleanups over the last week to show maybe the government isn't needed to provide services. Libertarian Party National Committee Chair Nicholas Sarwark sees it as a real opportunity.
Mercenary:
Joe Lieberman Called Chinese Telecom Giant ZTE a National Security Threat. Now He's a Lobbyist for It. Joseph Lieberman, the former Connecticut senator and Democratic vice presidential candidate, is working for a company he once called a national security threat. In November, Lieberman registered as a lobbyist for ZTE, a Chinese telecom giant with close links to the country's government. The ex-senator told Politico that, despite his registration, he wouldn't actually be lobbying for the firm. Rather, he hoped to "raise the level of trust in ZTE." Lieberman certainly should understand the trust deficit the company faces. In 2010, he signed a letter saying ZTE and another Chinese telecom company, Huawei, could threaten American national security.
Ex-CIA Interrogator: Dems Comparing Shutdown to Hostage Situation Is a 'Narcissistic Power Grab'. Dr. James Mitchell, a U.S. Air Force veteran and former CIA interrogator, blasted Democrats for likening the partial government shutdown to a hostage situation. A multitude of top Democrats, including House Speaker Nancy Pelosi (Calif.) and Sen. Charles Schumer (N.Y.), have recently said President Trump has taken Americans "hostage" by not opening up the government. Mitchell, who interrogated 9/11 mastermind Khalid Sheikh Mohammed, said Saturday [1/12/2019] on Fox & Friends that the true hostage-takers are the Democrats themselves. "They're using the federal employees as human shields in order to keep the southern border open to illegal immigration," he said.
The Unraveling of Wuerl's Lies. In the latest revelation about Donald Wuerl — that, contrary to his claims of ignorance, he knew about McCarrick's misconduct for at least 14 years — he emerges as the amoral but self-protective bureaucrat, undone by his own pass-the-buck-style record-keeping, which gives a grimly ironic dimension to his downfall. Wuerl's policy wasn't one of zero tolerance but of zero legal exposure, and toward that end he needed to keep records of complaints he had received and transmitted to the papal nuncio.
Gone: More cases emerge of Saudi students vanishing while facing Oregon charges. In December 2014, a university student from Saudi Arabia was arrested in Monmouth and accused of raping a classmate after giving her marijuana and shots of Jack Daniel's. Bail was set at a half-million dollars. The judge ordered the student, Abdulaziz Al Duways, to turn over his passport to the private defense lawyer hired to represent him, according to court records and the Polk County District Attorney's Office. A few days later, an official from the Royal Consulate General of Saudi Arabia in Los Angeles posted bail. Al Duways disappeared. The case preceded a similar one recently reported by The Oregonian/OregonLive involving Abdulrahman Sameer Noorah. The Portland Community College student jumped bail in the hit-and-run death of a 15-year-old Portland girl and apparently fled with the Saudi Arabian government's help, law enforcement officials said.
Real Mature: Democratic Lawmakers Deliver National Park Trash To White House Amid Shutdown. When things get serious, you can always count on Democrats to put the best interest of the country ahead of everything. Just kidding. Instead, when the chips are down, you can expect Democrats to pull stunts — pointless, crude and childish. That's just what two California Democrats did on Wednesday [1/9/2019], making a show of bringing boxes of garbage collected at a national park during the government shutdown, which began December 22. Reps. Jackie Speier and Jared Huffman went out to Golden Gate National Recreation Area on Saturday [1/5/2019] and helped volunteers pick up trash. On Wednesday, the two House members brought the garbage to the White House to deliver what they called a "reality check."
Surgeon fined $3K for removing kidney he thought was tumor. The Florida Board of Medicine says a West Palm Beach surgeon has agreed to pay a $3,000 fine for removing a woman's healthy kidney that he thought was a tumor.
"Biblical plague" swarms into Muslim holy capital. A plague that seems straight out of the Bible's Old Testament has hit the Muslim holy capital of Mecca — the first time in recorded history such an event has occurred. Inside Islam's holy city, the Grand Mecca itself has been swarmed by hordes of flying locust[s]. The unexplained event has left authorities struggling to clean up. According to Newsweek, "The Holy Mecca Municipality issued a statement Monday responding to the swarm of so-called 'night cockroaches,' saying it had dispatched '22 teams consisting of 138 individuals and 111 devices'" to clean up.
Portland professor behind journal paper hoax fears he could lose his job. A professor who fooled prestigious journals into running absurd hoax papers, as a test of their bias, says he may now lose his job because of his actions. Peter Boghossian was one of three people who collaborated last year to test the standards of various university disciplines, submitting papers loaded with left-wing buzzwords to journals in fields like feminism, race studies, queer studies, and cultural studies. Many prestigious journals fell for their absurd hoax papers. A leading feminist journal published a section of Adolf Hitler's Mein Kampf that had simply been re-written with fashionable buzzwords. Another journal published a paper about "rape culture and queer performativity" in dog parks.
How Convenient: Charter Spectrum has Major Outage Across US before President Trump's Address on Border Security. Spectrum has announced a major cable outage across the country just 1 hour before President Donald Trump is supposed to address the nation about the immigration crisis and the need to build the wall. What are the odds? Interesting how the outage is in all major cities and border states.
GOP senator's bill to withhold pay from Congress members during gov't shutdowns catches on. Republican Montana Sen. Steve Daines introduced a bill on the Senate floor Thursday that would withhold the pay of members of Congress during future government shutdowns. Daines's introduction of the bill, sponsored by Republican Texas Sen. John Cornyn, comes hours after Daines announced he sent a letter requesting the secretary of the U.S. Senate withhold his pay during the ongoing partial shutdown of the federal government.
Families of Sandy Hook shooting victims win legal victory in lawsuit against InfoWars, Alex Jones. Six families of victims killed at Sandy Hook Elementary School won a legal victory Friday [1/11/2019] in their fight against controversial radio and internet personality Alex Jones. A judge in Connecticut has granted the families' discovery requests, allowing them access to, among other things, Infowars' internal marketing and financial documents.
New York now requires changing tables in public men's restrooms. Change is coming to men's restrooms in New York — and it's going to be a big help to fathers all over the state. A new law requires all new or renovated buildings in New York that have bathrooms used by the public to make changing tables available to both men and women. The rule, which passed in April 2018 but didn't go into effect until the new year, applies to restaurants, stores and movie theaters as well as state facilities such as parks and offices of the Department of Motor Vehicles.
Here's The Viral Photo Of The Bloodied Man Female UFC Fighter Allegedly Beat Up For Attempted Robbery. Twenty-six-year-old UFC fighter Polyana Viana told MMAjunkie on Sunday [1/6/2019] that she was approached by a man while she was waiting for an Uber driver. After asking her for the time, he demanded she give him her cellphone and told her he was armed. Making a split-second decision, Viana decided the "gun" he claimed to have was likely "too soft" to be an actual gun and deployed two punches and a kick to the man, and as he fell to the ground, she caught him in a headlock, she recalled. The fighter said she held him until the cops arrived.
Four-year Senate investigation finds US Marshals Service plagued with corruption. Wasteful spending. Favoritism and nepotism. Sexual harassment. These were a few of the findings of a four-year Senate investigation into the U.S. Marshals Service, which concluded Thursday [1/3/2019]. A newly released report has revealed the Justice Department agency was rife with misconduct and abuse of authority, and at high levels. The Senate Judiciary Committee's report, that included more than 100 interviews with current and former agency employees, details a long list of serious offenses that touched every part of internal affairs.
China: We'll Use Force To "Absorb" Taiwan If Necessary. 2019 is shaping up to be the year of Chinese aggression and challenges to the west. On the technological front, they just landed a spacecraft on the dark side of the moon. Far more troubling is the increasing level of military saber-rattling going on. After launching their first domestically constructed aircraft carrier, one of their admirals suggest that they might sink a couple of ours. And now, renewing a diplomatic battle that's been going on for decades, China's president is suggesting that they will bring Taiwan back under the direct control of Beijing, even if they have to do so by force.
Senate confirms dozens of stalled Trump nominees hours before the 115th Congress ends. The Senate confirmed dozens of stalled Trump administration nominees Wednesday night, just hours before the close of the 115th Congress. The list excluded federal judges despite an effort by Majority Leader Mitch McConnell, R-Ky., to secure a deal for those nominees with Minority Leader Chuck Schumer, D-N.Y. In total, the Senate cleared 77 nominees by voice vote, among them 23 ambassadors to countries including Australia, Armenia, Yemen, Guyana, Kenya, and Bosnia and Herzegovina.
Overflowing garbage, feces on roads prompt Yosemite National Park officials to close some campgrounds. Campgrounds in Yosemite National Park have been closed amid a foul tide of trash and human waste that is being blamed on the partial federal shutdown. The restrooms and visitor centers at the park in California have been closed since Dec. 22, when the partial government shutdown began, the Los Angeles Times reported. Trash collection was also suspended at the park but it has remained open. But on Monday, feces and garbage were beginning to overwhelm Yosemite and other national parks.
The Editor says...
False flag alert: Are average park visitors suddenly throwing trash wherever they please, or is someone making the government shutdown look more inconvenient than it really is?
Federal workers are suing the US government over the shutdown. Federal workers on Wednesday sued the U.S. government over the shutdown, protesting the requirement that employees who are considered "essential" must report to work without pay, a major federal workers' union announced Monday. An estimated 420,000 employees fall into the category of being essential, many of them working for the Department of Homeland Security and the Justice Department, focused on public safety. In previous government shutdowns, Congress approved back pay for federal employees, something that's likely to happen again once the standoff between President Donald Trump and congressional Democrats ends.
Utah implements nation's strictest drunk-driving law. Just in time for New Year's Eve, Utah is setting up the strictest DUI law in the country. The state is lowering its limit on blood-alcohol content from 0.08 to 0.05 percent. Most states, including New York, set the limit at 0.08 percent. Utah's mostly Mormon lawmakers embraced the change.
Journalists Dropping the Ball to End 2018. After another year of embarrassing and sometimes bizarre behavior, the American news media will shamelessly celebrate themselves as 2018 draws to a close. The irony of people representing media outlets that have polluted our public discourse with some of the most flawed, biased, and conspiratorial news coverage in modern times dropping a ball together in midtown Manhattan is delicious. And their lack of self-awareness makes it even more spectacular.
Chancellor Merkel Says Nations Must 'Give up Sovereignty' to the EU. German Chancellor Angela Merkel gave a very troubling speech yesterday to the Konrad Adenauer Foundation in Berlin where she said, "Nation states must today be prepared to give up their sovereignty" and that the will of the people on issues like immigration and border security doesn't matter.
French security services investigate Russian role in yellow vests movement. Yellow vest protestors claim that tax increases are disproportionally affecting working- and middle-class people and that everyday life is becoming economically unsustainable in France. Some of the demonstrations have turned violent, and so far at least eight people have died as a result. The ensuing crisis has become the most significant threat to the government of Emmanuel Macron, as the protests are increasingly evolving into an anti-Macron rallies. So far, the yellow vests campaign has been largely bipartisan, bringing together protestors from the entirety of the French political spectrum. Additionally, there are no identified leaders or coordinators of the movement. However, some suspect that Russian government operatives may be further-inflaming an already incensed protest movement.
Kenya believe it?
China's African debt-trap: Beijing prepares to seize Kenya's port of Mombasa. China may be preparing to seize some major assets in the African nation of Kenya, as a result of debt-trap diplomacy. African media reports that Kenya may soon be forced to relinquish control of its largest and most lucrative port in Mombasa to Chinese control. Other assets related to the inland shipment of goods from the port, including the Inland Container Depot in Nairobi, and the Standard Gauge Railway (SGR), may also be compromised in the event of a Chinese port takeover.
What the Russian Trolls Were Really Doing in 2016. [Scroll down] So the actual story of Russia's Facebook operations is that they targeted African-Americans and even Latinos more than conservatives. That would be entirely in line with Russia's past propaganda, and its influence operations in the United States, but it doesn't fit the Clinton conspiracy theory. The Oxford report is even forced to concede that the Russians hit Muslims with "pro-Clinton" messages and that the Russians had "targeted Canadians with ads encouraging donations to Justin Trudeau's campaign." That doesn't fit the narrative, so it's dismissed as confusing. When Russia posted pro-Trump material, it's touted as proof of Russian backing. But when the Russians supported Bernie Sanders, Justin Trudeau or other leftists, suddenly "it's not what it looks like."
Not in my neighborhood!
Plans for homeless shelter on Billionaires' Row are stopped. The new homeless shelter set to open up in the former Park Savoy Hotel in Manhattan's "Billionaires' Row" has been put on ice — at least, for the time being. The group of residents suing over the city's contentious housing plan was granted a temporary injunction halting the construction at the West 58th Street shelter.
National debt interest will soon exceed national defense spending. President Trump has harshly criticized the Federal Reserve in recent weeks for inching up the standard interest rate to guard against rising inflation and threatening the four percent economic growth rate the billionaire likes to brag about. Here's another reason: The higher interest rates on your credit card balances and car loans also apply to the federal government's borrowing.
Iraqi politicians attack Trump's visit to US troops as 'blatant violation of sovereignty'. Iraqi politicians and military leaders have criticised Donald Trump's visit to US troops in the country. Calling it a "blatant violation of Iraq's sovereignty" Sabah al Saadi, the former head of Iraq's integrity commission and leader of the powerful Islah parliamentary bloc, called for an emergency session of parliament. He described Mr Trump's visit as "aggressive" before claiming the US president "should know his limits." He said: "The US occupation of Iraq is over."
The Editor says...
Why are we in Iraq at all? Pull out now, I say, and let the ungrateful Iraqis rot.
Top Amazon boss privately advised US government on web portal worth billions to tech firm. A top Amazon executive privately advised the Trump administration on the launch of a new internet portal that is expected to generate billions of dollars for the technology company and give it a dominant role in how the US government buys everything from paper clips to office chairs. Emails seen by the Guardian show that the Amazon executive Anne Rung communicated with a top official at the General Services Administration (GSA) about the approach the government would take to create the new portal, even before the legislation that created it — known to its critics as the "Amazon amendment" — was signed into law late last yea
Baltimore police pay $500 for rocket launcher at gun buyback. Baltimore police say a rocket launcher was among the more than 1,000 firearms turned in during recent gun buyback events.
In Brazil, Bolsonaro gives cops 'license to kill.' What could go wrong? High crime has made Brazil's cities unlivable, which is why many of even the poorest Brazilians flocked to elect right-wing conservative Jair Bolsonaro for president. But his solution — which news accounts say is to just get out there and shoot the criminals — isn't likely to work.
License-to-Kill Policing to Get a Trial Run in Rio de Janeiro. Teams of marksmen next year will patrol swaths of Rio de Janeiro with high-powered weapons and a license to kill, said a security adviser to Governor-elect Wilson Witzel. As many as 120 sharpshooters will accompany police incursions into the slums of Brazil's postcard city to exterminate gun-toting criminals, according to Flavio Pacca, a longtime associate of Witzel who the governor-elect's press office said will join the administration. The shooters will work in pairs — one to pull the trigger, one to monitor conditions and videotape deaths.
Report: Huber and Horowitz Investigations Deep State Cons Constructed by DOJ. Paul Sperry has an interesting report posted at RCP-Investigations outlining numerous interviews with DC politicians and would-be witnesses, if any actual DOJ investigation of the FBI and DOJ misconduct was taking place. What Sperry discovers is the year-long narrative around John Huber and Michael Horowitz is factually false. Just like the false framework surrounding the long-forgotten U.S. Attorney John Lausch; the guy who was supposedly hired to facilitate DOJ record production but actually did nothing of the sort; Sperry discovers the framework around U.S. Attorney John Huber was manufactured by career officials inside the DOJ to tamp down problematic demands for a second special counsel.
Former Senate Intel aide accused of passing info to 'young, female reporters' gets 2 months. A former aide to the Senate Intelligence Committee, who leaked information to a journalist he was having an affair with, has been sentenced to two months in prison for lying to the FBI. James Wolfe, 58, pleaded guilty in October to one felony count of lying to the FBI. The count referenced use of encrypted messaging in October 2017 to tell "Reporter #3" about a subpoena the committee had issued.
Ticking Time Bombs in the [Catholic] Church. Former Los Angeles Cardinal Roger Mahony is long retired, but his scandals keep exploding like ticking time bombs around the feet of his successor. The latest eruption was this week's revelation that Mahony had elevated Monsignor Alexander Salazar to auxiliary bishop in 2004 despite a credible allegation of abuse against Salazar from the 1990s.
Catholic Church in Illinois Withheld Names of at Least 500 Priests Accused of Abuse, Attorney General Says. The Catholic Church in Illinois withheld the names of at least 500 priests accused of sexual abuse of minors, the state's attorney general said Wednesday in a scathing report that accused the church of failing victims by neglecting to investigate their allegations. The preliminary report by Attorney General Lisa Madigan concludes that the Catholic dioceses in Illinois are incapable of investigating themselves and "will not resolve the clergy sexual abuse crisis on their own."
Microsoft Making It Easier to Type Kaomoji. Last night Microsoft released quite a feature-packed Windows 10 2019 Preview Build to Windows Insiders. The last major update for the year, build 18305 brought in some pretty useful features. But, it's the fun ones that deserve some attention.
Illinois finds 500 more Catholic clergy accused of abuse. Illinois Attorney General Lisa Madigan on Wednesday issued a blistering report about clergy sexual abuse, saying that Catholic dioceses in Illinois received allegations of child sexual abuse by 500 more clergy than previously publicly identified.
What's Happening to Tucker Carlson (and Others) Is Called 'Blacklisting'. There is no question political blacklisting has returned with a vengeance. Once again, just as we saw during the Hollywood blacklist of old, large corporations are de-platforming, refusing to serve, firing, and stripping sponsorship from those who hold beliefs and opinions unpopular with the establishment. We even have large media corporations, like the far-left CNN, openly demanding the blacklisting of certain opinions. What's more, in a truly ironic example of history repeating itself, we have the powerful in Hollywood calling for the blacklisting of certain opinions.
Protester Who Climbed Statue Of Liberty To Protest ICE Convicted On All Counts. On Monday [12/17/2018], the woman who climbed the base of the Statue of Liberty to protest against U.S. immigration policy last July 4, forcing thousands of visitors who wanted to visit the iconic statue on Liberty Island to evacuate the island, was convicted on all counts by a judge in Manhattan.
Federal court says NY ban on nunchucks [is] unconstitutional. A federal court says New York's ban on nunchucks, the martial arts weapon made famous by Bruce Lee but prohibited in the state for decades, is unconstitutional under the Second Amendment.
Acting AG Matt Whitaker likely in clear in Hatch Act probe, experts say. Acting Attorney General Matt Whitaker did not violate the Hatch Act when his campaign account from a failed 2014 Senate bid accepted four donations totaling nearly $9,000 earlier this year, campaign finance experts said. But most of the money is still sitting in the campaign's account because William Gustoff, the campaign's treasurer, is waiting to make sure he can use it to pay back a loan to Mr. Whitaker, who is still owed $50,000 from a personal loan he made to his Senate bid.
Over 40 percent of Americans say no to flu vaccinations. Have you gotten your flu shot this year? If the answer is no — and I'm not getting one! — you're not alone. A new study finds more than 40 percent of Americans have not been vaccinated and, in fact, don't plan on it either. This is despite the warnings, potential dangers, and last year's record-number of flu deaths. The survey was done by the National Opinion Research Center at the University of Chicago. People under the age of 45 were the least likely to report being vaccinated.
Joe Lieberman, former 'conscience of the Senate,' becomes a Chinese agent. Joe Lieberman, a Democrat-turned-independent who has backed Republicans, has found friends in yet another party: the ruling Communist Party of the People's Republic of China. The former "conscience of the Senate" has been hired to represent China's ZTE telecommunications company, which is basically a front organization for Chinese intelligence services. ZTE is under pressure in light of overdue U.S. government efforts to prevent it from entrenching a stronger position in the U.S. economy. With the U.S. now in a new cold war with Beijing, no former U.S. official, let alone a foreign policy hawk like Lieberman, should be serving ZTE.
How to delete Facebook without losing your friends and photos. Casey Neistat wrote an article back in 2014 how he 'fixed' his Facebook by unfriending people who shared too much. I tried this in 2017, and it absolutely didn't work! People still share way too much and every time I go on Facebook it feels like like a whole plague of negativity that's trying to give me cancer. Just no. It's not cool. Facebook really isn't the 'cool' platform it was back in 2008.
The curiously now-dead Venezuelan PDVSA oil chief was the CITGO guy and a Washington fixer. Another day, another dead dissident over in the socialist hellhole of Venezuela. The death of Nelson Martínez in police custody made the news, because no one had ever seen such a high-level official killed off, possibly by bad medical care, which wouldn't be surprising in a Venezuelan dungeon, or maybe a rubout from the mafia state that's currently in power. Maybe it was both. It's likely someone wanted him dead. Martínez had been Venezuela's oil chief, the man at the top of state oil company Petroleos de Venezuela, S.A., which brought in 95% of the country's export revenues based on Venezuela's oil shipments, and close to Venezuela's President Nicolás Maduro.
New App Posing HUGE Threat To Twitter Sees Thousands Sign Up Almost Overnight. Twitter has done more than its fair share to make many feel unwelcome on the platform. Between banning and suspending conservatives for so much as glancing at a leftist the wrong way, to taking their sweet time in punishing leftists who break their terms of service in a big way, Twitter has made its bias very clear. If you're a conservative, you're a target. As I discussed in a video, Twitter employees even admitted to this while being filmed under-cover.
Judge rules Americans can secretly record public officials in victory for Project Veritas. A federal judge ruled Monday that Americans have a right to secretly record their public officials, including police, when they are engaged in their government duties. U.S. District Chief Judge Patti B. Saris said a Massachusetts law banning secret recordings violates the First Amendment when it comes to government employees, rejecting the state's claims that officials need some space to be able to operate without having to worry about being monitored.
Project Veritas Gets A Win In Massachusetts. Chalk up a win for the watchdogs of government. A federal judge in Massachusetts has ruled in two cases — one including the bane of many Democrats' existence, Project Veritas — that the Massachusetts state law prohibiting secretly recording government officials is unconstitutional.
Naval Air Station Corpus Christi could be re-named after Bush 41. The naval air station where former President George H.W. Bush earned his naval wings in 1943 could soon be renamed after the late president. Nueces County commissioners are set to vote Wednesday on a resolution in support of changing the name of the N.A.S. Corpus Christi to the George H.W. Bush Naval Air Station Corpus Christi — a push that's making its way through Texas and Washington.
Barack Obama's Campaign Was Fined $375,000 for Campaign Finance. Donations — Why Didn't Liberal SDNY Prosecute Obama? Gregg Jarrett went off after the New York Southern Division accused President Trump of campaign violations by paying hush money to two women from his own pocket. [...] Of course, the NYSD said nothing when Obama was accused of campaign finance donations. In January 2013 the Obama Campaign was fined $375,000 for campaign reporting violations.
France surrenders to the French. Macron today [12/10/2018] capitulated to the Yellow Jacket rioters who have turned Paris into Europe's first no-go zone not run by Muslims. Corporate media in America is alarmed and couched Macron's submission as heroic. Maybe he can relocate his capital to Vichy. Some Trump supporters are saying he negotiated with terrorists. That's being kind. He merely gave them what they want. Again.
Are 'deplorables' reaching the breaking point... again? Another possible government shutdown showdown just ahead of Christmas, along with news of massive protests in France against unfair and unsustainable tax policies, has comments sections on conservative sites buzzing with calls to just "shut it down" if funding for the border wall is not included in the budget. Candidate Trump's "forgotten" men and women are getting antsy.
AI can solve CAPTCHA tests in under 0.05 seconds. CAPTCHA is an acronym for "Completely Automated Public Turing test to tell Computers and Humans Apart", a type of challenge-response test used in computing to determine whether or not the user is human. Text-based CAPTCHAs use a jumble of letters and numbers, alongside other security features such as occluding lines, to distinguish between humans and malicious automated computer programmes. The system relies on people finding it easier to decipher the characters than machines. Developed by computer scientists at Lancaster University in the UK as well as Northwest University and Peking University in China, the new algorithm delivers significantly higher accuracy than previous CAPTCHA attack systems, and is able to successfully crack versions where previous attacks failed. It is also highly efficient, able to pass a test within 0.05 seconds on a desktop PC.
Nadler: I'm ending investigation into FBI, DOJ when I become chairman. The Democrat poised to lead the House Judiciary Committee next year says he has no intention of continuing the GOP-led investigation into FBI and Justice Department (DOJ) decisionmaking [sic] during the 2016 election. Rep. Jerrold Nadler (D-N.Y.), who stepped outside of the ongoing closed-door interview with former FBI Director James Comey, told reporters Friday [12/7/2018] that he plans to end the probe come January.
The Editor says...
Please show me a dictionary (if you attended a public school, that's a hardback book with a lot of definitions and pronunciation guides in it), in which decisionmaking is a single un-hyphenated word.
Macron Shuts Down Paris in Attempt To Stop Protests. French President Emmanuel Macron has officially shut down Paris this weekend in his attempt to stop the "Yellow Vest" populist uprising against current political policies. The primary tourist venues are all closed; shops ordered to close; windows boarded up; 8,000 police units dispatched to Paris and 89,000 deployed throughout the country.
The Editor says...
Beware of new reports that tell you about thousands of people rioting in the streets over "political policies" without telling you what those policies are, or why they're bad enough to justify violence. The riots are all about sudden increases in already-high gasoline taxes to pay for environmental money pits like global warming. The French people are just now figuring out that socialism comes at a high cost. They may also learn that carbon dioxide is harmless, global warming and cooling is inevitable and natural, and no amount of money can change the weather.
Paris Is Burning Over Climate Change Taxes — Is America Next? The City of Lights, Paris, has been illuminated in recent days by cars set alight by thousands of protesting "Yellow Vests" — largely middle class people who earn their living by driving or who commute to get to work. The cause of their ire is a scheduled 25 cents-per-gallon increase in gas taxes, and about 10 cents on diesel, to fight climate change. French President Macron, deeply unpopular, just reversed course on the new green tax — Parisians are already paying about $7.06 per gallon for gasoline, almost half of that in taxes. If Paris streets burned over a proposed 25 cents per gallon climate change tax, imagine the global conflagration over a $49 per gallon tax.
France protests and the 'yellow vests' deep anger reveal the hypocrisy at the heart of the green agenda. Over the last month, hundreds of thousands of angry French citizens have joined in "yellow vest" protests, initially sparked by proposed carbon taxes on fuel. This weekend, protester turnout was down, but the violence was up. While the destructive rioting should be deplored, the underlying problems that led to this moment should not be ignored. French President Emmanuel Macron once heralded as a visionary "centrist" leader who would pull France and the world into glorious modernity, now finds himself in hot water.
More than a thousand arrested in Paris 'Yellow Vest' protests. Paris was again the epicentre of clashes as fresh anti-government Yellow Vest protests swept France for a fourth consecutive weekend.
Trump Says Paris Climate Accord 'Isn't Working Out So Well For Paris' As Riots Engulf The City. For weeks, tens of thousands of French have risen up to oppose planned hikes to carbon taxes on diesel and gasoline as part of Macron's climate agenda. Carbon taxes provided the spark for what's morphed into protests against Macron's attempts to revamp France's economy. Thousands of protesters, called "yellow vests" for the safety jackets European law mandates all drivers have on hand, stormed the Champs-Elysées for another round of protests. The entire city is basically shut down, including major tourist attractions.
More about carbon (dioxide) taxes.
Frexit? French protesters call for EU exit as Macron fails to control deadly Paris riots. Yellow vest protesters in Paris have been calling for France to leave the European Union as President Emmanuel Macron struggles to control the deadly riots currently shutting down the capital. The yellow vest protests in the French capital escalated on Saturday [12/8/2018] with protesters firing tear gas canisters against police officers and holding up banners calling for France to leave the European Union. More than 400 people have already been arrested with thousands of protesters breaking police barriers to inundate the streets of Paris. The so-called gilets jaunes have been protesting against French President Emmanuel Macon's policies for the fourth weekend in a row.
New Drone City. The New York Police Department is planning to introduce a new drone program in New York City and we should all be enthusiastic about this development. [...] As the rest of the world finds ways to maximize profits and key results using technology, our cops need the same equipment to maximize our safety. Imagine how many drug busts, gang activities, and crimes in general can be stopped if a drone is flying nearby. The power of deterrence is incomparable in its importance to police work and if drones are utilized to monitor potential criminal activity we might be able to stop crimes before they happen, and maybe even save some lives.
The Editor says...
As long as they are investigating felons and fighting violent crimes, I'm all for it. If they're using the drones as a way to collect overdue payments from tax cheats and "deadbeat dads," that's another matter.
Outrage over Boeing selling top-secret satellite technology to a company financed by ChiComs. What [...] was Boeing thinking when it agreed to sell a satellite containing top-secret technology to a startup company financed by China? How [...] did this deal pass muster and gain an export license from the Commerce Department? I am not the only one baffled: [...]
SDNY Releases Cohen Sentencing Memo — Apparently Media Reports of Cohen Cooperation Were Greatly Exaggerated. Within a sentencing memo filed today [12/7/2018] the US Attorney's Office in the Southern District of New York recommends "a substantial term of imprisonment" for Michael Cohen, who has pleaded guilty to fraud and tax charges and campaign finance crimes, as well as lying to Congress. Reading through the memo — the content of cooperation, and the details that surface as a result therein, are entirely different from all previous media claims.
Eye-opening breakdown of America's safest cities — and the one labeled most dangerous. East Coast cities won first and second place rankings as the safest cities in America, according to a Monday WalletHub study. Columbia, Maryland, and South Burlington, Vermont, rank as America's two safest cities, respectively, according to the study. Plano, Texas, and Virginia Beach, Virginia, followed as the third and fourth safest cities in the U.S., respectively, according to the study. St. Louis ranked as the least safe city, followed by Fort Lauderdale, Florida, and San Bernardino, California, as the most unsafe cities, respectively, according to WalletHub.
Two cemeteries found in violation as Michigan mortuary scandal broadens: reports. Two cemeteries in Michigan incurred multiple violations related to fetuses and fetal remains found in their facilities, reports said. Both cemeteries' fetuses with documentation violations were improperly handled by Perry Funeral Home, according to the Detroit News and Detroit Free Press.
54,543 Voters. That's the extent of the "blue wave" which occurred on November 6th. True, that isn't what you've heard on MSNBC, who crowed that 8,805,130 more voters voted for Democratic House candidates than voted for Republicans — a record. That figure isn't wrong. Just irrelevant. The 8,800,000 wasted votes in places like California, New York, and Boston that piled up massive "blue" supermajorities in "super-blue" urban districts and states isn't a good thing for the Democrats; it's their central problem.
U.S. military warns electromagnetic pulse weapons in Iran, Russia and North Korea could melt down nuclear power plants. The military is warning the U.S. government to prepare for a potential electromagnetic pulse weapon attack, as countries like North Korea, Russia and Iran develop the special arms. The shocking report, published by the Air Force's Air University, reveals that the U.S. is dismally unprepared for such an attack that could wipe out all electricity, kill 90 percent of the East Coast, and lead to utter chaos. And it could take 18 months to restore the electricity grid and social order.
The Editor says...
Everyone seems to be so afraid of EMP weapons, and the government sounds so sure this sort of weapon would be completely effective; yet no such weapon has ever been used by any country, as far as I know. Every time you hear alarms sounding about a problem that nobody has (for example: global warming, light pollution, plastic straws in the ocean), it's almost certainly a ploy to get taxpayer money thrown at somebody's pet project.
The CRISPR Baby Scandal Gets Worse by the Day. Before last week, few people had heard the name He Jiankui. But on November 25, the young Chinese researcher became the center of a global firestorm when it emerged that he had allegedly made the first CRISPR-edited babies, twin girls named Lulu and Nana. Antonio Regalado broke the story for MIT Technology Review, and He himself described the experiment at an international gene-editing summit in Hong Kong. After his talk, He revealed that another early pregnancy is under way. [...] If you wanted to create the worst possible scenario for introducing the first gene-edited babies into the world, it is difficult to imagine how you could improve on this 15-part farce.
Three charged — including exec with past ties to Clintons — in alleged scheme to defraud Pentagon billions, DOJ says. Three Northern Virginia men — including one who reportedly celebrated New Year's Eve in 1999 with the Clintons — were charged last week for their alleged roles in a scheme to defraud the Pentagon after receiving an $8 billion contract in 2012 to provide food and supplies to troops in Afghanistan, the Department of Justice announced. Federal prosecutors said the three — all executives connected to Anham FZCO, a defense contractor based in the United Arab Emirates — knowingly gave false estimates of completion dates for a warehouse intended to provide supplies for troops in Afghanistan in order to win contracts. They allegedly provided "misleading photographs" to show that the project was further along than it was.
FBI raids home of Atlantic City mayor. FBI agents raided the home of Atlantic City Mayor Frank Gilliam just before 8 a.m. Monday morning [12/3/2018], the agency confirmed to NJ Advance Media. "We can confirm that our agents were executing search warrant at the home of Mayor Frank Gilliam," said Doreen Holder, a public affairs specialist with the FBI's Newark office, declining to comment on the reasons for the possible seizure of documents. At least a dozen agents were seen going in and out of the Ohio Avenue home Monday morning, removing more than 10 boxes. An FBI spokeswoman at the scene said both FBI and IRS agents were involved in the search of home.
New Study Provides Further Evidence that Marijuana Is a Gateway Drug. A new study looking at alcohol, cigarette, and marijuana use among adolescents gives some interesting and helpful conclusions. Well, helpful conclusions if people will be willing to remove their cultural blinders concerning marijuana. Since the politically and culturally popular thing to do is to extol the virtues of the recreational use of marijuana, the study's sharp gateway-drug implications will most likely be a warning that is derided and unheeded. Frankly, I don't really care if people smoke weed or not. To be clear, if asked, I'll warn against it. What bugs me, though, is that many who do choose to smoke weed deceive themselves (and others) about marijuana's potential for harm.
My Pillow CEO Puts $1 Million Into Upcoming Pro-Life, Anti-Planned Parenthood Film. Putting your money where you mouth is would be one way to show how much you believe in something. One entrepreneur has done just that. Christian conservative CEO of My Pillow Mike Lindell has reportedly invested in a new film that might not make the folks at abortion mill Planned Parenthood that happy.
Austin Votes to Keep the Books Closed. It would be hard to find a better example of left-wing naiveité in municipal affairs than what transpired here in November. Voters in the Lone Star State's progressive bastion, overwhelmingly approved a $925 million bond package but rejected a simple ballot initiative for an independent audit of city spending. The defeat of the audit wouldn't be so galling if the new bonds didn't so obviously demonstrate the need for an independent review of Austin's books. Spending in the Texas capital is more like what one would expect in some profligate California city.
Trump hints at the scandal about to blow. The Clinton Foundation scandal is, as President Trump would say, yuuuuge. I am told by a knowledgeable source that the official that John Solomon cites "knows where the bodies are buried." Of course, the news that another whistleblower who came forward with information and documents on the Uranium One scandal, Dennis Nathan Cain, was raided by a team of FBI agents who spent six hours rummaging through his home raises some alarming possibilities.
Top Obama-era officials tangled in watchdog's lawsuit over Clinton Foundation investigation. A conservative watchdog group announced Friday it had filed a Freedom of Information Act lawsuit against the Justice Department seeking communications records that relate the FBI's investigation into whether Hillary and Bill Clinton's charity organization participated in pay-to-play schemes or other improper behavior with the U.S. government. The latest lawsuit by Judicial Watch related to the Clintons, filed in the U.S. District Court for the District of Columbia after the FBI denied their FOIA request and appeal this fall, targets the offices of prominent Obama-era officials, including former Attorney General Loretta Lynch, former FBI Director James Comey, and former FBI Deputy Director Andrew McCabe.
Foreboding — FBI Raids Home of Clinton Foundation Whistleblower. The Daily Caller has an exclusive report tonight that is very troubling, and, unfortunately in alignment with a previous suspicion CTH shared when it was first announced that John Huber was scheduled to testify to congress on December 5th.
FBI Raids Home of Whistleblower on Clinton Foundation, Lawyer Says. FBI agents raided the home of a recognized Department of Justice whistleblower who privately delivered documents pertaining to the Clinton Foundation and Uranium One to a government watchdog, according to the whistleblower's attorney. The Justice Department's inspector general was informed that the documents show that federal officials failed to investigate potential criminal activity regarding former Secretary of State Hillary Clinton, the Clinton Foundation and Rosatom, the Russian company that purchased Uranium One, a document reviewed by The Daily Caller News Foundation alleges.
Revealed: Democrats went $18 million into debt to win control of the House. Democrats paid a heavy price to win control of the House of Representatives, going $18 million into debt for the election. The Democratic Congressional Campaign Committee went into the red despite raising $272 million for the 2018 election, in which its heavy spending helped flip at least 39 House seats to Democrats. A source with knowledge of the group's finances confirmed the debt figure to NBC News. The GOP's counterpart group also spent heavily on House races, ending the election cycle $12 million in debt, a spokesman for the National Republican Congressional Committee confirmed.
Honduran president's brother accused of conspiring to import tons of cocaine to US. A brother of Honduran President Juan Orlando Hernandez was charged by federal prosecutors Monday [11/26/2018] with conspiring to import tons of cocaine to the United States, as well as weapons offenses and lying to federal agents. Juan Antonio Hernandez Alvarado, aka Tony Hernandez, was arrested Friday in Miami and was due to appear in federal court there on Monday. Federal prosecutors in New York described the suspect, a former Honduran congressman, as "a large-scale drug trafficker" who worked for more than a decade with compatriots as well as traffickers based in Mexico, Colombia and other countries to receive, process and distribute cocaine making its way through Honduras en route to the United States.
Vatican: Climate Change 'Key Challenge' of Our Age. In its ongoing climate crusade, the Vatican newspaper L'Osservatore Romano echoed dire warnings in its weekend edition that the present generation may be the last to be able to battle global warming effectively. [...] "The effects of climate change," the joint declaration states, "are well documented and are felt everywhere in the world."
The Editor says...
With homosexual predators running rampant in the leadership of the Catholic church, I'd say the Pope has bigger fish to fry.
Against the 'Other'. Rest in peace, John Allen Chau, a Christian missionary killed while attempting to share the Good News with an uncontacted people known as the Sentineli, habitants of North Sentinel Island in the Bay of Bengal. [...] Claims of attempted genocide are predicated on the idea that Chau may have, had he made contact, introduced disease among the primitives. On the other hand, Americans who object to how tuberculosis, among other diseases, has made a resurgence in the United States as a result of Third World immigration to the U.S. are condemned as racists by many of these same critics. The tribe that killed Chau, [Josh] Shahryar says, has "chosen deliberately to not reach back and to keep living on THEIR land in THEIR way." Shahryar argues that people have a right to defend their land and their way of life, but there is a catch — only non-Western people may exercise this right.
The Bitcoin 'pyramid scheme' continues to collapse. I've been calling it a "bitcon" for a long time. And now the pyramid seems to be collapsing because fewer and fewer people have confidence that the price of this inherently worthless "cryptocurrency" is going to continue to rise. I've just repeated some of the comments I made about bitcoin (and you could include other cryptocurrencies here) for years. But I've been especially vocal since early this year when bitcoin was reaching nearly $20,000 in price and even staid Wall Street firms were being lured to this "investment."
So much to love in Senate Judiciary Committee downsizing plan. It's been reported that the new, larger Republican Senate majority is going to exercise its power and downsize the Senate Judiciary Committee. It's a brilliant plan for two different reasons. The first reason is that fewer Democrat senators will have the opportunity to showboat and eat up precious time with the sort of antics they displayed in the confirmation hearings for Justice Kavanaugh. Confirmation of more federal judges at the district court and appeals court levels is the most important priority for Senate Republicans, and this proposal would streamline and therefore speed that process. But the second reason is delicious, because thanks to longstanding Senate tradition, the member who would lose a committee seat first would be the senator with the lowest seniority. And that would be Senator Kamala Harris of California, who has held office only since 2016. Not only is she transparently running for the 2020 presidential nod, she is a shameless demagogue.
French Riot Against "Green" Policies. Protests and riots against the Macron government's economic policies have been going on in France for the last week. In Paris, the demonstrations have turned violent and police are using tear gas and water cannons to disperse rioters. The demonstrations are referred to as "yellow vest" protests because demonstrators are wearing the yellow vests that French drivers are required by law to carry in their cars as a safety measure.
Nearly all homes in San Francisco cost over $1M. San Francisco real estate is holding strong with a new report from housing website Trulia showing 81 percent of homes in the Bay Area cost $1 million or more. The impressive price tags represent a 13.7 percent increase since October 2017 — only second to neighboring San Jose, which saw a 14.3 percent year-over-year increase. Number three in the nationwide report on the housing markets with biggest increases is also a Bay Area city, Oakland, which saw a 5.8 percent increase.
EU Army: Just Another Bad Idea From Euro-socialists Macron And Merkel. The European Union has announced it wants its own army and intelligence services. Why? Europeans need to be protected from mean, predatory potential enemies. Like the U.S.
Francis Has Mobilized The Papacy's Absolute Monarchy Against Justice. Pope Francis administered a stunning and humiliating shock to the bishops of the Catholic Church in the United States last week. The American bishops had gathered in Baltimore to discuss a pair of measures to deal with the continuing crisis over clerical sexual abuses in this country. The measures were fairly modest. One sought to build on the 2002 "Dallas charter" — measures designed to stop priests' abuse of children, mostly young boys — by extending its rules on reporting and accountability to bishops. The other would have launched an investigation, led by lay Catholics, into reports of abuses by bishops. Conceivably, this would have looked into how former Cardinal Theodore McCarrick of Washington, D.C., could have risen to the top of the U.S. Catholic hierarchy, despite being widely known — in secular circles, to the Vatican, and to many in the church — as being a serial abuser and harasser of young adult male seminarians (and at least one young boy).
So What Do You Think: Hijabs In Congress? Elections do, indeed, have consequences. And one of the most interesting and perhaps controversial consequences of Nancy Pelosi and Democrats being elected to take control of the House of Representatives come January is their planned rules change to allow religious head covers on the floor of the House. Head covers as in hijabs, Muslim head scarves covering an entire woman's head except for her face. The new House will have the first two Muslim females — Ilhan Omar of Minnesota, a Somali refugee, and Michigan's Rashida Tlaib. For nearly two centuries, hats have been banned from the House floor.
Hancock Elevator Dropped From 95th To 11th Floor, Passenger Says. It took nearly three hours to rescue six people stuck in an elevator in Chicago's fourth-tallest building early Friday [11/16/2018]. A broken hoist rope caused the express elevator to malfunction while guests who had just left the Signature Room on the 95th floor rode down toward the lobby. The elevator and two others have since been closed to the public while repairs are made and investigators figure out what happened.
Was a sexy Italian actor living with the man who would be Washington's new cardinal? Was the man who who's widely believed to be the next cardinal for the Washington archdiocese, Cardinal Joseph Tobin of Newark, bunking with a houseboy? It looks like it, given the reporting of the indefatigable George Neumayr.
Noted Vatican Theologian Calls for Examination of Validity of Pope Benedict's XVI's Resignation. In an important interview that was overlooked last month, a Vatican theologian said that unless Pope Francis corrects himself and reaffirms Church teaching on morals, the faith, and the sacraments, "the apostasy will deepen and the de facto schism will widen." To address the current crisis, he suggested that an examination of the "juridical validity" of Pope Benedict's XVI's resignation was in order to "overcome problems that today seem insurmountable to us." The theologian consultor to the Congregation for the Causes of Saints was implying that further study of the situation could reveal that Francis is not and has never been a valid pope, but is, in fact, an antipope who could be removed from the papacy, thus nullifying his "insurmountable" errors.
Amazon Chose DC And NYC Because That's Where The Childless Workaholics Live. After courting every city in America large enough to support its own Jimmy John's franchise, Amazon is going to split its HQ2 between Long Island City in New York and Crystal City in the D.C. metro area. [...] Besides being boring, what does Amazon's location choice signal? According to CNN's Jill Filipovic, the predictable selections mean that, "Republicans can no longer lay claim to being a pro-business party, successful as they've been at making the states they control increasingly undesirable to modern businesses and workers." She also says the lack of a commitment to public education and transportation in Republican states was a determining reason Amazon didn't pick a Republican-governed state.
Report: Cruz Internal Polls Showed Him Leading O'Rourke By Double Digits — Until Trump Showed Up. What more fitting end could there have been to Cruz's political career than Trump blowing into town and fumbling away a reelection bid for him that was in the bag? Between that and the 2016 primaries, it would have been Shakespearean tragedy. Well, Shakespearean comedy, at least.
Democrats pushing losing senate candidate to run for president. Democratic Rep. Beto O'Rourke narrowly lost to GOP Senator Ted Cruz on Tuesday night [11/6/2018], but that isn't stopping national Democrats, activists, and other left wing loons from pushing O'Rourke to run for the nomination for president in 2020. This unlikely scenario is nearly unheard of. Losing candidates don't usually run for anything, much less president.
Rush Limbaugh Rocks Missouri Rally with President Donald Trump. Talk radio legend Rush Limbaugh took the stage with President Donald Trump at a rally in Missouri on Monday defining the greatness of the first two years of the Trump presidency. Limbaugh said that Trump was committed to making America great again, which was more than a campaign slogan. He slammed the left and the media for refusing to concede the 2016 election, repeatedly blaming it on racism and the Russians.
You Had One Job. Understandably, people worry about the temperament of anyone with access to US nuclear codes. It turns out Bill Clinton solved that particular problem in a uniquely Clintonian way. He lost the codes: ["]For several months during Bill Clinton's administration, a former top military officer says the White House lost the card with a set of numbers for opening the briefcase containing the codes for a nuclear attack.["]
Uber and Lyft Slowing Traffic in San Francisco, Says Report. The experience of moving through San Francisco in a car has gone from slow to crawl. Congestion in the Bay Area flagship city has grown increasingly worse, and a new report by the San Francisco County Transportation Authority placed a sizable portion of that blame on ride-hailing services like Lyft or Uber.
New Supercomputer with 1 Million Processors Is World's Fastest Brain-Mimicking Machine. Since April 2016, SpiNNaker has been simulating neuron activity using 500,000 core processors, but the upgraded machine has twice that capacity, Furber explained. With the support of the European Union's Human Brain Project — an effort to construct a virtual human brain — SpiNNaker will continue to enable scientists to create detailed brain models. But now it has the capacity to perform 200 quadrillion actions simultaneously, university representatives reported in the statement. [...] "Even with a million processors, we can only approach 1 percent of the scale of the human brain, and that's with a lot of simplifying assumptions," he said. However, SpiNNaker could mimic the function of a mouse brain, which is 1,000 times smaller than a human brain, Furber added.
Papadopoulos Wants Congress To Inspect Cash He Says He Was Given During Suspected 'Sting Operation'. "I am more than happy to deliver the $10,000 in cash I received, as part of what I believe was a sting operation to frame me in summer 2017, to your committee to examine for marked bills. This is in the interest of me being fully transparent," [George] Papadopoulos wrote on Twitter [10/31/2018] to North Carolina Rep. Mark Meadows and Texas Rep. John Ratcliffe. The two Republicans are members of a congressional task force investigating the FBI's investigation into possible collusion between the Trump campaign and Russia. The task force interviewed Papadopoulos on Oct. 25.
CNN shocker: Jake Tapper does a great job grilling DNC Chair Tom Perez. Yesterday [11/4/2018], Jake Tapper of CNN behaved most uncharacteristically for a CNN interviewer of this day and age, aggressively questioning and confronting DNC chair Tom Perez on the Sunday morning interview show State of the Nation. Listen to the two segments below with your eyes closed, and you could imagine that this was a Fox News interviewer. But don't do it! Watch, instead, the looks on Perez's face: [Video clip]
Candidates seek to represent districts they don't live in: 'I don't think a lot of voters even know'. For voters in Maryland's 6th Congressional District, it's proving difficult to find representation right at home. Four candidates are vying for the seat Tuesday, but only one of them, Libertarian Kevin Caldwell, lives in the 6th District's jigsaw piece of Western Maryland. Neither the Republican nor Democratic nominee is a resident — nor, for that matter, is Rep. John Delaney, the Democrat retiring from the seat. "It's sort of a joke that when you say you live in Maryland people will often say, 'Where are you really from?'" said Paul Ellington, a spokesman for Republican Amie Hoeber. "So in those areas close to D.C., it's not a hindrance. In some of the other areas, however, there have been questions."
Should News Anchors Wear Ties? One Station No Longer Thinks So. Pretty much since the first television newscast, one wardrobe rule has been fairly consistent: anchors wear ties. One Boston station is trying to rewrite that rule. Most of the time, news anchors wear ties and jackets when they deliver the news. There are some individual newscasts, particularly at less usual news times, such as 4:00 pm or 7:00 pm, where male anchors can get away with not wearing or tie or wearing a tie with no sports coat. But as a general rule, the biggest newscasts of the day still follow the old fashion format. In Boston, that just changed for three NBC-owned outlets.
PHOTOS: #WalkAway from Democrats Rally Draws Hundreds of Patriots, 'We Love America and Trump'. The gathering at Freedom Plaza in Washington, DC, on Saturday [10/27/2018] was a stark contrast to recent rallies where people dressed in black and held signs disparaging President Donald Trump and members of his administration. The #WalkAway rally featured a sea of red, white, and blue-clad participants, waving flags, wearing Make America Great hats, and even [pink] hats made infamous during the Women's March were transformed into bright red, Trump-supporting headgear.
Murderous communists? Who knew? Take a look at what they are doing in Venezuela. When we think of Venezuela, we think of starving people fleeing their country without access to food, clothing, toilet paper, or medical care. We think of street urchins fighting over garbage scraps with machetes. We think of migrant exoduses from socialism. But there's another reality about the place, and it's not getting the attention, say, Saudi Arabia or Russia is, over the killings of dissidents. The Maduro regime is showing an alarming willingness to violently attack opposition leaders, and it's moving in on high-profile ones who had previously seemed untouchable. They've already jailed politician Leopoldo Lopez and driven many others into exile. But the regime's people have stepped up the thuggery to higher levels since then. [...] What we are looking at is not just a failed regime that can't feed its people; we are looking at a communist thug regime that beats and kills dissidents. The two go hand in hand in any communist regime, every single time.
Middle school 'Satanists' arrested for mass murder plot in Bartow. Police say two Polk County middle school students are facing charges following the discovery of a disturbing plot to kill several students, cut them up and eat them. The investigation began on Tuesday [10/23/2018] at Bartow Middle School when Bartow police were contacted by a school resource officer who had detained two girls that came to school with knives. An affidavit from the police department says the students, a 12-year-old girl and an 11-year-old girl, came up with the plan after spending the past weekend together watching scary movies. During an interview with detectives, the girls said they planned to go to their first-period class and then meet in the bathroom. The affidavit says they planned to then wait for smaller students to come into the bathroom so they could attack them.
The Facts Of The Mail Bomber Case Don't Add Up. The October spree of packaged mail bombs unsuccessfully delivered to media outlets, politicians and politically active benefactors has gripped the United States ahead of the November midterm elections. The media is awash with speculation about the suspect's inspiration and why he may have carried out the attacks. While the official narrative makes for captivating commentary amongst pundits, the case bears several suspicious points. Inconsistencies between reported facts and the official version of events, the targets chosen to receive packages and details about the suspect and their social media all represent loose ends to the case that have not been adequately addressed.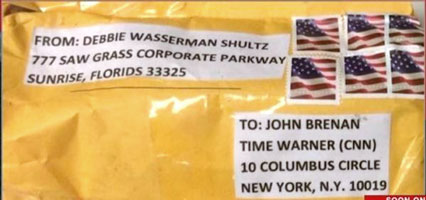 5 Bizarre Facts About Cesar Sayoc & His Fake Pipe Bomb Scare That Are Making Americans Shout "False Flag!" A large number of Americans are not sold on this fake pipe bomb story and are entertaining the idea that this was a false flag to benefit Democrats AND that Cesar Sayoc is simply a patsy. If you are still trying to process the information and figure out what you believe, here are 5 things to consider: [#1] The timing was suspicious[.] Could the Democrats have asked for a series of bomb scares at a better time? I think not. [#2] Look hard at this envelope. This is the envelope sent to CNN for John Brennan. The perpetrator can't spell Brennan, nor can he spell Florida, despite supposedly living there. I think the misspellings just add to the intended end correlation of Republicans being idiots. I see it as just a little bonus psychological warfare for the American sheeple (those who won't think for themselves). They want you and I to look at that envelope and draw the conclusion that Republicans are uneducated.
Some Suspected Mail Bombs Were Not Capable of Exploding, Others Yet to Be Analyzed, Officials Say. Some of the 10 suspected mail bombs addressed to high-profile Democrats and others over the last few days were flawed and not capable of exploding, while others have yet to be fully analyzed, several investigators said Thursday [10/25/2018]. In some cases, the flaws were substantial. In others, more subtle, they said. The news comes after investigators said the devices appeared poorly made and that it was unclear if they were hoaxes or simply cases of bad construction. Earlier in the investigation, officials in multiple states had described the items as live explosives and a number of senior bomb techs briefed on the probe said they had all the components necessary for successful explosions.
Could the "bombs" that targeted Democrats win them the midterm elections? It's a tactic that has worked before. Then-President Bill Clinton struck back at anti-government rhetoric in the aftermath of the 1995 Oklahoma City bombing and eventually used a heroic survivor of that attack to rebuke congressional Republicans for government shutdowns. [...] Others later invoked the 2011 shooting of then-Rep. Gabby Giffords, D-Ariz., to discredit the burgeoning Tea Party movement, which also used rhetoric sharply critical of liberals, politicians, and the federal government, though no link was ever found. Giffords survived the assassination attempt and became a gun control advocate. Arguments about right-wing extremism and Trump's incendiary rhetoric will be easily made now.
Suspicious packages, not bombs. Always wait 24 hours before reacting politically to crime news because the media generally does a terrible job in reporting national crime stories. Rumors and hype hound the coverage because the amount of actual news does not warrant the amount of time devoted to the story on cable television. Commentary from people ignorant of the facts (and limited in their intellect) dominate the airwaves. [...] Finally, the media's history of falling for hoaxes complicates the situation. Liberals have succeeded in destroying America's ability to trust its media. Calling a suspicious package a bomb did little to reassure us that the media is run by competent people.
Explosive Packages a False Flag? The packages may be found to be a real threat from an obviously unbalanced individual or individuals, but it may very well also be a false flag designed to reaffirm the Democrats' continuous slander against the GOP.
Rush Limbaugh suggests bombs mailed to Democrats are a false flag: "Republicans just don't do this kind of thing". ["]Mrs. Clinton, it's your party, forgive me, that is encouraging this kind of thing. It is the Democrat Party that's home to all of these mobs. It's the Democrat Party — Mrs. Clinton herself who said that being uncivil at this point in time is entirely proper and understandable. It's — the time to go back to civility will be after the Democrats win. You've got bought and paid for operatives by Mrs. Clinton money showing up at Trump rallies trying to make them look like deranged Trump supporters. The Democrats are even paying people to draw swastikas on American flags and waving them around, made to look like deranged, lunatic Trump supporters. And so, in the midst of this atmosphere, we have this series of bombs that were supposedly sent today, exclusively to Democrats.["]
Feds tell reporter that bombs were 'Complete Hoaxes'! We should know pretty soon if they were real or not, which would make a big difference as to motivation, and what the attacks mean for the election.
Explosive Packages a False Flag? As the liberals rise up in righteous condemnation of Trump's "toxic" rhetoric, we will be asked to forget Rep. Maxine Waters' call for nonstop harassment of GOP players, of key Republicans being hounded out of restaurants, confronted in elevators and even in their offices and at their homes. We will be asked to forget the violent riots on college campuses to keep conservative speakers from speaking.
The Pipe-Bombs Story: Another Example of Why No One Trusts the Media. The political Left has been known to orchestrate frame-up attacks designed to make it appear that right-leaning opponents are responsible for violent acts and plots. If I wrote the paragraph above in the context of reporting or commenting on the pipe bombs that were reportedly sent by an unidentified person or persons to prominent Democrats, many people would react angrily, and rightly so. After all, there is no evidence that the atrocious but thankfully unsuccessful targeting of the Obamas, the Clintons, CNN, George Soros, and Eric Holder (as well as "Debbie Wasserman Shultz," whose Florida office, with her name misspelled, was given as the return address on some of the packages) was carried out by political leftists. There is no proof that any Democrat was hoping to cast suspicion on Republican supporters, to suggest to voters, less than two weeks before the midterms, that Trump and GOP rhetoric incites violence. To intimate, in the absence of any proof, that left-wing agitators may be responsible would be a condemnable smear.
Democrats and the Terrible, Horrible, No Good, Very Bad Day. On Wednesday [10/24/2018], several pipe bombs were sent to Democrat leaders, none of which detonated. These suspicious packages were sent to Barack Obama, Hillary Clinton, Joe Biden, George Soros, former Attorney General Eric Holder, and Rep. Maxine Waters. The return address name on the suspicious packages sent to Clinton, Obama, Holder and Waters belonged to Rep. Debbie Wasserman Schultz. Several investigative journalists have said this stunt seems designed for maximum political and media optics, and not maximum damage. The political Left has been caught orchestrating attacks on themselves in the past, to make it look as if the right attacked.
George Soros's Son Has Op-Ed Published In NYT Condemning Political Violence Within An Hour Of Pipe Bomb Story Breaking. The timing of Alexander Soros's published piece in the New York Times today will do nothing to quell the understandable skepticism of the 'pipe bomb' story that broke across all news agencies earlier today given the article was apparently written and then published within an hour of the events being made public.
Caravans, Mobs, and Phony Bombs. Recently it seems that whatever foul means the Dems turn their hand to they overplay it. Take the Kavanaugh hearings for example. Democrat theatrical histrionics and semi-coherent mobs didn't sidetrack Kavanaugh's confirmation, so the Left turned to incoherent mobs and a Dreyfus Affair-style show trial. Both the mobs and the trial backfired on the Dems big time. More than anything else they served to further wake up and engage We the People.
Bomb Expert Labels Today's 'Pipe Bomb' Scare A Dumb Hoax. "Dumb." That's the assessment of a Navy veteran and professional bomb disposal officer regarding the toy-like 'bombs' that the media has gone gaga over today. In fact, Tom Sauer likens these non-functional pipe bombs to a few road flares taped to an 'old-timey alarm clock ticking away' like you would see in cartoons. Which of course leads to the real important question. Who would send out these fake bombs and why? Who might have anything political to gain two weeks out from the Midterm Elections by staging a fake bomb hoax against noted Democrat politicians that then generates Establishment Media hysteria?
"Too Coincidental": MAGA-Land Calls Bombing Threats A False Flag. [Scroll down] "Here's my bet ... no one will be arrested for these alleged mail bombs," suggested pro-Trump commentator Kurt Schlicter. "After dozens of college-campus hoaxes by leftists, I don't buy this super-convenient turn of events." Candace Owens, who is the communications director for Turning Point USA and a frequent Fox News guest, suggested that there was "zero percent chance" that conservatives sent the packages. "Caravans, fake bomb threats — these leftists are going ALL OUT for midterms." Rush Limbaugh, the paterfamilias of conservative radio, warned, "It's happening in October. There's a reason for this."
UPDATE: Fake Bomber is a Registered DEMOCRAT. Anybody surprised to see how quickly the fake bomb case got resolved. It's as if the person wanted to get caught. No ingenuity, as all the packages looked the same. And there were a multitude of clues. They solved this case faster than it took the FBI to clear Hillary Clinton, and they did that in advance!
These Prominent Conservatives Think the Bomb Scares Were a Liberal Hoax. The moment news reports first surfaced on Wednesday of explosive devices sent to the Clintons, Obamas, and CNN, the counterintuitive, conspiracy-fueled takes started rolling in. It was inevitable. The bombs were not meant to maim the people to whom they were addressed, the main theory went: They were planted by liberals hoping to scapegoat the right, distract from the migrant caravan in Mexico, or boost Democratic chances in the midterms. These mad ravings weren't only coming from the lunatic fringe, either.
Alleged Fake Bomber is a Fillipino Ex-Con Who Claimed to be Seminole. I don't think there's a profile that fits this guy. There's no point in even bothering to try. [...] At least one of his businesses seem to have involved male burlesque dancers. And he has an extensive criminal record for pretty much everything. The media is going to cynically try to connect him to Trump and Republicans, but he seems to have been a mentally unstable man with a lot of anger and obvious personal issues.
Opening Up the Package Plot. FBI director Christopher Wray described the packages as improvised explosive devices and not "hoax devices," though according to a U.S. News report it was unclear whether they could be detonated. To date, none of the devices exploded and no one has been harmed, but Wray believes "we've caught the right guy." That turned out to be Cesar Sayoc, 56, and the establishment media cranked out stories on what was known about him. [...] Sayoc also had a criminal record, with arrests for bomb threats, grand theft, battery, fraud, drug possession and probation violations. His lawyer Ronald S. Lowy told CNN Sayoc "didn't fit it" and he questioned Sayoc's ability to execute a scheme of explosive devices.
Why are fake bombs sent to Democrats more shocking than real ricin packages to Republicans? [Scroll down] The other difference between this spate of packages and the attack on Trump, Cruz, Mattis, and Richardson it that the ricin attack was real and it was potentially deadly. The letters really contained ricin. Whereas, the packages sent to Democrat grandees including Hillary Clinton, Barack Obama, George Soros, Maxine Waters, and Joe Biden were apparently inert and were made just to look dangerous according to recent reporting. Since none of the packages detonated, and possibly were not able to detonate, Occam's Razor demands that we confront the most likely choices: Either the sender intended harm but was grossly incompetent or the sender never intended harm and meant the packages to be a form of agitprop. The notes that accompanied the packages read like parodies of how committed progressives think Republicans speak.
The Media climbs out on a limb. [Scroll down] Thirteen days before a contentious election and suddenly a bunch of pipe bombs turn up and the targets are all Democrats? Come on. I wasn't born yesterday. And I didn't just fall off a turnip truck from Guatemala. The "Democrats are the party of the Mob" talking point is clearly having a negative effect on their much anticipated Blue Wave. And what better way to shift that talking point away from the Democrats than the conveniently-timed Pipe-Bomb-ageddon? Plus, it just doesn't make sense. Why would a Trump supporter try and blow up Maxine Waters? She is a gift to our side. Come to think of it, so are Barack Obama and Hillary Clinton.
If democrats campaign on the bombs, you'll know who was behind it. It's just too convenient. Politico published a target list. It includes the Clinton's, the Obama's, John Brennan and CNN, Eric Holder, Wasserman-Schultz, Joe Biden, Maxine Waters and Robert DeNiro. All these targets and not a single device exploded. The devices were apparently not meant to detonate. They were sent to a very specific list of people who have been critical of Trump. They were sent to people who don't open their own mail.
Feds widen search for others who may have helped the South Florida mail-bomb suspect. [Scroll down] Despite allegedly committing practically the entire mail-bombing campaign from South Florida, Sayoc will be whisked away to New York after appearing in federal court in Miami for a removal hearing on Monday. He will be prosecuted by the U.S. Attorney's Office in the Southern District of New York, based on evidence that at least five of the 14 packages were sent to that area, including CNN's offices in Manhattan. Many criminal and legal experts in South Florida called the New York U.S. Attorney Office's takeover of the case a classic "power grab" of a national case that really belongs in South Florida. One former federal prosecutor said Miami's new U.S. attorney, Ariana Fajardo Orshan, got a "dose of the SDNY."
Wondered Why All Those Trump Stickers On Fake "MAGA" Bomber's Van Were So Pristine? - Here's Why. [Scroll down] Maybe Cesar Altieri Sayoc is just that stupid. Maybe he's crazy. Maybe he's a patsy. Or just maybe, Mr. Alleged Hoax Bomber wanted to get caught looking like the world's most syrupy Trump fan boy, knowing that his Trump-mobile MAGA bomb delivery vehicle would instantly become the most vividly captured image in the political universe just days before the most important midterm election in American history. After all, a picture is worth a thousand words. Or, in this case, maybe a million votes or more.
MAGAbomber Suspect: A Case of Homosexual Panic? [Scroll down] At some point over the past year, the Klan and lynching tableau on Sayoc's van gave way to more explicitly pro-Trump and anti-Democrat bumper stickers. Every available inch of his van's exterior was spackled with violent imagery featuring rifle crosshairs placed over the faces of people such as Barack Obama, Michael Moore, and Hillary Clinton. Another sticker said "CNN ****s." Yet another showed Trump standing atop a tank while a bomb was exploding in the background. All of this makes him seem like either a demented Trump supporter or a mindless patsy for anti-Trump forces. One thing is for certain — the story completely deflected attention away from the ominous brown human caravan headed to the USA from points south, a story that was working in Trump's favor. Yet what seems to have completely escaped notice is how intensely squirrely this alleged Hate Bomber is.
Everything Is Trump's Fault Is Fake News At Its Worst. [Scroll down] Next, came the bizarre non-bomb terrorism-by-mail campaign against prominent Democrats, anti-Trump mouthpieces and Far-Left liberal donors. The fall guy in this is one Cesar Sayoc, a "crazed" former pizza deliveryman, body builder, DJ and casino employee who fancied himself as a defender of the "unconquered" Seminole Indian tribe and allegedly lived out of his vehicle for over a decade. Sayoc's mother, Madeline Giardiello has been active in Democratic politics and was an officer on her condominium board in Aventura for many years according to reporting by the Washington Post. USA Today reported that online records show that Sayoc has a string of arrest records that date back to 1991 for alleged theft and drug offenses, along with traffic infractions.
What a small world!
Bomb Suspect Cesar Sayoc And Stormy Daniels Worked at the Same Strip Club. In a really strange turn of events, it has been discovered that bombing suspect Cesar Sayoc worked at Ultra Gentleman's Club in West Palm Beach, FL, the same strip club that Stormy Daniels performed at back in April, WPTV reported. Sayoc worked as a DJ at the club on Thursday afternoon and was arrested on Friday [10/26/2018]. According to the club's manager, Stacey Saccal, Sayoc had worked as a DJ for the past two months. She had received no complaints about him from other staff members and he seemed like a "nice guy."
Democrats [are] Using Every Evil Play in the Book to Silence Americans. A crazy man sent package bombs to prominent Democrats. Fake news media and the demonic Democratic Party viewed the mentally ill man's actions as a gift from the gods of liberalism. They immediately flooded the airwaves with their absurd narrative that Trump was responsible for the package bomber's behavior because he told the truth about CNN and their fellow fake news liars. Fake news media and Democrats outrageously said Americans who cheer and applaud Trump at his rallies are also responsible for the package bombs.
Update:
'MAGA bomber': I didn't know pipe bombs could hurt anyone. A Florida man who last week pleaded guilty to sending pipe bombs to prominent Democratic politicians and other targets says in a new court filing that he didn't know the devices could actually hurt anyone. In a hand-written letter to the Manhattan federal judge presiding over his case, "MAGA bomber" Cesar Sayoc, 65, acknowledged that he pleaded guilty to 65 counts — which included charges of using weapons of mass destruction — at his March 21 hearing. But he said that when he was asked if he knew whether the devices could harm anyone, his lawyer told him to say, "Yes."
The Editor says...
I find it difficult to believe that a phony pipe bomb, or even a real pipe bomb that's only a few inches long, could be considered a "weapon of mass destruction." The FBI never did describe the construction of the bombs in any detail. Maybe it was just a bunch of plastic pipes full of Plumber's Putty. I also find it hard to believe that a gay, Fillipino, ex-convict, who is a registered Democrat, can be accurately described as a "MAGA bomber." Moreover, I find it hard to believe that this whole incident was not an elaborate and carefully-timed hoax that was staged, choreographed, and orchestrated by the Democratic Party.
Red Wave Rising: Over 12,000 Voters Change Party Affiliation in Wyoming — 90% to Republican. As we reported on Thursday early ballots show a huge increase in voting in favor of Republicans. It looks like our prediction is holding up! On June 23, 2018, we reported that the 2018 Mid-terms would be a referendum on government corruption and because of this President Trump and the Republicans would win big. This was before Democrats made up trumped up charges against a good man — Supreme Court Judge Brett Kavanaugh.
US Marines reveal plans for plasma crowd control weapon that can shout at people from 3,000 feet away - then be 'turned up' to temporarily blind and even burn them. The US Marines are developing a new laser weapon that can transmit voice messages at long range, or be turned up to deafen, dazzle or even kill. The Scalable Compact Ultra-short Pulse Laser System (SCUPLS) will be mounted on a truck or tank. It will initially be used as a non-lethal weapon for crowd control, according to US Government documents.
The Editor says...
Hmmm... How do they know this weapon can kill people?
President Trump Can't Find Venue Big Enough for Houston Rally with Senator Ted Cruz — 77,800 People Already Signed Up! President Trump is unable to find a location where he can hold all his followers that want to see him and Senator Ted Cruz in Houston, Texas. The Texas Tribune reported that the original site that President Trump set up for the rally in Houston is too small so they found a bigger venue [...]
Former Minnesota FBI Agent Sentenced to 4 Years in Prison for Leaking Documents. Terry James Albury, a former FBI agent in Minnesota, was sentenced to four years in prison with an additional three years of supervised release on Thursday [10/18/2018] in U.S. District Court. Albury admitted that he leaked documents to a reporter from The Intercept, an online news publication. He worked as an FBI Special Agent at the field office in Minneapolis at the time of the disclosure in 2016-2017. He was also working as a liaison with the Department of Customs and Border Protection at MSP International Airport during that same time period.
Democrats start to regret piling money on Beto O'Rourke. Is bulging war chest going to waste? Despite touting socialist-like policies, Texas Democrat congressional nominee Rep. Beto O'Rourke seems to prefer not sharing his wealth, much to the chagrin of other nominees across the nation. [...] The problem is that the polls continue to show O'Rourke trailing leagues behind Sen. Ted Cruz, whom he seeks to unseat. The chances of him eking out a victory appear so low that some argue he should redistribute some of the $38 million he's raised in the last three months to other nominees in need.
Trump: I sent weapons to Ukraine, Obama 'sent pillows and blankets'. President Trump claims his administration has been tougher on Russia than his predecessor's, arguing that former President Obama allowed Russia to annex Ukraine and only offered them "pillows and blankets." "I'm the one that gave Ukraine offensive weapons and tank killers. Obama didn't. You know what he sent? He sent pillows and blankets. I'm the one — and he's the one that gave away a part of Ukraine where Russia," Trump said in a "60 Minutes" interview that aired dSunday [sic] evening [10/14/2018] on CBS.
Heitkamp campaign identifies sexual-assault victims in ad without permission. Sen. Heidi Heitkamp is trying to recover from her vote against President Trump's Supreme Court nominee by standing up for victims of sexual assault, but the North Dakota Democrat's efforts backfired Tuesday [10/16/2018] when she had to apologize for identifying victims without their permission in a recent campaign ad. Some of the women her ad identified say they weren't even victims of domestic violence or sexual assault. Others say they don't support her campaign. Ms. Heitkamp admitted the bungle in a statement Tuesday, blaming victim advocates for feeding her wrong information.
California Christian school brings back gay relationship ban, students protest. Azusa Pacific University made changes to the school's policy without the approval of the Board of Trustees, seemingly suggesting that students could engage in same-sex relationships. Pro-LGBTQ students protested after the school's board of trustees clarified that these relationships would, in fact, not be permitted on campus.
What a dope!
Stephen Hawking said 'there is no god' and that humans will 'live in space' in final book. The late Professor Stephen Hawking revealed his answers to the 10 "big questions" he was often asked in a new book published six months after his death. In "Brief Answers to the Big Questions," the British scientific hero admitted he thought "there is no god" and that humans would eventually live in space. Professor Hawking passed away in March this year after a lifelong battle with Motor Neurone Disease.
The Fall of the Gay Mafia's Don. Some of Donald Wuerl's priests called him the "Tin Man," a reference to his cold, heartless style as the archbishop of Washington, D.C., a position from which he has now formally resigned, though outrageously Pope Francis is permitting him to continue as an "apostolic administrator" until his successor arrives. It is hilarious that Wuerl became arguably the most powerful American cardinal in the "pastoral church of Pope Francis," given that Wuerl is the least pastoral prelate imaginable. He instinctively avoided encounters with his flock and priests, unless they served some immediate interest or enjoyed riches and power. "He is a robot," said one of his priests. "All he cared about was money and living as comfortably as possible and whatever else he got up to."
Cardinal Wuerl Is Out... Or Is He? Embattled Cardinal Wuerl is finally out after Pope Francis accepted his resignation. Wuerl was named in the Pennsylvania grand jury report accusing him of being responsible for shuffling known predator priests around. In one egregious case, he allegedly paid off a priest who was involved in a child porn ring. It is disturbing to many Catholics that Wuerl is being allowed to retire with all his benefits after so terrible a cover-up, but at one point it was debatable whether he would even resign.
Joe Biden's Endless Rumination About Running for President. In Democratic circles, the common nickname for Biden is "Uncle Joe." But it cuts two ways. On the one hand, it connotes the kind of familiarity and affection that comes with his longtime presence in the capital, and his tenure as the loyal sidekick to a president who's still popular with the party base. Grassroots Democrats say he's their top choice for 2020, as evidenced this year in a series of polls. But a sizable share of Democrats believe there comes a time when even a beloved uncle should be put out to pasture.
CNN Poll: Biden Leads Field of 2020 Democratic Hopefuls. Former Vice President Joe Biden is leading the field of prospective 2020 Democratic candidates, according to a recent poll from CNN. The CNN/SSRS poll, which surveyed 1,009 adults between October 4 and 7, found that one-third — or 33 percent — of Democrats and independents who leaned Democratic thought Biden would be the most likely to take on President Trump in the 2020 presidential election.
Another Shoe Drops In The Catholic Church Abuse Scandal. Pope Francis accepted the resignation of the Archbishop of Washington, D.C this week, but his letter reveals that he still has a blind spot when it comes to the Catholic abuse scandal.
The Catholic Church's Biggest Crisis Since the Reformation. The Catholic Church is facing its most serious crisis in 500 years. In these last few months, a new wave of clerical sexual abuse revelations left the world in shock. From Australia to Chile to Germany to the United States, horrifying reports revealed thousands of cases of child molestation by members of the clergy. One U.S. grand jury report documented 1,000 children abused by 300 priests in the state of Pennsylvania alone over seven decades.
Chinese Communist Propaganda Group Paying for Vox Posts. Explanatory media website Vox has been receiving money from a Chinese communist government-backed front organization. A recent Vox blog post by foreign editor Yochi Dreazen titled, "The big winner of the Trump-Kim summit? China" discloses at the bottom of the piece that the reporting was subsidized by the China-United States Exchange Foundation.
Mormon no more: Tabernacle Choir renamed in big church shift. The choir was renamed Friday [10/5/2018] to strip out the word Mormon in a move aimed at ending shorthand names for the religion that have been used for generations by church members and others.
Judicial Watch Uncovers Soros Open Society Foundation/Obama State Department Collusion. The latest Judicial Watch FOIA lawsuit has enabled the release of documents showing U.S. Embassy officials in Albania shown working directly with Soros operatives to channel grant money into left-wing operations that attack traditional, pro-American groups, governments and policies in name of 'civil society.'
Always Believe Women? Boy's Life Destroyed by Girls' False Allegations. The accusations plaguing Brett Kavanaugh have captivated the nation. Yet they're not as damning as two relatively recent allegations of sexual assault made against a Pennsylvania teen — allegations that were backed by corroborating witnesses. Until a few of the female accusers admitted they'd lied simply because they didn't like the boy. Unfortunately, this admission came only after they'd ruined his life. Now the teen's parents, Michael J. and Alecia Flood of Zelienople, Butler County, have filed a federal lawsuit seeking "unspecified civil damages against the girls' parents, the school district and Butler County District Attorney Richard Goldinger's office.
Thirteen states now investigating alleged sexual abuse linked to Catholic church. Florida's attorney general said Thursday [10/4/2018] she is launching an investigation of potential sexual abuse in the Roman Catholic church, making Florida at least the 13th state with an ongoing statewide probe of the church. "Any priest that would exploit a position of power and trust to abuse a child is a disgrace to the church and a threat to society," said Attorney General Pam Bondi in a statement. The Attorney General's Office will coordinate its probe with local prosecutors and review records from all seven of Florida's Catholic dioceses. It is also launching a tip line for victims.
Rock used as doorstop is actually a meteorite worth $100K. A Michigan man curious about a rock he'd used for decades as a doorstop now knows its secret: it's a meteorite worth $100,000.
Study: 91 Percent of Apple Contributions Went to Democrats. According to a new GovPredict study released Thursday [10/4/2018], Apple employees heavily favored Democrats in their contributions for local, state, and federal elections. In all, 91 percent of their political giving went to Democrats, with only 9 percent going to Republicans between 2004 and 2018. Since 2004, 95.5 percent of contributions by Apple employees to local political action committees (PACs) went to Democrats and only 4.5 percent went to Republicans.
Philly's Illegal Tacos restaurant gets stuffed — and not with cheese and lettuce. Let's just say it wasn't a great night for Illegal Tacos, the restaurant on South Broad Street. It started when about 35 demonstrators showed up around dinnertime Tuesday, parked themselves at the front door, and loudly decried what they saw as the racism of the eatery's name. It got worse when the protesters brought in a local taco truck and parked it outside the restaurant.
NSA staffer who took top secret files home so he could do extra work and get promoted is jailed for five years 'after they were stolen by Russians'. A former NSA employee who took secret files home with him in an effort to get promoted has been jailed after they were allegedly stolen by Russian spies. Nghia Hoang Pho, 68, from Maryland, was sentenced to five and a half years Tuesday [9/25/2018] after earlier pleading guilty to willful retention of national defense information. Pho was working as a software developer for the NSA's Tailored Access Operations branch, which hacks into foreign computer networks, at Fort Meade when he began taking the files home in 2010.
School bus driver fired for letting kids take the wheel. A school bus driver in Indiana was fired after a shocking video emerged showing her let students get behind the wheel, according to reports. Joandrea McAtee, 27, faces charges for allowing kids as young as 11 years old drive the bus as they dropped off students Thursday from a Porter Township school, according to the Chicago Tribune. The Porter County Sheriff's Department said at least three students got a turn driving short distances in Lake Eliza.
Senate about to pass 'opioid' laws that are built on lies. Today [9/17/2018], the Senate will vote on H.R. 6, a package of dozens of bills designed to treat the opioid crisis, which is misdiagnosed and misidentified from head to toe. But they have a lot of solutions! The bill provides grants for the endless "evidenced-based" treatment programs for addiction groups that live rent-free in government. It also hands the pharmaceutical companies more money to work on research and development for non-addictive painkillers. Yup, after pushing the medical industry into treating pain, then pushing them out of it, now they will get it just right with their social engineering. The bill increases the scope of Medicaid coverage for addiction treatment. It also gives the DEA a more flexible mandate to set targets for manufacturing of painkillers and shutting down the supply.
Hurricane Florence leaves behind millions of hungry mosquitoes. Storm-battered North Carolinians are facing a new plague — millions of hungry mosquitoes, with some invading buggers three times the size of more common species. Mosquitoes lay their eggs in standing water — of which there is now plenty in the Tar Heel State — thanks to flooding caused by Hurricane Florence, which dumped more than 30 inches of rain on the region. "It's like "a bad science fiction movie," Robert Phillips told the Fayetteville Observer. "They were inundating me, and one landed on me. It was like a small blackbird. I told my wife, 'Gosh, look at the size of this thing.' I told her that I guess I'm going to have to use a shotgun on these things if they get any bigger."
The Editor says...
Bring back DDT.
Utah toddler put $1,000 through shredder, parents say. A Utah toddler's parents are in disbelief after they discovered their 2-year-old son sent more than $1,000 through a shredder. Leo Belnap's parents, Ben and Jackee, tore through their home over the weekend, desperate to find the $1,060 they had saved to pay back Ben's parents. The couple had borrowed the money to purchase season tickets to the University of Utah's football games, KSL-TV reported.
The Editor says...
Pardon my constant skepticism, but this story has all the ingredients of a hoax: [#1] Why did the toddler have access to a thousand dollars in cash? [#2] Wouldn't normal parents keep their toddler away from a paper shredder? [#3] The parents saved the shredded money, which can probably be replaced by their bank. [#4] Even if it cost them $1,000, this is a relatively small price to pay for 15 minutes of "viral" internet and TV fame.
The Most Dangerous Place to Bicycle in America. Florida has by far the highest per-capita bicyclist death rate in the country. The number of cyclists killed in motor-vehicle crashes nationwide hit 840 in 2016 — the most recent data available — according to the National Highway Traffic Safety Administration. That was the most since 1991 and a 35% jump from 2010.
Life in a Democrat-controlled dystopia:
East Village already a 'war zone' ahead of L train shutdown. The L train shutdown is still seven months away, but East Villagers say they're already going through hell. Non-stop construction spanning two blocks on East 14th Street near the First Avenue station is costing residents their sleep and sanity, while businesses are losing customers and cash. "It's like living in the middle of a war zone," said Stuyvesant Town resident Scott Francis, 47. "It's dirty, loud, terrible and disgusting." Traffic is reduced to one lane, stores are blocked off by fences, parts of sidewalks are closed, several 70-year-old trees were cut down, and diesel generators, drills, compressors and bulldozers are running from 7 a.m. to almost midnight.
PetSmart under fire after investigation finds dozens of dogs across the US died after a grooming at the retailing giant. PetSmart is under fire after an investigation found dozens of dogs have died after going to the nation's leading pet retailer for grooming. A nine-month investigation by NJ Advanced Media discovered that since 2008, at least 47 dogs across 14 states in the US died shortly after going to PetSmart for a routine appointment. Of those cases, 32 deaths occurred after 2015, the year that PetSmart was bought by BC Partners for $8.7 billion.
Dems Down: Flores Clobbers Gallego, Poll Shows Cruz Up by Nine. In Texas, September 18 may be remembered as the day the Democratic Party's plans of for a 'blue wave' in the November elections broke and rolled back out to sea, News Radio 1200 WOAI reports. Republican Pete Flores, a retired Texas Parks and Wildlife Department game warden, stunned former Congressman Pete Gallego to win the District 19 State Senate seat which was vacated by convicted felon Carlos Uresti. A Republican has never won in the 19th District dating back to the creation of the district, which runs from Southeast San Antonio all the way to the Big Bend.
Chairman Devin Nunes Discusses The Use of Legislative Branch Rules To Combat DOJ/FBI Corruption. A few days ago, September 13th, House Intelligence Committee Chairman Devin Nunes was given the Keeper of the Flame Award in Washington DC. Within his acceptance speech Chairman Nunes discusses the significance of this time in U.S. history. In the days and months following Watergate, the HPSCI was given specific rules within their legislative branch oversight, which actually became the most significant tools — utilized for the first time — to uncover intelligence abuses by the former administration. Additionally, Chairman Nunes expands on the "next steps."
No bad reviews? Amazon employees might have deleted them for bribes. Some Amazon employees have reportedly been bribed by sellers to remove bad reviews of products sold through the online retail giant. The average bribe is around $300 per review, with most of the demand coming from China. The retail giant has launched an internal investigation into the shady practice, with a probe ongoing since May, when Eric Broussard, Amazon's vice president, was reportedly notified of the problem, the Wall Street Journal reported on Sunday [9/16/2018]. The transactions were facilitated by middlemen who used the messaging service WeChat in China. Citing people familiar with the scheme, the WSJ reported that it costs around $300 to delete one review. However, brokers prefer to trade wholesale, with the minimum number of reviews for removal standing at five.
The European Union Would Love to Control Your Internet Use. Imagine an internet in which users can't freely blog, parody, share material, or remix content — an online experience in which linking, code-sharing, and the unfettered use of art and images would be nearly impossible due to legal limitations. Unfortunately, this scenario — a restrictive internet culture — may soon be a reality in the European Union with the recent passage of the European Unions Copyright Directive. This new E.U. decree, which includes provisions for filtering and surveillance, could have a chilling effect on internet creativity and innovation, potentially increase censorship, and impose new market barriers for businesses worldwide. The new regulations were originally proposed two years ago as part of the E.U.'s Digital Single Market policy that applies to 28 E.U. member-states and the four non-E.U. states of Iceland, Liechtenstein, Norway, and Switzerland. Essentially, it could have a global impact on non-E.U. countries across the world similar to the effect of the E.U.'s 2016 E.U.-wide data protection rules created under the General Data Protection Regulation (GDPR).
State Signs Off on Alamo Plan, but Controversy Builds. The long range, $300 million plan to 'reimagine the Alamo' is one step closer to becoming a reality today, as Texas Land Commissioner George P. Bush, whose office owns the Alamo, has signed off on the agreement approved by a citizens review committee, News Radio 1200 WOAI reports. The last signature needed to put the plan in motion is that of Mayor Nirenberg, and Bush is clearly hoping to prod the mayor into signing, releasing a photograph of the agreement with a 'sign here' sticker over the place where the mayor signs his name.
The mystery of a Russian satellite attacking others. Russia has launched a military satellite that, according to U.S. officials, is behaving strangely. And they say concerns are mounting that it is a test for some kind of military weapon, perhaps designed to cripple or silence an adversary's satellites. An arms race in space makes perfect sense for Russian President Vladimir Putin, who recently boasted about new missile and submarine technology.
New Mexico observatory's sudden closure sparks wild speculation. The temporary closure of a New Mexico observatory last week sparked wide-ranging theories, especially after reports that federal authorities were involved. The Sunspot Solar Observatory, located near the Sacramento Mountains, closed over an unspecified security issue, the facility said in a statement posted to Facebook on Sunday [9/9/2018].
New Mexico: The Sunspot Solar Observatory Unexpectedly Closed Due To "Security Issue". The Sunspot Solar Observatory in New Mexico was rapidly closed down and evacuated last Thursday [9/13/2018] with no explanation why. Locals report that the FBI is involved, though the Bureau has neither confirmed or denied their presences at the facility. The official statement from The Association of Universities for Research in Astronomy (AURA) is there was "a security issue" so they "decided to temporarily vacate the facility as a precautionary measure."
A solar observatory in New Mexico is evacuated for a week and the FBI is investigating. No one will say why. At a small solar observatory tucked away in the woods of a national forest here, scientists and other personnel were commanded last week to leave at once. A week later, the facility remains vacant, and no one is willing to say why. The mysterious and lengthy evacuation, in a state known for secretive military testing and a suspected UFO crash, has spawned a wealth of speculation.
Update:
New Mexico observatory shut down amid FBI child porn investigation: documents. Investigators determined the observatory's janitor had used his laptop to connect to the facility's wireless internet system, an FBI affidavit said. Federal authorities obtained a warrant to the search the suspect's residence, Reuters reported, citing FBI records. On Sept. 14, FBI agents removed three cell phones, five laptops, one iPad, an external hard drive, and other electronic devices, from the suspect's home, FBI records showed. An FBI spokesman said the case is still under investigation. According to the FBI, the suspect has not been arrested or charged.
3,677 sex abuse cases in German Catholic Church. A report on sexual abuse inside the Catholic Church in Germany says 3,677 people were abused by clergy between 1946 and 2014, two leading German media outlets said Wednesday [9/12/2018].
Andrew Cuomo has no credibility left. Gov. Andrew Cuomo's credibility stands in shreds just hours before Thursday's [9/13/2018] primary, as fresh evidence puts his fingerprints all over what he insists are just a series of remarkable coincidences. As The [New York] Post's Anna Sanders and Bruce Golding report, a top Cuomo campaign official emailed this paper trying to plant a news story that mirrored the same points contained in that dirty-trick mailer accusing opponent Cynthia Nixon of being "silent on anti-Semitism." That would be the very same mailer the notoriously hands-on governor insisted he knew nothing about and hadn't even seen, even though it was sent by the Democratic State Committee — which he funds and controls.
Airbnb renter trashes luxury San Francisco home, leaving piles of trash, feces, needles. A man who rented a luxury home in San Francisco through Airbnb trashed it, KTVU has learned, leaving used needles and human waste throughout the $5-million home. The owner of the home does not want to reveal any identifying details about where this house is located, other than that it is in one of The City's most desirable neighborhoods. On Friday [9/7/2018], KTVU got an exclusive look inside the home and spoke with the property manager, Egan Lim, who was dressed in a hazmat suit and supervised cleaning up the mess.
'People are on edge': Inside the palpable tension throughout Miss America. Despite the sweltering temperatures last week in Atlantic City, there was a discernible chill in the air as Miss America contestants, volunteers and executives arrived for the annual pageant. The recently revamped event, which airs Sunday on ABC, kicked off at Boardwalk Hall Wednesday night with the first phase of preliminary competition. "The energy was very odd in the auditorium, for sure," said one former board member who asked not to be identified, citing for professional reasons.
Why Is Obama's Secret Service Head Working for Cardinal Wuerl? I googled Obama's Mark Sullivan and compared him to the man with whom I spoke. Yep, they were one and the same. I nearly dropped my phone as a chill went up my spine and the dawning realization hit: Obama's Secret Service honcho had become Cardinal Wuerl's. What made the discovery even more alarming was the subsequent harassment I received from security goons clearly working for Cardinal Wuerl, with whom I have had multiple encounters in August and September. Are all these goons working for Sullivan and the private security firm GSIS, of which he is a principal and co-founder? It looks like a real possibility.
Pluto never should have been downgraded from a planet, scientists say in new study. Make Pluto a planet again. According to a new study published in the scientific journal Icarus, Pluto never should have been downgraded more than a decade ago. Pluto was reclassified as a dwarf planet in 2006 by the International Astronomical Union, which ruled a planet a "celestial body that is in orbit around the Sun, has sufficient mass for its self-gravity to overcome rigid body forces so that it assumes a hydrostatic equilibrium (nearly round) shape, and has cleared the neighborhood around its orbit." That last qualification is where Pluto was tripped up; the IAU said the planet was too small to control its own orbit, as its gravity is influenced by Neptune's.
The Editor says...
No planet controls its own orbit.
British Navy Confronts Argentina ship in military face off over Falklands. The Royal Navy unleashed a patrol ship against an Argentinian vessel in the Falkland Islands, after the South American ship was caught "snooping for oil" in UK territorial waters.
The ABA Just Gave Brett Kavanaugh Its Highest Possible Rating. The American Bar Association's (ABA) standing committee on the judiciary released its evaluation of Supreme Court nominee Brett Kavanaugh Friday, awarding him a unanimous "well-qualified" rating. The ABA panel issues its evaluation based on a variety of measures including integrity, professional competence and judicial temperament. "The committee's objective is to provide impartial peer evaluations of the professional qualifications of judicial nominees in order to assist the Senate Judiciary Committee in assessing whether such individuals should be confirmed by the Senate," an ABA memo detailing the process reads.
California approves measure to pass on wildfire costs. The California Legislature voted Friday [8/31/2018] to allow power companies to raise electric bills to cover the cost of lawsuits from last year's deadly wildfires amid fears that Pacific Gas & Electric Co., would otherwise face financial ruin.
US soldier pleads guilty to supplying terrorist group with secret military information. A soldier who was filmed by the FBI kissing the ISIS flag has pleaded guilty to supporting the jihadist group. Ikaika Erik Kang, a 35-year-old sergeant first class in the US Army, admitted to four counts of attempting to provide material support to ISIS. Kang, who is based in Hawaii, provided secret military information, a drone meant to track US troops and other support to undercover agents he believed were members of the terrorist organization.
Borders won't be able to contain Venezuela's disaster. For years, the world watched corrupt socialists turn Latin America's richest nation, Venezuela, into one of its poorest. Now, as the country's economy nears total collapse, it's time to ask what can be done to contain the fallout and help its residents. Start with its refugees: In a nation whose 2016 population was 31 million, 1.8 million have fled the country over the past two years. This year, it's 5,000 a day — with the United Nations projecting another 2 million gone by year's end. Venezuela's neighbors bear the brunt of this refugee flood. But more than 28,000 Venezuelans sought asylum in the United States last year, the US Citizenship and Immigration Services notes. That's up 88 percent from 2016, and 1,300 percent since 2014. There are now three times as many asylum-seekers here from Venezuela as from any other nation.
Former CIA Officer Charged With Spying For China. An ex-CIA officer arrested in January at New York's John F. Kennedy airport has been charged with conspiracy to commit espionage on behalf of China years after FBI agents turned up notebooks containing classified information in a search of his hotel room. Jerry Chun Shing Lee, 53, a naturalized U.S. citizen, had a top-secret clearance and worked as a field agent for the Central Intelligence Agency from 1994 until 2007. He was living in Hong Kong at the time of his arrest, and had apparently been the target of an FBI investigation since 2012, when agents searching a Honolulu hotel room discovered handwritten notes on "asset meeting, operational meeting locations, operational phone numbers, true names of assets, and covert facilities" pertaining to China, according to a court affidavit.
Transvestites monkeying up US Navy. The Navy Times had a propaganda article yesterday [8/30/2018] featuring a sailor who likes to get dressed up as a woman and "perform" for the troops. Why is this newsworthy? It's all part of the liberal propaganda effort to increase acceptance of the so-called "transgendered." This is sick brainwashing of the worst kind.


The Random House Dictionary of the English Language, Unabridged Edition, Page 1507.

Box Office: Summer Movie Attendance Second Worst in 25 years. Movie attendance for the summer of 2018 at the box office is the second worst in 25 years, reports the Hollywood Reporter. For months now all we have been hearing about the box office is what a great season it has been, a record season, a comeback that proved all the doomsayers wrong who said America is falling out of love with going to the movies. To a point, that remains true, but only if you look at the cold, hard numbers. As far as money, the summer of 2018 is a record breaker, up +14 percent over 2017's brutal summer, and the fifth best on record.
B-1 Crew Makes 'Emergency Landing' Request in Newly Released Audio. "Is that an actual emergency?" an air traffic controller at Midland Airport, Texas, asks an Air Force B-1B Lancer crew experiencing an engine fire. After someone interjects a quick "Yes," the voice replies, "Actual emergency. Alright, Bravo go." The conversation is part of a recently released audio clip between the control tower and a Dyess Air Force Base-based bomber that had to make an emergency landing in May after an ejection seat didn't work following an engine fire. The audio was obtained and published by Military Times.
Pope silent on claim he ignored abuse. Pope Francis has declined to comment [8/26/2018] on a growing scandal after a former Vatican official claimed the pontiff ignored sexual abuse allegations against a senior clergyman and called on him to resign.
The Catholic abuse scandal now leads all the to way the Vatican. An ecclesial straight shooter. A reliable character. A serious man. That's how sources familiar with Carlo Maria Viganò describe the Italian archbishop, who served as the Vatican ambassador to the United States from 2011 to 2016. His reputation makes the publication Saturday of Viganò's written "testimony" about the Theodore McCarrick affair all the more inconvenient for those in the Catholic hierarchy who tried to bury the truth about the disgraced American prelate. The core claim in the 11-page document is that a high-powered circle of silence for years abetted McCarrick's career, despite his well-known penchant for sexual abuse. The circle of silence, Viganò says, included the current successor of Saint Peter. In a cryptic statement to reporters on Sunday, Pope Francis refused to confirm or deny the allegations, instead urging them to "read the document carefully and judge it for yourselves."
Journalist Who Exposed CIA Cocaine Trafficking, Would Be 63 Today, But He 'Shot Himself' TWICE. On August 22nd, 1996 the San Jose Mercury News shocked the country with a series of articles entitled 'The Dark Alliance' detailing the CIA's connection to the crack epidemic that terrorized the nation in the 1980's and destroyed countless lives in its wake. After the article's publication, the story's author, award winning journalist Gary Webb, was initially hailed as a hero, before a massive smear campaign attacked his credibility and destroyed his career.
DNC passes historic reforms stripping superdelegates of power. Two years after the gruesome presidential primary of 2016 left Democrats bitterly divided, the Democratic National Committee adopted major reforms Saturday [8/25/2018] to reduce the outsized influence of unpledged delegates, known as superdelegates. In a majority vote, the DNC passed a measure to block superdelegates — elected officials and party leaders — from casting a vote for any presidential candidate unless a second ballot is required at the 2020 national convention, stripping them of power.
The Editor says...
The Washington Examiner exaggerates somewhat: The super-delegates have the same power they've always had, except on the first vote (at the party convention) for the presidential nominee.
The Left's New Offensive In Their Economic War On Conservative Speech. The evidence is clear the left is ramping up its war on conservative free speech. We've already the social media platforms' censorship of Alex Jones, or NY Governor Cuomo's attempts to get banks and insurance companies to stop working with the NRA, or even YouTube's removal of Dennis Prager's "Prager U" videos. Visa and Mastercard have blocked service to the David Horowitz Freedom Center because the far left hate group, The Southern Policy Law Center (SPLC) pressured them into believing that the Horowitz Center is a hate group.
Chinese Communist Party Funds Washington Think Tanks. China's Communist Party is intensifying covert influence operations in the United States that include funding Washington think tanks and coercing Chinese Americans, according to a congressional commission report. The influence operations are conducted by the United Front Work Department, a Central Committee organ that employs tens of thousands of operatives who seek to use both overt and covert operations to promote Communist Party policies. The Party's United Front strategy includes paying several Washington think tanks with the goal influencing their actions and adopting positions that support Beijing's policies.
Loyal Democratic donors: We're done with the DNC 'until they get their act together'. The Democratic National Committee — the party's signature organization — has posted its worst midterm fund raising totals in more than a decade. The DNC has so far taken in $116 million before the November midterm elections, $9 million less than it had taken in at this point in 2014 and more than $30 million less than it had taken in at this point in 2010, the last two midterm cycles. By contrast, the Republican National Committee has nearly doubled the DNC's haul this cycle, bringing in a total of $227 million. And of the six major federal committees of both parties, the DNC has by far the most debt ($6.7 million) and the least amount in its bank account ($7.8 million).
Michael Jackson 'may not have' sung lead vocals on posthumous tracks. When an album of previously-unreleased songs from their hero Michael Jackson was released a year after his death it seemed, some astute fans feared, too good to be true. Today [8/24/2018], it appeared those suspicions may not necessarily have been unfounded, as a record label was caught up in an extraordinary dispute over whether three songs were really performed by the late singer himself. A court case, revolving around the release of posthumous album in 2010, saw a fan of the singer take on Sony Music Entertainment, alleging songs on the record were not sung by the late artist.
Republican declared winner of Ohio special congressional election. Republican congressional candidate Troy Balderson on Friday was declared the winner of a hotly contested Ohio special election that served as a final test of his party's ability to hold off an anticipated surge of Democratic voters in the November elections. After two weeks of counting additional ballots in a district that has historically provided easy victories to Republicans, Balderson was declared by Franklin County officials as the winner over Democrat Danny O'Connor, who said on Friday [8/24/2018] he called to concede to Balderson.
Editor's note:
News items older than this are located here.
---

Document location http://akdart.com/news.html
Updated November 14, 2019.

©2019 by Andrew K. Dart