---
Uncategorized News Items
---
If I owned a newspaper, this is what you'd see in it. These are news item of which you probably haven't heard, if you get all your information from television. Some of these stories have appeared in the "mainstream media" briefly but they deserve additional publicity. Special attention is given to stories which show the alarming growth rate of the federal government's size and power, and abuses of that power, as well as especially bad ideas which are being given undue consideration. The links will be removed when they get stale or when they are no longer valid. As a general rule, the most recent and the most important items are at the top of the page.
The stories that interest me the most are the ones that show blind over-reliance on technology — especially GPS-related systems and computers in general. There is no shortage of minimum-wage clerks who believe anything that pops up on a computer screen. (That's why electronic voting is a very bad idea.) But there are apparently a lot of politicians and cops who assume that GPS tracking devices are infallible, too.
This page is for stories that the mainstream press seems to have overlooked. On the other hand, the stories that appear to have been intentionally squelched are on this page.
News items that are more than about two years old are now located on a spin-off page, which you can find here.
More odd/weird news that imply little or no political controversy can be found on this page.
---
How Sears Lost the American Shopper. Over the last four decades, a succession of CEOs have tried to reinvent, reimagine and, finally, save Sears. One discussed merging with rivals Best Buy and Home Depot, talks not previously reported. Another opened the door to hedge-fund billionaire Eddie Lampert, who went on to slash spending with little investment in stores. Amid changing shopping patterns, technology shifts and Sears's own missteps, customers fled.
Report: Lori Loughlin's Daughter Skipped First Week Of Classes At USC To Vacation In Fiji. It is not surprising that a child of privilege with zero interest in school, whose parents allegedly had to commit a federal crime just to get her into USC, would decide to blow off the first week of classes for a vacation in a tropical paradise. What continues to surprise is that someone this young, good-looking, connected, and vacuous doesn't already have her own reality show.
U.S. seeks input on GM petition to deploy cars without steering wheels. U.S. regulators will ask the public if robotic cars should be allowed on streets without steering wheels or brake pedals as they try to set the first legal boundaries for their design in the world's second largest vehicle market.
DA: Urgent care clinic in Los Gatos charged someone $700 for a pair of foam slippers. The owner and manager of the facility, Los Gatos Urgent Care Clinic, have been charged with insurance fraud after billing patients' insurance for a range of egregious expenses, according to the Santa Clara County District Attorney's Office. The eye-popping bills include one instance in which the clinic allegedly billed a patient who stepped on a sea urchin $700 for a pair of foam slippers that cost less than $10. [...] The pair behind the clinic are a married couple from Monte Sereno, Ali Moayed, 53, and Dr. Farzaneh Tabrizi, 50.
College Scam: That's Not the Half of It. "The biggest college scandal in our history!" exclaims a news reader, referring to the indictment of William Singer, who organized a scheme so the wealthy could bypass the college admissions process and get their children into prestigious schools through a combination of fraud, deceit, and bribery. The scandal might not have received the attention it generated had it not been for actresses Lori Loughlin and Felicity Huffman getting caught in the FBI's net. If there are celebrities involved, the story must be important. As offensive as this scandal is, it is nowhere near the biggest college scandal in our history. Our colleges and universities have long been mired in ongoing scandals, but they are so common that we hardly consider them newsworthy.
You Know Who Hates People Who Cheat To Get In To College? Elizabeth Warren. Yesterday's top news item, that dozens of parents — including two Hollywood actresses — lied and cheated to get their kids into top colleges, is still getting talked about today. To be fair, it should be, as the corrupt admissions process should be exposed for all to see. However, there is one person I figured would avoid any questions about it. One 2020 hopeful who needed to stay away from the subject of lying or cheating to get into a college or university. "Surely," thought I (perhaps a bit naively), "she wouldn't speak on this issue. She can't possibly think it would go over well."
Russian ship with 'vomit-inducing weapon' spotted off UK coast. A Royal Navy warship has been scrambled to follow a Russian vessel believed to be carrying a "vomit inducing" weapon as it sails close to UK territorial waters. HMS Defender was deployed at weekend to keep watch on the frigate Admiral Gorshkov and three auxiliary ships. [...] The Gorshkov is reportedly fitted with Russia's Filin 5P-42 device — a "visual optical interference" weapon which can cause "dizziness, nausea and feelings of disorientation".
How bad is Venezuela's economy? Even the criminals are struggling to get by. In one of the strangest consequences of this oil-rich country's collapse, cash has virtually disappeared. With soaring hyperinflation, the government can't print money fast enough to keep up, so many Venezuelans have switched to debit cards — not that they have enough money on them.
Government Jobs Drop by 5,000. As the number of people employed in the United States climbed to a record 156,949,000, the number of people working for government in the country declined by 5,000, according to data released today [3/8/2019] by the Bureau of Labor Statistics.
Senate Confirms High-Priority Trump Judges Without Any Democrat Support. Senators confirmed three high-priority Trump judges to the federal appeals courts last week without a single Democrat voting for any of them, with one of those new judges replacing an irreplaceable conservative judicial icon, Judge Alice Batchelder. The Senate confirmed Allison Jones Rushing on March 6 as a judge on the U.S. Court of Appeals for the Fourth Circuit, which covers five states in the middle of the Eastern Seaboard.
New York man with 600-square-foot apartment gets $38M Con Edison bill: report. A New York man reportedly received a Con Edison monthly bill of $38 million on Monday [3/11/2019] for his 600 square foot apartment. [...] "Our customer ops team is looking into it and we'll definitely work on it and fix it," a ConEd spokesperson told the New York Daily News, saying that it was most likely a computer error.
The Editor says...
Most likely a computer error, they say. There's still a chance that he actually consumed that much electricity in a month. To believe this, and to insist on payment, you would have to believe that his electric meter could pass that much electricity without burning up. In the case of my very modest house, for example, the main breaker will handle no more than 70 amperes. That limits the electric consumption to about 17 kilowatts. In 31 days, I couldn't possibly consume more than 12,650 kilowatt-hours; and even if I paid the highest rates in town (which I might be, I don't know), that would produce an electric bill of only about $2,000 dollars. Obviously Con Edison has no sanity checking software in their billing computers.
Felicity Huffman, Lori Loughlin among 50 snared in elite college cheating scam, authorities say. Actresses Felicity Huffman and Lori Loughlin were among more than four dozen people charged in a nationwide college admissions cheating scandal that involved wealthy individuals paying up to $6.5 million to place their children into elite universities, according to court records revealed Tuesday [3/12/2019].
"Leaving Neverland" — Hollywood's pedophilia problem exposed. The Michael Jackson estate is suing HBO to the tune of $100 million. The suit says the documentary makers failed to reach out to the Jackson family for comment on the sexual allegations. And estate attorneys also claim HBO violated a "non-disparagement agreement" they made as part of its contract to broadcast the pop star's "Dangerous" world tour in 1992.
Scrutinizing Fake Business Reviews Online. More than 80 percent of people sometimes check reviews for businesses, but half wonder if they can be trusted, according to the Pew Research Center — and they have good reason to, according to experts in online reviews.
Robot workers can't go on strike but they can go up in flames. Machines may be efficient and safe workers, but their environment is not designed for human intervention when disaster strikes. [...] Fashion brand Asos has had three warehouse fires since 2005. The online grocer said on Feb 5 that the fire started in what is called the ambient grid, where food is stored at room temperature. A spokesman declined to comment further on the cause. The blaze began high in the warehouse and was so difficult to reach that firefighters had to cut holes in the roof, according to chief officer Neil Odin at Hampshire Fire and Rescue Service. A sprinkler system only contained the fire in its early stages.
Venezuela: Socialism Dies in the Darkness. "A major power outage hit crisis-stricken Venezuela on Thursday [3/7/2019], according to Reuters ... a problem the government of President Nicolas Maduro quickly blamed on "sabotage" at a hydroelectric dam that provides much of the country's power." National life ground to a standstill, telecommunications — including the internet — stopped working, hospitals were plunged into darkness and cities of millions lay helpless without electricity. As the outage continued into Friday spreading to every Venezuelan state, it became clear this was going to become the biggest of the blackouts yet and Maduro's officials increasingly pointed a finger at the United States. But the national electric grid had also been teetering for a long time. "Crumbling infrastructure and lack of investments have hit Venezuela's power supply for years." Outages had become a way of life and there was no easy way of proving this wasn't "sabotage" but only more of the same dysfunction.
Venezuela Goes Dark In Worst Blackout In Decades, At Least 17 People Dead. Venezuela entered its fourth day of blackouts in an "electricity crisis" that plunged most of the country's 23 states, including the state home to the Venezuelan capital of Caracas, into complete darkness. Reuters reports that international non-governmental organizations estimate that at least 17 people have died, nine of whom were waiting for emergency medical attention. Reuters was not able to independently verify the numbers, but they are being tabulated by the non-partisan NGO, Doctors For Health, which has been treating patients in Venezuela.
They're still in the dark in Venezuela, and it's really ugly. [Scroll down] These reports describe the terrible conditions in just Caracas — in the rest of the country, the situation is reportedly far, far worse. And yes, the result looks as though it's going to be famine. And coincidence of coincidences, it comes just as dictator Nicolas Maduro is under fire from millions and millions of Venezuelans to get out and allow acting president Juan Guaidó, who's there through democratic mechanisms, to take over. Guaidó returned to the country last week without much fuss and says he's calling for protests, and now the blackout has followed. The internet has been shut off, and the subways are out. Both of those things are instrumental in getting word out of protests and transporting protestors to locations. Shut. Down. How very convenient for Maduro. And by another coincidence, Maduro has had high-level contacts with Russians in recent weeks — and the Russians just happen to be the masters of blowing out power grids.
Nationwide blackout in socialist Venezuela is more than just turning the country into North Korea. It's the spectacle of a whole country going dead, with its socialist rulers turning the nation into something quite similar to parts of eastern Nigeria, where the impoverished locals in remote rural areas live with little electrical infrastructure (Lagos and Abuja have no such problems), or, even more similarly, into Pol Pot's inhuman communist regime, which was a nationwide project by Khmer Rouge central planners to rebuild the entire society from the ground up. I have my doubts that this nationwide blackout was just the characteristic incompetence of socialism and its Cuban masters. Cubans have made a hash of the electrical grid in Venezuela, it's true, but they also seem to be following the plan of doing what it takes to make Cuba the electrical disaster it also is.
Republicans notch streak of special election victories, ousting Democrats. Republicans picked up a Kentucky state Senate seat earlier this week, marking the latest in a series of under-the-radar wins at the state level for the GOP since the November midterms. The pickups have the party claiming momentum going into 2020, after having lost control of the U.S. House last fall. Republican Phillip Wheeler defeated Democrat Darrell Pugh in a special election to fill an eastern Kentucky state Senate seat. Wheeler will succeed a Democrat, making it a Republican pickup.
Black journalists' group places CNN on 'special monitoring list'. The National Association of Black Journalists (NABJ) said Tuesday that it would place CNN on a "special media monitoring list," citing a lack of black representation among the network's leadership ranks. NABJ said in a statement that its preliminary research showed that CNN has no black employees reporting to CNN President Jeff Zucker. It also showed that the news organization has no black executive producers as well as no black vice presidents or senior vice presidents on the news side. CNN disputed the group's finding that there are no black vice presidents on the news side, according to NABJ. But the news network did not provide the name or position of the vice president or vice presidents, NABJ said.
Geraldo Rivera defends AOC, 'generosity' of socialism. Geraldo Rivera, in a heated debate on Fox News with host Sean Hannity and guest Dan Bongino, defended Rep. Alexandria Ocasio-Cortez by saying she was a too-easy target of the ideological right and that conservatives should just leave her alone because, by gosh, "she has heart" and socialism "is so yesterday" and mean old Americans were killing the dreams of all these youthful idealists.
Apple CEO Tim Cook to Conservative Employees Who Feel Shunned: 'Come Talk to Me'. Apple CEO Tim Cook recently encouraged any conservative employees who felt discriminated against due to their political views to speak with him directly. Business Insider reports that Apple CEO Tim Cook recently encouraged conservative employees at the Silicon Valley giant to speak with him directly if they felt discriminated against or shunned due to their beliefs. Cook's statement was in response to a question at the company's annual shareholder meeting; the questioner stated that a friend of hers worked at Apple and this friend did not "share the left-wing view" and suggested that her friend felt discriminated against by her fellow workers as a result.
The Editor says...
Usually, when the CEO of a giant company tells you to come and speak to him directly, it means your employment is about to end.
JetBlue black history display honored convicted killer. JetBlue has taken down a poster of a convicted murderer that it had included as part of a Black History Month tribute at New York's Kennedy Airport. The airline said Saturday [3/2/2019] it removed the poster paying tribute to Assata Shakur last month after being alerted via Twitter that Shakur is "a convicted cop killer."
Canadian Economy Halts — GDP Growth Drops to 0.1 Percent, and No-One Is Talking About Why. The Canadian government shocked the professional financial and economic media with their latest fourth quarter GDP release showing the economy has essentially come to a grinding halt at 0.1% growth. [Compare to U.S. GDP growth of 3%] The Canadian Q4 GDP growth isn't one percent, it's one-tenth of one percent: 0.1%, essentially halted; but everyone discussing this is missing something very important.
The Awful Truth of Michael Jackson's Depravity. Fair warning for those curious about exactly what Michael Jackson did to little boys: The two-part, four-hour documentary Leaving Neverland goes into gruesome, nauseating, nightmarish detail about the King of Pop's depredations. But it's also disturbing for another reason, one you might not have anticipated. Debuting on HBO March 3 and 4 after a previous series of screenings at the Sundance Film Festival, this enraging film by Dan Reed inspired a lawsuit against the pay-cable channel from Jackson's estate, which desperately wants people not to see a story that may significantly diminish the value of his brand. It's a wonder that there is any brand left to defend, given that four men have now made detailed, credible claims that Jackson sexually abused them as minors over extended periods of time.
'Social justice' is killing organized religion. A fascinating article by Joel Kotkin in The Tablet describes the precipitous decline in membership to organized churches and synagogues, with a primary reason being the growing influence in these religious organizations of leftists and leftist dogma. The numbers are shocking. It's not just the decline of members that's concerning; it's the aging of the church-going population that jumps out at you. For example, attendance at conservative and reformed synagogues is declining at a time when the average age of Reform congregations is 54, and only 17 percent of members say they attend religious services even once a month. It's just as bad for Christians. [...]
Millennial Repo: Car Loan Defaults on the Rise. An interesting data nugget percolated the other day about a "sharp worsening" — that is to say, an increase — in the number of car loan defaults among borrowers under 30 years old. According to Bloomberg Financial News, the rate for the Millennial demographic was 4.04 percent last quarter vs. 2.36 for the general population, or about twice as high.
There's A Vladimir Lenin Statue In Seattle, and Republican Lawmakers Want It Gone. In the Fremont neighborhood of Seattle (because, duh, it's Seattle) stands a 16 foot tall statue of communist revolutionary and innovator of mass starvation and firing squads, Vladimir Lenin. Republican lawmakers in Washington have now introduced a bill "to study and make recommendations on an appropriate historical figure to replace the statue of Lenin, and to represent the state of Washington."
People Search Garbage Truck For Food In Socialist Venezuela. Starving Venezuelans rummaged through a trash truck this week in a search for food, following Venezuela's collapse due to its socialist policies. "Amid the increasingly dire situation in Venezuela, Univision's left-leaning anchor Jorge Ramos traveled into the rapidly imploding socialist country for an interview Monday with dictator Nicolas Maduro," The Daily Wire reported. [...] In a video posted on the "Real American with Jorge Ramos" Facebook page, Ramos "said the last straw for Maduro was when the Mexican-American journalist held up his iPad and showed him footage he had filmed himself of three children on the streets of Venezuela rummaging through the back of a garbage truck for scraps of food," Fox News reported. "He just couldn't stand it," Ramos said. "He didn't want to continue the interview. He tried to close my iPad. They confiscated all of our cameras, all our videos."
Venezuela to deport Univision team after Maduro shown 'garbage eating' video. U.S. television network Univision said on Monday Venezuela was deporting a news team led by anchor Jorge Ramos after they were briefly detained at the presidential palace because their line of questioning upset President Nicolas Maduro.
George Pell: cardinal found guilty of child sexual assault. Cardinal George Pell, once the third most powerful man in the Vatican and Australia's most senior Catholic, has been found guilty of child sexual abuse after a trial in Melbourne. A jury delivered the unanimous verdict on 11 December in Melbourne's county court, but the result was subject to a suppression order and could not be reported until now.
PayPal CEO Admits Partnership with Far-Left SPLC to Blacklist Conservatives. PayPal CEO Dan Schulman admitted during an interview with the Wall Street Journal that PayPal works with the far-left Southern Poverty Law Center (SPLC) when it considers blacklisting conservatives. After being asked by the Wall Street Journal what "values" PayPal identifies with," Schulman replied, "Probably the most important value to us is diversity and inclusion."
Venezuela Ex-spy Chief Reveals Maduro's Ties To Hezbollah, Drugs. Former head of Venezuela's intelligence services Hugo Carvajal revealed powerful ties between the administration of President Nicolás Maduro and the Hezbollah terrorist group, as well as wide-spread corruption and drug activity, the New York Times reported on Thursday [2/21/2019]. The nefarious activities were directed by Maduro himself as well as Interior Minister Néstor Reverol and former vice-president Tareck El Aissami.
Women May Have to Register for the Draft as Men's Group Wins Selective Service Lawsuit. On Friday [2/22/2019], a Texas judge ruled that the Selective Service System (SSS) violates the Constitution by requiring only men to register for the draft. The court ruled with the National Coalition for Men (NCFM) in a lawsuit claiming the male-only draft constitutes discrimination against men. NCFM's lawyer told PJ Media that even if the SSS appeals, they are likely to lose again. He also suggested the Pentagon will not end the draft, so women may have to register.
The Corruption of the Vatican's Gay Elite Has Been Exposed. I spent much of this week reading and trying to absorb the new and devastating book by one Frédéric Martel on the gayness of the hierarchy at the top of the Catholic Church, In the Closet of the Vatican: Power, Homosexuality, Hypocrisy. It's a bewildering and vast piece of reporting — Martel interviewed no fewer than "41 cardinals, 52 bishops and monsignori, 45 apostolic nuncios, secretaries of nunciatures or foreign ambassadors, 11 Swiss Guards and over 200 Catholic priests and seminarians." He conducted more than 1,500 interviews over four years, is quite clear about his sources, and helps the reader weigh their credibility. He keeps the identity of many of the most egregiously hypocritical cardinals confidential, but is unsparing about the dead. The picture Martel draws is jaw-dropping. Many of the Vatican gays — especially the most homophobic — treat their vows of celibacy with an insouciant contempt. Martel argues that many of these cardinals and officials have lively sex lives, operate within a "don't ask, don't tell" culture, constantly hit on young men, hire prostitutes, throw chem-sex parties, and even pay for sex with church money. How do we know this? Because, astonishingly, they tell us.
Catholic Cardinal Marx says files on child abusers 'destroyed'. Vatican officials worked to silence the victims, senior German Cardinal Reinhard Marx has told the summit on tackling pedophilia within the church. He said files on the abusers were often destroyed. Germany's top cardinal, Reinhard Marx, slammed the Catholic Church officials for their response to the decadeslong pedophilia scandal at a conference called by Pope Francis in the Vatican on Saturday [2/23/2019].
Projection:
Pope Francis decries critics of church as 'friends of the devil'. Pope Francis has said that those who constantly criticise the Catholic church are "friends of the devil". Speaking to pilgrims from southern Italy, the pontiff said that defects of the church needed to be denounced so they could be corrected, but that those who condemned "without love" were linked to the devil. "One cannot live a whole life accusing, accusing, accusing, the church," he said. People who did, he said, were "the friends, cousins and relatives of the devil". His remarks come as dozens of victims of clerical sexual abuse gathered in Rome ahead of an unprecedented Vatican summit on the issue.
Brian Stelter Reports CNN Staff 'Up in Arms' Over Hiring of Ex-Trump Official as Editor. Many media figures were instantly horrified by CNN's hiring of former Trump Department of Justice official Sarah Isgur Flores as a political editor, and according to CNN's Brian Stelter, so are many of CNN's other staffers. Stelter spent much of Tuesday night [2/19/2019] tweeting updates about the hiring, then published a detailed story on the controversy that included extremely dissatisfied comments from several unnamed CNN staffers.
Chinese Cardinal: Vatican Has Kept Secret the Text of Deal With Atheist Regime on Naming of Bishops. Cardinal Joseph Zen, bishop emeritus of Hong Kong, said in a video interview with CNSNews.com that the Vatican has kept secret the text of the agreement it made in September with the government of the People's Republic of China on the appointment of Catholic bishops. According to the U.S. State Department, the government of China is controlled by the Chinese Communist Party, whose members are required to be atheists. "The People's Republic of China (PRC) is an authoritarian state in which the Chinese Communist Party (CCP) is the paramount authority," says the State Department's latest report on human rights in China, which was published on April 20, 2018.
Congress Wants To Bring Thousands More Acres Under Federal Control. The US Can't Afford It. A lengthy public lands package sitting in Congress adds hundreds of thousands of acres of federally protected wilderness without securing funding to manage it. The House is preparing to vote on a bipartisan land package next week that is roughly 660 pages and composed of 118 different bills. The Senate version passed its version, the most comprehensive land package in a decade, on Feb. 12 in a 92 to 8 vote. "It touches every state, features the input of a wide coalition of our colleagues, and has earned the support of a broad, diverse coalition of many advocates for public lands, economic development and conservation," Republican Senate Majority Leader Mitch McConnell said, according to The Washington Post.
Democrats took $60,000 junket to attend Beyonce concert in South Africa. Five members of the Congressional Black Caucus took an official three-day trip to South Africa to be feted as VIPs at a Beyonce and Jay Z concert, according to congressional disclosure records. The stated purpose of the $60,000 trip in December was to attend the "Global Citizen Mandela 100" concert, the stated purpose of which was to celebrate the centenary of the birth of the late Nelson Mandela and raise awareness of global poverty. The extravaganza was headlined by Beyonce, Jay Z, Ed Sheeran, Pharrell Williams, and Chris Martin.
Chase Bank Shuts Down Personal Account of Vocal Trump-Supporting US Army Combat Vet. Chase Bank abruptly closed the personal account of US Army combat veteran Joe "Rambo" Biggs. Mr. Biggs is a very vocal Trump supporter with a bluecheck verified Twitter account and has over 200,000 followers. "Chase bank just closed out my account!" Biggs said on Twitter Saturday [2/16/2019]. [...] Joe Biggs is a huge supporter of the 2nd Amendment and also makes documentary films focused on the border crisis but he says YouTube has taken down most of his videos and demonetized his channel. Tyranny from big tech and big banks in the US is reminiscent of the 'social credit score' in China which is used to silence and control the population.
What is the purpose of a secret Facebook account?
Malia Obama's secret Facebook account reveals just how much former First Daughter hates Trump. Malia Obama described President Trump as 'evil' on a secret Facebook page where she exchanges messages friends including Joe Biden's granddaughter, DailyMail.com can reveal. The Facebook page operates under a pseudonym and does not appear to have been publicly updated since 2017.
Defrocking McCarrick Before the Abuse Summit. With his "abuse summit" a few days away, Pope Francis finally got around to defrocking the sexual predator Theodore McCarrick this week. The move appears to have been driven by optics more than anything else. It would have simply been too embarrassing for the pope to conduct the summit with the McCarrick matter still unresolved. The pope's ostensible hope in delaying the abuse summit until this year was that interest in the scandal would dissipate. It hasn't.
Former Air Force intelligence officer charged with revealing classified information to Iran. The Justice Department on Wednesday unsealed an indictment against a former Air Force counterintelligence officer on espionage charges for allegedly revealing classified information to Iran. On a Wednesday [2/13/2019] conference call with reporters, the Justice Department said former Air Force officer Monica Witt defected to Iran in 2013, where she is still suspected to be located. She allegedly provided the code name and mission of a secret Department of Defense program and information about her former intelligence colleagues to Iran's Islamic Revolutionary Guard Corps.
House Democrat counters Trump with resolution declaring climate change a national emergency. Democratic Rep. Earl Blumenauer of Oregon said Friday he intends to introduce a resolution declaring climate change a national emergency. Blumenauer, who has endorsed the progressive Green New Deal resolution and is active on environmental and renewable energy issues, circulated a letter to colleagues Friday seeking support for a resolution that would declare the "sense of Congress" that climate change is a national emergency. Blumenauer's resolution would swipe President Trump for declaring a national emergency Friday to build a border wall and address what the congressman called a "manufactured crisis."
The Editor says...
That's all very nice, except that The climate isn't changing.
This is the man who delivered the death blow to Amazon deal. The watershed moment that led Amazon to reconsider coming to Queens came on Feb. 4, when a fierce political foe was appointed to a state board with the power to thwart the project, said sources involved in the discussions. That was the day state Senate Majority Leader Andrea Stewart-Cousins nominated Sen. Michael Gianaris as her appointee to the obscure Public Authorities Control Board. Gianaris, who represents Long Island City, where Amazon was planning to build one of its new headquarters, bitterly opposed the $3 billion in subsidies offered by the city and state and was miffed that Gov. Andrew Cuomo and Mayor Bill de Blasio didn't consult him on the deal, according to sources.
Amazon's cancellation of move to NYC is catastrophic and could hurt far-left Dems at polls. Amazon's announcement Thursday [2/14/2019] that it is abandoning plans to construct a second corporate headquarters New York City is a catastrophic loss for the city, New York state and the metropolitan region. As a New Yorker, I find it immensely disappointing to see the immediate economic impacts and future economic losses of this unfortunate move. I wholeheartedly believe that New York is a global city that should always strive to diversify its economy and compete on the world stage.
After Venezuela exchange, the case grows for throwing Ilhan Omar off the House Foreign Affairs Committee. The unfitness of Rep. Ilhan Omar for the House Foreign Affairs Committee has already been brought up based on her persistent anti-Semitism, her strange habit of repeating Russian propaganda, and her apparent abuse of U.S. immigration law. Now a new and very big reason has come up: Her cringe-inducing ignorance of actual foreign affairs.
Judge voids Paul Manafort plea deal, says he 'intentionally' lied to the FBI, special counsel and grand jury. Paul Manafort "intentionally" lied to special counsel Robert Mueller's office, breaking the plea agreement that made him the star cooperator in the Russia probe, a federal judge found on Wednesday [2/13/2019]. Manafort "made multiple false statements to the FBI, the OSC and the grand jury concerning matters that were material to the investigation," including his contacts with his Russian associate during the campaign and later, Judge Amy Berman Jackson wrote on Wednesday [2/13/2019].
This means they really don't know, or they DO know but won't say.
Feds don't know what caused romaine lettuce food poisoning outbreak. U.S. food regulators say they weren't able to identify a contamination source for a food poisoning outbreak that prompted them to warn people to avoid romaine lettuce this fall. The Food and Drug Administration says it wasn't able to determine how a water reservoir on a Santa Barbara County, California, farm became contaminated with E. coli. It also says the water reservoir doesn't explain how lettuce from other farms may have been contaminated. The FDA says leafy greens' short shelf life makes it difficult to investigate such outbreaks.
The Editor says...
The two most likely causes, in my opinion, are: [1] Illegal aliens defecating in the water supply, or out in the lettuce fields (lettuce hope not!), or [2] small-scale Islamic terrorism designed to destabilize the US economy.
Tech Elites, Donor Class Unite with GOP/Dems to Outsource White-Collar American Jobs. Silicon Valley's business elites and donor-class billionaires are uniting with elected Republicans and Democrats to ensure that white-collar, middle-class American jobs are swiftly outsourced to mostly Indian and Chinese nationals. A plan known as the Fairness for High-Skilled Immigrants Act, introduced in the Senate by Sens. Mike Lee (R-UT) and Kamala Harris (D-CA), as well as Reps. Zoe Lofgren (D-CA) and Ken Buck (R-CO), would eliminate the U.S. country caps in the legal immigration system and would fast-track outsourcing of white-collar American jobs to mostly Indian and Chinese nationals imported to the country by businesses, outsourcing firms, and multinational corporations.
Mysterious Turkish Firm Helped Maduro Move $900 Million in Gold. Two months after Venezuelan President Nicolas Maduro visited his counterpart Recep Tayyip Erdogan in Ankara, a mysterious company called Sardes sprang into existence. The firm started business with a bang in January of 2018, when it imported about $41 million worth of gold from Venezuela, the first such transaction between the two countries in records that go back 50 years. The next month its volume more than doubled, with Sardes transporting almost $100 million worth to Turkey.
Pope signs pact with Islam declaring 'diversity of religions' is 'willed by God'. Almost without notice from the global media, Pope Francis held a historic meeting last week in the United Arab Emirates with Grand Sheikh Ahmed el-Tayeb, head of Egypt's al-Azhar University, the world's most authoritative institution on Islamic law. El-Tayeb, while touted as a "moderate" by some in the West, unapologetically teaches that Muslims who leave Islam for other religions, or no religion at all, are guilty of apostasy and should be killed. So what is the Pope of Rome, the supposed Vicar of Christ, doing cavorting with such a man?
Pope Francis Leading His Flock to the Slaughter? The two foremost representatives of Christianity and Islam, Pope Francis and Sheikh Ahmed al-Tayeb — the Grand Imam of Al Azhar who was once named the "most influential Muslim in the world" — just signed "A Document on Human Fraternity for World Peace and Living Together." The Document "forcefully rejects," to quote Vatican News, "any justification of violence undertaken in the name of God," and affirms "respect for believers of different faiths, the condemnation of all discrimination, the need to protect all places of worship, and the right to religious liberty, as well as the recognition of the rights of women." The Document is being portrayed as a "historic pledge of fraternity" and applauded as a "historical breakthrough." The problem is that one of the two men who signed it, Dr. al-Tayeb, has repeatedly contradicted — when speaking in Arabic and appearing on Arabic media — all the lofty sentiments it highlights.
Panera Bread's Socialist 'Pay What You Want' Experiment Fails Miserably. Panera Bread has shuttered the last of its ideologically driven "pay what you want" restaurants. The socialist-tinged ventures were called "Panera Cares" and the higher-ups have finally figured out that "caring" is not synonymous with "viable business model." On February 15, the final Panera Cares, located in Boston, will close. [...] If Panera had cared more about making money than promoting a constantly refuted ideology, its employees would still be receiving paychecks. Frighteningly, though, a growing segment of the populace seems to be allergic to common-sense economic principles.
Panera's Socialist Pay-What-You-Want Restaurant Implodes: Students, Homeless Mob The Place. According to Eater, after nine years of being in business, Panera Bread's socialist pay-what-you-want restaurant, Panera Cares, will officially be closing shop on February 15 due to the business model's unsustainability. While Panera Cares billed itself as a "non-profit" restaurant designed to feed low-income people, the business model was anything but. Rather than create a charitable organization that distributes food to needy families or a discount outlet or even a $1 menu (like every other fast-food restaurant), Panera tried to create a socialist system in which meals were offered at a suggested donation price. That means some people would pay more while others would pay less based on what they felt like or could afford. By not simply offering food at a low price (hat-tip, Dollar Tree), Panera completely removed any incentive for patrons to meet even the lowest standards of consumer/retailer exchange. The result: some people paid their fair share while others enjoyed a "free lunch."
Why didn't the Panera Cares social experiment pay off? The concept was introduced in 2010, when Panera Bread Co. opened its first Panera Cares location in a suburb of St. Louis, where the company is based. Under the chain's nonprofit arm, the stores operated on a pay-what-you-can model. Customers could pay as much or as little as they wanted for sandwiches, soups, and other menu items, which carried only suggested prices. The hope was that enough of them would "pay it forward" for those who were less well off. To make it work, the company figured, 60 percent of patrons would need to fork over the full price, about 20 percent would have to offer more money, and another 20 percent could leave less than the suggested price, or even pay nothing. In December 2012, when the Boston Panera Cares was about to open at 3 Center Plaza, company founder Ron Shaich that it would be a place where people could eat with dignity, no matter whether they could afford a meal. "It's a powerful study of humanity," he said. "Will people do the right thing?" The answer, apparently: Some did, but not enough to make the restaurants sustainable.
Surprise! Panera's Socialist Restaurant Closes Due To People Not Paying For Their Food. Panera Cares'll be officially closing on February 15th. As it turns out, when you don't make people pay for stuff, people don't pay for stuff.
The Editor says...
The "pay whatever you feel it's worth" idea is suitable only for a moral and religious people. It is wholly inadequate for any others. The liberal Left has created a culture of entitlement, and there is an abundance of freeloaders in this country who feel they are entitled to take whatever they can get, free of charge.
China and Russia loaned billions to Venezuela — and then the presidency went up for grabs. Venezuela is in the middle of a power struggle at the highest level, and that could mean trouble for its two biggest foreign allies: China and Russia. The socialist petrostate is home to the largest oil reserves on the planet, but endemic corruption has devastated its economy. Beijing and Moscow have helped the country stave off collapse by repeatedly extending financial lifelines — to the tune of tens of billions of dollars over the last decade. For the most part, those oil-for-debt swaps were good for all parties involved. But that may be changing.
Denton County measles case is first in Dallas-Fort Worth, seventh in Texas. One case of measles has been confirmed in Denton County, raising the statewide total to seven, according to health officials. Denton County Public Health confirmed the case Wednesday [2/6/2019] and is working to identify and contact other people who may have been exposed. The case has not been linked to any other cases, the health department said. The department did not release any information about the person who contracted measles, citing patient confidentiality.
The Editor says...
I suppose it's a sign of the times: The privacy of the person with the measles is more important than the health of the general population. What's all the fuss about the measles, anyway? I had the measles when I was a kid, and it was no big deal.
Yup, Iran/Hezbollah Really Is In Venezuela. Ghazi Nasr Al-Din fundraisers for and with Hezbollah. He also is a player in operational issues which includes a Hizbollah community center and operations office in Venezuela. He speaks Arabic and Spanish. Born in Beirut, Lebanon, he has been on the FBI Most Wanted List for several years. Al Din along with Fawzi Kan'an are based in Venezuela and have been since at least 2008.
Earth's Magnetic North Pole keeps moving about and it could be a problem. Earth's North Magnetic Pole has been drifting so fast in the last few decades that scientists say past estimates are no longer accurate enough for precise navigation. On Monday [2/4/2019], they released an update of where magnetic north really is, nearly a year ahead of schedule. The North Magnetic Pole is wandering about 34 miles a year. It crossed the international dateline in 2017 and is leaving the Canadian Arctic on its way to Siberia.
Getting the gold out: The rats are fleeing Venezuela's sinking ship. You can tell that things are not going well for Venezuela's Maduro socialist dictatorship, based on how they're behaving now. All signs are out now that the rats are fleeing a sinking ship. Giant contractors, even from Venezuela's allies Russia and China, are pulling out, meaning the money's running out. Just as interesting are the huge 757 Russian off-radar cargo jet flights into Caracas bearing the name of a newly-founded company, which sounds like a front for the Russian government. They came and went, with unknown purpose, but lots of room for anyone who might want to ... smuggle out the nation's gold.
Plan to pull nearly $1B in gold out of Venezuela reportedly halted. Plans by Venezuelan officials to ship 20 tons of gold overseas have reportedly been halted as the embattled presidency of Nicolas Maduro faces international pressure to cede power to a transitional government and protect the country's hard assets. The gold bars, worth around $850 million, were weighed and separated in the central bank but won't be leaving the country anytime soon, according to reports. On Tuesday, reports emerged that the gold was ready to be loaded onto a Russian airliner that arrived in the Venezuelan capital of Caracas a day earlier.
How the feds pulled off University of Farmington sting. Federal agents who created a phony university to bust immigration fraud had help from straw men, a state agency, a national college accreditation group and a dead-end post office box, public records show. The tapestry of tricks added a sheen of legitimacy to the University of Farmington, a fake university used by Homeland Security agents to arrest eight recruiters who are accused of visa fraud conspiracy and harboring aliens for profit. The recruiters helped at least 600 foreign nationals illegally remain and work in the United States by recruiting them to enroll as students at the fake university, according to federal prosecutors.
And now they're stuck with a lifetime of student loan debt!
Homeland Security made fake university to lure illegal immigrants. The Department of Homeland Security created a fake university in Detroit to lure — and arrest — illegal immigrant students and recruiters, according to newly unsealed court documents. The University of Farmington existed in Farmington Hills, Michigan — but had no real teachers, curriculum or actual classes. Instead, undercover Homeland Security agents posed as "owners and employees" of the school as "part of a federal law enforcement undercover operation designed to identify recruiters and entities engaged in immigration fraud," according to a federal indictment filed Jan. 15 but unsealed Wednesday [1/30/2019].
Russian Boeing 777 in Caracas set to haul 20 tons of gold from central bank, report says. About 20 tons of gold from Venezuela's central bank was ready to be hauled away Tuesday [1/29/2019] on a Russian airline's Boeing 777 that landed in Caracas a day earlier, a Venezuelan lawmaker wrote on Twitter. The destination of the $840 million in gold bars was unknown, but a source told Bloomberg News that it represented about 20 percent of the country's holding of the metal. The gold was set aside for loading, the report said.
Senator's huge financial win after neighbour tackled him in lawn maintenance dispute. A jury in Bowling Green, Kentucky, deliberated less than two hours before delivering the award to Republican Rand Paul, who had been attacked while doing yard work at his home. During the three-day trial Mr Paul told the court he feared for his life as he struggled to breathe after Rene Boucher, an anesthesiologist, slammed into him in late 2017. The jury awarded $375,000 in punitive damages and $200,000 for pain and suffering, plus $7,834 for medical expenses.
Struggling Newseum Sells Building to Johns Hopkins for $372.5 Million. The financially struggling Newseum which moved from Virginia to D.C. in 2008 announced that it has agreed to sell its Pennsylvania Ave. location to Johns Hopkins University for $372.5 million. The Newseum will remain open through 2019 while museum executives search for a new and presumably less costly location at which to operate.
Democrat Who Laughed Out Loud at Pledge of Allegiance will Deliver Dem's SOTU Response in Spanish. On Tuesday [1/29/2019] it was announced that California Attorney General Xavier Becerra will deliver the Dems' State of the Union response in Spanish. Schumer and Pelosi praised the incredibly corrupt California Attorney General with more Marxist doublespeak.
Failed gubernatorial candidate Stacey Abrams gets a SOTU response participation trophy. On Tuesday [1/29/2019], Senator Chuck Schumer announced that he is pleased that failed gubernatorial candidate Stacey Abrams had accepted the invitation to give a televised rebuttal directly following President Trump's State of the Union address on February 5. Given that she's not an elected representative, it's an odd choice [...] It is likely that Democratic leaders are offering Abrams as a sacrificial lamb, considering the failed rebuttal given by the frothymouthed Joe Kennedy last year, which led to thousands of memes and harsh criticisms about his flat and wet delivery. Before he gave his speech, he was considered the "rising star" of the Democratic Party. Afterward, he fell back into obscurity.
Israel Kamikaze Drones are Destroying Syria's Air Defenses. On January 21, Iranian, Syrian and Israeli forces unleashed a hail of missiles upon each other in what is becoming yet another flare-up of violence along the Syria-Israel border. Afterwards, the Israeli Defense Force released a video depicting unidentified munitions eliminating two or three short-range air defense systems--apparently including Russia's latest short-range system, the Pantsir-S2. In fact, the recent raids may reveal improvements to Syria's air defense forces due to ongoing Russian training and weapons transfers. However, they also reveal Israel's continuing ability to defeat, including through likely use of kamikaze-drones.
Thanks to Trump, China's economy is rapidly decelerating — Here's what could happen next. The Chinese government recently announced that its GDP growth for 2018 of only 6.6 percent — the country's slowest rate of economic development since 1990. Growth in the fourth quarter declined to 6.4 percent. For the second half of 2018, Chinese investment, consumer spending, manufacturing and exports all slowed markedly with the current trade war with the U.S. hurting China more than anticipated. And that's assuming the numbers are accurate. Economists have long questioned the accuracy of China's official economic data. In any event, China's economy is rapidly decelerating — and that's no coincidence.
Yes, Venezuela Is a Socialist Catastrophe. Conspicuous by its absence in much of the mainstream news coverage of Venezuela's political crisis is the word "socialism." Yes, every sensible observer agrees that Latin America's once-richest country, sitting atop the world's largest proven oil reserves, is an economic basket case, a humanitarian disaster, and a dictatorship whose demise cannot come soon enough. But ... socialist? Perish the thought. Or so goes a line of argument that insists socialism's good name shouldn't be tarred by the results of experience. On Venezuela, what you're likelier to read is that the crisis is the product of corruption, cronyism, populism, authoritarianism, resource-dependency, U.S. sanctions and trickery, even the residues of capitalism itself.
Venezuela Erupts Against Dictator Maduro as His Socialist Regime Starts to Completely Collapse. Hundreds-of-thousands of people took to the streets in Venezuela Wednesday afternoon in protest of illegitimate President Nicolas Maduro and in support of internationally recognized President Juan Guadio. [...] On Wednesday afternoon [1/23/2019] the Trump administration, in partnership with a number of Central and South American countries, officially declared Maduro is no longer recognized as the leader of Venezuela and that Guadio is the legitimate President of the country.
Bernie Sanders warns about US, not Russian, intervention in Venezuela. The story out of Venezuela is revolting: mass Egypt-style protest to get a leftist dictator who's put the country in ruins out, and the whole thing stopped by Russian intervention. [...] Russian president Vladimir Putin's warnings, delivered yesterday via his administrative minions, threatening civil war and hell to pay if Maduro is thrown out, is a clear signal that somebody's rice bowl is threatened in Moscow if Maduro exits and that Russia itself is trying to intervene. By the wildest coincidence, they just happen to be the Venezuelan military's arms-supplier, supplying the weapons that, so far, are being aimed at Venezuela's protesting people. China, which has loaned Venezuela billions in exchange for oil at below-market rates, is another one. And Cuba, which literally runs the critical parts of the Venezuelan government, including much of its military, has the dirtiest hands of them all.
Most supporters of socialism ignore Venezuela's collapse — with one exception. Bernie Sanders, Alexandria Ocasio-Cortez, and most other fantasy-embracing leftists are uncharacteristically silent about the collapse of socialism, even as President Trump calls out the real-world refutation of the suddenly trendy failed ideology in the experience of Venezuela.
Trump announces temporary end to partial government shutdown; vows to build wall despite no funding deal. Both chambers of Congress passed the short-term spending bill to re-open the government, temporarily ending the 35-day partial government shutdown on Friday [1/25/2019], sending the measure to President Trump's desk for him to sign into law. Trump and congressional Democrats arrived at an agreement Friday to support a short-term spending bill to re-open the government, temporarily ending the partial government shutdown that has dragged on for 35 days, in a move to separate the controversial issue of border security from funding of the government.
Desperate Embrace At Europe's Core. Europe's most powerful personages on Tuesday [1/22/2019] signed a treaty for the "unification," of Western Europe's biggest countries. French President Emmanuel Macron and German Chancellor Angela Merkel inked the deal at Aachen/Aix la Chapelle. It was there in the chapel that Charles de Gaulle and Konrad Adenauer had knelt at Holy Mass to celebrate the signing of the 1963 Franco-German treaty of cooperation that sealed their peoples' vow of friendship and cooperation. In the ensuing half century, it produced just that. France and Germany became the core of the Common Market and then of the European Union. Today's treaty, its pretensions notwithstanding, is between regimes that are overwhelmingly occupied trying, with decreasing success, to fend off domestic challenges to their legitimacy. The treaty is a desperate attempt by France and Germany to change the subject from their internal struggles. Nevertheless, the treaty cannot but have major and deleterious effects on intra-European relations as well as on relations between Europe and the United States.
Venezuelans set fire to Hugo Chavez statue. Operation Boot Maduro seems to be moving to stage two. Following this week's military mutiny, which was squelched, but not before locals ran out and attempted to defend the troops in pitched street battles, now at least sixty — sixty! — neighborhoods in Caracas have erupted into riots — big riots, with people reported shot dead. Take a look at the series of tweets posted by Caracas Chronicles on its Twitter feed enumerating the names of the neighborhoods now in open revolt.
That weird silence from Democrats over Venezuela's massive rejection of socialism. All over the world, nations and leaders are throwing expressions of support and praise for Venezuela's leaders and people, who after many years of oppression and missteps, have come together with a courageous plan to non-violently shake off a detested socialist dictatorship that has left their country in ruins. Television pictures from yesterday's demonstration covered the story in spades, showing the magnificent human spectacle to U.S. viewers. President Trump and Vice President Pence have been right there for them. The Organization of American States and the Inter American Development Bank are loudly supporting them. The European Union is openly encouraging them. There also are the skunks, such as Russian President Vladimir Putin's government, an official of which dismissed the millions-strong effort to shake off socialism and finally have food to eat, muggers in jail, a full roll of toilet paper and hospitals with sheets, running water and Band Aids as "an attempted coup." Then there are the Democrats, who are curiously, weirdly silent.
Astronomers Aren't Pleased About a Russian Plan to Put Billboards in Space. Russian company StartRocket is proposing to use Cubesats, small satellites with inexpensive launch profiles, to put billboards in space. At an altitude of about 450 km (280 miles), the satellites would unfurl a mylar sail about 9 meters (30 ft.) long. A group of CubeSats would work together to create a singe billboard, and the result would be a pixelated billboard with a viewable area of about 50 sq. km., visible in morning and evening twilight, when they catch and reflect sunlight. StartRocket thinks of their billboards in space as the creation of a new media. The company calls them Orbital Displays, and each one would only last about a year. They would be easily visible on clear nights, but not overbearingly bright.
Socialists can't stand to see capitalism succeed.
Progressives target Amazon. Amazon has become a recurring symbol of economic inequality for newly emboldened progressive Democrats.
Like in Nigeria, 20 Mexican oil pipeline thieves die in fire. Stealing fuel from oil pipelines appears not to be a peculiar Nigerian habit. It is also a problem in Mexico, where the theft cost the government about $3 billion in 2018. At least 20 people were killed and 54 were injured on Friday [1/18/2019] when a pipeline ruptured by suspected fuel thieves exploded in central Mexico as dozens of people tried to fill up containers, state and federal authorities said.
Update:
At least 66 dead, dozens injured after pipeline explosion in Mexico. Forensic experts attempted to separate and count charred heaps of corpses in central Mexico on Saturday after a massive fireball erupted at an illegal pipeline tap, killing at least 66 people.
More updates:
Pipeline explosion witnesses describe scene where 73 died. Grief-stricken family members and witnesses to Friday's pipeline explosion in central Mexico — which killed at least 73 people, burning many to just bones or ash, and injured at least 74 — were still reeling from the tragedy Saturday [1/19/2019]. [...] Isaias Garcia, a farmer who witnessed the explosion from a distance, explained why so many had come to the area. "Everyone came to see if they could get a bit of gasoline for their car," he said. "There isn't any in the gas stations."
Death toll rises in Mexico pipeline blast. Mexico's state oil firm, Pemex, did not close the valve at a leaking gasoline pipeline when first notified because it was not initially thought to be an "important" leak, Mexico's security minister said on Sunday [1/20/2019]. The number of people who died from the explosion in central Mexico has risen to 85, Mexico's health minister said on Sunday. An additional 58 people were hospitalized, Health Minister Jorge Alcocer told a news conference.
Death toll in Mexico gasoline pipeline blast climbs to 96. The number of people who died in a gasoline pipeline explosion in central Mexico late last week has risen to 96, government officials said on Tuesday [1/22/2019], from 91 reported a day earlier.
The Editor says...
This horrific tragedy was caused by gasoline thieves drilling into a pipeline to get free gas. This event will probably be used by anti-pipeline activists as evidence that pipelines are dangerous, but that is not true, at least in the United States. Pipelines are safe if you leave them alone.
The 'Pelosi Rule' — "Sen. Joni Ernst Proposes Legislation to Keep Lawmakers in DC During Shutdowns. On Friday night Speaker Nancy Pelosi was spotted at Reagan International Airport in Washington DC flying commercial as the president suggested. This was after President Trump grounded Speaker Pelosi and Democrats taking a "public relations tour" to trash the administration in Europe and Afghanistan. On Friday [1/18/2019] Sen. Joni Ernst (R_IA) proposed legislation to force lawmakers to stay in Washington and meet twice per day until their work is done on national budgets.
The Tense Debate Over Gay Priests. Since last summer, the Catholic Church has been roiled by accusations that retired Archbishop Theodore McCarrick of Washington, D.C., molested male minors and sexually harassed adult seminarians and priests over more than two decades. The case has reignited a long and tense debate among Catholics over the question of homosexuality in the all-male priesthood. Some bishops, other clergy and laypeople have cited Archbishop McCarrick's rise to power, despite widespread rumors of sexual misconduct, as evidence of a "homosexual subculture" in the hierarchy that they blame for allowing sex abuse and covering it up.
GOP Senators: No Official Travel for Pelosi or Anyone If Budget Deadlines Aren't Met. After President Trump yanked funding for Speaker Nancy Pelosi's (D., Calif.) Democratic delegation trip to Afghanistan, a trio of GOP senators are pushing a proposal that would bar any congressional travel if Congress can't meet its budget deadlines. The bill would also prevent Congress from leaving Washington if lawmakers fail to complete their job of funding the government on time in an effort to fix the broken budget process and avoid future government shutdowns, stop-gap funding extensions, and bloated, last-minute, "omnibus" spending deals.
Another FBI Lawyer is Under Criminal Investigation for Leaking to the Media. Former FBI attorney James Baker is reportedly under criminal investigation for improperly leaking sensitive information the media. [...] Baker reported to fired FBI Director James Comey, who has also been the subject of investigation by the Department of Justice Inspector General for his leaking habits and potential improper handling of classified information. Comey openly admitted to leaking memos about his conversations with President Trump during a congressional hearing in June 2017. He said his goal was to launch a special counsel investigation into the president.
Freshman Democrats frustrated with leadership over shutdown impasse. While Democratic leadership holds the line, apparently refusing to come to the table to negotiate, the resolve of House Speaker Nancy Pelosi and Senate Minority Leader Chuck Schumer in holding out might not be trickling down into the freshman class. A number of newly sworn-in Democrats have reportedly voiced frustration with the leaders within their own party. Some are suggesting that they might be willing to at least negotiate and see what kind of a deal could result.
You don't know what's in those vaccines.
Leading cancer expert dies suddenly after routine yellow fever jab. A leading cancer expert has died suddenly after a routine yellow fever jab. Martin Gore[,] once described by the Duke of Cambridge as an 'inspiration[,]' suffered total organ failure shortly after having the injection. The jab is recommended to anyone visiting Sub-Saharan Africa, South and Central America and the Caribbean, reports The Times.
America's progressives are so busy extolling virtues of socialism that they want you to ignore this. Venezuela is in deep trouble: hyperinflation, food shortages, scarce medical supplies, and soaring violence born of desperation. It's all the doing of former Venezuelan President Hugo Chávez, his successor Nicolás Maduro, and their fellow kleptocrats. Though America didn't cause Venezuela's problems, the Trump administration is trying to be part of the solution. Its primary motive: to ease the intolerable suffering caused by the socialist regime and its destabilizing effects on the entire region. Nearly three-quarters of a century ago, Winston Churchill described socialism as "the equal sharing of misery." Venezuela under Maduro shows that description holds true today.
Libertarian Party Organizes National Park Cleanups. Republicans and Democrats may be sniping at each other over the partial government shutdown, but it's the Libertarian Party which is putting words to action. Libertarians have organized multiple national park cleanups over the last week to show maybe the government isn't needed to provide services. Libertarian Party National Committee Chair Nicholas Sarwark sees it as a real opportunity.
Mercenary:
Joe Lieberman Called Chinese Telecom Giant ZTE a National Security Threat. Now He's a Lobbyist for It. Joseph Lieberman, the former Connecticut senator and Democratic vice presidential candidate, is working for a company he once called a national security threat. In November, Lieberman registered as a lobbyist for ZTE, a Chinese telecom giant with close links to the country's government. The ex-senator told Politico that, despite his registration, he wouldn't actually be lobbying for the firm. Rather, he hoped to "raise the level of trust in ZTE." Lieberman certainly should understand the trust deficit the company faces. In 2010, he signed a letter saying ZTE and another Chinese telecom company, Huawei, could threaten American national security.
Ex-CIA Interrogator: Dems Comparing Shutdown to Hostage Situation Is a 'Narcissistic Power Grab'. Dr. James Mitchell, a U.S. Air Force veteran and former CIA interrogator, blasted Democrats for likening the partial government shutdown to a hostage situation. A multitude of top Democrats, including House Speaker Nancy Pelosi (Calif.) and Sen. Charles Schumer (N.Y.), have recently said President Trump has taken Americans "hostage" by not opening up the government. Mitchell, who interrogated 9/11 mastermind Khalid Sheikh Mohammed, said Saturday [1/12/2019] on Fox & Friends that the true hostage-takers are the Democrats themselves. "They're using the federal employees as human shields in order to keep the southern border open to illegal immigration," he said.
The Unraveling of Wuerl's Lies. In the latest revelation about Donald Wuerl — that, contrary to his claims of ignorance, he knew about McCarrick's misconduct for at least 14 years — he emerges as the amoral but self-protective bureaucrat, undone by his own pass-the-buck-style record-keeping, which gives a grimly ironic dimension to his downfall. Wuerl's policy wasn't one of zero tolerance but of zero legal exposure, and toward that end he needed to keep records of complaints he had received and transmitted to the papal nuncio.
Gone: More cases emerge of Saudi students vanishing while facing Oregon charges. In December 2014, a university student from Saudi Arabia was arrested in Monmouth and accused of raping a classmate after giving her marijuana and shots of Jack Daniel's. Bail was set at a half-million dollars. The judge ordered the student, Abdulaziz Al Duways, to turn over his passport to the private defense lawyer hired to represent him, according to court records and the Polk County District Attorney's Office. A few days later, an official from the Royal Consulate General of Saudi Arabia in Los Angeles posted bail. Al Duways disappeared. The case preceded a similar one recently reported by The Oregonian/OregonLive involving Abdulrahman Sameer Noorah. The Portland Community College student jumped bail in the hit-and-run death of a 15-year-old Portland girl and apparently fled with the Saudi Arabian government's help, law enforcement officials said.
Real Mature: Democratic Lawmakers Deliver National Park Trash To White House Amid Shutdown. When things get serious, you can always count on Democrats to put the best interest of the country ahead of everything. Just kidding. Instead, when the chips are down, you can expect Democrats to pull stunts — pointless, crude and childish. That's just what two California Democrats did on Wednesday [1/9/2019], making a show of bringing boxes of garbage collected at a national park during the government shutdown, which began December 22. Reps. Jackie Speier and Jared Huffman went out to Golden Gate National Recreation Area on Saturday [1/5/2019] and helped volunteers pick up trash. On Wednesday, the two House members brought the garbage to the White House to deliver what they called a "reality check."
Surgeon fined $3K for removing kidney he thought was tumor. The Florida Board of Medicine says a West Palm Beach surgeon has agreed to pay a $3,000 fine for removing a woman's healthy kidney that he thought was a tumor.
"Biblical plague" swarms into Muslim holy capital. A plague that seems straight out of the Bible's Old Testament has hit the Muslim holy capital of Mecca — the first time in recorded history such an event has occurred. Inside Islam's holy city, the Grand Mecca itself has been swarmed by hordes of flying locust[s]. The unexplained event has left authorities struggling to clean up. According to Newsweek, "The Holy Mecca Municipality issued a statement Monday responding to the swarm of so-called 'night cockroaches,' saying it had dispatched '22 teams consisting of 138 individuals and 111 devices'" to clean up.
Portland professor behind journal paper hoax fears he could lose his job. A professor who fooled prestigious journals into running absurd hoax papers, as a test of their bias, says he may now lose his job because of his actions. Peter Boghossian was one of three people who collaborated last year to test the standards of various university disciplines, submitting papers loaded with left-wing buzzwords to journals in fields like feminism, race studies, queer studies, and cultural studies. Many prestigious journals fell for their absurd hoax papers. A leading feminist journal published a section of Adolf Hitler's Mein Kampf that had simply been re-written with fashionable buzzwords. Another journal published a paper about "rape culture and queer performativity" in dog parks.
How Convenient: Charter Spectrum has Major Outage Across US before President Trump's Address on Border Security. Spectrum has announced a major cable outage across the country just 1 hour before President Donald Trump is supposed to address the nation about the immigration crisis and the need to build the wall. What are the odds? Interesting how the outage is in all major cities and border states.
GOP senator's bill to withhold pay from Congress members during gov't shutdowns catches on. Republican Montana Sen. Steve Daines introduced a bill on the Senate floor Thursday that would withhold the pay of members of Congress during future government shutdowns. Daines's introduction of the bill, sponsored by Republican Texas Sen. John Cornyn, comes hours after Daines announced he sent a letter requesting the secretary of the U.S. Senate withhold his pay during the ongoing partial shutdown of the federal government.
Families of Sandy Hook shooting victims win legal victory in lawsuit against InfoWars, Alex Jones. Six families of victims killed at Sandy Hook Elementary School won a legal victory Friday [1/11/2019] in their fight against controversial radio and internet personality Alex Jones. A judge in Connecticut has granted the families' discovery requests, allowing them access to, among other things, Infowars' internal marketing and financial documents.
New York now requires changing tables in public men's restrooms. Change is coming to men's restrooms in New York — and it's going to be a big help to fathers all over the state. A new law requires all new or renovated buildings in New York that have bathrooms used by the public to make changing tables available to both men and women. The rule, which passed in April 2018 but didn't go into effect until the new year, applies to restaurants, stores and movie theaters as well as state facilities such as parks and offices of the Department of Motor Vehicles.
Here's The Viral Photo Of The Bloodied Man Female UFC Fighter Allegedly Beat Up For Attempted Robbery. Twenty-six-year-old UFC fighter Polyana Viana told MMAjunkie on Sunday [1/6/2019] that she was approached by a man while she was waiting for an Uber driver. After asking her for the time, he demanded she give him her cellphone and told her he was armed. Making a split-second decision, Viana decided the "gun" he claimed to have was likely "too soft" to be an actual gun and deployed two punches and a kick to the man, and as he fell to the ground, she caught him in a headlock, she recalled. The fighter said she held him until the cops arrived.
Four-year Senate investigation finds US Marshals Service plagued with corruption. Wasteful spending. Favoritism and nepotism. Sexual harassment. These were a few of the findings of a four-year Senate investigation into the U.S. Marshals Service, which concluded Thursday [1/3/2019]. A newly released report has revealed the Justice Department agency was rife with misconduct and abuse of authority, and at high levels. The Senate Judiciary Committee's report, that included more than 100 interviews with current and former agency employees, details a long list of serious offenses that touched every part of internal affairs.
China: We'll Use Force To "Absorb" Taiwan If Necessary. 2019 is shaping up to be the year of Chinese aggression and challenges to the west. On the technological front, they just landed a spacecraft on the dark side of the moon. Far more troubling is the increasing level of military saber-rattling going on. After launching their first domestically constructed aircraft carrier, one of their admirals suggest that they might sink a couple of ours. And now, renewing a diplomatic battle that's been going on for decades, China's president is suggesting that they will bring Taiwan back under the direct control of Beijing, even if they have to do so by force.
Senate confirms dozens of stalled Trump nominees hours before the 115th Congress ends. The Senate confirmed dozens of stalled Trump administration nominees Wednesday night, just hours before the close of the 115th Congress. The list excluded federal judges despite an effort by Majority Leader Mitch McConnell, R-Ky., to secure a deal for those nominees with Minority Leader Chuck Schumer, D-N.Y. In total, the Senate cleared 77 nominees by voice vote, among them 23 ambassadors to countries including Australia, Armenia, Yemen, Guyana, Kenya, and Bosnia and Herzegovina.
Overflowing garbage, feces on roads prompt Yosemite National Park officials to close some campgrounds. Campgrounds in Yosemite National Park have been closed amid a foul tide of trash and human waste that is being blamed on the partial federal shutdown. The restrooms and visitor centers at the park in California have been closed since Dec. 22, when the partial government shutdown began, the Los Angeles Times reported. Trash collection was also suspended at the park but it has remained open. But on Monday, feces and garbage were beginning to overwhelm Yosemite and other national parks.
The Editor says...
False flag alert: Are average park visitors suddenly throwing trash wherever they please, or is someone making the government shutdown look more inconvenient than it really is?
Federal workers are suing the US government over the shutdown. Federal workers on Wednesday sued the U.S. government over the shutdown, protesting the requirement that employees who are considered "essential" must report to work without pay, a major federal workers' union announced Monday. An estimated 420,000 employees fall into the category of being essential, many of them working for the Department of Homeland Security and the Justice Department, focused on public safety. In previous government shutdowns, Congress approved back pay for federal employees, something that's likely to happen again once the standoff between President Donald Trump and congressional Democrats ends.
Utah implements nation's strictest drunk-driving law. Just in time for New Year's Eve, Utah is setting up the strictest DUI law in the country. The state is lowering its limit on blood-alcohol content from 0.08 to 0.05 percent. Most states, including New York, set the limit at 0.08 percent. Utah's mostly Mormon lawmakers embraced the change.
Journalists Dropping the Ball to End 2018. After another year of embarrassing and sometimes bizarre behavior, the American news media will shamelessly celebrate themselves as 2018 draws to a close. The irony of people representing media outlets that have polluted our public discourse with some of the most flawed, biased, and conspiratorial news coverage in modern times dropping a ball together in midtown Manhattan is delicious. And their lack of self-awareness makes it even more spectacular.
Chancellor Merkel Says Nations Must 'Give up Sovereignty' to the EU. German Chancellor Angela Merkel gave a very troubling speech yesterday to the Konrad Adenauer Foundation in Berlin where she said, "Nation states must today be prepared to give up their sovereignty" and that the will of the people on issues like immigration and border security doesn't matter.
French security services investigate Russian role in yellow vests movement. Yellow vest protestors claim that tax increases are disproportionally affecting working- and middle-class people and that everyday life is becoming economically unsustainable in France. Some of the demonstrations have turned violent, and so far at least eight people have died as a result. The ensuing crisis has become the most significant threat to the government of Emmanuel Macron, as the protests are increasingly evolving into an anti-Macron rallies. So far, the yellow vests campaign has been largely bipartisan, bringing together protestors from the entirety of the French political spectrum. Additionally, there are no identified leaders or coordinators of the movement. However, some suspect that Russian government operatives may be further-inflaming an already incensed protest movement.
Kenya believe it?
China's African debt-trap: Beijing prepares to seize Kenya's port of Mombasa. China may be preparing to seize some major assets in the African nation of Kenya, as a result of debt-trap diplomacy. African media reports that Kenya may soon be forced to relinquish control of its largest and most lucrative port in Mombasa to Chinese control. Other assets related to the inland shipment of goods from the port, including the Inland Container Depot in Nairobi, and the Standard Gauge Railway (SGR), may also be compromised in the event of a Chinese port takeover.
What the Russian Trolls Were Really Doing in 2016. [Scroll down] So the actual story of Russia's Facebook operations is that they targeted African-Americans and even Latinos more than conservatives. That would be entirely in line with Russia's past propaganda, and its influence operations in the United States, but it doesn't fit the Clinton conspiracy theory. The Oxford report is even forced to concede that the Russians hit Muslims with "pro-Clinton" messages and that the Russians had "targeted Canadians with ads encouraging donations to Justin Trudeau's campaign." That doesn't fit the narrative, so it's dismissed as confusing. When Russia posted pro-Trump material, it's touted as proof of Russian backing. But when the Russians supported Bernie Sanders, Justin Trudeau or other leftists, suddenly "it's not what it looks like."
Not in my neighborhood!
Plans for homeless shelter on Billionaires' Row are stopped. The new homeless shelter set to open up in the former Park Savoy Hotel in Manhattan's "Billionaires' Row" has been put on ice — at least, for the time being. The group of residents suing over the city's contentious housing plan was granted a temporary injunction halting the construction at the West 58th Street shelter.
National debt interest will soon exceed national defense spending. President Trump has harshly criticized the Federal Reserve in recent weeks for inching up the standard interest rate to guard against rising inflation and threatening the four percent economic growth rate the billionaire likes to brag about. Here's another reason: The higher interest rates on your credit card balances and car loans also apply to the federal government's borrowing.
Iraqi politicians attack Trump's visit to US troops as 'blatant violation of sovereignty'. Iraqi politicians and military leaders have criticised Donald Trump's visit to US troops in the country. Calling it a "blatant violation of Iraq's sovereignty" Sabah al Saadi, the former head of Iraq's integrity commission and leader of the powerful Islah parliamentary bloc, called for an emergency session of parliament. He described Mr Trump's visit as "aggressive" before claiming the US president "should know his limits." He said: "The US occupation of Iraq is over."
The Editor says...
Why are we in Iraq at all? Pull out now, I say, and let the ungrateful Iraqis rot.
Top Amazon boss privately advised US government on web portal worth billions to tech firm. A top Amazon executive privately advised the Trump administration on the launch of a new internet portal that is expected to generate billions of dollars for the technology company and give it a dominant role in how the US government buys everything from paper clips to office chairs. Emails seen by the Guardian show that the Amazon executive Anne Rung communicated with a top official at the General Services Administration (GSA) about the approach the government would take to create the new portal, even before the legislation that created it — known to its critics as the "Amazon amendment" — was signed into law late last yea
Baltimore police pay $500 for rocket launcher at gun buyback. Baltimore police say a rocket launcher was among the more than 1,000 firearms turned in during recent gun buyback events.
In Brazil, Bolsonaro gives cops 'license to kill.' What could go wrong? High crime has made Brazil's cities unlivable, which is why many of even the poorest Brazilians flocked to elect right-wing conservative Jair Bolsonaro for president. But his solution — which news accounts say is to just get out there and shoot the criminals — isn't likely to work.
License-to-Kill Policing to Get a Trial Run in Rio de Janeiro. Teams of marksmen next year will patrol swaths of Rio de Janeiro with high-powered weapons and a license to kill, said a security adviser to Governor-elect Wilson Witzel. As many as 120 sharpshooters will accompany police incursions into the slums of Brazil's postcard city to exterminate gun-toting criminals, according to Flavio Pacca, a longtime associate of Witzel who the governor-elect's press office said will join the administration. The shooters will work in pairs — one to pull the trigger, one to monitor conditions and videotape deaths.
Report: Huber and Horowitz Investigations Deep State Cons Constructed by DOJ. Paul Sperry has an interesting report posted at RCP-Investigations outlining numerous interviews with DC politicians and would-be witnesses, if any actual DOJ investigation of the FBI and DOJ misconduct was taking place. What Sperry discovers is the year-long narrative around John Huber and Michael Horowitz is factually false. Just like the false framework surrounding the long-forgotten U.S. Attorney John Lausch; the guy who was supposedly hired to facilitate DOJ record production but actually did nothing of the sort; Sperry discovers the framework around U.S. Attorney John Huber was manufactured by career officials inside the DOJ to tamp down problematic demands for a second special counsel.
Former Senate Intel aide accused of passing info to 'young, female reporters' gets 2 months. A former aide to the Senate Intelligence Committee, who leaked information to a journalist he was having an affair with, has been sentenced to two months in prison for lying to the FBI. James Wolfe, 58, pleaded guilty in October to one felony count of lying to the FBI. The count referenced use of encrypted messaging in October 2017 to tell "Reporter #3" about a subpoena the committee had issued.
Ticking Time Bombs in the [Catholic] Church. Former Los Angeles Cardinal Roger Mahony is long retired, but his scandals keep exploding like ticking time bombs around the feet of his successor. The latest eruption was this week's revelation that Mahony had elevated Monsignor Alexander Salazar to auxiliary bishop in 2004 despite a credible allegation of abuse against Salazar from the 1990s.
Catholic Church in Illinois Withheld Names of at Least 500 Priests Accused of Abuse, Attorney General Says. The Catholic Church in Illinois withheld the names of at least 500 priests accused of sexual abuse of minors, the state's attorney general said Wednesday in a scathing report that accused the church of failing victims by neglecting to investigate their allegations. The preliminary report by Attorney General Lisa Madigan concludes that the Catholic dioceses in Illinois are incapable of investigating themselves and "will not resolve the clergy sexual abuse crisis on their own."
Microsoft Making It Easier to Type Kaomoji. Last night Microsoft released quite a feature-packed Windows 10 2019 Preview Build to Windows Insiders. The last major update for the year, build 18305 brought in some pretty useful features. But, it's the fun ones that deserve some attention.
Illinois finds 500 more Catholic clergy accused of abuse. Illinois Attorney General Lisa Madigan on Wednesday issued a blistering report about clergy sexual abuse, saying that Catholic dioceses in Illinois received allegations of child sexual abuse by 500 more clergy than previously publicly identified.
What's Happening to Tucker Carlson (and Others) Is Called 'Blacklisting'. There is no question political blacklisting has returned with a vengeance. Once again, just as we saw during the Hollywood blacklist of old, large corporations are de-platforming, refusing to serve, firing, and stripping sponsorship from those who hold beliefs and opinions unpopular with the establishment. We even have large media corporations, like the far-left CNN, openly demanding the blacklisting of certain opinions. What's more, in a truly ironic example of history repeating itself, we have the powerful in Hollywood calling for the blacklisting of certain opinions.
Protester Who Climbed Statue Of Liberty To Protest ICE Convicted On All Counts. On Monday [12/17/2018], the woman who climbed the base of the Statue of Liberty to protest against U.S. immigration policy last July 4, forcing thousands of visitors who wanted to visit the iconic statue on Liberty Island to evacuate the island, was convicted on all counts by a judge in Manhattan.
Federal court says NY ban on nunchucks [is] unconstitutional. A federal court says New York's ban on nunchucks, the martial arts weapon made famous by Bruce Lee but prohibited in the state for decades, is unconstitutional under the Second Amendment.
Acting AG Matt Whitaker likely in clear in Hatch Act probe, experts say. Acting Attorney General Matt Whitaker did not violate the Hatch Act when his campaign account from a failed 2014 Senate bid accepted four donations totaling nearly $9,000 earlier this year, campaign finance experts said. But most of the money is still sitting in the campaign's account because William Gustoff, the campaign's treasurer, is waiting to make sure he can use it to pay back a loan to Mr. Whitaker, who is still owed $50,000 from a personal loan he made to his Senate bid.
Over 40 percent of Americans say no to flu vaccinations. Have you gotten your flu shot this year? If the answer is no — and I'm not getting one! — you're not alone. A new study finds more than 40 percent of Americans have not been vaccinated and, in fact, don't plan on it either. This is despite the warnings, potential dangers, and last year's record-number of flu deaths. The survey was done by the National Opinion Research Center at the University of Chicago. People under the age of 45 were the least likely to report being vaccinated.
Joe Lieberman, former 'conscience of the Senate,' becomes a Chinese agent. Joe Lieberman, a Democrat-turned-independent who has backed Republicans, has found friends in yet another party: the ruling Communist Party of the People's Republic of China. The former "conscience of the Senate" has been hired to represent China's ZTE telecommunications company, which is basically a front organization for Chinese intelligence services. ZTE is under pressure in light of overdue U.S. government efforts to prevent it from entrenching a stronger position in the U.S. economy. With the U.S. now in a new cold war with Beijing, no former U.S. official, let alone a foreign policy hawk like Lieberman, should be serving ZTE.
How to delete Facebook without losing your friends and photos. Casey Neistat wrote an article back in 2014 how he 'fixed' his Facebook by unfriending people who shared too much. I tried this in 2017, and it absolutely didn't work! People still share way too much and every time I go on Facebook it feels like like a whole plague of negativity that's trying to give me cancer. Just no. It's not cool. Facebook really isn't the 'cool' platform it was back in 2008.
The curiously now-dead Venezuelan PDVSA oil chief was the CITGO guy and a Washington fixer. Another day, another dead dissident over in the socialist hellhole of Venezuela. The death of Nelson Martínez in police custody made the news, because no one had ever seen such a high-level official killed off, possibly by bad medical care, which wouldn't be surprising in a Venezuelan dungeon, or maybe a rubout from the mafia state that's currently in power. Maybe it was both. It's likely someone wanted him dead. Martínez had been Venezuela's oil chief, the man at the top of state oil company Petroleos de Venezuela, S.A., which brought in 95% of the country's export revenues based on Venezuela's oil shipments, and close to Venezuela's President Nicolás Maduro.
New App Posing HUGE Threat To Twitter Sees Thousands Sign Up Almost Overnight. Twitter has done more than its fair share to make many feel unwelcome on the platform. Between banning and suspending conservatives for so much as glancing at a leftist the wrong way, to taking their sweet time in punishing leftists who break their terms of service in a big way, Twitter has made its bias very clear. If you're a conservative, you're a target. As I discussed in a video, Twitter employees even admitted to this while being filmed under-cover.
Judge rules Americans can secretly record public officials in victory for Project Veritas. A federal judge ruled Monday that Americans have a right to secretly record their public officials, including police, when they are engaged in their government duties. U.S. District Chief Judge Patti B. Saris said a Massachusetts law banning secret recordings violates the First Amendment when it comes to government employees, rejecting the state's claims that officials need some space to be able to operate without having to worry about being monitored.
Project Veritas Gets A Win In Massachusetts. Chalk up a win for the watchdogs of government. A federal judge in Massachusetts has ruled in two cases — one including the bane of many Democrats' existence, Project Veritas — that the Massachusetts state law prohibiting secretly recording government officials is unconstitutional.
Naval Air Station Corpus Christi could be re-named after Bush 41. The naval air station where former President George H.W. Bush earned his naval wings in 1943 could soon be renamed after the late president. Nueces County commissioners are set to vote Wednesday on a resolution in support of changing the name of the N.A.S. Corpus Christi to the George H.W. Bush Naval Air Station Corpus Christi — a push that's making its way through Texas and Washington.
Barack Obama's Campaign Was Fined $375,000 for Campaign Finance. Donations — Why Didn't Liberal SDNY Prosecute Obama? Gregg Jarrett went off after the New York Southern Division accused President Trump of campaign violations by paying hush money to two women from his own pocket. [...] Of course, the NYSD said nothing when Obama was accused of campaign finance donations. In January 2013 the Obama Campaign was fined $375,000 for campaign reporting violations.
France surrenders to the French. Macron today [12/10/2018] capitulated to the Yellow Jacket rioters who have turned Paris into Europe's first no-go zone not run by Muslims. Corporate media in America is alarmed and couched Macron's submission as heroic. Maybe he can relocate his capital to Vichy. Some Trump supporters are saying he negotiated with terrorists. That's being kind. He merely gave them what they want. Again.
Are 'deplorables' reaching the breaking point... again? Another possible government shutdown showdown just ahead of Christmas, along with news of massive protests in France against unfair and unsustainable tax policies, has comments sections on conservative sites buzzing with calls to just "shut it down" if funding for the border wall is not included in the budget. Candidate Trump's "forgotten" men and women are getting antsy.
AI can solve CAPTCHA tests in under 0.05 seconds. CAPTCHA is an acronym for "Completely Automated Public Turing test to tell Computers and Humans Apart", a type of challenge-response test used in computing to determine whether or not the user is human. Text-based CAPTCHAs use a jumble of letters and numbers, alongside other security features such as occluding lines, to distinguish between humans and malicious automated computer programmes. The system relies on people finding it easier to decipher the characters than machines. Developed by computer scientists at Lancaster University in the UK as well as Northwest University and Peking University in China, the new algorithm delivers significantly higher accuracy than previous CAPTCHA attack systems, and is able to successfully crack versions where previous attacks failed. It is also highly efficient, able to pass a test within 0.05 seconds on a desktop PC.
Nadler: I'm ending investigation into FBI, DOJ when I become chairman. The Democrat poised to lead the House Judiciary Committee next year says he has no intention of continuing the GOP-led investigation into FBI and Justice Department (DOJ) decisionmaking [sic] during the 2016 election. Rep. Jerrold Nadler (D-N.Y.), who stepped outside of the ongoing closed-door interview with former FBI Director James Comey, told reporters Friday [12/7/2018] that he plans to end the probe come January.
The Editor says...
Please show me a dictionary (if you attended a public school, that's a hardback book with a lot of definitions and pronunciation guides in it), in which decisionmaking is a single un-hyphenated word.
Macron Shuts Down Paris in Attempt To Stop Protests. French President Emmanuel Macron has officially shut down Paris this weekend in his attempt to stop the "Yellow Vest" populist uprising against current political policies. The primary tourist venues are all closed; shops ordered to close; windows boarded up; 8,000 police units dispatched to Paris and 89,000 deployed throughout the country.
The Editor says...
Beware of new reports that tell you about thousands of people rioting in the streets over "political policies" without telling you what those policies are, or why they're bad enough to justify violence. The riots are all about sudden increases in already-high gasoline taxes to pay for environmental money pits like global warming. The French people are just now figuring out that socialism comes at a high cost. They may also learn that carbon dioxide is harmless, global warming and cooling is inevitable and natural, and no amount of money can change the weather.
Paris Is Burning Over Climate Change Taxes — Is America Next? The City of Lights, Paris, has been illuminated in recent days by cars set alight by thousands of protesting "Yellow Vests" — largely middle class people who earn their living by driving or who commute to get to work. The cause of their ire is a scheduled 25 cents-per-gallon increase in gas taxes, and about 10 cents on diesel, to fight climate change. French President Macron, deeply unpopular, just reversed course on the new green tax — Parisians are already paying about $7.06 per gallon for gasoline, almost half of that in taxes. If Paris streets burned over a proposed 25 cents per gallon climate change tax, imagine the global conflagration over a $49 per gallon tax.
France protests and the 'yellow vests' deep anger reveal the hypocrisy at the heart of the green agenda. Over the last month, hundreds of thousands of angry French citizens have joined in "yellow vest" protests, initially sparked by proposed carbon taxes on fuel. This weekend, protester turnout was down, but the violence was up. While the destructive rioting should be deplored, the underlying problems that led to this moment should not be ignored. French President Emmanuel Macron once heralded as a visionary "centrist" leader who would pull France and the world into glorious modernity, now finds himself in hot water.
More than a thousand arrested in Paris 'Yellow Vest' protests. Paris was again the epicentre of clashes as fresh anti-government Yellow Vest protests swept France for a fourth consecutive weekend.
Trump Says Paris Climate Accord 'Isn't Working Out So Well For Paris' As Riots Engulf The City. For weeks, tens of thousands of French have risen up to oppose planned hikes to carbon taxes on diesel and gasoline as part of Macron's climate agenda. Carbon taxes provided the spark for what's morphed into protests against Macron's attempts to revamp France's economy. Thousands of protesters, called "yellow vests" for the safety jackets European law mandates all drivers have on hand, stormed the Champs-Elysées for another round of protests. The entire city is basically shut down, including major tourist attractions.
More about carbon (dioxide) taxes.
Frexit? French protesters call for EU exit as Macron fails to control deadly Paris riots. Yellow vest protesters in Paris have been calling for France to leave the European Union as President Emmanuel Macron struggles to control the deadly riots currently shutting down the capital. The yellow vest protests in the French capital escalated on Saturday [12/8/2018] with protesters firing tear gas canisters against police officers and holding up banners calling for France to leave the European Union. More than 400 people have already been arrested with thousands of protesters breaking police barriers to inundate the streets of Paris. The so-called gilets jaunes have been protesting against French President Emmanuel Macon's policies for the fourth weekend in a row.
New Drone City. The New York Police Department is planning to introduce a new drone program in New York City and we should all be enthusiastic about this development. [...] As the rest of the world finds ways to maximize profits and key results using technology, our cops need the same equipment to maximize our safety. Imagine how many drug busts, gang activities, and crimes in general can be stopped if a drone is flying nearby. The power of deterrence is incomparable in its importance to police work and if drones are utilized to monitor potential criminal activity we might be able to stop crimes before they happen, and maybe even save some lives.
The Editor says...
As long as they are investigating felons and fighting violent crimes, I'm all for it. If they're using the drones as a way to collect overdue payments from tax cheats and "deadbeat dads," that's another matter.
Outrage over Boeing selling top-secret satellite technology to a company financed by ChiComs. What [...] was Boeing thinking when it agreed to sell a satellite containing top-secret technology to a startup company financed by China? How [...] did this deal pass muster and gain an export license from the Commerce Department? I am not the only one baffled: [...]
SDNY Releases Cohen Sentencing Memo — Apparently Media Reports of Cohen Cooperation Were Greatly Exaggerated. Within a sentencing memo filed today [12/7/2018] the US Attorney's Office in the Southern District of New York recommends "a substantial term of imprisonment" for Michael Cohen, who has pleaded guilty to fraud and tax charges and campaign finance crimes, as well as lying to Congress. Reading through the memo — the content of cooperation, and the details that surface as a result therein, are entirely different from all previous media claims.
Eye-opening breakdown of America's safest cities — and the one labeled most dangerous. East Coast cities won first and second place rankings as the safest cities in America, according to a Monday WalletHub study. Columbia, Maryland, and South Burlington, Vermont, rank as America's two safest cities, respectively, according to the study. Plano, Texas, and Virginia Beach, Virginia, followed as the third and fourth safest cities in the U.S., respectively, according to the study. St. Louis ranked as the least safe city, followed by Fort Lauderdale, Florida, and San Bernardino, California, as the most unsafe cities, respectively, according to WalletHub.
Two cemeteries found in violation as Michigan mortuary scandal broadens: reports. Two cemeteries in Michigan incurred multiple violations related to fetuses and fetal remains found in their facilities, reports said. Both cemeteries' fetuses with documentation violations were improperly handled by Perry Funeral Home, according to the Detroit News and Detroit Free Press.
54,543 Voters. That's the extent of the "blue wave" which occurred on November 6th. True, that isn't what you've heard on MSNBC, who crowed that 8,805,130 more voters voted for Democratic House candidates than voted for Republicans — a record. That figure isn't wrong. Just irrelevant. The 8,800,000 wasted votes in places like California, New York, and Boston that piled up massive "blue" supermajorities in "super-blue" urban districts and states isn't a good thing for the Democrats; it's their central problem.
U.S. military warns electromagnetic pulse weapons in Iran, Russia and North Korea could melt down nuclear power plants. The military is warning the U.S. government to prepare for a potential electromagnetic pulse weapon attack, as countries like North Korea, Russia and Iran develop the special arms. The shocking report, published by the Air Force's Air University, reveals that the U.S. is dismally unprepared for such an attack that could wipe out all electricity, kill 90 percent of the East Coast, and lead to utter chaos. And it could take 18 months to restore the electricity grid and social order.
The Editor says...
Everyone seems to be so afraid of EMP weapons, and the government sounds so sure this sort of weapon would be completely effective; yet no such weapon has ever been used by any country, as far as I know. Every time you hear alarms sounding about a problem that nobody has (for example: global warming, light pollution, plastic straws in the ocean), it's almost certainly a ploy to get taxpayer money thrown at somebody's pet project.
The CRISPR Baby Scandal Gets Worse by the Day. Before last week, few people had heard the name He Jiankui. But on November 25, the young Chinese researcher became the center of a global firestorm when it emerged that he had allegedly made the first CRISPR-edited babies, twin girls named Lulu and Nana. Antonio Regalado broke the story for MIT Technology Review, and He himself described the experiment at an international gene-editing summit in Hong Kong. After his talk, He revealed that another early pregnancy is under way. [...] If you wanted to create the worst possible scenario for introducing the first gene-edited babies into the world, it is difficult to imagine how you could improve on this 15-part farce.
Three charged — including exec with past ties to Clintons — in alleged scheme to defraud Pentagon billions, DOJ says. Three Northern Virginia men — including one who reportedly celebrated New Year's Eve in 1999 with the Clintons — were charged last week for their alleged roles in a scheme to defraud the Pentagon after receiving an $8 billion contract in 2012 to provide food and supplies to troops in Afghanistan, the Department of Justice announced. Federal prosecutors said the three — all executives connected to Anham FZCO, a defense contractor based in the United Arab Emirates — knowingly gave false estimates of completion dates for a warehouse intended to provide supplies for troops in Afghanistan in order to win contracts. They allegedly provided "misleading photographs" to show that the project was further along than it was.
FBI raids home of Atlantic City mayor. FBI agents raided the home of Atlantic City Mayor Frank Gilliam just before 8 a.m. Monday morning [12/3/2018], the agency confirmed to NJ Advance Media. "We can confirm that our agents were executing search warrant at the home of Mayor Frank Gilliam," said Doreen Holder, a public affairs specialist with the FBI's Newark office, declining to comment on the reasons for the possible seizure of documents. At least a dozen agents were seen going in and out of the Ohio Avenue home Monday morning, removing more than 10 boxes. An FBI spokeswoman at the scene said both FBI and IRS agents were involved in the search of home.
New Study Provides Further Evidence that Marijuana Is a Gateway Drug. A new study looking at alcohol, cigarette, and marijuana use among adolescents gives some interesting and helpful conclusions. Well, helpful conclusions if people will be willing to remove their cultural blinders concerning marijuana. Since the politically and culturally popular thing to do is to extol the virtues of the recreational use of marijuana, the study's sharp gateway-drug implications will most likely be a warning that is derided and unheeded. Frankly, I don't really care if people smoke weed or not. To be clear, if asked, I'll warn against it. What bugs me, though, is that many who do choose to smoke weed deceive themselves (and others) about marijuana's potential for harm.
My Pillow CEO Puts $1 Million Into Upcoming Pro-Life, Anti-Planned Parenthood Film. Putting your money where you mouth is would be one way to show how much you believe in something. One entrepreneur has done just that. Christian conservative CEO of My Pillow Mike Lindell has reportedly invested in a new film that might not make the folks at abortion mill Planned Parenthood that happy.
Austin Votes to Keep the Books Closed. It would be hard to find a better example of left-wing naiveité in municipal affairs than what transpired here in November. Voters in the Lone Star State's progressive bastion, overwhelmingly approved a $925 million bond package but rejected a simple ballot initiative for an independent audit of city spending. The defeat of the audit wouldn't be so galling if the new bonds didn't so obviously demonstrate the need for an independent review of Austin's books. Spending in the Texas capital is more like what one would expect in some profligate California city.
Trump hints at the scandal about to blow. The Clinton Foundation scandal is, as President Trump would say, yuuuuge. I am told by a knowledgeable source that the official that John Solomon cites "knows where the bodies are buried." Of course, the news that another whistleblower who came forward with information and documents on the Uranium One scandal, Dennis Nathan Cain, was raided by a team of FBI agents who spent six hours rummaging through his home raises some alarming possibilities.
Top Obama-era officials tangled in watchdog's lawsuit over Clinton Foundation investigation. A conservative watchdog group announced Friday it had filed a Freedom of Information Act lawsuit against the Justice Department seeking communications records that relate the FBI's investigation into whether Hillary and Bill Clinton's charity organization participated in pay-to-play schemes or other improper behavior with the U.S. government. The latest lawsuit by Judicial Watch related to the Clintons, filed in the U.S. District Court for the District of Columbia after the FBI denied their FOIA request and appeal this fall, targets the offices of prominent Obama-era officials, including former Attorney General Loretta Lynch, former FBI Director James Comey, and former FBI Deputy Director Andrew McCabe.
Foreboding — FBI Raids Home of Clinton Foundation Whistleblower. The Daily Caller has an exclusive report tonight that is very troubling, and, unfortunately in alignment with a previous suspicion CTH shared when it was first announced that John Huber was scheduled to testify to congress on December 5th.
FBI Raids Home of Whistleblower on Clinton Foundation, Lawyer Says. FBI agents raided the home of a recognized Department of Justice whistleblower who privately delivered documents pertaining to the Clinton Foundation and Uranium One to a government watchdog, according to the whistleblower's attorney. The Justice Department's inspector general was informed that the documents show that federal officials failed to investigate potential criminal activity regarding former Secretary of State Hillary Clinton, the Clinton Foundation and Rosatom, the Russian company that purchased Uranium One, a document reviewed by The Daily Caller News Foundation alleges.
Revealed: Democrats went $18 million into debt to win control of the House. Democrats paid a heavy price to win control of the House of Representatives, going $18 million into debt for the election. The Democratic Congressional Campaign Committee went into the red despite raising $272 million for the 2018 election, in which its heavy spending helped flip at least 39 House seats to Democrats. A source with knowledge of the group's finances confirmed the debt figure to NBC News. The GOP's counterpart group also spent heavily on House races, ending the election cycle $12 million in debt, a spokesman for the National Republican Congressional Committee confirmed.
Honduran president's brother accused of conspiring to import tons of cocaine to US. A brother of Honduran President Juan Orlando Hernandez was charged by federal prosecutors Monday [11/26/2018] with conspiring to import tons of cocaine to the United States, as well as weapons offenses and lying to federal agents. Juan Antonio Hernandez Alvarado, aka Tony Hernandez, was arrested Friday in Miami and was due to appear in federal court there on Monday. Federal prosecutors in New York described the suspect, a former Honduran congressman, as "a large-scale drug trafficker" who worked for more than a decade with compatriots as well as traffickers based in Mexico, Colombia and other countries to receive, process and distribute cocaine making its way through Honduras en route to the United States.
Vatican: Climate Change 'Key Challenge' of Our Age. In its ongoing climate crusade, the Vatican newspaper L'Osservatore Romano echoed dire warnings in its weekend edition that the present generation may be the last to be able to battle global warming effectively. [...] "The effects of climate change," the joint declaration states, "are well documented and are felt everywhere in the world."
The Editor says...
With homosexual predators running rampant in the leadership of the Catholic church, I'd say the Pope has bigger fish to fry.
Against the 'Other'. Rest in peace, John Allen Chau, a Christian missionary killed while attempting to share the Good News with an uncontacted people known as the Sentineli, habitants of North Sentinel Island in the Bay of Bengal. [...] Claims of attempted genocide are predicated on the idea that Chau may have, had he made contact, introduced disease among the primitives. On the other hand, Americans who object to how tuberculosis, among other diseases, has made a resurgence in the United States as a result of Third World immigration to the U.S. are condemned as racists by many of these same critics. The tribe that killed Chau, [Josh] Shahryar says, has "chosen deliberately to not reach back and to keep living on THEIR land in THEIR way." Shahryar argues that people have a right to defend their land and their way of life, but there is a catch — only non-Western people may exercise this right.
The Bitcoin 'pyramid scheme' continues to collapse. I've been calling it a "bitcon" for a long time. And now the pyramid seems to be collapsing because fewer and fewer people have confidence that the price of this inherently worthless "cryptocurrency" is going to continue to rise. I've just repeated some of the comments I made about bitcoin (and you could include other cryptocurrencies here) for years. But I've been especially vocal since early this year when bitcoin was reaching nearly $20,000 in price and even staid Wall Street firms were being lured to this "investment."
So much to love in Senate Judiciary Committee downsizing plan. It's been reported that the new, larger Republican Senate majority is going to exercise its power and downsize the Senate Judiciary Committee. It's a brilliant plan for two different reasons. The first reason is that fewer Democrat senators will have the opportunity to showboat and eat up precious time with the sort of antics they displayed in the confirmation hearings for Justice Kavanaugh. Confirmation of more federal judges at the district court and appeals court levels is the most important priority for Senate Republicans, and this proposal would streamline and therefore speed that process. But the second reason is delicious, because thanks to longstanding Senate tradition, the member who would lose a committee seat first would be the senator with the lowest seniority. And that would be Senator Kamala Harris of California, who has held office only since 2016. Not only is she transparently running for the 2020 presidential nod, she is a shameless demagogue.
French Riot Against "Green" Policies. Protests and riots against the Macron government's economic policies have been going on in France for the last week. In Paris, the demonstrations have turned violent and police are using tear gas and water cannons to disperse rioters. The demonstrations are referred to as "yellow vest" protests because demonstrators are wearing the yellow vests that French drivers are required by law to carry in their cars as a safety measure.
Nearly all homes in San Francisco cost over $1M. San Francisco real estate is holding strong with a new report from housing website Trulia showing 81 percent of homes in the Bay Area cost $1 million or more. The impressive price tags represent a 13.7 percent increase since October 2017 — only second to neighboring San Jose, which saw a 14.3 percent year-over-year increase. Number three in the nationwide report on the housing markets with biggest increases is also a Bay Area city, Oakland, which saw a 5.8 percent increase.
EU Army: Just Another Bad Idea From Euro-socialists Macron And Merkel. The European Union has announced it wants its own army and intelligence services. Why? Europeans need to be protected from mean, predatory potential enemies. Like the U.S.
Francis Has Mobilized The Papacy's Absolute Monarchy Against Justice. Pope Francis administered a stunning and humiliating shock to the bishops of the Catholic Church in the United States last week. The American bishops had gathered in Baltimore to discuss a pair of measures to deal with the continuing crisis over clerical sexual abuses in this country. The measures were fairly modest. One sought to build on the 2002 "Dallas charter" — measures designed to stop priests' abuse of children, mostly young boys — by extending its rules on reporting and accountability to bishops. The other would have launched an investigation, led by lay Catholics, into reports of abuses by bishops. Conceivably, this would have looked into how former Cardinal Theodore McCarrick of Washington, D.C., could have risen to the top of the U.S. Catholic hierarchy, despite being widely known — in secular circles, to the Vatican, and to many in the church — as being a serial abuser and harasser of young adult male seminarians (and at least one young boy).
So What Do You Think: Hijabs In Congress? Elections do, indeed, have consequences. And one of the most interesting and perhaps controversial consequences of Nancy Pelosi and Democrats being elected to take control of the House of Representatives come January is their planned rules change to allow religious head covers on the floor of the House. Head covers as in hijabs, Muslim head scarves covering an entire woman's head except for her face. The new House will have the first two Muslim females — Ilhan Omar of Minnesota, a Somali refugee, and Michigan's Rashida Tlaib. For nearly two centuries, hats have been banned from the House floor.
Hancock Elevator Dropped From 95th To 11th Floor, Passenger Says. It took nearly three hours to rescue six people stuck in an elevator in Chicago's fourth-tallest building early Friday [11/16/2018]. A broken hoist rope caused the express elevator to malfunction while guests who had just left the Signature Room on the 95th floor rode down toward the lobby. The elevator and two others have since been closed to the public while repairs are made and investigators figure out what happened.
Was a sexy Italian actor living with the man who would be Washington's new cardinal? Was the man who who's widely believed to be the next cardinal for the Washington archdiocese, Cardinal Joseph Tobin of Newark, bunking with a houseboy? It looks like it, given the reporting of the indefatigable George Neumayr.
Noted Vatican Theologian Calls for Examination of Validity of Pope Benedict's XVI's Resignation. In an important interview that was overlooked last month, a Vatican theologian said that unless Pope Francis corrects himself and reaffirms Church teaching on morals, the faith, and the sacraments, "the apostasy will deepen and the de facto schism will widen." To address the current crisis, he suggested that an examination of the "juridical validity" of Pope Benedict's XVI's resignation was in order to "overcome problems that today seem insurmountable to us." The theologian consultor to the Congregation for the Causes of Saints was implying that further study of the situation could reveal that Francis is not and has never been a valid pope, but is, in fact, an antipope who could be removed from the papacy, thus nullifying his "insurmountable" errors.
Amazon Chose DC And NYC Because That's Where The Childless Workaholics Live. After courting every city in America large enough to support its own Jimmy John's franchise, Amazon is going to split its HQ2 between Long Island City in New York and Crystal City in the D.C. metro area. [...] Besides being boring, what does Amazon's location choice signal? According to CNN's Jill Filipovic, the predictable selections mean that, "Republicans can no longer lay claim to being a pro-business party, successful as they've been at making the states they control increasingly undesirable to modern businesses and workers." She also says the lack of a commitment to public education and transportation in Republican states was a determining reason Amazon didn't pick a Republican-governed state.
Report: Cruz Internal Polls Showed Him Leading O'Rourke By Double Digits — Until Trump Showed Up. What more fitting end could there have been to Cruz's political career than Trump blowing into town and fumbling away a reelection bid for him that was in the bag? Between that and the 2016 primaries, it would have been Shakespearean tragedy. Well, Shakespearean comedy, at least.
Democrats pushing losing senate candidate to run for president. Democratic Rep. Beto O'Rourke narrowly lost to GOP Senator Ted Cruz on Tuesday night [11/6/2018], but that isn't stopping national Democrats, activists, and other left wing loons from pushing O'Rourke to run for the nomination for president in 2020. This unlikely scenario is nearly unheard of. Losing candidates don't usually run for anything, much less president.
Rush Limbaugh Rocks Missouri Rally with President Donald Trump. Talk radio legend Rush Limbaugh took the stage with President Donald Trump at a rally in Missouri on Monday defining the greatness of the first two years of the Trump presidency. Limbaugh said that Trump was committed to making America great again, which was more than a campaign slogan. He slammed the left and the media for refusing to concede the 2016 election, repeatedly blaming it on racism and the Russians.
You Had One Job. Understandably, people worry about the temperament of anyone with access to US nuclear codes. It turns out Bill Clinton solved that particular problem in a uniquely Clintonian way. He lost the codes: ["]For several months during Bill Clinton's administration, a former top military officer says the White House lost the card with a set of numbers for opening the briefcase containing the codes for a nuclear attack.["]
Uber and Lyft Slowing Traffic in San Francisco, Says Report. The experience of moving through San Francisco in a car has gone from slow to crawl. Congestion in the Bay Area flagship city has grown increasingly worse, and a new report by the San Francisco County Transportation Authority placed a sizable portion of that blame on ride-hailing services like Lyft or Uber.
New Supercomputer with 1 Million Processors Is World's Fastest Brain-Mimicking Machine. Since April 2016, SpiNNaker has been simulating neuron activity using 500,000 core processors, but the upgraded machine has twice that capacity, Furber explained. With the support of the European Union's Human Brain Project — an effort to construct a virtual human brain — SpiNNaker will continue to enable scientists to create detailed brain models. But now it has the capacity to perform 200 quadrillion actions simultaneously, university representatives reported in the statement. [...] "Even with a million processors, we can only approach 1 percent of the scale of the human brain, and that's with a lot of simplifying assumptions," he said. However, SpiNNaker could mimic the function of a mouse brain, which is 1,000 times smaller than a human brain, Furber added.
Papadopoulos Wants Congress To Inspect Cash He Says He Was Given During Suspected 'Sting Operation'. "I am more than happy to deliver the $10,000 in cash I received, as part of what I believe was a sting operation to frame me in summer 2017, to your committee to examine for marked bills. This is in the interest of me being fully transparent," [George] Papadopoulos wrote on Twitter [10/31/2018] to North Carolina Rep. Mark Meadows and Texas Rep. John Ratcliffe. The two Republicans are members of a congressional task force investigating the FBI's investigation into possible collusion between the Trump campaign and Russia. The task force interviewed Papadopoulos on Oct. 25.
CNN shocker: Jake Tapper does a great job grilling DNC Chair Tom Perez. Yesterday [11/4/2018], Jake Tapper of CNN behaved most uncharacteristically for a CNN interviewer of this day and age, aggressively questioning and confronting DNC chair Tom Perez on the Sunday morning interview show State of the Nation. Listen to the two segments below with your eyes closed, and you could imagine that this was a Fox News interviewer. But don't do it! Watch, instead, the looks on Perez's face: [Video clip]
Candidates seek to represent districts they don't live in: 'I don't think a lot of voters even know'. For voters in Maryland's 6th Congressional District, it's proving difficult to find representation right at home. Four candidates are vying for the seat Tuesday, but only one of them, Libertarian Kevin Caldwell, lives in the 6th District's jigsaw piece of Western Maryland. Neither the Republican nor Democratic nominee is a resident — nor, for that matter, is Rep. John Delaney, the Democrat retiring from the seat. "It's sort of a joke that when you say you live in Maryland people will often say, 'Where are you really from?'" said Paul Ellington, a spokesman for Republican Amie Hoeber. "So in those areas close to D.C., it's not a hindrance. In some of the other areas, however, there have been questions."
Should News Anchors Wear Ties? One Station No Longer Thinks So. Pretty much since the first television newscast, one wardrobe rule has been fairly consistent: anchors wear ties. One Boston station is trying to rewrite that rule. Most of the time, news anchors wear ties and jackets when they deliver the news. There are some individual newscasts, particularly at less usual news times, such as 4:00 pm or 7:00 pm, where male anchors can get away with not wearing or tie or wearing a tie with no sports coat. But as a general rule, the biggest newscasts of the day still follow the old fashion format. In Boston, that just changed for three NBC-owned outlets.
PHOTOS: #WalkAway from Democrats Rally Draws Hundreds of Patriots, 'We Love America and Trump'. The gathering at Freedom Plaza in Washington, DC, on Saturday [10/27/2018] was a stark contrast to recent rallies where people dressed in black and held signs disparaging President Donald Trump and members of his administration. The #WalkAway rally featured a sea of red, white, and blue-clad participants, waving flags, wearing Make America Great hats, and even [pink] hats made infamous during the Women's March were transformed into bright red, Trump-supporting headgear.
Murderous communists? Who knew? Take a look at what they are doing in Venezuela. When we think of Venezuela, we think of starving people fleeing their country without access to food, clothing, toilet paper, or medical care. We think of street urchins fighting over garbage scraps with machetes. We think of migrant exoduses from socialism. But there's another reality about the place, and it's not getting the attention, say, Saudi Arabia or Russia is, over the killings of dissidents. The Maduro regime is showing an alarming willingness to violently attack opposition leaders, and it's moving in on high-profile ones who had previously seemed untouchable. They've already jailed politician Leopoldo Lopez and driven many others into exile. But the regime's people have stepped up the thuggery to higher levels since then. [...] What we are looking at is not just a failed regime that can't feed its people; we are looking at a communist thug regime that beats and kills dissidents. The two go hand in hand in any communist regime, every single time.
Middle school 'Satanists' arrested for mass murder plot in Bartow. Police say two Polk County middle school students are facing charges following the discovery of a disturbing plot to kill several students, cut them up and eat them. The investigation began on Tuesday [10/23/2018] at Bartow Middle School when Bartow police were contacted by a school resource officer who had detained two girls that came to school with knives. An affidavit from the police department says the students, a 12-year-old girl and an 11-year-old girl, came up with the plan after spending the past weekend together watching scary movies. During an interview with detectives, the girls said they planned to go to their first-period class and then meet in the bathroom. The affidavit says they planned to then wait for smaller students to come into the bathroom so they could attack them.
The Facts Of The Mail Bomber Case Don't Add Up. The October spree of packaged mail bombs unsuccessfully delivered to media outlets, politicians and politically active benefactors has gripped the United States ahead of the November midterm elections. The media is awash with speculation about the suspect's inspiration and why he may have carried out the attacks. While the official narrative makes for captivating commentary amongst pundits, the case bears several suspicious points. Inconsistencies between reported facts and the official version of events, the targets chosen to receive packages and details about the suspect and their social media all represent loose ends to the case that have not been adequately addressed.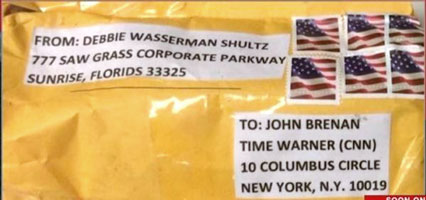 5 Bizarre Facts About Cesar Sayoc & His Fake Pipe Bomb Scare That Are Making Americans Shout "False Flag!" A large number of Americans are not sold on this fake pipe bomb story and are entertaining the idea that this was a false flag to benefit Democrats AND that Cesar Sayoc is simply a patsy. If you are still trying to process the information and figure out what you believe, here are 5 things to consider: [#1] The timing was suspicious[.] Could the Democrats have asked for a series of bomb scares at a better time? I think not. [#2] Look hard at this envelope. This is the envelope sent to CNN for John Brennan. The perpetrator can't spell Brennan, nor can he spell Florida, despite supposedly living there. I think the misspellings just add to the intended end correlation of Republicans being idiots. I see it as just a little bonus psychological warfare for the American sheeple (those who won't think for themselves). They want you and I to look at that envelope and draw the conclusion that Republicans are uneducated.
Some Suspected Mail Bombs Were Not Capable of Exploding, Others Yet to Be Analyzed, Officials Say. Some of the 10 suspected mail bombs addressed to high-profile Democrats and others over the last few days were flawed and not capable of exploding, while others have yet to be fully analyzed, several investigators said Thursday [10/25/2018]. In some cases, the flaws were substantial. In others, more subtle, they said. The news comes after investigators said the devices appeared poorly made and that it was unclear if they were hoaxes or simply cases of bad construction. Earlier in the investigation, officials in multiple states had described the items as live explosives and a number of senior bomb techs briefed on the probe said they had all the components necessary for successful explosions.
Could the "bombs" that targeted Democrats win them the midterm elections? It's a tactic that has worked before. Then-President Bill Clinton struck back at anti-government rhetoric in the aftermath of the 1995 Oklahoma City bombing and eventually used a heroic survivor of that attack to rebuke congressional Republicans for government shutdowns. [...] Others later invoked the 2011 shooting of then-Rep. Gabby Giffords, D-Ariz., to discredit the burgeoning Tea Party movement, which also used rhetoric sharply critical of liberals, politicians, and the federal government, though no link was ever found. Giffords survived the assassination attempt and became a gun control advocate. Arguments about right-wing extremism and Trump's incendiary rhetoric will be easily made now.
Suspicious packages, not bombs. Always wait 24 hours before reacting politically to crime news because the media generally does a terrible job in reporting national crime stories. Rumors and hype hound the coverage because the amount of actual news does not warrant the amount of time devoted to the story on cable television. Commentary from people ignorant of the facts (and limited in their intellect) dominate the airwaves. [...] Finally, the media's history of falling for hoaxes complicates the situation. Liberals have succeeded in destroying America's ability to trust its media. Calling a suspicious package a bomb did little to reassure us that the media is run by competent people.
Explosive Packages a False Flag? The packages may be found to be a real threat from an obviously unbalanced individual or individuals, but it may very well also be a false flag designed to reaffirm the Democrats' continuous slander against the GOP.
Rush Limbaugh suggests bombs mailed to Democrats are a false flag: "Republicans just don't do this kind of thing". ["]Mrs. Clinton, it's your party, forgive me, that is encouraging this kind of thing. It is the Democrat Party that's home to all of these mobs. It's the Democrat Party — Mrs. Clinton herself who said that being uncivil at this point in time is entirely proper and understandable. It's — the time to go back to civility will be after the Democrats win. You've got bought and paid for operatives by Mrs. Clinton money showing up at Trump rallies trying to make them look like deranged Trump supporters. The Democrats are even paying people to draw swastikas on American flags and waving them around, made to look like deranged, lunatic Trump supporters. And so, in the midst of this atmosphere, we have this series of bombs that were supposedly sent today, exclusively to Democrats.["]
Feds tell reporter that bombs were 'Complete Hoaxes'! We should know pretty soon if they were real or not, which would make a big difference as to motivation, and what the attacks mean for the election.
Explosive Packages a False Flag? As the liberals rise up in righteous condemnation of Trump's "toxic" rhetoric, we will be asked to forget Rep. Maxine Waters' call for nonstop harassment of GOP players, of key Republicans being hounded out of restaurants, confronted in elevators and even in their offices and at their homes. We will be asked to forget the violent riots on college campuses to keep conservative speakers from speaking.
The Pipe-Bombs Story: Another Example of Why No One Trusts the Media. The political Left has been known to orchestrate frame-up attacks designed to make it appear that right-leaning opponents are responsible for violent acts and plots. If I wrote the paragraph above in the context of reporting or commenting on the pipe bombs that were reportedly sent by an unidentified person or persons to prominent Democrats, many people would react angrily, and rightly so. After all, there is no evidence that the atrocious but thankfully unsuccessful targeting of the Obamas, the Clintons, CNN, George Soros, and Eric Holder (as well as "Debbie Wasserman Shultz," whose Florida office, with her name misspelled, was given as the return address on some of the packages) was carried out by political leftists. There is no proof that any Democrat was hoping to cast suspicion on Republican supporters, to suggest to voters, less than two weeks before the midterms, that Trump and GOP rhetoric incites violence. To intimate, in the absence of any proof, that left-wing agitators may be responsible would be a condemnable smear.
Democrats and the Terrible, Horrible, No Good, Very Bad Day. On Wednesday [10/24/2018], several pipe bombs were sent to Democrat leaders, none of which detonated. These suspicious packages were sent to Barack Obama, Hillary Clinton, Joe Biden, George Soros, former Attorney General Eric Holder, and Rep. Maxine Waters. The return address name on the suspicious packages sent to Clinton, Obama, Holder and Waters belonged to Rep. Debbie Wasserman Schultz. Several investigative journalists have said this stunt seems designed for maximum political and media optics, and not maximum damage. The political Left has been caught orchestrating attacks on themselves in the past, to make it look as if the right attacked.
George Soros's Son Has Op-Ed Published In NYT Condemning Political Violence Within An Hour Of Pipe Bomb Story Breaking. The timing of Alexander Soros's published piece in the New York Times today will do nothing to quell the understandable skepticism of the 'pipe bomb' story that broke across all news agencies earlier today given the article was apparently written and then published within an hour of the events being made public.
Caravans, Mobs, and Phony Bombs. Recently it seems that whatever foul means the Dems turn their hand to they overplay it. Take the Kavanaugh hearings for example. Democrat theatrical histrionics and semi-coherent mobs didn't sidetrack Kavanaugh's confirmation, so the Left turned to incoherent mobs and a Dreyfus Affair-style show trial. Both the mobs and the trial backfired on the Dems big time. More than anything else they served to further wake up and engage We the People.
Bomb Expert Labels Today's 'Pipe Bomb' Scare A Dumb Hoax. "Dumb." That's the assessment of a Navy veteran and professional bomb disposal officer regarding the toy-like 'bombs' that the media has gone gaga over today. In fact, Tom Sauer likens these non-functional pipe bombs to a few road flares taped to an 'old-timey alarm clock ticking away' like you would see in cartoons. Which of course leads to the real important question. Who would send out these fake bombs and why? Who might have anything political to gain two weeks out from the Midterm Elections by staging a fake bomb hoax against noted Democrat politicians that then generates Establishment Media hysteria?
"Too Coincidental": MAGA-Land Calls Bombing Threats A False Flag. [Scroll down] "Here's my bet ... no one will be arrested for these alleged mail bombs," suggested pro-Trump commentator Kurt Schlicter. "After dozens of college-campus hoaxes by leftists, I don't buy this super-convenient turn of events." Candace Owens, who is the communications director for Turning Point USA and a frequent Fox News guest, suggested that there was "zero percent chance" that conservatives sent the packages. "Caravans, fake bomb threats — these leftists are going ALL OUT for midterms." Rush Limbaugh, the paterfamilias of conservative radio, warned, "It's happening in October. There's a reason for this."
UPDATE: Fake Bomber is a Registered DEMOCRAT. Anybody surprised to see how quickly the fake bomb case got resolved. It's as if the person wanted to get caught. No ingenuity, as all the packages looked the same. And there were a multitude of clues. They solved this case faster than it took the FBI to clear Hillary Clinton, and they did that in advance!
These Prominent Conservatives Think the Bomb Scares Were a Liberal Hoax. The moment news reports first surfaced on Wednesday of explosive devices sent to the Clintons, Obamas, and CNN, the counterintuitive, conspiracy-fueled takes started rolling in. It was inevitable. The bombs were not meant to maim the people to whom they were addressed, the main theory went: They were planted by liberals hoping to scapegoat the right, distract from the migrant caravan in Mexico, or boost Democratic chances in the midterms. These mad ravings weren't only coming from the lunatic fringe, either.
Alleged Fake Bomber is a Fillipino Ex-Con Who Claimed to be Seminole. I don't think there's a profile that fits this guy. There's no point in even bothering to try. [...] At least one of his businesses seem to have involved male burlesque dancers. And he has an extensive criminal record for pretty much everything. The media is going to cynically try to connect him to Trump and Republicans, but he seems to have been a mentally unstable man with a lot of anger and obvious personal issues.
Opening Up the Package Plot. FBI director Christopher Wray described the packages as improvised explosive devices and not "hoax devices," though according to a U.S. News report it was unclear whether they could be detonated. To date, none of the devices exploded and no one has been harmed, but Wray believes "we've caught the right guy." That turned out to be Cesar Sayoc, 56, and the establishment media cranked out stories on what was known about him. [...] Sayoc also had a criminal record, with arrests for bomb threats, grand theft, battery, fraud, drug possession and probation violations. His lawyer Ronald S. Lowy told CNN Sayoc "didn't fit it" and he questioned Sayoc's ability to execute a scheme of explosive devices.
Why are fake bombs sent to Democrats more shocking than real ricin packages to Republicans? [Scroll down] The other difference between this spate of packages and the attack on Trump, Cruz, Mattis, and Richardson it that the ricin attack was real and it was potentially deadly. The letters really contained ricin. Whereas, the packages sent to Democrat grandees including Hillary Clinton, Barack Obama, George Soros, Maxine Waters, and Joe Biden were apparently inert and were made just to look dangerous according to recent reporting. Since none of the packages detonated, and possibly were not able to detonate, Occam's Razor demands that we confront the most likely choices: Either the sender intended harm but was grossly incompetent or the sender never intended harm and meant the packages to be a form of agitprop. The notes that accompanied the packages read like parodies of how committed progressives think Republicans speak.
The Media climbs out on a limb. [Scroll down] Thirteen days before a contentious election and suddenly a bunch of pipe bombs turn up and the targets are all Democrats? Come on. I wasn't born yesterday. And I didn't just fall off a turnip truck from Guatemala. The "Democrats are the party of the Mob" talking point is clearly having a negative effect on their much anticipated Blue Wave. And what better way to shift that talking point away from the Democrats than the conveniently-timed Pipe-Bomb-ageddon? Plus, it just doesn't make sense. Why would a Trump supporter try and blow up Maxine Waters? She is a gift to our side. Come to think of it, so are Barack Obama and Hillary Clinton.
If democrats campaign on the bombs, you'll know who was behind it. It's just too convenient. Politico published a target list. It includes the Clinton's, the Obama's, John Brennan and CNN, Eric Holder, Wasserman-Schultz, Joe Biden, Maxine Waters and Robert DeNiro. All these targets and not a single device exploded. The devices were apparently not meant to detonate. They were sent to a very specific list of people who have been critical of Trump. They were sent to people who don't open their own mail.
Feds widen search for others who may have helped the South Florida mail-bomb suspect. [Scroll down] Despite allegedly committing practically the entire mail-bombing campaign from South Florida, Sayoc will be whisked away to New York after appearing in federal court in Miami for a removal hearing on Monday. He will be prosecuted by the U.S. Attorney's Office in the Southern District of New York, based on evidence that at least five of the 14 packages were sent to that area, including CNN's offices in Manhattan. Many criminal and legal experts in South Florida called the New York U.S. Attorney Office's takeover of the case a classic "power grab" of a national case that really belongs in South Florida. One former federal prosecutor said Miami's new U.S. attorney, Ariana Fajardo Orshan, got a "dose of the SDNY."
Wondered Why All Those Trump Stickers On Fake "MAGA" Bomber's Van Were So Pristine? - Here's Why. [Scroll down] Maybe Cesar Altieri Sayoc is just that stupid. Maybe he's crazy. Maybe he's a patsy. Or just maybe, Mr. Alleged Hoax Bomber wanted to get caught looking like the world's most syrupy Trump fan boy, knowing that his Trump-mobile MAGA bomb delivery vehicle would instantly become the most vividly captured image in the political universe just days before the most important midterm election in American history. After all, a picture is worth a thousand words. Or, in this case, maybe a million votes or more.
MAGAbomber Suspect: A Case of Homosexual Panic? [Scroll down] At some point over the past year, the Klan and lynching tableau on Sayoc's van gave way to more explicitly pro-Trump and anti-Democrat bumper stickers. Every available inch of his van's exterior was spackled with violent imagery featuring rifle crosshairs placed over the faces of people such as Barack Obama, Michael Moore, and Hillary Clinton. Another sticker said "CNN ****s." Yet another showed Trump standing atop a tank while a bomb was exploding in the background. All of this makes him seem like either a demented Trump supporter or a mindless patsy for anti-Trump forces. One thing is for certain — the story completely deflected attention away from the ominous brown human caravan headed to the USA from points south, a story that was working in Trump's favor. Yet what seems to have completely escaped notice is how intensely squirrely this alleged Hate Bomber is.
Everything Is Trump's Fault Is Fake News At Its Worst. [Scroll down] Next, came the bizarre non-bomb terrorism-by-mail campaign against prominent Democrats, anti-Trump mouthpieces and Far-Left liberal donors. The fall guy in this is one Cesar Sayoc, a "crazed" former pizza deliveryman, body builder, DJ and casino employee who fancied himself as a defender of the "unconquered" Seminole Indian tribe and allegedly lived out of his vehicle for over a decade. Sayoc's mother, Madeline Giardiello has been active in Democratic politics and was an officer on her condominium board in Aventura for many years according to reporting by the Washington Post. USA Today reported that online records show that Sayoc has a string of arrest records that date back to 1991 for alleged theft and drug offenses, along with traffic infractions.
What a small world!
Bomb Suspect Cesar Sayoc And Stormy Daniels Worked at the Same Strip Club. In a really strange turn of events, it has been discovered that bombing suspect Cesar Sayoc worked at Ultra Gentleman's Club in West Palm Beach, FL, the same strip club that Stormy Daniels performed at back in April, WPTV reported. Sayoc worked as a DJ at the club on Thursday afternoon and was arrested on Friday [10/26/2018]. According to the club's manager, Stacey Saccal, Sayoc had worked as a DJ for the past two months. She had received no complaints about him from other staff members and he seemed like a "nice guy."
Democrats [are] Using Every Evil Play in the Book to Silence Americans. A crazy man sent package bombs to prominent Democrats. Fake news media and the demonic Democratic Party viewed the mentally ill man's actions as a gift from the gods of liberalism. They immediately flooded the airwaves with their absurd narrative that Trump was responsible for the package bomber's behavior because he told the truth about CNN and their fellow fake news liars. Fake news media and Democrats outrageously said Americans who cheer and applaud Trump at his rallies are also responsible for the package bombs.
Red Wave Rising: Over 12,000 Voters Change Party Affiliation in Wyoming — 90% to Republican. As we reported on Thursday early ballots show a huge increase in voting in favor of Republicans. It looks like our prediction is holding up! On June 23, 2018, we reported that the 2018 Mid-terms would be a referendum on government corruption and because of this President Trump and the Republicans would win big. This was before Democrats made up trumped up charges against a good man — Supreme Court Judge Brett Kavanaugh.
US Marines reveal plans for plasma crowd control weapon that can shout at people from 3,000 feet away - then be 'turned up' to temporarily blind and even burn them. The US Marines are developing a new laser weapon that can transmit voice messages at long range, or be turned up to deafen, dazzle or even kill. The Scalable Compact Ultra-short Pulse Laser System (SCUPLS) will be mounted on a truck or tank. It will initially be used as a non-lethal weapon for crowd control, according to US Government documents.
The Editor says...
Hmmm... How do they know this weapon can kill people?
President Trump Can't Find Venue Big Enough for Houston Rally with Senator Ted Cruz — 77,800 People Already Signed Up! President Trump is unable to find a location where he can hold all his followers that want to see him and Senator Ted Cruz in Houston, Texas. The Texas Tribune reported that the original site that President Trump set up for the rally in Houston is too small so they found a bigger venue [...]
Former Minnesota FBI Agent Sentenced to 4 Years in Prison for Leaking Documents. Terry James Albury, a former FBI agent in Minnesota, was sentenced to four years in prison with an additional three years of supervised release on Thursday [10/18/2018] in U.S. District Court. Albury admitted that he leaked documents to a reporter from The Intercept, an online news publication. He worked as an FBI Special Agent at the field office in Minneapolis at the time of the disclosure in 2016-2017. He was also working as a liaison with the Department of Customs and Border Protection at MSP International Airport during that same time period.
Democrats start to regret piling money on Beto O'Rourke. Is bulging war chest going to waste? Despite touting socialist-like policies, Texas Democrat congressional nominee Rep. Beto O'Rourke seems to prefer not sharing his wealth, much to the chagrin of other nominees across the nation. [...] The problem is that the polls continue to show O'Rourke trailing leagues behind Sen. Ted Cruz, whom he seeks to unseat. The chances of him eking out a victory appear so low that some argue he should redistribute some of the $38 million he's raised in the last three months to other nominees in need.
Trump: I sent weapons to Ukraine, Obama 'sent pillows and blankets'. President Trump claims his administration has been tougher on Russia than his predecessor's, arguing that former President Obama allowed Russia to annex Ukraine and only offered them "pillows and blankets." "I'm the one that gave Ukraine offensive weapons and tank killers. Obama didn't. You know what he sent? He sent pillows and blankets. I'm the one — and he's the one that gave away a part of Ukraine where Russia," Trump said in a "60 Minutes" interview that aired dSunday [sic] evening [10/14/2018] on CBS.
Heitkamp campaign identifies sexual-assault victims in ad without permission. Sen. Heidi Heitkamp is trying to recover from her vote against President Trump's Supreme Court nominee by standing up for victims of sexual assault, but the North Dakota Democrat's efforts backfired Tuesday [10/16/2018] when she had to apologize for identifying victims without their permission in a recent campaign ad. Some of the women her ad identified say they weren't even victims of domestic violence or sexual assault. Others say they don't support her campaign. Ms. Heitkamp admitted the bungle in a statement Tuesday, blaming victim advocates for feeding her wrong information.
California Christian school brings back gay relationship ban, students protest. Azusa Pacific University made changes to the school's policy without the approval of the Board of Trustees, seemingly suggesting that students could engage in same-sex relationships. Pro-LGBTQ students protested after the school's board of trustees clarified that these relationships would, in fact, not be permitted on campus.
What a dope!
Stephen Hawking said 'there is no god' and that humans will 'live in space' in final book. The late Professor Stephen Hawking revealed his answers to the 10 "big questions" he was often asked in a new book published six months after his death. In "Brief Answers to the Big Questions," the British scientific hero admitted he thought "there is no god" and that humans would eventually live in space. Professor Hawking passed away in March this year after a lifelong battle with Motor Neurone Disease.
The Fall of the Gay Mafia's Don. Some of Donald Wuerl's priests called him the "Tin Man," a reference to his cold, heartless style as the archbishop of Washington, D.C., a position from which he has now formally resigned, though outrageously Pope Francis is permitting him to continue as an "apostolic administrator" until his successor arrives. It is hilarious that Wuerl became arguably the most powerful American cardinal in the "pastoral church of Pope Francis," given that Wuerl is the least pastoral prelate imaginable. He instinctively avoided encounters with his flock and priests, unless they served some immediate interest or enjoyed riches and power. "He is a robot," said one of his priests. "All he cared about was money and living as comfortably as possible and whatever else he got up to."
Cardinal Wuerl Is Out... Or Is He? Embattled Cardinal Wuerl is finally out after Pope Francis accepted his resignation. Wuerl was named in the Pennsylvania grand jury report accusing him of being responsible for shuffling known predator priests around. In one egregious case, he allegedly paid off a priest who was involved in a child porn ring. It is disturbing to many Catholics that Wuerl is being allowed to retire with all his benefits after so terrible a cover-up, but at one point it was debatable whether he would even resign.
Joe Biden's Endless Rumination About Running for President. In Democratic circles, the common nickname for Biden is "Uncle Joe." But it cuts two ways. On the one hand, it connotes the kind of familiarity and affection that comes with his longtime presence in the capital, and his tenure as the loyal sidekick to a president who's still popular with the party base. Grassroots Democrats say he's their top choice for 2020, as evidenced this year in a series of polls. But a sizable share of Democrats believe there comes a time when even a beloved uncle should be put out to pasture.
CNN Poll: Biden Leads Field of 2020 Democratic Hopefuls. Former Vice President Joe Biden is leading the field of prospective 2020 Democratic candidates, according to a recent poll from CNN. The CNN/SSRS poll, which surveyed 1,009 adults between October 4 and 7, found that one-third — or 33 percent — of Democrats and independents who leaned Democratic thought Biden would be the most likely to take on President Trump in the 2020 presidential election.
Another Shoe Drops In The Catholic Church Abuse Scandal. Pope Francis accepted the resignation of the Archbishop of Washington, D.C this week, but his letter reveals that he still has a blind spot when it comes to the Catholic abuse scandal.
The Catholic Church's Biggest Crisis Since the Reformation. The Catholic Church is facing its most serious crisis in 500 years. In these last few months, a new wave of clerical sexual abuse revelations left the world in shock. From Australia to Chile to Germany to the United States, horrifying reports revealed thousands of cases of child molestation by members of the clergy. One U.S. grand jury report documented 1,000 children abused by 300 priests in the state of Pennsylvania alone over seven decades.
Chinese Communist Propaganda Group Paying for Vox Posts. Explanatory media website Vox has been receiving money from a Chinese communist government-backed front organization. A recent Vox blog post by foreign editor Yochi Dreazen titled, "The big winner of the Trump-Kim summit? China" discloses at the bottom of the piece that the reporting was subsidized by the China-United States Exchange Foundation.
Mormon no more: Tabernacle Choir renamed in big church shift. The choir was renamed Friday [10/5/2018] to strip out the word Mormon in a move aimed at ending shorthand names for the religion that have been used for generations by church members and others.
Judicial Watch Uncovers Soros Open Society Foundation/Obama State Department Collusion. The latest Judicial Watch FOIA lawsuit has enabled the release of documents showing U.S. Embassy officials in Albania shown working directly with Soros operatives to channel grant money into left-wing operations that attack traditional, pro-American groups, governments and policies in name of 'civil society.'
Always Believe Women? Boy's Life Destroyed by Girls' False Allegations. The accusations plaguing Brett Kavanaugh have captivated the nation. Yet they're not as damning as two relatively recent allegations of sexual assault made against a Pennsylvania teen — allegations that were backed by corroborating witnesses. Until a few of the female accusers admitted they'd lied simply because they didn't like the boy. Unfortunately, this admission came only after they'd ruined his life. Now the teen's parents, Michael J. and Alecia Flood of Zelienople, Butler County, have filed a federal lawsuit seeking "unspecified civil damages against the girls' parents, the school district and Butler County District Attorney Richard Goldinger's office.
Thirteen states now investigating alleged sexual abuse linked to Catholic church. Florida's attorney general said Thursday [10/4/2018] she is launching an investigation of potential sexual abuse in the Roman Catholic church, making Florida at least the 13th state with an ongoing statewide probe of the church. "Any priest that would exploit a position of power and trust to abuse a child is a disgrace to the church and a threat to society," said Attorney General Pam Bondi in a statement. The Attorney General's Office will coordinate its probe with local prosecutors and review records from all seven of Florida's Catholic dioceses. It is also launching a tip line for victims.
Rock used as doorstop is actually a meteorite worth $100K. A Michigan man curious about a rock he'd used for decades as a doorstop now knows its secret: it's a meteorite worth $100,000.
Study: 91 Percent of Apple Contributions Went to Democrats. According to a new GovPredict study released Thursday [10/4/2018], Apple employees heavily favored Democrats in their contributions for local, state, and federal elections. In all, 91 percent of their political giving went to Democrats, with only 9 percent going to Republicans between 2004 and 2018. Since 2004, 95.5 percent of contributions by Apple employees to local political action committees (PACs) went to Democrats and only 4.5 percent went to Republicans.
Philly's Illegal Tacos restaurant gets stuffed — and not with cheese and lettuce. Let's just say it wasn't a great night for Illegal Tacos, the restaurant on South Broad Street. It started when about 35 demonstrators showed up around dinnertime Tuesday, parked themselves at the front door, and loudly decried what they saw as the racism of the eatery's name. It got worse when the protesters brought in a local taco truck and parked it outside the restaurant.
NSA staffer who took top secret files home so he could do extra work and get promoted is jailed for five years 'after they were stolen by Russians'. A former NSA employee who took secret files home with him in an effort to get promoted has been jailed after they were allegedly stolen by Russian spies. Nghia Hoang Pho, 68, from Maryland, was sentenced to five and a half years Tuesday [9/25/2018] after earlier pleading guilty to willful retention of national defense information. Pho was working as a software developer for the NSA's Tailored Access Operations branch, which hacks into foreign computer networks, at Fort Meade when he began taking the files home in 2010.
School bus driver fired for letting kids take the wheel. A school bus driver in Indiana was fired after a shocking video emerged showing her let students get behind the wheel, according to reports. Joandrea McAtee, 27, faces charges for allowing kids as young as 11 years old drive the bus as they dropped off students Thursday from a Porter Township school, according to the Chicago Tribune. The Porter County Sheriff's Department said at least three students got a turn driving short distances in Lake Eliza.
Senate about to pass 'opioid' laws that are built on lies. Today [9/17/2018], the Senate will vote on H.R. 6, a package of dozens of bills designed to treat the opioid crisis, which is misdiagnosed and misidentified from head to toe. But they have a lot of solutions! The bill provides grants for the endless "evidenced-based" treatment programs for addiction groups that live rent-free in government. It also hands the pharmaceutical companies more money to work on research and development for non-addictive painkillers. Yup, after pushing the medical industry into treating pain, then pushing them out of it, now they will get it just right with their social engineering. The bill increases the scope of Medicaid coverage for addiction treatment. It also gives the DEA a more flexible mandate to set targets for manufacturing of painkillers and shutting down the supply.
Hurricane Florence leaves behind millions of hungry mosquitoes. Storm-battered North Carolinians are facing a new plague — millions of hungry mosquitoes, with some invading buggers three times the size of more common species. Mosquitoes lay their eggs in standing water — of which there is now plenty in the Tar Heel State — thanks to flooding caused by Hurricane Florence, which dumped more than 30 inches of rain on the region. "It's like "a bad science fiction movie," Robert Phillips told the Fayetteville Observer. "They were inundating me, and one landed on me. It was like a small blackbird. I told my wife, 'Gosh, look at the size of this thing.' I told her that I guess I'm going to have to use a shotgun on these things if they get any bigger."
The Editor says...
Bring back DDT.
Utah toddler put $1,000 through shredder, parents say. A Utah toddler's parents are in disbelief after they discovered their 2-year-old son sent more than $1,000 through a shredder. Leo Belnap's parents, Ben and Jackee, tore through their home over the weekend, desperate to find the $1,060 they had saved to pay back Ben's parents. The couple had borrowed the money to purchase season tickets to the University of Utah's football games, KSL-TV reported.
The Editor says...
Pardon my constant skepticism, but this story has all the ingredients of a hoax: [#1] Why did the toddler have access to a thousand dollars in cash? [#2] Wouldn't normal parents keep their toddler away from a paper shredder? [#3] The parents saved the shredded money, which can probably be replaced by their bank. [#4] Even if it cost them $1,000, this is a relatively small price to pay for 15 minutes of "viral" internet and TV fame.
The Most Dangerous Place to Bicycle in America. Florida has by far the highest per-capita bicyclist death rate in the country. The number of cyclists killed in motor-vehicle crashes nationwide hit 840 in 2016 — the most recent data available — according to the National Highway Traffic Safety Administration. That was the most since 1991 and a 35% jump from 2010.
Life in a Democrat-controlled dystopia:
East Village already a 'war zone' ahead of L train shutdown. The L train shutdown is still seven months away, but East Villagers say they're already going through hell. Non-stop construction spanning two blocks on East 14th Street near the First Avenue station is costing residents their sleep and sanity, while businesses are losing customers and cash. "It's like living in the middle of a war zone," said Stuyvesant Town resident Scott Francis, 47. "It's dirty, loud, terrible and disgusting." Traffic is reduced to one lane, stores are blocked off by fences, parts of sidewalks are closed, several 70-year-old trees were cut down, and diesel generators, drills, compressors and bulldozers are running from 7 a.m. to almost midnight.
PetSmart under fire after investigation finds dozens of dogs across the US died after a grooming at the retailing giant. PetSmart is under fire after an investigation found dozens of dogs have died after going to the nation's leading pet retailer for grooming. A nine-month investigation by NJ Advanced Media discovered that since 2008, at least 47 dogs across 14 states in the US died shortly after going to PetSmart for a routine appointment. Of those cases, 32 deaths occurred after 2015, the year that PetSmart was bought by BC Partners for $8.7 billion.
Dems Down: Flores Clobbers Gallego, Poll Shows Cruz Up by Nine. In Texas, September 18 may be remembered as the day the Democratic Party's plans of for a 'blue wave' in the November elections broke and rolled back out to sea, News Radio 1200 WOAI reports. Republican Pete Flores, a retired Texas Parks and Wildlife Department game warden, stunned former Congressman Pete Gallego to win the District 19 State Senate seat which was vacated by convicted felon Carlos Uresti. A Republican has never won in the 19th District dating back to the creation of the district, which runs from Southeast San Antonio all the way to the Big Bend.
Chairman Devin Nunes Discusses The Use of Legislative Branch Rules To Combat DOJ/FBI Corruption. A few days ago, September 13th, House Intelligence Committee Chairman Devin Nunes was given the Keeper of the Flame Award in Washington DC. Within his acceptance speech Chairman Nunes discusses the significance of this time in U.S. history. In the days and months following Watergate, the HPSCI was given specific rules within their legislative branch oversight, which actually became the most significant tools — utilized for the first time — to uncover intelligence abuses by the former administration. Additionally, Chairman Nunes expands on the "next steps."
No bad reviews? Amazon employees might have deleted them for bribes. Some Amazon employees have reportedly been bribed by sellers to remove bad reviews of products sold through the online retail giant. The average bribe is around $300 per review, with most of the demand coming from China. The retail giant has launched an internal investigation into the shady practice, with a probe ongoing since May, when Eric Broussard, Amazon's vice president, was reportedly notified of the problem, the Wall Street Journal reported on Sunday [9/16/2018]. The transactions were facilitated by middlemen who used the messaging service WeChat in China. Citing people familiar with the scheme, the WSJ reported that it costs around $300 to delete one review. However, brokers prefer to trade wholesale, with the minimum number of reviews for removal standing at five.
The European Union Would Love to Control Your Internet Use. Imagine an internet in which users can't freely blog, parody, share material, or remix content — an online experience in which linking, code-sharing, and the unfettered use of art and images would be nearly impossible due to legal limitations. Unfortunately, this scenario — a restrictive internet culture — may soon be a reality in the European Union with the recent passage of the European Unions Copyright Directive. This new E.U. decree, which includes provisions for filtering and surveillance, could have a chilling effect on internet creativity and innovation, potentially increase censorship, and impose new market barriers for businesses worldwide. The new regulations were originally proposed two years ago as part of the E.U.'s Digital Single Market policy that applies to 28 E.U. member-states and the four non-E.U. states of Iceland, Liechtenstein, Norway, and Switzerland. Essentially, it could have a global impact on non-E.U. countries across the world similar to the effect of the E.U.'s 2016 E.U.-wide data protection rules created under the General Data Protection Regulation (GDPR).
State Signs Off on Alamo Plan, but Controversy Builds. The long range, $300 million plan to 'reimagine the Alamo' is one step closer to becoming a reality today, as Texas Land Commissioner George P. Bush, whose office owns the Alamo, has signed off on the agreement approved by a citizens review committee, News Radio 1200 WOAI reports. The last signature needed to put the plan in motion is that of Mayor Nirenberg, and Bush is clearly hoping to prod the mayor into signing, releasing a photograph of the agreement with a 'sign here' sticker over the place where the mayor signs his name.
The mystery of a Russian satellite attacking others. Russia has launched a military satellite that, according to U.S. officials, is behaving strangely. And they say concerns are mounting that it is a test for some kind of military weapon, perhaps designed to cripple or silence an adversary's satellites. An arms race in space makes perfect sense for Russian President Vladimir Putin, who recently boasted about new missile and submarine technology.
New Mexico observatory's sudden closure sparks wild speculation. The temporary closure of a New Mexico observatory last week sparked wide-ranging theories, especially after reports that federal authorities were involved. The Sunspot Solar Observatory, located near the Sacramento Mountains, closed over an unspecified security issue, the facility said in a statement posted to Facebook on Sunday [9/9/2018].
New Mexico: The Sunspot Solar Observatory Unexpectedly Closed Due To "Security Issue". The Sunspot Solar Observatory in New Mexico was rapidly closed down and evacuated last Thursday [9/13/2018] with no explanation why. Locals report that the FBI is involved, though the Bureau has neither confirmed or denied their presences at the facility. The official statement from The Association of Universities for Research in Astronomy (AURA) is there was "a security issue" so they "decided to temporarily vacate the facility as a precautionary measure."
A solar observatory in New Mexico is evacuated for a week and the FBI is investigating. No one will say why. At a small solar observatory tucked away in the woods of a national forest here, scientists and other personnel were commanded last week to leave at once. A week later, the facility remains vacant, and no one is willing to say why. The mysterious and lengthy evacuation, in a state known for secretive military testing and a suspected UFO crash, has spawned a wealth of speculation.
Update:
New Mexico observatory shut down amid FBI child porn investigation: documents. Investigators determined the observatory's janitor had used his laptop to connect to the facility's wireless internet system, an FBI affidavit said. Federal authorities obtained a warrant to the search the suspect's residence, Reuters reported, citing FBI records. On Sept. 14, FBI agents removed three cell phones, five laptops, one iPad, an external hard drive, and other electronic devices, from the suspect's home, FBI records showed. An FBI spokesman said the case is still under investigation. According to the FBI, the suspect has not been arrested or charged.
3,677 sex abuse cases in German Catholic Church. A report on sexual abuse inside the Catholic Church in Germany says 3,677 people were abused by clergy between 1946 and 2014, two leading German media outlets said Wednesday [9/12/2018].
Andrew Cuomo has no credibility left. Gov. Andrew Cuomo's credibility stands in shreds just hours before Thursday's [9/13/2018] primary, as fresh evidence puts his fingerprints all over what he insists are just a series of remarkable coincidences. As The [New York] Post's Anna Sanders and Bruce Golding report, a top Cuomo campaign official emailed this paper trying to plant a news story that mirrored the same points contained in that dirty-trick mailer accusing opponent Cynthia Nixon of being "silent on anti-Semitism." That would be the very same mailer the notoriously hands-on governor insisted he knew nothing about and hadn't even seen, even though it was sent by the Democratic State Committee — which he funds and controls.
Airbnb renter trashes luxury San Francisco home, leaving piles of trash, feces, needles. A man who rented a luxury home in San Francisco through Airbnb trashed it, KTVU has learned, leaving used needles and human waste throughout the $5-million home. The owner of the home does not want to reveal any identifying details about where this house is located, other than that it is in one of The City's most desirable neighborhoods. On Friday [9/7/2018], KTVU got an exclusive look inside the home and spoke with the property manager, Egan Lim, who was dressed in a hazmat suit and supervised cleaning up the mess.
'People are on edge': Inside the palpable tension throughout Miss America. Despite the sweltering temperatures last week in Atlantic City, there was a discernible chill in the air as Miss America contestants, volunteers and executives arrived for the annual pageant. The recently revamped event, which airs Sunday on ABC, kicked off at Boardwalk Hall Wednesday night with the first phase of preliminary competition. "The energy was very odd in the auditorium, for sure," said one former board member who asked not to be identified, citing for professional reasons.
Why Is Obama's Secret Service Head Working for Cardinal Wuerl? I googled Obama's Mark Sullivan and compared him to the man with whom I spoke. Yep, they were one and the same. I nearly dropped my phone as a chill went up my spine and the dawning realization hit: Obama's Secret Service honcho had become Cardinal Wuerl's. What made the discovery even more alarming was the subsequent harassment I received from security goons clearly working for Cardinal Wuerl, with whom I have had multiple encounters in August and September. Are all these goons working for Sullivan and the private security firm GSIS, of which he is a principal and co-founder? It looks like a real possibility.
Pluto never should have been downgraded from a planet, scientists say in new study. Make Pluto a planet again. According to a new study published in the scientific journal Icarus, Pluto never should have been downgraded more than a decade ago. Pluto was reclassified as a dwarf planet in 2006 by the International Astronomical Union, which ruled a planet a "celestial body that is in orbit around the Sun, has sufficient mass for its self-gravity to overcome rigid body forces so that it assumes a hydrostatic equilibrium (nearly round) shape, and has cleared the neighborhood around its orbit." That last qualification is where Pluto was tripped up; the IAU said the planet was too small to control its own orbit, as its gravity is influenced by Neptune's.
The Editor says...
No planet controls its own orbit.
British Navy Confronts Argentina ship in military face off over Falklands. The Royal Navy unleashed a patrol ship against an Argentinian vessel in the Falkland Islands, after the South American ship was caught "snooping for oil" in UK territorial waters.
The ABA Just Gave Brett Kavanaugh Its Highest Possible Rating. The American Bar Association's (ABA) standing committee on the judiciary released its evaluation of Supreme Court nominee Brett Kavanaugh Friday, awarding him a unanimous "well-qualified" rating. The ABA panel issues its evaluation based on a variety of measures including integrity, professional competence and judicial temperament. "The committee's objective is to provide impartial peer evaluations of the professional qualifications of judicial nominees in order to assist the Senate Judiciary Committee in assessing whether such individuals should be confirmed by the Senate," an ABA memo detailing the process reads.
California approves measure to pass on wildfire costs. The California Legislature voted Friday [8/31/2018] to allow power companies to raise electric bills to cover the cost of lawsuits from last year's deadly wildfires amid fears that Pacific Gas & Electric Co., would otherwise face financial ruin.
US soldier pleads guilty to supplying terrorist group with secret military information. A soldier who was filmed by the FBI kissing the ISIS flag has pleaded guilty to supporting the jihadist group. Ikaika Erik Kang, a 35-year-old sergeant first class in the US Army, admitted to four counts of attempting to provide material support to ISIS. Kang, who is based in Hawaii, provided secret military information, a drone meant to track US troops and other support to undercover agents he believed were members of the terrorist organization.
Borders won't be able to contain Venezuela's disaster. For years, the world watched corrupt socialists turn Latin America's richest nation, Venezuela, into one of its poorest. Now, as the country's economy nears total collapse, it's time to ask what can be done to contain the fallout and help its residents. Start with its refugees: In a nation whose 2016 population was 31 million, 1.8 million have fled the country over the past two years. This year, it's 5,000 a day — with the United Nations projecting another 2 million gone by year's end. Venezuela's neighbors bear the brunt of this refugee flood. But more than 28,000 Venezuelans sought asylum in the United States last year, the US Citizenship and Immigration Services notes. That's up 88 percent from 2016, and 1,300 percent since 2014. There are now three times as many asylum-seekers here from Venezuela as from any other nation.
Former CIA Officer Charged With Spying For China. An ex-CIA officer arrested in January at New York's John F. Kennedy airport has been charged with conspiracy to commit espionage on behalf of China years after FBI agents turned up notebooks containing classified information in a search of his hotel room. Jerry Chun Shing Lee, 53, a naturalized U.S. citizen, had a top-secret clearance and worked as a field agent for the Central Intelligence Agency from 1994 until 2007. He was living in Hong Kong at the time of his arrest, and had apparently been the target of an FBI investigation since 2012, when agents searching a Honolulu hotel room discovered handwritten notes on "asset meeting, operational meeting locations, operational phone numbers, true names of assets, and covert facilities" pertaining to China, according to a court affidavit.
Transvestites monkeying up US Navy. The Navy Times had a propaganda article yesterday [8/30/2018] featuring a sailor who likes to get dressed up as a woman and "perform" for the troops. Why is this newsworthy? It's all part of the liberal propaganda effort to increase acceptance of the so-called "transgendered." This is sick brainwashing of the worst kind.


The Random House Dictionary of the English Language, Unabridged Edition, Page 1507.

Box Office: Summer Movie Attendance Second Worst in 25 years. Movie attendance for the summer of 2018 at the box office is the second worst in 25 years, reports the Hollywood Reporter. For months now all we have been hearing about the box office is what a great season it has been, a record season, a comeback that proved all the doomsayers wrong who said America is falling out of love with going to the movies. To a point, that remains true, but only if you look at the cold, hard numbers. As far as money, the summer of 2018 is a record breaker, up +14 percent over 2017's brutal summer, and the fifth best on record.
B-1 Crew Makes 'Emergency Landing' Request in Newly Released Audio. "Is that an actual emergency?" an air traffic controller at Midland Airport, Texas, asks an Air Force B-1B Lancer crew experiencing an engine fire. After someone interjects a quick "Yes," the voice replies, "Actual emergency. Alright, Bravo go." The conversation is part of a recently released audio clip between the control tower and a Dyess Air Force Base-based bomber that had to make an emergency landing in May after an ejection seat didn't work following an engine fire. The audio was obtained and published by Military Times.
Pope silent on claim he ignored abuse. Pope Francis has declined to comment [8/26/2018] on a growing scandal after a former Vatican official claimed the pontiff ignored sexual abuse allegations against a senior clergyman and called on him to resign.
The Catholic abuse scandal now leads all the to way the Vatican. An ecclesial straight shooter. A reliable character. A serious man. That's how sources familiar with Carlo Maria Viganò describe the Italian archbishop, who served as the Vatican ambassador to the United States from 2011 to 2016. His reputation makes the publication Saturday of Viganò's written "testimony" about the Theodore McCarrick affair all the more inconvenient for those in the Catholic hierarchy who tried to bury the truth about the disgraced American prelate. The core claim in the 11-page document is that a high-powered circle of silence for years abetted McCarrick's career, despite his well-known penchant for sexual abuse. The circle of silence, Viganò says, included the current successor of Saint Peter. In a cryptic statement to reporters on Sunday, Pope Francis refused to confirm or deny the allegations, instead urging them to "read the document carefully and judge it for yourselves."
Journalist Who Exposed CIA Cocaine Trafficking, Would Be 63 Today, But He 'Shot Himself' TWICE. On August 22nd, 1996 the San Jose Mercury News shocked the country with a series of articles entitled 'The Dark Alliance' detailing the CIA's connection to the crack epidemic that terrorized the nation in the 1980's and destroyed countless lives in its wake. After the article's publication, the story's author, award winning journalist Gary Webb, was initially hailed as a hero, before a massive smear campaign attacked his credibility and destroyed his career.
DNC passes historic reforms stripping superdelegates of power. Two years after the gruesome presidential primary of 2016 left Democrats bitterly divided, the Democratic National Committee adopted major reforms Saturday [8/25/2018] to reduce the outsized influence of unpledged delegates, known as superdelegates. In a majority vote, the DNC passed a measure to block superdelegates — elected officials and party leaders — from casting a vote for any presidential candidate unless a second ballot is required at the 2020 national convention, stripping them of power.
The Editor says...
The Washington Examiner exaggerates somewhat: The super-delegates have the same power they've always had, except on the first vote (at the party convention) for the presidential nominee.
The Left's New Offensive In Their Economic War On Conservative Speech. The evidence is clear the left is ramping up its war on conservative free speech. We've already the social media platforms' censorship of Alex Jones, or NY Governor Cuomo's attempts to get banks and insurance companies to stop working with the NRA, or even YouTube's removal of Dennis Prager's "Prager U" videos. Visa and Mastercard have blocked service to the David Horowitz Freedom Center because the far left hate group, The Southern Policy Law Center (SPLC) pressured them into believing that the Horowitz Center is a hate group.
Chinese Communist Party Funds Washington Think Tanks. China's Communist Party is intensifying covert influence operations in the United States that include funding Washington think tanks and coercing Chinese Americans, according to a congressional commission report. The influence operations are conducted by the United Front Work Department, a Central Committee organ that employs tens of thousands of operatives who seek to use both overt and covert operations to promote Communist Party policies. The Party's United Front strategy includes paying several Washington think tanks with the goal influencing their actions and adopting positions that support Beijing's policies.
Loyal Democratic donors: We're done with the DNC 'until they get their act together'. The Democratic National Committee — the party's signature organization — has posted its worst midterm fund raising totals in more than a decade. The DNC has so far taken in $116 million before the November midterm elections, $9 million less than it had taken in at this point in 2014 and more than $30 million less than it had taken in at this point in 2010, the last two midterm cycles. By contrast, the Republican National Committee has nearly doubled the DNC's haul this cycle, bringing in a total of $227 million. And of the six major federal committees of both parties, the DNC has by far the most debt ($6.7 million) and the least amount in its bank account ($7.8 million).
Michael Jackson 'may not have' sung lead vocals on posthumous tracks. When an album of previously-unreleased songs from their hero Michael Jackson was released a year after his death it seemed, some astute fans feared, too good to be true. Today [8/24/2018], it appeared those suspicions may not necessarily have been unfounded, as a record label was caught up in an extraordinary dispute over whether three songs were really performed by the late singer himself. A court case, revolving around the release of posthumous album in 2010, saw a fan of the singer take on Sony Music Entertainment, alleging songs on the record were not sung by the late artist.
Republican declared winner of Ohio special congressional election. Republican congressional candidate Troy Balderson on Friday was declared the winner of a hotly contested Ohio special election that served as a final test of his party's ability to hold off an anticipated surge of Democratic voters in the November elections. After two weeks of counting additional ballots in a district that has historically provided easy victories to Republicans, Balderson was declared by Franklin County officials as the winner over Democrat Danny O'Connor, who said on Friday [8/24/2018] he called to concede to Balderson.
Police union offers $500 reward for people who take down suspects. A police union wants to turn random bystanders into vigilantes-for-hire — by offering $500 to any civilian who helps cops wrestle down suspects who are resisting arrest. The cash proposal from the Sergeants Benevolent Association is aimed at getting those who normally would make videos of cops taking people into custody to put down their phones and actually get involved. "When you see an officer struggling, rather than take your cellphone out, assist the officer and you'll receive an award of $500," SBA president Ed Mullins told The [New York] Post. "Far too often, we see police officers engaged in violent struggles with perpetrators while members of the public stand by and take videos of the incident. This has got to stop, and hopefully this program will incentivize good Samaritans to do the right thing."
The Editor says...
Yes, the police have to "incentivize [bystanders] to do the right thing" because kids these days won't do the right thing without the likelihood of reimbursement.
'Stop Filming and Help Me!': Officer Begs Security Guard to Help Him Subdue Suspect. A police officer begged a female security guard to put down her cell phone and help him subdue a robbery suspect in Houston. Bystanders began filming the confrontation between the officer and 17-year-old Davon Shavelle Miller, who was pulled over and ran from the officer, a local news station reported. "He's trying to kill me!" the suspect yelled, while the officer yelled that Miller was trying to grab his service weapon.
University Bans Snowball Fights. Any "snowflakes" at Delaware State University among the student body will be pleased to hear that the university is protecting them — by banning snowball fights. As Maria Lencki of The College Fix reports, "The school's Division of Student Affairs Student Judicial Handbook, lists 'the throwing of snowballs on University grounds' under the 'personal violations' category, alongside violations such as 'being in the bath/shower areas of the opposite sex' and 'making threats of violence or intimidation.'"
Scientists discover water ice on moon's surface. Here's why that's big news. For the first time, scientists have found what they say is definitive evidence of water ice on the surface of the moon. The discovery suggests that future lunar expeditions might have a readily available source of water that would make it easier "to explore and even stay on the moon," officials at NASA's Jet Propulsion Laboratory said in a statement Tuesday about the discovery. The ice was detected at the darkest, coldest regions of the moon's north and south poles. It exists in sparse patches in the north and is concentrated in permanently shadowed craters in the south, where temperatures never climb above minus 250 degrees Fahrenheit.
The Editor says...
Ri-i-i-i-ight. Thirsty? Too bad we didn't bring enough water on this trip to the moon. Well... just climb a few thousand feet down into this crater, and you'll find water. Oh, but it's about 250 degrees below zero. Is that a problem? Tell me again why we need to have people on the moon.
Miss Denver resigns her crown in solidarity with Miss America who insists former Fox News host Gretchen Carlson 'abused and silenced' her. The winner of the 2018 Miss Denver beauty pageant publicly renounced her crown on Friday [8/24/2018]. In a message posted to her Instagram account, Kayla Kline said that she was stepping away from her position in solidarity with Miss America Cara Mund, who claimed earlier this year that she was abused by senior leadership of the Miss America Organization.
Sunken World War II British warships reportedly raided by pirates for scrap metal. World War II-era shipwrecks containing the remains of hundreds of British sailors and civilians are now being plundered by pirates scrounging for scrap metal in Southeast Asia, prompting calls for a multinational investigation. The wrecks of four ships that were sunk in the waters off Malaysia and Indonesia have recently been looted for scrap metal, The Mail on Sunday newspaper reported. Several other British shipwrecks in the region have previously been looted, even though the United Nations International Salvaging Convention bans raiding sunken warships.
Clergy sex abuse has cost Catholic Church $3 billion in settlements. Clergy sex abuse of children has rocked the Catholic Church not only in terms of trust and reputation, but also financially, to the tune of more than $3 billion, according to National Public Radio. The multibillion-dollar expense has gone to settlements in response to lawsuits filed by people abused by clergy, reports NPR. Nearly 20 Catholic dioceses and religious orders have filed for bankruptcy because of the scandals.
The Editor says...
If you are Catholic, ask yourself this question: Where do you suppose that money comes from?
Canadian Government Moves To Block Freedom of Speech in Effort to Prop-up Justin. Under the auspices of making moves to block election interference from outside interests the government of Justin from Canada is moving to block internet content critical of Trudeau and his policies. Simultaneously and ironically, the same Canadian government is spending millions lobbying U.S. politicians in Washington DC to retain their one-sided NAFTA trade benefits.
Miami Herald endorses House candidate who claims aliens took her aboard a spaceship. The Miami Herald is endorsing a congressional candidate who claims to have communicated with aliens throughout her life and says extraterrestrials once visited her. The newspaper on Sunday [8/19/2018] endorsed Bettina Rodriguez Aguilera, who is running as a Republican for Rep. Ileana Ros-Lehtinen's (R-Fla.) seat in the Republican primary for Florida's 27th Congressional District. The newspaper called her "a strong candidate in the race with plausible conservative ideas." Rodriguez Aguilera said in a 2009 television interview that she boarded a spaceship occupied by aliens when she was 7.
Venezuela's Crack-Up Is Accelerating. What happens when the country with the world's largest oil reserves becomes its latest failed state? As Venezuela's government grows increasingly despotic, a crack-up is accelerating — and despite plenty of warning, the world remains unprepared for the consequences. Recent headlines read like the plot of a Hollywood thriller: According to President Nicolas Maduro, assassins trained in Colombia tried to kill him with explosive-laden drones as he was delivering a televised speech. He has responded with a broad crackdown, including the jailing and alleged torture of one of his most vocal opponents. Even as theories about the attack's origins multiplied in Caracas, a judge in Delaware ruled that a Canadian mining company could seize the assets of Citgo Petroleum Corp.'s parent firm, a key piece of the beleaguered Venezuelan state-owned oil company that funds the government.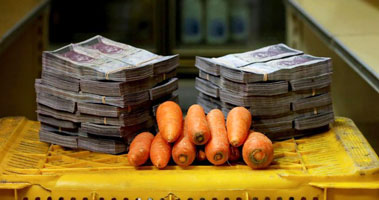 Hyperinflation in Venezuela - in pictures. Venezuela has devalued its currency by about 95 per cent ahead of the rollout of a new bolivar as part of a recovery plan that seeks to loosen the grip of hyperinflation on the country. In recent weeks, goods have skyrocketed in price, leaving locals needing piles of cash to purchase household essentials.
Venezuela's detention of an opposition lawmaker is chilling. The world must act. Venezuelans have every reason to doubt the events surrounding the mysterious "assassination" attempt against President Nicolás Maduro in Caracas on Aug. 4. The regime distorts reality every day, even refusing to recognize and address the economic and social collapse it has created. But whether you believe the official version or not, there's no question that it has served as a heaven-sent excuse to further crack down on civil liberties and the opposition.
Brazilian border town residents drive out Venezuelan immigrants. Angry residents of the Brazilian border town of Pacaraima ran riot and drove out Venezuelan immigrants on Saturday [8/18/2018] after a local restaurant owner was stabbed and beaten, residents and government officials said.
Joe DiGenova: Process is underway declassifying documents. Former US Attorney for DC Joseph DiGenova is one of the smartest, most energetic, and clearest-thinking lawyers on the conservative side. He knows what he is talking about, and he doesn't mince words. The video of him speaking for 12 minutes with Howie Carr on Carr's Newsmax TV show, embedded below, is must-watch material, and well worth the twelve minutes it will take. The first thing that DiGenova does is bust wide open the Russia Collusion fantasy and re-frame the issue as a conspiracy against President Trump, a theory explaining the events of the past two years with far better evidence than the theory that President Trump is a pawn of Putin. But then he gets into explaining what is underway beneath the surface: the process of declassifying documents that implicate the cabal is underway, based on hints that DiGenova has picked up from his many contacts.
HUD sues Facebook, which could jeopardize all Internet ads. HUD today sued Facebook for promoting illegal discrimination in housing. This could be the first legal challenge to how Internet oligarchs target ads. One man's tailoring ads to audiences is another man's discrimination. The agency's press release said, "The U.S. Department of Housing and Urban Development announced today a formal complaint against Facebook for violating the Fair Housing Act by allowing landlords and home sellers to use its advertising platform to engage in housing discrimination. "HUD claims Facebook enables advertisers to control which users receive housing-related ads based upon the recipient's race, color, religion, sex, familial status, national origin, disability, and/or zip code. Facebook then invites advertisers to express unlawful preferences by offering discriminatory options, allowing them to effectively limit housing options for these protected classes under the guise of 'targeted advertising.'" That triggered so much laughing that I had a coughing spell.
The Crusader Who Exposed Pennsylvania's Sadistic Priests. Without [Richard] Serbin's diligence and commitment, many of these atrocities never would have come to light. Serbin, who has been defending victims of clerical sex abuse since he met Michael more than 30 years ago, provided the names of 109 predator priests to the Pennsylvania grand jury investigation, and to a prior Pennsylvania grand jury investigation in 2016.
Miss America Ordered to Regularly Say 3 Things Promoting Gretchen Carlson. The AP reported that the reigning Miss America says she has been bullied, manipulated and silenced by the pageant's leadership. The alleged bullies include former Fox News host Gretchen Carlson. Carlson, a former Miss America, famously sued Roger Ailes for inappropriate sexualized comments, eventually settling for millions. In a letter sent Friday [8/17/2018] to former Miss Americas, Cara Mund says she decided to speak out despite the risk of punishment. She said she doesn't want to leave this mess for future Miss Americas. Miss Mund criticized both Gretchen Carlson, chairwoman of the Miss America Organization and Regina Hopper, the CEO. She said her voice was not heard nor did leadership have any interest in knowing who she was.
Monsters Of The Cloth. The grand jury report in that Pennsylvania child rape case involving several hundred Catholic priests which surfaced last week is, as Michael Brendan Dougherty termed it at NRO Wednesday, a Rotherham for the Church. But unlike Rotherham, a case in which a ring of Muslim pedophiles and rapists latched on to local ethnic English girls and turned them into an extended harem of prostitutes, there will be no institutional cowardice involving politically correct politicians and law enforcement officials wishing the horror away. Pennsylvania won't be swept under the rug. Nor should it. And after years of pedophilia scandals engulfing the Church, with promise after promise that the problem has finally been banished to the hell from whence it came, the public is eventually going to demand its pound of flesh for the clergy's sins. We're going to see that made manifest as that case goes to trial in the weeks and months to come. As we should.
Omarosa acted dishonorably by recording confidential White House conversations, but here's the bigger problem. Even if you strongly oppose President Trump and want to see him defeated in 2020 or impeached before then, you should hope his presidential campaign succeeds with its legal action against Omarosa Manigault Newman alleging she violated a nondisclosure agreement. And if she broke any laws you should want her prosecuted. Manigault Newman — a fired presidential aide and earlier a member of the Trump campaign staff — has set a dangerous precedent by her secret recording of conversations with President Trump and White House and campaign aides. The New York Times reported Thursday that Manigault Newman "is believed to have as many as 200" recordings of such conversations. If Manigault Newman suffers no penalty for making her secret recordings — and instead uses the recordings to boost sales of her virulently anti-Trump book "Unhinged," as she is clearly doing now for maximum media exposure — future White House employees will be tempted to follow in her footsteps.
Whistleblower makes shocking IRS, insider trading allegations. A whistleblower made this shocking allegation to me last week: the IRS was tipping off members of Congress to corporate takeovers so the elected officials could profit from insider trading. My snitch also charged that higher-level employees of the IRS also used that information to enrich themselves. This may sound crazy but remember: Up until a few years ago members of Congress were allowed to trade stock based on information they got while performing their public duties. It wasn't until 2012, during President Obama's tenure, that the practice was banned.
Fusion GPS Founder Shared 'False Story' About GOP Lawyer In Meeting With DOJ's Bruce Ohr. Veteran GOP lawyer Cleta Mitchell suddenly found her name mixed up in the investigation into Russian meddling in the 2016 presidential election. The first public mention of Mitchell came in a March 13 report released by Democrats on the House Permanent Select Committee on Intelligence. The report listed Mitchell, a partner at the firm Foley & Lardner, as one of the "individuals or groups who were involved in or may have knowledge of third-party political outreach from the Kremlin to the Trump campaign." Two days later, McClatchy newspapers cited two anonymous sources who claimed that Mitchell expressed concerns just after the election that Russians had funneled secret cash to the National Rifle Association.
West Virginia House votes to impeach entire state Supreme Court. The West Virginia House of Delegates voted on Monday to impeach the state's entire Supreme Court, a remarkable move occasioned by reports of extravagant spending by the court's five members, one of whom resigned in July. Of the four impeached justices, one, Allen H. Loughry II, also faces 23 federal counts of fraud, witness tampering, lying to a federal agent and obstruction of justice. If convicted on all counts, he could face up to 405 years in prison and a fine of $5.75 million. He pleaded not guilty and was suspended without pay in June. The impeachment charges against Loughry, who was the chief justice until February, are most severe, included lying to the House Finance Committee and moving an antique desk appraised at $42,000 to his home.
Church protected more than 300 'predator priests' in Pa., grand jury says. Church leaders protected more than 300 "predator priests" in six Roman Catholic dioceses across Pennsylvania for decades because they were more interested in safeguarding the church and the abusers than tending to their victims, says a scathing grand jury report released Tuesday [8/14/2018].
NBC Releases Portion of Secretly Recorded Audio of John Kelly Firing Omarosa Manigault. Former short-term White House aide Omarosa Manigault Newman is attempting to stir up interest in a new book by delivering audio that she secretly recorded in the White House situation room when she was fired by Chief of Staff John Kelly. Ms. Manigault released the audio to NBC for use in a Sunday [8/12/2018] broadcast of Meet the Press with Chuck Todd. There is a strong possibility Ms. Manigault has committed several violations of federal law with a secret electronic recording within a SCIF (Situation Room); however, any action therein would only further provide fuel for her already discredited self-promotion. The fact Ms. Manigault made the recording speaks to her duplicitous intent and lack of integrity.
Omorosa releases purported secret recording of Chief Of Staff John Kelly 'threatening' her in the Situation Room. Omarosa Manigault-Newman, the ex-reality star and former Trump aide who has since acccused the president of racism, on Sunday released what she claimed was a secret recording of White House Chief of Staff John Kelly "threatening" her in the White House Situation Room. [...] "The very idea a staff member would sneak a recording device into the White House Situation Room, shows a blatant disregard for our national security — and then to brag about it on national television further proves the lack of character and integrity of this disgruntled former White House employee," White House Press Secretary Sarah Sanders said on Sunday evening.
Hungary's populist government abolishes gender studies courses. Hungary's populist government is stopping universities from offering courses in gender studies, saying there is no need for graduates in the labor market and they take taxpayer money away from other programs. The move, announced this week, comes after Prime Minister Viktor Orban's government won a comfortable majority in April after an election focused primarily on immigration.
Secret DMV office serves lawmakers, Capitol staffers. In California, long lines are a fact of life at Department of Motor Vehicles offices across the state, but for California lawmakers and their legislative staffers, there's an alternative. KCRA has learned of a DMV office that is not open to the public. It's located inside the Legislative Office Building on N Street, adjacent to the state Capitol.
White Republican Michigan Voters Chose a Black Guy. White Republican voters chose a black conservative over a white billionaire in Michigan. [...] Black conservative John James won Michigan's U.S. Senate Republican primary because he shares the values of most Americans. James boldly expresses his desire to help Trump Make America Great Again. Voters chose James because of the content of his character rather than the color of his skin, fulfilling the dream of Dr. Martin Luther King, Jr.
'Souza's Death of a Nation has provoked prog critics' outrage. Unsurprisingly, Dinesh D'Souza's film Death of a Nation has made the loud voices on the left stark raving mad. A perfect example is the film review website Rotten Tomatoes. The eleven critics gave the film a zero. The voting audience gave it 90% approval. The same is true at all the typically left-wing sites that review films. The Hollywood Reporter reviewer, Frank Scheck, was apoplectic. He does not bother to provide any countervailing facts. He cannot. D'Souza's history is accurate. But reviewers like Scheck are so committed to the lies they have been taught in college, or maybe J-school, for forty years that they leap to histrionic attacks on the film before bothering to do any research. The hysterical reaction to this film by the left is yet another sad commentary on the state of American education.
Rogue Chinese message broadcast over intercom at National Weather Service center. A strange Chinese audio message was heard over the intercom at the National Weather Service center on Wednesday [8/8/2018]. The voice was from a woman and the 45-second message was also heard by building employees at the National Oceanic and Atmospheric Administration's Center for Weather and Climate Prediction. The intercom message, translated from Chinese, said something to the effect of "you have a package from Amazon at the Chinese Embassy, press 1 for more details," according to a National Weather Service employee who spoke to the Washington Post.
In Venezuela's hospitals, eat at your own risk. Hardly anybody likes hospital food but in Venezuela, it's so awful — monotonous, starchy diets cooked in filthy conditions, and newborns fed intravenous solution for lack of baby formula — that experts call it an actual health risk.
China may have to resume U.S. soybean purchases in weeks: Oil World. China may have to start buying U.S. soybeans again in coming weeks despite the trade war between the two countries as other regions cannot supply enough soybeans to meet China's needs, Hamburg-based oilseeds analysts Oil World said on Tuesday [8/7/2018].
Search for missing Atlanta Muslim child leads to discovery of a makeshift armed Muslim compound in New Mexico. The detective forwarded the message to Taos County, New Mexico Sheriff Jerry Hogrefe, who executed a search warrant Friday [8/3/2018] on a makeshift compound that authorities believed was operated by armed Muslim extremists. After a standoff with two metro Atlanta men inside the heavily armed encampment, officers arrested and Siraj Ibn Wahhaj — the fugitive wanted in the child abduction case as well as Lucas Allen Morten. But they weren't the only ones at the property that had no running water, plumbing or electricity.
Moms arrested after 11 children found in 'filthy' New Mexico compound with armed Muslim 'extremists,' cops say. The three mothers of the 11 malnourished children found living in a filthy New Mexico compound were arrested and charged Sunday along with two men described as armed Muslim "extremists" after authorities raided the property in search of a 4-year-old boy. Jany Leveille, 35; Hujrah Wahhaj, 38, and Subhannah Wahhaj, 35, were arrested and charged with neglect and child abuse of the children. The three women, who were found at the compound in Amalia, initially refused to answer any questions.
More about this case has been posted here.
Polling Shows Leah Vukmir Takes Dive in Wisconsin After Video Emerges of Her Calling Trump 'Offensive to Everyone'. State Sen. Leah Vukmir, one of the two candidates for the GOP nomination for U.S. Senate in Wisconsin, has been hit hard throughout the state after Breitbart News unearthed video of her in 2016 saying that President Donald Trump, then a candidate for the GOP nomination, was "offensive to everyone." The video, along with audio of her saying she is not a "Trumpkin," a derisive term she and Never Trump leader Charlie Sykes use to describe supporters of the president, was part of a series of pieces exposing Vukmir's opposition to the president and his agenda.
Far Left Actress Alyssa Milano Blames Russia for Republican Win in Ohio Special Election. On Tuesday Trump-endorsed Troy Balderson defeated Democrat Danny O'Connor by less than 1% of the vote. [...] Balderson ended up defeating O'Connor by 1,754 votes. The Green Party candidate in the district had 1,127 votes.
Red China bans Winnie the Pooh. The total value of Chinese stocks have fallen 40% in the last three years, putting Chairman Xi in a precarious place politically. [...] But Xi is on top of things. He just banned a new Disney movie, "Christopher Robin," because it features Winnie the Pooh. Conservative Chinese people mock Xi as Winnie the Pooh.
Stealth Socialist Steve Phillips Works With TOP Radicals To Turn Texas Blue. The US Electoral College consists of 538 electoral votes. A majority of 270 electoral votes is required to elect the president. The Democrats have a lock on California's 55 votes. The Republicans rely on Texas' 38 votes. If either party can ever win both states in the same cycle, that will be the end of the traditional two-party system. Given the Democrats' heavy top to bottom Marxist infiltration, flipping Texas to their camp would usher in a permanent one-party socialist state. San Francisco lawyer and stealth socialist Steve Phillips is aiming to do just that. Working with leftist mega donors from the secretive Democracy Alliance and his own organizations, Steve Phillips has set up mass voter registration programs in several states to sign up millions of new minority voters. Phillips is well on the way to flipping Georgia, Arizona, Florida and North Carolina. But Texas will be the biggest prize of all. Not this election cycle, not the next election cycle, but within a decade at the most, Steve Phillips wants to turn Texas blue.
Rhode Island Senate race may be in play, as media and political pros [are] oblivious. If good presents come in small packages, the Rhode Island Senate race this year may be a great example for the GOP. William Jacobson, the founder of Legal Insurrection and an astute political analyst who has spent many years in Rhode Island, writes that the Big Surprise of the 2016 election could be the defeat of incumbent Democrat Senator Sheldon Whitehouse.
West Hollywood's Moral Crusade against Trump. Donald Trump is sometimes fortunate in his opponents. The town fathers of West Hollywood have adopted — unanimously! — a resolution calling on the City of Los Angeles and the L.A. Chamber of Commerce to remove Donald Trump's star from the Hollywood Walk of Fame. Their reasoning? Trump's "disturbing treatment of women and other actions that do not meet the shared values of the City of West Hollywood." West Hollywood values. I am on record as a fan of Los Angeles. I like the place very much. I think West Hollywood is A-okay. But I'm not sure I would cite "West Hollywood values" in a moral crusade.
West Hollywood Fascists Vote Unanimously to Remove Donald Trump's Star on Walk of Fame — But Guess Whose Star Remains? Tonight [8/6/2018] the West Hollywood City Council is voting to remove President Donald Trump's star on the Walk of Fame. [...] Guess whose Hollywood star they won't be voting on? Far left actor Kevin Spacey was accused of sexual misconduct by at least a dozen men and several underage teens. They have no problem with Kevin Spacey.
If Hollywood is going to strip Trump of his Walk of Fame star for sexual misconduct then when will Spacey and Cosby lose theirs? [Scroll down] Then there's liberal fury over Trump's sexual behaviour, which is perfectly reasonable given his own unedifying admission that he's treated women like pieces of meat. When playing 'Whataboutery' however, I wonder why the same liberal fury is not extended to Democratic presidential legends Bill Clinton and JFK, whose treatment of women made Trump look like a choirboy?
West Hollywood to vote on removing Trump's Walk of Fame star. The West Hollywood City Council is expected to vote Monday night on a resolution calling on officials to permanently remove President's Trump's star from the Hollywood Walk of Fame. "The City Council will consider adopting a resolution urging the Los Angeles City Council and Hollywood Chamber of Commerce to remove President Donald J. Trump's star from the Hollywood Walk of Fame, due to his disturbing treatment of women and other actions that do not meet the shared values of the City of West Hollywood, the region, state, and country," reads the agenda item, The Hollywood Reporter said Monday [8/6/2018].
The Editor says...
The collection of celebrity stars in the sidewalks of Hollywood is an exercise in idolatry.
'This is huge': US Ambassador Grenell quietly blocks $400 million transfer from Germany to Iran. A transfer of nearly $400 million in cash to Iran has been blocked by Germany's central bank in what appears to be a response to efforts by the U.S. ambassador to Germany. Last month, Ambassador Richard Grenell urged Berlin to prevent Iran's withdrawal of large sums of cash from German bank accounts in an effort to offset U.S. sanctions that took effect following Washington's withdrawal from the 2015 Iran nuclear deal.
Venezuela's Maduro says drone blast was bid to kill him, blames Colombia. At least one explosion rocked a military event where Venezuelan President Nicolas Maduro was giving a speech on Saturday [8/4/2018] and the government said it was a failed assassination attempt involving drones carrying explosives.
Venezuela: Always a bad sign when your military scatters and runs. As with everything else in socialist Venezuela, truth is experiencing some shortages. So it's not all that clear whether the 'incident' that went down in Venezuela on Saturday afternoon [8/4/2018], [...] was really an 'assassination attempt' on President Nicolas Maduro, from two drones carrying the moldable explosive known as C-4, as the Venezuelan government claimed, or else the noise from a gas canister explosion from a nearby apartment building, as local firemen have alleged.
The Editor says...
In the video, the Venezuelan President didn't seem very alarmed by the incident. It was almost as if he was expecting the disruption at about that time. The attack was apparently an attempt to use a drone to deliver a bomb to the target, but it failed to get anywhere close to him. That also suggests it was a stunt planned by the "victim" himself.
Wells Fargo apologizes and admits error that caused hundreds of people to lose their homes because of a computer malfunction. Wells Fargo has apologized on Friday [8/3/2018] for a error they made that caused hundreds of customers to lose their homes over a five-year period. The San-Francisco based bank claimed that a calculation error utilizing the company's mortgage underwriting tool caused 625 customers to be effected [sic]. Those customers where wrongly denied access to modifications that would make their loans more affordable. 400 of those cases resulted in actual home foreclosure, the Charlotte Observer reports.
Sen. Mark Warner Strays from Dem Talking Point, Says Foreign Interference Didn't Favor Any Party. Sen. Mark Warner (D-Va.), vice chairman of the Senate intelligence committee, seems to have strayed from the Democrats' talking point, reinforced by Obama-era intelligence agencies, that Russia interfered in the 2016 presidential election specifically to ensure that Donald Trump was victorious. Warner stated: "This is one where there is no Democratic or Republican answer since clearly the goal of our adversaries was not to favor one party over the other. It was to wreak havoc and split divisions."
McCain Flunky Who Weaponized the IRS Now Controls All Internal DoJ/FBI Probes. As corruption continues at the DoJ/FBI, it is important to know the name of an operative who is working behind the scenes in a powerful position. That person is Henry Kerner. Former McCain staffer, Henry Kerner, a deep state bureaucrat, has oversight over whistleblowers and internal probes. This is no ordinary staffer. This man hates conservatives. Senator John McCain's Staff Director Henry Kerner urged the IRS' Steve Miller and Lois Lerner to target the tea party and any conservative groups until its "financially ruinous". Henry Kerner is now in charge of all internal investigations in the government. In his past positions, he was in investigative control during Obama's scandals.
BBC, Fox News, PBS ranked as TV's most trusted news brands. The BBC, Fox News and PBS are the most-trusted TV news brands in the U.S., according to an analysis released Tuesday [7/31/2018]. Research Intelligencer by Brand Keys surveyed 4,012 viewers who rated broadcast and cable brands that they watch more than three times per week "to determine how much trust those brands engendered." The BBC came in first, with 90 percent of those surveyed saying they trust the British news outlet.
Feinstein was 'mortified' by FBI allegation that staffer was spy for China: report. U.S. Sen. Dianne Feinstein fired a staffer a few years back who was allegedly part of an effort to spy and pass on political intelligence to the Chinese government. The staffer, based in the Democrat's San Francisco office, was suspected of delivering political intelligence, though nothing top secret, to officials based at the local Chinese Consulate, Politico reported. The FBI informed Feinstein, the then-chairwoman of the Senate Intelligence Committee, about five years ago about the staffer and allegations that the staffer was a spy.
Donald Trump Surprises Rush Limbaugh to Congratulate Him for 30th Anniversary. President Donald Trump surprised talk radio host Rush Limbaugh by calling him on the air to congratulate him on the 30th anniversary of his show. "You're a very special man, Rush, and you have people that love you. I'm one of them," Trump said. "What you do for this country, people have no idea how important your voice is." Limbaugh thanked Trump for the courtesy, noting that the president meant a great deal to his listeners.
Stupid People Start 90% of California Wildfires: Study. The left is already blaming climate change for the spate of destructive California wildfires, which have already killed eight people and burned hundreds of thousands of acres. The UK Guardian reports, with incredulity, that Rep. Doug LaMalfa (R-CA) does not believe that climate change is responsible for the devastation in his district, even though he is "surrounded by fire." Yet as even the liberal SFGate.com notes, the vast majority — some 90% — of California wildfires are started by humans behaving extremely stupidly.
City forced to correct misspelled YIELD on the road. It was an oops that wasn't easy to fix. The "yield" sign painted on West Street in Gardner, Mass., made drivers do just that, but for the wrong reason. It was spelled Y-E-I-L-D. The department of public works (DPW) corrected the misspelling overnight Monday [7/30/2018] into Tuesday.
Young people don't want construction jobs. That's a problem for the housing market. The construction business is having trouble attracting young job seekers. The share of workers in the sector who are 24 years old or younger has declined in 48 states since the last housing boom in 2005, according to an analysis of U.S. Census data by Issi Romem, chief economist at construction data firm BuildZoom. Nationally, the share of young construction workers declined nearly 30% from 2005 through 2016, according to Mr. Romem. While there's no single reason why younger folks are losing interest in a job that is generally well-paid and doesn't require a college education, their indifference is exacerbating a labor shortage that has meant fewer homes being built and rising prices, possibly for years to come.
Greece's fire disaster another gift of socialism. The terrible wildfire in Greece, which destroyed the seaside village of Mati and killed, at last count, 91 people, was all the more awful because it need never have happened. Unfortunately, it did, and it was a problem of not having free markets. The New York Times, in an op-ed from a Greek journalist who knows the place, points out that scores of unpermitted buildings and a non-working property registry, along with the corruption that makes its home in any such setting, were at fault. [...] Unpermitted buildings? You know, like the shacks and shantytowns of the Third World? Sounds like it.
Ron Dellums: Anti-American pro-communist to the very end. Yes, I'm gonna go with "rest in peace" for the late Rep. Ron Dellums (D-Calif.), former Democratic Socialists of America vice chair and one of the most extreme left-wing Democratic congressmen. He was actually a nice guy. [...] Dellums was also known as someone who could keep a secret; one of the tropes on Capitol Hill I heard in those old days was that Dellums had an impeccable record of never leaking classified information as chief of the House Armed Services Committee. He was a guy who could be trusted with America's secrets, at least around the swamp, not playing the swamp games we see now. The problem is that Dellums's civility concealed a strategic-minded general's mentality for the big game of turning the U.S. into a socialist state. A social worker with an interest in boosting domestic spending, he joined the House Armed Services Committee — not to support U.S. defense, but to drain money from it for domestic programs while he was a power in Congress.
Keywords: Triggering, snowflakes, fragile, crybabies.
Counselors Claim Clients Face Trump Anxiety: 'Fear of the World Ending'. A correspondent with the Canadian Broadcasting Corporation (CBC) based in Washington, DC, ferreted out a counselor who is treating people for a "collective anxiety" caused by President Donald Trump "volatility." "There is a fear of the world ending," Elisabeth LaMotte, founder of D.C. Counseling and Psychotherapy Center, told CBC. "It's very disorienting and constantly unsettling."
Therapists claim patients are experiencing President-related anxiety due to Potus' policies and Twitter feuds. Therapists across the United States say that ever since president Donald Trump took office patients have been experiencing more anxiety — and it's affecting both Trump critics and supporters. Several therapists spoke to Canada's CBC News saying that many of their patients have a fear about the country's future and if Trump will 'blow us all up.' 'There is a fear of the world ending,' DC therapist Elisabeth LaMotte said. 'It's very disorienting and constantly unsettling.' LaMotte said there is a 'collective anxiety' about how Trump's decisions could affect everyone. Patients and therapists refer to it as 'Trump Anxiety Disorder', although it is not an official diagnosis.
The Editor says...
[A] foolish man built his house upon the sand: And the rain descended, and the floods came, and the winds blew, and beat upon that house; and it fell: and great was the fall of it.
China Expands Surveillance of Sewage to Police Illegal Drug Use. Dozens of cities across China are applying an unusual forensic technique to monitor illegal drug use: chemically analysing sewage for traces of drugs, or their telltale metabolites, excreted in urine. One southern city, Zhongshan, a drug hotspot, is also monitoring waste water to evaluate the effectiveness of its drug-reduction programmes, says Li Xiqing, an environmental chemist at Peking University in Beijing who is working with police in these cities. Li says Zhongshan police have already used the technique to help track down and arrest a drug manufacturer. He says a handful of cities are planning to use data from waste water to set targets for police arrests of drug users, some as early as next year.
Venezuelan inflation heading towards 1,000,000 percent. Inflation in Venezuela could top 1 million percent by the end of 2018 as its five-year-long economic crisis deepens, the region's observer at the International Monetary Fund said. Years of hyperinflation and destitute conditions in the oil-concentrated nation compare to Germany after World War I and Zimbabwe at the beginning of the last decade, said Alejandro Werner, head of the Western Hemisphere for the IMF, in a blog post.
NJ 101.5 suspends 'Dennis & Judi' hosts for racist comments about N.J. attorney general. New Jersey 101.5 radio hosts Dennis Malloy and Judi Franco have been suspended for 10 days over the duo's derogatory comments about state Attorney General Gurbir S. Grewal. Malloy and Franco, who have hosted 101.5's Dennis & Judi Show since 1997, repeatedly referred to Grewal, the nation's first Sikh attorney general, as "turban man" during Wednesday's broadcast.
The Editor says...
If you are a prominent public official and you don't want to be called "Turban Man," then stop wearing a turban in public. This is America. If you don't act like an American, don't complain about the treatment you get. Assimilate or leave!
California teen wakes up couple to ask for Wi-Fi code as he burglarizes their house, police say. Because he is under 18, the name and photo of the suspect have not been released.
Attorney calls Markeis McGlockton's death 'cold-blooded murder' by 'wannabe cop'. Prominent civil rights attorney Benjamin Crump stood in front of the Pinellas County Justice Center on Thursday [7/26/2018] and demanded justice for the family of Markeis McGlockton. Flanked by the slain man's parents and girlfriend, Crump told reporters that McGlockton's shooting death last week was "cold-blooded murder ... by the self-appointed, wannabe cop Michael Drejka." The July 19 incident started when Drejka, 47, confronted the girlfriend, Britany Jacobs, over why she had parked in a handicap-reserved parking space without a permit outside a convenience store near Clearwater. McGlockton, in the store with his 5-year-old son, got wind of the argument and walked outside, where he shoved Drejka to the ground. Drejka then pulled out a gun and fatally shot McGlockton, 28.
Bill Cosby recommended to be classified as a 'sexually violent predator' by Pennsylvania board. The Sexual Offenders Assessment Board is recommending to the court that recently convicted Bill Cosby be classified as a sexually violent predator. According to the Assocaited Press, The Montgomery County District Attorney requested a hearing regarding the report on Tuesday where a judge will determine if Cosby will be classified as a sexually violent predator. Following his conviction, the state law requires Cosby to register as a sex offender and the possible prediator classification would result in increased treatment in prison and increased notification of neighbors when and if he is released.
How Many Times Did Barack Obama Meddle In Other Nations' Elections? Answer: A LOT. Barack Obama was the meddler-in-chief — a U.S. president who attempted to shape the elections of foreign nations multiple times during his eight years in the White House. The media knew of it, downplayed it, and since 2016, has all but ignored it. The fact is, when it comes to election meddling, the Russians have nothing on one Barack Hussein Obama.
Alaska Democratic congressional candidate doesn't live in state — or plan to campaign there. Carol Hafner hopes to represent Alaska in Congress — even though she doesn't live in the state nor does she plan to campaign there. Hafner, a Democrat running for Congress in Alaska's primary, listed two addresses on her candidate filing form: one in New Jersey and one in South Dakota. While she considers South Dakota her home base, Hafner told The Associated Press that she travels a lot and has been in New Jersey to deal with an illness in the family. Hafner said she's never been to Alaska and does not plan to campaign in person.
The Democratic Party's New Motto Same As A Used Car Dealership, Personal Injury Law Firm. House Democrats revealed their new slogan for the upcoming 2018 elections, but whoever was behind it probably forgot to check that it's identical to the one used by a used car dealership in Texas and a personal injury law firm in Florida. The motto, "For the People," debuted at a private meeting with members Wednesday, according to Politico. Yet Democrats probably won't like to know that their new message for American voters is the same used by some of the sleaziest businesses in the country, namely used car dealers and ambulance chasers.
House Democrats Pivot Away From 'Better Deal' Slogan to New 'For the People' Slogan. House Democrats are now pivoting away from their "Better Deal" slogan, according to Politico. In a private meeting Wednesday, House Democrats announced that they will be employing the new slogan "For the People" in the 2018 midterm elections. [...] The new slogan will reportedly not have the same dramatic rollout that the "Better Deal" slogan did last year, featuring a press conference with Democratic leadership. Their old slogan was roundly mocked by the media and even some Democratic lawmakers.
House intel committee votes down Dems' motion to subpoena Trump's translator. Republicans voted down a motion introduced by two Democrats on the House Intelligence Committee to subpoena President Trump's translator. Committee members Rep. Adam Schiff and Rep. Eric Swalwell, both of California, announced the congressional vote on Twitter. Mr. Schiff said the move was "an extraordinary remedy," but the president's rhetoric at the summit and in subsequent days necessitated it.
Antifa Attempts Attack on Lauren Southern — Fails Miserably. The Canadian-born Conservative activist Lauren Southern is on tour in Australia. In a video posted to YouTube promoting her visit, Southern said Australians are "at a crossroads." She asks "Do you want to retain your culture, do you want to retain your borders, family, identity." As you'd expect, her tour will focus mainly on immigration and multiculturalism. The 23-year-old commentator rose to popularity almost exclusively online, working for the right-wing group Rebel Media before pursuing an independent career funded by fan donations, posting her own reports to her YouTube channel that boasts nearly 800,000 subscribers. The cost to see Southern speak in Australia starts at $79 a seat and goes up from there, but it's clear that she didn't have much trouble filling an auditorium despite the cost. Australian media billed her as an "alt-right" activist coming to Australia, which predictably led to Antifa groups planning massive protests against her talks.
Unmasked: Matt Rivitz, Founder of Sleeping Giants, Behind Anti-Breitbart, Laura Ingraham Social Media Mobs. A Monday [7/16/2018] report revealed Matt Rivitz, a San Francisco-based ad executive, as the founder of Sleeping Giants, the anonymous leftist group that organizes social media mobs in an effort to silence conservative voices. According to the Daily Caller News Foundation's (DCNF) Peter Hasson, Rivitz's identity as the until-now anonymous founder is confirmed by clues left in Rivitz's media interviews and social media posts by people in his "social and professional circles." Rivitz himself long ago deleted his Twitter and Facebook accounts, as well as his professional websites.
Woman Who Sought 'Back Channel' Meeting for Trump and Putin is Charged as Russian Agent. A Russian woman who tried to broker a secret meeting between Donald J. Trump and the Russian president, Vladimir V. Putin, during the 2016 presidential campaign was charged Monday and accused of working with Americans to carry out a secret Russian effort to influence American politics. At the behest of a senior Russian government official, the woman, Mariia [sic] Butina, made connections through the National Rifle Association, religious organizations and the National Prayer Breakfast to try to steer the Republican Party toward more pro-Russia policies, court records show. Privately comparing herself to a Soviet Cold War propagandist, she worked to infiltrate American organizations and establish "back channel" lines of communication with American politicians.
Russian redhead gun activist is arrested over 'infiltrating U.S. political organizations for a Kremlin boss before the election'. A 29-year-old Russian woman living in Washington has been arrested and charged with conspiracy to act as an agent of the Russian government while developing ties with U.S. citizens and infiltrating political groups, the U.S. Justice Department said on Monday [7/16/2018]. Maria Butina allegedly worked at the direction of a high-level official in the Russian government who has been sanctioned by the U.S. Treasury's Office of Foreign Assets Control, the Justice Department said in a statement. Butina — a life member of the National Rifle Association — was arrested on Sunday [7/15/2018] and was ordered held pending a hearing set Wednesday, it said.
New Army fitness standards. Now no push-ups, sit-ups. Every time the military changes their fitness requirements lately it leads to controversy. This is mostly because so many of the recent changes created at least the suggestion that accommodations were being made for female recruits, or perhaps even males who couldn't meet the traditional standards. This latest set of changes may sound similar on the surface, but let's not be too quick to judge. Rather than doing two minutes of push-ups and two minutes of sit-ups, new exercises are being added which supposedly better simulate physical demands encountered on the battlefield.
NATO's lavish new headquarters is a danger sign. It is virtually an iron law that mature bureaucracies turn their focus from the ostensible mission to self-preservation and aggrandizement of the bureaucrats. One side benefit of President Trump's attendance at the NATO Summit has been the opportunity to view the huge and lavish new headquarters building the organization proudly opened a couple of months ago.
Deep Fake News. The Brookings Institution warns that "fact checking" will become a lot harder in the 21st century as artificial intelligence becomes better at producing "deep fake news" creating counterfeits so good they are difficult to distinguish from the Real McCoy. "Because the algorithms that generate the fakes continuously learn how to more effectively replicate the appearance of reality, deep fakes cannot easily be detected by other algorithms — indeed, in the case of generative adversarial networks, the algorithm works by getting really good at fooling itself." The technology to fake videos, photographs and sound clips is now so good even Hollywood is increasingly using digital actors. Moreover artificial intelligence can weave these fakes into a superficially self-consistent universe of lies creating a false narrative whose fraudulence can only be exposed by painstaking comparison to reality.
WalkAway founder Brandon Straka denied service at Adorama camera store. A Manhattan camera store has apologized after the founder of the #WalkAway movement, which encourages Democrats to abandon the party, said he was denied service. Brandon Straka said he had already spent a considerable amount of time picking out camera equipment at Adorama on West 18th St. in Manhattan on July 5 when one of the salesmen refused to sell anything to him. "He stared at me with this kind of deadpan expression," Mr. Strakatold The Epoch Times. "And he said: Are you planning to use this equipment for alt-right purposes?'" "'I'm sorry I just don't feel comfortable selling to you,'" he recalled the clerk as saying.
The Editor says...
After you purchase a product, its ownership is transferred, and what you do with that product after leaving the store is entirely up to you. You can bet that if Mr. Straka had wanted to buy photographic equipment to take pictures of his neighbor's wife, or to take snapshots at the next Mardi Gras, the store manager would have supported it 100 percent.
Americans are losing confidence in many things, but not these three. Americans, it seems, are growing increasingly dubious, skeptical, even cynical about many of their once-hallowed institutions. These include especially Congress. But any such disapproval list also contains TV news, newspapers, unions, public schools and even the criminal justice system. Only two institutions — the military and small business — hold an overwhelming net positive opinion in the minds of Americans. The volunteer military has by far the most public confidence — 94 percent with a great deal or some confidence in it.
Episcopal Church considers making God gender neutral. The Episcopal Church formed a committee Wednesday to "provide a pathway" toward revising the Book of Common Prayer to include gender-neutral language. Church leaders called for immediate revisions to correct the "overwhelming use of masculine language" throughout the book, arguing that the language is now a hindrance to spiritual inclusion, according to the Episcopal Church website. "As long as 'men' and 'God' are in the same category, our work toward equity will not just be incomplete. I honestly think it won't matter in some ways," Wil Gafney, a professor of the Hebrew Bible and strong advocate for the edit, told the Washington Post[.]
The Editor says...
God is exactly what he always has been. He does not change. The delusional leadership of the Episcopal Church cannot make him into something else.
Long Island family busted for $25M counterfeiting scheme. Nassau County cops arrested a father and his two sons Tuesday for importing $25 million of phony luxury bags, watches and other accessories, officials said. Mahmood Nasir, 55, was charged with counterfeiting after an investigation by Nassau police and federal authorities found millions of fake goods in his home, at a storage facility and in another rental property. The phony accessories were emblazoned with brand-name goods Rolex, Burberry, Hublot, Gucci, Prada and Louis Vuitton.
Vaccinated children are more likely to develop OCD and other anxiety disorders. A recent study, led by researchers from two Ivy League universities, found a link between vaccines and the onset of anxiety and other related disorders. This shocking find once again calls vaccine "safety" into question, though the mainstream media and other pharma shills are loath to admit it. Even the World Health Organization has quietly admitted that anxiety-related reactions following vaccination are a growing phenomenon — yet, little is being done to rectify the issue. Vaccine dogma and Big Pharma are so powerful that even with mountains of evidence showing harm, the "powers that be" continue to look the other way, all the while pushing for even more vaccinations at seemingly ever-younger ages.
Who Is Joel Davis, Really? [Scroll down] In light of all this, it is unavoidable to ask questions, including: How was it possible for a two-time college dropout to be appointed to a leading role at the head of a defunct charity which then held a leadership position over such a vast coalition of thousands of groups and individuals, with many member-organizations having entire legal departments and staff who could have easily recognized that Davis's charity did not have 501c status?
House Democrat Tulsi Gabbard dodges debates in home state — despite demanding them in 2016: report. A House Democrat is drawing heat in her home state for her history of refusing to participate in debates prior to primary elections. But ironically, U.S. Rep. Tulsi Gabbard of Hawaii resigned from her position with the Democratic National Committee in 2016 because she believed the party hadn't scheduled enough debates among its presidential candidates that year.
Family of baby treated at hospital with bottle of formula gets $18G bill: report. A bottle of formula and a nap cost $18,000, according to a family whose son was treated at a San Francisco hospital after a head injury. Vox.com reported that a family from South Korea was visiting the city in 2016 when their infant son fell off a hotel bed and hit his head. The baby reportedly never lost consciousness, but was crying hysterically. So out of an abundance of caution, the family took the baby to Zuckerberg San Francisco General Hospital, the report said. Doctors quickly determined that eight-month-old Park jeong-whan was fine. The family told the news site that the baby had some formula, took a little snooze and they got on with their vacation. Two years later, the family said they were handed the bill: $18,836.
General Mills quarterly profit drops 13 percent. Cheerios cereal maker General Mills on Wednesday [6/27/2018] reported a quarterly profit that topped analysts' estimates, as its efforts to reduce costs and improve distribution network paid off. Gross margins of the company, which is also known for its Haagen-Dazs and Betty Crocker brands, rose to 36.5 percent in the fourth quarter from 34.7 percent a year earlier.
The Editor says...
Somehow I feel partly responsible. Mrs. Editor refuses to buy Cheerios as long as the boxes feature pictures of a lesbian. Who wants to look at that while eating breakfast?
Keyless Cars and Their Carbon Monoxide Toll. It seems like a common convenience in a digital age: a car that can be powered on and off with the push of a button, rather than the mechanical turning of a key. But it is a convenience that can have a deadly effect. On a summer morning last year, Fred Schaub drove his Toyota RAV4 into the garage attached to his Florida home and went into the house with the wireless key fob, evidently believing the car was shut off. Twenty-nine hours later, he was found dead, overcome with carbon monoxide that flooded his home while he slept. "After 75 years of driving, my father thought that when he took the key with him when he left the car, the car would be off," said Mr. Schaub's son Doug. Mr. Schaub is among more than two dozen people killed by carbon monoxide nationwide since 2006 after a keyless-ignition vehicle was inadvertently left running in a garage. Dozens of others have been injured, some left with brain damage.
Another risk of driverless cars. NPR reported today [6/11/2018] that Waymo is buying a slew of cars to create a driverless taxi fleet with no human overseer required in the car. Emergency takeover would be done by a fleet of well-trained remote admin personnel, via cell phone. There seem to be some massive flaws in that reasoning. One is the need for real-time response. Another is unavailable cell-phone coverage.
Red Hen eateries feel the heat after Sarah Sanders booted from Virginia restaurant with same name. Michael Friedman never imagined that naming his restaurant The Red Hen would be so controversial. But when the co-owner of another restaurant named The Red Hen — this one almost 200 miles away in Lexington, Va. — refused to serve White House Press Secretary Sarah Sanders on Friday night, it was open season on any eatery with Hen in its name. "It was a bit of an interesting day yesterday," Friedman told Fox News. "There were so many negative comments floating in on social media and people calling up my restaurants to threaten us."
Now that Obama's gone...
Army training will now focus on actual battlefield skills, not social issues. In a series of servicewide memorandums approved by Army Secretary Mark Esper and Chief of Staff Gen. Mark Milley and obtained by The Washington Times, service leaders are making optional previously mandatory training on issues such as transgender transition and drug abuse. The move, Army leaders argue, is designed to relieve stress on the overburdened troop training regimen and refocus on soldiers' ability to fight in combat.
Red Hen Owner Runs Historic Downtown And They Just Threw Her Under the Bus. Apparently, Meryl Streep's cousin, Stephanie Wilkinson, the owner of the Red Hen and a bully who kicked out Sarah Sanders and her family mid-meal, runs all of Downtown Main Street Lexington. She is the Director of the area. Unfortunately for her, the officials of historic downtown are very unhappy with her rude, bullying tactics. She's been thrown under the bus and rightfully so.
New poll ranks Obama as the worst president since World War II. No wonder there is such a rush to build that ugly monument to Barack Obama in Chicago: the bloom is already off his rose. I suppose it was inevitable that the tidal wave of media flattery would recede from memory and allow the hollowness of his two terms in office to be perceived by those who don't think critically about what they see in the media. But now that President Trump is demonstrating the bankruptcy of the Obama administration economic and foreign policies with solid results that vividly contrast Obama's failures, a new poll has identified him as the worst president since World War II.
Mixed-Race Family Asks Ice Cream Company To Change Flavor Name To Make It More Inclusive. A Louisiana mother of six children and foster mother to other children has a mixed-race family whose children thought that Blue Bell Ice Cream should change the name of a popular chocolate and vanilla ice cream flavor, The Great Divide, to "Better Together."
The Editor says...
Some people have to inject politics into everything. The overwhelming majority of us go to the grocery store, see products on the shelves, and either buy them or don't. Once in a while, someone comes along who's just so special and so victimized and triggered by what she sees, that she undertakes an effort to tell a private company how to run their business — and make a name for herself on social media at the same time.
NHS boss warns of cannabis addiction risk for children after former Tory leader William Hague [calls] for the drug to be legalised. Legalising cannabis risks making children believe it is safe, the head of the NHS warned yesterday [6/18/2018]. In a major intervention, Simon Stevens highlighted serious health dangers, such as addiction and psychosis. He spoke out after former Tory leader Lord Hague urged ministers to be 'bold' and legalise cannabis for recreational use — meaning it could be sold in shops with alcohol and tobacco. The peer claimed the war on the class B drug had been 'comprehensively and irreversibly lost'. But campaigners said it would be wrong to decriminalise a narcotic linked to mental illness, organised crime, violence and road deaths.

Texas Billboard: Liberals Should Keep Driving "Until You Have Left Our Great State Of Texas". This photo was recently posted on Facebook and has already been shared thousands of times.
Texas billboard tells liberals to keep driving until they leave the state. A photo of the sign was posted to Facebook by Kyle Mccallie, of Fritch. He wrote the billboard was six miles east of Vega, a city roughly 35 miles west of Amarillo, on the eastbound side of the highway. Mccallie's post, which was uploaded earlier Tuesday, had more than 8,000 shares as of Tuesday night [6/19/2018].
The Bad Hate The Good: The Southern Poverty Law Center Tries To Smear PragerU. The SPLC smears individuals and groups it differs with by labeling them as some form of "hater" — "racist," "white supremacist," "extremist" and the like. That it is cited and even relied upon by The New York Times, Facebook, Amazon, Google, CNN and others, and that Apple gave the organization a million dollars, is testimony to the moral state of mainstream media and corporate culture in America today. Were the SPLC not quoted and used as a source, there would be no reason to pay it any attention. All the SPLC does is politicize, and thereby trivialize, the fight against racism and other evils.
Southern Poverty Law Center finally pays for its smears. The SPLC rakes in donations by claiming to fight hate, but its lists of hate groups routinely include not just truly vile outfits but also ones that simply don't toe a politically correct line. It went too far in listing Maajid Nawaz and Quilliam, a think tank he founded, in its 2016 "Field Guide to Anti-Muslim Extremists," which proclaimed in part: "Extremists routinely espouse a wide range of utter falsehoods, all designed to make Muslims appear as bloodthirsty terrorists or people intent on undermining American constitutional freedoms." Actually, Quilliam is dedicated to countering extremism, and Nawaz is a practicing Muslim — indeed, a prominent voice for reform within the faith, having turned from extremism during four years in an Egyptian prison for his work with the Islamist group Hizb ut-Tahrir. Nawaz sued, and the SPLC plainly realized it couldn't win: It has agreed to pay $3.4 million to settle the case and also issued a full apology.
Not a Surprise: DC Has Highest Concentration of Psychopaths in the United States. It is often said that Washington, DC is filled with a bunch of nerds dominated by psychopaths. Others say that politics is simply Hollywood for ugly people. These are usually said in a joking manner and often uttered after coming back from a young professional happy hour here in the swamp. Perhaps the most soulless congregation of folks ever assembled can be found at those kind of events. But it turns out that a recent study showing the population density of psychopaths could confirm anecdotal suspicions that these two areas of American life have more in common than either would like to admit.
Texas GOP Endorses Marijuana Decriminalization. The Republican Party of Texas has officially endorsed decriminalization of marijuana, offering yet more proof of the dizzying speed at which attitudes are changing toward marijuana and marijuana prohibition. At the state's GOP biennial party convention in San Antonio last week, assembled delegates lent their overwhelming support to adding four cannabis-related planks to the party platform, including the repeal of criminal penalties for marijuana possession, the expansion of the state's incredibly limited medical marijuana law, a call for the rescheduling of marijuana at the federal level, and the legalization of industrial hemp production. All measures passed with 80 percent of the vote or more.
The Editor says...
The Texas GOP did not vote to decriminalize marijuana. Any assertions to the contrary are false and misleading. The plank in the platform endorsed the re-categorization of marijuana from one Schedule to another in the DEA system of drug possession penalties. The Editor and Mrs. Editor were both present at the Texas Republican State Convention and neither of us heard a word spoken about decriminalizing marijuana. There was a lot of talk about growing "industrial hemp," as if that's something we all need, but in my opinion that's just another way to open the door to Colorado-style legalization of marijuana. If you like Colorado, go there. But don't bring any part of Colorado back to Texas.
Roger Stone Was Offered "Dirt" On Hillary Clinton By An FBI Asset. The salient feature of the whole Russian collusion story is not that the Trump campaign is alleged to have reached out to Russia for help, but that on at least two occasions alleged Russian contacts reached out to Trump campaign operatives with the exact same offer, that is, Russia had "dirt" on Clinton and was willing to give it to the Trump campaign. [...] As far as we know, the first contact was made, apparently by Joseph Mifsud, with George Papadopoulos. Mifsud, you'll recall, knew Stefan Halper, the FBI asset, and Halper knew Christopher Steele who was busily working on the Trump dossier.
Cartoonist claims he was fired after 25 years for making fun of Trump. A cartoonist who was terminated by his employer of 25 years on Thursday believes his provocative portrayals of President Donald Trump were the cause of his firing. Rob Rogers, a cartoonist for the Pittsburgh Post-Gazette, was let go by the paper after six of his cartoons in a row were spiked and his employer tried to change his terms of working, he told the Guardian. His final cartoon showed a bloated man representing the United States, impaled on a steel girder with "trade war" written on it, waving the Stars and Stripes and saying: "Take that, Canada, Mexico and Europe."
No, the firing of the Pittsburgh Post-Gazette cartoonist is not a threat to free speech. The press has had a field day pumping the news that a publisher's firing of a political cartoonist in Pittsburgh is a sign of President Trump's war on freedom of the press. It's nonsense. Whatever President Trump's voiced beefs with the mainstream media, rest assured, he had nothing to do with this. And it actually happens all the time, and on both sides of the political spectrum.
In Venezuela, the End Is Near. We have chronicled the accelerating destruction of Venezuela, once one of the world's more prosperous countries, by socialism. The most recent news from that country is chilling:
• According to Gallup, Venezuela is now the least safe place in the world, having tumbled below Afghanistan in the rankings. Only 17% of Venezuelans say they feel safe walking alone at night.
• Polio has re-emerged in Venezuela, 30 years after it was declared extinct there. The country's health care system is verging on non-existent, as hospitals not only have run out of medicines, in some instances they don't even have running water.
• Venezuela is said to have more proven oil reserves than any other country, but its socialist government can't keep the petroleum flowing, as pretty much everyone who is competent enough to do so has left the country. As a result, Venezuela's oil exports are heading toward zero.
• Having frustrated the creation of wealth, Venezuela's socialists have done what they thought was the next best thing — they created a lot of currency. With an inflation rate now at 24,600%, that currency is essentially worthless.
Bestselling Author Fired for Mocking Publisher's Diversity Policy. Publishing giant Penguin Random House has announced that its authors are no longer to be chosen on literary merit but according to a politically correct quota system "taking into account ethnicity, gender, sexuality, social mobility and disability". This is mad, stupid, and insulting. But not nearly as mad, stupid, and insulting as the decision by the Mslexia Short Story Prize, a literary competition for women authors, to sack one of its judges[,] Lionel Shriver[,] as a punishment for daring to criticise the new policy.
Smokey Bear the (Unwitting) Arsonist: The Culture War and Western Wildfires. "We held then, and we hold now, that economics alone is not a sufficient basis for determining whether wilderness shall survive or die," said Secretary Orville L. Freeman in reference to the construction of Interstate 70 in Colorado in 1968. This sentiment, imbued with an almost religious confidence, embodies the defiant attitude of liberal environmentalism that still haunts the United States. As wildfires rip through California, Colorado, and New Mexico, it must not be forgotten how we arrived here. Smokey needs more paws to get the job done or, at the very least, more cash. In a statement from last summer, U.S. Agriculture Secretary Sonny Perdue noted how Forest Service funding continues to disproportionately flow towards active fire suppression over forest management. This reflects research from the University of Arizona which points towards fires becoming both more numerous and larger.
Air Force's 'most wanted deserter' discovered working on Janet Napolitano's staff. The former head of the Department of Homeland Security, Janet Napolitano, managed to overlook the Air Force deserter with top-security clearance on her staff who has been a "most-wanted" fugitive for 35 years.
Federal judge halts secret FEC plot to target GOP groups. A federal judge has blown the whistle on a secret Federal Election Commission scheme to punish some Republican groups and their donors, the latest sign of an anti-GOP bias at the elections watchdog. In a newly released decision, Trump-appointed District Court Judge Trevor N. McFadden shined a spotlight on the FEC's general counsel who recommended action against four Republican groups but dismissal of similar charges against supporters of a Democratic group, "Black Men Vote." In the case, the Washington-based Campaign Legal Center charged that the FEC wrongly voted to drop charges against three of the Republican super PACS accused of taking "straw donations" through corporations.
Judge Orders Mueller to Name Key Players in Manafort's Ukraine-Lobbying Operation. A federal judge has ordered Special Counsel Robert Mueller to identify by Friday all of the individuals and companies involved in former Trump-campaign chairman Paul Manafort's Ukraine-lobbying operation. Mueller will be required to turn over to the defense the names of top European politicians who participated in Manafort's efforts to lobby on behalf of Ukraine without registering as a foreign agent, as is required under U.S. law, Politico first reported.
FBI Sweep Takes Down More Than 70 'Nigerian Prince' Email Scammers. The FBI arrested more than 70 people in the U.S. and Nigeria for engaging in a massive email scam that has taken millions of dollars from U.S. companies in 2018 alone. The arrests came over a month after an email protection group, Agari, exposed the scammers behind the infamous "Nigerian Prince" email scams that have been appearing in American inboxes for years. The FBI announced Monday it had taken down more than 70 members of the west African crime ring in an action dubbed Operation Wire Wire, The Wall Street Journal reported. The organization had mostly targeted the finance departments of U.S. companies, posing as business partners seeking bill payments.
These Are The Drunkest Cities In America. Drinking in excess has proven to claim the lives of thousands of Americans each year. Alcohol is responsible for about 1 in every 10 deaths among working-age adults. As enjoyable as drinking can be, those who consume too much often feel long-lasting effects. In 2016, Appleton, Wisconsin was awarded the title of the Drunkest City In America. They ended up losing the honors this year to nearby Green Bay. It would appear that many cities in Wisconsin have nothing better to do than drink. There are still plenty of other states where people rely heavily on alcohol to get through their day.
The Editor says...
What cities are on the other end of the scale? Salt Lake City? Abilene? Waxahachie?
Connecticut Town Bans For Sale Signs In Front Of Homes. Guess Why. Here's an odd little story which is probably going to be cropping up more and more in blue states in the near future. The town of New Canaan, Connecticut is instituting a change this summer. Their Board of Realtors has passed a ban on "For Sale" signs placed in front of the properties where residents are selling their houses and moving away. Why is that? Well, if you ask the local government they'll tell you that there's simply no need for the signs anymore. Savvy shoppers are looking for houses online and besides... those signs are an eyesore anyway.
'Commie Cadet' Spenser Rapone Leaving Army with 'Other Than Honorable Discharge'. Eight months after his communist social media postings and conduct caused a conservative media firestorm, 2nd Lieutenant Spenser Rapone (better known as "the commie cadet") is reportedly being processed out of the Army with the most severe type of military administrative discharge — an "other than honorable discharge." Rapone, you may recall, is the avowed Marxist and Antifa supporter who posted pictures of himself on social media promoting pro-communist messages and expressing an intention to infiltrate the U.S. military.
Senate Select Intel Staffer Targeted Trump Campaign Adviser In Aggressive Leak Campaign. Former Trump campaign adviser Carter Page was the primary target of a Senate Select Intelligence Committee (SSIC) staffer indicted for lying about his contacts with reporters, according to an indictment released on Thursday [6/7/2018]. James Wolfe, the former director of security for the SSIC panel, was in contact with at least three reporters at around the time they published articles about Page, an energy consultant who is a central player in the investigations into possible collusion between the Trump campaign and Russian government. Wolfe, 57, is charged with lying to the FBI during a Dec. 15, 2017 interview about whether he knew the journalists and had contact with them on certain dates.
A shocking 83% of junior U.S. Navy officers lacked proficient seamanship skills in spot test. The Navy has identified deep deficiencies in seamanship among its junior officers, with just 27 of 164 first-tour officers passing competency checks with "no concerns," according to an internal review obtained Wednesday by The Washington Times. The study was ordered after two naval collisions claimed the lives of 17 sailors last year and put the Navy in the spotlight. Both maritime disasters, the Navy concluded, were avoidable and stemmed from failures of leadership aboard both vessels. In the internal message, written by Vice Adm. Richard Brown, commander of Naval Surface Force Pacific, the Navy identified concerns with 137 of 164 junior officers who were randomly tested.
Pope Francis to host oil executives to talk about combating climate change. Pope Francis will convene a meeting of oil producer and investment firm executives next week at the Vatican to discuss what the industry can do to address climate change, according to a report. Companies such as BlackRock, BP, ExxonMobil, and Equinor are expected to be represented at the gathering, which will likely take place on June 9, per Axios. The conversation's focus will be aligned with Francis' 2015 "On Care For Our Common Home" encyclical, a papal document arguing climate change is caused by humans and that world leaders were not doing enough to mitigate it, sources told the news outlet.
Black unemployment rate hits new record low in May. The unemployment rate for black workers hit new record lows in May, the Labor Department's Bureau of Labor Statistics reported Friday [6/1/2018]. Black unemployment fell sharply to 5.9 percent, beating out the 6.6 percent record low that was set a month earlier. The unemployment rate for Hispanic workers hit a record low in April, at 4.8 percent, but it rose slightly to 4.9 percent in May.
America has a massive truck driver shortage. Here's why few want an $80,000 job. America has a massive shortage of truck drivers. Joyce Brenny, head of Brenny Transportation in Minnesota, increased driver pay 15 percent this year to try to attract more drivers. Many of her drivers now earn $80,000, she says, yet she still can't find enough people for the job. About 51,000 more drivers are needed to meet the demand from companies such as Amazon and Walmart that are shipping more goods across the country, according to the American Trucking Associations. The driver shortage is already leading to delayed deliveries and higher prices for goods that Americans buy. The ATA predicts that it's likely to get worse in the coming years. Many trucking companies are so desperate for drivers that they are offering signing bonuses and pay raises.
Attackers Can Use Sonic and Ultrasonic Signals to Crash Hard Drives. Researchers have demonstrated how sonic and ultrasonic signals (inaudible to human) can be used to cause physical damage to hard drives just by playing ultrasonic sounds through a target computer's own built-in speaker or by exploiting a speaker near the targeted device. Similar research was conducted last year by a group of researchers from Princeton and Purdue University, who demonstrated a denial-of-service (DoS) attack against HDDs by exploiting a physical phenomenon called acoustic resonance. Since HDDs are exposed to external vibrations, researchers showed how specially crafted acoustic signals could cause significant vibrations in HDDs internal components, which eventually leads to the failure in systems that relies on the HDD.
Venezuela's Road To Serfdom. Venezuela trudged further down its road to serfdom when a sham election on May 20 returned Nicolas Maduro to the presidency for another six-year term. Venezuela's experiment with democratic socialism has now run its course from early optimism through economic dysfunction and now ever-closer to political tyranny.
Poland Wants To Pay US $2 Billion For Its Permanent Military Presence. Poland is willing to pay the U.S. up to $2 billion for the installment of a permanent American military base in the nation, according to a document Polish news portal Outlet obtained. "This proposal outlines the clear and present need for a permanent U.S. armored division deployed in Poland, Poland's commitment to provide significant support that may reach $1.5-2 billion by establishing joint military installations and provide for more flexible movement of U.S. forces," the Polish defense ministry states in the document.
The Editor says...
Great. Now how about Japan, Germany, Portugal, Belgium, Australia, and South Korea?
101 grads owe over $1M in federal student loans, with more students expected to follow suit. A total of 101 graduates in the U.S. owe at least $1 million in federal student loans compared to only 14 owing that much just five years ago. The latest Education Department figures reveal that thanks to skyrocketing education costs, living expenses, crippling interest rates and additional fees, more graduates expected to join the club of debtors who may not ever pay back their loans, the Wall Street Journal reported.
'Heretic' in the Vatican. Celebrated by progressives around the world for his push to update and liberalize aspects of church doctrine, [Pope] Francis is facing fierce blowback from traditionalists who take issue with his openness to Muslim migrants, his concern for the environment and his softer tone on divorce, cohabitation and homosexuality. Opposition has become so heated that some advisers are warning him to tread carefully to avoid a "schism" in the church.
Trust in Self-Driving Cars is Wavering. A study conducted by AAA last month found that 73 percent of Americans don't trust the current iteration of autonomous vehicle technology. That number is up from 63 percent as noted in late 2017.
Tesla in Autopilot mode crashes into police car. Authorities say a Tesla sedan in Autopilot mode has crashed into a parked police cruiser in Southern California.
Self-driving car caught on camera running red light. An self-driving car prototype failed in dramatic fashion last week when it ran a red light in Jerusalem with a TV news crew on board. The Ford Fusion built by Intel-owned Mobileye was nearing the end of a successful demonstration run, News 10 reports, when the light turned red and it cruised right through the intersection with the cameras rolling.
Uber self-drives robo-cars out of Arizona after fatal crash. Uber is pulling its self-driving cars out of Arizona. The ride-sharing company's reversal was triggered by the recent death of woman who was run over by one of its robotic vehicles while crossing a darkened street in a Phoenix suburb. The decision announced Wednesday means Uber won't be bringing back its self-driving cars to the streets to Arizona, eliminating the jobs of about 300 people who served as backup drivers and performed other jobs connected to the vehicles.
FBI repeatedly overstated encryption threat figures to Congress, public. The FBI has repeatedly provided grossly inflated statistics to Congress and the public about the extent of problems posed by encrypted cellphones, claiming investigators were locked out of nearly 7,800 devices connected to crimes last year when the correct number was much smaller, probably between 1,000 and 2,000, The Washington Post has learned. Over a period of seven months, FBI Director Christopher A. Wray cited the inflated figure as the most compelling evidence for the need to address what the FBI calls "Going Dark" — the spread of encrypted software that can block investigators' access to digital data even with a court order. The FBI first became aware of the miscount about a month ago and still does not have an accurate count of how many encrypted phones they received as part of criminal investigations last year, officials said. Last week, one internal estimate put the correct number of locked phones at 1,200, though officials expect that number to change as they launch a new audit, which could take weeks to complete, according to people familiar with the work.
Publix grocery in Charleston censored 'Summa Cum Laude' on graduation cake. Saturday was Jacob Kosinski's big day. His whole family, many from out of town, saw the Charleston, South Carolina, student graduate from his Christian-based homeschool program with a 4.79 grade point average and the coveted honor of summa cum laude. His mother, Cara Koscinski organized a graduation party for her 18-year-old son. For the occasion, she ordered a cake online from her nearest grocery store, Publix, which lets customers build their own cakes complete with a customized inscription, which they enter into a little message box. Carefully, she typed in the message she wanted on the cake: "Congrats Jacob! Summa Cum Laude class of 2018." The Publix software was unhappy with the word cum. In Latin, cum is the preposition "with," as in summa cum laude "with the highest distinction."
Journalist Who Vowed to Expose George Soros, Found Dead. An investigative journalist, who went undercover to infiltrate violent leftist groups such as Antifa, has been found dead shortly after he vowed to expose billionaire globalist, George Soros. 33-year-old Bechir Rabani was a hugely popular Swedish independent reporter, well known for his daring exposés.
Obama Is Lawyering Up After Discovering He's Being Implicated In The Biggest Scandal In US History. Obama, Hillary, Comey, Strzok, and many others are about to get the slap back to the reality that they have sorely needed for quite some time now. Technical glitches in the form of the delete button and a hammer don't last too long in a world where everything that has ever been sent through any device is never truly gone.
Republicans Introduce Resolution for Second Special Counsel to Investigate FBI and FISA Abuse. Twenty-five House Republicans have introduced a resolution officially calling for a second Special Counsel to investigate FBI misconduct and FISA abuse during the 2016 presidential election. "Here's the now filed 12 pg[page] H.Res.907 w[ith] 25 original cosponsors, detailing misconduct at highest levels of DOJ/FBI re FISA abuse, how/why Clinton email probe ended & Trump-Russia probe began. Also calls for 2nd Special Counsel," Republican Congressman Lee Zeldin tweeted Friday. As mentioned, the legislation is twelve pages long and details two dozen reasons — including the handling of the criminal investigation into Hillary Clinton — why the Special Counsel is necessary.
Dancing surgeon accused of leaving patient brain-damaged. A plastic surgeon who filmed herself singing and dancing around the operating table as she performed procedures was accused of leaving a patient with "catastrophic" brain damage. Dr. Windell Davis Boutte uploaded over 20 clips of herself prancing around next to patients while singing along to hip-hop tunes. She even sliced someone open for the camera as "Cut It" by O.T. Genasis blared out in the background. Icilma Cornelius suffered heart failure after being pushed into having a pre-wedding tummy tuck at Boutte's clinic in Lilburn, Georgia, in February 2016, the Atlanta Journal-Constitution reports.
Mystery in Mueller probe: Where's the hacking indictment? In the year since the start of special counsel Robert Mueller's investigation, one thing has been notably absent: a public indictment of any Russians for the hacking of the Democratic National Committee (DNC). Mueller has charged President Trump's former campaign chief, secured guilty pleas from several individuals in Trump's orbit and indicted 13 Russians for an elaborate plot to leverage social media to influence the American electorate. But the special counsel has yet to announce charges for the hacking of the DNC, even though the intelligence community and private cybersecurity experts linked the attack to the Russian government more than a year ago.
Human Rights Activist Files RICO Suit Against Fusion GPS Founders. A prominent human rights activist is suing two of the founders of Fusion GPS and several Venezuelan businessmen under a statute usually associated with the Mafia. Thor Halvorssen, the president of the Human Rights Foundation, claims that Glenn Simpson and Peter Fritsch, two former Wall Street Journal reporters who founded Fusion, engaged in a conspiracy to retaliate against him for blowing the whistle on one of Fusion's clients, a Venezuelan power plant company called Derwick Associates. The two Fusion founders were hired to produce a dossier and a media campaign "to depict Halvorrsen as a pedophile, heroin addict, and embezzler of the Foundation's money," reads Halvorssen's lawsuit, which he filed under the Racketeer Influenced and Corrupt Organizations Act (RICO) statute.
Sweden distributes 'be prepared for war' leaflet to all 4.8 million homes. The Swedish government has begun sending all 4.8 [million] of the country's households a public information leaflet telling the population, for the first time in more than half a century, what to do in the event of a war. Om krisen eller kriget kommer (If crisis or war comes) explains how people can secure basic needs such as food, water and heat, what warning signals mean, where to find bomb shelters and how to contribute to Sweden's "total defence". The 20-page pamphlet, illustrated with pictures of sirens, warplanes and families fleeing their homes, also prepares the population for dangers such as cyber and terror attacks and climate change, and includes a page on identifying fake news.
Florida judge rules ballots were illegally destroyed in Wasserman Schultz race. A Florida Circuit judge ruled Friday [5/11/2018] that that the state's second-most populous county violated state and federal laws by destroying ballots from a 2016 Democratic primary race which Rep. Debbie Wasserman Schultz won. Circuit Judge Raag Singhal decided that the records were wrongly destroyed because the laws require elections offices to keep the ballots in federal elections for 22 months. Elections Supervisor Brenda Snipes destroyed the ballots just after 12 months, the Sun-Sentinel reported. The judge also noted that because the ballots were subject to a lawsuit, only a court order should have allowed their destruction.
Teen who started devastating wildfire ordered by judge to pay more than $36 million in restitution. A teen who started a massive wildfire in Oregon has been ordered by a judge to pay nearly $37 million over the next decade. Hood River County Circuit Judge John Olson awarded the restitution totaling $36,618,330.24 to cover the costs of firefighting, repair and restoration, according to the Oregonian. "Having reviewed the arguments presented by the parties, the court is persuaded that an award of more than $36 million in restitution does not violate either the state or federal constitution," the judge wrote in Monday's [5/21/2018] decision, according to the newspaper.
Pope Francis tells gay man 'God made you like this and loves you like this'. Pope Francis has told a gay man that God loves him during a private meeting, it has been claimed. In a private dialogue, the Pontiff is understood to have told Juan Carlos Cruz, a victim of sexual abuse at the hands of Catholic priests, that God loves gay people and it is fine to be homosexual.
Pope's reported comment to a gay man may indicate a new level of acceptance of homosexuality. Pope Francis has reportedly told a gay man that "God made you that way and loves you as you are," apparently pushing the pontiff's acceptance of homosexuality to a new level. Francis made the comments to Juan Carlos Cruz, a Chilean victim of priestly sexual abuse who recently spent days with the pope at the Vatican to discuss his ordeal as the pontiff moves to tackle decades of coverups and ostracism of victims in the Chilean church, according to the Spanish newspaper El Pais. Cruz was quoted as having discussed his homosexuality with Francis. "He told me: 'Juan Carlos, I don't care about you being gay. God made you that way and loves you as you are and I don't mind. The pope loves you as you are, you have to be happy with who you are.'"
Fox News Reportedly Turned Oliver North's Former Office Into 'Meditation Room' With Muslim Prayer Rugs. According to Gabe Sherman at Vanity Fair, the network that Ailes long saw as a beacon of political incorrectness "is getting woke." Aside from empowering a new female CEO — which makes Scott the only female CEO leading a major news organization — Fox News has also implemented some cosmetic changes to its offices. Most remarkably: Lt. Col. Oliver North, the pugnacious former Fox News host who left to serve as president of the NRA, has seen his old office the network's Washington Bureau turned into a "mediation room" replete with Muslim prayer rugs, per Sherman.
No purchase required to sit in Starbucks cafes or use the bathroom. Starbucks will allow people to sit in its cafes and use its bathrooms — even if they don't buy anything. The new policy, announced on Saturday [5/19/2018], comes five weeks after two black men were arrested at a Philadelphia store after one asked to use the bathroom before he had made a purchase.
Devin Nunes Is [Formidable]. Devin Nunes, the eight-term Republican congressman from California, is taking on the world's most powerful law enforcement and intelligence apparatus to uncover exactly what happened before and after the 2016 presidential election. Although Nunes is undoubtedly earning some formidable enemies, he seems undaunted — perhaps even emboldened — by the anti-Trump mob on the Left and the Right trying to discredit his investigation and destroy his reputation. Nunes, 44, goes about his business in a way that only a politician who doesn't owe his career to billionaire benefactors or a privileged pedigree can: He is fearless, well-informed, and slightly snarky.
Sarah Sanders Is One Of The 10 Most Admired Women In America. White House press secretary Sarah Huckabee Sanders is one of the most admired women in America, according to a fact check. Snopes fact-checked a popular conservative meme being shared on Facebook that claimed that Sanders is in the top 10 of most admired women in the U.S. The site rated the claim as "true."
Joe DiGenova: Frustrated President May Fire 'Clowns' Sessions and Rosenstein. Attorney Joe diGenova predicted that both Deputy Attorney General Rod Rosenstein and Attorney General Jeff Sessions' days are numbered at the Department of Justice during a telephone interview with Newsmax's Howie Carr Wednesday [5/16/2018]. DiGenova's claim came after the New York Times published a report titled "Code Name Crossfire Hurricane: The Secret Origins of the Trump Investigation". The report has been interpreted by many as an attempt by sources within the "Deep State" to cushion the blow of the imminent DOJ inspector general report, which is expected to be explosive.
Former DNC Chair Donna Brazile Fights to Keep Superdelegates in Dem Primary. Donna Brazile, the former chair of the Democratic National Committee, is defending the party's use of superdelegates in its presidential primary. Brazile has criticized how the DNC favored Hillary Clinton during the 2016 primary but said superdelegates — party insiders who are not pledged to back candidates voters choose — are helpful to the primaries, according to the New York Times. "We have to make sure that we do this in the right way, in the most responsible way, and superdelegates should be a part of that process," she said.
Hotel pools linked to many disease outbreaks. Hotel pools and hot tubs are breeding grounds for waterborne diseases. A study from the Centers for Disease Control and Prevention find a third of all recreational waterborne disease outbreaks occurred in hotel pools or hot tubs and water play venues. Between 2000 and 2014 the CDC recorded nearly 500 disease outbreaks related to recreational water use that resulted in more than 27,000 illnesses and eight deaths. Hotels were the leading setting, associated with 157 of the outbreaks
Crime Plague in the Alamo City. The incidence of reported crimes in San Antonio fluctuates from year to year, affecting the comparative rankings, but despite a reduction in some categories in 2017, heavily Hispanic San Antonio has had a major crime problem since the 1980s. With more than 1,200 drive-by shootings in 1993, many gang-related, San Antonio earned the nickname the "Drive-By City." Reported homicides in 2016 were the highest since 1995. San Antonio also has one of the nation's worst rates of auto theft. In the National Council for Home Safety and Security's 2018 ranking of Texas cities, San Antonio came in at 215 out of 224, making it "one of the most dangerous cities in the nation."
Tesla with Autopilot slams into truck stopped at red light. A Tesla sedan with a semi-autonomous Autopilot feature has rear-ended a fire department truck at 60 mph (97 kph) apparently without braking before impact, but police say it's unknown if the Autopilot feature was engaged.
Update:
Tesla that crashed into truck was on Autopilot. The driver of a Tesla electric car had the vehicle's semi-autonomous Autopilot mode engaged when she slammed into the back of a Utah fire truck over the weekend, in the latest crash involving a car with self-driving features.
Laziness:
Amazon's Alexa to Come Standard With Some New Houses. Is It a Good Idea? Amazon announced its partnership with homebuilder Lennar on Wednesday. The two companies are creating "Amazon Experience Centers," which are model homes that contain appliances controlled by Amazon's virtual assistant Alexa, an artificial intelligence device sold as a home automation and time saving tool. "As one of the nation's largest homebuilders, Lennar offers the potential to enable this experience within easy driving distance of millions of customers," said Nish Lathia, general manager of Amazon Services. The commercials for Alexa and similar devices are tempting. A weary couple comes home from a hard day's work, collapses on the sofa and merely speaks orders to an unobtrusive device tucked away in the corner of the room. The device turns lights on and off, adjusts the thermostat, picks out a good television show and orders pizza. At some point, one can imagine a near future where the consumer won't even have to answer his door — a robot controlled by a virtual home assistant will do it.
Wellstone legacy 'goes dormant' after family ousted in Democratic feud. In the Democratic Party's reckoning following the election of Donald Trump, an unlikely feud has erupted inside an organization at the heart of the progressive movement. Earlier this year, the board of directors of Wellstone Action — an influential training group formed after Paul Wellstone's death — dumbfounded Minnesota Democrats when it voted the late senator's sons off the governing board.
Soros Buying San Diego DA Race. Leftist billionaire George Soros is injecting big money into a San Diego district attorney race as part of his larger effort to install extremist prosecutors across America who will refuse to enforce inconvenient laws that liberals and progressives don't like. Soros, who turns 88 in August, has been underwriting district attorney races across America in an effort to dismantle the criminal justice system, empty the prisons, and sabotage the enforcement of immigration laws.
Why isn't Michael Avenatti in jail? Porn star Stormy Daniels's lawyer, Michael Avenatti, has covered television screens across America, and because of it, he claims his exposure is why he was able to get his hands on the bank records of President Trump's lawyer, Michael Cohen, as well as the bank records of several other Michael Cohens, none of whom have anything at all to do with President Trump. Possession of such stolen property is well worth throwing him in jail all by itself, and even the experts quoted in the leftwing Daily Beast say he's got a problem with that one. But he's actually got a longtime record of sleaze and shadiness and if an investigative report, which ran in the Seattle Times a month ago is correct, he looks like the sort of guy who absolutely belongs in jail. He did despicable things in his business practices that anyone can see is illegal.
Noam Chomsky Says Christians and Republicans Are the Real Threats to the World. Noam Chomsky may not be a household name in most circles, but the philosopher and linguist has a reputation in academic and political circles for his outspoken radical left worldview. In a recent 90-minute speech at St. OlafCollege (no word if Rose Nylund is an alumna), Chomsky declared that he knows the biggest threat to the world. And boy, is it a doozy! So, is the truest threat to the world North Korea? Is it Iran or ISIS? How about Russia or China? Nope. According to Chomsky, nuclear war and climate change are pretty scary, but the big threats to our planet are the Republican Party and Christianity.
DC Think Tank Wins FOIA Case Against Climate Crusading NY AG. A New York court ordered AG Eric Schneiderman Thursday [5/3/2018] to fork over public information about elements of his climate crusade to a libertarian think tank in Washington, D.C. New York Supreme Court ruled in favor of the Competitive Enterprise Institute (CEI) in a case involving a series of documents conservatives believe could reveal a coordinated campaign against global warming dissenters. Schneiderman has consistently used his state's Freedom of Information Law to block past requests.
Nigerians 'escaping' US and asking for asylum in welcoming Canada. Well what should Canada expect when their Prime Minister Justin Trudeau invited them in in the immediate wake of the election of Donald J. Trump! Now the Canadians have the audacity to tell us we have to be more strict about who we admit to the US, so our soil doesn't become a stepping stone to their welcoming arms in the north.
Indictments Are Coming. Americans must open their eyes. Indictments of those responsible for this charade will reaffirm America as a nation of laws and not of people, no matter how big and untouchable those on the left think they are.
Huge icebergs could be towed from Antarctica to Cape Town to solve South African drought crisis. Huge icebergs could be towed from Antarctica to Cape Town in a bid to solve South Africa's worst drought in a century. Marine salvage experts are floating the plan to tug the icebergs to the region after its seen the worst water shortage in decades. Salvage master Nick Sloane told Reuters news agency he was looking for government and private investors for a scheme to guide huge chunks of ice across the ocean, chop them into a slurry and melt them down into millions of litres of drinking water.
CIA emails to journalists don't have to be released to public, judge rules. The CIA can selectively divulge classified information to selected reporters in emails yet withhold that information from other journalists or members of the public when they seek the same information under the Freedom of Information Act, a federal judge in New York has ruled. The decision appeared in the court record on Friday but became more widely disseminated Monday [4/30/2018].
Facebook's dark-ads problem is systemic. Facebook's admission to the UK parliament this week that it had unearthed unquantified thousands of dark fake ads after investigating fakes bearing the face and name of well-known consumer advice personality, Martin Lewis, underscores the massive challenge for its platform on this front. Lewis is suing the company for defamation over its failure to stop bogus ads besmirching his reputation with their associated scams. Lewis decided to file his campaigning lawsuit after reporting 50 fake ads himself, having been alerted to the scale of the problem by consumers contacting him to ask if the ads were genuine or not. But the revelation that there were in fact associated "thousands" of fake ads being run on Facebook as a clickdriver for fraud shows the company needs to change its entire system, he has now argued.
Starbucks drops Jewish group from bias training. Bowing to pressure from African-American activists, Starbucks excluded the Anti-Defamation League from an upcoming daylong anti-bias training session. The ADL, whose mission is to fight anti-Semitism, will play an advisory role in the company's long-term efforts to combat discrimination, Jaime Riley, a Starbucks spokeswoman, told POLITICO Monday [4/30/2018]. But the group won't help develop the curriculum for Starbucks' May 29 mandatory anti-bias training, as originally planned.
Kim Jong Un may have no nukes. The truth about North Korea's nuclear program may leak out. "North Korea's main nuclear test site has collapsed following its latest bomb test and could be at risk of leaking radiation, research by Chinese geologists has shown," the Independent reported this weekend. "As a result, the Punggye-ri site under Mount Mantap has been rendered unsafe for further testing and should be monitored, scientists from the University of Science and Technology of China have said." This happened September 3. This was done either by nature or man.
Canadian Man Switched Genders for Lower Car Insurance. Some dude from Alberta switched genders to save money on car insurance. [...] I view this story with a healthy dose of skepticism. But we've already seen a story where a man changed genders to retire early. Plus, this is Canada.
Lubbock Democrats Blasted for 'Childish Crop Job' that Cuts Melania out of Presidents Photo. Democratic Party members in Lubbock, Texas, have apologized for posting the photo of four previous U.S. presidents and their wives together at Barbara Bush's funeral with Melania Trump cropped out. The original photograph, featuring Laura Bush, George W. Bush, Bill Clinton, Hillary Clinton, Barack Obama, Michelle Obama, George Bush Sr. and the current First Lady, went viral after it was taken at the funeral of Barbra Bush in Houston, Texas, on April 21. The Lubbock County Democratic Party Headquarters also uploaded a version of the photo, but the image they used was edited so that Melania Trump was not in it.
The Editor says...
Imagine the reaction from the news media if Michelle Obama had ever been so amateurishly cropped out of a similar photo.
A soldier just got authorization to wear a beard because of his Norse pagan faith. When the Army authorized beards for religious soldiers in early 2017, the move was a response to years of requests — and a lawsuit — from Sikh soldiers seeking to both serve and adhere to the tenets of their faith. But the directive, technically, applied to all religions. And that includes Norse pagans, also known as heathens, according to an undated memo from the 14th Military Police Brigade at Fort Leonard Wood, Missouri.
Former Sen. Feinstein staffer hired FUSION GPS and it somehow never came up during Senate investigation. A newly declassified congressional report shows that a former staffer to Sen. Diane Feinstein, D-Calif., who sits on the Senate Judiciary Committee, had ties to Fusion GPS and British ex-spy Christopher Steele, both subjects of Feinstein's committee's investigation. Feinstein never disclosed these connections publicly. The former staffer, Daniel Jones, previously served as Feinstein's senior intelligence staffer. Jones currently leads a "research and investigatory advisory" that hired Fusion GPS and Steele after the 2016 election to push the Trump-Russia collusion narrative, [...]
Former Feinstein Staffer Raised $50 Million, Hired Fusion GPS And Christopher Steele After 2016 Election. A declassified congressional report confirms prior reporting by The Federalist that Daniel Jones, a former staffer for Sen. Dianne Feinstein (D-Calif.), hired Fusion GPS and Christopher Steele after the 2016 election to push the anti-Trump Russian collusion narrative. According to the report, Jones, who runs an investigative outfit called the Penn Quarter Group (PQG), told the Federal Bureau of Investigation (FBI) in March of 2017 that he had retained the services of Fusion GPS and Christopher Steele to "continue exposing Russian interference" in the 2016 election. Steele is the former British spy who authored the infamous unverified dossier of allegations against President Donald Trump. Although Jones' name is redacted in the report, the biographical details plus previous reporting on the matter make clear that he is the individual referenced.
Trump delays release of some JFK assassination files until 2021, bowing to national security concerns. President Trump vowed last year to release all the long-secret files related to the JFK assassination, but the administration announced Thursday that some documents will remain redacted until October 2021 for national security reasons. In a White House memo, Trump said that the nation's intelligence community persuaded him to keep some parts of documents secret because their exposure could harm "identifiable national security, law enforcement, and foreign affairs concerns." Trump gave the CIA, FBI and other agencies a deadline of April 26 to release documents related to the investigation into President John F. Kennedy's assassination by Lee Harvey Oswald on Nov. 22, 1963, in Dallas.
The Editor says...
What could possibly be so secret about the Kennedy assassination after half a century? Whatever the "concerns" are, the classified files must be an embarrassment to the U.S. government -- most likely meaning some of the "conspiracy theories" are actually true.
Twin Peaks mandated lingerie 'dress-up days,' federal sexual harassment complaint claims. Employees of the Dallas-based Twin Peaks restaurant chain, which describes itself as "the ultimate sports lodge," allege they were sexually harassed and subjected to a hostile work environment when they were forced to wear skimpy costumes they had to pay for themselves and were ranked in a weekly report evaluating their bodies. A Chicago attorney, Tamara Holder, said Thursday [4/26/2018] that she has filed federal Equal Employment Opportunity Commission complaints on behalf of three former workers at Illinois locations of the chain. A fourth former employee plans to sue for breach of contract.
The Editor says...
What did you expect, ladies? It ain't exactly Chick-Fil-A. I've never been in the place, but I've heard the atmosphere of the Twin Peaks restaurant is readily apparent. Reviews frequently include the terms "breastaurant" and "man cave," along with comparisons to Hooters. Thus the working conditions should come as no surprise. There are women who don't mind working as NFL cheerleaders or swimsuit models or Playboy bunnies, and there are others who could work in those jobs but would prefer not to. But once you accept a job in a sexually-charged atmosphere, you can't be surprised when the job turns out to be demeaning and degrading.
'QLaser' TV infomercial doc gets 12 years in prison for selling scam device. A former dentist-turned-con man and his two cohorts were sentenced to prison on Friday [4/20/2018] for their roles in a multimillion-dollar fraud case that primarily preyed on the elderly. Robert "Larry"' Lytle, who created the QLaser, along with Irina Kossovkaia and Ronald Weir Jr., who helped him hawk it as a "cure-all" device, had pleaded guilty to fraud charges in South Dakota earlier this year.
Members of Congress Who Questioned Mark Zuckerberg Had Received $641,685 From Facebook. The top recipients include Sen. Cory Booker (D-NJ), Sen. Kamala Harris (D-CA), and Rep. Anna Eshoo (D-CA). The hostility of the questioning did not appear to correlate with the contributions. Sen. Orrin Hatch — who has received $15,200 in donations in the past three years, the sixth largest amount — asked purely softball questions.
The Most Dangerous Democrat in America. Imagine a combination of Hillary Clinton and Barack Obama, and you've got Kamala Harris, the current seat-warming senator from California who, like Obama, is using the World's Greatest Deliberative Body as a resume-puncher before swiftly moving on to bigger things: the 2020 Democrat presidential nomination. Even as a nobody senator, she's been the subject of dozens, perhaps scores of speculative stories about her future, [...]
Report: Facebook Spent More on Swamp Lobbyists in 1Q than Ever Before. Facebook reportedly spent more on lobbyists in the first quarter of 2018 than it has ever before as the company faces increased scrutiny over data breaches and censorship. According to a Recode report, Facebook spent more than "$3.3 million to steer lawmakers on privacy, security, online advertising and transparency efforts, among other issues." Facebook CEO Mark Zuckerberg recently testified before Congress, and his company and entities associated with it donated to 46 of the 55 Members on the House Energy and Commerce Committee that questioned him.
Waffle House Suspect Said Taylor Swift Was Stalking Him. The 29-year-old man wanted in a deadly mass shooting at an Antioch Waffle House allegedly told officials Taylor Swift was stalking him. Travis Reinking is from Illinois. [...] Reinking told officials Taylor Swift was harassing him by stalking him and hacking his phone. He later told them she had hacked his Netflix account, told him to meet her at a Dairy Queen, then allegedly ran from him at that location. He said he chased her to the rooftop of a building, but she was gone. Reinking told authorities he was telling the truth. He also stated he had proof on his phone, but he would not show it to them. His family stated he had made suicidal threats and owned guns. Officials said they took him for an evaluation at Methodist Hospital.
The Editor says...
What are mental hospitals for, if not to protect the sane population from people like this? Why was this man not locked up?
Waffle House gunman killed four with a gun that was confiscated by the FBI and returned. Nashville Police Chief Steve Anderson said there was no clear motive for the shooting but noted that Reinking may have 'mental issues.'
The Editor says...
Oh. He may have mental issues. Indeed, the man's history is apparently well documented.
Update:
Defense claims accused Waffle House shooter is incompetent to stand trial. Travis Reinking's defense attorney has filed a motion stating that after testing, their experts believe he is not mentally fit to stand trial. Sources close to the case say more testing is underway to determine if the claim by the accused Waffle House shooter's defense team is true. Reinking is accused of killing four people in the Antioch Waffle House shooting on April 22. Authorities conducted a 36-hour manhunt for Reinking after the shooting at the restaurant along Murfreesboro Pike.
Finally, a truly bipartisan issue: We all hate robocalls. [Scroll down] One Saturday morning I was even wakened by a phone call not from a telemarketer, but from an angry man asking me why I was calling him! Turns out the robocaller had hijacked my phone number and was annoying other real live humans just like me. I explained to the man who woke me up that we were both victims of a digital scam "too big to fail," but I had no idea just HOW BIG until I read the press release from Sen. Tester. One hundred million calls in three months? Apparently, robots really are invaluable to the forward progress of Western civilization! There's no way that an ordinary call center could possibly have annoyed so many people in so short a time.
Politico: Kamala Harris, 2020 Presidential Contender, is a Mystery in California. First-term Sen. Kamala Harris (D-CA) is emerging as a Democratic presidential contender in 2020. However, according to Politico, her own voters in California do not really know much about her.
Kangaroo in zoo dies after being pelted by bricks from tourists trying to see it hop: report. Tourists at a zoo in South China pelted a kangaroo with bricks in an attempt to see the animal hop, but the animal was fatally injured, The AFP reported Thursday, citing state television. The marsupial died after a few days after suffering a ruptured kidney, the report said. A few weeks later, another kangaroo in the enclosure was slightly injured in a similar incident, the report said. The report said that visitors at the Fuzhou Zoo in Fujian province are known to try and get kangaroos to hop. The zoo reportedly said it will install cameras and stuff the 12-year-old female.
Facebook to put 1.5 billion users beyond the reach of new EU privacy law, report says. Reuters reports that Facebook is looking to limit its exposure to the EU's new General Data Protection Regulation (GDPR). Passed in 2016, the law regulates how firms protect the data of EU citizens. On May 25, the EU will start enforcing the new regulation, which explicitly applies to any company that uses the data of EU residents, no matter where it is based. Organizations in breach of GDPR can be fined up to 4 percent of their annual global turnover or 20 million Euros ($24.6 million), whichever is greater. For Facebook, which reported over $40 billion in revenue during its fiscal year 2017, the implications of the new regulation is significant.
CNN Panel Gives Their Opinions About Why Opinion Shows Are Bad. In a jaw-dropping display that was one part a lack of self-awareness and another part hypocrisy, Wednesday's [4/18/2018] prime-time Anderson Cooper 360 featured a panel of CNN analysts sharing their opinions about opinion shows like Hannity on Fox News. Their opinions varied but were largely against the mixing of opinion and news. And that was their opinion on the news of the day. The hypocrisy was so thick you could cut it with a knife. "I mean, personally, I have no problem with Fox News. I'm glad Fox News is out there. I'm glad MSNBC is out there. I personally wouldn't want to do what either of them do," explained host Anderson Cooper.
NYC 'poop train' sitting idle in Alabama has become a 'nightmare' for residents, mayor says. A stinking trainload of human waste from New York City is stranded in a tiny Alabama town, spreading a stench like a giant backed-up toilet — and the "poop train" is just the latest example of the South being used as a dumping ground for other states' waste. In Parrish, Alabama, population 982, the sludge-hauling train cars have sat idle near the little league ball fields for more than two months, Mayor Heather Hall said. The smell is unbearable, especially around dusk after the atmosphere has become heated, she said.
New air pollution report: California is the worst. So, don't come here. Good news for those of us who think the nation's most populous state should be a little less populous. Or a lot less. The American Lung Association has released its annual report on ozone pollution. And would you believe, eight of the worst places in the country for ozone pollution are in California?
Ingraham's Viewership Increases 20 Percent Since David Hogg's Boycott. Fox News host Laura Ingraham's viewership has gone up by 20 percent since gun control activist David Hogg initiated a boycott of her advertisers late last month. Hogg went after "Ingraham Angle" advertisers on March 29, and that week Ingraham's ratings had averaged about 2.23 million, but last week she returned from vacation and her ratings climbed to around 2.7 million, NewsBusters reported. Hogg, a 17-year-old student [...], targeted Ingraham's advertisers last month after she tweeted an article about him being turned down from four different campuses in the University of California school system. The boycott, which was pushed by Media Matters for America among other liberal-leaning groups, led to at 27 companies dropping their ads from her show, as of Friday [4/13/2018].
Trey Gowdy Requests IG Horowitz Appearance Before House Oversight Committee May 8th, 2018. Hopefully, this is not cause for alarm. However, given the history of such activity; and specifically given the history of the engagements and motives of the participants involved in this request; it is a troubling development. The House Oversight and Government Affairs Committee is the official DC enterprise deployed when Washington DC interests identify a threat and maneuver their political UniParty alliances to eliminate the issue. Historic Oversight Committee references to Fast-n-Furious (Issa), IRS targeting (Chaffetz), and the origin of the Benghazi, Libya investigation are recent examples of outcomes therein.
Laura Ingraham Maintains Ratings, Advertiser Returns To Her Show. The leftist attempt to take down Fox News by methodically targeting each show's host and the show's advertisers seems to have hit a wrinkle as Laura Ingraham's show is still boasting high ratings. In addition to her high ratings, she has also had one advertiser return to her show. Ace Hardware, my new favorite hardware retailer, has returned to Ingraham's show. They say that they made the decision to pull their ads because they didn't have the whole story.
Sen. Cory Booker Violating Constitution: Voting Against Pompeo for Religious Beliefs. Sen. Cory Booker (D-NJ) announced on Friday that he will vote against CIA Director Mike Pompeo's nomination to become secretary of state because of Pompeo's beliefs on marriage and sexuality — beliefs consistent with Pompeo's Christian faith. Conservative leaders are now denouncing Booker's vote as a violation of the Constitution's Religious Test Clause. Booker sharply questioned Pompeo on Thursday [4/12/2018] during the nominee's confirmation hearing before the Senate Foreign Relations Committee, referring to words Pompeo spoke at a church in his district when the current director of the Central Intelligence Agency (CIA) was still serving in the U.S. House of Representatives.
National Park Service drops entrance fees to $35 after public outcry. After fierce public outcry, the agency is indeed hiking daily entrance fees at some of America's most popular parks by $5 to $35 a vehicle. The new plan replaces a proposal that would have charged $70 for cars to enter perennial hotspots like the Grand Canyon, Yellowstone, Yosemite and Zion, the release details.
Facebook spent nearly $9M on jets and security for Zuckerberg. Facebook spent nearly 37 times the typical worker's salary on private security and private jets for Chief Executive Mark Zuckerberg's security in 2017, the company said late Friday [4/13/2018] in a Security and Exchange Commission filing. Zuckerberg received $1 in compensation and received no stock, but the company said the company paid for his security at private residences, and during personal travel, which included the use of private aircraft. Facebook spent $7.3 million on private security and $1.5 million in 2017 on Zuckerberg's use of private aircraft; the company spent $5.8 million on security for Zuckerberg in the year-earlier period.
Pope Francis does for church attendance what Colin Kaepernick did for NFL attendance. The comparison is obvious. A new Gallup poll finds a precipitous drop in Catholic Church attendance coinciding with the years of Pope Francis's papacy. Francis is known for shoving secular statist left-wing ideology into church teachings, through both his words and his deeds, just as Colin Kaepernick did with the National Football League. That's clear in what Pope Francis says and in whom he invites into the Vatican to provide advice. And surprise, surprise, the result is the same: the fans and the flock stay away.
Trump pardons ex-Cheney aide Scooter Libby. President Trump on Friday pardoned Scooter Libby, the former aide to Vice President Dick Cheney who was ensnared in what was known as the "Valerie Plame affair" during the Bush administration. "I don't know Mr. Libby," Trump said in a statement. "But for years I have heard that he has been treated unfairly. Hopefully, this full pardon will help rectify a very sad portion of his life." Libby told Fox News in a brief phone call after Trump's announcement he is "pleased" his "innocence has been recognized."
Trump issues pardon for Lewis 'Scooter' Libby. President Donald Trump on Friday pardoned Lewis "Scooter" Libby, the chief of staff to former Vice President Dick Cheney who was caught up in the investigation into the leak of the identity of CIA officer Valerie Plame. "I don't know Mr. Libby," Trump said in a statement, adding, "but for years I have heard that he has been treated unfairly. Hopefully, this full pardon will help rectify a very sad portion of his life." Libby came under scrutiny in connection with the leak in 2003 of the identity of Plame, who had worked undercover overseas and was married to a prominent George W. Bush administration critic, Joseph Wilson. Libby was never charged with leaking, but was indicted in 2005 on charges of obstruction of justice, perjury and making false statements to investigators, largely for denying his contacts with the media about Plame.
This Hospital Bed May Kill You. Danger lurks for hospital patients in a place they'd least expect it — the bed. Hospitals claim to disinfect beds in between patients. Don't believe it. Data from four New York hospitals prove beds are full of germs. Patients are nearly six times as likely to come down with staph, strep or another dangerous infection if the patient who used the bed before them had it.
Facebook's Mark Zuckerberg Will Not Be Under Oath Before Senate Committee. When Facebook CEO Mark Zuckerberg takes the stand before a joint congressional panel on Tuesday [4/10/2018], he will not be under oath, Breitbart News has learned. But he will be required by federal statute to tell the truth, and if he lies he could face serious legal consequences. A senior Senate GOP aide helping organize the joint Senate Judiciary Committee and Senate Commerce Committee hearing told Breitbart News that it is standard practice not to swear witnesses like this in under oath. But they are required by law to tell the truth, the aide says.
U.S. Attorney John Lausch Assigned To Document Production. Tomorrow [4/9/2018] Attorney General Jeff Sessions will announce the assignment of U.S. Attorney John Lausch to facilitate the production of documents from the DOJ (Horowitz/Huber) to the House Judiciary Committee, and Chairman Bob Goodlatte. Mr. Lausch is a Trump appointed U.S. Attorney from outside Washington DC. John Lausch currently heads the Northern District of Illinois which includes Chicago, and this specific U.S. Attorney has extensive experience in complex cases of conspiracy and political corruption; a key skill-set given the issues within the Horowitz/Huber investigation of potential politicization of the FBI and DOJ offices.
The Limits of American Patience. Questioning whether America can afford the status quo here and abroad is not heresy. Assuming we can borrow our way out of any inconvenience is largely over. What helped elect Trump was a collective weariness with demands put on a country $20 trillion in debt. America is currently running a $57 billion a month trade deficit.
Communist China Bans Online Bible Sales — Crosses Removed From Churches. The Communist Chinese government banned the sale of Bibles online this week and released a new document dictating its "Policies and Practices on Protecting Freedom of Religious Belief." By Thursday, April 5, "internet searches for the Bible came up empty on leading online Chinese retailers, such as JD.com, Taobao, and Amazon," reported the New York Times. Christianity is the only religion in China, according to The Times, in which its primary holy book, the Bible, is banned online. Books from other religions such as Buddhism, Taoism, and Islam are available. The Quran is not banned online.
Not much good news for DNC. As of now, according to the Federal Elections Commission, the Democratic National Committee is in debt to the tune of $6,271,605.47. For the period between 2017-2018, total individual contributions to the DNC were $61,939,222.68, and its total cash on hand is $10,093,347.47. That is not good news for the party trying to rally momentum for a big "blue wave" this November. The situation is so bad that DNC Chair Tom Perez went on C-SPAN last month to spin morale out of the Intensive Care Unit: [...]
DNC Quietly Adds Another 160K In Debt, Bringing Total Debt To $6.3 Million. The Democratic National Committee (DNC) reported more than $162,000 in additional debt in an amended FEC report filed this week. The DNC originally reported $6.1 million in debt in its March 2018 FEC report filed on March 20 but amended that report on Monday to include an additional $162,368.64 in debt, bringing the DNC's total debt to just under $6.3 million. The Republican National Committee (RNC) has zero debt, according to the committee's most recent FEC filings.
If Fox News' Laura Ingraham Goes Down for 'Bullying,' You're Next! What did Fox News' Laura Ingraham say that cost her advertisers? About David Hogg, the teenage Parkland, Florida, high school shooting survivor, Fox's Ingraham tweeted: "David Hogg Rejected By Four Colleges To Which He Applied and whines about it. (Dinged by UCLA with a 4.1 GPA ... totally predictable given acceptance rates.)" [...] Two weeks after the Parkland shooting, Hogg gave an interview to The Outline, in which the writer described Hogg as "exhausted" and "still traumatized."
Cops kill Brooklyn man wielding pipe like gun. A man terrorizing people on the streets in Brooklyn with what appeared to be a firearm was fatally shot by cops — who later determined the weapon was not a gun but a metal pipe. Saheed Vassell, 34 — whose family said he suffered from bi-polar disorder — was brandishing the curved metal pipe and pointing it at people at a bus stop at Utica Avenue and Empire Boulevard in Crown Heights at 4:40 p.m., according to police. Three witnesses called 911 to report that a man wearing a brown jacket was pointing "what was described as a silver firearm at people on the street." Surveillance footage from a Utica Avenue store shows Vassell pointing the pipe like a firearm at a person who is walking into a store.
The Editor says...
This now-deceased fellow should have been confined to a state hospital years ago. Failing that, he should have at least had 24/7 supervision. Now he's dead, entirely due to his own feeble-minded actions, yet he still counts as "an unarmed black man" in the statistics.
'Chappaquiddick' Is A Brutally Honest Movie Laying Bare The Kennedys For Who They Really Were. Conservatives' expectations for honest and fair movies coming out of Hollywood are understandably low. For decades now we have been brow-beaten and lectured by clueless celebrities on everything from saving the Spotted Owl to gun control — the latest flavor of the moment. But a breath of fresh air is blowing in from the left coast. The new movie 'Chappaquiddick,' from Entertainment Studios and Apex Entertainment, is a brutally honest recounting of one of America's greatest public tragedies: the death of Mary Jo Kopechne in a car owned and driven by Senator Ted Kennedy (D-Mass.)
Malaysia outlaws 'fake news'; sets jail of up to six years. Malaysia on Monday [4/2/2018] approved a law against "fake news" that would allow for prison of up to six years for offenders, shrugging off critics who say it was aimed at curbing dissent and free speech ahead of a general election.
This Dental Office Threatens Parents Over Kids' 'Dental Neglect'. How sharper than a serpent's tooth to have a despotic pediatric dentist. Parents who decide, for whatever reason, that they don't like their children's oral care provider should be forewarned. Empowered by government "mandatory reporter" laws, dental offices are now using their authority to threaten families with child abuse charges if they don't comply with the cavity police. Mom Trey Hoyumpa shared a letter last week on Facebook from a dental office called Smiles 4 Keeps in Bartonsville, Pennsylvania. It informed her that if she did not make a dental appointment for "regular professional cleanings" for her child, she could be charged with "dental neglect."
Historic New York City churches install metal detectors to prevent (Islamic) terrorism. If Alexander Hamilton wanted to visit the church where he's buried today, he'd have to leave his pistol at home. Historic Trinity Church and St. Paul's Chapel have installed metal detectors at their entrances, citing terrorism fears. "It's a sign of the times, unfortunately," said Marc Pacheco, a tourist from Albuquerque who was visiting Trinity on Wednesday [3/28/2018]. "I'm sad that we have to have it, but it's probably necessary."
AARP accused of hard-sell marketing practices like those it warns seniors about. In its newsletters and magazines, in congressional testimony and on its website, AARP warns seniors about deceptive direct mail and other dubious marketing come-ons as part of its mission to protect members from financial abuses. But the huge lobbying group's own aggressive efforts to coax seniors to join or renew their memberships also have drawn a burst of criticism this year.
What The Laura Ingraham Boycott Is Really About. Advertisers are dropping Fox News host Laura Ingraham after she made fun of Parkland survivor David Hogg this week. On Wednesday, Ingraham tweeted a Daily Wire article mocking Hogg for whining about getting rejected by four different colleges. It was not a smart move for a cable news host to tease a high school student over such a matter, but it was hardly as offensive as Hogg claiming Sen. Marco Rubio makes money off of dead kids. The Marjory Stoneman Douglas High School student soon got the upper hand in this feud when he called for a pressure campaign against Ingraham's advertisers. His large fanbase quickly went into action and forced several companies — including TripAdvisor, Hulu and Jos. A. Bank — to cut ties with Ingraham's Fox News program.
Stand for Laura Ingraham and a Free Press. Laura Ingraham tweets the mildest of tweets, in this case about the news that David Hogg of Parkland student anti-gun activism fame, has been rejected by various colleges. This news of Hogg's rejections — something totally normal in the world of being admitted to X or Y college — was put out there by Hogg himself in [a] talk with TMZ. [...] Hogg, who has made extensive use of his First Amendment free speech rights, immediately turns around and demands that a free press that displeases him — Ingraham's Fox News show — be "boycotted" by advertisers.
Uber driver takes the stairs, blames app's navigation. An Uber driver in California ended up taking the stairs on Sunday after claiming the navigation system in the ride-sharing app told him to. The driver, only identified as Fred by Business Insider, was reportedly driving two passengers through San Francisco, on his way to pick up a third, when he made the wrong turn just before 1:30 p.m.
Students at Florida high school stage walkout in support of Second Amendment. A group of students at a Central Florida high school walked out of class Friday [3/30/2018] as part of a protest in support of the Second Amendment. Some of the students who participated in the walkout at Rockledge High School told WFTV that when the movement to honor the victims and survivors of the shooting in Parkland became political, they felt silenced.
Man carrying $10 million in U.S. currency arrested at Tijuana airport. A man carrying $10 million in U.S. currency was arrested Friday [3/30/2018] at Tijuana's A.L. Rodriguez International Airport, authorities said. The man was taken into custody after he tried to pick up the money — bills of different denominations that had been stuffed into 31 white plastic sacks, according to a statement from Mexico's Federal Police. He was unable to show documentation proving the shipment's legal origin, police said.
Rhode Island considers cash incentives to win new residents before Census. One Rhode Island state representative wants to pay cash to people willing to move there, as the state faces the prospect of losing half their congressional delegation after the next census and reapportionment process. State Rep. Carlos Tobon (D) has introduced legislation that would give families $833.33 per month — up to $10,000 — to move to Rhode Island for a year. Those families would be counted in the 2020 census as Rhode Island residents. The goal, Tobon said, is to attract enough residents to maintain Rhode Island's two seats in the House of Representatives at a time when most population projections show the state has not grown fast enough to warrant two seats.
The Editor says...
This could be construed as buying votes. If you accept compensation to reside in a state for a year, specifically for the purpose of tampering with the outcome of the census, which then amplifies the power of that state in the House of Representatives, you abetting an attempt to affect the balance of power in the Congress. Are you willing to relocate to another part of the country at the request of the highest bidder? To migrate across state lines for a better job is one thing, but this bonus is for one year only, and $10,000 is not enough: That's not much more than it would cost most people to move to Rhode Island, and it's certainly not enough to compensate for the high cost of living there, not to mention the cost of heating one's house in Rhode Island's long winters. None of this matters much, because the idea is unlikely to become law. Where is the State of Rhode Island going to get ten thousand dollars, multiplied by the number of additional residents they'd need to acquire another seat in the House of Representatives? That would be a lot of money.
Chef sues Virginia over happy hour law, claims it is a violation of the First Amendment. Popular D.C.-area Chef Geoff Tracy has filed a lawsuit against Virginia claiming his First Amendment rights are being violated due to the state's law on happy hour advertising. In Virginia, happy hour is defined as a time period where alcoholic drinks are sold at a reduced price. But bars and restaurants are very restricted at how they can advertise. Businesses are only allowed to use the terms "happy hour" or "drink specials" for their promotions and they cannot put out anything specific regarding happy hour prices or discounted amounts when advertising outside of the business. Virginia also prohibits two-for-one drink specials.
California Catholic school removed statue of Jesus & Mary so as not to alienate students. Founded in 1850, San Domenico Catholic School in San Anselmo in the San Francisco Bay Area serves 671 students grades K-12, and is California's oldest independent school and first Catholic school. The school is not an archdiocesan school, but an independent school sponsored by the Dominican Sisters of San Rafael. In an effort to make the Catholic school more "inclusive" and less "alienating" to prospective students, the school recently removed 162 Catholic statues and icons, including a statue of the Virgin Mary and baby Jesus. The statues were stored in the school's basement or donated to "appreciative recipients".
Pope Francis: 'There Is No Hell'. In another interview with his longtime atheist friend, Eugenio Scalfari, Pope Francis claims that Hell does not exist and that condemned souls just "disappear." This is a denial of the 2,000-year-old teaching of the Catholic Church about the reality of Hell and the eternal existence of the soul. The interview between Scalfari and the Pope was published March 28, 2018 in La Repubblica.
The Editor says...
If the quote is accurate and the Pope actually said there is no such place as Hell, he is a heretic.
Did the Pope Commit Rank Heresy? Drudge quoted this exchange, published in La Repubblica, between Pope Francis and his atheist friend, journalist Eugenio Scalfari. Scalfari: "What about bad souls? Where are they punished?" Bad souls "are not punished," Pope Francis is quoted, "those who do not repent and cannot therefore be forgiven disappear. There is no hell, there is the disappearance of sinful souls." [...] If there is no hell, is not the greatest deterrent to the worst of sins removed? What did Christ die on the cross to save us from? If Francis made such a statement, it would be rank heresy.
Vatican Refuses to Disavow Pope's Alleged Denial of Hell. In reaction to reports that Pope Francis has denied the existence of hell, the Vatican has released a carefully worded statement that does not refute the substance of the claims. "The Holy Father Francis recently received the founder of the newspaper La Repubblica in a private meeting for the occasion of Easter, without giving him an interview," the unsigned March 29 Vatican statement begins. "What is reported by the author in today's article is the result of his reconstruction, in which the pope's exact words are not cited. No quotation of the aforementioned article must therefore be considered as a faithful transcription of the Holy Father's words," the statement concludes.
The Editor says...
I wouldn't convert to Catholicism if you put a gun to my head. But even a life-long Catholic should have a problem calling someone "the Holy Father" who denies the existence of Hell. Or Heaven. Such a person isn't holy at all. Moreover, the Pope is undercutting his own business: If there is no Hell, why would anyone sit through Mass every week?
Parkland Students Bullied Shooter. Yes, said Parkland student Emma González. She and her fellow students at Parkland's Marjory Stoneman Douglas High School "ostracized" fellow student Nikolas Cruz. [...] Which is to say, González just made a startling admission. Parkland students bullied Nikolas Cruz. It may well be that González is right — the rest of us didn't know him. But there are a large number of people — some of whom are celebrities and either marched in and/or supported the March — who have spent years insisting that what González and her friends who "ostracized" Nikolas Cruz did was... bullying.
Walmart's: shelf-scanning robots to patrol the aisles. Machines already play a part in the shopping experience for many, with self-checkout facilities popping up in supermarkets and department stores all over the world. They now continue their push into retail, with Walmart expanding its trials of robots that roam the aisles for sections in need of attention. Self-checkouts have been around for years now, but the truth is there a other repetitive tasks that could conceivably be carried out by machines. Way back in 2015, Simbe Robotics took aim at at this with a fully autonomous robot called Tally that rolls around stores using a sensor array to make sure shelves are fully stocked and that items are correctly priced, placed and labelled.
Man guilty of hate crime for filming pug's 'Nazi salutes'. A man who filmed a pet dog giving Nazi salutes before putting the footage on YouTube has been convicted of committing a hate crime. Mark Meechan, 30, recorded his girlfriend's pug, Buddha, responding to statements such as "gas the Jews" and "Sieg Heil" by raising its paw. But police were alerted and he was arrested for allegedly committing a hate crime. The original clip had been viewed more than three million times on YouTube.
Democratic senator resigns for new gov't role paying $100G more. A North Carolina Democrat resigned from the state Senate this week, on the same day she announced she was joining the state parole board — at a pay raise of more than $100,000. The state Senate received Sen. Angela Bryant's resignation letter Monday [3/19/2018], the same day Democratic Gov. Roy Cooper announced he was appointing Bryant to the state Post-Release Supervision & Parole Commission. State law sets Bryant's board salary at $116,595 annually, about eight times more compared to her legislative salary at nearly $14,000, the Raleigh News & Observer reported.
Guccifer (Marcel Lehel Lazar) Says Guccifer 2.0 was a Creation of the NSA and US State Department and at Least 10 Groups or Individuals Breached Hillary's Private Server! Crooked and corrupt Assistant US AG Rod Rosenstein is holding a cyber law enforcement announcement today where's he's expected to announce that the corrupt Mueller investigation is taking over the Guccifer 2 investigation. [...] In August of 2017, the Eastern European hacker known as "Guccifer" reached out to US reporters from prison in Romania to claim that Guccifer 2.0 is a scheme orchestrated by the National Security Agency and US State Department.
Elon Musk on Mars flights: 'Good chance' first passengers will die. Billionaire tech entrepreneur Elon Musk says his company SpaceX is close to sending passengers on test flights to Mars, but with a catch: the trip will likely be deadly. Musk told attendees of the South by Southwest tech and pop culture festival that SpaceX is aiming to launch an interplanetary shuttle to Mars by the first half of 2019. The Tesla founder said the trips would be "up and down flights" using reusable rockets, with flights likely costing less than $6 million.
DOD To Transfer Secret Data To Amazon's Secret Cloud. The U.S. Department of Defense is set to start transferring top-secret data to Amazon's secret cloud storage platform after a military command awarded the tech giant a large contract. "This is a significant benefit to the warfighter," Amazon said in a press release, "as it allows the most sensitive mission workloads to benefit from the innovation and agility of cloud and also simplifies training for DoD's IT professionals, as training on AWS will help the DoD take advantage of the cloud across all data classification levels."
Air Force: GPS Satellites Vulnerable to Attack. Global Positioning System satellites that guide both precision guided weapons and car navigation systems are vulnerable to attack from Chinese and Russian lasers and missiles, Air Force officials told Congress this week. Air Force Secretary Heather Wilson said in House testimony on Wednesday that her service is working on developing jam-proof GPS satellites that currently can be disrupted by a variety of weapons. "With respect to the threat that we face, I think it's everything from jamming from the surface or a cyber attack, to direct-ascent satellite weapons, either from Russia [or] in 2007 the Chinese tested an anti-satellite weapon and spread debris all over orbit," Wilson told a House Appropriations defense subcommittee hearing. The testimony on space warfare threats came a day after President Donald Trump told Marines in California that the military needs a "space corps."
Searches for Hotels in Fictional Country 'Wakanda' Rise 620% Following 'Black Panther' Release. Searches for hotels in the fictional African country of Wakanda are up by 620 percent, following the release of Black Panther. According to the Daily Mail, "Hotelscan.com reported that the number of people landing on its Wisconsin Wakanda Water Park page is up by 620 percent and Hotels.com reported that searches for neighbouring Wakanda Park are up by 55 percent year on year."
The Editor says...
There are a lot of poorly-educated simpletons who spend too much time in movie theaters; and even worse, they seem to think every film is a documentary. That's probably why some of the simpletons are trying to buy tickets to visit a place that exists only in a work of fiction.
Navy Floats Idea of Atheist Chaplains. If there aren't atheists in foxholes, why should we put them in the Chaplain Corps? Senator Roger Wicker (R-Miss.) can't imagine. Like most leaders, he's astounded that the Navy is even considering letting someone who doesn't believe in God join the chaplaincy. Three years ago, the idea was so absurd that even Obama's military attorneys went to court to stop it. Now, with Secretary Jim Mattis at the helm, no one can quite understand why the topic is even up for discussion.
Radical Atheist Who Trashed Billy Graham after His Death Is Set to Become a Navy "Chaplain". Radical atheist Jason Heap is hoping to become a Navy chaplain. The US Navy is seriously considering the approval of this anti-Christian activist for a spot in its Chaplain Corps.
Charleston church shooter Dylann Roof's sister charged with bringing weapons, drugs to school. The sister of Dylann Roof, the man who shot and killed nine people at a Charleston, South Carolina, church in 2015, was arrested Wednesday after authorities said she brought weapons and drugs to school. According to WIS-TV, Morgan Roof, 18, is accused of bringing a knife, pepper spray and marijuana to A.C. Flora High School in Forest Acres. She was arrested on charges of carrying weapons on school property and simple possession of marijuana, the station reported.
Ohio student suspended for staying in class during walkouts. An Ohio high school student says he tried to remain nonpolitical during school walkouts over gun violence and was suspended for a day because he stayed in a classroom instead of joining protests or the alternative, a study hall.
Rebuttal:
Hilliard student wasn't suspended for avoiding gun protest, but the Internet doesn't believe that. Scott Shoemaker was flooded with messages of support, death threats and offers from attorneys because of a viral internet post claiming his son was suspended for refusing to join the national walkout on Wednesday to protest guns in schools. The story wasn't true, but that didn't stop thousands from sharing it. The photo of a Hilliard City Schools suspension slip made its away around Twitter and Facebook — along with Shoemaker's name and phone number on it. The now-viral story is 100 percent false, the Hilliard district says. Shoemaker says that the story is partially true, but not in the way the sharers are trying to spin it.
This collusion should worry all. In light of current investigations of interference in the U.S. political process, it turns out that Russia has, in fact, been meddling for years — not only in the electoral system, but also in the legislative process, and in our internal cultural debates over a wide range of policy issues. According to congressional investigators, a primary focus of their influence-buying has focused on the environmental movement. The committees discovered that Russia has covertly funded opposition to U.S. domestic energy production by funding the environmental opposition. That includes underwriting organizations that work to ban fracking, and even efforts to push ballot initiatives at the state and local level.
Environmental group may have to register as foreign agents. U.S. environmental activists who are working to halt the production and use of fossil fuels could be required to register as foreign agents if Congress gets serious about enforcing an existing law. There was some potential movement in that direction last October when Senate Judiciary Committee Chairman Chuck Grassley, R-Iowa, introduced legislation that would put some teeth into the Foreign Agents Registration Act. The law, which was first passed in 1938, calls for individuals and organizations to provide full disclosure when they are working to advance the public policy interests of a foreign government.
Everything You Need to Know About 5G. [Synopsis by The Editor] This article includes an amusing video clip that explains some advancements in cell phone technology, but the bottom line is that cell phone providers are about to demand control of every radio frequency above 500 MHz. In the video clip (at the 1:43 mark), the frequencies above 6 GHz are labeled as "EMPTY." This is not true. In any big city, the frequency bands up to at least 20 GHz are well-populated by long-established services.
Conservative Activists Martin Sellner and Brittany Pettibone Detained in UK for Political Beliefs. Austrian activist Martin Sellner of Génération Identitaire and his girlfriend, American author and YouTuber Brittany Pettibone, have been detained by airport police in England for nearly three days. Nobody from the US State Department or embassy contacted Pettibone's family. Sellner was on his way to give a speech that authorities say would cause "tension among local communities and possibly incite hatred."
Footage of mysterious object above ocean stuns military personnel. The videos, along with observations by pilots and radar operators, "appear to provide evidence of the existence of aircraft far superior to anything possessed by the United States or its allies," writes Christopher Mellon, a former defense official in the George W. Bush and Clinton administrations and an adviser to To the Stars Academy. In a Washington Post op-ed, Mellon reasoned that if the origin of these aircraft is a mystery, "so is the paralysis of the US government in the face of such evidence."
Ex-Justice Dept. lawyer caught in 'most serious' internal corruption case in recent memory. A former corporate-fraud prosecutor carried out the "most serious" example of public corruption by a U.S. Department of Justice attorney in years by stealing more than 40 whistleblower fraud cases in 2016 and trying to sell the secret information to companies under federal investigation, prosecutors said. The scheme was an attempt to woo potential clients and increase his earnings and standing in his new role as a defense lawyer for one of Washington's most influential law firms, according to prosecutors and admissions by Jeffrey Wertkin at his sentencing Wednesday [3/7/2018].
Official: School metal detectors not in use day of shooting. Metal detectors at an Alabama high school were not in use the day a 17-year-old student was killed in a shooting on campus, the district's superintendent said Thursday [3/8/2018].
The Grim Conclusions of the Largest-Ever Study of Fake News. "Falsehood flies, and the Truth comes limping after it," Jonathan Swift once wrote. It was hyperbole three centuries ago. But it is a factual description of social media, according to an ambitious and first-of-its-kind study published Thursday [3/8/2018] in Science. The massive new study analyzes every major contested news story in English across the span of Twitter's existence — some 126,000 stories, tweeted by 3 million users, over more than 10 years — and finds that the truth simply cannot compete with hoax and rumor. By every common metric, falsehood consistently dominates the truth on Twitter, the study finds: Fake news and false rumors reach more people, penetrate deeper into the social network, and spread much faster than accurate stories.
False stories travel way faster on Twitter than true ones do, study finds. Twitter loves lies. A new study finds that false information on the social media network travels six times faster than the truth and reaches far more people. And you can't blame bots; it's us, say the authors of the largest study of online misinformation. Researchers at the Massachusetts Institute of Technology looked at more than 126,000 stories tweeted millions of times between 2006 and the end of 2016 — before Donald Trump took office but during the combative presidential campaign. They found that "fake news" sped through Twitter "farther, faster, deeper and more broadly than the truth in all categories of information," according to the study in Thursday's journal Science.
Justice Department processing pardon case for sailor Trump compared to Hillary Clinton. The Justice Department is processing a pardon application from former Navy sailor Kristian Saucier after denying him a waiver to apply for a pardon last year. President Trump repeatedly invoked Saucier during the 2016 campaign after he was sentenced to one year in prison for taking pictures inside a nuclear submarine, arguing Saucier was "ruined" for doing "nothing" compared to Hillary Clinton. The photos Saucier, now 31, took inside the sub were deemed "confidential," meaning the lowest level of classification, even though some depicted the vessel's nuclear reactor. Clinton, by contrast, sent and received more highly classified information on a private and insecure email server.
Trump preparing to use a pardon to highlight the depth of Hillary's national security crimes. On the campaign trail, Donald Trump repeatedly referred to the case of Navy sailor Kristian Saucier, who was sentenced to one year in prison for taking pictures on a submarine that were deemed "confidential" — the lowest rung on the ladder of national security secrets. Candidate Trump compared Saucier's severe punishment for this comparatively minor infraction to Hillary Clinton's exoneration by James Comey for far more serious breaches in using an unprotected server in a bathroom to house top secret and beyond documents. This usually was a cue for the crowd to chant, "Lock her up! Lock her up!" The next chapter is about to dawn.
Eating a nutria rat is okay for someone like Granny Clampett or Kim Jong-un, but count me out.
Invasive rodent threatens California wetlands and there's talk about eating them. Wildlife officials in California are asking residents to report any sightings of nutria — an invasive rodent that threatens wetlands — and at least one report raises the question of whether or not the rodents should be eaten. There is no indication that the rodent is anywhere close to being on the menus at Craig's or the Polo Lounge, but The Verge's report said other states that have grappled with nutria have turned to eating them.
The No. 1 Thing That Causes Millennial Employees to Quit. Jive Communications looked at 2,000 millennials and asked them about their workplace requirements and why they leave. Thirty-seven percent said having a job with flexible hours is essential, and a quarter of those reported they'd left jobs because they couldn't work flexibly. The ability to work remotely was also an important factor for 63 percent of millennials surveyed, who said they might not be interested in future jobs if working remotely wasn't an option. Sixty-four percent of the millennials surveyed also said they'd leave a job if it were too difficult to take sick or personal days. Meanwhile, over 70 percent said they strongly prefer fast in-office technology, and without it, 20 percent of the millennials polled said they would actually quit.
Chinese billionaire 'hid $2bn aluminium pile in Mexican desert and then sold it across the border to America to avoid costly tariffs', claim US rivals. A Chinese billionaire is hiding a giant stockpile of aluminum in the Mexican desert, his American rivals have claimed. The pile, worth $2 billion and measuring one million metric tons, represents six percent of the world's aluminum. It was discovered two years ago after a California aluminum executive sent a pilot over San José Iturbide, a city in central Mexico, the Wall Street Journal reported in an investigative piece Friday. Trade representative Jeff Henderson believes Chinese billionaire Liu Zhongtian, an aluminum magnate, routed merchandise through Mexico to avoid paying US tariffs.
SST Committee Staff Report Reveals Russia's Social Media Meddling in U.S. Energy Markets. U.S. House Science, Space, and Technology Committee Chairman Lamar Smith (R-Texas) today released a staff report uncovering Russia's extensive efforts to influence U.S. energy markets through divisive and inflammatory posts on social media platforms. The report details Russia's motives in interfering with U.S. energy markets and influencing domestic energy policy and its manipulation of Americans via social media propaganda. The report includes examples of Russian-propagated social media posts.
Disneyland workers struggle with low wages and homelessness. The happiest place on Earth may not be a happy place to work. Some workers at Disneyland say they are struggling with homelessness and poverty because the theme park doesn't pay them enough to live on, CBS Los Angeles reports. Several Disney (DIS) unions met to discuss wages Wednesday night in Anaheim, while hundreds of protesters showed up to demand a livable wage. One in 10 Disneyland employees has recently experienced homelessness, while two-thirds of workers don't have enough food to eat three meals per day, according to a new study from researchers at Occidental College and the Economic Roundtable. Low-wage workers in expensive regions — such as Disneyland's location near Los Angeles — are increasingly feeling the pinch as their incomes have failed to keep up with soaring real estate values and the cost of living.
Kenya believe it?
Kenya doctors 'perform brain surgery on wrong patient'. Staff from nurses to the CEO have been suspended at a Nairobi hospital after the wrong patient underwent brain surgery. One patient needed surgery for a blood clot on the brain, the other only non-invasive treatment for swelling. But a horrifying mix-up of identification tags saw the wrong man operated on, reports say. The doctors did not realise their mistake until "hours into the surgery", the Daily Nation reported. They then realised "there was no blood clot".
The Editor says...
In Africa, you don't have to be a rocket scientist to be a brain surgeon.
Florida sheriff on the defensive after school shooting. The outspoken Florida sheriff whose deputies responded to the Parkland school shooting usually deals with critics head on. But in recent days, Broward County Sheriff Scott Israel has been mostly silent.
Deputies Allegedly Told To Set Up 'Perimeter' Around Parkland Shooting, Opposite Of Training. A partial Broward Sheriff's Office dispatch log obtained by a local newspaper revealed on Friday that the captain who initially took charge of the scene at Marjory Stoneman Douglas High School in Parkland, Florida, allegedly told deputies to form a perimeter around the school, leaving questions as to whether a stand-down order was given.
Teacher who caused mass panic when he fired a gun at Georgia high school had multiple run-ins with police in recent years including confessing to 'killing a woman'. The teacher who caused mass panic when he fired a gun at a Georgia high school had been the subject of multiple police reports in recent years. including one instance where he told officers he had killed a woman. Jesse Randal Davidson, 53, was arrested on Wednesday after he barricaded himself inside a classroom at Dalton High School and fired a handgun through the window. The social studies teacher was taken into custody after a 45-minute standoff with police and later refused to discuss what led to the shooting.
Supreme Court rules immigrants can be held indefinitely with no bond hearings. The Supreme Court ruled Tuesday [2/27/2018] that immigration officials can continue to indefinitely detain immigrants during proceedings to determine the legality of their status in the U.S. In the 5-3 decision, which Justice Elena Kagan took no part in, the Supreme Court reversed the 9th Circuit Court of Appeals decision that ruled detained immigrants must receive bond hearings every six months to determine if their continued detainment was necessary. The decision of Jennings v. Rodriguez affects illegal and legal immigrants. Legal permanent residents facing deportation as a result of committing crimes and asylum seekers who have turned themselves in at the border and are awaiting a court date can be detained indefinitely with no interval bond hearings.
Cheers, protests as German court lets cities ban diesel cars. Handing environmentalists a landmark victory, a German court ruled Tuesday that cities can ban diesel cars and trucks to combat air pollution, a decision with far-reaching and costly implications in the country where the diesel engine was invented in the 1890s. The ruling by the Federal Administrative Court stirred fears from motorists, auto dealers and other businesses worried about the financial impact. And Chancellor Angela Merkel's government scrambled to reassure drivers it would seek to prevent such drastic measures by pushing other ways to reduce urban pollution.
Cape Cod environmentalists plan to wreck their lobster Industry to save the whales. Scientists trying to convince New England lobstermen to invest in "ropeless fishing" to cut the risk current fishing methods pose to northern right whales, The Boston Globe reported. Scientists at the Woods Hole Oceanographic Institution say ropeless fishing will allow lobstermen to continue in their livelihood, but without long ropes running from buoys on the ocean's surface to lobster traps on the ocean floor. Whales are caught in these lines, which fishermen use to haul up their catch, and tangle themselves until they drown.
Pattern Starts To Emerge In Political Corruption Cases That Bodes Ill for Prosecutors. [This article presents] four examples, featuring two Republican and two Democratic politicians whose prosecutions were originally brought in 2014 and 2015, when the White House and the Justice Department were under control of the Democrats. In all four cases, the prosecutors proclaimed they had caught a crime. In all four cases, judges or jurors disagreed. In all four cases, the politicians, who pleaded not guilty, have suffered the punishment of public humiliation — negative headlines and unflattering photographs. Three of the four are no longer elected officials, though [Robert] Menendez remains in office and is running for reelection this year. All four politicians have at least so far not had to serve the long prison terms with which they were threatened had they been convicted and had the convictions been sustained on appeal.
The CIA's year-long inquiry into whether employees have to pay for their own coffee. During its 70 year history, a number of coffee-related controversies have gripped the Central Intelligence Agency — but perhaps none of them had such long-lasting impact on the caffeination of our nation's clandestine service as a year-long inquiry into the legality of using government funds to buy CIA employees their daily pick-me-up. After a lengthy departmental review, Director of Central Intelligence William Colby announced the decision to stop allowing government funds to be used to purchase coffee and food at meetings attended solely by U.S. Government employees in a June 12, 1975 memo: [...]
South Korean MPs demand execution of North's Olympic delegate. South Korean lawmakers protested Friday over a visit by a top North Korean general for the Pyeongchang Olympics, labelling him a war criminal over the 2010 sinking of a warship and calling for his execution. Kim Yong Chol will head an eight-member delegation to arrive on Sunday for the Games' closing ceremony — which will also be attended by US President Donald Trump's daughter Ivanka, creating protocol headaches for Seoul officials. Kim is widely blamed for a spate of attacks against the South including the torpedoing nearly eight years ago of the Seoul's Cheonan corvette, with the loss of 46 lives. Some 70 lawmakers of the conservative Liberty Korea Party staged a protest outside the presidential Blue House, urging President Moon Jae-in to scrap the visit.
Apple removes Good Friday, Easter from calendar for iPhones. Breitbart reports that the latest iPhone update has deliberately removed Good Friday and Easter Sunday from users' calendars. [...] Apple has been receiving complaints about this change.
Democrat Dallas Mayor — Move the NRA Convention Out Because of JFK or Something. The liberal Democrat mayor of Dallas (elected by ghetto voters) doesn't want to the NRA convention to be held in Dallas. His reason? Because JFK was assassinated in Dallas back in 1963.
Dallas Mayor Pro Tem urges NRA to find a new home for their convention. A leader in Dallas politics does not want the National Rifle Association to meet in his city. Mayor Pro Tem Dwaine Caraway is urging the NRA to find a new home for its annual convention. He says the meeting is not appropriate in Dallas in the wake of last week's school shooting in Florida. Caraway also points to the past tragedies in Dallas, including the 2016 ambush that killed five Dallas officers, and the assassination of President John F. Kennedy.
The Editor says...
The City of Dallas has been working for decades on various ways to make the city more attractive to large conventions, even going so far as to build a nice hotel adjacent to the downtown convention center. By attempting to turn away convention business merely on the basis of his own misguided left-wing views, Mr. Caraway is undoing a lot of other people's work.
Free Speech Panel at CPAC Canceled by Pamela Geller After Gateway Pundit Jim Hoft Banned. Conservative commentator Pam Geller revealed on Breitbart News Daily on Wednesday morning that her panel on free speech at the Conservative Political Action Conference (CPAC) had been canceled because she refused to remove Jim Hoft of Gateway Pundit as a participant. [...] Geller said that she had been asked to exclude Hoft after a post at Gateway Pundit on the Parkland shooting in Florida last week. The site has published several posts criticizing the students who are advocating for gun control. The demand, she said, forced her to cancel the panel.
Powell: 'Pretty Shocking' That So Many American Youths Lack Smarts, Fitness for Military. Former Secretary of State Colin Powell said too many young people do not qualify for military service due in part to obesity and criminal records, which is reflective of many "scary" problems in local communities that must be addressed. Powell, former chairman of the Joint Chiefs of Staff under President George H. W. Bush and President Bill Clinton, was asked why he thinks more African-Americans should join the military. "I'm very, very thankful that they do, and they join the military for a variety of reasons: a combination of patriotism, looking for a change in their life experience at that point, travel or serving their country, just serving their country. And many of them go in because, frankly, it's a steady wage every month," Powell said during a discussion at the Congressional Black Caucus Foundation's Avoice Heritage Celebration recognizing African-American veterans.
250 Teachers Sign Up for 50 Seats at Concealed Carry Training Session. Butler County, Ohio, Sheriff Richard K. Jones offered free concealed carry training for 50 teachers and 250 teachers responded within 24 hours. Breitbart News reported that Jones began advertising the free training on Sunday [2/18/2018] and the immediate response was 50 emails within 20 minutes.
Woman Pulled From Public Hearing While Listing Corporate Donations to Reps. Lissa Lucas, Democratic candidate for District 7 of the West Virginia House of Delegates., appeared at the state capitol to testify regarding House Bill 4268, "which would allow a majority of 75 percent of owners or heirs of a single piece of property to determine whether the property could be developed for oil or gas production" according to WVNews. Lucas claimed that those speaking in favor of the bill and some voting on the bill were being paid by "the industry." "I have to keep this short because the public only gets a minute and 45 seconds while lobbyists can throw a gala at the Marriott with whiskey and wine and talk for hours to the delegates," Lucas said.
Soros Backed Pro-Mass Migration NGO Has Funds Frozen Amidst Sex Abuse, Fraud Claims. The International Rescue Committee (IRC), an open borders-backing NGO fronted by former Labour Foreign Secretary David Miliband has been accused of "hushing up" allegations of more than 30 crimes. UK government ministers froze funds to the NGO, which is a major partner of globalist billionaire George Soros, "based on direct reporting of sexual harassment and fraud", it was reported this week. With nearly five and a half million pounds of taxpayer cash at stake, a team from the IRC was sent to look into claims made over the body's behaviour in the Democratic Republic of Congo.
The Marine Corps Drops Major Obstacle to Female Infantry Officers. The Marine Corps has made a major change to its Infantry Officer Course. The first big challenge for many was a test of physical fitness. If you passed, you moved on. If you didn't, you washed out. The test was especially difficult for women who had to meet the same standard as the men. Not anymore.
Apple's iCal calendar mysteriously deletes Easter. Easter Sunday, which arrives on April 1 this year, is the culmination of Holy Week, commemorating the resurrection of Jesus Christ and the most important holiday in the Christian religion. However, it's absent from some Apple users' iCal calendars. There are other holidays on the U.S. calendar, such as Juneteenth (a holiday celebrating the abolition of slavery in Texas), Flag Day and Indigenous People's Day, that appear.
Air Force Academy First Sergeant Reprimanded For Telling Cadets To Dress Properly. Progressive social justice trends appear to be creeping into the Air Force Academy, as an academy first sergeant was reprimanded for instructing cadets to maintain a professional appearance, emails reveal. "Observations made by USAFA [United States Air Force Academy] permanent party members regarding cadet grooming standards have become increasingly unfavorable," First Sergeant Zachary Parish apparently wrote in a leaked email to cadets. "Going forward, I expect you all to do your part in reversing negative perceptions about cadet personal appearance that circulates USAFA and diminishes your credibility as a member in the profession of arms." The first sergeant then advised the cadets in his charge to be like Mike.
Trump White House agrees to make some visitor logs available to the public — but traffic into the Oval Office will stay a secret. The Trump administration has settled a transparency lawsuit by agreeing to release visitor logs from some White House agencies — but not those that cover major West Wing areas. Offices on the White House complex that are specifically funded by Congress or are led by Senate-confirmed officials are required to make public records available in response to Freedom Of Information Act requests. But offices that are created by the president and managed internally are not. That includes most of the Executive Office of the President and the top-level officials who work most closely with the president — and the Oval Office itself.
Venezuela oil production is plummeting. Venezuela's main source of cash is dwindling at a breathtaking pace. The country's oil output in January fell to its lowest level in nearly 30 years, not including a brief oil strike in 2003, according to S&P Global Platts. A monthly OPEC report published Monday revealed Venezuela pumped 1.6 million barrels of oil per day last month. Production in January was down 20% from a year ago. The staggering decline is another sign of Venezuela's economic and political crisis. The country is heading toward a presidential election in April that international critics are already labeling fraudulent. Venezuela has more crude oil than any other country in the world and it heavily depends on the commodity to power its economy. Crude oil makes up about 95% of Venezuela's exports. The country has no other source of foreign income.
Someone's Doing The DOJ and FBI Interrogations and It's Not Congress. On a Monday night (February 12th, 2018) episode of Tucker Carlson a Democrat member of the House Intelligence committee said something interesting that almost everyone missed. Appearing on the show to joust with Tucker, HPSCI member Eric Swalwell stated: "the House Intel Committee has not interviewed a single witness in over a month". This statement is rather enlightening.
Judge orders release of sealed Bill Clinton documents from Ken Starr probe. A federal judge has ordered the unsealing of documents from then-Independent Counsel Ken Starr's two-decade old probe that led to former President Bill Clinton's impeachment. Chief Judge Beryl A. Howell of the United States District Court for the District of Columbia granted the order Monday in response to a Freedom of Information Act request from CNN. According to the judge's order, CNN journalist Katelyn Polantz requested on Feb. 9, 2018 that eight sealed matters arising from Starr's 1998 investigation of Clinton "be unsealed and made public."
CNN Stunned By What Iowa Voters Think About Russia Investigation. CNN's Martin Savidge interviewed a group of voters from Iowa on Monday [2/12/2018] who all expressed serious doubts about special counsel Robert Mueller's Russia investigation. The panel, comprised of four Trump voters, voiced their support for the president while slamming Mueller's investigation. Vicente Javier, a former baseball player, called the investigation a "political witch hunt from the get-go" and a "disgrace."
FBI, Hillary scandals could have a ripple effect on Wall Street. Again, if you are investing in US financial markets, keep a close eye on developments regarding the FBI and the Hillary Clinton e-mail investigation. The markets don't like chaos, and that's what we are headed for. There have been a lot of major developments recently, although most big media organizations are ignoring them. They will soon regret that.
Hawaii Has A Major [Cesspool] Problem. Hawaii is struggling to find more sanitary ways to dispose of human waste after years of putting sewage into open holes in the ground. The state's five islands have more than 88,000 "cesspools," Hawaii's Department of Health determined in a recent report. The cesspools put 53 million gallons of sewage into ground and surface water. The 2017 legislative session passed a law requiring all cesspools to be replaced with better sewer systems by 2050, but that might not be fast enough.
San Francisco Fines Landlord $2 Million For Renting Out Dwellings to Low-Income Veterans that Violated Zoning Codes. For the past two years the City of San Francisco has been doing everything in its power to dismantle low-income housing units that run afoul of the city's laborious zoning codes. Over the past decade, San Francisco landlord Judy Wu (real name Xiaoqi Wu) converted some 12 properties she owns into 49 housing units which she and her husband, Trent Zhu, have rented predominately to low-income veterans, many of whom are disabled, or previously homeless. These units, however, were only zoned for 15 dwellings. And in 2015, the city's Planning Department first became aware of the excess units, ordering her to obtain permits to dismantle many of them. In 2016, as she was working to bring her units into compliance, and while her tenants fought to preserve their homes, San Francisco City Attorney Dennis Herrera sued Wu, claiming that her unauthorized dwellings "substantially endanger the health, welfare, and safety of individual tenants, the residents of the City and County of San Francisco."
Farage: Instead of Russian Collusion, Press Should Look at Where Soros' Billions Are Going. Former United Kingdom Independence Party Leader Nigel Farage said the world need to keep a closer eye on the activities of billionaire investor and political activist George Soros. Farage underlined that nothing Soros has done has been illegal, but that with the billions he has spread around the world for left-wing causes, "nation-state democracies" should be concerned. "We all need to wake up to who George Soros is and how big his [Open Society Foundations] organization is," Farage said of the 87-year-old.
Obama Knew. Former President Obama wanted "to know everything" the FBI was doing in its investigation into claims that Russia was interfering in the 2016 election, a new report suggests, raising the specter of a sitting president becoming involved in a plot to rig the 2016 election. It was a year ago the outlines of a Watergate-like conspiracy emerged in which a term-limited Democrat president used the privacy-invading apparatus of the state to spy on a Republican presidential candidate. Watergate differed in that President Nixon didn't get involved in the plot against the Democratic National Committee until later as an accomplice after the fact. But this new evidence suggests Obama may have been part of a sinister anti-democratic cabal from the beginning.
50% Think Senior Law Enforcement Officials Broke the Law to Block Trump Presidency. A once-secret memo released last week scrutinizes the FBI and Justice Department officials for their surveillance practices of a former Trump campaign adviser, and half of voters think those officials went too far. A new Rasmussen Reports national telephone and online survey finds that 50% of Likely U.S. Voters believe it's at least Somewhat Likely senior federal law enforcement officials broke the law in an effort to prevent Donald Trump from winning the presidency, including 32% who think it's Very Likely. Forty percent (40%) think it's not likely these officials broke the law, with 25% who feel it's Not At All Likely.
Adam Schiff, gullible fool. The easiest marks are the desperate ones, the ones who want something so bad they lose their common sense, becoming putty in the hands of their manipulators. So here we have Rep. Adam Schiff, easy mark for a phone prank tailored especially for him by Russian comedians, pushing all his right buttons. Here is the audio, and man is it stupid.
Watch: Chuck Schumer Called For Military Parade In 2014. Historically ignorant and cynical politicians feigned outrage on Wednesday [2/7/2018] at President Trump's proposal of a military parade in 2018. Sen. John Kennedy (R-LA) insisted, "I think confidence is silent and insecurity is loud. America is the most powerful country in all of human history; you don't need to show it off." Rep. Adam Smith (D-CA) preened, "A military parade of this kind would also be a departure from the values of our constitutional democracy." Reps. Ruben Gallego (D-AZ) and Ted Lieu (D-CA) glibly observed, "Because authoritarian regimes like Russia and North Korea hold massive military parades does not mean that we must as well."
Well, Well, Well, Look Who Adam Schiff Has "Family Ties" To. Twitter is on fire with the revelation that Democratic party mouthpiece Adam Schiff turns out to have "family ties" to none other than George Soros himself.
Mexico pipeline thefts at record high, 10,363 illegal taps. Fuel thieves in Mexico drilled 10,363 illegal taps into state-owned pipelines in 2017, or an average of about 28 illegal taps every day.
The Air Force Turned Off GPS To Rehearse a War Without It. The U.S. military is worryingly dependent on GPS. Our global positioning satellites tell planes where they are, provide targeting info for smart weapons, and support communication and navigation systems. But in a war with a tech-advanced adversary — think China, Russia, or Iran — GPS could become a big liability because it could be jammed, spoofed, or outright destroyed. So how does the U.S. Air Force train for such a scenario? Simple — just turn it off.
The Editor says...
Jamming is a possibility in wartime, but that would likely affect other countries' versions of GPS, like Glonass, putting all parties on equal footing. And I suspect our jamming is much more effective than their jamming. Spoofing is not easy. It has been done, but it takes a lot of talent and a lot of computer and radio hardware. Both jamming and spoofing would be local, not global or even regional. Destroying the entire GPS system would be impossible: It would have to be done by a country with extremely sophisticated (laser) weapons, and it would have to be done quickly, before any countermeasures could be taken. Agents of some other country could upload a "shutdown" command to all of the GPS satellites at once, but this would require the theft of encryption keys, multiple uplink sites, and lots of other stuff. In summary, there is no credible threat to the GPS system from anyone outside of our own government. Someone at the top levels of our government could tell the Air Force to put GPS into the military-only mode and those who rely on GPS navigation would need to make other arrangements. This, too, is unlikely except in the event of civil war. So it's good that the military is making plans to remain functional in the absence of GPS, but that situation is extremely unlikely.
Amazon patents could enable worker monitoring via wristband. The patent filings, first reported this week by the news site Geekwire, come amid concerns over workplace conditions for the company, which has seen rapid growth in its warehouses or "fulfillment centers" key to its logistics. The publicly available patent documents show how wrist-worn devices could deliver ultrasonic pulses that could direct employees to the location of bins for packages being sought. "Ultrasonic tracking of a worker's hands may be used to monitor performance of assigned tasks," according to one of the documents.
The Editor says...
I hope I'm retired by the time this device is issued to every U.S. worker. On the other hand, it might be very beneficial for my employer to see who's completely motionless (asleep), who's hiding in the freight elevator until shift change, who's in a room he's not supposed to be in, and who's not even in the building.
SJWs Demand You Stop Saying 'Marijuana.' The Reason Is Stupider Than You'd Expect. I have to admit, weed culture can be downright befuddling to us normies on the outside looking in (see Nevada Declares State of Emergency for Running Low on Weed). We're not up to speed on all the different terms. Can't tell a roach clip from a hair barrette. Sometimes mistake broccoli for the pot. That sort of thing. Yet, having said that, one still can't help but be surprised at this story crawling its way out of the cannabis community. Apparently saying "marijuana" is now a big no-no.
Politifact Backs Down: Crazed Democrat Out As Fact Checker. Only hours after Daily Wire Editor-in-Chief Ben Shapiro issued a scathing attack targeting Politifact for announcing on Thursday [2/1/2018] that they had hired former Democratic Congressman Alan Grayson as a fact checker, Politifact backed down, tweeting their acknowledgement that hiring Grayson was a major boo-boo.
Dem Rep Brenda Lawrence Slams Trump For Focusing On "M-16" Street Gang. Michigan Representative Brenda Lawrence (D) has apparently never even heard of MS-13. After Trump's State of the Union address on Tuesday, she went on C-SPAN2 to slam the president for being "so focused" on this "M-16" street gang, which she says "spoke nothing about crime in America." "To be so focused on this M-16, or, the, this illegal immigrant gang that he speaks of, spoke nothing about crime in America, about his commitment to America First," Rep Lawrence said. "What about fighting the crime that's in our streets? It's not by immigrants!"
Drug firms shipped 20.8M pain pills to WV town with 2,900 people. Over the past decade, out-of-state drug companies shipped 20.8 million prescription painkillers to two pharmacies four blocks apart in a Southern West Virginia town with 2,900 people, according to a congressional committee investigating the opioid crisis. The House Energy and Commerce Committee cited the massive shipments of hydrocodone and oxycodone — two powerful painkillers — to the town of Williamson, in Mingo County, amid the panel's inquiry into the role of drug distributors in the opioid epidemic.
'Drool' on Rep. Joe Kennedy's Mouth Distracts from Dem Response to Trump's State of the Union. Rep. Joe Kennedy (D-MA) appeared to have an unidentified liquid coming from the side of his mouth as he delivered the official Democratic Party's response to President Donald Trump's first State of the Union address. As Kennedy delivered his remarks, Twitter commentators were quick to point out an unverified moisture on the side of his mouth, which they speculated could be anything from saliva to lip balm.
Trump administration restarts refugee program for 11 high-risk countries. The Trump administration has lifted its effective pause on refugees from 11 "high-risk" countries but is imposing stricter vetting, including in-depth interviews, for applicants from those nations, Homeland Security announced Monday [1/29/2018]. Secretary Kirstjen Nielsen also said it's time to update the list of high-risk countries, which hasn't been revised since 2015, in order to keep track of the expanding threats. That review will happen over the next six months, and will be updated every six months following.
John Kerry Sabotages US Foreign Policy. Former Secretary of State John Kerry reportedly sought to undermine the Trump administration's current policy in dealing with the nihilist Palestinian leadership. According to an article appearing in Maariv, as quoted by the Jerusalem Post, Kerry met a senior Palestinian leader, Hussein Agha, in London recently and told him to convey a clandestine message to Palestinian President Mahmoud Abbas. The message was that Abbas should "play for time" and "not yield to President [Donald] Trump's demands." Kerry reportedly predicted that President Trump would not be in office for long — perhaps not more than a year. Possibly for that reason, Kerry allegedly advised that the Palestinians should aim their criticisms at President Trump personally, rather than more broadly at the United States.
Why Did Kerry Lie About Israeli Blame? In testimony before the Senate Foreign Affairs Committee, Secretary of State John Kerry performed a post-mortem on the recent collapse of the Middle East peace talks. According to Kerry, the Palestinian refusal to keep negotiating past April and their decision to flout their treaty commitments by returning to efforts to gain recognition for their non-existent state from the United Nations was all the fault of one decision made by Israel. [...] Kerry doesn't want to blame the Palestinians for walking out because to do so would be a tacit admission that his critics were right when they suggested last year that he was embarking on a fool's errand.
Kerry's Collusion. Deafening is the word for the silence that has greeted the report that Secretary of State Kerry has sent a message urging the Palestinian Arab leader Mahmoud Abbas to stay strong and resist American policy in the Middle East. This supposedly took place at a meeting between Mr. Kerry and an longtime ally of Mr. Abbas, Hussein Agha, who has long been involved on the Palestinian side of the so-called peace process. At that meeting, according to reports in the Israeli newspaper Maariv and the Jerusalem Post, Mr. Kerry asked Mr. Agha to encourage Mr. Abbas to "hold on and be strong" in the face of "Trump's demands." And to "play for time." Mr. Kerry sought to reassure his interlocutor with the news that he was considering making another run for the presidency in 2020, the implication being that if so, things would go better for the Palestinian Arabs.
New York Attorney General to Investigate Firm That Sells Fake Followers. The New York attorney general, Eric T. Schneiderman, on Saturday [1/27/2018] opened an investigation into a company that sold millions of fake followers on social media platforms, some of them copying real users' personal information. The company, Devumi, and its sale of automated followers to a swath of celebrities, sports stars, journalists and politicians, was detailed in a New York Times article published earlier on Saturday. While based in Florida, Devumi claims on its website to be based in New York City.
Morning Consult Poll Shows 'Public's Confidence in Presidency' Up Among Republicans, Down Among Democrats. A Morning Consult Poll released this week shows that the "public's confidence in the presidency" is up significantly among Republicans since December 2016 but is significantly down among Democrats over the same time period. An astonishing 82 percent of Republicans say they have "a lot" or "some" confidence in the institution of the presidency, according to the January 2018 Morning Consult Poll.
Rocket Lab's 'Humanity Star' slammed as 'space graffiti'. Rocket Lab has angered astronomers across the world after putting a glittering disco ball into orbit. New Zealand's first-ever successful orbital launch was hailed last week, but on Thursday the company revealed in addition to two mapping satellites, the Electron rocket was carrying a reflective sphere it called the 'Humanity Star'. It holds no practical purpose, except to "get people to go outside and look up", according to Rocket Lab founder Peter Beck.
Mike Huckabee Responds to Cher's Attack on His Daughter. On Thursday [1/25/2018] Cher the progressive attacked White House Spokesperson Sarah Huckabee Sanders for dressing like a polygamist bride. Because nasty attacks on women based on their looks is still acceptable if you are high profile liberal. On Friday morning Governor Mike Huckabee responded to Cher. [...] "The person who dresses like a cigarette girl at a casino on stage? And you're going to tell my daughter how to dress?"
Facebook exec to retire, help Dems in midterms. A top Facebook executive announced this week that he would be stepping down from the company in part to focus on helping Democrats in this year's midterm elections. Gary Briggs, Facebook's chief marketing officer (CMO), wrote in a post on Monday [1/22/2018] that he also plans to advise some companies and will consider teaching in his retirement. "We're going to travel some and start to split our time in and out of the Bay Area and Seattle," Briggs wrote, referring to his family's plans.
Women's Marchers Ignore Science, Walk On Melting Ice In National Mall Reflecting Pool. The Women's March in D.C. was, according to its website, "pro-science" with regards to "Climate Change," but while they might happily embrace an extensive, industry-crushing, regulation-heavy response to their own extensively researched environmental concerns, short-term weather knowledge appears out of their reach. They learned more about that from experience Saturday [1/20/2018] when a number of them got soaked (thankfully, though, no one got hurt).
Adam Schiff and Dianne Feinstein Demand Twitter Investigate #ReleaseTheMemo. The desperation of democrats has crossed into ludicrous world. Rep. Adam Schiff and Senator Dianne Feinstein have written a letter to Facebook and Twitter demanding an immediate investigation into the strong support of the #ReleaseTheMemo campaign. If you thought CNN was absurd last year when they spent eight months investigating the 2016 election results and determined a conspiracy behind the mobile ap 'Pokemon-Go' was a factor in causing Hillary Clinton to lose, well, [Shiff and Feinstein] apparently have one-upped that conspiracy.
John Kerry Stabs America In The Back. If a Republican did this the Democrats would say it was treasonous.
As Palestinian children 'starve' Mahmoud Abbas is set to take possession of a new $50 million private jet! Amid U.S. funding cuts to UNRWA, and threats to cut direct Palestinian Authority (PA) funding, Mahmoud Abbas is set to take possession of a new $50 million private jet. Half of PA foreign aid goes towards payments to imprisoned terrorists or dead terrorists' families, while Palestinian "leadership" claims Donald Trump is starving children by withholding funding for the regime in Ramallah. The illegitimate leader of the fictitious state will need his new wings to fly around the world begging for the money lost from shunning the U.S.
Democrats end shutdown — Republicans cut taxes another $31 billion. Democrats made fools of themselves this weekend by shutting down the government over their call to grant amnesty to border jumpers who live here illegally. President Trump laughed and laughed and laughed. Democrats tanked in the polls. [...] Republicans extracted a price from Democrats for resuming government operations: another $31 billion in tax cuts. Surprise, surprise, surprise. And the tax cuts are stripped from Obamacare.
Unsealed FISA Court Ruling Shows 85% of Obama's FBI and DOJ 704-5 FISA Searches Were Illegal and Illegally Provided to Government Outsiders. A Report was released in April of 2017 that received no publicity until recently. The report was a ruling on the results of an investigation or audit into FISA searches made by Obama's FBI and DOJ during Obama's time in office. The report shows Obama's FBI and DOJ participated in widespread criminal searches and criminal sharing of data with non authorized entities outside of government.
A Nation of Junkies? Study Eschews Economic Despair Opioid Theory. Why are so many Americans dying of drug overdoses? Maybe it's because we're a nation of junkies. At least that seems to be the finding from a new study that flies in the face of the more widespread view that the opioid crisis is the result of a weak economy. "The fatal overdose epidemic is likely to primarily reflect drug problems rather than the deaths of despair," states a report published this month by the National Bureau of Economic Research.
Pope Francis Honors Dutch Abortion Activist with Pontifical Medal of Knighthood. Pope Francis has conferred the title of "Commander of the Pontifical Equestrian Order of St. Gregory the Great" on Lilianne Ploumen, a Dutch politician and vocal agitator for abortion rights. Last year, Ploumen founded a pro-abortion organization called She Decides, which offers funding and support for international NGOs that provide, facilitate or campaign for abortion. In an email to the Catholic Herald, Ms. Ploumen said that she was "very honoured" by the pontifical medal, which was sent via the Dutch Ministry of Foreign Affairs last month.
'Deplorable Vet' Offers to take Maxine Waters' SOTU Seat: 'She Surely Doesn't Speak for Me'. An African-American veteran has offered to take Rep. Maxine Waters' (D-Calif.) seat at President Trump's first State of the Union address later this month. Waters is one of several Democrat lawmakers who are skipping the event, telling MSNBC last week that Trump is "the most despicable human being that could possibly ever walk the earth." "Why would I take my time to go and sit and listen to a liar? ... He doesn't deserve my attention," Waters said. Ricky Taylor, a ten-year Army veteran who served two tours in Afghanistan, started going viral after he tweeted that he would like Waters' seat, so he can attend the State of the Union and thank the president.
Nearly all members of National Park Service advisory panel resign in frustration. More than three-quarters of the members of a federally chartered board advising the National Park Service have quit out of frustration that Interior Secretary Ryan Zinke had refused to meet with them or convene a single meeting last year. The resignation of 10 out of 12 National Park System Advisory Board members leaves the federal government without a functioning body to designate national historic or natural landmarks. It also underscores the extent to which federal advisory bodies have become marginalized under the Trump administration. In May 2017, Zinke suspended all outside committees while his staff reviewed their composition and work. In a letter to the secretary on Monday [1/15/2018], departing board chairman Tony Knowles, a former Alaska governor, wrote that he and eight other members "have stood by waiting for the chance to meet and continue the partnership ... as prescribed by law." All of the signatories, who serve as unpaid volunteers, had terms set to expire in May.
The Dangerous Supreme Court Case Nobody Is Talking About. This case, National Institute of Family and Life Advocates (NIFLA) v. Becerra, has almost entirely escaped public attention. That's a mistake. If anything, the violation of the First Amendment in the NIFLA case is more egregious, and the implications potentially more far-reaching. As readers almost certainly recall, the issue in Masterpiece Cakeshop was whether the state of Colorado could compel a Christian baker to design a cake for a gay wedding. One of the state's principal arguments against the baker's First Amendment claim was that designing a custom cake wasn't an expressive act, so forcing him to design a cake wasn't compelled speech. The NIFLA case, however, is unquestionably about compelled speech. The state of California has enacted a law, the so-called FACT Act, that requires pro-life crisis-pregnancy centers to prominently place a notice informing clients that California offers low-cost and even free abortions to women who qualify and providing them a phone number that grants quick access to abortion clinics.
What Happens When Socialists Run Out Of Money. Prime Minister Thatcher once famously observed that socialists "always run out of other people's money." But what actually happens when socialism runs out of money? Venezuela, a once wealthy nation with black gold coming out of the ground, is a test case. The socialist regime ran out of other people's money, and then out of money, years ago. The government met protests by its starving population with a 40% minimum wage hike. That's the usual socialist solution to what leftists call 'income inequality'. The problem is that 40% of nothing is still zero. The "Strong Bolivar" introduced by former dictator Hugo Chavez, who died of an overdose of Cuba's socialist medicine, leads the world in one economic category: a 3,000% inflation rate. Currently a dollar will buy you 111,413.23 bolivars. Wait a while and there will be a better bargain in bolivars because economists are forecasting a 30,000% inflation rate.
N.J. town is banning out-of-town drivers who use apps like Waze and Google Maps. If you want to drive through the small residential streets of Leonia, N.J., you'll have to move there. Starting Jan. 22, the town will ban all non-residents from driving on 60 of its streets during the morning and evening rush hours. The new rules aim to crack down on urban-dwellers who take shortcuts through the town while following instructions from navigation apps like Waze, Google Maps or Apple — a phenomenon Mayor Judah Zeigler says is causing gridlock, costing money and putting people in danger.
How robo-callers outwitted the government and completely wrecked the Do Not Call list. On the morning of Oct. 1, 2015, a middle-aged telemarketer arrived at the Washington headquarters of the Federal Trade Commission. His name was Aaron Michael Jones, or possibly Michael Aaron Jones, and in any case, he went by Mike. According to court documents, Mike was a father and widower. He lived well, paying $25,000 a month for a Spanish Colonial Revival in a gated community near Laguna Beach, Calif. He also employed a personal chef, drove a couple of Mercedes, and maintained a gambling account at the Bellagio in Las Vegas. Jones sustained his lifestyle by spamming people with robo-calls. [...] Jones, it appears, didn't really care about getting caught. The same goes for the rest of the robo-calling industry. The financial rewards of bothering people on the telephone are clearly greater than the risks.
The Editor says...
Outwitting the government isn't much to brag about. The government specializes in brute force, not wits.
Starbucks to institute a paper cup 'tax' in the UK. Starbucks is adding a new fee to the cost of its coffee in the United Kingdom — but only if you use a paper cup. The ubiquitous coffee company announced a trial run of a 5-pence-per-paper-cup charge in about 25 London locations as a way to "encourage and support" the use of environmentally-friendly multiple-use cups. Citing "growing concern" about the cost and wastefulness of paper cups, which — despite what many consumers may believe, are not so easy to recycle due to the inner plastic lining — Starbucks said it will study the impact of the new surcharge closely to determine next steps.
Dem Attorney General Candidate in Illinois Robbed at Gunpoint While Taking Promotional Photos. A Democratic candidate running for Illinois attorney general was robbed at gunpoint on Thursday afternoon [1/11/2018] while taking promotional photos for his campaign, according to his campaign manager and authorities. Aaron Goldstein, 42, and several members of his campaign team were taking publicity shots in the middle of the afternoon when three men in their early 20s approached them, according to the Chicago Tribune. One of the men flashed a handgun and demanded the camera equipment and other personal belongings from the team, according to police. The gunman and two other men robbed Goldstein and four others of camera equipment and their cellphones before they ran away, the law enforcement source said. As of Thursday evening, no one was in custody, police said.
Tyrants Kill Internet To Quell Riots. The "Democratic" Republic of Congo (DRC) recently ordered national telecom companies to turn off internet and text messaging (SMS) services in order to suppress political insurrection. Telecom minister Emery Okundji explained that the action was to prevent "violence that is being prepared." All tyrants make broad, general statements like this that are essentially meaningless, to justify their outrageous behavior. The effect of online bans and restrictions work for a while, but eventually, regular folks become really annoyed at not being able to conduct daily business and personal affairs. At this point, there is more to protest, not less. The African country has a history of political struggle and human rights abuses under DNC leaders Laurent Kabila and, now, his son Joseph Kabila.
Clinton House Burns: Interesting Timing with DOJ Investigation. Admit it. When you heard the Clinton's house burned, the thought crossed your mind: What are they hiding. It reminded me of when Al Sharpton's office burned right around the time the IRS was investigating him about non-payment of taxes. [...] I'm wondering if we will hear later that the Clintons wanted to turn over all information related to The crooked Clinton Foundation, but they lost that information... in the fire?
New York: de Blasio spends $50M to install 1,500 security barriers to prevent Muslim car attacks. The mayor of New York City has announced plans to install 1,500 steel street barriers to prevent vehicle attacks. Bill de Blasio said the protective barriers were part of a $50m (£37m) investment in security infrastructure. The move comes after two vehicle attacks in 2017 that killed nine people in total. The new permanent barriers will replace temporary concrete blocks that were put in place after the incidents. [They were only put in after the Muslim attack]
Russia probe grand jury looks like 'a Black Lives Matter rally,' says witness. The federal grand jury handing down indictments for special counsel Robert Mueller doesn't appear to include any supporters of President Donald Trump, according to one witness who recently testified before the panel. "The grand jury room looks like a Bernie Sanders rally," my source said. "Maybe they found these jurors in central casting, or at a Black Lives Matter rally in Berkeley [Calif.]" Of the 20 jurors, 11 are African-Americans and two were wearing "peace T-shirts," the witness said. "There was only one white male in the room, and he was a prosecutor." Mueller was not present.
Something is very wrong with the US Navy. Recently, a sailor on the cruiser Shiloh started to behave erratically. He claimed he had the ability to shoot fireballs from his hands and that he had traveled into outer space. Despite his obvious insanity, no action was taken. The sailor, named Peter Mims, then hid aboard his ship, and no one was able to find him for a week. [...] Yet that same year, he was listed as "must promote" in his annual evaluation. "His enthusiasm and motivation are contagious!" a supervisor wrote on his eval. "A rock-solid performer with unlimited potential!"
People Freak Out After Oregon Strikes Law Banning Self-Service Gas Stations. People are raising Cain on social media about a law in Oregon making it legal for citizens to pump their own gas. A law passed through Oregon's legislature in May and signed into law in June will allow counties with 40,000 residents or fewer to pump their own gas. Oregonians are not pleased about the change. The law, which will take effect Jan. 1, has created a minor firestorm in rural parts of Oregon, where full-service gas stations have been the norm since 1951.
Hillary Clinton backer paid $500G to fund women accusing Trump of sexual misconduct before Election Day, report says. One of Hillary Clinton's wealthy pals paid $500,000 in an unsuccessful effort to fund women willing to accuse President Trump of sexual misconduct before the 2016 election, The New York Times reported Sunday. Susie Tompkins Buell, the founder of Esprit Clothing and a major Clinton campaign donor for many years, gave the money to celebrity lawyer Lisa Bloom who was working with a number of Trump accusers at the time, according to the paper's bombshell report. Bloom solicited donors by saying she was working with women who might "find the courage to speak out" against Trump if the donors would provide funds for security, relocation and possibly a "safe house," the paper reported.
Clinton Donors David Brock, Susie Tompkins Buell Spent $700,000 to Find Trump Accusers. Left-wing political operatives and Hillary Clinton backers David Brock and Susie Tompkins Buell bankrolled $700,000 allegedly to find people who would accuse then-candidate Donald Trump of sexual misconduct before Election Day 2016. Brock's American Bridge 21st Century Foundation and Buell, a major donor to the foundation, reportedly donated the six-figure sums to Lisa Bloom's law firm, which specializes in sexual harassment allegations against public figures, according to a report from the New York Times. Brock gave $200,000, and one of his major donors, Susie Tompkins Buell, gave $500,000. Bloom's firm capitalized on the sexual harassment allegations against Trump in the lead-up to the 2016 presidential election, offering to sell alleged victims' stories to media outlets for a 33 percent commission.
Trump's DC Hotel Was Supposed To Lose Money. It Made $2 Million In 4 Months. Trump International Hotel in Washington., D.C. was projected to lose money, but it raked in a staggering $2 million in four months, according to a Friday [12/29/2017] report. Despite frequent protests outside the hotel and the fact that most luxury hotels do not make substantial profits in their first years, President Donald Trump's hotel hit an unexpected profit, Axios reported. The hotel, opened in 2016 and reconstructed out of an old post office close to the White House, is now a hot gathering spot for Trump fans, tourists and conservative groups. While the hotel expected to lose $2 million in its first year, it cashed in almost that same amount in profits. Perhaps one factor that played into this increase was the spike in room rates following the presidential inauguration.
The WHO will recognize 'gaming disorder' as a mental health condition. Whether it's an Atari or the latest Xbox One X, most have probably been gamers at some point in life. Now, doctors believe too much video-gaming is a cause for concern, our affiliate WBMA reported. Frequently playing video games could lead to an addiction, doctors say.
The States' Unfunded Pension Nightmares. The stock market boom has helped everyone, right? Nope. States' pension funds have nearly $4 trillion of stock investments, but somehow haven't benefited from soaring stock prices. A new report by the American Legislative Exchange Council (ALEC) shows why this is true. It notes that the unfunded liabilities of state and local pension plans jumped $433 billion in the last year to more than $6 trillion.
An avalanche of embassy moves to Jerusalem begins. Last week, the Trump administration's announced that the U.S. embassy in Tel Aviv would move to Israel's actual capital, Jerusalem. As the cognoscenti shrieked, some ten nations are now planning to do the same, in a snowball effect.
In four hours, a robot taught itself chess, then beat a grandmaster with moves never before devised. Will robots one day destroy us? It's a question that increasingly preoccupies many of our most brilliant scientists and tech entrepreneurs. For developments in artificial intelligence (AI) — machines programmed to perform tasks that normally require human intelligence — are poised to reshape our workplace and leisure time dramatically. This year, a leading Oxford academic, Professor Michael Wooldridge, warned MPs that AI could go 'rogue', that machines might become so complex that the engineers who create them will no longer understand them or be able to predict how they function.
Fascism And Communism. The 20th century was mankind's most brutal century. Roughly 16 million people lost their lives during World War I; about 60 million died during World War II. Wars during the 20th century cost an estimated 71 million to 116 million lives. [...] The People's Republic of China tops the list, with 76 million lives lost at the hands of the government from 1949 to 1987. The Soviet Union follows, with 62 million lives lost from 1917 to 1987. Adolf Hitler's Nazi German government killed 21 million people between 1933 and 1945. Then there are lesser murdering regimes, such as Nationalist China, Japan, Turkey, Vietnam and Mexico. According to Rummel's research, the 20th century saw 262 million people's lives lost at the hands of their own governments.
Navy grants fitness amnesty to 48,000 sailors who failed test. The Navy will grant a clean slate to nearly 50,000 sailors with fitness failures in their records, part of new shakeup for fleet-wide fitness rules announced Thursday [12/21/2017]. A new Navy-wide message instructs commands to immediately stop discharging sailors for fitness failures and to cancel any pending discharges for sailors slated to be kicked out after March 31. The change applies to both enlisted and officers.
Who Regulates Bitcoin Trading? No U.S. Agency Has Jurisdiction. Investors are frantically trying to learn everything they can about bitcoin — and so are regulators. Frenetic trading in cryptocurrencies is confounding many in the Trump administration who had hoped to embrace financial innovation, after nearly a decade of tighter clamps on risk-taking put in place after the 2008 financial crisis. The Commodity Futures Trading Commission, the agency with closest oversight of bitcoin trading, began the year by launching an in-house lab to encourage advances in blockchain, the technology that underpins digital currencies. Yet the regulator recently sounded an alarm on bitcoin itself, noting most exchanges are completely unregulated while the cryptocurrency is prone to wild price swings and potential flash crashes.
Anti-Racist Activist Fired for Speaking Out Against Muslim Brotherhood. The Canadian government has fired an anti-racism activist for criticizing a supremacist racist organization. It's just one that happens to be protected by the left.
Chief D.C. Correspondent James Rosen is Suddenly Out at Fox News. After 19 years at the Fox News Channel, veteran political reporter James Rosen is leaving at the end of this year. The announcement came as a surprise when it was first reported by TVNewser on Friday [12/22/2017] at 2:09 P.M. E.T. Rosen currently serves as FNC's chief Washington correspondent and appears frequently on various programs across the channel, most often on Fox News' signature nightly news show, Special Report with Bret Baier. Rosen is considered one of Fox News's best and most experienced journalists and he is widely respected among his colleagues in the Washington, D.C. press corps.
Rosie O'Donnell Could Be Facing Prison Time And A $12 Million Fine For Bribery. 18 U.S. Code §201 criminalizes the attempted bribery of federal officials by whoever "directly or indirectly, corruptly gives, offers or promises anything of value to any public official ... with intent to influence any official act."
O'Donnell Could Be Facing Prison Time and a $12 Million Fine for Bribery. [Scroll down] Federal law addresses O'Donnell's actions. 18 U.S. Code §201 criminalizes the attempted bribery of federal officials by whoever "directly or indirectly, corruptly gives, offers or promises anything of value to any public official ... with intent to influence any official act." [...] In court, O'Donnell would probably argue that her attempted bribe was in jest, or perhaps a syndrome of a mental illness. After all, her attorneys would argue, who, while seriously attempting to bribe members of the U.S. Congress would do so in such a reckless, public manner that would all but ensure a conviction?
The Editor says...
This is a very common Socialist-Democrat tactic: They will say something outrageous, hoping for general agreement, and if there are any objections, they'll follow up a few days later with, "Can't you take a joke?" Examples:
[1] [2] [3] [4] [5] [6] [7] [8] [9] [10] [11] [12] [13] [14] [15] [16] [17] [18] [19] [20] [21]
U.S. life expectancy falls for second straight year — as drug overdoses soar. Life expectancy in the United States fell for the second year in a row in 2016 — and it's clear the epidemic of drug overdoses is at least in part to blame, government researchers said Thursday. Overall life expectancy for a baby born in 2016 fell to 78.6 years, a small decline of 0.1 percent, the National Center for Health Statistics (NCHS) team found. At the same time, mortality from drug overdoses rose by 21 percent.
Declassified: Chinese official said at least 10,000 civilians died in 1989 Tiananmen massacre, documents show. A member of the Chinese State Council estimated that at least 10,000 civilians were killed in the Tiananmen massacre of June 4, 1989, declassified files reveal. Alan Donald, Britain's ambassador when the Chinese government sent tanks into Tiananmen square to quell the student-led protests, sent telegrams to the foreign office on June 5, a day after the massacre. He said a person — whose name was redacted from the document — passed along the information from an unnamed member of the State Council.
Is North Korea collapsing? A North Korean soldier walked away from North Korea through the DMZ on Thursday morning (Wednesday night in the United States). No shots were fired. No one tried to stop him. Is this the moment we have waited for? Is North Korea about to collapse? I ask this because it seems like Kim Jong Un's most elite troops — the ones he places along the border with South Korea — no longer protect that border. If people figure that out, they will start walking south by the dozen, then hundreds, then thousands.
North Korean soldier defects by crossing DMZ border in thick fog before soldiers in the South fire warning shots at search party. A North Korean soldier defected to South Korea by crossing the border in thick fog, triggering gunfire from both sides this morning [12/20/2017]. The 'low-ranking' soldier in his 20s was spotted by South Korean soldiers using surveillance equipment as he crossed the land border near Yeoncheon and made his way to a guard post. There were no shots at the time but about an hour later South Korean troops fired 20 rounds from a K-3 machine gun to warn off Northern guards who approached the border apparently looking for their comrade.
North Korean soldier defects to the South by walking over the DMZ with no shots fired. A North Korean soldier defected to South Korea by crossing the border in thick fog, triggering gunfire from both sides this morning. The 'low-ranking' soldier in his 20s was spotted by South Korean soldiers using surveillance equipment as he crossed the land border near Yeoncheon and made his way to a guard post. There were no shots at the time but about an hour later South Korean troops fired 20 rounds from a K-3 machine gun to warn off Northern guards who approached the border apparently looking for their comrade. Two bursts of gunfire were later heard in the North but there were no indications of any bullets crossing the border, a South Korean official said.
There Was A Lot More To That NY Times UFO Story Last Week. Over the weekend, John looked at that blockbuster New York Times article where the government released some video (and audio) of Navy pilots encountering something they couldn't explain. That caused plenty of buzz for a little while, but since nothing else was forthcoming it seems to have died down just as quickly. But there were a few tidbits in that story which were less discussed but might prove to be even more interesting. What's that, you say? More interesting than an unidentified craft that can massively outrun an F-18? Hey... why not? First of all, as I said, everyone's focusing on that white oval object with no obvious wings which apparently can travel at MACH 9 or something ridiculous like that. But it's worth noting that this is not new information. It's been around for years in the UFOlogy community and it's known as the white tic tac. There were contemporaneous pilots from other ships who had gone public about seeing it or something very similar and even had radio recordings of pilots talking about it. Anyone who brought it up previously was ridiculed and experts claimed the audio recordings were fake. The video released this week seems to put that to rest.
Pentagon Program Investigated "Anomalous Aerospace Threats" — UFOs. The New York Times and Politico reported on December 16 that the Defense Department launched a program in 2007 to study reports of UFOs, videos of encounters between military pilots and unknown objects, and interviews with people who said they had "experienced physical effects" from encounters with the unidentified flying objects. The initial funding for the program came mostly at the request of former U.S. Senator Harry M. Reid (D-Nev.), who was long known for his interest in space phenomena. The program ended in 2012. According to the media reports, the Advanced Aviation Threat Identification Program (AATIP) was launched following a conversation that Reid had with his longtime friend, Robert Bigelow, the billionaire founder of Bigelow Aerospace, a space technology company and government contractor. Bigelow has spoken about his belief in UFOs visiting the United States as well as the existence of extraterrestrial aliens. The program's existence was not classified but operated with the knowledge of an extremely limited number of officials.
Technology-aided Chinese Big Brother Makes Thousands Disappear. The Chinese regime is using countless video cameras and face scans to monitor citizens — and thousands have already vanished. It's a cautionary tale about how modern technology threatens to make totalitarianism truly total. The surveillance in this case concerns one particular region in China, Xinjiang, which a local police officer chillingly informed is home to "tens of thousands of cameras." USA Today reports on why Xinjiang has become Big Brother Central, introducing the topic with the story of how a Uighur student disappeared after returning from Egypt: [...] Unlike the West, China doesn't have to consider civil liberties when confronting terrorism; the regime can watch all of the people all of the time and imprison (or worse) people on a whim for a long time.
As Venezuela Collapses, Scores Of Children Are Dying Of Starvation — And The Government Is Trying To Hide It. Venezuela was once a beacon of what the late Hugo Chavez called 21st Century Socialism. Oil prices were up; things were going well. Then, things fell apart. The drop in oil prices has been a contributing factor. Venezuelans for a few years now have lacked access to medicine, food, soap, toilet paper, and other basic commodities. They're eating out of trashcans. Cats, dogs, and birds are being eaten. Even animals at the zoo are being stolen for consumption. There's a food police that targets people who wait in food lines. That's bad public relations for the government. The hospital system is in an awful state of disrepair, with soap and gloves being items that are in short supply. As a result, health care in the country has reverted back to 19th century conditions. Even educated people, like doctors and teachers, are resorting to prostitution to feed themselves and their families. Children have begun joining the sex industry to help their families eat. It truly is a horror show.
Virginia court tosses out one-vote victory that briefly ended GOP majority in House. A three-judge panel declined to certify the recount of a key House race today, saying that a questionable ballot should be counted in favor of the Republican and tying a race that Democrats had thought they had won by a single vote. "The court declares there is no winner in this election," said Newport News Circuit Court Judge Bryant L. Sugg, after the judges deliberated for more than two hours. He said the ballot in question contained a mark for Democrat Shelly Simonds as well as a mark for Republican Del. David Yancey but that the voter had made another mark to strike out Simonds' name. Election officials presiding over the five-hour recount on Tuesday had discarded that ballot. But Republicans challenged that decision in court Wednesday [12/20/2017], saying the voter had selected every other Republican on the ballot and intended to vote for Yancey.
UPS Loses Family's $846K Inheritance, Offers to Refund $32 Shipping Fee. A Canadian man says he's broke after the United Parcel Service lost track of his inheritance. The intended $846,000 delivery was a bank draft from TD Canada Trust, which still hasn't refunded the lost fortune 10 months later. Instead, UPS offered an apology and $32 to pay for the mailing costs, according to a CBC News report. "It was a total surprise," Lorette Taylor told CBC News. "Never in my wildest imagination did I think something like this would happen."
Diamond & Silk: Liberals 'Want Us to Live in a Third World Country'. Best known for their viral videos in support of the president, social media stars Lynnette "Diamond" Hardaway and Rochelle "Silk" Richardson ripped the left for "disrespecting" President Trump at every turn. Diamond & Silk said that since Inauguration Day, when several Democrats boycotted the ceremony and left-wing protesters rioted in the District of Columbia, Trump has not been shown the respect his office deserves.
Whats really driving the price of Bitcoin through the roof. Although Bitcoin is electronic and moves quickly, the real world doesn't. [...] Crypto exchanges are experiencing huge bottlenecks, which means this squeeze has only started. This week the price of BTC/USD can run up 100% or more due to this demand.
Charlottesville police chief retiring 'effective immediately'. Charlottesville Police Chief Alfred Thomas announced Monday [12/18/2017] that he is retiring, which the city said is "effective immediately," following criticism surrounding the department's handling of a deadly white supremacist rally in the Virginia town this past summer.
Bitcoin Surpasses "Tulip Mania", Now The Biggest Bubble In World History. One month ago, a chart from Convoy Investments went viral for showing that among all of the world's most famous asset bubbles, bitcoin was only lagging the infamous 17th century "Tulip Mania."
Report: Andrew McCabe Postpones House Intel Interview Amid Dossier Developments. Deputy FBI Director Andrew McCabe on Monday night [12/11/2017] reportedly postponed an appearance before the House Intelligence Committee that was scheduled for Tuesday. The abrupt cancellation occurred following a report by Fox News that raised new questions about connections between the Justice Department and Fusion GPS, the opposition research firm behind the infamous Trump dossier. Fox News reported that McCabe's interview will be rescheduled for next week. The Justice Department told the network that the cancellation was due to a "routine scheduling error." A Congressional source told The Daily Caller that the excuse is "very hard to believe."
The Editor says...
Oops. I was supposed to testify in front of the House Intelligence Committee, but I forgot all about that and scheduled a haircut instead. Just a routine scheduling error.
Pentagon says transgender people can enlist starting in January, after court order. The Defense Department plans to allow transgender people to enlist in the military starting Jan. 1, Pentagon officials confirmed to Fox News on Monday, after a federal court ordered the military to do so despite opposition from President Trump. The president over the summer announced, via Twitter, a ban on transgender servicemembers. But the directive has since been challenged in the courts, and a federal judge last month said the U.S. military must accept them starting Jan. 1. The new policy reflects growing legal pressure on the issue and the difficult hurdles the federal government would have to cross to enforce Trump's demand.
Amnesty International caught taking Soros cash to push abortion in Ireland. Soros is appalling just for his uni-world vision with rotted out values, from pot legalization to releasing predators out on the streets from prisons to coercive, anything-goes redefinitions of family. He calls himself a "stateless statesman" and sees that as his license to foment revolutions in struggling and established democracies, using NGOs as the arms of his multi-tentacled operational octopus. He also loathes America. During the Bush administration, he compared Americans to Nazis. He's only gotten worse ever since, moving into the promotion of abortion. Abortion is an awful topic, too: the ending of human life, and cheapening it into a convenience and commodity. Without abortion, there would be no sale of baby parts, as the current Planned Parenthood investigation announced yesterday by the Department of Justice signals.
No, Bitcoin Won't Boil the Oceans. While much of the world marvels at bitcoin's meteoric rise, another part is focused on an environmental byproduct: The sheer amount of electricity that crypto-currencies use. By some estimates, bitcoin's consumption alone exceeds — or will exceed — that of Ireland, Denmark, Japan or even the entire world. Instead of worrying about how soon bitcoin will melt the polar ice caps, though, it's worth considering how much energy might be saved. Digital currency is wasteful by design. Bitcoin "miners," who process transactions in return for new currency, must race to solve extremely difficult cryptographic puzzles. This computational burden helps keep the transaction record secure — by raising the bar for anyone who would want to tamper with it — but also requires miners to build giant farms of servers that consume vast amounts of energy. The more valuable bitcoin becomes, the more miners are willing to spend on equipment and electricity.
Megyn Kelly's Living in Liberal TV Hell. Megyn Kelly has attracted the lowest audience in the Today show's recent ten-year history. [...] She has been her own worst enemy. Kelly alienated Fox viewers with her announcement that she would take down Donald Trump, followed by constant daily attacks, followed yet again by her anti-Fox News tour selling her book and herself. While going from TV station-to-TV station to get a "better" job, she trashed colleagues and the boss who helped her establish a career. The right doesn't like her because of all that and because she seems to be a phony. At the same time, the left hates her because she came from Fox News and she seems to be a phony.
Rachel Dolezal Is Trying To Commercialize Her Fake Blackness Just In Time For Christmas. Rachel Dolezal is back and now this time she's trying to commercialize her status as an alleged black woman by selling calendars urging people to "get woke." Dolezal, a white woman claiming to be black, is now selling a 2018 calendar of herself on her personal website. Dolezal's calendar, which has already sold out, features various pictures of her striking poses with a collection of inspirational quotes Dolezal came up with.
Pope Francis wants to change line of 'Our Father'. Pope Francis has suggested he wants to make a change to The Lord's Prayer, widely known among the faithful as the "Our Father." Specifically, the Catholic leader said in an interview Wednesday he would prefer to adjust the phrase "lead us not into temptation," saying that it too strongly suggested that God leads people to sin. "That is not a good translation," the pope said, according to Reuters. The phrase "do not let us fall into temptation," which the Catholic Church in France has previously decided to use, would be a more appropriate alternative, Francis said.
Handwriting Expert Touted by Washington Post Turns on Gloria Allred: Calls for Activist Attorney to Release Yearbook. A handwriting expert prominently cited by the Washington Post on the matter of the yearbook presented as evidence by Roy Moore accuser Beverly Young Nelson raised new questions today in a Breitbart News interview about the inscription and signature at the center of national controversy. Specifically, the expert raised doubts about whether the initials "DA" at the end of Moore's alleged signature evidenced stylistic differences when compared to the rest of the writing in the yearbook. The forensic document examiner, Mark Songer, a former FBI agent, also called for Nelson's attorney, activist Gloria Allred, to release the original yearbook "to all parties for examination. I think it is only fair. It shouldn't be hidden or anything like that in my opinion."
Roy Moore accuser Beverly Young Nelson says she added date and location to yearbook entry. When Beverly Young Nelson, accompanied by Gloria Allred, accused Roy Moore of sexual assault behind a diner when she was 16, she showed a high school yearbook with Moore's purported dated signature to prove she knew him. The yearbook entry was a piece of evidence that immediately raised questions. I wrote at the time Roy Moore "handwriting analyses" prove Trial by Twitter is no way to determine guilt or innocence[.]
Roy Moore Accuser Admits She Forged Part of Yearbook Signature. Roy Moore has been a man under fire lately. He first gained national prominence as the pick of Steve Bannon in the Alabama Senate race against Trump's pick, Luther Strange, and shortly after Moore was declared the winner, women including Beverly Young Nelson have come up to claim that Moore had sexually abused her as a young woman. Ms. Young Nelson's charge comes with the physical evidence of her high school yearbook. She alleged that Moore had signed her yearbook when she was 16. Now 56, she has been showing off the yearbook from 1977 with her lawyer, Gloria Allred.
The Editor says...
One would presume that a competent attorney would carefully examine the physical evidence in a case like this, before going on national TV to make sensational claims against a Senate candidate.
Roy Moore accuser admits she forged part of yearbook inscription attributed to Alabama Senate candidate. One of the women who accused Alabama Senate candidate Roy Moore of making advances on her when she was a teen and he a local prosecutor admitted Friday [12/8/2017] to forging part of the yearbook inscription she offered as proof. Beverly Young Nelson told ABC News she wrote part of the disputed note in her high school yearbook that she and famed attorney Gloria Allred presented as proof the then-30-something Moore sought an inappropriate relationship with her in the late 1970s.
Economics Prof: $21,000,000,000,000 Missing From Federal Budget. On the dark side of the moon stand vast palaces made completely of gold, where federal bureaucrats plan to retire. Or maybe they constructed a city of platinum under a giant dome at the bottom of the sea. Either might explain what they have done with the missing $21 trillion.
Melania Visited Texas Aide Workers — But It's Where She Ate That Shows She Really Cares About Texas. The purpose of the trip was to give the First and Second ladies time with aide workers and first responders who have been working nonstop to help those affected by Hurricane Harvey. Harvey made landfall in August and devastated communities in the south of Texas. Melania and Karen Pence made very important stops throughout the affected communities, but one stop above all others signaled that the two really cared for the people of Texas.
Chairman Devin Nunes Cleared After Eight Month Ethics Cloud Over Classified Information. After House Intelligence Committee Chairman Devin Nunes almost derailed the Muh Russian Collusion Conspiracy in March/April 2017, the UniParty pushed him into an ethics blender claiming he disclosed classified information. As an outcome of his Chairmanship role Representative Nunes is also a member of the elite intelligence oversight team known as the Gang of Eight. Today, the House Ethics Committee cleared Nunes of any wrongdoing, and stated the information he discussed was not classified.
Global Islamophobia Follows Trump's Embassy Move. President Trump displayed more courage and integrity Wednesday than Bill Clinton, George W. Bush, and Barack Obama ever did when he ended twenty-two years of waivers postponing the U.S. Embassy to Israel's move to Jerusalem, declared that the U.S. recognized that Jerusalem was Israel's capital, and announced that preparations for the embassy move would begin forthwith. [...] Nonetheless, the reaction was predictable. Pope Francis obliquely denounced the move, saying: "I appeal strongly for all to respect the city's status quo, in accordance with the relevant UN resolutions." A spokesman for German Chancellor Angela Merkel said: "We do not support President Trump." French President Emmanuel Macron said that Trump's move was "regrettable." British Prime Minister Theresa May called the move "unhelpful for peace prospects." Why were all these leaders, and many more, lining up against the move? Because Palestinian Authority President Mahmoud Abbas "warned of the dangerous consequences such a decision would have to the peace process and to the peace, security and stability of the region and of the world."
House Unanimously Passes Taylor Force Act. No More Funding The PA's 'Pay To Slay'. On Tuesday [12/5/2017], the House of Representatives unanimously passed the Taylor Force Act, which would restrict U.S. assistance to the Palestinian Authority until it stops subsidizing terrorists through "pay to slay" policies. [...] There is one glitch amidst the justifiable pride the House has taken in addressing the PA's brazen policy of rewarding murderers; there is a "sunset clause" in the House version of the bill which would require the act to be renewed in six years time.
Watch Israel's Reaction: 'Arabs Don't Have a Claim On Jerusalem'. It didn't take long for the rhetoric to turn white hot when President Donald Trump on Wednesday formally recognized Jerusalem as Israel's capital and announced the beginning of a plan to move the U.S. Embassy from Tel Aviv to the holy city. While Muslims around the Middle East promised three "days of rage" over the announcement, a panel member appearing on ILTV's special broadcast summarized the Israel argument. "The Arabs don't have a claim on Jerusalem. It was never an Arab capital. The Muslims don't have a claim on Jerusalem," said Ari Fuld, the COO of "Standing Together."
Fake sign language interpreter delivered gibberish in Florida. Hearing-impaired people tuning in to a news conference about the arrest of a suspected serial killer got a message of gibberish from an American Sign Language interpreter.
The Editor says...
Later in the article, one can see that this woman been previously arrested several times for fraud, which implies that there are no background checks for sign-language interpreters.
Pro-Doug Jones Super PAC Using Voter Intimidation Tactics — Ad Claims 'Your Vote Is Public Record'. Highway 31, a Birmingham-based pro-Doug Jones super PAC is using what could be perceived as voter intimidation tactics against Roy Moore by suggesting the votes cast in a December 12 special election are "public record." Beginning last week, some Alabamians were posting on social media about encountering online pre-roll video advertising making such a claim.
Residents Moving Out of Colorado in Record Numbers. New annual figures from the bureau's American Community Survey show that Colorado saw its first drop in about a decade last year in the number of people arriving from other states, while those leaving Colorado hit a record high.
Venezuela's big oil purge: Auto-extinction of a socialist enterprise. Powerful names in Venezuela's oil industry, people who've been in and out of the picture for years, went down like bowling pins in Venezuela this week. Nelson Mart'nez, Venezuela's chief of the state oil company, Petroleos de Venezuela S.A. (PDVSA), was one. Eulogio del Pino, the country's oil minister, was another. Whoever was acting director of Venezuela's U.S. refiner and distributor, CITGO, isn't there, either. A press release from Nov. 29 says Asdrubal Chávez is now running the U.S. operation, and many of the CITGO officials are now detained in Caracas. Chávez is a cousin of Venezuela's late president, Hugo Chávez. Even the press contacts' names are now different.
Detroit's stray dog population is likely 1,000, includes 10 packs. Stray dogs exist in Detroit, and that shouldn't be breaking news to anyone. But the numbers of strays — and those part of packs — are grossly exaggerated, said Tom McPhee, the World Animal Awareness Society's executive director. McPhee, a Dearborn native, estimates data form his non-profit organization will show in March there are likely only about 1,000 strays and 10 packs within the city's 143 square miles.
Great news for West Virginia — and America. West Virginia's divorce from the slave state Virginia (which went for Hillary) helped turn the tide in the Civil War. West Virginia provides the military with an outsized portion of its military personnel. And finally, West Virginia coal, oil, and natural gas help make the nation energy independent. But wait. There's more. Scientists believe that Almost Heaven may have high concentrations of rare earth elements (REE) that it can bring to the market.
Never Trump Plant in Alabama: 'Write In' Against Conservative Roy Moore Attended Liberal Dem Doug Jones Fundraiser. "Never-Trump" Alabama Senate "write-in" candidate Lee Busby attended a fundraiser for liberal Democrat candidate Doug Jones. Busby, a retired Marine colonel and former aide to White House Chief of Staff John Kelly, announced on Monday [11/27/2017] that he will launch a last-minute write-in campaign against Republican nominee Alabama Judge Roy Moore and Democrat Doug Jones.
McMuffin 2.0: Former Marine Colonel Lee Busby Launches Last-Minute Establishment Write-In Campaign Against Roy Moore. Lee Busby, a retired Marine colonel and former aide to White House Chief of Staff John Kelly, announced on Monday that he will launch a last-minute write-in campaign against Republican nominee Alabama Judge Roy Moore and Democrat Doug Jones.
Marine Colonel Announces Run Against Roy Moore: 'Hold My Beer'. When retired Marine Col. Lee Busby read it was too late for a write-in candidate for the Alabama Senate race, he said, "Hold my beer, we will just see about that." Busby told The Daily Beast on Monday [11/27/2017] he is launching his long-shot bid to stop Republican nominee Roy Moore from reaching the Senate. "I have no idea if the allegations against him true or not, but I don't see anything within his experience as a judge that qualifies him for the job." Busby said his state needs a choice other than Moore or Democrat Doug Jones.
"Quitting" doesn't mean "resigning," it just means he won't run for re-election.
Amnesty Champion Rep. Luis Gutierrez Quitting Congress, Says Chicago TV Station. The Democrats' leading pro-amnesty legislator, Chicago Rep. Luis Gutierrez, is quitting Congress, according to a Chicago TV station, NBC 5.
Gutierrez won't seek reelection. Rep. Luis Gutiérrez (D-Ill.) a leading national voice on immigration reform, will not seek reelection, three Democratic sources with knowledge of the decision told POLITICO. Gutierrez, who has held his seat since 1993, is expected to announce Tuesday afternoon he's withdrawing the nominating petitions he just filed on Monday [11/27/2017] and will formally endorse Jesus "Chuy" Garcia.
Report: Militant Representative Louis Gutierrez Not Seeking Reelection. Representative Louis Gutierrez (D-IL) is a long-time Marxist in congress who is an open-border activist. Representative Gutierrez has previously requested illegal aliens to cross the Southern U.S. border and target any border patrol official possible. As a militant immigration activist Mr. Gutierrez has also supported MS-13 gang strikes in the U.S. and advocated for illegal aliens to register to vote to influence U.S. elections. He generally keeps his most visible vitriol reserved for Spanish-speaking audiences.
We've finally found something politicians and reporters have considered important enough to keep secret for decades. Information from the Mueller investigation leaks like a sieve. Information from intelligence committees and intelligence agencies has a way of showing up in newspapers. It seems every private conversation anyone surrounding Trump had with Russians or any meeting or inadvertent handshake shows up in the press. [...] But no one seems to have ever leaked a story or reported a story about an over 20-year-old slush fund where politicians paid off people that complained — with taxpayers' money. We don't know how the fund was set up, where the appropriation came from, who approved each payoff and how the amount was decided, who drew up the documents that required secrecy and whom the complaints were about.
What Congressmen Are Hiding. For two decades, taxpayers have been underwriting secret payments to people who accuse lawmakers of sexual misconduct under a 1995 law called, paradoxically, the Congressional Accountability Act. The legislation applied to Congress many laws on workplace safety, employment and civil rights from which it had been exempt. In the process, it established an account to pay settlements, which prevented lawmakers from being personally liable, and created an Office of Compliance that kept charges and payments secret. After public pressure, the Office of Compliance released a tally of the settlements this month: Between 1997 and the present, the office has paid more than $17 million on more than 260 claims.
Congress faces pressure to come clean on sex harassment payouts. Both Democrat and Republican politicians on Sunday called for increased transparency on how lawmakers handled allegations of sexual misconduct in the past. There is a bipartisan effort to pass legislation that would require all sexual harassment claims to be handled in the public, The New York Times reported. It is unclear if the legislation would expose payouts in the past.
Criminal justice college embroiled in battle with the Pentagon over an art exhibit with works from Guantanamo Bay detainees. A criminal justice college in New York City is embroiled in a battle with the Pentagon over exhibiting and helping to sell artwork by suspected al Qaeda terrorists at Guantanamo Bay. John Jay College of Criminal Justice is displaying 36 pieces of art by Gitmo detainees but the Department of Defense wants the paintings and sculptures destroyed. The school is funded by tax payers.
Ex-Cop Making Roy Moore Harassment Claim Is Leftist, Anti-Moore Opponent. Few witnesses could be more damning against a purported sexual abuser of four decades ago than an ex-cop from that era. That is, unless the ex-cop has a hidden agenda. Like the former Gadsden, Alabama cop who claims police were told in the 1970s to ensure that now-GOP Senate candidate Roy Moore stayed away from teen cheerleaders — and who actually turns out to be a left-wing Moore opponent.
Moore campaign disputes accuser's story of assault. GOP Senate candidate Roy Moore is attempting to discredit the story of one of his accusers, who alleges he sexually assaulted her outside of an Alabama diner when she was 16 years old. The Moore campaign released a series of bullet points on Monday [11/20/2017] that contest the account Beverly Young Nelson gave during a press conference with attorney Gloria Allred last week, comparing statements provided by former employees and patrons of Olde Hickory House with her remarks. The campaign points to the accounts of four unidentified witnesses including "two former waitresses and two former patrons" who say they never saw Moore at the restaurant, while Nelson said that he regularly visited when he served as the district attorney of Etowah County.
Texas AG Paxton rejects Romney standard from Roy Moore case. Texas Attorney General Ken Paxton isn't on board with former GOP presidential nominee Mitt Romney's approach to the allegations against Alabama Senate candidate Roy Moore. After Moore supporters said he was entitled to a presumption of innocence regarding claims that he had inappropriate contacts with teenage girls, Romney took to Twitter to say the standard used in criminal cases isn't the correct one to apply in the political realm. "Innocent until proven guilty is for criminal convictions, not elections," he said.
Houston economy rebounds from Harvey; state jobless rate hits record low. The Houston economy rebounded strongly last month after losing thousands of jobs in the aftermath of Hurricane Harvey, aided by the oil industry recovery and strong state and national economic growth. The metropolitan area added more than 27,000 jobs in October, more than making up for the 20,000 lost in September after devastating floods shut and in some cases destroyed thousands of businesses across the region, according to data from the U.S. Labor Department. Even employment sectors hardest hit by natural disasters experienced substantial job gains.
Haiti owes Venezuela $2 billion — and much of it was embezzled, Senate report says. A special Haitian Senate commission is accusing more than a dozen former government officials and heads of private firms of embezzling $2 billion in Venezuelan oil loans — money that could have helped the country rebuild after its devastating earthquake in 2010. An anti-corruption investigation concluded that charges should be filed against two former prime ministers, several ex-ministers and the owners of private firms on grounds they misappropriated and embezzled money that left post-quake Haiti with unfinished government buildings, poorly constructed housing and overpriced public works contracts. The nearly $2 billion that was paid out came from the country's Venezuelan oil largess, known as PetroCaribe.
Character Witnesses: Former Girlfriends, Employees, and Childhood Friends Step Up to Defend Roy Moore. A dozen women who know Alabama Senate candidate Judge Roy Moore personally have come forward to express their support and speak out about his good character. [...] All of the women live in Alabama and some in the same county where Moore and his wife, Kayla, live. The women range from Moore's sister-in-law to a former receptionist, from women he once dated to women who have known him since childhood. A "Women for Moore" rally took place Friday [11/17/2017] outside the Alabama State Capitol. The statements follow below: [...]
Mall Never Banned Moore and Other Lies. The rush to judgment by Sen. Lindsey Graham, R-SC, and others was premature, but the facts about Judge Roy Moore may be unraveling the fiction as we speak, starting with the accusation that Moore was banned from the Gadsen Mall for repeatedly trolling for young women. The problem is, the manager of the mall says Roy Moore was never banned.
Roy Moore Attorney Questions Authenticity of Accusers Evidence. The attorney for Alabama Republican Senate Candidate Roy Moore appeared today for a brief press statement and provided material that strongly suggests the documents provided by the accusers attorney, Gloria Allred, were forged. In a subsequent follow-up interview with Allred she refused to say the documents were not forged. Apparently Judge Roy Moore was the presiding judge in the divorce case of Beverly Young Nelson. The signature on the yearbook Mrs. Nelson provides as evidence, via Gloria Allred, looks like it was taken from the judge's signature on her previously undisclosed divorce documents.
Gloria Allred's Blunder on Roy Moore's Yearbook Challenge. Gloria Allred is a highly accomplished, if controversial, lawyer who is admired — or reviled — for her sensational representation of women who are alleged victims of sexual assault and sexual harassment. Yet on Wednesday [11/15/2017] she committed a major blunder when she declined a public invitation by the attorney representing Roy Moore, Republican nominee for U.S. Senate in Alabama, to have a key piece of evidence examined by independent experts.
Susan Collins: Senate Has 'No Choice but to Seat' Judge Roy Moore If He Wins. Sen. Susan Collins (R-ME) said Wednesday [11/15/2017] that the Senate would have "no choice but to seat" Judge Roy Moore if he wins the Alabama Senate race in December. According to the law, "We would have no choice but to seat him," she said, speaking to reporters on Capitol Hill.
Stepson of Roy Moore Accuser: Accusations 'One Hundred Percent a Lie'. Darrel Nelson, the stepson of Republican senatorial candidate Roy Moore accuser Beverly Young Nelson, claims that his stepmother's accusations are "one hundred percent a lie." "I know for a fact that there is a lot that that woman does not tell the truth on," Nelson claimed in an in-person interview with Breitbart News.
Analyst Says Judge Roy Moore Signature Inside Gloria Allred Accuser's Yearbook Was Forged. Known for his insightful take on politics, journalist and author Thomas Wictor believes Judge Roy Moore's signature in Gloria Allred accuser Beverly Young Nelson's yearbook is a forgery.
Kiss the good times goodbye. It saddens me to say it, but we are approaching the end of the automotive era. The auto industry is on an accelerating change curve. For hundreds of years, the horse was the prime mover of humans and for the past 120 years it has been the automobile. Now we are approaching the end of the line for the automobile because travel will be in standardized modules. The end state will be the fully autonomous module with no capability for the driver to exercise command. You will call for it, it will arrive at your location, you'll get in, input your destination and go to the freeway.
The bar is lowered a little more:
Army lifts ban on recruits with history of self-mutilation, other mental health issues. People with a history of "self-mutilation," bipolar disorder, depression and drug and alcohol abuse can now seek waivers to join the Army under an unannounced policy enacted in August, according to documents obtained by USA TODAY. The decision to open Army recruiting to those with mental health conditions comes as the service faces the challenging goal of recruiting 80,000 new soldiers through September 2018. To meet last year's goal of 69,000, the Army accepted more recruits who fared poorly on aptitude tests, increased the number of waivers granted for marijuana use and offered hundreds of millions of dollars in bonuses.
Alabama Accuser Deletes Anti-Moore Postings from Facebook, Rants About Removing Trump from Office. A woman who alleges that she engaged in a legal and consensual but inappropriate relationship with Republican senatorial candidate Roy Moore has deleted multiple political postings from her Facebook page. Some of those postings by Deborah Wesson Gibson were critical of Moore while one was related to Moore's Democratic opponent, Doug Jones. One posting shows a picture of Gibson with Vice President Joe Biden and says that she did work for him in 2012. One older version of that image is still on her page while another more recent posting of that same image in response to a posting from Jones's official campaign Facebook page was removed, but was captured by Breitbart News. Reached by Breitbart News, Gibson said that she has no comment on the removals of her Facebook posts.
Most Wikileaks Emails Weren't Even Written Until After DNC Knew It Was Hacked. The majority of the Democratic National Committee (DNC) emails released by Wikileaks were not even written until after the DNC knew it had been hacked, raising questions about the effectiveness of Democrats' decision to turn to a private firm instead of the FBI. DNC CEO Amy Dacey learned of the breach in late April, but of the 27,500 DNC emails published by Wikileaks, fewer than 7,000 pre-date April 29. A Daily Caller News Foundation analysis of the published emails shows that the majority were written between May 5 and May 25 — after cybersecurity firm CrowdStrike was brought in to respond. The emails exposed dirty laundry that Democrats have said swayed the election in President Donald Trump's favor, and they might never have seen the light of day had the DNC enlisted law enforcement to immediately lock down its system after first detecting problems.
Roy Moore accuser worked for Clinton campaign as interpreter, reports say. One of the women accusing Republican Senate candidate Roy Moore of sexual impropriety reportedly worked as a sign language interpreter for Hillary Clinton's presidential campaign, a new report claims. Deborah Wesson Gibson, who told The Washington Post that she briefly dated Moore when she was 17 and he was 34, founded the language interpreting company, Signs of Excellence, and has worked for a number of democratic campaigns, according to Alabama Local News. The company's Facebook page shows Gibson working for and posing with several Democrats at political rallies including 2016 presidential nominee Hillary Clinton, former Vice President Joe Biden, former Sen. Patrick Murphy, D-Fla., and Sen. Bill Nelson, D-Fla.
Mother of Roy Moore Accuser Contradicts Key Detail of Daughter's Sexual Misconduct Story. The mother of Leigh Corfman, who says that Alabama Senatorial Candidate Roy Moore tried to engage in a sexual encounter with her when she was 14, has contradicted a key detail of Corfman's story. Speaking by phone to Breitbart News on Saturday [11/11/2017], Corfman's mother, Nancy Wells, 71, says that her daughter did not have a phone in her bedroom during the period that Moore is reported to have allegedly called Corfman — purportedly on Corfman's bedroom phone — to arrange at least one encounter. Moore strongly denies Corfman's claims.
Muslim Gets 27 Years for Terror Support, Soliciting Murder of Fed Judge. Yahya Farooq Mohammad, 39, was sentenced today [11/6/2017] to 27½ years in prison for one count of conspiracy to provide and conceal material support or resources to terrorists and one count of solicitation to commit a crime of violence.
Millions of Professional Drivers Will Be Replaced by Self-Driving Vehicles. At a time when a booming economy has led to record freight shipments, the trucking industry is struggling with a severe shortfall of drivers. And long-haulers aren't alone. Delivery services, cab companies, even ride-sharing services like Uber and Lyft are struggling to find the drivers they need to keep their freight and passengers moving. Ironically, this shortage could wind up turning into a glut in the not-too-distance future that will see a huge disruption in the American workforce.
Why was this a state secret until 2017?
Newly released JFK files allege Martin Luther King Jr. had love child, bedded Joan Baez. A newly declassified FBI dossier on the Rev. Martin Luther King Jr. alleges the civil rights leader had a possible lovechild and once bedded folk singer Joan Baez. The scandalous 20-page report — included in the latest document dump of files related to the JFK assassination — says that "a responsible Los Angeles individual" informed an agent that King had an affair with the wife of a prominent black dentist and may have fathered a baby girl. The individual, who was a relative of King's paramour and had known the reverend since 1960, also accused him of having affairs with three other women, including Baez.
Donna Brazile: I considered replacing Clinton with Biden as 2016 Democratic nominee. In an explosive new memoir, [Donna] Brazile details widespread dysfunction and dissension throughout the Democratic Party, including secret deliberations over using her powers as interim DNC chair to initiate the removal of Clinton and running mate Sen. Tim Kaine (Va.) from the ticket after Clinton's Sept. 11, 2016, collapse in New York City. Brazile writes that she considered a dozen combinations to replace the nominees and settled on Biden and Sen. Cory Booker (N.J.), the duo she felt most certain would win over enough working-class voters to defeat Republican Donald Trump.
Manafort's Team Will Argue Mueller Search Violated Constitutional Rights. Attorneys for Paul Manafort told the judge on Friday [11/3/2017] how they anticipate fighting charges. One of their tactics is eliminating evidence improperly attained in a search.
Congressman Says Jeff Sessions Has Recused Himself on Uranium One Deal. Attorney General Jeff Sessions told a small group of lawmakers in late September he was recused from appointing a special counsel to look into potential corruption surrounding the Uranium One deal and Fusion GPS's work on the Trump dossier, according to one of the lawmakers present. Rep. Matt Gaetz (R-FL) told Breitbart News on Wednesday that he and other House Judiciary Committee Republicans had met with Sessions at the Justice Department on September 28 in advance of an upcoming committee hearing with Deputy Attorney General Rod Rosenstein later this month.
200 feared dead after tunnel collapses at North Korean nuclear test site, Japanese TV claims. About 200 people are feared dead in North Korea after underground tunnels at a nuclear test site that was feared to be unstable reportedly collapsed, crushing 100 people in the initial cave-in and 100 others when the tunnels again gave way on top of rescuers. The collapse at the Punggye-ri test site on Oct. 10 occurred while people were doing construction on the underground tunnel, Japan's Asahi TV reported, citing a source in North Korea. The television station also said North Korea's sixth nuclear test on Sept. 3 most likely caused the tunnel to crumble and created serious damage in the region.
North Korea Nuclear Test Site Tunnel Collapse May Have Killed 200. A tunnel at North Korea's nuclear test site collapsed after Pyongyang's sixth atomic test in September, possibly killing more than 200 people, Japanese broadcaster TV Asahi said on Tuesday [10/31/2017], citing unnamed sources familiar with the situation. Reuters has not been able to verify the report.
Lost sailors' story's list of inconsistencies cast doubt on tale of survival. The U.S. Coast Guard said Monday that the two Hawaii women who were lost at sea for five months had an emergency beacon aboard their sailboat that was never activated. U.S. Coast Guard spokesman Lt. Scott Carr told The Associated Press that their review of the incident and subsequent interviews with the survivors revealed that they had the Emergency Position Indicating Radio Beacon (EPIRB) aboard but never turned it on. When asked if the two had the radio beacon aboard, the women told the AP on Friday [10/27/2017] they had a number of other communications devices, but they didn't mention the EPIRB.
Sailor lost at sea says they didn't activate emergency beacon because they weren't 'in imminent peril'. Less than a month into their voyage, during a spell of bad weather, Appel and Fuiava's sailboat's engine stopped running for good. Two months into their voyage, they began issuing daily distress radio calls. They told Coast Guard officials that they never turned on the boat's Emergency Position Indicating Radio Beacon (EPIRB) because they never felt "truly in distress," nor did they think the situation was "dire" enough to warrant it, a spokesperson for Coast Guard District 14 said.
The Editor says...
Why were they sending "daily distress radio calls" if they were not in distress? And if they were in distress, why not use the EPIRB? Why else would you bring an EPIRB to the open ocean? And if it's a sailboat, why do you care if the engine goes out?
Update: Goodbye, book deal!
Hawaii 'lost sailor' is making up parts of survival story, Taiwanese official says. The legitimacy of the women's claims have been cast into doubt several times during the past few weeks by numerous sailing experts and scientists. The Taiwan News website said Appel's claim of being under attack by the fishing boat is one item on a "long list of tall tales from her curious voyage" that "has become fishier by the day." [...] [Jennifer] Appel has defended a supposed mass attack by 30-foot tiger sharks that experts immediately questioned, and the pair has issued conflicting statements over whether they believed they were in life or death situations during the journey. They have also insisted they were caught in a serious storm in the days after they set sail, despite weather data strongly suggesting otherwise.
NBC's erroneous reporting on JFK files. NBC News reported earlier this week that President Trump had released "most but not all" of the government's secret JFK files. That was wrong, according to Rex Bradford, president of the Mary Ferrell Foundation and webmaster of the internet's most comprehensive collection of JFK records.
The Manafort Indictment: Not Much There, and a Boon for Trump. Do not be fooled by the "Conspiracy against the United States" heading on Count One (page 23 of the indictment). This case has nothing to do with what Democrats and the media call "the attack on our democracy" (i.e., the Kremlin's meddling in the 2016 election, supposedly in "collusion" with the Trump campaign). Essentially, Manafort and his associate, Richard W. Gates, are charged with (a) conspiring to conceal from the U.S. government about $75 million they made as unregistered foreign agents for Ukraine, years before the 2016 election (mainly, from 2006 through 2014), and (b) a money-laundering conspiracy. There are twelve counts in all, but those are the two major allegations.
'Millionaire Muslim' convicted of ripping off taxpayers for 18 years by posing as a struggling single mother. A 'millionaire' Muslim woman who rorted the public housing system for nearly two decades by posing as a battling single mother has finally been evicted from her taxpayer-funded flat. Rebecca Khodragha lived in the Punchbowl apartment in south-west Sydney for 18 years, failing to tell authorities her husband owned a lucrative business which reportedly collected a million dollars a year. Ms Khodragha was found guilty of two counts of fraud in November last year and was sentenced to three months jail, which she served as home detention at the Punchbowl unit.
Unsealed docs reveal KGB thought LBJ could have been behind JFK assassination. The Soviet Union theorized that President Lyndon B. Johnson could have been behind JFK's assassination — and also feared Moscow could be blamed and attacked, according to documents in a major release of files related to Kennedy's slaying on Thursday [10/26/2017].
Cops knew about Sandy Hook shooter's plot for years. Adam Lanza expressed his desire to commit the Sandy Hook massacre years before the tragedy took place — and when a witness alerted police, cops said there was nothing they could do, newly released FBI documents reveal. In 2008, the witness, whose name has been redacted, heard Lanza (inset) say that he had access to assault weapons and planned to kivll students at the elementary school, along with his mother, Nancy Lanza, according to a cache of documents released this week. "Lanza allegedly [said] that he planned to kill his mother and children at Sandy Hook in Newtown, Connecticut," the document reads.
Investigative Journalist Who Exposed Elite Pedophile Ring, Found Dead. Liz MacKean, the former British investigative reporter who exposed Jimmy Savile and the culture of pedophile protection at the BBC, has been found dead. She was 52. The BBC, who blocked her groundbreaking investigation from airing and spent the next few years attempting to destroy her reputation, are reporting that she died of "complications from a stroke." [...] Liz MacKean is the second high profile BBC journalist to die in suspicious circumstances after attempting to expose the truth about the pedophile ring operating in the upper reaches of the establishment.
This sounds like a news headline from 2017 BC:
Plague that's killed scores is blamed on dances with corpses. The deadly plague sweeping Madagascar may have a particularly gruesome cause — a local tradition of dancing with dead bodies. Health officials suspect it's no coincidence that the outbreak — which has infected more than 1,100 people and killed 124 since August — coincides with the time of year when families customarily exhume the remains of dead relatives, wrap them in a sheet, and dance with them through the streets in a sacred ritual, AFP reports. "If a person dies of pneumonic plague and is then interred in a tomb that is subsequently opened for [the ritual], the bacteria can still be transmitted and contaminate whoever handles the body," said Willy Randriamarotia, Madagascar's health ministry chief of staff.
Pentagon advocates requiring women to sign up for military draft. The Pentagon says the country should stick with mandatory registration for a military draft, and it advocates a requirement for women to sign up for the first time in the nation's history. [...] Currently, only male citizens and residents age 18-25 are required to register, for a pace of about 2 million each year. Women, whom the government has never ordered to sign up, would add 11 million to the Selective Service System database "in short order," the report says.
Hillary booster Wasserman Schultz claims she knows nothing about the DNC she ran helping Clinton fund 'fake news'. Former Democratic National Committee chair Rep. Debbie Wasserman Schultz is saying she was unaware how the dirty dossier on Donald Trump was produced even though the DNC has been revealed to have helped fund it. 'She was not aware of anything related to this research arrangement,' a spokesman for the Florida representative told The Hill newspaper, as the murky origins of the creation of the dossier gained new attention in Washington. The DNC is represented by prominent Democratic election lawyer Marc Elias, who was revealed by the Washington Post this week to have hired the political intelligence firm Fusion GPS.
McCain joins Dems to regulate Drudge, Google, Facebook political ads. Big websites like Facebook, Drudge Report, Breitbart News, Google and the New York Times would face substantial punishment if they don't make "reasonable efforts" to block foreigners from posting political ads under new election legislation pushed by Sen. John McCain and two Democrats. The "Honest Ads Act," co-sponsored by Democrats Virginia Sen. Mark Warner and Minnesota Sen. Amy Klobuchar, would put new legal requirements and punishments on websites with 50 million unique monthly readers that take a tiny $500 or more in political ads from one advertiser.
The Editor says...
By now you should know how these things work: The initial "50 million unique monthly readers" boundary will affect so few web sites that nobody could possibly object to it. But then, over the next few decades if necessary, the parameters will be incrementally tightened so that the law will constrict free speech — or at least political advertising — for everyone. The incremental changes tactic is probably on about page five of the Democrats' playbook. (See: Origins of the Income Tax)
The new battle of the Alamo. A plan to quadruple the size of the Alamo with a major restoration project has been attacked by conservatives over worries its history will be sanitized. At a time when Confederate statues are being removed across the country, some Texans are fearing the battle site will become the latest victim of 'political correctness'. Land Commissioner George P. Bush — son of former Florida governor Jeb — is overseeing a 7-year revamp of the shrine where 189 Texas independence fighters were killed by Mexican Gen. Santa Anna's troops in 1836. The site's size would quadruple after excavation and restoration of historical structures, the closing of nearby streets and the building of a more than 100,000-square foot museum to house artifacts and guide visitors through the Alamo's history.
Trying to perpetuate alarmist climate "science". Several months ago a brief furor erupted when the New York Times leaked the final draft of the upcoming Climate Science Special Report (CSSR), an extremely alarmist rendition of what is supposedly happening with Earth's climate. Dangerous climate change and weather events, the report says, are due to mankind's use of fossil fuels to create and maintain modern living standards and to the carbon dioxide and other greenhouse gases that result from that energy use. The CSSR is being prepared by the federal Global Change Research Program (USGCRP) and has been in the works for several years, mostly under Obama and still staffed by diehard alarmists. The USGCRP consists of the 13 federal agencies that conduct and analyze climate science and supposedly "consensus" views on the topic. The Times and other news stories speculated that one of the agencies, especially the EPA under Administrator Scott Pruitt, might block the CSSR. This has not happened, and the Report is now scheduled for release next month. The CSSR is far more alarmist than any IPCC report. Most other USGCRP reports have been, as well, thanks in particular to NOAA. The new CSSR will be an official Federal report, which will give it more credibility than it deserves.
Whataburger worker fired for refusing to serve police officers. A worker at a Texas fast-food restaurant was fired after she refused to serve two police officers, the company said Saturday [10/14/2017]. In a lengthy post on the Denison Police Department's Facebook page, Chief Jay Burch alleged the officers were cursed at by the employee and that the restaurant manager's only response was "I don't get into politics."
Whataburger worker fired for refusing to serve police officers. A worker at a Texas fast-food restaurant was fired after she refused to serve two police officers, the company said Saturday [10/14/2017]. In a lengthy post on the Denison Police Department's Facebook page, Chief Jay Burch alleged the officers were cursed at by the employee and that the restaurant manager's only response was "I don't get into politics." "If a business does not want police officers as customers, just let us know," Burch wrote. "There's no need to curse us and make a scene, just let us know you don't want us there and we'll go somewhere else."
Swedish Ambassador Admits, We're "In The Process Of Dismantling Democracy". Sweden's new ambassador to Iceland has sparked a major controversy after warning that Sweden is "in the process of dismantling democracy" and could be on a slippery slope towards technocracy or a dictatorship.
The Numbers Don't Lie: Obama Administration MOST DEADLY in History. Attorney General Jeff Sessions just received the final report for 2016 and one thing is clear. Obama's war on police claimed more law enforcement lives than ever before. Monday [10/16/2017], the FBI finalized their annual summary known as the "Law Enforcement Officers Killed and Assaulted Report." As Sessions put it, the 61% increase in murders targeting law enforcement is both shocking and unacceptable. Of course, we knew Obama's Administration painted police as the enemy. Now it's indisputable.
Megyn Kelly's ratings hit 'possible all-time low'. A big get with Harvey Weinstein accuser Lauren Sivan wasn't big enough to pull Megyn Kelly out of her ratings slump. Her "Megyn Kelly Today" viewership slipped from 0.77 ratings points on Monday [10/9/2017] to 0.54 ratings points on Tuesday of last week. "It's a possible all-time low for 'Today.' It may even be lower than her [Fox] cable show. [NBC News president] Noah [Oppenheim] and [NBC News and MSNBC chairman] Andy [Lack] are in big trouble," a source told us.
Eight Texas cities make the top 50 best places for grads. With employers reporting plans to hire 5% more graduates in 2017 than in 2016, the employment outlook for recent graduates is on the upswing. Yet as any English major can tell you: Not every city offers the same opportunities. NerdWallet analyzed data for the 100 largest U.S. cities and scored each according to the environment offered for recent college graduates who are looking to get a foothold in the working world.
Marijuana farms are burning in California wildfires. Deadly wildfires in Northern California are burning up marijuana farms in the so-called Emerald Triangle. Blazes have destroyed a number of farms in Mendocino County right before legal recreational sales begin in California. Cannabis business owners who lose their crops have little reprieve. "Nobody right now has insurance," said Nikki Lastreto, secretary of the Mendocino Cannabis Industry Association. "They might have insurance on their house, but not on their crop."
Muslim brothers join ISIS, parents lie to FBI about it & get $5K plea deal? Arman, 27, and Omar Ali, 26, would not follow the path of most Plano kids leaving home to start a life. After some college study, the brothers moved to Egypt and then traveled to Syria to fight alongside ISIS terrorists, according to federal court records. Now, their parents are charged with lying to the FBI about their sons' activities in the Middle East.
The financial collapse of Illinois is accelerating. John O'Connor of the AP has just broken the news that the unpaid bills of the Great State of Illinois have reached the awe-inspiring sum of $16.5 billion. [...] Various bureaucratic tricks are being performed to slow down payment, but they all amount to stiffing the vendors, borrowing their capital at no immediate cost.
Fed's Dudley Sent Puerto Rico A "Plane Loaded With Cash". In the days following Hurricane Maria's devastating blow to Puerto Rico, air traffic on the island came to a complete standstill as airport damage prevented commercial pilots from servicing the island. That said, with the island economy grinding to a halt, San Juan International apparently managed to find a way to accept one very important plane... a "jet loaded with an undisclosed amount of cash" from New York Fed president William Dudley.
The Editor says...
What does that mean? Where did the money come from and what was it for? Was the money evenly distributed to everyone, or was it all delivered to one place?
Mexico's remittance bonanza balloons to record $30 billion. After all the foofarall from Mexico's officials raised in the wake of President Trump's election — from tweet wars to governors with lawsuits to traveling foreign ministers — turns out Trump hasn't been such a bad thing for Mexico's elites. Remittances, the lifeblood of Mexico's government, are expected to hit an all-time high at $30.5 billion, the likely product of job growth in President Trump's booming U.S. economy. These remittances top Mexico's oil earnings in absolute value and amount to 2.7% of Mexico's GDP.
Goodbye DUI: Drinking Alcohol in Self-Driving Cars Could Become Legal. As Anti-Media reported in September, governments around the world are beginning to take measures to accommodate for the rise of electric vehicles. Britain, France, India, and Norway have all set deadlines for when to have zero gas-powered cars on their roads, and China is looking into setting one of its own. Similarly, governments will be forced to craft rules applying to self-driving vehicles once they start becoming standard modes of transportation. It seems Australia recognizes this, as the government has instructed its National Transport Commission (NTC) to look into the matter. A report from the NTC, released this week, starts from the conclusion that eventually, vehicles controlled by an automated driving system (ADS) will make roads safer because they take human error out of the equation.
Jimmy Kimmel Bulks Up His Security As He Lectures Americans On Gun Control. According to a report from The Blast on Monday [10/2/2017], late night host Jimmy Kimmel has been bulking up on his security for his Jimmy Kimmel Live! show tapings, including the addition of "highly-trained, off-duty police officers" at both the front and back entrances.
Americans may be propping up North Korea by buying salmon at Walmart. [Scroll down] This means Americans buying salmon for dinner at Walmart or ALDI may inadvertently have subsidized the North Korean government as it builds its nuclear weapons program, an AP investigation has found. Their purchases may also have supported what the United States calls "modern day slavery" — even if the jobs are highly coveted by North Koreans.
Cambridge, Mass. Librarian Refuses Books Donated by Melania Trump. Trump Derangement Syndrome on full display. And you just know that if Michelle Obama had donated the exact same books, she would have been hailed as a literary scholar/genius.
Russians Impersonated Real American Muslims to Stir Chaos on Facebook and Instagram. The Facebook group United Muslims of America was neither united, Muslim, nor American. Instead, sources familiar with the group tell The Daily Beast, it was an imposter account on the world's largest social network that's been traced back to the Russian government. Using the account as a front to reach American Muslims and their allies, the Russians pushed memes that claimed Hillary Clinton admitted the U.S. "created, funded and armed" al-Qaeda and the so-called Islamic State; claimed that John McCain was ISIS' true founder; whitewashed blood-drenched dictator Moammar Gadhafi and praised him for not having a "Rothschild-owned central bank"; and falsely alleged Osama bin Laden was a "CIA agent."
Here Are The Congressional Aides That Traded On Insider Information Over The Past Year. Up until April 2012, members of Congress and their staff were the only people in the country actually allowed to trade stocks on insider information. That was supposed to change with the passage of the STOCK (Stop Trading on Congressional Knowledge) Act which was signed into law by Barack Obama on April 4, 2012. But, as we all know, laws are only meaningful to the extent our legislators and bureaucracies are willing to enforce them. Given that intro, it is with great 'shock' that we share with you the results of a Politico study which would seem to suggest that Congressional aides continue to trade on insider information on a fairly regular basis despite the existence of the STOCK Act. We guess the SEC didn't take seriously the STOCK Act's attempt to "criminalize behavior that is normal."
Muslim college in Berkeley buys Lutheran seminary campus. America's first accredited Muslim college has reportedly purchased an expansive property in Berkeley, California, for $10 million. The property was previously occupied by Pacific Lutheran Theological Seminary for 65 years, BerkeleySide.com reported. Zaytuna College, the Muslim college, was opened in 2009 with just 11 students, but has since expanded and will use the 10-acre property for its graduate program. The college has 51 undergraduate students.
Dickerson: Russian Ads on Facebook Seems Too Small an Amount to Affect Election. CBS "Face The Nation" host John Dickerson expressed doubts Sunday to Rep. Adam Schiff (D., Calif.) over what impact the Russian-linked ads on Facebook had on the election. Facebook CEO Mark Zuckerberg announced this week the company was turning over more than 3,000 Russia-linked ads to congressional committees that are investigating the extent of the Russian 2016 election interference campaign. Facebook disclosed on Sept. 6 it had identified $100,000 in advertising bought by a shadowy company tied to the Kremlin. Schiff said the Russia-linked advertising was designed to pit Americans against each other on some of the most divisive issues in the country and also criticized Facebook's algorithms that confirm people's biases.
The Editor says...
Political advertising is not the same as "tampering with an election."
Will Trump allow release of secret JFK assassination papers? The anticipated release of thousands of never-seen government documents related to President John F. Kennedy's assassination has scholars and armchair detectives buzzing. Now, they're waiting to see whether President Donald Trump will block the release of files that could shed light on a tragedy that has stirred conspiracy theories for decades. The National Archives has until Oct. 26 to disclose the remaining files related to Kennedy's 1963 assassination, unless Trump intervenes. The CIA and FBI, whose records make up the bulk of the batch, won't say whether they've appealed to the Republican president to keep them under wraps.
See also "Dorothy Kilgallen"
Inside the unsolved murder of JFK's mistress who some say 'had to die because she knew too much'. She met John F. Kennedy at a prep school dance and in the early 1960s, began an affair with the president that lasted until the time of his assassination. One year later, on Oct. 12, 1964, Mary Pinchot Meyer was shot dead while taking an afternoon walk on a Georgetown towpath in Washington, D.C., at age 43. Nearly fifty three years later, her murder remains unsolved. Was it a random act of violence or did someone want her dead?
Fake news writer in 2016 presidential election found dead. A writer of fake political news who previously said he felt responsible for President Trump's election has died near Phoenix, police said Tuesday [9/26/2017]. Maricopa County Sheriff's Office spokesman Mark Casey told The Associated Press that Paul Horner was found dead in his bed earlier this month. Casey said there was "evidence at the scene" that "suggested this could be an accidental overdose." The cause of Horner's death has not yet been finalized.
All Russian Roads Lead to DNC: Russian Purchased Facebook Ads Promoted Hillary Clinton and Black Lives Matter. A Russian firm linked to pro-Kremlin propaganda had advertised on Facebook during the election. The company spent only $100,000 on the Facebook ads but liberals believed this was enough to flip the election to Trump.
Classified US spy satellite launched from California. A United Launch Alliance Atlas 5 rocket carrying the classified NROL-42 satellite lifted off at 10:49 p.m. PDT Saturday [9/23/2017].
Senate overwhelmingly passed bill pumping $700 billion into military. The measure authorizes $700 billion in military spending for the fiscal year that begins Oct. 1, expands U.S. missile defenses in response to North Korea's growing hostility and refuses to allow excess military bases to be closed.
The Editor says...
Wow. I've never heard of a Senate bill that just flat-out refused to do something.
Hungary Builds a Wall, Cuts Illegal Immigration by Over 99 Percent. Hungary has slashed illegal immigration by over 99 percent after rolling out a series of powerful border fences in response to the European migrant crisis, possibly providing a lesson as to the potential impact of constructing President Trump's much-discussed southern wall in the U.S.
Gender-confused man commits suicide-by-cop:
Non-binary Georgia Tech student, 21, is shot dead by campus police. Georgia Tech police shot dead a barefoot student carrying a knife late on Saturday night [9/16/2017]. The student, 21-year-old Scout Schultz, who identified as gender non-binary, was seen walking toward police — who issued several warnings to drop what officers believed was a knife. The tense encounter was caught on camera — in which the student can be seen walking closer and closer to the police officers and shouting 'shoot me.'
Antifa Activists Beware: Knife Wielding Activist Shot at Georgia Tech. He screamed, "Shoot me". And you'll never guess what the police did.
They're rioting in Missouri again. In charging [officer Jason] Stockley with murder, prosecutors opted for a bench trial of Stockley rather than a jury trial. In a 30-page verdict delivered on Friday [9/15/2017], St. Louis Circuit Judge Timothy Wilson said the prosecutors failed to prove beyond a reasonable doubt that Stockley had murdered [suspected heroin dealer Anthony Lamar] Smith. He relied on expert testimony claiming that absence of DNA does not necessarily prove someone hadn't handled an item. He also said that a bystander's video evidence showed that Stockley — who was not wearing a jacket — had not tucked the gun in his belt and that the gun was too big to be concealed in his pockets. He also said that Stockley's "kill that m-----f-----" statement did not qualify as evidence of premeditation so much as it indicated high-stress frustration. In his closing remarks, Wilson wrote: ["]Finally, the Court observes, based on its nearly thirty years on the bench, that an urban heroin dealer not in possession of a firearm would be an anomaly.["] Ouch! The verdict didn't sit well with some of the Gateway City's more vibrant residents.
Equifax had 'admin' as login and password in Argentina. The credit report provider Equifax has been accused of a fresh data security breach, this time affecting its Argentine operations. Cyber-crime blogger Brian Krebs said that an online employee tool used in the country could be accessed by typing "admin" as both a login and password. He added that this gave access to records that included thousands of customers' national identity numbers.
FTC probes Equifax; top Democrat likens it to Enron. The U.S. Federal Trade Commission said on Thursday it was investigating Equifax Inc's massive data breach, and a top Democrat suggested the credit-monitoring company's corporate leaders might need to resign.
Is Your Refrigerator A National Security Risk? The federal government is worried some refrigerators and coffee pots could pose a national security risk, and it's taking action. Colorado's U.S. Senator Cory Gardner among a bi-partisan group of senators who are sponsoring legislation to secure the so-called Internet of Things — everyday devices that are embedded with computer chips and sensors. Gardner says those devices can be used as weapons of mass disruption.
Hackers Gain Direct Access to US Power Grid Controls. In an era of hacker attacks on critical infrastructure, even a run-of-the-mill malware infection on an electric utility's network is enough to raise alarm bells. But the latest collection of power grid penetrations went far deeper: Security firm Symantec is warning that a series of recent hacker attacks not only compromised energy companies in the US and Europe but also resulted in the intruders gaining hands-on access to power grid operations — enough control that they could have induced blackouts on American soil at will. Symantec on Wednesday [9/6/2017] revealed a new campaign of attacks by a group it is calling Dragonfly 2.0, which it says targeted dozens of energy companies in the spring and summer of this year. In more than 20 cases, Symantec says the hackers successfully gained access to the target companies' networks.
Custom upgrades add $600 million to Air Force One sticker price. The Air Force has awarded Boeing a $600 million modification to a previous contract to buy two commercial 747 jetliners, and convert them for the Air Force One. The additional money, according to an Air Force statement, is for design upgrades to the pair of planes that were originally destined to be sold to a now-bankrupt Russian airliner, which never took delivery. The contract is for the design of modifications to ensure the planes can accommodate the communications and security needs of the president. The actual work on the aircraft won't begin until sometime next summer, and will require a future contract, and many more millions of dollars.
Superman Protects Undocumented Workers From Armed White Supremacist in Latest Comic. Perhaps it is just a coincidence, but perhaps not. In the recent issue of Action Comics #987, "The Oz Effect," released Wednesday, Superman arrives in the nick of time to protect a group of undocumented immigrants from a white man sporting an American flag bandanna, wielding a machine gun, who is going to shoot them for taking his job.
Miss America Contestants Asked to Condemn President Trump. Though the ominous feeling of concern for those in the path of Hurricane Irma in Florida hung heavy in the air, the show must go on. Miss America 2018 on ABC aired September 10th and throughout the show, donations for hurricane relief were solicited for those affected in both Texas and Florida. Never fear, though. Politics dominated the final question competition and yes, it was all about President Trump. Breaking with the tradition of one question per finalist in the final round of competition, this year the pageant decided to ask two questions of each — described as one serious and one playful. The serious questions were saved for the last five finalists. Four of the five questions were political.
The one percent's new status symbol: Armed bodyguards on vacation. When Upper East Side dad Michael planned a French getaway for his family this summer, his first move wasn't to book a hotel. Instead, he contacted armed guards. Each morning in Paris, Michael (who requested a pseudonym because of privacy concerns), his wife and their 10-year-old son would stroll out of the Hotel George V, where suites can go for $5,000 a night, to meet their personal security detail: two strapping ex-military men who cost $2,000 a day.
Portland Deletes Its Gang List for Having Too Many Blacks. Portland is, famously, the whitest big municipality in the United States, which gives it some margin for error to do dumb stuff.
Wait Til You Hear Why Portland Oregon Dumped Its Gang Registry. On Sunday [9/10/2017], the Daily Caller reported that authorities in Portland, Oregon have decided to scrap their registry of known gang members out of concern that a majority of gang members are racial minorities. The registry was very useful in that when you ran a name through it, you could learn if the person was a gang member, what gang they belong to and what gang-related crimes they have committed. The city is claiming that doing away with the registry will not allow gang members to hide better. Besides, they had to eliminate the registry because all of the gang members were overwhelmingly black and Hispanic, making the registry racist.
Portland Police Are Purging Their Gang Database Because There Aren't Enough White Gangs. Portland police will no longer maintain a database of suspected gang members, due to concerns that the vast majority of people with the gang label are racial minorities. Starting Oct. 15, the Portland Police Bureau will end the 20-year practice of issuing gang member designations, which police say can lead to "unintended consequences" and a lifelong stigma even for those who have given up the gang lifestyle. Officials intend to notify the approximately 300 people on the gang list that the bureau will purge all records related to the designations, The Oregonian reported. "There are still criminal gang members. That doesn't go away because we don't have a gang designation," said Capt. Mike Krantz, according to The Oregonian. "We're not pretending gang violence doesn't exist. We're just taking this one thing away."
'Like moths to a flame': US-led coalition leave over 300 ISIS fighters stranded in the desert, using them as bait to target jihadists. Islamic State militants attempting to evacuate members stranded in the Syrian desert are being pummeled by US-led coalition air strikes, the military said Thursday [9/7/2017]. 'Like moths to a flame,' coalition spokesperson Army Col. Ryan S. Dillon told the military publication Stars and Stripes. Dillon said that at least 40 vehicles belonging to ISIS have attempted to rescue the stranded jihadists, including armored technical vehicles and a tank disguised as a truck.
Rand Paul: Use foreign aid to fund Harvey, Irma relief, FEMA. Kentucky Sen. Rand Paul is unveiling a blueprint to divert unspent foreign aid to cover hurricane relief and cleanup costs, an "America First" proposal to spend U.S. taxpayer money where it is needed most, Secrets has learned. Republican Paul, who has in the past targeted billions of tax dollars shipped to anti-American nations like Pakistan and Saudi Arabia, is eyeing an amendment to the proposed package to raise the debt ceiling and fund Hurricane Harvey relief. "As the Senate prepares to vote on hurricane aid, I will be introducing an 'America First' amendment to cut wasteful spending from abroad to pay for much-needed relief here at home," said Paul. "Moving forward, any new spending should be paid for," he added. The funds would come from foreign aid not already spent, about $20 billion.
New documents trigger questions about special treatment for Congress under Obamacare. An influential Obamacare opponent who was the architect of a Supreme Court challenge that threatened to unravel the law is raising questions over whether the District of Columbia's health exchange looked the other way so that employees of Congress and others could illegally enroll in a program meant to cover small businesses. Michael Cannon, the director of health policy studies at the libertarian Cato Institute, said that his latest findings indicate cause for a Department of Justice investigation that he believes could lead to criminal charges.
FEMA really does have a "Waffle House Index" for hurricanes — and they're not too happy about it. Records originally released to Adam Schweigert reveal the intricacies of the Federal Emergency Management Agency's (FEMA) much-rumored "Waffle House Index" (WHI) — and the agency's recent attempts to distance themselves from it. So, exactly what is the WHI? Well, before we can answer that question, we should clear up a few things for our readers from north of the Mason-Dixon — such as "What is Waffle House?"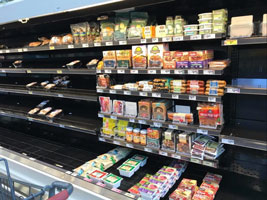 Texan Posts Photos of Absolutely Barren Grocery Store After Hurricane, With One Hilarious Exception. [Jennifer Lopez] Fuller is a food writer and foodie based in Houston. Fuller has donated her skills and time to helping people affected by the flood get food where and when they need it. While gathering supplies at a local grocery store last week, she posted multiple photos of the sparse and sometimes entirely empty shelves. Here are the sections and images of the completely picked over shelves: [...]
Even in a disaster no one wants the vegan food. [Photo]

California woman confronts dealership employee for taking her limited edition car on joyride. A California woman confronted a dealership employee on Friday after she and her husband spotted him taking her limited edition Chevy Camaro on a joyride for fast food. The confrontation was caught on a video that has gone viral.
Left-wing activists launch 'No Red Cross' campaign, ask for donor dollars. Activists are discouraging Hurricane Harvey donors from giving to the American Red Cross and urging them instead to contribute to left-wing causes, some of which are advocacy groups engaged in little if any emergency relief work. Linda Sarsour, a prominent Muslim and feminist activist, sent out a tweet encouraging donors to give to the Texas Organizing Project Education Fund, which conducts "direct action organizing, grass-roots lobbying and electoral organizing led by working families in Texas."
Linda Sarsour Steering Money to Political Group, Not Hurricane Harvey Victims. Anti-Israel, Sharia law loving activist Linda Sarsour sparked outrage after she asked her followers on Twitter to donate to help Hurricane Harvey victims, but the link takes you to a political activist group.
EPA determines 13 Superfund sites flooded and possibly damaged in Houston area. Long a center of the nation's petrochemical industry, the Houston metro area has more than a dozen Superfund sites, designated by the Environmental Protection Agency as being among America's most intensely contaminated places. Many are now flooded, with the risk that waters were stirring dangerous sediment.
New Texas law allows knives, swords in public places. A new Texas law makes it legal for anyone to walk down the street carrying a sword or even a machete. House Bill 1935 was recently signed into law, and starting September 1, long knives, daggers and even spears can legally be taken into public. The author of the bill, Representative John Frullo said its main purpose is to simplify the laws pertaining to knives and to limit their restrictions.
Mavericks owner Mark Cuban considering 2020 presidential run. Mark Cuban has his eye on the United States presidency although he hasn't said directly that he will run in 2020. On the "Rich Eisen Show" Tuesday [8/22/2017], the Mavericks owner spoke on a lot of issues, but some of what he and Eisen discussed was the possibility that he is considering making a run for the White House.
A thousand years from now, I wouldn't want to trade places with this guy:
Former Priest Jailed For Child Porn, Says He Did It For Revenge On God. A former Catholic priest who was sentenced Thursday to two years of imprisonment for possession and dissemination of child porn, said his crimes were his revenge against God. A New Jersey court sentenced Kevin Gugliotta to up to two years in jail and ruled that he must be registered as a sex offender for 25 years for one count of disseminating child pornography, according to Christian Today. Police arrested Gugliotta, then a priest in the Archdiocese of Newark, in 2016 and charged him with 40 accounts [sic] of spreading child pornography. Gugliotta told officers that he had downloaded and spread the illicit materials to spite God, who he believed was attacking him by causing him to lose high stakes poker games.
ESPN Pulls Announcer from UVa Football Game -- Because His Name Is Robert Lee. The man shown to the left is sportscaster Robert Lee. The man to the right is Confederate General Robert E. Lee. ESPN was afraid that viewers would mix them up. Mr. Lee (the one who didn't die in 1870) was scheduled to announce next weekend's University of Virginia football game against William and Mary. This match-up will be hosted in Charlottesville, which has a statue of Gen. Lee (who never provided NCAA play-by-play). ESPN decided that this was far too confusing for their viewers to process.
Asian Announcer Pulled off VA Football Game Because of His Name. The cultural totalitarians at ESPN pulled an Asian man off the Virginia football game because his name is Robert Lee, the same as Confederate General Robert E. Lee. These people are crazy.
The Editor says...
Ordinary viewers don't care what sports announcers' names are. It doesn't matter if the commentator's name is Chuck Roast or Patty O'Furniture: The names will be forgotten at the end of the broadcast, or about two seconds after the last time the names appear at the bottom of your TV screen. (And if those names never came up in superimposed text, who would notice?) I suspect that even the most rabid sports fan can't recall the names of the announcers on any televised sporting event they saw last week.
Muslim doctor prescribed more than 500,000 opioid pills since January, arrested. About 8 a.m. on Thursday, Michigan State Police raided the Dearborn Medical Clinic, where a doctor is accused of over prescribing opiates. Lt. Mike Shaw of the State Police described the clinic, located at Warren and Yinger Avenues, as a "pill mill" and said oxycodone is the drug most prescribed. It was attracting patients from all over at all hours of the day and night, becoming disruptive to the neighborhood.
Texas adds 19,600 jobs in July, its 13th straight month of employment growth. Texas added 19,600 jobs in July, a middling number on its own, but it's one that builds on just over a year straight of employment growth in the Lone Star State, data released Friday [8/18/2017] shows. Over the year, Texas added 293,400 jobs — the most of any state — followed by California, whose economy has grown by 276,400 jobs over the past year and Florida, which added 226,200. That all puts Texas' annual employment growth at 2.4 percent. According to the Texas Workforce Commission, that's twice the rate at this time a year ago.
U.S. Judge Orders Deportation of Convicted Terrorist and Women's March Organizer. A federal judge ordered Thursday [8/17/2017] that convicted Palestinian terrorist and Women's March organizer Rasmea Odeh be deported from the United States, and her citizenship, revoked. Odeh was previously convicted in Israel for masterminding a pair of 1969 bombings that left two civilians dead and fourteen injured. She was later released as part of a prisoner exchange, and she moved to the United States. When she entered the United States, Odeh stated she had no criminal record. In 2013, she was indicted in federal court for immigration fraud, and in 2015, was sentenced to eighteen months in prison. The prison sentence was to be followed by deportation.
Grassley: 'Partisan' Lawsuits Against Trump Should Also Implicate Clinton. Sen. Chuck Grassley (R., Iowa) is arguing that plaintiffs in three separate cases claiming President Donald Trump violated the Emoluments Clause should also sue Hillary Clinton. Grassley, the chairman of the Senate Judiciary Committee, suggested that Clinton may also have violated the clause when she was secretary of state, Circa reports. He called the lawsuits "partisan and narrow" in their scope.
Something stinks about Charlottesville. Evidence is turning up from, of all places, the Southern Poverty Law Center, as well as Breitbart and others, that this character, Jason Kessler, who organized the suspicious and supposed Alt-Right demonstration in Charlottesville, Va. that blew up in everyone's face, is a cunning lefty holdover from the Occupy Wall Street movement and a former Barack Obama supporter. I smell Soros money, sabotage, and Democrat dirty tricks here. [...] I have to wonder if this Kessler fellow, strong Barack Obama-supporter that he is, had a hand in making sure his Alt-Right marchers were clearly guaranteed to encounter a strong crowd of riled up counter-protesters as well.
Seattle's Statue of Communist Dictator Vladimir Lenin Under Fire. A growing number of people on social media are calling for the removal of Communist dictator Vladimir Lenin's statue in Seattle. Many social media users, from a prominent Seattle venture capitalist to the estimated 900 people who follow the Facebook group Seattle, Tear Down This Lenin Statue! are calling for Lenin's statue to be removed.
WaPo: Documents Show Russians Sought Meetings With Trump Campaign, and Team Trump Declined. [Scroll down] These freshly-revealed emails look like a conscientious campaign doing the right thing and expressing appropriate skepticism when approached about opportunities to huddle with the Russians. You can argue that maybe they turned down these contacts because they were involved with the Kremlin at a higher level elsewhere, but there's no proof of that. You can also contend, as WaPo's story does, that this further demonstrates Moscow's keen interest in establishing ties with the Trump camp. That's fine, but that Russian interest would need to have been improperly reciprocated and acted upon to be a scandal. Collusion requires at least two parties, by definition. So this strand of evidence cuts in Trump's favor.
New report claims hacked DNC emails which rocked the presidential election were actually a LEAK. A new report suggests the DNC hack, one of several that rocked the 2016 presidential election, was an inside job. According to The Nation, forensic experts and four former NSA employees claim to have new evidence that the Democratic National Committee hack happened locally with a memory key or other portable storage device. The experts speaking to The Nation argue the files were too large to have been transmitted over the internet, therefore they must have happened on site, by someone within the DNC.
Candidate To Be First Female Navy SEAL Officer Quits After A Week: Report. A woman aiming to become the first female Navy SEAL officer quit about a week into the initial training, Task and Purpose reported Thursday [8/10/2017]. The unidentified female candidate dropped out in early August during a three-week course in San Diego that began July 24.
Mysterious death of federal prosecutor on Hollywood beach ruled a suicide. Beranton J. Whisenant Jr., 37, had just started a new job in the Miami office of the U.S. attorney in January when his body was found floating in the surf on May 24. [...] Hollywood police said detectives and the Broward medical examiner determined Whisenant "died from a self-inflicted gunshot wound" before his body was discovered just south of Magnolia Terrace on Hollywood beach. It did not say why the investigation took so long to determine the cause of death.
Officials: Veteran's 'no foreigners' sale sign violates civil rights. A veteran's front-yard sign advertising the sale of his home violates state and federal anti-discrimination laws because it indicates the owner won't sell to foreigners, according to Michigan Department of Civil Rights officials.
Gym bans police officers, military because they might offend minority members. Jim Chambers, the owner of the gym, told 11Alive he took responsibility for the sign and wanted the message to be clear. [...] Chambers said law enforcement agents were not allowed in his business because their presence made his minority clientele uncomfortable.
The Editor says...
The only place more dangerous than a "gun-free zone" would be a "cop-free zone."
Attkisson v. DOJ: The Computer Intrusion Lawsuit against the Federal Govt. I'm frequently asked about the status of my lawsuit against the U.S. Department of Justice over the secret, unlawful intrusions into my computers, exposed in 2013. As my federal case moves slowly through court system, there is a new development: ongoing forensic work of my computer laptop system has revealed a second government Internet Protocol (IP) address used in the illegal cyber-attacks on my computer laptop system. The IP addresses don't belong there. In a new affidavit filed in federal court last week, cyber-security expert David Scantling states, "[T]he presence of these USPS addresses on [Attkisson's] computer is not a mistake; it is not a random event; and it is not technically possible for these IP addresses to simply appear on her computer systems without activity by someone using them as part of the cyber-attack."
GOP Pulls in $75M in Trump's First 6 Months, Double Obama's First 6 Months. The Republican National Committee is touting some big fundraising numbers bolstered by President Trump's appeal with his base, including small donors. The $75 million-plus brought in by the party in the first six months of this year is more than double the amount that Democrats raised during Barack Obama's first six months, ABC reported.
NBC Lawsuit: The Network's Desire for 'Attractive Employees' Created a 'Toxic Environment'. A former NBC employee claims the network blatantly looked for "good-looking employees" and asked that she submit photos before being allowed to interview. Stephanie Belanger has filed a lawsuit against the network, claiming that NBC's focus on beauty enabled a toxic, discriminatory environment, the New York Post reported Monday [7/31/2017]. In the lawsuit filed in Manhattan Supreme Court, Belanger alleges disability discrimination, sexual harassment, and termination after she complained. When Belanger was first contacted for a job as an audio-visual coordinator, the recruiter told her that NBC "specifically asked for good-looking employees."
Two Zeta Cartel Members Found Guilty of Murdering ICE Agent Jaime Zapata. Jose Emanuel Garcia Sota and Jesus Ivan Quezada Piña were found guilty of murdering ICE Agent Jaime Zapata Thursday by a federal jury. Both men are Mexican nationals and part of Los Zetas drug cartel. [...] In March an inspector general report confirmed the failure of the Obama Justice Department to arrest known straw purchasers working for the Zeta cartel, similar to tactics used in Operation Fast and Furious, also lead to Zapata's murder.
San Diego Teacher Thinks Citizenship Question Is 'Racist,' Refuses to Answer. A San Diego middle school teacher refused to answer a border patrol agent's question regarding her citizenship at a New Mexico checkpoint and was briefly detained. Her family members recorded the incident that has since gone viral, with her proclamation that "enforcing racist laws perpetuates institutional racism."
Caution: possible hoax.
'Fact checking' website Snopes on verge of collapse. Fact-checking website Snopes is on the verge of financial collapse after its owner was accused of embezzling company funds to pay for his contentious divorce battle and lavish overseas trips with his new wife, a former Las Vegas escort and porn actress. The company's financial woes have gotten so bad that Snopes' owner David Mikkelson started a crowd-funding website pleading for donations this week, which raised over $500,000 from generous readers in its first day. But DailyMail.com can disclose significant facts which are entirely missing from the fact-checking website's version of events — including the fraud allegations against Mikkeslon.
Compromised: Evidence Emerges Muddling Impartiality of Two Democrats on House Ethics Committee Nunes Probe. The top two Democrats on the House Ethics Committee appear to be compromised when it comes to the panel's probe of House Intelligence Committee chairman Rep. Devin Nunes (R-CA), Breitbart News has learned. Evidence demonstrating a preconceived bias against Nunes — from before the onset of an official investigation — has clouded the supposed impartiality of Reps. Ted Deutch (D-FL) and Yvette Clark (D-NY). Both of their offices have refused, when contacted by Breitbart News, to answer whether the members will recuse themselves from the investigation.
True Socialist: Apparently Bernie Sanders Is Stealing His Neighbor's 'Washington Post'. In perhaps the funniest and most fitting news of the year, WMAL radio host Chris Plante told his audience of a story he heard from friends about the elderly senator. A man living next to Sanders apparently called the [Washington] Post to complain that he was hardly ever receiving his subscription. After an investigation into the matter, the paying customer realized that it was his neighbor, Senator Sanders, who was stealing the paper right from under his nose.
The Company Behind Many Surprise Emergency Room Bills. Early last year, executives at a small hospital an hour north of Spokane, Wash., started using a company called EmCare to staff and run their emergency room. The hospital had been struggling to find doctors to work in its E.R., and turning to EmCare was something hundreds of other hospitals across the country had done. That's when the trouble began. Before EmCare, about 6 percent of patient visits in the hospital's emergency room were billed for the most complex, expensive level of care. After EmCare arrived, nearly 28 percent got the highest-level billing code.
Trump State Dept Unsure Why Palestinian Terrorists Kill Israelis. Officials in the Trump administration's State Department are standing by a recent report criticized by Congress that blamed Israel for terror attacks and claimed Palestinians rarely incite violence, telling the Washington Free Beacon that it remains unclear why terrorists engage in violent acts. Rep. Peter Roskam (R., Ill.), co-chair of the House Republican Israel Caucus, criticized the State Department Thursday [7/20/2017] for releasing a report portraying Israel as the culprit in terrorism and downplaying Palestinian incitement of violent acts against the Jewish state, the Free Beacon first reported.
NSA Officials and Computer Expert: Forensic Evidence Proves DNC Emails Were LEAKED, Not Hacked. Forensic studies of "Russian hacking" into Democratic National Committee computers last year reveal that on July 5, 2016, data was leaked (not hacked) by a person with physical access to DNC computers, and then doctored to incriminate Russia. After examining metadata from the "Guccifer 2.0" July 5, 2016 intrusion into the DNC server, independent cyber investigators have concluded that an insider copied DNC data onto an external storage device, and that "telltale signs" implicating Russia were then inserted. Key among the findings of the independent forensic investigations is the conclusion that the DNC data was copied onto a storage device at a speed that far exceeds an Internet capability for a remote hack. Of equal importance, the forensics show that the copying and doctoring were performed on the East coast of the U.S.
CBO Says McConnell Healthcare Bill Would Slash Deficits By $420 Billion, Leave 15 Million Uninsured. Another day, another CBO score for another version of the GOP's healthcare bill. This time, the agency estimates that McConnell's "Better Care Reconciliation Act" legislation would lower the federal budget deficit by $420 billion over the next 10 years by reducing spending for Medicaid and subsidies for nongroup health insurance. As The CBO notes, those effects would be partially offset by the effects of provisions not directly related to health insurance coverage (mainly reductions in taxes), the repeal of penalties on employers that do not offer insurance and on people who do not purchase insurance, and spending to reduce premiums and for other purposes.
Army to discharge sergeant who tried to keep secret data on bin Laden raid revealed by Obama. The Army has rejected an appeal from a 13-year public affairs sergeant and is kicking him out in a case tied to the Osama bin Laden raid, President Obama's speech about it and Secretary of State Hillary Clinton's mishandling of classified information. Staff Sgt. Ricardo Branch told The Washington Times that he must leave the Army by Aug. 1. His crime was mentioning in an internal military email the name of the aviation unit that flew Navy SEALs inside Pakistan airspace to kill the al Qaeda leader. The irony: He was trying to keep that fact out of a proposed article in an industry newsletter.
Exclusive: Conservatives launch war on Southern Poverty Law Center, promotes 'terrorism'. A coalition of conservative groups whose advocacy has been labeled "hate" by the leftist media-darling Southern Poverty Law Center are launching a counteroffensive Monday, accusing it of fueling hate, killing free speech and even encouraging terrorist-style attacks on those it doesn't agree with. The effort, which includes a video and planned Monday tweetstorm, takes aim at SPLC's so-called "hate map" which identifies groups it says promotes hate and extremism. It includes groups like the Ku Klux Klan, but also conservative nonprofits that promote traditional marriage, enforcement of immigration laws, and other policies it doesn't agree with.
Obama-appointed 'ethics' officer resigns - good riddance. When a partisan member of the bureaucratic swamp resigns, that's something to cheer about. And huzzahs were certainly in order last week when the nation's top "ethics" officer, Walter Shaub, announced that he is resigning, effective July 19. Barack Obama appointed Shaub to head the Office of Government Ethics (OGE) back in 2013. It's a five-year appointment, so Shaub's resignation merely ends his reign six months early. Shaub has already lined up a new gig. He is headed to the Campaign Legal Center, a partisan, Soros-funded advocacy group that has been working for years to restrict your First Amendment right to speak and engage in political activity. That tells you a lot about Shaub's politics and why his resignation is cause for celebration.
Russian Lawyer Who Met with Donald Trump Jr. Worked with Democrats for Years. The revelation that Donald Trump Jr. met for 20 minutes at Trump Tower with Russian lawyer Natalia Veselnitskaya in June 2016 has skyrocketed her to mainstream news media notoriety. Although she has been painted by Democrats as a Russian government official, numerous reports and photos show she has a long record of working with U.S. political figures, including many Democrats. For example, The Daily Caller News Foundation Investigative Group revealed on Wednesday [7/12/2017] that California Rep. Ron Dellums was a hired lobbyist for Veselnitskaya.
FEC Has Kept Documents About Democrats Secret For Years. Federal Election Commission (FEC) officials have withheld public documents for years, some of which would expose details about Democrats' taxpayer- and foreign-funded travel, The Daily Caller News Foundation's Investigative Group has learned. The FEC — which includes three commissioners each from Democratic and Republican parties — has withheld records related to 17 Freedom of Information Act (FOIA) requests filed more than three years ago, according to an agency document obtained by TheDCNF. Of the 17, 10 have been pending for nearly four years, another will be five this year and the oldest turned six in June. The requested documents span a variety of topics, ranging from communications regarding former FEC official Lois Lerner, the central figure in the IRS targeting scandal, to internal communications and commission policy documents.
Bezos, Slim, and Buffett, Publicly Pleading Poverty, Ask Congress for Help With Their Newspapers. It's the sort of brazen move that might ordinarily trigger a front-page news story or an outraged editorial — a bunch of rich individuals asking Congress to write them a law that would give them better negotiating power against other rich individuals. Yet in this case, the rich individuals wanting special treatment are the newspaper owners themselves. Washington Post owner Jeff Bezos (worth $83.9 billion, according to the Bloomberg Billionaire's Index), New York Times owner Carlos Slim (worth $61.1 billion), and Buffalo News owner Warren Buffett ($76.9 billion), publicly pleading poverty, are asking Congress for a helping hand in their negotiations with Google, controlled by Sergey Brin ($45.6 billion) and Larry Page ($46.8 billion).
Natalia Veselnitskaya Pictured With Obama Officals in DC on June 14th, 2016. At the heart of the current media Russian narrative du jour is a story about Donald Trump Jr. meeting with a Russian attorney named Natalia Veselnitskaya. That meeting took place on June 9th 2016 in Trump Tower. Now it is discovered via video and images, that only 5 days later, June 14th 2016, Ms. Veselnitskaya was a guest of former Obama administration Russian Ambassador Michael McFaul in Washington DC for a House of Representatives hearing on U.S. Policy Toward Putin's Russia.
NYPD cops turn their back on Mayor Bill de Blasio as he speaks at funeral for slain officer . [Miosotis] Familia, a 48-year-old single mother-of-three, was shot dead in The Bronx as she made notes in her patrol car in the early hours of July 5. Her killer, paranoid schizophrenic Anthony Bonds, 34, was gunned down by other police officers as he tried to flee. On Tuesday [7/11/2017], thousands packed World Changers Church in The Bronx to lay Familia, a single mother-of-three, to rest. Outside, scores more stood beneath screens and speakers which broadcast the service. When de Blasio appeared on screen, some turned their backs on him in a show of protest over his decision to go to Hamburg last week in the immediate aftermath of the officer's death, The New York Post reported.
New fears Drudge, InfoWars, Breitbart could face Dem FEC 'inquisition'. A revived bid by a top Federal Election Commission Democrat could lead to an "inquisition" against conservative media outlets like the Drudge Report, InfoWars and Breitbart that take political advertising and are overseen by right-leaning owners or editors, according to critics. The plan, set for discussion at Thursday's FEC meeting, could open the door to political subpoenas targeting the websites, their editorial news decisions, and their owners, maybe even Matt Drudge and Alex Jones, according to an expert analysis. In her effort targeting foreign influence in federal and state elections, Commissioner Ellen Weintraub would probe spending by overseas sources and even partially-foreign-owned U.S. firms on campaigns, including their media buys. Foreign influence is illegal in elections.
Google, Facebook Join Online Protest of Net Neutrality Rollback. How many online activists does it take to save Silicon Valley's favorite Obama-era regulation? Organizers of an online protest aimed at derailing a Republican plan to roll back net neutrality rules are hoping the magic number is 70,000. That's the number of sites and organizations — including Amazon.com, Google, Facebook and even President Donald Trump's favored medium, Twitter — that have pledged to participate.
New Research Shows Guccifer 2.0 Files Were Copied Locally, Not Hacked. New meta-analysis has emerged from a document published today [7/9/2017] by an independent researcher known as The Forensicator, which suggests that files eventually published by the Guccifer 2.0 persona were likely initially downloaded by a person with physical access to a computer possibly connected to the internal DNC network. The individual most likely used a USB drive to copy the information. The groundbreaking new analysis irrevocably destroys the Russian hacking narrative, and calls the actions of Crowdstrike and the DNC into question.
Alexa calls cops on man allegedly beating his girlfriend. A New Mexico man was arrested for allegedly beating his girlfriend and threatening to kill her — after Amazon's Alexa called police, authorities said. Eduardo Barros, 28, became angered with his unidentified girlfriend while house-sitting in Tijeras, about 15 miles east of Albuquerque, and the dispute suddenly turned physical on July 2, authorities said. During the assault, Barros waved a gun and threatened to kill the woman before he allegedly asked: "Did you call the sheriffs?"
MO Gov Signs 'Blue Alert' Bill to Help Protect Law Enforcement. Missouri Gov. Eric Greitens (R) last week signed into law the so-called "Blue Alert" bill, which creates a system similar to Amber Alerts that let law enforcement agencies and the public know when an officer has been assaulted. It also increases the penalties for assaults on law enforcement officers.
The Editor says...
When a cop has been assaulted, what are we supposed to do about it? Is there ever a case in which an officer is assaulted and no other officer is able to assist?
House Dem IT Suspects Wanted Untraceable Payments — and Sure Enough, Millions Disappeared. A Pakistani family under criminal investigation by the U.S. Capitol Police for abusing their access to the House of Representatives information technology (IT) system may have engaged in myriad other questionable schemes besides allegedly placing "ghost employees" on the congressional payroll. Imran Awan, his wife Hina, and brothers Abid and Jamal collectively netted more than $4 million in salary as IT administrators for House Democrats between 2009 and 2017. Yet the absence of signs of wealth displayed among them raise questions such as was the money sent overseas or did something other than paychecks motivate their actions?
Burger Joint Robotics Are Coming Soon. Fast-food restaurants are a major target for automation developers because of the high labor costs connected with preparing food and dealing directly with customers. Kiosks for ordering food have begun appearing as a result of their simple design. In February for example, Wendy's announced it would install kiosks in 1,000 restaurants (around 16 percent) by the end of the year.
DNC refuses to allow feds access to hacked email server. For a political party accusing the president of the United States of treason, the Democrats are being very reluctant to have authorities prove it. The email server that the Democratic National Committee say was hacked by the Russians is so far being kept out of reach of federal investigators looking into the issue. The only people who have examined the server are employees of the private cyber-security company the DNC hired to find out who hacked them. [...] Withholding access to the server raises troubling questions the DNC refuse to answer. Why did they refuse the assistance of DHS? Why are they not cooperating with Congress or the FBI? Just what is it they are trying to hide?
Killer Of U.S. Soldier To Get Apology And $10 Million From Trudeau Government. Canada's Liberal government is prepared to provide an apology and $10.5 million to the confessed killer of a U.S. soldier who spent time in Guantanamo Bay. According to multiple reports Tuesday [7/4/2017], Omar Khadr will be compensated in part because his interrogation at the hands of Canadian security was deemed "oppressive" by the Supreme Court of Canada. Khadar, who was born in Canada, was fighting with al-Qaeda forces in Afghanistan when he was 15. In a shoot-out with U.S. forces, Khadr confessed to killing U.S. Special Forces medic Sgt. Christopher Speer with a grenade.
Hacked computer server that handled DNC email remains out of reach of Russia investigators. It is perhaps the key piece of forensic evidence in Russia's suspected efforts to sway the November presidential election, but federal investigators have yet to get their hands on the hacked computer server that handled email from the Democratic National Committee. Indeed, the only cybersecurity specialists who have taken a look at the server are from CrowdStrike, the Irvine, California-based private cybersecurity company that the DNC hired to investigate the hack — but which has come under fire itself for its work. Some critics say CrowdStrike's evidence for blaming Russia for the hack is thin. Members of Congress say they still believe Russia was responsible but wonder why the DNC has never allowed federal investigators to get a look at the key piece of evidence: the server.
Lyme Disease Is Spreading, And It's Partly This Mouse's Fault. Ticks aren't born with the pathogens that cause the main tick-borne diseases in humans; they get them from feeding on animals that act as reservoirs of the bacteria and parasites. Scientists are especially interested in the host that seems to be by far the best at harboring Lyme disease: the white-footed mouse. And some researchers have noted that an abundance of the mice one year is linked to more Lyme disease in humans the next — suggesting that this relationship could matter a lot when it comes to reducing Lyme disease.
NYPD to deploy sand-filled trucks on July 4 — to prevent Muslims from plowing into crowds. The NYPD will deploy nearly 120 sand-filled trucks and "blocker vehicles" near July 4 fireworks viewing spots in Manhattan to prevent an attacker from plowing into crowds as terrorists have done in London; Berlin; Nice, France, and elsewhere in Europe. Speaking at police headquarters at the start of Independence Day weekend, Commissioner James O'Neill said the trucks have been parked strategically at large public gatherings like parades in New York City since after Bastille Day in July 2016, when 86 people were killed by a terrorist-driven truck that rushed into a crowd watching fireworks in Nice, France.
Whole Foods 'chicken salad' recalled for containing no chicken. Tuna and chicken have been needlessly conflated ever since a tuna company started marketing their canned fish products as "Chicken of the Sea." But now, Whole Foods has fallen victim to similar confusion, after one of their poultry suppliers mistakenly sent the store a large shipment of "chicken salad" that actually contained tuna.
Starbucks Crumbles As Investigator Finds 30% Of Coffee Tests Positive. Many people around the world enjoy iced coffee and other cool drinks from baristas employed by Starbucks, Caffe Nero, and Costa Coffee. However, they may want to think twice before ordering again. The BBC's "Watchdog" program performs consumer affairs checks on popular businesses. Their latest discovery found fecal bacteria in samples from the three popular coffee chains. Yes, that's right, bacteria that is present in feces is now included with customer's ice at Starbucks, Caffe Nero, and Costa Coffee. Samples taken from various stores found changeable levels of contamination. Head of policy at the Chartered Institute of Environmental Health Tony Lewis said that the amounts were "concerning." He added that the bacteria "should not be present at any level — never mind the significant numbers found."
The Biggest Scandal You've Never Heard Of. One of the most bizarre spectacles in Washington is flying almost completely under the radar, even though much of it is playing out in public. And, it begs one simple question: Is someone blackmailing one of the top members of Congress in plain sight?
SLPC Silencing Anti-Jihadist Muslim Activists, Sued for Defamation. On a recent appearance with Bill Mahar, [Maajid] Nawaz announced, "I'm sick to death of well-meaning... white men sitting in sweet Alabama — the Southern Poverty Law Center - created to defend people like me... they've decided to list me... as anti-Muslim extremist. I'm sick and tired of well-meaning liberal and left-leaning white men who decide I'm saying what they don't agree with about my own religious heritage." [...] Kudos to Nawaz for calling out the bullying SPLC for their tactics.
French Mayor Demands Pork in School Lunches to Promote Secularism. The conservative mayor of Chevigny-Saint-Sauveur has announced he will ban alternative school menus that do not include pork to promote secular values in schools. Mayor Michel Rotger, a member of the conservative Republican party, said the move would promote secularism but would also save the local government money saying 'alternative menus' led to too much waste, L'Express reports.
Christian bakers free to live out faith in Mississippi. The 5th Circuit Court of Appeals announced June 22 that it was overturning a lower-court decision a year earlier that stopped the Protecting Freedom of Conscience from Government Discrimination Act. HB 1523 was signed into law April 2016 by Gov. Phil Bryant but was challenged in the courts by homosexual activists. Last week's ruling found that those activists lacked legal standing because the new law had not harmed them. "The court determined," says attorney Kevin Theriot of Alliance Defending Freedom, "that the plaintiffs in this situation weren't even harmed enough to be able even to get into court, much less to win on the merits of the case."
Black Unemployment at Lowest Level in 17 Years. Unemployment among black Americans ages 16 years and over fell to 7.5 percent in May, its lowest level since December 2000. Black unemployment has been on the decline since February — falling from (February) 8.1, (March) 8.0, (April) 7.9, and (May) 7.5 percent, according to data from the Bureau of Labor Statistics. The national unemployment rate in May was 4.3 percent, its lowest level since May 2001.
Walker Battles Climate Change Believers to Reshape Department of Natural Resources. Wisconsin Democrats have demanded Gov. Scott Walker (R) join the U.S. Climate Alliance, a newly formed coalition of states that intends to move forward with the terms of the Paris climate accord after President Trump's decision to pull out of the agreement. "President Trump's rejection of fact, science and of the Paris Climate Agreement is an act that endangers every American. Gov. Walker's silence on this issue echoes this shared anti-environment, anti-middle class agenda," read the letter to Walker signed by 35 state representatives and 11 senators.
Illegals fleeing from Trump to Canada not faring too well there either. If you're that worried about being caught, Canada is famous for its incredibly friendly people, generally socialist environment, generous welfare benefits and back bacon. They're generally good with almost anyone showing up provided you're not too much of a hoser, eh? And to top it off, the new Prime Minister was no fan of Trump's either so he pretty much rolled out the welcome mat and said he wasn't going to be taking any new, extraordinary measures to stop the flow of illegal aliens. So how's that working out for them now?
Asylum seekers in Canada who fled Trump now trapped in legal limbo. Thousands of people who fled to Canada to escape President Donald Trump's crackdown on illegal migrants have become trapped in legal limbo because of an overburdened refugee system, struggling to find work, permanent housing or enroll their children in schools. Refugee claims are taking longer to be completed than at any time in the past five years, according to previously unpublished Immigration and Refugee Board data provided to Reuters.
Theater That Put On Trump Assassination Play Gets New $100,000 Grant. The Public Theater in New York has received an additional $100,000 grant from the federal government, fresh off its controversy for staging a Julius Caesar production where a Donald Trump lookalike is assassinated. Just days after controversy over the graphic mock Trump killing began, the National Endowment for the Arts announced its newest round of grants. The Public Theater received $100,000 for its New York Shakespeare Festival. This time the theater will do performances of A Midsummer Night's Dream.
Gowdy: Maybe DNC Did Not Cooperate With DHS Because There Was Something Else On That Server. Wednesday [6/21/2017] on Fox News Channel's "The Story," Rep. Trey Gowdy (R-SC) said it was concerning that while testifying before the House Intelligence Committee earlier in the day at a hearing on the alleged Russian hacking of the 2016 presidential election, former Homeland Security Secretary Jeh Johnson said his department's offer to help the Democratic National Committee was denied.
Judicial Watch Asks Trump Administration to End Congressional Obamacare Exemption. Judicial Watch requested the Trump administration stop members of Congress and their staff from unlawfully purchasing, with taxpayer subsidies, health insurance through the District of Columbia's small business exchange. The Judicial Watch request was made on June 14, 2017, to the Centers for Medicare Medicaid Services (CMS) as part of a process set out by the Department of Health and Human Services to reform the Patient Protection and Affordable Care Act (ACA), otherwise known as Obamacare.
Freighter Was On Autopilot When It Hit U.S. Destroyer. The deadly collision between a U.S. destroyer and a container ship June 17 took place while the freighter was on autopilot, according to Navy officials. The Philippines-flagged cargo ship ACX Crystal was under control of a computerized navigation system that was steering and guiding the container vessel, according to officials familiar with preliminary results of an ongoing Navy investigation. Investigators so far found no evidence the collision was deliberate.
Maritime Mystery: Why a U.S. Destroyer Failed to Dodge a Cargo Ship. There should have been lookouts on watch on the port, starboard and stern of the destroyer Fitzgerald — sailors scanning the horizon with binoculars and reporting by headsets to the destroyer's bridge. At 1:30 a.m. last Saturday, off the coast of Japan south of Tokyo, they could hardly have failed to see the 730-foot freighter ACX Crystal, stacked with more than 1,000 containers, as it closed in. Radar officers working both on the bridge and in the combat information center below it should have spotted the freighter's image on their screens, drawing steadily closer. And under standard protocol, the Fitzgerald's captain, Cmdr. Bryce Benson, should have been awakened and summoned to the bridge to assure a safe passage long before the ships could come near each other. But none of that happened.
FCC hits robocaller with agency's largest-ever fine of $120 million. The Federal Communications Commission has levied its largest fine ever, targeting a Florida-based robocall network it says was responsible for nearly 100 million calls over the last three months of 2016. The agency on Thursday [6/22/2017] proposed a $120 million fine against Adrian Abramovich of Miami, Fla., alleging his operation, doing business as Marketing Strategy Leaders, made 96 million spoofed robocalls during the period in which the FCC investigated. Of those calls, about 90% were made to wireless phones, with 10% to landline phones.
Runaway MTA Bus Rolls for Blocks, Hitting Cars and a Church in Brooklyn: Officials. A runaway MTA bus rolled for blocks down one Brooklyn street, hitting nearly a dozen parked cars and a church, and sending one man who had been changing a tire leaping out of the way to to save his life, officials say. Police say the driver of the bus got out of the vehicle around 12:30 a.m. Wednesday in Bushwick, but left it in neutral. The bus then rolled backward down the street, smashing into 10 parked cars before striking a church. No passengers were on the bus at the time. [Video clip]
Patagonia Devotes Itself to Moonbattery. Patagonia is no longer primarily about overcharging for outdoor clothing. It has other priorities.
Outdoor Clothing Corporation Patagonia Pledges to Lead Resistance to Trump. You would think that by now, stores would have learned their lesson about making politically charged statements, but apparently there are still some morons dedicated to making that mistake. Like outdoor clothing retailer Patagonia, whose CEO has decided that she is going to "lead the resistance" against President Trump.
Independent group releases new report on Seth Rich's murder investigation. A new report has been released by an independent group on the investigation into the death of DNC worker Seth Rich, who was murdered last July in DC. Rich's killer remains on the loose, and for months now a group of George Washington University grad students, called the Profiling Project, have been digging into the case. The Profiling Project released their initial report on the investigation Tuesday [6/20/2017] in [a] press conference.
Canada Legalizes Sex With Animals. [Scroll down] So next time Canada is hit with calamities do not get angry when I do not care. What an evil wicked generation full of the devil and on the road to hell!
Tears — and questions — on the ramming of USS Fitzgerald. Fitzgerald, at 8,900 tons, was struck directly in its forward starboard quarter by a massive container-cargo freighter, the 29,000-ton ACX Crystal, at about 2:30 a.m. Some two-thirds of the crew would've been off-duty, presumably sleeping, when the impact occurred, causing substantial hull damage and massive flooding. Seven sailors died. It's far too early to draw even speculative conclusions about the collision, but the question is inescapable: How could a nimble warship like Fitzgerald allow herself to be run down by a lumbering, cargo-container laden freighter?
How Could This Happen? On Saturday, at about 2:30 AM local time, the destroyer USS Fitzgerald (DDG 62) and the Philippine container ship ACX Crystal collided southwest of Yokosuka, Japan — the home of the United States Navy's Seventh Fleet. [...] It is difficult to understand how something like this could happen, given the size of the vessels, the well-understood rules that govern the movement of ships, the expanse of the ocean, the technology available to avoid collisions, and the (relatively) slow speed at which ships move. So-called "background" information was provided in the cable which gave vague details on a 2006 nuclear smuggling sting operation in which the U.S. government took possession of some HEU previously owned by the Russians.
There's a strange reason for all those quakes near Harrison. Ten earthquakes just north of Harrison, Arkansas, in the past five days? Blame it on nearby Bull Shoals Lake, swollen by spring floods. The lake, which straddles the Missouri-Arkansas border, has risen 42 feet since the first of March, adding more than 6 trillion pounds of water weight to the lake basin. That crushing weight triggered a 3.6-magnitude earthquake north of Harrison on Sunday and at least nine more in the following days, according to David Johnston, earthquake geologist with the Arkansas Geological Survey.
North Carolina man receives shocking $100 million charge on water bill. The News & Observer of Raleigh reports that Kieran Healy of Orange County in central North Carolina got a water bill for $189.92. The service charge was a dollar shy of $100 million.
Confirmed: Obama Had His Own 'Back Channel' To Moscow. The Obama administration had a "back channel" to communicate with Russian officials, according to a new report detailing Moscow's efforts to delegitimize the U.S. presidential election results. The news comes after Trump White House aide Jared Kushner was criticized for allegedly trying to open a back channel line of communications with Russian officials during the transition last year. Former intelligence officials called Kushner's alleged back channel "dangerous," but now Bloomberg reports the Obama administration had its own back channel to Moscow.
African-American History Museum Sued for Censoring Pro-Life Display. Two African American pro-life leaders filed a lawsuit Friday against the National Museum of African American History and Culture in Washington, D.C., alleging that it violated their rights to freedom of speech and religious liberty. The lawsuit stems from an incident on Feb. 1 when the Rev. Clenard H. Childress Jr. and Jacqueline Hawkins, two African American pro-life advocates, set up a display outside the Smithsonian's new museum in downtown Washington, D.C. The pro-life display was a project of the Center for Bio-Ethical Reform, a California-based pro-life organization, which also is a party in the lawsuit, Christian Post reports.
Qatar: Helium Plants Close Because Of Gulf Boycott. Qatar, the world's second largest helium producer, has closed its two helium production plants because of the economic boycott imposed on it by other Arab states, industry sources told Reuters on June 13. The helium plants operated by RasGas, a subsidiary of state-owned Qatar Petroleum, were shut because Saudi Arabia closed its border with Qatar, blocking overland exports of the gas. The two plants have a combined annual production capacity of approximately 2 billion standard cubic feet of liquid helium and can meet about 25 percent of total world demand for the gas, according to RasGas' website.
'We've been living a lie!' Twitter has meltdown when it discovers that Sasha Obama's real name is Natasha. Sasha Obama turned sixteen on Saturday, a day before Twitter was shocked to discover (again) that the former First Daughter's real first name isn't Sasha, but Natasha.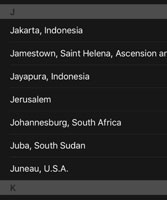 A bug, not a feature. Dear Apple CEO Tim Cook, I am writing to report a bug in the Clock application of your iOS operating system (10.3.2), found on my new iPad. Somehow the country associated with Jerusalem seems to be missing! Almost every other city, even Ittoqqortoormiit, has a country. But Jerusalem does not (Taipei also lacks a country, but I will leave that to someone else to argue about). I know this has to be a bug, because Jerusalem is in Israel! Not only is Jerusalem in Israel, it is the capital of Israel, and has been since the modern state was founded in 1948 (it was also the capital of David's kingdom, back around 1000 [BC]). Israel's Knesset meets there, its Prime Minister's office is there, and there are even several authorized Apple dealers there. So how can you not know?
Judicial Watch Sues Justice Department for Records about Forcing Corporations to Fund Leftist Groups. Judicial Watch announced today [6/12/2017] that it has filed a Freedom of Information Act (FOIA) lawsuit against the U.S. Department of Justice for records relating to an Obama administration policy of settling agency lawsuits against corporate defendants by requiring that the corporations make "donations" to left-wing interest groups La Raza, the Urban League and the National Community Reinvestment Coalition.
The Conspiracy to Silence a JFK Assassination Theorist. Robert Groden has been issued 82 tickets by the city of Dallas and arrested twice. His offense? Running a table in Dealey Plaza on weekends offering passerbys an interpretation of the JFK assassination that conflicts with what Groden calls "the official fiction." Groden's attorney, Brad Kizzia, uncovered emails between the Dallas City Council and an institution called the Sixth Floor Museum that references "how to deal with the vendor problem in Dealey Plaza." Kizzia's assumption is that the Sixth Floor Museum, an institution dedicated to telling the official story of the JFK asssassination, saw Groden as a nuissance and was conspiring with the city drive him out.
'Anti-Fascists' Crash Nationwide Protests Against Sharia Law. Protesters campaigning against Sharia Law were met with a number of counter-demonstrations on Saturday, as anti-Sharia rallies took place in 28 cities across America. The rallies, which were organized by the national security organization ACT! for America, attracted strong support in cities such as Phoenix, Chicago, Austin, Atlanta, New York, Boston, and Seattle.
Hawaii ignores Trump, is first state to pass law committing to Paris Climate Accord. The governor of Hawaii on Tuesday [6/6/2017] signed a bill that aligns the state's carbon emissions with the Paris climate accord. Gov. David Ige signed the bill that calls on documenting sea level rise and set strategies to reduce greenhouse gas emissions. "Many of the greatest challenges of our day hit us first, and that means that we also need to be first when it comes to creating solutions," Mr. Ige, a Democrat, said, according to The New York Times. "We are the testing grounds — as an island state, we are especially aware of the limits of our natural environment."
Watch Jon Ossoff Lose The Entire Special Election Debate In Less Than Four Minutes. Democratic congressional candidate Jon Ossoff struggled through a brutal four minutes in Georgia's special election debate Tuesday night [6/6/2017] after Republican Karen Handel called him out for not living in the district he is hoping to represent.
James Comey's Media Leak Conduit, Daniel Richman, Goes into Hiding. Oh, this is transparently suspicious. But don't anticipate the media to point out that transparently innocent people do not need to duck for cover. The Columbia University professor, Daniel Richman, that fired FBI Director James Comey utilized as the go-between to provide leaks to the media, has gone into hiding.
USPTO director Michelle Lee has resigned without warning. Director of the US Patent and Trademark Office Michelle Lee resigned today [6/6/2017], without explanation. Lee, who has been director of the office since 2014, was a favored candidate by the tech sector, who thought she brought a balanced approach to patents. She is a former Google lawyer and was one of the first corporate lawyers to speak out about the problem of so-called "patent trolls." Lee took office at a time when the tech sector was at odds with the pharmaceutical lobby and trial lawyers over a proposed patent-reform law, which did not end up passing.
The Raspberry Pi and Other SBCs Are the IBM PCs of Our Time. The Raspberry Pi and other single-board computers like it have nailed a combination of low cost, easy availability in high quantities, and a pleasure to program. The successive generations have worked out the kinks of the platform and the latest editions are both powerful beasts, and pretty solid. The low price has enticed many developers to build libraries and frameworks around the Pi, making it accessible to less hardware-savvy developers.
10,000 people falsely claim to have been at Manchester attack to get free Ariana Grande tickets, sales outlet says. Music fans in Britain will come together Sunday for the event "One Love Manchester," featuring major international acts including Ariana Grande, Justin Bieber and Usher, plus many more. The event was announced after a suicide bombing shortly after a Grande concert in Manchester last month left 22 people dead. Proceeds from the concert, which will also be broadcast around the world, will go to a fund designed to help those affected by the attack and their families. But planning for the event has been hindered by allegations that 10,000 people have fraudulently applied for tickets.
Disability attorney who stole $600M from the government disappears, FBI says. Eric Conn pleaded guilty in March to stealing from the federal government and bribing a judge. He was ordered to pay back tens of millions of dollars. His sentencing was scheduled for next month. The FBI said Saturday [6/3/2017] that Conn violated the conditions of his bond by removing his electronic monitoring device which prompted the U.S. District Court to issue a warrant for his arrest.
New Batch of DNC Conspiracy Theories Emerge After Prosecutor Found Dead on Florida Beach. Last week, federal prosecutor Beranton Whisenant was found dead on a beach in Hollywood, Florida, which is in ex-DNC chairman Debbie Wasserman Schultz's district. Police say Whisenant suffered head trauma possibly caused by a gunshot, according to the Miami Herald. [...] Whisenant worked in the major crimes unit in the U.S. Attorney's office in Miami and usually dealt with immigration cases. ABC News reported that he "had been working on visa and passport fraud cases, according to court documents." [...] Some believe that he was investigating the immigration status of the Awan brothers, the Pakistani congressional IT aides who have been accused of stealing equipment and the possible breaches of the House IT network. Imran Awan worked for Debbie Wasserman Schultz.
Firm involved in DNC lawsuit got 'voice changer' call from Debbie Wasserman Schultz' office. This is a very strange story. A law firm which represents Bernie Sanders supporters in a class-action lawsuit against the Democratic National Committee (and against former DNC chair Debbie Wasserman Schultz) received a call asking about the case. The caller's voice was disguised, but when the firm checked the number on caller ID, it came up as one of Debbie Wasserman Schultz' offices. [...] I don't know anything about spoofing phone numbers but it does strike me as odd that someone would make the effort to disguise their voice electronically and then apparently forget about the caller ID. If you wanted to make an anonymous call, wouldn't it be better to hide the phone number and talk like a normal person? In this case, the voice changer just seems to draw attention to the call.
Donald Trump Signs Bills Assisting Law Enforcement: 'We Are Behind You 100 Percent'. President Donald Trump signed two bills on Friday assisting law enforcement officers, vowing to back the community "100 percent." "We are here today to reaffirm our unbreakable support for the American heroes who keep our streets, our homes, and our citizens safe, and they've been doing an amazing job under very adverse conditions," Trump said during a signing ceremony at the White House. Trump signed the Public Safety Officers' Benefits Improvement Act, a bill to help streamline benefits for disabled officers and the families of fallen officers.
Exclusive: Attorney To File Lawsuit In Seth Rich Murder Mystery. Washington, D.C. lobbyist and attorney Jack Burkman is filing a lawsuit Wednesday [5/31/2017] to force the Washington, D.C. Metropolitan Police Department (MPD) to release information regarding the murder of Democratic National Committee (DNC) staffer Seth Rich. "The release of this crucial material will help bring peace to the victim's family, and it will help to either confirm or refute the various theories that swirl about this important murder case," the lawsuit says.
D.C. Police Chief Who Oversaw Seth Rich Murder Socialized With Top Democrats, Debbie Wasserman-Schultz. More and more evidence is revealed every day, that points to the real possibility that murdered DNC staffer Seth Rich was the person who leaked the DNC emails to Wikileaks, and that there is an all-out effort to cover it up, or completely dismiss it as a "tin-foil hat" theory by social media platforms, the leftist media and the Democrat Party. Twitter just suspended the WND account for posting a story that suggested disgraced DNC chief and top Democratic strategist Donna Brazile may have interceded in the Seth Rich murder investigation.
This Dystopian Device Warns You When AI Is Trying to Impersonate Actual Humans. Scared of a future where you can no longer discern if you're dealing with a human or a computer? A team of Australian researchers have come up with what they call the Anti-AI AI. The wearable prototype device is designed to identify synthetic speech and alert the user that the voice they're listening doesn't belong to a flesh-and-blood individual.
Wasserman Schultz Threatened Cops for Pursuing Her IT Staff Hackers. Rep. Debbie Wasserman Schultz threatened the chief of the U.S. Capitol Police with "consequences" for holding equipment that she says belongs to her in order to build a criminal case against a Pakistani staffer suspected of massive cybersecurity breaches involving funneling sensitive congressional data offsite. The Florida lawmaker used her position on the committee that sets the police force's budget to press its chief to relinquish the piece of evidence Thursday [5/25/2017], in what could be considered using her authority to attempt to interfere with a criminal investigation.
Veterans unite, fight HOA's claim that American flag threatens 'theme of the community'. Two U.S. military veterans are making national headlines for their fight to fly the American flag. A Georgia homeowners association recently informed U.S. Navy veteran Tom Wilder and Air Force veteran Pete Rockett that American flags flown outside 23 designated holidays constitute a threat to the "aesthetic and architectural theme of the community." The men told Fox News Channel on Thursday [5/25/2017] that they are ready for a legal fight.
Taxpayer Funded University Identifies as "Law Enforcement Agency". The University of North Carolina at Chapel Hill has turned down a television station's open records request by claiming that it is a law enforcement agency. UNC Chapel Hill officials made their declaration that the taxpayer-funded, 29,000-student school is actually a very large crime-fighting force after Charlotte CBS affiliate WBTV requested public records from Jeffrey B. Welty, an associate professor within the UNC School of Government.
They're Off to Pakistan. In February, we noted the strange case of the three Awan brothers, who got themselves hired as IT professionals, working for a number of Democratic Congressmen at an extraordinarily high rate of pay. They had access to intelligence and homeland security information, among much else, but were fired weeks after the Obama administration left office.
DHS chief: If you knew what I knew about terror, you'd 'never leave the house'. Homeland Security Secretary John Kelly on Friday [5/26/2017] said the terror threat is worse than most realize, saying some people would "never leave the house" if they knew the truth. "I was telling [Fox host] Steve [Doocy] on the way in here, if he knew what I knew about terrorism, he'd never leave the house in the morning," Kelly said on "Fox & Friends." He noted there were four major terror attacks in the last week — in England, Egypt, the Philippines and Indonesia — "by generally the same groups."
Dems Say They Know Little About IT Staffers Suspected Of Accessing Sensitive Congressional Info. U.S. Capitol Police and other agencies are probing the cyber activities of three brothers who had jobs as congressional staffers at the office of information technology for lawmakers on the House Permanent Select Committee on Intelligence, The Daily Caller News Foundation first reported. Brothers Imran, Abid and Jamal Awan also provided their services for other Democratic members in the lower chamber. When they came under suspicion by law enforcement for accessing the House network without permission last February, they were all banned from accessing it. While some Democratic lawmakers dismissed Imran from their employ when the story, others, like Florida Democratic Rep. Debbie Wasserman Schultz kept him on.
John Brennan Completely Contradicts FBI Director James Comey on Congressional Notification. Today [5/23/2017] former CIA Director John Brennan testified to congress on the Russian counter-intelligence operation which began in July 2016. Today, John Brennan completely contradicted the March 20th, 2017, testimony of former FBI Director James Comey.
California Democrats Claim Their Party's Chair Election Corrupted Because Of Lack Of VOTER IDs. [Kimberly] Ellis, the former director of Emerge America, a women's political organization, lost the election by a narrow margin of 62 votes out of 3,000 cast. Her loss immediately set off protests from hundreds of her backers, many of whom charged that there were irregularities that included allowing voters to cast proxy ballots without proper ID.
House IT Aides Fear Suspects In Hill Breach Are Blackmailing Members With Their Own Data. Congressional technology aides are baffled that data-theft allegations against four former House IT workers — who were banned from the congressional network — have largely been ignored, and they fear the integrity of sensitive high-level information. Imran Awan and three relatives were colleagues until police banned them from computer networks at the House of Representatives after suspicion the brothers accessed congressional computers without permission. Five Capitol Hill technology aides told The Daily Caller News Foundation's Investigative Group that members of Congress have displayed an inexplicable and intense loyalty towards the suspects who police say victimized them. The baffled aides wonder if the suspects are blackmailing representatives based on the contents of their emails and files, to which they had full access.
House Aides Wonder if Dem IT Suspects Are Blackmailing Members of Congress. The Pakistani clan that managed office information technology for congressional Democrats until they were accused of data theft in February and banned from the network still have not been charged with a crime, The Daily Caller reported Monday. What's more, it's not even clear whether or not they are still employed by Democrat members of Congress. The lack of action on the case has reportedly baffled congressional technology aides who now "fear the integrity of sensitive high-level information." The strange passivity Democrats have demonstrated since the breaches were discovered have some even wondering whether blackmail is involved.
PC Police: Seattle cops told to replace "suspect" with "community member". In an effort to be more sensitive and less judgmental, an edict was recently issued to law enforcement in the liberal paradise of Seattle that from now on, the correct term for "suspect" when writing up reports should be "community member".
Russia Special Counsel Mueller Worked with Radical Islamic Groups to Purge Anti-Terrorism Training Material Offensive to Muslims. Now that Robert Mueller has been appointed special counsel to investigate if Russia influenced the 2016 presidential election it's worth reiterating his misguided handiwork and collaboration with radical Islamist organizations as FBI director. Judicial Watch exclusively obtained droves of records back in 2013 documenting how, under Mueller's leadership, the FBI purged all anti-terrorism training material deemed "offensive" to Muslims after secret meetings between Islamic organizations and the FBI chief. Judicial Watch had to sue to get the records and published an in-depth report on the scandal in 2013 and a lengthier, updated follow-up in 2015. As FBI director, Mueller bent over backwards to please radical Islamist groups and caved into their demands.
Slain DNC Official Contacted Wikileaks? The young Democratic National Committee official rumored to have leaked DNC documents to WikiLeaks and who was murdered in the nation's capital last year was, just as previously claimed, in touch with Julian Assange's document-dumping hacktivist group, media reports confirm. This raises the possibility that Russia had nothing to do with the attacks on the DNC's computer servers — assuming those actually took place. And if Russia didn't hack the DNC, then the left-wing conspiracy theory that Russian President Vladimir Putin launched cyber-attacks on the DNC to help Donald Trump win the election — and that Trump knowingly colluded with the Russians in those attacks — is undermined.
School district pulls '13 Reasons Why' book from libraries. As a Colorado community mourns the loss of seven students who recently killed themselves, a school district official ordered librarians to temporarily stop circulating a book that's the basis for Netflix's popular new series "13 Reasons Why," which some critics say romanticizes suicide.
There's a reason they're called "anchor stores." When they sink, you're sunk.
The fall of retailers means doomsday for malls. The time-honored multigenerational giants like Macy's, Sears and JCPenney are all looking at a dramatically different future. Macy's stock collapsed 17 percent after Thursday's [5/11/2017] first-quarter report. And high-end retail behemoths like Nordstrom are getting clobbered, too. Shares of that politically petulant retailer fell 11 percent Thursday on news of its first-quarter results. Better take a good look, because this may be last call for the mall. The rise of online retailing and the disenchantment of shoppers with the department store is rapidly leading to the demise of American shopping meccas. For decades, malls have been anchored by super-sized department stores occupying tens of thousands of square feet.
NYU accidentally leaked military code-breaking computer project to the internet. A super-secret computer project designed to break military codes turned out to be pretty easy to crack — because New York University engineers accidentally put the whole thing on the internet, according to a report. An anonymous digital security researcher identified files related to the project while hunting for things on the internet that doesn't belong there, The Intercept reported Thursday [5/11/2017]. The cyber sleuth, who requested anonymity to protect his day job, used a program called Shodan, a search engine for internet-connected devices.
DNC Lawyers Argue DNC Has Right to Pick Candidates in Back Rooms. On April 28 the transcript was released from the most recent hearing at a federal court in Fort Lauderdale, Fla., on the lawsuit filed on behalf of Bernie Sanders supporters against the Democratic National Committee and former DNC chair Debbie Wasserman Schultz for rigging the Democratic primaries for Hillary Clinton. Throughout the hearing, lawyers representing the DNC and Debbie Wasserman Schultz double down on arguments confirming the disdain the Democratic establishment has toward Bernie Sanders supporters and any entity challenging the party's status quo.
Texas Committee Passes Bill to Review and Reject Unconstitutional Federal Acts. On Thursday [5/4/2017], a Texas House committee passed a bill that would create a mechanism to review federal laws and end state cooperation with enforcement of those determined to violate the U.S. Constitution. This process would set the stage to effectively block some federal laws and acts in the Lone Star State.
Craigslist seller missing after meeting would-be buyer, foul play suspected. Atlanta police suspect foul play in the case of a missing man who posted a Craigslist ad for a vintage truck and disappeared after meeting a would-be buyer. Police found the truck belonging to 44-year-old Vicente Cruz in a motel parking lot with blood inside, WGCL-TV reported Saturday [5/6/2017].
The Editor says...
Craigslist would function as intended only among moral and religious people. It is wholly inadequate to the transactions of any other.
Texas Joins Call for Convention of States to Rein In Washington. The Republican-controlled Texas Legislature passed a Convention of States Resolution, becoming the eleventh. Article V of the U.S. Constitution allows for a Convention of States to restrict the power of the federal government. Texas State Representative Rick Miller (R-Sugar Land), one of the authors of the measure, told Breitbart Texas there were 12 other states in the country waiting to see what Texas was going to do. He says North Carolina is poised to be the next state to pass a resolution.
Texas Becomes 11th State to Call for Article V Convention. On Thursday, May 4, 2017, the Texas legislature passed a resolution calling for a Convention of States for the purpose of proposing amendments to the U.S. Constitution. The resolution (SJR2), having a total of 72 co-authors, was passed 217 to 213 as nearly 250 supporters watched from the Gallery. The resolution comes after the Senate passed its own version on February 28, making the Lone Star State the 11th state to call for a convention as outlined in Article V of the Constitution.
153,156,000 Employed Americans in April, 3rd Straight Record; Unemployment Rate Dips to 4.4%. The number of employed Americans set a third straight monthly record in April, increasing by 156,000 to 153,156,000; and the nation's unemployment rate dropped a tenth of a point to 4.4 percent. On the negative side, the Labor Department's Bureau of Labor Statistics said the labor force participation rate dropped a tenth of a point in April; and the number of Americans NOT in the labor force increased for the second straight month to 94,375,000, compared with 94,213,000 in March. The numbers are important: People who are employed have Social Security and other payroll taxes deducted from their paychecks, and those taxes help to support many other people who do not work for various reasons and who may receive taxpayer-funded entitlements or benefits.
Saudis take 100% control of America's largest oil refinery. America's largest oil refinery is now fully owned by Saudi Arabia. Saudi Aramco, the kingdom's state-owned oil behemoth, took 100% control of the sprawling Port Arthur refinery in Texas on Monday, completing a deal that was first announced last year. Port Arthur is considered the crown jewel of the US refinery system. The Gulf Coast facility can process 600,000 barrels of oil per day, making it the largest refinery in North America.
Court Docs: Wasserman Schultz IT Guy Installed Wiretaps, Threatened Kidnappings. A former congressional information technology (IT) aide allegedly threatened to have his stepmother's Pakistani relatives kidnapped if she talked to U.S. law enforcement authorities, according to court documents obtained by The Daily Caller News Foundation's (TheDCNF) Investigative Group. "Imran Awan threatened that he is very powerful and if I ever call the police again, [he] will ... kidnap my family members back in Pakistan," Awan's stepmother, Samina Gilani, claimed in the documents filed April 14 in Fairfax County, Va., in the case of Americo Financial Life and Annuity Insurance Company v. Abid A. Awan and Samina Ashraf Gilani. Imran Awan and his brothers Abid and Jamal are under criminal investigation by U.S. Capitol Police on suspicion they abused their administrator-level access to sensitive congressional data, as reported Feb. 4 by TheDCNF.
Arizona woman discovers note from 'Chinese prisoner' in purse bought at Walmart. A woman in Arizona said she made a stunning discovery inside a new purse she bought at a Walmart: A note apparently written by a desperate prisoner in China. Laura Wallace found the message, written in Chinese, tucked inside the zipper compartment of the purse she purchased at a Sierra Vista Walmart, KVOA reported.
Tennessee Bill to Protect 'Natural and Ordinary' Meaning of Words Is Veiled Anti-LGBTQ Law, Opponents Say. What's in a word? According to a bill passed by lawmakers in the Tennessee Senate Thursday, certain words should only be allowed to have "natural and ordinary" meanings. In this case, the words in question could be "husband" and "wife." Tennessee's House Bill 1111 (also known as Senate Bill 1085) has caused quite a bit of controversy for a seemingly slight change to an existing state code. In layman's terms, the new Tennessee law could make it so that marriage is inadvertently defined as between a man and a woman only — and prevent other currently evolving definitions of gender from being permissible.
IRS Agents Raid The Offices Of Posh-Living Televangelist Benny Hinn. Criminal investigators from the Internal Revenue Service and the U.S. Postal Service raided the Grapevine, Texas offices of televangelist Benny Hinn on Wednesday afternoon [4/26/2017]. Hinn is famous for his stadium-filling "Miracle Crusades." At these revival-style events, held worldwide, Hinn claims to use special, supernatural power to heal people suffering from terminal diseases and various handicaps.
Advanced Talks Underway For New Conservative Network Amid Fears Fox News Moving Too Far Left. On the heels of major shakeups at the Fox News Network, an alternative conservative network is being actively discussed amongst conservative fat cats. A well-placed source close to the proposal tells Mediaite that serious discussions are underway to create an alternative conservative cable network on the belief that the Fox News Network is moving too far to the left. The source, who is engaged in the talks, says a meeting is planned for today with two prominent high-powered television executives, some underperforming conservative networks and people who have an interest and the ability to fund a new network.
Report: A More Conservative Alternative To Fox News Is In The Works. According to a source close with the negotiations, "conservative fat cats" are talking very seriously about launching a rival to Fox News Network. The reports come amid continued internal turmoil within the solitary mainstream right-leaning news network, turmoil largely caused by external scrutiny over sexual harassment allegations directed at two high-profile figures and what appears to be a power shift at the top.
The Pope Heads To Egypt To Defend Islam. The worst part about this is the fact that because this man is Pope, all too many Catholics, including some in positions of high authority, treat him as if he were a divine oracle, his every utterance to be revered, respected, studied, and followed. [...] This leads them into impossible positions. When Pope Benedict XVI appeared to criticize the aspects of Islam that incite and justify violence, they allowed for criticism of Islam. When Francis showed himself to be an Islamic apologist, they became Islamic apologists. All too many Catholic leaders and institutions, in other words, are more interested in being papists than in being truthful. They would rather show loyalty to the Pope, no matter how damaging his utterances, than stand for the truth on the own against the Pope. The contradiction is clear, and absolute. If the Catholic Church has become one of Islam's loudest boosters, then those who are aware of the nature and magnitude of the jihad threat, rooted in Islamic texts and teachings, have to make some decisions about where they stand.
Hillary Aides Threatened Prime Minister's Son With IRS Audit. Hillary Clinton's Department of State aides allegedly threatened a South Asian prime minister's son with an IRS audit in an attempt to stop a Bangladesh government investigation of a close friend and donor of Clinton's, The Daily Caller News Foundation's Investigative Group learned. A Bangladesh government commission was investigating multiple charges of financial mismanagement at Grameen Bank, beginning in May 2012. Muhammad Yunus, a major Clinton Foundation donor, served as managing director of the bank. Sajeeb Wazed Joy, son of Bangladesh Prime Minister Sheikh Hasina and permanent U.S. resident, recalled the account of the threatened IRS audit to TheDCNF. The allegations mark the first known instance in the U.S. that Clinton's Department of State used IRS power to intimidate a close relative of a friendly nation's head of state on behalf of a Clinton Foundation donor.
Obama says photos of his high school drug use might have derailed his political rise. Former President Obama said Monday that if his checkered pre-politics life had taken place in today's social media oversaturated world, he might not have been able to win the White House. He repeated stories about his own drug use in his younger days, saying that marijuana use was "what teenage kids did at that age when I was growing up." And while he wrote about those experiences in his book, he acknowledged that if that behavior had been documented more thoroughly it might have derailed his political career.
The Editor says...
I'm sure there are a number of issues that would have kept Barry Soetoro out of politics forever, if these matters had been investigated and publicized by honest and objective news media. It's not too late to begin investigating Mr. Soetoro's Indonesian citizenship, the exact date and place where his name was legally changed to "Barack H. Obama," his highly suspicious Social Security number, his other aliases and assumed names, including Harrison J. Bounel, and the highly doubtful authenticity of his long-form birth certificate.
Numerous states considering anti-protest bills. So far, lawmakers in at least 18 states have proposed legislation that would make it harder to protest, create harsher penalties for protestors who are arrested, and, in two states, remove liability from drivers who accidentally injure protesters on roadways. Proponents of the bills say they are commonsense measures to ensure public safety after the high-profile protests against the Dakota Access pipeline near Cannonball, North Dakota, and against the police shootings of Michael Brown in Ferguson, Missouri, and of Jamar Clark and Philando Castile in the Minneapolis-Saint Paul, Minnesota, area. But the trend is alarming to civil rights groups and others who say the measures would trample the public's First Amendment rights.
Obama Injects Himself Into French Election. Remember when President Obama urged the British to vote to stay in the European Union, and they completely ignored him? He apparently hasn't learned to stay out of European races. A new report confirms that Obama, now a private citizen, called French presidential candidate Emmanuel Macron, from the centrist party En Marche!, just three days before the contest begins.
Obama Tries to Influence French Elections, The Exact Accusation Hurled By Democrats Against Putin. The example today of President Obama stepping in to influence the French election stands as a direct highlight upon the hypocrisy of left-wing progressives (Marxists). Against a predictable strategy, French presidential candidate Emmanuel Macron is promoting a phone call today from former President Obama.
The Editor says...
I think it was Karl Marx who used to say, "Accuse others of what you do."
Obama Tries to Influence French Elections, The Exact Accusation Hurled By Democrats Against Putin. Under Obama's leadership the U.S. State Department has a long history of working to influence elections in France. Additionally, as we shared from research into the Ambassador Rivkin Project the left-wing U.S. globalists have considered France to be the fulcrum for their global intentions toward the larger EU.
Carpetbagger!
Leading Democrat Cannot Vote for Himself in Today's Georgia Primary. Jon Ossoff, 30, has raised more than $8.3 million, most of it from outside his district, press reports said. But he can't vote for himself today, since he lives outside of the district he wants to represent.
Facebook targets 30,000 fake France accounts before election. Facebook says it has targeted 30,000 fake accounts linked to France ahead of the country's presidential election, as part of a worldwide effort against misinformation.
Arrogant Oklahoma Congressman Claims His Voters Don't Pay His Salary. Sorry Congressman, but the constituents of your district really do pay your salary, as does everyone else in America. Try not to forget about who you really work for.
MOABs are Just the Appetizer: US Conducts Successful Field Test Of New Thermonuclear Weapon. With the world still abuzz over the first ever deployment of the GBU-43/B "Mother Of All Bombs" in Afghanistan, where it reportedly killed some 36 ISIS fighters, in a less noticed statement the US National Nuclear Security Administration quietly announced overnight the first successful field test of the modernized, "steerable" B61-12 gravity thermonuclear bomb in Nevada.
Judicial Watch wants ethics probe widened to Democrats. The conservative watchdog group Judicial Watch is asking the Office of Congressional Ethics to investigate whether two Democrats on the House Intelligence Committee may have violated standards by disclosing classified information. [...] "If the standard for filing a complaint or opening an ethics investigation is that a member has commented publicly on matters that touch on classified information, but the member does not reveal the source of his or her information, then the complaints against Chairman Nunes are incomplete insofar as they target only Nunes," Judicial Watch wrote. "At least two other members of the House Intelligence Committee have made comments about classified material that raise more directly the very same concerns raised against Chairman Nunes because they appear to confirm classified information contained in leaked intelligence community intercepts."
Up escalator suddenly reverses direction, leaving riders in a heap at the bottom. A four-story escalator packed with shoppers at a Hong Kong mall suddenly stopped and reversed direction at high speed Saturday, injuring at least 18 people who fell and rolled down the hard steel, some landing in a heap at the bottom. People can be heard screaming as they suddenly found themselves hurtling backward down the steep incline of the 150-feet structure at the Langham Place mall in the Mong Kok section of the city. [Video clip]
Trump donates first-quarter salary to National Park Service. President Trump will donate his first three months of salary to the National Park Service, White House press secretary Sean Spicer announced Monday [4/3/2017]. "The president has spoken with counsel and made the decision to donate his first-quarter salary to a government entity," Spicer said at Monday's briefing. Spicer handed a check for $78,333.32 for the National Park Service to Interior Secretary Ryan Zinke. Spicer said the paycheck starts from Jan. 20, when Trump took office, until now.
Sergeant faces discharge over bin Laden raid intelligence that Obama made public in 2011. The Army is booting out a 13-year public affairs sergeant for including in an unclassified government email the same information about a special operations unit and Osama bin Laden found on Army.mil web pages. The irony in the narrative of Staff Sgt. Ricardo Branch is that his motive was to keep classified material away from public view. [...] And the transgression of Sgt. Branch, 34, is on its face far less serious than that of former Secretary of State Hillary Clinton, who faced no punishment for keeping classified data on her personal unsecured server.
Company creates a 'snowflake test' for job applicants and the word is spreading. Job applicants for a Connecticut-based marketing company have a unique "snowflake" test to pass before being hired. The Silent Partner Marketing firm is taking on liberal "snowflakes" in an effort to weed out the hundreds of applications they have received. The company has developed a survey to vet potential employees by asking key questions about themselves.
Fox Throws Judge Napolitano under the Bus. Fox News anchor Bret Baier likes to end his Special Report broadcast with the claim that Fox News is "fair, balanced and unafraid." Well, Fox News seems not to be fair when it throws contributor Judge Andrew Napolitano under the bus for linking surveillance of Team Trump to Team Obama's links with British intelligence. Apparently, Fox News isn't as "fair and balanced" as it pretends to be. While it endlessly repeats totally unsubstantiated claims of Trump critics of collusion between the Trump campaign and Russia, as well as repeatedly dismissing Trump claims of Obama administration surveillance of Trump tower, they have dared to take Fox News contributor Judge Napolitano off the air for repeating what three intelligence agents told him — that the Obama administration in fact had British intelligence conduct the surveillance so as not to leave a trail.
Judge Napolitano pulled from Fox News airwaves. Judge Napolitano's removal from the air, and his apparent silence and lack of public response or defense of his remarks, suggests that the very high stakes are understood by everyone. The suggestion that intelligence services are surreptitiously cooperating to use the data readily available to them via raw NSA surveillance is now taboo. Judge Napolitano has been punished, and his job may be in jeopardy. Because FBI director James Comey said, "We don't have any information that supports those tweets," the conclusion has been reached that the charge is false. To believe otherwise, one must be open to three possibilities. One is that Comey didn't go after, and probably lacked the ability to go after, an investigation of what the intelligence agencies did. When he says he doesn't have any information, he leaves open the possibility that it exists but is not in his possession. A second possibility is that intelligence agencies lie. [...]
Fox News Pulls Judge Napolitano Off Air Due To Prior Comments on UK Trump Surveillance. Apparently Rupert Murdoch has taken action against Judge Andrew Napolitano as an outcome of his broadcast report on British Intelligence coordinating surveillance activity with the NSA[. ...] A few weeks earlier Napolitano was on Fox Business News saying President Trump was the first president to confront The Deep State.
The Russians Did Not 'Hack The Election.' Repeat. The Russians Did Not 'Hack The Election'. [Scroll down] Yet Democrats are already asking: After testifying in front of Congress about Clinton, why didn't Comey inform the American public about the Trump investigation? Well, the Hillary investigations had been exhausted, and Comey reported his findings to a congressional committee looking into charges that she illegally transmitted top-secret documents, set up an server to circumvent transparency, then lied about it and attempted to cover it up. Comey confirmed all of those charges, but tacked on a standard of intent, allowing her to escape legal accountability. Comey then promised to report back to Congress if any new evidence emerged. As it turned out a Hillary staffer was possession of emails that were supposed to be handed over to the FBI, and her husband, who was being investigated for carrying on with an underaged girl, had access to them. So Comey reported the finding to Congress with a letter. This was Hillary's doing, not the Russians' and not the FBI's.
Good News From CIA Leak: Encryption Works! The media have spun the recent story about CIA-developed hacking tools by claiming either that there's nothing to worry about, or that the problem is so severe that it is no longer possible to protect our privacy through encryption. In reality, privacy is under attack, but encryption still works.
Secret Service removes agent who didn't want to take 'a bullet' for Trump. The Secret Service will permanently remove a top special agent from her position after an investigation into her Facebook comments that she would rather not defend President Trump or take "a bullet" for him, but some agents are concerned she will simply be transferred to another government job. About two weeks ago, the Secret Service placed the agent's prior post — the special agent in charge of the Denver District, the top job in that office — on a list of agency openings, according to two Secret Service sources.
Most electronics banned on U.S.-bound flights from 10 international airports. The U.S. government is temporarily barring passengers on certain flights originating in eight other countries from bringing laptops, iPads, cameras and most other electronics in carry-on luggage starting Tuesday [3/21/2017].
Fox News suspends Andrew Napolitano over British spying claim: Report. Fox News has indefinitely removed contributor Andrew Napolitano from its programming, following an unsubstantiated claim he made on air last week and that was refuted by U.S. intelligence officials, according to a report. The Los Angeles Times reported Monday [3/20/2017] that Napolitano has not made any appearances on Fox since last Thursday. Citing an anonymous source, the paper said Napolitano "is not expected to be on Fox News Channel any time in the near future."
Russian Meddling Had More To Do With Hillary Than Trump, Comey Implies. FBI Director James Comey repeatedly referred to Russian President Vladimir Putin's personal animus to Hillary Clinton as one of the major motivations in Russian meddling in the 2016 U.S. election during congressional testimony Tuesday [sic &&8211; Monday 3.20.2017]. Comey described how Putin "hated Hillary Clinton so much" he developed a preference for President Donald Trump.
David Rockefeller, "Mr. Globalist," Dead at 101. The titles of news stories and obituaries announcing his passing refer to him as a banker, billionaire, businessman, and philanthropist. He was much more than that, but there has been little amongst the glowing tributes in the Rockefeller-friendly media to hint at his darker passions and accomplishments, particularly as they relate to his promotion of globalism and world government. During the 1970s and 1980s, especially, David Rockefeller was considered by knowledgeable observers across the political spectrum to be the undisputed "chairman of the Eastern Establishment." In addition to being chairman of the Chase Manhattan Bank, the Council on Foreign Relations (CFR), the Trilateral Commission (TC), the Rockefeller Brothers Fund, and the Americas Society, David Rockefeller was a director, trustee, and/or funder of numerous foundations, corporations, organizations, and think tanks.
Suspicious cellular activity in D.C. suggests monitoring of individuals' smartphones. As the discussion over wiretapping and foreign hacking still dominates the conversation in Washington, an unusually high amount of suspicious cell phone activity in the nation's capital has caught the attention of the Department of Homeland Security, raising concerns that U.S. officials are being monitored by a foreign entity. The issue was first reported in the Washington Free Beacon, but a source at telecom security firm ESD America confirmed the spike in suspicious activity to CBS News. ESD America, hired preemptively for a DHS pilot program this January called ESD Overwatch, first noticed suspicious activity around cell phone towers in certain parts of the capital, including near the White House. This kind of activity can indicate that someone is monitoring specific individuals or their devices. DHS confirmed the pilot program but did not comment on the suspicious activity.
Former US Navy admiral among 9 charged in 'Fat Leonard' scandal. Retired Rear Adm. Bruce Loveless and eight other high-ranking Navy officers are charged with accepting luxury travel, elaborate dinners and the services of prostitutes from foreign defense contractor Leonard Francis. They did so in exchange for classified and internal US Navy information, according to a news release from the Department of Justice. "This is a fleecing and betrayal of the United States Navy in epic proportions, and it was allegedly carried out by the Navy's highest-ranking officers," said Acting US Attorney Alana Robinson in a statement.
Congress Demands Investigation Into Obama Admin Meddling in Foreign Elections. A group of leading senators is calling on newly installed Secretary of State Rex Tillerson to immediately launch an investigation into efforts by the Obama administration to sway foreign elections by sending taxpayer funds to "extreme and sometimes violent political activists" that promote leftist causes, according to a copy of the letter. The lawmakers disclosed multiple conversations with foreign diplomats who outlined active political meddling by the Obama administration's State Department, including the use of taxpayer funds to support leftist causes in Macedonia, Albania, Latin America, and Africa.
Russia confirms envoy met with Trump and Clinton camps during election. The spokesman for Russian President Vladimir Putin on Sunday [3/12/2017] confirmed a Kremlin envoy met with members of the Trump campaign during the election to discuss "bilateral relations" — but he also contacted people linked to the Clinton camp. Dmitry Peskov, who denied Moscow meddled in the 2016 presidential election, said Ambassador Sergey Kislyak huddled with the campaign staffers as part of his diplomatic duties. "This is his job. He was talking about bilateral relations. He was talking about what is going on in the United States so we have a better understanding in Moscow," Peskov told CNN's Fareed Zakaria. "This is what is being performed by every ambassador of Russia abroad, every ambassador of the United States abroad, including in Moscow."
When the media didn't care about secret talks with Russia. Until the press uncovers audio of President Trump promising the Russian government anything that comes even close to what former President Obama did, it's time to stop behaving like the White House is paying its staff in rubles. The only secret conversation between a White House official and a Kremlin operative that the public knows about and in which something absolutely questionable took place is the one from March 2012, when Obama told then-Russian President Dmitry Medvedev, in the heat of the election, that he would have "more flexibility" to negotiate with Russia once re-elected. Obama had made the mistake of whispering too loud into a live mic.
Putin Spokesman Says Russian Ambassador Met With Clinton Campaign Advisers. The spokesman for Russian President Vladimir Putin turned the tables Sunday [3/12/2017] by saying that the Russian ambassador to the U.S. also met with people connected to Hillary Clinton's campaign, not just Trump advisers. Dmitry Peskov, Putin's spokesman, told CNN "GPS" host Fareed Zakaria that Russian ambassador Sergey Kislyak met with "people working in think tanks advising Hillary or advising people working for Hillary," The Hill reports. Peskov stressed that part of Kislyak's job entails talking to officials and advisers on both sides of the aisle.
Test meant to screen teachers instead weeded out minorities. New York education officials are poised to scrap a test designed to measure the reading and writing skills of people trying to become teachers, in part because an outsized percentage of black and Hispanic candidates were failing it. The state Board of Regents on Monday [3/13/2017] is expected Monday to adopt a task force's recommendation of eliminating the literacy exam, known as the Academic Literacy Skills Test. Backers of the test say eliminating it could put weak teachers in classrooms. Critics of the examination said it is redundant and a poor predictor of who will succeed as a teacher.
Ted Cruz may have discovered a way to totally change Obamacare without 60 Senate votes. [Scroll down] Trump is a reform president, and Reform Number One is fully replacing Obamacare, not "Obamacare Lite" to be followed (maybe, maybe not) by phases two and three, where the good stuff supposedly will happen. The GOP base is sick and tired of reforms scheduled for a "later" time that never comes.
Senator Cruz Found an Overlooked 1974 Rule That Could Be a Real Game-changer for Repealing Obamacare. Republicans' long-anticipated Obamacare replacement has received a less than warm reception, even within the party itself. Among the disappointed is Sen. Ted Cruz (R-TX), who now says he's found a decades-old rule that he hopes will allow Republicans to pass a more thorough, far-reaching health care reform bill. However, Cruz's strategy — which would leverage the power Vice President Mike Pence has as president of the Senate — "might blow up the Senate too," Bloomberg Politics notes.
PETA shelter was a 'slaughterhouse,' group claims. PETA for years has been a target of criticism for its high rate — more than 80 percent over the years — of euthanasia at the shelter, the only one it runs, according to the Religion News Service. PETA officials have said that animals suffer far worse fates than euthanasia, such as illness, pain, and not being adoptable. Will Coggin, director of research for the Center for Consumer Freedom, told Fox News that his organization wants the public to know that PETA is two-faced when it presents itself as a defender of animals.
Stunning Win — Exxon Mobil Will Invest $20 Billion Building New Refineries. One of the missing elements in our quest for energy independence has always been the lack of oil refining capacity to produce gasoline and other fuel end-products. Years of choking fossil fuel regulation, partly funded and supported by an alignment of special interests including foreign governments, OPEC and eco lobbyists, has created a situation where over half of our oil refining capability was eliminated. With the election, and independence, of Donald Trump that course has changed dramatically. Trump is not beholden to the lobbyists and special interests who pay for the U.S. to remain dependent on foreign oil and off shore refinement.
Poachers Hack Environmentalists' GPS Signals to Hunt Endangered Animals. Poachers and hunters are hacking signals from conservationists' tags to locate and hunt down endangered animals. Animal researchers claim the incidents of poachers intercepting signals to track down the animals are under-reported out of fear of being accused of putting animals at risk or lose funding, according to The Times. Poachers are set to make an enormous amount of money from hunting the animals, some indicating that the illicit wildlife trade is worth around £15 billion ($18.4 billion) a year and rhinoceros horn is being sold for over £50,000 ($61,000) a kilo.
Russian Ambassador Sergey Kislyak Appeared As Obama White House Visitor At Least 22 Times. Sergey Kislyak appeared in the White House visitor logs dozens of times when Barack Obama was in office. The visitor logs, which Obama made public in 2009 in a push for transparency, show that the long-time Russian ambassador to the United States visited the White House at least 22 times between 2009 and 2016.
Obama Officials Set Up Jeff Sessions' Meeting With the Russian Ambassador. It should already be obvious that the fake media firestorm over Attorney General Jeff Sessions' meetings last year with the Russian ambassador is nothing more than the Democrat Media Complex — led by Obama's shadow government — trying to take down a key member of the Trump administration. Their game is to find some minor issue (Sessions could have been more forthcoming during his confirmation hearing) and turn it into a major impeachment-worthy scandal. It's a tried and true strategy that Democrats and their friends in the media were able to pull off with amazing success during the Bush years. But the playing field is completely different in 2017 — more people are on to their games, and we have a president who loves to fight. President Trump doesn't crouch in a defensive posture — he goes on the offense. Good luck with that, Dems.
No One Knows Exactly What Joe Biden Does at UPenn. It's been two weeks since Joe Biden officially joined the University of Pennsylvania, and most of the school's population is still trying to figure out exactly what he does. According to the Daily Pennsylvanian, UPenn's student newspaper, Biden is supposed to be leading the school's Center for Diplomacy and Global Engagement, and teach classes as the University's "Benjamin Franklin Presidential Practice Professor" in residence. But Biden's spokesperson says he isn't teaching any classes, and the University itself isn't sure what his plans are. UPenn spokesperson, Stephen MacCarthy, told the newspaper that administrators weren't able "to have conversations around [Biden's] specific role until he left office four weeks ago, so details are still being ironed out."
Oprah's not ruling out a presidential run. Donald Trump may face off in 2020 against another TV star, best-selling author and wildly successful entrepreneur with zero political experience — Oprah Winfrey. Winfrey — a staunch liberal who backed Hillary Clinton and is pals with former President Barack Obama — slyly hinted that she might reconsider a presidential run. In an interview with Bloomberg TV, Winfrey, 63, said she never considered running before because of her lack of political experience. But now, with the political neophyte Trump in the White House, she just might change her mind.
Tweets suggest McCaskill met with Russian ambassador, despite denials. Tweets by Sen. Claire McCaskill, a Democratic member of the Senate Armed Services Committee, suggest she met with the Russian ambassador at least twice during a period she denied doing so. McCaskill, as she built her case Thursday for Sessions' resignation on the heels of reports that the Republican attorney general had met twice with Ambassador Sergey Kislyak during the 2016 campaign, tweeted she had never contacted the Russian ambassador while serving on the committee.
Devastating Proof of Media Bias: New York Times Airbrushes Away Democrat's Embarrassing False Claim Without a Trace. Jay Caruso noted that Senator Claire McCaskill had claimed early today never to have met with a Russian ambassador: [Tweet] Then undeniable documentary and photographic evidence emerged that she had. I bet she wishes she could just airbrush that initial tweet from history — like it never happened. Kinda like the New York Times did today with her claim. They reported it — and then, when they figured out it was wrong, they simply vanished it.
Wendy's reportedly to install self-order kiosks at 1,000 stores. Fast-food chain Wendy's is planning to install self-order kiosks at about 1,000 locations across the country by the end of 2017 to cut labor costs, The Columbus Dispatch reported. Wendy's has locations in at least 110 New Jersey towns. The report did not indicate the locations getting the kiosks. Wendy's said it already offered kiosks to its restaurants last year and that both customers and franchisees have demanded more of the service.
Arkansas lawmaker wants to strip Clinton name from airport. The largest and busiest airport in Arkansas would no longer be named after the only president and first lady from the state if a bill introduced in the legislature on Thursday [2/23/2017] succeeds. The legislation would prohibit public buildings or civil works from being named for anyone living or who served in public office in the 10 years prior to the structure's completion. The bill makes no mention of former President Bill Clinton or former Secretary of State Hillary Clinton, for whom the Little Rock airport was renamed four years ago — as Bill and Hillary Clinton National Airport/Adams Field — but its author does not hesitate to identify its target.
Planet Nebraska. World hunger is in dramatic decline. As our friends at HumanProgress.org reported over the summer, the hunger indicators are all moving in the right direction: Fewer people are going hungry, both in absolute numbers and as a share of the world's population; hunger has fallen dramatically in China after a program of partial economic liberalization; those people around the world who are underfed are less underfed than they were a decade or two ago, with their average daily calorie deficits down to about 85 calories — just 1.5 McNuggets short of a full day's nutrition; and world food prices are down steeply, having fallen by half in real terms over the past century. The USDA reported on Tuesday [2/21/2017] that world wheat production is expected to hit a record high this year, and that U.S. producers will export — not produce, but export — more than 1 billion bushels of the stuff. Export projections are up 50 million bushels since January, driven higher by large orders from China.
Should we treat obesity like a contagious disease? Becoming obese isn't like catching a cold, but a handful of research groups are now trying to model obesity in a population by treating it like a "social contagion" that spreads among people through their interactions.
The Editor says...
If obesity is contagious, how does a reclusive loner get to be overweight?
American flag has 51 stars for Pence visit to European Union. A background picture of the American flag that went up alongside the European Union flag as Pence and EU leader Donald Tusk spoke on Monday [2/20/2017] had 51 stars instead of the usual 50, one for each state.
The Editor says...
Obvious question: Where does one order a 51-star U.S. flag?
Delaware: Muslim Uber driver burglarized homes when customers were away. An Uber driver has been arrested in connection with multiple burglaries in Bethany Beach and Fenwick Island. Delaware State Police, in conjunction with the Bethany Beach Police Department, announced the arrest of 26-year-old Saddam A. Awadallah of Frankford. Awadallah was tracked down in Tennessee and extradited back to the First State on Feb. 13, state police said. State police said Awadallah worked as an Uber driver for customers in Bethany Beach and Fenwick Island. While patrons were away at businesses and restaurants in Ocean City and Dewey Beach, state police say Awadallah would burglarize their homes for credit cards, computers, watches, cellphones, tablets, sunglasses and other items of value.
WikiLeaks Drops Bombshell Report Exposing CIA Involvement In 2012 French Election. Today [2/16/2017] WikiLeaks drops a bombshell exposing President Obama and Hillary Clinton using the CIA to manipulate the outcome of the 2012 election in France. According to documents released today by WikiLeaks the CIA ordered covert targeted activity in the 2012 French presidential election which included French Politicians Francois Hollande, Nicolas Sarkozy & Marine Le Pen.
House Conservatives Want To Know How Rogue IT Staffers Got Away. Conservative Republicans — disappointed in House Democrats for hushing up the issue and in the media for failing to widely report the story — hope the House Committee on Oversight and Government Reform (HOGR) will examine how House Democratic offices allowed the potential breach in national security information. The Daily Caller News Foundation's Investigative Group was first to identify suspects Abid, Imran and Jamal Awan, who are under a U.S. Capitol Police criminal investigation for their use of congressional IT systems and alleged theft and over-billing of computer equipment.
Bank of America opens its 3rd employee free branch. An alarming trend is emerging throughout society; companies are ditching humans and replacing them with automation. We mostly hear about these situations in tech and supply chain companies and even fast food restaurants, but now we see this come to fruition in banking as well. Banks already operate with little to no physical cash on hand, making the elimination of the bank teller that much easier. Armed guards will be replaced as biometric eye scanning software contracts become the next big thing in banking security. The loss of these jobs alone will result in hundreds of thousands without work in the next ten years.
Congress IT Probe Suspects Had Massive Debts, Years Of Suspicious Activity. Four people who worked for the House of Representatives have a history of massive debts and bankruptcy, a fondness for fast cars and real estate, and unusually complicated webs of intertwined finances. The three brothers and a wife of one of them are under criminal investigation into sensitive congressional information security.
A Muslim Brotherhood Security Breach in Congress. Last year, eight members of the House Permanent Select Committee on Intelligence issued a demand that their staffers be granted access to top secret classified information. The signatories to the letter were Andre Carson, Luis Guiterez, Jim Himes, Terri Sewell, Jackie Speier, Mike Quigley, Eric Swalwell and Patrick Murphy. All the signatories were Democrats. Some had a history of attempting to undermine national security. Two of them have been linked to an emerging security breach. [...] Carson is the second Muslim in Congress and the first Muslim on the House Permanent Select Committee on Intelligence and, more critically, is the ranking member on its Emerging Threats Subcommittee. He is also a member of the Department of Defense Intelligence and Overhead Architecture Subcommittee. The Emerging Threats Subcommittee, of which Carson is a ranking member, is responsible for much of counterterrorism oversight. It is the worst possible place for a man with Carson's credentials.
Petition asks Disney to keep Donald Trump speech out of Hall of Presidents. Some critics of president Donald Trump are so adamant in their opposition that they don't even want an fake version of him to speak. An online petition was started last week, asking Walt Disney World to keep an animatronic president Trump silent in its Hall of Presidents attraction. The attraction has animatronic figures of all US presidents. Recent incumbent presidents including Barack Obama have recorded speeches for their animatronic doubles.
Police probing IT contractors for House Dems over 'unauthorized' computer access. U.S. Capitol Police are probing the activities of several IT contractors who worked for dozens of House Democrats after they allegedly inappropriately accessed House computers, took congressional computer hardware and made questionable IT-related purchases on behalf of lawmakers. House officials already have revoked the IT and access privileges for the five congressional IT contractors, as police investigate. No arrests have yet been made.
Manhattan DA's Office probing death of reporter with possible JFK ties. The Manhattan District Attorney's Office is looking into the mysterious death 51 years ago of newspaper writer and "What's My Line?" star Dorothy Kilgallen, who was investigating the JFK assassination, The [New York] Post has learned. The stunning development comes after a new book, "The Reporter Who Knew Too Much," suggests Kilgallen was murdered to shut down her relentless pursuit of a Mafia don linked to JFK and Lee Harvey Oswald.
Kenya believe it?
US deports 100 ex-inmates to Kenya, Somalia. One hundred deportees from the United States yesterday arrived at the Jomo Kenyatta International Airport. The deportees, who have served jail sentences in the US, arrived on an Omni Air International plane from Dallas, Texas, at about 11am under escort by Federal Bureau of Investigation officers. Ninety eight of them were Somali citizens. They were put on a Jubba Airlines plane and flown to Mogadishu, while two Kenyans were handed over to the Immigration officials at the airport.
Catholics Ask Trump to Probe Soros-Obama-Clinton Conspiracy at Vatican. Did billionaire speculator George Soros, President Barack Obama, Secretary of State Hillary Clinton, Vice President Joe Biden, and Obama/Clinton adviser John Podesta conspire to overthrow the conservative Pope Benedict XVI and replace him with a radical, Pope Francis? Did they use America's intelligence agencies, and our nation's diplomatic machinery, political muscle, and financial power to coerce and blackmail "regime change" in the Roman Catholic Church? Far from being some wild conspiracy theory, there is sound prima facie evidence to indicate that this is a serious effort to expose a political scandal of the highest order, involving flagrant, criminal abuse of power at the top levels of the U.S. government.
Beware new "can you hear me" scam. Virginia police are now warning about the scheme, which also sparked warnings by Pennsylvania authorities late last year. The "can you hear me" con is actually a variation on earlier scams aimed at getting the victim to say the word "yes" in a phone conversation. That affirmative response is recorded by the fraudster and used to authorize unwanted charges on a phone or utility bill or on a purloined credit card.
San Francisco couple and their two cats found dead after they were poisoned by carbon monoxide from 3D printer in their home. A San Francisco couple and their two cats died from poisoning after a laser 3D printer filled their home with carbon monoxide. Roger Morash, 35, his wife Valerie Morash, 32, and their pets were found dead inside their apartment in Berkeley, California, on Monday [1/23/2017]. The Massachusetts Institute of Technology graduates had died from poisoning due the couple's laser 3D printer, which emitted carbon monoxide in their residence, an officer said on Friday [1/27/2017].
Philadelphia is the most rat infested city in the United States while New Orleans is crawling with cockroaches. New York broke the top ten for both lists, coming in third place for rat sightings and ninth for cockroaches, making it the most vermin-infested city in America. Around 15 percent of households reported a rodent problem in the Big Apple in 2015 — around 1.1 million homes — while just over that at 16 percent reported cockroaches.
Four more journalists get felony charges after covering inauguration unrest. Four more journalists have been charged with felonies after being arrested while covering the unrest around Donald Trump's inauguration, meaning that at least six media workers are facing up to 10 years in prison and a $25,000 fine if convicted. A documentary producer, a photojournalist, a live-streamer and a freelance reporter were each charged with the most serious level of offense under Washington DC's law against rioting, after being caught up in the police action against demonstrators.
Massive networks of fake accounts found on Twitter. Massive collections of fake accounts are lying dormant on Twitter, suggests research. The largest network ties together more than 350,000 accounts and further work suggests others may be even bigger. UK researchers accidentally uncovered the lurking networks while probing Twitter to see how people use it. Some of the accounts have been used to fake follower numbers, send spam and boost interest in trending topics.
Democrats propose taking Trump's finger off nuclear trigger. Saying they fear President Trump with his finger on the nuclear trigger, two congressional Democrats introduced legislation Tuesday that would prevent the White House from launching a nuclear first strike without a declaration of war from Capitol Hill. Sen. Edward J. Markey and Rep. Ted W. Lieu said their bill was designed to put a check on Mr. Trump, who during the presidential campaign had sent mixed signals on his thoughts about nuclear proliferation and the possibility of a U.S. first strike. "It is a frightening reality," Mr. Lieu, California Democrat, said of Mr. Trump, saying the new president showed a lack of understanding of U.S. capabilities.
College Student Confuses Covered Lab Equipment With KKK Rally. A student at Bowling Green State University suspected she saw on Sunday a Ku Klux Klan rally taking place on campus. It turned out to be covered lab equipment. The student was walking through campus and saw what looked like a white sheet through a window. She quickly took video footage and sounded the alarm on Twitter, messaging the university president about the issue.
More than 50,000 gallons of oil spill near sacred land in Canada. More than 52,800 gallons of oil have leaked onto the Ocean Man First Nation reserve in Saskatchewan, and investigators are trying to determine the source of the spill. [...] There are no homes near the spill, but it is close to a cemetery on what is is considered sacred land.
The Editor says...
There is no such thing as sacred land, unless you worship the earth, which is a serious mistake in the long run: Those who worship the creation rather than the creator will someday find themselves in big trouble.
Man who filmed Hillary Clinton's collapse at the 9/11 Memorial is being called a 'hero' by Trump supporters. The man who filmed Hillary Clinton collapsing after attending a 9/11 memorial is being lauded as a 'hero' by Trump supporters. Zdenek Gazda, a firefighter from the Czech Republic who now lives in New Jersey, was a special guest at the Deplora Ball after the inauguration on Friday [1/20/2017]. A host of the event introduced Gazda as a 'hero' and 'the man who turned the election around'.
Obama Leaves U.S.A $9,335,000,000,000 Deeper in Debt. President Barack Obama will leave the federal government approximately $9,335,000,000,000 deeper in debt than it was when he took office eight years ago, according to data released today by the U.S. Treasury. The increased debt incurred under Obama equals approximately $75,129 for every person in the United States who had a full-time job in December.
Canadians to be jailed for walking on Yellowstone hot springs, violations at parks across West. Three Canadians will be banned from federal lands for five years after pleading guilty to walking on a sensitive hot spring in Yellowstone National Park and other crimes at parks across the Western U.S., park officials said Thursday [1/19/2017].
The Obama Presidency — By the Numbers. When President Obama leaves office on Friday, he and his supporters likely will want to focus on numbers like the sub-5 percent unemployment rate, 11.3 million net new jobs and roughly 20 million more Americans with health insurance. But Obama's allies almost certainly will want to bury another set of numbers, those that document stagnant incomes, anemic economic growth, and an increasing threat posed by terrorism.
Don't take it for granite.
With countertops, quartz has supplanted granite as the people's choice. Granite may be going the way of plastic laminate as the preferred material for kitchen countertops. Today, the granular, igneous rock is less popular than engineered stone, commonly referred to as quartz. "About 75 percent of our clients are opting for quartz over granite," says Bill Millholland, executive vice president of Case, a design-build firm in Bethesda, Md. "More people want a contemporary aesthetic in the kitchen, and the clean look of quartz goes with that. Granite goes better with traditional decor."
German Reporter, Who Exposed Governments Creating Fake News War Propaganda, Found Dead. Udo Ulfkotte, a German journalist and whistleblower who spoke out against fake news from government and intelligence sources, has died from a heart attack at the age of 56. He was an assistant editor for German mainstream media newspaper Frankfurter Allgemeine Zeitung, and he lived in many Middle Eastern countries during his career, including Iraq, Iran, Afghanistan, Saudi Arabia, Oman, United Arab Emirates, Egypt and Jordan. As Ulfkotte became increasingly upset at news reports sourced from false government information, he began publishing a magazine called Whistleblower, which reports on topics not covered by the German media. He also wrote multiple books on the subject during the 2000s.
Has Your Gmail account been hacked? A new phishing scam is so convincing it has even fooled tech experts. Gmail is the latest victim of a phishing scam that is even fooling experienced technical users. The scam is being described as one of the most convincing yet, and tricks users into giving their Google login details, allowing the attacker to sift through their messages. Emails containing the rogue attachment can come from people in the recipient's own address book, and attacker can even copy their style of writing, convincingly passing the fake email on to the victim's contacts.
Why was the Zimmermann Telegram so important? Tuesday marks the 100th anniversary of a remarkable success for British intelligence: but one that involved spying on the United States and then conspiring with its senior officials to manipulate public opinion in America. On the morning of 17 January 1917, Nigel de Grey walked into his boss's office in Room 40 of the Admiralty, home of British code-breakers. It was obvious to Reginald "Blinker" Hall that his subordinate was excited. "Do you want to bring America into the war?" de Grey asked. The answer was obvious. Everyone knew that America entering World War One to fight the Germans would help break the stalemate.
Majority of Americans believe Russian hacking of the presidential election did NOT change the result, poll finds. Most Americans think Donald Trump would have still won the election regardless of information leaks that came out of Russia's alleged hacking, a poll reported. In the study, 58 percent thought the outcome of the U.S. presidential elections would have remained the same, despite the hacking of files from the Democratic National Convention. Americans thought 'regardless of the information released as a result of Russian hacking' Trump would still have won the election, according to a poll conducted by CNN and ORC.
Congressman Jim Sensenbrenner reintroduces bill to dissolve ATF. The less government bureaucracy the better. The ATF is not needed, and the money saved is a step in the right direction fiscally speaking. And, as Bob owens explains, the ATF needs to go for other reasons [...]
Report: Obama Family Dog Bites Teenage Girl at the White House. In the midst of all of the confirmation hearings for President Elect Donald Trump's confirmation hearings for his various appointees and the afterglow of President Barack Obama's exit speech, some negative Obama news did crop up on Thursday. TMZ reports that an unnamed 18 year-old girl, who they say is an Obama family friend, was bitten in the face by Sunny Obama, one of the two family dogs, while at the White House on Monday. Sunny, 4, is the same breed, a Portuguese Water Dog, as Bo Obama, the family's 8 year-old "First Dog."
Navy sailor invokes Hillary Clinton defense in bid for clemency over classified photos. A former Navy submariner sent to prison for photographing his ship's classified engine compartments has filed a presidential clemency request, arguing that President-elect Donald Trump should realize the sailor was a "scapegoat" amid the FBI probe into Hillary Clinton's mishandling of classified material. The paperwork was filed Monday [1/9/2017] with the Justice Department's office of the pardon attorney, which now will conduct an investigation. The case of former Machinist Mate 1st Class Kristian Saucier has become a cause celebre for conservatives. They watched the young sailor go to prison for carelessness with classified information while Mrs. Clinton avoided any punishment from the Obama administration.
US politicians vote against bill to ban them from 'sexual contact' with their interns. Rules to ban politicians in the US state of South Dakota from having "sexual contact" with interns have been voted down by the very people the proposed changes would have applied to. [...] However, opponents maintained that such behaviour was already barred.
Was Friday's declassified report claiming Russian hacking of the 2016 election rigged? Friday night [1/6/2017], during her last show on Fox News, Megyn Kelly asked former House Intelligence Committee Chairman Pete Hoekstra whether he accepted the conclusion by 17 intelligence agencies in a recently released declassified report that Russia interfered in the 2016 presidential election and that this interference came at the direction of Russian President Vladimir Putin. Hoekstra gave an answer many viewers of "The Kelly File" did not anticipate. He noted that the declassified report represents the views of only three intelligence agencies, not seventeen. Hoekstra also questioned why the Department of Homeland Security (DHS) and the Defense Intelligence Agency (DIA) did not co-author or clear the report and why it lacked dissenting views.
FBI Never Looked At DNC Servers Before Announcing They Were Hacked By Russia. The Federal Bureau of Investigation did not inspect the servers of the Democratic National Committee before declaring Russia responsible for last year's hacking, according to a report from Buzzfeed.
Moving company names South Dakota, Vermont, and Oregon as the most popular states to move to in the US — and New Jersey comes in dead last. One of the nation's largest moving companies has made a list of top moving destinations in 2016, and number one might surprise you. United Van Lines says South Dakota is first on its list of top moving destinations for the past year. The company has tracked customer state-to-state migration for the past 40 years.
States with right-to-work laws and no income taxes grew fastest in the Obama years. One highlight of the Christmas holiday season for me is the Census Bureau's release of its estimated population figures, as of July 1, for the 50 states and the District of Columbia. It's always interesting to see which states have grown the most in the past year: for 2015-16 the fastest growers were Nevada and Utah at 2 percent and Florida, Idaho and Washington at 1.8 percent. It's also interesting that an unusually large number — eight — of the states are estimated to have lost population in 2015-16: Connecticut, Illinois, Mississippi, New York, Pennsylvania, Vermont and Wyoming. In percentage terms, the biggest loser was Illinois, the home state of the outgoing president.
Congress to Freeze State Department Funds Until U.S. Embassy Moves to Jerusalem. A delegation of Republican senators is moving forward with an effort to freeze some funding to the State Department until the U.S. embassy in Israel is formally moved to Jerusalem, according to new legislation. The legislation comes as the Obama administration continues to face criticism over its behind-the-scenes effort to forward a United Nations resolution condemning Israel. The Obama administration, like previous administrations, does not formally recognize Jerusalem as Israel's capital city and has worked to stymie efforts to move the U.S. embassy there.
New GOP legislation: Recognize Jerusalem as Israel's capital. Three Republican senators on Tuesday [1/3/2017] unveiled legislation that would recognize Jerusalem as Israel's official capital and move the U.S. Embassy to from Tel Aviv to Jerusalem. The new legislation, entitled the Jerusalem Embassy and Recognition Act, was introduced by Senators Ted Cruz of Texas, Dean Heller of Nevada and Marco Rubio of Florida. "Jerusalem is the eternal capital of the Jewish state of Israel, and that's where America's embassy belongs," Rubio said in a statement Tuesday [1/3/2017] quoted by The Hill.
France Outlaws Spanking Kids, Bringing Ban Total to 52 Countries. The French parliament has passed a formal ban on spanking children, bringing the global total to 52 different countries where such corporal punishment in homes is against the law. The new law that went into effect for 2017 bans "any cruel, degrading or humiliating punishment, including any use of physical violence," including spanking in the home.
There's Still a Group That Can Probe Alleged Crimes by Members of Congress. Yes, the House is weakening the powers of an independent entity that was authorized to investigate allegations of wrongdoing. Boo, hiss. But keep some perspective: the Office of Congressional Ethics had two powers: the first was to issue those public reports — giving the accused member of Congress bad publicity. The second was to refer their findings to the House Ethics Committee, which could implement a more serious punishment, like fines and formal reprimands by the full House. Under the old system, the referrals went to the House Ethics Committee, consisting of five Democrats and five Republicans. Under the new system, the no-longer-public referrals will go to the same committee, consisting of five Democrats and five Republicans.
Assange says a 14-year-old could have hacked Democratic emails as he reveals John Podesta's password was 'password'. Wikileaks founder Julian Assange has said a 14-year-old could have hacked into the emails of Hillary Clinton's campaign chairman. John Podesta's emails were made public by the whistleblowing website and proved to be a hammer blow to the Democrat's election campaign as she lost out to Trump. In an interview, Assange revealed the campaign chairman's password was 'password' and that he had responded to phishing emails.
The Russian Election Hacking Case Is Getting Murkier. President Obama's decision to expel Russian diplomats for interfering with the U.S. election is starting to look like "Alice in Wonderland"-style justice: sentence first, verdict afterward. Even some liberals are starting to wonder if the evidence against Russia holds water.
---

Document location http://akdart.com/news.html
Updated March 17, 2019.

©2019 by Andrew K. Dart