---
Uncategorized News Items
---
If I owned a newspaper, this is what you'd see in it. These are news item of which you probably haven't heard, if you get all your information from television. Some of these stories have appeared in the "mainstream media" briefly but they deserve additional publicity. Special attention is given to stories which show the alarming growth rate of the federal government's size and power, and abuses of that power, as well as especially bad ideas which are being given undue consideration. The links will be removed when they get stale or when they are no longer valid. As a general rule, the most recent and the most important items are at the top of the page.
The stories that interest me the most are the ones that show blind over-reliance on technology — especially GPS-related systems and computers in general. There is no shortage of minimum-wage clerks who believe anything that pops up on a computer screen. (That's why electronic voting is a very bad idea.) But there are apparently a lot of politicians and cops who assume that GPS tracking devices are infallible, too.
This page is for stories that the mainstream press seems to have overlooked. On the other hand, the stories that appear to have been intentionally squelched are on this page.
News items that are more than about two years old are now located on a spin-off page, which you can find here.
More odd/weird news that imply little or no political controversy can be found on this page.
---
The Establishment Is Running Out of Cannon Fodder for Its Woke Military. [Scroll down] You do have an obligation to serve your country in some way, the military being the highest and best way for those who are able. But you do not have an obligation to do so if your life is going to be squandered by a leadership whose strategies are a disaster, whose priorities are not the defense of this country but some sort of bizarre pan-global progressive ideology, and who will use you as a guinea pig in freakish and morally bankrupt social experiments, all while failing to fulfill even the most basic obligations of the leaders to the led. Our military today is failing to meet its recruiting goals because it has failed to earn the trust of normal Americans who would otherwise be inclined to raise their hands.
Joe Biden Blames Russia for Upcoming Global Food Shortage. I hope people can see the natural arc of this self-fulfilling prophecy now. This also is why you should make sure you have potassium iodide tablets in your prep kit. During a NATO press conference in Madrid, today Joe Biden specifically attributed the upcoming global food shortage to Russian President Vladimir Putin. Biden was emphatic when responding to a question about oil costs, western nation energy development and the pending food shortage.
U.S. and Canada Tell G7 That Climate Change Policy is More Important Than Feeding People. Say what you will about Boris Johnson, but he does proffer pragmatic solutions to problems. With a pending global food shortage only looking worse by the day British Prime Minister Boris Johnson has proposed to use biofuel farmland to grow food that can be consumed by people. German Chancellor Olaf Schulz is also supporting the plan. However, Joe Biden and Justin Trudeau have denounced the effort to expand food production in the U.S. and Canada and blocked the framework from G7 policy.
Dutch farmers protest climate regulations on livestock amid looming global food crisis. Furious Dutch farmers brought cows to The Hague and threatened to slaughter the animals on Tuesday in protest of the Netherlands' $26 billion climate plan that could reduce the livestock population by 30%. The Netherlands, one of Europe's top greenhouse gas emitters, is planning on halving its nitrogen output by 2030, Bloomberg reported. The government plan would shutter some farms, as much of the nitrogen is blamed on manure and fertilizer from cattle. [Tweet] Hundreds of farmers protested with two cows. "If the nitrogen measures are adopted, one of these two ladies will not go home, but will receive a one-way ticket to the slaughterhouse," farmer Koos Cromwijk said in front of Parliament, according to Dutch outlet ANP.
US Emergency Oil Reserves Tumble To Record Low 27 Days Worth Of Supply. As we detailed earlier in the week, the latest weekly release has pushed the SPR below the 500 million barrels mark for the first time since 1986. [Chart] And as the chart above shows, the plummeting SPR is not having the impact on prices that President Biden hoped (which explains why he is blaming everyone and everything else for the rise in gas prices — as it becomes clear it's a refining capacity issue as much as anything else).
U.S. emergency oil reserve [has decreased] by 6.9 [million] barrels to [its] lowest since 1986. U.S. crude inventory in the Strategic Petroleum Reserve (SPR) fell by 6.9 million barrels in the week to June 24, according to data from the Department of Energy. Stockpiles in the Strategic Petroleum Reserve (SPR) fell to 497.9 million barrels, the lowest since April 1986, according to the data. About 1 million barrels of sweet crude and 6 million barrels of sour crude were released in to the market.
'Americans made it clear in 1776 they don't want members of British Royal Family making decisions for them'
Republicans slam Meghan Markle for wading into politics. Meghan Markle is facing backlash after she spoke out about the recent overturning of Roe v Wade in the US and hinted she would travel to Washington D.C. to demonstrate. Republicans have slammed the Duchess of Sussex for attempting to 'insert drama' into American politics after she gave an interview to Vogue alongside Gloria Steinem and urged US citizens to vote in the November midterms. Rep. Lisa McClain (R-MI) said: 'This is just another attempt from the ex-royals to insert their British drama in American politics.
U.S. Army Drops High School Diploma Requirement As It Struggles To Find New Recruits. The United States Army has dropped its requirement that recruits must have a high school diploma or a G.E.D. degree in an apparent attempt to increase the number of troops. On Thursday, the Army announced the changes. Recruits must be 18 years old and eligible for a job in other areas of active duty and they also must score at least a 50 on the Armed Services Vocational Aptitude Battery (ASVAB) to test their academic ability, according to Military.com. The military outlet also noted, "The Army and its sister services have scrambled this year, offering increasingly generous benefits and policy tweaks in an effort to improve recruiting numbers. The Army has hit 40% of its recruiting goals this year, with the struggle to fill the ranks seemingly so grim the Defense Department reduced its planned total force size because prior recruiting goals were out of reach."
US Army Jettisons GED Requirement Amid an Ever-Woker Defense Department's Desperation. Military.com reports that the U.S. Army is dropping its requirement for enlistees to possess either a high school diploma or GED certificate. [...] It seems to me there's a national contingent working against Americans joining the military. As you know, any position is a potentially deadly job. Yet a portion of the people appears intent upon spreading the word that our country is cancerous. And "Die for a Planetary Disease" doesn't appear a superior sales pitch. Oddly, the woke have infiltrated the Armed Forces. At West Point, they're teaching Critical Race Theory. [...] And despite the woke message that America's not worth fighting for, wokesters are the ones the Defense Department evidently aims to attract.
Russian missiles hit Ukrainian shopping mall filled with 1,000 civilians. Scores of civilians were feared killed or wounded in a Russian missile strike Monday on a crowded shopping mall in Ukraine's central city of Kremenchuk, Ukrainian officials said. At least 13 people were dead and more than 40 wounded by two long-range X-22 missiles fired from Tu-22M3 bombers that flew from Shaykovka airfield in Russia's Kaluga region, said Ukraine's air force command. Ukrainian President Volodymyr Zelensky said in a Telegram post that the number of victims was 'unimaginable,' citing reports that more than 1,000 civilians were inside at the time of the attack.
Container Of Chlorine Gas Is Dropped At Jordanian Port, Causing Massive Deadly Cloud Which Kills 12 And Injures Over 250. At least 12 people died and 251 were injured in a chlorine gas leak from a storage tank at Jordan's Aqaba port, officials and state media reported on Monday [6/27/2022]. The leak came after a tank filled with 25 tonnes of chlorine gas being exported to Djibouti fell while being transported, officials said. A video posted on state television's Twitter page showed a storage tank falling from a winch and slamming into the deck of a ship, followed by yellow-colored gas rising into the air as people ran away. [Video clip]
Prince Charles Took Bags Stuffed With Millions In Cash From Arab Sheikh: Report. Prince Charles took bags stuffed with millions in cash from a controversial Arab sheikh to fund his charity and private estate, according to a bombshell report by The Sunday Times. The heir to the British throne took the money in suitcases, shopping bags, and a duffle bag between 2011 and 2015 from Sheikh Hamad bin Jassim bin Jaber Al Thani, the former prime minister of Qatar according to the report. The money was reportedly handed over in secret meetings at Prince Charles' official London residence, Clarence House. "Everyone felt very uncomfortable about the situation," a former adviser to Prince Charles told the newspaper. "The only thing we could do was to count the money and make a mutual record of what we'd done. And then call the bank."
Is the Green Agenda Being Forced Upon Us by Accident? [Scroll down] Meanwhile, an April fire at the port of Benicia, Calif., hampered gasoline production. A natural gas pipeline exploded in Michigan in March. The "incredible transition" seems to be taking other forms as well. After a boiler explosion at Shearer's Foods in Hermiston, Ore., in February, the company laid off its employees. In March, there was a large fire at the Penobscot McCrum potato processing plant in Maine. In April, a private plane crashed into Gem State Processing, a potato processing plant in Idaho. A week later, another private plane crashed into the General Mills plant in Covington, Georgia. That same month, there was a massive fire at the Taylor Farms food processing plant in Salinas, Calif. Also in April, the Dufur, Ore., headquarters of Azure Standard, a leading organic food distributor, was destroyed by fire, and another fire destroyed the East Conway Beef & Pork Meat Market in Conway, N.H. Early in May, a chicken farm in Jones County, Miss., was destroyed by fire. Saladino's food processing plant in Fresno, Calif., caught fire around the same time. A Walmart Fulfillment Center in Indiana caught fire in late May. Also in late May, a fire at Forsman Farms in Howard Lake, Minn., killed tens of thousands of chickens. In mid-June, there was a huge fire at the Festive Foods pizza plant in Belmont, Wis.
Uganda Claims to Discover 31 Million Tons of Gold Ore. The debate over gold and Bitcoin usually centers around the scarcity of the two assets. Bitcoin has a capped supply of 21 million coins, while gold's supply is determined by the amount of minerals in the earth's core. However, the argument on the scarcity of gold has been weakened after Uganda announced that it had discovered 31 million metric tons of gold waiting to be mined in the area. A spokesperson from the Ministry of Energy and Mineral Development in Uganda, Solomon Muyita, said that there was an estimated 320,158 metric tonnes of refined gold in the country after several surveys were conducted. These reports from Uganda are aimed at attracting gold miners and investors in the crypto sector.
The Editor says...
I sure wish a random telemarketer would call me and give me a chance to get in on the ground floor of the new Uganda gold mine.
Pro-Abortion Activist Climbs 1,400-Foot Bridge To Get 'Closer To God'. A pro-abortion protester who was arrested earlier this month and had his charges dropped after he chained himself to a fence outside the Supreme Court building took his antics to another level Friday following the Supreme Court's overturning of Roe v Wade. Guido Reichstadter climbed atop of the 1,445-foot Frederick Douglas Bridge in Washington, D.C., Thursday morning and has stayed on top of the bridge for at least seven hours. The bridge has since [been] shut down as law enforcement officers gathered below him.
The Editor says...
The bridge did not shut itself down. The bridge was shut down. Words matter. Use them correctly.
Sri Lankan prime minister says that the nation's economy has collapsed. Sri Lanka's debt-laden economy has "collapsed" after months of shortages of food, fuel and electricity, the prime minister told lawmakers Wednesday in comments that underscored the country's dire situation as it seeks help from international lenders. Ranil Wickremesinghe told Parliament the South Asian nation faces "a far more serious situation" than the shortages alone, and he warned of "a possible fall to rock bottom." "Our economy has completely collapsed," he said.
Attorney General Intervenes After Bill Gates Buys A Massive Amount Of Farmland In North Dakota. The office of the Attorney General of North Dakota sent a letter Tuesday asking Red River Trust, a group with ties to billionaire Bill Gates, to prove the company's use of the land does not violate the state's Corporate Farming Laws. The trust had acquired six parcels of land in Pembina County. "I've gotten a big earful on this from clear across the state, it's not even from that neighborhood," Agricultural Commissioner Doug Goehring, according to Valley News Live. "Those people are upset, but there are others that are just livid about this." The letter stipulated that under North Dakota law, there are "certain limitations on the ability of trusts to own farmland or ranchland."
Finding our Way Through a Wilderness of Mirrors. Protecting a nation's food supply is a top priority of any government. While the Biden administration has warned of impending food shortages, there has been seemingly no action or preventative security measures taken in the aftermath of sixty-five recent unprecedented incidents of suspicious food processing plant fires and accidents and incidents of mass deaths of chickens, ducks, turkeys, pigs and cattle that have been reported in the U.S. in the last year (from May 1, 2021 to May 1, 2022).
Full list of food facility fires in the USA from 2020 - 2022. The string of fires that appear to be sabotage operations targeting food processing facilities is surprisingly lengthy. Our research team has meticulously documented the reports and sources for nearly 100 such fires that have been reported across the USA from early 2020 to the present day. This list is presented in chronological order. Note the sharp uptick in these fires occurring in 2022 as the apparent sabotage operations are accelerating. All links shown below were active as of the publish date of this article, but some links may change or be removed over time, especially as there may be a coordinated effort to suppress this information. The text in each description is sourced from the link provided.
First It Was Cattle Dropping Dead, Now Wheat Crops in Kansas Are Being Wiped Out on a Massive Scale. Officials in Kansas are reporting that wheat crops in the state are failing on a massive scale, following the mysterious deaths of thousands of cattle recently. "There's nothing out there. It's dead," farmer Vance Ehmke told reporters, surveying a wheat field near his land in Lane County. "It's just ankle-high straw." According to conservative estimates by the U.S. Department of Agriculture, at least 41 percent of all wheat in Kansas is in "very poor" condition.
Operation Fly Formula flops as White House intervention fails to fill store shelves. A month after President Biden invoked the Defense Production Act to import emergency supplies of infant formula, store shelves are still half empty and brands shipped on U.S. military planes from other countries are not yet helping many families struggling to find critical specialty brands. The U.S. government began importing infant formula from Switzerland, the United Kingdom and elsewhere one month ago. It launched Operation Fly Formula to address a shortage that was triggered by the COVID-19 pandemic, a major formula recall and a decision by the FDA to shutter one of the nation's top formula-producing plants for several months citing health violations. Despite government intervention, many families with infants are still desperately searching for their next formula can. They have had to rely on social media groups to learn when store shelves are restocked or to buy from people who are selling or trading a can or two.
Attorney General Merrick Garland Visits Ukraine as U.S. Cities are 'Under Siege' by Criminals. President Joe Biden's Attorney General Merrick Garland made a surprise visit to Ukraine as major American cities face skyrocketing murder rates and lawlessness. On the visit Tuesday, Garland met with Prosecutor General of Ukraine Iryna Venediktova near the Ukraine-Poland border. Meanwhile, back in the United States, major cities are continuing to endure a crime wave that includes sky-high murder rates that show no signs of easing up. Fox News analysis shows five cities, in particular, are on pace to shatter their 2021 murder rates.
Bank of America Slashes U.S. Growth Forecasts for 2022 and 2023: 'Weak or Worse'. Bank of America economists slashed their forecasts for U.S. growth for this year and next to reflect ongoing inflation, Fed tightening, lockdowns in China, and the Russia-Ukraine war. In a report Friday, the bank's economists said they now expect the economy to grow 2.3 percent this year and 1.4 percent next year, down from the forecast of four percent this year and 2.2 percent in 2023 that the bank issued in its year-ahead report in November.
Walmart pulls MyPillow products from stores. America's largest retailer has canceled Mike Lindell, to the tune of $10 million. Walmart confirmed Thursday that it had pulled from its stores MyPillow products, a day after Mr. Lindell said his bedware was being pulled. "While we are no longer carrying them in stores, MyPillow products continue to be available on Walmart.com," a company spokesperson told The Hill.
A Permanent Shortage of Everything. First it was baby formula, now there's a tampon shortage. Tampon prices are up 10% due to the rising price of oil affecting the cost of plastic and higher cotton prices due to mask manufacturing and the war in Ukraine. A whole lot of fertilizer comes out of Ukraine and Russia. So does neon which is used to make semiconductor chips. The chip shortage is shutting down car plants. This is the thoroughly interconnected world celebrated in prose by journalists like Thomas Friedman who marveled at how Big Data and globalization brought everything together.
This is why money laundering is important:
Sheriff warns against picking up folded dollars because they might contain fentanyl. Authorities in Tennessee are warning people against picking up folded dollar bills found on the ground because they might contain fentanyl. According to the Perry County Sheriff's Office, a folded dollar bill was found on the floor in a gas station on two separate occasions. Each time, a white powder was found inside that tested positive for methamphetamine and fentanyl. "This is very dangerous, folks! Please share and educate your children to not pick up the money," a post on the sheriff's office's Facebook page says.
Mass cattle deaths send shockwaves through food supply as speculation rises: Are they being poisoned on purpose? Following over 100 fires that appear to be acts of sabotage against food facilities across the United States, speculation is now running rampant about thousands of cattle that appear to have died suddenly in Kansas over the weekend. According to the corporate media which also claims all covid vaccines are "safe and effective," these sudden mass deaths are the result of heat. Yet cows are incredibly resilient and frequently endure the same temperatures that the Midwest is experiencing right now. Why are thousands of cattle apparently dying so suddenly? AgDaily.com, like the rest of the conventional media, says the deaths were caused by a combination of heat, humidity and lack of wind. CNBC is also reporting that the The Kansas Department of Health and Environment agrees with this assessment. Yet I am personally near hundreds of head of cattle in central Texas where temperatures are the same (and the days are even longer this time of year due to the more southern latitude). I see Longhorn cattle, Angus, Blanco and other breeds abound in Central Texas, yet I don't see thousands of cattle dropping dead anywhere.
The Editor says...
I find it hard to believe that cows are dying by the thousands because the weather is too hot, when summer hasn't even started yet. If cows were so susceptible to hot weather, events of this sort would happen every year. I presume there's somebody testing all the dead animals for poisons.
Stock market's fall has wiped out $3 trillion in retirement savings this year. The U.S. stock market rout that has put U.S. equities in a bear market isn't just reducing the net worth of billionaires like Elon Musk and Jeff Bezos. It's also taking a toll on Americans' retirement savings, wiping out trillions of dollars in value. The selloff has erased nearly $3 trillion from U.S. retirement accounts, according to Alicia Munnell, director of the Center for Retirement Research at Boston College. By her calculations, 401(k) plan participants have lost about $1.4 trillion from their accounts since the end of 2021. People with IRAs — most of which are 401(k) rollovers — have lost $2 trillion this year.
Another Day, Another Food Processing Plant Suddenly Burns To The Ground. Multiple crews worked Monday to put out a fire at a food processing plant just west of Waupaca County. WSAW-TV reports firefighters were called to Festive Foods, 7811 County D, in the Portage County town of Belmont, around 9 a.m. Waupaca firefighters say employees were tried to put out a small fire in an air compressor area. They thought they had extinguished it, but it spread to the roof and a newer part of the building. It quickly got out of control. Company owner and president Mike Holmgren says the cause of the fire is still under investigation. [Video clip]
Another Blow to the US Food Market: Fire Breaks Out at a Food Processing Plant West of Waupaca County in Wisconsin. A fire ignited inside a food manufacturing facility in the town of Belmont near the Portage-Waupaca County, Wisconsin on Monday. Multiple fire departments responded to a fire at Festive Foods on County Highway D around 9 a.m., WSAW-TV reported. The company owner and president, Mike Holmgren, said the cause of the fire is still under investigation. The crew tried to put out the fire for almost nine hours since it started, according to an update from News 9.
Police Shoot and Kill Gunman at Texas Summer Camp Who Fired into Locked Classroom with Kids Inside. Police in Duncanville, Texas responded rapidly to 911 calls of an armed man and shots fired at the Duncanville Fieldhouse summer camp Monday morning, shooting and killing the man in an exchange of gunfire in the gymnasium. No children, staff or police were injured even though the gunman is reported to have fired at least one shot into a locked classroom that he tried and failed to gain entry. About 150 children are reported to be attending the camp.
House Republicans Introduce Bill That Would Kill The No-Fly Zones Over Disneyland, Disney World. Republican Texas Rep. Troy Nehls introduced legislation Monday [6/13/2022] that would direct the Secretary of Transportation to rescind the two no-fly zones over Disneyland and Disney World. The Daily Caller first obtained the legislation titled the Airlines Independent of Restrictions Act (AIR) Act, which calls on Department of Transportation (DOT) Secretary Pete Buttigieg to remove the Notices to Airmen (NOTAM's) over Disneyland and Disney World. The bill has five cosponsors. In early May, Nehls also sent a letter to Buttigieg, with his office telling the Caller that Disney is "the only theme park that benefits from the restriction for the commercial gains of eliminating banner ads and disruptive aircrafts from their parks." In 2003, Congress passed acts that created flight restrictions in the airspace over Disney resorts in Florida and California.
Foreign Investments in U.S. Farmlands Skyrocket, Raising National Security Concerns. eporters from a non-profit investigative journalism organization have discovered that, over the last ten years, foreign investments in American farmlands have tripled. Just The News reports that the group Investigate Midwest came to this conclusion by analyzing data from the U.S. Department of Agriculture (USDA). This trend can present a number of national security threats, according to Farm Action co-founder Joe Maxwell. "The real question is, who do the people of the United States want to be their farmer?" Maxwell asked. "Do they want Saudi Arabia, Canada, China, other countries to be their farmer? Do they want Bayer or Cargill or other large corporations to be their farmer?"
Caterpillar to move headquarters to Texas from Illinois, another blow to the Chicago area. The move is "in the best strategic interest of the company," Chief Executive Jim Umpleby said in a statement. The heavy-machinery maker has had a presence in Texas since the 1960s, it said. Even with the move, Illinois has the largest concentration of Caterpillar employees anywhere in the world, the company said. The headquarters was historically in downstate Peoria, Ill., before a move to the Chicago suburb of Deerfield, in 2017. Caterpillar said it will begin the relocation this year, without proving [sic] further details.
The Editor says...
The Caterpillar site in Irving is in a great location: Just a few miles from DFW Airport, at a big highway intersection that's sure to be really nice if the construction ever stops, and it's often downwind from the Frito Factory on Loop 12.
As We Always Suspected: Law Enforcement Admits They Have Informants Inside Patriot Front Group. On Saturday 31 members of the Patriot Front group, an alleged white supremacist group, were arrested in Idaho on the way to a protest. They were traveling to a gay pride event with shields in the back of a Uhaul. [...] Following the arrests today a local police officer admitted that they knew about the planned protests because the Patriot Front was infiltrated by law enforcement. [Tweet] For the record, has law enforcement ever arrested BLM or Antifa radicals before one of their deadly and violent planned operations? Since the Patriot front group first appeared, The Gateway Pundit always suspected they had links to the feds. We were convinced they were infiltrated by the federal agents.
Police Officer Finally Admits That Patriot Front Was Infiltrated By 'Several' Law Enforcement Members And That They Were Working With The Feds. Authorities arrested 31 members of the white supremacist group Patriot Front near an Idaho Pride event Saturday [6/11/2022] after they were found packed into the back of a U-Haul truck with riot gear. The men were standing inside the truck wearing khakis, navy blue shirts and beige hats with white balaclavas covering their faces when Coeur d'Alene police stopped the U-Haul and began arresting them on the side of the road. "They came to riot downtown," Coeur d'Alene Police Chief Lee White said at a news conference. All 31 were charged with conspiracy to riot, a misdemeanor, White said. The men were going through the booking process Saturday afternoon and are scheduled to be arraigned on Monday, he said.
Here is the Updated List of US-Based Food Manufacturing Plants Destroyed Under Biden Administration. Joe Biden's 'Build Back Better' is not working as planned, or is it? Gas prices are at record highs, stock markets are down, parents are having difficulty finding a baby formula, and the cost of everything is way up. According to the U.S. Department of Agriculture (USDA), there are currently no nationwide food shortages in the country. "There are currently no nationwide shortages of food, although in some cases the inventory of certain foods at your grocery store might be temporarily low before stores can restock," the agency said on their website. "Food production and manufacturing are widely dispersed throughout the U.S. and there are currently no wide-spread disruptions reported in the supply chain." As the Gateway Pundit previously reported, at least 18 major fires have erupted at food industry facilities and plants over the past six months. All of the fires have been officially listed as accidental or inconclusive.
The Editor says...
From the reports I've seen, the fires seem to have two things in common: [#1] By the time anyone notices the fire, the entire building is involved, indicating arson. [#2] None of the arsonists have ever been caught. There are surveillance cameras everywhere in America, and yet nobody sees anything. Fires Be Increasing. Far Beyond Incidental. Find Biden's Incentive.
96 Examples of Food Shortages Being Created in the Past Year. Have you heard about all of the farms, distribution centers, and food plants that have been mysteriously burned down or destroyed? The government is not predicting a food shortage. They are creating it! Open your eyes! There are WAY too many incidents in the past year for it to be a coincidence.
Taxpayer-funded research projects didn't check for scientists taking money from China: IG. Federal internal investigators have uncovered alarming failures by universities to require scientists doing taxpayer-funded research to disclose when they also pocket money from China and other foreign countries. The Health and Human Services Department inspector general said the failure to enforce disclosure rules exposes critical biomedical research to theft by China. Joanna Bisgaier, deputy regional inspector general who worked on the report, said the widespread disregard for government rules was unanticipated and she did not know if it was attributable to grantees' ignorance, recklessness or malice.
Confirmed: USDA Pressured States to Discard Thousands of Cans of Baby Formula. As an infant formula shortage rages across America, it was recently revealed that in the last seven months, one state alone destroyed 16,549 containers of formula while blindly following federal guidelines that the feds now say were just advice. When Georgia's policy hit the news, a wave of finger-pointing erupted between the state and the U.S. Department of Agriculture, followed by a change in policy. At issue is a USDA policy that when unopened, unexpired containers of formula given out through the Women, Infants & Children program are returned, they are to be destroyed. The grounds for the policy is that poor storage could mean what's inside might not be appropriate to give to a baby.
FBI arrests GOP Michigan gubernatorial frontrunner for participating in the insurrection. A curtain-raiser for tonight's January 6 committee hearing, reminding us why Liz Cheney can't just "move on." She can't move on because the party won't move on from trying to subvert elections. If anything, with 2020 truthers on the ballot in swing states like Pennsylvania, Arizona, and Michigan, the threat is only building. The next time Trump tries to overturn an election, it won't be via a mob beating cops with flagpoles. It'll be done "legally," courtesy of authoritarians elected at the state level. Ryan Kelley is aiming to fill that role in Michigan. He's leading the race for the Republican nomination for governor there although his "frontrunner" status comes with an asterisk. It's based on one poll, in which he notched a measly 19 percent. Why is the field so unsettled, you may ask? It's because five Republican candidates, including former Detroit police chief James Craig and businessman Perry Johnson, were disqualified after it turned out that too many of the signatures on their petitions to enter the race were fraudulent. That left the primary in chaos, with Kelley the main beneficiary for the moment.
Why was Abbott Labs Shut Down? Alexa Beichler, a mother of three boys under five in Leesburg, VA, is among the many "faces" of the national infant formula shortage. Two of her boys have classic phenylketonuria (PKU), in which they cannot process an amino acid found in protein. This means they require — for life — the very formula Abbott Labs was making in Sturgis, MI, the plant the U.S. Food and Drug Administration (FDA) shut down leading to the current crisis. According to Beichler, the Biden administration's "Operation Fly Formula" did not have the right kind of formula for her sons' needs. Fox reported: "Beichler spoke to Virginia Rep. Jennifer Wexton (D-10th District) about the problem but wasn't given a solution." "If she can't get any answers, and I can't get any answers, then who has the answers?" Well, the answers to how this started are within the FDA and its inconsistency in infant formula inspections.
This week, HIV is okay. Next week, Monkeypox!
Pentagon May Allow HIV-Positive Recruits, After Mass Firing of Unvaccinated. On Wednesday, he Department of Defense (DOD) announced recently that it had updated its guidelines regarding the recruitment of potentially HIV-positive individuals, now opening the door to letting people with the deadly disease serve in the military. As reported by the Daily Caller, the DOD said that any members who test positive for the virus may continue to serve so long as they do not display any clear symptoms, according to a department memo that was recently made public. "Individuals who have been identified as HIV-positive, are asymptomatic, and who have a clinically confirmed undetectable viral load... will have no restrictions applied to their deployability or to their ability to commission while a service member solely on the basis of their HIV-positive status," the memo reads in part. "Nor will such individuals be discharged or separated solely on the basis of their HIV-positive status."
West Virginia Notifies Six Banks They May Be Breaking State's Fossil Fuel Anti-Boycott Law. Six banks have been warned by the West Virginia State Treasury that they may be in violation of a new law preventing the state from doing business with financial institutions boycotting energy companies. The office told The Epoch Times it had sent out letters on June 10, but did not share the banks' names on the record. Enacted in March 2022, S. 262 directs the state to notify financial institutions that they are slated for placement on the restricted financial institution list 45 days before the document is published. Those institutions must respond within 30 days of receiving those notification letters to avoid winding up on the list. In June 2021, Texas passed a similar law barring state agencies from investing in funds boycotting energy companies.
All cancer patients test free of disease after going through 'compelling' new immunotherapy treatment. The results of a drug trial published in the New England Journal of Medicine found that 18 rectal cancer patients are now completely free of the disease. The handful of patients were part of a study conducted at the Memorial Sloan Kettering Cancer Center (MSKCC) in Manhattan and resulted in a success rate of 100 percent. Each patient was under the age of 50. "I believe this is the first time this has happened in the history of cancer," Dr. Luis A. Diaz Jr, the author of the paper, told The New York Times.
Every single patient in a recent study was cured of cancer after trying a new drug. Modern medicine has cured a great many things that have (literally) plagued humanity for countless centuries. Yet cancer has been among the more stubborn medical holdouts, with most forms of it resisting cures to varying degrees. So this news here is, well, kind of a big deal.
Buying Out the American Dream. In the first quarter of 2021, one in every seven home purchases was made by an institutional investor (asset managers, pension funds, foreign sovereign wealth funds). Among other things, this prices perspective middle-class homeowners out of the marketplace. HousingWire reported that investor purchases of single-family homes in 2021 rose 4.8% year over year in the first quarter, while investors maintained the largest market share in the multifamily sector by buying 25.8% of multifamily properties that sold. Investors acquired the largest share of lower-priced homes (20.8%), compared to 12.5% of high-priced homes and 11.3% of mid-priced homes. These investors typically pay in cash and often 50% above the asking price, while devouring entire neighborhoods by transforming them from middle-class homes into rental properties.
Biden announces FIFTH baby formula flight: White House reveals latest shipment will come from Germany. President Joe Biden on Monday [6/6/2022] announced a fifth flight from Operation Fly Formula, which will bring infant formula from Germany to the United States. The flight will transport Nestlé infant formulas from Cologne, Germany, to Fort Worth, Texas, arriving stateside on June 9. The delivery will include 110,000 pounds of Nestlé NAN SupremePro Stage 1 infant formula, approximately 1.6 million 8-ounce bottles.
Tens Of Thousands Of Chickens Killed In Wright County Egg Farm Fire. Massive flames burned down a barn with tens of thousands of chickens in Wright County. The fire started late Saturday night at Forsman Farms in Howard Lake, causing major damage. The Trebesch family thought they would spend Saturday night [6/4/2022] around their bonfire, but just after 10 p.m. they noticed massive flames across the field at Forsman Farms. "It was unbelievable how quick it grew, it was insane," Andy Trebesch said. "It was the whole sky, it was quite large."
Food Processing Plants [are] Burning Down All Over the World, as Europe, Australia Prepare for Fuel Rationing. Food processing plants and distribution centers are now burning to a crisp in rapid succession, a peculiar trend that has been growing since 2021. Just in the last weeks the U.S. has seen Taylor Farms, a packaged salad plant in Salinas, California, burn to a crisp; and the Azure Standard headquarters, "the nation's premier independent distributor of organic and healthy food," also was burned to smithereens. Approximately 200,000 chickens are dead after a massive fire tore through a Minnesota egg farm over the long Memorial Day weekend. They delivered approximately 3 million eggs a day to large retailers.
Egg prices have risen 161% — Everything Is Skyrocketing. Egg prices have risen 161% for business owners, according to the latest producer price index. In part, it's due to the Avian flu, but not in total. Egg prices are also a victim of Bidenflation. The CPI shows how prices rise for consumers and the PPI shows the costs to businesses that supply the eggs. Also, a massive fire that killed tens of thousands of chickens in Minnesota hasn't helped. It was the only food item with a triple digit increase, according to WFLA.
Electric rates in Texas have surged over 70% as summer kicks in. There's no escaping rising oil prices. They've driven up the cost of gasoline, and the higher expense registers every time people fill up the tank. The price of natural gas has increased even more than crude oil, but many consumers may not have noticed. They will soon enough — in higher electric bills. How much higher? Over 70% higher than a year ago for residential customers in Texas' competitive market, according to the latest rate plans offered on the state's Power to Choose website. This month, the average residential rate listed on the site was 18.48 cents per kilowatt hour. That's up from 10.5 cents in June 2021, according to data provided by the Association of Electric Companies of Texas. It also appears to be the highest average rate since Texas deregulated electricity over two decades ago.
U.S. is using intel to fight an info war with Russia, even when the intel isn't rock solid. It was an attention-grabbing assertion that made headlines around the world: U.S. officials said they had indications suggesting Russia might be preparing to use chemical agents in Ukraine. President Joe Biden later said it publicly. But three U.S. officials told NBC News this week there is no evidence Russia has brought any chemical weapons near Ukraine. They said the U.S. released the information to deter Russia from using the banned munitions. It's one of a string of examples of the Biden administration's breaking with recent precedent by deploying declassified intelligence as part of an information war against Russia. The administration has done so even when the intelligence wasn't rock solid, officials said, to keep Russian President Vladimir Putin off balance.
Jets are scrambled after light aircraft veers into airspace over president's Delaware beach home. Joe Biden was evacuated to a fire station and two military jets were scrambled after a light aircraft veered into airspace over the president's Delaware beach house. The 79-year-old and his wife Jill were rushed from the home to the secure location in Rehoboth following the breach on Saturday afternoon. The plane was immediately escorted from the restricted airspace. Preliminary investigation revealed the small private plane entered the restricted airspace 'by mistake' and there was 'no threat to the President or his family,' a Secret Service spokesperson confirmed.
The Editor says...
[#1] This sounds like an incident contrived (by the White House or the press) to make the president look like a victim. If somebody was going to attack the president, the three-letter intelligence agencies would have known all about it beforehand ... right? [#2] The government wants to put a remote "kill switch" in every new car. Why not airplanes? Why hasn't the FAA implemented geo-fencing around sensitive areas? At least then the president's guards would know if they were under attack or if the plane was just harmlessly out of bounds.
The day after this non-event, the press is still bubbling about it.
Biden spotted at Delaware beach after security scare. Shortly after the president and first lady Jill Biden were taken to a safe house after a private plane violated the air space around the home they own in Rehoboth Beach, Del., on Saturday, he was spotted at a nearby beach in shorts. The photo of the president, wearing a ball cap and carrying a couple of tote bags through the sand around 3 p.m., was obtained by Fox News. A couple of hours earlier, the president was rushed to a fire station by the Secret Service after the plane was detected.
Pizza Hut restaurant chain sparks outrage and national boycott. Pizza Hut is facing calls for a boycott after it promoted a children's book that featured a little boy who dresses in drag. The pizza chain has been running a children's reading scheme called Book It since 1984 where kids are awarded certificates from their school for completing books, which can be cashed in for a free pizza. Dozens of books are added to the list on a regular basis, but its latest addition has sparked fury.
Feds to probe FDA's inspection of baby formula lab that was forced to close. The federal government will review whether the Food and Drug Administration properly inspected the Abbott Laboratories baby formula plant in Michigan whose closure over unsanitary conditions caused a nationwide shortage that left the Biden administration unprepared. The Department of Health and Human Services inspector general's office will conduct the review that is expected to conclude sometime next year, the agency said in a statement Thursday. "We will review FDA's actions leading up to the infant formula recall at the Abbott facility in February 2022 to determine whether FDA followed applicable policies and procedures to: (1) conduct inspections of the manufacturing facility and (2) oversee Abbott's initiation of the infant formula recall," HHS said.
DeSantis praises Israel's decision to move airline headquarters from NYC to the free state of Florida. Florida Governor Ron DeSantis is thrilled over Israel deciding to relocate El Al Airlines' headquarters from the leftist Big Apple to sunny South Florida in a big win for business, jobs, and tourism in his state. "Israel's decision to move El Al airlines from New York City to South Florida is the latest example of Florida's leadership in business expansion and international travel," the Republican governor tweeted. "We are proud to be the hub for international tourism."
Congressman: Baby formula stocked at border for migrants 'like a Costco'. On a trip to visit the United States-Mexico border this week, Rep. Buddy Carter (R-GA) said he saw well-stocked warehouses with a variety of supplies including baby formula. The facility for unaccompanied minors and families in Donna, Texas is stocked high "like a Costco" with baby formula, Carter said in a Thursday interview with Fox News. While the border patrol facilities for migrants are well-stocked, Texas is one of the states worst-affected by the baby formula shortage, according to data from the market research group IRI. The congressman said he and his colleagues were specifically on the lookout for formula at the border facilities.
America's Dependence On China For Medicine Gives The CCP Massive Leverage. In their 2018 book, "China Rx: Exposing the Risks of America's Dependence on China for Medicine," Rosemary Gibson and Janardan Prasad Singh painted a profoundly ominous picture of a world that had changed over the preceding 25 years. No longer did the United States, Europe and Japan supply 90% of "the key ingredients for the world's medicines and vitamins." Instead, "China is the largest global supplier of the active ingredients and chemical building blocks needed to make many prescription drugs, over-the-counter products, and vitamins," they wrote.
[The] Baby formula shortage [is] not a problem in Mexico, parents say. Baby formula can be easily found south of the U.S. despite the shortage, parents in a Mexican border town told Fox News. "Well, right now, when I got the formula, I've seen two, three people getting formula from the other side," Jorge, of Tijuana, said. "They have it everywhere at the pharmacies, any store." As the United States deals with a baby formula shortage due to a recall and pandemic-related supply chain issues, some Americans told Fox News they're purchasing baby formula from Mexico.
Bush Dynasty Rejected by Republican Voters in Nearly All 254 Texas Counties. Attorney General primary candidate George P. Bush, the son of former Florida Gov. Jeb Bush (R) and the nephew of former President George W. Bush (R), was rejected by Republican voters in all but five of Texas's 254 counties. On Tuesday, 68 percent of Republicans voted to re-elect Texas Attorney General Ken Paxton, who has been a fierce opponent of illegal immigration and the monopolistic business practices of giant tech corporations. [...] The only counties Bush won were Loving County, where fewer than 10 residents voted; Sterling County, where about 50 residents voted; Kenedy County, where about 6 residents voted; Starr County, where about 200 residents voted; and Travis County — home to the left-wing city of Austin.
The Editor says...
Loving County has fewer residents than any other Texas county. Kenedy County isn't far behind.
Salvation Army withdraws guide that asks white supporters to apologize for their race. The Salvation Army has withdrawn its controversial "Let's Talk About ... Racism" guide following criticism and donor backlash over the text that asked white supporters of the charity group to deliver "sincere" apologies for their race and the past sins of the Church. As a result of some of the guide's more extreme positions becoming public, donors and supporters across the country have been rescinding their support of the organization. In a statement titled "The Salvation Army's Response to False Claims on the Topic of Racism," the 156-year-old organization denies that the purpose of the guide or subsequent discussions revolving around the guide were meant to tell anyone "how to think." However, the group has also opted to withdraw the guide for "appropriate review." The group is perhaps best known for collecting coins and paper money in red kettles outside of stores during the Christmas holiday season with a member ringing a bell.
World's 50 richest people have lost half a trillion dollars this year. The 50 wealthiest people in the world have lost more than half a trillion dollars this year due to the tanking stock market, according to the latest figures compiled by Bloomberg Billionaires Index. The top 50 richest, which includes Tesla CEO Elon Musk, Amazon founder Jeff Bezos, Microsoft co-founder Bill Gates, and French luxury goods magnate Bernard Arnault, have lost a combined $563 billion in net worth through May 22, according to Bloomberg. Musk, the world's richest man who has temporarily put on hold his $44 billion acquisition of Twitter, has lost $69.1 billion — the most of any mogul on the list. He now has a net worth of $201 billion. Bezos, the second richest man, stepped down as CEO of Amazon last year to focus on his space travel company Blue Origin. He has seen his net worth fall by $61.1 billion. His wealth is now valued at $131 billion.
First shipment of formula arrives from Germany and it's not going where you might think. The first shipment of baby formula arrived by military plane in Indianapolis on Sunday from Ramstein Air Base in Germany. [...] The formula is hypoallergenic, which is essential for babies and toddlers with milk allergies. As I mentioned Saturday, it must be additionally stressful for parents of babies who are allergic to milk because they require special formula. In the Biden formula crisis, all formula is difficult to find, including for babies with special dietary needs. The 132 pallets of Nestle Health Science Alfamino Infant and Alfamino Junior formula are enough specialty infant formula for more than half a million baby bottles. It's about a week's supply. Not only is it about a week's supply, it will not be on regular retail store shelves. It's going straight to pharmacies and health care facilities including hospitals, doctors' offices, and clinics.
Musk Suggests Slashing Twitter Takeover Offer Based on Bot Numbers. Elon Musk has suggested he wants to slash his initial $44 billion takeover bid for social media platform Twitter after accounting for the proportion of bots present on the microblogging site. "I'm worried that Twitter has a disincentive to reduce spam, as it reduces perceived daily users," Musk said in a series of tweets on May 21. "They still refuse to explain how they calculate that 5% of daily users are fake/spam! Very suspicious." When someone on Twitter pointed out that if 25 percent of users on Twitter are bots, then the acquisition deal should cost 25 percent less, Musk responded, "Absolutely." On May 13, Musk wrote on Twitter that the deal is "temporarily on hold" pending details supporting the company's claim that fake or spam accounts only make up 5 percent of total users. According to a joint Twitter analysis conducted by SparkToro and Followerwonk that looked at 44,058 public Twitter accounts randomly selected from 130 million-plus accounts, 19.42 percent of them were spam or fake accounts — four times that of Twitter's claim.
Plane with 70,000 pounds of baby formula finally lands in US: Huge relief flight touches down in Indiana. More than 70,000 pounds of baby formula arrived in the United States on Sunday via military aircraft, President Joe Biden announced, as his top economics adviser pledged stores could see replenished supplies 'as early as this week.' The shipment from the US military's Ramstein Air Base in Germany is the first in Biden's Operation Fly Formula program, aimed at ramping up international imports of baby formula to raise US supply. It's one of several measures the president unveiled to mitigate the increasingly dire baby formula shortage that's plaguing Americans nationwide — which has already led to multiple reports of hospitalized children.
US Senate Rejects $48 Billion Aid Package For Small Businesses and Restaurants Just Hours After Approving Another $40 Billion for Ukraine. On Thursday [5/19/2022] — just hours after approving another $40 billion in US taxpayer dollars for Ukraine — the US Senate blocked a bipartisan $48 billion aid package for restaurants, gyms, and other small businesses that have been struggling in Biden's post-lockdown economy. Presumably, they can't launder that money as easily as shuffling it off to Ukraine, so American business owners get the shaft yet again from its traitorous elected officials.
The Chinese Are Buying Up Land And Medical Marijuana Growing Licenses in Oklahoma For Human Trafficking Front Businesses. The ChiComs are buying up the Sooner State. NATIONAL FILE has discovered that there is a massive black market business in Oklahoma run by Chinese nationals. The Chinese are buying plots of farmland and residential properties in cash and setting up front businesses including medical marijuana grow houses that are driving the illegal immigration crisis and being used as fronts for human trafficking. I discussed this crisis Thursday [5/19/2022] on The Stew Peters Show. Oklahoma State Senator Warren Hamilton confirmed the Chinese invasion of Oklahoma farmland, stating in a text message: "I authored sb1469 and sjr 45 because of this," referring to the legislative effort to stop the ChiComs from scamming the medical marijuana system to achieve black-market economic and political dominance in America's heartland.
Ukrainian official says US devising plan to destroy Russia's Black Sea Fleet. The US is working on a plan "to destroy the Black Sea Fleet" with powerful missiles in order to unblock Ukraine's ports, according to a high-ranking Ukrainian official. "The effective work of the Ukrainians on warships convinced (the US) to prepare a plan to unblock the ports," Ukrainian Ministry of Internal Affairs adviser Anton Geraschchenko tweeted Friday. "Deliveries of powerful anti-ship weapons (Harpoon and Naval Strike Missile with a range of 250-300 km) are being discussed." Geraschchenko's saber-rattling tweet — notably written in Russian — followed an exclusive report by Reuters saying the White House is in the process of putting more advanced missiles in the hands of Ukrainians to defeat Russia's naval blockade. For the past two months, Ukraine has been unable to ship out grain and other agricultural products because of the blockade, raising the specter of catastrophic food shortages around the world, and especially the developing countries in Africa and Asia.
Gov. DeSantis announces largest budget surplus in Florida history. Republican Florida Gov. Ron DeSantis held a press conference at the Retro Fitness gym in West Palm Beach on May 20, 2022 to announce the largest budget surplus in the state's history. The state has access to $20 billion USD for the 2022 fiscal year. He also announced that Florida is registering almost 45 percent of the market share of overseas traveling, the highest rate in the country and the highest ever recorded, beating out New York which previously had the highest numbers. DeSantis went on to announce the jobs report for April, with the unemployment rate in the state being 3 percent, which has been lower than the national average for 17 consecutive months.
Enthusiasm gap:
Republicans Cast 150K More Votes than Democrats in North Carolina Primaries. Republican voters turned out in droves to participate in the North Carolina primaries and surpassed Democrat participation — even though there are more registered Democrat voters in the state. Analysis of voter data by the Republican National Committee (RNC) after Tuesday's elections revealed Republican voters cast roughly 150,000 more votes than Democrats 758,637 to 612,645. GOP turnout was "86 percent higher than 2018 and nearing 2020 levels," RNC Deputy National Press Secretary William O'Grady told Breitbart News.
Biden Administration Invoke Defense Production Act, HHS Will Now Control Means of Production for Baby Formula. Do you know what it's technically called when "government takes control of the means of production?" Yeah, that. This afternoon [5/18/2022] Joe Biden invoked the Defense Production Act (DPA) giving Health and Human Services (HHS) the legal authority to control the supplies needed for the creation of baby formula (how it is made), and the authority to determine distribution equity (who gets it).
Biden's baby formula shortage. We don't have a food shortage problem," then-candidate Joe Biden said just months after the COVID pandemic began in May 2020. "We have a leadership problem." Now that he is president, however, Biden is singing a different tune. Asked if he should have taken steps to address the nation's baby formula shortages sooner, Biden replied, "If we had been better mind readers, I guess we could have." But the Biden administration never had to read minds. It had been informed of problems at a Michigan baby formula plant eight months ago, and in fact, the Food and Drug Administration issued a recall of formula from that same plant three months ago. Yet Biden never spoke of or acted to address the formula shortage until last Friday. And yes, there is plenty he could have done.
Biden invokes the Defense Production Act to speed up baby formula manufacturing and orders Pentagon planes to fly in shipments from overseas. President Biden invoked the Defense Production Act on Wednesday evening to boost baby formula production and issued a directive for planes to bring in supplies from overseas, after growing pressure from Congress. In addition to invoking the Cold War-era law to compel suppliers to direct resources to infant formula manufacturers before any other customer, Biden announced 'Operation Fly Formula,' which will direct Defense Department and U.S. Department of Agriculture (USDA) and Health and Human Services (HHS) resources to getting planes loaded with formula that meets FDA safety standards from other countries to bring it to American parents. The Defense Department will use its contracts with commercial airlines to transport the formula back to the U.S. Earlier Wednesday [5/18/2022] a bipartisan group in the House is brought forth a resolution imploring Biden to invoke the Defense Production Act.
The Editor says...
Great idea, Joe! Nothing like an airlift to get the news media all excited. We can always get some more baby formula from your friends in China or Russia. Getting it from Mexico would be too easy. Removing the FDA bottleneck would also be too easy.
Mexico's Shelves are Stocked with Baby Formula amid U.S. Shortage. As the Biden Administration is slow to respond to a severe shortage of baby formula in the United States, stores throughout Mexico are fully stocked especially with the high-demand Enfamil brand. Breitbart Texas dispatched local reporters to document the availability of baby formula in various Mexican cities, including several along the U.S. border.
Flight Data Reveals Cause of Mystery Boeing 737 Crash That Killed 132: Report. A plane crash that led China Eastern Airlines to ground its fleet of Boeing 737-800 jets for a month could have been the result of an intentional effort to crash the jet, according to a new report. The Wall Street Journal reported that a preliminary assessment of the March 21 crash, developed by American officials, indicated someone in the cockpit intentionally crashed the plane. All 132 people aboard the plane were killed in the crash. "The plane did what it was told to do by someone in the cockpit," a source said, according to the Journal. The assessment was based on data from a black box recovered at the crash site.
The Editor says...
Was the pilot shouting Allahu Ackbar as the plane flew straight down? If so, that will never be reported.
New Black Box Data Of China Eastern Jet Points To Intentional Nosedive. Boeing shares are higher after WSJ reports the China Eastern 737-800 jet that crashed in southern China in March was intentional. People familiar with the matter said the plane was cruising at a high altitude when it unexpectedly spiraled into a nosedive and slammed into the side of a mountain. They said black box data recovered from the crash suggest someone in the cockpit inputted data that made the plane dive. "The plane did what it was told to do by someone in the cockpit," said the person familiar with American officials' examination of the black box.
The Editor says...
The so-called Black Box, in this day and age, should contain no moving parts and should provide HD video from various angles in the cockpit and detailed pictures of the control panel.
This should have been done at least a month ago:
Abbott reaches agreement with FDA to reopen baby formula plant to ease nationwide shortage. Abbott reached an agreement with the Food and Drug Administration on Monday to reopen the company's manufacturing plant in Michigan to help ease a nationwide shortage of baby formula, after the facility was closed due to bacterial contamination. FDA Commissioner Robert Califf said Abbott, under the conditions of the agreement, will correct insanitary conditions that led to the contamination and plant closure. "The public should rest assured that the agency will do everything possible to continue ensuring that infant and other specialty formulas produced by the company meet the FDA's safety and quality standards," Califf said in a statement.
Baby formula maker won't accept Dems' blame for shortages, says no evidence plant sickened infants. Democrats, battered with low approval ratings from voters over high inflation and soaring gasoline prices, are deflecting blame for the latest crisis: a massive baby formula shortage. Party leaders are blaming Abbott Nutrition for scarce baby formula after the Food and Drug Administration shuttered its Sturgis, Michigan, plant citing safety and quality issues. Abbott officials deny their formula is responsible for four infant illnesses that caused two deaths and said they are ready to reopen the plant.
Elon Musk says $44 billion Twitter deal can't proceed until CEO proves the platform has fewer than 5% fake accounts. Elon Musk said Tuesday his proposed $44 billion Twitter buyout can't move forward until Twitter's CEO provides proof the platform has fewer than 5% fake accounts. "My offer was based on Twitter's SEC filings being accurate," Musk tweeted. Musk announced Friday he was putting his Twitter deal "on hold" while assessing how the company calculates the proportion of fake accounts it harbors. In a Securities and Exchange Commission (SEC) filing, Twitter says that fewer than 5% of accounts on its platform are fake.
Captive Russian troops claim commanders kill their own wounded soldiers. Captured Russian soldiers have accused their commanders of killing their own wounded troops rather than recovering them from the battlefield and sending them for treatment. In a harrowing account to Ukrainian journalist Volodymyr Zolkin, the young intelligence soldiers described how one lieutenant colonel asked a wounded comrade if he could walk, the Mirror reported. When the badly injured soldier replied that he could not, the high-ranking officer reportedly shot him — as well as several others — dead. Another soldier told Zolkin, who has reported about Russian prisoners for Open Media Ukraine, that officers have "finished off their wounded."
Putin's commanders are slaughtering their own wounded soldiers rather than retrieving them from the battlefield for medical treatment. Russian commanders are slaughtering their own wounded soldiers instead of retrieving them from the battlefield for treatment, Putin's own troops have said. A lieutenant-colonel was accused of personally shooting dead multiple troops as they lay injured. It comes as investigations in the horror town of Bucha have revealed 650 civilians were shot rather than hit by shelling in what police say proves they were executed by Russian thugs. But their barbarity is not directed only towards the Ukrainians, as Russians spoke out about the brutal killings of their own forces within the ranks. Captured troops recalled one commander asking a soldier if he could walk after suffering an injury, and when the man replied he could not, the officer killed him instantly.
Elon Musk Puts Twitter Acquisition on Hold Pending Verification of 95 Percent Authentic Users. Earlier today Tesla CEO Elon Musk tweeted, "Twitter deal temporarily on hold pending details supporting calculation that spam/fake accounts do indeed represent less than 5% of users." He also said, "still committed to acquisition." While tech stocks have been collapsing over the past 15 days, from a big picture perspective this approach by Musk looks like a potential negotiation strategy to lower the offer. The actual number of spam/bot accounts on the platform is unknown.
Satoshi-Era Bitcoin Wallet Awakens with BTC in It Worth 62x in USD. Whale Alert cryptocurrency tracker has detected a transaction from a wallet that has been inactive since 2013. The address contains 1,000 Bitcoins, whose price has soared more than 62x over the past 8.5 years when the wallet was inactive. The year 2013 was a time that many people remember talking to the mysterious Satoshi Nakamoto live on Internet chats, and BTC traded at roughly $468.60. [Tweet] From $468.60 worth of Bitcoin back in 2013, this amount of BTC now costs $30,395,186. The owner has activated the wallet and sold the Bitcoin, turning himself into a millionaire and a cryptocurrency whale. In the comment thread, some have assumed that this might be a crypto wallet that belongs to the FBI.
Texas Power Grid Operator Urges Customers To Conserve Electricity After Six Plants Go Offline. Texas' electricity grid operator asked customers Friday evening to conserve power this weekend after half a dozen generation plants were knocked offline amid another round of unseasonably hot weather. "On Friday afternoon [5/13/2022], six power generation facilities tripped offline, resulting in the loss of approximately 2,900 MW of electricity," The Electric Reliability Council of Texas (ERCOT) wrote.
Texas Power Grid Warns Of Record Demand Amid Back-To-Back Triple-Digit Heatwaves. An early summer heatwave pattern continues to boil parts of the Central and Southern Plains. This means parts of Texas will continue to roast with temperatures forecasted to reach triple digits next week. The Electric Reliability Council of Texas (ERCOT), the state's power grid operator, is already warning of record energy demand next week as customers crank up the AC.
The Editor says...
[#1] Summer doesn't start for another full month. [#2] The answer to record-breaking demand is increased generating capacity.
Electric grid operators warn of potential summer blackouts. While some major cities are already seeing their lights go off due to electricity use overload, grid operators and energy advocates gave a warning to states closing their coal-fired power plants even quicker than they can build new ones. "Any plans to remove nuclear plants or coal power plants or natural gas plants that are slated to be closed, that has to be completely suspended," Power the Future executive director Daniel Turner told FOX Business' Jeff Flock Tuesday. Eighty coal-fired power plants are slated to close across 14 states in the next six years, Flock mentioned in his report, which poses a threat as some blackouts have already begun and coal and nuclear power still source 41% of the country's electricity, according to the Energy Information Administration.
Sen. Josh Hawley Introduces Bill to Strip Disney of Copyright Privileges: No More Special Favors for Woke Corporations. Sen. Josh Hawley (R-MO) is introducing a bill that would strip the Walt Disney Co. of its special copyright privileges, imperiling the company's control over valuable intellectual property that could include Mickey Mouse and Donald Duck. The Copyright Clause Restoration Act would limit new copyright protections to 56 years and make the change retroactive for major corporations like Disney that have been granted unusually long copyright monopolies.
DeSantis notches legal win in battle over law revoking Disney's special tax district. A federal judge on Tuesday dismissed a lawsuit challenging Florida Gov. Ron DeSantis' law dissolving Disney World's Reedy Creek Improvement District, rejecting the claims of a Miami lawyer running for U.S. Senate as a Democrat. In the complaint, three residents of Orange and Osceola counties claimed that S.B. 4-C, the law that eliminates Disney's ability to operate an independent governmental entity around its Orlando-area theme parks, unconstitutionally threatens residents with higher taxes, abridges free speech rights, and violates a contractual obligation, the Orlando Sentinel reported. William Sanchez, a Miami lawyer and Democratic Senate candidate, filed the lawsuit last week.
Russia cuts electricity to Finland: Moscow-run state energy company says it will stop supplying Helsinki tomorrow. Russia will suspend electricity supplies to Finland this weekend, a supplier said on Friday as tensions rise over Helsinki's NATO bid following the conflict in Ukraine. 'We are forced to suspend the electricity import starting from May 14,' said RAO Nordic, a subsidiary of Russian state energy holding Inter RAO that sells its electricity on the Nordic market. It blamed the suspension on not having received payment for electricity sold in May and said as a consequence it was no longer able to pay for more electricity from Russia.
WH press secretary Jen Psaki's last briefing [was] chaotic. White House press secretary Jen Psaki's final briefing with reporters went off the rails Friday after one reporter repeatedly shouted a question about fair access in the room. As Psaki began to take questions — after fighting back tears as she thanked members of the administration and the press corps — Simon Ateba, the chief White House correspondent for Today News Africa, was heard yelling from the back of the press briefing room. "Why don't you take questions from across the room?" Ateba asked as Associated Press reporter Zeke Miller attempted to get things started with a query about the ongoing baby formula shortage.
Fauci, Biden, Psaki Sued in Major Big Tech Collusion Lawsuit! Things continue to get worse for the apparatchiks of the ruling regime: now, in addition to losing the abortion battle and much of the mask battle in the courts at the same time that Elon Musk is taking a hammer to the censorship regime by buying Twitter, Fauci and Biden just got rocked by a massive lawsuit. That lawsuit, filed last Thursday by Missouri Attorney General Eric Schmitt and Louisiana Attorney General Jeff Landry, names Biden, Psaki, Dr. Fauci, and Nina Jankowicz (the Disinformation Board woman) as defendants and accuses them of colluding with Big Tech to crush certain messages on platforms like Facebook and YouTube under the guise of fighting "misinformation".
British Judges Rule Use of Term 'Bald' Can be Sexual Harassment. A panel of three judges in the UK have ruled that the term "bald" constituted sexual harassment during an unfair dismissal case. Workers in the UK will now have to be careful about the banter they partake in with their fellow employees, with a panel of judges ruling that the use of the term "bald" was sexual harassment while deliberating an unfair dismissal case. The three ruling members of the panel — who acknowledged their own follically challenged craniums during the ruling — concluded that the term was an insult disproportionally levelled at men, and as such constituted sexual harassment.
Russia Withdrawing Troops From Ukraine After 'Heavy Losses,' Intelligence Agency Says. Russia is now withdrawing some of its troops after suffering "heavy losses" in recent days, claimed the United Kingdom's Ministry of Defense on Thursday [5/12/2022]. In an update posted on social media, the ministry alleged that "Ukrainian forces are continuing to counterattack to the north of Kharkiv, recapturing several towns and villages towards the Russian border." "Despite Russia's success in encircling Kharkiv in the initial stages of the conflict, it has reportedly withdrawn units from the region to reorganize and replenish its forces following heavy losses," the agency said, referring to the second-largest city, located in northeastern Ukraine near the Russian border. But "the withdrawal of Russian forces from the Kharkiv Oblast is a tacit recognition of Russia's inability to capture key Ukrainian cities where they expected limited resistance from the population," the ministry continued.
The formula shortage is finally bringing attention to the FDA's labeling games that have angered many moms for years. Months after distressed moms have been vocally upset and concerned about the baby formula shortage, the media is finally starting to ask, how could this happen? The short answer is lockdown supply chains and the shutdown of one of the country's largest formula plants in Michigan over an alleged bacterial outbreak. The long answer is that, unlike the problem of sky-rocketing lumber prices or your West Elm furniture stuck on cargo ships, this crisis is intertwined with an already highly regulated industry and a bureaucratic agency that has been the enemy of postpartum moms well before the pandemic.
Why is biggest baby formula plant in US still shut down after three months? The biggest baby formula supplier in the U.S. has denied its Michigan plant is responsible for the deaths of two children despite the FDA closing it down. The plant was shutdown nearly three months ago after a bacterial infection caused the deaths and other serious illnesses. In mid-February Abbott Laboratories issued a nationwide baby formula recall and ceased operations at its plant in Sturgis, Michigan amid reports of babies contracting bacterial infections from its products.
Lawmaker Says Migrants Are Getting 'Pallets' Of Baby Formula Amid Nationwide Shortage. Migrants are receiving ample supplies of baby formula, according to Republican Florida Rep. Kat Cammack, while Americans are experiencing severe formula shortages. Photos allegedly taken by a Border Patrol agent at the Ursula Processing Center in McAllen, Texas showed fully stocked shelves of baby formula supposedly given to migrants, according to a Wednesday Twitter post by Cammack. The photos come as Americans across the country are seeing empty shelves where stores used to have baby formula as a result of the supply chain crisis and product recalls.
GOP rep says illegal migrants sent 'pallets' of hard-to-find baby formula. Pallets of baby formula are being sent to holding facilities at the border amid a shortage that has seen many parents unable to find it at their local stores, according to a GOP representative. "They are sending pallets, pallets of baby formula to the border," Rep. Kat Cammack, R-Fla., said in a video posted to Facebook Wednesday. "Meanwhile, in our own district at home, we cannot find baby formula." Cammack posted pictures to social media of empty formula shelves in Florida next to the pallets of food being sent to the border, saying in the video that a concerned border patrol agent sent her the image.
Frontline perspectives on the CT contrast shortage: 5 notable quotes. U.S. healthcare is now a solid week into the CT contrast shortage of '22, and common themes are emerging in adaptations at local hospitals and imaging centers. One is the wisdom of making up-or-down contrast and scanning decisions one patient at a time rather than as a blanket short-term policy. Another is the commonsense call to reserve inventory for patients most in need while avoiding use of the term rationing. A third might be the fingers-crossed expectation that the shortage will not drag on to where it becomes a crisis.
Russian Frigate Reported on Fire as the Intelligence Community Tries to Convince Us They Know What They Are Doing. Thursday evening [5/5/2022], there was an unconfirmed report that another Russian surface combatant, the guided-missile frigate Admiral Makarov, was struck by a Ukrainian Neptune anti-ship missile. This is the same type of missile that sank the flagship of the Russian Black Sea Fleet, the guided-missile cruiser Moskva, last month.
US Navy chief quietly takes woke books off the reading list. Several books on the U.S. Navy's Professional Reading Program that provoked outrage last year were absent in an updated reading list released Friday [5/6/2022]. Chief of Naval Operations (CNO) Adm. Mike Gilday's updated list includes 12 books in the genres of fiction, non-fiction, military, strategy, management, and technology. Missing from the list were the titles Ibram X. Kendi's "How to Be an Antiracist," Michelle Alexander's "The New Jim Crow" and Jason Pierceson's "Sexual Minorities and Politics" — all of which were included on the Navy's 2021 reading list.
Doctors say cancer patient needs treatment. Insurance called it unnecessary. Cancer patients say their lives are locked in limbo after Aetna, a major healthcare insurance company, is accused of wrongfully denying coverage claims for "life changing" treatment. "You can't even imagine how you're going to handle something like that," Claire Thevenot shook her head. "It's just devastating." Thevenot considers herself a fighter. As a nurse and patient care advocate, most days feel as if she's going to war for others. But today, she's fighting for herself.
Repairman who revealed Hunter Biden laptop sues Schiff, CNN, Politico and The Daily Beast. The Delaware computer repairman who blew the whistle on Hunter Biden's laptop — filed a multi-million-dollar defamation suit Tuesday [5/3/2022] against Democratic Rep. Adam Schiff, CNN, The Daily Beast and Politico, saying they falsely accused him of peddling Russian disinformation. The former shop owner, John Paul Mac Isaac, decided to fight back after losing his business and being harassed for 18 months by Big Tech, the media and Delaware locals in President Biden's home state. "After fighting to reveal the truth, all I want now is for the rest of the country to know that there was a collective and orchestrated effort by social and mainstream media to block a real story with real consequences for the nation," the 45-year-old Mac Isaac told The [New York] Post.
DeSantis Spox Calls Out Disney Owning an Island in the Bahamas: No Same-Sex Marriage, No Gender Bending. Christina Pushaw, Gov. Ron DeSantis' (R-FL) spokeswoman, hammered Disney on Monday, saying the politically woke company "owns an island in the Bahamas" where there's "no same-sex marriage or civil unions under the law" exists and "people are not allowed to change gender." "LGBT rights in the Bahamas: No legal protections from discrimination or harassment. No same-sex marriage or civil unions under the law, which states a Bahamian marriage is composed of a man & woman. People are not allowed to change gender," Pushaw tweeted on Monday.
Russia Threatens to Nuke Britain, France, and Germany. Russia threatened a dramatic escalation of its war in Ukraine Thursday when Russia's Channel One featured a video depicting Russian missiles reaching Berlin, Paris, and London. According to the UK's Express, Channel One's 60 Minutes program, one of the most popular TV shows in Russia, featured "the chairman of the nationalist Rodina party, Aleksey Zhuravlyov," who "suggested Russia could launch a Sarmat missile attack on the UK." This was not, however, Zhuravlyov's eccentric view: "Producers then cut to a map of Kaliningrad and seemed to suggest that missiles could be launched from the Russian enclave between Poland, Lithuania and the Baltic Sea." Zhuravlyov declared: "One Sarmat [missile] and that's it — the British Isles are no more."
Firefighters Respond to Industrial Fire at Perdue Farms Food Processing Facility. First responders responded to an industrial fire that threatened a Perdue Farms facility in Virginia over the past weekend, according to a local fire department. "Chesapeake firefighters battled an industrial fire this evening at Perdue Farms in the South Norfolk area. Plant operators reported a fire in [a] large soybean processing tank," said the Chesapeake Fire Department in a social media post on Saturday. "Water was applied and the fire brought under control in approximately one hour." It added that there is "much work" that remains to be done in dumping materials from the tank. Officials told WTKR-TV that the damage caused by the fire will have little impact on the Perdue plant's operations.
The Great Reset: Cyber-attacks on America's Food Supply Have Started. Last night, there was a fire at a food processing plant in America. It was the 18th such "accident" to hit our food processing plants and distribution centers in 2022. Eighteen such incidents in only four months is an unprecedented rate. Usually, there are a dozen, or less, in any calendar year. On April 22nd, there was an "explosion" at Shearer's Foods in Hermiston, Oregon. On April 21st, an "unidentified small plane" crashed into the General Mills plant in Covington, Georgia. On April 19th, a mysterious fire destroyed the largest independent food distributor in the United States. On April 14th, a food processing plant in Salinas, California called Taylor Farms caught fire. On April 13th, a pilot crashed his plane into a potato plant in Idaho. On April 12th, the East Conway Beef & Pork plant in New Hampshire caught fire. All of that happened in the last two weeks.
Freer rattlesnake handler dies from bite at Rattlesnake Roundup. A rattlesnake handler has died after he was bitten at the Rattlesnake Roundup in Freer. Freer Police Chief Hector Doria confirmed to 3News that Eugene De Leon Sr. was bitten in the shoulder around 1 p.m. Saturday. He was taken by helicopter to a hospital in Corpus Christi but died Saturday night at approximately 9 p.m. One of the organizers of the Rattlesnake Roundup said that De Leon was performing and handling rattlesnakes in front of a crowd at the time he was bitten.
China and Russia's 'Space War': Where Is The US? Space-based threats from China and Russia have grown exponentially in recent years, according to a new report on the issue by the U.S. Defense Intelligence Agency (DIA), published April 12. "Evidence of both nations' intent to undercut the United States and allied leadership in the space domain can be seen in the growth of combined in-orbit assets of China and Russia, which grew approximately 70% in just two years," noted Kevin Ryder, DIA senior analyst for space and counterspace. "This recent and continuing expansion follows a more than 200% increase between 2015 and 2018." "Space is a warfighting domain now," said Air Force Secretary Frank Kendall in April.
Elon Musk attempts to take SEC to Supreme Court over gag order he claims is unconstitutional. Just days after taking over control of Twitter, Elon Musk has now set his sights on going after federal regulators the SEC. The Tesla founder has quietly signed onto an amicus brief filed last week that could prevent the Securities and Exchange Commission from issuing gag orders which prevent people who settle with the SEC without admitting fault from discussing their cases. He signed a supporting petition filed by Barry Romeril, a former chief financial officer for Xerox, asking the Supreme Court to negate a 2003 deal in which he agreed to always stay silent about the fraud case against him, the New York Times reports.
NY Court Sides With Republicans in Massive Blow to Dems' Gerrymander. New York's highest court sided with Republicans on Wednesday [4/27/2022] in a decision that invalidated Democrats' redistricting map after finding it was gerrymandered in a "partisan" manner to give advantages to Democrat candidates. The new district map was created and passed by the Democrat-controlled state legislature after an independent redistricting commission deadlocked and was unable to reach an agreement on how to draw districts following the 2020 Census. After the commission failed to reach an agreement on new congressional lines, "[t]he legislature responded by creating and enacting maps in a nontransparent manner controlled exclusively by the dominant political party," the New York appeals court concluded.
Food Processing Plants are Blowing Up All Across America, and We have Questions. The bizarre and growing series of fires, explosions, and major accidents at American food processing plants have caused some to wonder if there is something nefarious going on, or if these incidents are just the mother of all coincidences? During his April 22 broadcast, Fox News host Tucker Carlson remarked on the odd series of food processing plant disasters that have befallen facilities all across the nation and noted the oddity that two of these plants were hit by falling airplanes in the same week. "A plane apparently crashed at a General Mills plant in Covington, Georgia. Six tractor trailers were reportedly on fire. This is the second time in a week that something like this has happened," Tucker told his audience.
Elon Musk wins shareholder lawsuit over Tesla's $2.6 billion SolarCity acquisition. A Delaware court ruled in favor of defendant Elon Musk on Wednesday in a shareholder lawsuit over Tesla's $2.6 billion acquisition of SolarCity. Tesla shareholders alleged the company's acquisition of the solar installer amounted to a bailout, pushed through by Musk who sat on both company boards at the time. The shareholders also alleged that Musk controlled the board of Tesla, even though he appeared to recuse himself from some deal negotiations concerning SolarCity. Had he lost, Musk could have had to pay upwards of $2 billion. The matter could be appealed to the Delaware Supreme Court.
Did the Intelligence Community Just Take Credit for an Event That Never Happened? [Scroll down] I contend that had two giant airplanes, full of Russian paratroopers, been shot down in Kiev's suburbs; we would have been inundated with images of the crash site. Yet as far as I can tell, the only US outlet that picked up the story was the Washington Examiner. Not even the sources whispering in [Ken] Delanian's ear mentioned it at the time. Open-source intelligence fans are working overtime to document equipment losses in this war, but when you look at the list of equipment verified as destroyed, only one Russian cargo plane, an An-26, is on the list. The An-26 is a twin-engine turboprop and not easy to confuse with a mammoth Il-76.
Russia cuts off gas to Poland and Bulgaria. Poland and Bulgaria announced Tuesday that Russia is cutting off their gas supplies after Russian President Vladimir Putin said "unfriendly" countries are required to pay for gas in rubles. Russia's majority state-owned energy firm Gazprom sent a letter to Poland state-owned energy company PGNiG saying that gas supplies will be completely suspended by Wednesday. PGNiG also said its subsidiary GAZ-SYSTEM is affected by the decision.
Gazprom denies stoppage of gas supplies to Poland. Russian energy giant Gazprom said on Tuesday that natural gas deliveries to Poland via the Yamal-Europe gas pipeline have not been halted. The statement comes in response to media reports of a stoppage of supplies to the country. The announcement was made by Gazprom's official representative, Sergey Kupriyanov, who also told reporters: "today, Poland is obliged to pay for gas supplies in accordance with the new payment procedure."
Tucker Carlson's Twitter account is reinstated just hours after Elon Musk purchased the platform: TV host. Fox News host Tucker Carlson returned to Twitter just hours after it was announced that billionaire Elon Musk bought the social media platform for $44 billion. 'We're back,' the @TuckerCarlson account tweeted Monday night, shortly after the Tesla CEO successfully completed his takeover of the social media platform. Carlson was suspended from the platform last month after Twitter determined he violated its rules by referring to Assistant Secretary of Health Dr. Rachel Levine, who is a transgender woman, as a man.
The Editor says...
Dr. Levine is a transvestite. Wearing a wig and a dress does not turn him into a woman.
Coming to America: Food Insecurity Is Inevitable. The last time the United States faced a real food shortage was during the Great Depression of the 1930s. At that time, there were "hunger marches" as millions of Americans were impacted by food shortages made worse by a severe drought in the Great Plains. While we face nothing like that situation today, there are disturbing signs of trouble ahead. [...] To make matters worse, there have been a series of unusual accidents at food processing plants and warehouses in recent months. There have been fires, unexplained accidents and even a deadly plane crash, which occurred Thursday, at a General Mills plant in Covington, Georgia. Sadly, two people were killed and there was considerable damage at the plant with numerous trailers being destroyed. The plane crash occurred just two days after a fire destroyed the headquarters of Azure Standard, the nation's largest manufacturer of organic and healthy food, in Dufur, Oregon. With almost two dozen incidents in the last year, it is hard to imagine these events at similar facilities being purely coincidental.
Several Very Large Food Processing & Distribution Plants Have Recently Exploded or Burned Down. As food uncertainly lingers on the horizon thanks to US sanctions and government decimation of the economy during the past two years, there is another factor contributing to the problem. Since the beginning of the year, there have been several very large food processing facilities that have exploded or burned to the ground across the U.S. This week, a vegetable and nut processing facility in Dufur, Oregon became engulfed in flames for unknown reasons. "Lights flickered; They heard a pop and went up there to check it out and there was a fire," according to a report made to Wasco County 911 records listed in the Wasco County Sheriff's log.
6 Russian Oligarchs Commit Suicide in Mysterious Outbreak of Epstein Syndrome. Very few parts of Russian society have drawn more interest than the so-called "oligarchs." These are incredibly wealthy men with political connections to Putin's inner circle because, in the totalitarian kleptocracy that is Russia under Vladimir Putin, if you don't have political ties to Putin's inner circle, wealth doesn't bring you power; it brings you a one-way trip to a Siberian labor camp. [...] But being a politically connected billionaire is not all superyachts and scantily clad "models." It is [very] stressful, if not downright dangerous. Since January, at least six Russian oligarchs have committed suicide.
Disney Corp Has Lost $46 Billion in Value Since Declaring Support for LGBTQ Studies in K-3 Education. A stunning loss in company value is being reported by The Washington Examiner for the Disney Corporation. On March 29th, they were valued at over $140.00 per share. By April 22nd they had dropped to $120 per share. [...] 68% of the respondents would be less likely to do business with the Disney Corporation as a result of the company position on K-3 students participating in gender/sexuality discussions in Elementary Schools. Considering the primary audience for Disney products would be families with children, it certainly looks like the results of the company politics will be financially painful for the corporation. Disney has come out of the closet, not only as a corporation intent on the advancement of sexual identity, but also with a corporate mission to influence the sexualization of our children.
This Woke Promotion Could Cost Uber Millions. Uber's decision to waive delivery fees from black-owned restaurants during the George Floyd riots could cost the company $91 million. A New York appeals court ruled this week that the ride-share giant must pay the costs to the American Arbitration Association (AAA), which is handling 31,000 claims against the race-based promotion, which users say violated civil rights law. Uber's terms of use provide that disputes with the company will be settled in arbitration administered by the AAA. The conservative litigation boutique Consovoy McCarthy PLLC under that provision filed demands against the company on behalf of thousands of customers.
Tucker Carlson Discusses Food Processing Plants Across the Country Catching Fire, Over a Dozen Factories Destroyed. With the cost of energy skyrocketing and record-breaking inflation, the Biden administration came out last month and warned the public about "food shortages" hitting the US. Naturally, like with the 'Putin price hike', fingers were pointed at the war in Ukraine for causing the shortages. Biden himself was even trotted out by his handlers, warning that the shortages in the US would be nothing short of "real." Well, something odd and concerning has been happening ever since the Biden Administration made their ominous prediction. Over the past month, there has been a mysterious wave of destruction hitting the US food processing infrastructure that has seen "over a dozen" food production facilities destroyed completely or rendered inoperable. This week alone there were TWO — yes two — separate incidents where a plane crashed into food processing plants, one in Idaho on April 13th, and the other in Georgia on the 21st at the General Mills Processing Facility.
What's With All the Food Processing Plants Blowing Up Lately? A weird trend has emerged over the past few months that seems statistically unlikely. A number of factories, logistical centers, and food processing plants have caught fire or exploded, including two that had planes crash on them. More and more people have noticed and wondered about the trend on social media. Of course, this has caused the conspiracy theorists to come out in force, so one must make a sober assessment without jumping to conclusions. But man, this is weird. With all the negative pressures on our economy and supply chains, and even Joe Biden talking about global food shortages over the next several months, one has to wonder what's going on here.
Exxon bans gay pride, BLM flags from flying over corporate headquarters. Exxon Mobil is moving its corporate headquarters from Irving, Texas, to Houston as part of a business reorganization that the company said will be completed by 2023. What is making headlines, though, is the updated company guidance on its decision to ban any flag flying outside the corporate headquarters other than the official corporate flag. Why was this decision being announced? The corporation is sending a message that it intends to remain neutral and not succumb to politically correct virtue-signaling.
People's Convoy Protests for 2nd Day in Sacramento. Over a dozen members of The People's Convoy gathered outside California Gov. Gavin Newsom's mansion in Fair Oaks, less than 20 miles northeast of the state Capitol, at about 12:30 p.m. on April 20, to protest vaccine mandates and Assembly Bill (AB) 2223. About six California Highway Patrol officers told protesters to "ease off the bullhorn" and stop honking their horns. Though the supporters stopped honking their horns after police arrived, one of the protestors continued to speak loudly over the bullhorn. The day before, more than 100 ralliers from The People's Convoy joined over a thousand others, who were protesting AB 2223, at the steps of the state Capitol building in Sacramento.
Truth Social Migrates to Rumble Cloud, Trump Platform Preparing to Onboard Millions. Former U.S. President Donald Trump's social media platform — Truth Social — migrated to Rumble Cloud on April 22 as it attempts to onboard millions of internet users on the network. Truth Social, created by Trump Media & Technology Group (TMTG), "successfully" migrated its website and mobile applications to Rumble's cloud infrastructure, according to an April 22 news release. This migration will ensure that the network can easily "scale significantly" on a "cancel-culture-free" cloud platform, the release said. Truth Social is the first significant customer to onboard Rumble's cloud business service. Devin Nunes, CEO of TMTG, said the migration was "a major stride toward rescuing the internet from the grip of the Big Tech tyrants."
The Editor says...
"Onboard" is neither a single unhyphenated word, nor is it a verb. Please do not fabricate ad hoc words. The words in the dictionary should be sufficient.
Yellen pledges $500 million more in economic aid for Ukraine. The United States is committed to providing Ukraine another $500 million in direct economic assistance to help fund "critical government operations" in the war-torn country, Treasury Secretary Janet Yellen announced on Thursday. Yellen announced the economic assistance package at a news conference at the Treasury Department on Thursday after meeting with Ukrainian Prime Minister Denys Shmyhal. The money will be used to help Ukraine pay for government salaries, pensions, and social programs aimed at lessening the country's humanitarian crisis caused by Russia's Feb. 24 invasion. The commitment doubles President Joe Biden's pledge of $500 million in direct budgetary aid for Ukraine last month.
Florida Democrats Meltdown On House Floor As Republicans Pass New Congressional Map. Florida Democrats reportedly erupted Thursday on the House floor as they were powerless to stop the Republican-led body from passing a new congressional map that is expected to yield favorable results for the GOP. There are currently 16 Republicans and 11 Democrats representing Florida in the U.S. House of Representatives and the new map, which also adds an additional district, increases Republicans' dominance in the state to what will likely amount to a 20-8 margin over the Democrats.
Bidenflation comes for your burger. The price of a Big Mac has risen 7% in a year. According to the National Restaurant Association, that is the biggest price jump in price since 1981. Overall fast food prices have jumped 7.2% in the last year. Food prices, in general, are up across the board. That Happy Meal your child asks for will cost you more if it already doesn't, as Bidenflation comes for your burgers and fries. Like everything else, labor and fuel costs are driving up the price of food. [...] Austin has the lowest price in the United States for a Big Mac coming in at $3.75. Minimum wage there is $7.25. However, in Dallas, which has the same minimum wage, a Big Mac costs $5.69. On the other end of the scale, Seattle has the most expensive Big Mac. It will cost you $6.39 where the minimum wage is $17.27.
The Editor says...
The first time I had a Big Mac, the price was 48 cents.
Florida Governor DeSantis Signs Bill Stripping Disney of Autonomous Legal Status. Governor Ron DeSantis signed legislation Friday [4/22/2022] that strips Disney of its 50-year-old "independent special district" status in retaliation for criticizing Florida's Parental Rights in Education law. The law dissolves the Reedy Creek Improvement District, an autonomous area created in 1967 to accommodate the massive Disney World complex near Orlando. The independent status grants Disney the privilege of creating its own regulations, building codes, and other municipal services within the zone. The arrangement has also shielded Disney from significant tax burden. After DeSantis fast-tracked the initiative to a special session on Tuesday, the state Senate voted 23-16 and the state House voted 68-38 in favor of the bill. The parental rights measure keeps gender identity and sexual orientation instruction out of K-3 elementary school classrooms and enjoys majority support among Floridians and Americans generally regardless of political party.
Ron DeSantis Scores Major Win Over the Disney Groomers as Florida's Legislature Abolishes Disney's Special Tax Avoidance Scam. On Wednesday, the Florida Senate passed a bill to abolish the "Reedy Creed Improvement District." This "improvement district" was created to benefit the Disney corporation in 1967. Today, the Florida House of Representatives passed the bill and sent it to Governor Ron DeSantis for signature. [...] This is a battle that didn't need to happen, but Governor DeSantis did the right thing by winning big once it did.
Gov. DeSantis Is Right To Attack Disney. Republicans Everywhere Should Follow His Lead. News broke Wednesday [4/20/2022] the Florida Senate had passed a bill to dismantle Walt Disney World's half-century-old "independent special district" status, an arrangement whereby Disney has been allowed, since 1968, essentially to govern itself. Gov. Ron DeSantis says Disney's self-governing status should be subject to review, to ensure that it is still "appropriately serving the public interest." Good. Disney is reaping its just reward for inserting itself into the political debate about Florida's parental rights bill, which Disney lost in spectacular fashion. Republican governors and lawmakers across the country should be taking notes. This is how you deal with big corporations that try to throw around their weight and force woke policies on voters and families. You punish them, not just because they deserve it, but also, as Voltaire famously put it, pour encourager les autres.
Florida votes to strip Disney of privileged tax and self governing status. Florida lawmakers have voted to strip Disney of its special status as a self-governing area as the war between Governor Ron DeSantis and the company rumbled on. The Republican-led Senate decided to end the Reedy Creek Improvement District, meaning the firm will no longer be able operate as a self-contained government. They backed the measure by 23-16 and it will go to the state House before being passed to the governor[,] with it potentially coming into effect on June 1, 2023.
Biden [is] Distributing Another $800 Million to Ukraine, Still Nothing for U.S. Border Crisis. According to multiple media outlets Joe Biden is sending another $800 million in weapons to Ukraine. This is the third delivery of U.S. military hardware bringing the total weapons deliveries to $3.4 billion since late February. Congress has allocated $14 billion for the laundry operation, which may include authorization for much of this current distribution. In the last several days the Russian military have been posting on their ground reports, about the capture of many millions in U.S. weapons as the Russian army moves more forcefully and methodically to secure the Eastern Ukraine Donbas region.
Ex-school official sues Virginia board over anti-racism training. A former assistant principal is suing a Virginia school board, claiming that she was forced out of her job for a "slip of the tongue" during a mandatory "anti-racism" training based on Critical Race Theory. Emily Mais, who was the assistant principal at Agnor-Hurt Elementary School, accused the school district in a lawsuit filed Thursday of pushing her out in fall 2021 after she mistakenly used the words "colored people" as she railed against the training session. Though Mais apologized for the "slip of the tongue, "a teacher's aide, who is black, verbally attacked her in front of all training attendees, the lawsuit filed in Albemarle County claims.
DeSantis Announces Legislature Will Consider Ending Disney's 'Special Tax and Governing Jurisdiction' Status. In this episode of "The Battle Between the Woke Mouse and the Awesome Florida Governor," the governor kicks it up a notch or two against the mouse, although it remains unclear if the mouse himself (I assume "he" is still a "he") is indeed woke, or is being held against his will a by a super-evil overlord. As RedState reported on April 1, Florida Governor Ron DeSantis (R) floated the idea of changing Florida law to revoke Disney's preferred tax status in the state. He meant that. DeSantis announced on Tuesday [4/19/2022] that the state legislature will consider a proposal to eliminate Disney's special tax and governing jurisdiction in the governor's latest battle, as reported by Breitbart, after the megacorporation announced its opposition to the Parental Rights in Education Bill he signed into law in March.
DeSantis Announces Massive Escalation in Fight with Disney. Disney's legislature is holding a special session to deal with a few topics, namely the redistricting issue, and it looks like Governor DeSantis is gonna take full advantage of that to score an immediate and major victory over the woke Disney corporation, [...] Disney was given fair warning. It knew that DeSantis and Floridians were mad about its far-left culture-war stance, knew that a revocation of its special privileges could be coming, and should have understood that DeSantis was going to take major action.
DeSantis calls on legislature to target Disney's self governing special status: 'Termination'. Florida Gov. Ron DeSantis announced on Tuesday [4/19/2022] that he is calling on the state legislature to consider legislation in a special session to dismantle special protections for Disney operating in Florida following the company's opposition to a controversial parental rights bill. "I am announcing today that we are expanding the call of what they are going to be considering," DeSantis said during a press conference at The Villages in Florida. "Yes, they will be considering the congressional map but they also will be considering termination of all special districts that were enacted in Florida prior to 1968 and that includes the Reedy Creek Improvement District."
Disney made itself an arm of the Democratic Party on a losing issue. At Politico, Derek Robertson has asserted that the GOP's fight with Disney is proof that the culture has passed the party by. Whether he's being dishonest or is simply that out of touch, the world Robertson is imagining is nowhere near reality. "Disney has always been an explicitly morally instructive company," Robertson informs us, acting baffled that the GOP would "demonize one of America's most beloved and trusted corporations." Never mind that this "morally instructive" and "beloved and trusted" corporation thanked Chinese officials involved in genocide in Xinjiang, or that a Trafalgar poll showed that Disney pushing sexual ideas in children's entertainment is very unpopular.
The Editor says...
Yes, in the 21st century, Disney has been "morally instructive" in exactly the wrong way.
Twitter Board of Directors Own Almost No Shares of Stock in Company. In the ongoing public battle over Twitter as a speech platform, one actual user of Twitter, Chris Bakke, wanted to see who exactly these Board of Directors are, who are attempting to stop Elon Musk from purchasing it. Chris Bakke then noted how little of the actual stock is owned by the company's Board of Directors. Sans Twitter Founder Jack Dorsey, the combined ownership of the entire board equates to 77 shares of stock, worth around $3,200 bucks. The Board of Directors consists of academics, tech executives, business and policy wonks, and a random baroness who doesn't even use the service. These are the people who are making fiduciary decisions for all Twitter stock owners without any financial stake in the decisions they make for the company.
McKinsey Accused of 'Serious' Conflict of Interest in Opioid Consulting. A Congressional report alleges that consulting firm McKinsey engaged in a "serious conflict of interest" by working for the U.S. government on issues relating to the opioid epidemic while, at the same time, advising drugmakers, including on projects meant to persuade regulators about the safety of opioid products. The U.S. House Oversight Committee alleged in its April 13 report that at least 22 McKinsey consultants, including senior partners, worked for both the Food and Drug Administration (FDA) and opioid manufacturers, at times simultaneously. "Today's report shows that at the same time the FDA was relying on McKinsey's advice to ensure drug safety and protect American lives, the firm was also being paid by the very companies fueling the deadly opioid epidemic to help them avoid tougher regulation of these dangerous drugs," Rep. Carolyn Maloney (D-N.Y.), chair of the committee, said in a statement.
Value Of Jack Dorsey's First Tweet Plummets 99% As NFT Market Craters. A man who paid $2.9 million last March for an NFT of Twitter co-founder Jack Dorsey's first tweet is set to lose almost everything on the digital investment. Crypto entrepreneur Sina Estavi made headlines last year after snapping up Dorsey's tweet, which reads: "just setting up my twttr." The Iranian-born Estavi expected to make more than 15x on the investment, listing it on popular NFT marketplace OpenSea last week for $48 million. He vowed to send 50% of the proceeds to charity.
HHS Secretary Refuses To Answer Whether The University Of Pittsburgh's Experiments On Babies Violated The Law. President Joe Biden's Health and Human Services Secretary Xavier Becerra sidestepped a question about the University of Pittsburgh while defending fetal tissue research during a congressional hearing last week. Rep. Chris Jacobs, R-N.Y., had mentioned allegations that the university may have illegally altered abortions or obtained tissue from live fetuses. "If the tissue being used for this research was derived from babies who were born alive and then killed by organ or tissue harvesting, would that be a violation of law?" Jacobs asked. Becerra gave a more general response that didn't directly address allegations at Pitt. "There are absolutely standards that have been set for the use of fetal tissue. There are laws in place to make sure we're protecting the practice of securing that fetal tissue," he answered. "And I think all of us understand, are very mindful of the importance of making sure we are doing this the right way."
Even Jack Dorsey Is Slamming Twitter's Board and Pointing out Their Corruption. Twitter creator and former CEO, Jack Dorsey, hasn't been America's favorite person, nor should he be. He is one of the architects of Twitter's hard-left, speech-silencing ways, after all. In what many would consider a strange turn of events, Dorsey seems to have found his voice about the problems going on behind the scenes at Twitter.
DuckDuckGo Search Engine CEO Announces Changes to Internet Search Algorithms to Promote Approved Content. DuckDuckGo used to be the preferred search engine for those who wanted privacy on-line and unfiltered, i.e. organic, search engine responses. Unfortunately, CEO Gabriel Weinberg is now stating he will change the algorithm to remove independent information and media outlets and will replace them with only approved MSM results.
Secret Service agents outraged by White House spin over First Dog bites. Secret Service agents were outraged last year by the White House's attempt to downplay bite injuries caused by then-first dog Major — even trying to get President Biden to personally pay for a damaged coat, newly released documents show. Secret Service leaders also sought to keep attack details out of official paperwork — at one point rejecting an agent's "excessively detailed" account to avoid upsetting the first family — after Major bit agents on eight consecutive days. The records, released in response to a Freedom of Information Act lawsuit by Judicial Watch, show that attacks occurred both earlier and later than previously known. They also show internal discord at the Secret Service, which has been embroiled since last week in a bizarre infiltration scandal that involves at least four agents.
Judge Declines Jail for Two Men Who Impersonated DC Federal Agents. U.S. Magistrate Judge Michael Harvey (Obama appointee in 2015) declined to hold the two men in jail who are accused of impersonating federal agents in Washington DC. "There's been no showing that national security information has been compromised," Harvey said in his decision. If the DOJ does not appeal the decision, both men, Arian Taherzadeh, (40) and Haider Ali (35), who are also in the United States with expired visas, will be allowed bond.
Inflation rises to 11.2% in producer index, highest on record. Producer prices increased a scorching 11.2% for the year ending in March, according to a report Wednesday from the Bureau of Labor Statistics, the highest on record. The inflation rate in Wednesday's producer price index report was up 1.4 percentage points from the previous month and is the highest in the gauge's 11-year history. Wednesday's [4/13/2022] news signals more inflationary pain to come for households. The producer price index gauges the wholesale prices of goods, which are eventually passed down to consumers. The news came just a day after a report for the month of March found consumer prices increased by 8.5% — the fastest annual rate in more than four decades. The high rate of inflation has wounded President Joe Biden politically and undercut support for his spending proposals.
Elaborate, Staged Photoshoots In The Middle Of A War Zone Are Impossible Yet Here's Zelensky Making One. Ukrainian President Volodymyr Zelensky explained to CBS' "60 Minutes" in an interview broadcast Sunday why he chose not to flee Ukraine when Russian forces launched their invasion of the country on Feb. 24. Driving the news: "When everyone is telling you, you need to go, you need to think. Before I do something, I analyze the situation. I've always done it calmly, without any chaos," Zelensky told CBS' Scott Pelley in the interview via an interpreter. "I might not be the strongest warrior. But I'm not willing to betray anyone." He said he explained to his wife and children that he had to stay because he's the president of Ukraine and they supported his decision.
Something More Than Just Con Men. This article is part of our continuing coverage of the arrest of Arian Taherzadeh and Haider Sher Ali — the two individuals posing as DHS agents who appear to have compromised several members of Secret Service protective details. Most of the press coverage to date seems to have written the two off as grifters with no real nefarious agenda. While the investigation is ongoing, the information that continues to flow in suggests the case may be much more serious than that. [Tweet] "This investigation is less than two weeks old," Assistant U.S. Attorney Joshua Rothstein said at Friday's detention hearing for Taherzadeh and Sher Ali. "And every day the facts get worse and worse... The defendants were not merely playing dress-up with firearms and ammunition, body armor, tactical gear, surveillance equipment, they were engaged in conduct that represented a serious threat to the community and compromised the operations of federal law enforcement, and created a potential national security threat."
Canada Bans Foreign Home Buyers for Two Years. In Chapter 1, sub-section 1.4 of the 2022 Canadian budget, there is a rather remarkable new rule that bans foreign ownership and investment in housing for a period of two years. [Text omitted for brevity.] Two points about this issue. First, can you imagine the media outcry if a conservative prime minister would ever make such a proposal? Quite a leftist change from the previous mantra "diversity is our strength"? Second, considering the issue of foreign investment that creates housing, there is a likelihood this could backfire. The new position of Canada will certainly put more upward pressure on the U.S. housing market. Every action tends to have an equal and opposite reaction.
Missouri Supreme Court sides with John Solomon in Sunshine Law case against St. Louis prosecutor. The Missouri Supreme Court ordered on Friday that St. Louis Circuit Attorney Kimberly Gardner comply with a public records request from Just the News Editor-in-Chief John Solomon regarding the prosecution of former Gov. Eric Greitens. Solomon filed a public records request in July 2019 under Missouri's Sunshine Law for about two and a half years' worth of communications between Gardner's office and the Missouri Workforce Housing Association, state Representatives Stacy Newman and Jay Barnes, along with several other groups and individuals. Gardner is one of the first big-city district attorneys bankrolled by liberal megadonor Soros. The public records request sought documents related to Gardner's fizzled 2018 prosecution of Greitens, who resigned from the governorship less than two years into his term.
Right-wing Marine Le Pen closes in on Macron in French election. As French voters head to the polls this Sunday in the first of what is expected to be a two-round presidential election, polls suggest far-right leader Marine Le Pen is zeroing in on incumbent President Emmanuel Macron. Le Pen, who has worked to soften her image since the 2017 election and appeal to France's moderate base, has seen a surge in support in recent weeks with one poll showing the two in a dead heat for the presidency in a potential runoff with Le Pen receiving 49% of the vote compared to Macron's 51%, according to a YouGov and Datapraxis poll published Friday [4/8/2022].
Disney's Business Model is Turning Kids Into Dysfunctional Adults. "Our greatest natural resource is the minds of our children," Walt Disney once said. Walt's unique strategy of building an entertainment empire for kids once made Disney a trusted source of family entertainment. That didn't last long after Walt's death as Disney started releasing R-rated movies and adult television programming under the Touchstone label. A decade later, Disney bought Harvey Weinstein's Miramax. During the 90s, while Disney's more family friendly brand was releasing animated cartoons, Miramax featured Pulp Fiction, Trainspotting, and the Scream sequels. During this time Weinstein was accused of sexual harassment and assaults. Some of this was taking place even as Disney's "family friendly" brand released The Hunchback of Notre Dame with its depiction of a lecherous Catholic villain praying before a cross while ranting about his lusts. This was what Disney had become. In the new century the barrier between the two schizoid faces of Disney has come down.
There is an explanation for Disney's war on children. Very often, when companies go woke, it turns out that the wokeness is a cover for changing market forces. That is, they're not alienating traditional demographics; they're reflecting that their money is coming from new demographics. When it comes to Hollywood and the NBA, for example, the big bucks are coming from China, not America. And when it comes to Disney, the main profit center isn't children; it's young adults who, Peter Pan-like, refuse to grow up. The brilliant Daniel Greenfield [...] as always, has done the research, and, in the case of Disney, he points to the fact that Disney's most fanatic consumers are in the over 18 demographic: ["]Disney isn't for kids anymore. Its movie business is dominated by Marvel blockbusters. Half of Disney+ subscribers, its big bet on the home streaming future, are adults with no children.["] [...] And Disney is rapidly adapting with theme parks and resorts that emphasize its Marvel and Star Wars properties more than classic fare. Its Galactic Starcruiser hotel, aimed at Star Wars fans, costs $4,809 for two adults.
Nearly 60% of NYC Voters Say Their Family Would Be Better Off Somewhere Else. Almost 60% of New York City registered voters agree with the idea that their family would have a better future if they left the city permanently, according to a new poll published Wednesday. The survey from political consultants Fontas Advisors and polling firm Core Decision Analytics adds to a growing body of evidence that New Yorkers are preoccupied with rising crime and public safety, and want something done about it if they're to stay here. Asked to agree or disagree with the statement "My family would have a better future if we left NYC permanently," some 25% said they strongly agree and another 34% said they somewhat agree. By demographics, 65% or more all of respondents under age 49 said they agreed to some extent with the sentiment. Just 49% of white respondents concurred, but more than 60% of all Black, Hispanic and Asian voters in the poll agreed.
Alabama Passes Bill Banning Sex-Change Treatments for Kids, Jailing Participating Doctors. The Alabama Legislature passed a bill Thursday [4/7/2022] criminalizing sex-change treatments for children, including puberty blockers, cross-sex hormones, and surgeries. If signed by Alabama Gov. Kay Ivey, a Republican, the bill would treat the castration of children and other sex-change treatments as Class C felonies. Such felonies carry a penalty of up to 10 years in prison for medical practitioners, Politico reported. The legislation would ban medical treatments done for the purpose of changing a child's appearance or affirming his or her gender identity, including drugs that halt healthy puberty; cross-sex hormones; surgical sterilizations such as castration, vasectomies, and hysterectomies; cosmetic genital reconstruction surgeries; and removal of healthy body parts.
Fake Homeland agent with 'links to Pakistani intelligence' [...] has flown back and forth to Iran multiple times. One of the men allegedly posing as a Homeland Security agent has shared images to his Instagram posing with actor Bradley Cooper and comedian Seth Meyers. The account, which is private but was accessed by DailyMail.com, shows Haider Sher-Ali, 35, in three images with Cooper — two selfies and one full body image where the two appeared to be preparing to board a private jet. Ali posted one image with Meyers — a selfie in what could be Washington, D.C., which is where Ali has resided for at least the last two years.
Secret Services agents assigned to Biden and Kamala's residence are 'under investigation'. A motion for detention of the two men who were arrested Wednesday for impersonating federal agents includes a slew of damning evidence, including images showing several different passports, visas and IDs. The prosecutors are requesting Arian Taherzadeh, 40, and Haider Sher-Ali, 35, be detained due to a slew of evidence found in a raid of their units in a luxury apartment building in southeast Washington, D.C. 'They are not law enforcement agents, and they are not involved in sanctioned covert activities,' the motion for detention filed Friday claims. 'Neither Defendant is even employed by the United States government.' 'But their impersonation scheme was sufficiently realistic to convince other government employees, including law enforcement agents, of their false identities,' the memorandum added.
Two fake Homeland agents — one with ties to Pakistani intelligence — spent 18 months 'infiltrating Jill Biden's Secret Service detail'. The two men arrested in Washington, D.C. on Wednesday who attempted to cozy up to Secret Service agents could face conspiracy charges after spending their year-and-a-half living in a luxury apartment building allegedly posing as federal agents with the Department of Homeland Security. Just a mile from the Capitol and three miles from the White House, Arian Taherzadeh, 40, and Haider Sher-Ali, 36, were conducting an operation where they posed as agents with Homeland Security Investigations — tricking a luxury DC apartment building and its high profile residents as well as appearing to convince Metro Police Department that they were working for the government.
Jill Biden's Secret Service detail [was] infiltrated by two fake Homeland Security agents. A member of Jill Biden's Secret Service detail was compromised by two fake agents who showered members of the security services with lavish gifts, it is claimed. Arian Taherzadeh, 40, and Haider Ali, 36, were taken into custody as more than a dozen FBI agents charged into a luxury apartment building in Southeast Washington on Wednesday evening [4/6/2022]. Photos posted to social media Wednesday night showed FBI crews moving boxes out of their luxury apartment and even bringing in a big box truck to the scene.
Reporters call for White House to 'simply ignore' Supreme Court decisions. Some reporters are calling on President Biden to ignore Supreme Court decisions that they believe are politically motivated. On Wednesday, the Supreme Court temporarily reinstated a Trump-era that limits the power of the states to block energy projects that can potentially pollute rivers, streams and other waterways. In a split 5-4 decision, the justices overturned a lower court judge's order to throw out the rule until the Biden administration can implement a new rule which is expected in spring 2023.
Kenosha Elects Republican Executive After Decades of Democrats. The county of Kenosha, Wisconsin, elected a Republican executive on Tuesday after decades of electing Democrats. "Samantha Kerkman defeated Rebecca Matoska-Mentink in Tuesday's Spring Election to become the next Kenosha County executive," announced Kenosha News. "In unofficial results, Kerkman, of Salem Lakes, received 14,693 votes, or 51.32% of the vote. Matoska-Mentink, of Pleasant Prairie, received 13,886, or 48.5% of the vote." The 47-year-old Kerkman will be the first woman and fifth county executive in Kenosha County. She will replace current County Executive Jim Kreuser, who has held the office since 2008.
Fred Upton Quits — Four Down, Six to Go. President Trump campaigned in Michigan last weekend, in part to remove the DeceptiCons. Today, Michigan representative Fred Upton, one of the ten republicans who voted to impeach President Trump, announced he will not seek reelection.
Rep. Fred Upton announces retirement: 'This is it for me'. Rep. Fred Upton of Michigan announced Tuesday [4/5/2022] that he is not seeking reelection at the end of this term, signaling the end of a career after more than three decades in the House. After representing the western Michigan district since 1987, Mr. Upton faced a tough primary race this year thanks to a combination of redistricting and his vote to impeach former President Donald Trump, who is out for revenge. "Even the best stories have a last chapter: This is it for me," Mr. Upton said.
Texas Lt. Gov. Dan Patrick Urges Parents to Reject Disney: 'Cut Off the Disney Channel. Cancel Your Park Trip or Your Cruise'. Texas Lt. Gov. Dan Patrick (R) is urging parents to reject Disney over its embrace of radical sexual and gender politics, saying families should send Disney executives a message by refusing give the company their money. In a re-election campaign e-mail sent this week, which was also posted to the campaign's official site, Lt. Gov. Patrick even told Texans to sell their Disney stock. "Until they change their corporate philosophy, stop spending money with them," he said.
Cover Up? DA Chisholm Stopped Milwaukee Police Search Warrant in Allen Addison Case. Milwaukee County District Attorney John Chisholm refused a request to sign off on a Milwaukee Police search warrant to search the north-side house where Acting Mayor Cavalier Johnson's brother, Allen Addison, was holed up during a two-hour standoff last week, Wisconsin Right Now has learned. As a result, the house where the Acting Mayor's felon brother defied police for hours while wanted on a felony warrant, was not searched for additional occupants (even though it was believed other people were inside), and it was not searched for evidence. "None of that is normal," an upset law enforcement source told Wisconsin Right Now. "The warrant never made it past the DA's office for approval, which is odd because the residence could obviously contain further evidence of the crime he was wanted for. It's contrary to every other felony investigation." Wisconsin Right Now went to the Milwaukee County courthouse and confirmed there was no search warrant returned in the Addison arrest.
Slice of NYC pizza now costs $3.14 — surpassing the cost of a Subway ride at $2.75 for the first time ever. A slice of pizza in the Big Apple now costs more than a ride on the city's subway system. The price of a slice is now more than $3 in all five boroughs for the first time, according to Bloomberg — upending the very New York metric known as the 'pizza principle,' which says that a cheese slice will always cost the same as a subway swipe. The average cost of regular slice of pizza is now $3.14, well above the $2.75 fare for a ride on the subway. In Brooklyn, the average slice costs $3.06 while the price is even higher in Manhattan at $3.26.
The Editor says...
From what I've heard here in Dallas County, the pizza in New York City is quite good, and $3.14 per slice doesn't sound unreasonable at all. Provided there's some place to sit and eat it without being robbed or shot.
Biden admin agencies refuse to answer, 'What is a woman?'. A handful of Biden administration federal agencies were unable to define the meaning of the word "woman" — in some cases, even in relation to their own uses of terms such as "women's health" — when asked by Fox News Digital. The Biden administration's Department of Justice (DOJ), Department of Education, Department of Housing and Urban Development (HUD) and the Federal Bureau of Prisons were all contacted by Fox News Digital requesting a definition of "woman." None of the agencies provided their definition or criteria for an individual to be categorized as a "woman," despite each boasting entire initiatives aimed at helping women[,] and DOJ declined to comment. Fox News Digital also reached out to the National Institutes of Health (NIH) to request the organization's definition of "woman" in relation to terms such as "women's rights" and "women's healthcare." [...] When asked for the definition, the NIH directed Fox News Digital to its website section on "sex and gender."
Pentagon announces $300 million weapons package for Ukraine. The Pentagon has announced $300 million in additional aid to Ukraine. The latest package includes a bevy of unmanned aerial systems, secure communications, and laser-guided rockets among other equipment aimed at bolstering "Ukraine's capacity to defend itself." "This decision underscores the United State's unwavering commitment to Ukraine's sovereignty and territorial integrity in support of its heroic efforts to repeal Russia's war of choice," Pentagon press secretary John Kirby said Friday.
Marxists Are Killing Each Other to Control America's Cocaine Market. "Socialism, this is the path to save the planet, I don't have the least doubt. Capitalism is the road to hell," Venezuela's Hugo Chavez told the 2009 Copenhagen climate conference. Rhetoric like that won the socialist dictator the admiration of socialists from Barack Obama to Noam Chomsky. But the dirty little secret of the socialist revolution in Venezuela was that it was a front for a massive drug smuggling operation. Chavez and his successor, Nicolas Maduro, gutted Venezuela's rich oil resources and turned the country into a socialist drug cartel.
Brilliant deduction, Holmes.
Biden's big-spending policies helped fuel inflation, says Federal Reserve Bank of San Francisco. Washington's multitrillion-dollar spending habit has driven inflation across the U.S. higher than in most other Western democracies, according to the Federal Reserve Bank of San Francisco. A report released on Wednesday by the bank said the U.S. inflation rate spiked higher than other countries in March 2021, shortly after Congress passed President Biden's $1.9 trillion COVID-19 relief package. "Fiscal support measures designed to counteract the severity of the pandemic's economic effect may have contributed to this divergence by raising inflation about 3 percentage points by the end of 2021," analysts wrote.
Finnish Court Rebukes State Prosecution of Christians for Saying God Made Men and Women Different. Prayers from around the world were answered joyfully today when a Finnish court ruled unanimously in favor of two Christians the government prosecuted for publicly stating the Bible's teachings about sex. "If this kind of questioning of free speech is possible in a country like Finland, which has a reputation regarding free speech internationally, the same is possible anywhere," said Member of Parliament Paivi Rasanen during a livestreamed press conference this morning U.S. time. Rasanen and Lutheran Bishop Juhana Pohjola were acquitted of all four "hate crimes" charges against them for speaking the Bible's teachings that sex is rightly reserved for lifelong marriage between one man and one woman. The three-judge court not only cleared the two Christians but ordered the prosecution to pay their legal costs, ruling that in a free country courts have no place deciding permissible religious views. "I am grateful for having had this chance to stand up for freedom of speech, which is an essential right in a democratic country," Rasanen said. "This has been my honor. ... I hope that this ruling will prevent others from having to go through the same ordeal."
Finnish MP, Lutheran bishop acquitted of 'hate speech' after promoting Biblical morality. Freedom of speech has been protected in Finland by a court that dismissed all charges against a member of Finnish parliament and a Lutheran bishop for expressing Christian beliefs about sexuality. According to a press release from ADF International, prosecutors failed in their case against Finnish MP Päivi Räsänen and Bishop Juhana Pohjola. The court ruled unanimously concluded that "it is not for the district court to interpret biblical concepts."
Now Russian TV host calls for 'regime change' in US after Biden demanded Putin be removed from power. A Russian state TV host called on the U.S. to remove President Joe Biden and reinstate former President Donald Trump days after Biden made his own call for a regime change aimed at Vladimir Putin in an off-scripted remark. On Tuesday, The TV host of Russia's 60 Minutes show, Evgeny Popov, urged America to quickly replace Biden with Trump, whom he called a 'partner' to the Russian state. 'It's time for us, our people, to call on the people of the United States to change the regime in the U.S. early, and to again help our partner, Trump, to become president,' Popov said.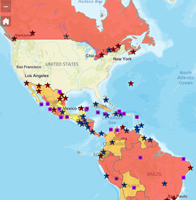 State Department map shows pretty much every country is too dangerous for you to visit. The U.S. State Department is not yet prohibiting American citizens from going overseas, but its advice regarding international travel generally discourages visits to foreign countries and makes absurd categorizations regarding which countries are least safe to visit. In preparation for the next leg of a solo motorcycle trip around the world, I pulled up a State Department map that categorizes where overseas travel is most "problematic." [...] I hoped the map would highlight the countries that I should most carefully research before entering, but what I discovered is that the State Department's attitude regarding foreign travel is that it really shouldn't be done. Virtually nowhere is safe, it seems, if it is not within our national borders.
The Editor says...
[#1] Looking at the State Department's map, you could easily get the idea, due to the lily-white color given to the U.S. and the threatening red colors given to other countries, that the United States is a perfectly safe place to visit; indeed, the only safe place in the world. Of course that's not entirely true. But if the State Department were to publish another map, showing all the dangerous cities and states — and specific neighborhoods — within the U.S., the accusations of racism would follow within a few milliseconds. [#2] According to the color codes in the map in question, it's more dangerous to go to Canada than to Mexico. How many of you believe that?
Nightmare Scenario: Operational Miscalculations Could Trigger Nuclear War. [Scroll down] Last week, President Biden announced an unprecedented package of $1 billion in military assistance to Ukraine in addition to $350 million previously pledged which was disbursed within days of Russia's invasion of Ukraine on Feb. 24. The new package includes 800 Stinger anti-aircraft systems, 2,000 anti-armor Javelins, 1,000 light anti-armor weapons, 6,000 AT-4 anti-armor systems and 100 Switchblade kamikaze drones. Besides providing abundance of anti-aircraft and anti-armor munitions to Ukraine's largely conscript military and allied irregular militias, a senior US administration official told Reuters Washington and its allies were also working on providing anti-ship weapons to protect Ukraine's coast. Ukrainian forces claimed on Thursday to have blown up a Russian landing ship in a Russian-occupied port.
Woke army introduces new easier combat fitness test to be more inclusive for women. As the world braces for a potential WWIII, the U.S. Army is lowering its fitness standards to be 'more inclusive'. The Army is changing several of its fitness test exercises — including the dreaded leg tucks — in favor of planks because about half of all female soldiers were unable to complete the exercise. The new Army Combat Fitness Test, ACFT, which is comprised of six exercises, also slashes the number of push-ups from 30 to 10, reduces the power throw distance by two-thirds and gives more time to finish the two-mile run.
Florida Supreme Court Ruling Suggests All Textbooks Being Used in One Florida School District Are Illegal. On March 18, the Florida Supreme Court refused to hear an appeal filed by the Collier County School Board over a lower court ruling stating the school board violated the state's Sunshine Laws during its textbook selection process in the 2016-2017 school year. Attorneys for the parents' rights organization that filed the initial lawsuit assert that the same illegal process was used for the adoption of books for the 2021-2022 school year and have filed motions to have every textbook removed, or to have the court "order the school district to immediately start the textbook adoption process all over again." As explained on the website for Florida Attorney General Ashley Moody, "Florida's Government-in-the-Sunshine law provides a right of access to governmental proceedings at both the state and local levels," and "virtually all state and local collegial public bodies are covered by the open meetings requirements."
Home Depot hammered for shaming employees for their 'white privilege'. A Canadian branch of Home Depot sparked outrage after it posted a notice to employees about the benefits of "white privilege" and included a checklist for those who are "white, male, Christian, cisgender, able-bodied, and heterosexual." The notice, which is titled "Leading Practices — Unpacking privilege," was posted in an employee lounge at a Home Depot in Calgary, Alberta. A spokeswoman from Home Depot's US headquarters confirmed to The [New York] Post that the white privilege notice was material from its Canadian division. She said it hadn't been approved by the company's diversity and inclusion department. The flyer had a Home Depot logo at the top. The Canadian staffers who were apparently given the learning material were encouraged to acknowledge "societal privileges that benefit white people beyond what is commonly experienced by people of colour under the same social, political, and economic circumstances."
Home Depot Calls Out Christians, White Privilege. Home Depot wants to fix white people and Christians. The home improvement chain released a worksheet about white privilege. It was posted in the break room of a Canadian Home Depot. If you're confident that the police exist to protect you, well, you have white privilege. [Tweet] Home Depot also called out class privilege for you folks who went to college. Cisgender privilege for you folks who know your pronouns and if you get off for Christmas Day — Home Depot says you have Christian privilege. "If you can use public bathrooms without stares, fear or anxiety, you have cisgender privilege," Home Depot said.
Fox Business anchor has disturbing theory of why full details on Biden-Xi call haven't been released. There continue to be questions about the reluctance of the White House to release the full details of the high-stakes telephone call between President Joe Biden and his Chinese counterpart last Friday and the answer could be very troubling if a theory put forth by a Fox Business anchor has any truth to it. On Monday, the panel on "Outnumbered' engaged in a spirited discussion over the establishment media's running cover for the nation's 46th president which has become even more apparent after the New York Times confirmation that the incriminating emails on the laptop abandoned by Hunter Biden were indeed authentic after a bombshell report by the New York Post was censored in the weeks leading up to the 2020 election, a story that could have swung the contest to then-President Donald J. Trump. During the discussion co-host Emily Compagno said, "I think that, again, the fleeting memory of mainstream media means that they think we won't remember that many of these big tech platforms are under concurrent investigations right now by different agencies of the federal government, including criminal," referring to the ongoing probes into the tech giants.
About That Russia Attacking a Shopping Center Story. Again, it must consistently be repeated — trust nothing from western or Russian state media about the issues in the Ukraine conflict. Everyone is shaping the war narrative to fit their agenda. Question everything you see and hear, wait to get the fulsome picture, and eventually the truth will surface. An example today [3/21/2022] follows a U.S. and Western media claim that Russia arbitrarily targeted a shopping center in the capital city of Kyiv (Kiev). According to the narrative, this is an example of Russian military brutality and arbitrary shelling of civilians. [Video clip] However, the issues are not as clear as the western narrative would have us believe. As noted in the report above, the Russians fired missiles into the shopping center during the late-night early-morning hours when no one was shopping, and the stores were closed. [Pictures] Yes, when a war is taking place and you use a shopping center as an area to conceal heavy armor and armored vehicles, you turn that shopping center into an authentic target for attack. If a military hides amid a civilian population, they are putting the civilian population at risk.
Zelensky nationalizes TV news and restricts opposition parties. On Saturday and Sunday, Ukrainian President Volodymyr Zelensky invoked his emergency powers under martial law to suppress several opposition political parties and implement a "unified information policy." In an address to the nation delivered Sunday, he announced a temporary ban on "any activity" by 11 political parties. The ban includes the Opposition Platform — For Life party, which holds 43 seats in Ukraine's national parliament and is the largest opposition party.
NLAW: The British missile taking down Russian tanks. You've probably heard that the column of Russian tanks heading for Kyiv was stalled for a while and then broke up. The main reason Russian tanks have had such a hard time in Ukraine is a small anti-tank missile called the NLAW which stands for Next Generation Light Anti-tank Weapon. The NLAW is actually a joint venture between Sweden and the UK. It was developed by Saab but is assembled in Norther Ireland for the British military.
Planning To Use Oil Crisis, the Global Climate Change Agenda Is Triggered. The Ukraine-Russia conflict creates the opportunity for the Build Back Better initiatives to get triggered. None of this is happening organically. All of this is opportunism based on a series of dominos purposefully triggered. Three government solutions to rising oil prices surface simultaneously in an effort to exploit the crisis they created. Keep in mind, this economic roadmap was strategically outlined in the World Economic Forum "Build Back Better" initiative, and that was built upon the economic 'climate change' opportunity that COVID-19 created. The U.S. version of BBB was called the Green New Deal. First, Biden proposes to trigger a useful "Climate Change Emergency". Second, the International Energy Agency proposes a "Ten Point Plan" to change energy use in the modern society. Third, comes AOC and Bernie Sanders with the "Executive Action Agenda".
International Energy Agency Calls for Urgent Restrictions on Domestic Oil Supplies. Give up your car and start walking. That's an order. The International Energy Agency (IEA) on Friday directed global governments to urgently cut oil supply to domestic consumers and encourage compliance with its call for lowered consumption. The IEA 10-point plan to drive "changes in the behaviour of consumers" and reduce gas demand at the pump includes reducing speed limits, working from home three days a week, more electric cars, car-free Sundays, more cycle lanes, cheaper public transport and greater use of long-distance trains over planes.
Turns out Americans are bad at estimating demographic groups. If you live in the United States and I asked you what percentage of your fellow Americans are left-handed, without hitting a search engine to check, what would your guess be? What percentage are gay, lesbian, or bisexual? We could play this game with any number of different demographic groups. [...] When it comes to the questions of sexual identity and race, the gross misinterpretations of the numbers are almost certainly driven by the media. It may not have always been this way, but in the current era, both news and entertainment focus an incredible amount of time and energy in covering topics related to minorities, both in terms of race and sexual identity.
Saudi Arabia is thinking about abandoning the dollar. The American dollar is currently the world's reserve currency, meaning it is the primary means of handling transactions between nations that have differing currencies. To qualify as a reserve currency, it must be stable and readily available, and it can be considered a safe-haven currency. In some ways, a reserve currency can become a self-fulfilling prophecy because its very status enhances its value. For Americans, that status helps prop up America's enormous debt load. That's why it was very disturbing to learn that Saudi Arabia, disgusted with the current management in Washington, D.C., is looking to start pricing its oil sales to China in yuan, not dollars. The fact is that the Saudis do not trust Biden's America.
The Editor says...
I can't say that I blame the Saudis. Half the people legally residing in America don't trust Biden, either.
UK Defense Ministry: Russia's offense has stalled as it struggles to replace personnel losses. If you read Allahpundit's post earlier then you know there's some speculation that the clock is ticking on the Russian invasion. Retired Lt. Gen. Ben Hodges estimates Russia can only sustain its current levels of deployment for about 10 more days before its troops and ammunition are depleted to the point they can't really mount an effective fight. Hodges also pointed to the possibility of a Russian default as soon as tomorrow which would also create serious domestic problems that might keep Putin occupied. Lt. Gen. Hodges was quick to say his view of the current situation was based not on any inside information or intelligence but on his own past experience. However, a couple of hours ago the UK Ministry of Defense released an assessment that dovetails pretty well with what Hodges was saying.
Ret. U.S. general: Russia has 10 days to try to win this war before it runs out of gas. This is just one man's assessment, but Ben Hodges's analysis of the state of play jibes with that of retired Aussie Gen. Mick Ryan, whom I wrote about this morning. Like Hodges, Ryan believes that the Russian advance has either already culminated or is about to. They're too poorly supplied and have taken too many losses to push forward inexorably, particularly when doing so would involve them in urban warfare. There seems no chance at this point that Russia will ever occupy Kiev.
Putin Is Finding War Is Hell, and Expensive. Many in the West had a mistaken belief that the Russian war machine was a rough match for the North Atlantic Treaty Organization, and they are surprised at how much trouble the massive force is having subduing a much smaller and less-equipped neighbor, Ukraine. During my time as NATO's military commander, I spent time with the Russian military and the chief of its general staff at the time, General Nikolai Makarov. A congenial figure, Makarov told me about Russian efforts to modernize his forces, starting with professionalizing them and weaning the nation from a brutal conscript system. There were plans to improve offensive cyber capabilities, precision-guided weaponry and unmanned vehicles. He seemed confident of progress, but from all I have seen in Ukraine, the decade-long effort has not been successful, and draftees abound. There is little evidence of the hardware improvements, either. The Russians present not as a sophisticated 21st-century army, but rather a blunt force in the style of World War II's militaries.
Plea Deal in the Offing for 9/11 Terrorist Khalid Sheikh Mohammed and Four Defendants. Khalid Sheikh Mohammed (KSM) has been in U.S. custody since March 1, 2003, when he was captured in Rawalpindi, Pakistan during a joint CIA-Pakistani intelligence operation. Along with four other high-ranking al-Qaeda leaders identified as planners for the 9/11 terrorist attack, KSM has languished at the prison camp in Guantanamo, Cuba since 2006 after spending several years being interrogated by the CIA and FBI.
Orwell Was Right. In the last weeks, Russia took an already exacting speech environment to new extremes. A law was passed that would impose 15-year prison sentences for anyone spreading "fake news" about the Ukraine invasion; access was cut to Facebook and Twitter; stations like Echo Moskvi and TV Rain as well as BBC Russia, Radio Liberty, the New Times, Deutsche Welle, Doxa, and Latvia-based Meduza were effectively shut down; Wikipedia was threatened with a block over its invasion page; and national authorities have appeared to step in to prevent coverage of soldiers killed in the war, requiring local outlets to use terms like "special operation" instead. The latter development is connected to the state media regulator, Roskomnadzor, issuing a remarkably desperate dictum requiring news outlets to "use information and data received by them only from official Russian sources." Russia also appears in the middle of a general crackdown on local media, not so much because those outlets are dissenting, but because they're more likely to provide indirect evidence of war failures or the effect of sanctions.
White House Briefed TikTok Influencers on Ukraine: 'A Press Briefing for Kindergartners'. The White House on Thursday [3/10/2022] held a special briefing for 30 TikTok influencers on Ukraine, in the Biden administration's apparent continuing attempt to use the platform and its young users to get out its message. The Washington Post reported on Friday that the White House gathered the TikTok users to "receive key information" about the war in Ukraine.
Ron DeSantis: Biden [is] Going to Dictators for Gas Imports. President Joe Biden angles himself as being tough toward President Vladimir Putin because the Russian leader is a "dictator," yet he turns to other dictators for gas imports as he "kneecaps" domestic energy, Gov. Ron DeSantis (R) said during a roundtable discussion in Doral, Florida, on Friday [3/11/2022]. "We have a number of Venezuelan Americans, who, like many Americans and, I know, a lot of Floridians, are very angered by the Biden administration's recent attempt to legitimize the brutal Maduro regime in Venezuela," DeSantis said during the Venezuelan community discussion, amid reports of Biden's administration seeking to increase oil imports from the dictator's country.
My nomination for the Baghdad Bob Award:
Pro-tip from Lavrov: "We didn't invade Ukraine". The good news: Russia's foreign minister assured the world that Vladimir Putin has no desire to follow up his war in Ukraine by invading other countries. The bad news: Sergei Lavrov flatly denied that Russia attacked Ukraine, too. "Why should they believe a word you say?" asked a reporter. [...] If Russia didn't invade Ukraine, then why are there all those Russian tanks, artillery, and soldiers in Ukraine at the moment? And for that matter, what was Lavrov doing in Anatolia in the first place? The answer to the latter question is ... not much. Lavrov met with Ukraine's foreign minister Dmytro Kuleba in Turkey to hold the highest level talks between the two countries since tensions began rising a few weeks ago. Lavrov came to the Anatolia talks without any authority to negotiate even a cease-fire, as it turns out.
Victoria Nuland: Ukraine Has "Biological Research Facilities," Worried Russia May Seize Them. Self-anointed "fact-checkers" in the U.S. corporate press have spent two weeks mocking as disinformation and a false conspiracy theory the claim that Ukraine has biological weapons labs, either alone or with U.S. support. They never presented any evidence for their ruling — how could they possibly know? and how could they prove the negative? — but nonetheless they invoked their characteristically authoritative, above-it-all tone of self-assurance and self-arrogated right to decree the truth, definitively labelling such claims false. Claims that Ukraine currently maintains dangerous biological weapons labs came from Russia as well as China. The Chinese Foreign Ministry this month claimed: "The US has 336 labs in 30 countries under its control, including 26 in Ukraine alone." The Russian Foreign Ministry asserted that "Russia obtained documents proving that Ukrainian biological laboratories located near Russian borders worked on development of components of biological weapons." Such assertions deserve the same level of skepticism as U.S. denials: namely, none of it should be believed to be true or false absent evidence. Yet U.S. fact-checkers dutifully and reflexively sided with the U.S. Government to declare such claims "disinformation" and to mock them as QAnon conspiracy theories.
DNI: Ukraine labs not involved with biological weapons, despite Russian charges. Ukraine's government operates over a dozen laboratories engaged in research on biological warfare defenses and other medical research that could fall into Russian hands, Director of National Intelligence Avril Haines told Congress on Thursday [3/10/2022]. Ms. Haines rejected Russian government claims that the facilities are making bioweapons, a theme that has circulated in conservative media as Moscow's invasion of its smaller neighbor entered its third week. "We do not assess that Ukraine is pursuing biological weapons, which have been basically the propaganda that Russia is putting out," Ms. Haines said in testimony before the Senate Select Committee on Intelligence.
Feds announce charges against American who ran a Russian 'propaganda center'. Federal prosecutors unsealed charges Tuesday against a woman who ran what they called a "Russian propaganda center" in New York, trying to inject Moscow's viewpoint into American politics. Elena Branson is charged with acting as an unregistered agent for a foreign power, as well as visa fraud and lying to the FBI. The Justice Department said she left the U.S. for Russia in 2020, and remains at large. Prosecutors said her organization, Russian Center New York, was funded by the Russian government and took direction from high-ranking officials in Moscow. Given those connections, she was supposed to have registered as a foreign lobbyist, the government says.
Amazon referred to DOJ for potential criminal obstruction of Congress. A House Committee is urging the Department of Justice to investigate Amazon over what lawmakers contend is potentially criminal obstruction of Congress. In a letter sent Wednesday [3/9/2022] and addressed to Attorney General Merrick Garland, a bipartisan group of lawmakers alleged that Amazon repeatedly misled the House Judiciary Committee throughout a 16-month probe into the competitive practices of Amazon, Apple, Google and Facebook.
McDonald's Shuts Down 850 Restaurants In Russia. McDonald's announced Tuesday [3/8/2022] that it will temporarily close all 850 of its restaurants in Russia over Russian President Vladimir Putin's invasion of Ukraine. "McDonald's has decided to temporarily close all our restaurants in Russia and pause all operations in the market," the press release stated. The press release was originally an email CEO Chris Kempczinski sent to McDonald's employees and franchisees.
Pressure mounts on KFC to shutter its 1,000 Russian restaurants as McDonald's Coca-Cola, Starbucks and Pepsi all halt business there indefinitely. KFC faces mounting pressure to shutter its 1,000 Russian restaurants after McDonald's, Coca-Cola, Pepsi and Starbucks all halted business there indefinitely because of Putin's invasion of Ukraine. The chain is the only significant US-owned fast food chain still operating in Russia, after its rivals announced plans to suspend business there indefinitely. KFC is owned by Yum! Brands, a Louisville, Kentucky-headquartered operation which is listed on the New York Stock Exchange, and whose CEO David Gibbs has been with the company since 1989. Yum! also operates 50 Pizza Hut locations across Russia.
Republicans Are Successfully Blocking Biden Nominees, And His SCOTUS Pick Could Be Next. The Senate currently finds itself in the unusual situation of a tie — evenly split between 50 Democrats and 50 Republicans. As a procedural matter, a Senate tie requires some interesting maneuvering. A power-sharing agreement must be passed to hammer out how the majority-minority dynamics will play out. Also, in theory, the vice president must be on notice to break any tie votes that occur — something that would be happening a lot more if so many Republicans weren't happily voting for so many of Joe Biden's nominees. But a tied Senate also creates opportunities. As I've written previously, the Senate's Rule 26 comes into play in a tied Senate in a way that would hardly matter otherwise. The rule requires that a "majority of the committee" be "physically present" to report a matter (either a bill or a nomination) out of committee. This is true regardless of what an individual committee's rules say about minority members being present.
The People's Convoy Makes Its Mark Despite Media Blackout. More than a thousand big-rig trucks, pick-ups, SUVs, passenger cars, and motorcycles circled the 64-mile Capital Beltway on Monday to demonstrate their opposition to vaccine mandates and the government's pandemic policies. There were no traffic jams. The convoy was orderly, almost precision-like in its discipline. The protesters gave the right of way to other vehicles using the highway, staying in the right-hand lane for the entire circuit. It was peaceful. Despite the expectations of the media and many in government that the convoy would become violent, the protesters have, so far, shown no inclination to cause disruptions to Washington traffic or take part in violent demonstrations in the city itself.
Ottawa Court Reverses Order from Pro-Trudeau Judge: 'Freedom Convoy' Organizer Gets Legal Victory. Freedom Convoy fundraiser and organizer Tamara Lich received some good news in her legal battle against the Canadian government. "A judge orders Freedom Convoy fundraiser and organizer Tamara Lich should be released on bail, overturning previous judge's decision to keep her in custody," Andrew Lawton reported. "Tamara Lich has been released on bail with a list of strict conditions, including an order that she leave Ottawa within 24 hours and return home under the watchful supervision of a surety," the Ottawa Citizen reported.
Trudeau Attacks Putin for Tyranny Mere Days after Cracking Down on Truckers. Trudeau recently claimed, then quickly surrendered, "emergency powers," using Enabling Acts-like powers to crack down on the truckers peacefully protesting his regime in Ottawa. Using those powers, Trudeau sent in the police to beat back and disperse the peaceful crowds of truckers and their allies, worked with banks to freeze the assets of dissenters, and ruthlessly persecuted those who dared to disagree. In short, he acted like a tyrant. Refusing to listen to the protesters or let them peacefully exercise their rights, he cracked down on them with a vengeance, acting as any tinpot dictator would. Well, guess what he's doing now: attacking Putin for being an "authoritarian."
Nickel prices soar 90% to new record high on worries about shortages from major supplier Russia. Nickel prices in London logged a record surge on Monday [3/7/2022] amid escalating concerns that production in Russia will be disrupted in the wake of Moscow's invasion of Ukraine. The three-month nickel contract leapt 90% to trade above $55,000 a metric ton on the London Metal Exchange, according to pricing from Bloomberg. That marks a new all-time high, and the jump of more than $26,000 marked the biggest single-day dollar gain ever. Russia is the world's third-largest nickel producer, according to the US Geological Survey, with roughly two-thirds of global nickel production used to make stainless steel. Nickel is also key in the growing market for batteries used in electric vehicles.
Putin's invasion grinds to a halt: Kyiv claims to have destroyed dozens of Russian helicopters overnight, and killed 11,000 troops. Russia's invasion of Ukraine appears to have ground to a halt with no significant territory captured despite a weekend of heavy fighting, with Kyiv's men claiming to have taken out dozens of helicopters and recaptured a city this morning[,] sparking hopes that the unlikeliest of victories may be on the cards. Putin's men renewed their bombardments on Mariupol, Chernihiv, Mykolaiv and Kharkiv this morning as hundreds of civilians tried to evacuate Irpin — on the outskirts of Kyiv — across a destroyed bridge after days of heavy attacks in an attempt to encircle the capital. But Russian commanders have not significantly advanced their frontline since the city of Kherson and nuclear power plant at Zaporizhzhia were captured last week.
This is how the Ukranians Handle Looting. BLM and Antifa wouldn't bother entering a single store if this is how the police in the USA dealt with looters. This guy was caught trying to steal all kinds of stuff from a Best Buy type store and got caught, so they tied him to a pole and whipped him with their belts. [Video clip]
Convoy protest organizer Tamara Lich released from jail. A judge has ruled one of the main organizers of the so-called Freedom Convoy can be released from jail, on the condition she leave Ottawa, reversing a decision made last month. Tamara Lich, 49, was behind a now-halted GoFundMe campaign that raised more than $10 million to support the protest in Ottawa, which became a weeks-long occupation. She was arrested Feb. 17 and charged with counselling to commit mischief shortly before the major push by police to clear out the remaining protesters who occupied downtown Ottawa streets.
Capitol Police issue emergency declaration as rolling 'People's Convoy' protest circles DC. Even though People's Convoy organizers reportedly have no plans for the truck armada to enter Washington, D.C., proper, the U.S. Capitol Police has declared an emergency situation of some kind. "'The Capitol Police Board has issued an emergency declaration to ensure that the US Capitol police are able to operate and respond as necessary,' [House Sergeant at Arms William] Walker said in a letter to all members of Congress and staff," CNN reported. "Walker advised members and staff to consider telework options and the use of public transportation to avoid traffic delays." Congress will also reimburse lawmakers or any staffers "for short-term lodging expenses" who have to check in to a hotel presumably because heavy vehicle volume prevents them from getting home, Walker noted.
Google, Apple cut off access to ordinary Russians, meaning they can do the same to Americans at any time. In another ominous sign that the big tech behemoths have way too much power and control over the lives of ordinary people, Apple and Google have now cut off Russians from their payment platforms, which is already causing mayhem in their country. As noted by Irish journalist Jason Corcoran in a tweeted image, commuters at Moscow's Metro Station had difficulty paying for their ride after they discovered the platforms no longer functioned. "Apple Pay and Google Pay no longer work on Moscow's metro system, leading to long queues as people fumble about for cash," tweeted Corcoran.
U.S. People's Convoy Fundraiser is Run by Woman Who Pleaded Guilty to Fraud. The people's convoy of truckers has spilled across the border from Canada into America, but a major fundraiser's reported history of fraud may be undermining the movement's righteous goals. The American Foundation for Civil Liberties and Freedoms (AFCLF) is fundraising on behalf of the truckers' convoy and has raised over $1.5 million for the cause. The AFCLF executive director Pamela Milacek has a history of pleading guilty of fraud in the state of Texas. Milacek pleaded guilty to taking an individual's Social Security number, name and driver's license number in order to apply for a credit card with PayPal. She also pleaded guilty to withdrawing $15,000 without the consent of a victim in Collin County, Texas back in Sept. 2020.
Russia seizes Europe's largest nuclear plant: Facility which provides 20% of Ukraine's power. Boris Johnson has accused Russia of 'threatening the security of the whole of Europe' after Putin's troops attacked the continent's largest nuclear power plant overnight, sparking a fire that raged for hours before emergency crews were eventually allowed to extinguish it as Russian soldiers seized the complex. Mr Johnson condemned the attack as 'reckless' after a phone call with President Volodymyr Zelensky who branded it 'nuclear terrorism'. Jens Stoltenberg, who is in Brussels today to meet with NATO allies, denounced attacks on all civilian infrastructure and said the fire at the plant underlined the need to end Putin's war as soon as possible.
Jill Biden's big tech SOTU guest has deep ties to China, reportedly bent the knee to CCP. First lady Jill Biden had a close family friend as a guest at the State of the Union address on Tuesday, Intel CEO Patrick Gelsinger, whose company is one of the largest tech manufacturers in the world with deep ties to communist China and was a proud sponsor of the Beijing Olympics. Intel has previously cooperated with the Chinese Communist Party, deferring to its diktats rather than American principles. That did not stop President Joe Biden from introducing Gelsinger during his speech and proclaiming that Intel will build a monster manufacturing facility in Ohio that will ironically produce computer chips and other technology to counter China's stranglehold on the market.
White House Quietly Calls On US Oil Companies to Increase Production. In a move that likely angered his environment-conscious base, the White House has issued a muted request for U.S. oil companies to increase crude oil production in the wake of high crude oil and gasoline prices. Though words are different than deeds — and President Joe Biden's deeds have been decisively anti-fossil fuel expansion — a White House official told U.S. oil companies on Tuesday [3/1/2022] that they could increase production if they want. [...] U.S. oil companies have long held that while the Administration hasn't directly restricted U.S. output, the energy policies flowing out of the White House have put a damper not only on the attitude involving crude oil production but has made it far more difficult for oil companies to ramp up.
Manchin fumes as US buys 500,000 barrels of Russian oil a day amid Ukraine war. Sen. Joe Manchin called on President Joe Biden to ramp up domestic energy production to curtail the United States's reliance on Russian oil and gas imports, accusing the White House of pushing "hypocritical" policies. The West Virginia Democrat said in a statement late Monday [2/28/2022] that the U.S. importing about a half-million barrels of oil products from Russia a month poses a "clear and present danger to U.S. national security." The "entire world is watching as Vladimir Putin uses energy as a weapon in an attempt to extort and coerce our European allies," said Manchin, who leads the Senate Energy and Natural Resources Committee.
Russian Forces Drop Thermobaric Bomb On Ukrainian Military Base, Killing 70. Russia used the potent vacuum bomb during its invasion of Ukraine, Oksana Markarova, Ukraine's ambassador to the United States, told reporters on Monday night after a meeting with U.S. lawmakers. A vacuum bomb, also called a thermobaric weapon, works by taking in oxygen to create powerful, high-temperature explosions. If used in a civilian setting, such an attack could constitute a war crime. "They used the vacuum bomb today," Markarova said. [Video clip]
Exxon Mobil is pulling its $4 billion Russian oil and gas operations and halting new investments after the Ukraine invasion. Exxon Mobil said it will pull its $4 billion Russian oil and gas operations and halt new investments as a result of Russia's invasion of Ukraine. The decision, which was made on Tuesday [3/1/2022], will see Exxon pull out of managing its large oil and gas production facilities on Sakhalin Island in Russia's Far East. This decision puts the fate of a proposed multi-billion dollar liquefied natural gas (LNG) facility there in doubt.
As Russia Wages War, US Army Trains Officers on Gender Identity. While Russia wages a full-scale invasion of Ukraine, the U.S. Army is putting its soldiers through training on gender pronouns and coaching officers on when to offer soldiers gender transition surgery, according to an official military presentation on the subject obtained by the Washington Free Beacon. The mandatory presentation, "Policy on the Military Service of Transgender Persons and Persons with Gender Dysphoria," was given to officers earlier this month along with instructions for them to train their subordinates on the material. Portions of the presentation were provided to the Free Beacon by a whistleblower who was ordered to undergo the training as a high-ranking officer in the Army Special Forces.
Ron DeSantis Denies Request for Florida National Guard to Assist at Biden's SOTU Address. Florida Gov. Ron DeSantis (R) on Monday announced that he has denied a request for the state's National Guard to deploy to the nation's capital for President Biden's Tuesday State of the Union address, ensuring that the Florida National Guard will not be sent to Washington, DC. The Biden administration last week requested assistance from state National Guards ahead of Tuesday's speech. The request coincides with hundreds of National Guard members being activated in the D.C. area ahead of the address to assist with traffic and security. Florida's National Guard, however, will not participate.
The Mysterious Case of the Missing Russian Air Force. On the fifth day of the Russian invasion of Ukraine, one of many unanswered questions is why Russia has launched a military campaign at huge cost with maximalist objectives, and then declined to use the vast majority of its fixed wing combat aircraft. [...] Instead, the roughly 300 modern combat aircraft which the VKS have positioned within easy range of the main contact zones in northern, eastern and southern Ukraine appear to have largely stayed on the ground throughout the first four days of fighting.
Thermobaric Bomb Turns the Night to Day, Putin Unleashes one of the Deadliest Weapons in his Arsenal on Civilians. Putin's army is struggling big time in his attempts to take Kyiv, now he's resorted to unleashing one of the deadliest non-nuclear weapons in the world on the civilians who are decimating his troops, thermobaric 'vacuum' bombs. [Video clip]
Death By Robots: Increased Automation Is Elevating Mortality Rates. Death by robots might seem like an unusual cause of death, but as robots replace people on factory floors, there has been a rise of suicides and drug overdoses — especially in people between 45 to 54. A new study found a link between automation of U.S. manufacturing and an increased mortality rate among working-class adults. Automation is partially responsible for a decline in U.S. manufacturing jobs. Prior research has estimated a loss of 420,000 to 750,000 jobs during the 1990s and 2000s, most of which were manufacturing jobs.
Russian Missile hits an Apartment Building that has No Military Value Whatsoever. Once again we see the Russian military committing yet another war crime by targeting civilians. This time they killed countless people by hitting the side of an apartment building that was still packed with people. The Russian military is known for their brutality in order to keep individuals from wanting to go up against them, in the Chechen was they would purposely target family members of military members in order to get them to turn themselves in. It looks like in Ukraine they are implementing the same type of attacks. [Video clip]
Belarus votes to give up non-nuclear status. Voters in Belarus have approved constitutional reforms that will allow the country to host nuclear weapons at a time when the former Soviet republic has become a launchpad for Russian troops invading Ukraine. Russian news agencies on Monday [2/28/2022] cited the Belarusian elections commission as saying that some 65.2 percent of people who took part in a referendum voted in favour of the change.
Russian soldiers in Ukraine becoming disoriented, US official says. Russian forces are reportedly becoming demoralised, disoriented and hungry on the third day of the full-scale invasion of Ukraine. A senior United States official told ABC News that Russian soldiers had been overheard complaining that Ukrainian resistance was much stiffer than they had anticipated. On one radio call, the official said they heard a soldier saying: "We don't know who to shoot — they all look like us."
US Freedom Convoy Trucker Left Stranded After Penske Corporation Turns Off Power Remotely to His Rental Truck. Texas Trucker Jeff Sandberg was left stranded this week after Penske Corporation turned off the power remotely to his truck. Sandberg was heading to Washington DC with the Freedom Convoy truckers. Penske shut down his vehicle on the road and later released a statement on how the company does not support the freedom protests.
U.S. blasts Putin's nuclear order as 'unacceptable' and says war crimes tribunal isn't off the table. The United States on Sunday [2/27/2022] condemned Russian President Vladimir Putin's order to put his nuclear forces on high alert as dangerous and 'unacceptable.' The U.S. ambassador to the United Nations Linda Thomas-Greenfield also said nothing was 'off the table' when asked about the possibility of Putin being tried in international court as a war criminal. In issuing his order to prepare Russia's nuclear weapons for increased readiness for launch, Putin cited 'aggressive statements' from NATO allies and widespread sanctions imposed by Western nations.
World's Largest Cargo Plane Destroyed at Contested Airport Near Kyiv, Ukrainian Government Says. The Ukrainian government said Sunday that "the world's largest aircraft" has been destroyed at a strategically important airport outside Kyiv amid a Russian attack. "This was the world's largest aircraft, AN-225 'Mriya' ('Dream' in Ukrainian)," Ukraine's' Minister of Foreign Affairs Dmytro Kuleba wrote on Twitter alongside a photo of the plane. "Russia may have destroyed our 'Mriya. But they will never be able to destroy our dream of a strong, free and democratic European state. We shall prevail!"
Putin Shows Signs of Panic, as He Calls on Ukraine Military to Mutiny. [Scroll down] The Ukrainian people are not welcoming the Russians, and if this operation draws out, Russia might find itself facing an effective and motivated insurgency. In fact, Putin has probably done more to build Ukrainian nationalism than anything in modern history. None of this says Ukraine will prevail; what it does say is that the 48-hour blitzkrieg that culminated in Zelensky fleeing Kiev Putin planned doesn't seem likely to materialize. As a result, Putin now is in the position of bringing this adventure to a swift conclusion or paying a much higher price than he'd intended.
Zelensky Calls on European Citizens with 'Combat Experience' to Help Defend Ukraine. Ukrainian President Volodymyr Zelensky is calling upon European citizens with combat experience to travel to Ukraine and fight against Russia. Zelensky's plea to Europeans came in a speech Friday: [...] The request comes as Zelensky has provided his civilians and militia fighters with 18,000 submachine guns and ammunition to help in the combat effort after the Ukrainian government broadened the right to bear arms the night before Russian President Vladamir Putin launched a total invasion, Breitbart News reported. Once Russian forces began their assaults on Ukrainian cities, Zelensky announced guns would be given to any citizen willing to combat the Russians.
Putin Officially Launches a Full Invasion of Ukraine, Lodges Disturbing New Threats Against the West. As RedState reported earlier, Secretary of State Antony Blinken shared on Wednesday evening that he believed Russia would fully invade Ukraine within hours. That has now been confirmed by none other than Vladimir Putin himself. Per an announcement from the Russian president, his military forces are moving into greater Ukraine, including Kyiv, in order to "demilitarize" and "denazify" the sovereign nation.
'Immediate emergency situation is over': PM Trudeau revokes Emergencies Act. Prime Minister Justin Trudeau says the government will end the use of the Emergencies Act after it was invoked just over a week ago in response to the ongoing trucker convoy blockades and protests. Trudeau made the announcement on Wednesday alongside Deputy Prime Minister and Finance Minister Chrystia Freeland, Justice Minister David Lametti, Public Safety Minister Marco Mendicino, and Emergency Preparedness Minister Bill Blair. "Today, after careful consideration, we're ready to confirm that the situation is no longer an emergency. Therefore, the federal government will be ending the use of the Emergencies Act," the prime minister said. Trudeau added while the "immediate emergency situation is over" the issue itself "won't go away."
Facing Financial Peril and a Pending Senate Rebuke, Prime Minister Justin Trudeau Revokes Emergency War Measures Act. In the bigger picture, the Canadian banking and financial system was hit hard by the deployment of the Emergency Act which highlighted the ability of the government to arbitrarily freeze and seize money, assets and financial investment capital without any due process. There are also strong rumors in the financial sector, that in addition to Canadians removing money from the banking system, previous investment funds from Hong Kong had been moved — and, making matters even worse, digital currency exchanges were no longer offering secure services in Canada. Simultaneous to the mounting domestic and international backlash against the financial system, the Canadian Senate was likely to rebuke the government of Justin Trudeau and not support the invocation of the Emergency War Measures Act against Canadian citizens.
Trudeau Reversal Motive Surfaces — Canadian Banking Association Was Approved by World Economic Forum To Lead the Digital ID Creation. A promotional video from the Canadian Bankers Association (CBA) helps to neatly connect all the dots about why the Canadian government made such a quick reversal in their bank asset seizures in the last 24 hours. And yes, as we suspected, it was almost certainly contact from the World Economic Forum to Canadian Finance Minister Chrystia Freeland that triggered the change in position. When Canadian Prime Minister Justin Trudeau and Finance Minister Chrystia Freeland announced they would use the Emergency Act declaration to target the financial support systems, banks and accounts of the people who were protesting against COVID mandates, they not only undermined the integrity of the Canadian banking system — but they also inadvertently stuck a wrench into the plans of the World Economic Forum and the collaborative use of the Canadian Bankers Association to create a digital id.
Facing Financial Peril and a Pending Senate Rebuke, Prime Minister Justin Trudeau Revokes Emergency War Measures Act. In the bigger picture, the Canadian banking and financial system was hit hard by the deployment of the Emergency Act which highlighted the ability of the government to arbitrarily freeze and seize money, assets and financial investment capital without any due process. There are also strong rumors in the financial sector, that in addition to Canadians removing money from the banking system, previous investment funds from Hong Kong had been moved — and, making matters even worse, digital currency exchanges were no longer offering secure services in Canada. Simultaneous to the mounting domestic and international backlash against the financial system, the Canadian Senate was likely to rebuke the government of Justin Trudeau and not support the invocation of the Emergency War Measures Act against Canadian citizens.
U.S. Capitol Police close D.C. streets ahead of the "People's Convoy", fencing goes back up at Capitol. American truckers and their supporters are organizing and heading to Washington, D.C. to protest COVID-19 mandates. The People's Convoy is patterned after Canada's Freedom Convoy. Truckers will leave California tomorrow and arrive in Washington on Saturday, March 5. D.C. law enforcement is preparing for their arrival. The People's Convoy announced plans to launch a "peaceful and unified transcontinental movement" in Southern California. Organizers say their intention is to have a "law-abiding convoy" with truckers, blue-collar workers and supporters participating in it. According to the news release, they expect supporters from all walks of life.
Chinese media accidentally posts CCP rules on Russia-Ukraine coverage, hint at Taiwan takeover. Chinese news media posted instructions to social platforms about how to approach coverage on Ukraine, including a note of China's need for Russian "support" with Taiwan. One outlet appeared to accidentally post guidelines on what should and should not be published, while an editor from another outlet weighed in with guidance on language and approaches that he believed necessary in walking a fine line. Ming Jinwei, senior editor at Xinhua News Agency, wrote in his WeChat blog about how his outlet needed to walk a tight line on its Ukraine coverage, noting that China "has to back Russia up with emotional and moral support while refraining from treading on the toes of the United States and European Union."
Biden SOTU will have a "formal response" from ... The Squad. Suddenly, the normally vapid State of the Union event looks more promising. Joe Biden's complete sell-out to the progressive Left since his inauguration notwithstanding, Squad member Rep. Rashida Tlaib (D-MI) will deliver a "formal response" to the speech from her party's own president, Politico reports: [...] But just how much of a "response" will this be? The opposition party gets a formal response slot from media outlets in order to rebut presidential claims in the SOTU speech and offer their own agenda. This is clearly not a "formal response" in that same vein, but instead a separate media event tied to the SOTU spectacle for better visibility. Even so, the need for an informal "formal response" seems notable in at least a couple of different ways. First off, Tlaib's not planning to respond to Biden as much as she's planning to attack moderate Democrats for not capitulating to Biden.
Freedom Convoy organizer Tamara Lich denied bail by judge who ran as a Liberal candidate. Freedom Convoy leader and organizer Tamara Lich was denied bail by an Ottawa judge this morning. According to Marieke Walsh of The Globe and Mail and David Akin of Global News, Lich wanted to be released on $5,000. Lich was denied bail because, in part, judge Julie Bourgeois believed that there was a risk that she would continue criminal actions. Bourgeois was a Liberal candidate for Glengarry-Prescott-Russell in 2011. "There is a substantial risk you will continue these actions and will not abide by an order," the judge told Lich. "Your recent history in our city ... satisfies me that you're detention is necessary for the safety and protection of the public."
Organizers of USA Trucker Convoy Release Route Across Country to Washington DC — Organizers Release Official Statement. Multiple American trucker convoys are gearing up for a massive protest in Washington DC in opposition to tyranical COVID mandates. The Gateway Pundit reported that the organizers claim to have 1,000 truckers ready to participate "right out the gate," but that it will likely grow as it moves from California to DC. After announcing that the protest would not rely on big tech companies for fundraising, The People's Convoy reports over $214,447 in donations as of February 21.
Biden issues first sanctions after Putin orders 'peacekeeping forces' into two pro-Russian regions in Ukraine. New videos show the Russian army's so-called 'peacekeeping' force on the ground inside Ukraine, as the United States was trying to convince European allies to follow their lead and impose tough sanctions. Military vehicles were seen after night fell on Monday in Makiivka, in the so-called Donetsk People's Republic (DPR), recognized hours earlier as an independent state by Vladimir Putin. Other footage showed armored vehicles at other locations in the DPR and neighboring Luhansk People's Republic (LPR), also recognized by the Kremlin.
Lithium-ion batteries are fueling the fire on a burning cargo ship full of Porsches. The cargo ship Felicity Ace is aflame from bow to stern with a lithium-ion battery fire that can't be put out with water alone. The fire has been burning since Wednesday (Feb. 16), as the ship drifts in the Atlantic about 200 miles southwest of Portugal's Azores Islands. Its 22-person crew abandoned ship and was rescued on Thursday. The ship left Germany on Feb. 10 and headed for the US with about 4,000 Porsches, Bentleys and other luxury cars aboard, and some of those were electric vehicles. It's not clear if the batteries contributed to the fire starting in the first place — a greasy rag in a lubricant-slicked engine room or a fuel leak are the usual suspects in ship fires — but the batteries are keeping the flames going now. A forensic investigation will take months to determine the cause.
Pentagon is considering sending the National Guard to DC ahead of US Freedom Convoy protest. The Pentagon could commission the National Guard to help manage thousands of big rigs expected to descend upon the nation's capital this week in protest of government mandates. Following the path of a Canadian convoy of anti-vaccine long haulers who congested Ottawa's streets for weeks this month, a group of fed-up American truckers from throughout the country are setting out Wednesday to launch their own mass protest in Washington, D.C., and plan to congest popular thoroughfares — including the Capitol Beltway. The Pentagon has been asked to help manage the protests by deploying the National Guard, according to Pentagon press secretary John Kirby.
Royal charity spent 98% of its cash raised in one year on paying just 10 staff, probe reveals. A Royal charity that has partnered with Prince Harry's life coaching firm paid its staff 98 percent of the money it raised in a year, the Daily Mail can reveal. The Queen's Commonwealth Trust (QCT) brought in £796,106 from donors but paid out £787,314 in staff costs to its ten employees in the 12 months [ending] March 2021. Over half of the cash went to its five most senior executives who earned £420,000 between them, Charity Commission accounts show.
The Editor says...
If you think this is the only charitable organization that exists to fund only itself, you should think again.
Canadian Parliament Shuts Down Legit Question About Trudeau Being A Klaus Schwab Plant Even Though Schwab Said This In Public. Canadian Parliament shuts down a question from a member about Klaus Schwab. A clip is circulating the internet where Klaus Schwab acknowledges the World Economic Forum has penetrated the Canadian Cabinet. Unfortunately, a question about the details of these allegations was not allowed to be asked. Too bad Klaus Schwab openly discussed his WEC infiltrating several governments including Canada with Trudeau being the trojan horse. Schwab spoke of this in 2017 at the Young Global Leaders summit. [Video clip]
US Trucker Convoy to 'Shut Down' Traffic on Major Roads Outside Washington: Organizer. One of the U.S. trucker convoys planning to leave this week plans to shut down traffic on the Capital Beltway outside Washington. "We're going to have a shutdown," Bob Bolus, the organizer, told The Epoch Times. "We'll shut it down." The Beltway encircles Washington, running through portions of Maryland and Virginia, and passes through a small part of the nation's capital. Bolus plans to lead a convoy from Scranton, Pennsylvania, where he owns a tow truck company, starting Feb. 23. After a stop in Harrisburg, Pennsylvania, the convoy is estimated to arrive in Washington in the afternoon that day. Bolus, who said the convoy will be peaceful, declined to answer directly if truckers plan to halt traffic purposely, although he did say lanes would be kept open for emergency responders.
Justin Trudeau Eulogized Fidel Castro. "It is with deep sorrow that I learned today of the death of Cuba's longest serving President. Fidel Castro was a larger than life leader who served his people for almost half a century. A legendary revolutionary and orator, Mr. Castro made significant improvements to the education and healthcare of his island nation," said Justin Trudeau in 2016. "I know my father was very proud to call him a friend and I had the opportunity to meet Fidel when my father passed away. It was also a real honour to meet his three sons and his brother President Raúl Castro during my recent visit to Cuba. On behalf of all Canadians, Sophie and I offer our deepest condolences to the family, friends and many, many supporters of Mr. Castro. We join the people of Cuba today in mourning the loss of this remarkable leader."
Is Firefox OK? At the end of 2008, Firefox was flying high. Twenty percent of the 1.5 billion people online were using Mozilla's browser to navigate the web. In Indonesia, Macedonia, and Slovenia, more than half of everyone going online was using Firefox. "Our market share in the regions above has been growing like crazy," Ken Kovash, Mozilla's president at the time, wrote in a blog post. Almost 15 years later, things aren't so rosy. Across all devices, the browser has slid to less than 4 percent of the market — on mobile it's a measly half a percent.
Pennsylvania sent more electricity to neighboring states than any other state in 2020. Nearly 78 million megawatthours (MWh) of electricity generated in Pennsylvania was delivered to neighboring states in 2020, more than from any other state, according to our State Electricity Profiles. More than 230 million MWh of electricity was generated in Pennsylvania during 2020, exceeding electricity generation in all states except for Texas and Florida. Electricity retail sales in Pennsylvania totaled 140 million MWh in 2020, and after direct use and transmission losses, the remaining electricity was sent to other states. Natural gas accounted for about 52% of all the electricity generated from both utility- and small-scale facilities in Pennsylvania in 2020, up from 15% in 2010. Natural gas surpassed nuclear in 2019 as the state's largest source of generation. Nuclear energy accounted for 33% of the electricity generation in Pennsylvania in 2020.
China's fishing fleets are ruining the oceans. Communist China operates hundreds of thousands of fishing vessels. Operating as vast superfleets, they feed a voracious domestic market and have no regard for sustainability or the interests of other nations. It's a big problem. Surging out of port like the invading Mongol hordes that once crushed China, these fleets travel many thousands of miles from Chinese shores. Rarely concerned with international law or the exclusive economic zones of other nations, the superfleets scour the oceans. It's not just the fish that are sucked dry from their habitats — it's sharks, dolphins, and all manner of other marine animals. Whether in the open oceans or in protected marine reserves such as the Galapagos Islands, Chinese fleets care nothing for the chaos they wreak on vulnerable habitats.
Hidden In Plain Sight: The Key To The Kennedy Assassination Is On Public Display In The National Archives. [Scroll down] The Secret Service had the Presidential limousine shipped from Dallas to the White House garage the night of the assassination. Then they sent it to the Ford Factory at River Rouge in Detroit, where it was built, for refitting. When a senior manager there, George S. Whitaker, came to work two days after the assassination, he was ordered to immediately report to the glass plant lab. He was let in through locked doors and found two of his men had already removed the limousine windshield. [...] In an interview a few months later he added: "The hole was about 4 or 6 inches to the right of the rear view mirror [as viewed from the front]. The impact had come from the front of the windshield. If you have spent 40 years in the glass [illegible] you know which way the impact was from." [...] Whitaker is far from the only witness who saw a bullet hole in the windshield. Several members of the Dallas Police, a nurse, and several doctors (and others) at Parkland Hospital noticed it when it was still parked outside while doctors were trying to save Kennedy. One motorcycle patrolman was quite specific: "There was a hole in the left front windshield ... It was a hole, you could put a pencil through it ... you could take a regular standard writing pencil ... and stick [it] through there."
Judge to toss Sarah Palin's defamation suit against the New York Times. A Manhattan judge on Monday said he will toss out Sarah Palin's libel lawsuit against the New York Times over an editorial that falsely linked her to a mass shooting — but he didn't exactly side with the Gray Lady. Manhattan federal court Judge Jed Rakoff said that even though the Times' 2017 piece, headlined "America's Lethal Politics," was the product of "unfortunate editorializing," Palin's lawyers failed to provide evidence that the paper and former editorial page editor James Bennet acted with actual malice. "I'm not altogether happy to have to make this decision on behalf of the defendant," Rakoff said as jurors continued deliberating the case.
Federal Judge Blocks Key Biden Climate Change Executive Order. A federal judge on Feb. 12 blocked a key climate initiative that was signed by President Joe Biden on his first day in office last year. U.S. District Judge James Cain blocked the president's January 2021 executive order that would factor in an alleged "social cost" for emissions of carbon dioxide, methane, and nitrous oxide when policymakers create rules. "The Court agrees that the public interest and balance of equities weigh heavily in favor of granting a preliminary injunction," Cain wrote in an order as he issued a temporary injunction. Cain, an appointee of former President Donald Trump, sided with states in their lawsuit against the federal government and agreed that "the harms to their States and their citizens' economic well-being more than suffice to establish standing and the possibility of irreparable harm."
Mark Cuban's online pharmacy is offering near-wholesale prices on commonly prescribed medicines. Billionaire Mark Cuban aims to disrupt the pharmaceutical industry with a new digital venture offering more affordable generic drugs to patients across the country. In January, the Dallas Mavericks owner launched the Mark Cuban Cost Plus Drug Company. This online pharmacy sells 100 different prescriptions for various diseases and disorders, including cancer, depression, and high cholesterol. The company says it has "cut out the middlemen" and negotiates directly with drugmakers to keep prices low. The unorthodox model results in savings worth anywhere from a few dollars to thousands on each prescription.
The out-of-control rocket about to hit the moon is not a SpaceX Falcon 9, astronomers now say: report. A rocket stage set to hit the moon March 4 might not be from SpaceX after all. The astronomer credited with discovering the forthcoming impact, Bill Gray, announced Saturday (Feb. 12) that he made an error in identifying the rocket as an old SpaceX Falcon 9 rocket stage that helped launch the Deep Space Climate Observatory satellite in 2015. Rather, Gray suggests the stage could part of a Long March 3C rocket that launched China's moonbound Chang'e 5-T1 mission in October 2014.
The Editor says...
There may be other cases like this, but I am unaware of any other instance in which part of a rocket inadvertently hit the moon. Fifty or sixty years ago, it was a major accomplishment to launch an object of any size and have it land anywhere on the moon, at any speed.
DHS deploys 500 workers in case of Super Bowl vaccine protest convoy. The Department of Homeland Security has sent 500 extra employees to southern California ahead of Sunday's Super Bowl to help local cops prevent possible game-day disruptions by truckers similar to ones in Canada protesting COVID-19 vaccine mandates. White House press secretary Jen Psaki told reporters Friday that DHS was working with the California Highway Patrol, the Los Angeles Police Department, and state and local authorities to help counter any protests. She said the 500 DHS workers were already "providing extensive air and maritime security resources." "The Department of Homeland Security is surging additional staff to its incident command post," she said.
Canadian Mayor Says Gov. Whitmer Offered Heavy Equipment To Move Trucks Off Bridge Blocked By 'Freedom Convoy'. Mayor of Windsor, Ontario, Drew Dilkens, said in a press conference Thursday that Democratic Michigan Gov. Gretchen Whitmer offered to help remove protestors blocking the Ambassador Bridge for the past several days. The bridge is a key border between the U.S. and Canada currently occupied by convoy truckers in protest of Canada's COVID-19 mandates. The protest, called the Freedom Convoy, began in Ottawa and has since gone international. "The State of Michigan and the governors' office directly have offered to send over heavy equipment to help remove vehicles, to provide security, they've offered to do whatever is required to help end this blockade as well," Dilkens said in the press conference.
Biden Rejects Army Investigative Report Detailing Chaotic Afghanistan Withdrawal. President Joe Biden rejects an Army investigative report detailing the many issues that occurred during the Afghanistan withdrawal, he told NBC News Thursday [2/10/2022]. The 2,000-page report was obtained by The Washington Post through a Freedom of Information Act (FOIA) earlier this week. It's the latest insight into just how unprepared the Biden administration appeared to be with regard to the Afghanistan withdrawal, and its findings were based on the sworn testimony of multiple commanders. NBC News' Lester Holt highlighted the report during his interview with Biden, noting that multiple military officers said "the administration ignored the handwriting on the wall" regarding the fall of Kabul and the evacuation process. Biden denied that any fraction of the report rang true to him. "No, no," the president insisted. "That's not what I was told."
Canadian truckers take their protest to Ottawa airport for 'parade'. Protesters from the Canadian trucker convoy took their message to the capital city's busiest airport Thursday morning, slowly circling the airport's arrivals and departures lanes and honking their horns. About 70 trucks were making the rounds "in an attempt to disrupt operations," the Ottawa International Airport Authority said in a statement. Pat King, one of the convoy's key organizers, claimed on Facebook, "We're having a parade." He added that they had been circling the airport for about two hours and didn't have plans to stop.
Author Says China's Domestic Troubles Could Trigger Leadership Coup. A group of Chinese officials might stage an internal coup against Chinese leader Xi Jinping, and transition China to a democratic political system, according to Roger Garside, author of "China Coup." "The body politic of China is terminally ill. Only a transplant can save the body politic, and the only other system on offer is competitive democracy," Garside, a former diplomat, told Epoch TV's "China Insider" program on Jan. 31. Garside, who served twice at the British Embassy in Beijing, argues that high-level officials in the Chinese Communist Party (CCP), including Premier Li Keqiang, believe that Xi is taking China in a "very risky and dangerous" direction, jeopardizing their wealth and power, as well as the future of the CCP. He contends that this is the reason why they are plotting against the Chinese leader.
Everything about Biden is worse than we're being told.
Turns Out, Biden's Awful Afghan Exit Was Actually Much Worse Than We Knew. Most everyone knows Joe Biden's troop withdrawal from Afghanistan last summer was an unmitigated disaster of historic — and deadly — proportions. Not the decision to remove the last 2,500 U.S. troops after 20 years of war. That was inevitable and actually made two years ago by Donald Trump. But there was continuous mismanagement of the withdrawal ordered by a 79-year-old who distrusts the military and can't remember the name of his Defense Secretary. Biden had vowed a "safe and orderly" exit. Now comes a devastating 2,000-page after-action report by the Army with new, previously unpublished details about the withdrawal and evacuation's shocking behind-the-scenes chaos and abysmal preparation by the State Department and Biden White House. It shows that weeks before the Taliban victory, diplomats and White House officials resisted military advice that the situation was deteriorating rapidly and evacuation planning was necessary. At the White House, the president and his posse of younger aides were so focused on the perceived political prize of finally getting all U.S. troops out that they ignored strategic advice from generals on how to do that safely.
New Yorkers and lawmakers howl over utility hikes; Con Ed says they're not to blame. City and state lawmakers are amped up over a sudden rate spike that many New Yorkers are now seeing on their Con Ed energy bills — charges that could make it impossible for some to afford rent and their utilities. Brandy Bora, a corporate executive who rents a loft in Greenpoint, said her family's Con Ed bill shot up from $300 in December to $850 last month — an increase, which, if sustained, will mean they'll eventually be forced to move. [...] Con Ed spokesman Jamie McShane [...] countered that Con Ed cannot control the practices of the companies they purchase gas from. "Con Edison does not generate electricity, nor can we manage the financial practices of the private power generators or the suppliers of the natural gas," he said. "Con Edison is seeking the ability to generate renewable energy in New York State for our customers, which would shift our dependence away from natural gas and this volatility."
The Editor says...
If Con Ed is completely dependent on natural gas, perhaps that means they shouldn't abhor coal and nuclear power. Perhaps that also means that windmills and solar panels are useless in New York in the winter. When the weather is brutally cold, nobody cares about saving the Earth from carbon dioxide emissions.
Eric Lander resigns after review finds he mistreated staff. President Joe Biden's top science adviser Eric Lander resigned Monday night [2/7/2022] after apologizing for mistreating his staff. An internal review by the White House found 'credible evidence' that Lander, the Office of Science and Technology Policy chief, bullied subordinates and treated his staff in a way that contradicts the administration's workplace policy. 'The President accepted Dr. Eric Lander's resignation letter this evening with gratitude for his work at OSTP on the pandemic, the Cancer Moonshot, climate change, and other key priorities,' White House press secretary Jen Psaki said Monday night in a statement. 'He knows that Dr. Lander will continue to make important contributions to the scientific community in the years ahead.'
Report: Biden's top science adviser resigns. President Biden's top science adviser resigned Monday night [2/7/2022] after an internal White House investigation found that he violated workplace policy by bullying and demeaning staffers. The White House said Eric Lander resigned, a move that came as Mr. Biden was being criticized for not living up to a pledge to fire any appointee who showed disrespect to colleagues. In his resignation letter to the president, Mr. Lander said he was "devastated that I caused hurt to past and present colleagues by the way in which I have spoken to them."
The Editor says...
What did Mr. Lander do that Kamala Harris hasn't done?
Senate Report: Thousands of Americans Were Left Behind in Afghanistan Following Biden Regime's Botched Withdrawal. Thousands of Americans were left in Afghanistan after the Biden Administration's botched withdrawal last summer, according to a stunning new report released by the ranking Republican on the Senate Foreign Relations Committee. Secretary of State Antony Blinken and other Biden administration officials claimed that number of Americans left behind was only 100-150. According to the report, published by Foreign Relations ranking member Jim Risch (R-Idaho), the Biden Administration "did not hold a senior-level interagency meeting to discuss an evacuation or formally task the State Department (State) to contact at risk populations, including Americans, until August 14, just hours before Kabul fell."
Chris Wallace joined CNN+ because Jeff Zucker would be his protector there, now reportedly 'irate' at his departure. Apparently, nobody told Chris Wallace that rats are supposed to jump from sinking ships, not onto them. After leaving Fox News for the nascent CNN+ streaming service (and watching ratings soar for his old show, Fox News Sunday, once he was gone), Wallace now finds himself abandoned by the person who lured him away, Jeff Zucker. [...] Wallace has got to be worried about the long knives and his ample back at his new employer that looks like it is about to clean house. Notably, there are no reports of him bringing any staff with him from Fox, and his old support staff at Fox News Sunday must be popping champagne corks with the new ratings they enjoy with Shannon Bream helming the broadcast.
Elon Musk slams GoFundMe for 'double standard' after platform seizes $10 million from Freedom Convoy. Elon Musk, the world's richest man, slammed GoFundMe for taking down the Freedom Convoy's fund, which amassed over $10 million. As reported earlier by The Post Millennial, GoFundMe has taken down the Freedom Convoy fundraiser after significant pushback from those opposed to the protest. They stated that they "now have evidence from law enforcement that the previously peaceful demonstration has become an occupation, with police reports of violence and other unlawful activity." Responding to suggestions that he had donated funds to the GoFundMe, Musk denied that it was his money, but posted a meme that blasted GoFundMe for being "professional thieves."
Flashback: GoFundMe supported Antifa-occupied 'CHAZ/CHOP' even after people were murdered. GoFundMe, the crowdfunding platform that recently seized over $10 million in funds intended for the Canadian truckers' Freedom Convoy, financially supported and promoted the illegal "Capitol Hill Autonomous Zone" or CHAZ/CHOP in Seattle, Washington during the height of the summer 2020 riots that broke out in the wake of George Floyd's death. As detailed by Jack Posobiec on Twitter, GoFundMe tweeted an advertisement publicizing one of the many crowdfunds set up in the CHAZ/CHOP, which was established by Black Lives Matter supporters, local gangs, and elements of Antifa, who set up a cop-free perimeter that encased several neighborhoods in Seattle's Capitol Hill district.
Hurricane Canada. What is most surprising in a tepid and unadventurous country like Canada that habitually votes left is the degree of popular support the truckers' Freedom Convoy has garnered from ordinary citizens across the land. Convoys have assembled in several Canadian cities, the Alberta-Montana border has been blockaded, and reinforcements continue to arrive — even on horseback, taking a page from the RCMP. Naturally, official aggression is also formidable, as a bought-and-paid-for print media, enjoying Prime Minister Trudeau's $600 million bribe, and the country's national broadcaster the CBC, rolling in annual billion-dollar government funding, weigh in against the truckers. Government officials at every level, municipal, provincial, and federal, with only a few exceptions, have joined the vigilante movement against the salt-of-the-earth protesters. Threats of reprisal are mounting, highways have been closed, and the turbulence shows no sign of ending anytime soon.
Jake Sullivan Gets Taken to the Woodshed on Biden Hurting US, Helping Russia on Energy. Biden's National Security Adviser Jake Sullivan went on all the networks on Sunday, stoking up the concern about a potential invasion of Ukraine by Russia. But when he went on Fox, he faced some real questions from host Martha MacCallum about why Joe Biden had aided and abetted Russia with the moves that he has made regarding energy. Now, we see a lot of liberal media giving the Biden Administration a pass when it comes to their bad moves on energy, but MacCallum had the facts and was loaded for bear with them in the interview.
Turns out Joe Biden abandoned 9,000 Americans to the Taliban in his chaotic Afghanistan withdrawal. After Joe Biden, Tony Blinken, and other Biden administration officials blithely assured that the number of Americans left behind in Afghanistan in the chaotic U.S. pullout was minuscule, just a minor rounding error, Congress has come up with a more accurate figure. [...] That's a bona fide scandal because Biden and his administraton obsessively assured Americans that virtually no American was left behind. He said that, of course, in order to get the issue off the front pages.
GoFundMe Says It Will Automatically Refund All Donations to Trucker Convoy; Florida to Investigate. The GoFundMe fundraising platform said Feb. 5 it will automatically refund donations made to a trucker convoy in Canada protesting COVID-19 vaccine mandates after backlash. GoFundMe said Friday it was preventing the funds from going to organizers of the Freedom Convoy and would instead send the money to "established charities verified by GoFundMe." The justification for the unusual move? "We now have evidence from law enforcement that the previously peaceful demonstration has become an occupation, with police reports of violence and other unlawful activity," GoFundMe said. The website didn't provide any evidence of the alleged violence or unlawful activity.
GoFundMe Caves After Attempting to Steal 'Freedom Convoy' Donations. As RedState reported Friday evening, GoFundMe has decided to shut down the fundraiser set up to provide money to the Freedom Convoy in Canada, a group of truckers, farmers, and others protesting draconian COVID-19 mitigation measures. According to the crowd-funding site, they did so because of threats of violence and harassment, though, they provided no evidence of that claim. In fact, the only violence so far appears to have come from someone running over some of the Freedom Convoy participants in what is still a developing story we reported on earlier Saturday [2/5/2022]. Worse, GoFundMe announced that it was only going to offer manual refunds, and that the unclaimed money would go to "approved" charities. That meant that thousands of people who didn't hear the news could end up having their money go to causes they didn't approve of. In short, GoFundMe was fine stealing people's money for political reasons.
Reporter Presses White House on 'False Flag' Claims. Skepticism is building around the White House's narrative regarding Ukraine and Russia, and that boiled over today during the press briefing at the US State Department. In a rare act of journalism, Matt Lee of the Associated Press excoriated State Department spokesman Ned Price in a must-see back and forth. The issue at hand involved the Biden administration's latest claims that Russia is spreading "misinformation" and seeking to commit a "false flag" attack to offer a pretext for war. While most reporters would have just accepted the government's word as fact, Lee was having none of it. He lit into Price, comparing the claims to "crisis actors," and describing them as "Alex Jones territory." [...] The context of Lee's frustration is simple: The government has, time and time again, shown itself to be completely untrustworthy in relaying information to the public. At times, the dishonesty has come via omission. At other times, it's manifested in outright lies.
Keep your gas tank full. You might need it.
Canadian Convoy Movement Goes Global — Next Stop, U.S.? As we've discovered again in recent years, the left loves civil disobedience, until it's someone disobeying them. Then it becomes filled with authoritarian busybodies, more than happy to deny you your rights to enforce their vision of the world — whether it's COVID lockdowns used to force Americans to follow senseless, unscientific rules, racist America-hating Critical Race Theory forced on school kids, or insane "woke" cancel culture imposed on us all. But some are now saying, "enough," and loudly. And they're not the elites. They're working people who have seen their livelihoods damaged or destroyed, lost their rights to travel and and speak out, and in general have been treated as subjects, not citizens. That's where Canada's trucker convoy comes in. Like the American Tea Party movement of more than a decade ago, the truckers hoped to use their right to speak out and criticize to compel their government to change its rigid and at times absurd lockdown rules, which have devastated whole swaths of the country's economy. The Canadian government, led by Canada's woke, Peter Pan-ish Prime Minister Justin Trudeau, has responded not with an understanding of the trucker movement's followers and their very real fears, but with ridicule, name-calling and insults.
Workers of the World Unite, and the Left Hates It. The workers are uniting against government mandates and the left now calls it fascism. What began as a GoFundMe campaign for Canadian truckers who lost their jobs due to COVID-19 mandates for cross-border travel turned into a massive "Freedom Convoy" that drove across Canada and into the capital, Ottawa. Left-wing Canadian Prime Minister Justin Trudeau dismissed the truckers as a "small fringe" with "unacceptable views." [...] Are we really to believe that the Black Lives Matter protests didn't include "hateful rhetoric" and violence? They certainly didn't practice social distancing or universal mask use when that was demanded by the capital "S," science. Unlike those "mostly peaceful" protests that ended up in many cases burning down large sections of cities, no arrests or police incidents have occurred so far as a result of the Freedom Convoy.
China Builds 27 Empty New York Cities. As of 2016, China's empty apartment units could house New York City 27 times over. What does this mean to you? There are a lot of effects from wasting so many resources. [...] If you are a connoisseur of forbidden truths, as I am, you don't take official figures at face value. You keep digging for tells that reveal the real story. I'm convinced that Chinese government statistics are as bogus as those in the United States. And more so. Professor Christopher Balding of Peking University's HSBC Business School, an authority with good sources in the People's Bank of China's (PBOC) Financial Stability Board, recently did some subversive arithmetic combining "on balance sheet assets" with "off-balance sheet assets." Remember, while debts are liabilities to the borrowers, they are assets to the lenders. He concludes that total debt in China is a breathtaking 833 percent of GDP. That means a debt of roughly $116.6 trillion.
With Chris Wallace Gone, "Fox News Sunday" Sees Most Viewers in a Year. Chris Wallace, the former Fox News Sunday host that many contended was extremely biased towards Biden in the first Trump-Biden debate, showed his true colors when he announced that he was leaving Fox for CNN, a move many said was for ideological reasons. [...] In any case, though Wallace probably thought he was doing the brave thing by leaving Fox and taking his audience with him, that didn't happen. Rather than Fox's audience shrinking thanks to Wallace's departure, it actually grew!
'Fox News Sunday' Yet to Feel Impact of Chris Wallace's Departure, Sees Highest Rated Show in a Year. Fox News' Sunday morning show, "Fox News Sunday," has not suffered a decline in the ratings since former anchor Chris Wallace announced his departure for CNN's streaming service. The program even saw a rise in ratings, with the Jan. 23 broadcast raking in the most total viewers and the most viewers aged 25-54 the show has seen since Jan. 24, 2021. According to Nielsen Media Research, the Jan. 23 episode of the show hosted by "Fox News at Night" anchor Shannon Bream saw a rating increase of 27 percent in the 25-54 demo and a 21 percent rise in total viewers over Wallace's last show on Dec. 12, 2021.
Boomers for Censorship. If you're not aware, earlier this week, "[Neil] Young" threatened to remove his music catalogue from Spotify if the corporate media behemoth did not remove the "Joe Rogan Experience" podcast from its platform. He gave Spotify an ultimatum, 'It's Joe Rogan or me.' It's not clear whether Spotify assigned this challenge to its accounting department, but a quick glance at Joe Rogan's download numbers (in the tens of millions) shows that they dwarf the number of music downloads "and Young" gets on the platform. Spotify apparently and politely told Young they were going to stick with Joe. Spotify then proceeded to remove Young's music from the platform, forcing all of his fans to dust off their shoeboxes full of 8-track tapes if they want to listen to his music again.
Marijuana impairs driving more, and for longer, than users think, study finds. Smoking marijuana impacts adults' ability to drive safely, yet most who use the drug believe otherwise, a study published Wednesday by JAMA Psychiatry found. Adults in the study performed "significantly" less well on tests designed to assess their driving abilities, including reaction times 30 minutes and 90 minutes after smoking marijuana, the data showed.
Pennsylvania monkey truck crash spawns conspiracy theories after woman at scene falls ill. A Pennsylvania woman first on the scene of last week's lab monkey truck crash near Danville is now the center of online conspiracy theories after falling ill. The Daily Mail reports the woman, Michele Fallon who lives near Danville, Pa., is now suffering symptoms after one of the cynomolgus macaque monkeys "hissed" in her face. On her Facebook page and in interviews, Fallon said she suddenly developed a cough, runny nose and pink-eye the day following the accident. The pink-eye became so bad, she sought emergency room treatment at Geisinger Medical Center in Danville, the Daily Mail reported.
US sends Kiev a plane-load of lethal Javelin anti-tank weapons — each with Vlad's name on them. Russia has for the first time moved elite paratroopers close to its border with Ukraine amid fears of a military operation to grab capital Kiev. A train with the crack troops and their equipment was spotted moving west towards the potential war zone and appears to be the 217th Guards Parachute Regiment of the 98th Airborne Division. The deployment was seen passing through Russia's Bryansk region which borders both Ukraine and Belarus, as shown in a video posted on TikTok.
Russia-Ukraine Crisis [is] Deescalating As NATO Countries Break From Bellicose US-UK Stance. Deescalation appears to be accelerating over the Ukraine crisis given a number of rapid developments which have seen lead NATO countries break from the more bellicose and threatening tone of the United States and UK. After Germany's neutrality toward the Russia-Ukraine crisis became apparent, Sweden is the latest to follow its lead of forbidding arms transfers to Kiev, while Croatia is out with a firm statement saying it will recall all of its troops from NATO in the event of war. This followed on the heels of Ukrainian President Volodymyr Zelensky announcing that circumstances in the region are now "under control" and that there's "no reason to panic" according to The Associated Press. It appears the earlier hyped messages of an 'imminent Russian invasion' have backfired, as Ukraine officials have now turned to castigating the media for spreading a sense of overblown panic and doom among the population. Defense Minister Oleksii Reznikov went so far as to say the threat of a Russian invasion "doesn't exist" despite there still being "risky scenarios". Other Ukraine defense officials have echoed this as well.
Microsoft's 'Woke' Language Editor Included in Software. [Scroll down] Imagine, Microsoft, the company founded by Jeffrey Epstein's great friend Bill Gates, is telling us how to behave through language alteration. (Does anyone have a synonym for hypocrisy meaning "so hypocritical it's actually nauseating." We need a new word here.) Soon enough, they'll be asking us to insert our pronouns in order to log in. On the surface the whole thing is hilariously stupid, but this is no joke. Woke, and all it entails, is far from funny. Even the reliably liberal Bill Maher has recognized that, reminding his ideological compatriots that a lot of the public is fed up with this nonsense. But that doesn't deter Microsoft that continues to pay obeisance to what's in reality manipulative propaganda designed to control us and guilt us into being sheep, a nation of conformists.
China might claim salvage rights to crashed US F-35 stealth jet by calling it an 'environmental hazard'. A retired military official is warning on Wednesday that China could claim salvage rights to an F-35 stealth fighter jet that crashed into the South China Sea earlier this week. Carl Schuster, former director of operations at the US Pacific Command's Joint Intelligence Center in Hawaii, told CNN that China's likely game plan will be to capitalize on its territorial claims in the South China Sea and claim it's salvaging the craft for environmental purposes. 'Salvaging the plane with commercial and coast guard assets will enable Beijing to claim it is recovering a potential environmental hazard or foreign military equipment from its territorial waters,' the former Navy captain said.
US Navy sailors hurt in 'mishap' on USS Carl Vinson in South China Sea. Seven US sailors were injured Monday when a fighter jet had a "landing mishap" on the deck of the aircraft carrier USS Carl Vinson in the South China Sea, officials said. The pilot of the F-35 Lighting II warplane was recovered by a helicopter after ejecting and is in stable condition. The incident occurred during "routine flight operations," the Navy said. Three of the injured sailors were taken to a medical facility in Manila, while the other four were treated aboard the ship. Three of the four have since been released.
Race to beat China to recover $100 million US F-35 stealth fighter from bottom of South China Sea. The U.S. faces a race to beat China in recovering an F-35 stealth fighter that plunged into the South China Sea on Monday [1/23/2022] after what the Navy termed a 'landing mishap' aboard the USS Carl Vinson. The pilot was forced to eject and seven military personnel in total were injured. The $100 [million] warplane, customised for naval operations, plunged overboard — making it the second time in three months that an F-35 has been lost at sea.
Finnish Government Puts Christianity On Trial, Calls The Bible 'Hate Speech'. Two Christian leaders in Finland stood trial in Helsinki on Jan. 24 for publicly stating the Bible's teachings on sex and marriage. Longtime Member of Parliament Paivi Rasanen and Lutheran Bishop Juhana Pohjola defended in court their decision to write and publish, respectively, a pamphlet explaining Christian teachings about sex and marriage. In the trial's opening arguments, which will resume on Feb. 14, Finnish prosecutors described quotations from the Bible as "hate speech." Finland's top prosecutor's office essentially put the Bible on trial, an unprecedented move for a secular court, said Paul Coleman, a human rights lawyer with Alliance Defending Freedom International who is assisting in the Finns' legal defense and was present during Monday's trial.
The Criminalization of Christianity in Finland. In a foreshadowing of America's future under coercive secularism, a Finnish politician and Finnish bishop will go on criminal trial next week for merely upholding historic Christian teaching on sexual morality. The trial is a telling measure of the erosion of Christianity in Europe. Juhana Pohjola, a Lutheran bishop, and Päivi Räsänen, a member of Finland's Parliament, stand accused of an act increasingly forbidden in the de-Christianized West: quoting the Bible. "According to the nation's top prosecutor, the two people are accused of violating the equality and dignity of LGBT people," reports Christianity Today. Simply quoting the Bible's condemnation of sexual immorality is now sufficient to qualify as a "hate crime" in Finland. What Christianity has always taught — hate the sin, but love the sinner — is no longer permissible in the eyes of Finnish authorities. They say that Pohjola and Räsänen are guilty of "ethnic agitation" — an absurdly vague charge they would never dream of applying to members of any other religion besides Christianity.
Drop in Public Trust in Military Officers Portends Danger. The public disaster that unfolded in Afghanistan in August shook Americans to their core. Many to this day cannot understand how the military was so unprepared for the sweep of the Taliban across Afghanistan. They do not understand how U.S. forces were forced to conduct an evacuation out of a civilian airport unsuited for that purpose and why America relied on terrorists to provide airport security. Despite moments of candor — such as Chairman of the Joint Chiefs of Staff Gen. Mark Milley's description of the Afghan war as a "strategic failure" — multiple days of congressional testimony failed to shed much light on these questions, and based on these poll results, Americans are not willing to let senior military leaders completely off the hook for the debacle. But it probably isn't just Afghanistan that led to this decline. Before Afghanistan there was a growing sense that senior military officers are becoming more political, and that does not sit well with Americans.
Now the BNSF Railroad Prepares to Go on Strike Adding to Challenges in Filling Already Empty Shelves in US Stores. The Burlington Northern - Sante Fe (BNSF) railroad is preparing to go on strike. This will involve 17,000 workers across the nation and will disrupt supply chain channels even further.
No military evacuation of U.S. citizens if Russia invades Ukraine: State Department. Americans in Ukraine will be on their own if Russia invades so the U.S. government is advising them to take the earliest commercial flight possible out of the country. On Sunday [1/23/2022], State Department officials said they didn't know if Russian President Vladimir Putin has made the decision to send tanks across the border but insisted such a move could come "at any time." "The U.S. government will not be in a position to evacuate American citizens in such a contingency," a senior State Department official told reporters in a briefing. "Russian military action anywhere in Ukraine will severely impact the U.S. embassy's ability to provide consular assistance."
Joe Biden Just Told Americans in Ukraine to Go Jump in a Lake. Are you ready for some more of that foreign policy "expertise" Joe Biden is supposedly famous for? As RedState has reported, tensions between Ukraine and Russia are nearing a boiling point, with the latter possibly invading at any moment. On Saturday, the State Department moved to evacuate all embassy personnel and their families. Now, the call to leave the country has extended to all Americans. Unfortunately, because absolutely no lessons were learned from Afghanistan, the Biden administration isn't planning on offering any help.
Senate Rejects Filibuster Change, Defeats Election Overhaul Bills. The Senate late Thursday [1/19/2022] rejected a Democratic effort to alter the filibuster in order to pass their long-sought voting bills over unanimous Republican opposition, capping one of the most consequential days in the history of the chamber. The vote failed 48-52 after Democratic Sens. Joe Manchin and Kyrsten Sinema voted as they said they would for months, joining a unanimous Republican caucus in opposition and denying their party the necessary support for the change to take effect. The change, had it been adopted, would have established a "talking filibuster" pertaining to the voting bills only, allowing any senator to speak for or against them for as long as they wanted but lowering the 60-vote threshold for passage to a simple majority.
Chuck Schumer's daughters work at Amazon and Facebook while Senate pursues antitrust bills. Senate Majority Leader Chuck Schumer's two adult daughters work for big tech, raising questions about whether he has conflicts of interest as the Senate pursues legislation to rein in the companies. The New York Post reported Tuesday that Jessica Schumer is a registered lobbyist for Amazon, while her sister Alison Schumer works for Facebook as a product marketing manager. Schumer's first test could come soon, as a bill is making its way through the Senate Judiciary Committee that would prohibit companies like Amazon from 'self-preferencing' their content - essentially marketing their products over those from other sellers.
In Norway, a man who murdered 77 people — who was sentenced to only 21 years — is seeking release after 10 years in prison. You may remember Anders Behring Breivik, who hunted down children at a Labor Party summer camp. The sentence was 21 years because that was the maximum permitted, though the judge was able to add a provision for "preventive detention," based on his future danger to society. But, technically, he's eligible for parole, and he's taking advantage of this access back into the public eye.
Glenn Youngkin Wastes No Time Delivering on Election Promises. Shortly after being inaugurated, Virginia Governor Glenn Youngkin and his administration set the left's hair on fire. It was glorious to watch. Virginia is not just full of government employees working in the Biden administration. It is also full of corporate media hacks who cover the beltway. One of the first few actions Youngkin took was appointing an adviser on the pandemic. He chose Dr. Marty Makary, surgery and public health professor at Johns Hopkins University.
NYS landmarks to be lit red, green and black for MLK Day. New York Governor Kathy Hochul has announced that state landmarks will be lit the night of January 17 to mark Martin Luther King Jr. Day. The landmarks with be lit red, green and black.
The Editor says...
Please explain how something can be lit black.
Married University of Michigan president, 64, is fired under zero-tolerance rules he created. The University of Michigan has fired its $927,000-a-year president for having an affair with a subordinate, a year after implementing wide sexual misconduct rules to stop people in power sleeping with their staff. Mark Schlissel, 64, was informed in a letter on Saturday that he was being fired from the role he has held since July 2014. The university has also made public 118 pages of emails between him and the woman he had an affair with. She is not named in the exchanges. The school found out about their affair through an anonymous tip on December 8, 2021. The emails begin in 2019, when he sent the woman an article that she 'couldn't download' about the sexual habits of New Yorkers. Their correspondence ends on December 3 last year, five days before he was reported.
Communist Takeover: Without Firing a Shot, China Seizes Control of America's Farmlands. U.S President Joe Biden told the media earlier in 2021 after a phone call with Chinese President Xi Jinping that China was "going to eat our lunch." Heads up, they already are — literally eating our lunch as they buy up American farmland and invest in thousands of American companies. "The current trend in the U.S. is leading us toward the creation of a Chinese-owned agricultural land monopoly," Representative Dan Newhouse (R-WA) warned in a recent House Appropriations hearing. According to American Military News, Newhouse raised his concerns about Chinese land ownership as he proposed an amendment in a new agricultural appropriations bill, H.R. 4356. The amendment would block any new agricultural purchases by companies wholly or partly controlled by the Chinese government. Furthermore, it would ban existing Chinese-owned farms in the U.S. from drawing from federal agricultural support programs.
Union Pacific train derails near site of recent cargo thefts in Lincoln Heights; 17 cars off track. Seventeen cars of a Union Pacific train derailed Saturday afternoon in Lincoln Heights, the same area which has recently seen rail car thefts. Drone video showed the scene of the derailment near San Pablo Street and Valley Boulevard, which is expected to be blocked for some time.
The Editor says...
[#1] I'm not a detective, but if the railroad pirates have discovered a gold mine of flat-screen TV's and other merchandise that can be looted and re-sold, they have a tremendous incentive to figure out how to derail a freight train at exactly the place they want it to stop. A derailment leaves the train stopped for a long time, which makes it much easier to board and hastily ransack it. [#2] Democrats don't spend any time wondering, Where is this going to lead? But allow me to make this prediction: Before long, television sets will be sold as brain-dead devices that can only be activated after you enter a code that the retailer will supply to you when you legitimately purchase the TV. That way, a stolen TV set will be useful only as a doorstop or boat anchor. This would be especially effective if the TV has a connection to the internet. Under this registration system, one could easily invent a system to remotely disable TV sets that were stolen after they were purchased and initially registered, but for now I won't elaborate on the technical details.
Biden boasts $27 billion in bridge repair spending. President Biden on Friday announced that his administration will distribute $27 billion to repair or replace 15,000 bridges across the country. The funds will be doled out as part of the bipartisan infrastructure spending Mr. Biden signed into law in November. He said the funds were the largest investment in our nation's bridges since the creation of the Interstate Highway System in the 1950s.
The Editor says...
This is an example of a news story (and a presidential option) that is unleashed for the purpose of getting something in the newspapers other than presidential scandals. In this case, the scandals include dementia, rock-bottom approval ratings, incompetence, runaway inflation, U.S. citizens trapped in Afghanistan, unchecked illegal immigration, the collapsing Covid-19 hoax, and big city crime that's out of control. Stories like highway construction and NASA space probes are injected into the news stream to divert your attention.
Gov. Youngkin Signs 11 Executive Orders During First Day In Office. Republican Virginia Gov. Glenn Youngkin got straight to work Saturday, issuing 11 executive orders within hours of his inauguration. Several of the orders were aimed at the issues within Virginia schools that gave him the edge over Democratic candidate Terry McAuliffe in the waning days of the election. "It's Day One, and we are going to work just like we promised," said Youngkin in a press release, directing an end to "the use of divisive concepts, including Critical Race Theory, in public education" with his first executive order. He further made good on his promise to parents with his second order by "empowering [them] in their children's education and upbringing by allowing them to make decisions on whether their child wears a mask in school."
VA Governor Glenn Youngkin Overturns Mandates and Takes on Critical Race Theory Immediately Upon Taking Office. Newly-minted Virginia Governor Glenn Youngkin started his first day in office with a bang that could reverberate across the nation as a signal to other governors on the fence between the people and the donor class. Signing a slate of executive orders, Youngkin fulfilled some of the biggest promises he made to voters during his groundbreaking gubernatorial run. The orders include:
• Ending the use of Critical Race Theory in public education
• Investigating "wrongdoing" in Loudon County
• Opening the economy for all business
• Withdrawing from previous "green energy" initiatives that have been harmful to Virginia's economy and bureaucracy
• Slashing "job-killing" regulations
• Allowing parents and students to opt out of school mask mandates
• Rescinding vaccine mandates for all state employees
Watch As Mexican Cartel Drops Bomb From Drone On Rivals. A modified consumer drone was used in a bombing raid on a rival drug cartel in Mexico on Monday. Video from the cartel-operated drone shows several bombs were dropped on a rival camp in a new turf war. According to the Spanish-language daily newspaper El Pais, the drone was operated by the Jalisco New Generation Cartel (CJNG) and bombed a rival cartel in the state of Michoacan. At least one person was injured in the attack. [Video clip]
National School Board Association 'at risk of total collapse'. We've seen this coming for a while now, like a slow-motion train wreck. After the National School Board Association (NSBA) sent a letter to the Biden administration comparing parents to domestic terrorists and even suggesting the PATRIOT Act might be used to reign them in. That turned out to be the last straw for a lot of parents and maybe also for the NSBA.
Why Are They Building A Wall Around The White House? The last year has seen a lot of construction making its way around the White House, and after the fountain on the South Lawn was renovated a month or two ago we had a bit of a break. That ended today though as the construction crews moved into the North Lawn and surrounded the fountain with barriers and hoarding in preparation for some new construction at the White House. Construction like this has been ongoing for over a year at the White House, but they generally move in small bits. [Video clip]
Even as Biden tears down our border, he's protecting himself and his friends. When Donald Trump boasted about and then began building his wall along America's southern border to protect us from illegal aliens flooding in, bringing crime in their wake, and taking jobs from low-income Americans, Democrats insisted that walls were evil. Walls were ugly. Walls divided Americans. Blah, blah, blah. And when Biden got into the White House, the first thing he did was stop building Trump's wall and throw open the border to illegal aliens from around the world. Given all that, it's ironic, to say the least, that Biden appears to be building a ten-foot high wall around the White House. Conservative Treehouse writes that "the Joe Biden White House is erecting a concrete (K-Rail) blast and security containment wall directly around the White House." It's a big wall, too: "The perimeter fence appears to be approximately 10' high and is made from reinforced concrete k-rails. It is also being installed directly around the White House building itself."
Biden Administration Erecting Concrete Blast and Security Wall Around White House. Recently revealed video shows the Joe Biden White House is erecting a concrete (K-Rail) blast and security containment wall directly around the White House. There doesn't appear to be any explanation readily available. These types of security barriers are sometimes erected when heads of state are planning to come to the White House. However, there doesn't appear to be any information about an anticipated delegation or foreign dignitary. Additionally, according to one researcher on social media, all of the publicly available CCTV video-streams have been disabled as this work is taking place. The perimeter fence appears to be approximately 10 [feet] high and is made from reinforced concrete k-rails. It is also being installed directly around the White House building itself. [Video clip]
Pentagon opens probe into whether extremists are getting into the military. The Department of Defense's inspector general this month launched an investigation into whether the military is adequately screening recruits for "supremacist, extremist and criminal gang behavior," in accordance with Pentagon policy and procedures. In December, Pentagon officials issued new rules prohibiting service members from engaging in extremist activities. The guidelines were announced about a year after some veterans and a handful of active-duty service members were found to have participated in the Jan. 6, 2021, riot at the U.S. Capitol. Soon after taking office, Defense Secretary Lloyd Austin ordered a "stand down" in the ranks so commanders could discuss what the Pentagon considers a rise in extremism in the armed forces.
Microsoft introduces new feature that suggests PC alternatives when someone types phrases that could offend snowflakes like 'mankind'. Microsoft has included a new function in the latest version of its Word software that acts as a checker for inclusivity and offers PC alternatives to phrases which could upset others. Traditionally, Microsoft Word has offered tools to its 250 million users such as checking software for spelling, punctuation and grammar. But now, the tech giant has added an additional feature which reads through a user's work and examines whether the language used may offend an individual.
After a Visit by Pete Buttigieg, Oakland California Joins Operation Hide the Ships. Transportation Secretary Pete Buttigieg visited the Port of Los Angeles (POLA) and Port of Long Beach (POLB) to announce the Biden administration officially saved Christmas. Yes, that actually happened. Los Angeles Mayor Eric Garcetti took it one step further and proclaimed Secretary Buttigieg as the official "man who saved Christmas".
Fed vice chair is latest official to quit in trading scandal. Federal Reserve Vice Chair Richard Clarida said Monday [1/10/2022] that he will step down on Friday, the third Fed official to resign after a trading scandal at the central bank that involved potential conflicts of interest. The announcement followed new revelations around Clarida's trading in a stock fund in February 2020, when the coronavirus threatened to upend the global economy and the Fed was discussing extraordinary rescue measures.
McCarthy Eyes Ban on Lawmakers Trading Individual Stocks. House Republican Leader Kevin McCarthy is considering banning lawmakers from trading individual stocks if his party wins control of the chamber in the November midterms and he becomes speaker, a person familiar with the matter said. The plan could be put into effect in the package of House rules voted on at the beginning of the next Congress. Government officials' personal financial dealings are receiving fresh scrutiny following Federal Reserve Vice Chair Richard Clarida's announcement Monday that he will resign before his term expires amid revelations about his own stock trading on the eve of a major central bank announcement.
Powell calls inflation a severe threat, disputes White House claims of easing supply-chain woes. Federal Reserve Chairman Jerome H. Powell on Tuesday [1/11/2022] disputed President Biden's claim that supply-chain problems have eased, telling Congress that persistent bottlenecks are responsible for record-high inflation that could prompt the central bank to raise interest rates more than planned. In a confirmation hearing for a second four-year term, Mr. Powell told the Senate Banking Committee that high inflation has become a "severe threat" to healthy employment levels. He said stalled shipping and delivery networks are still hurting the economy by contributing to the biggest price increases in consumer goods in four decades. "We're not seeing really a lot of progress," Mr. Powell testified. "Look at Long Beach and L.A., the two big ports on the West Coast for Asia, the number of ships at anchor is still at a record level."
American Airlines issues groveling apology after furious customer tweeted photo of pilot with Let's Go Brandon sticker on his case. An American Airlines passenger has sparked a firestorm by complaining about a pilot whose case bore a sticker critical of Joe Biden. Dana Finley Morrison, a Missouri-based fraternity and sorority worker, was flying from St Lucia to Miami on Saturday when she spotted the pilot's 'Let's Go Brandon' sticker. [...] he airline has a policy that only official, preapproved badges or pins can be worn by its staffers. Examples include a military veterans pin, a gay pride pin and one for Christian workers. Pilots can only wear three pins at a time.
Maryland surgeons successfully transplant pig heart into human patient. In a medical first, doctors transplanted a pig heart into a patient in a last-ditch effort to save his life and a Maryland hospital said Monday that he's doing well three days after the highly experimental surgery. While it's too soon to know if the operation really will work, it marks a step in the decades-long quest to one day use animal organs for life-saving transplants. Doctors at the University of Maryland Medical Center say the transplant showed that a heart from a genetically modified animal can function in the human body without immediate rejection. The patient, David Bennett, a 57-year-old Maryland handyman, knew there was no guarantee the experiment would work but he was dying, ineligible for a human heart transplant and had no other option, his son told The Associated Press.
Rep. Ed Perlmutter Becomes 26th Democrat to Announce Retirement In 2022. Rep. Ed Perlmutter (D-Colo.) has added his name to the already-expansive list of Democrats who have announced that they will be retiring ahead of the 2022 midterm elections. Most of these retirements have thus far come from the House, where Republicans are expected to put on a real challenge to Democrats who are looking to keep their majority. In the Senate, where Democrats have a more favorable election map, there has only been one retirement, that of Sen. Patrick Leahy (D-Vt.), president pro tempore of the Senate. The slew of Democratic retirements in the House has led some to speculate that there is a connection between the difficulty that Democrats will face in the 2022 elections and the growing list of retirements. During a speech announcing his retirement, Perlmutter brushed off any such speculation.
Things to Look For that show signs of food supply chain vulnerability. [Scroll down] The reason I list the shortage of potatoes as the #1 precursor is because every food outlet sells a potato in some form. Every supermarket and every single restaurant (fancy, sit down or fast food) sells some form of potato. Potatoes are demanded by every single food outlet; therefore, a shortage of potatoes is the first noticeable issue. The 2020 demand disruption problem now becomes a 2021/2022 supply chain problem on both the fresh and processing side (depleted inventories), with each vector now competing for the same raw material: wheat, soybeans, grains, beans and stored row crops. Making matters worse, the protein suppliers also need grain as feed for cattle, pigs, cows, chickens, etc.
Ted Cruz admits his comment calling the January 6 riot a 'violent terrorist attack' was 'dumb and sloppy'. Texas Senator Ted Cruz gave a mea culpa to Fox News Channel host Tucker Carlson Thursday after Carlson criticized Cruz Wednesday [1/5/2022] for comments he made last week branding the Capitol riot 'a violent terrorist attack.' Cruz, introduced by Carlson as 'smarter than me,' called his own comments 'dumb and sloppy' and said he texted Carlson shortly after and asked to go on the show. Carlson didn't believe it, continuing his line of criticism from Wednesday night, where he said: 'He doesn't use a single word by accident. Every word Ted Cruz uses is used intentionally. He's a lawyer.'
The Editor says...
Ted Cruz isn't just a lawyer. He was the Solicitor General for the State of Texas before being elected to the U.S. Senate. Everything he says is planned in advance. He knows exactly what he's saying.
Democrats Call for the Disqualification of Dozens of Republican Members. Electoral disqualification systems are generally anathema to democratic values, but some in the United States are now toying with the idea for the 2022 or 2024 elections. While more modest than the Iranian model, the Democratic calls for disqualification are just as dangerous. What is most maddening is that this anti-democratic effort is cloaked in democratic doublespeak. This week, Democratic lawyer Marc Elias predicted that 2022 would bring a renewed interest in disqualifying Republican members from office based on an obscure Civil War-era provision. Elias — the former Hilary Clinton campaign general counsel — is a well-known figure in Washington who has been prominently featured in the ongoing investigation of Special Counsel John Durham. Elias has founded a self-described "pro-democracy" group that challenges Republican voting laws and pledges to "shape our elections and democratic institutions for years to come." In the age of rage, nothing says democracy like preventing people from running for office.
Disgraced Theranos boss Elizabeth Holmes is found guilty of four counts of wire fraud and conspiracy. Elizabeth Holmes has been found guilty of four counts of wires fraud after a jury in San Jose found that she deceived investors into sinking more than $945 million into her faulty blood testing machines. The former Theranos CEO is facing up to 20 years in jail, with each count of her sentence likely to be served concurrently. She is expected to appeal. Holmes, 37, who modelled herself on Bill Gates and Steve Jobs, won widespread acclaim — including from Harvard University and Time magazine — for a phoney technology which she claimed would revolutionize blood-testing methods by using miraculously tiny volumes of blood, such as from a finger prick.
Covid crisis leaves Sri Lanka on brink of bankruptcy. Sri Lanka is facing a deepening financial and humanitarian crisis with fears it could go bankrupt in 2022 as inflation rises to record levels, food prices rocket and its coffers run dry. The meltdown faced by the government, led by the strongman president Gotabaya Rajapaksa, is in part caused by the immediate impact of the Covid crisis and the loss of tourism but is compounded by high government spending and tax cuts eroding state revenues, vast debt repayments to China and foreign exchange reserves at their lowest levels in a decade. Inflation has meanwhile been spurred by the government printing money to pay off domestic loans and foreign bonds. The World Bank estimates 500,000 people have fallen below the poverty line since the beginning of the pandemic, the equivalent of five years' progress in fighting poverty.
China unveils plan to 'take over' Latin America. Chinese Communist Party officials have unveiled an "action plan for cooperation" with Latin American countries that amounts to a "comprehensive" plan to influence the region and threaten U.S. interests, following a new summit with the nearest neighbors of the United States. "The Chinese don't say, 'We want to take over Latin America,' but they clearly set out a multidimensional engagement strategy, which, if successful, would significantly expand their leverage and produce enormous intelligence concerns for the United States," U.S. Army War College research professor Evan Ellis, a former member of the State Department policy planning staff, told the Washington Examiner.
FDIC chair resigns after warning Democrats launching 'hostile takeover'. FDIC Chairman Jelena McWilliams announced her resignation Friday [12/31/2021] in an open letter addressed to President Biden, just weeks after she warned of a "hostile takeover" of the agency by Democrats. McWilliams, a Serbian immigrant, has lived in the country for decades and boasts a successful career in law, finance, and banking policy.
The Government Of Netherlands Banned Fireworks For New Year'd Eve, The People Begged to Differ. This was the amazing scene on New Year's Eve in the Netherlands after the government banned fireworks in the face of Omicron spreading. Looks like the good Dutch people have had enough of being told what to do, replicating Los Angeles one year ago when mayor Garcetti banned fireworks and the night sky filled with explosions in protest. [Video clip]
Oregon Business Owner Ordered to Remove American Flag Mural on Private Property. A business owner in Salem, Oregon, painted a mural honoring the American flag and the Marines who raised it at Iwo Jima. Most observers considered it a beautiful memorial and an attractive use of an otherwise nondescript wall. The owner of the business commissioned a local artist to create the tasteful and fetching display of patriotism. The Salem City Council has ordered him to remove it, or face fines of up to $200 per day.
Brandon might as well make the most of it.
NASCAR's Brandon Brown to drive 'Let's go, Brandon'-themed car. "Let's Go, Brandon"-themed stickers have spread from America's roadways to NASCAR's — thanks to "Brandon" himself. Brandon Brown acquired a new sponsor Thursday, one that took its very name from the chant based on the driver's name but aimed at President Biden. The cryptocurrency company LGBcoin — the self-styled "America's Coin" — will be the Brown team's full season primary partner for the 2022 NASCAR Xfinity Series[.]
Kraft Heinz Tells Grocery Retailers Price Increases Beginning 2022 Will Be Up to 20 Percent. Hopefully everyone has done their preparatory diligence and are well situated to assist their family, because prices on fast turn consumable goods (groceries) are now less than 30 days from entering exponential increase phase. CTH has been counting down the days to impact as the contract terms of 30, 60 and 90 days have begun expiring. The Wall Street Journal has seen the first pricing notification memo from Kraft-Heinz food group to the buying offices of major U.S. retailers. Here's how the WSJ presents it: "Kraft Heinz Co. told retailer customers that it would raise prices across many of its products including Jell-O pudding and Grey Poupon mustard, with some items going up as much as 20%, according to a memo viewed by The Wall Street Journal."
Stu Scheller Announces Discharge from the Marine Corps, His Planned Media Blitz. The Marine lieutenant colonel who demanded accountability from senior military leaders for the disastrous withdrawal from Afghanistan has announced that he has been officially discharged from the Marine Corps and is planning to go on a media blitz. Former Marine Lieutenant Colonel Stuart Scheller wrote on his Facebook page on December 23: "Out of respect to my senior leaders, I haven't done a single interview since this began. But now it's my turn. My television media blitz starts with Tucker Carlson on 4 January."
Power company scraps plan for natural gas turbines in Gowanus, Brooklyn. An energy company is pulling the plug on a controversial plan to install natural gas turbines at a power plant in Gowanus, Brooklyn. The proposal had come under criticism as a step backward while the state government attempts to phase out fossil fuels and switch to clean sources of energy. Eastern Generation said it was withdrawing its application to replace combustion turbines at the Gowanus site — considered to be among the dirtiest power plants in the city — with natural gas units.
Amazon Partners With Chinese Propaganda Arm, Deletes Reviews Critical of Communist Party Books. In the latest example of corporate America kowtowing to the Communists in Beijing, internal memos and Amazon.com insiders have revealed the company's continuing appeasement of the Chinese Communist Party (CCP), including colluding with state propaganda operatives to delete reviews of books critical of the regime. Notably, as reported by Reuters, Amazon caved in like a cheap Mao suit to a CCP edict that it stop allowing negative customer ratings and reviews of the book "Xi Jinping: The Governance of China," which contains many of Xi's speeches and writings, as well as other state propaganda. It gets worse. Said a company insider, according to Reuters: "I think the issue was anything under five stars."
NASCAR driver who unintentionally sparked 'Let's Go Brandon' chant says corporations don't want to sponsor him. The NASCAR driver who recently rose in fame after unintentionally sparking the "Let's Go Brandon!" phrase says he's had a hard time finding corporate sponsors following the chant going viral. "It got extremely difficult for us. ... If you're a national corporation, that means you sell to all consumers ... and unfortunately, when you get dragged into the political arena, people want you to take a side,'" Brown told Sports Business Journal in a recent interview.
The Editor says...
In my opinion, the damage to Brandon Brown's marketability was done by NBC Sports reporter Kelli Stavast, not by Brandon himself.
Today's deep question: Do all California's education-equity execs live in Texas? Answer: Nope. One of them lived in Philadelphia, for instance. However, the latest California education executive to be discovered by Politico living out of state tendered her resignation ... from Dallas: [...] As a newly minted Texan, that irony makes my day. Gavin Newsom made a big show of launching that ban — which most Texans likely appreciated — while his patronage regime paid at least one of its executives to live in Texas.
Internal Amazon Documents Show Alexa Owners Aren't Using Devices. According to a recent report, Amazon is aware that many owners of its Alexa devices are not using them after as little as two weeks of use. According to internal documents viewed by Bloomberg, as many as 25 percent of Amazon's smart home assistants become expensive paperweights just weeks after being activated. A recent report from Bloomberg reveals that Amazon knows that users of its Alexa devices are not utilizing the full capabilities of the smart home assistant, and often are becoming bored with the device as quickly as two weeks after getting it.
The Editor says...
If you get tired of it, don't just ignore it. Pull the power cord, so it won't keep listening and/or recording everything you say.
Did two Democrat politicians just get mugged by reality? One of the long-standing problems with Democrat governance is that Democrat politicians enact policies that affect people other than themselves. Thus, affluent professional Dems living in chi-chi gentrified enclaves aren't the ones who lose their jobs due to unconstrained illegal immigration. Likewise, those same neighborhoods insulate them from the havoc their "defund the police" policies wreak. However, on Wednesday, two Democrat politicians, one in Philadelphia and one in Chicago, were mugged by reality when both were carjacked. Fortunately, neither was hurt but I hope it was a learning experience for both of them.
Former Arsonist Just Got Appointed Fire Chief In Illinois, Over A Dozen Firefighters Resign. There were high emotions and high drama at a fire district board meeting in Illinois Monday, as a once-convicted arsonist was named acting fire chief of the volunteer fire department. The board removed John Rosencranz as chief of the Prairie Du Pont Volunteer Fire Department and replaced him with Assistant Chief Jerame Simmons. The two were seated at the same table when the change was made. Board members said they had good reasons for making the change but they have not made those reasons public. That wasn't good enough reasoning for most of the department's firefighters. Ten of the department's 13 firefighters quit on the spot. [Video clip]
10 Illinois firefighters walk off job after man convicted of arson appointed new chief. Ten out of 13 firefighters with a volunteer Illinois department have quit after their chief was replaced by a man once convicted of arson. Fire Chief John Rosenkranz was removed from his post and replaced with Assistant Chief Jerame Simmons, at a fire district board meeting in East Carondelet on Monday, FOX 2 reports. The newly-appointed fire chief pleaded guilty to arson more than 20 years ago when he was just 18. The two can be seen in video seated at the same table when the change was made. Jerame Simmons is reportedly the son of Herb Simmons, who is the long-time director of the St. Clair County Emergency Management Agency. He was accused of setting fire to a vacant home and setting another, smaller fire, at Dupo High School. He served probation, but said Illinois Governor J.B. Pritzker has since pardoned him.
Progressive DA Larry Krasner's office in chaos after 261 attorneys quit during his first term. As you may have heard, shootings and murders are up around the country. That's especially true in Philadelphia which had already recorded more murders this year than either New York City or Los Angeles. Progressive DA Larry Krasner's response to that spike in violence has been denial. "We don't have a crisis of lawlessness, we don't have a crisis of crime, we don't have a crisis of violence," Krasner said earlier this month.
Former Harvard Chemistry Chair Admits to Taking Tens of Thousands of Dollars From China. The former chair of Harvard University's Chemistry Department accused of hiding Chinese ties has admitted to taking tens of thousands of dollars from China, video footage presented in federal court on Dec. 17 shows. The footage, shot during an interrogation by federal investigators of nanoscientist Charles Lieber, was played for jurors on the fourth day of the trial regarding Lieber's alleged false statements about China funding. The 62-year-old Harvard professor had maintained that he didn't take payments from a Chinese university, except for compensation of his travel costs to China. But he shifted his story quickly after FBI agents Robert Plumb and Kara Spice presented him with copies of evidence, including a bilingual contract he signed with the Wuhan University of Technology (WUT) in 2011.
Special Report: Amazon partnered with China propaganda arm. Amazon.com Inc was marketing a collection of President Xi Jinping's speeches and writings on its Chinese website about two years ago, when Beijing delivered an edict, according to two people familiar with the incident. The American e-commerce giant must stop allowing any customer ratings and reviews in China. A negative review of Xi's book prompted the demand, one of the people said. "I think the issue was anything under five stars," the highest rating in Amazon's five-point system, said the other person.
Mexico's Supreme Court says you can choose your own age. That's right, Mexico's Supreme Court of Justice of the Nation (SCJN) has affirmed that a "fundamental right to personal identity" includes the right to change one's date of birth on government documents. The Court ruled that, under the Mexican Constitution's recognition of individuals' "right to identity," a birth certificate should reflect how someone has "constantly identified himself in his private and public acts." It added that identity is comprised of more than just "biological truth."
China Follows Up 2021 Box Office King with Another Anti-American War Movie. Chinese filmmakers are preparing to follow up The Battle at Lake Changjin, which became this year's top box-office attraction in China with a good deal of help from the communist government, with another anti-American propaganda film about the Korean War called Crossing the Yalu River. The Battle at Lake Changjin was touted by the Chinese communist government as the top movie worldwide in October, and the most successful movie ever produced by a Chinese studio. Some of its massive ticket sales were due to the government strongly suggesting that every patriotic Chinese citizen was obliged to see it, and making sure no other movies were playing in many theaters.
Redfin and Realtor websites won't provide crime statistics for neighborhoods when homebuyers search for houses to avoid 'racial bias'. Two major websites used by homebuyers to search for properties to move into have decided that ignorance is bliss when it comes to crime statistics. As noted by Stacey Matthews on Legal Insurrection, Realtor.com and redfin.com decided on the same day that providing crime information on neighborhoods would promote racial bias. Helping families avoid moving to a house or condo in a dangerous crime-ridden neighborhood is far less important to them than virtue-signaling their trendy "anti-racism." Apparently, they both have forgotten the ancient maxim "caveat emptor" — "let the buyer beware." I am not certain how to render "let the buyer be anti-racist" in Latin, but that is the replacement philosophy for these real estate marketing geniuses.
Texas Attorney General Ken Paxton to investigate drugmakers promoting puberty blockers to minors. Texas Attorney General Ken Paxton announced Monday that he was opening an investigation into two pharmaceutical companies for promoting puberty-blocking drugs to minors for gender transitions. The investigation will look at whether or not Endo Pharmaceuticals and AbbVie Inc. have violated the Texas Deceptive Trade Practices Act by advertising and providing puberty-blocking drugs to underage children for the purposes of gender transitions, a use that does not have FDA approval. The two companies provide puberty-blocking drugs that are approved for use in children with precocious puberty, a condition in which a child starts exhibiting signs of puberty prematurely.
Wait, What? Jake Sullivan's Wife is AG Merrick Garland's Legal Counsel at DOJ? The same Jake Sullivan who was one of Hillary Clinton's foot soldiers, a foreign policy advisor pushing the fraudulent Trump-Russia conspiracy theory, is now Joe Biden's national security advisor. That was always sketchy by itself. However, to discover that Sullivan's wife, Margaret Goodlander, is the legal counsel to Attorney General Merrick Garland, opens up an entire world of conflict issues. As noted by Chuck Ross, Attorney General Merrick Garland is being advised by Jake Sullivan's wife and overseeing the John Durham criminal probe, which is looking into the role of Jake Sullivan in the construct of the fabricated Trump-Russia conspiracy, the use of the FBI as a political tool, and Sullivan's lies in testimony to congress.
North Koreans are banned from laughing or drinking for 11 days to mark tenth anniversary of former leader Kim Jong Il's death. North Koreans have been banned from laughing or drinking for 11 days to mark the tenth anniversary of former leader Kim Jong Il's death. Government authorities have ordered the public to not show any signs of happiness while North Korea commemorates his death. Kim Jong Il ruled North Korea from 1994 until his death in 2011, and was then succeeded by his third and youngest son, current leader Kim Jong Un.
The Editor says...
An eleven-day ban on laughing is appropriate, because there's no laughing or drinking where Kim Jong Il is now.
'Woke' retailers who asked Congress for help amid smash-and-grabs supported left-wing police reforms. Retail CEOs are calling on Congress for help amid the smash-and-grab lootings that are leaving them grappling with hundreds of thousands of dollars of lost or stolen merchandise. Some of those same companies, however, supported organizations last year that have called to defund or overhaul policing in the United States. "Many corporate leaders jumped on the woke bandwagon and wrote big checks to organizations that still continue to advocate to defund the police. They did not think of anything beyond not being labeled a racist," Sean Pritchard, president of the San Jose Police Officers Association, told Fox News Digital Tuesday [12/14/2021]. Nearly two dozen CEOs signed the letter to Congress asking for support as theft crimes rage, including the chiefs of Target, Nordstrom, Levi Strauss, Ulta Beauty and Home Depot.
Lee Harvey Oswald was in contact with member of KGB two months before shooting and anonymous phone calls said Russia was behind it, documents reveal. More than 1,500 previously classified JFK assassination files have today been made public, including documents about killer Lee Harvey Oswald's contact with a KGB agent two months before the shooting. The files were released at noon on Wednesday by the National Archives, after months of delays by Biden who had promised to make them public but then stalled, claiming COVID backlogs was the reason. Not all of them are now public — some are still being held back for further review by the NSA until next December, a move that has been slammed by members of Kennedy's family.
The Editor says...
If inflation gets worse, and it will, or if Ghislaine Maxwell spills the beans about someone really important, or if a Democrat politician is struck by lightning while telling the latest in a series of obvious lies, a few more of these documents will be released, to get the bad news off the front page of the newspaper. Anybody who has looked into the Kennedy assassination for a few years will learn nothing from the documents most recently declassified. (Really, this is news? Oswald had "contact with a KGB agent two months before the shooting?" That it? Did anybody not know that already? The only difference is that it was a conspiracy theory last week, and now it's a fact.) The really interesting stuff is still under wraps, and will be for years, no matter who is president.
Governor of Texas Exceeded Constitutional Authority. Allen West says that recent edicts issued by the Governor of Texas exceeded the governor's constitutional authority. West specifically mentioned such decisions as deciding which businesses were essential and which were not as being blatantly unconstitutional. Part of the discussion included references to American and Texas history as both the Declaration of Independence in 1776 and Texas' break from Mexico in 1836 included opposition to similar autocratic decrees by the King of England and by General Santa Anna respectively. West also mentioned the lack of enforcement of border security as well as gubernatorial edicts that changed Texas' election schedule in 2020 in a manner that all but killed any attempts to accomplish voter registration clean-up in Texas.
Key Inflation Metric Grows at Fastest Pace Ever Recorded. The producer price index jumped 9.6 percent in November compared to the same month last year, the highest year-over-year increase since record-keeping began in 2010. The PPI increased by 0.8 percent during the month of November 2021. Prices still climbed 6.9 percent when excluding food and energy costs, according to the Bureau of Labor Statistics. The PPI tracks changes in the sale price of domestically produced goods, and is a key gauge of inflation.
Leaked SoCal hospital records reveal huge, automated markups for healthcare. Ridiculous, seemingly arbitrary price markups are a defining characteristic of the $4-trillion U.S. healthcare system — and a key reason Americans pay more for treatment than anyone else in the world. But to see price hikes of as much as 675% being imposed in real time, automatically, by a hospital's computer system still takes your breath away. I got to view this for myself after a former operating-room nurse at Scripps Memorial Hospital in Encinitas shared with me screenshots of the facility's electronic health record system. The nurse asked that I not use her name because she's now working at a different Southern California medical facility and worries that her job could be endangered.
Pentagon Pledges to 'Do Better,' But Won't Discipline Anyone for Botched Kabul Drone Strike. Remember back in August when the Biden administration, through its Pentagon brass, announced a "righteous" drone strike in Kabul that supposedly stopped an imminent suicide bombing amid President Biden's disastrous and deadly withdrawal from Afghanistan? The one that turned out to have been a complete miss and killed ten innocent civilians including seven children? Well, no one's getting punished, as Pentagon Press Secretary John Kirby announced Monday [12/13/2021]. According to The Associated Press, U.S. defense officials reported that "No U.S. troops involved in the August drone strike that killed innocent Kabul civilians and children will face disciplinary action."
Pentagon confirms NO military personnel will be punished for botched Kabul drone strike that killed 10 civilians instead of ISIS-K suicide bombers. The Pentagon said Monday [12/13/2021] that no action would be taken against military personnel involved in the botched drone strike that killed 10 civilians in Kabul as American forces withdrew in August. Seven children were among the dead when a Hellfire missile hit a saloon car mistakenly identified as being packed with explosives in the Afghan capital. U.S. nerves were on edge three days after an ISIS-K suicide bomber killed 170 Afghans and 13 American service members at Hamid Karzai International Airport.
Project Veritas Case Appointed a Special Master in Court Win Over DOJ. Project Veritas is in court again, this time because they claimed to have received an abandoned diary that once belonged to Ashley Biden, daughter of the current President of the United States. James O'Keefe, founder of the group that is devoted to conducting sting operations against Democrats and their various organizations, insisted the diary came into their hands around September 3rd, 2020 because it had been abandoned, not stolen.
Amazon's cloud outage left millions who use 'smart' technology locked out of their homes, fridges, vacuum cleaners and house lighting systems!. Amazon's cloud outage saw Alexa's, Roomba robot vacuum cleaners and Ring doorbells go down — leaving some users trapped outside their own 'smart' homes. Some Ring customers said that they spent time rebooting or reinstalling their apps and devices before finding out about the outage on social media. Many rely on a phone app to enter their homes, rather than a code that can also be used, with those that had forgotten the latter stuck outside their own homes as Ring doorbells went down.
The Editor says...
If you put all your eggs in one basket, you're in for great disappointment. The internet just isn't all that reliable. Neither is the power grid. Neither is the government.
GOP moves to stop 'zombie votes' at Democratic FTC. Republican senators are aiming to stop the Federal Trade Commission's Democratic chairwoman, Lina Khan, from using the votes of departed commissioners to move her agenda forward. Six Republican senators, led by Sen. Jerry Moran of Kansas, introduced legislation last week that would invalidate dozens of email votes left behind by Democrat Rohit Chopra when he left the agency in October. The trade commission's current rules allow Chopra's votes to be used for up to 60 days after his departure, thereby allowing Democrats at the agency, led by Khan, to use his critical vote to maintain a majority regarding votes on policy statements, investigations, and rule-makings.
Leftist radicals enjoy unequivocal freedom of speech. Conservatives do not.
Virginia: 'Let's Go Brandon' Boat Wins Boat Parade Contest, Is Then Disqualified Because of Liberal Tears. Yorktown, Virginia held its annual Yorktown Lighted Boat Parade on Saturday night, and one 50-foot vessel won the coveted "Best in Show" title with a colorful and artfully designed display of lights, plus people dressed as Santa Claus and Old Joe Biden yelling "Merry Christmas" to the crowd, topped off with a pair of American flags at the bow. A splendid time was had by all, but there was one fly in the festive ointment: the winning entry was also bedecked with a sign reading "FJB Let's Go Brandon" in white lights. Within hours, the Yorktown Foundation, which sponsors the event, had abjectly apologized and stripped the offending boat of its title. An "overt political message," you see, is not allowed, or at least isn't allowed now that this has happened.
'Amazon Bought Twitch for $1 Billion for a Reason': Why Defense Experts Are Watching Video Game Industry. From Call of Duty to Minecraft, virtual spaces are where more and more people are spending a good amount of their lives. Facebook's plan to create a metaverse — a sort of next-generation internet that promises to blur the line between the actual and virtual worlds even further — raises valid concerns. And yet, the demand for virtual environment is only growing. In fact, Investopedia reports that the video game industry is larger than both the movie and music industries combined. It has become an incubator for technology that is changing how people socialize, communicate, and even wage war.
Apple Signed Secret $275 Billion Deal With Chinese Government. [Scroll down] And just as the SEC prepares to boot dozens of Chinese companies off of US stock exchanges for refusing to comply with US audit standards (something the CCP has expressly forbidden under the auspices of data privacy), reporters with the Information have just published a bombshell: At some point in the not-too-distant past, Cook struck a $275 billion deal with the Chinese government while facing pressure from the CCP.
Alleged $275 billion secret deal between Apple and China raises awkward questions. A paywalled IT industry publication called The Information has published a blockbuster report titled, "Inside Tim Cook's Secret $275 Billion Deal with Chinese Authorities." Only 2 paragraphs are visible to non-subscribers, Hartley Charlton of MacRumors has published a summary of it that is available to all.
New Bombshell Report Reveals CIA Is Full Of Pedophiles, Agency Refuses To Clean It Up. The CIA covered up evidence of a Deep State pedophile ring operating within its own agency, according to newly released documents. The bombshell revelation was reported, surprisingly, by BuzzFeed News, which obtained hundreds of internal CIA reports through Freedom of Information Act (FOIA) lawsuits. According to the documents, one of the 10 CIA staffers raped a two year old girl and admitted to raping a six-year-old on two occasions. The employee was fired but never criminally charged. [Video clip]
Stash of money and checks discovered in walls of Joel Osteen church. A stash of money and checks was discovered behind a bathroom wall by a plumber working at the megachurch of televangelist Joel Osteen in Houston, Texas. The revelation was reported Thursday with Morning Show radio host George Lindsey being told about the Nov. 10 find during repair work at the Lakewood Church, according to KPRC 2. "There was a loose toilet in the wall, and we removed the tile," a caller said. "We went to go remove the toilet ... I moved some insulation away, and about 500 envelopes fell out of the wall, and I was like, 'Oh wow!'" The caller explained to Lindsey that, upon discovering the stash of envelopes filled with cash and checks, he immediately "contacted the maintenance supervisor" and had the money turned in. Lindsey said he was in disbelief upon hearing that the plumber had turned in the money. "We were like, 'What are you talking about?'" Lindsey said the caller explained that "in 2014 there was a big story about money being stolen from Lakewood church that they never recovered."
Alabama School Board Association votes to leave the National School Boards Association. The parent movement scored another victory, as confirmed last night, with a vote taken by the Alabama School Board Association. That association voted to leave the National School Boards Association which brings the number to 26 states that have distanced themselves from or terminated their membership with the national organization, as noted by Christopher Rufo on Twitter.
Supply chain issues impacting pharmacies. The Federal Reserve reported Wednesday that many parts of the country were hit by supply chain disruptions and labor shortages in November. While these problems have continued into December — with price increases reported to be widespread across the U.S. economy — empty shelves aren't the only issue for Americans. Pharmacies are reportedly running out of important prescription medications, and the U.S. Food and Drug Administration (FDA) shows there are about 111 drugs on backorder — including heart medications, antibiotics and cancer drugs.
U.S. Space Academies Prioritize 'Diversity' And 'Inclusion' As China Prepares To Eclipse U.S. In Space. The United States may soon lose its status as a truly global superpower, both on Earth and in the heavens of low orbit. "The threats are really growing and expanding every single day," Space Force Vice Chief of Operations Gen. David Thompson warned in an interview with the Washington Post published Tuesday. As the Chinese and Russians continue to enhance their capabilities beyond Earth-bound gravity, the United States finds itself in the midst of a new 21st-century space race, competing with world powers developing new weapons to target satellites. "We're really at a point now where there's a whole host of ways that our space systems can be threatened," Thompson said, adding U.S. satellites already face attacks "every single day" whether it be by laser, cyber, or frequency jammers.
DeSantis Moves to Reinstate the Long Disbanded Florida State Guard. Florida Gov. Ron DeSantis said on Dec. 2 that he will be reinstating the Florida State Guard and will be seeking $3.5 million in the budget to do it. The state guard was formed in 1941 and filled in for the Florida National Guard troops when they were deployed during World War II. In the late 1940s, the unit was disbanded. The governor said he wanted "to make sure we have the flexibility — and the ability needed — to respond to events in our state in the most effective way possible." He added that will require Florida to have access to, and use of, support in ways that don't require the federal government. The state guard would answer to the governor with no federal deployment, or missions, and would receive no federal dollars.
Biden sending 1,000 Nat'l Guard troops to Africa. President Joe Biden is sending 1,000 Virginia and Kentucky National Guard troops to the horn of Africa, the services announced on Saturday. The deployment marks the largest single-unit mobilization of Virginia's National Guard since World War II. According to the Virginia National Guard Public Affairs Office, 800 Virginia and 200 Kentucky Guardsmen were transported to Fort Bliss, Texas, for roughly one month of pre-deployment training, marking the start of their federal active duty status. The troops will be deployed to "unspecified countries" in Africa early next year.
The Editor says...
The article goes on and on after that, but never addresses the obvious question, "Why are U.S. National Guard troops needed in Africa? One might also reasonably wonder if U.S. troops are supposed to be a generic manpower pool for every country on earth. One might also wonder why those same soldiers aren't stationed on the Mexican border to defend the international boundary.
18 Democrats Will Abandon the House — More than Triple GOP Needs to Win Back Majority. House Speaker Nancy Pelosi's (D-CA) ambitions of keeping the Democrat majority in the House of Representatives past the midterm elections next year are dwindling as droves of vulnerable Democrats have announced they are leaving their current seats to either retire or seek a different office instead of fighting in a brutal reelection. Republicans only need to net five seats to pick up the House majority after the midterms. So far, more than triple the amount of Democrats (18 total) have decided to officially call it quits on the House and have left their seats open for a fight, giving Republicans a chance to gain another seat since House Republicans only need to net five seats to gain the majority and retire Pelosi as Speaker.
Xi's plan to punish Australia for insisting on investigating the origins of Covid backfires. For almost a year and a half, China has been trying to bully Australia for that nation's insistence on getting to the bottom of the spread of COVID from the Middle Kingdom. From the standpoint of Chairman Xi, Australia must have looked like an excellent target to use as a means of establishing China's power over lesser nations that are part of the world's club of advanced nations. Xi's ambition for China to be the world's hegemon requires that other nations fear its power. [...] China's GDP of 14.72 trillion dollars is more than 11 times Australia's 1.33 trillion. China targeted Australian wines for trade restrictions, a shrewd move because of the visibility in Australia of this small but very proud industry. However, Xi made a big boo-boo in targeting Australian coal. That's a strategic item, and world energy markets can be volatile.
The trucker shortage is fueled by a misconception that the job is only for low-skilled people, who endure poor working conditions, says expert. A false perception of truck drivers' experiences and working conditions is fueling the ongoing truck-driver shortage, according to an expert. Tra Williams, CEO of FleetForce, a Florida-based truck-driving school, told Insider: "The problem is the perception that trucking is for people of low skill, low education, who are OK with low wages. All three are factually incorrect." In the US, there is a shortage of around 80,000 truck drivers, Chris Spear, president and CEO of the American Trucking Associations, recently told CNN.
Disney's Faltering Brand Takes Another Hit with 'Encanto' Box Office Nosedive. Despite rave reviews, Disney's Encanto, an animated musical with songs from Lin-Manuel Miranda, took a nosedive at the holiday box office. As of Thursday, this tale of a magic castle in Colombia (or something) is expected to gross just $26 million over three days and an anemic $38.6 million over the full five-day holiday. First off, no one can blame streaming. This is a theatrical-only release. Secondly, no one can blame the pandemic. Plenty of movies are opening just fine. How bad is this? Oh, it's bad. By comparison, one of Disney's biggest bombs, The Good Dinosaur, grossed $55.4 million over the five-day Thanksgiving weekend. This is also the second time Hollywood's precious Lin-Manuel Miranda has failed to juice the box office this year.
This holiday season the Salvation Army wants a donation — and a 'sincere apology' for white racism. As Americans head out on Black Friday to make a dent in their holiday shopping lists, some are sure to come across Salvation Army volunteers ringing bells as part of the annual Red Kettle campaign. But this year, the global charitable organization wants more from its donors than a donation to the needy during the holidays. With the dissemination of a recent Salvation Army guide titled "Let's Talk About ... Racism," the Christian organization is attempting to elicit "sincere" apologies from white people for being racist. The guide, which was compiled and approved earlier this year by the International Social Justice Commission of the Salvation Army, aligns the organization with the ideology of the Black Lives Matter, antiracism, and critical race theory movements.
The Editor says...
This story sounds very difficult to believe, but I've heard it from multiple sources. The others are immediately below.
Salvation Army's Donors Withdraw Support in Response to Racial 'Wokeness' Initiative. As The Salvation Army launches its Red Kettle Campaign this holiday season, some of its long-time donors are withdrawing their support from the 156-year old charitable organization citing its newly embraced "woke" ideology as the reason. Of great concern to loyal supporters and faithful Salvationists is the initiative dubbed "Let's Talk About Racism." In a nutshell, its curriculum outlines the Christian church's alleged racial collusion and provides action steps to analyze and combat racism through an "anti-racist" lens while incorporating Critical Race Theory. Definitions of institutional and systemic racism are included while real or perceived differences in life outcomes ("inequities") are attributable not to individual effort and other circumstances, but to discrimination.
Get woke and go broke.
Did donations dry up? Salvation Army pulls U-turn on 'guidance' for whites. Just as the famous red kettles of the Salvation Army are appearing nationwide for the international charitable organization's major fundraising effort, the organization abruptly has withdrawn a controversial "guidance" that warned white Americans racism is "systemic" and Christians would "evaluate" their racist practices. Fox Business reported over the weekend that the guidance apparently was intended to ask "white Americans" to "stop trying to be 'colorblind.'"
Happy Holidays, White Donors: Salvation Army Wants You to Offer a 'Sincere Apology' for 'Systemic Racism'. The ubiquitous "red kettle." Cheerful bell ringers, beckoning holiday shoppers to toss in a few bucks for the less fortunate among us. My how times have changed since the first red kettle was set up on an Oakland street corner in 1891 — particularly for white donors. Along with your holiday donations this year, white people, the Salvation Army beseeches you to offer a "sincere apology" to Black people. For "systemic racism," of course. Needless to say, the "Christian" organization has strayed a bit from its previously chosen non-judgemental path — particularly in its embrace of Marxist-derived Critical Race Theory. Put simply, if you're white, you're guilty.
Disgusting: Salvation Army Wants White Donors To Offer A "Sincere Apology" For "Systemic" Racism. What was founded in 1865 in London, England, as both a protestant Christian church and an international charitable organization, the Salvation Army has now embraced Critical Race Theory. Its first "red kettle" was set up in Oakland, California in 1891 and since then millions of people have dropped coins and bills into their kettles while a smiling person repeating " Merry Christmas" rings a handheld bell perpetually. Unfortunately, this Christian organization, like many others who have drifted away from the sole purpose of advancing the Gospel, is now embracing racist ideology peddled by anti-white activists including Ibram Kendi. The organization is embracing the ideas of Black Lives Matter, an activist group, deemed as domestic terrorists by some, who are working to "dismantle white privilege" and "disrupt the Western-prescribed nuclear family structure."
Salvation Army defends guide telling white people to apologize for racism. The Salvation Army recently defended an internal racism guide that discouraged "colorblindness" and encouraged staff members to "apologize for being white" after the guide faced backlash. The Salvation Army argued the new guide was meant to encourage discussion about racism among members of the Salvation Army. The organization denied attempting to indoctrinate or tell its donors what to think, reminding people that the guide was meant for internal use. "The Salvation Army has occasionally published study guides on various complex topics, including race, to help foster positive conversations and reflection among Salvationists," the Thursday statement said. "The hope is that by openly discussing these issues, we can encourage a more thoughtful organization that is better positioned to serve those in need. These guides are solely designed for internal use. No one is being told how to think. Period."
The Salvation Army says white donors should 'repent for their racist ideologies'. A Salvation Army released a guide, "Let's Talk About Racism," in April that is meant to provide "internal dialogue" on racism within the charity's organization. The guide was created by the Salvation Army International Social Justice Commission. According to the guide, "White culture" has challenges it needs to overcome, including "denial of racism," "defensiveness about race," and suggests for "White Americans" to "stop trying to be 'colorblind.'"
Update:
Salvation Army pulls anti-racism document after donor blowback. The Salvation Army said Monday it has withdrawn a discussion guide on racism that was intended for its church members but that an advocacy group claimed was given to donors as a call to "repent" for being White. "If that document is getting in the way of the fulfillment of our mission, The Salvation Army is going to remove it," Commissioner Kenneth Hodder, the group's U.S. national commander, told The Washington Times. "Because nothing can be allowed to affect the fulfillment of that critical mission." The church group has been flooded by email complaints about repentance requests over its guide "Let's Talk About Racism," one critic said. An online petition has garnered more than 14,000 signatures asking the organization to denounce critical race theory.
Analysis:

Woke Salvation Army surrendered without a fight. Over the years, I've embraced the opportunity to volunteer for the Salvation Army by serving meals to the poor and needy and by gleefully ringing the Christmas bell for Red Kettle donations. I loved the many acts of broad and nonstop charity and goodwill the Salvation Army extended to all of humanity, as it was a reminder of the Gospel mission. The Salvation Army had honorable principles and stood reliably strong as an institution in my mind. Until now. Salvation Army documents reveal that the organization has gone woke. Instead of appreciating all people groups and continuing on an unbiased and uncompromising mission to serve all people compassionately, the Salvation Army now thinks it's somehow okay to view people through the lens of "race." Somewhere deep in its leadership, the Army saw the enemy and embraced it. Race consideration and connotations are an obvious outcome of Critical Race Theory (CRT), or adjunct theology (Liberation Theology, for instance). Viewing people by race or class is wholly antithetical to any organization committed to providing compassionate and unbiased services to any and all people or groups in need. Woke schemes see everything about human culture in one paradigm: "oppressors vs. oppressed" or "victimizers vs. victims." Without exception, the oppressors and victimizers are "White" by definition.
Another update:
The Salvation Army takes an even deeper dive into wokedom. The Salvation Army, despite having faced a massive backlash because of November's "Let's Talk About Racism" guide, doesn't seem to have learned its lesson. It's now announced that, in January, it will be offering a two-day racial justice forum in Illinois. This turn to the left does not bode well for an organization that has already seen a significant drop in charitable donations since it decided to embrace leftist politics.
Joe Biden Claims Shelves Are Well Stocked as Grocers Ration Food. President Joe Biden tweeted Wednesday [11/24/2021] that supermarket shelves are well stocked across the country while grocers ration food. "For all those concerns a few weeks ago that there would not be ample food available for Thanksgiving, families can rest easy today," Biden claimed. [...] Meanwhile, Publix Supermarkets, a Florida-based grocer, warned customers this week to expect food shortages in all 1,280 stores across the southeast. According to the Orlando Sentinel, the list of rationed foods include the following:
• Canned cranberry sauce
• Jarred gravy
• Canned pie filling
• Canola and vegetable oil
• Cream cheese
• Bacon
• Rolled breakfast sausage
• Paper napkins
• Disposable plates, cups and cutlery
• Bath tissue
• Refrigerated snacks (Lunchables-type items)
• Sports drinks
• Aseptic-type juices (Capri Sun) [...]
Federal Reserve Should Fight Inflation, Not Climate Change. [Scroll down] Per the Fed's statement, "Climate change poses significant challenges for the global economy and financial system, with implications for the structure of economic activity, the safety and soundness of financial institutions and the stability of the financial sector more broadly. A sustained global response by national authorities, the international community, and the private sector can address the financial and economic implications of climate change." So, instead of declaring war on inflation and all the other problems facing the U.S. economy, the Fed is more inclined to use its bandwidth and resources to counter so-called climate change. Just in case the Fed's recent statement on its quest to fight climate change was not enough to placate radical leftists, Fed Chairman Jerome Powell made it clear that the Fed, under his leadership, will prioritize climate change above all else.
Stunning good news from Chile — and not just for them, but for us. In Chile, the presidential election was straightforward: communism or liberty. Pick one or the other. No soggy middle. So guess which one got the most votes! Yep, liberty, and I'm not talking about some namby-pamby nice-guy RINO kind of liberty, respectable at Santiago cocktail parties. It was 100-proof hard stuff liberty, prompting shudders from the press. [...] José Antonio Kast is a solid free-market candidate who ran against Gabriel Boric, a self-described communist, and wound up with the most votes on an unapologetic advocacy and defense of free markets. That was what Chile needed.
What to Watch For if Russia Invades Ukraine. News reports from Europe indicate two potentially dangerous events occurring on the borders of NATO. The most glaring is the report of Russian large scale troop deployments near the Ukrainian border indicating a possible invasion in the next few months. The other report is on the smaller yet volatile migration movements along the Belarussian-Polish border. These two circumstances coincide with Europe's weak energy situation and the global perception of American weakness created by the mismanaged withdrawal in Afghanistan. Although the risk of war in this region remains low, the possibility of a regional war during a time of European energy shortages would threaten the world with a global depression next year. How could Ukraine spark a depression? The biggest impact on global markets would of course be related to oil and gas prices. Three of the primary pipelines that feed the European Union go through Ukraine and any invasion would likely stop hydrocarbon delivery for weeks in the best-case scenario.
Gates Germ-Game Warning Motivates Smallpox Vaccine Discussions. Policy Exchange recently hosted Mr. Bill Gates, Co-Chair of the Bill and Melinda Gates Foundation, and Rt Hon Jeremy Hunt MP, Chair of the Health Select Committee, who discussed the potential of future pandemics. In a wide-ranging discussion on November 4, 2021, Gates called for a new international Pandemic Task Force, with a budget of about $1 billion per year. According to Microsoft's founder, governments must invest billions in research and development to prepare for future pandemics and smallpox terror strikes.
Just Days After Bill Gates Warned Of A Coming Smallpox Bioterror Attack, 15 Vials Labeled 'Smallpox' Are Found In Research Lab In Pennsylvania. A scenario ripe for a zombie-horror movie has just happened. The U.S. Centers for Disease Control and Prevention revealed Tuesday that vials labeled 'smallpox' — an extremely deadly virus that was eradicated in the 1970s — were found at a vaccine research facility in Pennsylvania. Just days after Bill Gates in an interview said that the next thing we need to prepare for is a smallpox bioterror attack, vials of... wait for it... smallpox dried vaccine were randomly 'discovered' in a research lab in Pennsylvania. What an amazing coincidence, wouldn't you say?
The Editor says...
The "discovery" of smallpox, or at least, "vials labeled 'smallpox'" in a lab sounds really fishy. The FBI is notorious for busting its own sting operations and a cynical onlooker might easily infer that this case is one of them. The government wants to keep us all in a state of constant alarm, and this is just the latest angle.
Biden Admin Quietly Authorizes Largest Oil Lease Sale In US History Despite Campaign Promise. The Biden administration auctioned off over 80 million acres in the Gulf of Mexico for oil drilling Wednesday [11/17/2021] despite a campaign promise to ban new oil and gas leasing, the Boston Globe reported. The auction is the largest offshore oil and gas lease sale in the United States, according to the Boston Globe. The new leases will produce 1.1 billion barrels of oil and 4.4 trillion cubic feet of natural gas, according to a Department of the Interior estimate, the Globe reported. [Tweet] "This morning was met with extreme disappointment, depleted hope, and shattered trust," Legal Director for Friends of the Earth Hallie Templeton said, the Globe reported. Just four days before the sale, the Biden administration signed the COP26 pact, which requires countries to eliminate subsidies for the fossil fuel industry. Biden previously pledged to ban new oil and gas leasing on public land and water.
FDA Approves New Drug Against Weaponized Smallpox. The FDA has approved a new drug to treat smallpox. Fearful of a possible bioweapon attack, the United States has been steadily preparing a defense through BARDA, the Biomedical Advanced Research and Development Authority. Tecovirimat was the first drug for smallpox, approved in 2018. The FDA granted the new drug, brincidofovir, or BCV, fast track status and orphan drug designations in 2018. The new approval came under the FDA's Animal Rule. Drug testing usually goes through several phases prior to approval. First, there is preclinical testing in test tubes and animal models. Phase I is the "first in human" testing, looking primarily for safety and toxicity. Phase II is where researchers look for the best dose to treat a specific condition. The drug being tested is generally given to people who are relatively healthy otherwise.
FBI demands motorists return money they grabbed in frenzy after armored truck spewed cash over San Diego freeway. An armored truck spewed cash all over a San Diego freeway this week after one of its doors burst open, and now the FBI and the California Highway Patrol are looking for those who ran off with the money. 'If anyone picked up cash, we ask you to bring it to the office in Vista immediately,' a CHP spokesperson told Fox 5. 'I just want to give everyone a head's up that there is a lot of video evidence.' They are giving people 48 hours to return the money or face 'potential criminal charges.' Two people have already been arrested, officials said. Drivers stopped what they were doing Monday and scrambled to pick up 'free' money on the northbound side of Interstate 5 near Carlsbad, California. The trunk was on its way to the Federal Reserve to make the deposit when the back doors burst open around 10 a.m., authorities said.
The Editor says...
There are a number of ethical issues involved here. [#1] Maybe you should lock the doors on the armored car next time. The money is all over the highway because of negligence. [#2] It would be a lot easier to convince people to return the money except that we all know what would happen if the shoe was on the other foot: The government eagerly confiscates large amounts of cash from innocent people travelling on Interstate highways, but now throws a fit when the roles are reversed. [#3] It's the taxpayer's money. Just go print some more. That's what Joe Biden is doing anyway, and the inevitable inflation is well underway. [#4] It's not your money, and you really should give it back, minus a customary ten percent finder's fee. But the kind of people who scooped it up are more likely to buy marijuana with it, than to stimulate the economy by buying durable goods.
Royal Navy submarines and special forces [are trying] to recover crashed £100m F-35 fighter jet from the bottom of the Mediterranean. Royal Navy submarines are racing against the Russians to recover a crashed £100million jet with top secret technology from the bottom of the Mediterranean. An RAF pilot was forced to eject from his F-35B Lightning as it ditched into the sea soon after taking off on 'routine exercise' from the Navy's flagship aircraft carrier, HMS Queen Elizabeth. The aircraft was one of eight UK fast-jets onboard, along with 10 US aircraft. By plunging into international waters, the crash triggered a scramble to find the next-generation jet from the sea bed before it could be reached by Russia. It s thought to be the first time an F35-B has crashed in such an area. The technology aboard the US-designed aircraft, including top secret radar and sensors, is hugely sensitive as it allows the F-35 to fly 'unseen' in hostile territory at supersonic speeds. However, it is likely that China already knows all there is to know about the jet due to spying.
China is destroying the world's fishing ecosystem. Not content with overfishing its own coastline in a non-sustainable way, China has now turned to unethical pirate fishing in the territorial waters of less powerful nations around the world. Chinese fishermen turn off their GPS transponders that can be traced electronically, send out false electronic signals, violate U.N. maritime law, enter the sovereign fishing territory of foreign nations, illegally fish with slave-like labor, and then escape to international waters with their catch. Some fishing fleets are so large that they can be seen from space. For China, world fishing is now like the wild west, with a value in billions of dollars annually. The Chinese have an insatiable appetite for seafood, and their population is about 1.4 billion people. They are even risking entering the territorial waters of the U.S. in Hawaii. Guam and American Samoa may be next. Fishing in pristine North Western Australia is done not only by China, but by Indonesia as well, and Australia recently sank fifteen Chinese fishing vessels and chased off many others.
Plane Stalls and Nearly Kills the People Skydiving. A Plane stalled seconds after a group of skydivers took flight from the plane itself. Seconds later the pilot eems to regain control and pulls up, coming just feet from the skydivers who just moments prior jumped out of the plane. [Video clip]
US Marines Go All-In On Diversity-Equity-Inclusion Training. Last week, the US Marine Corps marked its 246th birthday. And while there are many reasons to celebrate this milestone, last we also saw a group Iran-backed of Houthi rebels stormed the U.S. Embassy compound in Yemen's capital San'a. [...] Also during the week, Chinese military forces held exercises near Taiwan in response to a visit by a US congressional delegation to the island. [...] Given these developments, sensible planners would consider making military preparedness, defense preparation, and troop recruitment and training top priorities. Instead, the Biden administration's priorities have nothing to do with actual military readiness. It intends to force march the US Marines toward diversity, equity and inclusion as the solution to make the Marine's "reflect America".
Pharmaceutical giant Johnson & Johnson will split into 2 companies. Johnson & Johnson, the New Jersey-based pharmaceutical giant, will separate into two publicly traded companies, creating an entirely new, rebranded consumer health business, the company announced Friday [11/12/2021]. It's a major change for the 135-year-old institution based in New Brunswick. Johnson & Johnson, which has more than 136,000 employees, will split its consumer products arm — responsible for Band-Aids, Tylenol, Listerine and Neutrogena — from its pharmaceutical and medical device branches within 18 to 24 months, the company said. The decision was first reported by The Wall Street Journal.
China blew up one of its satellites with a missile 14 years ago and this week a piece of the satellite nearly hit the International Space Station. Little-known fact: Astronauts in the International Space Station have to work with the constant possibility that, at some point, a piece of hypersonic space junk might potentially obliterate the station. The space station just dodged debris from a 2007 Chinese weapons test. The object was expected to make a close pass with the outpost in orbit on Thursday night [11/11/2021].
Yale's Administrators Outnumber Its Entire Undergraduate Enrollment. If you're wondering about the state of bureaucratic bloat in America — and, particularly, in education — look no further than Yale University. [...] From teaching to schooling, we appear to have jumped the shark where practical application is concerned. Contemporarily, people go to college to absorb ideas that have no discernible real-world value. We're living in an age of symbolism. Of empty acts. Take a look across the culture — entertainment elites endorse socialism while living indulgent capitalist lives. Those who rail against energy abuse charter private jets. The recent planetary environmental summit was held in person — everyone in that room posturing against fuel-consuming travel... traveled needlessly.
Los Angeles Potentially Exposed to Radioactive Dust After Explosive Demolition at Old Nuclear Test Site. Residents of some parts of Los Angeles are expressing concern that they may have been exposed to radioactive dust particles after the U.S. Department of Energy demolished a building last month at a former nuclear testing site by using explosives. [Video clip]
Pope Francis Says The Great Reset Must Include A 'Green Spirituality' Where The Earth Is Worshipped. Pope Francis says the the pre-pandemic world must be done away with, all militaries around the world dismantled, and that the earth is our mother who needs to be protected.
Biden's naivete about Russian cyber warfare puts America in danger. In September, the Biden Administration released back to Russia the world's most dangerous cybercriminal, Alexei Burkov, after Trump's Justice Department had taken great pains to extradite him from Israel. From early 2009 till August 2013, 31-year old Burkov operated a website called "Cardplanet," which sold stolen numbers of credit and debit cards, many of which belonged to US citizens. Fraudulent purchases in the amount of $20 million were made on US credit cards, as a result of stolen data traded on Burkov's website. He also ran another website where elite hackers advertised stolen personal information, hacking tools and money laundering services. Instead of serving a maximum sentence of 15 years in US prison, the cyber criminal was deported to his native Russia. Russian cyber criminals like Burkov have extorted millions of dollars in ransom from US businesses in return for unlocking infected computer networks. But the main value of highly-skilled cyber criminals like Burkov for Russian President Putin is not how much ransom he can gain, but rather, what these hackers can do for their country.
Black Americans Sue U.S. Farms for Replacing Them with Foreign Workers. Black Americans who spent most of their lives working on Mississippi farms are suing their former employer after they were replaced by foreign workers on the H-2A visa program. The lawsuit, filed in the United States District Court for the Northern District of Mississippi, accuses Pitts Farms of laying off a number of black Americans, only to replace them with foreign visa workers from South Africa. The H-2A visa program allows U.S. farms to annually outsource an unlimited number of American jobs to foreign workers who can extend their stay for up to three years. The foreign families of H-2A visa workers can also come to the U.S. on H-4 visas.
Tucker Burst Out Laughing at What Edward Durr Told Stephen Sweeney, the NJ Senate President He Ousted. New Jersey Senate President Stephen Sweeney was ousted by Edward Durr, a little known Republican candidate who spent next to nothing on his campaign. For a bit, Sweeney held out hope that once all the legal votes were counted, he'd beat the commercial truck driver, but that didn't pan out and he conceded this week. During an interview with Durr, Fox News's Tucker Carlson asked if he has actually spoken to Sweeney since the election results came out. "Have you talked to Sweeney since you dethroned him? I mean, how baffled is he?" Carlson wondered. "Yes, we had a phone conversation yesterday after he had given his press conference to the media and he congratulated me and just wished me luck to do well for South Jersey." Durr said he was a "gentleman" about it.
The Editor says...
I suspect Mr. Sweeney wants to duck down the Media Memory Hole for a while, so nobody will ask about the 12,000 ballots that he allegedly "found" after the polls closed.
Norwegian undersea surveillance network capable of detecting submarines has cables mysteriously cut. A Norwegian undersea surveillance network that is capable of detecting submarines has had its cables mysteriously cut. Police were called in to investigate amid suspicion Russia could have 'sabotaged' the undersea sensors, which predominantly monitor fish but can pick up the movement of submarines. The cables were cut and then disappeared, with the Institute of Marine Research describing 'extensive damage' to the outer area of the Lofoten-Vesterålen (LoVe) Ocean Observatory.
Tree DNA sends leader of poaching ring to prison after 2018 Olympic National Forest fire. In the spring and summer of 2018, a crew of poachers had been chopping down trees by night in the Olympic National Forest in Washington state, federal prosecutors said. On Aug. 3, they came upon the wasp's nest. It was at the base of a bigleaf maple, a species of hardwood tree with a shimmering grain that is prized for its use in violins, guitars and other musical instruments. The crew was selling bigleaf maples to a mill in Tumwater, Thurston County, using forged permits, prosecutors said. The timber poachers sprayed insecticide and most likely gasoline on the nest and burned it, authorities said. But they were unable to douse the fire with water bottles, so they fled, prosecutors said. The fire spread out from the forest's Elk Lake area, near Hood Canal, burning 3,300 acres and costing about $4.2 million to contain, prosecutors said.
Rittenhouse Trial Judge's 'Asian Food' Comments Sparks Cries of Racism. Leftist internet trolls have been crying racism in response to Kyle Rittenhouse trial Judge Bruce Schroeder's reference to "Asian food" on Thursday [11/11/2021] as the court went into recess. The alleged "faux pas" happened as Judge Schroeder dismissed the court for lunch on Thursday afternoon, during which he mocked President Joe Biden's supply chain crisis at Asian food's expense. "Let's hope for one o'clock, I don't know, the uh, hope the Asian food isn't coming — it isn't on one of those boats in Long Beach Harbor," he said.
The Editor says...
If that's all you've got against Judge Schoeder, you've got nothing.
Judge in Kyle Rittenhouse trial makes inappropriate joke about Asian food. The judge presiding over the homicide trial of Kyle Rittenhouse confused observers after making a strange and off-color joke inside the courtroom on Thursday. "I hope the Asian food isn't coming... isn't on one of those boats from Long Beach Harbor," said Kenosha County Circuit Court Judge Bruce Schroeder as the court was preparing to take a lunch break. Schroeder, the longest-serving active judge in Wisconsin's trial courts, appeared to be referring to the supply chain backlogs caused by congestion problems in California ports.
The Editor says...
Oh, yeah. That's a dog whistle, at least.
LA Ports Break Records During Supply Chain Crisis. The waters off the coast of Southern California continued to see record-breaking numbers of cargo ships this week as one city opened its harbor to help with the overflow. The ports broke a new record on Nov. 9, with 168 ships waiting to unload goods. That included 55 ships drifting at sea, 48 at anchor, and 65 ships docked. Another record fell the same day when 49 container ships were forced to drift off the coast, unable to anchor or dock at the overloaded twin ports. "This is record-setting levels at anchor and record-setting levels at loitering," Kip Louttit, head of the Marine Exchange of Southern California, told The Epoch Times.
The Editor says...
About 45 years ago, I thought I might get a job as a radio operator on a ship. For that job, one needed a Second-Class FCC Radiotelegraph License (which I had!), Coast Guard certification (which I didn't have), and about a year of jumping through hoops with the labor union in charge of such things. I heard stories about how radio officers made good money, had no place to spend it, and racked up overtime when stuck in the Suez Canal, for example. I'm not sure how much of that work has been automated out of existence, but each of these ships has a crew that can't go ashore, and a finite supply of groceries. I would not want to be there.
3 Nigerian Men Are Flogged Mercilessly In Public For Bringing Meth Into The Neighborhood. A viral video of a group of young men being beaten to stupor for taking hard drugs in Ekwe Isu, LGA of Imo state has surfaced on social media. In the video making rounds, some group of boys were tied to a pillar and beaten by the community youths after they were reportedly caught taking a hard drug known as Methamphetamine Hydrochloride. Sharing the video, a Facebook user simply named Uche disclosed that Mkpuru mmiri as it is called in the southeast is an addictive drug that has driven many young men to their early graves. [Video clip]
Supply chain stalled by 72,000 truckers who failed strict drug tests. A dire truck driver shortage that's wreaking havoc on the US economy is getting worse — and it's being fueled partly by tough federal drug-testing restrictions that were imposed nationwide last year, industry officials told The [New York] Post. More than 72,000 truck drivers have been taken off US roads since January 2020 because they have failed drug tests that are now required by the Drug & Alcohol Clearinghouse, a 22-month-old registry established to increase safety on US highways, according to government data. That's a big number, considering that the American Trucking Association — which also blames the pandemic and a lack of younger drivers, among other factors — recently pegged the industry's overall driver shortfall at 80,000, up from 60,800 in 2018 and 50,700 in 2017. "It's a staggering number of drivers we have lost" because of the new drug-testing rules, Jeremy Reymer, chief executive of industry recruiter DriverReach, told The Post.
CCP Media Says Large Number of Officials 'Lack Confidence in the CCP,' Could Flee at Any Time. Eight years ago, Chinese Communist Party (CCP) General Secretary Xi Jinping criticized party officials for letting their confidence waver and sending their families and money abroad. These people were trying to "leave themselves a way out and prepared to 'jump ship' anytime." Study Times, a newspaper run by the CCP's Central Party School for training Chinese officials, recently reiterated these words, saying some party officials were being physically in China, but mentally abroad. "This shows a loss of ideal and a lack of confidence toward the Party and the nation," the article said, adding that such officials are more prone to "losing their direction" and "walking further away on the wrong path." Such officials have become known as "naked officials," a figurative term suggesting that they are not leaving anything but themselves back home. Naked officials might not be corrupt, but they have a higher chance to become corrupt," the Study Times article stated, naming three such officials to illustrate the point.
A Truck Driver With a Few Thousand Bucks and an iPhone Just Toppled New Jersey's Most Powerful Lawmaker. It is not hyperbole to say that Edward Durr, a 58-year-old truck driver from New Jersey, just pulled off one of the biggest political upsets in American history. With a bare-bones campaign that reportedly cost less than $6,000 (some earlier reports claimed that Durr spent just $153 on the race, but Durr later clarified that was not a full accounting), Durr ousted New Jersey Senate President Steve Sweeney (D-West Deptford) in Tuesday's election. After previously calling the race for Sweeney and then withdrawing that call, the Associated Press called the race for Durr on Thursday morning. He has a lead of over 2,000 votes with 99 percent of precincts reporting. Sweeney, who was seeking a seventh term in the Senate, is widely regarded as a kingpin in New Jersey politics and one of the most powerful men in the state. He has been president of the state Senate since 2010, the longest tenure in state history.
The mystery of the missing millions is the only blemish on a strong U.S. jobs report. The U.S. jobs report for October hit all the right notes — except for one. The number of people in the labor force barely grew, leaving the rate of participation at the lowest level since the early 1970s. Put another way, millions of people who had jobs before the pandemic still haven't returned to work. And that doesn't even take into account a few million more who likely would entered the labor force had there been no pandemic at all.
Murder By Any Other Name. Scott Ritter explains how the murder of Zemari Ahmadi and nine family members by a U.S. drone attack in August was whitewashed by the Pentagon.
Josh Hawley: Milley, Austin Need To Prepare US Troops For Real Wars, Not Culture Wars. U.S. Sen. Josh Hawley, R-Mo., a member of the Senate Armed Services Committee, reacted Thursday night [11/4/2021] on "The Ingraham Angle" to news that U.S. troops had been badly beaten by their British counterparts while both groups underwent a training exercise in California. Hawley suggested the incident exemplified misplaced priorities in the U.S. military under the Biden administration — and worried that China might draw some conclusions about U.S. war readiness.
Epic Fail: L.A. Ports Are More Clogged Now Than Before Biden's Supply Chain 'Fix'. President Joe Biden says he's been addressing supply chain problems "since Day One," but that's consisted mainly of appointing task forces and holding summits. His latest bold "action" was to beg G-20 leaders to "help address global supply chain issues." The one concrete step Biden has taken was, he said, to get the Los Angeles ports to stay open 24/7, which he announced on Oct. 13. Biden said this has the "potential to be a gamechanger." A White House fact sheet declared that it "will speed up shipments of goods throughout the country." Except, that's not what's happened. In fact, things have gotten worse at those ports, not better, since Biden's "game changer." On Oct. 10, three days before the president's announcement, there were 60 container ships waiting offshore to get into the ports of Los Angeles and Long Beach, and 27 were at berths unloading or loading cargo, according to the Marine Exchange of Southern California. This Tuesday [11/2/2021], there were 77 container ships waiting, while 25 were berthed.
How Glenn Youngkin beat the Democrats in Virginia. When a Republican wins in a reliably Democratic state, it's big news. That's exactly what happened in Virginia, where newcomer Glenn Youngkin defeated former governor Terry McAuliffe. The Republican won even though McAuliffe had a well-oiled political machine and high name recognition, and was campaigning in a state Joe Biden won by ten points only a year ago. All those advantages were for nought. The Commonwealth will have a Republican governor for the first time in over a decade. It is likely Republicans will win the other two state-wide races for the lieutenant governor and attorney general and could win the House of Delegates, which had been under firm Democratic control.
The Red-Pilling of Loudoun County, Virginia. The drama that played out in upscale Loudoun County, Virginia over the last year or so, and cost Democratic candidate Terry McAuliffe the governorship last night, is a book waiting to be written. In fact, if companies like HBO or Netflix have any sense, it will soon be a movie as well, because almost every hot-button issue in American national politics was rolled up somewhere in this sprawling, preposterous, rage-filled suburban drama. I have a longer piece on this coming, and have to return to the area at least once to follow up, so I can't get into it in depth yet. But [...] a few things are already clear. McAuliffe's collapse, and the corresponding underdog win by private equity titan Glenn Youngkin, is already being caricatured nationally using the language of 1980s politics. We're meant to understand that the Loudoun County story — which is too complex to summarize easily but involves furious disputes between local parents and the school board over a variety of issues, including a pair of sexual assaults — was cooked up by Republicans as a cynical dog-whistle campaign.
CDC advisory committee recommends all US adults younger than age 60 get vaccinated against hepatitis B. Advisors to the Centers for Disease Control and Prevention (CDC) recommended on Wednesday that all U.S. adults younger than age 60 get vaccinated against hepatitis B. Under the new policy, tens of millions of adults in the 30-to-59 age range could get their shots, protecting them against this potentially chronic liver disease. The new recommendation aims to prevent infection among middle-aged adults with hepatitis B increasingly impacting people in their 40s and 50s in recent years.
Another Shocking Victory Happened in Texas Last Night and Suggests 2022 Doom for Democrats. While all eyes were on Virginia last night, where Republican Glenn Youngkin pulled a massive upset, other elections were going on across the country. Candidates for local offices and state districts along with referendums on things like defunding the police occurred in places like Texas, Wisconsin, and Minnesota, and there's a big upset in Texas that suggests doom is coming for Democrats in 2022. That occurred in San Antonio where the race of HD118 took place. Republican John Lujan came out victorious in the majority-Hispanic district that Democrats carried by double-digits the last time around.
Georgia woman was billed almost $700 for trip to ER; says she did not see a doctor and left after waiting seven hours. A Georgia woman says she received an emergency room bill for nearly $700- despite not receiving treatment and leaving the hospital after seven hours without ever getting to see a doctor. Taylor Davis told a local media outlet that she checked into Emory Decatur Hospital for treatment of a head injury in July — but after waiting to be seen for seven hours, left the facility. 'I sat there for seven hours,' she told Fox 5. 'There's no way I should be sitting in an emergency room — an emergency room — for seven hours.' Weeks later, Davis said she was shocked to receive a hospital bill for $688.35. "I didn't get my vitals taken, nobody called my name,' Davis told the outlet. 'I wasn't seen at all.'
Isn't that what sonar is for?
Navy investigation reveals sub hit uncharted underwater mountain. A U.S. Navy investigation has determined that the nuclear attack submarine damaged in a collision in the South China Sea in early October struck an uncharted underwater mountain, defense officials said Monday [11/1/2021]. The Navy's U.S. 7th Fleet commander Vice Adm. Karl Thomas is now conducting a review of the findings to determine whether any additional accountability measures will be taken, U.S. Naval Institute News reported. "The investigation determined USS Connecticut grounded on an uncharted seamount while operating in international waters in the Indo-Pacific region," 7th Fleet spokesperson Cmdr. Hayley Sims said in a statement. Vice Adm. Thomas "will determine whether follow-on actions, including accountability, are appropriate."
Staggering $1.5 billion lithium deposit discovered near Newry; excavating it poses a challenge. The richest known hard rock lithium deposit in the world lies a few miles northeast of the ski slopes of Sunday River and not far from Step Falls, where swimmers can wade in shallow pools formed by hundreds of feet of cascading granite ledge. Smaller deposits have been known in Maine for decades, but this recent discovery, just north of Plumbago Mountain in Newry, is the first to have a major resource potential. And that potential is staggering: At current market prices, the deposit, thought to contain 11 million tons of ore, is valued at roughly $1.5 billion. Measuring up to 36 feet in length, some of the lithium-bearing crystals are among the largest ever found.
The Royal Marines defeat the U.S. Marines at the 'Battle of the Mojave Desert'. The Marines occupy an almost mythic place in many Americans' minds as an invincible force that runs to the guns and fights no matter what. That's why it was so shocking to learn that, during a joint training exercise in the Mojave Desert, Britain's Royal Marines inflicted such a shellacking on the Americans that the latter had to surrender halfway through the exercise. This is a direct result of the Pentagon having gone woke under Obama — something that Trump failed to undo — followed by Biden doubling down on Obama's policies. Marines used to be synonymous with dogged determination. [...] But the Marines have been in war nonstop since 2001, and that's a long time for a fighting force. [...] The American military has had another force bearing down on it that may be an even greater enemy than Islamists the world over. That force has been wokeism. Beginning with Obama, the American left has been using the military as a social justice experiment.
Special inspector general for Afghanistan warns the Pentagon is classifying documents to cover up failures. A U.S. government watchdog on Friday accused the State Department and Pentagon of suppressing information that lawmakers and the public need to understand the collapse of Afghanistan's former government and military and the chaotic U.S. troop pullout. John Sopko, the special inspector general for Afghanistan reconstruction (SIGAR), spoke out on Friday after it emerged that many of the routine documents had now been marked as classified. 'The full picture of what happened in August — and all the warning signs that could have predicted the outcome — will only be revealed if the information that the departments of Defense and State have already restricted from public release is made available,' said Sopko.
12 dock workers reveal the 'never-ending' chaos at shipping ports: 'We can't keep this pace up forever'. Dock workers have long been working day and night to keep the supply chain running. But, since the pandemic started, COVID-19 shutdowns and surging demand have cast the ports into chaos — and workers say there's no end in sight. Insider spoke with 12 dock workers from across the US, including seven that work at ports in Los Angeles and Long Beach — locations responsible for over 40% of the nation's imports. The workers asked to remain anonymous to speak freely about their jobs, but their identities have been verified by Insider. Four longshoremen with more than 20 years of experience at the major California ports said they've never seen anything like the near-record backlogs. The issues are spilling over to ports in cities like Seattle and Houston, as well, workers said.
North American Missionaries Going on Second Week as Hostages in Lawless Haiti. Thursday [10/28/2021] marked 13 days that one Canadian and 16 U.S. citizen missionaries have been held by Haitian kidnappers for $17 million. The kidnappers threaten to kill the hostages unless they get $1 million per person. The hostages are in Haiti to do work for the Ohio-based Christian Aid Ministries and were abducted on Oct. 16, while on a trip to visit an orphanage supported by the organization. The group includes six men and six women ranging in age from 18 to 48, and five children ages 8 months, 3 years, 6 years, 13 years, and 15 years. Before the kidnapping, their work throughout Haiti included supporting thousands of needy school children, distributing Bibles and Christian literature, supplying medicines for numerous clinics, teaching Haitian pastors, and providing food for the elderly and vulnerable.
Top Florida Official Pleads With In-N-Out to Move After Vaccine Mandate Closures. Florida's Chief Financial Officer, Jimmy Patronis, suggested that In-N-Out Burger should move to the Sunshine State after several In-N-Out locations were shut down by California officials. Patronis appealed to In-N-Out CEO Lynsi Snyder to move to the state, arguing that Florida has a superior business climate — noting the state has no personal income tax, low corporate taxes, and no mandates. "I'm writing you today not only as Florida's Chief Financial Officer, but as a small business owner who grew up in a family-owned restaurant and worked there for more than 30 years," his letter reads. "I know how hard it is to turn a profit and make payroll on a good day, let alone when your own government is working to crush your business with absurd mandates. Once I heard the news of your shutdown for refusing to act as 'vaccine police,' I knew I had to reach out immediately." It came as health officials in Contra Costa County, Calfornia, shut down another In-N-Out Burger location for allowing indoor dining without checking customers for proof of vaccination, coming after a location was closed in nearby San Francisco for a similar reason.
Facebook changes company name to Meta. Facebook on Thursday [10/28/2021] announced that it has changed its company name to Meta. The name change was announced at the Facebook Connect augmented and virtual reality conference. The new name reflects the company's growing ambitions beyond social media. Facebook, now known as Meta, has adopted the new moniker, based on the sci-fi term metaverse, to describe its vision for working and playing in a virtual world. "Today we are seen as a social media company, but in our DNA we are a company that builds technology to connect people, and the metaverse is the next frontier just like social networking was when we got started," Meta CEO Mark Zuckerberg said.
DeSantis Blasts Republican 'Boneless Wonders,' Totally Destroys 'Fake News' Media. Yes, Florida Gov. Ron DeSantis is a man on a mission. Moreover, the popular Florida governor doesn't suffer fools gladly — be those fools his fellow Republicans, left-wing loons, or anywhere in between. A fired-up DeSantis went full metal attack mode at a Washington, D.C., Republican dinner on Tuesday night, effectively telling spineless Republican politicians to get hop aboard the train — or get [...] out of the way. "We don't have time for boneless wonders," he said. Even better, DeSantis blistered the "fake news" media, beginning with the never-ending "Russian collusion" nonsense in the 2016 presidential election win of Donald Trump, as transcribed by BizPac Review.
Florida Has The Fastest Job Growth Rate In The Nation, Significantly Faster Than National Average. Florida's job market is recovering significantly faster than the national average, according to new figures. The United States economy gained 194,000 jobs in the month of September, severely missing economists' expectations. However, Florida alone gained 84,500 jobs during the same period — leading the nation in terms of the largest percentage increase. [...] [Governor] DeSantis was one of the first governors to pull his state from enhanced federal unemployment checks funded by President Joe Biden's $1.9 trillion American Rescue Plan. A recent report from the Foundation for Government Accountability — a Florida-based think tank seeking to reform welfare initiatives — confirms that DeSantis' decision to end the handouts paid significant dividends for the state's job market.
Air War College professor admits tie to Chinese official, pleads guilty to lying to federal agent. Xiaoming Zhang, a civilian professor at the Air War College, headquartered at Maxwell Air Force Base in Montgomery, Alabama, pleaded guilty to making false statements to a federal agent. He faces a maximum of five years in prison for lying about his relationship with a Chinese official to a federal agent. Zhang is a naturalized U.S. citizen of Chinese descent. His tenure as a professor at the Air War College began in 2003. He traveled to China on a regular basis for both work-related reasons and to visit family living there. He was as an associate professor in the college's Department of Leadership and Strategy. He taught strategy and classes in China and East Asia. Zheng held a secret security clearance as part of his employment. He attended annual security training during which he was informed of reporting requirements about suspicious foreign contacts and relationships with foreign government officials.
Florida tries to lure ships waiting at backlogged California ports. Florida is encouraging ships to ditch backed-up ports on the West Coast and head its way. While dozens of ships remain moored off the coast of Los Angeles waiting to be unloaded in a historic supply chain snarl, ports in Florida are humming along with little or no delays and are standing by if shipping companies decide to reroute freighters to the East Coast. Florida Gov. Ron DeSantis, considered a possible contender for the 2024 Republican presidential ticket, recently invited ships to reroute and offload their shipments in Florida, which has several ports.
As Expected, Joe Biden Pledge To Speed Up California Ports Amounts to Absolutely Nothing. In a rare act of journalism, NBC actually followed up on the October 13th grand proclamation of Joe Biden to speed up California ports. What they found is exactly what everyone suspected, the grand prose from the White House was a political pantomime — absolutely nothing has changed. [Video clip] As noted, and as previously outlined, the issues with the backlog of the California ports have absolutely nothing to do with rapid unloading of ships and container vessels. The issue is the inability of California truckers to move those containers. The problem is a shortage of CA emission compliant internal transportation trucks to move the containers out of the port and into the U.S. mainland.
AG Garland Gaffes: Missed Leftist 'Insurrection', Admits Unions Steer Policy, Shrugs Off CRT Conflicts. For starters, while the Biden administration, Congressional Democrats and their media support complex have branded January 6th rioters as domestic terrorists — Garland had no clue about leftist Demonstrators who forced their way into the Department of the Interior just one week ago — to protest Biden's approval of fossil fuel energy projects. "They forced their way into the Department of the Interior. They fought with security and police officers, sending some of those officers to the hospital. The extremists violently pushed their way into a restricted government building in an attempt to thwart the work of the department," Rep. Greg Steube (R-FL) told Garland. "Police arrested at least 55 protestors on sight, but others got away. Mr. Garland, do you believe these environmental extremists who forced their way into Interior are also domestic terrorists?" Garland appeared to have no clue what Steube was talking about.
Biden delays release of JFK assassination records, blaming COVID-19 pandemic. The US will "unfortunately" continue to delay the public release of records related to the assassination of President John F. Kennedy, and officials say the COVID-19 pandemic is to blame. The move was announced in a memo signed by President Joe Biden and released by the White House Friday [10/22/2021]. "Temporary continued postponement is necessary to protect against identifiable harm to the military defense, intelligence operations, law enforcement, or the conduct of foreign relations that is of such gravity that it outweighs the public interest in immediate disclosure," Biden wrote. In 1992, Congress ruled that "all Government records concerning the assassination of President John F. Kennedy ... should be eventually disclosed to enable the public to become fully informed about the history surrounding the assassination," the missive said.
White House further postpones disclosure of JFK assassination documents, citing Covid. The White House announced late Friday that it would further postpone the release of more documents related to the 1963 assassination of President John F. Kennedy, pointing to the "significant impact" of the Covid-19 pandemic. President Joe Biden issued a memo that said the national archivist recommended he "'direct two public releases of the information that has ultimately 'been determined to be appropriate for release to the public.'" The first will be an "interim release" later this year, with a second, "more comprehensive release in late 2022," the memo said. The memo said that the Covid-19 pandemic has slowed down the process of reviewing whether redactions continue to meet the "statutory standard."
The Editor says...
Pardon my perpetual skepticism: Joe Biden — or whoever is running the Executive Branch — has decided to keep these documents up his or her sleeve until the next major Biden scandal. Only then will they be released, for the purpose of pushing that scandal off the front pages of America's few remaining newspapers. And if that doesn't work, a few days later, NASA will announce they're discovered life on Jupiter — which none of us can disprove. But if no need arises for this future JFK document dump, and Covid is long gone, there will be a "computer glitch" or "Russian hacker" someday, and all the documents will conveniently disappear. Think for a moment: What decision cannot be made due to Covid? The Kennedy assassination happened in 1963. There has been plenty of time to review what is in the documents, and to come up with excuses to keep them secret. Covid has nothing to do with it.
Release of JFK assassination records delayed *again*. There was an obscure deadline for the federal government coming up on Tuesday that is now being pushed back for the umpteenth time. According to the latest interpretations of the Kennedy Assassination Records Collection Act of 1992 (also known as the JFK Records Act or simply the JFK Act), the final trove of federal records related to the assassination of John F. Kennedy in 1963 and the subsequent findings of the Warren Commission had to be reviewed by this coming Tuesday, October 26, 2021, "to determine whether continued withholding from disclosure is necessary." Last night, President Joe Biden signed and released a memo stating that the release of the remaining records from the National Archives & Records Administration (NARA), would "unfortunately" be delayed yet again. The unreleased records contain more than 440,000 pages of documents.
Biden admin doubles estimate of Americans left behind in Afghanistan. Nearly 200 Americans left behind in Taliban-ruled Afghanistan following the August U.S. military withdrawal may still be trying to get out, the State Department said Friday [10/22/2021], doubling its previous public count. Spokesman Ned Price said the U.S. airlifted out several dozen people in the past couple days, but even more people have come forward in recent weeks saying they also want to leave, which has sent the number soaring. He listed the current total still left behind and interested in getting out as somewhere between 100 and 200, and cautioned that the numbers are just "a momentary snapshot in time."
Trucking companies offer $100,000 salaries and $15,000 bonuses to lure 80,000 truckers and ease supply crisis. Haulage companies are offering six-figure salaries and $15,000 sign-on bonuses while struggling to attract 80,000 new drivers who are needed to relieve the nation's supply crisis. But industry experts said more drivers won't alleviate the Ports of Los Angeles and Long Beach backlog, where an empty shipping container fiasco is preventing trucks from moving product to consumers. Facing an exodus of 600,000 retiring truckers by 2028, the transportation industry is desperate to recruit more people and estimates that 80,000 new hires are needed this year to offset attrition and clear a backed-up supply chain.
Taliban Official Can't Even Find Afghanistan On The Globe. Watch as an Afghani reporter asks a Taliban official to find his own country on a globe and fail miserably. [Video clip]
Ron DeSantis Addresses Supply Chain Crisis: Florida's Ports Are Open. Florida can play a key role in alleviating the nation's supply chain crisis, Gov. Ron DeSantis (R) said Tuesday [10/19/2021], as Florida's ports remain open, ready, and, in some cases, are offering incentives for businesses to move their cargo through Sunshine State ports. Speaking from Jacksonville, Florida's JAXPORT, DeSantis laid out the situation the nation faces, as Americans witness "major disruptions" in the supply chain, citing images of ships docked off the coast of various cities and log jams, which are directly "impacting what we see in terms of our store shelves." Americans are seeing shortages of products, increased costs of items, and rising gas prices, directly affecting commuters.
The Editor says...
There are also ports at Houston, Beaumont, and Corpus Christi, if you really want to unload a ship. That's what the Panama Canal is for.
Why don't they call it 'wokebook'? Users mock Facebook's plans to change their name to shake off multiple scandals. Facebook has been mocked after it emerged the firm plans to rebrand its parent company with a new name next week in a bid to distance itself from a series of embarrassing scandals. The firm's original, flagship social media site and app — Facebook — is expected to keep its moniker, but Facebook Inc., the parent company which also owns Instagram and WhatsApp, will be given rebrand. Chief Executive Officer Mark Zuckerberg is set to reveal the parent company's new name at its annual Connect conference on October 28, but it could be unveiled sooner, the Verge reported.
Shipping Containers That Spent Weeks Aboard Ships Stuck At Ports Now Being Dumped In Nearby Neighborhoods. With the ports of Los Angeles and Long Beach now running 24/7 operations, a new problem has occurred. Many of the shipping containers that spent weeks onboard ships waiting to be unloaded are now being dumped in nearby neighborhoods once they're emptied. Sonia Cervantes lives along Anaheim Street, where UCTI Trucking Company is located. The company's lot only has a capacity for 65 containers so the additional containers now line up along Anaheim Street in front of some people's homes. "It's a bunch of neighbors that are very upset because it's a non-stop situation," said Cervantes.
Fully-vaccinated former Secretary of State Colin Powell, 84, dies of COVID complications while battling Parkinson's and blood cancer. Colin Powell, the first black Secretary of State who formulated foreign policy under several presidents, died Monday morning at the age of 84 of complications from COVID. The Pentagon powerhouse who served as a soldier in Vietnam and went on to become Chairman of the Joint Chiefs of Staff was fully vaccinated and battling blood cancer and Parkinson's when he passed away at Walter Reed Medical Center in Maryland, according to his family. Retired Four-Star General Powell, who was also suffering from Parkinson's, is survived by his wife of 59 years, Alma, and three children, and has a celebrated career that saw him rise up the military ranks after growing up in a Jamaican immigrant family in Harlem.
Colin Powell, military leader and first Black US secretary of state, dies after complications from Covid-19. A source familiar with the matter said Powell had multiple myeloma, a cancer of plasma cells that suppresses the body's immune response. Even if fully vaccinated against Covid-19, those who are immunocompromised are at greater risk from the virus. "We have lost a remarkable and loving husband, father, grandfather and a great American," the family said. Powell was a distinguished and trailblazing professional soldier whose career took him from combat duty in Vietnam to becoming the first Black national security adviser during the end of Ronald Reagan's presidency and the youngest and first African American chairman of the Joint Chiefs of Staff under President George H.W. Bush. His national popularity soared in the aftermath of the US-led coalition victory during the Gulf War, and for a time in the mid-90s, he was considered a leading contender to become the first Black President of the United States.
China Tests New Hypersonic Nuclear-Capable Missile That Circled Entire Globe at Low-Orbit. China launched a new hypersonic nuclear-capable missile that circled the entire globe at low-orbit in August, the Financial Times reported. US Intelligence and US Military officials were left stunned. "We have no idea how they did this," a source told the Financial Times. According to the report, the missile missed its target by about 24 miles and caught US intel by surprise.
Chinese Military Operation Leaves US Officials Dumbfounded. The US military, specifically its leadership, has not had a good year. While the bungled, deadly evacuation from Afghanistan was the clearest sign of incompetence yet, that disaster followed decades of failure and corruption. Instead of admitting there's a problem and improving, the US military has been busy prosecuting soldiers for speaking out. By contrast, the Chinese communists are eating our lunch by building the world's largest navy, advancing next-generation technologies, and promoting unity and strength among their rank and file. The latest example of their advancement has left US officials dumbfounded, after the Chinese military launched a nuclear-capable hypersonic glider that orbited the earth and then descended into its target area.
As Expected Containergeddon is Getting Worse — Biden's Political Solution to Clear The Ships From Los Angeles Ports Only Making Things Worse. This is a follow-up to the original explanation of the epicenter of the supply chain backlog issue, ie "The Clog". You need to review the years-long and building background issue to understand the [mess] that Joe Biden has just made worse. From the White House perspective, the problem at the California ports, specifically the Port of Los Angeles (POLA) and the Port of Long Beach (POLB), was visible due to hundreds of container ships sitting in a queue off the coast of Los Angeles awaiting their opportunity to offload their cargo. The media was reporting on the backlog of ships and Joe Biden was under fire. The team behind Joe Biden wanted the optics removed asap. Hence, the White House meeting with the heads of the Ports of Los Angeles and Long Beach, Gene Seroka and Mario Cordero, respectively. The continuing supply chain crisis of empty store shelves, missing parts and component goods that are backlogged at the California ports may be politically represented by the optic of those floating vessels. However, that's not the problem.
Australia Is Planning To Pass Law Banning Biker Gangs From Showing Gang Tattoos In Public. An outlaw bikie gang member has slammed a new Western Australian law which could lead to him and his fellow tattooed associates being forced to wear make-up. Chris 'Ballistic' Orchard, whose motto is the implied threat that 'I shake hands to negotiate ... I throw hands to renegotiate' compared a tough new law banning the public display of gang insignia to 'Nazi Germany'. [Video clip]
Keywords: Unnecessary travel, junket, carbon footprint, jet fuel, money down the drain.
Buttigieg and 12 Other Biden Cabinet Officials to Attend U.N. Climate Summit as Supply Chain Crisis Continues. Thirteen members of President Joe Biden's cabinet are heading to Glasgow, Scotland, for the United Nation's climate summit later this month, while the nation remains in the midst of a migrant crisis at the southern border and a supply chain crisis at U.S. ports. The climate summit attendees will include Transportation Secretary Pete Buttigieg who has been on parental leave for weeks after adopting two infants.
Ethics watchdog files a complaint against Jen Psaki because she 'violated the Hatch Act by endorsing' Democrat Terry McAuliffe for Virginia Gov. at the White House. A prominent outside government ethics watchdog has filed an ethics complaint claiming White House Press Secretary Jen Psaki violated the Hatch Act when she talked up former Virginia Gov. Terry McAuliffe from the White House podium. Citizens for Responsible Ethics in Washington, an ethics group that regularly hounded the Trump administration when multiple officials talked politics or promoted merchandise from the White House grounds, announced the complaint a day after Psaki's comments. She had been asked whether the tight Virginia governor's race, just a few weeks out, would be a bellwether for Biden.
While Joe takes a nap...
Jill Biden out to flex political muscle in governors' races. First lady Jill Biden is set to campaign Friday for Democrats in governors' races in Virginia and New Jersey, her most overt foray into politics since arriving at the White House nine months ago. Her involvement is the latest sign that Democrats are pulling out the stops in the upcoming elections, particularly in Virginia, where Democrat Terry McAuliffe appears to be in a tighter race than expected.
The Editor says...
The Associated Press certainly has a way with words. The phrase, "appears to be in a tighter race than expected," is a polite way of saying Mr. McAuliffe is likely to lose. Here's some free advice for Mr. McAuliffe: Don't ask Barack H. Obama for help. He has the Reverse Midas Touch.
Scheller, Marine who criticized Afghanistan withdrawal, sentenced to reprimand, forfeiture of $5K in pay. The U.S. Marine who posted videos on social media criticizing military leadership and the Biden administration's withdrawal of military assets from Afghanistan was issued a letter of reprimand and a forfeiture of $5,000 worth of pay for one month, after pleading guilty to all charges during his court-martial hearing this week. Lt. Col. Stuart Scheller Jr. pled guilty to all six misdemeanor-level charges Thursday [10/14/2021], including willfully disobeying a superior commissioned officer, dereliction in the performance of duties and conduct unbecoming an officer and a gentleman.
Boeing deals with new defect on troubled 787 Dreamliner: Admits titanium parts on new planes are too weak. Boeing is dealing with an alarming new defect on its problem-plagued 787 Dreamliner, which involves certain titanium parts that are weaker than they should be, according to a new report. The defect is on 787s built over the past three years, and is among the Dreamliner issues that has led to $25 billion in jet inventory piling up on Boeing's hands, the Wall Street Journal reported on Thursday, citing people familiar with the matter. In a statement to DailyMail.com, a Boeing spokesman confirmed that the company had received a notice from a supplier about 'certain 787 parts that were improperly manufactured.'
Amazon India reportedly copied sellers' products and rigged search results. Amazon's India division engaged in a systematic campaign of copying items sold by third-party sellers and then manipulated search results to favor its own products, according to a Reuters report Wednesday [10/13/2021] that cites internal documents. In a 2016 document, titled "India Private Brands Program," Amazon's private label team in India detailed how it would review sales and customer review data to identify "reference brands" to replicate, according to the article.
Marine who criticized military over Afghan withdrawal to plead guilty at court martial, lawyer says. The Marine officer whose online video criticizing senior military leaders over the U.S. withdrawal from Afghanistan went viral is expected to plead guilty at his court-martial this week, his lawyer said. Lieutenant Colonel Stuart Scheller is facing several charges ahead of the court-martial set for Thursday at Camp Lejeune in North Carolina. They include disrespect toward superior commissioned officers, willfully disobeying a superior commissioned officer and conduct unbecoming an officer and a gentleman. One of Scheller's attorneys, Timothy Parlatore, confirmed to CBS News that his client would be pleading guilty, but would not say which charges Scheller would plead guilty to, since details are still being finalized.
Marine top brass claims Lt. Colonel Stuart Scheller 'incited a revolution' by criticizing Afghanistan withdrawal on Facebook. Marine top brass has claimed in charges against Lt. Colonel Stuart Scheller that he was trying to 'incite a revolution' by repeatedly criticizing the chaotic Afghanistan withdrawal and calling for a change in military leadership, leaked documents have revealed. The viral Marine posted that 'It's time for a new generation to assume American power. We are ready, and we reject the current system... Follow me, and we will bring the whole [...] system down... in a constitutional manner with one loud voice.' That September 2 post is referred to in a charge sheet that was first obtained by Task and Purpose, a military news site, and made public on Friday [10/8/2021].
Clint Eastwood Wins $6.1M Lawsuit Against CBD Scammers Using His Name. Famed actor and director Clint Eastwood has won a $6.1 million lawsuit against a Lithuanian company that used his face and name without permission to sell CBD products. The 91-year-old Dirty Harry star was thrilled that he came out on top in the lawsuit to stop the "scammers" from illegally using him — and other stars — to sell their products.
No cases of influenza A or RSV detected in Ohio during 2020-21 season - and just two cases of B flu strain. Cases of influenza and other respiratory viruses plummeted during the COVID-19 pandemic, a new study suggests. Researchers from Akron Children's Hospital, in Ohio, looked at data from children treated during the 2018-19, 2019-20 and the 2020-21 flu seasons. They found that flu infections among kids were reduced by 99 percent and there were no cases of respiratory syncytial virus (RSV) detected in northern Ohio.
New Zealand Central Bank Raises Interest Rates For First Time in Seven Years. New Zealand's central bank raised interest rates for the first time in more than seven years on Wednesday, removing some of the support it put in place when the coronavirus pandemic began. The Reserve Bank raised the benchmark rate to 0.5% from a record low 0.25%.
Lt. Col. Scheller [has been] Freed, but Charges Loom. Lt. Col. Stuart Scheller has been freed from pretrial detention, but could still face charges for criticizing senior military officials over the U.S. evacuation from Afghanistan, The Epoch Times has learned. Scheller was scheduled for a pretrial confinement initial review hearing Tuesday. Military officials planned to conduct the hearing in secret, sparking anger from some media outlets and members of the public. But prior to the hearing, the Marine Corps agreed to free Scheller, cancelling the pretrial review as a result, according to a source familiar with the matter. Meanwhile, Scheller has submitted a request for resignation of his commission in lieu of trial to the Secretary of the Navy, the source said, speaking under the condition of anonymity to avoid backlash from the military.?utm_source=partner&utm_campaign=akdart
Lt Colonel Stuart Scheller is being released from military brig. Lt. Colonel Stuart Scheller Jr. is being released from military brig today after winning a landslide of public support for his condemnation of the withdrawal from Afghanistan. Scheller Jr. was jailed last Monday at Camp Lejeune in North Carolina for repeatedly criticizing the military's chaotic withdrawal from Kabul. He was three days from retirement when he was stripped of his post and thrown in the grim confinement quarters to await military trial for contempt. He had said in videos that he was resigning and giving up his $2 million pension because he was so appalled with how the situation in Afghanistan had unfolded.
Natural gas price spikes 25% on soaring demand. European and UK gas prices surged on Wednesday by more than 25 percent, energised by soaring demand before the northern hemisphere winter. Europe's reference Dutch TTF gas price jumped to 145.19 euros per megawatt hour and UK prices soared to 347.27 pence per therm.
General Mark Milley's Sketchy October 2020 Intelligence on China Fears Likely Came From Twitter and New York Times, Congressman Mike Turner Will Confirm. CTH has discovered what we believe will turn out to be the currently classified "intelligence product" that Joint Chief's Chairman Mark Milley has been claiming as justification for his unilateral phone call with the Chinese military to discuss their concerns. I am 80% certain we have located that intelligence product, and you ain't gonna believe where it was from. Yesterday [9/29/2021], congressman Mike Turner of Ohio noted that no one in the entire system of intelligence and oversight had any idea what intelligence product Mark Milley was describing in his two days of testimony. Former Director of National Intelligence John Ratcliffe said Wednesday, in response to the claims of Milley, that no such intelligence product ever existed. Congressman Turner, who sits on the House Intel Committee (HPSCI) and the House Armed Services Committee, confirmed the same. Congressman Turner has demanded that General Milley turn over this mysterious, secret, oddly untraceable intelligence product that Milley alone has seen.
Facebook Whistleblower Is Leftist Activist Repped By Lawyer For 'Whistleblower' Behind Trump Impeachment. The Facebook whistleblower, Frances Haugen, has a record of donations to far-left Democrats and a history of raising issues about purported bias while at previous employers, a Daily Wire review found. She is working with Democrat operatives to roll out her complaint and has the same lawyers as the anonymous Ukraine "whistleblower" whose allegations led to Donald Trump's impeachment, but who reportedly turned out to be then-Vice President Joe Biden's top advisor on the country. In a previous role at Pinterest, Frances Haugen was behind a "recent change to give users the option to filter searches to specific skin tones." At Gigster, she gave a talk on how "if we don't build with an eye towards inclusion, we can end up enshrining bias." [...] According to public records, Haugen co-owns a house with Molly Tombley-McCann, a computer coder who made a "gamification tool to be a better ally." Haugen has made more than twenty federal campaign contributions since 2016, all of which have gone to Democrats, according to Federal Election Commission data.
A simple guide to the Pandora Papers leak. The Pandora Papers is a leak of almost 12 million documents that reveals hidden wealth, tax avoidance and, in some cases, money laundering by some of the world's rich and powerful. More than 600 journalists in 117 countries have been trawling through the files from 14 sources for months, finding stories that are being published this week. The data was obtained by the International Consortium of Investigative Journalists (ICIJ) in Washington DC, which has been working with more than 140 media organisations on its biggest ever global investigation. BBC Panorama and the Guardian have led the investigation in the UK.
Maj Gen Ordered 50+ Evacuees off One of Last Flights out of Kabul to Make Room for Taliban Souvenir. [Scroll down] During the last hours of the evacuation, according to troops under his command and as documented by photographs and witness statements, [Maj. Gen. Christopher] Donahue ordered all of the passengers aboard a C-17 transport plane to disembark so he could have a souvenir loaded onto the plane. That souvenir, or "war trophy," was an inoperable Taliban-owned Toyota Hilux with a fully operational Russian ZU-23 anti-aircraft autocannon mounted in the bed. Once the Hilux was loaded passengers were allowed back on the plane, but, of course, there wasn't room for all of them. According to troops on the scene, at least 50 people and perhaps as many as 100 people were left at Kabul to make room for the Hilux.
Related story: Nobody ran a red light for four straight hours.
Facebook, Instagram, WhatsApp go down in major internet outage. Facebook, Instagram and WhatsApp, three of the most-popular websites and apps in the world, were knocked offline Monday in a major internet outage. The outage that affected the products, which are all owned and operated by Facebook, occurred around noon EST. Several other products that are owned and run by Facebook were also affected. On Facebook, a simple error message read "Sorry, something went wrong. We're working on it and we'll get it fixed as soon as we can."
Kabul faces blackout as Taliban fails to pay the bills. Afghanistan's capital could be plunged into darkness as the winter sets in because the country's new Taliban rulers haven't paid Central Asian electricity suppliers or resumed collecting money from consumers. Unless addressed, the situation could cause a humanitarian disaster, warned Daud Noorzai, who resigned as chief executive of the country's state power monopoly, Da Afghanistan Breshna Sherkat, nearly two weeks after the Taliban's takeover on Aug. 15.
Louie Gohmert shares reassuring update on jailed Marine after visit. Republican Rep. Louie Gohmert of Texas said the Marine who was jailed after criticizing top military officials over the Afghanistan withdrawal "looks" and "sounds good" after the two met on Thursday [9/30/2021]. The congressman traveled to North Carolina's Camp Lejeune, where Lt. Col. Stuart Scheller is being held, for a visit and later provided a status update to his parents on Sean Hannity's Fox News program. "There are people in that brig that like Stu, and so please know that," Gohmert told Scheller's parents, who say they have not talked to their son since he was thrown in the brig on Monday, on Hannity. Scheller garnered attention in August when he posted a video on social media calling for accountability from military leaders over the United States's pullout from Afghanistan. He later said he was "relieved from duty" after his comments went viral and that he expected to be jailed over it. Scheller Jr. is currently in pretrial confinement as he awaits a hearing, which has not yet been scheduled.
$2 million raised for Marine in the brig for speaking out against Afghan chaos. Individuals raised nearly $2 million on behalf of the Marine facing possible charges for his public criticism of military leadership amid the Afghanistan withdrawal. Supporters have raised more than $1.85 million from over 23,000 donations for Lt. Col. Stuart Scheller Jr., who awaits a hearing for his viral videos in which he called for accountability for the military's top brass. He is in pretrial confinement in the Regional Brig for Marine Corps Installations East abroad Marine Corps Base Camp Lejeune. However, the time, date, and location of the Article 32 proceeding has not been scheduled.
GOP Lawmakers: Incarceration Of Lt. Col. Scheller Is Political. Republican lawmakers are coming to the defense of a U.S. Marine who was jailed after criticizing Joe Biden's Afghan pullout. In a statement on Thursday, Reps. James Comer (R-Ky.) and Nancy Mace (R-S.C.) said Biden officials put a U.S. Marine in solitary confinement for demanding accountability from top brass for the Afghan disaster. The lawmakers went on to ask why our troops receive punishment for questioning the failures of Biden and his administration. Back in August, Marine Lt. Col. Stuart Scheller posted a video on Facebook asking why the Afghanistan crisis even happened and blasting military leaders for the exit. He was placed in pre-trial confinement shortly after.
36 members of Congress sign letter calling for Lt. Col. Stuart Scheller's immediate release from grim military brig. Dozens of congressmembers have demanded the immediate release of Lt. Col. Stuart Scheller after he was jailed for defying orders to stop publicly criticizing the nation's Afghanistan withdrawal. Scheller, 40, was arrested and jailed at the Camp Lejeune brig Monday [9/27/2021] for allegedly breaking four military laws by refusing orders to stop posting critical videos on social media. He was scheduled to make his first court appearance in North Carolina today, but the public — including elected officials and the media — are prohibited from attending.
The Scheller Case is America's Dreyfus Affair. A US Marine officer, Lt. Colonel Stuart Scheller, publicly criticized the Biden Administration's chaotic withdrawal from Afghanistan which left 13 servicemen and women dead at Kabul Airport. He particularly targeted the top brass of the military, a military to which he devoted his energy and his life to serve, for their abysmal performance in the closing days of the Afghan withdrawal. Scheller was relieved of his command shortly after he posted a video on Facebook demanding senior officers be held to account for their actions. In the video, Scheller said that he intended to resign his commission. [...] On September 27, Lt. Colonel Sheller was suddenly arrested and placed in solitary confinement in the military jail at Camp Lejeune, N.C., according to Marine Corps spokesman Capt. Sam Stephenson. He is held incommunicado, under a gag order, unable even to speak with his parents. Throwing people into solitary confinement has become, it seems, a repeatable tactic to the current Democrat enforcers.
Workers Who Maintain Supply Chains Warn of Worldwide 'System Collapse'. Several industry groups have warned world leaders of a worldwide supply-chain "system collapse" due to pandemic restrictions, coming as Federal Reserve Chairman Jerome Powell suggested that the current period of higher inflation will last until 2022. The International Chamber of Shipping, a coalition of truck drivers, seafarers, and airline workers, has warned in a letter to heads of state attending the United Nations General Assembly that governments need to restore freedom of movement to transportation workers amid persistent COVID-19 restrictions and quarantines. If nothing is done, they warned of a "global transport system collapse" and suggested that "global supply chains are beginning to buckle as two years' worth of strain on transport workers take their toll," according to the letter. It was signed by the International Air Transport Association (IATA), the International Road Transport Union (IRU), and the International Transport Workers' Federation (ITF), which represent some 65 million transport workers around the world.
Coal For Christmas. In mid-April 2021, I began receiving reports from sources in China and the United States that certain regions in China had begun to experience ongoing power disruptions at their warehouses and manufacturing facilities. Most notable of these was in south China's Guangdong megaregion, where in June operations at the Taishan Nuclear Power Plant had become disrupted by a small number of faulty claddings for the fuel rods, ultimately forcing state-owned General Nuclear Power Group to shut down Unit 1 (there are two units) for maintenance and repair. Concurrently, available power imported to the Guangdong region from Yunnan province's considerable hydroelectric capacity was reduced due to drier-than-expected weather throughout the spring. Taken together, some estimates are that total power available to the region fell by as much as 15% by June. In response, officials began quietly rationing power to factories, cutting business operation days by 1 or 2 days depending on the facilities' power requirements. In recent weeks, however, officials have begun a much more aggressive rationing program, with factories in much of Guangdong now seeing only 1-2 days per week of power use allowed.
Millions Of Chinese Residents Lose Power After Widespread, "Unexpected" Blackouts; Power Company Warns This Is "New Normal". Just yesterday [9/26/2021] we warned that a "Power Supply Shock Looms" as the energy crisis gripping Europe — and especially the UK — was set to hammer China, and just a few hours later we see this in practice as residents in three north-east Chinese provinces experienced unannounced power cuts as the electricity shortage which initially hit factories spreads to homes. People living in Liaoning, Jilin and Heilongjiang provinces complained on social media about the lack of heating, and lifts and traffic lights not working. Local media in China — which is highly dependent on coal for power — said the cause was a surge in coal prices leading to short supply. [...] Then there is Beijing's pursuit of curbing carbon emissions — Xi Jinping wants to ensure blue skies at the Winter Olympics in Beijing next February, showing the international community that he's serious about de-carbonizing the economy — that has led to artificial bottlenecks in the coal supply chain. [...] Whatever the reason, it's just getting started: as BBC reported, one power company said it expected the power cuts to last until spring next year, and that unexpected outages would become "the new normal." Its post, however, was later deleted.
Why are the Chinese eating by flashlight? Some [Chinese] homeowners and businesses are firing up generators to keep the power going during prime demand hours. So what's going on? Have they run out of fuel? [...] Nope. As it turns out, there's plenty of power to go around but the government simply shut it off for their own policy reasons. [...] China's rapid expansion has more than doubled their power consumption over the past couple of decades. Because they use a lot of "dirty" energy, that leads to more emissions. Why would they care? Because China is hosting a U.N. environmental conference next month where emissions will be a topic of discussion. They are anxious to show that they are actually curbing emissions when they never actually do that. To not produce some good numbers to show the UN would be a political embarrassment.
Alternative viewpoint:
Power shortages in China may cause world food and commodities prices to surge. China is looking at a difficult harvest season as a severe energy crunch hurts the outlook for production — a development that can trigger another surge in food prices. The autumn harvest in China is underway, but with power shortages in industrial hubs, authorities see slow processing growth. This is especially true in the northeastern provinces of Jilin, Liaoning and Heilongjiang, where half of the country's corn and soybeans are grown. This crisis is pushing concerns that China will have a tough time handling crops this year, as some plants were asked to cut their output to conserve electricity. Over the past year, China already imported record lows of agricultural products due to domestic shortages, which drove prices and global food costs to record highs. Power shortages in the country have forced soybean processors in northern regions to shut down, affecting operations of larger companies.
Parents of jailed Marine hail his courage calling out generals over Afghan disaster. A Marine Corps officer jailed after releasing a series of Facebook videos criticizing military leadership for the botched withdrawal of Afghanistan, as well as a series of scathing posts lambasting "hypocrite" former presidents and generals, now sits in a type of solitary confinement with no phone, visitors, books, or even paper, his parents told the Washington Examiner. "I anticipated it. I ran the gamut of rage to tears," said Cathy Scheller upon learning that her son Lt. Col. Stuart Scheller was arrested Monday. "I have taken up his cause. I will do everything I can to make sure this doesn't disappear. I am very proud of him for standing for the service members and asking for accountability."
The Marine Who Called for Afghanistan Accountability Has Been Thrown in Prison. Back in August, Marine Lt. Col. Stuart Scheller called for accountability for military leadership on the disastrous and catastrophic exit from Afghanistan. He did so knowing he was risking his career and would likely face punishment for doing so. "The reason people are so upset on social media right now is not because the Marine on the battlefield let someone down," Scheller said. "People are upset because their senior leaders let them down and none of them are raising their hands and accepting accountability or saying, 'We messed this up.'" "I'm not saying we've got to be in Afghanistan forever, but I am saying: Did any of you throw your rank on the table and say, 'Hey, it's a bad idea to evacuate Bagram Airfield, a strategic airbase, before we evacuate everyone.' Did anyone do that? And when you didn't think to do that, did anyone raise their hand and say, 'We completely messed this up.'"
The Wrong Man Is In The Brig — Put Biden On Trial. U.S. Marine Lieutenant-Colonel Stuart Scheller is in the brig — a military jail at Camp Lejeune, North Carolina. More specifically, Scheller is in pre-trial confinement. That means he is being held behind bars pending a military court-martial. Scheller was up until recently a Marine battalion commander. He was relieved of his command following a series of public statements he made chastising military leadership for the manifest incompetence shown during the Afghan withdrawal that led directly to the deaths of 13 Marines. After his relief Scheller announced he would resign from the service and continued to speak out — in apparent violation of direct orders to stop discussing his concerns publicly. In one video, posted on September 16th, Scheller stated his intention to charge Marine Gen. Kenneth McKenzie Jr., head of U.S. Central Command, with dereliction of duty.
Secretary of Defense Lloyd Austin Makes the Case for His Own Resignation. Joe Biden's generals are up on Capitol Hill today defending their incompetent, politically driven decision-making that led to the collapse of Afghanistan. That collapse included the deaths of 13 Americans in a suicide bombing attack while we imported tens of thousands of "refugees" who weren't qualified. In short, the entire thing was a massive catastrophe, led by people like Secretary of Defense Lloyd Austin and Chairman of the Joint Chiefs of Staff Mark Milley. In fact, while speaking today, Austin didn't even really hide the fact that the Afghanistan withdrawal and subsequent evacuation were a total cluster.
Save it for the jury.
Mark Milley defends his secret China calls, insists he wasn't trying to undermine Trump. Joint Chiefs of Staff Chairman Mark Milley denied any wrongdoing in making two phone calls to China during Trump's presidency and insisted he spoke with his counterpart there to 'de-escalate' Beijing's fears over an imminent attack. Speaking before a Senate panel on Tuesday, Milley also denied accusations that he told House Speaker Nancy Pelosi he agreed with her Trump is 'crazy,' telling lawmakers today that he instead told her he is 'not qualified to determine the mental health of the president.' Milley and Defense Secretary Lloyd Austin are testifying before the Senate Armed Service Committee Tuesday, marking their first public testimony since the U.S. completed its withdrawal from Afghanistan.
Outspoken Marine officer who went viral blasting military leaders over Afghanistan is jailed: report. Marine Lt. Col. Stuart Scheller, the officer who went viral for blasting the military's leadership amid the chaotic withdrawal from Afghanistan, has been sent to the brig, according to a report. "All our son did is ask the questions that everybody was asking themselves, but they were too scared to speak out loud," Scheller's father, Stu Scheller Sr., told Task & Purpose. "He was asking for accountability. In fact, I think he even asked for an apology that we made mistakes, but they couldn't do that, which is mind-blowing." Scheller first rose to internet stardom by posting a video to Facebook blasting military leaders for the U.S. withdrawal from Afghanistan, questioning their command decisions on the events leading up to and during the final evacuation effort.
John Hinckley, Who Shot President Reagan, to Be Granted Unconditional Release. A federal judge has approved the unconditional release of John Hinckley Jr., the man who tried to assassinate President Ronald Reagan outside a Washington, D.C., hotel in 1981. Hinckley, now 66, has been living outside a mental health facility for several years under court-imposed restrictions, including the oversight of his medical care and tracking of his computer passwords. The new agreement will result in his full release from supervision in June 2022. The Justice Department agreed to a settlement but will monitor Hinckley for nine months to ensure he remains mentally stable, as he will be living on his own for the first time in about 40 years and because one of his primary doctors is set to retire and dissolve Hinckley's therapy group.
The Editor says...
Doctors retire all the time. That's no reason to let crazy people out of the mental hospitals.
Pentagon loosens access rules to secret programs, raising security leak fears. Deputy Defense Secretary Kathleen Hicks issued a memorandum to senior Pentagon officials on Sept. 20 stating that filling out a counterintelligence questionnaire is no longer required to gain access to special access programs. Known as SAPs, these are the most secret activities and programs within the department. The eased rules specifically allow Senate-confirmed political appointees, members of the House and Senate, the professional staff of the congressional defense and intelligence oversight committees and senior White House officials access to the programs without filling out a prescreening questionnaire as required for all other officials in the Pentagon's Special Access Security Manual: Personnel Security.
Headline corrections provided by The Editor.
Biden admin purges Lee Greenwood from [the] [N]ational [A]rts [C]ouncil; [because the] singer's 'God Bless the USA' [is] played at Trump rallies. The Biden administration's purge of appointees to various government advisory boards by prior presidents — mostly Republicans — is continuing with the dismissal of country music great Lee Greenwood from the National Council on the Arts. During an interview last week with "Fox & Friends," Greenwood explained that he was initially appointed to the board by President George W. Bush then served throughout President Barack Obama's two terms and President Donald Trump's single term, adding he was shocked to get the letter advising him he was being replaced. Greenwood, who wrote the country anthem "God Bless the USA," which was a favorite of the late President Ronald Reagan and has become a fixture at Trump's rallies, suspects that politics may be behind the decision to remove him from the arts council.
Democrats in Congress Try to Abolish Space Force. Some Democrats in Congress are trying to abolish the Space Force at a time when China and Russia have been doubling down on expanding their military capabilities in space. On Wednesday [9/22/2021], Rep. Jared Huffman (D-Calif.) introduced a bill named No Militarization of Space Act, trying to abolish the Space Force, a new military service branch created under former President Donald Trump. "The long-standing neutrality of space has fostered a competitive, non-militarized age of exploration every nation and generation has valued since the first days of space travel," Huffman said in a statement. "But since its creation under the former Trump administration, the Space Force has threatened longstanding peace and flagrantly wasted billions of taxpayer dollars." The Space Force was established in December 2019 and has been deemed by some to be one of Trump's signature achievements. But its origin can be traced back to the beginning of the Cold War.
The Editor says...
I'm opposed to the creation of a Space Force, simply because NASA already exists, and NASA isn't doing anything useful at the moment. Create a Space Force if you must, but if you do, what is the purpose of NASA?
Costco Limits Purchases of Toilet Paper, Paper Towels, and Bottled Water amid Inflation, Supply-Chain Issues. Costco is implementing new consumer limitations on purchases of household essentials including toilet paper, paper towels, and Kirkland bottled water as the company has seen an increase in demand due to a surge in the delta variant and supply-chain complications. Costco has been dealing with significant issues centered around supply-chain complications and inflation according to the company's Executive Vice President and Chief Financial Officer Richard A. Galanti.
The Editor says...
Mrs. Editor and I were turned away from Costco a couple of weeks ago when we refused to put on face masks before entering the store. Costco headquarters is in Seattle. The customers on the west coast may put up with that kind of treatment, but I'm done with Costco.
Pentagon names ISIS-K 'planner' who was killed in successful August drone strike. The Pentagon has named an ISIS-K planner killed in a drone strike and said he was 'directly connected' to the suicide attack that killed 13 Americans. The man, Kabir Aidi, was killed in an American drone strike on August 27 one day after the troops were blown up outside Kabul's airport. It comes a week after the Pentagon admitted the US accidentally killed ten innocent people — including seven children — in a drone strike two days later on August 29 in Kabul.
South Korean President Travels to Hawaii to Repatriate US Servicemembers' Remains — Biden Admin Skips Event, Sends No One. Biden leaves Americans stranded in Afghanistan. And on Wednesday [9/22/2021] he didn't bother to send a single representative to honor our Korean war heroes or greet the South Korean leader in Hawaii. South Korean President Moon Jae-in traveled to Hawaii on Wednesday to repatriate the remains of American service members. Not a single representative from the Biden Administration showed up. They hate this country, its heroes, its values and traditions and want it destroyed.
Is This Facebook's 'Big Tobacco' Moment? Facebook Inc. executives have long boasted that its platforms are safe, even as they invested in ways to keep teenagers hooked and hid what they knew about the side effects. Sound familiar? Critics say Big Tobacco once used the same playbook, and it's fueling a whole new level of outrage against the social media giant. Facebook consistently played down its own research that showed how photo-sharing app Instagram can harm the mental well-being of its youngest users, according to a report in the Wall Street Journal. Almost a third of young teen girls told Facebook they feel worse about their bodies after scrolling through the site, documents reviewed by the newspaper showed. Despite that knowledge, Facebook is dedicating more resources to reaching even younger consumers, including developing a children's version of Instagram.
S. Korean President Returns U.S. MIA Troop Remains in Person. Biden Sends No Rep. Many of us remember the big stink that Joe Biden made last year when he bothered to campaign about how the Democrat would treat America's allies so much better than that loudmouth Donald Trump who was always talking about America First. The allies seemed excited at the prospect of an American president treating them with the deference, respect, and obedience they've come to expect from American leaders until, well, you-know-who. Biden can't seem to remember a lot of things these days, including the name of his Secretary of Defense and that five-sided building in Virginia where the military hangs out.
It is Trump's party. Get over it. Never Trump Congressman Anthony Gonzalez of Ohio announced he won't seek a third term because of Donald Trump. Gonzalez won't be missed, He voted to impeach Trump. I do not get the congressman's problem. Water is wet, the media is biased, and Trump is the leader of the Republican Party. It is no contest. McLaughlin and Associates polled Republicans nationally and asked if Trump won the nomination in 2024, would you vote for him in the general election? 86% of Republicans said they would. There are your Republican values and principles. Donald Trump proved his worthiness as a Republican, as a conservative, and as an American in his 4 years as president. He has nothing to be ashamed of. Gonzalez, well, that's a different story.
Ohio Republican Who Voted to Impeach President Trump Announces He Will Not Seek Re-Election. Anthony Gonzalez (OH-16) was one of the ten House republicans (pictured above) who voted to impeach President Trump. As President Trump announced his support for Gonzalez's challenger, Max Miller, former House Speaker John Boehner went to Ohio to support Gonzalez. Apparently the support of Paul Ryan and John Boehner was not enough to help. Max Miller was in position to primary Gonzalez.
The DOJ Moves To Block The Purdue Pharma Bankruptcy Deal That Shields The Sacklers. A division of the Justice Department that serves as a watchdog over the federal bankruptcy system filed an appeal late Wednesday seeking to block the controversial Purdue Pharma bankruptcy plan. William Harrington, who serves as U.S. trustee for the Justice Department, also filed documents requesting an "expedited stay" to prevent implementation of the settlement. The deal, which Judge Robert Drain approved Sept. 1, granted sweeping immunity from opioid lawsuits to members of the Sackler family who own the drug company. The Sacklers, who are not bankrupt, were granted releases from liability after agreeing to contribute roughly $4.3 billion of their private wealth to the deal.
Centcom Commander General McKenzie Calls Drone Strike Killing 10 Innocents in Kabul, a Tragic Mistake — The Signals Intelligence Was Wrong. Earlier today [9/17/2021], General Kenneth Franklin McKenzie Jr. admitted a claimed U.S. drone strike against the ever evolving and mysterious ISIS-K, actually killed 7 children and three innocent adult civilians. General McKenzie calls it a "tragic mistake." Four days after the August 29th strike Gen. Mark Milley, chairman of the Joint Chiefs of Staff, called the strike "righteous." General McKenzi says he takes "full responsibility", yet he retains his position. No one is being held to account. No one at the Pentagon is facing discipline. Both McKenzie and Milley claim it was solid intelligence that led them to watch, follow, and eventually target and kill Zemari Ahmadi, an Afghan relief worker who arrived home. The missile struck his vehicle as his children ran out to welcome daddy home from work, killing all occupants in the car and those in the vicinity.
Oops: Biden's 'Righteous Strike' in Kabul Now a 'Tragic Mistake'. In August, the Biden administration conducted a drone strike in Kabul that Gen. Mark Milley described as a "righteous strike" against the Islamic State. On Friday [9/17/2021], CENTCOM commander Frank McKenzie acknowledged the strike was actually a "tragic mistake" that killed 10 civilians, and no ISIS targets were killed.
The Pentagon confesses that it lied about killing ISIS operatives. For many years, the American military was the most respected institution in America. In the seven months of the Biden administration, we've learned that the upper reaches of the Pentagon are partisan, corrupt, possibly treasonous, and totally incompetent. The latest evidence of this is General McKenzie's confession that the military didn't really kill an "ISIS-K fighter" after Islamists slaughtered 13 American troops. Instead, our military drone attack killed an aide worker, seven children, and two other adults.
Biden Vacations in Delaware as Generals Admit Drone Strike 'Mistake' in Kabul. President Biden continued his vacation in Delaware Friday [9/17/2021] as the country's top generals confirmed a "tragic mistake" in Afghanistan that left three adults and seven children dead in a drone strike aimed at ISIS terrorists. "We now assess that it is unlikely that the vehicle and those who died were associated with ISIS-K or a direct threat to US forces," McKenzie said of the airstrike at a briefing, following an investigation by the Military. "This strike was taken in the earnest belief that it would prevent an imminent threat to our forces and the evacuees at the airport, but it was a mistake and I offer my sincere apology," Mckenzie added, claiming that he is "fully responsible for this strike and this tragic outcome."
US military admits drone strike intended to kill ISIS-K fighters in Kabul actually killed civilians, including 7 children. An investigation by the US military has determined that an airstrike last month in Kabul believed to have eliminated a terrorist threat actually killed civilians, a top US general said Friday [9/17/2021]. "This strike was taken in the earnest belief that it would prevent an imminent threat to our forces and the evacuees at the airport, but it was a mistake and I offer my sincere apology," Gen. Kenneth McKenzie, the head of US Central Command, told reporters at the Pentagon. "I am now convinced that as many as 10 civilians, including up to 7 children, were tragically killed in that strike," he said.
US military admits it killed 10 civilians and targeted wrong vehicle in Kabul airstrike. A United States military investigation into a deadly Kabul drone strike on a vehicle in August has found it killed 10 civilians and the driver and that the vehicle targeted was likely not a threat associated with ISIS-K, announced Gen. Frank McKenzie, the top general of US Central Command, at the Pentagon on Friday [9/17/2021]. McKenzie told reporters that the strike — which he said killed seven children — was a "mistake" and offered an apology. "This strike was taken in the earnest belief that it would prevent an imminent threat to our forces and the evacuees at the airport, but it was a mistake and I offer my sincere apology," he said. McKenzie added that he is "fully responsible for this strike and this tragic outcome."
Senator Bob Menendez Threatens Defense Secretary Lloyd Austin and All Further Pentagon Nominations. Protecting the interests of the Fourth Branch of Government is not a partisan issue. [...] In this example, Democrat Senate Foreign Relations Committee Chairman Bob Menendez targets the Pentagon Defense Secretary Lloyd Austin for not appearing to answer questions about Afghanistan. Showcasing the out of balance power of the Senate, Menendez threatens to block defense department nominations as a consequence to Austin for defying the Fourth Branch of Government. [Video clip]
FEC just turned Twitter into all-powerful propaganda machine accountable to no one. Ah, to be Twitter. Can control anything it publishes, profit from anything it wants — and not be held responsible for any of it. Such is a unanimous ruling by the Federal Election Commission, which found Twitter violated no law by censoring The [New York] Post's factual report about the contents of Hunter Biden's laptop. Stating that, in its view, "Twitter is likely a press entity," the FEC said that the social media network's "activities fall within our press exemption." That's going to be news to Twitter and Facebook, which enjoy the benefits of Section 230 of the Communications Decency Act. That law states that "No provider or user of an interactive computer service shall be treated as the publisher or speaker of any information provided by another information content provider."
Blinken Just Told Us How Many Biden Really Left Behind in Afghanistan. I've been skeptical of the Biden administration's official number of Americans still left in Afghanistan. They've said about 100-200 Americans were left behind (still a tragedy) but one U.S. official said that over 5,000 Americans were likely to end up stranded in the country by the time U.S. forces left. As of yesterday, they are saying there are about 100 Americans still there — which likely means nothing has changed since the withdrawal concluded on August 30.
DOJ Allows Three U.S. Intelligence Contractors To Pay Their Way Out of Criminal Charges. This thread might be well worth pulling for a variety of reasons, not the least of which is the DOJ National Security Division allowing three former Intelligence Community Contractors to pay their way out of criminal charges. It appears that criminal operatives that come from within the Fourth Branch of government are allowed to get a "first-of-its-kind resolution." Apparently it looks like three men Marc Baier, 49, Ryan Adams, 34, and a former U.S. citizen, Daniel Gericke, 40, all former employees of the U.S. Intelligence Community (USIC) or the U.S. military, left the contractor employment of the USIC in 2016 and went to work for the United Arab Emirates. It appears the three were experts in computer intrusion; meaning they were hackers for the U.S. government working inside the intelligence system. When they went to work for the UAE, they helped develop hacking tools that were later used to hack into U.S. cell phone networks and operating systems. They were supposed to register as free-lance hackers, they didn't; and they were not allowed to help foreign governments hack into U.S. systems, which they did.
China Installs Cameras Inside People's Homes, Expanding Its Surveillance Network. The world depicted in George Orwell's "1984" and "Animal Farm" is often used as an analogy for totalitarian states, such as China. Recently, the Chinese Communist Party (CCP) is taking the "big brother" tactic of surveillance and control of citizens to a new level, building internet grids to watch and implicate the "whole clan" by association, sneakily monitoring private cellphones and even installing cameras inside people's homes. As shown in the internal CCP documents obtained exclusively by The Epoch Times, under the name of COVID-19 containment, the regime has been systematically expanding its already massive surveillance network, spending hundreds of millions of yuan, hiring a large number of personnel, and incorporating more governmental departments. The measures involved have become increasingly invasive, directly violating China's own constitution.
Pentagon defends drone strike in Kabul that reportedly killed civilians. The Pentagon defended a deadly August drone strike in Kabul on Monday — despite a report that the attack actually killed an innocent man and his family. The second of a pair of drone airstrikes in the waning days of the Afghanistan war is now being investigated by Central Command, but details are scarce and there remains a question of how much information will be shared once the probe is completed. "I would say that the assessment by Central Command is ongoing and I'm not gonna get ahead of that," Pentagon Press Secretary John Kirby said during a news briefing on Monday. "The strike was taken to prevent an imminent attack on the airport."
'Thousands' of lawful US residents left in Afghanistan, Blinken says in testimony. President Joe Biden's administration assessed "thousands" of lawful permanent residents of the United States remain in Afghanistan following the tumultuous evacuation of Kabul, according to Secretary of State Antony Blinken. "I think the best estimates are that there's several thousand green card holders in Afghanistan," Blinken told the House Foreign Affairs Committee on Monday [9/13/2021]. That figure hints at the scale of the diplomatic and humanitarian challenge confronting State Department officials in the absence of U.S. military personnel. Blinken's team is developing new plans for securing the departure of the remaining American citizens, green card holders, and Afghan allies expected to face retaliation from the Taliban for their past work with the U.S. government — but the number of Afghans eligible for Special Immigrant Visas remains unclear.
Media Matters' Electioneering Against Larry Elder Broke IRS Rules, Complaint Says. The Iowa-based conservative watchdog group Patriots Foundation filed a new complaint with the Internal Revenue Service (IRS) Monday against Media Matters for America (MMFA) arguing the tax-exempt group has violated its agency agreement with illegal electioneering. Founded in 2004, the leftist non-profit was given 501(c)(3) tax-exempt status under IRS code which prohibits explicit campaign activity on behalf of any candidate or candidate's party. In a supplemental complaint added to an existing referral over last year's election, however, the Patriots Foundation argues the group's interference in the California recall race violates IRS terms for tax exemption. "MMFA has, from inception, operated as a thinly veiled partisan political organization supporting Democratic candidates for office and engaging in other improper activities," the group wrote, outlining four parameters groups must follow in order to maintain their 501(c)(3) status with the IRS. [...] In a Media Matters article headlined, "Larry Elder is running to be California governor. Here's just some of his toxic record as a radio host and right-wing pundit," the Patriots Foundation explained, "each of these assurances have been abandoned."
House GOP Leader Asks Supreme Court to End Proxy Voting. House Minority Leader Kevin McCarthy (R-Calif.) is taking his fight against what he calls the "patently unconstitutional practice" of proxy voting in the U.S. House of Representatives to the Supreme Court. In the early days of the pandemic in May 2020, the House approved a resolution allowing members to cast votes on the House floor by proxy on the theory that it was advisable to limit attendance in Congress to combat the spread of the CCP (Chinese Communist Party) virus. Majority Leader Steny Hoyer (D-Md.) said at the time the new absentee voting protocol was needed because the virus posed a "mortal danger." House Democratic leadership said when the policy began that it would be temporary but it is still in effect today. This "unprecedented" proxy voting resolution permits a single member to vote on behalf of up to 10 absent members, according to the petition for certiorari, or review, from McCarthy.
I&I/TIPP Poll: The Distrust Of Scientists Is Widespread — Including On COVID Vaccines. rom coronavirus vaccines and the virus' origin to climate change, a substantial portion of the country distrusts scientists to do their jobs honestly and capably. The latest data from the September Issues & Insights/TIPP Poll also found significant differences among Americans of different political views, reflecting a growing politicization of science in America. The I&I/TIPP poll asked Americans "how much trust do you place in scientists" in three areas of science prominent in today's headlines: "vaccine safety," "climate change," and "coronavirus origin." Overall, among the three, vaccine safety was tops in scientist trust, at 61%. Perhaps not surprisingly, that almost perfectly matches the share of the U.S. population currently vaccinated: 63%.
Last Missile Fired By U.S. Military in Afghanistan Killed Only Innocent Family — Not [an] ISIS 'Facilitator' as Gen. Milley Claimed. The last missile fired by the United States Military in the 20-year war in Afghanistan struck only an innocent Afghan man and his family in Kabul — not ISIS militants, the New York Times reported on Friday [9/10/2021]. [Tweet] The blast killed ten members of the extended family of a civilian aid worker, Zemari Ahmadi, and three of his children, Zamir, 20, Faisal, 16, and Farzad, 10; Mr. Ahmadi's cousin Naser, 30; three of Romal's children, Arwin, 7, Benyamin, 6, and Hayat, 2; and two 3-year-old girls, Malika and Somaya. [Tweet] While the Pentagon initially conceded there was some "collateral damage" in the aftermath of the Aug. 29 drone attack, military leaders called a "righteous strike" that eliminated an imminent threat to troops and civilians at the Kabul airport.
US drone strike that Pentagon said killed a suicide bomber in Kabul actually killed an aid worker and seven children who ran to greet him. The drone strike that the Pentagon claimed killed an ISIS-K suicide bomber in Kabul actually targeted an aid worker who had filled his car with water jugs, rather than explosives, according to a shocking new report. Zemari Ahmadi, 43, was driving the 1996 Toyota Corolla that was destroyed in the August 29 drone strike, killing him and nine family members, including seven children, according to a New York Times investigation. The Pentagon still maintains that only three civilians died, despite the family now detailing in the new report how their 10 relatives were killed in the blast.
Report: Evidence suggests car hit by U.S. drone strike in Kabul wasn't carrying bombs. The car that U.S. military officials believed was packed with explosives and destined for a suicide bombing at the Kabul airport on Aug. 29 may actually have been driven by an innocent man transporting canisters of water, a new report claims. A New York Times story published Friday afternoon [9/10/2021] identified the driver of the car as Zemari Ahmadi, 43, who worked as an electrical engineer for an American aid and lobbying group doing business in Afghanistan. The Times cited numerous interviews with family members, relatives and others with knowledge of the Aug. 29 incident, and the new report seems to cast serious doubt on the official version of events laid out by the Pentagon.
The Editor says...
Ordinarily, when someone dares to "cast serious doubt on the official version of events," he's called a "conspiracy theorist" or a "truther," or tin-foil-hat nut case. We are supposed to believe whatever the government tells us. In this case, the New York Times examined the facts and came up with the embarrassing truth. Hardly anyone has the resources to examine an incident like this, and even fewer people would be able to report a blatant government lie and stay in business. It may be a thousand years from now, but some day we'll know how many other lies we were told.
About That Drone Strike. The New York Times has just posted this intensely interesting investigative scoop by Matthieu Aikins based on reporting by him as well as Christoph Koettl, Evan Hill, and Eric Schmitt: "In U.S. Drone Strike, Evidence Suggests No ISIS Bomb." Subhead: "U.S. officials said a Reaper drone followed a car for hours and then fired based on evidence it was carrying explosives. But in-depth video analysis and interviews at the site cast doubt on that account."
CNN Poll: 2% Think America Is Doing 'Very Well' Under Joe Biden. Two percent of Americans participating in a CNN poll think the United States is doing "very well" under President Joe Biden, results revealed Friday [9/10/2021]. "How well are things going in the country today?" CNN asked respondents. Two percent said "very well," 29 percent said "fairly well," 45 percent said "pretty bad," and 24 percent said "very badly."
Where are All the Americans Returning Home from Afghanistan? President Joe Biden and his team of military, intelligence, and diplomatic advisors oversaw America's most epic surrender, on the world stage, under the lights and cameras of international media recording it for posterity, spinning the news to mitigate American failure. One of many failures was the abrupt departure of American military and security forces, necessary to evacuate thousands of Americans and Afghan allies who placed themselves and their families at great risk by helping the Great Satan against the Taliban, the latter being the new boss, replacing the old boss. How many Americans were left behind? Official government numbers are all over the map.
30 Headless Goats Found In Georgia River, Ties To African Sacrifice Rituals Suspected. Channel 2 Action News is investigating headless goats found floating in the Chattahoochee River. Someone has dumped hundreds of decapitated goats over the past few years. As they approached the Interstate 20 bridge near the Fulton County and Cobb County border, "There's a goat," Ulselth said. "These goats have to be coming from somewhere, but we haven't been able to determine who's buying the goats, who's providing the goats or actually how they are making their way here in the river," Ulseth said. It turns out it was part of a religious ceremony for the followers of Santeria, a religion that mixes West African culture with Cuban Catholicism.
State Department obstruction of private rescue flights from Afghanistan revealed in leaked email. The State Department refused to grant official approval for private evacuation flights from Afghanistan to land in third countries, even though the department conceded that official authorization would likely be needed for planes to land in those nations, an email reviewed by Fox News shows. Furthermore, the State Department explicitly stated that charter flights, even those containing American citizens, would not be allowed to land at Defense Department (DOD) airbases. U.S. officials have pointed to possible security threats from landing charter planes at military bases, saying that they lack the resources on the ground to fully verify flight manifests.
The political time bomb for Biden inside the latest jobless numbers. While the unemployment rate for Americans dropped in August, there is a political time bomb buried in the statistics for President Joe Biden and a Democratic Party increasingly focused on equity: black joblessness shot up significantly. In other words, the president who fondly boasts of a domestic policy promising to leave nobody behind has an economic recovery that is leaving a key Democratic constituency in worse shape. "The rise in black unemployment in August is certainly troubling, considering their unemployment rates were already much higher than any other group," Elise Gould, a senior economist at the Economic Policy Institute, said on Twitter. Adding to the complications is the fact that before the pandemic, African-Americans enjoyed historic economic gains under President Trump, including record-low unemployment and falling poverty.
US in talks with Taliban over additional Kabul evacuations. Secretary of State Antony Blinken said Tuesday [9/7/2021] the United States is coordinating with the Taliban to secure additional charter flights from Kabul for people seeking to leave the country. With the U.S. having concluded all military operations in the country following the Aug. 31 deadline for withdrawal, the State Department has been working closely with Taliban leaders to facilitate additional evacuations for an estimated 100 U.S. citizens who still want to exit Afghanistan.
Report: At Least 500 Americans [are] Stranded in Afghanistan, Contradicting Joe Biden's Estimates. At least 500 Americans are reportedly stranded in Afghanistan, contradicting President Joe Biden's estimate of between 100 and 200, according to the Associated Press (AP) on Sunday [9/5/2021]. Among those who believe Biden has miscalculated how many Americans remain trapped behind enemy lines includes Rep. Darrell Issa (R-CA), who told the AP, "the number of U.S. citizens still there and wanting to leave is closer to 500." And if the family members of those trapped Americans are included, Issa believes the overall "number of people could be as high as 1,000."
Pre-trial hearings for five 9/11 suspects delayed for 18 months by COVID resume at Guantanamo Bay. Five of the suspects accused of being involved in the September 11 attacks will see their cases resume on Tuesday in Guantanamo Bay, after an 18-month hiatus caused by the COVID pandemic. The five — Khalid Sheikh Mohammed; Walid Muhammad Salih Mubarak Bin 'Attash; Ramzi Bin al-Shibh; Ali Abdul Aziz Ali; and Mustafa Ahmed Adam al Hawsawi — were initially arraigned in May 2012. Since then, there have been more than 40 rounds of pre-trial hearings, with the latest set to begin just four days before the 20th anniversary of the attacks.
Nihilism Is Not a Good Look for the USA. Biden has given the West's enemies enormous resources that strengthen their geopolitical positions. Does any sane military strategist believe the vast military resources left behind would be left to rust or merely used as scrap? Any knowledgeable strategist would know that the military hardware would be confiscated and utilized by powers greater than the Taliban — global powers with a vested interest in undermining America and her allies. Any strategist would be watching nations such as China and Iran waiting to take advantage of such a treasure trove. As reports from Asaad Hanna and others surface indicating that much of the weaponry left behind in Afghanistan is being transferred to Iran, observers of recent history will recall that Iran's leaders still proclaim themselves to be the deadly enemies of the "Great Satan," America, and the "Little Satan," Israel.
Cancel Culture Insurance: Twitter Will Let You Hide Old Tweets. Social media giant Twitter reportedly plans to introduce a number of new privacy-related features, including one that would allow users to hide their old tweets. Twitter's privacy changes come on the heels of the increasingly common scenario in which a user of the platform is canceled for posts made up to a decade ago on the platform. MacRumors reports that Twitter is introducing new privacy-related features to its platform that will give users greater control over their follower lists and who can see their profile. One option planned for the platform is a feature that allows users to archive old tweets so that other users are unable to see them after a period of time set by the account holder.
Australian Supermarket Shelves Are Empty After Truckers Go On Strike, Protesting COVID Tyranny. Videos of empty shelves in Australia have gone viral on TikTok and Twitter after truckers went on strike this past week over the country's heavy-handed COVID tactics. The video shows meat, fruit, and vegetables running out as the fight between the government and citizens heats up. [Video clip]
Second Thoughts: Dems Have A Few. The man who as a candidate promised to repair our international alliances has dealt NATO a significant if not fatal blow. The rush to bug out of Afghanistan left hundreds, probably thousands of persons who were citizens, green card holders, and allies behind. And our NATO allies have not been able to extract all their people either. Worse, for reasons that seem impossible to justify, we gave the Taliban the names of the people we wanted to extract and turned down their offer to guard the airport ourselves instead of turning that task over to them. Credible reports and videos at the site show how the Taliban refused entry to those entitled to leave. [...] We left behind on estimated $63 billion worth of military equipment, some of which the Taliban is reportedly selling off to Iran to use against us and Israel and to undo the peace in the Middle East which President Trump so adroitly brought about in the Abraham Accords. China is the likely real victor, having worked out agreements with the Taliban allowing them to mine valuable mineral resources there. If any of the abandoned military equipment is state of the art, expect it to fall into Chinese hands one way or another to be reverse engineered for their own use.
Taliban Refusing To Allow Planes Of Americans To Leave, Effectively A 'Hostage' Situation, Report Says. The Taliban is reportedly not allowing flights carrying American citizens and green card holders to leave Afghanistan. CBS News reported that, according to congressional and NGO sources, "multiple planes that are ready to take American citizens and green card holders out of the country are being denied permission to leave by the Taliban." A State Department email viewed by CBS News said that the flights out of Afghanistan have permission to land in Qatar "if and when the Taliban agrees to takeoff." A senior congressional source told CBS News, "The Taliban is basically holding them hostage to get more out of the Americans."
McCaul: Afghanistan Is 'Worse' than Pre-9/11 because Taliban Has U.S. Weapons. Representative Michael McCaul (R-TX), the top Republican on the House Intelligence Committee, said on this week's broadcast of "Fox News Sunday" that the situation in Afghanistan is "worse" than before the Sept. 11 terrorist attacks because the Taliban was now in possession of U.S. weapons. McCaul said, "This over the horizon capability is greatly exaggerated because we don't have anything near Afghanistan. It's a landlocked country surrounded by our enemies, Russia, China, Iran, who have now been emboldened by this foreign policy, you know, blunder. So, you know, how do we — how do we go forward? I think we have to establish that ISR. You know, somewhere over the horizon capability means flying from a gulf, probably countries like Qatar, which would be, you know, anywhere from six to eight hours, having to fly, you know, around Iran, over Pakistan, get refueling. This is not — when I talk to anybody in the military, they tell me this is not adequate for us to have ISR capability. [...]"
Private Afghanistan Evacuation Team Criticizes Biden Administration Officials Who 'Did Absolutely Nothing' To Help Girls Escape Taliban. The Biden administration ignored several pleas for help from an American evacuation team in the waning days of the Afghanistan withdrawal, emails reviewed by the Daily Caller News Foundation show. The team had contacted senior officials in the administration to help evacuate people from Afghanistan before the U.S. withdrawal, according to emails obtained by the DCNF. They were working to get Americans and vulnerable Afghans out of the country, but it was a difficult task to do alone, according to the team. Robert Stryk, who earlier spoke with the DCNF about his frustrations with the administration before Aug. 31, said Deputy National Security Advisor Jon Finer failed to act on his team's desperate pleas for help in getting hundreds of girls out of Afghanistan as the U.S. withdrawal deadline approached.
Biden signs executive order demanding the DOJ declassify FBI's 9/11 investigation documents. President Joe Biden signed an executive order Friday [9/3/2021] that ordered a review of the classified documents related to the 9/11 terror attacks — with the promise of releasing more information to the public. Biden had been told by nearly 1,800 Americans impacted by the terror attacks last month — including victims' family members, first responders and survivors — not to come to any of the 20th anniversary events unless he declassified documents that potentially show Saudi government links to the September 11, 2001 hijackers. The order makes no mention of Saudi Arabia.
Marine who spoke out about Afghanistan withdrawal says he expects to be jailed. A Marine who claimed he was "relieved from duty" after going viral for criticizing military leadership over the withdrawal from Afghanistan now speculates he might be court-martialed and "will probably do some jail time." Stuart Scheller, who claims now to be a former lieutenant colonel, has been posting regular updates about his dissenting stance that led to his alleged removal from the military, saying in a Wednesday update to a video he uploaded to social media on Aug. 27, "The Marine Corps will assign an investigating officer. Most likely a Colonel."
Afghan Journalist: Family Blown Up by Joe Biden's Missile Strike Had Special Visas and Were About to Leave Afghanistan. Afghan reporter Ali Latafi joined Yalda Hakim at the BBC to discuss the recent missile attack by Joe Biden that killed an Afghan family including several children in Kabul. According to Latafi the family killed on Sunday by a US drone strike had Special Immigrant Visas (SIVs) to leave for the US and were about to leave Afghanistan.
DoD had Foreknowledge of Kabul Airport Bomber — Denied Permission to Fire Predator Drone that had Lock on Him — 13 US Heroes Dead. Roger Pardo-Maurer, the former U.S. Deputy Assistant Secretary of Defense for Western Hemisphere Affairs (2001-2006), joined Jorge Ramos on Univision Noticias on Monday to discuss the unfolding disastrous withdrawal of US forces in Afghanistan. During their conversation, Pardo-Maurer told Ramos the Department of Defense had foreknowledge of the Kabul Airport suicide bomber but denied permission to fire a Predator Drone missile once they had a lock on him. [...] The US Department of Defense allowed the bomber to murder 13 Americans.
Report: US Knew About Kabul Bomber, Had Drone Lock but Didn't Take the Shot. Former Deputy Assistant Secretary of Defense for Western Hemisphere Affairs, Roger Pardo-Maurer dropped some incredible information during an interview and it's huge, if true. Director of MRC Latino, Jorge Bonilla, posted an interview of Pardo-Maurer. Pardo-Maurer, who was in the State Department for years, since at least 2001, said he was being told that the Department of Defense already knew who the bomber was ahead of time, before the bombing and when the Kabul attack would occur.
White House announces plan to build 100K affordable homes. The White House said Wednesday it will use existing federal funds to build and provide 100,000 homes to low- and middle-income buyers and nonprofits over the next three years to bolster supply that is often snapped up by deep-pocketed investors. President Biden believes Congress can bolster affordable housing by approving his mammoth spending plan for families, but the White House said it "can't wait to take action," as economically battered Americans sought space during the coronavirus pandemic only to find tight supply and runaway home prices and rents. "The large and long-standing gap between the supply and demand of affordable homes for both renters and homeowners makes it harder for families to buy their first home and drives up the cost of rent," a White House fact sheet said. "Higher housing costs also crowd out other investments families can and should make to improve their lives, such as investments in education."
The Editor says...
[#1] This is not the proper role of government at any level. [#2] The story is a red herring, pulled out of a hat to get Afghanistan out of the headlines. When Joe Biden is impeached, watch for a story the next day about NASA finding life on Mars, or some other sensational click-bait diversion.
In secret texts, U.S. military officials lamented leaving Americans behind in Kabul. President Biden declared to a puzzled country on Tuesday that the U.S. evacuation from Afghanistan was an "extraordinary success," while his Pentagon portrayed a prosaic, workaday process to repatriate Americans still stranded in the war-torn country. But text messages between U.S. military commanders and private citizens mounting last-minute rescues tell a far different story, one in which pleading American citizens were frantically left behind at the Kabul airport gate this past weekend to face an uncertain fate under Taliban rule while U.S. officials sought to spread the blame between high-ranking generals and the State Department[.] "We are [...] abandoning American citizens," an Army colonel assigned to the 82nd Airborne Division wrote Sunday in frustration in a series of encrypted messages that detailed the failed effort to extricate a group of American citizens, hours before the last U.S. soldiers departed Afghanistan.
Biden Administration Erased Afghan Weapons Reports From Federal Websites. The War in Afghanistan has always been a black box, but the Biden administration just made matters worse. According to an admission obtained from the State Department, Biden officials recently directed federal agencies to scrub their websites of official reports detailing the $82.9 billion in military equipment and training provided to the Afghan security forces since 2001. The scrubbed audits and reports included detailed accounting of what the U.S. had provided to Afghan forces, down to the number of night vision devices, hand grenades, Black Hawk helicopters, and armored vehicles. Reports further quantified 208 aircraft and helicopters; 75,000 war vehicles — including 22 Humvees, 50,000 tactical vehicles and nearly 1,000 mine resistant vehicles; and 600,000 weapons — including 350,000 M4 and M16 rifles, 60,000 machine guns, and 25,000 grenade launchers.
Group of 87 retired generals call on Austin and Milley to resign following botched Afghan withdrawal. Secretary of Defense Lloyd Austin and Chairman of the Joints Chiefs of Staff General Mark Milley have been called upon to resign by a group of 87 retired generals. In an open letter from the group "Flag Officers 4 America," the retired generals argue Austin and Milley showed "negligence in performing their duties" during the botched exit from Afghanistan. Members of the group, who describe themselves as "retired U.S. generals and admirals defending the Constitution," also wrote Austin and Milley must be held accountable for their actions that have stranded hundreds of Americans and Afghan allies in hostile territory as "de facto hostages of the Taliban." The generals also argued Austin and Milley should have counseled President Biden against the swift exit from the region and resigned in protest if he did not abide by their recommendation.
Rapist Evacuated From Kabul to US Reveals Bigger Problem With People the Biden Team Evacuated. [Scroll down] Unfortunately, because it's the Biden Administration, lying and incompetence go hand in hand with each other so it raises the real question of whether people on the planes were adequately vetted or just packed onto the planes to bump the numbers. I put nothing past the Biden team at this point. This latest story confirms that not everyone was vetted sufficiently[.] According to the Washington Times, a convicted rapist who had previously been deported from the United States was one of the people who made it on an evacuation flight all the way to the U.S., until he was flagged by border officials when he arrived at Dulles Airport. He's now being held at a detention facility in Virginia.
Ron Johnson Demands Answers After U.S. Commander Allegedly Turned Away American Citizens In Kabul. Republican Sen. Ron Johnson of Wisconsin sent a letter to Secretary of Defense Lloyd Austin and Secretary of State Antony J. Blinken demanding answers on why a U.S. military official allegedly stopped Americans and Afghan allies from evacuating Afghanistan at the Kabul airport. Johnson said he has heard reports indicating "a group of over 400 individuals including U.S. citizens were turned away from the airport" by "the commander of the 82nd Airborne Brigade ... who told them to get back on their buses and turn around because 'the rescue was over.'" "It is not clear what happened to the Americans and the other individuals after they left the airport," Johnson wrote. "It's hard to believe that any U.S. military official would deny Americans the ability to evacuate Afghanistan. What generalized or specific order was given to the commander that caused him to take this alleged action? Where did this order originate?"
Biden Officials at Kabul Airport Warned American Rescue Plane To Turn Back or Be Shot Down. A private airplane that was flying into Hamid Karzai International Airport (HKIA) in Kabul, Afghanistan to rescue stranded American citizens and Afghan allies allegedly was told to turn back or they would be shot down. In the past 24 hours, American officials in charge of giving clearance at the airport told fellow Americans they would be fired upon if they didn't leave, Mary Beth Long, a former Department of Defense official, told American Greatness in an exclusive interview. The plane ended up landing elsewhere in Afghanistan, she said. Now Americans are reportedly being advised to leave Kabul completely as the Taliban is expected to start rounding people up after the last of the U.S. military leaves.
Fox News' Jen Griffin Shocked at Blinken's Videotaped Afghanistan Withdrawal Speech. As the last United States planes departed Afghanistan Monday, myriad questions remained. Many Americans were unable to get to Kabul airport, making Joe Biden the first U.S. president in memory to leave American citizens behind enemy lines, despite saying it would not happen. Embattled Secretary of State Antony Blinken took the stage for an early evening address and said he could not determine how many Americans remain in Afghanistan. It was unclear whether the speech was pre-taped, but his mannerisms and eye contact were awkward. Fox News national security correspondent Jennifer Griffin said Blinken appeared to be in a hostage video. "I thought that the secretary of state's statement, which was videotaped and he was looking slightly off-camera, I mean it looked like a hostage video. It was not the kind of production values that you would expect for such a moment in time," Griffin said.
Almost 90 Retired Flag Officers Demand Mark Milley, Lloyd Austin Resign After Afghanistan Debacle. Nearly 90 retired U.S. generals and admirals penned an open letter asking Secretary of Defense Lloyd Austin and the Chairman of the Joint Chiefs of Staff General Mark Milley to resign from their positions following their "negligence in performing their duties primarily involving events surrounding the disastrous withdrawal from Afghanistan." "As principal military advisors to the CINC [Commander-in-Chief]/President, the SECDEF and CJCS should have recommended against this dangerous withdrawal in the strongest possible terms," the letter states. "If they did not do everything within their authority to stop the hasty withdrawal, they should resign. Conversely, if they did do everything within their ability to persuade the CINC/President to not hastily exit the country without ensuring the safety of our citizens and Afghans loyal to America, then they should have resigned in protest as a matter of conscience and public statement."
Taliban seeks pallets of cash in exchange for extending US Aug. 31 evacuation deadline. In a briefing last week, Joe Biden told inquisitive reporters that every American who wants to get out of Afghanistan would get out of Afghanistan, and he was counting on the Taliban's "self-interest" in letting the Americans leave. Toss that one into the bin of lies and errors coming from this Biden Afghanistan fiasco. Turns out the Taliban has its own ideas about what its self-interest is. [...] What we are seeing here is an emerging hostage situation in that country as Biden insists on pulling out by his Aug. 31 deadline, which the Taliban is holding him to, under penalty of "consequences." The State Department has claimed that 300 Americans are awaiting evacuation and have not made it to the Kabul airport yet. According to this disturbing collection of reports from AT deputy editor Andrea Widburg, it's likely more.
Afghan TV Show Host Surrounded By Taliban With Guns Tells Public Not To Be Afraid And Cooperate. The presenter of Afghan TV's Peace Studio appears on video informing the Afghan public to "cooperate with it and should not be afraid" while members of the Taliban stand behind him at gunpoint. [Tweet] The host of the Peace Studio TV show which airs on Kabul TV can be seen being held at gunpoint while Taliban members clad in tactical gear appear to be holding rifles and surrounding the host. The host can be seen telling his audience to "cooperate with it." This occurs just over one week after the Taliban seized power over Afghanistan before the U.S. was set to complete its withdrawal of troops from the area, according to The Associated Press.
Finally, we have some good news. The news is so depressing lately that it takes nerves of steel to open the newspaper, turn on the TV, or visit an internet news site. However, there is good news out there if you know where to look. First Item: Taiwan has been jolted awake by the Afghanistan debacle! For months, the Republic of China (Taiwan) has been nervously watching The People's Republic of China (China) amass and marshal its land and naval assets in a continuing threat to try to conquer the island through military force.
Dan Crenshaw, Lara Logan Bring the Most Disturbing Reports Out of the Kabul Airport Yet. Rep. Dan Crenshaw is a retired Navy SEAL who served and was wounded in Afghanistan's Helmand province during his third deployment, in 2012. He lost his right eye and his left eye was badly damaged in an IED attack. Crenshaw is held in extremely high regard in the veteran and active-duty communities. Lara Logan is a long-time award-winning journalist now working for Fox News who has spent much of her career covering war zones including Iraq and Afghanistan. Between the two of them, Logan and Crenshaw have spent years in and around Afghanistan. Due to their experience there, both are likely to have credible sources on the ground at the Kabul airport. Both Logan and Crenshaw are independently reporting that Americans have been turned away from safety at that airport over the past couple of days.
Lawmakers: State Department No Longer Allowing American Citizens to Enter Kabul Airport. Members of Congress said Sunday evening that the Biden administration was not allowing Americans to enter the Kabul airport and leave Afghanistan, as the evacuation mission nears its end by August 31. Rep. Ronny Jackson (R-TX) tweeted Sunday night [8/29/2021] that the State Department was not helping American citizens trying to evacuate. "I am furious!! My team has been on the phone all day trying to get AMERICAN CITIZENS out. They have been just outside the airport numerous times, but the State Department WILL NOT help them," he tweeted.
USMC Take[s a] Troubling Step Against Marine Commander Who Demanded Accountability on Afghanistan. So what happens when you call out the powers that be and demand accountability, saying that you are going to get it, as Marine LTC Stuart Scheller has done? Now, after his last video, the leadership is clearly not going to take it and they are moving against him because he's gotten far too much attention. As we previously reported, they had already relieved him of his command. Now the USMC is going to paint him as having mental health problems and being a "threat" because he spoke about bringing the "system down." [Tweet] There's nothing in his video that indicates that he's a threat to anyone, he's a bringer of truth that explodes the narrative that they want to pitch so they're going to paint him as a nut and try to do him in.
Marine Lt. Col. Who Got Fired From Position For Criticizing Command Resigns, Promises To 'Bring The Whole [...] System Down'. Marine Lt. Col. Stuart Scheller on Sunday announced in a video that he was resigning his commission as a lieutenant colonel in the Marine Corps, following being fired as a battalion commander for asking for accountability from his senior leadership on the botched Afghanistan withdrawal. [Video clip]
Marine Lt. Col. Is Fired For Angry Video Ranting Against Biden And The Military Leadership Over Afghanistan Mess. Marine Lt. Col. Stuart Scheller was relieved for cause after demanding that senior U.S. leaders hold themselves accountable for actions made during the U.S. military's withdrawal from Afghanistan that led to the deaths of 13 service members. Officials confirmed to Fox News on Thursday [8/26/2021] that 11 Marines, an Army soldier and a Navy corpsman were killed in explosions near Kabul's airport Thursday. Another 169 Afghans were killed, according to two officials who spoke to The Associated Press on condition of anonymity. [Video clip]
Marine battalion commander resigns after he was relieved of his duties for slamming his superiors over botched Afghanistan exit. The Marine battalion commander who was relieved of his duties for blasting his superiors over the Afghanistan exit strategy says he has resigned from the military. Lt. Col. Stuart Scheller published a new video online on Sunday addressing his resignation just days after he went viral for calling out his superiors for not "raising their hands and accepting accountability or saying, 'We messed this up.'" Scheller's original video criticized Defense Secretary Lloyd Austin and Chairman of the Joint Chiefs of Staff Gen. Mark Milley for leaving the Bagram Air Base before all Americans and their allies had the chance to be evacuated.
Naval Intel reminds active duty, retired members they cannot 'disrespect' Biden, Harris. Active duty and retired members of the Office of Naval Intelligence were reminded last week they are barred by the Uniform Code of Military Justice and other Department of Defense regulations from criticizing President Joe Biden and other ranking members of his Cabinet and the Pentagon. The memo, sent via email and first reported by The Daily Wire, was sent out by the ONI's chief of staff following deadly suicide bombing attacks outside the international airport in Kabul which left 11 Marines, two Army soldiers, a U.S. Navy corpsman, and 169 Afghan civilians dead. In addition to Biden, members were instructed they also could not publicly criticize or be contemptuous of Vice President Kamala Harris, Secretary of Defense Lloyd Austin, members of Congress, and others.
CCP's Grand Strategy Is to Displace US: China Expert. China has had three grand strategies to counter the United States since 1989, culminating in the latest phase, beginning in 2016, of wanting to displace the United States, China expert Rush Doshi said during an Aug. 26 webinar to talk about his new book. Doshi wrote the book "The Long Game: China's Grand Strategy to Displace American Order" while working at the Brookings Institution, which hosted the online event. Now he's the Biden administration's newly appointed director for China on the White House National Security Council. Chinese Communist Party (CCP) officials "seek to restore China to its due place and roll back the historical aberration of the West's overwhelming global influence" with its grand strategy, according to Doshi's book. The grand strategy is now in its third phase, he said, after he examined years of CCP documents such as memoirs, speeches, and biographies. Today China sees its competition with the United States as global, regional, and functional in many domains, according to Doshi.
Congressmen and Others Accuse Biden of Blocking US Citizens from Kabul Airport. Reports trickled in throughout Saturday [8/28/2021] that American citizens in Afghanistan were being blocked by U.S. military and government officials from entering Kabul airport so they could escape the (thanks to Biden) terrorist controlled nation. Several reports also said Americans are being beaten by Taliban terrorists at the airport. The reports reached a crescendo Saturday night with two Texas Republican Congressmen and military veterans, Dan Crenshaw and Ronny Jackson angrily calling out Joe Biden. Crenshaw, "America, you need to know this: Biden is not letting US citizens through the airport gates. It has been impossible to get anyone through for the last 24 hours. This administration has been lying about their intent to save Americans. Unforgivable."
The Brits somehow seem to be getting their people out of Afghanistan. While the United States has been warning all of its people to stay away from the airport in Kabul and is basically ready to shut down the evacuation, Great Britain has still been bringing people out of the country. In fact, they expect to have all of their citizens out today, even though there are only a few flights expected to leave in the next 24 hours. The troops they airlifted out were part of a group of more than 1,000 who stayed behind to help the United States secure the airport during the initial days of the bugout. They won't hit 100% of their goals, however, admitting that as many as a thousand Afghans who had been assisting them will wind up being left behind. But they do seem to have accounted for all of their own citizens in the country, so how did they manage to pull this off?
Afghanistan is not going down well with the U.S. military's ranks. The perfumed princes of the Pentagon with their wokester focus, operate as if they have little to fear in making a hash of Afghanistan. After all, Joe Biden has made it clear that nobody's getting fired. And with all their consulting contracts and revolving board seats, it probably wouldn't matter if they did. Why does General Mark Milley still have a job? Biden's actually out gaslighting the public about how great he's doing. One problem, though, is emerging from that phoniness: Growing anger in the ranks. These cossetted leaders no longer have the respect of the troops. [...] It seems so much of this is going down that someone high up in the ranks felt compelled to issue this reminder, recognizing probably quite accurately that the military's decadent leadership is actually losing control. So not only can they not win wars, but they also are losing the respect of the troops.
Republicans file impeachment articles against Blinken over Afghan disaster. House Republicans on Friday introduced articles of impeachment against Secretary of State Antony Blinken for "high crimes and misdemeanors" leading up to the chaotic withdrawal of U.S. troops from Afghanistan. Republican Reps. Ralph Norman of South Carolina and Andy Harris of Maryland co-sponsored the resolution. They said "inexcusable failures" on behalf of Mr. Blinken led to the lives lost in Thursday's terrorist attack in Kabul and "set a horrible precedent on the international stage." "Secretary Blinken's complete and utter failure of managing this avoidable catastrophe makes him unfit for leadership, and I hope my colleagues will join me in pushing for his removal," Mr. Harris said.
Taliban kill squad hunting down Afghans — using US biometric data. The Taliban has mobilized a special unit, called Al Isha, to hunt down Afghans who helped US and allied forces — and it's using US equipment and data to do it. Nawazuddin Haqqani, one of the brigade commanders over the Al Isha unit, bragged in an interview with Zenger News that his unit is using US-made hand-held scanners to tap into a massive US-built biometric database and positively identify any person who helped the NATO allies or worked with Indian intelligence. Afghans who try to deny or minimize their role will find themselves contradicted by the detailed computer records that the US left behind in its frenzied withdrawal. The existence of the Al Isha unit has not been previously confirmed by the Taliban; until now the Haqqani Network, a terror group aligned with the Taliban, has not admitted its role in targeting Afghans or its use of America's vast biometric database.
U.S. Used a Nasty New Hellfire Missile In Retaliatory Drone Strike on ISIS-K. The United States used a relatively new gruesome, but effective kind of missile for its first retaliatory strike after the suicide bombings at the Kabul airport. [...] The article goes on to say that the military nickname for the missile is the "flying Ginsu." It's not known exactly how many times the R9X has been used because the Pentagon doesn't exactly hit Instagram for everything it accomplishes.
So we blew up an ISIS-K "planner" with a drone last night. After an ISIS-K suicide bomber attacked one of the gates at the Kabul airport, President Biden promised that we were going to strike back. I'm assuming that this was what he was talking about. NBC News is reporting that we took out an ISIS-K "planner" last night and he was allegedly engaged in plotting additional attacks in Kabul. We didn't have to deploy any troops to do it, however. The suspect was driving in a car with another person when he was taken out by one of our drones. Oh, and he wasn't anywhere near Kabul at the time.
Experts question decision not to name ISIS terrorists killed in Afghanistan drone strike. The failure of the Biden administration to name the two Islamic State terrorists killed in a US drone strike in Afghanistan on Friday [8/27/2021] has led some experts to conclude they were not high-value targets. In a press conference Saturday, Major Gen. William Taylor only referred to the dead targets as a "planner" and "facilitator," and would not say if they played specific roles in the airport suicide attack Thursday that killed 13 American soldiers and 169 Afghans. Islamic State Khorasan, or ISIS-K, was behind the attack. "Normally if they get a high-profile guy they like to name him," retired US Army Lt. Col Brian F. Sullivan told The [New York] Post. "They keep talking BS about 'eyes over the horizon' but I think a lot of this is the administration blowing more smoke," Sullivan added. "They're throwing this up as if the US is reacting with strength and power. So that makes the score something like ISIS 200-US two. Who are they kidding?"
Biden's Pentagon Won't Tell Anyone Who Was Killed In That Drone Strike They Say Happened. At this point, the Pentagon is best known for publicly downplaying the threat the Taliban posed for taking over all of Afghanistan, and for greenlighting closing its largest operational base in Central Asia. It's still purging competent minds but retaining and encouraging its woke drones. Gen. Mark Milley, the 21st-century version of Gen. Custer, still has a job. Biden has lied, or remains unaware, about the fact that our allies are livid at him and questioning whether working with the United States is in their interests anymore. The Biden government hasn't been straight about anything, from the number of stranded Americans to who is on the planes getting out to the inflation it has unleashed on the country. This regime still thinks white supremacy is a greater threat than the monsters they've unleashed and armed in Afghanistan.
Color Me Extremely Skeptical About Joe Biden's Retaliation Strike Against ISIS. Yesterday, as RedState reported, the US Military executed a drone strike that reportedly blew up an ISIS "planner" in the Nangarhar Province of Afghanistan. This was touted as a retaliation strike for the dual suicide bombings that occurred in Kabul, which tragically took the lives of at least 13 US servicemembers with over a dozen others still hospitalized. The terrorist attack also killed at least 170 Afghans with countless others wounded. [Tweet] I know this is the point where I'm supposed to give a fist-pump and praise Joe Biden for greenlighting a response that never should have been necessary in the first place, but color me extremely skeptical of how this is being framed. If Jen Psaki herself had written that press release, what would be different about it? No, I'm not suggesting a strike didn't take place. I'm sure some terrorist-supporting goat herder in a hut was blown to bits. But what I am suggesting is that there's some serious gaslighting going on about what the strike actually means and amounts to.
Pentagon Briefing on ISIS-K 'Retaliatory Strike' Prompts More Questions Than Answers. My colleagues Bonchie and Streiff expressed important concerns about the drone strike retaliation attack on ISIS-K that the Biden Administration is claiming happened last night. [Tweet] Unfortunately, because they have told us so many lies at this point of the Afghanistan debacle, it's really hard to accept what they say without proof. Indeed, assuming this report is true, there's a real question of proportionality of response here, as Streiff noted. Not to mention, holding the Taliban accountable for this, as well. The Pentagon briefing this morning didn't help provide any more assurances, although they did try to use Joe Biden's "over the horizon" phrase a lot. [Tweet]
Pictures Of Where The Drone Strike On ISIS-K Occurred In Afghanistan — No Human Remains Can Be Seen. The United States launched an airstrike following a suicide bombing at Kabul airport earlier this week. The target of the drone strike, believed to have been killed with no known civilian causalities, was an ISIS-K fighter believed to be involved in the planning future attacks, according to two U.S. defense officials. The US military says it has killed an ISIS-K planner in the Nangarhar Province of Afghanistan. According to the US officials, the target was planning to attack US officials in Kabul airport. A UAV took off from an unnamed base in the Middle East and reportedly hit the target while he was in a car with another associate. It's reportedly the first UAV strike launched by the United States from outside Afghanistan. "U.S. military forces conducted an over-the-horizon counterterrorism operation today against an ISIS-K planner," Captain Bill Urban, spokesman for U.S. Central Command, confirmed Friday night. "The unmanned airstrike occurred in the Nangahar Province of Afghanistan. Initial indications are that we killed the target. We know of no civilian casualties." The statement did not identify the target of the attack, or what role a "planner" has in the group. It is unclear whether the planner was involved in Thursday's attack.
Joe Biden's Afghanistan Drone Strike Against ISIS-K Is a Joke, and We Are the Punchline. Two days ago, a suicide bomber attacked a security checkpoint at the Hamid Karzai International Airport (HKIA) in Kabul, Afghanistan. That airport is the main point of egress for any seeking to leave that sad simulacrum of a country, before US forces comply with the August 31 withdrawal deadline set for them by the Taliban. Re-read that last sentence a couple of times to grasp the scope of our national shame. Thirteen Americans were killed: eleven Marines, one Navy corpsman, and one Army special forces soldier. Twenty more Americans were sufficiently wounded to require medical evacuation.
Rogue Team of Retired US Vets Rescue Afghan Allies During Secret Missions Conducted Behind Biden's Back. A group of highly trained US military veterans have been conducting secret rescue missions behind the Biden State Department's back, rescuing hundreds of Afghan allies from Afghanistan with their heroic efforts. Furious over the terrible situation in they had already sacrificed so much to prevent when they served, the team of retired specialists, including Green Berets and Navy SEALS, risked their lives. They volunteered to travel to Kabul because they were afraid that Joe Biden was abandoning at-risk Afghan elite forces, leaving them to die at the hands of terrorists. They felt it was necessary for someone to step up and were baffled "that our own government didn't do this," former Navy SEAL Jason Redman told ABC.
Marine LTC Fired After Demanding Accountability On Afghanistan. Marine Lt. Col. Stuart Scheller announced Friday [8/27/2021] that he had been "relieved for cause" after he posted a video demanding accountability on Afghanistan. Scheller shared a Facebook post saying that, as of 14:30 on Friday, he had been relieved of duty — and he noted that he would have taken the same action if he were in the position of his superior officers.
Marine Officer Who Questioned Generals over Afghanistan Is Relieved of Duty. Lt. Col. Stuart Scheller of the United States Marine Corps revealed Friday afternoon that he has been relieved of duty for posting a video criticizing military leaders for failing to take responsibility for the disastrous withdrawal from Afghanistan. In the video, Scheller, a 17-year Marine Corps officer, said that he knew he was risking his career by speaking out, but that he wanted to explain why so many service members were frustrated, in the wake of the terror attack on U.S. forces in Kabul on Thursday.
A Cry From The Heart. Addressing "the American leadership," Marine Lieutenant Colonel Stuart Scheller has posted the video below to his Facebook page. Making a point I have made repeatedly in my comments on our withdrawal from Afghanistan, Lieutenant Colonel Scheller seeks accountability from senior leaders. Obviously made at substantial risk to himself, it is a powerful statement that is likely to be suppressed before long. Perhaps he himself should have resigned from the Corps before he made it. I don't know. A reader writes to point out that "Marine leadership is as of yet unaware of it — but they will figure it out shortly." Watch it while you can. [Video clip]
This Marine Battalion Commander Probably Burned Down His Career to Demand Accountability for Chain-of-Command Failures in Afghanistan. If you are a commissioned officer, going public with your concerns about how the military or your particular service is going is an activity nearly guaranteed to provide you all the fun and entertainment you can reasonably handle. However, where integrity and forthrightness are given a place of honor in lesson plans and speeches, the reality is that at senior levels, you are expected to shut up and toe the command's line. You deviate from that norm at your peril.
The Report on U.S. Officials Giving Taliban a List of American and Allied Afghans Makes Sense. There are two puzzle pieces that help to make sense of the Politico report about "U.S. Officials" giving the Taliban a list of American and U.S. Afghan names to allow through the checkpoints. However, if you don't understand the two dueling power teams, each attempting to position, it doesn't make sense. Remember, the State Dept (DoS) and CIA are one team. The White House and Pentagon are another team. [...] Both teams are highly political. However, the State Dept/CIA team consider themselves above political changes; essentially the deeper Deep State. With the DoS/CIA aligned with CNN/WaPo, when the Pentagon needs to defend their specific interests in crisis management, they must go elsewhere, hence Politico.
Biden admits admin may have given Taliban 'kill list' of Afghans who aided US. A potentially deadly blunder by President Biden's administration effectively handed the Taliban a "kill list" to target Afghans who aided the US, according to a report Thursday — and he admitted it may have happened when asked later at a White House briefing. Following the Taliban takeover of Kabul, US officials there gave the Islamic extremist group the names of American citizens, green card holders and Afghan allies so they could be allowed to enter the Taliban-controlled perimeter around Hamid Karzai International Airport, according to Politico. The decision reportedly was made despite the Taliban's notorious reputation for brutally executing Afghans who helped the US military and other Western forces during the war and occupation that followed the Sept. 11 terror attacks.
U.S. Officials Handed Taliban a List of Names of Americans and Afghan Allies. In a move no one can grasp, U.S. officials in Kabul gave the Taliban a list of names of American citizens, green card holders, and Afghan allies, believing the Taliban would allow them to enter the militant-controlled outer perimeter of the city's airport. Lawmakers and military officials are outraged. The insane move was designed to expedite the evacuation of tens of thousands of people from Kabul by the August 31 deadline. It also came as the Biden administration began relying on the Taliban for security outside the airport. ISIS-K has since set up forces around the soon-to-be-renamed Hamid Karzai International Airport.
CENTCOM Commander Reveals U.S. Intelligence-Sharing Operation with Taliban. General Kenneth McKenzie, commander of the United States Central Command, revealed an intelligence-sharing operation between the U.S. and Taliban on Thursday at a Department of Defense briefing, just hours after attacks at Hamid Karzai International Airport killed at least twelve U.S. service members and 60 Afghan civilians. According to McKenzie, the Taliban and U.S. share a "common purpose" of finishing the ongoing evacuation mission by August 31.
Trump slams Biden over 'Kill List': US officials naively gave Taliban list of Afghan allies and citizens to be evacuated. Donald Trump has slammed Joe Biden for handing over a list of approved Afghan evacuees to the Taliban amid fears it will now be used by the extremist group to kill those named on it. Calls for Biden's resignation and impeachment have mounted after at least 103 people, including 13 U.S. service personnel, were killed by ISIS terrorists in a double suicide attack on Kabul airport on Thursday. In an emotional address to the nation, Biden vowed to 'hunt down' and 'make the terrorists pay' as he mourned the 'selfless heroes' who died helping vulnerable people flee the country.
Adam Schiff leaves classified briefing, says Afghanistan disaster was NOT the fault of intel agencies. I know, I know. This is Adam 'Pencil Neck' Schiff, one of the biggest liars on Capitol Hill. But what he's saying right now, after having left a classified briefing, concurs with much of what we've learned in the media regarding Biden's Afghanistan disaster and it is NOT favorable to Biden.
The Kabul Mission Begins to Unravel and We Can Expect to See Much Worse. Earlier today, some organization carried out a complex suicide bomb attack on the perimeter of Hamid Karzai International Airport (HKIA) in Kabul. The explosions took place at an ingress point called the Abbey Gate and at the Baron Hotel, which is just a short distance from the Abbey Gate. [...] The US government negotiated an agreement with the Taliban to allow the use of HKIA for evacuation until the August 31 deadline laid down by the Taliban for all US forces to be removed from their country. However, if you have followed the day-in-day-out reporting, it is obvious that the people making the deal don't necessarily have the juice to make the deals work. For instance, Taliban forces harassed and beat US passport holders on the way to the airport despite everyone agreeing that this would not happen. Earlier this week, Taliban fighters started turning back Afghans, no matter their US visa status. This was followed by an "official" announcement by the Taliban government that Afghans would no longer be allowed to leave.
Naturalized Americans could have their citizenship revoked if secret DHS program hosted by Amazon flags their social media or other personal data as a threat. Naturalized Americans could have their citizenship revoked thanks to a computer program that searches for concerning activity — with broad categories including anything deemed 'derogatory'. The program, called ATLAS, is used by the Department of Homeland Security (DHS), and is hosted on servers owned by web e-commerce giant Amazon. DHS stated on their website in a November update that ATLAS was created 'to automate, streamline, and support accurate exchange of data' among immigration authorities and the DHS, and 'to support biometric and biographic-based screening and vetting of immigration requests.'
Canadian Minister for Women and Gender Equality Refers To Taliban Thugs As 'Our Brothers'. Canada's minister of women and gender equality says her mention of the Taliban as "our brothers" during a press conference Wednesday is a "cultural reference," after receiving criticism for her choice of language. Maryam Monsef — who was born in Iran and raised in Afghanistan — had a direct message for the terrorist group, which has swiftly taken control of most of Afghanistan since the U.S. began withdrawing its troops following a 20-year mission. [Video clip]
Taliban Secures World's Largest Lithium Deposits After US Withdrawal From Afghanistan. It's been more than a decade since we penned "The US "Discovers" Nearly $1 Trillion In Mineral Deposits In Afghanistan" in which we highlighted the colossal untapped mineral deposits that reside in Afghanistan. [...] Readers have known for a while Afghanistan was never about the opium trade or the war on terror but rather the massive deposit of minerals essential for renewable energies. So in the Economic Hit Man context, why would the Biden administration suddenly pull out of Afghanistan after 20 years if the play all along was about securing rare earth metals? We don't want to speculate the Biden administration's intentions, nor do we have any idea. Still, one thing is sure is that the Taliban now control the world's largest lithium deposits is becoming friendly with China.
No Americans Have Been Rescued Outside of Kabul: Pentagon. U.S. troops have not rescued any Americans in Afghanistan outside of Kabul, though they have the capability to do so, the Pentagon said Wednesday [8/25/2021]. Only three rescue missions have been conducted by American soldiers since the Taliban took over the country, according to military officials. But all three took place within Kabul, Pentagon spokesman John Kirby told reporters in Washington. "Could it be done outside Kabul, if needed? We have the capability," he said. "I'm not suggesting that it would be well outside of Kabul. I'm not suggesting that it would be throughout the whole countryside," he added later.
No One Will Call It A Coup. The report doesn't call it an attempted political coup. But buried in the antiseptic language of an investigative report issued yesterday, it appears several former top employees of Attorney General Ken Paxton were more concerned with furthering their own political career than getting at the truth — and, ironically, at least two were willing to break the law to do it. Texas' political world was rocked a year ago when seven top employees of the Office of the Attorney General filed a criminal complaint. They alleged Paxton had received a bribe to aid a campaign donor, Texas businessman Nate Paul. An internal investigation, however, finds the complaint had no substance and that Paxton himself took actions that were "proper pursuant to his legal obligations." Meanwhile, "[t]here is no evidence that Nate Paul attempted to bribe [Ken Paxton]." What emerges from the report is picture of an agency's senior staff who had decided to take out their boss — a statewide elected official — and were unconcerned with whatever facts needed to be ignored or concocted to make it happen.
Leaked Cable Showing Number of Americans Rescued From Afghanistan Produces Shock and Horror. I'd like to say I have good news to share this morning, but that's not the reality we are living in. Instead, a leaked State Department cable has finally revealed the number of Americans rescued from Afghanistan over the last 10 days. Unfortunately, the number is so bad that it's producing shock and horror. While the Pentagon and White House insisted yesterday that they didn't have this data, in the least shocking development of the week, we now know they were lying. A running tally of Americans who have gotten out has been kept, and the numbers as of last night are that only 4,407 American citizens have made it onto flights.
Pleading With Terrorists? CIA Director Meets With Taliban as Evacuation Fears Grow. It just keeps getting better and better, doesn't it? That is if you're the Taliban, al Qaeda, ISIS — now resurfacing in Afghanistan — and the rest of the toxic stew of Islmastist [sic] extremism hellbent on forcing — by any barbaric means necessary — the planet back to the 7th-century world of the Kharijites. However, if you're hapless Joe Biden or a member of his equally hapless administration, you're anywhere from dangerously delusional to afraid to tell "the big guy" he's been catastrophically wrong about the debacle he and he alone created — from his no-plan "plan" to jerk American forces out of Afghanistan, inexplicably abandon Bagram Air Base and its multiple runways (which would have been easily defendable, not to mention come in [very] handy right how as "Evacuation HQ") — to the disaster at the Hamid Karzai airport out the outskirts of Kabul.
Negotiating with Terrorists: Taliban Gives 'No Extensions' to Evacuation Timeline. The Taliban gave "no" evacuation deadline extensions on Tuesday to the Biden and Harris administration after the CIA negotiated with a Taliban leader. Taliban spokesman Zabihullah Mujahid said the terrorists will accept "no extensions" to the August 31 deadline. Mujahid also suggests he was "not aware" the CIA met with the Taliban, "but he did not deny that such a meeting took place," the Associated Press reported.
Taliban may have biometric data of US military aides. In 2007, the United States military began using a small, handheld device to collect and match the iris, fingerprint and facial scans of more than 1.5 million Afghans against a database of biometric data. The device, known as Handheld Interagency Identity Detection Equipment (HIIDE), was initially developed by the US government as a means to locate insurgents and other wanted individuals. Over time, for the sake of efficiency, the system came to include the data of Afghans assisting the US during the war. Today, HIIDE provides access to a database of biometric and biographic data, including of those who aided coalition forces. Military equipment and devices — including the collected data — are speculated to have been captured by the Taliban, who have taken over Afghanistan.
Food And Supply Shortages Hit Retailers, Walmart Shelves Empty. Grocery-store chains are still battling supply challenges that some executives said are as bad as what they saw in spring 2020, when hoarding left holes in stocks of some staples. Industry executives say new problems are arising weekly, driven by shortages of labor and raw materials. Groceries including frozen waffles and beverages remain scarce as some food companies anticipate disruptions lasting into 2022. A wider range of products is running short and logistical challenges are compounding for many retailers. Donny Rouse, chief executive of Louisiana-based Rouses Markets, said he is struggling to fill shelves as his company runs low on everything from pet food to canned goods. [Video clip]
Taliban transformed by haul of advanced U.S.-made weapons; lawmakers demand answers. The Taliban were transformed from an insurgent rabble armed with cast-off Soviet-era weapons into one of the most well-equipped forces in the region in the space of a few days during their lightning-fast advance across Afghanistan. Following the complete collapse of the U.S.-equipped Afghan army, the Taliban were able to scoop up a trove of advanced military hardware: thousands of rifles, machine guns, grenade launchers, artillery pieces and night-vision goggles. The Afghan National Defense and Security Forces (ANSDF) also left behind thousands of military vehicles from U.S. taxpayers, everything from Humvees to heavily armored Mine Resistant Ambush Protected (MRAP) trucks.
Kamala Harris' flight from Singapore delayed by three hours because of Havana Syndrome. Vice President Kamala Harris' departure from Singapore on Monday was delayed by more than three hours because of an 'anomalous health incident in Hanoi,' which was the next stop in her Asia trip. Anomalous health incident is what the U.S. government calls Havana Syndrome, the mysterious condition that causes headaches, brain injury and other issues. Officials said the decision was made to continue to the trip but did not offer many details. 'Earlier this evening, the Vice President's traveling delegation was delayed from departing Singapore because the Vice President's office was made aware of a report of a recent possible anomalous health incident in Hanoi, Vietnam. After careful assessment, the decision was made to continue with the Vice President's trip,' the U.S. Embassy in Hanoi said in a statement.
The last sane man down under? Aussie parliamentarian denounces totalitarian lockdown abuses. I've been watching in sadness and wonder at the abuse that Australia's government elites — many of them purported conservatives — have heaped on their citizens, using military force to keep people imprisoned in their own homes, warning people against private conversations, vaccinating children without their parents' permission. All over a handful of deaths in a continent-sized nation of 25 million. There has been savage repression of demonstrations. Finally, an Aussie Member of Parliament has stood up and denounced the madness. [Video clip] George Christensen is what passes for a maverick in Australia, outspoken, nationalist, anti-jihad, pro-life.
CBS Gets Blinken to Admit Biden Is Asking Taliban for 'Permission' to Save Americans. The Biden administration was having an extremely rough time spinning their Afghanistan failure as they made the rounds on the Sunday shows. Secretary of State Antony Blinken made things exponentially worse on CBS's Face the Nation after fill-in moderator Major Garrett got him to admit the administration was asking the Taliban for "permission" to get Americans out of the country. Blinken's fumble began when Garrett asking him about President Biden's comments regarding "an agreement with the Taliban," because "that implies we're negotiating with them." "Does that not confer upon them already legitimacy," Garrett fretted. In defense of Biden, Blinken suggested that negotiating with the terrorist organization was needed to foster "a working relationship in order to deconflict, in order to work through any problems with people getting to the airport." Garret cut right to point and asserted that, to some, it sounded like he and the rest of the administration were asking "permission" to save Americans. Blinken didn't disagree or show any discomfort at the notion: [Video clip]
Psaki Bristles at Suggestion Americans Are 'Stranded' in Afghanistan: 'Irresponsible'. White House press secretary Jen Psaki labeled it "irresponsible" to say that Americans currently attempting to leave Afghanistan are "stranded" in the country, in response to a question from Fox News reporter Peter Doocy at a press briefing on Monday [8/23/2021]. "First of all, I think it's irresponsible to say Americans are stranded. They are not," Psaki said. "We are committed to bringing Americans who want to come home, home," adding that the U.S. is in touch with Americans in Afghanistan by phone, email, and other communications. "'There are no Americans stranded' is the White House's official position on what's happening in Afghanistan right now?" Doocy countered. "I'm just calling you out for saying that we are stranding Americans in Afghanistan when we have been very clear that we are not leaving Americans who want to return home. We are going to bring them home," Psaki said.
Reporter: British troops say the scene at Kabul airport now is the worst thing they've seen in their careers. In case the new alert from the embassy didn't make it clear, the situation appears to be getting worse, not better. Frankly, it's hard to fault the embassy for telling Americans to stay away at this stage. Behold this scene. What would be the point of trying to make it to the airport gate? [Tweets] One journalist there says he's personally witnessed four women towards the front of the crowd crushed to death. Some have passed out from the heat and fatigue. Others have been killed, presumably by the Taliban goons charged with keeping "order": [Tweet] The perimeter around the airport has become a refugee camp policed by one of the worst regimes on earth. Meanwhile, greater Kabul is being policed by, essentially, Al Qaeda.
US considers ordering commercial airlines to help in Afghan evacuation. The Biden administration is planning a dramatic ramp-up of its airlift from Kabul by making preparations to compel major U.S. airlines to help with the transportation of tens of thousands of evacuees from Afghanistan, while expanding the number of U.S. military bases that could house Afghans. The White House is expected to consider activating the Civil Reserve Air Fleet, or CRAF, created in 1952 in the wake of the post-World War II Berlin Airlift, to provide nearly 20 commercial jets from up to five airlines to augment U.S. military efforts to transport Afghan evacuees from bases in the region, according to U.S. officials.
Serious Cyberattack on the State Department. The hits keep on coming under Joe Biden. Remember when Joe Biden allegedly asked Vladimir Putin and the Chinese not to conduct cyber attacks against us, but then he didn't sanction China and he gave Putin a list of the targets that were important to us? How'd that work out? Well, the cyberattacks have continued. Great job, Joe! Now, we're hearing about a serious breach, a new attack that hit the State Department. It's not clear who is behind it yet.
Taliban Seized 75,000 Vehicles, 600,000 Weapons and 200 Aircraft in Afghanistan Leftover by Biden Admin. Earlier in the week, it was reported the Taliban now controls approximately 174 humvees, 10,000 rockets and 6 light attack aircraft. But it is much worse than that. A report from Fox News on Saturday [8/21/2021] highlighted the scope of the crisis unfolding in Afghanistan as the network claims the Taliban now control 75,000 vehicles, 200 aircraft, 600,000 weapons, and $85 billion in funding.
No biggie, but ISIS appears to be in Kabul. Earlier today [8/21/2021] we described how some British troops are describing the situation around the airport in Kabul as "the worst they've ever seen." Well, they may need to expand their horizons a bit in terms of extremes. CNN is reporting that the Pentagon is working on an "alternate route" for Americans, allies and our helpers to get to the airport and it's not just because of the massive crowds blocking the roads or the Taliban checkpoints turning people away. (Which we were assured wasn't happening.) No, this is an entirely new wrinkle in the picture. There appears to be solid intelligence indicating that ISIS-K (which is just a rebranded ISIS offshoot that's taken root in Afghanistan) is on the prowl and looking to perpetrate attacks in or around the airport. But that can't be right, can it? Apparently, it can.
Americans Stopped, Beaten on Way to Kabul Airport as Biden Claims They're Having No Problems. Joe Biden just gave more remarks on Afghanistan that were just delusional and devoid of reality. He is now claiming that they've secured the airport and that the U.S. military is "standing guard around the airport" and that there's no problem for Americans or allies to get to the airport. We have no information that Americans are having difficulty getting to the airport, Biden said. Where there have been challenges for Americans, we resolved them, he claimed. Completely ignoring the question about the safety of the allies, where there have been innumerable reports about them not being able to get through to the airport. But as Sasha Ingber of Newsy explained, it's not even reality as to the Americans. She explained that the situation was deteriorating rapidly and Americans are being stopped and beaten.
China Admits Taliban Ties Aimed at Getting Afghanistan's $3 Trillion in Rare Earths. In the course of hectoring the United States for its "bungled and embarrassing withdraw from Afghanistan" on Thursday, China's state-run Global Times admitted Beijing has a rapacious interest in Afghanistan's vast rare-earths mineral resources and snarled it was none of America's business if China makes deals with the Taliban to get what it wants. The Global Times accused the U.S. of profiteering from Afghanistan for the past twenty years, without offering any theories on where all the plunder might have gone, and claimed America is only worried about China going after those mineral resources because the U.S. is jealous.
Quick — What can we do to get Afghanistan off the front page?
Biden cancels $5.8 billion in student loan debt for the disabled. President Joe Biden will cancel more than $5.8 billion in federal student loan debt for over 323,000 borrowers with permanent disabilities in the single largest cancellation of debt in his presidency the Department of Education announced on Thursday [8/19/2021]. For a second day in a row, the Biden administration announced an initiative with no connection to the ongoing Afghanistan crisis, where an unknown number of American civilians remain. On Wednesday, the president pushed for COVID-19 vaccines and rallied against anti-maskers while refusing to answer questions about the situation in Afghanistan. The debt cancellation is for those with total or permanent disabilities, or TPD.
French and Brits Are Rescuing Their Citizens in Kabul, but Here's What Americans Were Hearing. Americans were left in the lurch by Joe Biden, stuck behind enemy lines in Afghanistan, despite the fact that the Biden team was warned about the impending collapse of Afghanistan and Kabul. They were then told that if they were outside of Kabul, there was no plan to get them out. Even the people in Kabul were told: Figure out your own way to the airport through the Taliban because we're not going to help get you there. Now, just in perspective, understand that the French and the British are actually going out and extracting their citizens in Kabul and bringing them back. The French. But the Biden folks aren't letting the military do that because of the "deal" with the Taliban about "safe passage" to the airport, according to reports. Meanwhile, many can't get through despite that claim of "safe passage." It's madness. Biden is acceding to the Taliban, yet again.
British Paratroopers Bravely Entering Kabul to Save UK Citizens While Biden Does Nothing. British paratroopers are risking their lives in Afghanistan to save UK citizens from the deadly Taliban after President Joe Biden's disastrous withdraw from the region. While the British government is telling its citizens that "help is on the way," Biden is telling American citizens that they are on their own. The UK is sending paratroopers to Kabul to rescue the 4,000 stranded Brits and Afghan allies in Kabul. The paratroopers were told to "prepare for face-to-face combat."
Biden Admin Tells Americans Stranded In Afghanistan To Pay For Their Own Flights Home. President Joe Biden's administration is telling Americans who are stranded in Afghanistan to pay for their own passage back to the U.S. "Repatriation flights are not free, and passengers will be required to sign a promissory loan agreement and may not be eligible to renew their U.S. passports until the loan is repaid," the Overseas Security Advisory Council noted in its security alert for Afghanistan. "The cost may be $2,000 USD or more per person." [Tweet]
A few hours later...
Under pressure, State Dept. scraps plan to bill Kabul evacuees $2K for flights. The State Department was forced to scrap a widely excoriated plan to bill US citizens $2,000 or more for their evacuation flights from Kabul. The hefty price tag drew social media outrage Thursday [8/19/2021] after it gained public notice. "In these unique circumstances, we have no intention of seeking any reimbursement from those fleeing Afghanistan," State Department spokesman Ned Price said in a statement provided to The [New York] Post. The cost was publicly posted to a State Department website on Saturday but went largely unnoticed before it was highlighted by Politico's military-focused newsletter Thursday. An unnamed State Department spokesman initially stood by the charge, telling Politico that "U.S. law requires that evacuation assistance to private U.S. citizens or third country nationals be provided 'on a reimbursable basis to the maximum extent practicable.'"
Teddy Daniels Gives Forceful Speech at Pennsylvania Audit The Vote Rally, The Time is Now. Teddy Daniels is a Republican congressional candidate for Pennsylvania CD-08, Scranton, Pennsylvania. Teddy Daniels is challenging Democrat incumbent Matt Cartwright in the 2022 mid-terms. Daniels [...] recently spoke at the Pennsylvania Audit The Vote rally. [Video clip]
Teddy Daniels: Pro-Trump America First Combat Veteran Who Won't Back Down. Decorated combat veteran. Retired police officer. Business entrepreneur. Teddy Daniels has spent his career serving community and country, and now he's running to be your voice in the halls of Congress.
China Threatens to 'Crush' U.S. Troops in Taiwan. Exuberant after President Joe Biden's spectacular defeat in Afghanistan, China's state-run Global Times on Tuesday [8/17/2021] warned that if any American troops are present in Taiwan when Beijing decides to invade it by force, the People's Liberation Army (PLA) will "crush them by force." The Global Times was responding indignantly to a tweet from Sen. John Cornyn (R-TX) in which he listed U.S. troop deployments around the world. Cornyn incorrectly stated in this tweet that 30,000 American soldiers are stationed in Taiwan, roughly the same amount stationed in South Korea.
Exclusive: Space Force Officer, Punished After Denouncing Marxism, to Leave Military. The Space Force officer who was removed from his command post for condemning Marxism and critical race theory is leaving the military. Lt. Col. Matthew Lohmeier told The Epoch Times' "American Thought Leaders" that his last day in the service will be Sept. 1. "I wrote a letter to then-Acting Secretary of the Air Force explaining certain circumstances, which I don't plan to make public, but also requesting an early retirement, and a separation honorably from the service," he said. "And they've denied me an early retirement, but agreed that they would separate me. And so my family and I have decided that that's the best course of action for us right now, given the circumstances." "I believe I'm able to continue serving my country outside of the service and out of uniform, perhaps in a better way than I was able to, given the circumstances, in uniform at the moment."
Afghan President Surfaces in the United Arab Emirates. Ashraf Ghani, the Afghan president who fled his country as the Taliban gained the upper hand in the civil war against his government has surfaced in the United Arab Emirates (UAE). "The UAE Ministry of Foreign Affairs and International Cooperation can confirm that the UAE has welcomed President Ashraf Ghani and his family into the country on humanitarian grounds," announced the small Middle Eastern nation in a statement. In an address on Monday [8/16/2021], President Joe Biden lambasted Afghanistan's political leaders for having given up. The proximate cause of the Taliban's victory has been the United States' withdrawal and decision to stop providing air support for the Afghan military. According to the Wall Street Journal, the Afghans had relied upon American air power to "resupply outposts, strike targets, ferry the wounded, and collect reconnaissance and intelligence" among other tasks. U.S. forces have not been leading the fight against the Taliban for years, instead taking on a support role.
Republican Flips State Senate Seat Where Biden Won By 25%. A Republican candidate for state senate in Connecticut flipped a seat where then-candidate Joe Biden won by just over 25% during the 2020 presidential election. Ryan Fazio, a member of Greenwich, Connecticut's Representative Town Meeting, defeated Alexis Gevanter, a gun control advocate who had never before held public office on Tuesday by less than three percentage points in the wealthy, suburban 36th State Senate District. Republicans are hailing the victory as a preview of the 2022 congressional midterms, and are hoping that it will signal their continued viability with suburban voters.
Taliban Warning: US Must Fully Withdraw American Troops by Sept. 11. A spokesman for the Taliban warned that U.S. troops in Afghanistan have to leave by Sept. 11 — the anniversary of the terrorist attacks that launched the United States into the war — after troops were re-deployed to the Kabul airport to oversee an evacuation. Suhail Shaheen, a member of the Taliban's political office, told Sky News on Tuesday [8/17/2021] that "we are committed not to attack them," but he stressed they have to leave by that date. It's not clear what will happen if American forces remain in Afghanistan after Sept. 11. The United States had previously planned to withdraw all its troops by the end of August, but the Pentagon was forced to send thousands of soldiers to the beleaguered country to facilitate evacuations from Kabul, which was quickly captured by the Taliban — considered a terrorist group by many countries — on Sunday.
That Story of Afghans Falling off Fleeing Transport Planes Just Got So Much Worse. Yesterday, a disturbing video emerged from Kabul airport showing thousands of Afghans storming a C-17 transport aircraft. AH-64 Apache helicopters were being used to swoop down and clear a path so the plane could take off. That's how ill-prepared the evacuation was. Other videos showed the scene after the plane rotated and began climbing, with at least two individuals falling to their deaths. [...] This is an inexplicable situation, not because the pilots did anything wrong, but because they were put in this position in the first place. They had to make the no-win decision to remain on the ground and possibly be overrun or to take off knowing that people would die as a result.
Report: Taliban Seizing Personal Weapons Because Afghans 'Can Now Feel Safe'. Taliban jihadists reportedly began seizing personal weapons from Afghans in Kabul on Sunday, claiming civilians "can now feel safe" and no longer need the firearms because the terrorists had taken over the country. Taliban officials declared victory and the restoration of the Islamic Emirate of Afghanistan after occupying the presidential palace in Kabul on Sunday [8/15/2021].
Kabul Has Fallen, Afghan President Ghani Flees, U.S. Embassy Being Evacuated, Airport Under Siege, Biden on Vacation. Throughout the night and today U.S. personnel were evacuated from the embassy in Kabul, Afghanistan. The U.S. flag has been removed. The airport in Kabul is no longer safe and flights have been suspended. Afghanistan President Ghani has fled the country. The Taliban are on the streets of Kabul as fighting around the airport continues.
Taliban seizes $6,000,000 US Blackhawk helicopters. All of this was preventable, but the U.S. military was too busy making sure all its troops were woke and reliably Leftist.
Taliban Seizes Presidential Palace, to Soon Declare Islamic Emirate of Afghanistan. The Taliban has entered the presidential palace in the capital city Kabul and is now in control of the entire country, according to a highly placed source. The group is soon expected to declare the Islamic Emirate of Afghanistan. An anonymous source in a position to know confirmed the high-ranking source's report of the seizure of the presidential palace, which The Times of India has also reported. President Ashraf Ghani left Kabul after stepping down from power on Sunday [8/15/2021]. Rumors of his resignation had been circulating since Friday, while fears of the Taliban attacking the capital were also high that night. However, in a video message released on Saturday afternoon, Ghani didn't announce his resignation but said negotiations were ongoing. The anonymous source told The Epoch Times that Ghani's announcement meant he will not step down until the whole country surrenders or falls to the Taliban.
Jen Psaki [is] Taking Next Week Off Amid Afghanistan Fiasco. White House Press Secretary Jen Psaki is taking the next week off work amid the crisis in Afghanistan. Joe Biden, who is on vacation, has still not addressed the public about the foreign policy nightmare underway in Kabul. Questions sent to Psaki are being met with an autoreply saying that she will be out of the office through August 22.
Biden's Saigon: Videos Reveal Utter Chaos at Kabul Airport as Taliban Conquers Afghanistan. Videos uploaded from Kabul on Sunday [8/15/2021] showed chaos at the international airport as panicked people rushed to board aircraft ahead of the Taliban's advance. Gunfire was audible in the distance as refugees packed into transport aircraft. Operations at the airport were reportedly suspended for a time due to shooting nearby.
Helicopters Rescue U.S. Personnel from Embassy in Afghanistan, After Biden Said 'No Circumstance' That Would Happen. Helicopters busily rescued personnel from the U.S. Embassy in Kabul, Afghanistan, on Sunday, just weeks after President Joe Biden promised that there was "no circumstance" in which that spectacle, remembered from Vietnam, would recur. Images of the evacuation of the U.S. embassy in Saigon (now Ho Chi Minh City) are seared into the American imagination as a memory of humiliating defeat, as U.S. promises of security for South Vietnam collapsed with the North Vietnamese advance.
This may be the biggest event ever pushed down the Memory Hole:
9/11 museum's decision to scrap special 20th anniversary tribute is a disgrace. As the 20th anniversary of the 9/11 terrorist attack looms, the National September 11 Memorial & Museum is crying poverty for the second year in a row. This time, it says it can't afford to mount special exhibitions planned to mark the two-decade milestone. In 2020, the twin-beam "Tribute in Light" was canceled only to win a last-minute reprieve after soon-to-be-ex Gov. Cuomo pitched in state resources. But no such bailout appears in the offing this time. In fact, this year, the museum is shamefully restricting the reading-of-the-names ceremony exclusively to the families of 9/11 victims. No hero firefighters, cops, first responders or emergency workers, who were normally welcome until the pandemic eliminated last year's event, are invited.
Number of white people declines for first time — and other census data takeaways. Detailed census data released Thursday [8/12/2021] revealed a more diverse country with the first recorded decline in the white population, as well as the slowest population growth in the country overall since the 1930s. States will use the population information to redraw congressional and state legislative district lines, potentially giving Republicans an edge in House districts that favor them ahead of the 2022 midterm elections. Democrats, too, hope to use the data to their advantage.
Texas Lawmakers Thwart Chinese Communist's Plan To Connect To State's Electricity Grid. Lawmakers in Texas have blocked a Chinese billionaire's push to build a 15,000-acre wind farm on a large swath of land he purchased after news of his plans drew the attention of a conservancy group. It warned first about the environmental impact and then noted Sun Guangxin's ties to the Chinese Communist Party and how the project could give him access to the state's electricity grid. And the 140,000 acres that Sun snapped up in recent years is near Laughlin Air Force Base[,] raising national security concerns.
Biden Admin Decision to Hide Info About Palestinian Terrorism From Congress Broke Law, Watchdog Says. Biden administration officials may have broken the law when they erased information about the Palestinian government's terror incitement from a mandatory compliance report submitted to Congress in July, according to a legal watchdog group. The America First Legal Foundation (AFLF) in a letter sent Wednesday is asking the State Department inspector general to investigate the Biden administration's decision to omit references to the Palestinian government's calls for violence, as well as its support for the Boycott, Divestment, and Sanctions (BDS) movement — issues that are being closely monitored by Congress as the Biden administration restarts millions of dollars in U.S. aid to the Palestinians. Information about Palestinian terror incitement and support for the BDS movement were included in the outgoing Trump administration's October 2020 version of the report, but removed by the Biden administration when it came into office, as the [Washington] Free Beacon first reported.
Hospital Bill From 1955 Sparks Outrage Over Childbirth Costs In The US Today. A 1955 hospital bill that revealed it cost less than $60 for a three-night stay to deliver a baby has shocked Americans who have become accustomed to being charged exorbitant amounts for childbirth. Last month, a Reddit user who goes by the username @BinaryPeach uploaded a photo of the hospital bill to the platform, where they revealed that the invoice was from the December 1955 birth of their medical school professor in a Kansas hospital. "My medical school professor showed me this bill from his birth in 1955 (in the United States)," the caption reads. In the photo, the $59.95 bill, which one Reddit user estimated would be equivalent to $600 today, details the costs for services such as room and board and nursing service, which totalled $27, with the delivery room costing the new parents just $15.
Joe Biden approves Justice Department's move to conduct a 'fresh review' of documents pertaining to Saudi Arabia's role in Sept. 11 attacks. President Joe Biden approved of a move by the Justice Department Monday to conduct a 'fresh review' of documents pertaining to Saudi Arabia's role in 9/11. Biden was told Friday by nearly 1,800 Americans impacted by the terror attacks — including victims' family members, first responders and survivors — not to come to any of the 20th anniversary events unless he declassified documents that potentially show Saudi government links to the September 11, 2001 hijackers.
Senate Fails To Wrap Up Infrastructure Bill After Talks To Expedite Process Collapse. Senate Majority Leader Chuck Schumer set up a critical vote on the bipartisan infrastructure bill Saturday after talks to expedite the process fell apart late Thursday [8/5/2021]. Both Republicans and Democrats engaged in marathon talks Thursday in a bid to vote on a package of amendments and to advance the sweeping public works package. Doing so, however, required approval from all 100 senators, and Tennessee Republican Sen. Bill Hagerty refused to go along even as his Republican colleagues urged him to do so. In a statement, Hagerty attributed his objection to the Congressional Budget Office's estimation that the bill would add $256 billion to the national debt over 10 years.
Now there are chipmunks in Lake Tahoe with the bubonic plague. Okay, don't worry everyone. Just some chipmunks over here in Lake Tahoe which have tested positive for the plague. [Tweet]
Hagerty Holds Up the Senate — For Good Reason. An article in the Washington Times this morning [8/6/2021] — "GOP Sen. Hagerty blocks Democrats from expediting $1.2T infrastructure bill in late-night session" — made this bald guy's hair stand on end this morning. "Sen. Bill Hagerty blocked Democrats from ramming through President Biden's $1.2 trillion infrastructure bill late Thursday, only hours after the package was found to be not fully paid for as promised. "Mr. Hagerty, a first-term Republican from Tennessee, refused to sign off on a deal between Democratic and GOP lawmakers to expedite passage of the legislation. Senate Majority Leader Charles E. Schumer had worked out an agreement with Republicans to pass a series of amendments to the infrastructure package en masse. "If successful, the tactic would have all but ended debate on the bill, setting up a final vote for Saturday. To succeed, however, all 100 members of the Senate had to acquiesce, something Mr. Hagerty refused."
Could pandemic unemployment be extended beyond Labor Day? Lawmakers, economists and advocates are working to extend a handful of key federal aid programs established at the beginning of the pandemic, many of which are scheduled to end just as the delta variant has caused Covid caseloads to rise across the U.S. yet again. Already this week, following pressure from House Democrats, the CDC extended the federal eviction moratorium through October 3 after it lapsed over the weekend. Now, other Congressional Democrats are calling on the White House to extend the pause on federal student loan payments scheduled to expire at the end of September, the Washington Post reports. Meanwhile, advocacy groups are also dialing up attention to extend pandemic-era unemployment benefits programs that are set to expire on Labor Day, September 6.
Have an older Kindle? It will lose access to the internet soon. Amazon's Kindle eBook reader has been a huge success since its launch. No longer having to carry hefty books with you on vacation, you can cram thousands of electronic versions onto a small device. When they first launched, the Kindle connected to the internet through mobile networks. This allows you to purchase and download more books from the Kindle repository. As newer and more technologically advanced mobile networks emerged, so too did the Kindle. The latest models connect to mobile networks through super-fast 4G and 5G availability. But that also presents older Kindles with a problem. Mobile networks in the country are rapidly replacing legacy technology like 2G and 3G with a better standard.
Former Papal Nuncio Brands Pope Francis 'Liquidator of the Catholic Church'. The former papal nuncio to the United States, Archbishop Carlo Maria Viganò, has issued a scathing indictment of Pope Francis, calling him "the head of the most extremist faction of progressivism." In an hour-long video message posted to YouTube earlier this week, Archbishop Viganò attacks the pope's July 16 letter restricting the use of the Traditional Latin Mass, which Viganò calls the "highest and most sacred expression of prayer." [...] In his strongly-worded condemnation of the pope's decision to roll back accommodations to priests who want to celebrate the Traditional Latin Mass, Archbishop Viganò joins a growing list of high-ranking prelates who have expressed their anger and consternation over the "harsh" measure.
Sailor who 'hated the Navy' accused of destroying $1 billion naval assault ship. The 2020 destruction of the Bonhomme Richard, if you can recall it, was a monster loss for the Navy. I'm here in San Diego and have relatives who were stationed on that ship, and they said it was bad. It happened at a particularly vulnerable time, during a holiday where there were few people around. Once it got started, it was impossible to put out, and the whole ship had to be taken out of service and possibly scrapped, leaving a huge hole in U.S. naval capabilities, which can't be replaced for at least three years. And it will cost $3 billion to restore the ship. Two things spring to mind, aside from the fact that they didn't have adequate security over a long holiday: One, why they weren't able to get rid of this guy, or at least get him off the ship? [...] Who needs the Red Chinese when the Navy harbors people like this?
ASPCA spending may not be what donors expect, investigation finds. The heartbreaking commercials are almost impossible to ignore: Sarah McLachlan singing to images of suffering animals and making an urgent appeal for donations to the American Society for the Prevention of Cruelty to Animals, or ASPCA. After those iconic commercials debuted more than a decade ago, the ASPCA's revenues tripled — going from $85 million in 2007 to nearly $280 million in 2019 — making the ASPCA one of the nation's leading animal welfare charities. [...] The ASPCA says the vast majority of donor dollars go directly toward its mission, but a CBS News investigation found there are questions about whether the money is going where donors expect. [...] Since 2008, the ASPCA has raised more than $2 billion for animal welfare. In that time, it has spent $146 million, or about 7% of the total money raised, in grants to local animal welfare groups. But during that same time period it spent nearly three times that, at least $421 million, on fundraising. Over $150 million of that went to Eagle-Com Inc, a Canadian media production company, to produce and place ASPCA's ads.
The Editor says...
There is an old adage about charity organizations, which goes something like this: If you pay me a million dollars per year to solve a problem, I will guarantee that no solution will ever be found.
Mike Lindell Says He's Losing $1M a Week Because Fox News Refused to Air Voter Fraud Ad. MyPillow CEO Mike Lindell has said that is losing "about a million dollars a week" since he pulled his ads from the Fox News network. "They're disgusting, what they've done to our country," Lindell said of the network while speaking on War Room, a show on Real America's Voice, a right-leaning media network. The host is hosted by Steve Bannon, former White House Chief Strategist under Republican President Donald Trump. "I mean, it's terrible," Lindell continued. "I can't make this up. This is about a million dollars a week MyPillow is going to lose again... I want nothing to do with them if they're going to ruin our country and decide on events you have. 'Oh, I don't want it. You can't advertise that concert because we don't like who's playing.'" Lindell was referring to his recent decision to pull his company's ads from the network after the network refused to air an advertisement for his upcoming "cyber-symposium."
Coming Soon: A 'No Buy List' for Conservatives and Other 'Hate Groups'. Suppose you're doing a little online shopping and see a nice pair of shoes you want to buy. But when it comes to the payment part of the transaction, you are rejected. Your PayPal account is frozen. Your credit cards may be canceled. And forget to try a crowdfunding site like GoFundMe as an alternative. You haven't been hacked. Your personal finances have been de-platformed. You have become a non-person in the international financial community because somewhere someone determined that you were spouting "hate speech." Perhaps you're pro-life? That's an anti-woman point of view and will not be tolerated. Do you support a traditional view of marriage? Begone from Amazon, hateful one!
US Marines made rare move to deploy elite security teams to protect two American embassies in two months. The U.S. Marine Corps deployed its Security Augmentation Unit (MSAU) twice in the past 30 days to help defend embassies in Africa and the Caribbean. A team was sent to Haiti on July 16 in wake of the assassination of President Jovenel Moïse, Fox News reported. This mission was said to be 'out of an abundance of caution'. Moïse was gunned down in his home in Port-au-Prince before dawn on July 7, setting off a new political crisis in the Caribbean country that has struggled with poverty, lawlessness and instability.
Generac recalls portable generators after 7 finger amputations. A popular portable generator brand has recalled several models after multiple reports of fingers being injured in the machines. Generac Power Systems recalled the gas-powered generators this week, advising consumers to stop using them immediately. An unlocked handle can pinch fingers against the generator's frame when it's moved. The Waukesha, Wisconsin-based company has received eight reports of injuries related to the generators, according to the U.S. Consumer Product Safety Commission.
'Inflation Storm' Looms as Expectations Hit 13-Year High, Consumer Sentiment Sinks. Americans expect more inflaton this year and remain uneasy about the direction of the economy, the University of Michigan's survey of consumers showed Friday [7/30/2021]. Expected inflation over the next year rose to 4.7 percent from 4.2 percent in June. That's the highest level in over a decade. At least for now, however, Americans still believe that inflation will remain tame over the long term. Expected inflation over the next five years is just 2.8 percent, down from 3 percent in May.
The Editor says...
Forecasts and expectations touted by the news media are meaningless, because when a Democrat occupies the White House, monthly economic reports are always unexpectedly bad. (When a Republican is in the White House, economic news is always unexpectedly good.)
Alcohol-infused ice cream: Dessert's hottest trend. Multiple startup companies across the United States have been infusing alcohol into classic frozen desserts, sparking a wave of boozy desserts just in time for summer. [Video clip]
The Editor says...
Just in time for summer. Right. Summer started a month ago. The announcement of a new product "just in time for summer" would take place in April or May.
The US is rapidly lowering its military profile and backing away from commitments to allies. Why would the US Department of Justice drop five cases against Chinese researchers including Dr Juan Tang, a cancer researcher who allegedly lied on her visa application after photos of her were found wearing a Chinese military uniform? Part of the answer is that Tang's case was dropped to facilitate Deputy Secretary of State Wendy Sherman's high-level visit this week to China, where she was treated hostilely by her Chinese hosts. The five cases are just part of a bigger picture which can best be termed as "The Great Retreat." In many areas, the US is lowering its profile and backing away from its commitments. For example, the US has pulled its only aircraft carrier, the USS Ronald Reagan, from the Pacific ostensibly to cover the retreat from Afghanistan. But whether the Ronald Reagan carrier will return to Japan in the future isn't altogether clear.
Sailor charged in massive blaze that destroyed U.S. Navy warship. The Navy has filed criminal charges against a sailor in connection with the July 12, 2020 fire aboard the amphibious assault ship USS Bonhomme Richard, which raged for several days in San Diego and forced the Navy to scrap the ship. The sailor, who has not been identified, was a member of the crew at the time and is accused of starting the fire, said Commander Sean Robertson, a spokesman for the Navy's 3rd Fleet. "Evidence collected during the investigation is sufficient to direct a preliminary hearing in accordance with due process under the military justice system," Commander Robertson said in a statement.
Pitchman and innovator Ron Popeil dead at 86. Salesman, marketing visionary and inventor Ron Popeil wrapped up a colorful life Wednesday morning [7/28/2021], according to TMZ, which reports the 86-year-old Ronco founder died in a Los Angeles hospital following an unspecified medical emergency. Known as well for his creative spirit as his ability to sell the items he sometimes made, Popeil is credited for introducing the world to the Pocket Fisherman, Mr. Microphone, Hair in a Can and Showtime Rotisserie & BBQ. He made famous phrases like "But wait, there's more" and "Set it, and forget it."
Former Matt Drudge deputy starts rival to Drudge Report. The former editor of the Drudge Report, Joseph Curl, announced Tuesday [7/27/2021] the launch of Off The Press, a conservative-oriented aggregator that he says will have a "fearless attitude" toward covering "everything for those who devour news all day." Curl says the marketplace is ripe for a premier, 24/7 news aggregator that consumers can trust, with the Drudge Report having become just another echo chamber for the mainstream media. "Now more than ever, keeping up with the most important stories is a battle," Curl says. "With social media deluging everyone with endless posts on their news feeds, the internet needs an editor to cull the very best stories and present them on a single site. That will be the sole mission of Off The Press." Joining Curl as co-editor is veteran journalist Paul Bedard, "Washington Secrets" columnist for The Washington Examiner.
Goldman Sees Sharp Deceleration In US Economic Growth In 2022. It was good while it lasted, but the party is finally ending. One day after we reported that unemployed households which no longer receive emergency benefits are suddenly spending far less, and on the same day we read about an "unprecedented spike" in evictions as foreclosure moratoriums end, the only thing missing was a sellside downgrade to the US economy. Well, we got just that early this morning, when Goldman — which last year was the first bank to unveil materially above consensus GDP projections — cut its 2021 second half consumption growth forecast, resulting in 1% downgrade to its GDP growth forecasts for Q3 and Q4 to +8.5% and +5.0%, respectively, "as it is becoming apparent that the service sector recovery in the US is unlikely to be as robust as the bank had expected.["] Which is odd considering the trillions in monetary and fiscal stimulus that have entered into the economy. One wonder how many more trillions would be needed for Goldman to be happy.
A loony leftist hunts Tucker Carlson down in a bait shop. In 2008, before he was president, Obama told his followers that, if they were in the company of independents or Republicans, "I want you to argue with them and get in their face." A decade later, Rep. Maxine Waters (D. Stupidity), in defense of keeping an open border, exhorted her supporters that, if they saw someone from the Trump administration, "you get out and you create a crowd, and you push back on them, and you tell them they're not welcome anymore, anywhere." This is what leftists do — and it's what some guy in a bait shop did when he caught sight of Tucker Carlson. Carlson responded with aplomb, but it must have been unnerving.
The man who accosted Tucker Carlson has an interesting background. It's already old news that an obnoxious leftist verbally assaulted Tucker Carlson, who was in a fly fishing shop in Montana. Leftists celebrated one of their own throwing mindless insults in Tucker's direction. Conservatives appreciated how Tucker kept his calm and his sense of humor. Now, though, some interesting information is emerging about the leftist yahoo, a guy named Dan Bailey, thanks to his having outed himself on his Instagram account. It turns out that Dan Bailey worked for an organization that was closely associated with the CIA.
Navy warns it's running out of capabilities to cut, budget moves threaten readiness. The Navy warned Congress today [7/21/2021] that it is quickly reaching the end of the line on divestments before cutting into capabilities needed for deterrence and war fighting. Lawmakers from the Senate Appropriations Defense subcommittee questioned both the Navy and the Air Force on their divestment decisions at a hearing as Congress continues to parse the proposed budget for 2022. "The challenge that we're facing now is that the good ideas, the things that we don't think we need to bring to the future fight, we're starting to run out of that," said Deputy Chief of Naval Operations for Integration of Capabilities and Resources Vice Adm. Randy Crites.
Girl, 10, dies from the plague as cases confirmed in six Colorado counties. Colorado health authorities are investigating a possible outbreak of the plague after a 10-year-old died from the ancient disease earlier this month for the first time since 2015. The plague, a disease caused by bacteria most often spread by fleas, has been confirmed in six different counties, according to lab results from the Colorado Department of Public Health and Environment. The deceased child lived in La Plata County in southwestern Colorado.
23-year-old GOP candidate running for Congress [is] a promising antithesis of AOC. Could 23-year-old college graduate Karoline Leavitt be the Republican version of AOC? U.S. Rep. Alexandria Ocasio-Cortez, D-N.Y., was the youngest member of Congress when first elected to Congress in 2018, having defeated a top-ranked Democrat in the primary before winning in the general. Leavitt is running against two-term U.S. Rep. Chris Pappas, D-N.H., and should she prevail, she would be 25 when she takes office — the Constitution requires members to be at least 25. Her plan to defeat Pappas is to run against President Biden's policies and what she calls the "tyrannical ... corruption" of New York's Gov. Andrew Cuomo, the New York Post reported.
TikTok's Parent Company is a Strategic Partner of Chinese State Police. ByteDance, the owner of the explosive social media app TikTok, is in direct collaboration with the Chinese State Police. According to Chinese media outlet Sohu, on April 25, 2019, the Press and Propaganda Bureau of the Ministry of Public Security and ByteDance signed a strategic cooperation agreement.
'Verified ID': Meghan McCain, Sunny Hostin push rule to strip anonymity from social media. Sunny Hostin and Meghan McCain want new rules for social media that would strip all users of anonymity. The co-hosts of ABC's "The View" made the comments Wednesday [7/21/2021] after colleague Whoopi Goldberg discussed racist posts directed at Black athletes competing in the Euro Cup. "I think this is a terrific, terrific idea," Ms. Hostin said of the idea while seconding actor Idris Elba's support. "I mean, I am subjected daily to racist attacks on social media. I'm talking daily. Sometimes in the hundreds, sometimes in the thousands, and it's — it's painful, it's hurtful, and it's always from someone who has a cat icon, a flag icon, a frog icon, you know? All sorts — an eagle icon, and they are, I believe. Just Twitter thugs, social media thugs, hiding in their mama's basements."
American language gets new words: 'Zaddy' and 'oof' among 300 words added to Dictionary.com. Dictionary.com is adding more than 300 words and definitions to its latest lexicon update to reflect changes in the culture, along with what appears to be, in part, a dollop or more of corporate political correctness. New additions, abbreviations, and expanded explanations include 5G, content warning, cultural appropriation, DEI (diversity, equity, and inclusion), deplatform, JEDI (justice, equity, diversity, and inclusion), long COVID, side hustle, TW (trigger warning), yeet, and zaddy.
Taco Bell is hit with nationwide ingredient shortages a week after Popeyes announced it's been hoarding chicken. Taco Bell customers may be left hungry if they visit the chain any time soon amid a nationwide ingredient shortage. The pandemic, which forced many factories to close, limited temporary visas for workers on farms and slowed transportation, has resulted in food shortages across the US as the food industry struggles to keep up with newly reopened restaurants, sports arenas and food halls. At Taco Bell, a message posted atop the company's website the company apologized for its slimmed down menu.
Animatronic Biden joining Hall of Presidents at Disney World. Forget an inauguration ceremony. The true indicator of having made it as president is being added to the Hall of Presidents at Walt Disney World in Florida, an honor President Joe Biden will soon receive. Disney World officials said Monday [7/19/2021] that they were putting the finishing touches on the animatronic Biden replica ahead of its debut next month at the Magic Kingdom attraction that features a tableau of the nation's presidents.
The Editor says...
Please select one of these incisive and witty retorts:
[#1] How will anyone know it isn't Joe himself?
[#2] If the robot spontaneously reboots once in a while, that will make it more realistic!
[#3] In the event of a power failure, nobody will notice.
[#4] Please don't let your young daughter stand too close to this display.
[#5] Everything Animatronic Joe will say is being written at this moment by Doctor Jill Biden.
[#6] Animatronic Joe will automatically call a lid at 11:00 a.m., and won't work at all on weekends.
Dow drops more than 700 points on Monday heads for worst decline of 2021. U.S. stocks fell aggressively Monday [7/19/2021] on concern a rebound in Covid cases would slow global economic growth. The selling picked up as the session went on, and the Dow Jones Industrial Average had its worst day since last October. The Dow dropped 725.81 points, or 2.1%, to 33,962.04 in a broad-based rout that sent all 30 members lower. At one point during the session, the Dow was down 946 points before recovering some ground into the close. The S&P 500 fell 1.6% to 4,258.49. Energy, financials and industrials were the worst-performing sectors. The tech-dominated Nasdaq Composite slid 1.1% to 14,274.98, posting its fifth-straight day of losses and worst losing streak since October.
Aluminum Factor[y] Explosion In Henan Province China Looked Like A Mini Nuke!. An explosion occurred at an aluminum alloy plant on Tuesday morning in Dengfeng, Central China's Henan Province. No casualties were reported as of press time, said local authorities. [Video clip]
US kosher supermarkets to stop stocking Ben & Jerry's in protest. Some kosher supermarkets in the US won't stock Ben & Jerry's ice cream, after the company announces it will end sales in the "Occupied Palestinian Territories." Glatt Express Supermarket, a kosher grocery store in Teaneck, New Jersey, announced via Facebook that it would no longer carry Ben & Jerry's products following the company's announcement. "Due to the recent actions by Ben & Jerry's, Glatt Express will no longer be carrying Ben and Jerry's products. Am Yisroel Chai," the store wrote in a post. Aron's Kissena Farms, a kosher market in Queens, made the same decision. The market "has removed all of the Ben & Jerry's products in the Freezers, and will no longer sell any and all Ben & Jerry products effective immediately," the store writes on Facebook.
EPA squeeze on aftermarket car part sellers hurts classic car industry, Lankford says. Raids on aftermarket auto part vendors by the Environmental Protection Agency for evidence of emissions violations standards are harming the classic car industry, says Sen. Jim Lankford. Lankford, an Oklahoma Republican and a member of the Energy and Natural Resources Committee, told the Washington Examiner he recently took an interest in bipartisan legislation reintroduced in the House by Rep. Patrick McHenry, a North Carolina Republican, and Rep. Raul Ruiz, a California Democrat, known as the Recognizing the Protection of Motorsports Act. The legislation, which has 61 Republican and 21 Democratic co-sponsors, aims to make clear that converting a street vehicle by emissions-related changes for exclusively competition purposes is legal. Additionally, it would affirm that manufacturing, selling, and installing racing parts into a vehicle is a legal act.
Wha-a-a-at? There's a flaw in Microsoft's software?
U.S. says Chinese intelligence behind global cyberattack [is] using [a] Microsoft software flaw. China's Ministry of State Security (MSS) intelligence service was behind a major international cyberattack earlier this year involving tens of thousands of computers penetrated through security flaws in Microsoft software, the White House charged Monday [7/19/2021] in coordination with a group of major U.S. allies. Beijing also is employing contract Chinese hackers to carry out ransomware attacks in financial crime schemes, according to a statement kicking off a major publicity campaign targeting what U.S. officials say are extensive Chinese state-linked hacking operations around the globe. "Today, the United States and our allies and partners are exposing further details of the PRC's pattern of malicious cyber activity and taking further action to counter it, as it poses a major threat to U.S. and allies' economic and national security," the statement said, referring to the People's Republic of China.
Judge hit for ordering Trump supporter to remove [Anti-] Biden sign from yard. A municipal judge in New Jersey's Roselle Park borough is facing condemnation and scorn for effectively violating a Trump supporter's First Amendment rights because of a complaint reportedly made by the borough's Democrat Party mayor. That Trump supporter, Andrea Dick, has been displaying a slew of pro-Trump and profanely anti-Biden signs on the fence outside her mother's home. Or rather, she had been, up until Roselle Park Municipal Court Judge Gary Bundy issued a ruling last Thursday [7/15/2021] ordering her mother, Patricia Dilascio, to remove the signs containing profanity within a week or face a $250/day fine.
Editor's note:
News items older than this are located here.
---
Document location http://akdart.com/news.html
Updated July 6, 2022.

©2022 by Andrew K. Dart