---
Uncategorized News Items
---
If I owned a newspaper, this is what you'd see in it. These are news item of which you probably haven't heard, if you get all your information from television. Some of these stories have appeared in the "mainstream media" briefly but they deserve additional publicity. Special attention is given to stories which show the alarming growth rate of the federal government's size and power, and abuses of that power, as well as especially bad ideas which are being given undue consideration. The links will be removed when they get stale or when they are no longer valid. As a general rule, the most recent and the most important items are at the top of the page.
The stories that interest me the most are the ones that show blind over-reliance on technology — especially GPS-related systems and computers in general. There is no shortage of minimum-wage clerks who believe anything that pops up on a computer screen. (That's why electronic voting is a very bad idea.) But there are apparently a lot of politicians and cops who assume that GPS tracking devices are infallible, too.
This page is for stories that the mainstream press seems to have overlooked. On the other hand, the stories that appear to have been intentionally squelched are on this page.
News items that are more than about two years old are now located on a spin-off page, which you can find here.
More odd/weird news that imply little or no political controversy can be found on this page.
---
Hollywood not good enough? Meghan Markle reportedly now wants to be US president. Forgetting who she is, Meghan Markle, duchess of Sussex, has decided she'd also like to become president of the United States. [...] Seems that with duchess titles coming easily, shouldn't presidential ones, too? All she has to do is smile pretty... and speak woke, and the American voters will be drooling for her. Her foray into U.S. politics is getting particularly unseemly for someone who hasn't renounced her title of duchess. First she started hanging out with Michelle Obama, "teaming up for female empowerment" as the press release, I mean USA Today article, put it. Then she gets a lucrative Netflix deal, too, kind of like what the Obamas got. Then she puts her husband, Prince Harry, in an embarrassing position by making a get-out-the-vote "public service" announcement, insisting that the election of 2020 would be "the most important election of our lifetimes," which was clearly targeted at President Trump. She did her husband Harry, who has never voted in his life, a tremendous disservice by shoving him into that.
Woke Royals' U.S. Election Interference 'Violation' of Megxit Deal: Claim. The decision by Los Angeles-based Prince Harry and Meghan Markle to wade into the upcoming U.S. election by offering voting advice was a "violation" of their "Megxit" deal with the Queen and could further jeopardise their links to the monarchy, it was claimed Sunday [9/27/2020] by senior royal aides. According to the Times newspaper, courtiers have been canvassing how the royal household could separate itself further from the pair. The distance is required after the couple called on voters in America to "reject hate speech, misinformation and online negativity" in "the most important election of our lifetime" — comments widely interpreted as a swipe at President Donald Trump, as Breitbart News reported.
New Year's Eve ball drop in Times Square will be virtual this year. For the first time in 114 years, there will be no crowd in Times Square to cheer the famed New Year's Eve ball drop. In the latest COVID-19-induced blow to Big Apple traditions, officials announced major changes to the annual event Wednesday [9/23/2020] — saying that while the ball will still drop, the usual packed celebration will be a no-go. "One thing that will never change is the ticking of time and the arrival of a New Year at midnight on December 31st," said Tim Tompkins, the president of the Times Square Alliance, in a news release.
The Editor says...
You could ring in the new year yourself, just by observing the time here or here. If you have to be at work early the next morning (like I always did), you can celebrate the New Year in UTC or Zulu time, five hours earlier than Eastern Standard Time. To simulate the actual conditions at Times Square, find about a thousand nasty smelly strangers to crowd around you, including a few pickpockets and prostitutes. Then spill beer and cigarette butts all over the ground, and charge yourself $50 for a ride home. In other words, you're not missing anything by not being in Times Square at midnight.
Anti-Cop Alyssa Milano Terrorizes Her Neighborhood by Calling Cops on a Teenager and a Squirrel. If you're a liberal in Hollywood who likes to spout off about vital political issues 'n' stuff, there is a 98% chance you are a flaming hypocrite for it. Like all the celebs who want to #DefundThePolice for me and you, but not for them. And when it comes to leftist celebs with dumb political opinions, top of the list is usually Alyssa Milano. Who, for a celeb who is super-serious about defunding the police — she [...] tweeted about it and everything — she has no problem calling the police.
The Editor says...
Apparently she wasn't acquainted with the teenager, otherwise I'd suspect her of low-level SWATting.
'Defund the police' activist Alyssa Milano calls 911 sparking massive police presence in her quiet California neighborhood. Actress and 'Defund the police' activist Alyssa Milano was quick to call cops when she believed an armed gunman was on her Bell Canyon property on Sunday morning [9/20/2020]. The call ignited a response that included seven Ventura County Sheriffs' vehicles, one K-9 unit, a police helicopter and one Los Angeles Fire Department team that sat down the street on standby. [...] The search by air and street level lasted over three hours and ended abruptly at 12.20 pm. [...] 'It turned out it was a neighborhood teen with an air gun shooting at squirrels,' a resident told the DailyMail.com. The male teenager witnessed the emergency response and later realized he was the cause and turned himself in.
The Editor says...
This is a person who wants to live in a little world without cops. If that's what she wants, she should learn a lot more about firearms.
House passes short-term spending bill to avoid government shutdown. The House approved late Tuesday night, in a 359-57-1 vote, a stopgap bill to avoid a government shutdown at the end of the month. Democratic Rep. Alexandria Ocasio-Cortez did not vote yes or no, but "present." House Speaker Nancy Pelosi announced earlier Tuesday [9/22/2020] that Democrats had reached a deal with Treasury Secretary Steven Mnuchin to avert a government shutdown and fund the government with a continuing resolution through Dec. 11.
The Editor says...
AOC has figured out how to get easy press coverage: Just vote "present," like Barack H. Obama used to do, and the news media will point out the lone exception. In doing so, she isn't representing her constituents, but as long as the newspapers spell her name correctly, she doesn't seem to care.
Bloomberg raises millions to help Florida felons vote. Just days after after Florida Gov. Ron DeSantis won a court victory to keep felons from voting until they've paid off fines, restitution and court fees, billionaire Mike Bloomberg has stepped in to help them pay off the debts. The former Democratic presidential candidate has helped raise more than $20 million so that felons who completed their prison sentences can vote in the presidential election. Bloomberg also has pledged $100 million to help Joe Biden win Florida.
Matt Gaetz Calls On Florida AG To Investigate Mike Bloomberg "For Potentially Engaging In Bribery And Vote Buying". Rep. Matt Gaetz (R-FL) has called on the state's Attorney General to investigate Bloomberg for "Potentially Engaging In Bribery And Vote Buying." [Video clip] [...] [Earlier,] Former New York Mayor Mike Bloomberg, who has committed at least $100 million in Florida towards electing Joe Biden, has raised another $16 million to pay the court fines and fees of nearly 32,000 Black and Hispanic felons so that they can vote in the November election.
Mike Bloomberg Is Likely Breaking Federal Law by Paying off Felon Debts for Democrat Votes. As reported earlier former New York City Mayor and billionaire Mike Bloomberg raised $16 million to pay off the fines for 32,000 black and Hispanic Florida voters so they can vote for Joe Biden in the 2020 election. Basketball icon Lebron James is also looking to pay convicted felons' fines so they can vote for Joe Biden. But tonight legal analyst J. Christian Adams argued that Michael Bloomberg is breaking federal and likely Florida state law by buying votes from felons. And J. Christian Adams also argued that Bloomberg is putting the felons in legal and financial jeopardy by paying off their debts for votes.
Candace Owens Claims Amazon [is] Destroying Her Books Before Shipping, Provides Photos. On Saturday, conservative commentator and author Candace Owens claimed about 1,000 fans have informed her that their copy of her new book, "Blackout: How Black America Can Make Its Second Escape from the Democrat Plantation," was damaged upon arrival from Amazon. "Dear [Amazon]. About 1,000 people have written to let me know that your employees appear to be stomping on and in this case, smearing Vaseline on my books before mailing them," Owens accused. "I know it must have pained you to ship out all 90,000 copies you had in stock — but this is unacceptable." Owens provided photos of the damaged books and retweeted others showcasing similar damage to their copy.
Translation: Printing money causes inflation.
Price Increases at Retail Level Accelerating, Thanks to Massive Money Supply Increase. The U.S. Bureau of Labor Statistics (BLS) reported on Friday [9/11/2020] that prices at the retail level in August increased at an annual rate of nearly five percent in August. Retail prices dropped when the shutdown began and demand for retail items such as gas and services such as restaurants fell like stones. People nearly stopped buying, preferring to stash their "stimulus" checks from the government in savings or use them to pay off credit card debt. In response, the government, with the help of the Federal Reserve, dumped massive amounts of newly created digital currency into the economy, hoping that the infusion would quickly revive it once the infection risk had passed.
Most Want 'Blue Lives Matter' Laws to Protect Police, Fear for Public Safety. Most voters believe there is a war on police in America today and want to make attacks on cops punishable as a hate crime. Blacks worry most that these attacks will make their communities less safe. The latest Rasmussen Reports national telephone and online survey finds that 59% of Likely U.S. Voters think there is a war on police going on. That's up from 43% two years ago and up from a previous high of 58% in 2015. Just 29% disagree, while 12% are undecided.
Senate Dems, including Kamala Harris, call for investigation into Durham probe. Democrats on the Senate Judiciary Committee, including Sen. Kamala Harris, are calling on the Justice Department's watchdog to investigate whether a probe led by U.S. Attorney John Durham violates Justice Department policy. Durham, is investigating the origins of the Trump-Russia probe and other intelligence-gathering activities related to Donald Trump and his associates.
Black Leaders Launch '1776 Unites' High School Curriculum. Two black leaders are launching "1776 Unites," a new high school curriculum that aims to combat victimhood culture in American society by telling the stories of black Americans who have prospered by embracing America's founding ideals. Civil rights veteran Bob Woodson and Ian Rowe, a charter school leader, gave remarks Wednesday on the new curriculum and what they hope it will accomplish for young black students and students of all races. The curriculum's goal is to "let millions of young people know about these incredible stories, African-Americans past and present, innovative, inventive, who faced adversity, did not view themselves as victims, and chose pathways to be agents of their own uplift," said Rowe, who is also a Resident Fellow at the American Enterprise Institute.
Oregon couple helplessly watch as looters break into evacuated home. An Oregon couple forced to flee their home because of the raging wildfires soon faced a second heartbreak — as they helplessly watched looters breaking in on their home video surveillance system. Tracy and Marvin Johnson told KOIN 6 News how the Unger Fire had already destroyed a two-mile hiking trail in Beavercreek that they had opened days earlier after spending eight years building. Firefighters managed to save their home despite the blaze coming within feet of it — just for looters to break in despite an evacuation order in the area, they told the station. "Our Nest cam came on and told us that there was movement and we could see the lights pull up into our driveway," Marvin Johnson said.
Analyst: Neither Trump or Biden care about soaring federal debt, deficit. The U.S. government is awash in debt and red ink — and neither President Donald Trump or his Democratic challenger appear bothered by the status quo, an analyst told Yahoo Finance on Wednesday [9/16/2020]. Last week, the Treasury released data showing how the COVID-19 pandemic helped push the U.S. federal budget deficit above $3 trillion for the first 11 months of fiscal 2020, a rate more than double the prior full-year record.
Uh-Oh: John Bolton Is Officially Under DOJ Investigation. Perhaps that book wasn't such a great idea? John Bolton is now officially under DOJ investigation for possibly leaking classified information in his recent tell-all publication. The book made news by making several big unsubstantiated claims aimed at hurting President Trump. The media obviously salivated over Bolton because he was targeting the right person, though they once treated him as the root of all evil and a disgusting warmonger. But Trump has a way of rehabilitating anyone's image. Now, Bolton may be rethinking whether all those plaudits were worth it.
Data Reveals Where the Majority of Biden's Donations Came from — and It's Bad News for Dems. The conservative group Take Back Action Fund is sounding the alarm on millions of political donations made to former Vice President Joe Biden's presidential campaign. According to the group, more than half of the 2019 contributions Biden received on the Democratic fundraising platform ActBlue came from unemployed people, Fox News reported. That number has increased in 2020, particularly in light of the pandemic. [...] "After downloading hundreds of millions of [dollars in] donations to the Take Back Action Fund servers, we were shocked to see that almost half of the donations to ActBlue in 2019 claimed to be unemployed individuals," Take Back Action Fund's president, John Pudner, told Fox News. "The name of employers must be disclosed when making political donations, but more than 4.7 million donations came from people who claimed they did not have an employer. Those 4.7 million donations totaled $346 million ActBlue raised and sent to liberal causes."
Rochester Police Receive Permission to Cover Their Names After Harassment. Rochester, New York, police officers have received permission to cover their name tags in an effort to avoid harassment from far-left protesters. Rochester Police Chief La'Ron Singletary who is set to retire soon, approved the move after protesters targeted a number of officers who shouted out their home addresses, the names of their children and their schools, and made phone calls to their parents. After the decision, a city council meeting with Democrat Mayor Lovely Warren and City Council Chief of Staff Robert Scanlon occurred. During the meeting, Scanlon fielded questions on the police. Scanlon read a response on behalf of Singletary.
Silicon Valley's Tech Titans Cut Pay For Staff That Work From Home. Software company VMWare announced recently that employees that opt to work from home indefinitely will be asked to accept as much as an 18 percent reduction in pay. Now, other companies in Silicon Valley have announced similar plans to decrease salaries for those that choose to work from home. According to a report by Bloomberg News, companies in Silicon Valley may reduce pay for employees that opt to work from home indefinitely. Both Facebook and Twitter confirmed that they may adopt policies that would reduce pay for employees that opt to work from home.
Hero veteran's 'Oregon is burning' campaign ad sweeps the internet for originality and fire. A Republican running for Congress in Oregon blasted his far-left opponent for a dismal track record in representing their district in a fiery new campaign video. In the video released this week, Republican congressional candidate Alek Skarlatos declared that "Oregon is burning" as he called out Democratic Rep. Peter DeFazio, who has "been in office longer than I've been alive." The 27-year-old former Oregon National Guardsman, hailed as a hero for his part in thwarting a terrorist attack on a Paris-bound train in 2015, now wants to represent Oregon's 4th district in Congress.
Entire Rochester, NY Police Command Staff Resigns. Rochester has been having fiery but mostly peaceful protests ever since a mentally-ill man jacked up on amphetamines died while in police custody. He said he had covid and began spitting on officers, so, to protect Their Lives, which apparently don't matter, they put a spit-hood over him. Then he suffocated. "Mostly Peaceful Protesters" blame the spit-hood. I blame the spitting of disease on cops. I also blame the illegal amphetamines this lunatic was amped up on. They've been rioting since then, and now the whole leadership says Byeeee!
Propaganda for kids:
DC Comics 'Wonder Women Of History' To Feature 'Real World Heroes' Alexandria Ocasio-Cortez, Rashida Tlaib. DC Comics is releasing a new graphic novel celebrating the "Wonder Women of History," and included among 17 female "real-world heroes" will be leftist darlings Rep. Alexandria Ocasio-Cortez (D-NY), Rep. Rashida Tlaib (D-MI), and even former presidential candidate, Sen. Elizabeth Warren (D-MA). The list of "Wonder Women of History" also includes Supreme Court Justice Ruth Bader Ginsburg, tennis star Serena Williams, Beyonce, and alternative comedian Tig Notaro, as well as a number of social justice activists. No conservative women were included.
New Jersey orders American flags honoring 9/11 to be removed from overpasses. New Jersey's Department of Transportation has come under fire for ordering the removal of flags hung on overpasses in memory of lives lost on 9/11. Days before the anniversary of the September 11 terrorist attacks on The U.S., flags that have been hung on New Jersey highway overpasses for years were reportedly ordered to be taken down by the state's turnpike authority because they were deemed a "distraction."
The Editor says...
Ri-i-i-ight. But the state's own highway message boards are okay, even if they just have a placeholder message like "Click It or Ticket."
Alek Scarlatos is Running for Congress in Oregon's 4th District. Alek Scarlatos is running for Congress in Portland's 4th Congressional District. [...] Alek can win this district. Alek is running against Rep. Peter DeFazio who has held the seat since January 1987 before Alek was born. You may recognize Alek Scarlatos. In August 2015 Alek Scarlatos along with this friends Spencer Stone and Anthony Sadler took down an armed Islamic terrorist during his attack in the train from Belgium to France.
Minnesota Veteran Running for Congress Criticizes Obama-Era VA. Minnesota GOP congressional candidate Tyler Kistner told Fox Business on Friday [9/4/2020] the Obama-era Veterans Affairs was the "worst it had ever been." "Under the Obama administration ... our budget was cut. We had limited resources to effectively carry out our job, and Veterans Affairs was the worst it had ever been," Kistner, a former Marine, told Fox Business. "So I stand with our president and everything he's continuing to do for our military day in and day out."
UN Forced to Admit Gates-funded Vaccine is Causing Polio Outbreak in Africa. This really should be one of the biggest public health scandals of the decade, but instead it's given little attention — mainly because of the high-profile nature of the people and organisations involved. The United Nations has been forced to admit that a major international vaccine initiative is actually causing a deadly outbreak of the very disease it was supposed to wipe-out. While international organisations like the World Health Organization (WHO) will regularly boast about 'eradicating polio' with vaccines — the opposite seems to be the case, with vaccines causing the deaths of scores of young people living in Africa.
The Coming Coup? Democrats are laying the groundwork for revolution right in front of our eyes. As if 2020 were not insane enough already, we now have Democrats and their ruling class masters openly talking about staging a coup. You might have missed it, what with the riots, lockdowns and other daily mayhem we're forced to endure in this, the most wretched year of my lifetime. But it's happening. It started with the military brass quietly indicating that the troops should not follow a presidential order. They were bolstered by many former generals — including President Trump's own first Secretary of Defense — who stated openly what the brass would only hint at. Then, as nationwide riots really got rolling in early June, the sitting Secretary of Defense himself all but publicly told the president not to invoke the Insurrection Act.
Discover blocks donations to site raising money for Kyle Rittenhouse defense. Discover Financial Services has blocked customers from making donations on a Christian crowdfunding site that was raising money for accused Kenosha gunman Kyle Rittenhouse, a report said. GiveSendGo has raised more than $380,000 for the 17-year-old, who has been receiving support in some conservative circles who claim he acted in self-defense when he fatally shot two protesters with an AR-15 style rifle during a chaotic night following the shooting of Jacob Blake. The credit card company, in emails to Forbes, said the action was taken for operating regulation violations. The violation wasn't explained.
AG Barr on Michael Reinoehl's Killing: 'Our Cities Are Safer With This Violent Agitator Removed'. Attorney General William Barr on Friday lauded law enforcement after the killing of self-professed Portland Antifa member and murder suspect Michael Forest Reinoehl, saying American cities are safer with him off the streets. "Last Saturday, Aaron 'Jay' Danielson was shot and killed amid the continuing violence in Portland. Local authorities subsequently obtained an arrest warrant for Michael Forest Reinoehl, a self-described Antifa member suspected of the alleged murder," Barr said in a statement. "Reinoehl fled to Washington State, where he was located yesterday by members of a fugitive task force led by the U.S. Marshals Service, the FBI, and state and local law enforcement partners. When Reinoehl attempted to escape arrest and produced a firearm, he was shot and killed by law enforcement officers."
Jacob Blake pleads not guilty to sexual assault charges in virtual court appearance. Jacob Blake, the black man who was shot by a white cop in Kenosha, Wisc., last month, surfaced Friday for the first time since he was injured — to plead not guilty to previous criminal charges filed against him in July. Blake, 29, donning a blue button-down shirt and yellow tie, entered his plea by video from his hospital bed at Wisconsin's Froedtert Hospital. It was his first public appearance since he was shot seven times in the back by a Kenosha police officer Aug. 23, leaving him paralyzed from the waist down. His shooting sparked more widespread police-brutality protests.
Atlanta ICE operation nets 77 'worst of the worst' offenders. At least 77 "worst of the worst" accused offenders were arrested during an operation by the U.S. Immigration and Customs Enforcement (ICE) Atlanta Field Office earlier this summer, according to a report on Thursday [9/3/2020]. Most of the individuals arrested have had convictions for aggravated assault, cruelty towards children and other crimes that targeted the young, Thomas Giles, the ICE Atlanta Field Office director, told FOX 5. He said the operation — which spanned from July 13 to Aug. 20 — focused on individuals he deemed "the worst of the worst — the threats to public safety."
If a Republican does this, it's called going into hiding.
St. Louis mayor temporarily relocates following protests at her home. Mayor Lyda Krewson has temporarily relocated after a string of protests at her Central West End home. The mayor on Wednesday [9/2/2020] confirmed that she and her husband, former television reporter Mike Owens, have been living at an apartment, also in the Central West End. "We have not lived at home for 2 months," Krewson said in a text message to a reporter. "We did it to deescalate the situation, to save police resources, and importantly because our neighbors were being disturbed and threatened." The mayor said "for me it comes with the territory." "I ran for this job — my neighbors did not," Krewson said.
Students Think Trump's 2nd-Term Plans Are Great... When Told They Are Biden's. A new video highlights how young people agree with Donald Trump's second term agenda, just so long as they don't know it's the President's. Campus Reform told students that the plans, including going after human traffickers and terrorists, and ending wars to bring troops home. [Video clip]
DoJ: Operation Legend arrests 147 murder suspects — and 2,000 overall — in six weeks. How did the Department of Justice make over 2,000 arrests in less than two months of Operation Legend? In part by returning to the kind of effective law enforcement that cities have abandoned in 2020. US Attorney Justin Herdman told Fox & Friends that the efforts in nine cities have found almost 150 murder suspects since the late-July effort began, which is one reason why local police departments have welcomed federal help, Herdman claimed. The boost in resources at all levels allows officers to use broken-windows policing to find criminals who have been hiding in plain sight all along.
Court Documents Reveal Shot Kenosha Rioter Joseph Rosenbaum Was a Convicted Child Rapist. New court documents of the Pima County, Arizona circuit court reveal that Joseph Rosenbaum was convicted of various sex crimes against children in Arizona in 2002. Rosenbaum was killed in an altercation while rioting in Kenosha, Wisconsin last week. He is seen on camera lunging at 17-year old Kyle Rittenhouse, who eventually shot him, claiming he acted in self defense when Rosenbaum attempted to take the AR-15 rifle he was carrying.
Pedophiles are Using Cheese and Pizza Emojis to Share Child Porn Images on Social Media. Experts are warning that pedophiles are using cheese and pizza emojis to trade child pornography over social media. PDProtect, a London-based group, is warning that pedophiles are taking and sharing images of children that are uploaded by their own parents and sharing them with other creeps. "I couldn't just scroll past it as at the end of the day these are people's children," said India, the 27-year-old mother who founded the project, to The Telegraph.
Seattle mayor asks state Supreme Court to halt recall effort against her. Seattle Mayor Jenny Durkan filed a petition Monday asking the state Supreme Court to block an effort to recall her, arguing that the push is based on a policy disagreement and is vague about what she should have done differently in her handling of widespread protests in June. In appealing her case to the state Supreme Court, Durkan argued that she hadn't violated any law or standard.
Fox News' Chris Wallace to moderate first Trump-Biden presidential debate. "Fox News Sunday" anchor Chris Wallace has been selected to moderate the first presidential debate between President Trump and former Vice President Joe Biden, the non-partisan Commission on Presidential Debates (CPD) announced Wednesday [9/2/2020]. Wallace will moderate the first debate, which is scheduled to take place Tuesday, Sept. 29 in Cleveland. Fox News Media CEO Suzanne Scott celebrated the announcement in an email to staffers on Wednesday.
US Marshals Service 'Operation Safety Net' recovers 25 missing children in Ohio in its first two weeks. The U.S. Marshals Service recovered at least 25 missing children in Ohio in a two-week stretch as part of an ongoing operation in the Buckeye State. "Over the weekend U.S. Marshals rescued dozens of missing children across Ohio, many of whom were being trafficked." Gov. Mike DeWine said during a Tuesday [9/1/2020] news conference. "Operation Safety Net" is still in its first two weeks and is ongoing, according to the Marshals Service. It's being carried out in conjunction with local law enforcement agencies around northern Ohio.
Body cam: Knife-wielding woman killed after stabbing Jacksonville officer. Body camera footage released Tuesday [9/1/2020] shows the sequence of events leading up to what the State Attorney's Office ruled a justifiable police shooting. Leah Baker, 29, was shot and killed by police after attacking an officer who was answering an April 11 call about a dispute at a home in Northwest Jacksonville. The newly obtained video shows how quickly the encounter escalated.
Oregon State Troopers were deputized by the feds so they can make arrests on federal charges. There are a lot of moving parts to this one so let's quickly recap. There have been 95 straight nights of protests in Portland since the death of George Floyd and on 25 occasions those have been declared riots. Mayor Ted Wheeler has been more vocal lately about denouncing the violence and in response the mob has targeted him at his home with occupations, vandalism, arson and rioting. Mayor Wheeler has now told his neighbors that for their safety he plans to move.
The Editor says...
Ri-i-i-ight. I'm moving for your safety. Perhaps at your expense, too. It's a public service!
RFK's grandson Joe Kennedy III becomes the first member of his family to lose a Massachusetts election. Joe Kennedy III on Tuesday failed in his bid to take the Senate seat held by JFK, becoming the first member of his family to lose an Congressional election in Massachusetts. The 39-year-old grandson of Robert F. Kennedy lost to incumbent Sen. Ed Markey, 74, who has been in the Senate since 2013. Kennedy said Tuesday night that the results aren't the ones he'd hoped for, but pledged to work for Markey's reelection.
Fleet of moving trucks mark exodus from Manhattan's troubled Upper West Side. Moving trucks were out in force on Manhattan's Upper West Side on Saturday [8/29/2020] — leaving Guardian Angels founder Curtis Sliwa practically tripping over them. "The mass evacuation of Upper West Siders from NYC is in full effect," Sliwa, who lives on W. 87th Street, lamented, blaming the city's decision this summer to house hundreds of emotionally disturbed homeless and recovering addicts in neighborhood hotels. A mayoral candidate, Sliwa has been organizing and often leading Guardian Angels patrols of the area. "They were stacked up," Sliwa told The [New York] Post of the four trucks he saw as he took a morning walk on Saturday.
Shelley Luther, Dallas hair salon owner who defied Covid-19 shutdown, is running for office in Texas. Dallas hair salon owner Shelley Luther is running for state senate in Texas to represent local business owners and individuals who want to make their own informed decisions during the pandemic. Luther, a Republican, appears to be pro-choice as far as freedom of movement and face masks are concerned. Moreover, Luther described Gov. Greg Abbott's statewide mask mandate as "ridiculous" and believes that any further measures related to COVID should be subject to the approval by the state legislature "otherwise, we'll turn into a communist state." "I feel like if a business owner wants to require a mask to come in, then that's their right," she told Texas native Will Cain on Fox & Friends.
Should've waited for facts! Armed Blake fleeing, was wanted for alleged robbery, sexual assault. Non-fatal police shooting "victim" Jacob Blake of Kenosha, Wisconsin, may not be as innocent of a so-called "victim" as the media have portrayed him to be. In fact, according to his police records, he's an alleged sexual assaulter. The evidence is contained in charges that were filed against Blake on July 6, 2020, and subsequently obtained and published by the Daily Mail this Friday [8/28/2020]. According to the complaint, on May 3rd, Blake entered the home of his ex-girlfriend, identified as "LNB," and proceeded to sexually assault her.
Officer charged in George Floyd's death argues drug overdose killed him, not knee on neck. A defense attorney for the fired Minneapolis police officer charged with murder in connection with the death of George Floyd is asking a judge to drop all charges, arguing the 46-year-old man's death was allegedly from a drug overdose and not caused by the officer planting his knee in the back of Floyd's neck. Defense attorney Eric J. Nelson filed the motion in Hennepin County, Minnesota, District Court on Friday, claiming prosecutors have failed to show probable cause for charging Derek Chauvin with second-degree unintentional murder, third-degree murder and second-degree manslaughter. Chauvin has pleaded not guilty to the charges. Nelson contends Chauvin acted on his training from the Minneapolis Police Department (MPD) in the use of a "Maximal Restraint Technique" and did so out of concern that Floyd might harm himself or the officers struggling to arrest him.
This is why Jacob Blake had a warrant out for his arrest. The cops involved in the shooting of Jacob Blake — which touched off a fresh wave of angry, anti-police sentiment across the country — were attempting to arrest him for violating a restraining order stemming from an alleged sexual assault, The [New York] Post has learned. Blake, 29, was forbidden from going to the Kenosha home of his alleged victim from the May 3 incident, and police were dispatched Sunday following a 911 call saying he was there. The responding officers were aware he had an open warrant for felony sexual assault, according to dispatch records and the Kenosha Professional Police Association, which released a statement on the incident on Friday.
Latest Chicago and Minneapolis riots broke out over police killings that never happened. How do you restore order when people start riots over injustices that never happened? Tragically, as riots sparked by disinformation unfold in Minneapolis and Chicago, this is the question we now face as a country. Things are spiraling out of control. The riots that broke out in late May and June after the death of George Floyd in police custody were destructive beyond description. At least 15 people were killed during the wanton arson and looting. Meanwhile, thousands of businesses, many owned by people of color, were destroyed, looted, and vandalized. The economic fallout of this violence will haunt riot-torn urban communities for decades.
Biden campaign buys Keep America Great website domain to post anti-Trump messages. Joe Biden's presidential campaign took a wily move from the Trump campaign playbook, buying up the domain KeepAmericaGreat.com and using it to post anti-Trump messages. The slogan is frequently used by President Trump as part of his 2020 reelection effort. Instead of MAGA boilerplate, however, visitors to KeepAmericaGreat.com are confronted with a laundry list of Trump's alleged broken promises. "Trump isn't looking for a second term — he's looking for a do-over. Here's how Trump's record stacks up against the promises he made to the American people," reads an intro to the material. The website URL has existed in some form since 2004, though in recent years it has taken on a colorful new life among resistance trolls, according to the Internet Archive's Wayback Machine.
UCLA: Chinese visiting college researcher arrested, charged with destroying evidence. Once again, a Chinese national has been arrested and detained in the United States for his alleged activities as a military scientist. Guan Lei first came under investigation in July by the FBI. He was under suspicion for visa fraud and possibly transferred "sensitive software or technical data" from UCLA. Guan Lei studied machine-learning algorithms in UCLA's mathematics department. According to one FBI agent's affidavit, he transferred information to "high-ranking" officials in the Chinese military. He isn't charged with that, though. He is accused of destroying evidence. FBI agents staked out his apartment, saw him pull a computer hard drive from his sock and throw it into a trash dumpster. He tossed the damaged hard drive just days after he was interviewed by investigators and tried to board a plane back to China. It sure sounds like he's hiding something, right?
Criminal Complaint Against Jacob Blake Released, The Original Story His Lawyer Told Was a Lie. The criminal complaint which led to the outstanding warrants on Jacob Blake has been obtained and released. Blake was shot and wounded by police after assaulting an officer, resisting arrest, having a knife, and then trying to reach back into the car where the knife was late located. In the complaint, we see exactly why cops were pursing him, that they knew who he was when they were called, and why tensions were so high. [...] This completely changes the narrative. The first story told by the press and Blake's lawyer was that he was an innocent bystander just breaking up a fight. That was a total lie, as evidenced by the statement's of his own ex-girlfriend, who had a restraining order against him. In reality, he showed up and was attempting to steal her car. The warrant was for allegedly sexually assaulting the woman, among two other things. This also brings up the possibility that Blake was taking the children against the mom's wishes. Why else would they be in the car he was stealing at the time of this incident?
9th Circuit Appeals Court Rejects Oregon Judge's Order Protecting "Press" from Federal Agents in Portland. This bit of news slipped past on Thursday [8/27/2020] in the wake of events in Kenosha and the RNC Convention speech by Pres. Trump. One such story was the Ninth Circuit Court of Appeals temporarily blocking an Order from an Oregon judge placing restrictions on federal agents in Portland concerning their actions involving the press and legal observers. I have written two stories in recent weeks about orders by Federal District Court Judge Michael Simon in Portland — [an] Obama appointee — which placed restrictions on alleged conduct by federal law enforcement agents claimed by members of the "press" and "legal observers" as having been targeted at them by the agents. Judge Simon first issued a temporary restraining order, and later, after hearing additional evidence, entered a preliminary injunction which made the restrictions permanent while the case brought by news agencies and others was pending before him.
George Floyd's Brother Ends $14.7 Million GoFundMe Memorial Account, One Day Before the Release of 3-Month Old Toxicology Report Revealing Floyd Died Of Overdose. Two days after George Floyd's death in Minneapolis, MN, his brother, Philonise Floyd started a GoFundMe account to raise money for his estate and for grief counseling. The GoFundMe description, written by Philonise also mentions that the funds they collect will help to cover the costs of a funeral. George was buried in a gold casket and placed in a mausoleum as part of his elaborate funeral. Retired professional boxer Floyd Mayweather donated $88,500 to cover the costs of George Floyd's funeral. The GoFundMe campaign for George Floyd ended one day before the toxicology report was made public by the MN prosecution revealing the cause of George Floyd's death was a fentanyl overdose.
Fox News makes history with massive audience for Trump's GOP renomination acceptance speech. A whopping 9.2 million people tuned in to Fox News from 10 p.m. to 11:45 p.m. ET Thursday [8/27/2020] to watch President Trump accept his party's renomination for president to close the Republican National Convention. By contrast, no other network garnered more than 2.6 million viewers. More people tuned into Fox News Thursday night than did CNN, MSNBC, ABC, NBC and CBS combined. The viewing figures more than double the combined viewership of the two liberal cable news networks, with CNN averaging 2.2 million viewers and MSNBC pulling in 1.9 million viewers.
Kenosha police union gives its account of Jacob Blake shooting. The Kenosha, Wis., police union issued a statement Friday on the police shooting of Jacob Blake, an incident last Sunday that sparked protests and rioting in the city this week that led to at least two deaths. [...] In Sunday's incident, Blake was "armed with a knife" and "forcefully fought" with officers, putting one of them in a headlock, Brendan Matthews, an attorney for the Kenosha Professional Police Association, said Friday, according to Kenosha News. [...] Matthews said officers first tried unsuccessfully to subdue Blake with stun guns. Blake's lawyer claimed his client was trying to break up a domestic dispute before his arrest and he was unarmed at the time. The police union statement added that most accounts of the shooting were "wholly inaccurate" and "purely fictional," Kenosha News reported.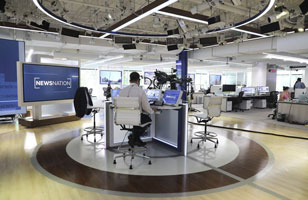 WGN America to launch 'News Nation' on Tuesday, aiming to transform the house that Bozo built into the next CNN. WGN America, the erstwhile home to Bozo and Andy Griffith, is set to reinvent itself as a cable news network with the Tuesday [9/1/2020] launch of "News Nation," a prime-time newscast that pledges to deliver unbiased reporting. The mission is to take a bite out of CNN, MSNBC and Fox News. Delayed but not derailed by the pandemic, WGN America has assembled a 150-person newsroom and has been making dry runs for several weeks of its nightly three-hour newscasts from extensively remodeled Chicago studios.
The Editor says...
That's a nice looking newsroom, but it is a mistake to put the primary news studio in one end of a TV newsroom. In a newsroom, especially when unexpected (bad) things are happening somewhere nearby, conversations tend to get clamorous, police scanners are chattering, and everybody's phone is ringing. The Happy Team doesn't like off-camera distractions. A television studio is supposed to be totally silent except for the voices of the on-air talent. Moreover, the modern TV studio has robotic cameras, and robotic cameras don't watch where they're going. The robot will stop if it runs over your foot, but by then, it has run over your foot.
U.S. Marshals Find 39 Missing Kids and Rescue 15 From Sex Trafficking in Atlanta. The U.S. Marshals Service put out a press release on Thursday announcing the recovery of 39 missing kids, some of whom were rescued from sex traffickers in Atlanta and Macon during Operation Not Forgotten in the state of Georgia. [...] The U.S. Marshal's Office is taking on child traffickers around the country. Historically, the U.S. marshals are famous for the manhunt. This kind of work is right up their alley and it was surprising to learn they had not been utilized to find missing children up until now.
The Kennedy dynasty may be well and truly over. When Joe Kennedy III, the undistinguished, 39-year-old, four-term Democratic congressman from Massachusetts, announced he would challenge longtime incumbent Ed Markey for the US Senate last September, the liberal media had its typical slobbering, Pavlovian response. Still does, despite a dramatic drop in the polls. "The Democratic representative hasn't come up with a good rationale for challenging progressive Senator Ed Markey in Massachusetts," The Atlantic said three weeks ago. "But with a name like his, it may not matter." Really? Great-Uncle Ted's run for president in 1980 couldn't be derailed by serial drunkenness, womanizing, cheating, nor lying — not even Chappaquiddick and the little matter of leaving a young woman to drown was enough. It was Ted's televised inability to answer that very question — "Why are you running?" — that did him in. Voters aren't stupid. They know the reason. The Kennedys think Massachusetts is their fiefdom, the Oval Office their birthright. Kennedys run because they are Kennedys.
BLM Mob Starts Looting to Protest Police Brutality After Black Murder Suspect Commits Suicide. It appears Black Lives Matter activists are so anxious for an excuse to riot that they won't even make sure the police were the ones who pulled the trigger when a black man loses his life. On Wednesday night, a large crowd started breaking windows and looting stores like Target at Nicollet Mall in Minneapolis following news of a black man dying after police pursued him. As it turned out, the man was a suspect in a murder case and he committed suicide to avoid arrest.
George Floyd Died of Health Complications from a Fentanyl Overdose — He Was Not Murdered By Minneapolis Police. Don't be misled by the headline. Derek Chauvin had his knee across the neck of George Floyd. The police did not find George Floyd in an alley with a needle in his arm. But Derek Chauvin did not cut off George Floyd's oxygen supply. Derek Chauvin's knee caused no trauma to George Floyd's airway. Derek Chauvin may have caused George Floyd to lose consciousness. But the medical cause of George Floyd's death was cardiopulmonary arrest due to pulmonary edema resulting from acute Fentanyl toxicity. [...] Floyd died in police custody on May 25. The Memo is dated June 1. The Attorney General for the State of Minnesota filed second-degree murder charges on June 3, after Democrat Minnesota Governor Tim Walz asked Ellison to lead the prosecution team. This document was filed in the District Court of Minnesota on Tuesday, August 25. It has been hidden from the public for nearly three months.
Hennepin County Medical Examiner Initially Said George Floyd Had Fatal Level of Fentanyl in His System. Newly released evidence filed in the case against the four former Minneapolis Police officers accused of murdering George Floyd indicate that a "fatal level" of fentanyl was found in Floyd's blood, suggesting that he died of an overdose, not asphyxiation. The toxicology report also found Methamphetamine, Norfentanyl, and 4-ANPP in Floyd's bloodstream.
Minnesota v. Derek Chauvin et al: The Prosecution's Dirty Little Secret. [Scroll down] So there they were, staring at the just-received and damning toxicology report that blew to smithereens the whole prosecution theory that the police had killed Floyd. To their undoubted dismay, Dr. Baker, the chief medical examiner, had to concede that at 11 ng/mL, Floyd had "a fatal level of fentanyl under normal circumstances." He also conceded that the fentanyl overdose "can cause pulmonary edema," a frothy fluid build-up in the lungs that was evidenced by the finding at autopsy that Floyd's lungs weighed two to three times normal weight. This is consistent with Officer Kueng's observation at the scene that Floyd was foaming at the mouth and, as found at autopsy, that his lungs were "diffusely congested and edematous." In other words, like a drowned man, Floyd's lungs were filled with fluid. And that was the obvious and inescapable reason why Floyd kept shouting over and over again that he couldn't breathe even when he was upright and mobile. The memorandum ends with Dr. Baker's devastating conclusion that "if Floyd had been found dead in his home (or anywhere else) and there were no other contributing factors he [Dr. Baker] would conclude that it was an overdose death."
Arson suspected as cause of ship fire at San Diego Navy base. Arson is suspected as the cause of a July 12 fire that left extensive damage to the USS Bonhomme Richard and a U.S. Navy sailor is being questioned as a potential suspect, a senior defense official said Wednesday. The sailor was being questioned but was not detained and defense department leaders were notified of the development, the official said.
No, It's Not New for a Cabinet Secretary to Address a Political Convention. Over at Slate, Fred Kaplan fumes about Mike Pompeo's speech from last night and writes, "no secretary of state has ever spoken at a party convention. The Hatch Act forbids federal employees from taking part in political campaigns. Pompeo also violated his own guidance, sent to his underlings on Feb. 18 of this year. A bold-faced sentence in that memo read: 'Senate-confirmed Presidential appointees may not even attend a political party convention or convention-related event.'" But the Hatch Act doesn't bar cabinet officials from speaking at political events. The rules state that a cabinet official "may not use the official title 'Secretary' when engaging in political activity, such as speaking at a political campaign event. However, a Cabinet secretary may use a general form of address, such as 'The Honorable,' when engaging in political activity, as such address does not identify his or her position."
Tom Fitton sharply criticizes the Durham probe.. Something is wrong. Durham is NOT investigating. Looks like a sham. [Video clip]
Young woman in Detroit declared dead by paramedics, found alive at funeral home. A 20-year-old woman was discovered this past weekend breathing at a Detroit funeral home hours after she was declared dead by paramedics and sent to the mortuary by her bereaved family. "While it is our practice not to comment on open investigations, we can confirm that on Sunday, August 23, 2020, we received a call to pick up a Southfield woman who was deceased. Upon her arrival at the funeral home, our staff confirmed she was breathing and called EMS," the mortuary told ABC News on Monday [8/24/2020].
Hungry New Yorkers form quarter-mile line for free food in Queens. The line stretched a quarter-mile before the sun was barely up Saturday, snaking around corners like bread lines in the 1930s. But the hungry in Queens are today's New Yorkers, left jobless by the coronavirus. Until the pandemic struck the city, La Jornada food pantry used to hand out groceries to roughly 1,000 families a week. Now, the figure tops 10,000. And volunteers serve lunch every day to 1,000 — many of them kids with growling stomachs. Across the five boroughs, the hungry number in the hundreds of thousands, the Food Bank of New York estimates.
The Editor says...
People always line up for free stuff, whether they're really hungry or not.
Chinese Government Urges Dam Operators at Maximum Capacity to Hold Back the Flood. Pressuring operators of dams which are already at or near maximum capacity to try to hold back anticipated severe flooding in my opinion puts the structural integrity of the entire river system at risk. One of the worst dam failures in history occurred in 1975, after Typhoon Nina dumped water upstream of the Banqiao Dam. Whistle blower Chen Xing had warned Banqiao Dam was defective but his warnings were ignored. Authorities rejected a plea from dam operators on August 6th to open the floodgates. This order to keep the flood gates closed was rescinded on August 7th, too late to save the dam. Up to a quarter of a million people are estimated to have died because of the Banqiao Dam failure.
Houston police chief recruits officers from defunded police departments: 'We're hiring'. Houston Police Chief Art Acevedo is inviting officers laid off by defunded police departments throughout the country to join his force telling "Fox & Friends Weekend" on Sunday [8/23/2020], "We're hiring." "We're fortunate we have a mayor and a council .. that understands that our community doesn't want less policing, they don't want to defund the police, they want better policing and they want good cops," Acevedo said. He made the comments amid a growing push across the country to defund or dismantle police departments, following the death of George Floyd in police custody.
Chipotle keeps the change — without customers' permission, lawsuit claims. Cashiers at the Chipotle restaurant chain have been rounding off customers' tabs a little too well, according to a lawsuit. Some of the chain's locations in Pennsylvania have been keeping the change by hundreds of thousands of dollars, the suit claims, KDKA-TV of Pittsburgh reported. The state attorney general's office has received at least seven complaints, reports said.
The Editor says...
The plaintiffs must be credit card customers. If you pay with cash, you would notice this immediately.
FL airport discovered live missile, evacuated. The Lakeland Linder Airport in Florida was forced to evacuate on Friday [8/14/2020] after an airport employee discovered a container with a live missile in it. BayNews9 reported officials cleared the airport and the surrounding area after the discovery of the missile. Officials who spoke with another outlet, ABC Action News, said the missile they found Friday evening "was live, but it not armed."
Court Affirms Right Of California Church To Meet Indoors. Grace Community Church in Sun Valley, California is affirmed in its right to host indoor worship services after a Los Angeles County Superior Court ruled that there is no court order preventing it. The ruling comes just a mere week after an emergency order enacted by the California Court of Appeals made it again illegal for the church to meet indoors. "We are pleased with the outcome today. Judge Mitchell L. Beckloff correctly found there is no court order prohibiting Grace Community Church from holding indoor services," said Jenna Ellis, one of the Thomas More Society attorneys representing the church and Pastor John MacArthur.
You Don't Really Own Your Own Gadgets. The water filter inside a household refrigerator is a simple device: a plastic tube packed with activated carbon. Nonetheless, replacement filters for certain GE refrigerators cost a stiff $55. And they need to be replaced every six months. So it's no surprise that many GE fridge owners seek cheaper generic filters. These fit just fine. But when the owner presses the button to dispense water or ice, nothing comes out. The culprit is a bit of engineering almost as ingenious as it is infuriating. It seems that official GE replacement filters include a small RFID chip whose only purpose is to tell the refrigerator that an up-to-date GE-brand filter has been installed. If a customer installs a generic filter, the water system shuts off.
The Editor says...
Solution: Tape the old water filter next to the new water filter, so the refrigerator can still sense the RFID chip. The sensor is probably close to the filter. Even if this only works for a year or two, you'll be better off.
Army investigating soldiers who appeared in DNC video. The Army is launching an investigation into two soldiers who appeared in uniform during Democratic National Convention coverage Tuesday night, the service announced Wednesday [8/19/2020]. During the broadcast, two soldiers in uniform flanked officials from American Samoa while the territory awarded its delegates during the roll call at the Democratic National Convention. The appearance goes against Defense Department regulations, which prohibit all troops from being in uniform at partisan political or campaign events.
Army investigating uniformed soldiers who appeared in DNC roll-call vote. The Army announced it has launched an investigation into how two uniformed soldiers appeared on camera during the televised roll-call vote at the Democratic National Convention. The two service members, who are assigned to the Army Reserve's 9th Mission Support Command, raised concerns that they had violated Defense Department rules after they were seen standing with delegates from American Samoa during the state roll call. The Pentagon strictly forbids uniformed personnel from appearing at political engagements as part of its longstanding effort to keep the military as apolitical as possible.
Democrats Blew $5.3 Million On Failed Bid To Shape Kansas GOP Primary Results. Political action committees aligned with Senate Minority Leader Chuck Schumer and Emily's List, a pro-choice group, paid a dark money group $5.3 million in a failed bid to shape the results of the Kansas Republican Senate primary, according to campaign finance records released Thursday night [8/20/2020]. A mysterious super PAC called Sunflower State popped up in June and began a relentless media campaign in Kansas aimed at portraying Republican Rep. Roger Marshall as insufficiently conservative compared to his opponent, former Kansas Sec. of State Kris Kobach. Democrats apparently saw an easier path to victory in November against Kobach, who lost the 2018 race for governor to Laura Kelly, a Democrat. Sunflower State's effort failed, as Marshall won a decisive victory over Kobach in the state's primary on Aug. 4.
Goodyear Says BLM, LGBT 'Acceptable'; MAGA, Blue Lives Matter, Not So Much. We can add "America's Tire Company" to the long and growing list of virtue-signaling corporations that continue to prostrate themselves before the Black Lives Matter altar of pretend "systemic racism." And for virtue-signaling extra credit, Goodyear Tire & Rubber Company has told its employees that terms like MAGA, Blue Lives Matter, and All Lives Matter are "unacceptable" in the workplace. As reported by WIBW 13 News in Topeka, Kansas, a Goodyear employee leaked a screenshot of a slide that was presented during a diversity training session showing what's acceptable and what isn't acceptable as part of the company's new zero-tolerance policy. [...] In the eyes of the Left, tolerance is a one-way street. Those of us on the Right must be tolerant of their beliefs, causes, and everything else they foist upon us. When we're not, we are immediately labeled (pick one or more): "racist," "white supremacist," "bigoted," "homophobic," Islamophobic," "misogynistic," or worse. That reality has never been clearer than in the aftermath of George Floyd's death.
Donald Trump Reacts to MAGA Hat Ban: Do Not Buy Goodyear Tires. President Donald Trump on Wednesday reacted to a viral image showing Goodyear Tire had banned employees from wearing MAGA attire. "Don't buy GOODYEAR TIRES — They announced a BAN ON MAGA HATS," Trump wrote on Twitter. "Get better tires for far less!"
Need New Tires? Don't Buy From Goodyear. I'm currently searching for new tires for our car, and was looking seriously at a 50,000-mile set from the Goodyear Tire and Rubber Company. After all, it's a great American company — or at least it used to be — and I'm all about buying American since China's government intentionally spread a deadly virus all over the world. But that consideration of ever buying from Goodyear ended this morning when news broke about a new attire policy the company has adopted for its employees.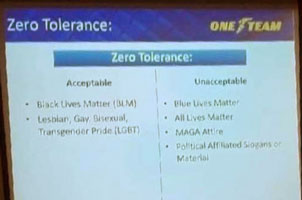 Goodyear Bans Employees From Wearing 'All Lives Matter,' 'Blue Lives Matter' or MAGA Slogans, But Says Black Lives Matter is Allowed. A slide has leaked from a Goodyear diversity training which brands "Blue Lives Matter," "All Lives Matter" and "MAGA" attire "unacceptable," while deeming Black Lives Matter and LGBT slogans to be "acceptable." The leaked slide is of their "zero tolerance" policy towards support for police or conservative values. According to a report from WIBW, the person who took the photo of the slide said that it was presented at a Topeka plant by an area manager and says it came from their corporate office out of Akron, Ohio.
Trump backs boycott of Goodyear over 'MAGA hat ban'. Trump called for a boycott of Goodyear tires Wednesday [8/19/2020] after the company's workplace tolerance policy banned his trademark #MAGA caps as a display of hate speech on the job. "Don't buy GOODYEAR TIRES — They announced a BAN ON MAGA HATS," Trump tweeted.
The Editor says...
I was once a loyal Goodyear customer, because I liked the local dealer, but I'll never buy Goodyear tires again.
It's too late now!
Goodyear president affirms company's support for police, says employees can wear pro-police clothing. Goodyear Chairman, CEO and President Rich Kramer on Thursday released a statement following public uproar over a slide shown at a Topeka, Kansas plant that suggested pro-police apparel should be banned. The slide categorized "Blue Lives Matter," "All Lives Matter," "MAGA Attire" and "Political Affiliated Slogans or Material" as "unacceptable" but described "Black Lives Matter" and "Lesbian, Gay, Bisexual Transgender Pride" as "acceptable." "The slide in question was created by a plant employee to try to explain what is acceptable to wear in the workplace. The slide was not approved or distributed by Goodyear Corporate or anyone outside of that facility," Kramer explained.
The Editor says...
Really? Then show me the list of people inside that facility who have been fired as a result of this incident.
Goodyear clarifies policy on MAGA, pro-police gear after Trump boycott call. Goodyear clarified its policy on acceptable workplace attire on Thursday, one day after reports that one of its facilities in Topeka, Kansas had banned "Make America Great Again" and "Blue Lives Matter" apparel which prompted President Trump to call for a boycott of the Ohio-based company. Goodyear Chairman and CEO Rich Kramer said the slide from a presentation at the Topeka plant "was not approved or distributed by Goodyear Corporate or anyone outside of that facility." The company has clarified its policy to inform employees that they can "express support for law enforcement through apparel at Goodyear facilities," but are asked to "refrain" from wearing apparel of a political nature.
The Editor says...
Obviously, BLM is "of a political nature," just like MAGA.
Goodyear is Run By Idiots. Get woke — Go broke, strikes again. When you consider the scale of the company and the resources available to them on branding and marketing, one can only come to the reasonable conclusion that Goodyear is run by idiots.
Update:
Audio from Goodyear training session reveals more about the company's 'zero tolerance' policy. New audio reveals why Topeka Goodyear said All Lives Matter, Blue Lives Matter and MAGA attire are unacceptable.
Goodyear hands a political triumph to Trump. In terms of the reality TV show of the presidential campaign, Goodyear has caved-in to Donald Trump's pressure and affirmed its support for law enforcement, handing a potent symbolic victory to his reelection effort. The now-notorious Topeka "zero tolerance" slide framed a simple tale of PC bullies taking over a corporation and terrorizing the employees into verbal conformity, silently hewing to the party line with all the enthusiasm of a 1986 East German. [...] By midday, yesterday [8/20/2020], after trying to weasel their way out with inside baseball about corporate versus Topeka, the Chairman of the Board surrendered and affirmed the company's "support for law enforcement."
Former CIA Officer Arrested as Chinese Spy: You'll Never Guess Who Hired Him. On Monday morning [8/17/2020], it was announced in Honolulu, Hawaii, that a naturalized US citizen, Alexander Yuk Ching Ma, 67, originally born in Hong Kong, has been charged with espionage on behalf of the People's Republic of China. [...] The charges against Ma could result in life in prison. What intrigues me about the complaint is that I have strong suspicions the level of detail provided is not consistent with espionage activities that were only uncovered after the fact, and pieced together in a historical analysis. The fact that someone has had a video for nearly two decades of that March 2001 five day session in a Hong Kong hotel room strongly suggests that Ma was not a complete "unknown" on his first day reporting to work in Honolulu. There might be much more to this story if it does actually play out in a Hawaii federal courtroom.
When has the Washington Post, or any newspaper, called anyone a "left-wing commentator?"
Right-wing commentator Loomer wins GOP primary in Trump's Palm Beach district. A right-wing commentator supported by Roger Stone and Alex Jones defeated five opponents in the Florida Republican primary Tuesday in the congressional district that includes Mar-a-Lago and its notable voters, President Donald Trump and first lady Melania Trump. Laura Loomer, 27, will face four-term Rep. Lois Frankel, a Democrat, in the November general election. Frankel, who has served in Congress since 2013 and ran unopposed two years ago, easily defeated primary challenger Guido Weiss, a former legislative assistant for Rep. Tulsi Gabbard, D-Hawaii. Frankel will be the favorite in the heavily Democratic district that covers a swath of Palm Beach and Broward counties.
GoFundMe for Cannon Hinnant, boy fatally shot in head by neighbor, raises $700K. A GoFundMe account has raised some $700,000 for the family of a North Carolina boy shot in the head and killed by a neighbor. Cannon Hinnant, 5, was riding his bike outside his home last Sunday when Darius Sessoms, who lives next door to Cannon's dad, allegedly ran up and shot the child at point-blank range. Sessoms has been charged with murder. "He was merely doing what he would do any other day and that's playing with his sisters, riding his bike, doing what kids do and all of the innocence that comes with being a child," wrote Gwen Hinnant, who listed herself as Cannon's grandmother and started the fundraiser to pay for the boy's funeral.
North Koreans are ordered to hand over 'decadent and bourgeois' pet dogs for 'restaurant meat' as the country is rocked by food shortages. Kim Jong-un has declared that pet dogs are a symbol of capitalist 'decadence' and ordered that dogs in Pyongyang be rounded up — and owners are fearful that their beloved pets are being used to solve the nation's food shortages. Dictator Kim announced in July that owning a pet is now against the law, denouncing having a dog at home as 'a tainted trend of bourgeois ideology'. 'Authorities have identified households with pet dogs and are forcing them to give them up or forcefully confiscating them and putting them down', a source told South Korea's Chosun Ilbo newspaper.
Millie Weaver faces her first court hearing this morning after being arrested and jailed last Friday. New media reporter Millie Weaver is scheduled to have her first court hearing this morning after a weekend in jail following her arrest last Friday [8/14/2020]. Weaver's arrest came on the eve of the release of her 82-minute documentary, Shadow Gate, that is an exposé of the Deep State with the assistance of two individuals identified as whistleblowers. Her arrest and incarceration in the Portage County Jail in Ravenna, Ohio immediately raised suspicions that she was being subjected to a scary new level of intimidation and censorship. Millennial Millie, as Weaver is known, is a conservative rising star on the new and alternative media landscape, having worked as a reporter and contributor for Infowars since 2012 and lately on her own as well. She has developed a loyal following, and there is widespread interest in the outcome of the legal case against her.
Wuhan launches air cargo route to Dallas, LA. A new air cargo route linking Wuhan in central China's Hubei Province and Dallas and Los Angeles in the United States was launched on Sunday [8/16/2020]. An all-cargo flight carrying 110 tonnes of exported auto parts and electronic products took off from Wuhan Tianhe International Airport at noon on Sunday for Dallas. It was the third regular, intercontinental air cargo route opened by the airport, and the only all-cargo flight to Dallas in China. After arriving in Dallas, the aircraft continued on to Los Angeles.
Bulletproof vest sales soar amid surge in NYC shootings. With bullets flying over Broadway, New Yorkers are buying up bulletproof vests. Midtown dealer Brad Pedell — who runs 221B Tactical — claims sales of body armor are up 80 percent this year compared with 2019 due to the "unrest" in the city and nationwide. "You wouldn't believe the people who call up and say, 'I'm scared,'" Pedell told The [New York] Post. He said most buyers are from the Bronx and Brooklyn, where shootings have skyrocketed. Pedell's customers tend to keep their purchases — and motivations for buying — to themselves.
4 Things to Know About the Prosecutor Who's Probing 'Obamagate'. A federal prosecutor in Texas is drawing a new kind of attention by digging into the "unmasking" of Trump campaign associates that occurred in the waning days of the Obama administration. Attorney General William Barr last month revealed to the House Judiciary Committee that he had assigned U.S. Attorney John Bash of the Western District of Texas to probe what the Obama administration did in the name of national security. [...] John Franklin Bash III, now 37, went to work in the Trump White House counsel's office in early 2017 as special assistant to the president and associate counsel to the president. [...] "John Bash is a brilliant lawyer who will be an outstanding United States attorney," [Senator Ted] Cruz said in a prepared statement when Trump nominated him. "He is committed to the fair and effective enforcement of the law, and has the integrity, judgment, and skill necessary to serve the people of the Western District as its chief federal law enforcement officer."
Oregon State Police Leave Portland After Woke Prosecutor Refuses to Charge Rioters. For weeks, the Marxists who run Portland complained about the outsized presence of federal agents and officers sent to protect the Mark O. Hatfield United States Courthouse. It was an invasion ordered by President Donald Trump, you see. [...] That's nonsense, of course, but to sane people, little of what emanates from Portland these days makes much sense. In any event, in response to the constant harping and whining from people like Mayor Ted Wheeler and Gov. Kate Brown, the Trump administration cut a deal to gradually redeploy federal protective service officers and other DHS agents out of the courthouse and out of Portland, replacing them with local and Oregon State Police. Well, no sooner than that happened, the Antifa thugs that have been allowed to run wild through Portland streets re-focused their attention back on local cops — and State Patrol officers — as nightly riots continued. Now, according to The Daily Wire, the Oregon State Police has had enough of the Left-wing lunacy in Portland after the Marxist district attorney announced he wouldn't be prosecuting anyone for the 'peaceful' act of violent rioting.
Oregon State Police Pull Out of Portland — Local DA's Refusal To Prosecute Behind The Move? Return of Feds At Hand? Very interesting development earlier today [8/14/2020], as the Oregon State Police announced they were leaving Portland. [...] Local reporting says that the move is a result of the announcement by Multnomah County District Attorney Mike Schmidt's that his office does not intend to prosecute most of those arrested. [...] The deployment of the State Police in support of the Portland PD was the product of an agreement reached between Democrat Oregon Governor Kate Brown, and officials of the Trump Administration, which came after weeks of escalating violence in the rioting at the Hatfield Federal Courthouse in Portland. Prior to the agreement being reached two weeks ago, the Portland Police Department had been ordered by Portland Mayor Ted Wheeler to leave federal law enforcement agents defending the courthouse to fend for themselves, and did nothing while rioters organized themselves and provided for their logistical needs in the parks across the street from the courthouse.
Facebook's "Offshore Drilling" Mishap. The drilling incident occurred on April 28, 2020. They didn't notify the Oregon Department of State Lands about the incident until June 19, thus eliminating "any potential options for recovery of the equipment."
The Case for Trump. Americans who want to remain citizens of a united country that at least makes some desultory attempt to protect them and further their interests have no choice but to stay the course. As the saying goes, the only way out is through. [...] [T]here's little wrong with President Trump that more Trump couldn't solve. More populism. More nationalism. More patriotism. More law and order. [...] In short, more adherence to the 2016 agenda. The only way to get more Trump is, literally, to get more Trump. Which means the president being reelected and implementing his core agenda in a second term. But that alone will not be enough. Saving America as a unified, self-governing republic is a long-term — possibly generational — project.
New York Uses Coronavirus as Excuse to Cancel 9/11 Light Tribute. "The iconic Lower Manhattan 9/11 memorial display that features twin beams of light to honor victims of the terror attacks will not shine this year over coronavirus concerns," reports the New York Post. "The annual 'Tribute in Light' display requires a large crew to pull off ... posing health risks this year that 'were far too great.'"
The Editor says...
Additionally, this pushes the 9/11 attacks one step closer to the Memory Hole.
Update:
'Tribute In Light' Memorial To 9/11 Victims No Longer Canceled. The 9/11 Memorial and Museum announced that the annual "Tribute in Light" — an artistic light installation that projects twin beams into the Manhattan skyline as a memorial to the victims of the September 11 terrorist attacks — actually won't be cancelled this year after all. "For the last eight years the 9/11 Memorial & Museum has produced the Tribute in Light and we recognize the profound meaning it has for so many New Yorkers. This year, its message of hope, endurance, and resilience are more important than ever," said museum president Alice Greenwald in a statement. "In the last 24 hours we've had conversations with many interested parties and believe we will be able to stage the tribute in a safe and appropriate fashion."
Federal court rules all-male military draft is constitutional. A federal appeals court in New Orleans on Thursday [8/13/2020] ruled that the all-male military draft system is constitutional, pointing to a 1981 decision by the U.S. Supreme Court. The case, which was argued in March, stemmed from a lawsuit filed by two men with the National Coalition for Men who had challenged the historic male-only draft. They had argued that the 1981 case was outdated and was ruled on when women were not as involved in combat as many are today. The 5th U.S. Circuit Court of Appeals rule[d] that "only the Supreme Court may revise its precedent."
Somebody New Is Cracking Down On "Unauthorized Parties" And It's Not The Government. As we've recently seen, California is cracking down on people throwing house parties in defiance of state-ordered bans on large gatherings of people, particularly when they fail to practice social distancing. They're going so far as to cut off water and electrical services to residents engaging in such behavior. Or at least they would like to crack down on them, assuming they can get the police to enforce the rules. But it's not just the Governor and Mayor Garcetti who are throwing down the gauntlet and reining in these scofflaws. There's a new sheriff in town and it's Airbnb. The company has "taken action against" one guest on their platform who rented out a house for a large party that wound up including a gunfight where multiple people were shot.
Disney kills off the Fox name: Conglomerate renames 20th Century Fox Television and replaces iconic title card. The Walt Disney Company has purged the remaining Fox branding from assets it acquired in a 2017 deal, renaming 20th Century Fox Television as simply 20th Television. It comes as part of a larger rebrand for all of Disney's TV studios, with Fox 21 Television Studios renamed Touchstone Television and ABC Studios and subsidiary ABC Signature merging under the ABC Signature banner.
Retail Chains Abandon Manhattan: 'It's Unsustainable'. For years, Bryant Park Grill & Cafe in Midtown Manhattan has been one of the country's top-grossing restaurants, the star property in Ark Restaurants' portfolio of 20 restaurants across the United States. But what propelled it to the top has vanished. The tourists are gone, the office towers surrounding it are largely empty and the restaurant's 1,000-seat dining room is closed. Instead, dinner is cooked and served on its patio, and the scaled-down restaurant brings in about $12,000 a day — an 85 percent plunge in revenue, its chief executive said.
There's a shortage of Dr. Pepper amid the COVID-19 pandemic. The iconic soda brand confirmed on Aug. 10 that there is indeed a shortage impacting all Dr. Pepper products at grocery stores. While it didn't cite a specific cause, the company comforted fans with some hopeful words.
Russian Collusion Perps Target Johnson. Still unpunished for the first go-around, Russian collusion perpetrators are taking aim at a new target this time: Senator Ron Johnson (R-Wis.), chairman of the Senate Homeland Security and Governmental Affairs Committee. The news media and Democratic lawmakers are accusing the two-term senator of acting as an agent of Russia for continuing to pursue his investigation into the Biden family's shady ties to Burisma, the troubled Ukranian energy company that paid Hunter Biden millions of dollars while his father was vice president and Obama's designated "point person" in Ukraine. The onslaught began last month when Politico reported Johnson planned to subpoena Biden associates after they refused to voluntarily testify.
Seattle's First Black Female Police Chief Resigns After Budget Cuts. Seattle Police Chief Carmen Best announced Monday evening she is retiring, the same day the city council voted to slash police department funding. "This was a difficult decision for me, but when it's time, it's time," Best said in an email to the police department. The first black woman to serve as police chief in Seattle, Best will step down on Sept. 2.
Seattle's police chief stepping down after City Council votes to trim department, sources say. Seattle's Police Chief Carmen Best is stepping down, multiple sources tell the CBS affiliate there, KIRO-TV. One source calls the development "devastating." The move came to light made the same day the City Council approved reducing the department's ranks by as many as 100 officers through layoffs and attrition, note's KIRO's Gary Horcher[.]
House won't return until mid-September amid coronavirus gridlock. The House's No. 2 Democrat announced Monday the lower chamber will not return for votes in Washington until mid-September after negotiations between Democratic leaders and the White House on the next coronavirus relief measure collapsed last week, leaving millions of jobless Americans without immediate relief. According to the schedule released by House Majority Leader Steny Hoyer on Monday, the House will not convene for votes until September 14.
Ousted 'Diamond and Silk' call on fans to 'ditch and switch' from Fox News after joining new network. Pro-Trump personalities "Diamond & Silk" have joined the Newsmax TV line-up after being ousted from Fox Nation earlier this year following a controversial episode. The duo — Lynnette Hardaway and Rochelle Richardson — are hosting the program, "Diamond and Silk Crystal Clear," which debuted on Saturday at 7:30 p.m. EST. Their show follows conservative pundit and author Michelle Malkin, who hosts, "Michelle Malkin Sovereign Nation." The duo was released from the subscription-only Fox Nation in April after they allegedly pushed coronavirus 'conspiracy theories' and "disinformation," BizPac Review reported at the time.
Seattle City Council Votes to Lay Off 100 Police Officers. The Seattle City Council voted unanimously on Wednesday in support of police budget proposals that would lay off 100 police officers, despite objections from the city's mayor and police chief. The city council began to reexamine the police department's budget earlier this summer in response to anti-police protests. Mayor Jenny Durkan (D.) and police chief Carmen Best criticized the most recent set of proposals, which would also end the removal of homeless people from the city's streets and cut salaries for police leadership. Durkan said the cuts would hit the "most diverse class" of officers the city has ever had, as police union rules mandate that layoffs are determined by seniority.
This probably has a lot to do with voter fraud:
Fake driver's licenses flooding into US from China, other countries, US says. Counterfeit documents are giving criminals a license to commit a host of offenses, including terrorism, U.S. officials say — and young adults who are lax with their personal information may be their biggest enablers. In the first six months of 2020, Customs and Borden Protection officers seized nearly 20,000 counterfeit U.S. driver's licenses at Chicago's O'Hare airport alone, according to a report. The 19,888 licenses and other fake documents were included in 1,513 overseas shipments, mostly from China and Hong Kong, CBP said, according to FOX 5 in New York City. Others were from South Korea and Britain.
Report: Shipment of Nearly 20 Thousand Fake U.S. Drivers Licenses From China Were Just Confiscated at Chicago Airport. Why are the Chinese making so many fake U.S. driver licenses? That's a disturbing little tidbit to discover, especially right before an election, right? According to U.S. Customs and Border Protection, the bulk of these fake U.S. IDs flooding into the country come from China and Hong Kong, with the rest coming in from South Korea and the U.K. Officials in Chicago just confiscated a shipment of these fake IDs totaling nearly 20 thousand.
Meet Kanye West's presidential running mate, Michelle Tidball. The world may be long familiar with rap superstar Kanye West, but not many know his vice presidential running mate, Michelle Tidball. Tidball is a 57-year-old spiritual coach who, like West, lives on a ranch in Cody, Wyoming, and has a deep religious background. [...] Tidball touted on the now-deleted page that she has "various degrees in mental health and criminal justice." The only known degree she has, however, is a bachelor's in psychology from the University of Wyoming in 2003, according to TMZ.
Milwaukee police chief demoted over tear gas use, other concerns. An oversight board demoted Milwaukee Police Chief Alfonso Morales after questioning how he handled multiple incidents, including ordering officers to fire tear gas and pepper spray at protesters demonstrating over George Floyd's death.
Milwaukee FPC votes to demote police chief to captain for role in MPD's protest response. The Milwaukee Police and Fire Commission (FPC) voted to demote Milwaukee Police Chief Alfonso Morales to the rank of captain on Thursday, Aug. 6. The commission also voted to appoint Assistant Chief Michael Brunson as acting police chief. The possibility of disciplining Morales came after he ordered officers to use tear gas to break up protests over George Floyd's death. It was the last straw for some FPC members who were upset over how Morales has handled incidents since the arrest of Milwaukee Bucks player Sterling Brown in 2018. The commission's vote on Thursday took just minutes to conclude. Acting Chief Brunson will be given two weeks to choose his command staff.
Obesity may cause cancer simply because larger organs have more cells. CT scans of 750 individuals show that people who are obese have larger organs and thus more cells. This could explain why people who are obese have a higher risk of many kinds of cancers. "While obesity is a complex disease that may affect cancer risk in several other ways, the increase in the size of an organ, and in the number of its cells, must increase the risk of cancer in that organ," states the team, which is led by Cristian Tomasetti at the Johns Hopkins University School of Medicine.
The Citadel Will Require All Cadets to Take Class on the Constitution. The Citadel, a military academy in South Carolina, has announced that it will require all students to take a course on the United States Constitution. The decision comes in the aftermath of discussions by state lawmakers to enforce a decades-old law that requires public institutions to teach a course on the Constitution. According to a report by Campus Reform, The Citadel, a military academy in South Carolina, announced this summer that it will introduce a mandatory course on the U.S. Constitution.
Pelosi, Schumer Send Urgent Letter to Postmaster General Demanding Reversal of Operational Changes to USPS Ahead of Election. House Speaker Nancy Pelosi (D-CA) and Senate Minority Leader Chuck Schumer (D-NY) on Thursday [8/6/2020] sent an urgent letter to Postmaster General Louis DeJoy demanding he reverse the recent operational changes to the USPS that "threaten the timely delivery of mail" ahead of the 2020 election. The Democrat-media complex exploded last week and accused President Trump of "destroying" the US Postal Service after the President's newly appointed postmaster general made structural changes. New changes made by Louis DeJoy have reportedly 'slowed down' the mail deliveries, prompting the left to accuse President Trump of corrupting the US Postal Service in order to deter people from using mail-in ballots for the November election.
Amateur Video Shows The MASSIVE Explosion And Mushroom Cloud In Lebanon. Beirut, Lebanon (CNN)A massive explosion ripped through the Lebanese capital Beirut on Tuesday, injuring many people and blowing out windows in buildings across the city. The source of the explosion was initially believed to be a major fire at a warehouse for firecrackers near the port in Beirut, the state-run National News Agency reported.
What the videos of the Beirut blast tell us about the explosion. The massive explosions in a Beirut port on Tuesday [8/4/2020] provoked fear, then speculation after an eerie, white cloud enveloped the lenses of bystander videos, with many suggesting online that it looked something like a nuclear blast. But the building consensus among arms experts and Lebanese officials is that the explosion, which killed at least 100 people and injured thousands more, may have been ignited by burning chemicals stored at a warehouse. Many not accustomed to seeing large explosions may conflate mushroom clouds and spherical blast waves as nuclear, said Jeffrey Lewis, an arms-control expert and professor at Middlebury Institute of International Studies at Monterey. "But some of the things we associate with nuclear explosions are just associated with explosions."
Primary battles paint a surprising picture of GOP vs. Democrats. Establishment Republicans dodged a bullet in Tuesday night's [8/4/2020] round of primaries while Establishment Democrats took one to the heart. In the Kansas GOP primary, Rep. Roger Marshall triumphed over former Secretary of State Kris Kobach, allowing him to run for the seat now held by retiring GOP Sen. Pat Roberts. Marshall appears to have won by a comfortable margin, 40% to 26%, much to the relief of Republican Party leaders trying to keep control of the Senate this fall. In early polling, he leads his Democrat rival, Barbara Bollier.
Bill Gates issued a stark warning for the world: 'As awful as this pandemic is, climate change could be worse'. Bill Gates has advocated for pandemic preparedness for years, and famously gave a TED talk in 2015 that warned of the potentially staggering death toll a worldwide pandemic could create. Now, Gates is once again urging preparedness for a potentially devastating emergency. "As awful as this pandemic is, climate change could be worse," Gates said in a blog published on Tuesday [8/4/2020]. "If you want to understand the kind of damage that climate change will inflict, look at COVID-19 and spread the pain out over a much longer period of time. The loss of life and economic misery caused by this pandemic are on par with what will happen regularly if we do not eliminate the world's carbon emissions."
The Editor says...
[#1] Carbon dioxide is not carbon, for the same reason that water is not hydrogen. [#2] Carbon dioxide is not a pollutant. [#3] There is no extraordinary global warming; in fact, global cooling is a more likely problem. If global warming (or cooling) occurs at a rate of one degree per century, nobody will ever notice, and only the people who watch television will ever be alarmed about it. [#4] The day will never arrive when mankind "eliminate[s] the world's carbon [dioxide] emissions." Natural emissions of carbon dioxide exceed man-made CO2 emissions. [#5] One would think that someone as bright as Mr. Gates would know about all this.
NBC News Reportedly Laying Off Staff Due To COVID-19. NBC News will reportedly be laying off staff due to declining revenue amid the coronavirus pandemic, according to Page Six. The network's parent company NBCUniversal is planning cuts countrywide, according to Tuesday [8/4/2020] reports. These cuts include employees at NBC News, sources told Page Six. A little less than 3% of employees at NBC News are reportedly being laid off, the publication added. These cuts come as NBC News' "Today" producer Jackie Levin leaves the network. Levin worked at NBC for 26 years and recently accepted a buyout, Page Six reported Tuesday.
Attorney of Driver in Austin Shooting Releases Details Confirming Self Defense. There are new developments in the shooting case where a driver shot a protestor who was armed with an AK47 type rifle, as his car was being swarmed by the crowd of protestors. The following is a press release from the attorneys of Daniel Perry, who has identified himself as the driver who shot Garrett Foster on the evening of 25 July. This account tells what happened from the viewpoint of Daniel Perry.
Beirut death toll rises to at least 100 as explosion is blamed on 2,750-ton ammonium nitrate stash. Beirut's residents are in shock and mourning after an enormous explosion at the city's port ripped through the Lebanese capital, killing at least 135 people, injuring more than 4,000 and displacing some 300,000, according to emergency services. Hospitals are overwhelmed, with some too damaged by the blast to operate. The explosion, which blew out windows and destroyed property for miles around, has been initially blamed on 2,750 tons of ammonium nitrate stored in an unsecured warehouse, without safety measures, since 2014 at Beirut's cargo port. The New York Times, citing public records, reported that Lebanese officials knew about the risks for several years but did not act on them. The government subsequently announced an investigation to determine within five days the exact cause of the explosion and "who was responsible."
TV meteorologist is fired for tweet comparing federal troops policing American cities to Nazi Germany. A meteorologist at a Colorado news station has been fired after he shared a tweet comparing federal agents policing cities amid the recent unrest across the country to Nazi Germany. Marty Coniglio shared a picture of soldiers posing with Adolf Hitler and captioned the July 23 post: 'Federal police in cities ... now where have I seen that before?' The following day Coniglio, who has been on television in Denver for three decades, confirmed he had stopped working for 9News.
Nobody's defunding the police here! Quite the opposite.
Overtime costs to monitor protests at capital soar to nearly $880,000. As the 24-hour-a-day protest at the state capitol approaches its 50th day, the cost to pay overtime and travel expenses for state troopers has ballooned to $878,626.15. The latest available figure is only for roughly half of the protest so far, between May 31 and June 30. According to a spokesman for TEMA, the cost cannot be reimbursed by federal dollars because of its type of emergency, therefore it will be paid out of the state's reserve funds for emergencies. Activists like Justin Jones said the protestors shouldn't be blamed for the costs. "That is the choice of the governor. This could have easily been over with a conversation. If the governor has [sic] come out on day one to talk to these people — we've been out here for 50 days — that would have saved all that money," Jones said.
Wisconsin Republicans help Kanye West in his attempt to get on state presidential ballot. Who knew Wisconsin Republicans were such big fans of Kanye West? The rapper's campaign turned in a number of signatures on Tuesday in a bid to get on the November presidential ballot in Wisconsin. He is making similar attempts in Ohio, Arkansas and West Virginia. Reid Magney, spokesman for the state Elections Commission, said it could be several days before officials confirm that West has enough valid signatures to appear on the ballot as an independent candidate representing the Birthday Party. It was a pretty impressive feat that West's campaign was able to submit as many signatures as it did by Tuesday's 5 p.m. deadline.
As Democrats decried national park openings, one pushed to front of Yosemite's line. Worried about loose rules amid a surge in the coronavirus crisis, Democrats have urged the National Park Service to stop or slow the reopening of facilities, citing concerns about the safety of employees, visitors, and neighboring communities. That is, except one: California Rep. TJ Cox, whose Fresno district is close to Yosemite National Park. In emails shared by the Interior Department with the House Natural Resources Committee, Cox's staff sought two vehicle passes of the 340 available to the public for July 4. When he was told he'd have to wait in line like others, he pushed for "preferential treatment" to get them, according to a letter calling for an Interior Department investigation.
KFC Tests 3D-Printed Chicken Nuggets in Russia. KFC has partnered with a Russian biotech research firm to create the world's first laboratory-produced chicken nuggets this fall. The fast-food chain and Russia's 3D Bioprinting Solutions, founded by the private medical firm Invitro, announced the partnership Thursday [7/16/2020] amid a growing global race to find safe and authentic-tasting meat alternatives.
The Editor says...
Sadly, the persistent misuse of partner as a verb had paid off, [1] [2] and it's only a matter of time before that definition is included in an actual dictionary (i.e., a big heavy book that gathers dust on a shelf).
Largest police union in Florida endorses Trump reelection bid: 'We're being used like a punching bag'. The largest police union in Florida voted to endorse President Trump in the 2020 election. The Florida Police Benevolent Association's president, John Kazanjian, said on Friday [7/31/2020] that Trump has sided with law enforcement amid a wave of anti-police sentiment during nationwide protests against police brutality and racial injustice that have taken place over the past several months. "I spelled it out. What's going on in not just in Florida but across this country that, 'Hey, you know what, we're getting beat up. We're being used like a punching bag, and we're tired of it. And President Donald Trump has been there for us. He supported us,'" Kazanjian told Fox & Friends.
DoJ Seeks Removal of Protection for Journalists in Riots Due to Presence of Imposters. Officials from the Department of Justice have officially filed a request with the courts asking for the removal of special protection for journalists in the ongoing riots in Portland, due to rioters often disguising themselves as journalists in order to commit violence, according to Politico. In a filing submitted to U.S. District Court Judge Michael Simon, the Department of Justice asks Simon to consider overturning his previous temporary restraining order (TRO) issuing special protections for journalists, which, among other privileges, allowed journalists to remain in place even if the police force rioters back or attempt to disperse the crowds. In the filings, lawyers with the Justice Department revealed that "individuals are abusing the TRO to masquerade as members of the press and evade lawful orders, or actively participate in protest activities and even illegal acts while holding themselves out to be members of the press under the protection of the TRO." The Department of Justice included at least seven recorded instances of rioters abusing this protection, disguising themselves as members of the press in order to carry out acts of violence.
Leftie James Murdoch Resigns from News Corporation, the Parent Company of FOX News Over "Differences in Editorial Content". James Murdoch tendered his resignation from the Board of Directors of News Corporation, the parent company of FOX News. Rubert Murdoch stepped down as the CEO of FOX in June 2011 and handed the reins over to his son James. James Murdoch's wife Kathryn Murdoch is an outspoken leftist who works for the Clinton Climate Initiative. The resignation went into effect today [7/31/2020].
Second Former Minneapolis Police Officer Pushes For Dropped Charges In Floyd Case, Citing No Probable Cause. A second former Minneapolis police officer facing charges in the May 25 death of George Floyd is pushing to have charges against him dismissed, arguing that body camera footage shows a lack of probable cause, numerous sources reported. Tou Thou's defense attorney Robert Paule filed a motion Wednesday [7/29/2020] asking for the aiding and abetting manslaughter charges against him to be dismissed. Paule argues that the State has the burden of showing that Thao "knew former officer Derek Chauvin and others were going to commit a crime and ... intended his presence or actions to further the commission of that crime," KARE 11 reported, which would establish probable cause.
Cuomo: Federal government needs to fill New York's budget gap. The state of New York faces a budget deficit of $30 billion over the next two years thanks to the COVID-19 crisis, and Gov. Andrew Cuomo said Wednesday [7/29/2020] it's up to the federal government to fill it. Without that help, Cuomo told reporters that funding for local governments and hospitals would take a significant hit. Education will too, unless the federal bill requires states to fully fund education. His comments come a day after Senate Republicans in Washington revealed details of their latest COVID-19 relief package proposal, called the HEALS Act. Cuomo sent a letter to the state's congressional delegation urging them to push for $500 billion in unrestricted state aid that the National Governor's Association is calling on Congress to pass, and he wants them to fight for every dollar they can get for New York.
The Editor says...
[#1] When you fight for every dollar you can get from the federal government, where does that money come from? [#2] The federal government should never bail out badly-managed states after natural disasters or public health problems.
Obama Privately Warns Top Dem Donors: Trump Voters 'Glued' to Breitbart, Fox News, Rush Limbaugh. Former President Barack Obama is privately telling some of the biggest and most influential donors on the left that the 2020 election will not be a lock for former Vice President Joe Biden because President Donald Trump's voters are "glued" to outlets on the right like Breitbart News and will turn out in droves in November, according to a Thursday report in the New York Times. Obama has reportedly raised $24 million for Biden in two months by having conversations with people like LinkedIn founder Reid Hoffman, actor George Clooney, and top party leaders. According to the Times, "donors who have paid six-figure sums" have been able to see Obama have these "wide-ranging Q. and A. sessions about the state of politics and unvarnished analysis" on Zoom.
Barr Rightfully Defends Federal Response to Dangerous Rioting, as House Democrats Attack Him. In testimony Tuesday, Attorney General William Barr justifiably pushed back hard against confrontational and rude Democrats on the House Judiciary Committee who appeared intent on scoring political points by shouting over him as he explained the Justice Department response to riots across the country. Committee members got something else as well from the attorney general: a much-needed lecture on their role and responsibilities as elected public officials. Barr told them that "regardless of their political views" or "their feelings about the Trump administration," they should "condemn the violence" engulfing our cities, particularly violence directed at federal officers and federal property. "To tacitly condone destruction and anarchy is to abandon the basic rule-of-law principles that should unite us even in a politically divisive time," Barr said, stating an obvious truth.
Bannon's Radio Free China. During the Cold War, Radio Free Europe (RFE) broadcast anti-communist messaging to countries behind the Iron Curtain. In addition to providing hope to victims of leftism and countering the official Soviet narrative, RFE shored up hope for change. The efficacy and threat of this western-backed and -operated "free flow of information" was recognized by the Soviet Union, such that in 1981, RFE's Munich headquarters were bombed by Carlos the Jackal under the orders of the Stasi. Seventy-one-years after RFE's inception and twenty-nine-years after the fall of the Soviet Union, the West continues to "provide accurate and timely news and information to... countries whose governments prohibit access to a free press," only now it is targeting a new audience: the Chinese people, along with North Koreans, Cambodians, Vietnamese, and Burmese listeners. Radio Free Asia began broadcasting in 1996, but the CCP has managed, in large part due to its great firewall, to jam the signal.
'Maybe the National Guard:' Chief may request help with 100+ police departments pulling out of DNC. Milwaukee Police Chief Alfonso Morales said Wednesday, July 29 he may seek state or federal assistance with more than 100 local police departments pulling out of responding to the Democratic National Convention starting Aug. 17. Meanwhile, with his job at stake if he doesn't comply with a list of directives handed down by the Milwaukee Fire and Police Commission, the chief weighed in on those orders, with some due Thursday [7/30/2020]. Chief Morales wasn't shy about the fact that his future is uncertain. "I gotta be able to look at myself in the mirror," he said. "I gotta be able to do the right thing, whether it means my job or not."
Cops pull out: Democrats in need of convention protection can now call a hippie. One hundred police agencies delivered a vote of "no confidence" in the Democrats' fitness to govern, pulling out from contracts to protect the Democratic National Convention in Milwaukee, just three weeks before kickoff.
More than 100 police departments back out of agreements to help provide security for Democratic National Convention in Milwaukee. More than 100 police agencies are withdrawing from agreements to send personnel to bolster security at next month's Democratic National Convention in Milwaukee, in part because they're concerned about a recent directive ordering police in the city to stop using tear gas to control crowds. A citizen oversight commission last week directed Milwaukee's police chief to publicly account for why the department used tear gas during protests in late May and early June after the killing of George Floyd in Minneapolis and to change Milwaukee's police policies to ban the use of tear gas and pepper spray. The Milwaukee Fire and Police Commission said in its order that Police Chief Alfonso Morales could be fired if he fails to comply.
The Editor says...
The left-wing Democrats (which is the only kind) proudly huff and puff about defunding the police, which is another way of saying eliminating the police. Now that the police want nothing to do with the Democratic National Convention, we will see what happens when the rubber meets the road.
Alarm over discovery of hundreds of Chinese fishing vessels near Galápagos Islands. Ecuador has sounded the alarm after its navy discovered a huge fishing fleet of mostly Chinese-flagged vessels some 200 miles from the Galápagos Islands, the archipelago which inspired Charles Darwin's theory of evolution. About 260 ships are currently in international waters just outside a 188-mile wide exclusive economic zone around the island, but their presence has already raised the prospect of serious damage to the delicate marine ecosystem, said a former environment minister, Yolanda Kakabadse. "This fleet's size and aggressiveness against marine species is a big threat to the balance of species in the Galápagos," she told the Guardian.
Man, 40, dies after cops find him burning alive on the side of a California highway 'after getting into argument outside a 7-Eleven'. A 40-year-old man has died after being found on fire by cops on a California highway shortly after he got into an argument with a group of people outside a 7-Eleven early Friday morning. [...] A woman identifying herself as Mungaray's sister said he was last last seen Thursday outside a 7-Eleven in Gilroy where he was having an argument with the occupants of two cars.
Oregon Football Coach Fired Because Of His Job As Portland Police Officer. A longstanding football coach was recently fired by an Oregon high school. Sgt. Ken Duilio is "one hundred percent positive" that he was targeted because of his day job as a Portland Police Officer. It's tough being a cop these days as protests against the police have evolved into riots. Some politicians across the country are even demonizing the men and women in blue who protect us and are joining the protests. Portland Police have been put in an incredibly challenging position by local politicians and rioters.
Jim Jordan Opens AG Barr Hearing with Devastating Video on Leftist Violence, Looting and Rioting in the Streets of America. Attorney General Bill Barr is set to testify in front of the House Judiciary Committee on Tuesday morning. Chairman Jerry Nadler opened the hearing with several baseless attacks on Attorney General Barr. Next up was Rep. Jim Jordan (R-OH) the ranking Republican on the House Judiciary Committee. Jordan was ON FIRE! Rep. Jordan opened his remarks reminding the American public that Barack Obama spied on the opposition party and candidate Donald Trump during the 2016 election and beyond.
Fort Worth Zoo named best in the country in USA Today poll. The Fort Worth Zoo was recently named the best zoo in the nation, according to a USA Today poll. USA Today assembled a panel of industry experts who created a list of 20 zoos that excel in animal care and enrichment, while also creating interactions between animals and humans, according to a press release. Once people across the country voted, the Fort Worth Zoo claimed the number one spot after finishing in the top five for the last four years, zoo spokesperson Avery Elander said.
The Editor says...
The Fort Worth zoo might be enjoyable someday after the state-wide face mask mandate is over, but not until then.
Sen. Rand Paul's neighbor gets an additional 13 months for assault. Back in 2017, Sen. Rand Paul's neighbor, Rene Boucher, attacked the Senator on his own property, allegedly over a dispute about lawn clippings. The attack left Sen. Paul with several broken ribs. Last August, Paul had a portion of his lung surgically removed because of damage caused by the attack. Boucher was eventually charged with one count of assaulting a member of Congress. Boucher was initially given a light sentence of just 30 days in jail plus a $10,000 fine and community service. But the case was appealed and last September the appeals court overturned the sentence saying it was too light given the extent of Sen. Paul's injuries. A review of similar cases involving suspects with no criminal history found the average sentence was more than two years.
Notre Dame withdraws from hosting first Trump-Biden debate. The commission that holds the quadrennial presidential debates says that the first of the three scheduled showdowns this fall between President Trump and former Vice President Joe Biden is being moved from Indiana to Ohio after Notre Dame withdrew as a host. The Commission on Presidential Debates (CDP) announced on Monday that the Sept. 29 debate will now be co-hosted by Case Western Reserve University and Cleveland Clinic and held at the Health Education Campus (HEC) in Cleveland, Ohio. The move came after Notre Dame University in South Bend, Indiana withdrew as the host of the first presidential general election debate.
Violent Crime Explosion Forces Minneapolis Residents to Form Militias. [T]he first, the very first priority of government is to protect our God-given rights from being violated, most especially by others. We have a God-given right to life, liberty, and the pursuit of happiness, and the government has no higher purpose than to see to it those rights are not interfered with. To say the Democrat-run city of Minneapolis is failing on this point would be an understatement. The city, which has not had a Republican mayor in nearly 50 years, slashed the police budget and turned its police department into eunuchs who are either unable to respond due to budget cuts and ridiculous policies that make it impossible to enforce the law or are unwilling to respond for fear they will become CNNLOL's Villain of the Day. And now the city's residents are forced to go to extraordinary lengths to protect their family and property.
Armed Minneapolis Residents Are Patrolling Their Own Neighborhoods As City Moves To Defund Police. Minneapolis residents have begun patrolling their own neighborhoods after violent crime across the city surged in the aftermath of George Floyd's death in late May. The patrols, some armed, are part of a largely grassroots efforts to protect neighborhoods, businesses, and residents from rioters and criminals. Some groups have constructed barriers at the entrance to their neighborhoods and control who can enter, according to The Wall Street Journal.
Parking Tickets Covered By Eighth Amendment's Ban On Excessive Fines, Federal Court Rules. In a decision that managed to cite both La La Land and Magna Carta, the U.S. Ninth Circuit Court of Appeals ruled on Wednesday [7/22/2020] that parking tickets and fees must comply with the Eighth Amendment's ban on "excessive fines." Although the ruling is only a partial victory for the Angeleno drivers in this case, it nevertheless clears a path for others to challenge municipal fines as unconstitutional. "This right to be free from excessive governmental fines is not a relic relegated to the period of parchments and parliaments, but rather it remains a crucial bulwark against government abuse," Judge Kenneth Lee wrote for the court. "The government cannot overstep its authority and impose fines on its citizens without paying heed to the limits posed by the Eighth Amendment."
The Editor says...
That must have been quite a hefty parking ticket.
US Could Deploy Aegis Missile Defense System To Protect Guam From Chinese Attack. The United States is planning to deploy the deadly Aegis Ballistic Missile Defence System in Guam in preparation of an attack with China. As Sino-American tensions continue to escalate, experts suspect that the island of Guam could be targeted by Beijing. Phil Davidson, the US Navy admiral in charge of Indo-Pacific Command was the latest to voice his concern. He says that an attack by Chinese could remove from the map the U.S. Air Force's main Pacific base for bombers and other heavy warplanes. To protect the US base in Guam, the US should deploy the Aegis missile-defence system on Guam., he says.
Judge denies Oregon push to limit US agents during arrests. Thousands of people gathered in Portland streets for another night of protests Friday [7/24/2020], the same day a U.S. judge denied Oregon's request to restrict federal agents' actions when they arrest people during chaotic demonstrations that have roiled the city and pitted local officials against the Trump administration.
US officials force their way into Chinese consulate in Houston. The Chinese consulate in Houston has been raided by U.S. officials, shortly after it officially closed for business. The consulate, which Donald Trump forced to close on Wednesday, was reportedly a hot bed of spies and was allegedly being used to steal medical and scientific research. Beijing was told that the consulate must cease operations by Friday [7/24/2020].
Chinese Researcher Tied To Chinese Military [is] Hiding From FBI In Chinese Consulate. Although the FBI has arrested three Chinese visa holders suspected of having memberships in the People's Liberation Army, a fourth research visa fraud suspect is being protected in the Chinese consulate in San Francisco, where U.S. law enforcement cannot enter unless invited. The People's Liberation Army is under the command of the Central Military Commission of the Communist Party of China.
Are the cities emptying out? Millions of Americans are voting with their feet. They're leaving the cities. In Michigan, despite some of the nation's worst unemployment — engineered in large part by our governor — homes priced around $200,000 are often on the market for about a day. Much more expensive homes in northern Michigan, hundreds of miles from Detroit and Grand Rapids, are also selling quickly. Why? Two reasons: People have found they can work from home, and they want to escape what the media portray as nonviolent protests and riots.
The Editor says...
This effect was once known as "White flight." But apparently it's not polite to use that term any more.
Senate passes veto-proof bill that will strip Confederate names from military bases. The Senate on Thursday [7/23/2020] passed a $740 billion defense spending bill that includes a provision to remove the name of Confederate leaders from military bases — setting up a showdown with President Trump who is opposed to the move. The GOP-controlled chamber overwhelming passed the legislation with a vote of 81 to 14 — well over the number required to override the presidential veto which Trump threatened to wield last month in a bid to stop the bill. The National Defense Authorization Act includes a plan to change the names of army bases named after Confederate soldiers, such as Fort Bragg in North Carolina and Fort Benning in Georgia, which are named after Confederate Gens. Braxton Bragg and Henry Lewis Benning.
Chinese buy strategic land in Texas, U.S. intel may not be pleased. Given its hold on many American Democrat politicians (Joe Biden among them) and its aggressive global stance, it is not surprising that during testimony to the Senate Judiciary Committee in July 2019, FBI Director Christopher Wray emphasized: "there is no country that poses a more severe counterintelligence threat right now than China." Now in 2020, China has purchased over 100,000 acres in West Texas for what they say is an economic project. U.S. intelligence is casting a suspicious eye at their claim. Retired CIA station chief Daniel Hoffman told the media, "The specific location in Xi's crosshairs is the iconic frontier landscape, framed by the pristine Devils River and legendary Pecos River, in the West Texas borderlands of Val Verde County. Beginning in 2015, GH America Investment Group purchased over 130,000 acres of property in Val Verde County. GH America is a wholly-owned subsidiary of the Xinjiang-based Guanghui Industry Investment Group. Xinjiang is notorious for its so-called 're-education' camps, where China detains Uighur Muslims and other ethnic minorities against their will and violates their human rights."
Afghan Girl, 15, Picks Up AK-47, Kills Taliban Fighters Who Murdered Her Parents. Last week, about 40 Taliban fighters stormed the village of Geriveh in the central Ghor province. Around midnight, they knocked on the door of the house where Qamar Gul, 15, lived with her parents and 12-year-old brother Habibullah, officials told Agence France-Presse (AFP). [...] Officials said the fighters were looking for Gul's father, the village chief, and a government supporter. Aber said Gul told him the Taliban members "took my father and mother outside and shot them several times. I was terrified." That's when the teen girl took action. "According to Aber, Qamar Gul witnessed the death of her parents, picked up her father's rifle and shot and killed three insurgents. She then started a one-hour battle with the Taliban alongside her 12-year-old brother, Habibullah," AFP reported.
This is why we have secret ballots:
62% Of Americans Are Afraid To Express Political Views, Survey Finds. Self-censorship is on the rise according to a new Cato Institute survey that reports nearly two-thirds of Americans are afraid to share their political views. A new CATO Institute/YouGov national survey found 62% of Americans say the political climate today prevents them from saying what they believe. This is up several points from 2017 when 58% of Americans said they were afraid to share their political beliefs. "31% of liberals, 30% of moderates and 34% of conservatives are worried their political views could get them fired or harm their career trajectory," the CATO survey stated.
Rubio: Chinese consulate in Houston was 'massive spy center'. Sen. Marco Rubio, R-Fla., tweeted his support Wednesday for the shuttering of a Chinese consulate in Houston, claiming that spying activity was carried out through the facility. The U.S. directed the closure of the consulate on Tuesday [7/21/2020]. The Chinese government said Wednesday morning that they had been instructed to do so without warning, but Rubio claims the move was "long overdue."
US orders Chinese Consulate in Houston to close, fire spotted in courtyard hours later. Hours after the United States ordered the closure of the Consulate General of China in Houston on Tuesday, witnesses spotted workers burning papers in the courtyard. Firefighters said they could smell smoke and saw something burning in barrels, the Houston Chronicle reported. However, firefighters were not granted access to the building. "All I know, it's illegal to have open burning in the city of Houston like that," Houston Fire Chief Samuel Peña said.
Rand Paul calls other Republican senators 'Bernie bros' and 'insane' and Ted Cruz curses in bitter feud over $1 trillion coronavirus bailout plan. The price tag for the next COVID-19 aid package could quickly swell above $1 trillion as White House officials negotiate with Congress over money to reopen schools, prop up small businesses, boost virus testing and keep cash flowing to Americans while the virus crisis deepens in the U.S. Senate Majority Leader Mitch McConnell on Tuesday promised a new round of direct payments to earners below a certain income level, similar to the $1,200 checks sent in the spring. President Donald Trump insists on a payroll tax holiday for workers. And Democrats want billions to outfit schools and shore up local governments.
Cops In Riot Gear Clear Out NYC 'Occupy' Camp Near City Hall In Pre-Dawn Raid. New York Police Department officers clad in riot gear emptied out an "occupy" protest that sprung up around NYC City Hall weeks ago in a dramatic pre-dawn raid, according to local media. The protest, which began on June 28 with just 100 protesters, had spilled over into the street as demonstrators demanded a massive cut to the NYPD budget. Although New York City mayor Bill de Blasio happily complied with demands to "defund the police," slashing the NYPD's operating funds by nearly a billion dollars and canceling more than 1,000 planned hires, protesters remained unsatisfied given that de Blasio refused to officially sign the change into law.
Ousted Cardinal McCarrick ran sex ring at N.J. beach house: suit. Former Cardinal Theodore McCarrick ran a depraved sex ring of underage boys at a beach house on the Jersey Shore, a disturbing new lawsuit claims. The suit, filed by a man using the pseudonym Doe 14, claims that in 1982 and 1983, when he was as young as 14 years old, he and other victims were taken on weekend overnight trips to a Sea Girt beach house. "McCarrick assigned sleeping arrangements, choosing his victims from the boys, seminarians and clerics present at the beach house," according to the suit filed in state court under New Jersey's Child Victims Act. "On these occasions, minor boys were assigned to different rooms and paired with adult clerics."
Sen. Ted Cruz seeks to hold hands-off local officials liable for protest, rioting damage. Sen. Ted Cruz, Texas Republican, has a plan on how to douse the protest violence in Portland, Seattle and elsewhere: Hold local officials responsible for failing to stop it. Mr. Cruz introduced Wednesday legislation that would "hold state and local officials liable when they abdicate their legal duty to protect the public in cases where death, serious bodily harm or significant property damage have occurred." The bill, called the Restitution for Economic losses Caused by Leaders Who Allow Insurrection and Mayhem Act, or RECLAIM, would allow property owners to seek triple damages for protest destruction.
The Death of Standards at the New York Times. The mainstream press has spent a lot of time and energy recently attacking Tucker Carlson, none more enthusiastically than CNN's simpering and shrieking little eunuch, Brian Stelter. Of course Carlson, with the No. 1 rated show in the history of cable news, can laugh all the way to the bank in response to most of these critics. This is nothing new: Fox News is used to its top stars being attacked by the thought-monolith, leftist media and benefitting from the drama in the ratings. For those of us on the Right, it's amusing and tiresome all at once. But at the same time, disturbing undertones are emerging in these stories. On Monday [7/20/2020], Carlson revealed that the New York Times was preparing to publish a story discussing the details surrounding the location of his family residence. This pathetic attempt to incite doxxing and harassment is unfortunately par for the course for the rag started by Confederate sympathizers. The paper with its new generation of little wokesters will brook no deviation from their leftist dogma and are intent on driving out any editors, reporters, or columnists who are not 100 percent on board with their program to smash the Right.
Woke Red Bull Execs Fired After Attempting to Force Company Into Black Lives Matter Virtue Signal. Companies are routinely being pressured to show their support for Black Lives Matter. Those who don't are under threat from the mob to be accused of being racist or in support of police brutality. The idea that silence is violence has forced many a company executive to cave out of fear that they'll be personally held responsible by the mob and their entire life will be ruined. Red Bull has taken the opposite tack. In fact, it fired execs attempting to force the company into a BLM virtue signal. According to the Wall Street Journal, Red Bull North American chief executive Stefan Kozak and North American president and chief of marketing Amy Taylor were both terminated from their positions after they attempted to force the company to support BLM by subversively creating racial tension within the company.
Michigan School Fires Popular Teacher For Saying 'Trump Is Our President'. A Michigan school district fired a popular high school teacher and coach after he pointed out that "Trump is our president" on social media. Varsity baseball coach and social studies teacher Justin Kucera said Walled Lake school district officials hauled him into a closed-door meeting after he indicated his support for President Trump's speech to reopen schools. He told the Washington Free Beacon the Walled Lake Western principal and district superintendent gave him an ultimatum: be fired or resign.
Allen West elected chairman of Texas GOP, vows no more 'watered down conservatism'. The nation's largest state Republican Party has a new leader. Allen West was elected chairman of the Republican Party of Texas in the early hours of Monday during a virtual vote among the organization's membership. The retired U.S. Army officer and former presidential hopeful has already taken on the responsibilities of the role and begin to "implement his strategy to hold Texas," according to his campaign — which means a return to traditional conservatism for Lone Star Republicans. "I am honored and privileged that Republicans of Texas have selected me to Chair their party and to be at the helm during this coming election cycle. We need to focus on maintaining the conservative policies that made Texas strong and drive voter outreach across the state," Mr. West said in a statement.
Japan to Pay at Least $536 Million for Companies to Leave China. Japan's government will start paying its companies to move factories out of China and back home or to Southeast Asia, part of a new program to secure supply chains and reduce dependence on manufacturing in China. Fifty-seven companies including privately-held facemask-maker Iris Ohyama Inc. and Sharp Corp. will receive a total of 57.4 billion yen ($536 million) in subsidies from the government, the Ministry of Economy, Trade and Industry said Friday. Another 30 firms will receive money to move manufacturing to Vietnam, Myanmar, Thailand and other Southeast Asian nations, according to a separate announcement, which didn't provide details on the amount of compensation.
German States Ask Congress Not to Remove U.S. Troops. The leaders of four German states wrote to Congress asking for a halt to Washington's troop withdrawal plan from the country, Reuters reported Sunday [7/19/2020]. The premiers of the four states — all of which have U.S. bases — addressed their letters to 13 members of Congress, including Sens. Mitt Romney (R., Utah) and Jim Inhofe (R., Okla.). Inhofe chairs the Armed Services Committee, while Romney is a leading member of the Foreign Relations Committee.
A long-needed conservative movie studio is being created to counter far-left Hollywood. In the 2015 movie "Trumbo," top Hollywood scriptwriter Dalton Trumbo fights against the evils of a blacklist that prevents him from earning a living in the late 1940s and 1950s because of his membership in the Communist Party of the United States. The plot of the film — based on a true story — could work for a documentary about Hollywood today, but with an important twist. Now far-left and pro-Communist voices are celebrated. The cancel culture has come for conservative and Christian voices. And heaven help anyone in Hollywood who supports President Trump. Actor Antonio Sabato Jr. is out to change that.
Federal Unit Behind Arrests In Portland Reportedly Identified. House Speaker Nancy Pelosi (D-CA) smeared federal law enforcement officials on Friday night while making false claims about the continuing violence and rioting in Portland, Oregon. [...] Pelosi's claim that the officials were "kidnapping protesters" in response to "graffiti" is wildly misleading. The Washington Post documented one man who was arrested and the process that he went through, which resulted in his brief detainment and release. "He was detained and searched," The Post said. "One man asked him if he had any weapons; he did not. They drove him to the federal courthouse and placed him in a holding cell."
Genocide in China ignored by most of the press. China is running concentration camps and committing demographic genocide, but the media hardly care. [...] In northwestern China, as many as three million members of ethnic minority groups have been imprisoned in grim concentration camps. Over one million of the imprisoned people are Uighurs, the largest minority group in China's Xinjiang province. Torture is widespread in the concentration camps, and thousands have died in them. Uighur cemeteries have been destroyed in a campaign some have called cultural genocide. But many progressives think America is more racist than China. Thus, they argue, it lacks any moral authority to criticize China's human-rights violations.
Ford is auditing 188,000 employees: What it's asking. Ford Motor Co. is currently "auditing" an estimated 188,000 salaried and hourly employees worldwide to see where the 117-year-old company stands on workplace attitudes about diversity. The effort involves employees from the factory floor to executive suites in an aggressive attempt to address institutional bias and issues that may hinder employee performance, company officials confirmed to the Free Press.
New 'Unwoke' Job Website Lists Jobs for Regular Americans, Not Left Wing Activists. A new job listings board created for the purpose of hiring workers and not activists has been met with a mixed reception following its recent release. Unwoke.hr was unveiled to post job opportunities for discerning workers at a time where activism pervades practically all human resources departments of major corporations.
AG Barr: China Waging 'Economic Blitzkrieg' to Replace U.S. as Top Superpower. The Chinese Communist Party (CCP), under dictator Xi Jinping, has launched an aggressive, governmentwide, whole-of-society "economic blitzkrieg" to replace America as the globe's "preeminent superpower," U.S. Attorney General William Barr warned on Thursday [7/16/2020]. China's "predatory economic policies are succeeding," Barr conceded via written remarks prepared for delivery during a speech at the Gerald R. Ford Presidential Museum in Michigan.
National Association of Police Organizations President: Vote to Endorse Trump 'Overwhelming'. On Wednesday's broadcast of the Fox Business Network's "Evening Edit," National Association of Police Organizations President (NAPO) Mick McHale discussed the group's endorsement of President Trump and stated that the endorsement was partially due to the "overwhelming vote of the majority of the associations who participated" and stated that while Trump addressed the organization's board, 2020 Democratic presidential candidate former Vice President Joe Biden did not take advantage of the same opportunity. McHale said that the endorsement of Trump is the result of the association's endorsement process and the "overwhelming vote of the majority of the associations who participated."
Rabbi wounded in deadly California synagogue shooting pleads guilty to multi-million dollar tax scam. The founder of a California synagogue at the center of deadly shooting in 2019 has pleaded guilty for his role in a multimillion-dollar scam, which aimed to disguise charitable contributions so that they can be used for personal gain. Rabbi Yisroel Goldstein, longtime leader of the Chabad of Poway synagogue, on Tuesday admitted to his role in the plot, involving tax, real estate, insurance and grant frauds. [...] According to prosecutors, Goldstein collected an estimated $6.2 million in fake donations for the synagogue only to return 90% to those who contributed along with phony receipts. The remaining 10% he kept for himself, which in total is around $620,000.
NY Times Gushes Over Lefty Dixie Chicks: 'Witches Who Could Not Be Burned'. The band formerly known as The Dixie Chicks made the front of the New York Times Sunday Styles with a full-page photo under the puffed-up headline "Still Fearless." Inside was a two-page spread with posed photos, "A Sisterhood Skilled at Ignoring the Static." The text box: "Three women flourished in an industry that never really loved or defended them." Fortunately for the "Chicks" (who recently ditched the "racist" part of their name but kept the "sexist" one) the gushing by the liberal press made up for it. The online version came with the ironic headline, "The Chicks Are Done Caring What People Think." So why did they just change their name?
Fifty-four scientists have lost their jobs as a result of NIH probe into foreign ties. Some 54 scientists have resigned or been fired as a result of an ongoing investigation by the National Institutes of Health into the failure of NIH grantees to disclose financial ties to foreign governments. For 93% of the 189 scientists whom NIH has investigated to date, China was the source of their undisclosed support. The new numbers come from Michael Lauer, NIH's head of extramural research. Lauer had previously provided some information on the scope of NIH's investigation, which had targeted 189 scientists at 87 institutions. But his presentation today to a senior advisory panel offered by far the most detailed breakout of an effort NIH launched in August 2018 that has roiled the U.S. biomedical community, and resulted in criminal charges against some prominent researchers, including Charles Lieber, chair of Harvard University's department of chemistry and chemical biology.
Virus or Politics? Houston Democrat Mayor Cancels Texas GOP Convention. Houston's Democrat Mayor Sylvester Turner heaped praise on the recent George Floyd protests, which drew tens of thousands of people tightly packed into the city. He even addressed the crowd. Coronavirus was no problem, the protests were too important. Yesterday [7/8/2020] Mayor Turner cancelled the Texas state Republican Party convention, which was to be held in Houston and would bring in a tiny fraction of the numbers of those who attended the Floyd protest. The mayor's reason to cancel the Republican Party convention? Coronavirus! Is this really about public health, or is it something else? [Video clip]
GOP Denied Convention Plan For Texas. A Texas Supreme Court decision ruled that Huston [sic] is free to choose whether to host a GOP Convention, and that the party was prevented from forcing the city to agree. The decision came out 7-1 with a majority in favor of Houston's right to choose on hosting the convention. The GOP wanted a in-person event to take place in Huston [sic] this week, following a Democratic Convention online in June. "The Party argues it has constitutional rights to hold a convention and engage in electoral activities, and that is unquestionably true," said the court's majority decision. "But those rights do not allow it to simply commandeer use of the [George R. Brown Convention] Center."
The Editor says...
The Republican Party of Texas had a legally-binding contract with the convention center, so the word commandeer hardly seems appropriate. The mayor canceled that contract at the last minute for purely political reasons. No doubt this will all end up in the courts, months from now; but of course it will be too late then for any meaningful relief.
In politics, there are no coincidences.
Kansas GOP Rep charged with voter fraud just before primary debate. Something truly bizarre happened last night in the runup to a GOP congressional primary debate in Kansas. Republican Congressman Steve Watkins (KS-2) was preparing to take the stage against two primary opponents when he received some unexpected and potentially politically damaging news. The District Attorney had just slapped him with four counts of voter fraud, including three felony charges. That changed the tone of the debate, to say the least, as it immediately became the first question of the evening from the moderators.
Shamers lose it when Ted Cruz is 'captured' on a commercial flight drinking coffee with no mask. A marketing and compliance official with the Democratic Congressional Campaign Committee snapped pics of Sen. Ted Cruz during a commercial flight Sunday [7/12/2020] in which the Texas Republican was seen not wearing a mask.
The Editor says...
If that's all you've got on Ted Cruz, you've got nothing.
American Airlines Investigating Photo of Ted Cruz Not Wearing a Mask on a Plane. American Airlines has reached out to Senator Ted Cruz's (R-Texas) office after a photo began circulating online of the senator apparently not wearing a mask on one of its flights, according to The Hill. The airline, which requires that all passengers keep masks on for the entirety of their flight duration, said that "we have reached out to Sen. Cruz to affirm the importance of this policy as part of our commitment to protecting the health and safety of the traveling public." The statement came after a radical Democratic campaign operative tweeted a photo allegedly showing Cruz without a mask on. The senator's office responded with a statement explaining that Cruz had taken his mask off to drink his coffee, which he can be seen holding in the photo.
Feds spent $1 trillion last month. The federal government spent $1.1 trillion last month, shattering the record for the highest monthly spending ever, and sending the deficit soaring to $2.7 trillion so far this fiscal year, the Treasury Department reported Monday [7/13/2020] [.] Before this year, the highest monthly total was $439.8 billion, spent last May. But the last three months have easily topped that, totaling nearly $2.7 trillion in spending over just those three months along. As recently as 2006, the government spent less than that in the entire year.
California tries the box and breakfast — a hotel made of shipping containers. A winery in central California has opened a hotel for guests made from recycled shipping containers. The quirky development offers a "luxury hospitality experience," according to the owners of the Geneseo Inn. The eight-unit "box & breakfast," composed of 20 factory-built shipping containers, is situated on a scenic, 145-acre estate amid grapevines and rolling hills. The rectangular suites, grouped in clusters around a sprawling 60-foot live oak tree, are set off the ground by steel frames, allowing overnighters to park their cars underneath their rooms.
Lindsey Graham says he'll grant Democrats' request for Mueller to testify before Senate. Sen. Lindsey Graham said Sunday [7/12/2020] he will approve Democrats' request to invite Robert Mueller to testify before the Senate Judiciary Committee after the former special counsel published an op-ed in The Washington Post criticizing President Donald Trump's decision to commute the prison sentence for Roger Stone. "Apparently Mr. Mueller is willing — and also capable — of defending the Mueller investigation through an oped in the Washington Post," Graham wrote on Twitter. "Democrats on the Senate Judiciary Committee have previously requested Mr. Mueller appear before the Senate Judiciary Committee to testify about his investigation." "That request will be granted," he added.
Petition for election to recall Mayor Jenny Durkan can move forward, judge says. A King County Superior Court judge has approved a petition [7/10/2020] for an election to recall Seattle Mayor Jenny Durkan, opening the door for a campaign that's gained steam over the last several weeks. [...] Once any recall petition is approved, signatures are needed to qualify for a special election ballot. The petitioners must, within 180 days, collect valid signatures from a number of voters equal to 25% of the votes cast in the last election. In this case, signatures from more than 50,000 Seattle voters would be needed. The Durkan petitioners' recall effort, known online as the "Fire the Mayor" campaign, accuses the mayor of "endanger[ing] the peace and safety of the community" by allowing police to "leak false information about fabricated crimes and threats to the media" and issuing a citywide curfew without sufficient notice to the public. The petitioners also accused Durkan of restricting certain property rights in downtown Seattle and Capitol Hill, the neighborhood where many of the protests took place.
Greyhound's Value Drops by $156M Due to Less Illegal Immigration to U.S.. The value of Greyhound Lines Inc., the intercity bus service company, has seen a drop in its value as a result of reductions to illegal immigration at the United States-Mexico border. Executives with Greyhound's parent company, FirstGroup, told MarketWatch their value has dropped by about $156 million because of less migration across the southern border. As Breitbart News has reported, President Trump's administration released tens of thousands of border crossers and illegal aliens into the U.S. every month. Those foreign nationals would board Greyhound buses to travel to the interior of the country.
Goya 'buy-cott' begins as customers load up on product after Trump backlash. Many took to social media to express their displeasure with Goya Foods CEO Robert Unanue after he praised President Trump at a White House event on Thursday, but others are flipping the narrative and calling for a Goya Foods "buy-cott." "My brother came up with a terrific idea and I am encouraging all to join me in purchasing $10 worth of Goya Foods products and donating them to your local food bank," self-described "conservatarian" radio host Mike Opelka wrote on Twitter. "Let's push a BUY-cott, not a boycott. Let's show the #Goyaway people what compassion can do.["] Opelka's post received 27,000 likes.
A Journalist's Escape From Socialist Venezuela, Part 1. These articles document a Venezuelan journalist's struggle to flee the failing state and survive in a place where journalists are often under serious threat of bodily harm. Some names have been changed in order to protect those involved.
'They are killing our nation': Goya Foods CEO slams growing boycott of his brand. Goya Foods CEO Robert Unanue has doubled down on his support for Donald Trump saying 'we are with the president' and blasting protesters for 'killing our nation' amid the growing boycott of his family brand. Unanue showered more praise on Trump in an interview with Fox News Friday, just one day after he spoke at an event in the White House Rose Garden where he told Americans they were 'truly blessed' to have a leader like him. His comments sparked an instant backlash on social media and from some major political names including Alexandria Ocasio-Cortez and Julian Castro, with calls mounting for a boycott of the popular food brand.
Body Cam Transcript Tells a Different Story on the Death of George Floyd. The transcript from the body camera worn by J. Alexander Kueng shows clear evidence that George Floyd was suffering respiratory distress before police laid hands on him. He died from a Fentanyl overdose, not from being choked out by Minneapolis police. This news will not bring joy to the crazed, leftist mob screaming to lop off the heads of the Minneapolis police officers who stand accused of "murdering" George Floyd and little attention has been paid to the transcript since its release on July 7. I hope to correct that oversight. First a note about Officer J. Alexander Kueng. He also is a black man. He was adopted shortly after birth by a white woman and single mother. Can't have that story out there. Simply does not promote the meme that white Americans are inherently and irredeemably racist.
Ohio protester, 22, died of natural causes, not pepper spray: autopsy. A 22-year-old Ohio woman who died two days after participating in a protest related to the death of George Floyd, died of natural causes — not from exposure to pepper spray, an autopsy determined. Sarah Grossman, who took part in the May 28 protest in Columbus, had recently graduated from the Ohio State University, according to The Lantern, a campus newspaper. The autopsy after her May 30 death in a hospital revealed she died from a tear in a coronary artery related to a pre-existing case of Ehlers-Danlos Syndrome, according to The Associated Press.
2 Texas police officers killed in ambush attack; suspect dead, authorities say. Two police officers were killed in a Texas border town Saturday in what authorities described as an ambush shooting. The gunman later killed himself after engaging in a shootout with other responding officers, The Monitor of McAllen, Texas, reported.
How have Iran's intelligence forces broken down in face of explosions? Iran is facing a total intelligence breakdown. With another explosion on Thursday night, reportedly at an Iranian Islamic Revolutionary Guard Corps facility, the question is not only how anyone has pulled off up to seven attacks in around two weeks, but how has the Islamic Republic repeatedly failed to stop them.
Professor charged over scheme to use $4M in US grant money to conduct research for China. An Ohio State University professor with ties to China is charged with using more than $4 million in U.S. grant money to develop rheumatology and immunology expertise for the Chinese government, according to an indictment unsealed Thursday [7/9/2020]. Song Guo Zheng, 57, was arrested on May 22 at an airport in Anchorage, Alaska while preparing to board a charter flight to China, the U.S. Department of Justice said in a press release. At the time of his arrest, Zheng was carrying three large bags, filed electronic devices, expired Chinese passports for his family, deeds for a property in China, among other items, the DOJ said.
Black activist takes on Minn city council member for demolishing police: 'Utopia is a bunch of BS'. A former police officer calling "B.S." on the Minneapolis city council's plan to dismantle the police department got a chance to confront a Councilmember directly. Community violence-prevention advocates held an emergency news conference to denounce the push to dismantle the police department following deadly shootings in the area, demanding that citizens rise up against the threatened move. Lisa Clemons, a former officer and a peace activist with "A Mother's Love" was speaking on the issue when Minneapolis City Councilmember Andrea Jenkins happened on the scene.
Ford employees ask if company should stop building police vehicles. An estimated 100 employees of Ford Motor Co. have asked the automaker to reconsider building and selling police vehicles in light of controversy related to police brutality and social justice, the Free Press confirmed late Wednesday [7/8/2020]. The issue has been raised with Ford executives by employees during at least one virtual town hall and a series of letters sent to executives since the May 25 death of George Floyd at the hands of Minneapolis police. Over the past six weeks, civil rights protests have roiled the streets of Detroit and cities across the country as debate about police reform grows. Auto executives and business leaders in Detroit have made headlines with calls for racial justice.
The Beginning of the End of Whites in South Africa. And it's worse than any of us can imagine. Eighty-four farm attacks since lockdown began, twelve white farmers slaughtered from their land. The footage of the aftermath of one of the attacks circulating on Telegram and sent to me — too brutal to share. Only monsters could do such things to the elderly in their own homes. As many of us celebrated the 4th of July this weekend, there were three murders in two days, one of them so unspeakably cruel that even those hardened to the news of torture of farmers by black gangs have found themselves white-knuckled at the speed of the horror.
Five Guys Employees Fired After Refusing Service to Police Officers. Multiple Five Guys employees have been fired or suspended from the Daphne, Alabama, location after they refused to serve members of the Daphne Police Department, according to a statement from the company. Earlier this week, Alabama-based Yellowhammer News reported that three Daphne police officers were refused service when they entered the Five Guys restaurant in Alabama.
Pandemic accelerates the death of malls. The coronavirus pandemic has accelerated the closing of malls as people fear venturing into enclosed spaces and touching merchandise that has likely been handled by hundreds of other shoppers, according to an industry expert. "COVID accelerated the migration to online [shopping], and it's accelerating the rationalization of the retail landscape, so, more stores will close within the next year or two, and more malls will come down in the next year or two," said Marie Driscoll, managing director, luxury and fashion, at Coresight Research, a retail advisory and research firm.
Supreme Court: Eastern Oklahoma is American Indian territory. The Supreme Court ruled Thursday [7/9/2020] that a large swath of eastern Oklahoma is actually an Indian reservation belonging to the Muscogee (Creek) Nation, meaning that hundreds of prosecutions could be tossed because the state does not have jurisdiction there, including in part of Tulsa. The 5-4 decision notes that only federal prosecutors have jurisdiction over American Indians on the reservation, which includes most of Tulsa, the state's second-largest city. Justice Neil M. Gorsuch joined the court's four liberal justices in the majority decision in McGirt v. Oklahoma.
NYPD limits retirement applications amid 400 percent surge this week. New York's Finest are putting in for retirement faster than the NYPD can handle — while citing a lack of respect and the loss of overtime pay, The [New York] Post has learned. A surge of city cops filing papers during the past week more than quadrupled last year's number — as the city grapples with a surge of shootings — and the stampede caused a bottleneck that's forcing others to delay putting in their papers, officials and sources said. The NYPD said Wednesday that 179 cops filed for retirement between June 29 and Monday, an astounding 411-percent increase over the 35 who filed during the same time period in 2019.
Counterfeit $20 bill now part of George Floyd murder case. The counterfeit $20 bill that cost George Floyd his life is now part of the murder case against the ex-Minneapolis cops charged in his death, according to court records made public Wednesday [7/8/2020]. The lawyer for accused former cop Thomas Lane said the crumpled bills found between the seats of Floyd's SUV put the officer on alert from the start after Floyd repeatedly reached down and ignored 10 requests to show his hand. "From the initial interaction with Floyd and his vehicle, Lane noticed the driver and passenger in the vehicle digging underneath the seat, as if reaching for something," defense attorney Earl Gray said in a motion to dismiss charges against Lane which included photos of the bills.
Brooks Brothers Files For Bankruptcy After 202 Years Of Business. Brooks Brothers, one of the United States' oldest and most prestigious retailers, filed for Chapter 11 bankruptcy Wednesday after 202 years, CNBC reported. The retailer, credited with dressing 40 U.S. presidents since its founding in 1818, had already been burdened with rising rent when it was devastated by the coronavirus pandemic, which sunk the company's potential sale, according to CNBC. "Over the past year, Brooks Brothers' board, leadership team, and financial and legal advisors have been evaluating various strategic options to position the company for future success, including a potential sale of the business," a company spokesman said.
Kanye West To Run On 'Birthday Party' Ticket, Use 'Wakanda Management Model'. Kanye West is running for president and the details of his bid for the White House are spectacular. [...] In his announcement, West said he's no longer a backer of President Donald Trump. "I'm taking the red hat off," West told Forbes. The reason? "I don't like that I caught wind that he hid in the bunker," West said, referring to the time Secret Service agents took Trump to an underground safe room on May 29 amid violent riots near the White House[.] (Trump later said he was there just to inspect the site). But West is still a fan of the president. "Trump is the closest president we've had in years to allowing God to still be part of the conversation," he said.
Kanye West: 'It's 'Racism and White Supremacy to Say All Black People Need to Be Democrat'. Grammy-winning rapper and fashion mogul Kanye West ripped Joe Biden and declared that the Democratic Party has controlled black Americans to the point that "this white man can tell a black man if you don't vote for me, you're not Black." "That is a form of racism and white supremacy and white control to say that all Black people need to be Democrat and to assume that me running is me splitting the vote. All of that information is being charged up on social media platforms by Democrats," Kanye West said in a lengthy interview with Forbes magazine. "And Democrats used to tell me, the same Democrats have threatened me.... The reason why this is the first day I registered to vote is because I was scared. I was told that if I voted on Trump my music career would be over."
The Editor says...
Spoken like a man who thinks primarily of himself.
Big Tex hardest hit:
State Fair of Texas cancelled for first time since WWII due to coronavirus pandemic. The 2020 State Fair of Texas has officially been cancelled due to the coronavirus pandemic — marking the first time since WWII that the annual event will not be held. The decision was made Tuesday [7/7/2020] in a vote by the fair's board of directors. "In the current climate of COVID-19, there is no feasible way for the Fair to put proper precautions in place while maintaining the Fair environment you know and love," board Chairwoman Gina Norris said.
The Editor says...
What a shame. Where else can I go to enjoy a five-dollar corn dog, accompanied by a four-dollar drink? Where else can I go to park my car in a high-crime neighborhood under the blazing Texas sun, for only $20? Where else can I go to be aggressively approached by some nosy salesman wanting to sell me faster internet service? Oh, wait -- that salesman is at Wal-Mart, with a table set up next to the electronics department.
2020 State Fair of Texas Canceled Due to Ongoing COVID-19 Pandemic. For just the eighth time in the fair's 134-year history, The State Fair of Texas is canceled for the upcoming season. The fair made the announcement on their website Tuesday morning, citing the ongoing COVID-19 pandemic as the reason.
FBI Director Wray says half of bureau's 5,000 counterintelligence cases are related to China. FBI Director Christopher Wray on Tuesday warned Americans that the Chinese government's theft of American information is taking place on so large a scale, suspected incidents make up nearly half of his bureau's counterintelligence cases. Speaking at an event hosted by the Hudson Institute in Washington, Wray said that Chinese thefts amount to "one of the largest transfers of wealth in human history," and that the American people are the victims.
Officer cleared after appearing to flash white power sign at Oregon protest. The Oregon State Police on Sunday [7/5/2020] cleared a trooper who appeared to make a white power symbol during a Black Lives Matter protest in Salem, Oregon, over the weekend. In a statement, authorities said the trooper made the gesture after seeing a skirmish during the event at the Oregon Capitol on Saturday. He was checking on a man who had been knocked to the ground, police said. Footage of the protest, which was streamed live on social media, shows a trooper observing counter-protesters during the demonstration. The officer then walks towards one of the counter-protesters and flashes the "OK" hand gesture, which is used among extremist circles to signal "white power," according to the Anti Defamation League. The counter-protester is then seen patting the officer on the back. NBC News is not publishing or linking to the video to avoid providing a platform to apparent expressions of hate or white supremacy.
The Editor says...
If you re-define a harmless hand gesture that has been in use for many decades, you are to blame if someone misconstrues its use. I had no idea, until a few months ago, that this gesture had been hijacked (mostly by the news media, since there aren't that many white supremacists) as some sort of hateful symbol.
Burgess Owens: America Will See a 'Renaissance' with Trump Re-Elected, GOP House. Utah congressional Republican candidate Burgess Owens told Breitbart News Saturday that America will see a "true renaissance" with President Donald Trump re-elected for a second term and a Republican majority in the House of Representatives. Owens — a former Oakland Raiders safety and Super Bowl champion — recently won Utah's fourth congressional district primary. The black conservative hopes to unseat freshman swing district Democrat Rep. Ben McAdams.
The Editor says...
Now is the time to build more prisons. If the Democrats win, the prisons will be full of people who used to wear red MAGA hats. If the Republicans win, they could be filled with rioters, looters, and other violent criminals, of which there is no shortage.
US population growth is driven ONLY by minorities with the white population declining for the first time in the nation's history. Population growth in the United States has been driven only by minorities in the last decade, according to a new report. Data analysis by Brookings suggests the last decade will also be the first in America's history where the white population declined in numbers. Estimates released by the US Census Bureau ahead of the 2020 results show that last year, for the first time, more than 50 percent of those under 16 also identified as a racial or ethnic minority.
Amazon driver in Detroit quits job on Twitter, leaves package-filled van with keys in the ignition. Here's why he did it. Among the grievances that led [Derick] Lancaster to quit: He said he was late getting to his sister's recent graduation party because he was working, and he felt constant pressure to deliver more packages — and to do it faster. Lancaster said after he left the van, he called a Lyft and went home, until he came to his senses hours later and returned to the gas station and waited for someone from Amazon to pick up the van. He also got back on Twitter and posted a live video about why his job and mental health wasn't worth $15.50 an hour. Since the pandemic began, Amazon workers nationwide have called out sick in protest and held rallies to raise awareness about what they say are unsafe and harsh working conditions.
Home Depot removes spools of ropes from its shelves after customer started making nooses in stores. The Home Depot has changed the way it displays rope for sale after nooses made from spooled rope were discovered in several of its stores, most recently last month in North Carolina. The home improvement giant has removed giant spools of rope from every one of its US locations and has switched to selling pre-cut rope in lengths that are most commonly sold, Home Depot spokesperson Margaret Smith told DailyMail.com
CBO predicts V-shaped recovery, GDP growth to top 12% for rest of 2020. The Congressional Budget Office is predicting the economy will come roaring out of the coronavirus recession with growth surging to 12.4% the rest of this year, before settling back into the longer-term trend of about half that. Unemployment will peak at more than 14% but "fall quickly" as the economy rebounds later this year and into next year, the CBO said in its new update Thursday [7/2/2020]. But it will still be at nearly 6% in 2024, and through the end of the decade will never reach the historically low levels of just a few months ago, CBO said.
CNN Reporter Robbed at Knifepoint on Live TV. It doesn't matter what part of the globe you're in — if you work for fake news CNN, bad things will find you. That's what happened to CNN Brasil reporter Bruna Macedo, who was robbed at knifepoint during a live report in São Paolo on Saturday [6/27/2020]. Macedo was reporting on rising water levels at Bandeiras Bridge in São Paolo when a man in a hoodie was lurking around on camera behind the reporter. It didn't take long for him to make his move.
Rich Hamptons residents rush to hire private security guards after protests. With protesters descending on the Hamptons this summer, rich New Yorkers with second homes on the East End are looking for more protection than just their hedges. Wealthy Hamptonites are rushing to hire security guards to keep them safe from the threat of unrest, The [New York] Post has learned. Charlie McArdle, co-founder of CM Security Consulting, says business is booming in the moneyed enclave, and that he's gotten a flood of calls after Thursday's protests, which targeted the Hamptons homes of figures such as Mayor Mike Bloomberg, real estate mogul Stephen Ross and Blackstone CEO Steven Schwarzman. "My clients range from the 1 percenters to people who are concerned about the political climate and what's going on today," McArdle said.
Wisconsin police officer fatally shoots black man allegedly wielding knives, family says race played role. A black man was shot a killed by a Wisconsin police officer Thursday [7/2/2020] after authorities say he chased a woman with a pair of knives and then advanced on the officer. Family members of Kevan Ruffin, 32, said he had psychiatric issues but believe his race played a role in the shooting. Sheboygan, Wis., Police Chief, Christopher Domagalski said police officers responded to a call that a man was chasing a women with "sai-style" kitchen knives at around 5:50 a.m.
Broadcasting legend Hugh Downs dead at 99. Broadcasting legend Hugh Downs died at age 99 on Wednesday night [7/1/2020] surrounded by loved ones, according to CBS' Arizona affiliate. Downs' historic career lasted over 60 years, with memorable work on "20/20," "Today" and "The Tonight Show." He famously co-anchored "20/20" alongside Barbara Walters where the duo became beloved by millions.
Epstein 'sex slave' Virginia Giuffre, Alan Dershowitz both lose in new court ruling. Attorneys for alleged Jeffrey Epstein "sex slave" Virginia Roberts Giuffre were ordered Wednesday [7/1/2020] to destroy evidence from her case against Ghislaine Maxwell — as lawyer Alan Dershowitz was also denied access to the potentially explosive information. Manhattan federal Judge Loretta Preska said she was "troubled" to learn during oral arguments last week that Giuffre's lawyers, from the firm of Cooper & Kirk, had been given sealed records from her since-settled suit against Maxwell, who Giuffre claims recruited her to have sex with Epstein and his pals while she was underage.
New GOP Ad Issues Powerful Warning About Democrats Threatening American Culture. On Wednesday, the Republican Attorneys General Association (RAGA) released a powerful new ad warning about vandals and rioters destroying a key monument in American culture — the presidents on Mount Rushmore. While the vandals are not likely to actually deface Mount Rushmore anytime soon, their iconoclastic movement has already targeted each of the four presidents on the monument — George Washington, Thomas Jefferson, Abraham Lincoln, and Theodore Roosevelt.
Twitter alternative Parler faces growth obstacle: Too few liberals. The self-proclaimed "unbiased" platform Parler has the potential to become a mainstream platform, social media analysts say, but its one-sided political audience could stunt its growth. "If Parler can't grow beyond its current conservative user base, it will be a trend that quickly fades. It's going to need to get more diversified users and diversified content," social media marketing expert and Digital Trailblazer owner Todd Getts told the Washington Examiner.
The Editor says...
A one-sided audience might inhibit advertising sales, but otherwise, there is nothing to be gained by recruiting left-wing extremists to join the platform.
Bottles And Trash Thrown At NYPD Responding To Crimes. This story is from the weekend, but I wanted to circle back to it as it seems to be emblematic of what's going on in New York City these days in terms of the ability of the police to maintain order in the Big Apple. Early Sunday morning, the police were dispatched to a scene were gunfire was reported. Upon arriving at the Harlem neighborhood where the report originated, they were greeted by the sight of hundreds of people having some sort of party in the streets. But rather than helping the officers look for any possible shooter in the vicinity, dozens of partygoers began pelting the police cruisers with rocks, bottles and garbage. The cops were so badly outnumbered that there was virtually nothing they could do to address the original report.
Knoxville police regain access to computer system following ransomware attack. The Knoxville Police Department regained use of its in-car computers more than two weeks after a ransomware attack shuttered the reporting system the officers use. KPD previously announced officers would not respond to car crashes unless they involved injury or a disabled vehicle blocking traffic because they couldn't access their electronic reporting system.
Trump congratulates Boebert for win in Colorado primary. President Trump congratulated Lauren Boebert late Tuesday night after the pro-gun businesswoman defeated Rep. Scott Tipton, who represented his Colorado district for five terms in Congress. "Congratulations on a really great win!" Trump tweeted. Trump's tweet linked to a post from her Twitter account from back in May where she described herself as a tough fighter against socialism and advocate for the Second Amendment.
University of California SF pays ransomware hackers $1.14 million to salvage research. The University of California at San Francisco (UCSF) has admitted to paying a partial ransom demand of $1.14 million to recover files locked down by a ransomware infection. The university was struck on June 1, where malware was found in the UCSF School of Medicine's IT systems. Administrators quickly attempted to isolate the infection and ringfence a number of systems that prevented the ransomware from traveling to the core UCSF network and causing further damage. While the school says the cyberattack did not affect "our patient care delivery operations, overall campus network, or COVID-19 work," UCSF servers used by the school of medicine were encrypted.
China Is Buying Up Dozens of U.S. Commercial Airliners. We Should Be Worried. After years of aggression, broken promises and falsehoods, most recently about the coronavirus outbreak, the Chinese government has finally begun to face the consequences of its misconduct. On behalf of industries that range from technology to pharmaceuticals, the United States is fighting back against the Chinese. Why then is it looking the other way as Chinese companies buy up the commercial aircraft that Americans fly?
Black cop charged in George Floyd's death joined force to stop discrimination. The black officer charged in the death of George Floyd had joined the force to protect other young black men from police abuse, arguing more cops like himself could change the Minneapolis force. Now J. Alexander Kueng is being denounced by members of his own family. Kueng's mission to change the reputation of the department was rooted in seeing friends — even a sister, Taylor Kueng — treated badly by law enforcement officers, the New York Times reported. Still, Kueng defended authorities, including the sheriff's deputies who arrested his sibling, telling his friends and relatives the best way to fix the department was from within, not by public demonstrations.
Comey miniseries gets pre-election airdate, after director pleads for chance to sway voters. Showtime miniseries based on former FBI Director James Comey's memoir has been rescheduled to debut before Election Day, after its creator made an emotional plea for a chance to sway presidential voters. Billy Ray, who wrote and directed "The Comey Rule," recoiled after learning Showtime originally planned to debut it in late November. Ray wrote an angry letter to his cast and crew about the post-election date obtained by Deadline.com. The note suggests a collective agenda behind the project: ["]I know what a disappointment this is to you. It is for me too — because while I've made movies about my country before, this was the first time I ever made a movie for my country. We all were hoping to get this story in front of the American people months before the coming election. [..."]
Disney to retheme Splash Mountain in Orlando and California to Princess and the Frog. Disney will retheme Splash Mountain to its only film to feature a Black princess, The Princess and the Frog. Disney announced Thursday [6/25/2020] that the ride — currently themed to a film some Disney fans say is the company's most racist, "Song of the South" — will get a makeover at both Walt Disney World in Orlando and Disneyland in Anaheim, Calif.
Army ditches officer promotion photos to combat bias, says strength 'comes from our diversity'. The U.S. Army says its time to ditch photos in officer promotion board packages as a way guaranteeing a diverse racial aesthetic. The move, which will go into effect Aug. 1, was confirmed by Military.com on Thursday and comes shortly after the creation of the "Defense Board on Diversity and Inclusion." "The strength of our Army comes from our diversity," leaders wrote in a memo obtained by the defense website. "Developing and maintaining qualified and demographically diverse leadership is critical for mission effectiveness and is essential to national security."
The Editor says...
Exactly the opposite is true. The strength of the Army comes from uniformity, not diversity. Diversity adds nothing but confusion. Just ask anyone who worked on the Tower of Babel.
US puts sanctions on 5 Iranian ship captains for bringing oil to Venezuela. The United States on Wednesday imposed sanctions on five Iranian ship captains who delivered oil to Venezuela, and Secretary of State Mike Pompeo reaffirmed Washington's backing for Venezuelan opposition leader Juan Guaido. Speaking at a news conference, Pompeo said the ships delivered about 1.5 million barrels of Iranian gasoline and related components, and warned mariners against doing business with the government of Venezuelan President Nicolas Maduro, whose ouster Washington seeks.
GOP Lawmaker Forces DOJ Whistleblower To Admit He Sought Job With Democrats During Trump Impeachment. A Justice Department official turned whistleblower appeared caught off-guard Wednesday when Republican Rep. Doug Collins pressed him in a House Judiciary Committee hearing about his efforts in 2019 to work for House Democrats during the Trump impeachment saga. John Elias, a chief of staff to the Justice Department's assistant attorney general in the antitrust division, reluctantly conceded at the hearing that he sought a position on the Democratic side of the House Judiciary Committee. Elias was one of three witnesses who accused Attorney General William Barr of abuse of his authority at the Judiciary hearing.
Black citizens chase punk robbing old white man, make him give money back. While you would be hard-pressed to believe it watching cable news these days, there really are two Americas. There is the version portrayed nightly on your TV and computer screens, by a liberal media fully invested in a racially-divisive narrative ahead of the presidential election, and there is the America most of us live in. An example of the latter world was captured in a video making the rounds on social media, featuring a black woman and her brother chasing down a younger black man, who appears to have just robbed an old white man.
We Appear to Have the Winner of the 'Most Conservative District' in New York. State Senator Chris Jacobs declared victory Tuesday night in the special election for New York's 27th congressional district, held to replace former Rep. Chris Collins (R) after his resignation following insider trading charges. NY-27 has been classified as the "most conservative district" in the state of New York, so there were plenty of eyes on this one. In his win, Jacobs defeated attorney Beth Parlato, Erie County Comptroller Stefan Mychajliw, and the lone Democratic candidate Nate McMurray. McMurray has yet to concede, but Jacobs's team says there's no way, even with absentee ballots, that the Democrat can make up the deficit. President Trump endorsed Jacobs, touting him as a congressman who would be strong on many of the issues conservatives care about.
Assistant principal at Staten Island high school is investigated after 'racist' rant on Facebook. The New York City Department of Education has launched an investigation into a troubling Facebook post penned by an employee of a Staten Island high school. Deborah Morse-Cunningham, who serves as the assistant principal of New Dorp High School, is still at work despite sharing a lengthy status update in which she pondered the nature of privilege by referring to a number of racial stereotypes. 'What is privilege?' Morse-Cunningham asked in the post, which has now been deleted. 'Privilege is wearing $200 sneakers when you've never had a job. Privilege is wearing $300 Beats headphones while living on public assistance. Privilege is living in public subsidized housing where you don't have a water bill, where rising property taxes and rents and energy costs have absolutely no effect on the amount of food you can put on your table.'
The Editor says...
How is that "a troubling Facebook post"? What did she say that isn't true?
Whistleblower Claims Chinese Communists Pay Vatican $2 Billion in Bribes. Exiled Chinese dissident Guo Wengui alleged this weekend the Chinese Communist Party (CCP) "allocates $2 billion a year" to pay off the Vatican for its silence concerning Chinese atrocities. In a June 20th interview on The War Room, Mr. Guo said the CCP earmarks massive sums each year to win the allegiance of foreign countries including the Vatican, Italy, and Australia. Among them, the Vatican receives up to 2 billion dollars from the Chinese Communist Party every year, he said.
Due to Seattle's unrest, [a] billion-dollar investment firm [is] moving to Phoenix. Coronavirus pandemic or not, an investment advisory company is leaving the cultural unrest in Seattle and moving its headquarters to Phoenix's Camelback Corridor. [...] [President and CEO Cole] Smead said that although taxes in Seattle are lower, candidate recruitment is harder and the cost of living within the city is more expensive than Phoenix.
Berman refused to criticize de Blasio over social distancing rules for religious gatherings, not protests: report. Geoffrey Berman, the former U.S. attorney for the Southern District of New York, refused to sign a letter criticizing New York Mayor Bill de Blasio (D) for okaying protests but not religious gatherings a day before Attorney General William Barr announced he would be replaced, The Wall Street Journal reported Monday [6/22/2020]. Justice Department supervisors asked both Berman and Eric Dreiband, the head of the agency's civil rights division, to sign the letter, but after a brief back-and-forth, Berman objected to its characterization of de Blasio's handling of the protests as a double standard and said signing the letter would hurt relations between the city and his office, the newspaper reported, citing people familiar with the matter. The letter was never sent. It is unclear whether the episode contributed to the Justice Department's removal of Berman.
Digital Yuan: China's Plan to Topple the U.S. Dollar. There are many qualified candidates for the title of second most consequential event of 2020, right after coronavirus and its associated worldwide economic implosion. The global reach of the George Floyd protests comes to mind, as does the still-unfolding China-India clash in the Himalayas. Perhaps North Korea or Iran will deliver another crisis unto the world. Possibly more deserving than any of these, however, is China's planned rollout of its digital yuan, through which the Communist Party intends to upend the U.S.-led financial world order.
Hackers Doxxed More Than 200 Law Enforcement Agencies. The hacker group known as "Distributed Denial of Secrets" on Friday released 10 years' worth of data from more than 200 law enforcement agencies across the nation. The doxxing, being dubbed "BlueLeaks," includes "hundreds of thousands of documents," including "police and FBI reports, bulletins, guides, and more." The documents are 269 [gigabytes]. The group's Twitter account stated the information is being released anonymously, but they took no part in actually obtaining it. The release was done as protests and riots over the death of George Floyd continue across the nation. DDOS co-founder Emma Best told Wired that people began sifting through the documents to learn more about how law enforcement is tracking and communicating with one another about the protests.
In Venezuela, 'Enforced Disappearance' Is Used by the Regime to Keep People In Line. Earlier this week I wrote about the continued deterioration of democracy in Venezuela. Specifically, the Maduro loyalists on Venezuela's Supreme Court announced they were handing control of two opposition parties to individuals who had previously left the parties and joined the Maduro regime. Today a human rights group has published a report documenting how "politicallly-motivated detentions" have become a major tool of repression in Venezuela.
Facebook breaks [its] own free-speech policy over bogus 'symbol of hate' charge. Facebook employees are apparently creating exceptions to CEO Mark Zuckerberg's vow to refrain from policing political speech: On Thursday, the social-media giant took down a Trump-campaign ad — citing a preposterous rationale. "We removed these posts and ads for violating our policy against organized hate," a Facebook spokesman said: They showed a red, upside-down triangle similar to what Nazis used to classify political prisoners, so they violated the platform's ban on "using a hate group's symbol to identify political prisoners without the context that condemns or discusses the symbol." Huh? There are no political prisoners in question here. And Team Trump was clearly condemning the symbol — which is indeed linked to antifa — because the ad included the words: "STOP ANTIFA." In any event, most Americans probably have no idea that the triangle is linked to either the Nazis or antifa. Indeed, a campaign spokesman notes that Facebook itself "has an inverted red triangle emoji in use."
Hillsdale College Refuses To Bow To The Totalitarian Mob. The nationally recognized liberal arts institution Hillsdale College has a history of defying political pressure in order to uphold what is good and true. Its recent refusal to give in to the demands of those who think a public statement is necessary to fight social injustice is just the most recent example. Some of the college's alumni publicly pushed their alma mater to comment on the recent controversies regarding the death of George Floyd and the ensuing protests and riots. When a petition began circulating calling on the college to release a statement, arguing that its "silence" supported violence, the college responded in an open letter. [...] Hillsdale was founded by abolitionists in 1844 and has, since its inception, pledged to educate all students, "irrespective of nation, color, or sex." Such strong anti-discrimination practices were viewed as fiercely radical at the time, and made Hillsdale among the first in the nation to grant education to black Americans and the second in the nation to provide four-year liberal arts degrees to women.
In a world of sheep-like conformity, Hillsdale College takes a stand. [Scroll down] In the 20th century, as myriad colleges gave up their intellectual independence chasing after state and federal money (and, it seems, Chinese money), Hillsdale refused to do so. As it has since its founding, it depends entirely on private donations and tuition to meet its needs. Hillsdale is also one of the few colleges in America that continues the classic inquiring tradition of a liberal education, rather than falling in line with academic leftism and mindless obedience. In sum, Hillsdale is a bastion of intellectual liberty, founded on a moral and historic bedrock dedicated to the equal rights of all people, regardless of race or sex. So, of course, people began insisting that it issue a statement supporting Black Lives Matter.
Canceled: Hispanic Man Loses Job Over 'White Power' Hand Gesture Accusation. He Was Cracking His Knuckles. The fanatical urge to purge and punish wrong-think is claiming scalps across the country, and one of its latest victims is a blue collar, Mexican-American worker in Southern California. Via San Diego's NBC affiliate, this is yet another installment of weaponized political correctness harming innocent people — as the practitioners of paranoid, irrational cancel culture run roughshod over any semblance of common sense, logic, or grace. Everything about this is cartoonishly insane.
Sick, Twisted and Evil — Six eBay Executives Charged With Disturbing Cyberstalking. This is so purposefully evil it almost seems unbelievable. If you ever wondered how twisted and deranged a group of Silicon Valley executives could be this might provide some context. This is what happens when Antifa-types get jobs.
Six Former eBay Employees Charged with Aggressive Cyberstalking Campaign Targeting Natick Couple. Six former employees of eBay, Inc. have been charged with leading a cyberstalking campaign targeting the editor and publisher of a newsletter that eBay executives viewed as critical of the company. The alleged harassment included sending the couple anonymous, threatening messages, disturbing deliveries — including a box of live cockroaches, a funeral wreath and a bloody pig mask — and conducting covert surveillance of the victims.
Feds take on Nigerian internet fraud, freeze assets of six scammers. The Treasury Department said Tuesday that it has frozen the assets of six Nigerian scammers who targeted American businesses and widows for internet fraud, hoping the same financial tools used against terrorism and drug cartels can make a dent in email phishing scams. Government officials called the sanctions an "extraordinary step" as the Justice Department announced fraud and identity theft indictments against the six men, all of whom are still at large. Those announcements were made a day after federal prosecutors in Boston announced that they had arrested and charged two Nigerian men who they say are responsible for stealing coronavirus unemployment benefit money.
Aunt Jemima to remove image from packaging and rename brand. The breakfast brand Aunt Jemima is removing its logo and will be renamed, amid public outcry that the branding perpetuated a racist stereotype, its parent company said Wednesday [6/17/2020]. Quaker Oats said in a statement that the longtime brand will remove the image of Aunt Jemima from its packaging starting at the end of 2020, and the name change will happen at a later date. [...] Quaker Oats, a subsidiary of PepsiCo, owns the Aunt Jemima brand, which has been around for more than 130 years.
The Editor says...
This is better than a caption contest. Stand by for a whole series of memes featuring insensitive and politically incorrect new names for this product, as well as some innovative packaging ideas all over the internet.
Beverly Hills tells BLM protesters to scram; gatherings limited to 10 at night for 'tranquility'. The wealthy stars in Beverly Hills support large Black Lives Matter protests — provided they're held elsewhere. The city issued an ban on any gatherings over 10 people after 9 p.m. until further notice to "preserve peace and tranquility."
Panic In Beverly Hills: Emergency Order Bans Protests In Residential Areas. The rich and famous are all about protesting and declaring themselves down with the struggle until protesters forget their place and invade residential areas of Beverly Hills. Then the masks drop. It's the ultimate Not In My Back Yard (NIMBY) — the City of Beverly Hills issued an emergency order Saturday night [6/13/2020] that bans public gatherings of more than 10 people in residential areas between 9 PM and 8 AM. What brought this on? Well, it seems a group calling themselves "Occupy" disrupted the beauty sleep of locals in their posh neighborhood on June 12 between the hours of 10 PM until 1 AM. The group used bullhorns and "amplified music". The residents want their tranquility back. The emergency order remains in effect until further notice.
Disney Mum on Splash Mountain Outcry. There is a growing call for Disney to rebrand one of its classic rides, which is intertwined with arguably the company's most controversial film. Amid the ongoing worldwide anti-racism protests in the wake of the May 25 killing of George Floyd, a number of discussions have taken place about previously accepted symbols of historical division in America. There have been some direct results from the renewed outcry, such as NASCAR banning the use of the Confederate flag at races and the country band Lady Antebellum renaming itself "Lady A." Disney has found itself in the middle of the debate due to Splash Mountain, the ride featured at a number of its theme parks, including Walt Disney World and Disneyland. The ride features characters from the 1946 film Song of the South, a movie so overtly out-of-touch and racist, Disney chairman and former CEO Bob Iger made it a point to note the film would never be available for purchase or made to stream on Disney+. (Vintage VHS copies are going for north of $100 on eBay).
NYPD investigating whether three cops were served poisoned milkshakes at downtown Manhattan Shake Shack. Three police officers fell ill Monday after drinking milkshakes at a Manhattan Shake Shack, and the NYPD was investigating if they were poisoned with bleach. The officers ordered a meal at the burger chain's location at Broadway and Fulton St. at about 8:30 p.m. and noticed their shakes tasted strange, police sources said. One of the officers noticed a "clump of something" in one of their cups, and a second cop smelled bleach before all three fell ill, sources said.
NYPD officers taken to hospital after drinking milk shakes at Shake Shack: cops. Three NYPD police officers were taken to the hospital on Monday night after drinking milkshakes at a Shake Shack in the city that they said had an unfamiliar taste, police officials told Fox News. It was later determined that there was "no criminality" after police investigated the scene. "After a thorough investigation by the NYPD's Manhattan South investigators, it has been determined that there was no criminality by shake shack's employees," Chief Rodney Harrison, the head of detectives for the department, announced on Twitter.
Update / opposing viewpoint:
Oops: Four NYPD Officers Poisoned At Restaurant — By Accident. Detectives determined that the employees failed to properly rinse the milkshake machines after cleaning them as usual with a bleach solution, CNN reported shortly afterward. [...] It was just random chance, therefore, that the first customers who ordered milkshakes turned out to be cops.
The Editor says...
Even if this explanation is true, the cops could still sue the restaurant.
NYPD Cops 'Intentionally Poisoned' With Bleach In Drinks From Shake Shack. After an investigation, the NYPD says there is no criminality involved, suggesting the drinks were poisoned by accident. "NYPD finds no criminality by Shake Shack workers in case of sickened cops," remarked John Cardillo. "Well this is odd as most places don't bleach paper cups. I guess the bleach jumped into the milkshakes on its own."
Shake Shack 'Horrified' NYPD Cops' Drinks May Have Had Bleach. Three NYPD officers were sickened by a cleaning solution that was left in the drink machine their milkshakes came from when they dined at a Shake Shack in Lower Manhattan Monday night, police said. After a thorough investigation, the NYPD said it found no criminality by Shake Shack's employees, according to Chief of Detectives Rodney Harrison. The three cops from the Bronx were assigned to watch over protests in Manhattan and they went into the burger chain at Fulton Center around 8:30 p.m., according to the union. After eating their meals and drinking some of their milkshakes, the officers discovered some toxic substance in their beverages, the union said.
Update:
Update: NYPD Denies that Officers [were] Poisoned at Shake Shack. NYPD Chief of Detectives Rodney Harrison declares that an investigation of the incident did not find evidence of a crime from any Shake Shack employees.
The Editor says...
How did this story gain so much traction so quickly? Because it is 100 percent believable, at a time when anti-police demonstrations are underway in major cities. If I were a cop, I'd be extremely suspicious of the employees in every restaurant.
Insanity at the Poetry Foundation. You may not pay much attention to the Poetry Foundation, possibly because you are under the impression that, as the modesty of its name and goals imply, it is a struggling little outfit. Perhaps you picture a staff of a few miserable editors working in some backroom in threadbare cardigans, warming their hands over the only heat they can afford, which is generated by setting fire to their own rejected manuscripts. The Poetry Foundation is, however, more like the Palace of Versailles of cultural nonprofits. Its endowment is fat with a quarter of a billion dollars of assets, according to the New York Times, thanks to the generosity of the late pharmaceutical heiress Ruth Lilly, who gave the Chicago foundation $100 million in 2002 before her death in 2009. Those who would like to transfer this fortune from the Poetry Foundation to their own bank accounts are using the favored tool of the day, which is to issue a thundering race-based denunciation. As usual, this tactic is working well.
The Editor says...
I had never heard of the Poetry Foundation until now, and now that I've heard of it, I can't imagine what this organization does that requires so much money.
Florida police chief takes a knee, loses his SWAT team. Is there anything more pathetic than a leader whose charges have all simply walked away? Hard to look big and powerful when that happens. That's the pretty picture in Hallandale Beach, where the entire SWAT team resigned after the police chief and members of his command staff took a knee in religious obeisance to the Black Lives Matter anti-police activist group.
Entire SWAT Team in Florida City Resigns in Response to Police Chief Kneeling with Black Lives Matter Protesters. An entire SWAT team in Hallandale Beach, Florida resigned on Friday in response to Police Chief Sonia Quinones kneeling with Black Lives Matter protesters. The police chief scheduled a meeting for Monday [6/15/2020] with the officers who resigned to hear their complaints. In a memo, the SWAT officers said in addition to being under trained and minimally equipped, they were outraged to see the police chief kneeling with political activists.
Cops to America: You won't have to abolish police, we're outta here. Mike O'Meara, the president of the New York State Police Benevolent Association, is not the only cop fed up and exasperated with mainstream America's incessant demonization of all law enforcement officers. Not by a long shot. So is Travis Yates, a 27-year Tulsa cop who "grew up in a law enforcement family" but is now warning of an incoming police exodus. In a powerful, nearly 1500-word long column published last week at LawOfficer.com, Yates poured his heart out over the growing disrespect for law enforcement that he's seen as the decades have progressed.
Truck Drivers Say They Will Not Deliver to Dangerous Far Left Cities with Defunded Police Departments. 77% of truck drivers say they will not deliver to far left cities with defunded police departments. Nor should they. Truck driving is a dangerous profession. Far left mayors and violent rioters make it deadly. Here's a scene from a "peaceful protest" last week that did not end well for the trucker. The mob yanked him from his cab and beat him senseless. [Video clip]
State to relitigate Supreme Court's Hobby Lobby abortion decision. The state of Illinois apparently has decided to relitigate the Supreme Court's Hobby Lobby decision, which concluded the First Amendment prevents the government from ordering religious believers to violate their conscience by requiring them to pay for abortion. In response, the Thomas More Society is suing the state "to challenge a law requiring all health insurance policies sold in the state to provide coverage for elective chemical and surgical abortions, with no exemptions, even for churches."
A New Silent Majority Is Coming. Led by a media that is at once delusional and cynical — an eye-rolling combination — America is in the throes of a national madness. Few are able to tell the truth — and when they do, they are attacked by the mob, not only in the street, but in the board room. Just the other day, talk show host Tucker Carlson opened his mouth about the well-documented dishonest origins (the lie about Michael Brown) of Black Lives Matter and sent advertisers skittering like so many scared rabbits. You have the sensation that people across the country are hiding what they really think for fear of repercussions, retribution that will destroy their lives and livelihood. And they're not being stupid. It could — and has.
Twitter removes 170,000 accounts associated with Chinese misinformation campaigns. Twitter announced Thursday [6/11/2020] that it deleted more than 170,000 accounts associated with Chinse state-linked misinformation campaigns. The social media company published an archive of 32,242 accounts related to state-linked information operations including three attributed to China, Russia and Turkey, adding that data from the accounts was shared with the Australian Strategic Policy Institute and Stanford Internet Observatory.
Cancel culture goes crazy, claiming classics, cartoons and the confederacy. All right, this time they've gone too far. As part of a sweeping reassessment of all things either favorable to the police or upsetting to the black community, the latest target is "Paw Patrol." That's right. No less an authority than the New York Times informs us that the Nick Jr. cartoon — featuring a squad of canines running around helping other creatures — is too positive toward the cops. After the show tweeted an appeal for black voices to be heard, the commenters started growling: "Defund the paw patrol." "Euthanize the police dog." "All dogs go to heaven, except the class traitors in the Paw Patrol."
Black Lives Matter Website, 'Defund The Police' Donations Go to 'Act Blue', The 'Biden For President' Campaign's Top Source of Donations. The National Pulse can reveal the Black Lives Matter website — the organization spearheading nationwide "defund the police" campaigns — is partnered with ActBlue, a Democrat fundraising platform that is the top donor to Democratic presidential candidate Joe Biden, responsible for raising nearly 99.64 percent of the Biden for President effort. While the Biden campaign insists it doesn't support efforts to defund the police, it may happily profit from Black Lives Matter (BLM) efforts, and is complicit in taking money from an organization partnered with those spearheading the dangerous policy that has already taken root in Minneapolis, New York, and Los Angeles.
BUSTED! DNC Gets Caught Laundering Money Through Black Lives Matter. The Democratic National Committee and the Democrats are really as corrupt as they come. It is absolutely unreal what they get away with. Last year, we learned about a lot of overseas donations from foreign entities to Democrats including former presidential candidates such as Cory Booker, Kamala Harris, and Adam Schiff, but ther were a number of others as well. It appears as though the BlackLivesMatter.com website that it is an international money laundering scheme and a front for the DNC to generate money from people across the world.
Merriam-Webster To Change Dictionary Definition of "Racism" to Show Only White People are Racist. The root of the issue here is how to define racism. Racism, obviously, means disliking another race, viewing it as 'bad'. That's a definition that black nationalists and their leftist allies really hate because it raises the possibility that Farrakhan, Sharpton, or Tamika Mallory can be racist. Instead they define racism as a system of oppression so that only people with power can be racist and only white people have power. Therefore Farrakhan can't possibly be racist. This wasn't a fringe idea. Obama was one of the more prominent figures who implicitly championed it The usual tell for someone who is pushing this is their use of "reverse racism" to refer to racism by minorities, all the while insisting that reverse racism doesn't exist. Now in the dumpster fire of 2020, Merriam-Webster will be redefining racism.
Leaked 2015 Democrat Memo Warned Lawmakers 'Don't Offer Support' for 'Radical' Black Lives Matter. A leaked 2015 internal Democrat Party memo warned top House Democrats not to embrace the Black Lives Matter movement because it was described by the Democrat Congressional Campaign Committee (DCCC) as a "radical movement." The memo, from then-DCCC official Troy Perry addressed to "DCCC Staff" on Thursday Nov. 19, 2015, noted that the Democrats' 2016 presidential candidates "have struggled to respond to tactics of the Black Lives Matter movement." Perry was at the time he wrote this the DCCC's Director of Diversity and Public Engagement. [...] Perry warned recipients of his memo in the next line that it was top secret and confidential — not to be shared with anyone. "This document should not be emailed or handed to anyone outside of the building," he wrote. "Please only give campaign staff these best practices in meetings or over the phone."
Cox slows an entire neighborhood's internet after one person's 'excessive use'. Cable company Cox Communications is slowing internet speeds of a whole neighborhood if one resident is a heavy user, Ars Technica reported. Cox confirmed that it does enact neighborhood-wide slowdowns to discourage what it calls "excessive use," but didn't specify how many users it would take for this to happen. One Florida customer said he was warned about his data usage before Cox responded by slowing upload speeds on his gigabyte internet plan with unlimited data from 35 Mbps to 10 Mbps for the customer and all of his neighbors.
'Cops' canceled amid George Floyd protests. The long-running reality-TV show "Cops" has been canceled, a casualty of the George Floyd protests. The show, which began in 1989, was pulled from the schedule of the Paramount Network several days ago, and Tuesday [6/9/2020] the network said it won't be coming back. "'Cops' is not on the Paramount Network and we don't have any current or future plans for it to return," a Paramount Network spokesperson told Variety magazine in a statement.
Corcoran realtor fired for using photo of NYPD van on fire to sell homes. A Corcoran realtor has been fired for trying to lure Big Apple home buyers to Florida — by using a photo of an NYPD van in flames during the recent George Floyd protests. "Looking for Change?" South Florida agent Joseph Swedroe asked in an email blast — juxtaposing the engulfed cop vehicle with images of boating and sandy beaches in the Sunshine State, according to The Real Deal. His email asked potential buyers if they wanted to live in "chaos or comfort," alluding to violent clashes and looting that rocked the city during mass protests over Floyd's death, the real estate site said. Swedroe — a licensed real estate agent since 2010 — insisted there was "nothing offensive" in his blast because "everything in the email was easily available online, or in the newspaper or on TV."
Petition language to recall Michigan Gov. Gretchen Whitmer approved by state board. The language in a petition to recall Gov. Gretchen Whitmer for the signing of nine of her executive orders during the COVID-19 pandemic has been approved by the Michigan Board of State Canvassers. Albion resident Chad Baase, 39, was successful in his third attempt at coming up with "clear and factual" language to move forward with the recall petition process. He and his group — the Committee to Recall Governor Gretchen Whitmer — must come up with more than 1 million signatures from registered voters in 60 days or less to trigger a recall election.
"We Effectively Have A Zimbabwe Fed" - John Williams Warns "The System Is Bankrupt". While the country was distracted with the Covid-19 lockdown and economic crisis, the Federal Reserve made a huge banking requirement change never before done in history. The Fed cut "...reserve requirement ratios to zero percent effective March 26, 2020. This action eliminated reserve requirements for all depository institutions." What does this profound change mean?
Stan Wischnowski resigns as The Philadelphia Inquirer's top editor. Stan Wischnowski, the top editor of The Philadelphia Inquirer, has announced his resignation, days after discontent among the newspaper's staff erupted over a headline on a column about the impact of the civil unrest following the police killing of George Floyd in Minneapolis. [...] It was the placement of an insensitive headline over Inga Saffron's column in the Tuesday [6/2/2020] newspaper that may have set the stage for Wischnowski's departure. He joined the two other top editors in signing an apology to readers and staff, characterizing the headline, "Buildings Matter, Too," as "deeply offensive" and apologizing for it.
Alamance County speedway breaks state's restrictions again, draws more than 2,000 in 'protest against inequality, injustice'. A North Carolina speedway drew a crowd of more than 2,000 spectators in defiance of the state's coronavirus restrictions after declaring the race a "protest." The governor's office had warned Ace Speedway that a crowd of more than 25 would violate the state's Phase 2 coronavirus restrictions. But news outlets report that more than 2,000 attended a race Saturday night.
Boris Johnson's excellent answer to Beijing's move on Hong Kong's freedom. Cheers to British Prime Minister Boris Johnson for offering millions of Hong Kongers visas and a path to UK citizenship if Beijing goes ahead with its horrible new "security law." [...] London is in no position to stop the massive treaty violation. But Johnson's riposte will still wound: If the law goes ahead, he says, he'll offer visas and potential citizenship to all 3 million Hong Kongers who qualify for British National (Overseas) passports, not just the 300,000 who now hold them.
The Great Diamond Glut: Miners Stuck With Gems Worth Billions. In one of the world's biggest diamond vaults, hidden inside a nondescript office compound on the dusty outskirts of Botswana's capital, the precious stones just keep piling up. Owner De Beers, which mines and auctions most of its gems in the southern African nation, has barely sold any rough diamonds since February. Neither has Russian rival Alrosa PJSC. Now, as the coronavirus restrictions that froze the global industry for months begin to lift, the unsold diamonds present a dilemma: how to reduce billions of dollars' worth of stocks without undermining the nascent recovery. The pandemic has devastated the diamond world. Jewelry stores closed their doors, India's cutting and polishing artisans were forced to stay home and De Beers had to cancel its March sale because buyers couldn't travel to view the merchandise. [...] The five biggest producers are probably sitting on excess inventories worth about $3.5 billion, according to Gemdax, a specialist advisory firm.
The Editor says...
Diamonds are just minerals, and in some parts of the world they are not especially rare. If the American consumer were to realize this, the price of diamonds would drop ... like a stone.
Looney Tunes remake will see Elmer Fudd without his rifle as creators declare 'we're not doing guns'. Warner Bros has commissioned a new animation series featuring the classic characters, including Bugs Bunny, which sticks close to the spirit of the originals. [...] In response to US gun violence, the showrunners will not include firearms in Fudd's arsenal. That is not to say that he has given up hunting Bugs Bunny, though — he just uses a scythe instead.
The Editor says...
[#1] Elmer Fudd never carried a rifle. [#2] The depictions of firearm misuse in cartoons had no effect on violent crime in America in the 1940's and 1950's, when the cartoons were so violent that many of them can't be shown on television any more. [#3] The Warner Brothers cartoons started going downhill about 1960, and really hit the skids when computer animation took over from hand-drawn works of art.
Antifa Reportedly Chased Out of Town by Hell's Angels Biker Gang. According to various reports on social media, several biker gangs coalesced to prevent an Antifa demonstration from taking place in Placerville, California. [...] A tweet containing a Facebook post from the small California town telling how the infamous Hell's Angels united with other gangs to reportedly repel an Antifa demonstration. The tweet reads: "ANTIFA has threatened the town of Placerville, CA. They said if anyone stands in their way "there will be consequences." So Hell's Angels and the Mongols biker gangs have accepted the challenge !
'I Only Kneel For One Person': Black Georgia State Trooper Refuses To Kneel At Black Lives Matter Protest. A Georgia law enforcement officer refused to kneel for protesters at a Black Lives Matter rally in Hartwell, Georgia on Sunday [6/7/2020]. Instead, Georgia State Trooper O'Neal Saddler was recorded telling a female protester that he only kneels "for one person, and that's God." The video, which was first posted to Facebook by Ni'Rubyan Photography, was shared Saturday on Twitter by Students for Trump President Ryan Fournier.
Black Georgia state trooper refuses to kneel at a Black Lives Matter protest: 'I only kneel for one person'. Georgia State Trooper O'Neal Saddler refused to kneel during a Black Lives Matter protest in Hartwell, Georgia, on Sunday, saying he "has much respect" but only kneels "for one person." Video was rolling after Saddler had apparently been asked by a protester to kneel during the demonstration out of respect for the black community. "If I didn't have any respect, I wouldn't [be here]," Saddler began saying to a female protester. "I was supposed to be out of town this weekend with my wife. I took off today, this weekend, but I'm out here to make sure y'all are safe." "Don't go there with respect, OK? I have much respect, but I only kneel for one person," Saddler continued.
Poll: 56% Of Americans Believe Police Are Behaving Appropriately Or Not Being Aggressive Enough. A new NPR-Marist poll found that 56% of Americans believe that the police are behaving appropriately or not being aggressive enough during the nationwide demonstrations after George Floyd's death. The survey, which was conducted Tuesday through Wednesday, asked 1,062 American adults about police behavior in relation to the protests about George Floyd's death with a margin of error of +/- 4 percentage points.
Trump retweets video of Candace Owens attacking George Floyd. President Trump retweeted a video Friday of right-wing commentators Glenn Beck and Candace Owens attacking the reputation of George Floyd. "The fact that he has been held up as a martyr sickens me," Owens told Beck in the footage. "George Floyd was not a good person." As mass protests rocked the nation for yet another day, the Trump retweet amplified the message to a worldwide audience and his 81.8 million Twitter followers. Beck and Owens then delved into Floyd's lengthy criminal record, which included time behind bars. Floyd's autopsy report revealed he had both fentanyl and methamphetamine in his system at the time of his death.
AMC theater chain warns it may not survive. Back in mid-March, Regal Theaters announced they would be closing down operations because of the coronavirus and I was worried that it could be the end for some chains. Today [6/3/2020], AMC Theaters, the nation's largest chain announced that it might not survive if shutdowns continue for much longer. All of AMC's theaters are shut down through June, which means the company isn't generating any revenue.
A Dark Day for Freedom of Expression. It's been a terrible 48 hours for Americans who believe in freedom of speech. [...] [F]irst a note about Alex Berenson. He is the former New York Times reporter who has been highly critical of the lockdown policy employed by most places to slow the spread of coronavirus. Berenson's lockdown critique was sober and data-based — and deeply unpopular among advocates of extending lockdowns far into the future. So Berenson put his work into book form. And then, on Thursday, he got a message from Amazon, telling him the online giant would not be selling his book. "Your book does not comply with our guidelines," Amazon said. "As a result we are not offering your book for sale." Amazon went on to refer customers to "official sources" for information about coronavirus. Amazon offered no further explanation. It was censorship, pure and simple. And then some prominent voices, notable among them tech mogul Elon Musk, began to protest. "This is insane, @JeffBezos," Musk tweeted, addressing the head of Amazon. "Time to break up Amazon. Monopolies are wrong!" And then — Presto! — Berenson's book was released from captivity, available from Amazon.
Autopsy report: George Floyd died from cardiopulmonary arrest, was positive for COVID-19. The family of George Floyd and the Hennepin County Medical Examiner's Office agreed to release the full autopsy report of George Floyd. In the report, it is stated that Floyd died of cardiopulmonary arrest complicating law enforcement subdual, restraint and neck compression. Floyd had multiple blunt force injuries to his forehead, face and upper lip as well as cutaneous blunt force injuries of the shoulders, hands, elbows and legs.
The June 4 Tiananmen Square Massacre: Five Truths That Still Aren't Widely Known. Despite Hong Kong lighting up every evening on June 4 in an annual candlelight vigil to commemorate the victims of the massacre, Chinese mainlanders across the border are without such freedom of speech. Talking about the Tiananmen Square Massacre, or even mentioning "June 4," or "6.4," could have one disappear. In 2007, Zhang Zhongshun, a lecturer from Yantai University, showed his class a video of the massacre he obtained from an overseas website. He was subsequently jailed for three years by Laishan City Court on Feb. 28, 2008. "I imagined that the worst case would just be that the university president would criticize me in front of my colleagues in a meeting. I would not have thought that the communist regime would imprison me," Zhang told The Epoch Times in an interview after his release from the detention. "Is it illegal even if I include a historical event into my lecture?" he asked. Who'd dare raise this for discussion in China knowing the consequences?
Who are the biggest holders of gold? The U.S. Federal Reserve is the world's largest holder of gold, with 8,133.5 tonnes as of May 2020, accounting for 78.3 percent of its reserves, according to the International Monetary Fund and International Financial Statistics. Germany was the second-largest gold hoarder at 3,362.2 tonnes, or 74.3 percent of reserves. The International Monetary Fund has the third-largest gold stash at 2,814 tonnes. The IMF holds the commodity for financial soundness and to help meet unforeseen contingencies.
Petition to impeach Mayor Bill de Blasio gains support amid protests. Critics of Mayor Bill de Blasio are circulating an old, fanciful petition calling for his impeachment amid outrage over riots and lootings in the city during protests over the death of Minnesota resident George Floyd at the hands of the police. The online Change.org petition — "Impeach de Blasio" — garnered more than 60,000 signatures and growing Tuesday night [6/2/2020]. Organizers are seeking 75,000 backers. The petition was started last year but thousands signed onto the petition Tuesday as controversy raged over protests engulfing the city that have triggered clashes between participants and police officers and reports of vandalism and property damage of retail stores. But critics are just venting their frustration. De Blasio will not be impeached. He is term-limited and will complete his term at the end of 2021.
George Floyd had 'violent criminal history': Minneapolis police union chief. The head of the Minneapolis police union says George Floyd's "violent criminal history" needs to be remembered and that the protests over his death are the work of a "terrorist movement." "What is not being told is the violent criminal history of George Floyd. The media will not air this," police union president Bob Kroll told his members in a letter posted Monday on Twitter. Floyd had landed five years behind bars in 2009 for an assault and robbery two years earlier, and before that, had been convicted of charges ranging from theft with a firearm to drugs, the Daily Mail reported.
The Editor says...
Regardless of his criminal record, Mr. Floyd did not deserve the treatment he got.
140 Republican Lawmakers Pile Onto Lawsuit Against Democrats Over Proxy Voting, File Injunctions On New Proxy Votes. An additional 140 House Republicans have joined a lawsuit Friday filed earlier this week against Speaker Nancy Pelosi over new rules in the lower chamber allowing for proxy voting. The suit was initially filed Tuesday by House Minority Leader Kevin McCarthy joined by 20 GOP lawmakers and four constituents on the eve of the first time members of the House have ever voted without being physically present, upending more than 200 years of precedent.
Chinese state media says US demonstrations are 'beautiful' as it hits back at American support for Hong Kong protests. Chinese state and social media have been filled with reports highlighting the nationwide demonstrations against police brutality in the US and attacking American politicians who supported the Hong Kong protests. State news agency Xinhua described the chaotic scenes as "Pelosi's beautiful landscape", a veiled reference to House Speaker Nancy Pelosi's comments last year that the mass protests in Hong Kong were "a beautiful sight to behold". State broadcaster CCTV on Saturday referred to the protest cities as "warzones" and produced round-the-clock updates and analyses highlighting the racial divide in the US.
George Floyd and Officer Chauvin worked at the same restaurant together for seventeen years. 'They were coworkers for a very long time.' [Video clip]
Autopsy reveals George Floyd didn't die of asphyxia or strangulation. A new finding by the Hennepin County Medical Examiner's office is not going to sit well with folks clamoring for charges against former Minneapolis police officer Derek Chauvin to be upgraded from third-degree murder. According to statement of probable cause filed with the Fourth District Court, the autopsy performed on George Floyd on Tuesday indicates "no physical findings that support a diagnosis of traumatic asphyxia or strangulation."
Complaint: Autopsy reveals nothing to support strangulation as cause of George Floyd's death. The white Minneapolis police officer who knelt on George Floyd's neck was arrested and charged with murder Friday [5/29/2020]. Derek Chauvin, 44, was charged with third-degree murder and second-degree manslaughter in the case. "What Minnesota had said in this initial charging is the officer did not have premeditation, he did not go into this incident desiring to kill this victim," explained Jacksonville attorney Gene Nichols.
Asphyxiation not the cause of George Floyd's death: Autopsy. George Floyd died Monday from a combination of preexisting health conditions exacerbated by being held down by Minneapolis officers, not from strangulation or asphyxiation, based on the medical examiner's initial report. Preliminary findings from a Tuesday autopsy conducted by the Hennepin County Medical Examiner found "no physical findings that support a diagnosis of traumatic asphyxiation or strangulation," according to the criminal complaint filed Friday against former officer Derek Michael Chauvin. "Mr. Floyd had underlying health conditions including coronary artery disease and hypertensive heart disease," said the complaint from the Hennepin County Attorney. "The combined effects of Mr. Floyd being restrained by police, his underlying health conditions and any potential intoxicants in his system likely contributed to his death."
As you hurl bricks and set fires...
Minneapolis mayor urges protesters to wear masks and practice social distancing. The mayor of Minneapolis told individuals protesting that their anger is "understandable" and "right" but urged them to make sure they are wearing masks and practicing social distancing during their demonstrations. "The City encourages everyone to exercise caution to stay safe while participating in demonstrations, including wearing masks and physical distancing as much as possible to prevent the spread of COVID-19," Minneapolis Mayor Jacob Frey's office wrote in a statement addressed to individuals who took to the streets following the death of George Floyd while in police custody. "The City has made hundreds of masks available to protesters this week."
Twin Cities Situation Deteriorating as Keith Ellison Fans the Flames. Twin Cities rioters and leftists are spreading a conspiracy theory: they claim that an agent provocateur, an undercover police officer, was the first to vandalize property in Minneapolis, and therefore the police are "really" responsible for the arson, looting, and so on now taking place. This is absurd, of course. But now Attorney General Keith Ellison, the state's chief law enforcement officer, has signed on with the far-left kooks: [Tweet]
George's Floyd's preliminary autopsy raises the question: Was this another rush to judgement? Almost totally absent from the mainstream news Friday [5/29/2020], as the violent insurrection in the wake of George Floyd's death spread to cities nationwide, were the preliminary results of his autopsy. The report was part of the arrest warrant for Derek Michael Chauvin, the disgraced former Minneapolis police officer who was taken into custody on Friday afternoon and charged with the third-degree murder of Floyd while he was in police custody last Monday evening. The brief mention of the autopsy suggests that the case against Chauvin, and possibly his three colleagues assuming they too will eventually be charged, for being totally responsible for the death of Floyd may not be as cut and dried as previously thought.
Trump supporters smeared — again — by the left, in Minnesota mayhem. When Trump supporters say 'it's not about Trump, it's about us,' when the left howls about President Trump, they aren't kidding. The Minnesota riots, brought on by a video of a bad instance of police brutality, have incited leftists to paint the perpetrating cop, Derek Chauvin, as a Trump supporter on social media, something they're spreading around: [Tweets] Here's the fact-check that isn't been seen on Twitter from its vaunted fact-checkers: The claim is 100% fake. 100% And I've looked around for Twitter's disclaimers about it and don't see any.
At Long Last, Minnesota Officials Arrest Derek Chauvin. Two days too late, news broke late this morning that Minnesota officials finally decided to arrest Derek Chauvin, the dirty cop who killed George Floyd earlier this week. Had the arrest been made on Wednesday, many Minneapolis/St. Paul businesses that have been burned in the meantime might still be open for business.
George Floyd autopsy found 'no physical findings...of traumatic asphyxia or strangulation'. The Hennepin County Medical Examiner's Office said Friday [5/29/2020] that it found no evidence of strangulation in its autopsy of George Floyd, the Minneapolis resident who died after a police officer put his knee on a handcuffed Floyd's neck. Floyd's death on Monday has touched off a series of violent, destructive riots in Minneapolis and St. Paul. The four officers involved in pinning him down during the altercation have been fired; Derek Chauvin, the officer whose knee was on Floyd's neck during the arrest, has been arrested and charged with third-degree murder and manslaughter. In a criminal complaint filed against Chauvin, the state asserts that the officer "caused the death of George Floyd by his culpable negligence," though it stops short at claiming that it was Chauvin's knee on Floyd's neck that directly caused the latter's death.
Officer who knelt on George Floyd's neck during fatal arrest charged with murder. The Minneapolis police officer who was kneeling on George Floyd's neck during the arrest that would lead to Floyd's death has been arrested and charged with murder, city officials reported Friday [5/29/2020]. Minnesota Department of Public Safety Commissioner John Harrington confirmed that Derek Chauvin, one of the four police officers fired after the incident that ended with Floyd dead, was arrested by the Minnesota Bureau of Criminal Apprehension on Friday. Following the arrest, Hennepin County Attorney Mike Freeman said Chauvin has been charged with third-degree murder and manslaughter.
Violent Rioters Breach Ohio Statehouse, Breaking Windows and Entering Building to Protest Death of George Floyd. Protests and riots are ongoing in several cities around the U.S., including Minneapolis and St. Paul, Minn., Memphis, Tenn., Louisville, Ky., Denver, Colo., Los Angeles Calif., and Columbus, Ohio. The Statehouse in Columbus came under attack, with rioters breaking windows and some entering the building. There are unconfirmed reports that the protesters damaged the interior of the building. [Several video clips] Authorities wasted no time breaking up the attack on the Statehouse, sending in the SWAT team to disburse the crowd. Officers used a loudspeaker to announce that an emergency had been declared and ordered protesters to leave the area.
Black Small Business Owner Filmed Crying After Rioters Loot and Destroy His Business. The rioting went on late into the night Thursday in Minneapolis, stretching into early Friday morning with protesters stealing and torching several U.S. Postal Service vans to protest the death in police custody of George Floyd on Monday. The mob damaged or destroyed 130 businesses in Minneapolis this week. [...] This black small business owner as seen crying after looters destroyed his sports bar.
By all means, if you're going to loot a store, hit Whitey!
Sharpton Upset: 'Reckless' Rioters Are Destroying the Black-Owned Stores! One might think that MSNBC might give Rev. Al Sharpton the day off when the hot topic is protesters burning down buildings. In 1995, Sharpton's protest against the "white interloper" who ran Freddy's Fashion Mart in Harlem led to a fire where seven people died of smoke inhalation (and the arsonist shot himself). Discussing the rioting in Minneapolis on today's [5/29/2020] Morning Joe, Al Sharpton began by telling protesters that the goal of a fair criminal justice system wouldn't be achieved by "appearing" to be criminal themselves. He warned that people would "exploit" that. A clearly upset Sharpton then said: "As I walked around Minneapolis yesterday ... some of the stores that are being damaged are black-owned stores! So we cannot become so reckless that we are destroying each other in our rage."
The Editor says...
I hope all the rioters are staying six feet apart from one another, because that's what's really important! We want you brick-throwing Antifa anarchists to stay healthy!
Minneapolis Mayor Frey: 'Brick and mortar is not as important as life'. Minneapolis Mayor Jacob Frey held a press conference early Friday morning ]5/29/2020] at City Hall. Around 1:30 a.m., Frey addressed a city that is enduring escalating protests that have lasted for the past three days in response to the death of George Floyd. Four Minneapolis Police officers were fired in the incident that happened Monday night. Thursday night's protests accelerated in violence in comparison to the previous two, with the Minneapolis Police Department's 3rd Precinct set on fire, where all the fired officers were from.
CNN Crew Arrested by MN State Police Live on Air During Riot Coverage. The Minnesota Governor has activated the National Guard and the state police have been deployed to try to control the situation. But the state police may have just stoked the situation instead by arresting a CNN crew live on air. Police claim that the crew didn't move out of the riot area when they were told. The CNN crew said they were trying to be compliant with the police and that's what it appears like from the video. But then they were arrested while the cameras rolled. They arrested the reporter, Omar Jiminez on air, but also arrested the whole crew including the producer and the cameraman. [Video clip]
Update:
CNN crew released after being arrested while reporting on Minneapolis protests. Three members of a CNN crew have been released after being placed under arrest during a live report Friday morning [5/29/2020], according to the Minnesota State Patrol. According to CNN, the crew was detained while giving a live report in Minneapolis just after 5 a.m. Friday. The CNN crew was covering protests over the death of George Floyd this week in Minneapolis. The reporter at the scene who was placed under arrest told CNN he was holding his badge and identified himself as a reporter while reporting from the scene. According to the crew at the scene, CNN reports, police told them they were detained because they were told to move and didn't.
Cuomo says NY businesses can deny entrance to those without masks. New York businesses will have the right to deny entrance to those who refuse to wear a mask or other face covering under an executive order Gov. Andrew Cuomo announced Thursday [5/28/2020]. "We're giving the store owners the right to say, 'If you're not wearing a mask, you can't come in,' " said Cuomo in a press briefing at the Madison Square Boys and Girls Club in Flatbush, Brooklyn. "That store owner has a right to protect the other patrons in that store. "You don't want to wear a mask? Fine. But you don't have a right to then go into that store if that store owner doesn't want you to."
The Editor says...
Consider what this means. The store owners now have permission to deny entrance to certain people because of the way they're dressed. This can be used in ways that have nothing to do with masks. For example, some business owners don't like red MAGA hats. Some don't like police officers and soldiers in uniform. It's a can of worms.
China's Communist Regime Shows Its True Totalitarian Colors. For years, Americans of all political stripes operated under the delusion that China, though nominally communist, was becoming more like the West every day. Our massive, but one-sided, trade with the country would bring changes, we thought. An inevitable consumer economy in China would expand, and bring with it ideas of freedom, human rights and democracy. China would moderate its behavior, the argument went, perhaps eventually easing its military threats against Taiwan, and letting Hong Kong maintain its status as a free-trading city-state outside of Beijing's direct control. That was our folly and our delusion, as we're now finding out.
Seattle Judge Tosses Suit That Tried to Gag Fox News Commentary. A Seattle judge has dismissed a lawsuit from a little-known advocacy organization that hoped to bar Fox News Channel from transmitting its popular primetime opinion programs to its large cable-news audience. The Washington state group known as the Washington League for Increased Transparency and Ethics, or WASHLITE, filed a suit in Superior Court of Washington State in April, calling for an injunction that would keep Fox News from "publishing further and false and deceptive content" about the coronavirus pandemic. Several Fox News opinion hosts in prior weeks questioned the level of the coronavirus threat, with former Fox Business Network anchor Trish Regan losing her position at the company after hosting a segment with graphics that read "Coronavirus Impeachment Scam" while suggesting liberals were overstating the danger of the contagion.
Devin Nunes: House Cannot Debate FISA Reauthorization When Democrats are Not Here. Devin Nunes appears on Fox News daytime to discuss the pending FISA reauthorization bill from the Senate amid President Trump's request to expose corruption before legislation. As Representative Nunes outlines there are only a handful of Democrats in Washington DC because they are planning all votes by proxy.
'COVID camper' sales surge before summer amid pandemic: report. The future of travel remains uncertain amid the coronavirus pandemic, but the open road is alluring as ever. Some RV dealers across the country say that sales are surging amid the ongoing outbreak of the novel coronavirus, Fox 59 reports, as cooped-up adventurers invest in what Bloomberg has dubbed "COVID campers" for road-trip getaways. In Indiana, Mount Comfort RV owner Ken Eckstein said that RV sales are about triple what they were last year.
The Editor says...
Consider the
possibility that FEMA or other government agencies are buying them.
COVID-19 'surcharges' take customers by surprise. Some companies are adding coronavirus surcharges to bills, infuriating customers enough to take their business elsewhere. "Many customers are angry about the changes," wrote Ted Rossman, an industry analyst at CreditCards.com. Rossman noted that roughly 86% of respondents from an American Express survey said they would stop patronizing a business if it applied surcharges to receipts. A dentist in Florida charged patients $10 to help pay for the personal protective equipment worn by staff, which the mother of one patient felt she was not obligated to pay. "I don't feel that I'm required to pay that," she told a local news station in Jacksonville, Florida.
Illinois Dems Bank on a Congressional Bailout. Illinois Democrats passed a state budget over the weekend that relies on billions in still-not-guaranteed federal dollars to avoid a gaping deficit. The state's 2021 budget, now headed to Gov. J. B. Pritzker's (D.) desk, is written with the expectation that the $3.5 billion the state received under the CARES Act will be freed up for general spending. That would require Congress to change limitations on those funds, which currently can only be spent on expenses directly related to coronavirus — not general fiscal costs. The bill also gives Pritzker the authority to borrow up to $5 billion from the Federal Reserve as part of a program backstopped by Congress.
Reopening optimism fuels stock market surge. Stocks soared Tuesday [5/26/2020] as enthusiasm builds about the reopening of the country and the development of a coronavirus vaccine. The S&P 500 rose nearly 2%, breaking over 3,000 for the first time since March 5. The Dow Jones Industrial Average rose over 2%, briefly trading above 25,000 for the first time since early March. Some companies showing the greatest gains would be aided by faster removal of business and travel restrictions. They include Carnival, whose shares jumped 12.7%, MGM Resorts, whose shares climbed 8.6%, and United Airlines and Southwest Airlines, whose shares rose over 11% each.
In a viral video, a supermarket mob rampages against a woman. On Monday morning [5/25/2020], people woke up to a video on Twitter showing masked customers in a Staten Island grocery store screaming obscenities at a woman without a mask and shouting at her to "get out." It's an alarming video because it shows how quickly people can be turned into human weapons when fear powers them.
Poll: Up to 94 Percent of Americans Want Economic Nationalist Overhaul in Wake of Chinese Coronavirus Crisis. Up to 94 percent of American voters say they want an economic nationalist overhaul of the United States' economy in the wake of the Chinese coronavirus crisis, a survey reveals. A survey conducted by FTI Consulting finds that American voters overwhelmingly want economic nationalist policies implemented — including more tariffs on foreign imports, mandatory country-of-origin labeling, and a requirement that goods be made in the U.S.
The implication here is that all restaurants have rats. That is not believable.
CDC warns rats becoming 'aggressive' in search for food during pandemic restaurant closures. Starving rats growing increasingly "aggressive" are starting to become a problem as the coronavirus pandemic continues. The Centers for Disease Control and Prevention warned last week that restaurant closures and restrictions intended to combat the spread of the COVID-19 virus have left trash bins less full than usual, cutting into a major food source for rodents. In a battle over slim pickings, some have become more aggressive, leading to reports of rat cannibalism and rodent armies on city streets.
China poised to cash in on coronavirus aid designated for U.S. railroads, safety advocates warn. China's communist government is poised to cash in on billions of dollars in federal coronavirus aid designated for U.S. railway systems, warn railroad safety advocates. Erik Olson, vice president of the Rail Security Alliance, said more than $2.6 billion in contracts has already gone to the Beijing-backed China Railway Rolling Stock Corporation in the past four years. Because CRRC benefits from financial support from the Chinese Communist Party, the company often can significantly underbid competitors, said Mr. Olson.
Hong Kong, All Alone. China's legislature in Beijing is preparing a new national-security law aimed at Hong Kong to prohibit and punish terrorism, foreign influence, and secession. By that, they mean demonstration, free speech, and a functioning democratic system with rights guaranteed to citizens. Meanwhile, Beijing's loyalists installed in Hong Kong's legislative council have been making open attempts at a putsch against the pro-democracy majority.
Law professor falsely accused of rape, wins defamation case. A University of Minnesota Law School professor, Francesco Parisi, has won a nearly $1.2 million defamation case against a woman who had falsely accused him of rape. In his blistering ruling on Tuesday [5/19/2020], Hennepin County Judge Daniel Moreno wrote that Parisi's former lover, Morgan Wright, had pursued an "untruthful narrative crusade," and her "accusations were false, and made with malice." It is believed to be the largest defamation judgement in Minnesota. The vast majority of the judgement, $814,514 is for economic losses, as well as reputational and emotional damages. Only $100,000 was for punitive damages.
Propaganda organs of the left hard hit by lockdown. The nation's blue-state governors seem to be far more enthusiastic about lockdowns than their red-state counterparts, perhaps because they recognize that the small businesses being driven toward extinction are a key component of the GOP base. But if their motives are so ruthless, perhaps they need to reckon with the damage being done to the key propaganda organs of the left: progressive media, higher education, and government schools. Waves of layoffs already have hit such progressive stalwarts as Vice, Quartz, BuzzFeed, and Conde Nast. Now The Atlantic, controlled by Steve Jobs's widow and previously recruiting highly paid talent, is joining the layoff crowd.
Obama's Man in China Now Beijing's Man in Washington. As the novel coronavirus wreaks havoc across the world, the Obama administration's ambassador to China has found a second lease on life as a pro-China talking head on regime propaganda outlets. Former ambassador Max Baucus has given at least four different interviews to Chinese propaganda outlets in the last two weeks, repeatedly comparing the U.S. rhetoric about China to both the McCarthy era and Nazi Germany. "Joe McCarthy [and] Adolf Hitler ... rallied people up, making people believe things that were really not true," Baucus said during a May 12 interview with China Global Television Network (CGTN), a regime mouthpiece.
Tomorrow could be the end of Hong Kong as we know it. When the British handed over Hong Kong to China in 1997, China promised to respect it's [sic] independence for the next 50 years. The shorthand for that plan was "one country, two systems." But the two systems part of the plan could effectively come to an end tomorrow. China has tried and failed in the past to exert more control over Hong Kong, but this time it seems prepared to simply bypass Hong Kong's government entirely and pass the new law via the mainland's one party system.
Mark Cuban's mindless critique of President Trump. In an era when American politics is dominated by obnoxious loud mouths, it's not surprising that Mark Cuban thinks he should have a big role. Cuban deems himself presidential timber, and has not ruled out running for president in 2024.
Media knives out for Catherine Herridge — for reporting ObamaGate straight. Journalists are pack animals. That's especially true in Washington. Despite the hunger for scoops, when it comes to the substance of stories, few have the guts to go against the ideological groupthink that prevails in our nation's capital. That's what makes CBS' Catherine Herridge so exceptional. In an era when too many network journalists slant their reporting to serve establishment opinion, Herridge sticks to the facts. Her dogged determination to get to the bottom of stories has made her an invaluable source on the national-security beat. Her sterling quality and integrity have also put a target on her back. When it came to the "collusion" hoax, she dared to let the truth guide her.
Social distancing beeper will go off if you're within 6 feet of someone. A social distancing gadget that beeps whenever you're not keeping six feet from someone could help people return to work. The beeper has been invented by Pathfindr and aims to helps companies keep their workers safe. In the UK and the US, two meters (six feet) apart is the recommended distance to stand in order to try and not spread Covid-19. Pathfindr, based in Norfolk in the UK, usually provides internet-based technical solutions for companies.
These two congressional districts could decide the presidential race. The fate of the 2020 general election could hang on two congressional districts, one in Maine and the other tucked away in Nebraska. Maine and Nebraska are the only two states in the country that split their Electoral College votes by congressional district while also rewarding the statewide victor, giving Democrats extra opportunities to pick up votes in otherwise Republican strongholds. And with the fall fight between President Trump and Joe Biden set to be a tight battle for the White House, every vote will matter on Nov. 3.
The pandemic has changed everything. So, why does the race for president look the same? In February, America had a booming economy. Since then, because of fears of this invisible virus and even worse fears of it somehow spreading further, the entire economy is paralyzed. More than 36 million men and women have filed unemployment claims. Schools are closed indefinitely, as are most offices. With little debate and virtually no opposition, the federal government is blithely spending trillions of dollars we don't have. Many Americans have begun fighting each other over when, or even if, to resume normal social and economic activities. [...] Yet, also without seeming explanation, one thing has remained static: politics.
Katie Hill Threw a Tantrum Because Republican Mike Garcia Won Her Vacant Seat. Former Rep. Katie Hill (D-CA) was forced to resign after the House Ethics Committee launched an investigation into her private life. She was allegedly having an extra-marital affair with her Legislative Director, Graham Kelly, and a throuple relationship with a female campaign staffer. Hill repeatedly said she was going through a divorce from her abusive husband but text messages show Hill, her husband, Kenny Heslep, and the female staffer had an ongoing relationship. The husband admitted in text messages to the campaign staffer that he and Hill abused her. The former representative had a meltdown after learning that the Republican Party was successful in flipping her seat red with congressman-elect Mike Garcia.
The Editor says...
Well, Katie, perhaps if you made better decisions, your life would be less chaotic.
Elon Musk stirs the pot with cryptic 'red pill' tweet. [Scroll down] Musk has been vocally critical of government shutdown policies during the global pandemic recently, reopening Tesla's California plant in defiance of local restrictions there last week. Tesla's factory reopened Monday [5/11/2020] with Musk practically daring local law enforcement to arrest him. The plant apparently continued operations on Tuesday. Officials backed off Wednesday and announced that the move would be okay, as long as the company followed previously agreed-upon worker safety precautions.
AG Barr: Durham probe unlikely to lead to criminal investigations of Obama or Biden. U.S. Attorney John Durham's probe into the origins of the Russia collusion investigation is not expected to lead to a criminal investigation of either former President Barack Obama or former Vice President Joseph R. Biden, Attorney General William P. Barr said Monday [5/18/2020]. "As for President Obama and Vice President Biden, whatever their level of involvement based on what I know, I don't expect Durham's work will lead to a criminal investigation of either man," Mr. Barr said. "Our concern of potential criminality is focused on others," he continued.
Elon Musk, having taken the 'red pill,' now urges others to join him. Elon Musk is always interesting. [...] [H]aving tasted freedom, Musk likes it — especially because he's got a factory that, to survive, must be able to open. To that end, Musk fought the law...and he won. Now, flush with success, he has tweeted that it's time for others to join him by taking a "red pill." Musk set up his Tesla factory in Fremont, California, which is located on the southeastern side of the über-liberal San Francisco Bay Area. Because electric cars are "green," nobody minded a big new manufacturing plant. Recently, however, Musk's relationship with California went flipsy-wopsy when the total lockdown, complete with mandatory "shelter in place" orders, went into effect. By the end of April, Musk was tweeting out the damage that the lockdowns were doing and the falsity of the panic.
Fed chief inadvertantly makes the case for re-electing Trump. [Scroll down] This wasn't some policy that went wrong — overspending, bank failure, currency meltdown — or any of the things that have the makings for real depressions both here and abroad. The structure was great, and the U.S. just got hit by an unexpected hurricane. It would skew back to what it was if nothing else changed. This would have to assume nothing else changes. The good economy he's describing is the Trump economy, the economy that roared in the wake of President Trump's policies. Changing those policies, as Joe Biden vows to do — and putting Alexandria Ocasio-Cortez in charge of energy policy is pretty much what he means — would open the door to structural problems, the things that really do create depressions. That has to be an endorsement of President Trump from the Fed chief. Policies are what create depressions, not natural disasters, and Joe wants to remake policies.
Firefly: Israel's 'Loitering' Munition (or Kamikaze Drone). It hovers and looks like a black stick floating in the sky but can slam into an enemy at seventy kilometers an hour. The Firefly is Israel's latest weapon to be acquired by the Israeli Ministry of Defense from Rafael Advanced Defense Systems. It will be deployed with infantry and is specially designed for soldiers fighting in urban areas, giving them the ability to fly a hovering missile around buildings to accurately take out terrorists or enemy forces. The Firefly is a loitering munition, a kind of kamikaze drone but it is part of Rafael's larger Spike family of missiles that have been deployed to thirty-three countries. The United States has used the Spike for its AH-64 Apaches. Spike missiles are more usually known for their ability to kill tanks, but the Firefly is a much smaller weapon that weighs only 3kg so it can be carried into battle by soldiers. Infantry have been increasingly deploying smaller drones in a surveillance role and also for attack, but the use of small drones that are man-packable is still in its infancy.
Case Western Reserve Prof Arrested over Financial Ties to Chinese Government. A professor at Case Western Reserve University's School of Medicine was arrested on Wednesday [5/13/2020] over his alleged financial ties to the Chinese government. The FBI alleges that professor Qing Wang was providing research funded with taxpayer money to the Chinese communist government. According to a report by Campus Reform, Professor Qing Wang was arrested in Shaker Heights, Ohio, on Wednesday on wire fraud charges. Wang allegedly failed to disclose his affiliations with several Chinese universities.
DOJ: Pakistani Doctor on H-1B Visa Wanted to Attack U.S. for ISIS. A Pakistani doctor, admitted to the United States through the H-1B visa program, wanted to attack Americans for the Islamic State (ISIS), federal agents say in a criminal complaint. Muhammad Masood, a 28-year-old Pakistani national, first arrived in the U.S. in February 2018 after he was able to secure an H-1B visa — the visa program whereby more than 100,000 foreign workers are brought to the U.S. every year and are allowed to stay for up to six years. There are about 650,000 H-1B visa foreign workers in the U.S. at any given moment.
Chinese-Born Researcher at Cleveland Clinic Accused of Fraud, Links to Espionage. The FBI announced on Thursday [5/14/2020] that it has arrested Dr. Qing Wang, a longtime employee of the famed Cleveland Clinic, on charges of fraud for accepting grants from the National Institutes of Health (NIH) without disclosing that he was simultaneously working for a Chinese university. "This is not a case of simple omission. Dr. Wang deliberately failed to disclose his Chinese grants and foreign positions and even engaged in a pervasive pattern of fraud to avoid criminal culpability," said Eric B. Smith, FBI Special Agent in Charge (SAC) of the Cleveland office.
Grenell: Top counterintel official will take charge of 2020 campaign briefings on election interference. The Office of the Director of National Intelligence announced Friday [5/15/2020] that its top counterintelligence official would carry out all election security intelligence briefings to 2020 candidates and campaigns instead of the FBI or Department of Homeland Security. The nation's top spy office, which oversees all 17 spy agencies and is currently led by acting spy chief Richard Grenell, said that the intelligence community "will lead all intelligence-based threat briefings to candidates, campaigns, and political organizations under the U.S. government's notification framework." ODNI said William Evanina, the director of the National Counterintelligence and Security Center since 2014, will "serve as the IC's leader to this critical effort." The ODNI also announced reforms to the National Counterterrorism Center on Friday.
NYC providing 74K air conditioners for low-income seniors ahead of summer months. Mayor Bill de Blasio revealed new a new plan Friday [5/15/2020] aiming to keep all New Yorkers cool and safe this summer amid the coronavirus pandemic. The first goal of the mayor's "COVID-19 heat-wave plan" focuses on protecting the city's most vulnerable residents as they remain at home in the hotter months.
The Editor says...
Providing air conditioners (and buying votes) is not the proper role of government, but I guess it's better than handing out cash. But wait — surely there are more than 74,000 "low-income seniors" in New York City, so who decides who receives a free air conditioner?
Farmers dubbed the 'Carbon Cowboys' say business is booming during coronavirus. While much of the farming industry has been decimated by the global coronavirus pandemic — forced to wastefully slaughter livestock, abort piglets, crush food and pummel perfectly healthy crops — one group spawning America's heartland claims that its method has actually seen sales soaring. The so-called Carbon Cowboys are the subject of a new 10-part documentary series detailing the farming technique known as regenerative grazing, which seemingly is saving them from a sales' drought. The series, directed by Peter Byck, was filmed over six years in various rural communities across the U.S., Canada and the U.K.
Shoppers begin to shift from stockpiling to penny pinching at the grocery store. U.S. shoppers are making more trips to the dollar store. They're stocking up with items from stores' private label brands more than usual and cutting back on snacks and sodas at convenience stores. Those emerging data points, captured by market research firm IRI in recent weeks, may preview the next wave of grocery shopping during the coronavirus pandemic. They all have something in common: They are the buying patterns that herald an economic downturn. "As this drags on, you are going to see a lot more recessionary behavior coming up," said Krishnakumar Davey, president of strategic analytics for IRI. "We are just seeing the beginnings of it."
Mark Kelly Silent on Firm's Windfall From Chinese Tech Giant. Mark Kelly, the former NASA astronaut who commanded the second-to-last space shuttle mission and spent 25 years in the Navy, readily acknowledges the myriad threats China poses to the U.S. Earlier this month, he told an Arizona TV station that U.S. intelligence has repeatedly shown China suppressed information about the Wuhan coronavirus outbreak before COVID-19 spread to become a global pandemic. The interview was part of Kelly's new mission: trying to oust GOP Sen. Martha McSally, herself an aerospace pioneer as the first female fighter pilot to fly in combat. The clash of the two American flight titans has become one of the most closely watched campaigns in the country.
$1.6T in century-old Chinese bonds offer Trump unique leverage against Beijing. As the Trump administration seeks ways to penalize China for its handling of the COVID-19 pandemic, it need look no further than Tennessee. The Lewisburg, Tennessee-based American Bondholder Foundation holds $1.6 trillion of century-old Chinese debt, including interest, dating to before the founding of the communist People's Republic of China, that it wants the administration's help in redeeming. There is an estimated $6 trillion or more of the debt outstanding worldwide.
Elective surgery moratorium takes toll on patients. Prohibitions on elective surgeries, in place in most states since early March, have taken a toll on hospitals, physicians, and other healthcare workers. But patients may be the group that have suffered the most. "A lot of treatment has been delayed that was important but not necessarily emergent," said Dr. Juliette Madrigal Dersch, a primary care physician in Marble Falls, Texas. Elective surgery includes heart operations, cancer treatment, joint replacements, and spine surgery. "Elective" only means that it is not a medical emergency, not that it is unnecessary.
FBI mistakenly reveals Saudi diplomat suspected of aiding 9/11 terrorists. FBI lawyers accidentally revealed the identity of a Saudi diplomat who agents have suspected helped deliver crucial support to the al Qaeda terrorists who carried out the Sept. 11, 2001, attacks, according to a report. The disclosure came in court documents filed in April that were unsealed late last week in a lawsuit brought by families of 9/11 victims accusing the Saudi government of aiding the attacks, Yahoo News reported. The Saudi official, Mussaed Ahmed al-Jarrah, had his name blocked out in all but one appearance in the document, with the FBI admitting to Yahoo it was a mistake. Jarrah was a Saudi Foreign Ministry official assigned to the Saudi Embassy in Washington, DC, in 1999 and 2000.
RussiaGate Collapses: CrowdStrike Admits 'No Evidence' Russia Stole Emails From DNC Servers. Fox News' Tucker Carlson and The Grayzone's Aaron Mate on Monday broke down new evidence released by the Department of Justice exposing RussiaGate as a farce. Mate broke down newly released testimony from CrowdStrike president Shawn Henry admitting behind closed doors before House Intelligence Committee chairman Adam Schiff (D-CA) that "we did not have concrete evidence" that Russian hackers stole emails from the DNC's servers.
As Lobbyist for Huawei, Las Vegas Radio Station May Have Broken Law. A local Las Vegas radio station may have broken federal communications laws when it failed to disclose its partnership with Chinese telecom giant Huawei, according to a former official of the Federal Communications Commission. Las Vegas Public Radio, the self-professed "people's voice of Las Vegas," registered to lobby for Huawei in May 2019, promising to "address concerns that Members of Congress, Executive branch and American businesses have about Huawei products/services being developed or manufactured in the US for US consumption" in its lobbying disclosure. In turn, Huawei promised to help the radio station open up a branch in China.
Politico: Special election tomorrow may hand Dems 'unthinkable' defeat in House race. Politico has never been known as a cheerleader for Republicans, so when it headlines, "Democrats are on verge of the unthinkable: Losing a swing district in California," you know that the donkeys are facing a humiliating and symbolically important blow to their House majority and a possible portent of disaster on November. Recall that pervy Congresswoman Katie Hill resigned after being caught in sexual involvement with her staff. Tomorrow will see a special election in her suburban Los Angeles district largely in the Inland Empire, pitting a Dem state rep against a ruggedly handsome retired Navy combat veteran fighter pilot, who just happens to be Hispanic.
Democratic North Carolina Governor Could Throw a Monkey Wrench into GOP Convention Plans. The Republican National Convention is scheduled for August 24-27 in Charlotte, NC, and Donald Trump has been adamant that the event will go forward as planned. That means thousands of Republicans descending on Charlotte from across the country and standing shoulder-to-shoulder in the Spectrum Center, acclaiming Trump as their standard-bearer. That is unless the Democratic Governor Roy Cooper intervenes and nixes the whole thing.
Many Texas ranchers won't survive multibillion-dollar financial hit from coronavirus. The spring pastures perfect for grazing cattle on Marisue Potts' ranch have begun to dry. That means it's time to sell. Potts owns a ranch near Matador, Texas, where she keeps a herd of about 35 cattle. In a few weeks she'll take her yearlings and full-grown steers to the nearest auction in Floydada. She expects to make less per head than she's made in at least a decade.
Iran Sinks Its Own Battleship. [F]riendly fire may have killed dozens of servicemen, Al Jazeera have reported. According to local media, an Iranian battleship was accidentally hit by a C-802 Noor missile during military exercises, causing it to sink.
'Unhappy? Go To Another State,' Murphy Tells NJ's Jobless. In case you missed the end of Thursday's [5/7/2020] daily news briefing, Gov. Phil Murphy told anyone unhappy with the guy in charge of New Jersey unemployment to "Go to another state." The governor said anyone who doesn't like state Labor Commissioner Robert Asaro-Angelo can move. Murphy's dismissive remark came when asked by a reporter about Bergen County Assemblyman Kevin Rooney's call for the labor commissioner to fix the backlogged unemployment system or resign. Earlier, state officials announced that more than a million New Jersey residents have filed jobless claims due to the coronavirus pandemic -- but that 300,000 still had to be processed.
The Editor says...
Please come to Texas, but only if you are willing to renounce everything that makes New Jersey different from Texas. Also you must promise never to vote for a Democrat again. Otherwise, you'll turn Texas into New Jersey, and you'll be right back where you started.
Workers Are No Longer Heroes, Kroger Concludes. What Kroger giveth, Kroger taketh away. The national grocery-store chain will end a $2 per hour "hero pay" bonus for workers on May 17, the United Food and Commercial Workers union announced on Thursday [5/7/2020]. Kroger only implemented the raise last month; the pandemic, meanwhile, shows no sign of ending, and the risks for essential workers remain very real.
Durham Moving Full Throttle on Russian Probe Review. U.S. Attorney for Connecticut John Durham is going "full throttle" with his review into the origins of the investigation into suspected Russia-Trump coordination in the 2016 election, with additional top prosecutors involved in looking at different components of the original probe, sources told Fox News. Two sources told Fox News that Jeff Jensen, the U.S. attorney for the Eastern District of Missouri who was tapped by the Justice Department in February to review the case of former National Security Adviser Michael Flynn, is continuing to help with Durham's investigation even after the DOJ's move last week to drop the case against Flynn.
South Dakota governor threatens Native American tribes with legal action if they do not remove coronavirus checkpoints. The governor of South Dakota has issued ultimatums to two Sioux Native American tribes to remove travel checkpoints on state and US highways aimed at protecting themselves from the coronavirus. Governor Kristi Noem sent letters to the Oglala Sioux Tribe and the Cheyenne River Sioux Tribe on Friday [5/8/2020] requesting that they remove the checkpoints surrounding their reservations within 48 hours or "the state will take necessary legal action". "We are strongest when we work together; this includes our battle against Covid-19," the governor said. "I request that the tribes immediately cease interfering with or regulating traffic on US and State Highways and remove all travel checkpoints."
United Kingdom reveals last decoded Nazi message to mark VE Day. To mark Friday's [5/8/2020] 75th anniversary of the end of World War II in Europe, the British government revealed the final Nazi message intercepted and decoded by U.K. codebreakers as Allied forces were advancing through Germany. [...] At 7:35 a.m. on May 7, 1945, a Nazi soldier identified as "Lt. Kunkel" sent a final message to colleagues from the town of Cuxhaven on Germany's North Sea coast. "British troops entered Cuxhaven at 14:00 on 6 May — from now on all radio traffic will cease — wishing you all the best. Lt Kunkel," the message read. "Closing down forever — all the best — goodbye."
Adam Schiff Changed Russia Document Release Strategy Because Grenell Forced His Hand. Rep. Adam Schiff (D-CA), the chairman of the House Permanent Select Committee on Intelligence (HPSCI), had only planned to release partial transcripts from the committee's Russia investigation, not all of them, a source with knowledge of his efforts told Breitbart News. But then, when acting Director of National Intelligence Richard Grenell announced he was prepared to release all of the transcripts in full — something Grenell had planned to do on Friday morning if Schiff had not done so — Schiff changed his strategy and agreed to release them all in full.
Souplantation, Sweet Tomatoes permanently closing all restaurants amid pandemic. San Diego-based buffet chain Souplantation has announced it will permanently close all of its restaurants amid the coronavirus pandemic, the San Diego Union-Tribune reports. [...] CEO John Haywood told the publication that the restaurants' buffet-style model wouldn't be able to survive amid the FDA's regulations. According to the outlet, about 4,400 employees will lose their jobs, the Union-Tribune reported.
Engineers Just Tested an 'Impossible' Detonation Engine For The First Time - And It Works. A type of rocket engine once thought impossible has just been fired up in the lab. Engineers have built and successfully tested what is known as a rotating detonation engine, which generates thrust via a self-sustaining wave of detonations that travel around a circular channel. As this engine requires far less fuel than the combustion engines currently used to power rockets, it could eventually mean a more efficient and much lighter means of getting our ships into space.
Nunes dares Schiff to release House Intel Russia probe transcripts. The top Republican on the House Intelligence Committee on Thursday demanded Chairman Adam Schiff release the transcripts of interviews conducted by the panel during its Russia probe in 2017 and 2018, now that they have been cleared by the intelligence community. "Schiff himself voted to release these transcripts and claims he wants them out," Rep. Devin Nunes, R-Calif., told Fox News Thursday. "There's no reason he can't publish them all today — except that he really doesn't want the American people to see how little evidence there ever was for the Russian collusion hoax he advocated and continues to advocate."
Sources say Russia probe transcripts affirm officials came up empty on collusion: 'Schiff is in panic mode'. Transcripts of House Intelligence Committee interviews that have been cleared for release show top law enforcement and intelligence officials affirming they had no evidence of collusion between the Trump campaign and Russia during the 2016 election, senior administration and intelligence community officials told Fox News on Wednesday [5/6/2020]. This would align with the results of former Special Counsel Robert Mueller's investigation — which found no evidence of illegal or criminal coordination between President Trump, the Trump campaign and Russia in 2016 — but the numerous transcribed interviews could raise further questions about committee Chairman Adam Schiff's past statements saying that there was "direct evidence" of collusion. "Schiff is in panic mode," a senior administration official told Fox News.
DNI to Schiff: The transcripts are ready to release. A big development in the fight over 53 secret interviews the House Intelligence Committee conducted during its Trump-Russia investigation. Acting Director of National Intelligence Richard Grenell has sent a letter to chairman Adam Schiff notifying him that transcripts of all 53 interviews, over 6,000 pages in all, have been cleared for public release. "All of the transcripts, with our required redactions, can be released to the public without any concerns of disclosing classified material," Grenell wrote to Schiff in a letter dated May 4.
Russian collusion emperor Adam Schiff about to be exposed today and it won't be pretty. Adam Schiff, the fanatic who from the begining launched probe after probe of President Trump, is about to see the 2017-2018 Russia collusion transcripts he's been sitting on all these months released to the public, all 6,000 pages, with 73 witnesses stating there was no Russian collusion in 53 transcripts. National Intelligence Director Richard Grenell did the job Schiff wouldn't do, releasing the transcripts, and now Schiff is expected to be looking more bug-eyed than usual.
Federal judge reinstates New York Democratic presidential primary. A federal court judge has ordered New York Democrats to reinstate the presidential primary election for June 23 after one-time candidate Andrew Yang challenged its cancellation. Judge Analisa Torres in her decision Tuesday [5/5/2020] ruled that the New York Board of Elections' decision to cancel the vote was unconstitutional and that all qualified candidates as of April 26 must be on the ballot. "[T]he removal of presidential contenders from the primary ballot not only deprived those candidates of the chance to garner votes for the Democratic Party's nomination," Torres wrote in her opinion.
How China is buying up America's food supply. A Sioux Falls meatpacking plant was forced to close when it became the epicenter of COVID-19 in South Dakota. Three weeks after executives from its Chinese owner, WH Group, visited the plant, a month after President Trump's ban on travel from China, nearly 600 of Smithfield Foods' 3,700 employees tested positive for the virus, as have 135 additional people in close contact with employees. Smithfield Foods was started in 1936 by a family in Virginia. Today, the Chinese own Armour and the famous Smithfield hams, together with the most quintessential American brand of all: Nathan's Famous hot dogs, with its iconic annual eating contest. In 2013, Smithfield Foods was bought by the Shanghui Group, later rebranded as the WH Group, for $4.7 billion. It remains the largest total acquisition of a U.S. company by the Chinese.
Pope Francis, Not Content to Falsely Accuse Christians of Fictional Atrocity, Celebrates Jihadis' Favorite Holiday. The Vatican's Pontifical Council for Interreligious Dialogue on Friday [5/1/2020] informed its "dear Muslim brothers and sisters" that the month of Ramadan is "a time for spiritual healing and growth, of sharing with the poor, of strengthening bonds with relatives and friends," as well as an opportunity for "your Christian friends" to "further strengthen our relationships with you." The message, which was published in Arabic, Italian, French, and English, added: "It is in this spirit that the Pontifical Council for Interreligious Dialogue offers its prayerful best wishes and hearty congratulations to you all." And that's wonderful, but just what was the Vatican congratulating? Vatican officials are without any doubt unaware of the fact that because Ramadan is the month in which Muslims redouble their efforts to obey Allah, Ramadan is also quintessentially the month of jihad.
'The hardest time we've ever faced': Amazon revenue surges, but coronavirus costs may wipe out operating profit. Amazon founder and CEO Jeff Bezos warned the company's stockholders that Amazon may incur a second-quarter operating loss as it spends at least $4 billion from April through June on its coronavirus pandemic response, including some $300 million to develop its own testing capabilities. Amazon's first-quarter sales were up 26% year over year to $75.5 billion — well above the high end of the company's previous expectations. Despite the revenue surge, expenses related to Amazon's pandemic response weighed on the bottom line in the quarter ended March 31. Amazon's net income fell 29% to $2.5 billion, or $5.01 per share, compared to $3.6 billion, or $7.09 per share, during the first quarter of 2019, it said Thursday afternoon [4/30/2020].
Trump Ridicules George W. Bush Appeal for Bipartisanship amid Coronavirus. A call by former President George W. Bush for humanity to jettison partisanship amid the Chinese coronavirus pandemic has drawn a sharp rebuke from President Donald Trump. Bush published a video message on Saturday urging unity and togetherness amid the coronavirus' outbreak, which received 4.4 million views on Twitter as of Sunday morning [5/3/2020]. [...] The president's response was straight to the point, outlining Bush's absence when Trump was being excoriated during his impeachment proceedings. "[...] I appreciate the message from former President Bush, but where was he during Impeachment calling for putting partisanship aside. [...]"
Epstein had his own office, phone line at Harvard even after his 2008 conviction of soliciting sex from minors. Harvard University admitted Friday [5/1/2020] that Jeffrey Epstein had his own office and phone line at the university and also made several visits there even after he was convicted in 2008 of soliciting sex from minors. According to a new report from the university, Epstein, the disgraced financier who killed himself in jail last year while awaiting sex crimes charges, visited Harvard more than 40 times after his 2008 conviction and unveiled deep ties between him and the university, with which he had no official affiliation. University President Lawrence Bacow said in a letter to the Harvard community that Harvard accepted $9.1 million from Epstein between 1998 and 2008 to support research and faculty activities.
How natural gas is withstanding the energy market collapse. Natural gas is withstanding the coronavirus-fueled economic crash in a way that its closely associated relative, oil, isn't. Oil prices have reached record lows, with the U.S. benchmark oil price briefly dropping below zero last month after trading at around $60 per barrel at the start of 2020. The U.S. natural gas price, meanwhile, is stable, staying below $2 per million British thermal units, or MMBtu, a historically low level it has been hovering at for a while due to a glut produced from the shale boom. Oil producers are shutting in their wells, prompting tens of thousands of layoffs, because the pace of the price collapse was so sudden, caused mostly by the fact that the pandemic has crushed demand for transportation fuels made with oil, as people forgo driving and flying.
U-Haul hands down lifetime ban to Brooklyn funeral home that stored bodies in trucks. Rental company U-Haul has reportedly cut ties with the Brooklyn funeral home caught storing dozens of bodies inside their unrefrigerated trucks. Andrew T. Cleckley Funeral Services in Flatlands is no longer welcome to rent from the company, U-Haul sources told TMZ. The U-Haul trucks used by the funeral home to hold corpses are also being decommissioned so they can be deep cleaned, according to the report. "This is a wrongful, egregious and inhumane use of our equipment," company bigs told the outlet.
Iran Is Hauling Gold Bars Out of Venezuela's Almost-Empty Vaults. Out of cash and desperate for help in propping up its oil industry, Venezuela is raiding its gold vaults and handing tons of bars to its long-time ally Iran, according to people with direct knowledge of the matter. Government officials piled some 9 tons of gold — an amount equal to about $500 million — on Tehran-bound jets this month as payment for Iran's assistance in reviving Venezuela's crippled gasoline refineries, the people said. The shipments, which resulted in a sudden drop in Venezuela's published foreign reserve figures, leave the crisis-ravaged country with just $6.3 billion in hard-currency assets, the lowest amount in three decades.
Globalists are Now Talking about 'Flattening the Climate Curve' to Stop Global Warming. With the notion of "flattening the curve" now burned into the minds of traumatized individuals worldwide, the globalists are attempting to re-appropriate the familiar propaganda line in their war against so-called climate change. The World Economic Forum (WEF), which works hand-in-hand with the World Health Organization (WHO) and United Nations (UN), is urging various governments to focusing on flattening the "climate curve," whatever that is supposed to mean, when the coronavirus pandemic comes to an end.
Why Trump's new UFO comments are interesting. [Scroll down] [President] Trump and certain members of the House and Senate Armed Services and Intelligence committees have been briefed on what is known about the objects. But those briefings center on the objects' indicated capability and behavior patterns, not their origin. Still, Trump's doubts as to whether the objects in the videos are "even real" is noteworthy. Those words match up with the argument propagated by some, that these objects might not actually be real in the first place. Some have suggested these objects are actually the products of highly advanced and top-secret electronic or psychological warfare capabilities or that they're a combination of both. Such capabilities involve tricking personnel and platforms as to the location and operational activity of enemy forces. The United States and China have invested heavily in trying to weaponize these capabilities. So, are these objects really sensory fictions? The government's assessment is that this is highly unlikely, although not impossible.
City To Dump Ton Of Chicken Manure In Central Park To Discourage Festival Gathering. A city in Sweden is set to dump a ton of chicken manure in a central park to discourage crowds from gathering for an annual festival amid the coronavirus pandemic. The move is an attempt to deter as many as 30,000 residents in Lund, a university town east of Copenhagen, from gathering in the park for traditional celebrations to mark Walpurgis Night on Thursday [4/30/2020], The Guardian reported. The festival features parties and bonfires scattered across Europe.
Dozens of Bodies Found in U-Haul Trucks Outside Brooklyn Funeral Home. Dozens of dead bodies were found stored in unrefrigerated U-Haul trucks outside a Brooklyn funeral home Wednesday [4/29/2020], according to two senior law enforcement officials. Around 50 bodies were discovered inside as many as four different storage vehicles over the past few days, the law enforcement officials said. The Andrew T. Cleckley Funeral Home, located on Utica Avenue in the Flatlands neighborhood, was using ice inside the trucks in an effort to maintain the bodies.
Woman Who Blamed Trump after Giving Her Husband Fish-Tank Cleaner Now Under Investigation for Murder. Arizona police are now conducting a homicide investigation into a woman who claimed she gave her husband fish tank cleaner after President Trump claimed the anti-malarial drug hydroxychloroquine was an effective treatment for coronavirus. Wanda Lenius told NBC News last month that she and her husband Gary consumed fish tank cleaner because it contained a chemical that Trump suggested might be an effective prophylactic and treatment for coronavirus. The cocktail, which contained four teaspoons of fish tank cleaner mixed with soda water, put Wanda in the ICU and killed Gary. "My advice," Wanda explained, is "don't believe anything that the President says and his people because they don't know what they're talking about."
Amazon turns to Chinese firm on U.S. blacklist to meet thermal camera needs. Amazon.com Inc has bought cameras to take temperatures of workers during the coronavirus pandemic from a firm the United States blacklisted over allegations it helped China detain and monitor Uighurs and other Muslim minorities, three people familiar with the matter told Reuters.
You Don't Get to Collect Unemployment Because You Are Scared. It is always great when the media reports news that isn't really news. Reports are surfacing today that some awful Republican governors are telling citizens if they are recalled to work and refuse to go, they will be ineligible for unemployment. This is not startling and will most likely be the case in blue states as well. Of course, you won't hear about that. Unemployment is a system for people who are able to work but either out of work for reasons beyond their control or going through a period of reduced work because of reduced business operations. The entire goal of the Paycheck Protection Program was to keep employees attached to their employers so they could seamlessly return to work when operations resumed.
Newt Gingrich blasts 'precious politicians' who want to wimp out of their jobs with remote proxy vote. Former House Speaker Newt Gingrich called out "precious politicians" who are avoiding getting back to Washington due to the coronavirus pandemic. Gingrich found it "bizarre" that some lawmakers would consider themselves any different from those who are working through the crisis, calling on them in tweets to get back to work or "resign."
The deaf community faces another communication hurdle as face masks become the new normal. Mary Beth Pagnella, who has lived with profound hearing loss most of her life, prides herself on being an excellent lip reader. But,amid the coronavirus outbreak, reading lips has become more difficult with state and federal officials recommending, and some requiring, people to wear masks in public. "I feel so lost and out of place because [people] are wearing masks and I cannot read their lips," Pagnella told USA Today. "Not being able to hear is hard enough. Now, lip reading is hard, too."
Long-Lost U.S. Military Satellite Found By Amateur Radio Operator. [Scroll down] In other words, says [Scott] Tilley, even though the satellite was supposed to shut down in 1972, it's still going. As long as the solar panels are in the sun, the satellite's radio continues to operate. Tilley thinks it may even be possible to send commands to the satellite. The MIT lab that built LES-5 still does a lot of work on classified projects for the military. NPR contacted its news office to ask if someone could say more about LES-5 and whether it really could still receive commands. But after repeated requests, Lincoln Laboratory finally answered with a "no comment." It seems that even a 50-year-old zombie satellite might still have secrets.
Police open homicide probe into death of man whose wife gave him fish tank cleaner, blamed Trump. The Mesa City, Ariz., Police Department has launched a homicide investigation into the death of Gary Lenius, the man whose wife gave him a drink laced with fish tank cleaner allegedly to ward off COVID-19. The investigation, which was confirmed by the Washington Free Beacon, is being handled by Det. Teresa Van Galder, who could not provide any details at the moment because it's an active case. The news site also reported that it provided a recording of its interview with Wanda Lenius, 61, from March.
All Is Not What It Seems In Sweden. Sweden has been regularly cited in American media as a country that chose an approach to the Covid-19 pandemic different from that of the U.S. and the European countries. There have been pictures of Swedes crowding into outdoor restaurants, enjoying sunny early spring weather. Streets in central Stockholm have been shown looking "normal," although the density of shoppers and pedestrians had been exaggerated through tele-lens photography. These news reports seemed to suggest social life little affected by the pandemic, as if Sweden had taken a more relaxed approach to the virus than other countries.
Kentucky Representative Thomas Massie Touches the Third Rail — Reveals DC's Biggest Secret. With congress saying they will not be returning to work next week, it appears Kentucky representative Thomas Massie has decided to use the opportunity to expose Washington DC's biggest secret. Something 99% of American voters do not understand: [...] You see, congress doesn't actually write legislation. The last item of legislation written by congress was sometime around the mid 1990's. Modern legislation is sub-contracted to K-Street. Lobbyists write the laws; congress sells the laws; lobbyists then pay congress commissions for passing their laws. That's the modern legislative business in DC.
The House of Representatives has identified itself as a non-essential service. The original plan in Washington, D.C., was for both the Senate and the House to reconvene on May 4. News broke on Tuesday [4/28/2020], though, that the House will not be returning to work. It turns out that so many members of the House panicked at the thought of working once more for the American people that House Majority Leader Steny Hoyer was forced to announce that the House would remain closed next week.
Sen. Cotton says Chinese students shouldn't be allowed to study science in US. GOP Sen. Tom Cotton suggested that Chinese students should be banned from studying technology and science in the US — and said he has "little doubt" that Beijing is trying to steal a coronavirus vaccine from America. "In the middle of a pandemic, what's the most valuable intellectual property in the world? It's the research that our great laboratories and life science companies are doing on prophylactic drugs, therapeutic drugs, and ultimately a vaccine," Cotton of Arkansas said on Fox News' "Sunday Morning Futures." "So I have little doubt that the Chinese intelligence services are actively trying to steal America's intellectual property as it relates to the virus that they unleashed on the world, because, of course, they want to be the country that claims credit for finding those drugs or finding a vaccine, and then use it as leverage against the rest of the world," the senator continued.
More than 88 million emergency payments totaling $158 billion are out the door: IRS. The Internal Revenue Service on Friday said the federal government has issued more than 88 million emergency direct payments to individuals that collectively totaled about $158 billion over a three-week period ending April 17. "The IRS, Treasury and partner agencies are working non-stop to get these payments out in record time to Americans who need them," said IRS Commissioner Charles Rettig. A total of more than 150 million payments, which were a central feature of a recent $2.2 trillion economic rescue package, are expected to be sent out.
One country, one system: The week that China shredded its promise on Hong Kong. Martin Lee has tangled with the Chinese Communist Party countless times in his decades-long fight to achieve free elections in Hong Kong and enlist Western support for the city's democratic ambitions. Last weekend, the police came knocking. Seven officers appeared at Lee's home and arrested the 81-year-old for participating in an unauthorized protest last year that 1.7 million people attended. More than a dozen other democracy activists were detained the same day. The arrests buttressed a week of coordinated actions by Beijing that experts say have redefined the status of Hong Kong. The effect was to demolish the "one country, two systems" framework that prohibits Beijing's involvement in local affairs and is supposed to afford the financial center a high level of autonomy.
AutoNation, a Fortune 500 auto retailer worth $3 billion, received nearly $95 million in PPP funds by using separate tax IDs. A Fortune 500 auto company worth $3 billion received nearly $95 million in federal small-business funds, almost double the amount of any company that received money through the Paycheck Protection Program. The $95 million received by AutoNation is said to have been spread among dozens of their more than 300 locations and intended to use the funds to help employees. Funds for PPP ran out last week, with thousands of small businesses left without a dime. AutoNation Executive Vice President Marc Cannon said that the company's board voted on Thursday [4/23/2020] to return the funds, the Washington Post reports.
World Health Organization's History of Promoting Radical Sex Ed. When President Donald Trump pushed the pause button on funding the World Health Organization this past week, most people's only experience with the group was as a harmless arm of the United Nations. But the "watchdog" of the global health is a lot more than the world's disease and infection police. It's also, as more Americans are starting to learn, one of the biggest promoters of abortion and peddlers of radical sex ed. At this point, it's undeniable. And it's been its agenda for many years. If Americans are upset about anything, it shouldn't be that the president temporarily cut the WHO's funding. It should be the incredible injustice that's been done to taxpayers by sending billions of dollars to a group that doesn't share most people's values.
Tucker Carlson goes full Alinsky on McKinsey for outsourcing manufacturing to China. Tucker Carlson spent the first 15 minutes of his show last night decrying the loss of so much of our manufacturing base to China. That concern has spread from the already devastated Rust Belt to the coastal habitats of the elites now that the pandemic has exposed our reliance for survival on an increasingly threatening China for pharmaceuticals, protective gear, and many other critical strategic goods, such as the rare earths necessary for the manufacture of advanced electronic components. With the dangers of such dependence obvious to all, Tucker took an original angle and followed Saul Alinsky's Rule #13: "Pick the target, freeze it, personalize it, and polarize it." His target: McKinsey & Company, the global consulting group that has helped many a giant corporation outsource its manufacturing to lower-wage countries, pre-eminently but not exclusively China, as a means of competing in world markets and in the domestic American market, which for the most part has been wide open to foreign competition.
Workers volunteered to live in a factory for 28 days to produce millions of pounds of raw PPE materials to make masks and gowns. Workers at a Pennsylvania petrochemical factory ended a nearly monthlong "live-in" at their workplace to produce 40 million pounds of raw material used to make personal protective equipment like hospital masks and gowns. Forty-three employees at Braskem America in Marcus Hook, Pennsylvania, volunteered to live in the factory to limit outside exposure to the coronavirus as they made polypropylene, a material used to make hygienic products such as face masks, surgical gowns, and disinfectant wipes.
Could Poorly Managed States End Up in Bankruptcy? The Constitution grants Congress the power to establish uniform laws for bankruptcies throughout the country. Yet the bankruptcy code lacks a chapter extending such protection to states, which might be why some of them have become so profligate. That combined with the coronavirus has put some of them on the brink of collapse. This erupted in the news when the President of the Illinois senate, Don Harmon, wrote a letter to the Illinois delegation in the U.S. Congress asking a bailout of more than $40 billion for the state. Chicago Tribune blew its stack in a memorable editorial. What was so galling about it, at least to us, is that Mr. Harmon sought a $10 billion bailout directly to the Land of Lincoln's long-underfunded pension system.
Ruth's Chris Steakhouse owner says it will repay $20 million in small business loans. Ruth's Chris Steak House announced Thursday [4/23/2020] it will return the $20 million it received in coronavirus small business loans. Ruth's Hospitality Group, which owns the Ruth's Chris Steak House brand, procured two $10million loans from the government's $350 billion Paycheck Protection Program this month. The chain was met with fierce criticism for using loopholes in the PPP system to secure funding, leaving the small business applicants it was designed for high and dry.
On Earth Day, pope says nature will not forgive our trespasses. Pope Francis made an impassioned plea for protection of the environment on Wednesday's 50th anniversary of the first Earth Day, saying the coronavirus pandemic had shown that some challenges had to be met with a global response. Francis praised the environmental movement, saying it was necessary for young people to "take to the streets to teach us what is obvious, that is, that there will be no future for us if we destroy the environment that sustains us".
The Editor says...
I'm not worried about nature forgiving me for anything. Personification of the earth, or Naturalistic Pantheism, is heresy. The Pope's message is something you'd expect to hear from a Buddhist, not a Catholic.
States Made Risky Bets with Pensions Before Coronavirus. Now They Want a Bailout. Staring down the coronavirus's effect on their budgets, states like New Jersey and Illinois are calling on federal leaders to backstop public pensions as part of future coronavirus relief. [...] But the pension shortfalls are not just a product of the bear market, experts tell the Washington Free Beacon. Some states now seeking bailouts are in part covering for more than a decade of economic mismanagement, having chased increasingly risky investments to fund generous benefits at low up-front costs. Bailouts would allow states to dodge hard questions about the viability of excessively generous public pensions.
Usama bin Laden wanted to kill Obama so 'totally unprepared' Biden would be president, declassified docs show. Usama bin Laden wanted to assassinate then-President Barack Obama so that the "totally unprepared" Joe Biden would take over as president and plunge the United States "into a crisis," according to documents seized from bin Laden's Pakistan compound when he was killed in May 2011. The secretive documents, first reported in 2012 by The Washington Post, outlined a plan to take out Obama and top U.S. military commander David Petraeus as they traveled by plane. "The reason for concentrating on them is that Obama is the head of infidelity and killing him automatically will make [Vice President] Biden take over the presidency," bin Laden wrote to a top deputy. "Biden is totally unprepared for that post, which will lead the U.S. into a crisis. As for Petraeus, he is the man of the hour ... and killing him would alter the war's path" in Afghanistan.
Judge Napolitano skeptical about lawsuits against China over coronavirus losses: 'They don't have a case'. Fox News senior judicial analyst Judge Andrew Napolitano joined the "Fox News Rundown" podcast Thursday to offer a legal perspective on coronavirus after Missouri became the first state to file a lawsuit against China in an attempt to hold Beijing accountable for the severity of the pandemic. "At the present time, they don't have a case because of the Foreign Sovereign Immunity Act [of 1976], which basically says American courts do not have jurisdiction over the behavior of foreign governments and that, of course, would bar nearly any lawsuit against the government of China," Napolitano explained.
DeVos bars undocumented college students from emergency aid. The Trump administration on Tuesday prohibited undocumented college students from receiving emergency federal cash assistance for expenses like food, child care and housing. The economic rescue law passed by Congress gives $6 billion to colleges to dole out to students for expenses stemming from the disruption on campuses caused by the pandemic. But Education Department officials in new guidance said the money can go only to students who qualify for federal financial aid — U.S. citizens and some legal permanent residents.
The Death of the Department Store: 'Very Few Are Likely to Survive'. American department stores, once all-powerful shopping meccas that anchored malls and Main Streets across the country, have been dealt blow after blow in the past decade. J.C. Penney and Sears were upended by hedge funds. Macy's has been closing stores and cutting corporate staff. Barneys New York filed for bankruptcy last year. But nothing compares to the shock the weakened industry has taken from the coronavirus pandemic. The sales of clothing and accessories fell by more than half in March, a trend that is expected to only get worse in April. The entire executive team at Lord & Taylor was let go this month. Nordstrom has canceled orders and put off paying its vendors. The Neiman Marcus Group, the most glittering of the American department store chains, is expected to declare bankruptcy in the coming days, the first major retailer felled during the current crisis. It is not likely to be the last.
The 2016 election scandal waiting to break. As I've been telling you for a long time, there are going to be repercussions from the political scandals of 2016. The time is coming soon — maybe very soon — when we will find out who will be indicted and what impact these legal actions will have on the 2020 presidential election. John Durham, the US Attorney in Connecticut, has been investigating whether there was wrongdoing before and after the last presidential election. His focus seems to be on whether warrants were improperly obtained to spy on the Trump campaign. But over the two-plus years since Durham has been on the case, the probe seems to have expanded. High up intelligence officers in the US seem to be the target. Durham's probe could turn very political if his evidence determines that actions were taken by the intelligence community to aid the Democrats.
Ag Secretary Sonny Perdue Announces $19 Billion U.S. Farm Aid Relief Package. In the background of lessons being learned from the COVID-19 pandemic, stay tuned for a new MAGA-minded small farm program in the agricultural industry similar in construct to how President Trump and Secretary Mnuchin created the parallel banking system using community banks and credit unions. Domestic food security is national security. Today [4/17/2020] President Trump and Agriculture Secretary Sonny Perdue revealed a $19 billion U.S. farm relief program which includes the Dept. of Agriculture purchasing $3 billion in farm products from the fresh supply chain to support those impacted by the collapse of the restaurant, hotel, school and cafeteria demand (food away from home).
Foreign Powers Test US defenses amid coronavirus pandemic. U.S. adversaries are probing America's defenses as the world is preoccupied with the fight against the coronavirus pandemic. In the past two weeks, Russia, China, Iran and North Korea have all moved to test Washington in the sea, in the air and on land as U.S. forces have become more restricted in movement amid concerns over the spread of COVID-19. "Exactly how distracted is the U.S. military? They want to know," said Susanna Blume, the director of the defense program at the Center for a New American Security, referring to foreign countries.
Texas Lt. Gov Patrick says it's time for Congress to take a pay cut, show Americans 'you're with us'. Texas Lt. Gov. Dan Patrick is calling on Congress to show solidarity with Americans hurt by the coronavirus crisis and take a pay cut. With millions of people across the nation facing financial hardship due to government decisions to shut down the economy, Patrick believes members of Congress who "are not hurt" by the same constraints should stand with citizens, telling Fox News host Laura Ingraham that it's high time lawmakers in Washington "feel some of this pain."
Over 20 million Americans lack broadband, says senator. More than 20 million Americans lack "meaningful broadband service" as people turn to the internet for school and work during the coronavirus crisis, Virginia Sen. Mark Warner warned federal regulators. "Under the current circumstances, this lack of broadband access threatens to greatly — and potentially lastingly — exacerbate disparities in health, education and economic equity," said Mr. Warner, a Democrat, in a letter to Federal Communications Commission Chairman Ajit Pai on Thursday [4/16/2020]. He noted that 770,000 Virginians don't have broadband access.
The Editor says...
Broadband internet service should be the least of Virginians' concerns, when the Governor is trampling their First- and Second-Amendment rights. But aside from that, what is the minimum download and upload speed that qualifies as "meaningful broadband service?" I suspect I'm one of the unfortunate victims left behind, with my minimal DSL service.
Land O'Lakes quietly removes image of Mia, its longtime Native American maiden. Popular dairy brand Land O'Lakes quietly changed its packaging to remove its iconic Indian maiden image, it was revealed Wednesday [4/15/2020]. The new packaging has already started to appear in stores and looks similar to the previous branding with an image of lake and trees — except without Mia, the kneeling woman featured in the center, the Minnesota Reformer reported.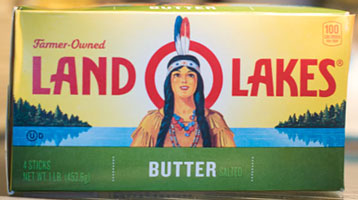 Land O'Lakes Drops Its 'Racist' Native American Packaging After Nearly 100 Years. The iconic Native American woman has been removed from all butter and margerine packaging for the Minnesota-based company Land O'Lakes. In a press release, the company announced that it has introduced a new brand of packaging without mentioning the Native American woman's removal. The new packaging simply features the "Farmer-Owned" Land O'Lakes before an evergreen wilderness. "The new packaging will show up in a variety of ways, including through a new front-of-package design that features the phrase 'Farmer-Owned' above the LAND O LAKES brandmark, 'Since 1921' below it and a vibrant illustration of land and lakes," said the statement.
The Editor says...
How strange it is, that the illustration wasn't racist until this year. My advice would be to leave the packaging exactly as it was, and let that one-in-a-million snowflake boycott this product.
Related topic: Redskins.
Q Praises Shocking Out of Shadows Documentary and Millions Watch it. On April 10, an underground documentary with no publicity landed on YouTube and amassed one million views in 24 hours. Despite YouTube's efforts to hide it, Out of Shadows continues to attract more than a million viewers a day, lifting the mask "on how the mainstream media and Hollywood manipulate and control the masses by spreading propaganda throughout their content." "Why do you believe what you believe?" asks Mike Smith, a former star stuntman for Hollywood action films, who produced and self-funded the film. Mike tells the story of how he began delving into the messages of the high-budget films he worked on, after an injury sidelined him. To his shock, he discovered that "we have all been lied to and brainwashed by a hidden enemy with a sinister agenda." Mike's investigation revealed a host of CIA programs he sees as designed to control the public's beliefs and deflect attention from massive governmental crimes.
Mike Smith, the Stuntman, QAnon Follower & Trump Fan Behind 'Out of Shadows' Documentary. ike Smith is the Hollywood stuntman behind the conspiracy documentary, "Out of Shadows." Smith says in the documentary that while he rehabbed an injury on his pelvis that he suffered while filming, he had a spiritual awakening. Smith says, "I didn't find God because I went to church. I found God because I realized that the Luciferian and the occult world was real and that I had been fooled for all of these years and I then got really scared." Smith goes on to say that he became a Christian again because of his belief that Hollywood and the entertainment industry was influenced by Satan. The film delves deep into the disproved Pizzagate conspiracy theory.
Newly Declassified Papadopoulos Transcript Exposes Crossfire Hurricane Corruption. Attorney General William Barr said last week that "the evidence shows that we're not dealing with just mistakes or sloppiness" in the Crossfire Hurricane investigation. Rather, "there is something far more troubling here." "Without any basis," Barr added in his sit-down interview with Fox News' Laura Ingraham, "they started this investigation of [Trump's] campaign, and even more concerning actually is what happened after the campaign, a whole pattern of events while he was president to sabotage his presidency — or at least have the effect of sabotaging the presidency."
No construction order means "open season" for squatting, theft, vandalism. As stakeholders continue to discuss how to resume construction activity during the COVID-19 pandemic, builders across the state say criminals are taking advantage of empty construction sites and near-completed residential homes — and the effects are destructive and costly. In one case, a city manager has provided further guidance to the industry as it seeks to navigate the challenging circumstances. In addition to myriad financial consequences construction businesses and employees are bearing due to the inactivity, builders say there's been a sharp increase in vandalism, thefts and squatters on construction sites, in some cases despite enhanced security measures. Additionally, people are using the sites as dumping grounds for all manner of things from old appliances to electronics and more, likely to avoid fees at transfer stations.
The Fastest Growing and Declining E-Commerce Categories. The COVID-19 pandemic is having a significant impact on every aspect of life, including how people shop for their necessities, and their not-so-necessities. With online retail sales estimated to reach an eye-watering $6.5 trillion by 2023, the ecommerce sector was already booming. But since the outbreak, online shopping has been catapulted into complete overdrive.
Confirmed: Air Force "Men in Black" were investigating Luis Elizondo over UFO videos. The last time we checked in on the folks at the Pentagon who have gone almost entirely silent on the matter of government and military investigations into Navy encounters with UFOs, there were plenty of questions left unanswered. One of the key issues was why they seemed to keep changing their story when pressed for answers and how they couldn't seem to define precisely what Luis Elizondo did or didn't have to do with their secret UFO program known as AATIP (Advanced Aerial Threat Identification Program). One other question was how those three Navy UFO videos wound up making their way into the public eye if all of this was supposed to be so hush-hush. Now we know the answer and several other new details.
The BBC Ridicules Christianity On Good Friday. At the end of holy week, the Christian — or at least the Western Christian Churches — celebrate the mysteries of Easter and the resurrection of Christ. At this time the BBC, in the shape of Nick Robinson on its flagship Today program, decided to belittle a Covid survivor's reference to his faith as a 'trick' played on him by the drugs he was being administered in intensive care.
Pressure mounts for Gov. Inslee to restart private construction projects. Pressure is mounting on Gov. Inslee to relax his stay-at-home requirements for the construction industry. He is getting letters from developers, lawmakers, and others saying private construction is just as essential as public projects. While most large public projects have been halted — including state road projects and some Sound Transit work — public construction projects are on Gov. Inslee's "essential" list. Building homes is not, a double-standard contractors believe isn't fair.
Bridge collapses in Italy with almost no traffic amid lockdown. A bridge on a normally busy provincial road in northern Italy collapsed on Wednesday [4/8/2020] but with virtually no traffic during the coronavirus lockdown, only two truck drivers suffered minor injuries, the fire brigade said. [...] Although casualties were limited in Wednesday's incident, the incident highlights the poor state of repair of Italy's road network, after the collapse of a motorway bridge in the port city of Genoa in 2018 that killed 43 people.
Airline travel has dropped 96 percent amid coronavirus. Airline travel has dropped 96 percent amid the coronavirus pandemic, CNN reported Thursday [4/9/2020], citing multiple metrics. Only about one in 10 seats on U.S. domestic planes are occupied, the outlet reported citing Airlines for America, an industry group that represents airlines including American, Delta, Southwest and United. On the limited number of international flights operating, only one in five seats are occupied, the group said.
The Editor says...
On a normal day (how I miss normal days!) there was an airplane flying over my house about every two minutes. Now, there are only a few per day.
Bill Barr: "Without Any Basis". Here are what I think are the important points we can take from what Barr said. First of all, it seems apparent that the Durham investigation has completed most of its evidence gathering — whether documentary or through interviews. That doesn't mean the investigation is finished. There is also the question of putting together a prosecutive case, and that will probably involve complicated negotiations with the lawyers for the persons being investigated. That, in turn, could lead to further substantive investigation. But the bottom line is that at this point Barr appears confident that he knows what happened and, most likely, who was behind it. As Barr says, this is a "sprawling" case.
Battery explodes in a home while being charged. Batteries are not 100% safe and should not be left unattended while charging. [Video clip]
NASA astronaut's estranged wife charged with lying about space crime allegation. The estranged wife of a NASA astronaut who claimed her spouse improperly accessed her bank account from space has been indicted for lying to federal authorities. Summer Worden, 44, whose claim would have potentially been the first accusation of a crime committed in space, made false statements to NASA's Office of the Inspector General and the Federal Trade Commission, according a statement from U.S. Attorney Ryan Patrick. A federal jury in Houston returned the two-count indictment in late February, but it was unsealed Monday [4/6/2020].
Kennedy Center Agrees To Pay Orchestra After Lawmakers Move To Rescind Bailout. The Kennedy Center for the Performing Arts has walked back its decision to furlough nearly 100 members of the symphony orchestra despite receiving a $25 million federal bailout, a move that prompted the affected musicians to file a lawsuit against the performing arts center. According to The Washington Free Beacon, the center has offered the musicians pay cuts and a wage freeze instead of furloughs, and the union representing the orchestra's musicians has, in turn, decided to drop a lawsuit against the center for allegedly violating a contract, which prohibits layoffs without six weeks notice.
US Box Office Sales Collapse To Just $5,179; Was $204 Million During Same Period Last Year. As millions of Americans spend quality time with their families to avoid the global pandemic, box office sales across the US have predictably cratered — falling to just $5,179 from March 20 through March 26 as movie theaters across the country remain shuttered.
Landlords alarmed over rent forgiveness proposal. On Wednesday [4/1/2020], Portland city leaders sent a letter to the governor asking for statewide rent forgiveness for people who lost incomes because of the pandemic. "We've never talked about a rent moratorium before or forgiving mortgages. I know it might sound outlandish to some, but I just ask them to consider the alternatives or offer alternatives. You can't squeeze blood from a stone," Portland City Commissioner Chloe Eudaly told KATU. Since then, reaction has been swift, claiming if put in place, it would cause long-term damage to basic economic structures.
California nonprofit calls for statewide rent strike. The start of the month under a statewide stay-at-home order means many tenants and homeowners are scrambling to come up with the money for their rent and mortgage bills. On Wednesday, the Alliance of Californians for Community Empowerment declared a statewide rent strike, demanding that those payments be forgiven until people can return to work. With so many workers out of a job right now, a number of families do not know when their next paycheck is coming — but the bills keep piling up.
The Editor says...
Being unable to pay the rent and being unwilling to pay the rent are two entirely different things. In the former case, one might reasonably hope for mercy, longsuffering, and unmerited kindness. In the latter case, one might reasonably expect eviction.
European leaders warn coronavirus could lead to the breakup of their union. The coronavirus pandemic, with its simultaneous health and economic crises, is deepening fault lines within Europe in a way some leaders fear could prove to be a final reckoning. The cohesion of the European Union had been battered by Brexit, bruised by the political fallout from the 2015 migration surge and the 2008 financial crisis, and challenged by rising autocracy in the east that runs contrary to the professed ideals of the European project. Now, if Europe's leaders cannot chart a more united course, the project lies in what one of its architects described this week as "mortal danger."
Major Errors Found In All 29 of the FISA Warrants The IG Has Reviewed. FISA hearings are ex parte — one sided. There is only a prosecutor; there is no defense attorney present to challenge or question the claims made to the judge. That's why the Woods Procedures specify that each and every claim made in the FISA application be so thoroughly proven that even if there were a defense attorney present to challenge every claim, the judge would still find that the claim was too well supported to be questioned.
DOJ Inspector General Finds Rampant Errors in FBI Surveillance. The Justice Department's watchdog determined that the FBI failed to properly document the facts in 29 Foreign Intelligence Surveillance Act (FISA) applications that were reviewed in an audit. The findings are part of a report released on March 30 by the Department of Justice's Office of Inspector General. The office had previously found widespread fundamental and serious errors in the FISA applications used to spy on former Trump campaign associate Carter Page. [...] Of the 42 applications reviewed, 39 had a "total of about 390 issues, including unverified, inaccurate, or inadequately supported facts, as well as typographical errors." Just three applications had no issues.
Two Fateful Events Occurred on January 15 Which Changed America for Years to Come; One Glaring, the Other Quiet. On January 15, America watched as a group of prideful House Democrats, placing partisan interests above their country, walked the spurious Articles of Impeachment over to the Senate. The solemn looks on their faces belied the elation they tried hard not to show. For the next three weeks, we watched the spectacle of Adam Schiff and his team trying desperately to prove their fraudulent case against President Trump. Fortunately, they failed. At the same time, an airplane landed at Washington State's Seattle-Tacoma International Airport. A 35-year-old man had just returned from visiting his family in Wuhan, China. Five days later, on January 20, he would become the first person in the U.S. to test positive for the coronavirus.
A Surprising Paradox of Major Floods. Last year, record floods along the Missouri and Mississippi Rivers caused $2.9 Billion worth of damage in Nebraska and Iowa, flooding at least one million acres of farmland and killing three people. While floods and other natural disasters can inflict unfortunate death and destruction upon individuals, they can paradoxically benefit communities in the long run. In the short term — over a span of a few years — floods can transform urban areas into downtrodden, waterlogged ghost towns. But you might be surprised to learn that in the long term — think more than ten years — floods and other natural disasters actually seem to grow economies and populations.
Fish tank cleaner couple's story gets weirder and weirder. [W]hat normal person eats a fish-tank cleaner to avoid coronavirus? Hmmm, perhaps a loving husband whose oh, so solicitous wife suggests it because President Donald J. Trump (R) highly recommends it. At least that's what the grieving widow says, whose husband died from dining on the stuff while she daintily ingested a mere taste. While the lefty media — i.e., 90% or so of the media — gleefully agreed with her that Trump was at fault, the remaining 10% of the media, plus the hundreds of thousands of silent deplorables, thought this explanation was fishy. The fishiness began to stink to high Hillary hell upon the discovery that the couple was — surprise! — Democratic donors.
The mysterious case of the people who ate fish tank cleaner. Shortly after President Trump touted chloroquine as a potential cure for COVID-19, the media triumphantly reported that a man died from taking homemade chloroquine due to Trump's recommendation. It turned out that the man's wife fed him some fish tank cleaner. She even partook of it with him, except that he died while she didn't. As a dedicated murder mystery reader, I didn't blame Trump. My suspicions were focused elsewhere. It turns out my instincts may have been right on the money. Here's the story the drive-by media didn't tell you: [...] Here's an excellent rule of thumb when navigating stories that are hostile to President Trump: Assume everything you hear is a lie, whether it's from the media or from the anti-Trump source about which the media is reporting. Also, you can learn a lot about human nature and sneaky crimes by reading murder mysteries.
Rick Perry warns US energy sector on verge of 'massive collapse' due to coronavirus pandemic. Former Energy Secretary Rick Perry warned Tuesday [3/31/2020] on "Tucker Carlson Tonight" that the coronavirus pandemic has brought the United States' once-thriving oil and energy sector to the verge of a "massive collapse." Sweeping restrictions on work and travel have brought industrial activity to a near-standstill. Perry explained that fewer cars on the road and fewer flights in the air translate to a major decrease in demand for oil, which is bad news for America's energy producers.
Ex wildlife chief: Trump rule could kill billions of birds. At a former open-pit copper mine filled with billions of gallons of toxic water, sirens and loud pops from propane cannons echo off the granite walls to scare away birds so they don't land. After several thousand migrating snow geese perished in the Berkeley Pit's acidic, metal-laden waters in 2016, its owners deployed a sophisticated arsenal to frighten away flocks, including lasers, drones, fireworks and remote-controlled boats. Montana Resources already had been hazing incoming birds with spotlights and rifle shots into the water — and a spokesman says those existing deterrents likely helped the company avoid a penalty or prosecution under the Migratory Bird Treaty Act. [...] However, the Trump administration says deaths of birds that fly into oil pits, mining sites, telecommunications towers, wind turbines and other hazards should be treated as accidents not subject to prosecution.
The Editor says...
Where was this writer's concern about windmills killing birds when Obama was president?
Coronavirus job losses could hit 47M, unemployment rate may surge to 32%, St. Louis Fed says. Tens of millions of Americans will likely lose their jobs as the coronavirus pandemic sends the U.S. economy into a free fall, causing the unemployment rate to surge to levels not seen since the Great Depression, according to a St. Louis Federal Reserve estimate. The analysis, posted by St. Louis Fed economist Miguel Faria-e-Castro, projected that unemployment could hit 32 percent in the second quarter as more than 47 million workers are laid off as a result of the pandemic, which has forced swaths of the economy to shut down. That would exceed the 24.9 percent peak during the Great Depression. "These are very large numbers by historical standards, but this is a rather unique shock that is unlike any other experienced by the U.S. economy in the last 100 years," Faria-e-Castro wrote in the research paper published last week.
King of Thailand 'isolates' from coronavirus with 20 women. Thailand's playboy king has taken over a luxury German hotel to isolate from the coronavirus — along with a harem of 20 women, according to reports. King Maha Vajiralongkorn, 67, reportedly booked the entire Grand Hotel Sonnenbichl with "special permission" to break the lockdown in the Alpine resort town of Garmisch-Partenkirchen, the Independent said, quoting German media. But rather than isolate, he moved in a harem of 20 concubines along with a team of servants, the UK paper said, citing German tabloid Bild.
France Issues Rallying Calls to 'Buy French' as Coronavirus Erodes EU Single Market. French Finance Minister Bruno Le Maire has called on his countrymen to buy domestic products as the Wuhan coronavirus outbreak cripples the European single market. Describing his approach as "economic patriotism," he urged French supermarkets to 'stock French products.' The call didn't go unheard. Following the minister's remarks on Tuesday, the trade body representing French supermarkets vowed to stock up shelves exclusively with fruits and vegetables produced within France once the foreign products run out, the newspaper Les Echos reported.
Globalism gone bust: Italians burn EU flag, vow to leave EU over EU's lousy coronavirus response. Now that Italy has recorded its 10,000th coronavirus death, a third of the global total, and nearly a thousand just yesterday, Italians are questioning the value of globalism, and more specifically asking what good its European Union membership does it. Sentiment is soaring for getting out and going it alone. Britain did it, why not Italy? Locals are now burning European Union flags, and Italian politicians are ramping up the talk about getting the heck out of the European Union altogether.
Senior WHO Official Cuts Off Interview When Reporter Implies Taiwan Isn't Part Of China. A senior World Health Organization official appeared to pretend he couldn't hear a reporter and then cancelled the call when she implied Taiwan was a separate country from China. A Hong Kong-based outlet was conducting the interview with senior advisor to the WHO Bruce Aylward. Taiwan is one of the few Western-style democracies near China, and China's communist government has long insisted that the international community treat Taiwan as a part of "Greater China," despite having separate governments. The WHO complies and does not allow Taiwan to be a member state. The reporter asked whether that policy might change during the coronavirus pandemic.
Trump to cruise lines: If you want American coronavirus relief, try being American companies first. If companies want America to bail them out, perhaps they should bail back into America first. Donald Trump had spoken repeatedly about the financial beating that cruise lines had taken since the start of the coronavirus outbreak, and perhaps those corporations just assumed that they could access the COVID-19 rescue package once it passed. [...] Last night [3/26/2020], Trump sympathized with the plight of cruise lines, but noted that these companies haven't done much to invest in the US. If the cruise lines want the protection of American taxpayers, they should join their ranks first, Trump said.
President Trump signs into law $2 trillion coronavirus bailout. President Trump on Friday [3/27/2020] signed into law a historic $2.2 trillion coronavirus rescue package, the largest stimulus deal in United States history, as the pandemic devastates the nation's economy and sickens thousands. "This will deliver urgently needed relief to our nation's families, workers and businesses and that's what this is all about," Trump said in the Oval Office flanked by GOP lawmakers and administration officials. "I want to thank Republicans and Democrats for coming together, setting aside their differences and putting America first," he added. The bill includes $500 billion in direct checks to American families, $500 billion in small business loans, $150 billion in hospital funding and a $150 billion relief fund for state and local governments, among other measures.
More than 400,000 jobs available as coronavirus prods people to stock up on necessities and order takeout. The outbreak of the coronavirus across the United States has shuttered whole industries. Still, demand for essentials, such as food, toilet paper, and even pizza delivery, has increased hiring by over 400,000 jobs as people shelter in their homes and stock up on necessities. Walmart, the largest employer in the U.S., wants to hire an additional 150,000 temporary workers by the end of May to meet the increase in demand at its stores. However, those temporary jobs could become permanent. "These roles will be temporary at first, but many will convert to permanent roles over time," it stated in a press release.
China Uses Coronavirus Crisis to Bulldoze Churches and Temples. Religious freedom watchdog groups are accusing the Chinese Communist Party (CCP) of using the Wuhan coronavirus epidemic as an opportunity to intensify their crackdown on religion, bulldozing some churches and placing others under heavy surveillance. "China is now holding itself up as a model for fighting the coronavirus. But fighting the pandemic hasn't stopped communist officials from persecuting Christians," Todd Nettleton, a spokesman for the nonprofit group Voice of the Martyrs (VOM), told Fox News on Tuesday.
The United States indicts Venezuela's Maduro on narco-terrorism charges. The Trump administration unsealed sweeping indictments Thursday against Venezuelan President Nicolás Maduro and members of his inner circle on narcoterrorism charges, a move that dramatically escalates U.S. efforts to force the authoritarian socialist from power. The United States also offered a $15 million bounty for information leading to Maduro's capture and conviction. Attorney General William P. Barr said the Justice Department has charged Maduro, along with a host of other current and former Venezuelan officials, with narcoterrorism, money laundering and drug trafficking. Barr and other U.S. officials outlined a detailed conspiracy headed by Maduro that effectively worked with Colombian guerrillas to transform Venezuela into a transshipment point for moving massive amounts of cocaine into the United States.
His Tesla was in a hit and run. It recorded the whole thing. The car is becoming a sentry, a chaperone, and a snitch. My parked car got gashed in a hit-and-run two weeks ago. I found a star witness: the car itself. Like mine, your car might have cameras. At least one rearview camera has been required on new American cars since 2018. I drive a Tesla Model 3 that has eight lenses pointing in every direction, which it uses for backing up, parking and cruise control. A year ago, Tesla updated its software to also turn its cameras into a 360-degree video recorder. Even when the car is off.
Sentiment builds for moving U.S. companies out of China. American companies that produce essential goods in China should plan to shift their operations back to the United States or other Western countries, according to a senior Republican lawmaker. "We're staring into a significant, significant crisis of supply chain," Colorado Sen. Cory Gardner told the Washington Examiner.
Deal Reached on $2 Trillion Package to Pay for Our 'Strange New Reality'. Senate and White House negotiators reached an agreement early Wednesday morning [3/25/2020] on a $2 trillion stimulus package to help businesses and families affected by the coronavirus epidemic and to bolster the economy. The agreement clears the way for the package to sail through both houses of Congress on its way to President Trump. Treasury Secretary Steve Mnuchin told reporters that Trump will sign the bill as soon as it reaches his desk."
Dow surges more than 2,000 points in its strongest one-day performance since 1933. The Dow soared more than 2,000 points on Tuesday in its strongest one-day performance since 1933 as US lawmakers neared a deal to inject nearly $2 trillion of aid into an economy ravaged by the coronavirus. All three main US stock indexes rebounded strongly from Monday's brutal selloff as the coronavirus outbreak forced entire nations to shut down.
Hallelujah! Daughter of Muslim domestic terrorist defeated In Illinois election. Ameena Nuur Matthews was defeated in the Democratic primary election for Illinois' 1st Congressional District on March 17th, 2020.
De Blasio's senior staff in near revolt over his coronavirus response. When Mayor de Blasio dragged aides and members of his NYPD security detail to his Brooklyn YMCA Monday morning amidst the coronavirus outbreak, fellow fitness enthusiasts were coughing and sneezing — and a mentally ill person was walking around touching the equipment, a gym source said. "It's crazy that he made his staff and detail come with him to the gym and expose them like that," the source said. But the incident is just one example of the mayor's disregard for the health of his staff during the crisis, multiple sources told The [New York] Post. There's also growing frustration from senior aides, who fault the mayor for dithering instead of making decisions, micromanaging instead of leading, and insisting he knows best instead of listening to others, three sources said.
Political tectonic plates are shifting as media and other Dems start praising Trump's crisis management (and as his polls rise). Democrat politicians have access to far more granular polling data that must show them that Americans want a strong leader in a time of mortal peril facing them, and that President Trump is rising to the challenge of his office. The smarter ones among them may also understand that the nonstop carping, criticizing every move that Trump has made since taking office, has created cynicism and doubt about the sincerity of the continuous nit-picking. President Trump is not about to let them forget the wave of criticism denouncing his prescient ban on arrivals from China as racist, either, so they had better get on board and earn his favor, lest they be called out.
Amazon to Add 100,000 Jobs, Raise Pay During 'Unprecedented' Needs of Coronavirus. Amazon announced Monday [3/16/2020] it will invest over $350 million to open up 100,000 new jobs and to increase pay by $2 per hour in the U.S. and around the world during the coronavirus pandemic. The Seattle-based multinational e-commerce company, said Dave Clark, senior vice president of worldwide operations, in a press release that it is seeing a "significant increase in demand" and accompanying "unprecedented" labor needs.
Americans are very likely to get $1,000 (or more) checks. Here's what you need to know. Americans could get a check for $1,000 or more in the coming weeks, as political leaders coalesce around a dramatic plan to try to prevent a worse recession and protect people from going bankrupt. The idea took off Monday [3/16/2020] when Sen. Mitt Romney (R-Utah) called for every American adult to receive a $1,000 check "immediately" to help tide people over until other government aid can arrive. By Tuesday, there was bipartisan support for the idea, including from President Trump. The White House even suggested the amount could be over $1,000, an acknowledgment of how big the economic crisis is becoming. "We're looking at sending checks to Americans immediately," Treasury Secretary Steven Mnuchin said, adding that Trump wants checks to go out "in the next two weeks."
Utah hit with its strongest earthquake since 1992. Utah was hit with a 5.7 magnitude earthquake on Wednesday, its strongest since 1992, officials said. The earthquake, which struck at 7:10 a.m. local time and was centered just north of Magna, shook houses between Salt Lake City and Antelope Island, the U.S. Geographical Survey (USGS) reported.
Adam Schiff's surveillance state. Lawmakers are debating ways to prevent the Federal Bureau of Investigation from abusing its surveillance authority again. While they're at it, they have an obligation to address their own privacy transgressor, Rep. Adam Schiff. That's the gist of a pointed letter from Federal Communications Commissioner Brendan Carr, which landed Thursday at the House Intelligence Committee. Chairman Schiff spent months conducting secret impeachment hearings. His ensuing report revealed that he'd also set up his own surveillance state. Mr. Schiff issued secret subpoenas to phone carriers, to obtain and publish the call records of political rivals. Targets included Rudy Giuliani and another attorney of the president, the ranking Republican on the Intelligence Committee (Rep. Devin Nunes) and a journalist (John Solomon).
FCC Commissioner Calls Out Adam Schiff Over His Secret Subpoenas, May Take Action. During the House impeachment proceedings, Rep. Adam Schiff (D-CA) released a report which included the phone records that included calls made or received by Rep. Devin Nunes(R-CA), journalist John Solomon, Rudy Giuliani and others. The records in the report didn't contain the content of the conversations but included who called who called who and how long the call lasted. The belief was that the records were obtained through subpoena to the phone companies of records related to Giuliani and Lev Parnas, with the obvious purpose meant to try to impugn the people whose records were included without reason or cause.
Woman pardoned by President Trump announces Congressional run against Rep. John Lewis. A woman who was pardoned by President Donald Trump has announced she will be running for Congress against Georgia Democratic Rep. John Lewis. Angela Stanton-King, who was pardoned by Trump last month, announced her congressional bid in a message clarifying that "this isn't about replacing John Lewis, this is about picking up the torch and continuing the fight for Justice.
3-year-old boy gets lost and left behind by class, teachers on preschool field trip. A 3-year-old boy was left behind by his class and his teachers while on a school field trip last week and his mother was notified days after the incident took place. Karter Williams, a 3-year-old student in the Houston Independent School District (HISD) Head Start program at Thompson Elementary in Houston, Texas, was on a field trip with his class to the Houston Livestock Show and Rodeo last Friday when he became separated from his classmates and teachers. It is unclear how long Karter was wandering around for on his own.
The Editor says...
Why is a three-year-old kid in school at all?
California Throws The Books At Undercover Reporter Who Exposed Baby Body Trafficking. An undercover reporter has been arraigned in California and charged with ten felonies for secretly recording conversations, and it's time to revisit how the judiciary and the law can stifle the First Amendment's guarantee of freedom of the press. The accused, David Daleiden, used standard media undercover techniques to investigate and expose Planned Parenthood's sale of aborted fetus body parts. While the use of undercover techniques like Daleiden's is a controversial practice even within journalism circles, Daleiden's upcoming jury trial has far wider implications for journalists. Namely, can and should government criminalize undercover reporting, which historically has revealed otherwise hidden wrongdoing of all kinds?
US Treasury likely to push back April 15 tax filing deadline, Report. The Trump administration is likely to extend the April 15 tax deadline as part of an effort to mitigate the effects of the novel coronavirus on U.S. households and businesses, according to an administration official and another person familiar with the matter. Neither the decision to extend the deadline nor the mechanics of how such an extension might work are yet final.
'Black Americans Are Waking Up:' More African Americans Exiting Democratic Party in 'Blexit' Movement. A recent poll found that 54 percent of African Americans believe the Democratic Party isn't paying enough attention to their needs. It is an issue that is leading a growing number of blacks to rethink their choices at the ballot box. For decades African Americans have been a key voting block for Democrats. In 2016, 89 percent of black voters supported Hillary Clinton over Donald Trump. Now, a movement called Blexit, which means the exit of black Americans from the Democrat Party, is encouraging African Americans to abandon the status quo.
Pierce Bush, late President George H.W. Bush's grandson, loses Texas Congressional bid. Republican Pierce Bush, a grandson of former President George H.W. Bush, failed to advance out of Tuesday's primary in his bid for a Houston congressional seat, becoming the first member of his family to lose a race in Texas in more than 40 years. Aside from the recognition of coming from America's most enduring Republican dynasty, Bush 34, was endorsed by the outgoing GOP incumbent, Rep. Pete Olson and raised more money than many of the other 14 candidates in the field. Troy Nehls and Kathaleen Wall, staunch defenders of President Donald Trump, advanced instead to the runoff. That raised questions about whether the Bush family's sharp personal clashes with the president in recent years turned off Republican voters.
London Uber driver reveals how he killed a man by removing his liver and kidneys while working as a doctor in China. China has slaughtered thousands of its citizens to harvest organs such as hearts, lungs, kidneys, eyes and even skin for sale and to transplant into sick patients in hundreds of hospitals across the country. A landmark international investigation, published in full today, will accuse the Beijing government of covering up 'crimes against humanity' that have been routinely carried out against religious minorities. The inquiry says the organised butchery of living people to sell body parts can be compared 'to the worst atrocities committed in conflicts of the 20th Century' such as the Nazi gassing of Jews and Khmer Rouge massacres in Cambodia.
Fed Announces Emergency Rate Cut to Fight Coronavirus Economic Risks. The Federal Reserve announced an emergency interest rate cut Tuesday, saying it was slashing its benchmark target by half a percentage point to combat the risks by the global outbreak of the coronavirus. This was the largest move in interest rates since the Fed cut rates during the financial crisis and the first emergency cut since late 2008. Typically, the rate target only moves its rate target at scheduled meetings. The next meeting is set to begin in two weeks.
Federal Reserve announces first emergency rate cut since the financial crisis. The Federal Reserve slashed interest rates by half a percentage point on Tuesday, a bold attempt to give the US economy a jolt in the face of concerns about the coronavirus outbreak. It was the first unscheduled, emergency rate cut since 2008, and it also marks the biggest one-time cut since then. The new benchmark interest rate is 1% to 1.25%.
Trump campaign manager says Democrats will try to steal the election. President Trump's campaign manager thinks that Democrats will fight dirty in the race to the White House this year. "They are going to cheat," Brad Parscale told an audience at the Conservative Political Action Conference in National Harbor, Maryland, on Friday [2/28/2020]. "Trust me, I saw what they did in 2016, 2017, 2018, 2019. They are not going to wake up in 2020 and say, 'Let's play fair now.'" Some Democratic voters are concerned that Trump will refuse to accept the results of the election. The campaign expects to have an email list that is 50 million contacts deep by November, and 2 million trained volunteers — a massive jump from the 16,000 trained volunteers it had in 2016.
China is concocting plans to paralyze US society before conflict, Marco Rubio says. Chinese officials are seeding the United States and allied nations indirectly with technology that could cause massive societal disruption in the event of a conflict, according to a senior Republican lawmaker. "We have never faced that sort of vulnerability in the backbone of our country," Sen. Marco Rubio, a Florida Republican, said this week. China's potential to carry out a crippling attack against U.S. satellites has commanded attention from military strategists and diplomats for years, but Rubio's warning was spurred by analysis of much more mundane systems: office printers, which could pose an unexpected intelligence threat.
Mystery zero-day in Chrome — update now! Google has issued an update for its widespread Chrome browser to fix three security holes. Unfortunately, one of those holes is what's known as a zero-day: a bug that was already being exploited by cyerbcrooks before Google tracked it down and fixed it. Google, which is often vociferous about bugs and how they work, especially those found by its own Project Zero and Threat Analysis teams, is playing its cards close to its chest in this case.
Oregon man busted for buying Girl Scout cookies with fake bills. An Oregon man has been busted for repeatedly duping Girl Scouts, buying cookies with counterfeit money, police said. Camden Stevens Ducharme, 36, of Salem, was arrested Sunday [2/23/2020] on charges of theft and forgery after two separate Girl Scouts troops reported getting bogus bills while hawking their iconic baked goods earlier this month, the Statesman Journal reports. During one incident, police said Ducharme passed a counterfeit $20 to purchase a box of cookies from a Girl Scout troop outside a Walmart in Salem and received legal currency in exchange, the newspaper reports.
Using radar, not a shovel:
Digging into the far side of the moon: Chang'E-4 probes 40 meters into lunar surface. A little over a year after landing, China's spacecraft Chang'E-4 is continuing to unveil secrets from the far side of the Moon. The latest study, published on Feb. 26 in Science Advances, reveals what lurks below the surface.
The Editor says...
I confidently predict that all they will find is rocks, dust, and sterile dirt. But suppose they find giant gold nuggets or big chunks of solid uranium? What possible benefit would that be? The moon is too far away for mining — even robotic mining. I encourage the government of China to keep wasting money and manpower on this futile nonsense.
In the UK, it now spells a product's death if conservatives boast about liking it. Because Britain is still a free-market economy, although Yorkshire Tea shies away from positioning itself with specific political or social demographics, it has no control over who ultimately buys its products. The free market's effect of letting anyone buy a product, and even boast about the product, is why SJWs in England are trying to destroy Yorkshire Tea. Rishi Sunak, the conservative chancellor of the Exchequer in Boris Johnson's government, decided it would be good to tweet out that he was making a big pot of Yorkshire Tea. Presumably, with Brexit going into effect, he did so to highlight homegrown British industries: [...] The SJWs went ballistic.
Beware of fair weather friends:
Eight Mississippi Elected Officials Leave Dems, Independents, Join GOP. Sensing the sentiment in their state has swung toward the GOP, eight Mississippi political office holders who were either Democrats or Independents have joined the Republican Party. "We have had a relentless focus on switching conservative Democrats over to the Republican party," Mississippi Republican Party Chairman Lucien Smith said of the flurry of politicians looking for a safe haven. He added, "They recognize increasingly that there is only one party that represents the conservative values of our state and that is the Republican party," as WLBT reported.
Trey Gowdy: Time for intel officials to stop briefing 'epidemic leaker' Adam Schiff. Former Republican congressman Trey Gowdy suggested intelligence officials should just stop briefing "epidemic leaker" Rep. Adam Schiff. The Fox News contributor slammed the House Intelligence Committee chairman during a discussion Monday on "Hannity" about the recent reports of US intelligence assessments on alleged Russian meddling in the 2020 election.
John Ratcliffe Discusses Manufactured ODNI Intel Briefing on Russia and Upcoming FISA Reauthorization. Representative John Ratcliffe appears with Maria Bartiromo to answer questions about the fraudulent information within an intelligence briefing last week and the House democrats weaponizing a false narrative. Ratcliffe points fingers toward Adam Schiff for manufacturing the false media assertions & perpetuating a hoax on the American people. Additionally Mr. Ratcliffe notes the upcoming reauthorization of FISA authority is taking place under a cloud of abuse by government officials and a host of deep state resistance interests who do not want to admit abuse within the FISA system. [Video clip]
Warning! House Schedules Backroom FISA Reauthorization Hearing Without Sunlight, While FISA Court and DOJ Delay. Against the backdrop of a then pending OIG FISA report, in December of 2019 buried deep in the congressional budget Continuing Resolution (CR) was a short-term extension to reauthorize the FISA "business records provision", the "roving wiretap" provision, the "lone wolf" provision, and the more controversial bulk metadata provisions [Call Detail Records (CDR)], all parts of the Patriot Act. As a result of the FISA CR inclusion the terminal deadline was pushed to March 15, 2020: [...] For the past several years no corrective action taken by the intelligence community has improved the abuses outlined by the FISA court. The sketchy programs, and abuse therein, needs more public attention. However, there is now a confluence of events highlighting a likelihood congress and the intelligence apparatus writ large want to reauthorize the FISA surveillance and collection authorities without further sunlight and without public input.
New Jersey lists threat from white supremacists as higher than ISIS. New Jersey officials have raised the threat level from white supremacists to the highest possible level — while deeming Islamic terror groups like ISIS a low threat to the Garden State. The annual threat assessment report released Friday shows that white supremacists are now labeled a "high" threat for attacks, joining other so-called homegrown violent extremists as the biggest menace. "The threat from white supremacist extremists increased from moderate to high in 2020 due to the number of threats, plots, and attacks conducted in 2019," the report said. ISIS, however, was dropped from a moderate threat level to low, joining other fundamentalist terror groups like Al Qaeda, Al-Shabaab and Boko Haram.
Nevada Democratic Party asks caucus volunteers to sign confidentiality agreements. The Nevada State Democratic Party is asking site leaders for Saturday's caucuses to sign non-disclosure agreements that would prevent them from speaking to the media. The news comes just one day before the Nevada Democratic caucuses. The caucus process here in Nevada has come under intense scrutiny after a similar process melted down in Iowa.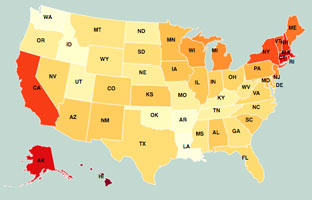 Electricity Rates By State. Electricity rates are not usually something that most people think about every day until the end of the month when the unpleasant surprise arrives in the form of an energy bill. If you've always wondered why your electric bill varies from time to time, who is the company whose letterhead your bill arrives on and how do the average electricity rates by state vary on average, we have the answers.
John Bolton Admits Last-Minute Impeachment Leak Was A Publicity Stunt. Former National Security Advisor John Bolton admitted Wednesday that his testimony in President Donald Trump's recent impeachment proceedings involving Ukraine would have had no impact on the trial's outcome even after sections of his upcoming book leaked attempting to convict the president in its final days. "People can argue about what I should have said and what I should have done," Bolton said at Vanderbilt University Wednesday night during a forum with his predecessor Susan Rice, according to ABC News. "I will bet you a dollar right here and now my testimony would have made no difference to the ultimate outcome."
Newspaper Lobbyists and Encryption Foes Join the Chorus Against Section 230. On Wednesday [2/19/2020], the U.S. Department of Justice held a "public workshop" on Section 230. Predictably, it wound being up a greatest hits of the half-truths and paranoid bellyaching commonly employed against this important law. Section 230 prevents digital companies from being automatically treated as the speaker of any third-party speech they assist in putting online. It also allows companies to moderate content without becoming liable for it. The law was passed in 1996 to address the fact that the then-dominant web companies felt forced to choose between very strictly gate-keeping or allowing a free-for-all if they wanted to avoid civil lawsuits and criminal liability over user-generated speech. Section 230 has never prevented the Justice Department from enforcing federal criminal statutes against online violators, as many have misleadingly argued. It acts as a shield against civil lawsuits and against state and local criminal charges.
If you rent an arena to a Democrat, demand payment up front.
Dems race to avoid going broke before Super Tuesday. Joe Biden, Pete Buttigieg, Amy Klobuchar and Elizabeth Warren each started the month scraping perilously close to the bottom of their campaign bank accounts, posing an existential threat to their candidacies as the Democratic primary goes national. They're up against well-funded machines threatening to dominate the Democratic race: Bernie Sanders, whose recent rise in the polls has come during a major spending streak fueled by his online donors, and billionaire Mike Bloomberg, whose personal fortune has vaulted him into the middle of the campaign to take on President Donald Trump.
Democrats' once-wishful hero slams House impeachment process as 'grossly partisan'. Former National Security Adviser John Bolton slammed the Democrats' impeachment process of President Trump as "grossly partisan" and claimed his own potential testimony "would have made no difference to the ultimate outcome." Despite the left's hailing him as a hero for claiming he had information about Trump's conduct regarding Ukraine, Bolton has increasingly come under fire for teasing information but never really saying anything. Many who formerly praised his courage blasted him for just trying to sell his forthcoming book.
George Soros calls for Mark Zuckerberg and Sheryl Sandberg to be removed from Facebook. George Soros has called for Mark Zuckerberg to be removed from Facebook because he thinks he is 'helping Trump get re-elected' by not censoring or banning political ads. Soros, a prolific billionaire Democrat donor, wrote a letter to The Financial Times on Monday [2/17/2020] calling on both Zuckerberg and Sheryl Sandberg to step down. He has accused them of having a 'mutual assistance arrangement' with Trump that will 'help him get re-elected'.
Source: Democrat Senator Held Secret Meeting In Munich With Iranian Foreign Minister Zarif. Sen. Chris Murphy of Connecticut and other Democratic senators had a secret meeting with Iranian Foreign Minister Mohammad Javad Zarif during the Munich Security Conference last week, according to a source briefed by the French delegation to the conference. Murphy's office did not respond to repeated requests for comment by press time. Such a meeting would mean Murphy had done the type of secret coordination with foreign leaders to potentially undermine the U.S. government that he accused Trump officials of doing as they prepared for Trump's administration. In February 2017, Murphy demanded investigations of National Security Advisor Mike Flynn because he had a phone call with his counterpart-to-be in Russia.
Alaska Supreme Court puts Gov. Dunleavy recall campaign on fast track, allowing signatures to be collected. The Alaska Supreme Court Friday [2/14/2020] ordered the state Division of Elections to allow Alaskans to sign petitions seeking to remove Gov. Mike Dunleavy from office and said that arguments over the legality of the recall will take place March 25. The decisions reverse a lower-court ruling that had paused signature-gathering and put the case on an extremely speedy schedule by the standards of the court. Both orders were signed by all five justices.
Everest: Top Sherpas slam Nepal's plan to clean rubbish from mountain. A plan to clear 35,000kg of rubbish from Everest and five other Himalayan peaks has been slammed by some of Nepal's leading mountaineers. The government says the army will be used for the task, which will cost 860 million Nepali rupees ($7.5m; £5.7m). Last year, they managed to clear about 10,000kg of waste from the region. But Kami Rita Sherpa, who has scaled the world's highest mountain a record 24 times, says they do not have the skills to reach the highest points.
Harvard, Yale under investigation over foreign gifts totaling hundreds of millions of dollars. The U.S. Department of Education (DOE) announced an investigation into Harvard and Yale on Wednesday and accused both universities of failing to report foreign gifts and contracts worth hundreds of millions of dollars. The federal agency claimed Yale failed to report at least $375 million in foreign transactions and hasn't reported any gifts or contracts for the last four years. The DOE did not say how much Harvard might have failed to report. Section 117 of the Higher Education Act requires American Title IV-eligible colleges and universities to report any foreign gifts or contracts that exceed $250,000 in value. Institutions must also disclose any foreign ownership or control, twice each year — something many schools have failed to do, according to federal officials.
Siri is Now Refusing to Say the Word "Gun". Apple's Siri voice assistant is now apparently refusing to say the word "gun" when used on an iPad. Tracy Connors tweeted a video of herself attempting to have Siri read out a Daily Caller headline entitled 'Virginia House of Delegates Passes Gun Ban, Seizure Bill'. Instead of saying the word 'gun', Siri spelled out the letters G-U-N.
Seattle City Council approves legislation protecting renters from wintertime evictions. The Seattle City Council voted Monday [2/10/2020] to prohibit some residential evictions during the winter, but altered what had been originally proposed by reducing the number of months the ban would be in effect. Before voting 7-0, the council trimmed the period covered by the legislation from five months to three months; limited the rule to low- and moderate-income tenants; and exempted landlords with four or fewer housing units. The legislation is meant to prevent most evictions during the coldest months for people behind on their rent.
Catherine Herridge Drops Big Scoop About the DOJ and What They're Doing on Ukraine. [Scroll down] While there are obviously questions about the Bidens, there are also questions about possible interference in our 2016 election and the role of the Democrats or the DNC and Ukraine in that. The fact that Barr took it out of main justice and assigned it to a separate U.S. Attorney, as he did with the Russia probe and U.S. Attorney John Durham, makes me think he believes there's a lot there to look at as well as he wants to ensure that an independent eye looks at it.
Authorities in Awe of Drug Runners' Jungle-Built, Kevlar-Coated Supersubs. The vessel, which never had a chance to take its maiden voyage, is by no means perfect. Its steel-free hull can't withstand depths of more than 62 feet, according to the US Navy's technical assessment, a limitation that gives the pilot an incredibly narrow comfort zone. In other words, the slightest miscalculation in ballast — the amount of seawater a sub takes in to dive — could spell disaster for the unwieldy, 16-foot-high vessel. Still, while they don't approve of its purpose, the Psubs members confirm that the craft is an impressive piece of work. "Something like that would have taken a year or so in a modern shop," says Vance Bradley, a member of the group's advisory council and a former professional submarine fabricator. "Imagine doing it out in the boonies with the mosquitoes and vermin!"
Boycott MSNBC trends after Chris Matthews breaks silence, goes off about Dems and socialism. MSNBC's Chris Matthews stepped too far outside the liberal box in a rant on socialism that ignited social media's cancel culture. Matthews unloaded on the word "socialism," saying he has an "attitude" about the term and proceeded to stun the MSNBC panel and viewers with his passionate warning to Democrats about supporting 2020 candidates who promote the ideology.
How a Croatian gas project exposes Green Deal hypocrisy. The company in charge of the construction is the Austrian company Strabag, who provided an update on the construction's progress in December 2019. Strabag is involved in one of the largest corruption scandals in Austria. It is being investigated by the Austrian fiscal authorities and is accused, alongside a dozen of other peers, of cartel forming and price-fixing of construction work tenders in Austria since 2003, in violation of Austrian and EU law. Strabag's offices were raided by the authorities in 2019. According to media, the expected fines are estimated to reach tens of millions of euros. This adds an extra shade of grey to the Croatia LNG project, whose hidden interests have been challenged by international civil society in a report in 2019.
Report: Missing $1.8 Billion in Aid Linked to Corrupt Oligarch Who 'Bankrolled' Ukraine Revolution. In a live video presentation, Thursday night, conservative radio host Glenn Beck accused the Obama administration of funneling $1.8 billion in taxpayer dollars to Ukraine in order to fund the Ukrainian revolution against Russia. Calling the scandal bigger than the Reagan-era "Iran Contra" scandal, The Blaze founder said that his research team made the discovery while looking into the phone call between President Donald Trump and Ukrainian President Zelensky, which spurred the Democrats' now-failed impeachment charade.
John Solomon's laptop was stolen on eve of Senate impeachment trial using 'sophisticated device'. Investigative reporter John Solomon, whose bombshells on Ukraine-Biden corruption have upset a number of deep state operatives and Democratic lawmakers in Washington, had his laptop computer stolen on the eve of the Senate's impeachment trial of President Donald Trump. According to a report by RealClearInvestigation's Paul Sperry, Solomon noted that nothing else was taken from his vehicle, just the laptop. Even his US Capitol press security badge was left untouched. According to the report, Solomon said his laptop contained "notes on Ukraine and former Vice President Joe Biden and other sensitive information."
Donald Trump Awards Rush Limbaugh the Presidential Medal of Freedom. President Donald Trump awarded the Presidential Medal of Freedom to Rush Limbaugh during Tuesday's State of the Union address before a joint session of Congress in Washington, D.C. Limbaugh, in attendance and seated beside first lady Melania Trump, was visibly emotional upon hearing the president's announcement. Melania Trump presented the medal and placed it around Limbaugh's neck.
Mid-SOTU, First Lady Presents Rush Limbaugh With Presidential Medal Of Freedom. First Lady Melania Trump presented legendary talk radio host Rush Limbaugh with the Presidential Medal of Freedom during Tuesday's State of the Union address. Limbaugh had revealed his advanced lung cancer diagnosis only one day earlier. "Almost every American family knows the pain when a loved one is diagnosed with a serious illness," President Trump said on Tuesday night. "Here tonight is a special man, beloved by millions of Americans, who just received a stage 4, advanced cancer diagnosis. This is not good news, but what is good news is that he is the greatest fighter and winner that you will ever meet, Rush Limbaugh. Thank you for your decades of devotion to our country."
'An unacceptable and upsetting environment': 2020 Democratic Host Committee under investigation. The two top officials overseeing Milwaukee's host committee for the 2020 Democratic National Convention were sidelined Monday [2/3/2020] amid allegations of a toxic work culture. In a letter to staff obtained by the Journal Sentinel, the board said it had retained an attorney to investigate "concerns about the work environment" for the Milwaukee 2020 Host Committee. During the investigation, Liz Gilbert, president of the host committee, will not be in the office and "will not have direct contact with staff," the letter says. Adam Alonso, the chief of staff for the group, has been placed on administrative leave, pending the outcome of the probe.
That Incident With the SUV Crashing the Barricades at Mar A Lago Yesterday Is Weirder Than We Realized. It didn't quite get the attention yesterday one might expect, but yesterday was an extraordinarily busy news day and, more importantly, it wasn't quite the ominous story it initially appeared to be. An SUV crashed through the gates at Mar-a-Lago, late yesterday morning. Shots were fired by the Secret Service and, ultimately, the driver was taken into custody. What became clear fairly quickly is that this was not a terrorist type thing — nor did it appear that Mar-a-Lago was intentionally targeted by the SUV driver. Rather, the driver — a 30-year-old opera singer from Connecticut — apparently was under the influence/impaired. But the story is a little more involved than that, [...]
CNN is Angry That White People Are Trying to Stop the Coronavirus Spreading. According to CNN, the real concern about the coronavirus is not the potential for a global pandemic, it's the fact there are too many white people trying to stop it. That was the message sent by an article posted on the news network's website entitled 'Coronavirus task force another example of Trump administration's lack of diversity'.
Proposed Missouri book ban could jail librarians for loaning 'inappropriate' content. Librarians and free speech advocates are fighting back against a proposal in the Missouri House of Representatives that would ban certain books from the state's libraries with the threat of a misdemeanor charge. [...] Cynthia Dudenhoffer, the president of the Missouri Library Association, said she was shocked when she first heard about the bill and said it was unnecessary. Each of the state's library systems, which account for a total of 365 branches, already have their own protocols in place to determine which materials are allowed for their younger members. [...] Dudenhoffer, however, noted that drag queen story hours and other similar events aren't mentioned in the bill and those readings have not included books with sexually inappropriate content.
Suspects accused of running $7M fentanyl ring released without bail. Six suspected drug dealers who are accused of running a $7 million fentanyl distribution operation out of a Bronx apartment were released without bail under the state's new criminal justice law early Wednesday [1/29/2020]. The suspects — Livo Valdez, Jaslin Baldera, Frederick Baldera, Frandi Ledema, Diego Tejada and Parfraimy Antonio — were arrested Monday [1/27/2020] when officers with the New York Drug Enforcement Task Force raided an apartment on Sedgwick Avenue in Kingsbridge that was allegedly used as a heroin and fentanyl packaging mill. They were each charged with criminal possession of a controlled substance and criminally using drug paraphernalia.
Bellwether to Blowout: Texas House District Gets Redder to Lead Off 2020 Elections. Texas House District 28's special election offered a first test of the theory that red Texas may be trending blue in the age of Trump. The suburban district west of Houston offered Democrats an opportunity to grab a seat and the narrative just days before the 2020 Iowa caucuses. [...] Sen. Elizabeth Warren endorsed the Democrat. Former veep Joe Biden did the same. Julian Castro campaigned for the Democrat. Mike Bloomberg bumbled his way into town and apparently knocked on the wrong doors. Beto O'Rourke practically lived in the district for the last few weeks, showing up everywhere giving speeches for the Democratic candidate, Dr. Eliz Markowitz. If one were to go by Twitter, the Dem would win 90-10.
$900K in counterfeit $1 bills discovered inside Chinese shipping container. Minnesota officers from Customs and Border Protection said they discovered 900,000 fake $1 bills in a commercial rail shipment that originated from China. The officers flagged a container last month at the International Falls Port of Entry, located between International Falls, Minnesota, and Fort Frances, Canada. During the search, $900,000 worth of U.S. currency was found in 45 different cartons within the shipping container. The Secret Service determined all of the money was fake, according to a press release from CBP over the weekend.
The Editor says...
I'm very surprised that anyone bothers to counterfeit one-dollar bills. That would involve a lot of paper and very little gain. It sounds like the case of Mr. 880, except in this case there was a railroad car full of money.
Harvard chemistry department chairman charged with lying about ties to Chinese government. Federal prosecutors Tuesday charged Harvard University's chemistry department chairman with lying to the U.S. Department of Defense about his ties to a controversial Chinese talent recruitment program. Prosecutors say Charles Lieber concealed almost $2 million from authorities in an alleged scheme to hide his ties to a Chinese university linked to a program accused of stealing U.S. intellectual property from businesses and universities. By hiding his ties, Mr. Lieber was able to secure $18 million in research grant funding from the Department of Defense and National Institutes of Health, prosecutors said.
Harvard professor arrested for failing to disclose $50,000 per month he received from China. Dr. Charles Lieber, a professor who led Harvard's chemistry department has been arrested and accused of lying about his ties to a Chinese program that recruited scientists and paid them to share their expertise at Chinese universities.
Rand Paul Says Trump Kids Should Sue Chuck Schumer for Slander. When Senator Rand Paul gets a lil fire in his belly it is always a lot of fun to watch and man did he have some fire earlier today. Earlier today [1/28/2020] on Fox while Rand was being interviewed they cut live for a couple of minutes to Sen. Chuck Schumer doing his daily talkfest before the trial was gaveled in. When host Ed henry cut back to Sen. Paul and asked him what was said, the Kentucky politician was ready to rip on what he heard Schumer said.
Is This Objectively Disgusting Soup What's Causing China's Disease Outbreak? A recent outbreak in China of a new strand of coronavirus may be linked to an objectively disgusting Chinese delicacy called bat soup, according to reports. Video footage online shows an entire cooked, dead bat sitting in soup. Scientists believe that the virus, which has killed 17 and infected over 640 people, could have spread from snakes or bats. Is this bat soup the cause of the quickly-spreading virus?
The Editor says...
The Chinese people eat rats and wolves, too. Maybe that's because they live under communism; but really, it's no wonder they're sick.
Some junk for sale on Amazon is very literally garbage, report finds. Some days it seems like searching for an item on Amazon just brings up endless pages of junk with no clear pattern. There's a reason for that, it turns out: dumpster divers are, in fact, literally reselling discarded junk. Resellers hunt through trash to find and repair treasures, the Wall Street Journal reported today. Those sellers, for understandable reasons, mostly didn't want to talk to the WSJ, so reporters for the paper tried it themselves.
The Disturbing Dismissal of the Kiddies' Climate Lawsuit. On a 2-1 vote, the Ninth Circuit Court finally dismissed Juliana v. United States, the lawsuit brought on behalf of child plaintiffs demanding their constitutional right to "a climate system capable of sustaining human life." The children, and the environmentalist group Our Children's Trust that's using them as lawfare puppets, were demanding a court order compelling the U.S. government to "swiftly phase out fossil-fuel use" and develop and implement "a national plan to restore Earth's energy balance ... to stabilize the climate system." [...] Juliana is only one of a "wave" of climate lawsuits proceeding on the basis "that climate science itself isn't up for debate." Even when a court gets it right as a matter of law, as happened this time in Juliana, widespread allegations that apocalyptic climate theories are "settled science" have a cumulative effect across the Judicial Branch.
Millennials Offended by Suggestion They Work Weekends. Individual tweets rarely deserve article-length analyses. In our social media-addled age, blithely drafted tweets too often lead to unforgiving shaming campaigns, which result, not infrequently, in ruined careers. But, once in a while, a 280-character-or-fewer remark actually accomplishes the Pollyannaish wishes of Silicon Valley techies: it provokes thought, sparks debate, inspires afflatus, and makes us consider the important things in life. A tweet from a cryptocurrency enthusiast named Ryan Selkis was roundly reviled by critics who are almost certainly leftists by persuasion. "If you don't work nights and weekends in your 20s, you're not going to have a successful career. Sorry," Selkis wrote in response to Jason Fried, CEO of the business management platform Basecamp, who called weekend work a sign of brokenness within a company.
US troops drink Iceland capital's entire beer supply in one weekend. Thousands of U.S. soldiers depleted all of the beer in Iceland's capital over the weekend. More than 6,000 soldiers were in Reykjavik for four days participating in the Trident Juncture 18 — a NATO-led military exercise. After their drills, the troops reportedly visited the city's downtown bars, where they finished off the entire beer supply.
Justice delayed: 9/11 mastermind Khalid Sheikh Mohammed appears in Guantanamo courtroom as trial approaches. Khalid Sheikh Mohammed will appear in a Guantanamo Bay courtroom this week, more than 18 years after the 9/11 terrorist attacks he is alleged to have masterminded and a year before he will finally face a jury. In the nearly two decades since 19 al Qaeda terrorists crashed hijacked planes into the World Trade Center buildings, the side of the Pentagon, and a field near Shanksville, Pennsylvania, killing nearly 3,000 people, the five men believed to be responsible have yet to face a trial.
Cases of bottled water found inside another vacant building in Flint. This time, they were found inside Flint Northern High School. Flint Northern High School closed in 2013. The discovery was made by Todd Farnum, who is an urban discoverer in the area. Farnum tells our Lia Kamana that he and a friend had discovered the water bottles back in 2018 while walking around in the neighborhood. Farum and his friend came back to the area last week and noticed that the cases of bottled water were still inside the building. The last time cases of bottled water were found inside a vacant building was back in 2019.
Made to Order Colorado Birth Certificates. Colorado has enacted legislation, effective Jan. 1, allowing adults born in Colorado to secure a new birth certificate reflecting a self-designated gender other than as recorded on an original birth certificate. That legislation is unwise, unethical, dangerous, and, surely to be contended by some, unlawful. [...] Impersonation is an act of pretending to be another person for the purposes of entertainment or fraud. Criminal impersonation includes pretending to be another individual in order to deceive others or gain some advantage, benefit, or thing of value. Since impersonation can also include assuming a fake identity with intent to defraud another, persons of one sex impersonating the opposite sex may be in violation of law when seeking an advantage such as access to opposite-sex bathrooms or when surreptitiously advancing intimate relationships with unsuspecting persons who would find such a relationship abhorrent.
Report: Over 50 Percent Of Attendees At Trump's Wisconsin Rally Weren't Republicans. This is some news that should absolutely terrify Democrats. They know they need Wisconsin and other rust belt states to beat Trump in 2020 but the crowd at Trump's recent rally there proves winning the state is going to be extremely difficult for them. More than half of the people at Trump's rally were not even Republicans.
Democrats & Independents Are Now Flocking To President Trump. Support for President Trump is surging due not only to the remarkably strong economy and international successes for the U.S., but also because of voter backlash against the ongoing insanity that is the Democrat Party — a party currently without any substantive policies or direction. When more than half of the people attending recent political rallies for President Trump are Democrats and Independents it's a sign the president's broad-based appeal to tens of millions from all backgrounds could prove impossible for the zany Democrats to defeat in 2020.
Mother and daughter psychics get prison time for $1.4 million fraud. They claimed they were "white squaw Cherokee Indian" spiritual healers, and used eggs filled with snake embryos to convince their victims that they were cursed, authorities say. One woman forked over almost $1.5 million before realizing it was a scam. But on Friday [1/17/2020], the mother-daughter pair of Annie Marie Vwanawick, 74, and April Miller, 44, both of Broward, were sentenced to 42 months and 27 months in prison, respectively, for defrauding two victims with their spiritual scams.
Meet the Muslim Republican Iraqi Refugee Who's Looking to Unseat Ilhan Omar. A Muslim Iraqi refugee who previously worked as a war journalist announced she is running for Congress in Minnesota's 5th Congressional District, meaning she will try to unseat Democrat Rep. Ilhan Omar. In her campaign announcement video, Dalia al-Aqidi said she was fortunate to be able to come to the United States as a little girl with her mother to escape Saddam Hussein, who she described as a "brutal dictator." Seeing how terror had affected her family, al-Aqidi says in the video she was happy President Trump ordered the death of Iranian general and terrorist Qasem Soleimani.
Amazon Crowns 'Profiles in Corruption' the 'Most Anticipated' Nonfiction Book. Slated to hit bookstores nationwide on January 21, Profiles in Corruption by Government Accountability Institute President and Breitbart senior contributor Peter Schweizer hit #1 in Amazon 10 days before its official release. The book is said to contain never-before-published revelations about Bernie Sanders, Elizabeth Warren, Joe Biden, Eric Garcetti, Kamala Harris, Sherrod Brown, and Amy Klobuchar — several of whom are featured on the book's cover.
Victory In New Jersey! Mandatory Vaccine Bill Miserably Fails After Thousands Show Up To Protest. A bill in New Jersey that would've stripped parents and children of their right to informed consent by allowing them to object to mandatory vaccinations failed on Monday. Much to the chagrin of the tyrants who claim ownership over the bodies of others, the bill that would have eliminated religious exemptions to mandatory vaccinations failed to pass the New Jersey state legislature. According to reports, the bill was canceled in the Senate before the vote because lawmakers knew they lacked the passing votes. The proponents of the bill vowed to reintroduce it on Tuesday but this gives opponents a new time frame on the public hearing and voting process.
Stephen King faces backlash for saying 'quality' should matter in Oscar nominees over 'diversity'. Legendary horror author Stephen King is facing backlash on Tuesday for his commentary on this year's Oscar nominations, stressing that the "quality" of the art should matter over "diversity." On Monday [1/13/2020], the Oscar nominations were revealed, and the Academy was slammed for both not having any female nominees for Best Director and for the numerous snubs of people of color among the other categories. King weighed in on the controversy on Twitter.
Drinking in the US hits 30-year high — Here's how much the average American drinks. Drinking in America has been rising for the last 20 years and has reached a point where Americans are drinking more than they were when Prohibition was enacted, according to federal health statistics. Aside from rising per-person alcohol consumption, there has also been an increase in emergency room visits, hospitalizations and deaths related to drinking, The Associated Press reported Tuesday [1/14/2020]. "Consumption has been going up. Harms [from alcohol] have been going up," Dr. Tim Naimi, an alcohol researcher at Boston University, said.
The NSA found a 'severe' security flaw with Microsoft Windows 10, and it's urging all users to do a software update immediately. The National Security Agency is urging all Windows 10 users to update their software after detecting a "severe" security flaw in the operating system, the agency announced Tuesday. The NSA first detected the flaw and alerted Microsoft, prominent security researcher Brian Krebs first reported. NSA Director of Cybersecurity Anne Neuberger confirmed that the agency told Microsoft about the flaw in a call with reporters Tuesday morning [1/14/2020].
Rep. Meadows: Lawmakers Will Appeal To FISC Judge To Remove David Kris From FBI Review. North Carolina Congressman Mark Meadows told "The Sara Carter Show" Monday that he — along with other senior Republican lawmakers — will send a letter to the presiding Judge of the Foreign Intelligence Surveillance Court demanding that FBI apologist David Kris be removed from overseeing bureau reforms demanded by the secret court. Kris, who openly criticized Republican lawmakers and defended the bureau's spying of short-term Trump campaign advisor Carter Page, is coming under heavy scrutiny for his online posts and blogs targeting Republican lawmakers investigations that uncovered malfeasance at the bureau.
AG Barr rains on Dem parade, says Trump consulted DOJ prior to Soleimani airstrike. Attorney General William Barr rained on the liberal media's parade in trying to paint President Donald Trump as an impulsive, irrational war-seeking commander-in-chief going off half-cocked to stir world passions. Countering media claims that the president disdains expertise in making decisions, Barr said Monday that Trump consulted the Justice Department before ordering the airstrike that killed Iran's terrorist general. "The Department of Justice was consulted and frankly I don't think it was a close call," the attorney general said. "I believe the president clearly had the authority to act as he did on numerous different bases."
Exclusive: Iranian National Arrested Near Mar-a-Lago with Machete, Knives Came to U.S. as Refugee. An Iranian national arrested near President Trump's Mar-a-Lago resort in Palm Beach, Florida, originally arrived in the United States as a refugee, Breitbart News has learned. On January 10, Palm Beach Police Department arrested 38-year-old Masoud Yarieilzoleh, from Iran, who was apparently sleeping in a gazebo in a park in Palm Beach, according to the Palm Beach Post. When police searched Yarieilzoleh, they found a 17-inch machete, two 4.5-inch knives, and an ax, along with about $22,000 in cash.
Poll: 47% of Young Democrats Prefer Other Countries over America. A shocking new poll has discovered that 47 percent of young Democrats believe that other countries are better than the United States. Moreover, many young Americans admit that they wouldn't mind other countries becoming as militarily powerful as the United States. Slightly more than one third — 36 percent — of Americans 18 to 29 say that other countries are better than the United States, according to a recent poll released by Pew Research.
Red states see less unemployment, more economic growth. Opinion polling isn't everything. However, it often gives you a good barometer of the general shape of things, especially at the state level. As of mid-2019, every single one of the top 10 most popular governors in the country were Republicans, while eight of the 10 least popular were Democrats. Generally speaking, voters trust Republicans more than they trust Democrats to lead their states.
AG William Barr Backs Soleimani Strike: 'He Was the Head of a Terrorist Organization'. Attorney General William Barr held a press conference on Monday to discuss the findings of an investigation into the terror attack on a Florida Naval base in December and other topics, at one point defending the Trump administration's elimination of Iranian Major General Qasem Soleimani. A reporter asked Barr if the Trump administration gave any "special consideration" to Soleimani's position in the Iranian government — the head of the Islamic Revolutionary Guard Corps' (IRGC) Quds Force, an arm dedicated to external acts of terrorism.
Iranian protesters refuse to walk on US, Israeli flags. A few people who did walk over the flags were booed by protesters in the area with chants of 'Shame on you.' Some reports said that the protesters chanted 'Our enemy is in Iran, not America.'
President Trump praises Iranians for protesting Ayatollah regime. Protesters in Iran are calling for Ayatollah Khamenei to step down. During Saturday's [1/11/2020] demonstrations in Tehran, protesters were heard chanting "commander in chief resign" and "death to the liars." The protests came in response to the Iranian government's admission of guilt regarding the Ukrainian passenger plane crash, which killed 176 people this week.
Yale Psychiatrist Issues Diagnosis of "Psychotic" for Defending Constitutional Rights. A Yale professor of forensic psychiatry has diagnosed guess who — your truly — as suffering from "psychosis" for expressing legal views that happen to be on the Constitutional rights of President Donald Trump. Dr. Bandy Lee has never met me, never examined me, never seen my medical records, and never spoken to anyone close to me. Yet she is prepared to offer a diagnosis of "psychosis" which she attributes to my being one of President Trump's "followers." (I voted for Hillary Clinton and am a liberal Democrat.) Indeed, Dr. Lee went even further, diagnosing "the severity and spread of 'shared psychosis' among just about all of Donald Trump's followers." Nor does she seem to be using these psychiatric terms as political metaphors, dangerous as that would be. She is literally claiming that we are mentally ill and our views should be considered symptoms of our illness, rather than as legitimate ideas.
Walmart Has Made A Genius Move To Beat Amazon. I ordered Powerbeats earbuds from Amazon the other day. As a Prime member, I got them to my doorstep in Stowe, Vermont the next day for free. When I unpacked the box, one of the accessories was missing. I called Amazon's customer service to get a replacement sorted out. But what I was told raised my eyebrows: "We'll make a one-time exception. Keep the earbuds and we'll issue you a full refund right now." "Why don't you take them back? They are fine, it's just the wire clip is missing," I asked, puzzled. "It's too expensive to ship them back..." the customer rep replied. This surprising story hints at Amazon's Achilles heel that threatens its crown as the king of online retail. And as I'll explain in a moment, America's biggest retailer Walmart has a master plan to use it against Amazon.
Once Again, Government-Subsidized Projects Fail to Deliver. In June 2018, President Donald Trump attended the groundbreaking ceremony for a Foxconn factory in Wisconsin. [...] A year and a half after Trump paraded at the site with his golden shovel, the reality isn't as bright. First, a few days before the ceremony, Foxconn announced that the factory would ultimately be smaller than the one initially promised. It would also be highly automated, with almost all of the assembly work done by robots, and would only require 3,000 employees — 90% of them "knowledge workers" such as engineers, programmers and designers. There's nothing wrong with such a modern factory, except that it's not what Trump and other government officials thought they were buying with taxpayers' money.
Illinois: Daughter of convicted Muslim terrorist is running for Congress. The daughter of Jeff Fort (aka Abdul Malik Ka'bah), who is spending the rest of his life in prison for domestic terrorism charges, is running for Congress in Illinois. Ameena Matthews is a Democratic candidate for U.S. House of Representatives in Illinois' 1st Congressional District.
Army warning Americans about fake military draft texts. The US Army is warning Americans about a flurry of "fraudulent text messages" falsely telling recipients they have been drafted into the military and will be shipped out to Iran. The bogus texts tell hapless recipients to report to the nearest Army recruiting branch "for immediate departure to Iran," and warn about multiple attempts to contact recipients, in one case warning "you'll be fined and sent to jail for minimum 6 years if no reply," CNN reported Wednesday [1/8/2020].
Scientists claim that 'normal' body temperature is now 36.6°C NOT 37°C. Human bodies have naturally got cooler over the last century, a study reveals. The accepted wisdom is that the human body sits, under normal conditions, at a nice balmy 37°C (98.6°F), but this is no longer true for modern-day humans. Researchers at Stanford University in the US measured people's temperatures from the 2000s and compared them to records of soldiers that fought in the US Civil War. The study reveals that modern-day men have a body temperature 0.58°C (1.06°F) lower than their 19th century counterparts, while women are 0.32°C (0.58°F) cooler.
Peter Schweizer Book Set to 'Upend Official Washington'. The investigative author behind the game-changing New York Times bestsellers Clinton Cash and Secret Empires is set to drop another bombshell book that sources close to the publisher say will "upend official Washington." As Axios reported on Thursday [1/9/2020], [...] Peter Schweizer's forthcoming book, Profiles in Corruption: Abuse of Power by America's Progressive Elite (HarperCollins), is set to launch Tuesday, January 21.
Climate Change? Turns Out Two Dozen Arrested for Setting Australia's Fires. Authorities in New South Wales have arrested two dozen Australians for intentionally setting fires as huge swaths of the country continue to be engulfed by flames. In a news release issued Monday, the NSW Police Force said legal action has been taken against more than 180 people since late last year. The bushfires have killed 18 people and burned 4.9 million hectares of land, consuming thousands of structures, and millions of animals, the statement said. In breaking down their figures, the police said "24 have been charged over deliberately-lit bushfires; 53 people have had legal actions for allegedly failing to comply with a total fire ban; and 47 people have had legal actions for allegedly discarding a lighted cigarette or match on land."
Indiana twins born in different decades. Meet Baby New Year — and his twin sister Baby Last Year. A pair of Indiana twins were born just a half hour apart, but entered the world on different days, months, years and even decades from one another.
The Editor says...
Technically, the current decade doesn't end until the last day of 2020, because there was no Year Zero.
Ignored by Liberal Mainstream Media: Iranian Regime Bribed Funeral Attendees with Free Meals. The liberal pro-Iranian mainstream media could not stop talking about the size of the crowds at the "popular" and "loved" Qassem Soleimani funeral today [1/7/2020]. The media was in awe of the number of people at Soleimani's funeral. [Video clips] The regime was serving dinners to people who came out to the funeral.
Retired Green Beret slams Dems, says Army community buried Americans killed by Soleimani. Retired Green Beret Master Sgt. Terry Schappert fired back at Democrats who criticized President Trump's order of the U.S. airstrike that killed Iranian Gen. Qassem Soleimani on Friday, detailing the general's role in hundreds of American deaths. "If you're in my community, it's pretty safe to say that you've probably buried somebody who was killed by him [Soleimani], you know someone who's lost a limb or been catastrophically wounded, and you know a Gold Star family who has been destroyed by this guy," Schappert said on "The Greg Gutfeld Show" over the weekend. "If you can't care about that, you can care about all the people he's killed over there... Iraq, Syria, Lebanon... his own country... he's murdered and tortured people," he added.
Iran Loses Its Terror-Master. Trump's red line against the Iranian regime harming Americans was very real, and Qasem Soleimani is dead. The U.S. killed the Iranian terror-master at the Baghdad airport where he reportedly had just arrived from Syria. The head of the Revolutionary Guard's elite Quds Force, Soleimani was the instrument of Iranian imperialism around the region, building up proxy forces, overseeing operations, and executing a geopolitical vision. He existed at the very center of the Iranian regime and was uniquely skilled at his role, honed over decades of ruthlessness and cunning. He was also a cold-blooded killer of Americans, responsible for the deaths of hundreds of our servicemen during the Iraq war. He deserved to die for that alone.
Inside the twisted, terrible reign of Iranian general Qassem Soleimani. The killing of Iranian terror-meister Qassem Soleimani in a targeted US air strike in Baghdad on Thursday will have a dramatic impact on the stability of the Iranian regime and its ability to conduct oversea terrorist operations. Soleimani was, in many ways, the irreplaceable man. Known as a charismatic leader — indeed, the only charismatic leader in Iran's military today — he has no parallel among contemporary Iranian commanders. Wherever Iran has sent its expeditionary Quds Force to war — in Lebanon, Syria, Iraq, Afghanistan and Yemen — there you would find Soleimani.
Impeached, Imprisoned Former Illinois Gov. Rod Blagojevich Slams Democrats on Impeachment. Former Illinois Governor Rod Blagojevich, who was impeached and removed, and later criminally convicted, for trying to sell then-president-elect Barack Obama's U.S. Senate seat, has written an op-ed condemning Democrats' ongoing impeachment effort. The op-ed, published at Newsmax on Tuesday [12/31/2019], argued that Democrats' new standard for impeachment is so low that they would have impeached President Abraham Lincoln. (In fact, Democrats' opposition to Lincoln triggered the Civil War.)
New York is losing residents at an alarming rate: report. Despite the nation's longest economic expansion, the Empire State is actually losing population, an analysis of newly released US Census data released Monday reveals. The total state population as of mid-2019 was 19,453,561 — a drop of 76,790, or 0.4 percent, from the previous year, according to the study by the Empire Center for Public Policy. New York was one of only 10 states to suffer a total population decline in 2018-19 — its fourth consecutive annual decrease after five years of growth, and the largest population drop of any state. Only West Virginia, Alaska and Illinois saw their populations fall at a faster percentage clip.
While We Were Focused on the IG Report, Rep. Ratcliffe 'Dropped a Bomb' at the House Hearing. Adam Schiff and Nancy Pelosi have released most of the transcripts from the first round of witness interviews, 15 to be exact, however there is one they refuse to let go of. That would be the transcript from Intelligence Community Inspector General Michael Atkinson's October 4 closed-door testimony before the House Intelligence Committee. Investigative journalist Paul Sperry asked about this in a tweet and Rep. John Ratcliffe (R-TX) replied. [...]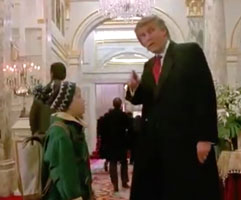 CBC Cuts Donald Trump's 'Home Alone 2' Cameo Out of Broadcast. Home Alone 2: Lost in New York is full of violence that, in my opinion, exceeds the physical comedy of the original film and is borderline barbarism. The main antagonists were subjected to bricks thrown at them from atop a building, being shot with a staple gun, having their heads lit afire, and being electrocuted. It is actually hard to watch. But, for CBC TV in Canada, the following scene was too much, and had to be removed from their broadcast of the film: [Video clip]
Venezuela's currency so worthless it's mostly being used for making crafts. Venezuela — once one of the more prosperous countries in Latin America — has been driven into such economic and political turmoil that its currency is no longer of any use. However, that has not stopped Venezuelan bolivares from becoming a commodity elsewhere. Across the border in Colombia, Hector Cordero uses the currency to make wallets and purses, which he sells to tourists in Colombia.
Giuliani: 'Saint Marie Yovanovitch' Quashed Ukraine Probe Into Missing $5.3 Billion in Foreign Aid. Rudy Giuliani alleged Monday that former Ambassador Marie Yovanovitch "quashed" a corruption investigation into the disappearance of foreign aid because the Obama Administration was funneling the money to non-governmental organizations run by left-wing billionaire George Soros. Giuliani, President Trump's personal attorney, recently returned from a fact-finding mission in Ukraine, and discussed his findings in an interview with Turning Point USA founder Charlie Kirk for his podcast. The former mayor of New York City told Kirk that in 2017, the Ukrainian Accounting Authority did a study which revealed that $5.3 billion in foreign aid during the Obama/Biden years was not properly accounted for. So the agency started an investigation[.] "All of a sudden, members of the U.S. Embassy, under the control of Marie Yovanovitch — I call her Saint Marie Yovanovitch — comes and tells them, 'there's no need to do that. We're okay with the spending. There's no need to.'"
Soros gave millions to a group trying to pit Republicans against President Trump. A "dark money" group that received millions from speculator George Soros — whose organizations and other establishments have been expelled from several countries on charges of political interference and subversion — is hiding behind a massive media campaign that is trying to pressure Republicans to support the impeachment of President Donald Trump.
English Girl Finds Plea for Help From Prisoners in China in Christmas Card. Florence Widdicombe, a six-year-old girl from Tooting, Southwest London, was writing Christmas cards to send to her friends when she made a startling discovery. Inside one of cards was the frightening message, "We are foreign prisoners in Shanghai Qingpu prison China. Forced to work against our will. Please help us and notify human rights organization." [...] As disturbing as this report of inmates at a Chinese prison being subjected to forced labor is, it is hardly an anomaly. Communist nations such as China, North Korea, Vietnam, and Cuba are by their very nature giant prisons and very little labor done within them can be said to be voluntary.
U.S. Stops Sending Bomb-Sniffing Dogs To Jordan, Egypt After Ten Percent Of Dogs Die From Mistreatment. The United States State Department says that ten percent of bomb-sniffing canines, lent to countries like Egypt and Jordan in a program to help control and prevent bombings, died after being mistreated. The Inspector General that discovered the disturbing trend now suggests the U.S. suspend the program altogether. The Hill reports that the State Department's Inspector General found, in September, that "at least 10 of the 100 explosive-detection dogs sent to Jordan between 2008 and 2016 died of 'various medical problems,' while others were living in 'unhealthy conditions.'" Last Friday [12/20/2019], the same inspector general released a follow-up report, adding that they'd "received notice of additional canine deaths" since September" and that the State Department should take immediate action to stop the program.
The Editor says...
Muslims hate dogs, among other things, which probably explains why they don't take care of the dogs they've been given. Bring the dogs home, I say, and let the Egyptians and Jordanians find explosives the hard way.
Pope says Christians should never seek to convert unbelievers, anyone who proselytizes "is not a disciple of Jesus". In a dialogue with Catholic high school students in Rome this weekend, Pope Francis responded to a question about how to deal with atheists and people of other faiths by saying that Christians should never proselytize — and any who do are not truly Christians. [...] Last year, Pope Francis told a grieving boy that his late father was in heaven, despite the fact that he was an atheist, because he had his children baptized.
Hospitals, not drugs, are the big driver of health-care costs. It's perfectly fine for politicians to look at ways to keep prescription drugs affordable. But why does the bigger problem of soaring hospital bills get so little notice? Centers for Medicare and Medicaid Services data out this month show that "retail prescription drug prices declined by 1.0 percent" last year, to $335 billion, while spending for hospital-care services rose at about the same rate as in 2017, to $1.2 trillion. And that's nothing new: The Bureau of Labor Statistics reports that drug prices have gone down for more months this year than they've gone up, something the White House understandably celebrated.
Rudy Giuliani reveals what he discovered on Ukraine trip, alleging U.S. embassy would not stop a corruption scheme funneling money to George Soros. Rudy Giuliani has revealed some of what he discovered on his trip to the Ukraine, unraveling a conspiracy theory alleging the U.S. Embassy — led by then-Ambassador Marie Yovanovitch — 'quashed' efforts by Kiev to end a corruption investigation into the disappearance of foreign aid because it was going to a non-governmental organization run by billionaire George Soros. Giuliani, Donald Trump's personal attorney, unveiled his findings in an interview with Turning Point USA founder Charlie Kirk for his podcast, a copy of which was obtained by DailyMail.com. He told Kirk he has told President Trump of his findings.
China to Build Space Solar Power Station Pioneered by Caltech. China announced it will begin building megawatt-capable solar power stations in space by 2035, as it intends to displace the United States as the leading space power. The space-based solar power (SSP) were first designed by Caltech Jet Propulsion Laboratory scientists. Caltech (California Institute of Technology) spent 40 years perfecting SSP as a weapons platform and power replacement for U.S. "peak oil." But the effort was shelved after the collapse of the Soviet Union in the 1990s and the realization by 2009 that the U.S. oil fracking boom was about to add another 200 years to America's oil reserves. China Academy of Space Technology scientist Wang Li stated at the China-Russia Engineering Forum in late November that China was moving ahead to build a 200-ton power (SSP) station in space to capture the sun's energy, convert it to microwaves or lasers, and wirelessly beam energy to the Earth.
What's Working: Fuzzy math used for move-to-Vermont cash giveaway. Vermont spent nearly a half-million bucks this year to increase its population by 341 people. That math might work for Vermont since it had seen its resident count grow by a mere 555 over most of this decade. New Hampshire, meanwhile, gained nearly 40,000 people during that same time frame. "And we haven't paid one to come," Taylor Caswell, the state's economic development chief, said in an interview last week.
Three Ukrainian Officials Swear Under Oath that Ukraine Interfered in the 2016 US Election Against Donald Trump. Andrii Telizhenko worked in Washington DC at the Ukraine Embassy in 2016. Today Andrii is a political consultant. Andrii was approached by a DNC operative during the 2016 election (March-April 2016). This past week Andrii Telizhenko joined two other Ukrainian officials who all swore under oath that Ukraine was meddling in the 2016 US election.
Monica Crowley Vindicated by Columbia University After Fake Plagiarism Accusations from CNN, Establishment Media. Treasury Department Assistant Secretary of Public Affairs Monica Crowley has been vindicated by Columbia University after a years-long investigation ultimately concluded she did not plagiarize her thesis, despite allegations by CNN and other establishment media outlets that she did. Crowley, now the Treasury Department's top spokeswoman but previously a Fox News contributor, had been under consideration to join the National Security Council (NSC) in the White House at the very beginning of President Donald Trump's administration under his first national security adviser, retired Gen. Mike Flynn. Then, allegations from CNN and Politico, among other publications, claimed that she plagiarized her 2012 book and her thesis at Columbia, sparking Columbia to launch a review of her thesis that has now concluded.
Investigation clears West Point cadets of 'white supremacy' allegation. Cadets who were accused of signaling a white supremacist hand signal at the annual Army-Navy football game have been cleared of wrongdoing. West Point released a report today that states cadets were playing the "circle game," where players attempt to get one another to look at the "OK" hand gesture and then deliver a punch if others look. "The evidence strongly supports a finding that the cadets were playing the 'circle game,' an internationally recognized game in which people attempt to trick someone else into looking at an okay-like hand gesture below the waist."
The Editor says...
I feel so much better knowing these buffoons are about to be Army officers.
Don't let the door hit you on the way out.
Fourth Pentagon official announces resignation within week. A top Pentagon intelligence official will soon leave the building, the fourth key defense official to announce their resignation within a week. Principal Deputy Undersecretary of Defense for Intelligence Kari Bingen submitted her resignation on Dec. 5 and will leave Jan. 10, Pentagon spokesman Lt. Col. Uriah Orland confirmed in a statement. Her departure was first reported by Politico.
Marine Corps eyes gender-integrated basic training. The push to eliminate all gender segregation at Marine Corps camps has more momentum than ever, but analysts and military insiders say there remain major real-world, physical roadblocks to coed basic training and serious questions about whether the Marines can or should follow the lead of the Army, Navy and Air Force. The Marine Corps last month reportedly commissioned a comprehensive study to examine the benefits and potential pitfalls of moving to more integrated training of male and female Marines.
Earth's Magnetic North Pole Continues Drifting, Crosses Prime Meridian. Earth's magnetic north pole, which has been wandering faster than expected in recent years, has now crossed the prime meridian. Magnetic north has been lurching away from its previous home in the Canadian Arctic toward Siberia at a rate of about 34 miles (55 kilometers) a year over the past two decades. The latest model of the Earth's magnetic field, released Dec. 10 by the National Centers for Environmental Information and the British Geological Survey, predicts that this movement will continue, though likely at a slower rate of 25 miles (40 km) each year.
Dangerous Debt Hidden Reason for Monetary Madness. The Federal Reserve Bank of New York injected $86.4 billion into the repo market on Monday. This follows three months of the Fed intervening in a repo market it normally leaves to its own devices. When repurchase agreement (repo) rates exploded in September and the Fed intervened in that market for the first time in more than a decade, interested parties cited corporate tax deadlines, regulations, and other minor reasons as the major factor. BIS Quarterly Review shines the light on the $23 trillion elephant in the room.
Two Chinese diplomats expelled from US after entering military base: report. Two Chinese diplomats have been secretly kicked out of the US after driving onto a sensitive military base in Virginia — the first such expulsions in more than 30 years, according to a report Sunday [12/15/2019]. The Chinese Embassy officials were stopped in September at a base in Norfolk that is home to Special Operations forces — after they were chased by military personnel, according to The New York Times. At least one is believed to be an intelligence officer operating under diplomatic cover, The Times said, citing six people with knowledge of the expulsions.
What is going on at Drudge Report? The NOQ Report noted over the weekend that the Drudge Report has lost almost a third of its regular visitors since the summer. This observation came a week after Rasmussen Reports called attention to a rumor that Matt Drudge had sold his eponymous media behemoth some time ago. Does it make more sense that one of the savviest communicators of information in the history of the world (no exaggeration when you think of the sheer number of ideas he has used to change minds; affect populations; and influence leaders, movements, and governments for twenty-five years) decided to burn his creation down in nihilistic rage and madness, or that some other person or entity is now directing the show in his name?
Drudge Report Has Lost 28% of Its Traffic in Last Four Months Alone As It Continues to Push Corrupt Anti-Trump News. On November 1oth we reported that since 2017 Matt Drudge and The Drudge Report has gone from staunch Trump supporter to Never-Trump. It's obvious to everyone. Matt Drudge is pushing for President Trump to be removed from office in a Democrat coup. This makes no sense. Drudge was once well respected and it was an honor to have a link to the Drudge Report. Now the links only go to far-left anti-Trump corrupt publications.
9 of the 20 Richest Counties Are D.C. Suburbs; Virginia Suburbs Beat Silicon Valley. Nine of the 20 richest counties in the United States — when measured by median household income — are suburbs of Washington, D.C., according to data released today by the Census Bureau. In fact, two Northern Virginia suburbs of Washington, D.C., are richer than the California counties that constitute Silicon Valley.
Exxon wins first-of-its-kind climate change case against New York. ExxonMobil won a first-of-its-kind climate change fraud trial on Tuesday [12/10/2019] as a judge rejected the state of New York's claim that the oil and gas giant misled investors in accounting for the financial risks of global warming. New York Supreme Court Justice Barry Ostrager said the state failed to prove that Exxon violated the Martin Act, a broad state law that does not require proof of intent of shareholder fraud.
Mount Sinai Hospital's emergency department is a 'war zone,' workers say. Mount Sinai Hospital is considered one of the best in the country — but its emergency department is a "war zone" and a danger to the very patients it is supposed to save, current and former staffers have told The [New York] Post. Nurses from the Upper East Side hospital recalled patients going into cardiac arrest without anyone noticing, others not being admitted to the critical care area because it was too full and staffers losing track of their charges. They blamed staffing shortages and an obsession with profits.
He makes a village. Tyler Merritt has taken the saying "It takes a village to raise a child" and turned it a bit sideways. He's building a village, literally, to allow adults to raise themselves up. His village is a stabilizing rail, or a stepping stone to a better life. Merritt, a former special operations air mission commander, is trying to help his military brothers and sisters who have found themselves post-military service one paycheck away from financial collapse, as well as those struggling to find their way through modern civilian life, which does not begin and end with a stated purpose in the way military service does. "Our most recent initiative is our veterans village," said Merritt, whose post-military life makes him an unlikely entrepreneur and philanthropist as the CEO of Nine Line Apparel and president of Nine Line Foundation.
Cyber Monday shoppers spent $9.4 billion, setting new record. American shoppers shelled out $9.4 billion on Cyber Monday, setting a new spending record, new data show. The total was a 19.7 percent jump from last year, according to real-time Adobe Analytics data. Smartphones also set a new record by accounting for $3 billion, or about a third, of all Cyber Monday sales, Adobe says. "Consumers capitalized on deals and ramped up spending, especially on smartphones, where activity increased on days when shoppers were snowed or rained in," John Copeland, Adobe's head of marketing and consumer insights, said in a statement.
Chinese defector spills Communist Party, military secrets in Australia. China's military is engaged in an elaborate covert smuggling operation in Hong Kong to steal U.S. and other western arms and military technology, according to a Chinese intelligence official who has defected to Australia. Wang Liqiang described the operation in an official statement to Australian authorities that also revealed details of a major Chinese influence campaign aimed at swaying the upcoming presidential election in Taiwan, and aggressive efforts to undermine democracy advocates in Hong Kong.
Thanksgiving Day shopping frenzy tops record with $4.1B spent. Shoppers on Thursday [11/28/2019] weren't slowed down one bit by their huge turkey feasts. Consumers spent a staggering $4.2 billion online on Thanksgiving, a 14.5 percent from last year and a record high, according to new figures published by Adobe Analytics on Friday. This marks the first time that Thanksgiving shopping has surpassed $4 billion.
Leftists Decry Fake University ICE Sting Practiced During Obama Administration. The fake University of Farmington, set up by the Department of Homeland Security, that resulted in the arrest of 250 foreign students this year and prompted outrage from leftists, was a concept embraced by the Obama administration, which engaged in similar operations. Leftists experienced a collective freakout this week after U.S. Immigration and Customs Enforcement (ICE) announced the arrest of dozens of foreign nationals committing visa fraud by enrolling in the fake university. It was "part of a sting operation by federal agents who enticed foreign-born students, mostly from India, to attend the school that marketed itself as offering graduate programs in technology and computer studies," the Detroit Free Press reported.
Shoppers Spend $7.4 Billion Online During Black Friday Sales. Black Friday shoppers spent $7.4 billion online Friday [11/29/2019] and $4.2 billion on Thanksgiving day, making it the second largest Internet shopping day ever, according to data compiled by Adobe Analytics. Receipts for Friday trail only last year's Cyber Monday's record-setting $7.9 billion in sales.
Surprising findings about your life expectancy and US health care. Do Americans live in a health care hellscape? A report out this week would seem to indicate as much — but that first impression is deceiving. "U.S. life expectancy has not kept pace with that of other wealthy countries and is now decreasing," concluded the report, published by the medical journal JAMA. Or, as The Washington Post put it: "'There's something terribly wrong': Americans are dying young at alarming rates." "Medicare-for-all" partisans have pounced on the research to declare the U.S. health care system an expensive failure — one in which we spend more than double what other developed nations devote to health care but die younger.
China due to introduce face scans for mobile users. People in China are now required to have their faces scanned when registering new mobile phone services, as the authorities seek to verify the identities of the country's hundreds of millions of internet users. The regulation, announced in September, was due to come into effect on Sunday [12/1/2019]. The government says it wants to "protect the legitimate rights and interest of citizens in cyberspace". China already uses facial recognition technology to survey its population.
Democrats 'will not be able to field a candidate' in Arkansas Senate race. The Democratic Party of Arkansas had selected Joshua Mahony to run against Sen. Tom Cotton in next year's election. However, minutes after the filing deadline for candidates had passed, Cotton's campaign released significant oppo research which caused Mahony to withdraw from the race within a matter of hours. In fact, Mahony didn't even talk to the party before announcing on Twitter that he was withdrawing from the race. Monday [11/25/2019] the Democratic Party announced that, after a failed attempt to find a path forward, it was simply too late to field a replacement candidate.
Texas teacher fired after asking Trump to remove 'illegal students from Mexico' wins her job back. A Texas teacher who lost her job after asking President Trump on Twitter to remove the "illegal students from Mexico" from her school has won an appeal to get her job back. Texas Education Agency Commissioner Mike Morath ruled Monday that the series of offensive tweets sent in May by Georgia Clark — an English teacher at Carter-Riverside High School in Fort Worth — were protected by the First Amendment, the Fort Worth Star-Telegram reports.
Government workers more likely to support socialism, repealing Second Amendment: Poll. Government employees are more likely than other workers to support socialist candidates and oppose the Second Amendment, according to a newly released poll. A survey of likely voters conducted by the pollster Rasmussen Reports and the free-market Heartland Institute found that 69% of Americans favor capitalism over socialism, and that 50% would not vote for a self-described socialist. Republicans and unaffiliated voters were more likely to support a free-market economic system, with 87% of Republicans and 69% of unaffiliateds favoring capitalism, while just 53% of Democrats agreed.
The Editor says...
This is not surprising. A poll like this is hardly worth conducting, let alone publishing. If you work for the government, you would naturally support big government.
Hero Dog 'Conan' Visits the White House. President Donald Trump met with the hero dog of the famous raid leading to the death of Abu Bakr al-Baghdadi on Monday, surprising reporters at the White House. "Conan is a tough cookie," Trump said proudly, after meeting the dog. "Nobody's going to mess with Conan." The dog was slightly injured in the raid that took place in October in Syria but has returned to duty. The president, the first lady, and Vice President Mike Pence appeared in the Rose Garden with Conan to recognize her contribution to the successful raid.
The President is paid in quarters!
Trump donates 3rd-quarter salary to help fight opioid crisis. President Donald Trump is donating his third-quarter salary to help tackle the nation's opioid epidemic.
Smoking is prohibited in shopping malls, because second-hand smoke is harmful, but this is okay?
Native American offended that his burning sage sickens people at mall. The head of a Native American cultural center at a shopping mall in Rapid City, South Dakota, is "hurt and offended" by complaints that people are being sickened by his practice of burning sage several times a day. However, he is promising to cut back on the smoke that has made the mall air hazy. The Rapid City Journal reported the manager of the Rushmore Mall warned Erik Bringswhite at the I Am Legacy center in a letter that his lease would be terminated if he continued to burn sage "because it was jeopardizing people's health."
Ex-CIA operative gets 19 years for China espionage. A former CIA case officer who spied for China was sentenced to 19 years in prison on Friday [11/22/2019] in a case U.S. officials say involved the loss of more than two dozen recruited CIA agents in China. Jerry Chun Shing Lee, 55, was sentenced to the prison term Friday by federal Judge T.S. Ellis III during a hearing in an Eastern District of Virginia courtroom. G. Zachary Terwilliger, U.S. attorney for the Eastern District of Virginia, said the sentence should serve as a warning to other would be spies.
Stefanik Successfully Uses Battle Against Schiff to Raise over $500K in Less than Two Hours. Rep. Elise Stefanik (R-NY) is using her ceaseless battle against House Intelligence Committee Chairman Adam Schiff (D-CA) and his impeachment efforts to her advantage, raising over $500,000 for her congressional campaign in less than two hours, she announced on Friday [11/22/2019]. Stefanik has been a predominant GOP figure in recent weeks, particularly due to her significant role on the House Intelligence Committee, which held a series of public impeachment trials over the last two weeks. Stefanik has used her time during the hearings to demonstrate the partisan nature of the inquiry and question Schiff's methods.
Why primary care costs a trillion dollars more than it should. Americans carry insurance for unexpected catastrophes such as car accidents, burned houses, and inpatient hospital care. We don't purchase it for routine car or home maintenance, so why do we have it for everyday medical care? The reason is, unlike other insurance, it is a pre-tax expense enjoyed primarily by large and medium-sized corporations that exert a large amount of political influence. Most people don't know that this tax exemption for employer-provided health insurance adds about $350 billion to our national debt each year while discriminating against the self-employed and employees of small businesses, many of whom can't afford health insurance yet were cruelly forced to pay ObamaCare penalties. The increasing number of families choosing membership in Christian health care sharing ministries don't benefit from this tax exemption.
Stents no better than drugs for many heart patients: U.S. study. Many patients with severe but stable heart disease who routinely undergo invasive procedures to clear and prop open clogged arteries would do as well by just taking medications and making lifestyle changes, U.S. researchers reported on Saturday [11/16/2019].
As Impeachment Fizzles, The Stock Market Soars. In New York City on Friday the Dow Jones Industrial Average soared to 28,004, a new record. In fact all major U.S. stock indexes hit new highs, and the SNP 500 hit its longest streak of weekly gains in two years. Put simply, it was a really good day for the economy. Meanwhile in Washington, the public phase of the House impeachment inquiry slogged along, with Democrats all but conceding that even if they vote to impeach, the removal of the president by the Senate is all but certainly not going to happen.
So 'Pachamama' was a problem in Bolivia, too. A few weeks ago, some Catholic activists marched on the Vatican and flung statues of "Pachamama," a pagan goddess of the Andes, into the Tiber. Good riddance. The radical leftists in charge at the Vatican were trying to sell some extra gods to the Catholic faithful under the banner of globalism, multiculturalism, New Age-ism, and inclusion. And while there is nothing wrong with appreciating indigenous peoples in a non-religious context, embracing them in a religious context is something else. [...] But this doesn't seem to be the end of it. Moving away from the Catholic Church itself, seems the land of Pachamama itself, Bolivia, is getting upended over the leftist desire to shove Pachamama in people's faces, too.
Pope Francis Invokes Hitler, Criticizes Politicians Who Denounce Homosexuality. This is an interesting point for a Pope to make for a couple of reasons. First, is the Pope's equating of the denouncing a particular sexual act that is denounced in scripture with hating people on the basis of race, contrary to the explicit command of scripture.
LASIK eye surgery needs to stop, former FDA adviser says: Report. Even though LASIK has been around for 20 years in the U.S., one former FDA adviser has said the procedure should be taken off the market. Dr. Morris Waxler originally voted to approve the eye surgery, but he's changed his mind. "Essentially we ignored the data on vision distortions that persisted for years," the retired FDA adviser told CBS News.
CBS executive to receive $100 million package. Joe Ianniello's sweet deal just keeps getting sweeter. Acting CBS Chief Executive Ianniello, who will become chairman and CEO of CBS once Viacom merges with CBS, will bank a hefty payout of $100 million when the deal closes, sources said. That's up from the $70 million he was already set to pocket in severance for not being named head of the newly combined company — despite staying on in his current job.
Chrysler prodded sellers to absorb glut of 40,000 unordered cars, dealers say. Fiat Chrysler Automobiles NV has been manufacturing more cars and trucks than its U.S. dealers are willing to accept, at one point creating a nationwide glut of about 40,000 unordered vehicles and stoking tension with some of its retailers. Four dealers, two of whom spoke on the condition they not be named, said Fiat Chrysler has revived what's known in industry circles as a "sales bank." The practice is decades old and frowned upon by investors and analysts because it can obscure an automaker's inventory figures.
Federal Judge Rules U.S.-Born 'ISIS Bride' Not an American Citizen, U.S. Not Required to Repatriate Her. A federal judge ruled Thursday [11/14/2019] that 25-year-old Hoda Muthana, who lived in Alabama but left the U.S. in 2014 to join ISIS, is not an American citizen and therefore the country is not required to repatriate her. Muthana is the daughter of Yemen's former ambassador to the United Nations, Ahmed Ali Muthana. Judge Reggie Walton ruled that because Hoda was born while Ahmed Ali still had diplomatic status, Hoda could not be considered a U.S. citizen. Ahmed Ali has since become a naturalized citizen. In addition, Walton ruled that Ahmed Ali cannot provide financial aid to his daughter, who escaped from ISIS to a Kurdish refugee camp in 2018. Hoda Muthana has a son, Adam, who was born in ISIS territory.
A Judge Has Ruled That A Woman Who Left The US For ISIS Is Not An American Citizen. A federal judge ruled Thursday [11/14/2019] that Hoda Muthana, a US-born woman who left the country to join ISIS, is not an American citizen, and therefore the government has no obligation to facilitate her return or that of her 2-year-old son. Judge Reggie Walton said there was sufficient evidence that Muthana had been born while her father, who once represented Yemen in the United Nations, still had diplomatic status in the US.
Dutch Priest on Pope Francis: 'I Rightly Think He Is a Heretic'. Rev. Cor Mennen, a retired priest in the Netherlands, recently wrote on his blog that he thinks Pope Francis is a "heretic," and explained that excessive respect by Catholics towards the papacy is not a virtue given that Christ Himself rebuked the first Pope, St. Peter, ordering him to "Get thee behind me, Satan!" Fr. Mennen, 74, was ordained a priest in 1969. He also holds a degree in ecclesiastical law and is vice chairman of the board of the Latin Liturgy Association. He lives in Vlijmen, east of Rotterdam, still participates in events for the diocese, and is often interviewed on Radio Maria. In an Oct. 28 blog post, Fr. Mennen criticized some of the pagan events that occurred at the Vatican during the Amazonian synod, such as the veneration of a wooden statue of an Earth goddess named "Pachamama" in the Vatican gardens.
So much for "peak oil."
Iran discovers new oil field with over 50 billion barrels. Iran has discovered a new oil field in the country's south with over 50 billion barrels of crude, its president said Sunday [11/10/2019], a find that could boost the country's proven reserves by a third as it struggles to sell energy abroad over U.S. sanctions.
The Editor says...
Let the Iranian terrorists drown in oil. The United States should never buy oil from Iran again, because the U.S. has plenty of it.
Socialist Bolivia heading for the ash heap of history? Like all dictatorships, every socialist hellhole dictatorship eventually falls. It's a law of nature, and with socialism inherently unsustainable as both a political and an economic system, it's a law about as certain as 'what goes up, must come down.' Which brings us to Bolivia, where embattled far left Hugo-Chavez-trained socialist dictator Evo Morales, now on his fourth term in a grossly rigged election, has for the first time wobbled in fear in response to protests.
Bolivian Leader Evo Morales Steps Down. President Evo Morales of Bolivia, who came to power more than a decade ago as part of a leftist wave sweeping Latin America, resigned on Sunday after unrelenting protests by an infuriated population that accused him of undermining democracy to extend his rule. Mr. Morales and his vice president, Álvaro García Linera, who also resigned, said in a national address that they were stepping down in an effort to stop the bloodshed that has spread across the country in recent weeks. But they admitted no wrongdoing and instead insisted that they were victims of a coup. "The coup has been consummated," Mr. García said.
70-year-old man on electric scooter dies in car crash. The Boston Globe reports the Falmouth man, who police did not identify, was struck and killed at an intersection on Wednesday while riding the scooter.
The Editor says...
I'm surprised this doesn't happen every day. Advertisements for electric scooters portray them as a way to ride around effortlessly, safely, and quickly, anywhere in town! Many of the people who buy electric scooters think they are getting a one-seat electric car. (Purchased by Medicare, of course.) I sometimes see a fat old person trying to make a round trip to the grocery store on an electric wheelchair. I suspect the grandkids have to come and pick up grandma fairly often, when the batteries run out. Electric scooters are not street legal. You shouldn't even go outdoors on one of these things.
How Dystopian Los Angeles Measures Up to Rwanda. [Scroll down] I asked our guide how the Rwandans manage to keep their city so clean. "Umuganda!" he shouted. "Before Umuganda, there were piles of garbage everywhere! Look! Now, no one is now allowed to even use a plastic bag, no one is allowed to buy water in a plastic bottle. We are solar. Rwanda is green!" He explained that on the last Saturday of every month, all able-bodied Rwandans (18-65), including the president and his Cabinet members, are required by law to go out and clean the areas around their homes and businesses. The police fine eligible citizens who fail to participate 5,000 Rwandan francs (about U.S. $5.00). These fines and traffic tickets are sent via text to the violator's mobile phone. The fine is paid via the phone. Mobile phone transactions have all but overtaken those involving currency in Rwanda.
I wonder if the Cardinals knew this before they elected him.
Report: Pope denies bodily resurrection of Christ. Pope Francis already has been accused of heresy by prominent Catholic clergy, but now his longtime friend and interviewer is claiming the South American-born pontiff denies one of the foundational doctrines of the Christian faith, that Jesus Christ rose from the dead in bodily form. Eugenio Scalfari, a left-wing atheist journalist, published the remarks in the periodical he founded, La Repubblica, and in a new book, CNS News reported.
Heresy:
Scalfari: Pope Denied Jesus' Bodily Resurrection, Said It Was 'Semblance of a Spirit'. In his new book and in the periodical he founded, La Repubblica, Eugenio Scalfari, a long-time friend of Pope Francis and frequent papal interviewer, claims that the Pope told him that Jesus Christ did not rise bodily from the dead but "in the semblance of a spirit." This notion is a contradiction of Church teaching and the Gospels.
Pilot Who Chased The UFO: Some Of The Tapes Are "Missing". Another interesting tidbit has surfaced in the story of U.S. Navy Cmdr David Fravor (Ret), the pilot who engaged in the now-infamous encounter with the "tic-tac" UFO in 2004. While flying his F/A-18F Super Hornet, he was sent to observe unidentified craft showing up on radar, flying from the USS Nimitz carrier battle group, leading to the bizarre run-in with the tic-tac. This encounter produced one of the three Navy UFO videos that have been making the rounds in the media for the past couple of years. During an interview earlier this year, however, Fravor indicated that there were more tapes, including video and radar tracking information, that simply "disappeared" after the event. And so, the mystery deepens further.
Bill Gates says meeting Jeffrey Epstein was a 'mistake'. Bill Gates said Wednesday that he "made a mistake" when he decided to meet with convicted pedophile Jeffrey Epstein while seeking money for his global health campaign. Gates made the mea culpa while speaking to The New York Times Dealbook Conference — saying that by sitting down with Epstein he helped legitimize the convicted sexual predator. "I made a mistake in judgment that I thought that those discussions would lead, literally, to billions of dollars going to global health. It turned out that was a bad judgment," said 64-year-old Gates.
The most and least affordable places in America to rent a home. Average rent in the U.S. recently dropped for the first time in two years, with prices waning in more than half of the country's largest renter hubs. The declines aren't uniform, though, and for people trying to stick to a tight budget, some areas are still significantly more affordable than others.
Turkey: Arming Genocide of Christians in Nigeria? [Scroll down] He then played an intercepted audio of what he said were Mustafa Varank (currently Turkey's Minister of Industry and Technology) and Mehmet Karatas (a manager at the partly state-owned Turkish Airlines). The gist of their brief conversation in Turkish, according to the Arabic transcript, is that weapons were being transferred from Turkey to Nigeria — and that there was a concern that the weapons might kill not just Christians but Muslims.
Planeloads of Cash From Russia Have Been Shipped to Venezuela. Hundreds of millions of dollars in cash has been shipped from Russia to Venezuela, providing a lifeline to the South American country as U.S. sanctions limit its access to the global financial system. A total of $315 million of U.S. dollar and euro notes were sent in six separate shipments from Moscow to Caracas from May 2018 to April 2019, according to data reviewed by Bloomberg from ImportGenius, which compiled Russian customs records it obtains through private sources. The cash came from lenders run by the countries' governments and went to Venezuela's development bank, the records show.
TPUSA Officers at KSU Quit En Masse. All of the officers of the Kansas State University chapter of Turning Point USA announced on Thursday that they are stepping down from their positions because the purported conservative organization no longer reflects their conservative values. In a statement, Jaden McNeil, the former president of the KSU chapter of TPUSA listed several reasons why he was quitting, including what he called the group's "fair weather conservatism," their refusal to promote social conservative values, their tone-deaf views on immigration, and the group's "culture of censorship."
Pentagon releases incredible footage of Abu Baghdadi raid. The Pentagon has released footage showing the raid that resulted in the death of ISIS leader Abu Bakr al-Baghdadi. Marine Corps General Kenneth F. McKenzie Jr, commander of U.S. Central Command, released the footage at a press conference on Wednesday [10/31/2019] at the Pentagon. McKenzie was the operational commander of the Delta Force raid, which took place on Saturday in northwest Syria, and resulted in the death of Baghdadi after the terror leader detonated a suicide vest to avoid capture. [Video clip]
The Editor says...
When the Pentagon releases footage of this sort, it is always blurry, fuzzy, monochrome video that looks like a fourth-generation VHS dub. Come on, fellas! We should be seeing these explosions in 4K by now. Quit showing us the muddied-up version.
House Dem Katie Porter wears Batgirl costume in Congress. Rep. Katie Porter, D-Calif., wore a Halloween costume and kept her mask on during a vote Thursday in the House Financial Services Committee. At one point, Porter reportedly yelled at a reporter about her outfit. "It's Batgirl!" she told Washington Post reporter Mike DeBonis. She wore her outfit on the same day Democrats voted for a resolution on ground rules for the impeachment inquiry surrounding President Trump. For Republicans, Porter's display was inappropriate.
The Editor says...
That kind of behavior might be okay in a California high school, but not in Congress. Grow up.
Fox News's Catherine Herridge Contract Lapses, Heads To CBS. Catherine Herridge, a beloved investigative correspondent at Fox News, is leaving the network after 23 years to go to work for CBS News. Media reporters like CNN's Chief Media Correspondent Brian Stelter are taking the moment to gloat, insinuating that Herridge's departure marks another defection from the network. Shepard Smith recently resigned from Fox News after also working there for 23 years.
Catherine Herridge, Fox News Veteran, Moves to CBS News. Catherine Herridge, a Fox News Channel veteran who has been with that network since it was founded in 1996, is moving to rival CBS News. She will work as a senior investigative correspondent out of Washington, CBS News said, and will start in November. Herridge is the second long-serving Fox News journalist to leave the Fox Corporation-owned cable-news outlet in recent weeks.
Ex-CIA boss Brennan appears to partly back Hillary Clinton's theory Tulsi Gabbard is a Russian asset. When it comes to Hillary Clinton's controversial suggestions about 2020 Democratic hopeful Tulsi Gabbard, it seems that maybe, John Brennan is with her. Speaking at the "2020 Vision: Intelligence and the U.S. Presidential Election" event at the National Press Club, the former CIA director was asked about Clinton recently raising the suggestion that Gabbard, a Democratic candidate for president, is a Russian asset. [...] "Something is a Russia asset even if it is not intentionally advancing their interest," the ex-CIA boss said.
X-37B spaceplane lands after record-breaking 780 days in orbit. The Air Force's X-37B Orbital Test Vehicle Mission 5 successfully landed at NASA's Kennedy Space Center Shuttle Landing Facility Oct. 27, 2019, at 3:51 a.m. The spaceplane conducted on-orbit experiments for 780 days during its mission, recently breaking its own record by being in orbit for more than two years.
Poll: 7-in-10 Voters Believe in 'America First' Agenda Ahead of 2020 Election. Ahead of the 2020 presidential election, the overwhelming majority of likely voters say they believe in the doctrine of "America First" when it comes to national public policy, a new poll reveals. A poll by Selzer and Company/Grinnell College finds that the vast majority of American adults say they are America First voters, while less than 20 percent identify as socialists. Overall, about seven-in-ten — or 70 percent — of likely voters say they are believers in America First — the nationalist-populist doctrine that guides President Trump's agenda on immigration, trade, healthcare, and foreign policy, among others.
DC Circuit Halts Disclosure Of Mueller Grand Jury Materials Just Hours Before Release. The U.S. Court of Appeals for the D.C. Circuit temporarily halted the release of grand jury materials from former special counsel Robert Mueller's investigation Tuesday, just hours ahead of their scheduled distribution. A three-judge panel issued a short directive saying the grand jury documents will be temporarily withheld while it considers an emergency appeal from the Department of Justice (DOJ), which hopes to shield those materials on a permanent basis.
California Power Outages — A Look Into The Future. Pacific Gas and Electric began shutting down power early the morning of Oct. 9, when electricity was cut to more than 140,000 customers in Sonoma, Napa, Solano, and Marin counties. Those outages and the ones that followed were ordered because there was a high risk of wildfires. [...] PG&E labeled the disruption a "public safety power shutoff." The utility industry calls it "de-energization," a sort of euphemism that sounds less serious than "blackout." It's not a word that should be used in the 21st century in California. But there it is. This state has long considered itself a model of progress, always pressing forward. Yet California now chooses darkness. And rather than being a rare exception, these autumn blackouts are more likely a preview of coming long night.
Missouri man charged with starting 13 forest fires in California. A man found himself in handcuffs while trying to fly home to Missouri after allegedly setting 13 forest fires in California. Freddie Graham, 68, was apprehended before boarding a plane in San Jose and charged with starting forest fires in the Milpitas foothills. Graham had flown to California on Sept. 19 and spent two days in the state before attempting to fly back to Kansas City. The fires in question burned 128 acres. Graham was charged with 15 counts of committing arson, two of which were heightened charges because the fires were started during a declared emergency.
Al-Baghdadi's Right-Hand Man Killed In U.S. Airstrike. ISIS leadership continues to crumble with the official spokesman of the terrorist organization being the latest to fall. Sunday reports claimed the CIA targeted and killed Abu al-Hassan al-Muhajir. U.S. officials have confirmed the missile attack, which was targeted at the high level ISIS official in the Aleppo province of Syria. The Texas-born man was named the official spokesperson for the militant group in 2016. Muhajir climbed the ranks of ISIS, advancing to be the right-hand man of Abu Bakr al-Baghdadi. U.S. officials have reassured the public that a strong surveillance operation continues in the region, despite the withdrawal of troops.
Top Secret Spaceplane Lands in Florida After Spending Over 2 Years in Orbit. The U.S. Air Force's top secret spaceplane, the Boeing X-37B, landed in Florida early Sunday after 780 days — over 2 years and one month — in orbit around the Earth. And we still have no idea what it was doing while it was up there. The X-37B Orbital Test Vehicle-5 (OTV-5) mission was the fifth time that the uncrewed vehicle has flown around the world, beating the duration of the fourth mission, which landed in May of 2017 after 718 days in orbit. This most recent mission launched from a SpaceX Falcon 9 rocket on September 7, 2017.
1 In 3 Millennials See Communism As Favorable, Survey Finds. A growing number of Millennials show support for communism and socialism, a survey from the Victims of Communism found. The survey, conducted by the Victims of Communism and polled by the research and data firm YouGov, found that 70% of Millennials are likely to vote socialist and that one in three Millennials perceive communism as "favorable." The survey is part of the Victims of Communism's report "U.S. Attitudes Toward Socialism, Communism, and Collectivism," which polled 2,100 people in the United States who were 16 and older with a margin of error of +/- 2.4%.
Syrian Kurdish forces say they killed close al-Baghdadi aide. One of Abu Bakr al-Baghdadi's last audio messages was an appeal for his followers to do everything in their power to free Islamic State detainees and the women being held in jails and camps in northeastern Syria.
Baghdadi's aide was key to his capture - Iraqi intelligence sources. In their long hunt for Abu Bakr al-Baghdadi, Iraqi intelligence teams secured a break in February 2018 after one of the Islamic State leader's top aides gave them information on how he escaped capture for so many years, said two Iraqi security officials.
George Soros on Lifelong Funding of Leftwing Causes: 'Tide Has Turned Against Me'. Billionaire George Soros, who has spent his fortune promoting leftwing politicians, media, and organizations, said over the weekend that he hasn't failed in his lifelong quest to put socialism in place in the United States, but has been impeded by his opposition, including President Donald Trump. "Between the election of President Trump and Britain's ongoing debate over Brexit, the billionaire philanthropist George Soros recognizes that populism is on the rise and that his brand of liberal democracy is faltering," said Michel Martin, host of All Things Considered on taxpayer-funded National Public Radio (NPR).
PG&E will cut power to more than 3 million people over 'historic wind event'. New evacuations were ordered Saturday for at least 90,000 people across a huge swath of Northern California as millions of Californians prepare to have their power cut — the third time in as many weeks — due to the wildfires whipped up by strong winds. The entire communities of Healdsburg and Windsor were ordered to evacuate ahead of severe winds that could lead to erratic fire behavior near the blaze burning in wine country. The Sonoma County Sheriff's Office said it is expected to be the biggest evacuation in the county in more than 25 years.
Scientology spread its magazine across Clearwater. Residents aren't happy. Gertrude Zullinger woke up on Monday morning [10/26/2019] to about 10 calls from concerned neighbors. Somebody had entered the three buildings of the 55-and-older Imperial Pines complex — where Zullinger is president of the condo association — and hung copies of the Church of Scientology's Freedom Magazine on all 168 doorknobs. "We have gates. Each building has a lobby that's locked," Zullinger said. "They felt violated. They were very upset about it." One day after the Tampa Bay Times published an investigation showing companies tied to Scientology had bought much of the property in the center of downtown Clearwater, the church responded by spreading its own story across the city.
California enters uncharted territory: Massive blackouts, historically dangerous wind. Northern California braced for a weekend in uncharted territory as Pacific Gas & Electric prepared to shut off power to more than 2 million people as the region faced one of the worst periods of fire weather in a generation. It's a perilous combination that left many anxiously planning for blackouts and the potential for more destructive wildfires, fueled by 36 hours of intense winds. Some fear they will have to confront fires without power, an experience those who fled this week's Sonoma County fire described as terrifying.
ICE deports Russian operative Marina Butina. The woman at the center of a Russian influence-peddling scheme has been deported, ICE announced Friday evening [10/25/2019]. Maria Butina was convicted last year of acting as an unregistered agent of a foreign government, as part of the FBI's efforts to combat the Russian government's meddling in the 2016 election. She was sentenced to 18 months, was released Friday [10/25/2019], and deported back to Russia the same day, in a flight from Miami to Moscow, the agency said.
Somethings Up: Tusli Gabbard Will Not Run For Congress Next Year. [Scroll down] If she is calculating that her announcing over a year early she is not running again for her seat will make her look more viable for the Presidential run, I personally don't see how. Maybe she has started off the 4th quarter raising more money than her campaign anticipated after the Hillary dust-up. Possibly she just doesn't like being a congress critter anymore after traveling to Iowa and New Hamshire. Could it be that MSNBC wants to hire her after she drops out as a commentator on the network that currently is offering every excuse in the book for Hillary? This is one of the stranger moves I have ever seen for someone who does not have a viable path to the nomination of her party.
Tulsi Gabbard announces she is not running for re-election to House of Representatives. Bad things tend to happen to people who find themselves on Hillary Clinton's enemies list. Just days after being attacked by Hillary Clinton for being a favorite of the Russians and for allegedly being "groomed" (by Republicans, her spokesman later claimed she meant) to run as a third-party candidate, Rep. Tulsi Gabbard announced late last night that she will not seek re-election to the House of Representatives, where she has served since winning election there in 2012. It is an odd coincidence that becoming an official enemy of Hillary Clinton preceded this surprise announcement that offered no new reason for the decision announced on Twitter beyond her desire to serve as president. Curiously, the announcement came just after she was interviewed for ten minutes on Sean Hannity's Fox News program (video embedded below) during which she made no mention of her decision.
DNC Announces All-Female Moderator Panel for Next Debate amid Neutrality Concerns and Sinking Viewership. The Democratic National Committee (DNC) announced that its upcoming presidential primary debate will be moderated by an an all-female panel amid concerns over the event's neutrality and sinking viewership. The debate, which is being sponsored by The Washington Post and MSNBC in Georgia on Nov. 20, will be moderated by NBC News's Andrea Mitchel and Kristen Welker, The Washington Post's Ashley Parker, and MSNBC host Rachel Maddow.
The Editor says...
This proves that the debates are all sizzle and no steak. Nobody wants to hear about global warming, so let's put some women on display! If the viewers were interested in substantive discussion of the issues, it wouldn't matter who the moderators were. The debate would draw much better ratings if the moderators were Sean Hannity, Mark Levin, and Rush Limbaugh.
The Deep State Is Assassinating Julian Assange. WikiLeaks founder and journalist Julian Assange appeared in court to fight his extradition to the United States, sluggishly reciting his name and date of birth in a zombie-like state — displaying signs of either sleep deprivation, torture or poisoning — but quickly recovered to state the rigged case against him to the judge when he was asked if he understood what he was facing. Assange responded, appearing to fight back tears at his case management hearing, "I can't think properly, I don't understand how this is equitable. This superpower had 10 years to prepare for this case and I can't access my writings. It's very difficult where I am to do anything but these people have unlimited resources."
Josh Hawley Has Had Enough Of The Federal Government In The Swamp. Missouri Republican and arguably the most MAGA member of the Senate, Josh Hawley, introduced a bill on Wednesday [10/23/2019] that would move numerous federal agencies out of the District of Columbia, and disperse the offices throughout cities in the country The bill was co-introduced by Republican Marsha Blackburn of Tennessee and is officially known as the "Helping Infrastructure Restore the Economy (HIRE) Act." "Every year Americans' hard-earned tax dollars fund federal agencies that are mainly located in the D.C. bubble," Sen. Hawley said in a statement. "That's a big part of the problem with Washington: they're too removed from the rest of America. The HIRE Act will move policymakers directly into the communities they serve, creating thousands of jobs for local communities and saving taxpayers billions of dollars along the way."
Senate GOP bill seeks to move 90% of jobs in 10 federal departments outside D.C. The decision to move the Bureau of Land Management headquarters to Colorado's Western Slope should be viewed not as a one-off, but a good start, as far as some Senate Republicans are concerned. GOP Sens. Josh Hawley of Missouri and Marsha Blackburn of Tennessee introduced Wednesday legislation to move 90% of positions in 10 executive departments — including Agriculture, Education and Energy — to 10 states outside Washington, D.C., and "into the heart of economically distressed regions across the country."
The Editor says...
The relocation of the Departments of Agriculture, Education, and Energy, is a waste of money. All three of those agencies should be shut down. Drain the swamp, don't just spread it around.
FBI chases down increasing number of Chinese nationals in costly corporate spy cases. A federal judge last week sentenced a Chinese national to nearly four years in prison for trying to steal U.S. space technology, the latest corporate spy snared by an FBI that has ramped up protection of American businesses amid President Trump's trade war with Beijing. Over the past year, the Justice Department has brought public charges against Chinese nationals and entities in 10 separate trade secret cases. That represents a rapid increase from the three the department brought during the previous year, according to The Washington Times' review of Justice Department records.
Venezuelans trade cigarettes, candy bars for gas as economic crisis worsens. Motorists in socialist Venezuela have long enjoyed the world's cheapest gasoline, with fuel so heavily subsidized that a full tank these days costs a tiny fraction of a US penny. But the economy is in such shambles that drivers are now paying for fill-ups with a little food, a candy bar or just a cigarette.
94 hospitalized and 4 dead from disease outbreak at hot tub display. More than 100 people have been infected with Legionnaires' disease after stopping by a public hot tub display at the North Carolina Mountain State Fair. The fair, which took place Sept. 6-15 in Fletcher, North Carolina, was the common link among those diagnosed. So far, 133 cases of Legionnaires' disease have been reported to the North Carolina Department of Health and Human Services, 94 of which resulted in hospitalizations. Four of those diagnosed with the disease died.
Convoy of Trucks Seen Emptying Obama-Linked Former Ukrainian President Poroschenko's Palace — Confidants Arrested and Flee. Poroshenko was known for his strong ties to the Obama Administration, specifically Obama's point man for Ukraine: Now this: A convoy of trucks were seen emptying former President Poroshenko's home this weekend. [...] If the reportes are accurate this will be horrific news for the Democrats and Biden Crime Family. Poroshenko was behind all of the dirty dealings between the corrupt Obama admininstration and the Biden family corruption.
Drudge leaves Conservatives, follows Fox down the liberal rabbit hole. The Drudge Report seems to have lost its conservative-leaning. More and more the headline aggregator, whose claim to fame was Monica Lewinsky's semen-stained blue dress, is highlighting articles that are anti-Trump, anti-Republican, and pro-Impeachment. It has been an obvious trend during the Trump Presidency that is accelerating as we get closer to the House Impeachment farce and the 2020 election.
Federal prosecutors interviewed multiple FBI officials for Russia probe review. Federal prosecutors who are looking into the origins of the government's Russia probe have interviewed about two dozen people, suggesting that the inquiry is further along than previously known, The New York Times reported Saturday [10/19/2019]. The prosecutors have asked witnesses about whether former FBI officials that have been frequent targets of President Trump hold anti-Trump bias, former officials and others familiar with the review told the Times. U.S. Attorney John Durham, who is leading the investigation, has not interviewed all of the FBI officials who were instrumental in opening the Russia probe in 2016, sources told the newspaper.
'Start Your Day With Maximum Gay:' Kellogg's Launches LGBT Cereal. Have you ever eaten Froot Loops and thought, "This cereal isn't gay enough?" Do you seek a safe space to eat your Rice Krispies? Are you concerned that your Corn Flakes aren't sufficiently woke? Well, now Kellogg's has the solution! [...] Kellogg's chief diversity officer (why does a cereal company need such a thing??) Priscilla Koranteng said, "At Kellogg, we are firmly committed to equality and inclusion in the workplace, marketplace and in the communities where we work and live."
The Editor says...
Why do manufacturers of consumer goods feel compelled to inject left-wing politics into their products and risk alienating their customers? I'm no longer a regular consumer of breakfast cereal; but when I was, the least of my concerns was the level of "equality and inclusion" at the cereal factory. If the product tastes good, I don't care if the factory workers all look alike, nor do I care how little they are paid. Any salary paid to the "chief diversity officer" is wasted, because workplace diversity adds nothing to productivity. For example, the Japanese economy is thriving, yet Japan has the least diverse work force in the world. God himself originated workplace diversity at the Tower of Babel, and inflicted it upon mankind — as punishment! — to stop the entire project overnight.
Sallie Mae paid for employees to go on Hawaiian retreat to celebrate $5 billion in sales. Student loan servicer Sallie Mae paid for more than 100 of its employees to go on a Hawaiian retreat in August to celebrate a record $5 billion worth of sales. "We said, 'Hey, look, Maui is a pretty nice spot," Ray Quinlan, CEO of Sallie Mae, said to NBC News while on the grounds of the Fairmont Resort on Hawaii's Wailea beach. The trip celebrated a year of $5 billion in sales to 374,000 borrowers. The sales came as combined U.S. student debt topped $1.6 trillion.
Editor's note:
News items older than this are located here.
---
Document location http://akdart.com/news.html
Updated September 27, 2020.

©2020 by Andrew K. Dart