Related topics on other pages:

Joe Biden (in general)
Media bias (in general)
Specific examples of media bias
Media bias in Barack H. Obama's favor
Media bias in Hillary Clinton's favor
Media bias in opposition to Donald Trump
---
Note: President* Biden made an announcement about his unilateral gun control edicts on April 8, 2021. This was called a "news conference" in a couple of reports; however, none of the news coverage I've seen indicates that Mr. Biden took questions from any reporters who may have been present. The announcements made at that event are discussed here, here, and here.
Press Conference #1
March 25, 2021
Why Is Everyone Swallowing Biden's Lies? How did this happen? How did the nation go in an instant from disbelieving every utterance of Donald Trump to robotically repeating — and acting on — every claim that falls out of Joe Biden's mouth, no matter how disconnected from the truth? The most glaring example involves Biden's fact-challenged tirade against Georgia's new voting law. At his first and only press conference, Biden declared the state's efforts to protect against voter fraud were worse than Jim Crow, "un-American," "sick," and "despicable." [...] Even the Washington Post's notoriously biased fact-checker had to admit as much, giving Biden four "Pinocchios" — its worst rating on the truth scale — for his claims. Yet, Biden's blatant falsehoods were enough to convince Major League Baseball, an army of CEOs, and various other leaders to threaten to punish Georgia and threaten any other state that dares try to protect their elections from fraud.
Joe Biden Isn't in Charge. Who Is? After Joe Biden's performance last Thursday, every American should be demanding to talk to the manager. That's because while President Joe Biden's pathetic display during his "matinee" presser showed clearly that he is not in charge of our country, it also begged the obvious follow-up question not being asked by the 25 reporters in the room: If Joe Biden isn't in charge of running our government, who is? If you didn't actually watch the press conference — and every American should-especially those who voted against Trump by voting for Biden because they'd thought he was an improvement — by now, you have doubtless read the accounts of the President's cliff notes that included scripted talking points and photos of the journalists upon whom he was directed to call. His staff treated him in much the same way as does the family of someone in the early stages of dementia, where they put pictures on doors and cabinets as a reminder of what goes where.
When Joey Met Franky. In his first White House press conference last month, Joe Biden needed a cheat sheet and marked photos of approved reporters. [...] Joe Biden, 78, can walk unaided but less than a week before his press conference, the Delaware Democrat fell three times while boarding Air Force One. On March 25, any legitimate reporter would have asked Biden about the falls, if he was taking any medications, if he had ever been diagnosed with dementia, if he was going to make public his medical records, and so forth. But Biden's handlers weren't going to allow anything like that. "The perception of you that got you elected as a moral, decent man," said Yamiche Alcindor of PBS, "is the reason a lot of immigrants are coming to this country and are trusting you with unaccompanied minors." Instead of a press conference, Biden's handlers served up a worship service.
No presidency anymore. The radical left did not steal the presidency — they eliminated it. The Biden so-called press conference, a parody of itself, proved that. While Biden had some moments in which he seemed lucid, he had many in which he could not conceal the fog that envelops his failing brain — not even with pre-approved non-questions from non-reporters and scripted responses. Is this confused old guy the man who has his finger on the nuclear button? Fortunately, he is not. His handlers are well aware that he lapses in and (back) out of situational awareness, as the televised appearance made clear to everyone, even his supporters. Biden, at times, cannot distinguish between a North American Aerospace Defense (NORAD) incoming-missile warning-screen, and an Xbox video game. Joe Biden is not actually exercising the powers of the presidency. He is not making any of the decisions. He is not capable of doing either. Who, then, is?
News Flash: Joe Biden plans a second term; But then, so did Trump. During his very first news conference last Thursday, Biden was asked if he intended to seek reelection. "No," said the 78-year-old Biden, momentarily sparking Democrat pacemakers, "the answer is 'yes.'" In that flawed news conference appearance, Biden relied on several printed cheat sheets to help him — notes and photos of which reporter to call on, what their topic would be, statistics for likely replies. Even then, the 46th president once again wandered incoherently at times: "So the best way to get something done, if you hold near and dear to you uh, um, like to be able to — anyway — I, we're going to get a lot done."
Biden said a lot of stupid stuff at his press conference and the media fawned. Even with a book full of cheat sheets, Joe Biden was able to say a lot of stupid stuff. He said we have to spend a lot of money raising streets three feet because of climate change, which supposedly is caused by oil. [...] A follow-up question might have been to ask how much sea levels have risen the last 140 years since the dawn of the use of oil. The best guess is that sea levels have risen less than one foot the last 140 years while oil use has risen 1,781 times from around 55,000 barrels per day to 98 million barrels per day at the end of 2019.
Biden press conference: Did they want an audience? Do you remember the last time that a president held a noon Central press conference? It happens, but most presidents do it on prime time to connect with a large audience. Why did the White House put President Biden in at 10 A.M. Los Angeles time? Or at noon in Dallas, when most people were working or driving to lunch? I would love to see audience figures. My guess is that the White House went out of its way to keep President Biden from viewers. Didn't they do the same thing during the campaign? My second point is about the media and the selections of correspondents called. Peter Doocy of Fox News did not get a question, but CNN and PBS did. Have you done a ratings comparison?
7 Takeaways on the Biden Presser. [#1] The difference between a New York Times reader and a Russian reading Pravda is that the Russian knows he is being lied to. Softball questions from the compliant media allowed Biden to read, without looking up, from pre-printed note cards. He chose reliable, liberal reporters (partisan activists) from a pre-selected list. The worst question came from NPR's pandering Yamiche Alcindor who attempted to explain away what is tracking to be the worst southern border migrant surge in 20 years because Biden is a moral and decent man. Proving once again that the mainstream media is the propaganda arm of the Democratic Party. Later, there were no complaints when Biden confirmed he will continue his media blackout at overcrowded CBP facilities until an unknown "later" date.
Biden's corrupt state press corps would make Putin jealous. At an actual press conference Thursday inside the actual White House, an alleged reporter asked Mr. Biden about the national humanitarian crisis he alone has created at our southern border — by far the greatest crisis of his young presidency (so far). "The perception of you that got you elected as a moral and decent man is the reason why a lot of immigrants are coming to this country and entrusting you with unaccompanied minors," Yamiche Alcindor gushed before asking several softball "questions." In all fairness, Ms. Alcindor may sound like a special interest operative pretending to be a journalist inside the White House because she actually works for the Public Broadcasting Service, a government-funded organization. Maybe she sounds hopelessly compromised because, well, maybe she is. Whatever the case, it was a shocking display of corruption and collusion between the current White House and the supposedly independent press entrusted to ask questions and hold elected officials accountable.
Pro-Biden Press Corps Is Deeply Embarrassing. President Joe Biden's first formal press conference is in the books, and it was deeply embarrassing to anyone who thinks the media's job is to hold presidents accountable. Taxpayer-enabled PBS White House correspondent Yamiche Alcindor was the worst. She complimented the president, saying: "You've said over and over again that immigrants shouldn't come to this country right now; this isn't the time to come. That message is not being received. Instead, the perception of you that got you elected as a moral, decent man is the reason why a lot of immigrants are coming to this country and are trusting you with unaccompanied minors." Mr. President, you're a decency magnet! Biden replied: "Well, look, I guess I should be flattered people are coming because I'm the nice guy. That's the reason why it's happening." One overarching theme of the reporters Team Biden hand-picked was their lust for the destruction of the filibuster and their channeling power-hungry leftists such as Rep. Alexandria Ocasio-Cortez who want a "big agenda."
Mark Steyn Reviews Joe Biden Presser, "If the Deep State Can Pull This Off, Why Shouldn't They Expect Another Term". Sometimes if you don't laugh at the absurdity of it all, you'll explode the blood pressure cuff from sheer annoyance. Yes, the entire world can see the absurdity of the Biden administration — even if the professional left have to pretend like they cannot see it. In this interview Mark Steyn accurately outlines the incredible stupidity of it all, and how the compliant media make a mockery of themselves as clapping seals sitting in grand obedience before the naked emperor while they swear an ability to see his beautiful and magnanimous clothing. [Video clip]
Press Conference Confirmation — The US Is Now Like China and the CCP, a Nation Run by a Party and Not an Elected Leader. This has not exactly been a secret, if you have been paying attention for the last 8 months. But Joe Biden's performance in the press conference on Thursday — which took place ONLY because Democrat party-supporting media organizations had begun to question why he had not yet appeared in a press conference setting since the inaugural — confirmed the unspoken truth: that Joe Biden is only a prop, not the leader of the free world.
Biden Almost Causes Another International Incident With Huge Gaffe at Press Conference, WH Edits It Out. [Scroll down] There was a big one that he made on Thursday during the press conference. While he was talking about Afghanistan, he forgot the name of the Afghan president, calling him by the wrong name. "And General Austin is — just met with Kayani and I'm waiting for the briefing on that," Biden said. The president's name is Gen. Ashraf Ghani. Biden appeared to confuse him with the former chief of Pakistan's defense forces, the retired Gen. Ashfaq Parvez Kayani. According to The New York Times, Kayani was often accused of "double-dealing and bad faith." Probably not a good thing to call someone who you're supposed to know and be friendly with. Yikes. Just another one of those "no problem here" issues with Biden. On top of that, Biden seemed to question the legitimacy of Ashraf Ghani as the president of Afghanistan.
Joe Biden's sorriest press conference lies. In addled Joe Biden's mess of a press conference, described in all its glory by Andrea Widburg here, he barely knew who he was or what he was doing. But two particularly dishonest statements came out of him anyway, and got lapped up by the fawning press. [...] Biden's claim is outrageous, given that parents were never coming to the border from Central America in caravans, camping out in the border cities, and sending their children alone illegally into the U.S., with all the risks associated with coyotes, cartels, perverts, killers, human smugglers, and sex traffickers who might prey upon the children before the Border Patrol can get them and deliver them to social services. Trump also never crammed them into plexiglass cages in close quarters, with hundreds of them going in infected with COVID, which could spread to all of them easily. Trump didn't do that but Biden did.
The disgrace that was the Biden press conference. President Biden called on 10 reporters to answer 30-some questions during his long-awaited first formal press conference on Thursday. But the hour-plus event was a disgrace for some in the press and a dubious performance by the president. The questions for the president were meek and vague, failing to extract any specific information about policies or solutions to the myriad problems faced by the administration. Take, for example, this activism disguised as a question from PBS's Yamiche Alcindor on why the president needs to abolish the filibuster in the name of racial equality while combating evil Republicans in their efforts to prevent minorities from voting. Or something like that.
WaPo fact check: Yep, Biden told whoppers, even with cheat sheets. Perhaps those who predicted a four-year hiatus in media fact checks on the White House should take heart in this game effort from the Washington Post. After yesterday's press conference, their fact-check team dissected Joe Biden's statements and found that he "made a number of incorrect statements or made claims that lacked important context." Not only did they refute several of them, they included most of those rebuttals in this video posted last night.
"That Pathetic, Pathetic Figure in Front of the Cameras Today, In Front of the Pathetic Media". Peter Navarro was on with Steve Bannon this afternoon [3/25/2021] right after Joe Biden gave his shocking press conference to the nation. Their comments were spot on. Right after Joe Biden gave his abysmal performance today in front of his lapdog media, Peter Navarro joined Steve Bannon at the War Room. [Video clip]
Biden Lifts the Curtain. President Biden finally held a formal press conference on Thursday, and the answers pulled back the curtain on how he and White House chief of staff Ron Klain plan to govern. The biggest if unsurprising news is that they are in sync with Democrats on Capitol Hill in pushing an agenda that has elated Bernie Sanders. One takeaway is that Mr. Biden has nothing on Donald Trump in claiming credit for the sun rising in the east. The President boasted about achieving 100 million Covid vaccinations after 58 days, instead of his announced goal of 100 days. Anyone paying attention knew that production and distribution were on pace to meet that goal even when Mr. Trump was President. On Thursday Mr. Biden set a new goal of 200 million doses by 100 days, which should be a layup. Mr. Biden also gave himself and his $1.9 trillion spending bill credit for growing economic optimism. But the 6% GDP growth estimate for 2021 that he touted was already the consensus weeks ago as vaccinations spread and state lockdowns eased. A booming recovery and rapid job growth were teed up if Democrats did nothing. The spending bill's welfare incentives to stay home and not work may, if anything, slow the jobs recovery.
Exposed: Now We Know What Was On Notes Joe Biden Kept Looking At During His First Press Conference. President Joe Biden gave his first press briefing in over two months in office on Thursday. At his briefing, he kept looking at his notes over and over again. Now, we have a first inside look at what was on those notes he had in his hands.
Joe Biden's 5 Most Awkward Moments During Press Conference. [#3] Biden attacked election integrity bills being considered in states like Georgia and Michigan. "It's sick," he declared. [Video clip] "This makes Jim Crow look like Jim Eagle," Biden said, not elaborating on who exactly "Jim Eagle" is.
Biden's stunning dishonesty about immigration. On his first day in office, Biden ended work on the border wall and revoked Trump's executive order ending sanctuary cities. By his second day, Biden's Department of Homeland Security said it would stop both deportations and the "remain in Mexico" program. Since then, illegal immigration numbers are reaching back to the 1990s. Over 15,000 children, a third of whom are unaccompanied by a parent are now in America. The illegal aliens are coming because of Biden. Many are wearing Biden t-shirts and waving Biden flags. One man openly admitted that he brought his family because Biden had essentially hung out a welcome sign for illegal aliens. Although the Biden administration has blocked reporters, news about Biden's internment camps is leaking out. They are incredibly squalid, with people sleeping on floors, lacking food or clean drinking water, having no bathing facilities, and violating all COVID protocols. With that, let's get to the fantasy press conference. [...]
Joe Biden Just Did His First Press Conference And Now We Know Why His Staff Didn't Want Him To Do Any. Today we learned Joe Biden is a vampire who's been in the Senate for 120 years.... or he's just so senile, he can't put together a single, coherent thought. Either way, now we all know why his staff has kept Biden hidden from the world and chances are, this will be the last time you see him in front of pretend press in a very long time. [Video clip]
Joe Biden Says He 'Admires' Xi Jinping, Has Spent Lots of Time with Him. President Joe Biden answered questions about his relationship with China at his first press conference after 64 days in office. At the Thursday Press Conference, a reporter asked Biden about his relationship with China now that he "has been in office for a few months." Biden answered by discussing his relationship with Chinese President Xi Jinping: [...] In 2013, Breitbart News reported, Joe Biden and his son Hunter Biden flew aboard Air Force Two to China. After ten days, a firm linked to Hunter Biden received a deal that amounted to $1.5 billion with a subsidiary of the Communist Chinese Government's Bank of China.
Biden meets the press and the pandemic disappears. During the first news conference of his presidency, Joe Biden was never asked about the issue that likely got him elected and, in all likelihood, will be the defining crisis of his time in office. Over the course of 62 minutes on Thursday, the Covid-19 pandemic never arose, except for in the president's remarks at the start of the event, touting the accomplishments his administration has made in the U.S.'s year-long fight.
Biden Denies Any Role in Causing Migrant Surge: Not 'Because I'm a Nice Guy'. During his first press conference as president, Joe Biden on Thursday denied that his policies and rhetoric were to blame for the surge of migrants at the border, doubled his first 100 days COVID-19 vaccination goal, and chastised Republicans for pushing voting restrictions that he called "un-American" and "sick." Biden also addressed American foreign policy in Afghanistan, China and North Korea; took digs at his predecessor, Donald Trump; and said he expects to run for re-election in 2024. When asked if he is open to eliminating the Senate filibuster, Biden agreed with critics who say it is a "relic of Jim Crow" that's been abused. But he declined to fully endorse getting rid of the rule. And he painted himself as a realist who was "hired to solve problems, not create divisions."
Joe Biden Tells Kamala Harris: Get Latino Gov'ts to Enforce Border Controls. President Joe Biden directed Vice-President Kamala Harris on Wednesday to get the Mexican and Central American governments to forcibly block poor migrants moving towards the United States. "The Vice President agreed ... agreed to lead our diplomatic effort and work with those nations to accept returnees, and enhanced migration enforcement at their borders — at their borders," Biden said in an afternoon press conference. "We're already talking to Mexico about that," he revealed.
Leftist Crank Calls Joe Biden a "Decent Moral Person" During Presser — Called Trump Voters "White Supremacists" During Trump's Presser. Far left PBS hack Yamiche Alcindor told MSNBC that covering President Trump in the White House is a "team sport" and they have each other's back in their hatred of the president. This comes to a surprise to no one. The liberal White House media has been against this president and any outsideer who threatens their leftist clique.
Biden says he would 'be flattered' if migrants are surging because of him. President Biden on Thursday said he would "be flattered" if migrants were surging to the US-Mexico border because of him — but denied he was to blame for the crisis and insisted that migration waves generally happen this time of year. Biden faced multiple questions about the border debacle at his first formal White House press conference, including about migrants who are telling reporters they were motivated to illegally enter the US because of the perception Biden would welcome them. "Well look, I guess I should be flattered if people are coming because I'm the nice guy — that's the reason why it's happening — that I'm a decent man, or however it's phrased, that's why they are coming, because they know Biden's a good guy."
Trump slams Biden's claim he left children 'starving to death' on the border and condemns president's own 'outrageous' handling of migrant crisis as 'inhumane'. Donald Trump has lashed out at President Joe Biden, calling his border policy 'outrageous' and 'inhumane' after Biden accused him of letting migrant children 'starve to death'. At his press conference on Thursday, Biden had said: 'The idea that I'm going to say, which I would never do, if an unaccompanied child ends up at the border, we're just going to let them starve to death and stay on the other side — no previous administrations did either, except Trump.' 'First of all, it's just the opposite,' Trump said in response to Biden's remark in an interview with Fox News host Laura Ingraham. [Video clip]
Media Slobbers Over Biden's Press Conference Performance, But Even With One Reporter, Reality Creeps In. Now while we and most Americans saw that disaster of a Joe Biden press conference yesterday, even before it started, we predicted that no matter how much Biden messed up, a lot of the media would just declare it a great success and how he triumphed over that evil Republican speculation about his cognitive issues. It of course was a disaster, as we reported [elsewhere]. [Tweet] It of course is a huge scandal, but media is refusing delivery on it. When he did deliver 'answers,' like this one to when he would commit to transparency to letting the media talk to the CBP and see the border facilities, his answer was an insult, basically, I'll let you see things when we have it all under control and it wouldn't embarrass us.
Biden relied on 14-point font prompt cards during his first press conference, including one with the head shots of journalists he planned to call on in order. Images taken during President Joe Biden's first press conference on Thursday showed him using cheat sheets - which did not prevent him from misstating key facts and losing his train of thought at times. The 78-year-old Democrat is seen holding one sheet that showed the headshots of journalists at the press conference that he planned to call on. Another cheat card listed stats about infrastructure, but Biden was still forced to correct himself after mistakenly saying the US ranked 85th in the world in infrastructure.
Here Are Some of the Biden Cheat Sheets He Used During the Press Conference. We've been reporting what a disaster that the Joe Biden press conference was earlier today. It seemed clear that he had a preselected list of folks he was going to call on, not calling on any conservative outlets or media like Fox's Peter Doocy who clearly would be asking tough questions. It also appeared that he was basically reading the answers to questions at various points, leading one to ask if he knew the questions in advance. Even if he didn't, he was just basically reading off notes of prewritten answers at many points. He only ultimately only took questions from ten reporters, hardly a freewheeling press conference. He wasn't asked about his son, his fall going up the steps to Air Force One or any question about holding China accountable for the coverup of the virus. Apparently Doocy intended to ask about that last question.
This May Have Been the Dumbest Line of Biden's Painful Press Conference. I have to admit, I almost felt sorry for Joe Biden during his ridiculous press conference on Thursday. Watching this sham of an event was excruciating, particularly during the moments he seemed to forget what he was trying to say. But perhaps one of most ridiculous parts of the press conference, when Biden actually succeeded in getting through a sentence without losing his train of thought, was when he made an absurd attack on Republican efforts to strengthen election integrity in various states. "What I'm worried about is how un-American this whole initiative is. It's sick. It's sick," he said. "I'm convinced that we'll be able to stop this, because it is the most pernicious thing — this makes Jim Crow look like Jim Eagle." Yes, he actually said that. [Video clip]
Biden's presser. President Biden lost his train of thought a couple of times, but didn't melt down in any significant way in his first presidential press conference. He called on only 10 reporters in roughly an hour and 15 minutes. All of the reporters called upon were friendlies, some of whom, especially NPR's Yamiche Alcindor, seemed to be helping him present his narrative. The contrast to the contentious tone of President Trump's press conferences was stark. I watched the whole thing and it was boring.
Trump says media asked 'softball' questions at Biden presser. Former President Donald Trump on Thursday night [3/25/2021] blasted what he called "softball" questions asked by reporters during President Joe Biden's first press conference earlier in the day. Speaking to Fox News host Laura Ingraham, Trump said Biden's presser was like a "different world" compared to when he faced questions from the Washington press corps. "It was like softballs, like you're throwing softballs — and it's just a different world," the former president said. "Nobody's seen anything like it. It's very sad to watch actually, they're feeding him questions, they're easy questions," Trump said. The press pool at Thursday's briefing was limited to 25 reporters and Biden only took questions from a list of journalists whose names and outlets he read from a cue card.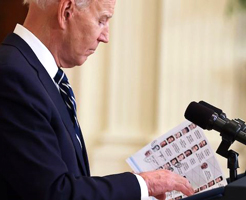 NY Post: Biden used cheat sheets in his presser — and we have it on camera. What's the worse story here — that Joe Biden used "cheat sheets" in his first full press conference, or that he used them badly? Both, really, although the featured image in the New York Post tweet isn't much of a cheat sheet. It's a seat map, which allowed Biden to choose questions by name: [Tweet] That seems like reasonable preparation more than "cheating." When it comes to the cards that reminded Biden what his own policies are, well ... that's a problem. And misreading them in the moment is an even more embarrassing problem, of course.
Peter Doocy Reacts to Being Ignored at Biden's First Solo Presser. "This was an embarrassment to the press corps, guys," Fox News contributor Joe Concha said after President Biden's press conference on Thursday [3/25/2021]. Biden called on ten reporters, none of whom were Fox News's Peter Doocy. And that's a shame, he said after the fact. Because, as he demonstrated for viewers, he literally had a binder full of questions for the president.
Biden lies, and the media doesn't question it. Three big things stood out in President Biden's first press conference.
[#1] The leader of the free world is often lost at sea and says many things that are blatantly false.
[#2] The media is in the tank and cannot be trusted to hold him accountable.
[#3] Because of Nos. 1 and 2, America is headed for serious trouble.
For this sickening spectacle we had to wait 64 days? Still, the event was meaningful in one distressing way. Now we know beyond all doubt there is no way to deny the terrifying truth. This was Biden's coming out party, and the nation faces a mess that will only grow worse with time. The man who campaigned on unity is hell-bent on permanent polarization, meaning cancel culture and the supercharged racial climate are here to stay.
Are We Just Going to Let Biden's Massive Brain Malfunction During His First Presser Slip Under the Radar? [Scroll down] Are we just going to let this slide? We won't, but the Democrat-media complex will though they have to know yesterday's presser was rough. To their credit, I will say a couple of questions were good. One centered on whether his administration rescinded Trump's border enforcement protocols too soon. The other related to transparency as Biden is preventing the media from visiting the centers that are packed with illegal alien children. There's a reason. It's bad inside. it's a humanitarian crisis. It's one that the liberal media thought Trump was responsible for but wasn't. It's here — and the Democrats are doing all they can to hide it since there's another narrative brewing right now which is in a mere two months, this administration has suffered serial failures. We have a border crisis, the economy is still shaky, schools are still closed, our foreign policy team got rolled by China in a key Alaska meeting, and the president doesn't know what's going on.
Joe Biden's Mind Melts and the White House Immediately Calls a Lid, and It Tells Us Something. Earlier today, Joe Biden gave one of the more embarrassing press conferences you'll see from a president. As RedState chronicled here, here, and here, all the overpreparation in the world didn't seem to matter. Despite holding mock briefings, something unheard of for a routine presidential presser, and having a binder full of answers to questions, Biden's mind still managed to meltdown several times throughout the event.
Biden Lies: This Immense Border Surge Is Just A Standard Seasonal Thing. This wasn't the only immigration lie he told at today's presser. Rich Lowry has a list of others, like Biden falsely claiming that Trump treated immigrants more harshly than was actually the case or that his policies didn't succeed at reducing illegal immigration. (They did, although the pandemic had a hand in that as well.) He also insisted that the "vast majority of families" arriving at the border are being turned away. If that was true before, it hasn't been true recently: Between March 14 and 21, just 13 percent of family members were being sent back into Mexico. But the big lie is the one the White House keeps telling, that what's happening at the border right now is the same ol' surge we see every spring and has nothing to do with Biden's policies.
Biden's Woeful Press Conference. In evading this reality throughout the press conference, Biden resorted to a haze of misrepresentations, and inadvertently exposed the senselessness of his own policy. In response to [Cecilia] Vega, he echoed a distortion often made by his Homeland Security secretary Alejandro Mayorkas and said that Trump had dumped children into the Mexican desert. Except Biden made the charge even more lurid by alleging that Trump had let children starve to death. This is a disgraceful and stupid charge. The Trump administration either flew back migrants to their home countries directly or handed them over to Mexican authorities to do the same. No one was pushed into the desert.
Also posted under Lies about immigration and border security.
Biden's 'News' conference lite. We finally had our Biden news conference. I suspected it would be performance art, nothing more. I was correct. Biden obviously had a stack of well-ordered notes on his podium. No paper was flipped. He barely blinked. He called on ten predetermined "diverse" people. He was not surprised by any question. He picked the reporters by first name. He very conspicuously did not call on the representative from Fox News. When it started, it was a case of "queue the predictable questions." Biden would look down at his notes, then look the camera in the eye, advertise his good-guy status, and skewer Trump whenever possible. There was no doubt that he'd had hours, even days, of rehearsal.
Biden Is Lying. The Biden press conference was a train wreck and disgrace on the border. He repeated the Alejandro Mayorkas line that Trump was just pushing unaccompanied minors back into Mexico, when the truth is that they were flown home and handed over to social-service agencies in their countries. He then went even further, referring to Trump letting minors starve and die. He maintained that Trump hadn't diminished the flow at the border, which is completely false. He gave no indication of any serious plan for us to do a better job of policing our own border, instead emphasizing building more shelters to house the migrants who are coming in record numbers. And he missed the point when a reporter asked a question about a small boy from Central America whose mother told the reporter she had sent him because she believed that Biden would let him into the United States. This performance would be roasted from beginning to end by fact-checkers — if they had any integrity.
A general overview of Biden's first press conference. From the very first moment of Biden's first press conference, one could tell that the days of Trump press conferences were gone. You remember those days, don't you? Gotcha questions, lectures, fights, interruptions, blatant disrespect — not from Trump, but from the media. It was they who created a sense of chaos and divisiveness, not Trump. It was very different this time. The media were on their best behavior but even they couldn't protect Biden from himself. Other posts here address more substantive issues raised in the press conference. This is just about style points for both Biden and the media.
---

Back to the Joe Biden index page
Back to the Home page