Introduction by The Editor:
Donald Trump is a political outsider, starting his political career at the top. His election has upset the political establishment on the left and the right. Mostly the left. The party that lost the 2016 election immediately began a campaign to impeach and remove Donald Trump by any means. Apparently it doesn't matter if there are any legitimate grounds for his impeachment.
The most recent development in the never-ending impeachment crusade is the appearance of a Deep State "whistleblower," who made a derogatory report about President Trump, apparently based entirely on hearsay. These baseless accusations are enough to keep the Impeachment Wing of the Democratic Party clamoring for Mr. Trump's removal from office, without presenting any evidence of a crime!
Related topics:
The clamor for President Trump's impeachment
Leftists' departures from the truth
The Democrats are out of step with the American mainstream
Media bias against President Trump
---
Impeachment Witness and Schiff Staffer Meeting in Ukraine Organized by Burisma-Funded Think Tank. A staffer for House Intelligence Chairman Adam Schiff (D-CA) attended a meeting in Ukraine last August with the acting U.S. Ambassador to Ukraine that was organized by a Burisma-funded think tank linked to the Steele dossier, investigative journalist Aaron Klein reported at Breitbart on Thursday [10/17/2019]. The Atlantic Council is a Washington D.C.-based think tank that works in partnership with, and is partially financed by Burisma Holdings, the notoriously corrupt global energy firm connected to Joe Biden and his son, Hunter Biden. The lucrative partnership is worth as much as $250,000 a year and has paid for "lavish conferences in Monaco," Consortium News reported.
Schiff staffer Tom Eager & Impeachment witness Bill Taylor colluded? Adam Schiff's staffer Thomas Eager flew to Ukraine on a mission to gain information which may very well have been to dig up impeachment dirt. The trip was paid for by Burisma, Hunter Biden's recently former company. During the trip, Eager met with a witness in the impeachment inquiry Ambassador Bill Taylor. It was Eager's first meeting upon arrival. That's not suspicious at all. [...] Besides funding from Burisma, the Atlantic Council is also financed by Google Capital, billionaire activist George Soros's Open Society Foundations as well as the Rockefeller Brothers Fund, Inc. and the U.S. State Department. John McCain's buddy, the man behind the dossier who runs the McCain Institute, David Kramer, also went.
Adam Schiff Flip-Flopped On Whistleblower Testimony After Reports Of Coordination. House Democrats' top impeachment inquisitor abruptly changed from repeatedly insisting on the testimony of a whistleblower against President Donald Trump to working to prevent it. The change occurred as soon as it was revealed the complainant had secretly worked with Rep. Adam Schiff's Democratic staff prior to filing his formal complaint on Aug. 12. At first, Schiff insisted an anti-Trump bureaucrat sharing allegations against the president must share his story with the House Permanent Select Committee on Intelligence. But after news broke that Schiff's staff had secretly worked with the whistleblower prior to the complaint being lodged, discussions that the whistleblower failed to mention when specifically asked about them as part of the official whistleblower process, Schiff moved to prevent the testimony.
Calling All Rosa Parks Americans. The insanity going on before our very eyes regarding the Democrats' and fake news medias' latest campaign to impeach Trump over nonsense is infuriating millions of Americans. It is the equivalent of Adam Schiff flooding the airwaves with the lie that Trump stole his car and must be impeached for it. Meanwhile, Schiff's car is parked untouched in his driveway for all the world to see. Ignoring the truth that Schiff's car was not stolen, the Democrats and fake news media cart out a dozen witnesses (whistleblowers) who claim they saw Trump commit the crime. This is exactly what is going on with Schiff's outrageous claim that Trump committed impeachable crimes during his phone call with the Ukraine president.
Adam Schiff's Impeachment Witness Tampering. House Republicans on Monday [10/21/2019] will attempt to force a vote to censure Representative Adam Schiff (D.-Calif.), the chairman of the House Intelligence Committee. The resolution, authored by Rep. Andy Biggs (R.-Ariz.), has 170 Republican co-sponsors. (It's unclear why the remaining 27 GOP congressmen have not signed on.) The motion condemns Schiff for actions that "misled the American people, bring disrepute upon the House of Representatives, and make a mockery of the impeachment process, one of this chamber's most solemn constitutional duties."
Democrats now holding 'Soviet-style' impeachment hearings. Secrecy has always been a pretty effective incubator for corruption, and House Intelligence Committee chairman Adam Schiff's sneaky, secretive "hearings" on impeaching the president, literally held in a dank Capitol basement outside public scrutiny, are producing it in abundance. Schiff's secrecy act thus far not only shuts out the public, but excludes relevant opposition members of Congress from so much as listening to this Schiff show. Congressmen from the "wrong" party, such as Rep. Andy Biggs of Arizona, an interested party with a right to be there as a member of the House Judiciary Committee if anyone does, have just about literally been kicked out.
Schiff caught tampering with another witness. Adam Schiff is at it again, tampering with witnesses. Yesterday [10/17/2019], he got caught trying to shove words into a witness's mouth, to make him say things he didn't want to say. I wrote about that [elsew]here. Today, he's doing something just as bad, getting together with other witnesses and working out a pre-coordinated story for the coming show trial.
Dr. Strangeschiff, or How I Learned to Stop Worrying and Love the Impeachment. Who could have guessed that the words of Soviet secret police chief Lavrentiy Beria to Joseph Stalin, "Show me the man, and I will show you the crime," would be strangely embodied in American politics and jurisprudence in the 21st century? [...] Bravo, comrade Strangeschiff! Please, continue the Orange Man trial behind closed doors. After all, the American people are ecstatic about closed hearings without access by journalists or lawyers. They are also especially fond of the removal of the president based on an anonymous gossip-monger, or two, or three.
WSJ Columnist Wrecks The Democrats' Trump-Ukraine Impeachment Claims. The Democrats allege there was quid pro quo, wherein Trump threatened to delay military aid if Zelensky didn't open a corruption probe into Hunter Biden's arrangement with Burisma, an energy company. Hunter Biden is the son of Joe Biden and has zero experience in the energy sector. The Trump White House released the call and refuted all of the juicy claims made in this whistleblower report from a reported CIA agent who is a registered Democrat and had worked with a 2020 Democratic candidate. Oh, and the staff of Rep. Adam Schiff (D-CA), the chair of the House Intelligence Committee, was in contact with this person and knew about the contents of the complaint before it was even filed. It's another orchestrated hit from the ashes of the Russian collusion myth. You don't need to be an investigative reporter to see that the Democrats have nothing here. That's why this entire inquiry is being done in secret.
One person is missing in the Democrats' impeachment inquiry: the whistleblower. Democratic lawmakers leading an impeachment inquiry against President Donald Trump have heard days of testimony from a parade of senior government officials. But they have yet to hear from the whistleblower who sparked the probe. And it may stay that way.
Nothing Constitutional About An Impeachment Process With Secret Evidence And Secret Witnesses. The forceful and thorough rebuke that White House Counsel Pat Cipollone delivered to the "impeachment inquiry" will go down in history as the definitive document defeating an attempted coup. Over the course of eight scathing pages in a letter last week, Cipollone thoroughly deconstructed the absurd "Ukrainegate" narrative that House Intelligence Committee Chairman Adam Schiff (Calif.) has tried to construct.
Adam Schiff: House 'May Not' Vote on Impeachment Inquiry. House Intelligence Committee Chairman Adam Schiff (D-CA) said on Monday that the House "may not" vote to authorize the ongoing impeachment inquiry. Schiff argued that voting on the investigation would not stop Republican criticism of the process. His comments came during an interview at the 92nd Street Y in New York City, moderated by New York Times reporter Nicholas Kristof.
Democrats using impeachment to consolidate power. The Democrats are clearly planning something with the illegitimate and ever changing impeachment operation. While they may think they're clever and strategic, their modus operandi has never been more obvious. The impeachment inquiry has never been about shady White House leakers or fabricated whistleblowers. It is entirely about a Legislative Branch under the control and used at the discretion of the Democratic Party. The end goal is to abolish the separation of powers, or checks and balances, as outlined in the Constitution.
Schiff's Monday 'Witness' Fiona Hill was NOT at WH at Time of July Call — And Worked for George Soros for Six Years! Former White House adviser Fiona Hill testified before Democrat investigators Monday [10/14/2019] as part of their closed door impeachment inquiry of President Donald Trump. The liberal media pushed the line all day that she was a very important Russia adviser — they really propped her up. This can only mean that they know she is an anti-Trump hack. Intel expert Tony Shaffer has no idea who she is which says a lot about the Democratic party witness.
Democrats meet to debate (again). Here are five questions that need to be asked. [#5] Fifth, do the presidential candidates agree that House Democrats should continue to ignore the fair, open process used in the Nixon and Clinton impeachments? Do they agree that it was OK for Rep. Adam Schiff, D-Calif., to totally falsify President Trump's words in his opening statement at a committee hearing, or do they believe it was unacceptably misleading in something as serious as an impeachment investigation?
What are the Democrats hiding about impeachment inquiry? President Trump and other Republicans have been complaining about Schiff's decision to hold most hearings behind closed doors, yet the Intelligence Committee chief opted for even greater secrecy in last Friday's questioning of Marie Yovanovitch, the former US ambassador to Ukraine — conducting it as a deposition, which makes it a criminal offense for either side to discuss her answers. That keeps even the rest of the House in the dark about everything except the opening statement Yovanovitch made public. Schiff is going to even greater lengths when it comes to the whistleblower whose complaint launched this whole... adventure. He might not even have the guy testify — which would remove any chance for anyone to probe his motives and biases.
The Strategies of Targeting Trump. Sane observers see impeachment as a travesty without either moral or legal grounds to justify removing an elected president 13 months before the 2020 election. But sanity means nothing these days, given the hatred of Trump, the volatility of the electorate, and the furious bias of the media. After all, we are planning to impeach a president on the basis of a "whistleblower" who will not come forward, who is a Democratic partisan, who worked for a current Democratic presidential candidate, who contrary to the whistleblower statutes went first to the Democratic Chairman of what is now the impeachment inquiry committee, Adam Schiff, also chair of the Intelligence Committee, and whose formal complaint was prepped by Democrat-affiliated lawyers. The whistleblower claims second-hand knowledge from leaking White House Staffers who heard a confidential Trump conversation — a conversation whose transcript was immediately released and was at odds in key places with the whistleblower's second- and third-hand versions. We are headed for a train wreck.
Anonymous Accusations and Their Dangerous Purveyors. Anonymous accusations have been regarded with suspicion by honorable leaders for at least two millennia. Even the Romans rejected the use of such allegations against Christians. Indeed, the Emperor Trajan explicitly admonished one of his provincial governors against doing so: "Anonymously posted accusations ought to have no place in any prosecution. For this is both a dangerous kind of precedent and out of keeping with the spirit of our age." The Democrats of our era aren't troubled by such scruples, it would seem. In fact, they have used just such an accusation as the pretext for their "impeachment inquiry," and it is indeed dangerous. The Democrats don't call it an anonymous accusation, of course. They have attempted to wrap it in a veneer of legitimacy by calling it a "whistleblower complaint," but this collection of secondhand allegations was obviously produced by some anti-Trump partisan.
Schiff Is Getting Nervous. House Intelligence Committee chairman Adam Schiff, a California Democrat, stands at the center of the impeachment of the president scam. And as word gets out about his real game and how he got it — through a spying operation aimed at the White House that he directed, he's starting to get weirdly wobbly. Two instances just from the weekend are starting to stand out. First, in stark contrast to the big hullabaloo he made about hearing from the so-called "whistleblower" in Congress ahead of the planned Trump execution, Schiff suddenly doesn't think the whistleblower is so very, very necessary to testify at his hearings at all: "We don't need the whistleblower who wasn't on the call to tell us what took place during the call," he claimed.
GOP Rep. Matt Gaetz ejected from closed-door impeachment meeting. A Republican member of the House Judiciary Committee was ejected from a closed-door impeachment hearing. Rep. Matt Gaetz of Florida tried to enter a hearing Monday in which lawmakers from three different committees are interviewing President Trump's former top aide on Russia, Fiona Hill. Gaetz said he believed he should be allowed to attend the hearing because impeachment inquiries traditionally are handled by the House Judiciary Committee, and he serves on that panel. But the House parliamentarian told Gaetz he is not allowed to attend the hearing because he does not sit on either the Intelligence, Foreign Affairs, or Oversight panels, which are the official committees conducting the impeachment inquiry.
The Whistleblower and the "Schiff-Biden Dossier". The Russian collusion fantasy was designed to frame Trump while diverting attention from Hilary Clinton's real collusion with Russia in Uranium One and using the Clinton Foundation as a pay-for- play cash cow as secretary of state. [...] Schiff and Biden are both trying to hide their corruption with another anti-Trump diversion. Schiff sent a House intel staffer on a trip to Ukraine during August 24-31, just 12 days after receiving the whistleblower complaint. To do what? To dig up what? It is reported the staffer met with the previous president of the Ukraine, a friend of President Obama.
Goalpost Shift: Schiff Now Says There Doesn't Need To Be A Quid Pro Quo. House Intelligence Committee Chairman Rep. Adam Schiff (D-CA) said on Sunday that there need not have been a desire for a quid pro quo agreement between President Trump and Ukrainian President Volodymyr Zelensky for their phone discussion to lead to the president's impeachment. Democrats claim Trump was withholding millions in U.S. aid, which he wanted to exchange for Ukranian help investigating the business dealings of former Vice President Joe Biden's son Hunter, who made upwards of a million dollars from a gas company in the country. Now, Schiff says no quid pro quo is necessary.
Republican Sen. Cramer: 'The New Precedent for Impeachment' Is Dislike of the President. "There was no quid pro quo" in President Donald Trump's July 25 phone call with the Ukraine president, Sen. Kevin Cramer (R-N.D.) told CNN's "State of the Union" on Sunday [10/13/2019]. Host Jake Tapper, annoyed, repeatedly pressed Cramer to say that Trump's mention of the Bidens in that phone call was "inappropriate." Cramer told Tapper that President Trump is "very clear" in expressing his opinions, and Cramer said he doesn't get the sense that Trump was "pushing" the Ukrainians to do something.
Democracy Dies In Darkness: Adam Schiff Just Banned A GOP Lawmaker From Attending Key Ukrainegate Deposition. Rep. Adam Schiff, D-Calif., just banned a key Republican lawmaker from the deposition of a former anti-Trump national security official believed to be at the center of ongoing Ukraine proceedings, sources tell The Federalist. Schiff tossed Rep. Matt Gaetz, R-Fla., out of the deposition. Although the U.S. House of Representatives has not approved a resolution authorizing a formal impeachment investigation, House Democrats have nonetheless insisted that they have full authority to subpoena all documents and testimony they desire, even if specific committees lack the jurisdiction to demand particular information. Schiff, whom Pelosi tapped to lead her party's anti-Trump impeachment efforts, chairs the House Permanent Select Committee on Intelligence (HPSCI), which only has jurisdiction over the federal government's intelligence agencies and related components.
Schiff: I 'should've been much more clear' about whistleblower contact. Rep. Adam Schiff Sunday [10/13/2019] conceded he should have "been much more clear" in explaining the whistleblower's contact with his House Intelligence Committee. The leader of the impeachment probe expressed regret for claiming last month his committee hadn't spoken to the whistleblower who raised concerns about a conversation between President Trump and his counterpart in the Ukraine — when in fact the anonymous official had approached an aide to Schiff for guidance on reporting wrongdoing before filing a complaint. "I should have been much more clear and I said so the minute it was brought to my attention," Schiff told CBS's "Face the Nation."
Adam Schiff No Longer Requires CIA Gossip for Impeachment Testimony. First the impeachment strategy needed the anonymous CIA gossiper to testify. Then it leaked about how HPSCI Chairman Adam Shiff and his Lawfare staff actually created the "gossiper's" silly third-hand complaint to an inspector general; who then changed 'gossip' rules to allow second and third-hand hearsay. It was all becoming more brutally sketchy, and the impeachment jenga blocks were tenuous at best. As a result, republicans were going to inquire about how the CIA gossiper constructed his complaint; and then the complaint attorney's started saying the gossiper would not appear in person, but rather write more complaint letters instead of testifying. The shift from sketchy testimony to "Dear Sir" letters was ridiculous in the extreme. So what happens next? Well, this is predictable. Chairman Adam Schiff now says there will likely be no gossiper testimony because now he doesn't need it.
Did Adam Schiff Just Admit There Was No Quid Pro Quo? Appearing on CBS's Face The Nation Sunday morning [10/13/2019], House Intelligence Committee Chairman Adam Schiff essentially conceded that there was no quid pro quo between President Trump and Ukrainian President Volodymyr Zelensky by saying "there doesn't need to be a quid pro quo." [...] For weeks now, we've been told that the transcript was evidence of a quid pro quo, and now Adam Schiff is saying "there doesn't need to be a quid pro quo." Does anyone see this as a huge concession on Schiff's part?
Secret Anti-Trump Tribunals to Continue as Congress Returns. If the Democrats have such a solid case against the president, why do they have to keep it hidden? Sure they can cloak themselves in the need to keep the whistle blower anonymous (everyone knows who it is anyway) but these other characters don't need to be kept secret, none of this is classified. The reason has to be that they don't have the receipts for impeachment and must control the media narrative with selective leaks to curry public support.
Report: Trump's Former Russia Aide Who Will Testify in Impeachment Probe [is] Linked to Christopher Steele. U.S. President Donald Trump's former top aide on Russia and Europe, Fiona Hill, is expected to appear Monday [10/14/2019] for a private deposition in the House Democrats' impeachment probe. Hill officially left her post in the National Security Council (NSC) in August after serving about two and a half years. Hill, however, handed over her responsibilities a week before U.S. President Donald Trump made the call to his Ukrainian counterpart Volodymyr Zelensky on July 25. She may not know much about the conversation.
Schiff Says Congress May Not Need To Interview Whistleblower After All. Rep. Adam Schiff said Sunday that the House Intelligence Committee might not need to interview the CIA analyst who filed a whistleblower complaint against President Donald Trump, a reversal for the Democrat, who has come under fire for failing to disclose the whistleblower's contacts with his office. Schiff acknowledged he initially supported the whistleblower testifying about the Aug. 12 complaint, which centered on a July 25 phone call Trump had with Ukrainian President Volodymyr Zelensky.
Trump, Ukraine, and Justice. Even if we assume the worst, Trump did nothing wrong in Ukraine, and nothing more than his duty. Applying pressure on Ukraine to investigate whether a past vice president of the United States engaged in a corrupt bargain that that would potentially have been an impeachable offense is the constitutional duty of anyone who has sworn to defend and protect the Constitution of the United States. The United States Constitution works on the energy of "ambition made to counter ambition" as James Madison succinctly put it in the Federalist Papers. This is how freedom works. [...] But beyond any charges of ambition, Trump has a solemn duty as articulated in the oath of office written into the Constitution to: "preserve, protect and defend the Constitution of the United States." Clearly, such duty not violated by actions that could potentially protect the people from choosing a corrupt future president. Indeed, one might argue that it requires such actions.
Producers of the Flailing Impeachment Inquiry. The leaker, incorrectly tagged a "whistleblower," now doesn't want to testify. Instead he wants to give his testimony "by letter," presumably from an undisclosed location where no one can test his "testimony." Ostensibly this is because he fears for his safety. He is anonymous, so any claim of "death threats" seems unlikely, although as we show below, we do have a rather good idea of his identity. In any event the very notion is preposterous. [...] The real reason for this backoff, I think, is that once his identity is confirmed, it will be clear this was a stupid setup by amateurs in Congress who wanted to cover their tracks. [...] Hoping to inject life into a dead horse, Democrats announced two witnesses this week, both of which are disgruntled former Trump officials and neither of whom had firsthand knowledge of the phone call that prompted this nonsense.
The case for identifying the whistleblower. Here are three reasons the whistleblower should be publicly identified: [#1] The public has a right to know. There is no higher public concern than a debate that could lead to the president's removal. Simply put, everything should be public, because the public should be aware of everything that figures into the process. The whistle has not been blown on a mid-level bureaucrat using a government credit card for personal expenses. The whistleblower has accused the president of serious wrongdoing, and in doing so, has set off a proceeding of the highest public concern on Capitol Hill. [...] [#2] The whistleblower set the terms of the debate. In his Aug. 12 complaint, he laid out the accusation that Democrats would later wholly adopt in the effort to remove the president.
Inside the media's relentless crusade to destroy President Trump. Last week The Washington Post revealed the alarming news that House Democrats were considering having their anonymous "whistleblower" testify from a remote location, and in disguise. Just as shocking as the details of this plan was the justification the Post ladled on this Democratic effort to hide impeachment information from the public. It explained, high up in the story, that the cloak-and-dagger approach was merely Democrats expressing "distrust of their GOP colleagues, whom they see as fully invested in defending a president who has attacked the whistleblower's credibility and demanded absolute loyalty from Republicans."
The incredible shrinking whistleblower. House Democrats are now demanding that the "whistleblower" be allowed to testify by letter. This marks another step forward in the impeachment narrative. Yesterday it was from behind a curtain with the voice artificially distorted. Today it's by letter. Tomorrow it will be from Elon Musk's Mars colony. The excuse for this is the evergreen "death threats," but this is even less likely the case than in other instances. A CIA operative is frightened by anonymous death threats? Are you sure? [...] Beyond that, there's the fact that this is totally new legal ground — never has something as grave as a presidential impeachment been based on a reed as flimsy as a single whistleblower. One wrong step and the witness will be spending the rest of his days in one court or another, if not worse.
Convicted ex-CIA official says Ukraine intelligence official was no whistleblower. A former CIA official who exposed waterboarding practices on war on terror detainees isn't a fan of the anonymous whistleblower in the Ukraine case undergirding the impeachment inquiry of President Trump. "I don't think he's a whistleblower. I think he's an anonymous source and there's a big difference," said John Kiriakou, who served two years in prison over the revelations from the Bush administration, becoming the first CIA officer to be convicted of disclosing classified information to a reporter. "If this whistleblower were truly a whistleblower, he would be happy to testify in open session before the [House] Intelligence Committee or whatever other committee wanted his testimony," Kiriakou told the Washington Examiner. "He is not an undercover officer. Therefore there is no reason to hide his identity from the White House or further from the American people."
Washington Examiner: Two Adam Schiff Staffers Worked with 'Whistleblower' at White House. Two former National Security Council staffers that worked with the so-called whistleblower in the Obama and Trump administrations now work for House Intelligence Chairman Adam Schiff (D-CA), according to a report.
Adam Schiff has 2 aides who worked with whistleblower at White House. House Intelligence Committee Chairman Adam Schiff recruited two former National Security Council aides who worked alongside the CIA whistleblower at the NSC during the Obama and Trump administrations, the Washington Examiner has learned. Abigail Grace, who worked at the NSC until 2018, was hired in February, while Sean Misko, an NSC aide until 2017, joined Schiff's committee staff in August, the same month the whistleblower submitted his complaint. The whistleblower was an NSC official who worked with former Vice President Joe Biden and who has expertise in Ukraine, the Washington Examiner has reported.
'Whistleblower' Attorney Was Informant who Scuttled Trump's Nominee for CIA Watchdog. Andrew Bakaj, the attorney representing the so-called whistleblower at the center of the impeachment movement targeting President Donald Trump, previously was a whistleblower witness whose public allegations scuttled the confirmation of the Trump administration's nominee for CIA inspector general. Bakaj's original complaint against Trump's nominee was filed with the office of the Inspector General for the U.S. Intelligence Community. The IG at the time was Chuck McCullough, who is currently working at Bakaj's three attorney law firm representing the so-called whistleblower.
Fake Whistleblower Lawyers Now Retreat From Testimonial Appearance. A report from the Wall Street Journal outlines a request by lawyers for the fake CIA 'whistleblower' that ultimately spells doom for the entire phony construct of the impeachment construction by anonymous complaint. The Wall Street Journal is reporting the anonymous gossipers' lawyers are now requesting official impeachment testimony by letters not an in-person appearance. If this is accurate such a request speaks directly to the abject stupidity of the claim: [...]
Biden Bombshell: 'All of This Is Calling into Question, Was There Coordination' with House Dems? The news that the so-called whistleblower who objected to the substance of President Donald Trump's July 25 phone call with the Ukraine president has ties to former Vice President Joe Biden elicited sharp reaction on Thursday night [10/10/2019]. Rep. Mark Meadows (R-N.C.), appearing on Fox News' "The Ingraham Angle," told guest host Jason Chaffetz that this news now is "calling into question" whether or not the whistleblower engaged in "coordination" with House Democrats prior to speaking out about concerns. Should this person have to testify in person — or not? "The reason why there's a statue is when they [whistleblowers] become public, they don't get retaliated against," said Meadows. "To have an anonymous ... it's just not what our government is set up to do," he added.
Who's Afraid Of Whom? Despite the lack of scrutiny, both from the DOJ and the media, we do know that Hunter Biden was paid $50,000 a month by Ukrainian energy company Burisma for not knowing anything about gas, oil or Ukraine. And we know from a Ukrainian MP that Joe Biden himself was paid $900,000 by Burisma. Those are not unproven allegations, as almost every outlet calls them. And they sure [...] ain't unfounded. Plus, Trump has every right to ask questions about this, whether in the US or elsewhere. Where he won't be able to ask questions, if Pelosi and Schiff have their way, is in the fake impeachment inquiry. There he may not even be able to bring a lawyer. Who's afraid of whom exactly, and of what?
Is the Whistleblower Tied to Biden? [Scroll down] So by the whistleblower's two lawyers own words we learn that their client — their client identified by the New York Times as a CIA official — "has spent their entire government career in apolitical, civil servant positions in the Executive Branch" serving "elected officials." There are only two elected officials in the "Executive Branch." That would be, of course, the president and vice president of the United States. The charge now is that the whistleblower has ties to a current candidate in the 2020 race — and quite obviously there is only one current Democrat candidate who has been one of the two elected officials in the executive branch of government: former Vice President Joe Biden.
Sen. Tom Cotton Unloads On Intel Community Inspector General: 'Evasive,' 'Insolent,' And 'Obstructive'. Sen. Tom Cotton, R-Ark., unloaded on the inspector general at the center of the anti-Trump whistleblower kerfuffle, calling him "insolent" and "obstructive" in a scathing letter released on Wednesday afternoon [10/9/2019]. Michael Atkinson, the Intelligence Community Inspector General, or ICIG, is under fire for secretly eliminating a requirement that whistleblowers provide first-hand information to support allegations of wrongdoing. The ICIG admitted that it secretly changed its rules and forms in response to an error-ridden complaint filed against President Donald Trump that consisted entirely of gossip, rumor, and second-hand information.
How Unreasoned Impeachment Dysfunction Is Trashing Democrats. [Scroll down] Their claim that Trump committed an impeachable offense in his conversation with the Ukrainian president when the resident discussed Joe Biden and his son's payoff to enormous personal benefit is not a Trump problem. It is a Biden problem that Biden must deal with. Neither the Ukrainian phone call transcript which the White House released, nor the whistleblowers' version, suggest that the president sought a "payoff" for himself or anyone in his administration. The conversation just involved pursuit of Biden's actions for a big Ukrainian "payoff" for his son, which is the actual violation of law. The Ukrainian president had just won in a landslide on an anti-corruption platform, the U.S. has an anti-corruption treaty with Ukraine, and Trump is the top law enforcement officer in the United States. So the phone conversation was more than justified.
Report: Whistleblower Worked with Joe Biden at Obama White House. Democrat presidential hopeful and former Vice President Joe Biden had a "professional" tie to the CIA Whistleblower, according to a report from the Washington Examiner, which includes statements from intelligence officers and former White House officials. After two separate reports from the New York Times, the Washington Examiner has established the whistleblower "is a career CIA analyst who was detailed to the National Security Council at the White House and has since left."
The Biden Boomerang. The American people deserve to know not only for whom the whistleblower worked and traveled (the [Washington] Examiner quotes some speculation that the whistleblower might have accompanied Mr. Biden on Air Force Two on one of the veep's six trips to Ukraine). Americans also deserve to know just who the whistleblower is, so they can make up their own minds about his entanglements. Of all the scandalous elements bubbling out of Ukraine, the most shocking is the idea that an American president, duly elected and sworn, might be impeached on testimony of an individual whose name is being kept secret — from the President, the Congress, and the American voter. The Wall Street Journal, in an important editorial issued Wednesday [10/9/2019], calls it "impeachment in secret."
House Democrats subpoena Rick Perry in impeachment inquiry. House Democrats have subpoenaed Energy Secretary Rick Perry to produce documents related to their impeachment inquiry of President Trump's discussions with Ukraine. "Recently, public reports have raised questions about any role you may have played in conveying or reinforcing the President's stark message to the Ukrainian President," wrote the three Democratic House committee chairmen leading the impeachment inquiry. Foreign Affairs Chairman Eliot Engel, Intelligence Chairman Adam Schiff, and Oversight Chairman Elijah Cummings sent the subpoena to Perry on Thursday [10/10/2019].
Ukraine's president says there was no blackmail in Trump call. Ukraine's President Volodymyr Zelensky said Thursday there was no blackmail involved during a telephone call with President Donald Trump that has since set in motion an impeachment inquiry. Zelensky has come under pressure to shed light on a phone call with Trump in July in which the U.S. president appeared to ask Ukraine to investigate former Vice President Joe Biden, a potential Democratic rival in the 2020 presidential race, and his son Hunter Biden who served on the board of a Ukrainian gas company Burisma. Trump repeatedly tells Zelensky that the U.S. has been "very, very good" to Ukraine, a non-verbatim transcript of the call showed. Zelensky told him that Ukraine, a country that relies on international financial and defense aid and is vulnerable compared to its powerful Russian neighbor, would work on the investigation.
Joe Biden worked with whistleblower when he was vice president, officials reveal. The 2020 Democratic candidate with whom the CIA whistleblower had a "professional" tie is Joe Biden, according to intelligence officers and former White House officials. Lawyers for the whistleblower said he had worked only "in the executive branch." The Washington Examiner has established that he is a career CIA analyst who was detailed to the National Security Council at the White House and has since left.
Who Does the Whistleblower Know? This already adds up to a suspicious sum: second-hand information, factual errors, backdated changes in guidance, questionable sourcing, and a suspiciously back-door — and potentially illegal — contact with the HSPCI majority before the complaint was filed, violating House rules. Trump's declassification put WB1 in a bad light: the actual call transcript doesn't appear to fit the WB1 narrative, and the complaint itself appeared to have a lot of political input. The Democrats' process has some really questionable aspects as well. First of all, the irregular contacts with WB1 before the complaint was filed, and the violation of House rules by not notifying the Republican minority. Then secondly, hearing testimony from the ICIG and from former Ambassador Kurt Volker, with the Democrats leaking selected parts of the testimony but refusing to make the testimony public.
Tom Cotton says intelligence watchdog shared extra details about Ukraine whistleblower with House Democrats. An Intelligence Community watchdog gave preferential treatment to House Democrats conducting an impeachment inquiry into President Trump while rebuffing Senate Republican questions, according to Republican Arkansas Sen. Tom Cotton. "I'm dissatisfied, to put it mildly, with your refusal to answer my questions, while more fully briefing the three-ring circus that the House Intelligence Committee has become," Cotton, who sits on the Senate panel overseeing the Intelligence Community, wrote to Inspector General Michael Atkinson.
Whistleblower lawyer acknowledges client had 'contact' with presidential candidates. Mark Zaid and Andrew Bakaj, the attorneys representing the whistleblower at the center of Democrats' impeachment inquiry, acknowledged in a statement on Wednesday that their client "has come into contact with presidential candidates from both parties" — but insisted that the contact involved the politicians' roles as "elected officials — not as candidates." The lawyers' abrupt disclosure came shortly after The Washington Examiner reported that Intelligence Community Inspector General Michael Atkinson told lawmakers the whistleblower worked "or had some type of professional relationship" with one of the Democratic presidential candidates, citing three sources familiar with Atkinson's interview with lawmakers on Friday.
NYT: 'Whistleblower' Redacted Third Fact Suggesting Potential Bias Against Trump. The New York Times reported that, along with the intelligence officer "whistleblower" being a registered Democrat and having a "professional relationship" with a 2020 Democrat, there remains a third redacted reason critics could accuse him of "potential bias" when submitting his complaint to the Intelligence Community inspector general. The Washington Examiner's Byron York reported Tuesday [10/8/2019] that the intelligence officer "whistleblower" had a "professional relationship" with a 2020 Democrat presidential candidate and was a registered Democrat, which critics could use to accuse the "whistleblower" of bias against President Donald Trump and his administration.
Fired Anti-Trump Ukrainian Ambassador Was Monitoring Communications of John Solomon and US Journalists Prying into Ukraine! Last week House Democrats called in fired US Ambassador Marie Yovanovich to testify in their sham impeachment proceedings. Ambassador Yovanovich is a noted Trump-hater who blocked Ukrainian officials from traveling to the United States to hand over evidence of Obama misconduct during the 2016 election to President Trump. Yovanovich was US ambassador to Ukraine during the 2016 election when the Ukrainian government was colluding with the DNC and Hillary Campaign to undermine the US presidential election. Ukrainian Prosecutor General Yuriy Lutsenkoko told journalists in March that Yovanovitch gave him a "do not prosecute" list during their first meeting. The president ordered her removal from her post in Ukraine in May 2019. She was openly anti-Trump.
Sen. Graham Threatens to Call Volker to Testify If House Dems Fail to Release Deposition's Transcripts. Sen. Lindsey Graham (R-SC) on Wednesday [10/9/2019] demanded that House Democrat leaders release the full transcript of the testimony provided by the impeachment inquiry's first witness, former U.S. special envoy to Ukraine Kurt Volker. Graham, the chairman of the Senate Judiciary Committee, threatened to call Volker to testify before his panel if Democrats did not meet his demand.
Solomon Reports: Ukraine Investigation into Burisma/Biden Was Re-Opened in February 2019. Journalist John Solomon appeared on Fox News with Sean Hannity last night to drop a considerably important revelation. According to Solomon's reporting the White House has open-sourced evidence that Ukraine re-opened their investigation into Burisma Holdings and Hunter Biden in February 2019; several months before President Trump spoke to President Zelenskyy.
Anti-Trump Whistleblower Wrote 'Dramatic' Memo After Ukraine Call; Has Ties to 2020 Dem Candidate. The anti-Trump "whistleblower" is a registered Democrat who reportedly has a significant tie to one of the 2020 Democratic presidential candidates. Also, according to Fox News, he wrote a "dramatic" but inaccurate two-page memo on July 26, the day after the Trump-Zelensky phone call. Immediately following his chat with an unidentified White House official about President Trump's telephone with Ukrainian President Volodymyr Zelensky," the so-called IC whistleblower wrote what Fox News described as a "dramatic personal memo," alleging that the White House official characterized the call as "crazy" and "frightening."
Try, Try Again! The #Resistance and Impeachment. We are now into the second collusion story and (at least) the second attempt at impeachment, now featuring a second "whistleblower" and counting. If the #Resistance had a motto it would have to be "If at first you don't succeed, try, try again." The Washington establishment and their cheering section wearing pajamas in mom's basements across America have been trying to remove President Trump from office since the moment he was elected. First they went for a recount in Michigan. That didn't change the outcome, though it did uncover an inconvenient truth — the number of votes counted in Detroit exceeded the number of registered voters. Oops. Losing on the recount front, they tried to bribe, cajole, and threaten presidential electors to ignore the will of the people.
Whistleblower had 'professional' tie to 2020 Democratic candidate. In an Aug. 26 letter, the Intelligence Community's inspector general, Michael Atkinson, wrote that the anonymous whistleblower who set off the Trump-Ukraine impeachment fight showed "some indicia of an arguable political bias ... in favor of a rival political candidate." A few weeks later, news reports said the whistleblower's possible bias was that he is a registered Democrat. That was all. [...] Now, however, there is word of more evidence of possible bias on the whistleblower's part. Under questioning from Republicans during last Friday's impeachment inquiry interview with Atkinson, the inspector general revealed that the whistleblower's possible bias was not that he was simply a registered Democrat. It was that he had a significant tie to one of the Democratic presidential candidates currently vying to challenge President Trump in next year's election.
Anti-Trump Whistleblower Attorney Worked Directly For James Clapper. One of the attorneys representing the anonymous "whistleblowers" accusing President Donald Trump of conspiring with foreign leaders to interfere in the next U.S. presidential election used to report directly to former director of national intelligence James Clapper. Charles McCullough, an attorney now representing the whistleblowers with Andrew Bakaj, a former staffer for Sens. Chuck Schumer and Hillary Clinton, was previously the inspector general of the intelligence community (ICIG) at the height of the Clinton email scandal.
Whistleblower Had 'Professional' Tie to a 2020 Democratic Candidate. As the impeachment battle continues, a huge bombshell was revealed Tuesday afternoon when Byron York reported at the Washington Examiner that the whistleblower whose complaint resulted in the current impeachment inquiry isn't just a registered Democrat, but had a professional relationship with one of the 2020 Democratic presidential candidates.
Graham: If House Impeaches Trump, 'Here Is What I'm Going to Insist Upon...' Sen. Lindsey Graham (R-S.C.), as chairman of the Judiciary Committee, has subpoena power. So will he subpoena the whistleblower who complained, based on second-hand information, about President Trump's July 25 phone call with the Ukraine's newly elected president? "Well, here is what's going to happen," Graham told "Sunday Morning Futures" with Maria Bartiromo: [Video clip] ["]If the whistleblower's allegations are turned into an impeachment article, it's imperative that the whistleblower be interviewed in public, under oath and cross-examined. Nobody in America goes to jail or has anything done to them without confronting their accuser. So here is what I'm going to insist upon, that the whistleblower, one or two, whatever, they come forward, under oath, testify, so the public can judge their credibility. If that doesn't happen in the House, I will make sure it happens in the Senate.["]
House Speaker Nancy Pelosi Rules for Impeachment — 116th Congress. Sometimes dates are just data-points. However, sometimes data-points help structure information timelines showing a connection between two seemingly disparate events. When this happens, dates start to tell a story. The CIA operative "whistle-blower" letter to House Intelligence Committee Chairman Adam Schiff, and Senate Intel Chair Richard Burr, was on August 12th. Now here's Speaker Pelosi's modified House rules for impeachment [116th Congress].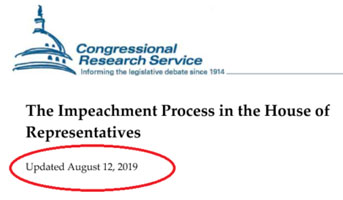 Pelosi Democrats Changed House Rules on Impeachment on Day 'Whistleblower' Complaint Filed. [Scroll down] We now have the exact changes that were made from the previous version. The most obvious change is that Pelosi moved the responsibility and control from the entire House of Representatives to the House Judiciary Committee.
Rick Perry says he 'absolutely' asked Trump to call Zelensky — just not about the Bidens. US Energy Secretary Rick Perry said Monday that he "absolutely" asked President Donald Trump "multiple times" to call Ukrainian President Volodymyr Zelensky, but about energy — not the Bidens — and said he is not leaving his role in the administration. Speaking at a press conference in Vilnius, Lithuania, Perry said that he told Trump that it was in the best interest of the two nations to have discussions regarding energy issues. His response comes on the heels of reports that Trump told lawmakers Perry urged him to make the July 25 call that has become a key focus of House Democrats' impeachment inquiry into the President.
87 House Republicans Move to Censure Adam Schiff. Eighty-seven House Republicans have joined the movement to rebuke Rep. Schiff by cosponsoring House Freedom Caucus Chairman Andy Biggs' (R-AZ) H. Res. 604, according to a list obtained by Breitbart News. H. Res. 604 would condemn Schiff for retelling a fabricated conversation between Zelensky and Trump.
Trump's exaggerations stand in stark contrast to Democrats' actual lies. The most brazen falsehoods come from the House Intelligence Committee Chair, Rep. Adam Schiff (D-Calif.). Schiff promised evidence of Trump colluding with the Russians in 2016 and failed to produce any. Then in the "official" impeachment inquiry hearings, Schiff opened the "show" with a fabricated account of the discussion between Trump and Ukraine's President Volodymyr Zelensky. Worse still, Schiff failed to admit that the "whistleblower" had contact with his staff prior his formal complaint — he actually lied about it. Schiff has since promised that the CIA agent-cum-whistleblower would testify, and so far, hasn't produced that, either.
More Freshly Manufactured Whistleblowers, Blowing Smoke. All the distractions manufactured since his election should plainly show everyone that these traitors had a machine in place that they had been fine-tuning for a mobster like Hillary. But the people got to the polls and ruined that for them. We elected a man who had made all of his fortune before he got to the Oval Office. We have yet to hear any explanations from the criminals who have made all of their fortunes since they were given power.
IG could not explain 18-day window between Ukraine call and whistleblower complaint: sources. Intelligence Community Inspector General Michael Atkinson, in testimony to House lawmakers about the whistleblower complaint on President Trump's controversial phone call with his Ukrainian counterpart, could not explain what accounted for the 18-day window between the July 25 call and the Aug. 12 complaint filing — or when exactly the whistleblower contacted a key Democrat's staff, sources familiar with the testimony told Fox News. The whistleblower's contact with Intelligence Committee Chairman Rep. Adam Schiff's staff before filing the complaint in mid-August has prompted renewed scrutiny of Schiff. The top Democrat previously said "we have not spoken directly to the whistleblower," but his office later revised the claim, saying that Schiff himself "does not know the identity of the whistleblower, and has not met with or spoken with the whistleblower or their counsel" for any reason.
ICIG Atkinson Refuses to Tell Congress Why Whistleblower Rule Changes Were Backdated. Michael Atkinson, the intelligence community inspector general (ICIG), reportedly refused to answer a key question during testimony before the Permanent Select Committee on Intelligence (HPSCI) on Friday [10/4/2019]. Atkinson met with members of the committee in a closed meeting to to answer questions related to the impeachment inquiry against President Donald Trump. When asked to explain why his office made changes to its whistleblower forms in September and backdated those changes to August when the anti-Trump "whistleblower" complaint was filed, Atkinson had no answer, Sean Davis reported at the Federalist on Monday. He also reportedly admitted to lawmakers that the anti-Trump complainant had improperly concealed his previous secret interactions with House Democratic staff prior to submitting the complaint.
Trump administration blocks ambassador from testifying in House impeachment deposition. The Trump administration ordered the U.S. ambassador to the European Union not to appear at a scheduled Tuesday [10/8/2019] deposition on the Ukraine controversy, triggering a fiery new clash with House Democrats amid their impeachment inquiry. President Trump dismissed the deposition as a "kangaroo court" as he defended the decision to block Gordon Sondland from appearing at the closed-door session on Capitol Hill. But the move, first reported by the New York Times, prompted new warnings from Democrats that such acts will be seen as an obstruction of their investigation into the controversy surrounding Trump's July 25 phone call with Ukrainian President Volodymyr Zelensky.
Impeachment is Built on a Trap That Obama Created for Romney. A whistleblower exposes structural waste, mismanagement and abuse within the civil service, among government contractors and in varied ways within the private sector. This is meant to protect employees who blow the whistle on misbehavior, not to serve as cover for assorted political agendas. In the Trump era, whistleblowing and partisan leaks to the media have been conflated by the media. Partisan government workers, some openly aligning with the "resistance" and participating in partisan groups within government agencies, have sought to undermine administration policies through leaks. These leaks were in turn meant to generate congressional investigations of cabinet officials. The impeachment effort against President Trump takes that ongoing tactic to the ultimate extreme.
IC Inspector General Atkinson's Coup. If there is no requirement for actually having witnessed the actions a "whistleblower" is complaining about, complaints can include anything because the protections afforded a whistleblower provides him not only anonymity but also immunity from any repercussions for making claims that aren't true — absent provable malice, of course. Schiff recently justified keeping testimony to his sham "impeachment inquiry" secret by saying that according to the Intelligence Community Whistleblower Protection Act, "The whistleblower has the right in the statute to remain anonymous." The ability to remain anonymous, coupled with a presumption of purity and innocence, and no firsthand knowledge requirement, means there is zero risk for the scurrilous among the administrative state in propagating outright lies.
Report: House Democrats Weigh Concealing Whistleblower's Identity from Republicans. House Democrats are considering masking the identity of a partisan CIA officer behind a so-called "whistleblower" complaint regarding President Donald Trump's telephone call with Ukraine from Republicans on Capitol Hill, according to a report. The Washington Post, citing three officials familiar with the matter, said Monday that Democrats are concerned Republicans will leak the so-called "whistleblower's" identify upon testimony before House and Senate investigators.
House Democrats consider masking identity of whistleblower from Trump's GOP allies in Congress. House Democrats are weighing extraordinary steps to secure testimony from a whistleblower whose complaint prompted their impeachment inquiry, masking his identity to prevent President Trump's congressional allies from exposing the individual, according to three officials familiar with the deliberations. The steps under consideration include having the whistleblower testify from a remote location and obscuring the individual's appearance and voice, these officials said.
Report: Dems Consider Hiding Identity of Whistleblower From GOP Lawmakers by Holding Testimony in Remote Location — Changing His Appearance, Voice. House Democrats are considering hiding the Deep State CIA officer's identity by holding his testimony in a remote location. The Washington Post reported on Monday [10/7/2019], citing three people familiar with the discussions, that Democrats are going to go to great lengths to conceal the 'whistleblower's' identity by holding his testimony in a remote location and even changing his physical appearance and voice. The Democrats also want to bar GOP lawmakers from questioning the whistleblower and only allow staffers to question him outside of the Capitol.
Activity and Background of Sketchy IC IG Michael Atkinson Now Under Investigative Spotlight. Last week the Intelligence Community Inspector General, Michael Atkinson, testified behind closed doors to congress. Atkinson testified about his role in bringing the 'whistle-blower' complaint forward. The details of that testimony are now starting to surface and thankfully congress is taking a closer look at the sketchy background of Michael Atkinson.
Intel Community IG Stonewalling Congress On Backdated Whistleblower Rule Changes. In tense testimony before the House Permanent Select Committee on Intelligence (HPSCI) on Friday [10/4/2019], the inspector general for federal spy agencies refused to disclose why his office backdated secret changes to key whistleblower forms and rules in the wake of an anti-Trump whistleblower complaint filed in August, sources told The Federalist. As The Federalist reported and the Intelligence Community Inspector General (ICIG) confirmed, the spy watchdog secretly changed its whistleblower forms and internal rules in September to eliminate a requirement that whistleblowers provide first-hand evidence to support any allegations of wrongdoing. In a press release last week, the ICIG confessed that it changed its rules in response to an anti-Trump complaint filed on August 12. That complaint, which was declassified and released by President Donald Trump in September, was based entirely on second-hand information, much of which was shown to be false following the declassification and release of a telephone conversation between Trump and Ukrainian President Volodymyr Zelensky.
Anti-Trump Psychodrama 10.0? [Scroll down] The complaint file itself hardly seemed the work of a whistleblower. Instead, in the style of the Steele dossier and the Mueller investigation, it footnoted liberal media sources as verification, cited past legal rulings and cases, and seemed the work of progressive attorneys. Oddly, whistleblower forms had been mysteriously changed retroactively to legitimize the complainant's charges on the basis of hearsay without the need for a single firsthand example of direct knowledge of wrongdoing. Adam Schiff, to heighten the drama of the caper, opened a congressional hearing by reading from the transcript of the Trump call to the Ukrainian president. Only he didn't. Instead he ad-libbed and recited a fantasy version that contradicted the actual transcript in several places — much as the whistleblower complaint also erred in key ways. When caught, he pled that he was offering a "parody" for effect. Schiff's staff, it may well turn out, hand-in-glove coached the "whistleblower" well before he went public.
Anti-Trump Fraternity and NeverTrump Sorority Collude in Impeachment Scam. The fabricated, make-believe scandal of Donald Trump's telephone call with Ukrainian President Volodymyr Zelensky began unravelling before the ink was dry on the newspapers reporting it. [...] "The official," intoned our fishwrap of record, "has more direct information about the events than the first whistle-blower, whose complaint that Mr. Trump was using his power to get Ukraine to investigate his political rivals touched off an impeachment inquiry." And just in case the anti-Trump bias of that was not sufficiently patent, the [New York] Times helpfully provided this caption to a photo of the President: "President Trump pressured the president of Ukraine to investigate the son of former Vice President Joseph R. Biden Jr. during a phone call." Oh really? In addition to assuming our stupidity and presuming on our patience, the Times apparently believes that we cannot read. That call in July between Donald Trump and the Ukrainian President was about efforts to influence the 2016 election, not the 2020 election. How do we know? President Trump said so in his call.
[The] First Ukraine Whistleblower [is] falling apart, so [the] media [is] inventing a Second Whistleblower. The New York Times is continuing the tradition of the Russia collusion media frenzy, where every few days a new media "bombshell" was launched, only to be revealed as a dud. By the time the bombshell was debunked, a new media bombshell was launched, hence a new news cycle. [...] The case for the First "Whistleblower" is falling apart, with the revelation of previously undisclosed pre-complaint communications with Adam Schiff's office, damaging testimony from the recently resigned special envoy to Ukraine, and above all, the release of the complaint itself which demonstrated it was a professionally prepared legal brief and closing argument not a true whistleblower revelation. Now the media is in search of a new whistleblower, and the NY Times has found one to create another news cycle. Except this Second Whistleblower has not filed a whistleblower complaint, but is only thinking about it according the the Times' sources.
Trump says Schiff 'helped write' whistleblower complaint, after House panel admits advance knowledge. A spokesman for House Intelligence Committee Chairman Adam Schiff, D-Calif., acknowledged for the first time on Wednesday [10/2/2019] that the whistleblower alleging misconduct in the White House had reached out to Schiff's panel before filing a complaint — prompting President Trump, in an extraordinary afternoon news conference at the White House, to accuse Schiff directly of helping write the document. Schiff had previously claimed in a televised interview that "we have not spoken directly with the whistleblower." A Schiff spokesperson seemingly narrowed that claim late Wednesday, telling Fox News that Schiff himself "does not know the identity of the whistleblower, and has not met with or spoken with the whistleblower or their counsel" for any reason.
Whistleblower lawyers are picking off Republicans to remove the President. The lawyers for the now-multiple whistleblowers actively campaigned for whistleblowers. Mark Zaid, an activist attorney representing the two or more so-called anonymous whistleblowers, co-founded Whistleblower Aid after President Trump was elected. The organization is a small nonprofit that advertised all around D.C. actively seeking whistleblowers during the Trump administration. So, in addition to John Brennan calling his minions to blow the whistle, the whistleblowers have lawyers who actively sought whistleblowers to damage the President.
Ukraine's President: 'I Was Never Pressured' by Trump, 'No Conditions' Were Imposed. Ukrainian President Volodymyr Zelensky on Saturday [10/5/2019] again denied having been put under any pressure by President Trump, during a July phone conversation, to investigate Joe Biden or his son's business dealings in Ukraine — an allegation at the center of the Democratic impeachment inquiry. In what was billed as his first major interview by non-Ukrainian media since the row erupted, Zelensky was quoted as telling Japan's Kyodo News agency that neither his invitation to the White House nor the sale of anti-tank missiles to Ukraine were made conditional on his willingness to cooperate in the Biden matter.
Hunter Biden's Wild Ukrainian Ride. Democrats threw the country into turmoil this week announcing their intention to proceed with the impeachment of President Donald Trump. They just have a few problems. Chief among them, their narratives keep collapsing. First, there was the "coverup" both of the call with the President Volodymyr Zelensky of Ukraine, and of the whistleblower's report. Then the White House, in an unprecedented step, released the transcript of the call with the Ukrainian president, and the entirety of the whistleblower's report.
Attorney for Impeachment 'Whistleblowers' Actively Sought Trump Admin Informants. Mark Zaid, the activist attorney representing the so-called whistleblower at the center of the impeachment movement targeting President Donald Trump, says he is representing a second so-called whistleblower who spoke to the Intelligence Community's inspector general about Trump's phone call with the Ukrainian president. Missing from the avalanche of news media coverage about Zaid's two anonymous clients rocking the nation's capital is that at the beginning of Trump's presidency Zaid co-founded Whistleblower Aid, a small nonprofit that blasted advertisements around D.C. actively seeking whistleblowers during the Trump administration.
The Madness of Progressive Projection. In truth, the "whistleblower" is no such thing. He or she is a disgruntled and partisan intelligence bureaucrat, who violated the whistleblower statutes by first going to Rep. Adam Schiff's (D.-Calif.) staff on the House Intelligence Committee to get help in translating his narrative into Mueller/Steele dossier legalese, and in strategizing the timing of his accusations. Expect a series of John Brennan-surrogate intelligence agency whistleblowers to follow once it is established that now hearsay is admissible and there is no downside to violating the statutes by first conferring with Adam Schiff's staff.
The Democrats' Modus Operandi. It turns out that the House Intelligence Committee chairman knew about the whistleblower before any whistle was blown — and he sat on it. That is starting to look like the Democrats' modus operandi. The idea would be to more effectively set up the President. We gained a classic glimpse of the m.o. during the confirmation hearing of Justice Kavanaugh. That's when Senator Dianne Feinstein sat on a letter from Christine Blasey Ford alleging the future justice had behaved inappropriately at a party two generations earlier. The letter reached the Coast Democrat on July 30, 2018. She sat on it, claiming she wanted to respect the accuser's confidentiality.
If hearsay is the new standard, the whistleblowers will be coming out of the woodwork.
Deep State Attorney linked to Schumer and Hillary Confirms he Is Now Representing "Multiple" Whistleblowers in Connection to July 25 Trump Call. As was reported in September[,] the Deep State "whistleblower" who spoke out on President Trump's call to the Ukrainian President in July, but who was not on the call, hired a former Schumer and Hillary Clinton staffer, Andrew Bakaj to represent him/her. Andrew Bakaj has deep ties with DC Democrats. He donated to Joe Biden's presidential campaign. His first "whistleblower" client went to Adam Schiff's office to plot strategy before he filed his complaint. The first "whistleblower" is a partisan CIA operative who was spying on President Trump in the White House. His complaints fell apart after President Trump released his phone transcript with the Ukrainian president and after former envoy Kurt Volker's testimony on Thursday [10/3/2019].
Trump Knows Ukraine Owns the Democrats. [Scroll down] The Democrats claim that Trump attempted to garner a bribe from Ukraine; that he explicitly wanted damaging information on Joe Biden heading into the 2020 presidential campaign in exchange for giving the $400 million (plus the lethal aid) to Ukraine. This does not appear to be the case at all. What's more, the recently released encrypted text messages between Kurt Volker, Bill Taylor, and Gordon Sondland indicate that the president and his team were less interested in damaging Joe Biden's presidential campaign than they were in getting to the bottom of potential Ukrainian malfeasance (while using U.S. foreign aid as leverage to get Ukraine to shape up its behavior). And, it should be noted here, the pursuit of corruption is a legitimate function of the U.S. government — and since Donald Trump is the chief executive, he is well within his rights to inquire about potential corruption in foreign countries with the leaders of those countries.
Kevin McCarthy: Pelosi Must Sideline Schiff Over Lies, Consider Him 'Fact Witness. House GOP leader Kevin McCarthy said House Speaker Nancy Pelosi should formally sideline House Permanent Select Committee on Intelligence (HPSCI) chairman Rep. Adam Schiff (D-CA) from the Democrats' "impeachment inquiry" of President Donald Trump. McCarthy explained Schiff should now be considered a "fact witness" in the broader investigation of these matters given his and his staff's role in coordinating with the whistleblower over the summer.
New Testimony Shows Schiff's First Impeachment Witness 'Put a Dagger' in His Lies, Narrative on Ukraine. Yesterday [10/3/2019], former U.S. envoy to Ukraine Kurt Volker testified behind closed doors and in front of the House Intelligence Committee for over nine hours. As reported, his testimony did not turn out to be what Democrats were looking for in terms of pushing their "impeachment inquiry" narrative forward. According to Republican Congressman Lee Zeldin, Volker's testimony "drove a dagger" in the argument that President Trump engaged in a quid pro quo with Ukraine by threatening to withhold military aid unless former Vice President Joe Biden and his son, Hunter, were investigated.
'Nonpartisan' Group Aiding Lawyers for 'Whistleblower' Tied to Democrats, Far-Left Organizations. One of the co-founders of Whistleblower Aid previously worked at several liberal activist organizations financed by billionaire activist and Democratic Party megadonor George Soros. The other co-founder currently leads a separate organization that boasts on its four-person advisory board John Podesta, who led Hillary Clinton's 2016 presidential campaign, served as Chief of Staff to Bill Clinton and founded the Soros-funded Center for American Progress pushing a progressive agenda. Working with the so-called DC whistleblower's lawyers, Whistleblower Aid set up a GoFundMe page seeking to raise funds for the purported whistleblower's defense.
Trey Gowdy: Adam Schiff now a 'fact witness,' and GOP should call on him to testify about whistleblower. Former Rep. Trey Gowdy said House Intelligence Committee Chairman Adam Schiff has made himself a "fact witness" for how he dealt with a whistleblower whose complaint raised concerns about whether President Trump pressured Ukraine to investigate a political rival. The California Democrat is facing criticism for making misleading statements about what he knew of the whistleblower after it was revealed he learned details about the unnamed CIA official's complaint before it was formally filed and is creating doubt about whether he was the right choice to lead the Democrats' impeachment inquiry.
Challenging Adam Schiff and Ted Lieu. At a September 26 hearing, Schiff, knowing Americans were watching on TV, read out an invented summary of a transcript of a July 25 telephone call between Trump and Ukrainian President Volodymyr Zelensky in an attempt to portray the U.S. president as a ruthless mafia don. In reality, Trump made no threats during the call. He told Zelensky that he "heard you had a prosecutor who was very good and he was shut down and that's really unfair." He said former federal prosecutor and former New York mayor Rudy Giuliani and U.S. Attorney General Bill Barr would call him. Barr, it so happens, is conducting an investigation that deals with the 2016 U.S. election and Ukraine's connection to it.
Impeachment #2 May Have Jumped the Shark. Two stories today [10/2/2019] undermine the rush to impeach President Trump on the Ukraine matter. The first concerns a difficult-to-understand detail in one of the early stories on the matter by Kenneth Vogel of the New York Times. Vogel reported that the Ukrainians were unaware of the suspension of U.S. military aid when Presidents Trump and Zelensky had their phone call on July 25. That detail has now been confirmed by Christopher Miller, an expert reporter in Kyiv, in a Buzzfeed dispatch: "The Ukrainian government didn't know it was being held up in Washington by Trump, according to the two Ukrainian officials. Nearly a month after the call — which Zelensky has since described as 'good' and Trump has called 'perfect' — the Ukrainian government was left stumped when they received word that the aid had in fact been suspended." Obviously, if Zelensky did not know about the aid suspension, then the entire notion that the call was drenched in Trumpian mob-boss menace is wrong.
Sorry, Dems: It's OK to ask for foreign help in a criminal justice investigation. President Trump's critics are now complaining that he asked the Australian prime minister to cooperate with the Justice Department's investigation into the origins of the Mueller probe and that Attorney General William Barr has traveled overseas to ask foreign intelligence officials to cooperate with that investigation. The New York Times called it another example of "the president using high-level diplomacy to advance his personal political interests." No, it's not. The president's critics are conflating two different things: the investigation by Trump's private lawyer, Rudolph Giuliani, into Hunter Biden's business dealings, and the inquiry by US Attorney John Durham into the counterintelligence investigation directed at the Trump campaign during the 2016 election. The former is opposition research activity; the latter is a criminal justice matter.
IRS Whistleblower: Is This The Next Front In The Democrats' War on Trump? Is this the next front in the Left's impeachment push against Trump? Right now, the president is under siege by Democrats because he had a phone call with Ukrainian President Volodymyr Zelensky in July. The juicy story is that Trump, like a mob boss, threatened to withhold military aid unless Zelensky opened a probe into possible corruption committed by Hunter Biden, who sat on the board of an energy company. Hunter has zero experience in the energy sector. The allegation, and it's not far-fetched, is that he was there selling access — all of this occurred under the Obama presidency. The Trump White House released the transcripts and debunked the quid pro quo claims, but Democrats decided to launch an impeachment inquiry anyway without reading the whistleblower complaint reportedly from a CIA agent, which started this whole circus.
Vince Foster, Klaus Eberwein, Shawn Lucas, Victor Thorn, and Jeffrey Epstein are unavailable for comment.
Nancy Pelosi: 'I'm Very Worried About the Security of the Whistleblower'. House Speaker Nancy Pelosi (D-CA) said on Thursday that she is "very worried" about the security of the so-called "whistleblower." The speaker, who caved to the far-left flank of her caucus and announced an impeachment inquiry into President Donald Trump, said on Thursday that she is "very worried" about the security of the "whistleblower," whose second-hand claims sparked the partisan impeachment effort.
Sketchy Inspector General Michael Atkinson Admits 'Whistle-blower' Never Informed Him of Contact With Schiff Committee. The inspector general for the Intelligence Community is Michael Atkinson. He is very sketchy. Atkinson was previously legal counsel for the DOJ-NSD during the 'stop-Trump' tenure of John Carlin and Mary McCord. As a result, Atkinson was a participant in the weaponizing of the DOJ-NSD via FISA abuse, along with NSA database exploitation and tenuous FARA legal theories used to target political opposition. In short, Atkinson seems dirty. At the very least he hangs around dirty characters.
Report: 'Whistleblower' Never Disclosed Contact with House Intel Panel to Inspector General. The partisan CIA officer behind a so-called "whistleblower" complaint about President Donald Trump's telephone call with the leader of Ukraine reportedly did not disclose his communications with a House Intelligence Committee staffer to the Intelligence Community inspector general. According to Fox News reporter Catherine Herridge, inspector general Michael Atkinson told lawmakers that he had "no knowledge" of the officer's contacts with the House Intel panel aide. This week, a New York Times report revealed that the officer and staff member first discussed the allegations against the president before the inspector general received the complaint.
Adam Schiff gets 4 'Pinocchios' from Wa-Po for lie about whistleblower. House Intelligence Committee Chairman Adam Schiff was awarded four "Pinocchios" by The Washington Post for his comments about contact with the whistleblower. The California Democrat claimed in an interview last month that the members of his panel "have not spoken directly" with the person who filed the complaint about President Trump's call with the leader of Ukraine which has now led to an impeachment inquiry by Democrats. The Washington Post fact-checker declared Schiff's statement was "flat-out false." "We have not spoken directly with the whistleblower. We would like to," Schiff said on MSNBC last month when asked about any interaction with the anonymous person.
'Whistleblower' Losing its Meaning Due to Impeachment Madness. I reflect on my own experience as a White House whistleblower. I vividly recall the enormous feeling of helplessness coupled with something far more powerful. It was the sense of physically being compelled to act, that the element of choice had been stripped away. It was enough to put everything on the line. And it is something all bona fide whistleblowers have in common. It's a lonely place to be, a frightening place, too. Yet today's White House whistleblower has had a different experience from all the rest. Allies appear to have been lined up to assist, the skids were greased to move forward, the premise for blowing the whistle at all a concocted and rather flimsy one. It strains credulity already and the story has not yet been fully told.
Testimony From Ukraine Envoy Kurt Volker Directly Contradicts Democrats' Impeachment Narrative. Congressional testimony from the former top American envoy to Ukraine directly contradicts the impeachment narrative offered by congressional Democrats and their media allies. Ambassador Kurt Volker, who served for two years as the top U.S. diplomatic envoy to Ukraine, testified on Thursday [10/3/2019] that he was never aware of and never took part in any effort to push the Ukrainian government to investigate former Vice President Joe Biden or his son Hunter. He also stressed that the interactions between Giuliani and Ukrainian officials were facilitated not to find dirt on Biden, but to assuage concerns that the incoming Ukrainian government would not be able to get a handle on corruption within the country.
IC IG Michael Atkinson Reveals Whistleblower Never Told Inspector General He Contacted Schiff's Committee. Intelligence Community Inspector General Michael Atkinson appeared on Capitol Hill Friday for his second closed-door meeting with members of the House Intelligence Committee. Fox News reporter Catherine Herridge reported that Mr. Atkinson revealed to lawmakers Friday that the 'whistleblower' never told him that he met with Adam Schiff's committee staffers. Via Fox News Congress reporter Chad Pergram: Colleague Catherine Herridge rpts ICIG Atkinson told lawmakers the whistleblower did not disclose to the ICI that he contacted Schiff's committee. Atkinson said the whistleblower volunteered he was a registered Democrat[.]
John Ratcliffe: Adam Schiff and HPSCI Committee Majority Must be Disqualified from Investigation. House Judiciary Rep. John Ratcliffe rightly calls-out the unprecedented sketchy nature of a unilateral impeachment process. The CIA 'whistle-blower' is a material witness in the intelligence committee investigation. The witness had undisclosed contact with the House intelligence committee prior to filing a complaint. The Intelligence Community Inspector General did not know about the whistle-blower contact with the committee. This sketchy assembly of activity makes the HPSCI a fact-witness to their impeachment investigation; a constructed conflict that cannot be allowed.
When the Story Is Written, the Whistleblower Will Just Be an Afterthought. Either the whistleblower's claims are accurate, or they aren't. Impeachment will hinge upon whether President Trump's actions strike lawmakers as an effort to effectively blackmail Ukraine into finding dirt on Joe Biden, or whether it's just Trump being Trump, wanting the facts on Biden strong-arming a foreign government to fire a prosecutor who might have been investigating a company that employed his son. The vast majority of lawmakers' conclusions on this will just happen to align with their partisan affiliations. The whistleblower might be a really partisan individual, or the whistleblower might have no strong political views and simply saw the president as crossing an ethical line in a way too egregious to remain silent. The motive of the accuser doesn't make the accusation any more or less true or false.
Schiff Collusion With Whistleblower [is] the Last Straw. Perhaps House Intelligence Committee chairman Rep. Adam Schiff (D-Calif.), would like to produce a transcript of his secret meeting with Fusion GPS founder Glenn Simpson at the Aspen Security Forum in July 2018. [...] Like Schiff's Russian collusion delusion, Ukrainegate, to coin a phrase, is a made up scandal involving a questionable document with unverifiable or incorrect statements and allegations, chock-full of made up stuff and hearsay. Like the Steele dossier produced through Fusion GPS, the Ukraine "whistleblower's" letter to the inspector general is largely unverifiable hearsay or outright fiction. Written by a CIA mole assigned to the White House who was not in the room or on the call, it is designed for one purpose: to bring down a sitting and duly elected president. Now we find that Adam Schiff and committee staff had a copy of the letters before it was submitted to the I.G. On Wednesday, the New York Times published a report that Schiff "learned about the outlines of a C.I.A. officer's concerns that President Trump had abused his power days before the officer filed a whistle-blower complaint."
45 Republicans Have Signed On to Condemn Adam Schiff. The movement to condemn House Intelligence Committee Chairman Adam Schiff for making up a phone conversation President Trump never had with Ukrainian President Volodymyr Zelensky just got stronger, as 45 Republicans have signed on.
GOP Lawmakers Slam Democrats After Ukraine Envoy Kurt Volker's Testimony to Congress Is A Bust. Former Ukrainian envoy Kurt Volker testified Thursday morning [10/3/2019] before the House Intelligence, Foreign Affairs, and Oversight committees. Volker resigned from his post last week. Kurt Volker's name appeared in a partisan CIA "whistleblower's" complaint against President Donald Trump's dealings with the Ukraine. [...] On Thursday during a break several Republicans told reporters that Ambassdor Volker has said nothing that coincides with the Democrat Party's latest impeachment accusations.
GOP House Intel Committee members speak out against chairman Adam Schiff. The Republican members of the House Intelligence Committee are not holding back after it was revealed chairman Adam Schiff may have gone over their heads with the whistleblower complaint. Congressman Devin Nunes, who serves as the ranking member, vented his frustrations Wednesday. He said, "in light of this news, its hard to view impeachment as anything aside from an orchestrated farce."
President Trump Is Absolutely Right To Assume Federal Agencies Are Against Him. The real scandal of the Ukrainian debacle that continues to lead every cable broadcast is that, once again, the actions of unelected and unaccountable bureaucrats have deeply affected an election in United States. In recent days, it has come out not only that the intelligence community inspector general changed policy about secondhand information to fit this particular whistleblower complaint, but also that the whistleblower him- or herself was working with House Intelligence Committee Chairman Adam Schiff and House Democrats before filing the complaint.
Jim Jordan — Volker Hearing: "Nothing Supported Adam Schiff and Impeachment Narrative". Judiciary member and ranking member of the House Oversight Committee, Jim Jordan, outlined the House Intelligence Committee testimony today from Kurt Volker, the former State Department Special Representative for Ukraine Negotiations. "Nothing said today supported Adam Schiff and the democrats' impeachment narrative. Nothing"
'Possible political bias' of whistleblower mentioned by inspector general was that he is a registered Democrat. The mention of "possible political bias" in the intelligence community inspector general report was included because the whistleblower is a registered Democrat. The fact that the whistleblower is registered as such did not undermine the credibility of his complaint, according to Intelligence Community Inspector General Michael Atkinson.
Adam Schiff to Kevin McCarthy on Sept. 23: 'I Don't Know What's in the Whistleblower Report'. "I don't know what's in the whistleblower report. But, I intend to find out," House Intelligence Committee Chair Rep. Adam Schiff (D-Calif.) told House Minority Leader Rep. Kevin McCarthy (R-Calif.) on September 23, 2019. But, a New York Times story published this week reports that Schiff had, indeed, been briefed on the general content of the whistleblower's complaint before that time.
Whistle-blower is a registered Democrat, new leak reveals. CNN reported Thursday [10/3/2019] on the unnamed CIA officer's voter registration record. 'A source familiar with the whistle-blower investigation tells me that the political bias referred to by the Intelligence Community Inspector General is that the whistleblower is a registered Democrat,' CNNs Jake Tapper said on the air. 'That is the bias.' He also said the inspector general concluded that the whistle-blower's political offiliation didn't change the facts in his complaint.
The Anesthetic Effect of Ukrainegate. Wary political commentators on the Right have noted that the ginned up outrage over President Trump's call with the Ukranian president serves two political purposes: One, to supply the impeachment goods that Special Counsel Robert Mueller could not deliver and two, to obfuscate the ongoing investigations led by Attorney General William Barr into how the Obama White House unleashed the country's most powerful government agencies against the Trump presidential campaign in 2016. There is, however, a third motive behind the nonstop cacophony over Trump's call and subsequent "whistleblower" report: To anesthetize the American public when the verdicts of Barr's inquiries, currently underway by multiple authorities at the Justice Department, are rendered.
The Walls Really are Closing In On the Elite. A two-year investigation by Robert Mueller and his massive staff could not induce Pelosi to move on impeachment, but the whistleblower report could and did? The report itself is nothing more than a motley collection of hearsay and publicly available media reports. In short order we learned that the intelligence community had secretly altered its whistleblower rules to allow for complaints based on hearsay only days before this report was submitted.
The Whistleblower, Impeachment, and New York's Orwellian Speech Policy. New York City is banning the term "illegal alien" — and what's more, it says it'll fine you up to a quarter-million dollars if you say it. Today, we'll discuss that situation with Heritage Foundation legal expert Hans von Spakovsky. [Podcast]
Corrupt Congressional Dems Ask Trump State Dept for Ukrainian Docs — Get Crooked Hillary and Biden Docs Instead!. Yesterday [10/1/2019], Secretary of State Mike Pompeo announced he would refuse to allow State Department officials to testify before the Congressional committees on impeachment. [...] Today the State Department sent over the documents and announced they would brief Congress on their findings. But the documents weren't what the Democrats were expecting! The Trump administration sent over documents on Hillary Clinton's collusion with Ukraine in the 2016 election and the Biden Family's massive pay-for-play with the Ukrainian regime!
Whistleblower did not follow normal protocol; may have been illegal. Precedent for filing a whistleblower complaint requires that the complainant is a first-hand witness to the alleged offense or suspected wrongdoing. Criteria that were changed in an amended policy procedure, giving the whistleblower the option of being either a firsthand or secondhand (or more) witness. In normal legalize, testimony from someone who was not a firsthand witness is known as hearsay. The so-called whistleblower complaint filed against the Trump administration gives the appearance of impropriety on many fronts.
Schiff's Deep State Collusion. Leftist conspiracy-monger Adam Schiff was aware of select details of the Ukraine-Biden allegations against President Donald Trump before a lying CIA snitch reportedly involved in the case filed a complaint under a whistleblower law, according to the intermittently reliable New York Times. It has been widely reported that the CIA official's complaint was based on a July 25 telephone conversation between Trump and Ukrainian President Ukrainian President Volodymyr Zelensky that the said stoolie somehow learned about. Rep. Schiff is the California Democrat, now the laughably unqualified chairman of the House Permanent Select Committee on Intelligence, a Trump-hater who spent the last three years smearing anyone who doubts the existence of his Trump-Russia electoral collusion conspiracy theory as traitors and agents of the Russian government while apparently leaking secret details of congressional investigations to his friends at CNN and elsewhere in the media at every opportunity.
Impeachment nonsense: Pelosi and Schiff are madly wagging the dog. Robert Mueller's $40M "investigation" into Trump's supposed Russian collusion was in the end a cover-up operation that came up with nothing with which to charge Trump, let alone impeach him. Rep. Jerry Nadler's committee opened an inquiry to see if the president had committed any impeachable crimes, which was ultimately a fishing expedition. Then the oleaginous Rep. Adam Schiff came up with a new plan of attack. Over the span of a few weeks, he crafted a complaint behind the scenes with a partisan CIA spy and leaker who has an obvious axe to grind. They called this spy a "whistleblower," then changed the rules that previously required a whistleblower to have firsthand knowledge about the nature of his complaint before releasing his statement of charges to Congress. This person, "not a direct witness," had no such knowledge of President Trump's phone calls, and his complaint is mostly hearsay and rumor.
Schiff Now Says He Should Have Been Much More Clear About Whistleblower Contacting Democrat Staffer. "Have you heard from the whistleblower?" MSNBC contributor Sam Stein asked House intelligence committee Chairman Adam Schiff (D-Calif.) on September 17, nine days before the complaint was released to the public. "We have not spoken directly with the whistleblower," Schiff responded at the time, never mentioning that one of his committee staffers had directly spoken to the whistleblower — and that the staffer "shared some of what the [whistleblower] conveyed" with Schiff, according to the New York Times. The New York Times says the staffer referred the whistleblower to a (Democrat-connected) attorney to help him file a formal complaint with the intelligence community inspector general.
Rudy Giuliani Rips Chairman Schiff and Committee Staff for Manufacturing Impeachment Evidence. President Trump's attorney Rudy Giuliani appears for a discussion with Lou Dobbs to outline how Adam Schiff was working in concert with left-wing political allies to create the CIA whistle-blower complaint as evidence for their impeachment agenda: [Video clip]
Lawmakers Erupt After Report Reveals Schiff Knew of Whistleblower Complaint Before Filing. Republican congressional leaders accused Rep. Adam Schiff (D-Calif.) and Democrats of rigging the impeachment scheme after news broke that Schiff was in contact with the whistleblower before the complaint against President Donald Trump was filed. The report from the New York Times claimed that Schiff received an "early account by the future whistleblower" days before the person filed the complaint accusing Trump of presidential misconduct.
Intelligence chiefs altered more than just the rules about firsthand knowledge to file a whistleblower report. We already know that the Intelligence Community's inspector general (ICIG) office mysteriously changed its rules for anyone filing a whistleblower complaint to not needing to have one's information firsthand just before the famed whistleblower filed his report sometime around August. Now it comes to light that this same intelligence committee inspector general's office changed its rules after the whistleblower complaint was filed, not before. And they changed the rules to accommodate the embittered anti-Trump intelligence official, Davis reported.
The Conspiracies are Broad and Deep. [Scroll down] Beyond the risibility of Pelosi's concern for the Constitution, I refused to accept their premise that Trump was acting solely to benefit his 2020 election chances. He was, instead, I argued, on a mission to discover the origins of the now-debunked Russiagate Operation as well as rooting out the Obama Administration's corrupt past involvement in Ukrainian affairs. And this really goes to the heart of the American divide on Operation Ukraine. For those on the Political Left, who view Trump as a self-seeking traitor, this latest effort is merely the continuation of Operation Russiagate. For Trump supporters, however, the transcript of Trump's phone call revealed a seemingly earnest effort to fulfill his 2016 campaign promises of draining the swamp and making America great again. The American rift is, indeed, very real and the breach is growing wider.
There's Evidence Obama Colluded With Ukraine. On Monday night [9/30/2019] with Sean Hannity, [Rudy] Giuliana [sic] said there's significant evidence the Obama White House ordered Democrats to go in cahoots with Ukraine in order to get dirt on then-candidate Trump: "The reason why the President of the United States had an obligation to ask the president of Ukraine to follow up on these allegations because there is substantial — I don't want to exaggerate it but pretty close to overwhelming evidence, including a finding by a Ukrainian court that Hillary Clinton and the Democrats cooperated with Ukrainians with the order coming directly from the White Hous [sic] ...to dig up dirt on her political opponent, and they did." So it's a Ukrainian extravaganza. One person who surely isn't enjoying the festivities: Joe Biden. The Dems' obsession is cookin' his goose.
Media Admit Adam Schiff Lied, But You Are A Hack If You Care. If Donald Trump does nothing else from this point forward, his exposing of the legacy media will have still been worth it all. The latest evidence of that comes courtesy the news that Rep. Adam Schiff lied about having prior contact with the whistle-blower in the Trump-Ukraine matter. Originally, Schiff claimed "we" (i.e. Congress and his staff) had no contact. That never added up because Schiff tweeted out some of the contents of the complaint weeks before he was supposed to know about. Now we know why. The whistle-blower went to a Congressional aide first, who told Schiff of the issue. That led to legal advice being passed back down the chain. Whether there was further coordination in actually formulating the complaint, we don't know yet (you can bet that happened though). What we do know is that Schiff lied and that he did have advanced knowledge to help him strategically roll all this nonsense out.
The case of the so-called Ukraine whistleblower scandal. Make no mistake, part of the goal of the Democrats ever since Donald Trump was elected by your votes to become president of the United States has been to exhaust and punish you. The president has always been just a proxy for you, the actual focus of the Democrats' rage and contempt. It's not surprising the Democrats now have resorted to what appears to be another hoax, designed with the same template as their "Russia dossier" debacle. In the case of the so-called Ukraine whistleblower scandal, it appears they have fabricated a web of complaints and accusations attempting to turn the normal duties of the president into crimes so they can remove him from office. In other words, the soft coup continues.
The Party of 'Impeach!' The Democrats' purported outrage about President Donald Trump's phone call with Ukrainian president Volodymyr Zelensky might be taken seriously by the Republicans were it not for the Democrats' drive to oust Trump from the moment he won the presidency. CNN's Van Jones, with zero proof, attributed Trump's victory to "whitelash." Trump received 57% of the white vote, actually a lower percentage of the white vote than the 59% received by Mitt Romney, the Republican presidential candidate in 2012. In 2008, Democrat Barack Obama received a greater percentage of the white vote than John Kerry did four years earlier. Obama also received 95% of the black vote. None dared call it "blacklash."
Schiff's lies about no advance knowledge of Whistleblower complaint make the impeachment efforts look like a conspiracy. When wrongdoing by Democrats is discussed, the media like to call charges against them "conspiracy theories," implying that crazed partisans are imagining phony connections where none in fact exist. But when people with no visible connection with each other work together in secret to accomplish some goal and then lie about their collaboration, the dreaded word "conspiracy" becomes completely appropriate. And that's what the charges that Nancy Pelosi tasked Adam Schiff's House Intelligence Committee (and 5 other House committees) with investigating, with an eye toward impeaching President Trump, now look like. A conspiracy including one or more Deep State operatives within the White House who acted as spies on a confidential conversation between two heads of state, and a separate intelligence officer who composed a "whistleblower" complaint with the help of Schiff's staffers and a lawyer or lawyers unknown.
So the whistleblower went to Adam Schiff first, not the designated intelligence authorities? Remember when the same was said of then-Private Bradley Manning, who leaked troves of military secrets to Wikileaks before being packed off to Leavenworth? He should have gone through channels... The idea, of course, is that these people shouldn't have been addressing the issues they claimed to have motivated them to do their dirty betrayals the way they did, there were plenty of internal procedures to work with and they didn't bother. Turns out we got another one, according to a report from Sean Davis the Federalist, citing reporting at the New York Times -- the impeachment 'whistleblower' -- who seems to have gone to congressional Democrats first, not the intelligence inspector general (IGIC), or for that matter two other agencies which dismissed his or her secondhand complaints out of hand.
Fresh trouble for Democrats' Trump-Ukraine case. News that Washington didn't tell Ukraine it was delaying aid until a month after President Trump's phone call to its leader punches a gaping hole in Democrats' impeachment case. On Wednesday [10/2/2019], BuzzFeed reported that Ukraine President Volodymyr Zelensky believed $391 million in military funding was already headed to Kiev when he chatted with Trump in August. Dems charge the prez held up the money to pressure Zelensky to probe Joe Biden and his son. Hard to see how that works when Zelensky didn't know about the aid holdup. This follows the awkward fact that several of the whistleblower's other claims about that call aren't borne out by the transcript.
Adam Schiff Hid CIA Whistleblower Concerns from Republicans on Intelligence Committee. Rep. Devin Nunes (R-CA) said in a statement: ["]We learn from the press today that Chm Schiff had prior knowledge and involvement in the [whistleblower] complaint. He withheld this info from the American people and even from the Intel Cmte. In light of this news, it's hard to view impeachment as anything aside from an orchestrated farce.["] Rep. Elise Stefanik (NY), another Republican on the House Intelligence Committee, confirmed Schiff kept the information from Republicans and called upon him to step down.
Whither Impeachment? More information is coming out about the "whistleblower" — read, Democratic Party activist — who triggered impeachment mania, and it does not put the Democrats in a positive light. The New York Times reports that the "whistleblower" has long been working with Congressional Democrats: [...] So a great deal has been going on behind the scenes. The complaint was filed in August, so Schiff had known about it for a month and a half before it became public. This means that the leaders of the Democratic Party had lots of time to coordinate the rollout of the impeachment drama. Which, in turn, explains my observation that within hours after Nancy Pelosi announced the launching of an impeachment inquiry, I was getting emails from Democratic politicians with coordinated talking points, demanding that the president be impeached.
House Intelligence Committee Was Contacted By CIA 'Whistle-blower' Prior to Complaint Construction. More evidence is surfacing showing how the CIA 'whistle-blower' complaint was a purposefully constructed political hit-job. [...] The New York Times reports today the CIA operative approached the House Permanent Select Committee on Intelligence (HPSCI) prior to filling out a 'whistle-blower' complaint form. The CIA gossiper contacted staff of HPSCI Chairman Adam Schiff.
Trump: 'This Is a Fraudulent Crime on the American People'. The impeachment inquiry regarding President Donald Trump's phone call with Ukraine is "a hoax," the president said Wednesday [10/2/2019] during a joint press conference with Finland President Sauli Niinistö. When asked whether the president is planning to cooperate with the three House Intelligence Committees looking into the impeachment inquiry that are planning to send a subpoena to the White House for documents and other materials, Trump said, "I always cooperate."
Schiff Panics After Bombshell Reveal He Got Early Account of CIA Spy's Accusations — Claims He Has Never Spoken to Whistleblower. House Intelligence Chairman Adam Schiff is in damage control mode after the New York Times reported that he learned about the Deep State CIA spy's accusations against President Trump several days before the officer filed a whistleblower complaint. The Deep State spook filed a complaint on August 12 based on second-hand knowledge and hearsay of Trump's July 25 phone call to Ukrainian President Volodymyr Zelensky, so Schiff had knowledge of the accusations and worked discreetly for up to two weeks. Schiff is now claiming he has never met with or spoken to the whistleblower — in fact, Schiff is claiming he doesn't even know the identity of the whistleblower!
Anti-Trump Whistleblower Colluded With House Democrats Before Filing Complaint. An anti-Trump whistleblower at the center of ongoing Democratic efforts to impeach President Donald Trump coordinated with Rep. Adam Schiff, D-Calif., and his Democratic staff prior to filing his whistleblower complaint, The New York Times reported on Wednesday afternoon. The bombshell report that the whistleblower and his Central Intelligence Agency (CIA) colleagues actively worked exclusively with congressional Democrats before filing the complaint raises serious questions about whether the complainant followed federal laws providing whistleblower protections for employees within the U.S. intelligence community. "Before going to Congress, the C.I.A. officer had a colleague convey his accusations to the agency's top lawyer," The New York Times reported. "Concerned about how that avenue for airing his allegations was unfolding, the officer then approached a House Intelligence Committee aide, alerting him to the accusation against Mr. Trump."
NYT: Adam Schiff Knew About Whistleblower Complaint Before It Was Filed. Well, this whole impeachment circus just got shadier. [...] House Democrats decided to execute their impeachment plan, which has been in the works since 2016, over Trump's alleged shakedown of Ukrainian President Volodymyr Zelensky. According to the liberal media, Trump threatened to withhold military aid unless the Ukrainians opened a corruption probe into Hunter Biden's position on the board of an energy company, which many see as a move to sell access to his father, Joe Biden, who was vice president at the time. Zelensky never felt pressured. There was no mentioning of aid. There was no quid, so the quid pro quo is another belly flop by the anti-Trump media establishment. Still, do we have Democrat-Intelligence Community collusion here?
Intel Community Admission Of Whistleblower Changes Raises Explosive New Questions. On Monday [9/30/2019], the intelligence community inspector general (ICIG) admitted that it did alter its forms and policies governing whistleblower complaints, and that it did so in response to the anti-Trump complaint filed on Aug. 12, 2019. [...] The ICIG also disclosed for the first time that the anti-Trump complainant filed his complaint using the previously authorized form, the guidance for which explicitly stated the ICIG's previous requirement for firsthand evidence for credible complaints. The Federalist reported last week that it was not known which form, if any, the complainant used, as the complaint that was declassified and released to the public last week was written as a letter to the two chairmen of the congressional intelligence committees.
Americans Have Every Reason To Be Suspicious Of The Whistleblower Complaint. We're supposed to accept that this is what happened, that what the anti-Trump whistleblower complaint describes is confirmed by the unredacted and publicly released transcript of Trump's July 25 phone call with Zelensky. We're not supposed to question the veracity of the whistleblower's complaint or the purity of the whistleblower's motives. And we're definitely not supposed to question why the standards for submitting whistleblower complaints were changed just last month to allow complaints based on secondhand information to be deemed credible. In other words, we're not supposed to question whether this whole thing has been a political hit job from the start. Well, forgive us if we pause. Just like the Clinton campaign-funded Steele dossier that launched the Russia probe, the Ukraine complaint is based entirely on hearsay and contains blatant falsehoods and misstatements of fact.
Clapper: Whistleblower Fueling the 'Conspiratorial Fire' of the 'Deep State' Trying to Overthrow Trump. Former Director of National Intelligence James Clapper said that there isn't a "deep state" effort to undermine President Donald Trump but the whistleblower complaint about his call with the Ukraine president from someone in the intelligence community "fuels that conspiratorial fire." "Well, I never heard of the term deep state, maybe I was, you know, ignorant or bliss or something, but I never heard of that until the campaign and afterwards. Allegedly this is a conspiracy of career government public servants who somehow organize themselves into a conspiracy to undermine or overthrow the president, which on its face is ridiculous," Clapper said during the Washington Post's Cybersecurity Summit on Wednesday [10/2/2019].
Inspector General Identifies DC U.S. Attorney Leaking Grand Jury Evidence. The Department of Justice Inspector General has released a notification stating that a former U.S. Attorney within the DC Circuit was caught leaking grand jury information to an "unauthorized individual[.]"
Bill Barr and John Durham Listened to Mifsud Audio-Tape Deposition in Italy. When reports first surfaced that AG Bill Barr had traveled to Italy recently, we surmised the trip was likely related to Joseph Mifsud; specifically related to an audio-taped deposition that Mifsud gave to Italian police about being a western intelligence asset who was enlisted by the CIA (Brennan) to run a covert intelligence operation against the Donald Trump campaign in 2016. If accurate, well, there's the motive for the latest "CIA whistle-blower" approach.
Barr Went to Rome to Hear a Secret Tape From Joseph Mifsud, the Professor Who Helped Ignite the Russia Probe. When Attorney General William Barr showed up at the U.S. embassy's Palazzo Margherita here on tony Via Veneto last week, he had two primary requests. He needed a conference room to meet high-level Italian security agents where he could be sure no one was listening in. And he needed an extra chair for U.S. Attorney John Durham of Connecticut, who would be sitting in as his right-hand man. Barr was in Rome on an under-the-radar mission that was only planned a few days in advance. An official with the embassy confirmed to The Daily Beast that they had to scramble to accommodate Barr's sudden arrival. He had been in Italy before, but not with such a clear motive.
Pelosi's Impeachment by Innuendo Continues. Both Trump-Russia (obstruction) and Trump-Ukraine (corruption) have similar footprints because they both held the same end-goal purpose, impeachment. Trump was framed for stealing a horse; Trump was subsequently accused of trying too hard to avoid hanging for it. Mueller eventually conceded that Trump didn't steal the horse; however, by then the focus was on his efforts to avoid hanging. Eventually Mueller testified; it surfaced there was never a horse to begin with. Impeachment was stalled.
Newt Gingrich says: "It's a Coup d'Etat, not an impeachment inquiry.". On Fox & Friends (10/01/2019) Former Speaker of the House Newt Gingrich tells America's Newsroom host Sandra Smith that the Democrats are not conducting an impeachment investigation as much as attempting a coup d' etat of the Trump Presidency. Something CommDigiNews writers have been writing for months. Coup d'état is a sudden and decisive action in politics, especially one resulting in a change of government illegally or by force. The South Carolina Senator is absolutely correct because of how Pelosi is proceeding in this manner.
Releasing More Call Transcripts Will Cripple Future Presidents. The content of the Ukraine phone call, as unseemly as it may be for President Donald Trump, will not be the basis of impeachment, the way Bill Clinton's "perjurious, false and misleading testimony to the grand jury" was. Which is why House Democrats are utilizing it as pretext to fish the whole expanse of the vast waters of presidential diplomatic communications with foreign leaders.
Make them pay for impeachment. Democrats believe they can impeach President Donald John Trump with impunity. They figure it will be like Clinton's one-day trial and acquittal, which would allow them to scream injustice from now until forever. President Trump should extract the full price for their farce. Whilst the attorney general and inspector general continue investigating Hillarygate and Muellergate, President Trump should have fun with this by forcing Democrats to make their case to the American people. Just like they did with Clarence Thomas. Just like they did with Brett Kavanaugh. That means putting the whistle blower on the stand. The Constitution requires the accuser to face the accused.
Adam Schiff's Office Denies Conflict of Interest for Staffer on Think Tank Backed by Ukraine Gas Company. A spokesman for Rep. Adam Schiff's House Permanent Select Committee on Intelligence denied any impropriety related to a trip taken by a staffer to Ukraine last month sponsored and organized by the Atlantic Council think tank. The Atlantic Council is funded by and works in partnership with Burisma, the natural gas company at the center of allegations regarding Joe Biden and his son, Hunter Biden. The Schiff staff member, Thomas Eager, is also currently a fellow at the Atlantic Council's Eurasia Congressional Fellowship. Burisma in January 2017 signed a "cooperative agreement" with the Council to sponsor the organization's Eurasia Center.
How Trump wins. So it's time to play another card. Only this one wasn't quite ready. It wasn't supposed to be necessary because the Mueller card was supposed to finish Trump off, but this one was put together hastily after Mueller's testimony to Congress failed so miserably. Some of the bit players had their parts and knew their lines, but not all of them, which is why the initial news differed so much from the reality. When the pseudo-transcript of the call was released, everything hadn't been fully synchronized. It was clear that the stars of the show, Pelosi, Nadler, and Schiff, hadn't seen the transcript yet but were familiar with the complaint. They had to make stuff up off the cuff, and it didn't jibe with the facts. But lack of facts never stopped a Democrat, so they pressed onward, making sure they built some time in, to clean things up. The two-week recess, while they say they'll still be working, is when they'll try to close up their exposed rears.
Hunter Biden's Perfectly Legal, Socially Acceptable Corruption. How did this get to be standard practice? The whistle-blower scandal that has prompted the fourth presidential impeachment process in American history has put a spectacle from earlier this decade back on display: the jaw-smacking feast of scavengers who circled around Ukraine as Viktor Yanukovych, a Moscow-linked kleptocrat, was driven from power. Ukraine's crisis was the latest to energize a club whose culture has come to be treated as normal — a culture in which top-tier lawyers, former U.S. public officials, and policy experts (and their progeny) cash in by trading on their connections and their access to insider policy information — usually by providing services to kleptocrats like Yanukovych. The renewed focus on Ukraine raises jangling questions: How did dealing in influence to burnish the fortunes of repugnant world leaders for large payoffs become a business model? How could America's leading lights convince themselves — and us — that this is acceptable?
Left Tries To Wave Away IG Changes Allowing Whistleblowers To Weaponize Hearsay. After Federalist reporting unearthed the Intelligence Community Inspector General's (ICIG's) material changes to its whistleblower complaint intake procedures, a battle has ensued over whether the changes matter. This discovery continues to captivate elected representatives, Capitol insiders, and political talking heads across the nation. [...] The detractors are right about one thing: the Intelligence Community Whistleblower Protection Act (ICWPA) statute doesn't actually prohibit a purported whistleblower from initiating a complaint based on hearsay. But the clear language of the previous IC IG guidance never stated that it did.
Grassley: It's Time to Follow Up on My July 2017 Letter About the DNC and Ukraine. While Democrats move forward on their impeachment inquiry against President Trump, Republicans charge that the president is actually the victim here. In a letter intended for Attorney General William Barr, Sens. Chuck Grassley (R-IA) and Ron Johnson (R-TX) ask for a renewed investigation into the "brazen efforts by the Democratic National Committee and Hillary Clinton campaign to use the government of Ukraine for the express purpose of finding negative information on Trump." As Grassley and Johnson recall, the DNC reportedly hired a Ukrainian-American operative named Alexandra Chalupa to investigate the Trump campaign's ties to Ukraine. They first asked the DOJ to investigate back in July 2017, including allegations that Chalupa was looking into Paul Manafort's relationship to Ukrainian officials. On Friday, they sent AG Barr a friendly reminder.
Inspector General's Ties Suggest Ukraine 'Scandal' is Just More Collusion Hoax. Michael Atkinson, the intelligence community's inspector general at the center of the so-called "whistleblower" report, is earning Robert Mueller-level adoration by the press. Atkinson, we are told, is a truth-seeker with no partisan agenda or political grudge. "The intelligence community's chief watchdog, Michael Atkinson, is known to his peers and colleagues as a highly cautious 'straight shooter' who tends to keep his head down," cooed Politico reporter Natasha Bertrand on September 23.
ICIG Michael Atkinson Attempts Four-Page Justification for Changing "Urgent Concern" Whistle-blower Guidelines. Prior to the current "whistle-blower complaint" the Intelligence Community Inspector General did not accept Urgent Concern whistle-blower claims without first hand knowledge. However, the ICIG revised the protocol in August 2019 to accept a CIA complaint against President Donald Trump. Today [9/30/2019] the Inspector General of the Intelligence Community, Michael Atkinson, presented a four-page justification explaining why the IC changed the Urgent Concern rules to allow the CIA to target President Trump with anonymous complaints based on hearsay: [...]
Sean Davis: Democrats Have Committed, Are Committing Every Crime They Accuse Trump Of. 'The Federalist' co-founder Sean Davis said we are now "through the looking glass" with Democratic party outrage at Attorney General Bill Barr trying to get to the bottom of 2016 election meddling. In an interview with FOX Business Network host Lou Dobbs, Davis said the whistleblower complaint against the president is full of errors and false statements. [Video clip]
Clinton and Russia didn't take down Trump, so Democrats try Ukraine and impeachment. The impeachment nightmare that House Democrats are so eagerly plunging the country into now is merely another outbreak of that party's inability to accept the voters' verdict of 2016. Donald Trump's unlikely victory was so shocking for Hillary Clinton and her lazy, overconfident campaign team and supporters that she was emotionally unable to compose herself for a concession speech until the next day. Which suggests to many that voters made the correct choice for commander in chief, even if they have real doubts about Trump.
John Durham's Ukrainian Leads. Americans often boast that we are a nation of laws, but for the moment laws appear to play a decidedly secondary role in the drama we are living in and — hopefully — through. We have some guidance from our foundational law, the Constitution, which tells us how to proceed: the House of Representatives has "the sole power of impeachment," the Senate has "the sole power to try all impeachments," and must do so "on oath or affirmation. The Senate cannot convict "without the concurrence of two-thirds of the members present."
Pelosi — Schiff Democrats operation destroy America Chapter 3: Impeachment. In Nancy Pelosi's own words, as read by Rep. Devin Nunes at last weeks hearing, this is not about truth, facts or even crimes. It is about the Democrat and liberal media "operation" to destroy the presidency of Donald Trump and nullify the rights of the American's who did dare to vote for him. First, the claim was that President Trump somehow stole the election. That he was not duly elected. Then it was the Russia Hoax. Now it's the Whistleblower fiasco. Democrats quest to impeach the President has nothing to do with facts.
Donald Trump threatens to arrest Adam Schiff 'for treason' for reading parody version of notorious call at start of committee hearing without explaining it wasn't real. Donald Trump on Monday [9/30/2019] upped the ante against House Intelligence Chairman Adam Schiff on Monday [9/30/2019], saying he should be arrested for 'treason' because the congressman read a parody version of the phone call between the president and his Ukrainian counterpart. 'Rep. Adam Schiff illegally made up a FAKE & terrible statement, pretended it to be mine as the most important part of my call to the Ukrainian President, and read it aloud to Congress and the American people. It bore NO relationship to what I said on the call. Arrest for Treason?,' the president wrote on Twitter.
Civil War On. Someone in Impeachmentville is not paying attention. [...] For instance, the matter of CrowdStrike. The cybersecurity firm was co-founded by Russian ex-pat Dmitri Alperovitch, who also happens to be a senior fellow at the Atlantic Council, an anti-Russian think tank funded by Ukrainian billionaire, Viktor Pinchuk, who donated at least $25 million to the Clinton Foundation before the 2016 election. Crowdstrike was the company that "examined" the supposedly hacked DNC servers, while somebody in the Obama administration prevented the FBI from ever seeing them. Does this sound a little like part of the origin story of RussiaGate? Is that not exactly the potential criminal matter that the current attorney general, Mr. Barr, is officially investigating? Perhaps, under the year 2000 treaty, Mr. Trump was within his rights to ask the new President of Ukraine, Volodymyr Zelensky, for assistance on that.
A Seinfeld Impeachment (It's About Nothing). In the week since I last wrote about the accusations made against President Trump as a result of his July 25 telephone call with Ukrainian President Volodymyr Zelensky, a lot has happened. Both the rough transcript of the call and the "whistleblower complaint" that supposedly resulted from it have been released, and House Speaker Nancy Pelosi has formally commenced impeachment proceedings against the president. Both the transcript and the complaint are now required reading for anyone claiming to be politically informed. They raise a number of questions about the conversation and the unidentified "whistleblower," but they manifestly do not demonstrate that Trump should be impeached.
Complaint From So-Called 'Whistleblower' Is Riddled With Gossip, Blatant Falsehoods. The formal complaint from an anti-Trump "whistleblower" alleging various crimes by President Donald Trump is riddled with third-hand gossip and outright falsehoods. The document was declassified by Trump Wednesday evening and released to the public Thursday morning. The complaint, which was delivered to the chairmen of the House and Senate intelligence committees, follows the same template used in the infamous and debunked Clinton campaign-funded Steele dossier. Rather than provide direct evidence that was witnessed or obtained firsthand by the complainant, the document instead combines gossip from various anonymous individuals, public media reports, and blatant misstatements of fact and law in service of a narrative that is directly contradicted by underlying facts. A footnote in the document even boasts about its use of "ample open-source information."
Why Nancy Pelosi Now Supports Impeachment Even Though It's Insane. The latest Ukraine-related non-scandal is almost irrelevant for its lack of substance. This is not about substance. This is about Pelosi losing control of her caucus should she continue to resist impeachment, and Pelosi sensing a looming electoral disaster of monumental proportions should impeachment be launched outside the parameters she defines. Having read the transcript of Trump's phone call with Ukraine President Volodymyr Zelensky, I can say there is literally nothing there. There is no mention of military aid to Ukraine, of freezing or un-freezing of any aid, of any quid pro quo, or of any pressure on Zelensky to do anything. I would argue that, given the nexus of the Biden family corruption to Ukraine, it is entirely proper for Trump to ask Zelensky for help investigating the precise circumstances of the Biden family enrichment.
GOP Rep. Brooks: 'Under the Sixth Amendment' the Whistleblower's Identity Should Be Revealed. Some are warning of the worst should the identity of the so-called whistleblower behind a report alleging President Donald Trump committed wrongdoing in a phone call with Ukrainian President Volodymyr Zelensky be revealed. However, according to Rep. Mo Brooks (R-AL), who has served as both a prosecutor and defense attorney prior to serving in the U.S. House of Representatives, two of the key aspects of these allegations fail to meet standards for impeachment — the transcript of the call, which he said showed nothing impeachable and the whistleblower report, which he said lacked "probative" value.
Lindsey Graham: "Why Did They Change The Rules" Allowing Whistleblowers To Cite Hearsay? Senator Lindsey Graham joined CBS's "Face The Nation" host Margaret Brennan to talk about the impeachment inquiry launched into President Trump this week. "This seems to me like a political setup," Graham said about the whistleblower report that led Democrats to launch the inquiry. "It's all hearsay. You can't get a parking ticket conviction based on hearsay. The whistle-blower didn't hear the phone call." "Every American deserves to confront their accuser. So this is a sham, as far as I'm concerned. I want to know who told the whistle-blower about the phone call. I want to know why they changed the rules about whistle-blowers not — the hearsay rule was changed just a short period of time before the complaint was filed," Graham wondered.
'Potential criminality': Top Republicans push watchdog on timing of changes to whistleblower complaint form. House Minority Leader Kevin McCarthy of California, Rep. Devin Nunes of California, the top Republican on the House Intelligence Committee, and Rep. Jim Jordan of Ohio, the top GOP lawmaker on the House Oversight Committee, wrote to Inspector General Michael K. Atkinson to demand information related to the decision to loosen whistleblower reporting requirements so that non-firsthand accounts would be accepted. The change to the reporting requirement was made in August, the same month a whistleblower reported Trump's July 25 call with Ukrainian President Volodymyr Zelensky. The whistleblower did not hear or see the call first hand and his complaint was leaked to the news media. Democrats who first heard about the call through leaks to the media announced they have launched a formal impeachment inquiry into Trump's behavior.
Top Lawmakers Tell Intel Community Inspector General: Come Clean On Secret Changes To Whistleblower Rules. Republican lawmakers in both the Senate and House on Monday demanded answers from the Intelligence Community Inspector General (ICIG) about secret revisions to the office's guidance on "urgent concern" whistleblower complaints. The Federalist first reported last week that between May 2018 and August 2019, the ICIG secretly eliminated its requirement that potential whistleblowers provide only first-hand evidence of alleged wrongdoing. In their letter to Michael Atkinson, the ICIG, Reps. Kevin McCarthy (R-Calif.), Devin Nunes (R-Calif.), and Jim Jordan (R-Ohio) noted that the anti-Trump complainant offered no direct, first-hand evidence of alleged wrongdoing against President Donald Trump. Instead, the complaint is littered with gossip, hearsay, and rumor. The lawmakers specifically asked the ICIG to explain when the whistleblower guidance was revised, by whom, and for what reason.
Maybe he's in a cell in that place in New York, where the guards are asleep and the cameras don't work.
Report: Anti-Trump Whistleblower Under Federal Protection Over Safety Fears. CBS News' 60 Minutes reported Sunday night the anti-Trump whistleblower whose complaint sparked the impeachment probe against Trump is under federal protection, according to a reading of a letter sent by one of the whistleblower's attorneys, Andrew Bakaj. The Intelligence Community Inspector General who received the complaint determined the whistleblower is biased against Trump, finding "some indica of an arguable political bias on the part of the Complainant in favor of a rival political candidate."
Same Schiff, Different Day. While peddling the Russia hoax, Schiff claimed repeatedly there was "evidence of collusion" but as the Mueller Report made clear, no collusion was found. Schiff also said the Russia hoax was "of a size and scope probably beyond Watergate." Reminder for Schiff, there was no collusion and no obstruction. Now Schiff has found a new tale to slander President Trump with after lying to the country for over two and a half years about Russia without any consequences. And like clockwork, Schiff started pushing his Ukraine smear by lying right out of the gate by fabricating what was said on the call between President Trump and the Ukrainian president.
On Fox, Mark Levin Slams Press Lies, Impeachment by Anonymous Source. Fox & Friends invited author and national talk-show host Mark Levin on Sunday [9/29/2019] to discuss the budding effort by House Democrats to impeach President Trump. Levin ripped the media repeatedly, and protested the idea that the Democrats are going to try and remove the president from office by using an anonymous "whistleblower" who didn't even have first-hand access to the events that are allegedly impeachable. Levin told Ed Henry, "You know, Ed, I've been watching you and a lot of reporters, and you haven't once asked for the identity of the so-called whistleblower. Why is that?" Henry said "I want to know the identity."
Hugh Hewitt: Adam Schiff Has 'Destroyed His Credibility' in Impeachment Inquiry. Conservative radio host Hugh Hewitt had some intriguing comments on Sunday [9/29/2019] during a Meet the Press discussion about the renewed efforts by House Democrats to impeach President Donald Trump. As the panel discussed the public support for an inquiry of Trump in light of the Ukraine scandal, Hewitt went after House Intelligence Committee chairman Adam Schiff, who spoke to Chuck Todd earlier in the show about whether Rudy Giuliani will be asked to testify before Congress. Hewitt took a negative view on how that discussion went, saying Schiff "went full Alice in Wonderland Queen of Hearts: Verdict first, trial later."
Why I Think Trump Did Nothing Wrong in His Phone Call with Zelensky. I had a great discussion on The Editors Thursday about my view that President Trump did nothing wrong in his July 25 phone call with Ukrainian president Volodymyr Zelensky. My view seems to be the minority position, so it makes sense to lay it out as clearly as possible. Much of the confusion around this case stems from the entanglement of two groups specializing in bamboozlement: lawyers and spies. Espionage and the law have specialized argots that hide fabrication and skulduggery. Nonetheless, critical analysis reveals that the call was in bounds and that objections to it reduce to absurdity.
Stephen Miller: Whistleblower 'a Deep State Operative,' Has 'Contempt for the President'. On this weekend's broadcast of "Fox News Sunday," White House advisor Stephen Miller said the "whistleblower" complaint about President Donald Trump and Ukrainian President Volodymyr Zelenskiy's dealings "drips with condemnation, condescension and contempt for the president." Miller said, "I think it's unfortunate the media continued to describe this individual as a whistleblower and honorific that this individual most certainly does not deserve. A partisan hit job does not make you a whistleblower just because you go through the Whistleblower Protection Act."
The CIA's hearsay move to impeach Trump is to protect Democrats. A so-called CIA "whistleblower" claims to have information concerning President Trump's "pressuring" of Ukrainian officials to provide dirt on Vice President Biden to — and this is rich — influence the outcome of the 2020 presidential election. [...] This sounds a lot like the ridiculous hearsay campaign waged against Supreme Court Justice Brett Kavanaugh during his chaotic Senate confirmation hearings. In fact, Democrats running for president recently called for Kavanaugh's impeachment based on recent secondhand sexual accusations advanced by Bill Clinton's impeachment lawyer Max Steir, as reported in The New York Times.
Donald Trump now has to battle CIA spies in Dems' war against him. The walls, including in the White House, have ears. That was demonstrated in spades last week, most dramatically by the allegations from a CIA officer that Trump used a phone call with the president of Ukraine to solicit foreign help in the 2020 campaign. That allegation and others led to a fiery congressional hearing and spurred Democrats to quicken their pace toward impeachment. A second instance of snooping made the "loose lips" point less sensationally but was still disturbing. Before he left the United Nations Thursday, Trump attended a private event to thank the new American ambassador, Kelly Craft, and her staff for their work during the General Assembly session. Some privacy. The president said, "I want to know who's the person, who's the person who gave the whistleblower the information? Because that's close to a spy." We know he said that and more because someone at the event, maybe more than one person, secretly recorded his remarks, both audio and video, and promptly leaked them to the media.
Watters presents Bill Clinton-signed treaty allowing Trump to request assistance from Ukraine on Biden. A 1999 treaty with Ukraine, signed by Bill Clinton, provides a rock-solid basis for President Trump's request for Ukrainian President Zelensky to investigate former Vice President Joe Biden and his son Hunter Biden for alleged corruption. The Bidens are in up to their armpits with regard to a potential renewed Burisma Holdings natural gas probe[,] an overdue investigation that was in fact initially stopped by VP Biden while he was in office[,] a fact that he subsequently bragged about.
The "Whistleblower Complaint" isn't a whistleblower complaint, it's a closing argument. When the so-called Whistleblower Complaint was released this morning, my first impression was that this was a very professionally-done document, likely crafted by a lawyer. It looks like a lawyer letter. It's very legalistic in many parts, cites to statutes and executive orders, and is heavily footnoted. It attempts to bring together evidence from disparate sources, including public news reports. It is, in every sense, a closing argument or brief in support of a position by someone who did not actually participate in the events about which he or she is writing. The document does not at all read like we would expect a whistleblower complaint to read — alerting the appropriate authority to facts the whistleblower has learned and leaving the legal conclusions to those authorities.
The Marxists Running the Democrat Party Today Lust for Absolute Power. Tucker Carlson opened his show on Friday night with the latest updates on the Democrat-media coup against Donald Trump. In his open he played a clip of Speaker Nancy Pelosi now accusing Russia of being involved in the Democrats' latest made-up Trump scandal. Of course, Pelosi and Democrats have absolutely zero evidence to push forward this theory or this impeachment scandal. And, they certainly have no evidence that Russia is involved in anyway. But as Tucker noted, Democrats no longer deal in facts. They deal in emotions and a blood-lust for power.
How about a Bipartisan Treaty against the Criminalization of Elections? [Scroll down] I mention all this because it is a commonplace for the government to seek assistance from foreign counterparts for ongoing federal investigations. Indeed, as Marc Thiessen pointed out this week in an important Washington Post column, Democratic senators pressured Ukraine to cooperate with the Mueller probe — notwithstanding the obvious potential electoral ramifications and the specter of "foreign interference in our democracy." These requests for assistance often occur at the head-of-state level. When I was a federal prosecutor in the mid-nineties, for example, the FBI and Justice Department asked President Clinton to intervene with Saudi authorities to assist the investigation of Iranian complicity in the Khobar Towers bombing. There is nothing wrong with our government's requesting the assistance of foreign governments that have access to witnesses and evidence relevant to an ongoing Justice Department investigation. The president is the democratically elected, constitutionally empowered chief executive: There is nothing his subordinates may properly do that he may not do himself (it is his power that they exercise).
Rep. Andy Biggs Introduces Motion to Censure Adam Schiff. Rep. Andy Biggs (R-AZ) on Friday [9/27/2019] introduced a motion to condemn and censure House Intelligence Committee Chairman Adam Schiff (D-CA) for performing a fabricated conversation between President Donald Trump and Ukrainian President Volodymyr Zelensky during his opening statement at a panel hearing Thursday morning.
Will this go down as 'the mother of all traps'? Let's hope that President Trump starts tweeting and calling on Democrats to start the impeachment process. It all starts with a floor vote, and no such thing is in the horizon. The Democrats jumped the gun a bit here. Speaker Pelosi should have have waited for the evidence.
Intel Community Secretly Gutted Requirement Of First-Hand Whistleblower Knowledge. Between May 2018 and August 2019, the intelligence community secretly eliminated a requirement that whistleblowers provide direct, first-hand knowledge of alleged wrongdoings. [...] The brand new version of the whistleblower complaint form, which was not made public until after the transcript of Trump's July 25 phone call with the Ukrainian president Volodymyr Zelensky and the complaint addressed to Congress were made public, eliminates the first-hand knowledge requirement and allows employees to file whistleblower complaints even if they have zero direct knowledge of underlying evidence and only "heard about [wrongdoing] from others."
Key Whistleblower Requirement Was Removed, Allowing IC Complaints Based on Hearsay. A key requirement for whistleblowers to lodge a "Disclosure of Urgent Concern" complaint was secretly eliminated at some point in the past year to allow submissions of second-hand material, it has been revealed. This allowed the August submission of an error-ridden whistleblower complaint against President Donald Trump to proceed, as the whistleblower — who is believed to be a member of the intelligence committee assigned to the National Security Counsel — has admitted to having no direct knowledge of wrongdoing on the part of the president. A previous version of the form only allowed first-hand whistleblower complaints — not hearsay, rumor, or gossip about presidential diplomacy with a foreign leader.
The Deep State Whistleblower hoax is this weeks Christine Blasey Ford. The Whistleblower hoax engulfing Washington is yet another Deep State episode of the rolling coup d'etat Democrats are mounting against Donald Trump. Since the day of his election. If not before. And like the Russia Hoax and Christine Blasey Ford's testimony, the ongoing smear campaign of lies and character assassination is yet another attempt to destroy Trump's presidency by partisan operatives in the intelligence community.
ICIG Whistleblower Form Recently Modified to Permit Complaint "Heard From Others". Folks, this "Ukraine Whistleblower" event was a pre-planned event. As we begin to understand the general outline of how the Schiff Dossier was assembled, we are now starting to get into the specifics. First discovered by researcher Stephen McIntyre, there is now evidence surfacing showing the ICIG recently created an entirely new 'whistleblower complaint form' that specifically allowed for the filing of complaints "heard from others".
Trump impeachment crisis deepens as US envoy for Ukraine Kurt Volker resigns after whistleblower names him. An American diplomat at the center of the U.S.-Ukraine controversy has resigned — a potentially significant blow for President Trump as he faces impeachment proceedings in the Democratic-led House of Representatives. Kurt Volker met with Secretary of State Mike Pompeo on Friday [9/27/2019] and announced he would be resigning from his post as U.S. special envoy for Ukraine, according to Arizona State University's State Press. A former career diplomat and one-time CIA analyst, Volker, 54, rose to prominence during the George W. Bush administration — rising to U.S. ambassador to NATO, and joined the private sector after the election of President Barack Obama.
I Want to See Obama's Transcripts. It's clear Pelosi and the Democrats just committed mass political suicide. Radical Democrats suffering from Trump Derangement Syndrome persuaded Pelosi to jump off a cliff ... and the entire Democratic Congress followed like sheep. [...] Democrats haven't just overreached. They've walked into a big trap. No normal person cares that Trump had a phone call with a world leader and asked him to look into massive alleged corruption by an American politician on foreign soil. Most normal Americans are saying, "It's about time."
Harris Asked Nadler to Open Kavanaugh Impeachment Inquiry. Sen. Kamala Harris (D., Calif.) asked Rep. Jerry Nadler (D., N.Y.) in a Sept. 17 letter to open a formal impeachment inquiry into Supreme Court Justice Brett Kavanaugh following the New York Times's publication of new accusations that omitted exculpatory evidence. Harris argued the sexual misconduct allegations made against Kavanaugh in a Sept. 14 New York Times book excerpt raised the possibility that he may have lied to the Senate during his confirmation hearing. She added that the FBI investigation into the original claims made against Kavanaugh by Christine Blasey Ford was insufficient. Harris reiterated her beliefs in an op-ed published in Elle magazine on Friday [9/27/2019].
It Looks Like A NYT Reporter Accidentally Gutted The Democrats' Impeachment Narrative. The report from Robert Mueller totally debunked the unverified and politically biased Steele dossier, aka Trump dossier, which was used by the FBI to secure spy warrants on Trump officials. There was no evidence for their biggest case for impeaching this president solely for the reason that he won the 2016 election. So, they had to wait. Alas, the Trump-Ukraine call this summer. The president allegedly coerced the Ukrainian leadership into opening a corruption probe into Hunter Biden and threatened to withhold military aid. Gasp! Some anonymous whistleblower who is reportedly a CIA agent came forward with this complaint. He didn't listen in on the call but got it from second and third-hand accounts. So, when the Trump White House released the transcript, it shouldn't shock us that all of the major allegations were debunked. There was no quid pro quo. There couldn't have been since the Ukrainians weren't even aware that aid was being reviewed until a month after the call.
"Gossip-blower" is Male CIA Operative Formerly Part of White House NSC. Details are beginning to emerge about the deep state political operative within the intelligence apparatus who wrote a 'whistleblower' complaint based on second-hand information he heard on the intelligence grapevine about President Trump. According to the New York Times the complaint derives from a male who was a former CIA operative on assignment within National Security Council (NSC), who left the White House and returned to the CIA.
Limbaugh: Turns Out Ukraine 'Whistleblower' Was 'Deep State Plant From The CIA'. On his radio show Thursday, Rush Limbaugh addressed the revelations from The New York Times about the identity of the "whistleblower" who sparked the controversy of President Trump's July 25 phone call with Ukraine's president that has given the Democrats a rationale to move forward on their impeachment campaign. According to the Times, the whistleblower is "a CIA officer detailed to the White House," and, according to Paul Sperry, former D.C. bureau chief for Investor's Business Daily, rumors are "swirling" that the whistleblower was one of former CIA Director and current NBC analyst John Brennan's "old CIA humps detailed over to — planted inside — the White House to spy on Trump and help thwart the investigation of #Spygate which also involves Obama DOS/FBI/CIA skullduggery in Ukraine."
Did You Know There's a Treaty Between the USA & Ukraine Regarding Cooperation For Prosecuting Crimes? It was passed when Joe Biden was a member of the U.S. Senate and then signed by then-President Bill Clinton. A comprehensive treaty agreement that allows cooperation between both the United States and Ukraine in the investigation and prosecution of crimes.
Dossier 2.0: 'Whistleblower' Complaint Relies on Soros-Funded 'Investigative Reporting' Group that Partnered with BuzzFeed. Sections of a so-called whistleblower's complaint alleging President Donald Trump was "using the power of his office to solicit interference from a foreign country" in the 2020 presidential race relies upon a self-described investigative journalism organization bankrolled massively by billionaire activist George Soros.
The Congressman Who Cried Wolf. When Geraldo Rivera found neither a treasure chest nor skeletal remains in Al Capone's vault, he did not dare tease an encore special promising to surface the Titanic or interview D. B. Cooper. Adam Schiff possesses none of Rivera's humility. After failing to substantiate loud claims of "direct," "significant," "clear," and "ample" evidence of Donald Trump colluding with Russians to steal the presidency, Schiff follows up by accusing the president of forcing a foreign government to "manufacture dirt" on a political opponent. [...] Why make up a story when a transcript, or at least notes that read as a transcript despite the disclaimers, exists?
Adam Schiff, 'artist of evil'. After watching Adam Schiff's reprehensible performance in his committee hearing Thursday morning, it is clear we are benighted by yet another sinister, scheming member of the House who, like Shakespeare's Iago[i], is adept at (and enjoys) ruining lives. He set out to ruin President Trump's and has been working at it diligently for three years. Since the moment President Trump was elected, it has been Schiff, more than any other member of Congress, who has been the public face of the attempted coup designed to get Trump out of the White House. He has lied and leaked relentlessly for nearly three years, promising that Mueller had the goods. He did not. Each successive ploy the Left rolled out has failed, so Schiff and company invented a new accusation, one that has obviously been carefully crafted by a group of Iagos like those who devised the Russia-collusion hoax and managed Blasey-Ford's phony allegations.
The Trump-Ukraine whistleblower complaint looks just like 'Steele Dossier 2.0'. [Scroll down] In his dossier, Steele levied shocking accusations of corruption and impropriety by Trump and his team, going so far as to claim that Trump was bought and paid for by Russian strongman Vladimir Putin, who allegedly had compromising information on Trump that all but forced Trump to do the Kremlin's bidding. Steele hadn't gathered or witnessed any of this evidence first-hand. Rather, he relied on anonymous sources, many of them third-hand. [...] Compare that to the text of the author of the anti-Trump complaint about Ukraine. "I was not a direct witness to most of the events described," the whistleblower wrote. Just like Steele's dossier, the complaint is riddled with third-hand rumors, gossip and hearsay gathered from similarly anonymous officials.
Trump demands Schiff resign over account of Ukraine call. President Trump on Friday [9/27/2019] demanded House Intelligence Committee Chairman Adam Schiff (D-Calif.) "immediately" resign from Congress for reading what the congressman described as a parody of the president's phone call with Ukraine's leader that is at the center of a whistleblower complaint. In a series of tweets early Friday [9/27/2019], Trump accused Schiff of lying to Congress and "fraudulently" reciting a version of the call that made it "sound horrible" and made the president appear "guilty."
The Editor says...
I agree, the country would be better off if Congressman Schiff resigned. The country would be better off without CNN. The country would much better off if Nancy Pelosi resigned. The country also be a better place without any of several dozen other lying, baby-killing socialists in the House of Representatives. But they are in Washington to stay, for as long as they want.
House to Take Two-Week 'Recess' Vacation After Beginning 'Impeachment Inquiry'. The House of Representatives is set to take a two-week "recess" vacation after announcing its so-called "impeachment inquiry" against President Donald Trump in response to him having a routine conversation with Ukraine President Volodymyr Zelensky.
Whistleblower is a CIA Officer 'Detailed to Work at White House,' and Has Since Returned to the CIA. The Deep State whistleblower is a CIA officer who was detailed to work at the White House, according to a new report by the New York Times.
Former CIA official on whistleblower: 'How could this be an intelligence matter?' I am troubled by the complaint and wonder how an intelligence officer could file it over something a president said to a foreign leader. How could this be an intelligence matter? It appears likely to me that this so-called whistleblower was pursuing a political agenda. I am very familiar with transcripts of presidential phone calls since I edited and processed dozens of them when I worked for the NSC. I also know a lot about intelligence whistleblowers from my time with the CIA. My suspicions grew this morning when I saw the declassified whistleblowing complaint. It appears to be written by a law professor and includes legal references and detailed footnotes. It also has an unusual legalistic reference on how this complaint should be classified.
Why the Impeachment Frenzy May Only Strengthen Trump. Contrary to suggestions by some, most Trump supporters are not automatons or blind supporters. What bothers them, and should bother others, about the latest Ukraine hysterias is the familiar monotony of this latest scripted psychodrama. The whistleblower admits to hearsay ("I was not a direct witness to most of the events described"). His term-paper report is laden with anonymously sourced rumors, e.g., "According to multiple White House officials I spoke with," "I was told by White House officials," "Based on my understanding," "I learned from multiple officials," "I do not know whether similar measures were taken," "I do not know whether those officials spoke with or met with ..." Between references to Internet news accounts and "I heard from" and "I learned from" and "I do not know" anonymous officials, there is nothing here to launch an impeachment of any president.
Don't like the facts? Just Schiff the narrative. First we were told the phone call was, as The Washington Post breathlessly wrote, "so troubling that it prompted an official in the US intelligence community to file a formal whistleblower complaint." Then we actually got the transcript, and it was nothing, so we were informed by CNN that we had "to read between the lines." In other words, as the crooked FBI agent said of the Russian collusion hoax, there is no there there. So it was time for the Democrats to ... just plain make it up. Thus, on Thursday morning [9/26/2019], live on most TV channels, Rep. Adam Schiff, the Framingham-born hack Congressman from California, read into the record an utterly fabricated statement from President Trump to the president of Ukraine: [...]
The whistleblower complaint doesn't do Democrats any favors. The whistleblower's complaint that launched the current impeachment controversy has now been released. It offers little new information not already in the public domain. Furthermore, if it continues to be relied upon as evidence justifying impeachment, Democrats will have to make some hard choices about how to proceed. The complaint is broken into four parts. The first describes the July 25 phone call between President Trump and Ukrainian President Volodymyr Zelensky. The second alleges that White House officials improperly placed records of the call in an "electronic system that is otherwise used to store and handle classified information of an especially sensitive nature." [...] Aside from the second allegation, there is nothing new we have learned from the complaint.
Republicans want whistleblower's sources, as inconsistencies in complaint emerge. Top Republicans on Thursday pushed to identify the White House officials who told a whistleblower of alleged misconduct by the Trump administration, as Democrats ramped up their impeachment inquiry — and several apparent inconsistencies emerged in the whistleblower's complaint. Republicans specifically questioned why the whistleblower's sources in the White House didn't file a complaint themselves — especially given that relevant whistleblower procedures do not protect second-hand complaints. (The New York Times reported that the whistleblower is a CIA officer detailed to the White House. Fox News has not confirmed The Times' report.)
Schiff called out for fabricating Ukraine call transcript in opening remarks. Rep. Adam Schiff acknowledged on Thursday that he made up parts of the Ukraine phone call transcript when he delivered his opening statement at a much-watched TV hearing with the U.S. top intelligence officer. Mr. Schiff, California Democrat and chairman of the House Permanent Select Committee on Intelligence, said his reading was "part in parody" — but made the admission only after Rep. Mike Turner, Ohio Republican, called him out.
Wherever Joe Biden went, son Hunter cashed in. In a now notorious July 25 conversation, President Trump asked Ukrainian President Volodymyr Zelensky to "look into" Ukraine's role in efforts to interfere in the 2016 election as well as the dealings of Joe Biden and his son Hunter with the notoriously corrupt country. Whether or not Trump's ham-fisted conversation with Zelensky rises to an impeachable offense, the American people have legitimate reasons to be curious about both issues — and especially the Biden family's blatant conflicts of interest abroad as Joe Biden seeks the presidency.
In Ukraine scandal, Democrats refuse to wait for actual facts. Democrats needn't bother to probe an allegation that President Trump "pressured" Ukraine's president to dig up "dirt" on Joe Biden; they already know he did. In grilling acting intel chief Joseph Maguire Thursday, Intelligence Committee Dems repeatedly asserted — as fact — that Trump urged Ukraine's Volodymyr Zelensky to "interfere" in the 2020 election by pushing him to investigate Joe Biden, and that the White House then tried to "cover up" the president's "crime." Case closed. "Do you agree the definition of a coverup is the attempt to prevent people from discovering a crime?" asked Rep. Eric Swalwell (D-Calif.), as if evidence has already established illegality and efforts to hide it. Trouble is, the Dems base their conclusions on allegations from an anonymous whistleblower recounting gossip, plus their reading of the Trump-Zelensky transcript.
Democrats Freak Out After Transcript Reveals POTUS Trump Is on Crowdstrike Trail — He's Going After Origins of Russia Hoax! On Wednesday [9/25/2019] the Trump Administration released the White House transcript of President Trump's call with President Zelensky of Ukraine. In the transcript released today President Zelensky brought up Rudy Giuliani and his investigations with President Trump. It was Zelensky who brought up the Biden investigation and NOT PRESIDENT TRUMP!
Rep. Devin Nunes torches vaunted 'whistleblower' report. With the Thursday morning release of a declassified version of the famed 'whistleblower' report, the left and its media arm are having a field day. [...] After all, the report itself serves as the latest basis for initiating impeachment against President Trump, something the left has been champing at the bit to do ever since before President Trump took office. They've tried several times before, most notably with the failed Russia-Russia-Russia gambit and now see this whistleblower report as their last-ditch chance.
The MSM-DNC's Worst Week Ever. What a crushing feeling it must be to be a Democrat, an infotainment industry newsreader, or a NeverTrumper today. The week started off so full of hope, with impeachment in the air as the autumn colors turned. That was Monday [9/23/2019]. By Thursday morning it was all over but the shouting. Oh, and the lies. Lots and lots of lies. Over the weekend, news broke that a whistleblower had the goods on Trump, who had supposedly twisted the arm of Ukrainian leader Volodymyr Zelensky into a quid pro quo deal to investigate Joe Biden, Trump's potential president rival. The swamp fever pitch reached such heights over the next two days, that on Tuesday afternoon House Speaker Nancy Pelosi finally succumbed to her party's Kamikaze Wing and announced an "official" impeachment "inquiry." It seemed to the overly eager beavers in the MSN-DNC that with one phone call, POTUS had finally put the impeachment football into play.
Joe Biden: Trump's Ukraine Phone Call An 'Impeachable Offense'. Former Vice President Joe Biden now says that Trump committed an "impeachable offense" in his much-ballyhooed July phone call with Ukrainian President Volodymyr Zelensky. In an appearance on "Jimmy Kimmel Live!," Biden said that Trump could be impeached based on the provided transcript of his July phone call with Zelensky. A plain reading of the transcript, however, gave no indication of a quid pro quo wherein Ukraine would investigate the former vice president using his influence to have a prosecutor fired for investigating his son's business dealings.
Sen. Chris Murphy Changes His Story on Zelensky Meeting. Senator Chris Murphy (D., Conn.), who traveled to Ukraine in early September, told reporters this week that he had heard "directly" from Ukrainian president Volodymyr Zelensky that Zelensky felt pressured by Trump to investigate Hunter Biden's involvement with Ukrainian gas giant Burisma. But according to a tape of a briefing Murphy gave two weeks ago about his meeting with Zelensky, Murphy made no mention at all of such an allegation. It was only 13 days after his initial briefing that Murphy emerged to say Zelensky had expressed concerns to him that the Trump administration was withholding U.S. aid to compel an investigation.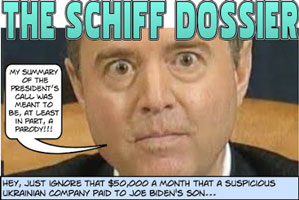 The Schiff Dossier: Which is a Better Description of This Error-Filled "Whistleblower" Report. [Scroll down] But never mind the fact that John Solomon has copiously documented the fact that Biden bragged about getting a Ukrainian prosecutor fired — not for "corruption", as internal documents make clear, but — for investigating the money-laundering machine that enriched his son and, coincidentally (*cough*) John Kerry's stepson. Nothing to see here, folks, just move along.
Donald Trump Triumphant as He Ridicules Adam Schiff's Impeachment 'Fantasy'. President Donald Trump ridiculed Rep. Adam Schiff (D-CA) on Thursday after the House Intelligence Committee chairman employed a fantasy narrative during a congressional hearing with the acting director of national intelligence. "Adam Schiff has zero credibility," he wrote on Twitter. "Another fantasy to hurt the Republican Party!"
Adam Schiff Did One of the Most Insane, Disgusting Things Ever Done In a Congressional Hearing. There is no member of Congress more disgusting than Adam Schiff, and there are a lot of disgusting members of Congress. He spent the last two years claiming to have super-secret proof of Trump colluding with Russia, being given a permeant spot the Sunday shows to constantly lie about what he actually knew. When it all came crashing down, he paid no price at all, still insisting the evidence was "in plain sight." Now, he's found a new hobby horse. Namely, this Trump-Ukraine nonsense and that meant having a hearing today [9/26/2019] with the Intel Chief about the "whistle-blower" complaint.
Schiff opens hearing ad-libbing Trump's Ukraine call with improvised fake dialogue. Democrats are desperately trying to nail Trump and begin the impeachment process over a conversation Trump had with Zelensky. Trump has been accused of strongarming Zelensky with a quid quo pro in order to get dirt on Dem rival Joe Biden. Only the newly released transcript of the phone call doesn't show Trump strongarming Ukraine at all. That pesky fact must have prompted "little Adam Schiff" to make up his own facts when he spoke during a House Intelligence hearing Thursday morning [9/26/2019].
Sen. Ron Johnson Is Considering Opening An Investigation Into Biden And Ukraine: Report. Republican Sen. Ron Johnson is considering an investigation into former Vice President Joe Biden's role in Ukraine when he was still serving in the White House, The Washington Post reported Wednesday [9/25/2019], citing unnamed sources. The Wisconsin lawmaker told colleagues that he would consider a probe against the former vice president who is now running for president, three people familiar with the conversations told WaPo. The report suggested other Republicans in the Senate are being more circumspect about how to approach the matter.
Mark Levin: Today's Hearing on Trump-Ukraine Is Another Spectacle, Another Drama for the Media. In a post on his Facebook page on Thursday at 9:53 AM, nationally syndicated radio talk show host, TV host, author and American lawyer Mark Levin blasted today's hearing on the whistleblower complaint about President Donald J. Trump's comments to Ukrainian President Volodymyr Zelenskyy as "just another spectacle, another drama for the media, another sham." "We will learn nothing," wrote Mark Levin on social media. "This is just another spectacle, another drama for the media, another sham."
House Intelligence Committee Releases Partisan Federal Employee's Complaint. The House Intelligence Committee on Thursday released a redacted version of the partisan federal employee's whistleblower complaint regarding President Donald Trump's telephone conversation with Ukraine President Volodymyr Zelensky. In the nine-page document, the so-called "whistleblower" claims that the president was "using the power of his office to solicit interference from a foreign country in the 2020 U.S. election." While characterizing the Trump-Zelensky call based on hearsay, it accuses the White House of attempting to conceal records related to their conversation.
Dishonest Media Leaving Out What Trump's 'Favor' From Ukraine President Actually Was. Major media outlets had already decided on the narrative of the whistleblower complaint against President Donald Trump regarding his conversation with the Ukraine president. Now that the White House's transcript has been released, these same outlets are cutting out important context in order to give a different, more negative, impression of the call. The New York Times and The Washington Post each put sections of the transcript on their front pages on Thursday. Each paper cut out what Trump said after asking Ukraine President Volodymyr Zelensky for a "favor" and skipped ahead to a portion of the call when Trump brought up former Vice President Joe Biden's son's involvement in a company that was investigated by Ukraine.
Kim Strassel: "Media got this all so wrong". Wall Street Journal columnist and editorial board member Kim Strassel posted a 10-part thread on Twitter yesterday [9/25/2019] to comment on White House transcript of the Trump/Zelensky phone call.
Ukraine Scandal Is About Biden. Release of the transcript of President Trump's call with Ukraine's new president makes one thing clear — the Democrats are focusing on the wrong guy. They're trying to use this episode to impeach Mr. Trump. What the conversation shows, though, is that Mr. Trump was enlisting help to do exactly what he had promised to do, drain the swamp. The culprit on whom to focus is Vice President Biden. The transcript certainly confirms that Mr. Biden was mentioned by Mr. Trump in his call with Ukraine's new president, Volodymyr Zelensky. And that Mr. Biden's son, Hunter, was also mentioned. This shows up on the fourth page of the five-page transcript, after the two presidents were talking about how America gives more support to Ukraine than do the Europeans.
State of Delusion: Democrats Privately Panic Following Transcript, Impeachment Fallout. The far-left flank of the Democrat caucus forced House Speaker Nancy Pelosi (D-CA) to concede and announce a formal impeachment inquiry against the president on Tuesday. She made the announcement prior to the release of the transcript, which detailed the phone call between Trump and Ukrainian President Volodymyr Zelensky. As Republican lawmakers explicitly noted, the conversation contained "zero" grounds for a legitimate impeachment inquiry.
Democrat demolition derby continues with Ukraine Zelensky transcript. Since taking control of the House last year, watching the Democrats is not unlike watching a demolition derby. Pelosi, Schumer, Schiff, Green, and the Squad, to name a few, all driving tired, beaten up, divisive narratives, as fresh as a demolition derby car. The question is what is driving the Democrats demolition derby of hysteria over a conversation between Presidents Trump and Zelensky? A conversation they both know is being listened to, recorded. It is simple. Ukraine knows exactly what went transpired between the Obama administration — Obama, Biden and Clinton and the oligarchy of Ukraine. Hunter and Joe Biden, while actions are questionable, are nothing more than a way to distract away from the very real crimes that hurt America. The collusion of Obama and Clinton, et al., in the creation of the Russian hoax dossier.
Impeach Joe Biden. [Scroll down] When the transcript of the call came out, however, the story fell apart. There was no discussion of aid. Trump did not cajole or pressure Zelensky. Of course, since the impeachment train had already left the station, Democrats couldn't suddenly shrug their shoulders and say "never mind." So the mere fact that Trump brought up the topic of the Biden investigation is now grounds for impeachment. But if that's all there is to it, why isn't Biden under the impeachment cloud? After all, no one disputes the fact that he pressured the Ukrainian government to fire Prosecutor General Viktor Shokin by telling officials there, in no uncertain terms, that if they didn't, they'd lose out on $1 billion in aid. Biden himself has bragged about it last year.
Ukraine-Gate' Is About the Russian Hack That Wasn't. One of the animating chapters in the Trump-Russian collusion saga was the claim that Russia infiltrated the Democratic National Committee's email server in the spring of 2016. That hack, according to collusion truthers, and the subsequent release of damaging emails exchanged between top Democratic Party officials was central to Vladimir Putin's scheme to sway the presidential election in favor of Donald Trump. But the evidence to support this widely accepted claim is sketchy at best and appears to be under appropriate scrutiny by prosecutors now examining the origins of the FBI's pre-election investigation into the Trump campaign for "colluding" with Russia.
When Hillary Clinton Colluded with Ukraine. So now we have a whistleblower who isn't because he cannot be, either from his circumstance or from the law. He or she had no firsthand knowledge, weren't on the call or in the room, and in any case cannot blow the whistle on a unitary executive, namely President Trump. You can only be a whistleblower for an agency you are a member of. We have a quid without a quo and a phone conversation in which President Trump did not pressure a Ukrainian leader into a crime Joe Biden has previously confessed to, namely threatening to withhold a loan guarantee unless the Ukrainian government fires a prosecutor looking into a company that was paying Hunter Biden, a man with no special knowledge of Ukraine or the business, $600,0000 a year. As Trump lawyer and former New York mayor Rudy Guiliani points out, the phone transcript makes Trump the whistleblower and Biden the criminal in a Ukrainian collusion saga that leads to Hillary Clinton and not Donald Trump.
Ukraine is another Sharpiegate. [Scroll down] Now we cannot impeach Biden [or] Obama no matter how much they and their secretaries of state raked in actual emoluments from Ukraine, Red China, Russia and elsewhere. Hillary used a Fake Charity. Biden and Kerry used a hedge fund run by their families. Obama likely did it through post-presidential book deals and that Netflix contract. But we can stop the uneducated mob from destroying our president. We do that by standing by our man just as we did 3 years ago when that Billy Bush tape came out. We stood by Donald Trump then not knowing if he was just another carnival barker or the real deal.
Justice Department clears Trump of wrongdoing on Ukraine call. The Justice Department's Criminal Division has already investigated President Trump's conversation with the Ukrainian president about Joseph R. Biden and concluded Mr. Trump did not violate campaign finance laws, officials announced Wednesday [9/25/2019]. And a separate division of the department has also ruled that the administration did not break the law by failing to quickly share a whistleblower's complaint with Congress, saying the matter didn't meet the definition of "urgent" that would trigger the law.
Transcript Shows No Wrongdoing by President Trump. The just-released transcript of President Trump's July 25 conversation with Ukrainian President Zelensky confirms the president's statement that he did nothing blameworthy with regard to the Biden investigation. The conversation was friendly and wide-ranging.
The Editor says...
I can almost hear the voice of Maxwell Smart: "Listen, I hope I wasn't out of line with that crack about impeachment."
Ranking Member of the House Judiciary Committee Blasts Dems Over More 'Baseless Accusations' Against Trump. Rep. Doug Collins (R-Ga.), ranking member of the House Judiciary Committee, blasted Democrats Wednesday for jumping to conclusions about President Trump's call with Ukrainian President Volodymyr Zelensky before knowing the facts. "The transcript between President Trump and Ukrainian President Zelensky reveals that Democrats have again leapt to conclusions before looking at the facts," he said in a statement. "There was no quid pro quo and nothing to justify the clamor House Democrats caused yesterday. The real danger here is that Democrats keep using baseless accusations in hopes of crippling a successful presidency."
President Trump's Ukraine Call Transcript Has Been Released and Blows Up the Latest Impeachment Narrative. The Department of Justice has released an unredacted transcript of a phone call between President Donald Trump and Ukrainian President Volodymyr Zelensky. The text was taken down by note takers. The call took place in July from the White House Situation Room. It shows no effort by President Trump to pressure Zelensky into investigating former Vice President Joe Biden's son, Hunter, in exchange for military aid. This action was falsely alleged by a whistleblower and pushed Democrats on Capitol Hill into an impeachment inquiry.
Transcript of Trump's Ukrainian call reveals no quid pro quo. The Justice Department's Criminal Division has already investigated President Trump's conversation with the Ukrainian president about Joseph R. Biden and concluded Mr. Trump did not violate campaign finance laws, officials announced Wednesday [9/25/2019]. And a separate division of the department has also ruled that the administration did not break the law by failing to quickly share a whistleblower's complaint with Congress, saying the matter didn't meet the definition of "urgent" that would trigger the law.
Trump thrives as impeachment circus ringmaster. As cable news channels breathlessly waited Tuesday [9/24/2019] for Democratic presidential hopeful Joseph R. Biden to declare his support for impeachment, President Trump stole the spotlight. Mr. Trump announced in a tweet that he was going to do exactly what Mr. Biden planned to demand: release the transcript of his much-discussed phone call with the Ukrainian president.
Pelosi announces formal impeachment inquiry. After meeting with her Democratic caucus, House Speaker Nancy Pelosi announced Tuesday [9/24/2019] the launch of a formal impeachment inquiry into President Trump's alleged efforts to pressure Ukraine to investigate the business dealings of former Vice President Joe Biden's son Hunter Biden. Pelosi said "the president must be held accountable" for a "betrayal of his oath of office, betrayal of our national security, and the betrayal of the integrity of our elections."
Pelosi Formally Announces Trump Impeachment Inquiry. Speaker of the House Nancy Pelosi is formally signing off on an impeachment inquiry into President Donald J. Trump after he spoke to the Ukrainians, reportedly trying to coerce the political leadership there to investigate former Vice President Joe Biden on corruption charges. This was dredged up after a whistleblower came forward to the intelligence community inspector general, though it's based on anonymous second-hand sources. The whistleblower didn't even listen in on the calls, and it's not the intelligence community's job to snitch on the president. The president can say whatever he wants to another foreign leader. Period. And now, before anyone has read the transcript of the call, the House Democrats are launching a full-blown impeachment push. It's not shocking. This was going to happen eventually.
The Latest Impeachment Frenzy Is About #Resistance, Not High Crimes And Misdemeanors. Despite the breathless commentary about Trump's phone call with the Ukrainian president and a whistleblower report based on second-hand accounts of uncertain credibility, we know little about what transpired, much less whether it rises to the level of an impeachable offense. Democrats could have gone through the normal procedures to get the information from the White House rather than jump immediately to talk of impeachment. But the Democrats' impeachment frenzy didn't result from this news. It's been in full flower since before Trump was even elected.
Impeachment Would Be Really Stupid, But Democrats Probably Will Do It Anyway. House Democrats' most edge towards impeachment proceedings reveals that their fanatical hatred of President Trump, which has driven much of their agenda over the past two and a half years, has not abated in the slightest. On Tuesday [9/24/2019], House Speaker Nancy Pelosi (D-Calif.) announced the House will move forward with an "impeachment inquiry" into President Trump due to allegations that he pressured the Ukrainian president to investigate corruption charges against 2020 Democratic candidate Joe Biden and his son Hunter Biden. However, the latest calls for impeachment may end up hurting Democrats' chances of recapturing the White House in 2020.
The Editor says...
The Democrats have no chance of winning the presidential election of 2020, without massive voter fraud, hanging chads, and various schemes to undermine the Electoral College. Thus they have nothing to lose by putting on this chest-thumping impeachment charade.
Network Morning Shows Hype Trump Impeachment 17 Times [in One Day]. On Monday [9/23/2019], the network morning shows managed to feature some variant of the word "impeachment" a total of 17 times while reporting on President Trump's phone call with the President of Ukraine about corruption allegations against Joe Biden's son Hunter. In addition, ABC, NBC and CBS eagerly touted a letter from House Speaker Nancy Pelosi accusing Trump of "lawlessness."
Trump's GOP primary challenger floats 'death penalty' for president. Former Massachusetts Gov. Bill Weld, running as a Republican challenger to incumbent President Donald Trump, suggested Monday that the president had committed treason — and mentioned the death penalty as the "only penalty" for that crime. Appearing on MSNBC's "Morning Joe," Weld discussed Trump's controversial phone call with the president of Ukraine, a call that may be moving House Democrats closer to impeachment.
Bill Weld suggests Trump could face execution over Ukraine phone call. Former Massachusetts Gov. Bill Weld, who is challenging President Trump in the Republican primaries, proclaimed Monday [9/23/2019] that the president committed treason through his controversial phone call to Ukrainian President Volodymyr Zelensky — adding that the punishment for treason is death. The statement drew a swift rebuke from the Trump campaign.
'Morning Joe' Refuses to Disagree with Weld's Claim Trump Should Be Killed Due to Treason. MSNBC's Morning Joe stooped to a new low on Monday morning [9/23/2019] when the assembled panel refused to condemn 2020 Republican presidential candidate Bill Weld's insistence that President Donald Trump should be put to death because, in his mind, he's committed treason for his conversations with the Ukrainian president. Not only that, but Weld twice made this case while panelists Mike Barnicle, Mika Brzezinski, Elise Jordan Joe Scarborugh, and Michael Steele refused to push back along with fellow Trump challengers Mark Sanford and Joe Walsh. In Jordan's case, she even inquired about how this would happen.
Watch MSNBC Discuss Trump's Coming Execution. As I wrote this past weekend, that Trump-Ukraine scandal exploded into a million pieces after about twelve hours of hysteria. In the end, there was no threat, no quid pro quo, and no real meat to the story. The issue for many in the media and on the left, though, is that they had invested everything into this. They truly felt this was finally it and that Trump would be taken down for using foreign aid money to force an investigation of Joe Biden. That didn't happen and they were again left chasing the wind, suckers of fake news once more. The problem with being so emotionally invested in all this is that it's hard to let go. And instead of just admitting their mistake, we end up with lunacy like this from MSNBC: [...]
Ukraine 'Bombshell' Will Explode in Democratic Faces. Julián Castro, another unemployed Obama administration official pursuing the Democratic presidential nomination, tweeted the following: "Donald Trump is a criminal. He must be impeached immediately." Saturday [9/21/2019], Castro began a speech with another demand that the House take immediate action to remove the president: "Let me begin with a message for our House Democratic friends — it is time for you to do your job and impeach Donald Trump." This was a big applause line for his audience, but it contained no constitutional justification for such action by the House.
Adam Schiff, the Lady Macbeth of the House. [Scroll down] But at the moment, the most senseless member of Congress is the odious and sanctimonious Adam Schiff of California. Like Lady Macbeth, he lacks humanity, and he burns with ambition. In the span of just under three years, he has become Trump-deranged, incoherent, a man grasping at any thread with which to bring the president down, no matter how slender the filament. This week, it is his fake "whistleblower" scenario. [...] Since the moment Trump was elected, Schiff has been on the mythical Trump-colluded-with-Russia train. He appeared on cable news programs hundreds of times, where he guaranteed, promised that he had proof of the Trump campaign's illicit dealings with Russians. He did not.