Introduction by The Editor:
After weeks of closed-door meetings, the Trump impeachment hearings went public on November 13, 2019.
Related topics:
The clamor for President Trump's impeachment
The Deep State "Whistleblower" Scandal
Leftists' departures from the truth
The Democrats are out of step with the American mainstream
Media bias against President Trump
---
Monday, December 9, 2019:
After the big Schiff show finale, public support craters for impeachment -poll. [Scroll down] Three things stand out. One, the Democrats didn't have much of a case, so they put their thumbs on the scale. They hid the whistleblower, for one, despite evidence that he was no lonely voice crying out in the wilderness, but a guy who carefully coordinated with a lot of Democrats before filing. Trump released his full transcripts, yet under Democrat rigging, he had zero right to confront his accuser. Then they held secret basement hearings, which were actually auditions to cherry-pick the witnesses they liked for the big public show to come later, as well as to cherry-pick the testimonies they liked to leak to the press. The only things kept secret were the testimonies of those who exculpated Trump. They also kicked Republicans out of the basement hearings and prevented them from issuing subpoenas and calling their own witnesses. They refused to allow Trump's lawyer anywhere near their Schiff show. The rigging on every front went bone-deep.
Tempers fly! Louie Gohmert goes off during hearing, stops Nadler in his tracks. Rep. Louie Gohmert could not remain silent in the face of the Democrats' impeachment circus, venting during hearings about the way the proceedings were being handled. The Texas Republican spoke up during Monday's [12/9/2019] hearing and accused Judiciary Chairman Jerry Nadler of ignoring the rules when he allowed "witnesses to ask the questions." The heated exchange came after Democratic counsel Barry Berke, who had just served as a witness for Democrats earlier, began questioning the Republican counsel for the Intelligence Committee, Steve Castor.
Keywords: incompetence, malfeasance, subterfuge, due process, tossed out on a technicality.
Nadler Failed to Swear in Witnesses at Judiciary Impeachment Hearings. House Judiciary Committee Chairman Rep. Jerrold Nadler (D-NY) failed to swear in the two counsels for both the Democrats and Republicans prior to their opening statements in Monday's impeachment inquiry hearing. Though staff members are not typically sworn in, witnesses must be sworn in and deliver testimony under oath.
Democrat Counsels Barry Berke, Daniel Goldman Donated Thousands to Hillary Clinton, Barack Obama. Barry Berke and Daniel Goldman, the lawyers for Democrats in Monday's impeachment hearing at the House Judiciary Committee, have donated thousands of dollars to Hillary Clinton and other Democrats over several elections, federal records show. Berke, the Democrats' counsel on the Judiciary Committee, gave a maximum contribution of $2,700 to Hillary Clinton in 2015, during the Democratic presidential primary, according to Federal Election Commission (FEC) data. He later donated thousands of additional dollars to her campaign. Berke also maxed out to Barack Obama in the 2008 and 2012 elections.
Wednesday, December 4, 2019:
Democrats offering passion over proof in Trump impeachment. In my testimony Wednesday, I lamented that, as in the impeachment of President Clinton from 1998 to 1999, there is an intense "rancor and rage" and "stifling intolerance" that blinds people to opposing views. My call for greater civility and dialogue may have been the least successful argument I made to the committee. Before I finished my testimony, my home and office were inundated with threatening messages and demands that I be fired from George Washington University for arguing that, while a case for impeachment can be made, it has not been made on this record. Some of the most heated attacks came from Democratic members of the House Judiciary Committee.
Academia dies on the Hill. The Democratic-controlled Congress convened a panel of legal experts on Wednesday to inform the debate on the case for impeachment of President Donald J. Trump. Opinions will differ as to the value of this testimony insofar as the impeachment debate is concerned, but there can be no real question that this is a microcosm of what is wrong with academia today. Four academics showed up on the Hill, but only one scholar was present and — Jonathan Turley of the George Washington University School of Law. The other three, Karlan, Feldman, and Gerhardt, were merely Democratic activists masquerading as objective academics. Unfortunately, what the country observed on Capitol Hill Wednesday is precisely what goes on every day on university campuses across America — liberal academics grooming converts for the cause, all the while claiming to be a voice for true scholarship.
Tucker Carlson destroys the alleged 'credibility' of the four impeachment inquiry law professors: 'They're really NOT that impressive!' The bottom line: The four witnesses — even the one called by Republicans, Georgetown Law Prof. Jonathan Turley — are well-documented Left-wing activists who have a history of opposing Republicans, traditional America, and especially President Trump.
Democrats Argue that Obama Should Have Been Impeached. Democrats are saying that Trump should be impeached because he solicited foreign interference in the 2020 election. That's essentially the core complaint in the hyper-partisan impeachment report coming out of Adam Schiff's witch hunt. By that criterion, Obama should have been impeached, because he specifically promised Putin that he, Obama, would go easy on Putin if Putin helped Obama get re-elected. While the fake news media have done all they can to make sure you never heard of Obama's quid pro quo with Putin, we know that it happened because of what Obama was heard to say to outgoing Russian president Medvedev, with the intent that Medvedev pass that on to incoming Russian president Putin, in 2012, when he thought the microphones were off.
Also posted under Grounds for the impeachment of President Obama.
Democrat 'Expert' Impeachment Witness: Trump Attacked 'Safeguards' Against 'Monarchy'. University of North Carolina Law School professor Michael Gerhardt will testify Wednesday at the House Judiciary Committee that President Donald Trump is guilty of impeachable offenses, according to a prepared version of his opening statement published by PBS. Gerhardt is one of three Democrat "expert" witnesses invited to testify on the first day of impeachment inquiry hearings in the committee. Republicans were allowed to invite one.
The Real Purpose of the Nadler Impeachment Hearing. Anyone holding out hope that Wednesday's impeachment hearing by the House Judiciary Committee would consist of thoughtful testimony from impartial constitutional scholars was destined to be disappointed. Four witnesses appeared, three of whom were chosen by Democratic Chairman Jerrold Nadler, who restricted the Republican committee members to a single voice of reason crying in the congressional wilderness. All of Nadler's choices were vehemently pro-impeachment, including two longtime Democratic donors who contributed to the presidential campaign of Hillary Clinton and a regular columnist for a "news service" owned by Democratic presidential candidate Michael Bloomberg. Even the solitary Republican witness freely admitted he had voted for Hillary Clinton. That was Jonathan Turley, of the George Washington University Law School.
Matt Gaetz Nukes Democrat Witnesses at Impeachment Inquiry Hearing. Rep. Matt Gaetz (R-FL) nuked Democrat witnesses during the House Judiciary Committee's first impeachment inquiry hearing on Wednesday in a fiery round of questioning that exposed their bias against President Trump and Republicans. Gaetz also got the witnesses, all constitutional law professors, to admit they donated thousands of dollars to Democrats. Gaetz first asked Michael Gerhardt, professor at University of North Carolina, if he donated money to Barack Obama. Gerhardt responded, "My family did, yes." Gaetz asked, "Four times?" Gerhardt responded, "That sounds about right, yes."
Juan Williams on Impeachment Hearing: 'This Is a Distraction'. On Wednesday's broadcast of Fox News Radio's "Guy Benson Show," Fox News Political Analyst and co-host and columnist for the Hill Juan Williams criticized that day's impeachment hearing as "a distraction." Williams said, "I don't think that this is informing the public about much of the facts in any way. Because I don't think we have any fact-based witnesses or evidence being introduced. [...]"
Impeachment-obsessed Democrats ignore logic and law as 4 professors testify at hearing. It is tempting to describe Wednesday's impeachment hearing before the House Judiciary Committee as a farce. But it was worse than that. It made a travesty of fairness. With Chairman Jerrold Nadler, D-N.Y. at the helm of the Judiciary Committee, there was no real chance that President Trump would be treated equitably. After all, Nadler's confederate and chairman of the House Intelligence Committee, Rep. Adam Schiff, D-Calif., had already obliterated any semblance of due process in impeachment hearings before his committee. The Schiff hearings were a lollapalooza of hearsay, opinion and grotesque speculation. So there was no reason to believe that Nadler's Judiciary Committee hearing would be anything less than a theater of the absurd.
Pamela Karlan says she once crossed the street to avoid a Trump hotel in DC. The Stanford Law School professor who sparked backlash from the White House Wednesday after invoking the president's minor son during the first day of the House Judiciary Committee's impeachment inquiry had previously stated that she once crossed the street just to avoid passing one of President Trump's hotels. Pamela Karlan, who was one of three witnesses who testified before the House Judiciary Committee Wednesday, previously told a 2017 American Constitution Society panel that she couldn't stomach walking past the Trump International Hotel in Washington, D.C. Video of the panel from two years ago resurfaced online after Karlan's public testimony.
Dishonest Witness Pam Karlan, Latest Act at Impeachment Circus. Representative Adam Schiff's Impeachment Circus continued with his latest act — radical militant leftist law professor Pam Karlan. Not only is Karlan a radical militant leftist law professor, she is a dishonest one. You won't find a single mainstream outlet that is giddy over her shrill testimony touch on her false scholarship. Karlan worked at the Justice Department during the Obama administration. Not much got done on her watch. Where she really excels, however, is lobbing false charges at conservatives or Republicans. When I was an attorney at the Justice Department, I worked on a Voting Rights Act case that Karlan hated. Why? Because the victims of the racial discrimination were white. We proved our case and won, but that didn't matter to Karlan. She was still bitter that the Bush administration protected white people from racial discrimination against a black defendant election official.
Democratic Law Professor: It Is Wrong to Impeach Trump Just Because You're All Mad. Speaking during a House Judiciary Committee hearing Wednesday morning [12/4/2019], George Washington University Law Professor Jonathan Turley called out Democrats and fellow members of the panel for moving forward with impeachment because "everyone is mad." [...] "I am concerned about lowering impeachment standards to fit a paucity of evidence and an abundance of anger. If the House proceeds solely on the Ukrainian allegations, this impeachment would stand out among modern impeachments as the shortest proceeding, with the thinnest evidentiary record, and the narrowest grounds ever used to impeach a president. That does not bode well for future presidents who are working in a country often sharply and, at times, bitterly divided," he said.
Chris Wallace Criticizes Dems for Refusing to Call on Republican Impeachment Witness: 'Not a Search for Justice or Wisdom'. Fox News commentator Chris Wallace criticized Democrats on Wednesday for refusing to question the lone witness brought by Republicans during the day's impeachment hearings. Republicans called on Jonathan Turley, a professor at George Washington University Law School, to be their witness opposite three professors summoned by Democrats. Turley has previously testified in the 1998 impeachment hearings against Bill Clinton, giving background on the impeachment process.
White House blasts Judiciary Committee hearing as 'desperate charade'. The White House called the first day of impeachment testimony in front of the House Judiciary Committee a "bad day" for Democrats as they attempt to impeach President Trump. "Today was a good day for President Trump, and a bad day for the Democrats," White House press secretary Stephanie Grisham said in a Wednesday statement. "The only thing the three liberal professors established at Chairman Nadler's hearing was their political bias against the President. It did nothing to change the fact that, despite weeks of hearings in this sham process, the President did nothing wrong."
Broken Partisan Professors Make 'Constitutional' Case to Impeach Trump. Yesterday [12/4/2019], the House Judiciary led by Democrat ball of impeachment fury Jerry Nadler and his booster seat, presented a panel of highly-credentialed white people to quack about how Trump should be impeached from a constitutional perspective. When I say "highly-credentialed" I refer to their NeverTrump credentials because these three clowns have been howling against Trump for years. No rational watcher, and I doubt there were any rational watchers just political junkies/employees, would find this performance art in any way credible or persuasive. The event was a straight up PR exercise.
Evidence-Starved Democrats. The hostile, left-leaning constitutional scholars who appeared before the judiciary panel on Wednesday of this week focused not on the supposed evidence collected but on speculating about Trump's intent. Harvard law professor Noah Feldman's expertise apparently extends to mind reading — Trump's and the Framers of the Constitution's. He declared that the Founding Fathers would "identify President Trump's conduct as exactly the kind of abuse of office, high crimes and misdemeanors that they were worried about, and they would want the House of Representatives to take appropriate action and to impeach." Apparently, original intent has made a comeback within the law school corridors of the left.
Pamela Karlan lays an egg. The impeachment hearings are on, with a spotlight on the three anti-Trump law professors who ranted before Rep. Jerry Nadler's House Judiciary committee on Wednesday. Their testimonies were a disaster for the Democrats. They proved they were anything but constitutionalists. It took the fourth "witness," the eloquent Jonathan Turley, to drive that home. These other three were quite the opposite, fans of abrogating most of our founding document. What will be remembered forever is the condescending arrogance of the professors — Pamela Karlan, Noah Feldman and Michael Gerhardt. If there were ever an expose of the kind of people who inhabit the ivory towers of academia, this was it. These three law professors were a flashing neon warning: Do not send your kids to prestigious law schools. People like this are not educating kids, they are numbing their brains with destructive Marxist nonsense.
Democrat 'Constitutional Expert' Pamela Karlan's 2006 Anti-White, Racist Tirade. Stanford law professor Pamela Karlan — the Democrats' "constitutional expert" in the Judiciary Committee hearings — launched into a scathing tirade against white people in a 2006 speech to the American Constitution Society. [Video clip]
Rivkin: 'This is the Ugliest, Most Partisan, Least Fair Impeachment with the Least Substance'. On Episode 57 of War Room: Impeachment, constitutional lawyer David Rivkin answers host Jason Miller's question if the first House Judiciary hearing featuring four constitutional lawyers has "the credibility to go and swing public opinion" or if it's "sellable to the American people". Rivkin responds, "The answer is resoundingly no." He explains: I don't see how this is going to provide any oxygen for what is a nakedly, brutally, partisan exercise."
Norm Eisen, Democrat Impeachment Counsel, Linked to George Soros. Norm Eisen, the counsel chosen by Democrats on the House Judiciary Committee to question "expert" witnesses Wednesday at its first impeachment inquiry, founded an organization funded in part by billionaire left-wing financier George Soros. Eisen founded Citizens for Responsibility and Ethics in Washington (CREW) before going on to work for President Barack Obama as the White House "ethics czar," where he oversaw the opening of visitor logs (though administration officials simply responded by taking meetings with lobbyists offsite).
Key Democrat Witness Noah Feldman in May: 'Impeaching Trump Has Become Too Political to Take Seriously'. Harvard Law School professor Noah Feldman, one of the Democrats' star witnesses called to testify before the House Judiciary Committee on Wednesday, authored an op-ed in May lamenting the lack of seriousness surrounding efforts to impeach President Trump, and admitting that House Democrats "made it painfully clear that discussing impeachment is primarily or even exclusively a tool to weaken Trump's chances in 2020."
Dems' Impeachment Trickery. On Wednesday, House Judiciary Committee chairman Jerry Nadler (D-N.Y.) takes over as ringmaster for the ongoing impeachment show. He's billing his opening act as an inquiry into the "historical and constitutional basis of impeachment" and "the Framers' intent." Nadler claims he'll be looking into what the Constitution's authors meant by "high crimes and misdemeanors." Don't be fooled by Nadler's scholarly posturing. He isn't planning a civics lesson. Democrats are hell-bent on impeaching Trump, so Nadler has to rewrite American history and massage the meaning of the Constitution's impeachment clause to fit the pile of non-evidence Adam Schiff's Intelligence Committee has produced. Count on Nadler to come loaded with a bag of legal tricks.
The Impeachment Drive Climbs Into the Clown Car. On Wednesday, the House Judiciary Committee will hold its first hearing in the latest phase of the impeachment inquiry into Donald Trump. Based on everything we know about the committee's past oversight efforts, statements by Republican committee members and the president's defense team, and the details of the panel itself, one thing seems clear: Compared with the staid and productive fact-finding work conducted by the House Intelligence Committee over the past few weeks, this hearing will almost certainly be a disaster.
Adam Schiff Has Crossed a Line: He's Obtained Phone Records of Devin Nunes, Nunes' Aide, Rudy Giuliani and John Solomon. As promised, House Intelligence Committee Chairman Adam Schiff released the Democrats' report on the Trump impeachment inquiry on Tuesday. If anyone is so inclined, the report can be viewed [elsew]here. The report says, "President Trump's scheme subverted U.S. foreign policy toward Ukraine and undermined our national security in favor of two politically motivated investigations that would help his presidential reelection campaign... The inquiry uncovered a months-long effort by President Trump to use the powers of his office to solicit foreign interference on his behalf in the 2020 election." Speaking to reporters after the report's release, Schiff said, "It is deeply concerning that at a time when the president of the United States was using the power of his office to dig up dirt on a political rival, that there may be evidence that there were members of Congress complicit in that activity."
Jonathan Turley's Impeachment Testimony: Democrats Setting Terrible Precedent. A transcript of Constitutional Law professor Johnathan Turley's testimony before the House Judiciary Committee on impeachment was released ahead of his Wednesday morning appearance. Turley, slated to be the sole Republican witness, will testify that removing President Trump over allegations of wrongdoing related to Ukraine would a grave mistake.
Jerrold Nadler Is Caught in His Own Quid Pro Quo. We the audience now return from intermission to find Adam Schiff, the villain of Act One, missing and replaced by Jerrold Nadler, who seems less despicable because, beneath the surface, he is oh-so-vulnerable, oh-so-compromised, and oh-so-neutered. We wonder what has transpired during the period that the intermission passed over: Legislation to reduce the cost of prescription drugs and to get control over health care? Passage of the USMCA Trade Agreement among Mexico, Canada, and the United States? Military funding authorizations? Nope. None of it. It turns out that the intermission happened in real time, like Jack Bauer's 24 television series. And nothing happened during intermission. Meanwhile, the stage hands have changed the scenery from the House Intelligence Committee to the House Judiciary Committee, while borrowing some of the props from the previous scene, including the big leather chair.
Dem impeachment report is Adam Schiff's latest dud. Say this for Rep. Adam Schiff: His imagination is vivid and he has a flair for the dramatic. If only he had more respect for facts and a tighter tether to reality. The California attack dog is, in real life, a frustrated writer of rejected screenplays, and he's produced another dud in the Democrats' impeachment report. Released Tuesday [12/3/2019], it offers nothing new of significance, but that didn't stop Schiff from hyping the contents as something akin to the second coming of Richard Nixon. While the vast majority of Americans found something other to do than watch the mind-numbing hours of public testimony, Schiff depicts the hearings he orchestrated as pivotal events in modern history.
The 'whistleblower' was once someone Democrats were eager to hear from. What happened? The House Judiciary Committee will begin impeachment hearings on Wednesday, but the individual who got the entire ball rolling won't be present. The whistleblower is AWOL. Top House Intelligence Committee Republican Rep. Devin Nunes, R-Calif., pointed out on Nov. 19, "Now that the whistleblower has successfully kickstarted impeachment, he has disappeared from the story — as if the Democrats put the whistleblower in their own witness protection program." This key figure's absence is especially stunning, given that Democrats were for the whistleblower's testimony before they were against it.
Adam Schiff's Report Cites No 'Bribery' or 'High Crimes'; Only Tweets. The House Intelligence Committee report released by chairman Rep. Adam Schiff (D-CA) on Tuesday cites no constitutionally permissible grounds for impeachment against President Donald Trump — other than tweets. Article II, Section 4 of the U.S. Constitution provides that impeachment shall be for "Treason, Bribery, or other high Crimes and Misdemeanors." Notably, the Framers of the Constitution ruled out "maladministration" as a reason.
Adam Schiff Releases Democrats' Intelligence Committee Impeachment Report. House Intelligence Committee chairman Rep. Adam Schiff (D-CA) released the Democrats' report Tuesday [12/3/2019] on the impeachment inquiry, concluding that President Donald Trump "solicit[ed] foreign interference on his behalf in the 2020 election." The report presents itself as the core fact-finding effort, though that function has traditionally been handled by the House Judiciary Committee, which will begin its own hearings on Wednesday.
Kellyanne Conway, Playing Chicken With Adam Schiff? Kellyanne Conway has promised to represent President Trump at upcoming impeachment hearings, but only if the chairman of the House Intelligence Committee is called to testify. "Is Adam Schiff going to testify? Because he is a fact witness. That would be great," the senior Trump adviser had told reporters on Monday [12/2/2019]. And then Conway made an offer: "I'll tell you what, if Adam Schiff testifies, I'll show up on behalf of the White House."
Democrats Will Vote on Impeachment Before Schiff's Report Even Goes Public. On Wednesday [12/4/2019] Nancy Pelosi, Adam Schiff and Democrats, after years of promises, will vote to impeach President Trump using the ham sandwich option. Democrats are impeaching President Trump over a ham sandwich. They got nothing. They know they've got nothing. But they are going to impeach President Trump anyway.
The Impeachment Report Is Bad All Right ... For Democrats. [Scroll down] But read into the report, and then look through the Republican response, and you come to realize that the Democrats fail to support either claim. In fact, in some ways, they make Trump's case for him. The report never actually accuses Trump of engaging in bribery. Despite all the foreboding tones and dark insinuation, the impeachment report never actually accuses Trump of bribery. In fact, the word "bribery" appears only four times in the entire 300-page document: once when it quotes the impeachment clause of the Constitution, twice in reference to accusations of bribery against Biden, and once in defending the impeachment inquiry itself. Trump's actual crime apparently was not following the "script." Despite its attempt to paint a picture of Trump as a corrupt leader, the report actually showcases that at the heart of the impeachment are the hurt feelings of career bureaucrats.
Impeachment witness list loaded with Trump critics. House Democrats announced a list of four constitutional law experts who will testify at a Dec. 4 public impeachment hearing, and the panel will include pundits who have criticized the Trump administration and defended the impeachment proceedings. It also includes a witness who has criticized the impeachment investigation.
Intermission:
Democrats Want to Manage, Not Represent, the People. The impact of the House Intelligence Committee's public hearings was essentially zero. The Democrats failed to shift public opinion in either direction. How did this happen? How could an event made out to be so profound and consequential be reduced to something so tacky and staged, so unreal that it failed to captivate even the president's detractors?
Thread reader: Deconstructing the Ukraine Hoax. Alexander Vindman was listening in on the call between Trump & Zelensky. He hears where Trump is wanting the investigation into the 2016 election. Vindman knows what went on with the Ukraine or at least has a good understanding of what went on. He tells his buddy, the guy he replaced on the National Security Council, Eric Ciaramella, let's him know what he heard Trump say and how he wanted Zelensky and hs investigators to work with Barr, and that Zelensky agreed they wanted to get to the bottom of it. Ciaramella, who was directly involved in the 2016 interference along with Chalupa, Marie Yovanovitch, Victoria Nuland, and all the Ukraine actors. Ciaramella panics and runs to his friends, who were newly hired by Schiff to get leaks from those still left behind in the White House NSC. Ciaramella runs and tells Abigail Grace & Sean Misko what he was told about the phone call with Zelensky. They began to panic, because they are all involved in the 2016 interference.
Impeachment Shows the Limit of Media Power. The Russia investigation looked good in the media frame until the Mueller report came out and then Mueller was dragged in to testify about it. The impeachment bid looked good in the media lens until people actually watched committee hearings and didn't see any of what the media had been touting. Live by the lie, die by the lie.
Jerry Nadler Gives Trump Friday Deadline; Impeachment to Include Russia Collusion. House Judiciary Committee chairman Rep. Jerry Nadler (D-NY) wrote to President Donald Trump Friday, giving him until Friday, Dec. 6., to answer whether he and his lawyers would participate in the "impeachment inquiry." Nadler's letter quotes the forthcoming report from the House Intelligence Committee, which will be written entirely by Democrats and which will recommend drafting articles of impeachment against the president.
The Ukrainian Boogie-Woogie and Going on Offense. George Parry, former DOJ/FBI and state prosecutor/attorney, is a well-regarded blogger, and writer at many newspapers, but also American Spectator and The Federalist. [...] Parry says the conversation between Presidents Trump of USA and Zelensky of Ukraine are like the lower level conversations between FBI and Foreign law enforcement officials on matters of mutual interest — coordination on corruption investigations and criminal activities as a part of foreign affairs. This makes sense, doesn't it? So, if the perp is a candidate for office in the US or the problem is created by that candidate's son, is the candidate or the son immunized? Are candidates or their relatives above the law? Is the President of the United States, the chief law enforcement officer of the US of A constrained from inquiring into the matter of illegal or corrupt activities?
Sondland not resigning over sexual misconduct allegations. Gordon Sondland isn't backing down. The U.S. ambassador to the EU, who has been at the center of Donald Trump's impeachment scandal in Washington, has no intention of resigning over allegations of sexual misconduct, a close associate said Thursday [11/28/2019].
Three women accuse Gordon Sondland of inappropriate behavior. Gordon Sondland has been one of the key figures to testify in the impeachment hearings. His appearance before Congress last week was lauded on the left as "impeachment testimony for the ages," though his testimony hasn't swayed public support for impeach very much. Today, ProPublica published a story which is likely to make Sondland regret his newly enlarged public profile. Three women claim that Sondland engaged in sexually inappropriate behavior toward them. Furthermore, the women claim that after they rejected his advances, his support for them vanished.
Sondland's Ties to Romanian Official Set Off Alarms at National Security Council. Even before Gordon Sondland's work in Ukraine set off alarm bells, senior U.S. officials were raising concerns about his communications with officials from Romania — including his efforts to get White House access for a politician with a history of pushing back against anti-corruption reforms. That's according to two individuals with knowledge of the situation who say that Sondland, the U.S. ambassador to the European Union who is now a major figure in the House impeachment inquiry, often hosted meetings with Romanian officials without consulting the National Security Council (NSC). His increasingly close relationship with one of those officials, former deputy prime minister Ana Birchall, generated significant concerns within the NSC, according to those same sources.
Quo Vadis, Democrati? Prior to this past week, for days Adam Schiff had concocted a pretty effective fix. He conducted secret impeachment inquiries in the House basement. Schiff kept quiet about his rigged rules. He orchestrated selective media leaks from the opening statements of favorable witnesses and then more or less threatened with ethical violations any Republican member who copied his tactics and leaked their own often effective cross-examinations. The result was that the public heard only from Schiff about Schiff's damning slam-dunk hearings. [...] But then [...] Schiff's overweening ambition and ego drove him into a full-fledged, prime-daytime soap opera. Previously washed and rinsed witnesses returned for televised cross-examinations with Schiff in the star inquisitor role. He apparently thought he could outperform his own Republican colleagues on camera — people he had blatantly misrepresented for weeks.
The obsessive, intolerant, despicable do-nothing-but-obstruct Democrats. All those so-called witnesses Schiff paraded in front of us knew nothing, had nothing but their own anti-Trump opinions and presumptions. Schiff has an exalted opinion of himself. He thinks Americans are very stupid and will not see what he is trying to do — unseat a President more than half of the country loves because he is shaking up the place. With his silly secret, Stalinesque and then public overly-gaveled hearings, Schiff has made a complete, unmitigated fool of himself and his party.
A Shameful Abuse of Congressional Power. [Scroll down] [T]he sleazy Schiffite proceedings at the House Intelligence Committee were so lopsided, arbitrary, and contemptuous of the rights of the Republican minority on the committee and those of the president as the investigated party, no American court could possibly accept a requested prosecution that emerged from such a vitiated and tainted proceeding. Given all of the foregoing facts — which are indisputable — the country, despite the wall-to-wall disinformation effort of the non-Fox media, seems already to be asking why this unmitigated foolishness is distracting the attention of the country and the world at all.
Impeachment Polls Prove Schiff Hearings Were a Huge Failure. The latest impeachment polling has come in from HuffPost, CNN, and Politico, and it proves Adam Schiff's House hearings were a massive failure. This is not just a massive fail on Schiff's part — it is also a massive media fail. Because, if you recall the last two weeks, Schiff's kangaroo court was backed by billions and billions of dollars in corporate propaganda through the fake media, including far-left CNN, MSNBC, and even a number of lying morons on Fox News, like Chris Wallace and Andrew Napolitano.
Good news: More impeachment hearings coming. Adam Schiff must have seen his shadow because he told CNN there will be more impeachment hearings. President Donald John Trump's supporters cheer. This dopey obsession with Democrats to remove President Trump before his first term expires increases the chances of his winning a second term because Americans see the unfairness of never giving the guy a chance to be president. Obama orchestrates this attack on our constitutional republic. As president, he had the FBI spy on political opponents. After Obama lost big in 2016 through his surrogate, Hillary, he tried to exact revenge by encouraging mutiny and sabotage among the bureaucrats. The Mueller report's exoneration of President Trump in Obama's Russian Hoax should have ended this. But President Smollett pressed on by leading Democrats down the Ukraine path to self-destruction.
Vindman is a windbag. It seems that Mr. Vindman is now on his way to join the pantheon of heroic prog-martyrs, standing shoulder-to-shoulder with Christine Blasey Ford, Jussie Smollett, and others.
The Trump Impeachment Theme Song: 'Is That All There Is?'. Is that all there is to an attempt to overthrow the president of the United States? Just a bunch of bureaucrats who felt overlooked? Because if there is more to it than that, I haven't seen the evidence. What I've seen is one witness after the other who swore loyalty to the U.S. Constitution, and claimed to be nonpartisan, but who worked to undermine the foreign policy of the elected president because it didn't square with the "consensus views of the interagency," whatever that is. I haven't found the "interagency" referenced anywhere in the Constitution, but these diplomats and spies swear fealty to it, over and above either the president or the Constitution.
Impeachment inquiry: It's a question of who should run the show. Many will debate the substance of the public impeachment testimony against President Trump. To me, each of the Democrats' witnesses of the past two weeks appeared to be well-intentioned and hard-working, and seemed genuinely to believe they know what's best. But a picture also emerged of U.S. diplomats who appear to believe they, rather than the U.S. president, have the ultimate authority to determine our foreign policy. And if the president doesn't go along? He clearly must be wrong — in their view. Or, even worse, he's a traitor. He's to be obstructed. Taken down. In an odd turnabout, they actually make the case for President Trump's mantra that we need to "drain the swamp."
Gordon Sondland: Jeb! Donor, Never Trumper, Key Impeachment Witness. U.S. Ambassador to the E.U. Gordon Sondland emerged as the Democrats' key witness in the impeachment inquiry last week, testifying that President Donald Trump had offered Ukraine a "quid pro quo": a White House meeting in exchange for investigations of 2016 election interference and Burisma, a company tied to the Bidens. Sondland was widely described as a Trump donor who bought his way to an ambassadorship, only to dump Trump to save himself.
Are the Pincers Closing on the Deep State? The Pelosi-Schiff impeachment carnival has produced clapping seals, clowns, and carnival barkers but no actual evidence or witnesses to quid pro quo, bribery, extortion, or any of the other high crimes Rep. Schiff claims to have proven. Instead, all we have seen is several weeks of bureaucratic apparatchiks upset that they alone don't determine U.S. foreign policy, rather than the elected president of the United States who actually has that constitutional prerogative. No one actually witnessed any wrongdoing; all they have done is believe, surmise, or presume that Trump meant something other than what he actually said on a phone call, verified by others on the call and in the call transcript.
Here comes the circus: Raucous Judiciary panel set to reclaim impeachment. The House impeachment investigation into President Trump is soon heading back to the Judiciary Committee, where partisan bickering and theatrics during public hearings last summer prompted House Speaker Nancy Pelosi to shift the investigation to the House Intelligence Committee. The Intelligence panel appears to have wrapped up a series of public hearings. No new hearings or depositions have been scheduled. Under an Oct. 31 resolution passed by Democrats, the matter is supposed to fall back to the Judiciary Committee, which will hold its own hearings and draft articles of impeachment against Trump.
Napolitano Goes Full Schiff. The descent of Fox News legal analyst Judge Andrew Napolitano into foolishness continues with a series of TV appearances in which the former New York Superior Court judge adopts the Adam Schiff interpretation of the Constitution where you are not allowed to confront your accuser, where being a fact witness does not require you to recuse yourself from running a kangaroo court impeachment inquiry, and where hearsay and presumption determine you are guilty until proven innocent. In the face of public hearings in which Schiff unloaded his clown car of hearsay witnesses who made every presumption about President Trump except for the presumption of innocence, Napolitano warmly embraced Schiff's fables, [...]
Schiff isn't ruling out more impeachment hearings. The House Intelligence Committee has begun work on its report in the impeachment inquiry against President Donald Trump, Chairman Adam B. Schiff, D-Calif., said in an interview Friday [11/22/2019]. The committee, which on Thursday wrapped up public testimony with a dozen current and former administration officials, will continue working on its investigation while compiling the report, Schiff said in his Capitol Hill office.
The Curtain Closes on 'The Schiff Show'. In what presumably was his final encore Thursday afternoon, U.S. Representative Adam Schiff (D-Calif.) bid an emotional farewell to his long run as the lead role in his impeachment inquiry, a.k.a. "The Schiff Show." As the lights dimmed and folks headed for an early exit, Schiff choked up during his closing monologue. [...] But the Schiff Show didn't go as planned. The original script from the wannabe screenwriter was a dark drama of collusion, animated by raven-haired Russian lawyers, secret Kremlin operatives, shady Manhattan attorneys, and the president's eldest son. The climax — Bad Orange Man ousted from the Oval Office — would end with a thunderous standing ovation from the Beltway gallery. Instead, Schiff starred in what Rep. Devin Nunes (R-Calif.) memorably called the "low-rent Ukrainian sequel."
John Solomon fires back at Vindman testimony with fact-filled column, challenges him to refute it. John Solomon continued his truth-telling campaign in "confronting" impeachment testimony smearing his work with the actual facts. As the left attacked the work of the journalist, Solomon fired back this week, tearing up the White House's former top Russia analyst, Fiona Hill, who questioned the veracity of his reporting on Ukraine corruption. On Friday, Solomon targeted Army Lt. Col. Alexander Vindman who testified before Congress this week.
Adam Schiff Claims Not to Know Who the Whistleblower Is. On October 4, the Washington Post awarded Adam Schiff "Four Pinocchios" for claiming he did not know the identity of the whistleblower. As noted by the New York Times and the Washington Post, the whistleblower went to Schiff and his staff "to seek guidance before filing a complaint." A spokesman for Schiff's own committee said, "Like other whistleblowers have done before and since under Republican- and Democratic-controlled committees, the whistleblower contacted the committee for guidance on how to report possible wrongdoing within the jurisdiction of the intelligence community." In spite of being outed by the left-leaning press and a staffer on his own committee, Schiff repeated the falsehood on the first day of televised hearings.
Thursday, November 21, 2019:
The Impeachment Hearings Have Been Useless. Democrats on the Intelligence Committee have spent the vast majority of their impeachment hearings trying to persuade voters that bureaucrats believe Donald Trump is impulsive, self-serving, and misguided — all of which is unsurprising, and completely irrelevant to the matter at hand. Quite often, in fact, the most breathless coverage of these tedious hearings has absolutely nothing to do with the allegedly impeachable offenses of quid pro quo or "bribery" — or whatever focus group-tested terminology Democrats are deploying today. Take the newest blockbuster witness, Fiona Hill, a Russia expert whose testimony nearly every outlet promised would be "explosive."
6 Big Moments From Day 5 of Public Impeachment Hearings. Fiona Hill, a former official with the National Security Council who was Trump's adviser on Russia, and David Holmes, political counselor to the U.S. Embassy in Ukraine's capital of Kyiv, testified on the fifth day of public impeachment hearings held by the House Permanent Select Committee on Intelligence. [...] Without being asked, Hill opened her testimony by attacking Republican assertions that Ukraine, as well as Russia, meddled in the U.S. presidential election in 2016. "I refuse to be part of an effort to legitimize an alternate narrative that the Ukrainian government is a U.S. adversary and that Ukraine, not Russia, attacked us in 2016," Hill told the committee. "These fictions are harmful even if they are deployed for purely political purposes."
Did You Know This About Marie Yovanovitch? [Scroll down] She never was appointed to a lifetime job like a federal judgeship. President Trump had campaigned on a promise to fire Deep State and similar government staffers who have managed over the years to become an unelected policy-setting entity unto themselves. Rep. Pete Sessions had asked the president to oust her. Two weeks after Zelensky's election and 10 weeks before the whistleblower phone call, people in President Trump's circles and supporters of his vision were asking publicly that she be removed. And she was removed, just as President Bush earlier had removed a thoroughly qualified ambassador to Armenia, John Evans, for being a person of conscience — thereby creating the very vacancy into which the opportunistic Yovanovitch eagerly entered. Along the way, she got on the wrong side of newly elected Ukrainian President Volodymyr Zelensky, a fundamentally decent guy according to all accounts, [...]
Fiona Hill Says Longtime Clinton Crony Showed Her Steele Dossier Before It Was Published. Fiona Hill, who served as a top Russia adviser to President Donald Trump, testified at an impeachment hearing Thursday that a longtime Clinton insider showed her a copy of the Steele dossier a day before it was published by BuzzFeed News. Hill testified that Strobe Talbott, the former president of the Brookings Institution, shared the salacious document with her on Jan. 9, 2017. At the time, Hill was a director at Brookings, a left-of-center foreign policy think tank. She joined the Trump White House in early 2017 as senior director for European and Russian affairs on the National Security Council.
Democrats Throw Impeachment Party at Capitol Hill Bar After Last Hearing. Democrat staffers threw an impeachment party at a Capitol Hill bar after the last public hearing concluded on Thursday evening [11/21/2019]. The party was held at the Capitol Hill establishment Hawk 'n' Dove, just a stone's throw from where the impeachment hearings were held this week.
Why does this bad joke of an impeachment continue? U.S. ambassador to the European Union Gordon Sondland testifies in kangaroo court Congress's impeachment hearing that he "presumed" a quid pro quo of American aid in return for an investigation of the Bidens' activities in Ukraine. No one told him there was such a quid pro quo, and President Trump specifically told him there was none. Sondland's testimony tidily sums up the entire case and all the animus against Donald Trump, going back to before his election: it's all based on presumption. Schiff presumes that he could find the needle of quid in the haystack of pro quo.
Fiona Hill Testifies that Obama Was Putin's Puppet. While the fake news media are trying to convince you that Trump investigating the obvious and blatant corruption of the Biden family in Ukraine is a crime, one of their witnesses declared that Obama danced to Putin's tune. Fiona Hill testified [...] that Obama refused to provide lethal aid to Ukraine so as to not upset Putin. That's pretty clear evidence that Obama, not Trump, was in Putin's pocket. Hill's testimony also creates problems for the Democrats' impeachment narrative. After all, the elite policy wonks said the U.S. should arm Ukraine to help defeat Russia's invasion, but Obama said he wouldn't because that would make Putin mad. Given that the Democrats are saying in the impeachment hearings that Trump temporarily not following the "guidance" of the interagency is an impeachable offense, clearly, Obama's permanent rejection of the interagency guidance must also be a crime.
Unheard at the Impeachment Hearings. The scandal involves Donald Trump not withholding aid to Ukraine but releasing it. Why does the United States give any money, let alone billions, to a kleptocracy? In a hearing hearing thousands of questions, this one went unheard. Transparency International ranks Ukraine as the most corrupt European nation save for Russia. The worst individual malefactor also happened to own the company that paid Hunter Biden millions to sit on its corporate board. Like so many instances of graft, pennies invested became dollars protected. Hunter Biden came cheap.
Fiona Hill Worked with Christopher Steele, Author of Russia 'Dossier'. Fiona Hill, the former National Security Council (NSC) official who is testifying in Thursday's impeachment inquiry, admitted in her closed-door deposition to having worked with Russia "dossier" author Christopher Steele. Steele, a former British spy, was hired by the opposition research firm Fusion GPS to find dirt on then-candidate Donald Trump. The firm was paid by Trump's political opponents, particularly the Democratic National Committee and the Hillary Clinton campaign. His "dossier" produced a slew of unsubstantiated, salacious accusations, some of them were proven false outright. But the FBI used it to obtain a FISA warrant to spy on Trump campaign associates.
Schiff Impeachment Circus Reduced to Deep State Witness Fiona Hill Talking About Her Pigtails as a Schoolgirl. Adam Schiff's closing witness Thursday in the Democrat impeachment show trials was Fiona Hill. Fiona Hill is a Deep State-Soros hack who admitted she was shown the phony, Hillary-funded Steele dossier one day before BuzzFeed published it in January of 2017. Adam Schiff's circus impeachment was reduced to Fiona Hill talking about her pigtails she wore as a schoolgirl. [Video clip]
Hilarious: Devin Nunes Yields Back His Time to Adam Schiff During the Hearing. It must be difficult and frustrating for House Republicans dealing with the political manipulations of the House Intelligence Committee Chair Adam Schiff (D-CA) which have been on display during these impeachment proceedings. Schiff has tried to cut off their ability to adequately question and call witnesses. He's also made up, out of whole-cloth, his own interpretation of what was said on the July 25 call between President Donald Trump and President Volodymyr Zelensky and told multiple lies during the hearings. The Washington Post even busted him for claiming that there was a statutory requirement to keep the identity of the whistleblower anonymous. They gave him three Pinocchios for that lie. There is, of course, no such requirement.
Congressman accuses Schiff of hiding impeachment 'evidence'. Rep. Adam Schiff, D-Calif., who has become a familiar face as the chairman of the committee holding impeaching hearings, is hiding evidence from the American public, contends Rep. Doug Collins, R-Ga., the ranking member of the House Judiciary Committee, which would handle any articles of impeachment. Collins, in a letter Thursday [11/21/2019], called on House Judiciary Chairman Rep. Jerry Nadler, D-N.Y., "to require chairman Adam Schiff, D-Calif., to transmit all documents, information and evidence related to the impeachment inquiry — in unredacted form — from the House Permanent Select Committee on Intelligence to the House Judiciary Committee."
Sharyl Attkisson Dredges up the Ukraine Story Democrats Don't Want to Talk About. Career diplomats and foreign affairs specialists Fiona Hill and David Holmes are testifying in what has been a week of hot air. We've had a lot of Democratic hyperbole and a lot of witnesses saying they don't possess direct evidence of the so-called quid pro quo allegations that have been hurled at the Trump White House. It all stems from a whistleblower report that in July, President Trump threatened to withhold aid from Ukraine unless they opened a corruption probe into Hunter Biden's position at Burisma, an energy company, despite having zero experience. Biden has been there since his father, Vice President Joe Biden, was in office. He recently left. It's a total clown show. Some of the witnesses, like Marie Yovanovitch, were just career diplomats who disagreed with Trump on Ukraine policy. Her testimony was a therapy session[.] Yet, one thing that is missed in all of these proceedings is that Ukraine did collude with the Hillary Clinton campaign in 2016 in a failed attempt to detail the Trump candidacy.
Fiona Hill Penned Washington Post Op-ed Against Giving Ukraine Weapons in 2015. Dr. Fiona Hill told the impeachment inquiry Thursday that she was concerned that a hold on aid might endanger Ukraine's security. But in a 2015 Washington Post op-ed, Hill argued against giving Ukraine any lethal weapons. Hill was testifying in the seventh public hearing in the House Intelligence Committee's impeachment inquiry. As she had in her closed-door deposition last month, Hill said she was concerned about Ukraine's security and stability as it defended itself against Russia. In that context, she — and others — were worried about a hold on security.
Fiona Hill is wrong about Ukraine. It did interfere in the 2016 election. We're supposed to refer to the endless slew of bureaucrats testifying in the impeachment proceeding as "patriots" and "public servants." But are we allowed to wonder whether they're stupid? Former National Security Council official Fiona Hill apparently doesn't understand that it's possible more than one country interfered in the 2016 election. In fact, we know that at least two did. In her opening statement Thursday [11/21/2019], Hill denied that Ukraine had inserted itself in that election with the explicit purpose of harming President Trump's campaign.
Wednesday, November 20, 2019:
GOP congressman demands Schiff explain legal authority to conceal whistleblower. Rep. Mike Conaway told House Intelligence Committee Chairman Adam Schiff during the public impeachment hearings that he wanted to know the legal grounds on which Schiff refused to allow the naming of the whistleblower. "Mr. Chairman, I would like, as a personal request, I request that you and/or one of your lawyers, one of the members of the committee, put into the record the federal statute that provides for the absolute immunity, right to immunity, that you've exerted over and over and over," the Texas Republican said Tuesday. "I don't think it's there, but if it is, in fact, a federal statute and/or a brief that you can cite, put that in the record so that we'll know that."
8 Things the Media Don't Want You to Know About Gordon Sondland's Ridiculous Testimony. The fake news media are still trying to pretend Gordon Sondland's train-wreck impeachment testimony Wednesday spells doom for President Trump. It doesn't. Quite the opposite. In fact, yesterday [11/20/2019] was a disaster for the media and Democrats, the worst day so far for an impeachment inquiry that is quickly exhausting the patience of the American people. All the media got out of our ambassador to the European Union Wednesday was the soundbite they so desperately desired, a soundbite where a witness (who, like all the other impeachment "witnesses," has witnessed nothing) said, "There was quid pro quo."
Key Witnesses for Democrats in Impeachment Inquiry Significantly Contradict Sworn Testimony. Key witnesses for House Democrats in the impeachment inquiry have significantly contradicted each other and themselves in sworn testimony. David Holmes, an aid to Ambassador William Taylor, contradicted his boss regarding when he recalled having "first-hand evidence" of the content of a phone conversation between Ambassador Gordon Sondland and President Trump. In the written statement prepared and delivered publicly, Ambassador Taylor stated Mr. Holmes told him for the first time the prior week about what he allegedly overheard.
Mark Meadows Pulls the 'Most Important Quote' from Today's Hearing So Far. U.S. Ambassador to the EU Gordon Sondland is the star witness on the fourth day of public impeachment inquiry hearings. The Democrats launched the inquiry against President Trump based on a secondhand whistleblower complaint alleging that Trump tried to pressure Ukraine to investigate his political rival Joe Biden and his son Hunter Biden and their ties to a corrupt Ukrainian gas company. According to the whistleblower, Trump suggested to Ukrainian President Zelensky that if he didn't investigate the Bidens, he'd withhold U.S. military aid. Trump and his associates explain that the president asked Zelensky to investigate the Bidens to root out corruption. It had nothing to do with politics or military aid. As others have noted, the aid was ultimately released. Sondland acknowledged those points in this morning's hearing, and that's when Rep. Mark Meadows's (R-NC) ears started burning.
Nets Cheer Sondland 'Directly Implicating' Trump, Then Admit He Didn't. During an 11:00 a.m. ET hour break in Wednesday's [11/20/2019] impeachment hearing, all three broadcast networks eagerly proclaimed the U.S. Ambassador to the European Union, Gordon Sondland, was "directly implicating" President Trump in a "quid pro quo" with Ukraine. However, just minutes later, those same networks admitted that Sondland never heard any such thing directly from the President. "Well, Gordon Sondland, clearly the man of the hour there, as we are halfway through the questioning," Nightly News anchor Lester Holt declared during NBC's special coverage. He further claimed that Sondland "dropped a lot of bombshells" and "Is now implicating the President directly." He emphasized that Sondland "had direct communications with the President." [...] The only problem with those pronouncements? They weren't true.
Mark Meadows: Impeachment hearing produced this 'real bombshell'. GOP Rep. Mike Turner, R-Ohio, hammered America's ambassador to the European Union, Gordon Sondland, during Wednesday's testimony, seizing on Sondland's admission that he never heard the president or anyone else in the White House explicitly link Ukrainian aid with the opening of an investigation into 2020 Democratic candidate Joe Biden and his son Hunter. Rep. Mark Meadows, R-N.C., applauded his colleague on producing "the real bombshell" of Sondland's long-anticipated testimony and marked the moment as "game over," for the Democratic-led impeachment inquiry. That inquiry is focusing on an alleged quid pro quo between President Trump and Ukraine linking military aid and White House access to Ukraine probes beneficial to Trump.
Shut The Circus Down: Is This the 'Game Over' Moment for These Trump-Ukraine Impeachment Hearings? U.S. Ambassador to the European Union Gordon Sondland is done on the Hill. The hours-long testimony he offered related to the House Democrats' impeachment crusade. They're desperate to impeach President Trump over this quid pro quo allegation that so far has been denied by multiple witnesses. The Democrats have got nothing, nothing but presumptions. That's not evidence. Sondland gave a lengthy opening statement that was around 23 pages long. And after all that, Sondland said that the aid to Ukraine was never tied to a corruption probe into the Biden family. You see, this whole circus was erected thanks to a whistleblower complaint by a reported CIA agent who is also a registered Democrat. The allegation is that Trump threatened to withhold aid from Ukraine unless they looked unto Hunter Biden's position at Burisma, a Ukrainian energy company, despite having zero experience. He was there making $50,000 a month. The allegation with that arrangement is that Hunter was there to sell access to top Obama officials; he secured his cozy position here in 2014.
Impeachment Day 4: Rep. Mike Turner Shuts Down Sondland, Shreds Democrats' Entire Case. Rep. Mike Turner (R-OH) handily dismantled the Democrats' entire case for impeachment Wednesday, getting U.S. Ambassador to the European Union Gordon Sondland to admit that "no one on this planet" told him that financial assistance to Ukraine was tied to corruption investigations. "After you testified, Chairman [Adam] Schiff ran out and gave a press conference and said he gets to impeach the president of the United States because of your testimony and if you pull up CNN today, right now, their banner says 'Sondland ties Trump to withholding aid,'" Turner said during Wednesday's [11/20/2019] impeachment hearing. "Is that your testimony today, Ambassador Sondland? That you have evidence that Donald Trump tied the investigations to the aid? Because I don't think you're saying that."
Reps. Turner and Scalise: Case Closed on Impeachment, But Dems Persist. In his opening statement to the House intelligence committee, Ambassador to the E.U. Gordon Sondland said "Yes," "there was a quid pro quo" with regard to the White House call and the White House meeting sought by the Ukrainians. But Sondland only "presumed" that U.S. military aid was part of the quid pro quo. No one ever told him that about the military aid, Sondland testified repeatedly. And that includes President Trump, who — according to Sondland — told Sondland directly, "I want nothing." Here are three different snippets from Sondland's testimony that should end the investigation, according to Republicans.
David Holmes Did Not Take Notes of Trump-Sondland Conversation. State Department official David Holmes admitted in closed-door testimony last week that he had not taken notes about the conversation he claims to have overheard between President Donald Trump and U.S. Ambassador to the E.U. Gordon Sondland. Holmes testified in a public hearing at the House Intelligence Committee on Thursday morning that he heard Trump speaking to Sondland on a mobile phone while sitting at an outdoor restaurant table on July 26th — the day after Trump's call with Ukrainian President Volodymyr Zelensky. He said that he heard Trump say "investigations," and that in a subsequent conversation, Sondland said Trump wanted to investigate the "Bidens." Sondland disputed that in his own testimony on Wednesday, saying that he recalls saying "Burisma."
'Witness Intimidation': Democrat Ends Boycott of Sondland's Hotels After He Testifies. Rep. Earl Blumenauer (D-OR) officially ended his boycott of the hotel chain owned by U.S. Ambassador to the E.U. Gordon Sondland after he testified against President Donald Trump in Wedesday's impeachment inquiry. Blumenauer had encouraged the public to boycott Sondland's Provenance Hotels until he testified. As Wilamette Week reported: "In October, Blumenauer called for a boycott of Provenance Hotels, where Sondland served as CEO. Blumenauer said Americans should boycott Provenance properties — including six hotels in downtown Portland — until Sondland testified in a congressional impeachment inquiry."
Kamala Harris: 'We Have a Criminal Living in the White House' Running 'a Criminal Enterprise'. "We have a criminal living in the White House" — and he's running a "criminal enterprise" with the vice president, secretary of state, and the chief of staff, Sen. Kamala Harris (D-Calif.) said during Wednesday night's Democrat presidential debate. Sen. Harris said that Wednesday's testimony of U.S. Ambassador Gordon Sondland at the House impeachment inquiry exposed the criminal enterprise: [...] In fact, however, Amb. Sondland affirmed in his sworn testimony Wednesday that "no one on this planet" told him that President Trump was tying Ukraine aid to investigating former Vice President Joe Biden and his son, Hunter. And, Sondland went on to quote Pres. Trump telling him that "I want nothing from Ukraine" and "I want no quid pro quo."
Rep Mike Turner Gets Witness To Admit Bombshell, Debunks CNN Headline In Real Time. Rep. Mike Turner (R-OH) hammered U.S. Ambassador to the European Union Gordon Sondland on Wednesday during Democrats' impeachment inquiry hearing on the House Intelligence Committee. Hill got Sondland to admit that "no one on this planet" told him that financial assistance to Ukraine was connected to any investigations.
Trump impeachment based on unreliable presumptions, rumor and innuendo — Not facts. The House Intelligence Committee's impeachment hearing Wednesday posed a conundrum. Better yet, let's call it a riddle. When is a "quid pro quo" not a "quid pro quo?" The answer is ... when it's "presumed." U.S. Ambassador to the European Union Gordon Sondland testified that there was a "quid pro quo" between the U.S. and Ukraine, even though President Trump made it crystal clear to Sondland that there was no "quid pro quo." So, how did the ambassador arrive at his opinion that a "quid pro quo" must somehow exist? It turns out that he assumed or "presumed" it. At one point, he called it a mere "guess."
Schiff Witness Admits U.S. Aid Has Been Delayed or Withheld to Five Other Countries in the Last Year. Meanwhile, back at the circus, Rep. John Ratcliffe's (R-TX) questioning of witness David Hale, the Undersecretary of State for political affairs, revealed that over the last year, the U.S. has either delayed or withheld aid to several countries. Hale has worked in Foreign Service for over 30 years and is the third-highest-ranking official at the State Department. During that time, he has "held U.S. ambassadorships in Jordan, Lebanon and Pakistan." Team Schiff has created the impression that it is unheard of for the U.S. to delay foreign aid or to attach conditions to it while House Republicans have made the case that President Trump is not a huge fan of foreign aid. The President's stance on foreign aid has remained stable throughout his presidency.
Ambassador Sondland Accuses Trump and Rudy Giuliani of Pushing Investigation of Ukrainian Corruption. During his opening statement Ambassador Sondland switched his testimony and now says President Trump ordered him to work with Rudy Giuliani on Ukrainian corruption. Rudy Giuliani was looking into the 2016 election interference by the DNC and Ukrainian officials. Rudy was also looking at the Biden Crime Family and Hunter Biden's position on the corrupt Burisma organizations. Democrats will push this as an impeachable offense.
GOP Holds Firm in Wake of Sondland Testimony: 'Democrats' Smear Campaign Is Falling Apart'. The GOP is standing firm in the wake of Ambassador Gordon Sondland's Wednesday testimony, particularly highlighting his admission that he never heard President Trump tell him that aid to Ukraine was contingent on an investigation into the Bidens. Sondland testified on Wednesday that Trump "never told me directly that the aid was conditioned" on the investigations and did not recall Trump "ever talking to me about any security assistance, ever." He told Democrat counsel Daniel Goldman that no one told him aid was tied to anything, adding, "I was presuming it was." "No quid pro quo ... that's all I got from President Trump," Sondland repeated during the testimony.
Trump reads smoking gun moment of impeachment testimony that exonerates him. President Donald Trump declared that the Democratic Party's partisan impeachment inquisition is "all over," following the testimony Wednesday from U.S. Ambassador to the European Union Gordon Sondland. Speaking to reporters outside the White House as he was departing to Austin, Texas, Trump read from hand-written notes on Sondland's testimony. "I just noticed one thing, and I would say that means it's all over," the president said. [Video clip]
Pence's Chief of Staff: 'This Alleged Discussion Recalled by Ambassador Sondland Never Happened'. Vice President Mike Pence's office released a statement Wednesday morning [11/20/2019] refuting Ambassador Gordon Sondland's testimony that he told Pence about the alleged quid pro quo being pushed by President Donald Trump and his attorney Rudy Giuliani. "The Vice President never had a conversation with Gordon Sondland about investigating the Bidens, Burisma, or the conditional release of financial aid to Ukraine based upon potential investigations," said the statement by Pence's Chief of Staff Marc Short. Under questioning by Democratic attorney Daniel Goldman about his alleged conversation with the vice president, Sondland ultimately said: "I don't know exactly what I said to him."
Tuesday, November 19, 2019:
Where are the mutineers who will save the Democrat Party from Adam Schiff? Watching Schiff's trumped up inquiry about nothing but a phone call, the transcript of which has been available to the public for many weeks, is like watching The Caine Mutiny (1954) without the drama. The film is about a naval captain whose first officer relieves him of his command when the man demonstrates obvious signs of mental instability. [...] [Captain] Queeg was obsessed with missing strawberries. Schiff's impending mental breakdown is demonstrably more obvious, less subtle than Queeg's. He intends to see President Trump removed from office, no matter what. His eyes seem to radiate his inner fury and rage. He sits stone-faced while the smart people in the room destroy every bit of his carefully constructed narrative. His fellow Democrats all dutifully use the prescribed talking points and focus-grouped terms like "quid pro quo," then "obstruction," then "extortion," now "bribery," a word not one of the so-called "witnesses" used to describe the conversation. Schiff is Capt. Queeg on steroids.
Lieutenant Colonel Vindman as Ukrainian Asset? The Army's answer to Seinfeld's George Costanza, Lieutenant Colonel Alexander Vindman, made quite the statement Tuesday [11/19/2019] when admitting under oath that he was offered the position of minister of defense of Ukraine — three times. Vindman and the Ukrainian official extending the offer now both insist it was a joke, which may be true or not. But it's irrelevant. It should first be noted that a joke isn't laugh-inducing the third time. All the same, the official who made the offer, Ukraine's former chairman of the National Security and Defense Council, Oleksander Danylyuk, wouldn't be the first to overuse a line he fancied funny. But if it actually was funny even the first time, it would only be because of what it reflected: the same thing it would if it was uttered seriously. And the offer would be made seriously only if it was so clear that the Ukrainian-born Vindman was in Ukraine's corner, that his passions and heart lay with the nation, that he could be trusted to be loyal to it — maybe even more loyal than he'd be to the U.S.
Schiff games Trump impeachment show — In legitimate proceedings, you can't have it both ways. "Self-serving and not credible." At Tuesday's [11/19/2019] public hearing in the House impeachment inquiry, former U.S. envoy Kurt Volker offered that assessment of allegations that former Vice President Joe Biden and his son, Hunter Biden, may have engaged in corrupt self-dealing in Ukraine. At Tuesday's marathon session in Intelligence Committee proceedings, that continue on Wednesday and Thursday, other witnesses were invited to testify that they knew of no basis to believe Ukrainian officials had interfered in the 2016 election. Indeed, Democrats continued to press their disingenuous storyline that Ukraine could not have meddled in our presidential campaign because Russia did, as if it were not possible that both countries meddled — as it is virtually certain that both did, on opposite sides.
Kurt Volker and Tim Morrison Finished Their Testimonies and They Were Bad for Adam Schiff. After the more marquee testimony of Alexander Vindman this morning (which is odd to say since he essentially provided nothing of value), Schiff called Kurt Volker and Tim Morrison for the afternoon session. In a marathon hearing, each man was questioned by both sides in an attempt to gather more answers about just what happened between Trump and Ukraine. With the Democrat theory being that Trump orchestrated a "bribe," offering aid in exchange for investigations, would these two men provide any substantive evidence to that assertion? Given that the media-sphere isn't currently melting down, you can safely judge the answer to that is no even if you didn't watch. Oddly enough, the Volker/Morrison testimony turned out to be less exciting than Vindman's, even though my original expectation was that Democrats would be ready to grill these two men because their stories run counter Schiff's narrative. It didn't really turn out that way, which is probably a testament to just how pointless this all is.
Vindman is the Ranking Miles Gloriosus. Lieutenant Colonel Vindman wants you to know his rank. This miles gloriosus, who clumsily cast himself as both martinet and insubordinate meddler, knows something of rank and privilege. In colloquy with the witness, Representative Devin Nunes (R-Calif.) referred to Vindman as "Mr. Vindman." Vindman, lips pursed, breathed back, "Ranking member, it's Lieutenant Colonel Vindman, please." Nunes missed the opportunity to top this affected pomp insisting "It is Honorable Ranking Member Nunes, please." Honorifics to the death. Game on, Colonel Sanders! In seriousness, Vindman demanded obeisance to his military rank, although he was appearing before Congress in connection with his role in the civilian administration of diplomacy. And he got it, with Democratic members particularly falling over themselves to sanctify the petty issue of Vindman's military rank and Republican's being mindful to thank him for his service.
Trump: Denies Heart Attack; Slams 'Big' Impeachment 'Scam,' and 'Very Dangerous' Media. President Donald Trump said he watched some of the Democrats' "kangaroo court" on Tuesday — an all-day marathon that, [...] stretched into prime time — and "the Republicans are absolutely killing it," he said. Trump also called the liberal media "very dangerous," as he debunked reports that he had a heart attack on Saturday [11/16/2019].
GOP Rep. Turner to Volker: You 'Took Apart' the Democrats' 'Entire Case' for Impeaching Trump. Rep. Mike Turner (R-OH) indicated during Tuesday evening's impeachment hearing that former diplomat Kurt Volker essentially "took apart" the Democrats' "entire case" for impeaching President Trump after confirming that neither Trump nor Ukrainian officials indicated the existence of a looming threat to withhold aid contingent on an investigation into Burisma, the Bidens, or the 2016 elections.
Nunes Opens Impeachment Hearings by Attacking Media 'Puppets' for Inaccurate Trump Coverage. House Intelligence Committee Ranking Member Devin Nunes (R., Calif.) accused the media of being "puppets of the Democratic Party" in his opening statement during public impeachment hearings on Tuesday [11/19/2019]. "If you watched the impeachment hearings last week, you may have noticed a disconnect between what you actually saw and the mainstream media accounts describing it," Nunes said, directing his comments to the American people. "What you saw were three diplomats, who dislike the President's Ukraine policy, discussing second-hand and third-hand conversations about their objections ... they were unable to identify any crime or impeachable offense the President committed. But what you read in the press were accounts of shocking, damning, and explosive testimony that fully supports the Democrats' accusations."
What you need to know about Alexander Vindman's testimony. [Scroll down] This really has become a farce. Nothing is going the way Schiff planned it go. Seems to me he led with what he thought were his strongest witnesses to do the greatest damage when he could expect the largest audience. The rest of the witnesses are not to going to advance his cause -- especially not Fiona Hill, who questioned Vindman's judgment.
Ten Reasons Vindman's Testimony Was Bad for Democrats. Forget the Democrats' talking points. Forget the media spin. If you watched Lt. Col. Vindman's testimony today it was a total dud for the Democrats and their impeachment witch hunt. Need proof? I've compiled ten reasons that the show today did not advance the Democrats' narrative one bit.
Vindman lawyer sends letter to Fox, demands retraction from Ingraham guest who gave his opinion. Lt. Col. Alexander Vindman — the Soviet-born impeachment witness being championed by Democrats — is demanding that Fox News "retract and correct" an opinion that attorney/law professor John Yoo stated on Laura Ingraham's Fox News opinion show. Vindman's lawyer is David Pressman, a former Obama aide. Pressman slammed Yoo's suggestion that some people might think that Vindman could have committed espionage when he advised Ukraine while undermining Trump's policies while working in the Trump White House.
Alexander Vindman condemned himself in his impeachment testimony. The commander-in-chief ought to fire Lt. Col. Alexander Vindman, who serves on the National Security Council, for rank insubordination. That is the key take-away from Tuesday's hearings in the Democratic impeachment push. Vindman, unlike other Democratic "star witnesses," was at least on the July 25 phone call between President Trump and his Ukrainian counterpart, Volodymyr Zelensky, that set off the inquiry. But Vindman was unreliable and had questionable judgment, according to his own outgoing superior, Tim Morrison, the National Security Council's senior director for European affairs.
Impeachment hearings Day 3 — Top 7 takeaways. Day Three of the House Intelligence Committee impeachment hearings is in the books and by any reasonable account it was a long and bad day for impeachment advocates. Perhaps the most startling news of the day was that House Speaker Nancy Pelosi, D-Calif., is continuing to block progress on the U.S.-Mexico-Canada Agreement on trade, apparently in exchange for commitments on impeachment. As we consider key takeaways, keep in mind that last week's witnesses never spoke to President Trump. They also were not on the July 25 call between Trump and Ukrainian President Volodymyr Zelensky — the call that launched the baseless impeachment inquiry.
Vindman: 'I'd Call Myself Never Partisan'. Lt. Col. Alexander Vindman, a National Security Council aide, said Tuesday that he has no political motivations in appearing before the House Intelligence Committee's impeachment hearing and that he considers himself "never partisan." Rep. Jim Himes (D-Conn.) questioned Vindman about his military service and his political motivations in agreeing to testify before the committee's despite a directive from the White House against doing so.
Touchy devil: Vindman pulls rank on Nunes. After revealing he was Trump impeachment whistleblower Eric Ciaramella's chatty human water cooler, White House National Security aide Lieutenant Colonel Alexander Vindman sought to get some respect from Rep. Devin Nunes. [...] It's well known that the extremely elite units disdain use of rank altogether while in the field. Ranks for them are desk-jockey stuff, and that pins Vindman for that type, whatever his combat history. What's more, it's kind of weird to see Vindman so jealous about the position he has. Being what's known as a lite bird colonel is not an insignificant position in the military, but it's not a top rank.
Alexander Vindman Admits Making up Parts of Trump Call Summary. Lt. Col. Alexander Vindman admitted he made up elements of President Donald Trump's call with Ukranian President Volodymyr Zelensky in an official summary. Prior to the call, Vindman included a discussion about corruption in the talking points provided to the president but Trump did not use them in the call. [...] Vindman clarified during his testimony that the president did not bring up the topic rooting out corruption during the phone call, but he included it in his summary of the call anyway.
GOP lawmaker slams Schiff during impeachment hearing, demands proof of whistleblower 'immunity'. House Intelligence Committee member Mike Conaway, R-Texas, criticized Rep. Adam Schiff, D-Calif., as Conaway completed his questioning of witnesses during Tuesday's impeachment inquiry hearing. Conaway made a "personal request" that Schiff clearly state the legal reasoning for keeping the Ukraine phone call whistleblower "immune" from testifying, even in a secure, closed-door environment that would protect his identity. "[I want] you and/or one of the members of the committee that are lawyers to put into the record the federal statute that provides for the absolute immunity or right to immunity that you've exerted over and over and over," Conaway told Schiff. "I don't think its there," he said.
Nunes Opens Impeachment Hearings by Attacking Media 'Puppets' for Inaccurate Trump Coverage. House Intelligence Committee Ranking Member Devin Nunes (R., Calif.) accused the media of being "puppets of the Democratic Party" in his opening statement during public impeachment hearings on Tuesday [11/19/2019]. "If you watched the impeachment hearings last week, you may have noticed a disconnect between what you actually saw and the mainstream media accounts describing it," Nunes said, directing his comments to the American people. "What you saw were three diplomats, who dislike the President's Ukraine policy, discussing second-hand and third-hand conversations about their objections ... they were unable to identify any crime or impeachable offense the President committed. But what you read in the press were accounts of shocking, damning, and explosive testimony that fully supports the Democrats' accusations."
The Impeachment 'Partial Transcript' Lie Just Got Blown Out Of The Water. In testimony before the House Intelligence Committee on Tuesday, both Jennifer Williams, an adviser to Vice President Mike Pence, and Lt. Col. Alexander Vindman stated that the transcript of the July 25 phone call between President Trump and Ukrainian President Zolodymyr Zelensky was substantively accurate. In direct response to a question as to whether the transcript was complete and accurate, neither suggested that it was not, except for minor details they found in their notes of the call. This testimony blows up a month-long lie pushed by Democrats and their media allies that the transcript was partial, or redacted, suggesting that the White House was potentially hiding important details. For weeks the baseless claim that the transcript was so doctored that we don't really know what happened on the call has been floated all over mainstream media coverage.
War Heroes Bash Lt. Col. Alexander Vindman: 'Operative,' 'Disgrace'. War heroes slammed Army Lt. Col. Alexander Vindman, a National Security Council official who testified Tuesday in the impeachment inquiry's third public hearing. Vindman, who served as director of Eurasia at the NSC, testified that after listening to the July 25 phone call between President Trump and Ukrainian President Volodymyr Zelenksy, he went to the NSC lawyer to report his concerns about the call. [...] Vindman's testimony rubbed some military veterans the wrong way, including prominent war heroes.
Vindman Exaggerated His Resume In Prepared Congressional Statement. Lt. Colonel Alexander Vindman was caught exaggerating his resume and his role in the White House to congressional lawmakers in Tuesday's round of public hearings during the Democrats' partisan impeachment proceedings. Vindman previously claimed in his opening statement to be the "principal advisor to the National Security Advisor and the president on Ukraine and the other countries in my portfolio." When asked about the claim however by Republican Congressman Mike Turner of Ohio, Vindman admitted to having never met, spoken with, or advised the president on anything. "You've never spoken to the president and told him advice on Ukraine," Turner said. "That is correct," Vindman said.
Volker, Morrison Testimony Completely Vindicate Trump, Destroy Democratic Case For Impeachment. Former State Department Special Envoy to Ukraine Kurt Volker offered testimony before the House Intelligence Committee Tuesday that completely exonerated President Donald Trump in the Democrats' partisan impeachment inquiry. Volker, who resigned from his post at the end of September, told lawmakers there was no bribe, no extortion, and no quid pro quo involved with the administration's dealings with Ukraine. "Mr. Zeldin asked you in the deposition that in no way, shape or form in either readouts from the United States or Ukraine did you receive any indication whatsoever, or anything that resembled a quid pro quo, is that correct?" asked Republican counsel Stephen Castor during the hearing. "That's correct," Volker said. "I was never involved in anything that I would consider to be bribery at all... or extortion."
Vindman Speaks His Truth. Vindman testified that he was upset and thought Trump's July call with the new Ukrainian president was "wrong" so he went outside his chain of command to the NSC lawyers like a little snitch. He also made it clear he was [disappointed] that the president, who he has never spoken to directly, did not follow Vindman's idea of proper protocol with his interagency consensus talking points. Vindman sassed Rep. Devin Nunes for not using his proper title of "Lt. Col." We also learned that Princess Vindman was offered the position of Ukrainian Defense Minister three times by the Ukrainians. Three times. Let me suggest that people don't extend offers like that unless you have an "open for business" sign flashing. Very peculiar.
GOP Rep. Turner to Volker: You 'Took Apart' the Democrats' 'Entire Case' for Impeaching Trump. Rep. Mike Turner (R-OH) indicated during Tuesday evening's [11/19/2019] impeachment hearing that former diplomat Kurt Volker essentially "took apart" the Democrats' "entire case" for impeaching President Trump after confirming that neither Trump nor Ukrainian officials indicated the existence of a looming threat to withhold aid contingent on an investigation into Burisma, the Bidens, or the 2016 elections. Turner took a moment during Tuesday evening's hearing to blast the hearsay evidence that Democrats have largely relied on — and used — as a basis for their entire impeachment inquiry: [Video clip]
The Televised Impeachment Proceedings Have Been A Disaster For Democrats. As the House moves into its second week of public impeachment hearings, Democrats are struggling to find incriminating evidence to justify the removal of the elected president, and the American people are not buying into their latest conspiracy theories to undo the 2016 election. Last week, the House Intelligence Committee heard from three of the Democrats' star witnesses on impeachment, including former U.S. Ambassador to Ukraine Marie Yovanovitch, the current U.S. Ambassador to Ukraine Bill Taylor, and Deputy Assistant Secretary of State George Kent.
Game Over: Rep. Ratcliffe Debunks Dems Whole Reason for Impeachment. Democrats had an absolutely brutal day so far during the impeachment hearings. Lt. Col. Alexander Vindman who was supposed to be their star witness, not only had never met President Donald Trump, he seemed to have contradicted his prior testimony. Previously, he testified that he did not know who the whistleblower was. But when asked about to whom he had spoken about the July 25th call, he testified that he had spoken to two people over "interagency policy" George Kent and an individual in the "intelligence community." House Intelligence Committee Chair Adam Schiff then cut him off to "protect the whistleblower," seemingly making it clear that the person who Vindman spoke to was in fact the whistleblower.
Reuters Poll: 36% of Independents Tuning Out Impeachment Hearings. According to a recent Reuters/Ipsos poll, 36 percent of independents said they did not watch, read, or hear anything about the hearings. Of the 64 percent of independents who have paid some attention to the hearings, only 19 percent actually watched them. Seventeen percent said they watched or listened to news summaries, and 30 percent said they read or listened to news summaries.
Focus Group Data Show Impeachment Flopping with Swing Voters, 2020 Democrat Leftist Lurch Unpopular. [Scroll down] The biggest takeaway from all the groups, including one in Pittsburgh thatwas conducted after the first House Intelligence Committee public impeachment hearing last Wednesday that featured State Department officials Bill Taylor and George Kent, is that swing voters are not being moved in the slightest against Trump by the impeachment narrative Democrats are offering.
Americans Ignore Democrats' Demands To Watch Their Impeachment Farce. Does anyone really believe the conclusion of Democrats' impeachment "inquiry" isn't predetermined? President Trump was guilty the moment he won the 2016 election — guilty of denying Democrats the massive spoils of federal power. Every moment since has just been searching for a pretext to remove him from office without an actual election. First Spygate, now the "impeachment inquiry." So it's no surprise that just 13 million viewers tuned in for the first day of televised impeachment hearings last Wednesday, many fewer than for the Brett Kavanaugh and Christine Blasey Ford hearings last fall (20 million viewers) and for James Comey's Russiagate testimony (19.5 million), according to early Nielsen ratings reported by Axios.
Lt. Col. Alexander Vindman Outs Himself as Source for CIA Whistleblower Complaint. HPSCI Ranking Member Devin Nunes questioned NSC official Lt. Col. Alexander Vindman about whether he had shared the contents of the phone call between President Trump and Ukraine President Zelensky with anyone outside the White House. In responding Vindman stated "two people", and then named State Dept George Kent, and a person from the intelligence community. Then things get interesting. Vindman refused to name the intelligence agency because it would likely expose the CIA "whistle-blower". This non-answer makes Alexander Vindman the source for the CIA "whistleblower" Eric Ciaramella.
Impeachment witness scolds Nunes for calling him mister: 'Lt. Col. Vindman, please'. The moment came amid a back-and-forth over the identity of the anonymous whistleblower whose complaint about President Trump's July 25 phone call with Ukrainian President Volodymyr Zelensky led to the impeachment proceedings. "Mr. Vindman, you testified in your deposition that you did not know the whistleblower," Nunes stated. "Ranking member, it's Lieutenant Colonel Vindman, please," the witness responded. Nunes corrected himself and repeated the statement, which followed questions regarding who Vindman had spoken with about Trump's phone call. More than once, Committee Chairman Rep. Adam Schiff, D-Calif., interjected to advise Vindman that the purpose of the hearing was not to expose the identity of the whistleblower, who is afforded legal protection.
Vindman: 'My Impression Is' That Trump Demanded a Favor of Zelensky. Lt. Col. Alexander Vindman, a member of the National Security Council who testified against President Trump at Tuesday's impeachment inquiry, said Trump didn't "request" an investigation into a political opponent — he demanded it. "[M]y impression is that in order to get the White House meeting, President Zelensky would have to deliver these investigations," Vindman said. In his opening statement, Vindman said he listened to the now-famous July 25 phone call between Trump and Ukraine President Zelensky.
Army Reportedly Ready to Move Vindman Family Onto Base if They're in 'Physical Danger' After Impeachment Testimony. National Security Council official Lt. Col. Alexander Vindman and his family are reportedly ready to move to a military base if the Army determines they are in "physical danger" following Vindman's public impeachment hearing testimony. Lt. Col. Vindman has already given explosive closed-door testimony about the now-infamous phone call between President Donald Trump and Ukrainian President Volodymyr Zelensky that led to the current impeachment inquiry. But in a sobering development, the Army is concerned for the safety of Vondman and his family once he testifies publicly for the first time Tuesday, according to The Wall Street Journal.
Democrats Are in Deep Doo-Doo According to Rep. John Ratcliffe. ["]None of those three witnesses were have met with the President, none of them were on the July 25th phone call, and none of them have firsthand information, and none of them are aware of any criminal activity or impeachable offense. In short, why are we here? [...] The process is whatever Schiff decides for that particular day. This is the equivalent of the person who accuses you of a crime deciding on who the witnesses are, what order they will testify, how much they will be allowed to testify, & who will be allowed to ask questions. The rules and procedures change just as the crimes of which the president is accused change, almost on a daily basis. For example, the President was originally accused of a quid pro quo, and now the Democrats have changed to extortion and bribery. Regardless of what they claim, the president of Ukraine said there was no pressure and no conditions, and he was happy with the call. You've got no crime and no victim, which is the worst impeachment trial ever.["]
Alexander Vindman Finally Testified Publicly, Here's How It Went. Alexander Vindman, perhaps the most contentious "witness" in the impeachment proceeding, finally took the oath and testified publicly today about his knowledge of the Trump-Ukraine matter. [...] In the proceedings, we saw some fireworks, some ridiculous moments, and what appears to be Vindman being caught in a lie. At one point, the Lt. Col. decided to invoke his deceased father to show just how much of a truth-teller he is. It was a very, very weird moment.
Texas Republican: Here's How Many Times Impeachment Witnesses Have Even Mentioned 'Bribery'. During the impeachment hearing Tuesday [11/19/2019], Texas Republican Rep. John Ratcliffe addressed the elephant in the room, or more appropriately, the elephant conspicuously not in the room. The Democrats are accusing President Trump of "bribery," yet, as Ratcliffe highlights emphatically, after six weeks of witness interviews in the Democrat-led inquiry, not one witness has even so much as uttered the word "bribery" or "bribe" in reference to Trump's actions regarding Ukraine.
Vindman Refuses to Characterize Joe Biden's Threat to Withhold Aid as 'Wrong'. The Democrats' star impeachment witness Lt. Col. Alexander Vindman refused to characterize former Vice President Joe Biden's (D) threat — to withhold aid from Ukraine unless it fired a prosecutor investigating Burisma Holdings — as "wrong," admitting that he viewed the video showing Biden bragging about his threat but refraining from condemning it. During his line of questioning, Rep. Chris Stewart (R-UT) noted that Vindman's concerns of the July 25 phone call between President Trump and Ukraine President Volodymyr Zelensky were based on "moral, ethical, and policy differences" rather than legal concerns.
Jordan methodically narrows possibilities of who may have tipped whistleblower during Vindman grilling. While questioning Lt. Col. Alexander Vindman on Tuesday, Rep, Jim Jordan, R-Ohio, worked to narrow where the whistleblower may have gotten his information from. Vindman, a National Security Council expert on Ukraine, was testifying in the second week of the Democratic Party's dog and pony impeachment show trial and the matter of who he spoke with about President Trump's call with Ukraine was a central focus for Republicans. Citing an earlier deposition, Jordan spoke about concerns from Tim Morrison, the departing senior director of European and Russian affairs at the National Security Council, and others, to include former National Security Council official Fiona Hill, about Vindman's judgment and the possibility that he may be the source of leaks.
Lt. Col. Vindman Required Rep. Nunes Call Him By His Military Rank Because Twitter Was Mean to Him. This was stunning. During Tuesday's Schiff show trial witness and leaker Lt. Col. Alexander Vindman stopped Rep. Devin Nunes and requested that he address him by his military rank. During subsequent testimony Rep. Chris Stewart asked Vindmann if he demanded all civilians to address him by his rank. Vindman told him that he was upset because Twitter was mean to him! [Video clip]
Friday, November 15, 2019:
Gone In 30 Seconds: GOP Rep Takes Down Dem Witness In Record Time. Rep. Chris Stewart was skeptical as former U.S. Ambassador to Ukraine Marie Yovanovitch testified before the House Intelligence Committee on Friday [11/15/2019]. Then the Utah Republican got his own chance to question her. "I would now feel compelled to ask you, Madam Ambassador, as you sit here before us, very simply and directly, do you have any information regarding the president of the United States accepting any bribes?" Stewart asked, according to Fox News. "No," Yovanovitch said. "Do you have any information regarding any criminal activity that the president of the United States has been involved with at all?" Stewart asked. "No," Yovanovitch said.
Elise Stefanik's Stardom is Born. "President Obama's own State Department was so concerned about potential conflicts of interest from Hunter Biden's role at Burisma that they raised it themselves while prepping this wonderful Ambassador nominee before her confirmation. And yet our Democratic colleagues and the Chairman of this Committee cry foul when we dare ask that same question that the Obama State Department was so concerned about." [Video clip]
Schiff Finally Releases Tim Morrison Testimony — NSC Sr. Director Blows Up Ukrainian Hoax — Destroys Schiff Top Witness Lt. Col. Vindman. The NSC Senior Director for European Affairs testified before the Schiff secret star chamber in October. The transcript of his testimony was released this weekend. Morrison's testimony completely destroyed the Democrat's latest attempt to remove President Trump from office. Worse yet, Morrison's testimony obliterates Adam Schiff's chief witness, and reported second whistleblower, Lt. Col. Vindman who is unreliable and reports to Morrison.
Democrats don't want public to know origins of Ukraine probe like they didn't want public to know origins of Russia probe. Should the whistleblower have connections to prominent Democrats, exposure of his identity could be embarrassing to the party. And perhaps most of all, reading through the impeachment inquiry depositions that have been released so far, it's clear that cutting off questions that could possibly relate to the whistleblower has also allowed Democrats to shut off any look at how the Trump-Ukraine investigation started. Who was involved? What actions did they take? Why did some government employees think President Trump's July 25 call to Ukrainian President Volodymyr Zelensky represented a lost opportunity, or poor judgment, while others thought it represented wrongdoing requiring congressional investigation?
Schiff steers Trump impeachment drive straight toward a ditch — Here's what's next. Adam Schiff has made a complete hash of the Democrats' impeachment inquiry. The decision by the California Democrat and House Intelligence Committee chairman to conduct the first series of interviews behind closed doors allowed Republicans to appropriately brand the enterprise as unfair and clandestine. His next step, orchestrating a steady stream of leaks and disclosures timed and edited for maximum impact, all but guaranteed that last week's subsequent live hearings would be anti-climactic. Schiff stole his own thunder.
White House's Tony Sayegh: Democrats 'Went 0 for 3' with Three 'Star Witnesses' on Impeachment. Democrats failed to present the public with any evidence that President Donald Trump should be impeached in their first round of public hearings this week, White House Senior Advisor for Strategy Tony Sayegh told Breitbart News in an exclusive interview on Saturday [11/16/2019]. Sayegh, who has been brought in by Trump to handle messaging in response to the Democrats' partisan impeachment inquiry alongside former Florida Attorney General Pam Bondi, made the case that the Democrats' three "star witnesses" on Wednesday and Friday failed to bolster the Democrats' case for impeachment — and instead actually helped the president's case and the GOP case against the inquiry.
Let's Stop Pretending Every Impeachment Witness Is A Selfless Hero. Throughout this impeachment charade we've been told by the media and House Democrats that a cadre of unelected career bureaucrats in the State Department and the National Security Council who are cooperating with the impeachment inquiry are heroes, patriots, and paragons of virtue and self-sacrifice for defying President Trump and proclaiming the truth about Trump corruption and self-dealing in Ukraine. Last week, the media portrayed former U.S. ambassador to Ukraine Marie Yovanovitch as a courageous martyr recalled from her post by Trump for no reason and then viciously attacked by him on Twitter while she was testifying before the House Intelligence Committee. Trump's attack was immediately characterized as "witness intimidation" by House Democrats and the media, who played up the notion that Yovanovitch was a victim being punished for nothing more than her commitment to the truth.
The media doesn't matter as much as the media thinks. The journos are at it again. They are paid to pretend that politics is fascinating and meaningful, that they are indispensable members of an indispensable institution without which democracy itself would cease to exist. Some of them actually believe it. Suggestions to the contrary typically result in collective tantrums and self-validating screeds on Twitter, the popular social networking platform. In this particular instance, our nation's journalists were set off by the (accurate) suggestion, included in the reporting of some of their fellow journalists, that the impeachment hearings taking place in Congress were "dull" and lacked "pizzazz." [...] Maybe most other people have better things to do with their time. Good for them. The hearings are boring. Cable news is atrocious. Some people will read or watch the recaps later.
Adam Schiff cracking under 'point of order' pressure. First came Stefanik with her "point of order" and call for clarification on the witness list. Then came Jordan with his "point of order" — make that repeated "points of order." Schiff kept shutting him down. Schiff kept striking his gavel. And Jordan kept calling for "point of order." Never mind the search for high crimes and misdemeanors. This is high political theater and drama at its best.
A Seditious Conspiracy — Lt. Col. Vindman, CIA "Whistleblower" Source #1, Shaped False Summary of April Trump-Zelensky Phone Call. Amid increased calls from House Republicans to force the testimony of the CIA "whistleblower", today the Washington Post, the primary outlet for CIA misinformation and public relations, began shaping the "whistle-blower" as a hero. Because the overall effort involves multiple parts of the deep state apparatus, to see through the construction it is important to note which media outlet holds equity for agency talking points within the coup. The Washington Post is primary PR for the CIA and IC writ large. The New York Times is primary PR for the FBI; and CNN is primary PR for the State Dept. This pattern has been consistent throughout.
White House: Vindman wrote summary of April Trump-Zelensky call that conflicts with rough transcript. The White House is blaming Lt. Col. Alexander Vindman for misleading reporters about the contents of an April 21 phone call between President Trump and Ukrainian President Volodymyr Zelensky. Vindman is the top Ukraine official on the White House National Security Council. On Friday [11/15/2019], the White House released a rough transcript of the call that conflicts with a separate summary of the call sent to reporters in April. [...] In response to questions from reporters, the White House said in a Friday statement that "the NSC's Ukraine expert" prepared the April summary.
It's democracy — not Trump — that's on trial on Capitol Hill. Public impeachment hearings have begun in Washington, but nothing has changed. The Ukraine "rebound" scandal simply follows from the Russia collusion probe as the latest front in a smoothly operating, taxpayer-funded, propaganda war of political intimidation: an attempt not only to undermine President Trump, but also to demoralize and break the will of those who voted for him. Democrats, trying to "move on" from the disastrous testimony of Robert Mueller, offer us a new cadre of government-insider witnesses, most of whose evidence would be laughed out of any courtroom in America. For his part, Acting Ambassador to Ukraine William Taylor provided the House Intelligence Committee a textbook version of multiple hearsay.
We're all supposed to shed tears over Marie Yovanovitch and mean old Trump. [Scroll down] A fact that has gone underreported is that President Zelensky didn't respect Ambassador Yovanovitch. He said, "Her attitude towards me was far from the best as she admired the previous president and she was on his side." Was it, then, appropriate for President Trump to reassign her? Of course. No one disputes that ambassadors serve at the will of the president. So if she has no knowledge of wrongdoing on the part of the president and wasn't unjustly fired, why was she there? She was there to create drama and elicit sympathy. She was there to make Trump look mean, harsh, and anti-woman.
Did someone mention Benghazi?
Benghazi liar Schiff lets Yovanovitch profane the dead. Former U.S. ambassador to Ukraine Marie Yovanovitch was rightly slammed by Patricia Smith, mother of Sean Smith, a U.S. Foreign Service employee working in Benghazi, Libya, for daring to compare the dangers of a Trump tweet to the terrorist attack that killed her son Sean, Ambassador Chris Stevens, former Navy SEAL Tyrone Woods, and information officer Glen Doherty. [...] [Yovanovitch is] a political hack appointed by President Barack Hussein Obama, who, along with secretary of state Hillary Clinton, put those people in harm's way in a hostile environment crawling with terrorist base camps, left them there without adequate security, denied their requests for added security, and then sat and watched them die without attempting a rescue.
Masha Yavonovich Cries on Cue, as Predicted. This wasn't merely a prediction — Free Beacon reported that Democrats really wanted "Masha" there to testify not because she had facts relevant to impeachment (she admitted that she knew nothing about the phone calls or aid hold-up) but only because she cried like a little girl in her deposition, and Reality TV producer Adam Schiff thought she'd make a good cast member for his show.
Revolt of the Ukraine Desk Bureaucrats. To date the Schiff hearings — unfairly run as they are — show nothing less than a revolt by the Ukraine Desk Bureaucrats in which they concede they are poorly armed with any facts sufficient to overthrow the president, whose only crime was to change the direction of our Ukraine policy in which they'd played a significant role. While the hearings might have led some to believe that U.S. policy respecting Ukraine has been consistently supportive, the facts are otherwise, and the President's effort to change that has the bureaucrats' dander up.
Lying to Congress — Marie Yovanovitch Was Prepped by Obama Administration About Issues With Hunter Biden and Burisma. Representative Elise Stefanik brought to light interesting information today surrounding how the Obama administration was concerned about issues surrounding Vice-President Joe Biden's son, Hunter Biden, and his connection to a corrupt Ukraine company Burisma. This revelation directly contradicted the Yovanovitch opening statement. During questioning Ambassador Marie Yovanovitch admitted the Obama White House spent time briefing her on how to respond to congress if questions about Hunter Biden and Burisma were raised. This testimony highlights the concerns by the Obama administration about a clear issue with the Biden family and corrupt Ukraine interests.
The silly sanctification of Marie Yovanovitch. Until a month or so ago, virtually no one outside of the seven circles of hell that is the State Department had heard of Marie Yovanovitch. [...] Schiff called Yovanovitch to testify in public for show. He hoped she would cry as she had in the secret deposition. She contributed nothing; she was long gone before Trump's phone conversation with President Zelensky, the alleged reason for this inquiry, so she has no knowledge of it beyond gossip. What she had to say was all about her hurt feelings at being recalled. Obama, when he became President fired every single ambassador that had been hired by Bush. Yovanovitch was very skilled at being vague and non-committal. [...] She is their saint of the week in the religion of leftism. They likely know absolutely nothing about her or how she has conducted herself for thirty years as an FSO but they testified to her brilliance and devotion nonetheless.
The "witness intimidation" farce. Unlike John, I don't consider the impeachment proceedings against President Trump a farce. However, aspects of the proceedings are farcical. Today [11/15/2019], while Marie Yovanovitch, ambassador to Ukraine until Trump sacked her, was testifying before Adam Schiff's committee, the president tweeted some negative things about her. [...] Actually Yovanovitch probably wouldn't have known about the alleged intimidation had not Schiff brought it to her attention. Schiff asked the former ambassador whether she felt intimidated by Trump's tweet. She duly affirmed that she did. [...] If Yovanovitch actually was intimidated, as opposed to displeased, by the tweet, that's pathetic. Anyone who can't handle the low level criticism in Trump's tweet shouldn't be the U.S. ambassador to any nation, and certainly not Ukraine. Trump has the right to criticize the witnesses being called by Democrats in their effort to terminate his presidency.
Time to Subpoena Alexandra Chalupa. Thanks to disgraced FBI agents Peter Strzok and Lisa Page, who told us in a text message that "POTUS wants to know everything we're doing," we know that President Obama was kept fully informed about the deep-state coup against President Trump. Liar and leaker James Clapper has thrown Obama under the bus by saying the plotters would not have proceeded without President Obama's approval. In a CNN interview deep-state conspirator and perjurer James Clapper gave with CNN's Anderson Cooper, he points his finger directly at Obama as leader of the coup against Donald Trump: [...] If you want real collusion with a real trail of evidence of people trying to do real things interfering with the 2016 campaign, try Hillary Clinton's real collusion with the Ukraine to derail and besmirch Team Trump.
The Democrats Have The Country On A Slippery Slope. The fake "whistleblower's name — Eric Ciamerella — has been known for a long time, but not officially. Now it is official. Senator Rand Paul has officially released his name. Funny, isn't it, that only the Republicans want Ciamerella to testify. The Democrats won't hear of it. If the American people are paying attention, the Democrats are in trouble. When Russiagate fizzled out on them, Adam Schiff (D,CA) orchestrated a fake "whistleblower" who the Democrats cannot risk putting on the stand to testify. The Democrats' focus shifted to sleazy State Department types who could offer nothing but second or third hand hearsay followed by a hearsay second telephone call that cannot be confirmed.
Chris Stewart takedown of Yovanovitch shows Democrats have 'no case,' GOP says. From the view of the White House and some top Republicans, U.S. Rep. Chris Stewart's questioning of former U.S. Ambassador to Ukraine Marie Yovanovitch on Friday was the point where House Democrats' impeachment argument showed the party had "no case" against President Trump. During Friday's [11/15/2019] public hearings, Yovanovitvh told Stewart, a Utah Republican on the House Intelligence Committee, that she could supply the panel with no information regarding criminal activity or bribes that President Trump may have been involved with.
Mark Levin blasts 'absurd' media analysis of impeachment hearings. Mark Levin took aim at House Democrats and the media Friday [11/15/2019] in response to the televised impeachment inquiry testimony by former Ambassador to Ukraine Marie Yovanavich. "I hope the American people know what you're witnessing is tyranny," Levin said on "Hannity." You can have tyranny of the legislature. You can have tyranny of the executive branch. You can have tyranny of the judiciary. You're witnessing tyranny in the House of Representatives, in the Intelligence Committee, that doesn't do intelligence work anymore." Levin compared the American media to Russian media and accused them of being unfair to President Trump. "I mean ... to listen to the media analysis of what's taking place in these hearings is absurd. It's disgraceful," Levin said. "They talk about Russia. They sound like the Russian media."
Impeachment Day Two: Former Ambassador Unconcerned by Ukrainian Efforts to Sway 2016 Election. The House Intelligence Committee on Friday continued its impeachment inquiry with the public testimony of Marie Yovanovitch, former ambassador to Ukraine. The hearing began with opening statements from both committee chairman Adam Schiff (D-Calif.) and ranking member Rep. Devin Nunes (R-Calif.). Schiff and Daniel Goldman, Democratic counsel, then asked questions regarding the circumstances of her May 2019 removal from her post. Yovanovitch described her perception that corrupt Ukrainian officials leveraged their relationship with the president's private attorney, Rudy Giuliani in a "smear" campaign leading to her ultimate dismissal. She was unable, however, to cite much first-hand knowledge to support these perceptions.
Here's a witness Schiff doesn't dare call in impeachment hearings. Badly undermining Democrats' impeachment narrative, Ukrainian Foreign Minister Vadym Prystaiko told the press in Kiev on Thursday [11/14/2019], "I have never seen a direct relationship between investigations and security assistance." That is, between the investigations President Trump wanted into 1) Ukrainian interference in the 2016 campaign and 2) Joe and Hunter Biden and the Ukrainian firm Burisma, on the one hand, and US aid that Trump put on hold this summer, on the other. He specified that he didn't hear that message from Trump's top envoy, Ambassador to the EU Gordon Sondland, who "did not tell us, and did not tell me exactly, about the relation between the assistance and the investigations."
Adam Schiff Interrupts Republican Asking If He Will Interrupt Republicans. House Intelligence Committee chairman Rep. Adam Schiff (D-CA) interrupted Rep. Elaine Stefanik (R-NY) as she asked him Friday [11/15/2019] whether he would continue to interrupt Republican questions to witnesses, as in earlier hearings. The setting was the second day of public hearings in the "impeachment inquiry" into President Donald Trump. Stefanik raised a point of order after both Schiff and ranking member Rep. Devin Nunes (R-CA) had delivered their opening statements. Schiff initially ruled Stefanik was not recognized by the chair, when she raised a parliamentary inquiry, but when she changed her question to a point of order, he reluctantly allowed her to begin speaking.
Ukraine Foreign Minister Refutes Central Claims to Democrat Impeachment Narrative. Within the current claims of the Democrats there is a baseline action that needs to exist for any "bribery" or "undue influence" claim to exist. Meaning there had to be pressure by President Trump upon the government of Ukraine to initiate an investigation of Joe Biden. The call transcript between President Trump and President Zelenskyy doesn't show such a request. Ukraine President Zelenskyy said there was never such a request by President Trump; and now Ukraine Foreign Minister Vadym Prystaiko says there was never such a request from U.S. Ambassador Sondland on behalf of President Trump.
The Impeachment Hearing Witnesses: Who is Marie Yovanovitch? Former U.S. Ambassador to Ukraine Marie Yovanovitch is appearing before Congress on Friday to cap off the first week of public hearings in the impeachment inquiry into President Trump. It follows the testimony earlier this week from U.S. chargé d'affaires in Ukraine Bill Taylor and Deputy Assistant Secretary of State for Europe George Kent. Democrats have been moving quickly with their impeachment probe. Sparked by a whistleblower complaint, the investigation has centered on whether the president improperly used his office to pressure Ukranian President Voldomyr Zelensky into ordering investigations — including into the family of 2020 contender Joe Biden — that could have been politically beneficial to his reelection campaign in exchange for the release of about $400 million in military aid.
Marie Yovanovitch [was] Not Interested in Hunter Biden Corruption or Ukrainian Election Meddling. Former United States ambassador Marie Yovanovitch's testimony on Friday [11/15/2019] revealed why she likely lost the confidence of President Donald Trump as the ambassador to Ukraine. Yovanovitch demonstrated she was indifferent or even averse to any corruption concerns surrounding Vice President Joe Biden and his son Hunter Biden and even denied that Ukrainians were meddling in the 2016 election.
ABC News correspondent: Yovanovitch 'did not really get us any closer' to proving Trump committed impeachable offense. ABC News senior national correspondent Terry Moran said on Friday [11/15/2019] that former U.S. ambassador to Ukraine Marie Yovanovitch "did not really get us any closer" to finding an impeachable offense committed by President Trump. Yovanovitch was the sole witness at the second public impeachment inquiry hearing looking into Trump's conduct regarding Ukraine. She was sworn in as the ambassador to Ukraine in August 2016 but her recent ouster was prompted by Trump's personal attorney Rudy Giuliani, who led attacks against her. Moran began by pointing to the "drama" Yovanovitch has faced between the State Department, who has overwhelmingly supported the diplomat despite the ongoing attacks from President Trump, and the secret back channel headed by Giuliani. However, he also acknowledged that the president has "every right" to remove an ambassador.
Flashback: Obama Fired All Bush Appointed Ambassadors In 2008. The former U.S. ambassador to Ukraine Marie Yovanovitch testified Friday [11/15/2019] about President Donald Trump firing her amid an alleged "smear campaign," but firing ambassadors appointed by former presidents is commonplace. Former President Barack Obama fired all ambassadors appointed by former President George W. Bush in 2008, The Washington Post previously reported. Yovanovitch testified Friday that the Trump administration, including the president's personal lawyer Rudy Giuliani, "kneecapped" her. She said State Department leaders did not support her after being recalled in May. "Political ambassadors sometimes are permitted to stay on briefly during a new administration, but the sweeping nature of the directive suggests that Obama has little interest in retaining any of Bush's ambassadorial appointees," WaPo's 2008 article about Obama's decision to fire all political ambassadors reads.
Marie Yovanovitch admits Obama admin prepped her on Hunter Biden. Former US Ambassador to Ukraine Marie Yovanovitch testified Friday [11/15/2019] that the Obama administration was so concerned about Hunter Biden's job on Burisma's board of directors that she was asked prep questions about the issue by White House staffers before her 2016 Senate confirmation. In response to questions from GOP counsel Stephen Castor, Yovanovitch testified at the House Intelligence Committee's second public impeachment hearing that she had been informed about the lucrative gig Hunter Biden landed with the petroleum producer — which paid the son of then-Vice President Joe Biden as much as $50,000 a month despite his seeming lack of relevant experience — but took no action when she arrived at her post.
Media criticizes Elise Stefanik during hearing after praising Warren's 'Nevertheless, she persisted' moment. The fiery exchange between Rep. Elise Stefanik, R-N.Y., and House Intelligence Committee Chairman Adam Schiff, D-Calif., at Friday's impeachment hearing bore some resemblance to the memorable back-and-forth between Sen. Elizabeth Warren, D-Mass. and Senate Majority Leader Mitch McConnell, R-Ky., that birthed Warren's "Nevertheless, she persisted" mantra. However, the way the media has treated both of those moments appears drastically different.
Marie Yovanovitch Compares Herself to Diplomats Killed in Benghazi. Former U.S. Ambassador to Ukraine Marie Yovanovitch compared herself to the diplomats and contractors killed in Benghazi in her opening statement in the second public impeachment inquiry on Friday [11/15/2019]. "We make a difference everyday," she said in a defense of herself and diplomats serving around the world.
Testimony or 'therapy session?' Schiff claims 'witness intimidation' as Trump live tweets bizarre hearing. President Donald Trump took to Twitter on Friday [11/15/2019] to defend his right as commander in chief to appoint ambassadors — even as former U.S. Ambassador to Ukraine Marie Yovanovitch testified in the Democratic Party's dog and pony impeachment show trial. It was all enough to prompt a reaction from Rep. Adam Schiff, D-Calif., the chairman of the House Intelligence Committee, who accused Trump of "witness intimidation." Schiff may have been perusing social media during a hearing that could have doubled as a therapy session for the former ambassador, it was clear Yovanovitch was not — thus how could she be intimidated? At least, not until Schiff brought it to her attention.
Brennan Sends President Trump Ominous Warning in the Middle of Schiff's Impeachment Show Trial. Former CIA Director John Brennan sent President Trump a very ominous warning on Friday [11/15/2019] in the middle of Schiff's impeachment show trial. Disgruntled fired US Ambassador to Ukraine Marie Yovanovitch testified on Friday on day two of the Adam Schiff show trial. Yovanovitch, an Obama holdover, was fired in May of this year and she perjured herself in last month's closed-door testimony.
What Is He Afraid Of? Adam Schiff Again Refuses to Allow Elise Stefanik to Ask Questions. During the second half of questioning at Friday's [11/15/2019] impeachment inquiry hearing on Capitol Hill, House Intelligence Committee Chairman Adam Schiff shut down questioning of former Ukraine Ambassador Marie Yovanovitch from Republican Congresswoman Elise Stefanik. Schiff did so after Ranking Member Devin Nunes yielded his time to Stefanik. "The gentlewoman will suspend," Schiff asked. "What is the interruption for this time?" Stefanik asked. "This is the fifth time you've interrupted duly elected members of Congress." "You're gagging the gentle lady from New York?" Nunes asked. "Mr. Chair, we control the time. It's been customary in this Committee that whoever controls the time can yield to whoever they wish. It seems appropriate that we let Ms. Stefanik ask her question."
Trump impeachment hearings: Who's testifying and what you need to know. Former US Ambassador to Ukraine Marie "Masha" Yovanovitch will appear before House lawmakers beginning at 9 a.m. Friday [11/15/2019] for the second public hearing in the impeachment inquiry into President Trump. [...] Yovanovitch will then be sworn in and will deliver her opening statement. Schiff and Nunes are expected to cede part of their time to Daniel Goldman, the committee's director of investigations, and Steve Castor, GOP counsel for the House Oversight Committee. The hearing will then move to questioning from individual members, alternating periods of five minutes between both parties. Schiff can add additional rounds at his discretion.
Wednesday, November 13, 2019:
How to Shut Down the Democrats' Alternative Universe. George Kent and William Taylor weren't witnesses per se as they clearly had witnessed nothing. In reality, they were mere opinionists. It became clear very quickly that Festivus had come early as two self-important bureaucrats took the stand for a grand airing of their grievances with the president over his policy decisions. While some may call their behavior seditious, there is no doubting these types feel emboldened in today's political climate. Bolstered by their propagandists in the media, an effete legal system, and a major political party, the administrative state actors are feeling so confident they've actually dropped the pretense that there is no such thing as a deep state.
Adam Schiff Witness David Holmes Tries to Become the Julie Swetnick of the Impeachment Hearing and May Have Succeeded. On Wednesday [11/13/2019], former Ambassador Bill Taylor, who was billed by Adam Schiff as his star witness, testified before the "impeachment" tribunal that Schiff has empaneled. Mostly he admitted to knowing jack about the quid pro quo (or bribery or solicitation of a bribe or whatever the Democrats are calling their central allegation this week) and what he did know, first hand, was not unhelpful to President Trump. [...] In short, he claims that a staffer overheard Trump speaking on a phone in a restaurant, that what he heard proved a quid pro quo, and, oh, by the way, that had just slipped his mind. It was quickly revealed that the staffer was a guy named David Holmes who was counselor to Marie Yovanovich at the US embassy in Kiev.
Devin Nunes Devastates Schiff, Democrats With Fiery Opening Statement. "In a July open hearing falling publication of the Mueller report, the Democrats engaged in a last ditch effort to convince the American people President Trump is a Russia agent. That hearing was a pitiful finally of a three year long effort by the Democrats, the corrupt media and partisan bureaucrats to overturn the results of the 2016 election. After the spectacular implosion of their Russia hoax on July 24... on July 25th, they turned on a dime and now claim the real malfeasance is the Republicans dealings with Ukraine," Nunes said. "In the blink of an eye we are asked to simply forget about Democrats on this Committee falsely claiming they had more than circumstantial evidence of collusion between President Trump and Russians. We should forget about them reading fabrications of Trump, Russia collusion from the Steele dossier into the congressional record. We should also forget about them trying to obtain nude pictures of Trump from Russian pranksters who pretended to be Ukrainian officials. We should forget about them leaking a false story to CNN while he was still testifying to our Committee claiming Donald Trump Jr. was colluding with Wikileaks. And forget about countless other deceptions large and small that make them the last people on earth with the credibility to hurl more preposterous accusations against their political opponents." [Video clip]
Adam Schiff's Star Witness Just Admitted Burisma Should Be Investigated For Corruption. Deputy Assistant Secretary of State George Kent made the case for launching an investigation into the Bidens and their involvement in Ukraine related to the Ukrainian energy company Burisma. Kent, the State Department's top official on Ukraine, said during testimony before the House Intelligence Committee in the Democrats' partisan impeachment proceedings Wednesday he was concerned about a, "perception of a conflict of interest," related to Joe Biden's son, Hunter, serving on the board of the energy company while his father oversaw the Obama administration's policy towards Ukraine.
Obama [is the] Chief Instigator of Hating America. It was former President Barack Obama who turned loving America into a crime — an impeachable one. Obama successor President Donald Trump sincerely loves America — and that is his most unforgivable crime. The Soviet-style Live Impeachment Inquiry, getting saturation coverage by all television networks — including Fox News — is a farce, proven by the fact that even with wall-to-wall coverage, only 13 million people tuned in on its Opening Day.
Elise Stefanik Stood Out on Day One of the Impeachment Hearings. Representative Elise Stefanik of New York earned high marks for her questioning of U.S. diplomats on Wednesday [11/13/2019], the first day of public impeachment hearings. Bloomberg View columnist Eli Lake called Stefanik's questioning "very impressive." Fox News anchor Bret Baier agreed, as did former Obama administration official Michael McFaul and CNBC's John Harwood. "None of them has much to work with, but Elise Stefanik is most effective GOP questioner by a wide margin," Harwood tweeted. Stefanik opened her remarks by making two simple points: "Number one, Ukraine received the aid," and "number two, there was in fact no investigation into Biden." It was a concise, coherent "no harm, no foul" defense stronger than other arguments Trump's allies have made, even if Democrats responded by pointing out that attempted murder and attempted robbery are still crimes.
Impeachment Day One: Two Hearsay Witnesses Outraged by Gossip. If you were lost in the maze of hearsay and speculation during the first day of the impeachment inquiry, you can certainly be forgiven for your confusion. The sharp contrast between the vague stream of guesses and characterizations on the one hand and the melodramatic expressions of alarm and concern on the other, as expressed by U.S. Representative Adam Schiff's (D-Calif.) marquee witnesses, was disconcerting. Acting Ambassador William Taylor and Deputy Assistant Secretary of State George Kent were the two main actors in this schizophrenic display.
First Public Impeachment Hearing Flops, Draws 13 Million Viewers. Wednesday's [11/13/2019] highly anticipated public impeachment hearing amounted to a ratings flop, with only 13 million viewers tuning in, according to reports. The hearing, which featured Bill Taylor, acting U.S. Ambassador to Ukraine, and George Kent, a senior State Department official, was teased as a "bombshell, given House Intelligence Committee Chairman Adam Schiff's (D-CA) allocating Democrats more time to dominate and minimize GOP voices in the first hour. Nonetheless, Democrats failed to live up to the hype, as reflected in viewership.
Ambassador Bill Taylor Believes Ukraine President's Denials of Quid Pro Quo, Blackmail. U.S. diplomat Bill Taylor admitted in the impeachment inquiry Wednesday [11/13/2019] that "he has no reason to doubt" Ukrainian President Volodymyr Zelensky's repeated denials that there was pressure, conditions, or blackmail to investigate his political rivals proposed by President Donald Trump during the July 25 [phone call] that triggered the probe.
Media bemoan the lack of impeachment 'pizzazz,' and they have a point. NBC News and Reuters are bearing the anti-Trump #Resistance's rage because they dared to publish an uncomfortable truth. "Consequential, but dull: Trump impeachment hearings begin without a bang," reads the headline to a Reuters article co-authored by reporters Jeff Mason and Patricia Zengerle. Mason himself shared the story on Twitter Wednesday evening [11/13/2019].
Why Schiff's whistleblower claims at Trump impeachment hearing are impossible to believe. Americans had a front-row seat for Day One of impeachment inquiry hearings in the House on Wednesday. But missing from the testimony on Capitol Hill was the "witness" who started it all. Six grueling hours of testimony by two hearsay witnesses shed little light on the allegations against President Trump. Neither George Kent, deputy assistant secretary of state for Europe nor William Taylor, the charge d'affaires in Kiev had firsthand information and both clearly had an ax to grind over their differences with the president on foreign policy.
NBC News employees blast colleague's own report for saying first public impeachment hearing lacked 'pizzazz'. NBC News employees piled on one of their own colleagues over his report about how the first public impeachment hearing lacked "pizzazz." U.S. diplomat Bill Taylor and State Department official George Kent were the first witnesses to offer their testimony in the open and were grilled for several hours over their knowledge of President Trump's conduct with Ukraine. NBC News political reporter Jonathan Allen noted in an analysis, however, that the hearing was "substantive, but it wasn't dramatic."
Hearing erupts when Schiff interrupts GOP to change rules mid-hearing. After waiting all morning for an opportunity to question acting U.S. ambassador to Ukraine William Taylor, House Intelligence Committee chairman Rep. Adam Schiff, D-Calif., interrupted Republicans to essentially offer legal counsel to the witness. And, according to Republicans, "change the rules mid-hearing." Republican counsel Steve Castor was questioning Taylor when Schiff interjected to tell Taylor he should be cautious in answering questions that assume facts not in evidence — in effect, telling him not presume facts not in evidence are correct.
Rep. Ratcliffe: To Impeach Trump, Dems Have to Call Zelensky a Liar. Has Ukraine President Zelensky given you "any reason to question his honesty or his integrity?" Rep. John Ratcliffe (R-Texas) asked William Taylor, who is serving as the de facto ambassador to Ukraine. "No sir," said Taylor, who was one of two witnesses called by Democrats as part of their public impeachment inquiry, which began on Wednesday [1/13/2019]. Using Zelensky's own words, Ratcliffe established that Zelensky was not aware of the hold on U.S. military aid when he spoke to President Trump by telephone on July 25. Democrats recently seized on that call as the basis for impeaching Trump.
Jim Jordan Discusses the Collapsing Impeachment Scheme. Representative Jim Jordan (R-OH) was moved to the House Intelligence Committee because the HPSCI has become the impeachment committee. Mr. Jordan is an articulate representative with a unique skillset in his ability to boil down issues to their essential elements, and then drill home the key point. Jordan thinks fast and can respond quickly during congressional hearings. Yesterday [11/13/2019], as Jordan questioned the witnesses, the value of moving him to the impeachment committee was evident. Mr. Jordan was excellent. [Video clip]
Ukraine minister undercuts Taylor's 'bombshell' impeachment hearing testimony. After reporting Thursday morning [11/14/2019] that the "bombshell" that came out of Wednesday public impeachment hearings was that acting Ambassador to Ukraine William B. Taylor Jr. was told by someone that he overheard a call between President Donald Trump and U.S. Ambassador Gordon Sondland in which Trump asked Sondland about "the investigations," the legacy media went strangely silent on impeachment coverage.
The Impeachment Antics Are All Smoke and Mirrors. So here we have liberal lawmakers choosing to believe hearsay, rumors and secondhand information presented by never-Trump bureaucrats while flat-out ignoring a transcript, a world leader who was on the call with the president and other high-ranking Ukrainian officials possessing firsthand information of what transpired. That's corruption, folks, the definition of a frame job. Democrats have also blocked Republicans from inviting key witnesses to testify and refused to allow the president to have counsel present at the impeachment hearings to cross-examine his accusers. It's a one-sided charade. The leader of the free world is being denied due process and any semblance of fairness — something that should alarm every American.
Democrats Scramble, Switch Impeachment Narrative to 'Attempted' Crimes After Lackluster Hearing. Democrats have been scrambling following Wednesday's lackluster public impeachment hearing, changing the focus of their impeachment narrative to "attempted" crimes after Republican lawmakers largely decimated their weak impeachment case. Wednesday's [11/13/2019] public impeachment hearing, which featured testimonies from acting U.S. Ambassador to Ukraine Bill Taylor and senior State Department official George Kent, was deemed a bust by many, including Democrats.
Washington Post Only Fact Checks Republicans After First Day Of Impeachment Hearings. The Washington Post fact checked various statements made during the first day of public impeachment hearings Wednesday [11/13/2019], but the roundup failed to look into any comments Democrats made. The WaPo Fact Checker article was a roundup of only Republican Congress members, and the publication declined to include any statements from Democrats. The analysis, published Thursday, is titled "Fact-checking the opening day of the Trump impeachment hearings" and did not specify whether it was only intended for Republicans.
Late-Night Hosts Salivate over Impeachment Hearings: What We've Been Praying for Since the Beginning of Trump's Presidency. The left-wing late-night hosts delighted in the opening of impeachment hearings against President Donald Trump on Wednesday [11/13/2019], making the best out of what turned out to be an unsuccessful day for Democrats seeking to remove him from office. On Late Night, Seth Meyers used his "Closer Look" segment to mock President Trump's attorney Rudy Guiliani for showing his communications with White House officials on live interviews.
Donald Trump Campaign Raises $3.1 Million in Small Donations During Impeachment Hearings. President Donald Trump's 2020 re-election campaign announced it raised $3.1 million in small-dollar donations during the first 24 hours of House Democrats launching public impeachment hearings on Wednesday. The news was announced by Trump campaign manager Brad Parscale.
Ukraine State Dept. Experts Clueless — Senator Grassley Asked DOJ to Investigate Ukraine in 2017. During the impeachment hearing today State Department officials George Kent and Bill Taylor both stated they never heard of any claims of Ukrainian political interference in the 2016 U.S. election. Additionally, both claimed to have no knowledge of any U.S. investigation that might overlap with Ukraine. When pressed with specifically cited reports about DNC operatives engaging with Ukraine government officials to gather opposition research against candidate Donald Trump, both Mr. Kent and Ambassador Taylor denied any knowledge of the outlined reporting.
Democrats beclown themselves with cows after Nunes gets done with them. House ranking Intelligence committee member Devin Nunes blew Democrats' impeachment case out of the water yesterday [11/13/2019]. Democrats had nothing in response to the substance of his takedown. Nothing. The less-stupid ones made the phony claim that Nunes was repeating Fox News conspiracy theories, a bizarre claim, given that Fox News, with Paul Ryan on its board, has generally slipped into the NeverTrump camp. The more average of Democrats dealt with it in their own particular way -- by attacking Nunes personally, through his background as a dairy farmer, a perfect emblem for their rabid hatred for rural America. The far-left Soros-linked Democratic astroturf moneybags site, ActBlue, decided to raise money to pay for cowbells with which to mock Nunes.
Bureaucrats Gone Wild on Impeachment TV. Here's what you need to know if you missed Season 2, episode 1 of the Impeachment Follies: [#1] The optics were awful. There were two old, dusty bureaucrats speaking gobbledygook, diplo-gibberish reporting what the derp state gossip was around the water cooler. They offered no first hand knowledge, neither of these men had ever met or spoken to the president. [...] [#5] Schiff said he doesn't know who the whistleblower is. If so, how would he know if the whistleblower's name was revealed at the hearing? [#6] I don't think Wednesday's events changed any minds and that's bad news for the Democrats.
Impeachment hearings! Is that all they've got? Something is manifestly wrong with Adam Schiff. For those of us who are political junkies, it has long been obvious that Rep. Schiff suffers from a serious form of narcissistic personality disorder. He does not, apparently cannot, differentiate between the truth and lies. His own lies come tripping off his tongue as if no one could or would possibly notice that what he says in not true. He seems not to know the difference. [...] Adam Schiff for three years has exclaimed over and over again that he has seen absolute proof that President Trump colluded with Russia. It was never true and not-Mueller's report was forced to admit that to the horror of the leftists who had depended mightily on Mueller to effect Trump's removal from office. [...] For all who had not previously realized this about Schiff, Wednesday's hearing was a wake-up call. The man is demented. He outright lied when he said he did not know who the not-whistleblower is! Everyone knows who the not-whistleblower is.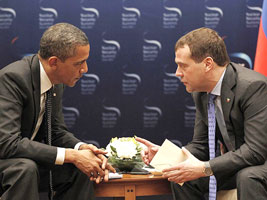 Nunes Stumps Impeachment Witness on Obama-Russia Hot Mic Moment: 'Was That Inflammatory to the Ukrainians?'. House Intelligence Committee Ranking Member Devin Nunes (R-CA) used his opening line of questioning to demonstrate the instances of Ukrainian meddling in the presidential election against President Trump and reminded the witnesses — and Democrats on the committee — of former President Obama's infamous "hot mic" moment with the former Russian president in 2012. Nunes used his opening line of questioning to demonstrate Ukrainian election interference, validating Trump's initial concerns in regard to Ukraine.
When Did Ukraine Become a 'Critical Ally'? On hearing the State Department's George Kent and William Taylor describe President Donald Trump's withholding of military aid to Ukraine, The New York Times summarized and solemnly endorsed their testimony: "What clearly concerned both witnesses wasn't simply the abuse of power by the President, but the harm it inflicted on Ukraine, a critical ally, under constant assault by Russian forces." [...] "One would think, listening to this," writes Barbara Boland, the American Conservative columnist, "that the U.S. had always provided arms to Ukraine, and that Ukraine has relied on this aid for years. But this is untrue and the Washington blob knows this." Indeed, Ukraine has never been a NATO ally or a "critical ally."
Ukraine and the fine hand of George Soros. There was a missing person in yesterday's testimony in the "impeachment inquiry": George Soros. One person who noticed was Joe DiGenova, who brought up the involvement of the Hungarian-born billionaire yesterday on Lou Dobbs's Fox Business Network show, only to be attacked viciously for daring to mention He Who Must Not Be Named, on Mediaite by Reed Richardson, who called it a "bonkers conspiracy."
Heat but no light: First public impeachment hearing [was] a dud. House Democrats claim this impeachment process is identical to that used for Presidents Bill Clinton and Richard Nixon. This is a whopper, even for politicians. Take subpoena authority, one of the most important tools of any investigation. For Clinton and Nixon, the majority and minority had equal authority; if the other side did not cooperate, each could get permission from the committee. Today, the majority can subpoena unilaterally, but the minority must always get permission. One of these impeachments is not like the others.
Schiff Lies Yet Again, Claims To Not Know Who The Whistleblower Is. Democratic Congressman Adam Schiff's credibility continues to tailspin in an unseemly fashion. Schiff testified in a public congressional hearing on Wednesday [11/13/2019], stating that he did not know the identity of the whistleblower when questioned by Rep. Jim Jordan, R-Oh.
Star witness says 'what he can do for you today is tell you what I heard from people'. The impeachment inquiry today was a big flop to anyone paying any attention. All that the star witnesses had to offer was hearsay. [...] Rep.Ratcliffe asked Ambassador and George Kent to name the crime that President Trump committed on his call with President Zelensky. Rep. Ratcliffe said, "So in this impeachment hearing today where we impeach presidents for treason or bribery or other high crimes, where is the impeachable offense in that call? Are either of you here today to assert there was an impeachable offense in that call?" That was met with silence. At one point, Schiff said Rep. Ratcliffe could have his one minute in time back but then changed it to 22 seconds. Schiff is a little dictator. The issue is whether or not gossip counts in creating a crime. That is all the two had to offer.
Impeachment case against Trump is falling apart — Democrats want to hurt him in 2020 election. The supposedly devastating case for the impeachment of President Trump that partisan Democrats have been hyping in endless media interviews began falling apart Wednesday as the House Intelligence Committee opened its televised witch hunt against the president. Desperate Democrats know they have no chance of removing President Trump in a trial in the Republican-controlled Senate. But they are determined to use their House majority to impeach him and send their ridiculous case against him to the Senate for a pointless trial for one reason only: to hurt his reelection chances. This is what the whole disgraceful publicity stunt Democrats are calling an impeachment inquiry is all about — pure politics and nothing else.
Schiff's lead witnesses have no real evidence — and neither does he. On Wednesday, the curtain rises on the House's impeachment show, featuring State Department career diplomats William Taylor Jr. and George Kent as the first witnesses. Mainstream media claim Taylor and Kent have "damning evidence" that President Trump delayed military aid to the Kiev government in a quid pro quo to pressure the Ukrainian president to dig up dirt on the Bidens. Don't believe it. Kent and Taylor have no evidence against Trump — only a false rumor spread during a farcical game of telephone on Sept. 7. Taylor heard the claim third-hand, and then called Kent, who got it fourth hand. Making these diplomats lead witnesses in the impeachment show is a ruse. They never spoke with Trump about the aid and admit they had no direct knowledge of why it was delayed. They weren't even on the controversial July 25 phone call that has become the pretext for impeachment.
Trickster Adam Schiff conjuring 'guilt' out of thin air. The California Democrat takes his magic act public Wednesday as the impeachment hearings burst out of a Capitol Hill dungeon and onto television. Donald Trump's presidency and the 2020 election likely hang on whether Schiff's sleight of hand can survive the bright lights of public exposure and cross-examination. Operating in darkness, where he controlled the witness list and leaked snippets of testimony that the Dems' media echo chamber turned into proof of Trump's guilt, Schiff has been a first-rate illusionist. Even his exterior calmness is deceptive; he burns with a zeal to kill the king.
The Impeachment Pantomime. [Scroll down] No wonder no one in Washington will name this phantom in plain sight. The impeachment probe starts to take on a certain reek. It starts to look as if contempt for Trump takes precedence over democratic process — a dangerous priority. Sperry quotes Fred Fleitz, a former National Security Council official, thus: "Everyone knows who he is. CNN knows. The Washington Post knows. The New York Times knows. Congress knows. The White house knows.... They're hiding him because of his political bias." Here we come to another question. If everyone knows the whistleblower's identity, why have the corporate media declined to name him? There can be but one answer to this question: If Ciaramella's identity were publicized and his professional record exposed, the Ukrainegate narrative would instantly collapse into a second-rate vaudeville act — farce by any other name, although "hoax" might do, even if Trump has made the term his own.
The Schiff coup: Day one. [Scroll down] Shifty Schiff is calling as "witnesses" State Department employees who are giving their opinions about the meaning of the transcript and their opinion of the events. They do not agree with President Trump's foreign policy. We have the transcript, and anyone, including Congress, can decide what it means. It means exactly what the words of the transcript show: no quid pro quo, nothing illegal. [...] It appears that Shifty Schiff is offering these witnesses as "expert witnesses" as to how to deal with Ukraine. In a court of law, expert witnesses have to be qualified as experts in the field in which they testify and are used only when an expert is needed to explain to a court and jury something beyond the understanding of the layman.
Bill Taylor's 'Bombshell' Repeats What Was Already Known from July 25 Phone Call Transcript. The top U.S. diplomat in Ukraine, Amb. Bill Taylor, testified Wednesday in the first public hearings of the impeachment inquiry that one of his staff told him last week that he overheard Trump ask U.S. Ambassador to the European Union Gordon Sondland about "the investigations" during a July 26, 2019, phone call. [...] Taylor's comments, however, raise questions about Sondland's testimony. Sondland testified that he never heard the president ask for investigations, only that Giuliani asked for them, presumably on behalf of the president. However, Sondland's memory throughout the testimony appeared shaky.
CNN analyst: It's a 'problem' for Dems that impeachment witnesses never met Trump. A prominent CNN commentator pointed out a "problem" House Democrats have following the first public hearing in their impeachment inquiry of President Trump. U.S. diplomat Bill Taylor and State Department official George Kent were the first witnesses to offer their testimony in the open and were grilled for several hours over their knowledge of Trump's conduct with Ukraine. GOP lawmakers specifically questioned the witnesses about their previous testimony, which relied heavily on second- and third-hand knowledge. Following the hearing, CNN Chief Legal Analyst Jeffrey Toobin suggested that the vocal observation from Trump's defenders was "legitimate."
Impeachment Inquiry Finally Sees the Light of Day. The most conspicuous feature of their testimony was that both Taylor and Kent were in a state of consternation concerning the supposedly sinister implications of the Trump-Zelensky call, about which they learned secondhand from a Lt. Col. Alexander Vindman. The latter is one of the only witnesses who actually listened in on the fabled phone call, but his testimony to Adam Schiff's select committee contains no explicit claim that Trump requested any quid pro quo arrangement, much less engaged in the kind of "extortion" and "bribery" that have now become staples of Democratic impeachment talking points. This is probably why Wednesday's hearing featured Taylor and Kent rather than Vindman. The hearing commenced shortly after 10 a.m. when Chairman Adam Schiff introduced the proceedings with his trademark admixture of bombast and innuendo.
Reckoning coming for Adam Schiff for impeachment inquiry. [Scroll down] The legal case is a complete failure. So let's consider the overall stink factor of what Mr. Trump did. The worst thing you can hang on him is that he urged the leader of a foreign government to investigate serious allegations of corruption potentially committed by a political opponent and his family in that foreign government. Is that illegal, unethical or unseemly? Perhaps unseemly. But it is kind of hard to separate former Vice President Joseph R. Biden's potential play-for-pay in Ukraine from the broader corruption that everyone says is in America's best interest to clean up — especially if we are handing them hundreds of millions of dollars in hard-earned taxpayer money. In addition, for the entirely of Mr. Trump's political career, he has been the subject of the exact same shenanigans where political opponents turn to foreign operatives to dig up dirt to be used against him. And all the nonsense they supposedly dug up on Mr. Trump turned out to be false.
The Silence of The Shams — "Some Witness Reviews Still Being Negotiated". The Washington Post jumps-in to the Horowitz 'principal review' timeline adding that some of the opportunities for witnesses to review the final draft report are "still being negotiated", likely by the attorney's for the principals. Take all reporting on this two-week review phase with a grain of salt. Despite the NDA's there will be a rush to control the narrative. "People familiar with the matter" will start popping up in the Washington Post, New York Times, Politico, Buzzfeed and CNN. There is likely to be a flood of spin from the PR teams behind each principal outlined in the report. Lawyers for James Comey and Andrew McCabe will be using every angle of Lawfare imaginable to attempt to shape their clients image within the report.
Report: Democrats Designed First Hour of Impeachment Hearing to Be a 'Blockbuster'. Democrats have designed the first hour of the impeachment hearing to "be a blockbuster" — if that is all Americans watch, according to NBC News. NBC News's Geoff Bennett reported Tuesday [11/12/2019] that Democrats will go first in questioning the witnesses in the first public hearing of the impeachment inquiry and since each side has 45 minutes, the first hour of the hearing will be mostly Democrats.
Coup's Next. Today the House Intelligence Committee holds its first public hearings in the Schiff show. The Schiff show is a sort of preface to the impeachment article(s) that the House will send over to the Senate before the end of the year. Something's happening here. Why is the House Intelligence Committee holding impeachment hearings in search of a high crime or misdemeanor? The structure of the production has struck me from the beginning as a variation of the Russia hoax that consumed the first two-plus years of the Trump administration. The Ukraine matter is to usher in the end of the Trump era by hook or by crook. In his most recent column, this is the case that Victor Davis Hanson makes.
The Democrats bungled the first day of public impeachment hearings. If Democrats think they advanced their case for impeachment with the first day of hearings into the Ukraine matter, they are deluding themselves. The proceedings were confusing, not clarifying. Speaking as someone who has followed this matter in granular detail, I found it extremely difficult to tease out the set of undeniable facts that would prove Donald Trump did something so appalling he should be the first president in history to be removed from office and only the third to be impeached. And I assure you, I am willing to be convinced.
Lindsey Graham: I Will Call Adam Schiff to Testify in the Senate. Sen. Lindsey Graham (R-SC) told Fox News' Sean Hannity on Wednesday evening [11/13/2019] that he will call Rep. Adam Schiff (D-CA) to testify in the Senate if the House impeaches President Donald Trump. Graham added that he would not allow a trial of President Donald Trump in the Senate based on hearsay evidence alone, and without testimony from the "whistleblower."
Backfire: Democrat Impeachment Hearing Accidentally Makes Case for Hunter Biden Investigation. Testifying before the House Intelligence Committee on the opening day of the inquiry, Deputy Assistant Secretary of State George Kent admitted that U.S. officials had been urging the Ukrainian government for some time to explain why an investigation into Burisma Holdings, the eastern European oil and gas company that employed Hunter Biden on its board of directors, was shut down.
Jordan on fire, real star of impeachment hearing: 'I've seen church prayer chains easier to understand'. The first public hearing in the inquiry included witnesses William B. Taylor Jr., the former top diplomat in Ukraine, and George P. Kent, a senior State Department official, two men who were unable to provide anything of substance to the inquiry. Taylor even admitted multiple times during his testimony that he was merely there to pass along information he had heard secondhand. Jordan got a little tired of the rumors being passed off as evidence and he broke down the entire sham process as only he can. He, like many others, was confused how Taylor could argue he had a "clear understanding" of the alleged quid pro quo at the center of this impeachment inquiry when he had no new substantial information to provide.
Sen. John Kennedy: Dems Are Giving Trump 'A Fair and Impartial Firing Squad'. The always-colorful Sen. John Kennedy of Louisiana is among the Republicans who say Democrats are being unfair to President Trump by limiting the witnesses they may call and by selectively leaking portions of the testimony they've heard privately, before releasing transcripts pertaining to Trump's Ukraine dealings. Public hearings in the impeachment inquiry begin Wednesday, and Kennedy said he'll be listening to what transpires in the House intelligence committee: "If you try to assess how a trial is going for a defendant, you don't just listen to the lawyers' opening statements and you don't just read the transcript," Kennedy told CBS's "Face the Nation." [11/11/2019]