Introduction:
This page is a spin-off from a larger page about Islamic terrorist attacks that were reported as "isolated incidents."
Related topics:
Charlie Hebdo
The Religion of the Easily Offended
Muslims pretend to be the victims of the trouble they have stirred up
Geert Wilders and Fitna
Sharia Law
Islam is NOT a "Religion of Peace"

Overview:
Tucker Carlson Outlines Dramatic Timeline of Political Corruption Within the Federal Bureau of Investigation. What Tucker Carlson outlined on his broadcast tonight is not a surprise to anyone here; however, it is good to see the direct accusations presented to millions of Americans. The FBI is a corrupt politically motivated institution from top to bottom. [Video clip] [...] The FBI knew in advance of the Pulse Nightclub shooter (Omar Mateen) and were tipped off by the local sheriff. The FBI knew in advance of the San Bernardino Terrorists (Tashfeen Malik). The FBI knew in advance of the Boston Marathon Bombers (the Tsarnaev brothers) tipped off by Russians. The FBI knew in advance of the Parkland High School shooter (Nikolas Cruz). The FBI knew in advance of the Fort Hood shooter (Nidal Hasan), and the FBI knew in advance of Colorado grocery store shooter Ahmad al-Aliwi Alissa. The FBI took no action. The case of the first recorded ISIS attack on U.S. soil was in Garland, Texas in 2015. The FBI not only knew the shooters (Elton Simpson and Nadir Soofi) in advance, BUT the FBI ALSO took the shooters to the venue and were standing only a few yards away when Simpson and Soofi opened fire. Yes, you read that correctly — the FBI took the terrorists to the event and then watched it unfold.
After Attack In Texas, Will It Be Free Speech Or The Thugs' Veto? Let's get one thing straight: This event was not about guns, civility or Islam. It was about free speech. Activist Pamela Geller is no stranger to saying things that horrify the politically correct. She protested the World Trade Center mosque and bought bus-sign ads describing what's really written in the Quran. Last weekend, she and writer Robert Spencer's American Freedom Defense Initiative organized a contest for the best Muhammad cartoon drawing with a $10,000 prize in Texas in response to the Islamofascist newsroom massacre of cartoonists in Paris at the French paper Charlie Hebdo earlier this year. And to no one's surprise in a nation whose leaders consider rising Islamofascist terror groups "junior varsity" and where extremist depravities are viewed as "workplace violence" or dismissed as reactions to bad filmmaking rather than organized terror, a couple of Islamofacists from North Phoenix, Ariz., shot up the Garland, Texas, cartoon conference, wounding a security guard before an off-duty traffic cop took the pair down and saved the country from another massacre.
The FBI Record on Fighting Terrorism.. [Scroll down] Many Americans assume, however, that at least in the area of Islamic terrorism, the FBI has kept Americans largely safe. Not so fast. The record doesn't quite show that. In fact, the agency has blundered many terrorism investigations and thus jeopardized the security of Americans. [... For example,] In 2015, two Islamic terrorists attacked a Muhammad art expo in Garland, Texas, but the FBI actually had an informant at the scene with the terrorists, but it never bothered to warn the expo's organizers of the impending attack. Apparently, the agency didn't want to blow the informant's cover! Fortunately, security guard Bruce Joiner shot and killed both shooters before they could get inside the exhibition hall. Joiner wonders why the FBI would allow this attack to transpire, stating "That's not the kind of thing we do in the United States with our citizens."
Update:
Security Guard Injured in 2015 Terrorist Attack Appeals Suit Against FBI. Bruce Joiner is seeking millions in damages from the FBI after he was shot in the leg when two radicalized Islamists opened fire at a "Draw the Prophet Muhammad" event. Joiner has argued that the bureau fomented the attack and had advance knowledge it was likely to happen but failed to stop it. ISIS later claimed responsibility for the attack, which took place four years ago on Friday, making it the first-ever attack on U.S. soil by the group. Joiner's first complaint was dismissed in federal court on the grounds of government immunity. Although he is seeking monetary damages, he has maintained his central purpose is to unearth the FBI's level of involvement.
Flashback: Garland, Texas Terror Attack Took Place Four Years Ago. PJ Media reporter Patrick Poole reminds us that the Garland, Texas terror attack took place four years ago today. He also reminds us what a completely botched job the FBI did in this case.
Injured Victim Suing FBI — for Allowing Terrorist Attack to Happen. It's perhaps one of the biggest, and most underreported, stories of the last few years. It involves two different allegations, the first being that the FBI allowed a terrorist attack to happen. More damning still, the second is that the FBI actually encouraged it. And now a man injured in the attack is suing the bureau. The incident was the jihadist attack on the "Draw Mohammed" free-speech event in Garland, Texas, in 2015. The plaintiff is the security guard wounded in the gunfire, Bruce Joiner, who charges that an FBI agent "solicited, encouraged, directed and aided members of ISIS in planning and carrying out the... attack," court documents relate.
FBI Might Avoid Turning Over Documents in Texas Attack Lawsuit. A lawsuit against the FBI for its role in a 2015 terror attack in Texas has taken a detour over discovery issues. Bruce Joiner, a security guard shot in the leg by two radicalized Islamists at a "Draw Muhammad" event in the North Dallas suburb of Garland in May of that year, learned months later that an FBI agent had been undercover in the terrorist cell that executed the attack. The agent had texted one of the assailants to "Tear up Texas" a few days before the attack, and was also in a separate vehicle directly behind the two terrorists taking pictures of them just seconds before they opened fire at a perimeter parking checkpoint. The undercover agent, described in court documents as being dressed in Middle Eastern attire, tried to flee the scene when the shooting began but was stopped by local police.
FBI, DOJ Argue for Dismissal of Suit About Garland, Texas Attack. The FBI and the Department of Justice are arguing for a liability case against them to be dismissed, while at the same time admitting to key details surrounding the bureau's involvement in the 2015 terrorist attack on the "Draw Muhammad" event in Garland, Texas. In that attack, the first in the United States for which ISIS claimed responsibility, Elton Simpson and Nadir Soofi, drove to the Curtis Culwell Center in Garland in a car loaded with six guns and over a thousand rounds of ammunition. The two men opened fire when they were stopped at a perimeter checkpoint. A security guard, Bruce Joiner, was shot in the leg and the two attackers were killed just yards away from where the shooting began.
Muslim convicted of plotting to behead Pamela Geller over Muhammad cartoons gets 28 years prison. I agree with Pamela Geller's column here, that [Daoud] Wright should have been given life in prison. He will get out before 28 years are up. His jihadi beliefs won't be weakened, but strengthened while he is incarcerated, thanks to a prison system that will allow him to meet with and pray with other Muslim inmates, and will treat the Qur'an that incited him to murder over cartoons with the utmost respect. While he is in prison he may also recruit or inspire others to murder Pamela Geller or others who stand for the freedom of speech against jihad and Sharia oppression. Wright is a dangerous man, but this sentence is consistent with a justice system that does not recognize the danger that he and others like him present.
Geller: Why the Muslim Who Plotted to Behead Me Must Get Life in Prison. It came to light in June 2015 that Wright, along with his fellow Boston jihadis Usaama Rahim and Nicholas Rovinski were plotting to behead me, along with an unnamed Muslim in North Carolina who posted online this portion of the ISIS fatwa against me: "Our aim was (Geller) and to show her that we don't care what land she hides in or what sky shields her. We will send all our Lions to achieve her slaughter." Wright told his fellow jihadis that I deserved to be beheaded, because I organized the Muhammad Art Exhibit and Cartoon Contest that other jihadis attacked in Garland, Texas in May 2015. Insulting Mohammed or Islam is a capital crime in Islamic law. Wright and his fellow jihadis wanted to make an example of me. They wanted to prove by killing me that they can and will act with impunity in the U.S., and that Americans must submit to sharia blasphemy laws — or else.
10 Times CNN Told Us An Apple Was A Banana. [For example,] We're talking about CNN host Chris Cuomo, who, in addition to his hopeless bias, regularly offers factually impaired assertions on every media platform available to him. [...] You might also remember that after an anti-Islamist was shot in Texas a few years ago, Cuomo, who has a law degree, did a bit of victim-blaming by arguing that "Hate speech is excluded from protection" under the First Amendment. Instead of admitting that his aversion to speech critical of Islam had led him to say something untrue, Cuomo attempted to walk it back by offering examples that had absolutely nothing to do with his initial comment.
ISIS recruit is convicted of plotting to behead 'Islamophobic' conservative blogger Pamela Geller. An ISIS recruit was convicted of plotting to behead a conservative American blogger for organizing a Prophet Muhammad cartoon contest on Wednesday [10/18/2017]. Jurors found David Wright, 28, from Massachusetts, guilty of all charges, including conspiracy to provide material support to a designated foreign terrorist organization and conspiracy to commit acts of terrorism transcending national boundaries. The 28-year-old who authorities say fell under the influence of ISIS faces up to life in prison for plotting to behead Pamela Geller.
Pressure builds on FBI to explain Garland terrorist attack. The FBI is under mounting pressure from the Senate to explain the circumstances behind a terrorist attack in Garland, Texas in 2015, although it's still far from clear whether the FBI intends to explain why an FBI agent was at the scene and did nothing. In open testimony before the committee on Wednesday, FBI Director James Comey told Sen. Ted Cruz, R-Texas, that he would be willing to explain media reports that suggest the FBI may have had advance knowledge of the attack. But he only said he would do that in a classified briefing, and no briefing has been set.
Senate leader investigating possible FBI deception about Texas terror attack. A powerful U.S. senator has launched an investigation into whether the FBI knew about a planned attack by ISIS-inspired terrorists at an anti-Muslim cartoon show in the Dallas area and did nothing to stop it — and also misled the lawmaker about circumstances of the 2015 attack.
Senate leader investigating possible FBI deception about Texas terror attack. Sen. Ron Johnson, R-Wisc., chairman of the Homeland Security and Government Affairs Committee, said he learned from a recent national media report that the FBI was tailing the two terrorists, Elton Simpson, 31, and Nadir Soofi, 34, and an agent was just steps away when the pair jumped from their car and began shooting at police guarding the "Draw Mohammad" event at the Curtis Culwell Center in the Dallas suburb of Garland, Texas. [...] The attack was significant because it was the first that the Islamic State took credit for on U.S. soil. Soofi and Simpson had been in touch with an ISIS recruiter in Somalia. "It is concerning that when I wrote to the FBI and Department of Justice, they never told me about the fact that they had some FBI asset, whether it was an agent or informant, tailing Soofi and Simpson," said Johnson.
5 Recent ISIS-Related US Arrests You Need to Know About. [#1] North Carolina: Erick Jamal Hendricks, from North Carolina, was arrested on August 4th, 2016 on charges of attempting to recruit people for terrorist attacks in the U.S. in support of the Islamic State (ISIS/ISIL). One of Hendricks' alleged contacts was a gunman in the 2015 thwarted attack on an exhibition of Mohammed caricatures in Texas. The Justice Department says Hendricks, who was caught by an undercover FBI informant, was using social media to recruit people. He also allegedly mentioned to a prospective recruit a desire to create a sleeper cell for later attacks in the U.S.
Undercover FBI Agent Told Garland Jihadist: 'Tear Up Texas'. In the wake of Garland, the media attacks on us were the overwhelming and overarching story. But outside of that, one of the stories that bubbled to the surface was that the FBI knew about the attack before it happened, but did not alert law enforcement or my security apparatus. When I first heard that the FBI had prior notice of the attack, I thought that it was very short-term notice. It was assumed by many people that the FBI had had some sketchy prior knowledge of the attack, but nothing particularly specific. Now we find they were in on the planning of the jihad attack, and did nothing about it. If you recall, the FBI only got around to alerting Garland police about Simpson's jihad plans three hours before our event.
Charlotte man accused of recruiting for ISIS, advising martyrdom for followers. A man who had lived in Charlotte about a month was arrested Thursday [8/4/2016], accused of trying to recruit domestic terrorists for the Islamic State group and claiming to be planning a secret training camp on U.S. soil. Erick Jamal Hendricks, 35, used social media networks to contact and recruit Americans for the cause of the Islamic State, also known as IS, ISIS and ISIL, federal authorities said, and he appeared to have ties to a 2015 attack at a Texas event mocking pictures of the prophet Muhammad.
North Carolina Man Charged with Conspiring to Provide Material Support to ISIL. A Charlotte, North Carolina, man was arrested this morning on a federal complaint charging him with conspiring to provide material support to the Islamic State of Iraq and Levant (ISIL), a designated foreign terrorist organization. Erick Jamal Hendricks, 35, tried to recruit people to train together and conduct terrorist attacks in the United States on behalf of ISIL, according to a criminal complaint unsealed today in U.S. District Court in the Northern District of Ohio.
Guilty Verdict for Aiding in Attack on Anti-Islam Cartoon Event in Texas. An Arizona man was found guilty on Thursday [3/17/2016] of conspiring to support Islamic terrorists by helping to plan an attack at an exhibit of anti-Islam cartoons in Texas. A jury of four men and eight women returned the verdict against the man, Abdul Malik Abdul Kareem, on their third day of deliberations in Federal District Court here, in what the authorities described as the country's first jury trial involving a violent act committed in the name of the Islamic State.
Arizona man indicted in 'Draw Mohammed' event hit with new charges. An Arizona man already accused of aiding two gunmen in an attack on an event in Texas drawing cartoons of the Prophet Mohammed had also inquired about using pipe bombs and explosives during the 2015 Super Bowl in Phoenix, court documents said. Abdul Malik Abdul Kareem, also known as Decarus Thomas, was charged on Wednesday with conspiracy to provide material support to a foreign terrorist organization, in addition to his indictment earlier this year on conspiracy and weapons charges in connection with the failed attack on the event in the Dallas suburb of Garland, according to the court papers.
Gun used in Garland, TX terror attack connected to Fast and Furious. A 9MM handgun used by Nadir Soofi, one of the terrorists who attacked the Garland, TX Mohammed cartoon festival, has been traced to the Fast and Furious program, according to the Chicago Tribune. [...] How many other weapons ended up in the hands of potential terrorists? How many other Americans have been murdered by these guns? Unfortunately, by the time more curious eyes are brought to bear on this and other administration scandals, most of the evidence will be "Lernered" — destroyed by those who would end up in jail if the truth ever came out.
Assailant in Garland, Texas, attack bought gun in 2010 under Fast and Furious operation. Five years before he was shot to death in the failed terrorist attack in Garland, Texas, Nadir Soofi walked into a suburban Phoenix gun shop to buy a 9-millimeter pistol. At the time, Lone Wolf Trading Co. was known among gun smugglers for selling illegal firearms. And with Soofi's history of misdemeanor drug and assault charges, there was a chance his purchase might raise red flags in the federal screening process. Inside the store, he fudged some facts on the form required of would-be gun buyers.
More about Fast and Furious.
Indictment Alleges Garland Cartoon Contest Shooters Had Help. The indictment of a third man in the anti-free speech terror plot to murder Pamela Geller and others at the Muhammad Art Exhibit and Contest in Garland, Texas in May indicates that the planning and coordination is deeper than previously known. The indictment also points to the possible involvement of other co-conspirators.
Garland conspirator had plan to attack Super Bowl: prosecutors. An alleged conspirator in the shootout at an anti-Islamic event in Garland, Texas last month wanted to attack this year's Super Bowl game, prosecutors say. Abdul Malik Abdul Kareem, 43, expressed interest in joining Islamic State and desired to strike on Super Bowl XLIX at University of Phoenix Stadium in Glendale, Ariz., said FBI special agent Dina McCarthy on the witness stand at Kareem's first court appearance Tuesday [6/16/2015]. Kareem faces charges of conspiracy, making false statements and interstate transportation of firearms with intent to commit a felony, and he's accused of providing advice and guns to the would-be terrorists in the foiled May 3 raid on the "Draw Muhammad" contest.
Pamela Geller Refuses to Go Into Hiding: 'I'm a Free Person, and I'm Fighting for Freedom'. Blogger and free-speech activist Pamela Geller, the initial target of the jihadi beheading plot that later became a plan to murder police officers in Boston, said that she refuses to go into hiding after an ISIS sympathizer disclosed her home address on Twitter. "I'm a free person and I'm fighting for freedom," she declared in an interview with CBS News affiliate 1010 WINS in New York, where she lives. "The last thing I'm going to do is go into hiding."
Why Pamela Geller is Hated. Pamela Geller — the woman whose group, the American Freedom Defense Initiative, organized the Muhammad cartoon drawing contest in Garland, Texas — may be the most hated person in America right now. She is certainly the left's chief villain. And, sad to say, though few conservatives hate her, more than a few have condemned her.
Obama the Magnificent. When the Mohammed cartoon contest in Garland, Texas was attacked by two jihadists with assault weapons and possibly bombs, a single Texas off-duty cop took out both attackers with his service pistol. Apparently Texas is the only place in the world that can cope with jihadist assaults. In one fierce action that unknown cop made a solid case for the Second Amendment. But our Islamophile media mob instantly blamed the victim.
Islamophobia: Thought Crime of the Totalitarian Future. In the aftermath of the jihadist attack in Garland, TX, leftists and Islamic supremacists are moving swiftly to blame Pamela Geller and Robert Spencer for their American Freedom Defense Initiative/Jihad Watch Muhammad Art Exhibit and Cartoon Contest for supposedly "provoking" the violent attack. Once again, advocates of free speech are being slandered while any attempts to examine the real motives of the ISIS-linked terrorists who tried to slaughter them are being labeled as unjustified and "Islamophobic."
Speak Free or Die. Garland and the sorry aftermath of terrorist apologetics that followed were a warning to every freedom-loving American, as well as an illustration of what one freedom-loving American with training and a Glock can do against the forces of totalitarianism. These jihadi savages tried to silence and intimidate all free Americans. They failed.
The 'Hate Speech' Canard: Ticket to Tyranny. It's impossible to overstate the importance of the ugliness Pamela Geller has exposed, and how grateful we should be to her. Geller's "Muhammad Art Exhibit & Contest" in Garland, Texas, on May 3, sponsored by her American Freedom Defense Initiative (AFDI) and Jihad Watch, featured "about 350 entries depicting Muhammad" — in drawings and cartoons. For this — creating drawings and cartoons — radical Islamists have declared that she and others associated with the event must die. After numerous online and other Islamist death threats during the preceding week, two ISIS-inspired jihadists drove 1,000 miles from Phoenix to Garland's Curtis Culwell Center hoping to carry out the demanded executions.
Pam Geller: An American Hero. I like Pam Geller, because she, like myself, is willing to speak the truth regardless of whose feathers it ruffles. She has more [courage] than any 10 men, and she darn sure has more than Obama. She should be applauded for what her Muhammad cartoon contest accomplished. Whether intentional or not, she was singularly responsible for drawing Muslim cockroaches out of the shadows where they multiply and eventually overrun a property based on their reproductive rates and difficulty to eradicate. Her cartoon contest turned out to be the exact pie crumbs needed to draw them from their hiding place in the shadows for purposes of extermination.
Pamela Geller Acted Morally. She is, as she herself says, engaged in a war against what she believes to be a retrograde force violently on the march throughout the world.
The timid defense of free speech. Some of our liberal friends, particularly the art lovers among them, are terrified of the hobgoblins that Ralph Waldo Emerson warned about. "A foolish consistency," he famously said, "is the hobgoblin of little minds, adored by little statesmen, philosophers and divines." We see this writ large in the threat to public peace and the lives of the innocent by Islamic radicals. The radicals, who maim and kill in the name of the Prophet, are treated with respect (if not terror), and the Christians who have threatened no one, must be hectored, lectured and exiled to the fringes of the public square.
Don't Draw Mohammed, Debate the Origins of Islam. Pamela Geller and Robert Spencer organized a cartoon contest in Garland, Texas to demonstrate the need to exert the right to free speech against Islamic threats. This event in actuality, and predictably, provoked a violent response from two radical Muslims that resulted in their deaths. It also has called down a firestorm on the organizers' own heads from both liberals and conservatives for unnecessarily insulting Islam and Muslims. There's a far better and more important way to exercise free speech about Islam, and Robert Spencer in particular should be aware of it and is well placed to facilitate it.
ISIS Terrorists Worshiped At Radical Islamic Mosque. 'I don't know what happened to him," Islamic Community Center of Phoenix President Usama Shami said of Elton "Ebrahim" Simpson, who with roommate and fellow ICCP congregant Nadir Soofi obtained AK-47 rifles, drove to Texas and opened fire on security guards outside a draw-the-prophet-Muhammad free speech event. Shami, an ethnic Palestinian, says they weren't radicalized at his mosque, where they worshipped for almost a decade. Yet, like too many mosques in America, ICCP is by all accounts a radical Islamic center.
The Failed Tactic of Flattering Islam Won't Go Away. The recent attack in Texas against a "draw Mohammed" event ended up with two dead jihadis and widespread criticism of event organizer Pamela Geller for "inciting" or "provoking" the assault on our First Amendment right to free speech. The hypocrisies and ignorance behind such criticism have been amply documented, including by some on the left. But there's another argument against actions and events like Geller's that needs dismantling. This is the received wisdom that we should avoid criticizing Islamic doctrine or Mohammed because it will alienate moderate Muslims who otherwise would help us against the so-called "extremist" jihadists.
Our Cartoon Contest Provoked Jihadis? Here's News: They Were Already Provoked. [Scroll down] Ibrahim Simpson wasn't "radicalized" by our cartoon contest. Long before it took place, he was in touch with jihad terrorists who encouraged him to carry out a jihad attack. If he hadn't opted to attack our heavily guarded event, he might have chosen a softer target, as did his fellow jihadists Amedy Coulibaly, who murdered four Jews in a kosher supermarket in January, and Man Haron Monis, who took hostages (of who two were subsequently killed) in the Lindt Chocolat Café in Sydney, Australia last December. What's more, the Islamic State, to whom Simpson pledged allegiance before his attack, is already "provoked."
FBI Sent Warning About Gunman to Garland Police Shortly Before Attack, Neglected to Alert Organizers. FBI director James Comey revealed on Thursday that the agency had information that Elton Simpson was interested in heading to Garland, Texas, before he and his companion, Nadir Soofi, opened fire at a Mohammed cartoon contest on Sunday. Comey told reporters that the FBI had alerted the police in Garland, Texas, shortly before the event. Comey said Simpson had been investigated by the FBI from 2006 to 2014 and that the investigation was reopened in March when Simpson began posting pro-ISIS messages on Twitter.
Finding the First Amendment. A draw-Muhammad cartoon contest is staged in Garland Texas. Two ISIS terrorists show up with automatic weapons intending to massacre the assemblage. A single guard guns them down with a pistol, narrowly averting mass carnage. The post-attack response, even including conservative stalwarts, is to condemn not just the would-be assassins, but the speakers and the cartoons presented at the conference. Yes, critics say, of course the speakers have First Amendment free speech constitutional rights, but they offended Muslims around the globe. They asserted that such "hate speech" is not protected by the First Amendment.
Free speech on a leash is a dead dog. Normally, we consider cartoonists, authors, and social activists good citizens, and we view people who enter public places with the intention of slaughtering innocent civilians to be somewhere between psychopathic and just plain evil. But not in Bizarro World. An event that should have united the nation in revulsion for the Islamic terrorists who intended to impose a sharia-compliant death penalty on event organizer Pam Geller has instead become a cause celebre for appeasement. Yes, Pam Geller provoked the attack by doing something on American soil that is strictly prohibited by the Quran, the holy book of Islam (namely, encouraging people to make an artistic representation of the prophet Muhammad), but Geller did so in sympathy with the martyrs of free speech who have perished previously because they have offended Islam.
Texas Attacker Left Trail of Extremist Ideas on Twitter. Counterterrorism officials on Tuesday [5/5/2015] were studying the electronic trails left by two men killed by a police officer as they shot at a Prophet Muhammad cartoon contest in Texas, looking for any direct ties to the Islamic State extremist group in Syria. The group praised the gunmen in a statement as "soldiers of the caliphate," the unified Muslim land that it purports to be building.
Terrorists Are Referred to As "Two Gentlemen" And Mere "Wise Guys" Now. The terrorists are winning. We are bowing to the terrorists i[n] a number of ways — with PC language, the condemnation of Pamela Geller, a victim of the Garland, Texas event, and by shutting down military museums and events. A Fox News reporter named Kevin Corke called the Garland Texas terrorists "wise guys". He also referred to them as "two gentlemen" on Greta Van Susteren's show last night.
"Stay Quiet and You'll Be Okay". The French and Texan attackers supposedly had the same kind of weapons, although one should always treat American media reports with a high degree of skepticism when it comes to early identification of "assault weapons" and "AK47s". Nonetheless, from this reconstruction, it seems clear that the key distinction between the two attacks is that in Paris they knew how to use their guns and in Garland they didn't. So a very cool 60-year-old local cop with nothing but his service pistol advanced under fire and took down two guys whose heavier firepower managed only to put a bullet in an unarmed security guard's foot.
A prediction I pray is wrong. In the coming years, it will be harder and harder for Americans to remain indifferent to Islamic terrorism, because so much of it will be close to home disrupting our daily lives and dividing the nation along a deep ideological fault line. We've already seen the split that followed in the aftermath of the Texas cartoon contest — as many condemned Pamela Geller as praised her. That's only a small taste of things to come. As terrorist attacks in our nation become more frequent and more deadly, American thinking will become more sharply divided, pitting one side blaming the victims for being "provocative" against the other side blaming the Islamists for being terrorists.
Media Coverage of Pam Geller Proves Many Journalists Don't Believe in Free Speech. Journalists are supposed to understand the first amendment; their profession is based on it. Yet so many people on both political sides of American media have shown themselves to be absolute boobs in the wake of Pamela Geller's event in Texas. This week, a Muslim cleric told her she deserved death for blasphemy over cartoons. Where's the outrage over this?
Democrats Now Cast Terrorists as Victims. The notion that a rape victim deserved to be raped because she was wearing a tight outfit lights up all our red lights. This is the case first and foremost because it absolves the rapist of responsibility for his crime. [...] One of the foundations of liberal societies has always been that victims of aggression are not to blame for their attackers' behavior. Over the past few days, we have witnessed a dangerous erosion of this principle among American elites.
Islam: An Ideology of Lethal Absurdities. Daniel Greenfield wrote on FrontPage about the absurdity of the news media in accusing Pamela Geller and Bosch Fawstin of encouraging violence by conducting a drawing Mohammad contest and inviting others to the event: ["]"The actual attempt at mass slaughter was dismissed as the terrorists 'take the bait' from the cartoonists who had been fiendishly plotting to be mass slaughtered by them for the publicity."["] But, this is the actual motive of Islamic terrorists; they are fiends looking for "bait" to take in order to be killed by their intended victims (or by a lone policeman, as in Garland) so their names can be publicized as "martyrs for Allah." The only time terrorist outfits like ISIS, Al Qaeda, et al. value and recognize such self-sacrificing fools (aka "brothers") is when they're dead. This policy reduces the average jihadist to the level of a passive receptor, or a human lemming, who just can't help himself for wanting to die, of seeking immediate if not eventual death.
Terror recruiter with roots in Minn. linked to Texas shooting. One of the first Somali-Americans from the Twin Cities to join a terrorist group overseas is a prominent online recruiter whose clout extends to a new wave of Minnesotans charged with conspiring to support extremists in the Middle East. Mohamed Abdullahi Hassan's most recent display of influence came a week ago when he was linked by Twitter to the shooting at a Texas event where artists depicted their version of the prophet Mohammed. Before the shooting, Hassan sent messages urging his "brothers" to commit such an attack and later praised the gunmen who were killed.
Je Suis Pamela Geller. I was standing next to Pamela Geller just after our American Freedom Defense Initiative/Jihad Watch Muhammad Art Exhibit and Cartoon Contest ended last Sunday in Garland, Texas when one of our security team ran in and told us that there had been a shooting outside. As the audience was led to another area inside the building and the outside was swept for bombs and additional jihadis, Geller and I were hurried to a safe room. It was the last time since then that Pamela Geller has been safe. The Islamic State quickly issued a communiqué that included this: [...]
There's a war on free speech — and radical Islam is winning. Through a combination of fear, intimidation and exploitation of the liberal reflex to sympathize with supposedly marginalized groups, radicals have been steadily eroding our long-standing conception of free speech. In the most recent example in Garland, Texas, two men with body armor and assault rifles shot up a community center that was holding a cartoon contest to draw the Muslim Prophet Muhammad. Luckily, they were shot dead by police before they could harm anybody. Yet, in a horrendous case of mass victim-blaming, media figures across the political spectrum have been pointing fingers at the contest organizers — and worse, suggesting limits on offensive speech.
For Fox News, Megyn Kelly emerges this week as the champion of free speech. By breaking with a number of her colleagues over a controversial "Draw Muhammad" contest in Garland, Texas, Fox News's Megyn Kelly demonstrated this week why she is sometimes referred to as the network's "independent" voice. She also likely revealed why her show easily outperforms her competitors, both at Fox News and elsewhere. "So private citizens shouldn't do offensive things, even behind closed doors now, lest they cause offense," she said Thursday [5/7/2015]. "We don't compromise America's bedrock principles just to make other nations like us more."
The Hero of Garland. There's still a lot we don't know about what happened in Garland, Texas, earlier this week, including the name of the heroic police officer who averted certain disaster by outshooting two heavily armed terrorists. But blogger Bob Owens, who generally knows his stuff when it comes to firearms, has published an interesting analysis about what happened based on a few photos of the crime scene.
FBI issued warning ahead of Texas attack. FBI Director James Comey said Thursday his agency had looked into Elton Simpson, one of the gunmen involved in the attack on a prophet Muhammad art event in Garland, Texas on Sunday. Just before the attack Simpson tweeted his allegiance to ISIS with the hashtag #TexasAttack. That same day — at about 4:00 p.m. — the FBI says it sent a bulletin with photographs of Simpson, 31, and a license plate to local police in Garland. But a Garland Police Department spokesperson told CBS News it had "no information" that Simpson and accomplice Nadir Soofi were headed their way.
The week that cable news failed free expression. Two gunmen were shot dead by a police officer as they attempted to mount a terrorist attack on a "Draw Muhammad" cartoon contest — an event whose by-product is offensive to many Muslims. The Islamic State terrorist group claimed responsibility for targeting the contest, which was organized by Pamela Geller of the American Freedom Defense Initiative (AFDI). Authorities are investigating ISIS's claim of responsibility; they're checking the electronic communication histories of the attackers, Elton Simpson and Nadir Soofi; the White House has called the episode an "attempted terrorist attack." And who's being treated as the public enemy on cable? The woman who organized a cartoon contest.
AP Slams Pam Geller as Having 'No Regrets' That Two Terrorists Died in TX. The Associated Press appears to be siding against free speech with its latest tweet attacking free speech advocate Pamela Geller by knocking her as unapologetic that two terrorists were killed during her weekend event.
I'm Far More Hateful Than Pamela Geller. In fact, I'd argue there's no way that she could hate jihad more than I do. I've seen jihad up-close, in an Iraqi province where jihadists raped women to shame them into becoming suicide bombers, where they put bombs in little boys' backpacks then remotely detonated them at family gatherings, where they beheaded innocent civilians while cheering wildly like they were at a soccer match, and where they shot babies in the face to "send a message" to their parents. I've seen the despair in the eyes of the innocent victims of jihad, and — believe me — that despair is infinitely greater than the alleged "anguish" caused by a few cartoons.
Fox News personalities get behind 'I support free speech, but...'. A controversial "Draw Muhammad" contest this weekend in Garland, Texas, has divided media figures into two camps: In one corner are those who say unequivocally that all free speech is to be defended — regardless of content. Period. In the other are those who say the First Amendment should not be invoked to defend intentionally provocative acts — especially when such acts offend Muslim sensitivities. The Sunday event, which was hosted by the American Freedom Defense Initiative, was almost the target of an Islamic State-linked terrorist attack. Luckily for the nearly 200 people in attendance, a police officer shot and killed the two would-be attackers, Nadir Soofi, 34, and Elton Simpson, 30, before they could carry out their jihad-inspired act of mass murder.
ISIS: We will attack Texas again and it will be far worse for Christian infidels. ISIS recently released a statement boasting themselves of the attack in Garland, TX, stating their desire to kill Christians in America, and that the next attack will "be harsher and worse". [...] As Shoebat.com reported, that "the attack in Garland Texas was carried out by ISIS lone wolves" and today the police revealed "Elton Simpson," reportedly one of the two gunmen responsible for the shooting in Garland, Texas, was indeed a homegrown ISIS lone wolf and a convert to Islam who in 2010 had links to ISIS.
Authorities Missed Shooter's Violent Tweets Because There Is [sic] Too Many Like Him. An unidentified "senior law enforcement official" has told the New York Times that federal authorities missed online posts made by Elton Simpson that should have indicated his violent intentions because "there are so many like him" the government is overwhelmed.
CAIR Coordinated w/ACLU to Smear Mohammed Cartoonists After Shooting. The ACLU is not a free speech organization. It does engage in stunts that make it look that way. The ACLU is Islamist infiltrated and it backed Obama and Hillary's crackdown on Innocence of Muslims after the Benghazi attack. [...] You don't normally denounce someone after they were nearly killed in an attack by your people, but that's exactly what was going on here.
How America waits for the next terrorist attack. Try as they might, the Islamic terrorist camp can't write off what happened in Garland, Texas on Sunday night: Police foiled the first ISIS-connected terrorist attack on American soil. They not only foiled it, they foiled it quickly and effectively. No matter how they write up the scary script threatening unleashed lions on courageous Pamela Geller notwithstanding, the days of Elton Simpson and Nadir Soofi being able to plot terrorist attacks on innocent civilians are gone forever.
The Jihadis Are Controlling Access To The Public Square. With guns blazing, two jihadis brought yet another despicable act of terrorism to America. The scene was Garland, Texas where the American Freedom Defense Initiative was holding an exhibit and cartoon competition featuring satirical portrayals of the Islamic prophet Muhammad. Portrayals of the Muslim prophet are forbidden by Islamic law and draw outrage from Muslims. One of the two gunmen is Elton Simpson, 30, a resident of Phoenix, and a man known to the FBI. Simpson was previously brought to trial on grounds of making false statements to federal agents about his intentions to travel overseas for the purpose of engaging in violent jihad.
Conservative Pundits For Sharia? [Scroll down] Muslims can follow their own religious beliefs, but they can't force me to follow them. They believe that it is wrong to draw Mohammed; Catholics think it is wrong to get divorced; Jews think it is wrong to eat pork. You are not insulting Judaism by eating pork, a Catholic by divorcing, or a Muslim by drawing Mohammed. To claim that drawing Mohammed is an insult is a jihadi idea. It is not an American idea. It is applying their code to our behavior. Drawing Mohammed is entirely normal political speech. It is not a gratuitous insult; it is fighting the imposition of sharia law in America. Pam Geller is the bravest woman in America at this moment. She deserves to be given a podium so her voice can be heard by millions.
The Islamic State Can Blow It Out Their Hookah. The Islamic State says they have 71 trained soldiers in 15 states waiting to commit acts of jihad in retaliation for that Muhammad cartoon contest. They specifically mention five states — Virginia, Maryland, Illinois, California and Michigan. And they also threatened to kill contest organizer Pamela Geller and her supporters. [...] Now look, ISIS could be blowing smoke out of their hookahs for all we know. But what if they're telling the truth? We know the FBI had one of the jihadists on their radar. So, what if there are more? Not that it matters to the White House. They don't even believe there's such a thing as Islamic radicals, out of either willful ignorance or cowardice.
Phoenix Mosque Caught Lying About Ties to Texas Would-Be Jihadist Killer. After two attendees of the Islamic Community Center of Phoenix (ICCPA) were killed in a gunfight Sunday night in Garland, Texas, outside a facility where a "Draw Muhammad" contest was being held, the leaders of the mosque have given conflicting stories about the relationship the two had with the place of worship. Most of the conflicting accounts have come from mosque president Usama Shami, who has been regularly featured in multiple press reports following the events Sunday evening. Most of his statements have been attempts to distance the mosque from the two would-be terrorists.
We Have a Crisis. Let's talk about the Garland, Texas attack by enforcers of Islamic law. [...] As with all things jihad, the physical attack on Geller's day-long Mohammed cartoon event, which temporarily secured a small piece of the public square where Americans who so desired could exercise their speech free from Islamic law, followed patterns as old as Islam and as current as the latest news cycles all over the globe. For this reason, it is hard to imagine anyone was shocked by this characteristically Islamic attempt to kill rebels against Islamic law — surely not in the way that earlier, pre-Islamic generations of Americans might have been shocked, perhaps as late as 1989.
In Defense of Pamela Geller. Geller has been making the necessary media rounds to defend herself, including [a] post in Time magazine. Sean Hannity has come to her defense, saying: "You can't draw a cartoon of the prophet Muhammad without expecting this violence? Is this how far we have sunk? That we've got to capitulate in this way?" Rush Limbaugh has leapt to her defense. Megyn Kelly was blunt in her defense. "Even if you hate her message, she was promoting free speech," Kelly said and told a guest critical of Geller that he was "fundamentally confused and wrong" and that "I'm concerned about the America you would have us live in." Me too.
Pamela Geller: Heroine or Hateful Islamaphobe? After the Garland, Texas shooting at an event sponsored by Pamela Geller's American Freedom Defense Initiative (AFDI), the knives came out by the MSM attacking Geller for provoking the attack by ISIS supporters. She held a Muhammad Art Contest to honor the murdered Charlie Hebdo cartoonists that was sure to provoke a jihadist attack. Ironically, the contest was held in the same center where a previous Muslim conference was held to suppress free speech. Geller made sure the event had tight security and a swat team was on site just in case. Aside from a minor injury to a security guard, the two heavily armed jihadists who also wore body armor were shot dead in seconds by a traffic cop's pistol. The only excuse I can find to explain the hostile reaction to Geller by the media is that they are all stupid cowards.
Times Editors Hate Geller's 'Hate Speech' and Love Others' 'Free Speech'. Yesterday, the New York Times editorial page informed us of the fine distinctions between "free speech" and "hate speech." We are instructed that "the Muhammad Art Exhibit and Contest in Garland, Tex., was not really about free speech. It was an exercise in bigotry and hatred." It turns out that the difference is what lies in the heart of the creator. And the Times knows what's in the heart of the creator. The cartoons of Charlie Hebdo, which lost a dozen employees when jihadists sprang into their office with machine guns in an incident that later evolved from an attack on ideas to an attack on Jews, are according to the Times, worthy of defense because the publication "has always been graphic satires of politicians and religions, whether Catholic, Jewish or Muslim."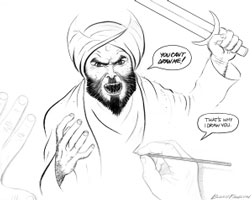 Why Does the Left Get to Decide What's Offensive? The same militant Islamists who do not permit the drawing of pictures of the prophet Mohammed also do not permit homosexuality and do not permit gay marriage." And we know what their attitudes toward women are.




Pamela Geller Calls Out Cowardly Conservatives. Breitbart News spoke with Pamela Geller, president of the American Freedom Defense Initiative and blogger at Atlasshrugs.com, about her recent "Draw Muhammad" free speech art exhibit, which came under attack by Islamic radicals on Sunday in Garland, Texas. Geller discussed how much of the political left, Islamic totalitarians, and even some high-profile conservatives have attempted to equate her art exhibit with the actions of the AK47-weilding Islamic terrorists, who were shot dead in their botched attempt to commit mass murder.

Kansas City Mosque That Wanted to Ban Free Speech Will Hold Funeral for TX Jihadist Nadir Soofi. A Kansas City mosque that petitioned Barack Obama to ban free speech defaming Islam in 2012 will hold the funeral for one of the two jihadists killed in a shootout Sunday outside a Dallas-area convention center that was hosting a "Draw Muhammad" cartoon contest. The Islamic Society of Greater Kansas City (ISGKC) will hold a funeral on Thursday for Nadir Soofi, according to KCTV5.

Double standard on offending Christians and Muslims. In Garland, Texas, on Sunday, two radical Muslims died trying to replicate the Charlie Hebdo massacre by mounting an armed attack on a "draw Mohammed" cartoon contest. We are not talking about drawings of Mohammed dunked in urine or smeared with animal dung. No, the gunmen apparently deemed the mere drawing of Mohammed to be an offense punishable by death. What has been the response of the liberal media to this act of lunacy? Have the talking heads come to the defense of the cartoonists' right of free expression in a pluralistic society? Has anyone publicly observed that drawings of Mohammed might "jolt" Muslims "into an expanded frame of reference" or "illumination"? Far from it. The overall media consensus has been to blame the intended murder victims for recklessly provoking the terrorists. Such provocation, we are told, is unacceptable and irresponsible behavior given the risk of retaliation by offended radical Muslims.

Gen. Boykin on Muslim Cartoon Attackers: We Must 'Stand Up Against This Evil in America'. Commenting on the two men who were killed while trying to shoot up a "Draw Muhammed" contest on Sunday in Texas and the woman who organized the contest, activist Pam Geller, Lt. Gen. William Boykin (ret.) said there is a "double standard" when it comes to Islam and that U.S. leaders need to "stand up against this evil in America" that uses violence to threaten the First Amendment.

It's Time to Put an End to Muslim Immigration. Make no mistake — Islam is poison. It is a poison that appears innocuous in small doses. But as a nation ingests more of it, the malignant effects soon become apparent. It attacks liberty on multiple fronts: freedom of religion, women's rights, freedom of expression. In large enough doses it is lethal to a free society. We've already allowed a dangerous amount of this poison into America. Do not speak to me of peaceful Muslims as ISIS kills and captures Christians by the thousands and two would-be jihadist raid a cartoon contest in Texas. As I and many others have said before — Islam is not a religion of peace. A peaceful Muslim is either a confused apostate or an actor biding his or her time to strike in the name of jihad.

Also posted under Islam is NOT a religion of peace.

Brave Garland Police Officer Advanced As He Brought Down Garland Terrorists. More details are beginning to emerge about the incompetent Islamic terrorist attack on a free speech event held by the American Freedom Defense Initiative (AFDI) in Garland, Texas Sunday. Bearing Arms readers have asked for more details about how the actual shooting went down, and about the Garland police officer who used his duty sidearm to defeat two attackers armed with rifles within 15 seconds.

Why Censor Cartoonists Instead of Their Muslim Killers? The Muslim terrorist attack on the Mohammed cartoon contest in Garland, Texas, has produced all the expected media responses about how some speech is just too "provocative" and needs to be censored. Let's set aside this proposed rape of the First Amendment for a moment and address a different question. If we're going to censor people whose speech leads to violence, why not censor Muslim calls for violence, instead of cartoon contests?

New York Times: Not Entirely Clear What Motivated Mohammed Cartoon Gunmen. Completely and utterly unclear what might have led two devout Muslims to try and kill cartoonists drawing Mohammed. It's not one of those obvious things like plastic bottles destroying the planet or all the problems in the Middle East being caused by the Jews. This is a great big mystery which we may never solve. Was it Global Warming? Or maybe some of that airborne PTSD? Maybe it was economic inequality.

Did the FBI Drop the Ball on the Texas Shooting? The perpetrators of the attempted terrorist attack, identified as 30-year old Elton Simpson and his accomplice 34-year old Nadir Hamid Soofi, both residents of Phoenix Arizona, had pledged allegiance to ISIS. A now suspended twitter account linked to Simpson confirms their loyalty oath to the terror group and also makes a cryptic reference to the pending attack with the hashtag, #texasattack. Simpson had been on the FBI's radar for some time.

Cartoonists are Controversial and Murderers are Moderate. Controversial, intolerant and provocative. Mainstream media outlets broke out these three words to describe the "Draw the Prophet" contest, the American Freedom Defense Initiative and Pamela Geller. While the police were still checking cars for explosives and attendees waited to be released, CNN called AFDI, rather than the terrorists who attacked a cartoon contest, "intolerant." Time dubbed the group "controversial." The Washington Post called the contest, "provocative."

Islamic State on Pamela Geller: "We will send all our Lions to achieve her slaughter". The reality is that if the gunmen were "provoked" by the Muhammad cartoons, they would have been "provoked" by something else. What had the Jews in the Hyper Cacher supermarket in January done to "provoke" the Muslims? They dared to be Jews. What had the people in the Lindt Chocolat Cafe in Australia done to "provoke" the Muslims? Dared to be non-Muslims. People who say our cartoon contest deliberately tried to provoke a violent reaction are under the apparent delusion that if we abide by Muhammad Atta's advice to the passengers on his doomed plane on September 11, 2001, all will be well. Atta told the passengers, "Stay quiet and you'll be OK." They weren't.

Robert Spencer at the Muhammad Art Exhibit. [Scroll down] Consider this — the murderers of the Charlie Hebdo cartoonists had an accomplice. And as they were murdering the cartoonists, the accomplice went to a kosher supermarket in Paris and murdered four Jews. What have they done? They didn't draw Muhammad. How did they offend Muslims? They offended Muslims by being Jewish. Okay, so we have to not draw Muhammad, because that'll poke them in the eye and offend them. And then we have to not be Jewish, because that will poke them in the eye and offend them. And then what? Okay, I guess pork and alcohol are right out. Okay, and then what?

Pam Geller And Those Before Her. Did the Yazidis draw cartoons? Did James Foley draw cartoons? Did Daniel Pearl draw cartoons? How is it that Islam has assumed exclusive power with the declaration they are the judge, jury and executioner of what is blasphemy? The Southern Poverty Law Center has this on Pam Geller. Ah but, they do have a right to do so as noted by the Supreme Court decision in 2011 in the case of picketing a funeral. All media, even global media has become Sharia compliant for not standing long ago on free speech and now for blaming the Garland, Texas attack on those who are taking a stand.

Exclusive: FBI, DHS Assessed Terror Attack Threat to Texas 'Draw Muhammad' Contest as 'Unlikely'. The Feds, influenced by false narratives about the causes of terror, failed yet again. Meanwhile, the Texas Department of Public Safety took the threats seriously and saved lives.

Islam and Free Speech: Missing the Point in Garland. In Garland, two jihadists opened fire on a free-speech event that was certain to be offensive to many Muslims. The gunmen wounded a security guard before being killed when police returned fire. The jihadists are reported to be roommates who resided in Phoenix. As this is written, only one of them has been identified: Elton Simpson. [...] Simpson was apparently what my friend, terrorism analyst Patrick Poole, describes as a "known wolf." That's a radical Muslim whom the Obama administration and the media are wont to dismiss as an anonymous, unconnected loner but who, in fact, has previously drawn the attention of national-security agents over suspected jihadist ties.

Texas police shooting: Overmatched officer stops 2 with assault rifles. On one side, you had two men in body armor, toting assault rifles and showing every willingness to open fire now and count their victims later. On the other, you had a security officer — a traffic officer by day — with a pistol. Somehow, the officer won.

The Editor says...
"Somehow," indeed. The officer is a trained professional who has obviously spent some time at the gun range. The attackers were two suicidal guys who watched too much television and spent their time at a mosque.

ISIS Claims Responsibility For First Attack On US Soil. The Islamic State claimed responsibility for the attack outside a Muhammad cartoon contest in Garland, Texas — its first on U.S. soil — and warned of future attacks. [...] Though the Islamic state claimed responsibility, authorities maintain that there was little coordination from the militant group.

Obama Islamic State strategy slammed as terrorist group claims it has infiltrated U.S.. On the same day he nominated a new military chief, President Obama encountered renewed criticism over his war on the Islamic State and was forced to confront a real possibility that the terrorist group may already have agents operating inside the U.S. White House officials stressed Tuesday [5/5/2015] that it's too early to determine whether the two Muslim gunmen who tried to attack a Texas cartoon contest over the weekend were Islamic State fighters, as the group has claimed and as one of the gunmen suggested on social media.

Gunmen who attacked Texas event likely inspired by Islamic State, officials say. The heavily armed gunmen who attacked a cartoon contest near Dallas over the weekend were probably inspired by the Islamic State, according to U.S. officials, who cautioned that they have so far seen no indication that the assailants were directed by the group. Law enforcement officials said Tuesday [5/5/2015] that they were still analyzing the shooters' electronic devices, including phones and computers, to determine whether others may have been involved in the plot or encouraged it.

Inspirational vs Operational. ISIS claimed that the failed attack on an American Freedom Defense Initiative event in Garland, Texas was its "first attack" inside America. [...] The Obama administration is unwilling to admit it just yet, saying it is investigating these claims, presumably to determine whether to accept it or not.

NBC News Reporter Ayman Mohyeldin Wants Islam Protected From Satire. Ayman Mohyeldin is advertised by NBC News as an objective reporter. This objective reporter became infamous earlier this year for lying about and smearing a decorated veteran sniper, the late Chris Kyle, as a "racist" who went on anti-Muslim "killing sprees" in Iraq. Mohyeldin, who is a Muslim, used his MSNBC perch Tuesday [5/5/2015], not to condemn the murderous savages in his faith who attempted to murder Pam Geller and Geert Wilders at a free speech event, but to demand a culture change in America that would not "allow" people to engage in what he calls "hate speech" against Islam.

We Have Invented Jihadist Flypaper. Think about it. These guys had to know the event would be guarded. These guys had to know that the event is going on in Texas, meaning that a lot of attendees and passers-by would be armed. Heck it's Texas. Everybody's armed.

Geert Wilders: I Won't Stop Warning the West About Islam. After two Muslim lawmakers tried to block world-renowned activist Geert Wilders from entering the country, he defiantly vowed his warnings about the existential threat Islam poses to Western civilization would never cease. "I know one thing," Wilders told the audience April 29 at a Capitol Hill reception co-sponsored by Reps. Steve King (R-Iowa) and Louie Gohmert (R-Texas). "They are very ineffective because I'm here," he said to laughter and applause.

Sometimes Violence is Apparently the Answer. Whatever you think about how offensive it is and whether it should or should not have occurred, the only thing that people should be saying today is that no one should have been shot for attending. Yet instead of condemning the shooters, most liberals are focused on condemning the fact that the event occurred.

The Drawing That Should Have Tied for the Win. I love the so-called liberals who, on the one hand, decry attacks like Garland and Charlie Hebdo, but on the other blame those who practice free speech. [...] No, "liberals" only support free speech when their pathetic little cocoons at Starbucks and Bed, Bath & Beyond aren't threatened. Thank heavens for people like Pamela Geller, Robert Spencer and Geert Wilders, who still believe in legimate political discourse. Political, because the Religion o' Peace is a political system first and a religion second.

Actual WaPo headline: "Event organizer offers no apology after thwarted attack in Texas". The media is so, so angry at Pam Geller for putting them in a position where they have to side with her (sort of). They already despised her. Now that she's made them unwilling allies in defending her right to mock Mohammed, they'll never forgive her.

Also posted under Pro-Islam media bias.

Garland Gunman Elton Simpson Was Muslim Convert. Sunday night's terrorist attack on the American Freedom Defensive Initiative "Draw Mohammed" event in Texas was apparently committed by an Arizona man who converted to Islam.

The Texas Terror Connection To Muslim Congressman Keith Ellison's Minneapolis District. An Islamist radical recruited to Somalia from Minneapolis inspired the would-be "Texas Terror" killers, who were gunned down in Garland, Texas Sunday night by a sharp-shooting law enforcement officer before they could carry out their mass-murder plot at an art exhibit sponsored by First Amendment heroine Pamela Geller. It's just the latest example of how and why Minneapolis — and specifically the congressional district of Muslim Democrat Rep. Keith Ellison (D-MN) — has become ground zero for the threat to the United States from Islamist terror groups such as ISIS and Al-Shabaab.

Attack in Garland is an assault on free speech. On Sunday night, two Islamic fanatics were killed right as they began their attack in Garland, Texas. They failed to kill anyone in their assault against a gathering of the American Freedom Defense Initiative which had been advertised as a contest to draw cartoons of Mohammed, the prophet of Islam. Some have recognized the attack as an assault on the freedom of speech — the sort of attack that has inspired groups like AFDI to wage public campaigns against the Islamic faith. Others have denounced AFDI as a hate group that routinely demonizes Muslims and in this case tried to provoke them.

Second Garland Shooter Identified; Elton Simpson's Father Denounces Attack. The second shooter in the Garland, Texas terrorist attack has been identified as Nadir Soofi, 34. According to law enforcement officials quoted by the Washington Post, he was indeed Elton Simpson's roommate, as some earlier reports indicated. Elton Simpson's father Dunston is speaking out. He denounced his son's actions to ABC News: "We are Americans and we believe in America. What my son did reflects very badly on my family."

Obama Potential Supreme Court Nominee Let Off Cartoon Gunman Because She Wasn't Sure What "Jihad" Meant. The Mohammed cartoon shootings did not turn into a massacre because of the quick actions of police officers on the scene. But if a massacre had occurred, much of the responsibility would rest with Judge Mary H. Murguia. [...] Elton Simpson got off with a slap on the wrist because Murguia chose not to find that he was lying about being engaged in terrorism. Now a man has been shot and a serious terrorist attack was narrowly averted because Judge Murguia refused to do her job.

Message from Garland, Texas to Baltimore, Maryland. Where is the praise from the White House for police who saved the day? It should be no surprise that the Garland attack came shortly after Dutch member of parliament and leader of the Party for Freedom, Geert Wilders, had delivered the event's keynote speech. There had been calls by the usual members of Congress for him to be stopped at the border so he would not be able to speak.

ISIS claim responsibility for shooting at Texas Muhammad cartoon contest. The Islamic State terror group (ISIS) Tuesday issued a claim of responsibility for Sunday's attack on a Texas cartoon contest featuring images of the Muslim prophet Muhammad. The claim was made in an audio message on the group's Al Bayan radio station, based in the Syria city of Raqqa, which ISIS has proclaimed to be the capital of its self-proclaimed caliphate. It is the first time ISIS has taken credit for an attack on U.S. soil, though it was not immediately clear whether the group's claim was an opportunistic co-opting of a so-called "lone wolf" attack as its own.

Why can't Muslims laugh at Mohammed? As we learned once again in Garland, Texas, Muslims do not laugh at jokes about Mohammed, the purported author of the Koran (as Moses is the author of the Torah). Two wannabe Jihadists with assault rifles and body armor were no match for an off-duty Texas traffic cop with a sidearm, but the incident might have turned into a massacre worse than the murder of the Charlie Hebdo staff in January.

ISIS Lays Claim to Texas Terror. ISIS has taken to its official radio station to claim responsibility for the Texas attack that left one injured — and the two attackers dead — and the group's vowing to carry out more. Agence France-Presse reported the terror group said: "Two of the soldiers of the caliphate executed an attack on an art exhibit in Garland, Texas, and this exhibit was portraying negative pictures of the Prophet Muhammad."

GOP lawmaker: We need to spy on Muslims. New York Rep. Peter King called for more government surveillance of the Muslim community because "that's where the threat comes from," he said. He made the remarks in reaction to the shootings in Garland, Texas, that ISIS has just claimed responsibility for — though U.S. authorities have yet to confirm. King, however, said the attack was clearly "ISIS inspired," and told CNN's Wolf Blitzer America needs to take stronger steps to keep the country safe from more terror assaults.

FBI searching Phoenix home of suspected Garland gunmen. Police in Garland say they believe the two men killed outside a controversial art show Sunday night were there to shoot the approximately 200 people attending the event before a traffic officer intervened. The suspects were identified as Elton Simpson and Nadir Soofi of Phoenix.

Suspect in Texas shooting 'very kind' religious man. It's become a familiar refrain in the aftermath of a terrorist attack or the discovery of a jihadist cell. Elton Simpson, 31, was described by someone who knew him as a "very kind" religious man who "didn't seem to be a threat to anybody." Yet Simpson, a convert to Islam, and his roommate, Nadir Soofi, armed with assault rifles and wearing body armor, intended to enter the Curtis Culwell Center northeast of Dallas on Sunday night and slaughter some 200 people inside attending the "Muhammad Art Exhibit and Contest," including this reporter, according to Garland Police Chief [sic] Joe Harn, who spoke to media Monday [5/4/2015].

The Editor says...
Joe Harn is a really nice guy, but he is the spokesman for the Garland PD, not the chief.

The Anti-Cartoon Jihad Comes To America. Two gunmen were killed by police Sunday night after they opened fire wounding a security officer at a Texas art competition featuring works depicting the Muslim prophet Muhammad, a practice that is strictly forbidden in Islam.

Muhammad Cartoon Event Organizer: 'There's a Violent Assault on Free Speech'. AFDI President Pamela Geller told "Fox and Friends" [5/4/2015] that this shooting is indicative of how vital free speech conferences are. "The idea that there's a violent war, there's a violent assault on free speech clearly was brought home last night," Geller said. Geller said that we entered a new era with last night's shooting, remarking that this didn't happen in Paris or Copenhagen — it happened in Texas. "There is a war on free speech," she said.

Pam Geller: This Is War and the Enemy Among US. Sunday at a Muhammad Art Exhibit In Garland, TX after two gunmen drove up, opened fire, wounded a security guard and were killed, organizer Pamela Geller was defiant saying, we are at "war," and the enemy is among us. Geller said, "The idea we are going to bridge our freedom, our most basic inalienable right, in order to not offend savages is egregious. It is outrageous. This is a war and the war is here."

The Garland, Texas, Police Show How to Defend the Constitution. As of the moment I type this column, the available evidence indicates that two men claiming jihadist motivations attacked a Garland, Texas, free-speech event Sunday night but were gunned down by Garland police the instant they opened fire. A security guard was wounded, and the terrorists are dead. Ominously, ISIS-affiliated Twitter accounts claimed the attackers as "brothers."

Police: Garland cop quickly killed 2 gunmen, 'probably saved lives'. A quick-thinking Garland police officer shot and killed two gunmen who opened fire at a controversial art exhibit featuring cartoons depicting the prophet Muhammad, police said Monday. Police say the two gunmen were armed with assault rifles and wearing body armor when they pulled up to the Curtis Culwell Center shortly before 7 p.m. Sunday. They began shooting almost immediately and wounded an unarmed Garland ISD security guard who was with the officer. The officer returned fire and killed the gunmen.

CNN: Good Guys With Guns Ended Garland Attack In 15 Seconds. On May 3 Breitbart News reported that two gunmen approached the Mohammed Art Exhibit and Contest at the Curtis Culwell Center in Garland, Texas, and began firing. Their attack was cut down by good guys with guns who were there to stop bad guys. [...] Garland Mayor Douglas Athas said, "The first suspect was shot immediately. The second suspect was wounded and reached for his backpack. He was shot again." And that was it.

What is the American Freedom Defense Initiative? Its name paints an image of a group dedicated to protecting American ideals. But critics call it the opposite — an intolerant hate group opposed to freedom of religion. Now, with two gunmen killed outside one of its events, the American Freedom Defense Initiative is back in the spotlight — once again, surrounded by debate. Here's what to know about the controversial group: [...]

The Editor says...
It's almost amusing to see CNN paint the AFDI as the hateful troublemakers and homicidal Islam as the victims. CNN is a media bias self-caricature.

Former terror suspect well known to the FBI is named as one of two gunmen shot dead by cops. A former terror suspect has been named as one of the gunmen shot dead by police after the two attackers blasted an unarmed security guard in the ankle during an anti-Islam art contest in Texas on Sunday night. Elton Simpson, 30, who was previously the subject of a terror investigation, and his roommate Nadir Soofi, 34, were armed with assault rifles when they were killed by a quick-thinking traffic officer after opening fire outside the Curtis Culwell Center in Garland, Dallas, at around 7pm.

Gunman outside Muhammad cartoon event identified as suspected militant sympathizer. Two gunmen, including a man once suspected of seeking to join Islamist militants in Somalia, waited only seconds to open fire on police blocking their way to a cartoon exhibit and contest depicting the prophet Muhammad, authorities said Monday during a widening probe into a suburban shootout near Dallas that left both attackers dead and raised possible links to a homegrown terror plot.

Immunity Zone. There are probably many pundits who are comforting themselves by thinking: "I'm not Pamela Geller and therefore I will be safe. I don't say what she says. I don't know who she knows." Therefore this trouble will pass me by. But the truth is, no one is safe. Not left-wing artists in Europe nor Nigerian schoolgirls nor high school students in Pakistan. Not agricultural college kids in Africa nor Yazidis in their remote mountain villages. Not people working a regular day in Manhattan on bright September days. No one is safe.

In Garland, We Got Lucky. Of course he was a convict. Elton Simpson was the first figure identified in the latest eruption from the Religion of Peace™ — an attempted massacre at an exhibition of anti-Islamist cartoons in suburban Garland, Texas, which ended in the shooting of Simpson and his coconspirator, because Texas is where terrorists go to get out-gunned at an art show. Simpson and his pal are as dead as a tuna casserole — in Texas, we shoot back.

'We're here to go to Heaven so why not get shot?'. The former terror suspect shot dead by police on Sunday after he and another gunman stormed an anti-Islam art contest in Texas had said he intended to 'fight to the death' for Allah. Elton Simpson, 30, and his roommate Nadir Soofi, 24, were killed outside the Curtis Culwell Center in Garland after a security guard was shot during a controversial competition for the best caricature of the Prophet Muhammad. Court documents have now revealed that Simpson, who was born in Illinois before moving to Phoenix, Arizona and converting to Islam, was well known to the FBI.

Garland Shooting Suspect Elton Simpson's Father: 'My Son Made a Bad Choice'. The father of one of the suspected gunmen in the Garland, Texas, shooting told ABC News that his son "made a bad choice." "We are Americans and we believe in America," Dunston Simpson said Monday. "What my son did reflects very badly on my family."

Back to Islamic terrorist attacks that are reported as "isolated incidents"
Back to the Media Bias Page
Jump over to Islam is not a "religion of peace"
Jump over to Pro-Islam media bias
Jump over to Other examples of biased news coverage
Back to the Home page