As if the obvious needs to be laid out even more clearly, this page presents several more examples of what I've been discussing on the other Media Bias pages.
The news media sometimes show bias when they don't report current events. Another nearby page on this site has a long list of suppressed news items.
Most recently, the press showed undeniable favoritism toward Barack Obama in the 2008 election cycle, and now, even after President Obama has been elected and sworn in, the favoritism continues.
Other related pages:
The case of George Zimmerman and Trayvon Martin
Candy Crowley exhibits unmitigated bias as debate moderator
Biased news coverage of "tea parties".
Biased news stories about firearms.
Media bias related to Hurricane Katrina.
Media bias/dishonesty related to environmental issues.
Bias in favor of Hillary Clinton.
Bias in favor of Barack H. Obama.
News Media vs Covington Catholic High School.
---
Four dozen examples of media bias:
Scandal Rap Sheet: 48 Excellent Reasons to Distrust & Despise the Media. Forget bias for a moment. Forget mistakes and misstatements and stupid or nasty things said during live telecasts. There isn't enough Internet to begin to list the countless instances of left-wing bias and politicking and idiocy the media engage in. [...] All of these scandals involve an attempt by a media that advertises itself as non-partisan (MSNBC excepted) to aid and abet the Democrat Party, or undermine Republicans, or advance the media's primary cause, which is to increase the size and scope of America's central federal government. As you read the list below, ask yourselves which American company or institution could survive a rap sheet even half as long as this one — decades of lies, cover ups, dictator-coddling, outright fraud, theft, and the fabrication of evidence.
Twitter Covering Up For Antifa — Suspends Account Exposing Terror Training Tactics Videos. Antifa is posting videos online on how you can smash windshields, cut seatbelts and drag people from their vehicles. This antifa member says its necessary when Americans don't stop and wait during their street protests. There is NOTHING about this group that is civil or lawful. [Video clip]
What you wouldn't know from reading the news: There's a soaring economic recovery roaring in. [Scroll down] Look at that amazing doom and gloom — lots of "yes but," lots of bad news for suburban women — from slow wage growth to not being able to get a babysitter. Big doom-and-gloom forecasts from a government agency that's gotten it wrong every time. Lots of loaded language — "deep hole," "struggles," "stalls," "falling apart," "won't recover." Oh, and a snipe at the stock market and a little plug for green energy, which is supposed to make us slaver for a Joe Biden presidency. The actual news is buried in that bland, contextless, vanilla fifth headline in the New York Times, "U.S. Added Nearly 5 Million Jobs in June," signaling a powerful economic recovery underway. Seriously, five million jobs? When was the last time you saw figures like that? Typical jobs additions in a good month have figures around 100,000 or 300,000.
Biden Faces No Questions About Michael Flynn Probe During His First Press Conference In Three Months. Former Vice President Joe Biden held his first press conference with reporters in nearly three months, but faced no questions about recent revelations about his interest in Michael Flynn during the presidential transition period in early 2017. Last week, attorneys for Flynn disclosed notes taken in early January 2017 that suggested that Biden brought up an obscure law called the Logan Act that the FBI cited to continue an investigation against Flynn. [...] In an interview last month, Biden downplayed his role in any investigation of Flynn. "I was aware that they asked for an investigation, but that's all I know about it," Biden told ABC's George Stephanopoulos in a May 12 interview. He has not been directly asked about the Strzok notes.
NBC & ABC Hawk Biden Campaign Propaganda Disguised as Children's Book. Apparently Joe Biden called up NBC's 3rd Hour Today show and ABC's Good Morning America to tell the broadcasts to let his wife, Jill Biden, appear for softball interviews and sell campaign propaganda disguised as a children's book. On Tuesday [6/30/2020], the two morning shows obviously agreed, conducting embarrassing segments with the former Second Lady designed to manipulate viewers — and their children — into supporting her husband in the 2020 election. On NBC, co-host Craig Melvin was delighted to be able to do his part in supporting the Biden campaign: "And welcome back, it has been a busy few months for former Second Lady Dr. Jill Biden. [...]"
ABC Clinton Lackey Refuses to Call-Out Pelosi's Crazy Conspiracy Theories. If President Trump had said the things Speaker Nancy Pelosi (D-CA) has been saying over the past week without evidence, the liberal media would be questioning his sanity and fitness for office. But since she currently leads their party, she's above reproach. Sunday's [6/28/2020] This Week was no exception as ABC chief anchor and resident Clinton lackey, George Stephanopoulos refused two critically press the Speaker on her claim that the Republican Party had killed George Floyd, and that the President was a Russian agent.
CNN's Brianna Keilar opines on Trump's focus amid coronavirus pandemic. CNN host Brianna Keilar during a recent television segment sharply criticized President Trump over the issue of the coronavirus pandemic. "More than 122,000 Americans have died in the last few months. This is more than every war since the start of the Korean War combined. And the president barely mentions them or their families, he doesn't even acknowledge the collective loss of the nation. Instead he turns the pandemic into a racist punchline for his rally goers to cheer," Keilar said. [...] Keilar's opinionated assertion about the president's focus falls outside of the realm of neutral reporting.
MSNBC Wants Dems to Steal Control of Senate With D.C. Statehood. On her 12:00 p.m. ET hour show on Thursday [6/25/2020], MSNBC Andrea Mitchell desperately attempted to make the case for Washington D.C. statehood in order to help her friends in the Democratic Party gain two additional U.S. senators and possibly a permanent advantage in the congressional chamber. Lefty historian Jon Meacham then joined her in advocating the radical agenda and tossing aside the Constitution. "The House is going to vote tomorrow on whether Washington, D.C. should become the 51st state....This, as murals supporting statehood are popping up all over the city," Mitchell gushed as she introduced her propaganda piece.
The Editor says...
Murals don't just "pop up" out of nowhere. If murals are "popping up all over the city," it's because of a coordinated government propaganda campaign, of which this "news" report is a part.
'Of Course I'm Not Objective': Chris Cuomo Lauds Big Brother Andrew. It is rare when a cable news host comes right out and says "I'm not objective." And on CNN on Wednesday night [6/24/2020], host Chris Cuomo seemed to acknowledge the many ethical dilemmas arising from his repeated interviews with his big brother, New York Governor Andrew Cuomo, as he appeared to offer a final, praiseworthy send-off to his elder sibling. After yet another intra-family interview, in which the younger Cuomo offered some blunt questions about the state's nursing home deaths scandal — but offered little aggressive follow-up to the older Cuomo's dismissals — the CNN host nodded at the "unusual" circumstances of journalist questioning his own politician brother.
Where Are We Heading? [Scroll down] We all remember that Rolling Stone cover of the Boston Bomber in 2013 that portrayed terrorist Dzhokhar Tsarnaev much in the same way as previous magazine covers of rocks stars like Bob Dylan or Jim Morrison. Then there was the 2018 TV series called Waco, which retold the story of cult leader David Koresh, the Branch Davidians and their standoff with law enforcement, which was a psychological power struggle asserted ultimately through physical force. The show pretends to be nuanced, offering alternative points of view that give insight into the extremist cult. However, it leans heavily in favor of highlighting the Branch Davidians as rebels looking to find belonging outside an empire, while portraying law enforcement as brutes save one exception.
Look No Further Than Andrew Cuomo and Gretchen Whitmer to Understand Why Conservatives Hate the Media. I was interviewing my comedian friend Kevin Downey Jr. for my latest Kruiser Kabana podcast and — as conservatives are wont to do — we got around to discussing the thorough awfulness of the mainstream media. We are all aware that examples of said awfulness abound but the two that were freshest in my mind were the MSM treatment of the two worst governors in America: Andrew Cuomo and Gretchen Whitmer. Throughout almost all of March, April, and May we bombarded with stories about Cuomo's brilliant handling of the onset of the coronavirus pandemic in New York. All featured a "this is how real leadership looks" theme and added the perfunctory Orange Man Bad whining. The only truth in the early days of the pandemic was that no one really new what the truth was. That didn't keep the media from lauding every move Cuomo made even though he was winging it just like everyone else was at the time.
White House says CNN refuses to give them airtime to refute scandalous claims detailed on Bolton's book. More and more, CNN seems to be doing away with any pretense that it's an actual news outlet when it comes to covering President Donald Trump. Casual viewers may be excused if they believe the network dedicates 24/7 coverage to destroying the Trump presidency, as it is all bad news all the time when it comes to the nations' 45th president. After giving disgruntled former national security adviser John Bolton's new book red carpet treatment, a book that features enough scandalous allegations against Trump to ensure brisk sales — one such claim being that he asked China to help him with the 2020 election — CNN apparently had little interest in offering the administration an opportunity to refute the claims. That's according to a spokesman who spoke the Washington Free
Chuck Todd Wonders If Media, Corporations Can Keep the Racial Activism Going. On Friday's [6/12/2020] MSNBC Live, host Chuck Todd worried out loud with Nikole Hannah-Jones of the New York Times Magazine and the 1619 Project fame, about what needs to be done to make sure the wave of Black Lives Matter activism does not simply fade away. They discussed whether corporations were truly sincere in their social-justice messaging, and whether the media would continue their "bottom up" activism that could be seen at places like the Times. [Video clip] Later in the segment after Jones expressed concern that organizations like the NFL donating $250 million to various causes is not enough to address structural problems and that people's attention will eventually wane, Todd eagerly concurred: [...]
Biden Adviser Gets ZERO Questions About His Controversies On 'View'. Joe Biden's senior adviser Symone Sanders appeared on The View Wednesday [6/10/2020] and didn't have to answer any questions that would put the Democrat presidential nominee in a negative light. The hosts didn't ask her about Biden's latest racist gaffe or his sexual assault allegation. Instead, The View hosts invited her to attack President Trump for using the Democrats' "defund the police" against them, and answer non-specific questions on how Biden will enact "change" and reach the progressive wing of his party. Co-host Whoopi Goldberg, sounding like she herself worked for the Biden campaign, announced Sanders like this: "Americans are out in the streets in force demanding change, and right now we are joined by a woman who plans to make sure that change happens."
Study: 99.3 percent of Broadcast Networks' Protest Coverage Ignores Mob's Murder Victims. Broadcast networks ABC, CBS, and NBC have been consistent cheerleaders for the nationwide protests against police brutality, offering nearly 12 hours of coverage (710 minutes) over the past seven days on just their flagship morning and evening news shows. But despite dedicating all of those hours of airtime to the protests and riots, these networks have barely breathed a word about those who have died in the resulting violence. MRC analysts examined all three broadcast networks' major morning and evening newscasts between May 28 and June 3, and found that the total airtime spent on those who died during the past week of riots accounted to just four and a half minutes, or less than one percent of the total protest-related coverage.
Kayleigh McEnany shreds Jim Acosta after he criticizes police. White House Press Secretary Kayleigh McEnany suggested CNN's Jim Acosta should respect police officers rather than concoct stories about them since they are "protecting you as you come into this building each and every day." The tense exchange began with Acosta falsely accusing the President of having "gassed and pummeled protesters" as he engaged in a walk Monday to St. John's Episcopal Church. [...] Acosta has been brutally beaten by McEnany on multiple occasions as he does his best to preen for his left-leaning audience at CNN. Things never work out in his favor.
McEnany pounds Acosta with facts on what really went down at Lafayette Square, he still can't comprehend. White House press secretary Kayleigh McEnany fact-checked CNN chief White House correspondent Jim Acosta this Wednesday after he spewed a blatant lie at her. The lie was the fallacious and already debunked claim that the Trump administration had "gassed and pummeled protesters" prior to President Donald Trump's "powerful" walk to St. John's Church earlier this week. To make matters worse, he spewed the lie while referencing deceased civil rights hero and legend Dr. Martin Luther King, Jr.
Trump is right about the huge potential for ballot fraud in Michigan's election. To hear the mainstream media tell it, President Trump is somehow paranoid at Michigan's latest gambit to mail absentee voting applications to all registered voters in the state. Here's the selectively distorted reporting from the Detroit News: [...] They ran it with a photograph of Trump with a photoshopped color manipulation that exaggerated the color of his skin as well as his blue tie to colors not consistent with the lighting in the room. [...]
The Doctrine of Media Untruth. [Scroll down] Do we remember that for a while "Bob" Mueller was Washington's hallowed prosecutor, investigator, or inquisitor par excellence? No wonder he had assembled a "dream team" of "all stars" who, as "hunter-killer" squads of legal eagles, would tear apart Trump's supposedly doddering third-stringers and send Trump either to jail or into ignominious exile. So, the more that legal eagle narrative saturated the liberal media landscape, the more we knew the opposite was true. Mueller himself had a spotty history. He was both physically and cognitively unable to run an effective two-year high-intensity investigation. He was the un-Durham — as leaky and hodge-podge as the latter's probe is quiet and professional. Mueller likely outsourced his tasks to an incestuous group of partisan and progressive lawyers, many of them incompetent, with conflicts of interest and blinded by partisanship.
'View' Gives Schumer Nearly Half the Show to Attack Trump, GOP on Coronavirus, Election. The hosts of ABC's The View gave Democrat Senator Chuck Schumer free rein on their Thursday [5/21/2020] show to spin for Democrats on coronavirus relief, Obamagate and the 2020 presidential election. Schumer was on for nearly half the show, excluding commercials and was only given two semi-challenging questions, both from co-host Meghan McCain. You could tell this was going to be a cakewalk for Schumer just by how Whoopi introduced him: "Senate Minority Leader Chuck Schumer is fighting battles on a lot of different fronts right now in this crazy crisis, and he's giving us an update on what the Senate and the White House need to do next. Please welcome our friend, Senator Chuck Schumer," she stated.
A tidy takedown of Media Matters and its propaganda about hydroxycholoroquine. For most thinking Americans, it is unnecessary to bother to fact check the propaganda group Media Matters. If they have heard of Media Matters at all, they typically understand it's a smear group funded by donors with political and corporate interests whose names are kept secret. (The last big Media Matters donor whose name was publicly revealed years ago was that of liberal billionaire activist George Soros.) The problem is, too many news organizations and even journalism groups such as Poynter use Media Matters and their affiliates as if they are legitimate news sources. They are either unforgviably ignorant of Media Matters' slants, or choose to keep readers in the dark because they agree with the slant. One major interest Media Matters and its affiliates have served over the years is that of the pharmaceutical industry.
WaPo's new mantra is Just Don't Report. As the walls close in on Obama's use of the FBI to spy on political opponents, the Washington Post has a simple solution for a press that aided and abetted him: If something looks bad "just don't report that it does." The full quote by columnist Greg Sargent is, "There is a legitimately difficult editorial challenge in figuring out how to scrutinize a mostly conventional politician who is running against a bottomlessly corrupt and dishonest opponent like Trump, as Brian Beutler has noted, without placing a similarly sized question mark over both of them. "There's just no doubt that this happened in 2016, as has been widely documented. "This is plainly on its way to happening again. But it doesn't have to. One way to avoid this: If something doesn't actually 'boost' or 'lend fodder' to a big claim that Trump is making, just don't report that it does. "It's simple, but it's a start." Just don't report.
Our Nevermind Media. Media observers are today noticing how strange it is for reporters to juxtapose panic about Florida, where the virus has done relatively little damage, with robust defense of New York, the coronavirus death capital of the Western world. This week, after Politico Florida correspondent Marc Caputo noted that the long-predicted mass outbreak of coronavirus in his state still hasn't happened, with three full months having passed since the first dire warnings about spring breakers partying on the beaches, Daily Beast Washington correspondent and CNN analyst Jackie Kucinich threw the yellow flag. [...] The media loves to run with "blood on his hands" stories about nefarious Republicans, but you'll have a hard time finding even a quiet, pro-forma apology (much less an admission of bloody hands) from the media for their massive bungling of the early stages of the coronavirus story.
Lockdown Logic. When politicians begin slinging around words like "expert" and "science," any sensible citizen becomes a skeptic. Being elected to public office does not qualify anyone to lecture the public on scientific matters, but this is never pointed out to cable TV viewers tuning in for the daily lectures from Governor Science (D-N.Y.). Andrew Cuomo has a bachelor's degree from Fordham and a law degree from the University of Albany, and if he has any specialized knowledge about infectious diseases, it's only because he has presided over the worst COVID-19 pandemic in the world. On a per-capita basis, nowhere has this virus been more deadly than in New York, yet no one in the media blames this public-health catastrophe on the governor — quite the contrary.
'Obamagate' Isn't A Conspiracy Theory, It's The Biggest Political Scandal Of Our Time. A string of recently released documents have confirmed that the entire Russia-Trump investigation, which eventually entrapped Flynn and forced then-Attorney General Jeff Sessions to recuse himself, was an unprecedented abuse of power that amounted to organized effort by the Obama administration to nullify the results of the 2016 presidential election. It was in effect an attempted coup. If you haven't picked that up from the news media, it's not your fault. Instead of grappling with the implications of newly released details about what Obama officials were doing to undermine the incoming Trump administration during the transition, the mainstream media have fixated on Trump's use of the term "Obamagate," dismissing it as a conspiracy theory.
Joe Biden Reads Prepared Answers to Questions in MSNBC Interview. Joe Biden appeared to be reading prepared answers during his 'interview' on MSNBC. Al Sharpton tossed Biden a softball Saturday evening when discussing the economic impact the Coronavirus shutdown has had on minority communities. Biden immediately responded with prepared answers, reading from a Teleprompter during a supposed live "interview." Nothing to see here... it's just a coincidence that the answers on Biden's Teleprompter match up perfectly with Al Sharpton's questions!
A Tale of Two Governors and Two State Re-openings. One state is Georgia, the other is Colorado. Georgia has 10.6 million people, Colorado a little more than half that number. [...] Both states slowly reopened their shuttered economies last week. [...] Both approaches are comparable and reasonable. No businesses are being forced to reopen and customers can choose to stay home and not patronize any of the reopened establishments. Which many people will likely do. Media reaction was anything but comparable or reasonable.
Mockingbird Propagandist Chris Wallace Lies During Birx Interview. [Scroll down] Chris Wallace is a political operative. A placed ideologue within media advancing an agenda in an effort to do as much harm as possible. This is not an accident; and yes this harm is specific, purposeful and with intent. The evolved Fabian-Socialists, the professional left which includes most mainstream media now, are dangerous in disposition due to the rabidity of their partisanship. If they were not, they wouldn't be consistently lying. It really is that simple.
'Undercover Huber' Educates Chris Wallace (D) After His Reductionist Version of Gen. Flynn's Case. After the DOJ unsealed documents on Wednesday night which proved that Gen. Michael Flynn had been set up by top FBI officials in January 2017, Fox News' Wallace, who long ago abandoned any pretense of objectivity as far as President Trump is concerned, offered his take on the story.
Saint Andrew of Albany. Every day, cable-news channels provide live coverage of New York Gov. Andrew Cuomo's briefings about his state's response to the coronavirus pandemic. What has happened in New York is not merely the worst COVID-19 outbreak in America, but possibly the worst in the entire world. Such are the biases of our news media, however, that no one ever suggests Cuomo is responsible for the deadly toll of this disease in his state. Instead, the Democratic governor is treated with deference by the press corps, which instead — and rather illogically — focuses the blame on President Trump. Watching Cuomo's press briefings is to behold the work of a master in the rhetorical arts of pretended expertise and straw-man arguments against imaginary antagonists who, in opposing the governor's orders, are irresponsible and unscientific.
Remember the government shutdowns? Funny how we don't see those same sob stories about lost paychecks now. Whenever the threat of a government shutdown looms, Democrats and their media allies give us daily doses of how devastating such a thing will be on 'non-essential' government workers. Then they go into overdrive when a shutdown actually occurs: Wall-to-wall sob stories giving examples of government workers supposedly harmed even though, everyone knows, those employees will soon be paid. They essentially have a paid vacation. Now, after weeks of the intentional destruction of the private sector with tens of millions of jobs lost, with businesses and families being devasted and having no idea how they will feed their families and themselves, there are few of those same sob stories, despite real hardship, and here is what we get instead: If a Republican governor wants to open a state's businesses, we get attack pieces saying he wants people to die.
CBS Anchor Tells Stacey Abrams She's 'Extremely Qualified' to Be Vice President. CBS This Morning anchor and Barack Obama donor Gayle King gushed over Georgia Democrat Stacey Abrams on Tuesday morning, saying the former state legislator and failed gubernatorial candidate is "extremely qualified" to be vice president of the United States. Abrams is openly lobbying to serve as Joe Biden's running mate come November, despite never being elected to any office beyond the state legislature. As she touted her voting rights work and "competence and skills and willingness to serve," King cut in to praise her as ready to be a heartbeat away from the presidency. "That's a great nuts and bolts answer because everybody knows you're extremely qualified," King said.
On 4 Fronts, How China Quietly Infiltrates American Life. While many mainstream American media outlets allow themselves to be platforms for Chinese government propaganda, some work directly for the People's Republic of China. Many of these publications have been working overtime as the Chinese government attempts to distract attention from its early handling of the COVID-19 outbreak and continues to mislead the world about what's happening in China. Peter Hasson, a reporter for The Daily Caller News Foundation, laid out what exactly Phoenix TV is and how it's connected to the communist government of China. Hasson found that, according to the outlet's 2018 interim report, China Wise International Limited, a subsidiary of a bank run by the Chinese government, owns a minority stake in Phoenix TV. Although Phoenix TV is not directly run by the Chinese government, it effectively is controlled by the government.
Suppose Trump Had Acted Earlier Against the Wuhan Virus. Petulant propagandists, disguised as journalists, have a new talking point. [...] Their new narrative is that Trump could have and should have acted sooner and if he had, all would be normal in the world. This is the latest chapter in the book of Orange Man Bad, previous chapters including the Ukraine phone call, Russian collusion, Mueller, Stormy, Avenatti, Omarosa, and Manafort, just to name a few. Say what you want about the Fake News media, but they are persistent and determined, even if they remain "an enemy of the people" as characterized by Trump. Too bad their energies are always directed against Trump, rather than subjects given only a brief glance, such as Benghazi, Hillary Clinton's emails, the Steele/Brennan dossier, and real election interference. The New York Times, briefly distracted by rewriting their tweets describing Joe Biden being credibly accused of sexual assault, took up the role of drum major in the media's Get Trump jihad.
It's Good to Be a Democrat. Joe Biden, the presumptive Democratic Party nominee, has been credibility accused of sexual assault by a former staffer named Tara Reade. Don't search her name on CNN's website. As of this writing they have not done a single report about her and her story. They don't care. Moreover, they don't want their audience to know. But audiences do know. Thanks to the Internet, the old liberal tactic of ignoring stories they don't like can't work anymore.
Don't forget Joe Biden. [Scroll down] But news media should not lose sight of the fact that, with Vermont Sen. Bernie Sanders out of the race, Biden is now the presumptive Democratic presidential nominee. And as a major party nominee who has a good shot of becoming the next occupier of the White House, he deserves the sort of scrutiny that comes with it. Unfortunately, Biden has too often been treated with kid gloves, being granted softball interviews that don't challenge his statements and mainly seemed designed to goad him into attacking Trump's performance. NBC's Chuck Todd asked Biden whether Trump has "blood on his hands," which to Biden's credit, he said was "too harsh" an assessment. CNN's Brooke Baldwin has asked Biden if Trump has been "intentionally" misleading. She then fawned, "Your strength, really, your strength is in traveling around the country and connecting with people, right? [...]"
Steady, devout Mike Pence leads coronavirus fight past the haters. We've always known that the vice president is a religious man. I mean, how could we forget? Since the day he was picked as VP in 2016, the media has never missed an opportunity to mock him for being an evangelical, born-again Christian. You might be thinking, but wait — isn't making fun of people for their religious beliefs politically incorrect? For the most part, yes. But there is one major exception. Religious intolerance is a big no-no in 2020, unless said religion has anything to do with Christianity. In which case, mocking isn't just acceptable — it is encouraged. For instance, a few months before the #MeToo movement took center stage, the mainstream media got a real kick out of Mike Pence's rule that he never dines with a woman alone without his wife present. The headlines from the mainstream media displayed complete revulsion for Pence, the archaic sexist weirdo. "Mike Pence doesn't eat alone with women. That speaks volumes" (The Guardian) "Vice President Pence's 'never dine alone with a woman' rule isn't honorable. It's probably illegal." (Vox)
The mainstream media's silly pillow fight with Mike Lindell and God. Michael Lindell has lefties in the fake-news media screaming into their pillows. It happened after the My Pillow founder appeared at President Donald Trump's daily Wuhan flu press conference last Monday. Lindell was there to deliver some very good news announcing that his factories would be shifting to make Personal Protection Equipment to help America's first responders fighting the COVID-19[.] Lindell, and the President, getting into trouble when the openly Christen Lindell called on God to protect America and give the President strength.
Nominate Biden, blame Bernie. Over at Jeff Bezos's Tax Write Off, Washington Post reporters Sean Sullivan, Michael Scherer, and David Weigel filed, "Bernie Sanders now adamant he's staying in the presidential race. Many Dems fear a reprise of their 2016 defeat." The gist is Biden will lose and it is all Bernie's fault. The argument is Bernie cost Hillary the 2016 election and by staying in the race, he will cost Biden in 2020. Philippe Reines, a lackey of Hillary, said in Paragraph 4, "It's the equivalent of a World War II kamikaze pilot. They have no better option than to plow into USS Biden." Paragraph 17 said, "Although Sanders personally is not waging a scorched-earth campaign against Biden, some of his most visible supporters continue to rail against the former vice president's policy ideas and question his cognitive abilities — a trend that worries party leaders." Way down in Paragraphs 27, 28, and 29, readers discover what the real problem is. Ideas. It is not that Bernie is a kamikaze pilot. It is that Bernie is a communist taking over the party.
Trump Official Says US was Dealt a Bad Hand by China, CNN Host Abruptly Ends Segment. On Thursday [3/26/2020], White House Trade Advisor Peter Navarro appeared on CNN. Hosting the show was Brianna Keilar. [...] Keilar did not even try to be subtle. This exchange belongs in a textbook about media bias. When a "journalist" refuses to even listen to an opinion they disagree with, it can no longer be called journalism. She declared her guest's comment to be "just a waste of time" and "just ridiculous." Keilar deserves to be fired. Instead, CNN will probably give her a raise and a bonus.
Oh, So this is why Joe Biden has been hiding. [Scroll down] Joe Biden is not a good public speaker. He does much better one-on-one, especially with the softball questions that the media provides for him. He only goes on friendly shows anyway, so there is no expectation of holding him accountable for any ideas or plans. Biden was a guest on The View Tuesday morning [3/24/2020]. He appears to be at home as he does the interview. Don't expect any pushback from any of the co-hosts of The View — they will all be voting for him in November, rest assured of that. I am sure Biden will regularly appear on the show and it will always be a lovefest. He's their guy.
Paid CNN Employee Endorses Joe Biden On-Air. Former 2020 Democratic hopeful Andrew Yang had been a paid CNN commentator for only a few weeks before deciding that their Democratic primary coverage of the first Mini-Super Tuesday was the right time for him to endorse former Vice President Joe Biden live on-air. Yang was teed up by host Anderson Cooper, who noted that Yang had spent a lot of time writing stuff down. "I believe that Joe Biden will be the Democratic nominee. And I've always said I'm going to support whoever the nominee is. So, I hereby am endorsing Joe Biden to be not just the nominee for the Democratic Party, but the next president of the United States," Yang immediately responded.
The doctor is in. Jill Biden has a Doctor of Education degree from the University of Delaware, and she never lets the American people forget it. Mrs. Biden, wife of former Vice President Joe Biden, insists on being referred to as "Dr." Biden. Her Twitter handle is @DrBiden. The press has largely acquiesced: Even though it has persistent trouble referring to actual pediatric neurosurgeon Ben Carson as "Dr." Ben Carson, it is rare indeed to ever see a reference to Jill Biden without "Dr." preceding her name.
ABC reporter to be 'reassigned' after undercover sting catches him revealing how ABC spikes stories, covers Trump unfairly. A veteran correspondent was suspended by ABC News after a Project Veritas video caught him on camera criticizing the media and calling himself a "socialist." The network's senior correspondent David Wright was suspended late Tuesday following the release of the latest footage from Project Veritas which showed him accusing ABC News of not reporting some newsworthy stories and for ignoring some of President Trump's accomplishments.
Project Veritas: ABC Reporter Says Networks' Interest In Trump Is Outrage, Investigation And Backstabbing. Project Veritas released another undercover video this morning, this one featuring ABC reporter David Wright. Wright is seen discussing the state of the news business at an informal gathering for media professionals held in a bar. During the discussion, Wright admits to being a socialist and not just a Democratic Socialist like Bernie Sanders. According to a recent study of journalists based on their Twitter interactions, that makes him just like most journalists. In keeping with his socialist views, Wright criticized ABC News as having become a just another profit center for its owner. "Like now, you can't watch Good Morning America without there being a Disney princess or a Marvel Avenger appearing. It's all self-promotional," he said.
ABC News reporter suspended and barred from political coverage after Project Veritas sting. ABC News suspended one of its veteran correspondents after he was secretly recorded discussing the downsides of the network. David Wright, 56, who has reported for ABC's signature news programs, including World News Tonight, Good Morning America, and Nightline, was suspended late Tuesday night [2/25/2020], the Washington Post reported. The suspension came the day before Project Veritas, a conservative muckraking organization known for secretly recording targets in the media, released a video of Wright identifying as a "socialist" and trashing network executives.
ABC News Suspends Reporter On Eve Of Project Veritas Exposure. ABC News has suspended a reporter involved in an upcoming Project Veritas video the evening before the project is set to be released. Project Veritas, a conservative watchdog group, plans to release a video Wednesday exposing bias at ABC News, founder James O'Keefe tweeted. Veteran reporter David Wright was suspended Tuesday evening [2/25/2020] ahead of the project's release, according to a person with direct knowledge of the situation. ABC News did not respond to a request for comment from the Daily Caller.
The Editor says...
There are many others. He's just the one who got caught.
O'Keefe Strikes Again! 'Socialist' ABC Reporter Admits Bosses Spike News Important to Voters, 'Don't Give Trump Credit'. Project Veritas released a new undercover video on Wednesday of 'Socialist' ABC reporter David Wright admitting his bosses spike stories important to voters. David Wright is on camera admitting he is an overt Socialist who thinks there's "too many billionaires." Wright was suspended on Tuesday night before Project Veritas dropped the video of him admitting his network doesn't cover President Trump fairly.
Chris Matthews facing calls to resign for comparing Sanders Nevada victory to Nazi invasion of France. MSNBC host Chris Matthews is facing backlash online for equating Vermont Sen. Bernie Sanders's win in the 2020 Nevada Democratic caucuses to the Nazi regime's takeover of France. During a conversation with MSNBC anchor Brian Williams Saturday night, the Hardball host likened the democratic socialist's decisive victory in Nevada to the Nazi's victory over France in World War II.
MSNBC Matthews to Establishment Democrats: Vote for Trump. Well, he did well here in 2016 — and now he won it outright. In 2016, Hillary Clinton took the Nevada Caucus relatively early. In 2020, Sanders did the same, but it was a landslide win. [...] Over at MSNBC, a network that has received the ire of the Sanders campaign due to their overt bias against Bernie, one host appears to be making the case for Donald Trump. Granted, this was more directed toward the Democratic Party establishment and the rest of the anti-Sanders wing. But Chris Matthews, who has railed against Bernie's candidacy, even suggesting an electoral slaughter, all but told this group of voters to vote for Trump. He virtually said it on live television. To be blunt, Matthews said that the Democratic Party establishment would be better off with four more years of Trump than a Sanders administration and the revolutionary baggage that comes with it.
Fox Has Been "More Fair": Why Bernie's Team Has Had It With MSNBC. Faiz Shakir had seen enough. As summer turned to fall, and the 2020 Democratic presidential race entered the stretch run before the first caucuses and primaries, Shakir, who manages Bernie Sanders's campaign, approached MSNBC president Phil Griffin to discuss his concerns with the network's treatment of the Vermont senator's second White House bid. "We watched a ton of terrible coverage occurring and we thought we'd at least try to address it," he recalled. For months, the campaign bristled at slights from MSNBC's stable of hosts and commentators. Jason Johnson, an MSNBC contributor, predicted in January 2019 that Sanders would drop out by August, and network analyst Mimi Rocah said in July that Sanders made her "skin crawl." On-screen graphics have omitted Sanders and misrepresented his poll numbers, a trend that inspired a sendup from the Onion.
Humiliating Video Montage of Slobbering Media Love Affair with Michael Avenatti. Why was Avenatti so popular? Avenatti was representing porn star Stormy Daniels as she famously pursued legal action against Donald Trump over an affair and subsequent hush-money and cover-up scandals. But in truth, his clients were really #TheResistance at large, and there are no bigger fans of that movement to be found on cable and network news. And the montage, of course, proves that. [Video clip]
Sen. Graham Slams CBS Host: 'Media's So In The Tank' on Biden Scandal in Ukraine. On Sunday's Face the Nation, Sen. Lindsey Graham (R-S.C.) told CBS host Margaret Brennan the media's "so in the tank" on the Biden scandal in Ukraine. It came right on the edge of a commercial break, when Brennan felt compelled to add the usual in-the-tank disclaimer that "nothing" has been "substantiated" on Biden corruption. Graham made the obvious point: the media make zero or near-zero effort to substantate the Biden scandal, and then say tsk-tsk that it's unproven.
The Editor says...
This is an example of a common but subtle technique in media bias: Whenever a conservative guest starts making valid and embarrassing points, and builds up some momentum in the conversation, suddenly it's time for a commercial break. And in almost every case, at the conclusion of the commercial break, the subject has changed, the previous points are forgotten, and the Democrat-friendly host moves on to another topic, or a different guest. Yes, commercial breaks pay for the production of the show, but on a live interview program, there is only one reason a commercial break can't be postponed for 15 seconds to let someone finish his or her explanation, and that reason is that the guest is making Democrats look bad.
Things I have learned from genuine, honest journalists and other Democrats. As I have gotten older, I have been enlightened about so many things from honest, genuine, conscience-driven journalists and other Democrats. Of course, to accept what I have learned, I had to check my common sense at the door. I learned in 2008 that McCain was a despicable racist who would be a terrible President. Later, I learned how beloved, smart and honest he was as long as he was trashing Trump. He was deeply respected when he died and had been in high demand by genuine journalists who only care about the truth.
How the House lost the witness battle along with impeachment. NBC host Chuck Todd recently asked guests on his show if supporters of President Trump just want to be lied to. It is a question that many in the media would never ask about Democrats, even in the face of overtly false claims.
Apparently, members of the media actually believe it is their job to make the impeachment case for the Democrats. [Video clip]
MSNBC Hosts Furious That Senators Not as Committed to Impeachment as They Are. If you've watched any of the impeachment trial on TV this week, you know that it's been an incredibly boring affair. In spite of this, the hosts at MSNBC, who are deeply emotionally and professionally invested in the outcome, are annoyed that members of the Senate aren't sitting on the edge of their seats. [...] What does it say about this impeachment effort, that members of the media are angry with senators for not being as invested in it as they are?
'Objective' Liberal Media Fall All Over Themselves to Praise Schiff. Liberal media folks are fond of claiming they're not biased. CNN's Chris Cillizza said, "Let me say for the billionth time: reporters don't root for a side. Period." Yet we see their bias daily, despite their protestations. [...] Grabien put together a great supercuts video, with some of Cillizza's colleagues at CNN, as well as folks from MSNBC and elsewhere. Let's watch them fall in love, with House Intel Chair Adam Schiff (D-CA), who as one of the House impeachment managers, was pushing the case for the Democrats. [Video clip]
George Stephanopoulos Caught on Camera Telling ABC Studio to Cut-Off Trump Defense Attorney. A good reminder of what we can expect when President Trump's defense team has their first opportunity in five months to defend him. During a broadcast segment on ABC news reporters in the Capitol were interviewing President Trump defense attorney Jay Sekulow. Back in the ABC studio, Clinton operative George Stephanopoulos did not want to see ABC broadcasting statements from the defense and he is caught on camera using hand signals to tell the producers to cut-off the broadcast. Stephanopoulos realized he was caught: [Video clip]
Republican Sen. Martha McSally Calls CNN Reporter Manu Raju 'A Liberal Hack'. Republican Arizona Sen. Martha McSally ripped into CNN Capitol Hill reporter Manu Raju on Thursday [1/16/2020], calling him a "liberal hack" after he asked a question about President Donald Trump's upcoming impeachment trial. "Sen. Martha McSally, a Republican facing a difficult election race, lashed out when I asked if she would consider new evidence as part of the Senate trial," Raju, a University of Wisconsin graduate tweeted Thursday.
ABC Chief Global Affairs Correspondent Seems Sad That Iranians Protest Against Regime. On Monday, ABC's chief global affairs correspondent Martha Raddatz issued a report on the current protests against the Iranian despotic regime on Monday, and while doing so, colored her language to indicate that after the U.S. killed Iranian general Qassem Soleimani, the country was united, but now that protesters against the government have expressed their outrage, the country's "unity" has been "shattered."
The Obama Administration's Guerrilla War. In the modern era, it is difficult to come up with an administration that has spent as much energy trying to sabotage its successor in office. Obama administration officials have worked tirelessly to embed themselves into media outlets as supposedly objective voices. After President Donald Trump oversaw the killing of Iranian Gen. Qassem Soleimani and as missiles fell from the night sky into Iraq from Iran, those voices took to the airwaves to push the Obama line against Trump. In the American media, with help from former Obama staffers, Trump was the bad guy and Iran was the good guy. Iran deescalated tensions. Trump made things worse. On CNN, Jim Sciutto of the Obama administration sat as an objective news anchor. CNN also now has Valerie Jarrett's daughter, Laura, in an anchor chair, too. They tossed a co-anchor for their early morning news show to make room for the daughter of one of Barack Obama's most ardent defenders. But we are supposed to pretend there is no bias.
Photographer Mark Peterson Shows Patriots Can't Trust The Lying Press. I must admit I was surprised that the Main Stream Media responded to the emergent internet's ability to debunk its propaganda (Duke Lacrosse, UVA Rape Hoax, Covington Catholic) by becoming even more flagrantly partisan (besides, of course, calling for internet censorship). Aren't markets supposed to clear? But the result is that the myth of journalism as an impartial profession, which was receiving pious lip-service as recently as fifteen years ago, is now believed by no-one under 35. A practical consequence for me: I've stopped accepting interviews with the MSM except by email — which is why I have on record Andrew Lawler's malice and mendacity in The Secret Token, his book on Virginia Dare. But Jared Taylor's experience, cross-posted here, suggests you can't even let the swine take photographs.
Top 10 Most Bizarre Viral Hoaxes of 2019. The year 2019 saw its fair share of viral hoaxes and the spread of false information — just as the previous year had seen. Take a look at some of the most bizarre hoaxes to have surfaced in 2019, capturing the attention of millions and further sowing division among Americans.
Todd Bashes Christians in MTP Rant Against Misinformation, Trump. On Sunday [12/29/2019], NBC News political director Chuck Todd dedicated the final Meet the Press of 2019 to insisting President Trump had brought about a "post-truth society." The same network that pushed the totally-bunk Steele dossier for years and tried to sink Justice Brett Kavanagh's nomination with the ridiculous allegations from Julie Swetnick, wanted to lecture the public about falling for and spreading lies and misinformation. In the process, Todd lashed out at Christians for believing in "fairy tales."
The Left's "ABC" ("Anything But Christianity") Syndrome. Ever since the genesis of the so-called Left — a broad coalition of social, political, and cultural movements and organizations whose aim has been to establish socialism across the Western world — the most obvious trait of leftists in general has been their distaste for Judeo-Christian mores and culture. Leftists may disagree on a range of issues, but they are generally united in their hostility to Christianity, as well as their accommodation of nearly every other type of religion, from the philosophy religions of the East to the various shamanic and animistic traditions of the world's aboriginal peoples.
NBC News Smears Trump's Conservative Judges as 'Anti-LGBTQ'. "A third of Trump's court nominees have anti-LGBTQ history, report finds." That was the headline at NBC News on Monday evening [12/23/2019], though the "report" in question was produced by a liberal LGBTQ advocacy group, Lambda Legal.
Seattle Times updates style guide to capitalize 'Black'; keeps 'white' lowercase. The Seattle Times has issued a new style guideline instructing staff to capitalize the word "Black" when referring to a culture, ethnicity or group of people, the newspaper announced Thursday evening [12/19/2019]. The word "white," however, will remain lowercase when referring to people with "light-colored skin, especially those of European descent," the newspaper said.
Lara Logan: Some journalists sound more like 'political operatives' in their impeachment coverage. Former "60 Minutes" correspondent Lara Logan said Friday [12/20/2019] that she was not surprised by the media's reaction to the impeachment vote against President Trump. Appearing on "Fox & Friends" with hosts Steve Doocy, Pete Hegseth, and Katie Pavlich, Logan said what she was surprised about is that "as a profession, journalists are not more concerned about appearing to be political activists and political operatives."
This CNN Reporter Can't Stop Fawning Over the Dems She Covers. Maeve Reston, CNN's national political reporter on the 2020 beat, has performed journalism on many of the leading candidates seeking the Democratic nomination. An analysis of her campaign coverage suggests Reston's approach to reporting on Democrats closely resembles the coverage President Donald Trump believes he ought to be receiving in light of his historically successful presidency. Reston, who previously covered "the role of fashion in politics" for the Los Angeles Times, was writing glowing profiles of Sen. Kamala Harris (D., Calif.) long before the senator announced her (now defunct) primary campaign.
Obama signals a possible run for Michelle. Under the headline, "Time for Women to Run the World," the New York Daily News reported on a speech delivered by Barack Obama at a "private event in Singapore." Who doesn't think his selected quotes weren't meant to go public? Never mind the collectivism, the lack of actual policy proposals and the authoritarian feel to the idea that a certain group ought to "run the world," listen to the arrogant globalism that is illustrative of the radical Leftist mindset of today. The whole notion of individualism, free will, and even the tolerance for other lifestyles and points of view that liberals used to extol is void in this "dog whistle" of a statement.
The Editor says...
This is one of the first published articles that will eventually — if Michelle is elected to any office at all — be collected under the heading of "Media Bias in Michelle Obama's Favor."
Rep. Ilhan Omar defended Nation of Islam-influenced group behind kosher market attack in Jersey City. The New York Times called them "sidewalk ministers" who practice "tough love." The paper quoted Heidi Beirich of the Southern Poverty Law Center who described them as victims of racism and claimed that they were non-violent. The Washington Post, in its own puff piece on the Black Hebrew Israelites, also falsely described them as non-violent, and concluded that, "Israelite street preaching in parts of D.C., Philadelphia and New York is commonplace, a familiar if odd accent to city life." The odd accent to city life in Jersey City came amid a hail of bullets as two members of the racist black nationalist hate group opened fire in the JC Supermarket.
After impeachment announcement, another round of Nancy Pelosi hero-worship from the press. We are seeing another round of Pelosi hero-worship this week from our firefighting news media following her announcement that she had asked the "chairman to proceed with the articles of impeachment" against President Trump. "The president has engaged in abuse of power, undermining our national security and jeopardizing the integrity of our elections," the speaker maintained during a news conference. Members of the press wasted no time printing up stories marveling at her iron will and determination.
Washington Post blasted over column urging journalists to 'reach the undecided' on impeachment. The Washington Post is taking heat over a column urging journalists to "reach the undecided" in the country who have yet to be swayed on the topic of impeachment. In a piece titled, "Wall-to-wall impeachment coverage is not changing any minds. Here's how journalists can reach the undecided," Washington Post media columnist Margaret Sullivan argued Thursday [12/5/2019] that "not much has changed" during the ongoing impeachment inquiry into President Trump in recent weeks despite all the media attention it has received. "So, is the media coverage pointless? Are journalists merely shouting into the void?" Sullivan asked. She later cited Columbia University journalism professor Bill Grueskin, who suggested that journalists have a "movie-trailer approach" to impeachment coverage.
The most nauseating MSM Deep-State puff-piece interview you'll ever read. In an interview with Daily Beast contributor Molly Jong-Fast, the "lovely" Lisa Page insists she's not even close to being a criminal. Jong-Fast agrees. How dare the poor, abused woman be put through this "MAGA meat grinder" for merely exercising her First Amendment right to hate the president? Page couldn't have chosen a better shoulder to cry on than Jong-Fast's. The daughter of sex-obsessed author Erica Jong and granddaughter of communist writer Howard Fast, she offers Page a safe space to break her silence — away from "orange man bad," away from invisible MAGA hat-wearing D.C. residents, and away from the DOJ officials who betrayed her. Page is no criminal, writes Jong-Fast; her private texts were "hijacked by Trump to fuel his deep state conspiracy." Jong-Fast feels Page's pain. She should. The pair share the same entitlement elitist sentiments.
'The Hill' calls Adam Schiff a 'rock star' and astonished readers help with creative edits. The Hill published a veritable puff piece on House Intelligence Committer Chairman Adam Schiff on Saturday in which it described him as a "progressive rock star." "But it is precisely Shiff's sober demeanor and steady hand guiding the two-month impeachment investigation — including two weeks of televised public hearings — that have made him a national political figure, a household name and unlikely progressive rock star," the piece reads. It drew immediate criticism, not to mention a notable Twitter ratio, because the notion of Schiff being any sort of star — save for perhaps a "death star" designed to destroy things — just didn't sit well with some in the public.
CNN's pre-Thanksgiving civility lesson: Trump defenders 'Should Be Laughed at, Ridiculed, and Scorned'. When you consider the vast number of people forced to watch CNN as they waited at their gates for delayed airline flights on the busiest travel day of the year, one marked by weather delays in most of the country, this call for harsh derision could affect a lot of Thanksgiving dinners today. Ridicule and scorn do not fit well with the theme of giving thanks for the blessings we receive as Americans, but then again, CNN, in the ratings tank and discredited for its repeated fake news incidents, has less to be thankful for than most Americans, enjoying higher incomes and lower taxes.
As Drudge Report falters amid anti-Trump shift, rivals on right gain ground. The Drudge Report has stoked alarm on the right for appearing to pivot on its support for President Trump, increasingly linking to stories that are critical of the administration and to media websites that are accused of having an anti-Trump bias such as CNN, The New York Times and The Washington Post. The same cannot be said of Whatfinger, the largest of the Drudge rivals, which favors links to conservative news and opinion websites such as Fox News, Breitbart, Daily Signal, Daily Wire, Western Journal and WorldNet Daily.
Michael Bloomberg's media company announces it will no longer investigate him, or any other Democratic candidates. With Michael Bloomberg now running for president, the news service that bears his name has said it will not 'investigate' him or any of his Democratic rivals but will continue investigative coverage of President Donald Trump's administration. Bloomberg Editor-in-Chief John Micklethwait announced the new guidelines for presidential campaign coverage in a note to the $22.5 billion news organization's 2,700 journalists and analysts on Sunday [11/24/2019], shortly after the former New York City mayor announced his candidacy.
MSNBC and Washington Post dutifully ignore black protesters who confronted Elizabeth Warren. Sen. Elizabeth Warren of Massachusetts was confronted Thursday [11/21/2019] in Atlanta by a mostly black crowd of pro-school choice demonstrators who oppose her anti-charter and anti-voucher platform on schools. The tenor, volume, and unrelenting nature of the demonstration got to the point where Warren stepped back from her podium and called on Rep. Ayanna Pressley of Massachusetts to deal with the protesters. "What do we do with this?" the senator asked the black congresswoman of the activists, who were being shouted down at the time by Warren's mostly white supporters. [...] Unsurprisingly, neither the Washington Post nor MSNBC, both of which have dedicated an enormous amount of time and energy to promoting Warren's 2020 Democratic primary campaign, have made any effort to cover the incident, despite its inherent newsworthiness.
CNN's Smerconish Wants Hearsay Evidence Diplomats as Time Person of the Year. On CNN Saturday [11/23/2019], host Michael Smerconish recommended that a bunch of gossipers be named as Time magazine's "Person of the Year." The gossipers he had in mind were the diplomats who appeared at the House Impeachment Inquiry and testified based on second and third hand hearsay. Hearsay, of course, is what gossip is, namely relaying information that they heard from somebody else and, often, the person they heard it from also heard it from someone else as well. So for the momentous act of removing a legally elected president of the United States from office based on hearsay, or gossip, Smerconish actually wants to honor such an act with being named Time Person of the Year. Historically, it's not meant as an honor, but as a marker of the most historic, newsworthy person or people. They gave it to Ayatollah Khomeini, and to Hitler. These hearsay diplomats did not "captivate" the nation, they were barely noticed.
Bloomberg Orders Its Reporters To Be Biased, In Case They Forget To Do It Voluntarily. Bloomberg — the news service, not the candidate — made headlines this week when its editor in chief told reporters they were not allowed to investigate Michael Bloomberg, or any other Democrat running for president this year. That ban doesn't, however, extend to President Donald Trump. Wait. Isn't that what journalists at Bloomberg (and every other mainstream news outlet) were going to do anyway? To be sure, when he joined the presidential race, Bloomberg put his massive eponymous news organization in a bind. How could Bloomberg News credibly cover the candidacy of the guy signing their paychecks?
Bloomberg News Pledges Not To Investigate Democratic Presidential Candidates. Bloomberg News won't conduct investigative reporting on any of the Democratic presidential candidates, the outlet's editor-in-chief announced Sunday [11/24/2019]. The announcement followed Michael Bloomberg's official campaign launch Sunday. "We will continue our tradition of not investigating Mike (and his family and his foundation) and we will extend the same policy to his rivals in the Democratic primaries," editor-in-chief John Micklethwait wrote in a note to staffers.
The press used to mock Ronald Reagan mercilessly for less than this:
What is Wrong with Grandpa Joe? Biden Jumbles Words, Rambles About Russia, Vladimir Putin During Dem Debate. The fifth Democrat debate kicked off Wednesday evening in Atlanta and is being co-hosted by MSNBC and the Washington Post. 10 Communist Democrat candidates will face off as they compete for who can offer illegal aliens the most free stuff. Grandpa Joe Biden was off to a rough start as he stumbled through a few talking points. Biden jumbled his words and rambled about Russian President Vladimir Putin.
Kamala Harris' Campaign In Free Fall, ABC Blames 'America'. As Sen. Kamala Harris' (D-CA) campaign for her party's presidential nomination continues to implode, some in the media are looking for answers. ABC News shot first, asking if Harris "proof that America isn't ready for a woman of color as president?" The article began with quotes from Harris making the argument herself. She had previously spoken about her "electability" several times, and in May she went ahead and wondered whether "America was ready for a woman and a woman of color to be president of the United State of America." She made the claim on "The View." This statement set her up with the tired and ready-made excuse in case she lost the primary: It's because America is racist and misogynist.
Nets Follow Pelosi Marching Orders: 'Bribery' Mentioned 43 Times. Following Democratic House Speaker Nancy Pelosi's Thursday morning [11/14/2019] press conference in which she accused President Trump of "bribery," the broadcast networks spent the next 24 hours featuring the term 43 times in evening and morning show coverage. All of it designed to boost the impeachment crusade against Trump. After Thursday's evening newscasts dutifully assaulted viewers with the "bribery" buzzword a whopping 19 times [...], Friday's morning shows kept up the onslaught with another 18 mentions [...].
Media criticizes Elise Stefanik during hearing after praising Warren's 'Nevertheless, she persisted' moment. The fiery exchange between Rep. Elise Stefanik, R-N.Y., and House Intelligence Committee Chairman Adam Schiff, D-Calif., at Friday's impeachment hearing bore some resemblance to the memorable back-and-forth between Sen. Elizabeth Warren, D-Mass. and Senate Majority Leader Mitch McConnell, R-Ky., that birthed Warren's "Nevertheless, she persisted" mantra. However, the way the media has treated both of those moments appears drastically different.
Washington Post Only Fact Checks Republicans After First Day Of Impeachment Hearings. The Washington Post fact checked various statements made during the first day of public impeachment hearings Wednesday [11/13/2019], but the roundup failed to look into any comments Democrats made. The WaPo Fact Checker article was a roundup of only Republican Congress members, and the publication declined to include any statements from Democrats. The analysis, published Thursday, is titled "Fact-checking the opening day of the Trump impeachment hearings" and did not specify whether it was only intended for Republicans.
Sunday Talks: NSA Robert O'Brien vs Margaret Brennan. National Security Adviser Robert O'Brien continues to impress today [11/10/2019] as he appears on Face the Nation for an interview with the ever-emotional and overly-dramatic resistance dingbat Margaret Brennan. In 2016 and 2017 President Trump said NATO was obsolete and the moonbats went bananas; NATO is the only thing saving the planet Brennan claimed. Fast forward to 2019. Trump meets with a NATO nation leader (Erdogan) and the moonbats go bananas; NATO is a horrible construct, Erdogan bad. Yes, liberal apoplexy is contagious in groups.
Cleveland Media Seek Access To Gibson's Bakery Store Clerk's Sealed Facebook Records in Oberlin College Case, But Why? The court already ruled against Oberlin College's attempt to unseal the records of a Gibson family member who wasn't a party and didn't testify. So why are Cleveland media outlets trying to rescue Oberlin College's post-trial public relations effort?
Chuck Todd's Softball: Are Republicans 'Sabotaging' the Impeachment? Call NBC's Sunday morning show Meet the Press doesn't really meet what you see any more. Chuck Todd interviewing Democrats sounds more like an episode of Meet the Helper. Todd's interview with liberal Rep. Jim Himes was all about helping Himes discuss how the Democrats need to break through and impeach the president. For example, he discussed how Democrats are dropping the phrase "quid pro quo," and asked "Do you feel as if that word doesn't penetrate the seriousness that happened?" When Todd asked Himes about the Republicans, he helpfully suggested the Republicans might be "sabotaging the process" by having a different narrative that makes the process "hard to follow for the public." Todd isn't about to make anything difficult for the Democrats.
'Go Ahead And Interrupt Me Again' — GOP Senator Fires Back At CNN's Jake Tapper. Republican Wisconsin Sen. Ron Johnson appeared to lose patience with CNN anchor Jake Tapper during a brief exchange on the House Democrats' continued push for impeachment. Johnson made an appearance on Sunday morning's episode of "State of the Union," and the conversation quickly turned to the most recent testimony about President Donald Trump's July 25 phone call with Ukrainian President Volodymyr Zelensky.
Who on earth watches The View and why? Though The View has been on television since 1997 and its numerous hosts have come and gone, it is a mystery as to who watches it. In its formative years, it may have been watchable, even occasionally newsworthy; Barbra Walters was an actual journalist. Now, from the clips that are picked up and aired by other news outlets, it has clearly devolved into a slugfest — vicious, leftist women attack their guests if remotely conservative. There is zero respect for any guest with a politically incorrect opinion. They slobbered over Chelsea Clinton as if she were the Queen of England and attacked Donald Trump Jr. as if he were a serial killer on the loose. [...] [T]he women on that panel are as uninformed as they are vicious. There is nothing worse than the pomposity of the unlearned. They feel entitled to verbally assault any guest, no matter how gracious that guest may be, if they hold even slightly conservative views.
Why Does The Media Prop Up Failed Democratic Candidates Like Stacey Abrams? Stacey Abrams, the failed Democratic gubernatorial candidate from Georgia, told a University of Iowa audience she would be happy to run as a vice presidential candidate. Abrams ended the rumors she was asked to run with Joe Biden if he was the nominee, but, according to the Daily Iowan, Abrams said she would be happy to be the running mate of DNC's nominee, whoever the candidate is. "When I got the question [from reporters] I was, myself, contemplating my next steps... I'm not in the primary, but you can run as second in the general election, and I am happy to do so with the nominee. That is my answer," Abrams said
Childish Beto Supporters Think He Got 'Punitive' Media Coverage. When Beto O'Rourke's presidential bid came to a merciful end last week, it was a surprise to only O'Rourke and his fragile, delusional supporters. [...] Given that his was a nonsensical, emotion-driven campaign from the beginning, it shouldn't shock anyone that Beto's fans are wildly missing the mark now that the finger-pointing has begun: [...] Rarely has an almost substance-free candidate experienced so much media hype upon entering a presidential contest. The MSM didn't even gush that much when Barack Obama threw his hat into the ring for 2008 because they were all still too busy pretending that Hillary Clinton was going to be the nominee. Mainstream and social media breathlessly covered every move of Beto's for the first couple of weeks. His biggest fundraising haul came during this glowing coverage phase — he brought in almost $10 million in less than three weeks. His next two quarters combined brought in almost a million and a half less than that.
Ben Sasse Responds to Elizabeth Warren's Medicare for All Plan. Elizabeth Warren has released her plan to pay for "Medicare for All" and it's a cluster of terrible assumptions and veiled tax hikes on the working class. The idea that payroll tax hikes, repealing the Trump tax cuts, unregulated immigration, and slamming businesses with new taxes wouldn't hugely damage the middle class is laughable on its face. Because Warren is the chosen one though, the media rushed to hang on her every word and proclaim that she had silenced her critics.
Media-Democrat Tantrum [is] a Fear Response. Media bias comes in many forms, but one of the most effective forms is in their ability to frame stories. There is an entire cottage industry in "Republicans pounce" stories to frame even terrible Democrat news as somehow harmful to Republicans. But to frame this story the way the media want to frame it, they needed help. This is why we now have dueling investigations, one a complete façade and the other deadly serious. There is no secret in how these will be covered by the media. The fraud impeachment circus will be treated with full gravity and seriousness, while what might be the most important investigation in U.S. history will be treated as political payback.
So now Peggy Noonan is offering tips to the Democrats? There's a fine line between analyzing news and nakedly offering advice to one side and now Peggy Noonan has crossed it. Far from being one of her interesting and sometimes very very good touchy-feely analyses — I've been willing to give her the benefit of the doubt on much despite her record of hating President Trump — her latest on the impeachment sham is all about helping the Democrats get it done. She's not even pretending to be the objective observer of American politics and its voters.
CNN Fantasizes About Mike Pence Getting Caught up in Impeachment, 'President Pelosi'. As House Democrats seek to progress their efforts Thursday to impeach President Donald Trump, CNN is speculating whether one unintended consequence could see Vice President Mike Pence also sidelined, leaving the way clear for Nancy Pelosi to take the reins of office. The fantasy outcome is contained in an opinion piece by Paul Callan, a contributor and CNN legal analyst. He speculates Trump and Pence could possibly both be drawn into the Ukraine inquiry, leaving the way clear under constitutional law for House Speaker Nancy Pelosi (D-Calif.) to ascend the White House steps as Commander-in-Chief.
Anti-Trump Collusion by Media. According to a June 11, 2017, FBI write-up: ["]The purpose of the meeting, as it was explained to SSA [supervisory special agent, redacted] was to obtain documents from the AP reporters that were related to their investigative reports on Paul Manafort.["] No such documents were included in the documents released to us. During the meeting, the AP reporters provided the FBI information about a storage locker of Manafort (the Mueller special counsel operation raided the locker on May 26, 2017): ["]The AP reporters advised that they had located a storage facility in Virginia that belonged to Manafort... The code to the lock on the locker is 40944859. The reporters were aware of the Unit number and address, but they declined to share that information.["] The reporters shared the information that "payments for the locker were made from the DM Partners account that received money from the [Ukraine] Party of Regions." The notes suggest the AP pushed for criminal prosecution of Manafort[.]
Elizabeth Warren is the Hillary Clinton of 2020. Why is it fine for Warren to menace the rich — but not for Bernie Sanders? With some polls placing her ahead of the former vice president Joe Biden, the Massachusetts senator is suddenly basking in praise from mainstream newspapers as well as 'progressives' like Emily Tisch Sussman, a 'Democratic strategist' who appears regularly on MSNBC. Led by its star hosts, Chris Matthews and Rachel Maddow, MSNBC functions as the mouthpiece of an official Democratic party still dominated by the Clintons and Barack Obama. 'If you are still supporting Sanders as opposed to Warren,' said Sussman recently, 'it's kind of showing your sexism.' Besides being a courageous feminist, Sussman happens to be the daughter of two billionaires. She seems unafraid of Warren's plan to increase taxes on the super-rich. Warren ticks all the boxes marked 'progressive' that used to belong mostly to Sanders.
Opposed to Transparency: Nets Smear 'Rogue Republican' Sit-In as 'Sideshow'. In an attempt to force House Democrats to hold public hearings for their impeachment investigation, Republican members staged a sit-in in the hearing room and delayed the process for five hours. But the "journalists" in the liberal media were appalled by the idea of transparency for Democrats. ABC, CBS, and NBC attacked and smeared the GOP lawmakers during their Wednesday evening newscasts. CBS Evening News was the most furious. Critically failing anchor Norah O'Donnell kicked off the opening tease in a panic, declaring "chaos at the Capitol! Rogue Republicans crash the impeachment inquiry delaying a top defense official's testimony. Democrats call in the sergeant at arms to break up the protest." After the teases, O'Donnell began by informing viewers their first segment would be about the "dramatic sideshow" put on Republicans. "As if on cue, following President Trump's orders yesterday for Republicans to get tougher on impeachment, a group of Republicans barged into a closed-door hearing today," she chided.
Trump's Labeling of 'Fake News' Was an Understatement. Journalism isn't just dead — it's decomposed. When Chris Wallace — in all Deep State unctuousness — asked Mick Mulvaney on Fox News Sunday [10/20/2019] to comment on a "well-connected Republican" who allegedly told Wallace there was a 20 percent chance the GOP would vote to remove the president from office, he not only was aiding in that decomposition, he was picking up a shovel and helping dig its grave. Wallace didn't identify who this "well-connected Republican" is or what he actually said in context, just the tidbit the host wanted to tell us. What Wallace was doing was engaging in propaganda, creating a smear based on the flimsiest hearsay. But, as we all know, he's not alone. This was only one of a myriad of cases and far from the worst.
CNN's Jeffrey Toobin Regrets Coverage of Clinton Email Scandal: 'I Should Have Been Talking About Other Issues'. CNN chief legal analyst Jeffrey Toobin voiced regret on Monday [10/21/2019] for how he covered the Hillary Clinton email scandal during her failed 2016 presidential run, saying in hindsight that he "should have been talking about other issues." Toobin made the comments while responding to Friday's news on the Justice Department finally concluding their investigation into the Clinton email matter and found no "systemic" effort from the former secretary of state to flout laws protecting classified information.
Project Veritas: Zucker Coached Tapper to Badger Kellyanne Conway. A short clip released by Project Veritas Wednesday [10/16/2019] reveals how CNN president Jeff Zucker directed one of its top news personalities to relentlessly grill a Trump official during an interview. Media Coordinator Christian Sierra divulged on tape that Zucker actually went into the control room while anchor Jake Tapper was interviewing White House counselor Kellyanne Conway and told the executive producer to skip commercials and extend the seven minute interview to 25 minutes just to "[...] nail her."
No More Pretense: Journalists, Dems Use Identical Talking Points on Impeachment. Television journalists these days sound so similar to Democrats on impeachment that it's nearly impossible to tell them apart. Weeks before the impeachment inquiry was even announced, talking heads were passing off Democratic talking points as objective information about the President's alleged wrongdoing. What follows is a compilation video of some of the liberal media's greatest minds spouting DNC talking points. These journalists have not had their words taken out of context while attempting to summarize the Democrats' position. Whether or not they they were intentionally regurgitating the words of Democrats, they did so without attributing their words to anyone. [Video clip]
O'Keefe Strikes Again!
Undercover Video Shows CNN Production Supervisor Wishing For Trump's Death, 'Hopefully He Dies Soon. O'Keefe also caught CNN Field Production Supervisor Gerald Sisnette wishing for President Trump's death. "This is a story that's not gonna go away," Mr. Sisnette said. "Oh the Ukraine thing? Or just Trump in general?" the CNN whistleblower asked. "Trump in general. The only way this will go away is when he [Trump] dies. Hopefully soon," Gerald Sisnette said.
The Washington Post is becoming Elizabeth Warren's love-struck stalker. Again, the Washington Post has been anything but subtle in its love for Sen. Elizabeth Warren of Massachusetts. Last week, the D.C.-based newspaper went into crisis management mode to downplay legitimate questions about the senator's claim that she was fired in the 1970s for being "visibly pregnant." It has become only more obvious since then. The Washington Post tweeted this week in promotion of a profile on Warren, "'You knew, just by talking to her, she was going to be successful.' She faced sexism, shed a husband and found her voice teaching law in Houston. This is where Liz Warren became Elizabeth Warren."
CNN Cements Its Bias Reputation at Tuesday's Debate. If there is one thing that Tuesday night's Democratic debate showed us — as if we didn't know it in the first place — it's just to what degree the media is in the tank for the Democrats. They're not only in the tank — they built it, filled it with water up to the brim, and would turn up the temperature to boil Donald Trump alive if they could. And maybe they can. You knew this from the outset when CNN's lead moderator Anderson Cooper, along with his compatriots, one from the New York Times, opened the festivities with a round of leading impeachment questions, giving each candidate in turn a chance to outdo each other in bashing Trump.
China's Ultimate Goal Is To Control American Culture, And Companies Should Resist It. If ESPN thought shutting down on-air discussion about China and Hong Kong would please its Chinese master and protect the commercial interests of itself and its corporate parent Disney, it's dead wrong. What China wants is not simply to police a few words on social media or on air. It wants to control American culture, period. [...] Chinese leaders closely studied America's ascent to a global superpower, and they believe America's cultural influence is a key ingredient to the country's success. China wants to emulate America's success, albeit with Chinese characteristics. Former Chinese President Hu Jintao said, "The great rejuvenation of the Chinese nation will definitely be accompanied by the thriving of Chinese culture."
Mike Pompeo Wonders If PBS Host Is 'Working For The DNC' After She Defends Biden. Secretary of State Mike Pompeo said Thursday [10/10/2019] that PBS host Judy Woodruff and other media outlets are defending former Vice President Joe Biden "like you're working for the DNC [Democratic National Committee]." In discussing the ongoing impeachment inquiry that surrounds President Donald Trump on "PBS Newshour," Woodruff and Pompeo touched on the allegations that Joe Biden had a Ukrainian prosecutor fired, because the then-vice president did not want his son, Hunter Biden, investigated for corruption.
Chuck Todd Mocks '40 Percent of the Country' That Ignores 'Reality'. As NewsBusters has previously reported, Meet the Press host Chuck Todd had a combative exchange with Republican Senator Ron Johnson Sunday; where the supposedly "objective" NBC News political director put his liberal bias on full display. Shortly after wrapping up the interview with Johnson, Todd rapidly transformed into a lapdog when interviewing former CIA Director John Brennan. Todd encouraged Brennan into advancing the narrative that America has lost its "stability" as a democracy and worried about the 40 percent of Americans who are ignoring "reality."
Chuck Todd and the Demise of True Journalism. Chuck Todd received plaudits from his media peers for lambasting Republican Sen. Ron Johnson's investigation of the FBI as "Fox News conspiracy propaganda stuff" during a hostile 10-minute "Meet the Press" interview on Sunday [10/6/2019]. [...] But far from being a laudable moment of press accountability, the "Meet the Press" interview was a disappointing turn for Todd and the show, once one of the media's flagship brands. Indeed, the full interview illustrated how the media are increasingly obsessed with performative demonstrations of their political views, and less concerned with simply being informative.
GOP Senator RIPS Into Chuck Todd's 'Very Biased' Open, Fight Ensues. Why would Republican appear on the "mainstream" Sunday shows? You could wonder after Senator Ron Johnson (R-WI) was disgusted by moderator Chuck Todd's "very biased opening" segment on Meet the Press [10/6/2019], and Todd openly fought with him and wouldn't let him finish a point as Johnson tried to tell him what he should ask John Brennan later in the show. Brennan received gooey sympathy. Todd moaned and groaned and then said "I have no idea why Fox News conspiracy propaganda stuff is popping up on here. I have no idea why we're going here." When Johnson said this is why people hate the media, "This is not about the media! Senator Johnson, please!!" As in "please stop criticizing the heroic press."
Zero members of Trump administration appear on Sunday talk shows. The Trump administration was noticeably absent on Sunday's cable news lineup, with not a single member making an appearance on CNN, Fox, ABC, CBS or NBC. [...] President Trump is in the midst of an impeachment storm over allegations that he pressured Ukraine to investigate former Vice President Joe Biden and his son, Hunter. The Sunday shows are widely viewed as a space for political actors to speak directly to the public and relay their perspectives on pressing political issues.
Bee Gives Softball Interview to Omar, Fantasizes About Joining 'The Squad'. During Wednesday's [10/2/2019] Full Frontal, TBS host Samantha Bee conducted what was not surprisingly softball interview with Congresswoman and so-called "Squad" member Ilhan Omar (D-MN), which included Bee fantasizing about joining "the Squad." As she walked with Omar on Capitol Hill prior to conducting the interview, a visibly starstruck Bee was caught by surprise by an unexpected appearance from Omar's fellow "Squad" member, Alexandria Ocasio-Cortez (D-NY). Bee repeatedly chanted "OMG" as Ocasio-Cortez's entry was slowed down for dramatic effect. After hugging Ocasio-Cortez, Bee declared that she was "officially part of the Squad" and switched out a group photo in Omar's office with a photoshopped picture featuring her posing with them.
CNN Counts Down The Number Of House Democrats Who Support Impeaching Trump With 'Impeachment Clock'. CNN is anticipating impeachment proceedings to begin against President Donald Trump with an "impeachment countdown clock." The network has a graphic behind the anchors that is adding up the number of House Democrats who support impeachment.
'President Isn't Telling the Truth': Nicolle Wallace Cuts Away from Press Conference. Wow! The MSNBC host of Deadline: White House, Nicolle Wallace, declared President Trump to be a liar on Wednesday (how original) and used that as an excuse to cut away from the televised press conference almost 24 hours after House Speaker Nancy Pelosi declared the House's formal attempt to impeach the President. Perhaps Trump's truth telling about Joe and Hunter Biden was too much for her to tolerate. In any event, it was a stunning act of anti-journalism.
MSNBC cuts from Trump speech: 'We hate to do this, really, but the president isn't telling the truth'. MSNBC cut from President Trump's press conference on Wednesday, claiming the president was repeating lies about his political rival Joe Biden as a "deflection" from the impeachment inquiry. "We hate to do this, really, but the president isn't telling the truth," MSNBC host Nicole Wallace said as the network cut from Trump's speech. "These allegations against Joe Biden and Hunter Biden that he's repeating have been investigated by the Ukrainians. ... The Wall Street Journal included in their report on Friday that the Ukrainians view this issue as having been investigated and adjudicated," Wallace said. Trump's press conference followed Speaker Nancy Pelosi's (D-Calif.) Tuesday announcement that the House would launch a formal impeachment inquiry into Trump. "What's amazing is that what Trump appears to be trying to do is to turn his own impeachment into a big deflection," Wallace said.
The Editor says...
When did any television network fact-check Barack H. Obama's speeches in real time? When did any television network cut off an Obama speech (or press conference) because the Talking Heads decided he was lying?
Why is most of the media circling the wagons to protect Hunter Biden? A foreign natural gas company brings a top US politician's son onto its board, even though he has no relevant expertise, for $50,000 a month. The politician travels to that country and demands the removal of a prosecutor who's investigating the company. That prosecutor then gets axed, and the investigation shut down. Imagine the son was Eric Trump, and the politician Donald Trump. Would the media be dismissing it as nothing worth looking at, a "debunked" issue?
Media Corruption On Perfect Display In One Washington Post Paragraph. Every single assertion of this paragraph isn't just wrong, but the opposite of right. In each sentence, Trump is being blamed for things his political opponents have done.
Cleveland agrees to pay RNC flag burner $50,000. An attorney for a protester arrested during the 2016 Republican National Convention says Cleveland will pay his client $50,000 to settle a federal civil rights lawsuit. Attorney Subodh Chandra says Richard Newburger in July 2016 joined fellow protesters preparing to burn an American flag when Newburger and others were assaulted by police and sprayed with fire retardant.
The Editor says...
The headline above is deliberately misleading, in my opinion. "RNC flag burner" implies that the person burning the flag was associated with the Republican National Convention, when in reality he was an outside agitator.
NBC: Network's Double Standards Surface Yet Again. [Scroll down] If now-Attorney General Bill Barr, who works for the hated-by-the-media President Trump, once endorsed a book that demands due process for those on a college campus accused of sexual assault — that is horrific. It is a slap in the face to "survivors and the challenges they face.["] But if seven illegals have shown up in the sanctuary county of Montgomery County, Maryland and sexually assaulted seven different victims, one who was eleven-years old? No big deal at NBC, it's simply not worth reporting. There is curiously no concern for the "survivors and the challenges they face." In fact, there is just no reporting on the acts themselves, much less the survivors of the assaults.
CNN's Chris Cuomo: Christians 'Surrendered Character for the Courts'. During a conversation on the Trump administration's impact on the judicial branch Tuesday night, two CNN prime time hosts expressed disappointment about the administration's progress in transforming the judiciary and slammed Christian conservatives for supporting President Trump in spite of his personal moral failings. At one point, he spewed, "They surrendered character for the courts. That's what they did." [...] After complaining about the high number of "older white men" nominated by President Trump, Cuomo had to correct himself: "not older men, they're younger men, which means they're going to be there for a long time."
The Editor says...
Mr. Cuomo went on to imply his disappointment that abortion-on-demand will be threatened because the Christians "surrendered character for the courts." One of us does not understand what "character" means.
Media United in Abortion Support. The American public is evenly divided on the issue of abortion, but the nation's newsrooms are nearly unanimous in their support for abortion on demand, according to a Washington Free Beacon analysis. The spread of pro-life legislation in red states and the proliferation of late-term abortion laws in New York, Vermont, and Illinois in 2018 and 2019 have prompted numerous editorials supporting the agenda of abortionists. According to a Washington Free Beacon review of dozens of articles written by local and national editorial boards — which represent the official opinion of a newspaper — the Augusta Chronicle in Georgia was the only paper to endorse a bill restricting abortion when a human heartbeat is detectable.
Debate Moderator Jorge Ramos Says in Spanish 'This is Our Country Too'. In the opening of the third Democratic debate in Houston, Texas, moderator Jorge Ramos spoke part of his opening statement in Spanish before finishing with "This is our country, too." The extremely racially-charged rhetoric from Ramos preceded several race-based questions regarding the status of illegal aliens in the country, where numerous false assertions were made. Ramos falsely claimed that President Trump referred to all immigrants as "rapists," and former Housing and Urban Development Secretary Julian Castro (D-Texas) falsely claimed that President Trump inspired the El Paso shooter, even though the shooter admitted in his own manifesto that his views "predate Trump and his campaign for president."
The Divine Right of the Democratic Party. Michelle Goldberg of the New York Times has a dream, a dream in which about half of the American people are deprived of an effective means of political representation, a dream of one-party government in which the Democrats are the only game in town — "Dare We Dream of the End of the GOP?" her column is headlined — which also is a dream of visiting vengeance upon those who dared to vote for their own interests as they understood them and thereby schemed "to stop the New America from governing."
Washington Post Writer Has No Idea Why, After All Of His Columns And Hard Work, Trump Is Still In Office. [Washington Post columnist Max] Boot's comments sound like an article out of the Babylon Bee, but sadly, they've come from a regular newspaper. This deluded man, who once or twice a week writes a column denigrating the President believes that his opinion is so important, it can remove a president from office.
Criticism from the Left:
A Joe Biden presidency would be a climate catastrophe. Biden is trudging through the campaign, constantly screwing up and lying about his record, winning almost entirely thanks to the Pundit Brain-induced learned helplessness that has been carefully instilled into the Democratic base over the years. Biden may yet win the primary, of course, and sheer backlash to President Trump could easily boost him into the White House. But it is simply beyond question that he is one of the worst candidates in the field — unequipped especially to deal with climate change, the biggest threat by far facing the American people.
The Editor says...
The article above is a great example of media bias. There is no extraordinary climate change underway. There certainly is no "climate emergency." There are many actual threats "facing the American people," and the weather is not one of them. Make another selection: Sharia Law replacing the Constitution, homeless bums defecating in the streets, North Korean missiles, greater than $22 trillion national debt, wholesale voting fraud, unchecked illegal immigration, dumbed-down schools, black lives matter but all others don't, or drag queens reading children's stories at the public library. Each of these is a far greater threat to America than the weather.
CNN to Host LGBTQ Democratic Presidential Town Hall. CNN and the Human Rights Campaign Foundation have partnered to host the next Democratic presidential town hall, focused on LGBTQ issues. CNN host Don Lemon made the announcement after the seven hour-long Democratic presidential climate town hall on Wednesday [9/4/2019]. "CNN is partnering with the Human Rights Campaign Foundation for our next series of presidential town halls on issues that are important to the lesbian, gay, bisexual, transgender, and queer community," Lemon told viewers.
In praise of Melania Trump, the first lady treated terribly by the media. There is a good reason Melania, 49, might be "aloof" with the media, and that is because the attacks on her are more vicious, personal and unrelenting than any first lady has endured. Whatever you think of her husband, you can't say she has behaved with anything but dignity in her role, despite ugly provocations, which include attacks on her young son, Barron.
CNN steers softball interview carefully to give violent Antifa a new voice. Leave it to CNN to give voice to violent Antifa thugs in the wake of Saturday's clash with right-wing protesters. [...] CNN reporter Sara Sidner interviewed two masked members of the left-wing mob, who identified themselves as members of the Youth Liberation Front. The riot helmet one of them is wearing features the communist hammer and sickle, which speaks volumes on the ideology they speak of. The reporter sets the tone by noting that Antifa is "standing up against these far right groups," before tip-toeing around just how violent the group is.
Ilhan Omar and Rashida Tlaib Partnered with Vicious Anti-Semites to Plan Their Trip to Israel. To the extent that I care at all about Israel blocking entry to two U.S. congresswomen who partner with anti-Semites who seek its destruction, I agree with critics who argue that Bibi Netanyahu should not appear to bow to Donald Trump's tweeted demands and that blocking Rashida Tlaib and Ilhan Omar from visiting Israel handed them a short-term propaganda victory. But that's not the most important part of the story. The most important element of the story is the fact that two American congresswomen shunned a bipartisan congressional delegation to Israel to go on an independent trip to Israel sponsored by vicious anti-Semites. Another important element of the story is that, as of today, the mainstream media have whitewashed Omar and Tlaib's vile associations.
Missing! Evening Newscasts Hide the (D) in Epstein-Linked Democrats. It's a trend that NewsBusters has documented before, as scandal-tarnished Democrats are often detached from their political party, while Republicans in similar circumstances are properly identified. In this case, both Mitchell and Richardson have unequivocally denied the allegations, which were contained in a previously-sealed civil lawsuit brought by Virginia Roberts Guiffre against Epstein associate Ghislaine Maxwell. But that didn't stop the ABC, CBS and NBC evening newscasts from mentioning them both by name in five different broadcasts since the news broke on Friday — they just didn't mention that they were both Democrats.
Jeffrey Epstein Fallout Shows How Little Trust Americans Have in Media and Government. [Scroll down] From assuring us the Trump campaign colluded with the Russians to influence the outcome of the 2016 election to reporting every unproven allegation of rape against Brett Kavanaugh, Politico and its brethren have fueled this crisis of confidence. Pro-life high schoolers wearing Make America Great Again hats were "mocking" and "laughing at" a Native American elder, the media told us. Hillary Clinton will win the presidency. The stock market will tank after Trump is elected. Donald Trump won't serve a full term. White supremacy is on the rise and poses a greater threat to national security that Islamic extremism because Trump and Republicans are using special "code words" to fan the flames of racism. There is no national emergency at the southern border. The Trump Administration is the first to lock migrant children "in cages." That is only a partial list of falsehoods, flat-out lies and legitimate conspiracies that the untrustworthy folks who populate our once respected institutions have told us in the past three years.
CNN Gave Glowing Interview to Illegal Alien Evading ICE, Who Killed Father of 5 Last Week. Earlier this year, CNN irresponsibly gave positive coverage to an illegal immigrant hiding from ICE in a liberal sanctuary church in Colorado. One week ago, that same immigrant killed a father of five in a car accident, while driving recklessly without a license. As usual when these things happen, the only thing you hear from the media is crickets. According to Denver's local ABC station, on August 2, Miguel Ramirez Valiente, from El Salvador "went off the side of the road on Hwy 83, over-corrected into the opposite lane and hit Sean Buchanan," killing the father of five, who was meeting his wife that morning at their new house they had just bought.
'After a long day and night': Andrea Mitchell defends Biden over 'poor kids' comment. MSNBC anchor Andrea Mitchell came to the defense of 2020 Democratic front-runner Joe Biden on Friday morning. The former vice president was facing backlash for a mistake he made the day before in Iowa. Mitchell appeared on Today Friday morning [8/9/2019] and chalked up Biden's latest mistake as coming "after a long day and night."
How to Write the Perfect Passive Description of Chappaquiddick. Are you writing an article about Chappaquiddick, the 1969 "incident" where Massachusetts Senator Ted Kennedy drove a car into a pond after drinking at a party, swam out while 28-year-old Mary Jo Kopechne was still stuck inside, gave up trying to rescue her as she eventually died of suffocation, didn't tell the authorities who likely could have saved her life until the next morning, worried first and foremost about the harm to his political career, tried to fake an alibi, never spent a day in jail, and went on to serve 40 more years in the Senate? Well, yuck. That sounds a lot like manslaughter that should have sent the scion to prison and put an end to his unearned political career. We can't have that, so here are some examples of how to passively frame this atrocity in the friendliest possible terms.
AP wants voters to punish Trump. Shocked to see Mueller reveal himself as a hapless ineffective prosecutor, "reporter" Lisa Mascaro of the Associated Press sat down and wrote an analysis, which is one-sided and aimed at shaping public opinion.
Rachel Maddow Told Viewers Yesterday Was A 'Remarkable Day' For Democrats; Then Reports A New Lie. There is a reason why MSNBC host Rachel Maddow's ratings have cratered so dramatically recently. [...] Although she did acknowledge that Mueller "definitely seemed older than his 74 years" and appeared to be "less on top of matters," Maddow went on to portray Mueller's nearly universally panned performance as "landmark" and "historic."
Democrats woke and broke. Fox News reported, "The Republican National Committee raised more than twice as much as the Democratic National Committee in June — $20.7 million compared to the DNC's $8.5 million, according to Federal Election Commission filings, Politico reported." The story also said, "The RNC currently has $43.5 million, more than double the cash on hand as the DNC's $9.3 million." More than double? It is nearly five times as much cash on hand.
The Washington Post keeps shilling for Antifa. [M]ost people would agree that a group of masked thugs that goes around, en masse, beating people with whom it disagrees about politics is fascist or, at a minimum, has fascist tendencies. No reasonable person would accept that it is antifascist. One of Antifa's recent high-profile victims was Andy Ngo. He's a gay, center-right journalist who has filmed Antifa's behavior. Does the Washington Post believe that Ngo is a fascist? If not, it should stop calling Antifa "antifascist."
From 'Squad' to Climate Change, 'CBS Evening News' Doubles Down on Liberal Shilling. After Monday's [7/15/2019] debut of the CBS Evening News with Norah O'Donnell established that it would be an unquestionable home for liberal bias, night two cemented that as O'Donnell and her team provided more liberal bias, whether it be the President's "racist tweets," letting a Democratic donor interview "The Squad," or blaming an upcoming heat wave to climate change. O'Donnell teased their coverage from the Kennedy Space Center on the 50th anniversary of Apollo 11's launch before stating that "we're going to begin with that breaking news here on Earth" about the House "resolution to condemn" Trump's "racist tweets" even though it wasn't a full-blown censure.
'View' Hosts Obsess over Race, Trump with 2020 Dem Kamala Harris. Friday [7/12/2019] on The View, Senator Kamala Harris (D-CA) was on the show to discuss her 2020 presidential run. Meghan McCain was the only host to ask Harris about her stance on decriminalizing illegal immigration, while the other hosts focused heavily on race-related questions. It began when co-host Whoopi Goldberg wondered how Harris was going to help black people get "back in balance" after President Trump had supposedly dismantled everything presidents before him had done for minorities:
Washington Post celebrates Fourth of July: 'Fireworks are actually kind of terrible'. The Washington Post ran a story challenging Americans' use of fireworks to celebrate Independence Day just days before the national holiday. The Monday [7/1/2019] piece, headlined "Fireworks are America's favorite face exploding, dog torturing, bird murdering way to celebrate its birthday," is part of a series questioning "the supposed joys of summer." The article begins cheerfully describing the centuries-old American tradition before quickly pivoting to why fireworks are obnoxious, dangerous, and mean: [...]
Elizabeth Warren embraced by debate moderators. NBC and MSNBC embraced Sen. Elizabeth Warren of Massachusetts in the first debate of Democratic presidential candidates Wednesday night, treating her like the star of the show. The debate led off with Warren, who had a huge popularity advantage from the start. Warren — who Trump dubbed "Pocahontas" because of her phony claim of Native American heritage — was the only Democrat on stage who had mustered double digits in recent polling. Moderators let her dominate the early part of the debate, when most people were likely watching.
Media Buried Biden's Love of Segregationists to Protect Obama. Joe Biden spent eight years as vice president, and thanks to our useless, partisan, deceitful, fake news media, we are only now learning about Biden's abiding love for Democrat segregationists. [...] Look at everything our fake news media chose not to tell us in 2008 when Biden was running for vice president — and don't forget we are talking about the same fake news media that sent legions of fake journalists to Alaska to find out which library books Biden's rival, then-Gov. Sarah Palin, checked out. Only now are we learning that in 1975 Biden said his party needed a "liberal George Wallace," that he believed segregation was a good thing as a "matter of black pride," and that he voted to restore the American citizenship of confederate president Jefferson Davis. Did you know that as recently as 1988, Biden praised a Democrat segregationist as a "man of character and courage?" All of this is coming to light now for only one reason: the media were not interested in 2008 because in 2008 the media were only interested in protecting Barack Obama.
Media Scramble to Protect Alexandria Ocasio-Cortez from Holocaust Lie. Rep. Alexandria Ocasio-Cortez (D-NY) is lying about how she compared our migrant detention camps on the Southern border to the Holocaust, and to the surprise of no one, fake news outlets like CNN, MSNBC, and the Washington Post are covering for her with their own lies. CNN is even trying to explain how Auschwitz wasn't all that bad. On Monday [6/17/2019], Ocasio-Crazy, probably from that luxury apartment of hers, filmed a video that compared American migrant camps to "concentration camps."
Does anyone doubt that Trump is the Rocky of American politics? President Trump's rally on Tuesday [6/18/2019] to officially launch his 2020 campaign for re-election was a tour-de-force. The twenty thousand people in the arena, along with the thousands of people outside watching on jumbo screens were all on the same page: He has been a great President these past two and a half years and they want more of the same.
The Editor says...
Reuters posted a deliberately misleading series of crowd photos, making it look like there were maybe two or thee hundred people present, and almost that many press photographers. When Trump speaks about fake news, this is what he's talking about.
NBC Pushes Liberal Dream to Abolish Electoral College. As NBC Nightly News continued its monotonous drumbeat on Thursday to elevate liberal policy positions ahead of the Democratic debate they were holding, the network gave the megaphone to South Bend, Indiana Mayor Pete Buttigieg in order to push for abolishing the Electoral College. Correspondent Harry Smith let Buttigieg freely suggest the country had to "strengthen American democracy" because we were supposedly in an era of deteriorating voting rights. In reality, his "Big Idea" would damage the framework our founders put in place to protect the people from tyranny.
The media's shameful PR campaign for Elizabeth Warren. In recent weeks, Elizabeth Warren has emerged as the mainstream media's favorite candidate — for now, at least. Warren's polling has largely been stagnant over the course of the race for the Democratic nomination, but you wouldn't know it from the fawning coverage — coverage that just so happens to consistently echo the Warren campaign's exact talking points. The New York Times asks 'Elizabeth Warren is running an ideas-first campaign. Will it work?' The Washington Post writes, 'Warren's nonstop ideas reshape the Democratic presidential race — and give her new momentum.' Apparently, the 'self-admitted policy wonk who has put her meaty policy prescriptions front and center in the campaign' is also approaching 'a breakout with black voters,' and 'she is very good on the stump.' Should the mainstream press be quite so adoring of a political candidate? What's concerning is that these articles — written by supposedly objective journalists — are stuffed to the brim with barely concealed Warren campaign talking points.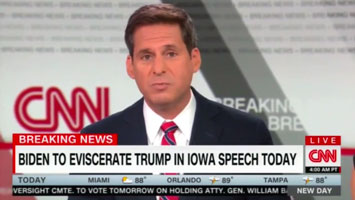 CNN slammed for hyperbolic chyron, declares Biden to 'eviscerate' Trump in Iowa speech. CNN is arguably a heavily partisan network whose contributors, anchors and pundits have no qualms about openly displaying their pro-Democrat, anti-Republican bias. Take for instance the glaringly biased chyron that appeared on CNN early Tuesday morning [6/11/2019] after 2020 contender former Vice President Joe Biden released a transcript of what he intended to say during an event in Iowa later that afternoon: [Screen shot]
Impeachment Fever: Democrats whip themselves into a frenzy. [Scroll down] Meanwhile, over at the Democrats' top propaganda arm, MSNBC, we have guests complaining that it's impossible to get onto the network unless they promise to talk about impeachment. No other topic is to be broached. And for those who do, "no TV for you." CNN is beating the drum hard for impeachment, too, giving lots of airtime to professors and more professors calling for it.
Left-wing media bias galore on impeachment, abortion and immigration. Mueller Time came and went. Now it's Impeachment Time, at least according to the "neutral" media. Of course, now-former Special Counsel Robert Mueller never said President Trump should be impeached. But that didn't stop journalists, who used every rhetorical trick in the book to push that narrative against the president. Both MSNBC host Chris Hayes and CNN Chief Political Analyst Gloria Borger dissected Mueller's Wednesday news conference about his report, relying on either "reading between the lines" or "If you read between the lines."
Fox News Stumping for 2020 Hillary Clinton? It wasn't CNN or MSNBC that resurrected Hillary Clinton in a perky picture over a story indicating that Obama's former Secretary of State may be running for 2020 election, it was — FOX NEWS. When's the last time anyone saw a front page picture of Clinton being presented as perky? Today [5/26/2019], on Fox News is when.
MSNBC's Nicolle Wallace to Beto O'Rourke: What Can We Do to Better Cover Your Candidacy? While interviewing Democratic presidential candidate Robert O'Rourke, MSNBC's Nicole Wallace let their mask of impartiality slip as she asked him how the network can better serve him. "Play media critic, what can we do better, those of us trying to cover your candidacies, from very far away from where the first votes will be cast in Iowa and New Hampshire," Wallace asked, getting a chuckle out of the failed senate candidate.
Douglas Brinkley Fawns Over 'Master' and 'Historic Speaker' Nancy Pelosi. On Thursday afternoon's [5/23/2019] airing of CNN Newsroom, host Brooke Baldwin had on CNN presidential historian Douglas Brinkley, a history professor at Rice University. The liberal media have been obsessively covering the recent jabs between President Donald Trump and Speaker Nancy Pelosi. Brinkley, rather than remaining an objective historian, couldn't help but drool over Pelosi as a partisan mouthpiece and naturally Baldwin had no problem with it.
MSNBC Host Pushes Democrats to Begin Impeachment Hearings. MSNBC's Kasie Hunt gunned for Democrats to begin impeachment proceedings, offering them a playbook on how to do so. "How badly do you want it? Impeachment could be Dems' only path to key information," the accompanying MSNBC video's headline coaxed.
The Booming Jobs Market Mystifies the Press, When They Notice It At All. If there's not dancing in the streets, it's because the mainstream press refuses to cover the economy. Or if they do, they fixate on the negative. This bias isn't new, by the way. In the early 1990s, coverage of the economy suddenly turned overwhelmingly positive in 1993. That, of course, was the year control of the White House shifted from Republican to Democratic hands. Throughout President Obama's eight years, reporters tried desperately to put a happy face on a gloomy and historically anemic economic recovery.
The Media at Their Lowest. On any number of subjects, building a wall between Mexico and the United States being a current topic of the day, there are literally dozens of video recordings of Democrats contradicting themselves from the position they took even a decade ago. Joe Biden once pounded the pulpit demanding that we build a wall. With Joe Biden as the Democratic frontrunner for U.S. president, you've seen that contradiction reported all over the national mainstream media, haven't you? Contrast that with anything and everything Donald Trump says. The media are quick to pull any quote, any tweet out of context or bend it out of shape to promote the narrative that the president is an unhinged liar.
Who's the Victim When a Somali Muslim Police Officer Shoots an Innocent White Woman? The NYT Thinks It Knows. It's the New York Times, of course, so we know this is not really a question at all, and that it can only be hypocrisy that explains why Noor, a black Muslim immigrant from Somalia, is being punished for killing a white woman while white and Hispanic officers have escaped similar consequences for killing black men. And, lest you still entertain the notion that this could be an unbiased news story, consider that it was written by John Eligon, whose bio informs us he is "a national correspondent covering race," and that he "documents the nuances of America's struggle with race issues, from the protest movement over police violence to the changing face of the nation's cities and suburbs."
Mainstream Media Let Bernie Sanders Distort His Version of Socialism. Mainstream media have let Democratic presidential candidate Bernie Sanders claim that his version of democratic socialism is modeled after a softer, gentler strain of European socialism (though even that claim is dubious, given that many northern European countries actually have freer or similarly free markets than the United States), newspaper archives dug up by journalist Maxim Lott show that Sanders praised corrupt socialist third-world regimes in Chile, Cuba and Nicaragua.
MSNBC's Brian Williams Pushes Conspiracy Theory. Wednesday [5/1/2019] during MSNBC's live coverage of Attorney General William Barr testifying before the Senate Judiciary Committee, anchor Brian Williams broke in to disagree with committee chairman Sen. Lindsey Graham's (R-SC) opening statement.
The Editor says...
I doubt if MSNBC announcers engage in minute-by-minute gainsaying when Democrats speak, but this is speculation on my part, because I never watch MSNBC.
Why Is Fox News Using Left-Wing Talking Points to Take Cheap Shots at Homeschoolers? This happens every few years — someone trots out a collection of child abuse horror stories and blames the abuse on the fact that parents were permitted to keep their own children in their own homes without government surveillance. We expect this kind of rhetoric from left-wing/MSM outlets — it's been going on for decades — but I was surprised to see the tired line of attack coming from Fox News.
CNN's 5-Hour Town Hall Event Is Another Ratings Catastrophe. CNN has been putting on town hall events for a while now. For example, there was Jake Tapper's disastrous Let's Boo a Rape Victim anti-Second Amendment town hall last year. This year, though, CNN has put on a series of town halls to benefit Democrat presidential candidates. These events are basically an hour of softball questions where CNN anchors go so far as to tell the studio audience to applaud for the Democrat.
Joy Behar Gets Emotional Over Biden: Remember When People Didn't Look at America 'in Horror?'. Joy Behar might as well have been wearing a Make America Great Again hat on Thursday's [4/25/2019] The View, as she passionately hailed Joe Biden's "patriotic" 2020 presidential video announcement. Not to support President Trump of course, but because of her wistful longing to get America "back" to when "we were the good guys." The View co-host couldn't stop gushing at Biden's video announcement, in which he claimed he would be the one to bring America back to its Constitutional ideals, unlike Trump who was taking us away from them.
Why the Media Dumped Beto for Mayor Pete. The Buttigieg boom has also benefited from the stumbles of our previous political shooting star, Beto O'Rourke. Was it only weeks ago that the press began swooning for O'Rourke like a drunken conventioneer, writing about him with the same frequency it does for Buttigieg today? The things that once seemed so appealing about O'Rourke to the press — the generalities, the platitudes, the offhanded charisma, the rolled-up sleeves — seem off-putting now. The clearest sign of the press corps' O'Rourke infatuation was its routine reference to him by his first name in its stories — something it has moved on to doing with Buttigieg. Such shameful and transparent familiarity.
Adam Schiff: The Media's Pin-Up Doll. There are times that even The Onion — the popular satirical newspaper — can't compete with the outlandish coverage produced by allegedly legitimate news publications. Newsweek magazine's front-cover swoon over Representative Adam Schiff (D-Calif.) this week is one such example. The interview portrays Schiff as a warrior-martyr, fighting the evil Trump regime for the good of the country. He blasts Attorney General Bill Barr; regurgitates long-disproven allegations of Trump-Russia collusion; and again insists many of his Republican colleagues have private misgivings about President Trump but refuse to air those grievances in public for fear of retribution.
Fox News' trio of libs, Smith, Wallace and Rivera, rush to bury the mere thought of Trump's sanctuary city plan. Certain Fox News media personalities seem suddenly scared witless by the prospect of the president sending all the overflow border migrants to sanctuary cities. On Friday, President Trump confirmed that he is considering a move to have migrants who arrive at the border to be bussed only to sanctuary cities. It's a beautifully Karmic idea, but of course, his political opponents are stumbling all over themselves proclaiming that it can't happen, that it's presidentially inappropriate, that it's illegal, and on and on. The news brought out the best in Shepard Smith and Chris Wallace, who couldn't wait to slam the proposal six ways to Sunday. Smith immediately insisted that he had heard "immigration officials stated that doing so would be illegal."
Trump is Popping in the Polls. Watch most cable or network news shows and the message is clear — President Donald Trump is unpopular, especially compared to the dozens of fresh faces attempting to challenge him for the White House in 2020. Some of the faces are not so fresh as three of the leading contenders — Biden, Sanders, and Warren are septuagenarians. Despite the exonerating Mueller report, Trump is still on the ropes, about to be impeached, a Russian agent, and so on. Trump is also a Nazi, racist, homophobe, Islamophobe, and sexist pig. Nobody likes him. At least that's what CNN says. If this was truly the case, Trump should be polling in the low 30s at best, with most of the country giving him and his administration a thumbs down on performance and results. Yet reality is far different.
Washington Post springs to the defense of serial groper Joe Biden. Joe Biden is in a lot of trouble, as editor Lifson points out today. Biden apparently kissed a woman without her permission, which is a serious offense in #MeToo land. There are also several photos of Biden with his arms around women, kissing them, kneading their shoulders — shouldn't he be arrested or something? But never fear, Uncle Joe. The Washington Post is riding to your rescue.
AP offers correction after reporting Beto O'Rourke spoke 'in his native Spanish'. The Associated Press faced backlash on social media Monday [4/1/2019] after writing that Democratic presidential candidate Beto O'Rourke spoke "in his native Spanish" at a rally in El Paso, Texas. Although O'Rourke speaks Spanish, he a fourth-generation Irish-American whose full name is Robert Francis O'Rouke. The AP report originally wrote: "O'Rourke also spoke at length in his native Spanish, eliciting loud and sustained cheers."
CNN Promotes and Celebrates Man Who Stopped ICE from Arresting Two Illegal Immigrants. A leftover from the weekend involves New Day Saturday, which somehow manages to have even lower ratings than it's weekday counterpart. CNN's Victor Blackwell and Christi Paul have a history of ridiculous immigration stories and unfairly attacking ICE. Just last year the dynamic duo defended a man that was deported back to Mexico. What they didn't mention was that he was wanted for murder. That might seem like an important detail to normal people but this is CNN we are talking about.
NBC News' Lester Holt 'went easy' on James Comey during interview on Mueller report, critic says. NBC Nightly News anchor Lester Holt "went easy" on former FBI Director James Comey during their Wednesday interview about Special Counsel Robert Mueller's report about Russian meddling, according to a media critic. [...] The interview that aired did not include any questions from Holt on the controversial anti-Trump dossier that helped spark the entire Russia investigation as well as the secretive Foreign Intelligence Surveillance Act (FISA) warrant that allowed the surveillance of Trump campaign official Carter Page. Holt also seemingly avoided Comey's admitted orchestrated leaking of memos of his conversations with President Trump to the media.
The Not So Soft Bigotry of Liberal Media's Racism. The liberal media were quick to pounce on the recent killings in Christchurch, New Zealand — loudly and frequently. This was to be expected as New Zealand is largely a white western culture, and therefore afforded "most favored status" among mostly white, mostly liberal, western media. The murders that occurred during the same period in Nigeria, although greater in number, were largely ignored because (1) the victims were black, and (2) worse, Christian blacks, and (3) worse still, African Christian blacks, so who cares?
Should we really have DACA kids ruling over us in Congress? Want a gander at some one-sided reporting? Take a look at what the normally centrist Roll Call has cranked out, openly advocating for congressional positions for DACA kids, who, along with other foreign nationals, are prohibited by law from assuming positions of governance in the federal government. Legal foreigners in Congress are required by law to be taking steps, at least, toward U.S. citizenship. DACA kids, who are here illegally but have the special privileges of DACA that other illegal aliens don't have, are not.
Matthews Bashes How House GOPers Dress, Longs for When There Were Fewer News Sources. After being away for two weeks that included a vacation to New Zealand, MSNBC's Hardball host Chris Matthews was in rare form on day two of his return, questioning the dress habits of Republican men on the House Oversight Committee for not being as formally dressed as he'd like and wearing scowls. Then later in the show, Matthews and liberal celebrity loon Rob Reiner complained about the lack of control news outlets have over the American people compared to the 1970s when there were only three network news outlets.
There Was Never Media Bias Before Fox News? CNN and MSNBC were all aglow after Jane Mayer wrote a snide article in The New Yorker magazine titled "The Making of the Fox News White House." The thesis was that Fox News and President Trump are very tightly aligned, starting with the fact that Fox News executive Bill Shine revolved from Fox into running the White House communications operation. [...] Mayer professed alarm on Morning Joe that this is "the closest we've ever had to state news in this country. We've really never had a whole national network like this... it's incredibly close with this White House." She said this with a straight face. Forget the journalists covering up FDR's disability, or JFK's debauchery. Never mind the "news" people who insisted that Bill Clinton would never sexually harass or rape a woman. [...] Mayer is proclaiming a dangerous level of media collusion on MSNBC, the network of Chris "Thrill Up My Leg" Matthews, the man who proclaimed in 2009 that his job was to support Obama: "I want to do everything I can to make this thing work, this new presidency work."
Jane Mayer and the Liberal State Media Attack Trump, Fox, Hannity. There is not the slightest sense of irony that in fact Mayer herself, not to mention the New Yorker, the magazine for which she writes, are members in good standing of the Liberal State Media. Which is to say she belongs to the world of liberal cable and broadcast networks, print outlets, all manner of Internet sites and, of course, Hollywood which individually not to mention collectively function as a self-selected version of Pravda ("Truth"), the once-official newspaper of the Soviet Union's Communist Party. The members of the Liberal State Media have one self-selected job, and one job only: they are in the Liberal Narrative business, relentlessly pushing into the media whatever is the liberal agenda of the day.
The Difference Between Newsweek's Reporting Of Smollett Hoax Vs. Conservative Activist Attacked On Video. Newsweek's initial coverage of the Jussie Smollett hate crime hoax and the alleged assault that took place Tuesday on UC Berkeley's campus drew skepticism Friday from many, though Newsweek defends its reporting as appropriately "cautious." [...] The way the article is written appears to confirm that the attack happened. The detail of the attackers screaming "praise to President Donald Trump," however, was left as uncorroborated. Now, the Chicago Police Department believes the entire attack was self-orchestrated by Smollett, and he has been charged with submitting a false report.
CNN Actually Tries To Defend El Chapo From Senator Ted Cruz's Plan To Use Drug Lord's Money To Build The Wall. CNN is a disgusting mess. Just when you think they can't possibly go any lower they manage to do just that. This time it was the news network's passive aggressive pushback against Senator Ted Cruz's brilliant idea to utilize the billions convicted drug kingpin El Chapo amassed to help pay for the southern border wall. El Chapo has contributed to countless murders, drug deaths, human trafficking, and on and on and on yet CNN would take his side over President Trump's desire to better protect U.S. citizens from animals like El Chapo.
Brit Hume Takes On NBC Reporter And Obama Adviser Over Kamala Harris Coverage. Fox News Senior Political Analyst Brit Hume took issue with the way several reporters covered the Kamala Harris campaign — and defended himself when NBC's Kasie Hunt and former Obama adviser Ben Rhodes fired back. It all began with a Saturday tweet from CBS political reporter Caitlin Huey-Burns, who posted a video of Harris trying on a rainbow-colored sequined jacket — apparently at the behest of CNN national political reporter Maeve Reston.
Female 'Journalists' Go Clothes Shopping With 2020 Dem Hopeful Kamala Harris. Female 'journalists' went shopping in South Carolina on Lady Street with 2020 Democrat darling Senator Kamala Harris (D-CA) on Saturday and even helped her pick out a sequin jacket to buy. CNN reporter Maeve Reston posted a video of Kamala Harris trying on the sequin jacket and bragged that fellow NBC reporter Ali Vitali named it the "Mardi Gras Jacket."
Democracy also dies in a boutique with Kamala Harris. Sen. Kamala Harris, who's running for president, has quite a back-up crew for her photo ops as she campaigns in South Carolina. The girls on the bus not only covered the news, they joined in the fun. A video posted by CBS News political correspondent Caitlin Huey-Burns shows her press buddy CNN correspondent Maeve Reston picking out a new jacket for Harris, the star of the show, to try on in front of a mirror in a South Carolina boutique. Squeals and giggles followed. As Harris staged a shopping trip with the cameras on, the whole chick moment, politicians and press united, was captured by Reston's buddy on Twitter. The women's vote is now assured!
CNN: Clothes Shoppers for the Rich and Famous. In 2016, Hillary was the candidate of the liberal press. Who will be the anointed candidate next year? Kamala Harris is a good bet. She features Hillary's leftist politics along with a "minority" look, probably a requirement in the next Democratic nominee. She is also considerably better looking than Hillary. So the press loves Kamala Harris. Can reporters take the affair too far? This morning, Harris went clothes shopping in Columbia, South Carolina — an early primary state. Reporters helped her try on clothes. Seriously.
CBS Attempts Rehabilitation of Virginia Governor Northam. Everything you need to know about this propaganda is obvious in the first few seconds of the interview with Gayle King: "I know this has been a very difficult week for you and the state of Virginia, so where would you like to begin..." Obviously there has been a great deal of planning and careful construct for this interview. CBS is openly attempting to rehabilitate Virginia Governor Ralph Northam. It becomes more obvious as you listen to Northam speak that: (a) he's an idiot; and, (b) whoever put him into office is not willing to lose their investment.
DC Paper Pairs Photo of Sen. Lindsey Graham With Headline Touting Most Eligible LGBT Singles. The Washington Blade put a photo of South Carolina Republican Sen. Lindsey Graham on the cover of this week's edition, along with a cover article titled "Meet D.C.'s Most Eligible LGBT Singles." The article, published online on Wednesday, listed 20 eligible singles of varying genders and orientations who had been nominated by readers. Graham was not mentioned in the piece at all, although President Donald Trump rated two mentions from the highlighted singles — one of whom told interested readers that Trump-voters need not apply.
CBS's Outrageous Cover Up on Behalf of Socialist Ocasio-Cortez. CBS News showed part of a cross examination by Alexandria Ocasio-Cortez on campaign finance laws. They cut off the rebuttal. The radical Socialist is trying to make her capitalist colleagues and all lobbyists into criminals with superficial questioning in her usual arrogant manner. The news outlet cut off the ending of the testimony. The dishonesty would be unbelievable but this is the U.S media today.
Who Is 'Far-Right'? Because liberal journalists consider any policy endorsed by Democrats to be mainstream, by definition, then by the same standard, any opposition to the Democrat agenda is inherently wrong and, as a corollary to this principle, any policy advocated by Republicans (e.g., actually enforcing U.S. immigration laws) is not mainstream. Once you understand how this works, you see why the utmost radicalism on the Left is entirely acceptable to the anti-Trump media. Consider, for example, the left-wing mobs who call themselves "Antifa." One of their D.C.-based leaders, Joseph Alcoff (a/k/a "Chepe") was recently arrested on 17 charges "in connection to the Antifa mob attack against two Marines in November." If any liberal journalist has branded Alcoff a "far-left extremist," I missed it.
Washington Post rushes to rescue Virginia Democrat from her late-term abortion debacle. If there's a Democrat in trouble, you can be sure there's a newsroom nearby, ready to clean up the mess. Take, for example, the energy that the Washington Post has dedicated this week to rehabilitating the image of Virginia Del. Kathy Tran. Tran became a viral sensation for all the wrong reasons after she unveiled a bill allowing for late-term abortions up to birth, even in cases where the mother is dilating.
Washington Post's National Political Correspondent Calls Trump Supporters 'Rubes'. A spokesperson at the Washington Post told The Daily Caller News foundation the following when asked about Weigel's remarks: "We do not think our reporters should be using derogatory terms to characterize anyone," and that the "matter is being handled internally," the spokesman said. Weigel's comments are just the latest example of the veteran reporter's history of injecting naked left-wing bias into his work. In 2010, Weigel was forced to resign from his first job at WaPo after The Daily Caller disclosed private emails from him to other reporters on the infamous "Journolist" listserv signaling strong animus towards conservatives.
Networks Give Roughly 15 Times More Coverage to Women's March Than March for Life. Despite what was a much delayed but important avalanche of headlines about the group's anti-Semitism, the 2019 Women's March took place Saturday and it still received nearly 15 times the broadcast network newscast coverage of the 47th annual March for Life that was held Friday [1/18/2019]. Between Wednesday morning and Saturday evening, the Women's March fetched 14 minutes and 26 seconds of coverage on the ABC, CBS, and NBC morning and evening newscasts. This stood in stark contrast to just 58 seconds for the March for Life.
All Three Networks Ignore 'March For Life,' Cover Pro-Abortion 'Women's March' Instead. On its 46th anniversary, all three major networks (ABC, NBC, and CBS) ignored the March for Life in Washington, D.C., the largest pro-life event in the nation, opting instead to cover the feminist Women's March rally. According to LifeNews, despite an estimated 100,000 people being in attendance at the pro-life march along with President Trump's address to the crowd via video, the left-wing machines could not so much as "give a passing mention to the March for Life" during the Friday morning [1/18/2019] shows.
CNN's John King criticized for question about Karen Pence's Secret Service protection. CNN anchor John King was criticized after raising a question on Friday about second lady Karen Pence and her Secret Service protection. King was leading his "Inside Politics" panel discussion about the second lady's teaching gig at a Virginia school that does not permit gay men and lesbians to be teachers, and Vice President Pence's recent comments that criticism of Christianity is offensive, when the host raised eyebrows.
We the Press. Frank Bruni, formerly the New York Times's White House reporter and now a columnist for the paper, has a long, long op-ed that is unintentionally revealing. It is headlined, "Will the Media Be Trump's Accomplice Again in 2020?" As though the press were pro-Trump in 2016! "We have a second chance. Let's not blow it." A second chance to help a Democrat beat Donald Trump. Bruni's piece displays a remarkable lack of self-knowledge. Republicans should be happy to note that he still has no idea why Trump won in 2016: he thinks Hillary was a fine candidate, and it was the press's fault for not being sufficiently anti-Trump.
Stupid New York Times tricks. An obituary the New York Times recently published illustrates how averse that journal is to giving credit to Donald Trump for anything good, while maintaining a claim on journalistic integrity.
Cream puff journalism: CBS's 60 Minutes 'interviews' Alexandria Ocasio-Cortez. In an example of journalism used to conceal, rather than expose, truth, CBS's 60 Minutes can stand up and take a bow for its mother of all puff pieces on New York's newly elected socialist congresswoman, Alexandria Ocasio-Cortez. Cream puff journalism at its finest. [Indeed], it was a campaign ad. Or call it a belated campaign contribution, because it was anything but hard-hitting.
Media get their dream House: Press celebrates Democrats' 'triumphant' return to power. The media finally got the fun House they wanted — run entirely by Democrats. And their arrival made journalists nearly scream in PC glee. They've been fighting President Donald Trump all alone for two years. The arrival of Speaker Nancy Pelosi and liberal media darlings like Alexandria Ocasio-Cortez set off a veritable House party in the press. They now have powerful allies who will do what they want — attack Trump. It was "a triumphant return to power" for new House Majority Leader Nancy Pelosi, "a new era" and "an earthquake in Trump world." CNN even called it "girl power" and pretended she was reaching out in a "non-partisan" way to "women of all parties." The network actually took her out to her native Baltimore to get ice cream from her favorite ice cream shop.
Where Was The Media Outrage When 18 Migrants Died In Custody Under The Obama Administration? Over Christmas, there was another tragedy at the border. An eight-year-old migrant boy died while in the custody of the Border Patrol. It's horrible. It's not something that anyone wants in these situations, but U.S. immigration authorities didn't murder the child, which is heavily insinuated if not suggested by members of the liberal media. We have some folks going off half-cocked saying we have full-blown concentration camps under the Trump presidency when it comes to border enforcement. It's straight up insanity. [...] Once again, we have to take liberal media by the hand to show that much of what Trump is doing at the border is what the Obama administration did. The Obama administration shot tear gas at migrants at the border, they separated children from adults at the border, and guess what; migrants died under the custody of U.S. immigration officials.
CNN's Brooke Baldwin embarrasses herself with Ruth Bader Ginsburg idolatry. Ruth Bader Ginsburg is being beatified by the media establishment of the United States, and it is getting nauseating. With Justice Ginsburg ailing and liberals fearing that the Supreme Court may soon feature a robust conservative majority, the American Left is aghast at the prospect of a return to following the Constitution as written. Having achieved many of its social change goals through judicial fiat, the loss of a progressive majority able to impose its preferences on the public is downright frightening to leftists. One response is to enshrine Justice Ginsburg as some kind of holy person, someone whose decisions must be honored as sacred. The idea of the Senate confirming a justice who might disagree with Ginsburg must become anathema.
The Worst of MSNBC in 2018. Nicolle Wallace hoped she wouldn't jinx Andrew Gillum in Florida and wondered how an NBC reporter resisted wringing Sarah Huckabee Sanders' neck at the podium. Steve Schmidt declared Russian election interference and potential collusion with Trump to be perhaps the "greatest crime in American history" and found plenty of things to be vile and disgusting. Malcolm Nance said the Russians had successfully brainwashed the American public into welcoming an invasion, which Brian Williams said was some "scary stuff." Donny Deutsch said Brett Kavanaugh would never reach the Supreme Court. Lawrence O'Donnell called the U.S. Senate an "unfixable crime against democracy" because it confirmed Kavanaugh.
Fox News' Shepard Smith Offers Full-Throated Defense of Hillary Clinton. Fox News anchor Shepard Smith scoffed at comparisons between the FBI's treatment of Hillary Clinton with their treatment of former Trump National Security Adviser, Michael Flynn. And he did so by disparaging the reporting of one of the network's most respected investigative journalists, Catherine Herridge.
Chuck Todd, Lord of the Flies? So, according to the not inimitable Chuck Todd, those of us who voted for Trump are "gullible." That we are stupid goes without saying. Trump "tricked Hillary into responding to non-issues while stupid voters took care of the rest on election day." Todd went on to say "I knew the gaslighting was out there.... but I think there was part of me in my head that assumed people were discerning it out, knew the BS from the non-BS." This from the allegedly "articulate" Chuck Todd. Clearly he is not the sharpest knife in the drawer. He did not major in journalism or even English — that is obvious. He majored in political science, and never graduated. How he ended up as a news anchor on NBC is a "riddle wrapped in a mystery inside an enigma." He is just another leftist ideologue posing as a journalist; like George Stephanopoulos, Chris Matthews, Tom Brokow, et. al. Ninety-five percent of those who pretend to deliver news to the American people are left-wing activists who consider it their honor and duty to tell the rest of us how to think. As Todd so freely opined at the "Recode Decode" podcast this week, they somehow failed to educate us illiterate morons who voted for Trump.
Like Drug Addicts, Reporters Demean Themselves For Just One More Trump Story. But, it's not enough. It's not getting them the high they want. The high they crave. The traffic, the clicks, the views, the response... none of it is the same. There's gotta be a stronger dose somewhere. So, when it comes time to cover the funeral of the former president, they seek out something stronger. Trump is sitting by the Obamas and the Clintons! He's not reciting the Creed! He is doing this or not doing that! And in the process, the funeral is no longer about George H.W. Bush. It is about Trump. It's wrong. They know it's wrong. They can't help themselves, though. They are addicts.
Return to civility means surrender to the Democrats and media. President Bush was a gentleman, a war hero, and courteous and civil to his political opponents. But his opponents, Dems and the media, were not civil to him, nor were they civil in their opposition to Bush's policies and nominees. The media must have forgotten the vicious attacks upon Bush's nominee, Justice Clarence Thomas, led by those paragons of virtue and civility, Senator Ted Kennedy and Joe Biden, which attacks were worse, if possible, than the attacks by Kennedy and Biden upon Judge Robert Bork. The media have forgotten the vicious false attacks upon Justice Kavanaugh two months ago, which surpassed the attacks on Thomas and Bork. Civility is a one-way street in favor of the Democrats. In 1992, the Dems nominated a lying, draft-dodging sexual predator, assisted by his corrupt wife, and proceeded to call President Bush a wimp. The Dems called President Bush's son, George W. Bush, stupid, evil, Hitler, a loser, etc.
An activist pretending to be a journalist:
Jorge Ramos: US Has Responsibility to 'Absorb' Caravan Migrants. Univision anchor Jorge Ramos said on Monday [11/26/2018] that America has a responsibility to "easily absorb" the caravan migrants and claimed it can do so "without significant economic consequences." "It's not an invasion. The U.S. can easily absorb these refugees without significant economic consequences. Many countries in the world help the 65 M people who are displaced," Ramos claimed in an Instagram post. "And the most powerful nation in history also has responsibilities. We simply have to do our share."
Elites Value Mellifluous Illegality over Crass Lawfulness. Obama defies the Constitution but sounds 'presidential.' Trump follows it but sounds like a loudmouth from Queens.
Media Begin Full Propaganda Push to Create Victim Narrative around Migrants. With the reality of hundreds of central American migrants attempting to overwhelm the U.S. southern border by force; and after weeks of denying the migration horde were a threat to U.S. immigration and national sovereignty; the media narrative engineers need to quickly respond with manufactured victim optics. With a migration force consisting of 95% military-aged males, the media photo journalists, aka. 'optical narrative engineers', desperately seek out pictures of the few women and children to accompany their print propaganda.
The Escalating Assault on Citizen Journalism. This past week, the progressive establishment attempted to silence two more independents. In the first case, Twitter and Facebook conspired to deny the audacious 25-year-old journalist Laura Loomer her rapidly growing audience. In the second, Special Counsel Robert Mueller lowered the boom on Jerome Corsi, a 72-year-old Harvard Ph.D. An all too typical headline this week from ABC News — "Conspiracy theorist becomes key figure as Mueller builds case" — delegitimizes Corsi even before the article begins. Corsi is not a journalist; he is a "conspiracy theorist." The media are not opposed to conspiracy theorizing in general — Michael Moore did win an Oscar — but rather to theorizing that has the potential to harm the progressive establishment.
Saint Michelle Cashes in, Big Time. Michelle Obama has a new memoir out called "Becoming." Add two words: "Very Wealthy." The Obamas struck a $65 million book deal for his-and-hers memoirs, and next to it is their $50 million production deal with Netflix. They are set to cash in to the tune of hundreds of millions of dollars. One outlet has called them a "billion-dollar brand." None of their media sycophants find this the tiniest bit controversial. They are the royal family. They cannot possibly be compensated enough. (President Trump's wealth? Wealth generated by a lifetime of work in the private sector? Unacceptable.) Mrs. Obama's interviews — entirely with women, and mostly black women — are servile in every "objective news" venue and even worse during TV promotional pit stops. Ellen DeGeneres aired a sappy tribute video stuffed with adoration and proclaimed that Obama is "a human being that we all look up to." She said, "you inspire all of us. So, we put together a little something for you to just show you how amazing you are."
Ellen Puts Together Liberal Media Montage to Hail Michelle Obama's 'Amazing Impact'. During her fawning one-hour show devoted to promoting Michelle Obama's new memoir on Thursday [11/15/2018], daytime host and Democratic activist Ellen DeGeneres put together a montage of liberal journalists showering the former First Lady with adoring coverage throughout Barack Obama's administration. DeGeneres told Mrs. Obama that the purpose of the sycophantic video was to celebrate her "amazing impact."
Former Senior Ohio Lawmaker Arrested for Murder of His Estranged Wife, Media Plays 'Guess the Political Party'. A former senior Ohio lawmaker who had served as assistant minority whip in the Ohio legislature was arrested this past weekend for the murder of his estranged wife. He had previously served nine months in state prison for assaulting her in 2014 while a common pleas judge in Cuyahoga County — a position he had been appointed to by then-Gov. Ted Strickland (D). But would you ever know that Lance Mason was a Democrat? Not if you relied on the media reporting.
How the AP covers your dubious election dispute pretty much depends on whether you're a Democrat or a Republican. The language we use to cover news events says a great deal about our editorial judgment. And the Associated Press' handling of the long-shot recount efforts in Georgia and New Mexico says its judgment needs serious reconsideration. In the Peach State, Democratic House Minority Leader Stacey Abrams is hoping against hope that her recount efforts will upend the results of the state's gubernatorial election, taking away Republican Georgia Gov.-elect Brian Kemp's victory. On Friday [11/16/2018], the AP covered Abrams' campaign to overturn the election results with a headline that reads: "Abrams prepares push for new Georgia Gov. vote." In New Mexico, Republican state Rep. Yvette Herrell is hoping against hope that her efforts to impound ballots will upend the results of the race in the state's 2nd Congressional District, taking away Democrat Xochitl Torres Small's narrow victory. Here's how the AP characterized Herrell's attempts to overturn the results of the House race: "Republican Refusing to Concede US House Race, Questions Vote."
Media continue to play the race card even after the election. The media and other Democrats seem to think that they are entitled to win every race where they have a minority candidate. Otherwise, the voters are racists. The following AP story and Washington Post opinion piece are clear examples of how the media continue to play the race card. President Trump referred to failed Florida gubernatorial candidate Andrew Gillum as a thief because he improperly took gifts, and somehow that is racist? And Trump calls losing Georgia gubernatorial candidate Stacey Abrams incompetent, and somehow that is racist? Trump has called white politicians from both parties much worse than thieves and incompetent, so it is truly pathetic that the media and Democrats play the race card.
NBC Already Pushing Dem Losers as 2020 Contenders. Only hours after the midterm elections, on Wednesday morning [11/7/2018], NBC's Today show was already looking to the 2020 presidential campaign, eager to discuss which Democrats were "getting serious about taking on President Trump." In addition to some of the usual names, the report also touted Democrats who went down to defeat on Tuesday as "future stars" of the party. Declaring that "the countdown does start today" for the 2020 presidential election, White House Correspondent Kristen Welker wondered: "The question now, who is getting serious about taking on President Trump?"
Our "Unbiased" Media at Work. I wish we had had more time to cover the Senate campaign of John James in Michigan, in his uphill battle against incumbent battleaxe Debbie Stabenow. James, a military veteran, has run a spirited campaign, though I don't think he has received much support from the national GOP. In any case, below is the voicemail of a newspaper reporter who called James's campaign office to ask for an interview, but who apparently didn't disconnect properly, and went on to show how "objective" and "unbiased" she is.
Michigan Reporter Calls Senate Candidate John James Voicemail, Accidentally Didn't Hang Up. As much as this is hilarious to hear, there is also a serious aspect. Republican candidate John James is in a close race in Michigan with incumbent Senator Debbie Stabenow. A reporter named Brenda Battel from the Huron Daily Tribune calls Michigan Senate Candidate John James to schedule an interview. She leaves a voicemail with the details of her request, then accidentally didn't hang up the phone correctly; so the recording continues to pick up her comments.
Reporter Fired After [Being] Caught on Tape Disparaging GOP Michigan Senate Candidate John James. Huron Daily Tribune reporter, Brenda Battel was caught on tape disparaging GOP Senate candidate John James when she called his campaign looking for an interview and thought she hung up the phone after leaving a voicemail. Brenda Battel was fired from the Huron Daily Tribune Monday night [11/5/2018] after her Editor heard the voicemail.
Tribune fires staff writer. The Huron Daily Tribune has issued a statement Monday evening after the newsroom management heard a voicemail left by one of its staff writers to Republican U.S. Sen. Candidate John James. In the voicemail, Brenda Battel requests an interview with James, who is running against Incumbent Debbie Stabenow. Battel then unsuccessfully disconnects the phone, and is heard saying inappropriate comments about the candidate and the race.
CNN's Existential War With Trump. It may be unwise or monotonous for President Trump to harp on CNN as a purveyor of "fake news." And the constant refrain "enemy of the people" should not be used of a media outlet, even one as prejudicial as CNN. Yet Trump's obsessions with CNN are largely reactive, not preemptive. After just 100 days in office, before his own agendas could even be enacted, the liberal Shorenstein Center at Harvard reported that 93 percent of CNN's coverage of the Trump Administration was already negative. Just one in every 13 CNN stories proved positive. That radically asymmetrical pattern (shared by NBC/MSNBC) had never been seen before in the history of comparable media analytics. No one at CNN sought to explain the imbalance, leaving the impression that the news organization had more or less joined the progressive opposition.
'Fact Checkers' at Snopes Attempt to Bail Out Stacey Abrams from Armed Black Panthers Story. The so-called "fact checkers" at Snopes have reached out to Breitbart News in an openly partisan attempt to wash away the story of armed members of the New Black Panther Party campaigning for the Democrat gubernatorial candidate in Georgia, Stacey Abrams. Over the weekend, Breitbart News — among other media outlets — published explosive photographs of armed Black Panthers campaigning for Abrams, holding up her campaign sign while also holding up various guns. In the story, Breitbart News included a quote from the campaign of her GOP opponent, Brian Kemp, calling on her to denounce the radicals campaigning for her.
ABC Anchor: 'Trump Is So Unpopular,' 'Why Is This Not a Blowout?' With just two days to go until the polls closed on the midterm elections, Republicans were working hard to get out their base and liberal media were working hard to get out the Democratic Party's base. During the Sunday [11/4/2018] edition of ABC's Good Morning America, they touted President Trump's job approval rating slipping to 40 percent. Despite that good news to them, co-anchor Dan Harris was seemingly dismayed as he turned to Clinton lackey George Stephanopoulos, asking: "why is this not a blowout?" Stephanopoulos gave Harris a couple of reasons for why Republicans were still in the game this close to Election Day. First, was that "the economy is doing very, very well". Although, Stephanopoulos downplayed the U.S.'s 3.7 percent unemployment rate, suggesting it was the lowest rate in years rather than decades. He also failed to note the 3.1 percent bump to wages.
Is It 'Hate Speech' to Tell the Truth? CNN has spent the past few days insinuating that the gunman who murdered 11 people at a Pittsburgh synagogue was incited to this act by President Trump. Republicans are not allowed to object to CNN's one-sided coverage, however, because Florida madman Cesar Sayoc also hated CNN, and therefore anyone who criticizes the network is deemed a potential threat to public safety. Between the Pittsburgh shooter and the Florida bomber, basically anything said in favor of Republicans (or against Democrats) is now considered "hate speech" in the eyes of liberals. This is especially the case when it comes to immigration.
What's the point of citizenship anymore? Turn on CNN, MSNBC, ABC, CBS, or any of the other alphabet mainstream networks on any given day, and you'll start to wonder what the point is of being a legal citizen in the U.S. anymore. Mainstream media have been clamoring for open borders ever since Trump entered the White House. Now places like San Francisco want to give illegal aliens the right to vote in our elections. What's the point of citizenship if your vote is canceled out by the vote of an illegal alien? And that's only part of the bigger immigration picture we're facing in our nation right now.
When Media Foist False Narratives to Sow Social Discord, They Indeed Are the Enemy of the People. A maniacal dirtbag murdered eleven Jews in Pittsburgh. In time, perhaps after a decade or two of ACLU appeals, he will be electrocuted, injected, hanged, or hopefully all three. The dirtbag hated Jews, and he likewise hated President Trump. President Trump responded to the news immediately with profoundly sensitive and healing words aimed at condemning anti-Semitism and at comforting and consoling the Jewish community. [...] And then came the sowers of social discord to destroy the moment. The Left Media would not allow the President that moment to heal and unify. Instantly, they brought in one Left-Democrat anti-Trump "analyst" after another to blame Mr. Trump for the attack. They never blamed President Jimmy Carter's anti-Jewish rhetoric for the 1977 Brith Sholom Kneseth Israel synagogue shooting in St. Louis. Nor Bill Clinton for the 1994 Brooklyn Bridge shootings of yeshiva students that included the murder of Ari Halberstam. Nor Clinton's rhetoric for the 1999 Granada Hills Jewish Community Center shooting in Los Angeles. Nor Obama for the deadly 2009 Holocaust Museum shooting in Washington, D.C. Nor Obama for the 2014 Overland Park Jewish Community Center shootings in Kansas City that murdered three. But this time — with the same social dynamics as the others — they tried blaming the President. By sowing social discord with outright absolute falsehoods at a time that called for healing, the Left Media indeed were acting as enemy of the people.
A Tale Of Two Acts Of Political Violence — And Proof Of Media Bias. There have been two major acts of political violence over the past year and half. One by an ardent supporter of President Trump. The other by an ardent supporter of Bernie Sanders. How the press covered these two stories tells you all you need to know about media bias.
Steve Scalise Calls Out CNN's Don Lemon for Denying Left-Wing Political Violence. Rep. Steve Scalise (R-LA) called out CNN's Don Lemon Tuesday [10/30/2018] as the anchor downplayed left-wing political violence. Steve Scalise simply posted the "eyes" emoji and linked to a story from National Review about Don Lemon saying he doesn't "see Democrats" killing people over politics.
Media Calls The Shooting Up Of A Republican HQ "Vandalism". I want to be clear going into this article that any destruction or violence visited upon anyone or any place is wrong. What's also wrong is dismissing the shooting up of a GOP headquarters, as if someone just spraypainted dirty words in the night and ran. The Volusia County's Republican Party headquarters in Florida was shot at sometime in the night between Sunday and Monday morning. Luckily, no one was in the building due to it happening so late at night. Unlucky is the fact that no one was around to see who pocked the walls and ceilings with bullets.
A Stark Raving Mad Conspiracy So Vast. In the editorial offices of the New York Times, the Washington Post, NBC and CNN, nearly every story must somehow be shoehorned into a political framework; every metaphor and simile must include a slighting reference to the president or "Trump's America." Thus, on the front page of the digital edition of the Times as I write, the lead story about the bombs includes this teaser: "Mrs. Clinton, Mr. Obama, Mr. Soros, and CNN are all favorite targets of conservatives, with some of the attacks led by President Trump."
AP Changes Headline After Liberals Complain About Describing Illegal Caravan As 'Army Of Migrants'. The Associated Press on Sunday changed a headline after a backlash from liberals furious at the AP for describing a caravan of illegal immigrants heading towards the United States as an "army of migrants." "A ragged, growing army of migrants resumes march toward US," read the original headline on the AP story. The AP later changed the headline to replace the word "army" with "caravan." Though the AP has used the word "army" to refer to large groups of people besides migrants — including nurses and political activists — many on the political left criticized the wire service for its original headline.
The Editor says...
When conservatives complain about media bias, nothing changes. When liberals complain, headlines change overnight.
CBS Prime-Time Shows Honor Hillary. Hillary Clinton isn't president, but Hollywood is offering the biggest consolation prize it has: working her into TV plots where she can be toasted as wise and wonderful. Within the first two weeks of the fall season, CBS has done this twice.
Liberalism: An Intrinsically Uncivil Ideology. [Scroll down] Notice that the same media burbling over the Hillary-Holder call for a suspension of civility until liberals claw back to power tut-tutted Kanye West's remarks on Thursday [10/11/2018] in the Oval Office. [...] It was all too much for them. MSNBC's Stephanie Ruhle, whose maturity level is roughly that of an elementary school student, declared Kanye West's presence in the Oval Office a degradation, though surely his high-spirited if rough remarks soiled that august office less than the pastimes of one of her favorite presidents, Bill Clinton. The media's meltdown over Kanye's trip to the Oval Office reflects nothing more than its horrified realization that Trump is eating the left's lunch, poaching more and more voters from once-monopolized lib constituencies. Apparently Kanye West is supposed to check with the central office of the Left's Ministry of Truth before opening his mouth. Anything less is "surreal," according to the media.
Herschel Walker calls for CNN to fire Don Lemon over 'racist' Kanye West criticism. Football legend-turned-activist Herschel Walker is calling for CNN to fire Don Lemon after the "CNN Tonight" host laughed when rapper Kanye West was referred to as "the token negro of the Trump administration" during a segment that aired Tuesday night [10/9/2018]. The segment — which has been slammed as "racist" — began with Lemon asking if President Donald Trump is simply "using Kanye as a prop to win over black voters before the midterms." CNN political commentator Bakari Sellers responded with a jab at West. "Anti-intellectualism simply isn't cool," Sellers said. "Kanye West is what happens when Negros don't read."
Don Lemon mocks 'minstrel' Kanye West. Not satisfied with presiding over a panel that called Kanye West an illiterate "token Negro," CNN host Don Lemon went on a rant Thursday [10/11/2018] in which he said the rap star was a mentally unbalanced "minstrel" being exploited by whites. In a segment Thursday on his network's "The Situation Room" show, Mr. Lemon also said that every black person watching Mr. West's White House appearance earlier in the day was "cringing."
The Editor says...
It's nice of Don Lemon to speak on behalf of "every black person," but isn't he supposed to check with Jesse Jackson first?
Confirmation bias: Brett Kavanaugh and the major media's worst moment. We are now at the unsuccessful conclusion of a four-week-long effort by certain media organizations to prove Supreme Court Justice Brett Kavanaugh is a violent sexual predator and a lying alcoholic. The reckless and grossly irresponsible scramble by the New Yorker, NBC News, the New York Times, and others to make Kavanaugh into a monster produced some of the worst journalism of the Trump era to date — and that's a pretty high bar. There were plenty of minor fouls, including when the Times assigned a news story on Kavanaugh to a magazine opinion writer who openly opposed his nomination. Others were much greater, including when NBC published an anonymously written letter alleging (with zero corroboration) that Kavanaugh was observed by an anonymous woman in 1998 to have pushed another anonymous woman.
NBC Excited by Michelle Obama's Get Out the Vote Push for Democrats. On Thursday [10/11/2018], before conducting an exclusive live interview with former First Lady Michelle Obama, Today show host Savannah Guthrie enthusiastically reported on Mrs. Obama's "work inspiring others" being "far from over" as she launched a get out the vote effort to help Democrats ahead of the midterm elections. After touting Obama as "a champion for the American people" during her time in the White House, Guthrie gushed that the former First Lady was "still having viral moments outside of it." As examples, the anchor highlighted Mrs. Obama "officiating a wedding in Chicago" as well as her and the former president "taking on the title of producers, signing a deal with Netflix."
NBC's Ken Dilanian: North Dakota, New York Having Same Number of Senate Votes 'Has to Change'. Ken Dilanian, a reporter for NBC News, tweeted on Monday [10/8/2018] that the idea of North Dakota and New York having the same amount of senators "has to change" because of the confirmation of Justice Brett Kavanaugh to the Supreme Court. "It may not happen in our lifetimes, but the idea that North Dakota and New York get the same representation in the Senate has to change," Dilanian tweeted, linking to a Washington Post article about the confirmation of Kavanaugh.
Media Mangles Its Duty to Question Ford. A reasonable, objective, establishment media would have spent far more time than it has in delving into Dr. Christine Blasey Ford's background and credibility, and her veracity under oath — especially if they think it relevant to endlessly parse Brett Kavanaugh's high school yearbook, jokey memos about Beach Week, and collegiate throwing of ice from a barroom glass. Granted, there is an important line, not to be crossed, between rational examination of relevant information and, on the other hand, blaming or bullying the putative victim. Yet the examination must be done. The accused cannot be automatically assumed to be guilty. This isn't just a legal principle, but a moral one. A false allegation, even if it never reached a court of law, can ruin reputations and even lives. Yet most of the media has acted as if the only one whose veracity and character are legitimate grounds for investigation is the one accused of heinous acts.
NBC station fires reporter for wearing MAGA hat while covering Trump rally. A television reporter in southern Minnesota might need a new hat saying "Make Me Employed Again." James Bunner, a multimedia journalist for NBC affiliate KTTC-TV in Austin, was fired Friday [10/5/2018], reportedly for wearing a "Make America Great Again" hat while covering President Trump's rally in Rochester on Thursday. As the rally got underway, images of Bunner wearing the bright red hat began appearing on Twitter.
Is there even a single decent Democrat in Congress? Now we know for sure. There is not a single decent person among the Democrats in Congress. Because not one Democrat has had the fortitude to stand up and admit that what they are doing to Judge Brett Kavanaugh is obscene and grossly indecent, we must admit that there is not one of them with the moral sense to know that destroying a man for politics is wrong. It's not only wrong, but depraved. Not one Democrat member of the Senate, not one in the House. Those on the Judiciary Committee are particularly venal. Not one among the 95% of the leftist media has come to Kavanaugh's defense. Instead, they too are on a mission to ruin his life and keep him off the Supreme Court. They do not report the many inconsistencies in Christine Blasey Ford's vague account of her alleged encounter that effectively render it a lie. NBC never even mentioned Rachel Mitchell's report because it so seriously undermines Ford's narrative. It is doubtful there ever was such an incident.
'Kill Kavanaugh' Tops Twitter Search and Hashtag Suggestions. Typing "kill" into Twitter's search function currently returns a shocking result at the top of its search suggestions: "#KillKavanaugh." It's also currently the third autocompleted suggestion in searches for "ki" and the fourth suggestion in searches for "k" as of this writing. That's right — by typing a single letter into search, Twitter is suggesting that its users might be interested in a hashtag about the murder of a federal judge and SCOTUS nominee.
Chris Cillizza: Cory Booker's Groping Incident Is Totally Different, You Guys. CNN's Chris Cillizza is worth reading because he often presents, albeit sometimes unintentionally, the unspoken assumptions of the mainstream left, including most journalists. Today's Cillizza column is like a master's class in unacknowledged bias. Before we get to Chris, you may have heard that Judge Brett Kavanaugh has been accused of sexual assault. The incident allegedly happened back when Kavanaugh was in high school. You may not have heard that Senator Cory Booker also groped a woman when he was about the same age. How do we know? Because Booker wrote about the incident himself for the Stanford Daily.
Mutliple [sic] Outlets Passed On Second Kavanaugh Accusation, So Why Did The New Yorker Run It? This, to me, is an amazing revelation. [...] The three major outlets declined to do anything on the story. In a follow-up tweet, Yashar Ali notes that Deborah Ramirez, Brett Kavanaugh's second accuser, apparently would not talk to the Washington Post or the New York Times. But, she would talk to... the New Yorker? That's a pretty weird call.
Pop culture blackout: Melania Trump missing from magazine covers, TV appearances. Few first ladies have been more prepared for their close-ups than Melania Trump. Yet the former model has not graced the cover of Vogue, Glamour or Cosmopolitan during her husband's first 20 months in office. Neither has she yukked it up with Stephen Colbert, Jimmy Kimmel or other late-night TV hosts. That's a huge missed opportunity for the Trump White House, says Lauren A. Wright, lecturer in politics and Public Affairs at Princeton University. Others insist Mrs. Trump's low pop culture profile smacks of media bias that extends to other women in the Republican administration.
CNN Gives Virtually No Air Time to Pro-Kavanaugh Evidence. Last night [9/18/2018], two of Supreme Court nominee Brett Kavanaugh's high school classmates, each named by accuser Christine Blasey Ford as witnesses to the 1982 assault she alleges Kavanaugh committed, issued public statements flatly denying that they saw anything even resembling Ford's story. Yet today, CNN viewers have barely heard a peep about these denials, even as the Kavanaugh story dominates their on-air coverage. From 4:00 a.m. to 2:00 p.m. Eastern, CNN spent 3 hours and 23 minutes talking about the Kavanaugh controversy, but only about eight minutes of that were devoted to passing along these confirmations of Kavanaugh's denial. Former classmate Mark Judge, who was named by Ford as being in the room during the alleged assault, communicated his denial to the Senate Judiciary Committee on Tuesday: "I have no memory of this alleged incident.... I do not recall the party described in Dr. Ford's letter. More to the point, I never saw Brett act in the manner Dr. Ford describes."
Why aren't there ever any dire predictions for Democrats ahead of elections? We get continuous warnings that Republicans are going to get trounced in the midterms this fall, not because of Republican policies, but because people just don't like President Trump. We were told that Republicans would get trounced in 2016 because people just didn't like Trump and he would drag the party down. On Monday [9/17/2018], there was an article by the Associated Press that pushed that Democrat narrative.
Media convict Brett Kavanaugh and GOP on grounds of being white males. The media want you to believe the deck is stacked against Christine Blasey Ford and that the Senate Judiciary Committee should break its back accommodating her lawyer's every wish to get her to testify next week — but the media have already stacked the deck against the accused, Judge Brett Kavanaugh. Kavanaugh, the Supreme Court nominee who Ford has accused of attempting to drunkenly rape her when they were teenagers, is the one coming into next week with two strikes against him: He's white and a man. The national discourse, still largely controlled by the national media, is now entirely dictated and dependent on who has the "privilege" and who can claim victimhood.
Washington Post Chronicles Hardships of Iowa's Immigrants in Wake of Mollie Tibbetts' Murder. In the wake of 20-year-old college student Mollie Tibbetts' alleged murder by an illegal alien, the Washington Post profiled the small community of Brooklyn, Iowa, which has been shaken by the crime, focusing primarily on the hardships of the town's immigrants.
CNN'S Love Letter for 'RBG'. If CNN really wanted to brand itself as a "Facts First" news channel, why did it promise to air a gushy documentary about fiercely feminist Supreme Court Justice Ruth Bader Ginsburg on Labor Day weekend? In case you didn't know, this film is actually a production by "CNN Films," founded in 2012 to offer "distinguished, thought-provoking documentary programming to audiences on CNN's platforms around the world." CNN's film "RBG" first premiered at the Sundance Film Festival in January, where the media fawned all over it, and her. Entertainment Weekly oozed: "Forget movie stars. The hottest celebrity at the Sundance Film Festival this weekend was Supreme Court Justice Ruth Bader Ginsburg." Ginsburg's apparently iconic line is "All I ask of my brethren is that they take their feet off our necks." That's an interesting line for the abortion-on-demand feminists.
Apparently, Corrupt Democrats Are Not 'News'. On Aug. 8, Republican congressman Chris Collins of the Buffalo, New York, suburbs was indicted for insider trading and lying to the FBI. ABC, CBS and NBC played this story to the hilt, with 18 minutes and 24 seconds of coverage in just the first 24 hours, according to the Media Research Center. [...] On Aug. 21, prosecutors indicted California Republican Congressman Duncan Hunter on charges of wire fraud and campaign finance violations. The morning and evening newscasts on ABC and CBS spent a total of 4 minutes and 44 seconds covering the story in the first 36 hours.
96 Percent of Google Search Results for 'Trump' News Are from Liberal Media Outlets. Is Google manipulating its algorithm to prioritize left-leaning news outlets in their coverage of President Trump? It sure looks that way based on recent search results for news on the president. Conservatives and Trump supporters have for the last several years questioned whether Google was deprioritizing conservative news sites, hiding them from users who utilize their search engine. Google has maintained that all outlets are treated fairly, but nevertheless, conservative sites have reported reduced search traffic and, in the case of Google-owned YouTube, content creators have been banned and demonetized. Google's high-profile firing of conservative James Damore, purportedly over his conservative political views, only reinforces the idea that Google is picking winners and losers.
Who Watches the Media Watchdogs? Who was it that told America Al Gore won the 2000 election? Who told us the Fort Hood shooter wasn't an Islamist terrorist? Who told us a meek and mild Michael Brown was shot with his hands up, begging to surrender? Who told us CAIR, the Muslim Brotherhood front in the U.S., is a "civil rights organization"? Who is still telling us that after 9-11, there was a violent "backlash" against Muslims in America? Who told us climate change is settled science? Who ducked the story about abortionist Kermit Gosnell's Philadelphia slaughterhouse? Who told us all the troubles in the Middle East are caused by Israel? Who told us that Robert Mueller's list of indictments proves Trump colluded with Russia? Who told us it was Trump who initiated the "policy" of family separation at the southern border? Who ran a fake magazine cover to show Trump looming over a crying Honduran toddler?
Flashback: When the Media Didn't Care About a President's Criminal Friends. It's always big news when a former associate of a President goes on trial, right? Well actually no. When Bill Clinton's Whitewater business partners Jim and Susan McDougal and the former Arkansas Governor Jim Guy Tucker were tried (and convicted) for conspiracy and fraud charges the Big Three (ABC, CBS, NBC) evening news programs devoted (on average) just 36 seconds per night (March 3, 1996 - May 29, 1996) to the trial. This despite the fact that the then-sitting President offered video testimony during the court proceedings. In contrast, the trial of Donald Trump's one-time campaign manager Paul Manafort — for charges in a tax fraud case that had nothing to do with President Trump or alleged Russian collusion — averaged 2 minutes and 18 seconds per night (July 31 - August 21) on those same evening programs. This was at a rate almost 4x higher than network coverage of the 1996 trial.
NBC News Spins Fantasy Yarn To Try To Save Bill Nelson From Himself. Florida Senator Bill Nelson is in a tough fight for reelection against incumbent governor Rick Scott. A few days ago, for reasons that aren't all that clear, Nelson claimed that the Godless Russkies had penetrated the Florida election system and were plundering about unimpeded. The implication was clearly that they were going to steal the election in favor of the well known Russian stooge opposing him.
A Compilation of DNC Media Collusion & Complicity. When articles pushing the Russia-Trump narrative are presented in sequential fashion, the media's complicity practically leaps out. What you may have suspected suddenly becomes transparent. With knowledge and hindsight, older articles provide new clarity and unexpected insights. A compelling story emerges when viewed as a timeline. A story quite quite different than originally intended.
The left's enforcers: CNN sues to reveal names and addresses of Manafort jurors. Less than a week after making a stink about freedom of the press, President Trump, and "enemies of the people," CNN and apparently other news outlets have decided to get into the harassment business, given that reporting news is just not good enough for them. [...] So now they've gotten into the jury-tampering business. They're more interested in who the jury is than the trial itself.
REPORT: CNN Intentionally Intimidates Paul Manafort Jury. [Paul] Manafort, who worked for a short time as President Trump's campaign chairman during the 2016 presidential election, has been charged by special counsel Robert Mueller with various financial crimes, none of which have anything to do with Trump or the campaign. Manafort's fate now sits with the jury, and after two days of deliberations, anti-Trump media outlets like CNN are becoming concerned Manafort could be acquitted, which would be a major blow to Mueller's credibility and his ability to remove Trump from office — an outcome the establishment media are desperate to orchestrate. And so, on Thursday [8/18/2018], CNN, along with six other far-left media outlets (the Washington Post, BuzzFeed, Politico, the New York Times, NBC, and the AP) sued for the release of the names and home addresses of all of the Manafort jurors, a move that is both disturbing and almost unprecedented.
End the Double Standards in Reporting Political Violence. Let's take a short walk down memory lane. Not long ago, on January 2, 2016, a small group of armed protesters seized an unoccupied federal building in the Malheur National Wildlife Refuge. The refuge is located in a relatively isolated area in eastern Oregon, and the occupied building itself was far from any populated area. [...] The occupation was the news story for days. It spawned countless think pieces lamenting the rise of violence on the right — including a debate about whether the protesters were "domestic terrorists." [...] But how many of you know about a very different Oregon standoff, one that ended just weeks ago? How many of you are aware that protesters used threats of violence in the heart of a great American city to besiege a federal building for more than a month and that local law enforcement allegedly refused to intervene to protect federal employees from the mob?
CNN: Antifa's Violence Against 'Bigots' Is 'Right'. Chris Cuomo announced Monday night that CNN will not condemn but instead justify political violence against anyone it defines as "bigots" — which, according to the network's editorial tone over the past two years, signals open season on all Trump supporters for violent activists like Antifa and the Black Bloc. To legitimize political violence, Cuomo said, "All punches are not equal morally... Drawing a moral equivalency between those espousing hate and those fighting it, because they both resort to violence emboldens hate, legitimized hateful belief and elevates what should be stamped out."
Newspaper Industry Seeks Character Assassination of President As Antifa Wants to Kill Him. Without ever blinking a jaundiced eye, 100 newspapers will follow the Boston Globe's directive on Thursday [8/16/2018] with a collective hit job on President Donald Trump. At press time, not a single newspaper had stepped forward to state that this is proof positive that there is no such thing as an objective free press; that what the Boston Globe is calling for is nothing less than a coordinated hate attack.
Acosta Tries, Fails to Get Immigration Expert to Condemn Trump Policies. Friday afternoon [8/10/2018] grandstanding reporter Jim Acosta filled in as host of Wolf Blitzer's eponymously named CNN show. And mid-program, Acosta desperately tried to get one of his guests to bash President Trump as a hypocrite for his stance on chain migration, and the Justice Department for accidentally deporting two asylum seekers. Instead, his conservative guest schooled the partisan reporter about hyping a "non-story."
Rage When Trump Targets Media, Crickets When De Blasio Targets Media. If you listen to President Donald Trump's critics, you'd think freedom of the press in this country is under siege. Trump has labeled "fake news" media as "the enemy of the people," a phrase that seems fitting for a totalitarian, not an American president. But is it really unique for an American politician to attack and delegitimize the media? That's the assumption driving the media's largely self-serving narrative about Trump's threat to press freedom. But New York City Mayor Bill de Blasio reminded us this week when he slammed Fox News that Trump isn't the only politician attacking the media, and that liberals have no problem with attacks on the press — so long as the attacks are aimed at the right outlets.
CNN thinks too many Latinos like President Trump. Ronald Brownstein of CNN is in a panic. "Democrats have hit an unexpected speed bump in their drive to regain control of Congress: unsettling signs that the party may not generate as much turnout or support among Latino voters this fall as it expected," he wrote. Despite an endless stream of negative stories on CNN and elsewhere about President Trump, a growing number of Hispanic voters support him. And the wall. Democrats are worried that they won't be able to scare people into voting against President Trump's candidates this fall.
Stop saying "protesters" when you're talking about a mob. Yesterday [8/6/2018] we all saw the news of what happened when Candace Owens and Charlie Kirk attempted to have breakfast at a restaurant in Philadelphia. At the time I didn't feel particularly inspired to write anything about it because it just all seemed so predictable at this point. But I noticed one headline from the Independent in Britain this morning which caught my attention because it contained such an obvious, glaring error in the headline. "Candace Owens chased out of restaurant by left-wing protesters." Why are we sticking with this idea that any group of people who decide to gang up on someone they disagree with are "protesters?"
How to Read the News Like a Pro. First the headline, which reads: "Once oil wealthy, Venezuela's largest state struggles to keep the lights on." That headline gives the impression that Venezuela has run out of oil, but nothing could be further from the truth. The country still possesses the world's largest oil reserves, so there's plenty of oil wealth. It's still right there in the ground. It hasn't gone anywhere. The problem is that Bolivarian socialism has ruined the country's extraction industry, but you wouldn't know that from anything in the entire story.
The media whips up hatred among classes, races, religions, and exactly two sexes.
• The media constantly publish stories showing that white people are racist. In the past 48 hours alone, the New York Times has published stories showing that white people are racist in hotels and at public swimming pools. [...] Nearly every day, the media write an article that reads, "White people are racist in [kind of place or circumstance]." This repeated emphasis whips up racial resentment and encourages violence against white people.
• Not a day goes by without some gleeful account of how the non-white population of America is increasing, eagerly looking forward to the day when whites are in the minority. This "in your face, white people!" mentality stirs up understandable resentment among white Americans.
• We are constantly told by the media to hate the rich, that if they have a lot of money, they must not have earned it legitimately, that "their" money should be "our" money. The resentment built up by this kind of storyline encourages lawmakers to enact theft by higher taxation.
• Women are constantly told that most men are rapists or harassers who don't respect them. Women are encouraged to turn against men and see rape in every dorm room and every janitor closet.
• We are repeatedly told that the police are racist.
The American Left's Selective Outrage. Repeatedly pointing out the American left's obvious dishonesty, hypocrisy and selective outrage seems pointless. And yet, I feel compelled to do so. For example: Fake news media created a 24/7 media firestorm over Trump's alleged affair with porn star Stormy Daniels before he became president. Due to recordings by Trump's lawyer, CNN has excitedly gone 24/7 in making the case that Trump is unfit to serve because of his private life before he was elected. Hypocritically, CNN told us that Bill Clinton's private life was none of our business while he was president.
The 10 Most Destructive Americans of My 8 Decades. [#7] Walter Cronkite: Cronkite was a much beloved network anchor who began the politicalization of America's news media with his infamous broadcast from Vietnam that described the Tet Offensive as a major victory for the Communists and significantly turned the gullible American public against the Vietnam War. In fact, the Tet offensive was a military disaster for the NVA and Viet Cong, later admitted by North Vietnamese military leaders. Decades later Cronkite admitted he got the story wrong. But it was too late. The damage was done.
New York Times Targets Kavanaugh's Wife. I wouldn't have thought my opinion of the New York Times could get any lower, but it just did. NTK Network reports that the Times, as well as the Associated Press, has requested emails sent or received by Ashley Kavanaugh in her capacity as town manager of Chevy Chase, Maryland: [...] They won't find anything, of course. But this is what I want to know: When Stephen Breyer, Ruth Ginsburg, Sonia Sotamayor and Elena Kagan were appointed to the Court, did the Times, or the Associated Press, try to investigate documents sent or received by their family members?
The Top 50 Liberal Media Bias Examples. [#6] Robert Bork and Clarence Thomas Vs. Elana Kagan: In 1987 and in 1991 when Robert Bork and Clarence Thomas were respectively nominated to serve on the Supreme Court of the United States, both men were utterly destroyed by the press. In the case of Bork they were successful in preventing his nomination, not so in the case of Thomas. It was so bad for Robert Bork that a verb was made of his name. After the press and Democrats succeeded in ruining his career and reputation the term "Borked" gained cache. On the other hand, when Elana Kagan was nominated by Obama to serve on the highest court in the land, the media went out of its way to ignore key factors in her career in order to facilitate her ascension to the court. Just for one for instance, when running as McCain's VP, Sarah Palin the media reported that she engaged in "book banning" when she was mayor of Wasilla. But Elana Kagan actually ruled that book banning was OK and the media ignored the story during her confirmation hearings. Liberal media bias 101.
Media Bias Part... Well, Who's Even Counting Anymore? [Scroll down] Seriously, they have to know this reporting (and other examples like it) is, at best, deliberately misleading and, at worst, unadulterated lying. What seems more and more evident with each passing day to more and more Americans is that they do know they are being dishonest, but they just don't care. That's worrying — and, in a sane world, this story would be getting much more attention, and the media would get raked over the coals for it, further undermining whatever scant legitimacy they still possess anywhere other than elite, insular enclaves on the coasts and on university campuses. Instead, because we have a media that is constantly stepping on rakes, own-goaling itself into risible irrelevancy — on Helsinki, on Judge Kavanaugh, on so many other things — this story will regrettably be lost to the flood of ever more ridiculous fake news.
More Media Propaganda: AP Waits Until 24th Paragraph to Admit Illegal Alien's Deportation Process Started Under Obama. Letty Stegall was deported earlier this year. Her family says they will not support President Donald Trump. Letty, an illegal alien, had a US Social Security card. Letty Stegall popped up on the radar after she was arrested on a DUI charge. That was in 2012 when Obama was president.
Congressman Jason Lewis Tells the Truth about Black Violence. The journalistic hounds at CNN have a new target, a politician whose sin is so egregious — so unthinkable — that it can hardly be spoken aloud: the recently elected congressman from Minnesota disagrees with CNN orthodoxy on race. And now, with enthusiasm we have not seen since hordes of reporters descended on Rick Perry's boyhood hunting grounds where they found a 30-year-old racial expletive written under a rock, CNN has set out to punish Congressman Jason Lewis. [...] Lewis made the fatal error of questioning whether welfare dependence is good for black people. Per usual CNN standards, none of the genius CNN talking heads are willing to actually talk with Lewis, other than call him names and say he is a bad person and hope no one notices the difference.
MSNBC's Joe Scarborough Bashes Trump Supporters. A recent poll shows grassroots Republicans approve of Presient Donald Trump's performance in Helsinki, despite the best efforts of liberal Democrats and media pundits to trash the president for absolutely everything he did/does and said/says. The Axios/SurveyMonkey poll asked,"Do you approve or disapprove of the way Trump handled his press conference with Putin?" Seventy-nine percent of Republicans approved. "Who [...] are these people?" an incredulous Joe Scarborough, host of MSNBC's "Morning Joe," asked on Friday's show. He and his ilk are stunned that President Trump would invite Russian President Vladimir Putin to the United States, when Trump's recent meeting in Helsinki was "called treasonous" by the elites.
Maxine Waters warns supporters of possible 'armed protests' against her. Rep. Maxine Waters warned supporters on Wednesday [7/18/2018] of potential "armed protests" against her after an extremist group called for ongoing demonstrations outside her office in Los Angeles. In a lengthy statement issued late Wednesday, Waters, D-Calif., said she'd been notified about forthcoming protests by the Oath Keepers, which she described as "an anti-government militia" that's staged armed protests in cities across the country. She warned her supporters against being "baited" into counter-demonstrations or confrontations with the organization, which she said has a track record of "violent and provocative behavior."
The Editor says...
ABC News is happy to pass along demonstrable lies, as long as they come from an elected Democrat. Anyone who spends five minutes examining who the Oath Keepers are and what they stand for will see that the Oath Keepers are not an anti-government organization. Nor is there any evidence (known to me) that the Oath Keepers have ever engaged in "violent and provocative behavior." If anyone in this story has a "track record" of encouraging violence, it is Representative Maxine Waters.
Another Day, Another Case Study on Media Bias. Glancing at the New York Times and CNN websites yesterday, you may have learned that the Internal Revenue Service changed a rule in a way that would benefit big conservative corporations. "NRA and some other nonprofits will no longer need to identify their donors to the IRS," reported CNN for example. You only have to get two paragraphs in before scratching your head: ["][...] But the ruling also applies to groups like the NAACP, labor unions and volunteer fire departments.["] Huh? Why the headline focus on the NRA, then? The headline could have just as easily read "NAACP and some other nonprofits" or "Planned Parenthood and some other nonprofits." There's no justification given in the article for the focus on the NRA in particular when we're talking about a rule that affects literally every 501(c)(4).
Obama's Meddling in Foreign Elections: Six Examples. While the media obsess over an alleged Russian conspiracy to collude with Donald Trump to affect America's 2016 presidential election, what about Obama's interference in the elections of other countries? Most Americans have no idea that President Obama meddled in elections all over the world. And apparently, the media decided there's no reason for Americans to know about this illegal activity. [...] The media is hysterical about a flimsy conspiracy theory that Russia colluded with Trump to steal the 2016 election but was mostly silent about Obama's efforts to control the outcome of elections in at least six countries during his tenure.
CNN: Too Many Catholics on the Supreme Court. [Of the Supreme Court justices,] 6 are Catholic, 3 are Jewish. That might not be proportional to the population, but likely is a result of both religions having a studious culture that tends to pore over details and the philosophies behind laws.
NY Times Drools Over Possible Democratic Midterm Wins, Targets Individual Republicans Daily. In case you had any doubts, the New York Times really, really wants Democrats to take control of the House and Senate in November. [...] When the paper isn't hinting that individual Republicans should be run out of Democratic areas, they're celebrating any sign of Democratic strength, no matter how indirect and presumptous. A story on Sunday ironically rejoiced at the win of a white woman instead of a minority Cuban-American in the Democratic primary for a district that includes the Cuban exile community "Little Havana" interpreting the win broadly to mean conservative anti-Communism is weaking its hold.
The real meaning of Democrats' Supreme Court panic. Democrats are in a state of sheer panic. They're panicking because last week, Justice Anthony Kennedy — a reliable vote in favor of certain leftist priorities including abortion and same-sex marriage — announced that he will step down from the Supreme Court, leaving President Trump a second selection. This apparently will lead to the end of a free America. According to Jeffrey Toobin of CNN, the remade Supreme Court will spell doom: "Abortion illegal; doctors prosecuted; gay people barred from restaurants, hotels, stores; African-Americans out of elite schools; gun control banned in 50 states; the end of regulatory state." None of this is true, of course. It simply demonstrates the wild overreach to which the left has subjected the judicial branch to date.
Chris Matthews Urges Communist Revolution to Stop Supreme Court. So the Chris Matthews [plan] is for the Democrats to declare a Communist revolution, call in the Russians for help, start executing their own people for being insufficiently left-wing, go down to defeat, flee the country while kidnapping a bunch of children and stealing all the gold? Actually I think that is their plan.
The Zombie Media. In their ongoing comedy of chaotic outrage, the left has even managed to wreck its own storyline by adding a growing litany of distracting or incompatible side plots. If Trump were mentally unstable to the point of blowing up the world, as CNN and others have claimed, why would the Russians promote him as their stooge? Stormy Daniels, too, is a far less believable creature than Anita Hill — and returning to the sex scandal ploy at this point is just going from beating one dead horse to beating two. "Trump demanded an extra scoop of ice cream for himself!" "Trump is responsible for making an innocent Hispanic child cry!" The random flailing is more like a grand mal seizure than an exercise in journalism. It is almost as if some leftist billionaire (God only knows which one) had offered a gigantic prize to any "journalist" who can bring the president and the populist movement down.
Democrats are in a crisis and the media won't talk about it. The Democratic Party is in an ongoing crisis, but most of the national media aren't interested. They'd rather talk about the new "rock star," Democratic Socialist Alexandria Ocasio-Coretz, and ignore that the party is up in flames. Both Republican and Democratic voters are turning out in record numbers for their primary elections this year, according to analysis published this week by the Hill. Democrats have a slight advantage by about a million votes, but that's only in primaries.
Hungarian Minister Chides 'Unbalanced, One-sided' BBC Anchor for Pro-EU, Pro-Migration Rant. Hungarian foreign minister Péter Szijjártó had to chide BBC anchor Emily Maitlis for "unbalanced, one-sided" journalism after she lost her temper and launched into a rant about the EU standing for "tolerance, diversity, and human rights". Speaking to Szijjártó on the publicly-funded broadcaster's flagship BBC Newsnight programme, Maitlis took umbrage with the Hungarian statesman's claim that "the current migration policy of the European Union can be very easily translated as an invitation" to illegal migrants.
The Editor says...
I'm with Mr. Szijjártó on this one. That BBC woman is obnoxious, presumptuous and eristic.
NBC "Reporter" Admits To Working With Democrat Party To "Inflict" Damage On President Trump. The media are so excited thinking the manufactured crisis at the border (which is actually nothing more than the Trump administration following laws passed decades earlier) will halt the remarkable pro-Trump momentum heading into the 2018 Midterms, they are openly admitting to the link between themselves and the Democrat Party. There is no difference. The two are one and the same and it's all about open borders, hating all things related to pro-American values, decimating the Middle Class, and giving the nation away completely to the far left elites.
The Media Misrepresents Pope Francis On The Border Crisis. From the way the media has reported it, you might think that Pope Francis has condemned the Trump administration — and only the Trump administration — for the crisis at the border. "Pope Francis Rebukes Trump Administration Over Family Separations," headlined Politico. "Pope Francis Condemns Trump's Family Separation Policy," shouted Vox. The same headlines were virtually parroted one way or another by HuffPo and WaPo. Of course, none of these outlets uttered so much as a peep when the Roman Pontiff compared eugenics abortion to Nazi crimes or affirmed the Church's doctrine of marriage being between a man and a woman this week. They trot out the Pope only when it suits their purpose and then discard him the moment he takes them to task for their sins.
Oops! NBC 'journalist' inadvertently exposes he's a partisan hack, quickly tries to walk it back. "It is our job in the press, and it's also the job of Democrats, to not let the president have it both ways on this issue," [NBC reporter John] Heilemann said while discussing President Trump's enforcement of a policy which separates families who entered the United States illegally. "You can't inflict this kind of policy on Americans, and not pay a political price," the national-affairs analyst for NBC News and MSNBC said. "We have a great chance to inflict one on him and his party in November," Heilemann continued, but quickly backtracked.
Judge strikes down Kansas law requiring proof of citizenship to vote. U.S. District Judge Julie Robinson sided with voters Monday [6/18/2018] that Kansas cannot require people who register to vote to provide documents such as a birth certificate, U.S. passport or naturalization papers.
The Editor says...
Typical Associated Press bias: The judge "sided with voters." Really? The judge ruled in favor of those who wish to cast a ballot with no questions asked, but this is not a ruling in favor of the voters who are legally entitled to a vote in an election that is not diluted by ineligible ballots.
The Spying That Dare Not Speak Its Name. The media's pooh-poohing coverage of Spygate grows more laughable by the day. Turn on CNN at almost any hour and you will see its farcical re-education camp in session — this or that host yelling louder and louder that no one "spied" on the Trump campaign. As stupid as this coverage is, it is still worth dissecting, if only for its propagandistic shadings, telling omissions, and inadvertent revelations. It is as if the media has an emergency manual at the ready in the event that a story starts hurting the Democrats, a manual which enjoins reporters to run away from it as fast as they can. But if that's not possible, if they have to shelter in place, they are instructed to minimize the story and urge the public to avert its gaze from it.
Google Labeled GOP Lawmaker a 'Bigot'. Google labeled Republican North Carolina state Sen. Trudy Wade as a "bigot" in its "knowledge panel" for the pro-Trump lawmaker. According to Vice News Friday, searching for Wade on Google would show users an image of the state senator with "BIGOT" in bright red letters displayed at the bottom. [...] Wade is currently in a tough reelection battle. It's likely not helpful for her campaign to have the image as one of the first things voters would see if they Google her.
Leftist Big Media Wear Their Anti-Israel Bias Proudly. In one story pretending to focus on the relocation, the anti-Trump network [CNN] not only denounced the fact that two Evangelical leaders — Pastor John Hagee and Pastor Robert Jeffress — were on hand, but described both Christian leaders as "controversial" while dredging up years old comments by both men. Hagee and Jeffress said the remarks were taken out of context, not reflective of their true beliefs, and were not "newsworthy." Next, because both "controversial" Pastors strongly supported the election of Donald Trump and the relocation of the embassy, CNN worked hard to paint the President guilty by association for knowing these Christian leaders and having prayed with them in the past. Really? That was one of CNN's major takeaways from this historic accomplishment?
Press hypocrisy of the day. Obama wiretapped President Donald Trump. The press does not care. Obama planted a spy in President Trump's campaign. The press does not care. But President Trump's Twitter account isn't secure. That's a five alarm fire.
What Changed? The Same Media Who Excuse Bob Mueller Abused Ken Starr. Today's journalists routinely assert that it is "extreme," "dangerous," and possibly even criminal for the White House — or anyone else, for that matter — to criticize an investigation into the President. But twenty years ago, Independent Counsel Ken Starr was savaged by the same liberal media during his investigation of then-President Bill Clinton. At that time, Starr was harangued as a "partisan" and "inept prosecutor," and a "peeping Tom." On Monday evening [5/21/2018], MSNBC host Chris Matthews shared his take on the Trump administration's attitude towards Mueller while hosting Hardball: "President Trump is indicating today that he's willing to go to extreme new lengths to discredit the Russia probe." "It seems extremely dangerous that you have investigators investigating the investigation," intoned a deeply concerned Don Lemon. The CNN Tonight host continued, "You have a President who appears to be, by anyone's standards, trying to manipulate the process."
As Evidence Piles Up, The Media Ignore The 'Other' Trump-Russia Scandal. There have been two major ongoing investigations involving President Trump. One is looking into whether Trump colluded with Russia. It's borne no fruit. The other involves abuse of power at the highest levels of government to hurt Trump and is producing damning evidence by the bushel. Guess which one the press is ignoring?
What's Wrong With Those Texans? That's the question the Associated Press asks, following the school shootings in Santa Fe: "School shooting may not bring change to gun-loving Texas." [...] What's interesting is that the AP never hints at what "gun restrictions" the State of Texas ought to adopt. Indeed, it becomes obvious that the AP reporter, speaking for liberals and the mainstream of the Democratic Party, doesn't much care: any restrictions will do.
NBC cancels 'extremely liberal' drama 'Rise' amid backlash for mocking Christianity with far-left talking points. NBC has canceled "Rise" after critics accused the show of being anti-Christian and going out of its way to squeeze in liberal talking points. The Media Research Center, which has tracked the "extremely liberal high school drama" for bias against Christians, posted an article celebrating its demise. "Rise," which starred Rosie Perez and Josh Radnor, was about a drama teacher who polarizes the town with his passion for musicals — specifically the provocative "Spring Awakening."
Israel too Jewish? Top US mag thinks so. Day after day I make it a point never to read The New Yorker, a magazine that used to publish writers like J.D. Salinger. It topped the field in fiction and literary journalism until... until David Remnick took over as editor, turning it into tabloid smut whose main business is to resist Donald Trump. Reading The New Yorker was like being in a place where good people relaxed and reasoned together. That was before. These days only radical leftists need apply for positions as writers or readers and this reader finally had enough. I said so when the abuse against Trump began to feel like abuse against me. Smear tactics do that — everybody gets splattered with mud.
NBC Paints America as the Villain Thwarting Caravan Progress. With the caravan of migrants now sitting at an entry point on the U.S.-Mexico border outside California, the liberal major network news outlets (ABC, CBS, and NBC) were sure to make it a big part of their Monday evening broadcasts. And while ABC and CBS both bemoaned how the people were stuck as they waited to attempt to get into the country, the report on NBC Nightly News cast America in a negative light as they portrayed us as a moral conundrum.
Comey, Mueller and the poisonous tree. It is a strange and curious America that fêtes a former FBI director who was fired from his job after exceeding his authority in ways that two presidential campaigns condemned, and who then leaked confidential memos about a president he clearly despises. But that is the circus our media, politics and legal system has become. Indeed, on one channel, James Comey is one step from jail and, on another channel, he is the spear that will bring down the presidency. On one network the Russia collusion theory is done and, on another network, it's just a matter of time before Donald Trump's personal lawyer, Michael Cohen, flips on the president.
'Creepy' Chick-fil-A slammed by 'New Yorker' writer from Brooklyn. Look out, world. New Yorkers have discovered that their city has four Chick-fil-A restaurants — including the world's largest. Word got out last week in a New Yorker magazine article titled "Chick-fil-A's creepy infiltration of New York City." The author is Dan Piepenbring, described as being from Brooklyn.
Chick-fil-A's Creepy Infiltration of New York City. New York has taken to Chick-fil-A. One of the Manhattan locations estimates that it sells a sandwich every six seconds, and the company has announced plans to open as many as a dozen more storefronts in the city. And yet the brand's arrival here feels like an infiltration, in no small part because of its pervasive Christian traditionalism. Its headquarters, in Atlanta, is adorned with Bible verses and a statue of Jesus washing a disciple's feet. Its stores close on Sundays. Its C.E.O., Dan Cathy, has been accused of bigotry for using the company's charitable wing to fund anti-gay causes, including groups that oppose same-sex marriage.
The Editor says...
To a New Yorker, I guess that sounds like an indictment. To anyone else, it sounds like a promotional brochure.
Chickens scare New Yorker. Chick-fil-A scares Dan Piepenbring, a freelance writer in Brooklyn. He believes the Atlanta-based chain of chicken sandwich shops is one long nightmare for the City that Never Sleeps.
Who's more bigoted and intolerant: Chick-fil-A or the New Yorker writer who attacked it? I was honestly astounded the New Yorker actually printed Dan Piepenbring's bigoted and downright ignorant attack piece Friday titled "Chick-Fil-A's Creepy Infiltration of New York City." If we want to have a good-natured debate on Chick-fil-A versus Wendy's based solely on personal preference, I'm all for that. That's capitalism at its finest. But Piepenbring's piece objected to the supposed "infiltration" of Chick-fil-A on the basis of its owners' religious beliefs. Consider the overt bigotry of this headline statement: [...]
The Media's War On Freedom Of The Press. In '08, the New York Times published an op-ed by Obama, but rejected McCain's response. It just published an editorial titled, "Watch Out, Ted Cruz. Beto is Coming" which appears to have no purpose other than to help Beto O'Rourke raise money from New York Times readers. [...] "In one instance, The Enquirer bought but did not publish a story about an alleged extramarital relationship years earlier with the presidential candidate," the Times sniffs. It's not unprecedented for a paper to have damaging material about a politician without publishing it. Just ask the Los Angeles Times about the vault they're keeping Obama's Khalidi tape in. Or ask the Washington Post about its embargo of the photo of Obama posing with Nation of Islam hate group leader Louis Farrakhan at a CBC event.
American Journalists Are Hysterical Knuckleheads. [Scroll down] Or take the reporting on the EPA's expected rollback of Obama's fuel-economy mandate. The mandate required automakers to hit targets of 54.5 miles per gallon — an absurd number based on zero science (the decimal point was a snarky joke) which automakers could duck by jumping through a bunch of largely cosmetic "green" hoops that cost them money but made the administration look good. It was scientific, political and environmental hogwash that hurt American business. Here's how CBS reported it. "The Trump administration is set to roll back one of President Barack Obama's signature policies on the environment." "It's expected to ignite a firestorm of criticism." And then, despicably, they picked up a series of likely coordinated and unfounded attacks on EPA Chief Scott Pruitt's ethics — travel expenses that are in keeping with those of previous directors, an apartment he rented from an energy guy who had no business in front of the EPA, and so on — clearly designed to take the man down.
A tale of two Michael Browns. Both were big men. Both black. Both teenagers. Both enjoyed all the opportunities our nation offers. Michael D. Brown chose the thug life. It's the easy way out. Michael Brown of Houston chose hard work, which paid off in an opportunity to work even harder for an even bigger payoff. [...] Which decision did the press and the Marxists turn into a national cause?
Shocker: Networks Covered 'March For Our Lives' 13x More Than 'March For Life'. No surprise here: major news networks covered the pro-gun control, left-wing March for Our Lives 13 times more than the pro-life March for Life. According to LifeNews, "the broadcast networks covered the March for Our Lives 13 times more than the pro-life march, the night of each event." Perhaps most shocking is the fact that networks dedicated more time to the March for Our Lives than they did to the Women's March — approximately 14 times more. That being said, the Women's March still received significantly more coverage than the March for Life.
At the Strib, the hatefest continues. I think of [Samuel] Johnson's gibe whenever the Star Tribune publishes a column by Katherine Kersten. Kathy makes an argument solidly grounded in fact and analysis. Within a day or two, the editorial pages are weighed down with the groans and shrieks of outraged Twin Cities leftists. They invariably make me wonder, with enemies like this, does Kathy need friends? The Star Tribune, however, is something else. The Star Tribune hosts the shrieks.
CNN: Changes to Census Are 'Designed to Drive Down Participation and Benefit Republicans Politically'. Since the announcement from the Commerce Department that the 2020 Census questionnaire will include a question asking participants whether or not they are citizens, the hosts and guests of CNN's New Day have been working overtime to try and convince Americans that this proposal is racist.
America's Lost Antidote to Political Correctness. One year ago this month on Jimmy Kimmel Live, conservative comedian and Trump-supporter Tim Allen warned: "You gotta be real careful around here [in Hollywood]. You get beat up if you don't believe what everybody else believes." Two months later, ABC abruptly pulled the plug on Allen's hit conservative-leaning family comedy Last Man Standing (2011-2017), citing "business and scheduling" conflicts. Fans didn't buy it and immediately took to social media to boycott the network. What made this particular cancelation so insulting was the fact that at the time it happened, LMS was the second highest rated show for its time slot, with 8.1 million viewers.
CNN Defames Geller to Embarrass John Bolton. Is there no limit to how low CNN will sink? CNN's Don Lemon hosted a panel Thursday night featuring leftist turncoat Peter Beinart and "conservative" commentator Ben Ferguson, to discuss incoming National Security Adviser John Bolton's supposed "anti-Muslim ties."
BET boots journalist from Michelle Obama conference. The BET Network booted a Pulitzer Prize-winning journalist from its conference for publishing a Q&A with Michelle Obama, sparking a social media storm. The network had invited the Washington Post's Robin Givhan to its syntactically questionable "Leading Women Defined" conference in Bal Harbour, Fla., but then demanded she leave after she published her article, claiming that Obama's talk had been conducted in a "sacred space." [...] When BET brass saw the story, they kicked Givhan out and canceled a panel she was due to moderate. But while claiming Michelle's talk was private, BET didn't play by its own rules: The network posted sections of the interview on its website, while Valerie Jarrett, who conducted the chat, teased on social media that fans should "tune in to BET" to hear all that Obama really said.
Sooooo Sincere: Christian-Basher Joy Behar Apologizes for Horrid Anti-Christian Remarks. Joy Behar, the ladies of The View and Democrat leaders believe faith in Christ is a "mental illness." On Tuesday [3/13/2018] Joy Behar apologized to Christians for her awful attacks.
Joy Behar apologizes for comment comparing religion to mental illness. Joy Behar used Tuesday's [3/13/2018] episode of The View to apologize for a month-old comment conflating some Christians' belief that Jesus talks to them with mental illness. The controversy began in mid-February, when the hosts reacted to a scene on CBS' Big Brother: Celebrity Editionin which former White House staffer Omarosa Manigault Newman called Vice President Mike Pence "extreme" and said he "thinks Jesus tells him to say things." At the time, Behar remarked, "It's one thing to talk to Jesus. It's another thing when Jesus talks to you. That's called mental illness."
Pressure grows for 'The View' star Joy Behar to apologize over anti-Christian comments, but ABC is silent. ABC News has maintained a stony silence amid increased pressure for its star Joy Behar to apologize on-air to the "millions of Christians" who watch "The View," leaving Disney boss Bob Iger to fend for himself when an angry shareholder asked him about the brouhaha at a recent shareholder meeting. On Feb. 13, Behar criticized Vice President Pence's faith by saying that hearing from Jesus is actually called "mental illness." The resulting public outrage led scores of angry viewers to call or write ABC News demanding an apology. It wasn't until late last week that Iger, CEO of ABC parent Disney, finally revealed when questioned by a concerned shareholder that Behar had privately called the vice president to apologize.
Judges on "Top Chef" Finale Wear Lapel Pins Supporting Planned Parenthood Abortion Biz. People often derive their worldview and news information from television celebrities. That is why celebrities have a unique opportunity to use their platform to impact millions of Americans. Perhaps "Top Chef" judges Tom Colicchio, Gail Simmons, Graham Elliot and Jonathan Waxman understood that when they proudly wore Planned Parenthood pins on the cooking show for 3.02 million viewers to see. Each of the judges is a high profile, celebrity chef with restaurants in major cities, best-selling cookbooks or regular appearances on TV.
ABC News star Joy Behar: Hanging with Farrakhan [is] 'baggage'; talking to Jesus [is] 'mental illness'. Apparently, ABC News star Joy Behar thinks it's okay to talk to anti-Semitic figures, but not to Jesus. Behar and former Obama aide Valerie Jarrett sparked outrage on Friday [3/9/2018] on "The View" when they defended Women's March co-founder Tamika Mallory, who has been criticized for her ties to bigoted anti-Jewish Nation of Islam leader Louis Farrakhan. Behar is no stranger to controversy, as she has been under fire for saying that Vice President Mike Pence suffers from "mental illness" because he believes in communicating with Jesus.
Washington Post Writer Advocates for Outright Socialism. For generations, we've heard that socialist policies have failed only because nations haven't properly implemented them. Even after a long track record of collectivism falling apart over and over again — with examples happening right before our eyes — the left refuses to see that the system many of them hold so dear is inherently flawed. It sure doesn't stop them from advocating for it time and again. Just this week in the Washington Post, writer Elizabeth Bruenig opines that "It's time to give socialism a try." You may have expected a statement like this from The Onion or UK's Daily Mash, but alas, this is a legitimate, serious consideration of state economic ownership.
Public-Sector Unions Deserve To Be Destroyed. In many states, public-sector unions don't have collective bargaining rights. Yet, as I write this, every school in all 55 counties of one of those states, West Virginia, where the average teachers' salary is a bit higher than the average worker's (not counting all the excellent benefits they receive) are now closed due to an illegal teacher's strike. Most of those average workers in West Virginia have no choice when it comes to their children's educations. Yet nearly every story about this situation focuses on the plight of poor teachers rather than powerless parents. On one hand, we hear that teachers unions are vital to the economy because teachers would make far less in the private sector. In the next breath, we hear them argue that teachers are substantially underpaid compared to what others earn in the private sector.
Is Joy Behar sure that hearing God's voice means you're crazy? Co-host [of The View and self-described "faithful ... Catholic" Sunny Hostin expressed negative feelings about Pence because, Hostin said, when the vice president was governor of Indiana, he was a "hated figure" who tended to put a "religious veneer" on things. No one knows whether Mr. Pence ever claimed to speak in tongues, but that didn't stop Hostin from pontificating, "I don't know that I want my vice president, you know, speaking in tongues and having Jesus speak to him." Although Hillary Clinton regularly "communed" with Eleanor Roosevelt, the female panel agreed that having a leader who thinks he hears Jesus's voice is a problem. Apparently, that consensus didn't go far enough; Joy Behar had to take things a step farther when she offered up a psychiatric diagnosis based on Pence hearing Jesus's voice, which Behar said is synonymous with "mental illness." The View co-host told the other ladies, "It's one thing to talk to Jesus. It's another thing when Jesus talks to you. That's called mental illness if I'm correct, hearing voices."
Madness, Christianity, and the Left. [W]hat was once considered mad is now deemed sane, while people once considered sane are now the ones attacked as being mad as hatters and as vicious haters. For some time, it has been in vogue among the left to consider Christianity itself an insane belief system. Certainly, such seems to be the case for some of the talking heads on ABC's The View. According to Joy Behar, one of the most dangerously insane people in the United States is the vice president of the United States, Mike Pence. Let's be frank: a well known spokeswoman has so thoroughly absorbed the left's definition of insanity that she believes she can trash without consequence a good man whose core beliefs are based on beliefs held by Judaism and Christianity for over four thousand years. Of course, she would never dream of trashing the Muslim mayor of London in a similar manner.
For the Left, It's Always 'Open Season' on Attacking Christians. It all started when "The View" played a clip from "Celebrity Big Brother," in which former White House staffer Omarosa Manigault Newman said the vice president "thinks Jesus tells him to say things." Sunny Hostin expressed concern about Pence's religious fervor and said she doesn't want her vice president "speaking in tongues." "It's one thing to talk to Jesus. It's another thing when Jesus talks to you," Joy Behar said, adding that hearing voices is a "mental illness." Jeffress wondered on "America's Newsroom" what would have happened to Behar if she had mocked a devout Muslim.
MRC Supporters Make 25,000 Phone Calls Demanding ABC Apologize for Attacking Pence, Christians. As of Monday morning [2/19/2018], the Media Research Center and its grassroots members made over 25,000 calls to ABC lambasting the network, demanding a full apology for anti-Christian comments made by The View on February 13 that suggested Vice President Mike Pence's "dangerous" Christian faith was a "mental illness."
The snookered press at Pyeongchang. When Kim Jong-un dispatched his crack propaganda team to Pyeongchang (and not P.F. Chang, the Chinese restaurant chain, as reported by NBC News) to cover the Winter Olympics, he couldn't have imagined that the American media in town would have been so easy to con. It was so easy, in fact, that a girl could do it, and she did. "If 'diplomatic dance' were an event at the Winter Olympics," CNN reported with gasps of breathless wonder, "Kim Jong-un's younger sister would be favored to win the gold." "Without a word, and only flashing smiles," observed The New York Times, "Kim Jong-un's sister outflanked Vice President Mike Pence in diplomacy."
CNN Analyst, MSNBC Hosts Denounce American Exceptionalism Due to a Lack of Gun Control. On Wednesday [2/14/2018], it didn't take long for the liberal media to move from learning about what happened at the deadly school shooting in Florida and the victims to lobbying for gun control.
The true threat to our freedom and democracy is a compliant media. James Comey illegally leaks government documents to a professor who releases it to the media. Much later, Comey says the professor was his attorney. Dianne Feinstein leaks testimony about the Russian investigation to the media. She later blames a cold for her malfeasance. Adam Schiff repeatedly goes to the media and claims there is evidence of a Russian collusion with Trump even though there is no actual evidence. The media gladly repeats what Schiff says, acting as if it is factual. Anonymous sources have repeatedly leaked material from private conversations at the White House and the media gladly takes the leaks and treats them as factual. Information is repeatedly leaked from the "secret" Mueller investigation and it shows up in newspapers and on cable and network news. But now, we are told that Democrats and the FBI say how dangerous it would be to the FBI and how it would undermine the justice system if a memo from Republicans were released to the public.
Obamagate Confirmed. The media's response to the release of the Nunes memo surpasses the level of Pravda covering a Soviet show trial. No sooner had the memo appeared than journalists immediately began throwing sand into their audience's eyes. The story, according to the media, is not that Obama's Justice Department/FBI snookered FISA court judges and used Hillary's purchased Steele dossier to spy on Trumpworld. No, the scandal is that the evil Republicans exposed this outrage, and that Trump, the ultimate target of this espionage, has the gall to defend himself. How dare a defendant in our kangaroo trial defend himself with the truth — that's the upshot of all the media's bleating. All you can do is laugh at the intensity of the gibbering propaganda and misdirection, which is nothing more than the rage of a ruling class nabbed in an audacious act of political espionage.
From Publishing the Pentagon Papers to Suppressing the Nunes Memo. If the release of government secrets hurts Republicans or some cherished conservative cause, journalists support it. If the release hurts Democrats or some cherished liberal cause, they oppose it. Daniel Ellsberg, good. Devin Nunes, bad. But unlike Ellsberg, Nunes has broken no laws. No matter; the media will treat him as a traitor while exonerating real ones.
This all but screams conspiracy. Left wingers in Congress and the media are in full blown panic mode and right this minute are stomping their feet over the removal of Andrew McCabe from his position at the FBI. Both Carl Bernstein and Chris Matthews are characterizing it as a "Saturday Night Massacre." That signals their game plan for the coming disaster they are soon to have on their hands. Nancy Pelosi is close to being aphasic. Jake Tapper has abandoned all his journalistic cred in favor of editorializing: [...]
Does the Washington Post understand the 'rule of law'? The Washington Post editorialized that Republicans are trying to undermine the rule of law because they dare question the FBI and Justice Department on their motives and methodology used to justify spying on a political opponent. Evidence now clearly shows the Justice Department did everything they could to elect Hillary and destroy Trump, abusing the FISA Court to weaponize the nation's intelligence and law enforcement apparatus.
The Lucrative Business of Fending Off Migrants. Pitou remembers someone yelling, "Go, go!" Three hundred young men, including him, began sprinting toward the fence. The first barrier was short. The second was three times taller. Pitou was exhausted by the time he got to the top. The barbed wire tore through his clothes, and his skin. Next thing he remembers, he was lying on the ground, police surrounding him. And the Red Cross. They pulled him into an ambulance. Outside, he could hear his friends screaming in celebration: They had reached Europe. Last August, Pitou successfully crossed the border fence between Morocco and the Spanish enclave of Ceuta. The 6-meter barrier, covered in barbed wire and video cameras, is the last obstacle for thousands of African migrants like him trying to reach Europe each year. But where some see a challenge, others see a business opportunity.
The Editor says...
The article above serves as an example of a "news" story that reeks with bias: Muslim invaders portrayed as migrants; Opportunists portrayed as peaceful victims; The wall as a weapon; Trespassing as a virtue; Capitalists as greedy villains. And that's just in the small excerpt above!
NPR host refers to protest as 'the so-called March for Life'. A National Public Radio host on Friday referred to the largest abortion opposition protest taking place as "the so-called March for Life." "America's biggest anti-abortion rally, the so-called March for Life, will take place today in Washington, D.C., and Donald Trump is set to become the first sitting president to address the annual event," said Rachel Martin, the host of "Morning Edition" on the nonprofit radio network. The clip was first flagged by the Washington Free Beacon. Martin then interviewed Kristin Hawkins, the president of Students for Life of America, an anti-abortion organization with more than 1,100 members nationwide.
'Lost' Cronkite broadcast reveals 180-degree war flip. [Scroll down] American estimates showed that of the 84,000 North Vietnamese soldiers and Viet Cong guerrillas involved in the entire [Tet] offensive, a staggering total of 58,000, or 72.5 percent, had been killed by South Vietnamese, American and other allied forces. "There is no question that the Communists suffered one of the greatest military defeats in history at Tet," said Gen. Patrick Brady, the most decorated living U.S. military figure, a Vietnam war hero and author of "Dead Men Flying." "The North was about to quit — Cronkite helped change that." "In his pseudo-documentary on Vietnam, Ken Burns repeats Cronkite's apocalyptic version of Tet despite the fact that it was surely one of the greatest military victories in the history of warfare," said Brady.
Poor Hillary Clinton. Until 2016, none had thought to make it an issue of gender, largely because one gender had been shared by all comers. But in 2016, that was changed by the serious entry of Hillary Clinton, who managed to lose to Donald Trump against all odds. Afterward, she blamed her female sex for the loss, after first blaming FBI Director James Comey. [...] Recent history is rife with examples of people whose very rough treatment (by Hillary's allies) make her tribulations seem tame. In 2012, Mitt Romney, a Dudley Do-Right if ever there was one, was slammed by the press and the Democrats as a sadist (for transporting his dog on the roof of his car); as a bully (for cutting the hair of a classmate in prep school); as a murderer (for causing the wife of a worker to expire from cancer); as dismissive of females (for using the phrase "binders of women" to refer to resumes given to him by people as possible candidates for government jobs).
Stephen Miller seeks revenge after 'extraordinarily biased' CNN interview. White House policy adviser Stephen Miller took his criticism of CNN to a different network Monday night, blasting the outlet for leaking a transcript of his conversation with anchor Jake Tapper after he was booted off the air during a combative interview. "CNN has been extraordinarily biased, extraordinarily unfair to the president, and is not giving their viewers honest information," Miller, who famously sparred with the network's White House correspondent Jim Acosta over President Trump's immigration agenda, told Fox News' Tucker Carlson. Miller's appearance on a friendlier network came a day after Tapper kicked him off his program for his "obsequious" behavior, accusing the former GOP staffer of riffing about CNN's coverage just to impress the president.
NBC retracts 'stunningly unprofessional' tweet declaring Oprah Winfrey 'our' next president. NBC apparently forgot it has a news division on Sunday night when it campaigned for Oprah Winfrey to run for president, but on Monday [1/8/2018], the network blamed a third party for an errant tweet backing the TV talk show queen's supposed 2020 ambitions. "Nothing but respect for OUR future president," the verified NBC account tweeted on Sunday night during its Golden Globes telecast, complete with an image of Winfrey, after host Seth Meyers joked about his desire for the talk show icon to run for office. Early Monday, NBC appeared to back off the apparent Oprah endorsement, and blamed it on a "third party."
NBC endorses Oprah for president, Donald Trump Jr. fumes. Trump Jr. wasn't the only one.
Outrage grows over CNN's pot-infused New Year's segment. Outrage continues to mount two days after CNN put the "J" in journalism with a marijuana-themed New Year's Eve segment that some are already using as an excuse to smoke the Hippie Lettuce in states where it's not currently legal. During the liberal cable news network's year-end broadcast from Times Square, reporter Randi Kaye did several, um, "hits" from Denver, where marijuana is legal. At various points, she held a joint, lit a bong, marveled over a special gas mask used by stoners and wondered where she was. Kaye didn't partake herself while on the air, but the bit was enough to appall some viewers and confuse people who might be locked up for doing the same thing.
What's next, CNN? Celebrating the ball drop from a brothel? CNN does not understand why viewers across the fruited plain are disgusted with the cavalcade of depravity displayed during the network's New Year's Eve broadcast. The "Most Trusted Name in News" hauled out a bunch of middle-aged journalists (who have trouble holding their liquor) to flirt on live television, cavort with drag queens, and deliver sexually-charged banter. [...] "CNN is trying to trademark the debauchery as its brand for New Year's Eve coverage," Media Research Center President Brent Bozell told Fox News. Anderson Cooper, who spent much of the broadcast giggling like a school girl at a Justin Bieber concert, defended the network's programming decision.
Media Sides with Iran! "Has the Left Ever Been More Morally Bankrupt?". The mainstream media is siding with Iran in opposition to President Trump, if they say anything at all. The MSM is protecting the terror nation of Iran as best they can. [...] Iran has blocked Instagram/messaging out of the country, threatened protesters, and murdered ten that we know of, as the protests continue after three days and nights during which throngs have taken to the streets, torn down Khamenei posters and chanted, "Death to the dictator, death to Russia", while promising a fight to the death.
This isn't journalism, it's left-wing activism.
Don Lemon Sweetly Smooches Boyfriend Live on CNN on New Year's. [Scroll down] Lemon wasn't the only member of the CNN family making a splash on New Year's. Reporter Randi Kaye held a lit joint while reporting on marijuana-themed festivities in Colorado (where pot is very much legal). Although she was never seen taking a puff herself, Kaye held the joint at a "puff, pass and paint" party in Denver.
The Iran Echo Chamber Smears Politico Magazine. Nothing has been more tedious over the last year than the constant reminders that good journalism is "now more important than ever." The implication, of course, is that solid, groundbreaking reporting was not as essential so long as a liberal Democrat was in power. I've long assumed that the factotums mouthing such clichés lack the self-awareness to understand the true import of their words. But maybe I've been wrong. Recent days brought evidence that, no, liberals really mean it: the only meaningful investigative work is that which reflects poorly on Republicans.
Mainstream media heralds book depicting Santa Claus as a gay black man. Mrs. Claus is now a mister in a new gay-themed Christmas storybook for children that has CNN and the rest of the Mainstream Media all aflutter. "Santa's Husband" tells the story of a black Kris Kringle and his white husband living in holy matrimony at the North Pole. I don't mean to curdle your egg nog, but the storybook was written for children as young as four-years-old.
On CNN, GOP Senator Calls Out 'Negative' Media Bias Against Tax Cut Plan. On Tuesday's [12/19/2017] New Day on CNN, as Senator John Kennedy appeared as a guest to discuss the Republican tax cut plan, the Louisiana Republican implicated the "negative" media coverage of the proposal after host Chris Cuomo brought up a CNN poll finding that most Americans oppose the plan. At 7:24 a.m. ET, Cuomo set up the segment: "Republicans in the House are set to vote on the final version of their tax plan today. The Senate is expected to get the bill to the President's desk by tomorrow. Our new CNN poll shows 55 percent of you oppose this bill. What is that going to mean to Senators?"
Collins: Media coverage of my tax vote 'unbelievably sexist'. Sen. Susan Collins (R-Maine) on Tuesday complained that the coverage of her role in the GOP tax plan has been "unbelievably sexist," Politico reported Tuesday [12/19/2017]. Collins, who has been a key vote in the bill's passage, said the coverage has been "extremely discouraging." "I believe that the coverage has been unbelievably sexist, and I cannot believe that the press would have treated another senator with 20 years of experience as they have treated me," she told reporters. "They've ignored everything that I've gotten and written story after story about how I'm duped. How am I duped when all your amendments get accepted?" Critics of the tax bill had hoped that Collins would vote against it, given that she opposed legislation earlier this year to repeal ObamaCare.
5 times New York Times writer Charles Blow belittled black Trump supporters. New York Times columnist Charles Blow has a long history of criticizing Republicans, but he has been particularly hostile toward other blacks who have supported President Trump and those who work in his administration. Here are 5 times Blow belittled and lashed out at Trump supporters who are black: [...]
Who Says The GOP Tax Cuts Are Unpopular? Poll after poll shows that few support the Republican tax-cut plan. But when pollsters bother to ask about specifics in the bill, support skyrockets. Guess which results make the headlines?
Cheers Can Be Heard on CNN as Dem Jones Takes the Lead in Alabama. In the early part of the 10:00 p.m. Eastern hour, and before the Alabama Senate race was called for Democrat Doug Jones, cheers could be heard on CNN's live broadcast as Wolf Blitzer announced Jones had taken the lead. At roughly 10:19 p.m. Eastern, Hale Country [sic] finally turned in their votes. "Look at this! Wow, look at this," exclaimed Blitzer. "All of a sudden, Doug Jones is taking the lead." "Hale County just came in, which puts him back in the lead," explained Inside Politics host John King as they stood in front of the map. And as they spoke an audible whoop from off-camera could be heard.
Chuck Todd's Roy Moore Hypocrisy: NBC's Haven of Homophobes, Accused Sex Abusers, and Enablers. NBC is currently in full Kill Roy Moore and Donald Trump mode. It was fascinating watching those moments from Sunday's [12/10/2017] Meet the Press as host Chuck Todd and his one-sided panel piously blasted away at Republican Senate candidate Roy Moore and his supporters. Ann Althouse put it best, describing the whole charade as "cheesy emoting in the Theater of Sanctimony." What struck me even more was the hypocrisy, because Todd's own employer, NBC, has become a haven for homophobes, accused sex abusers, and their enablers.
Chris Matthews bashes 'crazy' Christians with 'mythical' beliefs about Jerusalem. MSNBC host Chris Matthews said "crazy" evangelical Christians in the South are uninformed about President Trump's decision to recognize Jerusalem as the capital of Israel because they have "mythical beliefs" about the ancient city. "Don't think this isn't related to Alabama next week," Mr. Matthews said Wednesday on "Morning Joe," referring to the Alabama Senate race. "It is related, because it's the Christian evangelicals down there with their crazy ideas about Israel, which is, I don't know, mythical. They don't understand the situation over there and how tricky it is ethnically and tribally. They don't care, because it's a religious belief. Trump's playing to that this week. You watch him."
GOP-led House passes bill making it easier for gun owners to carry concealed weapons across state lines. Republicans rammed a bill through the House on Wednesday [12/6/2017] that would make it easier for gun owners to legally carry concealed weapons across state lines, the first significant action on guns in Congress since mass shootings in Nevada and Texas killed more than 80 people. The House approved the bill, 231-198, largely along party lines. The measure would allow gun owners with a state-issued concealed-carry permit to carry a handgun in any state that allows concealed weapons. It now goes to the Senate.
The Editor says...
Notice that when Democrats have control of the House, a bill can "sail through" or "pass easily," but when Republicans are in the majority, the bills are "rammed" through.
MSNBC Spins Pro-Abortion Alabama Democrat as 'Conservative'. MSNBC journalists on Tuesday rushed to the defense of the Democrat in Alabama's Senate race, spinning Doug Jones as "moderate" and "conservative." This despite his firm support for abortion and some gun control policies.
Incorrigibly biased, but still on the staff:
ABC News President: Brian Ross Will No Longer Cover Stories Related To Trump. It's one thing to suspend a reporter for making an incredibly damaging error of basic fact on air. But to remove him from covering a particular subject altogether? That's the sort of thing you might do if you'd concluded he's incapable of covering that topic fairly. If it's an innocent mistake borne of carelessness, there's no need to declare certain topics off-limits. You do that only when you think the reporter's view of that topic will necessarily compromise his judgment.
The Mainstream Media Doesn't Deserve Our Respect or Our Trust. You mainstream media hacks want trust and respect? Maybe you shouldn't Tweet out instructions to contact Senators to defeat the tax bill like the New York Times just did. Maybe you should stop covering for the off-camera leering and grabbing and pinching of the talking heads who excoriate Trump for misogyny. Maybe you should stop hiring journalists who are ex-Obama flunkies. Maybe you shouldn't email offers of assistance to Democrat campaigns. Maybe you should stop lying to us.
Jimmy Kimmel Sends Redneck 'Republican' Prankster to AL Church to Taunt Moore Voters. Earlier this week, ABC's late night host turned activist sent one of his pranksters to Alabama to mock churchgoers and voters there who support senatorial candidate Roy Moore.
The New York Times Lobbies for the Democratic Party. I'm not easily shocked these days, but what the New York Times did today was stunning. It lobbied against the Republican tax bill via Twitter.
NYT Opinion Page Encourages Readers to Call Senators to Defeat Tax Bill. On Wednesday [11/29/2017], The New York Times editorial board and Twitter account arguably crossed a line into becoming a grassroots advocacy group, encouraging and providing both readers and Twitter followers with phone numbers to call select Republican Senators in order to defeat the Republican tax plan. This decision reeks of hypocrisy, considering the newspaper's fervent opposition to the Citizens United case, which my colleague Clay Waters has written about here and here. Newspaper editorial boards state their support or opposition for legislation or policies on a daily basis, but launching a campaign to call U.S. Senators? That's a far different matter.
Anti-Trump MSNBC host Joy Reid thinks rural Americans are 'core threat' to democracy. MSNBC host Joy Reid thinks that rural Americans are "the core threat to our democracy" and pointed to a series of tweets by liberal author Jared Yates Sexton that claimed Trump supporters "do not believe in the Constitution or any founding principles unless they're advantageous" as proof of her far-left theory. [...] Reid, who tweets so often that it's amazing she finds time to do anything else, has a feed that is essentially the anti-Trump talking points of the far left on a daily basis.
Joe Scarborough Gives Impassioned Defense of John Conyers: 'I Would Call That an Icon!' MSNBC's Joe Scarborough launched into an impassioned defense of Rep. John Conyers, arguing on Morning Joe that despite the sexual harassment allegations, the congressman is still an American icon. Scarborough was responding to Minority Leader Nancy Pelosi's train-wreck interview on Sunday's Meet the Press, in which she stumbled over a number of questions on Conyers's fate in Congress, and called the civil rights leader "an icon in our country." The Morning Joe co-host noted that Conyers might have dementia, stating "he's clearly not capable of being a United States congressman."
WaPo Reporter Goes Rogue, Gives Strategy Briefing to Secret Dem Donor Conference. Washington Post reporter Janell Ross gave a presentation at a secretive California gathering where Democratic politicians, liberal activists, and their biggest donors plotted the future of the progressive movement without notifying her superiors that she would be attending, according to a Post spokesman. The Democracy Alliance went to great lengths to keep the identities of its members and guests confidential at its fall investment conference last week at the La Costa Resort, but the Washington Free Beacon obtained a detailed conference agenda that lists both events and featured guests. Among them was Ross, a national reporter who closely covered the 2016 presidential campaign for the Washington Post and has since continued to cover the Trump administration.
Democrat News Network: CNN Fails To Report These 24 Democrat Sex Scandals. As sexual misconduct allegations continue to rock liberal Hollywood, the mainstream media establishment, and politicians of both political parties, at least the Democrats can count on CNN to eschew reporting about dozens of sexual allegations on members of their party. To be fair, it is worth noting that CNN has reported on a couple of the big Democrat sex scandals currently receiving major media attention on other news networks, specifically the scandals involving Sen. Al Franken (D-MN) and Rep. John Conyers (D-MI).
Media Defended Bill Clinton From Sexual Assault Allegations Just Last Year. Members of the media are finally acknowledging Bill Clinton's alleged sex crimes, but they can't get too much credit given their 2016 habit of playing defense for the former president. MSNBC's Chris Hayes tweeted on Friday [11/17/2017] that Democrats and the center-left need to have a "reckoning" with the allegations, and CNN anchor Jake Tapper admitted last Monday that Clinton's accusers were never given the same respect as accusers today.
Roy Moore Gets the Herman Cain Treatment. It was déjà vu all over again as the Washington Post, who has endorsed his opponent in the Alabama Senate race, brought forth 40-year-old sexual molestation accusations against Judge Roy Moore. From Clarence Thomas, to the Duke lacrosse team, to the University of Virginia rape case, to Herman Cain, we have heard such charges before and the rush to judgment that follows. Moore's accusers issue the boilerplate caveat that if the charges are true, he should exit the public stage immediately in shame and certainly that is true. Then they quickly throw him under the guilty-as-charged bus that just ran over his presumption of innocence. It matters not that Judge Roy Moore has been in Alabama politics for decades and his accusers were silent — silent until he threatened the establishment by being a credible candidate for the U.S. Senate, having dispatched the establishment candidate, Luther Strange, in the Alabama primary. Had Moore lost the primary, it is doubtful these accusations would have surfaced.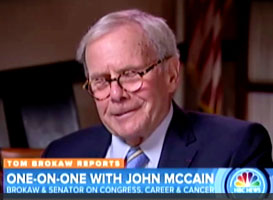 Brokaw Frets to McCain: Trump 'Turned the Country Against' Media. In an interview with Arizona Senator John McCain for Thursday's NBC Today, Senior Correspondent Tom Brokaw invited the Republican lawmaker to attack President Trump and painted the liberal media as the victim: "In the course of your political career, especially as a presidential candidate — as I learned first hand — you had some mixed relations with the press. The President has no use for the press, he has turned the country against us, in many ways." McCain was quick to agree with Brokaw's whining: "Yeah, I think the role of the press is more important than ever before. I hate the press, okay? But the fact is, without a free press in this country, a pillar of democracy is destroyed."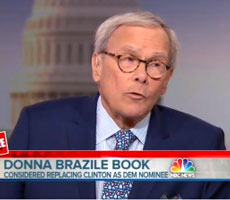 Brokaw Slams Brazile for 'Beyond Counter-Productive' Clinton Exposure. The portion of former interim Democratic National Committee Chair Donna Brazile's book exposing ethically questionable behavior by the Clinton campaign surprisingly got a lot of play on the network Sunday morning shows. But during NBC's Meet the Press, former anchor Tom Brokaw was not pleased with Brazile for shedding light on how the Clinton campaign bought the DNC and added it to their campaign arsenal. And towards the end of the program, he criticized her for doing so.
The Editor says...
Since I never watch NBC and haven't seen a picture of Mr. Brokaw lately, I was surprised to see that he now looks like George Burns minus the cigar.
A curious assault on diversity of opinion. A cabal of journalists is concerned that not every reporter and opinion writer is consumed by the Russian inquiry. Politico this week noted that Michael Goodwin, a conservative columnist for this newspaper, called for the firing of special counsel Robert Mueller, while the conservative editorial page of the Wall Street Journal took a similar stance, as did some conservative hosts on Fox News. In the New York Times, Jim Rutenberg wrote a column that observed this fact as well. The Washington Post and The Week then picked up the theme. All implied that something nefarious must be going on, since all these publications were pushing a similar line.
Disgusting Behavior: ABC Panel Shouts Down Truth of Dossier Collusion. Fox and Friends' co-host Brian Kilmeade walked into a lion's den during his book tour on Sunday [10/29/2017] when he appeared ABC's This Week as a part of a panel that was stacked against him. A fairly large segment of their roundtable discussion was about the infamous Trump dossier that was put together by a British spy, Russian agents, and paid for by the Clinton campaign and the Democratic National Committee. Everything got extremely heated when the liberal panel began to shout Kilmeade down and ludicrously claim there was no connection between Clinton/Democrats and the Russians via the dossier. When Clinton lackey George Stephanopoulos first brought up the dossier for this panel to discuss, he called on Clinton campaign staffer Karen Kinney to set up their talking points.
NBC Omits Clinton, Includes Clarence Thomas in Sex Harassment Story. On Sunday's NBC Nightly News, on display was the latest example of liberal journalists conspicuously ignoring accusations of sexual assault against President Bill Clinton even while going all the way back 26 years to include sexual harassment charges against Supreme Court Justice Clarence Thomas. NBC correspondent and MSNBC host Stephanie Ruhle filed a three-minute full report about the issue of sexual harassment of women in the workplace in light of recent accusations against film maker Harvey Weinstein and other high-profile perpetrators.
Scandals Expose Empty Barrel NeverTrumpers. [Scroll down] I almost hesitate to mock Jennifer Rubin because, let's be honest, being Jennifer Rubin every day must be punishment enough. She calls herself the "conservative blogger" at the Washington Post, but there is nothing conservative about her. Rubin's recent posts cheer milquetoast Republicans such as John Kasich and Susan Collins, lament how she didn't appreciate Clinton and Obama when they were in office, blast the "travel ban" and the NRA, compare Trump to Harvey Weinstein, and insist we need to hear more from Sally Yates. If she's a conservative, I'm Jordan Spieth.
Journalists claim Kimmel is America's 'conscience,' NRA is 'terrorist,' and other awful media mistakes. CNN's Bill Carter wrote an especially ridiculous piece under the headline: "How Jimmy Kimmel became America's conscience." Carter's piece read like a press release from Kimmel's publicist: "Kimmel simply sounds like a regular guy making reasonable points — because he is a regular guy." Maybe he seems like a regular guy, but he's not. Kimmel earns $10 million a year and has a net worth of about $35 million, according to Celebritynetworth.com. Everybody reading who's a millionaire, raise your hands. And with all the sudden pretense that Kimmel is such a moral leader, it might be good to recall the Jimmy Kimmel origin story. Kimmel built his career with jokes about genocide and promoting R. Kelly, who's accused of sex with minors. And then there's Kimmel's time on "The Man Show," where he urged young women to get on a trampoline and jump around to please the audience.
Terrorist Murderer Loses U.S. Citizenship & Deported-Press Whitewashes Her History. After years of legal wrangling and a change in U.S. Presidents, 70-year-old Chicago Palestinian murderer Rasmea Odeh officially lost her citizenship and was deported from the United States last week for concealing her murder/conviction of two Israeli college students. Of course, if you follow the media reports you wouldn't know that Odea murdered two kids, For example, the Chicago Sun-Times buried the lede in their story.
Megyn [Kelly] Responds To Saudi Arabia Letting Women Drive — By Criticizing America. In response to the news that Saudi Arabia is now allowing women to drive, NBC's Megyn Kelly criticized the United States for having "such a long way to go" on women's rights. After announcing that the Muslim country is now allowing women to drive, Kelly almost immediately turned to criticizing perceived gender inequality in the United States. [Video clip]
Goodbye, FS1.
FS1's Sharpe: Racist U.S. Flag Is Just 'A Piece of Cloth... Nobody Fights For'. After engaging in character assassination against Green Bay Packers fans who chose not to protest during Thursday's National Anthem, FS1's Undisputed co-host Shannon Sharpe did the same with the American flag, declaring it to be merely a racist "piece of cloth" that "nobody fights for." "The flag, you see, to a lot of people, symbols, patriotism but what does that symbol actually mean? What does — what does — okay — you keep telling me that the flag means so much and it's opportunity and freedom and liberty. Okay. Can you honestly say that everybody in America has freedom and liberties and opportunity," Sharpe wondered to co-host Skip Bayless.
Whose side is he on?
NBC's Holt Sympathizes With Rogue Iran Regime Against Trump Rhetoric. In his first speech to the United Nations on Tuesday [9/19/2017], President Trump put the rogue regimes of Iran and North Korea [on notice] by calling on the world to stand up to their threatening ways. But NBC Nightly News took acceptation to Trump's targeting of Iran and defended them in an interview Anchor Lester Holt had with Iranian President Hassan Rouhani. "And minutes before President Trump ripped Iran in that nuclear deal in his speech today, I sat down with Iran's President Hassan Rouhani who pointed out U.N. watchdog in charge of policing Iran's nuclear activities has thus far found Iran in compliance," Holt touted as he led into the interview.
LGBTQ Activist Commits Suicide by Cop - Who Does the Media Blame? Even when an incident is recorded, fully displaying the innocence of police officers, the left jumps to claim that police have somehow mishandled a sad situation. Such is the story that is playing out in Atlanta, as police are once again forced to defend themselves from their leftwing attackers.
Jedediah Bila Leaves "The View" — Over Hillary Interview? If the "View" crew couldn't handle two challenging questions to their idol without freaking out, it ain't Bila who's living in a world where there's only one worldview.
U2 cancels St. Louis concert after protests lead to dozens of arrests. After violent protests erupted in St. Louis Friday night, U2 has announced they've canceled a Saturday night performance in the city. The St. Louis Metropolitan Police Department said 32 people were arrested when protesters took to the streets after a white former police officer, Jason Stockley, was acquitted earlier that day in the 2011 fatal shooting of Lamar Smith, a black man.
The Editor says...
The only time the news media refer to someone as "a black man" is when he is a victim, not a suspect. Showing only one side of a coin, when everybody knows there's a nice side and an ugly side, is overt bias.
Associated Press Says: Don't Cut Taxes! The Associated Press is one of many "news" outlets that has gone into overt opposition, now that we have a Republican rather than a Democrat in the White House. Today's AP "Top News" feature is headlined: Doubts arise on whether corporate tax cut would boost growth. The passive voice is generally a giveaway. Where, exactly, are doubts "arising"?
NBC Reporter Wanted to Throw Up After Trump Won. "The room goes wavy. My stomach churns. I can feel the bile in the back of my throat." That reaction to Donald Trump winning the 2016 election didn't come from Hillary Clinton's new memoir, it came from the pages of NBC correspondent and MSNBC anchor Katy Tur's book about covering the campaign.
The Editor says...
If you're so personally affected by a story that it makes you physically ill, you shouldn't be reporting it.
CBS's Rose Goes to Battle With Bannon. On Sunday [9/10/2017], CBS News ran two high-profile interviews with two very influential political movers and shakers, the Jane Pauley interview with Hillary Clinton during Sunday Morning and Charlie Rose's interview with Steve Bannon on 60 Minutes. And the two interviews couldn't be any[ ]more different. Pauley's was mournful as she tried to connect with Clinton over her loss to Trump, while in the other, Rose was eager to fight and became combative as he lectured Bannon. On nearly every topic the two discussed, Rose lectured and berated Bannon about America and his worldview.
Mueller finds alarming signs, and sleazy people, in collusion probe. Special counsel Robert Mueller's investigation into possible collusion between the Donald Trump presidential campaign and agents of the Russian government has been remarkably discreet, as it should be. But other sources have leaked three names — Michael D. Cohen, Felix Sater and Eric Schneiderman — that indicate that Mueller's team is probing very deeply. If there's a smoking gun to be found, Mueller is getting closer to it.
Opposing viewpoint:
Anatomy of a sleazy editorial. Remarkably discreet? Then how does the newspaper know who is being probed if Mueller is being discreet? Federal prosecutors do leak damaging information to friendly newspapers and cable outlets. Jim Comey testified under oath to Congress that he used a third party to leak a memo to the New York Times. Mark Felt — passed over by Nixon as FBI director — was Deep Throat in Watergate. It would take a stretch of the imagination to believe that another former FBI official would eschew such tactics in trying to shake information from reluctant witnesses. How does the editorial board know "other sources" — implied as not connected with Mueller — leaked?
WashPo: DACA Illegals Needed Because Blacks, Latinos Can't Do the Jobs. Reporter Tracy Jan headlined her article "The Truth" as she argued that lower-skilled Americans cannot do the jobs filled by DACA illegals. [...] To decorate her claim, she quoted Douglas Holtz-Eakin. [...] A few details about Holtz-Eakin. His American Action Forum was created by GOP donor Fred Malek. In turn, Malek gets his wealth from extensive investments in hotels, which gain greatly from a large scale supply of immigrant workers and immigrant customers.
Vanity Fair Picks Liberals For 2017 Best-Dressed List; SNUBS Melania Trump. Vanity Fair, which previously featured Melania Trump on one of its covers, snubbed the First Lady of the United States in its 2017 best-dressed list — while featuring numerous liberals, including both Obamas. The list, comprised of over 40 people, is broken into eight-sections: [...]
Networks Hide Senator Bob Menendez's [D-NJ] Corruption Trial. Federal prosecutors are currently trying to put away Sen. Bob Menendez (D-NJ) on corruption charges, but in the world of the mainstream media, the trial isn't even going on. If found guilty, Menendez's replacement could increase GOP control in the upper chamber of the legislature. However, despite the high stakes, broadcast news networks have barely even mentioned the senator's name this year, let alone the trial.
Trump gives new meaning to the Friday night news dump, enraging his critics. President Trump, in the space of four hours, made official a ban on transgender people serving in the military, pardoned a controversial sheriff accused of racial profiling and parted ways with polarizing aide and conservative media darling Sebastian Gorka. The announcements were made in the evening hours as the nation focused on Hurricane Harvey, which threatened catastrophic damage to areas along the Gulf Coast, giving new meaning to the Friday night news dump strategy that has long been a staple for Washington politicians looking to bury controversial decisions.
The Editor says...
The Washington Post, and the news media in general, as I recall, never complained when Barack H. Obama did the same thing.
CNN: Everyone Who Voted For Trump Is A 'White Supremacist By Default'. CNN used the voices of a few professors and activists to assert anyone who voted for President Donald Trump is a white supremacist in a news report Wednesday, and to blame these "ordinary" people for the violence in Charlottesville. Trump voters helped advance white supremacy by giving them room to operate, CNN reported based on the assertions of others in a piece headlined, "'White Supremacists by default': How ordinary people made Charlottesville possible."
Provocateur Journalism. When a news organization reports an impending weather event based on forecasts from the National Weather Service, or warns of potential seismic activity anticipated by the U.S. Geological Survey, or alerts the public concerning an infectious-disease outbreak being tracked by the Centers for Disease Control and Prevention, no one questions the news organization's motives, because the underlying information is factual and derived from a reliable, nonpartisan, and authoritative source. CNN presents itself as a news organization, yet today [8/17/2017] it posted a dubious story titled "Here are all the active hate groups where you live," based entirely on data from the Southern Poverty Law Center. The SPLC is not the equivalent of the National Weather Service, the USGS, or CDC, to put it mildly. It is risible for CNN to recite SPLC data uncritically, with no additional validation, as a credible list of "domestic hate groups," let alone to describe SPLC's data as "widely accepted."
Remember When Obama Praised Violent Leftist Rioters? The MSM had no problem with the Ferguson, Occupy or Baltimore riots nor did they have a problem with former president Obama's support of the violent leftist agitators. Yet, nothing President Trump says will satisfy the left. If he doesn't name the white supremacists and dares mention the violent leftists, the left goes wild. After he then condemns the white supremacists, the left says it's too late.
Who's Side Are They On? Nets Tout North Korea's Anti-U.S. 'Defiance'. In a remarkable display of group think on Thursday, all three network morning shows touted North Korea hurling personal insults against President Trump as an act of "defiance" and promoted forced demonstrations in Pyongyang as a "display of unity" from the oppressed people in the authoritarian regime.
This is activism, not journalism.
AP Gives 'Tips' for Deciding If Your Kid Is Transgender. The Associated Press is giving tips for parents on how to decide whether their child is transgender, including allowing little boys and girls to "call the shots in terms of their gender." The article, "Wondering if your child is transgender? Here are some tips," accompanied another AP story Monday that gave a glowing review of a San Francisco summer camp for transgender four-year-olds. The AP spoke to "gender experts," who tell parents to allow their sons and daughters to "do a weekend as a different gender."
Stephen Miller is right: Lazarus' immigration poem is not US law. There's been some argument over who came out ahead in the picturesque set-to between White House staffer Stephen Miller and CNN reporter Jim Acosta over the White House support of the immigration bill sponsored by Senators Tom Cotton and David Perdue. On one point at least it seems to me that Miller had the best of it when he charged that Acosta was being "ahistorical." Acosta kept reading and reciting the Emma Lazarus poem written before the Statue of Liberty was erected in 1886 but not inscribed at its base until 1903: "Give us your tired, your poor," etc. His plain implication was that the United States had an open immigration policy back in the years before World War I.
The "Poor Illegal" Media Narrative and Why It's Not Working. It is not compassionate to Americans or immigrants to allow illegal aliens to ignore our laws. The corruption rampant in Los Angeles County and throughout other major urban areas follows from the arbitrary disregard for our nation's legal sovereignty and cultural integrity. The liberal, marginalized national media still wants to push an illegal alien sob story narrative at all costs. Look over the list below of the latest sob stories the national readership endured over the past week (and month): [...]
CBS sob story:
After nearly 20 years in U.S., Ohio mother of 4 deported following traffic violation. A mother of four living in Ohio was deported to Mexico after a traffic stop revealed she entered the country illegally from Mexico nearly 20 years ago. Beatriz Morelos Casillas, 37, was arrested for driving without a license near Cleveland, Ohio, on July 24. Tuesday [8/1/2017], she was deported to Nuevo Laredo, one of the most dangerous places in Mexico and where the State Department issued a travel warning in December 2016 due to violent crime.
The Editor says...
After 20 years or 20 minutes, it's still illegal to sneak into this country. And no, I don't feel sorry for her situation in Nuevo Laredo: If it were up to me, she would have been relocated to Campeche. And no, I don't feel sorry for her anchor baby kids, who will probably end up on welfare, if they aren't already.
NBC sob story:
Grandmother Deported for Voter Fraud Leaves U.S. in Tears. Her story is one that stretches over three presidential administrations: those of Presidents George W. Bush, Barack Obama and Donald Trump. It's a story that sheds light on potential gaps in federal law, the limits of the judicial system and the agonizing consequences of what one woman calls a horrible mistake.
The Editor says...
When one commits a crime — in this case, the crime of entering this country unlawfully — the name of the current U.S. President is immaterial.
ABC News Says Hillary Lost So She Shouldn't Be Investigated. The Senate Judiciary Committee sent a letter to Attorney General Jeff Sessions this past week asking for an investigation of a number of Democrats including Hillary Clinton. ABC News says Hillary lost the election and, therefore, should not be investigated. That must be a new legal guideline. If they lose, they get away with whatever they might have done wrong? This is like saying a bank robber spent all the loot so there's no point investigating or prosecuting.
First AP Story on Arrested Dem IT Staffer Makes Schultz Look Like the Victim. Just before noon, the Associated Press ended almost 18 hours of silence on the arrest of IT staffer Imran Awan yesterday [7/25/2017] as he was attempting to leave the country. The report spun the news in the most favorable way it could for beleaguered Democrats, making Congresswoman Debbie Wasserman Schultz look like the victim as it headlined her spokesman's claim that she fired Awan Tuesday after learning of his arrest. The fact is that Schultz has been involved in obstructing investigations into Awan's activities for months.
USA Today's Impeachment-Push Poll. Reporters Susan Page and Emma Kinery proclaimed a dark omen in the results, which is why the newspaper asked the poll question. They said, "Just six months after his inauguration, Americans already are split down the middle, 42%-42%, over whether President Trump should be removed from office, a new USA TODAY/iMediaEthics Poll finds." What's the impeachable offense? If a national poll were to emerge with a 42-42 tie over the belief that the moon is made of Swiss cheese, would the subsequent analysis focus on the concentration of moon matter or the irrationality of 42% of the American people? It doesn't matter that the prospect for impeachment is zero with Republicans in control of Congress.
Newsweek Dabbles in 'President Hillary' Fan Fiction. It isn't unusual for supporters of a losing presidential candidate to engage in "if only" fantasies about what would happen if their favored candidate got into office, and dream about how all the country's problems would be solved if only the election had gone differently. It's more unusual for a supposedly respectable news outlet to engage in such fan fiction. Yet that is precisely what an article in Newsweek did Wednesday, in an article called, "Hillary Clinton Is President in an Alternate Universe, Where America is Great Again."
A tale of two first ladies and troubling media bias. Last night, Michelle Obama was the honored guest of the annual ESPY awards. Naturally, the media collective was head over heels with praise and admiration.
Why the American press thought it heard high-pitched animal sounds coming out of Warsaw. Thanks to Charles Fain Lehman, writing in the Washington Free Beacon, we learn that The Washington Post's Jonathan Capehart said President Trump's speech in Poland was full of "white-nationalist dog whistles." [...] Mr. Capehart, Mr. Zeleny and many dozens of other talented writers and talkers for U.S. newspapers, magazines and TV networks have declared war on American exceptionalism in favor of they know not what. But they are the vanguard of a socialist, collectivist, internationalist movement that will take America to the same grave to which all previous great powers in world history have been dragged.
The Washington Post Offers Up A Textbook Case Of Garbage, Biased Journalism. One might be shocked back into a coma to learn James Hodgkinson was not an angry conservative, but instead was an angry Bernie Sanders supporting, Occupy Wall Street guy who favored watching Rachel Maddow on MSNBC, hated Donald Trump and who shot up a Republican congressional baseball practice, shooting Republicans, including Republican Representative Steve Scalise. If the story were only about Romanik and didn't mention Hodginkson, it would be a run-of-the-mill profile about some local AM shock-jock and a pretty good one at that. It is interesting to see the kind of influence local talk shows have just like local newspapers and local television news. But what editor at the Washington Post allowed Holley to link Hodgkinson to a right-wing radio talk show host without even confirming he ever listened to the show?
It's True: Liberals Hate Western Civilization. President Trump's superb speech in Poland has been praised by most observers, including Paul [Mirengoff]. On the Left, however, Trump's speech has been criticized for its principal virtue, the president's spirited defense of Western civilization. Here are some of the many such instances.
U.S. Labor Market Roars Back, Adding 222,000 Jobs in June.
• 222,000 jobs were added last month. Wall Street economists had expected employment gains of 175,000.
• The unemployment rate was 4.4 percent. May's jobless rate was 4.3 percent.
• The average hourly wage grew by 2.5 percent from a year earlier.
• The labor-force participation rate inched up to 62.8 percent, from 62.7 percent.
The Editor says...
Under Trump, unexpectedly good news comes out on the first Friday of every month. Under Obama, the unemployment numbers were always unexpectedly bad.
Joe Scarborough Calls President Trump 'Greatest Liar That's Ever Sat In The White House'. MSNBC "Morning Joe" co-hosts Joe Scarborough and Mika Brzezinski bashed President Donald Trump Wednesday, calling him worse than former President Richard Nixon and the "greatest liar that's ever sat in the white house." Scarborough played a clip of Brian Karem, executive editor of The Sentinel Newspapers, at Tuesday's [6/27/2017] White House briefing challenging Deputy Press Secretary Sarah Huckabee Sanders, saying her criticism of the media was inflaming the American people. Sanders responded at the briefing by citing a debunked Washington Post story stating reporters were not being thorough enough in their critiques of the president.
The Editor says...
Mr. Scarborough should spend some time reading my partial catalog of Obama's lies.
MSNBC Anchor: Planned Parenthood 'A Critical Tool For Helping Saving Lives'. MSNBC anchor Ali Velshi spent several minutes Tuesday heralding Planned Parenthood as "a critical tool for helping saving lives" and said "I'm not an advocate" before having Planned Parenthood's Director of Constituency Communications come on to defend the organization.
CNN's doing yeoman's work for Planned Parenthood here. "News" story or ad for Planned Parenthood?
Chuck Todd on MTP does not ask Bernie Sanders about FBI investigation of wife for $10 mill bank fraud. Chuck Todd occupies a singular position in broadcast journalism: host of the oldest program in the history of American television. Yesterday [6/25/2017], he did something that must have Tim Russert, Lawrence Spivak and Martha Rountree spinning in their graves. He hosted Bernie Sanders, arguably the leader of the American electoral left, and did not ask him about the FBI investigation of his wife for a suspected $10 million bank fraud, nor about reports that he and his wife are lawyering up.
MSNBC Host Fudges Facts On Planned Parenthood. MSNBC host Stephanie Ruhle incorrectly stated Friday that Planned Parenthood has had "huge increases" in the number of essential women's health services they provide. Florida Rep. Francis Rooney was arguing for defunding Planned Parenthood on "Velshi & Ruhle," and stated that Planned Parenthood has decreased its non-abortion activities, which is consistent with Planned Parenthood's own statistics. Ruhle challenged his claim, rebutting, "I don't know where you read that but I don't believe that's true based on our reporting and what we cover."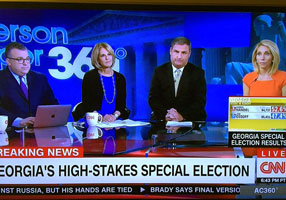 These Completely Nonpartisan Journalists Do Not Look Happy. It is kind of fun that wealthy Democrats blew something north of $30 million to lose this election. Probably closer to or greater than $40 million. 95% of Democrat Job "Pajama Boy" Ossoff's funding came from outta state; mostly New York and California. I am just pondering the irony now that people in the throes of faux outrage about "Russian meddling" in American elections... spent millions of dollars and sent volunteers down to meddle in an election in a district none of them live in. Is that irony? Or is it just hypocrisy?
Democrats are incapable of learning from Georgia Special Election loss. As I often do on election nights when Democratic disappointment is likely to be highest, I watched MSNBC. First I watched Rachel Maddow, then Lawrence O'Donnell. The MSNBC coverage was nothing short of delusional. The "a loss is really a win" approach was pervasive. Hope sprang eternal. Maddow in particular continued to spin Trump Russia conspiracy theories. O'Donnell went on and on about how the Republican healthcare bill would be the doom of Republicans. A phrase used frequently on O'Donnell's show was that this was an "ominous win" for Republicans because the margin was lower than when Tom Price won — ignoring that the Republican outperformed Trump's win.
James T. Hodgkinson: Just Another Well-Intentioned Progressive. Have you followed the drift of the Mainstream Media (MSM) as to what provoked James T. Hodgkinson to attempt the massacre of the Republican baseball team as it practiced in Alexandria, Virginia last week? Not the Democratic team, not the Washington Nationals team, but the Republican team. Well, it was not necessarily Hodgkinson's politics we are told. After all, his politics were pretty much mainstream progressive. According to the MSM, it was "a Volatile Home Life in Illinois." That is the way the New York Times put it on the newspaper's front page Sunday [6/18/2017]. Strong drink was alluded to. Anger and violence were also mentioned as features in Hodgkinson's rural Illinois home. [...] Yet as I say the MSM is soft-pedaling this lunatic's politics, and I can see why. There was nothing particularly unusual about them.
Reason #855 Why Secretary Tillerson Rightly Has No Respect for State Dept. Correspondents. Today during the State Department briefing a typical media correspondent showcases their condescending arrogance. Watch this exchange between Spokesperson Heather Nauert and a reporter. [Video clip]
Self-inflicted stupidity. CBS News anchor Scott Pelley — make that former CBS News anchor Scott Pelley — is the face of sanctimonious liberalism. The attempted assassination of House Majority Whip Steve Scalise and his GOP colleagues on the baseball field in Alexandria last week somehow prompted Pelley's comment on the day after: "It's time to ask whether the attack on the United States Congress, yesterday, was foreseeable, predictable and, to some degree, self-inflicted". Pelley of course answered the question that approximately no one was asking in the affirmative.
Joy Reid and Scott Pelley Blame Steve Scalise For Getting Shot. Have you no shame, Joy Ann Reid? In an appalling example of the left's pathological hatred of anything and anyone conservative, the MSNBC host said, not in so many words, that Rep. Steve Scalise kind of had it coming when a Bernie Sanders volunteer tried to assassinate him and his GOP colleagues as they practiced for thee annual baseball game between Democrats and Republicans in Congress. As Fox News reported her beneath contempt and all human decency remarked: As Rep. Steve Scalise lay in his hospital bed recovering after he was shot by a maniac gunman who was hunting congressional Republicans, an MSNBC host asked whether the House Majority Whip's life-threatening injuries meant Americans had to "ignore" his political positions. Joy Ann Reid on Saturday cited Scalise's positions on ObamaCare and gay marriage as among the concerning "moral" issues she felt couldn't be overlooked despite his critical injury at the hands of a left-leaning lunatic who opened fire at a GOP baseball practice on June 14.
Progressive Media Personalities Agree: Those Republicans Deserved To Get Shot. A shooter opened fire on Congressional Republicans practicing for the annual Congressional baseball game at a baseball park in Alexandria, Virginia, Wednesday morning, injuring lawmakers, staff, and law enforcement. It is unclear at this time whether the shooter was killed or is currently in police custody. In the wake of the shooting, lots of people on the Internet lost their minds. Several progressives even went out of their way to suggest the victims deserved to get shot because they have the wrong views on gun control, or Obamacare, or Donald Trump. Here are some of the most insane reactions to the Congressional baseball shoooting so far. [...]
Scott Pelley: D.C. Attack on Congressmen Was 'to Some Degree Self-Inflicted'. Thursday evening [6/15/2017], CBS's Scott Pelley, who officially ended his tenure as the network's Evening News anchor the following evening, told viewers that "It's time to ask whether the attack on the United States Congress Wednesday was foreseeable, predictable and, to some degree, self-inflicted." It's clear from Pelley's subsequent commentary that his answers to all three elements are "Yes." It's equally clear from the examples he supplied as support that he sees (or wants viewers to see) the problem as predominantly about the conduct of those on the right.
CNN Cuts Feed After Senator Objects to Clinton Foundation Atty Joining 'Independent' Counsel. Democrats have long accused the Trump campaign of colluding with Russia, though no evidence has emerged. There is also speculation that Special Counsel Mueller will probe allegations of obstruction of justice against President Donald Trump. Earlier this week, reports emerged that Mueller had hired attorneys for his investigative team who had donated to Hillary Clinton in the past, and one in particular who had represented the Clinton Foundation in its effort to block Freedom of Information Act requests for e-mails on Clinton's private server.
Trump Is Beating the Media at Its Own Game. Donald Trump has blown up that absurd arrangement and is beating the media at its own game. He labels reporters in the same way that they label him. He upends their dishonest framing of debates by treating them as what they are, liberal partisans. His exchange last week with April Ryan, a correspondent for the American Urban Radio Network, captured that perfectly. She asked him a loaded question not as a neutral reporter but as a water-carrier for the Congressional Black Caucus. So he treated her that way.
Zakaria Halts Law Professor: My Audience Is Too Dumb To Understand You. "We're on television and this might be getting too technical," said CNN's Fareed Zakaria while interrupting a law professor's explanation of relevant statutes pertaining to obstruction of justice. On Sunday's [6/11/2017] GPS, Zakaria invited two law professors — Elizabeth Foley of Florida International University and Laurence Tribe of Harvard Law School — to discuss possibilities of pursuing President Donald Trump with charges of obstruction of justice. Foley was interrupted by Zakaria as she rejected Tribe's assertion of federal statutes pertaining to obstruction of investigations and proceeding (18 U.S. Code § 1503 and 18 U.S. Code § 1510) being applicable to Trump's conduct.
Legacy Media Uses Reality Winner Arrest To Sow Division. The arrest of NSA contractor Reality Winner caused mass confusion in the wake of The Intercept's publication of a leaked NSA document allegedly submitted by Winner. The Intercept's report on the document seems to spend entire pages qualifying claims of Russian phishing attempts. Shortly after Winner's arrest, she was labeled a Bernie Sanders supporter. This has served as a talking point for the legacy media and establishment interests to sow divisions where new signs of collaboration had grown among anti-establishment elements from opposing sides of the political spectrum. If such attempts to fracture collaboration are successful, it would no doubt further the interests of legacy media and the establishment it protects.
Broadcasting's brazen Trump-bashers. The Meet the Press panel of June 4 consisted of conservative Hugh Hewitt confronted by the three anti-Trump zealots: the #NeverTrump conservative Michael Gerson and leftists Heather McGee and Stephanie Cutter. Three against one — plus, of course, leftist Chuck Todd. NBC's idea of "balance." The tape of the program — supported by the transcript — makes it evident that Hewitt had a difficult time speaking. Cutter in particular did her utmost to stifle Hewitt — but that's what the left does: strive to suppress those holding different views. The transcript indicates that Cutter had no patience with Hewitt's references to the Constitution, preferring to spout ad hominem comment to silence the conservative.
Media Runs Wild With Unsourced Claim About Trump And Weather. Many reporters are still reeling over Trump's decision to pull the U.S. out of the Paris accord, which the Obama administration joined in 2016 with the goal of keeping future global warming below 2 degrees Celsius. When Trump announced his decision Thursday, he said it was about economics, not the environment. Trump said Paris was poorly negotiated and would hurt American workers. Reporters began pelting administration officials with questions of whether or not Trump actually believes humans are driving catastrophic warming. Most officials dodged the questions, except U.N. Ambassador Nikki Haley.
Media Bias In Action: NY Times Makes Obama The Victim Of His Incompetence. President Obama went on to use executive power in an unprecedented fashion. He didn't just do it, Obama bragged about it. "If Congress won't act, I will" and "I've got a pen, and I've got a phone" were familiar refrains the president used to announce he was going to use executive power to get his way. One of the ways President Obama tried to get around the separation of powers had to do with his signature legislation, The Affordable Care Act. The law allowed for payments to be made directly to insurers to cover out-of-pocket costs and deductibles for low-income consumers. Congress did not appropriate the funds. The Obama administration decided to make the payments anyway.
The Doctor Is In. Co-Pay? $40,000. Money has always made a big difference in the medical world: fancier rooms at hospitals, better food and access to the latest treatments and technology. Concierge practices, where patients pay several thousand dollars a year so they can quickly reach their primary care doctor, with guaranteed same-day appointments, have been around for decades. But these aren't the concierge doctors you've heard about — and that's intentional. Dr. Shlain's Private Medical group does not advertise and has virtually no presence on the web, and new patients come strictly by word of mouth. But with annual fees that range from $40,000 to $80,000 per family (more than 10 times what conventional concierge practices charge), the suite of services goes far beyond 24-hour access or a Nespresso machine in the waiting room.
The Editor says...
The article immediately above is apparently an attempt to get the reader to be alarmed and outraged upon learning that wealthy people get treated better and have more comfortable lives than those with limited resources. This isn't news. It's in the newspaper, but it isn't news.
TX Republican Roughed Up By Hispanic Dems — Slate Headline: 'Texas Representative Sparks Capitol Fracas'. I assume that Texas state representatives Ramon Romero Jr. and Cesar Blanco can't be deported, but perhaps the leadership of the Texas legislature can do something about them [...]
Huffington Post with a particularly gross hit on Mike Pence. An estimated 90,000 Christians died for their faith last year, and an additional 500 to 600 million were blocked from practicing their religion, according to the Center for Studies on New Religions. In 2015, the same Italy-based organization put the Christian death toll at 105,000. Christianity is the most persecuted religion in the world, and things are particularly brutal in areas where radical terrorist groups, including the Islamic State, have a foothold. Yet, because hatred for the Trump administration has turned some writers into imbeciles, the Huffington Post decided this week to cast aspersions on Vice President Mike Pence's factually accurate reference to Christianity's tragic honorific.
NBC, CBS Justify Leftist Students Shouting Down 'Controversial' DeVos. After Education Secretary Betsy DeVos was rudely shouted down by left-wing students during a commencement speech at Bethune-Cookman University on Wednesday, NBC's Today and CBS This Morning actually attempted to justify the disrespectful behavior.
Historians Still Ruining Obama's Mythical Memoir. Like Pavlov's dogs, the liberal media salivated over the arrival of former President Barack Obama to receive the Profile in Courage Award from the John F. Kennedy Library Foundation. The mythic figure returned to accept the honor in the middle of a two-hour live special on MSNBC, loaded with the usual Chris Matthews slobbering over his "American eloquence." The words "mythic figure" truly apply, as another liberal historian has now underscored just how much "fake news" Obama manufactured on his way to the highest office in the land and the lucrative beyond.
Lesley Stahl Frets That Courts Aren't Doing Enough to Thwart Republicans. Practically as soon as "controversial" Court of Appeals Judge Alex Kozinski was introduced on Sunday's 60 Minutes by reporter Lesley Stahl, you could see her pitch coming.
Scarborough Pats Palin on the Back for Speaking in 'Complete Sentences' During Tapper Interview. During today's [4/21/2017] broadcast of MSNBC's Morning Joe, co-host Joe Scarborough offered up some high praise to former Republican Vice-Presidential nominee Sarah Palin over the way she handled her interview with CNN's Jake Tapper yesterday. What was he commending her for? Well, he seemed to be extremely impressed that she was able to speak somewhat articulately. Highlighting right away that he wasn't trying to be "snide," Scarborough expressed amazement that "she spoke in complete sentences." "Over the past five, six, seven years every time she got on TV," he explained, "she rambled to such a degree — it was word salad."
Republican wins. NYT declares victory for Democrats. From the Washington Examiner: "Republican Kansas State Treasurer Ron Estes defeated Democrat James Thompson and Libertarian Chris Rockhold Tuesday night [4/11/2017] to keep the state's 4th congressional district in GOP hands." Republican Estes 52.5%, Democrat Thompson 45.7%. A 6.8-point win. Ho-hum. But Nate Cohn of the New York Times — who gave Hillary an 85% chance of winning on Election Day — sees this as a victory for the Democratic Party.
CNN's Story Contradicting Devin Nunes on Susan Rice Is Based Entirely on Anonymous Sources. [Scroll down] House Intelligence Committee Chairman Devin Nunes [...] has been criticized for the way he handled and presented this information — not without reason — as he rushed to the press with it before handing it over to the rest of the intelligence committee. As a result, Nunes has recused himself from the intel committee's Trump-Russia probe, but he's still looking into Rice's unmasking and the questionable conduct of the intelligence committee more generally. However, Democrats on the committee have now seen the information that Nunes has, and no one denies that Rice is behind the unmasking. CNN responded to the Rice revelation in a way that was frankly discrediting for a respectable news organization. They refused to cover it, except to have their reporters overtly discredit it and even called it "false" in chryons.
Susan Rice Doesn't Deny Unmasking Trump Associates. This morning, Susan Rice turned to the friendly confines of MSNBC to respond to explosive allegations about her role in the Obama spy/leak scandal. Host Andrea Mitchell did all she could to make Rice feel at home. She asked no tough questions, failed to follow up on evasive answers, and sometimes jumped in to reinforce claims made by Rice. [...] Amazingly, Rice got through a 16-minute interview without ever confirming or denying that she unmasked associates of President Trump.
The 10 Questions Andrea Mitchell Didn't Ask Susan Rice. Here are a few thoughts about Andrea Mitchell's interview with Susan Rice — and the key questions that were left unasked. Rice opened the interview by saying, "The allegation is that somehow Obama administration officials utilized intelligence for political purposes. That's absolutely false." On the contrary, the allegation is absolutely true — and demonstrating its truth is as easy as unmasking an American citizen in an NSA intercept.
Obamagate's Truth Is Stranger Than Orwell's Fiction. Susan Rice's shaky, dry-mouthed performance on MSNBC Tuesday looked like a scene out of Orwell's fiction too. Ministry of Truth official Andrea Mitchell hesitantly asked her questions about the scandal, making sure not to tax her too much or ask her any awkward follow-up questions. The interview lasted over ten minutes, but Mitchell couldn't find time to ask her about the bald lie she told on PBS in March (that she knew "nothing" of unmasking the Trump team). Nor was Big Brother to be brought up under any circumstances. So even as Rice droned on about the importance of unsparing national security briefings, Mitchell steered clear of any mention of the beneficiary of that briefing — President Obama.
This is activism, not journalism:
CNN Works Hard To Help Illegal Aliens With 5 Phone Apps. [Scroll down] CNN went on to provide those 5 apps, which do things like allow illegals to let others know that immigration raids are happening. Which is fantastic, since the vast majority of people ICE goes after are illegals with criminal convictions on their record. Rape, robbery, assault, DUI, identity theft, coming back in after being deported (a federal felony), burglary, arson, and child molestation. Much like Democrats, these are the people illegals are attempting to shelter.
CNN Complains About the Deportation of Drunk Driving DREAMer. If there was one thing that our politically divided country could agree on, it was the seriousness of drunk driving. But during Monday's [3/27/2017] edition of The Lead, that common understanding took a back seat for CNN as they bemoaned that a so-called "DREAMer" was deported. "Last August [Jorge] Matadamas was charged with drunk driving and evading arrest. While in jail, he lost his DACA status," reported Polo Sandoval, "[A] program which gave him a chance to live and work in the U.S. After seven months in detention, he was deported." CNN's report came after Attorney General Jeff Sessions threatened to pull federal law enforcement funds to cities that hindered Immigration and Customs Enforcement agents.
Media Bias Goes Far Beyond Language. As the history of visual propaganda reminds us, images can be as powerful as words in promoting ideology. And since the clichés are true — every picture tells a story and a picture is worth a thousand words — perhaps conservative men and women in the public eye should start demanding final approval of the images the mainstream media use of them. Or at least insist on using their own photographers.
Politico Absolves Gorelick for Instituting the Wall. The first twenty paragraphs in the Politico piece deal with the "vitriol" from Democrats who are shocked at Gorelick for consorting with the Trumps. Only in the twenty-first paragraph does the reader learn that Gorelick has "long been a bête noir of the right." Writes Karni dismissively, "Rush Limbaugh for years has falsely blamed her for instituting a 'wall' between law enforcement and intelligence agencies when she served in the Justice Department, making it easier for the lead 9/11 hijacker to enter the country." Falsely? The "wall" is just one of many grievous offenses against the Republic for which Gorelick stands accused — including, as even Karni admits, a $26 million payday from Fannie Mae — but there is nothing false about her involvement with it.
Why is the Democratic National Committee "Embattled"? This is a surprising news story, only because it comes from the uber-Democratic Party news operation, NBC: [...] Conservatives are hard on the Republican Party — we often denounce our party's leaders as inept, or worse. But in fact, the Republican Party is riding a wave of historic success. It is the Democrats who are sliding downhill toward oblivion, if present trends continue. Has any major political party in any country ever had such an unsympathetic set of leaders as Harry Reid, Nancy Pelosi, Chuck Schumer and Hillary Clinton? Not that I know of.
Flashback: Media Mourned When ObamaCare Was in Trouble. While the liberal media has portrayed the tabling of the ObamaCare replacement bill as a "hugely embarrassing" political failure for President Donald Trump, there is one thing they aren't doing — calling it a missed opportunity to rescue Americans who have been hurt or burdened by ObamaCare. However there was a time, back in 2010, when liberal reporters were saying something entirely different. After Republican Scott Brown took over "Ted Kennedy's seat" and was poised to cast the deciding vote that would kill ObamaCare, the liberal media feared for the fate of President Barack Obama's signature piece of legislation.
Look Who Else Called Slaves "Immigrants". The liberal mainstream media was waiting to pounce on anything that recently-confirmed Housing and Urban Development Secretary Ben Carson said, and that's precisely what they did this week after Carson referred to slaves as "immigrants" in a speech. Interestingly enough, however, former President Barack Obama said the same thing... but, of course, the outrage didn't follow.
Stopping CNN spies. CNN just published the results of an outright espionage operation against the Trump White House, by pointing a vibration-sensitive camera at the window of the Oval Office. This is an espionage technique, and it is obviously a major violation of national security laws. CNN is gambling that any arrested "journalists" (spies) can be turned into martyrs against the Trump White House. One obvious move is to have the perps arrested (which has to be done at some point). But a much better strategy is to turn the CNN stunt against them.
Hypocrisy: 7X More Coverage for Sessions Debacle than Holder Contempt. If you ever doubted that the media see the news through a partisan prism, consider this: in less than two days, ABC, CBS and NBC devoted nearly 7 times as much coverage to Jeff Sessions meeting with the Russian Ambassador in his role as a U.S. Senator than they did when then-Attorney General Eric Holder was held in contempt of Congress in June 2012.
Have You Noticed Media Pushing a National Narrative of Anti-Semitism Today? Here's Why. Many people are noticing a rather familiar, albeit oddly timed, leftist "anti-Semitism" narrative being pushed into the media broadcasts over the past 36 hours. Yes, it seems to have come out of nowhere. [...] However, the actual motive of the professional corporate media to push this meme has nothing to do with President Trump or republicans — it's an internal maneuver and transparently Clintonian. Team Clinton, meaning the professionally political elements of the Democrat machinery, are pushing the anti-Semitism storylines because the party is in the final stages of framing their argument to ensure their preferred DNC head, Tom Perez, wins as party chair.
Andrea Mitchell Praises Lefty Protests, After Being Frightened by Tea Party. At the top of her 12 p.m. ET hour MSNBC show on Tuesday [2/21/2017], anchor Andrea Mitchell enthusiastically touted liberal protesters showing up to congressional town hall meetings: "Republican Congress members getting an earful back home as they prepare to rollout their plan to repeal ObamaCare." However, back in 2010, Mitchell was frightened by such "angry" displays by Tea Party demonstrators attending public meetings with Democratic lawmakers.
Oddly enough, media silent about Muslim bakeries that all refused to bake cake for gay couple. Stephen Crowder (a Conservative humorist and commentator) went to multiple bakeries in Dearborn Michigan and could find a single Muslim bakery that would bake him a wedding cake celebrating gay marriage. [...] But this post is not about how Muslims are big fat bigots and homophobes for not wanting to bake a cake for a gay couple. We support the Muslim bakers' rights to refuse service just as much as we support the Christians. As a matter of fact, I'll take it a step further than Crowder does in his video and say that we believe any private establishment should have the liberty to refuse service to anyone for any reason. [...] No, this is a story about media bias. You see, when the media baited a Christian pizzeria owner into saying that she probably wouldn't cater a gay wedding, the media went ballistic!
MSNBC Repeatedly Pushes Elizabeth Warren To Call Mitch McConnell 'Sexist'. MSNBC's Kasie Hunt twice tried to get Sen. Elizabeth Warren to call Senate Majority Leader Mitch McConnell's behavior "sexist" during a Wednesday interview on Capitol Hill. The Massachusetts Democrat noted that after McConnell prevented her from reading a letter penned by Coretta Scott King, "[she] went outside the Senate chamber, and [she] read the whole speech.
Opinion Activism On News Page: GOP Hurries To Slash Oil And Gas Rules. [Here is another reason] that the Credentialed Media has lost trust, as the NY Times publishes what is essentially an activist opinion piece by Eric Lipton on page A1 of the Sunday NY edition. This might as well have been written by the office of Nancy Pelosi[.] [...] If that was a press release from the Democratic National Committee, would you know the difference? Interestingly, Lipton never actually names the group till literally the next to last paragraph.
Useful Idiots No More. The media is forever demanding that Christians take a "serious look" at their religion's lack of modern enlightenment, then declare any criticism of the Koran "Islamophobia." "A Sinister Perception of Islam Now Steers the White House," blared a Thursday [2/2/2017] headline on the front page of the New York Times. Could anyone imagine it running an equivalent headline about Obama's White House and Christianity — "A Sinister Perception of Catholicism Now Steers the White House"? Later, the paper changed "sinister perception" to "dark view of Islam."
The Anti-Trump Media's Attack on Monica Crowley. My friend Monica Crowley was the subject of a major hit job by CNN a few weeks back. She is a serious scholar, but she was portrayed as a serial plagiarist who never had an original idea in her head. The emotional toll of the uproar caused her to withdraw from her appointment by President Trump to be the senior director of communications at the National Security Council. It is the country's loss. Over the last two decades, Monica has been one of the most effective commentators on the national scene regarding the geopolitical challenges confronting the United States, and in particular the phenomenon of jihadist terror catalyzed by sharia-supremacist ideology — radical Islam.
NBC's Holt Lectures Viewers on the Meaning of the Statue of Liberty. With the debate over the legality of President Donald Trump's immigration and travel ban still raging Monday evening [1/30/2017], NBC broadcasted their Nightly News program "from the shadow of the Statue of Liberty" accompanied by a lecture from anchor Lester Holt. [...] But neither ABC nor CBS treated it as a time to seemingly pontificate about the morality of the issue, let alone march out to the Statue of Liberty and use it as a prop.
Nets Cheer Left-Wing Protesters & Politicians 'Defying' Trump on Immigration. All three network morning shows on Thursday hailed left-wing protesters and Democratic mayors across the country denouncing President Trump's executive orders on immigration and border security. Co-host Matt Lauer led off NBC's Today by proclaiming: "Breaking overnight... Protests across the country after President Trump orders a Mexican border wall to be built immediately." Clips played of demonstrators chanting: "Donald Trump has got to go!"
ABC's Muir Left Speechless After Trump Brings Up March for Life. Wednesday night was a major first for Donald Trump as ABC aired his very first interview as the President of the United States. The interview questions ranged from immigration policy to what carpet he chose for the Oval Office (Ronald Reagan's), but things got awkward for interviewer David Muir when he tried to stick Trump with questions about the Women's March on Saturday, "Let me just ask you while we're standing outside, could you hear the voices from the Women's March here in Washington."
After school Satan clubs coming to public elementary schools. An organization that calls itself the Satanic Temple has been very active in promoting its overlord. It conducted a Black Mass and agitated, but failed, to build a 7-ft tall statue of Satan next to a 10 Commandments monument in Oklahoma City; actually erected the statue in Detroit; and wants prayer in school to the Devil. Now, in the name of religious parity, the Satanic Temple is bringing After School Satan Clubs to America's public elementary schools. Another reason to home school your children.
The White House Press Corps Fawned Over Obama At His Final Press Conference. The White House press corps showered President Barack Obama with adoring questions during his final press conference Wednesday, following a brief address in which he talked about the importance of a "skeptical" press. "In LGBT rights, we've seen a lot of achievements over the past eight years," one reporter begins in a montage put together by Grabien to highlight the questions. After crediting Obama with a list of accomplishments, he asks: "Where do you think LGBT rights will rank in terms of your accomplishments or your legacy?"
The Washington Post Takes Anti-Trump Bias To A New Level. [Scroll down] The story is about a Washington Post/ABC News poll that asks, among other things, whether Trump should sell his business to avoid any possible conflicts of interest while president. Trump has taken steps to avoid these conflicts, although not to the satisfaction of some in the media — many of whom probably wouldn't be satisfied no matter what Trump did. What did the poll find? It found that most (52%) think the steps Trump has taken are enough to "separate Trump's business interests from his obligations as president." On the other hand, only 42% said that Trump should sell his business.
With CNN Credibility in Tatters Anderson Cooper Attempts To Defend Propaganda. In addition to the Trump transition team and NBC Reporting, Fox News is now also reporting the original claims by CNN were entirely manufactured, "fake news" by four CNN agenda driven reporters: Jake Tapper, Jim Sciutto, Evan Perez and Carl Bernstein[.] Nothing reported as fact by the CNN constructionists actually took place. Against, the back drop of CNN's destroyed credibility, pundit Anderson Cooper attempts to obfuscate and push back against the collapse during a contentious interview with Kellyanne Conway: [...]
Amusing, inasmuch as cable channels don't use "airwaves."
MSNBC Host to Planned Parenthood: 'These Airwaves Are Your Airwaves'. Americans know the liberal media are untrustworthy. But there's something especially repulsive when they don't even pretend to uphold journalistic integrity. On Sunday [1/8/2017], MSNBC host Joy Reid invited Planned Parenthood President Cecile Richards on her show, AM Joy. But rather than conducting an interview, Reid turned her show into a Planned Parenthood lovefest, from insinuating that defunding Planned Parenthood would make women die to promising Richards that "these airwaves are your airwaves."
Hours Before Trump's Press Conference CNN And BuzzFeed Hit 'Fake News' Bottom. Just as we saw last Friday, with the completely fact and evidence-free dog and pony show put on by the Intelligence Community and their media allies, late Tuesday afternoon, the Establishment Empire struck again, this time with an unprecedented double down. No doubt working in tandem (and with Donald Trump's many establishment enemies on both the left and right), CNN and BuzzFeed did something so sleazy and dishonest that, just a few years ago, even to a media cynic like me, it would have seemed impossible. With a breathless breaking news report, left-wing CNN went first. To no one's surprise, the once-respected Jake Tapper took the lead. Undoubtedly CNN's overall goal was to offer up the imprimatur of "journalism" so that a batch of leaked and completely unsubstantiated anti-Trump documents could be dumped on the American public the night before the President-elect's very first press conference.
Vicious Hate Crime In Chicago Whitewashed By Press. Note that the AP makes no reference to the races of the people involved, and says it is too soon to tell whether the assault was racially motivated.
Chicago torture video highlights media double standard on hate. The four suspects are facing felony charges including hate crimes and kidnapping. But Chicago Police initially downplayed reports Wednesday night that the attack was racially motivated. "At this point we don't have anything concrete to point us in that direction," Police Supt. Eddie Johnson told reporters. A video of the suspects attempting to scalp a man while shouting "F*** white people" isn't concrete evidence? And while the police were trying their best to tone down the racial motivations of the attackers, the Mainstream Media was trying to whitewash their skin color. It took the Washington Post nine paragraphs to get around to the skin color of the attackers.
CNN's Camerota Frets 'Right-Wing Websites' Making Chicago Beating 'Political'. As Thursday's CNN New Day covered the horrendous story of a white special needs man being tortured by four black teens in Chicago while they made anti-white and anti-Donald Trump taunts and live streamed the assault on Facebook, CNN co-host Alisyn Camerota fretted that "right-wing websites" like Breitbart, The Blaze, and Townhall are going too far in making the story "political." At 6:31 a.m. ET, after a full report on the horrific attack, Camerota plugged an upcoming segment on right-wing reaction to the video as she worried: "I mean, look, not only is this hideous, it's being also now somehow parlayed into a political statement. There are some right-wing websites that believe that this is political. So we're going to have a debate about what is behind this coming up."
Zero Self-Awareness: Chuck Todd Whacks Trump's 'Concierge Media Friends'. On NBC's Meet the Press on Sunday [1/1/2017], Chuck Todd devoted a whole hour to analyzing Trump vs. the Press, but he worked energetically to avoid the notion the media lost trust because it's seen as part of the Democratic National Machine. There were no questions about whether they failed in being too soft on Hillary Clinton, because they never think they've been too soft on Democrats.
Midnight meltdown as tipsy Trump-hater Don Lemon has mic cut off by CNN. CNN anchor Don Lemon has copped the honor of the first on-air Trump-hater meltdown of 2017, year one of the Trump presidency. Sour Lemon's behavior was so disgraceful and out of place during a celebration of the New Year that the network brass cut his audio feed just after midnight when he began speak of "awful" 2016.
CNN Uses Germany Attack To Bash The Right. CNN's online coverage of Monday's deadly terror attack on a German Christmas market focused on the attack's potential to stoke far-right anger, rather than the threats of Islamic radicalism. The attack in Berlin killed at least 12 people and injured dozens more, but on CNN's website, the network's top story warned about "the fallout of fear" and said that "attacks fuel [the] far right's assault on democracy."
ABC Highlights Electoral College Disruptors, Shocked by Clinton Defections. As the Electoral College wrapped up its proceedings across the country Monday, it was abundantly clear that President-Elect Donald Trump had exceeded the 270 votes needed to win and that the efforts of his liberal opponents were sundered. On ABC's World News Tonight that evening reporter Cecilia Vega highlighted the efforts of those who set out disrupt the process. "It did not come without some fiery moments today," hyped Anchor David Muir leading into the report. "A chaotic scene in Wisconsin today," reported Vega, "Protesters shouting down electors as they cast their votes for Donald Trump." "Everyone one of you, you're pathetic! You don't deserve to be in America," a woman shouted as she was being escorted out by police. "This is my America! My America," she continued.
CNN's Robert Baer: We Should Have Another Election. Well, that didn't take long. The morning after the Washington Post's Friday evening [12/9/2016] story that a "Secret CIA assessment says Russia was trying to help Trump win White House," a "deeply disturbed" Bob Baer, appearing on CNN Newsroom, when questioned as to whether "we should have another election," said that if it's true, "I don't see any other way than to vote again."
WashPost Religion Columnist Attacks Evangelicals for 'Dangerous' Lack of Trust in the Mainstream Media. The escalation against conservatives continued on Thursday with an online Washington Post column by Sarah Pulliam Bailey that sought to connect the distrust in the mainstream media on the right to the rise of fake news and "dangerous" consequences like the false story that's become known as Pizzagate. "Listen, I was raised in an evangelical home. I know the media is supposed to be the butt of many jokes and the source of many of our problems. For many conservatives, the phrase "fake news" is now being used to describe "liberal bias," but fake news has real consequences," Bailey emphasized near the beginning of her post. Perhaps most frustrating but not surprising for this newspaper was that Bailey made no attempt to differentiate between conservatives not willing to trust the liberal media and those who have embraced everything they see and hear from sites that have no semblance of facts or substance (ex. Stories about Pope Francis endorsing Donald Trump).
CNN Gleefully Mocks Dr. Ben Carson — Exhibit Stunning Level of Ridicule Against Black Cabinet Nominee. During a presented Don Lemon discussion panel Monday night [12/5/2016], the severity of ridicule against Dr. Ben Carson was jaw-dropping and unprofessional in the extreme. Removing all pretense of substantive discussion, Don Lemon, Marc Lamont Hill and Peter Beinart began openly mocking the nomination of Dr. Carson for Secretary of Housing and Urban Development (HUD). The scope and severity of the exhibited ridicule was so over the top, fellow CNN panelist Brian Stelter was both visibly trying to hide his glee and simultaneously uncomfortable joining in amid the laughter and mockery.
Nets Give Jill Stein Recount Effort 12 Times Coverage of Her Entire Campaign. When Jill Stein was the Green Party's candidate for U.S. president, the networks only gave her 36 seconds of coverage. However, as soon as she launched a campaign to contest the presidential election and demand a recount of ballots in several key states, the evening news shows on ABC, CBS and NBC managed to find 7 minutes and 26 seconds of coverage for her in just four days. That's more than 12 times as much coverage as in the entire campaign.
Left Targets Giuliani for Fighting Terrorism too Energetically. In a move that invites parody if not outright ridicule, the left-oriented Politico blog this week went after former New York City Mayor Rudy Giuliani for fighting Iran-sponsored terrorism too aggressively. Well, duh! In a week that saw "Fake News" become the number one topic of debate among mainstream journalists, Politico decided to double down on stupidity and serve up a prime example of fake news. The Washington post dutifully echoed the false accusations to give the lie a cloak of respectability not bestowed by Politico.
Journalists Hail Castro's Achievements, 'George Washington,' 'Folk Hero to Most of Us'. Fidel Castro, who died late Friday night, was a tyrant who oppressed Cubans and brought misery to many for several decades and while much of the breaking news coverage emphasized that reality, journalists on ABC, CNN and MSNBC — matching how too much of the media approached Castro for decades — couldn't resist crediting him for supposed great advancements in education, literacy and health care. On MSNBC, Andrea Mitchell insisted in a stock bio that Castro "gave his people better health care and education." Appearing live by phone, she soon trumpted how Castro "will be revered" for "education and social services and medical care to all of his people."
CBS, NBC Spend Three Times More Airtime on Neo-Nazi Conference Than Four Years of March for Life. A disturbing trend has emerged since the presidential election as the liberal media have been promoting neo-Nazis and white nationalists in hopes to (admirably) discredit them and falsely insinuate that they were far-right conservatives who propelled Donald Trump to the White House. Well, this trend manifested itself with five minutes and 17 seconds Tuesday morning on CBS and NBC that attempted to label the neo-Nazi conference as one featuring "conservative extremist[s]" and added up to three times more coverage than they've had on the March for the Life in the past four years (at one minute and 40 seconds).
The Exhausted Epithets of the Left. Barack Obama's signature phrase, "the audacity of hope," came from a black nationalist, Jeremiah Wright. Obama stocked his administration with black nationalists, delivered speeches to openly separatist black colleges and associations, rolled out the red carpet for Al Sharpton, encouraged the reverse racism of "Black Lives Matter," and rationalized the behavior of athletes who protested the American flag. None of this qualified as "ethnonationalism" in the eyes of the media. They reserve that smear for conservatives who oppose hyphenated Americanism.
CNN Disappointed Because The Stock Market is Rising. Liberal ideologues who hate America continue their frustrated teeth gnashing.
Hypocrisy Watch: Networks Pound Bannon, But Ignore Democrat Ellison's Radicalism. Since Sunday evening, ABC, CBS and NBC (along with a host of other establishment media outlets) have been engaged in a feeding frenzy over Donald Trump's appointment of Steve Bannon, with reporters relentlessly employing phrases such as "white nationalist," "white supremacist," "extremist," "racist" and "anti-Semitic" to solidify the image of Bannon as a dangerous pick for a top White House position. But since Friday, those same networks have been blind to the controversies surrounding the top candidate for Democratic National Committee Chairman, Rep. Keith Ellison. Ellison has been accused of ties to the radical Nation of Islam, the Muslim Brotherhood, and once suggested the 9/11 terrorist attacks were akin to the infamous Reichstag fire used to propel Hitler's Nazi party into absolute power in 1933 Germany.
The Washington Post Thinks Reporting On A Study That Shows Illegals Take Jobs Is Racist. In order to not be considered a racist by The Washington Post you should probably avoid reporting on a study by a federal economist that reveals illegal immigrants take jobs. This is made clear in the article "'Can you name one white nationalist article at Breitbart?' Challenge accepted!," published Tuesday afternoon [11/15/2016] on the Post's The Fix blog. The article was a response to a Breitbart editor who defended the publication from attacks that it supports racism Monday night by asking CNN's Don Lemon if he can name one white nationalist article on the site. Breitbart has been under attack for allegedly being a white nationalist publication ever since the site's former executive chairman Steve Bannon was named President-elect Donald Trump's chief strategist on Sunday.
Democratic Propaganda Disguised as Election Analysis. Julie Bosman and Monica Davey in a N.Y. Times article, "Republicans Expand Control in a Deeply Divided Nation," use understatement and a rhetoric of "thoughtful analysis" to make their case that Republican victories are negative events even though the people have spoken. By publishing this article, the N.Y. Times once again becomes an instrument of partisan politics under the guise of high-minded journalism. The authors have mastered the art of writing to project a sense that the reader is getting an overview of where we've been, where we are, and where we're going. But in fact, the article is filled with bias against the Republicans. Distortions abound.
ABC's Stephanopoulos: Trump Civil Suit Conviction Could Be 'Impeachable'. ABC's George Stephanopoulos raised the prospect of the impeachment of President-Elect Trump on Thursday's [11/10/2016] Good Morning America, as the morning show spotlighted the multiple civil lawsuits against the billionaire. The former Clinton administration communications director underlined that "if he takes the risk of going to trial and he's convicted, that could be seen as an impeachable offense." ABC legal analyst Dan Abrams corrected Stephanopoulos's faulty take: "You can't impeach someone for stuff that they did before they became president."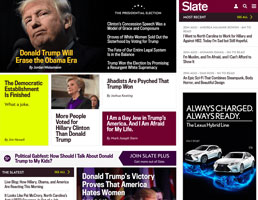 Slate Goes Ape. My wife pointed out the front page of today's Slate. (Slate, if you are not familiar with it, is a left-wing on-line magazine.) You can enlarge this image and then just ponder it. There are numerous delights to be discovered, from "Donald Trump's Victory Proves That America Hates Women" to "Trump Won the Election By Promising a Resurgent White Supremacy." Sure he did! One question: doesn't a complete lack of self-knowledge sometimes come back to bite you?
'Meltdown of the night' Bitter news anchor bemoans Trump's election success. As Donald Trump triumphed in the race to the White House a television news anchor has bemoaned his incredible success. As various major US news networks prepared to confirm the Republican's victory over Hillary Clinton, MSNBC host Rachel Maddow gave a bitter response while live on air. The sombre host told MSNBC viewers, as Mr Trump edged towards victory: "You're awake by the way. "You're not having a terrible, terrible dream. Also you're not dead and you haven't gone to hell. [...]"
Trump Wins — Time to End the Republican Civil War. [Scroll down] But if you were watching Fox News (not the more Trump-friendly and vastly more interesting Fox Business) as the returns were coming in, the commentators (except for the eminently sensible Tucker Carlson) made you think what we were witnessing was the final ascendance of Eugene V. Debs after six attempts and America was about to turn communist — or something. I'm not going to name names. It's pointless and contrary to what I am trying to do. But I thought half those commentators were about to cry. Some of them actually were. And this is a conservative network.
Leftist Protester Going Nuts On CNN Over Hillary Loss Was a CNN Cameraman? Is CNN using their own crew members as fake protesters? Earlier today, we posted a video of a Hillary supporter having a total meltdown on CNN last night. In a slightly longer version of the clip you can watch below, CNN's Don Lemon remarks at the end of the video that he knows the man and that he's a CNN cameraman.
Dain Bramage: Idiot Hillary Supporter Has A MELTDOWN On CNN. This meltdown, what is said, and WHO is saying it explains a lot of what's wrong with our country right now. Respectfully, sir, your school owes the taxpayer a refund and an apology. They've obviously failed you. The field reporter went to an anti-Trump rally in Chicago and stopped someone in the crowd for his comments. And then things got weird. [...] The newscaster back at the newsroom recognized this 'passerby'. As a cameraman. One who had traveled to Rwanda with the newscaster.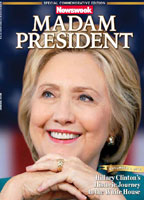 Dewey defeats Truman!
Newsweek recalls 125,000 copies of its souvenir Madam President issue. Everyone from pollsters to pundits got the result of the US presidential election wrong. But few can have made it in such an expensive manner. Newsweek and a partner that prints up special commemorative issues has been forced into an embarrassing recall, after it sent out 125,000 copies of its Madam President issue designed to celebrate Hillary Clinton's win.
ABC's Martha Raddatz Chokes Up While Discussing Implications of Trump Presidency. ABC News' Martha Raddatz began to choke up during the network's 2016 Election Night coverage when discussing the ramifications a President Donald Trump might have on the military. Raddatz, one of the 2016 debate moderators, sounded shaky from the get-go. "Donald Trump, I questioned what he would do about Syria and his understanding of military policy and civilian/military divide, I don't know that he really has a plan for what he's going to do there," she said.
CNN: A Blue Spot in 'This Sea of Red Makes You Feel a Little Better'. CNN's John King said that a state leaning blue toward Hillary Clinton in a "sea of red" had to make you feel better while looking at a map of the incoming results of the presidential election Tuesday night [11/8/2016]. After discussing with Wolf Blitzer how Virginia was moving toward Clinton, King zoomed out and took a look at all the states that had either gone or were leaning to Donald Trump, describing the map as a "sea of red."
Stunned Chris Matthews: Loser Hillary Won the Debates, Had 'Best Ad Campaign'. A stunned Chris Matthews struggled to comprehend Hillary Clinton's loss and the victory of Donald Trump on election night. On MSNBC, Matthews sputtered, "[Clinton] won every debate by all standards. Every debate.... She had the best ad campaign, the best ground game." He whined, "This is a shot against meritocracy, I think. Because she merited everything and the normal way you standardize these things, she did what you're supposed to do to win and Trump came in around the corner."
The Editor says...
Oh, yes, "she did what you're supposed to do," except for the secrecy, the cloud of corruption, the imperious condescension, the $200,000 speeches about nothing, lying about her obviously poor health, and 30 years of accumulated scandals, any one of which should have sent her to trial. What an immense relief it is to know that we won't have to listen to that ghastly voice of hers for the next four years. Nor does anyone have to listen to people like Chris Matthews, constantly campaigning for the Democrats while pretending to be "journalists."
WikiLeaks: John Harwood Asked Podesta What He Should Ask Jeb During Interview. John Harwood, a journalist for CNBC and The New York Times, asked Clinton campaign chairman John Podesta what he should ask then-Republican presidential candidate Jeb Bush in an interview, according to a new email released by WikiLeaks on Sunday [11/6/2016]. The email from September 21, 2015 had the subject line, "what should I ask Jeb..."
The Truth About the Late Tom Hayden — Whitewashed by the MSM. The worst claim in the [New York] Times' obituary is that Hayden was a "peace activist" who "opposed violent protests but backed militant demonstrations." He could be called a peace activist only if one views someone who supported a Communist victory in Vietnam as a proponent of "peace."
"Amerca's Morning News" All in for Hillary. I was listening to the radio when America's Morning News came on with some election "news". It was essentially a campaign ad for Hillary Clinton disguised as "news". It dwelt on the made up "scandal" of Trump accusers that have been mostly debunked. Not a single word about the multiple Hillary scandals from exposing U.S. classified information, pay for play as Secretary of State, transferring half a million dollars to the campaign of the wife of the FBI individual who was supposed to be investigating Hillary, and on and on. I have never seen the full force of the organized media so completely all in for one candidate before.
Dishonest media 101: 'Your bias is showing'. [Scroll down] Unfortunately, when I was working on the copy desk putting out the Sunday paper last week, I was so shocked by a story that I changed my plans for this column. The story, which passed muster at the Associated Press and no doubt made its way into hundreds of newspapers and probably thousands of websites, was a report on a Trump rally in Portsmouth, New Hampshire, on Oct. 13. It was so astoundingly biased that I had to extensively edit the story to remove the reporter's personal opinions before running it on the following day's front page. The story was headlined, "Trump challenges legitimacy of election." That was one of the few accurate statements in the report. It was all downhill from there. I'll provide a few examples to demonstrate how the reporter inserted personal opinions into a news story, and how easy it was for me as editor to correct them.
This is Abortion Advocacy, Not Journalism. I was kinda thrown off guard this morning. I got on the Facebook page of a local newspaper this morning. It's a great place to find recommendations on gutter clearings, etc. in our area. And along with the posts on golf carts for sale and BOLOs for pick up trucks speeding on backroads, there was this. [...]
Trump has a point with media criticism. Add it all up, and one presidential candidate's negative news of the day was somehow covered more than 23 times more than another candidate's negative news of the day. It's understood what has always sold in this business: sizzle always trumps steak, sex always triumphs over substance. If you told me the coverage was 2-1 or even a 3-1 ratio of Trump to Clinton, you wouldn't be reading this column right now. But a story winning the lead over another is one thing. Devouring it to the point of almost total omission via a more than 23:1 ratio is quite another: "NBC Nightly News" with Lester Holt devoted zero seconds to the Democrat and Wikileaks on Thursday night [10/13/2016].
How the Washington Post killed Bernie Sanders' candidacy. The Bernie Sanders candidacy didn't die a natural death — it was murdered. And the murder weapon has the fingerprints of the Washington Post all over it. That's the contention of the much-respected progressive writer Thomas Frank (author of the beloved-by-the-left book "What's the Matter With Kansas?") in an evisceration of the media's role in taking down Sanders that will be the cover story of the November issue of Harper's.
Washington Post Reporter Spiked Info About Podesta Conflict Of Interest. A Washington Post reporter gave former White House Senior Counselor John Podesta advance reassurance she was withholding information about his ethically compromising financial links to a Democratic mega-donor. "I just wanted to make sure John Podesta had a heads up that his name will be in a story concerning the White House's ethics policy, which could run on Monday," WaPo White House Bureau Chief Juliet Eilperin told then-Obama White House Assistant Press Secretary Frank Benenati in a March 21, 2015, email.
Nearly 20 Mins on Trump's 'Miss Piggy' Remark, Silence on Clinton Chief of Staff Immunity. Once again, ABC, CBS and NBC have ignored a major news story that could be embarrassing to Hillary Clinton and have national implications, while promoting a negative (and trivial) Trump story initially pushed by the Clinton campaign. On September 23, news broke that during the now-infamous investigation into Clinton's emails, the FBI granted Clinton's former chief of staff Cheryl Mills immunity. House Oversight Chairman Jason Chaffetz called Mills's immunity "beyond explanation," adding that "the FBI was handing out immunity agreements like candy." Yet, neither ABC, CBS nor NBC ever even mentioned this story once.
Trump Now Calls Debate 'Rigged' Due To Antagonistic Moderator. In the wake of extensive criticism of presidential debate moderator Lester Holt for aggressively confronting Republican candidate Donald Trump and lobbing softballs at Democrat Hillary Clinton, Trump is changing his verdict of how the debate was conducted. "And then I had to put up with the anchor and fight the anchor all the time on everything I said. What a rigged deal," Trump told a New Hampshire crowd Thursday [9/29/2016].
The Low Point of a Low Night. Lester Holt, anchor of NBC Nightly News and the moderator in last night's presidential debate, is hearing it from conservative critics about his performance. He pressed Donald Trump on his tax returns and his long record of birtherism, and he jumped in, Candy Crowley-like, when Trump claimed that he hadn't supported the Iraq War. He didn't ask Hillary Clinton, correspondingly, questions about her e-mails, the "basket of deplorables," or the rumors about her ill health. For me, Holt's lowest moment came at the end. "One of you will not win this election," he said. "So my final question to you tonight, are you willing to accept the outcome as the will of the voters?"
Trump Is Better Positioned for the Next Two Debates than the Pundits Dare Realize. [Scroll down] Lester Holt was profoundly one-sided. He interrupted Trump constantly (41 times), rarely Hillary (7 times). He tried a few Candy Crowley moments, as when he interjected his views on the constitutionality of stop-and-frisk. That is Hillary's job, if she wishes to interject along those lines, not the moderator's. He asked Trump five hard follow-up questions; he asked Hillary ... not one. However, whereas moderators like Crowley cowed Romney and McCain into submission, because those genteel nominees were oh-so-polite and well mannered, Trump was not cowed.
Corrupt Lester Holt shows why Americans are sick of media. If trust and confidence in the media have fallen to the lowest in history, as recently reported, Holt, in his total abandonment of any semblance of objectivity, has lowered both even more. This bootlicking cog, beholden to his pro-Hillary media masters, didn't bring up Benghazi, the email scandals, the Clinton Foundation slush fund, Huma Abedin's ties to the Muslim Brotherhood, or Clinton's connections to the biggest female oppressors on the planet. With no pushback at all, Holt allowed Hillary to reference an irrelevant 1996 beauty pageant winner as an example of Trump's so-called misogyny.
CBS Spotlights Debate Watch Party with No Trump Supporters. The Tuesday evening [9/27/2016] following the first 2016 presidential debate, CBS Evening News was eager to share the opinions of people at debate watch parties from all across the country, including Los Angles, Philadelphia, and Dallas. Of the three watch parties they covered, CBS chose to lead with Los Angles where the makeup of the room was highly biased. "This group of Latino debate watchers gathered early," reported CBS's John Blackstone, "None here support Donald Trump, but Ana Reyes came looking for more reasons why Hillary Clinton deserved her vote."
Hillary Clinton's Lyin' Eyes. [Scroll down] Eight years ago, John McCain's health was much discussed by the media with regard to his age and history of melanoma. Was he too old? Could his cancer return? Only four years older when he was seeking the nomination than Mrs. Clinton is now, one thought the grim reaper was sitting atop his shoulder. Yet those questioning Mrs. Clinton's health are conspiracy kooks, part of the "vast right wing conspiracy", card-carrying members of "The Deplorables", called "healthers" as the new "birthers". Mrs. Clinton is not running for Chappaqua town council, but for commander in chief of the United States. Her health is a legitimate concern.
The media loves Hillary — and it could cost her the election. [Scroll down] Holt's bias was obvious, but the impact was not inevitable. It mattered largely because, shockingly, Donald Trump was shocked that Holt was in the tank for Clinton. How could Trump not see that coming? And if he did, why wasn't he better prepared? Holt never pressed Clinton with any substantive follow-ups, while Trump repeatedly was asked to defend or explain what he had just said or said in the past.
MSNBC wins big at Media Research Center's Dishonors Awards night. [For example,] When her guest, Latino conservative Alfonso Aguilar, praised House Speaker Paul Ryan as a "hard worker" on October 26, the MSNBC schoolmarm took exception. "I want us to be super careful when we use the language 'hard worker,' because I actually keep an image of folks working in cotton fields on my office wall, because it is a reminder about what hard work looks like. So, I feel you that he's a hard worker, I do, but in the context of relative privilege."
Trump won the debate. Don't believe the "Intellectual Yet Idiot" class. [Scroll down] They stacked the deck against Trump with Lester Holt's one-sided questions and interventions. The Holt-Clinton team was glib, articulate, and self-congratulatory. However, they lost. The Intellectual Yet Idiot class that dominates our news media fell all over themselves critiquing Trump and praising Holt and Clinton. In doing so, they repeated the mistake they have made about every debate since August 2015.
If Lester Holt Really Wanted to Be Fair and Balanced... NBC Nightly News anchor Lester Holt, at Monday night's [9/26/2016] debate, repeatedly cross-examined and fact-checked GOP nominee Donald Trump. However, for Hillary Clinton there was not one single challenge to anything she said. And there wasn't a hard-hitting question to the Democratic nominee on any of her controversies whether it be Benghazi, the Clinton Foundation or the e-mails. If Holt had correctly done his job as moderator he could've asked a tough question of Trump and then pivoted to ask an equally challenging question to Clinton. The debate might have gone completely different if he had.
Here's A List Of The Top 10 Issues Hillary Was NOT Asked About At Monday's Debate. Moderator Lester Holt is getting mixed reviews for his performance at Monday's presidential debate. While some are praising Holt as having been even-handed, critics have noted that the questions he asked — or didn't ask — seemed to favor former Secretary of State Hillary Clinton. Specifically, Holt pressed Donald Trump on a number of tough issues including his unreleased tax returns. However, Holt failed to hold Hillary Clinton to account for any of the significant issues surrounding her scandal-plagued campaign, including the Clinton foundation's pay-to-play accusations and her cozy relationship with Wall Street investment banks.
Eric Bolling calls out Lester Holt for blatant Hillary Clinton debate bias. Fox News' Eric Bolling took to Twitter to react during Monday night's presidential debate between Donald Trump and Hillary Clinton.
Lester Holt spins debate for Hillary 6 huge ways, plays 'Gotcha' with Trump. Journalists got their wish. Presidential debate moderator Lester Holt hoisted Hillary Clinton's campaign high in the air like Atlas. Holt repeatedly called out Trump, as both the Clinton campaign and the liberal media had begged him to do. Holt reminded viewers he's liberal — from pushing the birther issue to harassing Trump about his tax returns to a wildly biased question about Clinton as "the first woman nominated by a party" not having "the look." Clinton skated by with a 15-second response on her emails while Trump was asked repeated follow-up questions while Hillary was not. There was no "deplorables" question and Holt promoted the birther meme without noting its origin in the Clinton camp.
Lester "Candy" Holt Moderates a Completely Useless Debate. Nobody Won. America Lost. If you were tuning in to help you decide which candidate had the best plans for your future, Lester "Candy" Holt was absolutely no help at all. Who has the better plan for the economy? For Terrorism? For National Security? For anything? You sure did not learn that last night. Holt tossed out lofty topics but allowed the discussion, and even led the discussion, to Hillary's talking points. He tried to fact check Trump — but never Hillary.
Rudy Giuliani: 'Lester Holt Should Be Ashamed Of Himself'. When asked by The Daily Caller Monday night if Holt treated Donald Trump fairly, the former mayor of New York said he acted "extremely unfairly." "Particular in his interference with regard to the unconstitutionality of a case called Terry v. Ohio," Giuliani told this reporter. "I forgive Hillary Clinton for not understanding that stop-and-frisk was not held unconstitutional — only unconstitutional as applied by Michael Bloomberg and Ray Kelly." "I happen to disagree with that," he said. "I was out of office 12 years when it was held unconstitutional. It was never held unconstitutional when I was mayor."
'Was Lester Holt auditioning for Hillary's press secretary?' NBC moderator is criticized for Clinton bias. Lester Holt has been lambasted on social media with accusations he favored Hillary Clinton following Monday night's presidential debates. Some allegations against the NBC moderator included that he frequently interrupted Republican presidential candidate Donald Trump and went easy on Clinton. Even Trump himself implied that he was disappointed the topics of Clinton's foundation, emails and Benghazi scandal were never raised.
Five Times Lester Holt Shilled for Hillary Clinton at First Debate. Again and again, Holt asked Trump tough questions that were straight from the Clinton campaign's talking points, and which were obvious set-ups for Clinton to attack (and for fact-checkers to pounce on whatever Trump asserted in his own defense). Here are the five worst examples.
Lester Holt Lost the Debate. There were concerns that Lester Holt would be this debate's Candy Crowley. He was a good deal worse. Every question was shaped to frame a left-wing agenda. Holt hurled numerous attacks at Trump. He only passingly offered Hillary a chance to address her emails when Trump had already brought it up. The debate was structurally biased and Holt biased it. He repeatedly argued with Trump about the facts.
Provably biased: Lester Holt tries to throw debate. Lester Holt was widely praised as a fair journalist to moderate the first presidential debate in the general election, but the debate did not turn out to be fairly moderated. Holt went after Donald Trump four times on tough "gotcha"-type questions, while only bringing up Hillary Clinton's emails when asking her to respond to Trump. All four questions led to Clinton smashing Trump on an issue she has been using on the trail against him.
Media Bashing of Lauer Has Desired Effect as Lester Holt Lets His Bias Fly. The first part of the debate was actually all right for Holt, but the wheels flew off when they got to how each candidate would handle healing the racial divide in the U.S. Holt went for the birther issue with Trump, which isn't off the table but has very little relevance to what faces our next president. Had Hillary brought it up it would have been fine. For Holt to interject it during what was supposed to be a substantive discussion on race relations made it seem as if he were being fed questions directly from Clinton HQ. Holt then hit Trump with a question about him saying that Hillary didn't have a presidential "look," which obviously just served as a platform for Hillary to call Trump a sexist.
Lester Holt shows he doesn't know the meaning of impartial. For the first half or so, Holt gave simple, broad, open-ended questions and let the candidates go at it. He didn't venture into live fact-checking, didn't much quarrel with the nominees, didn't ask persnickety questions. [...] But in the last half of the show, Holt started going after Trump. He got into an unfortunate bickering match with the Republican nominee over the latter's (apparently offhand) support for the Iraq War in a 2002 Howard Stern interview. It was perfectly reasonable to bring up the point, but the exchange became tiresome on both sides, with the two men talking past each other.
Giuliani: I wouldn't debate again after Holt's 'interference'. Donald Trump surrogate Rudy Giuliani floated the prospect of Trump not participating in further general election debates, after what he believes was inappropriate meddling Monday by moderator Lester Holt. "If I were Donald Trump, I wouldn't participate in another debate unless I was promised the journalist would act like a journalist, and not an ignorant fact check," Giuliani said late Monday night in the post-debate spin room, according to video provided by Bloomberg. "My advice would be the moderator would have to promise they'd be a moderator."
In debate, Clinton gets no follow-up questions, Trump gets 6. Republican Donald Trump was kept on the defensive at the first presidential debate, in several instances having to debate the highly anticipated event's moderator as well as his Democratic opponent. Trump was challenged on his answers Monday night at Hofstra University in New York at least six times by NBC's Lester Holt, according to the Washington Examiner's count. Hillary Clinton, meanwhile was no follow-up questions for the 90-minute debate.
Trump Takes On Holt And Hillary. Donald Trump's main opponent in the first presidential debate wasn't Hillary Clinton. It was NBC anchor Lester Holt. Hillary, with forced smiles as brittle as china and an eerie fake laugh, continued her primary debate strategy of repeating canned talking points while waiting for the moderator to knock off her opponent. Hillary wasn't there to debate, but to once again seem like the only possible option. Holt's job was to make her seem like the only possible option by targeting Trump.
Debate: Trump did well, despite a big obstacle. Trump did well overall despite the clear bias in the questions asked and not asked by Lester Holt, and a missed opportunity to attack Hillary on the email scandal and Benghazi. [...] Holt kept interrupting Trump during his answers, but he did not interrupt Hillary. Holt should have asked Hillary if her campaign started the birther issue in 2008. But most importantly, Holt did not ask Hillary about the Bubba Foundation that has received billions of dollars from countries, individuals, and businesses that had business with the Hillary State Department. Holt did not ask about how she amassed $300 million during the last 15 years, and why anyone would pay up to $500K per speech to her "husband" Bubba while she was secretary of state, not to mention her own speech fees after she left office. Holt did not ask Hillary about the pay for play, nor did he ask her about Benghazi, specifically why she lied about the attack's cause.
"Mostly true" when Bernie said it, "mostly false" when Trump did. The Social Justice Warriors at PolitiFact are at it again, lying like sacks of fertilizer inside the barn.
Dallas Paper Offers Discount In Scramble To End Hillary Endorsement Fallout. The Dallas Morning News is offering massively discounted subscriptions to its readers in an effort to withstand the fallout caused by its editorial board's endorsement of Democratic nominee Hillary Clinton. The endorsement has generated a lot of reader pushback in the form of angry comments, phone calls and vows to unsubscribe from the paper, which hasn't endorsed a Democrat in 75 years. Editor Joe Wilson has acknowledged it came with a price of dropped subscriptions, but no one from the paper has revealed how many readers actually unsubscribed.
The Editor says...
It is difficult enough to keep a newspaper afloat in the 21st century, without stuff like this.
After Charlotte shooting, press downplays a key fact: The officer's race downplays a key fact: The officer's race. The riot in Charlotte, and the fatal shooting of Keith Scott that sparked the violence, was the lead story in yesterday's New York Times. But a crucial fact was buried. Not until the 30th paragraph were readers told that "Brentley Vinson, the officer who the police say shot Mr. Scott, is black, as is the police chief." The Washington Post took a similar approach with its lead story, waiting until the 31st paragraph to report that "authorities said the officer who shot Scott is black."
Nets Omit IRS Head Admitting to Targeting Tea Party Groups at Hearing. At a contentious impeachment hearing conducted by the House Judiciary Committee Wednesday [9/21/2016], IRS Commissioner John Koskinen admitted that his agency targeted Tea Party groups looking to obtain tax-exempt status. "They were totally improper criteria used to select organizations, applying for c-4 designation for further review," testified Koskinen before the committee, "Those organizations predominantly were conservative organizations." This stunning abuse of power went unreported by the "Big Three" networks Wednesday evening and Thursday morning. The only reference to Koskinen being in a hearing that day was made by NBC that evening, but the report had nothing to do with a possible impeachment or his testimony. During her report on NBC Nightly News, reporter Katy Tur used a clip of the commissioner, talking about how tax-exempt organizations can spend their funds, to take a swipe at Donald Trump and his foundation for alleged self-dealing.
CNN Media Panel: Clinton vs. Trump Is Apples vs. 'Rancid Meat'. On his Sunday show Reliable Sources, [9/4/2016] host Brain Stelter brought out a panel made up a proverbial who's who of Donald Trump opponents to whine about how the media was being "unfair" to Hillary Clinton and going easy on Trump.
Dr. Drew loses his CNN show a week after questioning Hillary's health. Dr. Drew Pinsky raised a lot of eyebrows a week ago when he said he was gravely concerned over Hillary Clinton's health in an interview on KABC-AM radio. The interview went viral, and was taken down by the station (but a transcript lives on, courtesy of the Free Beacon). So the message had to be delivered in way tht [sic] would chill everyone who might think about revealing inconvenient truths.
Hillary's Corruption Is Overwhelming. After over two decades in the heart of America's spotlight, Hillary Clinton is still an unknown quantity for most Americans. That's thanks to one factor and one factor only: the love and worship of the mainstream media. Over the weekend, no less than six terrible stories broke that would have crippled anyone else's campaign.
Media that ripped Bush on Katrina ignores Obama on Louisiana flooding. President George W. Bush was torn to shreds in 2005 by mainstream media commentators for his initial response to Hurricane Katrina — yet President Obama's detached response to the recent Louisiana floods has been met with resounding silence from those same outlets. "George Bush doesn't care about black people" was the shocking charge by singer Kanye West about President Bush's response to Katrina. West's was a particularly blunt assessment, but echoed a growing narrative pushed by mainstream media outlets that Bush's response was out of touch, inept and most of all, he didn't care about people on the ground.
Chris Matthews: Get 'excited' about Clinton campaign, or 'don't vote'. MSNBC's Chris Matthews has a striking message for disaffected Democrats: Get "excited" about Hillary Clinton's campaign and the possibility of the party controlling Washington, or "don't vote." The "Hardball" host offered the advice on air Tuesday night, while griping about some Democrats' pessimistic attitude toward the election.
Chris Matthews Fails to Identify Disgraced Pennsylvania AG as a Democrat. Imagine that a Republican state attorney general had been forced to resign after being convicted of perjury and obstruction of justice. Now imagine how the story would have been played on MSNBC. Fair to assume that the word "Republican" would have featured in the story's first sentence? But in a stand-alone segment on today's Hardball on the forced resignation of Kathleen Kane, the Pennsylvania AG who was convicted on nine charges, host Chris Matthews failed to ever mention, and the screen graphics never revealed, that Kane is a Democrat. Kane had illegally leaked secret grand jury documents to harm a rival prosecutor, then lied about it under oath.
WaPo Writer Discovered on Payroll of Pro-Iran 'Echo Chamber' Architect. A Washington Post writer who recently claimed that a $400 million cash payment to Iran was "American diplomacy at its finest" failed to disclose that he has been on the payroll of an organization that emerged as a chief architect of the White House's self-described campaign to build a pro-Iran "echo chamber," according to information obtained by the Washington Free Beacon. Allen S. Weiner, a Stanford law professor and contributor to the Post's opinions section, co-authored a piece arguing in favor of the Obama administration's decision to pay Iran $400 million in hard currency in what many described as a "ransom payment" for the release of several U.S. hostages. Weiner and the Post failed to disclose that the writer has long been on the payroll of the Ploughshares Fund, an organization recently exposed as a key cog in a White House-orchestrated campaign to build what it called a pro-Iran "echo chamber."
Sharyl Attkisson Discusses DC Journalist Bureau Chief Urging Colleagues to Take Down Trump. Sharyl Attkisson was interviewed on NewsMax TV with Steve Malzberg and discussed an event she attended where a well known DC Journalist Bureau Chief urged all of the reporters in attendance to earnestly work at taking down candidate Donald Trump. When you consider the event being discussed, and further add the known hatred from a very specific Washington Bureau Chief, it stands to reason Attkisson is discussing Carl Bernstein. Bernstein previously said that all reporters have a professional journalistic responsibility to destroy the candidacy of Donald Trump. Bernstein, if you didn't know, is a full-throated supporter of Hillary Clinton.
VIDEO: Here's ten minutes of CNN cutting people's mics when they dare criticize Hillary. Note to pundits, journalists, witnesses, and commentators who would dare speak the truth about Hillary Clinton. You are not welcome on CNN. They have no interest in hearing the facts of Mrs. Clinton's life. They don't fit the obviously-biased narrative they're building, and [they won't] let you sit there and use their airwaves to inform people. The once and future Queen must be protected at all costs. Speak ill of her and CNN's gestapo will shout you down and cut you off with extreme prejudice — regardless of the accuracy of your comments.
A Good Joke About Political Murder. [Scroll down] Not only did Trump not say what the media has accused him of saying, but the media has no problem when Democrats openly called and call for the assassination of Republican presidents and presidential candidates. During Trump's candidacy a fine roster of media folks covering the gamut from the New York Times to VICE to the Nightly Show have joked about killing Trump or about his assassination. Anyone objecting to that sort of good clean progressive fun would have been a humorless spoilsport. Trump's remark however is being denounced in the press as everything from a threat to sedition. What did Trump actually say? When you go to the tape, it turns out that he said nothing.
CBS Admits: Host Gayle King Attended Gushing Obama Birthday Party. CBS This Morning co-host Gayle King isn't just a Democratic donor, she also attended Barack Obama's 55th birthday party this past weekend. The woman who regularly covers political stories, including the 2016 presidential election, was outed by her co-host Charlie Rose as a guest. After reporter Dana Jacobson highlighted a New York Times story on the secrecy of the Obama White House bash, Rose blurted, "Did you tweet anything [at the party]?" King replied, "Oh, no. They ask you not to tweet. I'm not tweeting a thing." She bragged, "It was a very nice tribute to him [Obama]. The last time in the White House and I can say a good time was had by all." An excited Rose wondered, "And you danced with the President?" Remember, these people call themselves neutral, unbiased journalists.
New York Times Blames Donald Trump for Biased Media Coverage. [Scroll down] In 2008 — to pick an arbitrary starting point — journalists swooned over the prospect of Barack Obama as the first black president, and coordinated to discuss attacks on Obama's critics. In one particularly noxious episode, a photographer working for the Atlantic photoshopped a cover image she had shot to cast McCain as a bloodthirsty monster. In 2012, journalists plotted together to make Mitt Romney the target of Benghazi coverage, rather than Obama or Secretary of State Hillary Clinton — and CNN's Candy Crowley infamously threw the second presidential debate to Obama. They played along with spurious attacks on Romney's record, such as his supposed responsibility for the death of a worker's wife and the alleged mysteries in his tax returns.
GOP Goes Full Democrat. [Scroll down] Media support for the Democrat candidate, no matter who that is, should be a foregone conclusion. The alphabet networks, cable news shows and major newspapers are nothing more than campaign arms of the DNC. The most recent example is Khizr Khan receiving 50 times more coverage than Benghazi mother Pat Smith on the three major networks, ABC, CBS, NBC. When George W Bush was running for president, Code Pink and Cindy Sheehan were constantly on the news, protesting the Iraq war and excoriating George W Bush. Then in 2008 with a new Democrat president, the war protests went into silent mode receiving no media coverage, having already served their purpose.
NBC Urges Hillary's VP to Trash Trump; CBS Urges Trump's VP to Trash Trump. Two networks. Two vice presidential candidates. Same questions. Today co-host Savannah Guthrie on Friday [8/5/2016] interviewed Mike Pence and urged the Republican to trash Donald Trump. On CBS This Morning, Norah O'Donnell talked to Tim Kaine and urged the Democrat to trash... Trump. She did not demand that Kaine bash Hillary Clinton. Instead she asked if Trump was "sane" and "competent." On NBC, Guthrie lectured, "Paul Ryan himself said that Donald Trump has been on a 'strange run' for the last few days. You're down in every national poll, some by double digits, in every recent battleground poll.
CBS Touts 'Feminist-in-Chief' Obama, Laments Dislike of Hillary Clinton. The journalists at CBS This Morning on Thursday [8/4/2016] hailed Barack Obama as the "feminist-in-chief" and praised his new essay in Glamour magazine on "women and politics." Naturally, Democratic donor and co-host Gayle King expanded the discussion to a complaint about people disliking Hillary Clinton. Talking to editor-in-chief Cindi Leive and insisted, "In Glamour magazine, you've been talking a lot about politics. I want to switch to Hillary Clinton and about likability. Because don't you find it interesting that this is still an issue for her today?" Leive scolded, "They [the public] can accept voting for somebody they think is competent but not necessarily like likable. They are tougher on women."
MSNBC: Pat Smith's Speech Was 'Offensive' But Khizr Khan's Was 'Memorable'. Both the Republican and Democratic conventions gave speaking slots to grieving parents of a son killed in combat, but — according to MSNBC's Steve Benen — Khizr Khan's DNC speech was "memorable," while Pat Smith's RNC speech was "offensive." Smith, whose son, Sean, was killed in Benghazi, slammed Hillary for allegedly lying to her about the cause of her son's death.
On CNN, Pat Smith Blasts 'Dirt' Treatment From Media Over RNC Speech. On Monday's [8/1/2016] CNN Newsroom, Patricia Smith hammered the media over their clear double standard between the often-negative way they treated her anti-Hillary Clinton speech at the Republican National Convention versus their hyping of Khizr Khan's anti-Donald Trump speech at the Democratic National Convention: "I was treated like dirt. I don't think the Khan family was treated that way. But I was treated like dirt. I was called a liar." Anchor Brooke Baldwin pressed Smith to condemn Trump's counter-attack on Khan and his wife. Baldwin led into her interview of the Benghazi mother by noting that Trump "isn't the only candidate facing backlash here. Hillary Clinton being criticized again by one of the most vocal parents... of the slain Americans in Benghazi."
Double Standard: Khizr Khan Receives 5 More Coverage Than Pat Smith on ABC, CBS, NBC. Two weeks ago at the Republican National Convention (RNC) a grieving mother blasted Hillary Clinton for the debacle of the 2012 Benghazi attack. Last Thursday [7/28/2016], at the Democratic National Convention (DNC), grieving parents gave a speech criticizing Donald Trump for his statements against Muslims. While all the grieving parents deserve sympathy, the Big Three (ABC, CBS, NBC) network evening and morning shows seemed to only care about the parents that showed up at the Democratic Convention. Khizr Khan and his wife Ghazla's DNC appearance earned 55 minutes, 13 seconds of Big Three network coverage, nearly 50 times more than Pat Smith, whose RNC speech honoring her son earned just 70 seconds of airtime.
Glenn Greenwald: The Media's Coverage of Donald Trump Is 'Kind of Hysterical'. In a recent conversation with Slate, The Intercept's Glenn Greenwald agrees that a possible Donald Trump presidency "poses ... extreme dangers" to the U.S., but the journalist also argues that the mass media is not only creating a dangerous, unblinking consensus against Trump but also failing to reach his voters.
Charlie Rose Asks Eric Holder About 'Danger' of 'Not Smart' Trump. Acting more like a doorman than a journalist during PBS coverage of the Democratic National Convention Thursday night, CBS This Morning co-host Charlie Rose invited former Attorney General Eric Holder to blast Donald Trump: "You also said that Donald Trump, you questioned his gray matter. You mean he's not smart enough to be president?" Holder replied: "Yeah, I wonder. You know, I sometimes think that he hides behind a certain bravado to hide a lack of substance that he has.... he seems to me to be a very shallow man." Rather challenge the nasty personal attack or lecture Holder to tone down the rhetoric, Rose urged him to continue: "And because you don't see any intellectual interest, you don't see anything other than a businessman?"
CNN's David Gregory: 'I've Run Out of Words to Express My Shock' Over Trump. Following a long, rambling presser in which GOP presidential nominee Donald Trump encouraged a foreign nation to interfere in the election, CNN's David Gregory admitted that he had "run out of words to express my shock" about Trump. He observed "how completely beyond the pale Donald Trump is as a potential leader of the free world and commander-in-chief of our country. This is beyond the pale."
NBC Spin: Resignation of DNC Chair 'Best Thing for Democratic Unity'. In a desperate attempt to downplay chaos in the Democratic Party following leaked Democratic National Committee e-mails and the resignation of chairwoman Debbie Wasserman Shultz, on Monday's [7/25/2016] NBC Today, Meet the Press moderator Chuck actually tried to spin the controversy as a positive: "Look, the only piece of good news out of this for Democrats, Jeff Weaver, Bernie Sanders's campaign manager, told me yesterday the best thing for Democratic unity is her resignation and that actually could calm the waters today."
Of Course: MSNBC Connects Munich Terror Attack Talk to GOP Convention. MSNBC on Friday [7/22/2016] used the unfolding shooting spree in Munich to bash the Republican Party and connect the GOP convention to it. Regarding terror, Daily Beast editor Christopher Dickey talked to Brian Williams and lectured, "What we're looking at now in Europe and, to some extent, at the Republican convention and in the discourse in the United States, is a lot of talk about war as if we're talking about a massive operation." Dickey insisted that the terror threat not be overstated: "Yet we're often talking as if we're going to go to war with a billion Muslims. And I think we need to be very, very careful about that. You are very careful. NBC is very careful."
75 Percent Positive Response to Donald Trump Speech — So CNN Trashes Its Own Poll. Donald Trump won the Republican nomination for president in Cleveland during a momentous week in political history. On Thursday night [7/21/2016], Trump gave a one-hour-and-fifteen-minute speech accepting the Republican nomination. The speech was so overwhelmingly well-received among the crowd that the media did not know what to do to tear it apart.
Trump's Biggest Enemy is the Media. Although it's a given that the mainstream media is biased against conservative Republicans, the recent Wikileaks 20,000 DNC email dump disclosed that the MSM has colluded with Hillary Clinton in her attacks on her opponent Bernie Sanders. Poor Bernie didn't have a chance against the combined Clinton/MSM machine. The emails contained off the record correspondence with reporters at the Washington Post, Politico, and the Wall Street Journal, among others. They also show how the DNC conspired with media anchors and newspapers to torpedo Bernie Sanders. One devastating email discussed using Sanders religion or atheism as a potential talking point for the campaign. Hey Bernie, the Green Party wants you to run on their ticket. It would be nice to go out fighting. We certainly didn't need any proof that the mainstream media is in the pocket of the Democrat Party since we know that over 80 % of journalists are self-admitted liberals.
Another Clinton Email Scandal Erupts As Dem Convention Opens. Talk about a bad a start to a political convention. The release of almost 20,000 emails hacked out of Democratic National Committee servers has forced the head of the DNC to resign, sparked protests from Bernie Sanders supporters, and showed the media in cahoots with Democrats.
Leaked Emails: Politico's Ken Vogel Filed Story with DNC Before His Own Editors. A release of Democratic National Committee emails from WikiLeaks shows Politico reporter Ken Vogel sent a pre-publication negative copy of a story April 30 to the DNC's deputy communications director, so he and other staffers at the DNC along with Hillary Clinton campaign could coordinate a response. "Vogel gave me his story ahead of time/before it goes to his editors as long as I didn't share it. Let me know if you see anything that's missing and I'll push back," wrote Mark Paustenbach in an email to his boss, Luis Miranda, who before taking over communications for the DNC worked for President Barak Obama's White House outreach to Latinos, as well as other campaigns, including the Democratic 2000 recount operation in Florida.
The GOP convention exposes the reality of media bias. CNN alone spent nearly 45 minutes talking about Mrs. Trump's alleged plagiarism Tuesday morning [7/19/2016], as if this was a matter of major national importance. Why? The most obvious explanation is that the TV networks are run by Democrats who consider it their professional duty to provide negative coverage of Republicans. After a protester from the far-left group Code Pink attempted to stage a disruption Monday inside the Quicken Loans Arena, ABC News reporter Terry Moran claimed this incident was symbolic of what "a dark night" the convention had been. "Donald Trump has been a candidate whose approach has divided many people, drawn protesters," Moran said, terming the lone protester's act an illustration of "the kind of unsettled emotions that Donald Trump has sparked in many people around the country." Of course, kooks from Code Pink — founded in 2002 by radical leftists Jodie Evans and Medea Benjamin — have staged disruptive protests in all kinds of settings, but Terry Moran blamed their bizarre antics on Trump. Meanwhile, on NBC, Tom Brokaw was accusing Republicans of communicating "a pretty divisive message." According to Brokaw, the GOP convention made "no attempt to really pull the country together."
L.A. Times Suggests Military Coup Against President Trump. Jamie Kirchick, writing in the Los Angeles Times, asks readers to imagine a military coup against a future President Donald Trump — and argues why one would be necessary. Kirchick cites the example of the recent failed coup in Turkey as a source of inspiration.
Los Angeles Times runs op-ed promoting military coup against Donald Trump. Normally military coups are instigated by the right, but a senior fellow with the left-wing Foreign Policy Institute is arguing that an overthrow of the U.S. government might be necessary if Republican nominee Donald Trump is elected president. What's more, the op-ed by James Kirchick ran Tuesday [7/19/2016] in a major U.S. newspaper, the Los Angeles Times. "Trump is not only patently unfit to be president, but a danger to America and the world," Mr. Kirchick wrote in the op-ed. "If Trump wins, a coup isn't impossible here in the U.S." "Voters must stop him before the military has to," he concluded.
The Editor says...
If I had written an op-ed article to incite a military coup against the president and posted it on this web site, something bad would have happened to me by now. But the L.A. Times — with at least ten times the number of daily readers as akdart.com — acts as if there's nothing wrong with this sort of inflammatory rhetoric.
Uproar! Melania Trump Caught Borrowing Cliches From Michelle Obama Speech. In other words, the mainstream press has thankfully found a meaty topic in which to bite, since the other speeches on Monday [7/18/2016] were all about boring stuff like how Hillary Clinton lied to the mother of one of the men killed in Benghazi, or the stories of parents who lost their children to illegal immigrants, or Milwaukee Sheriff David Clarke's stirring — and hugely crowd-pleasing — defense of the nation's police after eight were gunned down in targeted attacks within two weeks.
Who Gets Absolute Moral Authority? Among the sainted moms of the Black Lives Matter movement who will speak on Hillary Clinton's behalf are Gwen Carr, mother of Eric Garner; Sybrina Fulton, mother of Trayvon Martin; Maria Hamilton, mother of Dontre Hamilton; Lucia McBath, mother of Jordan Davis; Lesley McSpadden, mother of Michael Brown; Cleopatra Pendleton-Cowley, mother of Hadiya Pendleton; and Geneva Reed-Veal, mother of Sandra Bland. Each of these cases lumped under supposedly unjustified gun violence and systemic racism is complicated and distinct. For starters, Bland hanged herself when her friends and family wouldn't bail her out of jail after she had kicked a police officer. Two of the "children" involved in police shootings (Brown and Hamilton) had assaulted cops during their fatal encounters. [...] Because these women endorse race-baiting, gun-grabbing narratives and left-wing candidates, no one working in the mainstream media will ever challenge their parental prerogative to participate in politics on behalf of their loved ones.
Sad! How The Media Empowered Trump Haters To Be Meaner Than Hillary Haters! The media creation of Trump as essentially a bigoted, unhinged, uneducated, unfit-for-office monster is beginning to stick and this is the week Trump can (and must) attempt to change that narrative. Yet I've begun to notice that the Trump haters ranging from liberal Hillary Lovers to #NeverTrump constitutional conservatives, and even many casual political observers in between, despise Trump so much that I fear they are beyond persuasion.
Smug Chuck Todd: Benghazi Is 'Cheap Unity' for Lowest Common Denominator' Crowd. A smug Chuck Todd on Monday dismissed Benghazi at the Republican Convention as nothing more than "cheap unity" for the "lowest common denominator" crowd. Chris Matthews railed that the GOP speakers were presenting "third world rhetoric." Todd insulted, "Benghazi... does serve Trump in another way positively, politically, which is a way to unify this crowd quickly. It's a way to get cheap unity."
Indiana Thug Wearing "Black Lives Matter" T-Shirt Opens Fire on Police Officers House. He was wearing an "FTP" (F*** The Police), Black Lives Matter T-Shirt, he opens fire on a police officers house and squad car, yet the politically correct Indianapolis media are struggling with a motive.
Sonia Sotomayor Cites Ta-Nehisi Coates in a Supreme Court Dissent. Race is everything for the "wise Latina." The media have widely praised Sonia Sotomayor's dissent in Utah v. Strieff. Even though she is derided as one of the worst writers on the bench, even by her ideological comrades, headlines describe the dissent as "stinging" (New York Daily News), "ringing" (Atlantic), "fierce" (Washington Post), "fiery" (CNN), "epic" (Nation), "blistering" (NPR), "biting" (Christian Science Monitor), and "scathing" (NBC). In particular, they praise the dissent for bravely taking on racial injustice in America. Slate called it an "atomic bomb of a dissent slamming racial profiling and mass imprisonment." Mother Jones lauded the "court's only Latina justice" for putting "her life experience to practice" and "excoriating her colleagues for misunderstanding the police harassment to which people of color are regularly subjected." The Atlantic wrote that "few institutions in American life have grappled with race and racism like the U.S. Supreme Court, for better or worse, but rarely does it speak about it with this level of detail." It went on to suggest that the dissent may be a "veiled nod to the Black Lives Matter movement." The nod is barely veiled.
Why Isn't The Media Condemning All the People Supporting the Dallas Shooter? [Scroll down] I saw many postings (several with hundreds of "likes" and "retweets") from black people who have been infuriatingly supportive of the man who wanted to kill "white people" and end up assassinating several completely innocent police officers. I'm not talking about the usual conspiracy nuts who insist that Johnson wasn't really the shooter. That isn't that unusual in cases like this. What I saw was flat out praise for Johnson's actions. Perhaps even worse than that, there were numerous blacks who were being viciously attacked for having the gall the criticize those who would publicly support/justify such a heinous crime against humanity. To my knowledge (and I have searched hard to find it), not one major "black leader" has had the guts to call out this outrageous reaction. [...] This is a whole new level of insanity and delusion. This shows that there is a culture, at least within the massive online black community, where, even if it is not nearly the majority view, it is more than acceptable to think is it somehow justifiable to kill whites/police out of revenge for events which we still don't yet even fully understand.
MSNBC Spins: Black Lives Matter Has Never Been 'Anti-Police'. MSNBC anchor Brian Williams has been hosting the live reaction to the horrible shooting in Dallas. On Friday [7/8/2016], the journalist brought on a guest to claim that Black Lives Matter protesters have never been "anti-police." Sherrilyn Ifill of the NAACP and Williams also hinted that more gun control was needed in the wake of the killing. Speaking of bringing people together, Ifill claimed, "That's what the Black Lives Matter protests have been about. That's what the policing protests have been about, they have never been anti-police."
CBS Dismisses 'Innocent' Meeting Between AG Lynch and Bill Clinton. While credit goes to Thursday's CBS This Morning for leading the broadcast with the controversy swirling around Bill Clinton having a 30-minute private meeting with Attorney General Loretta Lynch amid the FBI investigation to Hillary Clinton's e-mail scandal, the hosts of the morning show proceeded to dismiss the suspicious incident as an "innocent" encounter. Turning to Bloomberg Politics editor John Heilemann, co-host Charlie Rose downplayed: "...the former President and a meeting with Loretta Lynch which seems on the face of it, simply to be an innocent meeting of two politician saying hello. But — "Heilemann replied: "Yes. Just not just smart, right? Not a smart thing to do. You know? The case she is still being investigated by the FBI. The Justice Department has jurisdiction over that case."
ABC Swoons Over Abortion Activists After SCOTUS Ruling; 'It's a Party Right Here!' ABC was the last of the "big three" networks to break in Monday morning [6/27/2016] with the Supreme Court's ruling striking down a pro-life Texas law, but they didn't hold back their approval as the assembled cast of smiling correspondents hailed the "fairly sweeping decision" and expressed glee at the "party right here" by abortion activists "lining up since 4:00 am. to witness this moment."
MSNBC lets Wendy Davis take abortion victory lap. MSNBC's coverage of the Supreme Court striking down Texas' recent abortion law Monday included a triumphant victory lap by failed gubernatorial candidate Wendy Davis, whose 11-hour filibuster against the regulations in 2013 earned her high praise from the cable news network. The Supreme Court ruled 5-3 this week that Texas' recently enacted abortion law, HB2, unconstitutionally limited a woman's access to abortion under Roe v. Wade.
BET Awards: Clinton Rally, Then a Sermon Against Abusive 'Invention Called Whiteness'. Just as you would expect, the 2016 BET (Black Entertainment Television) Awards were full of Black Lives Matter references and reminders to register to vote and then get out the vote for Hillary Clinton. After the opening of the award ceremony featured Beyoncé and her back-up dancers marching into the auditorium to a Martin Luther King, Jr. speech, actor and producer Terence J went on to say, "Your vote is your voice," and reminded everyone to register and "vote smart" as he introduced the show hosts, ABC's Blackish stars Anthony Anderson and Tracee Ellis Ross.
The one question reporters failed to ask any of the Democrats about their sit-in protest. The media orgy over the Democrats' temper tantrum in the House of Representatives has been well documented over the past 24 hours. But with all the fawning tributes and comparisons to civil rights era protests on the 1960s, one fundamental, logical question seems to have escaped the minds of the hive-mentality media gaggle covering the Pelosi-run publicity stunt. Let's first point out the so-called "common sense gun safety legislation" these Democrats claim was the impetus behind their fund-raising escapade disguised as a protest. The crux of their agenda had to do with legislation designed to prevent individuals on the terrorist watch list from buying weapons. This would deny the right to bear arms to up to a million people because someone in a government office in Washington put their name on a list. A fundamental, constitutionally protected right would be denied without due process. It's pretty serious stuff, right? So, how did the media address the protesters?
CBS Hypes 'Risk' For Homosexual College Student To Come Out In Alabama. On Friday's [6/24/2016] CBS Evening News, Steve Hartman hinted that the Bible Belt — and specifically, Alabama — was a dangerous place for homosexuals. Hartman pointed out that "a lot of people came out after [the] Orlando" terrorist attack, but touted how "few took as big a risk as Jesse Johnson. Jesse's family lives in Jemison, Alabama, in the heart of the Bible Belt. Fly a flag here, and it better have just red, white, and blue." The correspondent included a soundbite from Johnson's mother, who expressed her deep concern: "I worry for his safety because of that. I mean, this is Alabama."
NBC producer calls would-be Trump assassin 'good guy with a gun'. In an effort to make a smug attack on the conservative position that the best way to fight a bad guy with a gun is a good guy, an NBC producer tweeted that the failed assassin who tried to murder Donald Trump could be considered a "good guy with a gun." Matt Mowrer, an associate producer for NBC Universal since 2014, tweeted late Tuesday night [6/21/2016] that anyone who kills the Republican nominee is considered deserves the same praise as someone who tries to stop a mass killing.
A Year After Honoring a Man in a Dress for Courage, ESPN Honors a Man in a Boy's Body. ESPN just announced its decision to give this year's Arthur Ashe Courage Award to Zaevion Dobson. This is another way of saying that ESPN honors a hero instead of itself in issuing the honor next month. The network too often depicted heroism through the award as the act of embracing the ideological precepts popular with Disney executives. [...] The people honoring other people often seek to honor themselves by attaching themselves to the popularity of others. But in celebrating a man in a boy's body the Worldwide Leader in Sports spotlights their recent buffoonery of celebrating a man in a woman's dress. There's nothing praiseworthy in praising someone for the purpose of winning praise.
CNN, DHS & SPLC's Blame Righty hit job. The Department of Homeland Security refuses to release a report on "right-wing" terrorism that somehow found its way into CNN's hands last week during the farcical White House summit on Don't Say Islamic Extremism.
What America's Freedom-Hating, Hoplophobic, Lying Financial Columnists Will Try and Tell You. You always know what to expect when someone claiming to be an authority on one topic decides to delve into another topic that has zero to do with his alleged expertise, and then begins his screed with an insult to a large portion of the American population. This is what popped up on my news feed this morning when I pulled up my Facebook account — shared by a friend from high school, who made it a habit of late to share idiotic anti-gun opinions and warn those reading her timeline that dissent will not be tolerated and opposing opinions deleted.
This Week Proves, Again, that Progressivism is a Cult. The most absurd thing about the progressive's 'Stop the Hate' pleas are that nobody, and I mean nobody, does hate better than progressives. We are talking Sith-level hate. When they say 'love is love,' they mean 'get to the back of the bus, you bigot.' When they say 'tolerance' they mean 'safe space for me, but not for thee.' CNN's Anderson Cooper, an open homosexual, thinks your tears for 49 dead people aren't real if you've never tweeted about gay pride, and he will tell you so on the air.
In a Mass Shooting, Wait and Die? Or Fight Back? Regarding the Orlando shooting, notice how quickly the media pivoted from the culpability of a sexually repressed Muslim Afghan registered Democrat mass murderer to an assault on firearms? Forget Islam and jihad and the Obama administration's resolute determination to fundamentally change the nature of the United States by importing as many Muslims from alien, anti-Christian and anti-Western cultures as possible. The real problem, in their view, is gun violence.
This is Why Trump's Journo-Bashing Scores Points. Watch here as the three CBS This Morning anchors nod together in self-satisfied disgust at the failure to advance gun control. As if there wasn't a conservative in their audience or another opinion in the land. [Video clip] How smug, and ultimately, how dumb. To be so sure of one's opinions that nobody could possibly disagree, and to be so blithely unaware that, as "mainstream" journalists, they have a responsibility to be nonpartisan. And then in another segment, surely, they'll profess to be astounded and outraged that Donald Trump is drawing excitement and applause by bashing the press.
After correcting for bias, Clinton's national lead in CBS News poll evaporates. CBS News is now pushing the pro-Hillary Clinton polls in rapid fashion. Late on Wednesday, this media outlet released the results of a national poll claiming to show that Clinton holds a 6% advantage over Donald Trump in the direct head-to-head matchup. [... But] this CBS News poll appears to be biased in favor of the Democrats by the same margin that Clinton purportedly holds over Trump, meaning that if the bias is removed, so is Clinton's lead, and we have a statistical tie.
Anderson Cooper's Orlando Ranting Is Bad For America. Based on information we have as of now, [Omar] Mateen was a longtime supporter of terrorism, having cheered 9/11 — on 9/11! — according to his high school classmates who witnessed his response. [...] He was a registered Democrat and son of an anti-American politician. Despite all that, the media and others on the Left decided to cover this terrorist attack by going after people who support self-government and its Second Amendment; people who pray to God in times of tragedy; people who believe the definition of marriage is the union of one man and one woman; people who accept the biological reality and implications of distinct sexes; people who are Republican; people who are traditional Christians; and so on and so forth. The media followed up by cheerleading this incivility.
The entire front page of the Boston Globe pushes a gun ban. Please note that the Orlando shooter did not — repeat, did not — use an AR-15 in his Islam-inspired terrorist attack. The weapon he used was a Sig Sauer MCX, not even close to being an AR-15. The fact that the media has chosen the AR-15 as the poster gun for banning "assault" weapons is typical of our dumb as a stone media when it comes to firearms. But you might note the manipulative, emotional appeal from gun control hysterics. Since they are unable to use factual arguments, they appeal to the heart and hope people don't catch on that what they are proposing won't stop a single terrorist or nutcase from commiting mass murder.
The Media Meme: Blame GOP for Orlando While Turning Sole Focus to Gun Control. The media and political exploitation we've witnessed as a country over the past five is one word: Disgusting. It's a shake-your-head moment in looking at the definitive narrative to emerge out of Orlando this week. We're a blame-ourselves culture regardless of who or what is actually responsible for horrific things, with Republicans usually the first to get a finger (index and/or middle) directed its way after every mass shooting that occurs all too often in this country. Members of a Charleston black church are massacred by a lunatic? It's a Republican problem because a Confederate flag was on his property. A Planned Parenthood facility in Colorado is attacked and three people — including a police officer — are killed? It's Carly Fiorina's fault. 49 innocents are slaughtered at an Orlando nightclub? The New York Times blames... the GOP.
The Editor says...
"49 innocents?" The clients in a meat market gay bar at 2:00 a.m. are not innocent.
CBS Insinuates Christians 'Promote the Kind of Violence' in Orlando. During their Tuesday night broadcast of Evening News CBS directed the blame for the Orlando terrorist attack towards American Christians, even though it was carried out by a pledged member of the Islamic State. To ease into the Christian bashing host Scott Pelley stated, "There has been so much progress for the LGBT Community, but we are now reminded that fear is still a constant reality." As the center piece of her report CBS's Mireya Villarreal brought on Lorri Jean the CEO of the LGBT Center in Los Angeles. In the report Villarreal showed Jean letting loose on her political opponents: [...]
Regressive media applaud the San Jose violence. The far-left media are excusing the behavior of San Jose rioters, instead blaming the violence on Trump and rally attendees. Some journalists have gone so far as to encourage the attacks. In the wake of the outrage over the violent protesters' behavior, online leftist publications churned out a flurry of articles that stank of damage control. But unlike of the apologia they exhibited during the Baltimore and Ferguson riots, the authors of these pieces went a step farther than merely excusing the mob attacks in San Jose. They endorsed them.
The Mexican Flag: An All-American Symbol? Violent mobs who have attacked Donald Trump supporters at one rally after another wave Mexican flags while burning American flags. The vast majority of Americans will disapprove, to say the least, so the Associated Press felt called upon to assure us that Mexican flags are really OK: "Mexican flag, seen at Trump protests, has long history in US." [...] The AP wants us to think that Mexico has legitimate grievances against the U.S., although how that is relevant remains unspoken.
After [One] Complaint, Pennsylvania High School Ends Tradition of Graduation Prayer. There will be no invocation or benediction at this year's Pottsgrove High School graduation, a change after years of tradition. As reported in the Pottsgrove Mercury, the decision to stop the prayers was made last year. According to reporter Evan Brandt, the change apparently is the result of one student's decision to invoke Jesus Christ in his comments at last year's graduation. The school received an anonymous complaint.
The Editor says...
The school board apparently has no backbone if it surrenders after one anonymous complaint.
News anchor booed at graduation ceremony for anti-Trump remarks, speaking Spanish. A commencement ceremony turned unruly over the weekend when the keynote speaker, Mar'a Elena Salinas, one of the most prominent journalists in Spanish-language news in the U.S., underscored the achievement of the Latinos among the graduates and made some remarks in Spanish. Non-Latino graduates and their guests at California State University, Fullerton's College of Communications booed the Univision anchor and yelled at her to leave the stage, according to a student who was at the ceremony.
Charlotte Observer: Girls must overcome 'discomfort' at seeing male genitals in locker room. A shocking editorial in the Charlotte Observer counseled young girls to get over the "discomfort" they feel at the sight of male genitalia when transgender facilities are allowed in North Carolina. The newspaper assumes the law will eventually be repealed or declared illegal. While that may or may not happen any time soon, it is the justification for this position used by the Observer that reveals the true nature of this battle of the bathroom.
Fox News is now completely devoted to Donald Trump. The political and media world seemed shocked this week when Megyn Kelly sat down for a warm interview with Donald Trump. She tossed him velvety soft questions like, "When did you realize you could be president?", sought to discover whether anyone had ever "hurt [him] emotionally," and peppered him with hard-hitting queries on his favorite book and movie. Kelly can of course do any kind of interview she likes, but it's as good a marker as any that Fox News is now thoroughly behind Donald Trump's candidacy for the White House.
Activism masquerading as journalism:
Here's Who's Controlling the Bathroom Debate. The bathroom wars raging in North Carolina, set off by House Bill 2 passed by the N.C. General Assembly, have attained international attention, partly from a febrile cadre of gay activists, but largely due to the Charlotte Observer that covers the city where the donnybrook began — and N.C.'s capital city daily, the Raleigh News & Observer. Without these papers, both owned by the McClatchy chain, the bathroom gender issue would have come and gone in a few days. [...] For two straight weeks, the Raleigh paper published from four to seven pieces a day on the subject — news articles, editorials, guest opinion, editorial cartoons, letters to the editor, and blurbs in their political happenings column. The theme that emerges is to exhort readers to approve of transgender lifestyles and special rights.
When Hillary Needs It Most, 'The Daily Show' Vets Bernie's Policies. With Hillary Clinton still unable to finish off Bernie Sanders, many in the liberal media are trying to drag her over the finish line. The night of the Indiana primary, which was a Sanders victory, CNN wanted to know when he would get out of the way and stop hurting Clinton. In a similar way, The Daily Show decided that Thursday night [5/5/2016] was the right time to actually analyze Sander's proposals and tell the truth about them.
Andrea Mitchell Stumps for Trump: 'Facts No Longer Matter, Tweets Matter'. Now that Ted Cruz and John Kasich have both dropped out of the Republican presidential race and Bernie Sanders is playing out the string, the mainstream media narrative around the Donald Trump versus Hillary Clinton general election matchup is beginning to gel. On MSNBC's Andrea Mitchell Reports Wednesday afternoon [5/4/2016], host Andrea Mitchell made it clear that not only will she promote Trump's candidacy against Hillary Clinton, she will do so in defiance of the facts.
These are the same people who denounce bullying — when other people do it.
CBS's Rose Holds Up Daily News GOP Obituary During Interview With RNC Chair. During an interview with Republican National Committee chairman Reince Priebus on Wednesday's [5/4/2016] CBS This Morning, co-host Charlie Rose gleefully held up a copy of the [New York] Daily News and read the mock obituary on the cover of the left-wing tabloid: "...it says, 'Republican Party 1854-2016; Dearly beloved, we're gathered here today to mourn the GOP. A once great political party killed by epidemic of Trump.'" Just in case Priebus couldn't see the nasty front-page illustration, fellow co-host Gayle King described it in detail: "No, and there's an elephant, Reince, in a coffin, just to make the picture really clear for you." The hosts laughed as Priebus dismissed the publication: "Well, it's only fitting of the Daily News."
Dear Mainstream Media, Don't You Dare Whitewash Anti-Trump Violence. Just imagine for a moment the shrieking outrage if Trump supporters had tried to flip a car outside a Hillary Clinton rally. Imagine the fury at the sight of a bloody man wearing a Hillary shirt.
NBC Reporter Giddy With Excitement Aboard Cruise to Cuba: 'A Pinch-Me Moment'. In an exclusive for NBC's Today on Monday [5/2/2016], correspondent Kerry Sanders could not contain his pure joy at being aboard the first cruise ship bound for Cuba since the Obama administration resumed diplomatic relations with the communist nation. In his report, Sanders proclaimed: "This morning, history is being made as this cruise ship becomes the first in more than a half century to sail from Miami to Havana.... American passengers about to step on to Cuban soil, a country that most U.S. citizens have been forbidden to visit since 1963."
ESPN Fires Curt Schilling — What About Liberal Offenders? About Schilling's firing, the Disney-owned sports cable network said: "ESPN is an inclusive company. Curt Schilling has been advised that his conduct was unacceptable and his employment with ESPN has been terminated." Last summer ESPN suspended Schilling for retweeting a meme likening Muslim extremists to Nazis. Last month, he no doubt angered management for saying that Hillary Clinton should be "buried under a jail somewhere" for her email scandal. So Schilling, to ESPN, is a serial offender. And as a private company, it can terminate an employee for perceived offenses. OK, so Schilling has to go. But what are the rules?
Trump supporters, police attacked by illegal immigrants and their advocates. Thugs advocating the mass lawless invasion of the United States attempted to shut down a rally of those who demand the law be enforced. That is the true nature of what happened last night in Costa Mesa, California, in Orange County. But a quick scan of media headlines about the event makes it clear that the media is doing its best to obscure the nature of the aggression, and portray the incident as the inevitable outcome of Trump's vicious message of intolerance.
I'm done with Fox News. When Fox News debuted in 1996, it was a breath of fresh air, seemingly unadulterated by the leftist bias that had long characterized the three mainstream networks and CNN. But that initial commitment to balance has gone by the wayside, sacrificed on the altar of Donald Trump. Fox News, as Mark Levin has observed, has become a Trump super-PAC instead of a news organization.
CNN previews the unbelievable pro-Hillary bias it will be pushing. The presidential race that is shaping up will be a landmark for American media, exceeding even the pro-Obama bias of 2008 and 2012 — something that would have seemed impossible at the time of those races. But that was before Donald Trump and Ted Cruz became the likely alternatives for the GOP nomination. Each man, in his own way, is anathema to the progressives in the media, while Hillary Clinton evokes nothing but warm protectiveness, especially from female neoprogs. In a remarkable display of a complete lack of self-awareness, Carol Costello of CNN shamelessly prodded a pro-Sanders guest three times to say that Sanders should now "cool it" and stop attacking Hillary Clinton.
ABC Grilled Cruz in Town Hall, Skips Benghazi and E-Mails for Clinton. While ABC journalists grilled Ted Cruz on Monday with a Good Morning America town hall, they offered softballs to Hillary Clinton on Thursday [4/21/2016]. George Stephanopoulos and Robin Roberts showcased questions from the left and included queries about hot sauce and Saturday Night Live. At no time was there a question on Benghazi or the Democrat's secret e-mail server and the scandal around it. The tone started early as Robin Roberts teased the special program: "Clinton flying high, fresh off that huge victory in New York. In another tease, Roberts promised that the candidate would "answer her toughest critics. She didn't. Instead, ABC allowed a Clinton super delegate/Democratic congressman to ask a question.
Cross-Dressing WashPost Reporter Attacks 'Conservative Loudmouth' Schilling on 'Transphobia'. Justin Moyer contended that ESPN's firing of former baseball pitcher Curt Schilling "seemed destined" in a Thursday article for the Washington Post, which detailed the supposed "radicalization" of the former Phillies player turned "conservative loudmouth. Moyer spotlighted how "Schilling went fangs out" after Tweeting out a controversial image that "many deemed transphobic. However, the reporter didn't disclose his possible stake in this issue, as he moonlights as a cross-dressing musician in a rock band.
'Fox & Friends' orchestrates a round of applause for Donald Trump. In the contest among media types for the most obsequious treatment of Donald Trump, the idiotic Fox News morning program "Fox & Friends" on Tuesday [4/19/2016] put forth a very competitive entry. As it often does, the "Fox & Friends" hosting trio did a long interview with Trump via telephone. A key talking point was a Politico scoop by Ken Vogel and Ben Schreckinger about the campaign's reorganization, which is based on a reconstruction of a Trump campaign meeting on Saturday.
Chuck Todd Tells Ted Cruz Planned Parenthood Scandal 'Made Up'. During an MSNBC town hall event with Republican presidential candidate Ted Cruz on Thursday, Meet the Press moderator Chuck Todd dismissed the Texas Senator's condemnation of Planned Parenthood by insisting that scandal surrounding the abortion provider was "made up." Cruz observed: "You know, a few months ago, we had this series of videos that were horrifying. I will say virtually none of the network news would show the videos on air. These videos showed Planned Parenthood officials essentially admitting to what appeared to be a pattern of federal felonies."
Donald Trump's Rigged Media. The media — not just the liberal media, but some "conservative" media, too — have been the gale-force wind beneath Trump's wings. On the nightly news shows on ABC, CBS and NBC, Trump has far outpaced anyone other GOP candidate for attention. From last July through April 6, he's drawn 1,228 minutes of airtime, or 56 percent of the total coverage of the Republican primary race. The other 16 candidates have split the remaining 44 percent.
Hillary Clinton, Donald Trump and headlines the Boston Globe will never show you. The cat is out of the bag. The mainstream media in America no longer even pretends to hide their bias and disdain against Republicans. Exhibit A was Sunday's [4/10/2016] edition of the Boston Globe dedicated to headlines about what America might look like under a President Donald Trump. [...] How could a major newspaper so ferociously engage in slashing and burning a Republican candidate? Are we living in the land of the free, or a Banana Republic?
Newspaper Owned by Donald Trump's Son-in-Law Endorses Donald Trump. Two of Donald Trump's adult children may not be able to vote for him in the upcoming New York primary, but his son-in-law's newspaper is doing its best to help the cause, publishing an endorsement of the Republican candidate. "Donald Trump is the father-in-law of the Observer's publisher," began an editorial by the New York Observer published Tuesday [4/12/2016].
Legacy Media Urge Illegal Aliens to Sign Their Kids Up for Medi-Cal Welfare Program. Because California is running a massive surplus and the federal government is a financial powerhouse.
Joe and Mika All But Openly Campaign for Trump. It's official, Joe Scarborough and Mika Brzezinski finally stopped pretending they don't support their buddy Donald Trump and are now opening campaigning for him. Following Trump stunning two digit trouncing in Wisconsin co-host Brzezinski whined Wednesday [4/6/2016], "I think the establishment and the Stop Trump forces are shooting themselves in the foot because they're so blindly focused their hatred on Trump to the point where they can't see that what they're going to get is Cruz."
The Unfair Media Bias. The willful blindness of the Western media and intellectual elites to Palestinian incitement and their hyper-focus on any incident they can use to portray Israel in a negative light were on abundant display last week when footage emerged of an Israel Defense Forces soldier shooting a wounded and disarmed Palestinian terrorist. Since then, The New York Times and The Washington Post have run no fewer than 16 stories about the incident. [...] Meanwhile, these same news outlets consistently fail to speak out against the massive and ongoing denial of human rights, suppression of basic freedoms and daily torture meted out to any Palestinian dissident by both the Palestinian Authority and Hamas.
The Associated Press is Now Openly Pushing Democratic Talking Points. [Scroll down] This is an excellent example of Betteridge's Law by the way, which states that whenever a headline has a yes-or-no question, the answer is always "no." The only reason for these sorts of headlines is because the editor wants to imply something that cannot be backed up by a straight reading of the facts.
Cokie Roberts: Doesn't FBI Have Better Things To Do Than Investigate Hillary? MSNBC might have to build a deeper tank ... so Cokie Roberts can dive into it for Hillary. On today's Morning Joe, Roberts of NPR complained about the resources the FBI is devoting to the investigation of Hillary Clinton's misuse of email. Carped Cokie: "Don't they have other problems? There's no crime in the country they should be worrying about?" Roberts' timing could hardly have been worse. Just moments before, Joe Scarborough pointed out that last week it was revealed that 22 of the emails on Hillary's server "were so sensitive that the State Department said releasing them would cause grave danger to the United States national security." Not worth investiging, Cokie? Really? [Video clip]
Hillary's Really Bad Week No One Heard About because Guess Who. Hillary Clinton had a gaffe-filled, staggeringly bad week last week. It started with her politicizing Nancy Reagan's funeral and ending with more explosive allegations that her informal adviser Sidney Blumenthal had directly cut and pasted classified intelligence into an unsecured personal e-mail account. But you wouldn't know it from media campaign coverage, which has been far more occupied with the GOP primary and the escalation of violent incidents at rallies.
Drudge Report: Only Good Trump News Is Fit To Print. Drudge's ongoing pro-Trump bias has been noted in some quarters. Back in December, for example, the Daily Beast's Michael Tomasky wrote, "What (Drudge readers) have been getting for the last six months is a steady stream of pro-Trump agitprop." As much as Drudge has blown kisses at Trump, the candidate has been singing Drudge's praises. "What's better than Drudge? He's a fantastic guy. What he's built is unbelievably respected," Trump said after a Drudge reader poll showed him winning a GOP debate — which every Drudge poll has shown. But now as Trump gets closer to sealing the Republican nomination, some conservatives are starting to publicly attack Drudge's biased approach to the GOP nomination, not just because he backs Trump but also because he often promotes vicious attacks against Trump's more reliably conservative rivals.
The Editor says...
The article above is about Drudge, not Trump, but it brings up a related topic: For someone who has apparently enjoyed a lifetime of exposure to a number of influential people, Mr. Trump's vocabulary is remarkably narrow. He is apparently unable to endorse an idea or an individual in any of his speeches without resorting to pedestrian adjectives such as incredible, unbelievable, and fantastic. Mr. Trump, in my opinion literally is incredible, meaning that his claims are not credible — impossible to believe, in other words — beginning with his claim that he is a Republican. He is also literally unbelievable, for example, when he lays out his outlandish plans to build an insurmountable wall along the Mexican border.
By 15-to-1 Margin, Networks Blame Trump, Not Lefties, for Campaign Violence. MRC analysts Mike Ciandella, Scott Whitlock and Kyle Drennen examined ABC, CBS and NBC morning and evening show coverage from Saturday morning [3/12/2016] through Monday morning — a whopping 45 segments totalling nearly 85 minutes of airtime. They found that reporters specifically criticized the Trump campaign for its handling of the issue 46 times, vs. just three times when blame was placed on the left-wing protesters.
From Confirmation to Cancellation, CNN Irresponsible With Botched Rubio 'Exclusive'. CNN is at war with another Republican candidate. First it was Ted Cruz immediately following the Iowa Caucus after some incomplete on-air reporting regarding the state of Ben Carson's campaign. And on the eve of voting in four states, it's the Rubio campaign that is up in arms over another CNN report that can be deemed not only incomplete, but grossly irresponsible.
Rubio vs. CNN: The Little Marco Who Cried Liar. Generally, when a Republican calls a CNN reporter a liar, you gotta take the side of the Republican. CNN doesn't just lie, CNN is a network chock-full of left-wing propagandists deeply devoted to electing Democrats, expanding the scope of the federal government, and forcing Christians to participate in same sex marriages. CNN is much worse than MSNBC. The problem here is Sen. Marco Rubio (R-FL)'s track record.
The Week In Stupid. [Scroll down] Ultimately the media is to blame for the wide acceptance of these stupidities. People only know what they are told. In 2012 they turned a good and decent man into someone who burned money while his employees' wives died; tortured his dog and had elevators in his home for his cars. Think what you will of his politics and polices, and they had their shortcomings, but they made Mitt Romney into a caricature of a human being. It wasn't the first time, and it won't be the last. But this time, the media lost our confidence.
Washington Post Stealth-Edits Reagan Obituary, Covertly Removes Tasteless Lead Without Note. According to Gallup, trust in media by the general public was at 74 percent following Bob Woodward and Carl Bernstein of the Washington Post blowing the lid off Watergate and bringing a sitting president down in the process. It's now at 40 percent and dropping. We see the examples why every day. Forget the partisan blogs and social media... they are what they are. But the Washington Post must and always be held to the highest standard. They say the cover-up is worse than the crime. Nobody is saying Lois Romano or the Washington Post committed a crime here. It was just an obituary even Romano or the paper or both acknowledge was in poor taste if the changes after the fact are any indication. And to just modify, eliminate without notification to readers in any capacity is not only sneaky, but stupid given the original copy is already very much out there. Don't trust the media? You're not alone.
How the Columbia Journalism School smeared Exxon. When the Columbia Journalism School set up a project in 2014 to generate articles on energy and the environment, was its real agenda to exploit ExxonMobil's reputation as a climate-change villain? The fellowship project culminated last fall in an LA Times series that accused the world's largest oil company of downplaying the risks of climate change. InsideClimateNews, an aggressive online site known for its doomsday environmentalism, posted a nearly identical article, tapping Columbia's research. The stories paint a dark picture of the oil-industry icon, charging it with a cover-up that echoes the tobacco industry's denial of health problems from cigarettes.
Leaked Voicemails Show MSNBC Hosts Cozying Up To Donald Trump. Leaked Donald Trump voicemails reveal MSNBC hosts Tamron Hall, Mika Brzezinski, and Joe Scarborough cozying up to the New York real estate developer. The voicemails, which were released Friday [3/4/2016], were sent to Gawker by someone saying they hacked Trump. A source in the TV industry told The Daily Caller the voices seemed authentic, adding, "I'd bet money."
Report: Fox News 'finished with Rubio'. Republican presidential hopeful Marco Rubio's rough week got worse on Wednesday [3/2/2016] with a New York Magazine report that the head of Fox News has decided to stop giving the Florida senator prominent, favorable coverage. "We're finished with Rubio," Roger Ailes told one of the network's hosts recently, according to three unnamed sources. "We can't do the Rubio thing anymore."
The Editor says...
Why were you doing "the Rubio thing" in the first place? What happened to the Fox slogan, "We report, you decide"?
WB-Affiliated Magazine Produces Hit Job on Dr. Ben Carson. [Scroll down] So even though the case was thin, Crime Watch Daily ran with the story. It aired earlier this month, but it remained under the radar — until now. The show that featured this disgusting hit piece against a successful figure in medicine premiered just this year and is produced by Warner Bros. Television. Now, if Crime Watch Daily — as the show is named — did something similar to this about Barack Obama, which, of course, they would never do, cries of racism would fill the air. If they had done a similar, unsubstantiated story about Hillary Clinton, talking about her emails or her many other questionable activities, they'd be accused of engaging in a "witch hunt." I don't really care what they do at this point, but never again will I give them another dime for a movie ticket or a DVD/Blu-ray/Digital release of any of their movies or TV shows as a result of this.
The mass murders that dare not speak their name. Pity the late Cedric Ford. If he had understood the way the media worked, he might not have gone on the horrific shooting spree in central Kansas on Thursday [2/25/2016] that cost three people their lives and fourteen people their health. But alas, once the major media understood the demographics of the case, they lost interest in Ford quicker than you could say "Muhammad and Malvo." Ford simply did not fit the narrative. "Who commits mass shootings?" read the headline of an all too typical piece on CNN.com some months ago. CNN's answer: the "young, white and male." At 38, Ford was relatively young, and he was certainly male, but he was not white. Ford, in fact, represents the most recent manifestation of a widely underreported phenomenon — the black mass murderer. As in virtually every other case, Ford's blackness was not an incidental detail. It was at the heart of why he did what he did.
'Not a Man on That Stage I Wouldn't Gladly Knee in the Groin,' Tweets Liberal Columnist. During the Feb. 25 [Republican] debate, lefty Daily Beast and New York Times Magazine contributor, Ana Marie Cox, unleashed a livestream firestorm against the GOP candidates, which culminated in her labeling the entire GOP a "terrorist group."
Republicans Aren't Fighting Hillary, They're Fighting the Hillary-Loving Media. [Scroll down] Hillary has nothing going for her other than her last name. Well, that and the media. Because even though an occasional joke about Hillary will slip through the media machine, the vast majority of the time, the media prop Hillary up. That same Saturday Night Live routine mocking Hillary had characters talk about how she was the most qualified presidential candidate in history and how much they loved her foreign policy. Triumph spent more time insulting Bernie Sanders than Hillary. The media have spilled gallons of ink over the question of whether insulting Hillary's shrill screeching is sexist or not; they've played defense for Hillary on matters of race; they've covered for her completely on her email scandal.
Giddy Andrea Mitchell Wonders If Scalia Debate Could Help Democrats Regain Senate in November. As the debate over who should replace late conservative Supreme Court Justice Antonin Scalia continued into Monday [2/15/2016], NBC News correspondent and MSNBC host Andrea Mitchell took to NBC Nightly News to tout claims that the discussion could hurt Republicans and lead to Democratic Senatorial candidates winning elections in November to help their party retake control.
The Editor says...
Of course, the exact opposite is true: If the Republicans don't fight Obama's nominees wholeheartedly, at least until after the election, they're in political trouble.
Wash Post Scalia Headline: 'Supreme Court Conservative Dismayed Liberals'. What was the most important thing for readers of Washington Post to see on the front-page of the paper Sunday morning? A headline focusing directly on the death of Antonin Scalia? No. In bold, large font, the Post declared, "Supreme Court Conservative Dismayed Liberals." Apparently, someone at the paper thought better of this for the online version. It declared, "Supreme Court Justice Antonin Scalia Dies at 79." The actual article itself included some nice tributes to Scalia. In contrast, even the liberal New York Times managed a respectful headline: "Justice Scalia, Who Led Court's Conservative Renaissance, Dies At 79."
Ten Thousand Demand Chris Matthews' Suspension, MSNBC Silent. A MoveOn.org petition demanding that MSNBC suspend "Hardball" host Chris Matthews has garnered just under 10,000 signatures, even as the network has refused to address what Huffington Post called a "clear conflict of interest." The petition began in response to outrage over Matthews' "constant shilling for Hillary Clinton." The number of petition signees has almost tripled in size since The Daily Caller reported that Hillary Clinton's biggest donors are bankrolling the congressional campaign of Matthews' wife, Kathleen.
'One Long Cheap Shot' — WashPost Lines Up Canadians to Bash Ted Cruz as Extreme. While The Washington Post would only go to Kenya looking for gushing over Barack Obama, they turn to Canada to make fun of Ted Cruz.
To maintain credibility, CNN must apologize publicly to Ted Cruz. In case you have not yet figured it out yet, CNN gave the distinct impression that Dr. Ben Carson was suspending his campaign on the night of the Iowa caucus. The report was used by the Ted Cruz campaign, who disseminated the information to precinct captains. This information was also used by anyone who happened to check the news with their mobile phone during the Iowa Caucus. It is absurd to consider that media types like Michael Smerconish, Business Insider, Buzzfeed and others were fooled by overly ambitious Ted Cruz precinct captains who were cherry picking information from a CNN report, as alleged by CNN correspondent Chris Moody.
'Today Show' Sandbags Palin, Doesn't Ask Hillary About Email Scandal. Although the classified information scandal surrounding Hillary Clinton's home-brewed email server blew sky-high Friday afternoon, NBC News, the left-wing outlet that attempted to rescue Clinton from this inexcusable behavior last year, jumped back into the tank Monday morning. During a 4-minute appearance on "The Today Show," the former Secretary of State was not asked a single question about the disturbing new revelations. Naturally, although she is running for nothing, this very same "Today Show" sandbagged Sarah Palin with a personal question about her children.
NPR Erases Israel From Map Of Middle East. Blatant anti-Israel bias like this is why NPR is referred to as 'National Palestine Radio' in my 'hood.
CNN's Begala, Bash Downplay Clinton Sex Scandals; 'Nobody Wants to Talk About' That. After NBC's Democratic co-moderator Andrea Mitchell wanted to know from Bernie Sanders in Sunday's debate about whether or not he regretted bringing up Bill Clinton's sex scandals, the post-debate analysis on CNN saw panelists Dana Bash and Paul Begala (a former Clinton aide) less than pleased with the issue and did their best to downplay its significance in the 2016 race.
Couric Presses Ryan on Gun Control: 'What Did You Think When the President Cried?'. In an interview with House Speaker Paul Ryan on Thursday, Yahoo! News anchor Katie Couric grilled the Republican leader on gun control: "Let's talk about President Obama's executive action on guns. What did you think when the President cried? ... Were you affected by it?" Ryan pushed back: "I didn't really think about his crying. ... I was affected by it, but I thought we should have had the same kind of reaction when James Foley was beheaded, when San Bernardino and Paris occurred."
Narcissistic Newsweek Senior Writer Compares Cruz Supporters to Nazis; No Suspension Coming. Is it ego or just plain stupidity? [...] Today's [1/6/2016] latest example comes courtesy of Newsweek senior writer Alexander Nazaryan. His crime? Tweeting out an old image of people marching with Nazi flags and sporting swastikas to illustrate what he calls "Ted Cruz's ground game." In other words, if you support Cruz, you advocate the genocide of Jews with fascism being your particular political flavor.
Angry ABC Railed at Obama Birther 'Nonsense,' Blase on Cruz Birtherism. In 2011 and 2012, the journalists at Good Morning America railed against birther claims relating to Barack Obama, assailing the conspiracy theory as "bizarre" and "nonsense." Yet, the same program lacked outrage on Thursday as Donald Trump promotes a form of birtherism against Ted Cruz. An ABC graphic mildly explained, "Trump Goes After Ted Cruz: Questions GOP Rival's Citizenship." Reporter Tom Llamas simply claimed that Trump is "raising questions about Cruz's birthplace, Canada." He added that the businessman is "suggesting Cruz go to court to prove he can run for president."
ABC's Llamas to Cruz: 'How Can You Be a President' If You 'Hate' Democrats, 'Culture of Washington'. While interviewing Republican presidential candidate Ted Cruz for the Wednesday edition of ABC's World News Tonight, Republican campaign correspondent Tom Llamas demanded Cruz explain how he could "be a president and hate the Democrats and hate the culture of Washington so much and be effective." Before Llamas's question to Cruz, he remarked in his report that "some Republicans worry Cruz is too polarizing, too unwilling to compromise with Congress to win in a general election." Cruz responded to the liberal-learning question by flatly denying that he's ever said he hates Democrats and instead: "It's Hillary Clinton who describes her, quote, enemies, as Republicans, as half of the country she considers her enemies. I don't hate the Democrats."
Despicable New York Daily News Headline Screams: GOP Is the 'Party of Pro-Death'. In November and December, the New York Daily News characterized the NRA and its CEO Wayne LaPierre as a jihadists and terrorists. Now it has set its sights on Republican Party presidential candidates and leaders who are defending the plain, Supreme Court-upheld wording of the Constitution's Second Amendment and Congress's power to make laws over lawless presidential actions.
The Editor says...
It is remarkable that the Abortion Party has the audacity to refer pejoratively to others as pro-death.
Obama's pass from the press. Sometime in the spring of 2007, something strange happened to the Iraqi coverage in the national media — it disappeared. Or rather, as soon as the news ceased to be bad, the media lost interest in covering it. It was not till July, when Michael O'Hanlon reported back from the front that the surge had been working, that the world started to realize what happened. To them, the fact that George W. Bush had succeeded in something was what the press couldn't bear to believe. Something of the sort is happening now in reverse regarding the current Middle East crises, which make Iraq in 2006 seem calm in comparison. This time the press, which can no longer deny that the world has been going to hell since Barack Obama started unleashing his peacemaking powers, is doing its best to insulate him completely from any possible blame for it all.
WCBS News: Now Nakedly Purveying Radical Leftist Propaganda. WCBS News in New York offers us a classic example of a manipulative and dishonest media. Our "free press" is biased and is nudging us in one direction — leftward. Here are two disturbing examples though there are many in any given day.
NBC's Today Skips Planned Parenthood Videos, Clinton E-Mail/Foundation Scandals in Year in Review. With New Year's Eve upon us, NBC's Today dedicated a segment in its 9:00 a.m. hour on Thursday to looking back at the year in news, politics, and entertainment. Not surprisingly, the liberal network made no mention of the Planned Parenthood baby parts video scandal, Hillary Clinton's private e-mail server, the Clinton Foundation scandal, and Benghazi to name just a few. Speaking with Rolling Stone's Joe Levy, co-hosts Natalie Morales and Dylan Dreyer started with the year in news by not mentioning the scandal concerning Levy's publication and the University of Virginia but instead first talked about Bill Cosby and what's transpired concerning the sexual misconduct allegations made against him in the past year.
Biased Media Give Obama An Early Christmas Present. Our IBD/TIPP polls showed that the public has little faith in Obama either domestically or internationally. Just 46% now approve of the job he's doing overall, and a mere 28% approve his handling of ISIS. So what's the press writing about as the year comes to a close? How he's "broken the second-term curse"! His incredible faith! How he "roughed it" in Alaska with Bear Grylls and was in a Web video with Jerry Seinfeld! The New York Times ran through a "series of accomplishments" and how Obama's "success in the past 12 months, both overseas and at home, defied expectations." The story couldn't have been more glowing if it were written by the White House press office.
A new low: Cartoon mocks Cruz's kids, media call it a 'gift'. In daily journalism, there are inevitably mistakes, misjudgments and missteps. And then there is portraying a politician's children as animals. Why the Washington Post thought such a cartoon about Ted Cruz was fit to print is beyond me. I'm equally puzzled by the media's muted reaction.
'We're done': CNN cuts off conservative guest's microphone. CNN's Don Lemon abruptly ended an interview Tuesday afternoon [12/22/2015] after one of his conservative guests refused to stop talking about former President Bill Clinton's many sex scandals. The moment occurred after the CNN host failed repeatedly to get conservative columnist Kurt Schlichter to comment on GOP front-runner Donald Trump cracking bathroom jokes about Democratic presidential candidate Hillary Clinton. "Why did he have to go there?" Lemon asked Schlichter and Trump supporter Tara Grant. "Don, it's going to take a lot more for me to get upset at a woman who enabled a guy who turned the Oval Office into a frat house and his intern into a humidor," Schlichter responded, "I just don't care. I so don't care."
Pathetic Don Lemon Cuts Off Interview With Kurt Schlichter Cuz He Can't Handle The Truth. Not only is this clip hilarious, but it's also rather outrageous because all that military veteran and outspoken conservative Kurt Schlichter did is call Hillary an enabler of a sexual harassment, and Don Lemon couldn't deal with it. [Video clip]
6 Times the Mainstream DC Media Ridiculed Children of Republicans. One of the biggest lies told by our corrupt and rotting DC Media is the one that states that the children of politicians are off-limits. Unwritten or unspoken, there is no such rule. There is, of course, a strictly-enforced DC media rule about the children of Democrat politicians being off-limits. The children of Republican politicians, however, have always been fair game — and I'm not talking about in the left-wing fever swamps, but in mainstream outlets such as the Washington Post, CNN, NBC News, The Atlantic, The Daily Beast, and Salon.
Washington Post depicts Ted Cruz's children as monkeys. And won't apologize for it. That Tweet has since been deleted, of course: and now the Washington Post has yanked the editorial cartoon in question. Sans apology: because while Fred Hiatt is willing to admit that he didn't do his job, he's apparently not willing to admit that a Republican deserves an apology. And then there's how CNN put all of this: [...]
Ted Cruz Strikes Back at Washington Post Cartoonist for Mocking his Daughters. The Washington Post has officially yanked the cartoon down, un-publishing it late Tuesday evening [12/22/2015] after this Breitbart News story.
WaPo removes cartoon showing Cruz daughters as monkeys. The Washington Post removed the cartoon late Tuesday evening, and issued an apology explaining that they did not review Telnaes' work prior to publishing. "It's generally been the policy of our editorial section to leave children out of it," Post editor Fred Hiatt said in a statement.
Washington Post pulls cartoon depicting Cruz's daughters as monkeys. The Washington Post pulled a political cartoon Tuesday night that portrayed the daughters of Ted Cruz — ages 7 and 4 — as monkeys. The cartoon by Ann Telnaes showed the two girls as dancing like small simians before Mr. Cruz, who is Hispanic, dressed as an organ-grinder.
Washington Post stoops to a new low going after Ted Cruz. Imagine for a moment that the Washington Post had published a cartoon depicting Sasha and Malia Obama as monkeys, arguing that because the Obama daughters had campaigned for their father, they were fair game. I realize that such a scenario is unthinkable, that such a project would never pass review. [...] The plain fact is that whoever was on duty and reviewed the cartoon was part of the WaPo's newsroom culture, which hates Ted Cruz and conservatives in general. We have seen in the past a similar instance of egregious prejudice at the WaPo's newsroom, when in 1993 a front page story casually characterized evangelicals as "largely poor, uneducated and easily led." (Note: evangelicals have above average levels of education.)
Planned Parenthood Admits Sending Aborted Babies to Landfills; AP Plays Defense. The callousness towards human life at Planned Parenthood is such that it believes that the remains of preborn babies killed during abortions are just like any other "medical waste," and that sending them to landfills — or, perhaps even incinerators — is therefore "humane." That's what one must conclude from reading an Associated Press report Friday evening which strived mightily to play defense for the beleaguered group. The wire service's headline only described State Attorney General Mike DeWine as an "official."
See How NPR Hacks Up Testy Interview with Ted Cruz. NPR Morning Edition host Steve Inskeep is a big fan of President Obama, and when he interviews him, he helpfully sets him up. In a recent interview on race relations, Inskeep added little prompts instead of questions. That's not what Ted Cruz received on Wednesday's [12/10/2015] show. Inskeep was blunt when discussing the new Trump idea of banning Muslims from entering America: [Transcript omitted for brevity] NPR posted the full transcript online. What that demonstrated was that NPR and Inskeep routinely sliced out (for time and surely, for political convenience) Cruz whacking away at Democrats.
Planned Parenthood was 'right wing terror,' but with Islam suddenly 'motives don't matter'. Last month, when a Colorado Christian entered a Planned Parenthood clinic and fatally shot three people, the mainstream media rushed to make the connection to "right-wing domestic terrorism," even though police hadn't made any connection and the evidence was thin. When two California Muslims shot up a government office several days later, massacring 14, national journalists refused to call it Islamic terrorism even though evidence of the shooters' motive was overwhelming. Two mass shootings, two completely different standards of coverage.
The sky turned blue, the grass turned green, and ...
The media turn partisan after San Bernardino massacre. New York's Daily News used to play it pretty straight — a flashy tabloid, to be sure, but one that kept its opinions on the editorial page. Yesterday's taunting cover, aimed at blaming the Republicans in the wake of the San Bernardino massacre, shows how far it's moved left. And it kickstarted yet another round of media finger-pointing in the wake of tragedy, just as we saw last week after the killings at a Planned Parenthood clinic in Colorado Springs.
Media Rushes to Call Colorado Shooter 'Right-Wing Activist.'. The gulf between facts and conjecture over Colorado shooter Robert Lewis Dear is growing increasingly large by the second. Words like "pro-life activist," "terrorist," and "right-winger" are being used, and all of them are based on supposition and conjecture.
'60 Minutes' pushing Ethel Rosenberg pardon — don't buy it. Obama's presidency isn't over until the end of next year, yet rumors already are swirling about who he might pardon. One name in particular keeps surfacing: Ethel Rosenberg, a dedicated communist and convicted espionage conspirator. Willing to die for the Soviet cause along with her husband, Julius, in 1953, she is now receiving belated honors by misguided individuals and organizations that are more comfortable with claims based on emotional propaganda than actual historical evidence.
Media That Claimed Bush Chilled Speech Strangely Quiet Now. Last week CNN suspended a reporter name Elise Labott for editorializing on a vote by the US House of Representatives. [...] That a CNN reporter would be a lackwit incapable of understanding an issue is not news. That, seemingly, is part of the screening criteria used by their CNN's human resources department in hiring. That a CNN reporter would be a left wing hack devoted to using their position to advance a personal agenda is, likewise, not newsworthy. Who can forget when the ironically named Candy Crowley threw her more than ample weight into the 2012 presidential debate she was moderating on behalf of Barack Obama. What makes Labott unusual is that now we have a smoking gun that proves she slanted her news coverage of Hillary Clinton during her January 2013 Benghazi testimony. Well, slanted is not the right word. She sent her work to Hillary's press guru, Philippe Reines, for approval before releasing it.
Paul campaign slams CNN, says emails show reporter 'colluding' with Clinton aide. Rand Paul's presidential campaign slammed CNN on Wednesday [11/25/2015] after emails were released that the campaign claimed showed a reporter "colluding" with a Hillary Clinton aide to "attack" the Kentucky senator. The CNN global affairs correspondent, Elise Labott, already has been suspended over a separate incident — a tweet last week criticizing a House bill limiting Syrian refugees. But her communications with then-Clinton State Department official Philippe Reines turned up Tuesday [11/24/2015] in a batch of emails obtained and published by Gawker.
Chicago: Media Fans the Flames. Evidently, the [excrement] isn't hitting the fan hard enough, so certain media outlets have started to — get this — lie to advance their agenda. Here's CNN: [Video clip] Yes, that was CNN saying that Chicago Police shot this guy for "jaywalking." No mention of the burglary to auto calls, nothing about the PCP influenced behavior, not even a mention of the knife. Just shot for jaywalking.
CNN "Journalist" Caught Red-Handed Doing Media Favors for Hillary. Hillary wanted some self-serving quotes publicized, and CNN's "journalist" — the same one who just got suspended for her liberal angst about concerns about Syrian refugees — duly complied. She also hit Rand Paul for not attending all the hearings — just as she was seemingly asked.
Emails: CNN Reporter Coordinated With Hillary Aide To Smear Rand Paul During 2013 Benghazi Hearing. A CNN reporter who was recently suspended for two weeks for violating the network's editorial guidelines showed up in a new trove of State Department emails released on Tuesday [11/24/2015] in which she appears to have coordinated social media posts with a top Hillary Clinton State Department aide during the former secretary of state's Jan. 23, 2013 Senate testimony about the Benghazi attacks.
Colbert's 'Late Show' has become propaganda for Democrats. A survey by the Hollywood Reporter found that conservative viewers are turning off Colbert in droves. Nearly twice as many Republicans are watching Kimmel as Colbert, who has turned "Late Show" into a sort of wannabe MSNBC program. The pattern is familiar: When a Democrat is the guest, Colbert is Barbara Walters. When a Republican is on, he turns into Tim Russert.
The AP Lies About Trump and Muslims, and the Media Mob Follows. [Scroll down] Now consider. This is the Associated Press we're talking about here, and the AP can blatantly misreport what Trump actually said, and it goes everywhere. Note that at the very beginning of the AP report, the misrepresentation of what Trump said is fed to Jeb Bush — who promptly does as expected and condemns Trump for saying something Trump never said. Even Ted Cruz swallowed the bait, as Rush noted. The AP's false story is fed out to all the television networks, cable and broadcast, to radio, to newspapers, blogs and the world of Twitter. Thus the lie becomes the Big Lie.
ABC's Gibson Defends Clinton, Declares There's Nothing to Benghazi or Her E-Mails. Demonstrating there's no space between liberal politicians and major media figures — once they feel free in retirement to express their true views which guided their news judgments during their careers — long-time ABC News correspondent and anchor Charlie Gibson on Wednesday afternoon [11/18/2015] dismissed the relevance of Hillary Clinton's e-mails or Benghazi: "I don't think there's anything to Benghazi and I don't think there's anything to the e-mails."
Carson Says Press Deliberately Trying to Damage Candidacy. During a pre-recorded interview with Fox News' Howard Kurtz that aired on Sunday's MediaBuzz, Republican presidential candidate Ben Carson sharply criticized the press for trying to damage his candidacy with erroneous stories about his personal biography. When pressed by Kurtz to explain why the media would want to damage his campaign, Carson explained "when you deliberately lie and you put that out as a story, or you do shabby investigations, and you say we've investigated and we can't find anything, I mean, is that an acceptable standard?"
Dickerson Meets Privately with Democratic Candidates Before Debate. According to Politico's Hadas Gold and Annie Karni, Saturday night's Democratic presidential moderator John Dickerson of CBS News met privately with each of the three campaigns for separate, private meetings to preview the debate and tried to innocently be billed as "informational in nature." The pair spun the revelation as merely CBS "tak[ing] advantage of the smaller pool by doing some intense research" with Dickerson sitting down with representatives from the Hillary Clinton, Martin O'Malley, and Bernie Sanders campaigns "to discuss the major issues at play in the race."
Sorry, Media, You Won't Destroy Ben Carson. Let's begin with two propositions: There is a difference between an admirable man and a perfect man, and there is a difference between "vetting" and viciousness. The collective goal of the liberal media is now clear — to take one of America's most admired and brilliant men and somehow transform him into a dishonest, stupid extremist. The vetting of Ben Carson has become vicious, and to what end? An admirable man has been exposed as imperfect.
No, Ben Carson Didn't Lie About West Point. It's Another Media Hit Job. Now, some on the right are saying that Carson should be held to a higher standard here than other candidates because he's running as an "outsider." But this is a basic case of misinterpreting facts, not an outright lie. Carson served in ROTC. Prominent people wanted him to go to West Point. He wouldn't have had to pay. He didn't apply because he didn't want to go. Those facts are not in dispute. It's the specific wording over which media have decided to crucify him.
The Ben Carson Flaps. For example, in a video that someone dug up, Dr. Carson said to an audience that his "theory" about the Pyramids is that they were used as storage facilities. He was smiling as he said this, so it is not clear whether he was using this theory just to illustrate some point. But, in any case, he was not claiming this as a fact. More important, the Pyramids are not an issue in today's American political campaign, except as a "gotcha" gimmick. Yet the media have paid far more attention to Ben Carson's speculation about what the Pyramids were built for, thousands of years ago, than to outright lies that Hillary Clinton told about tragic American deaths in Benghazi, within days after she knew the truth, as her own e-mails now reveal.
Video Proof: CNN's Attack On Ben Carson's Biography Is Racially-Motivated. CNN's recent and troubling history of anti-black bias is well documented. The left-wing network has been sued for racial bias, is infamous for ginning up violence in predominantly black neighborhoods, and has faced scrutiny by the National Association of Black Journalists for its treatment of black staffers. It is no surprise, then, to discover that CNN is currently on a racially-motivated rampage to undermine Ben Carson's biography, and by extension, his presidential ambitions.
GOP Senator Calls Out Andrea Mitchell's 'Liberal Media Bias'; She Proves Him Right. In an interview with Republican Montana Senator Steve Daines on Wednesday [11/4/2015] about his endorsement of Marco Rubio for president, MSNBC host Andrea Mitchell continued pushing attacks on Rubio's Senate attendance: "One argument, though, is that he has not been in the Senate very much.... That since announcing his candidacy has missed 42% of his votes." Daines hit back: "Yeah, well, I think that's an example of a liberal media bias. Let's take a look at President Obama, Joe Biden, Hillary Clinton, John Kerry, they were all senators who also ran for president. They missed hundreds of votes. So I think there's a double standard here."
The Three (Clinton) Stooges and CNBC. Reading over the transcript, I was again impressed by Ted Cruz's intelligence. Not only did he brilliantly turn the tables on the stooges, but he understands what is lost on the obtuse Jeb and on John Kasich: if you want to win over someone else's supporters (Paul's and Huckabee's, in Cruz's case), you don't attack their candidate, you praise him. Reading the transcript also makes clear exactly how nasty and combative Quintanilla and Harwood were. If Hillary's staff were writing the questions, they could hardly have done a better job.
Thank You, CNBC. Here's the Republican dilemma: The RNC may succeed in quieting down its candidates and extracting some concessions from the networks, which do not wish to lose out on the premium advertising and large viewing audience a GOP presidential debate brings. But whatever happens, Democratic presidential contenders are unlikely ever to have to stand on a stage even half as tough as what their Republican counterparts endure. The great irony here is that it was precisely CNBC's bias that made for such a good evening for Republicans.
Charlie Rose Sticks Up for Hillary in Interview With Rubio. "You called Hillary Clinton a liar, senator," said Rose. "You called Hillary Clinton a liar." "Well," Rubio responded, "I said Hillary Clinton lied about Benghazi. There's no doubt about that, Charlie. [...]"
A debate that will live in infamy. [Scroll down slowly] The sneak attack had been effectively countered, and from that point forward, most of the candidates joined forces against the slippery sloppy questions. The entire nation rose up to ask, "Could those moderators possibly have not known how foolish they were? And what does that say about the mainstream media?" Watch the tape, or read the transcript of the debate online. You owe it to yourself to see the blatant attempt to manipulate public opinion by insulting the standard-bearers of the Republican Party. There is no reasonable, responsible Democrat anywhere who could defend the behavior of the three intemperate moderators.
The Gang That Couldn't Bias Straight. Usually liberal journalists are far better at hiding their biases than CNBC's inept and sneering moderators at last night's debate. Questions asked in an insulting tone, interruptions of candidates in mid-sentence, injections of personal opinion, and shouting down candidates attempting to defend themselves. CNBC began the evening full of bravado, showcasing its "star" panelists and then allowing them to deliver vapid commentary on the debate for 15 minutes before the debate started. It ended almost trying to pretend the debate never happened.
In (Partial) Defense of CNBC. Sweeping his arm across the stage, at the University of Colorado, in Boulder, he said, "This is not a cage match. And, you look at the questions: 'Donald Trump, are you a comic-book villain?' 'Ben Carson, can you do math?' 'John Kasich, will you insult two people over here?' 'Marco Rubio, why don't you resign?' 'Jeb Bush, why have your numbers fallen?' How about talking about the substantive issues the people care about?" He got a big round of applause, which Carlos Quintanilla, one of the moderators for CNBC, tried to interrupt, asking, "Do we get credit...," before Cruz interrupted him again. "The contrast with the Democratic debate, where every fawning question from the media was 'Which of you is more handsome and why?'" Cruz said.
The Editor says...
The writer in The New Yorker, after quoting Ted Cruz, went on to defend the left-wing propagandists masquerading as "moderators." The Ted Cruz quote was the best part of the article. Expect more article like the one above in the next week or so, because the biased left-wing news media can't afford to let these latest challenges go unanswered.
NYT Calls Jill Biden a Doctor 3 Times More Often than Ben Carson. The New York Times referred to Jill Biden as a 'doctor' three times more than Ben Carson, according to the Weekly Standard. Jill Biden, Vice President Joe Biden's wife, has a doctorate in education. Republican presidential candidate Ben Carson was the first neurosurgeon to successfully separate conjoined twins.
What Ted Cruz Did in Wednesday's Debate Was So Much More Than an Applause Line. In one moment, Senator Ted Cruz managed to do what no other candidate for the Republican nomination for president has done to this point: unite Republicans. He did so by pushing back against the ridiculously biased questions presented by CNBC moderators.
RNC Chair Bashes CNBC: 'It Was One Gotcha Question, One Personal Low Blow After The Other'. "I think it was one gotcha question, one personal low blow after the other," Reince Priebus told the press gathered in the spin room. "It's almost like they tried to design a Rubik's cube for every question."
CNBC Anchor Booed for Question Aimed at Carson. Wednesday at the CNBC Republican presidential debate, when moderator Carl Quintanilla questioned Republican presidential candidate Dr. Ben Carson over a company for which he gave paid speeches, the audience disapproved by loudly booing the anchor.
Cruz Rips Press At CNBC Debate: "This Debate Illustrates Why We Can Not Trust The Media". At the Republican debate hosted by CNBC in Boulder, Colorado Wednesday night [10/28/2015], presidential candidate Sen. Ted Cruz lambasted the moderators, particularly John Harwood of The New York Times, and the media for their treatment and characterization of himself and his competitors. "The questions asked in this debate illustrate why the American people don't trust the media," Cruz at Wednesday's [10/28/2015] Republican debate. "Everyone home tonight knows that the moderators have no intention of voting in a Republican primary."
Cruz Burns CNBC Moderators: This is Why Americans Don't Trust the Media. Republican presidential candidate Sen. Ted Cruz (R., TX) took the media to task on Wednesday [10/28/2015] for asking Republicans tougher questions than they ask Democrats. Cruz said that the questions asked by CNBC's moderators on Wednesday demonstrated why Americans do not trust the media. He ticked through a list of questions asked by the moderators of the CNBC debate.
Republican debate veers out of control as Ted Cruz blasts moderators for bias. The CNBC moderators temporarily lost control of Wednesday's testy Republican primary debate after Texas Sen. Ted Cruz blasted them for what he described as loaded questions designed to provoke infighting among Republicans. "The questions that have been asked so far in this debate illustrate why the American people don't trust the media," Mr. Cruz said instead of answering a question about the debt limit. "This is not a cage match."
Rubio: Mainstream media is the Democrats' 'ultimate super PAC'. Sen. Marco Rubio ripped into the mainstream media during the third GOP debate, calling them the "ultimate super PAC." "The Democrats have the ultimate super PAC. [T]hey're called the mainstream media," Rubio said before ripping them for praising Clinton's performance in front of the House Select Committee on Benghazi last Thursday.
RNC chairman blasts CNBC for 'deeply unfortunate' debate questioning. [Scroll down] Numerous analysts spoke similarly in the hour after the debate, with Charles Krauthammer of Fox News saying "the panel was a bunch of flaming liberals" and Ron Fournier of National Journal tweeting that "Biggest loser of this debate isn't JEB. It's MSM. We've earned this bashing." During the debate Sen. Ted Cruz of Texas, Sen. Marco Rubio of Florida, Gov. Chris Christie of New Jersey and businessman Donald Trump all said, in one or other fashion, that the questions were loaded with liberal assumptions and/or outright contempt for Republican voters.
Ed Meese: RNC Leaders Who Allowed CNBC to Moderate Debate Should Be Condemned. With conservative leaders sharply criticizing CNBC's manner of moderating Wednesday night's Republican presidential debate — which featured multiple questions framed as personal attacks on the candidates — former Attorney General Ed Meese said the leaders of the Republican National Committee who allowed CNBC to moderate the debate should be condemned. "After 15 minutes it was clear that this was not a debate, but a verbal shooting gallery set up by CNBC, with the targets the Republican candidates and the shooters their biased antagonists from the press," said Meese.
Outrageous media bias yields good night for most GOP candidates. The winners tonight were the candidates who most effectively trounced the blatantly biased CNBC moderators. Heading that list are Ted Cruz and Marco Rubio. [...] I knew the MSM had overreached very early on when my wife, a non-Republican who can't stand Donald Trump, said of John Harwood's suggestion that Trump is running a "comic book" campaign: "What kind of a question is that?"
Watch Out for Shenanigans! CNBC Debate Moderator's Most Biased Moments. The RNC may regret its approval of John Harwood as lead moderator for Wednesday night's GOP presidential debate on CNBC if past history is any guide. The CNBC anchor and New York Times columnist admitted he and a producer helped make Rick Perry's infamous "oops" moment even worse.
Charlie Rose to Socialist Bernie Sanders: Your Ideas Are 'Not Radical'. PBS host Charlie Rose on Monday night embraced many of Bernie Sanders's positions and announced that the socialist's positions are "not radical." At first, the journalist suggested the Democratic candidate not use the label when campaigning: "I'm the first person trying to argue you away from the idea that you're a socialist."
MSM Deploys Mediscare Against Carson. Mediscare is, of course, deployed by the Democrat-MSM complex in every election cycle to terrify seniors with the claim that Republicans want to deprive them of health care. It was famously used against Paul Ryan, who proposed a premium support plan to help control Medicare spending. This heresy resulted in a TV ad showing a Ryan-lookalike throwing an old lady off a cliff. It is now being deployed against Carson pursuant to his proposal to gradually transition U.S. health care away from government-run programs to a system in which every American would have a Health Savings Account (HSA) supplemented by catastrophic coverage.
MSNBC And Al Sharpton Cut Off Guest Who Says Hillary Proven A Liar At Benghazi Hearing. Completely Orwellian disregard of the truth. [Video clip]
Frontiers of political correctness: banning the word 'too'. Move over, Melissa Harris-Perry — it is getting crowded on the lunatic PC bench. Joining "hard worker" (racist!) on the PC banned word list is "too" (sexist!). That's right: an adjective and adverb positing that something is more excessive in some quality than desirable is now verboten, as far as the Huffington Post is concerned. The editors there gave considerable space to Cameron Schaeffer, who identifies herself as a freshman at the University of Vermont, where her head has obviously been filled with victimology nonsense.
Political Correctness Taken to the Extreme: "Hard Worker" Now Offensive. With presidential candidates including Donald Trump leading a pushback against overreaching political correctness, here's a video that will surely add some fuel to the fire. As you will see, MSNBC host Melissa Harris-Perry was apparently triggered by the phrase "hard worker" and went into a diatribe explaining why that term is offensive. It sounds as if she's somehow trying to connect the term "hard worker" to slavery. [Video clip]
Melissa Harris-Perry Scolds Guest to Be 'Super Careful' About Saying 'Hard Worker' Because Of Slavery. MSNBC host Melissa Harris-Perry derailed a conversation about potential Speaker of the House Paul Ryan (R., Wis.) Saturday [10/24/2015] to admonish a guest for calling him a "hard worker," arguing it demeaned slaves and working mothers "in the context of relative privilege."
Melissa Harris-Perry Needs a Trip to Hard Work U. MSNBC's Melissa Harris-Perry is the cable TV pioneer who broke the tastelessness barrier for feminists by wearing tampons as earrings on air in 2013. This week, she made ignominious history again — as the race-baiting fool in an ivory tower bubble who believes the words "hard worker" are a slur against black slaves and moms who don't have health care.
MSNBC Admits Anti-Israel Graphics Were 'Wrong'. MSNBC has admitted that highly controversial graphics aired on the network that depicted Israel as stealing land from the Palestinians were "factually wrong" and that the broadcast would be corrected on Monday [10/19/2015], according to a network spokesperson. The cable news network has been fighting off criticism after it aired the graphics and analysis, including a map linked to conspiracy groups branded as anti-Semitic, that portrayed Israel as existing on territory expropriated from Palestine. The graphics garnered criticism from pro-Israel advocates and has now prompted the network to acknowledge that the graphics were highly misleading.
The Media's Shameful, Shameless Bias against Israel. On Sunday, October 11, the Los Angeles Times ran the headline "6 Palestinian Teens Die Amid Mideast Unrest." It was, technically, true. But it left out a few key details.
Reporting from Jerusalem: The astonishing bias of NBC's Ayman Mohyeldin. NBC News foreign correspondent and Palestinian-American Ayman Mohyeldin reported from Jerusalem this week as a Palestinian man dressed in camouflage raced past his camera wielding a knife. [...] The incident ended with the man being shot dead by Israeli police at the Damascus Gate. Mohyeldin went live to report on the incident minutes after it happened and stayed live for roughly an hour on MSNBC. But Mohyeldin, failed to give viewers the full picture of what he had just witnessed. He failed to tell viewers for over an hour that the suspect was a Palestinian and that he was dressed in a camouflage uniform similar to the ones Israeli soldiers wear. Mohyeldin never referred to the attempted terrorist attack as anything other than a man being shot by Israeli officials.
Biased coverage of Israeli-Palestinian 'violence': When terror becomes 'tensions'. If you are seeking an example of bias in the media's coverage of what journalists are calling the latest round of Israeli-Palestinian "violence," consider the case of Ahmad Manasra. In an angry speech on Wednesday night [10/14/2015], Palestinian Authority President Mahmoud Abbas, appealed for calm but accused Israeli security forces of killing Palestinian boys "in cold blood," singling out the 13-year-old Manasra as one of the Palestinian youths Israel had "executed." [...] There are at least two major problems with Abbas' charge: First, Ahmad Manasra was not "executed" or even shot by Israelis.
Can the New York Times Discuss Whether Mohammed's Flying Horse Really Visited the Temple Mount? So the New York Times lapsed into what has been called Temple Trutherism by trying to deny the existence of the Jewish temples on the Temple Mount. [...] But let's have some equal time here. The Temple Mount is holy to Jews because of the Temples. So the New York Times chose to discuss whether the Temples really existed. It's holy to Muslims because Mohammed supposedly flew there on a flying horse (with a woman's head). Can we get a discussion of whether that really happened? Or does the New York Times only find it acceptable to mock Judaism, not Islam?
USA Today Offers Advice On How To Make Bernie Sanders And Socialism Less Scary. Did you know that the "S" word, Socialism, is scary to Americans? Which makes Democratic Party presidential candidate scary! Somehow, this whole article is in the news section of USA Today, rather than the opinion section.
CNN Ignores Planned Parenthood at Dem Debate Even When Hillary Brings It Up. CNN spent more than 10 minutes pressing GOP candidates about Planned Parenthood during the previous debate — but moderators couldn't bear to mention the abortion giant once during Tuesday's Democratic primary debate. Not even after Hillary Clinton brought up the topic.
CNN's very odd near-exclusion of its black and Latino debate moderators. For all the talk about inequality and inclusion from the Democratic presidential candidates, for all the major national news this year about the ways that American life remains shaped by race, for all the reporting that's been done on the rapidly changing demographics of the United States, the network airing the first Democratic presidential primary debate Tuesday [10/13/2015] thought it wise to allow an experienced Latino reporter to ask a small series of questions about immigration, and a black reporter to introduce a single inquiry from Facebook about Black Lives Matter. And that's all we heard from them until nearly two hours into the debate.
ABC's Quantico Uses Timothy McVeigh to Smear American Veterans. As I've said before, the second most far-left outfit in the history of broadcasting right now behind NBC is the American Broadcasting Company — ABC. Their new espionage drama Quantico has been shown to support far-left causes from the very first episode, from taking cheap-shots at Mormons, to making Planned Parenthood an innocent victim of conservative terrorists.
When is a Hillary scandal not a Hillary scandal? CNN's Ashleigh Banfield spoke to Democratic strategist Robert Zimmerman about the upcoming Democratic primary debate yesterday [10/9/2015]. They considered the unthinkable possibility that Bernie Sanders will bring up Hillary's email scandal, which Banfield quickly suggested isn't really a scandal.
Texas executes inmate for killing man in $8 robbery. No late appeals were filed for Juan Martin Garcia, who was lethally injected [10/6/2015] for the September 1998 killing and robbery of Hugo Solano in Houston.
The Editor says...
The Associated Press once again shows its bias, starting with the headline in this story. The execution was about the murder of an innocent man. It was not about the eight dollars that changed hands.
LA Times Labels Black Oregon Shooter As White Supremacist! The Los Angeles Times has labeled the Oregon shooter as having "white supremacist leanings" even though the shooter was black. The shooter identified as "mixed race" and reportedly had a black mother.
Once Again, DeRay McKesson Falsely Assumes Shooter Is White. Less than a month after Black Lives Matter activist DeRay McKesson got egg on his face for falsely implying the Roanake shooter was a white man, he apparently is at it again. In a series of tweets and retweets, McKesson laid out the case that there was a racial element to the policing and media coverage of the Oregon shooter.
CNN Photoshops Oregon Jihadist Shooter to "Fundamentally Transform" Him into a Caucasian Male. Remember the Trayvon Martin case? You know, the dude involved in burglary, PCP-like drug cocktails, and/or drug dealing who assaulted George Zimmerman and got capped for his trouble? Remember how the media claimed there was a new race called "White Hispanics", a term invented "by The New York Times to describe Zimmerman, apparently in some kind of push for a white vs. Black narrative"? Good times. Well, the media is at it again, this time photoshopping the Black Jihadist Oregon shooter [...] to make him appear white.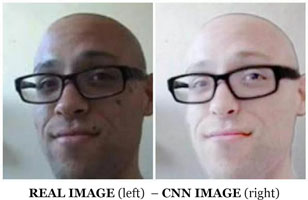 The Curious Case of Oregon Shooter Chris Harper-Mercer — A Social Media Profile Shaped, Modified and Deleted. On the left is the selfie Christopher Mercer uploaded to his social media. On the right is how CNN presented the same selfie in broadcast stories about him. Why did CNN need to change the complexion (color) of their broadcast? Why is no one showing pictures of mom, Laurel Margaret Harper[?]
The Baby Butchers and Their Media Butchers. The propagandists of Planned Parenthood don't want you to remember that earlier this summer the group apologized for the "tone" of one of its top officials, Deborah Nucatola, who casually hawked unborn baby parts to undercover journalists from the Center for Medical Progress as she swilled wine and chomped on a salad. Not long after confessing that the "tone" of their butchers might cause offense, another top Planned Parenthood trafficker, Mary Gatter, joked about scoring a luxury car after haggling over $75 baby-organ price tags. [...] Ten lengthy, damning videos later, the billion-dollar abortion giant is in full-blown whitewash mode — and its bloodstained accomplices in the liberal media are out in force with their paint rollers.
Embattled Washington Post Fact Checker Admits Pinocchio Ratings 'Are Subjective'. In a stunning confession Tuesday [9/29/2015], Glenn Kessler, editor of the embattled Washington Post's fact check column, admitted that the Post's fact-check findings "are subjective." Kessler was responding to the litany of complaints surrounding his partisan attack againt Republican presidential candidate Carly Fiorina. Although the Post's fact check column verified Fiorina's claim that she had once been a secretary, Kessler (who openly taunts Republicans) still awarded her three Pinocchios. Kessler's lengthy rationalization is essentially a confession that finally proves what many of us have been saying for years: that Kessler and the Post have been abusing the imprimatur of fact-checking as a partisan weapon to push a left-leaning agenda.
Editing flap: TV 'edits' 5-hour Planned Parenthood hearing to 1 minute. Network and cable TV news are coming under fire for repeatedly smearing as "heavily edited" the controversial secretly taped Planned Parenthood videos of officers discussing the sale of aborted fetus parts. After Tuesday's [9/29/2015] five-hour House hearing on the issue with witness Cecile Richards, the president of Planned Parenthood, the media is being slammed for doing exactly what the producer of the videos did — and worse — editing hours of tape for a watchable news segment.
MSNBC Got a Big Surprise While Pushing the Abortion Agenda. MSNBC anchor Thomas Roberts got a big surprise on Tuesday [9/29/2015] when he tried to use the mother of a stillborn child to attack a pro-life organization's effort to defund Planned Parenthood. Roberts talked to Lexi Oliver Fretz about her deceased son Walter. An image of the stillborn Walter was used in a video by the Center for Medical Progress in one of its videos. Roberts attacked, "How do you feel about Walter's picture used to discredit Planned Parenthood?" Fretz explained that she was surprised to see her son used to illustrate a grisly description in the video, but added, "My husband and I are actually extremely pro-life."
Washington Post Fact Checker Still Targeting Republicans By Nearly 2-to-1. The Washington Post's fact-checking rampage against Republicans and right-of-center claims marches on. In late March, after Breitbart News reported that, for the first three months of 2015, the WaPo fact-check column targeted Republicans twice as often as Democrats, the column's editor, Glenn Kessler, assured Breitbart News readers that, "You need to look at the whole year to be fair." Well, with just 13 weeks left in the year, the likelihood that anything approaching an equal scrutiny of claims by Democrats and Republicans appears impossible.
Ben Carson Zooms to Top of Media's Kill List. The enemedia is patting itself on the back, congratulating itself with headlines that declare, "Ben Carson Walks Back Anti-Muslim Comments With More Anti-Muslim Comments," when in fact the subheadline is, "I stand by the comments." This is the sharia-compliant media at its deadliest. Islamic supremacists and their running dogs in the media have unilaterally adhered to the blasphemy laws under the sharia (Islamic law). Anyone who violates these laws (which mandate that one must not criticize Islam or Muhammad) will be destroyed. In Muslim countries, you are executed for blasphemy. In the West, for the same "blasphemy" your character and good name are assassinated.
Ted Cruz: The Biggest Elephant in the Room. To the Republicans in Washington who have habitually let down the American people, who is public enemy number one — the Ayatollah Khomeini, Vladimir Putin, President Obama? No, Ted Cruz. To the liberal media that apparently believes in a socialist utopia, who threatens to spoil their self-destructive fantasy? ISIS, Russia, Iran? No, Ted Cruz. In the wake of the CNN debate, is there any wonder now why moderator Jake Tapper avoided and interrupted Ted Cruz all night?
Media Smears Trump, Ignores Fact That Hillary Clinton Started Birther Movement. When asked by a reporter if Obama was a Muslim in 2008, she replied, "There's nothing to base that on ... as far as I know." The media is nothing but a bunch of left-wing liars. And what's wrong with being misidentified as a Muslim? It's [much] better than being identified accurately as someone who spent 20 years in a racist church, which is Obama's true (and very troubling) religious history.
'Fact-Checker' Challenge. Because Republican presidential candidate Carly Fiorina dared Wednesday night [9/16/2015] to be a woman who attacked the mainstream media's holy temple of abortion, the lying fact-checkers came out in force before the CNN debate was even over to punish her for sharing with the world the horrors of the infamous Planned Parenthood videos released over the summer. As an example, the prominent fact checkers at the left-wing Washington Post, Glenn Kessler and Michelle Ye Hee Lee, attacked Fiorina with this word salad of misinformation: [...]
Iran nuclear deal survives: Democrats block disapproval vote. The hard-fought nuclear accord with Iran survived the U.S. Senate on Thursday [9/10/2015], as Democrats overcame ferocious Republican opposition and delivered President Barack Obama a major victory on his top foreign policy priority.
The Editor says...
Sounds like we're getting mixed signals from the Associated Press: Did the Democrats block the vote, or did they overcome ferocious Republican opposition?
Shep Smith Rails Against Anti-Gay 'Haters' During Kim Davis Presser. During Fox News' live coverage of Kentucky clerk Kim Davis' release from prison, anchor Shepard Smith suddenly spoke over the press conference to chastise Davis and those who supported her decision to refuse to issue gay marriage licenses.
Chuck Todd Admits Iran Deal Vote More 'About Avoiding Defeat' for Obama. On Wednesday, September 2, all three network newscasts cheered Obama securing a 34th vote for the Iran deal which included Chuck Todd's colleague, NBC Nightly News anchor Lester Holt, who proclaimed the vote a "major win for the Obama administration" for a deal that "now appears unstoppable." In addition, the networks repeatedly dismissed the overwhelming majority of Congress who opposed the Iran deal and refused to provide soundbites of those who planned to vote against the controversial agreement.
Media shifts on violent rhetoric for Black Lives Matter. Some newsrooms are pushing back hard on the notion that the recent spike in police officer deaths is tied somehow to the anti-cop rhetoric of the Black Lives Matter movement. That's a sharp contrast from the press' more recent habit of tying Tea Party rhetoric to similarly deadly acts. The Black Lives Matters movement, which was born out of concerns over police brutality in African-American communities, has come under fire recently for some of its members' charged rhetoric.
Ignoring Science, 97% of Stories Hype BPA as Health Threat. Fear of chemicals and "toxins" is rampant among the so-called "environmental" left. Unfortunately, that phobia infects national media coverage as well. For more than a decade, the left has been on the attack against BPA, a chemical that is commonly found in plastics and other products. Anti-chemical groups such as the Breast Cancer Fund and some scientists have crusaded against BPA (known formally as bisphenol A), connecting it to cancer and reproductive problems and claiming that it is "a threat to human health," despite government agencies that have declared it "harmless" even in baby bottles. Much of the national media have bought in spreading fear of the chemical in ordinary canned goods, on cash register receipts, in dental sealants and more. In just the past two years, the three broadcast networks and top five national newspapers have continued to report on the "hidden danger" of BPA, labeling it "carcinogenic" and "toxic" often with small or flawed reports from activists.
Suddenly Media Worried Over Reporting Race-Based Motive of Killer of White Reporters. During the reporting of the murders in a black church in Charleston, the assumed racist motive of the shooter, white man Dylann Roof, was immediately the talk of the media. But now, after an African American murdered two white former co-workers and then released a 23-page, race-tinged manifesto, some in the media are suddenly squeamish about reporting the race-based motives of the killer.
Megyn Kelly defends Mexican supremacist Jorge Ramos. Megyn Kelly once again bashed Donald Trump while defending Mexican supremacist Jorge Ramos, despite not waiting until being called on. Last night Megyn Kelly had leftist and CNN reject Howie Kurtz to react to Trump basically deporting Jorge Ramos from his press conference in Iowa. So as is typical of Megyn Kelly, she took Ramos' side, saying: [Video clip]
The Top 50 Liberal Media Bias Examples. Let's face it, liberal media bias has been around since there have been liberals to do the "reporting" of the news. But this fact should surprise no one. After all, the news media has always been filled with bias of one type or another. In fact, there was a time when American customers of the news knew exactly which newspapers sported which point of view. It was taken for granted that one newspaper supported one side and another newspaper a different side.
An activist masquerading as a journalist:
Activist anchor Jorge Ramos uses influence to push immigration agenda. Univision anchor Jorge Ramos, who has long been as much an activist as a newsman, managed to find himself at the center of an immigration story yet again this week as he went head-to-head with GOP presidential candidate Donald Trump, getting tossed from a press conference after repeatedly and insistently trying to ask questions.
Jorge Ramos Is an Immigration Activist Posing as a Reporter. Jorge Ramos may be the award-winning celebrity anchor of Univision's premier news broadcast, but "the Walter Cronkite of Hispanic News" long ago revealed himself to be less a journalist than another perpetually indignant immigration activist. His devolution into outright heckler was only a matter of time. It would be difficult to overstate Ramos's immigration radicalism. When Central American children were pouring over the border last summer, Ramos announced as a solution, "First, we treat children like children, as if they were our own." When, in their 2012 interview, Newt Gingrich told Ramos, "I'm not going to let you define what 'immigration reform' is," Ramos replied, "It's very simple: to legalize 11 million undocumented immigrants." And when, last November, President Obama lawlessly granted amnesty to some 5 million of those immigrants, Ramos touted the measure as "a triumph for the Latino community."
Jorge Ramos Has a Long History of Activist 'Reporting'. Ramos has been called the "Walter Cronkite of Latino America," but he has a history of behaving more like an activist with a cable-news platform than a reporter. Ramos constantly identifies with his Latino and immigrant audience, using words like "us" and "our" when reporting on any immigration-related issue. He seems to see himself as the gatekeeper of Latino American opinion — and to think that qualifies him to be a political kingmaker.
Indy Star Orchestrates Secret Campaign To Promote LGBT Special Protections. Breitbart News has exclusively obtained an email sent by the President and Publisher of the Indianapolis Star. It invites "community leaders" to help plan and coordinate an aggressive, highly orchestrated campaign to "persuade" the Indiana state legislature to adopt sweeping special protections for Indiana's gay, lesbian and transgender communities. The email, sent personally by Karen Ferguson Fuson, President and Publisher of the Star, was sent early this morning to an undisclosed list of business and media elites, together with gay rights activists. It pulls no punches in its scope or its goals.
Biased Media vs. Behavioral Standards. We all know that the mainstream media are biased. But they appear to have totally come out of the closet lately, exposing their true identity as leftist operatives. It was infuriating watching a CNN interviewer hammering Republican presidential contender Dr. Ben Carson. This despicable jerk kept trying to twist Dr. Carson's words to mean that Dr. Carson wants to bomb refugees with drones. [...] Also infuriating and evil is the MSM hiding the sick scandal happening at Planned Parenthood. In the latest video released exposing Planned Parenthood's black-market baby body parts business, one of PP's clients joked about shipping whole heads of aborted babies to research labs. I was stunned by the lack of media coverage and national outrage. Have we grown numb?
Cruz Accuses Megyn Kelly of Asking 'Mainstream Media Liberal' Question. Texas Senator and Republican presidential candidate Sen. Ted Cruz (R-TX) accused Fox News Channel anchor Megyn Kelly of asking "the question every mainstream media liberal journalist wants to ask" and "the question Barack Obama wants to focus on" on Tuesday's [8/25/2015] "Kelly File" on the Fox News Channel.
Mainstream Scream: Carter revisionism begins, called 'too nice' to beat Reagan. The mainstream media's revisionism of former President Jimmy Carter's doomed presidency has begun amid reports he is battling brain cancer. Leading the charge last week was MSNBC's Joy Reid, a national correspondent who was host of the "Reid Report" from February 2014 to February 2015.
House Intelligence Committee Democrats Play Political Games on Iran Deal. The Hill ran a story today [8/14/2015], "Spy panel Dems rally to support Iran deal," which gives the impression that all of the House Intelligence Committee's Democratic members signed a letter supporting the nuclear agreement with Iran. The article did not mention that a third of the committee's Democratic members did not sign the letter or the absurdity of the letter's claims. I therefore believe a more accurate title for The Hill article would be "One-third of House Intel Committee Democrats Refuse to Sign Letter Supporting Iran Agreement."
Cover-Up: Major Newspapers Keep Hillary's E-Mails Off the Front Page. Four of the country's largest newspapers on Wednesday [8/12/2015] kept the latest developments in Hillary Clinton's growing E-mail scandal off the front page (one kept it out of the paper completely). The revelation that the Democratic candidate had top secret information on her server was relegated to the bottom of page A13 in the New York Times. The Washington Post managed to place the news that Clinton will finally turn over her server on A2. The Los Angeles Times hid the story on A9. All of these newspapers, however, did better than USA Today, which completely skipped Clinton's scandal in the print edition.
Press Downplays, Hides EPA's Responsibility for Western River Contamination. On Wednesday [8/5/2015], the U.S. Environmental Protection Agency committed an act which would have likely become instant national news if a private entity had done the same thing. On Friday, John Merline at Investors' Business Daily succinctly noted that the EPA "dumped a million gallons of mine waste into Animas River in Colorado, turning it into what looked like Tang, forcing the sheriff's office to close the river to recreational users." Oh, and it "also failed to warn officials in downstream New Mexico about the spill." Yet here we are four days later, and the story has gotten very little visibility outside of center-right blogs and outlets. That's largely explained by how the wire services have handled the story.
US carbon pollution from power plants hits 27-year low. Carbon dioxide — from the burning of coal, oil and gas — is the chief greenhouse gas responsible for man-made global warming.
Bias alert:
The Associated Press is wrong about one aspect of this story, in the first sentence: The primary greenhouse gas is water vapor, which no law or politician can counteract.
Red Flags Of Corruption Over Huntington Park. In a page-one headline, the Los Angeles Times hailed the appointment of illegal immigrants to two Huntington Park, Calif., civic commissions as a milestone that "charts a bold path for immigrants." It was booster journalism at its worst, gushing about illegals gaining participatory "rights" in U.S. public life that had supposedly been unjustly denied them. It also stood in stark contrast with the multiple local press reports — KPCC, KTLA, CBS-LA and more — which reported the event as primarily cause for angry protests.
GMA: No Time for Planned Parenthood Vote; 18 Minutes to Boy Band. ABC's Good Morning America, a two hour-long program, on Tuesday [8/4/2015] completely ignored the Senate's vote on Planned Parenthood, yet devoted 18 minutes of air time to boy band One Direction. Only CBS This Morning bothered with the Republican effort to defund the abortion group, allowing a meager 25 seconds. Even in that scant amount of time, co-host Norah O'Donnell managed to spin the undercover footage of the organization in a friendly way.
CNN Asks Activist Behind Planned Parenthood Videos if He's a 'Violent Extremist'. In an interview with the Center for Medicial Progress' David Daleiden, CNN's New Day host Alisyn Camerota asked the activist behind the undercover Planned Parenthood videos to respond to criticism he was a "violent extremist." "Your critics — critics of your organization I should say — say that you're not journalists as you purport to be on your website, but rather you're violent extremists," Camerota said to Daleiden.
The Editor says...
The abortion "doctors" are tearing babies apart and selling the pieces, and the guy who goes undercover to document this practice is accused of being a "violent extremist." That's a textbook case of liberal media bias.
New Hillary Emails: Media, Congress Fed Her Questions. A great deal of the communication contained in the latest batch of Clinton emails released to the public consists of sycophantic throne-sniffers at the State Department and White House competing with each other to see who can compliment Her Regal Majesty the most. But now we've got examples of people actively helping her stage public appearances — including, to no one's surprise, the media. Mediaite reports that one of the new emails shows a source within NBC News leaking Hillary questions in advance of a Meet the Press appearance: [...]
Only CBS Highlights 'Tough, New Questions' for Planned Parenthood. On Friday, CBS This Morning actually highlighted the "tough, new questions" Planned Parenthood is facing, showcasing the "latest and most graphic video." ABC's Good Morning America and NBC's Today, despite a combined running time of six hours, ignored the story. This Morning Co-anchor Norah O'Donnell, in addition to showing footage, alerted, "Planned Parenthood is facing tough new questions this morning. A fourth undercover video is out, showing a doctor at the women's health provider talking about selling fetal body parts."
NBC Hosts Thrilled Network Hired Obama's Chef as Analyst. On Wednesday [7/29/2015], the hosts of NBC's Today cheered the network's decision to hire former White House chef — and husband of left-wing MSNBC host AlexWagner — Sam Kass. Co-host Savannah Guthrie gushed: "...we've got an exciting announcement. You guys remember Sam Kass, of course he's the former assistant White House chef, executive director of the First Lady's Let's Move campaign, and nutrition advisor to the President.... He is becoming an NBC News senior food analyst."
'Respectable' Journalism is Slipping: Atlantic Writer Thinks Religious Believers Belong in Straitjackets. Jeffrey Tayler is a respected journalist — an author of multiple books, a contributing editor at The Atlantic, and a frequent commentator on NPR's venerable All Things Considered. Review his Atlantic author page, and you'll see a collection of sober-minded, interesting articles — written from a leftist perspective, to be sure, but many of them are certainly worth reading. I haven't caught his NPR commentary, but I expect they would be worth hearing. I enjoy thoughtful liberal commentary, and The Atlantic is still often a destination site for the best the Left has to offer. But that's Mr. Tayler as Dr. Jekyll. Mr. Hyde emerges over at Salon, [...]
Cahoots:
Email Reveals Hillary Clinton Was Fed Questions Before Meet the Press Appearance. One of the private Hillary Clinton emails released Friday [7/31/2015] reveals that an NBC source was leaking possible questions to the then-Secretary of State's staff ahead of an appearance on Meet the Press. In an July 2009 email with the subject line "heads up," Clinton staffer Lissa Muscatine wrote, "You probably already know this, but I just heard from a friend who is wired at Meet the Press that David Gregory will ask you about David Maziar, the Newsweek journalist arrested in Iran."
Nets Spend 30 Minutes on Lion; Censor Abortion Videos. The broadcast news shows covered Cecil the lion more in one day than they spent on the Planned Parenthood videos in two weeks — and that discrepancy only continues to grow. In two days, ABC, NBC and CBS have spent 30 minutes, 1 second on Cecil, a famed African lion shot by an American dentist. But anchors couldn't spare nearly as much time for the videos exposing Planned Parenthood's harvesting of aborted baby parts. Since the release of the Center for Medical Progress' first video two weeks ago, the networks have spent only 11 minutes, 13 seconds on the story.
World Explodes over Dead Lion, Ignores Planned Parenthood. On Tuesday [7/28/2015], the world lost its collective mind — whatever is left of it, anyway — when media discovered the identity of the killer of a Zimbabwean named Cecil. Cecil is a lion. Cecil, a lion, was by most accounts "one of Africa's most famous lions." Cecil, incredibly, was famous for being a lion, not for curing cancer, although you wouldn't know that by the media coverage. The man who shot Cecil, a lion, to death is Dr. Walter Palmer, a big game hunter who allegedly paid $55,000 for a big game permit. He hired a guide, who lured Cecil, a lion, out from a protected area, where Cecil, a lion, then met his end.
CNN's Camerota Downplays Baby Organ Harvesting Outrage; Suggests Price Fixing. On Tuesday's [7/28/2015] New Day, CNN's Alisyn Camerota made no mention of the outrage over Planned Parenthood varying its abortion techniques in order to preserve unborn babies' organs for medical research, as was revealed in two undercover videos. Instead, Camerota zeroed in on "these representatives from Planned Parenthood negotiating" over prices for these organs. She even touted how the "exchange of fetal tissue... obviously, does a lot of good. There's a lot of research — cures for diseases that come from it." [Video clip]
Panic in Pittsburgh: Media Struggling to Ignore Black Mob Violence. [Scroll down] The local TV news crews pieced together some of the action from April: Hundreds of "college kids" arriving on "school buses" to a "huge party" featuring large fights and gunfire at police. And of course lots of mayhem and property destruction. Twenty neighboring police departments were called in to help quell this non-event. And oh yeah, that has been happening for a long time at this mall. But the fact that this was a black party for black students organized by black people and students came from black fraternities and sororities — not a word.
Chris Matthews: Obama Has Had 'Immaculate' Presidency With No Corruption Allegations. [Scroll down] Matthews continued, "He's been immaculate in the presidency. Nobody has accused him of any corruption. His kids are perfect. His wife is perfect. He's done everything that these right-wing white conservatives say we're supposed to be in this country. He's done everything right. [...]"
The Media Love Affair with McCain. [S]ince when did the media get concerned about the noble cause of fighting communism in Vietnam? Our media, led by CBS Evening News anchorman Walter Cronkite, who was then an influential media figure, protested the Vietnam War and prompted the U.S. withdrawal and communist takeover. His FBI file demonstrated Cronkite's contacts with Soviet officials and how he was used as a dupe by the communists. More than 58,000 Americans sacrificed and died to save that country from communism. The liberal media never supported the war against communism in Vietnam. Yet they are now browbeating Trump over avoiding the war through deferments. Our media are full of hypocrites. They don't admire McCain for fighting in Vietnam. They admire him because he is a "maverick" who frequently takes the liberal line, such as on "comprehensive immigration reform."
Leftist propaganda is everywhere:
Every Day, A New Way to Hate. In channel surfing my way to the British Open, I lit for a moment on the usually sane ESPN show, "Mike and Mike." Co-host Mike Greenberg was off that morning so 28 year-old sub Ryan Ruocco sat in with regular Mike Golic, a former NFL defensive tackle. Flaunting his liberal chops for the suits upstairs, Ruocco gushed about the Arthur Ashe Award. Of course, he did not call the winner "Bruce Jenner." He refused to even say "Jenner." It was always "Caitlyn Jenner," over and over. Those who dared say "Bruce" Ruocco surely would have lumped — in his words — with "the critics who hate." Bingo! There it was. Our progressive friends had discovered the glory of transgenderism about fifteen minutes ago, and they were already prepared to brand critics of any sort as "haters," the collective term for the non-elect in their perverse neo-puritan presbytery.
Andrea Mitchell Tries to Portray Abdulazeez as a Gun Nut. Desperately looking for a way to avoid pegging the Chattanooga murderer Mohammad Youssuf Abdulazeez as anything but a terrorist, MSNBC's Andrea Mitchell asked a childhood friend of the killer what he liked to do in "small town Tennessee": [...] Abdulzaeez apparently owned some guns, but it is unknown whether he bought them after his return from the Middle East last year. For a terrorist, guns are a tool of the trade and not a means of self defense or anything to take pleasure from on a hunt. For Mitchell to try and equate terrorism with the gun culture instead of trying to get to the bottom of the shooter's radicalization is horrible journalism.
Walloping Walker: The Media's Worst Attacks on the Wisconsin Governor. Scott Walker's official entry into the 2016 presidential race has already been met with questions about his sophistication and readiness to be president by the liberal media. The day of Walker's announcement The New York Times' Patrick Healy portrayed the GOP governor as someone who isn't ready for the world stage: "Two words these [Walker] voters do not use about him? 'Smart' and 'sophisticated.'"
AP: It's Not Selling Aborted Unborn Baby Parts, It's the 'Disposition of Fetal Remains'. We've long known that the Associated Press is loathe to refer to unborn children as unborn children, preferring the clinical term "fetus." But in covering a shocking new story about how Planned Parenthood sells fetal tissue from aborted babies for profit, the AP bent over backwards to use clinical euphemisms to soften the blow of the ghoulish practice.
More about Planned Parenthood.
Dogfight: WashPost Google-Mocks All the GOP Candidates, No Democrats. Jeff Guo of The Washington Post began his article correctly: "Stop. This will be the most horrifying and pointless thing you read today." One new technique on Google now is called "DeepDream," to enhance and visualize all the strange associations that artificial-intelligence programs are making. MRC's Dan Gainor pointed out that the Post proved it's a Democratic rag by taking this strange "stoner" imaging tool and applied it to all the Republican presidential candidates and posted it — and not a single Democrat was included for balance in silliness. So Bobby Jindal looks like a dog — and so does Chris Christie's 18-year-old daughter Sarah.
Shameless NBC Uses Murder by Illegal Immigrant to Bash GOP. Monday's [7/6/2015] network evening newscasts offered continuing coverage on the July 1 murder of a San Francisco woman allegedly at the hands of an illegal immigrant, but it was NBC Nightly News that shamelessly used the occasion to blast "the new Todd Akin" in Republican presidential candidate Donald Trump for having "seized upon" the story to promote his stance on illegal immigration as the GOP is "desperate to win Latino voters."
AP: Mass Unemployment, Lower Wages Is 'New Normal'. The AP's subtle point here is we are supposed to accept Obama's failed economy as the 'new normal.' There's nothing that can be done about it. And certainly none of this is Obama's fault.
MSNBC's O'Donnell: 'Essential Truth That We're All Socialists Now'. Last night [7/6/2015], Lawrence O'Donnell gushed over Bernie Sanders' authenticity and the consistently large crowds he has acquired in his speeches across the country. The July 6 edition of The Last Word featured a panel discussion which emphasized that the Vermont senator's socialism isn't that far outside the mainstream. O'Donnell asked former Vermont governor Howard Dean if Sanders has "managed to educate Vermonters to the essential truth that we're all socialists now?" He prefaced that question by noting the tendency of Democrats to "run away" from calling themselves liberal. The MSNBC personality then cheered the fact that Sanders openly embraces socialism and "the fact that he is a socialist."
Shock: Arizona Paper Decries Border Fence as Too High for Mexicans to Safely Jump. A mainstream Arizona newspaper is decrying the small section of the Arizona-Mexico border that has a 14-foot-high primary fence because it is too high for illegal immigrants to safely cross. The article, "Border Fence Jumpers Breaking Bones," includes the claim that sections of the border with a 14-foot-high fence are "as tall as a two or three-story house" and tells the stories of several women who broke bones and were treated extensively to healthcare and surgeries at the expense of U.S. taxpayers. The writer never mentions any lives directly lost as a result of there not being a border fence in most sections, such as when Mexican nationals crossed into the U.S. and murdered father and husband Robert Rosas, a U.S. Border Patrol agent.
Collusion Between Hillary and Media. The elite media types have been in bed with the elite national Democratic party types for so long that one hardly bothers to note it any longer. Still, it is a little jarring when the Hillary Clinton e-mails reveal this kind of panting sycophancy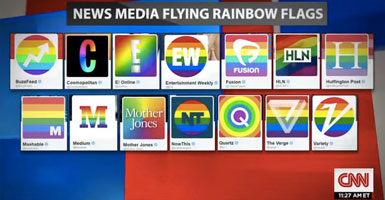 We Must Stop the Media From Silencing Your Voice on Marriage. If there's one thing the Supreme Court accomplished last Friday (besides unleashing cultural chaos on America), it was ending the liberal media's charade. Whatever scrap of journalistic impartiality existed flew out the courtroom window Friday when the press decided five justices not only invented a right to same-sex marriage but to censorship, too. [...] After years of trying to drive out debate, the liberal media are using the cloak of the court to do it. Desperate to take away the voice of Christians at the public table, the left is already on the march to undermine the very freedom that gives breath to the speech it now enjoys.
AP Photo Lines Pistol Up with Senator, 2016 Candidate Ted Cruz's Brain. Of course, Sen. Ted Cruz (R-TX) is a Republican. That puts him in proximity with guns and gun posters, as seen in [a] picture from Associated Press photog Charlie Neibergall, more often than Democrats. Still, imagine a similar situation — a U.S. Senator campaigning for President — and instead of a pro-2nd Amendment event, it's a pro-gun control event. Imagine this Senator is standing in front of a giant poster of a pistol — one meant to demonize the weapon rather than promote it.
Published Wire Photo Has Gun Graphic Pointing at Ted Cruz's Head. The Associated Press currently has a photo for sale at its APimages.com site showing a graphic of a gun pointing at Ted Cruz's head. It has been there since early Saturday evening [6/20/2015]. It would appear that Charlie Neibergall, the person who snapped this photograph, had to patiently wait for the "right" moment to take the photo in question.
Update:
Photos of gun pointed at Cruz disappear from AP photo bank. Controversial photographs from the Associated Press showing the image of a large gun pointing at the head of 2016 presidential candidate Sen. Ted Cruz have disappeared from AP's photo bank. APImages.com "no longer yields a handful of photos from photojournalist Charlie Neibergall wherein the barrel of a gun on a poster points to the U.S. senator and presidential candidate's head," Breitbart reported Monday [6/22/2015]. The images had drawn outrage from conservatives who said the photo was an example of media bias.
Rush Limbaugh Blasts Media for Trying to Destroy Ben Carson While Fawning over Clintons. On Wednesday [6/17/2015], conservative icon and talk radio host Rush Limbaugh blasted the mainstream press for trying to destroy and dismiss Dr. Ben Carson even though nobody in the mainstream can claim to come close to having any of the Carson's accomplishments. "Dr. Benjamin Carson is one of the finest, most accomplished human beings on this planet who has done more for people than most people in politics will ever do," Limbaugh declared on his radio show. "And he's done it personally, not with other people's money."
MSNBC's Dyson Implies Rachel Dolezal Is More Black Than Clarence Thomas. On Monday's [6/15/2015] The Ed Show, Michael Eric Dyson, MSNBC Political Analyst and frequent guest host on the "Lean Forward" network, used the ongoing controversy surrounding Rachel Dolezal claiming to be African American to smear Supreme Court Justice Clarence Thomas.
More about Rachel Dolezal.
Marco Rubio, average American. Marco Rubio bought a bunch of stuff he probably couldn't afford. Welcome to America. So The New York Times has pulled together another hit piece — this one insinuating that Rubio, who the newspaper evidently believes is the GOP front-runner, is both a reckless spendthrift and a financial failure. The story confuses offshore fishing boats with "luxury speedboats" and pickup trucks with SUVs to render a distasteful account of Rubio's financial life. But what we really learned is that though Rubio is not great with money, the senator from Florida has relatively modest desires, considering his fame.
Media Bias Jumps the Shark With Marco Rubio 'Luxury Speedboat' Story. Just how desperate is the mainstream press to cast Sen. Marco Rubio as someone who can't handle his money? Desperate enough, apparently, to describe a family fishing boat as a "luxury speedboat," which the New York Times did this week in its front page hit piece about Rubio's alleged "history of financial struggles." That same Times story also portrayed a home Rubio bought — after getting an $800,000 advance on a book — as some sort of mansion in Florida, when it is, in fact, just one home crammed into a cul-de-sac next to many other similarly sized, middle-class dwellings.
Associated Press Pens The Most Dishonest Anti-Cop Conspiracy Theory You Are Likely To Ever Read. I'll be quite frank: I have very little respect for the Associated Press and the quality of their reporting, which tends to range from mediocre to abysmal in terms of factual accuracy, and which seems to be far more interested in publishing propaganda in recent years than reflecting reality. Their latest attempt to generate controversy, "Witnesses: Semi-automatic gunfire dominated biker shootout," is perhaps the most dishonest and incompetent bit of reporting I've ever had the misfortune to read. The premise for the article is to promote the recent biker-generated conspiracy theory that Waco law enforcement officers did almost all the shooting at the May 18 shootout at a Waco restaurant called Twin Peaks.
An NBC Affiliate Manufactures a Story to Attack Conservatives. "Months before the conference, my family booked a hotel room at the same resort as ALEC," reported Brendan Keefe of WXIA TV, also known as 11 Alive. It's the NBC affiliate in Atlanta. "We found the fabled back room where the laws are made," he told their audience. It was sweeps week and NBC had a scoop. What he failed to mention is that the event held by the right-leaning American Legislative Exchange Council was open to the press, he did not register for the event, he registered at the hotel under an assumed name, and the hotel was not a resort, just a hotel in Savannah. More particularly, it was the Hyatt in Savannah.
Times Hit Piece Ignores Scott Walker's Success. The article is more sophisticated than the awkward and error-filled attempted hit on Walker by Gail Collins from the Times editorial page, who blamed Walker for layoffs that took place before he had been elected. And it avoids the kind of over-the-top claims that require corrections. But the piece nonetheless makes clear that its authors believe Walker's views are far out of the mainstream and that he owes his success to wealthy conservatives eager to exploit a simpleton as the vessel for their ideological goals.
Media warn Marco Rubio is dangerously middle-class and not wealthy. The [New York] Times revealed recently that Rubio incurred four traffic tickets over 17 years, not exactly disqualifying events. Other reports had Rubio and his wife Jeannette spending money to upgrade their Miami home's air conditioning and buy a new refrigerator. You may remember back in 2007 another freshman senator named Barack Obama suddenly paid off nearly four dozen overdue tickets just before launching his bid to move his family and mother-in-law into the rent-free White House. No, of course you don't remember that because the media skipped over such inconvenient legal blemishes in its enthusiastic coverage of the "reform" Chicagoan.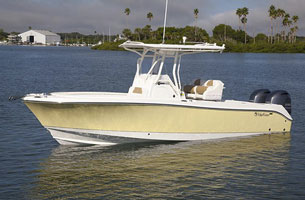 Even lefty MSM laughing at NY Times story on Rubio 'luxury speedboat'. Not exactly a cigarette boat. In fact, exactly the kind of boat you see fishermen using all over Florida, more or less the Ford Focus or Toyota Camry of fishing craft. The obvious comparison is to John Kerry's yacht, the one he docked in Rhode Island to avoid Massachusetts taxes.
Media: Never Mind Hillary's Scandals, Let's Talk About Marco Rubio's Wife's Driving Habits. Remember how the media left Barack Obama completely unvetted, ignoring even the most damaging stories from his past, while a squirming mass of reporters fought over every scrap of trash in the dumpster behind Sarah Palin's house? It's happening again. For some reason, the New York Times decided to devote two reporters to the urgent task of reviewing Senator and presidential candidate Sen. Marco Rubio's driving record over the past 18 years. And they still couldn't make much of a story about it, so they decided to add his wife's record to the story.
Surprise! NYT's Embarrassing Rubio Hit Piece Came From Democratic Super PAC. A reporter at the Washington Free Beacon discovered that The New York Times' embarrassing story attacking Republican presidential candidate Marco Rubio for traffic violations was almost certainly planted by a Democratic super PAC. [...] Missing from the headline is the important context that the candidate himself only had four violations to his name, over the span of two decades.
New York Times ignored 15 unpaid tickets of Obama in 2007. You can't get much more hypocritical than the New York Times, which acted as a megaphone for the oppo research efforts of American Bridge, the pro-Hillary operation founded by David Brock. The "scandal" amounted to four traffic tickets for Marco Rubio over 18 years, puffed up by including his wife's driving record into a headline of 17 violations for the couple. The problem is that the Times studiously ignored the scofflaw behavior of Barack Obama, who ignored 15 outstanding parking tickets until his run for the presidency forced him to clean up his record.
Pummeling Perry: The Media's Worst Attacks on the Former Texas Governor. If his 2012 presidential run is any indicator, Rick Perry's jump into the 2016 presidential race will bring a flurry of the liberal media's favorite pejoratives for Republicans. Racist? Anti-science? Religious bigot? Gun nut? Heartless cutter of programs for the poor? You name it, the former Texas governor was called it by his haters in the leftist press.
MSM Journalist Wants Republican Presidential Candidates to 'Unleash Their Lizard Brains' in Upcoming Debates. Three mainstream media journalists are showing their bias against the large field of Republican Presidential candidates. In a recent podcast, they discussed the 2016 campaign. When asked by MSNBC's Alex Wagner what she thought of the Republican candidates who will be invited to participate in the upcoming Fox News debates, Annie Lowrey, who writes for New York Magazine, let loose: "Even in terms of getting a better bread and circus type ludicrous production, which as a journalist is all that I care about, I just want chaos, anarchy, racist comments, sexist comments, I want, I want the worst of these people, I want them to, like, unleash their lizard brains."
No Time for Hillary Scandals — Because Every Reporter Everywhere Is Covering the Dennis Hastert Indictment. [Scroll down] Yet one cannot help but observe: Three authors are given a byline for this scoop, and six others are credited with "contributing" to the report. That's nine Washington Post authors hard at work getting the (legally non-actionable) background to the indictment of a retired congressman. And it's not just the Post. ABC News needed six authors to report the same story. The New York Times needed five. Politico needed four. Would that so much media manpower were devoted to covering current scandal-laden politicians — like, oh, for instance, Hillary Clinton.
CNBC's Harwood Hits Rubio for Looking 'Like a Schoolboy' Compared to Hillary. CNBC Washington correspondent Richard Harwood and the co-hosts of CNBC's Squawk Box briefly discussed during Friday's [5/29/2015] show the age difference between Hillary Clinton and Republican presidential candidate Marco Rubio that included Harwood knocking Rubio for "look[ing] like a schoolboy" compared to Clinton.
NY Post: Stephanopoulos gets $105M from ABC. When it emerged that George Stephanopoulos had failed to disclose $75,000 in donations to the Clinton Foundation to either the network or viewers while repeatedly covering the organization, ABC News declared that it would stand by its "chief news anchor." The New York Post's Emily Smith explains that they have one hundred and five million reasons to ignore their own declared standards and practices. ABC renewed Stephanopoulos' contract last year for more than double what NBC paid Brian Williams ... and it's working out just as well.
The Real Stephanopoulos Scandal. No, it's not his blatant partisanship, his ties to the increasingly thuggish Clinton Machine, or even his complete lack of journalistic ethics. It's that ABC should never have hired him in the first place. Back in the Stone Age, before reporters became "journalists" and before "journalists" became politically motivated Fifth Columnists masquerading as members of the Fourth Estate, there was a cardinal rule: a reporter could leave a newspaper and accept a job as a public-relations flack, but under no circumstances could he or she then return to reporting. Ever. In other words, once having forfeited any pretense of objectivity, and having accepted payment for advocating a particular point of view, that guy's career in real journalism was finished.
Why is everybody so surprised about George? Back in 1996, ABC president Roone Arledge hired deeply partisan Democrat hack, George Stephanopoulos, to be the network's political analyst and contributor. ABC promised that he would not cover news but would only provide commentary as a seasoned and professional pundit. After I laughed uproariously at the news, I knew that all major network news programs would be biased against Republicans. I knew this way before Bernard Goldberg wrote his book Bias in 2001 because of what happened in 1992 on the Larry King show.
Stephanopoulos's Long History of Mixing Journalism and Politics. Was Stephanopoulos's conflict simply a minor oversight? A matter of, "I should have gone the extra mile to avoid even the appearance of a conflict"? Or was this a long-standing pattern of a political operative pretending to be a journalist finally reaching the light of day?
Stephanopoulos's Long, Long Record of Loyal Service to the Clintons. If George Stephanopoulos had simply donated $75,000 to the Clinton Foundation while also serving as one of its favorite media panelists, the controversy over his conflicts of interest would be much less. Stephanopoulos would be guilty of a clear error, but he also would have had a lot of media company. What makes his scandal different is that he himself chose to interrogate Peter Schweizer, the author of Clinton Cash, the new exposé on the Clinton Foundation. If you watch the interview, it's pretty obvious that Stephanopoulos is playing prosecuting attorney against Schweizer while also declining to ask key questions, for instance, about Hugh Rodham, Hillary Clinton's brother and his highly questionable dealings involving the foundation.
What Amtrak Spends Its Money On. Before the bodies had been pulled out of the wreckage, Democrats were preaching the poor-mouth about Amtrak funding, often dishonestly. (Seriously, how is it that a Washington Post writer and his Washington Post editors don't understand how federal spending works?) Smoking ruins of train cars in Philadelphia, and the usual ghouls start up with the usual thing: "Oh, if those mean Republicans had only let us spend money on the trains, this wouldn't have happened!"
Stephanopoulos' $75,000 Gift To Clintons Underlines Media Corruption. In another sign the left's grip on the news is bigger than anyone knew, ABC News' George Stephanopoulos hid a $75,000 gift to the Clinton Foundation even as he reported news about corruption allegations. While skeptically interrogating author Peter Schweizer about "Clinton Cash," his book exposing the Clinton Foundation last April 26, the anchor for ABC News conveniently left out the highly relevant fact that he himself had donated $75,000 to the Clinton Foundation.
Also posted under Media bias in Hillary Clinton's favor.
Clinton — 30 Days, 8 Press Questions; Fiorina — 8 Days, 322 Press Questions. Tuesday [5/12/2015] will mark exactly 30 days since Hillary Rodham Clinton launched her official presidential bid for the White House, yet she still hasn't done a formal sit down interview with national media, setting a record for the longest running presidential candidate without doing so following a campaign launch, as first reported by Breitbart News. Unlike Clinton, GOP presidential candidate Carly Fiorina has been on what CNN coined a "media blitz" introducing herself to voters.
The Halperin-Cruz teaching moment. There is more to this story than a simple case of media gotcha. It's one thing to ask a candidate what newspapers she reads, or whether he can identify the president of Mexico. It's quite another to set out to show that the candidate isn't who he says he is because he doesn't meet your subjective standard for determining who's who and what's what. Actually, as should be obvious to anyone who has watched the clip, this was no interview. It was an interrogation. Journalists conduct interviews to obtain information. That's not what Halperin did here. He was on the attack, quizzing Cruz about his Cuban-ness to make the 2016 Republican presidential hopeful look like a phony.
Mark Halperin's Real Bias Is Partisan, Not Racist. Imagine it's 2007 and a prominent journalist is interviewing then-Senator Barack Obama. "Senator, people are really interested in you and your identity. I just wanted to ask you as a historical matter, when you filled out your application to Columbia, to Harvard Law School, did you list yourself as an African American?" Imagine he pressed further. Do you have a favorite traditional black food? Who's your favorite African-American performer? It's a safe bet that journalist would be lucky to have a job today as a greeter at Wal-Mart.
Ted Cruz's finest moment. The United States owes Bloomberg columnist Mark Halperin a debt of gratitude. For a rare and fleeting moment, Americans of all political persuasions, religious affiliations, and ethnic backgrounds were united in revulsion over the spectacle of his attempt to interview Sen. Ted Cruz (R-TX). [...] Halperin's apology for his contemptible actions was even worse. After more than 24 hours of controversy and condemnation, Halperin issued a mealy-mouthed mea culpa in PDF format. In the "apology" in which he asked forgiveness only from those who might have been offended, a rudimentary blame-shifting tactic, Halperin insisted that a number of factors were responsible for this kerfuffle. Everything, in fact, but his intent.
The Real Takeaways From the Cruz-Halperin Interview. Liberal media honcho Mark Halperin really showed his "colors" as he tried to de-Hispanify Sen. Ted Cruz in an interview for Bloomberg Politics over the weekend. If you like arrogant, condescending, rude, insolent and patronizing Beltway journalism, you may appreciate Halperin's performance. If you are a person of ordinary sensibilities, however, and not so intoxicated with the leftist worldview that you are incapable of dispassionately assessing the segment, you will have a different reaction.
Authenticity challenge: Ted Cruz asked to prove he's 'Cuban' — controversy ensues, apology issued. Analysts and journalists are still puzzling over the recent interview between Bloomberg News managing editor Mark Halperin and Sen. Ted Cruz. The Texas Republican and Cuban-American was subjected to a string of inquiries about his taste in Cuban food and music, his ability to speak Spanish and other matters that had no real place in the political discourse. There was a price to pay however.
Sing Us a Song Boy: Mark Halperin's Racist Interview with Ted Cruz. As most of you know Cruz is Hispanic, specifically Cuban; the media believe the Hispanic vote is crucial to winning the White House; the media loathe Sen. Ted Cruz, and Halperin is a member-in-good-standing among the elite media. What better way, then, for Halperin to shine among his colleagues than to racially disqualify Cruz; to make him toxic to Hispanic voters.
White man asks the son of Cuban immigrants if he is Cuban enough. Mary Katharine Ham, in one of the very best single questions ever asked, proved herself to be very forward-thinking when she asked "What is the point of you, Mark Halperin?" To this day, no one can answer this question, but we all find ourselves asking it once again.
Mark Halperin's Terrible Ted Cruz Interview Unites Left and Right in Mockery. Mark Halperin's truly cringe-worthy interview with Sen. Ted Cruz (R-TX) may have aired April 30 on Bloomberg TV, but somehow we the media missed it until a San Jose Mercury-News columnist tore it apart over the weekend. Since then, much of the media — left and right — has united in deriding Halperin. First, the interview itself: The seven-minute interview largely focused on Cruz's appeal to Latino voters, with some truly strange questions like "Your last name is Cruz and you're from Texas. Just based on that, should you have appeal to Hispanic voters?" and "I wanted to give you the opportunity to welcome your colleague Senator Sanders to the race and I'd like you to do it, if you would, en Español."
Conservatives go to Twitter to Shame Mark Halperin's Cuban Inquisition. Yesterday [5/9/2015] many conservatives were incensed at the idiotic race inquisition that news media hack Mark Halperin put Ted Cruz through in order to prove his Cuban bona fides. Today they took it nationwide by trending "Halperin Quotes" to mock and shame Halperin by composing other racist questions he might ask of other candidates.
Mark Halperin interviews Ted Cruz, expects Ricky Ricardo. I was born and raised in Puerto Rico, and, if I had $5 for every liberal idiot who looks at me and says "You don't look Puerto Rican", etc., because I don't fit the Liberal template of what a Lateeeno/Lateeena should be like, this blog wouldn't need to carry ads. Frankly, by now I expect to consistently encounter discrimination and bigotry from Liberals. It's in their mindset — identity politics is their lifeblood.
Latino Columnist 'Nauseated' by Racist' Halperin Queries Testing Cuban Heritage of Ted Cruz. Bloomberg TV host Mark Halperin drew a serious rhetorical beating from Washington Post-syndicated columnist Ruben Navarrette over his prove-you're-a-Cuban line of questioning to Ted Cruz on his program With All Due Respect. (The "respect" seemed to be missing, or as phony-sounding as it can be during an argument.) The interview came on April 30, but the columnist just picked up the argument. Would a liberal Latino get this line of questioning?
Clinton Political Director Tasks Univision with Hounding Bush, Rubio. Brazen cheerleading was the order of the day on Univision this week, as Democratic presidential candidate Hillary Clinton travelled to Las Vegas to announce her support of U.S. citizenship for millions of unauthorized immigrants in the country, in addition to the expansion of the Obama administration's current policies of amnesty and non-enforcement of federal immigration law.
MSNBC Pundit Suggests Ben Carson an Affirmative-Action Case Who Drank the GOP's 'Kool-Aid'. According to MSNBC pundit Michelle Bernard — best known at NewsBusters perhaps because of her insistence that there is a "war on black boys" in America — savaged newly-announced GOP presidential aspirant Dr. Ben Carson tonight by alleging his success is all owed to "affirmative action." She also suggested that he's a disgrace to his enslaved ancestors and to the black community in Baltimore, where he's lived throughout his career as an acclaimed neurosurgeon.
Carly Fiorina Nails Katie Couric on Double Standards, Hillary Defense. Newly minted Republican presidential candidate Carly Fiorina went toe-to-toe with liberal journalist Katie Couric on Monday [5/4/2015], sparring for 45 minutes on abortion, Hillary Clinton and qualifications for President.
I support free speech, but... After Pamela Geller's free speech event in Texas and the terror attack that followed, it has been stunning to hear one journalist after another ask Ms. Geller why she held the event, question the wisdom or need for such an event, and go so far as to insinuate that she was somehow to blame for the violence.
How long will her media allow Hillary Clinton to avoid questions? Clinton's skating smoothly so far because despite little gripes here and there, media members have largely gone along with the Clinton campaign's determination to protect the party's most likely presidential nominee from awkward questions, gaffes and hypocrisy charges. Planners do this by plopping her in front of hand-picked sympathizers to ask them questions that allow her to utter the day's themed policy platitudes, as cameras snap and roll.
Are Unions Getting MSNBC Airtime by Donating to Sharpton's Nonprofit? Since Politics Nation debuted on MSNBC on August 29, 2011, Al Sharpton's nonprofit National Action Network has collected more than $2.38 million in contributions from unions, according to Department of Labor records. Meanwhile, Sharpton has often used his show to promote pro-labor viewpoints, also inviting union leadership on as guests.
Anti-Christian bias at CBS? Conservatives blast 'Face the Nation'. Last week, Family Research Council President Tony Perkins was invited to be on CBS News' "Face the Nation." What was supposed to be a cordial conversation about the Supreme Court and same-sex marriage turned out to be a professional ambush.
NY Times Blamed Reagan/Bush for LA Riots, But No Blame in Baltimore. Is President Obama responsible for the Baltimore riots? If you take a look at how The New York Times portrayed the reaction to the Los Angeles riots of 1992, apparently so. [...] Today, as the events in Baltimore unfold — now with formal charges including murder brought against six Baltimore cops — there is one striking aspect that is not present as it was in Los Angeles. That would be blaming the President of the United States. Yes, that's right. As Los Angeles burned, the media was quick to finger the real culprit as then-incumbent Republican President George H.W. Bush. Not to mention his predecessor, Ronald Reagan — then four years gone from the White House.
Feminist Media Hail Satanists for Deeming Abortion a 'Religious Belief'. The pro-abortion media crowd is embracing new ally in their fight: Satanists. "Mary" from Missouri is hoping to bypass her state's 72-hour abortion waiting period by citing "sincerely held religious beliefs" — as a Satanist. The Friendly Atheist blog broke the story of how the Satanic Temple plans to aid a woman it calls Mary who believes in its "tenets." The media followed suit, from a Think Progress editor expressing "love," to a Salon editor concluding, "[R]eligious exemption laws are maybe cool when Satanists use them to get abortions."
Our fawning press and Hillary Clinton's Iowa magical mystery tour. Republicans critiquing this comedy should not get too cocky. A recent Rasmussen poll, taken in the wake of the email scandal, showed that 57% of Americans likely to vote think Hillary will be our next president. That kind of certainty can become self-fulfilling, causing people to withhold donations and stay home on voting day. Republicans have to work much harder than they may think to turn this around.
Clinton "Déjà vu" Scandals. During the Democrat presidential primary debates of 1992, then California Attorney General Jerry Brown accused then-Arkansas governor Bill Clinton of being involved in a shady real estate business known as the Whitewater Development Corporation. While Clinton was able to sidestep the issue that evening, the tip was given to the press and they began to take a look into the situation. As evidence of crooked deals and illegal land-flipping grew more and more obvious, the liberal-leaning press got less and less curious, especially after Bill Clinton won the 1992 election and began to settle into office.
Face the Nation' Should Face-Up to Its Apalling and Unfair Question. Over the weekend, the Family Research Council's Tony Perkins appeared on CBS's Face the Nation. [...] Thankfully, CBS News didn't actually bow to pressure and cancel Perkins's appearence on Face the Nation — but to have him show up then ask him to defend the very legtimacy of his right to speak is appalling.
CNN's Brooke Baldwin Blames Military Veterans For Baltimore Riots. While conducting an interview with Democratic Maryland Representative Elijiah Cummings, CNN host Brooke Baldwin questioned whether the violence in Baltimore had something to do with the amount of military veterans in the police department.
The Movement To Keep Dubya Silent Continues. Bloomberg News is ideologically an extension of CNN propaganda and their latest exploit is a case study in remarkable bias.
Professor And CNN Commentator: 'We Should BE STRATEGIC In How We Riot'. Marc Lamont Hill, a Morehouse College professor and regular CNN commentator, embraced radical violence in the streets during an interview Monday [4/27/2015] on CNN. "There shouldn't be calm tonight," Hill told CNN host Don Lemon as riots raged in the streets of Baltimore. "Black people are dying in the streets. We've been dying in the streets for months, years, decades, centuries. I think there can be resistance to oppression."
Joe Scarborough Rips Liberal Media 'Bowing Down' on Clinton Cash. A fiery Joe Scarborough on Tuesday [4/28/2015] denounced the media's double standard when it comes to investigating the scandal engulfing the Clinton Foundation's financial dealings. An angry Scarborough erupted "The Clintons have made $150 million over the past decade because of contacts they made during public service!" He described the typical journalist reaction as "Let's bow down before Bill and Hillary, because if we ask the same questions of them that we ask of every other politician, then [...] We have crossed a line!"
George Stephanopoulos makes the case why he should be fired from his ABC News job. George Stephanopoulos got aggressive yesterday [4/26/2015] in challenging author Peter Schweizer on his book Clinton Cash. But in relying on the principal talking point proffered by the Clinton campaign, he indicted himself on charges of bias. Ramesh Ponnuru and Scott Johnson both picked up on the irony.
Stephanopoulos Aggressively Questions Peter Schweizer Over 'Clinton Cash'. On Sunday's [4/26/2015] This Week, ABC's George Stephanopoulos interviewed Peter Schweizer, author of Clinton Cash, and repeatedly badgered his guest about the accuracy of his book and chose to focus on Democratic attacks against the author. [...] Stephanopoulos never appeared interested in the actual substance of Schweizer's book, which alleges the Clinton Foundation took in millions of dollars in donations in exchange for potential influence with the U.S. government and instead acted as a Clinton defender.
NBC Champions Children's Gender Confusion. On April 21 and 22, NBC ran a two-part series revolving around "transgender" children that featured its correspondent Kate Snow interviewing Pediatrician Michelle Forcier, associate professor of pediatrics at Brown University Alpert. Forcier was honored by "The Center for Sexual Pleasure and Health" as its "Hump Day Hero," and who advocates early puberty interventions of kids who think they should be the opposite sex.
Media jump on reporter's ties to Sarah Palin, ignore a convicted felon's ties to Hillary Clinton. Establishment media are intensely interested in Peter Schweizer's brief stint as an advisor to Sarah Palin after an advance tease from his forthcoming book suggested a fresh scandal in the long career of Democratic presidential candidate Hillary Clinton. But they are showing a nearly total disinterest in an even more prominent newsmaker's connection to Clinton herself. After Rajat K. Gupta, a former Goldman Sachs executive currently serving a two-year prison sentence for insider trading, lost his appeal before the U.S. Supreme Court Monday [4/20/2015], the press didn't find it worth mentioning that the convicted felon is a longtime Clinton associate and donor.
CNN and The Obama Agenda — A collaborative goal to work policy objectives through the media. [Scroll down] These would seem like disconnected coincidences if we didn't know, with direct sourcing, that CNN and the White House work in concert with each other both ideologically and specifically with a collaborative goal to work policy objectives through the media. Most conservatives immediately respond with thoughts of CNN's Candy Crowley supporting Obama during the CNN hosted 2012 presidential debate. Or you might reference CNN's Fareed Zakaria who is also a key Obama foreign policy advisor.
Our fawning press and Hillary Clinton's Iowa magical mystery tour. [E]verywhere Hillary Clinton goes, now that her campaign is launched, an entire gaggle of reporters tags along. These folks are there for a story. Hillary is giving them nothing — no policy pronouncements, no big speeches, no off-the-cuff responses to shouted inquiries about pesky emails or foreign donations. As a result, the press corps is sending along whatever news scraps they can pluck from the road trip, including: [...]
Clinton Embroiled in Scandal Again, Newsweek Frets Over 'Enemies' Discrediting Her. [Scroll down] The worst reading of this is that the media is hopelessly biased in favor of Democrats, and to some latent degree actually buys into Hillary Clinton's famous assertion that there's a "vast right-wing conspiracy" out to get her. The most favorable interpretation of this is that the media is incapable of covering substantive facts in a straightforward manner, and always defaults to petty horse race coverage of the presidential race. And there's always a possibility that it's a little bit of both.
WashPost Reporter Claims: 'The Media Isn't Biased in Favor of Hillary'. Washington Post political reporter Chris Cillizza recently lectured Rand Paul not to play media critic. Now he's decided conservative media critics as a whole have no argument in an article provocatively headlined "No, the media isn't biased in favor of Hillary Clinton." There is no evidence for that charge, he wrote, even as he acknowledged the embarrassing video of journalists chasing after the Scooby van.
NBC Reporter to Rick Perry: Are you smart enough for the White House? It's becoming apparent that the public would be better served if presidential candidates were interviewed not by reporters but by an algorithm that randomly generates pearls of inside-the-Beltway conventional wisdom. [...] The latest example of the phenomenon in which liberal clichés serve as a guiding philosophy comes to us courtesy of NBC News reporter Kasie Hunt.
The Sham Candidacy of Hillary Clinton — and What It Means for the Republic. [T]he only reason an HRC candidacy is even plausible is the influence of the legacy media, which has simply declared, by fiat, her suitability and her inevitability. You may recall that the MSM did the same thing in the run-up to 2008, until their dreamboat, Obama, came along and gave the aging Baby Boomers, who had dreamed of exactly this moment since 1968, a reason to push the female candidate to the back of the bus in order to celebrate the only kind of "diversity" they advocate, which is racial.
Compare and contrast: Same TV reporter approaches Hillary Clinton and Marco Rubio. The following contrasting videos should be enough to chill the bones of every Democrat sensibly worried about how good a candidate Hillary Clinton will be. Dan Calabrese, of Herman Cain's CainTV.com website brings us the two videos of the same TMZ reporter walking up to both candidates at an airport as they arrive.
Media Now Itself Leading Outrage Mobs Against Individual Citizens. A random woman in Dallas expressed xer opinion that women did not have the hormonal stability to be president. Which prompted a local Dallas news outfit to go after her, similar to how we saw news stations go after Memories Pizza. We live in a period of fear, darkness, cruelty, and stupidity. Andrew Stiles of the Free Beacon calls this a new low for journalism. This latest stupidity from angry, truculent left-wing morons with cameras has pretty much broken his spirit.
Video: The dumbest news segment ever. [Scroll down] There are two explanations for this segment being broadcast, which aren't necessarily mutually exclusive. One: There was absolutely nothing of interest happening in Dallas-Fort Worth yesterday. (Possible, but unlikely.) Two: Someone in CBS Dallas wants to paint all opposition to Hillary Clinton as kooky, bigoted, and possibly evidence that religion makes people both of those. My hunch is that Option Two looks pretty likely here. And my further hunch is that we'll see more of this ludicrous media focus on even the smallest nuggets of anti-Hillary kookiness to exploit as a way to marginalize her opposition over the next several months.
Questions No Mainstream Media Hack Will Ever Ask Hillary. There are plenty of questions that real journalists would ask Hillary, except she will never — ever — expose herself to a real journalist. She will stay hidden and talk only to the select coterie of Democrat transcriptionists who have distinguished themselves via sycophancy above and beyond the call of duty. So we need to detonate the narrative by asking the tough questions ourselves. It's sad that it has come to this, but the Clintons destroy everything they put their grubby hands on, and the old idea of journalism is just one more casualty in their quest for power. Half the mainstream media has worked for the Clintons, or is married to someone who did, and the other half would happily do so.
WaPo: It's Difficult to Sell Hillary as a Normal Person Because She's Just SO Awesome. At first, [Chris] Cillizza gives the impression that he might be lampooning Team Clinton's approach. The average American knows that it is difficult to sell Her Madameship as normal because she's a wealthy snob who looks down on everyone and has a sense of entitlement that would make a British royal from the 17th Ccntury [sic] blush. This, however, is what is going on in the largely vacant space that is the mind of the mainstream media.
Behold the World's Lowest Bar! I've spent much of my life observing and writing about media bias, so you'd think nothing could surprise me at this point. But the fawning, deferential coverage of Hillary Clinton really is amazing.
Mediasplaining. Sen. Rand Paul, R-Ky., announced his candidacy for the Republican nomination for president this week and ran smack dab into the wall separating both Americas, via satellite on the "Today Show." While being interrogated by TV host Savannah Guthrie, whose second husband is Democratic political operative Michael Feldman, Paul objected to a leading question that could have been written by the Democratic National Committee. [...] The journalism awards undoubtedly will flow to Guthrie for that interview, but a candidate gets only one shot to launch a campaign. To his great credit, Paul did not play the media's game.
Media Fabricated Evidence to Smear GOP Three Times In One Day. As right-of-center New Media grows stronger (and it is much stronger today than it was even in 2012), because the mainstream media is in reality a propaganda outlet to empower central government and boost those who share that goal, everyday this same mainstream media becomes more desperate and ugly. That's why the media told serial-lies around Trayvon Martin, Ferguson, and religious freedom laws. And that's why on Friday [4/10/2015], the media was caught on three occasions fabricating evidence to smear the GOP.
'Hitler Made a Difference': The Liberal Gang Rape of Journalism. Rolling Stone magazine perpetrated a hoax against the University of Virginia, doing "journalism" about an alleged gang rape that evidently never happened. The source of the dramatic tale Rolling Stone published last November, "A Rape on Campus," was a UVA student named Jackie who has been proven to be a liar. [...] What better way to exploit the political "gender gap" than to claim that college girls are being raped en masse, and then to suggest that the solution to this problem could be summarized in two words: "VOTE DEMOCRAT!"
More about the Rolling Stone.
Meet The Press Panel Eagerly Hits GOP Over Religious Freedom Laws. On Sunday's [4/5/2015] Meet the Press, an all liberal panel repeatedly took shots at the Republican Party over its support for religious freedom laws with Amy Walter of the Cook Political Report going so far as to suggest that on the issue on the issue of gay marriage "if we took everybody over the age of 50, and just moved them out of this country, this wouldn't be an issue at all."
The Editor says...
Ms. Walter speaks like a true revolutionary: Get rid of everybody over 50, and then we can make progress! Where do you suppose she would like to move 100 million people? See, the thing about people over age 50 is that eventually everybody passes 50, so there's a steady supply. If Ms. Walter is looking for practical solutions, it would be far easier to deport the 71,165 couples in same-sex marriages. But of course she isn't speaking about concrete plans, she's engaging in an emotional outburst with no basis in reality, like so many liberals do.
NYTimes Hypocrisy: It Denounces Corporate Speech in Citizens United, Cheers When Against Indiana. When the issue was the Citizens United ruling and the resulting ability of corporations to directly spend money on political advertising, well the Times worried about the supposed corrupting influence of the practice and the drowning out of the common man's voice, which is not amplified by hordes of corporate cash. But fast-forward to this week and it's a far different story.
Mika: Governor Mike Pence Must Be A Bigot, Because He 'Sounds Like' And 'Looks Like' One. Host of MSNBC's "Morning Joe" Mika Brzezinski said it was fair to call Indiana Gov. Mike Pence a bigot, because he "looks like" and "sounds like" one after his support for the Indiana Religious Freedom Restoration Act. "These are firmly held beliefs that people have had for thousands years," argued her co-host Joe Scarborough. "And you can call it bigotry if you want to. ..."
Nets Devote 3x More Time to Indiana Law Than Hillary E-Mail Server Wipe. The stunning revelation that Hillary Clinton wiped her personal e-mail server clean is the kind of political cover-up that should have sent the networks into overdrive, except they had an even more important agenda to advance: smearing an entire state and its Republican governor as anti-gay bigots. From the morning of March 27 through March 30 evening the Big Three (ABC, CBS, NBC) networks spent only 10 minutes and 15 seconds to the admission by Clinton's own attorney that her State Department e-mails were wiped from the server that had been subpoenaed by Congress, but they devoted a whopping 35 minutes and 1 seconds [sic] to coverage of the Indiana religious freedom law.
NBC's Ann Curry Compares Conservatives in U.S. to Skeptical Iranian Leaders Ahead of Deadline. While reporting on Monday's [3/30/2015] NBC Nightly News with the latest from the Iranian side of the international talks in Switzerland over their nuclear program, Ann Curry smeared U.S. conservatives by likening them to radical hardliners in Iran's Islamic regime.
For Hillary Clinton, Excellence In Servility From The Lapdog Media. At an "Excellence In Journalism" gala, Hillary Clinton drew a standing ovation from the media's supposedly tough watchdogs. Before that, they failed to ask tough questions at a presser. Just when does the lapdogging stop?
Harry Reid, partisan brawler, gets pattycake treatment from the press. Harry Reid has just pulled off a triple coup. He got to make his own retirement announcement without having it leak in advance. He essentially got to anoint his successor. And despite years as a bare-knuckled partisan warrior who makes incendiary comments about the other side, he's gotten a pretty nice media sendoff. Usually when a 75-year-old lawmaker gets knocked out of the majority and then suffers a terrible accident, there's all kinds of media speculation about whether he'll hang it up. But who ever thought the Nevada Democrat would relinquish power voluntarily?
Americans Support Nuclear Deal With Iran? Presumably, hardly any of those telephoned by the pollsters realized that the objective of the agreement, assuming that Iran abides by it — a laughable assumption — is to extend the time it will take Iran to build a bomb to one year. Even assuming that objective could be achieved, which most experts do not believe, it would be a small payoff for ending sanctions, which will entrench the mullahs' regime and increase the resources they can devote to nuclear enrichment and ICBM development, which will not be addressed in the prospective deal.
Indianapolis Star Front Page Scolds Religious Freedom Law. The Tuesday [3/31/2015] print edition of the Indianapolis Star will devote its entire front page to Indiana's Religious Freedom Restoration Act (RFRA) — not a news article but an editorial attacking the measure.
Editing Teddyworld: Some facts didn't make 'Institute' cut. When Ted Kennedy wrote his initial account of Chappaquiddick for the Edgartown police in 1969, after he scrawled the words "Mary Jo" in the first sentence he left a blank space — because he had no idea what his victim's last name was. That's one of the many facts about Ted Kennedy that you won't learn by visiting the new Edward M. Kennedy Institute for the United States Senate. In case you haven't been eagerly anticipating this magic moment, the "Institute" opens tomorrow amid yet another orgy of shameless bum-kissing of what was once called "America's First Family" by the mainstream media.
Networks Pile on to Attack 'Controversial' Indiana Religious Freedom Law. On Saturday [3/28/2015] and Sunday, the "big three" (ABC, CBS, and NBC) networks vigorously condemned a new Indiana law that would protect private businesses from government infringement on their religious freedom. Rather than provide balanced coverage of the Indiana bill, the networks eagerly trashed the legislation as opening "the door to discrimination against gays and lesbians."
Republicans Twice as Likely To Be Targeted By Washington Post Fact Checker. Breitbart News analyzed the Washington Post fact check column for all of 2015 and found that so far this year Republicans and their claims have been targeted twice as often as Democrats and their claims. A good faith search revealed that over almost four full months, Republicans (this includes Israeli Prime Minister Benjamin Netanyahu) were fact-checked a total of 32 times. Democrats were fact-checked only 16 times.
After Breitbart Report WaPo Fact Checker Promises Changes. Glenn Kessler, editor of the Washington Post's fact-check column, promised to make some changes in the wake of a Breitbart News report that showed Republicans are twice as likely as Democrats to be targeted by his fact checks.
How much are Kennedy's like Jesus? Let Parade magazine count the ways. The Sunday-newspaper supplement Parade magazine lards on the Kennedy love today. The cover shows two of Teddy's sons, Teddy Jr. and Patrick with the words "The Kennedy Legacy: The next generation carries on the family's exuberant mission of public service." Parade even touted their deep religious faith, with the headline inside: "Guided by the Beatitudes and the notion that helping others is both a duty and a pleasure, the next generation of Kennedys carries on the family's public service legacy."
The Editor says...
Marilyn Monroe and Mary Jo Kopechne probably had their doubts about any "deep religious faith" in the Kennedy family.
Late Night Comics Mock Ted Cruz as Anti-Immigrant, Stupid. In a preview of the 2016 campaign, all five late night comics on Monday night [3/23/2015] mocked Ted Cruz, hitting the Republican as anti-immigrant, regressive and stupid. CBS host David Letterman didn't bother with a joke. Instead, he lectured, "Here's what I find interesting about Ted Cruz, he was born in Canada. His father fled to the United States from Cuba. Yet, Ted Cruz is against immigration. Isn't that odd?"
MSNBC Guest: GOP Supports Israel Because They're 'Xenophobic, Nativist,' And 'Racist'. Executive director of the U.S. Campaign to End the Israeli Occupation Youssef Munayyer said on MSNBC's "Andrea Mitchell Reports" that the Republican Party supports Israel because its base is "xenophobic, nativist, and at many times racist."
Crushing Cruz: The Media's Worst Attacks on the GOP Presidential Candidate. Ted Cruz's announcement that he is running for president was immediately greeted with hostility from the liberal media. On Monday, MSNBC's Jonathan Alter questioned, "Is this 1964 when the Republican Party decided it would go with its most extreme candidate?" Donny Deutsch, also on MSNBC, called Cruz "unelectable" and added "I think he's the worst. I think he's scary, I think he's dangerous, I think he's slimy and I think he brings no fresh ideas."
Of Course Obama Wants to Take Hillary Down. We can believe Ed Klein's sources claiming Valerie Jarrett is the White House point woman for the destruction of Hillary Clinton. Evidence: It was the New York Times which broke the story. The Democratic press does not eat its own, ever. Yet here was the Gray Lady, setting the headlines for Drudge. People asked how Hillary could have been so stupid. The answer is that in the normal course of mainstream reporting, there is no Democrat crime too large for the press to cover up. She knew she was perfectly safe. [...] To make it even clearer that something was going on behind the scenes: the fact that Secretary of State Clinton was using private email had come out in the news two years ago. Raking up an old story detrimental to their team is not normally what the New York Times does. The Times followed the emerging scandal with article after article. They didn't just want to embarrass Hillary, they were out to destroy her.
Flashback: 'Big Three' Ignored Ted Kennedy's Letter to Soviet Union. On Monday, March 9 and Tuesday, March 10, the "big three" (ABC, CBS, and NBC) networks pounced on a letter signed by 47 Republican senators to the leaders of Iran regarding its negotiations with the Obama administration over its nuclear program. Despite the networks' eagerness to tout Democratic opposition to the GOP letter, on two separate occasions the "big three" completely ignored a letter penned by former Senator Ted Kennedy (D-Mass.) written to the Soviet Union in 1983 aimed at undermining President Ronald Reagan's nuclear negotiations with the Communist regime.
NBC News Whitewashes history on Iran Diplomacy. In a tweet this morning, NBC News senior political editor Mark Murray writes: "With GOP Senators' Iran Move, Politics Goes Beyond the Water's Edge." 47 Republican Senators sent to the Supreme Leader of Iran reminding him that Congress is not bound by deals that Congress does not approve. The article Murray links to describes this as "stunning" and "unprecedented" and implies that the letter constitutes a breach of protocol so significant that it ends the long tradition of bipartisan foreign policy. This is utterly preposterous. The only way to reach such a conclusion is to ignore efforts by Democrats to undermine George W. Bush.
White House, NYT leave Bushes out of lead photos from Selma march. The decision by The New York Times to run a front-page image on Sunday of President Obama — and family — leading a march to mark the 50th anniversary of the Selma civil rights clashes, while leaving out of the image former President George W. Bush and his wife Laura, apparently was mirrored in the "official White House photo" of the event. The official White House blog's Sunday entry on the Alabama march led with a similar image, focusing on Obama and his family, as well as civil rights figures, but leaving out the Bushes.
Few say Obama has helped race relations, as 2 presidents (not 1) mark Selma. The peaceful scene Saturday [2/7/2015] was designed to display unity in the face of ongoing racial difficulties, often involving police force. The photo [in this article] shows the actual scene as modern-day marchers joined hands and arms in unity and hope. Both in shirt-sleeves, the last two presidents — Obama and George W. Bush with wife Laura — set out at the head of some 10,000 supporters. But consumers of the weekend news could be excused if they did not realize the two-term 43rd president was present at the historic memorial.
New York Times Crops Selma Picture To Remove President George W Bush. Yesterday Debbie Wasserman Schultz cropped a picture of President Obama on stage to remove the image of President George W Bush also being present. The first reason was obvious, bias. However, the second reason was more subtle — the absence of President Clinton and Hillary. Today [3/8/2015] the New York Times cropped out President Bush for the same reason.
Just to be fair, here is the NYT's rebuttal:
'There Was No Crop' of Selma Photograph. Many readers wrote to me over the weekend, upset that a front-page photo of President Obama and his family leading a commemorative march in Selma, Ala., did not include former president George W. Bush and his wife, Laura. The Bushes were also in the front line of marchers. Twitter was ablaze with criticism of The Times, many conservative news organizations wrote critical articles — and my email inbox overflowed. Some readers said they were canceling their Times subscriptions. Others were simply disappointed.
MSNBC's Harris-Perry: Today's Selma March Is For 'Reproductive Rights'. Selma's "Bloody Sunday" is now about "reproductive rights" according to MSNBC's Melissa Harris-Perry. Her view directly contradicted Martin Luther King, Jr.'s niece, who has made her pro-life views public. While covering the 50th anniversary of the "Bloody Sunday" march in Selma, Ala. live for MSNBC on March 8, Harris-Perry proclaimed that this year's march stood for issues "on the table right now." Issues like abortion.
CBS, NBC Hit Netanyahu for 'Controversial Address' While Obama 'Fires Back'. All three broadcast networks reported on Israeli Prime Minister Benjamin Netanyahu's speech before Congress with segments in their Tuesday night [3/3/2015] broadcasts, but it was CBS and NBC that led the way in hitting Netanyahu for making a "controversial speech" and touted President Obama for "firing back," "point by point for 11 minutes." CBS Evening News substitute anchor Charlie Rose began the show's coverage by telling viewers that "Netanyahu did an end run around President Obama today" in his speech with the caption "controversial speech" appearing beside him.
Walker-Bashing Media Ignores Bill Maher Questioning Bushes' Religious Choice. While the liberal media insisted it was politically poisonous for Scott Walker to answer "I don't know" if President Obama is a Christian, it's never unacceptable to suggest Jeb and George W. Bush chose their brand of Christianity for political reasons. That's exactly what HBO star Bill Maher did in a blog post titled "Jeb Bush: Convenient Catholic?" Recall that Maher donated $1 million to Barack Obama's re-election and no one in the press has located a reason why Obama should be asked to distance himself from anything Maher has said, so why start now? That would only make them look even-handed and principled.
CNN, DHS and SPLC's Blame-Righty Hit Job. The Department of Homeland Security refuses to release a report on "right-wing" terrorism that somehow found its way into CNN's hands last week during the farcical White House summit on Don't Say Islamic Extremism. [...] CNN splashed the big scoop on its website: "DHS intelligence report warns of domestic right-wing terror threat." The fear-mongering piece featured a huge map of 24 alleged acts of "violence by sovereign citizen extremists since 2010." [...] But a closer look at the rigging of that phony factoid simply confirms the malevolent intention of so-called objective journalists and "hate watch" groups to marginalize conservative political speech and dissent. The CNN/MSNBC/SPLC smear job involved both the dishonest deflating of left-wing and jihadist incidents, and the dishonest inflating of "right-wing" incidents.
All the news fit to... miss. It's hard to imagine MSNBC could manage to limbo below its own low credibility bar, but America's most shamelessly partisan cable "news" channel has really pulled it off. There's always stiff competition for bias in America's slavishly left-loving media. Think of Dan Rather's "fake but accurate" Bush-bashing National Guard story, Newsweek's flushed Korans fable and Candi Crowley's assist for President Obama in the 2012 debates. Yes, the "Morning Joe" wet kiss of an "interview" with U.S. Sen. Elizabeth Warren yesterday [2/24/2015] belongs in that company.
Why Is The Press So Down On North Dakota's Success? The unemployment in North Dakota is a mere 2.8%. The average hourly wage there has climbed 18% since 2009 — more than double the national average. And despite its oft-perceived inhospitable climate, the state's population jumped 11% over those years (vs. 4% nationwide). And pretty much all of this growth has been driven by the oil production boom, which resulted from the ability of oil producers to recover vast amounts of previously inaccessible oil through fracking. So what does the Los Angeles Times decide to write about? Increased drug use on an Indian reservation.
Media Coverage of Rudy Giuliani Comments Dwarfs Coverage of Clinton Foundation Foreign Donors. Despite the new revelations this week about the massive amounts of money the Bill, Hillary, & Chelsea Clinton Foundation has raised from questionable foreign governments and shady billionaires — something even Clinton's defenders admit is a problem — the media hasn't shown much interest in the story.
The Media's Difficulty in Perceiving Christians as Victims. [Scroll down] Finally, some newsroom denizens practice an open contempt for Christians and/or religion in general: The Washington Post's Sally Quinn had no problem openly declaring, "When It Comes to Hateful Internet Speech, Christians Are the Worst." Separately, the President of the United States just did an interview with Vox's Matt Yglesias who once declared, "I take an old-school Jacobin-style line that religion should be stamped out." The coverage of Christians abroad is pretty skimpy — other than when Pope Francis says something that progressives like.
Scott Walker Didn't Finish College. And? The Washington Post has a long article up about Scott Walker's formative years. It has some fine reporting, but the overall tone and headline are curious: "As Scott Walker mulls White House bid, questions linger over college exit." Questions linger? Over what, exactly? It's not a secret and it never has been that Walker didn't finish college.
The Walker-Stupid, Obama-Genius Myth. Through their control of the media, [the Democrats] have been rigging political IQ tests for the last half-century, if not longer. Those Republicans who were not evil geniuses — Nixon, Gingrich, Cheney, Rove — the media have painted as blithering idiots. Dwight Eisenhower was doddering and incoherent. Gerald Ford, perhaps the best athlete to occupy the White House, was a bumbling fool. "I wanted [Jimmy] Carter in and I wanted [Ford] out," comedian Chevy Chase would later admit of his mocking Ford impersonation on "Saturday Night Live", "and I figured look, we're reaching millions of people every weekend, why not do it."
Media's Lack of Curiosity About Killer of Muslims in North Carolina. [Scroll down] The SPLC runs a hate crimes racket, and the media — desperate to promote headlines that fit their pre-existing left-wing narratives about race, inequality and religion — are quick to swallow their propaganda. "I think it's perfectly natural to guess that this is anti-Islamic," [Mark] Potok told the [Washington] Post in the interview regarding the triple murder. "Not just because the three victims are Muslim, but because there has been so much terrible news in recent days about extremist Muslims." Potok also appeared on MSNBC on the morning of February 13 with the news anchor Tamron Hall, and there was no mention of Hicks' political leanings, which appear to be consistent with their own.
NBC's Guthrie Helps Axelrod Keep the 'Obama Critics Are Racists' Myth Alive. A news division that's reeling might want to get out of the low-info leftist opinion pimping business and work a bit on some actual reporting. This is nothing more than Savannah Guthrie earning her good little lapdog cred by keeping a tired lie alive.
A Police Shooting in Denver: How the Media Frames the 'Narrative'. It starts with the headline, which may at first seem innocuous until you think about it for a moment: "Outrage follows Denver police shooting of Latina in stolen car." We'll get to the story, which was published in the Los Angeles Times on Feb. 4, in a moment, but let's unpack that hed, which is just loaded with loaded words. The word, "Outrage," suggests a widespread, mass reaction to some sort of enormity. "Police shooting" immediately evokes Ferguson, Staten Island and any other place in which there has been a recent confrontation between a "minority" and the cops. And how do we know that the victim was a minority? The very next word: "Latina," a politically correct identification of a designated victim group who's just come out on the wrong end of a police shooting. Finally, this bit of additional information: "stolen car." [...] In short, we haven't even started reading the story, and already we know the dramatis personae (good girl Latina, bad guy killer cops). Now it's just a matter of letting the players do their thing, complete with weeping chorus of relatives, onlookers and ministers in the background: [...]
Ted Kennedy Institute Gushed Over By NYT, But [the] Bush Library [is] a 'Disturbing' Threat to 'Academic Freedom'. Ted Kennedy, the late liberal "Lion of the Senate" (as he's invariably called) had his hugely exaggerated bipartisan reputation polished to a gleam in a story in the New York Times Arts section by Robin Pogrebin, "In the Mold of a Senator Who Bartered — Edward M. Kennedy Institute Aims to Teach Collaboration." Next month the institute will open in Boston as a legacy of the Massachusetts senator who died in 2009. Yet the George W. Bush Presidential Library was considered by the Times "disturbing" and a possible threat to academic freedom when it opened.
More about the New York Times.
Washington Post's Al Sharpton profile leaves out much of the Rev.'s past. A lengthy new Washington Post profile on the Rev. Al Sharpton looks at the MSNBC host's standing as a civil rights leader and but treads very lightly around some of the less flattering details of Sharpton's past. [...] The piece only briefly touches on Sharpton's multimillion-dollar tax troubles, his lead role in the Tawana Brawley hoax in the 1980s, and his statements during 1995 demonstrations at Freddie's Fashion Mart in Harlem — omitting entirely that the Freddie's agitation ended when a protestor murdered seven people in the store and burned it down.
The New York Times Commits One of Its Funniest Blunders Ever. [Scroll down] The paper eventually realized its mistake and corrected it, although without acknowledging the correction. I suppose it was just too embarrassing. You can see how this kind of thing might happen; people occasionally have such synapse failures. But some people expect more from the Times editorial board. (I don't, but some others do.) In fact, the Times editorial board is no better than, or different from, a minor-league left wing blogger. Actually, that's where they get a lot of their material.
Army of 'fact checkers' and 'proof readers' at NY Times fails again. How out of touch with the rest of the country are employees of the New York Times? An editorial skewering Wisconsin Governor Scott Walker was a typical Times hit piece on a potentially dangerous opponent in 2016 — typical except earlier versions of the editorial referred to Mr. Walker as "Mr. Scott." [...] The governor of Wisconsin is just not imporant enough to register on the Times' radar. Besides, he's a Republican. Those two factors make errors like "Mr. Scott" possible.
Beat the Media, Win the White House. One of the reasons that Romney lost is that he failed to take on the media. The ultimate lost opportunity came when CNN's debate moderator Candy Crowley directly inserted herself into the argument between Obama and Romney to declare her favorite right and Romney wrong. Romney had won the Republican primaries, but had failed to absorb the lesson of his most tenacious opponent. Newt Gingrich did not treat the media as a neutral moderator, but as a debate opponent, challenging its premises and agendas. And so Romney was left unprepared for Crowley's attack.
MSNBC's O'Donnell: Catholicism Was Once 'The Most Murderous Force on the Face of the Earth'. MSNBC's resident socialist Lawrence O'Donnell made a whopper of a historical claim on the Thursday [2/5/2015] edition of his program. In the midst of ripping President Obama's controversial National Prayer Breakfast speech from earlier in the day, O'Donnell asserted that "Catholicism was the most murderous force on the face of the Earth for hundreds of years," as he ripped President Obama's controversial National Prayer Breakfast speech from earlier in the day. The left-wing host led the segment by mocking the breakfast as "the place where presidents go to pander to leaders of organized religions once a year."
CNN Host Kisses De Blasio Before Interview. On CNN this morning, the host kissed Mayor Bill de Blasio before she interviewed him, and handed him a cup of hot chocolate: [Video clip] The other host, Chris Cuomo, complained that he'd been waiting for an hour and a half for his hot cocoa to arrive.
A Gunfight in Kansas. The local news stories have not only been deliberately stingy with the details of how events unfolded, and have used a deliberately passive voice (e.g. "gunfire erupted"), but they have consistently characterized the suspects as "teenagers" or merely "teens". It was also several days before any identifying details about the four "teens" were reported; nor were their names reported for several days, and it was longer before their photos were shown. The cynics among us have almost come to expect that when a journalist's physical description of a suspect conspicuously omits anything about the suspect's complexion, there's a reason. And that's part of why the cynics feel that the media are following a template we've seen before, as in the way 17 yr. old, 6'2" and 175 lb. "little" Trayvon Martin was characterized as "a child", accompanied by a childhood photo, and the way Michael Brown of Ferguson, MO was characterized as a "gentle giant".
NBC Hyped 'Da Vinci Code,' but 'Charlie Hebdo' Is Too Offensive. In the wake of the massacre of journalists in France by Muslim terrorists, NBC has made an editorial decision to not show the cover of the new Charlie Hebdo cover featuring Muhammad, deeming it too offensive for viewers. This is quite a contrast to the way the network promoted The Da Vinci Code in 2006. The movie (and Dan Brown book it was based on) insisted that Jesus Christ was not divine and had a sexual relationship with Mary Magdalene. Many Christians considered that offensive.
NBC omits "God" from Pledge of Allegiance — again. An astute reader pointed out that NBC has once again omitted God from the Pledge of Allegiance. The omission happened during a commercial promoting the network's upcoming spy thriller called "Allegiance." How's that for a coincidence? "I pledge allegiance to the flag of the United States of America and to the republic for which it stands," a chorus of voices intones in the spot. "One nation, indivisible, with liberty and justice for all."
This isn't journalism, it's activism.
Chris Cuomo Vows CNN Will Help White House 'Shame' Congress Into Action On Education. CNN's Chris Cuomo openly promised Tuesday [1/13/2015] that CNN will help the White House in a "shame campaign" to get Congress to act on education. During an interview with Obama's Secretary of Education, Arne Duncan, Cuomo also promised to use the show he co-hosts, "New Day," in this shaming campaign. "Secretary, my only advice for you is that you should go on a shame campaign with congress to get them to act," Cuomo said. "New Day will help. CNN will help."
Blaming Bush never gets old, apparently.
Dem Sen. Murphy to Maddow: Blame Bush for Radicalization of Hebdo Terrorists. "We Blame George W. Bush" is a recurring category in James Taranto's "Best of the Web Today" column at the Wall Street Journal. The meme mocks the penchant of progressives to blame the former president for everything under the sun. The phenomenon was illustrated in an ugly way on last night's [1/12/2015] Rachel Maddow Show.
2015: Will GOP Congress Cooperate with Obama? 2007: Democrats Should Impeach Bush! This week the media greeted the new GOP Congress with fears about a conservative "kamikaze caucus," pushing "confrontation with Obama," and stressed that if Republicans were to be successful they needed to look less "scary," as they pointed out the 114th Congress was "80 percent white, 80 percent male and 92 percent of its members are Christian." But in 2007, when Nancy Pelosi and the Democrats took over the House, the tone from the liberal media was very different. ABC anchor Charlie Gibson gushed: "The new Speaker was on the floor for a time, holding her 6-year-old [6-month-old] grandson, all the while giving directions on how events were to proceed. It seemed the ultimate in multitasking: Taking care of the children, and the country."
When "arrested without incident" becomes "white privilege". Leave it to our fine mainstream media to build an entire narrative based on one, off the bell curve incident. The latest case of this comes from Charles Blow at the New York Times who makes a herculean effort to show that cops are just, you know... racists. Why? Because one of the many maniacs roaming the country wound up being arrested without incident and wasn't gunned down by the Five O. And she happened to be white.
Sorry, Kansas City Star, this woman is not a Catholic priest. Journalism is supposed to be about informing people. Sometimes, journalists do the opposite, though, and misinform them. Today [1/5/2015], the Kansas City Star is misinforming readers. The headline, "Woman claims role as Kansas City's first female Catholic priest," is grossly misleading. You might think that a woman has become a Catholic priest. Of course, this hasn't happened.
Congressman Lee Zeldin: 'Mainstream Media' 'Look For Any Opportunity' To Destroy GOP. On Sunday [1/4/2015], freshman Congressman Lee Zeldin (R-N.Y.) appeared on Fox News Sunday with Chris Wallace and slammed the media in the wake of the controversy surrounding Steve Scalise (R-La.) and his alleged speech at a white supremacist conference in 2002. Speaking to Wallace, Zeldin called out the "mainstream media who look for any opportunity to try to tear down Republicans to help back up the President of the United States and the Democrats in Congress."
Media: Um, that big Steve Scalise story probably didn't happen, but he's still 'embattled' anyway. Hey, remember how the biggest story in every mainstream media outlet yesterday was the shattering revelation that House Majority Whip Steve Scalise (R-LA) spoke to a group with ties to the odious white supremacist David Duke in 2002? Ancillary stories blossomed with lightning speed throughout the day, spreading across the front pages like fractal patterns blooming on a computer screen saver: the latest comments from Scaliese, reactions from other Republican leaders, calls for his doom from top Democrats, hard-hitting political analysis from veteran correspondents about whether the "embattled" Republican could possibly survive this devastating scandal. Have you checked the big news websites today? Nothing. Yesterday's top story is gone. CBS and NBC still have day-old posts about Scalise apologizing for delivering the brief 12-year-old address he barely remembers, but he's vanished everywhere else.
Lap dogs and attack hounds. Points of view are fine with me as long as news organizations don't pretend to be "objective," defined as not favoring one side or the other. That means no dart-throwing at MSNBC, because that network does not pretend to be neutral. Instead, I look for outrageous spin such as that offered by anchor Scott Pelley on the CBS Evening News, when he said "2 million Americans are likely to pass up full-time jobs because of the president's health insurance program. ... Those aren't necessarily jobs being lost. They're also workers choosing to work less." (Yes, and in 1789 some French families chose not to eat bread because they had cake.)
Confessions of a Public Defender. I am a public defender in a large southern metropolitan area. Fewer than ten percent of the people in the area I serve are black but over 90 percent of my clients are black. [...] The media invariably sugarcoat black behavior. Even the news reports of the very crimes I dealt with in court were slanted. Television news intentionally leaves out unflattering facts about the accused, and sometimes omits names that are obviously black. All this rocked my liberal, tolerant beliefs, but it took me years to set aside my illusions and accept the reality of what I see every day.
Chuck Todd and the Rosetta Stone of Liberal Bias. Chuck Todd, who hosts Meet the Press on NBC, opened his show the way he often does, by introducing his panel of journalists. There was Luke Russert of NBC News, and Amy Walter of the Cook Political Report, and there was "Eugene Robinson of the Washington Post ... and Ken Blackwell, conservative columnist and former Ohio Secretary of State." Did you catch it? Eugene Robinson isn't the liberal columnist of the Washington Post. He's simply Eugene Robinson of the Washington Post. But Ken Blackwell is identified as a "conservative columnist."
The Ku Klux Con Job Award for Smearing Conservatives with Phony Racism Charges. One of the more unfortunate trends of the Obama years has been for liberal journalists to smear conservative opponents of the President as racist. Not surprisingly, all four finalists in this category could be found on MSNBC.
Hey GQ, can't find any crazy Democrats? Here are 16. In a survey of the "Craziest Politicians of 2014," GQ had difficulty locating any Democrats. Seventeen out of 20 on the list were Republicans, with the only liberals being Texas Rep. Sheila Jackson Lee, Georgia Rep. Hank Johnson and America's reigning nabob of nuttiness, Joe Biden. In a note appended to the story, GQ defensively said it wasn't guilty of "standard liberal-media bias," it just couldn't find any loony Democrats to speak of.
NBC Asks America for the Meaning of Christmas: 'Jesus' Didn't Make Their Cut. NBC Nightly News offered two stories on Christmas in their December 25 newscast, including a show-ender about "what Christmas means to me." Substitute anchor Tamron Hall offered this introduction: "Finally, on this special night, a question: What does Christmas mean to you? Maybe it's the presents, the lights, the music, or getting together with family. We put the question to people around the country and discovered once against that Christmas means something a little different to everyone."
Time: Right-Wing Militias Are The Real Threat To Cops. Time Magazine warned of a growing threat to cops nationwide in September 2010. The nationally renowned publication argued that sinister individuals would launch targeted attacks against police officers and even ambush them in their patrol cars. Time alerted readers that these groups and individuals have a disturbing hatred of cops and that there was a real threat of "lone-wolf" attacks. Who are these groups that present such a threat to police? Right-wing militias, according to Time.
5 Takeaways from Media Coverage of Christians in 2014. It's the reason for the season, so naturally, attacks on Christianity tend to pick up around this time of year. The mocking and sacrilege gets a bit more pointed in the media. The sneering contempt from entertainers and lefty activists gets a bit thicker. But insulting Christians is a year-round sport, like bowling. Unlike bowling, you'll find all the best people doing it, from the New Yorker to Comedy Central, from CNN to Hollywood. Whether it's a "beef baby Jesus," "climate change Christmas carols" or simply slandering core beliefs as "bigotry," media liberals haven't held back when it comes to Christians this year. Unless there was serious or good news to report. Then there was mostly silence.
NBC Reporters Reject [Their] Own Poll Showing Americans Support CIA Interrogations. On her 12 p.m. ET hour MSNBC show on Tuesday, host Andrea Mitchell could barely conceal her disgust while reporting on a new NBC News/Wall Street Journal poll showing a majority of Americans supported the enhanced interrogation tactics used by the CIA after September 11th: "51% said that the procedures used, the interrogation enhanced tactics, which have been defined as torture, 51% said that they were acceptable under the circumstances. Only 28% said that they went too far."
Wise Warren and Crazy Cruz. Sen. Ted Cruz and Sen. Elizabeth Warren are polar opposites, a Tea Party conservative and an Occupy Wall Street socialist. Then there are the similarities: Both were elected in 2012, both have Harvard on their resume and both are mentioned as presidential material. But the media's read of the two demonstrates an unquestionable slant. Both senators have shaken up the Senate over heavy spending and regulation. When Warren does it, she's promoted as a profile in courage, standing up for fairness. When Cruz does it, he's a selfish brat causing meltdowns.
And yet CNN wonders why their ratings are so lousy? Multiple autopsies, including one conducted by Eric Holder's Justice Department, have reached similar conclusions — one being that Michael Brown's hands weren't up and he wasn't trying to surrender when Darren Wilson shot him. But don't tell that to these CNN dopes who care more about contributing to pushing a false narrative than reporting the known facts of the case: [...]
If Cruz And Lee Don't Trust McConnell or Boehner, Why Should We? [Senator Ted] Cruz's point is simple and difficult to argue, "Even though millions of voters rose up just one month ago to protest how President Obama and the Senate Democrats were running Washington, business as usual is continuing inside the marble halls of the United State Congress," he said. And it's not just Cruz, although the media seems to enjoy painting it at that, perhaps making it easier to cast him in a poor light.
Arson, Looting 'Not Necessarily Violence'. Next time you're assembling a criminal defense team, remember to forget Melissa Harris-Perry.
SC Jury Indicts White Officer for Killing Black Man — Media Ignores. In a case with several parallels to both the Michael Brown and Eric Garner cases, a South Carolina grand jury indicted a white police officer with murder Wednesday [12/3/2014] for the shooting of an unarmed black man. Despite the significant parallels and timing, however, the national media has largely ignored the story.
Predictable CNN Suggests Tea Party Could Destroy GOP. On Sunday [12/7/2014], CNN's Inside Politics spent several minutes hyping the supposed headache Tea Partiers could give GOP leadership despite the Republican Party winning their 54th Senate seat following Saturday's runoff in Louisiana.
The Mike Brown PBS "Lie Chart" — The False PBS Claims Deconstructed Visually. A Treeper has been reviewing every piece of testimony in the case and comparing it with the chart that PBS published. Turns out they misrepresented almost all of the statements.
Look what CNN host said about Sarah Palin's kids — she still has her job. It's no secret there's a hypocritical double standard planted deep within the heart of the liberal Democrat way of thinking. For example, it's wrong to say something disparaging about a non-white person — such as the president's sweeping generalization that all illegals are fruit pickers and maids — unless you're a Democrat. It's okay to ruthlessly attack a conservative woman and her family, as long as you ascribe to liberal thought.
After Putting Lauten on Page 1, WashPost Buries Democrat Sex-Assault Plea: 281 Words on Page A-5. Insult the Obama daughters, and you are a nationally infamous political figure. Rape some women? Well, if you're a Democrat, that's a yawner of a story by comparison. Call it a tale of two Hill staffers. While The Washington Post put Republican aide Elizabeth Lauten's resignation over Facebook comments on page 1 on Tuesday [12/2/2014] with an 1,161-word report, a Wednesday story on a former Democratic congressional aide pleading guilty to sexual assault ended up on the far-right edge of page A-5 and was just 281 words long.
Bozell Slams Networks for Covering Lauten Twice as Much as Gruber. A study just released by the Media Research Center reveals the big three networks have covered unknown Capitol Hill staffer Elizabeth Lauten's Facebook post — about how President Obama's daughters looked and acted at an official event — almost twice as much as ObamaCare architect Jonathan Gruber's "stupid voters" comments. The study found that ABC, CBS, and NBC have given Lauten's post a total of 14 minutes, 13 seconds versus the scant 8 minutes, 20 seconds of total coverage for Gruber since November 9 on their morning and evening news shows. While CBS, NBC, and ABC waited four days, eight days, and nine days to cover Gruber, both ABC and NBC wasted no time on Lauten covering the story on their Sunday broadcasts, with CBS joining the party on Monday.
In much less important news than Lauten's Facebook post, Dem staffer pleads guilty to sexual assault. Sexual assault is a hot-button issue; add to it that the perpetrator, Donny Ray Williams, seems to have a similar modus operandi to the alleged assaults by Bill Cosby, and boy have we got a recipe for an awareness-raising glut of coverage that might change the dynamic that allowed this man to abuse his colleagues in this way. Prepare for think pieces on the toxic environment that led to this type of behavior. Prepare for many questions of his former bosses about what blinded them to the abuse happening under their noses. Prepare for official inquiries of who knew what when, and whether Williams' behavior had raised red flags in the past. Wait, what? His bosses were Sen. Mary Landrieu, Rep. Elijah Cummings, Sen. Herb Kohl, and Rep. Jan Schakowsky? Nevermind.
Media in Frenzy Over Hill Staffer's Comments on Obama's Daughters. Five days after Elizabeth Lauten published a Facebook post criticizing the outfits worn by President Barack Obama's daughters, the previously obscure Republican Hill staffer is being inundated with threatening messages and major media outlets are pouring resources into tracking her moves and digging into her past. Two network news vans camped outside of Lauten's parents home in North Carolina on Tuesday, one day after she resigned as communication director for Rep. Steven Fincher (R., Tenn.) due to the controversy.
Republican children are fair game, totally mockable; Democratic ones are sacred. [A] staff member for a Republican representative wrote a mildly critical observation about the girls on her personal Facebook page, and — pow! Forget the trivial, oh-so-well media-covered events in Ferguson; Jonathan Gruber's admissions about the (Un-)Affordable Care Act; the Obama's administration selling out to Iran over nuclear weapons; the Democratic debacle in the elections; the Obama's administration's expensive carbon regulations; Obama's unilateral, unconstitutional illegal alien amnesty; the horrors of the Islamic State; Russia's dangerous aggressiveness; etc.; etc. — her Facebook remark is a serious, national consequential matter, the liberal media decreed.
Networks Spend More Time on GOP Staffer Comments Than Gruber Scandal. On Sunday and Monday, the broadcast networks seized on the personal Facebook comments of mid-level congressional staffer Elizabeth Lauten criticizing the Obama daughters — devoting over 14 minutes of national news air time to the controversy in the period of two days. However, it took those same networks several days to even notice the video comments of ObamaCare architect Jonathan Gruber crediting "the stupidity of the American voter" for passage of the law — providing only 8 minutes of coverage to the much larger scandal.
CNN: 'Slow News Cycle' Led to Media Hype About 'Cyber-Bullying' GOP Staffer. On Monday's At This Hour, CNN's Brian Stelter brushed aside a regular conservative critique about the media — that the press has a double standard about covering controversial remarks from Republican/conservative officials, while ignoring similar comments from Democrats/liberals.
Gruber, the Grey Lady, and Gullibility. [Scroll down] Finally, on Nov. 18 (a day earlier online), the Grey Lady cleared her throat and delivered a huffy editorial. It included nearly as many lies as words: [For example,] Republicans "were well aware of what was in the bills." This was not even true of earlier versions, but certainly not of the 11,000-page final version, which had to be passed so we could find what was in it. In a media-orchestrated campaign, it was hustled through the House as if the health care system would come crashing to the ground in hours if nothing were done.
Brown Revealed to Have Charged Wilson; MSNBC Declares the Word Charge to Be Racist. The grand jury found that Darren Wilson was justified in shooting Michael Brown in part because forensic evidence and eyewitness accounts reveal that the oversized maniac was charging him. Liberals respond as you might expect: by barking that the word charge is racist.
Black Mob Violence Now a Sickness. Thank you, Ferguson: Thanks to you we learned that black mob violence is now a sickness — not just a problem. And no one is sicker than the reporters who ignore, condone, excuse, and even encourage it, as we learned from the latest riot. For reporters, Mike Brown has always been a moving target: At first the Gentle Giant was cut down for no reason whatsoever. Reporters ate it up and black mob violence followed. When that fairy tale evaporated, they replaced it — with ease.
Yesterday's 60 Minutes Report on America's Infrastructure Was a Complete and Utter Scam. I rarely if ever watch 60 Minutes, as they have been kissing Obama's *** since before he was elected in 2008. They are part of the left wing media and are now a joke when it comes to investigative journalism. Last night it came on after the football game I was watching and the opening story was about the infrastructure crisis in this country. I thought I'd give it a chance. After five minutes of propaganda, mistruths, false story lines and interviewing an ultimate insider hack lobbyist for corporate America, I turned on a more realistic truth telling show — The Simpsons.
20 Ways Media Completely Misread Congress' Weak-Sauce Benghazi Report. The media immediately turned [Benghazi] into a political story, focusing more anger on Mitt Romney's comments about the administration's blaming of a YouTube video critical of Islam than determining the facts of the attack itself. Many in the media thought it fine that President Obama jetted off to a high-dollar fundraiser before the bodies cooled. When various high-level government officials blamed either a YouTube video critical of Islam — or our laws protecting free speech, it didn't generate much controversy among big media. The media tended to parrot White House talking points about the attack even years later. So even though everyone with knowledge of the scene in Benghazi knew otherwise, the New York Times was claiming until Friday — just this past Friday [11/21/2014] — that al Qaeda had nothing to do with the attack on Benghazi.
President Obama On Ferguson: The "I Didn't Build This" Segment. President Obama sat down with ABC's George Stephanopoulos, a fellow traveler and ideological compatriot for Democrat political administrations, to frame their collective narrative and discuss their united approach. The Hill published an article about it. During the recorded, edited and broadcast, conversation the subject of Ferguson Missouri came up. Of course it did. Controlling the forward narrative is now of paramount concern. For those who willingly digest the manipulation much buffet was offered. For others, those who see the larger picture, the falsehoods were a stark contrast.
Telemundo Celebrates Weakened U.S. Immigration Law Enforcement. "There's a lot to celebrate tonight," Telemundo anchor José Díaz-Balart declared during Telemundo's special coverage of President Obama's Nov. 20 announcement of unilateral executive actions that include lifting the threat of deportation for 4.1 million unauthorized immigrants in the United States, along with eliminating the Secure Communities program of federal, state and local cooperation in the enforcement of U.S. immigration law that was launched during the administration of President George W. Bush.
MSNBC Host Literally Screams 'No One Cares About Jonathan Gruber!' MSNBC's "The Cycle" went into overdrive while covering for the Obama administration and the recent videos of Obamacare architect Jonathan Gruber insulting American voters and admitting to lying about to law, with co-host Ari Melber literally screaming "Nobody cares about Jonathan Gruber!"
Media hype trumps appeal for calm in Ferguson. The media that for months have hyped the protests involving the shooting have been all but declaring the small city will soon become a battle zone. CNN's Carol Costello introduced one Nov. 13, story with typical moderation: "If the town explodes in unrest one female pastor says she will stand between police and protesters appealing for calm." Correspondent Sara Sidner followed with a prediction that violence would occur, claiming, "we do know there is a small group of people who are planning violent acts."
More about Ferguson, Missouri.
Jonah Goldberg on FNC: 'Transmission Belt of Liberal Journalists' Reaffirmed Gruber's Mendacity. National Review's Jonah Goldberg went on a tear on Monday's [11/17/2014] Special Report with Bret Baier, connecting the circles of lies by the White House and Jonathan Gruber that had impact thanks to liberal journalists. Goldberg charged that, in the lead up to the ObamaCare vote, Gruber was "being touted around through a transmission belt of liberal journalists, who all are all pretending to be objective analysts too, quoting each other, reaffirming each other, all with the help of the White House which went along with this soup to nuts — a process which this guy says was all about lies and misleading the American people."
More about Jonathan Gruber, lies about Obamacare, and media bias in Obama's favor.
Media Myths About Republicans. Ever since the Democrats were trounced in the midterm elections, they and the media have been trying to figure out how Republicans triumphed so thoroughly. Wasn't the GOP supposed to be in permanent decline, on the wrong side of history, demography, and the issues? So far the soul searching has been almost nonexistent.
CNN Warns America: You Are About To Hear The National Anthem. The video story is entitled "Sailor mom surprises daughter at school." It first appeared on CNN on Thursday [11/13/2014] — on loan from an Indianapolis Fox affiliate. Prior to CNN's presentation of the video (just after the mandatory commercial), a warning message appeared for several seconds in bold font atop a two-tone black background. "Please be advised you are about to hear an excerpt of the national anthem," the warning declared.
Mika Admits: If Gruber Were Republican, MSM 'Would Be Exploding'. Kudos to Mika Brzezinski for admitting the truth: if Jonathan Gruber were a Republican, the MSM "would be exploding." Instead, noted Mika on today's [11/12/2014] Morning Joe, the MSM has been silent on the Gruber story, with only conservative sites [ed.: notably including Newsbusters] covering it. Mika contrasted the current quietness on the MSM-Gruber front with the media "firestorm" that erupted when David Stockman made his infamous allegations about Reagonomics.
Media to Wendy Davis: Oh, how we love thee no matter what. "She's totally lionized as a passionate, motivated, rising political star," says Matt Philbin of the Media Research Center, who co-authored an article detailing how 95 percent of broadcast network stories ignored critics of Wendy Davis, a Democratic state senator. The MRC story by Philbin and Katie Yoder describes how 44 of 46 media stories ignored any criticism of Davis, noting that only one network reported on a Dallas Morning News story that dug into her touted biography, among other facts dug up by MRC. Philbin says Davis was going to be "the new toast of the hard left" of the Democratic Party.
GMA Promotes Michelle Obama's School Lunch Program.v On Monday, ABC's Good Morning America provided First Lady Michelle Obama's school lunch program, entitled the Healthy, Hunger-Free Kids Act, with some free publicity. Co-host George Stephanopoulos touted how "new federal guidelines pushed by the First Lady have cafeterias serving up healthier foods. And a new study finds those lunches may be better than the ones parents pack for their kids."
"Reporter" Nancy Cordes Pushing Out Daily Kos Propaganda Under Aegis of CBSNews. NANCY CORDES: ["]Mr. Speaker, you have a new crop of conservatives coming into the House who have suggested among other things that women need to submit to the authority of their husbands, that Hillary Clinton is the anti-Christ and that the families of Sandy Hook victims should just get over it. So the hell no caucus as you've put it is getting bigger and some of them don't think you're conservative enough.["]
CBS reporter asks loaded, insane question with a smirk that could anger a monk. The GOP regained control of the Senate and extended its majority in the House to the largest since at least 1946, but CBS reporter Nancy Cordes did her best to stir up discontent with a question she posed to House Speaker John Boehner at a Thursday [11/6/2014] press conference.
The Lessons Of Wendy Davis. Davis' campaign could not have had more mainstream media support. After her filibuster of the late-term abortion ban, she was profiled and praised on nearly every major network and cable news outlet, in nearly every major political magazine, and throughout the websites and print editions of the country's top newspapers. The profiles asked roughly zero tough questions of the candidate. The Washington Post, the newspaper that famously dismissed the arrest and subsequent murder trial of abortionist Kermit Gosnell as a "local crime" story, couldn't seem to stop finding new and varied reasons to cover Davis. One of my favorites was their story on the best Amazon reviews for the pink shoes Davis wore while trying to make sure women could procure late-term abortions for any reason.
This Reporter Asks Boehner One of the Most Biased and Ridiculous Questions You'll Ever Hear. The mainstream media infamously failed to vet Barack Obama or hold him to account for any of the radical things that he or his many associates have said and done. But a reporter tried to use House Speaker John Boehner's press conference today to hold him to account for things that may or may not have been said by some incoming House members.
Watch the evolution of an MSNBC meltdown. As a rule, the most interesting coverage of an election night is always the losing side's coverage. Last night, MSNBC's anchors, most of whom would concede they are more ideologically friendly toward Democrats than Republicans, lost and lost big. While there was some stellar analysis and measured commentary on that network from the likes of Chuck Todd and Steve Kornacki, there was also a fair bit of infighting, punchy recrimination, and general despair from the left-leaning network's flagship personalities.
How the Media Helped the GOP Walk Away with the 2014 Midterms. [Scroll down] In short, this may have been one of the most significant midterm elections in history. And yet, the American broadcast news organizations had barely covered them between Labor Day until almost the week before they took place. As I noted two weeks ago, a Media Research Center study showed that the Big Three networks had only mentioned the midterms 25 times during that period, as compared to 159 mentions in the same period before the 2006 midterm sweep for Democrats.
CBS Worried GOP Congress Will Actually Pass Legislation. On Wednesday's [11/5/2014] CBS This Morning, co-host Norah O'Donnell fretted that the newly elected Republican Congress would dare to pass legislation: "If you look at a number of these new senators, they're quite conservative. Why wouldn't they go along with what Rand Paul has said? They're gonna send bills up to the President, as he told Charlie Rose last night, 'We're going to keep sending bills up to the President and we'll see whether the President wants to work with us or not.' Is the President going to be forced to veto a bunch of bills?"
North Carolina Newspaper, Charlotte Observer, Pulls Story of Kay Hagen Family Corruption Just Prior To Election Day. Republicans accused the Charlotte Observer of engaging in a "conspiracy of silence" after it pulled its story about a state government memo calling for "legal review" of stimulus grants given to the family of Senator Kay Hagan (D., N.C.).
Meet The Press Insists Repealing ObamaCare Is 'So Retro'. On Sunday [11/2/2014], Senator Rand Paul (R-Ky.) spoke with Meet the Press moderator Chuck Todd to discuss the future of the Republican Party. Following the conclusion of the interview the MTP panel eagerly criticized the Kentucky Republican for daring to call for a repeal of ObamaCare if the Republicans win control on the Senate.
The Statist Media Spins GOP As 'The Party of No'. The recent revelations of Sharyl Attkisson, the one-time CBS investigative reporter, are very telling in this respect. What Attkisson describes is a major television network whose executives are hard-core Statists, Statists who have made it their goal in life to support and protect Statism wherever and however it appears on the American political scene. If that meant suppressing Attkisson's various investigative projects that might cast a negative light on a Statist project — than so be it.
Stephanopoulos, ABC News Refuse to Apologize for False Scott Brown Attack. Mitt Romney, the Republican nominee for president in 2012 and a supporter of former Sen. Scott Brown's campaign, decried an effort by the liberal media to falsely smear Brown during last night's final New Hampshire Senate debate against incumbent Democratic Sen. Jeanne Shaheen (D-NH).
CNN anchor, liberals give grins and thumbs up to violence against the 'Right' women. How do you get liberals to approve of violence against women? Just tell them the women are Republicans named "Palin." Wednesday afternoon [10/22/2014], CNN anchor Carol Costello hyped newly released audio of Sarah Palin's daughter Bristol tearfully recounting her being physically assaulted during a fight the family was involved in last month by saying it was "quite possibly the best minute and a half of audio we've ever come across." She grinned during the entire setup.
How the NYT blatantly spins for Obama on Ebola. Just look at the New York Times, always an industry leader: It's become the official stenographer of the Obama White House. On Saturday, The Times ran a story about the president and his response to the Ebola outbreak that read like it was dictated word for word by the president's top men. If I were a stockholder in the New York Times Co., I would certainly hope the paper was properly compensated for the front-page placement of this naked political advertisement.
In Ferguson, and elsewhere, the media clings to predetermined conclusions. Some examples: Ferguson's population is two-thirds black, but five of its six city council members are white, as is its mayor. Conclusion: this racial composition must be the product of racism. Never mind that blacks barely turn out to vote and field practically no candidates. Never mind that the mayor ran for a second term unopposed. Is there a record of Ferguson's supposed white power structure suppressing the black vote? None has been alleged. Did the rioters even know who their mayor and city council representatives were? The press didn't bother to ask. But this "problem" is disturbingly widespread, in the media's eyes.
Omar Gonzalez vs. Alton Nolen. In virtually every report, Nolen is described as the "alleged" or "accused" "suspect" of an office place beheading. He's never described as "Muslim Alton Nolen" or "Islamic extremist Alton Nolen." And that's probably right. But why is Omar Gonzalez not afforded the same standard?
Texas Is Booming, but CNN Doesn't Want You to Know Why. Much of my writing is focused on the real-world impact of government policy, and this is why I repeatedly look at the relative economic performance of big government jurisdictions and small government jurisdictions. But I don't just highlight differences between nations. Yes, it's educational to look at North Korea vs. South Korea or Chile vs. Venezuela vs. Argentina, but I also think you can learn a lot by looking at what's happening with different states in America. So we've looked at high-tax states that are languishing, such as California and Illinois, and compared them to zero-income-tax states such as Texas.
Politico: Lois Lerner is the Real Victim of the IRS Scandal. Lois Lerner wants a new job. She can't get one. No one will hire her. So it makes perfect sense that she would go to the leftwing Politico for aid and comfort.
More about Lois Lerner.
Democratic Party Media Run Interference for Hillary. Sarah Palin served one-half of one term as Governor of Alaska. While she was, of course, the Republican vice-presidential nominee in 2008, she is not now, and most likely will not be in the future, a candidate for public office. Hillary Clinton, on the other hand, is not only a former First Lady, Senator from New York and Secretary of State, she is said to be the odds-on favorite to be the next president of the United States. So by any normal journalistic standard, it is far more important to inform the public about Hillary Clinton than Sarah Palin, especially as to matters that may bear on Clinton's fitness for the nation's highest office.
Networks Reported Bush 2006 Low Approval Numbers 13 Times More Than Obama's 2014 Numbers. According to a study released by the Media Research Center last week, the network evening newscasts have been reluctant to report on President Barack Obama's low-approval numbers, particularly compared to the extensive coverage given to then-President George W. Bush eight years ago.
ABC Ignores Start of Ray Nagin's Prison Term; NBC Gives Story Only 15 Seconds. Beginning on Monday afternoon [9/8/2014], Democrat and former Mayor of New Orleans Ray Nagin began a 10-year prison sentence for corruption charges that were as result of his actions following the landfall of Hurricane Katrina and subsequent flooding of the city in August 2005. When it came to reporting on the story during their evening newscasts, ABC World News Tonight with David Muir refused to cover the story while NBC Nightly News offered only a 15-second news brief.
Reuters Editor at Large Likens U.S. Death Penalty to ISIS Beheaders. While promoting a book of news photography on CBS This Morning on Saturday [9/6/2014], Sir Harold Evans, editor at large of the Reuters news agency, called the electric chair a "monstrosity" and said seeing a picture of one was "almost as appalling, in its sense, as these barbarians who have taken the heads off journalists in the desert." Of course, the imposition of the death penalty in the U.S. is reserved for the worst murderers, after lengthy trials and appeals, while the ISIS executioners beheaded innocent journalists as a way to terrorize the civilized world.
Washington Post Covers Voter Fraud Inaccurately and Incompletely. [Scroll down] Naturally the Washington Post makes no inquiry as to why the Eric Holder Department of Justice has failed to do anything about the scourge of double registration. It's in DOJ's job description. DOJ isn't doing the job. Instead, groups like the American Civil Rights Union, Judicial Watch and True the Vote have had to bring the cases Eric Holder has refused to bring to clean up voter rolls. Those who create and manage the left-of-center election narrative ignore entirely this DOJ history, as does the Washington Post.
The Ferguson Debacle. [Scroll down] It's not that the reporting out of Ferguson has been deliberately false, it's that so much of it has been sensationalistic and produced with the clear objective of furthering controversy. Controversy sells newspapers and draws viewers for television news programs. And in the present case, it gives New York- and Washington-based reporters the opportunity to get out on the streets in flyover country so they can later pretend to understand what has happened. There has been a competition among people in the media to see who can find the angriest person and haul him before a camera and a microphone.
5 Liberal Mega-Donors Nearly as Dangerous as George Soros. As the 2014 midterm elections approached, the media were quick to criticize conservative donors like the Koch brothers for backing issues important to them. But journalists largely ignored the incredible financial power being used to promote the liberal agenda. Five top donors — Michael Bloomberg, Warren Buffett, Pierre Omidyar, Tom Steyer and George Soros's own son, Jonathan — are major funders of the left. Together, they have contributed at least $2.7 billion since 2000 to groups pushing abortion, gun control, climate change alarmism and liberal candidates. That's not how major media depicted them. Broadcast networks applauded when billionaire hedge fund manager Tom Steyer promised $100 million to influence environmental policy. CBS News praised Steyer for "giving back" and ABC News called the billionaire an "everyman."
Washington Post finds Darren Wilson guilty by association. The Washington Post has convicted Police Officer Darren Wilson, who shot Michael Brown, of guilt by association with a former troubled police force in a different town in a prior job than the one he held in Ferguson, MO, and of having parents who were in trouble with the law. Seriously. There is nothing, zero, nada, in the WaPo story linked [in this article] that shows Darren Wilson ever did anything wrong himself. In fact, to the extent his own conduct is even mentioned, it's in the context of staying out of trouble. But that does not stop WaPo from trashing Wilson by association.
Best of facts-free reporting hands-down... I mean up. I began to lose interest in Ferguson, Mo., when it was first reported that the late Michael Brown was an "aspiring rapper." Hadn't heard that one yet? It was in the LA Times, under the headline: "Michael Brown's raps: Money, sex, drugs — and a vulnerable side." Of course he had to have a vulnerable side. That's why he was known as "the Gentle Giant." He didn't look terribly gentle in that closed-circuit video, shoving the owner of the Ferguson Market when he was stealing the box of Swisher Sweets just before he got shot. But the demonstrators could see right through that — "the man" had photoshopped the video, or so they said live on national TV.
The MSM's and Left's Racism on Parade in Ferguson. During a discussion on CNN about the shooting of Michael Brown by a white police officer, in the background was a photo of Brown in a school graduation cap and gown. Give me a break! Where was the picture from the surveillance video of the 6'4", 290 pound thuggish Brown grabbing the store clerk by the throat after stealing cigars? The DOJ has advised news outlets not to broadcast the video of Brown assaulting the store clerk and robbing the store, claiming that it might incite violence. [...] Rather than exposing the true character of Brown, promoting the lie that a white police officer shot a studious innocent black youth who was simply minding his own business will not spark violence? Absurd.
Why does AP refer to Michael Brown as 'teen', despite style guide? The Associated Press Stylebook states that in reports referring to a person's age, the figure for the age number should be used. It also states that reports should "use man or woman for individuals 18 and older." Why, then, are AP reports on the shooting of 18-year-old Michael Brown solely referring to him as a "teen" and "teenager"?
Trayvon 2.0 Redux — Comparing Mike Brown and Trayvon Martin Similarities. While the two shooting events are separated by two and a half years, Trayvon (Feb 2012) Mike Brown (Aug 2014) the similarities are quite remarkable. One of the key aspects that aligns both narratives is the appearance of the attorney for both families Benjamin Crump. The second key aspect is the way the media portray both events.
Publisher Rejects Fellow Soldiers' Book on Bowe Bergdahl, Because 'the Right' Might Use It 'Against Obama'. Remember all those books that the publishing houses rejected during the eight years before Dear Leader took office because they might get used by "the Left" to hurt George W. Bush? No you don't, because it didn't happen. But now, things are different. Fellow soldiers of released 5-year Taliban captive Bowe Bergdahl are trying to publish a book on their side of the "he was a deserter" controversy. A divison of publishing giant Simon & Schuster has rejected their submission. That isn't necessarily unusual, but the contents of a rejection letter from one of the publisher's representatives certainly is.
White House loosens restrictions on lobbyists. President Barack Obama is loosening restrictions on lobbyists who want to serve on federal advisory boards, a White House official said on Tuesday [8/12/2014], a setback to the president's efforts to tamp down special interest influence in Washington.
The Editor says...
Instead of calling it a flip-flop or a betrayal of a campaign promise, the Reuters writer called it "a setback to the president's efforts," as if he had no control over his own actions.
Media go nuts over presidential corruption... in Nixon White House. Journalists who snooze at the mere mention of Obama scandals, still want to revel in the triumphs of yesteryear. No wonder. That was when the most powerful people in America were reporters and editors because they helped take down the president of the United States.
Flashback: In October 2001, Liberal Media Bashed Bush for Air-dropping Food, Medicine in Afghanistan. As President Obama authorizes both limited airstrikes on ISIS targets and the air-dropping of relief supplies to beleaguered religious minorities in northern Iraq, we thought it good to rewind to the early days of the war in Afghanistan when the liberal media criticized President Bush for both bombing al Qaeda and Taliban targets while simultaneously air-dropping food and medicine for civilians.
Media bias in the Christie and Cuomo scandals. Let's see: which is worse: snarling traffic or covering up potential corruption? From the media response, you'd think traffic cones are vastly more important.
Frustration over stalled immigration action doesn't mean Obama can act unilaterally. The president should think twice. Some of the same Democrats and pro-immigrant advocates urging him to protect millions of undocumented immigrants from deportation would be outraged if a Republican president took a similarly selective approach to enforcing the laws — say, those that guarantee voting rights or prohibit employment discrimination.
The Editor says...
The Washington Post writer slips in an unfounded accusation against a future Republican president by making a baseless assertion that Republicans would take away voting rights or implement some kind of employment discrimination if given the chance.
CBS Hypes Democrats Fundraising Off Impeachment, Dismisses Boehner Lawsuit. In the wake of Speaker of the House John Boehner's impending lawsuit against President Obama, CBS This Morning [7/30/2014] did their best to minimize its merits and instead promote Democratic efforts to raise money off of impeachment. [...] [Nancy] Cordes did her best to oversell the political damage Republicans faced following the impeachment of President Clinton. After the 1998 election, the "backlash" Cordes referenced was a loss of only five seats in the House and none in the Senate. Republicans didn't lose their majority until Vermont Senator Jim Jeffords left the GOP in 2001, a far cry from the "backlash" portrayed by CBS.
Obama needs to work on his foreign policy, not his golf game. Nero fiddled while Rome burned. On Saturday [7/26/2014], President Obama played golf while his foreign policy, and that of the nation he leads, was going up in smoke. Literally. Saturday was the day the State Department ordered the evacuation of the U.S. Embassy in Libya.[...] The embassy staff had to be evacuated overland as thick black smoke from the fighting hung over the Tripoli skyline. In any other circumstances — and especially if the chief executive were a Republican — this would have been a scandal blared across the media. But at a time when we are witnessing the near-total collapse of American foreign policy, it barely registers.
NBC News, Politico Bury Nunn Campaign's Asian Slur. You would think that a major U.S. Senate campaign caught referring to an ethnic group as financially "very tight" would thrill a media that loves nothing more than political scandal mixed with race. Well, not when it's a Democrat campaign. When that's the case, the media circle the wagons to pretend it didn't happen, or in this case, reassure everyone there's nothing to see here, because this is just how campaigns are run.
NBC, CBS, Reuters, Lie About Israeli Attacks; Face No Repercussions. Reporters covering the Israeli-Palestinian conflict for NBC, CBS, Reuters, and other outlets brazenly reported false information on Monday [7/28/2014] claiming Israel was responsible for attacks on Palestinian civilians that were actually committed by Hamas. The reporters have faced no repercussions yet for the promulgation of erroneous and biased information. It is yet another example of how reporters for major outlets in the Middle East interject their anti-Israel bias into their supposedly neutral reporting on the conflict.
Poll: 64% of Hispanics Back Deportations. When this story first broke at Breitbart Texas, the media jumped all over it. At first, it was obvious the media planned to exploit the story of 50-plus thousand unaccompanied Central American children illegally crossing our border as a way to pressure the GOP into caving on amnesty. A new poll from Economist/YouGov shows how badly that plan backfired — even among Hispanics. [...] Only 11% want what Obama, Democrats, and the media want — which is amnesty for everyone.
Salon Attempts to Paint Avowed Communist Lee Harvey Oswald as a "Right-Winger". Via Salon today [7/24/2014] comes one of the most truly bizarre pieces of revisionist history I have ever seen, even within the context of articles appearing at Salon.
Amid Global Chaos, Al Roker Asks Michelle Obama: 'Who's the Best Cook' in the First Family? Despite the continuing fallout from the shoot down of Malaysian Airlines Flight 17 and Israel's incursion into Gaza, Monday's [7/21/2014] NBC Today devoted over four minutes of air time to weatherman Al Roker conducting a fawning interview with First Lady Michelle Obama. In what Roker teased as a "revealing conversation," he asked Obama: "Who's the best cook in the family?"
Charlie Rose Waits Almost a Full Hour to Ask Hillary About Benghazi. PBS's Charlie Rose opened his 62 minute-long interview with Hillary Clinton, aired in two parts on Thursday and Friday's Charlie Rose show, by reciting a Maya Angelou poem dedicated to the former Secretary of State. Almost an hour later Rose finally asked Clinton about the Benghazi scandal. In the second part of the interview, aired at the end of Friday's [7/18/2014] show, Rose waited until his last question, with just a little over 3 minutes of interview time left, to finally bring up Benghazi.
Over 700 Syrians Were Killed Last Week. But Jews Didn't Do it, So the Media Doesn't Care. From reading the international and national news you would probably never have known that last Thursday and Friday alone, over 700 people were killed in Syria at the hands of jihadists and pro-Assad forces. Muslim on Muslim, Arab on Arab, human on human, whatever you like to think of it as[,] Western media is doing an awful job of reporting these abhorrent incidences[,] and I think I know why.
More Miserable Anti-Israel Bias from the New York Times. The New York Times' coverage of the ongoing situation in Israel, which began with the kidnapping and murder of three Israeli teenagers, continued this past week to be marked by intense anti-Israel bias in tone and labeling, and overwhelming emotionalism over the deaths of Palestinian civilians in the crossfire (Israeli deaths from terrorism rarely if ever merited such heart-felt treatment).
The IRS Scandal and Media Bias. Here's a thought experiment. Assume during the George W. Bush administration the IRS had targeted MoveOn.org, Planned Parenthood, the Center for American Progress, and a slew of other liberal groups. Assume, too, that no conservative groups were the subject of harassment and intimidation. And just for the fun of it, assume that press secretary Ari Fleischer had misled the press and the public by saying the scandal was confined to two rogue IRS agents in Cincinnati and that President Bush had declared that there was "not even a smidgen of corruption" that had occurred. Let's go a step further. Assume that the IRS Commissioner, in testifying before Congress, admitted that the emails of the person at the heart of the abuse of power scandal were gone, that the backup tapes have been erased and that her hard drive was destroyed. For good measure, assume that the person who was intimately involved in targeting liberal groups took the Fifth Amendment.
Jose Antonio Vargas and the End of Driver's Licenses. CNN chose to describe the recently detained Jose Antonio Vargas, longtime journalist for U.S. publications and legal citizen of the Philippines, as a "symbol of the immigration debate." The news network aired his documentary, Undocumented, several times. [...] But one big problem with Vargas is that he's proven he's quite comfortable violating or ignoring other laws as well, ones that are less disputed or controversial. For example, whatever one thinks of entering the country illegally as a child, falsifying official documents is a different story. Vargas described in the New York Times how he did just that: [...]
The Editor says...
I'm sure by now you get the idea. This page used to go on and on, but to conserve bandwidth, the remainder of this page is now located here.
More about media bias in general
Back to the Home page