Barack H. Obama leaves traps and stink bombs for the next president
Introduction:
President Trump has a lot of cleaning up to do. Islamic terrorists are active all over the world, and Obama won't even say "Islamic terrorists." Iran is working on nuclear weapons, funded in large part by Obama's billion-dollar ransom payment. The unemployment numbers in the U.S. have been falsified for years, because the people who have completely given up on finding a job are not counted as unemployed. Obama has been intentionally weakening America's military defenses and placing roadblocks in the path of small businesses. The international borders are wide open. More people are depending on food stamps than ever before, and those benefits never end. The well-connected "green energy" companies have grown accustomed to subsidies for solar panels and windmills. The VA hospitals are a disgrace. The national debt is twice what it was when Obama took over. Government workers in the EPA, IRS and State Department have been using secret email accounts to stay out of trouble. In Hillary Clinton's case, that didn't work out too well, but will she face the music or will she skate? Mr. Obama has let terrorists leave the Guantanamo prison, and we all know they'll be back in the news before long. Mr. Obama has designated large parts of the western U.S. as "national monuments," which will prevent anyone from extracting fossil fuels from that land. He has also put the brakes on offshore oil drilling, especially in Alaska, where there is probably more oil than any of us can imagine. Mr. Obama has stirred up more racial division in this country than it has experienced since the 1960's, because that's what "community organizers" do. The people who work for the EPA, the IRS, NASA, the NLRB, the Department of Education, and the Department of Energy are constantly looking for ways to justify their agencies' continued existence (and expansion) and have probably never considered the idea that their jobs won't last forever. All this junk has to be cleaned up by someone.
Obama's $77 Billion climate funds stash found — will be gutted. President Donald Trump will find the job of reining in spending on climate initiatives made harder by an Obama-era policy of dispersing billions of dollars in programs across dozens of agencies — in part so they couldn't easily be cut. There is no single list of those programs or their cost, because President Barack Obama sought to integrate climate programs into everything the federal government did. The goal was to get all agencies to take climate into account, and also make those programs hard to disentangle, according to former members of the administration.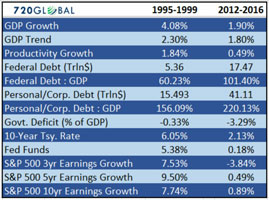 What is Going On (Part III)? The eye opening chart [left] shows you how far we've come since 2000, or how far we've fallen, depending on your point of view. It looks to me like Trump has been handed a bucket of [excrement] by his egotistical sociopathic boastful predecessor. Obama can now concentrate on his true passions — his NCAA pool and golf — while Trump is left to try and clean up a $20 trillion mess.
Obama's Role in Undermining Trump's Presidency. If Congress is looking for something to investigate, it should perhaps start first with the shadow apparatus that Obama has erected for himself after leaving office. Our former president has set up shop just a couple of miles from the White House, and brought along his top adviser, Valerie Jarrett, who has reportedly moved into the Obama's new home. Obama is continuing to influence Washington, D.C. and nationwide politics through the mobilization of tens of thousands of volunteers under the umbrella of Organizing for Action (OFA). Oddly, on Twitter, Obama continues to identify himself as president, rather than as a former president. "Unbeknownst to most Americans, Barack Obama is the first ex-president in 228 years of U.S. history to structure and lead a political organization, a shadow government, for the explicit purpose of sabotaging his successor-duly elected President Donald Trump," writes Scott S. Powell for American Thinker. Obama's group, OFA, has been organizing with the Soros-linked Indivisible.
DC Secrets and Lies. A quick look at Obama's history reveals he has always had the inclination, motivation, and opportunity to snoop on and disseminate information about his political opponents. It's how he made his political career: getting his opponents' private divorce records unsealed and leaked with the help of the Chicago Tribune. [...] Wikileaks revealed that under Obama, the NSA intercepted conversations of numerous foreign officials, including UN Secretary General Ban Ki-Moon, Angela Merkel, Benjamin Netanyahu, Silvio Berlusconi, and Nicolas Sarkozy. So it is rather astonishing that so many disregard Trump's claim that Obama and his aides spied upon him and his staff.
Evidence Says Obama DID Wire Tap Trump's Campaign. On Saturday morning [3/4/2017] President Donald J. Trump put a bee in the media's bonnet by tweeting how shameful it was that Obama tapped his phones during the late campaign for president. It set off two full days of liberals acting shocked and outraged that Trump could say such a thing, got the media to covering for Barack Obama, and spurred weak kneed RINO Republicans siding with the left in attacking Trump. So, what of all this? Thus far, anyway, it seems completely true that Trump is right. Obama did spy on candidate Trump. The media went into a feeding frenzy on Saturday morning when President Trump tweeted out his accusation.
How Are All These Intel Leaks Happening? Look At One Of The Last Things Obama Did Before Leaving Office. Former President Barack Obama made a last-minute change to the way wiretapped intelligence is shared Jan. 12, which may have contributed to the proliferation of leaks plaguing the Trump administration. Obama changed the way National Security Agency intelligence is shared 8 days before leaving office, which allows globally intercepted communications to be disseminated across the entire intelligence community. The change was part of a post-9/11 push by the executive branch to increase intelligence sharing, to ensure that NSA analysts do not miss critically important information. The change is "simply widening the aperture for a larger number of analysts, who will be bound by the existing rules," the Office of the Director of National Intelligence said at the time.
Obama's Surveillance Of Team Trump: A Probable Paper Trail. [Scroll down] So, who tapped Team Trump? Well, only one organization has the ability to tap international communications — the NSA. And there are a lot of rules surrounding NSA intercepts. I do not think the NSA went rogue. I think people knew what the NSA vacuumed up and misused that information for personal reasons (it definitely was not national security — the reason NSA does what it does). Clearly we have disturbing examples of US Persons being monitored, and then leaked. And that is where a new paper trail begins — with the leaks.
What did the President know and when did he know it? The political debate of the past several weeks was brought to a head by President Trump's now famous tweet last Saturday morning. Until then, the press had largely reported on allegations that Russian hacking affected our recent election focused, according to Democrats, on favoring President Trump. And this debate continues even though there has been no confirmation of such claims, including from ongoing congressional and intelligence community investigations. Now President Trump has placed another issue on the table — the role of President Obama and/or his administration in leaks directed for political purposes.
We live in truly terrifying times. The horror comes from our own government, and especially the intelligence community, where officials seem to have gone rogue and where anything — and everything — is now in play. The frightening reality is that a president laid seeds to destroy his successor — who, as it turns out, he targeted with the secret spy organizations at his beck and call. During the last days of his term, Barack Obama set out to sabotage Mr. Trump by spreading intelligence information throughout the federal government, as well as to foreign governments.
EPA to announce reversal on fuel economy standards next week. The Environmental Protection Agency will announce a change in automobile emissions standards next week, undoing a last minute effort by the Obama administration to lock in the rules through 2025. [...] As I noted last month, a group of 18 automakers sent the Trump administration a letter asking for a reconsideration of fuel standards. The Obama administration had until 2018 to complete a midterm review of the progress made by automakers. They had hoped for some relief from the standards during that review. Instead, the administration rushed through the process and announced a final decision one week before Trump took office.
Schumer's plan to Keep Obama appointees in power. Minority Leader Chuck Schumer and the Democrats continue to snub President Trump by slowing down Senate confirmation of his Cabinet appointments. Their underlying goal is to allow remaining Obama-appointed bureaucrats to do as much damage to the Trump administration as they can before leaving. CNN reported last week that "Trump is noticeably behind the last three presidents when it comes to securing the confirmation of his Cabinet and other top appointments that require Senate approval."
Obama, Organizing for Action, and the Death Throes of the Democratic Party. Political correctness remains so dominant in language and culture in the U.S., that no one dares utter the word "sedition." Unbeknownst to most Americans, Barack Obama is the first ex-president in 228 years of U.S. history to structure and lead a political organization, a shadow government, for the explicit purpose of sabotaging his successor — duly elected President Donald Trump. The primary vehicle of this campaign is Organizing for Action (OFA), legally founded in January 2013 by First Lady Michelle Obama and her husband's 2012 campaign manager Jim Messina, with input from David Axelrod. Being respectful and accepting loss when your team doesn't win — essential for the functioning of any electoral representative democracy and a fundamental lesson every child used to learn through playing competitive sports — has been destroyed by the left and appears no longer relevant for many in today's millennial generation.
Krauthammer: Obama WH Officials Engaged in 'Revenge of the Losers' to Make Trouble for Trump. For weeks now, some of the reporting around Russia and the intel community has concerned actions of members of the Obama administration and holdovers serving under Trump. President Trump himself and others have argued that the big leaks are coming from those holdovers, and one report last month said that Obama loyalists engaged in a "months-long campaign" to take down Michael Flynn in the name of preserving the Iran deal. And now this week there's a new report that Obama White House officials rushed to leave a "clear trail of intelligence" on Russia for the right people to investigate once President Trump was sworn in.
Nearly 40 Leaks of Classified Information Reported in 2016. Agencies across the federal government reported at least 37 leaks of classified information in 2016, more than double the number of criminal leaks reported in 2015, according to new information from the Department of Justice that highlights the government's inability to crack down on this illegal behavior. The unauthorized disclosure of highly classified information has received renewed attention in recent weeks following what the Washington Free Beacon first described as a targeted campaign against Trump administration officials by Obama administration loyalists still operating inside the government. Sources in and out of the White House said this campaign began in late 2016, before Obama left office.
Trump: Obama is behind leaks. President Donald Trump has accused his predecessor, Barack Obama, of instigating a series of leaks within the administration and the raucous town hall meetings facing Republican lawmakers across the country. The White House has faced a wave of leaks to the media since inauguration day more than a month ago, as the administration works to fill hundreds of remaining vacancies, leaving temporary Obama administration holdovers in place. [...] Speaking with Fox News on Monday [2/27/2017], President Trump suggested that his predecessor, President Obama, was responsible for both the recent flood of leaks and disruptions of town hall meetings held by Republican lawmakers.
Kenya believe it?
Exclusive: Lawmakers to Request Probe of $418M Arms Sale to Kenya on Obama's Last Day. A group of lawmakers is planning to request a congressional investigation of a $418 million U.S. weapons sale to Kenya approved by the Obama administration on its last day in office. The sale, approved by the State Department and privately notified to Congress on January 19, would allow Kenya to buy 14 weaponized crop-duster-like planes — including two trainer planes and services, for missions against terrorist group al-Shabaab. The deal was publicly announced the Monday after Trump's inauguration.
State Officials Want Trump To Reverse Obama's Last-Minute Election Power Grab. State officials across the nation are fighting former President Barack Obama's last-minute decision to impose federal authority over state-run election systems, The Daily Caller News Foundation has learned. The National Association of Secretaries of State (NASS), which includes officials from all 50 states and U.S. territories, appealed to President Donald Trump in a resolution approved Saturday [2/18/2017] at the group's winter meeting to overturn the Obama policy, but doing so may encounter unexpected resistance from the new administration. Obama ordered the Department of Homeland Security (DHS) Jan. 6, 2017, to classify local and state election systems under the new federal designation of "critical infrastructure."
Obama Hacks Reveal Incoming Trump Administration Tried to Prevent Debacle at the U.N.. It looks like the leaks continue to arrive, although — thus far — they're backdated to the days of the lame-duck losers known as the Obama administration. A more bitter, thrashing bunch of lightweights we'll hopefully never see again. Thought experiment: imagine the press outcry had the same kind of leaks, from an outgoing Bush 43 administration, attempted to disrupt an incoming Obama presidency in 2009.
The Lame Duck Timeline Strongly Suggests President Obama Set Up Intelligence Scheme To Undermine Trump. Jay Sekulow outlines the case that President Obama set-up a plan for the intelligence community to target President Trump. Specifically through the use of a lame-duck executive order, President Obama authorized multiple intelligence agencies to have access to Signals Intelligence (SIGINT) including phone call intercepts.
On His Way Out of Office, Obama Conferred Broad New Powers on the NSA. Hmmm, I wonder why he did that on his way out the door and with his loyalists still in the government and ready, willing, and now enabled to leak classified NSA intercepts to the press? Michael Walsh notes this January 12, 2017 report from the New York Times which received little attention when it was published. But now Walsh is very attentive towards it.
Surprise: At the End, Obama Administration Gave NSA Broad New Powers. One of the things about the IC is that "existing rules" are made to be broken whenever one of its unaccountable minions feels like it; these are people who lie and cheat for a living. And the genius of the Democrats — something for the GOP to think about next time — is that they were able to leverage the transition in order to change as many rules and embed as many apparatchiks as possible before formally turning over the reins to the new kids.
Beware the CRA: How Obama's midnight rules are backfiring. Today [2/15/2017], the Senate voted to repeal a late Obama administration directive to the Social Security Administration, to flag and block certain people receiving disability insurance benefits from purchasing guns. A few minutes from now, the House will vote to repeal a rule created by the Department of Labor in August, barring states from requiring drug tests as a condition for receiving unemployment benefits, along with another rule on retirement savings plans. The House and Senate have been occupied lately with repealing late Obama-era regulations on coal mining, fracking, land management and teacher training. Expect more of this in the coming days. Believe it or not, this is one of the most productive and lasting things Congress can do without 60 Democratic votes in the Senate.
Surprise: At the End, Obama Administration Gave NSA Broad New Powers. This story, from the Jan. 12, 2017, edition of the New York Times, was little-remarked upon at the time, but suddenly has taken on far greater significance in light of current events.
A Monumental Mistake. In December, in the final weeks of his presidency, President Obama single-handedly created the 1.35 million-acre Bears Ears National Monument in southeastern Utah, despite opposition from the state's governor, its congressional delegation, and the local elected officials that represent the area. Obama did so using his executive powers under the 1906 Antiquities Act, a Progressive Era law that allows presidents to unilaterally declare federal land off limits to most forms of development. The local backlash was fierce. Representative Jason Chaffetz called the decision "a slap in the face to the people of Utah." Governor Gary Herbert said it "disregards the well-being and interests of rural Americans." And Senator Mike Lee vowed to "work tirelessly with Congress and the incoming Trump administration to honor the will of the people of Utah and undo this designation."
Barack Obama's 'folks' working under Trump blasted for 'causing chaos in White House'. An American political commentator dragged Barack Obama's name and administration through the mud as she blamed the recent "leaks" involving Michael Flynn on his associates working for Trump. Scottie Nell Hughes, who worked for CNN during the 2016 US election, accused Obama's "folks" of creating chaos within President Trump's administration, which has distracted him from putting "America first".
Former Obama Officials, Loyalists Waged Secret Campaign to Oust Flynn. The abrupt resignation Monday evening of White House national security adviser Michael Flynn is the culmination of a secret, months-long campaign by former Obama administration confidantes to handicap President Donald Trump's national security apparatus and preserve the nuclear deal with Iran, according to multiple sources in and out of the White House who described to the Washington Free Beacon a behind-the-scenes effort by these officials to plant a series of damaging stories about Flynn in the national media. The effort, said to include former Obama administration adviser Ben Rhodes — the architect of a separate White House effort to create what he described as a pro-Iran echo chamber — included a small task force of Obama loyalists who deluged media outlets with stories aimed at eroding Flynn's credibility, multiple sources revealed.
Obama Fundamentally Transformed America the Democrats. Since President Trump's inauguration, the headlines are all about leftist groups forcing Democratic Party politicians to adopt their strategy of "Resist!" and claiming President Trump is a threat to the country. Believe your eyes: women in pink [...] hats led by a jihadi-supporting Muslim in a hijab, and youths in black masks attacking Trump supporters with clubs, are precisely what they look like — ideologues and extremists. So where did all these agitators come from? From the moment he entered the Oval Office, Obama staffed up a leftwing DOJ, EPA and Department of Education, and began to target blacks, conservationists, and millennials with his leftwing, divisive messages. Enormous sums of money were lavished on radical groups and agendas.
Eliminate regulations that don't actually help the environment. On Wednesday, the House of Representatives voted to roll back two regulations finalized in the waning days of the Obama administration. One rule is an Interior Department regulation targeting coal mining debris that ends up in steams; another was a financial disclosure rule emanating from the 2010 Dodd-Frank Act. Both rules are under threat because of a little-known law called the Congressional Review Act (CRA) that is about to take center stage.
President Obama Bans Offshore Drilling in North Atlantic and Arctic. Obama's action bans drilling in almost all American waters in the Chukchi and Beaufort seas, as well as in federal waters stretching from New England to Virginia. The December 20, 2016 Washington Times reports, President Obama's action clearly targeted the Trump administration, trying to limit Trump's ability to undo Obama's environmental legacy. In a conference call Obama administration officials claimed President-elect Trump would be unable to overturn the ban, saying while the 1953 law gives a president authority to ban drilling in areas, it contains no specific provisions giving a president power to reopen them.
Palestine confirms it received $221m from Obama despite last ditch block attempt by Trump. The Palestinian Authority has confirmed $221 million from Barack Obama during his last hours as president — despite a last-ditch attempt by his successor Donald Trump to block it. The huge transfer was one of Mr Obama's last acts in the White House with the cash being released just hours before Donald Trump was inaugurated last Friday. However, the new president's administration attempted to freeze the transfer, with two Republican congressman requesting a hold.
Report: Trump Freezes Obama's $221 Million Payout to the Palestinians. That $221 million transfer to the Palestinian Authority former Secretary of State John Kerry snuck through hours before Donald Trump took the oath of office may not be happening anytime soon, The Times of Israel reports. A senior Palestinian source told the Times that the Trump administration informed PA Prime Minister Rami Hamdallah that it is freezing the transfer of the $221 million payout and that the funds "were not expected to be handed over in the immediate future."
Democrats And Republicans Unite To Rescind Last-Minute Obama Order Seeking Federal Election Takeover. All 50 state secretaries of state are urging the Trump administration to rescind a last-minute Department of Homeland Security directive calling state election systems "critical infrastructure." Many state officials fear this is the first step toward a federal takeover of state-run elections, The Daily Caller News Foundation has learned. While deep political discord may be found on other issues, state secretaries — who oversee all election machinery — appear completely united against the former administration's attempt to insert the federal government into state-run elections.
State Department reviewing Obama's last minute aid to the PA. The State Department is reviewing a last-minute decision by former Secretary of State John Kerry to send $221 million to the Palestinian Authority (PA) in the final hours of the Obama administration, The Associated Press reported Tuesday [1/24/2017]. On Monday, the same news agency revealed that former President Barack Obama defied Republican opposition and quietly released the money to the PA just before Donald Trump became president. The State Department said on Tuesday it would look at the payment and could make adjustments to ensure it complies with the Trump administration's priorities.
Bailing Out the Palestinian Authority. President Barack Obama and Secretary of State John Kerry surprised many observers by devoting so much of their waning time in office to excoriating Israel. But it turns out they had more mischief planned: a last-minute Palestinian bailout. Only three hours before President Donald Trump's inauguration, the Obama administration notified Congress that it would send $221 million to the Palestinian Authority (PA). The funding had previously been blocked by two separate congressional holds, which are usually respected by the executive branch.
Obama defied Congress to hand $220 million to Palestinians in dying hours of his time in office. Officials say the Obama administration in its waning hours defied Republican opposition and quietly released $221 million to the Palestinian Authority that GOP members of Congress had been blocking. A State Department official and several congressional aides said the outgoing administration formally notified Congress it would spend the money Friday morning. The official said former Secretary of State John Kerry had informed some lawmakers of the move shortly before he left the State Department for the last time Thursday.
US Sent $221 Million To Palestinians In Obama's Last Hours. Officials say the Obama administration in its waning hours defied Republican opposition and quietly released $221 million to the Palestinian Authority that GOP members of Congress had been blocking.
Obama's sneaky last slap at Israel. President Barack Obama and then-Secretary of State John Kerry just couldn't resist taking one final, sneak parting shot at Israeli Prime Minister Benjamin Netanyahu. The administration sent the Palestinian Authority $221 million in funding that members of Congress had blocked over the PA's rogue diplomatic moves. But it's the way they did it that makes the move so petty. The funding was released in the very last moments of Obama's presidency, as Donald Trump prepared to take the oath of office. Congress got official, written notification that morning, and word didn't leak out until this week.
Obama's Parting Gift: Trillion-Dollar Deficits As Far As The Eye Can See. Barack Obama came into the White House in 2009 promising a "new era of responsibility." What he's left President Trump is a government careening toward fiscal ruin. That's what the latest report from the Congressional Budget Office shows.
Obama Wastes Another $500 Million for UN Climate Fund. Of course, this money will go to dictators and bad guys in many areas. Well, the money that makes it out of the hands of the United Nations, which doesn't exactly have a great track record of competence and fiscal responsibility. And, what money makes it beyond the greedy hands of 3rd world developing nation leaders, will be position as being from the UN, rather than the United States. Obama's just throwing money that taxpayers earned with hard work away, and all for nothing.
Trump and Obama's Legacy of Racism. Day one. Every Trump cabinet official will learn how the Obama administration has made racial resentment the major focus of everything they do. And they have been doing that daily for eight years. Job one: The Trump brigade will have to decide whether to ignore it, pretend it is good, or rip it out by the roots. Not one future cabinet member, or their boss at Trump Tower, has indicated they are aware of how widespread this is.
Obama Trying to Fill Dozens of Federal Posts Before Trump's Inauguration. President Obama is rushing to fill almost 100 federal government vacancies, some requiring Senate confirmation, before he leaves office on Friday and Donald Trump enters the White House. Obama has appointed 72 individuals to federal positions and another 17 for nominations that require Senate approval since New Year's Day, according to CBS News White House correspondent Mark Knoller. Several of the jobs are for White House officials who will remain in their posts after President-elect Trump takes office. On Monday night [1/16/2017], Obama announced the appointments of 27 people to government jobs and nominated two others for jobs that need Senate confirmation, the New York Post reported.
Where did he find $500 million?
Obama gives another $500 million to Green Climate Fund. The Obama administration approved another $500 million contribution for a United Nations' climate fund on Tuesday [1/17/2017], a move that is expected to infuriate Republicans who have sought to stop the payments. The payment to the U.N. Green Climate Fund was approved for the second year in a row. The payments are part of the U.S.'s obligation under the Paris climate change agreement.
Obama rushes to fill dozens of federal jobs before leaving office. President Obama rushed to fill nearly 100 federal government vacancies during a frenzy of appointments in his final few weeks in office. Since the new year, Obama has named 72 people to federal job openings and nominated another 17 for positions requiring Senate confirmation, according to CBS reporter Mark Knoller. On Monday night [1/16/2017], Obama announced appointments for 27 officials to government positions and named two to jobs requiring Senate confirmation. The wave of announcements includes several White House officials, who will serve well after Obama leaves office.
Obama appoints Valerie Jarrett, Susan Rice and Ben Rhodes to posts. President Obama might be done in the White House in three days, but that doesn't mean he's not going to make sure some his top administration officials and favorite athletes don't get plum assignments first. The White House released a list of new appointments Tuesday morning and some top Obama administration names were included. Among them were Valerie Jarrett, his White House senior adviser, and Susan Rice, the national security adviser, who will both become general trustees to the John F. Kennedy Center for the Performing Arts.
Putin: Obama administration trying to undermine Trump. President Vladimir Putin took a parting shot at the Obama administration Tuesday, accusing it of trying to undermine Donald Trump's legitimacy with fake allegations and "binding the president-elect hand and foot to prevent him from fulfilling his election promises."
Disregard all those farewells: Obama isn't really leaving. Obama took half of December off after a year-end news conference. He's still appointing boards and commissions to place supporters in jobs before the other guy takes over. He will increase his record number of drug-dealer prison commutations. More Guantanamo releases are scheduled.
Obama Expects Trump to Respect New Migration Pact with Cuba. Part of President Barack Obama's motivation in ending a practice that gave undocumented Cuban migrants who reached US soil the right to remain appears to have been a desire to discourage Donald Trump from reversing the process of normalization with Cuba.
On His Way Out, Obama Moves To Make National Elections Less Secure. In yet another move by the Obama administration to stick its thumb in the nation's eye on the way out, it has decided to have the federal government meddle in state and local elections. It's yet another terrible decision that Donald Trump is going to have to undo.
Obama accused of wrecking Trump's transition. A leading House Republican charges that President Obama is implementing a "scorched earth" exit strategy aimed at undermining President-elect Trump first months while cementing his own legacy through a frenzy of midnight regulations. California Rep. Darrell Issa also hit Obama's post-campaign effort to blame Russia for the outcome of the election, which has sparked some Democrats to suggest that the results are illegitimate.
For the First Time, Lady Liberty Depicted as a Woman of Color on U.S. Currency. For the first time in American history, Lady Liberty will be portrayed as a woman of color on United States currency. In celebration of the U.S. Mint and Treasury's 225th anniversary, the new $100 coin was unveiled on Thursday featuring Lady Liberty as a black woman. Since the passage of the Coinage Act in 1792, all coins are required to feature an "impression emblematic of liberty," in either words or images. Until the new coin designed by Justin Kunz was unveiled, Lady Liberty had always been depicted as a white woman.
Lady Liberty is African-American in new commemorative coin. Lady Liberty appears "in a new light, as an African-American woman," in a $100 gold coin unveiled Thursday [1/12/2017], officials at the U.S. Mint have announced. The 2017 American Liberty 225th Anniversary Gold Coin shows a woman's head in profile with a crown of stars. It features the year of the Philadelphia mint's founding, 1792, as well as 2017. The reverse side of the coin depicts an eagle in flight. The coin is the first in a series. Future 24-karat gold coins will show Liberty in designs representing Asian-Americans, Hispanic Americans and Native Americans, according to the mint. From the late 18th through the early 20th century, most U.S. coins featured depictions of Liberty as a woman of Europen ancestry.
The Editor says...
Given the current political climate in this country, the president who discontinues any series of coins or currency depicting protected minorities will be branded as a racist, even if all he's doing is restoring one of America's traditions.
The Bobbytrapped Presidency. The Democrats are doing all they can to spike Donald Trump's presidency before it gets off the ground. His path is littered with snares and pitfalls. Among other things, the Obama administration is taking a series of executive actions that the Democrats say Trump can't undo. I am not sure how that works; as a general rule, one would think that anything a president can order, the next president can countermand.
Obama is Using the Russians As an Excuse to Expand Federal Power Over Elections. The Obama Administration is leaving office much like the way it came in — by exploiting perceived crises. "You never want a serious crisis to go to waste," Rahm Emanuel, Obama's just-named chief of staff, told a Wall Street Journal conference of top CEOs in November 2008 while his boss was still president-elect. Since then a slew of constitutionally dubious executive orders, presidential emergencies, and rushed legislation have characterized the Obama presidency. Now he is leaving office by issuing a blizzard of "midnight regulations" and edicts.
Obama administration cuts premiums on federal mortgage insurance. With days left before President-elect Trump's team takes over, the Obama administration announced Monday [1/9/2017] that it would cut premiums on mortgages backed by the Federal Housing Administration, a move meant to aid homebuyers that will serve as a bonus to the housing industry but will antagonize fiscally conservative Republicans. Julian Castro, the secretary of the Department of Housing and Urban Development, presented the rate cut, the second in as many years, as a timely move to help people facing high costs for home loans.
Issa Introduces Bill To Wipe Out Last Minute Obama Regulations. Republicans have put forward a plan to stop Obama administration's last minute regulations Tuesday [1/4/2017]. These "midnight regulations" published after the 2016 presidential election could cost the American taxpayer over $44 billion. California Republican Rep. Darrell Issa re-introduced legislation Tuesday that would allow Congress to overturn executive branch regulations finalized in the last 60 legislative days of an outgoing presidential administration. The bill amends the Congressional Review Act, which would allow Congress to recoup the ability to essentially curb numerous regulations rushed through the regulatory process in the last days of an outgoing administration at one time.
The rest of the story: What Obama won't tell you about his legacy. President Barack Obama is not going quietly into the night. He has used that pen of his to sign a rash of last-minute executive orders commuting the sentences of some prisoners, pardoning others, banning drilling off the Atlantic coast and in parts of the Arctic Ocean, and declaring 1.65 million acres of desert in Utah and Nevada as national monuments.
America to Obama: Stop now. You lost. Since November, Obama has conducted a flurry of actions and issued executive orders that have not just irked Trump voters, but also many Democrats. His list of last-minute political maneuvers is impressive. He gave an order to the EPA to proceed with its controversial Stream Protection Rule that even further curtails the coal industry; designated the majority of government-owned Artic lands closed to drilling; commuted the sentences of more prisoners than all of the last six presidents combined; sped up the refugee resettlement process; permitted the United Nations Security Council to pass a resolution declaring all Israeli settlement activity to be illegal; and designated over 1.5 million acres for two new national monuments, Gold Butte in Nevada and Bears Ears in Utah.
Obama going out in a blaze of self-interest. Despite a remarkable lack of evidence that the Russians "hacked" the election (as opposed to their more obvious complicity in the WikiLeaks shenanigans), the conviction that Hillary Clinton lost because of Putin's skulduggery is rapidly gelling into liberal conventional wisdom. These sanctions give Obama yet another useful talking point in retirement. They're also having the desired effect on the Trump team, which for obvious reasons hates any suggestion that the Donald's election was less than legitimate. But will they actually "box in" Trump? It seems unlikely.
Don't Let The Door Hit You. For all of the raging on the Left about what an unpredictable President Trump may do to hurt America in the world, there is an uncomfortable quiet over President Obama's petulant actions in his last days in office. For lame ducks world wide, this is embarrassing. After insisting for eight years that he reset relations between the United States and Russia, the president now confronts Russia for doing digitally what they have been doing with other methods for 70 years — attempting to disrupt democratic elections. His expulsion of 35 Russian diplomats is very little very late and a poor substitute for failing to develop a cybersecurity policy over eight years. Russian President Vladimir Putin responded by ridiculing Obama's irrelevancy.
Obama: A Political Corpse. Obama's political death — the Russians have tagged him "a political corpse" — is spurring him and his administration to deny it by undertaking a series of ever more outrageous acts to preserve what he considers his "legacy." Michael Walsh summed up Obama's week: "Stab Israel, provoke Russia, grab land — even the nuttiest Leftist has to admit Obama is out of control."
Obama is sabotaging Russian-American rapprochement. Obama loves power, and the only thing better than a lot of power is more power. That is his reason for being, and the end of his term has seen him getting more and more irritable and depressed. That's how he is. Now he has found the solution. The Obama of the future is going to be President-for-Life, maybe by running Michelle (Bill Clinton did it that way), or some other stooge, or maybe he will finagle a way to become President of the World by getting nominated to be Sec Gen of the UN. Which is why he is publicly shafting Israel today, knowing that this moment will be celebrated by all the Muslim throwbacks in the world.
Let's Send Him Out With a Laugh. There was the administration's wink-and-a-nod to an atrocious UN resolution condemning Israeli settlements in the West Bank, a betrayal of an ally which was sharply condemned on a bipartisan basis and repudiated almost immediately by our British friends. [...] More locally, there was the Bacchanal of regulations unleashed by the administration — the total for 2016 ended up being 3,853, which comes to an average of 18 for each of the 211 laws passed by Congress during the year, and an astonishing 97,000 pages added to the Federal Register. Estimates of the economic effect of those regulations run easily into the tens of billions of dollars. And naturally, there was the stuffing of the federal employment rolls with as many partisan hacks as possible in an effort to poison the incoming administration with hostile bureaucrats. Not to mention the last-minute lawsuits Obama is having his agencies cook up in order to punish businesses his administration disfavors.
The Lame Duck Restraint Act. The American presidency has historically been accorded a unique place in national and international politics. The office combines the head of state with the head of government, which no other major nation has done. Moreover, we have retained the "Lame Duck" period between national elections, again something that no other major nation has done. Finally, Congress has granted (I would argue beyond its power to grant) effective quasi-legislative powers to the president through a variety of means. Americans today see, in the hands of an infantile and dumb man like Barack Obama, just how dangerous that can be. His recent designation of various areas as protected from exploration for energy and other mineral wealth after his party lost all power in Washington is evidence of the need for immediate change.
Obama Drops 502 Refugees on Nebraska in Final Weeks Before President Trump. President Barack Obama's deputies have dropped 502 additional refugees into Nebraska during the first three months of FY 2017, according to the Department of State. The refugee resettlement rate for FY 2017 to date is significantly higher in Nebraska than it has been during any other year in the more three decades the state has participated in the federal refugee resettlement program.
Obama's Sour Happy New Year to America and the World. One of the great mysteries of our times is why Barack Obama is still so popular. His presidency achieved nothing, not even for his own core constituencies, and now, on his way out the door, he is doing everything in his power to make life miserable for Donald Trump, his voters, the American people at large actually, the state of Israel, naturally, and even the world.
Seven Ways Obama Is Trying to Sabotage the Trump Administration. [#3] Ban on oil drilling: An overt act of sabotage directed at the American economy itself, leaving an especially heavy bootprint on Alaska. Smug administration flacks spent the past couple of weeks assuring media talking heads that Obama's unprecedented abuse of an obscure law was impossible for his successor to reverse. It's like they stayed up all night, looking for executive actions that can't be undone by the new President four weeks later.
Obama's full-blown, year-end temper tantrum. Let's be honest: President Obama is throwing a good old-fashioned foot-stomping world class temper tantrum. He is just beside himself that the stupid American voter elected Donald Trump. [...] That is certainly the way he is behaving. Not for Obama the normal gracious withdrawal into political stasis; no, he wants to prove in these waning weeks of his presidency that he was right all along. That his agenda is what The People want, even if they don't know it. That putting America's valuable natural resources permanently off limits is the correct thing to do, because only Obama can see the future. That taking over vast swatches of the west is in the best interests of the reluctant residents there, because only Obama will protect our environment. That publicly confronting Russia for cyber misbehavior after years of looking the other way is called for, even if it complicates diplomacy in a number of theaters. Because Obama knows best.
Can Obama Leave With Class, Grace? Earlier today, Russian President Vladimir Putin announced his response to sanctions placed on Russia by the Obama administration yesterday in response to alleged Russian hacking of Democratic emails to interfere with the 2016 U.S. presidential election. He is ignoring them until Trump takes office. Putin said in a statement issued by the Kremlin, "Although we have the right to retaliate, we will not resort to irresponsible 'kitchen' diplomacy but will plan our further steps to restore Russian-U.S. relations based on the policies of the Trump Administration."
Obama is dumping as many unvetted Muslim freeloaders, rapists, and jihadists as he can into poor Christian communities. Barack Hussein Obama has approved resettlement (including airfare, free housing and welfare) for some 100,000 mainly Muslim invaders into the U.S. for fiscal year 2017 (which began in Oct[ober]). Hopefully, Donald Trump will reverse this executive order immediately, and stop the Islamic tidal wave.
Trump blasts Obama 'roadblocks' as power transfer turns increasingly hostile. The presidential transition hit a new low Wednesday, with President-elect Donald Trump openly criticizing President Obama for bungling U.S. relations with Israel and erecting other "roadblocks" to a smooth transfer of power in Washington. [...] The president has been rushing with executive actions to lock in policies that Mr. Trump isn't likely to support, such as bans on offshore drilling and a fresh round of pending sanctions against Russia for cyberattacks that the administration says were aimed at helping Mr. Trump win the election.
Obama plots jobs killing 'midnight lawsuits'. The Obama administration, which is planning to unleash billions of dollars of new last minute regulations to shore up the president's legacy, is now also readying "midnight litigation" targeting businesses, lawsuits that are expected to kill jobs. In advance of that move, several pro-business and anti-tax groups are urging the incoming Trump administration to junk the lawsuits on Day One. In a letter to transition chief Mike Pence, the vice president-elect, the groups warned, "Should the Obama administration bring non-routine, last minute, legally unorthodox midnight litigation, your administration should not hesitate to withdraw immediately from that litigation."
Obama's Sanctions On Russia Are Really Aimed At Trump. Cyberwar: President Obama, living up to his promise, has hit Russia with sanctions for hacking the U.S. election. We're all for protecting America's information grid. But the timing and Obama's reasoning for the actions raise serious questions about the real motivation.
How Trump clears Obama's minefield. Before moving into the White House, President-elect Trump needs to double check the Oval Office for trip wires. His predecessor has spent the last month setting traps to ensnare the new administration. President Obama has more on his mind than an effort to solidify a legacy and nail down policy. He has adopted a guerrilla strategy designed to defame and debilitate. Inherently political, it's administrative sabotage by extra legislative means and it threatens to hobble Trump. Obama has prepared what looks like a classic episode from Mad Magazine: Executive vs. Executive. Instead of delivering on his own agenda, Trump will be forced to deal with the aftermath of his predecessor's final binge. They could consume a notable portion of Trump's first 100 days, but if left unaddressed it would stain his administration long term.
Obama's ugly bid to snub voters and tie Trump's hands. In his waning days in the White House, President Obama is desperately trying to make his policies as permanent as possible by tying the hands of his successor — and far more than other presidents have done on their way out. From his dramatic and disastrous change of US policy on Israel to his executive order restricting 1.65 million acres of land from development despite local objections, Obama is trying to make it impossible for Donald Trump and a GOP-controlled Congress to govern. Even Thursday's announcement of wide-ranging sanctions against Russia presents Trump with a foreign-policy crisis immediately upon taking office.
Nearing exit, Obama seeks to tie Trump's hands. President Obama has taken a flurry of unilateral actions in the waning days of his tenure that appear designed to box in President-elect Donald Trump. Obama's decision Thursday [12/29/2016] to sanction Russian entities for election-related hacking is just the latest obstacle he has placed in Trump's way. Day before the sanctions were unveiled, the Obama administration allowed the U.N. Security Council to condemn Israeli settlement activity — something that could have an indelible impact on the Israel-Palestinian conflict. Obama has also permanently banned oil and gas drilling large swaths of the Atlantic and Arctic oceans, closed off 1.6 million acres of Western land to development and scrapped the last vestiges of a registration system used largely on Muslim immigrants. Those actions, as well as Obama's claim he could have won a third term, seem to have irked Trump and his associates as the transition period enters its final weeks.
Conway wonders if Russian sanctions were intended to restrict Trump. A top aide to President-elect Donald Trump speculated Thursday that the Obama administration's sanctions against Russia for its alleged interference in the 2016 election may have been aimed at restricting Trump's policy toward Russia. Kellyanne Conway, who managed Trump's campaign and will serve as a counselor to him in the White House, cited a New York Times article saying President Barack Obama was trying to "box-in" his successor by issuing the sanctions with just weeks left in his presidency.
Obama unleashes 3,853 regs, 18 for every law, record 97,110 pages of red tape. President Obama's lame duck administration poured on thousands more new regulations in 2016 at a rate of 18 for every new law passed, according to a Friday analysis of his team's expansion of federal authority. While Congress passed just 211 laws, Obama's team issued an accompanying 3,852 new federal regulations, some costing billions of dollars. The 2016 total was the highest annual number of regulations under Obama. Former President Bush issued more in the wake of 9/11.
Rudy Giuliani: 'Of course' Obama is trying to box in Donald Trump. Former New York City Mayor Rudolph Giuliani said Friday that President Obama's late-term moves on Russia and Israel show Mr. Obama is trying to "box in" President-elect Donald Trump. "Of course, he is," Mr. Giuliani said on "Fox & Friends." "The 18 months of hacking — why didn't he do something about it 10 months ago? It never would have happened," said Mr. Giuliani, a top ally of Mr. Trump. "There's a certain pettiness that I hadn't seen before," he said.
John Bolton: Is Obama Planning to Recognize a Palestinian State on His way out the Door? Here is Ambassador John Bolton discussing the latest on Barack Obama's "sellout" of Israel at the United Nations. Bolton said Obama is trying to "box in" Donald Trump, to control what he does going forward on Middle East Policy. He also said Obama "dislikes American Exceptionalism" and "Israeli Exceptionalism," and he is trying to take Israel down a notch. Bolton also said Obama may be planning to orchestrate a U.N. Resolution recognizing a Palestinian State just before he leaves office.
A knife in the back with Obama's fingerprints. Barack Obama couldn't pass up his last opportunity to put a knife in the back of the Israelis, whom he has demonstrated for years in word and deed that he doesn't like very much. He doesn't like Benjamin Netanyahu, the Israeli prime minister, at all. With his 15 minutes in the spotlight running out, as it must for every celebrity, even a president, the president no longer has to fool Jewish voters that he's a friend of the Jewish state, which he has done through oft-gritted teeth. He can speak with abandon, and if mischief at the United Nations makes life difficult for the new president, so much the better.
Obama's 7 Deadliest Lame-Duck Sins. President Barack Obama has been making the most out of his lame-duck status as he runs out the clock on his eight-year reign of terror. The fear that he would be at his most dangerous when he was free to make unpopular decisions with little political consequence has turned out to be well founded. In the past month, Obama has unleashed a boatload of "midnight regulations," executive orders, and pardons. He's also released more Gitmo detainees, increased refugee resettlements, and accelerated a highly politicized DOJ "probe" of the Chicago Police Department. Last but not least, he permitted (or more likely encouraged) the UN Security Council to pass a destructive and dangerous resolution declaring all Israeli settlement activity to be illegal.
Obama blows through stop signs from Trump on auto regs. Jeff Davis, senior fellow for the independent Eno Center for Transportation think tank, said transportation officials in the Obama administration may be trying to "flood the zone" to make it difficult for Trump to repeal its proposed rules after he takes office. For example, the U.S. Environmental Protection Agency is trying to finalize gas mileage rules before Obama leaves office in January. "Getting rid of these rules isn't something Trump can do with the stroke of a pen on Jan. 20," Davis said. "A lot of these rules can be with us for a long time, even if the administration is actively opposed to them from Day One."
Report: Obama Will Permanently Block Arctic Drilling Before Trump Takes Office. The Obama administration will use a legal strategy crafted by environmental activists to remove sections of the Arctic and Atlantic oceans from future offshore drilling lease sales, according to two sources familiar with the plan told Bloomberg. For months, environmentalists have been urging President Barack Obama to use Section 12(a) of the Outer Continental Shelf Lands Act, a 1953 law governing offshore drilling, in a way it's never been used before — to block offshore drilling leases in the Atlantic Ocean and the Chukchi and Beaufort seas.
Obama plans major nuclear policy changes in his final months. [Scroll down] Several U.S. officials briefed on the options told me they include declaring a "no first use" policy for the United States' nuclear arsenal, which would be a landmark change in the country's nuclear posture. Another option under consideration is seeking a U.N. Security Council resolution affirming a ban on the testing of nuclear weapons. This would be a way to enshrine the United States' pledge not to test without having to seek unlikely Senate ratification of the Comprehensive Test Ban Treaty. The administration is also considering offering Russia a five-year extension of the New START treaty's limits on deployed nuclear weapons, even though those limits don't expire until 2021. This way, Obama could ensure that the next administration doesn't let the treaty lapse.
Obama Admin Extends Asylum for Syrian Refugees Through 2018. The Obama administration has extended and renewed temporary asylum status for scores of Syrian refugees residing in the United States, meaning that these individuals are shielded from being booted from America through 2018, according to a new federal notice. [...] The extension comes as the Obama administration moves forward with a plan to relocate thousands of Syria refugees into the United States. The plan has received criticism due to what experts say is the U.S. government's inability to screen these individuals for ties to terrorism.
Trump was right to try to stop Obama from tying his hands on Israel. The Egyptian decision to withdraw the one-sided anti-Israel Security Council resolution should not mask the sad reality that it is the Obama administration that has been pushing for the resolution to be enacted. The United States was trying to hide its active 'behind the scenes' roll by preparing to abstain rather than voting for the resolution. But in the context of the Security Council where only an American veto can prevent anti-Israel resolutions from automatically passing, an abstention is a vote for the resolution. And because of this automatic majority, an anti-Israel resolution like this one cannot be reversed by a future American president. A veto once cast cannot be cast retroactively. The effect, therefore of the Obama decision to push for, and abstain from, a vote on this resolution is to deliberately tie the hands of President Obama's successors, most particularly President elect Trump.
Media Blackout On Obama's Last-Minute Civil Rights Appointments. Liberal news outlets like The New York Times, The Washington Post and CNN are keeping their readers in the dark about two aggressive appointments to the U.S. Commission on Civil Rights made by President Obama with just weeks remaining in his presidency. In addition to questions surrounding the appointees themselves, the move by Obama effectively blocks President-elect Donald Trump from any appointments to the eight-person commission until 2020, when Trump would be up for re-election.
How Much Damage Can Lame Duck President Obama Do Before Leaving Office? The US lame duck administration is going to any length in an effort to torpedo the looming normalization of Russia-US relations as Donald Trump is preparing for his inaugural speech on January 20. Any method would do, even playing with fire. In an interview with NPR radio station (Morning Edition) aired on Dec. 16, President Obama said the United States will respond to Russian cyberattacks that the intelligence community has concluded were part of an effort to influence the 2016 presidential election. "We need to take action and we will," he warned.
After Raising Rates Once During The Obama Years, The Fed Promises Constant Rate Hikes During The Trump Era. Now that Donald Trump has won the election, the Federal Reserve has decided now would be a great time to start raising interest rates and slowing down the economy. Over the past several decades, the U.S. economy has always slowed down whenever interest rates have been raised significantly, and on Wednesday the Federal Open Market Committee unanimously voted to raise rates by a quarter point. Stocks immediately started falling, and by the end of the session it was their worst day since October 11th. The funny thing is that the Federal Reserve could have been raising rates all throughout 2016, but they held off because they didn't want to hurt Hillary Clinton's chances of winning the election.
Mr. Trump, these people are NOT your friends. The office of president deserves respect, but the fact is, President Obama has been one of the worst presidents in American history. Trump is taking the high road to bring the country together. But it is pretty obvious to me that President Obama is putting on a front. Fox News' Ed Henry reported that Obama is planning a farewell tour in mid-January, with major speeches in up to three cities. The likely goal: To undermine Donald Trump before the inauguration. Obama has been harsh in his criticism of Trump, and there's no doubt that will continue long after he leaves office. He is a divisive, radical left-wing ideologue, always was, always will be.
---
Barack H. Obama's post-presidential plans:
What We Know About the Obama Foundation, as Former President's Plans Take Shape. As his successor puts a very different stamp on the American political landscape, observers in the Beltway and beyond are looking to see what former President Obama is going to do next. [...] Two months after he left office, all eyes are still on what exactly will be keeping Obama active. On Feb. 24, the former president made headlines when he stopped in the Big Apple to speak with some folks at the Simons Foundation, rumored benefactors for the Obama Foundation.
People Just Saw What Obama Has Been Doing in DC — It's Worse Than We Thought. We have never seen a former President do this before. Label a current sitting President as an enemy within and go after him to destroy him. It should not surprise anyone in the least that Barack Obama would do this. It was the plan all along to salvage his legacy and destroy Donald Trump, so the left could seize power again. Obama has 30,000 activists for Organizing For Action on speed dial. He has a war room set up in his mansion, not two miles from the White House, to plot the demise of Trump. He's not hiding any of it by the way.
The Trouble With Barry. Unlike every other president in American history, Obama has dedicated himself to the practice of what the Washington Examiner has described as "post-presidential meddling." He has thrown himself fully into Alinsky-style "community organizing," stirring up resistance to the Trump administration in every way conceivable: installing, according to the New York Post, a "shadow government," dubbed Organizing for Action, comprising more than 30,000 agitators and 250 chapters across the U.S., in order "to sabotage the incoming administration"; renting a dwelling and setting up command headquarters around the corner from the White House; cooking up the Russian hacking fable; and most recently, allegedly wiretapping Trump Tower, which seems disturbingly probable following the salient remarks of Ret. Army Intelligence Officer Tony Shaffer on Fox and the revelations from Breitbart News. Mark Levin's accusation that Obama is orchestrating a "silent coup" against Trump rings true.
The Beginnings of Obama's Shadow Government. [Scroll down] All of this sets Obama up to war against Trump from both inside and outside the government. His operatives salted throughout the government and intelligence agencies will plant phony controversies; his army of agitators outside of it will protest over them. This is what Obama meant when he said that he would devote part of his post-presidency to rekindling his roots as a community organizer. Yes, he is organizing a community of sorts, but to conduct a coup. If anyone has a right to be livid, it is Trump.
Barack Obama's Politically Active Post-Presidency Isn't Normal, or Good. In a break from modern tradition, former President Barack Obama appears to be wading back into political waters. [...] This is a guy who, in not even a single term as a U.S. senator before running for the highest office in the land, accomplished little but did try to filibuster Sam Alito's nomination to the Supreme Court, and supported a "poison pill" to kill immigration reform. Who ran as a celebrity, helping pave the way for the sort of hero worship that President Trump's fans now employ.
Holder: Obama preparing to get back into political spotlight. Former President Obama is getting ready to jump back into the political pool, former U.S. Attorney General Eric Holder said Tuesday [2/28/2017]. Holder said he has been talking with Obama about different ways to help the new National Democratic Redistricting Committee, according to Politico. Obama asked Holder to be chairman of the group last year. "He's ready to roll," Holder told reporters at a briefing.
Holder: Obama is 'ready to roll'. Barack Obama is getting closer to making his public reappearance in politics, his friend and former Attorney General Eric Holder said on Tuesday [2/28/2017]. Holder said he's been talking to the former president about ways — including fundraising and interacting with state legislators — that could help the new National Democratic Redistricting Committee, which Obama asked Holder to chair last year.
Barack and Michelle close to signing record-breaking deal worth over $60 Million for the rights to their new memoirs. Barack and Michelle Obama whipped the literary world into a frenzy with the news that the former president and first lady were getting to work on new books, and now they have found a publisher. Just a few hours after multiple people with knowledge of the joint publishing deal told the Financial Times that bidding had surpassed $60million, The New York Times reveals that the couple has inked a deal with Penguin Random House.
Publishers in a $60 million bidding war over Barack and Michelle Obama's book rights. A bidding war for the rights to books by former President Barack Obama and first lady Michelle Obama ended Tuesday [2/28/2017] with Penguin Random House winning the fight, according to reports. Bidding surpassed $60 million, more than four times what the second-highest president's book rights were auctioned off at, though they only included the former leader, not his wife.
Obama, Democratic 'super group' unite to win state races. Former President Obama and other top Democrats are focusing efforts on state-level races and ending the reconfiguring of voting districts through the politically-laden process known as gerrymandering — a combined effort to end "Trump-ism" and help their party regain control of Congress and legislatures across the country. Obama indicated before leaving the White House last fall that his short-term, post-presidency focus will be on General Assembly races and redistricting after the 2020 Census.
Barack Obama's presidential library may need $1.5 billion. The Barack Obama Presidential Center in Chicago could require a $1.5 billion endowment, its architects say, three times what was raised for the George W. Bush Presidential Center in Dallas. Husband-and-wife architectural team Tod Williams and Billie Tsien noted that it will be difficult to raise such a huge sum because Obama scrupulously declined to do much fundraising while he was still in office. The Obama Center is due to be so expensive because it will require the construction of both a presidential library and a museum about the lives of Barack and Michelle Obama. And federal requirements now stipulate that former presidents must have larger endowments to pay for annual operating costs at the libraries.
Barack and Michelle Obama are looking for interns to help them with their post-White House plans. The Obamas have returned from their post-White House vacation, and they are getting back to work and looking for some new employees. The 'Office of Barack and Michelle' put out a listing for interns to work directly with the Washington-based power couple. Exactly what the tasks will be is unclear, but Michelle and Barack have a number of speaking engagements planned and will each be writing books in the coming months.
Barack and Michelle Obama Are About to Get Even Richer. The White House doors may have closed on former President Barack Obama's presidency, but for him and his wife Michelle, the path to lucrative new book deals and paid speeches is wide open. The Obamas recently hired top-dollar attorneys Robert Barnett and Deneen Howell to handle their book contracts, and a high-profile public relations agency — known for repping the Clintons and Mia Farrow — to coordinate speaking appearances. The Obamas haven't yet set book-release dates or announced any scheduled speeches.
Sperry: Obama Organizing Violent Anti-Trump Protesters Just Miles from White House. Paul Sperry writes that former President Barack Obama is setting up a "shadow White House" in Washington, DC, for organizing anti-Trump protests nationwide and "rebuilding the ravaged Democrat Party."
How Obama is scheming to sabotage Trump's presidency. In what's shaping up to be a highly unusual post-presidency, Obama isn't just staying behind in Washington. He's working behind the scenes to set up what will effectively be a shadow government to not only protect his threatened legacy, but to sabotage the incoming administration and its popular "America First" agenda. He's doing it through a network of leftist nonprofits led by Organizing for Action. Normally you'd expect an organization set up to support a politician and his agenda to close up shop after that candidate leaves office, but not Obama's OFA. Rather, it's gearing up for battle, with a growing war chest and more than 250 offices across the country.
Obama Cashes In: Former President set for lucrative speech circuit with new book planned. Barack Obama has set the stage for his post-presidential career by gearing up for lucrative speaking gigs and a book deal following his exit from the White House. The former President, along with wife Michelle, have selected the Harry Walker Agency to set them up on the highly-profitable speaking circuit. The couple have also hired top attorneys Robert Barnett and Deneen Howell to manage publishing deals for their respective books, according to their spokesman Kevin Lewis.
How Obama is scheming to sabotage Trump's presidency. In what's shaping up to be a highly unusual post-presidency, Obama isn't just staying behind in Washington. He's working behind the scenes to set up what will effectively be a shadow government to not only protect his threatened legacy, but to sabotage the incoming administration and its popular "America First" agenda. He's doing it through a network of leftist nonprofits led by Organizing for Action. Normally you'd expect an organization set up to support a politician and his agenda to close up shop after that candidate leaves office, but not Obama's OFA. Rather, it's gearing up for battle, with a growing war chest and more than 250 offices across the country.
Living in D.C., will Obama really refrain from Washington politics? Upon leaving office, most ex-presidents are delighted to depart that contentious community. [...] The Obamas kept their home on Chicago's South Side, which has become an urban free-fire zone in recent years. But citing their daughter's remaining years in a private Washington high school, the Obamas rented a D.C. mansion owned by Joe Lockhart, ex-Clinton press secretary now in New York with the National Football League. The Secret Service is building a wall around it. Sasha's high school is as good a cover story as any for Obama remaining in the capital of the nation's politics and political media. He's leased office space in the same building as the World Wildlife Federation. Presumably like many former office-holders, he and a helper will write a lucrative memoir.
Obama may challenge Trump more forcefully in coming months, report says. It took former President Obama 10 days from leaving the White House before he spoke out against President Trump's order to temporarily ban people from seven predominately Muslim countries. The statement was from a spokesman, and it did not attack Trump directly. Rather it appealed to protesters.
Jobless Obama Rears Head to Attack President Trump. Similar to his loony liberal cohorts on The Hill, Barack Obama is allegedly opposing the emergency immigration reform being implemented by President Donald Trump. This is no surprise at all, but what some may not remember is that Obama himself employed an eerily similar tactic during his failed presidency.
How Obama will take on Trump. Barack Obama and his aides expected to take on President Donald Trump at some point, but they didn't think it would happen this quickly. Now they're trying to find the right balance on issues that demand a response, and how to use Obama to deliver the selective pushback.
Obama Should Quit Opining On Trump And Get Back To Golf. When Barack Obama became president of the United States, it was a rebuke of George W Bush's presidency. Bush's reaction was muted. He painted pictures and let his successors be his successors. That's the way it works. Eventually you aren't president anymore, and you let the next guy do his thing. There was a hope that Obama would treat his post-presidency the same way. But it turns out he didn't. He has chosen to engage again and summon more chaos.
Cavuto: Presidents Normally Wait a While to Criticize Successors, Obama Did It Pretty Quickly. Former president Barack Obama's statement criticizing President Trump's travel ban went against the general precedent of presidents waiting a while, at the very least, before uttering words of criticism about their successors. The statement today (10 days into Trump's presidency) makes it clear Obama rejects religious discrimination and supports the nationwide protests going on. Fox's Neil Cavuto questioned how quickly Obama got into the fray, wondering if whether this is more about his passion for the issues or about being opportunistic.
The Question the Times Should Have Asked 'Writer' Barack Obama. The Obama scandal in the making centers on the price tag for Obama's post-presidential memoirs, a price driven in large part by Obama's reputation as a literary craftsman. "Mr. Obama's writing ability could make his memoir not only profitable in its first years but perhaps for decades to come," Gardiner Harris observes matter-of-factly in a September 2016 piece in the Times. Harris speculates, in fact, that Obama's newest effort will be a book for the ages, not unlike the memoir of Ulysses S. Grant, which continues to sell. [...] As the book critic for the [New York] Times, [Michiko] Kakutani should know better. The evidence overwhelms the dispassionate observer that Obama no more "wrote" Dreams from My Father than John F. Kennedy wrote Profiles in Courage.
The Obama Foundation Launches With Lobbyists and Wall Street at the Wheel. Immediately following his presidency, Barack Obama has begun marketing the Obama Foundation, which appears to use the same oligarchic formula that Bill and Hillary Clinton implemented in the Clinton Foundation in order to peddle their own influence and grow their personal wealth under the pretense of philanthropy. The Obama Foundation's Board of Directors closely resembles the make-up of the Clinton Foundation's board in that it relies on corporate lobbyists and financial industry insiders over philanthropy experts.
Obama is set to cash in on presidency with a reported $20Milllion advance for his memoirs. Former President Barack Obama could rake in more than $20 million in advance for a memoir. Esther Newberg, co-head of ICM Partners' publishing unit, claims that an Obama memoir would 'go for more than any president's memoir has ever gone'. Obama, 55, went into the White House as a bestselling author for his book Dreams of My Father, which was published in 1995. The only other presidents to enter office as bestselling authors are Dwight D Eisenhower, for his 1948 book, Crusade Of Europe, and Donald Trump for his 1987 book, The Art of The Deal.
Malia Obama gets political at Sundance. Malia Obama got political at Sundance by attending an event in protest of the Dakota Access Pipeline on Monday [1/23/2017]. "It was amazing to see Malia," activist and actress Shailene Woodley told Democracy Now. "To witness a human being and a woman coming into her own outside of her family and outside of the attachments that this country has on her ... because she recognizes, regardless of her last name, that if she doesn't participate in democracy, there will be no world for her future children."
The Editor says...
It is apparent that young Ms. Obama believes that the world will come to an end if the Dakota Access Pipeline is completed. This level of ignorance and superstition is almost unimaginable.
Michelle Obama Promises on Trump Inauguration Day: 'Will Be Back Before You Know It'. Michelle Obama forcefully and passionately warned last year of the dangers of electing Donald Trump. And, for eight years in the White House, she was never shy about her dislike of politics or her resolve to never seek political office herself. But, within hours of sitting witness to Trump taking the oath of office and then making her post-inaugural getaway to Palm Springs, Calif., Mrs. Obama was on Twitter, promising her followers that she's only taking "a little break." "Will be back before you know it to work on the issues we care about."
Obama Shows His True Colors as He Leaves Office. Obama leaves office as a relatively young man of 55. His next chapter could very well be as a leader on the international stage, perhaps at the U.N. (secretary-general?) or some transnational (ostensibly) human-rights organization. What better demonstration of bona fides than a gratuitous attack on Israel? Or the about-face on Manning and WikiLeaks? Or the freeing of a still-unrepentant Puerto Rican terrorist, Oscar Lopez Rivera, also pulled off with three days remaining in his presidency? A more likely explanation, however, is that these are acts not of calculation but of authenticity. This is Obama being Obama.
Professor: Obama doesn't seem to want to leave the stage. Retired White House correspondent responds to the outgoing president's final acts in office. [Video clip]
The Obamas' post-presidency money machine. How greedy will the Obamas be, once they are free to start making deals with speakers' bureaus, book publishers, television broadcasters, movie producers, boards of directors, and other providers of part time and episodic employment of the most lucrative sort? Most unfortunately for the plucky couple, the last Democrats to leave the White House gave a bad name to the shameless pursuit of wealth from megarich interests. So a man in his early fifties vitally concerned over his historical legacy might want to think twice about cashing in.
Obama uses his final press conference to issue extraordinary warning to Trump that he will step in if he 'rounds up' children for deportation, hits voting rights or 'silences dissent'. President Obama issued a farewell warning to President-elect Donald Trump, saying he would jump off the political sidelines if Trump goes against certain 'core values.' At his last scheduled news conference before leaving office on Friday [1/20/2017], Obama said if there was 'systemic discrimination,' efforts to 'silence dissent' or to 'roll back voting rights,' he would be 'speaking out.' It was among his most activist descriptions of his next act, and indicates Obama may be rethinking his post-presidency role and heeding the urging of some activists to play a stronger function in the leaderless Democratic Party as it navigates the Trump administration.
He'll speak out whenever there's a microphone nearby.
Obama says he would speak out if Trump targets Dreamers. President Obama said he would regard any effort to round up and deport Dreamers as an attack on American "core values" that would cause him to speak out publicly. The so-called Dreamers, young people who were brought to the U.S. illegally as children, "for all practical purposes are American kids," Obama said at what is expected to be the final news conference of his tenure. "The notion that we would just arbitrarily or because of politics punish those kids, when they didn't do something themselves ... would merit my speaking out," he said.
Disregard all those farewells: Obama isn't really leaving. For the first time in almost a century, the immediate ex-president will continue residing in Washington, ostensibly while a daughter finishes the second half of high school. [...] Those Obama farewell parties were as fake as most of his photo-ops. The 55-year-old Democrat ain't really leaving. Thanks in large part to his own failures and arrogance, Obama is all that Democrats have left for national party leadership. He's already rented office space.
A $20 million book deal, speaking deals with Ari Emmanuel and a half billion dollar library. President Obama's presidency may be almost over, but he has no plans to slow down in his retirement. For Barack, there's a presidential library to build, hundreds of millions of dollars to raise, causes to champion and a book to write. And don't forget that long-promised vacation with his wife. His next chapter starts Friday when he becomes an ex-president. He'll be freer to speak his mind, set his own schedule and make some money.
Obama states, "I'm the Father of the Tea Party." In an interview with fake news ABC Correspondent George Stephanopoulos, ego-maniac Barack Obama states he's the founding father of the Tea Party. Because it's all about him. What is he going to do after January 20th when he becomes insignificant?
Obama to return to community organizing, terrorizing GOP. Jimmy Carter framed houses, Ronald Reagan built fences, and George H.W. Bush leapt from airplanes. Post Oval Office, President Obama will return to community organizing. It'll be a different sort politics and a more dangerous one for Republicans. During his farewell address, an event not unlike the thousands of campaign speeches that defined his career, Obama told an adoring crowd that he's not going anywhere. One of three explicit promises, the outgoing executive pledged to be "right there with you."
Obama's Transparent Presidency. A mere week remains of Obama's tenure in office. But Obama remains intent on carrying on as if he will never leave power. He has pledged to continue to implement his goals for the next week and then to serve as the most outspoken ex-president in US history.
Saint Barack? Obama's frequent appeals to history's judgment reflect his confidence that history will be kind to him. In the short run, it will: liberals will canonize Obama. Like the faithful Catholics chanting "santo subito" after the death of Pope John Paul II, Obama's liberal boosters will turn him into Saint Barack, savior of health care and slayer of bin Laden. You might see hints of this already in your liberal friends' wistful Facebook posts: "I'm really going to miss this guy." If liberals are calling the shots, Obama's name will shortly be inscribed on statues and state buildings, and his face will someday appear on coins and currency, while the divisions he sowed and exploited in pursuit of personal glory will be papered over. Generations of schoolchildren will learn about the beloved, barrier-shattering college professor with the megawatt smile who could tell a joke and make a jump shot — not the ambitious, polarizing ideologue whose disdain for half the country was palpable.
Obama to return to community organizing, terrorizing GOP. For the last six years, Obama has been on the legislative defensive. Other than executive order sorties, the president's been busy figuring out how to stave off attacks against his marquee accomplishments. In retirement, the old president can go back on offensive. He can set a smoke screen of nostalgia and he can weaponize his charm. Obama's always been strongest on the campaign trail. Like Springsteen, he was born to run, not govern. And once free from policy restraints, the former president can focus exclusively on politics. Budgets that don't balance won't matter anymore. Neither will a healthcare law that didn't work.
Obama Still Doesn't Get America. Today the left-establishment is happily scapegoating white guys because of their race, gender, and sexual preferences. Such is the domestic peace Obama has left us. Racial politics inevitably turns to anti-Semitism at some point, since Jews make natural mob targets. Our universities are becoming unsafe for Jewish students and faculty. I have seen it coming for decades. And waddayaknow, Obama has capped his slew of anti-American outrages by moving to delegitimize the State of Israel in the jihadophiliac United Nations. It's pretty clear that Obama is doing all that with an eye to the future. When (not if) he is nominated to be Sec General of the UN, he will have 57 votes from Muslim nations, plus the votes of European countries that are already submitting to Jihad.
Cleaning up After 'Third Term' Obama. Unfortunately, President Obama and his ego are not going anywhere, at least not until his youngest daughter finishes school. He'll stay in Washington, close to his friends in the mainstream media, where he can be the always available commander in chief of the Democrats' raggedy Trump Resistance Movement. Obama is already rehearsing his new role as America's Other President. Recently he made headlines by boasting he could have beaten Donald Trump and been reelected to a third term by running again on his message of hope and change. Too bad the Constitution got in the way. But Obama's big ego can't be limited by the Constitution — or reality.
Obama: I won't leave on Jan 20. President Obama used his final weekly address in 2016 to make it plainer than ever that he won't retire quietly once Donald Trump is sworn in as president. Couching his address to the nation as assurance that he will remain committed to defending the "progress" achieved by his administration, the president made it crystal clear that he intends to be a thorn in President Trump's side after the official handover of power on Jan. 20.
Obama's Twilight Moves Against Israel May Foreshadow His Move to UN Sec'y Gen. President Obama's UN declaration that Israeli settlements are illegal says this duck isn't lame. It was not the finale of Obama's closing months as president but the prologue to years ahead, pushing his legacy to where it can be carried out at the UN. Congressional leaders say Obama is already plotting further action on Israel before he leaves office, according to the Washington Free Beacon. The Simon Wiesenthal Center put Obama's refusal to veto the UN resolution at top of its annual list of anti-Semitic acts. One has to acknowledge, regardless of his or her position about Israeli settlements, that Obama is choosing to create an unusual whirlwind of controversy as he leaves office.
Obama 'Might Just Weigh In' On Issues During Trump Presidency. President Barack Obama plans to speak out when he believes he needs to during the presidency of Donald Trump. During an interview with his former White House adviser and now CNN political analyst David Axelrod, Obama reflected on the last 8 years what he wants to do for himself in the near and long term future[.] "I'm not sticking around by the virtue of the Constitution and because I believe in the wisdom that George Washington showed that at a certain point you make room for new voices and fresh legs," Obama said.
On His Way Out, Obama Makes Another Promise He's Sure To Break. President Obama's "exit interview" on CNN with former advisor David Axelrod generated plenty of attention when Obama bragged that he could have beaten Donald Trump. Missed in the hullabaloo, however, was a pledge by Obama that he would abide by tradition and retire with dignity as ex-president.
Obama Agonistes. Hillary's self-destruction is all too obvious; but Obama's strikes me as equally tragic, and equally apparent on reflection. And it reminded me of parallels from another tragic self-defeating President. But his is over; Hillary's is almost over; Obama's is just beginning its third act.
Post-Presidency, Starring Barack Obama. The Obamas are walking out of the White House and into Hollywood. That Obama is planning to publicly defend his legacy is a well-known fact, facilitated by his upcoming living arrangements — the Obamas will have a home in Washington DC and one in Rancho Mirage, a quick flight away from Hollywood. The president carefully picked these locations, one allowing easy access to the political press corps, the other convenient to an unprecedented career in showbiz. [...] Even if the Obamas surprise us and stay relatively quiet, we can be sure that the media will fall all over themselves to cover every available microdetail of the outgoing first family's post-presidency life. And based on the Obamas' time in Washington, it seems to logically follow that Barack and Michelle will not shy away from the cameras and open mics.
Obama preps for post-presidency feud with Trump. When George W. Bush left the White House in early 2009, he boarded a helicopter and went home to Texas, where he mostly remained silent about President Obama's actions. This presidential transition is shaping up a little differently. Rather than returning home to Illinois, President Obama is moving just down the street from the White House to a mansion in the tony Kalorama neighborhood. And rather than remaining quiet, Obama, 55, who will become one of the youngest ex-presidents in history, has promised to dive in with grassroots liberals seeking to oppose Donald Trump, a man he has been feuding with for years.
Editor-In-Chief: Is Obama Going To Start A Media Company? President Barack Obama is interested in a career in digital media and potentially launching his own outlet, according to a report Friday [12/2/2016] from Mic citing sources close to the president. Obama's communications director Jan Psaki denied that the president is seeking to be involved in digital media following January 20. "While the president will remain actively engaged in inspiring young people and he is interested in the changing ways people consume information, he has no plans to get into the media business after he leaves office," Psaki said in a statement given to Mic.
The Editor says...
Barry Soetoro a/k/a Barack H. Obama has never run a for-profit business in his life, and isn't going to start now, except as a figurehead. His current job is just such a position, and in it he has demonstrated abject incompetence for the last eight years. He only kept his current job for the full eight years because it would have cost too much "political capital" to impeach him.
---
Barack H. Obama speculates constantly about his third term as president:
Introduction:
Before Barack H. Obama came along, lots of things were unthinkable. Who would have imagined that the voters would elect a president who hates America? Who would have thought the country would elect a man with no qualifications for the job -- other than dark skin? When has there ever been a president with a more opaque biography? How did we allow the re-election of a commander-in-chief who has continually weakened our military defenses? Now, at the end of his second term, there is a great deal of discussion and speculation about whether or not Mr. Obama will leave quietly when his second term ends.
Crowd Chants 'Four More Years' As Obama Takes The Stage For Farewell Address. The crowd chanted "four more years" as Barack Obama took the stage at McCormick Place in Chicago to deliver his farewell address Tuesday night. As the president got on stage, he acknowledged that he is a lame duck president because "no one's following instructions." The audience then broke out into a "four more years" chant. "I can't do that," Obama said.
Obama Cried at Send-off, Says He Could Have Been Re-elected. President Obama admitted he cried at a recent senior staff send-off dinner — and is now claiming that he'd be able to get re-elected if he had run for president again. "I am confident in this vision because I'm confident that if I had run again and articulated it, I think I could've mobilized a majority of the American people to rally behind it," Obama said in a "The Axe Files" podcast interview by former aide David Axelrod.
What if Obama dropped Hillary's email bombs? Obama is a major narcissist who always wants to expand his personal power. Being president has not satisfied his power-hungry ego; nothing ever will. For months he has been talking about running for a third term, and he's back at it today.
Trump Would Have Beaten Delusional Obama. President Barack Obama, the Democratic leader who presided over the decimation of his party, now claims that he would have beaten Donald Trump if he had a chance to run for a third term. The problem is that Hillary Clinton ran as Obama's third term, with the president's active support and was rejected.
Delusional, defensive Obama can't see a legacy in tatters. With only weeks left in his presidency, President Obama has been reduced to issuing unprovable boasts, sounding like the senior quarterback at a small high school. In a recent interview on "The Axe Files" podcast with former senior strategist David Axelrod — which makes you wonder if Mr. Obama's blood relatives were unavailable to interview him — the president claimed he would have been re-elected to a third term had he been allowed to run again. Perhaps conservatives should cheer, as the president finally appears to appreciate the constitutional constraints of his office, but here's the real takeaway from this softball interview with a South Side Chicago pal.
Obama: I Could Have Won if I Had Run for President Again. President Barack Obama asserts that he could have won a third term against Donald Trump if he had run again on his claim of hope and change. "I am confident in this vision because I'm confident that if I had run again and articulated it, I think I could've mobilized a majority of the American people to rally behind it," he told his former campaign chief David Axelrod on a CNN podcast interview.
Ego-driven fantasy another bogey for Obama. President Obama may be chasing a golf ball in the far-off Hawaiian Islands, but his ego is omnipresent, as usual. In a podcast released yesterday, Obama boasted that if he'd run against President-elect Donald J. Trump, he would have won.
Valerie Jarrett to Obama: "Don't You Wish You Could Run For Another Term?". Another moment in the creepy relationship between Obama and his Iago. Hillary had her Huma. Obama has his Valerie. To pander to his ego until it becomes monstrous.
What this campaign is really all about: If elected, Clinton will finish the economic redistribution Obama started. The political firestorms of the past week — the 2005 tape of Donald Trump uttering crass statements about women, WikiLeaks' disclosure of thousands of Hillary Clinton's emails revealing her two-faced hypocrisy, the appearance at the second presidential debate of several women who have accused Bill Clinton of rape and sexual assault, Mr. Trump's comeback debate performance — have obscured one critically important truth. Hillary Clinton is seeking the Democrats' third term in the presidency. It's not, however, her husband's third term. It's President Obama's. She routinely praises Mr. Obama and his economic stewardship while embracing his radical, far-left approach that drives the party she now seeks to lead.
Will Barack Obama Try To Stay In Office If Donald Trump Wins The Election? Normally we would not even have to ask such a question, but these are not normal times. This week, Obama publicly stated that Trump "is unfit to serve as President" and that he is "woefully unprepared to do this job". In addition, he told the press that Trump "doesn't have the judgment, the temperament, the understanding to occupy the most powerful position in the world." If Obama really believes those things are true, would he really just stand aside and hand the keys to the White House to Trump? Never before have I ever heard a sitting president claim that one of the major party candidates could not function as president. But that is what Obama has just done.
The Potemkin Presidency: What Obama And Hillary Are Preparing For America. Even Obama's most insensate media supporters have had to notice how manic the president has been in the twilight of his term. How likely is it that Obama's frenzied efforts are aiming toward the marginal relevance of a post-presidency? Not likely at all. The president is working, and working hard, to gain a third term — not merely for his policies but actually for himself. The president is obviously clever enough to know he cannot seek a third term outright. But the media powers-that-be would be happy for him to do it sub rosa. The crucial element in this scheme is the Clinton candidacy.
Obama: I'm Not Quitting, I'm Being 'Forced Out' Of the Presidency. President Barack Obama says he's being "forced out" of the Oval Office, not quitting, as he faces the end of his presidency. Obama was asked about the future of his golf game by the Golf Channel's David Feherty in an interview that took place just before he played his 300th game as president.
Having never studied the Constitution, even for a minute...
Majority of Democrats want third term for Obama. A strong majority of Democrats would cancel the 2016 presidential election between Hillary Clinton and Donald Trump if it meant President Obama could serve another term, a new poll found. Data provided to The Hill by the conservative polling outlet WPA Research found that 67 percent of Democrats would take a third term for Obama over a potential Clinton administration. Only 28 percent said they're ready to move on from the Obama White House, while 6 percent are undecided. Obama is enjoying a surprisingly strong approval rating for a president serving out the final months of his second term.
Is a Civil War Coming? This is something we discovered is not out of a dystopian novel but hatched by our own government, with a fleet of 30,000 drones expected by the end of Obama's "third term." And what if there was a secret memo that gave the Obama administration the authority to kill any U.S. citizen at any time, anywhere, without proof, without due process, accountable to no one? Investigative journalist Michael Isikoff uncovered this last month. So what if, unlike the Communists in Russia, the Obama administration wasn't able to disarm its enemy — conservatives — but were able to easily outgun them, with hundreds of thousands of "personal defense weapons," billions of rounds, tanks, and "public safety" drones? Is a civil war coming between a totalitarian Obama administration and conservatives?
Obama: 'I think if I ran again I could win'. President Barack Obama said Tuesday [7/27/2015] that he would win a third term in office if he ran again, but is barred by the Constitution. "I think if I ran again I could win. But I can't!" Obama said.
Obama: 'I'm a Pretty Good President' And If I Ran For a Third Term, I Could Win. President Obama told the African Union Tuesday [7/27/2015] that he felt he had been a "pretty good" president and if he were allowed to run for a third term, he'd probably be victorious. Obama made the remarks while criticizing leaders on the continent who wouldn't step aside at the conclusion of their terms.
New York congressman introduces bill to abolish presidential term limits. New York Democratic Rep. Jose Serrano reintroduced a bill in Congress on Friday to repeal the 22nd Amendment, which places term limits on the U.S. presidency. The bill, which has been referred to committee, would allow Barack President Obama to become the first president since Franklin Roosevelt to seek a third term in office.
Dem House Proposal Would Allow Obama to Run For More Than 2 Terms. Before you take up arms against the government, keep in mind this has been proposed before in 2011 and died in committee. It would have to get two-thirds support in both houses, including our radical right-wing hostage House of Representatives, and after that, three-quarters of the states would have to ratify it, or 38 states, which is nearly impossible.
The Editor says...
Or Obama could bypass the Congress and implement it himself, which is entirely possible. It's worth noting that some Congressmen are willing to introduce bills which have no hope of passing, thus wasting everyone's time. A law of this sort would require an amendment to the Constitution. The only reason a Congressman might introduce such a futile bill is if he or she knows the Constitution has been ignored and bypassed for so long that anything goes.
Obama: 'Michelle Would Kill Me' If I Ran For A Third Term. President Obama traveled to Nebraska after his State of the Union speech, where he spoke to an enthusiastic group of supporters — some even wanted him to serve as president for a third term. "Four more years!" shouted a person in the audience. Another person in the audience shouted that "Keeping you as President!" would help keep America safe and strong. "Oh, well, I can't do that," Obama said. "I can't do that because of the Constitution. And I can't do that because Michelle would kill me."
Nightmare scenario: Obama UN head, Clinton 45th president. Aside from imposing martial law and 'postponing' 2016 elections, there is no third term in the cards for the high-handed president, whose seven-year-long obsession is to fundamentally transform America. Thus, Obama covets, and even lusts for the job held by UN Secretary-General Ban Ki-moon, whose term expires in early 2017.
Obama Calls Senate Environment Chairman 'Cray' for Doubting Climate Change. On the fundraising trail last night for the Democratic National Committee, President Obama insisted to a celebrity-studded crowd in New York that his presidency "has never been about me." "As I enter into my last year in office, some supporters started getting nostalgic, and so we'll take pictures and they'll say, oh, Barack, I wish you could run another term," he said. "And I explain — no, first of all, not everybody says that. But I explain, A, it's unconstitutional. George Washington set a good example. B, Michelle would not permit it, even if it were constitutional. And, C, this has never been about me."
Obama confident he could win a third term as president. Thanks to George Washington, Barack Obama cannot seek a third term, but the president confidently proclaimed this week that he believes he could secure another four years in the White House — a boast some analysts quickly cast as wholly unrealistic, perhaps even politically delusional. With Mr. Obama looking tired as he limps to the end of his second term, sapped of momentum by a growing string of foreign policy challenges abroad and largely paralyzed by political gridlock at home, analysts say another national election victory would be a long shot at best as the broad coalition of voters who reliably supported him in 2008 and 2012 steadily frays.
Obama: 'Yes' I would win if I ran for president again. President Barack Obama said Sunday he believes he would win if he ran for president again and called his last year of the presidency "bittersweet." "Do you think if you ran again, could run again, and did run again, you would be elected?" asked Steve Kroft on "60 Minutes" Sunday night [10/11/2015].
How Obama will get a Third Term. Looks like Barack Obama has a third term as POTUS in the bag, and won't be needing martial law or any other draconic measure to make it happen. All Obama needs to remain in power and to press ahead with his deadly Fundamental Transformation of America is for a Democrat — any Democrat — to win the 2016 presidency. Hillary Clinton, Joe Biden and his twin sister Elizabeth 'Fauxcahontas' Warren or the shop-worn and decrepit Bernie Sanders will do.
The Editor says...
I don't know about the Biden or Warren presidencies being tantamount to Obama's third term, but if Hillary Clinton wins, it will certainly be Bill Clinton's third term.
65 Percent of Americans Would Not Vote for Obama Again. A strong majority of Americans would not vote for Barack Obama if he were allowed to run for a third term in the White House. According to a Monmouth University poll released Monday, only 27 percent of U.S. adults would vote to reelect Obama in 2016, while 65 percent would cast their ballots for someone else. Support for the president is even weak among Democrats: While 53 percent would support Obama for a third term, the share of liberal Americans who would not vote for Obama stands at 43 percent.
The Editor says...
The poorly educated masses are evidently unaware that it would be illegal for Obama to run for a third term; otherwise they would not dignify such an insipid question with any kind of response. A much more sensible question would be this: If Michelle Obama were to run for president in 2016, as an overt extension of Barack Obama's presidency, would you vote for her? That scenario could easily come to pass, and the answer would give a better picture of B. H. Obama's approval.
Obama: 'I think if I ran again I could win'. President Barack Obama said Tuesday [7/27/2015] that he would win a third term in office if he ran again, but is barred by the Constitution. "I think if I ran again I could win. But I can't!" Obama said.
Obama: 'I'm a Pretty Good President' And If I Ran For a Third Term, I Could Win. President Obama told the African Union Tuesday [7/27/2015] that he felt he had been a "pretty good" president and if he were allowed to run for a third term, he'd probably be victorious. Obama made the remarks while criticizing leaders on the continent who wouldn't step aside at the conclusion of their terms.
Poll: No, Mr. President, you would not win a third term. It seems that Americans can add "no more Obamas" to the oft-heard calls for no more Bushes or Clintons, despite the president's belief that he would be a shoo-in for a third term. Rasmussen Reports on Friday [7/31/2015] released a poll showing that just one third of likely U.S voters would keep President Obama in office if he ran again. Even among Democrats, only 57 percent would vote for him a third time.
The Editor says...
There is an easy way to call Mr. Obama's bluff: Have Michelle Obama run for President, openly pronouncing it as Obama's third term, and see how many votes she gets. This would be similar to the case of Georgia governor Lurleen Wallace. The danger in this challenge is that the poorly-educated "low-information" voters (millions of whom, apparently, will vote for the black candidate, whoever it is) just might get Michelle elected!
If Obama Needs 'Third Term,' as MSNBC Analyst Suggests, He's in Trouble. Former Secretary of State Hillary Clinton must be thrilled about this: "If you are President Barack Obama and you want to be a transformational president, getting to that transformational stage sometimes requires you get a third term," NBC News Senior Politics Editor Mark Murray submitted amid a sleepy Monday [5/5/2014] segment packed with idle speculation about the 2016 election cycle. "People in the White House, and President Obama, I am sure they would love to have a third or fourth term," Murray continued.
Rep. Gutierrez: Obama 'Should Be Expanding His Prosecutorial Discretion'. At a House Judiciary Committee hearing on Tuesday, Rep. Luis Gutierrez (D-Ill.) said that President Barack Obama should be expanding his prosecutorial discretion when it comes to enforcement of immigration laws. "Unfortunately, he should not be limiting his prosecutorial discretion. He should be expanding his prosecutorial discretion," Gutierrez said during a hearing on the constitutionality and legality of actions the Obama administration has taken on issues like the enforcement of immigration laws.
Liberal law prof: Obama's unconstitutional power grabs are creating a "very dangerous and unstable system". Show of hands: Who thinks Harry Reid and Nancy Pelosi will keep Obama in line? Before you answer, note that leading amnesty shill Luis Gutierrez argued at this same hearing that, if anything, Obama should have a freer hand so that he can go about unilaterally legalizing the illegals Gutierrez has been effectively representing in Congress for years. That's what's left of Democratic opposition to the imperial executive.
WaPo Op-Ed Urges Letting Obama Run for a Third Term so Senate Will "Fear Him". Four more years. 10 trillion more dollars in debt. And by the end of it, we'll have a nuclear war in the Middle East and mandates forcing you to buy everything from electric cars to Michelle Obama's trademark Soy and Asphalt pie.
No Uncertain Terms. On Wednesday [11/27/2013] we observed that it's hard for a political humorist to keep up with the real-life absurdities of the Obama crowd. To illustrate the point, along comes Jonathan Zimmerman, a historian at New York University, with an op-ed in the Washington Post arguing that we need to repeal the 22nd Amendment. Now of course the way this was supposed to work was that Obama would be such an amazing president that he would come to seem indispensable.
Presidential term limits: necessary and right, or bad for democracy? In an opinion piece published in the Washington Post, Jonathan Zimmerman, a history and education professor at New York University, says deciding whether a president deserves a third, fourth or more terms should be left to the American people, not the 22nd Amendment to the Constitution, which placed a two-term limit on the position.
End presidential term limits. Democratic lawmakers would worry about provoking the wrath of a president who could be reelected. Thanks to term limits, though, they've got little to fear. Nor does Obama have to fear the voters, which might be the scariest problem of all.
Washington Post: Repeal presidential term limits. As President Obama faces a small revolt within his own party, a Washington Post op-ed is calling for the United States to end presidential term limits and allow him to run again in 2016. "Barack Obama should be allowed to stand for re election just as citizens should be allowed to vote for — or against — him," writes New York University Jonathan Zimmerman professor of history and education. "Anything less diminishes our leaders and ourselves."
Proposed repeal of the 22nd Amendment. Introduced by Rep. Jose Serrano [D, NY].
Democrat Proposes Repealing 22nd Amendment on Presidential Term Limit. This bill was introduced into the Judiciary Committee on January 6 (first day of the 111th Congress) and has no co-sponsors. Before anyone starts freaking out, remember that a bill such as this must first make it out of committee, then be passed by two-thirds of the House and Senate, then be passed by three-fourths of the States before actually happening. Regardless, this simply goes to show that the minority party or individual (the smallest minority there is) should always have their rights respected so as to provide a check against the majority.
Hail King Obama: President for life. As Inauguration Day approaches and Barack Obama prepares to assume his first term as president, some in Congress are hoping to make it possible for the Democrat to not only seek a second term in office, but a third and fourth as well. The U.S. House Committee on the Judiciary is considering a bill that would repeal the Constitution's 22nd Amendment prohibiting a president from being elected to more than two terms in office.
King of America! And you wondered why this country is in the shape it is in today! The sheer idiocy of such a move is breath taking. But as long as we Americans continue to elect these clowns to lead us in the Congress, and in the office of President, this is the kind of country we will continue to have, until it implodes as it has nearly done in the past few weeks.
Getting started on term #2...
Obama in perpetual campaign, Barbour says. It's no coincidence President Obama has traveled to key swing states to push his massive stimulus measure, Mississippi Gov. Haley Barbour said Sunday. Barbour, a former chairman of the Republican National Committee, said Obama's recent travel is an indication that the new president is already running for reelection.
And term #3...
Limbaugh: Obama planning third term. Rush Limbaugh stirred up some trouble today [6/30/2009] when he suggested Obama might have his sights on a third term: "You have to wonder if Obama is just trying to lay a foundation for not being a hypocrite when he tries to serve beyond 2016. I wouldn't be at all surprised if in the next number of years there is a move on the 22nd Amendment, which term limits the President of the United States."
What If It Happened Here? Suppose, from a purely hypothetical standpoint, the crisis in Honduras was mimicked in the United States? A fictional American president, lacking the votes in Congress and the judicial nod from the Supreme Court, circumvents the constitutional process and holds an illegal national referendum to repeal the 22nd Amendment — thus infinitely extending his potential for reelection. The obvious legislative differences between the United States and Honduras aside, reactions would be nearly identical. Members of the Armed Forces take a solemn oath to "support and defend the Constitution," not to a specific individual.
100 minutes in the life of Muammar Gaddafi. [Scroll down] "Terrorism is not just al-Qaida, it takes many forms." In case the point was lost on anyone, he tore up his copy of the UN rule book. Having thus abused and alienated 99.99% of the world's top diplomats, he suddenly changed tack, heaping praise and devotion on the one man he appears to respect. "Now the black man doesn't have to sit in the back of the bus, the American people made him president and we are proud of that. We would be happy if Obama stayed president of America forever."
WaPo Op-Ed Urges Letting Obama Run for a Third Term so Senate Will "Fear Him". Four more years. 10 trillion more dollars in debt. And by the end of it, we'll have a nuclear war in the Middle East and mandates forcing you to buy everything from electric cars to Michelle Obama's trademark Soy and Asphalt pie.