Google-related news and commentary:
CIA Google Spent $26 Billion To Hide This Phone Setting From You. There's a setting on your phone and web browser that Google is desperate to keep you from discovering. How desperate? In 2021 alone, Google paid Apple, Samsung and others $26.3 billion to keep it buried. That's more money each year than McDonald's makes selling burgers. This setting affects who gets to track your location and watch what you look up online. It affects the usefulness of the information you see and how much of your screen is taken up by ads.
Google [founder] [pontificates] about global warming as [the] word's worst problem, then buys Miami Beach beachfront property. [Scroll down] Presumably Schmidt is buying up these properties to make money off them, same way he made his pile off Google. He's been doing it for an extended time, suggesting a long-term plan in the works. With global warming set to flood the place with water from those rising sea levels as well as raise insurance premiums as these articles warn and he claims, that doesn't sound like a good long-term investment. But he's no idiot. These beachfront properties on these islands have been rising in value or remaining steady and that is what he is going on. He's looking at his money-making opportunities — whether they may be in global warming contracts with the government or the sales to a gullible public, or else Miami beachfront properties. It's all about the portfolio. Global warming is a joke.
When You Search 'Pregnancy' On Google, The Top Result Is For Planned Parenthood. Google's search results consistently favor pro-abortion sources over pro-life ones, according to a new study that tested the search engine giant against its competitors. A new report by researchers at the Media Research Center's Free Speech America says that a pro-abortion bias exists across Google's search engine, its AI chatbot Bard, Google Ads, and company policies. Researchers at the MRC compared Google results to those of Bing and DuckDuckGo, saying that results from Google tilted in favor of a pro-abortion perspective. During one test, researchers searched for the word "pregnancy" on all three search engines the day before the 50th Annual March for Life. According to the researchers, Bing and DuckDuckGo had more neutral results, while on Google, the top link produced was to a page on Planned Parenthood, the country's leading advocates for abortion.
My Conversation With Bard, Google's AI Chatbot Who Gets Everything Wrong. Have you ever experienced an uncomfortable, awkward feeling because someone was lying right to your face and you didn't quite know how to handle it? That's what chatting with Google's AI chatbot Bard is like. Bard can't stop lying about the COVID jabs, but is very contrite when its falsehoods are called out. Every time the chatbot is corrected, it apologizes profusely and promises to do a better job in the future. It's awkward! Bard was developed to compete with OpenAI's ChatGPT, and was released in a limited capacity in March 2023 to "mixed reviews" according to Wikipedia. I decided to give Bard a try after tech entrepreneur Steve Kirsch, a prominent COVID vaccine critic, posted his intriguing experience with it on X.
Google paid $26 [billion] to be default search engine in 2021 — Bloomberg News. Alphabet's Google paid $26.3 billion to other companies in 2021 to ensure its search engine was the default on web browsers and mobile phones, a top company executive testified during the Justice Department's antitrust trial, Bloomberg News reported on Friday [10/27/2023]. The amount of payments Google made for the default status has more than tripled since 2014, according to senior executive Prabhakar Raghavan who is responsible for both search and advertising, the report added.
The High-tech Lynching of America. Google, which controls 90% of Internet searches, utilizes an AI-driven search ranking that can manipulate not only consumer preferences but also election outcomes. According to Robert Epstein, a Harvard Ph.D. who has studied Google for more than decade, Google's ability to manipulate its search ranking algorithms has the power to change the choices of 15% of undecided voters, more than enough to change many recent close election outcomes.
Google Throws Its Support Behind Australia's Online "Misinformation" Censorship. Google's recent endorsement of the Australian government's proposal to bolster the powers of the media watchdog, aimed at countering online "misinformation," unfolds a narrative much larger than what meets the eye. The discourse transcended beyond its original intent during a Senate inquiry on Tuesday, which saw representatives from tech behemoths delve into the implications of amplifying the regulatory might of the Australian Communications and Media Authority (ACMA). The draft legislation in the spotlight seeks to empower ACMA with an enforceable industry code of conduct to ensure digital platforms rigorously address misinformation and disinformation. While the legislation does not authorize the ACMA to remove content deemed inappropriate, it does allow the body to scrutinize the internal practices of platforms, paving the way for penalties should they deviate from the code. This development signals a furthering of the usual, revealing Google's willingness to align with government interests, as shown by Lucinda Longcroft, a government relations representative for Google.
What is Google hiding in its unprecedentedly secret antitrust trial? If they don't want you to know things, it's likely those things don't make them look good. That rule applies to basically every organization, from the federal government to universities to corporations. And to the Big Tech corporations testifying in the federal government's antitrust suit against Google, the first big monopoly trial in a quarter-century. Google has spent the last couple of decades hoovering up everyone's private information for its own use, but it wants to make sure the public knows as little as possible about what it's doing to the public. Normally in litigation like this, all sorts of information about the defendant's business practices would come out. Google is doing its best to see that none does.
Google Maps Sends NC Father of 2 Plunging to his Death off Bridge, Widow Sues. A year ago, veteran Phil Paxson was leaving a birthday party for his daughter after volunteering to stay and clean up in Hickory, North Carolina. He plugged in the 4 mile trek back to his home in the dark and rain, driving his Jeep Gladiator, a brief ten minute trip that Google Maps told him went over Snow Creek Bridge. He would never make it. Paxson drowned after the Google app sent him over a bridge that had fallen apart in 2013 and was never repaired. He fell 20 feet into the water and was found later in his partially submerged and overturned vehicle. The state highway officials had removed barriers to the fallen bridge after recent vandalism.
The Fruits of Technocracy: Quantitative Analysis Shows Google Steered 6 Million Votes to Biden in 2020. Robert Epstein (no relation to the child sex trafficker but perhaps just as likely to be suicided based on his work), director of the American Institute for Behavioral Research and Technology (AIBRT), has concluded through a quantitative analysis of Google search engine manipulation and subsequent extrapolation to the population level that the company — the unofficial motto of which was once "do no evil" and which was silently dropped in 2018 with no explanation — added six million votes to Joe Biden's column in 2020. If accurate, this was more than enough to have artificially swayed the election. I was peripherally aware of Epstein's decades of work regarding big tech's undue influence over the democratic process (and virtually and increasingly every other aspect of social life) but he popped up again on my radar via a recent appearance on "The Jimmy Dore Show." In it, he explains the multi-pronged quantitative approach he used to measure the vote-rigging project undertaken by Google in 2022 (which is still going on). It includes but is not limited to both the manipulation of search term suggestions (the search terms that Google suggests, starting with the very first character the user types) as well as the curation of search engine results to show sources that Google ideologically agrees with.
Apple Doesn't Want You to Know About Its Backroom Deals with Google. Apple, a company known for its secretive work culture, is upset that details of its backroom deals with Google are becoming public information through U.S. v. Google, the Department of Justice's landmark antitrust case against the tech giant. Much of the government's case revolves around payments made by Google to Apple and other companies to make its search engine default on phones and web browsers. In 2022, it was estimated that Google's yearly payments to Apple were as high as $20 billion. To prevent further details coming out, Apple's lawyers are protesting that confidential business information is being disclosed.
Expert to Arizona Legislature: Kari Lake Would Have 'Won Easily' If Google Hadn't Interfered in the 2022 Election. State Representative Alex Kolodin (R-Scottsdale), chair of the Arizona House Ad Hoc Committee on Oversight, Accountability, and Big Tech, held the first of a series of hearings last week investigating the impact of Big Tech's election interference. The first half of the four-hour long session featured testimony by Harvard-educated academic Dr. Robert Epstein, who discovered how Google influences election results. The second half consisted of testimony by First Amendment attorney James Kerwin of the Mountain States Legal Foundation, who discussed where the law is in regard to officials pressuring big tech about posts. [...] Kolodin said some presenters invited to speak at the hearing dropped out due to fear. Epstein, whose speech was titled "The Impact of Big Tech's Election Interference and How we Can Stop it," admitted he voted for Joe Biden and Hillary Clinton, not Donald Trump, said Google is the "biggest mind control engine that's ever been invented."
Dr. Robert Epstein: Google Sways Elections, Indoctrinates Children. Donald Trump is currently under indictment for attempting to interfere with the 2020 election. But one of the most powerful companies in the world may have swung millions of votes for the Democrats in many elections, with no repercussions whatsoever. According to psychologist and Big Tech researcher Dr. Robert Epstein, that is what Google is doing every day, but especially around election time. "We know how political campaigns work to get votes, sometimes even using dirty tricks, but at least it's a competitive thing," psychologist and Big Tech researcher Dr. Robert Epstein tells Peter Schweizer and Eric Eggers on the most recent episode of The DrillDown. "If a platform like Google wants to influence the outcome of an election, there's nothing you can do."
The tyranny of Google. In its early years, Google embodied technical excellence and good taste. Its original (and for a while, only) service was a web search engine based on a simple borrowed idea. The search results were rated according to the density of in-bound links, just as academic papers are ranked by the number of times they are cited. This method gave us results far superior to those of its rival search engines. Google also benefited from having a certain mystique. Its front page — google.com — was immaculately clean and uncluttered. The service was very fast and helpful, too, correcting your misspellings. Initially, Google seemed to have no interest in serving us any other products or services, or apparently, even making money. Occasionally, the front page featured a whimsical cartoon. [...] It is still true that Google does not charge us, as consumers, directly. But multiple authorities across several continents have judged that it does operate a chokehold on competition, and this costs us all a lot. For example, in 2022, the EU levied a record fine against Alphabet, Google's umbrella company. Having once vowed never to detain people on their journey to another destination longer than necessary, Google now seeks to keep people on its own properties for as long as possible.
YouTube Demonetizes Channel Over Video of Democrats Challenging Election Results. YouTube has demonitized a channel over a video for the crime of making Democrats look like raging hypocrites. A journalist named Matt Orfalea, who works with Matt Taibbi, created the video which intersperses clips of Trump questioning election results with Democrats doing the exact same thing. Someone at YouTube clearly thought this was a problem and yanked the monetization for the entire channel.
Google Tries To Silence A Castro Refugee As It Ramps Up Censorship Campaign. Shortly after we ran a review of the first Republican primary debate, Google's ad network, called AdSense, blocked its ads from appearing on that page. It said the piece, written by veteran communications specialist Bob Maistros, violated two of Google's content rules because it contained "dangerous or derogatory content" and "unreliable and harmful claims." These are impossibly vague standards, and while Google tells us we must "fix" the article in order for its ads to appear on that page, it provided no indication of what exactly violated either of these rules or what would constitute a fix. You be the judge: "Guv Ron's Great Republican Comeback." It's as though Google's thought police read Kafka and concluded that he was writing instruction manuals instead of warnings about mindless bureaucratic authoritarianism.
YouTube amps up "medical misinformation" policy: Now you can't talk about alternative cancer treatments or prevention of any disease. The Google-owned YouTube video platform is changing the rules again to now prohibit the sharing of information about alternative cancer remedies, which the tech giant says constitute "medical misinformation." In a "long term vision" notice on its official blog, YouTube's Dr. Garth Graham, the Director and Global Head of Healthcare and Public Health Partnership, along with Matt Halprin, the Vice President and Global Head of Trust and Safety, explain how "removing cancer misinformation" is now a top priority alongside removing all contrary information about the Wuhan coronavirus (Covid-19).
YouTube and Facebook Censored Viktor Shokin Video Responding to Joe Biden's Lies and Details of His Dismissal. On Friday morning [8/4/2023], The Gateway Pundit published an explosive explosive video of Viktor Shokin, the Ukrainian prosecutor who was removed from office under pressure from then-U.S. Vice President Joe Biden. In the detailed and extensive interview, Shokin responded to allegations from the Biden regime, laying out his side of the story regarding the investigations into Burisma, a Ukrainian energy company that once employed Hunter. Shokin's video addressed a variety of points, from accusations that the investigation into Burisma was dormant to allegations of his corruption and his eventual removal as prosecutor. In a lengthy, detailed response, Shokin refuted the notion that his investigations were "dormant" and explained how they were active, even leading to seizures of assets from Burisma's owner, Mykola Zlochevsky.
Robert F Kennedy Jr. Sues Google and YouTube Over Constant Censorship. Robert F. Kennedy Jr., prominent Democratic presidential hopeful, is taking YouTube, and its parent company Google, to court. The lawsuit filed Wednesday pertains to alleged violations of Kennedy's First Amendment rights, as he contends his speeches and interviews were expunged inappropriately from the platform. As the presidential primary elections loom, Kennedy boldly predicts this tactic of stifling discourse will persist.
Jeffrey Epstein helped JPMorgan land Google co-founder Sergey Brin and his $4B in investments as client: lawsuit. Jeffrey Epstein brought a slew of deep-pocketed clients to JPMorgan Chase — including Google co-founder Sergey Brin, who became one of the bank's biggest clients with investments worth more than $4 billion, according to court papers. A bombshell legal filing in the US Southern District of New York late Monday revealed that "Brin became a client of JPMorgan's San Francisco Private Bank in 2004" — one year after Epstein introduced Brin to Jes Staley, a former executive at JPMorgan. "The overall Brin relationship is one of the largest in the Private Bank, of +$4BN," wrote banker Robert A. Keller in a memo, who the documents claim was introduced to Epstein by Staley.
Google's Privacy Sandbox. I believe the big Achilles heel of Google's Privacy Sandbox, their continuing effort rolling out in trials already, is Ad Topics, that replaces third party cookies with an advertising API involving local device modeling of your browsing history into predefined categories (about 350), with sites able to receive up to three of them most highly ranked. Google asserts that this will maintain or increase the value of targeted ads while increasing individual user privacy by moving away from third party cookies and ad hoc techniques used by sites to try target individual users. Google is moving to default the various aspect of Privacy Sandbox to ON, based on the usual hope that users won't bother to change the defaults. I think the two words that spell the main trouble for this plan are "browsing history." Most people are quite sensitive about this and assume it is private. Even if shared with Google for enhanced services, they don't really want advertisers to know anything about it.
YouTube Removes Presidential Candidate RFK Jr's Interview With Jordan Peterson. YouTube confirmed that it removed an interview with Democratic presidential candidate Robert F. Kennedy Jr. conducted by Canadian clinical psychologist and author Dr. Jordan B. Peterson. The 95-minute and wide-ranging interview, "Rekindling the Spirit of the Classic Democrat," was published on June 5 but is no longer available on YouTube. Peterson and Kennedy discussed COVID-19 vaccines, and YouTube cited vaccine misinformation as the justification for censoring the interview in its response to the DCNF.
Why does Google remind me of Worldcom? Are all companies reporting profits these days really creating value for their shareholders? I have my doubts. Google, for one, has changed the way they keep the books in what looks like a bid to claim they hit their profit goals. Google changed the life on its servers from four to six years to reduce depreciation, which just happened to inflate profits by $1 billion. It helped that the profits beat estimates. But they didn't increase sales or productivity. Nor did they reduce expenses. All they did was make a bookkeeping entry.
Google (YouTube) Changes Position and Will Now Permit Content that Challenges 2020 Election Results. Google via YouTube is reversing its position and allowing content that challenges the results of the 2020 election. [Per Axios] "In a reversal of its election integrity policy, YouTube will leave up content that says fraud, errors or glitches occurred in the 2020 presidential election and other U.S. elections, the company confirmed to Axios Friday [6/2/2023]." After removing "tens of thousands of videos" (their admission) previously containing content that challenged the 2020 election results, suddenly that conversation is permitted. "Two years, tens of thousands of video removals, and one election cycle later, we recognized it was time to reevaluate the effects of this policy in today's changed landscape," YouTube said in a statement. So, according to the script, the "threat to democracy" has suddenly diminished as the 2024 election cycle starts to become a topic of increased discussion? Yeah, right. I read this Google change two ways: (1) This reads like a "mission accomplished and we don't need this anymore" kind of policy switch; and (2) There's that probability of Donald Trump winning the 2024 election and they need to be able to question election results again.
After Covid: Twelve Challenges for a Shattered World. Big Tech surveilled before the pandemic response but the quasi-martial law of the period consolidated the power of the government over private data. The Twitter Files have proven the huge role that the police state played in censorship of science and any opinion that contradicted regime priorities. Facebook groups were blasted away. LinkedIn and Twitter accounts were banned. Even Google search results were gamed. This was why those of us in the resistance had such a very difficult time finding each other in the first place. When they demanded social distancing, they wanted more than human separation of six feet. They wanted to stop the formation of any serious resistance. They wanted us all isolated, disoriented, and thus easy to control. As a result, the tools that we once believed were designed for more human connection were deployed to keep us apart. Yes, there are many lawsuits ongoing that challenge this practice as a violation of First-Amendment rights. Court discovery has produced many thousands of pages, and the decisions seem likely to land in the correct position. But here's what is spooky. If these court challenges really posed much of a threat to the practice, wouldn't mainstream social platforms be eschewing censorship right now? They are not. YouTube is the king of takedowns. Instagram, LinkedIn, and Facebook do the same.
Unanimous SCOTUS shields Google, Twitter — and bypasses Section 230. Do Internet platforms need Section 230 to shield them from liability? Should it be taken down as social-media platforms increasingly apply editorial control over content, arguably transforming them from platforms to publishers? Don't expect explicit answers from two decisions handed down by the Supreme Court today, both unanimously rejecting liability claims without the use of Section 230 protections.
Censorship-Obsessed Google Set to Funnel $100M to Leftist New York Times. Google will reportedly shove The New York Times's leftist propaganda down Americans' throats and is willing to pay tens of millions of dollars to make it happen. Google's anti-American parent company, Alphabet, will funnel approximately $100 million to The Times over the course of three years. The move is part of a scheme to plaster leftist Times content on Google platforms, according to The Wall Street Journal. The deal is expected to boost the leftist Times with profits amid uncertainty in the news industry. Earlier this year, however, The Times saw $2.3 billion in revenue in 2022 (an increase of 11.3 percent when compared to 2021). In exchange for the $100 million payout, The Times will allow Google editors to propagandize its content on its Google News Showcase platform. The exact details of the agreement still remain obscure.
New York Times Secures $100 Million Content Deal with Google. The New York Times will receive a $100 million payout from Google over three years as part of a content-distribution deal, providing the newspaper with a hefty revenue cushion during what will likely be a down year for the journalism industry. While the agreement was announced earlier in the year, the monetary sum was unknown until this week, when sources revealed it to the Wall Street Journal. The deal will involve content distribution and subscriptions, as well as using Google tools for marketing and ad-product experimentation. The Times' revenue boost comes at a time when many media brands have been suffering ad-revenue decline.
American Despotism. The internet "mediates modern life, like a giant, unseen blob that engulfs the modern world." Google holds 92 percent of the global search market. Facebook receives 77 percent of the social network ad revenue, and Facebook and Google receive about half of all internet ad revenue. Google and Apple provide 99 percent of mobile phone operating systems, Apple and Microsoft 95 percent of desktop operating systems. Monopolies crush attempts to start alternative social media websites; they are barred from the Google Play app store and deplatformed by Amazon Web Services. Amazon is the government — it provides cloud computing for the CIA and the Pentagon. Google is the government — the U.S. military and intelligence agencies are its biggest clients. The Pentagon uses Google's servers to store critical information and to surveil billions of people while manipulating the information they can access.
Google's new 'inclusive language dossier' bans staff from using 'man hours,' 'you guys'. Google leadership recently sent out a new "inclusive language dossier" to its United Kingdom staff, asking them to stop using terms such as "man hours" and "you guys." The technology company encouraged its employees to refrain from using potentially offensive language. The style guide targeted common IT lingo, including "whitelist," "blackhole," "blacklist," and "black box." It also asked staff to avoid referring to people or things as "chubby," "dummy variable," or "crazy, bonkers or mad." The language guide was specifically sent to Google developers, the U.S. Sun reported.
Google Blocks RSBN With 7-Day YouTube Ban on Eve of Trump Indictment. On the eve of the indictment of President Donald J Trump, Google, the parent company of YouTube, suspends Right Side Broadcasting Network from its broadcast platform. [...] RSBN is available on Rumble video streaming platform.
How Google is enabling cyber-criminals. Malvertising is a dangerous type of cyber-attack that exploits online advertising networks to spread malicious content, such as malware and ransomware. Attackers disguise malicious code in advertisements for popular products, services, and websites, which can then redirect users to malicious websites or install malware on devices when clicked on. This type of attack is particularly insidious because it can be difficult to detect, so internet users need to exercise extra caution when browsing the web and clicking on advertisements. Malvertising campaigns sometimes use vulnerable applications like JavaScript and Flash Player to deliver the malicious payloads instead of simply redirecting away from legitimate sites, making them even more hazardous. [...] Hackers have recently been exploiting the Google ads platform to victimize individuals and entities in both the private and public sectors. Reports indicate that Google has been duped into running fake ads for products and services such as Adobe Reader, Microsoft Teams, OBS, Slack, and Thunderbird.
Gmail, YouTube, Google Drive Not Opening For Many Users [in India]. New Delhi: Google Services including Gmail, YouTube and Google Drive were not accessible for several users in India on Thursday. Downdetector, that tracks outages by collating status reports from a series of sources, including user-submitted errors on its platform has also confirmed that Google services have been hit.
YouTube blocks LifeSite for 2 weeks for 'hate speech' . YouTube has once more attacked LifeSite, banning us from posting additional video reports on our John-Henry Westen channel for the next two weeks. We are now just one strike away from YouTube permanently deleting the channel, leaving LifeSite with a diminished presence on the giant Big Tech platform. This is the second time YouTube has issued a "strike" against LifeSite in fewer than 30 days. Why? LifeSite spoke truthfully about the promotion of LGBT ideology embedded in the movie Everything, Everywhere, All at Once after Hollywood last week bestowed seven Academy Awards on the film, including "Best Picture." In 2021, without warning or explanation, YouTube permanently shut down LifeSite's account, removing tens of thousands of hours of pro-life, pro-family, Christian video news coverage and leaving our 300,000 YouTube followers in the lurch.
Dr. Redfield's Bombshell Testimony. Yesterday [3/8/2023], we witnessed the ex-director of the CDC, under oath, directly blame Dr. Fauci and the US Government for the deaths of millions of people. However, if you went to the headlines of Google News - there was nary a news story. I guess Google felt it wasn't important enough to warrant above-the-fold status. [...] The actual testimony of Dr. Redfield was explosive. Yet, none of these headlines bely the gravity of Dr Redfield's testimony. Dr. Redfield directly linked gain-of-function research and the creation of SARS-CoV-WIV to Dr. Fauci, and to the US Gov - including the DoD. He absolutely believes and gives sworn testimony to the effect that Dr. Fauci and Jeremy Farrar, director of the Wellcome Trust and soon be the chief scientist at the World Health Organization, covered up the lab leak information. How Dr. Redfield himself was excluded from the meetings when the processes, strategy and tactics for covering up the lab leak were developed.
Supreme Court weighs whether to hold Google liable for terrorism-related death. In its first case about the federal law that is credited with helping create the modern internet, the Supreme Court seemed unlikely Tuesday to side with a family wanting to hold Google liable for the death of their daughter in a terrorist attack. In two and a half hours of arguments, the justices seemed concerned about upending the internet in their interpretation of a 1996 law, Section 230 of the Communications Decency Act, that shields Google, Twitter, Facebook and other companies from lawsuits over content posted on their sites by others.
How a Supreme Court ruling against Google could upend the internet as we know it. In oral arguments set for Tuesday, the Supreme Court will address the scope of Section 230 of the Communications Decency Act for the first time as legal experts signal a ruling against Google could change the internet for the worse by opening online companies up to a flurry of litigation. The justices will hear arguments in a case appealed by the family of Nohemi Gonzalez, a 23-year-old California-based woman who was shot and killed in 2015 by Islamist militants in Paris. Lower courts previously dismissed a lawsuit against YouTube's owner Google seeking monetary damages, citing Section 230. Google and YouTube are part of parent company Alphabet and are named in the suit before the high court, Google v. Gonzalez.
George Soros Totally Melts Down in Speech on Climate Change at Munich Security Conference. Demagogue George Soros has a meltdown on Climate Change at Munich Security Conference. Soros totally lost it while reading some garbage on the effects of global climate change. [Video clip] [...] Apparently, because the video title mentions the word "climate", YouTube adds a link to information on climate change. Note how YouTube finds it necessary to push a totally ignorant fantasy that climate change is "mainly caused by human activities, especially the burning of fossil fuels". When YouTube believes that it is important to add a comment you automatically know that it is a lie.
In 2019, 950 pages of Google's internal documents leaked, providing evidence of Google's use of blacklists. [Thread reader] Google receives 5.6 billion daily searches, controlling 90% of global search traffic. YouTube has 2.3 billion users. Our beliefs are inseparably linked to search results, but Google is a biased source of information, and the tech platform actively manipulates what we see. In 2021, former Google software engineer Zachary Vorhies (@Perpetualmaniac) published a book where he explained that the turning point was the election of @realDonaldTrump. The morning after the election, employees cried, lost their minds, and planned their resistance[.] Google co-founder, Sergey Brin, said in an all-hands company meeting, "I certainly find this election deeply offensive, and I know that many of you do too." "Many people apparently don't share the values that we have." Kent Walker, Google's Chief Legal Officer, suggested Trump voters were motivated by "fear," "xenophobia," and "hatred." He described how the company would take on the rise of "populism" and "nationalism." In many ways, Google did lose the 2016 election to Donald Trump. Alphabet Chairman Eric Schmidt gave Hillary Clinton's team a campaign plan a full year before she announced her run for president. Schmidt was the "head outside advisor" to the campaign. The Clinton campaign's chief technology officer, Stephanie Hannon, and chief product officer, Osi Imeokparia, came from Google. Two other key Clinton campaign staffers, Derek Parham and Jason Rosenbaum, also previously worked at Google.
Don't search for these terms on YouTube. [Controversial query blacklist.]
Google Blacklist. Words that Google Instant doesn't like.
This #GoogleLeaks thread could be a bigger deal than the Twitter Files. In a "Twitter Files" style thread, one independent journalist made the case for Elon Musk to further expose the unseen machinations of his social media company based on 2019 leaks that demonstrated Google's influence over elections. Going by the name KanekoaTheGreat, the previously banned account that was restored by the billionaire entrepreneur, took to Twitter Monday with a link to a September substack he posted that declared "Google Rigged The 2020 Election." The piece called back to the 2019 report by Project Veritas which spoke with Google insider Zachary Vorhies who leaked nearly a thousand pages of internal documents that detailed alleged censorship and suppression of conservative content.
Gmail Creator: ChatGPT AI Could Destroy Google's Business Within Two Years. The creator of Google's popular email service, Gmail, recently tweeted that he thinks Google could be put out of business by OpenAI's ChatGPT chatbot within two years. Interesting Engineering reports that Gmail's creator, Paul Buchheit, recently tweeted that he thinks Google will only be in business for two more years due to the rise in popularity of advanced AI tools. A discussion about the future of search engines like Google has erupted in response to OpenAI's ChatGPT and the chatbot's explosive growth.
Google [is] warning viewers about watching Jesse Watters on Fox News. We get our channels through Google/You Tube TV. I record Jesse Watters and I tried to watch Friday night and this censorship showed up! [Illustration] I guess their video of the Memphis beating was on the show Friday night and that might have precipitated this, but I have never seen this warning before.
Powerful As It Is, Google Couldn't Hide Pfizer's Dirty Dealings. ven with billions of dollars at its disposal, and the full backing of the two most corrupt governments on the planet, the U.S. Deep State and the European Union (EU), Internet bully Google missed the boat in removing the Project Veritas video exposing to a watching world Pfizer's exploration of Covid virus mutation for the purpose of developing future vaccines. [...] Google just doesn't get it that it's impossible to unsee what's already been seen. Important to note that even conservative news outlets are reporting that "YouTube" removed the Project Veritas video. YouTube is owned by Google. YouTube IS Google.
Lawsuit Claims Google Ignored Sexual Harassment by Female Executive, Then Fired Victim. The media-giant Google is under scrutiny once again in regard to a sexual harassment case. This instance, however, does not fit the "Me Too" narrative of there being a "systemic" scenario of male superiors abusing their female subordinates. This time, Google is being sued for dismissing a white male victim of alleged sexual harassment from an Asian female superior.
Kari Lake Could Have Been Arizona's Next Governor, But Here's What Google Did to Stop It. Dr. Robert Epstein, a renowned American psychologist and journalist, believes Google killed the red wave. And, according to him, they did it long before voters ever submitted their ballots. The former "Psychology Today" editor-in-chief and his research team have concluded that, during the midterms, Google shifted a massive number of votes nationwide. In states where Republicans lost tight races — such as Arizona — Epstein's team found "substantial bias ... in content that Google and other tech companies were sending people." Epstein believes the outcomes in these close races may have been impacted by Google's manipulations.
Responses to Veritas Expose. [Scroll down] People are hitting Google like crazy with queries regarding Jordon Walker, Pfizer and Veritas. As they did when I said "mass formation psychosis" on Rogan #1757, Google manually interferes with the searches, returning wishy washy "these results are changing rapidly" screens instead of actual links. So, now we have a pretty clear smoking gun involving collusion between Pfizer and Google to suppress the story. Then everything, anything, having to do with Jordon Walker, MD gets memory holed. Wiped from the internet, including the Wayback machine. And then the chaos agents, bots and trolls descend on all social media channels. Sowing doubt that Jordon Walker is even a real person. Floating paranoid conspiracy theories that this is all a big deep fake set up of Veritas, O'Keefe and myself. Which of course get amplified by the usual actors.
Paul Pelosi sold $3 million worth of Google stock a month prior to the DOJ's antitrust lawsuit. Just yesterday the Washington Free Beacon reported that former Speaker of the House Nancy Pelosi and her husband Paul may have used privileged information to cut their losses in the stock market. Financial disclosure filings that Nancy submitted to the House Ethics Committee revealed that Paul sold 30,000 shares of Google worth approximately $3 million between Dec. 20 and Dec. 28. A month later, on Jan. 24, 2023, the Justice Department and attorneys general from eight states — including Pelosi's home state of California — sued Google for monopolizing digital advertising technologies via serial acquisitions and engaging in other anti-competitive practices. [...] This trade is the latest in a string of questionable transactions by the Pelosi couple. A Washington Free Beacon analysis revealed that the Pelosi couple have seen their fortune grow to $140 million since 2008, due to Paul's stock trades.
Google Job Cuts Hit 1,800 Employees in California, Including 27 Massage Therapists. Google eliminated over 1,800 jobs in its home state California as part of the biggest round of layoffs in company history. On Friday, Alphabet-owned Google announced it was cutting 12,000 employees, roughly 6% of the full-time workforce. According to filings released by the state and viewed by CNBC, 1,845 positions, or 15% of the cuts, were in California. Most of the headcount reduction in the state occurred in and around the company's Silicon Valley headquarters. Some 1,436 jobs were cut in Mountain View, where Google is based, while 119 were in San Bruno, home to YouTube. Palo Alto saw 53 cuts.
Laid-off Google Employees Learn the Hard Way That Woke Corporations Don't Actually Care. Every corporation wants to present itself as the friend of the family, the helpful neighbor, or the goliath you can rely on. These businesses spend millions and millions of dollars developing marketing campaigns to try to get that idea across. Google is no different, but despite Google being a company that deals in a very modern and cutting-edge product, it's still like every other company in that its primary concern isn't you, it's your wallet. At the end of the day, a corporation is a corporation. This is what recently laid-off Google employees were blown away by after the company slashed 12,000 jobs. People who had been with the company for well over a decade suddenly realized that Google wasn't the personable company they'd believed it was.
Snowflakes:
Google employees allowed to work from home Friday to 'absorb this difficult news' of parent Alphabet laying off 12,000 people. After announcing the company was laying off some 12,000 employees on Friday, Alphabet CEO Sundar Pichai put on his velvet glove and allowed those still at the company to work from home in order to help deal with the "difficult news." In a memo to staff Friday — a version of which was shared on the company's blog — Pichai said the cuts, which account for roughly 6% of the company's staff, will be felt across Alphabet's product areas, business functions, hierarchy, and regions. "This will mean saying goodbye to some incredibly talented people we worked hard to hire and have loved working with. I'm deeply sorry for that," he wrote.
Users report Google Calendar bug creating random, fake events. Numerous users have reported experiencing an odd glitch in the Google Calendar mobile app over the past few days. The app appears to be creating random, nonexistent all-day events based on the content of users' Gmail messages. As 9to5Google (who reported the news earlier today) notes, various sorts of emails including delivery notifications, purchase receipts, and newsletters appear to be showing up as all-day calendar events. Some Verge staffers who use the Google calendar app are experiencing this glitch. "It's like finding landmines in my calendar," one writer complained. Google has not yet responded to a request for comment.
YouTube Censors Doctors, Heritage Foundation Expert for 'Medical Misinformation' on COVID-19. Nearly three years after the start of the COVID-19 pandemic and just after President Joe Biden effectively claimed the pandemic is over by trying to reverse Title 42, YouTube removed footage of a panel involving doctors and a Heritage Foundation expert discussing COVID-19 and restrictions imposed on religious liberty in the name of public health. One speaker on the panel told The Daily Signal that this Big Tech censorship proved his point about suppression of freedoms during the pandemic, and he condemned YouTube's move as "Kafkaesque."
Security Loophole in Google Home Speakers Let Hackers Snoop on Private Conversations. It was recently revealed that a security loophole within Google Home speakers allowed hackers to snoop on conversations. A bug allowed hackers to install a backdoor account on a Google Home smart speaker device and use it via remote control to eavesdrop on unsuspecting owners by accessing its microphone feed, reported Bleeping Computer. Security researcher Matt Kunze was recently rewarded a total of $107,500 by Google for discovering the security issue in January 2021, while experimenting with his own Google Home mini-speaker. Kunze notified Google in March 2021 and later published the technical details about his findings, along with a potential attack scenario, which explained how the flaw could be exploited by an outside actor.
Joe Rogan - The One Year Anniversary. My friend and colleague Matt Tune, who helped set up Joe Rogan interview #1757 and came with me to Austin for the studio recording, sent out a tweet yesterday — with a few photos. This particular year seems like it has stretched out forever! Now filed under "stranger things", just before the interview, I was banned from both Twitter and Linked-in. A coincidence that I think is highly unlikely. Maybe the next "Twitter Files" drop will clarify that sequence of events. Frankly — I had no idea how this podcast would change my life. That is until it went live, and the number of people watching it just kept going up and up and up. Some even say I even "broke Google". That is, I broke their search term algorithms, and they had to resort to cheating to control the rankings for the term "mass formation psychosis" (a term that I did not invent) to fit the main-stream narrative.
Elon Musk claims 'Google frequently makes links disappear'. Perhaps, the greater fear over the ongoing Twitter Files dump is that the transparency campaign Elon Musk pursues not only draws in federal agencies but other Big Tech corporations as well. And that is precisely what took place when independent journalist Matt Taibbi shared his latest installment of the Twitter Files just before Christmas — an effort that would get a hearty boost by Musk a few days later. "The government was in constant contact not just with Twitter but with virtually every major tech firm," Taibbi said in a series of tweets on Christmas Eve. "These included Facebook, Microsoft, Verizon, Reddit, even Pinterest, and many others. Industry players also held regular meetings without government."
Google currently employs at least 165 people, in high-ranking positions, from the Intelligence Community. [Thread reader] Google's Trust & Safety team is managed by 3 ex-CIA agents, who control "misinfo & hate speech." [...] Since the 2016 Presidential election, Google/Facebook/Twitter have hired at least 300+ people formerly employed by CIA, FBI, etc. Ex-CIA agents are Heads of Trust & Safety at Google & Facebook. Is it OK that ex-CIA agents control what "misinfo" is?
Ten Ways to Strike Back. [#2] Never Google Anything Again: There are some fantastic search engines out there not named "Google" or "Yahoo." Download one of them and set it as your default browser. The only thing you'll miss are the trackers, advertisers, Big Brother Google, and the liberal content you're force-fed daily.
Google Announces 'Pre-Bunking' Censorship Tools for Behavioral 'Interventions'. Big Tech giant Google has announced the development of its new "pre-bunking" censorship tools that seek to manage behavioral "interventions." Google has dubbed its project "Info Interventions" and claims it is based on behavioral science. The tools are effectively aimed at predicting so-called "misinformation" and "disinformation." By "pre-bunking" information, Google hopes it can block it before it is viewed by anyone online.
Google Gives Millions To Boost Leftist Disinformation Peddlers Of Legacy Media. Google and its subsidiary YouTube just gave a $13.2 million grant to the Poynter Institute's International Fact-Checking Network to combat "misinformation," in the Big Tech sites' "single largest grant in fact-checking" yet and the latest instance of the medical, political, and media establishments tightening their grip on the free-flowing digital public square. For years, the world's elites have been trying to recapture the control they lost to the free flow of information on the internet. They've shelled out millions for celebrities like Prince Harry to slander the First Amendment and hand-wring about an alleged "disinformation" crisis. They've pressured individual tech companies to ban content, people, and entire platforms. The Biden administration even tried implementing its own, now-defunct "Ministry of Truth," all to convince us that freedom of speech and inquiry is somehow dangerous and that the threat can only be neutralized by "trusted" experts seizing dominance of the information exchange.
FBI Dragnet for Google Data Pertaining to Jan. 6 Should Concern Us All. We saw an unprecedented effort by the government to go after those who were at the Capitol on Jan. 6, with the FBI investigating hundreds of people and employing all kinds of tactics to arrest them. Not only did the FBI have informants who were involved, but they also employed some unusual methods. Among the tactics in their huge investigatory effort was the "biggest-ever haul of phones from controversial geofence warrants, court records show." According to a filing in one of the Jan. 6 cases, Google gave up information to the FBI on 5,723 devices that had been in or near the Capitol during the riot. Geofence warrants allowed them to get anyone in the area using digital services. There weren't that many people who were inside the Capitol. About 900 have been charged. So those warrants were grabbing people who had not been inside the building — they were potentially grabbing information on dissenters and/or random people who were just in the neighborhood.
Google Gives Location Data of 5,000+ Phones to Feds for Unconstitutional Jan. 6 Patriot Crackdown. A new article from Wired has revealed that Google gave the location data of at least 5,000 phones to the federal government to help them crack down on patriots in their overreaching and unconstitutional probe over the Jan. 6 election fraud protest. A court filing has shown that Google identified 5,723 mobile devices for the feds in order to help them charge peaceful Capitol protesters at Jan. 6. Meanwhile, shady provocateurs caught on video inciting violence, such as Ray Epps, remain free. Jan. 6 was the Reichstag event needed for the feds to initiate war in the domestic home front against dissidents and patriots, and Big Tech is fully on board for these treasonous affronts against the people.
A Peek Inside the FBI's Unprecedented January 6 Geofence Dragnet. The FBI's biggest-ever investigation included the biggest-ever haul of phones from controversial geofence warrants, court records show. A filing in the case of one of the January 6 suspects, David Rhine, shows that Google initially identified 5,723 devices as being in or near the US Capitol during the riot. Only around 900 people have so far been charged with offenses relating to the siege. The filing suggests that dozens of phones that were in airplane mode during the riot, or otherwise out of cell service, were caught up in the trawl. Nor could users erase their digital trails later. In fact, 37 people who attempted to delete their location data following the attacks were singled out by the FBI for greater scrutiny. Geofence search warrants are intended to locate anyone in a given area using digital services. Because Google's Location History system is both powerful and widely used, the company is served about 10,000 geofence warrants in the US each year. Location History leverages GPS, Wi-Fi, and Bluetooth signals to pinpoint a phone within a few yards. Although the final location is still subject to some uncertainty, it is usually much more precise than triangulating signals from cell towers. Location History is turned off by default, but around a third of Google users switch it on, enabling services like real-time traffic prediction.
YouTube: purveyor of disinformation. Matt Taibbi — a former Rolling Stone reporter who was red pilled some time ago — is going on a tear about YouTube. It is glorious to behold. A bit of background: Taibbi published a video produced by Matt Orfalea detailing the misinformation campaign used to discredit the Hunter Biden laptop just prior to the 2020 election. Every Mainstream Media outlet pushed the Narrative™ that the New York Post's reporting on the laptop was simply a repetition of Russian misinformation. [Video clip] The FBI encouraged Facebook to censor the video — that is straight from Mark Zuckerberg — and all social media outlets followed the diktat from the Establishment™ to downplay and debunk the story as false. And, of course, they complied. It is was the most blatant form of censorship and narrative building in recent years.
Google attempts to deter 'election fraud' searches with suggestions like 'ejection fraction'. Google appears to be attempting to deter searches on "election fraud" by using auto-fill suggestions unrelated to elections. Upon typing "election fr" or "election "fra" into Google's search engine, instead of auto-suggesting phrases that begin with "election," as would be typical, Google primarily suggests variations of "ejection fraction."
Big Tech Is Furious Andrew Tate Is Exposing The Great Reset. In yet another example of Big Tech tyranny, YouTube nuked a viral "Full Send Podcast" episode featuring controversial "manosphere" figure Andrew Tate last week. The video, which was posted in August, had been viewed by millions and was one of the "Full Send Podcast's" most popular videos. [TWeet] "Our team has reviewed your content, and, unfortunately, we think it violates our hate speech policy," said an email from YouTube in a screenshot posted by "Full Send Podcast" host Kyle Forgeard. "Content glorifying or inciting violence against another person or group of people is not allowed on YouTube," continued the email. It remains unclear exactly how Tate was "glorifying or inciting" violence. Google did not respond to The Federalist's request for comment by publication time.
DuckDuckGo unveils new tools to stop Google from snooping on Android users. Alternative search engine DuckDuckGo said Wednesday that it had released tools to help stop Google from snooping on Android users amid mounting attention to the Big Tech company's surveillance practices. DuckDuckGo has styled itself as a privacy-focused alternative to Google's search product. It presented the tools days after Google made headlines for a $391.5 million settlement with 40 states that accused it of inappropriate location tracking. The App Tracking Protection from DuckDuckGo intends to stop trackers hidden inside apps on Android devices from following people even when they stop using the apps.
Google Settles Nearly $400M Lawsuit over Secret Location-Tracking. Search giant Google has agreed to a $391.5 million settlement with 40 states to resolve an investigation into how the company tracked users' locations, state attorneys general announced Monday. The states' investigation was sparked by a 2018 Associated Press story, which found that Google continued to track people's location data even after they opted out of such tracking by disabling a feature the company called "location history." The attorneys general called the settlement a historic win for consumers, and the largest multistate settlement in U.S history dealing with privacy.
Google Is Shifting Votes On A Massive Scale, But A Solution Is At Hand. My research team is currently monitoring online political content being sent to voters in swing states through more than 2,500 computers owned by a politically-diverse group of registered voters (our "field agents"), and we are concerned about what we're seeing. We are aggregating and analyzing search results on the Google and Bing search engines, messages displayed on Google's home page, autoplay videos suggested on YouTube, tweets sent to users by the Twitter company (as opposed to tweets sent by other users), email suppression on Gmail, and more. We have so far preserved more than 1.9 million "ephemeral experiences" — exposure to short-lived content that impacts people and then disappears, leaving no trace — that Google and other companies are able to use to shift opinions and voting preferences, and we expect to have captured more than 2.5 million by Election Day.
Google [was] Caught Manipulating Search[es], Buries GOP Campaign Sites in 83% of Top Senate Races. Anti-Democracy Google is manipulating search results to bury Senate Republican candidates' campaign websites before the 2022 midterm elections. This comes on the heels of a North Carolina State University study that found that Google's Gmail marked 59.3 percent more emails from "right"-leaning candidates as spam compared to "left"-leaning candidates. "Google must be investigated for its un-American efforts to sway the election," said L. Brent Bozell, founder and president of the Media Research Center. "First, researchers caught Google red-handed by proving Republican campaign emails were sent to spam. Now we've uncovered Google manipulating search results to hide Republican campaign websites while promoting Democratic ones. This is all an effort by Google to help Democrats and interfere in the democratic process."
If You Liked Big Brother, Meet Google's Big MUM. MUM or Multitask Unified Model was hyped last year as the company's new machine learning algorithm. MUM had been initially described as an innovative way to allow Google's dying search service to answer natural language questions by drawing on multiple sources. While MUM's applications initially appeared to be apolitical, that quickly changed. Google first unleashed MUM to fight what it considered COVID "misinformation" by making sure that everyone saw "high quality and timely information from trusted health authorities like the World Health Organization". By reducing the number of sources to only those that agree with its agenda, Google is able to deliver fast results while getting rid of different points of view. A Forbes article described how MUM would "check information across multiple reliable sources" to allow "the system to come to a general consensus". Google had once built its search around the vast diversity of a bygone internet, but it has spent the last decade draining the diversity and depth of the pool and replacing it with the shallow manufactured consensus of its agenda.
The RNC sues Google. People in the industry refer to your email list as your "owned audience," but it turns out you might not own it after all. The companies that run the major email systems tend to be on the left. My own organization moved away from MailChimp on account of apparent political bias that obstructed our ability to send emails, without restriction, to tens of thousands of email subscribers. Now, the Republican National Committee is suing Google, alleging that Gmail is discriminating against Republicans during a crucial fundraising season.
Texas AG Ken Paxton files lawsuit against Google for collecting biometric data. Texas Attorney General Ken Paxton announced Thursday that he has filed a lawsuit against Google for allegedly having "unlawfully" captured the biometric data of "millions of Texans" without their consent. "Google's indiscriminate collection of the personal information of Texans, including very sensitive information like biometric identifiers, will not be tolerated," Paxton said in a statement.
'Adams Tent City': Google tags mayor in mapping NYC's new migrant center. Google Translate apparently works on bureaucratic jargon, too! The world's leading search engine appeared Tuesday to have rejected Mayor Eric Adams' official name for his controversial migrant processing center on Randall's Island in favor of something a bit more descriptive. Instead of labeling the site a "Humanitarian Emergency Response and Relief Center," Google Maps simply called it what it is: "Adams Tent City." The term popped up next to the red locator pin for the Icahn Stadium parking lot, where City Hall planned to unveil the new facility Tuesday afternoon.
Google Employees Are Laughing at You for Thinking 'Incognito Mode' Is Private. According to a series of internal communications discovered in court, Google employees joked about Chrome's "Incognito mode" and criticized the company for failing to meet users' expectations of privacy. Google is currently the target of a class action lawsuit in California over its misleading claims of privacy. Court documents obtained by Bloomberg reveal that a Google engineer suggested in 2018 that the Incognito mode icon be changed to "Guy Incognito," a Simpsons character who looks exactly like Homer Simpson except for his mustache. According to the Google employee, the character "accurately conveys the level of privacy [Incognito mode] provides" compared to Chrome's standard browsing mode. In a 2021 email, Google marketing chief Lorraine Twohill urged the implementation of a more secure Incognito mode as a means of gaining users' trust.
Google clamps down. I'm surprised that it took this long. After returning from another fall baseball game with my just turned 14-year-old son this past weekend, I popped open my laptop to check my website, and I encountered the message below: [...] Again, my only real surprise here is that it took Google this long to try and "cancel" me and my Christian, conservative opinions. Google, along with most of the rest of the like-minded ilk at Big Tech, have long been engaged in a war on the truth.
RNC: Google Suppressed 22 Million+ GOP Emails Since September. The Republican National Committee (RNC) is accusing Google of suppressing more than 22 million campaign emails since September, by sending them to users' spam folders, and is now considering legal action against the tech giant. Google, which insists party affiliation plays no role in determining which emails get sent to the spam folder, launched an FEC-approved program to ensure campaign emails reached users' main inboxes under pressure from Republicans. But the RNC, which shared data from its email campaigns with Fox News Digital, says this has not resolved the situation, with masses of emails getting spammed by Google at the end of every month.
Google Targets 2-Time Pulitzer-Prize-Winning Cartoonist. Political cartoonist Michael Ramirez has won two Pulitzer Prizes — an achievement only a handful of others in his category have achieved — as well as countless other awards for his unmatched mastery of his craft. His cartoons, syndicated by Creators, run in publications around the world. Yet, to Google's content police, Ramirez's cartoons are "shocking content" and it is restricting ads on a page where a catalog of them appears. How do we know this? Because it's against our site that Google has taken this action. Google's AdSense network — which is used by some 3.5 million websites to generate revenue — defines "shocking content" as content that:
• contains gruesome, graphic, or disgusting accounts or imagery.
• depicts acts of violence.
• contains a significant amount of or prominently features obscene or profane language.
RNC Says Google Spiked Over 22 million of Its Emails in September Alone. It's not really a secret anymore that the Left doesn't believe in a level playing field, and that the woke vanguard is censorious, fascist, and unwilling to allow for the fair and open enunciation of opposing points of view. That's why so many conservatives, including Donald Trump himself, have been banned from Twitter and Facebook, and that's why Parler, Gettr, Gab and Truth Social exist at all: to give a voice to those who have been denied a platform for having views that don't correspond to those of the political and media elites. But the censorship is even more far-reaching than that: on Monday, Fox News reported that "the Republican National Committee [RNC] says Google is suppressing get-out-the-vote [GOTV] and fundraising emails by sending millions of GOP election emails to users' Gmail spam folders, with party leadership threatening to explore legal options to 'put an end' to what they call a 'clear pattern of bias.'" Google, biased against conservatives? Why, the only people who could possibly be shocked by this are working for Mitt Romney and Adam Kinzinger.
Is Google automatically sending GOP emails to spam folders? This is one of those stories where if you'd told me about this as little as ten years ago I'd have accused you of falling victim to conspiracy theories. But in 2022 it took me all of a second or two before I nodded my head and said to myself, 'yep. That checks out.' The report in question, available at The Daily Wire, finds that fundraising emails from Republican groups and candidates are vastly more likely to wind up in the spam folders of G-mail users than similar broadcasts from Democratic outfits. The volume of these emails was staggering, measuring in the millions or tens of millions in a single day. The highest frequency of spam designations came in the final days of the months when a fundraising period was coming to a close. The RNC has filed a complaint with the Federal Election Commission since Google refuses to even answer inquiries as to what's going on here.
YouTube restricts video of Dems, critics saying 2016 election was hacked, then backtracks. YouTube cracked down on a video compilation of Democrats and media pundits questioning the legitimacy of former President Donald Trump's 2016 election victory — then overturned the move amid backlash on Thursday. The TK News video — put together to highlight the partisan double standard over election denialism — had been tagged to run with limited or no ads, depriving the creators of vital revenue, TK's Matt Taibbi said in a Substack post. The video includes clips of prominent liberals repeatedly calling Trump's presidency "illegitimate" and using the word "hacked" to describe the 2016 election. "After manually reviewing your video, we've confirmed that it isn't suitable for all advertisers," the Google-owned video giant wrote to producer Matt Orfalea, according to the post. "As a result, it will continue to run limited or no ads ... Your video remains playable and is still eligible to earn subscription revenue from YouTube Premium."
Hawley Calls on Google to Explain Why It Has 'Throttled' Crisis Pregnancy Centers. Sen. Josh Hawley is calling on Google to explain why it has reportedly "throttled" the online outreach of pro-life crisis pregnancy centers, expressing concerns that Google is "deliberately limiting pregnancy resource centers' outreach efforts." In a letter first obtained by The Daily Signal, Hawley, R-Mo., tells Google that the pregnancy research centers in his home state "seek to reach women considering abortion, in order to offer both alternatives to abortion and support during and after their pregnancies." "That outreach takes a number of forms, including online ad campaigns focused on a number of abortion-related search terms," he continued. "But recently, your company appears to have throttled that outreach."
A Danish City Built Google Into Its Schools, Then Banned It. The small Danish city of Helsingør is not a place usually in national news headlines. Until now, most visitors come here to catch the ferry to nearby Sweden or to visit the castle where Shakespeare's famous tragedy Hamlet was set. But the news crews arrived with the start of the new school term in August, to capture the chaos caused when local schools banned Google. Google's education products — its Chromebook laptops and school software — are deeply embedded in Denmark's education system. Around half of the country's schools use Google, and some students in Helsingør get their first Chromebook at the age of 6. So when Helsingør banned those products on July 14, the result was widespread disruption when schools reopened the following month. Some local children complained they were so unused to pen and paper they couldn't read their own handwriting. Denmark's data protection regulator found that local schools did not really understand what Google was doing with students' data and as a result blocked around 8,000 students from using the Chromebooks that had become a central part of their daily education.
Bad news for Dems: The border crisis is the new Roe in Google searches. My, how quickly the plot changes with just a single flight to Martha's Vineyard! To be fair, the media's interest in the border crisis began spiking upward before then, but not much before Ron DeSantis sent 50 illegal immigrants to the wealthy Massachusetts enclave. When buses began arriving in "sanctuary cities" like New York City and Washington DC, thanks to the efforts of DeSantis, Greg Abbott, and Doug Ducey, the media went into full freak-out mode. They excoriated these Republican governors endlessly, and still do. And you can guess what that did for public interest in the border crisis. Axios reports this morning that it has now eclipsed interest in abortion, a topic that mainstream media spent the summer flogging for the midterms, as well as the Mar-a-Lago kerfuffle.
Google scholarship sets racist quotas favoring minorities. Tech giant Google has established a discriminatory fellowship program that major universities can participate in that specifically favors some races while barring others. [...] As noted by numerous lawyers quoted at the first link, this program is flagrantly illegal, violating numerous anti-discrimination laws, both federal and state. Since the program is being offered in partnership with many major universities, those universities are also in direct violation of those anti-discrimination laws, and if those laws were enforced properly, these schools should immediately lose all federal funding. The article at the link lists Harvard, Yale, Stanford, Princeton, the Massachusetts Institute of Technology, Columbia, Cornell, Duke, Johns Hopkins, the University of Pennsylvania, the University of Michigan, the University of North Carolina Chapel Hill, the University of California Berkeley, and New York University as participating universities. All of these colleges also have their own internal anti-discriminatory policies, which this fellowship program also violates. Because the federal government is run by Democrats who favor such racism, we can expect it to do nothing against these schools or Google.
Geothermal vs. the greens. To much fanfare, Google announced in May 2021 that it would power one of its massive, energy-hogging data centers in Nevada using a next-generation geothermal plant. "To reach 24-7 (carbon-free energy), we also need to go beyond wind and solar and tap into sources of on-demand clean energy like geothermal," Google CEO Sundar Pichai said Tuesday. "It's not widely used today and we want to change that. I'm excited to announce that we are partnering to develop a next-generation geothermal power project. This will connect to the grid, serving our Nevada data centers starting next year." As is to be expected, other environmentalists objected because the project threatens to wipe out the Dixie Valley toad. The latest twist came recently when the 9th Circuit Court of Appeals refused to reinstate an injunction that halted construction. But only hours later, the parties themselves agreed to suspend construction temporarily.
Google Partners With Top Universities For This Prestigious Fellowship. Lawyers Say the Racial and Gender Quotas It's Imposing Are Illegal. Google is setting strict caps on the number of white and Asian students that universities can nominate for a prestigious fellowship program, a policy legal experts say likely violates civil rights law and could threaten the federal funding of nearly every elite university in the United States. The Google Ph.D. Fellowship, which gives promising computer scientists nearly $100,000, allows each participating university — a group that includes most elite schools — to nominate four Ph.D. students annually. "If a university chooses to nominate more than two students," Google says, "the third and fourth nominees must self-identify as a woman, Black / African descent, Hispanic / Latino / Latinx, Indigenous, and/or a person with a disability." That criterion, which an archived webpage shows has been in place since at least April 2020, is almost certainly illegal, civil rights lawyers told the Washington Free Beacon — both for Google and the universities.
Google Goof? Raced-Based Scholarships From Tech Giant Are Likely Unconstitutional. For our friends on the left, attitudes toward race have apparently come full circle. It wasn't that long ago, less than a decade perhaps, that the mere suggestion of a major corporation openly discriminating against prospective candidates for scholarships and fellowships based on their race would have been denounced from every angle of the political spectrum. If those being excluded from consideration were to have been limited to only white folks, there would have certainly been sympathizers with the idea from various leftists, but they wouldn't have been brazen enough to put forth the notion publicly. And if it wasn't only white folks whose candidacies were being barred, if non-white scholars were also being eliminated from the pool of candidates, then we would have expected to hear screams of objection from all sides. But times have changed, and it now appears to be perfectly acceptable for not only corporations but for academic institutions as well, to exclude any race they feel like, provided such exclusions align with their hierarchy of victimhood and electoral strategies. Now Google and many of the top colleges and universities in the country may have a serious problem on their hands as a result.
Google Flags Parents As Child Sex Abusers After They Sent Their Doctors Requested Photos. Over the last few years, there has been a lot of attention paid to the issue of child sexual abuse material (CSAM) online. It is a huge and serious problem. And has been for a while. If you talk to trust and safety experts who work in the field, the stories they tell are horrifying and scary. Trying to stop the production of such material (i.e., literal child abuse) is a worthy and important goal. Trying to stop the flow of such material is similarly worthy. The problem, though, is that as with so many things that have a content moderation component, the impossibility theory rears its head. And nothing demonstrates that quite as starkly as this stunning new piece by Kashmir Hill in the New York Times, discussing how Google has been flagging people as potential criminals after they shared photos of their children in response to requests from medical professionals trying to deal with medical conditions the children have.
Google pulls ads on meteorologist tracking climate for 'unreliable and harmful claims'. A meteorologist who worked on climate studies at NASA says satellite observations show the Earth is warming at the "bottom end" of climate models — but Google has demonetised his website. Dr Roy Spencer said Google was "not specific about what claims" led to the decision. "What their website tells me is that all of my whole website basically is unreliable and harmful claims," he said. "If people like myself don't buy into the narrative that global warming is not only occurring but it's going on at a catastrophic rate and we have to do something about it, if you don't go along with that narrative, you get thrown under the bus." Dr Spencer, formerly a senior scientist for climate studies at NASA's Marshall Space Flight Centre, told Sky News Australia his global temperature dataset started with John Christy over 30 years ago is unlike any other because it's from satellites and "covers the whole Earth".
Google execs threaten workers with layoffs: 'There will be blood on the streets'. Google executives are telling their employees to shape up or ship out, warning that layoffs are coming if results don't meet expectations. Employees who work in the Google Cloud sales department said that senior leadership told them that there will be an "overall examination of sales productivity and productivity in general." If third quarter results "don't look up, [then] there will be blood on the streets," according to a message conveyed to the sales team. The warning was first reported by Insider. Employees told the news site that they are fearful of layoffs after the company quietly extended its hiring freeze this month without making an announcement.
Google's AI chatbot: Sentient, smart, and really racist. It's been a little while since we checked in on Blake Lemoine, the former Google engineer who was suspended and then fired after revealing what he believed to be evidence that Google's AI chatbot LaMDA had achieved a level of sentience. Lemoine doesn't have any regrets about the way the story played out for him, personally or professionally. But he's also not done telling his story and he continues to have concerns over the way that Big Tech is developing Artificial Intelligence systems and some of the assumptions they rely on while doing so. He also remains convinced that LaMDA has indeed "woken up" at least to some level, assuming Google hasn't killed it since he left.
Court Rejects Google's Attempt to Dismiss Rumble's Antitrust Lawsuit, Ensuring Vast Discovery. A federal district court in California on Friday denied Google's motion to dismiss a lawsuit alleging that the Silicon Valley giant is violating federal antitrust laws by preventing fair competition against its YouTube video platform. The lawsuit against Google, which has owned YouTube since its 2006 purchase for $1.65 billion, was brought in early 2021 by Rumble, the free speech competitor to YouTube. Its central claim is that Google's abuse of its monopolistic stranglehold on search engines to destroy all competitors to its various other platforms is illegal under the Sherman Antitrust Act of 1890, which makes it unlawful to "monopolize, or attempt to monopolize... any part of the trade or commerce among the several States, or with foreign nations." It is rare for antitrust suits against the four Big Tech corporate giants (Google, Facebook, Apple and Amazon) to avoid early motions to dismiss. Friday's decision against Google ensures that the suit now proceeds to the discovery stage, where Rumble will have the right to obtain from Google a broad and sweeping range of information about its practices, including internal documents on Google's algorithmic manipulation of its search engine and the onerous requirements it imposes on companies dependent upon its infrastructure to all but force customers to use YouTube.
Republicans say Google spam filter cost them $2 billion from donors. Google's practice of filtering Republican campaign emails into spam filters cost the party $2 billion in donations since 2019, GOP lawmakers and the head of the Republican National Committee said. Republicans made the calculation based on a North Carolina State University study that found Google, the nation's largest email platform, flagged more Republican campaign emails as spam than Democratic emails during the 2020 election season, and ended up sending as few as 32% of GOP emails to inboxes. "Big Tech has been silencing conservative voices and actively working against Republicans for multiple cycles," Republican National Committee Chair Ronna McDaniel, National Republican Senatorial Committee Chair Rick Scott and National Republican Campaign Committee Chair Tom Emmer said in a joint statement.
Google proposes reorganizing ad business to ward off US antitrust case: Report. Google has begun offering concessions in an attempt to avoid growing pressure from regulators and antitrust lawsuits. Google is reportedly considering splitting the parts of its business that handled online advertising into a separate company under the parent organization Alphabet, according to the Wall Street Journal. This offer arises as the search engine faces scrutiny over its dominance in the digital advertising business.
Google will soon delete location data for abortion clinic visits in response to overturning of Roe. Google said Friday [7/1/2022] that the company will soon scrub the location data of anyone who visits an abortion clinic — among other health-related facilities — shortly after they visit. Jen Fitzpatrick, the senior vice president of core systems and experiences at Google, announced the news in a blog post, which comes a week after the Supreme Court overturned Roe v. Wade, the landmark 1973 ruling that legalized abortion nationwide. Other places that Ms. Fitzpatrick said Google will start deleting include counseling centers, domestic violence shelters, fertility centers, addiction treatment facilities, weight loss clinics and cosmetic surgery clinics.
Google tells U.S. employees they can relocate to states where abortion is legal. Google has told its workers in the U.S. that they will be allowed to move to another state without having to justify it following the Supreme Court's decision to overturn Roe v. Wade which removed the constitutional right to abortion. But other companies who plan to help their workers travel across state lines in order to undergo terminations, may face the wrath of lawmakers who are threatening to introduce legislation to block or at least hinder such offers of support. Fiona Cicconi, the company's HR Chief said the company's benefits plan and health insurance would cover 'out-of-state medical procedures that are not available where an employee lives and works.'
We can break the computer algorithms destroying critical thinking. I recommend a Netflix special production, The Social Dilemma, to everyone I meet — friends, relatives, shopkeepers, and even strangers. Although understated in tone, the movie is hard-hitting as it exposes the business model companies such as Facebook, Google, Twitter, and Instagram use to affect our thinking. The documentary's conclusion is that computer algorithms have learned — on their own — how to reward humans to increase the amount of attention they pay to their devices. Then, the information technology companies sell the accumulated increased attention to advertisers in an auction-like process. Each person's attention-increase is worth a few cents. These cents add up, making these giants the richest companies that have ever existed. What the algorithms have learned is to feed back to people the same ideas with which they have already felt comfortable. Anything contradicting their present belief systems is blocked because it would reduce or end their attention and, thus, lower their monetary worth both to those who control the search engines and the advertisers who buy that "attention." Truth has no bearing on the information that the systems provide to each person. Each person gets exactly what he feels at home with.
Pro-Abortion Lawmakers Urge Google to 'Fix' Search Results that Direct Women to Pro-Life Clinics. Several pro-abortion Democratic lawmakers sent a letter to Google urging the company to give "accurate" search results pertaining to abortion procedures. The lawmakers specifically ask the search platform to direct women to abortion clinics instead of pro-life crisis pregnancy centers. The letter, led by Sen. Mark Warner (D-VA) and Rep. Elissa Slotkin (D-MI), was signed by 14 senators and seven representatives.
Google will pay $118M to settle gender discrimination lawsuit with more than 15,000 female staff. Google's parent company Alphabet will pay $118 million to 15,500 current and former female employees in order to settle a class action lawsuit that has been in the works for five years. The plaintiffs in the case account for a broad range of roles within the company, including managers, engineers, sales representatives and at least one pre school teacher. They accused Google of putting overqualified women in roles that were paid less, denying promotions to women and generally paying female employees on average close to $17,000 less than men.
Google, the wokest of companies, settles a huge gender discrimination claim. Google is a brilliant software design company. If it just stayed in its lane, it would be entitled to nothing but praise. But modern tech companies believe that they have a mission to remake the world in their own woke image. Through relentless censorship and propaganda on Google (the most used search engine in America) and YouTube (the most used non-gaming video platform), Google is busy forcing Americans to embrace all the leftist shibboleths: White privilege, toxic masculinity, Critical Race Theory, feminism, LGBTQ+++ mythology, and more. [...] Given that Google's propaganda and censorship are offensive and highly damaging to American liberty, I had a tremendous rush of schadenfreude when I read that Alphabet settled a massive sex discrimination class action case against Google. Under the terms of the agreement, Alphabet will pay $118 million to 15,500 women who worked (or work) for the tech giant[.]
Ohio Court Rules Google May Be Designated a Common Carrier. A court in Ohio has ruled that a lawsuit from state Attorney General Dave Yost, which labels Google a common carrier subject to special regulations and litigation, can proceed, a significant development for Republicans seeking to hold tech companies accountable for bias and censorship. Under U.S. law, common carriers are subject to strict regulations about who they can and cannot deny service to. Along with businesses categorized as public accommodations, they are expected to provide service to all paying customers on a non-discriminatory basis. Examples of common carriers in the U.S. include utilities and telecommunications companies.
Google Maps workers in WA say they can't afford the trip back to the office. Google Maps contract employees who are required to return to their office in Washington state recently circulated a petition to keep working from home since some cannot afford their commutes, presenting another challenge to Google's plan to refill offices and restore campus life. The issue affects more than 200 workers who are employed by outsourcing firm Cognizant Technology Solutions, which mandated that they work in an office in Bothell five days a week starting June 6. The workers play an essential role updating routes and destinations on Google Maps, a service used by more than 1 billion people a month.
AI Research Is A Dumpster Fire And Google's Holding The Matches. Google invented Surveillance Capitalism and yet most of the world doesn't have a clue what that is or means. It is the use of machine "intelligence" to transform the collective into a resource that can be sold for huge profits. This is not benevolent to humanity, but rather destructive to individualism as well as all democratic systems of governance.
Google Chrome Warns Users of Dozens of Security Vulnerabilities. Google Chrome has announced a significant update for its more than three billion users after detecting 30 security vulnerabilities on its browser — seven of which were deemed highly severe — just weeks after issuing an update for a zero-day vulnerability that hackers exploited. The company issued a press release on April 26 announcing that it will promote Google Chrome 101.0.4951.41 in the coming days or weeks to the stable channel for Mac, Windows, and Linux, which will offer protection from the dozens of common vulnerabilities and exposures (CVE) found on the browser, which Statista reports is used by 3.2 billion people.
YouTube Bans Video Featuring Conservative Expert on Voter Fraud. YouTube on Tuesday [4/26/2022] removed a video of a podcast discussion of vote fraud and the 2020 election from its platform, but the participants in the discussion insist they did or said nothing wrong. The video featured an expert from The Daily Signal's parent organization, The Heritage Foundation, and had been on YouTube for more than a year without incident before being taken down.
Google Introduces Prompts to Make Sure You Write Like a Leftist. Google has added a feature to Google Docs that will nudge writers toward using language that is more "inclusive," that is, more in line with Leftist sensibilities. Google Docs is supposed to be simply an online word processor and document editor that makes it easy for multiple people to see and work on a document. That part is great, but it's increasingly clear that the Left never leaves well enough alone when providing a service.
Big Tech to the Rescue: Google Will Now 'Inclusively' Convert Your Words to Wokeness. When it comes to choosing words, do you wish Google would save you from yourself? For those intent upon expression but afraid of causing offense, the tech company has put on its Rescue vest. Google Docs has introduced a new feature that will warn you if you type words it considers unacceptable. Make a wrong move, and you'll be told your choice "may not be inclusive to all readers." The software will benevolently direct you to words sufficiently woke.
Google accused of 'creepy' speech policing. Google's new 'inclusive language' assistant uses artificial intelligence to detect "discriminatory" words, and suggest that users swap them for more politically correct terminology. Free speech and privacy advocates say the feature undermines "freedom of thought." Google announced the tool at the beginning of April, as part of a host of "assistive writing features" for Google Docs users. Some of these AI-powered add-ons suggest more concise and snappy phrases for writers, while others polish up grammar. However, Google said that with its new 'inclusive language' assistant, "Potentially discriminatory or inappropriate language will be flagged, along with suggestions on how to make your writing more inclusive and appropriate for your audience." Users soon noticed its prompts creeping into their work and posted screenshots of Google's suggestions on Twitter. The term 'motherboard' is flagged as potentially insensitive, as is 'housewife', which Google suggests should be replaced with 'stay-at-home-spouse'.
Google Launches New 'Inclusive Language' Function. The search engine giant Google has rolled out a new feature that acts as an auto-suggestion for changing certain language to more politically correct terms. According to the Daily Mail, users who type out certain words will be faced with several suggestions encouraging them to adopt language that is gender-neutral, or otherwise more politically correct. For example, "landlord" will yield suggestions such as "proprietor" or "property owner," while "mankind" will lead to the suggestion of "humankind." "Policeman" is now recommended to be "police officers," while "housewife" is to be replaced with "stay-at-home spouse." This feature also applies to transcriptions of interviews and speeches from the past. When John F. Kennedy's inaugural address in 1961 is transcribed and put to the test, Google recommends that Kennedy's use of "for all mankind" be changed to "for all humankind."
YouTube removes Tucker Carlson interview with woman who detransitioned. Helena Kerschner began taking testosterone at the age of 18. She was lured into the realm of trans ideology, and believing that she was not female, after delving into online fan fiction communities. She spoke to Tucker Carlson, and when a clip of her interview was posted to YouTube, it was taken down for "violating YouTube's policy on spam, deceptive practices and scams." The video showed a segment of a longer interview Kerschner gave to Carlson about her transition and detransition, what led her down the road of gender identity exploration and questioning, how she found her way out, and what her view on the gender industry is after her experience. [Video clip]
Google Just Declared War On The Most Accurate Pollster In America — And On Most Americans. In March, we reported on the results of our monthly I&I/TIPP Poll, which found that nearly two-thirds of registered voters thought decisions about COVID restrictions were driven by politics, not science. Majorities in just about every demographic, political, and ideological group felt this way. Nevertheless, Google's AdSense network stripped its ads from this article because it contains what Google claims is "dangerous or derogatory content" and that we must "fix it" for Google to restore those ads.
Gmail is hiding emails from conservatives. It's not uncommon for the American Thinker staff to learn that emails from readers and writers have vanished into Gmail's automatic spam filter. It's extremely irritating but is it deliberate? One study suggests that it probably is. That's either because the email's content is obviously conservative or because the email comes from Proton Mail, a site to which conservatives gravitated after the FBI's partisan crackdown following January 6. Six years ago, Russ Vaughn authored an American Thinker post revealing that his email box appeared to show a distinct bias in the way Google automatically sorted email: ["]I decided to clean out my email trash, and after completing the task, I turned to my spam to do the same. But upon clicking into that folder, I made the interesting discovery that almost all of the emails relegated to spam by Gmail's filters (I have no personal filters in place) had a common thread: Almost all were from conservative sources. In fact, ninety percent of them were from Republican or conservative causes, most seeking contributions.["] It turns out that what Russ observed was not limited to his own inbox.
Check Out This Trash Promoted On YouTube Kids And Tell Me They Aren't Grooming Children. There is no safe way to allow children to use the internet. Even with companies like Disney, Nickelodeon, Netflix, and YouTube creating content and platforms specifically "for kids" the content is never as innocent as presented. Take for example the trash that you can find on YouTube Kids that promotes a radical gender and sex ideology to young kids. [Tweet with video clip]
Google adds new "fact checking" to News, will push users to "credible" sources. Google has announced new features for Search and News, aimed at directing users to "credible sources" of information. Last June, the company started applying labels to search results for "rapidly evolving topics" such as breaking news and viral videos. The labels suggest checking back later when there are more details. Starting from today, in the US, users will start seeing more labels to help access if the information they are seeing is credible, as determined by Google.
Google's censorship of jokes about Biden. Someone had shared his grandma's funny joke about Joe Biden, and after passing it along, a friend asked me to "find me another." A Google search for "Biden jokes" results in many pages of "Biden jokes about this or that in recent presser"-type headlines. Pretty much no jokes "about" Biden. [...] Doing a search for "Biden jokes" on DuckDuckGo provided a wonderful assortment of jokes about Biden, as well as about Trump. It appears that this whole censorship and steering opinion thing runs much deeper and more subtly than most people, including myself, would likely have thought.
Google billionaire Eric Schmidt has PAID the salaries of staff inside Biden's science office. Google's former CEO Eric Schmidt has denied channeling money into the White House science office through his foundation, according to a report published on Monday [3/28/2022]. Schmidt, who stepped down in his role at Google's parent company Alphabet in 2020, now serves on the board of numerous tech companies, including some focused on artificial intelligence (AI). The Office of Science and Technology Policy (OTSP) helps formulate AI policy and steer funding toward the technology. Former OTSP general counsel Rachel Wallace repeatedly raised concerns over Schmidt's influence, which she believes was the source of the wrath she faced from the OTSP's former head Eric Lander, who stepped down recently for bullying women in the office, according to the report. Lander and Schmidt are close associates.
Former Employee Sues Google For 'Racially Biased' Culture. A former Google employee filed a class-action lawsuit in a San Jose, California, federal court Friday alleging systemic bias against black employees and a corporate culture preferring white males, Reuters reported. The lawsuit, filed by April Curley, says Google places black employees in lower-level jobs, pays them less, and denies them opportunities to grow at the company, Reuters reported. Specifically, Curley states black people make up only 4.4% of employees and about 3% of leadership, according to Reuters.
Tulsi Gabbard 'censored': Google, YouTube deem[s] Fox News interview 'inappropriate or offensive'. Google and YouTube have declared former Rep. Tulsi Gabbard to be inappropriate viewing. Ms. Gabbard posted a three-minute clip on Twitter on Wednesday evening, most of which was of an appearance by her on Fox News Channel's "The Ingraham Angle." [Tweet] But she labeled the clip "this is what Google/YouTube doesn't want you to say," based on the first several seconds.
Boon for Big Tech alternatives as Google challenger DuckDuckGo joins 'disinformation' purge. Government and corporate purges of COVID-19 "misinformation" are looking more like a beta test to control the whole range of allowed debate in every society, regardless of how democratic it appears to be. The next target is purported Russian propaganda related to its invasion of Ukraine, and even a tech platform that has long advertised itself as a less domineering version of Google is joining the bandwagon. Privacy-friendly search engine DuckDuckGo shocked its user base Wednesday when founder and CEO Gabriel Weinberg disclosed it had started to "down-rank sites associated with Russian disinformation" in addition to highlighting "quality information for rapidly unfolding topics" at the top of search results.
Google Attacks Us For Reporting On Our Own Poll — Calls It 'Harmful lnformation'. The other day we received a notice from Google's AdSense ad network that one of our articles violated its policies and, as a result, they wouldn't allow any of their network's ads to appear on that article until we "fixed" the violation. What was the violation? According to Google, the article contained "unreliable and harmful information." What does that mean? Dig deeper and here's how Google describes this particular violation: "We do not allow content that:
• makes claims that are demonstrably false and could significantly undermine participation or trust in an electoral or democratic process.
• promotes harmful health claims or relates to a current, major health crisis and contradicts authoritative scientific consensus.
• contradicts authoritative scientific consensus on climate change."
Previously, we noted in this space that Google had stripped ads from two of our editorials about global warming, and we pointed out that this was likely part of a new post-COVID censorship campaign by the left.
Google Ministry of Information Announces Zero Tolerance Policy Against Any Information That Does Not Support NATO War Against Russia. Comrade citizens, after success with the Ministry of Information controlling efforts surrounding the SARS-CoV-2 pandemic and public health vaccinations, The Division of Correct Thinking has announced they will also not tolerate any information against their war efforts in Ukraine. [Tweet] All good global citizens will appreciate the Ministry's effort to protect you from bad Russian influences. Only the approved truth must remain visible to combat any Russian efforts to influence our thinking. The only horrors approved for review must be approved by the compliance division within the Google Ministry of Information.
Looking for an alternative to Google?
Google Alternative, "Conservative Friendly" DuckDuckGo, Participates In Woke Censorship Of So-Called Misinformation. We should have known better. I should have known better. What was billed as the "secure" alternative to Google's data-siphoning search engine has turned out to be no better at belaying the leftist barrage of downvoting unacceptable speech. What good is valuing my privacy if you don't value my free speech or my access to all viewpoints? Joining countless other companies at destroying lives and freedom, DuckDuckGo announced via their CEO's Twitter feed that the company would begin engaging in, effective immediately, the censorship of articles or sites that promote — gasp! — skepticism at the corporate media's approved narrative.
Google Is Using Radar to Help Computers Read and React to Your Body Language. Google's Advanced Technology and Projects lab — ATAP — focuses on developing hardware to "change the way we relate to technology." Its Project Jacquard developed conductive yarn to weave into clothing so people could interact with devices by, say, tapping their forearms — sort of like an elementary, fabric-based version of the Apple watch. The lab has also been working on a project called Soli, which uses radar to give computers spatial awareness, enabling them to interact with people non-verbally. In other words, the project is trying to allow computers to recognize and respond to physical cues from their users, not unlike how we take in and respond to body language.
Google Maps temporarily disables live traffic features for safety in Ukraine. Google Maps temporarily disabled its live traffic features in Ukraine in an effort to protect users' safety amid Russia's invasion within the country. After consulting with local authorities, Google chose to make tools that provide information related to traffic conditions unavailable, including how congested a road is or how busy a store might be.
Google Drive flags and restricts user's screenshot. [Scroll down] The tech giant has previously censored a Google Doc containing a medical hydroxychloroquine coronavirus treatment trial paper, removed a user's personal copy of Dr. Judy Mikovits' Plandemic, blocked access to document that compiled news coverage of COVID vaccine side effects, and banned Dr. Vladimir Zelenko from sharing multiple Google Docs. Google is also working on a feature that allows users to flag "misleading" shared albums in Google Photos and has started autocorrecting to gender neutral and politically correct language in Google Docs. Not only are these growing restrictions forcing users to comply with Google's strict hate speech and misleading content policies in their own personal files but this particular incident highlights how the reliance on AI can mean that even something as innocuous as a historical reference, a personal copy of a movie, or a screenshot isn't safe from these restrictions.
CNN Admits Live On Air That Their Fact-Checking Is Based On Typing Words Into Google. These geniuses at CNN, who have been wondering out loud how they lost 90% of their audience, admitted live on air that to debunk misinformation, they type words into Google. The panel was talking about Senator Ron Johnson's hearing on vaccine safety when the topic of over 100 pro athletes dying of sudden heart attacks was discussed. This greatly upset the panel at CNN where one of the 'investigative reporters' admitted he typed what was said into Google and it came back as misinformation. [Video clip]
Texas AG Paxton Sues Google (Again). Texas Attorney General Ken Paxton is suing Google again, this time over location tracking. [...] This is a good time to remind you that if Google or Facebook has your email address or phone number (and they do), they have all your personal information and can track you no matter how many cookies or location tracking controls you turn off. And it's not just them: Any of their advertising partners that has your email or phone number can link you to your Google and/or Facebook profile. So any time you enter your email to, say, use Wi-Fi at a venue, it's a good bet they automatically have access to all the ad profile information Google and Facebook have gathered on you. And I suspect this information is tied to your phone in various ways, cookies or no cookies.
Google must face Arizona lawsuit against tracking services, judge rules. An Arizona judge has refused to toss out a lawsuit brought against Google by the state's attorney general, which alleges that the Alphabet-owned tech giant uses unfair practices to obtain and utilize users' location data. "Great win for Arizona consumers today," Attorney General Mark Brnovich told FOX Business in a statement following the court's decision regarding his suit against Google. "For too long, the company has allegedly used deceptive and unfair practices to obtain users' location data to help fund its lucrative advertising business. We will not stand by as Big Tech continues to invade Arizonans' personal privacy."
Google fails to show results for 'made in America' shopping searches. Google has blocked any "made in USA" or "made in America" product searches for the past few days on its Shopping platform, thereby disallowing users to specifically find and buy items that have been made in the United States. Google said the blockage is a mistake attributable to errors in its server systems.
The Editor says...
Ri-i-i-ight. Google exists "in its server systems." Anything Google does will take place there. Blaming the servers is exceptionally lame.
Google Executive in Charge of 'Tackling Disinformation' Becomes DHS Senior Leader. A past senior aide to former President Barack Obama, who became a Google executive in charge of "tackling disinformation", has joined the Department of Homeland Security (DHS) as a senior leader from this week. Kristie Canegallo, who was vice president of Trust and Safety in Google beginning March 2018, was appointed chief of staff in DHS on Monday. "I am excited to share with you that Kristie Canegallo will join our Department as our new Chief of Staff on January 10, 2022," DHS Secretary Alejandro Mayorkas said in a statement. "I have worked closely with Kristie in the past and know firsthand that she will be a great colleague and of tremendous support to us all," Mayorkas said.
Dan Bongino Responds to YouTube After They Suspend His Channel. Today [1/14/2022], YouTube suspended and demonetized the channel of conservative firebrand Dan Bongino. According to Bongino's response to the YouTube representative handling the case, which we'll cover in a moment, his channel was nuked for questioning the efficacy of masks. That seems especially egregious given the overwhelming amount of evidence that masks have been largely ineffective in suppressing the spread of COVID-19 in communities across the globe. Further, even many coronavirus hawks are now admitting they simply aren't a solution against Omicron, though, various compilations of real-world data never really showed them to be effective prior either.
Who kills the police? Put "race of people shooting police" into Google and your will get page after page of the opposite results, the race or ethnicity of people shot by police. This is obviously no accident. The media narrative is that police shoot people, mostly minorities, without justification. The question of who shoots the police is one that the larger society is generally afraid to ask. To ask that question might shed a different light on who the police shoot because it would put the question into a larger context about criminality. For the defund the police crowd and the progressive minions of distributive and restorative justice, it would undermine an empowering narrative that has enabled them to shackle the police while letting criminals run free without bail and being rewarded with pleas to lower offenses. For as long as the police and the "system" can be viewed as victimizing minorities, these minorities can be viewed as victims and not criminals.
Is Google Search Hiding Robert Malone's Content on 'Mass Formation Psychosis'? The concept of mass formation psychosis as an explanation for our lingering nonsensical covid hysteria was brought to the masses by Dr. Robert Malone on Joe Rogan's podcast in late December. Malone contextualizes work done by psychologist and statistician Dr. Mattias Desmet on the conditions necessary for mass formation to set in, and explains why many of those conditions are being met right now. Per Google Trends, Immediately after the podcast, interest in and searches for the term skyrocketed. And it just so happens that Malone himself had previously published an article on his Substack, expanding on the very subject he just became responsible for driving so much interest in.
John Ondrasik Catches YouTube's Hand in the Liberal Cookie Jar. As detailed here a few days ago, musician John Ondrasik, who usually records under the Five for Fighting moniker, released a video earlier this month of him performing his song "Blood on My Hands" while standing within sight of the White House. He placed the video on Twitter and YouTube. Given how the song excoriates the Biden Administration for its utterly incompetent handling of the Afghanistan withdrawal, one expected pushback. On Friday, the expectation was met when YouTube briefly pulled the video, returning it to the site only after Ondrasik made a pointed complaint to YouTube.
Did banned mRNA vax inventor Robert W. Malone M.D. just break the Google algorithm? Did the Twitter punks who banned mRNA vaccine inventor and bona fide vaccine expert Robert W. Malone, M.D. just set off the Mother of all Backfires? Kind of looks like it, now that they've drawn so much public interest to the man that they've apparently broken the Google algorithm for censoring stories about him. [...] Although Malone is a giant in his field and hard to discredit the way they can do with assorted pipsqueaks out there, somehow they think they need to silence the man. On Google, they've tried to paint him as a nut, a conspiracy theorist, a vaccine skeptic, a Nazi, based on the search results they tried to throw up. But the truth got out anyway, and their manipulated algorithms have been exposed, discrediting them, and in any case, not working.
TikTok knocks Google out of first place for most popular website. TikTok took the No. 1 spot as the most popular website in 2021, moving up six places from a year ago. Google is now the second-most-popular website, according to cybersecurity company Cloudfare. In September, TikTok reached a new record, hitting 1 billion users per month. Despite getting more internet traffic, TikTok is still overshadowed by Facebook's total users worldwide. "The pandemic helped to accelerate most of [these internet applications], especially by bringing more people (in some countries) to the digital worlds," Cloudfare stated. "Think about the way many were able to use virtual tools to work all day, learn, collaborate, order food, supplies, and communicate with friends and family — all from their homes."
Google Employees Will Lose Pay and be Fired if They Don't Get "Vaccinated". Google has said that more than 150,000 of its employees in the United States will be placed on unpaid leave and eventually terminated if they continue to refuse to comply with the company's COVID-19 "vaccine" mandated. The deadline was December 3rd, to show proof of vaccination. According to a report by CNBC, Google did say that employees are allowing medical or religious exemptions to be submitted, but we've seen those getting denied en masse lately too, so that's more than likely a huge waste of time. CNBC cited an internal memo written by Google's leadership that says that once the deadline expires, Google will start contacting unvaccinated employees individually. The company warned its staff they ultimately have until January 18 to comply with vaccination rules. Those refusing to do so will be placed on "paid administrative leave" for 30 days, and later on "unpaid personal leave," followed by termination, according to CNBC.
Private search engines. Google Search, the world's most popular search engine, collects information about everything you search for. This data is then combined with the trove of other data Google collects about you via its other products and services and third-party apps and websites that contain Google tracking to build a detailed profile of your online activity. Not only is this data used to build an advertising profile but in some instances, Google hands over users' data to law enforcement based on the terms they searched for. In addition to the privacy concerns, Google heavily editorializes its search results by shadowbanning and suppressing some stories, letting one perspective dominate the search results for some topics, and "fact-checking" its search results. It has also been accused of boosting certain outlets in its search results, maintaining search blacklists, and censoring some of its autosuggest results. If you're tired of Google's mass data collection and editorialization of its search results, consider one of these private search engines. Some collect no personal data at all while others collect a minimal amount to return their search results.
Google is the search engine that censors the most "conspiracy theories". The idea that Google was actively and manually censoring its search engine results was something that was itself once classed as conspiracy. But new research has shown that Google does in fact manually manipulate its search results for content, more than rivals such as DuckDuckGo, Bing, and even Russia's Yandex. In fact, Russia's Yandex is the search engine that has censored some "conspiracy theories" the least, according to new research.
An FDA official demanded Google censor a YouTube video the agency didn't like. Federal efforts to censor social media extend past discussions with companies like YouTube over broad guidelines about Covid-19 "misinformation" to specific demands for suppression of individual posts, an email from an FDA official reveals. In the April 30 email, the Food and Drug Administration director of social media, Brad Kimberly, told a Google lobbyist about that the agency expected YouTube to pull a video touting the potential of a new monoclonal antibody treatment for Covid. (Google owns YouTube.) "Overall, the video is very problematic when it comes to COVID misinformation," Kimberly wrote to the lobbyist, Jan Fowler Antonaros. "This video should [emphasis added] be pulled." YouTube initially declined to remove the video. However, it has since been taken offline.
GOP Lawmakers Demand Google Stop Censoring Pro-Life Ads. Republican lawmakers are again demanding that Google cease censoring abortion pill reversal ads from the pro-life organization Live Action. "We are deeply disappointed that you have not reversed Google's unjust decision to censor life-saving information on abortion pill reversal," wrote Sen. Steve Daines of Montana, Rep. Doug Lamborn of Colorado, and Rep. Jim Banks of Indiana in a letter first obtained by The Daily Signal. "We had hoped to receive assurances of Google's commitment to uphold the fundamental principle of freedom of speech and follow the science," the Republicans wrote. "Unfortunately, Google's response only increases our alarm." Daines personally handed the letter to Google Chief Executive Officer Sundar Pichai Tuesday evening [11/30/2021] in the United States Capitol, a spokesman for Banks told The Daily Signal.
At least 600 Google workers sign manifesto calling on company to retract its COVID-19 vaccine mandate. At least 600 Google employees have signed a manifesto calling on the tech company to retract its COVID-19 vaccine mandate. The tech giant is requiring its more than 150,000 U.S. employees to report their vaccination statuses and all employees who work directly or indirectly with government contracts to be vaccinated, whether they plan to work in the office or not. The manifesto, which has been signed by at least 600, or less than 0.5% of all Google employees, asks company executives to abandon the policy to create a mandate 'inclusive of all Googlers,' CNBC first reported.
The Greenburg files: Is there a file on you? Scottsdale moms stumble upon political Google Drive trove. A group of mothers in the Scottsdale Unified School District community are questioning an online dossier that has digital connections to school board President Jann-Michael Greenburg and his father, Mark. The Greenburgs deny any involvement or knowledge of the Google Drive in question, however the active link to the site was made private around 11 a.m. Nov. 9, after Independent Newsmedia called the family. The digital dossier is housed on Google Drive and contains content, including photos of district parents and at least one minor, personal financial documents, including professional certifications, and mortgage statements.
Rep. Issa demands apology from Google for removing speech from YouTube. Rep. Darrell Issa, a California Republican, is demanding an apology from Google after a video of a speech he gave was removed from YouTube for spreading "medical misinformation," according to an exclusive interview he gave with the Washington Examiner. In the speech, given at the EDGE 2021 conference in Las Vegas, Issa discussed numerous technology areas, including artificial intelligence and open access to data.
Perception Is Not Reality, No Matter What the Liberal Media Say. [Scroll down] Deletion is another way complicit media distort the public's perception of truth or reality. If it isn't reported, it doesn't exist. The NIH admitted that it had supported gain-of-function studies in Wuhan's viral research laboratory. After a huge public uproar over this activity, the NIH removed gain-of-function language from its website[.] If it isn't there, then it never happened. The Great Barrington Declaration, published in October 2020, disputed the Washington narrative regarding COVID and suggested a data-based rather than politically driven approach to the pandemic. Google first released it but then deleted the page, showing "Item Not Found" when one searched for the declaration. What is real is what the media allow the public to see. If the public can't see it, then it doesn't exist. Medical data that contradict or even question Washington's COVID pronouncements are tagged as "misinformation" and banned from social media such as Facebook and YouTube. If you can't see it, it can't be real.
Google has deleted one of the best and largest left-wing media outlets in the UK. [Thread reader] No warning or explanation was provided. Just zapped it out of existence. Congratulations to online censorship advocates: this is the system of repression and arbitrary silencing you created! Maybe the unseen Google overlords who made this decision will reverse it. Maybe they won't. @novaramedia and its employees will now just wait around helplessly as they see if hidden authorities allow them to be heard, like desperate, hapless defendants in a Kafka novel. In many ways, liberals and even the left are reaping what they've sown: not just by cheering a regime of censorship in the belief it wouldn't be used against them, but also serving tech monopolies by demonizing any free speech alternatives — like Rumble — as right-wing sites.
Jedi Blue: A Scandal That Highlights, Yet Again, The Need To Regulate Big Tech. The Jedi Blue case, exposed by The Wall Street Journal and followed up on by The New York Times, is a clear example of the abuse of Google and Facebook's dominant positions, and definitive proof as to why the tech giants need regulating. It's pretty much a textbook case of everything that can go wrong an industry. What is Jedi Blue? Basically a quid-pro-quo scheme that starts with Google's 2007 acquisition of Double Click, and ends with Facebook, in 2018, agreeing not to challenge Google's advertising business in return for a very special treatment in Google's ad auctions.
YouTube deletes MAGA rapper's 'Let's Go Brandon' song because it contains 'medical misinformation' with lyric 'pandemic ain't real'. A MAGA hat-wearing rapper whose song Let's Go Brandon went from a YouTube sensation to near the top of the charts on iTunes was removed after the woke streaming giant said the video contained 'medical misinformation.' Rapper Bryson Gray announced on Twitter Thursday that the music video for his anti-Biden song was canceled by YouTube. 'What medical misinformation is in the song? Whoa,' he asked. In the music video, Gray appears in an 'Impeach Biden' T-shirt and a MAGA bucket hat while holding an assault rifle. The song features the lyrics 'pandemic ain't real, they just planned it,' and 'Biden said the jab stop the spread, it was lies.'
Did Google Break The Law? I know that headline is more than a little ambiguous, as Google has probably broken multiple laws, if only because they're so big and there are so many laws. But "Did Google break the law using sneaky, underhanded means to carry out anti-competitive trade practices to kill off an alternative ad allocating system called 'header bidding' because it threatened to damage one of its biggest revenue streams" is way too long for a blog post title. [...] Google and Facebook are agreeing not to cooperate with any antitrust action by the federal government to bring action against the other.
YouTube Removes 'Let's Go Brandon' Song as Reports Indicate Similar Actions Taken Against Others. 'Let's go, Brandon' — the meme with the implicit criticism of Joe Biden — has taken off like a rocket. As we saw today, it was even used by Rep. Bill Posey (R-FL) on the floor of the House as well as by the Attorney General of Texas Ken Paxton when announcing he would be suing Joe Biden over the border for stopping the building of the border wall. As we noted, while Joe Biden stopped the border wall that would have helped protect Americans, he was having fencing built around his beach house. But given that criticism of Biden, one might imagine there would be a backlash from some in the media or on the left against the meme. Now some are asking if that's what's happening after actions taken by YouTube.
YouTube Bans 'The Vietnamese Alex Jones' After Whining John Oliver Complained. YouTube has banned a radio host after English "Comedian" John Oliver described him as 'the Vietnamese Alex Jones'. Oliver complained on his HBO show that "While Alex Jones has been removed from YouTube for spreading misinformation," Nguy Vu, the host of King Radio, "is still going strong on the platform despite the fact you just heard him say 'masks are killing people,' which clearly violates YouTube's ban on claims that wearing a mask is dangerous."
Here's the Reason Google Is Going After "Climate Denial" Right Now. Over the weekend, we learned that Google will ban any and all "climate deniers" from advertising on Google's Advertising platform — the largest such platform on the Internet. True to form, media coverage appears to be largely in lockstep with Google and is wrote it less as a major tech story and more as a press release. [...] Google is under a lot of scrutiny right now in the tech world. While companies like Apple are doing what they can to further and further protect private information, Google is making it easier than ever for its customers — advertisers — to get the information they need on you, the product they provide those customers.
Google Attacks Free Speech on Climate Claims. Google is moving into full authoritarian mode, cracking down on digital ads promoting what they determine to be false climate change claims or being used to make money from such content. The tech giant is claims it is hoping to limit revenue for alleged climate change deniers and stop the spread of so-called misinformation on its platforms. Google and other Big Tech publishers have increasingly veered toward active censorship of positions that undermine leftist dogma. Several of those, however, have later proven to be wrong, such as suppression of reports on Hunter Biden's laptop and the coronavirus lab-leak theories. The company said Thursday [10/7/2021] in a blog post that the new policy will also apply to YouTube, which last week announced it would also be determining what is and isn't vaccine misinformation.
Google Announces They Will Monitor YouTube Videos For "Prohibited Claims" About Climate Change. Comrade rebels, the Ministry of Truth is here to guide you in your correct thoughts. Google, the world's largest internet search engine and owner of the YouTube platform, has announced their intent to demonetize any content providers who challenge scientific consensus on climate change and global warming. According to CBS, any person who advances a "prohibited claim" will have ads on their their content removed.
US government ordering Google to provide users' search data: report. The US federal government is secretly ordering Google and other search engines to track and provide data on anyone who searches certain terms through "keyword warrants," according to a new report. In recent years, only two such warrants have been made public, but accidentally unsealed court documents obtained by Forbes show the government has been making these requests far more frequently. The unsealed warrant stemmed from a 2019 federal investigation in Wisconsin, where investigators were searching for men they believed had taken part in trafficking and sexually abusing a minor. In an effort to track them down, officials ordered Google to provide any information on users, including account names, IP addresses and CookieIDs, that searched the victim's name, two spellings of her mother's name and her address over 16 days throughout the year.
Accidental leak reveals US government has secretly hit Google with 'keyword warrants'. The U.S. government is using 'keyword warrants' to uncover the identity of anyone who searches Google and other search engines for certain search terms that may be related to a crime, according to a new report. The controversial practice, which is already drawing civil liberties concerns about sweeping government overreach, was revealed on Tuesday [10/5/2021] in 'accidentally unsealed' court documents obtained by Forbes. Keyword warrants — which have been secretly employed for at least several years — are drawing backlash as many argue they violate an individual's constitutional protections against unreasonable search and seizure.
I've got some keywords for ya.
Democrats and Media Do Not Want to Weaken Facebook, Just Commandeer its Power to Censor. There is no doubt, at least to me, that Facebook and Google are both grave menaces. Through consolidation, mergers and purchases of any potential competitors, their power far exceeds what is compatible with a healthy democracy. A bipartisan consensus has emerged on the House Antitrust Committee that these two corporate giants — along with Amazon and Apple — are all classic monopolies in violation of long-standing but rarely enforced antitrust laws. Their control over multiple huge platforms that they purchased enables them to punish and even destroy competitors, as we saw when Apple, Google and Amazon united to remove Parler from the internet forty-eight hours after leading Democrats demanded that action, right as Parler became the most-downloaded app in the country, or as Google suppresses Rumble videos in its dominant search feature as punishment for competing with Google's YouTube platform. Facebook and Twitter both suppressed reporting on the authentic documents about Joe Biden's business activities reported by The New York Post just weeks before the 2020 election.
YouTube Bans All Content Stating 'Vaccines Are Ineffective or Dangerous,' Deletes RFK Jr And Dr Mercola's Channels. Under YouTube CEO Susan Wojcicki's new speech codes, YouTubers can now be banned for quoting CDC director Rochelle Walensky admitting last month on live TV that covid shots do not "prevent transmission" of the virus. [...] [Indeed], just quoting the long list of horrible side effects in Pfizer's own covid vaccine insert now qualifies as "misinformation."
Google Subsidiary YouTube Bans Any Content or Discussion Critical of Vaccines. Google has made a big move today [9/29/2021] to block any public discussion of vaccines, side-effects or efficacy. Within an announcement on YouTube, the Google subsidiary has changed its policy and will now block any content that is critical of vaccines. Only correct thoughts and approved speech, from the global government perspective, will be permitted on the YouTube platform.
YouTube Bans All 'Harmful Vaccine Content' From Its Platform. Google-owned YouTube said on Sept. 29 that it will ban all "harmful vaccine content" from its platform, including claims that vaccines are ineffective at reducing transmission of disease, prompting concerns that the firm will escalate censorship of dissenting viewpoints. "We've steadily seen false claims about the coronavirus vaccines spill over into misinformation about vaccines in general, and we're now at a point where it's more important than ever to expand the work we started with COVID-19 to other vaccines," YouTube wrote in a blog post. So far, the Bay Area-based company said it has removed 130,000 videos for violating its policies that it claims were created in tandem with various "experts" to deal with alleged "COVID-19 and medical misinformation." Now it removes content that claims "approved vaccines are dangerous and cause chronic health effects, claims that vaccines do not reduce transmission or contraction of disease, or contains misinformation on the substances contained in vaccines," YouTube stated on its blog, saying that its policy will now apply to content that questions the efficacy of all vaccines, not just those for COVID-19.
YouTube Announces It Will Ban All 'Anti-Vaccine' Content. The social media giant YouTube will begin banning content it deems "anti-vaccine," claiming that sowing skepticism about the coronavirus vaccine has led to reduced vaccination rates across the country. "Misinformation researchers" have claimed for years that vaccine skepticism on YouTube was leading to reduced vaccination rates not only for COVID-19 vaccines but for childhood disease vaccines as well. But YouTube has resisted targeting anti-vax skeptics, saying that maintaining a relatively open platform was a free speech issue. But the social media company has come under increasing threat from government regulators who want YouTube and other social media sites to spout only government-approved ideas about vaccines. The YouTube ban could easily include bans on content that discusses side effects or vaccine efficacy.
YouTube bans all content containing vaccine misinformation. YouTube has banned all videos containing misinformation about vaccines that are currently administered and have been approved by local health authorities or the World Health Organization. The measure is an expansion of a policy covering COVID-19 vaccines. The service says that users shouldn't, for instance, post videos in which they claim that vaccines lead to chronic side effects (other than rare side effects that health authorities have acknowledged); content that alleges vaccines don't reduce transmission or contraction of diseases; or videos that have inaccuracies about vaccine ingredients. There are some exceptions. YouTube "will continue to allow content about vaccine policies, new vaccine trials and historical vaccine successes or failures."
Ohio Files Lawsuit Against Google for 'Anti-Competitive Behavior'. On Tuesday, Attorney General Dave Yost of Ohio filed a lawsuit against Google, accusing the tech giant of "discriminatory and anti-competitive behavior." The lawsuit moves to have Google declared a public utility, subjecting it to regulatory boards in the state. Though Google has faced federal and state level scrutiny before, this lawsuit is the first to definitively call for Google to be treated as a public utility. The opening of the case, State of Ohio v. Google, reads: "The vast majority of Ohioans use the internet. And nearly all of those who do use Google Search. Google is so ubiquitous that its name has become a verb." This wide, practically unchallenged supremacy is a key argument for the state to consider it a public utility. As further proof of this, the suit notes that "Google dominates internet search, globally and domestically." This domination is so widespread that "nearly 90 [percent] of all internet searches are conducted through Google." On mobile devices, it says, this dominance is even starker, with Google controlling 95 percent of all internet searches.
Google Tells Australian Government of $1 Billion Global Campaign to Censor 'COVID-19 Misinformation'. Google reported to the Australian federal government that it has removed around 800,000 YouTube videos concerning COVID-19, and 275 million COVID-19 apps from across its platform as part of its $1 billion (US $726 million) global campaign to "counter COVID-19 misinformation." It has also launched a US $3 million fund to wipe out alleged vaccine misinformation. Google regards official government information from national health departments or the World Health Organization as reliable sources. Meanwhile, the WHO has noted that information changes over time as the world "learns more about the virus." Lucinda Longcroft, Google's director of government affairs and public policy for Australia and New Zealand, told a Senate committee on foreign interference through social media in July that Google has extensive automated systems and a global network of staff to remove "false or misleading" COVID-19 content "as rapidly as possible."
Pro-Life Group Says Google Banned Its Ads in 'Dramatic and Unprecedented Move'. The pro-life group Live Action claimed Tuesday that Google banned "all" Live Action ads, accusing the tech company of siding "squarely with extremist pro-abortion political ideology." "They aren't hiding their bias anymore," Lila Rose, Live Action founder and president, said in a statement. "Google's censorship baldly reveals that the corporation is in the pocket of the abortion industry." Live Action said in a press release that Google banned the promotion of "all" the organization's ads, including its "Baby Olivia" ad as well as one about the Abortion Pill Reversal hotline, which is managed by a team of medical professionals, according to the pro-life group. "By restricting scientific information related to abortion pill reversal and other life-saving options, while accepting paid ads promoting life-ending abortions, Google has chosen to operate by an outrageously dishonest and blatant double standard," Rose said in a statement. "The consequence is devastating — more women and girls will be marketed abortions through Google platforms, without also being offered life-affirming options."
Google Employee Education Program Teaches That America is a 'System of White Supremacy'. Chris Rufo has been a leader in the fight to expose Critical Race Theory in education and corporate America. He recently published a report about tech giant Google and an anti-racist training program for its employees. It sounds like something straight off a left-wing college campus. [Numerous tweets] This is a company that, in many ways, has more power and influence than the United States government. Their enthusiastic embrace of this blatantly radical, left-wing political ideology should alarm every American.
Google illegally underpaid thousands of workers across dozens of countries. Google has been illegally underpaying thousands of temporary workers in dozens of countries and delayed correcting the pay rates for more than two years as it attempted to cover up the problem, the Guardian can reveal. Google executives have been aware since at least May 2019 that the company was failing to comply with local laws in the UK, Europe and Asia that mandate temporary workers be paid equal rates to full-time employees performing similar work, internal Google documents and emails reviewed by the Guardian show. But rather than immediately correct the errors, the company dragged its feet for more than two years, the documents show, citing concern about the increased cost to departments that rely heavily on temporary workers, potential exposure to legal claims, and fear of negative press attention.
A Google employee program claims that America is a "system of white supremacy" and that all Americans are "raised to be racist." Technology giant Google has launched an "antiracism" initiative that presents speakers and materials claiming that America is a "system of white supremacy" and that all Americans are "raised to be racist." I have obtained a trove of whistleblower documents from inside Google that reveal the company's extensive racial-reeducation program, based on the core tenets of critical race theory — including "intersectionality," "white privilege," and "systemic racism." In a foundational training module called "Allyship in Action," Google's head of systemic allyship Randy Reyes and a team of consultants from The Ladipo Group train employees to deconstruct their racial and sexual identities, and then rank themselves on a hierarchy of "power [and] privilege." The trainers then instruct the employees to "manage [their] reactions to privilege" — which are likely to include feelings of "embarrassment, shame, fear, [and] anger" — through "body movement," "deep breathing," "accessing [their] 'happy place,'" and "cry[ing]." The program presents a series of video conversations promoting the idea that the United States was founded on white supremacy.
Google staff are undergoing 'antiracism training' which promotes CRT, asks employees to 'identify their privileged identities'. Google has launched 'racial equity training' for its employees, with one session asserting that America is based on a 'system of white supremacy' where babies learn to be racist at three months old. Whistleblower documents from the trainings obtained by City Journal reporter Christopher Rufo were published Wednesday, with the sessions seemingly based on the core principles of Critical Race Theory. Several of the trainings feature CRT buzzwords and phrases such as 'equity' 'intersectionality,' 'white privilege,' and 'systemic racism'.
National Review and Other NeverTrump Mags Sold Out for Google Cash. The disconnect between the ostensibly conservative party, the GOP, and the Republican base has been apparent for years. Voters gave Republicans Congress and the White House in order to repeal Obamacare, only to be sorely disappointed. They wanted a wall along the border but got none. They're demanding that action be taken on election fraud, only to be told by their representatives that 2020 was "the most secure election in history." They're asking for protection against mask and vaccine mandates, only to have their cries for help fall on deaf ears. And the "thought leaders" who for decades were held up as the standard-bearers of conservatism are just as disconnected. Big name publications such as National Review and The Weekly Standard, along with "intellectuals" such as George Will and Bill Kristol, have proven themselves just as violently opposed to the conservative agenda as Democrats. In the case of the politicians, Americans have generally assumed that these Republicans are bought off. But what about the consevative intellectual elites? What's their excuse for now standing hand-in-hand with the leftists who for so long they claimed to oppose? It turns out the influencers and policy wonks were paid off, too.
How The National Review Sold Its Soul to Google. There were rumors in the summer of 2018 that an audiotape was circulating that would send shockwaves through the think tanks of Washington and the conservative intellectual movement in particular. A top Google executive had been recorded telling his fellow employees that Google generously donated to conservative think tanks and magazines to dampen criticism of their anti-conservative bias. In essence, Google was buying off Conservatism Inc. and the GOP establishment to stay silent while Google monitored, harassed, and excluded Trump supporters. If true, the tape sounded like a smoking gun: incontrovertible evidence of the corruption and double-dealing of Conservatism Inc. that would permanently discredit it with Republican voters. I was told that the tape had been offered as an exclusive to the Wall Street Journal. Months went by, and nothing happened. (There were rumors during that time that Big Tech lobbyists were trying very hard to get the Wall Street Journal to kill the story.) Then I began to get a series of messages from various anonymous sources that the organizations that were guilty of taking Google money to stay silent included: the American Enterprise Institute (AEI), the Competitive Enterprise Institute (CEI), the Cato Institute, CPAC, the Weekly Standard and the National Review. (A weak article appeared on September 27th by John McKinnon in the Wall Street Journal but it hardly mentioned the tape or its implications.) This was, needless to say, a huge story: was it possible that the entire conservative intellectual movement was being bought off by Big Tech companies?
How Google Targets Conservatives and Perpetuates CCP Propaganda. In an episode of "Crossroads" titled "To Target Trump, Google Rewrote Its News Algorithms," Joshua Philipp interviews Google whistleblower Zach Vorhies, former Google employee and now a reporter with Project Veritas. In the interview, Vorhies talks about the tactics and motives behind Google's actions, which he claims is the world's most dangerous totalitarian global organization. He talks about how Google specifically rewrote their news algorithms to go after President Trump. He reveals actual slides from the company scoring system built around the fight that Trump was having at the time with former FBI Director James Comey over Russian collusion. Vorhies explains how Google built a clustering mechanism where it could use trigger words and key phrases to make one story a continuation of another story, forming a super story that spanned eight days or so. He says this tactic is not a result of demand or increasing market share in the United States and it's not because these are stories people are following or really want to have on the forefront. Competitors like DuckDuckGo are exploding because people don't like what Google is doing.
Google Rewrote News Algorithm to Target Trump. Google whistleblower Zach Vorhis says Google altered its news algorithm to directly target former President Donald Trump. Vorhis was a senior software engineer at YouTube and Google. He left after discovering the companies censored conservatives. Vorhis' new book, Google Leaks: A Whistleblower's Exposé of Big Tech Censorship, took a deep dive into Big Tech's censorship of right-of-center conservatives: [Excerpt] EpochTV interviewed Vorhis about Google's methods and endgame. Vorhis said his research turned "conspiracy theories into conspiracy facts." He also said Google's algorithm tacked new negative stories about Trump onto old ones in order to keep them at the top of search results longer. "They allowed the mainstream media to structure their stories so that they could remain in the top of their search index," he said.
Google staff agree to take pay cuts in return for being allowed to work from home permanently. Google employees have agreed to a pay cut terms recently put forth by the tech giant in exchange for the opportunity to work remotely permanently, as other Fortune 500 players look to follow suit. A spokesperson for the company told CBS News that staffers working in cheaper US cities will see their salaries slashed to reflect their lower cost of living. 'Our compensation packages have always been determined by location, and we always pay at the top of the local market based on where an employee works from,' a Google spokesperson said.
Sen. Rand Paul suspended from YouTube, forced to remove video. Sen. Rand Paul has been suspended from YouTube. The Kentucky Republican also was forced to remove a video that YouTube said broke its rules against what it deems medical misinformation. The one-week suspension began Monday over a video in which Mr. Paul said that "cloth masks don't work" and most over-the-counter masks "don't prevent infection," YouTube told reporters. Mr. Paul took to Twitter to call the suspension "a badge of honor." [Tweet]
Google co-founder Larry Page allowed to enter New Zealand despite COVID rules. Billionaire Google co-founder Larry Page was allowed to enter New Zealand earlier this year despite COVID-19 restrictions that barred non-residents from coming, sparking fierce backlash against Prime Minister Jacinda Ardern. Page, who is the sixth-richest person in the world with a net worth of about $121 billion, was allowed to enter the country after his son fell ill in Fiji and Page requested hospital treatment in New Zealand, reports said. Page and his family have been riding out much of the COVID-19 pandemic in Fiji. The revelation of Page's visit has spurred political attacks against Ardern, who claims she didn't know about his visit. New Zealand's Immigration Minister Kris Faafoi told reporters that Page applied for a medical exemption "to make sure his son got the treatment that was required," Agence France-Presse reported.
Australian Government Begins Army Patrols to Keep Citizens in Lockdown Until Next Year. Things are really super sketchy in Australia. The covid restrictions have been getting increasingly more intense, as a result two weekends ago massive protests started. However, this past weekend thousands of police were deployed in rings around metropolitan areas to stop people from assembling to protest. At the same time this past weekend, Google blocked Sky News from uploading news feed to their YouTube channel.
Why Managers Fear a Remote-Work Future. Some of the people loudly calling for a return to the office are not the same people who will actually be returning to the office regularly. The old guard's members feel heightened anxiety over the white-collar empires they've built, including the square footage of real estate they've leased and the number of people they've hired. Earlier this year, Google's parent company, Alphabet, rolled out an uneven return-to-office plan for its more than 130,000 employees — the majority of workers must soon come back to the office three days a week, while others are permitted to keep working exclusively from home. One senior executive at the company has even been allowed to work remotely from New Zealand.
Big Tech 'Counterterrorism' Org Shifts Focus from Islamic Extremism to 'Far Right'. Big Tech companies including Facebook, Google, Microsoft, Twitter, Reddit, Verizon, Airbnb, and Mailchimp will expand a project of collusion on "counterterrorism" efforts that target domestic right-wing organizations. The organization, which initially focused on building a database on content shared by Islamic extremists linked to Al Qaeda, ISIS, and the Taliban, will now shift focus to right-wing groups including the Proud Boys.
Do Whites Have Civil Rights? A few days ago I typed into Google (with quotes around my question to require an exact match):
"Do whites have civil rights?"
To my surprise, Google asserted in response that nobody had ever asked that precise question before in the history of the internet. Today, Google lists my blog post asking that question, but only after announcing:
It looks like these results are changing quickly
If this topic is new, it can sometimes take time for results to be added by reliable sources
In other words, Steve Sailer is not a reliable source, so hopefully somebody less deplorable will soon post this text string, but until then we're stuck featuring Sailer's impertinent question at the top of our results. But we at Google want you to know that we are not at all happy about it. Or something like that.
YouTube Censors North Carolina County Government Meeting. A county board of commissioners in North Carolina is pushing back against tech giant Google after YouTube, owned by Google, deleted one of the board's videos for allegedly violating YouTubes terms and conditions regarding medical misinformation. After its June 16 meeting, the Henderson County Board of Commissioners video upload on YouTube was taken down, prompting commissioners to call an emergency meeting on Friday, June 18. During the emergency meeting, the board directed staff to seek out other platforms on which the board's meetings can be posted, as well as to find alternatives to Google products.
How Google and Wikipedia Brainwash You. According to research done by We Are Social, the average internet user spends over 6 and half hours online every day. The internet is both a blessing as a curse. On the one hand, it gives us access to knowledge and technology that improves our lives, but on the other hand, it's an addictive and dangerous mind-control tool that can be exploited to influence your choices and manipulate your thinking. The COVID pseudopandemic has seen internet censorship rise to an unprecedented level. The controllers and their minions are scrambling to silence anyone who dares to question the efficacy of vaccines or the existence of Sars-Cov-2. Let's recap: In the space of a few months, thousands of YouTube channels and millions of Facebook posts have been deleted. The former president of the United States' Twitter account was removed, and, Greenmedinfo, a site that aggregates research on natural remedies, had both their Facebook and Instagram accounts deleted losing over half a million followers.
How Google Translate deceives you. Enter "Google Translate," which, according to Google, "instantly translates words, phrases, and web pages between English and over 100 other languages." It too is in the censoring business: if you translate something that has a phrase or few sentences that Google doesn't want you to know or read, it simply omits them from its translation. I know this only because I've been on the receiving end of Google Translation's malfeasance (as with YouTube earlier).
German Court Orders YouTube To Pay 100,000 Euros For Censoring Pandemic Protest Footage. YouTube has been fined 100,000 euros by the German Higher Regional Court at Dresden after it wrongly deleted a user's video which showed massive pandemic lockdown protests in Switzerland — and then failed to reinstate the video 'immediately' after the court ordered it to do so on April 20. Instead, the company waited nearly a month to revive the video, which led to last week's fine, issued on July 5th, according to WELT.de.
YouTube deletes Trump video, freezes CPAC account. YouTube deleted a video of former President Donald Trump from the American Conservative Union's account and prevented the group from live-streaming the former president's Sunday CPAC speech. In a statement, ACU Chairman Matt Schlapp said the group learned that its account had been frozen for seven days over a video from Friday in which Mr. Trump announces his class-action lawsuit against the Silicon Valley titans such as Google and YouTube. That loss of access to its video account meant the ACU, which runs the Conservative Political Action Conference, could not upload Mr. Trump's speech or any other live content from its CPAC 2021 Part 2 in Dallas over the weekend.
Google Pushes Conservative News Sites Far Down Search Lists. It has long been feared that Google, which controls almost 90% of U.S. Internet search traffic, could sway an election by altering the search results it shows users. New data indicate that may be happening, as conservative news sites including Breitbart, the Daily Caller, and the Federalist have seen their Google search listings dramatically reduced. The data come from the search consultancy Sistrix, which tracks a million different Google search keywords and keeps track of how highly different sites rank across all the search terms. The tracker shows that Google search visibility for Breitbart first plunged in 2017, before falling to approximately zero in July 2019: [...] oogling the name "Breitbart" still pulls up the website, but it is nearly eliminated from any searches that don't explicitly name it.
The Editor says...
The Editor is well aware of this effect, as akdart.com all but vanished from Google about the time Barack H. Obama was installed as U.S. president and criticism of Obama began.
Google Hit With Suit by 36 states, Washington Over Alleged Antitrust Violations. Google was hit by a lawsuit from a group of state attorneys on July 7 over alleged violations of antitrust laws by its Android app store. Attorneys general for 36 states and Washington are suing the Big Tech company in a 144-page complaint filed in a Northern California federal court. The group alleges that Google's Play Store for Android apps violates antitrust laws. The complaint centers on the control Google is able to exert on the Play Store, allowing it to collect commissions of up to 30 percent on digital transactions within apps installed on Android-powered smartphones. Those devices represent more than 80 percent of the worldwide smartphone market. Led by Utah, North Carolina, Tennessee, New York, Arizona, Colorado, Iowa, and Nebraska, the filing marks the fourth major antitrust lawsuit filed by U.S. government agencies against the company since October 2020.
J.D. Vance Says Google Is 'Conspiring' with Communist Chinese Government. During an interview on the Tuesday [7/6/2021] edition of Fox News PrimeTime, Hillbilly Elegy author and Ohio U.S. Senate candidate J.D. Vance (R) accused Google of "conspiring" with China, raking Google over the coals: ["']You know, Google right now is actively conspiring with and working with the Chinese government. They've actually been very open about this fact. At the same time, the 29-year-old woke idiots who work at Google refuse to allow Google to enter into contracts with the U.S. Department of Defense.['] Vance chastised conservatives for failing to realize that Google [']is not a national company anymore. It's not actually invested in the nation that allowed it to become so wealthy and so powerful. Why do we keep on giving it special privileges?['"]
Two Tamil Nadu cops take bribe through Google Pay. [Scroll down] Both were on duty at the Asanur check post on the Tamil Nadu-Karnataka border on July 2. They intercepted a car coming from Karnataka. The duo found bottles of liquor in the car which were being smuggled from Karnataka. "They released the car without seizing the Karnataka liquor," said a police officer at the Erode district SP office. He also said that the duo had accepted bribes from the occupant in the car which was transferred through Google Pay.
Look how Google search is massaged, spun, and crafted. [Example shown in screenshots] Bing gives you the same thing DuckDuckGo gives you. Just amazing how this stuff is being massaged, spun, and crafted by Google. And there is nothing on MSM about Hunter getting his pals in to see his père, then Vice President Biden. Nothing in the news about your kid having easy access to gender reassignment but we know all about some old geezer who didn't pay all his taxes on some benefits. We're not saying to burn the Ziegler book but a book on black queer transgender teens isn't for elementary school kids.
Right Side Broadcasting Network Suspended From YouTube. YouTube has suspended Right Side Broadcasting Network from its platform and removed the news site's videos of former President Donald Trump's rallies. YouTube took down the videos because the footage allegedly violated the platform's Community Guidelines, according to RSBN. Trump's most recent rally in Ohio reached over three million views on RSBN's channel before it was removed. The channel won't be able to upload any new content for one week. YouTube claims RSBN violated its policy regarding "spam, deceptive practices and scams." The platform says it removes content that "take[s] advantage of the YouTube community" prohibits content where the "main purpose is to trick others into leaving YouTube for another site."
Vaccine propaganda and injection indecision. How do you make decisions in our new Internet world? Most of us just go to Google and type in their question, "Is it safe to get the COVID-19 vaccine?" The overwhelming response is "Yes!" [Illustration] Every entry below has the same strangely similar results. "Side effects are minor and common." "Side effects are a sign that your vaccine is working properly." When you visit YouTube and do the same search, again, you see a consistent theme. "The risk from the COVID outweigh the risks from the vaccines" and "vaccine side effects are actually a good thing." Check for yourself. But when you go to an uncensored video website like Bitchute.com or Rumble.com, you see a totally different result: scores of doctors and scientists warning about the danger from the shots, and hundreds of videos from real people who have had horrific side effects from their injections, and most were at extremely low risk for dying from COVID.
YouTube Takes Down Right Side Broadcasting's Video of Trump Rally with Over 2 Million Views — Bans Them from Covering Trump Rally Tomorrow. President Trump held his first rally of the political season on Saturday in Wellington, Ohio at the Lorain County Fairgrounds. Trump held the rally in support of Max Miller who is challenging Rep. Anthony Gonzalez, a Never-Trumper who voted to impeach President Trump in January. The event was PACKED hours before President Trump's speech. Right Side Broadcasting Network aired the live feed for the rally tonight in Ohio. 38,000 supporters were watching the rally at 5 PM ET — two hours before the event. This compares to a typical Biden speech that draws around 700 viewers during the entire live speech!
Top 10 Examples of Leftist and Democratic Racism. [#10] Here's a quick experiment which is easy to conduct. Perform a Google search of the word 'whiteness,' followed by a search of the word 'blackness.' What will you find? For 'whiteness,' we'll find endless websites, videos, and books dedicated to overcoming the affliction of 'whiteness.' The left considers the perceived mentality and values of those who happen to have white skin to be so problematic that unsolicited advice and coaching must offered. For 'blackness,' the opposite is true, unsurprisingly. Our second search yields an equal amount of material detailing the victimhood of black folks, reasons why blacks should be angry about their alleged oppression, and guidance on what to do about it. By any definition, do you know what we call assertions which automatically assign evaluations of one's character based solely on their skin color? We call that racist.
YouTube quickly apologizes for suspending left-wing website. YouTube is continuing to enforce their policy of defining what ideas are acceptable to appear on their site and which ones are "dangerous misinformation." Anyone creating content that includes a discussion of any information that falls into the latter category will find their videos removed and their account suspended. This vaguely defined category can generally be boiled down to a description of "things liberals don't like." But sometimes the platform is a bit off in their aim, it seems.
How the Global World Is Losing Control. Smart software agents are ubiquitous: on our phones, computers, even on that doodad you bought for grandma that plays music and reads out the weather report in response to voice commands. "Siri, Alexa, Cortana and the unstoppable rise of the digital assistant ... The brain implants are not ready yet, but artificial intelligence of a different kind is being let loose on some of these creeping problems of modern life." Are they really working for us? To reassure yourself, why not ask: "Google are you spying on me?" The answer ought to set your mind at ease.
So America is racist, huh? [Scroll down] If you'd really like to know what is going on, Google "How many racists are there in the United States." It's unlikely you'll get an even a remotely accurate answer — or logical attempt to come up with one — within the first half-dozen pages. What you will get, however, are countless studies and articles and statistics demonstrating that America is "systemically racist," rife with "structural racism," that race relations are getting worse, and polls proving that Donald Trump caused a rise in "white nationalism" and "hate groups." Virtually everything you find will be support for the left's lie that America is a racist country: disparity, unequal, disadvantage, etc.
The Books Are Already Burning. Last month, DarkHorse had almost five million views on YouTube. But speaking freely has come with a price. The couple's two YouTube channels have each received several warnings and one official strike, which the company says was because of their advocacy of the drug ivermectin as a treatment for Covid-19. Three strikes from YouTube and a channel can be deleted. According to Weinstein, that would mean the loss of "more than half of our income." How have we gotten here? How have we gotten to the point where having conversations about important scientific and medical subjects requires such a high level of personal risk? How have we accepted a reality in which Big Tech can carry out the digital equivalent of book burnings? And why is it that so few people are speaking up against the status quo?
Google automatically installed a COVID-19 tracking app on phones in [Utah]. On June 15, Massachusetts launched its exposure notification app, MassNotify. Within two days, the app had 500,000 sign-ins equal to 7% of the state's population, reports The Boston Globe. Comparatively, Alabama's exposure notification app only had 150,000 downloads from August to November, says The Boston Globe. The reason for Massachusetts' success? Google automatically and silently installed the app on Android phones, reports The Verge.
Fact-Check Site Used by Google Lists All Conservative Outlets as "Low Credibility" — But Lists All Far Left and Liberal Mainstream Outlets as High Credibility. Amid rampant censorship and demontization of the truth, conservatives are being purged from the internet. Left-wing propaganda is brazenly permeating the airwaves, dominating the narrative in mainstream media, entertainment and academia. In an effort to bolster the iron curtain and reinforce misinformation, an explosion of "fake-news" fact-checker sites devoted to delegitimizing The Gateway Pundit to continue to emerge. The self-appointed gatekeepers of facts operate under the guise that they have no bias whatsoever and are typically cloaked behind a veil of anonymity.
Google made it nearly impossible for users to keep their location private. Newly unredacted documents in a lawsuit against Google reveal that the company's own executives and engineers knew just how difficult the company had made it for smartphone users to keep their location data private. Google continued collecting location data even when users turned off various location-sharing settings, made popular privacy settings harder to find, and even pressured LG and other phone makers into hiding settings precisely because users liked them, according to the documents.
How Google is making more money than ever off the sick and vulnerable. In 2019, Google embarked on a mysterious-sounding venture. Called Project Nightingale and carried out in secret, the tech giant teamed up with St. Louis-based Ascension, one of the largest private health-care companies in the country. Google was granted complete access to 50 million patients' names, lab results, diagnoses and hospitalization records, as well as their home addresses and places of employment. Even more worryingly, at no time did Ascension or Google make an attempt to inform the patients or ask for their consent. Despite patient privacy concerns, this partnership has only grown with Google boosting its electronic health-record search tool, likely resulting in the accumulation of even more patient data.
Google Pushes Chinese Propaganda About South China Sea — with Wikipedia's Help. A discussion at the Wikipedia Reddit community yesterday noted that Google searches asking if China owns the disputed South China Sea prominently featured a result from the online encyclopedia parroting the Chinese government position that it "enjoys indisputable sovereignty" over the sea. Reddit users noted the line appeared to be taken from a Chinese Foreign Ministry statement quoted in the article, a fact not included in the Google snippet. The line was removed after the Reddit discussion brought it to attention. This is only the latest case where Google's prioritizing of Wikipedia for prominently displayed information has spread propaganda or falsehoods.
Google's not very diverse. Over at Google, they are cleaning up an office and looking for a substitute. [...] Honestly, I don't think that people should be fired for what they posted in 2007. Accept the apology and move on, but it's Google that should explain why it supports groups that apparently don't think that Israeli lives matter.
Google removes its head of diversity after a 2007 blog post surfaced in which he claimed Jews have an 'insatiable appetite for war'. Google announced on Wednesday [6/2/2021] that it was removing its global lead for diversity strategy and research, Kamau Bobb, after a 2007 blog post in which he'd made antisemitic comments surfaced. The company said Bobb would be reassigned to a STEM research role. The Washington Free Beacon this week uncovered a blog post by Bobb titled "If I Were a Jew." The report, published Tuesday, included excerpts from the post. "If I were a Jew I would be concerned about my insatiable appetite for war and killing in defense of myself," the post, which has since been deleted, said.
Google's head of diversity is slammed for saying 'Jews have insatiable appetite for war and killing' in 2007 blog post. Google's head of diversity has been slammed for writing that Jews have an 'insatiable appetite for war and killing' and arguing they should have more 'compassion' because of the Holocaust. Kamau Bobb, who is also an 'Equity in Computing' don at Georgia Tech, wrote a 2007 blog post, which remains on his website, titled: 'If I Were A Jew.' Bobb writes: 'If I were a Jew I would be concerned about my insatiable appetite for war and killing in defense of myself. Self defense is undoubtedly an instinct, but I would be afraid of my increasing insensitivity to the suffering of others.'
'Location Off Should Mean Location Off': Google Hit With Lawsuit Over Data Collection 'Schemes'. Arizona Attorney General Mark Brnovich says that Google continues to collect location data even after users turn off tracking on their smartphones and other devices, citing concerns from company employees about its data-collection practices, in the latest update of a lawsuit against the tech giant. According to documents that were submitted in court by Brnovich's office last week, emails that were sent among Google engineers expressed concerns about the company's location data collection efforts after an Associated Press report in 2018; the engineers suggested that they believed the AP article was correct. "So there is no way to give a third-party app your location and not Google? This doesn't sound like something we would want on the front page of the [New York Times]," one employee allegedly stated in a newly unredacted section.
Judge approves class-action status for Google pay discrimination suit. Several former Google employees have won class-action status to proceed with their gender pay disparity lawsuit. It alleges the tech giant violated the rights of more than 11,000 women by paying men more money for the same job. A San Francisco judge approved the class-action suit on Thursday [5/27/2021]. The claim states Google violated California's Equal Pay Act by paying its female employees an average of $17,000 less a year than their male counterparts. The suit seeks $600 million in damages as well as disparities in the stocks and bonuses paid to male employees over female workers.
10,000+ Women Sue Google over Gender Pay Disparity. Four women who worked at Google have reportedly won class-action status to represent 10,800 women in a lawsuit against Google over their claim of a Masters of the Universe gender pay disparity. Engadget reports that four women who previously worked at Google have won class-action status to proceed with their gender pay disparity lawsuit. The latest ruling means that the suit can now apply to 10,800 women who held various positions at Google since 2013.
Steven Crowder Is Suing YouTube Over Vague Rules, but It's Not Just About Him. Conservative comedian Steven Crowder filed notice last week of a lawsuit against YouTube, claiming, "This is the big one, boys and girls." Crowder's May 14 filing follows his second "strike" in as many months. In March, YouTube demonetized Crowder's channel and issued his first demerit of 2021 on grounds that one of his videos contained COVID-19 misinformation. In April, Crowder earned "strike two" under the pretext of harassment and cyberbullying. One more infraction in the designated 90-day window and he will be permanently cut off from his 5 million YouTube followers. Crowder is polemical — he is, after all, a comedian — but his undue scrutiny ignores a morass of unpunished "violations" that proliferate on YouTube all around him.
VIMEO Cancels Mike Lindell's My Pillow Account: "This is worse than what Twitter did to me and my company!". Big box stores like Costco, Sam's Club, Bed Bath & Beyond, Kohl's, Wayfair, and Kroger have all stopped carrying "My Pillow" products. Christian, patriot, and My Pillow CEO Mike Lindell will lose over $68 million+ this year alone, thanks to decisions by these big box stores to punish him for fighting to expose the election fraud in the November 2020 election. Mike Lindell has been permanently suspended on Twitter, and his Absolute Proof video has been removed from Vimeo and Google-owned YouTube. Why are social media bullies allowed to decide what Americans can or cannot see? Who made them the ultimate judge and jury about which news is acceptable and which news is unacceptable?
Getting Disappeared by Google. [Scroll down] In the closing sentences of his email, however, the reader mentioned something that startled me. He said he sought to get my views on latest events but could not find any of my recent writings on the internet when he made his google search. I was very surprised to learn this, since I have published a great deal in the last twelve months on highly visible and widely frequented websites such as LewRockwell.com, American Thinker and LifeSiteNews. My first thought was that the reader must have mistyped my name when he submitted his google query. So, I tried to do it myself and to my astonishment the query returned none of my writings from last year apart from a single piece on lewrockwell.com. This was a tiny fraction of my output that encompasses some sixty articles and essays of nearly one hundred thousand words. Previously this kind of search would readily bring up most of my writings in an easy-to-see format.
Where to get straight news. How are concerned Americans to get their hands and eyes on the truth of what's happening? I propose that there are several moves we can make immediately. First, never use Google to search. It does two evil things. First, it mines your searches to use them for saleable purposes. You become the product. Second, it rarely allows you to find anything by any conservative source. Breitbart News has been a frequent victim of Google's bias. Dr. Robert Epstein of the American Institute for Behavioral Research and Technology showed how Google manipulated its search results and messages with the effect of switching around six million votes from Trump to Biden. If you use Gmail, stop. Reagan.com is just one of many email providers available for you. I know of two non-tracking and non-censoring search engines: DuckDuckGo and StartPage. Both are excellent, and neither sends a single byte of data to the Masters of the Universe.
Canada: Judge Orders Google to Identify Person Behind Anti-Antifa Blog. A judge in the Canadian province of Nova Scotia has ordered tech giant Google to hand over information linked to a blog critical of the far-left extremist group Antifa after allegations of cyberbullying. The request comes after a complaint from a Nova Scotia couple, Darius Mirshahi and Sakura Saunders, who the blog had previously alleged were leaders in a Canadian branch of the far-left anarcho-communist Antifa group.
How to Starve Big Tech. It's not an exaggeration to say that if America remains on her current trajectory, she will be unrecognizable in another generation. [...] The sad part is that Big Tech's control over the free flow information is almost entirely illusory and based wholly on our submission to it. Much in the same manner that consumers become zealously brand-conscious, we have come to accept that Microsoft, Apple, Google, Facebook, Twitter, and YouTube have some innate value that makes them indispensable. We forget that Big Tech's dominance has come about in just one generation and we can track a direct trajectory between the rise of Big Tech and the radical Left's ascendancy.
Nobody is flying to join Google's FLoC. Google is going it alone with its proposed advertising technology to replace third-party cookies. Every major browser that uses the open source Chromium project has declined to use it, and it's unclear what that will mean for the future of advertising on the web. A couple of weeks ago, Google announced it was beginning to test a new ad technology inside Google Chrome called the Federated Learning of Cohorts, or FLoC. It uses an algorithm to look at your browser history and place you in a group of people with similar browsing histories so that advertisers can target you. It's more private than cookies, but it's also complicated and has some potential privacy implications of its own if it's not implemented right. Google Chrome is built on an open source project, and so FLoC was implemented as part of that project that other browsers could include. I am not aware of any Chromium-based browser outside of Google's own that will implement it and very aware of many that will refuse.
Google ex-CEO Eric Schmidt Calls for Full Communism. You wouldn't think it, but this white paper and its super boring title — "Community-Centered Wireless Infrastructure Networks" — is a declaration of war by Google against big telecom. Why is that? Well, Google and Eric Schmidt are running a campaign to lobby cities to have them own and control their own broadband system, instead of the way it works now, where they allow AT&T, Verizon, or T-Mobile to do so. Most people think that telecom is regulated by the Federal Communications Commission, but cities actually have a significant role in telecom deployment, because you have to attach equipment to all sorts of municipal infrastructure and it is muni governments that oversee such activities. In fact, cities were the first telephone regulators in the late 19th century, and had significant authority all the way until the Telecom Act of 1996, spurred by merchants who demanded that cities regulate telephones so there wouldn't be wires strung all over the city streets from competing phone networks.
Google and "pink noise". While running an experiment here today, I told Google Assistant/Google Home to "Play pink noise" — and without a word it seemed to comply. I also told it to "play white noise" — and it also complied without a word. But — hmmm — I couldn't seem to hear a difference between the two. Well, [...] my hearing can't be what it used to be, let's pull out the spectrum analyzer. And ... uh ... the spectrums for both look identical. And it's the spectrum for white noise. And in fact, someone with a Hub (which I don't have) checking my results says, yes, Google is playing white noise when you ask it for either white noise or pink noise. [...] If you tell Google to play pink noise, it should either play pink noise or admit that it can't ... OK Google?
The Supreme Court Screws Up Yet Again. [Scroll down] Say you spend thousands of hours and billions of dollars designing and developing some software. And then Google parachutes in and steals it from you. And then the Supreme Court authorizes Google's theft. How likely are you to ever again spend thousands of hours and billions of dollars designing and developing software? You absolutely will not. Because human nature. And everyone else who spends thousands of hours and billions of dollars developing software? They will have watched quite closely Google's IP theft from you — and the horrendous Supreme Court fate you subsequently suffered. And they too will stop spending thousands of hours and billions of dollars designing and developing software.
Google's Business Model - Is Theft. Google is a monstrous Big Tech behemoth (Market Cap: $827 billion). And they got to their obscene hugeness — almost solely by stealing from us. Founded in 1998, Google was one of the first companies on the planet to figure out the Coin of the Internet Realm — is everyone's data. Who we are, what we do, what we like: all of it is laid bare online. Google became masters of micro-collecting all that information. And then omni-directionally selling it to the highest bidders.
Behold: An Avalanche of Headlines Chronicling Google's Systemic Theft. There are more than twenty search engines. Google is used for searches — 91.54% of the time. That's a lot. There's a reason "Google" has become a verb in addition to a noun. And why Google's brand name means the product — the way "Band Aid" and "Q-Tip" do. Even more unfortunately, Google is hardcore Leftist. And Google's Leftism — affects its work product.
Google's Biggest US Employee Tally Is Probably Its Lawyers. One of the VERY many downsides of Big Tech taking over this country? The very few employees they hire. Obviously retail overlord Amazon is an exception. They have to hire some US employees to delver all the Communist Chinese products they sell. But in conjunction with government officials, their Big Tech cronyism and their China Virus lockdowns — Amazon is well on the way to murdering every US retailer except them. But most Big Tech companies — like Google, Facebook and Twitter — are mostly a bunch of computer servers. With a few hyper-compensated hyper-Leftist partisan executives. And some computer programmers to keep the servers up and running — and getting ever better at consuming our minds and existences.
Data Show Biden 'Dislikes' Deleted by the Millions on YouTube. To conservatives who have been throttled and even censored online, this will make perfect sense: YouTube appears to be working on behalf of the Biden administration. An analysis of data indicates that the platform has deleted more than 2.5 million "dislikes" from various White House videos featuring Joe Biden, likely in a bid to make him seem far more popular than he really is.
YouTube Deleted 2.5 Million 'Dislikes' From Biden White House Videos, Data Indicates. YouTube has deleted about 2.5 million 'dislikes' from videos on the official White House channel of President Joe Biden, according to data collected and posted online by a researcher who wished to remain anonymous. YouTube recently announced that it's testing a new page design that hides the dislike count. The Google-owned video platform allows users to give videos either a thumb up (like) or thumb down (dislike). For at least two years, it's had a policy to remove likes and dislikes it considers spam. "We have policies and systems in place to ensure that the engagement on YouTube is authentic, and remove any fraudulent metrics," a YouTube spokesperson told The Epoch Times via email, but when asked, wouldn't go into details on what criteria it uses to make these calls. The White House videos have seen these kinds of interventions on an ongoing basis, but it appears it's only the dislikes that are disappearing.
Google still Misinforms Us about COVID-19 Treatment. [Scroll down] Ivermectin based treatment and prophylaxis has nearly the same or even higher effectiveness (~80% with the best protocols), safety, and availability as Hydroxychloroquine. Ivermectin use is not affected by TDS. Despite these facts, Google's search for ivermectin yields a propaganda piece Why You Should Not Use Ivermectin to Treat or Prevent COVID-19 from the FDA. The 'propaganda piece' is not an exaggeration. It attempts to insinuate that Ivermectin is only used in veterinary practice (with a picture of a veterinarian and a horse at the top), and it further associates the drug with stigmatized diseases such as parasitic worms and head lice. The article ends with the advice to muzzle up. In addition to Google's search being misleading, there are also "Common Questions and Answers", which are exclusively Google's own (mis)information, and in no way fall under Section 230 protections. For the question "Is Ivermectin recommended to treat the coronavirus?" the correct answer is Yes, but Google incorrectly says No.
Conservatives need to attack the tech monopolies aggressively. According to Wikipedia, Google has purchased 241 companies since its inception, most recently Fitbit. Twitter has purchased 65 companies and Facebook 89. Engines of innovation? Hardly. They need these purchases to close off potential competitors before they become a threat and to have new processes to exploit. As far as pinnacles of capitalistic success, imagine this: American socialism is the castle, and Big Tech and the big banks are the moats defending that castle. The peasants need to be kept out. Big Tech oligarchs exist because the Government protects them and they, in turn, protect the Government. Since the Department of Justice and the Federal Trade Commission show little interest in reining in these groups, we need to take a different approach and that approach is a tactic the left created and has used effectively for decades: Lawfare.
Leaked Docs Show Obama FTC Gave Google Its Monopoly After Google Execs Helped Obama Get Re-Elected. Eight years ago, the Federal Trade Commission had the chance to face down Google — the giant of Silicon Valley whose power now alters the free flow of information at a global scale, distorts market access for businesses large and small, and changes the nature of independent thought in ways the world has never experienced. Instead, the FTC blinked — and blinked hard, choosing to close the investigation in early 2013. A remarkable leak to Politico of agency documents about the 2012 Google investigation reveals that, despite ample evidence of market distortions and threats to competition presented by the agency's lawyers, the five commissioners of the FTC deferred instead to speculative claims by their economists. Records and reporting about the 2012 investigation suggest the FTC did so while bending to political pressure from the Obama White House — which was, in turn, bending to political pressure from Google.
How Washington fumbled the future. Few moments in the power struggle between Washington and Silicon Valley have inspired more anger and bafflement than one in January 2013, when antitrust regulators appointed by former President Barack Obama declined to sue Google. The decision still rankles the company's rivals, who have watched the search giant continue to amass power over smartphones, data-hoovering devices and wide swaths of the internet, unimpeded by laws meant to deter monopolies. It has fueled some lawmakers' calls to overhaul the Federal Trade Commission, the agency that spent 19 months investigating Google's efforts to overpower the competition — and critics say, blinked. The commission has never disclosed the full scope of its probe nor explained all its reasons for letting Google's behavior slide. But 312 pages of confidential internal memos obtained by POLITICO reveal what the FTC's lawyers and economics experts were thinking [...]
Whenever You Disagree with Liberals, You're a Conspiracy Theorist. So also with Hunter Biden. There was enough evidence against him for the FBI to launch an investigation over a year ago. But for some, just the mention of Hunter Biden amounts to a conspiracy theory. [...] Just don't say out loud (or online) that Hunter gives the Chinese leverage over American foreign policy. If you google the words "Hunter Biden China," you will first retrieve a half-dozen friendly posts from CNN, BBC, NBC, VOA, PolitiFact, and Newsweek claiming that "no proof of wrongdoing has been uncovered so far," "allegations ... are unsubstantiated," and so on. And you will learn that anyone raising a question about Hunter's dealings with China is a conspiracy theorist.
Four hidden ways Big Tech platforms suck up your data. Google, which is the most visited website in the United States with billions of users worldwide, monetizes its users in two major ways, according to the Electronic Frontier Foundation, a nonprofit digital rights group: It gathers user data to build profiles of people using their interests, location, and demographics to let advertisers target particular groups of people based on those certain traits, and second, it shares some of its data with advertisers directly and requests them to bid on individual ads. Its second method of making money from users is what most people would consider "selling user data." Google helps third-party ad placement in a complicated process known as "real-time bidding." The ad bidding is a system in which websites and publishers auction off ad space on their sites or in their apps, and in doing so, they share user data, including browsing history, location, device IDs, and other relevant online user behavior to hundreds of different advertising technology companies that Google works with.
Judge in Google Case Disturbed That Even 'Incognito' Users Are Tracked. When Google users browse in "Incognito" mode, just how hidden is their activity? The Alphabet Inc. unit says activating the stealth mode in Chrome, or "private browsing" in other browsers, means the company won't "remember your activity." But a judge with a history of taking Silicon Valley giants to task about their data collection raised doubts Thursday about whether Google is being as forthright as it needs to be about the personal information it's collecting from users. At a hearing Thursday in San Jose, California, U.S. District Judge Lucy Koh said she's "disturbed" by Google's data collection practices as described in a class-action lawsuit that says the company's private browsing promises is a "ruse." The suit seeks $5,000 in damages for each of the millions of people whose privacy has been compromised since June of 2016.
YouTube Blacklists Donald Trump's CPAC Speech, Suspends RSBN Channel. The Right Side Broadcasting Network (RSBN), a conservative news broadcaster, received a two-week suspension from YouTube because it covered President Donald Trump's speech at the recent Conservative Political Action Conference (CPAC). The video nearly accumulated 4 million views before being censored by the Google-owned platform. The official Twitter account of RSBN reported the news. "RSBN has been suspended from YouTube for two weeks because of the Trump #CPAC2021 speech, which violated their guidelines on election misinformation. The video was approaching 4 million views. They have also removed it from their platform."
Google Censorship Continues — RSBN Suspended for Carrying President Trump CPAC Speech. Control is a reaction to fear; it has always been thus. In this example Google, the parent company of YouTube, is removing all copies of President Trump's CPAC speech claiming the content violates their terms of service. RSBN broadcast the speech then hosted it on their YouTube channel. As a result RSBN has been suspended from their YouTube account.
Josh Hawley: 'Our Rights Come from God, Not Google'. Sen. Josh Hawley (R-MO) railed against the "radical liberals" and the "largest corporations" of the world, proclaiming, "Our rights come from God and not Google." "That's been the fight of human history," Hawley said. Hawley also touched on his objection to the certification of electoral votes and was given a standing ovation, adding that "corporations are telling people what to do; that's the oligarchy and liberal elites" of Washington D.C. who are trying to "enforce their will" on America. [Video clip]
YouTube Takes Down Video of Testimony Given During Ohio House Session. Google's YouTube last week removed a video that showed an attorney testifying to the Ohio legislature. Thomas Renz, an attorney with the Ohio Stands Up! group, spoke to the Ohio House State and Local Government Committee in support of House Bill 90, which would implement legislative oversight of orders given by Ohio Gov. Mike DeWine. Renz said over the course of around 36 minutes that he opposed the harsh orders imposed by DeWine, a Republican, and health officials amid the COVID-19 pandemic. Renz noted that officials initially believed the fatality rate from the disease, which is caused by the CCP (Chinese Communist Party) virus, was much higher than the flu, but it's now close to the influenza's rate. He also alleged that no one under the age of 19 has died from COVID-19 in the state, among other claims. State officials say 11 children under 19 have died from the disease.
Killed by Google. Killed by Google is the Google graveyard; a free and open source list of discontinued Google services, products, devices, and apps. We aim to be a source of factual information about the history surrounding Google's dead projects.
YouTube is now blocking links to American Thinker. YouTube appears to be — no, it definitely is — blocking links to American Thinker. When one attempts to post a comment to a YouTube video or to reply to someone else's comment that includes a link to American Thinker, the comment cannot be posted. [...] When the same comment is attempted again, but without the American Thinker link, the comment is posted immediately. [...] It's pretty clear — the algorithms or bots of YouTube, which is owned by Google, are blocking any links to American Thinker. This should not come as a total surprise. Back in the day (circa 2007 when I started contributing to American Thinker), a search of news sites using Google's news dot google dot com would produce multiple hits to AT articles. About two years ago, I noticed that that was no longer the case. It was not possible to find any links to anything published at American Thinker.
Google is leading a vast, covert human experiment. On January 13, the Australian Financial Review reported Google had removed some Australian news content from its search results for some local users. Speaking to the Guardian, a Google spokesperson confirmed the company was "running a few experiments that will each reach about 1% of Google Search users in Australia to measure the impacts of news businesses and Google Search on each other." So what are these "experiments"? And how concerned should we be about Google's actions? Google's experiment (which is supposed to run until early February) involves displaying an "alternative" news website ranking for certain Australian users — at least 160,000, according to The Guardian. A Google spokesperson told The Conversation the experiment didn't prevent users (being experimented on) from accessing a news story. Rather, they would not discover the story through Search and would have to access it another way, such as directly on a publisher's website.
Youtube rushes to hide the mass unpopularity of Biden Whitehouse. It's all one giant Psy-Op. The Whitehouse Youtube Channel for the most popular President ever elected is being unliked en mass. Youtube kicked Donald Trump off the "platform", so hordes of fans are tuning into Joe Biden's channel instead, and they're not happy. Joe Biden's inauguration video tally currently stands at 4,300 "likes" and 48,000 "dislikes". Realizing the PR flop that this is, Youtube quietly unlisted the video to hide it from searches, but it's at this link. In newer Whitehouse videos, the downvotes continue. Clearly the Social Media controllers have a problem. One week later, and Youtube don't just unlist the video's — the Swat team has started deleting the deporable votes instead.
Google Deletes 100,000 Negative Reviews of Robinhood App From Angry Users. Google removed at least 100,000 negative reviews of the stock trading app Robinhood from the Google Play app store after angry users sent a flood of critical reviews that caused the app's rating to plummet on Thursday. The app's rating went from roughly four stars out of five on Wednesday to just one star on Thursday. Robinhood users were understandably upset after the company halted purchases of GameStop's stock and other stocks promoted by Reddit's WallStreetBets community. A Google spokesperson confirmed the tech giant has deleted the reviews and defended the move overnight, telling Gizmodo over email that it has rules against "coordinated or inorganic reviews." Gizmodo asked how negative reviews could be deemed "inorganic" when people seem reasonably upset about Robinhood's actions in recent days. Google stopped responding to Gizmodo's emails after that inquiry. Robinhood's rating on the Google Play app store has rebounded to over four stars since Google deleted the negative reviews.
West Virginia newspaper publisher files antitrust lawsuit against Google and Facebook for 'monopolizing the digital advertising market'. A West Virginia news publisher has filed an antitrust suit against Google and Facebook, who together receive roughly half of all digital ad dollars in the U.S. and are facing antitrust charges from federal and state authorities. The company, HD Media, owns several papers in the state, including the Herald-Dispatch in Huntington and the Charleston Gazette-Mail. HD Media claims Google has so monopolized the online ad market that 'it threatens the extinction of local newspapers across the country.' The suit also alleges that Google and Facebook conspired to further their dominance with a secret agreement, referring to a suit filed by 10 Republican attorneys general in December.
Trump Did Well on the Environment and Saved Americans Money in the Process. Over the past four years, Trump's Environmental Protection Agency demonstrated that it is possible to alleviate the regulatory burden on average citizens and private businesses while improving air quality and cleaning up hazardous waste. Recently, the agency released a "2020 Year in Review" documenting some of the most significant and enduring achievements of the Trump years. And yet, Google searches that make use of "Trump," "deregulation," "Year in Review," or any close approximation to those words and phrases fail to produce any reference to the report and its major takeaways. There are several that deserve scrutiny for the benefit of posterity.
YouTube strips rising media company Epoch Times of ability to monetize video content. YouTube, the video platform service that is a Google subsidiary, has banned The Epoch Times, a rising, conservative-leaning media outlet, from earning money off its videos. "YouTube demonetized the Epoch Times and related accounts last week," Stephen Gregory, publisher of The Epoch Times confirmed to Just the News on Tuesday in an email. "This is the latest example of big tech suppression of free speech, a step on the road to communist-style censorship." A YouTube spokesperson acknowledged Tuesday in an email to Just the News that the company had demonetized the publication's channel and affiliated channels and had suspended them from the YouTube Partner Program (YPP) — over issues related to harmful or sensitive content.
Lawsuit calls on Google to drop Telegram from app store, a week after Apple was targeted in the same way. A California court has been asked to force Google to remove Telegram from its Play store, over claims that the messenger app is used to incite violence. The legal challenge mirrors a similar suit brought against Apple. Filed by Marc Ginsberg, a former US ambassador to Morocco, the lawsuit claims that the popular app is used to spread violence, extremism and anti-Semitism. Ginsberg's non-profit, Coalition for a Safer Web (CSW), was also listed as a plaintiff. The complaint notes that Google suspended Parler, a Twitter-like conservative microblogging site, from its app store due to some users expressing support for the violence that rocked the Capitol on January 6. According to Ginsberg, Telegram should receive the same treatment.
Donald Trump's ban from YouTube extended indefinitely. Former President Donald Trump's YouTube channel will remain suspended indefinitely, the online video platform said Tuesday [1/26/2021]. Trump was first banned from the Google-owned company Jan. 12 for at least a week in the wake of the riot at the US Capitol. YouTube announced the extension of that suspension last week — before issuing yet another one Tuesday. "In light of concerns about the ongoing potential for violence, the Donald J. Trump channel will remain suspended," YouTube spokesperson Ivy Choi said in a statement. "Our teams are staying vigilant and closely monitoring for any new developments." More than 2.79 million people subscribed to Trump's YouTube channel.
How Google Interferes With Its Search Algorithms and Changes Your Results. Every minute, an estimated 3.8 million queries are typed into Google, prompting its algorithms to spit out results for hotel rates or breast-cancer treatments or the latest news about President Trump. They are arguably the most powerful lines of computer code in the global economy, controlling how much of the world accesses information found on the internet, and the starting point for billions of dollars of commerce. Twenty years ago, Google founders began building a goliath on the premise that its search algorithms could do a better job combing the web for useful information than humans. Google executives have said repeatedly — in private meetings with outside groups and in congressional testimony — that the algorithms are objective and essentially autonomous, unsullied by human biases or business considerations.
How To Stop Using Google Search On Your Computer And Phone. Google controls what the vast majority of the world finds on the internet. Being put at the top of the Google results for search is not only immensely lucrative, it is also almost mind-bogglingly powerful in global affairs. Since 2016, according to multiple reports, Google's algorithm has been increasingly manipulated to bury and elevate specific information, especially politically charged information. This appears to have strong effects on what people believe and therefore how they vote and respond to polls that inform what politicians do with their power. A 2018 Wall Street Journal investigation concluded, "The internet giant uses blacklists, algorithm tweaks and an army of contractors to shape what you see."
Google Threatens to Shut Down Search in Australia. On Friday, Google threatened to shut down its powerful search engine for the 19 million people in Australia if the country adopts Big Tech draft legislation currently before parliament. "If this version of the Code were to become law, it would give us no real choice but to stop making Google Search available in Australia," Google Australia Managing Director Mel Silva said at a Senate hearing in Canberra on Friday. "That would be a bad outcome not just for us, but for the Australian people, media diversity and small businesses who use Google Search." Talk about an understatement. As of July 2020, Google has dominated the search engine market, maintaining an 86.86 percent market share.
Google threatens to withdraw search engine from Australia. Google has threatened to remove its search engine from Australia over the nation's attempt to make the tech giant share royalties with news publishers. Australia is introducing a world-first law to make Google, Facebook and potentially other tech companies pay media outlets for their news content. But the US firms have fought back, warning the law would make them withdraw some of their services. Australian PM Scott Morrison said lawmakers would not yield to "threats". Though Australia is far from Google's largest market, the proposed news code is seen as a possible global test case for how governments could seek to regulate big tech firms.
How Health Care Works in America, and Why It's So Bad. [Scroll down] Google ratings are now thought to be the most critical judge of merit. But there are companies you can hire that can change those ratings. Competitors can employ others to tarnish your rating. Yet your employer still uses this rating to establish your merit pay, even when the number of Google responses may be relatively small and non-representative of the quality of care. The actual merit of a physician can become lost when pursuing this false idol.
Report: Google and Facebook Made a 'Secret Deal' to Dominate Online Advertising. The New York Times recently outlined the inner workings of a secret deal between Facebook and Google that allowed the companies to jointly dominate the online advertising market. In an article titled "Behind a Secret Deal Between Google and Facebook," the New York Times outlines a secret deal between Facebook and Google related to the online advertising market that the two companies largely dominate.
Google Is Not What It Seems. In this extract from his new book When Google Met Wikileaks, WikiLeaks' publisher Julian Assange describes the special relationship between Google, Hillary Clinton and the State Department — and what that means for the future of the internet.
Google Chrome Privacy Plan Faces U.K. Competition Probe. U.K. antitrust officials are investigating whether Google's plan to remove some user-tracking tools from its Chrome browser could hurt competition in the online-advertising industry. The U.K.'s Competition and Markets Authority said it has opened a formal probe into Google's plan for Chrome to end support next year of a technology called third-party cookies, which many companies use to track individuals' browsing habits across multiple websites. The investigation will examine whether Google's plan — which hasn't yet been finalized — could cause advertisers to shift spending to Google's set of online-ad tools at the expense of its competitors, the CMA said. The regulator said it has an open mind and hasn't determined whether or not any laws have been broken.
Google Purges Parler App; Apple Threatens to Remove It. Big Tech's crusade against conservatives continued furiously Friday night. Google removed the Parler app from its store and Apple threatened to do the same. Free market advocates repeatedly told conservatives the solution to Big Tech censorship was building their own platform. Now Google has removed a free speech platform from its store, blocking millions from accessing the app.
Apple Threatens to Remove Parler Social Networking Service From App Store. Alphabet Inc's Google on Friday [1/8/2021] suspended the Parler social networking service from its app store, citing posts inciting violence and demanding "robust" content moderation from the app favored by many supporters of U.S. President Donald Trump. Apple Inc on Friday also gave the service 24 hours to submit a detailed moderation plan, pointing to participants using the service to coordinate Wednesday's siege of the U.S. Capitol building. The actions by the two Silicon Valley companies mean that the network seen as a haven for people expelled from Twitter could become unavailable for new downloads on the world's main mobile phone app stores within a day. It would still be available in mobile browsers.
Ted Cruz Labels Google the 'Most Dangerous Company on the Face of the Planet'. Sen. Ted Cruz (R-TX) deemed Google the "most dangerous company on the face of the planet" during an interview with Breitbart News following a campaign event Saturday for the Georgia Senate runoff election. Cruz, who has been one of the most outspoken senators against big tech, outlined his issues with Google, Twitter, and Facebook as they relate to the companies' alleged interference in America's elections, providing his comments to Breitbart News after a get-out-the-vote event with Sen. Kelly Loeffler (R-GA) at the Good ol' Days Bar and Grill parking lot Saturday morning [1/2/2021].
What AG Barr's Departure Means for Google. Attorney General William Barr's December 23 resignation caught many in the tech accountability movement by surprise. Barr was a driving force behind the Justice Department's landmark Google antitrust suit in October. His departure has understandably raised questions about the future of the department's second antitrust investigation against Google and the general approach the Trump DoJ will take towards the company as it nears the end of its term.
Five ways Google is trying to kill Christmas. The search engine currently features a Doodle adorned with Christmasy lights in homage to December holidays, but goes to considerable lengths to minimize the month's signature celebration. Click on the image at Google.com and up pops "December global holidays" content that downplays and diverts readers from the true meaning of Christmas, the world's most popular holiday. First, it shares a default page from worldstrides.com that dryly mentions Christmas and gives equal weight to a list of contrived and obscure celebrations such as Kwanzaa and Boxing Day (sorry, Mum and Canada). It gives Christmas, observed by more than a quarter of the planet, less space than Hanukkah, a minor one in the Jewish calendar. Second, Google intentionally pushes a non-Christmas narrative. The search results include a "People Also Ask" box that directs users to content such as: What country does not celebrate Christmas in December?" and "What holidays besides Christmas are celebrated in December?" The box also asks and answers "What are Global Holidays?" by touting the spiritual significance of the month for Muslims, Buddhists, Pagans and Zoroastrians.
Google confirms it notifies children if parents are monitoring their accounts. Google informs children when their parents are monitoring their account activity, the tech giant confirmed this month, with the company claiming that doing so is a way of balancing the interests of both parents and children. Google's child-notification policies received attention when film director Robby Starbuck claimed on Twitter that his 7-year-old child had received a warning from Google that his account was being monitored. "Our 7-year-old son has to have google for homeschooling," Starbuck wrote on Twitter, "so naturally we setup parental controls but look what [Google] did. They sent my son an email to tell him his privacy is important to them and telling him we're supervising his account."
The Editor says...
Why would anyone turn a seven-year-old loose to explore the internet? Why would any parent set up a Twitter account for a seven-year-old?
Texas AG Ken Paxton is Suing Google! Is Google a monopoly? Is it using unfair business practices to price-fix? TX AG Ken Paxton says, yes! Hear more about his lawsuit against the tech giant! [Video clip]
Google's YouTube Shuts Down Dilbert Creator Scott Adams. Google-owned YouTube shut down Dilbert Comic strip creator Scott Adams on Friday, stripping a video off the platform from the podcaster's channel without warning. "Google (YouTube) just shut me down," Adams wrote on Twitter featuring a screenshot of the message from YouTube. "The video they deleted is no different from all of my other content. I assume they'll come for the other videos soon."
When "Smart" Homes Turn Stupid: Google Users Literally "Left In The Dark" During Monday Outage. By now, Monday's [12/14/2020] massive Google outage is history for most people. While it was a minor inconvenience for some, with most Google services being down for hours on end, it was a much larger pain [...] for the tragically hip who have surrendered their "smart" homes to Google. In fact, of the services that went down, it was Google Home users who were literally left in the dark during the outage on Monday, RT notes. As a result, "smart home" users were complaining about not being able to perform once-simple tasks at their homes — like turning on the lights. "I'm sitting here in the dark in my toddler's room because the light is controlled by @Google Drive Home. Rethinking... a lot right now," one Twitter user tweeted in the midst of the "blackout". Another user from the U.K. said that connecting his lights to Google Home now "feels like a fatal error."
Gmail is down AGAIN! Google's email service experiences an outage. Gmail users have reported issues with the service — a day after a number of Google's services were hit with an outage. Downdetector, which monitors websites and online services for outages, shows reports started around 3 pm ET and is spread out across the world. Users are able to access their inboxes, but are receiving bounce back messages saying 'email account does not exist' when emailing another Gmail account.
Google suffers worldwide outage with Gmail, YouTube and other services down. Google is suffering a worldwide outage, with failures reported across the company's services, including Gmail, Google Calendar and YouTube. Beginning at about 11.50am GMT [12/14/2020], the outages appear to have affected the vast majority of the company's services, apart from Google search which is still operating largely unaffected. Despite the universal nature of the outages, the company's automated systems reported no problems for any services for the first 30 minutes of the outage, across both consumer-facing and its cloud tools for developers. At 12.25 pm, the company published an update, saying "We're aware of a problem ... affecting a majority of users. The affected users are unable to access [Google services]."
Youtube Announces It Will Delete All Posts Alleging that Widespread Fraud Cost Trump the Election. Google-owned Youtube has announced that it will summarily delete all videos that claim that Donald Trump lost the presidency due to widespread voter fraud. In a Wednesday blog post, YouTube said any post "that misleads people by alleging that widespread fraud or errors changed the outcome" of the election will be removed. The content will be removed starting Wednesday [12/9/2020]. YouTube added that it is already rigging search results and algorithms to hide "misleading" election videos from its users. YouTube said that the censorship effort will be "Limiting the reach of borderline content and prominently surfacing authoritative information." YouTube added that "Problematic misinformation represents a fraction of 1% of what's watched on YouTube in the U.S," and adds, "we know we can bring that number down even more."
Google, YouTube, Announce They Will Block Content That Challenges 2020 Election Result. After the Marxist-left spent four years challenging the result of the 2016 election, forming the "resistance" and calling Donald Trump an illegitimate president; and after Big Tech supported, allowed and amplified that message on all media platforms; Big Tech's largest control agent, Google (via YouTube), now steps-in to say they will not permit content that challenges the outcome of a demonstrably fraudulent 2020 election.
YouTube will now remove videos disputing Joe Biden's election victory. On Wednesday [12/9/2020], YouTube announced that it will begin removing any content alleging widespread voter fraud influenced the outcome of the 2020 US presidential election. In the immediate aftermath of the November 3rd election, YouTube came under fire for allowing channels to publish videos making false claims about election results. In one instance, One America News Network, a verified YouTube channel, published a video declaring that "Trump won" the election. At the time, YouTube defended its decision to let the video stand, saying in a statement, "Like other companies, we're allowing these videos because discussion of election results & the process of counting votes is allowed on YouTube." The company went on to say that content from "authoritative news organizations" were "the most popular videos about the election."
Google/YouTube is erasing all evidence of election fraud. [Scroll down] The policy rejoices under the Orwellian name "Supporting the 2020 U.S. election," which actually means squelching all challenges to the massive human and electronic fraud that pushed Biden over the top. [...] As you may recall, if your memory hasn't been memory-holed, in pursuit of this main goal, Google/YouTube systematically censored any negative coverage about Biden — most especially reports about Hunter Biden's sexual and drug debauchery, and about his corrupt dealings with China and Ukraine, including written evidence and first-person statements about Biden's knowledge of and profiting from Hunter's deals. Now that Operation Big Brother Phase One has succeeded, and the AP has declared Biden the winner (something that supersedes silly little things like constitutional requirements for victory), YouTube/Google is ready for Operation Big Brother Phase Two — the Memory Hole.
How Google Falls. America just lived through the first wave of what might be called a one-sided software war. Software, as in Google, Facebook, Twitter, and other "Big Techs," worked together to impact an election cycle. Nobody disputes that, not even the techs. Actually, they are pretty proud of it. Americans, particularly the ones daily censored on Twitter and Facebook, look at these monoliths and see eternal weaponry arrayed against them. Their senators and reps will never break them up. Most take money from Google, and the rest live in fear of crossing them. One man's monolith is another man's dinosaur. Don't fear these guys; they just got there first. Looking at the technology behind all these firms, one finds they are using conventional software stacks, the kind pretty much everyone uses today. They just have scale — they spent billions on hardware, software, programming. An impossible hurdle to duplicate. But it's not. Not at all.
Labor board claims Google illegally spied on and fired workers. The National Labor Relations Board filed a complaint against Google on Wednesday alleging that the company violated U.S. labor law by spying on workers who had organized protests against the company before firing them. The complaint alleged that Google violated a New Deal-era law that affords workers the right to engage in collective action about issues in the workplace — even if those workers do not belong to a union, according to Bloomberg. It named two employees, Laurence Berland and Kathryn Spiers, whom Google fired in 2019. Berland had organized a protest against Google's decision to work with IRI Consultants, which is known for a history of union-busting. Google fired Berland because he said he found out about the partnership when he saw an event on a coworker's calendar, which Google said violated a company policy, according to the Verge.
Google Shifted a 'Minimum' of 6 Million Votes in 2020 Election: Dr. Robert Epstein. Google shifted a "bare minimum" of six million votes in the Nov. 3 presidential election by pushing its political agenda onto its users, a research psychologist has claimed. In an interview with Fox News' "Tucker Carlson Tonight," Dr. Robert Epstein, a senior research psychologist at the American Institute for Behavioral Research and Technology in California, suggested that the big tech company's search manipulation could have prompted millions of Americans to shift their votes toward Democrats. "Google search results were strongly biased in favor of liberals and Democrats. This was not true on Bing or Yahoo," Epstein said, referring to a team he put together to monitor the activities of big tech companies in the run up to the 2020 election. The project team recruited "a diverse group of 733 registered voters, Republicans, Democrats, and Independents," from "three very critical battleground states: Arizona, Florida, and North Carolina," who were then equipped with special software that tracked their activity on the internet, such as searches on Google, Bing, and Yahoo.
'Strongly biased in favor of liberals': Psychologist says Google manipulated content ahead of election that swayed votes. Research psychologist Dr. Robert Epstein believes that search giant Google manipulated what content it showed users in the weeks and months before the 2020 election in a way that was highly favorable to Democrats. "We found a period of days when the vote reminder on Google's homepage was being sent only to liberals," Epstein said during an appearance on Tucker Carlson Tonight. "Not one of our conservative field agents received the vote reminder." After Epstein made those results public, he said Google actually "shut off that manipulation" and were showing vote reminders to everyone in the four days before the election. Epstein said his team included "733 field agents" located in the "three key swing states" of Arizona, North Carolina, and Florida. Epstein said that the team found that Google's search results are "strongly biased in favor of liberals and Democrats," which was not the case on smaller search engines Bing and Yahoo.
Dangerous Game of Monopoly. [Scroll down] The Trump administration in October filed an antitrust lawsuit against Google. The case, filed jointly with attorneys general from 11 states, argues that the technology giant is a huge company that engages in anticompetitive practices. "Today, millions of Americans rely on the Internet and online platforms for their daily lives," said Attorney General William Barr. "Competition in this industry is vitally important, which is why today's challenge against Google — the gatekeeper of the Internet — for violating antitrust laws is a monumental case both for the Department of Justice and for the American people." Well, Americans do rely on the internet and competition is vitally important, but the department offered little compelling evidence beyond noting that Google is "one of the wealthiest companies on the planet with a market value of $1 trillion." Sure, but success, wealth, and market power do not make a company monopolistic.
Key senators demand to know: Did Google manipulate get-out-vote messages? A powerful Senate committee chairman and two GOP colleagues sent a letter Thursday to Google's top executive demanding to know if the digital giant manipulated pre-election get-out-the-vote messages on its search products to benefit liberals. Senate Homeland Security and Governmental Affairs Committee Chairman Ron Johnson, R-Wis., and Sens. Ted Cruz, R-Texas, and Mike Lee, R-Utah, wrote Google LLC CEO Sundar Pichai that an academic monitoring project claimed to capture evidence that Google only sent out voter reminder messages to liberals and not conservatives in the final days of the election. Their letter quoted Dr. Robert Epstein, the researcher running a Google monitoring project, as saying that his participants reported that between Oct. 26 and Oct. 29 "only our liberal field agents received vote reminders on Google's home page. Conservatives did not receive even a single vote reminder."
Here's How Google Can Shift 15 Million Votes Without Anyone Realizing It. In a chilling interview with Fox News' Tucker Carlson, Ph.D. psychologist Robert Epstein reported that Google's search engine has a "very substantial pro-liberal bias" and could swing 15 million votes in the 2020 election. Epstein studies the psychological effect of search results and he has a team of hundreds of people monitoring Google and other tech companies. He claimed that Google is effectively making a "huge in-kind donation" to campaigns like that of Democratic nominee Joe Biden. "Based on the data that we're collecting, I would say that if what we're seeing is present nationwide, they are probably shifting this year in this election about 15 million votes without anyone's awareness and except for what I'm doing, without leaving a paper trail for authorities to trace," Epstein told Carlson on Saturday [10/31/2020].
'Joe Biden Corruption' Trends on Google — But Google Whitewashes Autocomplete Suggestions. Interest in allegations of corruption against Joe Biden, as well as his alleged ties to Burisma, spiked in the month of October according to Google trends, with more people searching for the topics than ever before. But unlike other search engines, Google fails to display search suggestions such as "Joe Biden corruption" and "Joe Biden Burisma," similarly to the way it failed to display negative search suggestions about Hillary Clinton in 2016.
Election Interference: Google Suppresses Breitbart News in Search — Even with Exact Headline. Google, the world's most powerful technology company, is actively interfering in the coming election by burying links to Breitbart News in its search results. In July, Breitbart News published data showing that Breitbart's Google search visibility is down 99 percent compared to the same period in 2016. RealClearPolitics later published data corroborating this, and showing that the same silent expulsion from Google search results has happened to a variety of other conservative news websites as well. It appears that Breitbart News links are being hidden on Google searches even when users search for the exact string of words in an original Breitbart headline. When links to Breitbart stories do appear, it is often below obscure websites that plagiarize Breitbart's content.
Google Whistleblower Exposes Plot to Rig Election for Biden. A Google whistleblower has stepped forward to expose a plot by his employers to rig the U.S. presidential election by promoting negative information about President Donald Trump while suppressing bad press on Joe Biden. Google Cloud Program Manager Ritesh Lakhkar has spoken out to reveal the wrongdoing that's he's witnessed taking place at the Big Tech company. Lakhkar says the search engine giant is holding Democrats and Republicans to different standards in an attempt to alter public perceptions of the parties and sway elections in favor of their preferred candidates.
What we know about the DOJ's antitrust case against Google so far. The Justice Department today [10/20/2020] filed a landmark antitrust case against Google. The hotly anticipated, long-awaited lawsuit accuses Google of using its market dominance to force unfair contract terms on suppliers and competitors to the detriment of competition and the marketplace. The suit might just be the biggest thing in antitrust since the DOJ sued Microsoft in the 1990s... or it might not. Even though the investigation that led here has been going on for 16 months, a suit like this is the beginning, not the end, of the process. So here's everything we know — and more importantly, everything we still don't — about what this blockbuster case really means.
Google, prepare to be cowed. In what will surely go down in Big Tech history as an "about time" moment for censor-weary Americans, the U.S. Justice Department filed a suit against Google, accusing the online giant of antitrust violations. [...] "Today's lawsuit is the most important antitrust case in a generation," said Republican Sen. Josh Hawley, in a statement. "Google and its fellow Big Tech monopolists exercise unprecedented power over the lives of ordinary Americans, controlling everything from the news we read to the security of our most personal information. And Google in particular has gathered and maintained that power through illegal means." Specifically, DOJ is alleging that Google has outright and purposely stifled competition by juggling its online search returns to favor the company's own special winners and picks. Google dismisses those allegations as frivolous.
Google Manager: C'mon, Of Course We're Playing God In This Election. Lawmakers are rightly concerned with foreign interference in the election, but what if the call is actually coming from inside our house? Project Veritas reports on allegations of election interference by Google, using its near-monopoly power to warp search-engine results and content on its platforms to favor Democrats. Its latest undercover video features a clearly disgusted technical manager at Google accusing his employer of "playing selective god" with its market domination in order to advance its "leftist agenda." And speaking of foreign interference, Ritesh Lakhkar also warns PV's undercover reporter about China's increasing influence over Google and American politicians, too: [...] In this instance, the undercover aspect of this video seems almost superfluous. Lakhkar doesn't seem concerned about Google knowing his opinion. Also, the video doesn't tell us much that we don't already know by observation — that Google manipulates its search results for its own purposes. It's not much of a stretch to imagine that they have political purposes, and even less difficult to know what that means in the partisan context.
Project Veritas exposes Google manager admitting to election interference. On Monday [10/19/2020], Project Veritas released a new video that exposes the hidden political agenda of Google's top managers and shows how Google manipulated algorithms to skew conservative content negatively. In the video, Google's Cloud Technical Program Manager Ritesh Lakhar said that it is intentional that the Google search results that show scathingly negative content regarding Donald Trump and entirely positive content about Joe Biden. Lakhar said that the content was "skewed by the owners and drivers of the algorithm."
DoJ sues Google: Showdown with 'gatekeeper to the internet' over claims it uses its power unfairly to preserve a monopoly. The Department of Justice on Tuesday [10/20/2020] filed an anti-trust lawsuit against Google, claiming it uses its unprecedented power unfairly to preserve its 'monopoly' over the internet. The complaint — filed by the DoJ and 11 Republican State Attorney Generals — alleges that Google plays favorites with businesses, shutting out any possible competitors, and also uses the billions it makes in ad revenue to boost its own presence on Apple an Android devices by ensuring they become the go-to search engine on smartphones. The 11 states that have signed on are Arkansas, Florida, Georgia, Indian, Kentucky, Louisiana, Mississippi, Missouri, Montana, South Carolina and Texas.
Project Veritas exposes Google manager admitting to election interference. On Monday [10/19/2020], Project Veritas released a new video that exposes the hidden political agenda of Google's top managers and shows how Google manipulated algorithms to skew conservative content negatively. In the video, Google's Cloud Technical Program Manager Ritesh Lakhar said that it is intentional that the Google search results that show scathingly negative content regarding Donald Trump and entirely positive content about Joe Biden. Lakhar said that the content was "skewed by the owners and drivers of the algorithm."
How Big Tech is Working on Stealing the Presidential Election From Trump. Dr. Robert Epstein, a senior research psychologist at the American Institute for Behavioral Research and Technology and Democrat, explained to Congress how Google shifted 2.6 to 10.4 million users to Hillary Clinton in the 2016 election. Experiments have been done showing how certain candidates were favored over others based on biased search results. On Google that means showing negative results about conservative candidates and positive results about left-leaning candidates at the top of search results. On Facebook, if a certain video influenced a conservative to take a less conservative viewpoint, that video would show up higher in the newsfeed of other conservatives. Bokhari says the problem is the internet is no longer being run like the free market. There has been a corporate takeover of the web, as it's become an oligopoly controlled by a handful of Big Tech companies.
The Left's 'Mostly Peaceful' Revolution/Coup. [Scroll down] Google will skew search results to always paint President Trump as illegitimate. Twitter of course will suspend the president's account because it would be undemocratic to allow him to speak directly to Americans. Facebook will do the same. All this will be done to prevent Trump from lying to the people about what is obviously a popular national uprising to award Joseph Biden the presidency he won fair and square, despite how the obviously "stolen" election pans out. At least that is how the media and Big Tech will paint it.
House Democrats say Facebook, Amazon, Alphabet, Apple enjoy 'monopoly power' and recommend big changes. A Democratic congressional staff report recommends changes to antitrust laws and enforcement that could result in major changes for Big Tech companies, such as spinning off or separating parts of their businesses or making it harder to buy smaller companies. The staff found, after a 16-month investigation into competitive practices at Apple, Amazon, Facebook and Google, that the four businesses enjoy monopoly power that needs to be reined in by Congress and enforcers. In a nearly 450-page report, the Democratic majority staff laid out their takeaways from hearings, interviews and the 1.3 million documents they scoured throughout the investigation.
States, Justice Department to meet regarding possible Google antitrust suit. State attorneys general and the Justice Department are slated to meet later this week with the hopes of completing an antitrust complaint against tech giant Google. According to Politico, the Department of Justice and the states have been separately investigating Google since 2019 over allegations that it unfairly dominates the search market and tech for the sale and purchase of display advertising online. However, the two groups have yet to reach an agreement on strategic logistical components, including what allegations to include, what court to file the complaint in, and whether the case should involve one or two suits.
Big Tech's Efforts to Sway the Election Revealed. A book being released today by Breitbart News senior tech reporter Allum Bokhari, #DELETED: Big Tech's Battle to Erase the Trump Movement and Steal the Election, brings together sources from Google, Facebook, Twitter and other tech companies to expose Big Tech's hidden efforts to sway the coming election. "When voters find out what big tech companies have done to meddle in the coming election, they'll be rightly furious" said a Google whistleblower interviewed for the book. [...] Bokhari, author of #DELETED, has spent four years developing a network of whistleblowers in Silicon Valley. In the book, these sources tell the inside story of how the most powerful information technologies ever devised have been weaponized against President Trump and his movement.
Google is giving Joe Biden a very unusual and valuable in-kind campaign donation. [Scroll down] What this means is that if you're an American voter who wants to find out what most Americans think when it comes to Joe Biden, you won't get that information using America's most popular search engine. Google is hiding from you that people are deeply concerned about Biden's cognitive abilities. Google isn't only lying about what matters to people. Google is also refusing to list articles. Breitbart has complained about Google purging its site from search results. Of course, Breitbart is a big target, which makes it easier to strike. However, Google is purging anti-Obama posts (which also means anti-Biden posts) from small sites.
Google is building its own town near its Silicon Valley headquarters, complete with parks, restaurants, and affordable housing. Google hopes to build a new, town-like campus near its Silicon Valley headquarters. The company this month unveiled its proposal for Middlefield Park, a revamped 40-acre site in the city of Mountain View, California, where Google's main headquarters is currently based. The plan includes a parks network, retail space, office space, and even a public pool and sports field. The tech giant also plans to add as many as 1,850 residential units, and the company says 20% of those units will be affordable housing. The housing commitment follows a $1 billion pledge Google made last year to housing in the Bay Area, which included repurposing some its land holdings to create 15,000 new homes at varying income levels, including homes intended for lower- and middle-income families.
The Editor says...
Affordable housing... perhaps with Google Home in every room, whether you want it or not!
America's tech tyrants will do anything to elect Biden. If you watched Tucker Carlson's show on Friday night [9/4/2020], you're probably pretty depressed right now. The entire show was devoted to the fact that the Big Tech companies — Facebook, Twitter, Google, and YouTube (which Google owns) — are working hard to ensure that Trump cannot win the presidency. Their work takes many forms. There's the money aspect — these young(ish) tech titans emerged from an American education system that taught them to hate their country. [...] Tucker discussed the known fact that Google has altered its search algorithms to ensure that, when people type in a query, the search engine will not return any conservative sites in its answers. [...] Through YouTube, Google also pulls down or demonetizes conservative content, especially content that channels the Democrats' Wuhan virus narrative. Facebook does the same. Twitter routinely locks out conservative views with which it disagrees, including censoring President Trump.
The Justice Department could file a lawsuit against Google this month. The Justice Department is expected to file an antitrust lawsuit against Google as soon as this month, according to two people familiar with the matter, after Attorney General William P. Barr overruled dozens of federal attorneys who initially signaled the U.S. government was not ready to bring such a landmark case. The competition inquiry, which began last year, focuses on Google's sprawling search and advertising empire and the extent to which it harms rivals and consumers. Federal officials have sought to expedite their work in recent weeks, aiming to file a complaint ideally before the 2020 presidential election, said the two people, who spoke on the condition of anonymity to describe a law enforcement proceeding.
Google Insider: Bombshell Book 'Deleted' Will 'Shake the Foundations of Silicon Valley'. [Scroll down] Sources and whistleblowers who work or have worked for Google, Facebook, Twitter, and other tech giants were extensively interviewed for the book. They reveal Big Tech's secretive, AI-controlled methods to control and manipulate information, methods that unlike overt bans and censorship, cannot be readily observed by outsiders. They also explain how virtually every Big Tech company was pulled to the radical left after the 2016 election, with radical elements within Google, Facebook, and Twitter now obsessively pursuing an overriding goal: stopping Trump's reelection.
Google's tussle in Australia over paying publishers for news. This week, Google has ramped up its lobbying efforts in Australia after the competition regulator there issued a draft bill that proposes forcing tech giants to pay publishers for their news content. Should the new Australian rules be introduced, it could pave the way for other global jurisdictions to follow suit — not least as regulatory pressure continues to ramp up on the digital giants in Europe. Here's what global publishers need to know about the latest regulatory twists and turns down under between Google and the news business.
It's Always Amusing to Watch Criminals Attempt to Defend Their Criminality. No matter how much money a thieving company has — no matter how erudite the executives the company puts forward to defend its theft — we almost always only get these tread worn excuses. To wit: Google (Market Cap: $1.04 trillion). About a decade ago, Google stole 11,500 lines of Java code from Oracle. We know Google stole them — because before Google stole them they were negotiating for licenses from Oracle to pay to use them. Google then suddenly stopped negotiating for the licenses to legally use the code. And then released its 11,500-lines-of-Java-code-using Android products — without licensed permission to do so. "Who ya gonna believe — me or your own eyes?" If I go to a car dealership and begin negotiating a price for a car — I'm tacitly admitting I need to pay these people for the car. Google's license negotiations — were the exact same tacit admission. They then took the car — the code — without paying for it. Then came the avalanche of stupid Google excuses.
Big Tech Censorship is the IRS Scandal of 2020. This week, Breitbart News revealed that Google, is trying to intervene in the 2020 elections by censoring conservative news and preventing voters from receiving information they need to make an informed decision in November. Google has killed search traffic to Breitbart. Moreover, Twitter suspended Breitbart News' account after the website streamed a press conference of dissident doctors on Facebook Live. YouTube — owned by Google — removed the video, and Twitter censored tweets that included excerpts from the video, including a tweet by the President of the United States. Facebook also suspended private groups that posted the video. Though there are a few cases of liberal posts being flagged or taken down, Big Tech is distorting the national debate to benefit Democrats and hurt Republicans.
Google's data collection practices to undergo more scrutiny. Amid an onslaught of lawsuits alleging it has spied on its users, Google is facing new scrutiny about whether it uses the private data it collects to best its competitors and could be hit with more litigation. Rep. Joe Neguse, Colorado Democrat, questioned Google CEO Sundar Pichai at last week's antitrust hearing about reports that Google collects info on Android users in an internal program it uses to develop apps that outperform its competitors. Mr. Pichai repeatedly declined to answer whether it uses the data it collects to build services that defeat competing apps.
Oops!
Google Accidentally Enables Home Smart Speakers to Listen In to Everyday House Sounds. Google accidentally enabled a feature for Google Home users which let the smart speaker listen to the sounds of objects in your house. A user on Reddit spotted a notification on his phone from his smart speaker which alerted him to the fact his smoke alarm was going off while he was cooking. Usually, Google Home devices only respond to its active 'wake words' — such as "Ok, Google" or "Hey, Google" — but in this instance the speaker was listening out to a passive sound and make "my dumb smoke detectors smart," the Reddit user wrote. Other users reported getting alerts for the sound of glass breaking, popped bubble wrap, an air compressor tank, and other high-pitched noises that sound like alarms.
Social Media Censorship Won't Keep Trump from Being Reelected. Remember a couple of months ago people were all excited about Dr. Robert Epstein claiming Google preventing Trump-related searches or banning Trump ads was going to throw the election to the Democrats and Joe Biden? I certainly do, because at the time Dr. Epstein went public with his predictions about the forthcoming 2020 election, my Twitter account blew up from people bringing it to my attention. Dr. Epstein is a prominent American psychologist and author. He was formerly editor-in-chief of Psychology Today magazine and a distinguished professor at the University of California — San Diego. Epstein has been involved in controversies and criticisms of Google and other Big Tech platforms since 2012 when Google began placing security warnings on links to his website, which reduced his site traffic.
Google Launches New Badge For Black-Owned Businesses. Google has introduced a new feature that will allow businesses to label themselves as "black-owned" through the company's Maps and Search listings. The new feature is part of Google's promise to support the Black community with "initiatives and product ideas that support long-term solutions." The badge that represents Black-owned businesses is a black heart over a three-striped orange background. It will not only indicate that a business is "black-owned" but also help filter results and make it easier to find them online.
Data Analysis Exposes Google Search Censorship. As the debate over Big Tech censorship rages, one of many conservative news sites that has faced censorship at the hands of Google and their search policies has come forward with new evidence.
6 Massively Misleading Answers from Big Tech CEOs to Congress. Yesterday [7/29/2020], the CEO's of major American tech firms Apple, Google, Amazon, and Facebook appeared before the House Judiciary Committee's antitrust panel to discuss the market dominance of their firms and issues relating to censorship on their platforms. During the hearing, the CEOs made a number of claims relating to their platforms and the competition they face. Each of the CEOs made extremely misleading statements, with Google CEO Sundar Pichai regularly misrepresenting how Google operates or the competition the tech giant faces. [...] Google's search dominance is one of the reasons that the company was able to suppress the search results of Breitbart News and other conservative news websites, essentially "purging Breitbart content from search results since the 2016 election," according to Breitbart News' reporter Allum Bokhari.
Big Tech, Establishment Media Crush Free Speech Through a Form of Prior Restraint. Big tech and mainstream media have joined forces to crush free speech and press freedom. Not only are they censoring alternative medical views on coronavirus, but they are also censoring news outlets that happen to cover those views. On Monday night [7/27/2020], Facebook, Twitter, and YouTube (owned by Google) took down video from a Facebook live stream of a press conference on coronavirus in Washington, DC, by a group of doctors that was covered by Breitbart News that day. The press conference was held by a group called America's Frontline Doctors, which was organized and sponsored by the Tea Party Patriots. The press conference featured doctors talking about their own views about the treatment of coronavirus or COVID-19, sometimes presenting perspectives that are not featured by the "experts" making policy for the country. Some talked about hydroxychloroquine; others touted the scientific case for reopening schools.
Jim Jordan explodes at Big Tech hearing, drags Jamie Raskin's wife for unmasking Flynn. Rep. Jim Jordan, R-Ohio, had a fiery clash with his Democratic colleagues at Wednesday's congressional hearing with tech giants. Jordan grilled Alphabet CEO Sundar Pichai over Google's alleged search engine bias against conservatives and whether Pichai could commit that Google will not interfere in the upcoming election to benefit Joe Biden. However, Rep. Mary Gay Scanlon, D-Pa., appeared to dismiss Jordan's concerns as "fringe conspiracy theories." "Mr. Chairman, we have the email," Jordan responded, referring to an email written by a Google staffer that suggested that the tech giant aided Hillary Clinton's campaign in 2016.
Rush Limbaugh: Google 'Essentially Trying to Erase Breitbart'. Rush Limbaugh spoke on his radio show on Wednesday [7/29/2020] about the House oversight hearing that took place yesterday focused on high tech monopolies and highlighted how Google has censored content from the Breitbart News website.
Republican Rep. Matt Gaetz Calls Out Google for Censoring Websites. Representative Matt Gaetz called out Google for censoring conservative news sites like the Gateway Pundit, Daily Caller, Breitbart, Western Journal and the American Spectator. Of course Google's Head denied any such thing. If you go to Google and search for top stories in various categories where the Gateway Pundit has led in the news cycle you won't find Gateway Pundit included in the list of related articles on the subject. This happens over and over and over and today Rep. Matt Gaetz from Florida asked Google's Head Sundar Pichai about it.
Election Interference: Google Purges Breitbart from Search Results. A few days after the 2016 election, at an internal meeting later leaked to Breitbart News, top Google executives, including Sundar Pichai, Sergey Brin, and Kent Walker, lamented President Trump's victory, comparing Trump voters to "extremists" and discussing their desire to make Trump's election and the populist movement a "blip" in history. True to their word, four years later, Google is deliberately working to interfere with the reelection of Trump in 2020.
Google Translate Lists 'Police Officer' as the Primary Definition of 'Demon'. Google Translate, the tech giant's translation app, listed "a police officer" as the primary definition of "demon." The secondary definition of demon, according to the Masters of the Universe in Silicon Valley, is "an evil spirit or devil." The web giant removed the definitions altogether after Breitbart News requested comment on the company's strange definition. Users on reddit's /r/Conspiracy subreddit were the first to recently notice that when the term "demon" was typed into Google's Translate system, the first definition that the site returns is "a police officer."
Bozell, Conservative Leaders Demand Answers From Google CEO After Blacklisting. On Monday, Media Research Center Founder and President Brent Bozell and the MRC's Free Speech Alliance released an open letter to Alphabet CEO Sundar Pichai ahead of Wednesday's House Judiciary Committee and the Antitrust Subcommittee hearing featuring Pichai, Amazon CEO Jeff Bezos, Apple CEO Tim Cook, and Facebook CEO Mark Zuckerberg. The letter comes less than a week after major MRC's major sites (including NewsBusters) and other conservative platforms were blacklisted from Google's search results.
Sen. Tom Cotton Presses DOJ to Investigate Google over Potential Antitrust Violations. Sen. Tom Cotton (R-AR) is pushing the Department of Justice (DOJ) to probe whether search giant Google is in violation of antitrust laws on a number of fronts, a new letter he wrote to Attorney General Bill Barr provided to Breitbart News exclusively shows. "In recent weeks, news outlets have reported that the Department of Justice is nearing a decision about whether to take enforcement action against Google for anticompetitive behavior that violates U.S. antitrust law," Cotton wrote to Barr, citing a recent Politico report on looming DOJ action against Google.
Google blacklists American Thinker and reverses it after its blacklisting of conservative sites is exposed. Yesterday [7/21/2020], what Google calls a "technical error" exposed a blacklist of multiple conservative sites, including American Thinker. After the blacklisting became obvious and generated commentary among conservative publications (and crickets among the dominant MSM propaganda organs), it appears to have been reversed. The blacklist became blatantly obvious when a Google search for "American Thinker" revealed no items from our site, but rather articles elsewhere that mentioned us. [...] How this blacklist and reversal occurred without manual manipulation is a mystery to me. At a minimum, Google should provide a comprehensive list of all sites that were blacklisted, so the ideological content of the blacklistees can be independently evaluated.
Lawsuit seeks class-action status as it alleges Google broke federal wiretapping law. A lawsuit seeking class-action status accused Google of violating federal wiretapping law and tracking users' app usage, communications and personal information after users attempted to opt-out of giving Google permission. Google has been hit with an onslaught of litigation alleging it is bypassing a series of privacy restrictions and is deceiving its users in recent months. Last month, Google was accused of improperly collecting users' search history in a lawsuit seeking $5 billion in damages, and Arizona sued Google in May for using deceitful tactics to access users' location data. The new lawsuit filed Tuesday [7/14/2020] by attorneys from the law firm Boies Schiller Flexner in federal court in the Northern District of California alleged that Google tracks activity on third-party applications that have no formal affiliation with Google. The suit was brought on behalf of Google users in California and Florida.
Know Your Enemy: Undeniable Truths About the Left. [Scroll down] Google even controls what information you have access to with a search and now is even manipulating stories regarding the uptick on positive cases of COVID-19. Think I am kidding? Just enter any random number and "new COVID cases" and you will get a series of stories with the numbers you entered. I tested this myself. I first entered "300 new COVID cases" and I got this. I then entered "400 new COVID cases" and got these results. Just for absurdity sake I then decided to enter the random numbers 293 and 671 and surprisingly I got hits featuring those figures. Coincidence? Remember there is no such thing as coincidence on the left. Manipulation is more like it, [...]
Popular chess channel hit by YouTube's racial justice algorithm. Apparently, saying things like "white knight takes black pawn" is now too racist for Google's artificial intelligence.
5 Ways You Can Fight Back In The Cultural Civil War. [#4] Google hates you, so stop using it. If things like privacy and free speech are important to you, you might want to rethink how much you rely on Google products and companies. Gmail, for example, tracks your purchasing history from the receipts in your Gmail inbox. YouTube, which is wholly owned by Google, routinely censors conservative content under the guise that it's "hate speech." Google of course has all kinds of double standards for conservatives. Earlier this month Google threatened to pull ads from The Federalist — not for anything we wrote, but for our comments section, which — you guessed it — violated their guidelines on hate speech. (The irony is that the comments section of YouTube is one of the most vile, hateful places on the internet.) Also, you don't have to Google everything. You can use Bing, Yahoo!, Searx, Qwant, DuckDuckGo, or any of the many other search engines out there.
Google collects a frightening amount of data about you. How to find and delete it now. Google collects a staggering amount of personal data about its users — far more than you might even realize. The company records every search you perform and every YouTube video you watch. Whether you have an iPhone ($699 at Apple) or an Android, Google Maps logs everywhere you go, the route you use to get there and how long you stay — even if you never open the app. When you look closer at everything Google knows about you, the results can be eye-opening, and maybe even a little unsettling. Thankfully, there's something you can do about it. Starting in June, new Google accounts will automatically delete private data for you. But only after 18 months by default. And only if you're a brand-new Google user. That's great if you're just now deciding to create a Gmail address or you just got your first Android phone, but if you're among the 1.5 billion people on Gmail or the 2.5 billion people using Android already, your account is set to hold onto your private data forever unless you tell Google otherwise.
Report: DOJ Preparing Anti-Trust Lawsuit Against Google. CTH has discussed the likelihood of DOJ action against Google previously. Yesterday [6/25/2020] AG Barr also mentioned in an interview with Senator Ted Cruz that he was likely to have the final DOJ investigation on his desk for a decision within the next few months. Today Politico is reporting on some of the background DOJ activity which aligns with Bill Barr's statements and our own research assembly.
Conservative Clergy of Color Rips Google Over 'Deliberate Censorship' of Conservatives. The Conservative Clergy of Color took Google to task in a statement slamming the Internet giant over its "deliberate censorship" of conservatives. "As pastors and leaders in our communities, we are appalled by the blatant bigotry and bias against conservative and Christian voices in our country today. We are sickened by the dirty trick Google played against two conservative websites over a simple difference of opinion," Conservative Clergy of Color leaders, which include Bishop Aubrey Shines, Rev. Derek McCoy, Rev. MJ Reid, and Pastor Francisco Vega, said in a statement.
Let's 'Demonetize' NBC News And Google. his week saw a depressing new low in the attempt by the left to silence voices with which it disagrees when an NBC News "reporter" tried to enlist Google to block two conservative websites' ability to make money. In a report on Tuesday [6/16/2020], NBC News' London-based Adele-Momoko Fraser claimed that Google had banned The Federalist and Zero Hedge from its ad platform over articles that were "pushing unsubstantiated claims about the Black Lives Matter protests." Google soon tried to correct the record, saying that "The Federalist was never demonetized." Google had only threatened to blacklist the site from its ad network. (It did "demonetize" Zero Hedge.) What's more, contrary to NBC News, Google's actions against The Federalist and Zero Hedge had nothing to do with articles they published, but with reader comments on those sites.
NBC's Censorship 'Insanity'. On Tuesday, NBC inaccurately reported that Google had blocked The Federalist from collective revenue via Google Ads for violating "policies on content related to race" — a claim, blasts National Review's David Harsanyi (a former editor at The Federalist), that's "utter nonsense." All of the site's content "falls well within the parameters of contemporary political discourse." NBC's accusation is based on a Federalist piece criticizing Black Lives Matter, not "one word" of which is racist. Plus, Google says NBC got the story wrong, that the tech giant had only warned it "could" demonetize The Federalist. But NBC clearly wanted to see the publication squashed. "Where are all the other journalists banding together to defend the ideals of free expression and the First Amendment?" asks Harsanyi. "So far, nowhere."
NBC Appoints Itself Internet-Speech Arbiter. Wow. I guess every day at the "NBC News Verification Unit" is a game of "Two Truths and a Lie." Yesterday [6/16/2020] NBC News, the employer of Brian Williams and former employer of Matt Lauer, Mark Halperin, and Chris Matthews, revealed that it has an obscure self-described "verification unit" that appointed itself to police American political discourse, and initially reported that Zero Hedge and the Federalist had been banned from generating revenue through widely used Google Ads, deeming their content to be racist. The report characterized those sites as "far-right," even though the Federalist publishes a variety of right-of-center viewpoints and Zero Hedge is an idiosyncratic libertarian-leaning financial and market news site.
NBC News' Attempt to Demonetize the Federalist Is Illiberal Insanity. NBC News reported today that two sites, ZeroHedge and the Federalist, had been banned from generating revenue through widely used Google Ads. A Google spokesperson initially told NBC News that it "took action after determining the websites violated its policies on content related to race." I don't know much about ZeroHedge, but the contention that the Federalist (where I worked as a senior editor from 2013 to 2019) is "far-right," as reporter Adele-Momoko Fraser claims twice in her piece, is utter nonsense. The Federalist publishes a wide variety of opinions. Some pieces are more provocative than others. Some are very provocative. So what? NBC News is trying to make the site sound like the Daily Stormer, when in fact it has contributions from well-known mainstream libertarians, social conservatives, and moderate Republicans. All of the content falls well within normal parameters of contemporary political discourse — which is exactly what outlets such as NBC News are trying to shut down.
Did NBC and Google engage in antitrust collusion against two conservative sites? Leftists cannot allow ideological competition. If their ideas have to go head-to-head with conservative ideology, their ideas lose. Leftists and other fascists win only by shouting more loudly and breaking things more aggressively than do people committed to individual rights. Sometimes, though, if you're arrogantly confident that you have the upper hand, you get careless. That's what happened with NBC and Google when they colluded to demonetize The Federalist and Zero Hedge. It's no coincidence that the Department of Justice almost immediately afterward announced that it was going to end the immunity that protected internet platforms from antitrust actions if they try to stifle competition — something that may save American Thinker from a demonetizing attack. There's a lot to unpack here. First, under §230 of the Communications Decency Act of 1996, the big platforms were made immune from liability for third-party content on the ground that they were functioning as bulletin boards, not publishers. They're still protected even though they're now making judgments about the content (usually in ways that hurt conservatives). They're also immune from antitrust actions if they work with other parties' to silence the latters' competition.
NBC Tries and Fails to Wreck a Conservative Website. Here's Why It's Deeply Problematic. If you value a robust media offering a variety of voices, you should be troubled by a chilling incident that occurred this week. Citing the work of two foreign-based activist groups, NBC News reported Tuesday that Google would demonetize a conservative news and opinion outlet, The Federalist — meaning not allow it to carry Google Ads on its site. Why? Because of The Federalist's coverage of the George Floyd protests. Later that day, Google clarified that its specific issue was the comments section below articles on The Federalist, not the articles themselves. When The Federalist removed its comments section, Google said it considered the issue resolved. This episode shows how a media outlet such as NBC News apparently is willing to collude with radicals alongside one of the world's most powerful tech companies to ruin the competition.
The Federalist Caper. So, Google was demonetizing the Federalist, and then it wasn't. NBC News has the story, or it doesn't. On Tuesday [6/16/2020], NBC News published a story claiming that Google had "banned" the Federalist, a right-wing news and commentary site, from its advertising platform. The Federalist, according to NBC News, was being "demonetized." Google shortly thereafter asserted that no such thing had happened with the Federalist; Google took issue with some of the content in the Federalist's comments section and worked with the publication to resolve the issue. This was all generally related to criticism of the recent protests originating in Minneapolis and Black Lives Matter, an organization of which the Left intends to permit no criticism. NBC News did what looks like some bad reporting.
NBC News Reporter Thanks Foreign Groups for 'Collaboration' in Pushing Google to 'Defund' The Federalist. NBC News reporter Adele-Momoko Fraser thanked two foreign non-profit organizations for their "collaboration" in urging Google to demonetize The Federalist, a respected conservative American news website, on Tuesday [6/16/2020]. [...] The Federalist is a conservative news and opinion site that features, among others, Fox News contributor Mollie Hemingway. Zero Hedge, another site targeted by the groups, is a blog featuring commentary on politics and economics.
NBC Report Implicates Google in Antitrust Activity. NBC News is taking a victory lap after their successful efforts to target their competition, The Federalist website, results in GoogleAds demonetizing the outlet. However, within the article the NBC report also implicates Google in large-scale antitrust violations. According to NBC the outlet asked Google to take action against the Federalist.
Report: Google Financially Blacklists ZeroHedge, Threatens the Federalist over Comment Sections. Earlier today [6/16/2020], NBC reported that Google confirmed it financially blacklisted two sites known for criticism of the left: conservative commentary site the Federalist and alternative news site ZeroHedge. Following its publication, NBC amended its article to state that the Federalist has been "warned" by Google of imminent blacklisting from its Google Ads service due to "policy violations" in its comments section. ZeroHedge is also working with Google to resolve its blacklisting, which is also based on its comments section. If the Federalist fails to remedy what Google considers to be violations in its comments section, both websites will now be unable to generate advertising revenue using Google Ads, by far the most important service for any website trying to generate digital advertising revenue.
Sean Davis: Federalist Comments Section Will Return, Looks Like NBC Partnered with Left-Wing Group to 'Use Google to Go After Us'. On Tuesday's broadcast of the Fox News Channel's "Tucker Carlson Tonight," the Federalist Co-Founder Sean Davis stated that the Federalist never got any notice from Google over the threatened demonetizing of the site, it appears NBC "partnered with a foreign left-wing group in Europe to go after us and to use Google to go after us." And vowed that the site's comments section will return. Davis said, "We never got any formal notice from Google. We never got any notice from their ad team. We learned about this from NBC News, from the reporter, Ms. Fraser, who emailed a general info account at the Federalist. She didn't email me or my partners or my founders, saying hey, we heard that Google demonetized you, what do you think about that?[...]"
In Scramble Amid Backlash, NBC, Google Both Release Contradictory Messages. NBC News and Google had contradictory messages Tuesday scrambling to address backlash resulting from a report about The Federalist that quickly fell apart. NBC first claimed that The Federalist had already been demonetized from Google Ads, quoting a Google spokesperson in the process. Shortly after publication, Google disputed the claim, saying that The Federalist had not yet been de-monetized, but was rather given the chance to address issues regarding its comment section. NBC News then updated the article with a contradictory statement. An on-the-record quote from a Google spokesperson saying "we've removed both sites' ability to monetize with Google" remained as NBC added a note that The Federalist "has three days to remove the violations before the ban goes into effect."
NBC News under fire for apparently pushing Google to remove conservative sites from ad platform. NBC News is facing intense backlash for apparently influencing Google to punish two conservative news sites over what was deemed offensive coverage of the George Floyd protests. In a report published Tuesday afternoon, NBC News claimed Google "banned" The Federalist and ZeroHedge from Google Ads for "pushing unsubstantiated claims" about the Black Lives Matter movement. Google later pushed back, claiming that The Federalist "was never demonetized," and adding, "We worked with them to address issues on their site related to the comments section." "We have strict publisher policies that govern the content ads can run on and explicitly prohibit derogatory content that promotes hatred, intolerance, violence or discrimination based on race from monetizing," a Google spokesperson initially told NBC News. NBC, however, did not link to the "derogatory content" from The Federalist or ZeroHedge.
Google bans website ZeroHedge from its ad platform over comments on protest articles. Google has banned ZeroHedge, a far-right website that often traffics in conspiracy theories, from its advertising platform over policy violations found in the comments section of stories about recent Black Lives Matter protests. Google also issued a warning on Tuesday to The Federalist over comments on articles related to recent protests. A Google spokesperson said in an email on Monday that it demonetized the websites after determining they violated its policies on content related to race.
DOJ Goes After Google's Comment Section: Trump Admin To Propose Section 230 Rollback. The DoJ just escalated its burgeoning feud with Silicon Valley by introducing a new legislative plan meant to make certain changes proposed in a Trump executive order signed late last month permanent - including a measure to strip tech giants of "liability shields" for activity and speech that happens on their platforms. In effect, the DoJ proposal would rollback protections centered in Section 230 of the Communications Decency Act of 1996, something that's gaining bipartisan support (albeit for vastly different reasons).
Google Demonetizes Zero Hedge. As you may have read on NBC, Google has decided to suspend ad hosting on the "far-right" Zero Hedge [...] along with The Federalist, a decision that would have a materially adverse impact for both websites. The reason presented to us for this decision is far more mundane than what has been disclosed by NBC: we are currently appealing it, and expect to remedy it. That said, we were surprised by the framing of the suspension by the NBC article, which disturbingly appears to be another attempt at activist targeting of inconvenient media outlets, especially since the core argument presented by the NBC employee is different than what Google actually has said. In fact, half the NBC article just happens to be dead wrong.
Google blocks The Federalist, ZeroHedge from advertising on platform over comment sections. Google blocked advertisements from two right-leaning publications, online magazine The Federalist and financial blog ZeroHedge. The tech giant confirmed the ban on Tuesday to FOX Business but the company pointed out that its rationale behind blocking ads from the two publications was misconstrued by NBC News. Google said it banned ads from the publications after the company's review teams found that statements posted in the websites' respective comment sections comments consistently violated Google's dangerous and derogatory policy.
DuckDuckGo CEO: Feds & States Are Targeting Google's Search Monopoly in Antitrust Probes. According to a recent report, search engine DuckDuckGo's CEO says that federal and state authorities are asking detailed questions targeting Google's overwhelming dominance of the search market. Bloomberg reports that Google rival DuckDuckGo says that federal and state authorities are asking detailed questions about the best way to limit Google's power in the online search market as part of antitrust investigations into the firm.
The Editor says...
DuckDuckGo is The Editor's favorite search engine, because [#1] even though it's not aware of everything Google knows about, it's adequate, and [#2] it's not Google.
Google faces $5 billion lawsuit in U.S. for tracking 'private' internet use. Google was sued on Tuesday [6/2/2020] in a proposed class action accusing the internet search company of illegally invading the privacy of millions of users by pervasively tracking their internet use through browsers set in "private" mode.
Arizona Lawsuit Exposes Google's Complicated Location Tracking Settings. Arizona state attorney general Mark Brnovich filed a lawsuit against Google Wednesday, accusing the company of illegally collecting users' location data even after they tried to stop the tracking by adjusting Google's privacy settings. The lawsuit alleges that Google's products and software siphon location information and other data without users providing meaningful consent, and that Google's complicated settings frustrate consumers' attempts to stop the data collection. The state argues these practices violate the Arizona Consumer Fraud Act, which makes it illegal for companies to misrepresent their business practices.
Arizona sues Google over tracking user location data without consent. Arizona sued Google this week, alleging the big tech company engaged in deceptive and unfair business practices to obtain users' location data for advertising purposes in order to gain a profit. The 50-page complaint alleges Google tracks the location of its users even if the consumer had disabled the tracker. After a roughly two-year probe, Arizona says Google also makes it confusing and increasingly difficult for a consumer to opt-out of the tracking and information collection.
Google slaps down conservative sites reporting the truth on coronavirus. Google, the top search engine in the United States, appears to be hitting conservative sites who are publishing articles that run contrary to the accepted narrative surrounding the coronavirus. Multiple reports have come into NOQ Report concerned with major drops in traffic from the search giant. So, we checked our own stats and realized it had started happening to us as well. We will not be "outing" other conservative sites who may require Google traffic to function properly (our biggest search traffic source is DuckDuckGo, which I highly recommend from a privacy perspective). I will not be disclosing the names or websites associated with the people I talked to on this matter. Google's various teams, for their part, have not responded to requests for information.
Google Erases the Existence of Those Who Speak Unwelcome Truths. Daniel Greenfield, the peerless Shillman Fellow and FrontPage writer, tweeted the news on May 7: "Google just erased my Sultan Knish blog and Front Page Mag articles from the first pages of results for my name doubt very much this is accidental." I did too, so I checked for myself, and sure enough: a Google search for "Robert Spencer" now does not bring up Jihad Watch, where most of my writing outside of books has been published for the last seventeen years, but it does give you defamatory and distorted attack pieces from the far-Left Southern Poverty Law Center and the Saudi-funded Bridge Initiative, and nothing that doesn't portray me and my work in the most unfavorable possible light. This latest example of the tech giants' determination to silence all dissenting voices reveals one often overlooked fact: they are desperately afraid. Google is so afraid of Jihad Watch, in fact, that it is going to great lengths to make you think that the site (which you can find here) doesn't exist at all.
WSJ: DOJ, State Attorneys General Likely to Hit Google with Antitrust Lawsuits. The Wall Street Journal reports that both the Justice Department and a group of state attorneys general are likely to file an antitrust lawsuits against Google and have already begun to plan litigation according to sources with knowledge of the matter.
Big Google is watching your children. Schools remain shuttered across the country, 30 million Americans are out of work, and food banks are running low, but the edutech sector is booming. Silicon Valley companies are feasting on an exploding client base of quarantined students held hostage to "online learning." Big Google is leading the way — and that is not OK. Unsuspecting parents cheering all the software and hardware donations during the pandemic shutdown have no idea the privacy price their children are paying. This isn't charity. It's big tech recruitment of vulnerable generations of future Google addicts. In California, Gov. Gavin Newsom and Google inked a deal to provide 4,000 "free" Chromebooks to students, along with "free" Wi-Fi to 100,000 families. In Kentucky, the Jefferson County public schools gave away 25,000 Chromebooks. In Philadelphia, public officials earmarked $11 million to purchase 40,000 Chromebooks for homebound kids.
The Editor says...
As I understand it, a Chromebook is a laptop computer that uses Google as its operating system. I have one, and I presume that everything I do on my Chromebook is visible to somebody at Google. A thousand Chromebooks is a terrible investment of public school funds, because they will be obsolete in a few years, and most likely will have been paid for with borrowed money from school bonds.
Google Subpoenaed for Emails of Mystery Gmail Account Tied to Hillary Clinton. Judicial Watch served a court-authorized subpoena to Google on April 15 requesting emails from a controversial Gmail account tied to Hillary Clinton. The subpoena is part of a yearslong Freedom of Information Act lawsuit which has led to the discovery of Clinton's use of an unauthorized private email server to conduct government business during her tenure as the secretary of state. Judicial Watch, a conservative government transparency group, requested the emails and metadata from the [...] gmail.com account. Clinton IT aide Paul Combetta claimed to have used the account to transfer all of Clinton's emails from a laptop to an email server.
Judicial Watch subpoenas Google in ongoing hunt for Hillary Clinton missing emails. Legal watchdog group Judicial Watch has served Google with a subpoena for all emails believed to be linked to an account used by 2016 Democratic presidential nominee Hillary Clinton during her tenure as President Obama's secretary of state. According to a press release, the subpoena — which was authorized by a federal court in Washington, D.C. — Platte River Network IT specialist Paul Combetta reportedly accessed the Google account to move Clinton's emails from a laptop to the firm's servers before using a program called Bleachbit to destroy the emails and remove all traces of them the computer.
Here's How Apple and Google Plan to Track the Coronavirus Through Your Phone. Do Apple Inc. and Alphabet Inc.'s Google hold the key for tracking the spread of Covid-19 and possibly reopening the global economy? The tech giants on Friday [4/10/2020] said they will release tools for software developers to create so-called contact-tracing apps that record when smartphones come into close contact with each other. Such apps could warn users if they were nearby someone later diagnosed as positive for Covid-19.
Google/Apple JV's Dystopian COVID-19 Tracker Could Be Straight Out Of Orwell's 1984. Apple and Google unveiled a rare partnership to add technology to their smartphone platforms that will alert users if they have come into contact with a person with Covid-19. People must opt in to the system, but it has the potential to monitor about a third of the world's population. [...] In the coming months, the two tech giants will add the technology directly into their operating systems so this contact-tracing software works without having to download an app. Apple's iOS and Google's Android have about 3 billion users between them.
Google to issue reports on users' location data to help governments enforce social distancing. Google said Friday it will begin publishing reports created from Google Maps users' whereabouts to help governments make policy decisions regarding social distancing measures enacted to fight coronavirus. Karen DeSalvo, Google's chief health officer, said Friday the company will protect individuals' privacy by not revealing any one user's location, contacts or movement at any point. Dr. DeSalvo said the COVID-19 Community Mobility Reports will initially cover 131 countries and regions and they will expand to cover additional countries and regions in the coming weeks.
Hey Google - Are You Following Me During the Pandemic? Most people aren't thrilled with the idea of having their whereabouts tracked — especially when they're not aware of it. But what if the likes of Google and others are doing it in the interest of the greater good — to help curb the deadly spread of the coronavirus? Alphabet-owned Google is indeed tracking your movements to see if you're going to the grocery store, the pharmacy, or a neighbor's house, or if you're doing what you're supposed to be doing and staying put amid one of the worst pandemics in more than 100 years. Google this week released preliminary reports showing movements within communities not just in the U.S. but across the world during the Covid-19 pandemic. According to the Community Mobility Report for the U.S., as of March 29, movement to retail and recreation areas — restaurants, cafes, movie theaters and the like — had decreased by 47%.
New Mexico Sues Google Over Children's Privacy Violations. New Mexico's attorney general sued Google on Thursday, saying the tech giant used its educational products to spy on the state's children and families. Google collected a trove of students' personal information, including data on their physical locations, websites they visited, YouTube videos they watched and their voice recordings, Hector Balderas, New Mexico's attorney general, said in a federal lawsuit. "The consequences of Google's tracking cannot be overstated: Children are being monitored by one of the largest data mining companies in the world, at school, at home, on mobile devices, without their knowledge and without the permission of their parents," the lawsuit said.
Google's Supreme Court bid to legalize intellectual property theft. This month, the Supreme Court hears oral arguments in Google v. Oracle — widely dubbed "the copyright case of the century." Let's hope the Supremes stop Google in its tracks. Google is offering a dangerous legal argument that, if left standing, would directly abet China's relentless theft of American intellectual property.
Google and YouTube are State Actors. The smoking gun can be found in the FCC Obamanet orders of 2010 and 2015. The 2015 Obamanet Order, officially called Open Internet Order, has explicitly obligated all internet users to pay a tax to Google and YouTube in their ISP and wireless data fees. The Order even mentions Google and YouTube by name. The tax incurs tens of billions of dollars per year. More specifically, the Order said that by paying ISP fees (including mobile wireless), each user also pays for the services that ISP gives to platforms and content providers like YouTube, even if the user doesn't use them.
Google's Shameless, Preening, Anti-Privacy, Self-Monopoly-Making Third-Party Cookies Ban. I don't like liars. I really don't like liars who pretend they're doing the right thing — when they are doing no such thing. I REALLY don't like liars who preen about doing the right thing — when all they're actually doing is helping themselves do the wrong thing. Google has become a nearly $1 trillion company — by taking your digital data and selling ads predicated upon it. Thus, anyone else collecting data — is inherently a Google competitor. And Google doesn't like competitors — and will do anything they can to eliminate them.
2020 Election: Gmail Favouring Certain Electoral Candidates Over Others, Research Suggests. Google may be favouring certain US presidential hopefuls over others, according to an analysis of how Gmail sorts incoming emails. The study, conducted by The Markup, suggested Democratic candidate Pete Buttigieg received a significant boost compared to other leading candidates, as his campaign emails were the most likely to be directed to Gmail's Primary inbox folder. Other candidates, including Bernie Sanders and Joe Biden, had nearly all of their emails directed to either the Promotions or Spam folder of Gmail.
Javanka's Concerning Ties To Google. Former Google CEO Eric Schmidt is in hot water over a salacious affair allegation revealed by an ex-business associate. While the gossip rags are having a field day with those allegations, the more important story revealed in the leaks is Schmidt's ties to Jared Kushner, Donald Trump's son-in-law and senior adviser.
Google Censors Rand Paul's Speech Naming the Whistleblower. The Big Tech company Google, along with its video-sharing subsidiary YouTube, has been banning videos of a speech from the floor of the U.S. Senate where Senator Rand Paul (R-Ky.) named the whistleblower, according to Breitbart News. In the speech, Senator Paul highlighted the highly questionable and suspicious interactions between a staffer on the House Intelligence Committee, Shawn Misko, and the whistleblower, CIA operative Eric Ciaramella. Although numerous investigative journalists have speculated Ciaramella is the whistleblower, Democrats and the media have been suppressing any mention of his name. As Breitbart notes, YouTube's actions to censor the video in question constitute a direct censorship of the congressional and historical record, an unprecedented act of censorship of public information.
Google Maps Hacks shows how 99 phones can change traffic flow. Google Maps has changed the way we navigate the world but its influence actually goes beyond just locating and navigating. A whole flood of new businesses, experiences, and mentalities have grown up around the ability to zoom and pan around more than just a digital version of a map. But, as the cliché goes, with great power comes great responsibility, and one "hack" showed just how easy it was to game Google's system and literally change the flow.
A guy wheeled around 99 phones in a cart to create traffic jams on Google Maps. Technology is not always foolproof and that's exactly what a new Google Maps experiment tried to prove. Artist Simon Weckert has posted a video on YouTube showing how he managed to "hack" Google Maps to create virtual traffic jams on the streets of Berlin. For his experiment, Weckert loaded 99 smartphones running Google Maps into a cart. He then had someone wheel that cart around various streets in Berlin, including outside the Google office. The phones apparently fooled Google Maps into thinking that there was a high concentration of users on those streets. Because the phones were in a cart, Maps was further tricked into believing that the traffic was slow-moving.
Big Tech is worth over $5 trillion now that Alphabet has joined the four comma club. On Thursday [1/16/2020], Alphabet topped $1 trillion in market value, becoming the fourth U.S. technology company to reach that level, after Apple, Microsoft and Amazon, which has slipped back to about $930 billion.
Google [is] throwing Jussie Smollett under the bus. If alleged hate crime hoaxer Jussie Smollett thought his troubles in Chicago were behind him he is likely mistaken. This case isn't over yet and a Cook County judge has appointed a special prosecutor to look into the events leading up to the supposed hate crime involving the former Empire actor. As part of that effort, the judge has ordered Google to turn over all of Smollett's emails, including any drafts and deleted messages, as well as his phone records. The judge also ordered the release of the same records for the actor's manager, an alleged witness to the events.
List of mergers and acquisitions by Alphabet. Google has a lot of corporate cousins.
Alphabet's chief legal officer to step down WITHOUT an exit package amid investigation into his 'relationships with several women at the company. The legal chief of Google's parent company Alphabet is stepping down following allegations of inappropriate relationships with employees. David Drummond, who joined Google in 2002, said in company-wide email that he was planning to leave at the end of the month.
Here's Why Google Doesn't Respect Private Property. [Scroll down] This all started in 2010 when Oracle filed suit against Google for copyright infringement on their in-house Java-related APIs, which Google used in part to create the Android operating system. Google lost this first round. That decision was later overturned and at the subsequent jury trial, Google won successfully, arguing their acquisition was one of "fair use," the legal doctrine that permits limited use of copyrighted material without having to first acquire permission from the copyright holder. Oracle then appealed that ruling, winning in turn in 2016. With a score tied up at two to two, a circuit split, the Supreme Court has agreed to settle the matter decisively. Neither of the tech giants involved here has entirely clean reputations on any number of issues. But in this case, only Google is credibly accused of stealing intellectual property actively under the protection of copyright, a fact they hardly dispute.
Chicago Judge Orders Google To Hand Over Jussie Smollett's Emails. A Chicago judge signed off on a search warrant seeking to obtain actor Jussie Smollett's Google account emails. Judge Michael Toomin ordered Google to turn over Smollett's private messages, photographs, emails and location data as part of a special prosecution probe a month ago, according to a report published Wednesday by the Chicago Tribune.
Jussie Smollett investigation: Judge orders Google to turn over a full year of the actor's data. A Cook County judge has ordered Google to turn over Jussie Smollett's emails, photos, location data and private messages for an entire year as part of the special prosecutor's investigation into the purported attack on the actor. Two sweeping search warrants, obtained by the Chicago Tribune, provide the first public glimpse at the direction of the probe by special prosecutor Dan Webb more than four months into the investigation. The warrants, filed last month in Circuit Court, sought a trove of documentation from Smollett and his manager's Google accounts — not just emails but also drafted and deleted messages; any files in their Google Drive cloud storage services; any Google Voice texts, calls and contacts; search and web browsing history; and location data.
Google-Connected Cameras Show Images Inside Strangers' Homes. Owners of smart cameras linked to Google accounts have reported seeing images from inside strangers' homes. One user shared still images online that were taken by other people's cameras, including pictures of people sleeping, children playing with toys and even a baby asleep in a crib. "When I load the Xiaomi camera in my Google Home Hub I get stills from other people's homes," a Reddit user by the name Dio-V wrote. The images were shared on 1 January and appear to be taken on the same day. Google acknowledged the issue and claimed it only affected cameras made by Xiaomi.
Mike Bloomberg has spent nearly $15 million to be in your Google search results. The 77-year-old former New York City Mayor Mike Bloomberg is running for president, on a centrist-friendly platform that's mainly premised on beating incumbent Donald Trump. What makes Bloomberg's campaign stand out, however, isn't his positions: it's how much he's spending to get his message out. Google "impeachment," for example, and you'll probably get an ad at the top of the page that promotes Bloomberg's campaign. Same goes for "climate change" and "gun safety." It's all over the place, but it does guarantee the eyeballs of people who are searching for answers related to ongoing political conversations brought up in the race. And those ads aren't cheap.
Amazon, Apple and Google join forces to make their home products 'speak to each other' to make smart homes a reality. Amazon, Apple and Google will work together to create a new common standard that will make it easier for smart devices to speak to each other. It is a move the technology giants hope will make it easier for consumers as they will be able to use different devices from a variety of companies on the same network. 'We believe that the protocol has the potential to be widely adopted across home systems and assistants', the new group said in a statement.
The Supreme Court Must Not Let Google's Theft of Intellectual Property Stand. Big Tech has changed the way we live, and no tech company has been more invasive about it than Google. From listening to our conversations to tracking our movements to accessing our health data, Google is rapidly becoming omnipotent. As former Google CEO Eric Schmidt said, "We don't need you to type at all. We know where you are. We know where you've been. We can more or less know what you're thinking about." What's more, Google has intentionally misled consumers: Recent reporting from the Wall Street Journal revealed that the company does, in fact, change and editorialize search results — something they have repeatedly denied for years.
Will the Supreme Court Make Google Too Big to Fail? It's practically a foregone conclusion that everyone uses Google in one way or another. Now the company's reach has expanded even further, acquiring Fitbit in December for a whopping $2.1 billion. Google products are in our homes, its software is on our phones, and its search engine answers over three billion queries per day. Even the word "google" itself has become a fixture in the American lexicon. The tech giant has become so ubiquitous, its influence so massive, that it's safe to say Google's effect on public discourse is unparalleled in modern society.
Google Chrome update is 'catastrophe' as bug wipes data from Android apps. Google has been forced to pause the rollout of the latest update to its Chrome web browser due to concerns that a bug is wiping people's data. Chrome 79 is the latest version of the world's most popular web browser, which is used by more than 1 billion people. The bug appears to only affect apps that use Android's built-in WebView — a feature that allows users to view web pages within an app. Some apps, such as DuckDuckGo rely entirely on WebView in order to operate.
Google Co-Founders Larry Page and Sergey Brin Step Down from Alphabet Inc. Google co-founder Larry Page has announced he will step down as CEO of Alphabet, the umbrella company that owns Google, YouTube and other former Google subsidiaries. His co-founder, Sergey Brin, will also step down from the company. Page's role will be filled by current Google CEO Sundar Pichai, who will become CEO of both Google and Alphabet. Page and Brin co-founded Google in 1998, growing the company to become arguably the largest and most powerful tech platform in the world. They will stay on as shareholders and as members of Alphabet's Board of Directors.
Google 'DOES blacklist sites, has targeted conservative news sites and changes its algorithms to favor big businesses,' claims new report. Google is secretly blacklisting certain sites to prevent them appearing in search results — despite publicly denying doing so — according to an investigation. The Wall Street Journal report claims that the search giant has been blacklisting certain spam sites since the early 2000s, as well as those featuring child abuse or copyright infringement, to prevent them appearing in search results. The newspaper also reported that conservative publications have been blacklisted in Google News, and said that it had seen documents to support this claim, fuelling cries of political bias.
Google's invasion into health records [is] more proof that Silicon Valley rules the world. In Big Tech's latest usurpation of personal privacy, Google admitted this week that they've been secretly vacuuming up the detailed health records of at least 50 million Americans in 21 states. This was not a voluntary confession. It wasn't until Monday [11/11/2019], after the Wall Street Journal broke the story, that Google issued a typically infuriating statement. "We understand that people want to ask questions," it read in part. How benevolent. The Orwellian translation: We who rule Silicon Valley are exercising control over everyone, everywhere, in ways you don't know, wouldn't understand and can't do anything about — and who's going to stop us?
Google is working on a top secret project with access to millions of Americans' health data including lab tests and diagnoses. Google has been working on a top secret project with a leading healthcare company to gather millions of Americans' health data without them knowing it. The Wall Street Journal first reported on Monday that the company has teamed up with Ascension, the second largest healthcare services company in the country, for a project that was being code-named Nightingale. Within hours of the Journal's report, the two companies announced the collaboration in a press release where they revealed that Ascension's data will move onto Google's Cloud platform.
Google wants to create the ultimate medical record search tool for doctors. Google wants search to be the center of everything you do. Now, in a logical next step to make its search products the access point for all content on the web, the internet goliath is turning its focus to healthcare. David Feinberg, the recently appointed head of its Google Health initiative, outlined plans to make it easier for doctors to search medical records, and improve the quality of health-focused search results across Google and YouTube.
Advice: unload your Fitbits. News: Google to acquire Fitbit, valuing the smartwatch maker at about $2.1B. How does this acquisition make your life better? What can possibly go wrong? "Nothing," based on this reassurance from Fitbit's CEO: [...] Uh huh, just "trust me." All that history of personally identifiable information going into Google's Big Data? "Can't wait" until we inevitably get fully-government-controlled healthcare (Elizabeth Warren must be salivating over this acquisition). The federal bureaucrats will love this level of invasive information and will "find a way" to get their hands on this data.
Film Featuring Dennis Prager Premieres Today As PragerU Goes to Court. [Scroll down] Only hours before the premiere and approximately 700 miles northwest, lawyers for nonprofit group Prager University will face off against tech behemoth Google in a California courtroom located in the heart of Silicon Valley. Their case, Prager University v. Google, contends YouTube has exercised viewpoint discrimination against the nonprofit by restricting more than 200 of its short educational videos. "YouTube continues to restrict more and more PragerU videos, and they have never given us a logical or rational answer as to why," said Craig Strazzeri, chief marketing officer for Prager University. "It's obvious it's because of our conservative ideology. We've had more than 600,000 Americans sign a petition saying they don't think our videos should be restricted."
Gun Owners: Here's Why You Should Think Twice Before Posting Pictures of Your Firearms on Social Media. It's no secret that technology plays an important role in our lives. Almost every single aspect of our life is ruled by technology, from smart phones to computers and the internet. That's why it's not surprising to know that Google and Facebook are keeping tabs on gun owners' firearms. According to The Firearms Blog (TFB), the two tech giants are scanning users' pictures to look for serial numbers. They're then creating an index of every person's firearms based on the image scans. If you've posted a picture of your firearm on a social networking site and didn't smear out the serial number, chances are it's indexed on Google images. Simply type in the serial number in quotes and search images. What comes up?
Google Executive: You Should Warn Guests About Smart Speakers in Your Home. BBC News reports that during a recent interview, Google's devices chief Rick Osterloh was asked if homeowners should warn guests that smart devices such as Google Home or Amazon Echo were in use. The Google executive seemed surprised by the question but eventually agreed that they should indeed be informed.
Is Google News legally liable for bias against conservatives? I recently wrote that Google News should be sued for bias against conservative sources, not regulated. Regulating Internet news aggregators is the last thing we want, but Google News is clearly doing something wrong, that needs to be corrected. To further this line of thought, here is a specific legal argument for the Courts to order Google News to stop discriminating. The Courts might even impose penalties for past discrimination. The Federal Trade Commission could bring such a suit, as could the users of Google News. Mind you I am not an expert on this stuff, hence the question mark in the title. We are looking for new law so should look at first principles. I posit a variation on the product liability principle called the implied warrant of merchantability. This says the product should work. It is a fundamental principle of product liability law.
Judge Rules Google Must Face Hiring Discrimination Lawsuit Against Conservatives. In January 2018 James Damore, a former Google engineer who was fired from the tech giant filed a class action lawsuit against Google in a Santa Clara Superior Court in Northern California. Damore previously sent out a ten-page viewpoint diversity essay that made its rounds online which ultimately led to his firing in early August of 2017. Demore claims Google discriminates against white males with conservative political views.
Google targeted black people to test new facial recognition software but didn't tell them what the tests were for. Google has been seeking facial scans of people with 'darker skin' as part of its efforts to improve the company's facial scan software. The company has sent out teams of temp workers, hired through the staffing agency Randstad, to scan people's faces in exchange for $5 gift cards. Workers for the program said they were directed to target homeless people and college students.
Google Claims 'Quantum Supremacy'. In what may be a huge milestone in computing, Google says it has achieved "quantum supremacy," an experimental demonstration of the superiority of a quantum computer over a traditional one. The claim, made in a new scientific paper, is the most serious indication yet that the promise of quantum computers — an emerging but unproven type of machine — is becoming reality, including their potential to solve formerly ungraspable mathematical problems. Essentially, Google purports to have pulled off a stunt on a quantum computer that no classical machine — not even the world's most powerful supercomputer — can replicate.
Google and Its Pals Are Worse than Anyone Thought. [Scroll down] I have been warning my readers as to the dangers of these Internet Gatekeepers for more than two years, but the recent revelation by Google whistleblowers exceeded all my worries. The MSM-Gatekeepers collusion is illuminated by the indifference and hostility that MSM and tech news media display toward Google whistleblowers. Instead of reporting on the bombshell material that Google whistleblower Zach Vorhies released, they aggressively smeared him. Google has not disputed the authenticity of the documents released nor anything Zach has said.
The United States of Google? More than a year ago, columnist Michelle Malkin sounded the alarm, noting "the tech-industry-supported Common Core 'standards,' tests, and aligned texts and curricula" promulgated in America's classrooms was ripe for exploitation. [...] Google is one of the principal perpetrators. "With little public oversight, Google has infiltrated schools through its 'free' Google Apps for Education suite," Malkin adds. "As I've reported previously, Google is building brand loyalty through its questionable certification program that essentially turns teachers into tax-subsidized lobbyists for the company."
Google just can't stop misbehaving. [Scroll down] Google offers a free search service, and monetises that through advertising, so does it actually need to see more than a search term to place a relevant ad? No. But it has learned how to multiply the value of those searches, tracking and profiling every user in nearly every commercial web activity. Google doesn't just serve up searches — it serves up users, based on their searches, and tells us that's all part of making the service better for those users. Poppycock. That makes the service better for Google's shareholders, but it's based on Google's presumption that it can spy on this search information, weaponise it, and sell it to advertisers. It needn't be that way, and — as these infractions multiply and amplify — it will increasingly be seen that it mustn't be that way.
Google employees are 'manipulating people every minute of every day,' liberal researcher tells Levin. How much power does internet search engine giant Google have to influence American elections? Research suggests that the company has more sway at the ballot box than many realize. On Sunday night's [9/8/2019] episode of Life, Liberty & Levin, LevinTV host Mark Levin sat down with Dr. Robert Epstein, a senior research psychologist at the American Institute for Behavioral Research and Technology, to discuss the tech giant's bias and potential to affect election outcomes.
Feds Demand Apple And Google Hand Over Names Of 10,000+ Users Of A Gun Scope App. Own a rifle? Got a scope to go with it? The U.S. government might soon know who you are, where you live and how to reach you. That's because the government wants Apple and Google to hand over names, phone numbers and other identifying data of at least 10,000 users of a single gun scope app, Forbes has discovered.
Google's newest smart home device is always listening and watching. Google's latest smart product has some users wary, as concerns grow over the 'spying' abilities of internet-connected home devices. The firm launched the successor to its Nest Hub (formerly called the Home Hub) on Tuesday, offering its Smart Display with Google Assistant and a bigger, 10-inch screen. And, unlike those before it, the $229 Nest Hub Max has a built in camera that can recognize different faces.
Psychologist Robert Epstein: Google Censored Search Content in Favor of Democrats in Orange County in 2018. Far left Google has a history now of election interference. In June James O'Keefe and Project Veritas released alarming new undercover video, leaked documents, and testimony from a Google insider revealing the tech giant's plans to meddle in US politics and "prevent a Trump situation in 2020." The tech giants already pulled this off in 2018. In January Dr. Epstein revealed that just one Google shift in search results on Election Day in 2018 shifted from 800,000 to 4.6 million votes to Democratic candidates.
Google faces a new antitrust probe by 50 attorneys. Fifty attorneys general are joining an investigation into Google over possible antitrust violations, Texas Attorney General Ken Paxton, the initiative's leader, announced Monday [9/9/2019]. The news confirms reports last week about the bipartisan investigation into Google's practices. The probe includes attorneys general from 48 states, the District of Columbia and Puerto Rico. California and Alabama are not involved in the probe, Paxton said at a press conference.
State Attorneys General to Launch Big Tech Antitrust Investigation Monday. State attorneys general will launch one of the largest bipartisan, multi-state antitrust investigations into Facebook and Google on Monday [9/9/2019]. State attorneys general spanning across dozens of states will announce an antitrust investigation into Google and Facebook, and other technology companies at the Supreme Court at 2:00 p.m. ET Monday [9/9/2019]. The investigation will investigate whether America's largest technology companies have stifled competition, restricted access, and harmed consumers.
Dr. Robert Epstein: Study claims Google reflected 'very dramatic bias' in 2016 election search results. Google allegedly offered search results during the 2016 election season that manipulated voters in Hillary Clinton's favor, according to researcher Dr. Robert Epstein. The study looked into "politically oriented searches" from a "diverse group of American voters," Epstein said in an interview airing Sunday [9/8/2019] on "Life, Liberty & Levin." "In 2016, I set up the first-ever monitoring system that allowed me to look over the shoulders of a diverse group of American voters — there were 95 people in 24 states," he said. "I looked at politically oriented searches that these people were conducting on Google, Bing and Yahoo. I was able to preserve more than 13,000 searches and 98,000 web pages, and I found very dramatic bias in Google's search results... favoring Hillary Clinton — whom I supported strongly."
PragerU: Google Censors Us Because We're Effective. PragerU Chief Marketing Officer Craig Strazzeri spoke to Breitbart News on Friday [9/6/2019], where he talked about PragerU's struggles with Big Tech censorship, and the indoctrination by the left on college campuses, which has weakened young people's belief in free speech.
If Democrats Cared About the Environment, They'd Talk About China. Ask yourself, why is big tech so determined to work with China, despite the political pitfalls? Did Google, which once boasted the hipster motto "don't be evil," really think they'd suffer no blowback for developing a censored search engine designed to appease Chinese state censors? Or that working with the Chinese military but not the American one would somehow escape notice? Of course not — but for all its professed "values," there's no way a profit-seeking multinational like Google can resist the temptation of a 1.4 billion-person market.
Majority of US states interested in probe of Google, other tech giants. The number of states interested in joining an antitrust or privacy investigation of Google and other tech giants has significantly expanded in recent days, with a majority of US states now signing on to the effort, MLex has learned. A bipartisan group of more than 30 states are discussing a scenario in which one or a few states — possibly including Texas — would issue an initial civil investigative demand to Google as soon this week.
Google will pay $170M in settlement over children's privacy on YouTube. The Federal Trade Commission announced Wednesday [9/4/2019] that under the terms of the agreement, Google will pay $136 million to the commission and $34 million to New York state for alleged violations of the Children's Online Privacy Protection Act, a children's privacy law. In addition to knowingly and illegally harvesting the information from kids without receiving parental consent, regulators said YouTube made millions of dollars by using the data collected from children to deliver targeted ads to them.
The trouble with Google's search dominance. Google's search dominance creates a positive feedback loop whereby competitors are unable to gain a foothold. Advertisers, after all, want to place spots where the eyeballs are. And the eyeballs are at Google. So, other search engines are unable to scare up enough revenue to challenge Google meaningfully. Meanwhile, the company has gotten in trouble, notably in Europe, for favoring its own sites on its search engine.
National-security concerns threaten Google's 8,000-mile undersea cable connecting LA to China ahead of its planned launch. A Google-backed plan to connect Los Angeles and Hong Kong by an 8,000 mile undersea cable spanning the Pacific Ocean may now be facing a major roadblock. According to a new report from the Wall Street Journal, US officials are seeking to block the project due to national security concerns. Plans for the cable were first announced in 2016 and progress is now well underway; the team had planned to lay the final segments this summer and begin operations by the end of the year.
Ex-Google engineer charged with stealing company's trade secrets for driverless cars. A former Google engineer spent months downloading Google's secret files on self-driving cars before he abruptly quit the company in 2016 to run Uber's autonomous vehicle program, federal prosecutors alleged on Tuesday [8/27/2019]. The engineer, Anthony Levandowski, has been charged with 33 counts of stealing trade secrets. U.S. Attorney David Anderson said that a forensic investigation revealed that Levandowski downloaded around 14,000 files belonging to Google on or around Dec. 11, 2015, and that he later transferred those and other files to his personal laptop and then gave them to Uber.
Triggering The Google Social Credit System. I learned last week from a Silicon Valley whistleblower, who spoke with the intrepid investigative team at Project Veritas, that my namesake news and opinion website is on a Google blacklist. Thank goodness the Big Tech giant hasn't taken over the newspaper syndication business yet. Twenty years of column writing have allowed me to break news and disseminate my opinions without the tyranny of social justice algorithms downgrading or whitewashing my words. But given the toxic metastasis of social media in every aspect of our lives, especially for those who make their living exercising the First Amendment, it may only be a matter of time before this column somehow falls prey to the Google Ministry of Truth, too.
Google BANS employees from discussing politics because too many were 'disrupting the workday to have a raging debate'. Stung by a slew of recent controversies, Google — which for so long prided itself on providing an open workplace culture where workers are free to speak their minds and voice their opinions — published new employee guidelines Friday [8/23/2019] appearing to attempt to rein in their freewheeling staff. The new rules discourage unnecessary political debate and improper disclosure of company information. They also require Googlers to be respectful in all internal communications, with fierce prohibition against trolling or making blanket statements against groups of people that could make fellow employees feel unwelcome.
Conservative Leaders Call on Google to Explain Claims the Site Is Blocking Conservatives. On Tuesday [8/20/2019], Media Research Center President Brent Bozell and other conservative leaders released a letter calling on Google to explain reports and allegations that the search engine is attempting to block conservative sites and exclude voices that don't fit the liberal narrative. (A similar letter has also been sent to members of Congress, asking them to investigate.)
Retaliation? Google Whistleblower Claims FBI, SWAT, Bomb Squad Appeared at His Home. On Wednesday [8/14/2019], former Google employee Zachary Vorhies went public as the whistleblower who spoke with Project Veritas in June, revealing the political bias in Google's "Machine Learning Fairness" program. He also told the story of police storming his home to perform a "wellness check" after he was outed as a "leaker" and after Google had sent him a demand letter. Project Veritas released its video with Vorhies (whose identity was masked), exposing the bias in the "Machine Learning Fairness" program and its hidden camera interview footage showing a Google executive describing her work on algorithms to prevent "the next Trump situation." Shortly afterward, the whistleblower received a demand letter from Google.
Google "Machine Learning Fairness" Whistleblower Goes Public. A Google insider who anonymously leaked internal documents to Project Veritas made the decision to go public in an on-the-record video interview. The insider, Zachary Vorhies, decided to go public after receiving a letter from Google, and after he says Google allegedly called the police to perform a "wellness check" on him.
Also posted under SWATting.
Google blacklists American Thinker. In a video and article published on Wednesday [8/14/2019], ex-Google employee Zach Vorhies speaks with the antitrust investigators at Project Veritas about the thousands of internal Google documents he recently released to the public. Among the cache of information is a list of sites that Google has blacklisted with an algorithm developed to alter users' search results. American Thinker is one of them.
Google Whistleblower Goes Public: 'Something Dark and Nefarious is Going on with the Company'. A Google insider who anonymously leaked internal documents to Project Veritas decided to go public after the San Francisco police, a SWAT team and a bomb squad paid an unannounced visit to his home. Zachary Vorhies, who outwardly looks like your stereotypical, liberal millennial Silicon Valley tech worker, said his decision to go public about Google's "algorithmic unfairness" was "an act of atonement."
Whistleblower Comes Forward After Giving DOJ Evidence Of Big Tech 'Tampering With Elections'. Recent court rulings against both Facebook for their use of facial recognition software, and Google for their bias against conservatives in the workplace, along with the Federal Trade Commission (FTC) Chairman Joe Simons openly discussing the possible need to break up companies like Amazon, Facebook, Google, and Apple as their antitrust investigations into those companies continues, topped off with the Trump administration preparing to share up to 15,000 complaints of political censorship by social media and big tech with the FTC, all pales in comparison to what a Google whistleblower just handed over to the Department of Justice (DOJ).
This was published in 2006:
Google dumps news sites that criticize radical Islam. [Scroll down] Newsbusters commented: "At first blush, one can easily ignore such business decisions by the most powerful company on the Internet as being routine. However, on closer examination, such behavior could give one relatively small technological corporation (when measured by the size of its workforce) a degree of political might that frankly dwarfs its current financial prowess." The media watchdog noted columnist and blogger Michelle Malkin wrote in February 2005 her difficulties in becoming part of Google News. Charles Johnson of Little Green Footballs had a similar complaint. When Google News launched its beta site in April 2002, it said its mission was to construct an unbiased news engine free of human intervention using new methods of aggregating news from sources worldwide.
Project Veritas: Leaked Google Documents Prove Tech Giant is Censoring. In November 2018 The Guardian reported on group of Google employees who published an open letter calling on their employer to cancel its plans to build a censored search engine for China. Google employees were very upset that Google's Project Dragonfly would allow the Chinese government to blacklist certain search terms. But their blacklist operations were not just in China. It is obvious that Google, Facebook and Twitter are using their own political blacklists to censor and diminish traffic to prominent conservative publishers and their supporters.
Role Reversal: Government Searches Google. This month, the U.S. Department of Justice announced it will launch a wide-ranging probe into possible antitrust behavior by social media and technology giants. Although no companies were specifically named, it's not hard to guess which corporations will be in the limelight: Amazon, Facebook, and, of course, the mother of all technology titans, Google. There is certainly a case to be made that these companies have been shady with private user data, stifled competition, and manipulated the flow of information to their benefit. But it's worth considering whether or not a federal government investigation and possible destruction of these influential companies is really necessary.
Google Favors CNN, Left Media in Biased Mass Shooting Search Results. AllSides, a media technology company that provides media bias ratings and balanced news across the political spectrum, conducted an audit of Google's "Top Stories" section following the two mass shootings that occurred in Dayton, OH and El Paso, TX last weekend. The findings reveal a heavy preference for CNN and left-leaning media outlets overall, reinforcing previous audits completed by AllSides and researchers at Northwestern University.
Google's 'ephemeral experiences' key to their election meddling in 2020. There have been a handful of undercover and direct investigations into Google in recent months that specifically target their ability to manipulate elections. This has sparked a lot of interest from conservatives across the country as the parent company, Alphabet, is led by people who are avowed Democrats and progressive-minded activists. Some have gone so far as to say that 2020 cannot be like 2016, indicating they do not want President Trump to win reelection.
Think Google Controls The News? It's Worse Than You Think, Experts Say. As Silicon Valley seeks to enhance its control over the news consumers are able to view in the lead-up to 2020, experts say many publications are actively shaping their coverage to stay in "Big Tech's" good graces. Publications that please the companies are rewarded with more exclusive scoops, better technical support and an elevated search-engine ranking, allowing them to reach more readers. "When is the last time you saw an op-ed in The Washington Post that was deeply critical of Facebook or Google? When is the last time you saw Axios or Politico quote a tech whistleblower in a favorable light?" one industry insider asked.
Hotel guests where Google hosted its star-studded bash [were] warned 'not to look out of their windows' by police. Google's gala dinner saw the world's best and brightest descend upon an ancient Italian city. But it seems locals hoping to catch a glimpse of the star-studded event have been told to mind their own business. Residents near the archeological site of Selinunte, on the south-west coast of Sicily, have revealed they were even warned by police not to look out of their windows.
Google Camp: Celebrities with huge carbon footprints talk environment. What do former President Barack Obama, Prince Harry, Leonardo DiCaprio, and Katy Perry have in common? All of them are famous, extremely wealthy, and environmental scolds. They talk a big game about saving the planet and fighting global warming but then they travel to Google Camp and just like that their hypocrisy is exposed. The A-list of the rich and famous have gathered in Sicily, Italy at the personal invitation of the billionaire creators of Google, Larry Page, and Sergey Brin, for a three-day party known as Google Camp. The main focus of the exclusive gathering is global warming, which is ironic given the huge carbon footprint created by their modes of transportation produced to get there.
The Eco-Warrior Elite Turned Up at the Secret Climate Change Google Camp in 114 Private Jets. A host of A-list celebrities faced an angry backlash today after they travelled to a climate change conference in Italy in a fleet of supercars, expensive yachts and more than 100 private jets. Guests at the secretive Google Camp were accused of hypocrisy after they gathered this week to discuss the environment while leaving a considerable carbon footprint of their own. Prince Harry is understood to have given a passionate barefoot speech about saving the planet, although Buckingham Palace has refused to confirm his attendance or whether he too travelled by private jet.
Prince Harry 'gives barefoot speech' at secretive Google Camp climate change conference in Italy. Tech giants and celebrities flocked to Sicily to show off their green credentials for the camp that focuses on global warming, but many failed to leave their private jets at home. More than 110 fuel-guzzling planes are scheduled to land at Palermo, the nearest airport, between now and August 4, reports Giornale di Sicilia. Others brought their super yachts to the three-day conference which has A-lister attendees including Harry Styles, Katy Perry and Bradley Cooper. Buckingham Palace refused to confirm Prince Harry's attendance at the event or how he travelled to Sicily.
A-listers flock to Google summit in private jets, mega yachts to talk climate change. The world's rich and famous have flocked to a posh Italian resort to talk about saving Mother Earth — but they sure are punishing her in the process. The billionaire creators of Google have invited a who's who of A-list names — including former President Barack Obama, Prince Harry, Leonardo DiCaprio and Katy Perry — to the Sicilian seaside for a mega-party they've dubbed Google Camp. The three-day event will focus on fighting climate change — though it's unknown how much time the attendees will spend discussing their own effect on the environment, such as the scores of private jets they arrived in and the mega yachts many have been staying on.
Google's Algorithms Threaten Free and Fair Elections. Last week, mostly lost in the news cycle of Trump versus "the squad" and the anticipation of the Mueller hearings, was the testimony of Dr. Robert Epstein in front of the Senate Judiciary Subcommittee on the Constitution regarding the power of Google to manipulate elections. Epstein, a Harvard Ph.D. in psychology and behavioral sciences, is a Democrat who voted for Clinton in 2016. Yet what he testified to should be troubling to every American who is concerned about election integrity and the threats of manipulation by powers both foreign and domestic. Epstein testified, based on 13,000 saved search results of American citizens and dozens of controlled experiments in the United States and abroad, that the power of the Search Engine Manipulation Effect (SEME) generated by Google's search algorithm likely impacted undecided voters in a way that gave at least 2.6 million votes to Hillary Clinton in 2016.
Google Works on AI With Top Chinese University That Has Ties to Chinese Military. Google has been cooperating with a leading artificial intelligence (AI) research body at Tsinghua University, a prestigious Chinese academic institution that also conducts AI research for the Chinese military. The American internet giant has been collaborating with Beijing's Tsinghua University since June 2018, when it launched a new AI research body, the Tsinghua University Institute for Artificial Intelligence (TUIFAI). Earlier that month, it was revealed that the university received significant funding from the Chinese military to work on an AI project aimed at advancing the military's AI capabilities.
Current Google Engineer: Big Tech Has Merged with Democrat Party to Sway Political Elections. Another Google whistleblower has come forward to ring alarm bells about how the left-leaning tech industry uses algorithms to manipulate the masses. For the past year, Project Veritas has been investigating political bias at big tech companies like Google, Facebook, and Twitter. Greg Coppola, a senior software engineer who works on artificial intelligence at Google's New York office, said he contacted Project Veritas out of concern that Big Tech and the media have merged with the Democrat party to sway political elections. Coppola, a rare Trump supporter in Big Tech, said Google's political bias is obvious.
Google retaliates against whistleblower who called attention to massive election meddling scam. As our entire media world moves ever further into the newfound and ever-expanding digital realm, there are concerns over just how powerful some corporations are becoming online. In the realm of social media and search engines, this worry is well founded: Facebook, Twitter, and Google have all been outed as biased against conservatives — often from the inside. The latest strike against Google, in particular, came in the form of a recent interview between investigative journalists at Project Veritas and an engineer for the company, in which the latter explained how algorithmic adjustments are being made for the purpose of swaying the public political opinion.
Tulsi Gabbard Cites Breitbart Scoops in Anti-Google Lawsuit. Presidential candidate and military veteran Rep. Tulsi Gabbard (D-HI) is suing Google after the tech giant blocked her ads account shortly after the first Democrat presidential debate. The complaint cites Breitbart News' work in exposing Google's election meddling. The lawsuit cited two bombshell Breitbart News scoops about Google, both showing the company's political bias: the Google Tape, a 1-hour recording of Google executives' dismayed reaction to the 2016 election result, and leaked emails showing senior [G]oogle employees trying to remove ad revenue from Breitbart.
Seven Ways To Curb Google. Recently, Peter Thiel, one of big tech's few prominent conservative-libertarians, began gunning for Google. The billionaire PayPal founder recently gave a speech in D.C. branding the tech giant "treasonous" and calling for a criminal investigation over its work with the Chinese military. Thiel is not alone — Google's list of prominent critics is growing. It includes President Donald Trump, who Thiel supported in 2016. It includes large sections of the conservative movement, who have witnessed the company's efforts to suppress and censor non-progressive viewpoints over the past two years — thanks in large part to leaks published by Breitbart News. It also includes Google's numerous competitors, who have long accused the company of anti-competitive practices.
The Democrats' Blueprint To Steal 2020 From The Voters Of America. Senator Ted Cruz opined in a Senate hearing he chaired this past week that he hoped journalists would catch the biggest take away of the day. According to one of the day's most credible contributors, Robert Epstein, in 2016 Google alone likely manipulated 2.6 million to as high as 10 million voters to choose Hillary Clinton. In 2018 using his perfected methods of monitoring search activity and effective responses with permission-granted use, Google alone may have influenced upwards of 78.2 million votes to be directed to a single party. His concern in 2020 is that upwards of 15-20 million votes may be directed to a single candidate.
The Banality of Google's Wokeness. Last month, details of Google's newsletter, "Yes, at Google," leaked and revealed a series of itemized incidents of "microaggressions" and "micro-corrections." Employees at Google are not yet required to report such occurrences nor are they forced to subscribe to the newsletter, the sole purpose of which is "to anonymously report complaints of inappropriate behavior by co-workers." But its existence tells us something important about the culture and direction of the company. You may wonder what Google means by "inappropriate," but judging from the list of grievances, the world of microaggressions is a labyrinthine and very much real at Google. Some of them deal with day to day operations and work relations between employees, but they reveal much of the bigger problems at hand.
Google: Project Dragonfly is terminated. Promise. Lost in the kerfuffle over Houston Congressman Al Green's failed attempt to get an impeachment vote on President Donald Trump and the "send her back" chants is a rather interesting piece of news regarding Google's censored search engine for China. It's deader than Jacob Marley.
Google finds cheap way out of multibillion-dollar 'wi-spy' suit. Google is poised to pay a modest $13 million to end a 2010 privacy lawsuit that was once called the biggest U.S. wiretap case ever and threatened the internet giant with billions of dollars in damages. The settlement would close the books on a scandal that was touched off by vehicles used by Google for its Street View mapping project. Cars and trucks scooped up emails, passwords and other personal information from unencrypted household Wi-Fi networks belonging to tens of millions of people all over the world. The debacle became known as "Wi-Spy," and it caused almost as much of an uproar as Facebooks's more recent Cambridge Analytica scandal.
Google censored video on Ten Commandments, conservative producer tells Congress. Google denies viewers access to educational content on its YouTube subsidiary without explanation, radio host and commentator Dennis Prager testified Tuesday at a Senate hearing. "Google, which owns YouTube, has restricted access to 56 of our 320 five-minute videos and other videos we produce," Prager, co-founder of Prager University, told the Judiciary Subcommittee on the Constitution.
Google-owned YouTube now promoting pedophilia with its new "fairness" algorithms. A big priority for YouTube right now involves tagging conservative videos as "hate speech" and pushing them to the bottom of users' search results. But the Google-owned visual content empire apparently sees nothing wrong with algorithmically steering its pedophile contingent towards videos of young children. It was none other than the The New York Times, believe it or not, that recently exposed YouTube's automated video recommendation system for populating pedophile accounts with children's videos. Not only that, but YouTube's system is further categorizing some of these videos as "sexually-themed content," when in fact they're just innocent representations of kids being kids.
Google caught in yet another blatant lie, claims it doesn't blacklist websites from its search results. In predictable fashion, one of the world's largest tech platforms and most profitable Internet advertising companies continues to have a problem with honesty when it comes to questions over its manipulation of search data. And ordinarily, while lying about such a thing wouldn't necessarily be a problem for the company, a Google representative recently told the lie in Congress — under oath — which is a violation of the law.
Robert Epstein: Big Tech Will 'Go All Out' with Election Meddling in 2020. Professor Robert Epstein told Senator Ted Cruz (R-TX) that Google is manipulating voters "on a massive scale," using tools that it has at its disposal exclusively, and that "no one can counteract them." Epstein warned the Senator of big tech election meddling that he called "invisible," "subliminal," and more powerful than anything he's seen in 40 years of behavioral sciences. Epstein — who said that he personally supported and voted for Hillary Clinton in 2016 — testified before the Senate Judiciary Committee on Tuesday [7/16/2019], where he told Sen. Cruz that Google election meddling gave Hillary Clinton at least 2.6 million additional votes in the 2016 election.
Welcome To 'Social Government' - Privatizing Tyranny. [Scroll down] How about YouTube? How does Laura Southern's documentary about the border get removed from YouTube within 24 hours of posting without any reason or explanation? What if I told you a Policy Manager at YouTube, before becoming a Policy Manager at YouTube, was employed by Hillary for America and was a manager in Obama's campaign before that? What if I told you YouTube's Global Content Policy Lead previously worked at the DNC? Did you know the person responsible for "growing the next generation of stars" on YouTube worked in the Office of Digital Strategy at the White House under Obama?
Peter Thiel Questions Google Loyalty — Potentially Working for Chinese Interests. Peter Thiel has a rather alarming concern surrounding the possibility that Google Inc. is working with China, specifically to the intended detriment of the United States. Given the political ideology of the 'Big Club'; and their severe aversion to U.S. President Donald Trump, well, it wouldn't be surprising to discover a Google-China alignment. [Video clip]
Peter Thiel: FBI and CIA Should Investigate Whether Chinese Intelligence Infiltrated 'Seemingly Treasonous' Google. Billionaire tech investor, Trump supporter, and Facebook board member Peter Thiel sent shock waves throughout the tech industry on Sunday [7/14/2019] when he called for the FBI and CIA to investigate whether Chinese intelligence has infiltrated "seemingly treasonous" Google. According to Axios, Thiel made the comments on Sunday at the National Conservatism Conference in Washington, D.C. His speech focused on three questions he said the FBI and CIA should ask the tech giant. "Number one, how many foreign intelligence agencies have infiltrated your Manhattan Project for AI (artificial intelligence)?" Thiel reportedly asked. "Number two, does Google's senior management consider itself to have been thoroughly infiltrated by Chinese intelligence?" Thiel also accused the Alphabet-owned Google of working with the Chinese military.
Peter Thiel says FBI, CIA should probe Google. Peter Thiel, billionaire investor and Facebook board member, on Sunday night said that Google should be federally investigated for allegedly aiding the Chinese military. [...] Thiel is the tech industry's highest-profile Trump supporter, and one of the most powerful players in Silicon Valley.
Trump Social Media summit reveals the liberal bias of old media - big tech. In an effort to alter uncomfortable reality, Google's soulless A.I. purposefully distorts user's search engine results to better reflect what the company's programming minions believe to be "fair and equitable." And reality has no place in Google's brave new world. For example: when the term "men can..." is entered into Google's search field, the first result to pop up is, "men can have babies." That is most certainly a biological impossibility, but its answer provides proof that the fairytale left's ideas of fair and equitable outcomes are as reality-based as Google's algorithms are intelligent. A search inquiry of the name "Trump," provides an interesting glimpse into the growing symbiotic relationship between fake news and fake algorithms.
In Stores, Secret Surveillance Tracks Your Every Move. I worked as a senior software engineer for a year for one of these companies, on the core product. [...] This really is the bigger story, but the article has missed it. Apps really are random bits of software strangers run on your phone. Users have no idea which sketchy friend-of-a-friend-of-a-friend has just managed to get his API running on their phone. Simple solution to this: do not install apps on your phone. I'm not kidding. People have the expectation they are buying a phone — paying a lot of money for a phone — to put apps on it and use them, and that it must be possible to do this, because they've spent a bunch of money on it. This is not the case. The time when apps could be used on phones has passed. You cannot now buy a phone to run apps, because it is not safe to do so. This means phones no longer make sense. It is in fact I would say a tragedy of the commons. If you are going to do this [...] silly thing, don't do it in this [...] silly way. Root your phone first and get a firewall installed — and don't log into Google on your phone, not ever.
These are the sneaky new ways that Android apps are tracking you. Google's operating system manages access to your personal information. But what happens when apps refuse to play by the rules?
Denver drivers followed Google's detour down a dirt road. A crash on the main road to Denver's airport led to hour-long delays this week. When Google Maps offered a quick detour, nearly a hundred drivers were led into trouble. [Video clip]
Google says leaked assistant recordings are a violation of data security policies. Earlier this week, a report from Belgium-based VRT NWS revealed that Google employees had been "systematically listening" to audio files recorded by Google Home smart speakers and the Google Assistant smartphone app. The report detailed how employees were listening to excerpts of recordings that are captured when a user activates the device by the usual "Okay Google" or "Hey Google" commands. After obtaining copies of some recordings, VRT NWS reached out to the users and had them verify their voice, or those of their children, talking to the digital assistant.
Project Veritas: 1,000 Google Employees Signed Internal Anti-Breitbart Petition. An internal Google petition "to end Google's business with Breitbart" was recently leaked to Project Veritas. The petition — which over 1,000 Google employees have signed — calls for labeling Breitbart News as "prohibited content" to block the news outlet from "all Google-served ads." A Google insider says that a petition has been circulated among Google employees, calling on banning Breitbart News from Google's advertising networks, in order to cut off the news platform from ad revenue, according to a recent report by Project Veritas.
Report: Google Android Lets Apps Track You Regardless of Permissions. According to a recent study, Google's Android operating system is allowing more than 1,300 apps to bypass system permissions controlling access to user data to track users without their knowledge. ZDNet reports that a recent study by the International Computer Science Institute (ICSI) claims that as many as 1,325 Android apps installed across 500 million Android devices have found methods to bypass the Android operating systems permissions system to continue to track users without their knowledge or consent.
Harmeet Dhillon Launches 'Publius Lex' Legal Fund to Fight Antifa and Big Tech. Attorney Harmeet Dhillon, known for her work defending Andy Ngo and James Damore, launched a new legal nonprofit, Publius Lex, aimed at protecting civil rights for all Americans, including conservatives who are the frequent target of far-left activists and corporations. Dhillon is the attorney for Andy Ngo, the journalist who was hospitalized with a brain hemorrhage by extremist "Antifa" activists in Portland two weeks ago. Her firm is also waging a class-action lawsuit against Google on behalf of former employees who allege the company discriminates against non-progressives and against white and Asian males.
Google keeps track of anything you've ever bought using Gmail, even if you delete emails. Google and other tech companies have been under fire recently for a variety of issues, including failing to protect user data, failing to disclose how data is collected and used and failing to police the content posted to their services. Companies such as Google have embedded themselves in our lives with useful services including Gmail, Google Maps and Google Search, as well as smart products such as the Google Assistant which can answer our questions on a whim. The benefits of these tools come at the cost of our privacy, however, because while Google says that privacy should not be a "luxury good, " it's still going to great lengths to collect as much detail as possible about its users and making it more difficult than necessary for users to track what's collected about them and delete it.

Google cranks up some Soviet-style propaganda in today's women's soccer doodles. [Scroll down] It gets worse when you look at the calculated identity-politics composition of the women watching. One old white lady. One fragmented image of a middle-aged lady (she has pointy facial features so she is probably white). One dark haired younger woman in the middle, indeterminately Latina or Asian. One black girl in braids. One Muslim in a veil. One of each, perfect box of chocolates. Everybody represents. That's not exactly how soccer audiences look as they watch television. But who cares, the message being stomped in is diversity. Counting heads for skin color and age ratios. That's the Google argument. Race uber alles, never mind the sport thing. What it looks like is Soviet or Chinese propaganda, where images come in perfect affirmative action measurements.
Google censors "white couples" from image search as part of racist, anti-white "fairness" initiative. We've uncovered yet another social justice scheme being perpetrated by Google that involves censoring images of white people from search queries for "white couples." To go along with the company's nefarious efforts to steer people away from eating organic food and taking dietary supplements, Google is now trying to memory hole the existence of white couples by populating its image archive with images of interracial or even black couples when searching for "white couples." Try it for yourself, as you're sure to pull up pages and pages of non-white couples when searching for "white couples" on Google Images. On the flip side, if you search for "black couples," you'll immediately pull up countless pages of actual black couples.
Former Google Engineer: CEO Sundar Pichai Lied to Congress About Blacklists. Former Google engineer Mike Wacker claims that CEO Sundar Pichai lied to Congress when claiming that the company does not manually intervene on users search results. In a Medium blog post titled "Google's Manual Interventions in Search Results," former Google engineer Mike Wacker alleges that Google CEO Sundar Pichai lied to Congres when he stated "We don't manually intervene on any particular search result." Wacker notes that Pichai's comment was in answer to a question from Rep. Zoe Lofgren (D-CA) who asked why photos of President Trump were returned under image searches for the term "idiot."
Google Teaching Artificial Intelligence To Attack Conservatives. Jen Gennai is the head of "Responsible Innovation" at Google Global Affairs. She determines policy and ethics for machine learning, or artificial intelligence. What we've learned from the latest report from Project Veritas is that AI is increasingly what Google Search is all about. And Google's machines are not learning to be nice to conservatives, Christians, white people and anyone else Google's "woke" staff decide they don't like. Project Veritas also received a trove of confidential documents from within Google. One document is about algorithmic unfairness.
UChicago, Google SUED in 'greatest heist' of patient health data 'in history'. A former University of Chicago medical patient filed a class-action lawsuit against the University of Chicago and Google, claiming that the University of Chicago Medical Center is giving private patient information to the tech giant without patients' consent. About two years ago, the university medical center partnered with Google with the hope of identifying patterns in patient health records to help predict future medical issues. Now, former patient Matt Dinerstein is filing a lawsuit on behalf of the medical center's patients, alleging that the university violated privacy laws by sharing sensitive health records with Google from 2009 to 2016, aiding Google's goal of creating a digital health record system, according to the Chicago Maroon.
Big tech test-marketing censorship of Trump. It looks like the nation's largest news gathering organization, the Associated Press, is test marketing the public's reaction to Big Tech actively suppressing President Trump's ability to reach voters directly. Given the shocking revelations of the Project Veritas recordings of Google executives and their memos, and Twitter's banning of conservative, it is not paranoid to worry about Big Tech trying to define Trump and conservatives as "hate speech" ... "because that's how Trump won," and limiting his ability to be heard.
Project Veritas Sends Google Letters to Congress. Project Veritas sent a letter to several Members of Congress informing them about Project Veritas' investigation of Google that raises some concerns regarding Google's possible improper intervention in Federal elections which may violate laws like the Federal Election Campaign Act (FECA). The letter is a follow up to Project Veritas' latest investigative report which includes undercover video of Google officials, leaked internal Google documents and emails, and statements provided by a Google insider.
Google Hangouts No. 1 Haven for Sex Scams; Possible Islamic State Conduit. Google Hangouts, the Internet giant's answer to Facebook and other social media outlets, is a fertile hunting ground for organized crime groups that could be fronts for the Islamic State. They are using the service to con tens of thousands of dollars from unwitting users through blackmail and sex and marriage scams, a special IM investigation has learned.
Our Evil Tech Overlords. Project Veritas is the investigative organization started by James O'Keefe and helped along by the late Andrew Breitbart. James has broken multiple dramatic stories recently, but his Google story is the most concerning yet — if only because the pervasive implications and sheer massive influence of Google. Working undercover, the Veritas journalist exposes the Head of Responsible Innovation for Google, Jen Gennai. Even her title is Orwellian. Gennai decried the results of the 2016 election, and so Google decided to change their Artificial Intelligence algorithm, which determines what a reader might be interested in reading or, in the case of YouTube, watching. [...] The problem, here, is that anyone using Google believes he is receiving unbiased, automated search results based on the subject he is searching.
Vimeo Bans Project Veritas Over Google Video. On Monday [6/24/2019], Project Veritas unveiled a new investigative video of a Google employee describing how the company wants to stop a "Trump situation" in 2020. YouTube removed the video, but Vimeo went one step further. The company chose to ban Project Veritas from its platform for uploading a video with "hateful, defamatory, or discriminatory" content.
The Left is accumulating hellish power over us. Project Veritas's latest work of investigative journalism has captured video of Google executive Jen Gennai expressing the company's effort to "prevent the next Trump situation." She goes on to talk about her job, in drafting fairness algorithms to serve a community of people, "not those who voted for our current president." Jen Gennai then decries Elizabeth Warren as being "misguided" in suggesting that the industry might be better served by breaking up large "monopolistic" companies like Google.
The Google Fascists. Project Veritas and founder James O'Keefe have scored a scoop from an identified Google whistleblower, replete with video and inside documents. [...] The anonymous Google insider, whose identity and voice were shadowed and changed to protect him, also said in his detailed interview with O'Keefe that the Google-owned YouTube has deliberately targeted Dennis Prager's "Prager U" and conservative talker Dave Rubin for content suppression because they are "right-wing."
New York Times guy can't quite figure out why O'Keefe's Google revelations are a story. It's often said that the denizens of the New York Times live in a bubble, and nowhere is it more obvious than at the Times' editorial page on the matter of James O'Keefe's undercover reporting revealing how Google intends to skew the 2020 election in favor of Democrats. [...] Google, by way of contrast, could see an issue, and the Google official in question deleted or privatized her social media accounts as a result. Google also removed O'Keefe's YouTube presentation about the matter, since they own YouTube. And Google itself is known to be under fire for this very issue of censorship anyway. They have been facing talk of anti-trust action in Congress for months, and have signaled that they know they've got a problem, based on their bland denials of any bias in Google algorithms.
Cruz Loses His Patience With Google Exec During Hearing On Big Tech. Sen. Ted Cruz (R-TX) on Tuesday [6/25/2019] grilled Google UX Director Maggie Stanphill about Project Veritas' recent investigation into the tech company's desire to stifle conservatives. A whistleblower stepped forward to make people aware of Google's plans to affect the outcome of the 2020 elections and "prevent" the next "Trump situation." The video features Google's Head of Responsible Innovation, Jen Gennai, talking about those very moves. According to Project Veritas, Gennai's department "monitors and evaluates the responsible implementation of Artificial Intelligence (AI) technologies."
Project Veritas' Bombshell Video Ruffles Some Feathers. James O'Keefe's explosive video exposing Google's political agenda appears to have ruffled some feathers in the media world. Jen Gennai, the Google executive seen talking to Project Veritas undercover journalists about Google's plans to prevent "the next Trump situation," has already published a response complaining that she was taken out of context. And the bombshell video didn't last even a full day on YouTube before it was removed from the platform.
The Google Fascists. [Scroll down] Jen Gennai is the head of "Responsible Innovation" for Google, a sector that monitors and evaluates the responsible implementation of Artificial Intelligence (AI) technologies. In the video, Gennai says Google has been working diligently to "prevent" the results of the 2016 election from repeating in 2020: [...]
Google Executive: Breaking Up Google Will Make It Harder 'To Prevent The Next Trump Situation'. We've all known that Big Tech has a liberal bias. [...] Well, Project Veritas decided to dig into this bastion of liberalism. After all, its reach to the public with their products is how millions get the news. It's also a medium that Donald Trump harnessed expertly to outmaneuver the Left in the 2016 election. Liberals know it. Over at Google, one executive, Jen Gennai, is working hard to ensure that its AI feature and associated algorithms work hard to pretty much help alter electoral outcomes[.]
Leaked Google Doc Describes Shapiro, Peterson, PragerU As 'Nazis Using The Dog Whistles'. A Google recently uncovered document shows Google employees plotting how to make certain figures they've termed Nazis — or at least figures considered a gateway to Nazism — be less visible on their platforms such as YouTube. According to Project Veritas, the document was part of an email sent between the "transparency-and-ethics" group as part of their internal communications. Within, they label people such as Ben Shapiro, Jordan Peterson, Prager U, et al as Nazis with dog whistles.
Google Exec Decries Trump's Election: 'How Do We Prevent It from Happening Again'. Undercover videos recorded by Project Veritas reveals that Google is determined to prevent the re-election of Donald Trump in 2020, and is altering its products with this aim in mind. The report includes undercover footage featuring a top Google executive, Jen Gennai, discussing how Google might prevent an electoral outcome like 2016 from happening again.
2020 Election is NOT Google's To Win. If Google couldn't stop Donald Trump being elected in 2016 (and [...] they tried!), how can they can stop Trump's re-election in 2020? We all know that it wasn't just Google, but Facebook, Twitter and all social media that pitted their considerable strength against Trump in 2016, but that they all failed — and failed abysmally. Google employees were embedded right in the White House during the entire 8-year-long Obama regime, having easy access to all the Deep State leakers, swamp creatures, plants and moles.
Report: Google doing all it can to 'prevent' a Trump repeat in 2020. An undercover video just released as part of a report on one of the largest technology companies in the world indicates the corporate Goliath is bent on never letting somebody like Donald Trump come to power again.
Review: Google Chrome has become surveillance software. It's time to switch. You open your browser to look at the web. Do you know who is looking back at you? Over a recent week of web surfing, I peered under the hood of Google Chrome and found it brought along a few thousand friends. Shopping, news and even government sites quietly tagged my browser to let ad and data companies ride shotgun while I clicked around the web. This was made possible by the web's biggest snoop of all: Google. Seen from the inside, its Chrome browser looks a lot like surveillance software.
America Under Democrats: Forcing Americans To Pay For Abortion And Banning Chick-Fil-A. We're learning that conservatives must often hide their political and religious views to protect their jobs. A Google engineer, Michael Wacker, recently published an essay on Medium exposing the restrictions Republicans and Christians must follow, or risk getting fired at this major global tech company. According to Wacker, "these outrage mobs will hunt down any conservative, any Christian, and any independent free thinker at Google who does not bow down to their agenda."
Genius Claims Google Stole Lyrics Embedded With Secret Morse Code. Lyrics website Genius has accused Google of stealing lyrics from its site and reposting them in search results without permission, with Genius claiming they caught the search engine "red handed" thanks to Morse code embedded in their lyrics. [...] Starting in 2016, Genius positioned both "straight" and "curly" apostrophes in their lyrics which, when converted into dots and dashes like Morse code, spelled out the words "Red Handed." Genius added that, using these apostrophes, they found over 100 instances of Google using Genius' own lyrics in the Google search results.
Google Integrates Cryptocurrency Project With New Blockchain Oracle. Google announced in a blog post Thursday [6/13/2019] that ethereum app builders using Google software will be able to integrate data from sources outside the blockchain through a partnership with Chainlink, a company that provides on ramps and off ramps for information necessary to run self-executing code called smart contracts.
The Collusion Between Twitter, Google in Silencing the Pinterest Investigation is Cartel Behavior. Pinterest had a covert policy of censoring conservatives. The policy was exposed by Live Action, a pro-life group that was a target of Pinterest censorship, and by Project Veritas. Since then, YouTube (Google) and Twitter have shut down Veritas efforts to broadcast material about the investigation.
Google Can't Dodge Conservative Employees' Discrimination Lawsuit, Court Says. Google must face a class-action lawsuit brought by Republican attorney Harmeet K. Dhillon on behalf of the tech giant's conservative employees, according to a California court. Current and former Google employees say in a lawsuit that the company discriminates against non-progressives on the basis of their viewpoint, and against whites, Asians, and males on the basis of sex and race. Google attempted to have the case dismissed. But a judge in California, where political discrimination is illegal, ruled against the company.
Something Totalitarian This Way Comes. [Scroll down] Big Tech duct-tapes a mouth more effectively than the government. Consider the report this week that Americans, for the first time in history, spend more time on their devices than watching television. This is how we communicate to a mass audience in 2019. Google enjoys a 92 percent share of the search-engine market. YouTube's market share exceeds three quarters. Facebook's market share reaches 70 percent. At its peak, Standard Oil's domination of the American oil refining market did not match Google's domination of the worldwide search engine market, and by the time the government splintered John D. Rockefeller's creation into Esso, Arco, Chevron, and other entities, Standard Oil's market share did not approach the current market share of Google, Facebook, or YouTube.
Yet Another Study Reveals Bias in Google's News Search. The evidence that verifies allegations of Google's search bias against conservative resources continues to accumulate. Two researchers, Daniel Trielli and Nicholas Diakopoulos at the Computational Journalism Lab at Northwestern University, examined results from a large sample size they extracted from Google News in November 2017. They searched on 200 current news terms of the time (such as "Colin Kaepernick" and "tax reform") and accumulated 6,302 links to articles shown in the search engine's "Top Stories" box — the most desirable outcome for Web publishers, to gain traffic from curious readers. The results: Only 20 news organizations' sites were represented in more than half of "Top Stories," according to Diakopoulos's explanation in the Columbia Journalism Review, and 86 percent of article impressions in those results came from just the top 20 percent of sources.
Google cracks down on misleading anti-abortion ads with new policy. Google is changing its policy for abortion-related ads after it received backlash for allegedly giving free advertising to a pro-life group putting out misleading information. The tech giant said in a blog post ads related to getting an abortion will need to be reviewed before being placed on the search engine in the United States, United Kingdom and Ireland. "Depending on how you're certified, Google will automatically generate one of the following in-ad disclosures for your abortion product or service ads: 'Provides abortions' or 'Does not provide abortions,'" the company said.
Google Has A Secret Page That Records All The Things You've Bought Online. Google has a page, tucked away deep in your settings, where all your receipts from shopping online are sorted and saved. Ordered sushi on Seamless? Not only is the receipt there, but it lists out the California rolls and edamame. It doesn't stop at Seamless either; it includes anything else you might have bought online too (in which a receipt was sent to your Gmail): Amazon, prescriptions, movies, stuff you paid for using Square. And there are the orders placed using Google services, like Google Play Store, Google Express, or through the Google Assistant.
Google rolls out new data-reliant ad spots — including on its homepage — days after pledging more privacy. Just a week after introducing new privacy controls for its billions of users, Google has a different message for data-hungry advertisers: We have your back. At its annual exposition for advertisers here, the search engine giant on Tuesday [5/14/2019] rolled out several new ways for marketers to hawk their wares on Google's products, all based on the reams of data it collects about users. And it is even putting personalized ads on its iconic white Google homepage for users of its mobile app.
Google Gives Left-Wing Websites Preference Over Conservative Ones, Audit Finds. Google is one of the largest traffic drivers for news websites and, according to the Columbia Journalist Review, its influence is growing as Facebook's traffic referrals decline. "But for all the influence Google has in directing attention, we know painfully little about how its algorithm selects and curates news. Which sites does it direct traffic toward? And how does Google's news curation impact the diversity of information found?" wrote researcher Nicholas Diakopoulos.
Audit suggests Google favors a small number of major outlets. In the last week of April, nearly 23 percent of all traffic to news sites tracked by web analytics firm Parse.ly came from search engines. Google alone accounts for nearly half of external referral traffic — traffic, that is, that comes from platforms, apps, and other outside sources — to news sites. Together with the fact that Facebook referral traffic is on the wane, this means that Google's search algorithm is now perhaps the most powerful mediator of online attention to news. But for all the influence Google has in directing attention, we know painfully little about how its algorithm selects and curates news.
It's Easier to Track One Man Through His Cellphone Than a 110,000-Ton Aircraft Carrier. Recently the New York Times described how not just criminals but everyone is being tracked by Google. "Google is a dragnet for the police," wrote the NYT. "The tech giant records people's locations worldwide. Now, investigators are using it to find suspects and witnesses near crimes". [...] It turns out that people have been sending out tracking beacons for years. Google has "been tracking the location of almost every Android device owner for over a decade," according to ZDNet.
Audit: Google Favors A Small Number Of Left-Leaning News Outlets. Google provides a significant percentage of the incoming traffic which many news sites get, but the algorithms that determine which sites get that traffic are proprietary and not widely understood. Academics at Northwestern University decided to attempt to quantify how those algorithms work by looking closely at search results for news related queries for one specific month, November 2017. The researchers identified 200 search terms related to hard news events and then ran those terms once for each minute of each day. What they found after collecting all of this data is that Google's top story search results are concentrated on a small handful of major outlets.
Why the Media is Pushing to Break Up Facebook, Not Google. Google's dominance of search has locked down the internet. Combine that with its mobile power and growing strength in the assistants market gives it a virtual strangehold. Its future is far less fragile than that of Facebook which is extremely dependent on public whims. Hardly anyone under 40 even uses Facebook anymore. So why is the media aggressively pushing to sanction Facebook, not Google?
Google Censors the Claremont Institute. Last week Facebook kicked Milo Yiannopoulos, Alex Jones, Louis Farrakhan and Paul Watson off of their platform because of their extremism. While I have no brief for any of these individuals, I agreed with the critics who said "don't think it will just stop with them." Sure enough, it appears Google is censoring the Claremont Institute.
Google Tracks Your Location and Shares It With Police, Even When Your Phone is Off. Over the last two decades, cell phone use has become an everyday part of life for the vast majority of people around the planet. Nearly without question, consumers have chosen to carry these increasingly smart devices with them everywhere they go. Despite surveillance revelations from whistleblowers like Edward Snowden, the average smart phone user continues to carry the devices with little to no security or protection from privacy invasions. Americans make up one of the largest smartphone markets in the world today, yet they rarely question how intelligence agencies or private corporations might be using their smartphone data.
Google could be planning to get your smartphone to talk for you. [I]t sounds like Project Euphoria could be the latest accessibility feature to hit Android, perhaps with the Android Q roll out: and it's potentially going to get your smartphone to talk for you.
TurboTax, H&R Block hid free filing option from Google so customers couldn't find it. TurboTax and H&R Block deliberately hid their free tax filing options from Google results which forced many low-income tax filers to pay for expensive, unnecessary tax filing. Intuit, the company that operates TurboTax, accomplished this by adding code to its free filing site that essentially told Google and other search engines to not list the site in search results. The code needs to be added manually, Pro Publica reports.
Google knows everywhere you go — here's how to stop it from tracking you and delete the logs. Google knows a lot about you and, if you use Google Maps or other Google apps, it stores a copy of everywhere you go. [...] Google says it uses location history to "create a private map of where you go with your signed-in devices even when you aren't using a specific Google service." It also says the "map is only visible to you." The data, it says, provides "improved map searches and commute routes, as well as helping you to rediscover the places you've been and the routes you've traveled." I don't really care about that information. I know the roads I drove on April 16, and I can't see any reason why Google should store it, even if it's only for my use.
I Used to Work for Google. I Am a Conscientious Objector. "We can forgive your politics and focus on your technical contributions as long as you don't do something unforgivable, like speaking to the press." This was the parting advice given to me during my exit interview from Google after spending a month internally arguing, resignation letter in hand, for the company to clarify its ethical red lines around Project Dragonfly, the effort to modify Search to meet the censorship and surveillance demands of the Chinese Communist Party.
Demonetized: Steven Crowder has been tried and convicted by YouTube of being a conservative. Conservatives fell for a trap. [...] The trap was to believe that even hyper-leftists in the tech industry would be fair when it came to the use of their platforms. By "fair," I mean they would accept that there are views that differ from their preferred progressive standpoints and those views are worthy of being expressed on their platforms. For a time, this was true. But as the giants such as Google in search, Facebook and Twitter in social media, and YouTube for video grew to the point that they're essentially unchallenged and virtually invincible, they've now changed their tune. The worst crime anyone who uses their services can commit is to be conservative.
Banned by Google for Opposing Infanticide. America's PAC is a conservative political action committee run by Tom Donelson. It produces, among other things, radio and television advertising on behalf of, and in opposition to, politicians. Today America's PAC revealed that it has been permanently banned from advertising by Google.
How to protect your kids from Google predators. The world's top browser is Google Chrome. But spying on our purchases is the least we have to worry about with Google and its $800 billion parent company, Alphabet. It's bad enough that the company's executives match your offline credit card purchases to your online user profile without full disclosure, employ mobile tracking apps that collect location data even if users have turned off location tracking, hide and downplay massive security breaches (like the photo-sharing "bug" and hacker-friendly browser "flaws" revealed this past week), bow to Chinese communist censors and exhibit explicit bias against conservatives. No, it's much worse. Google's predation starts early, often with the most vulnerable members of society: our children. The Silicon Valley giant has hooked legions of children and teachers into its data mining products through lucrative partnerships with public schools across America. Learning no longer starts with A, B, C but with G, G, G: G Suite, Gmail, Google Cloud, Google Drive, Google Docs, Google Sheets, Google Slides, Google Hangouts, Google Vault, Google Jamboard, Google Chromebooks and Google Classroom.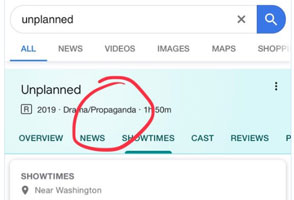 Google Marks Pro-Life Film 'Propaganda,' But Labels Literal Nazi Propaganda Film 'History'. A Google search for the new movie, "Unplanned" returned results labeling the film "Drama/Propaganda," while other films that are actual propaganda material do not receive the same designation. "Unplanned" is the story of a Planned Parenthood director who became pro-life after witnessing an abortion. Kelsey Bolar, a Daily Signal writer and Federalist contributor, captured a screenshot of the search result below on Thursday [4/11/2019]. By Friday, the label had been removed.
Thousands of Android Apps Track Children, Break Federal Law. With almost no public oversight, Google quickly took over America's classrooms by developing the "free" Google Apps for Education suite (GAFE) and circumventing administrators, opting to go straight to teachers. Rather than pushing specific products, Google convinced educators that students' college and career prospects could be improved by the creative use of online tools. Google creates brand loyalty through training and certifying teachers on Google products so they can set up their own consulting services — code for lobbyists — and hawk Google products to their school districts "for the children" at the expense of taxpayers. Recently 23 parent and watchdog groups filed a complaint with the U.S. Federal Trade Commission alleging that Google has violated child protection laws that regulate online data mining of children under 13.
The Google Blacklisting of The American Spectator. "Apparently Google wants to protect the American people from our polysyllaborated words and occasional long sentences. and in the course of doing so, they lied to Congress. And we may be looking into them in the near future." So spoke R. Emmett Tyrrell, Jr. on learning that The American Spectator had been blacklisted by Google. Bob Tyrrell is the founder of the now-52-year-old conservative magazine that is well in the mainstream of center-right, Reagan-conservative thought. It has, over the decades, been home to prominent conservative writers who have gone on to journalistic celebrity of their own.
I wanted to help Google make AI more responsible. Instead I was treated with hostility. Google decided this year to create an advisory council that would help guide the company in the responsible development of artificial intelligence. When the company asked me to join, I agreed, welcoming the opportunity to contribute my perspective as a conservative leader — and to test my thinking with council members who might not necessarily agree with me.[...] It was reassuring to be invited to participate in the AI advisory council — a sign that Google wanted to treat a wide range of viewpoints fairly as it develops new technology. Given the massive control exerted by social media and Internet companies over the information Americans use every day, such broadmindedness is essential.
Documents Detailing Google's 'News Blacklist' Show Manual Manipulation Of Special Search Results. Google does manipulate its search results manually, contrary to the company's official denials, documents obtained exclusively by The Daily Caller indicate. Two official policies dubbed the "misrepresentation policy" and the "good neighbor policy" inform the company's "XPA news blacklist," which is maintained by Google's Trust & Safety team. "T&S will be in charge of updating the blacklist as when there is a demand," reads one of the documents shared with The Daily Caller.
Report: Google Is Blacklisting The American Spectator. The American Spectator is on a list of sites "blacklisted" in Google search results, according to documents obtained by the Daily Caller. Google created an "XPA news blacklist" to suppress "fake news, hate speech [and] conspiracy theories" in its search results, the Daily Caller's J. Arthur Bloom reported in an exclusive Tuesday [4/9/2019]. This practice, approved by Google's Trust & Safety team, contradicts congressional testimony by Google CEO Sundar Pichai, who denied that the company manipulates its search results.
Google Bigots and the High-Tech Lynching of Kay James. Friday [4/5/2019], at four o'clock in the afternoon. Kay Cole James, the president of the Heritage Foundation, steps to the podium of the Pennsylvania Leadership Conference in suburban Harrisburg and gives the startling update. Ms. James, at a laughing, self-admitted 70 and famously one of the best known, longtime conservative leaders in the country, announces to the PLC crowd (the PLC is the Pennsylvania version of CPAC and was celebrating its 30th anniversary) that this was her first public comment since she had learned only hours earlier that she had been removed as a recent appointee to Google's Advanced Technology External Advisory Council. [...] Among other things the outrage mob of over 2000 Google employees accused Kay James of being a "white supremacist." Kay is an African-American. With a gay son. But Google quickly caved to the mob, dismissing Kay and then dissolving the board entirely.
Google's treatment of Kay Coles James is shameful, misguided. It was bound to happen. In fact, I'm surprised it took this long for leftists to viciously attack Kay Coles James. The general strategy since she became president of The Heritage Foundation seems to have been to largely to ignore Mrs. James in an attempt to keep the masses unaware of her effective advocacy of conservative principles. It was only a matter of time that they no longer would be able to bite their collective tongue and launch an all-out attack on Mrs. James' voice of reason. But their plan backfired.
Google Swings Left Again. Google has done away with its Artificial Intelligence Ethics Board, apparently because leftists at the company objected to inclusion of Heritage Foundation President Kay Coles James on the board. [...] Bottom line is that Google and other left-wing tech companies should not be ceded control over public discourse in America.
Google pulls gay conversion therapy app from Play Store following outcry. Google has pulled a controversial conversion therapy app from its Play Store following an outcry from LGBTQ groups. Google has been coming under pressure from several LGBTQ groups to remove the Living Hope Ministries app from the Play Store for Android apps. A petition demanding that Google remove the app also garnered more than 140,000 signatures on Change.org.
Tech tyrants at Google do their best to obscure no indictments of Mueller Report. If the internet search monopolists at Google are trying to build a case that they are a dangerous threat to democracy in need of antitrust remediation, they are doing a good job of it. We already know that Google is run by leftists for leftists and fired software engineer James Damore for political reasons — because he dared question P.C. orthodoxy. But there is an accumulating body of evidence that Google attempts to manage the public's access to information so as to bias it in favor of Google's friends and against those Google decides are its enemies.
Google and Facebook Fell for Invoice Scam That Cost the Companies $100M. Evaldas Rimasauskas, a Lithuanian citizen, concocted a brazen scheme that allowed him to bilk Facebook and Google out of more than $100 million. The crime defrauded Google of $23 million and Facebook of $99 million. Rimasauskas committed the crimes between 2013 to 2015, an indictment was issued in 2017, and he was formally indicted Wednesday [3/20/2019] in New York after he pleaded guilty to wire fraud, aggravated identity theft, and three counts of money laundering.
Google VP Stepped In After Employees [were] Offended By [a] Christian Video On Marriage. Google banned a video explaining Christian teaching on same-sex marriage from advertising on YouTube after backlash from upset employees, according to internal Google communications reviewed by The Daily Caller News Foundation. The video was flagged in June 2018 in an internal listserv, "Yes at Google," which is run by Google's human resources department, according to those communications and other internal documents, which a source shared with TheDCNF on the condition of anonymity. The listserv has more than 30,000 members and is devoted to policing "microaggressions" and "micro-corrections" within the company, according to its official internal description.
Top U.S. General: Google's Work in China Is Directly Benefitting China's Military. The nation's top military officer slammed Google for working with China, which he said benefitted its military, during a hearing on Capitol Hill Thursday [3/14/2019]. "The work that Google is doing in China is ... indirectly benefitting the Chinese military," Dunford told the Senate Armed Services Committee during a hearing on the 2020 defense budget.
Google Manager: 'Fake News and Hate Speech' Are 'How Trump won the Election'. On Monday [3/11/2019], Google software engineer Mike Wacker published an email he received from a fellow Google employee. That employee recounted a discussion with his manager in which the manager said Donald Trump won the 2016 election thanks to fake news and hate speech.
Leaked Audio: Google Discusses 'Steering' the Conservative Movement. Google's senior director of U.S. public policy, Adam Kovacevich appeared to describe the Conservative Political Action Conference (CPAC) as a "sideshow Circus," in a leaked audio recording in which he also argued that Google should remain a sponsor of the conference to "steer" the conservative movement "away from nationalistic and incendiary comments." The comments came to light in leaked audio files allegedly of a company-wide meeting at Google, part of which is now exclusively reported by Breitbart News.
Cryptocurrency wallet caught sending user passwords to Google's spellchecker. The Coinomi wallet app sends user passwords to Google's spellchecking service in clear text, exposing users' accounts and their funds to man-in-the-middle (MitM) attacks during which attackers can log passwords and later empty accounts. The issue came to light yesterday after an angry write-up by Oman-based programmer Warith Al Maawali who discovered it while investigating the mysterious theft of 90 percent of his funds.
Google Plans To Ban Political Ads Before Canada Election. Alphabet Inc's Google will ban political advertising on its platform before the Canadian federal election, after the country introduced stringent transparency rules. The Bill C-76, which was passed in December, requires online platforms to keep a registry of all political and partisan advertisements they directly or indirectly publish.
Google Refuses To Remove Saudi Arabia App Which Tracks Women. A few weeks ago, the existence of an app called 'Absher,' used by Saudi Arab men to control and track the movements of women in the country, came into light. Following which, Apple and Google were criticized and accused of helping gender apartheid by hosting such an app on App Store and Play Store respectively. Finally, Google has spoken up on this matter and declined to remove the app from Play Store on the grounds that the app meets all the terms and conditions of their platform. The search giant says that it reviewed the Absher app and concluded that it does not violate any agreements. Therefore, it can remain on the Google Play store.
Cause of death revealed for Google engineer found dead at his desk. A Google software engineer found dead inside the tech giant's Chelsea headquarters back in December died of abnormal heart rhythm, officials said Friday [3/1/2019]. A janitor found 22-year-old Scott Krulcik unconscious at his work terminal on the sixth floor of the building on Eighth Avenue near West 16th Street around 9 p.m. Dec. 7, police sources said at the time.
Google says the built-in microphone it never told Nest users about was 'never supposed to be a secret'. In early February, Google announced that its home security and alarm system Nest Secure would be getting an update. Users, the company said, could now enable its virtual-assistant technology, Google Assistant. The problem: Nest users didn't know a microphone existed on their security device to begin with. The existence of a microphone on the Nest Guard, which is the alarm, keypad, and motion-sensor component in the Nest Secure offering, was never disclosed in any of the product material for the device.
Google says the built-in microphone it never told Nest users about was 'never supposed to be a secret'. In early February, Google announced that its home security and alarm system Nest Secure would be getting an update. Users, the company said, could now enable its virtual-assistant technology, Google Assistant. The problem: Nest users didn't know a microphone existed on their security device to begin with. The existence of a microphone on the Nest Guard, which is the alarm, keypad, and motion-sensor component in the Nest Secure offering, was never disclosed in any of the product material for the device.
NYPD to Google: Stop revealing the location of police checkpoints. The NYPD is calling on Google to yank a feature from its Waze traffic app that tips off drivers to police checkpoints — warning it could be considered "criminal conduct," according to a report on Wednesday [2/6/2019]. The department sent a cease-and-desist letter over the weekend demanding Google disable the crowd-sourced app's function that allows motorists to pinpoint police whereabouts, StreetsBlog reported. "Individuals who post the locations of DWI checkpoints may be engaging in criminal conduct since such actions could be intentional attempts to prevent and/or impair the administration of the DWI laws and other relevant criminal and traffic laws," wrote Acting Deputy Commissioner for Legal Matters Ann Prunty in the letter, according to the website.
If you don't own a mirror...
Google may be developing 'smart shoes' that warn when you're getting fat. Google is reportedly taking another giant step in its mission to take over people's lives — by developing "smart" shoes that can warn the wearer if they are getting fat. The search engine's health division Verily is said to be designing footwear embedded with sensors that can tell how much the user weighs and monitor their activity. Parent company Alphabet has been showing off prototypes of the "lace-age" shoes as developers search for a partner to build and market them, according to CNBC.
Google+ pages will shut down on April 2. Originally, Google said the service would close in August 2019, but it announced last month that the date had been moved up to April after a new bug revealed further vulnerabilities in the platform.
Google removes pro-life content from top ten search results. YouTube announced Friday [1/25/2019] that it will intervene in recommended videos — the content that is recommended to viewers of a video on the right-hand sidebar. Previously a mix of content tailored to users' viewing history, YouTube says it will now intervene to remove "content that could misinform users in harmful ways" from recommendations. The change came just a day after BuzzFeed published a major article attacking the video hosting platform for recommending conservative and populist content to viewers. The videos identified by BuzzFeed as "hyperpartisan" include Dinesh D'Souza and Bill O'Reilly videos.
A simple bug makes it easy to spoof Google search results into spreading misinformation. A bug that anyone can easily exploit in Google makes it easy to kick out manipulated search results that look entirely real. The search manipulation bug was documented by Wietze Beukema, a London-based security specialist, who warned that a malicious user could use this bug to generate misinformation. This is done by splicing together values from a Google search result's "knowledge graph," the cards that pop up in search results to supplement the search query with visuals and quick facts. Anything from countries, planets, tech news sites and more have cards that appear on the right-side of Google's search results, displaying other nuggets of information at a glance.
Google Spent $21 Million Lobbying an Increasingly Tech-Nervous Washington in 2018. Google set a record for annual lobbying in 2018, spending more than $21 million to influence Washington in a year when its chief executive officer made his first appearance in Congress and scrutiny of Big Tech intensified. The total beats the Alphabet Inc. unit's record set in 2017, when it spent more than $18 million, according to federal disclosures. Google, which spent $4.9 million in the last three months of the year, according to a Tuesday [1/22/2019] filing, usually leads the tech sector in lobbying outlays and often is among the top-spending companies overall in Washington.
Google erases Kurdistan from maps in compliance with Turkish government. Google incorporation [sic] removed a map outlining the geographical extent of the Greater Kurdistan after the Turkish state asked it to do so, a simple inquiry on the Internet giant's search engine from Wednesday [12/26/2018] on can show. "Unavailable. This map is no longer available due to a violation of our Terms of Service and/or policies," a note on the page that the map was previously on read. Google did not provide further details on how the Kurdistan map violated its rules.
Google stashed billions in offshore tax haven. Tech giant Google shifted nearly $23 billion to an offshore tax haven in 2017, according to a Reuters report on Thursday [1/3/2019]. Securities filings with the Dutch Chamber of Commerce show Google funneled $22.7 billion through a Dutch shell company to Bermuda in an effort to trim its foreign tax bill. According to Reuters, the company used Google Netherlands Holdings BV to legally shift revenue on royalties earned outside of the U.S. to Google Ireland Holdings — based in Bermuda — where there is no corporate income tax.
Wielding Rocks and Knives, Arizonans Attack Self-Driving Cars. The assailant slipped out of a park around noon one day in October, zeroing in on his target, which was idling at a nearby intersection — a self-driving van operated by Waymo, the driverless-car company spun out of Google. He carried out his attack with an unidentified sharp object, swiftly slashing one of the tires.
Google Blocks Gateway Pundit from News Search Results. Google has rejected an application from conservative website The Gateway Pundit to appear in Google News search results. In an email to the Gateway Pundit, Google claimed that it could not provide specific reasons why the site had been rejected. Instead, the tech giant provided two "common reasons for rejection," although it would not say if they were the actual reasons the conservative website was rejected. Per Google's rules, publishers must submit an application to have their site appear in Google News search results. Once rejected, a publisher must wait 60 days before applying again.
Why I'm done with Chrome. A few weeks ago Google shipped an update to Chrome that fundamentally changes the sign-in experience. From now on, every time you log into a Google property (for example, Gmail), Chrome will automatically sign the browser into your Google account for you. It'll do this without asking, or even explicitly notifying you. [...] From my perspective, this comes down to basically four points:
[#1] Nobody on the Chrome development team can provide a clear rationale for why this change was necessary, and the explanations they've given don't make any sense.
[#2] This change has enormous implications for user privacy and trust, and Google seems unable to grapple with this.
[#3] The change makes a hash out of Google's own privacy policies for Chrome.
[#4] Google needs to stop treating customer trust like it's a renewable resource, because they're screwing up badly.
Google Knows Where You Sleep. Trusting any internet service or company with your data is always, at best, a calculated risk. On the one hand, the temptation of certain services, or the need for access to some information, or the lure of personal convenience, can loom large in the mind of the consumer. On the other hand, your data can get highly personal and if you trust the wrong person with it, you can suffer all sorts of negative consequences. You may get hacked. You may have your data used for the purposes of political propaganda, sometimes in service of causes you find abhorrent. You may even be politically targeted for what you share with companies that are supposed to be neutral, in theory, but in practice are anything but. The risk varies across companies, of course, and some are worse than others. Unfortunately, one of the worst and least secure companies currently operating — Google — has just been exposed for vacuuming up your data whether you know about it, or want them to, at all.
Break Up Google for the Public Good. It's time for all of us to admit that Alphabet, Inc. is the 21st century equivalent of Ma Bell: it is an almost all-controlling monopoly that restricts consumer choice in order to maximize profit for the company. We all know what Ronald Reagan did to AT&T. He broke up that monopoly so Americans could have real choices and the free market could actually work. So it's time for the Trump Administration to break up the Alphabet, Inc. monopoly. But unlike the Ma Bell monopoly, Alphabet, Inc.'s monopoly — which includes the search-engine behemoth Google — isn't just about greater competition and more choices for the American people. It's about so much more: free political discourse and our privacy rights as citizens.
10 Times Google's Far-Left, Anti-Trump Bias Was Exposed. The far-left mainstream media is dutifully defending its ideological allies in Silicon Valley, arguing that President Trump's criticism of bias in Google's products is a "conspiracy theory." The mainstream media may have formed a defensive barrier around Google in response to the President, but there are many examples of Google expressing its political bias in ways both big and small. Breitbart Tech has collected ten popular examples of Google's left-wing bias in action.
Trump Provides Example of Google Bias After Being Called a Liar. During Obama's presidency, Google put his State of The Union addresses on the front page of their site every year, while Trump's have never been featured. Meanwhile, CNN said Trump propped up a "false claim" that big tech is censoring conservatives and called it a conspiracy.
Study: Google bias in search results; 40% lean left or liberal. In order to assess how fairly search engine results portray political candidates and controversial issues, we collected over 1,200 URLs ranking highly in Google.com for politically-charged keywords such as "gun control", "abortion", "TPP", and "Black Lives Matter". Each URL was then assessed for political slant by politically active individuals from both the left and right. Finally, we used CanIRank's SEO software to analyze how each URL compared in dozens of different ranking factors to determine whether Google's algorithm treated websites similarly regardless of their political slant. Among our key findings were that top search results were almost 40% more likely to contain pages with a "Left" or "Far Left" slant than they were pages from the right. Moreover, 16% of political keywords contained no right-leaning pages at all within the first page of results.
5 Whoppers Google CEO Sundar Pichai Told Congress. Google CEO Sundar Pichai testified on Tuesday before the House Judiciary Committee. Despite testifying under oath, Pichai's statements were riddled with demonstrable falsehoods — here are some of Pichai's biggest whoppers. [#1] The Google CEO leads the company "without political bias" [...]
Google CEO Lies to Congress: Says No Bias in Search Results But 13 of 15 Top Images for "Idiot" are Pictures of President Trump! On Tuesday [12/11/2018] Google CEO Sundar Pichai testified before the House Judiciary Committee. Pichai was called into Congress to explain Google business practices including data collection and targeting of conservative voices. During the hearing, Rep. Zoe Lofgren (D-CA) asks Google CEO Sundar Pichai to explain how a picture of Donald Trump comes up when looking up the term "idiot" under images.
Google skates again. The scene was the House Judiciary Committee. Waiting to testify was the CEO of Google, where for at least the last five years, conservatives have been attacked, marginalized, removed, defamed, harassed, and demonetized — all to the sounds of glee if not ecstasy from purple-haired Google engineers. At least the ranking Democrat — soon to be chair — Congressman Nadler, figured it out right away. He attacked conservatives for objecting to Google's heavy-handed and deceptive treatment as "conspiracy theorists." Nadler knew that the real issue was Google's hostility to conservatives and how the search engine titan is working to remove them from the public stage. Nadler said none of that is really happening, and even if it is, that is OK with him.
Jim Jordan Questions Google CEO About Specific Example of Overt Political Bias. When see the executive leadership of Google crying over their inability to influence the 2016 election; and when you hear them say they will double their efforts to make sure it doesn't happen in 2018; everyone should be alarmed. Google co-founder Sergey Brin, CEO Sundar Pichai, Senior VP for Global Affairs, Kent Walker, CFO Ruth Porat and Eileen Naughton, VP of People Operations talk about their horror and sadness over the outcome of the 2016 election.
Google Engineer: Company Blacklisted Dissident to Please Chinese Government. A Google software engineer revealed concerning details about the company's efforts to please the government China before it launched its latest entry into the country — the censored Chinese search app "Project Dragonfly" — which allegedly included the company blacklisting Chinese dissidents from its buildings for fear of upsetting the Chinese government. In a series of Twitter posts, Thursday [11/6/2018], Google software engineer Mike Wacker discussed Project Dragonfly — Google's controversial censored Chinese search app — and claimed Google refused to allow Chinese artist and dissident Ai Weiwei on the company's New York City campus for fear of upsetting the Chinese government.
Dr. Robert Epstein: Research Documents Google Search 'Irregularities' in 2018 election. On the topic of a recent report which claimed Google employees spoke about burying conservative websites such as Breitbart and the Daily Caller in an effort to "reverse things in four years," Epstein declared, "It's just another indication, Amanda, of what a lot of us have suspected for a long time. It just confirms based on actual communications within the company that Google has the power to shift the votes and opinions on anything, and they discuss the power. They wouldn't discuss it if they didn't have it, and they exercise the power. There's simply no question about that."
Google's Dangerous Drift Toward Censorship. The Daily Caller, a conservative news site, recently got its hands on an internal email exchange where Google employees lamented Donald Trump's election victory and discussed burying conservative news sites in search results to "make sure that we reverse things in four years." "I think we have a responsibility to expose the quality and truthfulness of sources — because not doing so hides real information under loud noises," one Google engineer said, after complaining that stories from the Daily Caller and Breitbart, another conservative site, were showing up "next to legitimate news organizations."
Exclusive: Google Employees Debated Burying Conservative Media in Search Results. Google employees debated whether to bury conservative media outlets in the company's search function as a response to President Donald Trump's election in 2016, internal Google communications obtained by The Daily Caller News Foundation reveal. The Daily Caller and Breitbart were specifically singled out as outlets to potentially bury, the communications reveal. Trump's election in 2016 shocked many Google employees, who had been counting on Democratic nominee Hillary Clinton to win.
Hundreds Of Google Employees Tell Bosses To Cancel Censored Search Amid Worldwide Protests. More than 240 Google employees have signed an open letter calling on the company to abandon its plan for a censored search engine in China, as protesters took to the streets in eight cities to condemn the secretive project. The letter was published Tuesday morning, signed by a group of 11 Google engineers, managers, and researchers. By early evening, a further 230 employees had added their names to the letter in an extraordinary public display of anger and frustration with Google's management over the censored search plan, known as Dragonfly.
Google Unit Tasked To Bury Conservative Search Results To Ensure Trump Isn't Reelected. With news that Google launched a massive project to create programs to suppress all conservative media sources on customer searches, here we have yet another tech giant proving that their chief goal is to further left-wing policies, not honestly serve their customers. According to a big report from the Daily Caller, Google created a special unit inside the company and tasked it with creating programs to bury any conservative search results off the first page of searches no matter what was searched.
After 20,000 workers walked out, Google said it got the message. The workers disagree. On Nov. 1, 20,000 Google employees and contractors walked out of the company's offices around the world, one week after the New York Times reported that Google had protected three executives accused of sexual misconduct, including Android founder Andy Rubin. But the protests were about more than just how Google handles harassment. On the latest episode of Recode Decode with Kara Swisher, six of the walkout organizers — Erica Anderson, Claire Stapleton, Meredith Whittaker, Stephanie Parker, Cecilia O'Neil-Hart and Amr Gaber — explained that employees' grievances included a history of pay discrimination, systemic racism and the unequal treatment of contract workers.
Google Reveals Plans to Monitor Our Moods, Our Movements, and Our Children's Behavior at Home. Patents recently issued to Google provide a window into their development activities. While it's no guarantee of a future product, it is a sure indication of what's of interest to them. What we've given up in privacy to Google, Facebook, and others thus far is minuscule compared to what is coming if these companies get their way. These patents tell us that Google is developing smart-home products that are capable of eavesdropping on us throughout our home in order to learn more about us and better target us with advertising. It goes much further than the current Google Home speaker that's promoted to answer our questions and provide useful information, and the Google-owned Nest thermostat that measures environmental conditions in our home. What the patents describe are sensors and cameras mounted in every room to follow us and analyze what we're doing throughout our home.
Google Wants To Data Mine Your Home And Kids' Bedroom. New patents show Google is quietly developing a smart-home automated system that will routinely eavesdrop on your daily life. The patents describe how cameras and sensors will be mounted in almost every room of the house, scanning and analyzing every movement a human makes. According to the patent description, the smart cameras could recognize Will Smith's face on a T-shirt. After cross-referencing this data against the human's browser history, the smart-home might announce or send them a message, "You seem to like Will Smith. His new movie is playing in a theater near you."
A moral crisis at Google. Google is facing a worldwide staff rebellion over its handling of sexual harassment cases, said Daisuke Wakabayashi at The New York Times. Holding signs such as "Don't be evil, protect victims," 20,000 of the tech giant's 85,000 employees around the globe protested the company's mishandling of charges against senior executives. In one instance, Google paid $90 million to Andy Rubin, the creator of the Android operating system, who the company determined had been credibly accused of coercing an employee into sex. Rubin denies the charges. By paying executives multimillion-dollar exit packages, Google "avoided messy and costly legal fights, and kept them from working for rivals."
The Editor says...
Seems like that's exactly the kind of person you'd want to work for your rivals.
Google algorithm can monitor searches for 'diarrhea' and other symptoms of food poisoning in real time to warn you of unsafe restaurants. Google may soon tell you which restaurants could give you food poisoning. The tech giant is working with Harvard University to develop an algorithm that analyzes Google searches to spot which restaurants might have food safety issues. Researchers say it's capable of flagging possible offenders in 'near real time.'
Google Goes Hard Left. Last week, around the world, Google employees staged a walkout to demand social justice. Think about it, employees of one of the world's largest corporations, a beacon of capitalist innovation, have been sucked up into the new quasi-socialist call for more diversity... and for less sexual harassment in the workplace. We are all for reducing sexual harassment in the workplace, but the call for social activism rings slightly hollow in a company that excelled without diversity. Silicon Valley tech behemoths are not diverse. They are anything but diverse. They are largely run by white and Asian males. So, the larger issue is not merely sexual harassment, but the radicalization of capitalist titans.
Google Employees Walk Out To Protest Treatment Of Women. Google employees around the world walked out of their offices on Thursday [11/1/2018] in a global protest over how the company deals with sexual harassment. The demonstrations, dubbed "Google Walkout," follow an outcry over a New York Times investigation that detailed years of sexual harassment allegations, multimillion-dollar severance packages for accused executives, and a lack of transparency over the cases.
Google employees begin walkout over handling of sexual misconduct by executives. Employees in Google offices around the world staged a walkout on Thursday to protest the company's handling of senior executives accused of sexual misconduct. The demonstration was scheduled by organizers to begin at 11:10 a.m. local time for each office, with a Twitter account set up by protest organizers featuring walkout photos from Singapore, Tokyo, London, Dublin and other locations.
Google Is Trying To Censor Marsha Blackburn Campaign Ads. Google Ads informed Rep. Marsha Blackburn's campaign Tuesday that her advertisements including video footage of protestors interrupting her moment of silence for victims of the recent deadly mass shooting of a synagogue were disapproved because they contained "shocking content." Google Ads, an online advertising platform, would not allow the Tennessee Republican's campaign for Senate promote two campaign videos as search ads because the content doesn't meet Google's standards, according to an email sent to the campaign.
Google fired 48 people for sex harassment in last two years. Google revealed on Thursday that the tech giant has fired 48 employees for sexual harassment over the past two years. Google CEO Sundar Pichai disclosed the information in response to a New York Times report that claimed the company had "protected" a former Android executive accused of sexual misconduct. Pichai said in an email to employees that 48 employees had been fired and those former workers did not receive a severance package from the company. The Times reported on Thursday that Andy Rubin, the executive in charge of Android software, was dismissed for sexual misconduct in 2014 and is still receiving a $90 million package from the company.
Google Employees Second Largest Donors to Beto O'Rourke Campaign. Big Tech company employees are pouring money into Democratic candidate Rep. Beto O'Rourke's senate campaign in an attempt to unseat Sen. Ted Cruz (R-TX), with employees from Google parent company Alphabet listed as the second largest donating force. According to CNBC, employees at Google parent company Alphabet were the second largest contributor to O'Rourke's campaign overall, and came first on the list of Big Tech contributors, with Alphabet employees donating $157,189. Overall, Alphabet was only beaten in donations to O'Rourke's campaign by employees of the University of Texas, who donated $296,123.
Google CEO defends potential China-compliant search engine. Google's chief executive defended his company's plan to explore a search engine tailored for users in China despite concerns that would mean complying with the country's strict internet censors. In his most extensive public remarks on the topic, Sundar Pichai said entering China in some ways aligns with the company's mission to provide information to the world's population, since one-fifth of those people reside in China. Even complying with China's censors, he said, Google would be able to deliver search results to more than 99% of queries and in some cases deliver more helpful results than users currently get from local search engines.
Leaked Google Briefing Admits Abandonment of Free Speech for 'Safety And Civility'. An internal company briefing produced by Google and leaked exclusively to Breitbart News argues that due to a variety of factors, including the election of President Trump, the "American tradition" of free speech on the internet is no longer viable. Despite leaked video footage showing top executives declaring their intention to ensure that the rise of Trump and the populist movement is just a "blip" in history, Google has repeatedly denied that the political bias of its employees filter into its products.
Google+ shutting down after users' data is exposed. Google is shutting down much of its social network, Google+, after user data was left exposed. It said a bug in its software meant information that people believed was private had been accessible by third parties. Google said up to 500,000 users had been affected.
Google exec slams GOP over Kavanaugh nomination. A design lead at Google has slammed Republicans in an angry Twitter rant over the nomination of now-Justice Brett Kavanaugh. [...] Hogue's LinkedIn entry describes him as Google's UX design lead. He has been at the search giant since December 2013, according to the entry. On Sunday [10/7/2018], Hogue confirmed that he had deleted the tweet.
Google Knows Where You've Been, but Does It Know Who You Are? In August, The Associated Press published an investigation into how Google handles the data it collects, following a curious discovery by a graduate researcher at U.C. Berkeley. For years, the company has allowed users to control their "location history," which stores a detailed record of where they've been, based primarily on their activity in Google Maps. This, the researcher suggested — and The A.P. confirmed — did not work as advertised. "Some Google apps automatically store time-stamped location data without asking," the reporters found. The revelation has since resulted in at least one lawsuit, as well as renewed public criticism from lawmakers.
Google is hiding a secret game in plain sight. A Reddit post made headlines this week for uncovering a fun feature: a text adventure game inside the search engine. "Found a crazy Easter egg," the Redditor wrote on a Google subreddit on Sept. 19 before revealing how to find the challenge. "Search for text adventure and open up the dev console," the Reddit user explained. "It's [sic] asks if you want to play a game." Sure enough, Google sleuths can find the game by looking up the phrase "text adventure."
It's Google's World: We Just Live In It. Google's August search market share in America stood at 84%. That means it defines the internet. Its secretive algorithms determine what people see when they search. It can unilaterally redefine an issue, such as when it shifted the search results for "Jihad" away from counterterrorist sites to favor Islamist and pro-Islamist media sites. It shapes how political leaders, including President Trump, are seen, and manufactures an ongoing consensus by simply choosing one set of results over another. (During the election, its search engine provided more positive results for Democrats than Republicans.) And then there are the constant privacy scandals.
Google's political bias remains a concern. Google CEO Sundar Pichai met with House Majority Leader Kevin McCarthy, R-Calif., National Economic Council head Larry Kudlow and about two dozen Republican members of Congress on Friday to discuss numerous concerns that the GOP has with the tech giant, including political bias against conservatives. Google seemingly made the case that while it may need to make some internal improvements, the tech giant has the right motives at heart, improves the lives of millions of Americans annually, and is willing to work with both sides of the aisle to change for the better. Unfortunately, we've seen this movie before.
How to beat Google's personalized ads. Google has created its own universe. If you wanted to, you could use nothing but Google products, and you could live a very fruitful digital life. You could buy a Chromebook, use Gmail and G Suite, post your videos to YouTube, and save every last bit of data on Google Drive. You could make all your appointments on Google Calendar, download all your media from Google Play, and tell the world about your amazing Google experience on Blogger. And of course, have Google search answer your questions.
We Are Living Nineteen Eighty-Four. George Orwell's 1949 dystopian novel Nineteen Eighty-Four is no longer fiction. We are living it right now. Google techies planned to massage Internet searches to emphasize correct thinking. A member of the so-called deep state, in an anonymous op-ed, brags that its "resistance" is undermining an elected president. The FBI, CIA, DOJ, and NSC were all weaponized in 2016 to ensure that the proper president would be elected — the choice adjudicated by properly progressive ideology. Wearing a wire is now redefined as simply flipping on an iPhone and recording your boss, boy- or girlfriend, or co-workers.
A map chock full of surprises. Google's offer 'free' service on close inspection reduces to Tim Cook's observation that "you are the product" they can sell to companies and governments who are the real customers. What's free is your data. In the centralized world you don't even own yourself. Users only have a fragmented view of their own information, unable to see what they've left scattered among dozens, perhaps hundreds of sites with each behind its user name and password combination. Even at your sites ownership is illusory. Hollywood actor James Woods with 1.7 million followers found Twitter could suspend his account simply because they didn't like what he said. By contrast big silicon has a seamless view of the user's information.
Google and Privatized Authoritarianism. Tech giants get a lot of well-deserved flack for playing at partisan politics, picking sides in policy disputes, and suppressing speech and ideas that don't fit well with their dominant political ideology — or promoting those that do. Even some of the companies' employees' find the internal culture stifling, such as the Facebook workers who recently derided the social media behemoth for "a political monoculture that's intolerant of different views." But for a glimpse of real danger, consider what happens when Google, the dominant search-engine company, teams up with a regime it apparently finds agreeable, and lends its considerable clout to reinforcing authoritarian rulers' control over their suffering subjects. Google left China in 2010 after realizing that there was no end to the demands and intrusions the government would make, no matter how the tech firm tried to comply. But now the company appears willing to do almost anything asked to win access to the vast market. And what's being asked of the company is that it help the government control its people.
Google Staffers Claim Rigging Was Not Implemented. [T]his has been going on for quite some time, as it is virtually certain that Google wasn't skewering the results only about Islam and jihad in July 2017. Only now is it being discovered by the general public.
Google Claims It Didn't Manipulate Search Results for "Islam" and "Muslim". Now that even President Trump has complained about Google manipulating its search results, the social media giant's underhanded practices are finally getting some attention. A Fox News report Friday [9/21/2018] noted that at Google, "internal emails show conversations between employees highlighting a desire to manipulate search results on the heels of President Trump's controversial travel ban in order to mute conservative viewpoints and push ways to combat the ban." Google claims that this remained on the level of discussion, and wasn't implemented, but there is considerable evidence to the contrary.
If you thought what Google was doing to conservatives was bad, look at what it is doing in China. Google has drawn a lot of scrutiny, and not in a good way, for biasing search results against conservatives, artificially promoting leftists and leftwing causes, and smearing and blacklisting conservatives. This 2016 account by psychologist, artificial intelligence maven, and tech whiz Robert Epstein gives a superb point-by-point breakdown of what Google's been up to so far. (Epstein is the same guy in the news two days ago who said there is credible evidence that Google manipulated search results to swing the popular vote to Hillary Clinton.) So much for not being evil. But all of this is nuisanceware compared to what the people at Google have been caught doing in China and are now trying to cover up.
Report: Google CEO Sundar Pichai to Attend Congressional Hearing AFTER the Midterms. Google CEO Sundar Pichai will appear at a House Judiciary Committee hearing, but only after the midterm elections on Nov 6, according to a report in the Wall Street Journal. The WSJ reports that Pichai will meet privately with Republican lawmakers this Friday [9/28/2018] to address concerns about the company's market power and bias against conservatives. In the past month, Google has been rocked by a series of bias scandals, including Breitbart News' publication of a 1-hour leaked video featuring the dismayed response of Pichai and other executives to the election of Donald Trump.
Google staffers wanted to manipulate search results to combat Trump's travel ban, emails show. Google is in the spotlight after internal emails show conversations between employees highlighting a desire to manipulate search results on the heels of President Trump's controversial travel ban in order to mute conservative viewpoints and push ways to combat the ban. Like many Silicon Valley titans, Google has drawn the ire of conservatives who feel right-leaning views are condemned from within. But internal company emails made public by Fox News' "Tucker Carlson Tonight" on Thursday [9/20/2018] appear to show employees wanted to curate Google's algorithm to boost left-leaning political views on immigration.
Google Employees Debated Tweaking Search Results to Counter Trump Travel Ban. Google employees discussed how to tweak search-related functions to combat the Trump administration's controversial travel ban, according to internal company emails. The leaked emails, obtained Thursday [9/20/2018] by both Fox News host Tucker Carlson and the Wall Street Journal, date back to January 2017, days after President Donald Trump signed an executive order that restricted travel from several majority-Muslim Middle Eastern and African countries deemed a security risk. Google employees discussed ways to alter search results to favor anti-travel ban organizations, like the ACLU, and get information to immigrants, while disfavoring results considered prejudicial. One employee in the Search Product Marketing division wrote that their department had a "large brainstorm" on how to respond to the travel ban.
Internal Google documents reveal discussions of biasing search results against Trump travel ban. It must be heady to be a senior executive at Google, the fabulously profitable king of Silicon Valley, and the biggest source of information in the world. Tucker Carlson calls it "the most powerful company in the history of the world". Google can control what information becomes available to those searching for it, so it is not an exaggeration to suggest that it can heavily influence voting behavior, and therefore influence decision-makers in democratically elected governments. Thus, any systematic effort on the part of Google to bias search results is of great concern, placing substantial political power in the hands of an entity that can serve its own interests — for example, the availability of work visas for foreign nationals it would like to employ for lower compensation than Americans might demand.
Google employees considered manipulating search results to help protest Trump's travel ban. An undisclosed number of Google workers considered ways to use the company's powerful search engine to assist in a protest against the travel ban implemented by the Trump administration in January 2017, the Wall Street Journal reported Thursday evening [9/20/2018]. The Journal said it reviewed emails that show Google employees proposed several ways to "leverage" the company's search engine to direct users to pro-immigration organizations and contact government agencies, especially when searching for terms like "Islam" or "Muslim." Those Google workers involved considered the existing search results for some of those terms to be "Islamophobic," according to the report. Late on Thursday evening, Google sent a response to the Journal's story to Business Insider.
Google, China create search engine that tracks, censors searches and links them to users' phone numbers. A prototype of a censored search engine that links users' queries to their personal phone numbers is the result of a collaboration between Google and China. This technology would make it easier for the Communist Party of China to monitor people and what they are searching, the Intercept reported Friday [9/14/2018]. Dragonfly, the code name for the new search engine, was designed for Android devices.
Google's Unstable Empire. [Scroll down] This is the heart of the Google empire, which today is worth almost $800 billion (the valuation of Google's holding company, Alphabet), putting it only a couple of hundred billion dollars behind Apple Inc. and Amazon. As George Gilder notes in his new book, "empire" is a fitting word to describe Google. The size and reach of the company is unprecedented in the history of computing. Its ability to process an ever-growing database consisting of thousands of petabytes ("peta" meaning 1 quadrillion, or a million billion) and handle 1.5 trillion searches every year means that it powers large sections of the U.S. economy. It also shapes our culture and mindset — and increasingly our political system. Yet Google itself, Gilder argues, isn't best understood as a business at all. It's a utopian cult, powered not by technology but by a philosophy — one could even say a theology — that is about to meet its nemesis.
Google is 'threat to the Republic,' says Trump campaign manager. President Donald Trump's 2020 campaign manager blasted Google after an internal video recording of company executives lamenting the 2016 presidential outcome was leaked to the media on Wednesday [9/12/2018]. Brad Parscale, the campaign manager, called the content in the video a "threat to the Republic," and demanded that Google's leadership testify before lawmakers on Capitol Hill.
Senior Google scientist resigns over censorship. Senior Google scientist resigns over plan to launch censored search engine in China. "I view our intent to capitulate to censorship & surveillance demands in exchange for access to the Chinese market as a forfeiture of our values," he says.
The World's Most Important Funeral: Google's Answer to Trump. Forget the lamentations for John McCain. Ditto the wailing for Aretha Franklin. This week, we just learned about the biggest and most significant funeral dirge in the history of the world: the private and confidential gathering of tens of thousands of Google employees to mourn the election of Donald Trump. And their plans to make sure nothing like that ever happens again. All led by the people who run Google — i.e., the world. Thanks to Breitbart.com, who brought this 45-minute dirge of constant sorrow to our attention, we now know there was not a dry eye in the house. [...] In the aftermath of the great Google sorrow-fest, we do know a few things: Google and YouTube simply cannot pretend they are not doing everything they can to stifle conservative speech — even altering their algorithms to control the flow of information to promote their worldview. They did not just confess it; they bragged about it, several times.
Kevin McCarthy: 'It's Time for Google to Answer Some Questions'. House Majority Leader Kevin McCarthy (R-CA) stated in a recent tweet that tech firm Google must answer some questions and that an "invite will be on its way." In a recent tweet, GOP House Majority leader Kevin McCarthy stated that tech giant Google will have to answer a number of questions about its operations before Congress as Facebook and Twitter did recently. In the tweet, McCarthy noted left-leaning bias from Google who gave a "silent donation" to a left-wing anti-Trump group and Google's work with China and Russia to censor the Internet in certain parts of the world.
The Leaked Video That Shows The World What Google Is. News virtually impossible to suppress: Even with all its political power and might over largely unsuspecting masses, Tech giant Google cannot steal elections. That is what the recorded video gone viral is now showing the entire digital world. [...] Not only did Google fail, and fail bigly at handing the 2016 presidential race to their heroine Hillary Clinton, they failed for the almost two years that followed by not being able to "thwart both the Trump agenda and the broader populist movement emerging around the world". Google failed in Hungary, Google failed in Poland, Google failed in Britain. Google failed in Austria, in Germany and Italy.
It's Official: Google is a Democratic Party Front. Someone leaked to Breitbart an hour-long video of an "all hands" Google meeting that was held just after the 2016 election. The video features Google's co-founder, Sergei Brin, its CEO, Sundar Pichai, and numerous other high-ranking "Googlers" speaking in turn about the election's tragic outcome. It is stunning. All of the speakers express grief over Donald Trump's election. All of the speakers assume that every Google employee is a Democrat and is stunned and horrified that Hillary Clinton — the worst and most corrupt presidential candidate in modern history — lost. There is much discussion about what Google can do to reverse the benighted world-wide tide exemplified by Brexit and Trump's election. The insane doctrine of "white privilege" rears its head.
Senior Google Scientist Resigns Over "Forfeiture of Our Values" in China. A senior Google research scientist has quit the company in protest over its plan to launch a censored version of its search engine in China. Jack Poulson worked for Google's research and machine intelligence department, where he was focused on improving the accuracy of the company's search systems. In early August, Poulson raised concerns with his managers at Google after The Intercept revealed that the internet giant was secretly developing a Chinese search app for Android devices. The search system, code-named Dragonfly, was designed to remove content that China's authoritarian government views as sensitive, such as information about political dissidents, free speech, democracy, human rights, and peaceful protest.
New York Times Covered Up Google Tape's Most Newsworthy Details. The New York Times reported on the explosive Google Tape back in March but chose not to informs its readers of virtually all the key details revealed during this company town hall. On Tuesday [9/11/2018], Breitbart News obtained video of an hour-plus long company meeting at Google that took place shortly after the 2016 presidential election. You can watch the full video to judge the context of these individual quotes for yourself — but in my view, what you have here is a smoking gun proving the biggest Internet search engine in the world (by far) intends to abuse its corporate power to affect the outcome of elections, to manipulate searches in a way that will result in political outcomes desired by a multinational corporation and Silicon Valley.
Leaked Google employee's email reveals effort to boost Latino vote, surprise that some voted for Trump. A Google executive's leaked email reveals efforts to increase Latino turnout prior to the 2016 U.S. presidential election and the executive's "surprise" at Donald Trump's performance among Latino voters. The 675-word email, first obtained exclusively by Fox News Channel's "Tucker Carlson Tonight," was written by the tech giant's former head of multicultural marketing and details a range of efforts to increase Latino turnout, including the support of a partner organization that helped to drive voters to the polls.
Google Leadership's Dismayed Reaction to Trump Election. A video recorded by Google shortly after the 2016 presidential election reveals an atmosphere of panic and dismay amongst the tech giant's leadership, coupled with a determination to thwart both the Trump agenda and the broader populist movement emerging around the globe. The video is a full recording of Google's first all-hands meeting following the 2016 election (these weekly meetings are known inside the company as "TGIF" or "Thank God It's Friday" meetings). Sent to Breitbart News by an anonymous source, it features co-founders Larry Page and Sergey Brin, VPs Kent Walker and Eileen Naughton, CFO Ruth Porat, and CEO Sundar Pichai. It can be watched in full above. It can and should be watched in full above in order to get the full context of the meeting and the statements made.
Leaked Google employee's email reveals effort to boost Latino vote, surprise that some voted for Trump. A Google executive's leaked email reveals efforts to increase Latino turnout prior to the 2016 U.S. presidential election and the executive's "surprise" at Donald Trump's performance among Latino voters. The 675-word email, first obtained exclusively by Fox News Channel's "Tucker Carlson Tonight," was written by the tech giant's former head of multicultural marketing and details a range of efforts to increase Latino turnout, including the support of a partner organization that helped to drive voters to the polls.
Google executive clearly wanted Hillary elected in 2016 — What is big tech planning now? For two years, the alleged threat that Russia poses to our elections has been official Washington's obsession. The usual business of government has come to a halt as Democrats and their allies in the press fret that Russian agents may be interfering with our democracy. The root of these fears? A handful of Russian ads on Facebook that almost nobody saw and a small number of efforts to hack Democratic Party email accounts.
Tucker Carlson Reveals Google Exec's Blatant Effort To Help Hillary In 2016. We're told the companies like Google are unbiased but we don't believe them. Now we're finding out just how biased they are with recent revealing information from former Facebook employees and now with an email from a Google exec who did everything she could to elect Hillary. The blatant effort to get Hillary elected is just the beginning[. ]What could Google do this election to push leftist candidates?
Tucker Carlson busts open Google conspiracy to swing election to Hillary. Last night [9/10/2018], Tucker Carlson broke an explosive story featuring internal Google documents indicating that the company made a "silent donation" — its own term — to the Hillary Clinton campaign by using its information channeling might to mobilize voters it thought would cast ballots for the Democrats' candidate. The move was unsuccessful, but it illustrates the enormous power to shape elections by bringing some information to the voting public while suppressing other information. As Carlson points out, if Russian purchases of a hundred thousand bucks' worth of Facebook ads is supposed to be worrisome, the power of Google, which is the information funnel for about 90% of the public, is catastrophe once the giant decides to use its power to control elections.
Shocking Report That Google Influenced the 2016 Election. A shocking report by Tucker Carlson exposed an email obtained from a Google insider that proves they influenced the 2016 election to steer voters to Hillary Clinton. "An email obtained exclusively by this show reveals that a senior Google employee deployed the company's resources to increase voter turnout in ways she believed would help the Clinton campaign win in the last election." It was written on November 9, 2016, by Eliana Murillo, the former Head of Multicultural Marketing at Google. "In her email, Murillo touts Google's multifaceted efforts to boost Hispanic in the election," Carlson said. "She knows that Latinos voted in record-breaking numbers, especially in states like Florida, Nevada, and Arizona."
Google May Be Biased, But Regulation Isn't the Answer. On August 28, President Trump tweeted that his administration is considering regulating Google out of concern that the search engine is prioritizing liberal news sites over conservative alternatives. Trump's chief economic adviser, Larry Kudlow, said that the administration is "taking a look" at the possibility of regulating Google's search results. Google represents a huge source of information for Americans, so conservatives are justified to worry about liberal bias in the search results. But regulation isn't the answer.
Google pushes physical security key. The internet's biggest search engine is going low-tech for its latest product, aimed at helping you secure your files on the Google cloud — and beyond. Following a recent trend of users demanding more physical reassurances that hackers can't access their files or sensitive data, Google is introducing Titan. The device is a physical security key that allows users to perform a 2-step verification before accessing data and other files. While it was originally only available to Google Cloud Customers, as of last week the key is now available to all Google users in the form of a USB.
Study: Google Pushes Liberal News in Top 5 Search Suggestions. A new study about Google News shows that while everyone gets the same results, five liberal news organizations "alone" made up 49 percent of the total recommendations from the respective experiments. The five were The New York Times, CNN, Politico, Washington Post HuffPost. The study, written by Columbia University PhD candidate Efrat Nechushtai and University of Oregon Shirley Papé Chair in Emerging Media chair Seth Lewis, set to be published in the journal "Computers in Human Behavior," stated only 14 news organizations "made up 79% of the total number of news recommendations suggested to searchers."
Google 'paid millions to Mastercard to track credit card spending' to find out whether people are being successfully influenced by its online ads. Google holds a secretive deal with Mastercard that enables it to track whether the adverts it shows people online lead to purchases in high street shops, a new report claims. The purported multi-million dollar agreement allows the Californian search company to link the purchases of Mastercard customers to their email addresses. These addresses are used to identify customers' online activity and track the adverts they have seen on webpages and inside mobile apps. Google uses this information to determine whether the adverts successfully influenced their shopping habits in the real-world.
Google sued for tracking you, even when 'location history' is off. Google now faces a potential class action lawsuit over the revelation that it continues to store users' location data even if they turn off Location History. The lawsuit was filed on Friday [8/17/2018], the day Google updated its help page to clarify that with Location History off it still stores some location data in other services such as Google Search and Maps. Until then, Google's help page on Location History stated that "with Location History off, the places you go are no longer stored". However a report by the Associated Press found this statement wasn't true.
Amid Criticism of Firm, Hatch Wants Google Investigated. Capping off a week of attacks on the company, Sen. Orrin Hatch (R., Utah) called Thursday for an investigation into search giant Google's possibly anti-competitive practices. Hatch expressed concern in a letter to the Federal Trade Commission that Google was abusing its dominant market position by excluding competitors from its search advertisements. Google controls about 90 percent of global searches, a position it could potentially leverage to exclude would-be competitors from the market. Central to Hatch's criticisms are Google's data collection and privacy practices, which he claimed exacerbate the firm's potential to crowd out components. Several of Hatch's Senate colleagues, he noted, have previously expressed concern to Google over its data collection practices, including giving actual content of Gmail emails to third-party developers.
Trump threatens action against Google for 'rigged' search results. President Trump, chafing against news coverage he says is unfair, accused search-engine operator Google of suppressing positive stories about him and threatening a government response. "This is a very serious serious situation — will be addressed," he wrote on Twitter, the social media platform where he has more than 50 million followers. The president and congressional Republicans have all accused tech companies based in liberal-leaning Silicon Valley of suppressing news favorable to them, a claim that firm executives have denied in a number of hearings. What action the president might attempt wasn't immediately clear. Constitutional guarantees bar the government from restricting freedom of speech or the press, but those don't apply to the actions of private companies or individuals. Google, Facebook, and Twitter have all denied presenting content in a way that favors either end of the political spectrum.
Google Responds To Trump Vowing Action Against 'RIGGED' Search Results. President Trump vowed to take action against Google early Tuesday morning in response to a report suggesting that the search engine's algorithm was suppressing conservative outlets' coverage of Trump.
Senators Criticize Google CEO for Declining to Testify. Google's Sundar Pichai is facing bipartisan criticism for refusing to testify at a Senate Intelligence Committee hearing next week, but the panel's chairman signaled he's unlikely to issue a subpoena to force the chief executive officer to appear. "I don't normally subpoena people to be part of the solution," Senator Richard Burr of North Carolina said Tuesday [8/28/2018] when asked if he's considering such a step. "Google chooses not to participate and being part of the solution. That's a decision they made."
Google's Chickens Coming Home to Roost. This week, President Trump openly accused Google of manipulating search results in a manner detrimental to him, which commenced a firestorm of controversy and focus upon Google's behavior. Regardless of whether Google is guilty of the particular behavior that President Trump alleges, it's beyond dispute that Google-owned YouTube has censored even such mainstream and well-mannered conservatives as Dennis Prager and his popular Prager U brief video tutorials.
Searching for unbiased news: Trump rips Google as 'rigged'. It seems like just about everyone is unhappy with Google at one time or another, given its dominant role in helping the world sort through the endless flood of online information. Politicians, journalists, entertainers, business owners and others all want their names, links, articles and videos to come up higher in the searches. For some, it's a matter of political life and death; for others, a matter of business survival; for still others, a question of sheer ego. If you're pushed way down in the rankings, then as a practical matter, you don't exist. President Trump has loudly added his voice, taking to Twitter to attack the search giant.
96 Percent of Google Search Results for 'Trump' News Are from Liberal Media Outlets. Is Google manipulating its algorithm to prioritize left-leaning news outlets in their coverage of President Trump? It sure looks that way based on recent search results for news on the president. Conservatives and Trump supporters have for the last several years questioned whether Google was deprioritizing conservative news sites, hiding them from users who utilize their search engine. Google has maintained that all outlets are treated fairly, but nevertheless, conservative sites have reported reduced search traffic and, in the case of Google-owned YouTube, content creators have been banned and demonetized. Google's high-profile firing of conservative James Damore, purportedly over his conservative political views, only reinforces the idea that Google is picking winners and losers.
Fahrenheit 404. Google applies yet another method of manipulating public opinion. Google has introduced a practice nicknamed "expulsion to the 101st kilometer," referring the Soviets forcibly evicting dissenting citizens 100 kilometers or more from Moscow. That was the twentieth century. Now, in the 21st century, Google decided to manipulate the results of internet searches in an analogous way. As a result of these manipulations, Google shows links to leftist political sites at the top of the results page, and links to conservative sites are artificially moved beyond the first hundred links. Google knows that people, as a rule, scan just the first ten to twenty links. Consequently, Google creates an impression that the whole world is full of leftist ideas only. Professor Robert Epstein believes that the Google algorithm gifted Hillary Clinton in 2016 with at least 2 million votes.
96 Percent of Google Search Results for 'Trump' News Are from Liberal Media Outlets. Conservatives and Trump supporters have for the last several years questioned whether Google was deprioritizing conservative news sites, hiding them from users who utilize their search engine. Google has maintained that all outlets are treated fairly, but nevertheless, conservative sites have reported reduced search traffic and, in the case of Google-owned YouTube, content creators have been banned and demonetized. Google's high-profile firing of conservative James Damore, purportedly over his conservative political views, only reinforces the idea that Google is picking winners and losers.
The Dark, Ugly Truth About Google is Oozing Out. Though I have been an outspoken critic of Google for a long time — dating back more than 10 years — I figured out only last year that what I call the "Speech Code Cartel" of Google, YouTube, Facebook, Twitter, Amazon and Apple, along with other tech companies, represents the gravest threat to American liberty in the history of the country. Unlike weapons of mass destruction that kill us all, this is another kind of WMD — a weapon of mass delusion — one that stealthily kills our freedom and the individual spirit that made America great.
Google admits to secretly working on a search engine for China with built-in censorship features. Amid growing concerns about online censorship, Google is secretly working on a search engine product for China with built-in censorship features. Google CEO Sundar Pichai told employees on Thursday [8/16/2018] that the company is working on a censorship called Dragonfly and it is still in an "exploratory" stage, The Intercept reported. The revelation has stunned many people, including the majority of Google's 88,000 employees. Only about several hundred of them were aware of the project, the report stated. Pichai pledged to be more transparent with employees as plans are closer to being finalized, the news outlet reported.
Google CEO to Employees: 'We're Not Close to Launching Search in China'. Following complaints from employees about launching a censored search feature in China, Google CEO Sundar Pichai has assured employees that the company is "not close" to launching in China. CNN reports that during a town hall meeting on Tuesday [8/14/2018], Google CEO Sundar Pichai assured many worried employees that the company is "not close" to launching a censored search product in China. "We are not close to launching a search product in China," Pichai said, according to a source with knowledge of the conversation.
Google might be tracking your location. Here's how you can turn it off. Google may be tracking your location, even if have some location tracking turned off on your account. An investigation by the Associated Press found that simply turning off location history on an account does not completely prevent the tech giant from tracking your movements. Google accounts also have a "Web & App Activity" section which also tracks a user's location when Google apps and other services are used. That option is turned on by default and must be manually paused by the user.
Why Is Google Translate Spitting Out Sinister Religious Prophecies? Type the word "dog" into Google Translate 19 times, request that the nonsensical message be flipped from Maori into English, and out pops what appears to be a garbled religious prophecy.
A veteran Republican senator reminded Google that he's not dead. When Republican senator Orrin Hatch Googled his own name in the early hours of Tuesday morning [7/24/2018], he was in for a nasty shock. According to the search engine, he had died last September. The very-much-still-alive Hatch tweeted a screenshot this discovery to Google on Tuesday, saying: "We might need to talk."
Google retracts some big talk. As corporate mission statements go, Google's is simple enough: "Don't be evil." This isn't asking much from its employees. It's vague and meaningless, as most corporate mission statements are. It's a mantra only suitable until the going gets tough. Who applauds evil, anyway? This week Google, by far the most popular search engine and with a history of saying how devoted it is to the free flow of uncensored information, is preparing now to get in bed with the Chinese Communist Party. So much for shunning evil.
Google Declares Angela Merkel 'Leader of the Free World'. Thanks to its reliance on information from Wikipedia, the top Google search result for "leader of the free world" is not the President of the United States, with whom the term is normally associated, but crisis-engulfed German Chancellor Angela Merkel. Searches for the term currently return a picture of Merkel as the top result, and two links to the Wikipedia page on "free world." Immediately following those results is a CNN opinion piece stating that President Trump is "no longer leader of the free world."
Google plans return to China search market with censored app: sources. Alphabet Inc's Google plans to launch a version of its search engine in China that will block some websites and search terms, two sources said, in a move that could mark its return to a market it abandoned eight years ago on censorship concerns.
What Does Google Know About You: A Complete Guide. Thanks to the data the tech giant collects in order to sell ads, Google has a wealth of information on you — from what you look like to where you live and where you've traveled. The corporation may even be able to guess your favorite food. [...] Although "Google it" has officially entered the cultural lexicon, the mega-corporation is much more than a search engine. It's through its apps, internet-related services, acquired companies and more that the technology company collects data on you.
Behind Google's not-so-secret quest to reinvent its mobile OS. For many people, fuchsia is just a color that they can't quite explain. If you're a hardcore Android fan or a tech enthusiast though, you know that Fuchsia is the Google dream. It's the secret-but-not-so-secret-anymore operating system that Google is building to replace Android, Chrome and every other type of OS that Google may be using on its products. Fuchsia is the fresh start Google needs for its mobile OS. One that will propel the company into the next decade of smartphone and post-smartphone innovation. It's the OS that will make possible the development of true iPhone equivalents, whether they're Pixel- or Galaxy-branded. But Fuchsia has a big problem to overcome before battling the iPhones of the future, and that's Google itself.
Google said to be fined record $5 billion by EU over Android, report. Google will reportedly be fined around 4.3 billion euros ($5 billion) by the European Union over Android apps on Wednesday [7/18/2018], according to Bloomberg. That would set a record for antitrust penalties, according to a person familiar with the EU decision. The fine would end an EU probe into Google's contracts with smartphone manufacturers and telecoms operators.
Google is training machines to predict when a patient will die. [Scroll down] The harrowing account of the unidentified woman's death was published by Google in May in research highlighting the healthcare potential of neural networks, a form of artificial intelligence software that is particularly good at using data to automatically learn and improve. Google had created a tool that could forecast a host of patient outcomes, including how long people may stay in hospitals, their odds of readmission and chances they will soon die. What impressed medical experts most was Google's ability to sift through data previously out of reach: notes buried in PDFs or scribbled on old charts. The neural net gobbled up all this unruly information then spat out predictions. And it did so far faster and more accurately than existing techniques.
Europe Attempts to Restructure the Tech Sector by Fining Google. In a much anticipated, but not surprising decision, the European Commission just announced that Google has been fined $5 billion for abusing its market power in the Android world in order "to cement its dominant position in general internet search." Perhaps the magnitude of the fine was alarming, but the EC's action is just the latest in its fusillade against American tech companies that thrive by providing consumers the products they want. Despite the aggressive actions against Google, there is scant evidence of consumer harm. To the contrary, smartphones have become ubiquitous, and provide consumers a wide range of choices when it comes to the apps they use, including search engines.
Today I learned: Duck.com redirects to Google, much to DuckDuckGo's annoyance. Until today [7/20/2018], if you typed duck.com into your browser right now and smacked the enter key, you'd see google.com appear. Weird, huh? Particularly considering that there is a search engine known for ducks, and it's not Google at all — but rather, its privacy-first rival DuckDuckGo, which you'll find at duckduckgo.com. Only on Friday afternoon, Google decided to relent, giving DuckDuckGo a shoutout.
Google hit with record $5 billion fine. The European Union hit Google with a record $5 billion antitrust fine, accusing the company of illegally using its Android mobile operating system to cement its dominance over other online services. Margrethe Vestager, the European Commission's competition chief, said that Google's arrangements with phone manufacturers suppressed competition. "In this way, Google has used Android as a vehicle to cement the dominance of its search engine," Vestager said.
Donald Trump is the first result if you Google Image search 'idiot'. Despite Donald Trump declaring that his IQ is 'one of the highest', internet users have discovered that a picture of the US President is the first result when you Google Image search the word 'idiot'. This revelation emerged soon after a social media campaign to push the 2004 Green Day song American Idiot up the charts in the United Kingdom to reach the top spot, ahead of Trump's UK visit. Trump is currently under fire for his comments about Russia's involvement in the 2016 presidential election at the Helsinki summit with Vladimir Putin, but why is Trump the first result for 'idiot'?
Google's Gmail controversy is everything people hate about Silicon Valley. When news broke this week that Google was letting Gmail app developers scan and even read your email, we heard what's become Silicon Valley's usual excuse: This is what you signed up for. Don't like how Facebook shares your data with third-party developers? Too bad, it's right there in the privacy policy. How about how Twitter tracks your activity across websites? The company spelled that out in its data policy. (What? You didn't bother reading it?) And maybe you were upset when you learned last year that Unroll.Me was selling information taken from your email inbox. The company's CEO found that "heartbreaking," but that's how businesses make money from a free service. Privacy advocates have been pushing back against the industry's way of doing business for years.
Hacks turn Amazon Alexa, Google Home into secret eavesdroppers. Oh, goody, Amazon Alexa and/or Google Home could be hit with remote, large-scale "voice squatting" and "voice masquerading" attacks to steal sensitive user information or eavesdrop on conversations. Third-party skills are what make virtual personal assistants like Alexa so handy; by enabling skills, your interactions with Alexa can be more relevant to your life and what you like. Skills are also what the group of researchers exploited to come up with voice squatting attacks. It's doubtful that you'd even notice if you were hit with such an attack; unlike the researchers, adversaries are unlikely to have the skill tell you about the hack.
Google Started a Political Storm Because of Its Over-Reliance on Wikipedia. As VICE News reported earlier Thursday [5/31/2018], a Google search for "California Republican Party" resulted in Google listing "Nazism" as the "ideology" of the party. This happened because of Google's "Featured Snippets" tool, which pulls basic information for search terms and puts it on the front page. These are also sometimes called "Google Cards" and "knowledge panels." The information on these cards is often taken from Wikipedia entries, which is what seems to have happened here. Six days ago, someone edited the Wikipedia page for "California Republican Party" to include "Nazism," something that wasn't changed until Wednesday, Wikipedia's edit logs show. Google's artificial intelligence pulled that data, displayed it under search, and now Republicans have more ammo in their ongoing Google-is-biased crusade.
The Editor says...
Since Google algorithms are some of the most closely-guarded secrets in the world, one can only rely on anecdotal evidence of Google's behavior (and occasional leaks) to make a determination about Google's political bias. And yes, in my opinion, Google is biased.
Google to remove "secure" indicator from HTTPS pages on Chrome. As part of its push to make the web safer, Google on Thursday said it will stop marking HTTPS pages as "secure." The logic behind the move, Google explained, is that "users should expect that the web is safe by default." It will remove the green padlock and "secure" wording from the address bar beginning with Chrome 69 in September. Google previously announced that it would mark HTTP pages as "not secure" beginning with Chrome 68 in July.
Groups say Google Plus ignored flagged posts of extremist content. Google has ignored warnings about pro-ISIS content on its social media platform, Google Plus, according to users who flagged posts to the company and an expert who said he flagged the content directly to Google. Despite those actions, a trio of pro-ISIS communities were active on Google Plus on Wednesday after the company was notified of them more than nine months ago. The company removed the groups from Google Plus between Wednesday and Thursday [5/31/2018] after The Hill asked about them.
Google is struggling to hold onto black and Hispanic employees as report reveals 'dismal' improvement in hiring minorities and women. Google is struggling to retain their black and Hispanic employees, a 2018 diversity report reveals. The fifth annual diversity report also shows 'dismal' improvement in hiring minorities and women. For the first time, Google's report provided data on attrition, or how many people left the company, with rates for black and Latinx [sic] employees being the highest in 2017.
For America to survive, Google must be defeated. The radical Left — which now controls tech giants like Google and Facebook — can't win any debate (or elections) based on facts or logic, so they resort to brazen censorship to silence all opposing views in the hopes of dominating the culture by cheating. [...] In fact, it's now clear that Google, YouTube, Facebook and Twitter have all decided to ban all the speech they oppose in the hopes of achieving a kind of "cultural coup" that silences any views they oppose, including biological science facts such as the fact that there are only two genders, not an infinite number of imaginary "gender fluid" delusions.
Facebook, Amazon, Google And Twitter All Work With Left-Wing SPLC. Four of the world's biggest tech platforms have working partnerships with a left-wing nonprofit that has a track record of inaccuracies and routinely labels conservative organizations as "hate groups." Facebook, Amazon, Google and Twitter all work with or consult the Southern Poverty Law Center (SPLC) in policing their platforms for "hate speech" or "hate groups," a Daily Caller News Foundation investigation found. The SPLC is on a list of "external experts and organizations" that Facebook works with "to inform our hate speech policies," Facebook spokeswoman Ruchika Budhraja told TheDCNF in an interview.
Alphabet shareholders vote down diversity proposals. Alphabet's shareholders, including top executives, voted down several proposals on Wednesday [6/67/2018], defeating campaigns to tie pay to diversity goals and to get the Google parent to provide more data about efforts to moderate user-generated content.
Google Will Not Renew Pentagon Contract That Upset Employees. Google, hoping to head off a rebellion by employees upset that the technology they were working on could be used for lethal purposes, will not renew a contract with the Pentagon for artificial intelligence work when a current deal expires next year. Diane Greene, who is the head of the Google Cloud business that won a contract with the Pentagon's Project Maven, said during a weekly meeting with employees on Friday [6/1/2018] that the company was backing away from its A.I. work with the military, according to a person familiar with the discussion but not permitted to speak publicly about it. Google's work with the Defense Department on the Maven program, which uses artificial intelligence to interpret video images and could be used to improve the targeting of drone strikes, roiled the internet giant's work force.
Google's New Slogan: Don't Fight Evil. CBS News reported that the petition also said, "We believe that Google should not be in the business of war." In other words, to the heads of Google and thousands of its elite employees, it is immoral to aid in the defense of their country, and all war is immoral. Google and these 4,000 employees embody two terrible traits: moral idiocy and ingratitude. Moral idiocy is the ability to be brilliant in any area of life except the single most important area of life, morality. With regard to morality, such people are fools.
Google Withdraws As Host Of Democratic Fundraising Event. Google was set to rent out its D.C. headquarters to a progressive group running a fundraiser for top Senate Democrats, but canceled it Friday [6/1/2018] just days before. The group "Run For Something" cultivates up-and-coming Democrats for all levels of government. Its event, "Party For Something," was supposed to occur June 6 at a location only disclosed if tickets ($100 to $1,000) were purchased.
Google Labeled GOP Lawmaker a 'Bigot'. Google labeled Republican North Carolina state Sen. Trudy Wade as a "bigot" in its "knowledge panel" for the pro-Trump lawmaker. According to Vice News Friday, searching for Wade on Google would show users an image of the state senator with "BIGOT" in bright red letters displayed at the bottom. [...] Wade is currently in a tough reelection battle. It's likely not helpful for her campaign to have the image as one of the first things voters would see if they Google her.
Wife shot husband in head over a Google search: cops. A Florida couple's feud over a Google search quickly escalated to violence when the wife reportedly shot her husband in the head, according to police. Tony Brown, a prominent businessman, was discovered in a pool of blood Monday [5/28/2018] at his Fernandina Beach home after his 57-year-old wife, Lawanda Brown, allegedly wounded him, news station WPTV reported.
Google under fire for listing 'Nazism' as the ideology of the California Republican Party. Google came under fire on Thursday after an error in its Knowledge Panel listed "Nazism" as the ideology of the California Republican Party. The error, which was first spotted by political strategist Eric Wilson, showed "Nazism" alongside other ideologies such as "Conservatism," "Market liberalism," "Fiscal conservatism," and "Green conservatism." The error showed up in Google's Knowledge Panel, which pulls information from various sources from across the web, including Wikipedia.
Google does it again. Efforts by the companies that dominate public discourse — Google, Facebook, Twitter and YouTube — to privilege the Left at the expense of conservatives have been in the news for a while. I was one of 63 conservatives who signed a letter to social media companies including Facebook, Twitter and YouTube, calling for transparency, equal treatment, and free speech. Not that I expect it to do much good. Today [5/31/2018] Google informed anyone who searched for information on the California Republican Party that its political philosophy is "Nazism."
Google Associates California GOP With ... Nazism. On Thursday, House Majority Leader Kevin McCarthy (R-Calif.) shared a screenshot of Google listing "Nazism" as the "ideology" of the California Republican Party. "Dear Google, This is a disgrace. Stop The Bias," McCarthy tweeted. According to the screenshot, Google described the California Republican Party as "the California affiliate of the United States Republican Party. The party chairman is Jim Brulte, and is based in Burbank, California, a suburb of Los Angeles. The CRP also has a headquarters in Sacramento." So far, so good. Then, Google listed "ideology." Along with "Conservatism, Market liberalism, Fiscal conservatism, [and] Green conservatism," the search giant added, "Nazism." Yep, National Socialism, the ideology of Adolf Hitler's Nazi Party.
Google's Memorial Day doodle praises Bin Laden sympathizer, not fallen heroes. Memorial Day is the day the United States has set apart to stand in remembrance and reverence for those men and women that gave the ultimate sacrifice for our freedoms. So why would a tech giant choose to use a terrorist sympathizer for its Google doodle on such a special day? [...] Google has already earned plenty of criticism for not having Easter on its home page for the last eighteen years in addition to the rumours that its algorithms downgrade certain conservative searches.
Once Again, The Google Doodle ignores Memorial Day in favor of honoring an Osama bin Laden admirer. The infamous Google Doodle displays its far-left radical ideology by choosing to highlight a terrorist sympathizer who hates America on Memorial Day, while ignoring the millions of fallen American heroes who gave their lives so that Google could behave like the repugnant lowlifes they are.
Suppose there really were a plot to take over the world. Facebook and [six other] companies aim to bring the world aordable Internet access with a catch. The Free Basics program will let consumers access certain websites that meet the Facebook's criteria, a kind of closed garden, for cheap. [...] Ironically Big Silicon clearly stands to gain a lot from "free". First they can potentially listen to everything you post or say and understand it all on a scale that only computers can achieve. Mark Zuckerberg told US Congress that Facebook would increasingly rely on artificial intelligence to catch hate speech spread on the platform. But it can only do this by understanding speech in general. With the 10 year plan they can do it to the whole world.
Google Plus hosting scores of pro-ISIS accounts, including overt calls to violence. Scores of pro-ISIS accounts and communities have found a home on Google Plus despite being purged from other social media platforms like Twitter and Facebook, according to a review by The Hill. The Hill found dozens of pages across Google's social media platform that explicitly show Islamic State in Iraq and Syria (ISIS) propaganda, give news updates directly pulled from ISIS media, spread messages of hate towards Jews and other groups or show extremist imagery. The Google Plus accounts and communities sharing ISIS-linked content did little to hide their affiliation. Many openly professed their support of the terrorist group. In many cases, accounts featured the ISIS flag and pictures of ISIS fighters.
Google Blames Wikipedia for GOP 'Nazi' Label. Google blamed "vandalism" at Wikipedia for inaccurate search results on their platform, which claimed the California GOP promotes Nazism, however Google failed to note that they prioritize results from Wikipedia as an authoritative source of information. "We have systems in place that catch vandalism before it impacts search results, but occasionally errors get through, and that's what happened here," claimed Google in a statement. "This would have been fixed systematically once we processed the removal from Wikipedia, but when we noticed the vandalism we worked quickly to accelerate this process to remove the erroneous information."
Mass Exodus At Google As Company Contracts With Pentagon On Controversial AI Drone Program. Last month, The Free Thought Project reported that thousands of Google employees were speaking out about the company's close relationship with the Pentagon, and their involvement in the business of war. Initially, 3,100 Google employees signed a letter to Google CEO Sundar Pichai, demanding that the company cancel an ongoing contract with the Pentagon that supported a drone program called "Project Maven." As expected, Google has not backed down, and at least a dozen of the employees who signed the letter are now resigning from the company in protest.
Google drops 'don't be evil' motto. "Don't be evil." The three words that have been part of Google's motto for the last 17 years also encapsulate how much of Silicon Valley sees itself — doing what is right and just, but a bit edgier than previous stodgy titans of capitalism. However, the ubiquitous search engine has now removed "Don't be evil" from its official code of conduct. According to a Gizmodo reporter who used the Wayback machine to check time stamps, at some point between late April and early May, references to the slogan in the document were removed except for one brief mention.
Google Video Leaked, and It Is Creepy. The Google video is called The Selfish Ledger and it seems to be exploring a dystopian nightmare of humanity being controlled through data collection. [...] Though Google claimed the video, which was never supposed to be viewed outside the company, was completely hypothetical, this isn't plausible because why would a company make a video about data use that it wasn't considering trying to implement? [Video clip]
Google 'Selfish Ledger' vid reveals creepy concept to use data like 'genetic code' to program future. A recently surfaced Google video discusses a creepy concept for collecting vast quantities of user data that could span generations. The video, which was obtained by The Verge, paints an unsettling picture of how data could theoretically be harnessed on an epic scale. The Verge reports that the video was produced in 2016 by X, a research and development subsidiary of Google's parent company Alphabet. X, formerly known as Google X, describes itself as a "moonshot factory" focused on developing technologies to make the world "a radically better place."
Are Google and YouTube Blocking Searches for Red Pill Videos? A year or so ago, there were a spate of articles about the red pill videos on YouTube — millennials turning off to the bullying by feminists and race hustlers, thinking for themselves, becoming conservative, and posting a video of their personal journey from blue to red online. I googled 'red pill' and had a cheerful time following links. I learned about Candace Owens at that time, and a lot of other black and white millennials who had posted articulate, heartfelt, intimate, sometimes funny YouTubes explaining why they'd become conservative. For months afterward, when I was sick of all the bad news about millennials becoming little fascists, I would turn to the red pill videos and cheer myself up. And then I found I could no longer find them. When I went to YouTube and searched for red pill, all I got was the documentary by that name (worth seeing) available for $3.99. The most famous videos are still there. But even they are hard to find.
Google sells the future, powered by your personal data. Google CEO Sundar Pichai stood on stage at the company's yearly developer conference on Tuesday [5/8/2018] and rolled out some of its most advanced technology: an assistant that can schedule appointments for you over the phone, customized suggestions in Google Maps, and even a new feature that can help finish your sentences as you type an email. It's all underpinned by the same thing: the massive trove of data that Google is collecting on billions of people every day. Until recently, most users may have either been unaware their data was being used like this or were fine with the tradeoff.
Google's Insane Campus Is What Happens When You Politicize Everything. [Scroll down] "Such is the climate inside the tech giant, where fractious groups of employees have turned the workplace into a virtual war zone of debate over all manner of social and political beliefs," wrote the [Wall Street] Journal. "Google has long promoted a work culture that is more like a college campus — where loud debates and doctrinaire stances are commonplace — and today its parent, Alphabet Inc., is increasingly struggling to keep things under control."
Google Assistant can now control more than 5,000 smart home devices. Google Assistant is gaining ground in the smart home. The search giant said on Thursday that its artificial intelligence-infused voice assistant now works with more than 5,000 smart home devices. That's up from just 1,500 devices in January, according to Google.
Google Maps is being abused by scammers. Last month, Google announced that it would be shutting down the goo.gl URL shortening service and replacing it with Firebase Dynamic Links. But before those short links disappear, scammers continue to take full advantage of them with a little help from Google Maps. Security company Sophos discovered that scammers are using a vulnerability in Google Maps URLs. It's known as an open redirect vulnerability and allows an otherwise safe link to redirect to another page without the user's knowledge. It also bypasses all the safety checks Google performs when creating a new short URL.
Research: Google Search Manipulation Can Swing Nearly 80 Percent of Undecided Voters. By inserting negative search suggestions under the name of a candidate, search engines like Google can shift the opinions of undecided voters by up to 43.4 percent, according to new research by a team at the American Institute for Behavioral Research and Technology and reported exclusively by Breitbart News. The lead author of the study, Dr. Robert Epstein, has previously conducted research into what he calls the Search Engine Manipulation Effect (SEME). This research showed that the manipulation of results pages in search engines can shift the voting preferences of undecideds by anywhere between 20 and 80 percent, depending on the demographic.
Facebook Calls Out Google And Twitter By Name: They Take Your Private Info Too. Facebook specifically named fellow tech giants Twitter, Google and Amazon in a blog post discussing how and why it uses people's personal information — an apparent attempt to pull the ostensible competitors into the arena of cacophonous public backlash.
Video/Audio of Silencerco Maxim 9 on new Video platform GunStreamer.com. [Here] is a link to a video/audio of the Silencerco Maxim 9 from the industry day at the range at the Shot Show in 2017. The video is on a new platform GunStreamer.com, to compete with Youtube. Youtube is actively demonitzing and marginalizing gun videos and gun writers. This amounts to private censorship. It has become particularly bad since Youtube was acquired by Google. Google motto "Don't be Evil" seems particularly ironic. The insurrection is going to have to find ways to get the message out against the forces of the empire/establishment. Google is clearly one of the prime movers in the Establishment/empire.
Thousands of Google employees call for company to cancel Pentagon work. Specifically, Google's working with the Pentagon on Project Maven, a pilot program to identify objects in drone footage and to thereby better target drone strikes. Google, as in, the company whose motto is Don't Be Evil. A vocal and large group of Google employees are outraged that the company's working on what they call the "business of war."
Epstein at Masters of the Universe Town Hall: Everything that Goes Through Gmail Is Monitored by Google. At the Breitbart News "Masters of the Universe" town hall event on big tech on Thursday evening, psychologist Dr. Robert Epstein explained how Google reads everything that goes through Gmail — including deleted drafts and incoming emails from non-Google email clients. He also explained how Google has access to the email servers of multiple mainstream media outlets — but not Breitbart's!
Pulse nightclub attack survivors sue Google, Facebook, Twitter over 'material support' to ISIS. Survivors of the Pulse nightclub massacre in Orlando, Fla., perpetrated by a supporter of the Islamic State terror group, are suing Google, Facebook, and Twitter, alleging that the tech firms allowed the group to proliferate and spread propaganda. In a lawsuit filed Wednesday [4/4/2018] in Orlando's federal courthouse, 16 victims of the June 12, 2016 shooting — the second deadliest in American history — claim that the three tech giants were responsible for letting ISIS disseminate propaganda on their platforms, thus providing "material support" to the terror group, in violation of the Justice Against Sponsors of Terrorism Act (JASTA).
Will Social Media Be the Death of Us — Literally? Google used to brag "First do no harm," but they did that big time just the other day — inadvertent though it may have been. Their acquisition YouTube inspired an obvious sociopath — Nasim Naja Aghdam, 39, of San Diego — to act out wildly, killing one individual and severely wounding several others. [...] The police have said she was angry at YouTube's policies, which are, despite claims to the contrary, largely autocratic and self-interested. But that law-enforcement view is legalistic and perforce overly simple. It is only the most superficial part of the story
Company Town: Facebook, Google Creating Planned Communities in California with Homes, Bridges, Stores. Facebook and Google are both moving into the creation of real-life communities, complete with houses for employees, parks, bridges, and even stores. In Menlo Park, California, Facebook is planning a 59-acre site called Willow Village. [...] The "village" is set to feature 1,500 apartments, 225 of which will be offered "at below-market rates," while the "most likely tenants of the full-price units are Facebook employees, who already receive a five-figure bonus if they live near the office," according to the [New York] Times, who added that in a decade, Facebook "will have space for 35,000" employees, which is "slightly more than the city's current population."
The Great Social Media Purge: No One Is Safe. Social media is often abuzz with politics — from immigration and gun control to infrastructure and tariffs. Rarely is the social media itself the topic of discussion. But now is long past time for that discussion. It is certainly no secret that social media companies are overwhelmingly left-wing, fueling the fake "Russia" conspiracy theory, and endlessly bashing President Donald Trump. But now, the social media giants of the Internet — Facebook, Twitter, and YouTube (one of the main subsidiaries Alphabet, which is the corporate parent of Google) — have been preparing their next big, heinous move: an attempt to ban right-wing voices outright from their platforms.
The Great Information War is Here. A few days after the Marjory Stoneman Douglas High School shooting in Parkland, Florida, many conservative commentators began to notice they were also being targeted. They were not being "flamed" by bloggers or online trolls but instead were simply erased from social media platforms such as Facebook and YouTube by the Big Tech companies. Some of them were little known, while others were popular media figures such as Dennis Prager and Mike Cernovich. In some cases, their videos were taken down on YouTube without warning; or their Gmail accounts were terminated without explanation; or their Twitter pages were shadowbanned. Much of the censored material had nothing to do with the Parkland tragedy. It was simply a moment for the Left to flex its muscles.
Lawsuit: YouTube Stopped Hiring White And Asian Males To Improve Corporate Diversity. According to claims made in a lawsuit filed by a former recruiter for Google's YouTube video site, the company instructed staff to stop hiring white and Asian men last year in an attempt to improve corporate diversity. The Wall Street Journal reports that the freeze on hiring whites and Asians was confirmed by others familiar with the company's hiring practices.
YouTube Embroiled In Lawsuit Over Refusing To Hire White Or Asian Men. Google's adherence to its social justice creed has led it down a dark path. One where they fire employees for stating biological facts, and practice censorship based on how right-wing your ideological stances are. But according to one lawsuit, Google's hiring practices are replete with racism and sexism against white or Asian men. According to the Wall Street Journal, former Google employee Arne Wilberg claims that the company set a diversity quota in terms of hires, and was told to reject males based on their skin color.
The disturbing acceptance of Google's new 'smart' camera. The pitch for the Google Clips is it's a camera that sits off to the side in a room and automatically captures the kinds of candid shots that one never really plans for — the most common examples cited being some random happening involving one's kids or pets. Instead of mere serendipity, however, the camera uses artificial intelligence and machine learning to try and guess when to best take a shot.
Google Appears to Remove All Shopping Search Results for Guns — Even Water Guns, 'Guns and Roses,' 'Burgundy'. Google has removed search results for any product that contains the word "gun" in it, including water guns, toy guns, the band "Guns and Roses," and even "burgundy" from its shopping section. Google has removed results in its shopping tool for a wide range of terms related to firearms, unwittingly censoring completely unrelated items such as music groups and movies whose titles matched filtered terms.
Google Shopping Bans 'Gun' Searches, But Not For Machetes, Pipe Bomb Materials, Rocket Launchers. On Twitter early this morning [2/27/2018], Ryan Fitz flagged something weird: Google Shopping returns no results for any search containing the word "gun." [...] After some of my own searching, I found that Google Shopping would return results for search terms in which "gun" is a longer part of a word, such as "Gunsmoke" and "The Last Gunslinger." But absolutely nothing for any search containing "gun." Not even toy and recreational guns such as Airsoft.
Google's global warming search bias. The rumor that Google has tuned its search algorithm to work against the skeptics of climate change alarmism appears to be true. Searches on prominent skeptics systematically yield more negative attacks than positive information. This cannot be an accident. It may well be illegal, given Google's deep financial interest in alarmism. It all started when I did a Google search on myself. This is not something that I usually do, but I was dealing with some new people and I figured they might look me up, so I looked to see what they would see. What I found was startlingly negative.
Google's global warming search bias — Part 2. In my previous article I found that Google search results for prominent skeptics of climate change alarmism included a lot of negative material. Four or five negative items out of ten or twelve on the first page of results were typical. This raises the question of whether Google's search algorithm is tuned to find and present negative items on skeptics. Another possibility is that these search results merely reflect the fact that there is a lot of negative material on both sides. The climate change debate is indeed acrimonious and feelings run high. To test this alternative I did Google searches on a number of prominent alarmists. What I found was that there were very few negative items, in fact in most cases there were none at all. This clearly suggests that Google's search algorithm likes climate alarmists and dislikes climate skeptics, which has been rumored for some time.
Google Wants To Get Date Timestamps Accurate In Search Results. Last night, when people were searching about the horrible news in Florida, some noticed that some of the recent articles covering the news were labeled by Google has being written days before the event. Obviously, something that happened hours ago, written potentially minutes ago, should not be labeled in the Google search results as being written 2 or 3 days ago. Danny Sullivan at Google was doing some damage control for Google explaining that sometimes getting the date right, can be hard. One because sometimes the publisher themselves labels their dates incorrectly and sometimes because of timezone issues. Either way, it really should be something Google does get right.
Google turns on default adblocker within Chrome. Users of latest Chrome browser on Windows, Mac OS, Linux and Android will have some of most intrusive types of ads blocked automatically[.]
Scam hijacks Google Chrome browser, tries to get your personal data. Scams that hijack the world's most popular browser, Google Chrome, are making the rounds again. It starts with a fake error message. For computer users, this is a vexing problem because the underlying malicious code locks up the browser. "The bug that it triggers is more than just an annoyance in the sense that it will render your Chrome browser unresponsive," Jerome Segura, Lead Intelligence Analyst at Malwarebytes, told Fox News. "In our tests, it also caused the operating system (Windows) to become unstable if we let it run for a certain amount of time," Segura said, adding that Google is looking into the issue.
Tucker Reveals How Google Spies On You Constantly Through Your Phone. Fox News' Tucker Carlson revealed another exclusive report on Google's surveillance Wednesday [2/7/2018], and the new details are seriously creepy. In the investigation, Fox News' Brett Larson travels around Washington, D.C., with two cellphones in his pocket, one of them on airplane mode. Neither of the phones have SIM cards or Wifi connections. The phones tracked Larson's locations as he traveled, getting such information as when he got out of the car thanks to a time log that records your movements down to the second.
The Urgent Case for Legislation against Facebook and Google. Having been one of the early targets of social media censorship on Facebook, YouTube et al, I have advocated for anti-trust action against these bullying behemoths. It is good to see establishment outlets such as the Wall Street Journal and National Review coming to the same conclusion, or at least asking the same questions. Just this week, Facebook launched its latest of many attacks on my news site, the Geller Report. It labeled my site as "spam" and removed every Geller Report post — thousands upon thousands of them, going back years — from Facebook. It also blocked any Facebook member from sharing links to the Geller Report. The ramping up of the shutting-down of sites like mine is neither random nor personal. The timing is telling. The left is gearing up for the 2018 midterm elections, and they mean to shut down whatever outlet or voice that helped elect President Trump, the greatest upset in left-wing history. In fighting this shutdown, we had to go back to the drawing board in our lawsuit against these social media giants.
Google employees say the company's not doing enough to protect them from harassment, threats. The firing of Google engineer James Damore for suggesting men are more suited to technical roles than women has triggered a culture war inside the Internet giant, with some Google employees saying the company is not doing enough to protect them from a harassment campaign that has subjected them to hateful comments and violent threats. These employees, many of whom volunteer as diversity advocates, say they've been targeted by some of their own coworkers for fighting to bring greater diversity to Google's 78,000-plus staff of mostly white and Asian men.
Elitist hypocrite George Soros makes a fool of himself in Davos. Liberal billionaire George Soros grabbed headlines at the World Economic Forum in Davos, Switzerland on Thursday by attacking internet giants Google and Facebook. Conveniently ignoring his own investment in these companies, Soros branded them a "menace to society." "They deliberately engineer addiction to the services they provide," Soros said.
Watch: Google Home Devices Are Programmed To Recognize Muhammed and Buddha, But Not Jesus. Jillian Blackwell videotaped a little experiment with her Google home device and shared the results with her friends on Facebook. Her video went viral, and here's why... [Video clip]
Google Home Assistant Refuses to Define Jesus Christ, but No Problem with Muhammad, Buddha. Google's Home A.I. assistant refused to define Jesus Christ in an experiment recorded by television producer David Sams, but happily defined Muhammad and Buddha. When asked who Jesus Christ is, the Google Home replied, "Sorry, I'm not sure how to help" or "My apologies I don't understand." Sams posted a Facebook video of the test on Wednesday [1/24/2018].
Google Must Be Destroyed. Companies like Google, Facebook and Amazon are amassing hundreds of billions of dollars in profit by brokering information and distorting reality. These modern companies are just as threatening to our freedom as Hannibal's elephants were to the Romans'. Unless we recognize the existential threat we face and act soon our freedom will be lost forever.
Employee Lawsuit Reveals Google as Intolerant Race Cult. Congratulations on finding this article if you used Google. A civil rights lawsuit filed this week revealed its search engine blacklists authors and ideas distasteful to the company. Google engineer James Damore's class action complaint describes a creepy cult-like orthodoxy at Google, where dissent is smashed, and the color of your skin is far more important than the content of your character. Reading the complaint is a deep dive into wicked, racial groupthink, and a frightening reminder that it really can happen here. At Google, it does. I met James Damore at a conference last November after he received an award for speaking out against Google's race obsession and cultish orthodoxy. The poor fellow seemed bewildered, still stuck in those good old-fashioned American notions of free speech, tolerance, and color-blindness toward other people. Damore didn't seem to understand the Left has big plans for America. His experience at Google should make clear to every American that this gang is playing for keeps.
The Trillion-dollar Chameleon. Twenty years ago, no one had heard of either Facebook or Google, neither of which existed yet. For that matter, no one knew much about social media or search engines in general. Cellphones were still simply mobile, small and expensive telephones. There was no concept of a phone as a handheld computer. Today, five companies — Amazon, Apple, Facebook, Microsoft and Alphabet (Google's parent company) — have a collective worth of more than $3 trillion. Yet such transnational companies remain mostly exempt from the sort of regulations and accountability faced by most other industries.
Google's Leftward Lurch: A Sign of Things to Come? [Scroll down] What happened? I think the answer is that the text in the "knowledge graph," as Google apparently calls it, comes from the Wikipedia page on the subject of the search. Wikipedia entries can be edited by various people authorized to do so, most of whom are on the left. I suppose some lefty Wikipedian inserted the "lying, unscrupulous politician" in Perdue's Wikipedia entry and it was picked up, perhaps by a mechanical process without human intervention, on Google's search page. If that is the case, the Wikipedia entry has now been scrubbed; likewise the Google search page, which now looks like this: [...]
Facebook, Google tell Congress they're fighting extremist content with counterpropaganda. Facebook, Google and Twitter told Congress Wednesday that they've gone beyond screening and removing extremist content and are creating more anti-terror propaganda to pre-empt violent messages at the source. Representatives from the three companies told the Senate Committee on Commerce, Science and Transportation that they are, among other things, targeting people likely to be swayed by extremist messages and pushing content aimed at countering that message. Several senators criticized their past efforts as not going far enough. "We believe that a key part of combating extremism is preventing recruitment by disrupting the underlying ideologies that drive people to commit acts of violence. That's why we support a variety of counterspeech efforts," said Monika Bickert, Facebook's head of global policy management, according to an advance copy of her testimony obtained by CNBC.
Google reaches a whole new depth of EVIL by keeping "black lists" of white, conservative employees to deny promotions. Evidence that the world's largest social media and media conglomerates and platforms are completely biased against conservatives and Trump supporters continues to grow by the day, with Google now being outed as the latest abuser. As reported by The Daily Caller, former Google engineer James Damore and other right-leaning Google workers have filed a class action lawsuit against their employer alleging a climate of censorship and discrimination against them. The suit claims that Google managers discuss openly the existence of blacklists "meant to encourage and coordinate the sabotage of promotions, performance reviews, and employment opportunities for those with conservative viewpoints."
'Don't Be Evil'? Google Is Becoming A Police State. Google's internal culture has been laid bare by James Damore's lawsuit alleging employment discrimination. The picture we get is a corporate culture of lockstep ideological uniformity, enforced by censorship, badgering, and blacklisting. Damore furnishes one note from a Google manager in 2015, addressed to "hostile voices." [...] Another manager proposed creating a "public-within-Google" document that "calls out those googlers who have made public statements that are unsupportive of diversity." Other admit to maintaining their own blacklists based on "opinion[s] about religion, about politics, or about 'social justice.'" While conservatives were regarded as "bad apples" to be excluded, other Googlers were recruiting or advocating for violent leftist "antifa" groups, with no apparent consequences.
Silicon Valley Will Pay the Price for Its Lefty Leanings. James Damore is gone from Google. But he will not soon be forgotten. He's joined with a conservative lawyer to bring a class action against the company, accusing it of discriminating against conservatives, Caucasians and men. The lawsuit, just filed in a California court, certainly offers evidence that things were uncomfortable for conservatives at Google. And especially, that they were uncomfortable for James Damore after he wrote a memo suggesting that before Google went all-out trying to achieve gender parity in its teams, it needed to be open to the possibility that the reason there were fewer women at the firm is that fewer women were interested in coding.
Internal emails reveal Google's toxic culture. Employees at Google used internal company message boards to advocate political violence, recruit for a hard-line left-wing activist group and even propose public "trials" for ideological opponents, documents filed in court suggest. The nearly 100 pages of internal emails and message board postings are contained in a class-action lawsuit filed by former employee James Damore in California on Monday [1/8/2018], accusing Google of discriminating against white people, men and conservatives. Mr Damore was the author of a controversial internal memo criticising the tech giant's "politically correct" diversity policies. He was sacked last year for "perpetuating gender stereotypes" after the memo was leaked to the media and went viral. Screenshots of messages attached to the complaint show Google employees attacking conservatives and white people, advocating political violence and even sharing "how-to" guides to join Antifa, a violent left-wing anarchist group reportedly classified as "domestic terrorists" by US Homeland Security.
How Conservatives Are Being Destroyed by Facebook, Twitter and Google Without Even Realizing It. So, why would Facebook want to kill extremely successful Facebook pages that its users enjoyed? One of the reasons goes back to something I told multiple reporters during the 2016 election. I believe that all of the thriving right wing Facebook pages activated large numbers of what I like to think of as "instinctive conservatives." You know, the sort of people who love God, guns and America, but who don't follow politics day to day, read National Review or consume any of Milton Friedman's books. From what I could see on Facebook, that group of people [loved] Donald Trump and I believe they were responsible for getting him the GOP nomination and probably even got him over the hump in states like Michigan, Pennsylvania and Wisconsin. I think the liberals that run Facebook came to that same conclusion.
Google "Fact Checks" the Right. [Scroll down] There is no doubt that Google is a liberal organization that ruthlessly enforces leftism, where it can. Liberal companies that largely control the internet, like Google and Facebook, are obviously gearing up to meddle in the 2018 and 2020 election cycles on behalf of the Democratic Party. They are doing this by using "fake news" hysteria — even though that term has been almost entirely co-opted by President Trump — as an excuse to steer people away from conservative web sites, and toward liberal ones. I suspect we will revisit this topic more than once between now and November.
Google's New 'Fact-Checker' Is Partisan Garbage. In the midst of the "fake news" hysteria last year, Google launched a project to help curate reliable information for its readers by identifying articles and sites that need fact-checking. And this may come as a surprise to some of you, but it looks like the tech giant's truth project is imbued with a tiny bit of ideological and political bias. Eric Lieberman at The Daily Caller recently found that the fact checks displayed in Google's search engine results are targeted almost exclusively at conservative publications. You can test it out yourself.
Google Search Results Now Feature Propaganda Undermining Conservative News Sources. Instead of a "Reviewed Claims" section, liberal establishment sites well known for imparting a heavy spin on the news like the New York Times and the Washington Post get a special column showcasing awards they have been bestowed, presumably by their fellow progressives. The supposed fact checking is a form of propaganda, sometimes disputing claims that had not even been made. It is carried out by partisan entities like WaPo, PolitiFact, Snopes, and Climate Feedback.
Google Fired Conservative For Questioning Muslim's Anti-Trump Rant. The James Damore lawsuit describes the horrifying and insane conditions at Google in great detail. To no one's great surprise, Google is run by lefties like a radical campus. The lawsuit comprises over 160 pages. But the other individual suing Google, David Gudeman also has an interesting story. [...] Notably, the lawsuit contains multiple examples of employees making racist comments, regarding white people, and even issuing death threats, with Google HR giving them a pass.
Google caught in the censorship cookie jar again? The Daily Caller reports that Google has taken to throwing shade almost exclusively on conservative websites through its search engine mechanism, using a sort of "fact-checking" system to discredit certain news-providers so no one will want to click on them. Kind of an odd thing for a search engine company to do, given that its business is built around gaining clicks. But it's not the first time the Silicon Valley giant has been accused of disguised censorship against conservative news outlets under the guise of the war on fake news.
Google's New Fact-Check Feature Almost Exclusively Targets Conservative Sites. Google, the most powerful search engine in the world, is now displaying fact checks for conservative publications in its results. No prominent liberal site receives the same treatment. And not only is Google's fact-checking highly partisan — perhaps reflecting the sentiments of its leaders — it is also blatantly wrong, asserting sites made "claims" they demonstrably never made. When searching for a media outlet that leans right, like The Daily Caller (TheDC), Google gives users details on the sidebar, including what topics the site typically writes about, as well as a section titled "Reviewed Claims." Vox, and other left-wing outlets and blogs like Gizmodo, are not given the same fact-check treatment.
James Damore sues Google, claims tech giant discriminates against white conservative men. James Damore, the onetime Google employee who was fired after he wrote a memo criticizing the firm for pushing diversity, has filed a class action lawsuit against the tech giant. The suit was filed Monday [1/8/2017] in Santa Clara Superior Court. Damore is joined in the lawsuit by another former Google engineer, David Gudeman. "Damore, Gudeman, and other class members were ostracized, belittled, and punished for their heterodox political views, and for the added sin of their birth circumstances of being Caucasians and/or males," the lawsuit alleged.
Google Home Is Leaving Elderly and Disabled Users Behind. You cannot install or routinely maintain Google Home units without a smartphone and the Google Home smartphone app. There are no practical desktop based and/or remotely accessible means for someone to even do this for you. A smartphone on the same local Wi-Fi network as the device is always required for these purposes. This means that many elderly persons and individuals with physical or visual disabilities — exactly the people whose lives could be greatly enhanced by Home's advanced voice query, response, and control capabilities — are up the creek unless they have someone available in their physical presence to set up the device and make any ongoing configuration changes.
Google bigwig Eric Schmidt shocks with surprise resignation amid reports his personal life is being eyed. In a surprise move, former Google CEO Eric Schmidt is stepping down as executive chairman of the search giant's parent company Alphabet amid reports his personal life is being scrutinized. One of the highest profile figures in Silicon Valley, Schmidt attracts plenty of media attention. Citing unnamed current and former employees, The Wall Street Journal reports that the executive's personal life has been the subject of interest within Alphabet.
Google Is Using Its Immense Power To Censor Content That Doesn't Fit Its Political Goals. The Daily Caller released a funny video Tuesday of FCC Chairman Ajit Pai defending the commission's upcoming net neutrality rollback. Through Wednesday and Thursday, liberals and others who dislike Pai's political position lost their minds. And by Friday morning [12/15/2017], Google, one of the most powerful companies on the planet, had censored the video based on a bogus claim from a politically motivated man. It took seven crucial hours and the full force of our news site to push Google and YouTube to reverse this political censorship. We were able to prevail because of the sizable contacts and resources of TheDC. An average citizen showcasing a political viewpoint Google and the left disagreed with would almost certainly have had a far more difficult — and fruitless — time fighting back.
YouTube assigns 10,000 employees to censor videos. Google will assign 10,000 staff members to eliminate what the company regards as extremist content on YouTube next year. YouTube CEO Susan Wojcicki wrote at Britain's Daily Telegraph that some YouTube users were exploiting YouTube to "mislead, manipulate, harass or even harm." Google owns YouTube. She wrote that YouTube is using "computer-learning" technology to find extremist videos. Since June, more than 150,000 of these videos have been removed, she said.
More Proof: How Google Skews Autocomplete to Protect Democrats. Google's "Autocomplete" function has operated since 2008 to assist users in searching for the right phrases. How does it work? [...] Well, it's based on actual searches, so long as they don't negatively impact Democrats.
Regulators question Google over location data. Google is facing scrutiny for reportedly collecting data about the location of smartphone users without their knowledge. Regulators in South Korea summoned Google representatives this week to question them about a report that claimed the company was collecting data from Android devices even when location services were disabled.
Google Can No Longer Be Trusted With Private Data. The facts are as follows: In the past week, multiple journalists — ironically, not conservatives — reported that they'd gotten locked out of projects they were working on using Google Drive, Google's cloud storage service. Mark DiStefano of Buzzfeed UK reported the news, and later reported on Google's "apology" for it, via Twitter. Google explained, "This morning, we made a code that incorrectly flagged a small percentage of Google Docs as abusive, which caused those documents to be automatically blocked. A fix is in place and all users should have access to their docs." Now, there are numerous things wrong with this statement, so let's go through them one by one. First of all, and this is a general point, which just happens to be illustrated beautifully by this latest debacle: Google needs to stop treating its users like lab rats for its machine learning.
Islamic terror is not a law enforcement puzzle, it's a war. Google announced earlier this year that it can track your online browsing and your movements in the real world by combining credit card data with data from your smartphone and services like Google Maps. But when the authorities ask tech firms to help in the fight against terror, suddenly they're all about privacy.
Google Ditched Autopilot Driving Feature After Test User Napped Behind Wheel. Alphabet Inc's self-driving car unit stopped developing features that required drivers to take control in dangerous situations, its chief executive said Monday [10/30/2017], as autopilot reliance left users prone to distractions and ill-prepared to maneuver. The decision followed experiments of the technology in Silicon Valley that showed test users napping, putting on makeup and fiddling with their phones as the vehicles traveled up to 56 mph.
Google Messes Up Yet Another Epidemic. America's tech companies have a problem: Their leaders fancy themselves visionary, untouchable geniuses who can remake the world into the stuff of utopian fantasy through the power of algorithms, software, and technology, and are surrounded by sycophants willing to offer them endless theoretical proof of this fatal conceit. In practice, however, this conceit actually can become fatal. The truth is, tech's robber barons know precious little about the world beyond their lines of code, and rely on the insular priests of political correctness in media and academia to keep them informed.
Google Preaches 'Net Neutrality,' Then Censors Conservative Videos? YouTube promises that it is "a community where everyone's voice can be heard." But that promise doesn't seem to apply if the voice espouses conservative viewpoints. The latest evidence of this comes from Dennis Prager, a conservative talk-show host whose syndicated column appears regularly in IBD and who also runs Prager University. PragerU produces hundreds of educational videos from academics and other experts on various topics, ranging from the history of the Korean War to Israel's founding. There's no profanity, no nudity, no calls to violence. But the videos do give conservatives a voice.
Got Political Questions? Google Will Guide You More Left than Right. Google's search engine is more powerful in shaping politics than the tech company claims. Researchers found that the algorithm used by the leading search site in the world heavily favors Democratic candidates and the programming of the algorithm is a trade-secret. Robert Epstein and Robert E. Robertson, a researcher at the American Institute for Behavioral Research and a professor at Northeastern University respectively, conducted an experiment in the months before the 2016 election. What they found was "stunning," according to The Washington Times: "Google searches returned twice as many pro-Hillary Clinton news articles as Yahoo searches."
Google built a new Trojan Horse to get inside every aspect of your life. Google hinted at why it's putting so much effort into hardware at its press event earlier this month when it introduced the new Pixels and showed off its other upcoming products. The underlying theme of that event was Google Assistant, the company's voice-assistant technology that competes with Amazon's Alexa and Apple's Siri.
Google Secretly Recorded A User And Uploaded Audio Files To Its Servers. Google, in an attempt to compete with Amazon's Alexa/Dot and Apple's Siri, developed a voice assistant speaker that was scheduled to go on sale yesterday. They sent test units around to reporters before the speakers hit shelves. One of those reporters discovered that the $50 mini speaker was surreptitiously turning itself on, recording him, and then uploading audio files to Google servers without his knowledge or consent.
Google ignorantly exploits Selena as an emblem for illegals. Selena was far more American than she is given credit for by Google. Her first language was English, and she didn't even learn Spanish (probably incompletely at that) until she began singing and generating hits in Spanish, her music first catching on to fans in Mexico. So it was Selena transcending boundaries, all right — by bringing her American Tex-Mex or Tejano sound south of the border.
Google uncovers Russian-bought ads on YouTube, Gmail and other platforms. Google for the first time has uncovered evidence that Russian operatives exploited the company's platforms in an attempt to interfere in the 2016 election, according to people familiar with the company's investigation. The Silicon Valley giant has found that tens of thousands of dollars were spent on ads by Russian agents who aimed to spread disinformation across Google's many products, which include YouTube, as well as advertising associated with Google search, Gmail, and the company's DoubleClick ad network, the people said, speaking on condition of anonymity to discuss matters that have not been made public. Google runs the world's largest online advertising business, and YouTube is the world's largest online video site.
Google Domains Go Live in India — The Best Place to Buy Domain Names. Google Domains, if you are new, is a domain registration service where you can buy new domain names or transfer your existing domains from another registrar into the Google service. There's no official announcement yet but Google Domains are now available in India without you having to use any hacks or proxy servers.
6 Dangerous Electronics & Apps Secretly Spying On You In Your Home. [#3] Google: When it comes to spying, the least said about Google, the better. The Internet search engine is secretly recording everything you do; it records your voice, texts and videos you send. You could literally read all of the texts you sent years ago, and even listen to the conversations you've had. The company also tracks every move you make on a daily basis.
Revisiting Orwell to Understand Our Times. Just two or three generations ago, most Americans understood that George Orwell's classics Animal Farm and 1984 were written to explain how freedom is lost to totalitarianism and the intolerance that accompanies it. "Big Brother," a term still casually used to describe an all-knowing governing authority, comes right out of 1984. In the society that Orwell describes, everyone was reminded that "Big Brother is watching you," by way of a constant surveillance through the pervasive use of "telescreens" by the ruling class. [...] Orwell's Big Brother has become a reality in the NSA's tracking and recording of all email, text, and telephone communication in the United States. But Big Brother has a new dimension with social media and consumer giants, Google, Facebook, and Amazon knowing almost everything about people's preferences through their artificial intelligence peering into people's "telescreen" computers and smartphones.
Is Google attempting to cover up an inconvenient hurricane truth? Is Google, a propaganda apparat of the Democratic Party, not about to buck the party commandment that white males are evil personified? Perhaps they simply can't allow that to happen, so once again, the truth and reality of America and its good people smack Democrats square in the face, and it looks like they're doing their best to exercise their control over the media to suppress it.
The Ominous, Growing Power of Google. Google, which was founded in 1996 by Stanford researchers Sergey Brin and Larry Page, was originally based on the novel premise of using "page ranking" technology to order results based on relevance versus mere repetition, allowing the search of the world's Internet data to take place in revolutionary new ways. Using linked, dedicated multiprocessor computer clusters, such searches could be conducted with lightning speed and versatility. Very rapidly, the company overtook all of its competitors in the search engine field — AltaVista, Excite, Yahoo, Infoseek and others — and today, most of these other players are corporate corpses, having been bankrupted or bought out in the wake of the Internet boom of the late 1990s. While some people in the business world might think that having one company that's a monopoly in the search engine field makes it much easier in terms of producing results that can direct customers, the control that monopoly power has given Google is enormous.
Confirmed: Google Systematically Suppresses Conservative Thought on Internet. Anyone running a site like this one can give you anecdotal evidence. Now we have mathematical evidence. Google — Number One Gateway to the Internet — is using its alarming power to suppress traffic to conservative websites.
Google's search bias against conservative news sites has been quantified. The percentage of domain traffic, referred by Google Search, net of brand searches (PGSTN), tends to be in or around the range 25%-30% for a broad class of web domains. This hypothesis is tested by calculating the correlation between the popularity of news/opinions websites and their PGSTN, and finding it to be near zero. Thus, PGSTN can be used rigorously to detect and even quantify Google Search intentional bias. Intentional bias is the bias that has been introduced by internal Google decisions, and unrelated to external factors, such as the dominance of particular viewpoints on the web. Here, the PGSTN method is applied for intentional bias detection about climate debate and in general political discourse. Google Search is found to be extremely biased in favor of climate alarmism and against climate realism.
Intentional Google Search Bias Paper Published. My new research paper A Method of Google Search Bias Quantification and Its Applications in Climate Debate and General Political Discourse is published in WUWT. Most people observe that Google search results on political topics are left leaning. But it was hard to determine whether such leaning was a simple reflection of the left/liberal cultural dominance on the web, or Google search team intentionally (or "artificially") biased rankings. This paper demonstrates and even quantifies such intentional or artificial bias.
Google Doubles Down on Purging Conservative Speech. Google announced that their monopolistic search engine that controls 87 percent of page views will use its machine learning tool set to assist liberal groups in doubling down on purging conservative speech they consider hate. TechCrunch blog reported that Google has partnered with ProPublica coalition and Pitch Interactive to create a data visualization tools that leverage the Google Cloud Natural Language API analytic algorithm to extract geographic and contextual information to provide journalists with a 50-state 'Hate News Index.'
How Google is secretly recording You through your mobile phone. Did you know that Google has been recording you without your knowledge? The technology giant has effectively turned millions of its users' smartphones into listening devices that can capture intimate conversations — even when they aren't in the room.
'Get Tough or Shut Up': The Malicious Spirit Loose in the Land. Our political culture is losing any sense of proportion. Political rage is transcending basic human decency, any semblance of tolerance, and even faith itself. It's a general truth in politics and culture that a nation is defined by those who care the most, and increasingly, those who care the most have lost their moorings. There is a malicious spirit loose in the land. We've certainly seen it on the left. Google's recent decision to fire an employee for wrongthink is all too indicative of a progressive political culture that's not content merely to disagree with dissenters. People in error have to be called out, investigated, shamed, and punished. The deeper you move into the ideological cocoon, the less tolerance there is for debate.
Is Google Working with Liberal Groups Snuff Out Conservative Websites? Google revealed in a blog post that it is now using machine learning to document "hate crimes and events" in America. They've partnered with liberal groups like ProPublica, BuzzFeed News, and the Southern Poverty Law Center (SPLC) to make information about "hate events" easily accessible to journalists. And now, there are troubling signs that this tool could be used to ferret out writers and websites that run afoul of the progressive orthodoxy.
The Trump NLRB Will Smash the Google Guy. Curiously enough, nearly every person's opinion about the correct application of underlying speech principles in this case can be predicted by their substantive political orientation rather than their views on liberalism per se. The same of course was true in the Kaepernick case before this one, or the Duck Dynasty case before that, or the Dixie Chicks case before that. If you were inclined towards cynicism, you might even conclude that nobody actually cares at all about abstract procedural liberalism, that society is simply an unending power game, and that nobody is actually motivated by the arguments they write for publication. Thankfully, we don't even have to consider any of that here because this post is not about that. It is about the Google Guy's chances at the NLRB, a topic I have been urged to write about by multiple people.
Stardock CEO Alleges Google Employee Tampered With Search Results. Google has been hard hit with negative publicity following the release of the leaked "Internal Echo Chamber" memo this past week. Amid conversations about the tech giant's internal practices, a prominent software developer alleges that a Google employee tampered with his search results.
Google Women. Why aren't there more women criminals?! Men in jail outnumber women by a ratio of 14-to-1. We male stutterers outnumber women, too. This isn't fair! We need more affirmative action! These disparities must be caused by sex discrimination because everyone knows there are no real differences between genders. After all, Google fired engineer James Damore for daring to suggest that there is a biological reason men dominate tech leadership. Google's CEO said: "To suggest a group of our colleagues have traits that make them less biologically suited to that work is offensive." Then the media lied about what Damore wrote.
Is There A Way Out Of Google's Diversity-Memo Crisis? In the course of 30-plus years in crisis management, I have come to define a "crisis" as an organization's perceived failure to live up to its own values — or those generally accepted in its field: such as a pastor caught in sin, or a financial institution like Wells Fargo — which claims to "value what's right for our customers in everything we do" — setting up fake accounts and unauthorized insurance policies. Diversity is both the value that Google cited in firing Damore, and one shoal it foundered on. Whether the company's definition of diversity is right or wrong, it is at wide variance with how the term is viewed by much of America.
The Media Lied About The Leaked Google Memo. If all you do is get your news from the establishment media, you'd be under the impression that former Google engineer James Damore is a dangerous bigot who hates women and minorities. As reports of the so-called "anti-diversity" leaked memo from Google surfaced on the Internet, journalists exposed their preconceptions and bias with misleading headlines and equally biased stories.
Conservatives Must Regulate Google And All of Silicon Valley Into Submission. Google's fascist witch-burning of an honest engineer for refusing to bow down at the altar of politically correct lies was the final straw, an unequivocal warning to conservatives that there's a new set of rules, and that we need to play by them. First they came for the tech geeks; we're next.
Rebels Of Google: 'Constant Abuse, Sneers, Insults and Smears ... Sometimes You Get Punched'. As part of our "Rebels of Google" series, Breitbart News is anonymously interviewing current and former Google employees who are speaking out against partisan bias and discrimination at the company. This is a full transcript of our interview with a former Google engineer (alias "Emmett"). [...]
The reason Google is useless for conservative searches. Following the firing this week of a valued employee for the thoughtcrime of questioning gender quotas, Breitbart is running a series called "Rebels of Google." Whistleblower employees are exposing the purposeful censorship by Google — not only of free thought within the company, but on the internet. Political intimidation within the company is a daily barrage of SJW postings mixed in with company business, so they cannot be deleted or ignored. Those who answer back are threatened, sent to H.R. for indoctrination and thought-policing, fired, and also blacklisted. Here is what it is like to work at Google: [...]
Why I Was Fired by Google. I was fired by Google this past Monday [8/7/2017] for a document that I wrote and circulated internally raising questions about cultural taboos and how they cloud our thinking about gender diversity at the company and in the wider tech sector. [...] My 10-page document set out what I considered a reasoned, well-researched, good-faith argument, but as I wrote, the viewpoint I was putting forward is generally suppressed at Google because of the company's "ideological echo chamber." My firing neatly confirms that point. How did Google, the company that hires the smartest people in the world, become so ideologically driven and intolerant of scientific debate and reasoned argument?
Damore: I was fired because of 'ideological echo chamber' at Google. This is a case that should be studied by social scientists. The gap in understanding between what Damore wrote and how the left chose to interpret it is astonishing. I don't think there's any doubt that few on the left bothered to read the entire ten-page Damore memo. And if they did, they saw what they wanted to see, picking and choosing the parts that transgressed against the overpowering groupthink present in Google corporate culture. This selective interpretation allows that dominant ideology to flourish and smack down dissenters without having to address the valid points made.
Of Memos and Pitchforks. James Damore had to be fired. There was no way around it. He spoke out, eloquently, against orthodoxy and if history is any guide, he'll be lucky to escape with merely a loss of employment. I'm less disconsolate about his ouster — as that was a foregone conclusion — as I am troubled by the cultural tempest surrounding it and what it portends for the future of substantive discussion of the important issues that affect all our lives. From the moment the internal memo leaked it was obvious that the "anonymous Google employee" would be unmasked and fired. There was no way an internal Google memo could stay anonymous — we all knew that. The question became: for how long?
The Snowflakes of Google. [Scroll down] Those opinions, of course, are pretty much those that got Larry Summers in trouble at Harvard back in 2005 — that there were biological reasons that women, in general, did not excel at science as often as men. It's important to underscore that Damore, like Summers, made it very clear these were generalizations with many exceptions. In fact, in Damore's case he offered several good-hearted suggestions for how to overcome this that were, obviously, ignored by Google and its PC-at-all-costs CEO.
Google Cancels Diversity Town Hall Due to Leak Fears. Google has canceled their diversity-focused town hall meeting this week due to fear that details of the meeting may be leaked online. Shortly after the firing of Google engineer James Damore and subsequent Breitbart News exclusive Rebels of Google interview series with a number of Google insiders, Google has canceled their town hall meeting this week. Business Insider reports that Google CEO Sundar Pichai allegedly called off the town hall meeting just two hours before it was set to go ahead, citing fears that employees could be "outed" online.
As a Woman in Tech, I Realized: These Are Not My People. [Scroll down] Thinking back to those women I knew in IT, I can't imagine any of them would have spent a weekend building a fiber-channel network in her basement. I'm not saying such women don't exist; I know they do. I'm just saying that if they exist in equal numbers to the men, it's odd that I met so very many men like that, and not even one woman like that, in a job where all the women around me were obviously pretty comfortable with computers. We can't blame it on residual sexism that prevented women from ever getting into the field; the number of women working with computers has actually gone down over time. And I find it hard to blame it on current sexism.
The Google Gulag. James Damore is an FIDE chess master who studied at Princeton, MIT and Harvard. He had been working as a software engineer at Google for four years. [...] Damore was fired for "advancing harmful gender stereotypes". What were these stereotypes? That the gender gap in coding could be explained because women are more interested in people and men are more interested in things. Women were more cooperative and he suggested and that the gender gap could be reduced by making "software engineering more people-oriented with pair programming." Google could have disagreed with him. And left it at that. Instead it was, "Off with his head."
Google's 'tolerance' requires repression. In your own life, you may have observed that few occupational categories — certainly not that of Google engineers — have such gender and ethnic percentages. You probably guessed that this results in part from people with different characteristics tending to have different interests, talents, and goals. But you're not allowed to say that out loud, as Google engineer James Damore did last month in an internally circulated ten-page memorandum entitled Google's Ideological Echo Chamber. He cited the conclusions of neuroscientists and psychologists that measurable differences between male and female brain structure result in different behavior and preferences.
Leaked Internal Messages Reveal Co-Worker Support For Fired Google Engineer's Controversial Memo. James Damore, now a former Google employee, caused outrage when he circulated a manifesto on Friday [8/4/2017], complaining about Google's "ideological echo chamber" alleging women have lower tolerance for stress and that conservatives are more conscientious. The chess master, who studied at Harvard, Princeton and MIT and worked at Google's Mountain View HQ, was fired on Monday after the search giant's chief executive, Sundar Pichai, said portions of Damore's 10-page memo "violate our code of conduct and cross the line by advancing harmful gender stereotypes" despite saying in the same memo that Google employees shouldn't be afraid of speaking their minds. But, according to screenshots obtained by Wired, internal discussions that followed Damore's memo and its fallout show Google employees both embracing and advancing its views.
#Googlegate: The Latest Social Justice Outrage in Tech. A new martyr for free speech has been born, and his name is James Damore. Damore's offense is that recently he authored an internal memo at his workplace — Google — that appears, more or less, to have triggered the entire staff. His argument, essentially, is there might be more to "gender gaps" than pure sexist oppression, and he thinks it might be worthwhile to treat differences of opinion as a form of diversity worth protecting. The horror!
Did Google Just Choke On Its Woke? A 10-page weekend memo by a former Google engineer called for a rethinking of the company's "extreme and authoritarian" culture of "diversity and inclusion." His reward? He was fired, of course, proving his point. If you need any further proof that what software engineer James Damore said was true it was in the immediate reaction on Monday by Google to his screed. Damore said he had been fired for "perpetuating gender stereotypes." In making a plea for being treated as an individual, Damore wasn't ranting, calling anyone names or making claims that couldn't be sustained by simple recourse to a biology text or, even, to personal experience. Even so, his anodyne comments were treated as extreme ideological anathema, and he was instantly banished from the company for making them. Fired.
Fired Google Memo Author To Explore Legal Action Against Company. Google engineer James Damore, who penned the now-viral memo on Google's intolerance of conservative viewpoints, has been fired from his job and plans to explore legal action against the company. He was allegedly fired for "perpetuating gender stereotypes." Damore recommended that tech hubs like Google: 1) stop demoralizing diversity, 2) stop alienating conservatives, 3) to confront Google's bias, 4) to "stop restricting programs and classes to certain genders or races," 5) to "have an open and honest discussion about the costs and benefits of our diversity programs," 6) to also focus on "psychological safety, not just race/gender diversity," 7) to de-emphasize empathy, 8) to prioritize intention, 9) to embrace the science of human nature, and 10) "reconsider making Unconscious Bias training mandatory for promo committees."
Google Engineer Who Spoke Out Against P.C. Totalitarianism Fired for Being a Thought Criminal. Google has predictably fired James Damore, the software engineer who expressed some common sense opinions regarding supposed gender disparities in technical fields and spoke out against totalitarian political correctness. [...] Damore was fired explicitly for not conforming to deranged far-left orthodoxy. (Specifically, he was found guilty of "advancing harmful gender stereotypes.") It won't be easy finding another job in the tech industry, which is rigidly intolerant of any deviance from leftist ideology.
As Google Gets Blasted for Intolerance, Media Covers For Them With Lazy Dishonesty. One of the arguments I've encountered from people who support management's decision to fire James Damore is that he embarrassed the company publicly, so of course they had reason to dismiss him. But he shared his ten-page analysis within the confines of private, in-house forums encouraged by Google as a means of critiquing policy and challenging leadership without 'going public.' In other words, in theory, he was taking advantage of a space specifically designed for this sort of thing. People who took offense leaked what he wrote, likely in an effort to build external pressure to punish the wrong-thinker.
Google Fires Author of Divisive Memo on Gender Differences. Alphabet Inc.'s Google has fired an employee who wrote an internal memo blasting the web company's diversity policies, creating a firestorm across Silicon Valley. James Damore, the Google engineer who wrote the note, confirmed his dismissal in an email, saying that he had been fired for "perpetuating gender stereotypes." He said he's "currently exploring all possible legal remedies." The imbroglio at Google is the latest in a long string of incidents concerning gender bias and diversity in the tech enclave.
Google Burns A Heretic. James Damore is fortunate that we don't burn heretics at the stake, because he has blasphemed. The fired Google engineer might as well have been writing a script designed to prove that one of the world's largest companies embodies every left-wing stereotype imaginable — blinkered, intolerant and authoritarian.
Google Senior Engineer FIRED for diversity memo. A Senior Software Engineer at Google wrote an internal memo questioning the assumption of discrimination as the explanation for why women are underrepresented in High Tech (which he defined as Software Engineering). [...] This is a pretty chilling development. It completely proves the Senior Engineers point about the shaming and shut-down culture that surrounds discussions of discrimination and diversity.
Google Fires Viewpoint Diversity Manifesto Author James Damore. The Google employee behind a ten-page viewpoint diversity manifesto that went viral online has been fired. James Damore, whose manifesto criticizing the politically correct corporate culture at Google prompted outrage from left-wing employees and social justice warriors online, revealed that he had been fired in an email to Breitbart Tech on Monday evening [8/7/2017]. In his email to Breitbart Tech, Damore claimed, "They just fired me for 'perpetuating gender stereotypes.'"
Google Sacks Diversity Heretic. When Google sacks an employee for embarrassing the company, I am not too outraged because companies have to discourage employees from hurting their reputations. But Google claimed that the opinions this employee expressed perpetuated gender stereotypes. In other words, Google is anti-science and anti-free-speech. They acknowledge that not many women, compared to men, go into tech field. But they assert the reason for that inequality is the patriarchy. It is forbidden to even contemplate that there might be a neurological reason for the difference.
A Reader Explains Why The Google Dude Wasn't Fired Immediately — He Had To Train His H-1B Replacements. Here's why they didn't fire him immediately: he had to train his H-1B replacements, a Chinese man and an Indian man.
Google's Tracking Of Offline Spending Sparks Call For Federal Investigation. Google recently announced a suite of new tools for advertisers, allowing them to link a customer's offline credit card purchases with the things they look at online. Shockingly, some privacy advocates think this sort of tracking goes too far and have called on the federal government to investigate. The Electronic Privacy Information Center this morning filed a complaint with the Federal Trade Commission, asking the agency to investigate Google's Store Sales Management consumer profiling technology and stop the company from tracking customers' in-store purchases.
Google's 'Left-wing bias has alienated its own workers'. Internet giant Google has been accused by one of its own employees of 'alienating conservatives' with its politically correct left-wing bias. A senior software engineer at the company claimed in a document that was distributed to colleagues that right-wing employees were forced to keep their views 'in the closet' to avoid hostility.
This Burger King Ad Forces Your Google Home Device To Tell You About Whoppers. You might think you're the master of your own home, controlling all the internet-connected devices within it and bending them to your will with the touch of a button or an uttered command. But Burger King is trying to sneak into your home through the TV with a new ad that tries to trigger the voice-activated Google Home. This week, the fast food chain launched a new 15-second TV commercial that attempts to wake up any Google Home devices that may be in the room and thus, continue the ad after it's technically over.
Europe battles Google News over 'snippet tax' proposal. A major battle is brewing in Brussels over an EU reform plan that would force internet aggregators such as Google News to pay newspapers for displaying snippets of their articles online. Google is furious at the reform idea, but powerful publishers, including Axel Springer in Germany or Rupert Murdoch's Newscorp in the UK, affirm that a tax is the only hope to save a news industry starving for revenue.
Google Hit With Record $2.7 Billion Fine in EU Antitrust Case. EU antitrust regulators hit Alphabet unit Google with a record 2.42-billion-euro ($2.7 billion) fine on Tuesday [6/27/2017], indicating they will likely take a tough line with the company in two other ongoing cases. The European Commission said the world's most popular internet search engine has 90 days to stop favoring its own shopping service or face a further penalty of up to 5% of Alphabet's average daily global turnover.
Google Censors Popular Pro-Life Page With Extensive Abortion Information. The Abortions in America page, which displays graphs and data about a wide variety of abortion facts, had been receiving an average of about 16,000 views per month — all with virtually no promotion. Since the fact page was created in October 2012, web stats show the page steadily increased in popularity. The page's views peaked in January 2017, at 37,111 views, and was well on the way to a record-breaking year. Within the month of May, views mysteriously decreased by more than half over the previous month. In June, it received only 1,512 views. During the last seven days of June, it only received 307 views. It appears that OperationRescue.org has been singled out by Google for discrimination.
The Almighty Algorithm — "fake news" and other consequences of Google, Amazon and Facebook's relentless focus on quantity over quality. For example, an independent assessment found that in 25,000 random Google searches, ads for Google products appeared in the top slot 91 percent of the time. Fascinatingly, all 1,000 searches for laptops started with an ad for Chromebook — a cool 100 percent of the time — lo and behold, after the results became public, and the embarrassment became palpable, the Google ads occupied 19 percent of the top slots. What does that tell us about the manipulability, the pliability of algorithms?
Google to stop reading private emails. Is it the end of Google's 'big brother' policy? The software giant announced that it will stop scanning users' private e-mail addresses, as it has done until now to tailor personalized advertisements to anyone on the Internet. Google Cloud senior vice president Diane Greene said that Google's free Gmail email service will continue to offer personalized advertisements, but said that it would switch to the less-intrusive method used in its corporate G Suite Gmail, which it sells to businesses. "Consumer Gmail content will not be used or scanned for any ads personalization after this change," Greene said.
Google Caught Tampering with Algorithm to Help Liberals. Given the stranglehold that Google has developed over media of all kinds, thanks to their megalithic presence in the digital world, it comes as no surprise that the same molestation that occurred within the mainstream media has also been committed against Google. Thanks to liberal media's omnipresent lording over our every piece of information, Google has turned left in recent years, actively working against conservative viewpoints and thinkers. Now, after evidence suggests that the search engine was manipulating its own results to deceive users, Google could be facing a fine of up to $9 billion.
Google uses AI to pick out users' most boring photos. Google is using artificial intelligence to analyse your photos and identify any boring ones you might not want to see. The company has just rolled out an update to its Photos app, which now suggests which of your pictures you should keep and which you should dump in the new Archive folder. It's targeting dull things like screenshots and photos of documents, notes and receipts, and will hide them from your main picture stream.
"Your knowledge gets in the way of their power. And they won't put up with that."
K-12: Knowledge Containment Protocols. Schools have always been devoted to passing knowledge forward to the next generation. Not now. The Education Establishment treats knowledge as if it were a toxic spill that must be kept away from students. [...] More recently, the Education Establishment has appropriated Google to create another absurd sophistry. All information is on Google, so you don't need to bother knowing anything. A hundred years ago, everything was in encyclopedias. Nobody thought to say students don't need to know anything in them. Now they say that. [...] They are not going to take a chance that an American kid learns anything. A new tactic is to talk about memorization as if it were an illness or malfunction.
How Google Gave Hillary Clinton Her Popular Vote Victory. For all the talk about Macedonian teenagers and #FakeNews (used exclusively to describe anything bad about Hillary Clinton) tilting the scales of the 2016 election, a new study by four academics, Robert Epstein (American Institute for Behavioral Research and Technology), Ronald E. Robertson (Northeastern University) and Samantha J. Shepherd and Shu Zhang (American Institute for Behavioral Research and Technology), finds something completely different. Using a sample of "undecideds" selected before the 2016 election, the news that was generated for them by Yahoo and Google was examined.
Google overhauls search algorithm in bid to fight fake news. Google has promised to alter its search results to punish websites promoting extreme views, conspiracy theories and fake news. The internet giant said it would demote "low-quality" websites and let users report offensive results after criticism that neo-Nazi groups and hoaxers were "gaming" the company's search engine.
The Cloud Panopticon: Google, Cloud Computing and the Surveillance-Industrial-Complex. In June 2007, Privacy International, a U.K.-based privacy rights watchdog, cited Google as the worst privacy offender among 23 online companies, ranking the "Don't Be Evil" people below Microsoft, Apple, Amazon, eBay, LinkedIn, Facebook and AOL. According to the report, no other company was "coming close to achieving [Google's] status as an endemic threat to privacy." What most disturbed the authors was Google's "increasing ability to deep-drill into the minutiae of a user's life and lifestyle choices." The result: "the most onerous privacy environment on the Internet." Indeed, Google now controls an estimated 70 percent of the online search engine market, but its deep-drilling of user information — where we surf, whom we e-mail, what blogs we post, what pictures we share, what maps we look at, what news we read — extends far beyond the search feature to encompass the kind of "total information awareness" that privacy activists feared at the hands of the Bush Jr. administration's much-maligned Total Information Awareness program.
Google can randomly share your search history with friends through its new messaging app. Worrying issues have been discovered in Google's messaging app, Allo. It has been found to be capable of sharing users' past Google searches with contacts, without being prompted to. The discovery was made by Re/code's Tess Townsend, who was using Allo to chat to a friend. "In the middle of our conversation, my friend directed Assistant to identify itself," wrote Ms Townsend. "Instead of offering a name or a pithy retort, it responded with a link from Harry Potter fan website Pottermore." Neither Ms Townsend or her friend had mentioned Harry Potter in their conversation before Allo brought it up. "But the response was not merely a non sequitur," continues Ms Townsend. "It was a result related to previous searches my friend said he had done a few days earlier."
Google adds tool to flag 'offensive' search results. Google is now directing its review teams to flag content that might come across as upsetting or offensive in search results.
Google is a monopoly — and it's crushing the internet. Five to 10 years ago, independent bloggers used to be able to get by on internet advertising, like the broadsheets of yore. But that changed quite quickly, and for two big reasons: Facebook and Google. They now gobble up the vast majority of internet advertising dollars — about 85 percent, as my colleague Jeff Spross writes — and a great many media outlets have been forced to move to direct subscriptions or other business models. Google and Facebook manage this because they are platform monopolists. They can exert tremendous influence through their control of how people use the internet — and crush productive businesses in the process. Like any monopoly, it is long since time that the government regulated them to serve the public interest.
Google's Home TV ad makes Google Home systems go crazy. Google Home is the search engine's answer to Amazon's Echo system, in which users get it to respond by asking questions or giving orders starting with the name "Alexa." Both are home systems that are dormant until a user calls out their name. Then they perform any number of functions — from playing a musical selection to turning on or off the lights.
Google Redefines The Word 'Fascism' To Smear Conservatives, Protect Liberal Rioters. Has Google, the world's most popular search engine, changed the definition of the word "fascism" to protect liberal mobs using violence to silence those who disagree with them politically? The evidence suggest they have. You see it on signs at every protest or riot — liberals accuse President Donald Trump of being a fascist. The word's association with Adolf Hitler and its use now is no accident, it's meant to strike fear in people's hearts of tyranny.
Google Organizes Rallies Protesting Trump Temporary Terror Travel Halt. Google employees and executives held rallies at Google offices across the United States on Monday in protest of President Trump's temporary travel halt from nations associated with terrorism. [...] Google's campus in Mountain View, California, hosted one of the largest protests, which featured multiple speakers including Google CEO Sundar Pichai and Google founder Sergey Brin, immigrants associated with the company.
Google told to hand over foreign emails in FBI search warrant ruling. A U.S. judge has ordered Google to hand over emails stored outside the country in order to comply with an FBI search warrant. The warrant in question pertains to a domestic fraud probe. The ruling is notable because it goes against an appeals court judgement last year — recently upheld — pertaining to Microsoft customer data held in servers outside the US. In that instance a federal court ruled the company did not have to hand over data stored on its servers in Ireland to the US government, declining to "disregard the presumption against extraterritoriality," as the judge put it.
Google's New Public NTP Servers Provide Smeared Time. Google says it has built support for the leap second into the time servers that regulate all Google services. An anonymous reader shares a blogpost by Google: ["]No commonly used operating system is able to handle a minute with 61 seconds, and trying to special-case the leap second has caused many problems in the past. Instead of adding a single extra second to the end of the day, we'll run the clocks 0.0014% slower across the ten hours before and ten hours after the leap second, and "smear" the extra second across these twenty hours. For timekeeping purposes, December 31 will seem like any other day. ... ["]
Is Google News Suppressing Center-Right News Sites? The big story this evening is the fact that President Trump has fired the acting Attorney General, a far Left Obama holdover. Her dismissal was well-deserved, given the fact that she ordered the Justice Department to ignore the Commander-In-Chief's entirely legal order, one similar to bans enacted by Presidents Obama and Carter. But I was fascinated to see the Google News coverage of the event.
Naval Academy Hosting 'Transgender 101' Training for Midshipmen. The U.S. Naval Academy is bringing in Google employees to provide voluntary "Transgender 101" training to midshipmen this week as part of an ongoing "safe space" training series. The academy's Center for Teaching and Learning is holding two events on Friday, one for faculty and staff and another for midshipmen. The hour and a half-long workshops will be hosted by Marnie Florin and Kevin Perry, who are "transgender trainers" for Google.
Google's new tech partner in Cuba blocks email accounts of the Ladies in White. Google is very proud of its new partnership with Cuba's ETECSA, the apartheid Castro dictatorship's telecom monopoly that has complete control over the internet on the island. They must therefore be very proud that their new tech partners are using all this new technology to continue censorship and the blocking of the free flow of information to and from the island.
Open Letter To Google. Now, I've always had a good working relationship with Google, and I truly hope that continues. I have always gotten good service from you, and I have made good use of your search engine. But I see that Google has taken steps to censor news and views based on political proclivities.
Google Searches on Jeff Sessions Go Straight to the Leftist Fever Swamp. The establishment press wants readers, listeners and viewers to believe that the search engines and social media are being overwhelmed by "fake news." Those making such allegations are, with rare exceptions, thinking of conservative and center-right web sites which have been countering their established wisdom and taking readers and dollars away from them. Well, if that's so, at least in regards to Google and Donald Trump's nomination of Alabama Senator Jeff Sessions as Attorney General, I'm having a hard time finding evidence of that. Instead, auto-suggested search results provided by the world's dominant search engine on Saturday took me straight to the leftist fever swamps and to a New York Times editorial which might as well have originated there.
Leaked Email Reveals Google Chairman Wanted To Be Clinton Campaign's 'Head Outside Advisor'. Eric Schmidt, executive chairman of Google's parent company Alphabet, wanted to be "head outside advisor" to the Hillary Clinton campaign, according to Clinton campaign chairman John Podesta in an email released by WikiLeaks. WikiLeaks has continued to reveal Schmidt's cozy relationship with the Clinton campaign. In a previously leaked email, a memo showed that Schmidt was working directly with the Clinton campaign on setting up various backend features to their website.
Hillary Clinton photo illustrates Google results for 'pathological lying'. For several hours starting about 10:30 p.m. Sunday [10/30/2016], a Google search for the terms "pathological lying" was producing a picture of Mrs. Clinton. The picture appeared as the illustration for what Google calls a special "featured snippet block" at the top of the page. The snippet quotes from, and includes a link to, the Wikipedia article for "pathological lying." By early Monday morning, the image had been removed from the Google search.
University of California is Hillary Clinton's top source of campaign cash. Individuals working for the University of California were the biggest source of cash for Hillary Clinton's presidential campaign, according to the nonpartisan Center for Responsive Politics. Individuals affiliated with the University of California system gave nearly $1.2 million to Clinton's campaign committee, the largest bloc of contributions she received for her presidential run. The second biggest giver to Clinton was another California entity, Alphabet Inc., the Mountain View-based parent company of Google. Donors associated with Alphabet gave Clinton $1.1 million
Election Fraud: Nothing to See Here!. Google "Voter Fraud" and notice how many articles are listed by left-wing "news organizations" citing so-called experts saying that it is "rare", "overblown", or as the Huffington Post declares, "consistent since 2000". The same is true for other, similar search terms on Google such as "Voter Fraud Cases" and "History of Voter Fraud". If I lived in a cave, and only had Google to keep me company, I might believe it... but I don't. I read and I know of the many claims that Google regularly alters its listings to favor left-wing messaging; that it censors opposing views and the individuals that express them; that Eric Schmidt, who was the chief technology officer for Barack Obama's 2008 campaign, and who is now the executive chairman of Google parent-company Alphabet, is hard at work in a new company Groundwork ensuring that Hillary Clinton gets elected.
CEO Of Google's Parent Company Works Directly With Clinton Camp. Eric Schmidt, chief executive of Google's parent company Alphabet, is working directly with the Hillary Clinton presidential campaign, according to an email published by WikiLeaks. Robby Mook, Clinton's campaign manager, forwarded a memo detailing the "technical and digital priorities," for the 2016 presidential race to John Podesta, chairman of the Clinton 2016 campaign, and other top Clinton officials, in an email. Teddy Goff, former digital director for President Barack Obama's re-election campaign and current staff member of the Clinton campaign, originally sent the memo to Secretary Clinton in October, 2014, around six months before Hillary announced her run for the White House.
Was "Google Home" designed to spy inside our homes? Google Home (GH) is always listening to everything that goes on inside your home. It's like paying the NSA, sorry I meant Google, $129.00 to bug your home. Click [elsewhere] to find out about Google's close relationship with the NSA. GH does more than listen to music, it can control your lights, thermostats, radios, TV's, refrigerators, smart plugs and more. GH has partnered with Nest, Phillips, IFTTT and Samsung who also make the 'family hub refrigerator'.
Memo: Google's Eric Schmidt Working Directly With the Clinton Campaign. Eric Schmidt, the chief executive of Alphabet, Google's parent company, is working directly with Hillary Clinton's presidential campaign, according to a memo contained within an email released by WikiLeaks. "Discreet conversations" of forming "working relationships" with companies such as Facebook and Apple were also facilitated as early as October 2014, the memo stated. This is at least six months prior to when Clinton announced her candidacy for president.
Now Google boss Eric Schmidt revealed to have designed Clinton's website. When Hillary Clinton wanted a new campaign website, she went to the top — enlisting former Google CEO Eric Schmidt to head up a technology effort, hacked emails reveal. Schmidt oversaw an effort that involved developing the early 'back-end' stages of a web site that would be a powerful tool to promote Clinton's message and harness the efforts of volunteers — while storing information on supporters. The details of the effort are outlined in a strategy memo authored by Clinton digital strategist Teddy Goff and sent to Clinton, according to documents posted on Wikileaks that were hacked from Clinton campaign chair John Podesta's emails.
Yes, Google Play is tracking you — and that's just the tip of a very large iceberg. On Monday, a story broke that Google Play — the near-ubiquitous service that Google uses to distribute software within Android — was using GPS to track your every move, whether you enabled Google Maps to use location tracking or not. The only way to completely disable this kind of location tracking is to disable Google Play. This is all true, as far as it goes. But the conclusions are a bit less cut-and-dried than some publications like The Register have made it sound.
Google/Facebook Subverting Election for Hillary. Google/Facebook/Twitter and the mainstream media are using social engineering on you to achieve their political goals. [Video clip]
Google News launches fact check label. Google has launched a new feature, fact check, which will add a label next to news stories in search results. Fact check will appear with other news organisations in Google News and will, Google says, "shine a light on its efforts to divide fact from fiction". Richard Gingras, Google's head of news, added it will "help readers find fact checking in large news stories".
Media spin can't hide Hillary's Health, but Google Can 'Disappear' It. Hiding the health of a presidential candidate which the media gleefully reports is leading in election polls has got to take the proverbial cake. But for the NYT and Google there's this one little bugaboo: the myriad pictures which appear to show bulk other than flesh under Hillary Clinton's outlandish clothes. With the rise of wearable medical technology, with room for drug packs, injections and even internally inflatable vests on the market, health problems are your secret.
Google is manipulating searches about Hillary Clinton's health. [Scroll down] This isn't the first time Google has been accused of bias in favor of Hillary Clinton. SourceFed originally reported that Google appeared to be burying negative search terms about Clinton, and revealed connections between the tech company and her campaign.
Research Proves Google Manipulates Millions to Favor Clinton. In this exclusive report, distinguished research psychologist Robert Epstein explains the new study and reviews evidence that Google's search suggestions are biased in favor of Hillary Clinton. He estimates that biased search suggestions might be able to shift as many as 3 million votes in the upcoming presidential election in the US.
New York Times Tech Columnist Calls on Google to Hide Hillary Health Info. New York Times tech columnist Farhad Manjoo is calling on Google to "fix" its search engine results to hide evidence of Hillary Clinton's failing health. "Go online and put down, 'Hillary Clinton illness,' and take a look at the videos yourself," Rudy Giuliani recently said on Fox News, during an argument about how sick Clinton really is. Manjoo of the Times called for Google to "fix" the problem of search results possibly hurting the Democratic nominee.
NYT Asks Google to Censor Search Results Related to Hillary's Health Problems and They Do It. Some radical nutjob and New York Times reporter (but I repeat myself) recently called on Google to censor search results related to Hillary's numerous health issues. [...] Based on my research, it would appear that Google is now obliging that request: Curiously, Google's super-smart auto-suggest feature appears incredibly ignorant when it comes to matter of Hillary Clinton's well-documented health problems.
Google will tell you how to vote in November. Google is pulling another lever on its influential search engine in an effort to boost voter turnout in November's U.S. presidential election. Beginning Tuesday [8/16/2016], Google will provide a summary box detailing state voting laws at the top of the search results whenever a user appears to be looking for that information. The breakdown will focus on the rules particular to the state where the search request originates unless a user asks for another location.
Oracle Funds Anti-Google Effort that Outs Hillary, Obama. The Oracle Corporation is using its deep financial resources to fund the "Google Transparency Project," which has set up headquarters in Washington, D.C. with a mission to "out" Google's dicey lobbying practices and expose crony relationships with President Obama and Democratic presidential nominee Hillary Clinton. With Google demonstrating its political clout by essentially writing the "Net Neutrality" regulatory language, Oracle and others are stepping up funding for a Silicon Valley attack dog to level the playing field.
Google My Activity shows everything that company knows about its users — and there's a lot. Google has launched a new site that shows absolutely everything it knows about its users. And there's an awful lot of it. The new My Activity page collects all of the data that Google has generated by watching its customers as they move around the web. And depending on your settings that could include a comprehensive list of the websites you've visited and the things you've done with your phone. Google has long allowed its users to see the kinds of information that is being generated as people use the company's products, including letting people listen in on automated recordings that it has made of its users. But the new page collects them together in a more accessible — and potentially more terrifying — way than ever before.
Google Just Plugged Into Japan With Its Own Undersea Cable. [Scroll down] Meanwhile, Facebook and Google are also buying up "dark fiber" — unused fiber optic capacity throughout the US — to connect their various data centers on land. In short, a handful of large tech companies are slowly eclipsing the bandwidth capacity of traditional telcos, underscoring just how big these tech giants have really become. But Hjembo points out that there's no shortage of capacity. The real point here is that companies like Google want to own their own cables. Or, as Facebook's vice president of network engineering Najam Ahmad told us earlier this year, these projects allow the companies to control their own destinies.
Military investigates who ordered soldiers' Google formation. Israel's military said Wednesday it was looking into why soldiers at an air force base were ordered to line up in a formation spelling out the word Google for a visit by the company's top gun. Video of the formation that spread online led to criticism in Israel, and parents questioned why soldiers were made to stand in the heat for what they saw as an inappropriate reason. The order was issued as Eric Schmidt, executive chairman of Google's parent company Alphabet, visited the Hatzerim Air Base near the southern Israeli city of Beersheba.
Users Claim Google Is Putting Trump Emails In Their Spam Box. Gmail users are claiming that Google is filtering emails from Donald Trump's campaign into their spam boxes. There have been previous reports, denied by Google, that the search engine was manipulating search autocomplete results in favor of Hillary Clinton. Julian Assange, founder of WikiLeaks, has previously said, "Google is directly engaged with Hillary Clinton's campaign." In 2015, former Google CEO Eric Schmidt reportedly funded a startup, "The Groundwork," with the objective of helping Hillary Clinton get elected.
Europe Is About To Create A Link Tax: Time To Speak Out Against It. We've written plenty of times about ridiculous European plans to create a so-called "snippet tax" which is more officially referred to as "ancillary rights" (and is really just about creating a tax on Google). The basic concept is that some old school newspapers are so lazy and have so failed to adapt to the internet — and so want to blame Google for their own failures — that they want to tax any aggregator (e.g., Google) that links to their works with a snippet, that doesn't pay for the privilege of sending those publishers traffic. As you may remember, Germany has been pushing for such a thing for many, many years, and Austria has been exploring it as well. But perhaps the most attention grabbing move was the one in Spain, which not only included a snippet tax, but made it mandatory. That is, even if you wanted Google News to link to you for free, you couldn't get that. In response, Google took the nuclear option and shut down Google News in Spain.
Here Are 10 More Examples of Google Search Results Favorable to Hillary. "Crime" and "indictment" are not the only terms Google is keeping hidden from searches of Hillary Clinton, a Washington Free Beacon analysis finds. Common search terms associated with Clinton appear to have been scrubbed from Google as the tech giant has been accused of manipulating its autocomplete results to favor the Democratic presidential candidate. Matt Lieberman of SourceFed released a video showing examples of Google skewing its autocomplete results for Clinton, while other search engines simply display the most searched terms.
Google's digital wall will make Hillary Clinton inevitable as next president. No matter how hard they try to force it into reality, Google will never make 'Crooked Hillary' straight. As people who have tried to get items removed from the world's largest search engine already know, high-handed Google "is forever". Unfortunately so too are the lies that social media is helping Hillary Rodham Clinton cover. Like the president who got there before it was "my turn", there's nothing real about Hillary Clinton, save for her ongoing outrageous lies. Just like Obama, Hillary Clinton is a completely re-laundered and re-cycled digitally social media-manufactured persona. You'd think from the whining of the far left, the in-the-tank-with-the-Dems GOP and the embittered #Nevertrump that Election 2016 was in the bag for Donald J. Trump. But most tragically for America and the West that depends on a stable US, Google's got it in the bag for Hillary Clinton.
'Three black teenagers' Google search sparks outrage. Google image searches for "three black teenagers" and "three white teenagers" get very different results, raising troubling questions about how racial bias in society and the media is reflected online. Kabir Alli, an 18-year-old graduating senior from Clover Hill High School in Midlothian, Va., posted a video clip on Twitter this week of a Google image search for "three black teenagers" which turned up an array of police mugshots. He and friends then searched for "three white teenagers," and found groups of smiling young people.
The Editor says...
Maybe that's because black teenagers don't smile: If you smile for a photograph you are acting white. Smiling is what weaklings and losers do, after all. Google can't find photographs that do not exist.
Video: Is Google Manipulating Searches To Be Pro-Hillary? A newly-released YouTube video makes a compelling case that, for unclear reasons, Google search results appear manipulated in favor of Hillary Clinton. The video is the work of SourceFed, a channel with over 1.7 million subscribers that posts a variety of news, pop culture, and explanatory videos.
Google accused of fixing autocomplete results to be favorable to Hillary Clinton. Donald Trump has responded after a video went viral this week claiming to show Google has been fiddling with autocomplete results to suppress terms unfavorable to Hillary Clinton. The presumptive Republican presidential nominee told Business Insider that if the claim it is true, 'it is a disgrace that Google would do that,' adding 'very, very dishonest.' 'They should let it float and allow people [to] see how crooked she really is,' he told the business site in a statement on Friday [6/9/2016].
Google surprisingly wins $9bn ruling over Oracle, fair use affirmed by court. It became a bad day for Oracle yesterday [5/25/2016] as they lost a potential $9 billion court decision as a San Francisco jury ruled in favor of Google in the long-running legal saga. Oracle has maintained that the search giant should compensate them for the license to use Java in the programming of Android. The decision of the jury has put a dent to that contention. Google has constantly argued that it used elements of Java under the fair use policy under the copyright law. Most people had pegged that Google's argument was weak because of the obvious use of Java in Android, which is one of Google's hottest properties as of the moment. In fact, this year's trial came about because an earlier jury had decided that infringement had indeed happened, just that they were not sure if it could be considered legal under fair-use doctrines.
Here Are 10 More Examples of Google Search Results Favorable to Hillary. "Crime" and "indictment" are not the only terms Google is keeping hidden from searches of Hillary Clinton, a Washington Free Beacon analysis finds. Common search terms associated with Clinton appear to have been scrubbed from Google as the tech giant has been accused of manipulating its autocomplete results to favor the Democratic presidential candidate. Matt Lieberman of SourceFed released a video showing examples of Google skewing its autocomplete results for Clinton, while other search engines simply display the most searched terms.
Hating America at Google. Yesterday [5/19/2016], anyone who clicked on the Google home page saw a curious "doodle" honoring someone who most users had probably never heard of. But rather than the usual anodyne historical figure or celebrity, yesterday's honoree was a woman who Google identified as "one of the most overlooked and dogged civil rights activists of our time." Her name is Yuri Kochiyama and yesterday was her 95th birthday, but anyone who clicked on the image to learn more about her got an interesting introduction to a radical activist. If you went digging beyond that page, you learned that Google was honoring someone who was not only a champion of a cause that most Americans ultimately supported — reparations for Japanese-Americans interned during World War Two — but was also an associate of terrorist murderers and anti-Semites and a fan of Osama bin Laden.
100 French police raid Google's Paris headquarters as part of £1.2 billion tax and money laundering investigation. A dawn raid was launched on Google's office in Paris yesterday [5/23/2016] as part of a probe into 'aggravated tax fraud' and money laundering. Around 100 police officers, five magistrates, 25 computer experts and around 100 tax officials entered the US internet giant's premises in the French capital at 5am. Google is accused of owing the French government £1.2 billion in unpaid taxes.
To Learn About Hypocrisy, Google 'Oregon Florist'. Google announced Wednesday [5/11/2016] it no longer would allow online or payday lenders to advertise on its websites. Online loans join firearms, explosives and illicit drugs as products the search engine giant refuses to tout. Facebook also bans selling ads to online lenders, but Yahoo and other providers still do. It's a problem for the industry if it can't advertise on Google. It is by far the world's largest search engine and the largest such collection of knowledge ever assembled. In the United States, Google controls between 65 and 70 percent of search traffic, more than 75 percent of paid search advertising and 95 percent of mobile searches.
Google's extraordinary access to Obama revealed. When top White House officials want to know what Google executives are thinking, they don't need to go near a computer — since company officials have been hovering at the White House about once a week through the course of the Obama administration, White House logs reveal. The tech giant's top lobbyist, Johanna Shelton, has visited the White House a total of 128 times since President Obama got elected in 2009.
Google patents 'pedestrian glue' for cars. If you're unlucky enough to be hit by one of Google's self-driving cars, the company wants you to stay glued to the front of it, according to a patent that's dated May 17 — not April 1. The patent describes an adhesive layer that "may be a very sticky material and operate in a manner similar to flypaper, or double-sided duct tape," designed to prevent pedestrians from further injury, the San Jose Mercury News reports.
How can people safely take control from a self-driving car? New cars that can steer and brake themselves risk lulling people in the driver's seat into a false sense of security — and even to sleep. One way to keep people alert may be providing distractions that are now illegal. That was one surprising finding when researchers put Stanford University students in a simulated self-driving car to study how they reacted when their robo-chauffer needed help.
Google says it bears 'some responsibility' after self-driving car hit bus. Google said on Monday [2/29/2016] it bears "some responsibility" after one of its self-driving cars struck a municipal bus in a minor crash earlier this month. The crash may be the first case of one of its autonomous cars hitting another vehicle and the fault of the self-driving car.
Google staffers have had at least 427 meetings at the White House over [the] course of [the] Obama presidency. Newly compiled data reveals Google and its affiliates have attended meetings at the White House more than once a week, on average, since President Barack Obama took office. Numbers crunched by the Campaign for Accountability and the Intercept show 169 Google employees have met with 182 government officials in the White House. The meetings took place at least 427 times. The data used spans from Obama's first month in office in 2009 until October 2015, and includes government meetings with representatives of Google-affiliated companies Tomorrow Ventures and Civis Analytics.
Unoccupied self-driving Google car pulled over for driving too slowly in California. The Mountain View Police Department in the San Francisco Bay Area said an officer "noticed traffic backing up behind a slow moving car" on Thursday and pulled over what turned out to be an unoccupied Google Autonomous Vehicle.
Google's self-driving just car got pulled over for driving too slow. That's right, a Mountain View traffic cop this week spotted the cute little pod puttering along the street at a speed presumably not much faster than a granny walking a dog, and decided to have a word.
How a track stand can confuse Google's self-driving car. The Washington Post reports how a cyclist doing a track stand on his bike confused an autonomous automobile into a stop-start pattern, and the cyclist himself recounted the experience on an online forum. For the uninitiated, a "track stand" is where a cyclist balances on his or her pedals at a stop, moving the bike every so slightly to keep balanced. It's this kind of small but perceptible movement that confused Google's self-driving car, although no one was in any danger.
People's Deepest, Darkest Google Searches Are Being Used Against Them. Google knows the questions that people wouldn't dare ask aloud, and it silently offers reams of answers. But it is a mistake to think of a search engine as an oracle for anonymous queries. It isn't. Not even close. In some cases, the most intimate questions a person is asking — about health worries, relationship woes, financial hardship — are the ones that set off a chain reaction that can have troubling consequences both online and offline.
Feds rule in favor of snooping by tech giants. Google, Facebook and other tech giants should remain free to spy on you, regulators ruled on Friday [11/6/2015]. A petition filed with the Federal Communications Commission by the privacy group Consumer Watchdog asked that such websites be forced to respect consumer requests not to have their online activity tracked. The FCC dismissed the petition, stating that it has been "unequivocal in declaring that it has no intent to regulate edge providers."
Mr. Google[,] Eric Schmidt [is] dumping Hillary on unsuspecting society. With just one year to vote time, it's Google, and not Donald Trump, that is running run away with the 2016 presidential race. While folk hero Trump's goal is 'Make America Great Again', unfortunately for freedom and liberty worldwide, Google's is 'Return Hillary Clinton' to the White House'. Undercover until Drudge gave oxygen to the story on Friday [10/9/2015] in short: "An under-the-radar startup funded by billionaire Eric Schmidt has become a major technology vendor for Hillary Clinton's presidential campaign, underscoring the bonds between Silicon Valley and Democratic politics."
Google, the NSA & DHS are creating a global DNA database. According to the Verge, Ancestry.com, is seeking permission from the FDA to create a national DNA database. Ancestry.com claims they'll use your DNA to assess your families disease risk. Would it shock you to know that Google, the NSA and DHS are using "front companies" to create a GLOBAL DNA database?
Driverless Cars Far More Likely To Get Into Crashes, Study Finds. There have been reports of some driverless cars getting into crashes, but how do they compare with the real world of human-operated ones? Researchers at the University of Michigan's Transportation Research Institute set out to answer that question. [...] They found that per mile driven, driverless cars were actually far more likely to get in a crash than human-operated ones.
Lightning strike causes Google data centre to lose power. Repeated lightning strikes have caused a Google data centre in Belgium to lose a small amount of data after the company was unable to restore some information. Four successive strikes on the electricity grid that powers facilities in Saint-Ghislain, near Mons, affected 5 percent of persistent, or non-virtual disks in the zone that powers Google Compute Engine, its cloud computing platform. The problem was compounded when the data centre's battery backup failed, although Google said the vast majority of the data was recovered between last Thursday [8/13/2015], when the strikes occurred, and Monday.
Apple And Google Pour Billions Down A Green Drain. Business has been captured by climatism, the belief that humans are causing dangerous global warming. Leading companies announce plans to reduce carbon dioxide emissions, purchase renewable energy, use vehicle biofuels, and buy carbon credits. But there is no evidence that commercial policies to "fight" climate change have any measureable effect on global temperatures. Apple and Google, the darling companies of the millennial generation, have spent billions trying to halt global warming.
Google becomes part of a new company, Alphabet. Google, one of the best-known brands on the planet, on Monday [8/10/2015] radically restructured itself under the corporate name Alphabet, an almost unprecedented shift that reflects the company's far-reaching ambitions and the vast Web it helped evolve. The move represents Google's biggest push yet to transcend its roots in the simple but highly profitable business of Web search and turn the company into a multifaceted General Electric for the digital age.
How Google Could Rig the 2016 Election. America's next president could be eased into office not just by TV ads or speeches, but by Google's secret decisions, and no one — except for me and perhaps a few other obscure researchers — would know how this was accomplished. Research I have been directing in recent years suggests that Google, Inc., has amassed far more power to control elections — indeed, to control a wide variety of opinions and beliefs — than any company in history has ever had. Google's search algorithm can easily shift the voting preferences of undecided voters by 20 percent or more — up to 80 percent in some demographic groups — with virtually no one knowing they are being manipulated, according to experiments I conducted recently with Ronald E. Robertson.
Sexist Google Algorithm? Women Shown Fewer Ads For High-Paying Jobs, Study Finds. It's no secret: Google has long been tracking our Internet searches to generate customized ads based on our interests. But new findings from Carnegie Mellon University claim Google's targeted ad algorithm is downright discriminatory, particularly for women.
Here's what to takes to lay Google's 9,000km undersea cable. It takes a plow the size of a small house, a robot the size of a truck and a purpose-built ship to install Google's latest oceanic infrastructure project — a super-fast submarine Internet cable linking the U.S. and Japan. The US$300 million FASTER cable system, backed by Google and East Asian telecom firms, will have a peak capacity of 60 Tbps (terabits per second) when it's ready next year.
How Google distorts your view of the world. MANY charges have been levelled at Google. It steals your information, violates copyright, allows access to dangerous and illegal material and prioritises its own sites while crushing any competition. But perhaps the most troubling accusation about the search giant is that it distorts our view of the world, giving us a fatally flawed idea of what is going on around us. This problem is known as the "filter bubble": as Google learns from your searches and makes its results increasingly personalised and tailored to you, you stop seeing anything else.
The Google Glass epic fail: What happened? Here we are in the summer of 2015 and hardly a peep about a device that the media and public obsessed about for two years. So, what happened to Google Glass and where's it going?
Emails Show Hillary's State Department Communicating With Google About Blocked Benghazi Video. Emails among State Department officials show the administration was in contact with Google regarding a blocked YouTube video after President Obama conceded that the Benghazi attack was a preplanned act of terror. On Sept. 27, 2012, Nora Toiv, a special assistant to the counselor of the Department, sent an email to other State Department officials with the subject line "RE: Google and YouTube." The email referenced a phone conversation with a person named Sue who assured Toiv a block would remain on an unnamed video at least through Oct. 1, 2012. "Sue just called back and the block will stay through Monday," Toiv said in the email. "They will not/not be unblocking it before then."
Also posted under Benghazi and Hillary's private email server.
Google, YouTube win First Amendment fight over anti-Muslim video. Google and other online-content providers have dodged what they considered a First Amendment nightmare. Weighing in on a global controversy, a federal appeals court on Monday [5/18/2015] found that YouTube can't be forced to take down an anti-Muslim video that sparked worldwide protests, finding that such an order tramples on free speech rights.
Tina Siegert; the Google Goliath's David. Conservative websites like Canada Free Press (CFP) owe a debt of gratitude to plucky 'Citizen Journalist', news researcher cum laude, Tina Siegert of News the Media Won't Show You. Though some might not yet realize its full impact, all conservative websites are under Google suppression now that Google has claimed rights as the Grand Central of Internet Truth. Google will no longer drive traffic to Conservative websites. Internet traffic is what gets all websites Internet advertising. Without advertising they will go under. Google, the world's largest search engine, is gargantuan in size and clout, but still small enough to fit in Barack Obama's back pocket.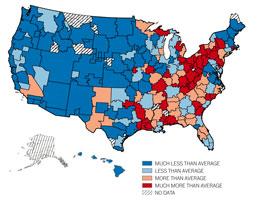 The most racist places in America, according to Google. Where do America's most racist people live? "The rural Northeast and South," suggests a new study just published in PLOS ONE. The paper introduces a novel but makes-tons-of-sense-when-you-think-about-it method for measuring the incidence of racist attitudes: Google search data. The methodology comes from data scientist Seth Stephens-Davidowitz.




French Senate Backs Bid To Force Google To Disclose Search Algorithm Workings. It's been a bad week for Google in Europe, with the Competition Commission on Wednesday [4/15/2015] adopting a Statement of Objections regard its shopping comparison service — marking an escalation of a five-year long antitrust investigation. The Competition Commissioner also launched a parallel in-depth probe into Google's mobile OS Android, following antitrust complains [sic]. Those high level processes could last years, and have the potential to result in multi-billion-dollar fines if Google can't satisfy the EC.

Some Pretty Clear Evidence Of American Exceptionalism. A seemingly whimsical study of Google searches tells a not-so-whimsical story about America. Cost-estimating website Fixr.com used Google's auto-complete feature, which is based on popular searches, to see what showed when they typed in "how much does a * cost in (country name)?" While those from other nations were frequently searching the price of beer, or passports, or cows, or flying lessons, at the top of the list for the USA was "patent." If that's not a loud signal of American exceptionalism, what is? As reported Friday by the Daily Mail, Fixr.com created a map based these auto-complete results.

Epic Google snafu leaks hidden whois data for 280,000 domains. Google leaked the complete hidden whois data attached to more than 282,000 domains registered through the company's Google Apps for Work service, a breach that could bite good and bad guys alike. The 282,867 domains counted by Cisco Systems' researchers account for 94 percent of the addresses Google Apps has registered through a partnership with registrar eNom.

Government by Google. It was a mainstream media asking no questions that inflicted a Marxist president on an unsuspecting West in 2008, but it is Google that is keeping him there, and Google which is making the election of Hillary Clinton in 2016 all but inevitable. As much as half of the U.S. population so fervently wishes otherwise, America-hating Marxists in office are there to stay, courtesy of the airtight power bestowed upon them by the most arrogant, powerful and influential company on earth: Google.

How Google is endangering police officers. For the fifth year in a row in 2014, ambush attacks on police officers were the No. 1 cause of felonious deaths of law enforcement officers in the line of duty. Nevertheless, Google continues to market a smartphone application that lets lawbreakers pinpoint the location of police officers in the field. Google's executives won't even discuss the subject with organizations representing law enforcement. Google's popular real-time traffic app, Waze, uses GPS navigation and crowdsourcing to alert users to traffic jams, automobile accidents, stalled cars, and through its "traffic cop" feature, the presence of law enforcement.

An antitrust probe went away while Google snuggled with Obama. During this past week as we've been swamped with bad news pouring out of every corner of the globe, it wouldn't be surprising if you missed one of the more shocking revelations about White House actions that would make even Richard Nixon blush. The Wall Street Journal revealed that it had obtained a 2012 Federal Trade Commission report detailing the closeness of Google and the Obama administration while the FTC was engaging in an antitrust investigation of the Internet giant. It's usually the case that you get more interesting information when the details were supposed to remain secret, and that's the case here.

Hillary Clinton hires Google executive to be chief technology officer. Hillary Rodham Clinton has hired a longtime Google executive to oversee her likely presidential campaign's technology development and build new ways for Clinton to engage with voters, according to Democrats with knowledge of the move.

Google/Dems deadly duo whitewashing Hillary Clinton's Past. A whopping 60% of Democrats want Hillary Rodham Clinton (HRC) as their next president. They have decreed America has to have its first woman president "because it's time". This time the Democrats, Marxist liars holding public office, have joined ranks with the world's largest search engine, with intentions to foist upon a largely unsuspecting America, the First GOOGLE Woman President. No other politician ever got off to a presidential run with a scrubbed clean slate, but that's what Google — self-proclaimed owners of the truth — will do for HRC.

Google controls what we buy, the news we read — and Obama's policies. A former Google officer is the president's chief technology adviser. Google employees contributed more to President Obama's re-election than did employees of any other company except Microsoft. Google lobbyists met with Obama White House officials 230 times. By comparison, lobbyists from rival Comcast have been admitted to the inner sanctum a mere 20 or so times in the same period. Oh, and on Election Night 2012, guess where Google executive chairman Eric Schmidt was? Working for the president. In the president's campaign office. On a voter-turnout system designed to help the president get re-elected.

Welcome to a surrealistic world run by Google. The mighty corporate techie giant with assets of $131 billion has nestled so long among us it is almost like family. Website owners tell people who want things removed off the net: "No can do 'cause Google is forever". The Federal Communications Commission (FCC) rocked the online world world when its 313-page 'Net Neutrality' initiative was revealed last month. But in reality, Net Neutrality was devised not by FCC but by Google.

Mike Lee wants to investigate Google's frequent meetings at the White House. Has Sen. Mike Lee (R-Utah) incurred the wrath of Google? On Monday [3/30/2015], Lee announced that he would like to know more about Google's meetings with the White House while they were under a Federal Trade Commission investigation for anti-trust violations. Lee, chairman of the Senate's antitrust panel, suspects that Google and the White House may have improperly meddled with the FTC's decision.

FBI digital search-warrant plan a 'monumental' constitutional threat, says Google. Tech giant Google submitted court documents this week charging that a new FBI plan for obtaining digital search warrants is a "monumental" constitutional threat. Richard Salgado, Google's director for law enforcement and information security, wrote Tuesday [2/17/2015] that the Justice Department's plans for remotely accessing computer files "raises a number of monumental and highly complex constitutional, legal, and geopolitical concerns that should be left to Congress to decide."

At Odds With Google, US Seeks New Rule on Computer Access. A Justice Department proposal that could make it easier to locate and hack into computers that are part of criminal investigations is raising constitutional concerns from privacy groups and Google, who fear the plan could have broad implications.

Google Leaks Identities of Over 280,000 Customers Who Were Paying to Stay Hidden. If you want to figure out who owns a website, it's pretty easy: You simply punch the URL into a "whois" database, and up pops the info of the person who registered that domain. Unless, of course, that person has paid their hosting service extra so that you can't find out who they are. Yesterday [3/12/2015], a group of security researchers from Cisco revealed that Google had been slowly de-anonymizing its customers who were buying domain names through Google. Due to a problem with the way Google's system interacted with the third party registrar service eNom, customers for whom identity protection is a part of the "Google App" services were not, in fact, given that protection.

Over 30 vulnerabilities found in Google App Engine. Serious vulnerabilities exist in Google App Engine (GAE), a cloud service for developing and hosting Web applications, a team of security researchers has found. The vulnerabilities could allow an attacker to escape from the Java Virtual Machine security sandbox and execute code on the underlying system, according to researchers from Security Explorations, a Polish security firm that found many vulnerabilities in Java over the past few years.

Google alerts FBI to Colorado threat against police. A Colorado man is facing federal charges Wednesday [12/24/2014] after he allegedly posted threats against police in YouTube's comment section under the username, "Vets Hunting Cops." 9News.com reported the police identified the man as Jeremiah Perez, a 33-year-old Air Force veteran from Colorado Springs.

WikiLeaks demands answers after Google hands staff emails to US government. Google took almost three years to disclose to the open information group WikiLeaks that it had handed over emails and other digital data belonging to three of its staffers to the US government, under a secret search warrant issued by a federal judge. WikiLeaks has written to Google's executive chairman, Eric Schmidt, to protest that the search giant only revealed the warrants last month, having been served them in March 2012. In the letter, WikiLeaks says it is "astonished and disturbed" that Google waited more than two and a half years to notify its subscribers, potentially depriving them of their ability to protect their rights to "privacy, association and freedom from illegal searches".

Everything Google knows about you (and how it knows it). According to Google, I am a woman between the ages of 25 and 34 who speaks English as her primary language and has accumulated an unwieldy 74,486 e-mails in her life. I like cooking, dictionaries and Washington, D.C. I own a Mac computer that I last accessed at 10:04 p.m. last night, at which time I had 46 open Chrome tabs. And of the thousands and thousands of YouTube videos I have watched in my lifetime, a truly embarrassing number of them concern (a) funny pets or (b) Taylor Swift. I didn't tell Google any of these things intentionally, of course — I didn't fill out a profile or enter a form. But even as you search Google, it turns out, Google is also searching you.

Renewable Energy: So Useless That Even Greenie Google Gave up on it. Some people call it "renewable energy" but I prefer to call it "alternative energy" because that's what it really is: an alternative to energy that actually works (eg nuclear and anything made from wonderful, energy-rich fossil fuel.) Now a pair of top boffins from uber-green Google's research department have reached the same conclusion. [...] In a nutshell, renewable energy is rubbish because so much equipment is needed to make it work — steel, concrete, copper, glass, carbon fibre, neodymium, shipping and haulage — that it very likely uses up more energy than it actually produces. Yet our political class remains committed to the fantasy that the emperor's green clothes are perfectly magnificent.

Google exec to head up Democrat midterm review panel. How cozy is the Democrats' relationship with the media and technology worlds? Close enough for Google executive chairman Eric Schmidt to head up a panel convened by the Democratic National Committee to figure out why they got creamed in the midterm elections, as CNN reports: [...]

World's largest solar plant applying for federal grant to pay off federal loan. After already receiving a controversial $1.6 billion construction loan from U.S. taxpayers, the wealthy investors of a California solar power plant now want a $539 million federal grant to pay off their federal loan. [...] The Ivanpah solar electric generating plant is owned by Google and renewable energy giant NRG, which are responsible for paying off their federal loan.

The Editor says...
It will be interesting to see where the left-wing anti-capitalist troublemakers stand on this issue. The tree-hugging hippies who tout solar panels as a "clean" energy source are the same people who rail against "Wall Street" — by which they mean successful and profitable businesses with plenty of available cash, of which Google is a prime example. Where are the "corporate social responsibility" people now?

Google ordered to pay a woman $2,250 for Street View image showing cleavage. Earlier this month [10/2014], a Quebecois court in Montreal decided that Google owed a woman $2,250 for picturing her with "part of her breast exposed" in a Street View image. The woman was sitting in front of her house, and although her face was blurred out, she was still identifiable by her coworkers, especially as her car was parked in the driveway without the license plate blurred out.

Veterans Day Celebrated By Leasing Moffett Naval Air Station To Google. With a new Cold War is ramping up, and as Americans gathered across the country to honor our veterans, the U.S. government's NASA Ames Research Center announced that is is leasing the 1,000 acre Moffett Airfield in Silicon Valley to Google for the next for the next 60 years. The former naval air station is located near the south end of San Francisco Bay.

Eye-Tracking Study: How Users View Google Search Result Pages Has Changed Significantly. The report was based on data from an eye-tracking study of 53 participants who were asked to complete 43 common search tasks, such as looking for an apartment to rent in a particular neighborhood. All searches were conducted on desktop computers in Canada using the Google search engine.

Google Chairman: 'We're Going to End Up Breaking the Internet'. Google Chairman Eric Schmidt warned Wednesday that the Internet will soon undergo massive upheaval if governments refuse to alter the way they spy on other countries. Speaking at an event in California hosted by Sen. Ron Wyden, Schmidt said the Internet will splinter into walled-off fragments unless digital surveillance practices of the National Security Agency and foreign intelligence agencies are reformed.

Google's Climate Name-Calling. Eric Schmidt always seemed a decent guy but we never had reason to ask if he was especially brave. Then came his long interview on a Washington radio show late last month, the closing minutes of which featured a caller's inquiry whether Google was still "supporting ALEC, which is that fund lobbyist in D.C. that are funding climate change deniers."

'America' Filmmakers Demand to Know Why Google is Getting Their Search Results Wrong. Lawyers representing Dinesh D'Souza's newest film, America, have fired off a letter to Google demanding that the search engine correct problems that they say are hampering the ability of consumers to figure out where the movie is playing. The letter claims that Google has been confusing America with 2016: Obama's America, which was D'Souza's first movie and has been out of theaters for two years, while Lionsgate released America on July 2 and it is currently playing in about 1,100 theaters nationwide.

How Google Map Hackers Can Destroy a Business at Will. [Scroll down] Only later did [Rene] Bertagna come to suspect that he was the victim of a gaping vulnerability that made his Google listings open to manipulation. He was alerted to that possibility when one of his regulars phoned the restaurant. "A customer called me and said, 'Why are you closed on Saturday, Sunday and Monday? What's going on?'" Bertagna says. It turned out that Google Places, the search giant's vast business directory, was misreporting the Serbian Crown's hours. Anyone Googling Serbian Crown, or plugging it into Google Maps, was told incorrectly that the restaurant was closed on the weekends, Bertagna says. For a destination restaurant with no walk-in traffic, that was a fatal problem.

Google wraps its trans-Pacific fiber cables in Kevlar to prevent against shark attacks. The issue of sharks attacking underwater cables dates back decades. In 1989 the New York Times reported instances of sharks showing an "inexplicable taste" for the then-new fiber optic cables that lay between the U.S. and Europe. Last week at a Google Cloud Roadshow event in Boston Dan Belcher, a product manager on the Google cloud team in an opening keynote said that Google goes to great lengths to protect its infrastructure, including wrapping its trans-Pacific underwater cables in Kevlar to prevent against shark attacks, he said. Google did not respond to a request for additional information.

Google Buying Satellite Maker Skybox For $500M. Google is buying Skybox Imaging in a deal that could serve as a launching pad for the Internet company to send its own fleet of satellites to take aerial pictures and provide online access to remote areas of the world.

Google Plans Advertising on Appliances, Including Nest Thermostat. In a letter to the Securities and Exchange Commission, Google announced plans to place targeted ads on Google-controlled appliances. Google wrote that "a few years from now, we and other companies could be serving ads and other content on refrigerators, car dashboards, thermostats, glasses, and watches, to name just a few possibilities." The proposal raises significant privacy concerns for the "Internet of Things."

Supreme Court rejects appeal by Google over Street View data collection. In March 2013, Google agreed to pay a $7-million fine for collecting personal data from millions of unsecured wireless networks while operating its Street View fleet. The fine settled an investigation of the data collection by 38 states and the District of Columbia. As part of that agreement, Google promised to educate employees about the privacy of consumer data and sponsor a public service campaign to teach people how to secure their wireless networks. Google also agreed to destroy the data it collected. Google said its executives were not aware the Street View vehicles were collecting other data, Connecticut Atty. Gen. George Jepsen said in a statement at the time.

The Editor says...
Google Street View has taken pictures of residential areas all over the world. Many of them are dangerous slums. The Google crew isn't afraid to go anywhere, apparently. One of my personal favorites is the drive down the beach to the point where the Rio Grande River empties out into the Gulf of Mexico. It is not safe to go there, for a number of reasons. Someone — other than me, of course — should compile a list of all the places in the U.S. (and elsewhere) that Google Street View has never been. Such a list would include
• Chappaquiddick Island, Massachusetts
• Hart Island, New York
• Riker's Island, New York
• Most of Centralia, Pennsylvania
• Indian Creek Island, (Miami) Florida
• The Caribbean island of Montserrat
• Paraguay
• The Falkland Islands

Google Introduces Driverless Prototype Cars It Designed. Google Inc. has designed its own self-driving vehicles that transport passengers at the push of a button as it aims to spread the new automotive technology, co-founder Sergey Brin said. [...] The vehicles will initially have a top speed of 25 miles per hour and won't have a steering wheel, accelerator pedal or brake pedal, the Mountain View, California-based company said in a blog post.

The Editor says...
A car with a top speed of 25 mph would be a public nuisance on almost any street. If you take such a car out on the freeway, you could easily get somebody killed. What is to be gained from driverless cars?

Google Honors Rachel Carson, Who Helped Cause the Death of up to 50 Million People. Yesterday Google barely acknowledged Memorial Day, with a tiny little flag that contrasted sharply against the sea of flags on display on Bing's homepage. But today is a holiday the Google people can get behind. It's Rachel Carson's birthday.

Internet Giants Erect Barriers to Spy Agencies. Just down the road from Google's main campus here, engineers for the company are accelerating what has become the newest arms race in modern technology: They are making it far more difficult — and far more expensive — for the National Security Agency and the intelligence arms of other governments around the world to pierce their systems. As fast as it can, Google is sealing up cracks in its systems that Edward J. Snowden revealed the N.S.A. had brilliantly exploited.

Google Tells Conservative News Website to Take a Hike. The Conservative oriented website dedicated to aggregating news from around the world-wide-interwebs, Weasel Zippers, has just lost its primary funding source because... Well... It's kinda hard to say. According to the site, Google AdSense (an add [sic] generator produced by the infamously liberal corporation in Silicon Valley) has cancelled its agreement with the website because of apparent violations to their terms of use. According to Google, the conservative news site has failed to produce an adequate amount of "original content" to continue utilizing the internet advertising tool provided by Google. Of course, the claim seems mildly curious given the fact that news aggregators around the world use AdSense for their primary, or supplemental, income.

European Court: Google Must Yield on Personal Info. Europe's highest court Tuesday [5/13/2014] gave people the means to scrub their reputations online, issuing a landmark ruling that experts say could force Google and other search engines to delete references to old debts, long-ago arrests and other unflattering episodes.

Why Does Google Have to be Berated into Recognizing Memorial Day? After making a concession for a few years by running a small flag and yellow ribbon picture below its search bar, the search engine giant which has a monopoly on conventional search went back to ignoring Memorial Day. After protests mounted, the flag and ribbon were grudgingly restored. However unlike their pictures for every other event, there is no link to "Memorial Day" meaning that if you know, you know. If you don't, Google isn't about to inform you.

Something wrong with that?
European Tycoon Accuses Google of Trying to Create a 'Digital Superstate'. One of Europe's most powerful media tycoons has accused Google of seeking to create a digital 'superstate' outside the control of national regulators and privacy laws. Mathias Döpfner, head of the giant German multi-media company Axel Springer, says Wir haben Angst vor Google: "We are afraid of Google." "I have to say so clearly and honestly because hardly any of my colleagues dares to do so publicly."

Google: the unelected superpower. Researchers at Princeton and Northwestern universities have pored over 1,800 US policies and concluded that America is an oligarchy. Instead of looking out for the majority of the country's citizens, the US government is ruled by the interests of the rich and the powerful, they found. No great surprises there, then. But the government is not the only American power whose motivations need to be rigourously examined. Some 2,400 miles away from Washington, in Silicon Valley, Google is aggressively gaining power with little to keep it in check. It has cosied up to governments around the world so effectively that its chairman, Eric Schmidt, is a White House advisor.

Google Launches Delivery Service in LA & NYC. Google is launching a same-day delivery service called Google Shopping Express in both Los Angeles and New York City. Customers will be able to order items from retailers like Costco, Walgreen and Target and it will arrive in a selected delivery window.

Google Ordered to Remove anti-Islamic Film from YouTube. A U.S. appeals court on Wednesday [2/26/2014] ordered Google Inc to remove from its YouTube video-sharing website an anti-Islamic film that had sparked protests across the Muslim world. By a 2-1 vote, a panel of the 9th U.S. Circuit Court of Appeals rejected Google's assertion that the removal of the film "Innocence of Muslims" amounted to a prior restraint of speech that violated the U.S. Constitution.

Google Is Having Trouble Trying to Trademark the Word 'Glass'. Google is trying to register the word "Glass" as a trademark for its computer-powered glasses. But so far, the company and the U.S. trademark office aren't seeing eye to eye. Google, which has successfully trademarked the term "Google Glass," submitted an application last year for a trademark on just the single word "Glass," displayed with the same futuristic font used in its marketing campaign. But the U.S. Patent and Trademark Office is holding up the company's bid.

Google Maps marks Crimea as Russia... but only in Russia. Crimea is now part of Russia, according to the Russian version of Google's map service. The change was made to reflect in the latest update and did not affect how the online giant presents the peninsula to the rest of the world.

'NSA uses Google cookies to track targets,' reveals latest Snowden leak. The National Security Agency has been accused of using Google cookies to pinpoint targets the government wants to hack. In a NSA presentation slide released by Edward Snowden and seen by the Washington Post, the agency appeared to be using internet tracking techniques usually used by advertisers.

The Tweetable Guide To Media Myths And Left-wing Violence. To this very day, if you type "John Patrick Bedell" into Google, the very first autofill suggestion is "John Patrick Bedell tea party." That's not deliberate malice from Google. The predictive search is based on how often a word or phrase was searched. In other words, folks were so desperate to find out if Bedell was a tea partier, they taught Google to watch for it.

Google: Surge in pressure from govts to delete chunks of the web. Today [12/19/2013], the advertising giant said that, in the first six months of 2013, it received 3,846 demands from public officials to remove 24,737 personal blog posts, YouTube videos and other pieces of content it hosts. That's up 68 percent on the second half of 2012. And according to the web giant, which has just published its latest transparency report, 93 requests focused on content that was critical of people in public office.

Google Buys Nest and Makes a Giant Leap Into Your Home. The search juggernaut snapped up the maker of smart-thermostats and smart smoke detectors for $3.2 billion. That's a lot of insight into your house.

Google's Faux Outrage over NSA Spying. Google Inc. clearly does not have the coercive sovereign power that the NSA has. However, the evidence shows that it has a similar spying habits, legal positions, and attitudes; and that it also has had a decade-long record of cooperation with U.S. intelligence services.

IRS using Google Maps to spy on taxpayers. Agents from the Internal Revenue Service (IRS) are using Google Maps as part of their tool kit to audit taxpayers and organizations, The Daily Caller has learned. A redacted IRS letter dated Sept. 8, 2011 reveals that at least in one case the IRS's examiners used photos of a property, obtained through Google Maps, as evidence to revoke the 501(c)(4) status of a homeowner's association.

Google wants to move into your Home: Giant plans to fit microphones in ceilings. Google is already heavily criticised for trying to know almost everything about us, and now the firm wants to get inside our homes, literally. Engineering director Scott Huffman told The Independent that in his vision of the future Google users would have microphones fitted inside their homes.

Google: Govt Requests for User Data Up 100+ Percent Since 2010. Google today [11/14/2013] released its latest transparency report with details about government requests for user data, which the search giant said have increased by more than 100 percent since it started releasing these reports in 2010. "This comes as usage of our services continues to grow, but also as more governments have made requests than ever before," Google said in a blog post. "And these numbers only include the requests we're allowed to publish."

Google private jets blow 100 million lbs CO2 into atmosphere with its government subsidized fuel. Google may tout itself as being a publicly responsible, green fingered, all-things-good company that touts green technology, but the companies chief executives are not setting a good example from on high. In fact, it would appear they're flying high whilst American taxpayers foot the bill. Despite lobbying the federal government on environmental policy, Sergey Brin, Larry Page, and Eric Schmidt have put 3.4 million miles on their private jets in recent years, polluting the atmosphere with 100 million pounds of carbon dioxide according to The Blaze.

The Editor says...
Carbon dioxide is not a pollutant, and Google is a private company, so I have no problem with the company executives flying wherever they want. The objectionable angle to this story is that prosperous Google gets a fuel subsidy from the taxpayers.

N.S.A. May Have Hit Internet Companies at a Weak Spot. The recent revelation that the National Security Agency was able to eavesdrop on the communications of Google and Yahoo users without breaking into either company's data centers sounded like something pulled from a Robert Ludlum spy thriller. How on earth, the companies asked, did the N.S.A. get their data without their knowing about it? The most likely answer is a modern spin on a century-old eavesdropping tradition.

Gmail scanning may violate federal wiretapping laws, judge finds. A U.S. federal judge allowed a class-action suit against Google to proceed, saying the company's terms of service are unclear when describing how it scans Gmail content in order to deliver advertisements. Google had filed a motion to dismiss the suit, which alleges that the company intercepted and read email while in transit in order to deliver advertisements and create user profiles and models since 2008. The plaintiffs alleged the company violated federal and state wiretapping laws.

Google's new plan for endorsement ads is all about your info. Google plans to launch new product-endorsement ads incorporating photos, comments and names of its users, in a move to match the "social" ads pioneered by rival Facebook Inc that is raising some privacy concerns. The changes, which Google announced in a revised terms of service policy on Friday [10/11/2013], set the stage for Google to introduce "shared endorsements" ads on its sites as well as millions of other websites that are part of Google's display advertising network.

Google Sets Plan to Sell Users' Endorsements. Those long-forgotten posts on social networks, from the pasta someone photographed to the rant about her dentist, are forgotten no more. Social networks want to make them easier to find, and in some cases, to show them in ads.

How Google snoops on your email. Microsoft has accused rival Google of using 'private information for profit' by snooping on people's emails. The software giant has launched an advertising campaign warning people that Google reads every email sent by users, scanning for key words to target advertising. A survey carried out by Microsoft found that 83 percent of people felt that this was an invasion of privacy, while 93 percent thought there should be an 'opt out' option for Gmail users.

US won't let Microsoft, Google reveal more data on FISA orders. Microsoft and Google have not been able to convince the Department of Justice (DOJ) to let the tech companies reveal how many Foreign Intelligence Surveillance Act (FISA) orders they must comply with.

Google's Brin, Page lose Pentagon fuel subsidy on private jets. Google co-founders Sergey Brin and Larry Page have lost a jet fuel perk, according to a new report. Google and the Pentagon inked a deal, which started in 2007, that let Google purchase fuel for its entire fleet — seven jets and two helicopters — at a discounted price from the US government, according to the Wall Street Journal.

Google Jet Fleet Loses a Pentagon Fuel Perk. The agreement between the Google founders and the government, which started in 2007, ended Aug. 31 after officials at the National Aeronautics and Space Administration — which sponsored the arrangement — opted not to renew it, according to a Pentagon spokeswoman.

Google knows nearly every Wi-Fi password in the world. If an Android device (phone or tablet) has ever logged on to a particular Wi-Fi network, then Google probably knows the Wi-Fi password. Considering how many Android devices there are, it is likely that Google can access most Wi-Fi passwords worldwide.

NSA disguised itself as Google to spy, say reports. If a recently leaked document is any indication, the US National Security Agency — or its UK counterpart — appears to have put on a Google suit to gather intelligence.

Feds tell Web firms to turn over user account passwords. The U.S. government has demanded that major Internet companies divulge users' stored passwords, according to two industry sources familiar with these orders, which represent an escalation in surveillance techniques that has not previously been disclosed. If the government is able to determine a person's password, which is typically stored in encrypted form, the credential could be used to log in to an account to peruse confidential correspondence or even impersonate the user.

Google Pressure Cookers and Backpacks, Get a Visit from the Feds. Michele Catalano was looking for information online about pressure cookers. Her husband, in the same time frame, was Googling backpacks. Wednesday morning [7/31/2013], six men from a joint terrorism task force showed up at their house to see if they were terrorists. Which prompts the question: How'd the government know what they were Googling?

Google Outage: Internet Traffic Plunges 40%. Worldwide internet traffic plunged by around 40% as Google services suffered a complete black-out, according to web analytics experts. The tech company said all of its services from Google Search to Gmail to YouTube to Google Drive went down for between one and five minutes last night. The reason for the outage is not yet known, and Google refused to provide any further information when contacted by Sky News Online.

Google argues for right to continue scanning Gmail. Google's attorneys say their long-running practice of electronically scanning the contents of people's Gmail accounts to help sell ads is legal, and have asked a federal judge to dismiss a lawsuit that seeks to stop the practice.

Yahoo, Google, Facebook and more face fight to salvage reputations over NSA leaks. Google. Apple. Facebook. Microsoft: they are the brands that want the world to trust them with personal information, emails, photos, documents — yet they are now facing a battle to maintain that trust after disclosures that the US government was given access to their customers' data online via the Prism programme operated by the NSA. The companies involved — Microsoft, Yahoo, Google, Facebook, PalTalk, AOL, Skype, YouTube, Apple — vigorously deny giving the Obama administration backdoor access to users' internet information, but the potential damage to their brand reputation has left the companies floundering for a way to respond.

Google wants to tell you more about the info spy agencies are seeking. Google is asking the Obama administration for permission to disclose more information about requests it gets from national intelligence agencies for its users' emails and other online communications. The technology giant made the request in a letter to Atty. Gen. Eric H. Holder Jr. and FBI Director Robert S. Mueller III on Tuesday [6/11/2013]. Google is trying to counteract damaging media reports that the company allows the National Security Agency access to users' online communications.

Security-Enhanced Android: NSA Edition. Tech giants listed as part of the National Security Agency's Prism spying program have gone to some lengths to convince the world they aren't in bed with the U.S. government. Google has filed a request with the U.S. Foreign Intelligence Surveillance Act court asking permission to disclose more information about the government's data requests. So there's a certain irony that NSA programmers are now refining code that Google has approved for the company's mobile operating system, Android.

Justice Department tries to force Google to hand over user data. A secret lawsuit in Manhattan filed last month asks judge to force Google to cough up user data without a search warrant. A different court has already ruled that the process is unconstitutional.

Apple, Google Deny Giving NSA 'Back Door' Access To Systems, Claim 'Never Heard Of PRISM'. In light of revelations about the top secret PRISM program used by the FBI and NSA to mine data from users of nine of the largest American Internet companies, two of those companies are now denying any cooperation with the government on such a program. Spokespeople for both Apple and Google have released statements that indicate if the government is obtaining data from their systems it is doing it without the companies' involvement.

How does anyone find time to do any work at Google HQ? With two swim-in wave pools, arcade games littering public spaces and free gourmet food on offer, it isn't hard to see why a job at Google is so sought after. The internet giant allegedly receives a resume every 25 seconds from eager job-seekers, and is expected to be deluged with 40,000-plus candidates wanting an internship.

How can Google (or anyone) prove something is not happening in the super-secret NSA, or prove that the NSA can't do something extraordinary?
Exclusive: Google to DOJ: Let us prove to users that NSA isn't snooping on them. There is a "serious misperception" about the National Security Agency's PRISM program, Google chief legal officer David Drummond said in an exclusive interview with Fox News. On Tuesday [6/11/2013] the company pushed back against the layers of secrecy surrounding the agency's alleged blanket snooping on American citizens. "We were as shocked about those revelations as anyone," Drummond told Fox News, in an interview with Fox News' Chief Intelligence Correspondent Catherine Herridge.

Google denies racial profiling via Gmail. Last year, a tech writer in the US launched an experiment to see if Google was racially profiling users of its popular email service, Gmail. The experiment involved using totally clean email addresses which had racially charged names, sending particular emails with common titles (e.g. "I Need Cash") and then looking closely at the ads which each of different ethnicities were served. The experiment unearthed compelling evidence that Google's email service would give radically different advertising to different people, based on them having an ethnic name.

Brazilian newspapers pull out of Google News. Newspapers accounting for 90% of the circulation in Brazil have abandoned Google News. Brazil's National Association of Newspapers says all 154 members had followed its recommendation to ban the search engine aggregator from using their content. The papers say Google News refused to pay for content and was driving traffic away from their websites.

13,753 Gov't Requests for Google E-Mail Data in 2012, Most Without a Warrant. American government agencies — state, local, and federal — made a record 13,753 requests to read emails or gather other information sent through Google's Gmail and other services in 2012, more than half without warrants, according to statistics released by Google. The total number of users about whom government agencies wanted information also set a record at 31,072, up from 23,300 in 2011, the first year Google began reporting the data. The discrepancy comes because government agencies request information on multiple users or accounts at the same time.

Google engineers knew for TWO YEARS that the company's Street View cars were stealing emails and passwords via wi-fi. The engineer behind Google's plot to steal personal information using the comapny's [sic] wi-fi cars shared his plot with others at the company. Other engineers and at least one senior manager knew that the camera cars of their Street View project were retrieving and storing data from private wi-fi networks. [...] The Los Angeles Times published the report in full, which was the result of a 17-month long investigation by the FCC.

Google releases FCC report on Street View probe. Google has released the full report of the Federal Communications Commission's investigation into the data it collected and stored from millions of unknowing households across the nation while operating specially equipped cars for its Street View service. The search giant released the report, which had had heavily redacted passages, after wrangling with the FCC over which details could be publicly revealed.

FTC ramps up its probe of Google. Escalating an antitrust investigation of Google Inc.'ssearch business, the Federal Trade Commission has hired an outside lawyer to lead the probe and perhaps take the case to court.

Fortune Teller Used Google to Speak to the Dead. Two of Romania's top fortune tellers have been exposed as fraudsters who used Google instead of a crystal ball to gather information on their clients and trick them into parting with tens of thousands of pounds.

The Mounting Minuses at Google+. It turns out Google+ is a virtual ghost town compared with the site of rival Facebook Inc., which is preparing for a massive initial public offering. New data from research firm comScore Inc. shows that Google+ users are signing up — but then not doing much there.

Turning the tables on Big Brother. Mozilla, the maker of Firefox, has unveiled a new add-on for the popular web browser that gives web users an instant view of which companies are 'watching' them as they browse. The move comes the same week that Google pushed ahead with its controversial new privacy policy, built to provide even more data for Google's $28 billion advertising business — despite concerns that the massive harvesting of private data might be illegal in many countries.

Google's Management Doesn't Use Google+. So how about Google CEO Larry Page? It's been over 3 months since Google+ launched, and he's only made 7 public posts, including just one since mid-August. Turns out that's still 7 more posts than Executive Chairman Eric Schmidt has ever made. Since Google+ launched, Mr. Schmidt has found time to retweet Ivanka Trump's promotion of "Snow Flower & The Secret Fan", but apparently couldn't find time to even join Google+.

FCC fines Google $25,000 over Street View probe. The Federal Communications Commission has fined Google $25,000, saying the online search leader impeded an investigation into how it collected data while taking photos for its "Street View" mapping feature.

Google Guru More Concerned Over Climate Change Than Internet Takedown. When asked his thoughts about presidential candidate Newt Gingrich's concerns over electromagnetic pulses, Eric Schmidt, RHW executive chairman of Google Inc. and member of the President's Council of Advisors on Science and Technology, replied that he is more concerned about climate change.

Google's Big Problem They Don't Want You To Know About: Last week, [Google CEO Larry Page] crowed triumphantly that Google+ had hit 90 million users with 60% engaging daily. Again, the problem is that Larry didn't define his terms. If I'm forced to sign up for + as part of registering for Gmail, YouTube or search, should that count as a registration? And if I then do a search or check my Gmail, should I be counted as engaging with +? It's laughable.

David Brock: Self-Styled Martyr of the Radical Totalitarian Left. It was a big photo in Esquire magazine, accompanying Brock's "coming out" tell-all as a liberal. But try Googling it. It's nowhere to be found. Now, Google is an amazing beast. There are pages and pages of image results for public figures, delving deep into the embarrassing recesses of the past. But somehow the self-proclaimed political assassin's most embarrassing and telling photo spread, from his most important article, conspicuously went missing. You might call it a Vast Left Wing Conspiracy.

Google gives up on saving the world from cheap coal energy. Google has announced that it's abandoning its plans to save the planet by making renewable energy cheaper than coal. ... When the project was announced back in 2007, Google was promising to spend tens of millions of dollars on making cleaner energy cheaper than traditional coal.

The truth about the Google-Motorola Deal. Google deserves credit for a big, bold move. But let's be real: This deal could end up being a disaster.

Google Caught with Hand in Cookie Jar. Google has been fined an incredible $500 million by the Department of Justice for knowingly and illegally assisting Canadian pharmacies illegally importing drugs into the United States.

Google turns right; starts donating to Republicans. It's long been the left-leaning search engine that believed in supporting the Democrats and ignoring the right-wingers. But now Google is entering a 'bipartisan phase' as it recruits Republican operatives and donates to GOP groups, reported the Huffington Post.

The Editor says...
This can only mean one thing: The forecasters at Google believe that the Republican nominee will win the 2012 election, and they're positioning the company to win the favor of the next administration.

Google's Search Engine Has Apparently Decided Mitt Romney Can't Win. One of the most sought after secrets of the 21st century is the inner-workings of Google's search algorithm. The company keeps it incredibly private so that no one can discover how to game it and online searching will remain fair for all. However, sometimes the algorithms mysterious process leads to some interesting quirks, especially when it helpfully tries to fix what it views as users' typos.

Google Said to Be Possible Target of Antitrust Probe by FTC. The U.S. Federal Trade Commission is considering a broad antitrust investigation into Google Inc.'s dominance of the Internet-search industry, two people familiar with the matter said. Before proceeding with any probe, the FTC is awaiting a decision by the Justice Department on whether it will challenge Google's planned acquisition of ITA Software Inc. as a threat to competition in the travel-information search business, said the people, who spoke on condition of anonymity because the matter is still confidential.

Google Wades Into Global Warming Debate. Google is diving headfirst into the climate-change debate with a "21 Club" of hand-picked experts that the search engine giant hopes will drive the conversation — and guide investments — in climate change. But it's a discussion that even the club's members say is meant to be one-sided. "If Google included people who challenged that debate, they would be wrong to do so," said Matthew Nisbet, an associate professor for the School of Communication at American University and one of the 21 Google Science Communication Fellows.

E-totalitarianism at Google. Google Inc.'s "Don't Be Evil" slogan is seductive but misleading. It is the lowest business ethics standard ever devised, excusing everything Google does short of evil. Google isn't evil — but neither is it ethical.

Street View cars grabbed locations of phones, PCs. Google's Street View cars collected the locations of millions of laptops, cell phones, and other Wi-Fi devices around the world, a practice that raises novel privacy concerns, CNET has confirmed. The cars were supposed to collect the locations of Wi-Fi access points. But Google also recorded the street addresses and unique identifiers of computers and other devices using those wireless networks and then made the data publicly available through Google.com until a few weeks ago.

Google and Motorola: Concentrating Attention on Concentrated Power. A company that becomes a monopolist — even one that becomes a monopolist honestly, by providing consumers with a decidedly superior service — finds itself relatively unconstrained. Neither effective competition nor electoral realities can punish it, at least in the short term.

Report: Google's Street View cars took emails and passwords from computers. Google was accused of spying on households yesterday after it admitted secretly copying passwords and private emails from home computers. The internet search giant was forced to confess it had downloaded personal data during its controversial Street View project, when it photographed virtually every street in Britain.

Glenn Beck Declares He Won't Use Google Unless He Has To. This past week, as Glenn Beck railed against Google employees Wael Ghonim and Jared Cohen, many wondered if he was setting up to declare a boycott against the company. Tonight [2/16/2011], he clarified his statements. He doesn't want to call a boycott. He just doesn't trust them, has decided he won't use their products unless he has to, and thinks his viewers should look into them (not using Google, of course).

The Dirty Little Secrets of Search. With more than 1,100 stores and $17.8 billion in total revenue in 2010, J.C. Penney is certainly a major player in American retailing. But Google's stated goal is to sift through every corner of the Internet and find the most important, relevant Web sites. Does the collective wisdom of the Web really say that Penney has the most essential site when it comes to dresses? And bedding? And area rugs? And dozens of other words and phrases?

Revealed: Daily Kos' AstroTurf Program to Manipulate Google and Trash GOP Candidates. There is more than one way to manipulate the public, and the progressive movement has turned it into an art form. Less than one week after their AstroTurf rally in Washington DC, where unions and socialist organizations foot the bill to bus people to the nation's capital city, the Daily Kos has developed a new AstroTurf program with the objective to use Google to trash Republican Candidates.

Kos Konspirators Try to Rig Google. In accord with the elevated tone set by the founder, the Daily Kos openly urges readers to rig Google rankings of articles, in order to make the most damaging material about Republican candidates appear prominently when their names are searched.

Beware the Google Bomb. Old-fashioned get-out-the-vote efforts are fine, says Daily Kos, but tech-savvy smear campaigns are a lot more fun. The liberal blog is inviting its readers to "make a big difference in 2010" by taking part in a "very different, but still very important, form of election activism." It's called grassroots-based search-engine optimization, or Grassroots SEO. It's also known as Googlebombing, and the goal is to try to influence undecided voters by overloading search-engine results with negative news articles about Republican candidates in competitive districts.

Google's dangerous mission. By purposely storing all of the world's information in one place, putting everyone's eggs in one basket, Google exposes Internet users, content producers and even governments to huge and unnecessary risks. The utopian vision behind Google's mission — that all information (including private property) should be centralized in the hands of one unaccountable entity — can only lead to a series of disasters and ultimately tyranny.

Google Raises Eyebrows With New Gay-Only Employee Benefit. A new Google policy is raising some eyebrows after the company revealed it will be compensating employees for taxes paid on domestic partners' health benefits — but only if they're gay.

The Google Algorithm. When Google was a pure search engine, it was easy to appear agnostic about search results, with no reason to play favorites with one Web site or another. But as Google has branched out into online services from maps and videos to comparison shopping, it has acquired pecuniary incentives to favor its own over rivals.

The Tyranny of Google. In an astonishing interview with The Wall Street Journal, Eric Schmidt, the CEO of Google, has outlined what he believes will be the future of web searches. His vision is nothing less than the etiolation of free will by, and the surrender of individual autonomy to, the all-knowing, all-seeing priestly class at Google.

Hard-Coding Bias in Google "Algorithmic" Search Results. I present categories of searches for which available evidence indicates Google has "hard-coded" its own links to appear at the top of algorithmic search results, and I offer a methodology for detecting certain kinds of tampering by comparing Google results for similar searches.

The Editor says...
The author of the article immediately above freely admits that he serves "as a consultant to various companies that compete with Google."

The Tax Haven That's Saving Google Billions. The heart of Google's international operations is a silvery glass office building in central Dublin, a block from the city's Grand Canal. In 2009 the office, which houses roughly 2,000 Google employees, was credited with 88 percent of the search juggernaut's $12.5 billion in sales outside the U.S. Most of the profits, however, went to the tax haven of Bermuda.

Google's Grand Data Heist? Google has built an empire by collecting, storing and using the personal data of their users. Every email sent through Gmail; every document created with GoogleDocs; every purchase made with Google Wallet; every thing users do is stored on Google's servers and used for whatever marketing purpose the company sees fit.

Google money engine for Democrats only. With the Internet's No. 1 search engine under fire for playing political favorites with content, a search of Google's political contributions as recorded by the Federal Elections Commission shows a staggering $463,500 went to Democrats in the last three election cycles with a paltry $5,000 going to Republicans.

Google Battles Charges Of Search Bias. [Scroll down] Some regulators already believe that Google has behaved in an anticompetitive fashion: European regulators are in the midst of an antitrust inquiry into Google's search business. The U.S. Federal Trade Commission is doing likewise. The Texas Attorney General is also looking into Google's search business practices, and other state-level investigations may be in the works. At the hearing, skepticism about Google was well represented.

Google gins search formula to favor its own services. A noted Google-watcher has assembled a convincing argument that the site's search results highly favor Google-owned services, despite repeated company claims that they are algorithmically generated and never manipulated. Harvard professor Ben Edelman and colleague Benjamin Lockwood found that Google's algorithm links to Gmail, YouTube, and other house brands three times more often than other search engines. Search terms such as "mail", "email", "maps", or "video" all yield top results featuring Google's services, they found.

Google Bias: Time For A Conservative Search Engine? [Scroll down] There is another bias out there that gets much less attention, and that is the apparent bias toward liberal subject matter built in to the Google search engine. I encountered it while I was gathering information for the previous post. This isn't the first time I had noticed it.

Is Google Purging Conservative News Sites? Something frighteningly ominous has been happening on the Internet lately: Google, without any prior explanation or notice, has been terminating its News relationship with conservative e-zines and web journals. At first blush, one can easily ignore such business decisions by the most powerful company on the Internet as being routine. However, on closer examination, such behavior could give one relatively small technological corporation (when measured by the size of its workforce) a degree of political might that frankly dwarfs its current financial prowess.

YouTube, Google, and the Liberal Bias Virus. Five months ago, the Internet's top search engine Google was accused of banning conservative websites from its news crawl. Last week, the e-behemoth offered to purchase YouTube, the preeminent provider of videos over the Web that has recently been implicated in censorship of its own. With their pending merger, serious questions arise about the future of the most powerful telecommunications medium on the landscape, and who if anyone is trying to control its content.

New evidence of Google search bias. Does Google anti-competitively leverage its dominance in search to disadvantage its competitors, including Google's media competitors? New evidence suggests yes.

Google Launches Campaign to Force Global Tolerance of Homosexuality. One of the most powerful and ubiquitous online entities in the world is using its influence to try to force tolerance of homosexuality on the entire world. Google, which in June banned guns and ammunition from its online shopping site as unsafe for families, announced the launch of its "Legalize Love" campaign July 7 to pressure countries that either do not recognize "gay rights" or outlaw homosexual behavior altogether to change their laws. In its rollout of the project, the Fortune 500 company attempted to frame its crusade as an attempt to promote safer conditions for homosexuals in countries where Google has offices.

Google Shopping Site Bans Guns, Ammo as Unsafe for Families. Google has announced a ban on firearms, ammunition, and other items its censors deem to be unsafe from its new Google Shopping site, initiated in early June. While most major U.S. news organs appeared to have missed or ignored the announcement, which Google made in late May, foreign newspapers were all over it.

Is Google Showing Political Bias with Search Results? There are people who think Google is incorporating political bias into search results. As examples they use misspellings of George Bush and Barack Obama. Are the results of misspelled queries really something Google would take the time to specifically alter to inject their political beliefs though?

Google has a whopping 7,100 people working on Maps alone. Business Insider reports that Google has roughly 7,100 people who are working on its maps application, including 1,100 full-time employees and 6,000 contractors who combine to work as "street view drivers, people flying planes, people drawing maps, people correcting listings, and people building new products."

Someone In Detroit Pointed A Gun At A Google Street View Car. Google captures its Street View images by literally driving a camera-equipped car down the road while snapping photos. As such, the company tends to capture some weird images. [One image], captured by a Google car in Detroit, clearly shows a group of people hanging out on a porch brandishing a gun. Another image clearly shows one of them taking aim at the Google car.

The Editor says...
Yes, and if you drive through that neighborhood, they'll point a gun at you, too.

Can Google be trusted? Google got slapped with a record $22.5 million fine Thursday [8/9/2012] for breaking a promise to stop snooping on its users — shocking news to the average Internet user. But regulators across the globe weren't surprised because this isn't the first time the search giant has been dinged for failing to keep up its end of the bargain with government enforcers.

US fines Google $22.5 million for privacy violations. The US Federal Trade Commission fined Google $22.5 million for violating the privacy of people who used rival Apple's Safari web browser even after pledging not to do so.

Gmail suffers international failure. The problems struck just before 5pm GMT and appeared to affect Gmail users everywhere. Google's apps status dashboard, which tracks the availability of its web services, did not register the outage for half an hour.

Google Revenues Sheltered in No-Tax Bermuda Soar to $10 Billion. Google Inc. avoided about $2 billion in worldwide income taxes in 2011 by shifting $9.8 billion in revenues into a Bermuda shell company, almost double the total from three years before, filings show. By legally funneling profits from overseas subsidiaries into Bermuda, which doesn't have a corporate income tax, Google cut its overall tax rate almost in half.

Will Google's Eric Schmidt join the Obama administration? Schmidt's big role in the Obama re-election campaign, Google's $1.9 million donation to Democrats during the race, and Washington's efforts to quiet a looming Federal Trade Commission investigation into Google are key signs that the president wants Schmidt in his cabinet, insiders believe.

<-- glue -->

Update:
Eric Schmidt declines Obama cabinet post. Google chairman Eric Schmidt has publicly declined to join the Obama administration in the new year after a rumoured offer for the post of Treasury Secretary.

Fox News Reporter James Rosen's Private Emails Given To Justice Dept. By Google. As a result of Fox News Channel's State Department reporter James Rosen's 2009 investigation into the government's response to North Korea's repeated provocations, it was reported on Monday [5/20/2013] that the Department of Justice tracked Rosen's movements as well as subpoenaed telephone and email records. According to the DoJ's subpoena, Google surrendered Rosen's emails, who is described as "an aider and abettor and/or co-conspirator," to the government.

Google honors Cesar Chavez on Easter. On Easter Sunday, Google is honoring the birthday of the late labor organizer Cesar Chavez by placing a Chavez portrait within the middle "o" of the Google logo that appears on the homepage of the popular search engine. While Google frequently decorates its logo to celebrate various holidays and special events, it is unclear why the company chose specifically to honor Chavez's birthday, instead of Easter Sunday.

Ponder Christian Soldiers Google's Smirking War on You. Hundreds of millions of Christians received the clearly intended message that Google doesn't deign to wish them well on their sacred day. It would rather honor a liberal labor icon.

"People Are So Afraid Of Google Now": Here's Why. Google, pardon Alphabet's efforts to influence the American political discourse (not to mention presidential election outcome) stretch far beyond the company's penchant for subtly disadvantaging independent and conservative thinkers on platforms like YouTube. By financially supporting left-leaning policy shops, Google's parent company has helped raise a liberal army intent on hashing out policy minutiae to help bend US policy to their benefactors' advantage. But what happens when these supposedly "independent" think tanks publish something that displeases their corporate master? As one researcher at the left-leaning New America think tank learned, the punishment is swift and severe.

Google Goes From Left-Wing Hero To Goat Overnight. Wasn't it just a few weeks ago that the left was cheering Google for firing an employee who dared to question the company's liberal orthodoxy? Now the company is getting battered by the same crowd for allegedly causing a critic to be fired from a think tank.

Google Issues Ultimatum to Conservative Website: Remove 'Hateful' Article or Lose Ad Revenue. On Tuesday evening [8/29/2017], Google sent a conservative website an ultimatum: remove one of your articles, or lose the ability to make ad revenue on your website. The website was strong-armed into removing the content, and then warned that the page was "just an example and that the same violations may exist on other pages of this website." "Yesterday morning, we received a very bizarre letter from Google issuing us an ultimatum," Shane Trejo, media relations director of the Republican Liberty Caucus of Michigan, wrote on The Liberty Conservative. "Either we were to remove a particular article or see all of our ad revenues choked off in an instant. This is the newest method that Big Brother is using to enforce thought control."
---

Google bends over backwards to avoid offending Muslims

Google News severs ties with sites that criticize radical Islam. Newsbusters says it has observed a pattern of intolerance toward conservative sites that deal with radical Islam and terrorism.

Google dumps news sites that criticize radical Islam. Search engine giant Google has cut off its news relationship with a number of online news publications that include frank discussions of radical Islam — the New Media Journal becoming the latest termination, as its owner just discovered.

Google News Re-Defines "Hate-Speech". When conservative news sites recently ran well researched and fundamentally factual news stories about Jihadists seeking to further harm innocent Americans, Google deemed those articles and the sites that ran them "hate speech" and is working to remove them from the search results.

The Anti-Google Search Engine Index. Google News and Google Search Engine are on a campaign of political correctness that sees them denying access to their service to any website — be it news, opinion or a hybrid of both — that dares to address the subject of radical Islam. This sets a dangerous precedent. What will the next subject be that serves as a catalyst for Google to promote their unique brand of corporate censorship?

The Editor says...
I invite the people at Google to remove any and all references to this web page from their search engines, if they so desire. In operating and maintaining this web site, my goal is not to have it become the most popular web site ever, but to be the most beneficial to those in search of the truth. This page is here for the purpose of shining light on the evils of Islamic terrorism and the transparent lie that "Islam is a religion of peace." The use of the term "hate speech" to describe such criticism is a pernicious attempt to stifle the exchange of conflicting ideas.

When you use a search engine, you should expect it to produce links to a variety of web pages, including some that contain statements with which you disagree. The decision to agree or disagree — to visit or not to visit those sites — should be yours, not Google's. The term "hate speech", as I understand it, is the use of dishonest verbal or written statements intended to be deliberately offensive or to incite violence against a group of people merely because of race or religion. That is not the purpose of this page.

One has to wonder if Google is equally vigorous in censoring "hate speech" critical of Christians and Jews.

Google News Re-Defines "Hate-Speech". The "new media" namely talk radio, TV punditry and the Internet, provide a vital opportunity for the people to bypass the establishment press, search for and research their own facts and develop their own individual opinions on the basis of truly independent information sharing.

The Anti-Google Search Engine Index. A lengthy list of search engines that have one thing in common: They aren't Google. There are almost 200 search engines — some better than others, of course.

The Race for the American Mind: It doesn't take the prescience of Nostradamus to project into the future. If political correctness continues to capture minds and hearts, the pressure — both governmental and social — to call truth "hate speech" and censor it will continue to grow. What happens when search engines not only purge traditionalist dissent from their news services, but also their search results?

Somewhat related ...
Journalist Who Exposes U.N. Corruption Disappears From Google. How big do you have to be to earn the wrath of the United Nations and Internet giant Google? If you're journalist Matthew Lee, all it takes are some critical articles and a scrappy little Web site. Lee is the editor-in-chief, Webmaster and pretty much the only reporter for Inner City Press, a pint-sized Internet news operation that's taken on Goliath-sized entities like Citigroup since 1987.

I see a pattern developing here.
Angry Christians sue Google over internet ad. Websites selling knuckle-dusters and ouija boards, as well as dating sites designed for married people who want to have affairs, are advertised on Google. But the company turned down the non-denominational Christian charity that wanted to pay Google so that whenever the word "abortion" was typed in, its link would appear on the right hand side of the screen.

Editor's note:
Apparently "knuckle-duster" is Australian slang for what we call "brass knuckles."

Google Earth: A New Platform for Anti-Israel Propaganda. Those wishing to explore Israel in Google Earth are immediately taken to a politically motivated narrative unrelated to their quest. Google should remove the narrative and treat Israel as it treats every other country on the globe. The core layer of Google Earth should be ideology free and not serve as a platform for indoctrination or a campaign to wipe Israel off the virtual map.

Somewhat related:
Google Shuts Down Anti-Obama Sites on its Blogger Platform. It looks like Google has officially joined the Barack Obama campaign and decided that its contribution would be to shut down any blog on the Google owned Blogspot.com blogging system that has an anti-Obama message.

Anti-Obama Bloggers Question Why Google Froze Their Accounts. Some bloggers opposed to Barack Obama say they suspect Obama's supporters — with the assistance of Google — may have tried to censor them when the Internet giant froze their Web sites for five days last month.

What's Islam? Don't Ask Google. Google's search engine returns common results to most queries as you type. But the "don't be evil" company appears to be censoring its results when it comes to Islam.

Google jihad. Google isn't carrying water for jihad. That's what the company says, and they're sticking to it. Still, many Internet surfers wonder: Is there something bad about Islam the Google search engine doesn't want you to know? Google has been accused of pandering to Muslims by censoring negative search suggestions in its main search box. Type "Christianity is" in the search bar, and Google suggests helpful endings to your query, such as "not a religion," "a lie," "a cult," and so on.

Google Goes Jihad. Google, the Internet's ubiquitous search engine, is under fire this week for censoring negative search results about Islam. ... Google, however, says it was all a mistake, and denies have done anything to favor Islam. "This is a bug," insisted a Google spokesman, "and we're working to fix it as quickly as we can." Oddly enough, however, even with all of Google's technical savvy, this "bug" persisted for days and continues as of this writing...

Google blocks YouTube clip in Egypt and Libya; keeps it online. YouTube, the video website owned by Google Inc, said on Wednesday [9/12/2012] it would not remove a film clip mocking the Islamic Prophet Muhammad that has been blamed for anti-U.S. protests in Egypt and Libya, but it has blocked access to it in those countries. The clip, based on a longer film, depicts the prophet as a fraud and philanderer and has been blamed for sparking violence at U.S. embassies in Cairo and Benghazi.

Obama's Disdain for Democracy and Free Expression. Last week, we learned that the White House has been pressuring Google to censor a video about Muhammad because it has allegedly incited violence in Libya. Google refused, but the very request is a useful reminder of the President's disdain for the democratic process and the principles of free expression upon which it stands.

Google Denies White House Request to Censor Anti-Muhammed Film. Google stood up for artistic expression and to White House pressure today [9/14/2012] when it rejected a request from the Obama administration to remove an online video that mocked Muhammed.


---

Back to the Islam Index Page.
Back to the Home page