Introduction:
This page is a spin-off from a larger page about Islamic terrorist attacks that were reported as "isolated incidents."
In this case, the perpetrator was a Muslim, homosexual, "anchor baby," known by the FBI as a potential troublemaker, and a registered Democrat, who purchased his guns legally and took them into a "gun-free zone." (Gun-free zones do not prevent crime.) That would take the steam out of much of the media coverage -- if such details were ever broadcast. Frankly, I am a little surprised that attacks on "gay bars" are not commonplace in cities that welcome and celebrate homosexuals, such as San Francisco, Austin, Key West, New York, and New Orleans. It is no secret (unless you get all your information from television) that Muslims routinely kill homosexuals in the Middle East. Perhaps this will be the moment when the homosexuals wake up and realize that Islam is not a "religion of peace." Maybe the rest of the country will finally understand that the last thing this country should do is import more Muslims, because Muslims do not assimilate into multicultural countries.
Recap and overview:
The Highways To Orlando. We know what the recent terrorist attack in Orlando was not. Forty-nine people were killed and fifty-three wounded not due to the violent outburst of a right-wing zealot. The shooter, Omar Mateen, was a second-generation Afghan-American, a registered Democrat, and a fierce critic of American politics and culture. Nor were the killings caused by easy access to "assault weapons." The vast majority of American terrorist casualties have not involved firearms. Box-cutters and planes, not rifles, led to the 9/11 attacks and some 3,000 deaths. The two Tsarnaev brothers used explosives to kill and maim during the Boston Marathon, a tactic that Umar Farouk Abdulmutallab also tried in his attempt to blow up an Amsterdam-to-Detroit flight. The Oklahoma beheader and the UC Merced attacker Faisal Mohammad preferred knives to guns, as did the recent Paris terrorist who knifed to death a French law enforcement couple. Certainly, Europe's strict firearms laws have no more discouraged lethal terrorism than has Chicago's draconian gun control policy reduced the epidemic of lethal inner-city shootings. Omar Mateen purchased his weapons legally — although one gun shop owner refused to sell him firearms and body armor, and contacted authorities afterward, but they did not follow up.
FBI bureaucratic failures and willful blindness rack up a horrifying body count. In 2013 Omar Mateen lost his job as security guard at Florida's St. Lucie County courthouse. Mateen had made "inflammatory comments about women, Jews and the mass shooting at Ft. Hood." The FBI twice questioned Mateen after he touted ties to terrorists, but FBI special agent Ronald Hopper told reporters "we were unable to verify the substance of his comments and the investigation was closed." On June 12, 2016, Mateen gunned down 49 people and wounded 58 others at the Pulse nightclub in Orlando. [...] Who are the FBI agents, and their bosses, who looked the other way in the Fort Hood, Boston Marathon and Orlando terrorist attacks? What, exactly, are they doing now? As in the Florida high-school shooting, the victims and their loved ones deserve some answers.
The FBI Record on Fighting Terrorism.. [Scroll down] Many Americans assume, however, that at least in the area of Islamic terrorism, the FBI has kept Americans largely safe. Not so fast. The record doesn't quite show that. In fact, the agency has blundered many terrorism investigations and thus jeopardized the security of Americans. [... For example,] In 2016, Islamist Omar Mateen slaughtered 49 people at an Orlando nightclub. While the FBI did investigate him for 10 months it closed his file because it believed he was "being marginalized because of his Muslim faith." Seriously.
Note: There is a subsection at the bottom of the page about the shooter's father "coincidentally" appearing at a Hillary Clinton rally two months after the Orlando shooting.
---
Think the FBI Deserves the Benefit of the Doubt? In June 2016, a 29-year-old gunman named Omar Mateen stormed the gay Orlando nightclub Pulse, killing 49 and injuring 53 more in the name of Islamic terrorists killed in Iraq and Syria. Mateen's father, Seddique, was an FBI informant, whom documents published by The Intercept suggest convinced the bureau to stop investigating his son. The bureau turned instead to charging Mateen's widow, Noor Salman, with material support and obstruction of justice. Prosecutors sought to conceal the father's status as an FBI informant, according to the Intercept, in pursuit of Salman's conviction. "Seddique Mateen has not faced criminal charges despite a tip to the FBI that he raised money for terrorism in Pakistan, and an ongoing investigation into money transfers he allegedly made to Turkey and Afghanistan," the Intercept reported. "Omar Mateen was researching flights to Turkey at the same time that his father was sending payments there, according to defense lawyers' summary of FBI evidence." Salmon was apparently unaware of their possible plans to travel to either country.
Dems Get Busted Pushing False Story About Pulse Shooting, Leaving out Some Critical Info. Media and the Democrats are promoting a false perception on the fifth anniversary of the mass shooting at the Pulse Nightclub, in which Omar Mateen killed 49 people and injured 53 people. There's never been any evidence that the shooting was due to it being a gay club. It's a horrible enough incident on its own, but that isn't a proven aspect of the case. Indeed, the motive, at least as expressed by Mateen, was connected to ISIS, and the U.S. actions of Obama (and Biden) in Syria. But you wouldn't know it if you read [a recent] AP story, which doesn't mention the shooter, his name, or the Islamic terrorist connection — just talks about the "the deadliest attack on the LGBTQ community." [...] If you just read the article, you'd think that gay people were targeted because they were gay, not just because it was a crowded club and he was inspired by terrorism. He had actually been scouting Disney locations, but became concerned by police there. He thought it was too secure, so he picked the club instead. There was no proof he had ever been there before or even knew it was a gay club.
Florida Dem admits lying about treating Pulse shooting victims. A queer Democratic politician who claimed to have treated Pulse nightclub shooting victims admitted to Florida officials that she lied about her service. Elizabeth McCarthy told the Florida Department of Health that she had fabricated claims that she was a cardiologist who had treated victims of the mass shooting on the LGBT destination. 'I lied. It is a false statement. I just made it up,' McCarthy said, according to an affidavit released Wednesday by the Florida Department of Health and obtained by Florida Politics.
Florida Dem ends campaign after claim she removed '77 bullets' from Pulse shooting victims challenged. A Democratic candidate for Florida's House reportedly has ended her campaign after being challenged on her detailed and graphic claims she treated victims of the 2016 Pulse nightclub shooting. [...] But FloridaPolitics.com published a report earlier this month challenging her claims she worked as a cardiologist at Orlando Regional Medical Center[.] The report listed the following discrepancies: the Florida Department of Health did not have a record of her being a licensed doctor; the parent company of the medical center said there's no record of any doctor by that name; another company the candidate claimed to be working for denied she worked there; and University of Central Florida officials said they couldn't find a record of the medical degree she claimed.
Calling Out Around the World. All jihad is local, but all "Islamophobia" is global. So, if a Muslim of Afghan origin shoots up a gay nightclub in Florida and kills 49 people, that's just one crazed loner and no broader lessons can be discerned from his act. On the other hand, if a white guy shoots up two mosques in New Zealand and kills 50 people, that indicts us all, and we need to impose worldwide restraints on free speech to make sure it doesn't happen again.
Democrats and Their Media Pretend Muslim Terrorism Is Manufactured. When Omar Mateen shot to death 49 patrons of the Pulse nightclub in Orlando, Fla. three years ago, his act of terror resulted in the second highest casualty count of Islamic terrorism in American history, behind only the September 11, 2001 attacks. Yes, the DMIC did make mention of his radicalization, but the immediate — and prevailing — narrative was centered on gun violence and gun control, which is analogous to calling 9/11 airplane violence. Democrats and the DMIC [Democrat Media Industrial Complex] have written Mateen's Islamic radicalization out of his life story. You wouldn't have known that Mateen pledged his life to ISIS from the originally released 911 call transcript from Obama's Department of Justice, which omitted the ISIS reference so as not to give the terror group additional publicity. The DOJ did eventually release an unedited transcript.
Democrats [are] Using Every Evil Play in the Book to Silence Americans. Leftists attempt to exploit every incident to further their agenda and demonize everyday traditional-minded Americans. Outrageously, Democrats and fake news said Christians who spoke out against redefining marriage caused a gunman to massacre homosexuals in an Orlando night club. Omar Mateen, the shooter, was a Muslim. Christians lovingly try to lead homosexuals to Jesus. Muslims routinely execute them.
Islamic Terrorists and Gay Targets. The aftermath of Omar Mateen's killing spree was one of the modern media's low points. And these days that's a competitively low bar. Cable news ignored Omar's declaration that he was an Islamic terrorist and instead wildly speculated that he was secretly gay and homophobic at the same time. It's been established conclusively that the ISIS terrorist wasn't gay. He may not have even known that he was about to open fire in a gay nightclub. His original target had been the Disney Springs mall. And his message began with, "In the name of Allah." ISIS has recorded propaganda videos of its fighters fully implementing Sharia law by hurling gay men off buildings. But after the media's misleading coverage, it appeared to urge future attackers to avoid targets where their intentions might be misinterpreted. ISIS had managed to pull of its deadliest attack in America only to have it be attributed to repressed homosexuality instead of the glorious caliphate.
One Year After Pulse Nightclub Attack, Orlando Sentinel Gaslights Omar Mateen's Motive. During the attack, the killer Omar Mateen called 911 three times and also called a local TV station to claim credit, saying he did the attack in support of the Islamic State. But in a trend I've documented here at PJ Media, despite these obvious "investigative clues," there are media outlets, family members, and law enforcement officials who still puzzle over Mateen's motive. Remarkably, the Orlando Sentinel, the largest newspaper in the city where the Pulse nightclub attack occurred, published an article last week before the one year anniversary of the attack gaslighting the killer's motive.
Barack Obama and Omar Mateen. [Scroll down to #1242] In June 2016, an Islamic terrorist named Omar Mateen murdered 49 people in Orlando, Florida. Multiple people had warned the federal government that they thought Omar Mateen was going to commit a terrorist attack, but the government dismissed these complaints because, in the hierarchy of political correctness, not wanting to offend Muslims takes precedence over saving the lives of innocent U.S. citizens. In 2013, Mateen's coworkers reported to the FBI that Mateen had made terroristic threats, had told them that he had family connections to Al Qaeda, had told them that he was a member of a Shi'a terrorism organization, and had told them that he hoped to be a martyr (which wikipedia defines as "a man or woman who dies while conducting jihad"). [...] During his attack, Mateen called 911 three times, and made references to ISIS and al-Baghadadi. Afterward, Attorney General Loretta Lynch said that the FBI would remove references to ISIS and al-Baghadadi from the transcripts of these 911 calls before releasing them to the public. However, after people complained about this, the FBI changed its mind and released transcripts with those references included.
Pulse nightclub attack survivors sue Google, Facebook, Twitter over 'material support' to ISIS. Survivors of the Pulse nightclub massacre in Orlando, Fla., perpetrated by a supporter of the Islamic State terror group, are suing Google, Facebook, and Twitter, alleging that the tech firms allowed the group to proliferate and spread propaganda. In a lawsuit filed Wednesday [4/4/2018] in Orlando's federal courthouse, 16 victims of the June 12, 2016 shooting — the second deadliest in American history — claim that the three tech giants were responsible for letting ISIS disseminate propaganda on their platforms, thus providing "material support" to the terror group, in violation of the Justice Against Sponsors of Terrorism Act (JASTA).
The Pulse Terror Attack Was About Islam Not Homophobia. It was not unreasonable to assume that Omar Mateen had deliberately targeted a gay club. But there's no evidence that he did. There was evidence that he didn't. But it was the left that played up the homophobia narrative, especially by pushing the discredited claims that Mateen was gay. It wasn't doing this to advocate for gay people, but to protect Islam. That's why the media chose to depict Mateen as gay rather than a Muslim.
Something the Attorney General Can Correct Right Now. Attorney General Jeff Sessions has authority over the FBI. If he's paying attention, he might notice how far that agency's credibility has fallen. This week, the Noor Salman jury refused to find her (the wife of the Pulse nightclub shooter) guilty of obstruction of justice and providing material support to a terrorist act. The jury foreman explained why, and if Sessions is paying attention, he can do something immediately to help restore faith in the agency. (Recall that the jury learned that the shooter's father had been a longtime FBI informant and had persuaded the agency to disregard the obvious signs of his son's intent.) In the foreman's post-verdict statement, he said: "I wish that the FBI had recorded their interviews with Salman as there were several significant inconsistencies with the written summaries of her statements." This is something FBI watchers have long criticized.
The killer's widow: Orlando and the lessons we refuse to learn. So, it happened again. Noor Salman, the widow of the Pulse nightclub shooter, Omar Mateen, was found not guilty on Friday, March 30, 2018 of helping her husband with his deadly attack. She was acquitted by a federal jury of aiding and abetting her husband in providing material support to the Islamic state and of obstruction of justice. If sentenced, she would have faced life in prison. Salman claimed she didn't know about her late husband's plans, and was herself "a victim" of his domestic abuse. On Monday, March 26, 2016, the U.S. District Judge Paul Byron rejected a defense motion for a mistrial of Salman in relation to the fact that Mateen's father was an FBI informant for eleven years before the attack. The judge ruled that the fact had "little bearing on the trial of the gunman's widow." Some interesting facts about Judge Byron: He was nominated on February 6, 2014 by President Obama [...]
Noor Salman Jury Foreman: Despite Not Guilty Verdict "We were convinced she did know". Today [3/30/2018], a Florida jury on Friday acquitted Noor Salman, the widow of Pulse nightclub terrorist Omar Mateen, for charges of being an accomplice in the attack. 31-year-old Mrs. Salman was found not guilty of all charges relating to her providing material support to a foreign terrorist organization and obstruction of justice.
Bombshell criticism of FBI as jury foreman in the Noor Salman Pulse Nightclub trial speaks out. The jury that acquitted Noor Salman of aiding and abetting her husband's slaughter at the Pulse nightclub believed she was aware of what her husband was planning, but based on the detailed jury instructions and the nature of the evidence they were presented, they had no choice but to deliver a "not guilty" verdict. We know this now because the Orlando Sentinel received a statement from the foreman, which is presented in its entirety below. What leaped out at me was a single sentence criticizing the FBI, that comes 294 words into the statement. ["]I wish that the FBI had recorded their interviews with Ms. Salman as there were several significant inconsistencies with the written summaries of her statements.["]
Jury 'convinced' Noor Salman knew of Pulse nightclub attack, but had 'no option' but to acquit, foreman says. The jury foreman in the concluded trial of Noor Salman — widow of Pulse nightclub gunman Omar Mateen — said jurors were "convinced" she knew of the attack beforehand, but had "no option but to return a verdict of not guilty." In a statement provided to the Orlando Sentinel, the juror — who requested to remain anonymous — said "a verdict of not guilty did NOT mean that we thought Noor Salman was unaware of what Omar Mateen was planning to do," rather that the jury was "not tasked with deciding if she was aware of a potential attack."
Pulse Nightclub Survivor Furious Over Acquittal of Gunman's Wife. The widow of the gunman who killed 49 people at an Orlando nightclub in 2016 was found not guilty Friday of obstruction and aiding and abetting by attempting to provide material support to a terrorist organization. Noor Salman had served two years in prison and faced up to a life sentence if convicted. She was acquitted of the charges despite reportedly admitting after the rampage that she knew about her husband "acquiring weapons, watching Islamic State videos and discussing possible locations in apparent preparation" for the attack.
Jury Buys Lawyer "Simple" Defense, Wife Of Nightclub Shooter Not Guilty. On June 12, 2016, Omar Mateen walked into the Pulse nightclub in Orlando, Florida. Armed with a rifle, he opened fire on the people enjoying the club, killing 49 and wounding 58, before local police killed him in a shootout. When he died, Mateen had repeatedly pledged allegiance to Islamic extremist organizations and leaders, such as ISIS and ISIL, and suspicions quickly settled on his wife as a possible accomplice. Noor Salman, Mateen's wife, was accused of assisting her husband in planning the terrorist attack at the Pulse nightclub. That case is coming to a close now, almost two years later, and Salman's defense attorney has chosen a strange defense for his client, suggesting that she has a "low IQ" and is too unintelligent to know that her husband planned to attack the nightclub. Apparently, the jury bought it, finding her 'not guilty.'
The FBI's outrageous handling of Pulse nightclub shooter Omar Mateen. How do you know something very much disturbs the left and their narrative? When it is big news, but if you relied on the Google news lineup, or The New York Times front page, you would have no idea it happened. Case in point: The extraordinary revelation by prosecutors in the trial of the Pulse nightclub shooter's widow, Noor Salman, that the father of her now-dead terrorist husband was an FBI informant for 11 years. Almost immediately after the terror attack that left 48 dead and 58 wounded, much like the Parkland shooting, Americans learned that every element of the system worked, except the FBI.
Widow of Florida nightclub gunman cleared of all charges. The widow of the Pulse nightclub gunman walked free on Friday after a jury cleared her of charges related to the 2016 massacre that killed 49 people in Orlando, stunning survivors who had longed to hold someone accountable.
Did The FBI *Cause* Pulse? So once again we have outrageous prosecutorial misconduct. Specifically, the prosecution had an obligation to disclose this during discovery before the trial began, and did not. But the better question here is whether the FBI knew that the shooting was going to take place, was being planned, and deliberately ignored it or worse, even egged it on.
Father Of Pulse Gunman Was FBI Informant; FBI Considered Making Gunman An Informant, Reports Say. On Monday [3/26/2018], lawyers representing the wife of the Orlando Pulse nightclub gunman called for a mistrial in the case after they claimed that new details from prosecutors revealed that the gunman's father was an FBI informant. [...] Krista M. Torralva, a crime reporter for the Orlando Sentinel, reported that the FBI also considered making the gunman a confidential FBI informant on terrorism after they investigated him for terrorism and couldn't find any links.
Prosecutors Admit Decade-Long Relationship With Pulse Shooter's Father Despite Terror Tip. The FBI had a decade-long confidential informant relationship with the father of Pulse nightclub shooter Omar Mateen, prosecutors admitted Saturday, 12 days into the trial of his wife. The undercover relationship with the father, Seddique Mateen, continued even though the bureau was tipped off in 2012 that its informant was himself raising money to plan a terrorist attack on the government of Pakistan. The father's status also played a role in the FBI's decision not to seek prosecution of Omar in 2013 after they investigated him for violent threats, attorneys for the shooter's wife said. If Omar had gone to prison in that case, the infamous Pulse shooting might have been avoided.
Attorneys: Father of Pulse Nightclub Killer Omar Mateen Was FBI Informant. Attorneys for Noor Salman, the wife of Pulse nightclub killer Omar Mateen, moved to dismiss the charges or declare a mistrial on Sunday night after the prosecution revealed on Saturday that Mateen's father, Seddique Mateen, worked as an FBI informant from 2005 through the summer of 2016. According to defense lawyers, Assistant U.S. Attorney Sara Sweeney sent them an email on Saturday night [3/24/2018] that revealed Seddique Mateen was a confidential FBI source and is also under investigation for suspicious money transfers to Turkey and Afghanistan, based on documents that were discovered in his home on the day of the nightclub massacre. Noor Salman's trial had already been in progress for a week when this disclosure was made.
The Editor says...
Hmmm. I wonder why the most transparent administration in history didn't tell us about this.
Wife of Pulse Nightclub Terrorist Knew About Attack, Said Husband 'Liked Homosexuals'. Noor Salman, the wife of the Pulse nightclub terrorist Omar Mateen, has admitted to knowing about her husband's plan to launch an attack. Days before the massacre that killed 49 people at the gay club, the 31-year-old mother said she "knew an attack was close" and said she drove past the location with her husband who told her it was a "target." Since the attack, Salman has maintained her innocence and has lived in California with their young son, according to Daily Mail. Back in January, she was finally arrested and charged. She will soon face a jury in Florida; however, her lawyers are trying to block her statements to responding officers from being used in the trial. They say because she wasn't under arrest when making the statements, they shouldn't be considered as evidence.
Florida: Jihadi's wife 'knew he was going to attack the Pulse Night Club'. "I knew when he left the house he was going to Orlando to attack the Pulse Night Club," [Orlando jihadi's wife Noor] Salman said, according to a statement written by an FBI agent and signed by Salman during the 18-hour interview. Salman's statements to law enforcement were recently made public.
The clues that suggest wife of Pulse nightclub killer KNEW he was plotting massacre. The wife of the Pulse nightclub gunman apologized to FBI investigators for lying to them, said she 'knew an attack was close' in the days before the massacre and wished she could 'go back to tell them' about it before it was too late, it has been alleged. Noor Salman, 31, the wife of Omar Mateen who was killed by a SWAT team on June 12, 2016, after slaughtering 49 people in the Orlando nightclub, allegedly made the remarks hours after the massacre. She was being questioned by FBI agents and local police and is said to have given a written statement which authorities believe proves she knew what Mateen was planning. Despite the alleged remarks, she was allowed to leave the interviews a free woman.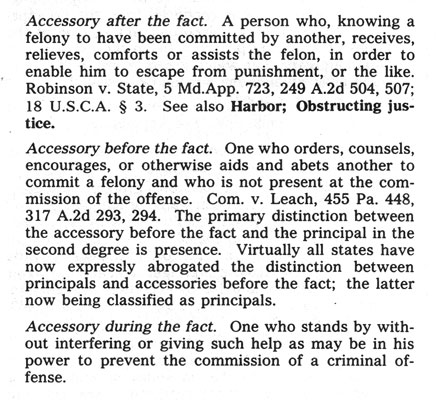 Black's Law Dictionary, Fifth Edition, page 14.

Stumped: DHS' Jeh Johnson Can't Name Gun Law that Could've Stopped Mateen. I find this so very telling of the mind set of those who sit in rule over us. Their solution to gun violence is to take the guns from those who can protect themselves and others and give to those who are intent on killing us. Create gun free — shooting gallery — zones so the real killers will know that they won't have any opposition from the victims. That is how the occupation force thinks — how it plans to make us safer — remove any opportunity to protect ourselves. A gun in the hands of the protectors is a thousand times better than a cop on the phone.
Pulse shooter's widow asks judge to block terrorist expert's testimony. The Pulse nightclub shooter's widow wants a judge to block an expert witness for the prosecution from testifying about terrorist organizations and leaders. U.S. prosecutors have said they plan to call to the stand William Braniff, executive director of the National Consortium for the Study of Terrorism and Responses to Terrorism at the University of Maryland, in the trial against Noor Salman. Her husband, Omar Mateen, killed 49 people and injured at least 68 more when he opened fire in the gay nightclub in Orlando on June 12, 2016.
Loretta Lynch/Hillary Clinton Is The Real 2016 Collusion Story. From the beginning of her rise to national politics, Lynch was a controversial figure. Her Senate nomination vote for Attorney General was the closest in history (until Jeff Sessions' came along in 2017), with a final tally of 56-43. Before long, it became apparent that the Justice Department would be moving even further in a direction that was oppositional to law enforcement. She caused even further controversy when she directly lied to the LGBT community in Orlando regarding Omar Mateen's motivation in killing forty-nine people at the Pulse nightclub. "We stand with you," Lynch said right before she told mourners that a motive may never be known. Rather than telling the truth, Lynch directed the FBI to edit a transcript of the Orlando 911 call in which the perpetrator declared and directly linked himself to the Islamic State. With all references to ISIS were removed, is there any doubt of the Department knowing exactly what Mateen's motive truly was? The lies they told the LGBT community in Orlando are flat-out inexcusable. The only reason that the unedited transcript was ever made public is that Republicans in D.C. smelled blood in the water and demanded it be released.
Judge orders release of Orlando nightclub killer's wife. The widow of Orlando mass killer Omar Mateen should be released from jail until she's tried on charges of allegedly helped her murderous hubby, a judge ruled on Wednesday. Noor Salman, 31, has been in custody since Jan. 16 when she was arrested in northern California on federal charges that include obstruction of justice and aiding and abetting her husband's material support to ISIS. Salman won't be walking free immediately. Oakland federal judge Donna Ryu stayed her own ruling for 48 hours, giving federal prosecutors a chance to appeal.
Noor Salman, Arrested Wife Of Orlando ISIS Shooter Omar Mateen, Hires Terror Atty. Noor Salman, the wife of terrorist Omar Mateen, who shot and murdered 49 people at the Orlando, Florida LGBT nightclub, Pulse, was arrested this past week and charged with aiding her husband in the ISIS inspired attack. Representing her in court at her hearing last Wednesday was Linda Moreno, an attorney who is notorious for handling the cases of numerous high profile terrorists. The fact that Salman hired Moreno to represent her speaks volumes about Salman and her case.
Wife of Orlando Gunman Faces Antiterrorism Charge. She fired none of the shots, she was nowhere near the bloody scene, and none of the evidence made public so far hints that she shared her husband's violent jihadist ideology. Yet Noor Zahi Salman, the widow of the gunman who massacred revelers at an Orlando nightclub, stood before a federal judge on Tuesday [1/17/2017] as the only person charged in the attack. In the early hours of June 12, Ms. Salman's husband, Omar Mateen, killed 49 people at Pulse, a gay nightclub, and wounded 53 others in one of the worst terrorist attacks on American soil. Before being fatally shot by the police, Mr. Mateen, a 29-year-old security guard, declared his allegiance to the Islamic State.
Hmmm: FBI arrests Orlando terrorist's wife in San Francisco. After nearly seven months, the FBI has made an arrest in the ISIS-inspired terrorist massacre in an Orlando nightclub. Noor Salman, the wife of Omar Mateen, will face extradition from San Francisco to Florida to face obstruction and abetting charges in relation to the massacre, ABC News reports.
F.B.I. Arrests Wife of Killer in Orlando Mass Shooting. The F.B.I. arrested the wife of the man who carried out a deadly terrorist attack in Orlando, Fla., and charged her with obstructing the investigation of the mass shooting, law enforcement officials said on Monday [1/16/2017]. Noor Salman, whose husband, Omar Mateen, killed 49 people and wounded dozens in an Orlando nightclub that was popular with gays, was also charged with aiding and abetting by providing material support, the officials said.
FBI reportedly arrests wife of Orlando nightclub killer Omar Mateen. The FBI on Monday [1/16/2017] arrested the wife of the gunman in the Pulse Nightclub massacre on charges connected to the shooting rampage, investigators confirmed to Fox News. The June 2016 shooting, seen as the deadliest in modern U.S. history, killed 49 people and wounded dozens more. Police shot and killed gunman Omar Mateen after a three-hour standoff, during which he pledged allegiance to the Islamic State terror group.
A case of pointless litigation. Omar Mateen murdered 49 people in an Orlando nightclub, and Mark Zuckerberg did not. But Omar Mateen was an Islamic jihadist who now is as dead as fried chicken, while Mark Zuckerberg is a Silicon Valley billionaire who is very much alive. Hence, the lawsuit. The families of Tevin Crosby, Javier Jorge-Reyes, and Juan Ramon Guerrero, three men killed at the Pulse gay club by Mateen in the purported service of Allah, are suing Twitter (market capitalization $12.5 billion), Facebook (market cap $341 billion), and Alphabet (that's Google and YouTube to you, market cap $557 billion) on the theory that these technology companies did not do enough to keep the Islamic State and sundry Muslim radicals from using their platforms to recruit and inspire such acts of savagery as that in Orlando. This is partly, perhaps mainly, a case of defendant-shopping: The families in question might plausibly have sued everybody from the Islamic State to the government of Iran to the FBI in this case, but good luck collecting on a judgment against any of them.
Orlando nightclub shooting victims' families sue Facebook, Twitter. Families of the victims of the Orlando gay nightclub shooting on Monday filed a federal civil suit against Twitter, Facebook and Google for allegedly providing "material support" to the Islamic State and helping to radicalize shooter Omar Mateen. In a complaint filed in the Eastern District of Michigan, the families of Tevin Crosby, Javier Jorge-Reyes and Juan Ramon Guerrero argue that the three web platforms "provided the terrorist group ISIS with accounts they use to spread extremist propaganda, raise funds, and attract new recruits."
Orlando Killer's Father Held Meetings At The White House. Seddique Mateen, father of the Orlando killer and outspoken supporter of the Taliban, has also been a guest at Obama's White House and Hillary's State Department. On his Facebook page — which has since been deleted — the senior Mateen publishes photos and makes it sound as though he were meeting with senior staff. But who knows? This is the same guy who described Omar as a "good son" after the shooting. Of course he also describes the Taliban as a good government so that should give you a frame of reference for what he considers good. Did he meet directly with President Obama? Did he meet with staff at all? That's unclear. It's unclear who he met with and no one has returned calls for a comment.
The SPLC Considers The Most Deadly Islamic Terror Attack Since 9/11 A Right-Wing Plot. The Southern Poverty Law Center (SPLC) considers the Orlando nightclub shooting, an ISIS-inspired attack that left 49 dead, a right-wing plot, along with the shootings of police officers by anti-white terrorists. The SPLC maintains a list called "Terror from the Right," which according to them is "a synopsis of radical-right terrorist plots, conspiracies and racist rampages since the Oklahoma City bombing in 1995." The list includes individuals such as the Olympic Park bomber Eric Rudolph and Charleston church shooter Dylann Roof.
Obama Administration Admits Their Omar Mateen Narrative Was [a Lie]. When Mohammedan Democrat Omar Marteen committed mass murder at a gay disco in Orlando, Florida, the Obama Administration professed to have no clue about his motives. The media were fed a line that he literally had nothing to do with ISIS, and only declared himself a jihadist when he was on the phone to police. He had no prior links to ISIS, and they even floated the idea that he was an oppressed gay man who for some reason decided to shoot up a gay disco for reasons having nothing to do with Islam or terror. And those who have believed every other lie the Obama Administration and its media surrogates have told them embraced this lie too.
Orlando killer repeatedly referenced ISIS, transcript shows. Omar Mateen, the gunman who killed 49 people at the Pulse nightclub in Orlando in June, repeatedly told a police hostage negotiator that he was a soldier of ISIS and that the United States had to stop its bombing in Syria and Iraq, according to a police transcript released Friday [9/23/2016]. The FBI previously released a transcript of Mateen's 911 call which deleted any reference to ISIS because the agency said it did not want to give a platform to terror group. Police released the more comprehensive transcript of the conversation between Mateen and the negotiator. It begins with Mateen telling the negotiator he was "speaking to the person who pledged allegiance to the Islamic State."
Florida fines security company that employed Pulse gunman. A security company that employed a gunman who massacred dozens at a Florida nightclub faces a $151,400 fine for falsely listing psychological testing information on forms that allowed employees to carry guns.
Orlando hospitals won't bill victims of Pulse nightclub terror attack. Two central Florida hospitals will not charge survivors of the Pulse nightclub terror attack for out-of-pocket medical expenses, officials said Wednesday [8/24/2016]. The Orlando Sentinel reported that the Orlando Health and Florida Hospital will write off more than $5 million in health care. "The pulse shooting was a horrendous tragedy for the victims, their families and our entire community," Orlando Health President and CEO David Strong said in a statement. "During this very trying time, many organizations, individuals and charities have reached out to Orlando Health to show their support. This is simply our way of paying that kindness forward."
Omar Mateen's Wife Located 7,400 Miles Away From Orlando in 5-Star Hotel. For the second time since facing a possible federal indictment as an accomplice to mass murder in the United States, Noor Zahi Salman has been spotted traveling in the Middle East, close to her last known location in Jordan, according to our intelligence sources. True Pundit's intelligence sources said last week Salman spent a number of days in Riyadh, Saudi Arabia, federal intelligence sources (not the FBI) confirm, some 7,400 miles from Orlando.
Green Party Presidential Candidate Doesn't Think Killing 49 Gay People Counts As An Attack. Judith Butler has claimed that Islamic terror groups are progressive. Maybe Jill Stein agrees. Either that or she's utterly unaware of anything that happened after 1932. Considering that she is the Green Party candidate, that is an entirely real possibility. [...] Does constantly plotting terror attacks count as an imminent threat? Not to the Green Party which decided that its figurehead needed to be even more delusional and ideologically driven than Bernie Sanders.
That Jihad Attack on the Orlando Gay Nightclub Never Happened, Says President Obama. Do you remember the June 12 jihad attack by a Muslim that killed 49 Americans in the Pulse gay nightclub in Orlando, Florida? It was a big thing in the media at the time, complete with reports about a cellphone confession by the jihadi, and evidence that his immigrant Muslim family knew about the planned jihad attack. Well, you imagined it, see, because extensively documented jihad attack didn't happen, President Barack Obama told the world on Sunday [7/24/2016]. It was just "a deranged man killing scores of people," Obama insisted to CBS. No jihad there, he says.
Judicial Watch Obtains Documents Revealing FBI Declared Mateen "NOT" to be a Terrorist. Judicial Watch today released previously undisclosed documents from the St. Lucie, Florida, Sheriff's Department revealing the FBI informed the sheriff's office in late 2013 that Omar Mateen was "NOT" a terrorist and was no threat to "go postal." [Emphasis in original] The email from the St. Lucie Sheriff's Department details the remarks were made during a phone conversation with Randall Glass, the Florida regional resident in charge for the FBI. Other documents show Mateen admitted to initially lying to the FBI about past statements tying him to the Boston Marathon bombers, the Fort Hood terrorist, and al Qaeda terrorists in Kenya.
Orlando gunman was HIV-negative, likely a long-term steroid user, autopsy shows. The autopsy of the gunman who massacred 49 people in a Florida nightclub attack last month revealed he was HIV-negative and likely a long-term user of steroids, two U.S. law enforcement officials said. The revelation comes as FBI agents continue to scour the background of Omar Mateen for clues as to why he launched his June 12 rampage at Orlando's Pulse nightclub, the deadliest mass shooting in U.S. history. The 29-year-old had became radicalized in recent years, FBI officials have said, and pledged allegiance to Islamic State militants during his attack.
DOJ to review police response to Orlando massacre. The Justice Department will review the law enforcement response to last month's deadly mass shooting at an Orlando nightclub in order to highlight any lessons that can be learned and applied to future incidents. The department's Office of Community Oriented Policing Services announced Friday [7/15/2016] that it will undertake an after-action assessment following a request by Orlando Police Chief John Mina.
Judicial Watch Obtains Documents Revealing FBI Declared Mateen "NOT" to be a Terrorist. Judicial Watch today [7/18/2016] released previously undisclosed documents from the St. Lucie, Florida, Sheriff's Department revealing the FBI informed the sheriff's office in late 2013 that Omar Mateen was "NOT" a terrorist and was no threat to "go postal." [Emphasis in original] The email from the St. Lucie Sheriff's Department details the remarks were made during a phone conversation with Randall Glass, the Florida regional resident in charge for the FBI. Other documents show Mateen admitted to initially lying to the FBI about past statements tying him to the Boston Marathon bombers, the Fort Hood terrorist, and al Qaeda terrorists in Kenya.
The Democrats' Self-Serving Distractions. After the massacre at a gay club in Orlando, Fla., by an American Muslim of Afghan origin affiliated with the Islamic State, the editors of the New York Times argued that the fundamental problem was "hate" exemplified by ... opponents of same-sex marriage. That was an interesting line of argument. Omar Mateen was not found with a natural-law treatise in his back pocket, and he wasn't fresh from a Princeton seminar with Robert George. He never suggested that the Supreme Court had taken too broad a view of the 14th Amendment in Obergefell v. Hodges. He was a Muslim fanatic whose heroes throw homosexuals off of tall buildings and crucify Christians. The morning after that massacre, the New York Daily News reported the enormity under the headline: "Thanks, NRA!"
Obama Admin Tells Florida Agencies To Deny Public Records Requests On Orlando Attack. While Attorney General Loretta Lynch holds firm to her claim that the motive of Orlando terrorist Omar Mateen may never be known, the FBI is instructing Florida agencies that responded to the attack that night to deny requests for public records pertaining to the case. Mateen called police several times during the three hour ordeal to declare his allegiance to ISIS, yet only a fraction of his discussions with authorities that night have been released to the public — first an edited version, than an unedited one. In response to a lawsuit by local media seeking the release of the 911 audio, the Seminole County Sheriff's Office released a letter they got from the FBI instructing them to deny all requests for information and refer news outlets seeking information to the feds, the Orlando Sentinel reports.
FBI asks agencies who responded to Pulse to deny records requests. The FBI has asked law enforcement agencies who responded to Pulse nightclub to withhold records from the public, according to officials. A June 20 letter from the FBI, attached to the City or Orlando's lawsuit over withholding 911 calls and other records from 25 media outlets including the Orlando Sentinel, was also sent to the Seminole County Sheriff's Office with instructions pertaining to how they should respond to records requests. The letter requests that agencies deny inquiries and directs departments to "immediately notify the FBI of any requests your agency received" so "the FBI can seek to prevent disclosure through appropriate channels, as necessary."
Benghazi lies were just standard procedure under Obama. [Scroll down] On the day following Orlando, the president himself said we had yet to discern "the precise motivations of the killer," even though everyone knew by that point he had called 911 to swear his allegiance to ISIS while he was killing people. Two weeks after the Orlando shooting — two weeks — Attorney General Loretta Lynch said, "I cannot tell you definitively that we will ever narrow it down to one motivation. We will look at all motivations." With Benghazi, as with Orlando, the reason for these evasions is to make mystery and ambiguity a part of the narrative in order to buy the White House and the administration time and space — the time to control the story and the space to impress upon its supporters the impracticality and uselessness of responding to these acts of war.
Judge Napolitano: FBI Transcript Shows Nobody Died in Orlando Shooting Until SWAT Teams entered the Building. What should have been front page news everywhere, somehow got buried amid the official narrative we were given about the Orlando shooting. Judge Andrew Napolitano told FOX News that an FBI transcript indicated that no one died until 05:13am Sunday morning when the police SWAT teams entered the building. "Here's what is news in the summary — nobody died until 05:13 in the morning, when the SWAT team entered. Prior to that no one had been killed. The 53 that were injured, and the 49 that were murdered all met their fates at the time of, and during, the police entry into the building," Judge Napolitano said.
Nearly 2 Dozen News Organizations Sue to Hear Orlando Gunman's 911 Tapes. The court fight has begun between nearly two dozen news organizations and the now U.S. Department of Justice (DOJ)-backed city of Orlando over whether the recordings of the 911 calls linked to the terrorist attack at the Pulse nightclub in Florida can be made public. Judge Margaret Schreiber of the Ninth Judicial Circuit Court of Florida was expected to preside over the first hearing Tuesday [6/28/2016]. However, it was abruptly canceled after President Barack Obama's DOJ was added to the case and requested that the case be transferred to a federal court.
Here's The Media's Latest Attempt To Downplay Radical Islam After Orlando Attack. Ever since witnesses started coming out of the woodwork in the wake of the Orlando attack, claiming that shooter Omar Mateen had actually led a secret gay lifestyle, the liberal media has been desperately trying to portray the massacre as more of a homophobic hate crime than a radical Islamic terrorist attack. It allows the left to view the attack as proof that hatred of the LGBT community is separate from the Muslim faith. [...] It was a coordinated attempt by the media to spin the narrative, to protect Islam at all costs, despite evidence to the contrary. Unfortunately for them, the FBI has finally come out and said the entire narrative that Mateen was a self-hating gay man has no evidence to back it up.
Defenseless in the Face of Our Enemies. It should have been possible to see Omar Mateen coming. He was a first-generation American citizen, born in this country to immigrant parents from Afghanistan and raised in a troubled household — one in which the father is a visible and ardent supporter of the Taliban, the fundamentalist jihadist group that ruled Afghanistan in the 1990s, harbored al-Qaeda as it plotted and executed the 9/11 attacks, and to this day wages war against American troops as it fights to retake the country. Mateen, who was 29 when he committed his mass-murder attack, was repeatedly suspended for fighting throughout his childhood school years. Academically, he had great difficulty — despite being nominally American from birth, he was mired for years in English programs for students who speak other languages in the home. His rantings during the attack indicated that he considered Afghanistan to be his home, and that he identified, first and foremost, as a Muslim: a member of the worldwide ummah — not a citizen of the United States, the nation he volunteered to levy war against, just as the Islamic State (or ISIS) exhorts its acolytes to do.
Orlando records offer chilling look at nightclub massacre. Dramatic 911 logs released by the city of Orlando on Tuesday provide a detailed account of the chaos at the Pulse nightclub, where 49 people were slaughtered during a three-hour siege. The records include a thorough timeline of the June 12 massacre, including killer Omar Mateen's movements from the time he opened fire on club-goers until he was finally killed by police.
Orlando Jihadi's Wife's Location Still Unknown After Conflicting Statements to Police. The Obama administration seems to have lost track of Noor Zahi Salman, wife of Orlando jihadi Omar Mateen and a possible co-conspirator in the worst terrorist attack on American soil since 9/11. Loretta Lynch said at her press conference on Tuesday [6/21/2016], in response to a question about Salman's whereabouts, "Right now I do not know exactly the answer to that. I believe she was going to travel, but I do not know exactly her location now."
Denying Reality Will Get Us Killed. President Obama could not bring himself to utter the word "Muslim" (not even "radical Islamist") in his public statement following the worst mass shooting murder in American history — one inspired by ISIS, one claimed by ISIS — an attack committed by a home-grown, lone wolf, Muslim-American citizen, whose parents came here from Afghanistan. Obama focused on the "handgun" issue, on gun violence, as did other members of his administration. Yet, the Orlando shooter was a security guard who had the legal right to pack and carry. He was an armed guard. Think about that for a minute. And he carefully planned this mass murder. Months ago, he became enraged when he saw two gay men kissing in Miami; weeks ago, he tried to purchase high grade military body armor. Although the FBI had him on their radar, no one monitored his actions. One wonders why.
Omar Mateen's mother-in-law proclaimed support for Hamas leader. Orlando mass murderer Omar Mateen and his wife, Noor, were raised in middle-class American homes by Middle Eastern parents who used social media to share their passionate opinions and support for controversial groups in their homelands, including the pro-Palestinian group Hamas and the Taliban in Afghanistan. Both families emigrated to the United States before Omar and Noor were born. Although they sent them to public schools and allowed them to wear western clothes, the parents embraced social media as a means to convey their loyalty to their homelands.
The Whole 'Gay Revenge' Orlando Narrative Might Be Falling Apart. Following the slaughter of 49 innocent people at a gay nightclub in Orlando, news broke that Omar Mateen allegedly had multiple gay lovers, used gay dating apps, and frequented the same club he shot up. Clearly the news trumped Mateen's sworn allegiances to ISIS, because the wider media opted primarily to cast Mateen as a conflicted, complicated and highly nuanced psychopath. Perhaps inconveniently, the LA Times ran a story Thursday that revealed the FBI could find "no evidence" or reliable witness testimony to support that Mateen was gay or had gay lovers. In fact, his only affairs appear to have been with women.
Al Qaeda: Orlando Shooter Should Have Targeted Whites. An al Qaeda franchise is praising Orlando gunman Omar Mateen — but chiding him for targeting gay Latinos instead of straight whites. A snarky public statement purportedly released by Inspire, the online magazine of Al Qaeda in the Arabian Peninsula, says that by mowing down 49 people at a gay nightclub full of Latinos instead of setting his sights on a crowd of "Anglo-Saxons," Mateen muddled his message.
Obama's whitewashing of the Orlando massacre. The latest instance of Mr. Obama's suffocating cynicism was to boastfully doctor the transcripts of the 911 calls terrorist Omar Mateen made the night he slaughtered 49 partiers at a night club in Orlando. The Department of "Justice" scrubbed the name "Allah" from Mateen's prayers and professions of allegiance to said "Allah," along with the Islamic State and al Qaeda and all the rest of the savages out to kill gays, lesbians, Jews, Christians and basically anyone who is part of civilized society. In a rare full-throated media campaign this week, Attorney General Loretta Lynch said references to "Allah" would be removed so as not to "further this man's propaganda." By which she means, apparently, make this attack look like the work of a radical Islamic terrorist as opposed to, say, some gun-toting lunatic who hates gay people.
Ignoring Reality. [Scroll down] This information was available to law enforcement — and to the White House — almost immediately after the attack on the nightclub. And yet, some 36 hours later, when President Barack Obama spoke to reporters, he said that the shooter had pledged loyalty to ISIS only "at the last minute." Obama insisted that the reason behind the slaughter was a mystery: "I think we don't yet know the motivations." In the days that followed, we learned more about Mateen and his history of radicalism. Mateen's father was a longtime Taliban sympathizer. A decade before Mateen's attack in Orlando, he threatened to shoot a classmate at a cookout when his hamburger apparently touched some pork by accident. Mateen attended a mosque with a Florida man who would later become a suicide bomber in Syria. In part because of that connection, the FBI investigated Mateen twice as a possible jihadist threat.
Loretta Lynch: So We Sort of Lost Track of the Orlando Terrorist's Likely-Accomplice Wife. It looks a lot like incompetence, but it might just be tha they're performing well for their actual employeers.
We Don't Have a Gun Problem. We Have a Islamic Terrorist Democrat Problem. What do we know about the Orlando Islamic terrorist attack? We know that the wife-beating 29-year-old Islamic terrorist Democrat first started raising alarms with threats of terrorist violence in high school, more than a decade ago, and that his Taliban-supporting father is very friendly with the Democrat Party. We know he celebrated 9/11 and the San Bernardino Islamic terror attacks. We know that he was constantly issuing threats and talking about being affiliated with various terrorist groups, that he had relationships with two actual documented terrorists, and that at least one other Muslim at his mosque tried to alert the federal government about this Hillary-supporting terrorist years ago. We know that a Florida gun store, Lotus Gunworks, contacted the FBI over "suspicious behavior" from the suspect after denying him armor and ammunition, and that the FBI utterly failed to follow up.
How Hillary and Obama Caused the Orlando ISIS Attack. The media has desperately tried to blame anything and everything for the Orlando Muslim massacre. The bloodshed by a Muslim terrorist has been attributed to guns, homophobia, family problems and mental illness. By next week, the media may be blaming global warming and UFOs. But Omar Mateen told his Facebook friends and a 911 operator exactly why he was doing it. Omar killed 49 people as part of the Islamic State's war against America. The motive is there in black and white. This was one of a number of ISIS attacks. The roots of the Orlando attack lie in Iraq forcing us to dig down into Obama's disastrous mishandling of ISIS. Without understanding what went wrong in Iraq, we cannot understand what happened in Orlando. Under Bush, Al Qaeda in Iraq had been on the run. Under Obama, it began overrunning the region.
FBI to Islamic Terrorists: We've Got Your Back. Add Orlando shooter Omar Mateen to the FBI's Most Protected Terrorist list. Like Ft. Hood's Nidal Hasan and the Boston Marathon's Tsarnaev brothers, Mateen has joined the protected and privileged class of suspected Muslim terrorists allowed to roam free until they shoot or blow up innocent Americans. Following the Pulse nightclub slaughter, sources confirmed Mateen had been interviewed by the FBI in May of 2013 and May of 2014 concerning his connections to Hezb'allah and al-Qaeda. The FBI was also aware that Mateen had traveled to Saudi Arabia on two separate occasions; made threatening remarks to co-workers; and, two weeks before the killings, had visited a gun shop wanting to purchase body armor and bulk ammunition. When employees of the shop notified the FBI, officials called the store but failed to follow up.
Cops inside Orlando club told to stand down during shooting. A group of Orlando cops burst into Pulse nightclub through a glass window within minutes of Omar Mateen's rampage — but were ordered by commanders to hold their position, according to one of the officers, whose account contradicts the FBI version of events during the worst mass shooting in US history. Belle Isle police officer Brandon Cornwell, 25 — the first officer to speak publicly about that night — said he was helping with a traffic stop when he heard the call on his radio that shots had been fired at Pulse. He said he arrived "in 38 seconds" in one of the first seven police cars.
Video of Orlando attack shows shooter firing at those already wounded. Surveillance footage from inside an Orlando club the night of a rampage there shows Omar Mateen firing at people, stopping and then shooting again those who were already wounded, said officials who have viewed the evidence. The video suggests that "he was making sure anybody who was shot was dead," said one official, who like others spoke on the condition of anonymity because the investigation is ongoing.
[Redacted] Is a Religion of Peace. The Obama administration and the liberal media have decided that when a radical Islamic terrorist kills Americans, the one thing the narrative cannot be about is radical Islamic terrorism. It's OK to talk about the Orlando massacre in terms of homophobia, gun control or "toxic masculinity," but don't you dare mention Islam. Don't mention that Omar Mateen was a registered Democrat, or that he's the son of an immigrant from Afghanistan or that his father supports the Taliban.
Keyword: optimism!
Orlando Gunman Omar Mateen Purchased Plane Tickets for After Shooting: Official. A federal official confirmed to NBC News Tuesday [6/21/2016] that Mateen made the purchase for his family to travel to Northern California to visit his ailing mother-in-law. [...] The tickets were purchased two days before the June 12 attack to travel to San Francisco on July 14 for two weeks. It's unclear, however, why Mateen would have bought the tickets if he was planning the shooting, only to die in it.
The Illogical As The Most Logical. Those wounded and murdered in the Orlando nightclub were unarmed. Had they been armed, one of them might have been able to stop the attack before significant loss of life. Had all of them been armed, there may not have been an attack at all, because shooters like Omar are looking for just such places where weapons are not going to be brought to bear to stop them. That is the common denominator to all of these mass shootings, it always takes place where guns are prohibited, yet it is the possession of such arms that is always called into question when such an attack takes place. This is a classic example of the illogical being passed off as the most logical.
Who Ordered Absurd Scrubbing of Orlando Transcript and Why? After scrubbing references to Islam and ISIS from transcripts of Omar Mateen's calls, the Injustice Department was compelled by public ridicule to release the full transcripts. Hot Air sums up the obvious motive for this ham-fisted attempt to rewrite the historical record: ["]The company line was established early on: play down the terrorism aspect of what was an obvious terrorist attack and make it about gun control, homophobia or racism against Hispanics.["] The problem is, everyone already knew that Mateen referenced Allah, the Islamic State, and self-proclaimed Caliph Abu Bakr al-Baghdadi during the Orlando terror attack. What is the point of trying to hide what we have already seen?
President Obama's altered reality. In his actual words, Mateen told negotiators: "Praise be to Allah, and prayers as well as peace be upon the prophet of Allah. I let you know, I'm in Orlando and I did the shootings." The words were spoken in Arabic. The transcript, as rewritten by the Obama administration, was sanitized: "Praise be to God, and prayers as well as peace be upon the prophet of God. I let you know, I'm in Orlando and I did the shootings." The rewritten version further deleted the words "Islamic State" and the name of ISIS leader Abu Bakr al-Baghdadi, to whom Mateen said he pledged allegiance. Ms. Lynch later reversed course and released an uncensored version. [...] The rewritten transcript is of a piece with the president's stubborn refusal to call the radical Islamic threat by its real name. He thinks this is the way to make the terrorists go away.
Obama Administration's Defense of Islam Through Orlando Investigation. The Obama administration has been doing all it can to downplay the fact that the shooter was Muslim, and tied to the Democrats, while attempting to direct everyone's attention to the fact that the target was a gay bar, and that the guns were purchased legally. Protecting Islam is a habit of the Democrats, and using a misinformation strategy to downplay the connection between Islam and terrorism is nothing new. The ridiculousness of their attempt to control the narrative has caused a number of the gay community to arm themselves, and defect to Trump, while also encouraging the Republicans to demand the Obama administration reveal what the Department of Justice has been hiding.
Loretta Lynch: We May Never Know Why That Islamic Terrorist Killed All Those People. When Omar Mateen said, "I did it for ISIS," what did he really mean? We may never know. [...] How could we ever know his real motive? Just because Mateen explained exactly why he did it to anybody who'd listen, that doesn't mean it's really why he did it.
Obama needs to tell it like it is. Here it is, almost 48 hours after the Obama administration decided to come a little bit clean on what we already knew Omar Mateen said as he was gunning down dozens of people in Orlando, and they still won't level with us. Did Mateen really say, "Praise to God," or "Praise to Allah"? If he'd said "Praise to Jesus!" not only would we have transcripts, we'd have audio recordings on a loop on NPR and MSNBC. They said they were "redacting" the transcripts. But this wasn't just redacting, they were altering, changing the killer's words, to make them more PC. If you do this in a criminal trial it's not called redacting, it's called obstruction of justice. Would Obama have declared the release a "distraction" if the Islamic terrorist had pledged allegiance to the Tea Party?
The American Left is Evil: Orlando Shooting. Obama's Leftist (politically correct) CVE policy tied the hands of the FBI, blocked them from using intel they had on the Islamist terrorist Orlando shooter. Thus, Obama bears some responsibility for the deaths of the homosexuals in the Orlando nightclub. Pure and simple. And yet, Obama and his media buddies are relentlessly trying to blame the massacre on Christians and American gun owners. Despicably, Obama and his media buddies are hell-bent on convincing Americans that the greatest source of evil and threat to Americans is not Islamist terrorists. It is Christians and American gun owners. Again, I wonder how many Americans are being duped by their deception and misdirection from the truth? Speaking of Obama's evil efforts to cover for Islam and blame Christians and American gun owners, his DOJ is deleting all references to radical Islamic beliefs from the transcripts of the Orlando shooter's 911 call. By the way, America has suffered a terrorist attack every year under Obama. Deaths from terrorism have quadrupled under Obama. And yet, thanks to his media buddies covering for him, Obama approval polling is over 50%.
Fighting Islamist Terror after Orlando. [Scroll down] Third, we have to get over our hang-up about profiling Muslims. The jihadists bent on terrorizing us have some obvious commonalities that the political and cultural establishment has continually enjoined us to ignore. Like it or not, Florida's gay nightclubs are going to be giving that grim-faced Pakistani who shows up at the door a slightly longer pat-down. France recently subjected Muslim employees at Paris Charles de Gaulle Airport to special screening, withdrawing some 60 security passes for "inappropriate behavior" such as refusing to shake hands with female colleagues or praising the perpetrators of last years' terror attacks. Whether or not it's "fair" to single out Muslims in such sensitive jobs for closer scrutiny, we'd be fools not to.
Is Allah an LGBT Ally? During homo-slaughtering Islamist gunman Omar Mateen's rainbow bloodbath at Orlando's Pulse nightclub on June 12, he reportedly called 911 to pledge his support to ISIS. In appreciation, an "ISIS-affiliated media group" dubbed Mateen a "lion of the caliphate" for slaughtering "infidels" in such spectacular numbers. Still, hours after the shooting, Mateen's father swore to NBC News that the attack "had nothing to do with religion." But the day after, he posted on Facebook that "God will punish those involved in homosexuality."
Inconvenient Truth: Democrat Terrorist Mateen a Clinton Supporter. If it were a known fact the Democrat Muslim terrorist was an NRA member or a Republican, just imagine the levels of hysteria Democrats would be ratcheting up. Is it any wonder they're on an extended gun control temper tantrum when you have stories like this making the rounds?
White House blames Justice for redacting 'radical Islam' from Orlando shooter transcript. The White House on Monday blamed the Justice Department for the decision to redact references to radical Islamic terrorists from transcripts of the Orlando shooter's telephone conversations with police. The White House did not provide guidance to the Justice Department or participate in the censorship of the transcripts, which were released earlier in the day, said press secretary Josh Earnest. "All of the decisions about releasing the transcripts were made by Justice Department officials," he said at the daily press briefing at the White House.
Your Antique Media: Islamic Terror Attack in Orlando Completely Unrelated to Islamic Terror. The mainstream media are desperate to distract from the facts of the Orlando shootings, choosing instead to blame Republicans and conservatives for the deaths of 49 individuals at a gay bar called Pulse. In reality, the attacks were perpetrated by an American-born Islamic jihadist who pledged allegiance to the Islamic State during the attack, and had in the past "boasted of ties to the terrorist groups Hezbollah and Al Qaeda." Instead of discussing the ramifications of terror worldwide and in our midst, the liberal media have reignited their quest for new gun control legislation and have sought to blame this attack on Republicans in general, and presumptive Republican candidate Donald Trump in particular.
During siege, Orlando gunman told police he was 'Islamic soldier'. The Florida nightclub killer called himself an "Islamic soldier" and threatened to strap hostages into explosive vests in calls with police during the three-hour siege, according to transcripts released by the FBI on Monday [6/20/2016].
You'll Never Guess Which Presidential Candidate Muslim Terrorist Omar Mateen Supported. Omar Mateen, the Muslim terrorist who massacred 49 people in an Orlando, Fla. night club earlier this month, was a supporter of presumed presidential candidate Hillary Clinton, according to a man who attempted to inform the Federal Bureau of Investigation about Mateen's radicalization. The man who informed the FBI about Mateen's foray into the radical fringes of Islam, Mohammed A. Malik, explained his relationship with Mateen in a profound and thoughtful, 1,532-word op-ed in The Washington Post on Monday.
Gun debate makes America less safe. On the morning of Sunday, June 13, 2016, the national press, the president and everyone else in the Democratic Party, and their colleagues in the Republican Party woke up to the sickening news of an Islamic terrorist attack on the Pulse gay nightclub in Orlando, Florida, hours earlier. What sickened the president and these minions was not the death of 50 gay people, including the assailant, but rather the fear that another Islamic attack in America would help elect Donald Trump. Our Gollums in Washington immediately worked to change the subject from President Obama's failure to protect the nation. Sadly, the press and the politicians succeeded. After casting about for what to blame — homophobia — the press and the politicians went to an old reliable: gun control. We are talking not about how to root out young Muslim men who want to kill us indiscriminately, the media focused on the gun. There is not one mainstream media outlet that has not followed this insanity down the rabbit hole.
Liberal Nightmare: Just One Week After Orlando Massacre, Online Gun Store Sells 30,000 AR-15s. First of all, and contrary to what the media is saying, the Muslim-driven murderer did not use a dreaded AR-15 rifle in the shooting. Further it was not a "machine gun," nor a "weapon of war," nor an "automatic weapon." What the killer did use was a semi-auto Sig Sauer MCX rifle. Now, with that settled, what happened to gun sales in the aftermath of the murderous rampage will have liberals at their wits end.
Why the Orlando Victims were Defenseless. The Pulse Nightclub in Orlando was essentially a gun-free zone. It is not enough to post a single security guard at a lone entrance. Why weren't the bouncers armed? Why didn't the bartenders have weapons available? Generally, alcohol and firearms do not mix, but neither does naiveté and terrorism.
If you think this is just an amazing coincidence, you haven't been paying attention.
Orlando Killer's Father "Knew Obama"? Schmoozed in Washington, Sought Afghan Presidency. Mateen's father, Seddique Mateen, apparently visits the Capitol frequently, take pictures in front of the State Department and White House press room, and likes to pose with Congressmen, especially from the Foreign Affairs Committee. There are also rumors, though they are unconfirmed, that Seddique Mateen has also met with President Obama.
FL Terrorist Threatened To Kill FL Sheriff's Family, FBI Ignored Threat. In 2013, Orlando terrorist Omar Mateen allegedly threatened to kill a Fla. sheriff's deputy and his family, yet the FBI did not act upon the threat once it had been reported by the sheriff's office. According to the Treasure Coast Palm, the incident occurred while Mateen — a licensed security professional with G4S Security — was hired as an extra patrolman at the St. Lucie County Courthouse. The deputy in question allegedly made a comment about the Middle East which infuriated Mateen, reports St. Lucie County Sheriff Ken Mascara.
10 Cases Proving Trump Right: Armed Citizens Could've Stopped Terrorist. Because for some reason the legacy media, liberals and President Obama want you to think you are the problem, and you being able to protect yourself is the problem, the media is offering up a shocked response to Trump's comment that if any of the Orlando Pulse club goers had been armed, they would have been able to take down the terrorist. Yes, that would have been a good thing, and many gays and lesbians seem to think so too, as the Pink Pistols, an LGBT gun owners club is finding out. Their membership soared after the Orlando terror attack.
How Obama's blackout on 'radical Islam' leads to dots going unconnected. Years before Omar Mateen's bloodbath at Pulse, the FBI had him on its watch list — twice. He also made two trips to Saudi Arabia. Yet officials couldn't link him definitively to any plot to commit mayhem. Add to this unconfirmed reports of more recent warnings to the FBI — from Disney World, after he and his wife seemed to be casing the site, and from the owner of a gun shop where the killer tried to buy level-3 body armor. Were these dots that went unconnected? Only the killer is to blame. But Orlando was hardly an isolated failure. The bureau also had the Tsarnaev brothers on its radar screen before the Boston Marathon bombing. It probed Elton Simpson before he took part in the hit on the "Draw Mohammed" event in Garland. Tashfeen Malik made it through a Homeland Security screening and later joined Syed Farook in the San Bernardino shooting. Agents cleared Maj. Nidal Hasan prior to his Fort Hood rampage.
The Editor says...
Is it possible that every employee of the FBI, CIA and Homeland Security is an incompetent doofus, or they have been told to look the other way by our Muslim-in-Chief and they just ignore the obvious? I think it's a toss-up: Either one is now plausible.
Orlando Gunman Omar Mateen Bought $9,000 Worth of Jewelry Days Before Shooting. Omar Mateen bought nearly $9,000 worth of jewelry less than a week before he killed 49 people at the Pulse nightclub in Orlando, Florida, ABC News has learned. The purchase was made June 6 at the Kay Jewelers in Jensen Beach, Florida, which is near the Lotus Gun Shop where Mateen attempted to buy body armor. Signet, which owns Kay Jewelers, would not confirm the purchase by Mateen, but issued a statement that they are "working closely with the authorities."
Better late than never, I suppose.
Gay nightclub shooter Omar Mateen's wife and father added to no-fly list. The second wife and father of Omar Mateen, the man who burst into a gay nightclub and killed 49 people, have been placed on the no-fly list by federal officials. The no-fly list prohibits Noor Salman and Seddique Mateen from traveling via a commercial airline until investigators conclude what role they played, if any, in the worst shooting in modern US history last weekend.
The Audacity of Dopes. Andrew Sotomayor of the Huffington Post maintained: "Everyone who watches Pat Robertson, Bill O'Reilly, FOX and Friends (or supports them with ad dollars) or bought books by Anne [sic] Coulter or Laura Schlessinger ... contributed to this murder." The Advocate also carted out the likes of Pat Robertson — Did Mateen watch The 700 Club? — as "perhaps more responsible for the deaths of 49 people last Saturday than one man with an assault rifle." The killer's Democratic Party registration, homosexuality, and decidedly non-Christian religious affiliation would seem to complicate all this. But nuance and the narrative never mix well. Why couldn't he have looked like Tim McVeigh, loved like Bill Clinton, voted like Rush Limbaugh, and believed like Tim Tebow? For some people, that's the real tragedy here. You can kill 49 people but killing a narrative always serves as the greatest offense to the ideologue.
The volatile life of the Orlando shooter. Mateen appeared conflicted about his religion and his sexuality, according to dozens of interviews with those who knew him. He married twice, each time to a woman he had met online, even though he also seemed drawn to gay life and culture. Often, he was able to mask his internal turmoil well enough that some friends and neighbors are now stunned to learn that the person they knew became a killer. But over the years, Mateen's inner conflict seemed to explode again and again — not only at the training academy but also toward classmates, toward co-workers, toward his first wife and finally toward the 49 strangers he left massacred on the bloody floor of the Pulse nightclub.
In a Mass Shooting, Wait and Die? Or Fight Back? Regarding the Orlando shooting, notice how quickly the media pivoted from the culpability of a sexually repressed Muslim Afghan registered Democrat mass murderer to an assault on firearms? Forget Islam and jihad and the Obama administration's resolute determination to fundamentally change the nature of the United States by importing as many Muslims from alien, anti-Christian and anti-Western cultures as possible. The real problem, in their view, is gun violence.
Dangerous Denial: Just 29% Of Democrats Say Orlando Was An Islamic Terror Attack. During the attack, [Omar] Mateen called 911 several times and to say he was doing it for ISIS. He called a local TV station saying he attacked the nightclub for the Islamic State. He posted Facebook messages saying that "real muslims will never accept the filthy ways of the west," "now taste the Islamic state vengeance" and that "in the next few days you will see attacks from the Islamic state in the usa." Shortly after the attack occurred, the FBI admitted that it had twice investigated Mateen for possible links to Islamic terrorists, and FBI Director James Comey said Mateen showed "strong indications of radicalization" and was likely inspired by foreign terrorist organizations. Yet when Gallup surveyed the public about the attack, just 29% of Democrats said that it was an act of Islamic terrorism. Almost two-thirds considered it just another act of "domestic gun violence."
The Editor says...
There are already some who believe the event never happened at all.
Why Didn't the FBI Stop Omar Mateen? The night he slaughtered 49 people in Orlando on Sunday, [Omar] Mateen swore allegiance to Islamic State leader Abu Bakr al-Baghdadi at the last minute and with apparent self-doubt. Mateen called 911 twice, hanging up at first before finally fulfilling ISIS's injunction to self-starter terrorists to declare allegiance to the group publicly before they act. Based on the accounts of his aquaintances and family, Mateen also appears to have been a deeply conflicted and possibly self-loathing homophobe who drank heavily, took drugs, dated men, frequented the same club he later attacked, Pulse, and used a gay dating app — not the sort of behavior one would expect of a faithful soldier of Islam.
Ted Cruz Blasts Democrat 'Political Gamesmanship' in Wake of Orlando Terror Attack. On Thursday [6/16/2016] Senator Ted Cruz took to the Senate floor to address the Islamic terrorist attack in Orlando. The speech he gave should be the standard Republican response to the left's deflection towards gun-control instead of addressing the real issue at hand: defeating radical Islamic terrorism. [Video clip]
This Is On Obama. Long before the mass murder in Orlando happened, I was in the process of writing this column. Obviously what happened early last Sunday has changed a lot for all of us. But it has not changed the fact of how ISIS has grown and prospered is the responsibility of President Obama more than anyone else, and that needs to be identified and he needs to be held accountable for that.
After Orlando, Exercises in Irrelevancy. Mateen proclaimed his allegiance to the Islamic State in a phone call during the attack, but he also mentioned his admiration for the Boston Marathon bombers, who were inspired by al-Qaida. In 2013, he said he was a member of Hezbollah. These groups, by the way, are not allies but enemies of the Islamic State in the Syrian civil war. But Mateen apparently was willing to claim any radical Islamist group. If the Islamic State didn't exist, he would have managed to find inspiration in a different jihadi group.
This is called fraternizing with the enemy — or maybe they are the enemy!
Orlando gunman Omar Mateen visited Saudi Arabia on NYU-sponsored trip with 12 Muslim NYPD officers in 2012. The gunman who slaughtered 49 people at an Orlando nightclub traveled to Saudi Arabia in 2012 with a group from New York that included 12 Muslim NYPD officers, according to reports. Omar Mateen made the trip as part of an annual pilgrimage led by the Islamic Center at New York University, according to the Wall Street Journal. About 80 people were on the trip for Umrah, a religious pilgrimage taken by millions of devout Muslims to Mecca and Medina. Groups from Columbia and Yale universities, as well as about 40 people from an NYPD contingent were on the journey, the university told the newspaper in a statement.
A Modest Proposal for Improving U.S. Intelligence Operations. While the distressing failures of the FBI and local law enforcement to follow through on evidence that the shooter, Omar Mateen, was a dangerous radicalized person, no apparent effort was made to suspend his security guard license or keep watch on his firearm and ammunition purchases. Internal operating instructions of the FBI limited the amount of time they could keep watch on him and both the local and federal authorities were paralyzed by fear of being dubbed Islamophobic. So chilling accounts by his fellow workers were discounted as the result of prejudice, and a report by a local gun shop that he'd tried without success to purchase "body armor and bulk ammunition from the store" was ignored. Although the FBI interviewed Mateen in 2013 and 2014 following reports by his fellow workers nothing was done — not even to suspend his security licenses or keep tabs on his firearm and ammunition purchases.
Our Nation is at War. ["]And how about Orlando? Let's talk about what the facts are in Orlando. Now, we are only 5 days in. The facts will develop further as they are more fully developed, but here is what has been publicly reported. What has been publicly reported is that Omar Mateen was interviewed not once, not twice, but three times by the FBI in 2013 and 2014. One of the reasons he was interviewed by the FBI was that he was talking in his place of employment, which, ironically and shockingly enough, was a contractor to the Department of Homeland Security, and he was talking about being connected to terrorist organizations, including the Boston bombers. To any rational person, that is a big red flag. Yet it has also been reported that his coworkers were so afraid to say anything because they didn't want to be labeled as somehow anti-Muslim by speaking out about someone claiming to be connected to radical Islamic terrorists. We also know that when he was questioned by the FBI in 2004, according to public reports, it was because he was believed to have been connected to and knew Moner Mohammad Abusalha, who traveled to Syria to join the terrorist organization al-Nusra Front and who became the first known American suicide bomber in the Syrian conflict. That is yet another big red flag. If you are palling around with al-Nusra suicide bombers, that ought to be a real flag. If the administration is focused on radical Islamic terrorism, this is an individual we ought to be watching. We know that Mateen, as it has been reported, traveled to Mecca in Saudi Arabia for 10 days on March 2011 and for 8 days in March 2012. And we also have indications that the FBI may have been aware that he was a follower of the Islamist educational Web site run by radical Imams. Not only that, but his father has posted online videos expressing not only sympathy but arguably support for the Taliban. All of that is what the Obama administration knew. Yet by Sunday morning they were no longer watching Omar Mateen. They were no longer watching Omar Mateen. They were not monitoring him, and he was able to go in and commit a horrific act of murder.["]
Why the 'lone-wolf' terrorist is a myth. Homeland Security Secretary Jeh Johnson echoed Obama, saying Omar Mateen was "self-radicalized" without any religious, ideological or operational support from friends, family or others in the Muslim community. "What we do know at this point is it appears this was a case of self-radicalization," Johnson said. "He does not appear to have been part of any group." A more accurate picture is that Mateen, an Afghan-American, was part of a disturbingly large Muslim family of sympathizers, supporters and even co-conspirators. For starters, his wife could face criminal charges in the attack on the gay Orlando nightclub, the deadliest act of terrorism in the US since 9/11.
Orlando shooter took 2012 pilgrimage to Saudi Arabia with groups from New York. Orlando shooter Omar Mateen traveled to Saudi Arabia in 2012 as part of an annual pilgrimage led by an Islamic center in New York, joining a group of roughly 80 people that included 12 Muslim officers from the New York Police Department. The group that organized the trip, the Islamic Center at New York University, was stunned after learning from The Wall Street Journal of its connection with Mateen, and said it was notifying law-enforcement officials immediately about his presence on the trip. It will assist with the investigation, a university spokesman said.
Doctor listed on psych-evaluation carried out on Omar Mateen by G4S says she never saw him and was not living in Florida at the time it was conducted. A doctor who is listed on the psychological evaluation for Orlando shooter, Omar Mateen, said she did not see him and she was not even living in Florida at the time when G4S security firm ordered the evaluation. Psychologist, Dr Carol Nudelman, who now lives in Colorado, said in a statement released through her attorneys to the Miami Herald that she never evaluated Mateen nine years ago for G4S, a security firm that was known as Wackenhut at the time. However, Nudelman's name appears on the document in Florida's state records, which cleared Mateen to carry a firearm as a private security guard.
Exclusive: Orlando Terrorist Signed Over Home To Brother-in-Law Just Before Attacks. Authorities say the fatally shot [Muslim terrorist Omar Seddique] Mateen clearly was prepared to die in a gun battle with police during the June 12 attack, the deadliest act of terrorism on U.S. soil since 9/11. On April 5, Mateen "quit-claimed" the deed on his Port St. Lucie, Fla., house, signing it over to his sister, Sabrina Abasin, and his brother-in-law Mustafa Abasin according to county property records. The records list his wife Noor Salman as a witness in the curious real estate transaction. Mateen's wife, who is expected to be charged as an accessory in her husband's attack, reportedly has told authorities Mateen began casing targets as early as April. He was regularly training with firearms well before April.
Why the Orlando Victims were Defenseless. In a stunning example of both cluelessness and callousness, President Obama arrived in Orlando to tell the families of the dead and wounded that self-defense was not an option for their loved ones. The Islamist terrorist killer, Omar Mateen had time to methodically search for victims, stream his atrocity on Facebook, and make 16 phone calls. It was time enough, including between reloads, for someone with a Glock to blow his head off. Yet President Obama wants only predators to have guns.
Omar Mateen's brother-in-law Refuses to say if he knew about terror plot. The brother-in-law of Orlando terrorist Omar Mateen has refused to deny that he knew about the shooter's plans to commit a massacre at Pulse nightclub. When asked directly by DailyMail.com whether he knew of Mateen's intentions Mustafa Abasin, 43, refused to comment, saying he could not talk. Standing at the front door of the Port St Lucie home, which he shares with wife Sabrina, 31, Abasin similarly refused to respond to questions regarding the land deal between himself and Mateen, 29, that saw the terrorist transfer the deeds to his Fort Pierce for just $100. The property is worth an estimated $165,000.
In 2013 Orlando Terrorist Threatened To Kill Florida Deputy and His Family — FBI Dismissed. The Orlando terrorist wasn't just exhibiting warning flags, he was blasting off big flashy warning flares. As an outcome of a very concerned resident meeting at PGA Village in Port St. Lucie, the location where Omar Mateen worked as a security guard, the county sheriff shared a rather disturbing revelation. According to the county Sheriff, Ken Mascara, Mateen was reported to his security firm G4S and the FBI for threatening a local deputy and stating he could have al-Qaeda kill the police officer's family. He then went on to praise Nidal Hasan the Fort Hood shooter.
Why can't Obama just tell Americans the truth about the Orlando attack and radical Islam? What were suspect Omar Mateen's interactions with various groups in the U.S. and internationally? Who were the groups, and what was the nature of those interactions? Law enforcement officials had Mateen on their radar. Why did they stop monitoring him? Could it have had anything to do with the suffocating political correctness — in which "workplace violence" and "man-caused disasters" replaced jihadist terror — over the last few years? The echo chamber of Islamist front organizations such as the Council on American-Islamic Relations (CAIR), the Muslim American Society and the Muslim Public Affairs Council facilitate the administration's obfuscation. They rush to condemn the attacks to American audiences, yet they are the worst enablers of the attacks themselves.
Ramadan Jihad Massacre at Orlando Gay Club. The first to be attacked were in Israel, on 8 June, at the Sarona Market, an upscale food and retail center in central Tel Aviv. Two gunmen killed at least three and injured another five before being captured by police and taken into custody. That the next target was a gay nightclub in Orlando, FL should have surprised no one. Homosexuality is a capital punishment crime under Islamic Law (shariah). This is why the Islamic State is seen throwing gays off the tops of tall buildings — they believe they are obeying the will of Allah. Within Islam, there is broad consensus among authoritative scholars, based on widely-cited hadiths, about the obligation to impose the death penalty on gays. Further, mainstream Islamic doctrine obligates Muslims to take personal responsibility for the enforcement of shariah in the doctrine of "enjoin the good, forbid the evil" that derives directly from the Qur'an.
American Muslim Thought Leader Issued Fatwa on Homosexuality in 2003. The late Taher Jaber al-Alwani (d. March, 2016), trained at Al-Azhar University, founded in 973 [A.D.], and Sunni Islam's most prestigious religious teaching institution since the mid-13th century, till now. Receiving his Ph.D in Islamic Law from Al-Azhar in 1973, al-Alwani subsequently taught Islamic Law at the Imam Muhammad b. Saud University in Riyadh, Saudi Arabia. [...] In short, al-Alwani was a highly trained, greatly respected, mainstream Muslim authority on Islamic Law, internationally, and within the U.S. Al-Alwani's June 18, 2003 "fatwa" on homosexuality — an Islamic "legal" ruling per Islam's theo-political totalitarian "legal" system, the Sharia, merits careful consideration in the wake of pious Muslim jihadist Omar Mateen's mass murderous attack on an Orlando gay night club early yesterday, Sunday, June 12, 2016.
Of Course It Would Have Been Better If Somebody Had Shot Back. President Obama today [6/16/2016] criticized the notion that the victims in Orlando would have been safer had one or more of them been armed. Such an idea, Obama proposed, "defies common sense." [...] When one gets to the specifics, can one really say with a straight face that the victims at Pulse wouldn't have been better placed had one or more of them had been armed? According to the Miami Herald's minute-by-minute report, the killer roamed with impunity for more than three hours. At various stages he stopped shooting and walked around; from time to time he searched the areas in which people were hiding; and, at one point at least, he put down his gun and washed his face.
During siege at Pulse, 603 calls to police, fire departments. During the more than three hours that a gunman took siege of the Pulse nightclub on Sunday, there were 603 calls to Orlando's police and fire departments, the city attorney said Thursday [6/16/2016] in a letter to the Sentinel denying a public records request. Mayanne Downs said in the letter that 166 calls were to 911. Some of those calls started coming in to Orlando Fire Station 5 shortly after a crew there heard the first shots ring out.
Orlando Massacre Shows We Must Stop Teaching Children to Hate America. Let's debate how an American like Omar Mateen, born in Queens, New York, and raised in Fort Pierce, Florida, can turn into a terrorist bent on executing his compatriots. How does he grow up cheering the 9/11 attack in high school, thinking that women ought not to drive, and swearing allegiance to the Islamic State?
Muslim Privilege Killed 49 People in Orlando. The deadliest mass shooting in American history happened because of Islamophobia. Islamophobia killed 49 people in Orlando. It didn't kill 49 Muslims. Instead it allowed Omar Mateen, a Muslim terrorist, to kill 49 people in the name of his Islamic ideology and the Islamic State. Omar, like so many other Muslim killers, could have been stopped. He talked about killing people when he worked at G4S Security, a Federal contractor that provided services to the Department of Homeland Security and the State Department. But, according to one of the co-workers he stalked, a former police officer, his employers refused to do anything about it because he was a Muslim.
In Defense of Self-Defense. As unspeakable and horrific as is the recent slaughter in Orlando, it has become just another example of the tragic consequences of government's interfering with the exercise of fundamental liberties, writes Andrew Napolitano. After a while, these events cease to shock; but they should not cease to cause us to re-examine what the government has done to us. We have a government here that is heedless of its obligation to protect our freedoms, suggest Napolitano. We have a government that, in its lust to have us reliant upon it, has created areas in the U.S. where innocent folks living their lives in freedom are made defenseless prey to monsters — as vulnerable as fish in a barrel. And we have mass killings of defenseless innocents — over and over and over again. All these mass killings have the same ending: The killer stops only when he is killed. But that requires someone else with a gun to be there. Shouldn't that be sooner rather than later?
Anderson Cooper's Orlando Ranting Is Bad For America. Far too many in the media have decided that the reality of what transpired and what it portends is too difficult to deal with and challenges too many of their strongly held assumptions and political positions. Instead, they chose to use this tragedy to target their own political enemies. Based on information we have as of now, Mateen was a longtime supporter of terrorism, having cheered 9/11 — on 9/11! — according to his high school classmates who witnessed his response. He was married twice and had a son but also propositioned men on gay dating apps and in real life, according to some reporters. In fact, he was a longtime Pulse patron, witnesses say. He had cased Disneyland and other populated places before deciding on Pulse. He's a radicalized Muslim who scared former colleagues with violent rhetoric and claims of terrorist ties. The FBI repeatedly investigated him, but nothing came of it. He was a domestic abuser, according to his ex-wife. He was a registered Democrat and son of an anti-American politician.
Orlando Wasn't About "Gun Violence" or "Homophobia" -- It's About Islam. Muslim terrorists have killed thousands of Americans. They have focused on targeted populations that Islam particularly hates, such as Jews, Christians or gays. But they have also killed us in huge numbers without regard for our race, religion or any other factor. They have killed us with guns. But they have also killed us with bombs and with airplanes and box cutters. The media would like to stay in its cozy echo chamber and blame the Orlando killings on homophobia or lack of gun control. But that fails to address the largest Muslim massacre of Americans, which wasn't in Orlando, but which took place on 9/11. Americans, straight or gay, died that day. The weapons of choice were box cutters. We imposed the TSA on travelers and Muslim terrorism did not stop. Gun control will not stop Muslim terrorism. Islam hates gay people, but it also hates everyone who isn't a Muslim.
The media's apologetic coverage of Islamic terror. The Orlando media circus started early Sunday morning within hours of the massacre. At the first press briefing, police presented one individual as a spokesman of Orlando's "faith communities". He wasn't a Christian, like many of the victims, but a Muslim. In addressing reporters, Muhammad Musri, president of the Islamic Society of Central Florida, appeared to shift blame for the mass murder away from the ISIS-inspired jihadi who committed it, towards a concern about mass shootings in general and, presumably, support for gun control.
Gun shop told FBI about 'suspicious' Mateen before slaughter. Orlando gunman Omar Mateen tried to buy heavy-duty body armor and bulk ammunition from a Florida gun shop several weeks ago, but a suspicious employee refused to sell him anything — and even called the FBI, according to one of the store's owners Thursday [6/16/2016]. [...] Mateen came into the shop alone and asked for a "Level 3" bulletproof vest and then walked away for a second, speaking in Arabic on his cell phone, the store's owner said. When he came back, Mateen told the employee he also wanted bulk ammo, which usually comes in 1,000 rounds.
Exclusive: Omar Mateen admitted to drug use, other crimes on IRSC police academy application. Omar Mateen was rejected when he applied to attend the Treasure Coast Public Safety Training Complex at Indian River State College in 2015. The program didn't tell him why, and even today, officials won't divulge their reasons. "During the testing and/or review processes, information was discovered which caused your application to be denied at this time," wrote Lee Spector, Criminal Justice Training Institute director, in a March 2, 2015, letter obtained along with other documents by TCPalm.com. Spector on Thursday [6/16/2016] declined to comment why Mateen was rejected.
Exclusive: Suspensions, other discipline followed Omar Mateen to Martin County schools. Omar Mateen's pattern of misbehavior did not end in 1999, when he transferred from St. Lucie County schools to Martin County in eighth grade. Mateen, who on Sunday shot and killed 49 people and injured 53 at an Orlando nightclub, was suspended a total of 48 days between 2000 and 2002 while he was in middle school and high school, according to school records obtained by TCPalm.com. Most of the offenses were categorized as "other rule violations," while two suspensions in 2001 resulted from fights just days apart, according to records.
Pink Pistols urge gays to arm themselves: 'Guns did not do this, a human being did'. A gay gun-rights group is calling on the LGBT community to arm themselves in the wake of the Orlando, Florida, terrorist attack Sunday that left 50 people dead.
The Editor says...
That's an idea, but Florida bars and restaurants are "gun-free zones."
Muslim DHS Advisor Called Israel A 'Suspect' In September 11 Attacks. A current adviser to the Department of Homeland Security is a Muslim leader who has accused America of doing Israel's "dirty work," named Israel as a "suspect" in the September 11 terror attacks and has been criticized as an apologist for terrorists. Salam Al-Marayati is the president of the Muslim Public Affairs Council. He currently serves on the Homeland Security Advisory Committee's (HSAC) Foreign Fighter Task Force, as well as the HSAC Subcommittee on Faith Based Security and Communications.
Gun Store Owner: We Alerted FBI to 'Suspicious' Customer Weeks Before Orlando Shooting. The owner of a Florida gun store said he tried to alert the FBI to a "very suspicious" man later identified as Orlando nightclub shooter Omar Mateen after Mateen tried to buy body armor and bulk ammunition from the store. Robert Abell, a co-owner of Lotus Gunworks in Jensen Beach, Florida, told ABC News today that a man entered the store five or six weeks ago and asked specific questions about high-end body armor. When employees said the store didn't carry the body armor he wanted, Abell said, the man made a phone call in a foreign language, hung up and then asked about ammunition in bulk.
Florida sheriff: Mateen's comments on Fort Hood shooting worried cops. It was well known among law enforcement officers back in 2005 that Omar Mateen had an interest in a career as a deputy, Sheriff Ken Mascara said. Mateen received an Associate of Science degree in criminal justice technology from what was then Indian River Community College in 2006. The college was renamed Indian River State College in 2008. At Mateen's request, the Sheriff's Office allowed him to ride around in a patrol car with an on-duty deputy to see what real-life law enforcement work was like.
Anti-gay Islamic preacher linked to Orlando leaves Australia. An Islamic preacher who has said homosexuals should be put to death has left Australia. British-born Shia cleric Sheikh Farrokh Sekaleshfar lectured near Orlando, Florida in April and was being widely quoted in the wake of Sunday's killing. He was visiting Australia as a guest of Sydney's Imam Husain Islamic Centre.
OneBlood official: Omar Mateen donated blood 2 weeks before Orlando massacre. In a bizarre twist to an already tragic massacre, a OneBlood official confirmed Wednesday [6/15/2016] that Omar Mateen donated blood two weeks before committing the deadliest mass shooting in U.S. history. Mateen donated blood two weeks before killing 49 people at Pulse Nightclub in Orlando, Florida.
The Media Meme: Blame GOP for Orlando While Turning Sole Focus to Gun Control. The media and political exploitation we've witnessed as a country over the past five is one word: Disgusting. It's a shake-your-head moment in looking at the definitive narrative to emerge out of Orlando this week. We're a blame-ourselves culture regardless of who or what is actually responsible for horrific things, with Republicans usually the first to get a finger (index and/or middle) directed its way after every mass shooting that occurs all too often in this country. Members of a Charleston black church are massacred by a lunatic? It's a Republican problem because a Confederate flag was on his property. A Planned Parenthood facility in Colorado is attacked and three people — including a police officer — are killed? It's Carly Fiorina's fault. 49 innocents are slaughtered at an Orlando nightclub? The New York Times blames... the GOP.
The Editor says...
"49 innocents?" The clients in a meat market gay bar at 2:00 a.m. are not innocent.
Obama on Orlando: It's All About the Guns. At the first post-massacre press conference by Orlando officials, members of law enforcement said they didn't know the killer's motive, or whether he was inspired by domestic or international terrorism. But a Muslim cleric appeared at the press conference and proceeded to tell us to refrain from "rushing to judgment." Why was an imam speaking at a press conference if the authorities, at that time, were clueless about whether this massacre had to do with radical Islam?
Orlando shooter texted wife during attack, source says. The Orlando shooter and his wife exchanged text messages during the Pulse nightclub rampage, a law enforcement official briefed on the investigation told CNN. Around 4 a.m. on June 12, about two hours after he started the attack and while holed up in a bathroom, Omar Mateen texted his wife, Noor Salman, asking if she'd seen the news, the official said.
Speaking of the wife...
Feds zero in on Orlando terrorist's widow as she drops out of sight. Federal investigators continued Wednesday [6/15/2016] to methodically retrace Orlando terrorist Omar Mateen's recent activities and contacts, while zeroing in on his wife, who may have known about her husband's evil plan well before he burst into a gay nightclub in Orlando and killed 49 people. Although a spokesperson for the U.S. Attorney for the Middle District of Florida would neither confirm nor deny that a grand jury has already begun investigating the case, an FBI source told FoxNews.com on Tuesday that a panel was already targeting Noor Salman, 30. Veteran federal prosecutors said that would be consistent with expected procedure.
Orlando shooter posted messages on Facebook pledging allegiance to the leader of ISIS and vowing more attacks. On the day of his rampage at a gay nightclub, the Orlando shooter posted messages on Facebook pledging allegiance to the leader of the Islamic State and vowing that there would be more attacks in the coming days by the group in the United States, according to a letter sent to Facebook on Wednesday [6/15/2016] by Sen. Ron Johnson (R-Wis.), chairman of the Senate Homeland Security Committee.
Why Speaking the Truth About Islamic Terrorism Matters. Omar Mateen was the 29-year-old scion of Afghan immigrants. Nothing wrong with that, of course. Right off the bat his father assured the world that he was "saddened" by the massacre (wasn't that nice?) and that Omar was "a good son." Religion, he said, had "nothing to do with" his son's rampage. He was just "angry" at gay people. So he suited up and headed down to the Pulse nightclub where he methodically shot some 100 people. Oh, and Mateen père has supported the Taliban, and claims to be running for the presidency of Afghanistan. It did not take long before the media realized that none of its preferred narratives was operative.
Another Islamic Radical Tragically Shoots Up The Liberal Narrative. Another day, another massacre by jihadis, and Hillary Clinton wants you disarmed and defenseless. Vote accordingly. The liberal establishment seems sadly resigned to the fact that this latest creepy radical Islamic freak deciding to go on a kill spree for Allah means the death of their beloved gun narrative. You know that at Hillary Clinton's HQ, they were on their knees, only this time praying to some Earth goddess that,for once, it be a Christian Republican NRA member and not a radical Muslim Democrat Not-an-NRA-member. Except it's always at least two out of three of "radical Muslim Democrat Not-a-NRA-member." And this time it's apparently all three, plus bonus points for "gay." This scuzz was the perfect storm of liberal diversity.
6 Things To Know About Tying Gun Sales To A Watch List. [#4] Even if the Democrats' proposed gun sales ban list had been made law, it would not have stopped the Orlando attack. As frequently seems to be the case, political reaction to terrorism does not seem tailored to prevent terrorism. Pulse shooter Omar Mateen was placed on the terrorist watch list in 2013 and 2014. The FBI investigated him and, after determining that he did not have ties to terrorism, took him off the list. The terrorist watch list uses almost the same definition as the Democrats' proposed gun sales ban list. So even if the Democrats' proposed solution been enacted, it would not have stopped Mateen from purchasing the firearms that he used to kill at least 49 people and radically alter the lives of hundreds more.
Our Enemy Is Political Islam, Not Each Other. The first thing we should do is leave partisan politics aside. We know what inspired this crime: Islamist terrorism, fueled by propaganda from ISIS and other murderous groups in the Middle East. Mateen even called 911 to publicly pledge allegiance to ISIS. America's fight is against political Islam. Also, apart from being tasteless in the wake of a tragedy, political goalkeeping won't help determine if there were any gaps in our intelligence and law enforcement networks that let such a despicable killer carry out his plans. Hindsight is 20/20, but so far, we know a few things: A former coworker at a GS4 Security, a company which once employed Mateen, claims that Mateen made bigoted remarks about race and sexuality, spoke of committing violent acts, and harassed him with floods of text messages. He also claims that these warnings were ignored because of political correctness.
Same Old, Same Old Horror. The aftermath of Islamist Afghan-American Omar Mateen's murderous rampage against American gays seems disturbingly familiar, an echo of past themes that never stop playing — and lessons that never get learned. [...] Mateen did not cite the usual ISIS foreign policy boilerplate so much as reportedly express his furor over gay men kissing — suggesting that, like Mohammed Atta et al., he despised the essence of Western liberality and popular culture, yet, like a moth to a flame, was both repelled by it and attracted to it.
Orlando gunman raged against 'filthy ways of the West'. Orlando gunman Omar Mateen apparently made a series of Facebook posts before and during his attack on a gay nightclub, raging against the "filthy ways of the west" and blaming the U.S. for the deaths of "innocent women and children," according to a Senate committee letter released Wednesday [6/15/2016].
Trump Is Right, And He Must Win. After every jihad terror attack, Islamic supremacists and their paid shills in the media unleash relentless, vicious attacks upon those of us who oppose jihad. Never do we hear or see them go after the Islamic texts and teachings that fuel this war. A case in point was a Salon article published Tuesday [6/14/2016]: "Donald Trump's war with Islam: A campaign rooted in pernicious religious discrimination," by Simon Maloy. [...] The idea that the depraved left sees the murdered nightclub-goers as an "opportunity" for Trump is as vicious as the attack itself. Trump sounded a warning, and he was right to do so. It was not Donald Trump who made Islamic jihad "antagonistic to American interests"; the jihad doctrine itself is antagonistic to American interest and freedoms. How many thousands have to die in the cause of Islam?
Report: Omar Mateen Posted "Messages of Islamic Jihad" To Social Media During Terrorist Attack. According to information from the office of Senator Ron Johnson (Committee on Homeland Security and Governmental Affairs) terrorist Omar Mateen was posting messages to social media in the time between the initial attack and the time SWAT teams rushed the Pulse nightclub.
Threats against Christians are still okay, but...
Threats against Muslims must stop after Orlando attack: US. US authorities on Wednesday (Jun 15) warned that threats against Muslims would not be tolerated, and possibly prosecuted, after alleged incidents in the wake of the Orlando gay club massacre, which was carried out by a Muslim gunman. Officials asked the public to help in the investigation of Sunday's carnage at the Pulse nightclub in Orlando — the worst mass shooting in American history, which left 49 people dead and 53 others wounded. Gunman Omar Mateen was killed in a shootout with police.
Florida terror imam on Fox justifies stoning women, beheading journalists. Fox News has a tendency to give the enemy air time and promote Islam. This jihad-preacher will only become more popular among Muslims in the U.S. and recruit and train more jihadists who kill Americans as Fox invites him back like they do terror org CAIR.
Orlando Terrorist's Father Seddique Mateen Visited State Dept.. Remember Amed Mohamed and the exploited islamic opportunism with 14-year-old "clock boy" bomb hoax from Irving Texas and how his father was running for political office in Sudan? Well, apparently 29-year-old terrorist Omar Mateen (below left) comes from a similarly engaged political family and his father, Seddique Mateen (below right), was/is running for national office in Afghanistan and not happy with the government of Pakistan. [...] In addition, Got News.Com has discovered the sister of Omar Mateen, Miriam Seddique, purchased Omar's house for $10 in April via a "quit claim deed". It would appear the jihadist Omar Mateen was making preparations for this attack for quite some time.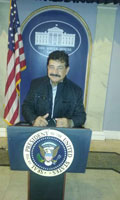 Orlando Killer's Father Held Meetings At The White House. Seddique Mateen, father of the Orlando killer and outspoken supporter of the Taliban, has also been a guest at Obama's White House and Hillary's State Department. I wonder what they were talking about? The senior Mateen has described Omar as a "good son." Of course he also describes the Taliban as a good government so that should give you a frame of reference for what he considers good. Did he meet directly with President Obama? That's unclear, but why is Seddique Mateen standing being the President's podium in the White House Briefing Room. In case you're wondering, that's definitely not part of the tour available to the general public. He was there to meet with Administration officials and perhaps the President himself.
Audio clip from Orlando terror attack reveals two or more guns firing simultaneously. An audio clip obtained from the Pulse nightclub shooting reveals that two or more guns were being fired simultaneously, supporting evidence released earlier-on by Intellihub News & Politics that there were multiple shooters involved. Astonishingly, after the shooters (2, 3, or 4) clips were emptied, voices could be heard saying either, 'clear' or 'Allah Akbar,' almost in a militaristic or police trained manner. Like they do once a room is cleared.
Disney Warned FBI About Omar Mateen Back In April. New reports are emerging that Disney warned the FBI about Omar Mateen several months ago. Mateen visited the parks with his wife, who told the media that he was considering attacking Disney Springs. Mateen also visited the Disney Springs (formerly known as "Downtown Disney") area during Gay Days, a weeklong LGBT festival in Orlando.
The Editor says...
The lesson is clear: If you see something, say something. And then nothing will be done about it, and you'll probably be sued.
Florida: America's Jihad Playground. Mateen's homicidal hatred for gays didn't exist in a vacuum. Mateen's neighborhood mosque in nearby Fort Pierce, Florida, was also the house of worship of Moner Abu-Salha, an American jihad recruiter and suicide bomber who blew himself up in Syria last year. The Palm Beach Post reported this week that Abu-Salha had posted videos of an imam's death-to-gays rant on Facebook. Marcus Dwayne Robertson (a.k.a. Abu Taubah), a former U.S. Marine turned career criminal and bodyguard to the Blind Sheik, headed another mosque, Masjid Al-Ihsaam, in Orlando. He also founded the Orlando-based Fundamental Islamic Knowledge Seminary in 2008 and railed against gays and non-Muslims. Mateen was enrolled in Taubah's course. Just weeks before the Pulse nightclub massacre, another Orlando mosque, the Husseini Islamic Center, hosted a guest imam who had preached that "gays must die" and that Muslims should not "be embarrassed about this ... let's get rid of them now."
NBC still can't figure it out.
Why Did He Do It? Several Questions Remain in Orlando Massacre. Mateen, a 29-year-old security guard, left a variety of clues about his motivations, but nothing that lends itself to easy explanation. His father said Omar wasn't very religious, although he had expressed anger toward gays. His ex-wife said he was disturbed and violent, but showed no signs of radicalization. Former colleagues complained that he boasted of family links to terror groups, but the two organizations he mentioned — al Qaeda and Hezbollah — are rivals.
The Editor says...
First of all, if you go to a terrorist's family (or his imam or any other Muslim) looking for answers, all you will get is taqiyya: a pack of lies intended to throw you off the obvious track. Second, if you imply that he couldn't possibly be a Muslim terrorist because he sympathized with Type A Muslim terrorists as well as Type B Muslim terrorists, you're fooling no one.
FBI comes under scrutiny again after dropping investigation of Orlando shooter. The deadly assault at the Pulse nightclub followed the Boston Marathon bombing in 2013 and last year's shooting at a Texas exhibition of cartoons depicting the prophet Muhammad. While the circumstances of each case varied widely, they were united by a common thread: The FBI had looked at one of the accused assailants, including an intensive 10-month probe of Orlando gunman Omar Mateen. Yet each remained free to inflict damage, leaving federal investigators to wonder on Tuesday whether their long-held fear of a series of "lone wolf" attacks on U.S. soil was coming to fruition.
The gun the Orlando shooter used was a Sig Sauer MCX, not an AR-15. That doesn't change much. In the hours after Sunday's mass shooting at an Orlando night club, Chief John Mina of the Orlando Police Department said the gunman's weapons included a pistol and an "AR-15-type assault rifle." On Monday night, officials clarified that the rifle Omar Mateen used in the shooting was not an AR-15, but a Sig Sauer MCX rifle. While aesthetically similar to and just as lethal as an AR-15, the MCX is internally a different beast, thus all but removing it from the AR-15 family of rifles.
The Editor says...
Making this distinction doesn't help the victims, but it does change one thing: The credibility of the news media has been diminished.
Johnson: Orlando Terror Attack Was a Case of 'Self-Radicalization'. Homeland Security Secretary Jeh Johnson spoke to [Fox News] to give the latest on the investigation of the Orlando terrorist attack. He told Bret Baier that Omar Mateen appeared to "self-radicalize" by watching online videos and that the attack was not directed by terrorists. "It was more in the nature of a terrorist-inspired attack," he said. Johnson said that using law enforcement and building bridges to American Muslim communities has become increasingly important to combat homegrown self-radicalized terrorists.
How FBI's Pursue-Every-Lead Policy Allowed Orlando Shooting. [Omar] Mateen told one of his co-workers at a private security firm in 2013 that he knew Boston Marathon bombers Tamerlan and Dzhokhar Tsarnaev. Mateen's co-worker reported that information to the FBI. Federal agents were already investigating Tamerlan Tsarnaev's links to Ibragim Todashev, an Orlando man who was shot and killed during a scuffle with an FBI agent. A link between the Boston Marathon bombers and another Florida man sounded plausible. Agents took the tip seriously and interviewed Mateen on two separate occasions. Their conclusion: Mateen was spinning fantasies and wasn't a threat. His file was closed.
Orlando Attack a Failure of Obama's 'Politically Correct' Policy. The Florida terrorist attack last weekend revealed multiple failures of Obama administration counterterrorism policies that critics say are hamstrung by liberal "political correctness." Security analysts said the attack exposed failures of the administration's counterterrorism policies that were designed to separate Islam from the jihadist terrorism that continues to spread from the Middle East to Europe and now the United States. The attack early Sunday by security guard Omar Mateen, 29, included a 911 call to police stating the mass shooting was conducted in support of the Islamic State terror group.
Democrats Should Try Blaming Terrorists For Terrorism. Chris Cox, executive director of the National Rifle Association Institute for Legislative Action, penned an op-ed in USAToday which puts the blame for Sunday's Islamic terror attack where it belongs, on radical Islamic terrorists. [...] Democrats are using the attack as an excuse to try to strip Americans of their right to bear arms if arbitrarily placed on a watch list by a government bureaucrat, even though the terrorist was not on any watch lists or under investigation by the FBI, (unlike Hillary Clinton).
The Biggest Mass Shooting In American History, Was Done By A Homosexual. While media elites are striving to portray the Orlando massacre as an act of homophobia, new reports reveal that Omar Mateen was in fact a flaming homosexual.
Gun laws don't deter terrorists. Americans were shocked and disgusted to learn of another act of terrorism on our soil, this time in Orlando. In the aftermath of this terrorist attack, President Obama and Hillary Clinton renewed calls for more gun control, including a ban on whole categories of semi-automatic firearms. They are desperate to create the illusion that they're doing something to protect us because their policies can't and won't keep us safe. This transparent head-fake should scare every American, because it will do nothing to prevent the next attack. The terrorist in Orlando had been investigated multiple times by the FBI. He had a government-approved security guard license with a contractor for the Department of Homeland Security. Yet his former co-workers reported violent and racist comments. Unfortunately, the Obama administration's political correctness prevented anything from being done about it.
New York Times quietly backs away from story on Orlando terrorist's weapon. After widespread complaints on social media, the New York Times has quietly backed away this afternoon from inaccurate reporting on the weapon used in Saturday's Orlando terror attack. Second Amendment supporters and others have repeatedly questioned why "AR-15 Rifles Are Beloved, Reviled and a Common Element in Mass Shootings" was so quick to incorrectly draw a common theme between other domestic incidents and this one based on the killer's weapon of choice.
Federal prosecutors convene grand jury to investigate wife of Orlando massacre gunman, source says. Federal prosecutors have convened a grand jury to investigate the wife of the Orlando nightclub shooter, seeking to charge her as an accessory to 49 counts of murder and 53 counts of attempted murder as well as with failure to notify law enforcement about the pending terrorist attack and lying to federal agents, a federal law enforcement source confirmed Tuesday to FoxNews.com. FBI agents have interviewed Omar Mateen's wife, Noor Salman, in the days since Sunday's massacre that killed 49 and wounded 53 more. A federal law enforcement source additionally told Fox News that Salman knew of her husband's deadly plans and did nothing to stop him.
There's plenty of room at Guantanamo!
Orlando probe intensifies as feds eye gunman's wife, possible ties to international terror. Federal authorities in Orlando and around the nation are scrambling to connect dots in the wake of Sunday's massacre by an Islamist terrorist, with potential charges looming for the gunman's wife as early as Wednesday [6/15/2016] and agents tracing possible ties to radical Muslims in the U.S. and abroad. The all-hands-on-deck probe is aimed at determining whether Omar Mateen acted alone when he gunned down 49 patrons in a gay nightclub or others knew of his deadly plans and possibly aided him. A federal law enforcement source told FoxNews.com Tuesday that prosecutors have convened a grand jury to investigate Mateen's wife, Noor Salman, who could be charged as an accessory.
What If the Orlando Murderer Were a Christian? Many people are surely asking, "What if the gunman from the Orlando, Florida shooting were a Christian?" Why? Because little would be said by the mainstream media and leading Democratic politicians — from the president on down — if the murderer were an anti-gay Christian. The most obvious difference is that the media and the Democrats would have blamed Christians for the mass slaughter, whereas they do everything in their power to exonerate Muslims. Indeed, as many have noted, President Obama and the entire Democratic Party leadership have long refused to even use the terms "radical Islam" or "radical Islamists."
Orlando nightclub gunman visited gay chat rooms, officials say. Orlando nightclub gunman Omar Mateen called a friend to say goodbye as he carried out his shooting rampage at Pulse early Sunday, according to two law enforcement officials. The FBI has interviewed that friend, sources said. Mateen also made calls to 911 and a producer at CNN affiliate News 13 Orlando, saying he carried out the massacre out of allegiance to ISIS.
Orlando and the Political Blame Game. Here's an easy thought experiment: what would the national conversation sound like if the Orlando massacre had occurred while a Republican was in the White House? You know the answer: liberals and progressives would have been screaming that the president had failed to protect the people. They would have been calling for investigations into the president's dereliction. They would have been demanding an assault weapon ban. Some of them would have wanted to take away your guns — all 300,000,000 of them. Of course, they would not have denounced Islam, any more than they are today. They might have expressed surprise that a "religion of peace" could have fostered so much hatred, but they would certainly not have called the terrorist attack an act of war. They would have blamed Christians for their homophobia. They would not have demanded reprisals — unless against Christian pastors. They would have declared that America had a homophobia problem, as our president has said himself.
Preventing another Orlando. The present government has no idea of who is coming into the country and what their goal in coming might be. With so little control of our borders, we hardly have a country. We need a stricter immigration policy, a wall across our southern border, and a review of just who is living here — lest we regress into a condition not unlike France. [...] For now, America has enough Muslims streaming into the country. If the stream continues, the situation will only worsen.
Obama's Question: What's In A Name? Obama wants to treat our enemies as individual criminals, lone wolves and nut jobs. Since he is the commander-in-chief, he defines the policy parameters under which our military and intelligence agencies operate. The Orlando murderer was interviewed by the FBI, which discovered his associations with radical Islamic terrorists, and jihadist sympathies, but dropped him off the radar because the FBI was looking for crimes which he hadn't (yet) committed. If on the other hand the FBI had been looking for soldiers in a war conducted by radical Islamic terrorists, they would have kept him on the radar and extended their investigation until maybe they would have saved 50 innocent lives.
The Orlando Massacre Is Just the Beginning. What is the greatest lesson of the Orlando massacre, where a Muslim shooter killed at least 50 people at a homosexual night club — an event that is now considered the deadliest terrorist attack on U.S. soil since the September 11 attacks of 2001? It's that such an attack had to happen — and is destined to happen again. Why? Because the surest way of seeing an act occur repeatedly — say a terrorist attack — is to repeat all the same steps that precipitated and paved the way for it in the first place. Consider: the shooter, Omar Mir Seddique Mateen, was "quite religious" and a pious Muslim (he attended mosque and prayed regularly); he clearly saw himself as a jihadi killing evildoers — he "recited prayers to Allah during the attack," pledged this act to the Islamic State, and the latter claimed it — officialdom, as usual, is trying to obfuscate the Islamic role.
Second-hand terrorism?
The Orlando Jihadist and the Blind Sheikh's Bodyguard. According to Fox News, Omar Mateen, the jihadist who carried out the mass-murder attack at a gay nightclub in Florida this weekend, was a student of Marcus Robertson, an Orlando-based radical Muslim who once served as a bodyguard to Omar Abdel Rahman — the notorious "Blind Sheikh" whom I prosecuted for terrorism crimes in the early to mid 1990s. Robertson, a former U.S. marine with a serious criminal record, is now 47. That means he was in his early twenties when the Blind Sheikh lived in the New York metropolitan area.
Hillary's State Dept. Blocked Investigation Into Orlando Killer's Mosque. Hillary Clinton's State Dept. shut down an investigation into the mosque Orlando killer Omar Mir Siddique Mateen attended because it "unfairly singled out Muslims." The Fort Pierce Islamic Center, where Mateen worshipped several times a week, was under investigation by both the FBI and DHS as early as 2011 for ties to a worldwide Islamic movement known as Tablighi Jamaal which was linked to several terrorist organizations. But the investigation was shut down under pressure from the Clinton-ran State Dept. and DHS's Civil Rights and Civil Liberties Office out of fear of offending Muslims, according to recently retired DHS agent Philip Haney.
Islam & the West: Irreconcilable Conflict? [Scroll down] And make no mistake. There are out there in society some few looking at what Mateen did, and how he left this world, not in revulsion and disgust but admiration and awe. Omar Mateen will not lack for emulators. While we see him as a sick and crazed mass murderer, some will see him, as he surely saw himself, as a warrior for Islam and Muslim martyr who earned paradise. Yet, Hillary Clinton and Barack Obama seemed either unable to recognize the roots of Mateen's malice, or they were inhibited from identifying those roots by the commands of political correctness. "Islam, not only in its extremist forms but in its pure form, is incompatible with modern Western democracy." The president called this "an act of hate," but declined to name the source of the hatred or motive for the massacre.
Omar Mateen's Wife Tried to Talk Him Out of Orlando Attack, Sources Say. The Orlando gunman's wife has told federal agents she tried to talk her husband out of carrying out the attack, NBC News has learned. Omar Mateen's wife, Noor Zahi Salman, told the FBI she was with him when he bought ammunition and a holster, several officials familiar with the case said. She told the FBI that she once drove him to the gay nightclub, Pulse, because he wanted to scope it out.
Democrat Terrorist Slaughters 50 Americans, Democrat Candidate for President Calls for More Gun Control. When you're bereft of ideas, have no clue what you're doing and want to disarm the public, who are at risk of psychotic Muslim terrorists, you go back to your tired, old playbook. This is who Democrats are. They can't admit we're in a war, but they will admit they want to leave you disarmed for the enemy. This woman is a threat to our safety.
Media fail: Orlando terrorist did not use an AR-15. Since Sunday's terrorist attack on an Orlando gay nightclub, the Democrat-media complex has gone on a tear demonizing the AR-15. A number of ignorant outlets and biased operators (as opposed to "reporters" who actually try to get the story right) breathlessly reported that the shooter used an AR-15. Here's an example of the false reporting. A video at the Washington Post is captioned: "Orlando shooter Omar Mateen used an AR-15 style rifle to kill at least 49 people, officials say. Here's what you need to know about the gun some are calling 'the gold standard for mass murder.'" But, Bob Owens wrote at Bearing Arms, they got it wrong.
The Orlando Killer Didn't Use An AR-15 Rifle. [T]he demonization of the AR-15 rifle has begun in the media. The usual talking points about its lethality, its rate of fire, and its scariness are coursing through the veins of the anti-gun Left following the Orlando attack. Omar Mateen committed the worst mass shooting in U.S. history on Sunday morning, which will likely be reclassified as a terrorist attack, when he murdered 49 people at a gay nightclub (Pulse). As Bob Owens and Streiff noted at Bearing Arms and RedState respectively, Mateen didn't use an AR-15 rifle, but the media has a narrative to dole out.
Orlando nightclub jihadi cheered 9/11 terror attacks, taunted American students. While the nation watched in horror as two hijacked planes crashed into the World Trade Center towers on September 11, 2001, the future Orlando gunman was openly cheering, former classmates say.
Mateen's twin trips to Saudi Arabia raise suspicions. Orlando gunman Omar Mateen's two trips to Saudi Arabia, one of which was a pricey package that included four-star accommodations and fancy meals, were highly unusual and may have been cover for terror training, according to experts. The FBI is piecing together Mateen's radical Islam roots, and the trips to Saudi Arabia could be a sign of his growing religious devotion. His stated reason for both the 2011 and 2012 trips was umrah, a Muslim pilgrimage to the Kingdom that is not as significant as the hajj, a trip all Muslims must make to Mecca at least once in their lives. Either or both of the trips could also have included a side trip. "It's very possible for someone to take a trip to a country like Saudi Arabia and declare it as their destination when it is in actuality just a pit stop to a different country like Yemen," said Ryan Mauro, national security analyst for Clarion Project, a New York-based research institute that tracks global terrorism. "
Gay Muslim Democrat Islamist Slaughters 49, So Of Course Democrats Have a Temper Tantrum. Ah, nothing like an orchestrated distraction. And so much for showing respect for the dead by pimping your worthless, anti-gun agenda, by "protesting" a moment of silence. Can they be any more juvenile?
The terrorist attack is about radical Islam not Trump or Christians. A terrorist attack carried out by a radical Islamist took place on the weekend and then another Islamist group executed a Canadian, but hey, let's talk about gun control, or Donald Trump or anything but radical Islam. Brian [Lilley] bursts the many bubbles around the Orlando attack plus tackles why this isn't about gun control with Faith Goldy, chats with intelligence analyst Phil Gurski and even takes a pause to discuss the F-35 with fighter pilot Billie Flynn. [Video clip]
Source: Orlando attacker's ties to American suicide bomber in Syria 'deeper' than thought. The relationship between Orlando terrorist Omar Mateen and an American suicide bomber in Syria was much "deeper" than previously understood by federal investigators, according to a government source. Fox News was told the relationship as well as the Mateen case in general are "very complex" but would not go further, citing the sensitivity of the FBI investigation and classified information. The source said the bomber's return to Florida in 2013 is under fresh scrutiny as well. Mateen's name surfaced twice for FBI investigators in the run-up to the attack.
Orlando Gunman's Wife Could Face Charges: Sources. Orlando gunman Omar Mateen's wife, Noor Salman, has told the FBI that she drove Mateen to the Pulse nightclub on a prior occasion but that she tried to talk him out of the attack, officials told NBC News. Several officials familiar with what she has told the FBI said she was with him when he bought ammunition and a holster. She also once drove him to the nightclub because he wanted to see it in advance, the officials said.
Ex-wife's bombshell claim: Club shooter was gay. The ex-wife of Orlando mass killer Omar Mateen claimed Monday that she believed he was homosexual — as it was revealed that he frequented the gay nightclub where he staged the nation's worst massacre in modern times. Sitora Yusufiy, who was married to Mateen in 2009 for three months, made the shocking claim on Brazilian television station SBT Brazil. Her fiancé, Marco Dias, speaking in Portuguese on her behalf, said Yusufiy believed that Mateen had "gay tendencies" and that his father had called him gay in front of her. Dias also claimed "the FBI asked her not to tell this to the American media."
Florida governor: Obama hasn't called me. In the wake of the deadliest terrorist attack on U.S. soil since 9/11, Rick Scott received phone calls from George W. Bush and Donald Trump, the Republican governor of Florida said Tuesday. He's still waiting on a call from President Barack Obama, however. Speaking to Brian Kilmeade on "Fox & Friends" from Orlando, Florida, Scott shared details of both calls. During his call with the 43rd president, Scott said Bush told him that he and former first lady Laura Bush "were praying for us, and anything he could do, he would love to be helpful." As far as Obama is concerned, Scott said, "He has not called us."
Report: Police May Arrest Accomplice in Orlando Terror Attack. On Monday evening [6/13/2016], WFTV Channel 9 reporter Karla Ray reported that law enforcement sources are telling her they "do expect to make an arrest" of an individual in connection with Sunday's terror attack at an Orlando nightclub. According to Ray's sources, authorities expect to make an arrest in the next few days of a person who is believed to have provided Omar Mateen help in carrying out the terror attack.
New piece: 'Most Western gays remain in denial about Islam.'. It isn't surprising that most gay spokespeople and publications lean left. For historic reasons — principally the political Right's opposition to gay rights — most gay spokespeople continue to think that the political Right is the sole locale from which anti-gay sentiment can come. For many years Pat Robertson was their worst nightmare. But Pat Robertson just wanted to stop gays from marrying. He didn't call for people to throw us off high buildings.
After Orlando, the Spin begins. The horrific attack at an Orlando gay bar by a Muslim who had sworn allegiance to Isis is probably going to be spun as a hate crime. The killer's father has already told the media that his son was disgusted by the sight of a man kissing another man. See! It's homophobia: an assault on the civil rights of the LGBTQ community. Now let's wait for the video to appear that will explain what drove Omar Mateen to slaughter 50 people and wound 53 others. The fact that it is Ramadan and that Omar was well trained and shouted Allahu Akbar while shooting the innocents will be dismissed as well as the fact that he was a registered Democrat. The blame will instead be put on Donald Trump's hateful rhetoric and the NRA gun crowd.
ISIS propaganda video exploits Orlando nightclub murders and calls for more attacks on US. A propaganda video made for ISIS has been released which uses footage from the Orlando atrocity to promote further bloodshed. The more than five minute film shows police and ambulance crews outside the gay nightclub Pulse where 49 innocent people were murdered. In the midst of the worst mass shooting in U.S. history terrorist Omar Mateen called 911 and pledged allegiance to ISIS.
4 Reasons Why We Need Another 9/11 Commission After Orlando. How many red flags does it take to see that Islamist-related terror is increasing? In the past seven months there have been high-profile terror attacks in Paris, San Bernardino, Brussels, and in Orlando. In the U.S. the number and frequency of Islamist plots has been growing. Before Orlando, the U.S. alone has been the target of at least 85 Islamist-related terrorist plots since Sept. 11, 2001.
'ISIS terrorist' Omar Mateen's father blames gay nightclub's poor security for not stopping his son murdering 49 innocent people. The father of Omar Mateen has blamed security staff at Pulse nightclub for not preventing the murder of 49 innocent people. Seddique Mateen said religion had nothing to do with the massacre and that he wished his son was alive so he could ask him why he did it. His son, Omar, a 29-year-old bodybuilder of Afghan origin, shot down clubbers and injured dozens at the Orlando club on Sunday morning.
Orlando Mosque: For Gays — Death Is The Sentence. In an Orlando Mosque a recent speaker believes all gays must die. ["]Death is the sentence. We know, there's nothing to be embarrassed about this. Death is the sentence.["] The Islamist based in Iran goes on to say that the only way Gays can be forgiven is to die. ["]Out of compassion, let's get rid of them now.["]
Omar Mateen Waved Red Flags, Fear of Islamophobia Protected Him. Islamic killers don't have to be subtle. Even when they are loudly ticking bombs likely to explode at any moment, political correctness — or what you might call Islamophobiaphobia — prevents us from doing anything about it. There have been over 28,594 lethal Muslim terror attacks since 9/11; consequently, it is a thought crime to associate Muslims with terrorism. Major Nidal Hassan waved bright red flags under everyone's nose before killing 14 at Fort Hood, even calling himself a "Soldier of Allah" on his business cards. In response, the authorities bucked him up the promotion ladder. When bloodshed followed, they doubled down on the P.C. mentality that allow it to happen.
What If the Orlando Murderer Were a Christian? [L]ittle would be said by the mainstream media and leading Democratic politicians — from the president on down — if the murderer were an anti-gay Christian. The most obvious difference is that the media and the Democrats would have blamed Christians for the mass slaughter, whereas they do everything in their power to exonerate Muslims. Indeed, as many have noted, President Obama and the entire Democratic Party leadership have long refused to even use the terms "radical Islam" or "radical Islamists." So let's imagine that a gay-hating Christian murdered 49 people and badly injured 53 others in the gay nightclub in Florida. America would be inundated with attacks on religion, Christians, Christianity and the Bible. This is not theoretical speculation. For example, the mainstream media and other voices on the left regularly cite one family — literally one family, the Phelps family — in order to demonstrate how "homophobic" conservative Christians are.
Want to Bury Jihad? Start by Burying Political Correctness. In the wake of another tragedy, this one ranking as the deadliest shooting in American history, 50 people were killed at Pulse, a gay nightclub in Orlando, Florida. As has happened in the past, in the wake of the Paris attacks and San Bernardino, the immediate knee-jerk reaction has been two-fold: Blame guns and ignore the cultural and religious affiliation of the shooter. Both of these responses, however normal when emotions are raw, demonstrate a deep unwillingness to see terrorism in America as it really exists and keep us from winning this important fight.
Two critical conclusions from Orlando terror attack. Terrorists like Mateen are not "one offs" who emerge randomly, unexpectedly and inexplicably, perhaps victims of mental disorders. The evidence is now indisputable that we are confronting a far larger threat, albeit not one organized conveniently for our understanding. This threat is unmistakably ideological, as Sunday's Orlando attack and the apparently thwarted attack in Santa Monica demonstrate. We simply must start acknowledging that terrorists — whether ISIS, Al Qaeda, or others — are not structured like governments or corporations. They are not staffed with desk-bound bureaucrats in grey suits, arranged pursuant to a complex, hierarchical organization chart. They do not send memoranda to each other through a complex clearance process, with copies distributed far and wide.
Daniel Gilroy, the co-worker who warned of Omar Mateen's deranged hatred, earlier was a victim of political correctness. Political correctness is a theme woven through the backstory of the Orlando nightclub jihad killer. Law enforcement and his employer were unable to cull out Omar Mateen from his job as a security guard and access to serious weapons, enabling his short but bloody career as a self-radicalized jihadi. Heartbreakingly, there was a man who tried to warn of this smoldering human inferno.
Orlando Attack Is a Failure of Obama's 'Politically Correct' Policy, Analysts Say. The Florida terrorist attack last weekend revealed multiple failures of Obama administration counterterrorism policies that critics say are hamstrung by liberal "political correctness." Security analysts said the attack exposed failures of the administration's counterterrorism policies that were designed to separate Islam from the jihadist terrorism that continues to spread from the Middle East to Europe and now the United States.
Ultimate sleeper cell: U.S.-born kids of immigrants are fertile jihadist recruiting grounds. While immigrants draw much of the attention, it's their children who are proving to be the most fruitful recruiting ground for radical jihad in the U.S., accounting for at least half of the deadly attacks over the past decade. The latest instance of the second-generation terrorist syndrome played out in Orlando, Florida, over the weekend when Omar Mateen, son of immigrants from Afghanistan, went on a jihad-inspired rampage, killing 49 people and wounding 53 others in the worst mass shooting in U.S. history. Authorities said Mateen had flirted with other terrorist groups but declared his allegiance to the Islamic State on Sunday morning as he began his horrific spree.
Clinton under fire for earlier remark that Muslims had 'nothing' to do with terrorism. Hillary Clinton is coming under fire for a tweet last year in which she claimed Muslims have "nothing whatsoever to do with terrorism." However, on Monday [6/13/2016] the presumptive Democratic nominee acknowledged the threat of "radical Islamism," one day after an apparent Islamic State sympathizer killed 49 people and wounded dozens of others inside an Orlando, Fla., nightclub.
The Orlando Shooter's Desire for 'Martyrdom'. After each jihadist attack in the West, our society rehearses the same ritualistic debate over what the terrorists' motivations really are. It is true that "radicalization," as it is often described, is a complex process. The men who become terrorists may have psychological or other issues that compel them to act. But ideas matter. And the early reporting on Omar Mateen's life shows that one idea in particular wormed its way into his brain: the supposed glory of jihadist "martyrdom." Earlier today [6/13/2016], FBI director James Comey discussed his bureau's investigation into Mateen, the terrorist who killed and wounded dozens at an Orlando nightclub. The FBI first looked into Mateen in 2013, closed its investigation in early 2014, but opened another just a few months later. During the first investigation, Comey said, the FBI found Mateen's comments to be contradictory.
Media coordinates, rushes to push "mass shooting" meme as deflection agitprop. Classic agitprop. If anyone needs further reminders that the media in the West is not "independent" let alone "impartial", the rush to frame the Narrative of the Islamic terror attack at an Orlando LBGT nightclub during Ramadan as an act of "gun violence" while remaining silent on the overt connections to Islamic intolerance, hate and use of violence and terror as a weapon to intimidate should remove any doubts from your mind.
ISIS Terror Shooting At Gay Nightclub Dismantles The Liberal Narrative. The progressive narrative is that all people are "just like us." Any differences between different groups of people is the result of racism, colonialism, or bad economic policies. The Islamic terrorist attack on the gay nightclub in Orlando has destroyed that narrative.
The Disease of Modern Liberalism. Like most everyone, I woke up Sunday to the news that a lunatic had shot up a gay bar in Florida late Saturday night. [...] I just knew that they would swear this was the fulfillment of prophesy and demand reparations like after the black church shooting. It did not turn out that way, obviously, as the shooter was a Liberal Democrat and a member of a sacred group. It's hard to blame the honky when the shooter is a Muslim. Muslims are not real high on the totem pole for the Left, but they still rank higher than whites, even gay whites. The Left is afraid to elevate them too high on the piety pole as even Lefty understands what that means. Once we have a critical mass of Muslims they will start pitching lesbians off the roof at colleges around the country. That's their thing.
How Did the Orlando Muslim Terrorist's Father Get Into U.S.? As you may have noticed today, after years of ignoring the concept of "citizenism," the mainstream media has suddenly converted en masse to citizenism of the most fundamentalist kind: the Orlando shooter was a U.S. citizen. What more do you need to know? But, being a curious sort, I'm wondering how his father, Seddique Mir Mateen, got to the United States from Afghanistan so the terrorist could be born an anchor baby in New York in 1987. The elder Mateen is reminiscent of Clock Boy's dad, who was constantly running for president of Sudan while managing a chauffeur business in Texas. Seddique Mir Mateen, a Florida resident, recently announced on TV his candidacy for president of Afghanistan. Early accounts of his YouTube speeches make him sound megalomaniacal.
Orlando jihadi's father: Pro-Taliban views, said Allah will punish gays. The father of the gunman who killed 49 people in an Orlando nightclub spoke favorably of his son in a Facebook post Monday [6/13/2016], but added God would punish gay people. Seddique Mir Mateen, is a Fort Pierce, Fla., resident who hosts a program on a U.S.-based satellite channel aimed at Pashtun Afghans around the world and has espoused pro-Taliban views.
Orlando Shooting: Pickled in Hatred. Omar Mateen, the American-born son of Afghan parents, murdered 50 people and wounded scores of others in a gay nightclub Sunday. The first surprise is that it was not a surprise, especially to the FBI. Mateen was the subject of investigations in 2013 and 2014. "He was a known quantity," a source said. "He has been on the radar before." But Assistant Special Agent Ronald Hopper told reporters, "Those interviews turned out to be inconclusive, so there was nothing to keep the investigation going." Omar Mateen's father probably wasn't terribly surprised. He told NBC News "that his son became angry after seeing two men kissing a few months ago in Miami." He speculated that could have triggered his decision to kill. "This has nothing to do with religion," his father added.
What Donald Trump understands about the Orlando terror attack (and Obama doesn't). Before the blood was dry from ISIS-sympathizer Omar Mateen's massacre of patrons at an Orlando gay club, anti-gun liberals were busy trying to obscure the real culprit. Despite withering ridicule from the politically correct elite, Donald Trump stood firm in his convictions to act decisively against radical Islam — perhaps his greatest qualification to be president. Mateen was an Islamist sympathizer who took time before his attack to call 911 and profess his allegiance to ISIS. He yelled the now-familiar jihadist cry of "Allahu Akbar" during the rampage that killed fifty-one and wounded as many more. He had been interviewed twice by the FBI for possible ties to terrorists, including to the first American suicide bomber in Syria. And of course he targeted gays, who in Islamist incubators like Iran and the Islamic State are summarily executed. Liberals instinctively seized an opportunity to indulge political correctness.
Smartest President Ever Unable to Deduce Motive of Pulse Nightclub Terrorist. The shooting in Orlando, Florida is tied to ISIS and that has been confirmed. The terrorist was shouting "Allahu Akbar" in the street and in the nightclub. The president said in a speech that the slaughter of 50 people and the wounding of 53 was an attack but he doesn't know what the motives are. He never used the words Islamic, radical Islamic, or any other realistic term. His mentioning of his concern for LGBTs falls a little flat because he certainly isn't protecting them. Shall we wait until they are being thrown off buildings in this country? Apparently the terrorist's ties to ISIS, including a 9/11 call to them at the time of the attack, was not a dead giveaway. Omar Mateen, the terrorist, pledged allegiance to ISIS in the moments before the attack. The president called it murder and a massacre, saying they don't know the motivation and only know that the shooter was filled with hate. He mentioned "terror" but that was as close as he got to describing it accurately.
The hate the president dares not name. Islamist terror struck America again late Saturday, this time on the dance floor of Pulse, an Orlando nightclub, in the largest mass shooting in US history. The death toll of 50 may yet rise, as some of the 53 wounded remain in bad shape. That our president, in his remarks Sunday [6/12/2016], chose not to call it "Islamist" terror is almost irrelevant: He has just seven months left in office; why would he break with his habits of denial now?
Obama Whiffs Again. It takes a lot of effort to ignore Islamic attitudes toward homosexuality, but Obama was up to the task. For those who wish to be informed on the subject, Bruce Bawer writes in City Journal: Islamic law, after all, is crystal clear on homosexuality, though the various schools of sharia prescribe a range of penalties: one calls for death by stoning; another demands that the transgressor be thrown from a high place; a third says to drop a building on him. In Iran, Saudi Arabia, Afghanistan, Sudan, Yemen, Mauritania, Pakistan, Qatar, the United Arab Emirates, as well as in parts of Nigeria, Somalia, Syria and Iraq, homosexuality is indeed punishable by death. The terror attack yesterday made it imperative that we stand up to Islam and denounce Muslim attitudes toward homosexuality. Failing to do so is a sign of cowardice.
NBC 'Law Enforcement Expert' Blamed Orlando Terror Shooting on Anti-Gay 'White Hate Groups'. Early on Sunday before the world learned the identity and religion of the man who murdered up to 50 people in an Orlando, Florida, gay bar, a "law enforcement expert" for NBC went on the air on MSNBC and hinted that the shooter was probably a Christian and a member of a "white hate group."
Obama Slams 'Crazy' Gun Rights Activists After Terror Attack In Orlando. President Barack Obama again denounced gun rights groups for opposing his efforts on gun control, calling them "crazy." "The fact that we make it this challenging for law enforcement, for example, even to get — to get alerted that somebody who they are watching has purchased a gun, and if they do get alerted, sometimes it's hard for them to stop them from getting a gun, is crazy. It's a problem," Obama said in the Oval Office today [6/13/2016]. Obama complained out that the shooter was able to purchase weapons legally, even though he had been investigated by the F.B.I. for connections to radicalization but didn't have a criminal record.
The Terrorists Security Gig — Some Lives More Valuable Than Others? Orlando terrorist Omar Mateen worked for G4S — a security company who provides services to the U.S. Department of Homeland Security and other agencies. [...] But do you see what's going on here? Sketchy Jihadist Mateen is guarding a courthouse until the FBI investigates him and G4S realizes he's sketchy jihadist Mateen. So they change his duty assignment to simply guarding a gated community where being a sketchy jihadist is less problematic.
Law Enforcement 'Never Guessed' Gay Club Would Be Targeted by Jihad. Why would they never have guessed? Because the FBI and other law enforcement agencies don't study Islam, and this is a direct result of Muslim groups demanding the removal of such material. Those who are committed to protecting us are taught to downplay and deny the motivating ideology behind jihad terror attacks.
Defining the enemy. According to reports, Omar Mateen, the attacker, called 911 during the attack and pledged allegiance to Islamic State. After the attack, ISIS issued a statement claiming responsibility. All of this, however, is apparently not enough for Obama to utter the words: "Islamist terrorism."
Obama's Shameful Pivot to Gun Control After Orlando Terrorist Attack. It's not surprising that, after the first responders, the first response to the horrific attack that killed 50 or more people at gay nightclub Pulse in Orlando was a sometimes vicious debate. The instant anger to President Barack Obama's statement about the attack reflects a deep and growing distrust over how this administration responds to the threat of global terrorism.
On 9/11, Omar Mateen's classmates mourned. Some say he celebrated. At a high school in Florida, students watched the horrors of Sept. 11, 2001, unfold on live TV. When the second hijacked airliner slammed into the World Trade Center's south tower, the class watched in stunned disbelief. But one student, a classmate recalled, "started jumping up-and-down cheering on the terrorist." That was sophomore Omar Mateen, according to one of the accounts from Martin County High School remembering 9/11 and the reaction by the student who, nearly 15 years later, would carry out the worst mass shooting in U.S. history. The recollections of Mateen's actions could not be independently verified, and the memories could be clouded by the years that have passed. But they appear to offer yet another stitch in the wider tapestry of Mateen's life and views before Sunday's rampage, which included his pledge of loyalty to the Islamic State during a call to police during the standoff.
This shows you how much Obama knows about guns: Nothing!
Obama: Omar Mateen Had 'Glock Which Had A Lot of Clips in It'. President Obama spoke to reporters Monday about the terrorist attack on the Pulse nightclub in Orlando and said Omar Mateen had a "Glock which had a lot of clips in it." Obama also said Mateen had an "assault rifle." According to CNN, the President explained that Mateen acquired his guns via a background check. And he explained that the background check did not stop Manteen "because he did not have a criminal record that in some ways would prohibit him from purchasing" his weapons.
FBI Called Off Investigation Of Orlando Shooter Because They Thought His Coworkers Were Racist. The FBI reportedly cancelled its 2013 investigation into Orlando terrorist Omar Mateen after only 10 months because they viewed the terroristic threats he made as a reaction to "being marginalized because of his Muslim faith," by his coworkers. According to Fox News' Catherine Herridge, the revelation came during a closed door meeting with FBI Director James Comey Monday afternoon [6/13/2016].
Banned & blocked: Facebook & Reddit censor users after Orlando massacre. Facebook and Reddit have taken down pages and deleted posts discussing the Orlando shooter's religion and a page by "Islamophobe" Pamela Geller. The Stop Islamization of America Facebook page was deleted in the wake of the attack, according to Geller. The page, which has more than 56,000 likes and was created in 2010, said Facebook's "sharia police shut down truth-tellers while jihad, Islamic Jew hatred, and terror pages proliferate."
Facebook deletes Pam Geller's page after Orlando. Facebook has deleted "Stop Islamization Of America," a group with over 50,000 members in the wake of deadly Islamic terror attack in Orlando, Florida. The page was run by Pamela Geller, the well-known Islam critic and Breitbart contributor who led efforts to stop construction of the Ground Zero Mosque.
Reddit Bans Users, Deletes Comments That Say Orlando Terrorist Was Muslim. Reddit moderators are actively banning users posting articles discussing Orlando nightclub terrorist Omar Mateen's religion.
Suspected Orlando shooter called 911, swore allegiance to Islamic State: NBC. Omar S. Mateen, the Florida resident suspected of killing 50 people at a gay nightclub in Orlando, Florida, called 911 before the shooting and swore allegiance to Islamic State, NBC News said on Twitter. In a posting on its web site, MSNBC said Mateen swore allegiance to Islamic State leader Abu Bakr al-Baghdadi.
Orlando Terrorist Worked for Same Security Contractor That Has Been Moving Illegal Aliens Into U.S. by the Vanload. Gun control proponents have been blaming the 2nd Amendment for Orlando nightclub shooter Omar Mateen's easy access to guns, but the terrorist had been working for a major Department of Homeland Security contractor for nearly a decade, and had somehow passed two screening and background checks with the company. Concerns about Mateen's "angry, loud, and profane" outbursts apparently went unheeded for years. G4S Secure Solutions USA Inc. is the same security contractor that has been quietly transporting vanloads of illegal aliens to selected urban areas around the country, as was reported here at PJ Media earlier this month.
ABC Blames Orlando Terror on Election Rhetoric and Guns in America. On Sunday, even after the FBI hinted the presence of a link to radical Islam, the panel on ABC's This Week blamed the terrorist attack at a gay nightclub in Orlando, Florida on heated election rhetoric and guns in America. "I think we all ought to pause with what happened in Orlando today," stated ABC's Matt Dowd when asked if third party candidates could gain supporters, "And if we understand that all of the hateful thoughts become hateful words become hateful actions."
Gunman Omar Mateen visited gay nightclub a dozen times before shooting, witness says. At least four regular customers at the Orlando gay nightclub where a gunman killed 49 people said Monday [6/13/2016] that they had seen Omar Mateen there before. "Sometimes he would go over in the corner and sit and drink by himself, and other times he would get so drunk he was loud and belligerent," Ty Smith said.
Orlando shooter Omar Mateen was gay, former classmate says. A former classmate of Omar Mateen's 2006 police academy class said he believed Mateen was gay, saying Mateen once asked him out. [...] "We went to a few gay bars with him, and I was not out at the time, so I declined his offer," the former classmate said. He asked that his name not be used. He believed Mateen was gay, but not open about it.
Orlando gunman had used gay dating app and visited LGBT nightclub on other occasions, witnesses say. At least four regular customers of Pulse, the lesbian, gay, bisexual and transgender nightclub where the massacre took place, told the Orlando Sentinel on Monday that they believed they had seen Mateen there before. "Sometimes he would go over in the corner and sit and drink by himself, and other times he would get so drunk he was loud and belligerent," said Ty Smith, who also uses the name Aries. He saw Mateen at the club at least a dozen times, he said.
Ex-CIA Director: Obama's Refusal to Call Out Radical Islam Is Doing 'Real Damage'. First there were the 13 people killed in 2009 by an Islamic jihadist at Foot Hood in Texas. Then came Chattanooga, Garland (also in Texas), San Bernardino, and now the atrocity in Orlando. Each time the suspects were motivated by Islamic extremism. Each time President Obama and his team failed to identify the motive for the attacks as radical Islam. Obama found time on Sunday to mention the need for gun control and the attack's impact on the gay community, and he did note that "the FBI is appropriately investigating this as an act of terror." He neglected, however, to mention that Islamic extremism played a role, despite clear evidence that the killer called 911 and had pledged allegiance to Isis. "Facts don't seem to matter to this administration, in this matter," James Woolsey, who served as director of the CIA under President Bill Clinton, told Fox News after Obama's statement. "This reluctance is doing real damage. You can't effectively fight something if you can't discuss it."
What Exactly Is Sharia (Law) and What Does It Command? Sharia is believed by Muslims to be the divinely ordained legal system of Islam. It governs every aspect of life: politics, economics, hygiene, marriage and family relationships, diet, warfare, crime. Everything is covered. Unlike the Christian belief about the Old Testament Law of Moses being limited in time, Muslims by and large believe that Sharia is the law to be carried out today.
Guns aren't the problem. Radical Islam is the problem. As soon as news broke of the terrorist attack at a gay nightclub in Orlando, media and political elites took to social media to control the narrative following the massacre. They want you to believe the slaughter is a signal of the need for stricter gun control. But here's the thing: Bars in Florida are gun free zones. Using liberal logic, then, Pulse nightclub is as controlled an environment as it gets and no attack ought to have ever taken place there. Truth is: Guns aren't the problem, radical Islam is the problem. But, when it comes to jihad being carried out in the west, the chattering classes operate on a policy of "don't ask, don't tell."
Orlando shooting: ISIS quick to claim responsibility but it's likely bluffing, says analyst. Omar Mateen pledged his allegiance to ISIS, but in the aftermath of the Orlando massacre, familiar questions are being asked: was he directed to kill by leaders of the self-proclaimed Islamic State, or did he invoke the ISIS name to add notoriety to what would become the worst mass shooting by a single shooter in American history? Al-Bayan, the ISIS radio station that broadcasts in Iraq, claimed Monday morning that Mateen was "one of the soldiers of the caliphate in America." A short statement on Sunday from the ISIS-linked Amaq News Agency claimed "an Islamic State fighter" was responsible for the killings, but the brief statement, short on details, offers a hint that ISIS leaders were unaware of the attack before it happened.
The Editor says...
So what? It doesn't matter if they're bluffing or not. Suppose the Republican Party claimed responsibility for the attack, with no advance knowledge of it. Would the Republicans not be blamed for it from now on?
Islamic State claims responsibility for Orlando shooting. The Islamic State has claimed responsibility for the worst shooting in U.S. history. A report from AMAQ, a news organization tied to the Islamic State, said the terrorist group took responsibility for the shooting at a gay nightclub in Orlando that left at least 50 people dead and 53 hospitalized. The Amaq attributed the attack to an Islamic State fighter, according to Reuters. "The armed attack that targeted a gay night club in the city of Orlando in the American state of Florida which left over 100 people dead or injured was carried out by an Islamic State fighter," Amaq said in a Reuters report.
FBI interviewed Orlando gunman 3 times in past 5 years due to suspected terror ties. The 29-year-old man responsible for the deaths of at least 50 people and wounded another 53 at an Orlando nightclub may have pledged allegiance to the Islamic State group in a call to 911 emergency service before the worst mass shooting attack in US history. The gunman, who law enforcement officials identified as 29-year-old Omaar Mateen, entered the Pulse Nightclub in Orlando early Sunday morning and opened fire on patrons. Ron Hopper, the FBI agent overseeing the agency's Tampa field division, told reporters that Mateen made a call to 911 early Sunday morning that was "general to the islamic State," but said he hadn't heard the tape and couldn't confirm that Mateen had pledged allegiance to the militant group in the call.
Did FBI Training Material Purge Cause Dropped Ball On Orlando Shooter? Could the FBI's purge of training material relating to Islamic terrorism have led to the agency dropping the ball on Florida nightclub shooter Omar Mateen? Mateen, who called 911 and pledged his allegiance to ISIS Saturday night, killed 50 and wounded dozens of others at a gay nightclub in Orlando was interviewed by the FBI for possible links to terrorism multiple times. The FBI was the target of criticism when it was found that no action was taken when it was discovered that 2013 Boston bombers Tamerlan and Dzokhar Tsarnaev were known to the FBI, when Russia sent a warning out about them. Additionally, 2012 Fort Hood shooter Major Nidal Hassan was never investigated by the FBI, a report said, because of political correctness.
Terrorist Worked For Company Providing Security to Federal Buildings. [Scroll down] Everyone would agree that it is desirable to keep guns out of "the hands of people who should not have them." In fact, that is tautological. But Omar Mateen wasn't mentally ill, and until yesterday he wasn't a criminal. He evidently passed whatever background check was necessary to work for a well-respected security firm. While we don't yet know where he obtained his firearms, it is reasonable to assume that he bought them legally, and would have been able to buy them legally under any regime that liberals have proposed, other than a ban on semiautomatic rifles. Rather than talking about keeping guns out of the hands of people who shouldn't have them, how about a narrower focus on how we can insure that jihadists are not hired to provide security at federal buildings, airports and nuclear power plants?
Speaker at Orlando Mosque in April Said Gays Must Die. In a sane nation that mosque would already be shuttered. [Video clip]
Father of the Orlando Shooter Recently Visited Congress, State Dept.. Here is what we know about the Orlando shooter's father: His name is Seddique Mateen and he is from Afghanistan. [...] Mateen has his own television show, which broadcasts out of California. It is called the "Durand Jirga Show" and features Mateen discussing Middle Eastern politics. The show is posted on YouTube. According to the Washington post, the show demonstrates the Orlando shooters father's sympathetic views toward the Taliban.
Orlando Slaughter: This is What Immigration "Diversity" Gets You. Via the Washington Post, Seddique Mateen, father of shooter Omar, is a zealous Muslim whose YouTube videos salute "[o]ur brothers in Waziristan, our warrior brothers in [the] Taliban movement and national Afghan Taliban" for "rising" up. He also appears to be an unstable nutball who thinks he's president of Afghanistan and has lobbied Congress and the State Department. What questions, if any, regarding Sharia, politics, and his Muslim extremism did consular officers or immigration officials ask Seddique Mateen before granting him entry into our country? Under what program was he admitted? For his part, U.S.-born shooter Omar Mateen was on the "radar screen" of the FBI multiple times (just as the Muslim Tsarnaev family had been on the intel radar screen before the Boston Marathon bombing) and had reportedly pledged allegiance to ISIS. So much for assimilating in America.
How Orlando Terrorist Legally Bought Guns Despite Being on FBI Threat Radar. According to ABC News, FBI agents first began investigating Mateen in 2013 after co-workers complained he made inflammatory remarks and mentioned he had ties to terrorists. "The FBI first became aware of Mateen in 2013 when he made inflammatory comments to co-workers alleging possible terrorist ties," FBI Special Agent in Charge (Orlando) Ronald Hopper said to CNN. Fox News reports the Bureau conducted an investigation in 2013 that included conducting surveillance of Mateen's activities, reviewing records, interviewing him and other witnesses. Harper said the 2013 probe concluded after agents "were unable to verify the substance of his comments."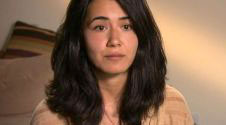 Found Her: Omar Mateen's Hidden Wife — Noor Zahi Salman (30). Why does the media only reference an ex-wife, Sitora Yusufly from 2009? It looks like his first wife, the one in all the media interviews (pictured left), was a green-card marriage from Uzbekistan. Omar Mateen was currently married and has a young son. Who is the current wife? Why is there virtually no discussion of this in the media?
Father of Orlando terrorist met with Democrat Charlie Rangel in April. It shouldn't come as much of a surprised that Seddique Mateen met with Democrats like Charlie Rangel when he visited the State Department in April. His terrorist son Omar Mateen was a registered Democrat and the media doesn't seem to want to report that. If he had been a registered Republican you can bet [...] the media would be all over it.
Father of Orlando terrorist was Afghan politician who supported Taliban. Mass shooter Omar Mateen's father Seddique Mateen recently visited Congress, the State Department and met political leaders during a trip to Washington, DC. Mateen, who made the trip in April, is seen in social media posts posing in front of the State Department and Democratic Foreign Services Committee offices. The Afghanistan native, who also regularly writes open letters to President Barack Obama, has expressed gratitude Afghan Taliban who hosts the Durand Jirga Show on a channel called Payam-e-Afghan, which broadcasts from California.
Obama uses Orlando attack to call for gun control. President Obama on Sunday used the tragic mass shooting in Orlando Sunday to call for gun control measures. [...] Obama declared the overnight shooting "an act of terror and an act of hate," but did not characterize the attack as Islamist terrorism. "We are still learning all the facts," Obama said. "This is an open investigation. We have reached no definitive judgment on the precise motivations of the killer."
Orlando Terrorist Attended Islamic Center for 13+ Years, Despite Ex-Wife Saying he 'Wasn't Very Religious'. Omar Mateen, the terrorist responsible for killing at least 50 people at the Pulse Nightclub in Orlando, Florida early Sunday morning, allegedly attended the Islamic Center Fort Pierce for more than 13 years, despite Mateen's ex-wife telling the Washington Post that Mateen "wasn't very religious." CBS 12, the affiliate TV station near Fort St. Lucie, Florida where Mateen lived, spoke to the Islamic Center Fort Pierce Imam.
Orlando Jihadist Worked for Security Firm Contracted By DHS — Known Entity To FBI. Federal officials are now admitting Orlando Terrorist Attacker Omar Mateen was a known entity to them and was previously interviewed in connection to ISIS suicide bomber Moner Abu Salha. In a press conference, an FBI spokesman says the agency first interviewed Omar Mateen in 2013 after he made "inflammatory remarks" to a colleague. The investigation was closed. The FBI interviewed Mateen again in 2014 about a potential connection with suicide bomber Moner Abu Salha. The FBI investigation found no "substantial relationship" between Mateen and Salah.
Orlando Terrorist: The Most Gun Control-Compliant Shooter in History? President Barack Obama's immediate leveraging of the atrocious Islamic terror attack in Orlando toward new gun control reforms may be predictable — yet the circumstances involving the professional background of Omar S. Mateen could prove a breaking point for his fellow anti-gun activists. As the debate eventually moves toward the Second Amendment, activists must answer how the most prevalent mass shooter in American history cleared background checks, medical examination, registration and dozens of hours of mandated training.
Father of America's most deadly mass shooter wants top Afghan president job and had TV show where he showed support for the Taliban. Mass shooter Omar Mateen's father Seddique Mateen recently visited Congress, the State Department and met political leaders during a trip to Washington, DC. Mateen, who made the trip in April, is seen in social media posts posing in front of the State Department and Democratic Foreign Services Committee offices. The Afghanistan native, who also regularly writes open letters to President Barack Obama, has expressed gratitude Afghan Taliban who hosts the Durand Jirga Show on a channel called Payam-e-Afghan, which broadcasts from California.
Obama: 'We' are to blame, not Islamic terrorism, for massacre. Omar Mateen called the cops to pledge his fealty to ISIS as he was carrying out his mass murder in Orlando early Sunday. Twelve hours later, the president of the United States declared that "we have no definitive assessment on the motivation" of Omar Mateen but that "we know he was a person filled with hate." So I guess the president thinks Mateen didn't mean it? Here again, and horribly, we have an unmistakable indication that Obama finds it astonishingly easy to divorce himself from a reality he doesn't like — the reality of the Islamist terror war against the United States and how it is moving to our shores in the form of lone-wolf attacks. He called it "terror," which it is. But using the word "terror" without a limiting and defining adjective is like a doctor calling a disease "cancer" without making note of the affected area of the body — because if he doesn't know where the cancer is and what form it takes, he cannot attack it effectively and seek to extirpate it.
Orlando gunman tied to radical imam released from prison last year, say law enforcement sources. The gunman who murdered at least 50 people in a Florida nightclub early Sunday morning was a follower of a controversial gang leader-turned-bank robber who was released from prison last year despite warnings from prosecutors that he would recruit people to carry out violent acts, sources told FoxNews.com. Omar Mateen, whose bloody siege inside a packed Orlando gay nightclub ended when SWAT teams stormed the building and killed him, was a radical Muslim who followed Marcus Dwayne Robertson, a law enforcement source said. "It is no coincidence that this happened in Orlando," said a law enforcement source familiar with Robertson's history of recruiting terrorists and inciting violence. "Mateen was enrolled in [Robertson's online] Fundamental Islamic Knowledge Seminary."
Islamic law and the Orlando massacre. [I]t's worth noting, as [Andrew] McCarthy does (citing the Washington Post), that there are ten Muslim countries where homosexuality may be punished by death. They are Yemen, Iran, Mauritania, Nigeria, Qatar, Saudi Arabia, Somalia, Sudan, United Arab Emirates, and Iraq. Now for the scholars. McCarthy begins with an English version of the classic sharia manual Reliance of the Traveller, which, he says, has been endorsed by scholars of al-Azhar University, the seat of Sunni Islamic learning since the tenth century; by the International Institute of Islamic Thought, a Muslim Brotherhood think tank that is influential in Washington; and by other influential Islamic governments and commentators. Here is what the manual says about homosexuality: [...]
The mainstream media serves up a false narrative about terror attack. In the first 48 hours since the horrific mass shooting in Orlando, the worst terror attack on American soil since 9/11, the public has seen wall-to-wall media coverage of the events. The false narrative emerging from the media seeks to make a few points, all of which are red herrings and straw men designed to take attention from the truth.
It's Time for a Long-Term Strategy to Utterly Crush Islamic Terrorism. According to officials in Orlando, Omar Mir Seddique Mateen — a 29-year-old U.S. citizen born to Afghan parents — opened fire on more than 200 people at a nightclub called Pulse around 2 a.m. on Sunday morning. [...] Mateen was killed by police. Mateen, a security guard with the international-security firm G4S, was known to the FBI as one of a number of Americans potentially sympathetic to the Islamic State, but it's not clear if the attack was coordinated by the terrorist organization. In either case, two things are clear: Islamic terror's war on the West has returned to American shores, and the United States must respond accordingly.
The real atrocity in Orlando. A Muslim terrorist kills 50 people and injures 50 more at a gay club in Orlando in the early morning. That is a tragedy. The atrocity is the opportunism of liberals to politicize the tragedy. From Tom Brokaw to the New York Times, liberals ghoulishly use this attack to forward their totalitarian agenda of disarming ordinary citizens while hiding behind armed guards. Those liberals who pounced on this tragedy have no regard for human life. The dead were not even identified and next of kin notified when they uttered their sanctimonious demands for gun control.
Co-worker: Omar Mateen homophobic, 'unhinged'. A former Fort Pierce police officer who once worked with 29-year-old Omar Mateen, the assailant in an Orlando nightclub shooting that left at least 50 dead, said he was "unhinged and unstable." Daniel Gilroy said he worked the 7 a.m. to 3 p.m. shift with G4S Security at the south gate at PGA Village for several months in 2014-15. Mateen took over from him for a 3 to 11 p.m. shift. Gilroy, a former Fort Pierce police officer, said Mateen frequently made homophobic and racial comments. Gilroy said he complained to his employer several times but it did nothing because he was Muslim. Gilroy quit after he said Mateen began stalking him via multiple text messages — 20 or 30 a day. He also sent Gilroy 13 to 15 phone messages a day, he said.
Orlando gay nightclub shooter was a registered Democrat. he shooter who killed 20 and wounded 42 at a gay nightclub in Orlando, Omar Mir Siddique Mateen, was a registered Democrat who has voted in at least 3 recent general elections, according to voters.findthedata.com. He registered to vote on July 19, 2006, but skipped the election that November. But he voted by absentee ballot in the 2008 and 2012 presidential elections, presumably for his party's candidate, Barack Obama.
Take Off the Gloves. ISIS publishes "kill lists" of Americans. We are all on it, every one of us. No one yet knows whether the Orlando monster, Omar Mateen, was connected in a formal way to ISIS, al-Qaida, or any of the agents of global jihad. He may have been acting on his own. One thing's for sure — he didn't pull the idea of blowing away homosexuals out of his hat. Yet Mateen's father told NBC that his son's murder of 50 Americans at a gay nightclub had "nothing to do with religion." It strains credulity.
Why Obama Still Refuses to Name Radical Islam. You would think by now — post Orlando and San Bernardino — that Barack Obama's refusal to name "radical Islam" or even "Islamism" as the enemy has reached the level of a cognitive disorder. But it is not that. It remains quite deliberate. But I don't believe for a minute his (and Hillary Clinton's) professed explanation — that naming our adversaries would only inflame them. How much more inflamed could they get? This weekend's horrific event in Orlando is only the tip of a global iceberg. Not including the 50 (so far) dead from the Pulse gay bar shooting, there have been 60 documented attacks during this year's Ramadan alone with 472 dead — and Ramadan is only seven days old (eight with Orlando). Total deadly terror attacks in the name of Allah since 9/11 now stand at 28,576 with who-knows-how-many corpses.
Dead ISIS fanatic was a devout Muslim on his second marriage who talked about killing all the time and openly hated homosexuals. Omar Mateen transformed from a friendly high school football player to a quiet father who carried out America's deadliest mass shooting, leaving old friends and family members in shock.
Obama must declare war, drop political correctness and save lives. America is at war. The events in Orlando represent a sea change in the United States. Or at least they should. In the last two years, since the Islamic State declared the reestablishment of the Caliphate from the Grand Mosque in Mosul, Iraq, U.S. police and federal agencies have intercepted, arrested, or killed 103 individuals on U.S. soil connected to the Islamic State. As reports continue to flow in, it is clear that the murderer of the 50 innocent people at the nightclub in Orlanda linked himself to ISIS. And not only that, but the Islamic State, through its official propaganda outlet, has claimed responsibility for the attack, tweeting "The Orlando attack is the work of a soldier of the Caliphate."
The Left Chose Islam Over Gays. Now 100 People are Dead or Maimed in Orlando. Over 100 people have been killed or maimed at a gay dance club in Orlando by Omar Mateen, a Muslim terrorist. How many more innocent gays need to die before we admit that America, and the world, has an Islam problem? I don't mean a "radical Islam" problem or an "extremist Islam problem." Violence is not the extreme in Islam any more: it's the norm. The public's patience for comments like the one below, from the dimwitted lesbian Sally Kohn, are wearing thin. As for mine, it's long since run out.
Obama's Orlando funeral dilemma. In San Bernardino, the perpetrators were Islamic, and the victims were of multiple ethnicities, including protected classes. A mixed signal, but because the perps were of a group that must be shielded from any public perception of collective responsibility, a presidential visit was out of the question. But now in Orlando, we have a Muslim perp, but the victims are another highly favored group that collectively is a bedrock constituency of the Democrats: gays. What's Obama to do?
Obama says 'no sign' of Orlando gunman being part of a wider plot as he blames 'home-grown extremism' — and still won't say 'radical Islamic terrorism'. President Barack Obama said Monday [6/13/2016] that there's 'no clear evidence' that the shooter at an Orlando nightclub was directed to conduct his attack or part of a larger plot. [...] And he suggested an anti-gay bias, not a terrorist influence, may be the primary reason for the weekend's bloodshed in Orlando, Florida. 'The fact that it took place at a club frequented by the LGBT community I think is also relevant,' he stated. The president blamed 'propaganda and perversions of Islam that you see generated on the Internet' for the mindset that drove a sympathizer with the ISIS terror army to kill 49 people Saturday night, along with 'the capacity of that to seep into the minds of troubled individuals or weak individuals.' 'I think we don't yet know the motivations' of the shooter, the president said.
The Editor says...
Barack H. Obama is lying. The shooter's motivations were known when he started yelling Allah Akbar as he opened fire. His intentions were made known when he called 9-1-1 to pledge allegiance to ISIS before he started shooting.
What has the Orlando gunman's father said? The Orland gay club gunman's father has well-known anti-American views and is an ideological supporter of the Afghan Taliban. A new message posted by the father on Facebook early Monday morning also makes it clear he could have passed anti-homosexual views onto his son. Seddique Mir Mateen, father of Orlando gunman Omar Mateen, who died in a shootout with police after killing at least 49 people early Sunday morning, regularly attended Friday prayers at a Florida mosque with his son.
ACLU Lawyer Sounds Off on 'Islamophobia,' Blames Christian Right for Orlando Carnage. Evidence proves that the shooter who killed 50 people at a gay night club in Orlando on Sunday called 911 and pledged allegiance to ISIS. Other reports reveal that the terror cell has claimed responsibility for the mass murder. The facts haven't stopped some, however, from blaming the carnage on the "Christian right." Chase Strangio, a lawyer for the ACLU's LGBT & AIDS Project, is convinced they're the real enemy.
The next shoe to drop in Orlando. In the first hours after the terrorist massacre in Orlando, we heard (repeatedly) that Omar Mateen had no criminal record. Well, he didn't need one. He knew Marcus Robertson. Robertson is the guy no one's ever heard of, but should know of. Former bodyguard to the infamous Blind Sheikh ('93 WTC attack), a suspect in more than one attack on cops, and a robber of banks to fund his proclivities, one of which is his online ministry, the "Fundamental Islamic Knowledge Seminary", operating out of Orlando. Mateen was a slobbering follower of FIKS and Robertson. "It's no coincidence that this happened in Orlando," a law enforcement source told Fox News.
The Brain Surgeon and the Cleaning Lady. The mass shooting at an Orlando nightclub that claimed 50 lives has once again revived the question of how the authorities could have missed warning signs from a perpetrator. The FBI first became aware of Omar Mateen in 2013 when he made comments to coworkers "alleging possible terrorist ties." The feds interviewed Mateen three times in connection with his remarks — which may have assumed more than casual importance in light of his employment by a security company that guards government buildings, and Mateen's ambitions to become a police officer. Mateen was later removed from a terror watchlist after it was determined that he had broken no laws. The rest is history.
Islamic State radio: Orlando shooter a 'soldier of the caliphate'. The gunman whose shooting spree at a packed nightclub left 49 people dead sounded "cool and calm" in negotiations with police before officers stormed the club in a brutal firefight that ended the siege, Orlando Police Chief John Mina said Monday [6/13/2016]. Also Monday, a federal law enforcement official told USA TODAY that investigators believe Omar Mateen was in the Orlando area for several days prior to the shooting, suggesting the gunman carefully considered the target. The official, who is not authorized to comment publicly, said investigators are reviewing Mateen's possible consideration of other iconic targets in the Orlando area, including Disney World.
Orlando terror attack: Shooter ID'd as US citizen Omar Mateen. ISIS has claimed responsibility for the Orlando shooting and pegged Omar Marteen as "an Islamic State fighter." (CBS News) After a day packed with news about this attack, the only surprise here was that it took them so long. The President chose once again not to invoke the name Islamic terrorism when describing this event, but between this acknowledgement and the fact that Marteen called 911 shortly before the attack to publicly pledge his loyalty to them, the case is closed. This is what ISIS and all their sympathizers want for the United States. Our President chooses to mark the occasion by talking gun control.
Before The Blood Dries: Government-Media Complex pushes "Gun Violence" meme after Pulse terror attack. Try and contain your surprise: the Democrat-controlled government-media complex is doing its very best to coordinate a new meme for the horrific Jihadist attack in Florida. Namely, that the cause is "gun violence", not Islamic terror.
Former co-worker says Orlando gunman was 'unhinged and unstable', went on racist, misogynistic rants. The gunman who killed at least 50 people at an Orlando nightclub early Sunday was described by a former colleague as an "unhinged and unstable" person who repeatedly made racist, misogynist and homophobic remarks. Daniel Gilroy, a former police officer, worked as a security officer with G4S Security at the PGA Village complex in Port St. Lucie. Pulse nightclub shooter Omar Mateen worked the shift right after Gilroy at the complex's south gate. Gilroy described Mateen as a devout Muslim who brought a prayer mat to work and prayed several times a day.
Orlando nightclub shooter's dad condemns homosexuality in new video. The pro-Taliban father of the Orlando terrorist who slaughtered 49 people in a gay nightclub released a video Monday [6/13/2016] hours after the massacre saying, "God will punish those involved in homosexuality." [...] The rapid turnaround is not unusual for Seddique, who frequently posts Internet videos, broadcasts an anti-Afghan government television show from California, and fancies himself the true president of his native country, The Washington Post reported. Seddique said he was the leader of the "transitional revolutionary government," and claimed to have his own intelligence agency, The Post reported.
49 killed in shooting at Florida nightclub in possible act of Islamic terror. A gunman who pledged allegiance to ISIS opened fire early Sunday morning in a packed Orlando nightclub, killing 50 people and wounding at least 53 more in the deadliest mass shooting in modern U.S. history. ISIS claimed responsibility for the attack Sunday afternoon via its Amaq news agency, Reuters reported. Amaq said an "Islamic State fighter" carried out the assault. It was not clear, however, if the shooting was actually directed by the terror group or only inspired by it.
Orlando gunman tied to radical imam released from prison last year, say law enforcement sources. The gunman who murdered at least 50 people in a Florida nightclub early Sunday morning was a follower of a controversial gang leader-turned-bank robber who was released from prison last year despite warnings from prosecutors that he would recruit people to carry out violent acts, sources told FoxNews.com. Omar Mateen, whose bloody siege inside a packed Orlando gay nightclub ended when SWAT teams stormed the building and killed him, was a radical Muslim who followed Marcus Dwayne Robertson, a law enforcement source said. "It is no coincidence that this happened in Orlando," said a law enforcement source familiar with Robertson's history of recruiting terrorists and inciting violence. "Mateen was enrolled in [Robertson's online] Fundamental Islamic Knowledge Seminary."
Amb. John Bolton: Two critical conclusions from Orlando terror attack. Sunday brought the latest terrorist attack in America, the largest mass shooting in U.S. history, with all its attendant tragedy. Words cannot adequately describe the horror that engulfed the scene of this massacre, caused by one Omar Mir Seddique Mateen. Beyond the human cost, however, also lies the tragedy that Barack Obama, speaking even as it became clear that the murderer was a radical Islamic terrorist, is still unable or unwilling to draw the appropriate conclusions. The president's remarks omitted any linkages between the cold-blooded murders, the terrorist's ideology, and the broader international threat that motivated the Orlando killer and perhaps others yet unknown.
Dr. Sebastian Gorka: Obama must declare war, drop political correctness and save lives. America is at war. The events in Orlando represent a sea change in the United States. Or at least they should. [...] As reports continue to flow in, it is clear that the murderer of the 50 innocent people at the nightclub in Orlanda linked himself to ISIS. And not only that, but the Islamic State, through its official propaganda outlet, has claimed responsibility for the attack, tweeting "The Orlando attack is the work of a soldier of the Caliphate." The year 2015 saw the most jihadi plots on U.S. soil since September 11, 2011. This is despite two wars, in Iraq and Afghanistan, the expenditure of trillions of dollars, and the loss of thousands of lives among our servicemen and women. The administration of President Obama now has an historic opportunity to declare to the world that we are at war and our enemies must be crushed. The time for political correctness is behind us.
Orlando gunman's descent into Islamic terror comes into focus. The Muslim terrorist who killed at least 49 people in an Orlando nightclub early Sunday was an angry loner who beat his ex-wife, alienated co-workers and made at least two mysterious trips to Saudi Arabia, according to people who knew him and law enforcement authorities who are now piecing together his descent into radical Islam. One avenue of investigation is a pair of trips Omar Mateen, 29, took to Saudi Arabia in March 2011 and March 2012 for umrah, a non-mandatory visit to Mecca for Muslims, intelligence officials told Fox News. Umrah can be performed at any time of the year. Officials could not confirm Mateen's exact itinerary, including cities he visited or individuals he may have met with; however, Mateen is known to have stayed in the Kingdom for 10 days during each trip.
America's most evil gunman: What drove 'Islamic extremist' Omar Mateen, 29, to kill 50? Mateen, 29, opened fire at a gay nightclub last night — leaving at least 50 dead and injuring 53 others — because he was "angry" at the sight of two men kissing. Officers in Orlando, Florida said Mateen, who had Afghan parents and had undergone weapons training, came from Port Saint Lucie in Florida. The killer, who later shot dead in a gunfight with Swat officers, was not on the US terrorism list but was being investigated for another unrelated crime.
Father of reported Orlando shooter: Son possibly motivated by seeing two men kiss. The father of the man who reportedly shot up an Orlando, Fla., nightclub early Sunday morning claims his son, Omar Mateen, became "very angry" when he saw two men kissing in downtown Miami a few months ago and thinks it may have been part of his son's motivation. At least 50 people were killed and more than 50 injured at Pulse, a gay nightclub in Orlando, overnight. We are saying we are apologizing for the whole incident," the father said to NBC News on Sunday [6/12/2016]. "We are not aware of any action he was taking. We are in shock like the rest of America. This had nothing to do with religion," he said.
FBI: Suspect Bragged About Ties To 'Terrorist Organizations'. FBI Special Agent Ron Hopper, who's in charge of Orlando's FBI office, says that the individual who attacked an Orlando nightclub Sunday morning bragged about "having ties to terrorist organizations." The shooter is reportedly Omar Mateen, a U.S. citizen from Port Saint Lucie, Fla., according to CBS News. Hopper said, "The history that we know of this individual so far is that he may have made threats that he was tied to" islamic terror.
Imam Speaking in Orlando Said Gays Must Be Killed Out of 'Compassion'. There is new information on the horrific terror attack in Orlando last night that has killed at least 50 and wounded more than 100 in the largest mass shooting in American history. Sources are telling the Daily Beast that suspected killer Omar Mateen had previously been investigated by the FBI in 2013 and 2014, making this yet another "known wolf" terror attack.
Not Islamic terror, of course, just terror.
President Obama Calls Orlando Shooting an 'Act of Terror'. President Obama today described as "an act of terror" the mass shooting in Orlando overnight, which left at least 50 people dead. "We stand with the people of Orlando who have endured a terrible attack on their city," Obama said at the White House. "This could have been any one of our cities."
The Orlando Horror Shows Once Again Why Jihadists Must Be Crushed. While any given terrorist attack is largely unpredictable, long and bitter experience with jihad does allow us to identify certain trends — certain laws of jihadist behavior. First, it is quite clear that jihadist success tends to breed more jihad. And second, when terrorists possess safe havens, they have time to plan, execute, and — crucially — inspire new acts of terror. Consider what's happened in the United States and abroad since ISIS launched its blitzkrieg in 2014. It didn't just gain a small nation's worth of territory, population, and resources, it also inspired jihadists the world over. In America, we've confronted actual or attempted jihadist mass shootings in Chattanooga, Garland (Texas), San Bernardino, and now Orlando. This list doesn't include less deadly individual Islamist attacks like we've seen at the University of California, Merced, and in the attempted police officer assassination in Philadelphia.
Orlando Aftermath: To Fight the Enemy, Focus on the Enemy. Twitter is on fire right now, with some of the worst vitriol I've ever read, and incredibly most of it is not directed at the terrorist who killed Americans or the terrorist army that claims credit. Instead, my feed at least is filled with people on the Left utterly furious at the NRA, and a few who are actually tweeting against Christians for wanting to protect their own religious liberty. They're acting as if a Christian baker opened fire in Orlando. Here's the bottom line — if you're sitting here this afternoon more angry at your domestic political opponents than you are at the man who killed 50 people or the movement he reportedly pledged allegiance to, then you need to take serious stock of your moral priorities. To fight the enemy, we have to focus on the enemy.
Killing Homosexuals Is Not ISIS Law, It Is Muslim Law. [Scroll down] Based on all this, there is abundant Washington and media speculation that the attack is "ISIS-inspired." This is consistent with the bipartisan, government-approved inanity we have been following for a quarter-century, what I often call the political class's concoction of "An Islam of Their Very Own." It goes something like this: Islam is a religion of peace, period. End of discussion. "Violent extremist" outfits such as ISIS and al-Qaeda kill wantonly, with no real ideological motivation. ISIS and al-Qaeda are thus not Islamic, but actually anti-Islamic — and if they cite Islamic scripture to justify their atrocities, they are "hijacking" and "perverting" Islam. Because we must see these groups as "anti-Islam" rather than Islam, it is acceptable to call a mass-murder attack "terrorism" only if law-enforcement develops some plausible tie to these groups. Otherwise, if a Muslim is involved, stick with "workplace violence" and the like. Finally when an attack committed by a Muslim is too obviously terrorism to deny, call it "ISIS-inspired," or "al-Qaeda-inspired," or "Hamas political resistance," etc. — but by all means do not, absolutely do not, ascribe it to Islam in any way shape or form. This is idiocy.
Ex-wife of suspected Orlando shooter: 'He beat me'. The ex-wife of the 29-year-old man who is believed to have killed 50 people in an Orlando nightclub early Sunday said that he was violent and mentally unstable and beat her repeatedly while they were married. The ex-wife said she met Omar Mateen online about eight years ago and decided to move to Florida and marry him. At first, the marriage was normal, she said, but then he became abusive.
Orlando suspect's father hosted a TV show and now pretends to be Afghanistan's president. The father of Omar Mateen, identified by police as the man behind the carnage at an Orlando nightclub early Sunday morning, is an Afghan man who holds strong political views, including support for the Afghan Taliban. In a video he posted on Saturday, he appears to be portraying himself as the president of Afghanistan. Seddique Mateen, who has been referred to as Mir Seddique in early news reports, hosted the "Durand Jirga Show" on a channel called Payam-e-Afghan, which broadcasts from California. In it, the elder Mateen speaks in the Dari language on a variety of political subjects. Dozens of videos are posted on a channel under Seddique Mateen's name on YouTube. A phone number and post office box that are displayed on the show were traced back to the Mateen home in Florida. Mateen also owns a nonprofit organization under the name Durand Jirga, which is registered in Port St. Lucie, Fla.
Brokaw: 'In this County,' 'Everything Seems to Get Settled by a Gun'. Tom Brokaw echoed ABC on Sunday by blaming the terrorist attack in Orlando Florida on the popularity of guns in America. Twitter is alight with folks weighing in from both sides, people pointing to the Islamic name and others pointing to the use of an AR-15," he remarked on NBC News. He went on to say that he hoped a meaningful dialogue would come from the event. Brokaw spoke well after the FBI announced at a press conference that there were possible ties between the shooter and radical Islam. But Brokaw chose to play it down by simply describing it as, "The worst mass shooting in our country's history." And exclaimed that, "everything seems to get settled by a gun for whatever reasons."
Obama calls for gun control action and doesn't link Orlando terror attack to Islam in address to nation. President Obama furthered his gun control message today when addressing the massacre in Orlando that killed 50 people, making it the deadliest mass shooting in U.S. history. 'Although it's still early in the investigation we know enough to say that this was an act of terror and an act of hate,' Obama said, making no reference to ISIS or Islamic terror in his brief remarks. Obama called the shooting spree, at the gay nightclub Pulse during Pride month in the United States, a reminder of how easy it is for someone to get a hold of a weapon that could kill people in a 'school, or a house of worship, or a movie theater, or in a nightclub'.
Worst mass shooter in US history Omar Mateen had been investigated TWICE by the FBI before Orlando gay club. The dead Orlando terrorist who murdered at least 49 people at an Orlando nightclub was investigated by the FBI for terror links twice — and was linked to American suicide bomber Moner Abu Salha. Agents did not charge Omar Mateen on both occasions and concluded he 'only had minimal contact' with Florida man Abu Salha who blew himself up for the Al Nusra Front in Syria 2014. Mateen was also investigated by the FBI for making 'inflammatory remarks' to his colleagues alleging that he had terrorist ties — but again no further action was taken. He kept his job with a global security firm, G4S, and was able to legally buy guns that were used in the worst mass shooting in American history that killed 49 and injured 53 others inside the Orlando gay nightclub.
---
Part two: The Orlando shooter's father shows up at a Hillary Clinton rally -- as the most prominent spectator.
Purely coincidental, they say.
Khizr Khan rose to fame with his emotional pleas against Trump. Now he's targeting the 'politics of fear'. A group of teens and twentysomethings gathered in a nondescript meeting room at the Long Beach Convention Center, hoping for a chance to say a few words and take a selfie with one of the most fervent opponents of Donald Trump to emerge from the 2016 election. Khizr Khan, the Gold Star father who became a viral sensation after speaking at the Democratic National Convention about the death in Iraq of his Army captain son, is no longer on the campaign trail for Hillary Clinton. Now the 65-year-old has a new mission: inspiring hope in young Muslims, some of whom had never voted in an election before last month, some of whom weren't old enough to vote at all.
'I'd throw him out': Trump says he would deport Orlando shooter's father — after he saw him smirking at Clinton rally. Donald Trump's policy of 'extreme vetting' would involve throwing the father of the Orlando nightclub shooter out of the country, the candidate said at a town hall event that aired Wednesday [8/17/2016]. Trump, who has proposed a temporary Muslim ban and who on Monday [8/15/2016] described how the government would question immigrants trying to enter the U.S. from 'volatile regions, got asked about his plan by Fox News host Sean Hannity during a televised town hall. Hannity asked about Seddique Mateen, who attended a Hillary Clinton rally in Florida this month, smiling and appearing right behind the candidate in the camera shot of the event.
The Paradox of the Gold Star Left. Donald Trump has a knack for saying things that provide the Dems with a target-rich environment. He frames issues imprecisely, at least initially, gets bogged down in wild irrelevancies and ends up with his words twisted by spectacularly unscrupulous foes whose standard operating procedure seeks to blur important distinctions. Curiously, his most outrageous assertions often prove on analysis to be more right than wrong.
Khizr Khan's Saudi Ties: Is Saudi Arabia trying to manipulate the U.S. presidential election? Might the government of Saudi Arabia, which has spent countless bullions of dollars spreading the virulent and violent Wahhabi strain of Islam around the world, have any interest in making sure that a presidential candidate who speaks more forthrightly about the Islamic terror threat than any presidential candidate has since John Quincy Adams, and who has vowed to take concrete steps to counter that threat, is defeated? Is that why Khizr Khan, brimming with self-righteous indignation and misleading disinformation about the relationship of Islamic jihad terrorism to Islam, was not only featured at the Democratic National Convention but has dominated the news cycle ever since? [...] The real foreign influence story in this election involves the Saudis and the Democrats. Saudi influence in Washington must end. Khizr Khan represents an all-out effort by the mainstream media and the Democratic Party establishment to maintain that influence.
Not All US Muslim Soldiers Are Equal. Bronze Star and Purple Heart recipient Captain Humayun Khan died heroically. But his exceptional courage in Iraq and his Muslim father's post-Democratic convention histrionics on TV do not erase the security threat posed by killer warriors of Allah infiltrating our troops. [...] Don't take my word for it. Just re-read the ignored warnings issued by Muslim soldier Nidal Hasan, the vengeful mass murderer who gunned down 13 service members — including a pregnant private first class who lost her life and her child — and wounded more than 30 others at Fort Hood in 2009.
Khizr Khan's writings discovered subordinating US Constitution to Sharia law. He was presented to the nation as a Constitution-loving (he carries a pocket copy, dontcha know!) immigrant who just happens to be from Pakistan, but it turns out that Khizr Khan is a recognized scholar on sharia law. And in his published writings, he seems to approve of subordinating the Constitution to Allah's own sharia.
What Trump Should Have Said about Khizr Khan's Speech. [Scroll down] He need not have attacked Khan personally, but expressed sorrow for the fact that Hillary and the Democrats used the bereaved parents of a fallen soldier so cynically. That could have been differentiated from Patricia Smith's speech at the Republican convention about her SEAL son killed in Benghazi by explaining that Hillary was directly responsible for that serviceman's death, and so a legitimate political issue, as opposed to turning Captain Khan's sacrifice for his country into a political football. Trump and his defenders have belatedly tried to do something like this but it's lost in the media and political fireworks over his personal fight with the Khans. And to expect Hillary to be treated similarly in the media over her critical comments about Smith's speech is naïve.
Turning to lies to avoid the economy. During the past week, the nation's dire economic situation has become undeniable, but you wouldn't know this as the legacy media, like the good poodles they are, fixate on a contrived media firestorm involving Khzir Khan, father of a soldier killed in Iraq, and his attack on Donald Trump at the Democratic convention. During an interview on ABC with Clinton operative George Stephanopoulous, Mr. Trump responded to a question about Mr. Khan's comments. The premise about sacrifice was Mr. Stephanopolous'. Mr. Trump offered condolences to Mr. Khan's family, but Mr. Stephanopolous pressed him to discuss "sacrifice." In other words, Mr. Trump was being set up. You may not like Mr. Trump's answers, but there was no attack on the family, and yet the media would have you believe that Mr. Trump now hates dead soldiers and their families.
Khizr Khan Believes the Constitution 'Must Always Be Subordinated to the Sharia'. Notwithstanding his war-hero son's genuinely patriotic example, Khizr M. Khan has published papers supporting the supremacy of Islamic law over "man-made" Western law — including the very Constitution he championed in his Democratic National Convention speech attacking GOP presidential nod Donald Trump. In 1983, for example, Khan wrote a glowing review of a book compiled from a seminar held in Kuwait called "Human Rights In Islam" in which he singles out for praise the keynote address of fellow Pakistani Allah K. Brohi, a pro-jihad Islamic jurist who was one of the closest advisers to late Pakistani dictator Gen. Zia ul-Haq, the father of the Taliban movement. Khan speaks admiringly of Brohi's interpretation of human rights, even though it included the right to kill and mutilate those who violate Islamic laws and even the right of men to "beat" wives who act "unseemly."
Frank Gaffney: Khizr Khan 'Lying for the Faith' by Pretending 'There Is No Such Thing as Sharia Law'. Center for Security Policy founder Frank Gaffney joined SiriusXM host Stephen K. Bannon on Wednesday's [8/3/2016] Breitbart News Daily to discuss the ongoing feud between Donald Trump and the Khans, the Gold Star family that attacked him from the stage of the Democratic National Convention. Gaffney said the story has been "a huge distraction from the main issue — which, in fact, this Gold Star father was trotted out to try to sort of obscure, and that is: should we be importing, into this country, more jihadists?" "By some polls, 80% of the American people quite common-sensically say, 'No, we've got plenty here,'" he observed.
Diana West: DNC 'Put a Sharia Supremacist on Convention Center Stage'. Author and historian Diana West challenges the Democratic National Committee's (DNC) highlight of Khizr Khan at their national convention: "Don't you people vet your speakers?"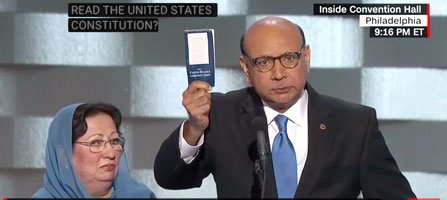 Dear DNC, Why Did You Put a Sharia Supremacist on Convention Centerstage? [Scroll down] My subject today, though, is the Constitution-waving Khizr Khan (above), who caused such an uproar at the DNC as the father of a fallen US officer in Iraq, Capt. Humayun Khan, killed in action in 2004, that he now wishes to exit the limelight and has even scrubbed his own website, the one listing his immigration legal services in the (strictly legit!) sale of visas to foreign millionaires. The question I have is: Don't you people vet your speakers? Do you even realize now that by inviting Khizr Khan to speak you that put a sharia supremacist on centerstage at the 2016 Democratic National Committee Convention to endorse a candidate for president of the United States? Hello? Is that the message you want to send America — that the Democratic Party is also the Sharia Party?




Megyn Kelly and Trump's Muslim ban. Someone needs to tell Mr. Trump when it's time to shut up. We need him and we need him to stop making such blunders. The safety of America and the security of Israel — "our greatest ally in the region," in Trump's own words — depend on his success. So instead he fell for the trap, and make no mistake, it was a slick set-up by the Democrats to hoist a speaker, at their convention, who would use his grief to hammer Trump. The game was to get Trump personally and to send a message against Trump's proposed temporary ban on Muslim immigration. The plan was to portray Muslims as heroes, not terrorists, and it worked marvelously. The media is in the process of lapping it up front page to front page. The Khans, now appearing on talk shows, writing opeds for The Washington Post, have become stars, celebrities, media darlings.

Obeidallah Goes Berserk After CNN Guest Recalls Khan Ties to Clintons. Appearing on Tuesday's [8/2/2016] New Day, liberal Daily Beast contributor and recurring CNN guest Dean Obeidallah went ballistic after a fellow guest and Donald Trump supporter recalled that Khizr Khan has a history of ties to the Clintons as the immigration expert was an employee of the law firm Hogan Lovells LLP, which not only has represented the Clinton Foundation but also worked on immigration cases involving the controversial EB-5 visa program. After former South Carolina Lieutenant Governor Andre Bauer recalled Khan's connections to the Clintons, the two got into a heated debate as Obeidallah incredulously accused the Trump supporter of "smearing" Khan by merely introducing his links to the Clintons into the political conversation.

Fmr Navy SEAL on Khizr Khan: There Have Been 3 Elections Since Son Was Killed — 'Part of the Clinton Machine'. Tuesday [8/2/2016] in an appearance on FBN's "Lou Dobbs Tonight," former U.S. Navy SEAL Team Six Leader Rob O'Neill pointed to the timing of Khizr Khan's participation in presidential election politics and declared him to be "part of the Clinton machine."

The Wrath of Khan. In order to shut down a debate they're losing, Democrats find victims to make their arguments for them, pre-empting counter-argument by droning on about the suffering of their victim-spokesperson. Alternative opinions must be preceded by proof that the speaker has "sacrificed" more than someone who lost a child, a husband, or whatever. Khan's argument, delivered angrily and in a thick Pakistani accent at the DNC, is that "our" Constitution requires us to continue the nonstop importation of Muslims. If the U.S. Constitution required us to admit more than 100,000 Muslims a year — as we do — we'd already be living in Pakistan, and Khan wouldn't have had to move to get that nice feeling of home. So the "argument" part of Khan's point is gibberish.

Marine's Blistering Open Letter Calls Out Khizr Khan For Using His Son's Sacrifice to Play Politics. Since the DNC, one of the hottest topics remains Captain Humayan Khan's father, Khizr, and his controversial comments about Trump. Trump is being accused of disrespecting a fallen war hero. In contrast, Khan is getting accused of using his son's death for a political agenda. As Americans continue discussing the topic, an open letter that a Navy veteran and U.S. Marine wrote to Khizr Khan is getting a lot of attention.

The Khanning Of America. Once again, the American public is being duped. This time it's by Hillary Clinton, the Democratic National Party, and Pakistani-American immigration lawyer Khizr Khan. They say that birds of a feather flock together. It couldn't be more true than when we are speaking about this group of pathological liars. [...] Khan wasn't at the DNC with the purpose of honoring his fallen son. His appearance was political theater intended to lure Donald Trump into a scheme, baiting him with the Muslim immigration theme.

Khizr Khan Lies on CNN, Says "No Such Thing as Sharia Law". Hillary Clinton's choice to represent Islam and the Democratic party blatantly lies on CNN telling Anderson Cooper (whom they'd throw off a building in many Muslim countries) there is no such thing as sharia law. [Video clip]

Khizr Khan Would Love to See Shariah Law in the US. Khizr Khan, the Muslim father of a slain American soldier, is an attorney who has previously written in a law journal about Islamic law. He specifically wrote about the purity of the Quran and the Sunnah over all other texts and interpretations. Khan rose to fame after speaking at the Democratic National Convention Thursday [7/28/2016] and pulling out a pocket U.S. Constitution imploring if Donald Trump had even read it. Khan wrote "Juristic Classification Of Islamic Law" in the Houston Journal of International Law in 1983. In it he breaks down different levels of Islamic law. Khan writes that the Quran and the Sunnah which were both directly created by the Muslim prophet Muhammad were the only sources in Muhammad's lifetime that "were recognized as binding."

The media's lies and double standards accelerate at blinding speed. [Scroll down] As a senator, Mrs. Clinton had voted for the Iraq war and refused to support the military surge that turned the war around, and as secretary of state, she supported President Obama's precipitous withdrawal from Iraq, which created the vacuum into which the Islamic State stepped, and failed to honor repeated requests for greater security in Benghazi, all while Mr. Trump was a private citizen. But according to Mr. Khan, Mr. Trump is the villain: "Donald Trump consistently smears the character of Muslims," he said. "He disrespects other minorities, women, judges, even his own party leadership. He vows to build walls and ban us from this country." Another untruth. Rather than "ban Muslims" from entering the country, Mr. Trump proposes a temporary hold on those coming from nations "compromised" by Islamic terrorism and once the situation is in hand, thorough background checks on all immigrants coming from those areas. Mr. Khan also wondered if Mr. Trump had "read the Constitution." Never mind that the Constitution does not offer religious freedom protections to non-citizens and that as a matter of law and policy, we are not obligated to let anyone into the country. Throughout his time in the spotlight, Mr. Khan parroted the media's distortions, and they ate it up.

You Won't Believe Just How Connected Khizr Khan Is To Hillary's Email Server. Khizr Khan — father of deceased U.S. Army Captain Humayun Khan — is closely connected to the secret email server Hillary Clinton used while serving as Secretary of State. Prior to opening his own shop, KM Kahn Law Office in New York, Khan spent nine years working for the global law firm Hogan & Hartson — now known as Hogan Lovells — in Washington, D.C.

Khizr Khan was tricked into smearing Donald Trump. [Khizr] Khan and his wife took to the stage at the Democratic National Convention in Philadelphia last week to deliver an impassioned rebuke of Donald J. Trump that was universally celebrated by the media. Even Republican politicos swooned at the gambit. The Clinton campaign trotted out the Muslim couple because their son, Captain Humayun Khan, was killed by a car bomb in 2004 while guarding a base in Iraq. "If it was up to Donald Trump, he never would have been in America," said Khan, sliding easily into the political tradition of lying and distorting the position of one's opponent.

Khizr Khan Has Previously Written Extensively On Sharia Law. Khizr Khan, the Muslim father of a slain American soldier, is an attorney who has previously written in a law journal about Islamic law. He specifically wrote about the purity of the Quran and the Sunnah over all other texts and interpretations. Khan rose to fame after speaking at the Democratic National Convention Thursday [7/28/2016] and pulling out a pocket U.S. Constitution imploring if Donald Trump had even read it. Khan wrote "Juristic Classification Of Islamic Law" in the Houston Journal of International Law in 1983. In it he breaks down different levels of Islamic law. Khan writes that the Quran and the Sunnah which were both directly created by the Muslim prophet Muhammad were the only sources in Muhammad's lifetime that "were recognized as binding."

Media Apoplectic As Khizr Khan Attack On Donald Trump Goes Down In Flames. [Scroll down] Khizr Khan has all sorts of financial, legal, and political connections to the Clintons through his old law firm, the mega-D.C. firm Hogan Lovells LLP. That firm did Hillary Clinton's taxes for years, starting when Khan still worked there involved in, according to his own website, matters "firm wide" — back in 2004. It also has represented, for years, the government of Saudi Arabia in the United States. Saudi Arabia, of course, is a Clinton Foundation donor which — along with the mega-bundlers of thousands upon thousands in political donations to both of Hillary Clinton's presidential campaigns in 2008 and 2016 — plays right into the "Clinton Cash" narrative. All of this information was publicly available, and accessible to anyone — including any of these reporters, and Breitbart News — with a basic Google search. Anyone interested in doing research about the subjects they are reporting on — otherwise known as responsible journalism — would have checked into these matters.

Daily Caller: Khizr Khan Wrote Extensively in Favor of Sharia. Khizr Khan wrote that any writings on judicial matters "must always be subordinated to the Shari'ah and open to reconsideration by all Muslims."

Khizr Khan Deletes Law Firm Website that Specialized in Muslim Immigration. Khizr Khan, the Muslim Gold Star father that Democrats and their allies media wide have been using to hammer GOP presidential nominee Donald J. Trump, has deleted his law firm's website from the Internet. This development is significant, as his website proved — as Breitbart News and others have reported — that he financially benefits from unfettered pay-to-play Muslim migration into America. A snapshot of his now deleted website, as captured by the Wayback Machine which takes snapshots archiving various websites on the Internet, shows that as a lawyer he engages in procurement of EB5 immigration visas and other "Related Immigration Services."

Back to Islamic terrorist attacks that are reported as "isolated incidents"
Back to the Media Bias Page
Jump over to Islam is not a "religion of peace"
Jump over to Pro-Islam media bias
Jump over to Other examples of biased news coverage
Back to the Home page