The New York Times is the newspaper that serves as a de facto authority in the news business. Regardless of its openly liberal, anti-war (when the President isn't a Democrat), anti-Republican editorial slant, news items that appear in the Times are repeated by other newspapers and broadcasters without the slightest hesitation or doubt. This is largely because of the NYT's many decades of experience and — until recently — its reputation for accuracy and objectivity. Unfortunately, the NY Times has become a talking points memo for radical leftists in the Democratic Party. That's perfectly okay, and the First Amendment guarantees the protection of such a newspaper (except when the newspaper publishes information that is beneficial to our enemies while we are at war, but that's rather unlikely). If the opinions expressed in the NY Times reflect those of the American mainstream, beyond New York City, this country is in serious trouble.
---
NYT Makes Changes to Election Needle so Readers Won't Get Upset. The New York Times is changing a voting data graphic that many readers claim led them to falsely believe then-candidate Donald Trump would lose the 2016 presidential election in a landslide. The NYT is working to avoid triggering panic attacks among people who felt the election needle duped them into believing former Secretary of State Hillary Clinton would easily win. The needle supposedly created confusion between real-life election data and flawed predictive polling.
NYT: Right-Wingers Aren't Guilty So No Outrage over NY's Rise in Anti-Semitism. The New York Times admits no one on the political left cares about New York's rise in anti-Semitism because it cannot be pinned on the political right. Hate crimes against Jews represent "half of all hate crimes in New York this year," the far-left Times reports. "To put that figure in context, there have been four times as many crimes motivated by bias against Jews — 142 in all — as there have against blacks," the Times reports. "Hate crimes against Jews have outnumbered hate crimes targeted at transgender people by a factor of 20."
Are You Being Defined Out Of Existence? Recently, The New York Times claimed that transgender people could be "defined out of existence" by the Trump administration, due to a government return to the classical definition of biologically-based gender. Strangely enough, no leftist made any fuss, however, when the Obama administration defined biological gender out of existence in federal Title IX law, an act which violated the identity of 99.9% of the population. Why is something that is allegedly awful and inhumane to do to a tiny fraction of people suddenly acceptable when it is done to almost everyone?
Media Bias? What Media Bias? If you subscribe, as I do, to the digital edition of the New York Times, you'll soon notice that just about every headline or subhed will contain some reference to President Trump. It almost doesn't matter what the ostensible subject of the article is; the hed must include some aside about "the age of Trump," even if the story is about golf or gardening. Because, you see, everything is political today.
When Media Foist False Narratives to Sow Social Discord, They Indeed Are the Enemy of the People. The New York Times had a sycophantically pro-Stalin liar, Walter Duranty, filing Fake News reports from the Soviet Union for more than ten years. The Times published the lies daily as "news" and made him their Moscow bureau chief for fourteen years. As a result, the West was lulled, cheated of the truth, made unaware of the evil. Yes, the Fake News indeed was the enemy of the people. Likewise, the New York Times — and the other mainstream media who took their lead from them — by and large refused to report on the unfolding Nazi Holocaust [...]. Between 1939 and 1945, the New York Times published more than 23,000 front-page stories. Of those, 11,500 were about World War II. Only twenty-six — in six years — were about the Holocaust. The Times was passively complicit.
While Demanding 'Civility,' NYT Publishes Fan Fiction Depicting Trump's Assassination. The New York Times published a fictional essay fantasizing about President Trump getting assassinated the same week that explosive devices were sent to prominent political figures across the country. After explosive devices were sent to prominent Democrats and liberal political figures — Maxine Waters, Joe Biden, George Soros, Hillary Clinton, Barack Obama, John Brennan, and others — New York Times opinion columnist Charles M. Blow blamed Trump for creating a "toxic environment" that led to these attempted acts of terrorism. [...] Here's some of the rhetorical backdrop being painted by The New York Times. In a collection of fictional essays published Tuesday, one author fantasized about a Secret Service agent helping the Russians assassinate Trump.
George Soros's Son Has Op-Ed Published In NYT Condemning Political Violence Within An Hour Of Pipe Bomb Story Breaking. The timing of Alexander Soros's published piece in the New York Times today will do nothing to quell the understandable skepticism of the 'pipe bomb' story that broke across all news agencies earlier today given the article was apparently written and then published within an hour of the events being made public.
NY Times Publishes 'Trump Assassination Porn,' But That's Not The Worst Part. The New York Times, once almost universally considered the most thorough, reliable, and professional news publication in the U.S., is now publishing "Trump assassination porn" that fantasizes about the Secret Service helping a Russian agent murder Trump. The worst part: rather than passively receiving the submission, The New York Times Book Review went out looking for it, actively petitioning spy and crime novelists to produce Trump-Russia-themed stories that were almost guaranteed to indulge Russian conspiracy theories and include some sort of scenario that ends up with a dead President of the United States. And, of course, when they got one, they were thrilled to push it out to readers.
Media Bias Examples for the Week of 10/15/2018. [For example,] There was an absurd and offensive ad aimed at African Americans from a small PAC claiming to support Republican Congressman French Hill. Several reporters posted tweets implying that Hill was somehow responsible for the ad. Hill even ended up denouncing the ad. One example of this was the NYT's Maggie Habberman. Maggie's tweet was spread by countless others in the media. While she did later post a clarification, she left the original tweet up and it continued to spread. This is a common theme among journalists on social media: they constantly post false or misleading stories on social media, then correct later to a much smaller audience.
New York Times scrambles to defuse a full-blown staff rebellion. The New York Times is scrambling to quell a staff rebellion at its metro desk after the section's editor, Cliff Levy, unleashed a blistering email to staffers last week, saying the section had "lost its footing" and was in need of "urgent" change. The News Guild of New York, which represents the 40-plus journalists in the section, called Levy's memo a "public fragging" by Times management and said his offer of "voluntary" buyouts as the section became more web-focused was "an unexpected threat to our journalism and our jobs."
Opposition Media Flop: No One Cared About That Massive NYT Story On Trump's Taxes. [Scroll down] It's also an insanely long piece loaded with things that average voters just don't care about. Also, no one likes paying taxes, and taking measures to reduce your tax burden is not illegal. [...] The Times combed through 100,000 pages of documents and conducted scores of interviews — and it was all done for nothing.
Could the bias be any more blatant?
NYT To Host Midterm Voting Event With Sen. Bernie Sanders. The New York Times is holding a "nonpartisan" event with Sen. Bernie Sanders on Wednesday that will encourage college students to turn out to vote for the 2018 midterm elections. Sanders, who labels himself a "Democratic Socialist," will speak with NYT national political correspondent Alexander Burns at the University of Maryland. Other colleges, including the University of South Carolina and Virginia Tech, will host live watch parties of the event across the country. The event is held in conjunction with Rock The Vote, an organization that bills itself as "nonpartisan." According to an event description, Sanders will "discuss what's at stake for students, in particular, and to amplify the critical importance of voting — regardless of which candidates you support."
New York Times' dud of a Kavanaugh bombshell co-authored by admitted anti-Kavanaugh partisan. As if the New York Times' "bombshell" report that Brett Kavanaugh allegedly threw ice at a bar patron during an altercation in 1985 wasn't ridiculous enough already, it turns out one of the story's authors is an outright anti-Kavanaugh partisan. The Times article, titled "Kavanaugh Was Questioned by Police After Bar Fight in 1985," is part of a larger effort by the press and Democratic lawmakers to establish that the Supreme Court nominee has a history of violent, drunken outbursts. Also, that he's a liar. Also, that's he's a serial sexual predator. Whatever sticks. "As an undergraduate student at Yale, Brett M. Kavanaugh was involved in an altercation at a local bar during which he was accused of throwing ice on another patron, according to a police report," reads the article's opening lines.
The utility of privacy. A scientific article recently cited by the New York Times proves it is possible to create a world without males. "Life With No Males? These Termites Show That It's Possible. A discovery among termite colonies in Japan suggests that males can be discarded from advanced societies in which they once played an active role." An expert interviewed by the article confidently declared that for termites at least "the future is female". The implict theme of the doomed male cannot be escaped in the MeToo era. In case you missed the point white males especially are headed for the boneyard and even science knows it. Can they be serious? More serious than you think.
New York Times Hits "Disturbing Trend" Of Seeing Islam As "Not A Religion". This outstandingly disingenuous article is written by Asma T. Uddin, a Muslim religious liberty lawyer and scholar, who undoubtedly knows very well that when Bennett, McCarthy, Flynn and others say that Islam is a political ideology, they're 100% correct. And that's the real issue here, not whether or not Islam is a religion. If Islam is a political ideology, even if it is a religion as well, then that political ideology has to be evaluated in light of its compatibility, or lack thereof, with the U.S. Constitution and the rights and freedoms it guarantees. Asma Uddin presents her quotes from people saying that Islam is a political ideology as if they were self-evidently false, yet Islam is implemented as a political ideology today in Saudi Arabia, Iran, Sudan, and elsewhere. The elements of Islamic law that are political, authoritarian, supremacist, and injurious to the rights of women and others are the focus of anti-sharia laws, not the aspects of sharia that involve Muslim religious practices.
Rod Rosenstein's Resistance. [Scroll down] The Times account is based on multiple unnamed sources and draws on memoranda about interactions with Rosenstein, written by the FBI's former deputy director, Andrew McCabe, and other officials. The Times creates ambiguity about whether its journalists have actually seen these memos. Times reporters Adam Goldman and Michael S. Schmidt indicate that the chirpy anonymous officials with whom they spoke "were briefed either on the events themselves or on [the] memos" — implying that the journalists are relying on their sources' accounts of the memos. Yet, the report subsequently adds a quote from McCabe's lawyer, Michael Bromwich, who says his client "has no knowledge of how any member of the media obtained those memos."
Twelve points to keep in mind on the NYT's Rosenstein 'wear a wire' and invoke 25th Amendment story. We are only getting started on figuring out what this really means, but here are twelve points to keep in mind: [#1] The New York Times is comfortable exposing deep state resistance to Trump. The idea that members of the federal bureaucracy are deliberately sabotaging and working to oust a duly elected president of the United States has been dismissed as a conspiracy theory by all sorts of mainstream media outlets and purported fact-checkers. But first with its publication of an anonymously-written op-ed, and now with this story, the Times is eager to admit the resistance and celebrate it, presumably because it thinks the end is nearing for the Trump presidency. [#2] Memos written by Andrew McCabe and Lisa Page were at least part of the basis for the report. Given the fact that McCabe has been fired and has been referred by the DOJ's Inspector General for criminal prosecution, there may be self-protection motives in releasing them to the leading journalistic opponent of Trump's presidency. [#3] Rod Rosenstein's denials are lawyerly and self-contradictory.
NY Times removes key language helpful to Kavanaugh from article about Yale accuser Ramirez. On Sunday night, September 23, 2018, The New Yorker published an article about accusations by Deborah Ramirez, a former Yale classmate of Supreme Court nominee Brett Kavanaugh. The authors were Ronan Farrow and Jane Meyer. The New Yorker article noted, deep into the article, that Ramirez's accusations were not corroborated by any witnesses with first hand knowledge, and that Ramirez herself had gaps in memory that were cleared up only after 6 days of thinking about it and consulting with lawyers. The NY Times covered the story, and had language in its September 23 about Ford testifying that was extremely helpful to Kavanaugh's defense. The language was added in an evening edit.
Rosenstein rips NYT for 'inaccurate' story on Trump recordings. Deputy Attorney General Rod Rosenstein is challenging a bombshell story in The New York Times alleging that he discussed secretly recording President Trump last year, calling it "inaccurate" and "factually incorrect." Rosenstein in a statement released by the Justice Department (DOJ) also said that there was "no basis" to invoke the 25th Amendment, after the Times reported that he proposed recruiting various Cabinet officials to take such a step in order to remove Trump from office over his unfitness.
The New York Times issues major correction to Kavanaugh sexual assault story. It's one thing to misspell a name or get a specific date wrong. It's another thing entirely to report that a supposed witness to a sexual assault says he remembers it happening when he has said the exact opposite. For an example of the latter, we turn to the New York Times, which published a report Tuesday titled, "Christine Blasey Ford Wants F.B.I. to Investigate Kavanaugh Before She Testifies."
New York Times Pot Stirrers Tell a Whopper About Lost Immigrant Kids. The New York Times lied about the same fake news story a second time to stir the pot. Their intention is to make the administration look bad on immigration. In an article titled, "U.S. Loses Track of Another 1,500 Migrant Children, Investigators Find," the Times contends the U.S. officials have no clue as to the whereabouts of roughly 1,500 undocumented minors. It wasn't true the first time they published that story and it's not true this time.
U.S. Loses Track of Another 1,500 Migrant Children, Investigators Find. Caitlin Oakley, a spokeswoman for the Department of Health and Human Services, offered a response to the findings on Tuesday night. "As communicated to members of Congress multiple times," she said, "these children are not 'lost.' Their sponsors — who are usually parents or family members and in all cases have been vetted for criminality and ability to provide for them — simply did not respond or could not be reached when this voluntary call was made."
Let's Blame Every Death on President Trump. Fake News is a term popularized by President Donald Trump to characterize the mainstream media. Not all journalists, as the President notes, but the major American media outlets such as CNN, NBC, and the New York Times. While the media objects to such a characterization, they do little to dispel their new found reputation. Only last week, the New York Times reinforced their fake news label with the story of UN Ambassador Nikki Haley supposedly ordering expensive curtains for her official residence when in reality the curtains were ordered by the Obama administration. The fact that it took two years for curtains to be installed after being ordered is an interesting sidelight of government inefficiency. A small amount of research and fact checking would have kept the egg off the NY Times' faces for publishing a bogus story. Was this deliberate or incompetence or both?
Egg on Their Faces: New York Times Retracts False Nikki Haley Smear. On Thursday [9/13/2018], the New York Times — America's newspaper of record — published a disgusting false smear against U.S. Ambassador to the UN Nikki Haley. The original article suggested Haley was responsible for spending $52,701 on curtains for the UN ambassador's house in New York City, when in reality the decision to purchase the curtains was made under former president Barack Obama. The Times appended a correction at the top of the article, altered the headline, and removed the photo of Nikki Haley. "Nikki Haley's View of New York Is Priceless. Her New Curtains? $52,701." the original headline screamed, complete with a featured picture of Haley at the United Nations. The original version of the article is unavailable, but a screenshot captured by the Washington Post's Aaron Blake revealed that the Times had substantially altered the article after receiving hefty criticism.
Fake News collapses on NYT. The Obama administration ordered $52,701 worth of curtains for the apartment the U.S. ambassador to the United Nations. To put that in perspective, the West Virginia Legislature impeached the entire state Supreme Court for wasting $32,000 to buy a couch. So how did the New York Times report this Obama scandal? "Nikki Haley's View of New York Is Priceless. Her Curtains? $52,701." After Fox News pointed out the headline drapes do not match the rug of facts, the Times demoted the headline to "State Department Spent $52,701 on Curtains for Residence of U.N. Envoy." Nope, nope, nope. Nikki Haley did not build this. Obama did.
New York Times Spreads Fake News About Nikki Haley's $52,701 Curtains. A New York Times headline attacks UN Ambassador Nikki Haley's extravagant curtains, even though the Obama administration ordered them in 2016. The fake news headline snarks, "Nikki Haley's View of New York Is Priceless. Her Curtains? $52,701." [...] The word "spent" is crucial, however, because after five whole paragraphs describing Haley's "spectacular views" in her leased $58,000 a month "full-floor penthouse, with handsome hardwood floors covering large open spaces stretching nearly 6,000 square feet," the Times at long last reveals the truth: The Obama administration ordered those $52,701 curtains. What's more the Obama administration chose the $58,000 per month penthouse.
NYT smears Nikki Haley over Obama's $53,000 UN curtains purchase. Lacking a catch of late, the New York Times decided to pull a Scott Pruitt on United Nations ambassador Nikki Haley, accusing her of being Extravagance Woman, a regular Stateside Imelda, based on a $53,000 purchase of customized and mechanized curtains for her United Nations apartment. [...] Turns out the fancy curtain order was the work of Samantha Power, President Obama's former U.N. ambassador, who, when she wasn't busy unmasking Americans to learn all about what was going on in the Trump campaign (or maybe handing her password out, given the quantity of such unmaskings under her name), was also busy getting the decorating in — status stuff, like self-opening curtains, the better to impress the Harvard and NGO crowds who undoubtedly would come by to visit. And it was President Obama who approved the purchase.
New York Times Covered Up Google Tape's Most Newsworthy Details. The New York Times reported on the explosive Google Tape back in March but chose not to informs its readers of virtually all the key details revealed during this company town hall. On Tuesday [9/11/2018], Breitbart News obtained video of an hour-plus long company meeting at Google that took place shortly after the 2016 presidential election. You can watch the full video to judge the context of these individual quotes for yourself — but in my view, what you have here is a smoking gun proving the biggest Internet search engine in the world (by far) intends to abuse its corporate power to affect the outcome of elections, to manipulate searches in a way that will result in political outcomes desired by a multinational corporation and Silicon Valley.
The NY Times' "Three Surprising Energy Trends" Editorial: Surprising Because They Aren't True. Let's start with electricity prices. The editorial acknowledges that "electricity prices vary a lot from state to state, for many reasons. For example, prices in California, which has made reducing emissions a priority, have gone up in recent years. But they have fallen in New York, which has set similarly ambitious climate targets." What the Times fails to mention is that the states with the most ambitious renewable generation and climate mandates, including New York, California, and many New England states, have the highest electricity prices in the continental US. In 2017, for example, the average residential price in New York was over 18 cents per kilowatt-hour, 40 percent higher than the national average, and just slightly below the California average. And with Governor Cuomo's mandate to develop 2,400 megawatts of offshore wind generation, residential customers in New York can expect to see much higher prices, thanks to lavish subsidies for wind developers.
Yes, the Mainstream Media Is the Enemy. If we accept that this anonymous source is real, then he (the Times briefly tweeted the writer is a "he") is indeed "part of the resistance" that is "working diligently from within to frustrate parts of [President Trump's] agenda." That is, he is working to frustrate the agenda which the American people elected the president to duly execute. This is patent and anti-democratic subversion: the process by which something, like the executive office, is contradicted or undermined from within. The words subversive and subversion come from the Latin word, subvertere, which means "overthrow," "destroy," or "cause to topple." If this anonymous source is real, it then follows that the Times is harboring someone with access to the White House who is working to see the president, at minimum, undermined, and ideally overthrown.
Mr. Anonymous Exposes an Even Deeper State. The latest salvo in the resistance's efforts to nullify the will of the American electorate is an anonymous New York Times op-ed purportedly penned by a "senior official" in the Trump administration. This pretend super-patriot declares that Trump faces "a test to his presidency unlike any faced by a modern American leader. ... The dilemma — which he does not fully grasp — is that many of the senior officials in his own administration are working diligently from within to frustrate parts of his agenda and his worst inclinations. I would know. I am one of them." Well, congratulations. But this sounds far more like a damning admission of an unelected, self-important saboteur than a persuasive indictment of the duly elected president. And FYI, Trump does fully grasp it. What do you think he's been shouting about for two years running?
Anonymous NY Times op-ed shows Deep State thugs are working against the will of the American people. Once dismissed as a conspiracy theory by the biased liberal media, the Deep State is now exposed for all to see. All Americans should be concerned — particularly the 62 million people who voted for Donald J. Trump for president in 2016. The people spoke loudly and clearly in November 2016 and they chose President Trump — the ultimate political outsider — to confront the failed Washington status quo and shake it up. The rise of the dangerous and unaccountable Deep State is a reaction to Trump and his highly successful America First agenda, which could not have been accomplished with business as usual.
Will The New York Times Investigate The New York Times? So which is it? Is The New York Times a newspaper — a journalistic outfit? Or is The New York Times a Deep State co-conspirator against a sitting President of the United States? [...] Whether The Times opinion editors thought this through or not, they have now put their paper and reporting colleagues squarely on the horns of a considerable journalistic dilemma. The Times opinion side of the paper has every right to both run the article and keep the author's name a secret. But The Times reporters in turn have a serious obligation to investigate their own paper and get the news of who wrote this piece to a waiting public that has every right in the world to know who, exactly, is inside the government trying to deliberately thwart the duly elected president.
I Am Part of the Resistance Inside the New York Times. The mainstream media is facing a test to their credibility unlike any faced ever before. Their nonstop, partisan animus against the President is largely unprecedented. Also, have you noticed how "unprecedented" sounds like "President"? That's the mark of some serious writing skills. Papers like my employer, and television networks like, well every single one but Fox, have unveiled a weekly set of pseudo-news stories, each positioned to be the straw that broke the camel's back, if the camel's back is Trump's presidency. Consider a partial list of pseudo-scandals, just off the top of my head. Each was certain to bring an end to the crazy and evil Drumpf, once and for all. [...]
Anonymous: Ye Shall Know Him by His Fruits. The most surprising aspect of the furor surrounding the infamous unsigned New York Times Op-Ed, ostensibly written by a member of the Trump administration, is that anyone believes its author is a senior official. Assuming this person isn't an employee of the Times, and it is by no means unknown for the Gray Lady's journalists to fabricate quotes and attribute them to anonymous "officials," the author of this hit piece is at most a mid-level staffer. Indeed, if this character is actually employed in the Trump administration, it is almost certainly at a level of insignificance verging on invisibility.
The Circus of Resistance. After the latest hysteria dies down, this chapter in the ongoing psychodrama will be revealed for what it is: a fantasy of a wannabe coup that is not going to happen. The commentariat's silly claim that the op-ed was "extraordinary" and "newsworthy" is laughable. There are hundreds of "senior officials" all throughout every presidency, no doubt more so in the outsider Trump's, who are disgruntled. On any given day, any newspaper could root out a "senior official" to write anonymously anything it wished to fit a preconceived narrative.
Brother-in-Arms. [Scroll down] Today I woke up to Anonymous's piece in the Times and learned something else, something I should have known all along. When the writer is a conservative and castigates the Times' reader-base, they stick to their rules. When the writer goes after someone the Times openly detests, as it does President Trump, well, that's another story. The rules quickly go out the window.
The New York Times Belatedly Discovers The Deep State. The New York Times recently published what it touted as a bombshell anonymous op-ed by a "senior" Trump administration official that trashed President Trump for being among other things "amoral" and showing "little affinity for ideals long espoused by conservatives: free minds, free markets and free people." The op-ed, which we have read and re-read several times, is all about Trump's style, as opposed to the Drain the swampsubstance of his policy accomplishments. Indeed, it reads like nothing so much as a #NeverTrump manifesto ghostwritten by a NeverTrumper, like Bill Kristol or Jonah Goldberg, rather than a senior White House or administration official with inside knowledge of Trump's decision-making process and the alleged failures thereof.
Democrats Hope for a Richard Nixon Repeat. Thursday [9/6/2018] came an op-ed in the New York Times by an anonymous "senior official" claiming to be a member of the "resistance... working diligently from within to frustrate parts of his [Trump's] agenda." A pedestrian piece of prose that revealed nothing about Trump one cannot read or hear daily in the media, the op-ed nonetheless caused a sensation, but only because Times editors decided to give the disloyal and seditious Trump aide who wrote it immunity and cover to betray his or her president. The transaction served the political objectives of both parties.
Mr. Anonymous Exposes an Even Deeper State. The latest salvo in the resistance's efforts to nullify the will of the American electorate is an anonymous New York Times op-ed purportedly penned by a "senior official" in the Trump administration. [...] But this sounds far more like a damning admission of an unelected, self-important saboteur than a persuasive indictment of the duly elected president.
NYT was caught in 2011 calling an anonymous source (who turned out to be an intern) a 'senior official'. The anonymously written New York Times op-ed purporting to be written by a "senior official in the Trump administration" was artfully written to suggest that the author is Cabinet-level. [...] If and when the identity of the anonymous writer is uncovered, if the person involved turns out to be someone the public has never heard of — a deputy assistant undersecretary in the Department of Interior, for instance, if not an actual intern — the backlash will be intense.
I don't believe NY Times about anonymous White House snitch. This feels like fiction, the preposterous notion that an unnamed White House official has spilled the beans on Trump "to thwart the president's misguided impulses." He's been published "anonymously" and, we are told, is part of a resistance movement within the White House to surreptitiously stop the president from ruining the country. That's the gist of the op-ed topping The New York Times Wednesday [9/5/2018] edition.
A guess at identifying the NYT's infamous anonymous Trump insider. The New York Times published an anonymous op-ed, purportedly penned by a "senior White House official" in the Trump administration. Read the missive, and note that there are several clear "tells" in the piece — clues that indicate the motivations and leanings of the author, whoever the coward is. And I will use that word, as someone with the character and fortitude claimed by the author would never write an anonymous piece, nor would he remain employed within an administration he so clearly despises.
The New York Times Anonymous Op-ed Pushes Electoral Sabotage. An anonymous op-ed published in The New York Times, penned by "a senior Trump administration official," contends that a cabal of senior staffers have secretly schemed to undermine Donald Trump in an effort to protect the American people. "I work for the president," claims the purported senior official, "but like-minded colleagues and I have vowed to thwart parts of his agenda and his worst inclinations." The problem with the much-discussed op-ed isn't only that it fails to offer a single example of officials actually "thwarting" the Trump agenda or saving the republic from his capriciousness. It's that it celebrates the idea of nullifying an election.
No, anonymous Trump official, you're not 'part of the resistance.' You're a coward. A New York Times op-ed allegedly written by a senior Trump administration official has set the internet ablaze. Its headline: "I am part of the resistance inside the Trump administration." Its premise: A group of Trump appointees is working from the inside to stop the president from fulfilling the parts of his agenda they disagree with. Obviously, the writer and other like-minded higher-ups are not part of the "resistance" that's marching in the streets protesting.
7 points on the anonymous New York Times 'resistance' op-ed. [#1] It concedes Trump's accomplishments are big. Early in the piece, the author admits that the Trump administration has had significant success on the issues most important to American voters. "Many of [the administration's] policies have already made America safer and more prosperous," he writes. Later, he makes a list: "effective deregulation, historic tax reform, a more robust military and more." Perhaps the author doesn't see it that way, but peace and prosperity are any president's two most important accomplishments. Conceding Trump's achievement undercuts the broader theme of the article.
Trump: For National Security Purposes, NYT Must Turn Over 'Gutless' Anonymous Source. President Trump is demanding, "for national security purposes," that The New York Times reveal the name of the anonymous senior White House official who penned an op-ed describing the internal "resistance" to Trump within the administration. On Wednesday [9/5/2018], the Times published an op-ed titled, "I Am Part of the Resistance Within the Trump Administration," in which the self-described senior official claims that "many of the senior officials in his own administration are working diligently from within to frustrate parts of his agenda and his worst inclinations."
Scabies at New York Times must be reeling with glee. The anonymous hit job masked as a "service to our readers" — otherwise known as the latest New York Times editorial — is nothing but the work of a White House "saboteur," screamed Drudge Report's top headline in the aftermath of the widely reported op-ed that claims insiders are working within the White House to control — i.e., take down — President Donald Trump. Good word; fitting word. Now more than a day into a new news cycle, the anonymously published piece that paints a negative picture of this president is pretty much all anyone's talking about — and that's with a Supreme Court nomination before the Senate for questioning, too.
N.Y. Times Throws Up a Smokescreen for Bruce Ohr. If this weekend's bombshell story in the New York Times is to be believed, the nation's top law enforcement agency under Barack Obama was not only corrupt, it was really dumb, too. In an effort to get ahead of the release of Bruce Ohr's private congressional testimony — which undoubtedly will include more stunning details about the depth of his relationship with a paid political operative from another country — and mitigate the damage from Ohr's recently released emails, the Times is already working to cover the Justice Department official's tracks.
No, Betsy DeVos is Not Trying to 'Sneak Guns Into Schools.' Education Secretary Betsy DeVos is under scrutiny once again, this time for allegedly trying to use federal funds to "sneak guns into schools." These harsh criticisms mainly come from gun control advocates and educators in response to an August 22 New York Times report that said DeVos was considering using federal funds to purchase weapons for school staff. Other reports have characterized the Education Secretary as exploiting a "loophole" — a federal grant program that fails to explicitly prohibit the spending of federal dollars on guns. But this widely-circulated narrative is ignoring key facts. Using federal money to arm schools was not DeVos's idea. In reality, the secretary has tried to end the very grant program she's accused of abusing.
Ohr speaks! (Behind closed doors). You can almost smell the fear in the Get Trump camp that Bruce Ohr might be the thread that could be pulled to unravel the conspiracy of high-ranking officials to spy on the Trump campaign and then, after the election, put into action the "insurance policy" Peter Strzok mentioned to his mistress (and co-worker) Lisa Page in an August 2016 text message, to remove a duly elected president from office. The New York Times, which serves as a pilot fish for the rest of the media, has been working hard to minimize the damage he might do. On August 17, as Ohr's name was being introduced to inhabitants of the MSM bubble thanks to a threat by President Trump to remove his security clearance, the Times outright lied about his position in the Department of Justice, calling him a "midlevel" official in the DOJ. This lie was picked up and repeated in many other articles and was used on cable news reports extensively, thereby falsely branding him as a minor player caught up and persecuted by Trump and anyone else paying attention.
New York Times Called Mccain Racist, Now It Uses Him To Attack Trump. Every Republican villain will one day live long enough to be a lefty hero. I can't wait for twenty years from now when the media is fondly remembering Trump while denouncing its latest conservative hate target. And meanwhile the media is cynically exploiting McCain's death to bash Trump.
The Genocidal Elite, Part III: The Trail of 'White Tears'. For the New York Times, a paper with a global reach, to normalize such rhetoric by placing someone who spews it on their editorial board at the same time they blacklist people for much tamer statements about other races is cavalier and uninformed at best. Further, it suggests that our elite are already prepared to make excuses in case of third world style interracial violence against white citizens.
New York Times Deletes Immigration Status Of Mollie Tibbetts's Killer From Headline. The New York Times opted to delete the immigration status of the man suspected of killing Iowa college student Mollie Tibbetts in an update to a headline about the incident Wednesday [8/22/2018]. According to the Twitter account Editing TheGrayLady, The Times made a number of changes to the headline of its story on Tibbetts's murder before finally falling on "Immigrant Is Charged In Mollie Tibbetts Murder in Iowa, and Trump Seizes on Case."
The Double Standards of Postmodern Justice. The New York Times recently hired as a writer and board member Sarah Jeong. The Times knew that in recent years Jeong had posted a series of unapologetically racist anti-white tweets. She had offered wisdom such as "#CancelWhitePeople" and expressed hatred for males. Yet when the Times discovered less graphic versions of such tweets from newly hired technology writer Quinn Norton earlier this year, the newspaper immediately fired Norton. The message of disparate treatment was that what bothers the New York Times is not racism per se, but who is the racist and who are her targets.
The Gray Lady Once Again Sanitizes Radical Islam. For many years now, the New York Times has sanitized radical Islamic groups, militant Islamic leaders and even Islamic terrorist attacks. The paper has does this by deliberately omitting critical details that would discredit Islamist groups. For example, the Times routinely describes the Council on American Islamic Relations (CAIR) as either being a civil rights or a Muslim advocacy group. In reality, CAIR was started as a front for Hamas and continues to serve as one. But over the course of more than two decades, the Times has never reported on any of the many government documents and official transcripts that prove CAIR's role as a front group for Hamas.
The New York Times has an advice column about how to 'cure' white skin privilege. Oh, the crazy, crawly things you can find on the 'style' pages of the New York Times where they apparently think no one is looking. Kid you not, they've got a 'Style' column with some woman writing as 'Whitey' into a Dear Abby-style personal problem-solving column asking a panel of leftists (of color) what she can do about all her 'white-skin privilege.'
NYT Editorial Board's Mara Gay: 'America Was Never Great' Is 'Honest,' Not a 'Gaffe'. Mara Gay, a member of the far-left New York Times editorial board, believes Gov. Andrew Cuomo (D-NY) was being honest when he said America "was never that great." She also agrees with the sentiment. During a speech before supporters Wednesday [8/15/2018], Cuomo was very clear about why he does not believe America has ever been great. After criticizing President Trump's "Make America Great" slogan, Cuomo laid out his reasoning. "We're not going to make America great again. It was never that great," he said, as his supporters laughed and gasped.
Why Normal Americans Hate the "Elites". The [New York] Times was one of several media outlets that, in their eagerness to find ammunition that Senate Democrats might use to torpedo Judge Brett Kavanaugh's Supreme Court nomination, submitted public records requests to get dirt on his wife, because she happens to work for a public entity as the town manager of Chevy Chase, Maryland. [...] Fortunately, the Times didn't have standing to get a subpoena covering the Kavanaughs' bedroom, or they surely would have used it to acquire "a unique and personalized view into the nominee." Just like they did when Sonia Sotamayor and Elena Kagan were nominated to the Court. You remember those Times investigations, don't you?
NY Times deletes 'racist' tweet about black and Latino students and calls it 'poorly phrased'. The New York Times committed a major faux pas on Saturday that would likely bury a right of center news outlet. The newspaper tweeted what was seen by many as a racist assertion that black and Latino students rarely excel in math, before deleting it for being "poorly phrased." Unfortunately for The Times, the internet is forever.
Trump's media opponents are leaping into his trap. This week, leading wordsmiths at two of the nation's major newspapers openly propounded the need for the media to work together (also known as "conspire") to defeat Donald Trump. The age of metropolitan dailies pretending to be unbiased sources of news officially is over. At the New York Times, Thomas Friedman called on the media to defeat Trump in 2020 by targeting specific demographic slices of the electorate. He thereby moves from columnist to campaign consultant. [...] Friedman wants to play the role of television producer and event manager for the entire media when it covers Trump allies.
New York Times Columnist Can't Figure Out If Racist Tweets Are A Fireable Offense Or Not. New York Times columnist Bret Stephens, an outspoken NeverTrump activist, effusively praised ABC when it fired Roseanne Barr for a single tweet, but when it comes to a mountain of racist tweets over nine years, he says his new colleague Sarah Jeong deserves a whole lot of grace and a second chance. What could possibly explain this blatant double standard?
News outlets are paying security guards for their reporters who cover Trump rallies. TV networks are hiring security guards for reporters in an effort to better protect them during Trump rallies because they believe Trump has turned the media into "a rhetorical punching bag." "The New York Times takes the safety of our reporters very seriously," New York Times spokeswoman Danielle Rhoades Ha told Politico, adding that in recent months "we have expanded measures to protect our journalists against the overall backdrop of increased threats and verbal attacks."
Attn Lying Media: No Reporters Have Been Attacked at Trump Rallies by Trump Supporters. Reports published Thursday [8/9/2018] state that media companies are hiring security guards to protect reporters at President Trump rallies in the wake of raucous, non-violent protests against CNN's Jim Acosta at recent Trump rallies. [...] What has not been reported in the smear job against Trump supporters by the media is this fact: No Trump supporter has attacked a reporter at any Trump rally. This writer covered many Trump rallies in Florida in 2016 and one in 2017 and witnessed no violence against reporters.
Thomas Friedman: Media should work together to hurt Trump. Liberal New York Times columnist Thomas Friedman said the news media should work together and saturate the public with negative coverage of President Trump in order to erode his popularity among Republican voters. Friedman said in an op-ed published Wednesday afternoon [8/8/2018] that if the media emphasize Trump's personality instead of news about the strong economy, it may discourage enough GOP voters from continuing to support the president and benefit Democrats.
The Ten Most Hateful Americans and Why they Matter. [#5] Sarah Jeong is the new darling of the New Times Editorial Board. Shortly after Jeong's hire, Twitter users unearthed disgusting, highly racist tweets in which she expressed an extreme distaste for white people. [Examples deleted for brevity, among other things.] There are scores of tweets just like these including [another example]. But the NYT didn't see that as a reason not to hire her. What else do you need to know about the NYT?
Gray Lady Dons White Hood. Jeong's amazingly racist, anti-white Twitter posts, going back to at least July 2014, never were banned, nor was she ever knocked off of Twitter. Never mind the bigoted bile that she spewed for more than four years: [...] Once all of this went public — even after what her employers call "a thorough vetting process" including "a review of her social media history" — Jeong's new bosses neither sacked nor denounced her. Instead, the Gray Lady coughed: "We hired Sarah Jeong because of the exceptional work she has done" and added that they are "confident that she will be an important voice for the editorial board moving forward." So, rather than cower in shame beneath her desk, as she should, Jeong now stands atop one of the world's highest-profile media platforms, from which she can spout her unfiltered, venomous hate.
NY Times Hires Left-Wing Bigot for Editorial Board. The New York Times stands by its decision. You see, said the New York Times in a statement, Jeong was merely being sarcastic. She was actually mocking the racism of her twitter detractors. She was, in effect, trolling the trolls.
The Editor says...
This is a well-worn Democrat tactic: A left-wing Democrat says something outrageous, and if there are any objections, they'll follow up a few days later with, "Can't you take a joke?" Examples are numerous:
[1] [2] [3] [4] [5] [6] [7] [8] [9] [10] [11] [12] [13] [14] [15] [16] [17] [18] [19] [20] [21] [22] [23] [24] [25]
The Genocidal Elite, Part I: Who's Afraid of Sarah Jeong? Rahm Emanuel famously warned against letting a crisis go to waste. In the case of the New York Times' hiring of Sarah Jeong, he's right. Make no mistake: Jeong's hiring is a crisis. It is a crisis for journalism, a crisis for elite opinion, and a crisis for America above all. Those who gloat that Jeong's hiring is merely another step toward an awakening for most Americans to the bias of the "fake news" media (which it is), or toward liberals accepting extreme positions that are electorally untenable to appease their extremist "woke" base (which it also is), are comforting themselves with minutiae to avoid the truly unsettling larger impact of this development. Jeong's hiring is more than a moment of indecent exposure for the New York Times. It is a moment of indecent exposure for the corporatist Left, represented by former President Barack Obama and composed of his core coalitions: coalitions that currently control most levers of cultural power in America.
Fake News From The New York Times. The New York Times breathlessly reports: "President Admits Focus of Trump Tower Meeting Was Getting Dirt on Clinton." But in portraying this "admission" as news, the Times is playing fast and loose with the English language. In the process, it is dishing out fake news. What Trump acknowledged was that "this was a meeting to get information on an opponent." In other words, the purpose of holding the meeting, from the Trump team's perspective, was to get negative information about Hillary Clinton. The focus of the meeting was on what the participants actually talked about. Thus, the focus and the purpose might be two different things. In this instance, they appear to have been different. It isn't news that the purpose of the meeting with the Russian lawyer was to get negative information about Clinton. This has been the president's position all along.
The soft bigotry of the New York Times. If l'affaire Jeong has taught us one thing, it's that the people who claim most vociferously to be anti-racist are nothing of the sort. On the contrary, they're obsessed with race, seeing almost everything through the prism of ethnicity. They're in favor of categorizing people according to racial criteria. What they object to is not racial discrimination, but racial discrimination against the wrong groups. Sarah Jeong is a journalist who was hired by the New York Times last week as an editorial writer. As has now become traditional, her social media history was pored over (or, as Donald Trump might put it, "poured over"). Some pungent Tweets showed up. Those that have attracted the most attention are the straightforwardly racist ones — "white people are b---s---," "#CancelWhitePeople," and so on — though, to my mind, her assertion that free speech is a conservative dog whistle is far more alarming in a journalist than any of these. Anyway, some conservatives began noisily to demand that Jeong be fired, prompting some leftists to leap to her defense on grounds that there can be no such thing as anti-white racism, because racism is all about power and privilege and oppressing minorities.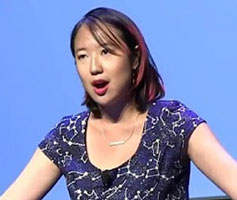 Sarah Jeong Is A Warning Sign Of Something Wrong With The Left. The more I think about it, the less I care about Sarah Jeong. I don't think I'd ever read anything she'd written before this week and having now read a few things I don't think I was missing all that much. That's not meant as a slam on her ability because I think she's actually a good writer. But the subject she writes about isn't that interesting to me. She styles herself an expert on technology, which doesn't mean she can rebuild a V-8 engine or repair a circuit board. In media parlance, it means she has opinions about social media. So... whatever. I don't even care very much about her racist tweets, per se, or even her lame excuse for making them. What does bother me is the way in which the left collectively responded to her tweets with a big shrug.
Get It Through Your Head That Progressives Hate You. You can tell that leftists hate you by the way that leftists tell you that they hate you. Take Sarah Jeong, please — hey, the New York Times was happy to get this bitter creep onboard because of her history of virulent racism. The Times saw her hate as a plus, not a negative, an asset, not a liability. You can't draw any other conclusion — if you take her tweets, trade out the word "white" — man, does she ever hate white people — and toss in some other skin hue you'd have a pink-haired millennial David Duke. And the NYT saw that and said, "Awesome, sign her up!" You may think you know the deal about her prejudice, but you don't really know the deal, not until you read the full extent of the Ku Klux Korean immigrant's portfolio of bigoted tweetery. It's not merely ugly, stupid, and immoral — it's downright sociopathic. Yet the flagship of the floundering fleet that is America's liberal media saw the iceberg and went full speed ahead.
Sarah Jeong: Even Worse Than We Realized. Apologies if the previous post on the newest member of the alarmingly powerful New York Times Editorial Board left the impression that Sarah Jeong can be summed up by her volcanic hatred for white people. There is more to her than that. From the depths of her profound intellectual sophistication, it doesn't take long to dredge up other hatreds — for example, for the police...
This just in: The New York Times has no power.
Democratic Strategist Claims Sarah Jeong Tweets Aren't Racist Because Racism Is 'Prejudice Plus Power'. Over time, the progressive movement has carefully augmented the definition of racism so as to protect individuals who share their political and social beliefs from ever being labeled a racist. While Merriam-Webster defines racism as "a belief that race is the primary determinant of human traits and capacities and that racial differences produce an inherent superiority of a particular race," progressives add to this definition a dynamic of power. To progressives, an individual or group cannot be racist if they are not in a position of power. Thus, Sarah Jeong cannot be racist against white people because she is not a dominant player in the American racial landscape.
NYT's embattled Sarah Jeong: President Trump is 'basically Hitler'. The New York Times said it vetted her social-media history before Sarah Jeong was hired last week, which means the newspaper was presumably aware of her "Trump is Hitler" tweets. In addition to firing off anti-white and anti-cop missives, Ms. Jeong, the latest member of the newspaper's editorial board, repeatedly equated Donald Trump to Adolph Hitler on Twitter leading up to the 2016 presidential election.
Rise of the Social Justice Dragon Lady. Last Wednesday [8/1/2018] The New York Times announced that it had hired 30-year-old Sarah Jeong as their lead technology writer, praising her "verve and erudition" and forgiving the fact that the sourpussed, pan-faced, smug-beyond-all-reason kimchee-nibbler sometimes dyes her hair pink. Jeong was born in South Korea. You may have heard of that country, seeing as how around 35,000 mostly white male American soldiers died to save it from communism's grip and to enable ingrates such as Sarah Jeong to come here and yip endlessly about how much she hates white men.
Sarah Jeong: 8 or 9 Racist Tweets? More Like 800. Remember how early reports had newly-hired New York Times editorial board member Sarah Jeong only spewing a few racist Tweets, and only in reaction to trolls? Now Twitter user @nickmon1112 has gone back through her Twitter timeline, and discovered: Yeah, not so much.
Candace Owens Copies Racist Tweets by Sarah Jeong but Replaces "White" with "Black" and Is Immediately Suspended! On Saturday [8/4/2018] conservative Candace Owens copied the racist tweets by Sarah Jeong but replaced "white" with "black" and "Jewish." She was immediately suspended! This is the far left insanity and racism being pushed by Twitter!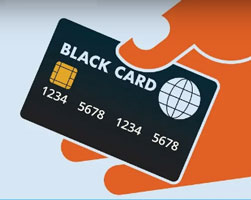 Candace Owens tells you everything you need to know about playing the black card. An exclusive card more valuable than any from Visa or American Express? These cardholders are a very specific group of people, defined by the color of their skin, says Candace Owens, Communications Director for Turning Point USA.
Get Whitey. When it emerged yesterday [8/2/2018] that the Twitter feed of the New York Times editorial board's latest appointee, Sarah Jeong, crackled with nasty and puerile racial invective, it was generally assumed by many — including her defenders — that she would be let go before the day was over. Jeong's Twitter remarks were so over-the-top — calling white people "groveling goblins" whose pale skin should force them to live underground, like Morlocks; saying "#CancelWhitePeople"; and exulting in being "cruel" to old white people — that it seemed absurd that the venerable Times editorial board, of all places, would welcome the thumbs that tapped out such jejeune trash. But it turns out that Jeong is keeping her job, and that the Times knew about her comments when they hired her.
The New York Times Has the Right to Hire Racists. If we've learned one thing from our moral, ethical, and intellectual betters on the left, it's that all white people are racist. And if we've learned a second thing from our leftist betters, it's that racism against white people is impossible because white people in America have all the power. This includes white people with no power over anything whatsoever. Even the most hopelessly impoverished Appalachian meth-head still has white privilege, and that privilege needs to be checked constantly. If you don't think so, that just proves you're a racist. This is why the story of writer Sarah Jeong is so instructive.
A Half Century of Amnesia. [H]ow can the Democrats build an "excited, diverse coalition" among people who, by definition, don't really have much in common? The Democratic coalition is always on the verge of flying apart in fratricidal enmity. At the moment, for example, the media is stoking black rage toward white women, whom The New York Times is repeatedly calling by the racist slur "Becky," for summoning the police when they feel unsafe. The one thing the Democrats' confederacy of the dissimilar can share is hatred of whites, or, to be precise, cisgender straight white men. This is why the press keeps pushing endless hate hoaxes.
The New York Times Must Explain Why Its Racial Double Standard Is Good For Society. The New York Times announced this week that it had hired Sarah Jeong as a new member of its editorial board. As is the unfortunate custom in the modern media age, this hiring led to a dissection of Jeong's Twitter history in the hopes of finding something offensive. It did not take long for offensive things to be discovered. But in this case the offensive content came with a twist unique to the age of privilege. What the tweets described — and there were many — was how horrible white people are. Among her many discriminatory tweets about white people, one showed a graph equating being white with being awful. The others were no better. The Times recently fired the writer Quinn Norton within hours of hiring her because of alleged racism, but has decided to stand by Jeong.
NYT's Sarah Jeong Also Sent Anti-Cop, Anti-Men Tweets. Sarah Jeong, the newest editorial board member of The New York Times, is also responsible for extensive anti-cop and anti-men tweets. The New York Times stood by Jeong on Thursday [8/2/2018] after the internet surfaced her old racist tweets, however her full Twitter history reveals her ire was not only directed toward white people. The NYT claimed that Jeong was "imitating" the behavior of people who harassed her online, but this does not explain why she was tweeting "f--- the police" and encouraging people to "kill all men."
Immigration Will Not Make America Great Again. Although the "progressive left" fetishizes open borders for its own sake, they nevertheless festoon their arguments with economic ornamentation in an attempt to convince fiscally-minded fence-sitters. Usually, their ploy fails. But every once in a while a seemingly convincing argument is made. Ruchir Sharma's piece in the New York Times, entitled "To Be Great Again, America Needs Immigrants," is one such piece. Not only does Sharma rely on uncontested data, but his logic seems solid. But looks can be deceiving. Sharma's argument suffers from two main problems: Sharma misunderstands how economies grow, and he conflates gross domestic product (GDP) with prosperity.
Hey Media, You Started It. New York Times publisher A.G. Sulzberger says he told Trump his anti-press rhetoric could lead to violence. But the media's anti-Trump rhetoric already has led to violence: public officials rat-packed and bullied, Trump supporters harassed, White House spokes-lady Sarah Sanders having to live under guard. And yet when Sanders pointed this out to Look-At-Me-I'm-Jim Acosta, Acosta stormed out of the room. [Indeed], if he doesn't want to hear the truth, he could just stay home and watch CNN.
New York Times stands by new tech writer Sarah Jeong after racist tweets surface. The New York Times is standing by its hiring of tech writer Sarah Jeong despite several derogatory tweets of hers aimed at white people, which were recently unearthed on her Twitter account. "Oh man it's kind of sick how much joy I get out of being cruel to old white men," Jeong wrote in July 2014 in one of several old messages that have gone viral. Social media reactions first flared on Wednesday with images of incendiary tweets from an unverified Twitter account that looked to belong to Jeong. They surfaced shortly after The Times announced she was joining the paper.
The Asian David Duke. It's ironic to me that at the same time Jim Acosta is wringing his hands over the disdain Americans feel toward so-called "journalists," the New York Times hired and is now defending an Asian "journalist" who deeply despises white Americans. Poor Jim. He just can't catch a break. It's hard to stand on sanctimonious grounds about how virtuous your profession is while those in your profession are defending the Asian David Duke.
The Racism of New York Times Reporter Sarah Jeong. Racism — hatred of racial groups rather than of individuals for their actions — is pernicious. Since humans are so group-oriented, racism appears to be tempting, but that means that social norms need to condemn it strongly and consistently. The most recent, high visible toleration of left wing racism is by the New York Times, which hired Sarah Jeong. Jeong has a first-rate left-wing resume, but her Twitter feed is filled with outrageously racist tweets, such as "Oh man it's kind of sick how much joy I get out of being cruel to old white men" and [other stuff]. If these were tweets of a white person or a right winger, the New York Times would never, ever hire that person. Why would they hire Jeong?
New York Times Hires Left-Wing Writer With Long History Of Racist Tweets. The New York Times announced Monday it hired left-wing writer Sarah Jeong, who has a long history of racist tweets, to be the lead technology writer for the newspaper's editorial board. Jeong repeatedly posted racist statements via her Twitter account. The announcement of Jeong's hiring comes after The New York Times fired its previous brand new hire for the same technology writer position last February because she "retweeted a racial slur." Far from merely retweeting a single offensive post, Jeong likened an entire race of people to "goblins," compared their conversations to animals urinating, and declared that skin color entirely determined whether an individual was awful or not.
NYT Responds To Racist Writer Controversy: We Knew About Her Racism, And We Don't Care. In a statement released Thursday [8/2/2018], The New York Times defended its most recent hire, Sarah Jeong, saying the newspaper of record knew about her history of racist tweets and hired her anyway. As The Federalist reported this morning, Jeong has repeatedly said disparaging things about white people, such as that they are "only fit to live underground like groveling goblins," among other things, but this did not stop The New York Times from hiring her as the lead technology writer for its editorial board.
Some Racism Is More Equal Than Others. The New York Times named anti-white racist Sarah Jeong to its editorial board earlier this week. The new hire's social media history reads like something David Duke might write, if only the reader substitutes "white" for all mentions of his disfavored groups. Her posts featured the hashtag "#CancelWhitePeople," proclaimed Caucasians "only fit to live underground like groveling goblins," and fantasized of the coming extinction of the race she seeks to erase. "Oh man," she tweeted, "it's kind of sick how much joy I get out of being cruel to old white men."
It Wasn't Just a Few Tweets. In the uproar over Sarah Jeong's hiring by the New York Times, the focus on her history of hateful rhetoric against white people overlooked her many other expressions of hatred — toward males, Christians, and police officers, among others. While her new employers have apparently accepted Ms. Jeong's disingenuous excuse that she was "engaged in what I thought of at the time as counter-trolling... intended as satire," this cannot explain away her demonstrable habit of deliberately insulting entire groups of people. It is not true, as she claimed, that she merely "mimicked the language of my harassers." Consider, for example, Ms. Jeong's oft-expressed contempt for Christians, including her own parents. She "grew up in a conservative evangelical Christian bubble," but "became an annoying atheist" as a teenager, when she was "trapped in a fundamentalist Christian school." After attending the University of California-Berkeley and graduating from Harvard Law, Ms. Jeong pronounced herself a member of the "educated left wing elite." She says she has now "mostly cut myself off from the conservative evangelical community," and condemns Christians who "indoctrinate children" with "reality-denying belief systems." Ms. Jeong's spiteful denunciation of her parents' faith was not "counter-trolling," nor was it "intended as satire." These anti-Christian remarks appear to express her sincere beliefs, no different from her many similar expressions of contempt for other groups.
Let's all thank Sarah Jeong for showing us what liberals think of white people. Anti-white racism is endemic among liberals. For liberals, it is permissible to show disdain for white people in a way that would be totally, totally unacceptable to show for blacks, Hispanics, or people of other "colors" of the liberal rainbow. This is clearer than ever now that we have been exposed to the ravings of The New York Times' latest hire, editorial writer Sarah Jeong. [...] I think Jeong was hired not in spite her racist rants, but rather because of them. Because I think Jeong says exactly what liberals feel.
New York Times defends double standard in hiring writer with a history of explicit, hateful racism directed at whites. The New York Times has provoked a firestorm with its hiring of Sarah Jeong as a member of its editorial board, despite apparently having checked her social media history and found explicitly hateful anti-white tweets in abundance. Following criticism of the hire, a tweet from "Communications," presumably its corporate communications department, headed by Senior Vice President Eileen Murphy, tweeted out a justification that indicated they had reviewed her tweets and other social media messages.
Yes, Anti-White Racism Exists. Earlier today [8/2/2018], the New York Times announced that it had hired Sarah Jeong to join its editorial board, and — like clockwork — controversial old tweets promptly surfaced. In them, Jeong expressed some rather interesting views [...]." For good measure she also compared white people to "groveling goblins" and questioned why they're "genetically predisposed to burn faster in the sun." In a statement, Jeong expressed her regret and explained that she was engaging in "counter-trolling" designed to mimic the language of racists who harassed her online. The Times is standing by its hire. Good. It's time to end termination-by-Twitter and debate bad ideas head-on.
New York Times stands by new tech writer Sarah Jeong after racist tweets surface. The New York Times is standing by its hiring of tech writer Sarah Jeong despite several derogatory tweets of hers aimed at white people, which were recently unearthed on her Twitter account. "Oh man it's kind of sick how much joy I get out of being cruel to old white men," Jeong wrote in July 2014 in one of several old messages that have gone viral. Social media reactions first flared on Wednesday with images of incendiary tweets from an unverified Twitter account that looked to belong to Jeong. They surfaced shortly after The Times announced she was joining the paper. The Times issued a statement on Thursday [8/2/2018] declaring that it had reviewed her social media history during the hiring process and was standing by the decision to bring her aboard.
New York Times hypocrites knowingly hire racist writer. Clearly there's no vetting process at the New York Times, or else management at the newspaper is just foolish enough to think that no one will look at new employees' social media histories.
Trump vs. the New York Times — The truth about media bias and the liberal press. Media bias has long been a complaint, especially among conservatives. Reporters and others in the media usually associate with like-minded members of their "tribe" and so either deliberately separate themselves from the majority of the nation in "flyover country," or oppose the values, faith and politics practiced by many. Generally they only read or watch each other's work. How do I know? A columnist for the Times once asked me if I am still writing this column. I read his but clearly he doesn't read mine, or probably most other conservatives. Examples of bias, whether in the way stories are covered, or ignored, are legion. One doesn't have to visit only conservative websites, such as the Media Research Center and its sister publication Newsbusters to find examples.
NY Times Makes Reportedly False Claim About Israel's Founder, Refuses To Offer Retraction. The New York Times, caught repeating a reportedly false claim from 1987 that Israel's founding prime minister David Ben Gurion wanted Israel to give up land it had conquered in the 1967 Six-Day War, has refused to correct the error even though the 1987 claim was debunked three months ago. As historian Martin Kramer pointed out on Saturday, in last Monday's edition of the Times, the false claim occurred on page A1 in an article by Max Fisher titled, "Israel, Riding Nationalist Tide, Puts Identity First. It Isn't Alone."
NYT Publisher Complains to Trump About 'Potential' Violence Against Journalists — Ignores Over 500 Violent Attacks on Trump Supporters. There have been over 538 violent attacks against Trump supporters since the 2016 election season. The liberal mainstream media has ignored these violent attacks. Instead, the liberal fake news media has fomented, encouraged and threatened, and harassed Trump supporters.
Trump manages relations with the media on his terms. President Trump recently warned thousands of veterans at a convention not to believe the "crap" about him in the media, and his White House last week barred a reporter from a public event as punishment for asking him uncomfortable questions loudly during an Oval Office meeting. On Sunday, the president engaged in a war of words with the publisher of The New York Times, who said Mr. Trump's portrayal of the press as an enemy of the people is "dangerous and harmful to our country." "I told the president directly I thought his language was not just divisive but increasingly dangerous," Times publisher A.G. Sulzberger said of a recent meeting with Mr. Trump. "I warned that this inflammatory language is contributing to a rise in threats against journalists and will lead to violence."
The Editor says...
Trump's language is inflammatory? Has the New York Times kept track of the "inflammatory language" being dispensed by Maxine Waters, et al?
How President Trump plays the New York Times. After Trump's tweet, [A.G.] Sulzberger told the Associated Press, "I told the president directly that I thought that his language was not just divisive but increasingly dangerous." Seriously? If criticism is dangerous, then the New York Times and the rest put President Trump's life in jeopardy daily. "I warned that it was putting lives at risk, that it was undermining the democratic ideals of our nation, and that it was eroding one of our country's greatest exports: a commitment to free speech and a free press," Sulzberger said. Notice the difference. President Trump gave examples of Fake News while Sulzberger was hysterical.
Trump Negotiates, the Press Lies. [Scroll down] On Thursday [7/26/2018], European Commission President Jean-Claude Juncker agreed to negotiate with no preconditions for zero tariffs and subsidies. This may not be victory for Trump, but it's certainly a victory for him, the justification of his strategy and a confirmation of his skills. How did our corrupt and dishonest press report it? The original headline in the New York Times (a former newspaper) read: With Surprise Deal, U.S. and E.U. Step Back From Trade War. Which raises the question: surprise to whom? Not to Trump. He said it was going to happen! A surprise only to the New York Times, so immersed in its own false narrative that reality takes them off guard.
Captain Ahab Aims Harpoons at Trump's Tweets. The New York Times reports that special counsel Robert Mueller "is scrutinizing tweets and negative statements from the president about Attorney General Jeff Sessions and the former FBI director James B. Comey." The Old Gray Lady did not divulge whether the special counsel also seeks the names of books checked out on the president's library card. As far as fishing expeditions go, this one evokes one such adventure told 167 years ago — and still checked out of libraries today. "But shall this crazed old man be tamely suffered to drag a whole ship's company down to doom with him?"
New York Times Targets Kavanaugh's Wife. I wouldn't have thought my opinion of the New York Times could get any lower, but it just did. NTK Network reports that the Times, as well as the Associated Press, has requested emails sent or received by Ashley Kavanaugh in her capacity as town manager of Chevy Chase, Maryland: [...] They won't find anything, of course. But this is what I want to know: When Stephen Breyer, Ruth Ginsburg, Sonia Sotamayor and Elena Kagan were appointed to the Court, did the Times, or the Associated Press, try to investigate documents sent or received by their family members?
Jumping the New York Times Invisible Fence. For generations, Times editors and reporters were sharp, capable, often self-important, usually liberal but honorable and patriotic, Arthur Schlesinger-style. The news was solid and non-partisan; editorial opinion was clearly defined. Most of these worthies have moved on, retired, or died. Beginning with the odious Howell Raines, who took over as executive editor in 2001, their successors embrace message journalism and stealth propaganda. Their mission is to redeem a nation at fault. It's a vocation, like the clergy. Readers participate in the sacred through gestures and incantations. They praise, give thanks, repent, and damn. When you hear, "I read it in the Times," announced with religious elation, it's best to say nothing. The Times is a harsh goddess. When a threatening idea gets too close, its invisible ideological fence buzzes with warning. Like obedient dogs, Times readers wear their collars with pride. The collars keep them safe from the Forbidden Zone. Crime and the ruination of cities, for example, or Zionism and jihad; immigrants gaming goodwill and guilt; women trying to be men and ending up unhappy or crazy.
Strzok Farce Shows Obstacles to Opening TWA 800 Case. [Scroll down] In the case of TWA 800, the [New York] Times has much more at stake. TWA 800 crashed in the Times' backyard. Given the paper's power and proximity, the FBI talked almost exclusively to Times reporters. In the first two months of the investigation, the Times reported the facts as the FBI provided them. In that those facts did nothing to harm the re-election chances of Bill Clinton in November, the Times saw no reason to challenge them. The Times' myopia became obvious one month into the investigation, when reporter Andrew Revkin introduced readers to Witness 136, Michael Russell. Russell told the FBI he was working on a survey vessel a mile offshore when "a white flash in the sky caught his eye." Of the of the 258 FBI witnesses to a likely missile strike, Russell was the only one the Times ever interviewed.
Democrats Endorse Judicial Tyranny. Essentially the Democrats who run the NYT are saying that because Congress won't do what they want it to do — that's what they mean by "gridlock" — a group of five rich white lawyers on the Supreme Court should take over the job of running the country. This is nothing less than a call for revolution and a demand that America become a banana republic ruled not by the people but by a few rich lawyers. While this openness about their beliefs is new for Democrats, they've been espousing their desire to turn America into an authoritarian state for decades.
Everybody Is Wrong About The Ali Watkins Scoops-For-Sex Scandal. One of [the NYT's] reporters was found to have been sleeping with someone she covered at her previous newspaper. The news went public when her ex-boyfriend was arrested for lying to the FBI about his voluminous contacts with reporters. To further complicate matters, her records had been seized by the Department of Justice during its investigation into the ex-boyfriend.
NY Times Drools Over Possible Democratic Midterm Wins, Targets Individual Republicans Daily. In case you had any doubts, the New York Times really, really wants Democrats to take control of the House and Senate in November. [...] When the paper isn't hinting that individual Republicans should be run out of Democratic areas, they're celebrating any sign of Democratic strength, no matter how indirect and presumptous. A story on Sunday ironically rejoiced at the win of a white woman instead of a minority Cuban-American in the Democratic primary for a district that includes the Cuban exile community "Little Havana" interpreting the win broadly to mean conservative anti-Communism is weaking its hold.
Unaccountable Big Media Personified. As Americans were finalizing their holiday plans on July 3, the New York Times quietly announced that Ali Watkins, the reporter caught up in a federal investigation into illegal leaks of classified information, would be reassigned rather than fired. [...] Get that, all you ambitious J-school students? Even though Baquet admits his reporter flouted the basic ethical standards of journalism as well as the paper's internal conduct guidelines, she can keep her job. You can cheat, lie, break the company's rules, embarrass an entire profession and you will still get to work at one of the nation's top newspapers!
No Virgins in the Gray Lady's Whorehouse. Just when you thought contemporary journalism couldn't sink any lower, along comes Ali Watkins, now 26, a reporter for the New York Times whose rapid rise through reporting's corrupt and partisan ranks includes stints at the Huffington Post, BuzzFeed, and Politico. Back in February, Ms. Watkins suddenly became the object of official attention when the feds seized her email and phone records as part of an investigation into a prominent Senate staffer, James Wolfe — the former security director for the Senate Intelligence Committee and a Democrat, of course. Then, in June, Wolfe was arrested and charged with lying to the FBI, which was investigating leaks from the committee to select reporters... among whom was Ali Watkins. It turns out that Watkins had been involved in a sexual relationship with Wolfe for three years, although at the time of Wolfe's arrest she had moved on to greener pastures, including other staffers on the committee.
New York Times Reassigns Reporter Who Had Sexual Relationship With Source. The New York Times has reassigned reporter Ali Watkins after news emerged last month that she had a sexual relationship with a source while she was at her previous employer BuzzFeed. "We are troubled by Ali's conduct, particularly while she was employed by other news organizations," said Times executive editor Dean Baquet in an internal memo on Tuesday. "For a reporter to have an intimate relationship with someone he or she covers is unacceptable. It violates our written standards and the norms of journalism."
Former editor Jill Abramson rips New York Times coverage. Jill Abramson, the former New York Times executive editor who was ousted in 2014, blasted the Gray Lady Thursday for what she said was its cluelessness in tracking the upset victory that Alexandria Ocasio-Cortez pulled off over 10-term incumbent Congressman Joe Crowley. But her pique quickly escalated beyond the initial tweet when she claimed in a subsequent email to a reporter that the Times was being "narcissistic" for allowing TV cameras inside and needed a "course correction" in part for its coverage of its own young reporter Ali Watkins. Watkins is at the center of a leak investigation for receiving classified government material from her then-boyfriend, and she was the subject of a lengthy story in the Times last week.
New York Times details conditions of Obama-era family detention center. The New York Times published a shocking first-hand account of the horrific conditions a mother and her young son faced after immigrating to the United States from El Salvador. Unfortunately for the mainstream media that continues to portray President Trump as the face of immigration crisis — the asylum seeker's tragic account happened in 2014. The author of the Op-Ed wrote on the condition of anonymity because of "gang-related threats" her family has faced. She explained that she wanted to flee the violence of her native El Salvador, so she came to the United States, seeking a new life, during President Barack Obama's second term in the White House. "Instead, I found myself locked in a family immigration detention center. It's an experience that I wouldn't wish on anyone," she wrote.
New York Times Coverage of Iran Protests Faulted as 'Shameful,' 'Propaganda'. Supporters of Israel and of freedom in Iran, along with some prominent journalists, are sharply criticizing The New York Times for the newspaper's tilted coverage of protests in the Islamic Republic. The director of the Human Security Centre in London, Julie Lenarz, who is a senior fellow at The Israel Project, tweeted a reaction to a New York Times headline that said, "Iranian authorities have clamped down on Tehran after demonstrators across the country ignored calls for calm." "Wow, NYT blames people protesting for basic rights that situation spiralled out of control. They are oppressed by a brutal clerical regime," Lenarz wrote.
New York Times pitches its honeytrap reporter Ali Watkins over the side. The New York Times is doing stories on its own reporter, a perfect instance of meta-reportage, under the pious guise of how the Ali Watkins revelations of sleeping with sources — multiple sources, it turns out — "rattled the Washington media." Really? Never seen a news agency do a full investigative piece, full of unsourced gossip, about one of its own reporters and her love life, from all her chatty, unnamed colleagues, as straight news. It's actually more like high school.
Media's Defense of Ali Watkins Exposes the Swamp. In an attempt to defend its hiring of Ali Watkins, the young reporter caught having an affair with a now-indicted Senate staffer responsible for protecting some of the country's most delicate secrets, the New York Times needs the reader to believe several incredible things: [...]
New York Times reporter broke the biggest rule in journalism. On previous occasions, I've written about the blunt way legendary New York Times editor Abe Rosenthal dealt with a conflict of interest. The story bears repeating after the indictment of a top Senate official over his contacts with reporters, including one from the Times with whom he had a romantic relationship. The Rosenthal standard on conflicts was shaped by a remarkably similar case decades ago. Soon after a woman who had covered politics in Philadelphia was hired by the Times, a story from Philly said she had a secret affair with a politician she covered and accepted expensive gifts from him. Rosenthal asked the woman if the story was true and, when she replied yes, immediately told her to clean out her desk and said she would never again work for the paper.
The New York Times wants to bury a reporting scandal. Government documents were leaked to the press. A reporter's communications were seized by the government without her knowing about it. And a former Senate aide was charged with "lying repeatedly to investigators about his contacts with three reporters." It sounds like the makings of the next Hollywood production about the news media's war against President Trump. There's only one problem. The reporter wasn't just involved with her stories. She was involved for three years with the man the feds charged.
A Conspiracy Theory About a Conspiracy. The [New York] Times is unaware of the sublime hypocrisy of accusing the President of the United States of "sowing widespread suspicions about the government" even as it is doing just that. The paper of broken record specializes in spreading conspiracy theories claiming that President Trump didn't actually win the 2016 election but that "nefarious, hidden forces" made it happen. [...] Before the Democrats used conspiracy theories to delegitimize Trump's electoral victory, they used them to delegitimize Bush's victory. [...] Why don't conspiracy theories ever prosper? Because if they appear in the New York Times, they aren't conspiracies. What is the Timesian definition of a conspiracy theory? Anything favorable to Trump.
Veteran Senate Intelligence Committee staffer, in romantic relationship with NYT reporter, arrested in probe of leaks. James A. Wolfe, former director of security for the Senate Intelligence Committee, lost everything when he was arrested by the FBI last night. A review of media reports on the background of the arrest suggests that the lure of romance with a nubile female journalism school student was his undoing. This is a story with at least two compelling themes: the apparent betrayal of national security by a veteran Senate staffer and the rise in a mere four years of a comely female reporter in a romantic relationship with Wolfe from unpaid undergraduate intern at McClatchy to the lofty post of New York Times national security correspondent.
Byron York: Key Claims in December NY Times Trump-Russia-Papadopoulos Story Are False. On Friday evening [6/1/2018], Fox News's Martha MacCallum interviewed Washington Examiner chief political correspondent Byron York and during that interview's second half, the pair discussed new information which contradicts key contentions about "How the (Trump)-Russia inquiry began" made in a December New York Times story. That story claimed that the investigation began as a result of a May 2016 "heavy drinking" meeting between low-level Donald Trump campaign foreign policy adviser George Papadopoulos and Alexander Downer, Australia's top diplomat in Great Britain. That December 30 Times story, involving six of its journalists, is based entirely on four anonymous "current and former American and foreign officials" who supposedly had "direct knowledge of the Australians' role" (strangely plural, despite the fact that Downer was the only named Australian involved in the story). It appeared just as the Obama-era FBI and Department of Justice were coming under fire for appearing up to that point to have relied primarily, if not solely, on the unproven allegations contained in the infamous Steele dossier as the basis for opening its investigation into alleged Russia-Trump campaign collusion.
Yashar Ali Fabricates Quote to Defend False Report from 'New York Times'. Over the holiday weekend, Yashar Ali, a writer at New York Magazine and HuffPo, claimed he had a smoking gun recording of a White House background briefing that proved President Trump lied when he refuted something reported in the New York Times. The only problem is that — in the apparent hope no one would actually listen to his "smoking gun" recording — Ali made it all up. The storm began Friday when the far-left New York Times published a piece mischaracterizing a background briefing from a "senior White House official." According to the Times, this senior official told reporters that even if the meeting with North Korea was "reinstated, holding it on June 12 would be impossible, given the lack of time and the amount of planning needed."
Democrats and the media are losing the culture war. The New York Times ran three pieces this week opposing the NFL's new policy requiring players to stand for the national anthem during games, or remain in the locker room if they won't. The Times' liberal columnist David Leonhardt called the rule "unpatriotic" because it "reject[s] a basic American value." (Making a statement about your special interest during a short patriotic song, you see, is exactly what the Founding Fathers had in mind.) The paper's editorial board injected its favorite topic, race, writing that the NFL "capitulated to a president who relishes demonizing black athletes." And in keeping with the Times' long tradition of publishing conservative voices so long as their opinions are weak, the paper gave space to anti-Trump writer David French to denounce "the conservative mob" for approving of the NFL's policy. By "conservative mob," French apparently means the large majority of Americans who don't approve of NFL players kneeling during the national anthem.
10 Key Takeaways From The New York Times' Error-Ridden Defense Of FBI Spying On Trump Campaign. [#3] Still No Evidence of Collusion With Russia: In paragraph 69 of the lengthy story, The New York Times takes itself to task for burying the lede in its October 31, 2016, story about the FBI not finding any proof of involvement with Russian election meddling.
The Russia-Facebook election 'scandal' is a whole lot of nothing. Some of the smart editors over at The New York Times recently pulled together an interactive tool to help citizens better understand the depth of Russian infiltration into American institutions during the 2016 election. "See Which Facebook Ads Russians Targeted to People Like You" the story promises. And true to its word, readers are now able to pinpoint exactly how social media tricked them into voting for Donald Trump.
If you see something, say something (unless you see black). There has been a spate of articles recently about white people calling the police against black people who were apparently doing nothing wrong, like sleeping in a common room in Yale, attempting to urinate in Starbucks, shopping at Nordstrom Rack, and playing on a golf course. The idea behind these articles is that white people are racist. [...] A few points to make about this: [#1] The liberal media rarely report the whole story about these events. Specifically, they often exclude key facts, such as the suspicious behavior that made people call the police. [#2] These stories are cherrypicked. We see the ones reported where the black people have committed no crimes. There are never, ever stories of the times black people are arrested for crimes after someone phones in a "suspicious person" report. What percentage of suspicious persons reports end up being valid? The [New York] Times doesn't want to know; it just wants more stories of stereotypes. [#3] Liberals insist that citizens be disarmed because the police will protect them. Now they are saying citizens shouldn't call the police.
The New York Times Can't Even Keep Its Lies Straight. The reason The New York Times published its "Crossfire Hurricane" puff-piece yesterday is obvious to those following along. Tireless investigators like Inspector General Michael Horowitz and House Intelligence Committee Chairman Devin Nunes are hot on the trail of unprecedented criminality by the Obama administration. Some careful observers have identified multiple conflicts within the Times story, which was an obvious attempt by those implicated in the scandal to leak their way to a positive spin.
NY Times fails to deliver 200K papers because of plant outage. Hundreds of thousands of New York Times subscribers didn't get their papers Friday morning, with the company blaming a power outage at its printing plant in Queens. The snafu at the printing facility in College Point affected about 200,000 customers — nearly 40 percent of the Times' circulation nationwide — "across the tri-state area," the company said. "Delivery in Manhattan and New York City boroughs may be several hours late, with next-day deliveries in some cases" the Grey Lady told confused print subscribers in an e-mail that many of them didn't receive until the afternoon.
New York Times slams AWOL Pompeo, then learns he was rescuing Americans. As the New York Times was bashing Mike Pompeo for being missing in action while President Trump tore up the Iran nuclear deal, it turned out the secretary of state was busy rescuing three Americans who have been held captive in North Korea. In an apparent jab at the administration, The Times' headline said, "At a Key Moment, Trump's Top Diplomat Is Again Thousands of Miles Away." The Times' story noted that "Senior State Department officials were momentarily speechless on Tuesday when asked why Mr. Pompeo did not delay his trip by a day to be in Washington during Mr. Trump's Iran deal announcement."
Why Did The NY Times' Metro Editor Resign Yesterday? The Times Won't Say. Yesterday, NY Times metro editor Wendell Jamieson resigned his position at the paper after an "internal investigation" revealed... something. HuffPost published an email sent out by the Times to its explain the change to their own newsroom.
The New York Times' Hatchet Job On Devin Nunes Is Riddled With Errors. Jason Zengerle publicly announced his profile of Rep. Devin Nunes, R-Calif., in today's [4/29/2018] New York Times Sunday Magazine with the snarky tweet, "My latest for the @NYTmag on Devin Nunes, who's been propagating, not to mention falling for, conspiracy theories since before the Deep State was even in a gleam in Donald Trump's eye." It's an accurate summation of the hit he attempted to place on Nunes, the chairman of the House Permanent Select Committee on Intelligence (HPSCI). The only problem is the case he attempts to make is riddled with errors and full of embarrassing and deliberate material omissions.
New York Times Editorial Board Begs Justice Kennedy Not to Retire. Remember all those times during the Barack Obama presidency when the New York Times begged Justice Anthony Kennedy to not retire from the Supreme Court? No? Well, that's probably because it never happened. However, now that Donald Trump is president, the Times is begging Kennedy, considered to be a swing vote, to remain on the High Court bench.
The Parallel Universe of the New York Times. It had long been my opinion that the writers and editors of the New York Times and, by extension, their readers live on a different planet — the planet where a martini costs $20. But, upon perusal of the Sunday Review section, I see that I was wrong. They do not live on another planet. They live in another cosmos — a universe with different physics, different mathematics, different scientific constants, and different laws of nature.
The New York Times Best-Seller List: My Response to the Times' Response. [Scroll down] Of course, in order to assume The New York Times is unbiased when it comes to conservative and religious books, one has to assume The Times is unbiased when reporting on other conservative and religious matters. And it isn't. But even if one does believe The Times has no ideological agenda, its best-seller list is still the most inaccurate of all major best-seller lists. That's why none of The Times' tweets contradicted anything I wrote. Instead The Times did what progressive institutions and individuals routinely do when differed with: attacked the individual.
The New York Times Best-Seller List: Another Reason Americans Don't Trust The Media. About half the American people do not believe the mainstream media tell the truth. They believe the media are more interested in promoting their left-wing views than reporting the truth. [...] In order to think it is mere coincidence, you have to believe The New York Times more than reality itself, which about half the country seems to. While The Times occasionally lists conservative books and, very rarely, religious books, after comparing the list and the BookScan list, the Observer concluded in 2016: "If you happen to work for The New York Times and have a book out, your book is more likely to stay on the list longer and have a higher ranking than books not written by New York Times employees. ... If you happen to have written a conservative-political-leaning book, you're more likely to be ranked lower and drop off the list faster than those books with a more liberal political slant." In other words, The New York Times best-seller list is not a best-seller list — which even The New York Times once acknowledged.
American Pravda Wins Pulitzer. [Scroll down] The days of the New York Times as a reliable, salient, or sane source of news have passed. It exists now as an ideological apparatus of the progressive state, shilling for the hard-Left and the bureaucrats who pander to them. It is least of all doing good work for the public. A look back at one of their worst propaganda pieces in recent history is instructive, not only on the sad state of the New York Times, but mass media overall.
Possible tie between journalism and reality. The New York Times bragged that it shared a Pulitzer with the Washington Post "for coverage that unearthed possible ties between Russia and President Trump's inner circle." By unearthed they mean published Bobby Mueller's leaks designed to coerce innocent men to plea bargain to crimes they did not commit. [...] Giving Pulitzers to partisans for publishing Democratic Party lies sets a new standard for American journalism.
No, Trees Are Not People Too. For a newspaper that prides itself on its supposed devotion to science and rationality, the New York Times sure does publish a lot of tripe anthropomorphizing plants. For example, there was that professor who appeared in the Sunday Opinion section arguing that "peas are a who," and that humans should only eat fruit and vegetables from perennials that we harvest "as a gift of vegetal being." Then there was the Times' science columnist (!!) Natalie Angier claiming the plants "are the ethical autotrophs" because they don't kill to stay alive. (Well, there are those Venus flytraps, but never mind.) Now in the Book Review, novelist Barbara Kingsolver seriously asserts in her review of a novel in which trees are characters, that they are people too.
The Media's War On Freedom Of The Press. In '08, the New York Times published an op-ed by Obama, but rejected McCain's response. It just published an editorial titled, "Watch Out, Ted Cruz. Beto is Coming" which appears to have no purpose other than to help Beto O'Rourke raise money from New York Times readers. [...] "In one instance, The Enquirer bought but did not publish a story about an alleged extramarital relationship years earlier with the presidential candidate," the Times sniffs. It's not unprecedented for a paper to have damaging material about a politician without publishing it. Just ask the Los Angeles Times about the vault they're keeping Obama's Khalidi tape in. Or ask the Washington Post about its embargo of the photo of Obama posing with Nation of Islam hate group leader Louis Farrakhan at a CBC event.
NYT Prints Op-Ed Defending Teddy Kennedy For Leaving A Woman To Drown. On Friday, The New York Times did its level best to defend the bloated corpse of Senator Teddy Kennedy (D-MA), one of the worst human beings ever to occupy a seat in the Senate, from a recapitulation in film form of the night he left a woman to drown in a shallow river in Chappaquiddick. The new movie Chappaquiddick ably tells the tale of how Teddy drove a car into the river with Mary Jo Kopechne, then somehow escaped the vehicle and went to sleep, only telling the police about the incident the next day — and how the Kennedy family worked with local authorities to cover up the crime and ensure that Kennedy never served a day in jail. But in a truly stunning op-ed in The New York Times, Teddy biographer Neil Gabler says that Chappaquiddick is in fact too harsh on Senator Kennedy — who is depicted in the film as confused and remorseful throughout the situation, and a victim of his family's predations as well as his own weakness.
Bigotry of Bigotries; All Is Bigotry. Anyway Ferguson recently convened a conference at Stanford's Hoover Institution, a conservative think tank. No one much cared about what was discussed and debated. For those who believe in diversity uber alles, a conference on history and public policy must be judged by the number of representatives from different oppressed groups. [...] The New York Times was appalled at the lack of diversity. It blared out the shrill headline... there were no women at the conference. Which means, to Times readers, that the whole thing was an exercise in bigotry. You need not know anything else.
The real reason behind Sessions' special counsel decision. Newspaper and television headlines are blunt instruments that leave little room for nuance. Throw in the anti-Trump bias and it's no surprise that nearly all media followed the same simplistic thinking to describe Attorney General Jeff Sessions' decision on whether to appoint a second special counsel. His answer was "no," the chorus declared, case closed. Par for its partisan course, The New York Times twisted the knife, saying "Sessions Spurns GOP." Maybe, maybe not. The truth is that Sessions' decision is far more complex than reports suggest.
Totally Non-Partisan New York Times Helpfully Offers to Rewrite Second Amendment. It was about self defense against all enemies foreign and domestic. It was about protecting yourself, your family, your friends, and your property against tyrannical and/or abusive government. Sure, you will most likely lose. That's not the point. You are given the chance to defend yourself. And, perhaps your comrades come to your aid. Perhaps a free press, tasked with holding government accountable, would come to your aid. And, who would decide "responsible"? That's the part that kills this whole mess. Perhaps we could rewrite the 1st to no longer include freedom of the press unless they use quill pens and the same type of printing presses and delivery methods (foot and horses) available at the time the Bill of Rights was passed. Oh, and I wonder if the NY Times has given up its own armed security.
Do 5 Million Americans Really Live in Third World Poverty? Nobel Prize-winning economist Angus Deaton recently published an op-ed in the New York Times titled "The U.S. Can No Longer Hide from Its Deep Poverty Problem." Deaton asserted that 5.3 million Americans (or 1.7 percent of the population) live on less than $4 per day and "are as destitute as the world's poorest people. ... [Their] suffering, through material poverty and poor health, is as bad [as] or worse than that of the people in Africa or in Asia." But measurements of poverty and deep poverty based on income are seriously flawed, because U.S. government income surveys:
• omit or severely undercount most of the $1.1 trillion that the government spends on means-tested welfare assistance each year;
• omit or undercount off-the-books earnings, which are prevalent in low-income communities;
• omit the incomes of cohabiting partners and parents; and
• ignore assets acquired in prior periods.
The omission and undercounting of welfare aid is particularly troubling. For example, in 2016, federal, state, and local governments spent $223 billion on cash, food, and housing benefits for low-income families with children, an amount three times that needed to eliminate all official poverty and ten times that needed to wipe out deep poverty among them. But the Census Bureau's income surveys counted only $7.6 billion of this spending for purposes of assessing poverty or deep poverty.
New York Times Columnist Warns Of Climate Change While On Company's Global Private Jet Tour. New York Times columnist Nicholas Kristof is warning, yet again, about the perils of climate change and the need to be good stewards of the environment. This time, however, Kristof is not writing from the Manhattan offices of the "old grey lady" because he's in the middle of a New York Times-sponsored around-the-world private jet tour that costs $135,000 per person. Kristof's column, entitled, "A Parable of Self-Destruction," was written on Easter Island off the coast of South America. It tells the story of how the island became uninhabited due to deforestation and unsustainable practices by the natives. "That brings us to climate change, to the chemical processes we are now triggering whose outcomes we cant fully predict," Kristof wrote after recounting what is alleged to have happened to the natives. "The consequences may be a transformed planet with rising waters and hotter weather, dying coral reefs and more acidic oceans. We fear for the ocean food chain and worry about feedback loops that will irreversibly accelerate this process, yet still we act like Easter Islanders hacking down their trees."
Collapse of Credibility In Mainstream Press Puts Burden on Readers. Take, for example, the New York Times news article reporting on President Trump's decision to hire Lawrence Kudlow as chairman of the National Economic Council. It devoted three paragraphs to a poll that "found support dipping slightly for Mr. Trump's signature tax law: 49 percent of respondents approved of the bill, down from 51 percent in February." Given that the poll's margin of sampling error was 1.5%, the idea that a two percentage point move either way is newsworthy is questionable. If the poll had moved two percentage points in the other direction and President Trump tweeted triumphantly about it, you can bet that Times "fact-checkers" would have been all over his case about being statistically illiterate.
The Obama Comfort Doll Isn't the Worst of it. I'm a day late with this, so you likely have already seen it: Jill Abramson, former Executive Editor of the New York Times, told the Guardian that she keeps a Barack Obama doll in her purse and calls on it for comfort in the distressing Age of Trump: [...] But the rest of Abramson's column strikes me as more significant. Why? Because she makes no pretense of being anything other than a Democratic Party operative. Writing for the Guardian's far-left audience, she is among friends. Any pretense of objectivity is gone.
New York Times mocked over reminder why Louis Farrakhan is back in news. When the paper tweeted a link to its story with the headline asking why Farrakhan was back in the news, Free Beacon reporter Alex Griswold responded, "Because we had to shame you into covering a major story, basically." Another user replied, "Imagine their headline if the GOP was holding strategy sessions w/David Duke. The media is purposely not covering this story because they don't want to hurt Democrats midterm chances. It's obvious and pathetic!" One reader responded: "That is easy. He is a racist religious bigot who is being embraced by people who claimed to be against both those things," and another added, "If other publications had not forced the issue, your silence about this racist and his ties to the Democratic Party would have continued." "Better is why the racist New York Times doesn't treat liberal racists like Farrakhan the same as it does anyone that opposes open borders as racist? Racial double standards are racism," one reader fired back.
Ex-Times editor Jill Abramson carries an Obama doll in her purse. Former New York Times executive editor Jill Abramson revealed, in an opinion piece this week about the 2020 election, a bizarre superstition.
New York Times issues embarrassing correction after botching story attacking Trump's tax plan. The New York Times issued an embarrassing correction after a report that attacked President Donald Trump's recently passed tax plan got the numbers about as wrong as could be. The lengthy Feb. 23 feature, headlined, "Get to Know the New Tax Code While Filling Out This Year's 1040," sought to detail how Trump's tax plan would hurt middle-class families. A hypothetical couple — christened Sam and Felicity Taxpayer — would see their tax bill rise by nearly $4,000, according to the story. Then came the correction saying the family would actually see taxes go down.
All the News That's Fit for Our Readers' Sensitivities. The ejection of a slightly unconventional leftist from the opinion pages is the latest in a series of incidents that might give pause to the [New York] Times's less excitable readers. You would think [Quinn] Norton's bisexuality, anarchism, pacifism, vegetarianism, and anti-prison activism would place her only slightly to the left of most people who take the Times as their daily meat. Indeed, her anxiety over ethical food should have been enough to seal the deal all by itself. But there were blemishes on her leftism, and Times readers quickly discovered them.
The New York Times publishes a politically biased and inaccurate 'fact check' of Trump's gun remarks. Fact checks by the media ought to be factual. The New York Times failed to do this with an error-filled piece that incorrectly claims President Trump "peppered his remarks with inaccurate facts about mass shootings and gun policy" Wednesday in a meeting with members of Congress. I have a bit of a personal stake in this, as President Trump was using arguments that I have been making for many years in my earlier academic research at universities on gun control laws and public safety and in my role as founder and president of the Crime Prevention Research Center. By any objective standard, truth in labeling would show that the Times article by Linda Qui is not a fact check at all, but simply a political attack on President Trump, with no attempt to understand the arguments he is making.
Guess Who Wrote An Exuberant Op-Ed For the NY Times Celebrating Hillary's Election That Never Ran? On November 9, 2016, the day after the presidential election, an op-ed celebrating Hillary Clinton's election was supposed to run in The New York Times. It never made it. Who was so eager to jump on the Hillary bandwagon to make sure she kept her name in the papers? Elizabeth Warren.
New York Times Attempts To Provide Cover for McCabe Motive Outlined in Pending IG Report. The New York Times (Matt Appuzzo & Adam Goldman) published an article yesterday citing a pending DOJ Inspector General Horowitz report that points the finger at former Asst. FBI Director Andrew McCabe for leaking information to the media. Citing four people familiar with the IG inquiry, the motive for the New York Times is transparent. The "small group" of DOJ/FBI officials are trying to head-off the disturbing aspect to the IG outline and spin a false narrative. However, our earlier research into the text messaging of Lisa Page and Peter Strzok, in combination with the leak in question to former Wall Street Journal reporter Devlin Barrett, allows us to see through the narrative.
The New York Times makes plans for weekly TV program. The New York Times has conquered the podcasting world with "The Daily." Now it wants to crack television with a weekly news program. The Times is seeking an executive producer for the series, according to a job listing. And The Times is holding talks with streaming services and premium cable channels about a potential distribution deal, according to Sam Dolnick, the assistant managing editor who is overseeing new digital initiatives at the news outlet.
Backfires and Explosions at the New York Times. Leading the country's most closely observed Opinion page is an unfathomably complex job, largely because of two interrelated factors: the outrage culture of the Internet in general, and Donald Trump in particular. For the Times, this conundrum often reduces to the question of how hospitable the op-eds should be to illiberal and sometimes unscientific positions — where do facts end and values begin?
The snookered press at Pyeongchang. When Kim Jong-un dispatched his crack propaganda team to Pyeongchang (and not P.F. Chang, the Chinese restaurant chain, as reported by NBC News) to cover the Winter Olympics, he couldn't have imagined that the American media in town would have been so easy to con. It was so easy, in fact, that a girl could do it, and she did. "If 'diplomatic dance' were an event at the Winter Olympics," CNN reported with gasps of breathless wonder, "Kim Jong-un's younger sister would be favored to win the gold." "Without a word, and only flashing smiles," observed The New York Times, "Kim Jong-un's sister outflanked Vice President Mike Pence in diplomacy."
The Nunes Memo and the Death of American Journalism. Charlie Savage is a clever guy. The New York Times reporter managed to get a full-fledged editorial into the news section of his paper when the controversial Nunes memo was released on Friday. He did it through a journalistic device that is likely to be more widely used in the future as standards of objectivity and fairness continue to wither: an "annotated" version of the original document.
Keep calm and Comey on. CNN, USA Today, the Daily Caller, Judicial Watch and other outlets brought a Freedom of Information Act lawsuit against the FBI to obtain copies of the memos former FBI Director James Comey wrote to document his conversations with President Trump. Comey, you may recall, strategically leaked a memo or two to his friend Daniel Richman, a professor at Columbia Law School, under orders to leak the contents to the New York Times. When President Trump fired Comey, Comey sought the appointment of Special Counsel to remove Trump from office. And not just any Special Counsel — Comey desired the appointment of his friend Robert Mueller. Richman followed orders. He called the Times. He read parts of one or more of the memos to the Times. The Times published a page-one story by Michael Schmidt with Comey's account. The appointment of Robert Mueller as Special Counsel ensued.
From Publishing the Pentagon Papers to Suppressing the Nunes Memo. In the New York Times, retrospectives on the Pentagon Papers will often appear, invariably portraying government officials as self-interested crooks or boobs and concluding with a windy quote or two from Hugo Black about the supreme importance of publication. Don't let "national security" or other stated government interests trump the people's right to know about government misdeeds — that's the upshot of these pieces. But that's the argument the Times is using against the Nunes memo. It quotes very piously and uncritically the "grave concerns" of FBI officials who argue "not to publish."
Leftists Now Believe the New York Times Is a "White Supremacist," "Nazi" Paper. On Saturday [1/27/2018], Ross Douthat published a column for the New York Times arguing that White House Senior Policy Advisor Stephen Miller should be included in negotiations about immigration policy because he represents the opinions of tens of millions of Americans. Somewhat predictably, the Times's liberal readership was none too pleased by the idea that proponents of increased restrictions on legal immigration would be given a seat at the table alongside proponents of amnesty, and many took to Twitter to express their displeasure. Some more unhinged commenters labeled the Times a "white supremacist paper," while others were content with simply suggesting that Douthat is a racist.
New York Times Gets the Facts Wrong on Land Mines. According to the Times, 8,605 people were injured or killed in 2016 by land mines and "other booby-trap explosives." Well, 8,605 is the ICBL's headline figure, no doubt about that. But were all those people actually injured or killed by land mines? Absolutely not. If you turn to page 57 of the ICBL's report, you'll find that only 732 people were injured or killed by an anti-personnel land mine, another 495 by an anti-vehicle mine, and another 538 by an "unspecified" mine. That's 1,765 people, not 8,605. The Times says that casualties to land mines are rising. But the ICBL's report says that in 2015, 2,002 people were injured or killed by these kinds of mines. So casualties are actually down by 237, not up.
How Do Liberals Flunk Science? Let Us Count the Ways. Last year, The New York Times went as far as to blame evangelicals for our "post-truth society." The New York Times lamenting a "post-truth society" is like Satan complaining about sin. Few organizations or individuals in the history of humanity have waged a more enthusiastic war on the truth than has "the newspaper of record."
NY Times: It's So Cold Because You Drove A Fossil Fueled Vehicle. That, and your use of a hair dryer, ice maker in the fridge, the fridge itself, air conditioning and heating, washing and drying your clothes with machines, wearing clothes that you didn't make yourself or buy from local manufacture, eating meat, not growing your own veggies, owning a gun, and so much more.
Will the Persian Renaissance Return Now That Obama's Gone? Way back when I worked as a columnist for The New York Sun, (2007) I kept getting a call from a mysterious man who insisted on meeting me in person. He told me I was referred by a writer who writes for the New York Times and that he wanted to give me an important story. I checked out the writer who confirmed that she felt the Sun would be a better fit — in other words, this was not something the Times would be interested in but she thought it was worth exploring. Actually the truth was the NY Times wasn't interested in any story that deviated from its liberal mantra.
As the Dossier Scandal Looms, the New York Times Struggles to Save Its Collusion Tale. [Scroll down] What's going on here? Well, it turns out the Page angle and thus the collusion narrative itself is beset by an Obama-administration scandal: Slowly but surely, it has emerged that the Justice Department and FBI very likely targeted Page because of the Steele dossier, a Clinton-campaign opposition-research screed disguised as intelligence reporting. Increasingly, it appears that the Bureau failed to verify Steele's allegations before the DOJ used some of them to bolster an application for a spying warrant from the FISA court (i.e., the Foreign Intelligence Surveillance Court).
NYT Publishes Report 'Debunking' FBI Use Of Dossier, Gets Immediately Shredded For Fake News. [Scroll down] Perhaps the most embarassing part for the New York Times isn't that they appear to have published yet another massive case of Fake News — but that it took six of their 'best and brightest' to cobble it together.
NeverTrumps Renamed: AlwaysDemocrats. Former Cabinet secretary in the Reagan administration Bill Bennett believes that Donald Trump is more conservative than Ronald Reagan and that his Cabinet selections are, too. That's quite the endorsement from someone who was part of the Reagan revolution — not some conservative pundit saying this, but a true Reaganite. One NeverTrump speaking out is Bret Stephens, one of the token "conservative" columnists at the New York Times. He's not to be confused with the other "conservative," David Brooks, who predicted great things of the Obama presidency based on the crease in Obama's pants.
The Times Diversion. In collusion news today, the New York Times has devoted six reporters to producing the "news" that the previously obscure Trump campaign aide George Papadopoulos lies at the heart of the putative case. [...] I think the story is ludicrous on its face. The Times has served as a prime purveyor of the Trump/Russia hysteria. Yet reality has deflated it. Now the Times returns to pump it up. The names have changed, but the song remains the same.
Transparent DOJ and FBI Desperation: New York Times Attempts "Trump Operation" Justification. Immediately following confirmation by Senator Lindsey Graham about the origin of the 2016 FBI Counterintelligence Operation against candidate Donald Trump, The New York Times, via Clinton's favorite voice Maggie Haberman, pushes out an article attempting to cloud, obfuscate and justify the joint FBI and DOJ surveillance operation against Trump. [...] The timing, content and presentation of the disinformation is transparent in the intended motive. More and more people are recognizing the FBI application to the FISA court was based on political information, the Steele Dossier, assembled by political operatives and used by political operatives within the DOJ National Security Division and FBI Counterintelligence Division.
WikiLeaks Drops Proof That NYTimes Colluded With Hillary Clinton. After the New York Times on Saturday [12/30/2017] published a story headlined "Republican Attacks on Mueller and F.B.I. Open New Rift in G.O.P.," WikiLeaks couldn't stand it anymore. In a late-night post on Twitter, WikiLeaks revealed that a Times reporter used to feed State Department email updates of the stories the paper would be publishing DAYS before the stories appeared. At the time, Hillary Clinton was the Secretary of State.
Lefty media has lots of love for terrorists. C'mon down, Akayed Ullah, the New York Port Authority bus terminal suicide bomber from Bangladesh, this month's "diversity lottery" terrorist. In the underground corridor linking the bus station to Times Square, the devout Muslim walked by any number of ads and billboards for assorted infidel products, until he got to where he wanted to detonate his homemade pipe bomb full of nails. He set it off in front of a Christmas poster. Needless to say, The New York Times has been swooning over this nice young man. The undocumented immigrant got the traditional front-page sob story last week. He was a good boy, a very good boy. He had recently returned to the Third World hellhole from which he came. It was a "lonely trip."
How not to save a dying shopping mall. Only the writers and many of the readers of The New York Times, who know nothing about running a real-world business, would think selling Indian popcorn and Amish fly-swatters is a viable recovery strategy for a large retail establishment.
NY Times: Utterly Anonymous People Claim Trump Freaked Out About Immigrants. Back in 2016, the NY Times mad a big change to their use of anonymous sources policies. They have to be bigly approved by high ranking editors for things where the primary news element is based on anonymous sources. I guess Dean Baquet, Matt Purdy, and Phil Corbett are rather busy, because it seems that everything is based on anonymous sources, which gives readers absolutely no ability to verify the veracity of the story. [...] In fact, there is not one named person from that meeting who can back up any of these assertions. There is no one who can provide verification. This is about as shoddy of journalism as it can get. But, this is the era of Trump Derangement Syndrome, where everything is meant to be Trump Is Bad, the reverse of what they did during Obama's years.
New York Times Column Says Trump Is About To Stage A Coup. A New York Times contributor cranked the President Donald Trump-hysteria-meter to 11 on Thursday when he wrote the president "and his allies seem on the verge of staging a coup against independent institutions and the rule of law." In the column "The Real Coup Plot Is Trump's," New York Times contributor and Harvard University lecturer Yascha Mounk warns readers about the upcoming assault on American democracy that the president is plotting. Fox News host Jesse Watters recently claimed that in the midst of all the alleged bias within the FBI, that "we have a coup on our hands in America." Mounk doesn't cite any evidence that Trump is preparing to fire special counsel Robert Mueller — the president, after all, has said repeatedly that he doesn't intend to.
Glenn Thrush, Suspended Times Reporter, to Resume Work but Won't Cover White House. The New York Times said on Wednesday that Glenn Thrush, one of the paper's most prominent political reporters, would remain suspended until late January and then be removed from the team covering the White House after he faced allegations of inappropriate sexual behavior. The decision came a month after the website Vox published a report that contained allegations from four female journalists of inappropriate behavior by Mr. Thrush. After learning Vox planned to run its article, which was published on Nov. 20, The Times began an investigation into Mr. Thrush's conduct. The inquiry was led by Charlotte Behrendt, a lawyer in the Times newsroom, and involved interviews with more than 30 people in New York and Washington, both inside and outside The Times, according to a person briefed on the process. Ms. Behrendt compiled a report with her findings that was reviewed by Dean Baquet, the executive editor, and a group of top editors.
5 times New York Times writer Charles Blow belittled black Trump supporters. New York Times columnist Charles Blow has a long history of criticizing Republicans, but he has been particularly hostile toward other blacks who have supported President Trump and those who work in his administration. Here are 5 times Blow belittled and lashed out at Trump supporters who are black: [...]
The Death Of Science Journalism. [Scroll down] Consider the New York Times. Journalist Danny Hakim regularly lies about GMOs and glyphosate, while others "teach the controversy." Still other journalists, like Eric Lipton, smear the integrity of scientists, if they are thought to be pro-industry. Op-ed writer Nicholas Kristof goes on chemophobic diatribes about scary chemicals. The NYT has touted the (non-existent) benefits of acupuncture. Writers Michael Pollan and Mark Bittman promote thoroughly unscientific organic food, while the NYT's publisher's wife sits on the board of Whole Foods. The paper then has the audacity to accuse actual scientists of conflicts of interest. Here's the truly terrifying part: Those are just the transgressions of the New York Times. Name nearly any other media outlet, and an equally long list could be produced.
NYT Op-Ed: Maybe Franken Shouldn't Have Resigned. Activist Zephyr Teachout, who ran for governor in 2014 and Congress in 2016 — she lost both times — is troubled by Sen. Al Franken's (D-MN) resignation. Mind you, the Minnesota Democrat has not packed up his bags and left. He said he would resign in the near future. It was one of the most soporific and non-introspective resignation speeches — and it wasn't just conservatives who noted this. Some journalists noted that Franken never apologized for his actions. True. He also called his accusers liars, which is also true. The man didn't want to go, possibly because he thought his party affiliation could save him, as it did with William Jefferson Clinton.
How Much Does the 'New York Times' Hate Donald Trump? The Times, the Washington Post and other media enterprises have now devolved into fully partisan propaganda outlets. They're out, proud and unafraid — and they're coming after everyone who disagrees with them by smearing their opponents as "racist."
NY Times Reports Obama Only Told 18 Falsehoods During Entire Presidency. A recent New York Times analysis claims that over his eight years in office, former President Barack Obama only told 18 distinct lies. The Times set out to compare the trustworthiness of Obama compared to President Donald Trump. "In his first 10 months in office, [Trump] has told 103 separate untruths, many of them repeatedly. Obama told 18 over his entire eight-year tenure," the piece reads. On the list are some of Obama's most well-known whoppers, including "If you like your health care plan, you'll be able to keep your health care plan," and that he "didn't set a red line" on Syria's use of chemical weapons. By contrast, fact-checker Politifact ruled that over the course of his presidency, Obama made 43 "false" statements and 48 "mostly false" statements. Politifact also identified 7 "pants on fire" statements, which are falsehoods that are "not accurate and make a ridiculous claim."
I Hate The New York Times. My hometown paper drives me crazy. I read The New York Times because it often has good coverage. The newspaper pays to send reporters to dangerous places all around the world. This weekend, the Times Magazine did a surprisingly fair profile of Sean Hannity, although they chose photos that make him look evil. But mostly I read the Times because my neighbors read it, and I need to understand what they think. Sadly, many think dumb things because most every day the Times runs deceitful, biased stories and headlines that mislead. Opinion columns have license to do that, but these days, Times' smears extend to "news" stories.
New York Times forced to heavily amend another supposed K.T. McFarland 'scoop'. The New York Times got ahead of itself again with yet another supposedly hot scoop involving former deputy national security adviser K.T. McFarland, the Russians and the 2016 presidential election. The story, now titled "McFarland's Testimony About Russia Contacts Is Questioned," reported originally that an email sent by the former Trump transition official indicated she lied to Congress this summer when she was questioned about disgraced Gen. Michael Flynn's communications with the Russians. The article has been heavily amended since publication so that it is now mostly innuendo. The initial references to the emails have been removed, and the story now leans mostly on Sen. Cory Booker, D-N.J., who only questions whether McFarland was forthright in her testimony.
N.Y. Times Scales Back Free Articles to Get More Subscribers. The New York Times, seeking to amass more paid subscriptions in an era of non-stop, must-read headlines, is halving the number of articles available for free each month. Starting Friday [12/1/2017], most non-subscribers will only be able to read five articles rather than 10 before they're asked to start paying. It's the first change to the paywall in five years. A basic Times subscription, with unlimited access to the website and all news apps, is $15 every four weeks.
The New York Times Lobbies for the Democratic Party. I'm not easily shocked these days, but what the New York Times did today was stunning. It lobbied against the Republican tax bill via Twitter.
NYT Opinion Page Encourages Readers to Call Senators to Defeat Tax Bill. On Wednesday [11/29/2017], The New York Times editorial board and Twitter account arguably crossed a line into becoming a grassroots advocacy group, encouraging and providing both readers and Twitter followers with phone numbers to call select Republican Senators in order to defeat the Republican tax plan. This decision reeks of hypocrisy, considering the newspaper's fervent opposition to the Citizens United case, which my colleague Clay Waters has written about here and here. Newspaper editorial boards state their support or opposition for legislation or policies on a daily basis, but launching a campaign to call U.S. Senators? That's a far different matter.
Arresting Illegal Aliens At Courthouses Undermines Democracy Or Something. The New York Times gives César Cuauhtémoc García Hernández, a tenured associate professor of law at the University of Denver, who is big into protecting people who are unlawfully present in the United States, a platform to fear-monger. [...] Personally, I'm more concerned with safeguarding our law enforcement folks over the feelings of illegal aliens. There is a much lower chance that an illegal will be armed at a courthouse, versus getting them out in the streets, their homes, where they work, etc.
Progressives Whine about Obamacare Premiums. It's wrong, of course, to revel in the misfortune of others. I nonetheless laughed aloud when I read what the editors of the New York Times imagine is a heart-rending tale of several Obamacare supporters who, having ignored years of conservative warnings about the inevitability of premium increases under Obamacare, now lament the financial difficulties they face due to the high cost of health coverage. It would be easier to feel sympathy for these people if they admitted they were wrong about the "Affordable Care Act." But progressives don't do that. Instead, they blame President Trump and the GOP. The author of the piece takes us to that vortex of progressive virtue, Charlottesville, Virginia, and attempts to tug on our heart strings with the stories of people like Sara Stovall.
How to tell if the Washington Post has it right on Roy Moore. One might assume that libel law would provide an incentive for the paper to get it right, especially when potential damages to a public figure are astronomical. One would be wrong. The courts have held, as in the case of Sarah Palin, that a news outlet is not liable for libel unless it is not only wrong, but guilty of "actual malice," which means that it published despite having substantial reasons to believe the story false. Sloppy journalism, failure to investigate thoroughly, and the inherent improbability of a story are insufficient for a plaintiff to win. In the Palin case, the district judge found for the New York Times even though an editor had taken a draft that was factually correct and, without investigation, converted it into something both erroneous and libelous.
NY Times Offers Well Thought Out Plan That Soaks Everyone. [Scroll down] Suddenly, the Democrats at the NY Times are worried about debt. They never seem to wonder if perhaps Los Federales should spend less, and, get this, spend wisely. Don't spend $500 on hammers (which tend to get lost quite a bit) when you can get a really good one for less than a $100 on a Craftsman or Stanley with lifetime guarantees. Don't spend money on fish on treadmill studies. Don't pay $2 million for a road that should cost $100,000 for real. And so forth. Regardless, would this work? The point of the GOP plan is to attempt to keep companies in the United States, so that the money stays here. And the jobs stay here.
The Red York Times. Since this is back-to-school season, it's the perfect time to teach your children about faux journalism at the Fishwrap of Record. As the publication's pretentious own new slogan asserts, "The truth is more important than ever." While the Times hyperventilates about the dangers of President Trump's "art of fabrication" and "Russian collusion," this is the same organization whose famed correspondent in Russia, Walter Duranty, won a Pulitzer Prize for spreading fake news denying Joseph Stalin's Ukrainian genocide. An estimated 10 million men, women and children starved in the Stalin-engineered silent massacre between 1932-1933, also known as the Holodomor. Stalin had implemented his "Five Year Plan" of agricultural collectivization — confiscating land and livestock, evicting farmers, and imposing impossible grain production quotas. At the peak of the famine, about 30,000 Ukrainian citizens a day were dying. Untold numbers resorted to cannibalism. But you wouldn't know it if you perused all the phony ground reports filed by Duranty at the time.
Endless Accusations Cloud the Truth. [Scroll down] I blame feminists and the media for this cloud of confusion, mostly because I hate feminists and the media, but also because they do bear some of the blame. For instance, the New York Times, a former newspaper, now has a tip line where you can complain about something sexual someone famous did to you back in the day. How is that not going to lead to abuse? Liars will flock to it. And if someone calls up and complains about Barack Obama, and someone else calls up and complains about Rush Limbaugh — which one do you think the Times will follow up on?
New York Times' coverage of Mueller is peak liberal bias. A friend likens The New York Times to a 1960s adolescent who refuses to grow up. In a perpetual state of outrage, it is a newspaper of college snowflakes who embrace all forms of diversity except thought. It sees its liberal politics not as a point of view, but as received wisdom that cannot be legitimately disputed. The fixation on conformity reached a new low last week when the paper rolled out a coordinated attack on those of us who believe special counsel Robert Mueller ought to resign. I say coordinated because the newsroom and the opinion page produced similar pieces on the same day, showing again how Executive Editor Dean Baquet has erased the barrier between news and opinion and turned every page into an opinion page.
NY Times Promotes Antifa-Communist Coup Effort Against Trump for Nov. 4. The New York Times, of course, knows — even if many of its readers do not — that Refuse Fascism is a front group founded and run by the Revolutionary Communist Party (RCP), a violent Marxist-Leninist group that idolizes China's Communist mass-murderer Mao Zedong. Which makes the Refuse Fascism appeal to "humanity" doubly ludicrous and doubly offensive. [...] Why is the New York Times helping a known communist group — one with both a long history of violence as well as recent involvement in riots, sedition, and other criminal acts — promote havoc and the overthrow of a validly elected president of the United States? It's no secret that the New York Times has been pro-communist for over a century. From covering up Stalin's genocide of millions of Ukrainians to helping make Fidel Castro the dictator of Cuba, to glorifying Mao Zedong, to romanticizing communist Weather Underground terrorist Bill Ayers — and much, much more, the Times has been foremost among media organizations promoting communism worldwide.
All the news that's fit to overthrow the Republic. Ask yourself: during the prior administration, would the [New York] Times have printed an ad by an extremist group on the right calling for protesters to "end the nightmare" and proclaiming that "the Obama-Biden regime must go"? And if it had printed such an ad, what do you think would have happened next? By the way, just who exactly sees Trump's agenda to make America safe, strong, prosperous, and great again as a nightmare? Isn't this what everyone wants? On second thought, perhaps it's a nightmare to people who want America to be unsafe, weak, poor, and in the tank — i.e., people who hate this country and want to take it down. And the ad isn't just about Trump. It reads: "The Trump/Pence regime must go!" Wait a minute. This isn't a third-world country where we have a dictatorship and can oust it only by force. If and when people are unhappy with our leaders, we vote them out of office.
More Fake News From the New York Times. The New York Times had two veteran reporters working overtime on Friday night after the representative of a respected conservative publication testified before the House Intelligence Committee. Literally. The piece by Kenneth P. Vogel and Maggie Haberman was posted at 7:32 pm on Friday night [10/27/2017]. It's brief and breathless. And embarrassingly dishonest. The Times is practiced to deceive. It contorts language and chronology to present information in a way so as to not inform, to misinform.
New York Times Reporters Shocked That Hillary's People Lied To Them About Russia Dossier. It's kind of funny to watch members of the liberal media coming to the conclusion that Hillary Clinton lied to them and everyone else. They actually thought she was some kind of honest upstanding person of great integrity just because she's a Democrat. Now they're learning the truth.
NYT Reporter: Clinton Campaign Lawyer Lied To Me About Dossier Funding. On the heels of an explosive report alleging that the Hillary Clinton campaign helped pay for that infamous Trump-Russia dossier [...] two New York Times reporters have publicly accused Clinton's campaign lawyer, Marc Elias, of lying to them about funding the research. The report published by the The Washington Post on Tuesday [10/24/2017] revealed that Elias' law firm hired opposition research firm Fusion GPS to dig up dirt on then-presidential candidate Donald Trump.
Reporter Produces Witnesses to Back Up Claim New York Times Killed 2004 Weinstein Exposé. TheWrap's Sharon Waxman has found witnesses to back up her claim that the left-wing New York Times killed a 2004 story that exposed producer Harvey Weinstein's alleged sexual predations. Just hours after the Weinstein scandal went nuclear earlier this month, Waxman revealed that way back in 2004, while working as a reporter for the Times, she nailed down a story about how Fabrizio Lombardo, the head of Miramax in London, had zero film experience and that his real job was to procure women for Weinstein.
NYT Editor Caught On Tape Admitting Attempting To Sway Voters Against Trump. We all know The New York Times is so biased against the right that coming to the paper's defense is next to impossible nowadays, but thanks to a new video from Project Veritas we now have a bonfire to go with all that black smoke billowing from the publication. Undercover Veritas cameras caught NYT Senior Staff Editor Desiree Shoe expressing her disdain for not only President Donald Trump but Vice-President Mike Pence, mostly because he's religious. During the sting, Shoe admitted to sensationalizing the front page in order to convince people not to vote for Trump and Pence during the 2016 election.
We've found the worst take on the Harvey Weinstein scandal. Behold: New York Times opinion columnist Michelle Goldberg, who wrote this week, "The movie business is corrupt, depraved and iniquitous — and still morally superior to the Republican Party under Trump." Impressive. She identified a bad thing, and then identified a second bad thing so as to mitigate the sins of the first. We didn't think we'd see someone from the Times downplay the Hollywood scandal this soon, yet here we are.
'New York Times' Despairs of Iowa's Turn to the Right. Until the Democrats understand the deep and abiding contempt in which most of the country holds their political principles, they will keep hemorrhaging seats in Congress and the state houses.
James O'Keefe video has New York Times management reeling. Hats off to James O'Keefe and Project Veritas for another video that is rocking a major progressive institution to its foundations. This time, it is not Planned Parenthood executives selling baby body parts, but rather Nicholas Dudich, an unhinged editor at the New York Times (the video labels it "American Pravda") boasting about his ability to get biased coverage published.
New York Times Memo: Reporters Must Have 'Neutrality and Fairness' on Social Media. The New York Times on Friday [10/13/2017] released new social media guidelines for its reporters, requiring them to avoid any actions that would lead to perceptions of bias or otherwise damage the paper's reputation. The new guidelines apply to all social media platforms, public and private, and include stipulations about political objectivity, sharing stories in a one-sided manner, joining partisan groups, and more. The memo states that it only adds further detail to the policy that reporters do not damage the paper's credibility. "If our journalists are perceived as biased or if they engage in editorializing on social media, that can undercut the credibility of the entire newsroom," the memo reads.
NYT 'journalist' brags about leftist bias in O'Keefe video. James O'Keefe's Project Veritas has released a new video exposing the blatant liberal bias at the New York Times, the first part in a new series. Caught on hidden camera, New York Times audience strategy editor Nick Dudich makes several startling admissions, including his previous work for both the Hillary Clinton and Barack Obama presidential campaigns and his pretense at objectivity. He says he works for the Times because he's not objective. Dudich claims to be an important figure at the paper. He told the undercover Veritas journalist that "my voice is on ... my imprint is on every video we do." When asked about being a neutral, objective journalist at the Times, Dudich explicitly states, "No, I'm not, that's why I'm here." His admission seems to violate the journalistic code of ethics the Times claims to uphold.
James O'Keefe Busts James Comey's Purported 'Godson,' Video Editor at New York Times. James O'Keefe's Project Veritas has released another mainstream media exposé — this time, showing a former Democratic campaign operative who helps edit the New York Times' video content on social media platforms and apparently pretended to be James Comey's godson.
Harvey Weinstein is not the nastiest thing going on in Hollywood. As more (and more) revelations come out about slimeball and (alleged) serial rapist Harvey Weinstein, there is a more sinister conspiracy still hidden in the Hollywood hills: pedophilia. It seems that, for a decade and more, courage was in short supply in Hollywood, as dozens (maybe hundreds) of people knew of Harvey's predilections (for starlets) and did absolutely nothing. It has now been reported that as far back as 2004, the N.Y. Times was aware of at least some of the extent of Harvey Weinstein's sexual abuse and, one suspects for political reasons, decided to spike a story that would have exposed and possibly put a stop to his deviancy. How many women were sexually assaulted or even raped between 2004 and today? It's been reported that Matt Damon and Russell Crowe were part of a group that pressured the Times not to report on these salacious activities. Are they, in part, culpable for subsequent assaults? How about all of the dozens of Miramax employees and others who sent young women to Harvey to be exploited and abused? Sadly, Harvey Weinstein's act isn't the darkest in Hollywood's repertoire — at least that we know of. As has been reported, the women Harvey sexually abused were adults. But did Harvey rape or sexually abuse any minors?
Hillary's election would have shelved Weinstein story. Amanda Carpenter threw cold water on the media feeding frenzy over the revelation that for decades Harvey Weinstein preyed on women in Hollywood. She pointed out that if we elected Hillary president, he would be home free. The New York Times would have protected him just as it did in 2004 when Sharon Waxman tried to break the news. But Trump is president, and Weinstein is expendable. So the Times dusted off a 13-year-old story and poof, he is gone. Hooray for the Times, right? Well, except for the part where he continued to victimize women for 13 years.
NYT Editor Claims To Be Former Antifa Member, Brags About Anti-Trump Bias. A new undercover video shows New York Times audience strategy editor Nick Dudich bragging about his anti-Trump bias and his history as a former antifa member. Conservative activist group Project Veritas released the video on Tuesday, showing Dudich joking about being objective, before saying: "No, I'm not. That's why I'm here." Dudich emphasized his influence within the Times newsroom, saying that his "imprint is on every video we do." The editor also claimed to be a former antifa member who frequently assaulted alleged neo-Nazis. "Yeah, I used to be an antifa punk once upon a time," Dudich says, referring to the militant far-left movement that has repeatedly attacked conservatives and Trump supporters.
The New York Times says...
Repeal the Second Amendment. Repealing the Amendment may seem like political Mission Impossible today, but in the era of same-sex marriage it's worth recalling that most great causes begin as improbable ones. Gun ownership should never be outlawed, just as it isn't outlawed in Britain or Australia. But it doesn't need a blanket Constitutional protection, either.
NYT Falsely Reports Trump Admin Blocked Puerto Ricans From Using Food Stamps for Hot Meals. The New York Times falsely reported earlier this week that the Trump administration was blocking food stamp recipients in hurricane-stricken Puerto Rico from using the federal subsistence to eat hot meals. On Tuesday [10/3/2017], the Times reported Puerto Rico Gov. Ricardo Rosselló complained, "the federal government had denied a request to allow hurricane victims in Puerto Rico who use food stamps to redeem them at fast-food restaurants and other places that serve prepared hot meals." "He [Rosselló] said he was pursuing the issue with federal officials and was hoping the waiver would come soon," the Times reported. But after the piece had already been up for 24 hours, it was updated to admit the claim was inaccurate.
No, Mr. Krugman, There is Not a Cholera Outbreak in Puerto Rico. Yesterday [9/30/2-17], liberal pundit and New York Times columnist Paul Krugman incorrectly tweeted that cholera, a deadly bacterial disease caused by unsanitary water, had resurfaced in Puerto Rico. [...] Then moments later, he corrected himself with a follow up tweet. [...] You will notice his fake news has amassed thousands of retweets and favorites, while his correction has not.
The New York Times Has a Communism Fetish. Communism had some good parts, and the New York Times is on it. Pegged to the 100th anniversary of the Russian Revolution, the nation's paper of record is running a series called Red Century, revisiting the "history and legacy of Communism." That's actually a pretty good idea: It's certainly worth analyzing and commemorating a murderous ideology that resulted in the deaths of tens of millions of people over the course of the 20th century. Many of the pieces are interesting and rigorous. Yet, in some of them, there's a strange attempt to rehabilitate various aspects of Communism. Here's the tell: The pieces pay lip service to the Communists' depravity, before repairing to a "for all its flaws" or "to be sure" construction. It's as if the Times is attempting to rehabilitate the posthumous reputation of its staffer Walter Duranty, who infamously denied Stalin's starvation of the Ukrainians when he served as the paper's Moscow bureau chief in the 1930s.
'The New York Times' Is Working Overtime to Rehab Communism and Socialism in 2017. The New York Times has long been known for having a fondness for all things politically left, but the Grey Lady has developed a real soft spot for communist and/or socialist nostalgia this year. The paper has been running a series called Red Century, which doesn't so much just look at the history of communism as give apologists a very large platform to extol its virtues.
New York Times Employees Walk Out As Layoffs Loom. The only thing better than watching the New York Times meltdown inside and out as they are now is for them to go completely belly up. A bunch of overpaid, privileged hacks staged a walk out of the New York Times to show "solidarity" with each other as more big layoff at the failed left wing propaganda newspaper loom. If you want to have a discussion about "White privilege" then this is it.
NYT Pesticide Exposé Only Exposes Foolish Reporting. Earlier this year, the Environmental Protection Agency rejected a petition from two environmental activist groups to ban the longtime, widely-used pesticide chlorpyrifos. Last week, the New York Times published an ostensible exposé on that decision by reporter Eric Lipton, but despite a lot of dark hints, the story exposes nothing new or noteworthy about the Trump Administration's decision. The Environmental Protection Agency decision, announced by EPA Administrator Scott Pruitt last March, was wise, as I detail [elsewhere]. Nonetheless, Lipton maintains that emails the Times obtained via a Freedom of Information Act request show that the Trump EPA consulted with "the farm industry" in making this decision, as if that's a shocking revelation.
John Bolton Reveals 'One-Sided' Questions NYT Reporter Sent Him for North Korea Story. Former U.S. Ambassador to the United Nations John Bolton on Friday [9/8/2017] published a set of questions he described as biased and "one-sided" that a New York Times reporter sent him after he indicated that he supports using military force against North Korea. [...] Bolton published the email's contents in an article for National Review, writing that the questions were "utterly one-sided, simplistic, incorporate factually incorrect assertions, and signal that the story is all but written."
NYT Accepts Full-Page Anti-Trump Ad from Venezuelan Despots. Ben Kew at Breitbart reported The New York Times ran an full-page advertisement on Wednesday paid for by Venezuela's socialist regime, claiming President Donald Trump seeks to "manufacture a political crisis" in the country. Venezuela's economy is a basket case, with dramatic shortages that led to protests and violence. The United Nations reported "mounting levels of repression of political dissent by national security forces" and increasing persecution of the socialist government's opponents. Trump didn't "manufacture" that. The Times is publishing fake news as an ad.
Inconvenient energy fact: It takes 79 solar workers to produce same amount of electric power as one coal worker. In an April 25 New York Times article ("Today's Energy Jobs Are in Solar, Not Coal") reporter Nadja Popovich wrote that "Last year, the solar industry employed many more Americans [373,807] than coal [160,119], while wind power topped 100,000 jobs." Those energy employment figures are based on a Department of Energy report released earlier this year that provides the most complete analysis available of employment in the energy economy. But simply reporting rather enthusiastically (see the NYT headline again) that the solar industry employs lots of Americans, more than twice as many as the number of coal miners and utility workers at electric power plants using coal, is only telling a small part of the story.
NY Times needs to come clean on wiretap headline. The Justice Department announced this week that there was no evidence that Trump Tower was wiretapped, as President Trump alleged. OK, that almost settles the issue. I'm still waiting for the New York Times — the self-proclaimed "paper of record" — to explain its Jan. 20 front page story that had the headline "Wiretapped Data Used in Inquiry of Trump Aides." Times reporters were already embarrassed when former FBI director James Comey testified before Congress that one of the paper's major stories was dead wrong.
NY Times Knocks Down Hurricane Irma Is Climate Change Stories. An early shot from the NY Times, which somehow made it through Climate Justice Warrior editorial review. Of course, we'll be sure to see many stories from the NY Times in future days blaming 'climate change' for Irma, because that's what they do[.]
Regnery's New York Times shot heard 'round the publishing world. Regnery, the nation's premier publisher of conservative books, has cut ties with The New York Times over long-simmering allegations the newspaper took a decided left-leaning slant in picking which books to feature on its best-seller lists. [...] Going forward, Regnery will rely on Publishers Weekly lists to determine best-seller status, and will no longer allow authors to self-identify with The New York Times list, or distribute bonuses based on the newspaper's determinations.
NYT refuses to call a Democrat on trial a Democrat. Senator Robert Menendez of New Jersey will stand trial for bribery, and the New York Times feels obligated to cover the courtroom drama. But the Times childishly refuses to call Democrat Menendez a Democrat.
Judge hands media a license to lie. Libel law is dead in America. You can falsely claim with impunity that a woman incited a mass murder.
Not So Fast, Why Palin Could Win on Appeal Against The New York Times. Two reasons Palin may win on appeal. First, the Judge appears to contradict himself on a critical issue of law. Second, the Judge appears to engage in weighing the evidence, rather than interpreting the evidence in every means favorable to Palin, often denying her the benefit of the doubt while repeatedly extending it to The New York Times, the behemoth newspaper who could do a lot more damage to a judge's reputation than public figure Palin. (Fair, or unfair, more than a few counsel believe the New York Times enjoys an unfair advantage in its backyard because of its power to publicize adverse information about the judges in its backyard. The courts protect the press taking on the powerful, but: Who really is the "powerful": Palin or the Times?) The Judge, a rightly well respected intellectual jurist with a pragmatic streak, gets several big items correct: some legal commentators and Times' defenders thought a slightly vague opinion statement about someone else's intent and mental state was sufficiently a statement of "opinion" immune from defamation liability. The Judge corrects that quickly and conclusively: the statements made by the Times were statements that a jury could factually find false, and are subject to defamation liability, regardless of their relative vagueness, their comments on another's state of mind, and their statements constituting opinion statements in an editorial.
Judge Dismisses Sarah Palin's Lawsuit Against New York Times. A federal judge has dismissed Sarah Palin's defamation lawsuit against The New York Times for publishing an editorial linking her to the shooting of former Arizona Rep. Gabby Giffords. In an opinion filed in the U.S. District Court of Southern New York on Tuesday [8/29/2017], Judge Jed Rakoff said that while The Times did not defame Palin because the newspaper "very rapidly corrected" the inaccurate parts of the editorial, which was published in response to a left-wing activist shooting Republican members of Congress during a baseball practice for the annual Congressional baseball game. In the original version of the piece, The Times asserted that Jared Loughner was motivated to shoot up a Giffords political event in Tucson because of a political ad published by a political action committee supporting Palin.
The Red York Times — First In Fake News. Since this is back-to-school season, it's the perfect time to teach your children about faux journalism at the Fishwrap of Record. As the publication's pretentious own new slogan asserts, "The truth is more important than ever." While the Times hyperventilates about the dangers of President Trump's "art of fabrication" and "Russian collusion," this is the same organization whose famed correspondent in Russia, Walter Duranty, won a Pulitzer Prize for spreading fake news denying Joseph Stalin's Ukrainian genocide. An estimated 10 million men, women and children starved in the Stalin-engineered silent massacre between 1932-1933, also known as the Holodomor.
Journalist aghast at Times libel defense. James Freeman of the Wall Street Journal wrote, "Is the New York Times botching its legal defense against Sarah Palin's libel claim?" Seems plausible. From what little I know of newspapers and their lawyers, I would say the legal defense matches in competence the effort that went into publishing an editorial that tried to deflect attention to Sarah Palin after a Democratic Party activist gunning down a Republican congressman in cold blood. Had the editorial played it straight, the incident would have been over and liberals would have patted themselves on the back for denouncing their own violence.
It's time to chill the "free press". Allowing Sarah Palin to continue her libel lawsuit against the New York Times "would chill expression by journalists who want to draw connections and inferences," Noah Feldman wrote in a column for Bloomberg News. That is an excellent idea, because increasingly people in the press show a constant, malicious, and reckless disregard for the truth. In 2011, Jared Lee Loughner killed a federal judge and five others, and severely wounded Democratic Congresswoman Gabby Giffords. Democratic Party operatives spread the lie that a map targeting Giffords in the last election inspired the carnage. However, Loughner did not vote in that election. He is psychotic. But the press keeps spreading this lie.
Communism: Viagra for the New York Times. A fascinating piece appeared on August 19 in the New York Times, a timeless organ of outrageousness that never ceases to amaze with its ideological asininity. I'm tempted to say that this piece is beyond the pale even for the Times, but that bar long ago was set unsurpassably high. Still, this piece is another stunner, one that deserves attention if only to appreciate the depths of the left's ideological perversity. But beyond that, it merits our attention so we can know what leftists are up to in their mis-education of children in government schools and their unconscionably expensive universities.
NY Times Finally Admits That Islamic Terrorists Are Islamic. Now that Mr. Obama isn't in office making pronouncements that Islamic terrorists aren't Muslims, despite the Islamic terrorists stating they are Muslims, the Times is free to call Islamic terrorists Islamic[.]
New York Times Applauds Far-Left Violence. The mere existence of supporters of President Trump is violent, so it is OK to attack them with baseball bats. The Times reporters show no sign of disagreeing with this "reasoning."
New York Times Totally Rewrites Charlottesville Story to Protect Gov. Terry McAuliffe. Thanks to NewsDiffs, we have a permanent record of the Gray Hag's tireless efforts to censor the news in order to protect the leaders of the Progressive-Communist movement.
Scientists call out New York Times for incorrect claim about climate report. Scientists appear to have debunked The New York Times' claim it was leaked a secret, gloomy climate change report which it published amid fears President Trump would suppress it. On Monday [8/7/2017], The New York Times published a story saying there are concerns that the Trump administration could suppress what's known as the National Climate Assessment, a project of the U.S. Global Change Research Program. The story, titled "Scientists fear Trump will dismiss blunt climate report," said the draft report "has not yet been made public" but "a copy of it was obtained by The New York Times."
Yes, We're Also Allowed to Talk About Left-Wing Violence. The New York Times is out with a story today [8/15/2017] addressing the firestorm over President Trump's initial, vague condemnation of "many sides" in Charlotte, exploring the angle of conservative frustration over media double standards on political violence. Since I'm cited in the article, I thought I'd clarify a few things.
At the Times, self-parody strikes deep. In today's [8/8/2017] New York Times Matthew Rosenberg seeks to disparage and undermine DCIA Mike Pompeo. Rosenberg's article runs on page one under the headline "Trump's Man in the C.I.A. Adds a Political Tone." [...] [The article] purports to present Pompeo's "mixed reception" at the CIA without a single quote to this effect from inside the agency. It brings in the Koch brothers. It notes that Pompeo has gone so far as to praise the president. This must not stand!
Deep State Teams with Fake News: Email Evidence Proves New York Times Soliciting Anti-Trump Bureaucracy Leakers. Emails from a reporter for the New York Times to government employees obtained exclusively by Breitbart News demonstrate that the newspaper's employees are not just on the receiving end of leaks, but are actually soliciting government employees to become leakers. What's more, the emails demonstrate the Times colluded with the president of government union to encourage and solicit these leaks — something that may become highly problematic for both institutions.
Scientists Debunk New York Times Story on Trump Climate Report. Scientists are pushing back on the The New York Times for a story claiming the Trump Administration could suppress a climate change report. The report, titled "Scientists fear Trump will dismiss blunt climate report," said the draft of the National Climate Assessment, a project of the U.S. Global Change Research Program, "has not yet been made public" but "a copy of it was obtained by The New York Times." Except, scientists who worked on the report say the version that was obtained and posted in full by the New York Times has actually been online and available to the public for months.
The scoop that wasn't. In this case, reporter Lisa Friedman buys into the Sky-Us-Falling scenario despite more than four decades of predictions of gloom and doom proving false. Billions of people have not died of famine due to overpopulation or global cooling or global warming. The world population has more than doubled over the last 50 years (now topping 7.5 billion) and people are healthier, more prosperous, and freer than ever before. Predictions also proved wrong that we would be overwhelmed by actual pollution (not this fairy tale about carbon dioxide, which is a nutrient for plants). The air is so clear in Poca, West Virginia, that you hardly notice the large coal-fired power plant across the river.
New York Times guilty of large screw-up on climate-change story. That correction, which sits at the foot of the story, dutifully straightens out the record. Yet given the magnitude of the screw-up, it should sit atop the story, surrounded by red flashing lights and perhaps an audio track to instruct readers: Warning: This story once peddled a faulty and damaging premise. That premise suggests that the Trump administration is stifling a damaging draft report — part of the congressionally mandated National Climate Assessment — with dire warnings about climate change.
Palin wins a battle in her war with the New York Times. I'm not alone is recognizing how devastating her lawsuit is. She has good lawyers (the team that destroyed Gawker Media), a good case, and all the time in the world. Lawyer John Hinderaker at Power Line is boasting about his prescience in the case. He knows the law. I know editorial writing. Did it for 27 years. The writer decided to deflect the very serious political assassination attempt on a group of Republican congressmen by a Democratic Party activist — one of the many resistance marchers that have hung around Washington since the inauguration. So the writer tried moral equivalence — repeating a provable lie about Sarah Palin that was debunked six years ago. Palin read the editorial. She lawyered up. She sued.
You Heard It Here First: NY Times Editors Deny Reading Their Own Newspaper. Sarah Palin has sued the New York Times for defamation, on account of a Times editorial that falsely claimed there was a "clear" and "direct" causal connection between Palin's PAC's "targeting" of Gabrielle Giffords' district and Jared Loughner's murder of six people in Tucson. The paper now calls its smear of Palin an "honest mistake." I wrote here that Palin has a strong case, despite the extraordinary burden of proof imposed on public figures who sue for defamation. This is true, in part, because the Times's own reporting debunked the idea that Palin had anything to do with Laughlin's murders (which was a crazy idea in the first place).
Judge orders writer of NY Times' Palin editorial to testify. A federal judge on Thursday [8/10/2017] ordered the writer of an editorial in The New York Times that mentioned former vice presidential nominee and Alaska Gov. Sarah Palin to testify next week so he can decide whether her defamation lawsuit can proceed.
Does The New York Times Even Have Editors? On September 30, the New York Times published a long article about Donald Trump's wife Melania in its Fashion and Style section. The article said little of substance — Mrs. Trump is a nice lady, apparently — but it resulted in an epic sequence of five corrections: [...]
All the Speculation That's Fit to Print. Over the weekend, the New York Times published a story on Republicans who supposedly are angling for their party's 2020 presidential nomination: "Republican Shadow Campaign for 2020 Takes Shape as Trump Doubts Grow." The story was, of course, part of the paper's daily war on President Trump. Its purpose was to cause "doubts" about President Trump's being the GOP nominee in 2020 to "grow." The Times article contains no actual news.
Trump's Unintended Consequences: Driving the Media Insane. After Trump won, the NYT's fearless leader, Arthur Sulzberger, actually wrote an apology to his readers, admitting how the Times had willfully broken the public trust, how it willfully ignored what Trump was saying, and how it had tried (and failed) to warp the public mind against him. He promised that his staffers would return to accurately reporting the news and regain the public trust by being real journalists[.] But they didn't, and neither did the rest of the leftist media. Yes, they all went wild during the campaign trying to live up to the standard set by the Times. It was embarrassingly biased coverage, filled with outrage, angst, and virtue-signaling. But that was nothing compared to their reporting since the election.
NY Times story on affirmative action 'inaccurate,' DOJ says. The Justice Department is pushing back on a New York Times article that claimed officials were reshuffling resources in its civil rights division to go after colleges' affirmative action policies. The story ignited a firestorm after it was published, with civil rights groups and Obama-era education officials quickly condemning the DOJ for what they perceived as an "assault on affirmative action." Late Wednesday, DOJ spokeswoman Sarah Isgur Flores issued a statement calling the press reports "inaccurate." "This Department of Justice has not received or issued any directive, memorandum, initiative, or policy related to university admissions in general," she added. "The Department of Justice is committed to protecting all Americans from all forms of illegal race-based discriminations."
Judge blocks Palin lawyers from questioning NYT reporters in defamation suit. A Manhattan federal judge has suspended discovery in a defamation lawsuit against The New York Times filed by former Alaska Gov. Sarah Palin (R), who is accusing the paper of writing an erroneous editorial that connected her to the shooting of former Rep. Gabby Giffords (D-Ariz.) that left six people dead. In suspending discovery, Judge Jed Rakoff prevents Palin's lawyers for now from questioning 23 New York Times reporters in an effort to prove the paper is biased against her. Rakoff said he'll rule by the end of the month whether Palin's suit against the Times can proceed.
Palin lawyers blocked from grilling reporters in defamation suit. A Manhattan federal court judge will decide by the end of this month whether to dismiss a defamation lawsuit Sarah Palin filed against the New York Times for accusing the former Alaska governor of inciting gun violence. In the meantime, Judge Jed Rakoff suspended discovery, blocking Palin's lawyers from grilling two dozen Times reporters to prove the Gray Lady is biased against her.
Their "normal" is unconstitutional. Sally Yates — one of the hundreds of Marxists Democrats appointed to the Obama regime — wrote in the New York Times about President Trump not being normal. Good. That is why we elected him. Normal politics have created a Frankengovernment that feeds off our freedom and liberty.
Foggy Bottom Begins Self-Draining as "Desperate" Career Diplomats Quit. A pearl-clutching op-ed in the New York Times declares the hurt sensibilities within the State Department are leading to multiple people quitting. Specifically citing the different managerial strategy of Secretary of State Rex Tillerson, and the priorities of the entire Dept. of State mission being reset, the career bureaucrats are dropping like flies hitting the T-Rex zapper. The entire Op-Ed reads like viewing an increasingly bright orb powered by the salty tears of globalists as they fret over the losses like the DoS directorate of global youth disability rights, and shrinkage within the department of international Geo-genitic gender advocacy.
Media Find It Newsworthy that a Top U.S. Commander Would Follow Orders from President Trump. The New York Times and other news media outlets find it newsworthy that a top U.S. military commander, when asked a far-fetched hypothetical question about a nuclear strike on China, replied that he would comply with an order on the matter if it came from President Donald Trump.
Report: Sarah Palin to Subpoena NYT Editors & Reporters, Demand 'Every Internal Communication' About Her Since 2011. Former Alaska Governor Sarah Palin's lawyers will reportedly subpoena nearly two dozen New York Times reporters, editors, and employees and ask the Times to produce "every internal communication it has had about her since 2011" for her defamation lawsuit. According to a New York Post report, based on court documents released on Wednesday, the Times' lawyers whined that Palin's legal team intends to subpoena "twenty-three non-party current and former Times reporters, editors and other employees" in addition to demanding the internal communications.
Palin goes for the jugular in defamation lawsuit against the New York Times. A nightmare is unfolding for the New York Times that could well be devastating for the collapsing credibility and mindshare of the entire progressive media. In a court filing by defense counsel for the New York Times, the scope of the discovery being sought by Palin's legal team was revealed. If the court allows, the story it could tell might well be all too revealing. [...] If litigation proceeds, and some of these electronic conversations about Palin come out in court, the mindset revealed therein could be extremely embarrassing, to say the least.
Palin to subpoena two dozen reporters in defamation suit. Former Alaska Gov. Sarah Palin plans to subpoena close to two dozen New York Times reporters, editors and other workers as part of her defamation lawsuit against the newspaper, it was revealed in court documents Wednesday. In a motion arguing that the case be dismissed, lawyers for the New York Times complained that Palin's legal team has served notice that she plans to subpoena "twenty-three non-party current and former Times reporters, editors and other employees — most of whom had nothing to do with the editorial at issue." The subpoenas are part of Palin's effort to obtain "documents that might reveal, among other things, their 'negative feelings' toward her," the Times told the judge. Palin's legal team also intends to ask the paper to produce "every internal communication it has had about her since 2011," they said.
New York Times Endorses Authoritarian Concept That Free Speech Is Violence. An absurd and alarming notion has become prevalent among militant campus snowflakes that would spell an end to freedom of speech if widely implemented. They say that being exposed to thoughts they don't like is equivalent to physical violence. Of course, most thoughts are offensive to someone, so this only applies to thoughts deemed offensive to those at the top of the P.C. caste system, i.e., those known in leftist theology as the "marginalized": blacks, Muslims, illegal aliens, sexual deviants — in short, anyone cultural Marxists can play off against the core population. This notion of speech as violence is now going mainstream — if the "Paper of Record" can still be regarded as mainstream.
Alan Dershowitz: New York Times ignoring me because 'I don't have the right point of view'. Alan Dershowitz recently tried to publish an opinion piece in The New York Times arguing that President Trump's son, Donald Trump Jr., likely did not break the law by meeting last year with a Russian lawyer who said she had compromising information on Hillary Clinton. But Dershowitz told the Washington Examiner over the phone on Monday [7/17/2017] that the Times had "no response" to his submission.
NY Times Editorial Board Is Upset That Trump Is A Climate Change Loner. What changes has the NY Times made? Over all these years of reading the primary talking points organization of the Democrats I've yet to see one article or opinion piece stating that the Times has made changes to reduce their own carbon footprint, especially in regards to the vast amounts of fossil fuels to distribute its dead tree editions.
NY Times Calls Catholic Abstinence 'Controversial'. Not having sex — for reasons of faith, health, marital status, or just plain self-control — is something New York Times writers have never considered. Or, rather, they've considered it and decided it's a bit odd. [...] The disdain for the women's decision seeps from every paragraph, but don't liberals believe that women should be able to decide what happens to and with their own bodies? [...] Also, if the NYT is suddenly concerned about sexual satisfaction, why won't they speak out against "female genital mutilation" practiced by Islamic butchers in an effort to steal the pleasure of sex from women?
The media's mass hysteria over 'collusion' is out of control. Hysteria among the media and Trump opponents over the prospect of "collusion" between the Trump campaign and the Kremlin may have hit its crescendo this week. That's right: The wailing from the media and their allies about Donald Trump Jr.'s meeting with some "Kremlin-connected Russian lawyer" (whatever that means) may be the last gasp of this faux scandal. Good riddance. Predictably, the New York Times started the ball rolling with front-page coverage, going so far as to argue, "The accounts of the meeting represent the first public indication that at least some in the campaign were willing to accept Russian help." As if this were some breakthrough moment. The Times followed up with a headline yesterday [7/10/2017] that the meeting request and subject matter discussed in the prior story were transmitted to Trump Jr. via an email. [...] The Times is so desperate to move the story that the meeting's arrangement over email is being made into Page 1 news.
Lawyers for Sarah Palin and New York Times Appear Before Federal Judge. Lawyers representing former Gov. Sarah Palin (R-AK) appeared in federal court in Manhattan on Friday [7/7/2017] for an initial hearing in Palin's lawsuit against the New York Times for defamation, following the Times' editorial accusing the 2008 GOP vice presidential nominee of inciting violence.
The New York Times Is In Trouble. [Scroll down] Ms. Palin can make a strong argument that the Times editorialists knew that their smear was a lie, based on reporting done by the Times itself. (The editorialists' defense likely will have to be that they don't read their own newspaper.) But at a minimum, it seems that the Times editorial was published with reckless disregard for whether it was true or not. It was a product of sheer hatred toward Palin.
Bet on Palin: Why Her Libel Suit Against the New York Times Has Merit. The smart money should be on Palin. Indeed, a sensible Times management would settle quickly, but this raises the question of how sensible the Times is, and of Palin's objectives. The price could be steep, in money and in the abjectivity of a confession of error.
NY Times Quietly Corrects Massive Lie About Russia Story. We often roll our eyes whenever a new deceit perpetrated by mainstream media is revealed, but the truth is, media bias is a real problem in our society and it needs to be addressed. On Thursday evening [6/29/2017] The New York Times very quietly buried a correction admitting the "seventeen intelligence agencies" that allegedly asserted Russia hacked the presidential election, may not be based in fact after all.
Is Immigration to the U.S. an Entitlement? For the past six months, the debate about immigration has centered on the campaign to derail President Trump's temporary travel ban. But now that the U.S. Supreme Court has allowed it to go forward, at least in part, the discussion has started to shift. Critics are backing away from the contention that it's biased to impose greater scrutiny on immigrants or refugees from countries where terrorism is rampant. The new arguments, stripped of their anti-Trump resistance rhetoric, are not so much about whether the administration is prejudiced against Muslims but whether people living in foreign countries have a right to come to the United States regardless of any other consideration. The notion that entry to the United States is not a privilege granted by the government but an entitlement is the underlying premise of two New York Times articles published the day after the Supreme Court ruling.
Can Palin Win Libel Suit Against New York Times? You Betcha. While Palin is assuredly the underdog against a media behemoth like the statuesque Grey Lady of news backed by billionaire owners, especially as a conservative Alaskan suing in the Grey Lady's personal backyard in the notoriously left-leaning federal courts of New York City where no judge or jury has ruled against them "since the 60's" according to their own correspondents, the legal odds are not so neatly or nearly stacked against Palin. A common misapprehension reported in the press claims "opinion" statements are "immune" from suit, with even prominent law professors and lawyers so attesting. That reflects pre-1990's law. The Supreme Court in 1990 made clear that opinion, too, can be libel. As the Supreme Court held, there is no wholesale exemption of libel law for "opinion."
New York Times newsroom walks out after editors, reporters send letters decrying direction of paper. Editors and reporters in the New York Times Co. newsroom can no longer keep quiet about their growing frustrations regarding the direction of the paper. After a pair of letters sent to Executive Editor Dean Baquet and Managing Editor Joseph Kahn by Times reporters and copy editors, the New York Times editorial staff walk out of the newsroom on Thursday [6/29/2017] as a demonstration of solidarity as management threatens jobs. In the copy editors' letter to Baquet and Kahn, they say they feel betrayed and disrespected in the newsroom, and ask that management reconsider staffing cuts that are expected as the paper plans to restructure.
Rebellion at the NYTimes: Newsroom to Walk Out After "Decrying Direction of Paper". Exhausted and demoralized after repeated buyouts and cutbacks in the newsroom, it seems the downtrodden journalists at the New York Times have finally had enough: In a pair of letters delivered to executive editor Dean Baquet and managing editor Joseph Kahn, the News Guild of New York said the New York Times editorial staff will leave the newsroom on Thursday [6/29/2017] as a demonstration of solidarity as management threatens jobs, according to MarketWatch.
Sarah Palin Suing New York Times For Defamation. Sarah Palin is suing The New York Times for defamation, according to documents filed in federal court Tuesday [6/27/2017] that were obtained by The Daily Caller. The lawsuit has to do with an editorial the NYT ran on June 14 that falsely smeared Palin as inciting the 2011 shooting of Democratic Rep. Gabby Giffords by a mentally ill man. There is no evidence to support the NYT's implication that Palin played a role in inciting the Giffords shooting.
Sarah Palin sues NY Times for tying political ad to mass shooting. Former Governor of Alaska and vice presidential candidate Sarah Palin is suing the New York Times for defamation over a recent editorial tying one of her political action committee ads to a 2011 mass shooting that severely wounded Arizona Democrat Gabby Giffords and killed six people, including a 9-year-old girl, The [New York] Post has learned. The Manhattan federal court lawsuit, filed Tuesday by lawyers Kenneth Turkel, Shane Vogt and S. Preston Ricardo, accuses the Gray Lady of having "violated the law and its own policies" when it accused her — in a "fabricated story" — of inciting the 2011 attack by Jared Lee Loughner. Palin, who emerged on the national political scene as running mate to John McCain's 2008 presidential campaign, is seeking damages in an amount to be determined by a jury at trial.
New York Times bloodbath could include reporter jobs. Reporters at the New York Times could soon be "vulnerable" to the ax. If the ongoing round of voluntary buyouts being offered to editing staff does not get enough takers, the Gray Lady could begin another round, NYT Executive Editor Dean Baquet recently warned his top department editors. "Up until now, the company had not indicated that layoffs would happen if targeted numbers weren't achieved," Grant Glickson, president of the NewsGuild, told Media Ink. As part of the NYT's ongoing restructuring of its editing ranks, 109 copy editors have had their jobs eliminated. There are estimated to be about 50 new jobs available in the restructured editing operation that the Times envisions for its digital- and video-oriented future.
New York Times assails right wing over political violence before running correction. Just when a debate erupts over the role of media and mendacity in the shooting of a Republican congressman, the New York Times revives a discredited theory about the six-year-old shooting of a Democratic congresswoman. This was so egregious and embarrassing that the Times editorial page was compelled yesterday to run a correction. And worse than that, it was utterly tone-deaf in the wake of the shooting of Steve Scalise and four others, with the Republican whip still in critical condition.
NYT Uses GOP Shooting To Falsely Attack Sarah Palin With Debunked Conspiracy Theory. The New York Times used the attempted assassination of dozens of Republican congressmen by a left-wing Bernie Sanders supporter to attack former Alaska Gov. Sarah Palin with a baseless conspiracy theory blaming Palin for inciting mentally ill Jared Loughner to shoot Democratic Rep. Gabby Giffords in 2011.
New York Times publishes despicable lies to soften its own culpability for left wing violence. What's a newspaper to do when it ostentatiously refuses to cut funding for a high-profile play in Central Park depicting an obvious President Trump-themed Julius Caesar being assassinated, and then a left-wing extremist attempts to assassinate a group of GOP congressmen? The answer is obvious: lie!
New York Times Hits a New Low. If the Times had any decency they'd retract the whole editorial. But I wonder if the Times editorial page hasn't just decided to give up trying to be serious at all, and is now joining the trolling brigades.
Gay Muslim still blames Trump for "racism" after Pulse nightclub shooting. While most college graduates are settling in for the summer and basking in their recent accomplishments with family and friends, one newly-minted graduate is blaming President Trump for anti-Muslim sentiment one year following the terrorist attack in Pulse nightclub in Orlando. In a New York Times opinion piece, "A night of terror, a year of racism," Adam Manno — a gay American man whose father is from Pakistan — says Trump's language is scaring American Muslims because it supposedly fosters Islamophobia among the general population.
The New York Times needs to save whatever dignity it has left. What else did the New York Times get wrong? The paper's already damaged reputation took a big hit last week when former FBI Director James Comey testified before Congress that the Times screwed up in a key story that tried to make the case that Donald Trump's campaign colluded with the Russians during the election. In the front page piece that ran on Feb. 15, the Times said that "phone records and intercepted calls show that members of Donald Trump's 2016 presidential campaign and other Trump associates had repeated contacts with senior Russian intelligence officials in the year before the election, according to four current and former American officials." Five Times reporters contributed to the article, which — if true — would have been pretty [bad]. And so it became a focal point of last week's hearing. The only problem was that the Times article was wrong. And — despite the Times' effort to downplay and ignore its massive goof — Comey, in no uncertain terms, said it was "not true."
'Gray Lady' Loses Her Mind: NYT Claims Trump Is Helping Terrorists. The New York Times, the once-respected newspaper of record, posted a shockingly distasteful, dishonest, and ironically self-defeating editorial Monday titled "Shunning Gun Control, Helping Terrorists." In the piece, The Times editorial board claimed President Trump's desire to defend the Second Amendment and skepticism of the Left's proposed anti-gun measures help radical Islamic terrorists. The Times noted a pro-Second Amendment tweet of Trump's, written following the latest Islamic terrorist attack in the United Kingdom. "Do you notice we are not having a gun debate right now?" he tweeted at the time. "That's because they used knives and a truck!"
New York Times Targets Breitbart for Reporting Truth. The New York Times ran a story on Saturday implicating Breitbart News in what it claimed was a misleading effort to state that former FBI Director James Comey had testified under oath that he had not been pressured to stop an investigation. The Times' Jeremy W. Peters — normally one of its more credible journalists — reported that a tweet by Jack Posobiec led Breitbart News and other conservative outlets to conclude — falsely, in its view — that Comey had exonerated President Donald Trump of wrongdoing, under oath.
The Media Is Now Leaking Classified Info Just Because They Feel Like It. This morning, The New York Times brought us another breathtaking exposé of classified national security information that is really important for the public to know because... um, well, because they just kind of felt like it. The story is about a contractor for an international shipping company who was captured and held hostage by rebels in Yemen before being released last year. Without the man's permission or cooperation, The New York Times gives details of his capture and imprisonment, his name, his age, his exact job description with the shipping company, and the location where his wife and children lived at the time (none of which I will repeat here). [...] The whole report is inexplicable, and you get the sense that the reporters just wanted to tell a splashy, thriller-like story. Except that there's a larger pattern: it has become acceptable to open the floodgates of classified information because Trump.
Media Bias In Action: NY Times Makes Obama The Victim Of His Incompetence. The concern here is we are a culture that demands a ton of information, and we want it fast. Twitter, Facebook, Apple News, news alerts and email alerts keep us up to date on every bit of news we want from sports to politics. Unfortunately, an environment also exists wherein people are happy to read a headline and not read an article.
Media Bias In Action: NY Times Makes Obama The Victim Of His Incompetence. President Obama went on to use executive power in an unprecedented fashion. He didn't just do it, Obama bragged about it. "If Congress won't act, I will" and "I've got a pen, and I've got a phone" were familiar refrains the president used to announce he was going to use executive power to get his way. One of the ways President Obama tried to get around the separation of powers had to do with his signature legislation, The Affordable Care Act. The law allowed for payments to be made directly to insurers to cover out-of-pocket costs and deductibles for low-income consumers. Congress did not appropriate the funds. The Obama administration decided to make the payments anyway.
The Anti-Trump Tide Recedes. The tide is going out and the whole collusion nonsense (which Tom Friedman of the New York Times said was as serious as the Pearl Harbor and 9/11 attacks) is now down to dark murmurings about the president's son-in-law speaking after the election with the Russian ambassador. Jared Kushner has let it be known that the ambassador called him and that he will be happy to testify under oath to any appropriate congressional committee whenever he is asked. [...] Neither the president nor his son-in-law evince the slightest concern about the strength of their constitutional and legal positions, and the rather besieged air of the first hundred days White House has faded as the rabid nature of the Schumers and Schiffs has also abated.
The New York Times Just Outed The CIA's Top Iran Spy. In an article published Friday, The New York Times outed the Central Intelligence Agency's (CIA) top spy overseeing the organization's efforts in Iran. The paper justified its outing of the undercover CIA spy and his role within the agency by saying it was necessary since the agent is "leading an important new administration initiative against Iran." Yes. That really happened. In an article entitled "C.I.A. Names New Iran Chief in a Sign of Trump's Hard Line," the newspaper of record revealed that Michael D'Andrea, who previously led the hunt for Osama bin Laden, will now be in charge of the agency's operations in Iran.
New York Times Internal Watchdog Position Eliminated. The New York Times' public editor, Elizabeth Spayd, is leaving Friday [6/1/2017] and her position, one created to strengthen the paper's focus on accountability following a plagiarism scandal, will be eliminated. Times publisher Arthur Sulzberger Jr. wrote in a memo to staff on Wednesday that "our followers on social media and our readers across the internet have come together to collectively serve as a modern watchdog, more vigilant and forceful than one person could ever be." The memo came shortly after the Huffington Post first reported the Times' decision to eliminate the public editor role.
WSJ Slams Trump in Blistering Editorial. This isn't the first time that the Journal took off the gloves and went at Trump. Though they often go out of their way to give the President the benefit of the doubt, they also recently published a scathing editorial titled "Loose Lips Sink Presidencies" highlighting that "the portrait of an inexperienced, impulsive chief who might spill secrets to an overseas foe is one to which Mr. Trump has too often contributed." The only conclusion that can be drawn, the editorial says, is that Donald Trump is incapable of self-discipline and actually enjoys the chaos.
New York Times Unleashes Onslaught of Five Op-Eds Hostile to Israel. Any single one of these op-eds, taken alone, would be totally outrageous and indefensible. The onslaught of all five of them, in six weeks, constitutes an outbreak of anti-Israel and anti-Jewish hostility at the Times on a level with the Jewish cemetery desecrations and bomb threat calls against Jewish institutions that the Times blamed on President Donald Trump and treated as front-page news a few months back.
New York Times Can't Figure Out 'What Led Salman Abedi to Bomb the Manchester Arena'. In an attempt to build up its already "we'll never really know why they did it" file relating to Islamist radicals taking innocent lives, three reporters at The New York Times composed a 1,900-word report Saturday evening [5/27/2017] (for Sunday's print edition) about Manchester bomber Salman Abedi's family background.
NYT's Jonathan Martin Steals Photo From Another Journalist, Lies About Where He Got It. The New York Times has been holding up the torch for truth in the age of fake news and alternative facts — but one of its political reporters, Jonathan Martin, has no qualms in weaving a few alternative facts of his own. After he lifted a photograph from another journalist and presented it without attribution, Martin doubled down on his lie and claimed he had no idea it was the other journalist's photo.
In Wake Of Manchester Bombing, NY Times Calls For Respecting Hardcore Islamists. This is a dance we've seen time and time again. A person who practices extremist Islam, referred to as an Islamist, attacks in the name of their religion, and the Leftist apologists immediately go into a mode of "let's not be mean to Muslims or talk about the root causes and we all need to be respectful and diverse", even though the Islamists offer no respect and are happy to kill those who aren't Islamists, including other Muslims.
The CIA and the MSM: 50 Facts the World Needs to Know. [#27] In late 1966 the New York Times began an inquiry on the numerous questions surrounding President Kennedy's assassination that were not satisfactorily dealt with by the Warren Commission. "It was never completed," author Jerry Policoff observes, "nor would the New York Times ever again question the findings of the Warren Commission." When the story was being developed the lead reporter at the Times' Houston bureau "said that he and others came up with 'a lot of unanswered questions' that the Times didn't bother to pursue.
NYT's Comey Memo Story Doesn't Pass Smell Test. The New York Times reported on Tuesday that President Trump allegedly asked former FBI Director James Comey to shut down the investigation into former National Security Advisor Michael Flynn. The source of the allegation is a memorandum, revealed by an anonymous source, allegedly prepared by Comey regarding a meeting in the Oval Office the day after Flynn was forced to resign for misleading the Vice-President. While the headline is sensational, The New York Times's report is self-contradictory at times, conflicts with statements made on-the-record and under oath, overhypes the substance of the memorandum, and is irreconcilable with other information in the public record.
The Comey Memo: The Allegation Is Serious, and There Is No Good Outcome. Either there is now compelling evidence that the president committed a serious abuse of power, or the nation's leading press outlets are dupes for a vindictive, misleading story. Either outcome violates the public trust in vital American institutions. Either outcome results in a degree of political chaos. If the memo is real and as damaging as the [New York] Times claims, the chaos is likely greater, but don't underestimate the cultural and political damage if our nation's most prestigious press outlets run a story of this magnitude based on a malicious fiction.
New York Times publisher sends personal appeal to those who canceled over Bret Stephens. New York Times publisher Arthur O. Sulzberger Jr. is making a personal appeal to subscribers who canceled because the paper hired Bret Stephens, a conservative columnist who has questioned some of the science behind the theory of climate change and the dangers it poses. In an email sent Friday afternoon [5/12/2017] and obtained by POLITICO, Sulzberger addresses subscribers who specifically mentioned the hiring of Stephens as a reason that they ended their subscriptions. [...] "No subject is more vital," Sulzberger said.
Sulzberger's Apology. At Politico, Hadas Gold reports that New York Times publisher Arthur O. Sulzberger Jr. is making a personal appeal to subscribers who canceled because Bret Stephens transgressed some tenet of the religion of "climate change" (f/k/a "global warming") in his debut as a Times columnist.
NYT tries to torpedo purchase of TV stations by conservatives. The Sinclair group, which owns 173 television stations, is in the process of acquiring 42 more, and the New York Times doesn't like that. It has run a hit piece claiming Sinclair's local stations produce politically biased news — conservative news, that is — therefore making Sinclair unfit to own more of them.
The news media are losing their search for truth. When you pick up a great newspaper like the New York Times, it is sometimes shocking how openly partisan the coverage tends to be. For example, when President Donald Trump unveiled his new tax plan, the headline was not about the proposal per se, but rather how it would serve the wealthy. This may indeed be the case, but such an approach would traditionally be the role of the editorial pages — not the Page 1 headline writers.
What Caused Venezuela's Collapse Is No Mystery — Except To Economically Illiterate Journalists. When the New York Times wrote about Venezuela's ongoing collapse a year ago, it described how the country was suffering "painful shortages ... even of basic foods," and how "electricity and water are being rationed, and huge areas of the country have spent months with little of either." Here is how the Times explained the reason for Venezuela's dire situation: "The growing economic crisis (was) fueled by low prices for oil, the country's main export; a drought that has crippled Venezuela's ability to generate hydroelectric power; and a long decline in manufacturing and agricultural production." There's no mention — not one — of the fact that Hugo Chávez tried to turn Venezuela into a socialist paradise, policies that his successor Nicolás Maduro has continued. The Times' coverage is par for the course.
The NY Times Again Pushes Phony Trend of Hate Crimes in Trump's America. The New York Times is rather desperately still trying to make the idea of a recent, election-related surge in hate crimes stick, even after so many infamous "hate crimes" have been exposed as hoaxes in the Trump era. The latest, from reporter Audra D.S. Burch, made the front of the National section of Monday's [5/1/2017] Times, [...]
The Times' Postcard for Communism. Lots of fairly ordinary Americans considered themselves Communists. The Communist Party did fight for civil rights and free speech in America. The individual lawyers and activists behind those efforts were no doubt often sincere. But what's left out of this telling is that they were cleared to do this sort of thing by the party bosses for the propaganda value. If you think Stalin and his apparatchiks gave a whit about civil rights or free speech in America, or anywhere else, you're ignorant or a fool.
New York Times: When Communism Inspired Americans. It's inconceivable that the New York Times or any paper would run a glowing piece titled, "When Nazis Inspired Americans". [...] But the New York Times will run "When Communism Inspired Americans". It will run it because while Communism didn't inspire Americans, it did inspire the left to try and turn America into a totalitarian state. It still does. This is the dirty little secret that leaks out of the left. When the media runs these evocative nostalgic pieces about Communism, it's the equivalent of a pedophile sharing snapshots of summer camp. It's the disgusting secret of truly vile people leaking out.
NYT Op-Ed: Communism Gave Americans 'Sense of One's Own Humanity'. In anticipation of May Day, the international communist holiday, the New York Times published an opinion piece celebrating the American communists of the twentieth century, arguing that communism — an ideology that has killed 100 million people — gave Americans a "sense of one's own humanity." The column, titled, "When Communism Inspired Americans," lionizes communism as a religion with a "founding myth" that helped the "educated middle class" feel relevant in national politics. The author, Vivian Gornick, quotes her mother expressing gratitude for communists and crediting them with America's thriving republic.
NYT Tiptoes Around Feelings Of People Who Mutilate Little Girls. Worried the term "female genital mutilation" might sharpen the divide between those who oppose brutally cutting away a little girl's genitalia to deprive her of sexual pleasure and those who practice the "rite," one New York Times editor instead refers to the ritual as "genital cutting." "There's a gulf between the Western (and some African) advocates who campaign against the practice and the people who follow the rite, and I felt the language used widened that chasm," NYT science and health editor Celia Dugger explained Friday [4/21/2017]. She also said the widely used term (FGM) is "culturally loaded" in the explanation, which came as a result of inquiries from The Daily Caller News Foundation regarding a reporter's decision to use the term "cutting" in a recent story about a doctor in Michigan.
NYT Fails To Disclose Terrorism Conviction Of Op-Ed Contributor. The New York Times has given precious space on its op-ed page to a Palestinian man leading a hunger strike in an Israeli prison. But the essay, from Marwan Barghouti, leaves out one crucial fact: he is in prison because he was convicted of killing five Israelis in terrorist attacks more than a decade ago. A footnote to the op-ed describes Barghouti only as "a Palestinian leader and parliamentarian," omitting any reference to his 2004 terrorism conviction. In the piece, Barghouti, a leader in Fatah, a Palestinian political party, decries what he says is Israel's unjust judicial system and inhumane conditions in Hadaram Prison, where he currently resides.
The New York Times Wipes Blood Off The Hands Of Arch Terrorist Marwan Barghouti. Last week, the New York Times hired Bret Stephens, former Wall Street Journal columnist and editor-in-chief of the Jerusalem Post, in a move that many saw as perhaps heralding in a period of more balanced reporting from the paper commonly known as the New York Slimes. But any elation over his appointment has been dampened after the Times went really low, even by their own low standards: publishing an editorial by arch terrorist Marwan Barghouti and describing him as a "Palestinian leader and parliamentarian" — without any reference to his murderous legacy — at the bottom of the piece.
Republican wins. NYT declares victory for Democrats. From the Washington Examiner: "Republican Kansas State Treasurer Ron Estes defeated Democrat James Thompson and Libertarian Chris Rockhold Tuesday night [4/11/2017] to keep the state's 4th congressional district in GOP hands." Republican Estes 52.5%, Democrat Thompson 45.7%. A 6.8-point win. Ho-hum. But Nate Cohn of the New York Times — who gave Hillary an 85% chance of winning on Election Day — sees this as a victory for the Democratic Party.
NRA vs. NYT. Get out the popcorn: the nation's largest and most effective civil rights organization has declared war on the New York Times. The Times is running an ad campaign portraying itself as a purveyor of truth, a claim that is met with hollow laughter by those who are familiar with the paper's sordid history. Into the breach steps National Rifle Association commentator Dana Loesch, who — unlike anyone who writes about guns for the Times — knows a great deal about firearms.
Cernovich Explains How He Learned About Susan Rice. Ever since Mike Cernovich dropped the bombshell report over the weekend outing Obama's National Security Advisor, Susan Rice, as the person behind the unmasking of the identity of various members of Trump's team who were 'incidentally' surveilled during the 2016 campaign, a report which was subsequently confirmed by Eli Lake of Bloomberg earlier this morning, everyone has been wondering who within the Trump White House or the intelligence community supplied him with such a massive scoop. But, as it turns out, Cernovich didn't need a 'deep throat' within the NSA or CIA for his blockbuster scoop, all he needed was some well-placed sources inside of a couple of America's corrupt mainstream media outlets. As Cernovich explains below, his sources for the Susan Rice story were actually folks working at Bloomberg and the New York Times who revealed that both Eli Lake (Bloomberg) and Maggie Haberman (NYT) were sitting on the Susan Rice story in order to protect the Obama administration.
The New York Times' ongoing dishonesty only helps Trump. Six months ago, I canceled my subscription to the New York Times because I felt the paper had become ethically challenged in its coverage of the presidential election. And, it turns out, I was right.
NYT Eats Crow After Trump Tax Return Proves Major Story Wrong. The White House released President Trump's tax return from 2005 on Tuesday [3/14/2017], which showed that he paid $38 million on $150 million in income. This disproves the premise of a major New York Times story in the lead-up to the November election.
Opposition Party In Action: NYT columnist Nick Kristof asks IRS to leak Trump's tax return. Of course, the Gray Lady is pretty selective when it comes to reporting leaked documents — not to mention simply reporting news. When the "Hide the Decline" Climategate scandal involving the University of East Anglia climate research center broke in 2009, then-Timesman Andrew Revkin, who wrote their "Dot Earth" enviro-blog, sniffed, "The documents appear to have been acquired illegally and contain all manner of private information and statements that were never intended for the public eye, so they won't be posted here."
The New York Times Told Us Trump Was Wiretapped in January. There is far, far more substance to what Trump is alleging than the entire thing that the Democrats and the media are alleging. There is no evidence that the Russians had anything to do with the outcome of our election, none, and there won't be any, because the Russians didn't. But there's all kinds of evidence, circumstantial and suspicious and common sense that this is what the Obama administration did. We've got countless examples of them wiretapping. We've got their "house organ" admitting that wiretap data was used in the inquiry of Trump aides. But one of the names on this story, one of the reporters is named Michael S. Schmidt.
Devastating Proof of Media Bias: New York Times Airbrushes Away Democrat's Embarrassing False Claim Without a Trace. Jay Caruso noted that Senator Claire McCaskill had claimed early today never to have met with a Russian ambassador: [Tweet] Then undeniable documentary and photographic evidence emerged that she had. I bet she wishes she could just airbrush that initial tweet from history — like it never happened. Kinda like the New York Times did today with her claim. They reported it — and then, when they figured out it was wrong, they simply vanished it.
FISA Is Not Law-Enforcement — It's Not Interference with Justice Department Independence for White House to Ask for FISA Information. In my earlier post, I explained that the Obama camp is disingenuously responding to revelations that, during the presidential campaign, the Obama administration conducted an investigation, including wiretapping, against Trump associates and perhaps Donald Trump himself. As I elaborated, one avenue of response is to conflate the Justice Department's two missions — law-enforcement and national security. We can see this strategy playing out in the New York Times coverage of the controversy.
The New York Times Rewrites History To Tarnish Trump Speech. In a curtain raiser for President Trump's address to Congress this week, the New York Times tried to compare Trump's bumpy start to President Obama's supposedly "impressive" one. But in doing so, the Times wildly distorts what actually happened in Obama's first month in office.
New York Times Op-Ed Writer Criticized Trump for Using Teleprompter during Speech. New York Times op-ed writer Andrew Rosenthal was not a fan of the use of a teleprompter by President Donald Trump during his speech to Congress. Did he forget that President Barack Obama used teleprompters during his presidency and major speeches?
Times presents 'news' that's just propaganda for Bam. Consider a Page One "news" story in Monday's [2/27/2017] New York Times. The headline, "Widespread Cuts in Trump Budget Bypass Military," suggests news about the president's spending plans. But the piece never says much about them — because it gets lost recalling the glories of President Barack Obama to rebut Trump's claim that he inherited a "mess." The article gushes, for instance, about how Obama, after a similar few weeks in office, had practically saved the world: "The country was losing 700,000 jobs a month, and the global financial system was teetering on the edge of collapse" until Obama raced to the rescue.
How illegal immigrant advocates demonize Trump and terrify people. The New York Times describes 11 million people — those who are living in the country illegally — as sleepless with anxiety, waiting for the "fists pounding on the door, the agents in black, the van ride, the cell." Who has thrown such fear into this community? How about the Left, aided and abetted by the liberal media, which has purposefully distorted President Trump's immigration policies, characterizing them erroneously as a radical departure from past practices? In a feverish blast to donors sent out yesterday [2/22/2017], the Democratic Legislative Campaign Committee claims that "Donald Trump plans to add thousands of immigration agents and begin deporting "almost all" undocumented immigrants." That is, excuse the expression, fake news. Trump is doing no such thing.
NY Times Publishes Screed By Illegal Alien Who Vows To Not Leave. [Scroll down] We see from the KDVR article that she arrived illegally in 1997 with her husband and a 6 year old. Since she is 45 now, that means she was not a child at the time she intentionally broke our immigration law. At one point she was charged with not having a license or insurance and for having an expired license plate. Those charges were dropped. She put a made up Social Security number on a document she was planning to use for a job application. She pled guilty to attempted possession of a forged instrument. La Immigra became involved at that point. She was given the opportunity to voluntarily self-deport. She finally did leave, then came back, paying someone to smuggle her across the border, for which she was almost immediately caught be the Border Patrol, making her an alien absconder.
The Day the New York Times Lost All Credibility. [Scroll down] If one had to pick a day when the Times lost all credibility with Sanders and other independent journalists, it would be September 21, 1996. On that day, the Times' Matthew Purdy told of how the St. Louis police used the TWA 800 plane to train a bomb-sniffing dog six weeks before the crash. The trainer placed explosives throughout the plane and encouraged the dog to find them. One law enforcement official told Purdy the explosives were kept in tightly wrapped packages but conceded, "Testing can leave traces behind." The following day, September 22, the Times published what would prove to be the investigation's obituary. "Can you imagine what a defense lawyer would do to us?" one investigator told reporter Don Van Natta. "This pretty much knocks out the traces, unless we get something much more concrete."
More about TWA 800.
NYT Asks Chelsea Clinton About Her Favorite Books After Her Book Flops. The New York Times published an interview Thursday with Chelsea Clinton about her favorite books, just days after her own book opened to terrible sales in its first week. Clinton's book, Governing Global Health: Who Runs the World and Why?, which she co-authored with Devi Sridhar, came in 17,748th place in sales during its first week out, according to the Best Sellers Rank. The interview took place for the New York Times' "By the Book" feature, for which the paper talks with leading authors. The feature does not explain why Clinton was included as an author given her short career as a writer.
New York Times in Full Panic Mode Over Reports Trump May Designate Muslim Brotherhood a Terrorist Organization. The New York Times this week continued its month-long campaign against designating the Muslim Brotherhood a terrorist organization amid reports the Trump administration is debating the possibility of issuing an executive order making such a designation. Declaring the Brotherhood a terrorist organization would add the U.S. to the growing list of nations to do so, including Muslim countries like Egypt, Saudi Arabia and the UAE.
New York Times Foams at the Mouth: DHS Seeking to Expel Wide Range of Illegal Aliens. [Scroll down] The NYTEB said it: they are living in this country outside the law. If they crossed the borders without permission or overstayed their visa, then they are unlawfully present. They also complained about creating an atmosphere of fear. Good. Criminals should be worried. Illegals have no one to blame but themselves. This is not on the citizens of the U.S. We didn't make them come here illegally/overstay visas. They CHOSE to do that. They chose that for their children, in many cases. They do not help their case when they demand, DEMAND, that the United States give them money, services, welfare, healthcare, housing, food, education, the right to vote, and citizenship. They aren't asking. They're demanding. They're out in the streets insulting citizens, they freak out over citizens flying the flag of the U.S., they fly the flags of Mexico and other nations, and they demand the return of the American southwest to Mexico. Being humble would help their case: they are anything but.
GOP Missing the Real Elephant in the Room. [Scroll down] The New York Times' big headline this week is, "Trump Campaign Aides Had Repeated Contacts With Russian Intelligence." How can they know that? The article begins with, "phone records and intercepted calls" between the Trump campaign and Russian intelligence agencies. The campaign officials being U.S. citizens, not to be spied on by the CIA or NSA without cause and warrants. How could the NY Times have this information? Is the Times tapping phones? Doubtful. Instead it appears that U.S. intelligence agencies are listening in on phone calls and other communications of American citizens. And then passing on the information to friendly news agencies.
New York Times Claims Trump/Russia Connection, Then Admits They Can't Prove Any Connection. In a lengthy hit piece published Tuesday [2/14/2017] scandalously titled "Trump Campaign Aides Had Repeated Contacts With Russian Intelligence," the New York Times cites more leaked intelligence information targeting Team Trump that shows "repeated contacts with senior Russian intelligence officials" in the year before the election. The implied allegation is obvious: Trump colluded with the Russians to take down Clinton and thus steal the presidency. There's only one problem: by the third paragraph of the 1300-word article, the Times admits that its sources "said that, so far, they had seen no evidence of such cooperation."
NYT Opinion: President Trump Should Target Guns Rather than Muslim Terrorists. A February 11 New York Times opinion piece claims President Trump missed the mark with his executive order on immigration, suggesting he would have kept Americans safer by targeting guns instead of Muslim terrorists. The author tries to support this suggestion by pointing to things that have caused more American deaths than have been caused by Muslim terrorists. However, this deductive process is ruined by fact that the author does not bother naming all the things that cause more American deaths than have been caused by guns.
NY Times Seems Pretty Upset Over An Illegal Alien Felon Being Deported. President Trump persists in the absurd claim that America will be safe and great again only after an assault on "bad dudes" and "criminal aliens," whom he has promised to arrest and remove by the millions. [...] First, illegals should realize what can happen when they are in the country illegally and commit any crime, especially a felony. Second, the NYTEB is suggesting that they continue breaking the law by seeking sanctuary. They are advocating for lawlessness. Such is the state of the Liberal News.
Jeh Johnson Hyped Denying Visa-Free Travel to Those Who Visited NYT's '7 Muslim Countries'. In multiple congressional testimonies last year, then-Homeland Security Secretary Jeh Johnson hyped the action he was taking — under a law signed by President Barack Obama — to deny visa-free travel to the United States to citizens of Visa Waiver Program (VWP) countries who had visited Syria, Sudan, Iraq, Iran, Yemen, Somalia or Libya. "Foreign terrorist travel, the prospect of foreign terrorist travel to our homeland keeps me up at night," Johnson, for example, testified in the House Homeland Security Committee on July 14, 2014.
Linda Sarsour Rekindles the Left's Love Affair with Radical Extremism. The profile was titled "Linda Sarsour Is a Brooklyn Homegirl in a Hijab," but Sarsour is much more than that. Designated a "champion of change" by the Obama White House, she was a delegate to the 2016 Democratic National Convention and a Bernie Sanders surrogate. In January, she served as one of the four national co-chairs of the Women's March on Washington. Currently, she is the lead plaintiff in a lawsuit filed against Donald Trump's executive order on refugees. The [New York] Times did not err in portraying Sarsour as a new left-wing champion, but like others who have lauded her, it omitted some details.
NYT Warns Trump: Designating Muslim Brotherhood Terrorist Org Could Make 'Entire Muslim World' His Enemy. The New York Times editorial board thinks President Trump shouldn't designate the Muslim Brotherhood a terrorist organization because it could make Trump the enemy of all Muslims. The liberal paper published Thursday an editorial Thursday [sic] titled "All of Islam Isn't the Enemy" arguing against the move, which the Trump administration is reportedly considering as a possible option.
Iceberg Story, Slim. In the post-November 8 universe, one man's fake news is another man's vitally important scoop. The third-most emailed article in today's [2/7/2017] New York Times is surely both things depending on who's reading it. [...] Here's the gist of it: A crack is growing in the Larson C Ice Shelf, "in an area already vulnerable to warming temperatures" and may soon create a very large iceberg. [...] This is literally a story about an iceberg that could form — and then do no appreciable damage. And lest you think there's any new information here, the Times reports that scientists have been monitoring the thing since 2014.
New York Times: Our Readers Are Too Dumb To Understand Global Warming Numbers. I recently wrote about the wretched reporting on the claim that 2016 was the "hottest year on record," using as my main example a New York Times article by Justin Gillis that gave his readers none of the relevant numbers they could use to evaluate that claim. None of them. If you search for the actual numbers, you will eventually find that the effect they are claiming, the actual amount by which this year was hotter than previous years, is smaller than the margin of error in the data. Shortly afterward, I got a revealing response from Gillis. I'll fill in all the details for you, because the whole thing is an important case study in why you can't trust mainstream reporting on global warming.
Useful Idiots No More. The media is forever demanding that Christians take a "serious look" at their religion's lack of modern enlightenment, then declare any criticism of the Koran "Islamophobia." "A Sinister Perception of Islam Now Steers the White House," blared a Thursday [2/2/2017] headline on the front page of the New York Times. Could anyone imagine it running an equivalent headline about Obama's White House and Christianity — "A Sinister Perception of Catholicism Now Steers the White House"? Later, the paper changed "sinister perception" to "dark view of Islam."
'Illegal' Press Leaks by U.S. Have Become 'Systematic,' A Legal Filing in N.Y. Alleges. A New York-based FBI agent who played a leading role in a string of recent insider trading prosecutions is under criminal investigation for what federal prosecutors, in a recent court filing, call "unquestionable misconduct by an agent of the Government... improper and inexcusable." It's the sort of story that ordinarily might be splashed across the front pages of the New York Times and the Wall Street Journal — except that in this case, the misconduct of which the FBI agent, David Chaves, is suspected was leaking grand jury information to the Times and the Journal.
NYT tries to humiliate Trump by claiming he takes female hormones for hair. Can you recall the NYT ever publishing salacious details about Obama's health? Do we all not recall the New York Times' reticence to talk about Hillary Clinton's fainting spells and concussion?
NYT snubs top-selling book on abortionist Gosnell. It sold out in three days on Amazon and is the fourth bestselling hardcover nonfiction title in the country, but the New York Times did not include a new book about Philadelphia abortionist Kermit Gosnell on its best seller list to be published Sunday [2/5/2017].
NYT: Anything Obama Did Was Constitutional. Anything Trump Does, Isn't. A tiny handful were affected by this order — likely less than a dozen. And the reason the judge didn't issue a "broader ruling on the constitutionality of President Trump's actions (for some reason, the Democrat Operators With Bylines at NYT can't seem to bring themselves to call him that) was simple: The judge understood that Trump's Executive Order was perfectly constitutional. I would further expect this temporary order to be overturned as soon as the Trump administration can lodge an appeal with an appellate court.
Trump's orders on immigrants bring hypocritical and hysterical uproar. The mainstream media and opportunistic politicians are in high dudgeon over President Trump's executive order to ban immigrants form certain terrorist-infested regions from entering America. Journalists are putting blinders on to justify their attacks. These include the New York Times's Maggie Haberman who made a fool of herself on Twitter by questioning whether any immigrants since 9/11 have been implicated in terror attacks. She was quickly answered by many Americans who do not make a living at America's "paper of record" — numerous immigrants have been involved in terrorism in America since 9/11. By the way, Haberman, the New York Times White House correspondent, was revealed to be a partisan Democrat hack by Wikileaks.
More about Islamic terrorist attacks that are reported as "isolated incidents".
NY Times Offers Well-Placed, Positive Take on March for Life. What a difference an election makes: The annual pro-life March for Life, long ignored by the New York Times, led the paper's National section (page A8) on Saturday, driven by a little political star power in the form of Trump counselor Kellyanne Conway and Vice President Mike Pence.
NYT Editorial Board Horrified That Trump Wants To Fight 'Radical Islamic Terrorism'. The New York Times' editorial board took a stand Thursday against President Donald Trump's vow to eradicate radical Islamic terrorism from the face of the earth. The Times' editors worried that Trump's approach to fighting radical Islamic terrorism — which they referred to with scare quotes — is "more likely to further inflame anti-American sentiment around the world than to make the United States safer."
New York Times Quietly Runs Stunning Correction On Editorial Attacking Electoral College. The New York Times quietly issued a major correction to an editorial attacking the electoral college in December, admitting it has in fact defended the electoral college at a time when it was politically expedient for Democrats. The paper ran the editorial calling for an end to the electoral college in December, when Democrats were harping on the fact that Democratic nominee Hillary Clinton beat President Donald Trump in the popular vote, and calling for reforms to make the system more "fair." Obviously seeking to avoid the editorial position as politically motivated, the editorial emphasized what turned out to be a false claim that the paper has opposed the electoral college system for 80 years.
Requiem for a Lightweight. The mainstream media tried hard in the transition period to continue to wound Trump, sticking shivs in his proxies, his nominees. The NYT published a demonstrably false article claiming Rick Perry didn't even know the scope of the duties of the Department of Energy; they promoted the Democratic falsehood that Tom Price had violated his ethics obligations. The Washington Post headed a story "Trump picks former Governor Sunny Perdue, who once led a prayer for rain, as agriculture secretary," making that seem like an outlandish thing only a hick or primitive shaman would indulge in.
Fake News Plus Fascism: New York Times Urges Boycott of Breitbart. In two op-ed articles for the New York Times' Sunday Review [1/8/2017], the Gray Lady attacks Breitbart News and its founder, Andrew Breitbart, and encourages an effort to "destroy" the company by appealing directly to advertisers not to support the website. One article, "How to Destroy the Business Model of Breitbart and Fake News," written by someone actually called "Pagan Kennedy" (was "Antichrist Roosevelt" not available?) celebrates the flagging effort of anonymous Twitter trolls who have tried to target and intimidate companies whose ads appear alongside Breitbart News articles, via third party platforms. These would-be censors of the totalitarian left have decided that since they cannot defeat conservative views and arguments on the merits, they would prefer to eliminate them.
Stop trying to undermine Trump legitimacy. House Speaker Paul Ryan stood stone-faced behind House Minority Leader Nancy Pelosi as she addressed the new 115th Congress. Before handing him the gavel, she tossed a Molotov cocktail at the GOP — saying our democracy cannot be "subverted by the dark operations of a foreign regime." Pelosi was referring, of course, to reports that Russia had attempted to influence the American election in favor of Donald Trump, who it is believed is friendlier to the Russian regime. Just days before U.S. intelligence agencies released findings to that effect, she was surfing a wave of stories like one in the New York Times that bore the headline "Obama Strikes Back at Russia for Election Hacking." This tapestry of vagueness has led to confusion about what exactly happened during the election.
No, Trump's Dismissal of Obama's Ambassadors Is Not an Unprecedented Crisis. President-elect Donald Trump's order for all politically-appointed ambassadors to leave their overseas posts by Inauguration Day is "breaking with decades of precedent by declining to provide even the briefest of grace periods," according to the New York Times.
Media Suddenly Find 'Courage' to Stand up for First Amendment. "Thank you, Mr. President. During these first 100 days, what has surprised you the most about this office, enchanted you the most about serving this in office, humbled you the most and troubled you the most?" That was the obsequious question asked by a New York Times reporter during one of President Barack Obama's first press conferences, in April 2009.
'Modest,' Yet 'Vibrant': New York Times Gushes Over 'The Fashion of Islam' Exhibit. The same liberal media that tout women's rights, gender equality, equal pay, the freedom for a woman to express herself by choosing how to dress, is the same media now pushing the narrative that "modest" Islamic fashion is the hottest style to hit the catwalks. Yes. For the moment, The New York Times has thrown their feminist beliefs out the window, opting to promote a fashion that is often viewed as oppressive to women because it forces them to cover their entire body and face for fear of receiving unwanted glances from anyone other than their husbands.
NYT Says GOP Stole Supreme Court Seat From Obama. The New York Times' Christmas Day editorial tags Senate Republicans for "stealing" a seat on the Supreme Court that should have been filled by President Barack Obama. The Times accuses Republicans of impugning the institutional integrity of the court by a hyper-partisan charade, arguing the justices derive their legitimacy from their separation from the two political branches of government.
NYT: 'Fake News' Backfires as Breitbart, Conservatives 'Appropriated the Term'. The New York Times' Jeremy W. Peters is rather salty that conservatives immediately saw the "fake news" panic's endgame and turned the tables on establishment media.
After Claiming They Were Always Against Electoral College, New York Times Backtracks. As if the New York Times didn't already issue enough corrections, they did it again Wednesday [12/21/2016]. After publishing a long-winded rant in Tuesday's paper calling for the electoral college system to be abolished, the editorial board was forced to apologize for making inaccurate claims about the paper's historical stance on the electoral college. The original article entitled, "Time to End the Electoral College," was just as bad as it sounds. The article was full of false claims, from claiming the electoral college was built on slavery, to claiming that voters in California and New York get less representation than voters in Texas and Idaho. On top of that, apparently, the paper can't even get their own history right.
Three reasons why the New York Times' War on Christmas denial is all wrong. The New York Times recently published an article purporting to trace the history of the "War on Christmas." The article concludes that "there is no evidence of an organized attack on Christmas in the United States," and expressed skepticism about the "alleged liberal antagonism toward the holiday." As the author would tell it, Fox News host Bill O'Reilly stirred up the passions of his viewers based on a book written in 2005 by another Fox News host, John Gibson, entitled "The War on Christmas." John Gibson interviewed me for that book, and I detailed the legal battles I and others had fought against Christmas censorship from the mid-1980s.
The New York Times' Fictitious Image of Gun Carriers. Sometimes someone inadvertently performs a public service by bringing an unbelievably stupid and dangerous idea to the surface, where it can be exposed for what it is. The New York Times can be credited — if that is the word — with performing this public service in a recent editorial against proposals to allow law-abiding citizens to carry concealed guns. They refer to what they call the National Rifle Association's "fantasy that citizens can stand up to gunmen by shooting it out." Nobody has suggested any such thing. Data collected over many years — but almost never seeing the light of day in the New York Times or the rest of the mainstream media — show many thousands of examples of people defending themselves with a gun each year, without having to pull the trigger.
Supreme Court Freakout at the New York Times. The New York Times was once known as The Grey Lady. Today, a more apt moniker would be The Hysterical Bag Lady. The Times editorial board is home to the most immoderate, shrieking Leftism you will find this side of the Nation. On Christmas Eve, the Times editorialized on The Stolen Supreme Court Seat. It is a classic of the post-Trump-election freakout genre: [...] This is the substance of the Times's complaint: that Senate Republicans "broke with longstanding tradition" by deferring the next Supreme Court selection until after the November 2016 election. How do the editorialists support their claim? By citing their own paper.
NY Times calls for end to Electoral College. The New York Times is calling for an end to the Electoral College. Americans would prefer by overwhelming majorities to elect a president using a popular vote system, the newspaper's editorial board said in a piece published Monday. "They understand, on a gut level, the basic fairness of awarding the nation's highest office on the same basis as every other elected office — to the person who gets the most votes," the editorial said.
NYT: Global Warming Is Turning Polar Bears Into 'Climate Refugees'. The New York Times actually agrees that Arctic-dwelling polar bears are "climate refugees," fleeing for their lives from melting sea ice, which of course according to all the radical politicians, activists and media outlets, is caused by humans... these basket cases are really looking for anything to call a 'refugee'.
Fake News, the New York Times Way. Not a day goes by now when the New York Times doesn't run an article about the danger of "fake news." So, I was reminded of the greatest bit of "fake news" ever published: the New York Times's cover-up of Stalin's murder of 7 million people. For which the New York Times won (and jealously keeps) a Pulitzer Prize.
NY Times Has Great News: Our Republic Is Ending, Becoming Either Nazi Germany Or The Roman Empire! The Sore Loser Symphony continues. Trump Derangement Syndrome reigns. Buzzfeed's Chris Geidner lays out the Sore Loser playbook for how Democrats will attempt to block Trump. Michael Moore has his own Sore Loser request for the Electoral College. And then there's Sore Loser Paul Krugman, who had nary a bad word or complaint about Obama during the past 8 years, proclaiming we're either heading towards Nazi Germany or the Roman Empire.
NY Times Hiring Fake Journalist to Cover Trump White House Evokes 'Fake But Accurate' History. The New York Times just hired to cover the Trump White House the Politico reporter busted by WikiLeaks for allowing Clinton campaign chairman John Podesta to vet an article about the candidate. [...] He surely did in asking a partisan to review his work for accuracy. The request for secrecy in a profession dedicated to transparency indicates he knew as much.
Remember when peat bogs were going to release deadly carbon? Never mind. Readers may recall the NYT sounds of alarm over peat bogs releasing all manners of hellish CO2 into the atmosphere due to warming. Well, they're all wet.
Gingrich Slams The NYT: Totally Fake Conspiratorial BS Stories. This past Sunday [12/11/2016], former Speaker of the House Newt Gingrich appeared on Fox's MediaBuzz and discussed the viral topic of 'fake news' in relation to the New York Times. [...] Newt is a smart man. And he isn't fooled by the pathetic attempts of the New York times to pretend to take the alleged 'fake news epidemic' seriously. Especially since they are a major peddler of false stories and factless ramblings meant to support the Liberal narrative. The Old Gray Lady has not been taken seriously by anyone outside of the Democrat Party for many years at this point.
New York Times Hires Reporter Who Sent Stories To Clinton Staffers For Approval. Politico's Glenn Thrush, who was exposed in WikiLeaks emails sending stories to Hillary Clinton staffers before publication, will be joining the New York Times to cover the White House, The Huffington Post reported Monday [12/12/2016]. "We're thrilled that Glenn Thrush is joining The Times," Elisabeth Bumiller, The New York Times' Washington bureau chief, told The Huffington Post. "He's a premier political journalist, a master of breaking news and long-form story telling and a stellar addition to our White House team."
New York Times Hires Glenn Thrush After Wikileaks Humiliation. The New York Times has hired Politico's chief political correspondent Glenn Thrush, after Wikileaks outed chummy and even subservient emails from Thrush to Democratic operatives in the 2016 election cycle. Thrush became the face of Democratic collusion with journalists during the 2016 campaign, after emails revealed by Wikileaks showed him asking Hillary Clinton's campaign chairman John Podesta for approval on language before publishing a story about the campaign's fundraising strategy.
NYT executive editor: 'We don't get the role of religion in people's lives'. The New York Times' executive editor said that his newspaper — and "media powerhouses" across the nation — "do not understand what motivates devoutly religious Americans." Dean Baquet sat down Thursday [12/8/2016] with NPR for an extended interview on the media landscape following Donald Trump's presidential election win on Nov. 8. Host Terry Gross essentially engaged in an after-action review in terms of what media outlets can learn from the election cycle. When Mr. Baquet was asked whether he is "wrestling" with how to cover President-elect Trump, he used the question to pivot to ways to reach religious readers.
Tucker Carlson Takes on NY Times Over Liberal Bias. Tucker Carlson faced off with New York Times editor Liz Spayd tonight [12/2/2016] over the paper's liberal bias. Carlson argued that the Times became an advocacy organization for Hillary Clinton against President-elect Donald Trump during the 2016 campaign. Spayd, who recently wrote that better campaign coverage was needed, acknowledged that there is a lack of ideological diversity at the paper.
At Walter Reed: NYT Hailed Obama's 'Sacred Duty' to Troops, But Bush Staged Photo Op. Presidential visits to wounded soldiers at Walter Reed should be non-political events worthy of non-partisan coverage, but the New York Times manages to shows its colors even in those solemn moments. In the half-page "Obama's Sacred Duty: Visiting the Wounded — Trips to Walter Reed Take Toll and Inspire" for Wednesday's [11/30/2016] edition, reporter Gardiner Harris brought a somber, emotional, personalized tone to the proceedings. [...] Yet the tone was quite more brusque and abrupt, almost guilt-tripping, when it came to former President George W. Bush's visits to the wounded at Walter Reed during the Iraq War, even down to the terse headlines, like this one from November 2004: [...]
NYT Columnist Calls Trump 'Least Successful' Candidate Of Our Time. New York Times columnist Gail Collins calls President-elect Donald Trump one of the "least successful" presidential candidates in American history in an op-ed Thursday [12/1/2016]. Although Trump pulled off an unprecedented comeback in the polls to win the election, Collins points to his loss in the popular vote as evidence he's actually one of the least successful candidates ever. "The one positive effect of the recount, besides reassuring people who worry the Russians might be capable of hacking a massive American vote tally, is the way it reminds the nation, every day, that Donald Trump is one of the least successful successful presidential candidates in American history," she writes.
Democrats, Not Trump, Racialize Our Politics. The most absurd Democratic meme to emerge from the party's ballot-box defeat is the claim that it is Donald Trump, rather than Democrats, who engages in "aggressive, racialized discourse," in the words of a Los Angeles Times op-ed. By contrast, President Barack Obama sought a "post-racial, bridge-building society," according to New York Times reporter Peter Baker. Obama's post-racial efforts have now "given way to an angry, jeering, us-against-them nation," writes Baker, in a front-page "news" story. Tell that valedictory for "post-racial bridge-building" to police officers, who have been living through two years of racialized hatred directed at them in the streets, to the applause of many Democratic politicians.
An Obituary of The New York Times. Working with the government to suppress stories, covering up election fraud in the ruling party and ruthlessly campaigning against the main US opposition leader, The New York Times has sentenced itself to wither away into irrelevance. Remembered only in history books as a relic of the Cold War, much like its sister newspaper Pravda of the Soviet Union.
NYT accused by its public editor of bias in Trump, Clinton coverage. The public editor for The New York Times said Sunday that the number of complaints the newspaper received over its coverage of the 2016 presidential campaign spiked to five times its normal level. Complaints to the paper included claims that its coverage was biased against Trump during the general election as well as accusations from readers that it favored candidate Hillary Clinton over Bernie Sanders during the Democratic primaries.
New York Times "Seems To" Utilize Professional Alinsky Rule — Division, Isolation and Marginalization. This inferential approach to news is not uncommon, we find it whenever the media are working earnestly to create the "appearance of" something. This approach is also how the professional left has historically divided their opposition into smaller, more easily dispatched, entities. Divide and conquer.
Tidal Wave Of NYT Readers Vote NO On 'Echo Chamber Of Liberal Intellectualism'. New York Times readers are writing to the publication at a rate on par with what was seen after 9/11 with an angry message: "I expect more from The Times." That's what reader Judy Barlas told NYTimes editor Liz Spayd for her article, "One Thing Voters Agree On: Better Campaign Coverage Was Needed." Barlas supported Sen. Bernie Sanders, and felt like the Times pushed a narrative that then-competitor Hillary Clinton was always going to win the Democratic nomination. Times readers are writing and calling the Times and commenting on articles in droves to express, according to Spayd, "a searing level of dissatisfaction" with the 165-year-old paper's coverage of the 2016 presidential election.
An Open Letter To The New York Times: Hey, About Your Epic Failure in the Presidential Election. [Scroll down] I point first to the banner headline across the top of page one on Wednesday, November 9, the day after the election. With a solipsistic slant more appropriate to a journal of social psychology, it declared: "DEMOCRATS, STUDENTS, AND FOREIGN ALLIES FACE THE REALITY OF A TRUMP PRESIDENCY." It was a headline that will live in journalism infamy. Bloomberg editor Mark Halperin explained why. Said Halperin, "This is the day after a surprising, underdog, sweeping victory, and their headline is not 'Disaffected Americans have a champion going to the White House' or 'The country votes for fundamental change.' The headline is about how disappointed the friends of the people who run the New York Times are about what's happened." Halperin observed that the headline was like a self-parody of the clueless editorial elite. "I mean, it's amazing!" he exclaimed. "I mean, it's The Onion!"
NYT caught lying about President Trump. The New York Times gave lip service to mending its ways after the American public repudiated the media and elected Donald Trump as the 45th president. But today, the public caught the New York Times lying about Trump again.
Seven questions for the New York Times. On Sunday [11/13/2016], the publisher and the executive editor of the New York Times published a letter to the paper's readers, promising to "rededicate" the paper to its "fundamental mission". That mission, they said, is to "report America and the world honestly, without fear or favor, striving always to understand and reflect all political perspectives and life experiences in the stories that we bring to you." This is as close as the Times is likely to come to apologizing to its readers for a year and a half of unbalanced — and often unhinged — coverage of the presidential race.
Democratic Propaganda Disguised as Election Analysis. Julie Bosman and Monica Davey in a N.Y. Times article, "Republicans Expand Control in a Deeply Divided Nation," use understatement and a rhetoric of "thoughtful analysis" to make their case that Republican victories are negative events even though the people have spoken. By publishing this article, the N.Y. Times once again becomes an instrument of partisan politics under the guise of high-minded journalism. The authors have mastered the art of writing to project a sense that the reader is getting an overview of where we've been, where we are, and where we're going. But in fact, the article is filled with bias against the Republicans. Distortions abound.
AP, NY Times Ignore California Startup CEO's Trump Assassination Threats. On Sunday, Matthew Harrigan, the President and CEO of PacketSled, Inc., posted specific threats to assassinate President-elect Donald Trump on Twitter and Facebook. The company's board placed Harrigan on administrative leave on Monday [11/14/2016] and announced his "resignation" very early Tuesday morning. That a company CEO could do what Harrigan did has to be national news, right? Well, not yet. Searches on the company's name at 10:30 a.m. Tuesday morning at the Associated Press's main national site, its Big Story site, and at the New York Times returned no results, even though the tweets involved occurred about 1½ days ago. And where are the lamentations about the "climate of hate" which might have brought such a person to do something so completely unhinged?
NYT: 'Vibrant Washington Fears Trump Will Drain Its Culture'. Jason Horowitz writes in The New York Times that the Beltway elite fear that President-elect Donald Trump's "drain the swamp" mentality will greatly reduce the posh culture of Washington, D.C., which expanded under Barack Obama's presidency.
The New York Times can't improve until it admits bias. The New York Times is so, so very sorry that its presidential election coverage was so, so very wrong. Please have pity on them, Times publisher Arthur "Pinch" Sulzberger Jr. begged his paper's readers the other day. "We aim to rededicate ourselves to the fundamental mission of Times journalism. That is to report America and the world honestly, without fear or favor...," Sulzberger said in a letter. Tell me, how is the paper going to "rededicate" itself to "honesty" if it can't even admit that it was dishonest during this past election? The Times' coverage was blatantly slanted against Republican Donald Trump, so much so, in fact, that even its own Public Editor — who is supposed to be the referee of ethics — slammed her employer.
NY Times Brass Say Sorry for Blowing Election, as Liberal 'Narrative' Crumbles. It turns out the Times can't really shape public opinion, much as the it has tried over the years. The latest evidence is a fascinating story posted to Deadline on Friday [11/11/2016], by former Times-man Michael Cieply describing how editors put news reporting on the backburner in favor of trying to shape the news itself, by establishing a narrative of coverage and then finding facts and assigning stories to fit it.
The Media and the Pollsters have lost their clout by incompetence and deceit. The entire media, even Fox news, reflected the bias against Trump, a bias well-documented in the Wikileaks disclosures of the Podesta emails, showing the media conniving to feed Clinton debate questions and coordinating their coverage with Hillary and the DNC. [...] Newsweek, which last sold for one dollar, was forced to recall 125,000 copies of its souvenir Madam President edition. We're just not so into you fools any more. And apparently even the editor of the NYT — the paper which published a piece suggesting it was okay for journalists to abandon objective reporting to help Hillary, has now relented and said "that the paper would "reflect" on its coverage of this year's election while rededicating itself to reporting on "America and the world" honestly." Online friends remain skeptical of this new found "humility" of the formerly dominant media.
What a dramatic departure this will be:
New York Times publisher vows to 'rededicate' paper to reporting honestly. The publisher of The New York Times penned a letter to readers Friday [11/11/2016] promising that the paper would "reflect" on its coverage of this year's election while rededicating itself to reporting on "America and the world" honestly. Arthur O. Sulzberger Jr., the paper's embattled publisher, appealed to Times readers for their continued support.
New York Times: We blew it on Trump. The Gray Lady feels the agony of political defeat — in her reputation and in her wallet. After taking a beating almost as brutal as Hillary Clinton's, the New York Times on Friday made an extraordinary appeal to its readers to stand by her. The publisher's letter to subscribers was part apology and part defense of its campaign coverage, but the key takeaway was a pledge to do better. Times publisher Arthur Sulzberger Jr. admitted the paper failed to appreciate Donald Trump's appeal.
Has The New York Times Become a Democratic Party Newspaper? It wasn't until 1851 that Henry Raymond started the New York Times, ushering in a new era in journalism as a paper of "non-partisan, independent thought." How times have changed. Although many newspapers still have the word "Democrat" in their titles and a few have the word "Republican" there really aren't any newspapers today that could be regarded as organs of a political party — unless ... (strange as it may be) ... you count The New York Times itself! Even though the Times is still regarded by journalists as "the paper of record," its unsigned editorials and the editorials of its flagship writer, Paul Krugman, are increasingly hard to distinguish from the party line of the Democratic National Committee (DNC).
Mark Halperin Rips NY Times' Anti-Trump Bias Following Election: 'This Is The Onion'. Bloomberg's Mark Halperin singled out The New York Times in particular for it's [sic] biased coverage of Donald Trump's presidential victory Thursday [11/10/2016], saying that its post-election headline could have come straight from the satirical newspaper The Onion. "I love The New York Times. I think it's a great institution..." Halperin said on MSNBC's Morning Joe, holding up a copy of the print version. "Look at the headline of this story." The front page headline of The Times read "Democrats, Students And Foreign Allies Face The Reality Of A Trump Presidency." "This is the day after a surprising underdog sweeping victory," Halperin pointed out.
New York Times executive editor: 'New York is not the real world'. New York Times Executive Editor Dean Baquet said his newspaper's insular world view is at fault for so wrongly misreading the election that saw Donald Trump become the president-elect. In an interview with Times media columnist Jim Rutenberg, Baquet said he and his publication at large did not see Trump's coming success on Election Day because they do not understand much of the country's voters.
A Coup Against the Constitution. A New York Times editorial Monday [11/7/2016] on the Senate's role in the confirmation process not only gets it wrong, the analysis betrays a fundamental liberal disagreement with the U.S. Constitution. [...] Specifically, the editorial casts the suggestion that the Senate has a role to play in deciding who is ultimately confirmed to serve on the Supreme Court as a radical departure from how the American Republic was meant to work. It does so by an absurd suggestion that the Senate's decision not to rubber stamp a president's nominee would be equivalent with Al Gore's refusing to abide by the Supreme Court's decision settling the 2000 presidential election — had he done so. This is not how the Constitution works.
New York Times Ultra-Concerned About Hillary's Male Tormentors. She decided to stick with a man who was credibly accused of sexual assault and rape, a guy who received oral sex in the White House while president. Hillary had to know what kind of person he was. She hitched her wagon to Huma Abedin, who was in a relationship with Weiner, and decided to stick around after the first sexual allegations. Hillary let her stick around. Seriously, if Hillary can't take the heat in the rough and tumble world of politics, perhaps she should get out. Much of this sounds like the old "she can dish it out, but she can't take it" recipe. Oh, and of course, this lays the foundation for calling all opposition to Hillary, should she win the presidency, as sexxxxxist, just like we've had almost 8 years of calling all opposition to Obama as raaaaacist.
NY Times Writer: 'It Would Be Helpful' for Clinton if Natural Disaster Struck a Red State. In an interview with Slate's "Political Gabfest" podcast, New York Times staff writer Emily Bazelon speculated about how a natural disaster striking a Republican state would be helpful for Hillary Clinton if she won the presidency. Bazelon was asked how Clinton could best unify the country if she won the election next week. "I'm not wishing this upon anyone, but it would be helpful for her to have a natural disaster to deal with in a red state where she could go and be..." she said to laughter from the live audience.
New York Times reports 95.7 percent fall in quarterly profit. The New York Times Co reported a 95.7 [percent] fall in quarterly profit, hit by restructuring charges related to headcount reductions. Net profit attributable to the newspaper publisher fell to $406,000, or break-even per share, in the third quarter, from $9.4 million, or 6 cents per share, a year earlier. Revenue fell to $363.6 million from $367.4 million. The company, struggling to transition to digital, said online ad revenues grew 21.5 percent and now account for more than 35 percent of its advertising receipts.
The Left's Vision. No one has presented the social vision of the left more often than Nicholas Kristof of the New York Times — and no one has been more certain that those who do not happen to share his vision "just don't get it," as he has repeatedly declared. Mr. Kristof's essay "Growing Up Poor in America" in the October 30th New York Times is a classic example of the mindset of the left. It begins with the story of a poor black teenager in Arkansas, being raised by a single mom. Sometimes he goes hungry and his home does not have even one book. But it does have television sets with huge screens, and apparently there is money enough to buy marijuana. [...] Of such youngsters he says, "as a society, we fail them long before they fail us."
The New York Times Invents a Narrative on Comey. [Scroll down] For some reason, it took two reporters to invent the story. After a brief rehash of Hoover's villainy in the first paragraphs — just in case the reader missed Prof. Pavlov's bell — the third paragraph concludes: "[T]oday, after his second sensational public statement on the FBI's investigation of Hillary Clinton's email, some critics and historians are comparing [Comey] to Hoover."
NYT Writer Frames Hillary Clinton As The Victim Of Testosterone. Frank Bruni, a writer for the liberal fish-wrapping known as the New York Times, has the entire history of Hillary Clinton's corruption figured out. It's far more nuanced than mere commoners can grasp, apparently, but just to break down Bruni's main gist: Men are pigs.
The New York Times: No Longer Troubled By Clinton's Big-Time Russian Connections. The Clinton campaign, stung by the resumption of the FBI email probe, has returned to Donald Trump's taxes and his alleged Russian connections. They ask indignantly: Do voters not know that a former Trump campaign manager consulted for Ukraine's ousted president and that another attended an ill-timed meeting in the Kremlin. Clinton supporters add to their list of grievances against James Comey for his reticence to confirm that Russia is behind WikiLeaks. I guess Comey has become a Putin puppet along with Trump. If we go back to April 24, 2015, a New York Times investigative report illustrates why the Clinton campaign should think twice about accusing the Trump campaign of cozying up to Russia.
Hacks at New York Times and Washington Post Rather Perturbed About FBI Dropping Bomb on Hillary's Campaign. [Scroll down] See? This is mostly the Comey's fault, and suddenly transparency is required. From the FBI. Of course, the NYTEB has barely asked for the same from Hillary during this whole time, and, certainly, you can imagine the resulting editorials, including on the reopening of the case, had she been a Republican, and they would have been vastly different. Not to be outdone, the Washington Post Editorial Board, which had previously only chided Mrs. Clinton over her poor conduct, questions the timing. [...] Obviously, their concern is for Hillary's POTUS chances. They certainly weren't concerned with the provocations of so far unfounded accusations against Trump, ones which have no actual hard proof that he sexually assaulted anyone decades ago. Just someone saying. Imagine, again, the difference had Hillary been a Republican. They would have cheered this reopening, saying it is good for our democratic process.
Times, Post Seem Rather Upset About FBI Reopening Hillary Server Case. [Scroll down] See? This is mostly the Comey's fault, and suddenly transparency is required. From the FBI. Of course, the NYTEB has barely asked for the same from Hillary during this whole time, and, certainly, you can imagine the resulting editorials, including on the reopening of the case, had she been a Republican, and they would have been vastly different. Not to be outdone, the Washington Post Editorial Board, which had previously only chided Mrs. Clinton over her poor conduct, questions the timing [...]
Yes, Obamacare Rate Hikes Do Hurt People with Employer Plans. Among the most frequently repeated talking points promulgated by the White House and its media allies about Obamacare's latest premium spikes is that they only affect the "small" number of people who buy coverage on the individual market, leaving those with employer-based coverage unscathed. The New York Times dutifully parrots the party line, "These increases really matter only for those who buy their own insurance." This is just another in the long list of lies the law's apologists have told to save the President's "signature domestic achievement." In reality, this premium spike will adversely affect the lives of 177 million Americans. But before we get to the people with job-based coverage, let's take a look at the actual Americans the Times so lightly dismisses as insignificant.
The Truth About the Late Tom Hayden — Whitewashed by the MSM. The worst claim in the [New York] Times' obituary is that Hayden was a "peace activist" who "opposed violent protests but backed militant demonstrations." He could be called a peace activist only if one views someone who supported a Communist victory in Vietnam as a proponent of "peace."
Leaks: Clinton Ally Lays Out How To Get NYT To Cover Hillary More Favorably. A confidant of Hillary Clinton campaign chair John Podesta laid out in an email how to get The New York Times to change how the paper covered the former secretary of state, according to leaked emails. Center for American Progress President Neera Tanden told Podesta how former New York Mayor Michael Bloomberg met with Arthur Sulzberger, NYT's publisher, to get the paper to cover him more favorably.
New York Times Examines Mass Shootings and Gun Laws. Every time a horrific crime committed with a gun gets national attention, politicians will usually recommend more stringent gun laws as a response. (With the phrase "gun control" out of vogue, you usually hear these days about "common sense gun safety laws.") The New York Times, who last year ran a nearly unprecedented front-page editorial calling for the banning and confiscation of a commonly used and rarely abused class of civilian firearms, investigated today how and whether laws, either existing or proposed, would have impacted "all 130 shootings last year in which four or more people were shot, at least one fatally, and investigators identified at least one attacker."
Matthews Confronts NYT Reporter On Bias: Know Any Pro-Life Reporters? MSNBC host Chris Matthews confronted a New York Times reporter on media bias during a "Hardball" segment Monday, asking whether she knows anyone at the paper who is pro-life. "And really this is something I think that is kind of an effective argument," NYT reporter Yamiche Alcindor told Matthews, referring to GOP nominee Donald Trump's argument the "elite media" is biased against him and is helping rig the election. "Because people really do feel when they go and get the news that they are really getting it from these people who have some sort of plan to rig this election, or rig the economy, or don't want to cover the real issues."
New York Times Names A.G. Sulzberger Deputy Publisher. The New York Times brought a new generation of the Sulzberger family into its top ranks on Wednesday, naming Arthur Gregg Sulzberger the deputy publisher. The appointment positions him to succeed his father as publisher and chairman of The New York Times Company. Should he ascend to that position, Mr. Sulzberger, 36, would represent the fifth generation of his family to serve as publisher since the family patriarch, Adolph S. Ochs, purchased the newspaper in 1896.
Clinton Campaign And Harry Reid Worked With NYT To Smear State Dept Watchdog. The Clinton campaign coordinated with Nevada Sen. Harry Reid to use The New York Times to smear the State Department's deputy inspector general as State's internal watchdog was investigating Clinton aide Huma Abedin, The Daily Caller can report. The scheme is revealed in a series of emails hacked from the Gmail account of Clinton campaign manager John Podesta. The most damning message is a Nov. 13, 2015 email that Clinton campaign press secretary Brian Fallon sent to Phil Schiliro, a former White House official and longtime Democratic operative who has helped the Clinton campaign in various capacities.
NY Times Suddenly Very Concerned Over People Complaining About Vote Rigging. [Scroll down] Say, where was the NY Times when Democrats were going ape over the supposed theft of the 2000 election? Liberals still say Bush stole the election. They, somewhat quieter, say Bush stole the 2004 election by rigging Ohio. Where was the NY Times EB when Democrats, including elected ones, were saying that Bush would cancel the 2004 and 2008 elections over some sort of manufactured incident. Where was the NY Times pre-elections when Democrats were complaining about the elections being rigged via Diebold voting machines and other things?
New York Times: Michelle Obama has good rhythm because she's black. Have you ever seen Michelle Obama dance on TV, realize what a good dancer she is, and wonder why she has such good rhythm? Well, wonder no more. The New York Times has the answer: because she's black. The Times recently invited the most fervent supporters of Obama to write love letters to her, and one of them, Chimamanda Ngozi Adichie, said Michelle Obama has good rhythm precisely because she is black.
Corruption and collusion. Modern journalists have little in common with those I was privileged to know when I was a copyboy at NBC News in Washington in the '60s. Today's "journalists" will disagree, but as numerous surveys have shown, the public trust in what is collectively called the media has sunk to an all-time low. Only the media think they don't have to change and can continue to sell a product more and more people refuse to buy. WikiLeaks dumps of Clinton campaign emails with reporters should contain enough proof for any reasonable person that big media is in the tank for her. In what may be unprecedented, The New York Times allowed Hillary to edit her own quotes.
Can the New York Times Discuss Whether Mohammed's Flying Horse Really Visited the Temple Mount? So the New York Times lapsed into what has been called Temple Trutherism by trying to deny the existence of the Jewish temples on the Temple Mount. [...] But let's have some equal time here. The Temple Mount is holy to Jews because of the Temples. So the New York Times chose to discuss whether the Temples really existed. It's holy to Muslims because Mohammed supposedly flew there on a flying horse (with a woman's head). Can we get a discussion of whether that really happened? Or does the New York Times only find it acceptable to mock Judaism, not Islam?
'This is war': Trump drafting lawsuit against NY Times. Donald Trump's campaign was drafting a defamation lawsuit against the New York Times late Wednesday night, hours after the news organization published a story in which two women accused the Republican presidential nominee of sexual assault, sources confirmed to the Washington Examiner. Within hours of threatening to take legal action against the major publication for launching a "completely false, coordinated character assassination against" him, Trump had requested that his attorneys draft a major lawsuit against the Times.
The New York Times tossed its integrity out the window just to bash Donald Trump. There is apparently nothing wrong with America that can't be blamed on Donald Trump. He is single-handedly destroying the Republican Party, trashing presidential debates and spoiling the reputation of locker-room talk. And — breaking news alert! — Trump is even changing journalism. His habit of saying things that nobody ever said before is forcing reporters to unleash their partisan views instead of just giving the facts. Some of these charges may be true, but the one about Trump changing journalism is demonstrably false. All the more so because it comes from the editor of the New York Times, who happens to be the actual guilty party.
Liberal Media Ignore Recent Wikileaks Release. Major news outlets have devoted very little attention to the Wikileaks release of thousands of John Podesta's emails. The New York Times, allegedly America's "paper of record," has only written five stories about the leaks. None about Hillary saying Saudi Arabia and Qatar fund ISIS, the state department coordinating with the Clinton campaign, or journalists' coziness with the Clinton campaign. Possibly the reason the Times didn't cover the latter is because two of their writers were exposed in the leaks for their close relationship with the Clinton campaign.
Hillary Campaign E-Mails Singled Out NYT's Haberman for 'A Very Good Relationship' for Spin Help. Buried within the latest batch of e-mails from the hacker Guccifer 2.0, the Clinton campaign specifically singled out then-Politico and current New York Times reporter Maggie Haberman as someone they "have...a very good relationship with" and thus could assist them in the spin "achiev[ing] our objective and do the most shaping." The Glenn Greenwald-led site The Intercept pulled together the damning e-mails that, in the words of Greenwald and Lee Fang, prove that "a central component of the Clinton campaign strategy is ensuring that journalists they believe are favorable to Clinton are tasked to report the stories the campaign wants circulated."
A Banana Republic, If We Choose to Keep It. ## Then there's the story currently front and center in the campaign, namely the New York Times revealing Donald Trump's 1995 tax returns. The paper learned that he took a $916 million loss that may have allowed him to avoid paying taxes "for up to 18 years." In a true testament to the utter corruption that informs our mainstream media, virtually every subsequent story has focused political permutations that attend this revelation. Except that's not the real story. The real story is the possibility someone in the federal government violated federal law — the violation of which "shall be a felony punishable by a fine in any amount not exceeding $5,000, or imprisonment of not more than 5 years, or both, together with the costs of prosecution." The Times itself might be off the hook, due to a Supreme Court decision that allows the media to disseminate information illegally obtained so long as they didn't participate in illegalities. Yet it is revealing that Times executive editor Dean Baquet stated at a Harvard panel discussion last month he would be willing to risk jail time to publish such material.
Trump Lawyers Gearing Up For Fight With The New York Times. Lawyers representing Republican presidential nominee Donald Trump sent a letter to The New York Times threatening a lawsuit after the paper published several pages of Trump's 1995 tax returns. The Manhattan mogul tapped Kasowitz, Benson, Torres & Friedman, a leading litigation firm whom he's lavished with praise in the past, to lead his response. Marc Kasowitz, a veteran litigator, told the Times he would execute "prompt initiation of appropriate legal action" should they publish Trump's returns. He said that Trump had not authorized the release of his tax returns and their publication would therefore be unlawful.
The Hillary Administration the Media Yearns for Will Be a Disaster. [Scroll down] And what was the presenting complaint this time — that Trump had a business reversal and used that to avoid taxes. No matter this was perfectly legal, conventional really, and that the New York Times, that daily cheat sheet for dimly-informed progressives that first revealed this latest of Trump's "malfeasances," had done the same itself to the tune of millions — this time it was Donald using the tax code. Bad! [...] Meanwhile, actual crimes, not imaginary ones, had been committed and continued to be revealed, although hardly anyone was commenting or saying much about it.
Obamacare Is Dying, And The GOP Should Be Its Death Panel. When The New York Times tells you Obamacare is "ailing" and must change to survive, rest assured that the law is in serious trouble. Then again, people who read The New York Times might be under the impression the only way to fix a collapsing state-run program is to pass another, more intrusive state-run program — in this case, a "public option." In truth, it was probably something of a shock to most Times readers that the Affordable Care Act had struggled at all. For years, left-wing punditry has been churning our [sic] prodigious quantities of Obamacare fanfic, praising and hailing every ACA stumble as another unrealized measure of success.
New York Times forfeits ethics in publishing Trump taxes. [Susanne] Craig wrote in her story — showing a $916 million loss by Trump that may have allowed him to legally not pay federal income taxes over the past two decades — that she'd been "on the hunt" for Trump's taxes for some time. The Trump campaign, however, argues the documents were obtained illegally. [...] Federal law clearly states it is illegal to publish someone's tax returns without authorization.
NYT gets tax welfare. The Obama administration illegally gave the New York Times IRS information on Donald John Trump, which the New York Times illegally published, and which it extrapolated as meaning Trump paid no federal income taxes for several years — or maybe he paid a billion dollars a year in taxes. What we do know as a fact is the New York Times not only paid no taxes in 2014 but received tax welfare of $3.5 million from the IRS. We know whatever Trump did with his taxes is legal because for five years (at least) President Obama has targeted Trump as an enemy of Obama's corrupt regime. They would have prosecuted by now. Near as I can tell, he took a huge loss one year and can carry that over loss for several years.
Hijabi women furious Americans don't smile at them on airplanes. Muslim women are being beaten, killed, and sold into slavery in the Muslim Middle East. But these are small potatoes compared to the indignities fundamentalist Muslim women are suffering in America. In America, sharia-compliant women complain that Americans do not smile enough at them on airplanes. This is why the New York Times has chosen to put a spotlight on the indignities hijab-covered women suffer every time they go to the airport.
New York Times Publishes Tax Returns of a Private Citizen, in Shallow Attempt To Assist Hillary Clinton. The New York Times has published part of the tax returns of a private citizen in an effort to score political points for a candidate they endorse, Hillary Clinton. That should be the real headline people pause and think about. The front pages of the tax returns themselves are essentially a non-issue, representing the 1995 gross business loss incurred by candidate Donald Trump who operates a massive conglomeration of business entities. The anti-Trump political angle is easily identifiable within the extensive article use of: "could have", "might be", "may have", phrases used throughout the woven narrative. Journalistic "narratives" are rarely based on facts.
Bombshell Or Something: Trump Might Possibly Could Have Avoided Paying Taxes For 18 Years. [Scroll down] If the part where he didn't pay taxes afterwards is true, then, so what? He followed the laws. Mr. Trump didn't pass the law. Would you not follow the laws, take advantage of the laws? Of course you would. Democrats who constantly call for higher taxes, for everyone paying their "fair share," they themselves take advantage of all the "loopholes" [...] in the tax law to reduce their tax liability. Virtually everyone takes advantage of the tax code to reduce their tax liability. Nearly 45% will had a net zero federal tax liability in 2016, up from 42% in 2013.
New York Times violates law to publish partial Trump tax return from 90s and speculate about his taxes. Trump Derangement Syndrome has led the New York Times to willfully violate federal law in order to speculate about what taxes Donald Trump may or may not have been paying. In a front-page article, built on crime and conjecture, the Times ends up with very weak beer on Trump, but a convincing case for its own irresponsibility and criminality.
The New York Times Paid No Taxes in 2014. The New York Times has excited the Clinton campaign and the rest of the media with a revelation that Republican nominee Donald Trump declared a $916 million loss in 1995 that might have resulted in him not paying taxes in some subsequent years. The implication, reinforced by CNN's Jake Tapper on State of the Union on Sunday morning [10/2/2016], is that Trump "avoided" paying taxes, when in fact his tax liability was zero.
New York Times Gives up on Ohio as Hillary's Chances Fade. Hillary Clinton is lagging in the usually must-win state of Ohio and as a result, the New York Times has decided that Ohio just isn't as important as it used to be.
New York Times Declares Ohio No Longer 'Bellwether' as Trump Pulls Ahead. The New York Times, the so-called "paper of record," has declared that the all-important swing state of Ohio is no longer an important battleground in the presidential election — now that Republican presidential nominee Donald Trump is winning it. Trump pulled ahead of Clinton in the Buckeye State in the RealClearPolitics poll average on Sep. 13, and has never looked back.
NY Times Exec. Editor: Trump Must Be Called 'Liar,' But Hillary's Just a Normal Exaggerating Politician. On Thursday's [9/22/2016] Morning Edition, National Public Radio host Steve Inskeep interviewed New York Times executive editor Dean Baquet regarding the paper's provocative decision to overturn journalistic convention in the wake of Donald Trump's success and to start reporting his alleged misstatements as "lies." But when asked about HIllary, Baquet apparently forgot Clinton's 25 years of public prevarication. [...] Perhaps the Times executive editor hasn't been paying attention to current events for the last 25 years. Lying to the public about her private server and classified emails, and of course her career record of whoppers, from Whitewater up to her recent pneumonia diagnosis.
NYT's Maureen Dowd: My Lefty Pals Want to Censor Trump, Any Anti-Hillary Stories. On Sunday's [9/18/2016] Meet the Press, host Chuck Todd asked New York Times columnist Maureen Dowd to explain "Upper West Siders panicking" over the latest polls. Dowd said liberal friends won't read any interviews she does with Trump, that "they would like to censor any stories about Trump and also censor any negative stories about Hillary. They think she should have a total free pass."
The 'New York Times' Empire of Fantasy. Leftism, like a zombie virus, eats the brains of respected institutions and renders them empty, animated monsters who feast on the flesh of the republic. Thus the New York Times, a genuinely great institution forty years ago, the paper of record that ran all the news that was fit to print, is now a shambling, drooling phantom of its former self, a record of little more than Democrat talking points, running all the news that fits with its point of view. I once called the Democrat-Media complex an Empire of Lies, but the Times has gone way beyond that now. In a leading editorial last week, the Times showed itself to be the google-eyed emperor of an Empire of Fantasy, the Willy Wonka of a candy cane world that exists only within the confines of its pages.
Can Anyone Save The New York Times From Itself? It is impossible to imagine a world without The New York Times. But it is also increasingly impossible to imagine how The New York Times, as it is currently configured, continues to exist in the modern media world.
NYT's Stupid Questions Edition: What Religion Would Jesus Be? To begin with, I wish that when the New York Times writes about Christianity, they'd interview an actual Christian.
NY Times Again Sends Memo Reminding Reporters Not to Editorialize on Social Media. For the second time in three months, The New York Times sent a memo to reporters reminding them not to editorialize about sensitive political issues. Back in June, Times higher-ups sent a memo to reporters warning against editorializing in the wake of the Orlando Pulse nightclub shooting. "People following Times newsroom staffers online expect them to be well-informed and thoughtful," wrote associate managing editor Philip Corbett. "But we should leave the opinions to our colleagues on the Opinion side."
New York Times Can't Stop Pushing the Myth of Obama's Literary Genius. [Scroll down] For years, Obama has encouraged this fiction. "I've written two books," he told a crowd of teachers in Virginia in July of 2008. The crowd applauded. "I actually wrote them myself," he added with a wink and a nod, and now the teachers exploded in laughter. They got the joke: Republicans were too stupid to write their books. No one much cared about Obama's second book, The Audacity of Hope, a policy brief written by committee and published in 2006. It was his 1995 memoir, Dreams from My Father, that emerged as the sacred text in the cult of Obama. "There is no underestimating the importance of Dreams from My Father in the political rise of Barack Obama," New Yorker editor David Remnick would later write in his exhaustive look at Obama's life and career, The Bridge. The problem, of course, is that Obama did not write either of his books in any meaningful way.
Hillary's media is torching its standards to cover the election. There is nothing more to learn about Hillary Clinton's home-brew server, deleted e-mails, chronic cough or anything else that makes her look bad, according to The Washington Post. And The New York Times, stung by Clinton's woeful performance at last week's presidential forum, believes the debates are going to be a total disaster unless moderators get much, much tougher with Donald Trump. [...] America's two most prominent newspapers used to compete for Pulitzer Prizes and readers, but now they're competing to see which can suck up more to Clinton.
NY Times: Iran Ransom Story Is 'Fake,' Because Obama Says So. The New York Times editorial board declared firmly Tuesday [8/23/2016] that the accusation that the Obama administration paid a ransom to ensure the release of American hostages was "fake," and the Obama administration's diplomatic actions deserve to be lavishly praised. We know this, they argue, because the Obama administration says so. That's only a barely an exaggeration. The easiest way to describe the editorial, "The Fake $400 Million Iran 'Ransom' Story," is lazy; it literally just takes the administration's talking points and repeats them verbatim: [...]
'Mischief'? A "Pandora's box of constitutional mischief" is the phrase the New York Times is using to describe a convention of the states to consider amendments to the United States Constitution. The Gray Lady is in full panic mode over such a convention, having awakened from its Rumpelstiltskinian slumber in respect of America's supreme law. It's discovered that we are now six states away from the 34 states needed to call for a states' convention that would, in the Times' phrase, be "unprecedented" in our Republic's history. Which would be, in our view, precisely one of the convention's virtues. It would mark the first time the states asserted their full constitutional authority. It would take two thirds of the states to convene such a meeting. The parlousness of our politics derives from the failure of anyone to step up to deal with the deep issues. This has brought us to what the editor of the New York Sun has called our "constitutional moment." The sooner we convene the states to address the deep issues, the sooner we'll return to a calmer political life.
The Editor says...
This sounds a lot like someone playing a board game, who has never read the rules, falsely accusing another player of cheating. The provision for a convention of the states is right there in the Constitution, for anyone willing to read it.
If You Only Read The New York Times And Washington Post, You Have No Idea The Soros Leak Happened. On June 4, 2016, the New York Times editorial board wrote an article titled "Big Money Rearranges Its Election Bets." "Both parties are busy exploiting the power of barely regulated super PACs to accept unlimited six- and seven-figure donations for candidates," the editors wrote. "At the same time, campaigns are concealing the names of other rich donors in 'dark money' operations palmed off as tax exempt 'social welfare' agencies supposedly dedicated to doing good, not to bare knuckle politics." But two-and-a-half months later, when the internal workings of a powerful political network palmed off as a tax-exempt "social welfare" agency supposedly dedicated to doing good were released to the public — unveiling the big money ties to many of the left's top social causes — the Times kept its readers in the dark.
New York Times Tech Columnist Calls on Google to Hide Hillary Health Info. New York Times tech columnist Farhad Manjoo is calling on Google to "fix" its search engine results to hide evidence of Hillary Clinton's failing health. "Go online and put down, 'Hillary Clinton illness,' and take a look at the videos yourself," Rudy Giuliani recently said on Fox News, during an argument about how sick Clinton really is. Manjoo of the Times called for Google to "fix" the problem of search results possibly hurting the Democratic nominee.
And None So Deaf as They Who Will Not Hear. The possibility that president Obama may not be as great as they thought has gradually dawned on the New York Times. [...] Even the administration's supporters were left totally surprised by the trail of disasters so intense it propelled Donald Trump to a presidential nomination. Jesse Bernstein in Tablet thinks that the root cause of the blindness was insufferable smugness of the intellectual elite.
NYTimes: Journalists Drop Objectivity to "Get Trump". The NYT writes a think-piece — rather, a feel-piece — explaining why they think journalistic ethics they used to pretend to follow are no longer operative, and offers a defense as to why they shouldn't pretend any longer.
New York Times Blames Donald Trump for Biased Media Coverage. [Scroll down] In 2008 — to pick an arbitrary starting point — journalists swooned over the prospect of Barack Obama as the first black president, and coordinated to discuss attacks on Obama's critics. In one particularly noxious episode, a photographer working for the Atlantic photoshopped a cover image she had shot to cast McCain as a bloodthirsty monster. In 2012, journalists plotted together to make Mitt Romney the target of Benghazi coverage, rather than Obama or Secretary of State Hillary Clinton — and CNN's Candy Crowley infamously threw the second presidential debate to Obama. They played along with spurious attacks on Romney's record, such as his supposed responsibility for the death of a worker's wife and the alleged mysteries in his tax returns.
New York Times Plays Down ISIS Tie to Brutal Murder of French Priest. Earlier today [7/26/2016], 84-year old Catholic priest Father Jacques Hamel was murdered his when one of two assailants who allegedly yelled "Allahu Akbar" and said they were from "Daesh" (ISIS) burst into his French church and slit his throat. Father Hamel was killed around 9 AM while celebrating mass in St. Étienne Church in the village of Saint-Etienne-du Rouvray in northern France. Father Hamel, two Catholic nuns, and two parishioners were taken hostage by the assailants. One of the hostages was critically injured. The two terrorists were shot dead by French security forces as they left the church. UK newspapers The Telegraph and The Daily Mail called the assailants "Islamic gunman" and said the killers claimed they were from Daesh. [...] The first story by the New York Times on this incident referred to the killers only as "attackers" and did not mention ISIS, Daesh or the words "Islamic" or "Islamist."
The Dumbest Idea. A recent article in the New York Times saw as a problem the fact that females are greatly under-represented among the highest rated chess players. Innumerable articles, TV stories and political outcries have been based on an "under-representation" of women in Silicon Valley, seen as a problem that needs to be solved. Are there girls out there dying to play chess, who find the doors slammed shut in their faces? Are there women with Ph.D.s in computer science from M.I.T. and Cal Tech who get turned away when they apply for jobs in Silicon Valley? Are girls and boys not allowed to have different interests?
NYT Cuts Obama's Bible Flub, Praises His 'Scripture'-Quoting Speech. President Obama's speech at a memorial service for the five police officers assassinated in Dallas while patrolling a Black Lives Matter protest led Wednesday's New York Times. The paper portrayed Obama flatteringly as having "spoke hard truths to both sides" at the service, while downplaying how the President politicized the memorial by thumping for gun-control, ranting about how a Glock pistol was easier to get than a book. The story was unnecessarily sycophantic, while tamping down criticism of Obama's politicized tone. [...] The Times also failed to catch — then conveniently excised — a flubbed Biblical quotation by Obama.
The New York Times And The Left Have Blood On Their Hands. The New York Times has been in the forefront of the left's hysterical, hate-filled attacks on police officers and whites. Also appropriately, on the day of the Dallas murders, the Times published two white-hating, police-hating pieces. One was by Michael Eric Dyson, a radical black professor of sociology at Georgetown University. The Dyson column is nothing more than a racist hit piece on "white America."
Comey's Non-Indictment Indictment of Hillary a 'Ready-Made Attack Ad'. The New York Times' Patrick Healy, who can't seem to decide which side of the Hillary question he comes down on ("historic" or "corrupt"), follows up yesterday's big non-news with the newspaper's customary political angle: is it good for the Democrats, or bad for the Democrats?
New York Times Censors Another Best-Selling Conservative Author....Writing on Free Speech. Every week, Nielsen's BookScan produces a ranking of book sales around the country, and is estimated to capture 70 to 80 percent of all retail sales. Most organizations, including The Wall Street Journal, use BookScan as their way of ranking best-sellers. According to BookScan's list on Wednesday [6/29/2016], The Intimidation Game was the sixth bestselling hardcover book in the nation for the past week. It came out on June 21 from Twelve Books. When The New York Times announced its latest weekend best-seller list on Wednesday evening, The Intimidation Game was nowhere in the the top 15. In fact, it wasn't even on the extended list of the top 20 hardcover bestsellers, despite outselling books that did make the list.
New York Times braces for big change. This summer, The New York Times is ushering in a transformation more radical than it has seen in almost half a century, perhaps since the great Abe Rosenthal overhaul of the 1970s, which created the wide-ranging, multi-section Times we know today. Back then, the Times was grappling with economic headwinds and the rise of TV. Now the Times — like all newspapers — is grappling with economic headwinds and the rise of the smartphone, and its future is on the line once again.
The New York Times and Obama Still Baffled by Orlando Jihad Killer's Motive Even After Reading This. When you want to see the President get angry and emotional, watch him talk about Republicans. Listen to his straw men, his invective, his bromides all designed to smear his political opponents. By contrast, his speech after the Orlando terror attack was utterly devoid of emotion. He wasn't in the least bit angry. He was sullen. He truly could not care less.
New York Times editorial board falls on grenade of reality to save lib narrative. Here are the facts as they are known: The FBI director has said that ISIS has radicalized sympathizers in all 50 states under a president who said he would "degrade and ultimately destroy" the "JV team." Over the weekend, a Muslim who was a registered Democrat entered an Orlando nightclub, and, after having pledged his allegiance to ISIS, slaughtered nearly 50 people and wounded even more than that. The New York Times editorial board's conclusion? We don't know what sparked his rage but America really needs to do something about Republicans!
New York Times quietly backs away from story on Orlando terrorist's weapon. After widespread complaints on social media, the New York Times has quietly backed away this afternoon from inaccurate reporting on the weapon used in Saturday's Orlando terror attack. Second Amendment supporters and others have repeatedly questioned why "AR-15 Rifles Are Beloved, Reviled and a Common Element in Mass Shootings" was so quick to incorrectly draw a common theme between other domestic incidents and this one based on the killer's weapon of choice.
NYTimes Editorial: Congress Should Secretly Suspend Second Amendment Rights. A New York Times editorial advocates for a new law allowing a secret court to take away citizens' right to own a gun at the discretion of the federal government. Citing the Orlando terror attack that left 50 dead including the shooter and 53 wounded at a gay nightclub, the piece advocates for a "no-buy" list similar to "no-fly" lists. Under the law, suspected terrorists would not be able to buy a gun. In an attempt to ensure the integrity of the lists and preserve due process, the author proposes people only be added to this no-buy list after a secret court rules they are ineligible, similar to the Foreign Intelligence Surveillance Act court hearings where the federal government obtains permission to wiretap. Under this proposal, an American who has never been convicted of a crime could be denied their right to buy a gun simply because a secret court decided it should be that way.
The Editor says...
If the Bill of Rights is secretly suspended, you could be secretly arrested, tried and imprisoned. That's the kind of country the New York Times wants us to live in.
Who wrote that op-ed? The New York Times isn't sure. The New York Times has sparked an international incident by publishing an op-ed article under the byline of a foreign official who never agreed to it, according to his supporters. The newspaper this week blundered into the bloody politics of South Sudan, the fledgling east African nation, by posting a column ostensibly written by that country's president and first vice president, Salva Kiir and Riek Machar, respectively. The column argues for an internal, government-led "truth and reconciliation" commission to investigate atrocities stemming from South Sudan's two-year civil war rather than an international war-crimes tribunal that was part of a peace agreement brokered by the United States and Great Britain last year. Only one problem: Machar's supporters say he didn't sign on to the editorial and doesn't agree with it. They suggest the Times was effectively hoodwinked by Kiir's faction into running the column with his name on it.
The New York Times Fails Logic Class, Chapter 46,080. For the last 20+ years every hiccup in the economy has been met with "very low" interest rates. Rates have now been at emergency levels for a period of time approaching eight years. It hasn't worked to lift people out of that malaise, and the reason is obvious: The lower rates are the cheaperit is in "today's terms" to borrow and those who can and do borrow first have "first mover" advantage. Those entities are never those with fewer privileges and poorer net positions in life. That means it's never any of those who face said daily hardship that reap said advantage — it is instead those who exploit that segment of the population and they use it to screw everyone else!
White House Secretly Squashed IRS Resistance to ObamaCare's Illegal Subsidies. The New York Times reports on a secret meeting from 2014, exposed thanks to sworn testimony before the House Ways and Means Committee, at which a vanload of IRS officials were told to stifle their complaints about billions of dollars in flagrantly illegal ObamaCare funding. [...] The Times makes a fitful attempt to spin this as a "Republicans pounce" story, stressing that we're only learning about Fisher's testimony because Ways and Means Democrats "feared Republicans would release selected excerpts" as part of a "witch hunt," which would in turn be part of a "crusade to dismantle the Affordable Care Act, which has been twice upheld by the Supreme Court."
The New York Times and Hillary Clinton: A Romance. The New York Times is to be applauded for its inventiveness. [...] The editors concede that "Mrs. Clinton can be fiercely protective of her role and prerogatives." Now, "role", I understand: it must mean as wife of a governor, as First Lady and as Secretary of State. But "prerogatives"? My Oxford English Dictionary defines a prerogative as "The special right or privilege exercised by a monarch or head of State over all other people, which overrides the law and is in theory subject to no restriction." We know that Barack Obama feels he possesses such prerogatives, the Constitution notwithstanding. But this is the first time a Hillary Clinton supporter has suggested that she can reasonably claim to protect her very own prerogatives.
The New York Times is Super Excited About Massive Gun Registration Schemes!. Despite anti-gunnite talking points, most law abiding gun owners are not against background checks. We have no problem with making sure that the person attempting to purchase a firearm is not a bad person. But, do background checks actually stop Bad Guys from getting guns? For the most part, no. Hence, the NRA is not suggesting that we do away with the backgrounds check system, they just think it's absurd to expand it, because it will almost never stop a bad character from getting a gun. And they are against the gun registration schemes of the anti-gunnites, because it is simply a big government control scheme.
Years After Hiroshima Comes the Blah. Americans educated in the schools and universities of this great republic have been taught (or should I say propagandized) for over two decades that President Reagan was an intellectual lightweight and a warmonger. There is a lot of evidence cited. Through President Reagan's eight scary years in the White House columnists at the New York Times and the Washington Post, along with mainstream media and the professoriate in general, regularly came up with endless evidence of how the President was building up our military and threatening nuclear warfare with the Soviets.
New York Times quite perplexed about failing socialist states in South America. The Editorial Board of the NY Times is Very Concerned about the state of the nations in South America, noting just how bad it all is, thanks to Leftism.
Anatomy of a NY Times Hit Piece. A girlfriend of Donald Trump was used and abused in a NY Times hit piece and she's speaking out. She told the Times a charming story of how she met Trump and how he was a perfect gentleman. In the story Trump asks her if she brought a bathing suit to a party he was throwing at his Florida mansion. She didn't, so Trump provided one. When she came out to the pool he announced, "now that's a stunning Trump girl." She loved the experience, every bit of it. The Times spun it to make it seem like Trump was an ogre and that she was appalled.
Steer Clear of the Clinton Scandals, It Will Backfire, Ever Helpful New York Times Warns Trump. Steer clear of the Clinton scandals, it's bound to backfire, the New York Times warned presumptive Republican nominee Donald Trump on Tuesday [5/17/2016]. It's been the paper's same helpful advice to Republicans since 1992. Patrick Healy, a fierce journalistic defender of the former first lady, took up arms for Hillary Clinton and her "decades of experience and qualifications" defeating various forms of "boorishness."
NYT's Texas Reporter Intimidated by 'Hard-Right' 'Paranoia' of His Fellow Texans. The entire front page of Sunday's New York Times National section was swallowed up by an essay from Texas correspondent Manny Fernandez, "A Look at What Makes Texas Texas," a cultural cringe in 1,700 words from Fernandez, who isn't a Texas native but moved to Houston in 2011 to cover the state for the NYT[.] It's part of the paper's occasional "Assignment America" series. Other entries, from reporters with home ties to their respective regions, managed to avoid partisan politics. But Fernandez stills seems slightly freaked when confronted with some of the state's more provincial customs, his "hard-right" neighbors, or the "fear, anger and sometimes paranoia that lurks beneath the surface of Texas politics."
New York Times Lets Slip the T-Word: Taquiya. [Scroll down] It's almost like terrorists won't tell you the truth unless you repeatedly interrogate them and subject them to pressure. Perhaps in some sort of isolated facility accompanied by gentle flowing streams of water. But it's interesting that the New York Times even used the term "taquiya". When Ben Carson mentioned taquiya, the media hurriedly rushed to throw together their usual "fact checks" to disprove the idea. Sunni Islamist groups have generally maneuvered the media into repeating their talking points on the term backed by the usual "interfaith scholar" who are treated as authorities on Islam.
New York Times boss sued over alleged ageist, racist and sexist hiring practices. Mark Thompson, the chief executive of the New York Times and former director-general of the BBC, is facing a multimillion-dollar class action lawsuit alleging that he introduced a culture of "deplorable discrimination" based on age, race and gender at the newspaper. The lawsuit, filed on behalf of two black female employees in their sixties in New York on Thursday, claims that under Thompson's leadership the US paper of record has "become an environment rife with discrimination". The class action lawsuit, seen by the Guardian, alleges that the Times, which promotes its liberal and inclusive social values, preferentially favours its "ideal staffer (young, white, unencumbered with a family)" at the expense of older female and black employees.
French dis-connection: The New York Times flees its own labor utopia. The New York Times, which has never met a pro-union rule it didn't like, has suddenly found notoriously pro-labor France too expensive a place to do business. So, as The Post's Claire Atkinson first reported, the paper is eliminating 70 positions from its Paris operation, with editing and print-production functions relocated to New York and Hong Kong. To be fair, the Times editorial page has faulted French labor laws. But that hasn't stopped it from pushing similar insanity here at home.
New York Times plans to cut hundreds of jobs later this year. The New York Times Co. is preparing to lay off a few hundred staffers in the second half of the year, The [New York] Post has learned. Chairman and Publisher Arthur "Pinch" Sulzberger Jr.'s management team has been talking with some of the Times' unions to come to a deal to provide reduced severance to those affected, sources told The Post. "There's a goal of a couple of hundred people," said a source familiar with talks. "They don't want to pay out big packages, and they're having negotiations with the unions."
NYT Columnist Kristof Wants to Debunk the 'Crooked Hillary Myth'. New York Times columnist Nick Kristof sounded angry in a headline to his Sunday [4/24/2016] column: "Debunking the 'Crooked Hillary' Myth." Online, they spit out some of the venom, merely asking: "Is Hillary Clinton Honest? Kristof's column concluded: "She's not a saint but a politician, and to me this notion that she's fundamentally dishonest is a bogus narrative. He even dismisses fellow Times columnist William Safire who called Hillary a "congenital liar" in 1996: "this narrative goes way too far."
Dear New York Republicans: Let's talk about New York values. [T]rue conservatives fully understand what Sen. Cruz meant with those words. He didn't mean the New Yorkers who rallied together for 9/11. Instead, he meant: [#1] The New York Times, which is nothing more than a house organ for the Democrat party. [...] [#2] The New Yorker, which was once a soft Left magazine that aimed to make its middle-class readers feel cultured, but that is now a hardcore Leftist publication that actively, aggressively proselytizes for the Democrat party and for Democrat causes (especially climate change).
NY Times Bosses Warn Managers: Meet Diversity Goals or Get Fired. Washington Post media blogger Erik Wemple reports that The New York Times is getting very serious about diversity goals in recruiting, hiring, and promoting. Chief Executive Mark Thompson raised eyebrows at a gathering of managers on the business and news sides of the newspaper. According to three Wemple sources, "Supervisors who fail to meet upper management's requirements in recruiting and hiring minority candidates or who fail to seek out minority candidates for promotions face some stern consequences: They'll be either encouraged to leave or be fired."
"The Panama Papers" — Notice Which Newspaper Could Not Be Trusted With the Intel. We've been waiting to write an outline regarding the "Panama Papers", because one of the more interesting aspects in the distribution is how the sources within the German newspaper Süddeutsche Zeitung refused to share the massive file of information with the New York Times. Instead, Süddeutsche Zeitung shared the data through an International Consortium of Investigative Journalists with the including the Guardian and the BBC.
Former NY Times Editor's Pratfall: 'Hillary Clinton Is Fundamentally Honest'. The leftist British newspaper The Guardian has signed former New York Times executive editor Jill Abramson as a regular columnist on the presidential election. Already, she's pleasing the Left with ridiculous columns, such as the brand-new one, headlined "This may shock you: Hillary Clinton is fundamentally honest." It's only shocking because it's like claiming: "This may shock you, but the sky is green and the grass is blue." Hillary's terrible ratings for dishonesty? Sexism. Abramson concluded: "It's fair to expect more transparency. But it's a double standard to insist on her purity." No one expects any presidential candidate to have "purity" or complete consistency in their political rhetoric and actions. No one at this point even expects "fundamental honesty" from Mrs. Clinton.
The New York Times abandoned its ethics to take down Trump. For decades, the editorial page of The New York Times has served as the propaganda arm of the Democratic Party. But in a sign of the left's panic over Donald Trump, the Times has moved beyond pushing an agenda to becoming a political hack, dirty tricks and all. That's the only reasonable conclusion to draw from the fishy aftermath of a Trump meeting with the edit board. The meeting happened in early January, but only on the eve of Super Tuesday did word spread about something the leading Republican candidate supposedly said in an off-the-record segment.
The NY Times Editorial Board Calls on Hillary to Release Speech Transcripts. The question of Hillary Clinton's Wall Street speeches has led to many calls on the left for her to release the transcripts of those speeches. She was confronted about it during last week's MSNBC Democratic town hall, and Bernie Sanders has been particularly tough on the subject. And now the New York Times editorial board is calling on Clinton to release them.
Mrs. Clinton, Show Voters Those Transcripts. "Everybody does it," is an excuse expected from a mischievous child, not a presidential candidate. But that is Hillary Clinton's latest defense for making closed-door, richly paid speeches to big banks, which many middle-class Americans still blame for their economic pain, and then refusing to release the transcripts. A televised town hall on Tuesday [2/23/2016] was at least the fourth candidate forum in which Mrs. Clinton was asked about those speeches. Again, she gave a terrible answer, saying that she would release transcripts "if everybody does it, and that includes the Republicans."
Hillary Clinton Emails: Secret Negotiations With New York Times, Trade Bill Lobbying Revealed In Latest State Department Release. The latest batch of emails dating back to Hillary Clinton's tenure as U.S. secretary of state shows her appearing to lobby members of the Senate on controversial trade bills and her office communicating with the New York Times about holding a sensitive article. The State Department release of documents on her private email server Friday [2/19/2016] came the day before the Democratic presidential candidate heads into the Nevada caucuses. In response to an inquiry made by the Times, Clinton aides discussed to what degree to cooperate with the newspaper, concerned that a story about a U.S. plan to retrieve Americans could lead to its failure.
Bernie Sanders: 'Democratic Socialist' Or Out-And-Out Stalinist? Democratic front-runner Bernie Sanders says concerns about his honeymoon trip to the USSR in the '80s are "silly." He'll have a harder time explaining his months-long stay at a hardcore Stalinist camp in the '60s. It's clear the self-avowed socialist is even further left than he has admitted. Fifty years ago, during the height of the Cold War, he sought out communist indoctrination. The Israeli press earlier this month broke the story that Sanders, who is Jewish, spent several months at an Israeli commune co-founded by a Soviet spy. The revelation is just now wending its way through the American media, where it's been confirmed by none other than the New York Times, though the pro-Democrat paper predictably buried the story on its back pages.
1987 New York Times Editorial Urges Senate to Block Reagan's SCOTUS Nominee. In early October of 1987, when President Ronald Reagan had more than a year left on his final term that would end in January of 1989, The New York Times editorial board openly championed the idea of the United States Senate blocking Reagan's Supreme Court nomination. Their rationale? The fact that Democrats had regained control of the Senate in 1986.
David Brooks Misses A Lot More Than The Crease in Obama's Pants. As much as I loathe Donald Trump, I loathe Barack Obama even more and would not miss him for a nanosecond. After all, if it weren't for Obama's deference to our enemies and disdain for America and her Allies, there would be no chance that Trump would be a viable presidential candidate. Brooks praises Obama's integrity for running an administration which has been "remarkably scandal-free." Well, how about Fast & Furious, The VA, The IRS & Benghazi? If the Obama Administration is willfully giving guns to Mexican drug gangs, allows veterans to die waiting for health care, makes a concerted effort to stifle free speech while refusing to help the four Americans under assault from terrorists doesn't merit the word scandal in David Brooks' book, then he demonstrates no capacity for reason. Then again, the New York Times only prints the news it sees fit printing and Fast & Furious, the VA, the IRS, and Benghazi don't fit into their agenda.
David Brooks' Disgraceful Attack on Ted Cruz. [Scroll down] Who could ever imagine that similar dishonest and disgraceful sentiments would come from a supposed "conservative" columnist in an attack on, of all people, the decidedly conservative Ted Cruz? Wonder no longer. Over there at — you guessed it — the New York Times, the "conservative" columnist of record, David Brooks, has mounted a Kennedy-style attack on Senator Cruz. Brooks has become a Borker.
Jane Mayer and the New York Times Dive Into the Gutter. Jane Mayer of the New Yorker is not just a bad reporter, but a detestable one. She habitually deceives her readers in order to advance a left-wing agenda. One of her most outrageous hit pieces, published in the New Yorker in 2010, focused on Charles and David Koch and was the source for much of the slander that the Left has directed toward them since that time. Now we learn that Ms. Mayer his written a book called Dark Money. (In the leftist lexicon, "dark money" is money spent on conservative causes rather than liberal ones.)
Faux Feminists at NY Times Suddenly Think Bringing Up Sex Harassment 'Way Out of Line'. Fascinating: The New York Times, an outlet that has respectfully pondered the idea of a flourishing "rape culture" in the United States, and which irresponsibly furthered false accusations against three Duke University lacrosse players accused of rape by a stripper in 2006, suddenly doesn't think sexual harassment is worth talking about. Or at least not when the accused is Democratic "big dog" Bill Clinton, and the topic might risk his wife becoming president in 2016: "Mr. Trump is way out of line bringing up Mr. Clinton's philandering." After Donald Trump re-injected Clinton's sordid sexual past into the news stream, the paper responded on Friday [1/8/2016] with an oddly written, bottom-of-the-page editorial, "Donald Trump Drags Bill Clinton's Baggage Out." They do not approve, and accuse Trump of trying to "tar" Hillary Clinton in "sexist fashion" to her husband's dark sexual past — even though Hillary herself tore down the reputations of her husband's accusers in order to save the couples' political skin.
The Times stumbles onto... The New York Times made itself a fool for the Rathergate film Truth. The Times not only published Stephen Holden's breathless review of the film, the Times celebrated the film in a TimesTalks event featuring Robert Redford, Cate Blanchett, Dan Rather, and Mary Mapes, hosted by Times Magazine staff writer Susan Dominus. Holden also included Truth in his year-end best-of-2015 list (it's number 7!). The Times went all in for this tribute to the greatest journalistic fraud of our era, as I noted in the City Journal column "Truth and the New York Times." In its year-end review of possible Oscar contenders, however, Times op-ed columnist Joe Nocera stumbles onto the truth and blurts it out.
Obama Says He Does Not Watch Enough Cable News to Grasp Terrorism Fears. President Obama reportedly told a group of news columnists this week that he does not watch enough cable news to grasp terrorism fears in the country following terror attacks in Paris and San Bernardino, California. The characterization of Obama's comments was included in an article from Friday's issue of the New York Times and has since been edited out of the piece without correction, Mediaite first reported. Several journalists also drew attention to the excerpt on social media before its removal.
The New York Times Just Memory-Holed This Devastating Obama Admission. [Scroll down] The version of the New York Times story that was published early Thursday evening [12/17/2015] indicated that Obama knew he was out of touch with the country on terrorism, and he thought that was due to not watching enough television. Obama critics immediately pounced on the stunning admission from the president, expressing shock that he would claim that a lack of TV time was the real reason for him not understanding Americans' anxiety about terrorism. As of Friday morning, however, the passage containing Obama's admission was gone.
Obama: I Didn't Realize How Nervous People Were About Terrorism Because I Don't Watch Enough Television. Kind of a weird statement from a guy who seems to learn quite a lot about world events by first hearing about them in the press, no? [...] This is a dangerously out-of-touch, cloistered "leader" — the type of man who'd give a news-free speech on national security without mentioning the major, controversial steps he'd just taken to undermine national security. Incidentally, the [New York] Times stealth-edited this highly newsy nugget, disappearing it down the memory hole. I wonder why. The paper says it was due to length constraints, but that excuse doesn't fly. They ended up adding more words to the final version than they erased. It's almost as if they're protecting a political ally.
Comparison of the original and revised versions of the NYT article debated in the three articles immediately above.
Why the War on Guns Has Failed. In the wake of the San Bernardino attack, liberals are in a total panic over guns. The New York Times broke a 95-year precedent to editorialize about gun control on its front page. But the Times seems restrained compared with the full-on meltdown at the New York Daily News, which has taken to calling the head of the NRA a "terrorist." I have no desire to rehash the all-too-familiar debate over whether such policies would have their intended effects or whether they'd pass constitutional muster. Let's just stipulate I am skeptical on both counts.
The Most Pressing Issue in 95 Years. The Peace of Versailles, Buck v. Bell, the Great Depression, Pearl Harbor, the Hitler-Stalin Pact, the Ukrainian famine, the internment of Japanese-Americans, the Tuskegee experiments, the Holocaust, McCarthyism, the Marshall Plan, Jim Crow, the Cuban Missile Crisis, the Kennedy Assassination, the 1964 Civil Rights Act, Kent State, the Gulf of Tonkin Resolution, Watergate, withdrawal from Vietnam, the Killing Fields, the Iran hostage crisis, the Contras, AIDS, gay marriage, the Iran nuclear deal: These are just a few of the things the New York Times chose not to run front page editorials on. But, the "Gun Epidemic" in America? That deserves a front-page editorial. Not only that, it deserves to be bragged about that this is the first time since 1920 they've run a front page editorial.
Here is an excerpt from that front-page editorial:
End the Gun Epidemic in America. It is a moral outrage and a national disgrace that civilians can legally purchase weapons designed specifically to kill people with brutal speed and efficiency. These are weapons of war, barely modified and deliberately marketed as tools of macho vigilantism and even insurrection.
The Editor says...
I think the editors of the New York Times should read the Federalist Papers.
More criticism of the NYT editorial:
How the 'New York Times' and Loretta Lynch Made Me Join the NRA. I don't know which is worse, Ms. Lynch or the NYT. Actually they're closely related, but let me start with the paper. They published an editorial Friday ("End the Gun Epidemic in America"), contra the 2nd Amendment and calling for the confiscation of arms: [...] The amazing, and revealing, aspect of the editorial is that only days after the San Bernardino attack the words "Islam," "ISIS," "jihad" or anything resembling them are not mentioned in this editorial (as if they were complete anathema), only the amorphous "terrorism."
Democrat Party Organ The New York Times Calls for Forcible Gun Confiscation. The press release outlet best known for its fanatical dedication to the socialist agenda — you may know it as The New York Times — has finally issued the Democrats' long sought-after call for government confiscation of America's guns. [...] Of course, the Times fails to note that the recent Paris terror attacks (and many other examples of mass shootings in Europe) occurred under strict gun control regimes. They refuse to describe how disarming law-abiding citizens might prevent killings by Jihadists and the criminally insane (but I repeat myself). Oh, and box-cutters were used to kill 3,000 Americans on 9/11. A home-made IED killed and crippled more than 100 people at the Boston Marathon. Knives and automobiles are the weapons of choice these days for slaughtering Israeli Jews. The enemies of mankind will always find ways to kill en masse. Disarming Americans is not only unlawful and functionally impossible, it is a predicate for more terror and tyranny.
Chris Christie: New York Times gun control op-ed "liberal claptrap". Republican presidential candidate and New Jersey Gov. Chris Christie doesn't think highly of a New York Times editorial calling for stricter gun control laws in the wake of the San Bernardino shooting. "It's typical liberal claptrap from the New York Times," Christie told "Face the Nation" host John Dickerson in an interview set to air Sunday [12/6/2015]. "The fact is that what we need to be focused on here are two issues: taking criminals who commit crimes with handguns and putting them in jail. And we have to work on our mental health system in this country to give doctors and caregivers greater latitude to involuntarily commit folks who have mental health issues and who don't want to take their medication and help themselves."
New York Times throws front-page temper tantrum on gun control. In a remarkable display of mush-headed illogic, the New York Times has run a front-page editorial for the first time in 95 years advocating gun control measures it admits would be ineffectual. In the 447 words prompted by the San Bernardino slaughter, there was not room for the word "Islam" or "Islamic" — only for a demand to take guns away from law-abiding Americans.
There's a reason you've never heard of Eduardo Sencion, Kesler Dufrene and Salvador Tapia.
The Media's Cover Up of Immigrant Mass Shootings. The San Bernardino shooting has just happened and the shooters are unknown, but in response to Robert Dear Jr.'s murder of three people at a Colorado Springs shopping mall last week, The New York Times exulted: "Even as politicians and those in Congress pump up public fears at the supposed threat of refugees fleeing Syria, every day in America people — mostly white men — are walking into movie theaters, restaurants, churches, grade schools and health care centers armed to the teeth, determined to take as many people out as they can." Mostly white men??? I know it didn't happen here, but is the Times really going to ignore the murder of 130 people in Paris two weeks ago?
What Climate Change Looks Like: Walrus Crowding. December 1, 2015[:] This week, we're featuring images that show how global warming has already impacted the world. Packed shoulder to shoulder, an estimated 35,000 Pacific walruses congregated on Alaska's northwest coast near Point Lay last fall. Normally the mammals find ocean ice sheets to rest on, but as waters have warmed the ice sheets have disappeared. In seven of the last nine years swarms of walruses swam ashore for refuge, as shown above, according to the U.S. Geological Survey.
[Date stamp and italics in original.]
The Walrus and the New York Times. The Times is peddling ignorance here. Actually, the congregation of walruses on land is an age-old phenomenon known as "hauling out." It has nothing to do with the volume of sea ice at any given time. In fact, the Times is not just peddling ignorance, it is recycling it. Today's Times piece is paraphrased from a much-derided column by Gail Collins that ran in October 2014.
The Editor says...
I don't know about Gail Collins, but a 2014 article in Time, apparently written by Jack Linshi, used the same photograph.
Fit to print? NY Times smears GOP 'bigotry,' 'insanity'. The New York Times opined Thursday [11/26/2015] that Sen. Bernie Sanders has the right idea on immigration, and that most Republicans support a plan that gone "well beyond the usual nativist bigotry." [...] The paper cheered Sanders this week for offering a plan that "turns away from the insanity."
When the Third World Attacks. Give me a break, New York Times. The Paris terrorists were 100 percent Middle Eastern, although most were born in Muslim ghettos in Europe. After 50 years of the most backward, dysfunctional cultures pouring into the civilized world, the media are forced to blatantly lie to us whenever immigrants attack: This has nothing to do with refugees! Ismail Omar Mostefai is "a Frenchman." Ismail is "French" in the same way that Caitlin Jenner is a "woman."
With Blood Still in the Streets of Paris, New York Times Defends Islam. Blood still stains the streets of Paris. France is in a deep state of shock; it is a nation of walking wounded. A British survivor of the concert at Bataclan tells how ISIS terrorists "tortured wounded victims by slitting their stomachs with knives." The media isn't reporting these gruesome details. They are over Paris — not even a week has passed and the New York Times, the Associated Press and the rest of elite herd are promoting and proselytizing for Islam.
New York Times Executive Editor: It's 'Disingenuous' for Carson to Argue Liberal Bias. Can prominent liberal journalists ever get their brain around the idea that conservatives are sincere and not cynical when they protest liberal media bias? Ben Carson has repeatedly made the point that his memoirs are being nitpicked at a much higher rate than Hillary Clinton's or Barack Obama's. But New York Times executive editor Dean Baquet suggested to Charlie Rose on PBS on November 9 that he doesn't really "believe" that.
The Climate Change Inquisition Begins. According to The New York Times, its sources "said the inquiry would include a period of at least a decade during which Exxon Mobil funded outside groups that sought to undermine climate science." See what they did there? To have a different view of climate science is to "undermine" it because there is no scientific study of the climate except that which they agree with.
Ignoring the Obvious. [A] front-page story in the New York Times last week dealt with how Success Academy, a high-performing charter school network in New York City's low-income and minority neighborhoods, has been accused of "weeding out weak or difficult students." The Times' own story opens with an account of a child who was "not following directions," who "threw tantrums," was screaming, threw pencils and refused to go to another classroom for a timeout. Yet the headline declared that charter schools "Single Out Difficult Students."
Post-'Migrant' France Fails to Live Up to New York Times's Standards. Just when you think the pages of the New York Times cannot get any more self-parodical, along comes this shiny gem by Pamela Druckerman: [...] Paid! Free! No guns! Birth control! Abortion! Health insurance! And free stuff for illegals, too! Truly, [France is] a Leftist's paradise.
Another fake hate crime. Reading a hard copy of the New York Times this morning, I find Monica Davey's story "Suspect is charged in St. Louis church fires." [...] Not wanting to go too far out on a limb, she puts it this way: "The authorities said Mr. Jackson was black."
Dumbest Global Warming Study Ever Wins Raves From New York Times. Stunning visuals and melodrama aside, what's really melting faster than a river during summertime is the Times' credibility. The notion that these "researchers" are doing anything close to collecting data that could predict future melting of Greenland's ice sheet is absurd. These researchers are taking measurements at a single river. One. They claim they can then somehow extrapolate this data into a prediction of the fate of the entire ice sheet. But thousands and thousands of these summertime rivers appear on the Greenland ice sheet, which is 660,000 square miles in size. Four times the size of California. Data from one section of one 60-foot wide river is going to tell us precisely zero about anything related to the ice sheet's future.
Unprecedented Bias. As a public relations professional who deals with the media every day I am disgusted by the media's intellectual dishonesty in their coverage of the ongoing conflict in Israel. Journalists have a responsibility to cover issues with accuracy and what we've seen thus far has been an infusion of bias and misinformation. [...] People who consistently read mainstream news sources, such as The New York Times, may be surprised to learn they are not as informed as they think they are.
Clinton's E-mail Cover Is So Full of Holes, Even the NYT Noticed. New York Times' journalists Eric Lipton and Michael S. Schmidt suddenly noticed that Hillary Clinton's explanations surrounding her e-mail scandal have "evolved over time" and wrote up an analysis about it in Wednesday's [10/21/2015] edition. While it can't be labeled a full takedown, the piece at least notes a pattern of deceit, even if their conciliatory language is an obvious attempt to protect the Democratic candidate.
Can the New York Times Discuss Whether Mohammed's Flying Horse Really Visited the Temple Mount? So the New York Times lapsed into what has been called Temple Trutherism by trying to deny the existence of the Jewish temples on the Temple Mount. [...] But let's have some equal time here. The Temple Mount is holy to Jews because of the Temples. So the New York Times chose to discuss whether the Temples really existed. It's holy to Muslims because Mohammed supposedly flew there on a flying horse (with a woman's head). Can we get a discussion of whether that really happened? Or does the New York Times only find it acceptable to mock Judaism, not Islam?
NYT's 'Conservative' Brooks: Actual Conservatives Are 'Dangerous'. Those of us who actually watch President Obama on a daily basis recognize the inherent threat he and his supporters represent. That isn't a false crisis mentality. That's reality. Not every comparison to Nazi Germany is justified; most aren't. But refusing to guard against the possibility of tyranny makes tyranny inevitable. [David] Brooks says the real problem is those troglodyte conservatives and their hatred for political compromise.
The paper of record shills for a movie that claims to exonerate Dan Rather — against all evidence.
Truth and the New York Times. [Scroll down] In the second part, based on documents supposedly from the "personal file" of Bush's commanding officer, Rather reported that Bush had defied an order to take a physical necessary to maintain his flight status and, among other things, thus failed to discharge his military obligations. The segment was produced and written by Mary Mapes. In researching the story, Mapes spoke to witnesses with firsthand knowledge of the Texas Air National Guard's personnel needs. She was told that they needed pilots at the time, and that no influence would have been necessary to secure Bush's admission. The documents on which Rather based the second segment proved to be fabricated on Microsoft Word in the computer era, not typewritten in the early 1970s by Bush's commanding officer or anyone else. The content and format of the documents also betrayed their fabrication. The story began to fall apart within a few hours of its broadcast. On September 20, 12 days after the broadcast, Rather extended an apology "personally and directly" to viewers for his inability to authenticate the documents.
The NY Times Complains About the Competition. [Scroll down] It's a funny thing: papers like the Times are always telling us about the torrent of financial support for the GOP, yet in virtually every contested election, more money is spent on behalf of the Democrat. Moreover, with respect to this election cycle, the Times never considers the possibility that more money is flowing into the GOP side because its candidates are more numerous, more diverse and more appealing. The Democrats have nothing on offer but elderly, warmed-over leftists.
New York Times: [There are] No Israeli Victims Of Palestinian Terrorism. Why-oh-why do I still read the New York Times? Am I that much of a masochist? Here's why. Because those who rely upon it run media/entertainment/publishing empires, corporations, and governments. These Masters of the Universe do not understand that the articles about Israel and the Muslim world in the Paper of Record are all, essentially, toxic propaganda; to them, it is mother's milk, God's own word. Verily, it is The Atheist's Bible. That's why I steel myself every single day.
New York Times Mistates Federal Gun Law, Hillary Gun Record. The New York Times published a piece Monday [10/5/2015] that misstated federal gun law and Democratic presidential candidate Hillary Clinton's position on gun control. In a piece detailing Clinton's new gun control proposals, the paper implied that gun sales made at gun shows or online are different than sales made elsewhere. "A central issue in Mrs. Clinton's proposals are the background checks on prospective gun buyers, which are required for retailers at stores," New York Times reporter Maggie Haberman wrote in the piece. "But under federal law, they are not required at gun shows or over the Internet with private sellers."
Deconstructing The New York Times Propaganda On GOP 2016 Race. The recent NYT article "Party Rules To Streamline Race May Backfire", written by Jonathan Martin, showcases two distinct disconnects: #1) an actual understanding of what's going on, and #2) the NYT bubble-perspective on the GOP motives.
NYT: Media may have underestimated impact of Hillary e-mail scandal. No kidding. For quite a while, the media either downplayed or flat-out ignored Hillary Clinton's e-mail scandal, or cast it in terms of the danger of Republican overreach. The New York Times actually stands out as an exception to this, as they have broken much of the news about this scandal — so much so that Media Matters' chief and Hillary apologist David Brock recently accused them of being "a megaphone for conservative propaganda."
David Brock: NY Times Is a 'Megaphone for Conservative Propaganda'. David Brock, top attack dog at progressive site Media Matters, is unleashing an attack on a surprising target. In a forthcoming book titled, "Killing the Messenger: The Right-Wing Plot to Derail Hillary Clinton and Hijack Your Government," Brock alleges the NY Times is out to get Hillary Clinton. Politico reports Brock accuses NY&Nbsp;Times's senior political editor Carolyn Ryan of having it out for Clinton. Brock also claims he has spoken to members of the Times's staff who confirmed it.
How To Write A New York Times Op-Ed In Three Easy Steps. Today we'll talk about how to write a New York Times op-ed in 45 minutes or less. We all like labor-saving tips! The main point to keep in mind is that your op-ed is not intended to elucidate, educate or amuse. These are status pieces meant to strike a pose, signaling that you are a good person. After reading your op-ed, readers should feel the warm sensation of being superior to other people — those who don't agree with you.
After Clinton Cronies Complain, Big Shakeup at NYTimes. Ever since the start of the campaign, Hillary Clinton boosters have been complaining about coverage of their candidate in the New York Times. And today [9/8/2015] the paper announced that Washington bureau chief Carolyn Ryan is being demoted — or shifting roles! — at the paper. [...] Hillary boosters are publicly connecting what they see as bad coverage with Ryan's new role at the paper.
Another Day, Another Bogus New York Times Attack on Clarence Thomas. Unfortunately, this is not an isolated incident. The New York Times has a long history of publishing misleading negative items about Justice Thomas. For example, early in Thomas' tenure on the Court, the Times famously described Justice Antonin Scalia as Thomas' "apparent mentor," a cheap shot designed to portray Thomas as an intellectual lightweight. Yet as we now know, Thomas has been the one influencing Scalia — an influence that Scala himself has repeatedly acknowledged. Yet the demonstrably false notion of Thomas as Scalia's "sidekick" continues to persist in many quarters of the American left. I realize that Clarence Thomas' legal views are unpopular among many of the reporters and editors who work at The New York Times. But their bias against him is no excuse for this sort of specious journalism.
NYT's Barro: 'Massive' Gun Grab Only Way To Impact Violent Crime. Give Josh Barro credit for candor. When it comes to guns, the New York Times correspondent makes no bones about the kind of draconian, Second Amendment-defying approach he thinks is necessary. Forget about expanded background checks or other such measures. The only way to have a "big impact on violent crime," according to Barro, is to emulate Australia and "really take away massive amounts of guns that people have, reduce the rate of gun ownership substantially."
NY Times fine with 'maternity tourism,' but 'anchor babies' is racist. The New York Times is pushing back against Republican presidential candidates Donald Trump and Jeb Bush for employing the phrase "anchor babies" when referring to illegal immigrants crossing into the U.S. and giving birth to children who are then automatically granted citizenship. Both Bush and Trump have used the term in public while campaigning and discussing their positions on immigration policy. When challenged by reporters who said the term is "offensive," Trump said he would continue to use it and Bush said he was specifically referring to Asian immigrants.
How Political Machines End. Ross Douthat, writing in the New York Times ruefully writes "I simply do not believe that the Obama Justice Department is going to indict the former secretary of state and Democratic front-runner for mishandling classified information, even if the offenses involved would have sunk a lesser figure's career or landed her in jail." The observation is almost tantamount to arguing that the rule of law no longer exists; that the political class can literally do whatever it wants.
Iran Deal: 'No Plot to Destroy Israel,' Says New York Times. The New York Times reports that Iran has "no plot to destroy Israel." Never mind the fact that Iran's so-called "Supreme Leader," Ayatollah Ali Khamenei, has just published a book about how the regime hopes to do exactly that. Never mind that last year, he tweeted answers to "9 key questions about the elimination of Israel." Never mind that Mohammad Reza Naqdi, the head of the Basij militia of Iran's Reovlutionary Guards, declared in March that "erasing Israel off the map" was "non-negotiable" in the ongoing talks toward a nuclear deal with the west.
Hillary Clinton campaign blasts 'egregious' errors by The New York Times. Hillary Clinton's presidential campaign is accusing The New York Times of "egregious" errors and the "apparent abandonment of standard journalistic practices." The campaign is angry over a story The Times published one week ago about fallout from Clinton's use of a private email server while serving as Secretary of State. It was originally headlined "Criminal Inquiry Sought in Hillary Clinton's Use of Email." The Times' story, which was based on unnamed sources, quickly unraveled. Clinton herself was not the target, and the case was not criminal.
Obama v. the Clintons: Proxy War Erupts at the New York Times. Media folks have long viewed the New York Times as something akin to the Kremlin back in the heyday of its beloved Soviet Union. [...] As careful readers have noticed, there is a proxy war going on inside the Times regarding the Dowager Empress of Chappaqua. On one side is the Obama administration, most likely in the person of Valerie Jarrett, furiously leaking damaging information about Mrs. Clinton during her disastrous tenure as secretary of state; on the other are the die-hard aging Clinton partisans (the Times once was filled with them) who are quick to rise to her defense.
With its Planned Parenthood editorial, the New York Times repeats a shameful history. [Scroll down] Last week, the New York Times editorial board finally responded to week-old revelations of Planned Parenthood officials casually discussing the ways they "crush" human fetuses and use "less crunchy" methods to better preserve their body parts for research. Despite the fact that a great many of the protestations were moral objections from a variety of religious groups, the New York Times failed to address these concerns at all. Instead, it focused on the deceptive investigative techniques of those who obtained the video and, in an unintended twist of irony, lauded the use of aborted fetuses to provide researchers with "lifesaving tissue." For the record, religious pro-life advocates like me are not panicking because we are opposed to organ donation. We are panicking because we are opposed to taking organs from donors without their consent.
Want longer battery life? Avoid the New York Times and The Grauniad. Software developer Santeri Paavolainen says the code powering today's websites is taxing browsers so much, it's having a significant impact on power consumption. The programmer came to that conclusion after a casual examination of news sites including the New Scientist, the BBC, Forbes, The Guardian, and The New York Times, as well as Google and its YouTube video vault. Paavolainen used an electrical power meter and a 2013 Retina Macbook Pro running on 50-per-cent-brightness with Flash disabled by default to work out the amount of power devoured when browsing various sites.
Proposed Raise for Fast-Food Employees Divides Low-Wage Workers. Advocates for workers across the country cheered last week when New York became the first state to recommend a $15-an-hour minimum wage specifically for fast-food workers. But in New York City, the decision has created a stark new divide between low-wage workers who will receive the boost in their paychecks and those who will not.
The Editor says...
The article immediately above (from the NYT) appears on its surface to be about an increase in the minimum wage, but in reality it is a pathetic anecdote about how difficult it is to get by on a minimum wage job. The article includes no discussion of the merits of the minimum wage per se, just a tear-jerking infomercial for big government.
New York Times tries to set record straight on botched Clinton email story. Four days after a major error in a story about Hillary Clinton's emails, the New York Times has published an editors' note laying out what went wrong. The note, published late Monday night, said The Times' initial story was based on "multiple high-level government sources," but acknowledged that as the paper walked back its reporting, corrections were slow to materialize, and substantial alterations "may have left readers with a confused picture."
Hillary Clinton's Worst Fears Are Coming True. [Scroll down] The New York Times had revealed [7/23/2015] that two independent inspectors general requested that the Justice Department open a criminal investigation into Hillary Clinton for possibly jeopardizing national security by handling classified information on her personal "homebrew" email server. By morning, however, the Times story had been edited several times. Struck from the account was the contention that Clinton had "mishandled sensitive government information" and in its place was the claim that "information was mishandled" by... someone. The lead reporter on that story confessed that the alterations were made at the Clinton campaign's "reasonable" request.
Hillary camp rips NY Times, but email story still dogs her. Hillary Clinton's email mess has been like a low-grade fever that keeps returning in nastier form. And the problem is she's never taken the cure — by answering all the outstanding questions — as part of her media-averse approach. Now the Clinton campaign is on the offense against the New York Times, branding its latest story on the controversy "false" and "discredited."
Fmr NY Times Sr. Reporter Reams Paper over Hillary Email Story. On Friday [7/24/2015], the Times push-alerted its readers that the Inspector General was opening up a criminal inquiry into whether Clinton discussed classified information on her private, non-secure server while Secretary of State. This would have constituted a major development in the email story, which until now Clinton had been weathering, and seriously imperiled the frontrunner's campaign. But no quickly was it published than it began to crumble, as ranking member of the House Select Committee on Benghazi Elijah Cummings (D-MD) said the documents the Times thought it had obtained were merely FOIA requests. The Times reworded the post at the Clinton campaign's requests, walking back much of the criminal element of the story, and Clinton's direct involvement in the actions described therein.
Hillary Clinton's Vast Non-Right Wing Problem. Is Hillary Clinton a criminal, one who broke the law when she decided to homebrew her emails and compromise national security? That's the question Attorney General Loretta Lynch faces, according to a report in The New York Times. It seems that Clinton may have stored "hundreds of potentially classified emails" on her personal server in possible violation of the law. That Clinton's move was stupid and bad politics is beyond doubt. But even worse, it may have been criminal, according to the two Inspectors General who want a Justice Department investigation into the latest Clintonian escapade.
Media Matters Founder Calls on NY Times to Review 'Flawed' Clinton Reports; NYT Hits Back. Media Matters founder David Brock is once again going after The New York Times for its reporting on Hillary Clinton, and today the Times hit back. In other instances earlier this year, Brock called out Times reports on how Clinton used private email as Secretary of State, and even said that the Times shouldn't "outsource your journalism to Rupert Murdoch's publishing house." Brock today [7/24/2015] released a public letter to the Times, calling them out for an "extraordinarily troubling pattern... of flawed reporting" when it comes to Clinton.
Round One. Something is setting the cat among the pigeons. The New York Times reported that a "Criminal Inquiry Is Sought in Clinton Email Account" in connection with the mishandling of classified material. A reproof from the Clinton campaign caused the New York Times to issue what it called a correction.
New York Times Edits Clinton Email Story At Her Request. The New York Times altered its story about two inspectors general calling for an investigation into whether Democratic Party front-runner Hillary Clinton mishandled classified information on her secret private email server. The change to the lede paragraph came at the request of the Clinton campaign, Politico reports. "It was a response to complaints we received from the Clinton camp that we thought were reasonable, and we made them," Times reporter Michael Schmidt said, according to Politico.
New York Times alters Clinton email story. The New York Times made small but significant changes to an exclusive report about a potential criminal investigation into Hillary Clinton's State Department email account late Thursday night [7/23/2015], but provided no notification of or explanation for of the changes. The paper initially reported that two inspectors general have asked the Justice Department to open a criminal investigation "into whether Hillary Rodham Clinton mishandled sensitive government information on a private email account she used as secretary of state."
NY Times changes story about criminal inquiry into Hillary Clinton emails. How much pull does Hillary Clinton have with the press? Politico's Dylan Byers noticed a subtle but monumental change to an article in the New York Times this morning [7/24/2015] that altered the thrust of the piece. The State Department's inspector general is requesting a criminal investigation into Hillary Clinton's outside email accounts because he suspects that hundreds of classified documents were stored on the server. Without explanation or notice, the Times changed the focus of the article.
Still Fronting for Fidel at the New York Times. The left's longtime moral-political blindness to communist dictatorships never ceases to amaze, and few cases have been as consistently and wondrously spectacular as the New York Times, from the likes of Walter Duranty apologizing for Stalin in the 1930s to Herbert Matthews resurrecting Fidel Castro in the 1950s. As to the latter, the Times has fronted for the Castro regime for a half-century and counting.
NY Times Very Upset Over Planned Parenthood Sting. [Scroll down] Of course, the rest of the editorial is all about protecting PP, and attacking the group that shot the videos. There is no concern that PP is illegally selling aborted baby parts. No outrage. Heck, they aren't even upset that PP was using ultrasound to make the abortion cleaner to get the parts. Aren't abortion on demand proponents against ultrasound for abortion?
More about Planned Parenthood.
New York Times Caves, Places Ted Cruz Book 'A Time for Truth' on Bestseller's List. The New York Times acknowledged on Wednesday [7/15/2015] that the Sen. Ted Cruz (R-TX) book, A Time For Truth, belongs on its best-seller list and gave it a no. 7 ranking in nonfiction, after snubbing it and accusing the Cruz campaign of making "strategic bulk purchases." Harper Collins sent an inquiring email to The New York Times last week after the book's impressive sales were ignored by the paper.
NY Times Taking a Beating In Its Battle With Ted Cruz. Cruz's new book, A Time for Truth, is a hot seller, apparently #3 among hard cover nonfiction books. But the [New York] Times refused to list it on its best seller list, claiming that its "sales were limited to strategic bulk purchases." Both Cruz and his publisher, HarperCollins, have denied the charge, and Cruz has challenged the Times either to provide evidence to back up its claim, or else apologize.
Amazon: 'No evidence' of bulk sales for Ted Cruz book. The New York Times' refusal to put Ted Cruz's memoir on its best-seller list is once again being called into question — this time by Amazon, the largest Internet retailer in the country. On Sunday [7/12/2015], an Amazon spokesperson told the On Media blog that the company's sales data showed no evidence of unusual bulk purchase activity for the Texas senator's memoir, casting further doubt on the Times' claim that the book — "A Time for Truth" — had been omitted from its list because sales had been driven by "strategic bulk purchases."
Hmmm... No bulk sales? Then I wonder what the problem is.
Amazon backs Ted Cruz: We've seen no bulk purchases that should keep him off the NYT bestseller list. Hard to believe the Times would be so petty in its disdain for Cruz that they'd kick him off the list and then lie about it, especially when, as their spokesman notes, right-wing authors like Glenn Beck and Ann Coulter routinely make the cut. But maybe Cruz is a special case. Unlike Beck and Coulter, he's an electoral threat.
Cruz demands NY Times apologize for 'lying' about 'A Time for Truth' sales. Ted Cruz's campaign blasted The New York Times on Friday after it was revealed that the Texas Senator's new book, "A Time for Truth" would be kept off the bestseller list, despite reported sales putting the book at No. 3 on the list. The GOP presidential contender's book reportedly sold 11,854 copies in its first week, more than "all but two of the Times' bestselling titles," Politico reported Thursday [7/9/2015].
Ted Cruz vs. the New York Times. Ted Cruz's new book, A Time for Truth, is the third best-selling hardcover nonfiction book in the United States, according to Bookscan. But when the New York Times's top 20 best seller list came out, A Time for Truth was nowhere to be seen, even though the #1 and #2 books tracked the Bookscan list.
HarperCollins Refutes New York Times Claim That Ted Cruz Tried To Game Bestseller List. Publishing giant HarperCollins is publicly pushing back against the New York Times' claim that Ted Cruz's new book, A Time For Truth, was disqualified from its bestseller list because sales were limited to "strategic bulk purchases." In a statement provided to BuzzFeed News, HarperCollins publicity director Tina Andreadis said the company looked into the matter and "found no evidence of bulk orders or sales through any retailer or organization."
New York Times blocks Ted Cruz book from bestseller list. Conspiracy? Ted Cruz has a new book out — a memoir/campaign manifesto titled "A Time for Truth." Published on June 30, it sold about 12,000 copies in its first week, which is pretty good nowadays for a tome that doesn't have "shades" or "gray" on its cover. Despite these sales, The New York Times has told publisher HarperCollins it won't put "Time for Truth" on its nonfiction bestseller list. The problem isn't overall numbers. On those, "Time" would rank second or maybe even first. The issue is that the NYT deems those numbers somewhat squishy.
N.Y. Times keeps Cruz off bestseller list. The New York Times informed HarperCollins this week that it will not include Ted Cruz's new biography on its forthcoming bestsellers list, despite the fact that the book has sold more copies in its first week than all but two of the Times' bestselling titles, the On Media blog has learned. Cruz's "A Time For Truth," published on June 30, sold 11,854 copies in its first week, according to Nielsen Bookscan's hardcover sale numbers. That's more than 18 of the 20 titles that will appear on the bestseller list for the week ending July 4.
Hillary and the Hippie. Political observers are still speculating over whether the July 4th New York Times' report on the loony biography of Democratic presidential candidate Bernie Sanders was meant as a hit-job or an encomium. He is closing in on the Democratic frontrunner, Hillary Clinton. Joe Biden is standing in the wings. Other ambitious Democratic pols are smelling blood.
New York Times Debunked: Scott Walker's 'I'm Not Going Nativist' Conversation Never Happened. A conversation about immigration between Wisconsin Gov. Scott Walker and the Heritage Foundation's Stephen Moore, reported on by the New York Times this week, never happened. "We have spoken with Stephen Moore and the conversation that was reported did not happen and he will tell you that. I would recommend you reach out to him," Walker spokeswoman AshLee Strong told Breitbart News on Thursday [7/2/2015] in response to an article by Jonathan Martin and Maggie Haberman.
NY Times Loves How Communism Is Good For Cuba's Environment. Well, yeah, when people have no money, live in 3rd world conditions, sure, that's great! [...] I have to wonder how many who work at the NY Times will forgo their own trips to the beach, either down at the Jersey Shore or along the Long Island coastline. Oh, and they forget about the deplorable environmental conditions in other Communist countries, such as the Soviet Union and China. They also do not seem too concerned over the environmental degradation caused by "green" companies like Solyndra.
New York Times: Until Catholics Like Muslims Try To Kill Us, We Will Go On Offending Them. The New York Times has a consistent position on art that offends religions.
1. Mohammed cartoons will not appear
2. Works mocking Christianity and Judaism will[.]
NYT Passes on Muhammed Cartoons, But Prints Condom Pope. Honestly, at this point, the only people who fail to see the disconnect between demurring on an image that offends one religion but accepting an image that offends another work for the New York Times. And while all of them have, at one time or another, answered a question about their double standards with some iteration of "the two scenarios are simply different," the reality is that the NYT knows full well that Catholics, and members of other religions whose methods of conversion have developed beyond the 14th century, are unlikely to show up to their offices with an automatic weapon. They just don't feel comfortable acknowledging it because it might cost them their heads and a swath of readers who still think CAIR is an active contributor to the cause of American civil rights.
Obama Prefers the Lie to the Truth. It is worth going back to a story in 1992 to note that the New York Times has not only not changed, but has gotten worse. At the same time it was fabricating stories about George H. W. Bush, it at least defended abolition of the minimum wage as an economically sound idea. Today, it is incapable of nothing other than affirming the prejudices of people like Barack Obama. In the George W. Bush administration, the New York Times was willfully messing up chronologies to make political points. The list goes on and on.
The Times' and the Clintons' Converging Conflicts of Interest. The latest revelations to turn up in this mutual backscratching world of the Democrat-Media Complex was reported by The Washington Free Beacon's Alana Goodman, who happens to be a former AIM intern. "A little-known private foundation controlled by Bill and Hillary Clinton donated $100,000 to the New York Times' charitable fund in 2008, the same year the newspaper's editorial page endorsed Clinton in the Democratic presidential primary, according to tax documents reviewed" by the Free Beacon, Goodman reports. Mrs. Clinton received the Times' endorsement in January 2008, over then-candidate Barack Obama. The Times has refused to tell Goodman when in 2008 the donation was made. Was this donation it made before, or after, the endorsement? Did one of them affect the other?
Why the Times is obsessed with smearing Marco Rubio. The presidential race is barely under way, yet The New York Times has already "endorsed" its top choice for character assassination. [...] It's no surprise the liberal paper of record will bash leading GOP contenders. But two hit jobs in one week on a guy who's at best third in a Republican field of nearly 20?
Marco Rubio, average American. Marco Rubio bought a bunch of stuff he probably couldn't afford. Welcome to America. So The New York Times has pulled together another hit piece — this one insinuating that Rubio, who the newspaper evidently believes is the GOP front-runner, is both a reckless spendthrift and a financial failure. The story confuses offshore fishing boats with "luxury speedboats" and pickup trucks with SUVs to render a distasteful account of Rubio's financial life. But what we really learned is that though Rubio is not great with money, the senator from Florida has relatively modest desires, considering his fame.
New York Times' Top Shareholder Is a Clinton Foundation Donor. Even as the New York Times reports extensively and critically on the Clinton Foundation and its activities during Hillary Clinton's tenure as secretary of state, as with other news outlets, multiple high-dollar donors to the foundation are associated with the paper, including the Times' top shareholder, Carlos Slim. Slim, a Mexican telecom tycoon whose net worth of nearly $80 billion makes him the second richest man in the world, became the top shareholder of the New York Times earlier this year after he doubled his shares to take control of 16.8 percent of the company.
'New York Times' Won't Reveal When Clintons Donated. The New York Times is clamming up about the specific date Bill and Hillary Clinton contributed $100,000 to the paper's charity group in 2008, but denies the donation played a role in its coverage and endorsement of Clinton in the Democratic primaries that year. The Washington Free Beacon reported on Sunday [6/7/2015] that the Clinton Family Foundation, a little-known philanthropic organization controlled by the Clintons, donated $100,000 to the New York Times Neediest Cases Fund in 2008. The charity is administered by the paper and run by top brass at the Times Company.
Highlights From the New York Times' 2008 Hillary Clinton Endorsement. In June 2007, just as the Democratic presidential primary was heating up, Bill and Hillary Clinton wrote a $100,000 check to a New York Times charity group. In January 2008, the Times editorial board endorsed Hillary over her much trendier rival, Barack Obama. The endorsement makes for an intriguing read in retrospect.
Who were those "science advisors" behind the NY fracking ban? Last week we talked about the bombshell EPA report which said that fracking didn't have any demonstrated, systemic effect on ground water quality. (Well, it was a "bombshell" unless you work at the NY Times, which didn't find that it merited much of a mention.)
The lamest of negotiators. Could it be that The New York Times is fed up with Hillary Rodham Clinton and Barack Obama? The Times — probably the most dogmatically liberal newspaper in the nation — has twice recently reported on its former best friends in strongly critical terms.
Clinton Donated $100K to New York Times Group the Same Year Paper Endorsed Her. A little-known private foundation controlled by Bill and Hillary Clinton donated $100,000 to the New York Times' charitable fund in 2008, the same year the newspaper's editorial page endorsed Clinton in the Democratic presidential primary, according to tax documents reviewed by the Washington Free Beacon. The Clinton Family Foundation, a separate entity from the Bill, Hillary and Chelsea Clinton Foundation, has been the family's vehicle for personal charitable giving since 2001. It is funded directly by the Clintons and distributes more than $1 million a year to civic and educational causes.
Clinton Foundation Donation Not Publicly Listed by NYTimes. A $100,000 donation given to a New York Times charity campaign in 2008 by Bill and Hillary Clinton's family foundation is not included in a Times list of large gifts from various other foundations, such as George Soros's charitable foundation.
Jeanette Rubio's main offense? Driving while Latina. My people have been slandered by The New York Times. Yes, in a shameless act of what those on the left would call a "micro-aggression" against all Latinas ever pulled over for driving-while-applying-lipstick, the Times has condemned Jeanette Rubio — wife of U.S. senator and Republican presidential candidate Marco Rubio — for her driving record.
The New York Times' Rubio Derangement Syndrome. It took several years of George W. Bush's presidency for the mainstream media to develop full-blown Bush Derangement Syndrome (BDS), but the New York Times — the MSM's very flagship — seems to have contracted Rubio Derangement Syndrome (RDS) over a year before there is even a Republican nominee, let alone a sitting president. First the Times exposed Rubio for being some senatorial version of Speed Racer (sorry, Marco, four traffic violations in seventeen years just won't cut it) and now they're after him for the cardinal sin of having difficulty paying off his student loans.
Marco Rubio slams NYT for 'arrogantly' using student loan debt to question financial acumen. Marco Rubio's campaign fired back at The New York Times over its critical piece on the Florida senator's financial acumen. The newspaper wrote on Tuesday [6/9/2015] of Mr. Rubio's student loan debt, mortgage, recent retirement savings withdrawals, and "strikingly low savings rate." The piece comes just days after the newspaper reported on the Florida Republican's history of minor traffic violations.
Financial Expert Quoted in NYT Rubio Hit Job is Obama Donor. A story in Tuesday's [6/9/2015] New York Times probing Sen. Marco Rubio's (R., Fla) "struggles with finances" during his career quotes a financial expert critical of Rubio who donated money to President Obama. Harold Evensky, a financial adviser "who reviewed Mr. Rubio's public financial disclosures" at the newspaper's request, donated $500 to Obama in 2007 according to online records, but the Times does not note that in its piece.
Media Bias Jumps the Shark With Marco Rubio 'Luxury Speedboat' Story. Just how desperate is the mainstream press to cast Sen. Marco Rubio as someone who can't handle his money? Desperate enough, apparently, to describe a family fishing boat as a "luxury speedboat," which the New York Times did this week in its front page hit piece about Rubio's alleged "history of financial struggles." That same Times story also portrayed a home Rubio bought — after getting an $800,000 advance on a book — as some sort of mansion in Florida, when it is, in fact, just one home crammed into a cul-de-sac next to many other similarly sized, middle-class dwellings.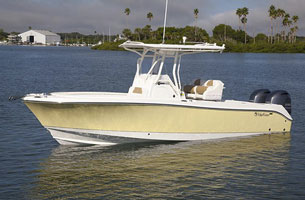 Even lefty MSM laughing at NY Times story on Rubio 'luxury speedboat'. Not exactly a cigarette boat. In fact, exactly the kind of boat you see fishermen using all over Florida, more or less the Ford Focus or Toyota Camry of fishing craft. The obvious comparison is to John Kerry's yacht, the one he docked in Rhode Island to avoid Massachusetts taxes.




New York Times 'Reporter' Who Can't Tell a 'Luxury Speedboat' from a Fishing Boat Upset that People Think He's an Idiot. For the second time in a week, the New York Times made an attempt to do some damage and, once again, it was a spectacular failure. [Michael] Barbaro could have avoided his embarrassment if he'd engaged in the most basic of journalistic activities: making a phone call.

Media warn Marco Rubio is dangerously middle-class and not wealthy. The [New York] Times revealed recently that Rubio incurred four traffic tickets over 17 years, not exactly disqualifying events. Other reports had Rubio and his wife Jeannette spending money to upgrade their Miami home's air conditioning and buy a new refrigerator. You may remember back in 2007 another freshman senator named Barack Obama suddenly paid off nearly four dozen overdue tickets just before launching his bid to move his family and mother-in-law into the rent-free White House. No, of course you don't remember that because the media skipped over such inconvenient legal blemishes in its enthusiastic coverage of the "reform" Chicagoan.

NY Times Reporter: Rubio Traffic Ticket Story 'Why People Don't Run for President'. As part of the Fox News Sunday political panel, New York Times reporter Sheryl Gay Stolberg attempted to defend her paper's hit piece on Marco Rubio but instead seemed to confirm the backlash against the Times: "When you run for president, every aspect of your life, and even your spouse's life, is open to public scrutiny.... So this is kind of the game, right? This is what happens, this is why people don't run for president."

Rubio's 'luxury speedboat' is a fishing boat. In an effort to showcase Sen. Marco Rubio's history of financial struggles, The New York Times reported Tuesday [6/9/2015] that the Florida Republican had spent "$80,000 for a luxury speedboat" even as he faced outstanding debts. But while Rubio did indeed spend $80,000 on a boat, the vessel in question is not the glamorous "luxury speedboat" the Times article portrayed. It is, in fact, an offshore fishing boat.

Democratic Oppo Firm's Fingerprints on NYT Rubio Hit. The New York Times Friday [6/5/2015] report that Republican Sen. Marco Rubio (Fla.) and his wife Jeanette have been cited 17 times for traffic violations was written after the citations were pulled by liberal opposition research firm American Bridge, according to Miami-Dade County court records. Records show that each of the citations mentioned by the New York Times were pulled in person by American Bridge operatives on May 26, 2015.

When Biases Collide. A couple of [New York] Times reporters spent Friday morning [6/5/2015] basking in praise for their "nice scoop" — the less-than-remarkable public knowledge that Marco Rubio was written four traffic tickets over the course of two decades — but, as Brent Scher of the Washington Free Beacon pointed out, neither of the reporters in the byline — Alan Rappeport and Steve Eder — nor the researcher also credited by the Times for the piece — Kitty Bennett — ever accessed the traffic records in question. But somebody did: American Bridge, a left-wing activist group, had pulled the records just before the Times piece appeared, and the Times employed some cagey language, with the relevant sentence beginning: "According to a search of the Miami-Dade and Duval County court dockets... ." A search? Yes. Whose search? A piece of the news that apparently is not fit to print.

'New York Times' shows its 'gotcha' colors. So Friday's New York Times contained an enormous scoop — one so important that it was bylined by two reporters, Alan Rappeport and Steve Eder, and a researcher, Kitty Bennett. The scoop? That Marco Rubio had some traffic tickets. Well, actually, only four in 18 years. [...] Er, except that maybe the Times didn't do the digging. The Washington Free Beacon's Brent Scher reported that the Times likely got the records from a Democratic opposition research firm, American Bridge. "Records show that each of the citations mentioned by the New York Times were pulled in person by American Bridge operatives on May 26, 2015. ... Neither of the reporters, Alan Rappeport and Steve Eder, appeared on the docket records for any of the traffic citations for Rubio and his wife. An additional researcher credited in the New York Times, Kitty Bennett, also does not appear on any of the court records."

Times Hit Piece Ignores Scott Walker's Success. The article is more sophisticated than the awkward and error-filled attempted hit on Walker by Gail Collins from the Times editorial page, who blamed Walker for layoffs that took place before he had been elected. And it avoids the kind of over-the-top claims that require corrections. But the piece nonetheless makes clear that its authors believe Walker's views are far out of the mainstream and that he owes his success to wealthy conservatives eager to exploit a simpleton as the vessel for their ideological goals.

Surprise! NYT's Embarrassing Rubio Hit Piece Came From Democratic Super PAC. A reporter at the Washington Free Beacon discovered that The New York Times' embarrassing story attacking Republican presidential candidate Marco Rubio for traffic violations was almost certainly planted by a Democratic super PAC. [...] Missing from the headline is the important context that the candidate himself only had four violations to his name, over the span of two decades.

Media: Never Mind Hillary's Scandals, Let's Talk About Marco Rubio's Wife's Driving Habits. Remember how the media left Barack Obama completely unvetted, ignoring even the most damaging stories from his past, while a squirming mass of reporters fought over every scrap of trash in the dumpster behind Sarah Palin's house? It's happening again. For some reason, the New York Times decided to devote two reporters to the urgent task of reviewing Senator and presidential candidate Sen. Marco Rubio's driving record over the past 18 years. And they still couldn't make much of a story about it, so they decided to add his wife's record to the story.

New York Times ignored Jonathan Gruber bombshell. The New York Times had first shot in 2014 at the video of Obamacare architect Jonathan Gruber mocking the "stupidity of the American voter," but took a pass. Though the Times eventually followed up on reports of the MIT economist's now-infamous remarks on the passage of the Affordable Care Act, it did so only after they had generated a national scandal. Times' reporter Robert Pear was the "first real journalist" that tipster Rich Weinstein contacted with the newly unearthed footage, he told the Washington Examiner.

Two Conservative Jewish Women are Driving the Left Insane. This month the left lost its mind over Ayelet Shaked. The daughter of an Iraqi Jewish immigrant, Ayelet Shaked was an infantry instructor who worked for Israel's elite Golani Brigade and a computer scientist who worked for Texas Instruments. Now she's a mother of two married to a former fighter pilot. She's also Israel's new Justice Minister. The New York Times compared her to Michele Bachmann and had her quoting Ayn Rand. The Financial Times compared her to Sarah Palin. So did Italian, Spanish and Norwegian media outlets. These analogies are not based on anything except the gender and politics of all three women. They are shorthand signals, telling liberal readers to hate Ayelet Shaked just as they hated Palin and Bachmann.

GOP Exposes Second Hillary Clinton Email Address NY Times Ignored. The New York Times has published two articles on the relationship between former Secretary of State and 2016 Democratic presidential frontrunner Hillary Clinton and longtime confidant Sidney Blumenthal. It has been known for some time that Blumenthal, barred by the Obama White House from working at State, nevertheless ran "a secret, private intelligence network" for Mrs. Clinton's benefit, "apart from the State Department's own Bureau of Intelligence and Research."

There's a war on free speech — and radical Islam is winning. The New York Times ran an editorial distinguishing between "free speech" and "hate speech" writing that the event "was not really about free speech. It was an exercise in bigotry and hatred posing as a blow for freedom." CNN's Chris Cuomo wrote on Twitter that "hate speech is excluded from protection," later claiming it was a "clumsy tweet." Fox's Bill O'Reilly got into the act, saying the organizers of the event "spurred a violent incident." Alia Salem, executive director of the Dallas and Fort Worth chapter of the Council on American-Islamic Relations, floated restrictions on the First Amendment freedoms, stating, according to the New York Times, that, "The discussion we have to have is: When does free speech become hate speech, and when does hate speech become incitement to violence?"

Times Editors Hate Geller's 'Hate Speech' and Love Others' 'Free Speech'. Yesterday, the New York Times editorial page informed us of the fine distinctions between "free speech" and "hate speech." We are instructed that "the Muhammad Art Exhibit and Contest in Garland, Tex., was not really about free speech. It was an exercise in bigotry and hatred." It turns out that the difference is what lies in the heart of the creator. And the Times knows what's in the heart of the creator. The cartoons of Charlie Hebdo, which lost a dozen employees when jihadists sprang into their office with machine guns in an incident that later evolved from an attack on ideas to an attack on Jews, are according to the Times, worthy of defense because the publication "has always been graphic satires of politicians and religions, whether Catholic, Jewish or Muslim."

The New York Times Loves Blasphemy, Except When It Targets Muslims. The New York Times editorial board tore into the nearly-murdered organizers of the Garland, Texas "Draw Mohammad" event Wednesday [5/6/2015], calling it "hate speech" and "an exercise in bigotry and hatred posing as a blow for freedom." "Some of those who draw cartoons of the Prophet Muhammad may earnestly believe that they are striking a blow for freedom of expression, though it is hard to see how that goal is advanced by inflicting deliberate anguish on millions of devout Muslims who have nothing to do with terrorism," the Times editorial reads. "As for the Garland event, to pretend that it was motivated by anything other than hate is simply hogwash."

New York Times: Not Entirely Clear What Motivated Mohammed Cartoon Gunmen. Completely and utterly unclear what might have led two devout Muslims to try and kill cartoonists drawing Mohammed. It's not one of those obvious things like plastic bottles destroying the planet or all the problems in the Middle East being caused by the Jews. This is a great big mystery which we may never solve. Was it Global Warming? Or maybe some of that airborne PTSD? Maybe it was economic inequality.

More about The Islamic terrorist attack in Garland, Texas.

NY Times Blamed Reagan/Bush for LA Riots, But No Blame in Baltimore. Is President Obama responsible for the Baltimore riots? If you take a look at how The New York Times portrayed the reaction to the Los Angeles riots of 1992, apparently so. [...] Today, as the events in Baltimore unfold — now with formal charges including murder brought against six Baltimore cops — there is one striking aspect that is not present as it was in Los Angeles. That would be blaming the President of the United States. Yes, that's right. As Los Angeles burned, the media was quick to finger the real culprit as then-incumbent Republican President George H.W. Bush. Not to mention his predecessor, Ronald Reagan — then four years gone from the White House.

Iran's Foreign Minister Publishes Op-ed in NYTimes. Continuing its tradition of providing a propaganda platform for America's enemies, the New York Times has published an op-ed by Iranian foreign minister Javad Zarif in which he demands that the United States choose "between cooperation and confrontation, between negotiations and grandstanding, and between agreement and coercion." Enjoying the freedom of expression his government denies to its opponents, Zarif argues that the West should work with it toward regional peace.

NY Times puzzled over 'disappearance' of 1.5 million black men. Homicide plays a large role. But what causes homicide? Is it all the racist white policemen shooting black men in the back? As nearly all of us know, most black homicides result from black-on-black crime. The New York Times knows this, too, but to go the final step, and tell why so many black people are dying, is something its editors and reporters have a curious lack of interest in exploring. And you'll find no one marching in Ferguson, Missouri or anywhere else acting out in outrage about this. The other large cause is "incarceration." Homicide. Incarceration. The Times throws these nouns out there, as if they were autonomous beasts with their own minds who gobble up black men on their own.

The New York Times doesn't have a clue about the meaning of the Second Amendment. [Quoting Noah Webster:] ["]Before a standing army can rule, the people must be disarmed; as they are in almost every kingdom of Europe. The supreme power in America cannot enforce unjust laws by the sword; because the whole body of the people are armed, and constitute a force superior to any bands of regular troops that can be, on any pretense, raised in the United States.["]

The nation's most embarrassing editorial board humiliates itself once again. If you're in the market for overwrought hyperbole designed to overcompensate for a lack of substance, The New York Times has you covered. The Times editorial board is many things, but cutting edge arbiters of cultural phenomena is not one of them. Take, for example, their latest criticism of Republicans. Get this: They're racist. But The Times is warning that what was once the GOP's "brutal racism" toward the president has evolved into a new, more insidious form of racially inspired criticism that is subtler than its previous incarnation. You might call it "dog whistle" racism. At least, that's what MSNBC took to calling it at least three times per hour over the course of the entire 2012 presidential election cycle.

New York Times fears Netanyahu demands will cost Iranian jobs. Israeli Prime Minister Benjamin Netanyahu's "unworkable" demands on Iran threaten not only to scuttle a potential nuclear deal between Washington, D.C., and Tehran but may also lead to job loss in the Islamic republic, the New York Times editorial board warned this week. One of Netanyahu's supposedly "unrealistic" demands regarding the pending nuclear agreement calls for Iran to shutter its underground enrichment facility at Fordo. For the Times editors, this is unreasonable.

New York Times Tries to Play the Race Card, Rewrite History. In its lead editorial Sunday [4/12/2015], the New York Times plays the race card, accusing Republicans of criticizing President Barack Obama's foreign policy because he is black. The editors, like many on the left, refuse to acknowledge that it is Obama's own radical policies, and imperious style, that led to the backlash that delivered Congress to the opposition in the first place. However, since the "paper of record" attempts to rewrite history to back up its claims, the editorial is worth deconstructing.

NYT's editorial on NRA convention as accurate as you'd expect. One can imagine that the New York Times editorial board had practically leaped with delight when they thought they'd found hypocrisy and irony in the NRA convention show. Their op-ed for today practically cackles with glee as they excoriate the premier gun-rights group for barring working weapons from their annual gathering. The problems with it start in the lead paragraph — indeed, in the very first sentence.

Kansas Tries to Stamp Out Abortion. During the past four years, the state of Kansas has become ground zero in the war to criminalize all abortions, and in the process to remove a woman's ability to control what happens in her own body.

The Editor says...
I'll state my rebuttal in the simplest terms, so that even the editors of the New York Times can understand it: Abortion isn't about what a woman does with her own body, it's about killing babies. Abortion is homicide because a baby is a separate person that must necessarily grow inside a woman's body. The position taken by the New York Times (in the one-sentence excerpt above) is like saying it's okay for me to murder my dinner guests because I have control over what happens in my house.

NYT Writer: Christians 'Must Be Made' to Embrace Gay Lifestyle. In the wake of the Indiana donnybrook over religious liberty, which somehow was transformed overnight into a question of gay rights, it couldn't be long before the New York Times weighed in against Christians. Yet who could have expected the draconian measures the Times would propose? Either Christians fully embrace the gay lifestyle, or you will be coerced into doing so.

NYTimes Hypocrisy: It Denounces Corporate Speech in Citizens United, Cheers When Against Indiana. When the issue was the Citizens United ruling and the resulting ability of corporations to directly spend money on political advertising, well the Times worried about the supposed corrupting influence of the practice and the drowning out of the common man's voice, which is not amplified by hordes of corporate cash. But fast-forward to this week and it's a far different story.

Obama's Strategy on Climate Change, Part of Global Deal, Is Revealed. The White House on Tuesday [3/31/2015] introduced President Obama's blueprint for cutting greenhouse gas emissions in the United States by nearly a third over the next decade. [...] The United States and China are the world's two largest greenhouse gas polluters.

The Editor says...
The article immediately above appears in the New York Times, and it reeks with left-wing bias. First of all, the reduction of CO2 emissions by "nearly a third" in this country would require us to return to the 18th century. Second, CO2 is plant food. It is not a pollutant. We should inject CO2 into the atmosphere at every opportunity, because it makes the crops and the rain forests grow better.

New York Times worried about Bergdahl getting a job. The New York Times is worried. Not about everyday Americans getting jobs under the corrupt Obama regime, but about deserter Bowe Bergdahl's job prospects.

NYT: 'Jealous,' 'Hoarding' Americans Should Let In 11 Million Immigrants Annually. The United States should absorb as many as 11 million immigrants each year into its economy, NPR "Planet Money" founder Adam Davidson writes in The New York Times Magazine. "Few of us are calling for the thing that basic economic analysis shows would benefit nearly all of us: radically open borders," he writes. His proposal would double the current U.S. population in only 29 years to over 637 million people.

Van Susteren Slams NY Times Story on Clinton Emails. Ever-blogging Fox News anchor Greta van Susteren called out the New York Times Monday morning [3/23/2015] for its exclusive use of anonymous sources in an article about Hillary Clinton's emails. The article was by Michael Schmidt, who broke the story of Clinton's use of a personal email account several weeks ago. This morning the Times published a follow-up on the 300 emails Clinton had submitted to the House Select Committee on Benghazi. This collection first alerted the committee to existence of the personal email account. The committee now plans to subpoena more.

NY Times Public Editor Retracts Criticism of Ferguson Reporting. New York Times Public Editor Margaret Sullivan retracted her criticisms over the Times' early Ferguson reporting Monday morning [3/23/2015], calling her initial critique "substantially flawed." Sullivan's retraction follows the Department of Justice's report earlier this month essentially vindicating officer Darren Wilson's side of the story in the shooting of Michael Brown. The report concluded that Brown did not have his hands raised when Wilson shot him, undercutting the subsequent "hands up, don't shoot" slogan adopted by Ferguson protesters. Sullivan's is the second retraction, after Washington Post columnist Jonathan Capehart retracted his earlier columns on Ferguson last week.

NYTs Caught Manipulating Story That Didn't Fit Their Narrative. In a story published Monday [3/16/2015], The New York Times reported online that family members of Jeffrey Williams, the 20 year-old man suspected of shooting and wounding two Ferguson police officers, confirmed that Williams had been one of the Ferguson protesters. This morning, at the same url, that crucial piece of news disappeared from the story. No update or editor's note explained the removal (that has now been returned).

Of Course Obama Wants to Take Hillary Down. We can believe Ed Klein's sources claiming Valerie Jarrett is the White House point woman for the destruction of Hillary Clinton. Evidence: It was the New York Times which broke the story. The Democratic press does not eat its own, ever. Yet here was the Gray Lady, setting the headlines for Drudge. People asked how Hillary could have been so stupid. The answer is that in the normal course of mainstream reporting, there is no Democrat crime too large for the press to cover up. She knew she was perfectly safe. [...] To make it even clearer that something was going on behind the scenes: the fact that Secretary of State Clinton was using private email had come out in the news two years ago. Raking up an old story detrimental to their team is not normally what the New York Times does. The Times followed the emerging scandal with article after article. They didn't just want to embarrass Hillary, they were out to destroy her.

Could Obama Bypass the Supreme Court? It is time to talk about President Obama's contingency plan for health care. The Supreme Court heard oral arguments earlier this month in King v. Burwell, a case challenging the provision of tax credits on federal insurance exchanges. While the legal issues are dry lawyers' fare — how to interpret several interconnected phrases of the Affordable Care Act — the practical stakes are high. The government estimates that millions of Americans will be left without affordable health insurance if it loses.

The Editor says...
The New York Times, official newsletter of the Democratic Party, is trying to sound the alarm about the awful things that will happen in this country after socialized medicine is outlawed. "Millions" is not a very accurate estimate of the number of people affected. Medical insurance is not a right, and whether or not it is a necessity or a priority is up to the individual, not the government.

White House, NYT leave Bushes out of lead photos from Selma march. The decision by The New York Times to run a front-page image on Sunday of President Obama — and family — leading a march to mark the 50th anniversary of the Selma civil rights clashes, while leaving out of the image former President George W. Bush and his wife Laura, apparently was mirrored in the "official White House photo" of the event. The official White House blog's Sunday entry on the Alabama march led with a similar image, focusing on Obama and his family, as well as civil rights figures, but leaving out the Bushes.

Few say Obama has helped race relations, as 2 presidents (not 1) mark Selma. The peaceful scene Saturday [2/7/2015] was designed to display unity in the face of ongoing racial difficulties, often involving police force. The photo [in this article] shows the actual scene as modern-day marchers joined hands and arms in unity and hope. Both in shirt-sleeves, the last two presidents — Obama and George W. Bush with wife Laura — set out at the head of some 10,000 supporters. But consumers of the weekend news could be excused if they did not realize the two-term 43rd president was present at the historic memorial.

New York Times Crops Selma Picture To Remove President George W Bush. Yesterday Debbie Wasserman Schultz cropped a picture of President Obama on stage to remove the image of President George W Bush also being present. The first reason was obvious, bias. However, the second reason was more subtle — the absence of President Clinton and Hillary. Today [3/8/2015] the New York Times cropped out President Bush for the same reason.

Just to be fair, here is the NYT's rebuttal:
'There Was No Crop' of Selma Photograph. Many readers wrote to me over the weekend, upset that a front-page photo of President Obama and his family leading a commemorative march in Selma, Ala., did not include former president George W. Bush and his wife, Laura. The Bushes were also in the front line of marchers. Twitter was ablaze with criticism of The Times, many conservative news organizations wrote critical articles — and my email inbox overflowed. Some readers said they were canceling their Times subscriptions. Others were simply disappointed.

Brooks: Netanyahu Address To Congress a 'Political Disaster,' 'Substantive Disaster' For Israel. On Friday's [2/27/2015] "NewsHour" on PBS, New York Times columnist David Brooks was critical of the notion of Israeli Prime Minister Benjamin Netanyahu addressing a joint session of Congress due to the politicization of the state of Israel. "I think it's a political disaster," Brooks said.

NYT 'Legal Scholar' in Support of Obama Executive Amnesty Was His Harvard Law Professor. In her story about the ruling — and the injunction that federal Judge Andrew S. Hanen issued ordering the immediate halting of the implementation of Obama's amnesty — New York Times reporter Julia Preston argued that Hanen's ruling would be "quickly suspended" by a higher court. "Some legal scholars said any order by Judge Hanen to halt the president's actions would be quickly suspended by the United States Court of Appeals for the Fifth Circuit in New Orleans," Preston wrote. Preston, however, only quoted one legal scholar: Laurence H. Tribe, a constitutional law professor at Harvard.

Iraq Had WMDs After All. Until now, I have been willing to go along with the conventional wisdom that Iraq did not possess significant stockpiles of WMDs prior to the 2003 war. Leftover chemical munitions were discovered here and there during and after the invasion, but it was plausible to think that they were odds and ends, not part of a usable stockpile subject to the regime's control. Today, however, the New York Times dropped a bombshell: in the aftermath of the Iraq war, the CIA purchased from an unidentified intermediary no fewer than 400 Borak warheads filled with sarin, a deadly nerve gas.

NY Times discovers that Saddam did have WMDs after all. President Bush "lied" about Iraq's WMDs — thus goes the article of faith among liberals, endlessly repeated by the likes of Ron Fournier and Jon Stewart as a kind of progressive catechism. Except that it is a libel, as even the New York Times indirectly acknowledges today.

NYT Columnist Blames Scott Walker for Teacher Layoffs That Occurred Before He Was Governor. There are two problems in this section of Collins's column: First, she accuses Walker of dishonesty, but she's just quibbling over semantics. Is it really inaccurate to describe someone named an "outstanding first-year teacher" by the Wisconsin Council of Teachers of English as a "teacher of the year" for short? [...] Walker has been telling this story for four years, and no one thought his description of Sampson was dishonest until Gail Collins heard about it.

NYT Defends Houthis: 'Very Reassuring' that 'Death to America' Slogan Not Meant Literally. The Yemeni rebels, the Houthis, have taken control of the capital, including the airport and the United States embassy. The Houthis forced US Marines leaving the country to leave them their weapons. The rebels have also seized abandoned vehicles once used by US officials. New York Times reporter Rod Nordland met with the Houthis who reassured him that they were just keeping US vehicles for safekeeping.

Ted Kennedy Institute Gushed Over By NYT, But [the] Bush Library [is] a 'Disturbing' Threat to 'Academic Freedom'. Ted Kennedy, the late liberal "Lion of the Senate" (as he's invariably called) had his hugely exaggerated bipartisan reputation polished to a gleam in a story in the New York Times Arts section by Robin Pogrebin, "In the Mold of a Senator Who Bartered — Edward M. Kennedy Institute Aims to Teach Collaboration." Next month the institute will open in Boston as a legacy of the Massachusetts senator who died in 2009. Yet the George W. Bush Presidential Library was considered by the Times "disturbing" and a possible threat to academic freedom when it opened.

Annals of Dhimmitude: New York Times Celebrates Early America's 'Islamic Roots'. If you ever doubted for a moment that the Gray Lady has become a crack whore for the Obama administration, put your doubts aside.

The New York Times Commits One of Its Funniest Blunders Ever. [Scroll down] The paper eventually realized its mistake and corrected it, although without acknowledging the correction. I suppose it was just too embarrassing. You can see how this kind of thing might happen; people occasionally have such synapse failures. But some people expect more from the Times editorial board. (I don't, but some others do.) In fact, the Times editorial board is no better than, or different from, a minor-league left wing blogger. Actually, that's where they get a lot of their material.

Army of 'fact checkers' and 'proof readers' at NY Times fails again. How out of touch with the rest of the country are employees of the New York Times? An editorial skewering Wisconsin Governor Scott Walker was a typical Times hit piece on a potentially dangerous opponent in 2016 — typical except earlier versions of the editorial referred to Mr. Walker as "Mr. Scott." [...] The governor of Wisconsin is just not imporant enough to register on the Times' radar. Besides, he's a Republican. Those two factors make errors like "Mr. Scott" possible.

An Epic Fail from the New York Times. New York governor Andrew Cuomo, not content with President Obama's proposal to make junior colleges free, recently introduced his own plan for New York to essentially waive the first two years of student debt payments for college graduates living in the state. [...] But what's most interesting about this initiative isn't in the nuts and bolts of its implementation or the political prospects for its passage: It's how the New York Times chose to cover it — unrelentingly positive, of course, capped with a profile of a recent college graduate meant to typify the plight of the debt-laden young professional.

The Most Dishonest Year on Record. Last week, according to our crackerjack mainstream media, NASA announced that 2014 was the hottest year, like, ever. No, really. The New York Times began its report with: "Last year was the hottest in earth's recorded history." Well, not really. As we're about to see, this is a claim that dissolves on contact with actual science. But that didn't stop the press from running with it.

Was 2014 Really the Warmest Year Ever? The New York Times features one of the most misleading headlines ever: "2014 Was the Warmest Year Ever Recorded on Earth." The first paragraph drives the hysteria home: [...] It would be hard to pack more misinformation into a single sentence. First, the Times headline, and countless others like it, convey the impression that 2014 was the hottest year ever! But note the paper's reference to "recorded history." If you keep reading, you see that "recorded history" goes back only to 1880. But in 1880, the Little Ice Age had just ended, and the Earth was beginning to warm after several hundred years in the deep freeze. So, yes, temperatures are a little warmer now than they were then — happily. Indeed, the Earth may still be recovering to more average temperature levels after the Little Ice Age.

NYT Suggests No Place for Christians in Positions of Authority. Apparently, The New York Times is in favor of faith in the public square — if the purpose is to mock it. Editors at the Times poured gasoline on the fire of Atlanta's latest controversy with an editorial that should shock even their most liberal readers. Just when you thought the media couldn't sink any lower, the Times takes on the same First Amendment that gives it the freedom to print these vicious attacks on Christians. In a stunning column yesterday [1/15/2015], the newspaper argues that men and women of faith have no place in public management of any kind.

Carlos Slim Is About to Be Top New York Times Shareholder. Billionaire Carlos Slim is poised to become the largest shareholder in the New York Times Co. (NYT) after already almost doubling his money from an investment that helped the newspaper get through the financial crisis. Slim, who has amassed a $73 billion fortune by spotting depressed valuations, loaned $250 million to Times Co. in January 2009.

New York Times Endorses Thought Crimes. Kelvin Cochran, the Fire Chief of Atlanta, published a book (with permission from the Ethics Office for the City of Atlanta), in which he expressed his Christian faith on sex, marriage, and life. For that, the New York Times says he included "virulent anti-gay views." Actually, Cochran endorsed orthodox Christian views. He was fired more than a year after the book came out. A retiring lesbian fire captain suddenly felt brave enough to complain. The Mayor, needed urban, white liberals for his next election threw the Fire Chief under the bus. [...] It does not matter that there is no evidence of discrimination. His thoughts preclude him from his job.

NY Times Editor: Charlie Hebdo Cartoons 'Innately Offensive' to Muslims. The New York Times published two stories today about the latest cartoon cover of Charlie Hebdo, but still refuses to print the cartoon, saying it is needlessly offensive to Muslims. In a story titled, "New Charlie Hebdo Cover Creates New Questions for U.S. News Media," editor Dean Baquet says the image is "innately offensive" to Muslims.

The Official Apologist for Murder and Terror of The New York Times: Nicholas Kristof. On the day when journalists were massacred in Paris, while blood still ran wet where they had fallen, and as eye witnesses described the killers' shouts of "Allahu Akbar" — "Allah is great" — the New York Times' Nicholas Kristof asked the world not to judge the killers too quickly: most urgently, he said, don't jump to the conclusion they are Muslims. Really? Even when they sounded the Muslim prayer? Even when they called their deeds, loud and clear in the streets of Paris, "vengeance for the Prophet"?

New York Times columnist Maureen Dowd self-destructs. It was absurd and petty. But what we didn't know at the time was that it was also a perfect case of projection.

NYT gets weepy over cop-killer Ismaaiyl Brinsley. He was a victim! The man who cold-bloodedly shot Officers Ramos and Liu gets a shocking amount of sympathy and understanding from the New York Times today. The three (!) writers assigned to the story, Kim Barker, Mosi Secret and Richard Fausset present us such empathy as: ["]In reality, Mr. Brinsley's short life was a series of disappointments.[..."]

Will the Last Employee of the NY Times Please Turn Out the Lights? We have long ripped the New York Times as the ultimate in biased, hard-left news coverage. But as red ink has compelled one layoff after another, and the paper's management has become ever more comically inept, the situation has deteriorated. The New York Times now lacks the basic competence to put out a newspaper.

As I Was Saying About That 'Torture' Report. It's basically a sham, a false-flag operation with the hapless Dianne Feinstein as the designed drop-box, designed to make the Bush administration look bad, the Democrats look "moral" (stop laughing) and the White House look innocent (no, really, stop laughing). For proof, you need look no further than this glowing tale of the bond between two men as lovingly depicted by the Chief Stenographers of the Obama administration, the New York Times: [...]

NYTimes Fails to Disclose Clinton Paid for Interviews About Administration. In a five year span, the William J Clinton Foundation gave five grants totaling $851,250 to the University of Virginia's Miller Center. One year in particular, 2007, the Clinton gift was specifically marked: "Oral history project of Clinton presidency." Well, today the New York Times has a front page feature on the newly released oral history project about the Clinton presidency. The one the Clintons helped pay for. But nowhere in the 2,600 word piece do Times writers Amy Chozick (who is on the Clinton beat) and Peter Baker (longtime White House reporter) disclose the obvious conflict of interest.

Finding Meaning in Ferguson. The New York Times has now pronounced on the "meaning of the Ferguson riots." A more perfect example of what the late Daniel Patrick Moynihan called "defining deviancy down" would be hard to find. The Times' editorial encapsulates the elite narrative around the fatal police shooting of unarmed Michael Brown last August, and the mayhem that twice followed that shooting. Unfortunately, the editorial is also a harbinger of the poisonous anti-police ideology that will drive law-enforcement policy under the remainder of the Obama administration.

Gruber, the Grey Lady, and Gullibility. [Scroll down] Finally, on Nov. 18 (a day earlier online), the Grey Lady cleared her throat and delivered a huffy editorial. It included nearly as many lies as words: [For example,] Republicans "were well aware of what was in the bills." This was not even true of earlier versions, but certainly not of the 11,000-page final version, which had to be passed so we could find what was in it. In a media-orchestrated campaign, it was hustled through the House as if the health care system would come crashing to the ground in hours if nothing were done.

When the Forces of Media Disruption Hit Home. Right now, The New York Times is in the middle of a round of buyouts in an effort to cut 100 positions, to stretch existing revenue over a smaller cost base. The packages are generous — three weeks of salary for every year worked for union employees — and those who have been at the newspaper for at least 20 years are eligible for an additional payout of 35 percent of the total severance. Buying out those folks — layoffs will follow if the goal of 100 jobs is not met — also allows the organization to invest in new technologies and the people who build them.

A Cornucopia of New York Times Thanksgiving Bias: Remember Bush's 'Fake Turkey'? Perhaps the silliest and most biased Thanksgiving commentary came during the heat of the 2008 campaign, when the Times and the rest of the media was finding new and inventive ways to mock GOP vice presidential nominee Sarah Palin. A post from the paper's former editorial page blog, "A Sarah Palin Thanksgiving," was almost a parody of liberal prissiness.

New York Times responds to criticism about Darren Wilson's address. On Monday [11/24/2014], the [New York] Times published a scoop by Julie Bosman and Campbell Robertson reporting that Wilson had married fellow officer Barbara Spradling in a "quiet wedding" last month. It noted that the two "own a home together" and identified the town and the name of the street. Breitbart's John Nolte writes, "the New York Times had no qualms whatsoever about publishing almost all the information needed for Officer Darren Wilson's enemies to track him and his wife down at home." Other outlets, including the New York Post and Fox News, have highlighted the newspaper's decision. "If anything happens to that man, his family or that home, I hold them — the culpability is with [the New York Times]," said Fox News's Sean Hannity.

New York Times Publishes Darren Wilson's Address Info. The New York Times has posted a correction to the story: "An earlier version of this post included a photograph that contained information that should not have been made public. The image has been removed." However, the "information that should not have been made public," in the Times' view, is not the name of the street where Officer Wilson's home is located. The story still contains that information. The Times has merely removed the photo of Wilson's marriage license from the article.

The Big Money Behind the Push for an Immigration Overhaul. When President Obama announces major changes to the nation's immigration enforcement system as early as next week, his decision will partly be a result of a yearslong [sic] campaign of pressure by immigrant rights groups, which have grown from a cluster of lobbying organizations into a national force. A vital part of that expansion has involved money: major donations from some of the nation's wealthiest liberal foundations, [...]

The Editor says...
Yes, this article came from the New York Times, and was written by a professional. Even so, I challenge you to show me the dictionary that omits the hyphen from "years-long." And when I say dictionary, I mean a dusty old book that can't be changed on a whim by a committee, like the alleged dictionary your smart phone coughs up on demand.

Spinning for Hillary. In the old Soviet Union, Kremlinologists would read the state party newspaper Pravda not so much for the news it contained, but to glean what the commissars wanted readers to believe the commissars were thinking. The closest we have to that in America is the New York Times.

The Great (and Deliberate) "Typo" Lie. Now that the Supreme Court has agreed to hear the King v. Burwell challenge to the Federal subsidies in Obamacare, the defenders of the law are busy once again trying to trot the deliberate and intentional lie that the provision in Obamacare that limits the subsidies to those who are on "State" exchanges is a "typo" and that clearly Congress meant to include all exchange customers in the subsidies provision. Paul Krugman, who is even worse at being a lawyer than he is at being an economist, trotted out a representative sample of this patent dishonesty yesterday [11/9/2014] in the New York Times.

When You've Lost the New York Times.... Even the New York Times is starting to figure out that Obama and his roving clownshow of an administration is simply in over its head.

NYT's Frank Bruni Wants You To Get Right With God, Er, 'Science'. In recent news coverage of the Ebola virus, I noticed that reporters tended to use the word "science" the way some people refer to Jesus. [...] Take this Frank Bruni column. (Please!) OK, let's all go through it together. It's headlined "Sinners, Meet Jesus," no, wait, it's "Republicans, Meet Science." It begins with his frustration that yet another passionate warning from the UN about climate weirding failed to yield a worldwide turn toward progressive policies. The phrase "science" is used 11 times in the typically painful-to-read column. What I notice about the uses is how well they could be switched out with Jesus with little or no changes to the surrounding words

What could be simpler? If you're about to lose an election, cancel it!
Midterm elections trigger an anti-democracy spasm on the Left. A GOP takeover of the Senate is by no means guaranteed, but many on the Left are already considering extreme measures to counteract a Republican-controlled Congress. Basically, the Left is deciding this week that democracy isn't really that great. The New York Times runs an op-ed by a Duke professor and student today shouting "Cancel the Midterms," in part because they are "almost certain to create greater partisan divisions, increase gridlock and render governance of our complex nation even more difficult."

The New York Times' 'Cancel the Midterms' Rant Is a Call for Monarchy. What [...] is going on at Duke University that a professor of public policy, drawing on the hard-won wisdom of a junior, could write a New York Times op-ed piece that lacks even a junior-high civics-class familiarity with the U.S. Constitution? And who's minding the rear gate at the Grey Lady's opinion section that the paper would publish something so shoddy? You'll be asking yourself these and other questions after reading "Cancel the Midterms," a passionate call to return the former (and future?) British colonies in America to a more kingly state. The piece is by Duke professor David Schanzer and student Jay Sullivan (2016).

The Love Affair With Obamacare. Americans love Obamacare, the New York Times propagandizes today. It's not the only media outfit running with this story today, suggesting a coordinated campaign effort a week before the election. According to the New York Times, it is too soon to tell if Obamacare is working, except with the young. There, Obamacare seems to be working. But, here's the kicker. With the Obama Administration claiming Obamacare would reduce costs, the New York Times finds it only has at the margins. The paper also speculates that the exchanges will work better next year. And, most importantly, the paper has to admit Obamacare has not been as affordable as promised.

Sorry, New York Times: ObamaCare Is Not Working. The New York Times on Monday featured a huge news package claiming that ObamaCare is delivering on all its main promises. But the Bible of the liberal press has badly misled its flock. 'After a year fully in place," the Times story begins, "the Affordable Care Act has largely succeeded in delivering on President Obama's main promises." So case closed, right? After all, a team of New York Times "reporters and data researchers" came to that conclusion. In a word, no. To claim success, the Times gets things wrong or ignores the law's most glaring failures.

NY Times Triples-Down as Communist Mouthpiece. The past 10 days have seen three hysterical editorials from the New York Times pleading for a U.S. economic lifeline to the Castro brothers' terror-sponsoring regime (i.e. to end the so-called embargo). It's the economy, stupid — Venezuela's that is. Those plummeting oil prices (20% in the past few months) are playing havoc with the Cuban colony's already-rotten economy. Venezuelan subsidies to Cuba last year, mostly in the form of essentially free oil, were estimated to total $10 billion. That's more than double what the Soviets used to send.

You Don't Say, New York Times. Up until yesterday's attack in Canada these things were classified as "workplace violence," or by some other euphemism. Now, we learn that it is "extremism" that is behind the attacks. Progress of a sort. Next question for the Times: What kind of extremism are we talking about here?

NYT Editorial Board Shakes Fist at the Heavens. It's rare I encourage NRO readers to check out a New York Times editorial, but this one is too delicious. The Times is furious at Democratic Senate candidates for their refusal to embrace Barack Obama.

Predatory Journalism at the New York Times. The New York Times is again on the warpath against what it calls "predatory lending." Just what is predatory lending? It is lending that charges a higher interest rate than people like those at the New York Times approve of.

The New York Times Mirrors Obama's Falling Numbers. There's a reason The New York Times is being forced to shrink its newsroom. And that veteran employees are jumping at the chance to bail. The New York Post reported today that more than 300 Times' staffers have responded to a buyout offer from management that is intended to eliminate 100 employees.

NY Times Says: Obama Is Angry at Administration's Incompetence! [Scroll down] So the Times story is basically a plant by the Obama administration. Multiple "senior officials" have bent reporters' ears, trying to put the administration in the best possible light with regard to the ebola fiasco. No doubt they were confident the newspaper would act as their mouthpiece, reporting the administration's spin as news.

How the NYT blatantly spins for Obama on Ebola. Just look at the New York Times, always an industry leader: It's become the official stenographer of the Obama White House. On Saturday, The Times ran a story about the president and his response to the Ebola outbreak that read like it was dictated word for word by the president's top men. If I were a stockholder in the New York Times Co., I would certainly hope the paper was properly compensated for the front-page placement of this naked political advertisement.

New York Times: 'Seething' Obama Has Been Let Down by CDC. Whether it's his IRS targeting his political opponents, his NSA spying on journalists, his EPA blowing an oil spill, his HHS fumbling a Website designed to sell only one product (ObamaCare), or his CDC proving itself so inept you wonder if anyone there has even bothered to see the movie "Outbreak," President Obama's Palace Guards in the mainstream media are always there to assure us the President is very, Very, VERY angry and disappointed. As though the guy in charge is the helpless one, the real victim.

The New York Times Rediscovers Weapons of Mass Destruction in Iraq. When it was first reported in May 2004 that Saddam-era chemical weapons shells had injured U.S. troops, the editors of the New York Times dismissed that, "Finding some residual weapons that had escaped a large-scale destruction program would be no great surprise and if the chemicals had degraded, no major threat." Now, a major New York Times report on the issue has been followed by an editorial warning of "A Deadly Legacy in Iraq": some 5,000 chemical shells have been discovered over the years in Iraq by U.S. or U.S.-trained Iraqi forces. Many more such munitions litter the wreckage of an old Iraqi weapons facility northwest of Baghdad, which the Islamic State captured in June.

Obama Donor Argues Pedophilia 'Not a Crime' in NYT Op-Ed. Here's a tidbit of information The New York Times left out of the bio of a professor who argued pedophilia is "not a crime" in a recent Op-Ed — she's also a President Obama supporter. Rutgers law professor Margo Kaplan penned a New York Times op-ed Oct. 5, headlined: "Pedophilia: A Disorder, Not a Crime." "A pedophile should be held responsible for his conduct — but not for the underlying attraction," Kaplan argued in the op-ed. Besides teaching law, Kaplan also writes for RH Reality Check, which prides itself in helping people "safeguard their sexual and reproductive health and rights against false attacks and misinformation." In 2012, Kaplan donated $250 to Barack Obama's campaign.

Pedophilia Deserves Civil Rights, Says New York Times' Op-Ed. The nation's tough anti-pedophilia laws are unfair to pedophiles, according to an op-ed published by The New York Times' editors. "One can live with pedophilia and not act on it," says Margo Kaplan, an entrepreneurial assistant law professor at Rutgers University, and a former lawyer for the American Civil Liberties Union.

Must We Talk Nonsense? The New York Times editorial board — a motley collection of knuckleheads — is wrestling mightily with the fact that everything they believe just happens to be untrue. Most especially, all that end-the-war-in-Iraq stuff hasn't turned out as well as they hoped and their militant-Islam-is-no-worse-than-any-other-religion meme is beginning to seem a bit shaky and, oh yeah, even though there's no such thing as evil, these ISIS guys look suspiciously like what evil would look like if it were, you know, evil.

You Can't Keep A Good Myth Down. First, this past Sunday, New York Times columnist Nicholas Kristof repeated the canard about guns being dangerous to their owners. A "study in the journal Injury Prevention," he wrote, "found that the purchase of a handgun was associated with 2.4 times the risk of being murdered and 6.8 times the risk of suicide." No kidding. As a lifelong subscriber to Injury Prevention, I could have told Kristof that people who live in crime-ridden neighborhoods or who have friends or professions that increase their likelihood of being killed — or who plan to commit suicide — are astronomically more likely to buy handguns than people whose lifestyles do not put them at such risks.

New York Times Plans Cutbacks in Newsroom Staff. The New York Times plans to eliminate about 100 newsroom jobs, as well as a smaller number of positions from its editorial and business operations, offering buyouts and resorting to layoffs if enough people do not leave voluntarily, the newspaper announced on Wednesday [10/1/2014]. Arthur Sulzberger Jr., the newspaper's publisher, and Mark Thompson, its chief executive, said that in addition to the job cuts, NYT Opinion, a new mobile app dedicated to opinion content, was shutting down because it was not attracting enough subscribers.

Tom Friedman says Reagan had it easy compared to Obama. The rationalizations for Obama's failures are already beginning, and Tom Friedman employs the laziest of all strategies, tearing down a great man to make a small man look bigger. In his Sunday [9/28/2014] column in the New York Times, Friedman makes a number of highly dubious points.

NYT: On second thought, Bush did pull together a coalition on Iraq. And it only took them two weeks to realize their error! It seems that the Paper of Record had no record of the broad coalition built by George W. Bush for the 2003 invasion of Iraq, including ground troops from more than a dozen nations, when it attempted to explain the difference between the approaches of Bush and Barack Obama on war in Iraq and now Syria.

David Limbaugh's book banished from NYT best seller list. The New York Times Book Review, which has a history of belatedly recognizing conservative bestsellers, has banished conservative legal author David Limbaugh's latest, Jesus on Trial, from its upcoming best seller list despite having sales better than 17 other books on the list.

After 30 Years Of Lies, NY Times Admits "Assault Weapons Are A Myth". In a stunning op-ed released Friday [9/13/2014], the NY Times finally admitted that "assault weapons" are a made-up political term fabricated by anti-gun Democrats. Op-ed writer Lois Beckett also admitted that once the term was manufactured and used to outlaw a class of weapons that dishonest anti-gun Democrats had used to con an entire nation, nothing happened.

Sotloff Family Furious with White House... and The NYT Buried It. The family of Steven Sotloff, the latest American journalist beheaded by ISIS, is reportedly "outraged" at the Obama administration for "deliberate leaks" they interpret as "an attempt to absolve the administration of inaction." This reporting comes Wednesday from no less a source than the New York Times, which chose to bury the news under more than two dozen paragraphs: [...]

NY Times Desperately Tries to Keep Indictment in Play. The New York Times tried to keep the politicized hit job against Texas Gov. Rick Perry alive in Wednesday's [8/27/2014] edition, insisting the dubious partisan indictment (from a Democratic district attorney's office that has filed failed charges against prominent national GOP figures) actually has merit, with a "complicated back story" and "deep roots," while pouting that Perry's team has had "substantial success in the court of public opinion" so far. No thanks to the overexcited Times coverage.

The New York Times Censors Anti-ISIS Ad. Why did The [New York] Times condemn the American government from trying to suppress images of alleged abuse on the part of the American military while seeking to suppress the horrors of the world's most monstrous terror organization that decapitates Americans?

Taxpayer-Funded Millionaire Fails to Comprehend the World. Millionaire and public intellectual Paul Krugman takes homes a $225,000 salary (to do no actual work) from the publicly funded City University of New York. And that's only a fraction of his total earnings, which include a six-figure salary from the New York Times, where he writes columns that regurgitate Democratic Party talking points in an authoritative voice.

White House: Obama Expresses His Grief By Golfing. The internal newsletter of the Democrat Party, which makes itself available to outsiders under the name "The New York Times," field-tests the most pitiful spin ever attempted. We know you're in the bag for this failing Administration, guys, but you can still exercise some discretion over which emailed White House talking points you build into "news" stories. You'd have been doing your man a favor by scuttling this one: [...]

The beatification of Michael Brown. It is essential to the Democrats' hopes for a strong black turnout in November that the manufactured narrative of evil white cops assassinating an innocent black teenager be maintained. As Richard Baehr noted to me, "...after the video appeared of the robbery and theft, a new narrative was needed for Michael Brown. It is not only the robbery/ assault/in the store, but the reports of violence to the officer (damaged eye socket), and admission by Brown's team that he was in an altercation with officer in the car, that has impacted public opinion that he was a choirboy." The New York Times, the semi-official Democratic Party organ, stepped up and does the job today, with this article by John Eligon: [...]

The New York Times Was Present In The Mortuary When Brown Family Autopsy Was Conducted. It's not really "news" when the reporters are embedded with the team constructing the news. The lines of collusion are obvious.

New York Times Buries News of Officer Wilson's Injury. The New York Times has big news on the biggest story in the country today, but as Noah Rothman at Hot Air discovered, the Times buried that news 26 paragraphs deep. According to the Times' own police sources, "witnesses and forensic analysis have shown that Officer Wilson did sustain an injury during the struggle in the car."

NYT: Recovery Has Replaced Good Jobs With Bad Jobs. Remember how Bush was attacked for creating 'hamburger flipping jobs'? But for some reason Obama isn't responsible for this development. But the solution is not to create better jobs. The solution is to pay the hamburger flippers more. [...] So the average house-hold's income as declined almost $5,000 under Obama. But that just tells the NYT that we need to raise the minimum wage. (Oh, and grant amnesty to 11 million illegal aliens.)

Obama's Interview With NYT's Friedman: An Essay In Impotence. President Barack Obama's weekend interview with New York Times columnist Thomas Friedman is a stunning portrait of incoherence and inadequacy. Friedman — a shameless promoter of Obama since the 2008 campaign, whose books have allegedly influenced Obama's foreign policy views — tries his mightiest to wrest something of substance from the absentee president: "[I]t's clear that the president has a take on the world," he declares. And what is Obama's "take"? Two themes emerge from a morass of clichés and sophistry.

A Failing President Obama Talks To New York Times For An Hour Before Heading Off On Vacation. President Obama gave Thomas Friedman an hour long interview [8/9/2014] before heading off on vacation to Martha's Vineyard. Within the interview the failure of a cohesive Obama foreign policy shines through despite the attempted cover from liberal reporters.

Getting with the Times. With the usual fanfare and self-regard we have come to expect from the New York Times editorial board, the prestigious paper has changed its mind about pot. It now believes that the federal ban on the substance should be lifted and that the whole issue should be sent back to the states to handle.

Getting to the truth of Bowe Bergdahl. More than two months after Sgt. Bowe Bergdahl was freed from Afghan captivity — in exchange for five high-value Taliban militants at Gitmo — he was at last questioned by the Army about the details of his capture. The so-called AR 15-6 hearing will determine if, prior to that capture, Bergdahl deserted his post and might therefore face a court martial. Count on The New York Times to present Bergdahl's side in as flattering a way as possible, including assurances from Bergdahl's lawyer that his client answered all questions and didn't invoke his Fifth Amendment right to remain silent.

Ad Sales Drop Cause New York Times Profits to Collapse 54%. The Financial Times reports that a drop in ad sales at the New York Times caused the left-wing newspaper's profits to collapse 54% in the second quarter of this year. The Times netted only $9.2 million this quarter compared to $20.1 million last year.

Despite Circulation Gains, Profit Falls 21% at New York Times Co.. Increased investments in digital products and a decline in print advertising weighed on The New York Times Company's second-quarter earnings, as profit slipped 21 percent. The company on Tuesday [7/29/2014] reported $55.7 million in adjusted operating profit for the quarter, which excludes some one-time costs.

New York Times: Legalize marijuana. The New York Times' editorial board on Saturday [7/26/2014] called on the federal government to legalize marijuana. Citing alcohol prohibition, social costs and states' movements, the board argued "after a great deal of discussion" that "the balance falls squarely on the side of national legalization."

Stoned Crazy at the 'New York Times'. The [New York] Times "Editorial Board" has decided that the federal ban on marijuana is all too much like the Volstead Act, which enacted Prohibition on alcohol. It is creating a new, immense class of law breakers, and filling up prisons with marijuana law breakers, who turn out, by the cunning of racism, and through no fault of their own, to be largely black. The Times has figured out that while marijuana is definitely not like eating whole wheat toast, it's not worse for you than alcohol.

It's official: The New York Times can't count. It must be really galling for the Times editors to have to acknowledge the success of a book they would rather burn than promote. As for the math, it's really complicated, says the Times. Or not.

Two Weeks of Shallow, Facile Moral Equivalency in The New York Times. The Gaza war has provided the Times with a perfect opportunity, eagerly seized, to highlight Palestinian suffering. But Hamas' cruelty to its own people is rarely noted. Recruits for martyrdom in the holy war against Israel are urged to gather on rooftops, instructed by their leaders to serve as human shields against Israeli retribution for 2,000 rockets that have been fired into the Jewish state during the past weeks. Beneath the rooftops are Hamas command centers and tunnels, where leaders take refuge and weapons are stored and fired. The benefit to Hamas from Palestinian civilian deaths is evident: Israel will be blamed.

This article in the New York Times sounds like a White House press release:
Obama's Bold Order on Bias. "Our government of the people, by the people and for the people will become just a little bit fairer," said President Obama on Monday [7/21/2014] just before signing an executive order prohibiting federal contractors, which employ 20 percent of the nation's work force, from discriminating against gay men, lesbians and transgender people in their employment practices. "We're on the right side of history," Mr. Obama correctly declared regarding this important measure, which also explicitly protects federal employees against discrimination based on gender identity, a category covering transgender employees (bias based on sexual orientation was already prohibited).

More Miserable Anti-Israel Bias from the New York Times. The New York Times' coverage of the ongoing situation in Israel, which began with the kidnapping and murder of three Israeli teenagers, continued this past week to be marked by intense anti-Israel bias in tone and labeling, and overwhelming emotionalism over the deaths of Palestinian civilians in the crossfire (Israeli deaths from terrorism rarely if ever merited such heart-felt treatment).

Lerner Associate: "I Don't Understand How Anyone But Straight White Men Can Vote Republican". President Bush requested the resignation of his GSA administrator in 2008 after the US Office of Special Counsel determined she had violated federal law by participating in a video conference with Karl Rove and sending out partisan letters. (The New York Times was scandalized at the time, though I strangely can't find their editorial calling for Kathleen Sebelius' head when OSC flagged her for a Hatch Act violation. Then again, the Times' alleged principles seem to depend entirely on which party is in power).

New York Times: Border Crisis 'a Myth'. The New York Times editorial board believes the border crisis is merely "a myth." In a weekend editorial, the Times said the "White House is getting it mostly right" on immigration and blasted Republicans, who are "throwing up roadblocks" with "dangerous overreaction." The Times praised the Obama administration's request for $3.7 billion in aid to deal with a crisis they think is a "myth." "The besieged border is a myth, and the arrival of a few thousand weary refugee children on buses does not make the myth true," the Times wrote.

Attack on Catholic Judges Breaches the Bedrock Of U.S. Constitution. The New York Times ought to be ashamed of itself for running an advertisement attacking the religion of the five Catholic justices of the Supreme Court. It did this last week in the wake of the Hobby Lobby decision. The ad actually contained the phrase "Roman Catholic majority." It named Chief Justice John Roberts and Justices Antonin Scalia, Anthony Kennedy, Clarence Thomas and Samuel Alito. It went on to accuse the Catholic justices in the majority in the Hobby Lobby case of siding with "zealous fundamentalists who equate contraception with abortion," a statement that combines bigotry with factual inaccuracy. Hobby Lobby actually already happily covers most contraceptives. It objects only to drugs that, rather than preventing an egg from being fertilized, stop a fertilized egg from developing into a baby.

Krauthammer Slams NY Times Editorial Page: 'Childish,' 'They Have No Influence. On Tuesday's [7/8/2014] "The O'Reilly Factor," Washington Post columnist Charles Krauthammer offered his assessment of the layout of the current media environment, particularly with regards to liberal bias. Krauthammer was particularly critical of The New York Times. In its news pages, he argued the Times offered the news through a leftward prism. However, it declared its celebrated editorial page inconsequential for its slant.

Truth Buried — Again. You'd think that a government audit showing how ObamaCare couldn't tell whether millions of enrollees were eligible for the subsidies they're getting would be front-page news. Instead, the press hid it from view. If you wanted to read in the New York Times about these findings — which detailed rampant problems verifying eligibility and income information from millions of ObamaCare applicants — you had to dig 17 pages into the news section.

Good news, everyone! The New York Times has identified the 'real' IRS scandal. When disgraced former IRS official Lois Lerner first admitted in 2013 during a staged apology that her agency had targeted conservative groups, a few news organizations scrambled immediately to help the White House manage its damage control efforts. And as the scandal continues to plod along, Congress holding one hearing after another, these same news groups haven't let up in their defense of the White House or the IRS. Take, for example, the New York Times' latest (and familiar) defense of the IRS. [...]

New York Times: Ugly for Americans Against Illegal Immigration to Wave American Flags, Chant 'USA'. On the day before the Fourth of July, the New York Times went out of its way to show its disgust for Americans against illegal immigration in Murrieta, California who turned away buses of illegal immigrants for, of all things, waving American flags and chanting "USA!" "Nobody was even being released in Murrieta," the Times' editorial board wrote on Thursday [7/3/2014]. "But the mayor urged residents to complain, and in a pageant of ugliness, dozens took action: They waved flags, screamed 'U.S.A.!' and turned three buses back."

Anti-Catholic full-page ad in the New York Times today. The Hobby Lobby decision has ignited liberals and unleashed their prejudice. And this ad is shameful. The New York Times has a full-page ad in its print edition today [7/3/2014] that should elicit protests around the nation (but likely won't).

Religious Freedom of the Times. "A welcome antidote to the official insensitivity to religion" is how the New York Times described the Religious Freedom Restoration Act when it was passed by Congress in 1993. That, by the way, was the 103rd Congress. Both of its houses were controlled by the Democrats. The bill was inked by President Clinton, who is a Democrat. It turns out, however, that neither the Times nor the Democrats meant any of it. They don't [care] about religious freedom.

Is The Times Ignoring a Scandal at the I.R.S.? The Times was somewhat late in beginning to cover the latest development about the lost emails. My office had begun to field several days' worth of reader protests on the lack of attention when the first story finally went online. Despite that slow start and the quiet display of the subsequent stories (an analytical piece might have been a good choice for the front page), The Times has given its readers insightful coverage of a situation heavily clouded by partisan politics.

NYT Admits: 'Somewhat Late' on IRS Story. The New York Times's public editor on Friday responded to criticism about the paper's coverage of the IRS scandal, admitting: "The Times was somewhat late in beginning to cover the latest development about the lost emails." An analysis by the Media Research Center's Jeffrey Meyer on Thursday found that "in the past 6 months (183 days), the New York Times has published only 13 news items on the IRS' targeting of Tea Party groups."

'The Angry Fringe'. Liberal bias in the media is so pervasive that partisan propaganda themes created by Democrats, for the purpose of electing Democrats and advancing their partisan agenda, take on a quasi-reality. Years ago, after seeing the umpteenth reiteration of a too-familiar theme, I remarked that the New York Times should create a standing headline — "Republicans Divided" — and run it as a regular column.

Scarborough Savages NYT For Burying IRS Email Scandal: 'This Is A Scam!' Co-host Mika Brzezinski had just wrapped up explaining another possible scandal for New Jersey Republican Governor Chris Christie, involving diverted funds for the Pulaski Skyway, when Scarborough pounced on the newspaper. "Let's see, so this is the top of The New York Times," he began. "I'm trying to figure out where the IRS story — is it on the front page? Because actually, there was an investigation launched yesterday of the IRS — an internal investigation."

Guess how the press reacted to IRS's commissioner's implausible testimony. Above what is the web equivalent of "the fold," The New York Times printed nothing about the IRS commissioner's testimony. The story barely registered on the site's U.S. news section. It was the Times' politics section where it was determined the IRS story should lead. That is striking because, in one post on the Times site billed as a Q&A style explainer for the IRS scandal, many questions are asked and admittedly not satisfactorily answered.

Walmart's Response To The New York Times Is Great. The Arkansas-based company responded to an article from New York Times columnist Timothy Egan, titled "The Corporate Daddy" by doing the work that it felt Egan's Times editors should have done. [...] The retail giant apparently couldn't resist sarcasm after it found what it considered numerous problems with Egan's piece in which he criticized the company for paying its 2.2 million employees what he called "humiliating wages." "Walmart is a net drain on taxpayers," wrote Egan in the missive, adding that the company forces "employees into public assistance with its poverty-wage structure. "We are the largest tax payer in America," Tovar wrote in his edit. "Can we see your math?"

Walmart hands NY Times' editors their own posteriors. I have never met David Tovar, Walmart's vice president, corporate communications, but I'd like to shake his hand. In this brilliant response to a column by Timothy Egan of the New York Times, Mr. Tovar puts to shame the editors who worked on the Egan piece, literally taking a red pencil to the piece they deigned to publish, and showing them how to do their jobs.

Dinesh D'Souza's 'America' banished from New York Times best seller list. The New York Times bestseller list hasn't waited a millisecond to put Hillary Clinton's book atop its influential chart after just a week of sales, but has totally ignored another top-10 hardcover from noted conservative and critic of President Obama, Dinesh D'Souza. His new book, on sale for three weeks, isn't just absent from the top 10 lists already set for the next two Sundays, but totally missing from the list of the nation's top 25 nonfiction hardcovers despite having sales higher than 13 on the latest Times chart.

NY Times Won't Investigate Hedges' Work Amid Plagiarism Charge. The New York Times has no plans to investigate the work of its former reporter Chris Hedges amid allegations that he plagiarized multiple stories for other publications over the past decade. [...] The New Republic published several excerpts from Hedges' articles that appear to be identical or similar to work published previously by other authors.

Revised 5 Times, NYT's 'Rush to Demonize Bergdahl' Editorial Attacking GOP 'Operatives'. The seething anger at seeing the Obama administration being raked over the coals by critics of the Bowe Bergdahl exchange of five hardened terrorists for a soldier who left his post, including many Democrats and most prominently his fellow unit members, was apparently too much for the editorial board at the New York Times. On Thursday [6/5/2014], they let loose with a poorly sourced and hastily drafted editorial originally entitled "The Politics of the Bergdahl Case."

New York Times Censors Ad Decrying Islamist Censorship. An "Islamist" is not simply an individual who privately observes Islam as his faith. An Islamist is an individual who blurs the ideological lines between personal religion and the nation state — a boundary upheld as one of America's founding principles and sustained in the First Amendment — to foster a governmental system that relies upon the supremacy of Islam.

Hillary to New York Times: Back Off. Sources said the meeting included Clinton advisers Philippe Reines and Huma Abedin, as well as Times Washington bureau chief Carolyn Ryan and national political reporter Amy Chozick, who has been on the Clinton beat for the paper. During the closed-door gathering, Clinton aides reportedly griped about the paper's coverage of the potential 2016 candidate, arguing that Clinton has left public office and [should] not be subjected to harsh scrutiny, according to a source familiar with the discussions.

Chasing Pulitzers has ruined American journalists. You can get a sense of what American journalists' priorities are from looking at a 96-page report that the New York Times has just produced about... the New York Times. I'm not talking about the words, obviously, which are far too boring to read, but the pictures. On page three of the report, there's a photograph of the paper's top brass gathered around a computer terminal, having just discovered that the Grey Lady has won yet another Pulitzer prize. The staff are gathered around them on the stairs — hundreds of them — and one of the editors is looking up and humbly applauding them: 'Well done, folks. You knocked it out of the park... again.' That's what most American journalists care about — winning prizes that affirm just what noble tribunes of democracy they are.

Radio Host Sullivan: NYT Fired Abramson for Criticizing Obama. The firing of Jill Abramson as executive editor of The New York Times happened because she "went over the line" in criticizing the heavy-handed tactics used by the Obama administration in dealing with the media, claims radio talk show host Tom Sullivan. Sullivan pointed out that "earlier this year" (in fact, just last month, in an interview with The Takeaway) Abramson said, "The Obama years are a benchmark for a new level of secrecy and control." He said she added that "sources who want to come forward with stories they feel are important are scared to death they're going to be prosecuted."

The New York Times: Making the world safe for terrorism. On the front page of Sunday's New York Times was a hysterical article charging the New York Police Department with trampling Muslim civil rights by trying to recruit Muslims who had been arrested on other charges to be informants. [...] The article implied that Muslims were being singled out by law-enforcement officials because of their religion, and that they were asked invasive and improper questions about their religion. Freedom of the press is limited to those who own it, H.L. Mencken once said, an axiom that The Times has demonstrated repeatedly by routinely deprecating the threat of "Islamic terrorism" in the United States. For years, The Times has blindly pursued an agenda that coincides with the same agenda of radical Islamic groups masquerading as "civil rights" groups in trying to prove that Islamic terrorists were unfairly convicted and framed.

30-year New York Times Science Writer Out After Writing Book About Genetics, Race. Nicholas Wade, a British-born science reporter and editor for more than 30 years with The New York Times, is no longer with the newspaper — just days after the release of his latest book, in which he depicts blacks with roots in sub-Saharan Africa as genetically less adapted to modern life than whites and Asians. Was The New York Times uncomfortable with Wade's science or his conclusions? It's unclear. Neither Wade nor his former employer returned requests for comment.

The Editor says...
Liberals teach "survival of the fittest" in the public schools, but if someone writes a book about it, they call it racism.

p>

Why It's Okay to Hate Cliven Bundy. It has become clear that Cliven Bundy was transgressed by the New York Times, his words taken out of context and retailed in such a way as to mean something they were not. Bundy is no racist, and the attempt to make him look like one is another step downward in the collapse of American national media. [...] Bundy sat across from a reporter for the NYT, the most vicious, calculating, untrustworthy, and dishonest nest of vipers in the entire U.S. media network, and talked straight to him about matters of import and controversy, under the impression that he would understand and transmit his thoughts the way that he actually expressed them. [...] Nobody has a right to be that stupid, to be that ill-informed, or to be that self-centered.

More about Cliven Bundy.

Joker sob story is just sickening. Another sob story in the left-wing media about Dzhokhar Tsarnaev? Yesterday it was the turn of The New York Times, under the headline, "Marathon Bombing Suspect Waits in Isolation." Needless to say, the ACLU is up in arms. [...] This one was perfectly timed — on the first anniversary of the Joker placing one of his kettle bombs in front of little Martin Richard, who had moments to live after the Times' victim du jour decided he wanted to murder an 8-year-old infidel.

NY Times Op-Ed Links Returning Vets With KKK, White Supremacists. Anger is brewing among service members and veterans groups after the publication of a New York Times op-ed that tries to link veterans and white supremacists.

Appalling: NY Times editorial distorts, misleads, and lies to readers on HHS Mandate. With many political debates, I try to give opponents the benefit of the doubt on intentions. Sure, raising taxes is a bad thing, but some politicians and pundits believe higher taxes will benefit society. Some people think we need to spend more, and others really fear climate change. When it comes to the HHS abortifacient/contraception/sterilization mandate, however, I've almost stopped being that generous with the left's media and thought leaders. [A recent] New York Times Magazine editorial is a prime example as to why. Almost from start to finish, the piece misleads and misdirects readers about the mandate, its opponents, and religious freedom.

How freedom dies. "Religious Right Cheers a Bill Allowing Refusal to Serve Gays." Thus did the New York Times' headline, leaving no doubt as to who the black hats are, describe the proposed Arizona law to permit businesses, on religious grounds, to deny service to same-sex couples.

The Tyranny and Lethargy of the Times Editorial Page. The New York Observer has learned over the course of interviews with more than two-dozen current and former [New York] Times staffers that the situation has "reached the boiling point" in the words of one current Times reporter. Only two people interviewed for this story agreed to be identified, given the fears of retaliation by someone they criticize as petty and vindictive.

New York Times Profit Falls 12%; Print, Digital Revenues Still Falling. The New York Times announced Thursday [2/6/2014] that operating profits had fallen 12% in the fourth quarter of 2013 compared to the same period a year before. Earnings per share dropped by roughly two-thirds, from $0.76 to $0.24. Total revenues were down 5.2% and advertising revenues were down 6.3%, with print advertising revenues falling by 7.0% and digital by 4.3% over 2013.

Revolt: How Kurson Buried the New York Times Editorial Page. The New York Observer has made a huge splash with an investigative story by editor Ken Kurson on internal tensions at the New York Times. According to Kurson's story, the Times' reporters have growing contempt for the "tyranny and lethargy" of the paper's editorial page, which is not only badly run but rarely read under Andrew Rosenthal.

New York Times makes dramatic change to Christie report without noting correction. The New York Times on Friday [1/31/2014] made a dramatic change to a report claiming New Jersey Gov. Chris Christie "knew" about lane closures on the George Washington Bridge without noting the correction.

Abramson: National security reporting 'effectively being criminalized' under Obama. New York Times executive editor Jill Abramson said Thursday [1/30/2014] that national security reporting is "effectively being criminalized" under President Obama, citing his administration's aggressive pursuit of whistleblowers. Speaking on a panel at Columbia University, Abramson said the crackdown "has had a profound effect on journalists who cover national security."

The NY Times Editorial Board: Bitter Opponents of Free Speech. Remember the good old days when people called the Times the "Gray Lady"? Now it's far-left hysteria, all the time. What has the editors riled up is the spreading of "malicious falsehoods" about Obamacare. Falsehoods such as, if you like your health care, you can keep it? Don't be silly! The Times is talking about "malicious falsehoods" like the fact that millions of people are losing their existing coverage because of the statute.

Word Not Found In NYT 5500 Word Hillary Profile: Benghazi. Friday [1/24/2014], the venerable New York Times Magazine published a mammoth 5500-plus word profile of Hillary Clinton and the world around her. It is titled "Planet Hillary," and two words you will not find on this mammoth planet are "Libya" and "Benghazi."

New York Times Covers for Radical, Violent Leftist Carter Camp. A radical-leftist American Indian who was convicted of abducting, confining, and beating four postal workers during a militant crime spree has died. The New York Times began its report of his death by first listing all of the wrongs American Indians suffered at the hands of the U.S. government 100 years prior to the thug's crimes, as though they somehow provided context or excused the man's illegal and violent behavior.

The Obama Doctrine Revealed. In the process of exonerating Clinton, the 8,000-word account by David Kirkpatrick uncovers the two pivotal points of the Obama Doctrine: (1) Radical Islam in general is not inherently hostile to the US and once they are shown due respect they can become US allies. This may mean weakening ties with our traditional allies. (2) The only Islamic group that is a bona fide terrorist organization is the faction of al-Qaida directly subordinate to Osama bin Laden's successor, Ayman al-Zawahiri. Only this group cannot be appeased and must be destroyed through force. [...] The beauty of this is that once revealed, the central tenets of the Obama Doctrine are so reality-challenged that the self-anointed "smart diplomacy" mantle becomes ludicrous.

Watch: Trey Gowdy Dismantles The NY Times' Bogus Benghazi Report. Rep. Trey Gowdy went after The New York Times' bogus Benghazi report on Monday [12/30/2013], in which the Times claimed Al Qaeda was not behind the attack — and that it was sparked by an obscure anti-Muslim video. In an interview with Fox News' Dan Perino, Gowdy wasted no time lowering the boom: "First of all, I want to congratulate The New York Times. It only took 15 months for them to figure out how to spell Benghazi. So, in another 15 months, maybe their reporting will actually catch up with the truth."

Public advocate caught in lie over Times homeless story. She lied on her first day on the job — and got caught. Just hours after being sworn in as the city's public advocate, Letitia James went on TV to claim that she played a key role in helping expose "the face of poverty in the City of New York" on the 'front page of The New York Times. [...] It wasn't James' first attempt to portray herself as a champion of the homeless — at the inauguration, she invited young Dasani to stand at her side for the swearing-in. But the Times refuted James' account, saying she had nothing to do with its articles.

Wrong Again. To hear it from the New York Times editorial page, the many issues surrounding the attacks in Benghazi are now settled. [...] It's hardly surprising that the New York Times would find the New York Times the final word on an issue. But for the rest of us, rational and irrational alike, this revisionist account is neither authoritative nor definitive. The central thesis of the piece is wrong, and the sweeping claim the author has made in defending it is demonstrably false.

O'Reilly: NY Times' Benghazi Report Is 'Pure Bull,' Meant to Help Clinton. In his Talking Points Memo Thursday night [1/2/2014], Bill O'Reilly went after the "seriously flawed" New York Times report that concluded al Qaeda was not involved in the Benghazi attack. He called it "pure bull" for the paper to claim that the attack was not "meticulously planned" and was actually a response to an anti-Islam video.

Down the Times' Bengahzi Rabbit Hole. What was the commander-in-chief of the United States armed forces doing through the night of September 11, 2012, while he knew Americans were under jihadist siege in Libya? You won't learn the answer to that question by reading the mini-book-length, six-"chapter" revisionist history of the Benghazi massacre cooked up by David D. Kirkpatrick and the New York Times. The Times report is a labor of love in the service of President Obama and, in particular, the Hillary Clinton 2016 campaign ramp-up. Former secretary of state Clinton, of course, was a key architect of Obama's Libya policy.

Dangerous Times: The New York Times Goes the Full Pravda. Every thoughtful person knows the NY Times peddles shameless whoppers every single day, just as Pravda did in Soviet Moscow — "pravda" meaning "the truth" in Russian. In the good old USSR you didn't read Pravda for the truth. You read it for the daily Communist Party Line, which bore no relationship to the truth — other than to cover it up. [...] Reading Pravda became an art form that allowed readers to guess who was up and who was down in the endless power struggles of the Kremlin. Today the only use for the NYT — other than tomorrow's fish wrap — is to see who's up in the Only Party that matters today: the Democrats and their media.

Obama on the Couch. It takes cash to afford the cable connections, premium channels, and Netflix subscriptions required to watch all of the titles on the president's viewing list. It is also necessary to have leisure time, which, disturbingly, the president seems to have a lot of. No wonder he finds out about everything from the newspapers. Shear clearly had a thesis in mind when he sat down to write. His article is an argument in search of evidence. He seems to think Obama's taste in television reveals a tragic sense of life, [...]

NYT Doubles Down: Claims of Al Qaeda Involvement in Benghazi 'Strictly Political'. Smarting from the number of witnesses who came out to challenge The New York Times' weekend article downplaying terrorist involvement in the 2012 Benghazi attack, NYT editorial page editor Andrew Rosenthal "argued that those trying to claim Al Qaeda was involved" do so "for strictly political reasons."

New York Times Had Reporter 'Talking to the Attackers' During Benghazi Massacre. The New York Times had a reporter talking to attackers on the ground during the Benghazi attacks that killed four Americans in September of 2012, including U.S. Ambassador Chris Stevens, and that reporter may know the identity of some of the murderers and perpetrators. David Kirkpatrick is the Times reporter who wrote the story that forced the paper's Editorial page editor to defensively declare on Monday that it has not chosen to endorse Hillary Clinton for president in 2016.

When the press is a poodle. [Scroll down] Then on Dec. 28, the Gray Lady breathlessly claimed that extensive interviews on the ground in Benghazi "turned up no evidence that al Qaeda or other international terrorist groups had any role" in the murderous attack on U.S. facilities there on Sept. 11, 2012. The Times insisted that, "The attack was led, instead, by fighters who had benefited directly from NATO's extensive air power and logistics support during the uprising against [longtime Libyan leader Moammar Gadhafi]." Times' reporter David Kirkpatrick concluded, moreover, that the murderous assault "was fueled in large part by anger at an American-made video denigrating Islam."

Journalistic malpractice over Benghazi. The Times' report misconstrues known facts and simply sweeps under the table mountains of evidence of al Qaeda's ties to Libyan jihadi groups. In June 2012, for example, more than a dozen different jihadi groups put the black flag of al Qaeda on parade in Benghazi in what they hoped would be a three-day show of force. Thousands of jihadi fighters, many of them in Pakistani and Afghan dress, paraded through the streets of Benghazi with hundreds of gun trucks. For The New York Times, though, the black flags were merely "the black flags of militant Islam" and apparently bore no relation to al Qaeda. "Benghazi was not infiltrated by al Qaeda," The Times flatly asserted.

Rep. Peter King: NYT Article on Benghazi Is 'Entirely Misleading'. A recent New York Times article is drawing fire for claiming that there is no evidence of al Qaeda being behind the attacks on Benghazi in September 2012, but rather the terrorist group Ansar al-Shariah. "I think it's entirely misleading," commented Representative Peter King (R-New York) on today's edition of America's Newsroom. "The fact is that Ansar al-Shariah is affiliated with Al Qaeda," stated King, who finds the New York Times inaccurate for describing them as completely separate groups. "To say that it was an affiliate rather than Al Qaeda itself means absolutely nothing."

New York Times Contradicts [its] Own Reporting on Benghazi. The New York Times' assertion that Al Qaeda's involvement in the September 11, 2012 attack on the U.S. consulate and CIA annex in Benghazi is particularly questionable considering the preponderance of evidence that shows otherwise.

Krauthammer: NY Times Benghazi Report Undeniably About Protecting Dems, Hillary. The New York Times is defending its Benghazi report from critics who said it was politically motivated, but Charles Krauthammer isn't buying it and said there is no question it was a "political move" by the Times to help Democrats. Krauthammer said the sheer defensiveness the Times is taking in denying political bias in the report just proves that politics was a primary motivator.

NYT Revives Benghazi Video Lie To Save Hillary. The attempt to rehabilitate Hillary Clinton begins as the New York Times revives the long-ago debunked "video clip" excuse for the well-planned Benghazi massacre while denying documented al-Qaida involvement.

The Times' Benghazi Report: Convenient for Clinton. The division of the "Hillary for President" campaign known as the New York Times issued a lengthy white paper on Sunday [12/29/2013], entitled "A Deadly Mix In Benghazi." This article, the paper explained, was based on "months of investigation by The New York Times, centered on extensive interviews with Libyans in Benghazi who had direct knowledge of the attack there..." In other words, the article is centered on interviews with extremists and terrorists, whose words are taken as gospel. That they may have changed their stories, or be putting forth stories for their own benefit rather than because the new stories are true, is a subtlety beyond the Times.

Defense Expert Concludes the NY Times' Benghazi Report 'Backfired' on the Paper. Foundation for Defense of Democracies senior fellow Thomas Joscelyn joined WSJ Live host Mary Kissel on Monday to discuss an investigative report on the September 11, 2012, attack on an American consulate in Benghazi by New York Times reporter David Kirkpatrick. Both Kissel and Joscelyn agreed that, while Kirkpatrick's reporting was extensive, the conclusions he reached were erroneous. Furthermore, if there was a political objective that the Times sought to achieve with this report, the effort has thoroughly "backfired."

'Completely false': Sources on ground in Benghazi challenge NYT report. Fifteen months after the Sept. 11 attack in Benghazi which killed Ambassador Chris Stevens and three other Americans, the narrative of the attack continues to be shaped, and reshaped, by politicians and the press. But a New York Times report published over the weekend has angered sources who were on the ground that night. Those sources, who continue to face threats of losing their jobs, sharply challenged the Times' findings that there was no involvement from Al Qaeda or any other international terror group and that an anti-Islam film played a role in inciting the initial wave of attacks.

The New York Times Whitewashes Benghazi. David D. Kirkpatrick of the New York Times has published a lengthy account of the September 11, 2012, terrorist attack in Benghazi, Libya. While much in Kirkpatrick's report is not new, the piece is receiving a considerable amount of attention because of this sweeping conclusion: [...] But how much effort did Kirkpatrick expend to uncover any possible al Qaeda ties? Judging by the Times's glaring omissions, not much.

Benghazi: The New York Times vs. the Truth. They never give up at the New York Times. If at first they don't succeed in twisting the truth to fit the Newspeak fit to print, it's try, try again. Their latest exercise in mendacity is "A Deadly Mix in Benghazi," an elaborate essay that substitutes a plethora of irrelevant details and animated graphics for historical truth. The long essay takes up an event which, in a rational world, would have led the to resignation of former Secretary of State Hilary Clinton and the impeachment of President Barack Obama. I mean the terrorist attack on our consular facility at Benghazi, Libya.

Did the NY Times contradict itself on their Benghazi piece? Ed already covered some of the serious problems with this weekend's New York Times "deep analysis" of Benghazi, showing how much of their focus was on the crumbs rather than the meat of the situation. Erika went one further, discussing how members of Congress in the know have already been informed that the entire sordid affair was no accident. But just for a bit more comprehensive coverage, long time friend of Hot Air Kerry Picket has a piece at Breitbart noting how it now seems that the Paper of Record actually contradicted itself in attempting to provide cover for Hillary Clinton in 2016.

New York Times Wonders: Was Chris Stevens Out of His Depth in Benghazi? The New York Times's extensive exposé on the September 11 Benghazi attacks turned up no ties to Al Qaeda. By highlighting obscure militiamen and ignoring the roles of White House officials, the piece continues an alarming trend of dismissiveness toward the Obama administration's greatest foreign policy scandal.

Times Ignores Evidence of Al Qaeda Link to Benghazi. [David] Kirkpatrick obviously spent considerable time on the ground in Benghazi and interviewed several anti-Western Islamists, including some involved in the attacks. There's little doubt he took considerable risks as he reported his piece. While much of Kirkpatrick's reporting is admirable and while these details add to our knowledge of certain aspects of the attack, they do not tell the whole story. And that's where the piece ultimately fails.

NY Times begins Hillary rehabilitation. Right on schedule, the New York Times has published a 7,500-word account of the Sept. 11, 2012, attack that all but ignores Secretary of State Hillary Clinton's role and quotes a terrorist saying a supposedly anti-Islam video insulting the Prophet Muhammad "might well have justified" the killing of four Americans.

Fox News Blasts NYT 'Completely False' Benghazi Report. The New York Times published a report on the Benghazi attack over the weekend claiming that Al Qaeda was not involved in the attack and that the anti-Islam video did play a role in the initial wave. Monday, Fox News answered, blasting the report by publishing pushback from angered witnesses who were on the ground the night of the attack, denouncing the NYT report is "completely false."

The Good, the Bad, and the Pathetic of the New York Times' Benghazi Report. Somewhere, buried out of reach (for now) of any American news agency, is a minute-by-minute account of the fight in Benghazi on September 11, 2012. This account no doubt cross-references the testimony of those on the ground with the available signals intelligence (including radio intercepts from the attackers themselves). This account tells us when American command authorities were made aware of the attack, when the news was forwarded up the chain of command, and who made what decisions that fateful night.

NY Times admits Obamacare will cause middle class suffering more than a year after election. The mainstream media follows the New York Times' lead in deciding what is and isn't news. Hardly an editor or news director anywhere in the country lacks a subscription to the Gray Lady. So, when the Times practiced omerta about the downsides of Obamacare for most people, the media followed its lead, quite willingly. [...] There are going to be a lot of people asking why the media didn't let them know what was in store for them with Obamacare.

Hilarious: NYC artists and independent professionals realize ObamaCare targets them. The New York Times is wringing its hands over the damage being done to the city's artists and independent professionals by Obamacare. The sort of people who worship at the altar of Obama and who regard the Times and its editorial pronouncements (including those on Obamacare) as holy scripture.

The New York Times' 'homeless' hooey. If a five-part opus in The New York Times by Andrea Elliott is to believed, we live in a hard-hearted city. But if you read closely, it suggests just the opposite. Begin with the family at the center of this story. The mother, father and eight kids aren't really homeless at all. True, they live in housing meant for "homeless families." But their 540-square-foot unit gives them a solid roof over their heads, in addition to city-provided meals and services.

Oh, Now They Tell Us. As the redistributive mechanics of ObamaCare rear their ugly head, the president's propaganda puppets are suddenly sounding like conservative critics. Take the New York Times. In a fit of candor, it now agrees with what we've said all along — "redistribution of wealth lies at the heart of" the Affordable Care Act. The paper reported that "economic justice" was Obama's real goal in taking over a sixth of the economy.

The Most Comical Hypocrites of All, the New York Times. I noted earlier today that many politicians, pundits and newspapers have been hypocrites on the filibuster, favoring it when their party is in the minority and opposing it when their party controls the Senate. But of all the hypocrites, the most shameless must be the editorial board of the New York Times. Have they forgotten that Google exists? Are they unaware that anyone can search their web site and see what they wrote about an issue when the shoe was on the other foot? Or are they so resigned to being known as partisan hacks that they just don't care?

The wheels have fallen off the Obama bandwagon. Poll after poll shows that millions of former Obama-bots now concede he is not worthy of their trust and are stampeding off the bus. The magic ride is over and they just want to go home and sleep it off. Even The New York Times editorial page stirred. The big cheese of the Obama Protection Racket assailed his administration's "incompetence." Stop the presses! Finally, a great awakening is taking place.

Editor exodus continues at NYT. The stampede for the exits continues at Jill Abramson's beleaguered New York Times. On Tuesday [11/12/2013], three high-profile names said they were departing the Gray Lady — media columnist Brian Stelter, Chief Political Correspondent Matt Bai and Sunday Magazine Editor-in-Chief Hugo Lindgren.

New York Times' Obama cheerleading harms the nation. The ObamaCare debacle is the exception that proves the rule. Wall-to-wall complaints are forcing the media to report that the law's Web site is a lemon and that its rules are causing millions of people to lose insurance plans they liked. The mainstream media is acting only because the story is too big to ignore. Had it been mildly skeptical sooner, it could have exposed the law's destructive rules and prevented the disaster. Yet the [New York] Times, especially its editorial page, remains his most devoted cheerleader. The latest example is embarrassing enough to make a Gray Lady blush.

ObamaCare, Other Scandals, Virtually Ignored By Big Media. The same people who freaked out over President Bush's saying in a State of the Union speech that Saddam Hussein sought uranium in Africa now excuse Obama for saying everywhere, endlessly, "If you like your insurance plan, you will keep it. No one will be able to take that away from you." To them, that's not lying — blatantly, repeatedly, shamelessly. He simply "misspoke," claimed the New York Times editorial page.

Where was the media when "open secret" of ObamaCare problems arose? Where does one go to get some objective reporting on public policy? One unmentioned aspect of the "sticker shock" and "exchange collapse" stories, which the media now reports well, is that these problems were readily apparent before October 1, too — as the NYT admits in the second half of its Friday [10/25/2013] article.

The Editor says...
The "mainstream" news media only began to "report" Obamacare's flaws after the whole world was aware of them.

Punishment for Gluttons. Gluttony makes you fat, and the New York Times is ON IT. The other day columnist Frank Bruni made an anthropological excursion to Costco, "where they sell cashews by the quarter-ton [and] thousand-piece packs of chicken thighs." These sound to us like overestimates, leading us to suspect Bruni is a very small man. [...] Come to think of it, the Costco complaint is a non sequitur. After all, those massive packages of nuts or chicken aren't portions but ingredients, sold in bulk for storage and subsequent gradual use.

Why is the New York Times Always Wrong on Israel? The New York Times is at it again in its continuing presentation of inaccurate statements and misleading assertions concerning the State of Israel.

NYT Discovers Voter Fraud. After years of claiming that it doesn't exist, the New York Times has found evidence of voter fraud: a political machine organizing unqualified voters to swing an election in Alabama.

New York Times Finally Has Authentic Communist Columnist. The New York Times must be on cloud nine. They finally have a writer who took five minutes of attention away from Rush Limbaugh!

U.S. at risk of being laughed off world stage. For generations, eminent New York Times wordsmiths have swooned over foreign strongmen, from Walter Duranty's Pulitzer-winning paeans to the Stalinist utopia to Thomas L. Friedman's more recent effusions to the "enlightened" Chinese Politburo. So it was inevitable that the cash-strapped Times would eventually figure it might as well eliminate the middle man and hire the enlightened strongman direct. Hence Vladimir Putin's impressive debut on the op-ed page this week.

The New York Times' Global Warming Hysteria Ignores 17 Years Of Flat Global Temperatures. The New York Times feverishly reported on August 10 that the U.N.'s Intergovernmental Panel on Climate Change (IPCC) is about to issue another scary climate report. Dismissing the recent 17 years or so of flat global temperatures, the IPCC will assert that: "It is extremely likely that human influence on climate caused more than half of the observed increase in global average surface temperature from 1951 to 2010."

New York Times environmental journalist Justin Gillis is wrong. Justin Gillis tells NPR how much sea levels will rise: "experts believe sea levels will rise at least 3 feet in the next century, and that number could be as much as 6 feet." [...] So, Gillis tells us the one end of the spectrum is 3 feet and the highest 6 feet, while the the UN says 1 foot to 2.7 feet. His *lowest* estimate is higher than the *highest* of the UN Climate Panel's new, higher estimate. Yet, he justifies his numbers with "experts." Justin Gillis seems to listen to an extremely skewed set of experts.

Why are major media outlets ignoring bestselling writer Mark R. Levin? To read the book reviews in The New York Times, the Los Angeles Times, The Washington Post or The Boston Globe, you might be unaware of the existence of the work of Mark Levin. Unless you skip to the page with the bestseller lists.

Executive Editor of NYT Picks Cuba as Vacation Spot. In a long article bemoaning the fact that the new CEO of the New York Times likes to keep his eye on the newsroom, an interesting anecdote reveals executive editor Jill Abramson has a special vacation destination when she wants to unwind: Cuba.

Hillary Clinton, the Press, and the Permanent Campaign. When the media decides that something or someone is or isn't in the "public interest," it will inevitably abuse the elasticity of that category. When the media sees itself as responsible for enabling or resisting trends in American politics, it tends to take sides. It is not the fault of the New York Times that the 2016 presidential campaign seems already to be under way.

In classified cyberwar against Iran, trail of Stuxnet leak leads to White House. The Obama administration provided a New York Times reporter exclusive access to a range of high-level national security officials for a book that divulged highly classified information on a U.S. cyberwar on Iran's nuclear program, internal State Department emails show.

NYT: No spying on Americans? Au contraire. On Tuesday, Barack Obama insisted that the US government isn't spying on Americans by surveilling the contents of their communications. Less than two days later, the New York Times makes hash of that claim. The NSA, reports Charlie Savage, sifts through the content of "vast amounts" of electronic communications between Americans and people abroad in their search for links to terrorism, and not just the metadata.

Obama's lapdogs. If you seek a delightfully written article on politics, look at yesterday's Washington Free Beacon, an 18-month-old online newspaper. Editor-in-chief Matthew Continetti examined a recent New York Times interview of Barack Obama not for its news content — there was none — but for how "it reveals the mentalities of the participants."

The Court Reporters. I have been studying the transcript of the recent New York Times interview of President Barack Obama. It is a remarkable document — remarkable not for the facts it contains, but for the way it reveals the mentalities of the participants. Remarkable, too, in so far as the transcript allows a curious reader to see, in detail, how journalism is manufactured.

Neglect At The New York Times. After a long three-year gap since their last exclusive sit-down interview with President Obama, you might think The New York Times would be ready to ask tough questions on the most contentious issues of the day, beginning with the deepening Obama scandals. Wrong. Instead, the Times defined the "news" in this interview to be Obama's counter-attacks.

The Age of Hyperbole: How Normal Weather Became 'Extreme'. The distortion and outright lying in the media's coverage of weather and climate change have increased dramatically in the past year. This is because the global warming narrative has been exposed as false, making it harder to sell without resorting to hyperbole and cherry-picking data that supports the alarmist agenda. So, publications such as the New York Times are not reporting news any more when it comes to weather and climate. Instead, they are spinning a false narrative to create their version of the news, much like the state-controlled media of communist China.

After Ruling, States Rush to Enact Voting Laws. State officials across the South are aggressively moving ahead with new laws requiring voters to show photo identification at the polls after the Supreme Court decision striking down a portion of the Voting Rights Act.

The Editor says...
The New York Times article above reeks with bias, even in the headline. When a traffic signal turns green, drivers immediately rush away. The rush means nothing, except that the light is green and the impediment is removed. The rest of the article is worded in such a way as to show support for the Democratic party — which is what one would expect from the NYT — including a claim that voter fraud "is extremely rare" and a derogatory emphasis on the state of Texas.

The New York Times Admits Its Reporting on the Trayvon Martin Case Has Been Fundamentally Wrong. A New York Times story about jury selection in George Zimmerman's trial says the case is "spotlighting Florida's Stand Your Ground law." In the very next sentence, however, the Times concedes "that law has not been invoked in this case."

The Grey Lady's Grudging Abortion Admission. In a piece in its upcoming Sunday [6/16/2013] magazine, the New York Times allows in an absurdly roundabout way that a recent study has found that the vast majority of women denied abortions end up glad that they gave birth. If you blink, you might miss the decisive quote from the researcher, Diana Greene Foster. It comes very late in the piece: "About 5 percent of the women, after they have had the baby, still wish they hadn't. And the rest of them adjust."

The Totalitarianism at the Heart of the Obama Scandals. The Obama administration's legs are wobbling under the weight of so many scandals lately that whole chunks of the edifice — the IRS, the NSA, the DOJ — are threatening to implode, particularly without support from the normally adoring media. Even the New York Times — the New York Times! — is no longer willing to bolster an administration whose totalitarian urges have been exposed to the light.

New York Times quietly changes published editorial to make it less [critical] of Obama. The New York Times edited its damning editorial condemning the Obama administration for collecting phone call data from Americans to make it less stinging shortly after the editorial was published online Thursday afternoon. The editorial originally declared that the Obama "administration has lost all credibility" as a result of the recently revealed news that the National Security Agency and the Federal Bureau of Investigation have been secretly collecting call data from American users of Verizon under the authority of the Patriot Act.

The Totalitarian Left is Back. Nothing in the Patriot Act authorizes the government-wide abuse of power by the IRS, EPA, FBI, DOJ, and other agencies with the coercive powers against Americans and foreigners. The fault is not in the Patriot Act, but in Obama's Chicago-style one-party machine style of governance. And rather than defending our freedoms, the leftist media colluded with abuse of power until after the election of 2012. The New York Times is the biggest gear in the Obama Machine and they know it.

We're All Fox News Now. [A recent New York Times editorial] was remarkable as much for what it didn't say as for what it did. There were no snide asides about Fox News, or qualifications along the lines that "even Fox" has First Amendment rights. Nor did the Times editors take any shots at George W. Bush, congressional Republicans or any other familiar antagonist. They simply defended Fox News's right to engage in news-gathering and denounced the Obama administration's assault on it.

Where the Scandal Points. It looks like one of the things that will be inflicted on New Yorkers as a result of the scandal at the Internal Revenue Service is a whole new round of tirades from the New York Times calling for state-funded electioneering. This is what we take from the editorial in the Times this morning arguing that the scandal was not that the IRS was looking into tax abuses by social welfare groups allied with the Tea Party but that it wasn't also looking at social welfare groups allied with the Left.

Those crazy, lone-wolf, low level IRS employees. Let's not forget that for the last few years, every time there has been a mass shooting or a terrorist plot revealed, the media reflexively pointed their fingers at the Tea Party movement. Just three short hours after the first reports came in about the mass shooting in Tucson, Paul Krugman of the New York Times posted in his "Conscience of a Liberal" blog a quote by Rep. Gifford's grieving, distressed father that "'the whole Tea Party' was her enemy." His intention was to lead the reader to conclude that the Tea Party was somehow to blame.

NYT Public Editor Says Paper Playing Down Benghazi; Dismissive Hearing Coverage indicates Her Concern. Benghazi hearings open in the House on Wednesday [5/8/2013], and the New York Times printed a preview on page 16 of Wednesday's edition that downplayed any possible revelations about the Obama administration's reaction to the terrorist attack, which killed ambassador Chris Stevens and three others. Testimony is expected by three State Department officials, led by U.S. diplomat Gregory Hicks, deputy mission chief in Tripoli, who said his pleas for military assistance were overruled.

New York Times Ignores Benghazi. In the past week, the investigation into the September 11, 2012 attacks on the US Consulate in Benghazi has been the dominant news story on most media outlets, including such traditional media venues as CBS News and The Washington Post. But you wouldn't know it, if the New York Times was your sole source of news and information.

The New York Times Erases Islam from Existence. While the New York Times dispatched its best and brightest lackeys to Boston to write sensitive pieces on how hard it was for the two Tsarnaevs to fit in, it fell to a UK tabloids like The Sun to conduct an interview with the ex-girlfriend of the lead terrorist and learn that he wanted her to hate America and beat her because she wouldn't wear a Hijab.

NYT's Gabriel Claims Gosnell Trial 'Been Widely Covered' Ever Since Pro-Lifers Made It a 'Cause Célèbre'. The New York Times's Trip Gabriel reported Tuesday that each side has rested its case in the trial of abortionist Kermit Gosnell, on trial for four charges of infanticide at his Philadelphia clinic. [...] Gabriel didn't shy away from the gruesome details, but vastly overstated reality when he claimed the story has "been widely covered," as the Media Research Center has proven.

Bombers' Mosque In Boston A Factory For Terrorists. The New York Times thinks the Boston bombers "self-radicalized" on the Web. But it didn't look at their mosque, which has churned out other terrorists, too.

It's Colonel Mustard, in the Study, with ... the Trajectory. Big news!! The super sleuths at The New York Times have cracked the Boston bombing case wide open this morning. Conducting "dozens of interviews with friends, acquaintances and relatives" in Cambridge and Dagestan, the team of team of three reporters examining the life of Tamerlan Tsarnaev concluded that a "trajectory" was responsible for the murder.

Boxing Extremists. The media has found the real cause of the Boston Marathon Bombing. It was not radical Islam. Oh no. That's silly and, if we're being honest with each other, a little offensive. I'm disappointed in you for even thinking such a thing. How dare you jump to conclusions like that? No no, the real spark? The real evil that sent Tamerlan Tsarnaev down his deadly path? The New York Times has found the real killer. It was boxing.

Bombers' Mosque In Boston A Factory For Terrorists. The New York Times thinks the Boston bombers "self-radicalized" on the Web. But it didn't look at their mosque, which has churned out other terrorists, too. USA Today, on the other hand, did look at their mosque — the Islamic Society of Boston — and found "a curriculum that radicalizes people," according to a local source quoted in the paper's investigation. "Other people have been radicalized there."

The NYT shamefully out of touch on Gosnell. The New York Times continues to taunt those who are outraged by the atrocities coming to light in the Gosnell trial. Not only have they managed to avoid properly covering the trial, but they seem to have chosen to stick a thumb in the eye of anyone who is alarmed by the inhumanity.

Two NY Times Columnists Embarrass Themselves on Guns in Sunday Review. Two New York Times columnists embarrassed themselves over the weekend, betraying anti-gun ignorance in the paper's Sunday Review. Frank Bruni went hunting for the first time (with the chef of a ritzy Manhattan restaurant), and remarked "what an unfair fight" hunting is, as if he was the first person to think that up.

The Dream of a World Without Oil. [Mark Z.] Jacobsen's article provides a thorough assessment of the future of WWS [wind, water and solar]. Unfortunately, rather than buttress his argument, his figures undermine the conclusion that we don't need fossil fuels.

Color Them Blind. It takes determination to out-demagogue New York City's anti-cop advocates, but the New York Times has done just that.

Three Years Too Late, Finally Some Honesty on Obamacare. Now that the bill is safely passed and its namesake has been reelected, the [New York] Times small business section has come to a shocking realization: Obamacare is going to very seriously, and very negatively, impact small businesses. In two separate stories on their homepage the picture is clear: business owners are facing tough decisions regarding their compliance and most of the possible scenarios will end up hurting the employees that the healthcare law was supposed to be protecting.

George Will Trashes New York Times Coverage of CPAC. The liberal media have for days been trashing virtually every speaker at the Conservative Political Action Conference in Washington, D.C. On ABC's This Week Sunday, George Will exposed the hypocrisy particularly at the New York Times.

NYT Goes Birther: Attacks 'Canadian-Born' Cruz. Liberals, the mainstream media, and establishment Republicans often reveal which conservatives they fear by their level of disdain and vitriol. This week, they put their crosshairs on freshman Texas Sen. Ted Cruz (R-TX), a Tea Party conservative of Hispanic descent who undermines the mainstream media's ability to advance their false notion that being a minority and Tea Partier are mutually exclusive.

The Hagel-Cruz Bait and Switch. The freshman from Texas has ruffled a lot of feathers in his first six weeks in office on both sides of the aisle. His rough questioning of Hagel during the committee hearing and subsequent questions about the nominee's financial records also raised the hackles of some senators and Washington insiders but there's something slightly suspicious about the over the top reaction to Cruz on the news shows as well as from New York Times and Washington Post columnists.

'Times,' 'WaPo' Launch Racially-Coded Attack Against Ted Cruz. Apparently, the Washington Post and New York Times don't like the idea of a non-white U.S. Senator acting all uppity. It's fine for the lily-white Elizabeth Warren to immediately come out guns blazing, but over the past couple of days both news outlets ripped into in Texas Senator Ted Cruz for not knowing his place.

NY Times Notices Obama Tax Hikes Are Crushing Americans, Fails to Mention Obama. This should be the first in a series. Wait until these poor [people] start have to paying $20,000 a family to start for their free ObamaCare. Still, curiously missing from this story is the name of the man responsible for this massive tax hike.

NYT Declares GOP Racist, Announces More Layoffs. One of the first stories I came across this morning was the news that the New York Times is once again in financial turmoil. By 5PM today, thirty senior staffers must agree to voluntarily resign. If not, terminations will ensue. This is the fourth time this has happened to the Times in just five years. Yeah, that is a shame. It's no coincidence, either, that this day of downsizing occurs just a few days after a NYT editor, Andrew Rosenthal, not only slobbered all over Obama like a teenage groupie, but publicly accused the GOP of racism for daring to try to stop Lightbringer's socialist agenda.

Study Indicts New York Times for Anti-Israel Bias. New York Times journalists are extremely protective of their newspaper's reputation as the "paper of record." So when faced with criticism of their reporting or accusations of journalistic bias, they tend to reject it, discrediting their critics as insignificant right-wingers.

NYT Attacks North Dakota Oil Town as Sexist Nightmare. As some of you may have already heard, the state of North Dakota is currently experiencing a politically incorrect and politically inconvenient economic boom in the midst of Obama's national economic program of stagnation. Thanks to the discovery of oil and a government's willingness to get out of the way so industrious, risk-taking individuals can go after it, North Dakota is now a working, breathing, real-life repudiation of everything Obama and his media worshipers stand for.

New York Times Reporter Lays Out 'Far-Right Agenda' of Texas Tea Party. The New York Times's Manny Fernandez greeted the opening of the biannual Texas legislative session in Austin in Wednesday's [1/9/2013] paper: "Texas Budget Surplus Proves as Contentious As a Previous Shortfall." After explaining how Texas has become flush with cash over the last two years, going from a budget deficit to surplus, Fernandez couldn't help working in a cut against the "far-right" Tea Party.

Doing the research the New York Times won't do. In Sunday's New York Times, Elisabeth Rosenthal claimed, as the title of her article put it, "More Guns = More Killing." She based this on evidence that would never be permitted in any other context at the Times: (1) anecdotal observations; and (2) bald assertions of an activist, blandly repeated with absolutely no independent fact-checking by the Times.

Even Though. The New York Times' Fox Butterfield is famous for repeatedly reporting with astonishment that crime rates went down as the prison population went up without giving much heed to the possibility that the two trends might be correlated rather than (as the paper's house ideology insists) contradictory. [...] Well, he now seems to have some competition in the "incredulous about cause and effect" department at the Times. In today's paper, Times business reporter Reed Abelson notes with barely masked bewilderment that insurance premiums are rising sharply as Obamacare's insurance regulations begin to take effect.

An Appeal for Dictatorship Comes Out of the Closet at the New York Times. True to form, the New York Times saw out 2012 by publishing another apology for dictatorship. In his op-ed, Louis Michael Seidman — Professor of Constitutional Law at Georgetown University — argues that the Constitution should be abandoned. The suggestion is so preposterous that it is tempting to dismiss the article altogether, but to do so would be to miss some very revealing implications. The article is not so much a suggestion of constitutional reform as an open call for dictatorship.

The Editor says...
Rather than abandoning the Constitution, let us all abandon the New York Times.

The Al Jazeera Liberals. According to the New York Times editorial page, the creation of a new Al Jazeera America is a blow struck for diversity in journalism. The Times feels Time Warner Cable is wrong to drop the new channel from its broadcast lineup. The implication is that those who have expressed shock or outrage about the spectacle of a former vice president of the United States becoming not merely a business partner but an advocate for a network that is well known for its anti-American and anti-Israel bias are either narrow-minded or in some way prejudiced against Arabs and Muslims.

NY Times Editorial: 'Unfortunate' That Time Warner Cable Is Dropping Al Jazeera. Time Warner Cable, in a rather blunt statement, said yesterday that the company would no longer carry Current TV, which was just sold to Al Jazeera.

This unmitigated propaganda in the New York Times is reason enough to boycott the paper:
Let's Give Up on the Constitution. As someone who has taught constitutional law for almost 40 years, I am ashamed it took me so long to see how bizarre all this is.

The Editor says...
The writer of the article immediately above is identified by the New York Times as "a professor of constitutional law at Georgetown University," which tells us a lot about the potential for anti-American indoctrination at Georgetown. He never gets around to his alternatives to the Constitution, but apparently he would prefer that the America-hating Marxist, Barack H. Obama, be pronounced America's not-so-benevolent dictator, bypassing the ballot box. The whole article sounds like sedition to me.

Subverting the Constitution. Louis Michael Seidman, Carmack Waterhouse Professor of Constitutional Law at Georgetown University, is no fringe figure. He is a pillar of the left wing legal establishment, graduate of Harvard Law, former clerk for Thurgood Marshall, and notable figure in the Leftist "critical legal theory" movement. [...] Seidman has taken to the pages of the daily bible of the progressive establishment, the New York Times, to lend respectability to a movement to subvert the Constitution, and turn to an undefined system which inevitably means the loss of our safeguards against tyranny. All expressed in superficially reassuring prose.

Hey! Let's have a 'Burn the Constitution Day!' I don't believe the Constitution is holy writ nor do I think that the Founders had all the answers for today's America. But all public officials and members of the military swear fealty to our founding document for a reason; it is the most visible, the most tangible representation of our sovereignty as a nation. We don't have kings, or castles, or ancient ruins to which we can point and say our sovereignty lies within. It is the Constitution that unites us as a people. And positing the notion that we should just throw it away is outrageously stupid and disquietingly radical.

Georgetown Law professor: Scrap 'archaic, idiosyncratic and downright evil' Constitution. Georgetown Law professor Louis Michael Seidman writes that the time has come to scrap the Constitution. In an op-ed published in the New York Times Monday, Seidman, a constitutional law professor, claimed that the nation's foundational document is the real impediment to progress and solutions to America's troubles.

Give Up On The Constitution? The Political Left Already Has. For many, the Constitution is the barrier that blocks government from trampling a free people. Yet many on the political left see it as a hurdle to their ambitions. Consider the constitutional law professor who wants to kill it.

Media myths on 'assault weapons' and 'semiautomatic firearms'. If gun-control advocates and our media want to have a conversation about government restrictions on gun ownership, I think that's fine. Debating more issues, rather than fewer, is probably good for our politics. But the conversation about guns needs to be a bit more factually precise. Today's New York Times story on the AR-15 has a lot of good information and aims to be balanced, but the story still manages to perpetuate many of the most stubborn myths about rifles.

NYT Opinion Editor Andrew Rosenthal Contradicts Himself Within Hours on Politicizing Gun Deaths. Andrew Rosenthal, the driving force behind the perpetually hyperventilating and self-contradicting editorials that fill up space in the New York Times's opinion pages has now proven that he can hyperventilate and contradict himself in real-time.

Misreporting on Russia: If you pick up the hard copy of the Wednesday issue of the New York Times, you will often find within a supplement bought and paid for by the Russian Kremlin and designed to improve Russia's image in the West. It is called "Russia Beyond the Headlines" and the content can also be found on a website of the same name. [...] It's simply outrageous that the New York Times, in exchange for the Kremlin's cash, helps RBTH to circulate its propaganda, and helps it to lull deluded readers into thinking RBTH is engaged in actual journalism.

New York Times Admits Reaganomics Worked. After 30 years, The New York Times has admitted that Reaganomics worked. The inadvertent revelation comes in a November 29th article by Binyamin Appelbaum chronicling the steadily falling tax burden Americans have experienced since the 1980s.

NY Times Attacks Texas for Attracting Business. The New York Times published a piece Monday attacking Texas for giving financial incentives to companies to encourage them to move to the southern state. This article follows only one day after the Times published a piece that attacked states in general for "crony capitalism" while ignoring the massive crony capitalism of the Obama Administration.

NY Times Cutting Staff Again. Workers at The New York Times are facing more lost jobs, as the paper of record initiates a new round of staff cuts in a cost savings move.

Why Is the NY Times Islamist Terrorism's Apologist? The NY Times is not just an apologist, but the leading apologist for Islamic terrorism. It bears responsibility for the results.

New York Times' Sunday Review goes wall-to-wall for Obama's reelection. The New York Times has endorsed President Obama's re-election and the paper is doing its best to help out any way it can. The latest move just reinforced the fact that the Times is so institutionally Democratic that it hasn't endorsed a GOP presidential candidate during Obama's lifetime.

Who Threw Israel Under the Bus? On October 23, the profoundly anti-Israel New York Times ran an op-ed by Ephraim Halevy — former head of Israel's Mosad and national security advisor to Prime Minister Ariel Sharon — titled "Who Threw Israel Under the Bus?" His thesis is that it has always been Republicans who have been bad for Israel; and he provides examples of how this has been the case.

The October Surprise. The New York Times reports (and the White House denies) that "The United States and Iran have agreed for the first time to one-on-one negotiations over Iran's nuclear program, according to Obama administration officials, setting the stage for what could be a last-ditch diplomatic effort to avert a military strike on Iran." Two of the three assertions in that lead paragraph are demonstrably false.

Mitt Romney, as Viewed by the New York Times. One can't help being in awe of the New York Times. The ingenuity it displays in running down Mitt Romney, if applied to a more useful project, would be a national treasure.

It's scary, how much the New York Times is in the tank for Obama over Libya. Radio talk show host and Fox News contributor Laura Ingraham was right when she confronted New York Times political reporter Jeff Zeleny on the set of "Fox News Sunday" this weekend: "I would hope that the New York Times, as they camped outside of Scooter Libby's house during the whole Valerie Plame thing — are you guys camped out of the Susan Rice residence?" She said, "This is ridiculous and I think the press is partly culpable here." And she wasn't alone in voicing that sentiment.

Obama Owns Shares in Chinese Company. After Mitt Romney promised to aggressively crackdown against Chinese companies that cheat American businesses, the New York Times, along with other mainstream media organizations, have tried to paint Mitt Romney as a hypocrite by digging up companies in which Bain Capital has a stake. They conveniently ignoring that President Barack Obama also has investments in some of the exact same Chinese companies.

New York Times: Nothing 'significantly new' in 'politicized' Libya hearings. New York Times Managing Editor Dean Baquet said today he doesn't see "anything significantly new" in yesterday's congressional hearings on Libya, while both he and the paper's executive editor, Jill Abramson, suggested the hearings were politicized and therefore not worthy of front-page coverage. Baquet and Abramson's remarks come in response to criticism from the paper's own public editor, Margaret Sullivan, who objected to the editors' decision not to run its story about the hearings on today's front page. Both The Washington Post and The Wall Street Journal gave yesterday's hearings prominent play on their front pages, above the fold. The Times placed its story on page A3.

America's Paper of Torpor. The real problem with The New York Times is not that it's liberal but that it's boring.

AEI scholar offers vacuous 'conservative case for Obamacare'. This weekend brought us another reminder of how low the New York Times's standards are for authors who are willing to make liberal arguments while claiming conservative credentials. [...] The article doesn't make any effort to engage actual conservative policy arguments against the health care law, but instead seeks to caricature them.

The New York Times and New Black Panthers Protect Election Lawbreakers. Once upon a time in America, if a group of citizen volunteers set out to help election officials detect problems with the voter rolls, they would have been praised. If a group of citizen volunteers had detected scores of dead people on the voter rolls they would have received broad accolades from all corners of America. Once upon a time in America, we esteemed law abiding citizens who helped law enforcement detect law breakers — especially when it comes to the sanctity of elections. But this isn't the America we used to know.

New York Times announces that only Obama will be allowed to approve stories in advance. It was revealed last week that the Times gave the White House the right to approve details in a lengthy story in advance. Now that the Obama story has run, the Times has realized that that policy may just be a violation of journalistic integrity and quickly announced a new policy that prohibits quote approval. In other words, what's good for Obama just ain't gonna fly for Romney.

Trashing the Constitution. First, let's dispense with a persistent media trope, which is that President Obama was a constitutional law professor in Chicago. Former University of Chicago Law School Dean Richard Epstein blew a hole through that recently with his recollection that New York Times reporter Jodi Kantor's claim that Mr. Obama was offered tenure is false. Mr. Obama was never even a law professor, just a part-time lecturer. "[U]nder no circumstances would an offer to Obama be tenured," Mr. Epstein told the Daily Caller. "The thought that the law school could have made a tenure offer to a person with no academic writing was out of the question."

Senator Kirsten Gillibrand Files False Tax Return, New York Times Not Interested. Late last week, the campaign team for Wendy Long (R-NY) filed a press release accusing Senator Kirsten Gillibrand (D-NY) of filing false tax returns in 2010. Long is currently running against Gillibrand for her U.S. Senate seat. Citing what they refer to as an "impossible transaction", Long's team asserted that Gillibrand's tax return had mischaracterized the sale of 80 shares of Sears Holding Corp. stocks. Additionally, the campaign openly wondered why the New York Times had no interest in the story.

An example of the left-wing bias in the New York Times:
Giving Reins to the States Over Drilling. With gasoline prices again approaching $4 a gallon, Mr. Romney, the presumptive Republican nominee, is also trying to merge energy and economic policy in a way that will make voters see increased energy production as a pocketbook issue.

The Editor says...
Well of course four-dollar gas is a pocketbook issue. The New York Times is trying to make increased energy production look like a development that would only benefit the oil companies, but the return of two-dollar gasoline would benefit everybody.

Eco-Luddites New Target: Air Conditioning. The leftist critique of capitalism and all the improvements in the quality of life that it has brought remains what it has always been: the desire of intellectuals to dictate to the rest of humanity how they may live. Or even more to the point, how many of them may live at all. Thus, the latest New York Times feature about the evils of air conditioning and how the increasing demand for it in the Third World is unsustainable tells us a lot more about the left and its mindset than it does about the future of society.

NBC and NYT Employees Caught Contributing to Obama Campaign. Workers in news organizations ranging from the New York Times to NBC News are making donations to President Obama's re-election campaign even though many companies forbid employees to do so for fear that such contributions will raise questions about the staff's impartiality.

Are Americans Not Submissive Enough? If I didn't know better, I'd have thought New York Times columnist David Brooks was having a laugh at our expense. Alas, Brooks means every word of his column titled "The Follower Problem," as anyone who reads him regularly will realize. "I don't know if America has a leadership problem; it certainly has a followership problem," Brooks laments. "Vast majorities of Americans don't trust their institutions." Worse than that, he thinks Americans dislike all authority.

Way Too Much Information From Media Lapdogs. During the Bush administration, many U.S, media outlets came very close to treason in aiding and abetting our adversaries by alerting them to government activity after 9/11. The New York Times published this piece in May, 2005, keeping our enemies abreast of our covert activities.

Obama's Lauded Appointees Have Failed to Measure Up. Like almost everything written and said about President Obama and his new administration as they stood poised to take office in 2009, the intellectual, governmental and political skills of his Cabinet and executive team were overinflated and fawned over by a news media caught in the national swoon. "The team he has announced so far is more impressive than any other in recent memory," wrote New York Times columnist David Brooks.

New York Times Preemptively Spins Wisconsin Recall Results In Obama's Favor. The New York Times' Michael Shear irresponsibly, falsely, and erroneously accused outlets like Drudge Report and Breitbart News of racism for vetting President Barack Obama. Shear is now taking the lead in "objectively" and preemptively spinning the results of the Wisconsin recall election in Obama's favor.

New York Times Misrepresents Global Warming Surveys. The New York Times on April 30 published a news article that leads off with the assertion, "polls say 97 percent of working climate scientists now see global warming as a serious risk." No such poll exists, but don't expect the New York Times to make a correction any time soon. The only poll that resembles the Times' assertion was an online survey in which only 79 respondents listed themselves as having climate science as their primary area of expertise. This is an absurdly small number of respondents -- even overlooking the less-than-scientific nature of the poll itself -- from which to draw meaningful conclusions.

The New York Times At Twilight. The personal anecdotes are interesting, of course. But the real story here is an economic one: the drying up of advertising revenue that has brought the once-profitable New York Times Company to its knees. The paper's most recent effort to restore profitability is its second attempt at erecting a pay wall.

Was Rev. Wright Offered Hush Money? Nobody In The Media Cares. Liberals like the outraged activists at The New York Times want to make sure no one is allowed to bring up Reverend Wright again. On MSNBC, they were demanding pledges that this would be banned from any honorable discussions of the campaign. Few seem to understand why Rev. Wright still resonates among conservatives. It's not about race — except that black racists like Wright are never called out by liberals — it's about a vicious hatred for America, so vicious that you almost cheer 9/11 because America had it coming. Who can support that view in a pew and with your donations? Obama did.

News You Won't Find At The New York Times. In the Times cocoon, a grass roots mobilization of feisty, democracy-loving Wisconsinites is rising in rebellion against the hated Walker business and big donor lobby. In the actual Wisconsin, there are two grass roots movements opposing each other. The anti-union populists may end up with more energy, more unity and more votes than the pro-union organizers. The labor mobilization against the Walker reforms has been lovingly and carefully covered by the Times and its brethren since Day One: nothing like that level of analysis has been deployed on Walker's grass roots support.

Bill Keller, Political Hypocrite. [Scroll down] Of course, there was the inconvenient fact that the Times showed a notable lack of interest when it came to Barack Obama's 20-year relationship with Jeremiah Wright, a minister whose views are racist, anti-Semitic, and anti-American. And for those Times readers who might have forgotten — and given the paucity of coverage by the Times, who could blame them? — the Reverend Wright was referred to by Obama as his "spiritual mentor," Wright married Barack and Michelle Obama, baptized their children, inspired the title of Obama's first autobiography. Yet in 2008, the Times found all of this singularly uninteresting. It looked the other way.

Did someone mention Jeremiah Wright?

Spin of the Times: Bias cloaked as front-page news. It's no surprise to anyone who pays attention that mainstream media tilt their coverage in favor of Democrats and leftish ideas. But it's not confined to endless puff pieces about the president, or the ignoring of unpleasant facts. Often, it's more subtle — as when the general thrust of a news story advances a particular narrative even when the facts within the story don't really support it. For that sort of thing, you have to go to the acknowledged experts, the reporters and editors of The New York Times. And as Obama fights for re-election, you can expect to see a lot more of it.

NY Times Still Finds Obama a 'Rock Star,' Rally Has 'Techno-Dazzle'. New York Times correspondent Mark Landler hyped Obama the "aging rock star" trying to rekindle the 2008 magic at a rally Saturday [5/5/2012] in Columbus. It also featured "digital gizmos" that "lent the rally the techno-dazzle of an Apple product introduction." The euphoria may be hard to recreate — the media hype then was more effective because it didn't have three-and-a-half years of reality for rebuttal — but the Times is still deeply impressed.




Who Is Barack Obama? The Question that Won't Go Away. Alternative sources of information are much more potent now than they were in 2008. It matters not if The New York Times closes ranks and buries a story. There are too many other instruments of disinterment. The news will out. And the more people know about Barack Obama, the more, I predict, they will wonder how this man became president of the United States.

NY Times Goes Hunting for Racist 'Ultraconservatives' in Ohio Who Won't Support Obama. The New York Times sent reporter Sabrina Tavernise to the battleground state of Ohio, to the blue-collar town of Steubenville in pursuit of a pet theory: Barack Obama may struggle to win because some whites are racist. Tavernise starts by suggesting this could be a problem with Democrats, but "ultraconservatives" quickly surface.

Walker Gains in Wisconsin: NYT Shields Readers From Distressing News. The New York Times has a long piece on the political situation in Wisconsin this morning, and in some ways it is reasonably balanced. [...] Even so, it is a journalistic disaster: it tells you everything you need to know except the one thing you really need to know, and it reveals the soft pale underbelly of establishment journalism in America today.

Good News: Obama To Act More Like A Dictator. Obama has fully embraced the use of executive powers, and the NY Times works hard to say "yes, this is A-OK". One has to wonder how they would react if it was a Republican president.

New York Times Columnist Bumps into Reality, Learns Nothing. A New York Times reporter produced a chart showing that the only successful budget deal in recent decades was the one in 1997 that included tax cuts — yet he then complained that we can't deal with red ink because Republicans won't agree to a tax increase.

At The NYT: Clueless Blue Deer Meet Onrushing Truck. New York Times staffers, like suffering proles all over the world, belong to a labor union, and over the years the union has negotiated a very comfy defined benefit retirement plan. The staffers love the plan. But economic reality is intruding.

Obama's Recovery About to Disappear. For the last several months, liberal journalists have been plugging the idea that the United States is enjoying an economic recovery after the slow down of the past few years and that President Obama deserved the credit for rescuing the nation from its troubles. [...] But one of the leading exponents of this thesis may be about to give up on their crusade to persuade us that everything is just fine and getting better every day. The New York Times published a front-page story intended to let its readers down gently as they confront a worsening economic picture in 2012.

Playing the Race Card Again. "White Hispanic." That's how the New York Times, Reuters and other media outlets have opted to describe George Zimmerman, a man who would simply be Hispanic if he hadn't shot and killed 17-year-old Trayvon Martin. The term, rarely if ever used before this tragedy, is necessary in telling the Martin story in a more comfortable way.

Paul Krugman Drills Dry Hole On Oil, Gas Fracking. The economist at the newspaper of record defends the president's energy policy of Solyndra, Chevy Volts and algae while dismissing the oil boom on private lands as a small-town hiccup with no impact on price.

NYT Buries Obama's Tanking Poll Numbers. Did you know that this debate we've been having around abortion, contraception and other health care issues is hurting the GOP? You may not know it, unless you read the New York Times. ... They buried Obama's falling poll numbers, while insisting the debate must be hurting the GOP, because that's what they wanted and thought it would do.

The New York Times' Hypocrisy in Favoring Islam While Criticizing Catholicism. This really is a year of anti-Catholic bigotry and few issues are revealing it like Pamela [Geller]'s fight with the nation's newspaper of record.

New York Times nixes anti-Islam ad, runs anti-Catholic ad. Executives at The New York Times have rejected a full-page anti-Islam advertisement that mimicked a controversial anti-Catholic advertisement they published on March 9. According to a Mar. 13 letter sent by the Times to the ad's sponsor, anti-Islam activist Pamela Geller, the $39,000 anti-Islam ad was rejected because "the fallout from running this ad now could put U.S. troops and/or civilians in the [Afghan] region in danger."

The Editor says...
Apparently the editor of the New York Times believes that American troops and/or civilians in the [Afghan] region are currently in no danger, but if the NYT runs the wrong sort of advertisement, all that tranqulity goes out the window.

Energy: Dueling Headlines for Dunces. Perhaps the greatest example of cluelessness in the pages of the New York Times was their bafflement a few years ago over the fact that the prison population was still rising even though the crime rate was falling, apparently unable to discern a possible link between the two. ... But yesterday [3/12/2012] the Times offered a wonderful contrast of stories that capture the full cluelessness of Obama-style liberalism today.

Reaching Critical Mass. Is CRT oriented around some notion of white dominance or white supremacy? I think we can count on the NY Times to present critical race theory in as gauzy and flattering a focus as possible, so let's see how they described it over the years.

The Heartland Institute Flap. The NY Times weighed in the following day [Feb 16] with this misleading headline: ["]Leak Offers Glimpse of Campaign Against Climate Science["] It calls the event a "leak" rather than evident fraud, clearly indicating bias. It also refers to a "campaign against climate science." This too is wrong; there are honest scientific disputes, which the NYT ignores.

In Contempt: Progressives and the Constitution. The First Amendment doesn't grant or guarantee the right to free speech or freedom of religion. It says the government can't infringe upon it. That's what the "Congress shall make no law" bit is all about. This confuses the people at the [New York] Times.

'Terse, Old' Constitution Outdated for Failing to Guarantee 'Entitlements', Says NYTimes. Sorry, Founders: The "terse and old" U.S. Constitution has been ruled out of date by Supreme Court reporter Adam Liptak for failing to provide such "rights" as free health care. ... Liptak failed to differentiate between rights retained by the people from the power of the government, like freedom of speech and religion, and entitlements, which are transfers of money and services established by government either via majority rule (i.e. voting) or judicial fiat. Examples include foot [sic] stamps, welfare payments, and "free" health care.

The Incredible Shrinking New York Times. Despite the launch of an online paywall that has, by any measure, been a big success, the company's revenue for its core news business shrank again in 2011. And because news expenses rose, profits shrank even more. The culprit, as ever, is the company's print-ad business, which has shrunk steadily for the past five years.

New York Times Faces Leadership Vacuum. The departure of New York Times Co. (NYT) Chief Executive Officer Janet Robinson last month leaves the company with a leadership vacuum amid falling revenue, profit squeezed by pension costs and pressure from family members to restore a dividend once worth more than $20 million a year.

Homeless Families in Illinois Walking a Hard Road. When her public aid arrives without snags — a rarity, she said — she receives $674 in Social Security, $623 in cash assistance and $723 in food stamps each month, plus support from the federal Women, Infants and Children program. The public support covers food and clothes, but it is not enough for a security deposit on an apartment. Dealing with the red tape of public aid eats up her days.

The Editor says...
The New York Times wants us to feel sorry for this freeloader who is only good at one thing: reproduction.

The Self-Destruction of the Mainstream Media. For the past forty years the mainstream media has become increasingly liberal and more overt in promoting the policies of the Democratic Party. ... The New York Times Company, often considered the bellwether of the national media, has reduced its labor force by 47% (6,600 jobs) since 2000. The average daily circulation for the Times has dropped by over 21% (234,000 readers) during the same period. The Company has been liquidating as many assets as possible in order to stay afloat; they now have few viable assets left to sell and will soon be facing bankruptcy.

Under Fire, Holder Brazens On. In a jaw droppingly sycophantic NYT's piece, originally titled, "Under Partisan Fire, Holder Soldiers On", the Obama administration's #1 lapdog, Charlie Savage reported that a defiant Eric Holder has no intention of stepping down. Lashing out at his and Obama's critics, Holder whipped out the all too familiar race card.

The Times Trashes Truth-Tellers. The old Gray Lady long ago lost her credibility and any claim to fair and honest reporting, especially when the subjects involved any of Pinch Sulzberger's various political and social agendas.

The New York Times Paints Holder As A Victim Of Fast And Furious. Charlie Savage's newest piece at The New York Times is, as my friend Sean Arthur on Twitter says, a shameless PR drivel and allows Mr. Holder to make ludicrous statements without challenge and pulls the race card. The New York Times and Charlie Savage are really going to do this after all the articles they published during Attorney General Alberto Gonzales scandals? Give me a break. The hypocrisy at The New York Times is too much to take.

New York Times CEO Steps Down. The New York Times Co.'s Chief Executive Janet Robinson resigned unexpectedly, creating a void atop the New York publisher at a time when it is trying to remake its business for a digital age. Ms. Robinson's departure, disclosed by the publisher on Thursday, comes as persistent weak advertising results this year had raised questions among analysts about the future of a company that still relies on print for the lion's share of its revenue.

When Business Executives Are Rewarded For Failure: How many times have New York Times editorialists and columnists railed against companies that reward failed executives with golden parachutes in the form of bonuses and fat retirement packages? ... Of course, it would be wrong to generalize about the treatment of outgoing executives. What constitutes an outrage when it is done on Wall Street may be entirely appropriate when we are talking about a CEO in another industry. Like publishing. Like the New York Times.

The Real EMP Threat. On the front page, Monday's [12/12/2011] New York Times provides a slanted and insidious "news" item on Newt Gingrich's warnings about the danger of electromagnetic pulse (EMP) weapons. The author of the piece, William Broad, clearly sought to convey the impression that the former House Speaker is scaremongering about a nonexistent, or at least much exaggerated, threat. This piece is seriously ill-informed, misleading, and dangerous insofar as it serves to perpetuate what is already a serious vulnerability to EMP attacks.

NY Times' Editorial On Unemployment Unintentionally Condemns Liberalism. [Scroll down] But then I must ask the Times: Does this then mean there is a flip-side by which Democrats intentionally keep bloated governments afloat (often by increasing taxes on the private sector) in order to pacify with government jobs those same minorities whose votes they consider essential to their maintaining power? Assuming even the Times was correct in its take on GOP motives, then it must be assumed that the motive of the Democrats is to keep minorities employed in large swaths of a wasteful and bloated government labor force just to keep their own political machines running, correct? Or are left-wing politicians just more noble creatures than the rest?

NY Times Adds Detail to NBC's Bowing, Fawning TV Deal with Chelsea Clinton. Only in a liberal cocoon of a publication would come the headine, "Chelsea Clinton, Living Up to the Family Name." But there it was in The New York Times. That writer sounds like someone who never read The Starr Report, or anything else critical of the way the Clintons managed the White House or Little Rock.

New York Times Spins Fast And Furious Document Dump In Favor Of DOJ. If Charlie Savage is going to write an original story he could at least use a headline that doesn't dupe the readers? But the headline isn't the only bad part of the article. The whole article is completely soft on the DOJ and the tone is off, almost as if Mr. Savage is unconcerned that this operation has taken the life of Border Patrol Agent Brian Terry and 200+ Mexican civilians.

More about the Gun Runner / Fast & Furious scandal.

Leaked Emails Raise Questions About NYT's ClimateGate Coverage. The most striking take-away from the emails is how obsessed the climatologists seemed to be with media coverage — almost as if they were public relations associates as opposed to scientists. The extent of cooperation between the climate researchers and some friendly news outlets is also fascinating.

New York Times on Solyndra: This Scandal Makes Republicans Look Bad, Right? [On November 24, 2011, the New York Times] examined the Solyndra scandal and concluded Republicans are really off base for having the temerity to complain about throwing taxpayer dollars down a rathole in the name of enriching big Democratic donors.

Bill Keller's First Column. Bill Keller stepped down recently as executive editor of the New York Times and made his debut today as an op-ed columnist. Well, you certainly can't fault him for failing to come up with a refreshing new look at the country's problems. According to Keller, Barack Obama's political woes are George Bush's fault.

'We Were Impressed'. If you get a call from a pollster conducting a survey for the New York Times, you may want to hang up on him. The Times has its own idea about the purpose of opinion polls — an idea that is insulting to the public and that, as far as we know, no other news organization shares. Normally, the purpose of a poll is to measure public approval of politicians and their policies. For the Times, the purpose of a poll is to see if the public measures up.

Liberal mainstream media should try actual reporting for a change. I know it may sound crazy, but I have a suggestion for The New York Times. Instead of taking the word of the Obama White House, its energy department, or even the word of Republicans for that matter, why don't you simply gather a team of your investigative journalists, remind them of their professional responsibility to be ethical, honest, and non-biased, and then unleash them to do some actual reporting for a change instead of insultingly regurgitating White House spin?

A Tax on Excess Wealth Creation. "Obama Tax Plan Would Ask More of Millionaires," reads the headline of the lead story in today's New York Times. Nice touch that "ask" part, as if paying taxes were voluntary.

Don't Confuse Us With Facts. They cannot help themselves, The New York Times that is. With absolute regularity, they continue to report certain issues in the most biased and fact-avoiding way possible.

Media Bias and Abortion Language. In a recent essay in the August 10 New York Times magazine titled, "Two-Minus-One Pregnancy," author Ruth Padawar discusses cases where a pregnant woman chooses to "reduce twins to a singleton." The expectant mother, after choosing not to endure the extra burden of raising twins, aborts one of the fetuses. Except, technically, she does not abort the fetus. Instead, a doctor inserts a long needle into her abdomen. Then, using a sonogram, he directs the needle into the chest of one of the fetuses and injects it with potassium chloride, quickly killing it. The body of the dead fetus remains in the womb and shrivels during the remainder of the pregnancy. It is removed during the live birth of its twin. Although the above description uses the word "kill," the New York Times author does not. Instead, she uses euphemisms such as "extinguish," "eliminate," and "reduce to a singleton."

NYT burying latest Fast and Furious stories shows paper's 'biased approach'. House Oversight Committee officials aren't happy with The New York Times. Committee staff are accusing the paper of burying its story on how acting ATF director Ken Melson lost his job amid the Operation Fast and Furious scandal. Times readers would have to dig down to page A13 of Wednesday's Gray Lady to find out that Attorney General Eric Holder reassigned Melson to a different job inside the Justice Department.

Bill Keller, Red Pope of American Media. The New York Times prints All the News You're Fit to Read — and if you're not fit to read about the reality of the "Arab Spring" (a pure New York Times fabrication, without a smidgen of fact) the NYT kindly protects you from ever knowing about the bloody realities of the Middle East today. Ahmadinejad recently calling for a second Holocaust wasn't even reported in the day's New York Times. This is called "editorial judgment," and it's exercised today by people like top editor Bill Keller, whose last week on that job begins today. Mr. Keller was in the news last week for smearing traditional religions with a very broad brush indeed — except for head-chopping Islam, for which he has nothing but the warmest praise.

Who Are the Real Religious Bigots? [Scroll down] Did President Obama, for example, subscribe to the noxious political and religious beliefs of his pastor Jeremiah Wright? If not, why did he attend church there for 20 years and have his children baptized in that church? If so, shouldn't [Bill] Keller's leftist ilk have followed up on why Obama agrees with Wright? Is it merely accidental that Keller's candidate-faith anxiety is centered on conservative Christian candidates Bachmann and Perry?

The Times Doubles Down on Its Issa Smear. On August 14, the New York Times ran a front-page smear of Congressman Darrell Issa, who has been a nuisance to the Obama administration in his capacity as Chairman of the House Oversight and Government Reform Committee. The Times article, by Eric Lichtblau (who relied on the goofball far-left site ThinkProgress for research assistance) was titled A Businessman in Congress Helps His District and Himself. Lichtblau's theme was that Issa has wrongfully used the powers of his office to advance his own business interests.

Darrell Issa Sticks it to the Times. Darrell Issa is a brilliant businessman who made a lot of money the old-fashioned way: he earned it, rather than marrying or inheriting it as so many Democratic politicians do. Which is another way of saying that he is just the kind of man we need in Washington. The Left, of course, doesn't see it that way. The New York Times hates Issa because, as Chairman of the House Oversight and Government Reform Committee, he has launched several investigations of wrongdoing that have embarrassed the Obama administration.

Congressman Darrell Issa Hits Back at NYT's Front-page Attack. Issa's office has called for a "front-page retraction of the story due to the inaccuracies that fully undermine the premise of the article," describing the piece as an "error-ridden front page story." Issa's director of communications, Frederick Hill, explained that the three central examples the Times used to justify their claims are "wildly inaccurate," citing 13 inaccuracies in the article that reflect incorrect information or baseless assertions. With only one exception, the Times has yet to correct or retract any of the errors in the article.

How Long Will It Take Keynes to Die? While the rest of hyperconnected, interweb-powered planet Earth has now seen Keynesian economic intervention tested in real time and discredited beyond any intelligent doubt, the [New York] Times, I quickly learned, is a walled garden where the ideas of John Maynard Keynes remain not only viable but so evidently true as to require no factual support.

The Gray Lady's Sexual Agenda Revealed. Giddy after the recent legalization of gay marriage in New York, the editors at the New York Times are laying out the left's post-gay marriage agenda in the paper's pages for all to see. What they clearly want is a country that is sexually unrecognizable from the one we live in today, one where marital infidelity is accepted as a lifestyle choice and actually celebrated, and traditional marriage is legally marginalized and removed from the public square.

Demonizing Christianity. The front-page headline in The New York Times last Sunday [7/24/2011] was stunning: "As Horrors Emerge, Norway Charges Christian Extremist." That would be Anders Behring Breivik, the 32-year-old who has confessed to taking at least 76 innocent lives apparently because he doesn't like Muslims living in Europe. But why would the Times brand Breivik a Christian? He is not attached to any church, has no history of Christian activity, has openly criticized the Protestant philosophy and has admitted to committing acts counter to all Christian teaching.

New York Times Downplays Muslim Fort Hood Terror Plotter. The New York Times downplayed the arrest of an AWOL Muslim soldier charged in connection with a plot to attack Fort Hood soldiers. The newspaper all but ignored the role Pfc. Naser Jason Abdo's religious faith may have played in the alleged plot. Abdo was arrested in Killeen, Texas, near Fort Hood. He was found with weapons, explosive, and jihadist materials.

NYT Making the Motives Clear. It's hardly any news to AT readers and other thinking conservatives that the elitist left operates on the idea that only their coterie of "educated" intelligentsia can possibly know what is good for the "unwashed" masses -- and ought, by right have the power to make life's decisions and enforce them on everyone else. It's also hardly news that the New York Times is the nation's major mouthpiece for promotion of this thinking and simultaneously propounds in its pages agendas intended to undermine traditional American culture and morals.

Inhibiting an Oil and Gas Boom. The fossil fuel shale extraction industry, where technological advancements and discoveries of huge reserves of oil and natural gas hold great promise for the nation's future energy needs, is under attack. In June the New York Times ran a dubiously sourced series of stories that sought to show the bullishness on natural gas is overblown.

Meet the NYT's Executive Editor: "Leftist, Elitist, Communist, Socialist" Bill Keller. The latest edition of the New York Times's Sunday magazine gave conservatives a rare opportunity to repurpose Times Executive Editor Bill Keller as a piñata, though the paper's intent may have been to make its conservative critics look irrational. Readers responded bluntly to Keller's trashing of Sarah Palin in his column for the June 19 issue, in which he claimed "most journalists would recoil in horror from the idea" of a Palin presidency.

Pinch Happened. The [New York] Times is preparing itself for a huge push to re-elect President Obama and will leave no story unpublished that could possibly help Obama or hurt his opponent, regardless of who it is. ... Arthur Sulzberger, Jr. ... became the paper's publisher in 1992 and has steadily transformed what was a newspaper into an ideological tool of the left.

Here's an example of environmental alarmism in the NYT:
Atop TV Sets, a Power Drain That Runs Nonstop. Those little boxes that usher cable signals and digital recording capacity into televisions have become the single largest electricity drain in many American homes, with some typical home entertainment configurations eating more power than a new refrigerator and even some central air-conditioning systems. ... One high-definition DVR and one high-definition cable box use an average of 446 kilowatt hours a year...

The Mask Slips, Yet Again. No one who has lived through the last forty years can be surprised when a New York Times reporter reveals his contempt for those who don't share his cultural biases; especially, against those like me who live in the "middle places."

All the biased news they see fit to print. Having grown up at the Times under the great Abe Rosenthal, I find it appalling that [Bill] Keller has so little regard for the standards that were the true mark of professionalism.

The Times Slimes Clarence Thomas. Picking up the baton from the disgraced Anthony Wiener, the New York Times slanders Supreme Court Justice Clarence Thomas, hoping to keep him from voting on the constitutionality of ObamaCare.

How The New York Times Explains Male Sex Scandals. Of course, it is impossible to imagine Nancy Pelosi doing anything like Anthony Weiner did. But not because powerful men think they are invincible and powerful women do not, but because of male sexual nature. Powerful men are involved in sex scandals because they think they can get away with doing so, and because the drive to do what they did is so powerful they risk everything they cherish in life for it.

Times' Bias Shows In Palin E-mail Affair. No wonder last week's frenzy over Sarah Palin's old emails went as fast as it came. Not only did it turn out to be the nonstory of the year. It gave objective journalism one of its biggest black eyes yet.

Graying Deity Of Pre-Internet Journalism. It was a statement so telling, and so over the top, that within hours the Times removed it from its Thursday [6/2/2011] web story announcing Bill Keller's replacement as executive editor. "In my house growing up, the Times substituted for religion," said Abramson, the former Washington bureau chief. "If the Times said it, it was the absolute truth." That is how the left-leaning media establishment in America wants it.

Airbrushing history at The New York Times. 'As someone who spent time in the Soviet Union while it still existed, the notion of airbrushing kind of gives me the creeps," New York Times Executive Editor Bill Keller said in 2003. Keller was speaking in favor of the idea that the Pulitzer board should not rescind the prize it awarded the Times' Walter Duranty for reporting pro-Stalinist lies in the 1930s. This week the Times appeared to many to have airbrushed its own history.

Creeping anti-Semitism in the New York Times. The Times, in more polite tones but substantively at one with such anti-Semitic conspiracy libels, wants readers to believe that American Jews constitute "one of the country's most powerful constituencies" and that it's their extraordinary power that accounts for all the applause and standing ovations Netanyahu received from a compliant and obedient Congress.

New York Times' Share of Newspaper Sites' Traffic Hits 12-Month Low. The paywall introduced by The New York Times at the end of March is hurting traffic to its website, as expected, but perhaps within acceptable levels. The New York Times' share of United States page views for all newspaper websites dropped from 13% in March to 10.6% in April, its lowest share in 12 months, according to new data from ComScore.

Why the New York Times Gets Everything Wrong: It's the Left-Wing Bias. There's no secret anymore as to why the paper has become worse than it ever was. The editors and writers are on the political left; and they are pompous enough to think that since everyone they know thinks the same way, what they are writing is objective. This is not to say that its bias is a relatively new thing. It's just that in the paper's heyday, you could find relatively straightforward top-notch reporting. But even then, on certain issues, there was very little difference between the editorial side and that of the reporters.

Racially Inflammatory Al Sharpton Gets Yet Another Pass From the New York Times. The New York Times's weekly "Sunday Routine" feature is billed as "Prominent New Yorkers recount their weekend rituals." This Sunday it featured Al Sharpton being interviewed by David Halbfinger. Halbfinger's introduction gave no hint of why Sharpton is considered by non-Times readers as a controversial figure.

Whitewashing a terrorist. Once again, The New York Times is carrying water for a terrorist — in this case, Lori Berenson, who openly acknowledges she was a "collaborator" with one of the two groups that plunged Peru into what may have been the worst terrorist maelstrom the world has ever seen.

Why Is the New York Times Shilling for Far-Left Terrorists? As a wave of left-wing violence threatens to engulf the nation, why is the progressive New York Times running an ugly campaign of character assassination against a real-life American hero who saved lives and helped to safeguard the nation's sacred democratic process? Could it be because the newspaper is sympathetic to the goals of the thuggish community organizers and union goons intimidating state legislatures across America and wants to help advance the liberal-left narrative?

How much further can the New York Times fall? There was a time not that long ago that when somebody mentioned "blue chips," it wasn't uncommon to hear the stock of The New York Times included among those of General Motors, General Electric, IBM, and so forth. Not anymore.

NY Times letters to the editor can't say the paper is 'wrong'. The New York Times editorial board is never wrong. Or at least, they won't print anything that says they are.

The worst of Times. The New York Times today [1/30/2011] offers what it calls the backstory on its publication of the stolen WikiLeaks documents. It includes the intriguing fact that the White House didn't try very hard to deter publication, but the report by executive editor Bill Keller mostly reads like house propaganda and a Pulitzer application. There is a laugh-out-loud moment. It comes when Keller writes that "it is our aim to be impartial in our presentation of the news." It's hard to imagine he believes that. Certainly nobody else does.

The New York Times: Three-Fifths Of A Newspaper. It's sad enough the New York Times' editors believe it "a theatrical production of unusual pomposity" that the incoming Republican Congress require "that every bill cite its basis in the Constitution." It may be only me, but I'd be willing to bet those same Times editors would be running down the hallways, arms a-flailin' and citing a pure constructionist position on the First Amendment, if the new Congress required government oversight as to the content of their sorry excuse for a newspaper.

The Times Loses It. The [New York] Times ran, as its second lead, above the fold on the front page, a story about the Tucson shootings headlined "Bloodshed Puts New Focus on Vitriol in Politics." The article, by Carl Hulse and Kate Zernike, contains almost nothing newsworthy. Nor can it be called news analysis, beginning as it does with an attempt to create a self-fulfilling prophecy: "The shooting of Representative Gabrielle Giffords ... set off what is likely to be a wrenching debate over anger and violence in American politics." If self-fulfilling prophecies were wanted from reporters — and they are not — a better one would have been "Bloodshed Puts New Focus on Mental Health Policies."

New York Times Attempts to Label the Constitution As Irrelevant. As the unofficial, official Newspaper of the progressive movement, the NY Times has a core audience to placate, but who would think that they would go out of their way to alienate the rest of their readership. But that's exactly what they did in an editorial called "Pomp, and Little Circumstance", which rebukes the GOP for the attempt to repeal Obamacare, allowing John Boehner to swear his staff in early and most startling, for wasting the people's time by starting off the 112th Congress with a reading of the United States Constitution.

The NY Times Explains the Constitution. It is fascinating to see the liberal response to House Republicans reading the Constitution in the House chamber. At the New York Times, reporter Kate Zernike offers an "annotated guide" to the Constitution that purports to explain the main battlegrounds between, as the Times frames the dispute, the Tea Party and progressives. ... The Times' analysis contains a number of howlers. ... We have "little in common with the framers"? Not even, apparently, a system of government. This is reminiscent of Ezra Klein's observation that the Constitution is old, so we may as well ignore it.

A Blizzard of Lies in The New York Times. It's Orwellian when cold is declared warmth. It's deceitful and insulting when it occurs in the midst of a huge blizzard shutting down much of the northeast. I would not even trust the date on the front page of The New York Times because the newspaper long ago lost touch with reality, with sanity, and, one can only assume, readers fleeing to other sources for the news.

Adios, Gray Lady. The New York Times used to be called the Gray Lady of American newspapers. The sobriquet implied a certain stateliness, a sense of responsibility, the possession of high virtue. But the Gray Lady is far from the grande dame she once was.

Considering The Source Of Today's News Is Crucial. Once upon a time, The New York Times was a credible source of information and many educators demanded that their students use it for this purpose. ... Now that once-esteemed broadsheet is agenda- rather than journalistically-driven and one of the many sources to take with a large grain of salt. Under the stewardship of Arthur "Pinch" Sulzberger, the Old Gray Lady is now known for printing all the news that fits his liberal agenda even in the most innocuous sections.

Just another act of deadly treason. Yesterday [5/24/2010], The New York Times published another front-page article based on a leaked classified document. This time, it was an order signed by Gen. David Petraeus authorizing black operations against adversaries and such dubious friends as Iran, Syria, Yemen and Saudi Arabia.

Krugman: Rangel's Ethics Scandal Has No National Signficance. Nobel Laureate Paul Krugman says Congressman Charles Rangel's (D-N.Y.) ethics scandal has absolutely no national significance. As the Roundtable segment of ABC's "This Week" turned to new revelations concerning the powerful Chairman of the House Ways and Means Committee Sunday, the New York Times columnist was all by himself in making the case that Rangel hasn't really done anything wrong.

The New York Times: Carrying Water For Castro, Again. An inexcusable piece hails a Cuban musician's Castro-approved visit to the States. No mention that Cuban dissidents receive beatings instead of visas.

The NYT and 'American Justice'. The Obama-besotted editors at The New York Times applauded Attorney General Eric Holder's announcement that Khalid Shaikh Mohammed, (KSM) the confessed mastermind and of the Sept. 11 terrorist attack on the United States will be tried in a civilian court in New York City.

New York Times' Disgrace Deepens. It is not just the rapid growth of online news alternatives that is destroying newspapers. The New York Times was once the most respected paper in America. Now it has become a paper in service to an agenda and a political party. Is it any wonder why people look elsewhere for news?

New York Times to cut 100 newsroom jobs. The New York Times Co. plans to cut 100 newsroom jobs, about eight percent of the total, by the end of the year, the newspaper reported Monday [10/19/2009].

Van Jones — unfit for print. The [New York] Times continues to treat communism as a cute campus peccadillo like pot smoking or nude streaking. A Times think piece (Sept. 9) worried that [Van] Jones' fall was "swift and personal." Being a communist is personal but being the pregnant teen daughter of a vice presidential candidate is public business?

NYT Editor Offers Tepid Excuses for Lack of Van Jones Coverage. A top editor at the New York Times this week owned up to the paper's lack of coverage of the controversy surrounding former Green Jobs Czar Van Jones. Rather than leaving it there, however, the editor noted the paper's minimal online coverage, insisted that the Washington bureau was short-staffed, and suggested that Jones and his contentious positions really were not important enough to cover at length.

How much damage did the Times do? James Risen and Eric Lichtblau are the New York Times reporters who disclosed the highly classified NSA eavesdropping program in December 2005. In my view their behavior was blatantly illegal. In all likelikhood it did great damage to the national security of the United States.

The Truth About The New York Times: The mighty New York Times has seen better days. Journalism's "Great Grey Lady," the grand dowager of the printed page, has experienced a steady decline in its reputation since admitting that one of the paper's most celebrated up-and-comers had something of a problem keeping the facts in and the fiction out of his news copy. The decline in the paper's reputation has been accompanied by a turn for the worse in its economic health.

The New York Times Profiles Sonia Sotomayor's 'Rich Experience'. I made the mistake this morning of reading a front-page profile of Sonia Sotomayor in the New York Times. If that information alone isn't enough to prove I should have known better, this was the headline...

Did the Times bury its story on interrogations' effectiveness? [Peter] Baker's story attracted a lot of attention soon after the paper posted it on its Web site. ... In fact, it appears there is just one place you won't find Baker's story: the print edition of the New York Times.

This is Torture? [Scropll down] The administration's other mistake was to endorse the view, promulgated by the Left, that the techniques described in the memos deserve to be called "torture." Even a cursory examination indicates otherwise. Indeed, so far from being "brutal," as the New York Times has reported, most of the interrogation techniques are remarkable in their mildness.

Unfair and unbalanced, Times spins toward oblivion. The nation's largest left-wing newspaper and the bible for network news producers and bookers may be going under. This past week, The New York Times [NYT] announced more staggering losses: nearly $75 million in the first quarter alone. The New York Post is reporting that the Times Company owes more than $1 billion and has just $34 million in the bank. A few months ago, the company borrowed $250 million from Mexican billionaire Carlos Slim at a reported 14 percent interest rate.

The New York Times May Want To Poll This Question. It seems every day there is another example of media deception in America. With the Fourth of July approaching, it is well worth remembering why the Founding Fathers gave the press special privileges. They wanted journalists to report honestly, to give the folks accurate, unbiased information so they could make informed decisions about who should hold power.

Liberal Media on Life Support. On May 18, Maureen Dowd lifted 43 words verbatim from the blog Talking Points Memo to make the point (repeated in eight million previous columns) that George W. Bush and Richard B. Cheney live only to lie and to torture, giving no indication in earlier versions that the words and the thoughts were not hers. Hit with the news that two of their stars either stole words from others or omitted key facts to give false impressions, the Times said in effect they had done nothing terrible; that mere bloggers had no standing to criticize; and even if they did something terrible, it didn't matter, as they were The Times.

Despite Reports, Khalid Sheikh Mohammed Was Not Waterboarded 183 Times. The New York Times reported last week that Khalid Sheikh Mohammed, the alleged mastermind of the Sept. 11 terror attacks, was waterboarded 183 times in one month by CIA interrogators. The "183 times" was widely circulated by news outlets throughout the world. It was shocking. And it was highly misleading. The number is a vast inflation, according to information from a U.S. official and the testimony of the terrorists themselves.

New York Times suspends dividend. The New York Times Co. said Thursday its board has decided to suspend the newspaper publisher's quarterly dividend in a move to preserve cash as advertising spending continues to decline amid the recession. The suspension of the payout comes after New York Times slashed its dividend to 6 cents from 23 cents in November.

Murder Spree by People Who Refuse to Ask for Directions. In a front-page article on Jan. 2 of this year, The New York Times took a brief respite from its ongoing canonization of Barack Obama and returned to its series on violent crimes committed by returning GIs, or as I call it: "U.S. Military, Psycho Killers." The Treason Times' banner series about Iraq and Afghanistan veterans accused of murder began in January last year but was quickly discontinued as readers noticed that the Times doggedly refused to provide any statistics comparing veteran murders with murders in any other group. So they waited a year, hoping readers wouldn't notice they were still including no relevant comparisons.

Times Watch Quotes of Note 2008 — The NYT's Worst Quotes of the Year. The New York Times's embrace of Barack Obama's candidacy, and its fervent defense of him against John McCain's "racist" and unfair attacks, made 2008 a particularly bias-packed year for the paper.

Good Thing We're Shutting That Gitmo Place Down. The New York Times reported yesterday that the Afghan Taliban and Pakistani Taliban have mended their fences in order to join forces against the surge in American troops in Afghanistan. The Taliban may be in hide-and-seek mode against our military but they make themselves available to the Times.

Maureen Dowd Bares Fangs, Only Embarrasses Herself. When historians look back in wonder at how a long-established publication like the New York Times could have declined from its virtual king-of-the-world status in mid-2002 to its Bush-deranged, 85%-devalued shadow of its former self, they will surely make a few stops at Maureen Dowd's twice-weekly, lost-in-another-world columns.

In the Tank for President Kerry. The [New York] Times has for decades been the liberal journalistic blacksmith shop where the templates of a presidential campaign have been forged. From its pages the template, like a well-crafted sword, is sent forth in duplicate form to the network news anchors and producers, to the other print outlets in the liberal media arsenal, to be used relentlessly in each and every story.

S&P slashes New York Times rating to junk. Standard & Poor's on Thursday [10/23/2008] slashed its ratings on the New York Times Co into junk territory and cited concerns about the newspaper publisher's revenue outlook, after it posted a third-quarter loss.

It's Official: NYT is Junk. Friday, the New York Times endorsed Barack Obama for President as "the right choice" to follow the "battered, drifting and failed leadership" of George W. Bush. That wasn't a surprise. The real news came from another part of town: Yesterday [10/27/2008], Standard & Poors slashed the New York Times rating on its $1 billion debt to "junk" status. Coincidence, or cause and effect?

The New York Times death spiral continues. Bye, bye corporate jet! At long last, the beleaguered company is sacrificing top management's plaything, the ultimate status symbol. A long overdue cost saving mechanism in a time when the company's workers endure downsizing and cost reductions, even crowding themselves into smaller office space to save money.

NYT admits its writer intentionally lied. The "Corrections" column of the New York Times today [10/21/2008] contains an extraordinary admission that one of its writers deliberately misrepresented a study and misquoted a source.

The Killer-Vet Lie: Memo to New York Times Public Editor Clark Hoyt: Your urgent attention is needed on the slanderous 7,000-word front-page article published last Sunday about homicides allegedly committed by US veterans of the Iraq and Afghanistan campaigns. We say "allegedly," because the article lumped those merely accused of a homicide with those who've already been convicted. But that was the least of the piece's problems. As our colleague Ralph Peters so adroitly demonstrated on these pages Tuesday, the article embraced the hoariest of overwrought clichés — the US combat vet as psychotic killer.

Smut-hunting NY Times Limbo Dancing in Alaska. The New York Times is proving "how low it can go". The NY Times is dispatching a group of its top "investigative journalists", fanning them across the State of Alaska looking for dirt on [Sarah] Palin and Republicans in a desperate bid to take the wheels off of John McCain's little red wagon.

Yellowcake journalism. [Saddam] Hussein got the yellowcake from somewhere. He almost certainly got it from Niger, Gabon, South Africa or Namibia, the four African countries with yellowcake mines. And [Joe] Wilson, who served with the State Department in Baghdad and Gabon, didn't know (or didn't report in his [New York] Times op-ed) that Hussein possessed 550 tons of yellowcake at the time of Mr. Wilson's African junket.

The Return of the Wacko Vet Media Narrative. Who is responsible for such agenda-driven reporting at the Times and other media outlets? Mostly senior reporters and editors who are in their 50s and 60s, folks who came of age during the 1960s.

Camouflaging News: Leave it to the New York Times to take a major story discrediting Barack Obama's Iraq policy and pitch it as a human interest feature on "mixed feelings."

The New York Times vs. Common Decency. [Scroll down] Beyond the security calculations made on behalf of the interrogator by those noted terrorism experts Bill Keller and Dean Basquet, there is the extraordinary lack of common decency in deliberately and knowingly placing someone's life and the lives of his family in danger. This is especially true when you consider that the story would have gotten along just fine without us knowing the real name of the interrogator.

Guest Column: The silence of 'The Times'. The power of The New York Times is undeniable — even in an era of declining mainstream media influence. What its editors choose to report still influences policymaking, as coverage of, or silence about, two recent Gaza-related events underscores.

N.Y. Times Seen as Anti-Israel. Media watchdog HonestReporting.com has determined that The New York Times is biased against Israel. The organization discovered that most headlines concerning attacks are written in the active style when concerning Israel, but in the passive when concerning Arab terrorists, who usually are called "militants."

The New York Times and the al-Dura Hoax: That the al-Dura lies incited murders of many innocent people is indisputable. The Jihadis who beheaded reporter Daniel Pearl inserted repeated footage of al-Dura in their gruesome video. Osama bin Laden cited al-Dura as a justification for his carnages in a post-9/11 recruitment video which showed the boy's "death" 12 times.

The War Card: The New York Times now tells us that a new study entitled "The War Card" has determined authoritatively that during the months leading up to the 2003 U.S. invasion of Iraq, top officials in the Bush administration — including the president himself — made "hundreds of claims, mostly discredited since then, linking Saddam Hussein to Al Qaeda or warning that he possessed forbidden weapons." The Times did not report that the study had been conducted by an organization that received more than $1.62 million from George Soros in the last few years alone.

News That's Fit to Bury. Sure sounds like a lead story to us. But then, that would be good news about the war — and the Times has too much invested in its nonstop campaign to depict the situation in Iraq as an unmitigated disaster. Any suggestion that the tide of war is turning and the terrorists actually are being defeated — something even Rep. John Murtha (D-Pa.), one of Capitol Hill's harshest critics of President Bush, now admits — simply won't do.

The Times Vs. Citizen McCain. Is the New York Times really suggesting that the child of an illegal alien who sneaked past the Border Patrol is qualified to be president, but an American war hero born to American parents overseas is not?

What part of secrecy don't they understand? This is not the first time The New York Times has reported on "top secret" government documents, programs, or war plans.

Getting it wrong, letting it slide. Why is it that the mightier the news organization, the likelier it will stand by ethical blunders that would shame a first-year reporter? Apparently, along with industrial mastery comes the right to deny, evade, whine and nitpick instead of owning up to what you did wrong and making sure you don't do it again.

Warning: This article contains vulgar expletives.
Rosenthal Blasts Critics Over Dowd Column. Some media observers are in a tizzy over a recent Maureen Dowd column published with a "Derry, N.H." dateline even though she filed it from Jerusalem. Also that some of the quotes used in the column were collected by her assistant, without a reporting credit. Greg Sargent originally called attention to it; the Columbia Journalism Review described it as "easy manipulation," and Spencer Ackerman said that using the Derry dateline was a lie.

Major shareholder bailing out of the New York Times. The decline of the New York Times as a reputable newspaper has been matched by the decline of its business management. The running (or running down of the newspaper) by "Pinch" Sulzberger, descendant of the family which had purchased and remade the paper generations ago, has progressively destroyed the value of the Times (the apple does fall far from the tree -- especially after several generations). The paper has suffered disproportionably more than its peers on the stock market.

The Rapid Decline of the New York Times. It's about as much fun being a newspaper publisher as an airline president these days, so Arthur Ochs "Pinch" Sulzberger, Jr. of the New York Times deserves our sympathy. Last quarter's earnings were dreadful. … Just last week, Lehman Brothers forecast that in a year, its common stock would decline in value by almost half.

The Times to Cut 100 News Jobs. After years of resisting the newsroom cuts that have hit most of the industry, The New York Times will bow to growing financial strain and eliminate about 100 newsroom jobs this year, the executive editor said Thursday [2/14/2008]. The cuts will be achieved "by not filling jobs that go vacant, by offering buyouts, and if necessary by layoffs," the executive editor, Bill Keller, said.

How The New York Times Fell Apart: Over the last few years, we've seen a number of newspapers find themselves in deep financial distress as they've failed to deal effectively with the challenge posed by Cable News and the Internet, and particularly (on the editorial side) the blogosphere and (on the business side) Craigslist, Google, and eBay.

Unfit To Print? Every major daily paper in New York took note of President Bush's decision to bestow the first Medal of Honor of Operation Enduring Freedom on Navy SEAL Lt. Michael Murphy — a Long Islander who gave his life for his country and his fellow SEALs. Every paper but one, that is. And it shouldn't be particularly hard to guess which one.

Liberals Against Diversity. The New York Times op-ed page is trying to go from bad to diverse. The page has hired William Kristol, editor of The Weekly Standard, as a weekly columnist, starting next Monday.

Secrets, leaks and political correctness: Last week, I wrote about the New York Times' crusade to uncover and publish top-secret information and made the case that secrecy is in fact oftentimes a good thing, not something to be rooted out and destroyed. That column generated quite a few comments from people who were worried that I was advocating torture. I didn't actually, but I do advocate whatever is necessary, including a little secrecy, to keep us safe and to help us prevail in our war against Islamic terrorists.

Top Ten Lowlights of The New York Times in 2006. From reporters throwing national security secrets onto the front page to publishers going on liberal rants at graduation ceremonies, we've whittled down the worst from another liberally slanted year in Timesland.

Financial Woes for the New York Times. New York Times Company's reported financial results, outlook, and stock price keep getting hammered by poor business performance. Having announced it will pay $125 million in dividends, the company must increase its profits if it is to avoid further drawing down of shareholder equity, amounting to gradual liquidation of the company.

How to Lie With Statistics: With apologies to Darrel Huff and his famous book of the same title, today's papers provide a wonderful demonstration of how the mainstream press — in this case, The New York Times, can use real statistics to justify politically spun conclusions.

The New York Times and Iran: The New York Times has been criticized for helping terrorists in the past by disclosing investigatory methods and rendition policies and practices, supporting them in its editorial pages and allowing terror suspects to spin their stories in the news section, disclosing methods our nation has used to prevent funds from reaching terrorists, condemned the existence of prisons holding terrorists, criticizing the laws brought to bear to prevent terrorism, and whitewashing or apologizing for terror when it occurs.

New York Times bond rating cut again. How much longer will Pinch Sulzberger's family allow him to drive the family fortune into the ground? Under his leadership, the company has not only turned to the hard left editorially, it has committed a series of business blunders imperiling their prosperity.

The New York Times Reports and Distorts a Presidential Address. On July 24, around noon, President Bush delivered an important speech at Charleston Air Force Base in South Carolina. He discussed in considerable detail the links between Al Qaeda in Iraq and the central leadership of Al Qaeda, reflecting the conclusions of the U.S. intelligence community. About four hours later, the New York Times posted a news story by Times reporter Brian Knowlton about the speech.

NY Times calls Iraq a 'lost cause'. The New York Times on Sunday [7/8/2007] called for US troops to leave Iraq now, writing that President George W. Bush's plan to stabilize the country through military means is a lost cause.

MSNBC Confirms Liberal Media Bias. The New York Times forbids donations, but that didn't stop Randy Cohen, who writes a syndicated column for the Times called "The Ethicist," when he gave $585 to the far-left activist group MoveOn.org in 2004 to organize get-out-the-vote efforts to defeat President Bush. Cohen said he understands the Times' policy and won't do it again, but that he had "thought of MoveOn.org as no more out of bounds than the Boy Scouts."

The Worst of 'Times'. If you read The New York Times, you must think you only imagined the welcome announcement yesterday that JPMorgan Chase will build a grand new office tower next door to Ground Zero, just as Goldman Sachs is doing. Didn't the Times repeatedly proclaim downtown's days as a financial center were over? It sure did. And those who call the shots at the Times should be hauled before a journalism tribunal for printing all the destructive propaganda that could fit in its pages.

'Talking' terror. What if the months of planning and conversation that went into the 9/11 plot had been leaked in advance to The New York Times? Would the Times have reported it? Or dismissed it as "just talk"? Fair to ask — given how the Times reports on foiled domestic terror cases.

Coincidence or pattern? We are to believe, I suppose, that it is mere coincidence that when leaks are harmful to the Administration there is no inter agency cooperation and no DoJ motivation to pursue the matters and when it is harmful to the Administration to pursue non-leaks and to sit on information helpful to the Administration, everyone in the bureaucracy goes out full bore. At what point does repeated coincidence become a pattern?

My New York Times Problem: Despite all the ongoing critiques, the Times remains a major cultural gate-keeper. If a film, opera, ballet, concert, or book is reviewed in its pages — the work exists. Otherwise, the work and its creator are rendered almost invisible.

The New York Times' own Rathergate. Byron Calame, public editor of the New York Times, has laid out a carefully worded exposé of the utter breakdown of editorial standards at the New York Times. The fact that paper prominently published a falsehood is only the beginning of the problem. When the falsehood was exposed, two senior editors of the paper issued a defense of the article without bothering to check the readily available court documents which critics had cited.

Navy disputes war story told by former sailor. The March 19 Sunday New York Times Magazine cover story was a gripping account of the emotional problems some female veterans suffer as results of their war experiences, sexual assaults or both. One of the women featured in the story was a former builder constructionman Amorita Randall, 27, who … told the Times that she served in Iraq in 2004, which the Times reported as fact but which it now appears was not the case.

How a New York Times reporter's passion for Castro led him astray: Aha! Finally we've discovered the missing ingredient in American journalism, the vitamin deficiency that's been shrinking newspaper circulation and TV newscast audiences all these years. What Americans clamor for is not information but passion. The heroes of the coverage of Katrina were not the reporters who got the most accurate stories but the ones who shouted the loudest or cried the hardest.

Speaking of poor circulation...
New York Times to raise newsstand price to $1.50. The New York Times Co. will increase the Monday-Saturday newsstand cost of its flagship paper by 25 cents to $1.50, the publisher said today [7/23/2008]. … Newspaper publishers are battling sharp rises in newsprint costs and deep declines in advertising revenue.

Phantom subscribers at the New York Times. Pity the poor New York Times Company! In addition to all its other woes, one of the company's newspaper distributors has been accused of defrauding the company with thousands of phantom subscriptions, recycling the papers supposed to have been delivered to the nonexistent subscribers, and collecting about $227k in fraudulent delivery fees.

'NY Times' Only Major Paper to Show Dead Saddam on Front Page. It's a rare day when the august New York Times tops the New York Post — and every other major paper in the U.S. — in grisly or sensationalistic front page coverage, but it did so on Sunday. An E&P survey of front pages from around the country reveals that the Times was the only major paper to include a picture of executed Iraqi dictator, Saddam Hussein, on its front page, after his hanging. It was even above the fold.

New York Times Turns to Supreme Court. The New York Times asked the Supreme Court on Friday [11/24/2006] to block the government from reviewing the phone records of two reporters in a leak investigation about a terrorism-funding probe. The case involved stories written in 2001 by Times reporters Judith Miller and Philip Shenon that revealed the government's plans to freeze the assets of two Islamic charities, the Holy Land Foundation and the Global Relief Foundation.

Update:
Court turns down New York Times in leak investigation. The Supreme Court ruled against The New York Times on Monday [11/27/2006], refusing to block the government from reviewing the phone records of two Times reporters in a leak investigation of a terrorism-funding probe.

Dirty Trick from the New York Times. In a last-minute dirty trick before the election, The New York Times took a story and twisted it in such a way as to damage the Bush Administration. This will go down as a case study of media bias intended to sway votes.

Blood Will be On His Hands. A trend is developing whereby reporters for the New York Times let their hair down, drop any pretense of objectivity, and ream the Bush Administration. First it was Linda Greenhouse, the Times Supreme Court reporter. Now it's James Risen, the Times reporter who revealed the administration's highly classified NSA terrorist-surveillance program.

NY Times: Saddam Close to Building Atomic Bomb. In an effort to hurt Republicans on November 7, the New York Times published a story accusing the Bush Administration of posting Iraqi documents that suggest Saddam Hussein's Iraq was close to building an atomic bomb. … Former intelligence officer and NYPD detective Sydney Francis says that the New York Times is attempting to have it both ways. "They say that Saddam wasn't developing nuclear weapons, but then they say Saddam possessed documents that could help someone create a nuclear bomb," says Francis.

Times Risks American Blood in Terror War. The September 18 copy of New York magazine features the blaring headline, "Times Under Siege," and the reported claim by President Bush that the paper's editor would have "blood on his hands" if he published a story about electronic surveillance of terrorist telephone calls. If this is true, the Bush Administration has an obligation to prosecute the Times for revealing classified communications intelligence information.

More FISA Fear-Mongering: The New York Times strikes again. In Times parlance, such monitoring of international enemy contacts, routinely carried out by every wartime president in history, somehow becomes "domestic spying" when George W. Bush employs it against an enemy that has managed to attack the United States — and, according to the intelligence community's latest assessment, is working feverishly to do it again.

The horses are out. Let's close the gate.
Banking Data: A Mea Culpa. Since the job of public editor requires me to probe and question the published work and wisdom of Times journalists, there's a special responsibility for me to acknowledge my own flawed assessments. My July 2 column strongly supported The Times's decision to publish its June 23 article on a once-secret banking-data surveillance program. After pondering for several months, I have decided I was off base.

Let's dare call it treason. They are not Benedict Arnolds — they are in a class all by themselves — political and journalistic hacks willing to do anything to win an election and oust an administration they loathe even if by so doing they endanger the safety of their fellow Americans. Time after time, for months on end, we have watched the spectacle of government officials in the intelligence agencies violate their oaths by leaking the most sensitive secrets to dedicated anti-American newspapers such as the treasonous New York Times.

The New York Times Still is not Sure Bush is "Legitimate": Most media and congressional leftists who attacked President Bush during our national emergency have backpedaled like crazy after an outpouring of rage from the public, but the dunce king of all media arrogance, the New York Times, is still at it.

Whack 'em Down: Facts are something the New York Times and Time magazine and all the rest of the corrupt elitist media find most inconvenient and simple to ignore or distort. What to do with the elitist media? Shun them. Don't read the New York Times. Don't buy Time magazine.

Minimum Rage: When The New York Times calls your argument "straightforward" and a CNN host calls your opponents' arguments "a lot of bull," you can probably count the media on your side. That's exactly what Democrats are seeing in the media's approach to minimum wage increases — an issue designed to turn out liberal voters in at least six states this fall.

N.Y. Times: Better dead than read. We're in a battle for our survival and we don't even know who the enemy is. As liberals are constantly reminding us, Islam is a "Religion of Peace." One very promising method of distinguishing the "Religion of Peace" Muslims from the "Slit Their Throats" Muslims is by following the al-Qaida money trail. But now we've lost that ability — thanks to The New York Times.

Downsizing the New York Times. Normally, this would be a juicy target for series of articles on the front and business pages of the New York Times. You know the drill: a parade of blue collar people victimized by the Bush administration, and now facing a bleak future. Meanwhile the insiders make out fine. There's even a fat cat CEO whose compensation package has done a whole lot better than its profits or stock. … But today, the company in question is the New York Times Company. So don't expect the same rules to apply.

The newspaper of wreckage. On June 22, the paper trumpeted its expose of "a secret Bush administration program" to track terror finances. … But by July 2, smarting from the public backlash against its blabbermouth coverage, the Times crew was backpedaling faster than circus monkeys on barrels hurtling over Niagara Falls. Suddenly, the "secret" was no secret at all.

Because the New York Times says so. According to America's leading journalists, the United States government cannot run clandestine operations. Indeed, it cannot keep secrets or do anything in secret — if the press thinks "the people" should know about it. I put "the people" in quotation marks because for the press, it seems, "the people" are an abstraction. It needn't matter that the public understands some things should be kept secret; the press will tell them for their own good.

Who is the real threat to America? Sometimes you have to just wonder if these liberal geniuses at the New York Times and elsewhere have the slightest scintilla of common sense, let alone goodwill.

Gun laws breed corruption. Ordinary citizens who have had death threats or those who operate small businesses in high crime neighborhoods have little hope of obtaining a [concealed weapon] permit. And using an unlicensed gun to defend oneself in New York City is a guarantee of serious prison time, no matter how legitimate the defensive need. According to information obtained through leaks and the Freedom of Information Act, many NYC permitees are celebrities and political cronies. The last time information was released, celebrity permit holders included … Arthur Sulzberger, publisher of the rabidly anti-gun New York Times.

Troops targeted by ACLU and anti-war media. Having spent eight months in Iraq as a volunteer to assist the military in security, I can assure your readers that these one-sided, anti-U.S. press releases serve only as an instrument by which radical Arabic news agencies print large bold headlines depicting our service personnel as monsters. I have seen those articles and they are sickening.

The Worst of (the) Times. It has become more and more transparent that the New York Times leans not only left, but far enough away from mainstream America so as to reach out to our enemies in the War on Terror.

Déjà Vu, All Over Again. The New York Times and its wars against John Bolton and Daniel Patrick Moynihan.

New York Times Once Again Does Its Best To Thwart the War On Terror. Sometimes you really have to wonder if The New York Times is on the Al Queda payroll. Not content with exposing, and thus making worthless the NSA Terrorist Surveillance Program, the Old Gray Lady has a lengthy exclusive on a CIA/Treasury Department program to monitor financial transaction of suspected terrorists.

Secession. I assume the Republican National Committee is busy recording and archiving the idiotic statements coming out of national Democratic Party leaders and commentators. The opinion pages of the New York Times (that would be pages A-1 to D-37 inclusive) have been running articles by prime cut liberals, the general themes of which have been that conservative Christians are the equivalent of Islamic terrorists and that the benighted provincials who voted for President Bush are simply hate-filled bigots who have no place in America.

The First, Refuge of Scoundrels. The New York Times' First Amendment and public interest smokescreens are absurd. As everyone else, they have a right to speak and publish their ideas, opinions and thoughts. But they have no right to shout fire in a theater — or betray legitimate national security secrets — no matter how big and powerful they are. The press needs to stop confusing the two.

The terrorist-tipping Times: The New York Times (proudly publishing all the secrets unfit to spill since 9/11) and their reckless anonymous sources (come out, come out, you cowards) tipped off terrorists to America's efforts to track their financial activities. Guess what? It isn't the first time blabbermouth journalists have jeopardized terror-financing investigations since Sept. 11, according to the government.

On the other hand...
It is No Crime When Journalists Report What's Public. Lawyer Buddy Parker assumed years ago that the U.S. government had tracked every penny that went into and out of the accounts of his client, suspected of laundering money for terrorists. What he can't comprehend is the stir created by reports that the feds are monitoring international banking records. "It's a yawner," says Parker, a former assistant U.S. attorney and now a white-collar defense lawyer in Atlanta.

Protecting secrets calls for strong measures. Yet another leak of highly classified intelligence has made fighting terrorists more difficult. But the media claim they — not our elected leaders — know what's best for the country.

Bad Manners in the Media. What will the Justice Department do about a little-known law that seems to make just this type of disclosure clearly illegal?

Some of my best friends are journalists. You cannot balance what you have not weighed, and you cannot weigh what you cannot measure. Neither of the Times Two possesses the capacity, background, experience or learning to judge the extent of the assistance they have rendered terrorists. No "expert" they could consult would be in a position to contradict the government's strong assertions of the danger they were putting innocents in via their recklessness.

"Show me the money!". The paper that boasts about delivering "all the news that's fit to print" defends its right to divulge state secrets by arrogantly claiming that "the public has the right to know."

The New York Times strikes again. Do you think that style-setter of American journalism — The New York Times — would have run its expose of still another terrorist-tracking program if it had found out about it when the program was first set in motion, in the immediate aftermath of the Sept. 11 attacks?

Not All the News Is Fit to Print. During World War II the United States government's Office of War Information spearheaded a national campaign whose most well-known slogan was "Loose Lips Sink Ships." … The Bush administration should institute a similar campaign that instructs citizens of both the real dangers of proliferating classified information and that the meaning of the First Amendment is not a license to publish anything.

House Roll Call Vote on Intelligence Leaks. The 227-183 roll call Thursday [6/29/2006] by which the House passed a resolution condemning news organizations for revealing a covert government program to track terrorist financing.

More New York Times Distortions of the Rich: It is impossible that the Bush tax cuts of June 2003 contributed to relatively lower tax payments by the very richest Americans in 2002. But New York Times writer David Cay Johnston conveniently avoids this fact….

Slurring Bush at the New York Times. The utter disdain of New York Times reporters for President Bush makes a mockery of the supposed "separation of church and state" (putatively reporting neutrally, editorializing from the left) in their brand of journalism. The Times' condescension or loathing of the President seeps into news stories subtly.

What is the New York Times Promoting? "Personnel is policy" is an old axiom in politics. It also applies to the world of journalism, as evidenced by recent developments at The New York Times, which has been trending even further left with recent appointments. First, the Times promoted crusading liberal editorial page editor Howell Raines, who once publicly mourned that "the Reagan years oppressed me," to editor-in-chief. Now, Richard Berke, the paper's national political correspondent since 1993, is being promoted to Washington editor, the number-two job in a bureau of more than 50 people.

The Al-Qaeda Times: You could call it "Treason Central," or "al Qaeda West," but no matter what you call it, the building housing the once-august New York Times at 229 West 43rd St. in New York City is a beehive of anti-American hostility, where selling out the nation's secrets has become the newspaper's stock in trade.

All the News That's Fit to Prosecute. The congressional rebuke of the paper makes it clear that the American people, speaking through their representatives, are more distressed by the help given to al Qaeda by the Times than by some purely hypothetical danger to civil liberties.

This just in ...
Karl Rove Secretly Runs The New York Times. In a stunning development that would appear to have broad implications for the independence of America's newspaper industry, New York Times Publisher, Edwin 'Pinch' Sulzberger today revealed that longtime President Bush advisor Karl Rove has been secretly running the Times' news and editorial operation for almost four years.

The right not to know: Once more the spoiler. Despite the earnest persuasion of the White House to preserve a useful weapon in the war against the terrorists, the New York Times has revealed the workings of a covert surveillance program, indisputably within the law, to use administrative subpoenas to examine, through a Belgian financial consortium known by the acronym SWIFT, the financing of international terrorism.

The New York Times is a national security threat. So drunk is it on its own power and so antagonistic to the Bush administration that it will expose every classified antiterror program it finds out about, no matter how legal the program, how carefully crafted to safeguard civil liberties, or how vital to protecting American lives.

The Truth About Torture: "If an enemy devised a diabolical plot to darken America's image, it is hard to imagine anything operating more efficiently toward that end than the detention camp at Guantanamo Bay, Cuba." The implication behind this false statement, which began a June 18 New York Times story by Scott Shane, is that the U.S. is torturing prisoners.

The CIA Is Still After Bush. The Washington Post on July 9 published an article, "When in Doubt, Publish," which began by saying that, "It is the business — and the responsibility — of the press to reveal secrets." It was signed by five major figures involved in the field of journalism education. … In the process of trying to sound like guardians of the public's right to know, they disclosed their preference for keeping the American people in the dark about what the chairman of the House Intelligence Committee says is a major faction of the CIA that is deliberately subverting the foreign policy of the Bush Administration.

Prosecute the New York Times. Gabriel Schoenfeld … explains, "By means of that disclosure, the New York Times has tipped off al Qaeda, our declared mortal enemy, that we have been listening to every one of its communications that we have been able to locate, and have succeeded in doing so even as its operatives switch from line to line or location to location."

Is Al-Jazeera Less Biased Than The New York Times? Sadly, this once again demonstrated how America's media are fighting a different battle than its soldiers. After all, for publications that have been voicing loud and almost constant opposition to this war for several years, any positive development that leads to their expressly desired troop withdrawal should be heralded from the rooftops. On their part, any behavior to the contrary indicates media that want the troops to leave, but only if they do so in loss and shame.

Shouting "fire" in a crowded theater: The program, headed by the CIA and overseen by the Treasury Department, is known as the "Terrorist Finance Tracking Program" (TFTP) and was begun shortly after the 9/11 terrorist attacks. … The CIA, under the TFTP, examines mainly wire transfers and other methods of moving money overseas and into and out of the United States. … The government uses the data for terrorism investigations only, not such things as tax fraud or drug trafficking investigations.

Aid and comfort: 'The disclosure of this program is disgraceful," says President Bush. That's one word. Here's another: Dangerous. The New York Times has again put its institutional arrogance and contempt for the duly elected current administration ahead of the security of the nation.

Has the New York Times Violated the Espionage Act? What the New York Times has done is nothing less than to compromise the centerpiece of our defensive efforts in the war on terrorism. If information about the NSA program had been quietly conveyed to an al-Qaeda operative on a microdot, or on paper with invisible ink, there can be no doubt that the episode would have been treated by the government as a cut-and-dried case of espionage. Publishing it for the world to read, the Times has accomplished the same end while at the same time congratulating itself for bravely defending the First Amendment and thereby protecting us — from, presumably, ourselves.

Gray Lady Down. The so-called mainstream media in general and The New York Times in particular are waging a relentless campaign undermining the war on terror. The Fourth Estate is beginning to look like a Fifth Column.

The Soviets Had the KGB — Al Qaeda Has the NYT. America spends $40 billion per year on intelligence operations aimed at discovering our enemies' secret activities. All our enemies have to do is subscribe to the New York Times and, for as little as $4.65 per week, they can discover most of our secret operations — at least as long as a Republican is President.

Laughable claims about the NSA "Scandal". It's clear that the New York Times is in big trouble with the announcement that the Department of Justice has launched an investigation into the leaks behind its NSA surveillance story. The investigation is long overdue. The paper had been warned by the President that national security would be seriously jeopardized if this program were made public, but it nevertheless chose to print it anyway.

The Gray Lady Toys with Treason. The New York Times … has published classified information — and thereby knowingly blown the covers of secret programs and agencies engaged in combating the terrorist threat.

The New York Times vs. America. 2005 was a banner year for the nation's Idiotarian newspaper of record, The New York Times.

New York Times Company Spirals Further Downward. It is sad to watch a once-great company decline. Jobs are sacrificed, historic facilities closed, and an atmosphere of failure and fear usually permeates the surviving operations. When a company needs to sell-off profitable crown jewels to sustain the lagging less profitable pieces, it does not portend future happiness.

The Press And the Rush To Judgment. Remember those January newspaper headlines heralding the survival of all 12 trapped miners in West Virginia? Even the august New York Times reported "12 Found Alive 41 Hours After Explosion," but only one miner had actually survived. In the frenzy to scoop competitors, reporters failed their journalistic responsibility, and this penchant to rush to judgment before all the facts are verified is again occurring on two recent hot button issues — homeland security funding cuts to New York City and the Haditha civilian deaths.

About that Quagmire… It's amazing — The New York Times editorial page yesterday had something positive to say about the present occupant of the White House. Not President Bush by name, of course. That would be going too far. But the paper of record acknowledged "truly astonishing" things are happening in the Middle East — noting dryly that "the Bush administration is entitled to claim a healthy share of the credit for many of these advances."

Media reporting from Iraq is one-sided and flawed. If you rely on newspapers and TV networks for your news, chances are you have no idea that the controversial performance of Western reporters in Iraq is emerging as a big issue. The mainstream media have virtually ignored the stunning charges made by John Burns, the New York Times Pulitzer Prize-winning reporter.

Great Gray Lady in spat with saloon hussy: The New York Times was in high dudgeon this week upon discovering that Fox News chairman Roger Ailes sent a letter to the Bush White House nine days after Sept. 11. As the corpses of thousands of his fellow Americans lay in smoldering heaps, Ailes evidently recommended getting rough with the terrorists.

Lockstep on the Left: In the past few weeks, the erudite leftist writers and editors of the New York Times have tried to enlighten the unsophisticated American public about the possible war against Iraq.

The Media Middle: The immediate ad hominem attacks on President Bush after the terrorist acts by Jennings of ABC, Dowd of the New York Times, Shields of PBS, Andy Rooney of CBS, etc., are typical of the America-hating establishment mainstream press. This was a time when thousands of innocent American lives were lost in a dastardly act of war, yet these intellectually challenged media morons couldn't resist attacking their greatest conceived nemesis - a Republican president.

The New York Times Still is not Sure Bush is 'Legitimate': Most media and congressional leftists who attacked President Bush during our national emergency have backpedaled like crazy after an outpouring of rage from the public, but the dunce king of all media arrogance, the New York Times, is still at it.

New York Times Attacking President Bush: How depraved can the liberal media be? How despicable? How utterly anti-American? The New York Times, the flagship of the liberal elites, the group that helped lead us to this mess, the same cabal that had only nice things to say about Bill Clinton, opened up a ferocious broadside against President Bush in the middle of one of the worst crises ever to hit our country.

Blurring distinctions between murderers and their victims: It's a journalistic atrocity to blur the distinction between murderers and their victims, but that's what both the New York Times and Newsweek decided to do in their lurid coverage of the Middle East.

The New York Times Still is not Sure Bush is 'Legitimate': Most media and congressional leftists who attacked President Bush during our national emergency have backpedaled like crazy after an outpouring of rage from the public, but the dunce king of all media arrogance, the New York Times, is still at it.

New York Times Attacking President Bush: How depraved can the liberal media be? How despicable? How utterly anti-American? The New York Times, the flagship of the liberal elites, the group that helped lead us to this mess, the same cabal that had only nice things to say about Bill Clinton, opened up a ferocious broadside against President Bush in the middle of one of the worst crises ever to hit our country.

New York Times lowballs homeless numbers. Estimates of the number of homeless have a long history of politics trumping accuracy. When President Reagan was in office, the American media often quoted made-up figures from "advocates" along with the mantra that many of us were "one paycheck away" from living on the streets ourselves. But yesterday [1/2/2007], the New York Times published a surprisingly low estimate of the number of homeless. But this time, the estimate was for the number of homeless in France.

Journalistic Malpractice in "Marriage is Dead" Report. On Tuesday, January 16th, 2007, the American people awoke to startling and disturbing news: for the first time ever, the majority of women in the country were living without a husband. ... [But] it's not true. The entire story (based on the work of one ax-grinding, irresponsible, agenda-driven journalist for the New York Times) has been cooked up from willful, blatant and shameful distortions. Amazingly enough, none of the most respected and purportedly responsible media authorities have taken the trouble to call him on it.

All the "News"? The latest in a long line of New York Times editorials disguised as "news" stories was a recent article suggesting that most American women today do not have husbands. Partly this was based on census data — but much more so on creative definitions. The Times defined "women" to include females as young as 16 and counted widows, who of course could not be widows unless they had once had a husband. Wives whose husbands were away in the military, or in prison, were also counted among women not living with a husband.

The MoveOn discount:

NY Times criticized for ad attacking top general. An ad criticizing the top U.S. general in Iraq raised charges on Thursday [9/13/2007] that The New York Times slashed its advertising rates for political reasons -- an accusation denied by the paper. ... Moveon.org confirmed it paid $65,000 for the full page ad headlined "General Petraeus or General Betray Us." The New York Post ran a story on Thursday asking why the basic rate of $181,692 for such an ad was discounted.

Subsidizing Sedition: The New York Times gives moveon.org a discount on a full-page ad smearing Gen. David Petraeus. Does anyone think for a minute that the Times would grant a similar discount for a group backing Petraeus?

Did The New York Times Break the Law? Republican Congressman Tom Davis of Virginia is asking Democrat Henry Waxman, the chairman of the Oversight and Government Reform Committee, to convene a hearing over the MoveOn.org ad in The New York Times calling General David Petraeus, "General Betray Us." Davis says The Times may have unlawfully subsidized the political message of MoveOn by giving it a discounted rate.

'General Betray Us' Ad Violated Election Law, Group Says. The formal complaint charges that the organizations responsible for the full-page ad that ran in the Sept. 10 New York Times violated the Federal Election Campaign Act of 1971 as amended, and the Bipartisan Campaign Reform Act of 2002.

N.Y. Times admits Petraeus ad sold to Moveon.org at 1/2 off. The old gray lady has some explaining to do. Officials at the New York Times have admitted a liberal activist group was permitted to pay half the rate it should have for a provocative ad condemning U.S. Iraq commander Gen. David Petraeus.

MoveOn.org's demeaning attack: The overzealous liberal group MoveOn.org proved once again that one organization can make a difference — a bad one. MoveOn.org's ill-considered, outrageous New York Times newspaper ad calling Gen. David Petraeus, the commander in Iraq, "General Betray Us" not only slimed a well-respected general, it distorted a very real and very serious debate about the course of the war.

The New York Times and Sarbox: Having dug itself into a hole with inept handling of the MoveOn.org ad and its aftermath, the New York Times Company may soon find itself unable to put down its shovel. Few ironies approach the richness of the mess the firm may face with the regulatory requirements of the Sarbanes-Oxley Act.

Sauce for the Times: The Times, a media corporation that is a fountain of detailed editorial instructions about how the rest of the world should conduct its business, seems confused about how it conducts its own. The Times now says the appropriate rate for MoveOn.org's full-page ad should have been $142,000, a far cry from $65,000, which is what the group paid. So the discount of $77,000 constitutes a large soft-money contribution to a federally regulated political committee. The Times' horror of such contributions was expressed in its enthusiasm for McCain-Feingold.


"The provision of any goods or services without charge or at a charge that is less than the usual and normal charge for such goods or services is a contribution."
The McCain-Feingold Newspaper Price Control Act. Most newspaper editorial pages … support McCain-Feingold and other restrictions on campaign speech, which do not apply at least to editorial content of newspapers. One wonders if any newspapers will change their editorial line now that their publishers are facing the threat of government intervention in their own business.

Did someone mention McCain-Feingold?

The New York Times' Left-Wing Discount: Imagine if the New York Times gave half-price ad space to the National Right to Life Committee or the National Rifle Association. It would never happen, of course, but if it did, you can envision the left-wing clamor.

Maybe the Times Can't Ad. The New York Times finally came clean this week, admitting that it gave MoveOn.org a steep discount for the group's disgusting ad denouncing Gen. David Petraeus — and the Federal Elections Commission is taking notice. As it turns out, a 1974 campaign-finance law makes it illegal for corporations to give money to political action committees like MoveOn. And the Times' $77,000 rate cut almost certainly amounts to a hefty in-kind donation — also illegal by the FEC's lights.


---

Suppressed news:

'New York Times' Spiked Obama Donor Story. A lawyer involved with legal action against Association of Community Organizations for Reform Now (ACORN) told a House Judiciary subcommittee on March 19 The New York Times had killed a story in October that would have shown a close link between ACORN, Project Vote and the Obama campaign because it would have been a "a game changer."

NYTimes Killed Story on Crooked Obama Donor. According to election fraud lawyer Heather Heidelbaugh, The New York Times decided suddenly to drop all efforts last October to publish stories about the Association for Community Organizations for Reform Now (ACORN) because it came to light that ACORN was a big donor to then presidential candidate Barack Obama's campaign.

Update:
New York Times Finally Admits It Spiked Obama/ACORN Corruption Story. Acknowledging what the blogosphere has known for weeks, the New York Times finally went on record to admit that just before last Election Day it killed a politically sensitive news story involving corruption allegations that might have made the Obama campaign look bad.

Killing A Story: How It's Done. In today's New York Times, Public Editor Clark Hoyt reveals the result of his investigation into the charge that the paper killed a story during the 2008 Presidential campaign in order to help Barack Obama. Hoyt concludes that the claim is "nonsense." ... But the facts as related by Hoyt don't rebut the charge; they support it.

All the News That's Fit to Suppress: I've often said that it's the journalistic sins of omission that are more damning than the industry's sins of commission. Right on cue, the Times acknowledged this weekend that it had spiked a story on possible illegal coordination between left-wing activist groups ACORN and Project Vote and the Obama campaign just before Election Day. The charges involved Team Obama sharing top campaign donor lists with ACORN's supposedly nonpartisan canvassing arm, Project Vote (the same group Obama worked for as a Chicago community organizer).


---

Back to The War With No Name
Back to the Media Bias Page
Back to the Home page