Donald Trump, with all his well-known flaws, has won the 2016 election and has defeated both the Clinton machine and the news media. Please forgive me for being poorly prepared for this outcome. This page is a collection of news articles about Mr. Trump that was initiated six months before Election Day, and originally it was a collection of opinion pieces with one common theme: Is this the best we can do? I still don't think Mr. Trump was the best available candidate, but he was good enough to defeat Hillary Clinton (and the heavily biased news media), and that's really all that matters for now.

As I said weeks ago, at least Mr. Trump appears to want to make America a better place, even if he doesn't have political experience, whereas Mrs. Clinton appears to have sought the presidency strictly to advance her own personal power trip. Mr. Trump comes across a loose cannon, whereas Mrs. Clinton was inclined to be a ruthless dictator.

Added 7/5/2017:
Mr. Trump seems to lack self-restraint, he occasionally does things that a Democrat would do, and he sometimes says things he shouldn't. I voted for him reluctantly, because the only alternative was a lying socialist carpetbagger whose party supports homosexuality, abortion and tyranny. (More recently, it has proven to be a political party that condones violent insurrection.) The best thing I can say about Mr. Trump is that he has shown the national news media to be rabidly partisan and dishonest. Even so, if Mr. Trump runs against Hillary Clinton again, I will reluctantly vote for Trump again.

On this page:

Overview of (and reaction to) Trump's victory

Trump's interaction with the news media

Media bias against Trump

Related topic: Media bias in Hillary Clinton's favor

Cabinet and Senior White House Staff

Platform / agenda / mandate

Protests / sore losers

Trump vs the Deep State

The clamor for Trump's impeachment (or worse) — beginning on day one!

Beneficial side effects / icing on the cake / fringe benefits

Flaws / disappointing decisions / flip-flops / bait-and-switch

Intra-party friction

President Trump's speech to the UN, September 19, 2017

Accomplishments

Lies about President Trump

Other signals and noise





---



Overview of (and reaction to) Trump's victory:

Suppose BLM and Antifa Are Just Democratic 'Muscle' like the Old KKK. The reason that Donald Trump won the Republican nomination was that he stood up for ordinary Republican voters that liberals routinely name and shame as racists, sexists, and homophobes. That's why he beat out Ted Cruz (R-TX) and the GOP squishes. Ordinary middle-class Republicans know that, at any moment, they could be accused of racism by some SJW at work and lose their job. They are afraid; they want a president who will stand up for them. The reason Donald Trump won the election was that his economic nationalism appealed to the white working class that is dying of despair, abandoned by the Democrats forty years ago.

The Media-Democratic Party Suicide Pact. The national media and the Democratic Party have gone stark raving mad over President Trump's election victory; they refuse to accept it. [...] Yet the more they double- and triple-down on their strategy and tactics, the more the American people realize how thoroughly demented are the media and their Democrat lapdogs. The more they contrive new tales of misconduct, chaos and/or incompetence, the more the rest of us realize how threatened they are by his successes: unemployment is down, illegal border crossings are down, the stock market is just fine, and the rescue of our medical care has begun.

Like Watergate 44 years ago, Obama's scandal slowly unfolds. In his first bid for public office, President Trump defeated two political machines that between them had owned the presidency for two consecutive decades — the House of Bush and the House of Clinton. He did so despite being outspent two-to-one, and despite media coverage that by the end of the election cycle was 90 percent negative. President Trump did so by openly challenging the Republican Party, the Democratic Party, and the media. He won because all three are losers who failed the people miserably in the 21st century. [...] The failures of the Washington Establishment paved the way for Donald Trump to win.

President Trump won the election by rejecting GOP orthodoxy. Now he's embracing it. Donald Trump had many advantages in the presidential election, from the divided field to the incompetence of his primary and general election opponents. But unquestionably his greatest positive advantage was how he ditched traditional Republican notions on social programs. Republicans have traditionally said that Social Security, Medicare, and Medicaid need to be cut, citing a supposed national debt crisis. This was a tough line to sell — first because that argument is duplicitous claptrap, but more importantly, because all those programs are quite popular, particularly among enrollees.

The Left's Romance with Violence. We hear the Left in their final agonies, vexed by howls and pinches in defeat — understanding now, a world too late, that they let America slip through their fumbling hands. [...] President Trump has shaken the political earth, and anything made of the Left's weak argument will fall of its own corruption. In the aftermath of a transformative election, the American people have torn liberalism open to the bleeding center, and we are hearing the screams of a dying animal. When those who have abused their power begin to act like victims — when the guilty cry foul — we know we have done a good thing.

Thousands expected at 'Not My Presidents Day' rallies. A broad range of activists opposed to the month-old Trump administration used Monday's Presidents Day holiday to hold "Not My Presidents Day" rallies nationwide. [...] Many people carried placards — some of them strident, some amusing. "I don't pay taxes to fund a golf weekend," said one, while others pleaded that Americans "Just say no to fascist pigs" and "NO! We refuse to accept a fascist America."

The Editor says...
If you object to paying for golf, not to mention annual vacations in Hawaii, you should read this page.

Obama PACs Bus Protesters To GOP Town Halls. Political action committees that fundraised for President Barrack Obama during the 2012 presidential election, bused protesters to Republican town hall events nationwide earlier in February, according to a Sunday [2/12/2017] report from The Washington Post. Democrats nationwide continue to search for ways to oppose President Donald Trump after the 2016 election, and they are digging deep into funding from years ago. An unnamed pro-Obama super PAC organized protests at several town halls, going so far as busing protesters outside the member's districts. Since super PACS were legalized in the 2010 Citizens United Supreme Court decision, this marks the first time that money raised to elect one president was used to undermine another.

Trump's Political Blitzkrieg. Trump correctly discerned that ordinary citizens who desire nothing more than to be left alone to enjoy peace and while at an actual job or sitting by their undisturbed hearths are sick to death of constantly being roiled by the incessant demands of the latest approved victim of the month. They are fed up with the constant assaults on authority and on their faith. For them, the old tactics from radicals' playbooks dating from the 1960s have become merely irritating and meaningless liturgical chants rather than urgent and legitimate calls for justice.

This Is What Post-Christian Dissent Looks Like. The people whose faces shone in 2008 have weeping eyes in 2016. Some can't function. In the energy department, staffers are offered counseling. At the EPA, they come to work in tears. Some skip work entirely. Colleges offer safe spaces and opportunities for "self-care," and even workers in "real America" are taking time off to gather themselves. I'm getting reports from friends across the country of bosses and colleagues who are gone for days and return deeply depressed. Celebrity buffoonery is off the charts, with extraordinarily wealthy and powerful actors casting themselves as the rabble-rousing heroes of the world's least dangerous resistance.

Rasmussen: President Trump's Approval Index Booms Up Since Inauguration. While the media may be continuing their attacks on him, President Donald Trump is off to a strong start with the American people, according to his approval rating index from Rasmussen Reports. In the four days since his inauguration on Jan. 20, President Trump's approval index has boomed upward a whopping seven points. Back on January 20 — Inauguration Day — Trump's approval index was plus two points. Now, four days later, it's plus nine points — after being plus four points on Monday.

President's 'dark' speech a ray of light for millions. The inaugural speech was "dark" — that's the storyline among the Democrats and their allies in the Fake News industry. It was "radical," "Hitlerian," or maybe Mussolini-ian — or both, according to Comrade Chris Matthews. But mostly it was dark. What else could it have been? If it was all sweetness and light in America, how far would Donald J. Trump have gotten in his campaign?

Trump inauguration ratings second biggest in 36 years. Donald Trump's inauguration ratings were the second-highest in 36 years, according to Nielsen. The swearing-in of the 45th president was seen by 30.6 million viewers across 12 networks. The only inauguration over the last three decades that tops Trump's number in the linear ratings? Barack Obama's first inauguration back in 2009, which had a record-setting 37.8 million viewers. So Trump was down from the last new president to take office. But before that, to get an Inauguration Day number this high, you'd have to go all the way back to Ronald Reagan in 1981, who was seen by 41.8 million viewers (Nielsen released tracking for inauguration ratings back to 1969).

Definitive CNN Gigapixel Image of Crowd During Trump Inauguration Speech Confirms Sean Spicer Correct. The New York Times and Trump Press Secretary, Sean Spicer, appear to be in an argument over the crowd attending the President Trump inauguration. In the politicized era of jaw-dropping media bias, fake news and constructed Potemkin villages, does this come as a surprise. Generally speaking, most intellectually honest political followers/researchers already anticipated a massive amount of DC-based hostility in all things related to President Trump. After all, Hillary Clinton won the DC vote with 91%, and only 4% of DC residents supported Donald Trump.

'Breathing Exercises' In The Rose Garden Got The White House Through Election Night. Breathing exercises in the Rose Garden and a steady stream of booze got the White House through election night, a communications staffer wrote in a story recounting his experience watching Democratic nominee Hillary Clinton lose. Pat Cunnane had been so confident Clinton would win that when he penciled in plans for former President Barack Obama to meet the president-elect that week, he wrote down her name in his calendar. A few days later, he found himself "ugly crying" in the Oval Office as Obama gave the White House staff a pep talk about President Donald Trump's stunning victory.

8 Most Unhinged Inaugural Media Meltdowns. Donald Trump is now the 45th president of the United States, having been sworn in by John Roberts, chief justice of the United States. At least the hysterical denial and anger from his detractors and the media is over. Maybe. But as the moment approached, many in the mainstream media could not help themselves and disgraced journalism and themselves with over-the-top pronouncements of alarm and bitterness. They fretted. They sweated. They worried. And, of course, they made outrageous comments about Trump as the sand in the hourglass ran out.

The 75 Leftist Groups Trying to Stop Donald Trump from Taking Office. This is the most comprehensive list of the leftist groups supporting the DisruptJ20 event designed to thwart President-elect Donald Trump and his supporters. These are the anarchist cells, affinity groups, student consortiums, left-wing bookstores, propaganda distribution outlets, anti-American websites, hacker collectives, and other leftist groups on the shadowy edge of the worldwide radical movement that sees Trump's political victory as the main barrier to their goal of fundamentally transforming the world. This is the far left of the far left — the anarchist, communist, and socialist organizations, some of which urge lawbreaking "direct action" including violence, arson, and intimidation.

The Real Reason John Lewis and Company Boycott the Inauguration. When people "act out," it's often because a particularly raw nerve has been touched, some basic fear triggered. And acting out is clearly what John Lewis and the umpteen (as of now 58) other Democrats are doing in refusing to attend the inauguration (Lewis apparently not for the first time). They claim this is because Donald Trump is a racist, sexist, etc., etc., anathema to everything an "inclusive" America should be, and therefore unfit for the office. Not only that, Vladimir Putin put him there. But that's the surface of what's really upsetting them, what the shrinks call the "presenting complaint." Deep down it's something else, something far more potent. They're afraid Donald Trump might actually succeed.

Trump Gores a Sacred Cow, and Liberals Lament. On the 20th of January, the dustbin of history will slam shut on the Utopian American Progressive Left. Followers, leaders, and philosophers of this dangerous and failed global movement will not go quietly, however; ideas die hard, and ideologies, movements, and political theories do not simply disappear overnight. Inauguration Day 2016 will mark perhaps the greatest political and cultural shift in American history as the Utopians of the Progressive Left kick and scream, wail and whine as they shuffle off into forced retirement and irrelevance. Perhaps not since Lincoln's trip to Washington in early 1861 to begin his first term has so much vitriol, so many official and unofficial attempts to derail and delegitimize the president-elect, been seen.

Trump's education secretary won't take a salary from taxpayers. At her Senate confirmation hearing Tuesday [1/17/2017], President-elect Trump's selection to lead the Education Department, Betsy DeVos, said she won't accept a salary, assuming she's confirmed for the job. "If confirmed, I will only take a salary of $1, to be official, but I don't intend to take a salary either," DeVos said. DeVos and her family are worth approximately $5.1 billion combined, thanks to their success building the Amway company.

And Now The Left's War On Normal Americans Truly Begins. [Scroll down] In Hollywood, the left is piling on anyone who refuses to completely reject Trump and, by extension, all of us normals. Look at Nicole Kidman, who the fascists attempted to crucify for simply saying what Hillary Clinton had been saying right up until she lost — that you ought to accept the legitimacy of the winner. Look at the death threats against a blind opera singer. Look at those clowns lecturing us at their awards shows/narcissism orgies. As the left always does, it is relying one fear to enforce its creepy conformity.

Church Won't Mention Trump in Prayers Because His Name Is 'a Dangerous Trauma Trigger'. Pasadena's All Saints Episcopal Church will not mention Donald Trump by name in prayers, saying that mentions of the President-elect are "literally a trauma trigger to some people." For years, the California church has offered prayers for people in positions of power, including President Obama. The church will continue offering those prayers — but it will no longer use proper names, said rector Mike Kinman in a blog post, because "prayer should never be a trauma-causing act."

State Department Held Stress Workshops After Trump's Win. The State Department held stress management sessions following Donald Trump's presidential election victory, providing employees tips for how to cope with change so they do not "become paralyzed by fear." The workshops, titled "The Emotional Transition: Managing the Stress of Change," were held by the State Department's Bureau of Medical Services on Dec. 8 and 14, just one month after the department's former boss, Hillary Clinton, was defeated.

Democratic Party Bullies try to Scuttle Trump's Inauguration. This morning [1/15/2016] on Meet the Press, Democratic Party hack John Lewis said that he will not attend Donald Trump's inauguration because Trump is "not a legitimate president." Shocking though it may be, this anti-democratic rhetoric is common in the Democratic Party, and many have taken it to an even lower level. Never before in our history has one party been so petty as to try to interfere with the traditional celebrations that accompany a presidential inauguration, but that is what the Democrats are doing now. Every performer who has agreed to participate in the inaugural has been bullied mercilessly by the Democrats, and most are unable to take the heat, or to sustain the financial loss that could result from a boycott. One after another, they have either dropped out or declined to appear in the first place. Opera singer Andrea Bocelli has withdrawn, saying he has gotten death threats from liberals.

The Inauguration War. According to Gallup, the average presidential honeymoon lasts seven months. This is a window when the losing party declares a partisan peace, allows the incoming president to pick his cabinet and launch the agenda his victory mandates. Presidential honeymoons are not only a venerable American tradition they are one of democracy's pillars. For generations they have been ceremonial supports for the peaceful transition of power, and the peaceful resolution of partisan conflicts. Not this election year.

Obama accused of wrecking Trump's transition. A leading House Republican charges that President Obama is implementing a "scorched earth" exit strategy aimed at undermining President-elect Trump first months while cementing his own legacy through a frenzy of midnight regulations. California Rep. Darrell Issa also hit Obama's post-campaign effort to blame Russia for the outcome of the election, which has sparked some Democrats to suggest that the results are illegitimate.

Opera star Andrea Bocelli backs out of singing at Trump's inauguration after receiving death threats. Opera star Andrea Bocelli backed out of singing at Donald Trump's inauguration after receiving death threats, The Mail on Sunday has learnt. The revelation came as another singer — Broadway legend Jennifer Holliday — last night pulled out of the President-elect's festivities after being threatened and branded an 'Uncle Tom'. When blind tenor Bocelli announced he would not sing at this Friday's celebration, it was widely reported it was because fans had said they would boycott his concerts and records.

Jennifer Holliday Pulls Out of Trump's Inauguration After Backlash. Jennifer Holliday will not be among the performers during Donald Trump's upcoming inaugural festivities in Washington, D.C. [...] A day after the announcement, Holliday, 56, confirmed to ABC News that she would not be performing. In an open letter addressed "To My Beloved LGBT Community," the "Dreamgirls" star apologized for her "lapse in judgment."

The Editor says...
Really? Singing at a presidential inauguration is a mistake? No, a man who thinks he's a woman is someone who has suffered a "lapse in judgment."

Why the left hates Trump so intensely. The intensity of the hatred for a newly elected president faced by Donald Trump is equaled only by the reaction of the Confederacy to the election of Abraham Lincoln. That ended up in civil war, a precedent that one hopes will not be equaled. But there has been a remarkable fury at people who do not shun Trump: boycotts of a company whose shareholder contributed to a PAC supporting Trump, attempts to pressure the president of a historically black college to prevent its marching band from performing at the inaugural, and hateful rhetoric at Hollywood awards ceremonies. With much more to come.

The Real Reason Trump Won: Part 1 of 4. Trump and Hillary finished first and second in every state, even Utah, where Evan McMullin cleared 20 percent of the vote as a pure protest. Gary Johnson and Jill Stein both gained votes from their 2012 campaigns, but mostly due to voter disenchantment with the existing options. Trump ran what amounted to a third-party campaign, but he did so in the traditional American fashion of capturing control of one party. And so, as unconventional as Trump was, he was the receptacle for the votes of most partisan Republicans as well as many voters who were open to a cyclical swing away from the party in power. The gravitational forces of the two-party system proved larger than Trump himself.

Liberals Awake From an 8-Year Moral Coma. We are awash in leftist, progressive, liberal mystics, telling us through tears and in panicked tones exactly what Donald Trump's presidency will look like and how it will end, before he has held the job for even one second. In hysterics, they speak of the un-American things Trump will do in the future, and how "afraid" the leftists are of someone whose personal history shows no hint of the things they predict. Bruce Springsteen expresses his concerns about competence, and the newly dark dynamic that Trump allegedly brings to politics. Robert Reich produces instructional videos for mindless liberals about how Trump controls the media message, which is a harbinger of tyranny. Where have these people been for eight years?

For Democrats, 2017 Will Be The Year of Living Stupidly. As 2016 ends, progressives enter the new year terrified that Donald Trump will continue to run circles around them, and their epic meltdown is only going to get more epically meltdownier. They've been shrill, stupid, and annoying for the last two months, but brace yourself for the next 12. Fear is going to make them go nuts — not the fear that Trump will be a failure, but the gut-wrenching, mind-numbing fear that Donald Trump will be a success.

10 Things The Right Can Teach The Left About Accepting The Reality Of Trump Conservatives. The media never for a moment considered how heartbreaking [Mitt Romney's] loss was for many Americans worried about the direction of the country. But as the media overwhelmingly tend to the political left and chose not obscure their bias so much this round, we've been given daily examples of the difficulty folks on that side of the political divide are having with the reality of Donald Trump. The crying, the protests, the riots, the subway art installations, the artist boycotts, the recount efforts, the organized and funded push to have the Electoral College do ... something, the media-fed conspiracy theories about Russian vote hacking. Pundits on TV shake their head at everything Trump says and does, and journalists on Twitter react like rabid Pavlovian dogs to every utterance the president-elect makes. Folks on the Right, regardless of how they feel about Trump, have been enjoying this meltdown.

Man Of The Year: Chief Trump Strategist Stephen K. Bannon. Trump won the primaries and eventually the election because, unlike Republicans before him, he refused to be intimidated by leftist witch-hunters and their reputation-burning attacks. But Trump's very fearlessness, self-confidence and disregard for progressive bigotry — his indisputable strengths — came with a downside that threatened to undo him. Even as he responded to the defamation from whatever quarter it came, his campaign message was pushed into the background until it was in danger of being altogether lost. Questions began to be raised and not only by opponents. Could Trump be presidential? Could he stick to a winning message?

The Vast Cognitive Gulf between the Left and the Right. From the top of the legacy media chain, the New York Times, Washington Post, New Yorker, CNN, MSNBC, there is nothing but anger and accusations. Someone must be blamed for their loss and it must not be their candidate. No way. There has to be a nefarious, outisde-of-the-campaign cause. It was Comey, it was Russia, it was Wikileaks.

What Are They Afraid Of? Now that Donald Trump has been elected, hope is gone. That's more or less what Michelle Obama told Oprah Winfrey in a recent interview. "We are feeling what not having hope feels like," she said. There are millions of liberals feeling hopeless these days. The left's fear of a Trump administration is like nothing seen since the election of Ronald Reagan in 1980, which reversed 50 years of liberal politics. Not only are they bawling in public, threatening to relocate to Canada, and cuddling up with therapy dogs, but they've tried every undemocratic trick in the book to deny Trump the election. Trump obviously threatens something of crucial importance to the left, but what is it?

Evidence emerging that Dems' disparagement of Trump victory is backfiring. Sorry Dems, but you no longer have the ability to control the national discussion, even with the full-throated, near-unanimous support of the legacy media. They, and you, have lost credibility, and are being ignored and rejected by enough people that you only harm yourselves. Salena Zito, one of a handful of pundits to understand the Trump phenomenon, clearly sees what is going on as the Democrats continue their spiral into marginality. Writing in the New York Post, she finds polling signs as well as anecdotal evidence that the Dems are driving away support.

Hope is dead. Since the election of Donald Trump, America's confidence in the future has skyrocketed. For the first time in years, people feel hopeful about the direction of the country. But for Michelle Obama, hope is dead. In her interview with Oprah Winfrey, Michelle declared an era of hopelessness has begun. Ironically enough, it coincides perfectly with she and Barack vacating the White House. For Michelle and Barack, America's sense of hope is directly tied to their own.

U.S. Economic Confidence Surges To The Highest Level That Gallup Has Ever Recorded. The "Trumphoria" that has gripped the nation ever since Donald Trump's miraculous victory on election night shows no signs of letting up. Tens of millions of Americans that were deeply troubled by Barack Obama's policies over the last eight years are feeling optimistic about the future for the first time in a very long time. And it is hard to blame them, because what we have already seen happen since November 8th is nothing short of extraordinary. The stock market keeps hitting record high after record high, the U.S. dollar is now the strongest that it has been in 14 years, and CEOs are personally promising Trump that they will bring jobs back to the United States.

The United States Of Crybabies. The hyper-emotional reactions to Donald Trump's election occasioned much commentary about the state of America's millennials. On college campuses across the country there were "cry-ins," group "primal screams," and designated "healing spaces." The general mood was captured in a tweet from the student body president at American University: "For those who viewed [the election outcome] as unfavorable, anger, sadness, grief, and frustration were brought to the fore. It's important to note that those feelings are valid and justified. People are scared and people are worried about their futures and their lives."

Gay Editor on NPR: LGBT Community More Scared After Trump's Election Than Pulse Shooting. On Tuesday's [12/20/2016] edition of NPR's All Things Considered, the editor of Orlando's LGBT newspaper Watermark Billy Manes said that he and his community were more on edge and more likely to hide their identities after the election of Donald Trump than they were in the aftermath of the massacre at the Pulse gay nightclub. In an end-of-the-year retrospective, host Ari Shapiro asked if Manes still felt the kind of fear he said he felt after the June shooting. "I think almost more so," Manes responded.

Two Jackies and John. Fresh on the heels of its scoop about women who cut off their hair to teach Trump a lesson, New York magazine is back with Phase Two in its stirring Stress-and-Grief-Management series, this time with eight therapists dealing with cases of Trump-Based dementia, as afflicting their clients and them. All, it appears, can barely stop sobbing, including the doctors. "Trump's election was a death of a sort to me and my clients," said one of them.

Democrats Descend into Madness. It's been more than six weeks since Donald Trump's victory in the presidential election and Democrats are not yet fully reconciled to the prospect of a Trump presidency. By endorsing just about every daft conspiracy theory that crosses their transom, liberals appear set on delaying that process of reconciliation for as long as possible. Depending on how inclined toward charitability you are, former Hillary Clinton campaign chairman John Podesta's op-ed in the Washington Post on Friday [12/16/2016] claims that the FBI is either partisan, corrupt, or just plain riddled with incompetents.

Podesta refuses to say election was 'fair and free'. Hillary Clinton campaign chairman John Podesta on Sunday [12/18/2016] refused to say the presidential election was "free and fair." Asked on NBC's "Meet the Press" if the [sic] he thought the election was "free and fair," Podesta demurred.

The Associated Press: Still Bitter That Trump Won. Democrats are still anguished over Hillary Clinton's defeat at the polls, and that includes the Democrats at the Associated Press. Today's complaint is that Donald Trump isn't doing enough to unify the country: "On victory lap, few signs Trump focusing on unified nation." [...] Remember the beginning of the Obama administration, when Obama said "I won," and "elections have consequences"? And when the Democrats rammed Obamacare and the ill-fated "stimulus" bill through Congress with zero Republican input and zero Republican support? Remember how the AP criticized Obama for not doing more to "unite a divided nation"? No, I don't remember that either.

Maine Gas Distributor Won't Deliver to Trump Supporters. An owner of a propane dealership in Maine is refusing to deliver gas to anyone who voted for President-Elect Donald Trump. Michael Turner, owner of Turner LP Gas in Skowhegan, Maine, recorded a voicemail greeting that leaves little question as to his feelings for those in his community who supported Trump. "Thank you for calling Turner LP Gas. If you voted for Donald Trump for president, I will no longer be delivering your gas — please find someone else," the message states.

The most amazing Trump Derangement Syndrome meltdown yet. The American Left is clearly in crisis, with mental health becoming an issue on a mass level. Watch the whole thing. You won't be sorry: [Video clip]

CNN's Rye: Trump's Election 'Far From Legitimate,' 'That Guy Is Not My President'. On Friday's [12/16/2016] broadcast of CNN's "AC360," CNN Political Commentator Angela Rye stated that "Donald Trump's election, in my mind, is far from legitimate." Rye said, "Donald Trump's election, in my mind, is far from legitimate, at this point. I have every issue with the world that the fact that Hillary Clinton gets closer and closer every day to three million vote — to a three million vote lead against Donald Trump. I have every issue in the world with the fact that electors feel like they can't, in some instances, in good conscience, support this man as president. I have every issue in the world with the fact that the intelligence community is questioning the legacy of legitimacy of this election. If someone can hack into, not just our process — ."

Disgrace under pressure. A month after the surprise election of Donald Trump in November (surprising to no one more than to Trump and Clinton), the losers are still working through the stages of anguish in ways that seem strange to many observers but of which they appear oddly proud. Not only do they brag of the length and intensity of their bouts of sobbing — "crying as if someone died" was a common description — but, as New York magazine reported days later, professional women all over the country are making a brave stand to protest Trump's election by doing hideous things to their hair. Because "the election results felt like an attack on minorities, women, and marginalized people in general," a "vegan chef" cut her hair off to send Trump a "message." Others like her got buzz cuts, flat tops or tossed out their extensions, and went platinum, or black.

Trying to overturn a free and fair election. The world has turned itself upside down. Only yesterday the liberals and the left (the "progressives," as they want to be called) regarded the CIA as the locus of evil, the gang that couldn't shoot straight, forever poisoning gentle minds with a diet of conspiracy and tall tale. [...] Now the CIA, in the liberal/left's fevered dreams, is the last bulwark of the republic, the last remaining hope to turn the 2016 election result on its head and deprive Donald Trump of the victory he won. The Russians, it now turns out, are just as bad as the conservatives said they were.

The Democrats' Days of Rage and Denial. Donald Trump won while being relentlessly attacked with negative media coverage of his every lie and scandal. He received a variation of every criticism ever thrown at a Republican presidential candidate — the alleged nuclear warmongering of Goldwater, the alleged ignorance of George W. Bush, the alleged erratic temperament of John McCain, the alleged plutocratic greed of Mitt Romney — and was elected anyway. It's fascinating to see what infuriated partisans define as "fighting dirty." Apparently the entire Trump victory can be attributed to this moral flexibility; it couldn't possibly reflect President Obama's record, a national appetite for change, or Hillary Clinton's agenda, character, and record.

Activists Tell Scientists To Download Climate Change Data Before Trump Deletes It. Environmental activists are afraid the Trump administration will alter or delete data sets scientists use to track global warming after the president-elect takes control in January. The accusation, first reported by Mashable, has gotten at least one climate scientist to create a list of climate data sets his colleagues don't want to see deleted.

Retired Female Marine Breaks Down Why Trump Won The White House. Jessie Jane Duff is an energetic retired Marine who campaigned for President-elect Donald Trump and believes the new administration will turn America from President Barack Obama's dangerous, failed national security and foreign policies. A senior fellow at the London School for Policy Research and a frequent guest on Fox News, CNN and MSNBC discussing national security, veterans, military and economic issues, this Marine finds it "appalling" when "racist" epithets are cavalierly thrown at Trump supporters.

Hillary Clinton: hail to the thief. Arguably at no time since the aftermath of the Civil War has there ever been a time when unity in America was more critical. In a unique position to facilitate that unity, Hillary Rodham Clinton decided instead to champion divisiveness by actively questioning the outcome of the election. For those who intimately know and understand the Clinton Playbook, this is business as usual. There are never any real surprises with Hillary. For the President-elect who has been remarkably magnanimous concerning his erstwhile opponent, this divisive tactic will make his enormous job all the more difficult. And that is precisely the point.

Can You Imagine How Defrosted President Stompy Feet Is? Nothing makes a miserable blame-casting leftist more filled with angst and teeth gnashing rage than to see people enjoying life. The professional white-paper analysts are calling it the Trump effect:
• The stock market is soaring;
• domestic futures are through the roof;
• the KPI economic indicators are all pointing to the cusp of massive economic expansion;
• the first 24 hours of holiday sales are exceeding all expectations;
• and the consumer confidence index has had the largest single two-week surge in its history.

All This Silliness about Abolishing the Electoral College. "How could this have happened?" the media pundit bemoans, as he looks over the foolproof election data that he disseminated prior to the election. "How do I tell my daughter that America elected a racist, sexist bully?" the self-loathing, white-privileged mother cries, as she glances at her previous article about how a state law prohibiting confused men from entering what may be a little girls' bathroom is somehow tantamount to misogyny. "Love trumps hate!" reads a banner among the rioters in the street, as they visit violence and destruction upon innocent people and businesses in their community. Perhaps sillier than all of that, however, is the incessant mantra amongst all of these people about how Hillary may have actually won the election because she garnered more of the popular vote than Trump.

President-elect Donald Trump 'beats Hillary Clinton in Michigan by just 10,704 votes'. President-elect Donald Trump has defeated Hillary Clinton in the swing state of Michigan by just 10,704 votes, according to local reports. According to unofficial results released on Wednesday by the Michigan secretary of state, Trump received 2,279,543 votes compared to Clinton's 2,268,839 in the closest race for President in Michigan's history. The midwestern state gave Libertarian candidate Gary Johnson 172,136 votes, while Green candidate Jill Stein was selected by just 51,463 voters.

We Are in Good Hands with Trump. For those of you pearl-clutchers on the right who haven't understood why Donald Trump is president-elect, here it is. The man known for the phrase "you're fired" should actually be known for another talent, which is to size up people well and hire them to get things done well. He's not just pretty good; it's a gift that needs to be seen for what it is, which is simple excellence in a time of mediocrity.

Donald Trump Will Prove to Be One of the Greatest and Most Consequential Presidents. Will he get everything he wishes accomplished? Of course not. But he is wasting no time in moving forward and willing to make smart compromises to get things done. On healthcare, he would keep two popular features of Obamacare — the guarantee of insurance for preexisting conditions and the ability to keep children on the family plan to age 26. On immigration, he is open to some of the wall being a fence. None of these things should be faintly surprising to anyone paying the slightest attention. Trump has indicated, even told us at times, his stances are negotiating positions. That's what businessmen do, in case you haven't heard. And there's nothing America needs more right now than a businessman who can finally get things moving.

Scenes from the liberal meltdown. Anti-Trump protests have spread to more cities and continue to turn violent. In Portland Thursday night, rioters stoned police and vandalized businesses and cars. Anyone expressing support for Trump has become the target of unrestrained venom: There are calls to boycott New Balance — its sneakers have been publicly burned — because an official said Trump would be better on trade issues. Meanwhile, the CEO of Grubhub, the online food-delivery service, demanded that employees who agree with Trump resign, because "you have no place here." (He had to retreat: His lawyers read him the First Amendment and noted that political discrimination also violates California law.)

Give us Barabbas!
The Real Clinton Conspiracy that Backfired — The Worst Candiate in American History. What is very clear putting all the emails together, the rise of Donald Trump was orchestrated by Hillary herself conspiring with mainstream media, and they they sought to burn him to the ground. Their strategy backfired and now this is why she has not come out to to speak against the violence she has manipulated and inspired.

Anti-Trump Protesters and Their Five 'Demands'. CNN has done America a great service by cataloging what it is exactly that the anti-Trump protesters want now that The Donald has gotten himself elected president. Most of these same people were baying about accepting the results of the election when Donald Trump hinted he might not want to concede. Well, these folks not only don't want to concede that Trump won fair and square, they want an entirely different result.

Dow posts best week since 2011 after Donald Trump election win. U.S. equities closed mostly higher on Friday [11/11/2016], with the three major indexes posting their best weekly gains of the year on the back of a surprise Republican sweep. "I think you're seeing a transition from a government that had its thumb on growth to a free economy," said Bruce Bittles, chief investment strategist at Baird. "We're now looking at an economy that can reach its full potential." The Dow Jones industrial average closed about 37 points higher, with Goldman Sachs contributing the most gains. For the week, the Dow rose around 5.4 percent, marking its best weekly performance since December 2011.

5 Ways Trump Shows How To Win Elections. [#3] Go Right Young Man: Obama was much closer to Bernie Sanders than to Bill Clinton. He promised to destroy coal jobs, defended wealth redistribution and turned "You didn't build that" into his mantra. It was a long way from Hillary's ultra-cautious campaign. And it worked. Obama's left-wing base turned out for him. Trump won by unapologetically going to the right and infuriating the left. And it also worked. Hillary hired plenty of Obama's people, but it was Trump who had truly learned the lesson of Obama's victories. American elections are no longer won by going to the center. Some of the most endangered senators had been centrists. The Republican moderate strategy cost them two presidential elections.

Female Muslim immigrant who said she voted for Trump because she was tired of 'Obama dancing around radical Islam. A Muslim woman who immigrated to America from India as a child has spoken out about why she decided to vote for Donald Trump — and has received threats and hate in the process. Asra Nomani, 51, a former Wall Street Journal reporter, [...] said she knows Trump can be ineloquent at times but said she has no fears for herself in Donald Trump's America. 'The checks and balances in America and our rich history of social justice and civil rights will never allow the fear-mongering that has been attached to candidate Trump's rhetoric to come to fruition,' she wrote.

Quit Whining, Liberals. You Brought Trump on Yourselves. Last month, Project Veritas released a bombshell video about the violence at Trump rallies. The Clinton campaign and Democratic Party operatives planned to incite that violence, and it backfired. The Democrats intended that violence to dissuade Trump supporters and convince most Americans that there was something very wrong with him. Instead, it merely convinced millions of Americans that Trump stands for something, in spite of strong opposition. Just as liberal attacks that Trump is a "fascist" convinced Republicans that he was their champion, so the violence at his rallies convinced Americans he was a real political force.

How Trump won the presidency. [Scroll down] Clinton was a terrible traditional campaigner. Her proposals were often detailed and small picture, intentionally tailored to appeal to the Democratic coalition's countless micro-communities. That might work if Clinton had a gram of charisma. Turns out, Barack Obama was too tough an act to follow. So, despite his help, her money, his political veterans and her grassroots army, millions stayed home or switched sides. When Clinton did break through in media, it was usually bad news reinforcing her wealthy insider image. Constant coughing, then collapsing on camera on 9/11 didn't help. And when Gallup said her name, the overwhelming response was "email." She set up a private, unsecured email server in early 2009 to avoid government archiving and public scrutiny of her secretary of State and lucrative family Foundation connections. That decision with its compounding lies, leaks and FBI probes has hemorrhaged for 20 months. In that sense, the 2016 election outcome was indeed rigged — by Hillary Clinton.

RIP Clinton, Inc.. [Scroll down] We conservatives do not think very much of Donald Trump either, and many of us expect to think less of him the more we get to know him. His election may very well prove to be the equivalent of using a neutron bomb to clear out a cockroach infestation, or a ball-peen hammer to remove an achy tooth — but what a human toothache we had in Hillary Rodham Clinton.

Trump beat Clinton by spending less than half of the $521 million she plowed into contest. Relying heavily on an unorthodox mix of social media, unfiltered rhetoric, and a knack for winning free TV time, the New York real estate magnate likely paid less than $5 per vote during his insurgent White House bid, about half what Clinton paid, according to a Reuters analysis of campaign finance records and voting data.

President-Elect Trump Did Not Create the Movement, It Created Him. I don't know what the Trump years will bring, but I think there is a lot we can learn from how he made his way to the White House. Meantime, though there is lots of water under the bridge, let's remember that he ran as a conservative. Whether that is because he has become one or because he recognized he needed to adopt some conservative positions to be viable, we will find out in due course.

How Donald Trump broke the old rules of politics — and won the White House. Donald Trump ran against himself and won. The Manhattan billionaire who for decades boasted of his playboy lifestyle, stiffed contractors and vendors, hired illegal immigrants, eschewed churchgoing, embraced liberal causes, and counted Hillary and Bill Clinton as friends and allies pulled off one of the most brazen pivots in American history, selling himself to American voters as a populist hero who understood their frustrations and guaranteed a blizzard of wins.

Trump's victory is no surprise except to deluded elites. Trump's victory is not just a revolt of the political Right. Huge numbers of Democrats were appalled that Hillary Clinton was forced upon them by their own party establishment. Bewildered elites in democracies everywhere are being rejected. If they don't change tack, they consign themselves to oblivion.

Trump's triumph has crushed the lefty luvvies, useless pollsters, multicultural mafia and gender Nazis. I was right. Donald Trump won. Not only did he win, he won by a convincing margin — turning America red with patriotic pride and the faces of commentators ever redder as they tried to explain how they had been so spectacularly wrong. The news came as a shock to all those who have failed — yet again — to understand the feelings of regular Americans — people who want to work hard, keep their family safe and secure for the future. Real people. Not the loud voices in wealthy cities. Not the multicultural mafia in the liberal heartland of LA or New York. But in the towns, rural outposts and forgotten homes across the States.

Understanding Legislative Priorities Through the Eyes of the UniParty. One of the more complex nuances to understand in this election cycle is the construct of the DC UniParty. When it comes to substantive legislative priorities the Republican and Democrat parties are ideologically aligned. It has been this way for decades and until recently almost everyone ignored the evidence. Donald Trump's campaign for the presidency is the first time anyone has ever challenged the modern UniParty, essentially presenting a second party option.

Drudge, Breitbart See Massive Traffic Surges as NRO, Weekly Standard Melt Down. Whatever you might think of Donald Trump as a candidate, it's clear there's a significant chunk of the American population with whom his message resonates. For ostensibly conservative- and/or Republican-leaning sites like National Review and Weekly Standard to utterly reject Mr. Trump is curious, to be sure. For the pro-life constituency, embracing the #NeverTrump position is to, in effect, support partial-birth abortions. That is because rejecting Trump is tacit support for the ultra-progressive Obama/Clinton doctrine that states a baby can be ripped to pieces in the womb one second before birth.

Donald Trump vs. the Sleepwalkers. Contrary to conventional wisdom, the world should hope for the election of Donald Trump next Tuesday. American policy has become a fetid morass in which ideology and influence-peddling jointly serve to insulate its leaders from the real world. It is not simply that America's leaders are out of touch, but that they are in continuous touch with a fictitious construct of the world that excludes the possibility of policy course correction. America's policy elites are sleepwalkers in the way that historian Christopher Clark described Europe's leaders in August 1914 on the eve of the First World War.

British establishment eats its words after Donald Trump victory. British politicians stand divided after Donald Trump's US presidential victory, with several being forced to eat their previous words and offer diplomatic gestures of congratulations. Some UK lawmakers are being unusually candid about Trump's election, while others are carefully backtracking on comments made at a time when the idea of a Trump presidency seemed ludicrous.

David Brooks: Trump Will 'Resign or Be Impeached within a Year'. In his Friday [11/11/2016] column, New York Times columnist David Brooks speculates about a new political dichotomy and writes that President-elect Donald Trump will "resign or be impeached within a year."

The Editor says...
First of all, the Republican-controlled House is not going to send Articles of Impeachment to the Republican-controlled Senate and get President Trump impeached. But just in case, Vice President Pence should make it abundantly clear that if he has to take over as President, he will appoint Ted Cruz to be Vice-President. That should stop the impeachment rumors overnight.

Donald Trump's Astounding Victory: How and Why. It didn't help that Clinton called half of Trump supporters "irredeemable" and "deplorables" and infected with "implicit racism." They may have been shy in responding to telephone or exit polls, but they voted in unanticipatedly large numbers, at a time when turnout generally sagged. At the same time, Clinton was unable to reassemble Obama's 2012 51 percent coalition. Turnout fell in heavily black Philadelphia, Cleveland, Detroit and Milwaukee. Millennial generation turnout was tepid, and Trump carried white millennials by 5 points. Unexpectedly, Trump won higher percentages of Hispanics and Asians than Mitt Romney did in 2012.

'Prediction professor' who called Trump's big win also made another forecast: Trump will be impeached. Allan Lichtman uses a historically based system of what he calls "keys" to predict election results ahead of time. The keys are explained in-depth in Lichtman's book, "Predicting the Next President: The Keys to the White House 2016." In our conversations in September and October, he outlined how President Obama's second term set the Democrats up for a tight race, and his keys tipped the balance in Trump's favor, even if just barely. At the end of our September conversation, Lichtman made another call: that if elected, Trump would eventually be impeached by a Republican Congress that would prefer a President Mike Pence — someone whom establishment Republicans know and trust.

After Donald Trump victory, Oregonians submit ballot proposal to secede from the union. The petition for this ballot measure has been withdrawn after overwhelming positive and negative responses. Two days after Donald Trump was elected president of the United States, two Portlanders have submitted a petition for a 2018 ballot initiative to have Oregon secede from the United States. On Thursday morning, Jennifer Rollins, a lawyer, and Christian Trejbal, a writer, filed the Oregon Secession Act.

The Editor says...
I think if you look into these west-coast secession "movements" you'll find it's only a handful of noisy activists who are pushing the idea.


Trump's interaction with the news media:

Levin: If Exposing Media Is Only Thing Trump Does, He Will Have Been a Successful President. On his nationally syndicated radio talk show Wednesday, host Mark Levin lambasted the media and praised Donald Trump, saying if exposing the media is the only thing Trump does, he will have been a successful president. "I honestly believe if this is the only thing President Trump succeeds in doing he will have been a successful president — that is, exposing the media," said Mark Levin. "For decade, after decade, after decade, and now it's worse than ever, the media have fraudulently presented themselves to the American people — to you — as some kind of objective nonpartisan entity just reporting the news. Now they're all out of the closet, and it's not very pretty."

Trump Tells Media: Unlike You, I Waited for the Facts Before Charlottesville Statement. President Trump made a statement about infrastructure from Trump Tower Tuesday night. He said that he would be streamlining the process for construction, for it often takes 20 to 25 years even to get a contract signed. You wouldn't know that Trump had showed up to talk infrastructure judging by the media's fixation, however. Almost every reporter in the building wanted to know why the president did not directly condemn white supremacy following this weekend's tragedy in Charlottesville, VA. On Monday, Trump made a much clearer statement from the White House, where he denounced white nationalism loud and clear. "I wanted to make sure what I said was correct," Trump told reporters. "Before I make a statement, I need the facts.

Trump's Unintended Consequences: Driving the Media Insane. Most Trump supporters have a list of reasons for supporting him. [...] Less commented on but every bit as important are those things you might call the unintended, and simultaneously very surprising, consequences of Trump's presidency. These start with the media exposing themselves. Most of us knew about left-leaning media bias, but the fawning press given to Saint Barack got a lot of us to see just how bad this problem was. Sean Hannity was entirely accurate in 2008, pronouncing that journalism is dead. But now they have self-immolated. Trump drove them crazy.

The brilliant wrestling match tweet. While everyone else was laughing at the tweet of a staged pro-wrestling stunt from years ago, various CNN news actors insisted their lives were now at risk. This proved the president's point that the network is not serious, on a singular mission to destroy the president, and ergo can't be trusted to report what really matters to the American people. The president remains one-step ahead of those who work to harm his ability to do his job, creating an environment where the American people can decide for themselves who they can trust. And it's apparently not the media.

Trump Has Driven CNN Stark, Raving Mad. While the rest of America was celebrating Independence Day, CNN kept digging its own grave. Furious over a silly video President Donald Trump posted Sunday, the flailing network sicced Senior Editor Andrew Kaczynski on its creator. He tracked down an anonymous Reddit user who first posted the GIF of Trump tackling a wrestler whose head was replaced with a CNN logo. Kaczynski then found out the person's real name and threatened to release it if he misbehaved again: [...] That's right: a Senior Editor for CNN is blackmailing an American citizen for daring to criticize them. This isn't Kaczynski's first attempt at destroying a private citizen's life. As a BuzzFeed reporter, he gained notoriety for publicizing a lame joke Tweeted by a 30-year-old PR director named Justine Sacco.

Flashback: Clinton White House said on-camera briefings weren't 'necessary'. Just weeks into the new administration, the former President Bill Clinton's administration decided to turn off the cameras for most of George Stephanopolous' press briefings, just as the Trump administration has. White House press secretary Dee Dee Myers explained in a March 1993 C-SPAN interview that the White House went with live, on-camera briefings to the press for a few weeks. But she said they stopped because the live briefings weren't "really necessary." "I think that that was something that we did in the first week or two, I can't remember exactly when we stopped it," Myers said.

Trump Is Beating the Media at Its Own Game. Everything they accuse Trump of is on display in their own coverage. One can only laugh at the eruptions of prissy sanctimony over Trump's tweet calling reporters an "enemy of the people," given the invective in which they have indulged over the last year. Having called him a despot and worse, who are they to scold anyone on intemperate language? From ill-mannered reporters come lectures on manners. From partisans come demands for non-partisanship. Almost all of the complaints of the press can be boiled down to one demand: that its conservative targets unilaterally disarm. We fight, you surrender — that is the media's idea of civility. So expect the squeals of the media to grow in proportion to Trump's exposure of its fraudulence.

The media might have revealed more intel than Trump. For all the outrage over what President Trump might have told the Russian ambassador last week, aggressive journalism — and ambitious leaks — may have done the worst harm on Tuesday [5/16/2017]. Monday's stories on what Trump told his Russian guests noted that he'd given details that might help them figure out how Washington had gotten the intel. But The New York Times reported Tuesday that Israel was the source. And then ABC disclosed even more sensitive specifics: An Israeli spy inside ISIS had uncovered the active plot to bring down a US-bound jet with a laptop bomb able to evade airport security.

Anonymous Nation: America's Papers of Record Have Turned into Tabloids. Donald Trump made a name for himself in part by regularly appearing on the cover of New York City tabloids in the 1980s and 1990s. Fast forward to 2017, and the guy is now president, still appearing on the cover of various grocery store check-out scandal sheets — like the New York Times and the Washington Post. Journalists from these institutions conduct their reporting like they're covering Brad Pitt and Angelina Jolie's divorce.

The Sabotaging of the President. Let's get down to brass tacks, shall we? There were a highly classified handful of people in the Oval Office for that meeting with the President of the United States, the Russian Foreign Minister, and the Russian Ambassador to the U.S. Whatever the President said or didn't say was willfully, deliberately, and with malice aforethought — leaked to the Washington Post. [...] No one [...] who works for the President of the United States has the right to leak classified information to anyone, least of all a journalist. There can be only one reason for this leak, and let me speak that reason plainly: Sabotage.

Trump Fumes That Don Lemon is 'Dumbest Person in Broadcasting'. Our president loves television. He is devastatingly interested in ratings and routinely watches — and interacts with — cable news. If there's one thing he knows, it's cable news. Believe us. So, Don Lemon, Chris Cuomo, and even network-based Stephen Colbert owe Trump a big thank you.

President Trump Is a Symptom and Proof of Journalism Being Dead, Not the Cause of It. In light of President Trump ducking this past weekend's annual White House Correspondent's Dinner so that he could attack the news media in other, less hostile, venues, it is abundantly clear that the relationship between the press and the president has never been worse. It is also obvious that Trump, for the most part, is winning what has now become open combat. Throughout most of the election campaign and his first 100 days in office, the news media hit Trump with blows which would have easily knocked any previous candidate/president down, if not out. While they got him to wobble a few times, however, they have never really brought Trump to the canvas.

No, Mr. President, the nation doesn't need new libel laws. The New York Times is indeed disgracing itself with nonstop anti-Trump hysteria. The lines between opinion, reporting and advocacy keep getting ever-fuzzier. But fiddling with libel law — even if Congress and the Constitution allowed it — is not just the wrong answer, but a terrible one. Everyone has the right to slam any media outlet — the John Crudele column the president cited was a harsh slap at the Times, and we've editorialized along similar lines. But that give and take is all part of the debate.

Breitbart News denied Capitol Hill press credentials. Breitbart News' request for Capitol Hill press credentials was denied until "more answers" can be provided on whether top White House adviser Steve Bannon has severed ties with the conservative website, according to a report on Monday [3/27/2017]. The Standing Committee of the Senate Press Gallery put the request on hold, citing the need for "more answers," the Daily Beast reported. Larry Solov, president and CEO of Breitbart, sent a letter seeking permanent press credentials that confirmed that Bannon resigned from the news site in November 2016.

Trump vs. Obama. Obama is a coward. Trump will call someone a name while Obama will anonymously source a smear through three levels of staffers, political allies and reporters. Trump called CNN "Fake News" on camera. Obama sourced Operation Rushbo, targeting Rush Limbaugh, through a variety of White House people and left-wing allies. Trump will boot reporters he doesn't like. Obama authorized secretly hacking the emails of a FOX News reporter. Trump had an openly hostile conversation with the Prime Minister of Australia. When Obama wanted to call Netanyahu "chickens***", he did it by having one of his people anonymously plant it with a reliable media sycophant, The Atlantic's Jeffrey Goldberg, before later having a spokesman disavow it. Poultry ordure doesn't smell any worse than that. But Obama is very careful to launch dirty attacks without getting any on his hands. The insults are anonymously sourced. The retaliation comes out of the bowels of the bureaucracy. And he only finds out about it from the media. That allows him to retain what he cares about most: his popularity.

Make no mistake, disclosing Trump's tax returns (and anyone else's) is a felony. [Scroll down] I am interested in the principles and policies that candidates and elected officials stand for, not how much income they earned or taxes they paid. Others feel differently, of course. But there is no question that the White House is right about what it said in the statement it released after MSNBC and a contributor at the Daily Beast, David Cay Johnston, published Trump's 2005 federal tax return: "It is totally illegal to steal and publish tax returns." Take a look at 26 U.S.C. §7213, which Congress passed to protect the confidentiality of the returns filed by every adult American. Section (a)(1) makes it a felony for any federal employee to disclose tax returns or "return information." Violating this provision can land the offending bureaucrat in federal prison for up to five years and he can be fined up to $250,000 under the Alternative Fines Act (18 U.S.C. §3571). But this law doesn't just apply to government employees. It also applies to private individuals and entities such as Mr. Johnston.

Press tantrums on travel slots — does Tillerson need this? The official traveling press pool accompanies the secretary of state on official trips to places abroad. A group of reporters — as few as four or five or as many as a couple dozen — get onto the Air Force One-like plane to sit in their own section while the secretary takes his own quarters. Payment for the trip ranges from $6,000 for a short trip to $20,000 or so for a longer one, and media must pay their own flight costs to Washington as well as hotel and food for their destinations abroad, with everyone staying in one hotel. The State Department does get reimbursement for its role in putting these packages together, but make no mistake: State does a lot of work to shuttle the press around to ensure they have many events and people to interview. It's all put in front of the reporters as the entourage travels — so there are some major resources taken up for the press's benefit.

Backup theory: Trump leaked his own tax returns? It didn't take long for MSNBC and Rachel Maddow to go from hero to goat last night. Now some want to move them from goat to ... victim? After spending all day hyping an exclusive on Donald Trump's 2005 tax returns but delivering a prime-time "total nothingburger," as Chris Cillizza put it at the Washington Post, some are speculating that Trump set up Maddow by leaking the tax returns himself.

Seething U.S. Journalists Angered About Taking Commercial Flights To Cover Secretary Tillerson in Asia. A Reuters filing en route to Asia showcases the bitterness, anger and seething rage of U.S. journalists who have been forced to fly First-Class Commercial to cover Secretary of State Rex Tillerson's Asia trip. State Department correspondents are used to the exclusive wide-body private charters of the U.S. federal government's airline fleet. Previous heads of the Department of State have flown aboard Air Force 3. Normally a Boeing 757. At the very worst Air Force 3 would be a C17 Globemaster. However, T-Rex is taking a smaller jet to Asia and only one journalist accompanies him.

What is Going On (Part III)? I must admit I love Trump's pugnacious style. I love how he treats the despicable corporate media. I love how he responds to baseless accusations by his contemptible opponents on the left and right. The representatives of the Deep State — Schumer, Pelosi, Obama, McCain, Graham, Kristol, CNN, NYT, Washington Post, MSNBC, Soros, and anyone else willing to confront Trump are met with disdain, contempt, and abuse from the president. [...] No punch is taken without two being thrown. He will never conform to the way the liberal corporate media and his opponents want him to behave. Twitter is the dagger he uses to avoid the fake news media filter and plunge into his opponents hearts. The faux journalists despise his use of Twitter.

How Trump got the media to kill the Russian meme. [Scroll down] So with one Google search, we have evidence that the FBI and counter-intelligence agencies wiretapped Trump's staff and gave transcripts from the wiretapping to the White House. That is spying on an opposition party's presidential campaign. Quickly, the press realized what it had done. It had leaped on a Trump trap. Down and down the press fell. So much so that by the time Chuck Todd interviewed proven perjurer James Clapper on "Meet the Press," the Obama-nauts were denying there was any link between Trump and the Russians.

Trump's fighting the media, not the First Amendment. [Scroll down] Was it Donald Trump that gave rise to talk radio and the new media industry? Or was it a longstanding mistrust in mainstream media bias? Clearly, the second. Either way, it certainly isn't elected official's job to make the press' job easier past the point of liberty. Criticism does not amount to a crackdown. What the old media are dealing with now is little more than the kind of criticism that conservatives had to deal with under the Obama administration, when Obama blamed Fox News for the fact that Congress and the people wouldn't buy his agenda wholesale.

Someone tell the media it's just a job. Every time Trump insults the national media, the public is made to endure a lecture on how important reporters are, how meaningful their place in society is. [...] Trump hasn't done a single thing to limit press freedom, though he has shown a personal delight in overseeing the inevitable emotional breakdown every time he calls the media "fake." Everyone else watches this play out, mildly amused and entirely indifferent to how invalidated Trump's insults make reporters feel.

White House hand-picks select media outlets for briefing. Among the outlets not permitted to cover the gaggle were news organizations President Trump has singled out for criticism, including CNN. The New York Times, The Hill, Politico, BuzzFeed, the Daily Mail, BBC, the Los Angeles Times and the New York Daily News were among the other news organizations not permitted to attend.

Trump Is Beating the Media at Its Own Game. For years journalists opined self-servingly under the guise of objectivity and got away it because Republicans were too afraid to shatter that illusion of objectivity. They permitted the media to serve as the arbiter of what qualifies as "mainstream," "extremist," "racist," and so forth, and made sure to stay within the media-determined parameters of any discussion. Donald Trump has blown up that absurd arrangement and is beating the media at its own game. He labels reporters in the same way that they label him. He upends their dishonest framing of debates by treating them as what they are, liberal partisans.

The Press vs. the President. It is possible, if you are not mentally crippled, to hold your mind two non-exclusive ideas: Donald J. Trump stinks, and the press stinks. [...] Those of us who have not entirely surrendered our neocortices to one cable-news tribe or the other are perfectly capable of criticizing Trump and criticizing the media.

Why the Media's Trump Lie Machine is Failing. Every five minutes the many mouths of the media broadcast, type, post and shriek that President Donald J. Trump is a liar. After months of this treatment, more voters find him truthful than them. 49% of voters believe that Trump and his people are telling the truth. Only 39% believe that the media is. The media's war on President Trump isn't hurting him. It is destroying the media's own credibility.

10 Takeaways From Donald Trump's Jaw-Dropping Marathon Press Conference. On Thursday [2/16/2017], President Trump gave a press conference variously described as morose, upbeat, combative, aggressive, brilliant, and unhinged. Everyone could certainly agree on one thing: it was wildly entertaining. But it was also wild.

The Media Bulls Have Met Their Matador in Trump. The press doesn't just have Trump Derangement Syndrome. They now have full-blown Trump Psychosis. And like most people with serious disorders, they are teetering close to the brink of self-immolation. Nothing could have been more apparent in the president's press conference Thursday [2/16/2017]. Almost none of the reporters were able to muster up a question without sounding adversarial or biased. One of them went so far as to pretend he was asking a neutral question, and then accused Trump of not being tough on anti-Semitism — the sleaziest canard on the block, and patently ridiculous given the president's actions.

Chuck Todd Doesn't Get it — Media Delegitimized Itself Before Trump. Trump's press conference on Thursday [2/16/2017] was pure Trump. The liberal media, which just a day before was complaining that Trump passed them over for questions, is now feigning shock. Chuck Todd is aghast.

Most Politicians Fear the Media; Not So with Trump. This week I watched a press conference with President Donald Trump and a room full of the international press corps, and as one who has been watching presidential press conferences for the better part of my 80 years, I'll have to say that I've never seen anything like it. First of all, Trump totally controlled the event from start to finish, called out media outlets for what he considered dishonest coverage, refuted stories, networks and reporters, admonishing them to be honest in their coverage and just report the news instead of coloring it. It seems most politicians fear the media, or at the very least they are afraid of offending their sensibilities resulting in negative coverage. Not so with Trump, who spoke his mind, refused to let the reporters gain any kind of control or authority and limited their questions when he felt they had said enough.

CNN Reporter Compares Trump To Hitler While Her Boss Buys Obama Photos. In the weeks after Donald Trump won the election, CNN chief Jeff Zucker watched as one of his employees compared the new president to Adolf Hitler. At a White House press conference Thursday [2/16/2017], Trump declared that he was changing his moniker for the network from "fake news" to "very fake news." There's been a ton of well-publicized drama between the two camps. [...] You may think Trump is too harsh on CNN. But take a look at how the network treated Trump back in November.

Journalists Upset Trump Keeps Calling On Conservative Media. President Donald Trump called on two conservative outlets during his joint press conference Wednesday with Israeli Prime Minister Benjamin Netanyahu, and journalists are not happy.

John Bolton Slams Chuck Todd's 'Un-American' Tweet: 'The Media Is Not Entitled to Worship'. Fox News commentator and former U.N. ambassador John Bolton tore into NBC News host Chuck Todd over a Thursday [2/16/2017] tweet calling President Donald Trump's attacks on the press "un-American."

Mainstream media whines as Trump calls on less established news outlets. During his press conference with Canadian Prime Minister Justin Trudeau, President Donald Trump called on two news outlets: WJLA a local ABC news affiliate, and the Daily Caller. Both failed to ask him about the fate of his national security adviser Gen. Michael Flynn, who has been marred in a controversy that he spoke to Russian authorities before Mr. Trump took office. And the mainstream media immediately pounced — saying Mr. Trump was picking favorites in order to avoid questioning on Mr. Flynn.

Mainstream Media's Trump Derangement Syndrome Epidemic. The mainstream media, who gratuitously granted Trump nearly $3 Billion in free campaign advertising last spring and summer in order to assure his nomination, are now beside themselves that he actually won and that they placed all their chips on the worst presidential candidate in modern political history — Hillary Clinton. For the first two weeks of the Trump presidency the media has repeatedly, breathlessly and hurriedly assured the American people of the facts on a policy or White House statement that turn out not to hold water once they are examined in the light of day. It has been impossible to catalog the number of false and un-researched stories promulgated by the media over the past two weeks; [...]

White House publishes list of 78 terror attacks that the media 'ignored' - including Orlando, San Bernardino, Bataclan and Nice truck attack. The White House has released a list of 78 terror attacks that the press had 'ignored' following President Donald Trump's claims that the media was 'very, very dishonest'. The attacks dated from September 2014 to December 2016, all of which the president believed were 'underreported' as he put the blame on the media Monday. Trump's administration said the attacks in Orlando, San Bernardino, Brussels, Nice and the Bataclan in Paris 'have not received the media attention they deserved' and released the list on Monday night [2/6/2017] as proof.

Trump: 'The Very, Very Dishonest Press Doesn't Want to Report' on Threat from Radical Islam. In a speech today at MacDill Air Force Base in Tampa, Fla., President Donald Trump said that "the very, very dishonest press" doesn't want to report on the threat posed by radical Islamic terrorists determined to strike the homeland. Trump also vowed that he would not allow "radical Islamic terrorism... to take root in our country." "Radical Islamic terrorists are determined to strike our homeland as they did on 9/11, as they did from Boston to Orlando to San Bernardino and all across Europe. You've seen what happened in Paris and Nice. All over Europe, it's happening. It's gotten to a point where it's not even being reported, and in many cases the very, very dishonest press doesn't want to report it," Trump said.

More about Islamic terrorist attacks that are reported as "isolated incidents."

White House ices out CNN. The White House has refused to send its spokespeople or surrogates onto CNN shows, effectively icing out the network from on-air administration voices. "We're sending surrogates to places where we think it makes sense to promote our agenda," said a White House official, acknowledging that CNN is not such a place, but adding that the ban is not permanent.

Trump is playing with the press. Why are the relations between Donald Trump and the press so bad? There are two reasons. One is that Trump is a Republican, and the press consists overwhelmingly of Democrats. But the other reason is that Trump likes it this way, because when the press is constantly attacking him over trivialities, it strengthens his position and weakens the press. Trump's "outrageous" statements and tweets aren't the product of impulsiveness, but part of a carefully maintained strategy that the press is too impulsive to resist.

Trump Playing Rope-a-Dope with the Media. Trump used Twitter much like a matador uses a red cape to engage and enrage the bull. The media took the bait and obsessed over what Putin and the Russians might have done to influence the election. Republican #NeverTrumpers like John McCain and Lindsey Graham chased the red cape too, adding fuel to the media stampede. Meanwhile the president-elect was busy assembling his cabinet and other key advisors. Sure, this was covered by the media but given scant scrutiny compared to stories of election hacking and Russian chicanery. The media and their accomplices in both parties pounded away at the hacking story while Trump leaned against the ropes, absorbing the blows, conserving his energy, biding his time Waiting for the next round.

President Trump just forced the press to cover the March for Life. One complaint over the weekend from pro-lifers was the Women's March got more publicity than the often larger annual March For Life events. President Trump just changed that. He made sure the media must cover the event, or look like fools. I suspect he gave Fox News an excuse to carry it live. Trump equals ratings. Ratings equal coverage. Coverage equals power.

Media elites howling as Trump admin considers expanding access to WH briefings beyond 49 elite insider journalists. The mainstream media declared war on the candidacy of Donald Trump, with the New York Times leading the way in a front-page opinion column arguing that "you have to throw out the textbook American journalism has been using for the better part of the past half-century" and discard notions of "balance." Now the entitled media elites are discovering that there is a price to losing a war, as the Trump administration is considering the White House briefing room out of its current quarters, where only 52 members of the White House Correspondents Association can be accommodated. The imperious media stars are not amused.

Trump's Chumps. The common thought is that Trump uses Twitter to go over the heads of the reporters who cover him to reach the public unfiltered. Just as often, though, the reporters are his primary audience; the secondary audience is the general public, few of whom obsessively check a Twitter account the way reporters do. But the public can distinguish between a tweet and the reaction to it. For an ordinary person, the news isn't merely what Trump tweets, it's also the hyperventilation he provokes from the press. The second is usually crazier than the first.

NY Magazine: Trump 'Owns The Press' At First Press Conference. Gabriel Sherman writes in New York Magazine that President-elect Donald Trump got the upper hand against the media on Wednesday [1/11/2017] by turning his first post-election press conference "into a debate over journalistic practices."

Trump Just Had the Best Press Conference in the History of Press Conferences. Having watched the media destroy innocent people and move along, and conversely let a corrupt administration slide, Mr. Trump's indictment of the press is welcome. There will be a time to worry about press freedom, but today is not that day. Today, the media should do some soul searching and consider their own careless behavior. Being loose with the facts, shamelessly biased (these were the people crying at Obama's last speech), and ideologically extreme leftist does not inform so much as alienate people who are trying to be informed. Media reformation is necessary and if it takes Mr. Trump's stick and carrot to move them in the right direction — well, it's a start.

Hannity calls on Trump to freeze out the press. Fox News commentator Sean Hannity said that until journalists admit to colluding with Hillary Clinton's campaign, President-elect Donald Trump should reconsider granting traditional access to reporters. [...] Pointing to stolen emails from Clinton campaign chairman John Podesta, Hannity said those assigned to cover the former secretary of state's campaign had failed to uphold the most basic requirements of their jobs. "So until members of the media come clean about colluding with the Clinton campaign and admit that they knowingly broke every ethical standard they are supposed to uphold, they should not have the privilege, they should not have the responsibility of covering the president on behalf of you, the American people," added Hannity.

Trump begins implementing his presidential media strategy. Donald Trump summoned a group of "30 to 40" television executives and anchors to the Trump Tower yesterday and began a sophisticated media strategy. Naturally, he is already being underrated, and his enemies do not understand what is about to happen to them.

Press fumes as Trump breaks tradition. Since he was elected two weeks ago, Trump has spent most of his time at his New York home in Trump Tower and at one of his golf clubs in New Jersey, where he has met with a steady stream of people who might join his administration. But the press has bristled at the idea that the comings and goings are being broadcast.

The Editor says...
Whose fault is that? Just because there's a pool camera in the Trump Tower lobby doesn't mean you have to put it on the air! Just because you recognize someone boarding an elevator doesn't mean you have to spend the next few minutes in idle conjecture about what this sighting might mean.


Media bias against Trump:

This subsection has moved to a page of its own, located here.




Cabinet, Senior White House Staff, and important appointments:

Sessions should resign, but not before taking action against Clinton, Comey and Rice. Jeff Sessions should never have accepted the position of Attorney General of the United States. His leadership has proven unproductive and ineffectual. There are two reasons for this. First, he deceived President Trump by concealing his intent to recuse himself from the federal investigation into Russia's meddling in the 2016 election. Hours after he was sworn in, Sessions began setting his recusal in motion by meeting with Department of Justice officials to discuss stepping aside from the probe. Failing to disclose such a material matter to the president was an egregious betrayal.

Betsy DeVos Ends a Campus Witch Hunt. Suppose you're the kind of thoughtful liberal who concluded from Donald Trump's election that you've been living in a bubble and need to better understand the causes of America's distemper. Suppose, too, that you have friends who voted for Trump — and who you know for a fact are neither bigots nor buffoons. Why are they so angry? How could they feel so desperate, politically speaking, to cast their ballots for him? For a sense of the answer, look no further than Education Secretary Betsy DeVos's announcement Thursday [9/7/2017] that her department would revisit the Obama administration's Title IX guidelines on campus sexual assault. The guidelines, she said, had "failed too many students" by radically curtailing due process. She's right.

DeVos Takes on Lawless Campus Tribunals. Yesterday [9/7/2017], Secretary of Education Betsy DeVos took a welcome step toward restoring a measure of justice and sanity to American higher education. In a speech at George Mason University — and in a follow-up interview with CBS News — DeVos indicated that she intended to withdraw Obama administration "guidance" on adjudicating sexual-assault claims on campus and replace it with a regulatory rulemaking process that is intended to protect students from sexual assault and preserve essential civil liberties.

President Trump Appoints New NASA Chief. All the right people are complaining about President Trump's new NASA chief Jim Bridenstine, who once demanded an apology from Obama for squandering money on climate research.

McMaster: The Ultimate Holdover. Many in the conservative media are urging President Trump to fire his national security advisor, Lt. Gen. H.R. McMaster. McMaster should be fired forthwith, but the reasons being argued are subsidiary to the primary reasons McMaster has to go. The debate over McMaster has been framed in terms of his loyalty to Trump. Though loyalty to the president is important, McMaster's ideology and bad judgment are what make him unfit for the position.

Opposing viewpoint:
McMaster and Mattis Are Rare Assets — Not Deep State Liabilities. There is a larger context concerning the recent controversies among the architects of Trump's national security team and agenda, and the criticism of National Security Advisor H.R. McMaster. Recall first that the foreign policy of Barack Obama, Ben Rhodes, Susan Rice, and Hillary Clinton could be best termed "provocative appeasement," and it logically led to the present tensions around the world. The approach combined the most unfortunate traits of carrying a twig while speaking loudly: vociferous remonstrations about human rights, occasional bombings, and drone-targeted assassinations, lots of sermonizing and faux red lines, deadlines, and step-over lines — all without either real consequences or accountability.

Scott Pruitt is ready to get the EPA back on track. [Scott] Pruitt, like the president who appointed him, is determined to end Obama-era excesses, such as the all-pain, trivial-gain Clean Power Plan and the overreaching "Waters of the United States" rule that claimed the right to regulate even puddles. Instead, the new administrator aims to focus the agency on actually finishing work it's been neglecting. That includes bringing more of the nation into full attainment of clean air and clean water standards. And also actually getting Superfund sites cleaned up — when many have been stalled for decades.

The Editor says...
If I were President, the EPA would be one of the first agencies to be terminated, because all 50 states have their own EPA equivalents. California has six of them.

More Evidence That McMaster Shares Obama's Views on Islam and Terror. Donald Trump's new national security advisor, Lt. General H.R. McMaster, has made troubling remarks — such as "the Islamic State is not Islamic" — that one expects from the D.C. establishment. However a hearty endorsement that he gave to a 2010 book points to the totality of McMaster's views on security issues as being worse than simply his parroting politically correct memes on Islam. The book in question is Militant Islamist Ideology: Understanding the Global Threat. Written by CDR Youssef Aboul-Enein, it was published by the Naval Institute Press in 2010. I read and reviewed it back in 2012 and found its claims — many of which the Obama administration followed to disastrous results — to be incorrect and problematic. For starters, Aboul-Enein asserts that only "militant Islamists" — ISIS types who behead, crucify, massacre, and burn people alive — are the enemy. "Non-militant Islamists," however, are not.

Right On Cue, Soros-Financed MoveOn.Org Holds DC Protest Demanding Sessions' Resignation. Right on cue, the George Soros-financed MoveOn.org progressive activist group on Thursday organized a protest outside the U.S. Department of Justice building calling for the resignation of Attorney General Jeff Sessions. The protest was organized fairly quickly. It was held mere hours after reports surfaced that Sessions held two conversations with the Russian ambassador to the U.S. while he was Alabama's senator and served on the Armed Services Committee. Sessions maintains that the conversations did not concern the 2016 presidential campaign. He served as an informal advisor to Trump during the presidential race.

Democrats are starting to sound like modern Joe McCarthys. Attorney General Jeff Sessions' decision to recuse himself from any investigation involving last fall's election is prudent — but it won't satisfy the Democrats now channeling the ghost of Sen. Joe McCarthy. Back in the '50s, the Wisconsin senator was famously accused of seeing a Russian under every bed. And now Democrats seem to be conducting the same kind of "witch hunt" as his investigations of Soviet infiltration of the US government.

No, Ms. Pelosi, Attorney General Sessions did not commit perjury. Napoleon Bonaparte once said, "from the sublime to the ridiculous is but a step." There is nothing sublime about Nancy Pelosi. Ridiculous, however, is an apt description. At a news conference Thursday [3/2/2017], the former Speaker of the House denounced Attorney General Jeff Sessions as a liar, pronounced him guilty of perjury, and demanded his resignation. This comes just days after she erroneously accused the Trump White House of obstructing justice. Clearly, she's on a tear. Who knew the democratic leader, who is not a lawyer, was such an expert on the law?

The Perjury Allegation against Jeff Sessions Is Meritless. On the overwrought, partisan allegations that Attorney General Jeff Sessions committed perjury in his confirmation-hearing testimony, let's cut to the chase: There is a good deal of political hay to be made because Sessions made a statement that was inaccurate — or at least incomplete — especially when mined out of its context. But the claim that his testimony was perjurious as a matter of law is wholly without merit.

The McMaster Pick: Score One For The Swamp? President Trump has confirmed that retired Lt. General H.R. McMaster is his new choice to be his National Security Adviser. There have been indications that the Republican establishment has been trying to co-opt Trump and keep him from effecting the sweeping reform that he has promised, and this appointment could indicate that at least for the moment, these forces have gained the upper hand.

US Marshals guard DeVos after tense nomination process. U.S. Education Secretary Betsy DeVos is being guarded by the agents from the U.S. Marshals Service after a bruising nomination process, Politico reported. Drew J. Wade, a spokesman for the service, told the magazine that he is not aware of these agents guarding an education secretary in the past. The education secretary is traditionally guarded by a small security unit from the education department, the report said. The report said that few other details are available about the security arrangement. Despite her win, DeVos emerged bruised from her highly divisive nomination fight.

Elizabeth Warren Gets Mitchslapped. Tuesday night [2/7/2017], the Democrats tried to show their base they're willing to get off the mat and get back into the ring, this time to unsuccessfully block one of their own, a man they all like personally, but have to now verbally destroy to satisfy their base, Jeff Sessions of Alabama. Why? He's going to be a rather effective Attorney General, and the left hates that.

Senate narrowly confirms Betsy DeVos as education secretary. The Senate confirmed Betsy DeVos as education secretary Tuesday [2/7/2017] by the narrowest of margins, with Vice President Pence casting a historic tiebreaking vote after senators deadlocked over her fitness for the job. DeVos now takes the helm of the Education Department with questions about whether and how the polarizing fight over her confirmation will affect her power to advance the Trump administration's agenda. The entire Democratic caucus of 48 senators voted against DeVos, as did two Republicans, Lisa Murkowski of Alaska and Susan Collins of Maine, who said they did not think that DeVos was qualified for the job.

Senate confirms DeVos with tie-breaking vote by Pence. The Senate on Tuesday confirmed Betsy DeVos to lead the Department of Education by the slimmest of margins, capping off a rocky, high-stakes fight for President Trump's pick. Vice President Pence cast the deciding vote on DeVos, breaking a 50-50 tie after Sens. Susan Collins (Maine) and Lisa Murkowski (Alaska) became the first Republican senators to oppose a Trump Cabinet pick, joining all Democrats. Pence is the first vice president ever to cast a decisive vote on a Cabinet nominee. The last time a vice president broke a tie in the Senate was 2008, when then-Vice President Dick Cheney voted on tax legislation.

Approve the Cabinet. The great strategic problem with the Democrats is that when they win, they think they'll never lose again, and when they lose, they think they'll never win again. When Barack Obama was in the White House, Democrats couldn't get enough of his "pen and phone" strategy to run roughshod over the separation of powers; apparently, it never occurred to them that a Republican president might make use of these same tools. Now shut out of the White House and holding minority positions in both houses of Congress, Democrats are taking a scorched-earth approach to the president's nominations; apparently, it hasn't occurred to them that it is likely that a future Democratic president will face a Senate in which Republicans are a majority rather than a frustrated minority, and that it is entirely possible that a Republican opposition could do to most — or even all — of that future Democrat's Cabinet picks what they did to Merrick Garland.

Thank God for Kellyanne Conway. She's one of the smartest, most kind, most thoughtful people you could ever hope to meet. And the mass media are intent on destroying her. Kellyanne Conway made history as the nation's first female manager of a successful presidential campaign. Yet the mass media will not ever sincerely congratulate her as the woman who broke that glass ceiling.

From George Washington To Barack Obama: Senate Democrats' Cabinet Blockade Has Never Been Seen Before. The Senate Democrats' obstruction of President Trump's cabinet nominees has reached a record-setting level. Yesterday [2/2/2017], ABC News reported: "President Trump has more unconfirmed Cabinet nominees at this point in his term than all previous presidents combined." Senate Democrats have failed to a historical magnitude to offer deference to the president, running counter to what they argued for during previous administrations.

Donald Trump's pest control problem. As a liberal Obama holdover, one can safely assume that Ms. Yates surmised that when Senator Jeff Sessions was confirmed as Attorney General, one of his first acts would be to let her go. So, rather than doing the honorable thing and resign over her disagreement with President Trump, Ms. Yates chose a course of action transparently designed to make her a hero in the eyes of the left.

Democrats boycott vote on EPA nominee Scott Pruitt. The boycott by Democrats on the Senate Environment and Public Works Committee comes amid other attempts to hold up Mr. Trump's nominees. In the case of Mr. Pruitt specifically, Democrats claim he's failed to answer substantive questions. But Republican leaders say that excuse simply doesn't hold water. "The minority may not like all of Attorney General Pruitt's answers, but he's given them answers," said Sen. John Barrasso, Wyoming Republican and committee chairman. "Mr. Pruitt ought to get at least a vote."

Senate committee approves DeVos nomination. The Senate Committee on Health, Education, Labor and Pensions (HELP) on Tuesday morning approved Betsy DeVos's nomination to lead the Department of Education. DeVos was confirmed 12-11 along party lines. Her nomination will now go to the Senate floor, where she'll need only need a simple majority to be confirmed.

Steve Bannon in 2010: 'Islam is not a religion of peace. Islam is a religion of submission'. President Trump's chief strategist, former Breitbart executive Steve Bannon, once dismissed the notion that Islam is a religion of peace, describing it in a 2010 radio interview as "a religion of submission." Bannon made the comments on "Western Word Radio with Avi Davis," an online right-wing radio station. In the segment, Bannon, who at the time served on the board of Breitbart, criticized former President George W. Bush for what he and fellow guest conservative columnist Diana West described as injecting political correctness into the federal government.

The Editor asks...
What did Mr. Bannon say that isn't absolutely correct?

What I Learned in Washington DC. If you listen to the media you might have the impression that the Trump transition team is in complete disarray. Talking with leaders of the transition team certainly didn't leave me with that impression. They have broken the transition process down into over 30 departments and have created a "landing document" for each department. The analogy they are using is that this process is like planning an invasion, and they are going to hand the landing document off to the "beachhead teams" who will then execute the plans.

Dems Force Trump's Ed. Nominee To Answer 1,397 Questions In Writing — Obama's TWO Had 109, Combined. Democrats are blocking the confirmation of Donald Trump's Secretary of Education nominee Betsy Devos by forcing her to answer 837 written, followup questions from her Senate confirmation hearing. "Mrs. Devos' Senate opponents are grasping for straws," Sen. Lamar Alexander said of the decision in a post for Medium. "We didn't have time to question her, they say, even though she met with each one of them in their offices, and her hearing lasted nearly an hour and a half longer than either of President Obama's education secretaries."

Trump's Nominees Face 'Unprecedented' Democrat Obstructionism. President Donald Trump starts his first full week in the White House with just two Cabinet secretaries confirmed by the U.S. Senate. That's the lowest number in decades and a sharp contrast from former President Barack Obama. Trump's picks have fared worse than past Cabinet nominees. Even though Trump enjoys a Republican-led Senate, Democrats have kept their promise to delay confirmation of his nominees, even if they lack the votes to ultimately defeat them.

Also posted under Leftist obstructionism.

Senate confirms retired Gen. James Mattis as defense secretary, breaking with decades of precedent. The Senate confirmed James N. Mattis as President Trump's defense secretary Friday, breaking with decades of precedent by making a recently retired general the Pentagon's top civilian leader. Mattis, 66, will lead the Defense Department's 1.9 million active-duty service members and reservists and oversee a budget of more than $580 billion as Trump prepares to expand the military. He becomes the first senior military officer to serve as defense secretary since President Truman nominated Army Gen. George C. Marshall for the job in 1950, as the U.S. military struggled in the Korean War. Many lawmakers and long-time foreign policy observers hope Mattis can be a moderating voice of experience in an administration that has notably few senior officials with national security experience in Washington.

Trump nominee Nikki Haley set to show skepticism about value of U.N.. South Carolina Gov. Nikki Haley pledged Wednesday to forcefully advance American interests as the U.S. ambassador at the United Nations after what she called a retreat from global leadership under the Obama administration. Haley questioned the priorities and effectiveness of the world body,which President-elect Donald Trump has called a toothless debating society, but said she intends to "fix" what doesn't work.

THIS is going to "make America great again?"
Interior nominee Ryan Zinke defends expansive federal reach in land policies. Rep. Ryan Zinke, the nominee to head the Interior Department, will cast himself Tuesday [1/17/2017] as a champion of the federal government expanding its reach over federal lands, in a move that could signal friction with his own GOP colleagues. He also hinted, in testimony prepared for his confirmation hearing Tuesday afternoon, that President-elect Donald Trump's promised infrastructure plans will include money to shore up the crown jewels of the national park system, many of which are crumbling under a $12 billion maintenance backlog. Mr. Zinke will call himself an "unapologetic admirer of Teddy Roosevelt," saying the former president "had it right" when he expanded the government's reach to millions of acres of lands.

Trump's pick for Education Secretary wants everyone to get a great education. Dems hate her for it. In Louisiana we enacted the biggest school choice statewide program in the country. And in New Orleans every public school will soon be a charter school, allowing for real innovation. There will be literally zero traditional public schools, and education is improving. But let's be clear, this is Holy Grail for the American Left. They will fight to the last gasp to stop anyone from delivering equal opportunity in education. They attacked me for it every waking hour after we got our program enacted, in the same irrational and nasty manner they are now attacking Betsy [Devos].

What Betsy DeVos Should Tell the Senate. One week from today, the Senate Committee on Health, Education, Labor, and Pensions will hold its confirmation hearing for Betsy DeVos, Donald Trump's pick for U.S. secretary of education. [...] Her confirmation provides a golden chance to sketch out a principled vision of school reform and explain to a national audience just where school choice fits into that vision. On the national stage, conservatives have long had trouble articulating a coherent, winning approach to education policy. This is strange, because they have a sensible, appealing prescription to offer. Here's what DeVos could say: [...]

Ted Cruz Challenges Media, Champions Truth Through Far-Left's Smear of Jeff Sessions. Texas Senator Ted Cruz challenged the news media during Tuesday's confirmation hearing to tell the truth about his colleague Jeff Sessions' record on championing civil rights and fighting bigotry — in particular Sessions' role in sentencing a well-known Klansman to death and helping to financially bankrupt the Klan in the state of Alabama.

Cabinet hearings' only 'surprise' is Democrats' grandstanding. Confirmation hearings for President-elect Trump's Cabinet picks are now under way and — despite some Democratic posturing — the nominees are acquitting themselves well. The most blatant pandering came from New Jersey Sen. Cory Booker, who essentially launched his 2020 presidential campaign with a broadside against Attorney General-designate Jeff Sessions. It was the first time a senator has ever testified against a sitting colleague at a confirmation hearing, but Booker sanctimoniously claimed he had to defer to his "conscience and country." (As if Republicans don't care about either.) Then again, the Cory Booker who accused Sessions of "hostility" to civil rights is the same senator who last year declared he was "blessed and honored" to work with Sessions in honoring '60s-era civil-rights activists.

Watch Ted Cruz Obliterate Leftist Senator Al Franken In Defense Of Jeff Sessions. Al Franken attempted to paint Senator Jeff Sessions as a liar and a racist — accusations which are in direct opposition to the actual facts of Senator Jeff Sessions' remarkable law enforcement and legislative career. Sessions was fighting against real racism when Franken was a third-rate comedian and writer on SNL. How refreshing is it to see a conservative like Ted Cruz, a man who intellectually laps the likes of Franken many times over, come so quickly and forcefully to Senator Sessions' defense. Perhaps the persistent rumors of a Cruz nomination to the Supreme Court remains a very real possibility in a Trump administration. If so, America would be better for it.

'We Know in Alabama Who Jeff Sessions Is': Black Pastors Defend Trump's AG Pick Against Charges of Racism. Senator Jeff Sessions (R-Ala.) is a "very decent man" who has "served well and whose track record speaks for itself," an Alabama pastor said on Capitol Hill Monday, as he and other black pastors spoke out in support for President-elect Donald Trump's pick for Attorney General. "We know in Alabama who Jeff Sessions is," Bishop Kyle Searcy, senior pastor of the multi-racial, nondenominational Fresh Anointing House of Worship in Montgomery, Ala., told CNSNews.com.

Sharpton Promises 'Season of Civil Disobedience' in Response to Sessions Nomination. National Action Network president Rev. Al Sharpton promised a "season of civil disobedience" in reaction to the nomination of Sen. Jeff Sessions (R-Ala.) for attorney general in the Trump administration. Sharpton, an MSNBC host, said activists have planned a march in Washington on Jan. 14 during the Martin Luther King Jr. holiday weekend to protest the Sessions nomination. Sharpton recalled spending 90 days in jail for protesting on U.S. Navy land against military exercises on the island of Vieques in 2001 when George W. Bush was president, adding that civil disobedience usually works because it changes policy.

How Jeff Sessions would change the Justice Department. On Tuesday morning attorney general-designate Jeff Sessions will become the first Trump nominee to undergo a Senate confirmation hearing. It could be rough. Democrats have spent weeks noting that Sessions — their colleague in the Senate for the last 20 years — was denied a federal judgeship in 1986 over charges he was "racially insensitive." The outside groups and journalists that support Democrats have been less tactful; just Google "Sessions" and "racist." But the key questions in confirming Sessions are not about what happened, or didn't happen, in the 1980s. They are about what Sessions would do as attorney general.

Reaction To Trump's Team Proves Climate Alarmists Are The Real Deniers. Today is the Day Against Denial, where climate change activists around the country are protesting President-elect Donald Trump's cabinet picks. Activists will supposedly converge on U.S. Senate offices and demand that their senators "reject Donald Trump's reckless climate-denying cabinet nominees" particularly secretary of State nominee Rex Tillerson, Environmental Protection Agency administrator Scott Pruitt, and Energy secretary pick Rick Perry.

The Sessions Smear. NAACP officials have already been arrested in an anti-Jeff Sessions protest and his confirmation hearing as attorney general is not until next week. The Sessions confirmation battle is sure to generate lots of heat and very little light. Sessions will likely prevail, but not before his name is dragged through the gutter in an execrable exercise in contemporary racial politics. At least Sessions is familiar with how this works. He went through the experience in 1986 when his nomination to a federal judgeship was rejected by a U.S. Senate committee on spurious grounds.

Scott Pruitt Applying Our Constitution Will Rein In Bureaucratic Abuses at the EPA. Passions are exploding over Oklahoma's Attorney General, Scott Pruitt, becoming the Secretary of the Environmental Protection Agency (EPA). Particularly, the Sierra Club is furious and has started an Alinsky-style assault of vilifying the nominee.

The Case for Scott Pruitt to Serve as EPA Administrator. Scott Pruitt has established himself as a bold and principled conservative, unable to rest easy while the separation of powers is violated and legislative authority is taken away from the hands of Congress. He has a unique understanding of the unconstitutional regulatory branch and he would surely be pleased to see an environmental policy that works not only for the environment of the natural world, but also the environment of the American worker and consumer. Voters sent a loud message to Washington: Americans want change. The status quo is not working and America can do better. Regulatory overreach has become the status quo and has proven to have negative effects on Americans of every state and every class. A country that respects the rule of law needs a law that is clear, realistic, and stable.

Pray for Jeff Sessions. Everyone who believes in prayer should say some for attorney general nominee Jeff Sessions. Senator Sessions is experiencing the full wrath of the worst hateful lies that the modern Left and Democrat Party can conjure. Lies, half-truths, and smears have become the strategy to attack his nomination. The age of Obama has seen the rise of bricks-and-mortar operations with deep cash reserves designed to permanently transform the nation, and the Justice Department has been ground zero. That's why Jeff Sessions is the perfect pick for attorney general, and that's why the liars on the Left are willing to smear this good man. They've served up all their familiar charges against him from their phobia smorgasbord: homo-, xeno-, Islamo- or trans-. That's why the NAACP decided to trespass and occupy his Senate office — an action far worse than the one that landed James O'Keefe in jail. Don't expect Loretta Lynch to do anything. Who commits the crime is sometimes more important than what they did. O'Keefe played for the wrong team.

National Sheriffs' Association Supports Senator Jeff Sessions for Attorney General. A little known fact most are not familiar with — within your local jurisdiction, unless removed by State legislative construct, the County Sheriff is the highest recognized constitutional officer in your area.

Schumer: "Democrats Will Resist Trump's Picks Vehemently!" According to [a report in The Washington Post], Schumer told Senate Majority Leader Mitch McConnell that he will target Trump's pick for the head of State, Sen. Jeff Sessions for head of the Justice Department, and two other notable appointees. Democrats will also target picks for the Department of Health and Human Services, the Department of Labor, Treasury and the Environmental Protection Agency.

Democrats target eight cabinet nominees, threaten to drag out process. Senate Democrats are vowing to stall action on eight of Donald Trump's Cabinet nominees tasked with carrying out his economic, law enforcement and regulatory agenda, a senior Democratic aide told CNN Monday. If carried through, the threat that could delay confirming the President-elect's choices for months. Those targeted include secretary of state nominee Rex Tillerson, attorney general pick Jeff Sessions and health and human services secretary hopeful Tom Price.

Time for Trump's EPA pick to rein in the agency. When Oklahoma Attorney General Scott Pruitt is confirmed as the next administrator of the Environmental Protection Agency, he will inherit an agency that should be declaring victory in its 46-year battle for a cleaner, healthier environment. The next administrator must focus on reining in an agency that has far exceeded its original mission.

Dissecting Slander: The Untold Story of Jeff Sessions' 1986 'Borking'. Decades-old racially charged allegations against Sen. Jeff Sessions (R-AL) parroted by the establishment media and a handful of far left Senate Democrats do not hold up under scrutiny, an extensive investigation conducted by Breitbart News has found. There are essentially three central allegations the left levels against Sessions. The first pertains to his involvement in a 1980s voter fraud case, which, evidence shows, Sessions prosecuted to ensure a fair elections for black Democratic citizens of the county. The second involves allegations from a former assistant attorney, who was described by co-workers as a "disaffected" employee with a "bad attitude problem" and whose testimony was vigorously debunked by highly credible witnesses. The third involves accusations from an ex-Department of Justice attorney whose credibility was brought into question after he was forced to recant portions of his testimony, in which he fabricated false allegations against Sessions.

Mucking Out the Justice Department. Of Donald Trump's most prominent allies in the presidential campaign, Jeff Sessions is the last one standing. Newt Gingrich is an outside adviser to Trump and occasional critic. Chris Christie works full-time as governor of New Jersey. Rudy Giuliani didn't get the position he wanted — secretary of state — and turned down several he didn't want. Sessions, as Trump's choice for attorney general, has the job of draining the swamp at the Department of Justice and making DoJ great again. It's going to be a grueling job with many facets. The good news is that Sessions, a former U.S. attorney and Alabama attorney general before he was elected to the Senate in 1996, is familiar with all of them.

Freezing Cold? Time to Rename the EPA the Conservation Agency. As many have noted, global warming and, more generally, environmentalism have become the religion of the liberal. Gaia has replaced God. Whatever your opinion of the theological implications, scientific blindness and bias have been the results. The economy has also suffered, especially for the working class. What do we do about it? Donald Trump has nominated someone more realistic — Scott Pruitt — for head of the Environmental Protection Agency currently dominated by climate totalitarians.

Donald Trump's Cabinet is awesome. One of the many unprecedented things about the election of Donald Trump is what a black box he is. The day after the election, I pinned the following message at the top of my Twitter profile: "We still don't know what President Trump is going to do." And it's true: Trump likes being unpredictable. He thinks of himself first and foremost as a dealmaker, and one of his key dealmaking tactics is to keep as many options on the table as possible. This is why watching who he appoints to various Cabinet positions is so important. They give us some flavor of what his administration is going to be like, and what his priorities might be.

Here's Why A Military Officer Might Be A Terrible Pick For The Next VA Secretary. President-elect Donald Trump is considering a military flag officer to lead the Department of Veterans Affairs (VA), but a career military person would likely lack experience dealing with the civil service rules that have been the department's primary barrier to ending scandals. Trump has said that he's taken longer to fill that department's top slot because its life-or-death challenges and long-running scandals make it so important. But now there are only four Cabinet posts left to be chosen, and there is pressure to use the slot to shape a larger image of the administration.

John Brennan is completely unqualified to be Director of Central Intelligence. Allegations that Brennan is a convert to Islam are based upon firsthand reports of those who served with him in Saudi Arabia. Those allegations include that Brennan was the target of a Saudi intelligence influence operation, one outcome of which was Brennan's conversion to Islam. At that time, Brennan was chief of station, a billet that is designed for an operationally trained officer with experience in the CIA's Directorate of Operations, which Brennan was not. Brennan's background is that of an analyst, which may explain why he lacked the sophistication and experience to understand that he was being played by the Saudis in an influence operation. Anyone so inept as to be oblivious to basic hostile intelligence tactics such as this influence operation is unqualified to be DCI.

Trump appoints even more skeptics. Mazin Sidahmed at The Guardian has posted a handy list of Trumps Cabinet Picks. The times have changed so much that it's not a case of "spot the skeptic" but a hunt to find any believers in the climate doctrine. Make no mistake, things are very, very bad for the fans of human-caused-weather. Almost every name on this list would be the "top target" of green protests if they had been the one appointee among the standard Obama-Clinton picks. But almost all of them are drawing fire.

G.O.P. Resistance Builds to John Bolton as State Dept. Deputy. President-elect Donald J. Trump's extended deliberations over assembling a team to run the State Department are reviving some of the same debates that consumed the years of war and strife in the administration of George W. Bush. And in some cases, the cast of rivals is even the same. The conflict has come to a head over choosing a deputy to serve under Rex W. Tillerson, the Exxon Mobil chief executive whom Mr. Trump selected this week to be secretary of state. Mr. Trump is weighing whether to choose John R. Bolton, a combative and strident advocate for an expansive American foreign policy who was closely aligned with Vice President Dick Cheney in the Bush administration.

Democratic Researchers Descend On Trump Nominees. A leading Democratic opposition group, American Bridge, is gearing up to play a critical role in an effort to take down, or publicly taint, President-elect Donald Trump's cabinet nominees by enlisting backup from Hillary Clinton's transition team and sharing in-depth research in meetings with key senators. The super PAC, which also has a nonprofit arm, is digging into nominees' past statements, voting records, tax documents, and business ties in detail, passing along their findings to a group of senators and their staff members in an effort to coordinate attacks on Trump's nominees in confirmation hearings, the group's founder David Brock told BuzzFeed News, laying out his plans in an interview.

Perry, make Yucca Mountain great again. The Obama White House made an unfortunate and ungracious choice in launching a preemptive attack on Rick Perry's nomination this week. Spokesman Josh Earnest did his best deadpan as he disparaged the choice as one based on politics and not merit. But what about President Obama's appointments of Ken Salazar, Kathleen Sebelius, Tom Vilsack and Janet Napolitano? They were all lawyers without specific expertise in the issue areas of the departments they led. But each, having experience as elected Democratic statewide officials, knew enough about their respective issue areas that their status as non-experts never really mattered.

Democrats Have No Room to Claim People Are Unqualified. Eight years ago the Democrats nominated a man who had not even served a full term in the United States and whose primary job had been as a failed community organizer in Chicago. He got elected President of the United States then promptly surrounded himself with career bureaucrats and non-profit devotees who had never had real jobs in their lives in the private sector. And he used those people to try to regulate the private sector they neither understood nor had worked in. Now, eight years later, their party is in ruin, the majority of states are held by Republicans, the House and Senate are held by Republicans, and the man they allowed into their party to seek their nomination this time left it once he lost.

Liberal media's hypocrisy about conservative women on full display in Politico hit piece. She's unqualified. She's a policy lightweight. She worked as a typist. She's not a thinker. She's been raising kids since the '80s ... and at 65, does she even have the stamina for the office? If the president-elect were Hillary Clinton and journalistic breadcrumbs like these were written about one of her female appointees, the howling accusations of ageism and sexism would be deafening. But while the mainstream media and what passes today for the women's movement wasted no time lobbing such accusations at Donald Trump when he called Clinton's stamina into question, there has been only silence this week after Politico published a story by Michael Crowley about incoming Deputy National Security Adviser KT McFarland, entitled "Flynn deputy raises more doubts about Trump team." It seems virtuous indignation is reserved for women of the liberal order exclusively.

Trump picks his Interior chief, a supporter of more drilling. Edging closer to completing his Cabinet, President-elect Donald Trump announced his choice of Montana Rep. Ryan Zinke as Interior secretary Thursday, picking a man who should fit smoothly into an administration favoring more energy drilling and less regulation.

Rex Tillerson, Carbon-Tax-Backing Climate Change Believer. What do you know about Secretary of State nominee Rex Tillerson based upon the coverage of him so far? [...] Has any of the coverage so far pointed out that Tillerson believes in climate change and supports a carbon tax?

A big 'whoops' for Donald Trump. Arguably for the most important cabinet position, that of the secretary of state, third in line of succession for the presidency, Mr. Trump chose someone who may well have been Hillary's pick: Rex Tillerson, supporter of Planned Parenthood, wrecker of the Boy Scouts of America, and a medal recipient from the KBG thug Vladimir Putin. The nominee has no military or diplomatic experience. [...] Mr. Trump appears to have picked someone in his own image: a tycoon and a deal-maker, a social liberal who succeeded in business.

The Editor says...
If Mr. Tillerson is not qualified for the job, or he comes with too much baggage, the Senate will send him back to Exxon.

Trump nominees face brutal hearings, but Senate rarely rejects Cabinet picks. President-elect Donald Trump's nominees are headed for brutal confirmation hearings, and his choice of ExxonMobil CEO Rex Tillerson for secretary of state is shaping up to be the most grueling, but history shows that the Senate rarely musters the nerve to reject Cabinet picks. Only nine Cabinet nominees in U.S. history have been defeated in committee or Senate votes, although 12 others have been withdrawn in the face of strong opposition. The last time a nominee was defeated outright came in 1989, when former Sen. John Tower, President George H.W. Bush's pick for defense secretary, went down in a party-line vote in a Democrat-majority Senate.

Awkward: Dem critics of Jeff Sessions spent 20 years praising him. A growing number of key Democrats raising questions about Attorney General-nominee Sen. Jeff Sessions have spent 20 years praising his character and bipartisanship, leading to a potentially awkward and hypocritical challenge at his upcoming Senate confirmation hearing. A review of past public statements that show support and admiration for the Alabama senator includes words from Labor Secretary Thomas Perez who plans a spirited bid for the chairmanship of the Democratic National Committee.

Trump taps Montana congressman Ryan Zinke as Interior secretary. President-elect Trump has tapped GOP Rep. Ryan Zinke, who has represented Montana's at-large congressional seat for one term, to serve as secretary of the Department of the Interior, according to an individual with first-hand knowledge of the decision. Zinke, who studied geology as an undergraduate at the University of Oregon and served as a Navy SEAL from 1986 to 2008 before entering politics, campaigned for his House seat on a platform of achieving North American energy independence. He sits on the House Natural Resources Committee as well as the Armed Services Committee.

Tillerson's Assault on Scouting. [Scroll down] Unless one takes a "Progressive" view of his faith or adopts some fringe religion, homosexual activity is forbidden. If it is forbidden, how can one be "morally straight" or do one's duty to God while embracing it? President-Elect Donald J. Trump recently announced he is considering Rex Tillerson to lead the State Department. Tillerson, CEO of ExxonMobil, was, among other things, the former head of the Boy Scouts of America and one of the people responsible for opening the BSA to homosexuals. It was Tillerson who lobbied to end the "don't ask, don't tell" policy of the BSA.

Tony Perkins pans Rex Tillerson pick to lead the State Department. Evangelical leader Tony Perkins is raising concerns about Rex Tillerson, calling the nominated secretary of state the "greatest ally" liberals would have in the forthcoming Trump administration due to the oil and gas executive's stances on social issues. President-elect Donald Trump on Tuesday morning [12/13/2016] named Mr. Tillerson to be his secretary of state. The Senate then decides whether or not to confirm. Mr. Perkins, who heads the Family Research Council, pointed specifically to Mr. Tillerson's advocacy to allow openly gay youths to join the Boy Scouts of America and donations made by ExxonMobil, where Mr. Tillerson is CEO and chairman, to Planned Parenthood.

The DOE vs. Ugly Reality. Over at the Washington Post, Chris Mooney and the usual suspects are seriously alarmed by a memo sent out by the Transition Team at the Department of Energy. They describe it in breathless terms in an article entitled "Trump transition team for Energy Department seeks names of employees involved in climate meetings". [...] Oh — you mean like say the Attorneys General of a bunch of states holding up their lists of known "denier" organizations and tacitly urging the public to go after them? You mean like government officials of a variety of stripes ranting about how "deniers" should be brought to trial or otherwise penalized?

Rand Paul Explains Why John Bolton Should Be 'Nowhere Close' to the State Department. Former Republican presidential candidate and Kentucky Sen. Rand Paul has a strong opinion on John Bolton's candidacy to serve in Donald Trump's State Department. The former UN ambassador is being considered for the No. 2 spot in the agency, yet Paul argues that Bolton's endorsement of the Iraq War disqualifies him from working in the administration.

Why on earth does Trump want Rex Tillerson at the State Department? Up until this historical moment, the great powers have been unable to act in concert to help Islam find its way back to something resembling peaceful coexistence with the infidels of the world, and with modernity itself. The reason is simple: oil. The Islamic nations have so far controlled so much of it that the West had no choice but to accept their funding of a jihad war for global dominance, as scripturally mandated but only intermittently acted upon by Muslims worldwide. But now fracking and related technologies have lessened the chokehold, especially of Gulf nations, on the world's energy supply. Maybe it is time for a new grand bargain. The Gulf potentates stop supporting fundamentalist clergy, publications, and mosques overseas. In return, they be allowed to continue a very profitable industry, one that their own citizens mostly do not directly manage.

Pruitt to Dismantle EPA Climate Agenda. The goal is to use climate change as a means to increase government power over every aspect of our lives, what we make, how we make it, what energy we use, what cars we drive, even what food we eat. The scientific record, as IBD notes, shows that climate change is a scam: [...] And now the high priests of the global warming religion are demanding what other false religions have demanded — human sacrifices upon their altar. Pruitt is the right man to expose climate fraud and end the job and freedom-killing actions of the EPA.

How Can You Tell A Good Trump Pick? By The Establishment Freakout. An easy way to tell whether one of Donald Trump's leadership picks is a good one is to gauge the freakout level among the left. By that measure alone, the person Trump is considering as head of the Food and Drug Administration would be an outstanding choice. Jim O'Neill, whose name got floated this week, is a managing director at of Trump pal Peter Thiel's Mithril Capital Management. In addition to private sector experience, O'Neill worked at the Department of Health and Human Services under President Bush. But he's also — gasp! — a libertarian!

Trump's EPA pick is causing green heads to explode. From E&E Legal: "We are delighted with President-elect Trump's selection of Oklahoma Attorney General Scott Pruitt to head the U.S. Environmental Protection Agency (EPA). Mr. Pruitt has led the charge in recent years to confront head on the enormous federal regulatory overreach proposed by the EPA as epitomized by the Clean Power Plan and Waters of the U.S. rule. As a litigator, he also understands how environmental fringe groups like the Sierra Club and the NRDC — who are bankrolled by renewable energy tycoons like Tom Steyer and George Soros — use the state and federal court systems to essentially create new laws through such schemes as 'sue & settle.' It is also reassuring that President-Elect Trump has chosen someone from the state ranks, particularly a state so important to energy production, since it's the states and their citizens who are suffering the most by this Administration's out-of-control EPA. [...]"

Flashback: Obama had three 4-stars on his team and no one seemed to mind. News outlets ran a spate of articles and columns in recent days reflecting a level of anxiety over President-elect Trump choosing a number of retired generals for top positions in his White House. But in January 2009, President Obama appointed the same number of retired high-ranking officers to posts that Trump has so far. Trump has reportedly named retired Marine Gen. John Kelly as his secretary of homeland security, which brings the number of retired generals to three. Kelly would join retired Army Lt. Gen. Mike Flynn as national security adviser and retired Marine Gen. James Mattis as secretary of defense.

Trump's EPA Pick Spooks Liberals and the Environmental Lobby. Liberals and the environmental left have gone into a tizzy over the selection of Oklahoma attorney general Scott Pruitt as Donald Trump's pick to head of the Environmental Protection Agency. House minority leader Nancy Pelosi says the Pruitt nomination must be blocked "for the sake of the air we breathe, the water we drink, and the planet we will leave our children." New York AG Eric Schneiderman says Pruitt is a "dangerous and an unqualified choice." Independent socialist senator Bernie Sanders declares the Pruitt pick is not only dangerous but also "sad." The League of Conservation Voters calls Pruitt not just a global warming skeptic but "an outright climate denier."

We Looked at Cabinet Picks Over the Last 40 Years. Here's How Trump Stacks Up So Far. A Daily Signal analysis of Cabinet nominations dating back 40 years reveals that President-elect Donald Trump is outpacing all of his predecessors, including George H.W. Bush, who was a sitting vice president at the time of his election. Trump's selection of Jeff Sessions as attorney general on Nov. 18 made him the second-fastest president-elect in recent history to pick a Cabinet nominee. He added another on Nov. 23 with Besty DeVos as education secretary. In the fourth week of the transition, Trump has named five nominees: Rep. Tom Price at the Department of Health and Human Services, Elaine Chao at the Department of Transportation, Steven Mnuchin at the Treasury Department, Wilbur Ross at the Commerce Department, and retired Marine Gen. James Mattis at the Department of Defense.

The Left's Panic Attack Over Dr. Ben Carson. The progressive Left's opposition to President-elect Donald Trump's nomination of Ben Carson to be the next Secretary of Housing and Urban Development (HUD) is predictably condescending, biased and hypocritical. For example, out-of-touch Democratic House Minority Leader Nancy Pelosi called Carson a "disconcerting and disturbingly unqualified choice."

Reports: Oklahoma AG tapped to lead Trump EPA. President-elect Trump has picked Oklahoma Attorney General Scott Pruitt, a vocal opponent of the Obama administration's environmental policies, to lead the Environmental Protection Agency, according to multiple reports. Pruitt has opposed EPA climate rules and the Clean Power Plan for power plants, the signature policy of the president's agenda to combat global warming. Pruitt is one of 28 attorneys general opposing the EPA plan in federal appeals court.

Donald Trump's Environment Chief Could be his Best Pick Yet. Since Richard Nixon founded the EPA in 1970 — presumably as a cynical bid to greenwash his tarnished image at the height of the last eco-craze — the organisation has been run by a string of useless placemen and placewomen, who've done little that actually helps the environment, but plenty to burden the economy, consumers and business alike with more pointless regulation. Typical of these was its first Administrator William Ruckelshaus. A lawyer, by training, not a scientist, Ruckelshaus was the man responsible for instituting the America-wide ban on DDT. He did this on no scientific basis whatsoever. [...] But the knock-on effects of the near worldwide ban that followed meant that DDT could no longer be used to control mosquito populations, which in turn led to an explosion in malaria, causing the death of millions.

Donald Trump hit for assembling team lacking executive experience to run massive federal agencies. Forget "Team of Rivals." President-elect Donald Trump is instead assembling what critics are calling a team of novices — government outsiders or politicians who have little executive experience at the helm of the kinds of massive federal agencies they'll be running. Mr. Trump's pick of retired neurosurgeon Ben Carson to be secretary of Housing and Urban Development is the latest to rankle Democrats, who said the doctor's skill with a scalpel doesn't translate into managing an 8,300-person department that oversees fair lending, subsidized housing and neighborhood revitalization.

Democrats Prepare to Bork Tom Price. Until a week ago, the adjectives most frequently applied to Georgia Rep. Tom Price were "mild-mannered" and "low-key." This isn't surprising. Like his father and his grandfather, he is a physician and thus trained to approach problems in a calm, analytical fashion. However, now that President-elect Trump has picked Price to be his Secretary of Health and Human Services (HHS), the Democrats and their accomplices in the media have suddenly discovered that he is a wild-eyed radical, an extremist who will use HHS to launch a "war on seniors," escalate the "war on women," and declare "war on the poor."

A Chance for School Choice? Outraged liberal ideologues and the teachers' unions are reassuring themselves that Betsy DeVos won't be able to accomplish much as secretary of education. They shouldn't be so sure. Since Donald Trump tapped her for the job last week, the rumblings from the left about DeVos have been loud enough to signal that the public education establishment understands that it has something to fear. Not since William Bennett led the Department of Education in Ronald Reagan's second term has the nation had a person in this position who could be counted on to push back against the unions in a manner that might actually make a difference.

How James Mattis As Defense Secretary Could Bust Our Deathly Political Correctness About Islam. Is political Islam in America's best interests? This question should be central to our strategy of fighting ISIS and Islamist terrorism in general. Yet it's one that many political leaders would rather not answer, because of our politically correct climate. But since Trump's transition team announced last week that it's considering retired Gen. James Mattis for secretary of defense, this reluctance might fade. In a speech given at the Heritage Foundation last year, Mattis spoke about America's position vis à vis political Islam. Rather than equivocating on the matter in order to avoid saying something uncomfortable or politically incorrect, Mattis simply pointed out that America needs to make a decision about its stance toward this ideology.

Calling Jeff Sessions "racist" conveniently ignores the work he's done for Alabama's black community. As liberal pundits continue their drumbeat against President-elect Trump, they have targeted some of his Cabinet selections, including Alabama Sen. Jeff Sessions as attorney general. Some of the attacks against Sessions hinge on hearsay from decades-old conversations that included racist terms. If Sessions did use this language, it would obviously be reprehensible. But disqualifying Sessions based on these words alone would ignore the hard work Sessions has done for more than 15 years to uplift the poor and vulnerable.

Veterans Affairs leader must be more than political ally. In just about every one of his campaign rallies, how many times did we hear Donald Trump pledge, "We've gotta take care of our veterans, folks." Now the former host of "Celebrity Apprentice" and future host of the White House is floating the names of Sarah Palin and Scott Brown, two of the most attractive and vacuous cabinet suggestions ever, for the post of secretary of Veterans Affairs. The news did not sit well with either Tom Lyons or Dan Magoon, two veterans who endured combat on opposite ends of the generational divide.

Senate Democrats plan to 'Ashcroft' their good friend Jeff Sessions. [Scroll down] Sessions has, of course, seen it all, from both sides. He was famously rejected by the committee in 1986 when he was nominated to a seat on the U.S. District Court in Alabama. (Many Republicans believe that Sessions' confirmation fight was a Democratic trial run for attacking the Supreme Court nomination of Robert Bork the next year, meaning Sessions was borked before Bork.)

Chuck Grassley wants hearing on Trump attorney general pick before inauguration. The chairman of the Senate Judiciary Committee said Tuesday he intends to move quickly to hold a hearing on the nomination of Sen. Jeff Sessions as attorney general. Sen. Chuck Grassley said he intends to schedule a hearing on the nominee ahead of President-elect Donald Trump's Jan. 20 swearing in, noting that hearings were previously held before inaugurations for Eric Holder and John Ashcroft.

Trump to pick Elaine Chao as Transportation Secretary. President-elect Donald Trump has nominated Elaine Chao as Transportation Secretary, he announced late Tuesday [11/29/2016]. Chao, a Washington insider who met with Trump on Monday, was the first Asian-America woman named to a president's cabinet when George W. Bush made her secretary of labor in 2001.

Border hawks riled after Trump meeting with Texas' McCaul for Homeland post. Donald Trump's interview Tuesday with Rep. Michael T. McCaul for secretary of homeland security set off alarms for illegal immigration opponents who view the congressman as weak on border security and latently pro-amnesty. Mr. McCaul, Texas Republican and chairman of the House Homeland Security Committee, has repeatedly riled conservatives with what they describe as ineffective posturing against President Obama's lax enforcement of immigration laws. His chief offense was co-authoring the 2015 Secure Our Borders First Act, which conservatives and activists reviled as a fig leaf to Democrats that included tough language but ignored the estimated 11 million illegal immigrants living in the U.S. and kept too much decision-making in the hands of the Obama administration.

Trump to Nominate Georgia Rep. Tom Price as Health Secretary. President-elect Donald Trump has selected Georgia Rep. Tom Price, a leading critic of President Barack Obama's sweeping health care law, to head the Department of Health and Human Services.

Trump to name Obamacare critic as health secretary. President-elect Donald Trump says he plans to nominate Georgia Representative Tom Price, an ardent critic of Obamacare, to head the Department of Health and Human Services. In a statement early Tuesday, Trump called Price "exceptionally qualified to shepherd our commitment to repeal and replace Obamacare and bring affordable and accessible healthcare to every American." One of Price's top priorities as health secretary will be to dismantle the sweeping health reform law that his two predecessors spent six years implementing.

Trump Nominating Betsy DeVos To Be Education Secretary. Donald Trump announced Wednesday [11/23/2016] he has selected Michigan education activist and political megadonor Betsy DeVos as his nominee for secretary of education. The pick will please backers of school choice initiatives, but has the potential to upset grassroots activists against Common Core. DeVos was one of two major education figures who met with Trump over the previous weekend. The other, former Washington, D.C., schools chancellor Michelle Rhee, announced Tuesday she was not seeking a job in the Trump administration. DeVos, a billionaire businesswoman, is also the chairwoman of the American Federation for Children, a conservative non-profit that promotes school choice around the country.

Betsy DeVos, the Right Choice for Education Secretary. First under George W. Bush and the No Child Left Behind Act, then under Barack Obama and a long list of intrusive initiatives, the federal government's role in education has metastasized, growing more and more aggressively in recent years. The Department of Education has bribed states with "Race to the Top" funds to adopt its standards, established prohibitive teacher-licensing requirements that keep competent teachers out of the classroom, and even inserted itself into the prosecution of on-campus sex crimes. And what is there to show for it? In October 2015, the semi-annual National Assessment of Educational Progress, the "nation's report card," showed no student progress in mathematics for the first time in 20 years and reading scores dropping for the first time in a decade. Betsy DeVos will be a desperately needed shock to this inept system.

A Proper Contempt for the UN. In the announcement that South Carolina Governor Nikki Haley will accept the role of American Ambassador to the United Nations under President Donald Trump, there is plenty to celebrate. The foremost of which is perhaps the contempt for the prevailing diplomatic culture in Turtle Bay inherent in the selection.

Obama Team In Despair Over Flynn Pick. If you thought the handwringing among the cast of Hamilton over the impending Trump presidency was bad, it apparently does not compare to the growing despair among the Obama White House team. What has them most upset? The elevation of Steve Bannon or Jeff Sessions? No, it turns out that the most "devastating blow" was the selection of a fellow Democrat, Lieutenant General Michael Fynn, as national security adviser.

Trump appoints Betsy DeVos to education secretary post. President-elect Donald Trump on Wednesday said he intends to appoint west Michigan GOP mega donor and philanthropist Betsy DeVos to be his education secretary, putting an ardent supporter of school choice in charge of the nation's education policy.

Trump picks Betsy DeVos to be education secretary. President-elect Donald Trump has selected a charter school advocate and GOP donor from Michigan to be education secretary.

Borking:
How ugly will Democrats get in smearing Jeff Sessions? Sen. Jeff Sessions, President-elect Donald Trump's pick for attorney general, will likely face a tough confirmation fight. What remains to be seen is how ugly those hearings will get. No sooner had Sessions been named than the left — and much of the press — were tarring the Alabama senator as a racist. The NAACP tweeted that he "supports an old, ugly history" when it comes to civil rights. Most of this traces to 1986, when the Senate rejected his nomination for a federal judgeship, based on hearsay testimony from two lawyers alleging he'd made racially charged statements.

Here's why Jeff Sessions is the perfect pick for attorney general. President-elect Donald Trump has picked Sen. Jeff Sessions to serve as the 84th Attorney General of the United States — and he couldn't have made a better choice. Throughout his career, Sessions has demonstrated unshakable commitment and fidelity to the Constitution, the rule of law, and protecting the freedom and liberty that is our birthright as Americans. He has almost the perfect professional background to be the attorney general. As the former U.S. Attorney of the Southern District of Alabama under President Ronald Reagan, he gained practical experience in the most important prosecutorial work that the Justice Department is supposed to do every day: enforce the criminal and civil statutes of the United States.

Mike Pompeo: A Great Appointment. So far, Donald Trump's appointments are going a long way to reassure observers like me, who worried that the GOP had nominated a candidate who was not a conservative. Let's just say that anyone who puts Jeff Sessions in charge of the Department of Justice is no liberal. A less high-profile but equally stellar appointment is Trump's selection of Congressman Mike Pompeo, from Kansas, to head the CIA. Pompeo is a brilliant guy who was valedictorian of his class at West Point, spent five years as an Army officer, went to Harvard Law School, where he was a member of the Law Review, made money in business and then ran for Congress.

In Alabama, Jeff Sessions Desegregated Schools and Got the Death Penalty for KKK Head. Now that Jeff Sessions is Donald Trump's pick for attorney general, you're going to hear a lot of people dig up old accusations that Sessions is a racist. In fact, CNN did so last night. However, between the nature of the accusations and Sessions's actual record of desegregating schools and taking on the Klan in Alabama, it strains credulity to believe that he is a racist. These accusations all center around the bruising judicial nomination process Sessions went through in 1986.

Mark Levin Takes Jeff Sessions' Leftist Borkers to the Woodshed. Mark Levin made much of Trump's new pick for attorney general, Sen. Jeff Sessions, R-Ala., on his radio show Friday night [11/18/2016]. The Alabama lawmaker has already come under intense scrutiny from the Left, having been labeled a racist. But Levin quickly dispelled this heinous notion. "He is a thoroughly decent human being. He does not have a racist bone in his body. He is a soft-spoken man. He is an extremely intelligent man ... and he would make an outstanding attorney general of the United States," Levin said. He then went on to say "we cannot tolerate" the witch hunts employed by the Left.

Democrats honed the dog whistle of racism on Sessions. It all began with Jeff Sessions from Alabama. Even before they coined a term for it — Borking — they did it to Jeff Sessions, a decent man with a stellar legal reputation as a fearless and tough but fair federal prosecutor down South. In 1986, President Reagan nominated Jefferson Beauregard Sessions to the federal bench. The son of a general store keeper, Mr. Sessions was highly regarded for his intellect and devotion to the Constitution. The American Bar Association deemed him "qualified" for the post. But then he came to Washington and met the United States Senate for confirmation hearings. [...] Sen. Edward M. Kennedy — 17 years removed from leaving Mary Jo Kopechne to die her watery death on Chappaquiddick Island — smelled injustice. Liberal special interest groups in Washington had hatched a plan for Democrats on the Senate Judiciary Committee to begin smearing Republican nominees to the federal bench.

The Borking Bullies of the Left. [Scroll down] [T]he Borking bullies of the left [are] gearing up for a savage trashing of Sen. Jeff Sessions. Newspapers under their control are publishing glorious reminiscences of Sen. Ted Kennedy's opposition to President Ronald Reagan's appointment of Sessions to the federal court. But anyone who bothers to study that Borking can quickly see what a Soviet-style show trial Sessions suffered. Ted Kennedy's opening statement against Sessions was pitiful in its crudeness. Kennedy thundered against Sessions on the most nebulous of charges — that he had the wrong "attitude," that he criticized the NAACP (so what?), that he made a handful of comments which liberals in the pocket of Kennedy construed willfully as racist.

Trump Cabinet Picks Incite Liberal Backlash. President-elect Donald Trump's picks for three key Cabinet positions incited a chorus of denunciations from Democrats and liberal groups Friday [11/18/2016]. After announcing former Breitbart News executive Stephen Bannon would be a top adviser earlier this week, Friday's selections further confounded conjectures that Trump would return to his moderate roots as he assembled his Cabinet.

Justice is served by the appointment of Jeff Sessions. Donald Trump's appointment of Sen. Jeff Sessions (R-Ala.) as attorney general does a lot to signal the president-elect wants a no-nonsense, by-the-book Justice Department. Sessions has been my friend for 30 years and my senator for 20 years. His Justice Department will not meddle with local governments, it will be respectful and deferential to state legislatures and it won't look to make trouble with universities, school systems or private businesses. Importantly, Sessions's appointment tells the United States' beleaguered law enforcement agencies help is on the way. It also shows Trump wants to strike a blow to the corrosive, pretentious, sanctimonious political correctness his voters soundly rejected on Nov. 8.

Rep. Rohrabacher, Afghan expert, Putin friend, emerges as State pick. With confirmation concerns increasing for President-elect Trump's top two picks to run the State Department, Rudy Giuliani and John Bolton, top officials are now considering California Rep. Dana Rohrabacher, a top House foreign policy expert, according to sources. Rohrabacher, once a Reagan speechwriter and a House member since 1989, emerged Tuesday night as a possible Trump pick. His views jive closely with Trump's on foreign policy, immigration and global warming.

Firings and Discord Put Trump Transition, Team in a State of Disarray. ne week after Mr. Trump scored an upset victory that took him by surprise, his team was improvising the most basic traditions of assuming power. That included working without official State Department briefing materials in his first conversations with foreign leaders. Two officials who had been handling national security for the transition, former Representative Mike Rogers of Michigan and Matthew Freedman, a lobbyist who consults with corporations and foreign governments, were fired. Both were part of what officials described as a purge orchestrated by Jared Kushner, Mr. Trump's son-in-law and close adviser.

Bias alert!
There seems to be a lot of talk in the news media about friction and upheaval in the Trump transition team, but I think it's largely overblown: Individual players are always likely to drop out as the organization takes shape.

Trump vows to cut all lobbyists from transition team. President-elect Trump's White House transition team has vowed to go lobbyist-free, after coming under criticism for staffing up on lobbyists despite campaign promises to fight the influence of special interests in Washington. Vice President-elect Pence and the White House transition have signaled plans to clear out any lobbyists serving in official roles as they begin the 10-week transition process until Trump's inaugration on Jan. 20, according to a report from Fox News.

Michael Savage Warns Donald Trump: 'Rinse' Reince; He's 'Everything the Voters Rejected'. President-elect Donald Trump should not select Republican National Committee Chairman Reince Priebus as his Chief of Staff, says Michael Savage, the national talk radio host and author of the new book Scorched Earth: Restoring the Country After Obama. Priebus is "the enemy within," Savage warns. "He's the RNC! Everything the voters rejected," Savage tells Breitbart News. "He will steer Trump away from every policy we sent him to D.C. to change. He is the enemy within. He is [Paul] Ryan, [Mitch] McConnell, and the Old Guard. They do not want change. 'Out with the old, in with the new.'"

RNC's Reince Priebus Enlists In Democrats' War on Whites. When Republican National Committee Chairthing Reince Priebus heard about a "War on Whites," he immediately enlisted. Priebus condemned a Congressman in his own party, calling Mo Brooks's comments about Democrats waging a "War on Whites" as "obviously a pretty idiotic thing to say." [...] Indeed, if the GOP or the USA are to even have a future, it depends on overcoming political flunkies like Priebus and his unhinged anti-white allies in the Democratic Party. Priebus has never won a campaign, losing a run for the Wisconsin state Senate ten years ago despite enjoying a fundraising advantage. In the words of the man who beat him, Democratic state Senator Bob Wirch, "He was like a Paul Ryan without the charm... He played very well with businessmen, but they didn't like him at McDonald's.

John Bolton for secretary of state. John Robert Bolton is the right person to take the helm of the State Department. Donald Trump himself has praised Bolton and suggested him for the post. Here I am going to tell you why his hunch was right, and why he must stay on that track. Bolton is best for three reasons. First, he is well versed in security matters, and we live in volatile times when security issues have come to overwhelmingly dominate U.S. foreign affairs and thus should be adeptly tackled in foreign policy. Bolton is quite familiar with security threats, as he has been studying them and working to neutralize them for the greater part of his career.

Tea Party Patriots warn against Priebus for chief of staff. President-elect Donald Trump hasn't yet publicly named a chief of staff, but already, a major tea party group is warning him against naming one of his reported top choices. The Tea Party Patriots Citizens Fund warned against a "Washington insider" to run Trump's White House, specifically naming Republican National Committee Chairman Reince Priebus, who is said to be one of Trump's top two choices. Jenny Beth Martin, the co-founder of TPPCF, told CNN in a statement that the group wants Trump to "drain the swamp."

Donald Trump Cabinet: Anti-Black Lives Matter Sheriff David Clarke Eyed For Department Of Homeland Security. Donald Trump's ascension to the White House means one of the president-elect's top priorities will be to name a cabinet to help lead the U.S. forward. With the lingering threat of terror attacks in the U.S., the leadership of the Department of Homeland Security may take precedence for Trump. One person reportedly under consideration for the position is David Clarke Jr., the Milwaukee County sheriff who made a national name for himself after speaking at the Republican National Convention in Cleveland this summer. The 60-year-old African-American law enforcement official's reinforced his support for Trump by describing the protesters demonstrating against the president-elect "radical anarchists" Wednesday night [11/10/2016].

Myron Ebell Perfectly Suited for EPA. Over the last eight years the Obama administration has abandoned this successful approach to environmental protection as envisioned by Congress. Instead, they have turned to special interest groups to drive centralized planning. Prime examples include the 2015 EPA Power Plan and the Waters of the United States (WOTUS) rule. These rules contain illusory flexibility to states when in reality they represent a huge shift of control from states to the federal government. Even the current administration acknowledged that the power plan was symbolic and would do little to improve air quality. The power plan would be expensive and shut down energy plants that have not yet been paid for, thereby stranding those costs with ratepayers. It would harm the industrial sector by significantly increasing electricity rates, which would throttle manufacturing industries that require low energy prices to compete.

Donald Trump On D.C.: 'The Whole Place is One Big Lobbyist'. President-elect Donald Trump says he wants to drain the swamp of Washington D.C., but he admits in a recent interview that he might have to rely on lobbyists to help his transition team. During an interview with CBS correspondent Lesley Stahl, Trump admitted that he did have lobbyists on his team, but explained that it was the current state of the culture in Washington D.C.

The next great battle for conservatives: Keeping RINO insiders out of the administration. [For example,] Rep. Michael McCaul (R-TX) — potential pick for DHS Secretary: There is no doubt that the issues of immigration and Islamic terror are the two biggest factors in Trump's win. This is why it's so important to keep McCaul away from DHS. As we've chronicled in this column, McCaul has done nothing to fight the open borders crowd, and in fact, proposed terrible immigration bills as chairman of the Homeland Security Committee. This is the exact sort of "bad experience" the voters want Trump to reject. More importantly, McCaul has been a leader in the promotion of "Countering Violent Extremism," which is subversion agenda advanced by North American Muslim Brotherhood affiliates to obfuscate any mention of Islamic terrorism. This is the very willful blindness that Americans so desperately wanted to change with the outcome of this election.


Platform / agenda / mandate:

This subsection has moved to a page of its own, located here.




Protests / sore losers:

Hillary Clinton: Women Only Voted For Trump Because Their Husbands Told Them To. Hillary Clinton's delusions continue. It's been almost a year since the election, and now Hillary's blaming married women who voted for Donald Trump for her loss to the president back in November. Still unwilling to take any responsibility for her loss to Donald Trump, Hillary continues to play the blame game. So far, she's blamed everyone from her most trusted advisor, Huma Abedin, to the infamous socialist and fellow democrat Bernie Sanders, for the disastrous campaign and ridiculous ideas she championed last year. But she doesn't stop there anymore.

Trump, racism, and the media's obsession. If it weren't for their sick obsession with race, the national media would have next to nothing to talk about. The October issue of The Atlantic magazine features a long essay by Ta-Nehisi Coates on President Trump being "The First White President," a lament about the shame Americans should feel in electing a white man after a black one. It's been heralded by Coates' media peers as a "blockbuster" and something to "admire," since it goes on and on about racism and nothing else. Legitimate reasons voters had for choosing Trump are legion (the suffocating politically-correct culture, immigration, Hillary Clinton's laugh) but Coates chalked up the entire 2016 outcome to white racists and Trump's whole agenda to bigotry.

As the Mockery Dwindles. The moment I have been awaiting with trembling and prayerful anticipation since the week of President Trump's inauguration is dawning: The hysterical assault by the media and Democrats is starting to crumble and fall apart. Like shrieking babies who eventually become so angry and exhausted they can't cry anymore, they have to pause since they no longer can maintain an ambiance of endless accusations.

D.C. judge approves government warrant or data from anti-Trump website. A District of Columbia Superior Court judge on Thursday [8/24/2017] approved a government warrant seeking data from an anti-Trump website related to Inauguration Day protests, but he added protections to safeguard "innocent users." Chief Judge Robert Morin said DreamHost, a Los Angeles-based web-hosting company, must turn over data about visitors to the website disruptj20.org, which is a home to political activists who organized protests at the time of Donald Trump's inauguration as U.S. president in January.

Trump Gets it. Trump jumped to the chase. He gets the progressive mind. He asked, "Will you tear down George Washington's statue next? Do you like Jefferson? He was a slave owner. Will you tear down his statue, too? You are changing the history and changing the culture." Finally, we have a leader who fights back against the tyranny of the culture-changing socialists. Trump understands that these actions are warm-ups. The progressives are tearing down Confederate statues, and they are kicking and spitting on the memorials to the dead because they cannot yet kick and spit on President Trump and his voters. If they could imprison Trump and deport his voters, they would do that and not worry about statues. They are lashing out where they can.

Michael Moore — 'I Refuse To Live In A Country Where' Trump Is President'. Good. Don't let the door hit you [...] on the way out. Michael Moore is now declaring that he refuses "to live in a country where Donald Trump is President." Then he went on to make no sense, except in a revolutionary way when he stated that he also wasn't planning on leaving.

Macy's Stock Crumbles After Dumping Trump. Nearly two years after phasing out its Donald Trump line of menswear, Macy's stock has plummeted to its lowest levels in years. Macy's dumped Trump merchandise in July 2015 after the then-Republican presidential candidate made "derogatory" comments about Mexican immigrants. "Macy's is a company that stands for diversity and inclusion," the company said at the time. "We are disappointed and distressed by recent remarks about immigrants from Mexico." Trump responded by calling for a boycott of the store, tweeting: "Those who believe in tight border security, stopping illegal immigration, [and] SMART trade deals [with] other countries should boycott Macy's."

Paying workers to protest: The controversial trend of social justice benefits. Since the election, scores of activists have taken to the streets, town halls and rallies to blast President Trump. That's all with the blessing of their boss thanks to social justice benefits and paid time off work policies that are growing in popularity. At San Francisco marketing firm Traction, social justice benefits take the form of two so-called "Days of Action" a year. "They can take part in a protest, they can volunteer for a cause that is meaningful to them," says CEO Adam Kleinberg. "Civic engagement is a foundation of our democracy, and companies should encourage it."

Hannity Warns About 'Forces' Trying to Stop Trump: 'This is a Serious Moment of Truth for America'. On Tuesday night [6/13/2017], Sean Hannity called out the five "forces" that are trying to "take down" President Trump. The Fox News host first identified those in "the deep state" who "selectively leak information to damage the president, like what James Comey did." Second was the "destroy Trump media," who he referred to as "a bunch of tinfoil hat conspiracy theorists" who were "caught colluding with the Clinton campaign" during the election. Third were the "unhinged Democrats," who he called a "bunch of sore losers" and "obstructionists" who are still bitter about the election.

Trump Is Winning His War on Washington. No one who followed closely really believed that the war was over on election night. The Democrats contested some local results, very unsuccessfully, and then, in their stark disbelief, took out television advertisements reaching tens of millions of people to ask some of the 538 people elevated to the electoral college to break their pledges and vote for Hillary Clinton instead of Donald Trump. It was an absurd fiasco. Democratic Senate leaders Chuck Schumer and Richard Durbin made prodigious efforts to block virtually every nominee of the incoming administration to high office.

Useless Idiots. The useful idiots and fools are turning out to be those detractors who wind up aiding Trump with outlandish critiques. These make the president seem almost levelheaded by comparison.

Warriors win NBA Finals, unanimously refuse to attend White House celebration. The Golden State Warriors reached the summit in the second time in three years by defeating the Cleveland Cavaliers in five games to win the NBA Finals. [...] Now that they've been crowned champions, the Warriors unanimously refused to attend the White House celebration because of Donald Trump according to multiple reports.

Trump's education cuts aren't 'devastating,' they're smart. It's the end of the world as we know it — at least that's what some people would have us believe about President Trump's education budget. It's "a devastating blow to the country's public education system," according to National School Boards Assn. CEO Thomas Gentzel. More like a "wrecking ball," says Lily Eskelsen Garc'a, president of the National Education Assn. teachers' union. No, it's a veritable "assault on the American Dream," insists John B. King Jr., former Obama administration secretary of education.

Donald Trump Jr.: I'm still waiting for celebrities who promised to move if Trump won to leave US. Donald Trump Jr. is wondering why all the celebrities who vowed to leave the country if Donald Trump won the presidency haven't left yet. "I'm still waiting for all those celebs here, who promised to do the same, to go!!!" the president's eldest son wrote in response to liberal French celebrities promising to move to Canada if far-right presidential candidate Marine Le Pen wins France's election in May.

Starbucks CEO Howard Schultz to Step Down after his anti-Trump vow to hire 10,000 refugees backfired. Howard Schultz, the current CEO of Starbucks, is weeks away from stepping down from his role at the giant coffee chain next month. [...] Earlier this year, Schultz made a vow to hire thousands refugees in response to President Donald Trump's first travel ban. Trump supporters have called for a boycott of the chain since January 29, when Schultz vowed to hire 10,000 refugees over five years.

Columbia professors link 'cluster of suicides' to 'distress' over Trump. Two Columbia University professors recently sent a letter to the institution's president that linked a "fog" of political suffering to a "cluster of suicides" by students. Professors Robert Pollack and Letty Moss-Salentijn, the co-chairs of the Columbia Faculty Affairs Committee, contacted Columbia President Lee Bollinger on Feb. 24 about the need to help "faculty to reach into themselves and find strength to express themselves."

The Editor says...
If the government is your god, then you are like the foolish man who built his house upon the sand: When the storms come, your house will collapse.

Ex-Obama Official Suggests 'Military Coup' Against Trump. In a blog post for Foreign Policy magazine, Rosa Brooks, a former Obama administration official, outlined four ways to "get rid" of President Trump, including declaring him mentally unfit for command or carrying out a military coup. Brooks is a Schwartz senior fellow at the New America Foundation, which is funded by billionaire George Soros's Open Society Foundations. She served from 2009-2011 as Counselor to the Under Secretary of Defense for Policy and served as a senior adviser at Obama's State Department. Her posting is titled "3 Ways to Get Rid of President Trump Before 2020," although the piece actually outlines four ways.

Sarah Silverman calls for military overthrow of 'fascist' Donald Trump. Actress Sarah Silverman called for a military coup against President Trump on Wednesday night [2/1/2017] in the midst of violent riots in Berkeley, California. In a screaming all-capital-letters tweet exhorted her almost 10 million followers to "wake up & join the resistance," a term from World War II that anti-Trump rioters have used to define themselves. She then outlined her preferred scenario for the violent overthrow of the legitimately elected government, still in all capital letters.

These Are the Groups Behind Those 'Spontaneous' Anti-Trump-Ban Protests. News reports and TV broadcasts about the week's protests described the events as "spontaneous protests" mounted in response to the Trump administration's travel and immigration executive order. But to Make the Road New York, and the groups like it across the country, there was nothing "spontaneous" about it. As some observers and activists were quick to point out, these grassroots and professional organizers had been waiting and planning for this type of mass, direct action — ready-made to go viral on social media — ever since, well, Nov. 9. From the moment Trump defeated Hillary Clinton in the general election, they've been anticipating and mapping out their battle plans for Trump's orders on deportations, bans, and detention.

Celebrities Call For 'Total Hollywood Strike' Until Trump Resigns. Rosie O'Donnell, Amy Schumer, Miley Cyrus and George Clooney are part of a group of celebrities calling for a total Hollywood strike "until Trump resigns". A group of liberal Hollywood celebrities are threatening a "massive, all-round Hollywood strike" unless Donald Trump resigns. Describing Hollywood as "the base of the entire modern American culture", the group also claims to be speaking on behalf of "all of humanity."

The Editor says...
Yes, please do shut down all motion picture production in Hollywood for at least the next four years. This will enable America's impressionable young people to take a break from the endless stream of propaganda films and rediscover reality. It would be beneficial for everyone to stay out of the theaters for a few years, instead of marinating their minds in depictions of promiscuity and gunfire that's accompanied by thousand-watt sound systems. The so-called "stars" of Hollywood, after a few years without pay, might re-assess their perceived importance, too.

Trump-hating flag burners in Iowa absolutely, positively foiled. The Supreme Court may rule that flag-burning is protected expression under the First Amendment, but that doesn't mean that it is acceptable to endanger ordinary citizens, who also have rights to express themselves. In this case, with a fire extinguisher. The national media is much less interested in what happens in Iowa City, Iowa than it is in New York, D.C., Los Angeles, and other parts of the Blue Bubble. So we rely on the Iowa City Press-Citizen to learn about what happened when a couple of America-hating, Trump-hating protesters set multiple versions of Old Glory ablaze.

Video shows anti-Trump activists plotting to set off stink bombs, sprinklers at inaugural fetes. Anti-Trump protesters are plotting to derail an inaugural ball by setting off stink bombs and the sprinkler system to force the evacuation of celebrants, according to an undercover video released Monday [1/16/2017]. The D.C. Anti-Fascist Coalition, part of the anti-inauguration umbrella group #DisruptJ20, plans to "ruin" the DeploraBall, a sold-out black-tie gathering Thursday night at the National Press Building, according to the Project Veritas investigation.

More than 30 Democratic lawmakers now skipping Trump's inauguration. A growing group of Democratic lawmakers will boycott President-elect Donald Trump's inauguration Friday as a protest of Trump's worldview and his criticism of civil rights icon John Lewis, congressman of Georgia[.] There are now more than 40 House Democrats — 42, at last count — who have declared that they will not attend the inauguration on Capitol Hill this week. The number rose sharply after Trump tweeted Saturday that Lewis is "all talk, talk, talk" and should "finally focus on the burning and crime infested inner-cities."

Not much legitimate about more Dems bashing Trump. Since Donald Trump's unexpected victory, Democrats have been trying to delegitimize his historic upset. U.S. Rep. John Lewis (D-Ga.), who sent shock waves through the media echo chamber this weekend when he said in an NBC interview, "I don't see this president-elect as a legitimate president. I think the Russians participated in helping this man get elected. And they helped destroy the candidacy of Hillary Clinton." Former Clinton campaign spokesman Brian Fallon went on CNN Friday [1/13/2017] to chime in as well.

A pattern of deeming Republican presidents 'illegitimate'. It's a free country, and the nineteen (and counting) members of Congress who are planning to boycott President-elect Trump's inauguration are certainly within their rights. So even is Rep. John Lewis, D-Ga., who said over the weekend that Trump's election (or his presidency) is "illegitimate." [...] But this is also part of a pattern. Lewis and Lee, along with some other Democratic lawmakers at the time, also boycotted to make a point when President George W. Bush was inaugurated in 2001. The Washington Post reported at the time that Lewis "thought it would be hypocritical to attend Bush's swearing-in because he doesn't believe Bush is the true elected president."

Inasmuch as Trump hasn't been sworn in yet, Mr. Lewis is correct.
John Lewis: Trump isn't a legitimate president. Rep. John Lewis (D-Ga.) doesn't plan to attend President-elect Donald Trump's inauguration next week, saying he doesn't believe Trump is a "legitimate president." "I believe in forgiveness. I believe in trying to work with people. It will be hard. It's going to be very difficult. I don't see this president-elect as a legitimate president," Lewis said in an interview for NBC News's "Meet the Press."

I'll Pay Liberals To Fulfill Their Promises To Leave. As ministers go, Al [Sharpton] is unusual in that he has over $4 million in tax liens against him. It seems the offering plate he passes around at the White House stays pretty empty. Anyway, Al announced last year that if Donald Trump were elected, he would leave the country. But he's still here. I care about Al and want to help him with his travel plans. So I hereby offer to buy him a one-way ticket out of the country if he promises never to return.

What no one wants to tell the anti-Trump celebrities (but should). Whether you like it or not, Donald Trump will become the 45th President of The United States on Friday, January 20, 2017. That's as much a fact as the sky being the color blue and the grass being green. Similarly, you wouldn't argue that the Denver Broncos weren't the Super Bowl Champions or that the Chicago Cubs didn't win the World Series, and you can't argue that Donald Trump didn't win the election. Trump won and there's nothing you nor anyone else can do to change that. Asking people to sign a petition that urges congress to stand up to Donald Trump is childish and accomplishes absolutely nothing. Instead of trying to fight the inevitable, how about giving the guy a chance?

Restaurant Won't Add Trump to Its Mural That Depicts Every President Since Eisenhower. Mama Ayesha's in Washington D.C. has been serving Middle Eastern food in the Adams Morgan neighborhood since 1960. Over the last seven years, however, it's become known for something other than its food. In 2009, artist Karla "Karlisima" Rodas finished a mural that it took him two years to paint that depicts the restaurant's founder, "Mama" Ayesha Abraham with every U.S. President since Dwight Eisenhower. A quick location search on Instagram for the restaurant turns up more photos of the mural than of the food.

DC Private Schools Won't Take Kellyanne Conway's Kids. Kellyanne Conway is worried establishment elites in Washington, DC, are so prejudiced against President-elect Donald Trump that she won't be able to get her kids into private school in the nation's capital. [...] Conway, who was Trump's campaign manager, is moving to DC to be counselor to the president. Her husband, George, happens to be the lawyer who wrote the Supreme Court brief when Paula Jones sued Bill Clinton for sexual harassment.

Mormon Tabernacle Choir singer resigns, compares Trump to Hitler. From the pages of the Salt Lake Tribune comes word of a distraught Mormon Tabernacle Choir singer. Jan Chamberlin has resigned from the famed choir — rather than perform for Donald Trump's inauguration. "Since 'the announcement,' I have spent several sleepless nights and days in turmoil and agony," she wrote in her resignation letter to the choir.

'You cannot eat here': Hawaii café riles residents with ban on Trump voters. Honolulu's Café 8½ gets rave reviews on Yelp for its "Radiatore Verde" and "Italian stir fry," among other popular dishes at the eclectic mom-and-pop restaurant — but the response to its new 'policy' barring pro-Trump patrons has been decidedly more mixed. A bright yellow, handmade sign posted on the restaurant's front glass door declares: "If you voted for Trump you cannot eat here! No Nazis."

Skowhegan propane dealer with anti-Trump message is not licensed to sell fuel. A local propane dealer who said in a recent message that he won't sell to anyone who voted for President-elect Donald Trump has been delivering and dispensing gas without a state license for at least two years, state officials said this week. Michael Turner, who operates of Turner LP Gas Service on Canaan Road, left a message for would-be customers on his company's voice mail, saying "If you voted for Donald Trump for president, I will no longer be delivering your gas. Please find someone else." That message was left on a Friday, when the weather was bitterly cold. The message goes on to say that the cost of gas remains $110 a bottle, with payment due on delivery.

Oracle employee resigns after CEO sides with Trump. An Oracle employee has publicly announced his resignation via LinkedIn after learning that Safra Catz, CEO of the software firm, joined U.S President-elect Donald Trump's transition team. In a post addressed to Catz on Monday [12/19/2016], George A. Polisner, who managed Oracle's Cloud services, described how he refused to help Trump "in any way." Fierce opposition to Trump's retirement, social and economic policies led Polisner to resign from Oracle, which he referred to as "a once great company."

Why are Hollywood Libs such Poor Losers? [T]hese real-life "play actors" who get paid outrageous amounts for pretending to have skills they don't have appeared in a PSA calling themselves "Unite for America" — really. The PSA should be called "Sore Losers." With the sound turned off, it looks like a Medicaid ad, but turned up, it is a bunch of whiney liberal "play actors" urging the members of the Electoral College to ignore the law, centuries of fair play and tradition, and do what they say, because Hollywood actors know what's best for us rabble. What qualifies these people who have personal assistants, makeup artists, stand-ins, stunt men, plush motor homes, and their specific brand of chilled sparkling water and treats to even think for a second that they are qualified to comment on "real life" issues, much less subvert a longstanding election process?

Democratic women most likely to block 'friends' on social media over politics. A survey shows a significant number of Democratic women are reacting to Hillary Clinton's unexpected election loss by blocking, "unfollowing" and "unfriending" people on social media who express political opinions they don't like. Thirty percent of Democratic women reported cutting off online communication with someone for political reasons since the Nov. 8 election, according to a Public Religion Research Institute poll published Monday. They are more than twice as likely to blot out dissenting points of view from their social media timelines as Democratic men, who reported doing so at a 14 percent rate.

Hillary Supporter Admitted Himself To The Psych Ward On Election Night When He Realized She Was Losing. A Hillary Clinton supporter admitted himself to the psychiatric ward on election night because he realized she was going to lose to Donald Trump. Benjamin Ryan — considered a "Hillblazer" because he raised over $100,000 for the former Democratic nominee — detailed his suicidal nervous breakdown for the Huffington Post on Wednesday [11/30/2016]. He said he was "catatonic, plagued by involuntary jerking motions, speech patterns disjointed, weeping uncontrollably."

SPLC Has Perfected the Politicization of Hate Crimes. After Hillary Clinton lost the election, she, her staff, and her supporters were sent reeling. Many have yet to recuperate. In times past, such distraught persons would be attended to by priests, ministers, and rabbis, but today they have been replaced by grief counselors and puppies. Coloring books and playdough were given to soothe the anguish of law students at the University of Michigan, and therapists of every shade of grey were summoned to talk to the afflicted. Others rioted. They baited the police, beat up Trump supporters, destroyed property, and tied up traffic. Some were pros — veterans of Occupy Wall Street and Black Lives Matter. Others were brats: affluent young men and women so bored with life that they spend most of their waking hours microanalyzing perceived microaggressions against them. For relief, they take to the streets, providing it is not raining or too chilly.

Obama: If only young people voted, 'Hillary would have gotten 500 electoral votes'. President Barack Obama told Rolling Stone in an interview the day after the election that was published Tuesday [11/29/2016] that Democratic presidential nominee Hillary Clinton would've won if only young people voted. "If you look at the data from the election, if it were just young people who were voting, Hillary would have gotten 500 electoral votes," Obama said. "So we have helped, I think, shape a generation to think about being inclusive, being fair, caring about the environment." He said young Americans "will have growing influence year by year, which means that America over time will continue to get better."

The Editor says...
Straw man alert! "If only" covers a lot of ground. Hillary would have won if only those who are dependent on monthly checks from the government had voted. Hillary would have won if only unionized government workers had voted. Hillary would have won if the residents of California had been the only ones voting. None of that matters. Donald Trump won an election in which the broadest possible cross-section of America voted.

Gitmo Prisoners 'Thought It Was the End of the World' on Election Night, Asked for Tranquilizers. Prisoners at the Guantanamo Bay military prison in Cuba "thought it was the end of the world" the night of the presidential election and asked their guards for tranquilizers and sleeping pills, CBS correspondent Margaret Brennan reported Thursday. David Remes, the lawyer of one of the prisoners at Guantanamo, recounted to Brennan what his client told him about election night. "He said that many detainees thought that it was the end of the world and felt terrible and that many detainees asked for tranquilizers, sleeping pills because they were so distraught," Remes said.

Spice retailer says Republicans embraced racism by electing Trump. "The open embrace of racism by the Republican party in this election is now unleashing a wave of ugliness unseen in this country for decades," wrote Penzeys CEO Bill Penzey in an email to customers. "The American people are taking notice." [...] Penzeys operates dozens of retail outlets in 29 states — along with a popular mail order business. And many of their customers were outraged by the insinuation that people who voted for Trump are racist.

Trump and College Chaos. If one needed more evidence of the steep decay in academia, Donald Trump's victory provided it. Let's begin by examining the responses to his win, not only among our wet-behind-the-ears college students, many of whom act like kindergarteners, but also among college professors and administrators. The University of Michigan's distressed students were provided with Play-Doh and coloring books, as they sought comfort and distraction. A University of Michigan professor postponed an exam after many students complained about their "serious stress" over the election results. Cornell University held a campus-wide "cry-in," with officials handing out tissues and hot chocolate. One Cornell student said, "I'm looking into flights back to Bangladesh right now so I can remove myself before Trump repatriates me." The College Fix reported that "a dorm at the University of Pennsylvania ... hosted a post-election 'Breathing Space' for students stressed out by election results that included cuddling with cats and a puppy, coloring and crafting, and snacks such as tea and chocolate." The University of Kansas reminded its stressed-out students that therapy dogs, a regular campus feature, were available. An economics professor at Yale University made his midterm exam "optional" in response to "many heartfelt notes from students who are in shock over the election returns."

Tucker Carlson Confronts Business Owner Who Won't Do Business with Trump Supporters. Tucker Carlson tonight faced off with a business owner who publicly declared that he won't do business with Donald Trump supporters. Mathew Blanchfield, the CEO of 1st in SEO, wrote online, "If you are a Republican, voted for Donald Trump or support Donald Trump, in any manner, you are not welcome at 1st in SEO and we ask you to leave our firm." Carlson pressed him tonight on why he would say something like that. Blanchfield argued this is about the "moral principle" at hand and said he is not tolerant of bigotry or fascism. He went on to say he strongly believes Trump is a fascist and while he would allow a Trump supporter into his home, a lot of what Trump does alarms him.

Another place to boycott:
New Mexico Business: If You Support Trump, Get Out. A business owner in Albuquerque has announced that, due to his opposition to "fascism," he will henceforth refuse to do business with Republicans and President-elect Donald Trump supporters. According to KOB 4 News, Matthew Blanchfield runs the online marketing company 1st in SEO, and he's so upset about the presidential election he's willing to shed customers to show his disgust.

Democrat Goes Unhinged Over Trump On House Floor! I've seen a lot of bad reactions to Trump becoming President, but this is by far the worst. [...] Rep. Ruben Gallego (D-Ariz.) couldn't stand it that Donald Trump has won the Presidency, so he has reverted back to a third-grade style of expressing himself where he is slinging insults and stomping his feet.

Scott Baio Tells Liberal Celebrities to Pack Their Bags and Move to Canada. Scott Baio known for his role as Chachi Arcola in Happy Days has had enough. In a video posted to Facebook he said[,] "I promise you something," "if you want to watch the best television that's on television right now, watch MSNBC. You'll have a ball. It's amazing. The crying, the literal crying, the anger, the rage." [Video clip]

Protesters get a lesson in democracy. Have you noticed how many of the riff-raff can't wait to go in front of the TV cameras to announce in broken English that the reason they hate President-elect Trump is because they're illegal aliens. Then they hold up their signs saying "NOT MY PRESIDENT!" Well then, of course he's not your president. You're from Guatemala, or maybe Honduras. Last night, as a public service to the viewing public, Fox News Channel started running English-language subtitles under the anti-Trump sound bites. I'm serious.

Boss tells pro-Trump employees to resign. If you voted for Donald Trump, you may not feel welcomed at Grubhub. The CEO of Grubhub, an online food delivery service, sent a company wide email Wednesday suggesting employees who agree with President-elect Donald Trump's behaviors and his campaign rhetoric should resign. "If you do not agree with this statement then please reply to this email with your resignation because you have no place here," wrote Matt Maloney, Co-Founder of Grubhub. "We do not tolerate hateful attitudes on our team."

Stars urge their fans to 'fight' after Trump win. Many stars criticized Donald Trump for suggesting he might not accept the election results. But now it's Hollywood who is having trouble accepting the results since the real estate mogul was elected president. Lady Gaga, for one, is pushing for her fans to sign a series of petitions that would hand the presidency over to Hillary Clinton.

The Editor says...
There was already "a series of petitions" to select the next president. They're called ballots. You guys lost. If you prefer to live under socialism, move to Venezuela. (Bring enough lunch for everybody.)

Celebrities Melt Down: Protests, weeping, snarling, and sadness as stars 'grieve' over Trump victory. [Actor James] Woods was one of a handful of celebrities in Donald Trump's camp all along. For much of the election, Hollywood's liberal elite stars took opportunities to bash him and to swear they'd leave the country if he were elected. Reaction now is ranging from anger to sadness.

Plot to impeach President Trump has already begun. It is just one day since Donald Trump was elected President - but thousands of furious liberals are already plotting ways to remove him from office. Within hours of the Republican's unexpected win over Hillary Clinton, people were calling for him to be impeached over claims of sexual abuse, fraud and racketeering. Online searches for 'How to impeach a president' surged hours after the result, with the question seeing a 4,850 per cent rise on Google.

The Editor says...
If you have courtroom-quality evidence of a crime that will convince the Republican-controlled House and the Republican-controlled Senate, bring it on! But keep in mind that Barack H. Obama wasn't impeached, even though there were numerous reasons to do so.

Anti-Trump protests erupt across the US. Thousands of people took to the streets Wednesday night [11/9/2016] to protest Donald Trump's election, chanting anti-Trump slogans and wreaking havoc in major cities, according to Fox News, despite Hilary Clinton's call for unity and affirmation that she accepted Donald Trump as her president. In Chicago, several thousand people marched in the streets, gathering outside Chicago's Trump Tower and chanting "Not my president!" Similar protests erupted in New York City, Philadelphia and Boston, with thousands more flooding the streets chanting anti-Trump slogans.

Hollywood Leftists, Stop Being Racist And Move To Cuba. A wide variety of entertainers (I use the term loosely) and other left-leaning Americans announced during the run-up to the election that they would leave the country if Donald Trump won the presidency. It has become something of a standard campaign ploy for the Democrats; they actually think they can shock voters into choosing their candidate by posing the question: "How can America survive without Alec Baldwin?" Of course this election the stakes were even higher. More famous people than ever banded together in their opposition of Donald Trump, promising to flee the Trump reign of terror. They screeched about it desperately to anyone who would listen. This is where things get complicated. You see, none of the lefties thought Trump had a chance [...] of winning.


Trump vs the Deep State

This subsection has moved to a page of its own, located here.




The clamor for Trump's impeachment (or worse) — beginning on day one!

Introduction by The Editor:
If you have courtroom-quality evidence of a crime, bring it on. Otherwise, go home. Better luck next election.

Hillary's Anti-Presidential Campaign. After a catastrophic defeat, Hillary has spent her political retirement dividing the country by casting doubt on her opponent's victory. The Russia conspiracy theory was the brainchild of her political operatives and it helped convince Dems to push for impeachment while calling Republicans, traitors. The unhinged ravings of Louise Mensch and Keith Olbermann have their origins in her conspiracy theory. This wasn't a gift to the Dems. The conspiracy theory was wholly self-serving. It excused her from any of the blame and prevented the Dems from figuring out what went wrong. Instead of learning how to talk to the white working class voters they lost, the Democrats reeled further to the left and bet everything on impeachment.

Unapproved Thought Is Violence. Throughout the eight years of Barack Obama, I was afraid to speak out against the man whom I thought was not who he purported to be. I thought he was a horrible president without an ounce of honesty or humility, pushing policies that were detrimental to every man, woman, and child in America. To say so aloud, however, was not permitted, and when I started writing about him, the windows in my house were broken, not once, but twice. That was then; I wonder what's in store now. Today you can say anything you want about the current president — talk about killing him in the vilest of ways and it's not a problem.

The Impeachable Offense and the Modern Presidency. The Trump presidency's legal and other difficulties have brought fresh attention to the uses and limits of the impeachment process. Jane Chong and Benjamin Wittes have argued that Congress ought at least to initiate a careful examination of the case for impeachment before potentially having to cobble it together on the fly. Now books are appearing with advice on just that question.

NYT Reporter: Pelosi Will Impeach Trump If Democrats Take Back The House. NYT Reporter Jeremy Peters warned President Trump on MSNBC Thursday [9/14/2017] that his "new best friend," House Minority Leader Nancy Pelosi, will move to impeach him if she ever gains control of the House. The comment after after Pelosi released a statement announcing that Trump "agreed to enshrine the protections of DACA into law," and also follows POTUS making a deal with Democrats to raise the debt ceiling.

Alan Grayson's anti-Trump mission: 'Lock him up'. Former Florida Congressman Alan Grayson is trying to rebrand himself as a leader of the anti-Trump movement and has been soliciting donations for what he says will be crowdsourced independent investigations into "Donald Trump and his henchmen." "This is not an organization for people who have mixed feelings about Donald Trump, or who worry about whether VP Pence would be better or worse, or are willing to let Senate Republicans 'investigate' Trump and leave it at that. No. This is an organization for people who have decided that TRUMP MUST GO — and are ready to take action to make that happen," reads one email appeal from Grayson.

Inside the Left's Plans to Occupy Trump. One week after Charlottesville, "the Resistance" is planning its next move. Members of a group calling itself "Refuse Fascism" met in five cities around the country on Saturday with the intent to plan and organize nationwide demonstrations later this year. Their goal, according to Eva Sahana, a 22 year-old organizer, is simply to "drive out the Trump and Pence fascist regime." The planning is still in its early stages, but the organizers have an idea in mind. On Saturday, November 4 — approximately a year after President Donald Trump's election — members of the Resistance will descend on America's major cities. They'll march and demonstrate, as they have in the past, but this time, say organizers, they won't go home at the end of the day. Instead, the plan is to occupy city centers and parks and not leave until, and only until, Trump and Vice President Mike Pence have fallen.

Roger Stone: Anyone Who Votes for Impeachment 'Would Be Endangering Their Own Life'. More and more, critics of President Donald Trump wonder if his term in office will be cut short, either by removal via the 25th Amendment or impeachment. TMZ caught up with former Trump adviser Roger Stone and asked what he thinks might happen. Suffice to say, he doesn't think it would end well. First, Stone criticized those who are hoping for Trump's removal. "The people who are calling for impeachment are the people who didn't vote for him," he said. "Sorry, he [won]. It's over, you lost." But if the president is impeached, Stone says, there could be disastrous repercussions. "You will have a spasm of violence in this country, an insurrection like you've never seen!" Stone warned. "Both sides are heavily armed." "This is not 1974," Stone explained. "The people will not stand for impeachment."

It's Only Going to Get Weirder from Here. You hear it constantly these days: "This can't go on." "Something's got to give." The hope that impeachment is around the corner is an unspoken assumption in much media coverage. "Trump Is Just Six Senate Votes Away From Impeachment" blared a recent Newsweek headline. (News flash: He's not.) The Los Angeles Times ran a forceful — and largely persuasive — editorial titled "Enough is Enough." It began, "These are not normal times," and then followed with a blistering indictment of elected Republicans who refuse to stand up and speak out about the damage the president is doing to the country and his own party. But maybe the new abnormal is the new normal, as the last line of the piece suggests: "This is the seventh in a series." Part of the problem is that President Trump, in terms of both his personality and his behavior, is like a magnet next to a compass, making it very difficult to get accurate bearings.

Maxine Waters to Trump: 'Not only will we resist you, we will impeach you'. Rep. Maxine Waters, D-Calif., promised during an awards show acceptance speech that she would not only resist the Trump administration, she would seek to impeach the president. "I don't care how big you are, I don't care how high you think you are, if you come for me, I'm coming for you," Waters said while accepting the 2017 Black Girls Rock! social humanitarian award earlier in August in Newark, NJ.

Missouri senator who urged Trump assassination booted from committees. Sorry might not cut it for the Missouri lawmaker who called for President Trump's assassination. Missouri Senate leaders announced Tuesday [8/22/2017] that Democratic state Sen. Maria Chappelle-Nadal has been stripped of her committee assignments, just two days after she tried to calm the controversy with a public apology. Meanwhile, the state's Republican lieutenant governor, Mike Parson, on Tuesday called for the Senate to go into special session to expel Chappelle-Nadal from the body.

St. Louis Newspaper Calls for Resignation of State Senator Who Posted About Trump's Assassination. One of Missouri's biggest newspapers is calling for Democratic State Sen. Maria Chappelle-Nadal to resign after her controversial Facebook post hoping President Donald Trump will be assassinated. The editorial board of the St. Louis Post-Dispatch wrote Monday that "no clear-thinking public figure" would express hopes for an assassination of the president, no matter how angry she was over his response to the violence in Charlottesville, Va. The Missouri Democratic Party, Democratic Sen. Claire McCaskill, Democratic Rep. William Lacy Clay, Republican Gov. Eric Greitens, and Republican Lt. Gov. Mike Parson have all called for her resignation, the board noted.

GOP Congressman: Some Of Us Really Want Mueller To Find Something We Can Use To Impeach Trump. [Scroll down] Here's where I gently remind you that 60 percent of Trump supporters openly admit they can't think of anything that Trump could do, or fail to do, as president that would make them disapprove of him. If the House GOP makes enemies of those people by impeaching him, the midterms will be a catastrophe. Mueller's evidence would need to be strong enough, and the offense severe enough, that Republicans would have more to fear from swing voters if they didn't act than from the base if they did, which is a high bar. And to be clear: Mueller would need to find evidence of a crime, not just "impropriety."

Missouri senator deletes hope for Trump assassination post. A Missouri lawmaker acknowledged Thursday [8/17/2017] that she posted and later deleted a comment on Facebook about hoping for President Donald Trump's assassination, saying she was frustrated with the president's response to the white supremacist rally and violence in Charlottesville, Virginia.

Secret Service investigating after Mo. senator's Facebook post hoping for Trump's assassination. Thursday morning, a Missouri State Senator posted a comment on Facebook stating she hoped President Donald Trump will be assassinated. Maria Chappelle-Nadal, D-University City, posted the comment, "No. I Will. I hope Trump is assassinated!" in response to a comment from another person who posted about his cousin being on the President's secret service detail and his fear that he will probably receive a visit from the secret service. A screenshot of the comment was posted to Twitter by KMOX's Mark Reardon. "Someone wrote a statement on my Facebook and I responded with something that shouldn't have been put up there," Chappelle-Nadal said.

Democrats Launch Website: "I Stand with Maria" After Far Left Lawmaker Calls for Assassination of POTUS Trump. Missouri State Senator Maria Chappelle-Nadal hoped for the assassination of President Trump in a Facebook comment on Thursday [8/17/2017] then deleted it in a panic. She even acknowledged she would get a visit from the Secret Service for her comment.

House Dem introduces measure urging Trump undergo mental exam. A House Democrat introduced a resolution on Friday [8/18/2017] suggesting that President Trump undergo a physical and mental health exam to help determine whether he is fit for office. Rep. Zoe Lofgren's (D-Calif.) resolution specifically calls on Vice President Pence and Trump's Cabinet members to "quickly secure the services of medical and psychiatric professionals" to "assist in their deliberations" invoking the 25th Amendment, which outlines presidential removal procedures. It posits that such an examination by doctors would "determine whether the president suffers from mental disorder or other injury that impairs his abilities and prevents him from discharging his Constitutional duties."

Democrats renew calls for Trump impeachment after his Charlottesville response. Some House Democrats renewed calls for Congress to impeach President Trump on Tuesday after he resorted to blaming "both sides' for a violent rally in Charlottesville, Va., this past weekend organized by white nationalist groups.

Warning from ex-CIA and FBI counterterrorism analyst: 'the government is going to kill' President Donald Trump. The signs are all around us that the subversion and worse is afoot among those who feel that the federal government belongs to them, not to the voters of the Republic. You might even say that think of it as "our thing." Right out in plain sight, we were warned last week in the words of someone who worked for Robert Mueller when he was head of the FBI. It was on CNN, so few people saw it, and as CNN habitués, they may not have considered it disturbing. Nonetheless, host Jake Tapper was sufficiently alarmed to clarify whether this was a metaphor. It was not.

Fired NSC Aide Reveals Political Warfare Operation Targeting Trump. A White House National Security Council official has charged that leftist opponents of President Trump are engaged in political warfare operations designed to subvert his presidency and drive him from office. Rich Higgins, until recently director of strategic planning at the NSC, revealed the program in a seven-page memorandum produced in May that warns of a concerted information warfare campaign by the Marxist left, Islamists, and political leaders and government officials opposed to the populist president. "The Trump administration is suffering under withering information campaigns designed to first undermine, then delegitimize and ultimately remove the president," Higgins states.

Pro-Hillary TV Personality Suggests Military Coup To Depose Trump. Chelsea Handler suggested on Friday [8/11/2017] that U.S. generals should carry out a military coup to replace President Trump, who she called "our idiot-in-chief." "To all the generals surrounding our idiot-in-chief — the longer U wait to remove him, the longer UR name will appear negatively in history," the TV personality wrote on Twitter. Handler's comments come as the Trump administration, including the Defense Department, are on heightened alert over a rhetorical battle between President Trump and North Korea.

Women's Studies Prof: 'I Wish Someone Would Just Shoot' Trump. Donald Trump isn't everyone's cup of tea. Some people love him, some people hate him, and some of us just watch the left howl over the guy while personally feeling kind of "meh" about him as president. But some Leftist academics, for example, hate him so much they wish for assassination.

USA Today's Impeachment-Push Poll. Reporters Susan Page and Emma Kinery proclaimed a dark omen in the results, which is why the newspaper asked the poll question. They said, "Just six months after his inauguration, Americans already are split down the middle, 42%-42%, over whether President Trump should be removed from office, a new USA TODAY/iMediaEthics Poll finds." What's the impeachable offense? If a national poll were to emerge with a 42-42 tie over the belief that the moon is made of Swiss cheese, would the subsequent analysis focus on the concentration of moon matter or the irrationality of 42% of the American people? It doesn't matter that the prospect for impeachment is zero with Republicans in control of Congress.

Former CIA Director Calls For A Coup If Trump Fires Mueller. In the most vocal opposition to president Donald Trump yet, former CIA Director John Brennan said that if the White House tries to fire special counsel Robert Mueller, government officials should refuse to follow the president orders, as they would be — in his view — "inconsistent" with the duties of the executive branch. "I think it's the obligation of some executive branch officials to refuse to carry that out. I would just hope that this is not going to be a partisan issue. That Republicans, Democrats are going to see that the future of this government is at stake and something needs to be done for the good of the future," Brennan told CNN's Wolf Blitzer at the Aspen Security Forum, effectively calling for a coup against the president should Trump give the order to fire Mueller.

Psych Profs Call Trump Mentally Unfit, Want Congress to End His Presidency. Many people on the left have been behaving like escaped mental patients since the election. Perhaps these professors could give them some assistance.

Psych profs call on Congress to 'end the Trump presidency'. Five psychiatry professors recently signed an open letter urging Members of Congress to remove President Trump from office on the grounds that he is mentally unfit. Three of the professors had previously expressed similar concerns in a letter to then-President Obama, and another is part of a group called "Duty to Warn" that seeks to publicize concerns about Trump's mental health.

A House Democrat has filed an article of impeachment against Trump. Rep. Brad Sherman (D-CA) on Wednesday [7/12/2017] officially introduced an article of impeachment against President Trump on the grounds of obstructing justice. "Recent disclosures by Donald Trump Jr. indicate that Trump's campaign was eager to receive assistance from Russia," he said in a statement. "It now seems likely that the President had something to hide when he tried to curtail the investigation of National Security Advisor Michael Flynn and the wider Russia probe," Sherman added. "I believe his conversations with, and subsequent firing of, FBI Director James Comey constitute Obstruction of Justice." "I am introducing Articles of Impeachment to begin a long process to protect our country from abuse of power, obstruction of justice, and impulsive, ignorant incompetence."

Democrats Hatch Plans A, B, and C to Impeach Trump. It's a movement that began before President Donald Trump was sworn into office and the drive for impeachment has gone through many iterations. The earliest rationale was the Constitution's "emoluments clause," which came amid loose talk of the Trump campaign's alleged collusion with Russia and emerged as the dominant theme. In lieu of a smoking gun in the Russian matter, the prevailing justification became that Trump tried to obstruct an FBI probe of his former national security adviser. More recently, the emoluments issue re-emerged when Democratic lawmakers filed lawsuits. MoveOn.org, Democracy for America, and other progressive or "resistance" groups have been advocating for it. Rep. Maxine Waters, D-Calif., appears to have gotten the most airtime of anyone in Congress talking about impeaching the president on talk shows and public events.

How Did Trump Earn an Unprecedented Progressive Backlash? In truth we are back to 2004-2008, when the Left did to George W. Bush what it is now doing to Donald Trump. Assassination? Alfred A. Knopf published Nicholson Baker's novel, Checkpoint, about characters fantasizing how to kill Bush. A guest columnist in the Guardian, Charlie Brooker, wrote to his British readers on the eve of the election fearing that if Bush were reelected, there would be no assassin to shoot him: "John Wilkes Booth, Lee Harvey Oswald, John Hinckley Jr. — where are you now that we need you?" Do we remember filmmaker Gabriel Range's "Death of a President," the docudrama about Bush's assassination that was a favorite at the Toronto Film Festival? Cindy Sheehan wrote she wished to go back into time to kill a younger Bush before he could be president.

The Democrats' Latest Plan: Commit Political Dissidents Like Trump to "Psychiatric" Disposal. The former Soviet Union possessed many imaginative mechanisms to deal with the problem of enemies of the people who obstructed the path to socialist utopia — now known as "social justice." One of those mechanisms was the practice of confining individuals who were thinking the wrong thoughts to insane asylums.

Read the 1970s guide to impeachment from the Department of Justice. Since before even taking office, President Donald J. Trump has been the center of intense impeachment gossip and speculation. It's garnered such significant interest that even unrelated searches can yield bizarre theories on how it works.

It didn't work with Goldwater either. Back in 1964, porn publisher Ralph Ginzburg published a bogus "survey" of American psychiatrists claiming that Barry Goldwater was "mentally unfit" to be president. It did not work out and Mr. Goldwater eventually lost because voters, not "experts" decided. Well, the idea is "sort of" back, although we are not using psychiatrists but rather the 25th amendment.

Democratic Bill Lays the Groundwork to Remove Trump From Office. House Democrats are on a mission to educate the American people about a little-known power of the 25th Amendment — the ousting of the president. Led by freshman Rep. Jamie Raskin of Maryland, a group of growing Democratic co-signers has put forth a bill that could force President Donald Trump from office if he were found mentally or physically unfit. Although it was introduced in April, the bill has gained steam in the past week as Trump's tweet storms have grown in ferocity.

Beneath the Dignity of the Office. In fact, Donald Trump has restored dignity to the office, when you consider how Barack Obama soiled the office with his own dissembling, fabrications, and manipulations, not to mention the sort of race hustlers, hoodlums, felons, and traitors routinely welcomed to Obama's White House. Beneath the dignity of the office: Bill Clinton spawned the genre. Obama fertilized it. Lest we forget, Obama welcomed Al Sharpton 60-70-100 times at the White House. At the same time, Obama hosted soirees with the Muslim Brotherhood. Celebrated the swap of five terrorists for U.S. Army deserter Bergdahl in the Rose Garden. Embraced Rick Ross, notorious rapper indicted for assault and kidnapping, whose ankle bracelet alarm went off at the White House[.]

The crazies continue to try to oust Trump. Democratic Congressman Jamie Raskin of Maryland showed his loonier side this week as he began circulating legislation to remove President Donald Trump as president via the 25th Amendment. Here we go again with this embarrassing nonsense. Let's see, they already tried recounts, tried to hijack the Electoral College (Trump's margin over Hillary widened after that), tried to blame Russia, and lastly tried the Emoluments Clause. After this, then what?

Potemkin Progressivism. Everywhere there is talk of "resistance," disruption, unrest, even impeachment. This, even though the thing being resisted is the result of a free, open democratic election and the call for impeachment is not in response to any evidence of a crime, much less a "high crime or misdemeanor" to propel such a proceeding. And now we have Robert Mueller, bosom buddy of James Comey, as special counsel. Like Santa Claus, he is making his list and checking it twice, filling his sleigh with Obama and Clinton attack dogs, and preparing to make his round-the-town journey to distribute presents to every deserving boy and girl Democrat. He has his verdict. All he needs now is a tort, and that's what those salivating Obama-and-Clinton terriers are for: digging, digging, digging. There has to be something, somewhere that they can pin on Trump! Looked from the outside, you might think that the "progressive" Left were on the march, that they were a rising force, voice of the people, popular-sentiment-against-entrench-interests, etc., etc.

The Architecture of Regime Change. We are witnessing a desperate putsch to remove Trump before he can do any more damage to the Obama project. Political, journalistic, and cultural elites of a progressive coastal culture aim at destroying the Trump presidency before it can finish its full four-year term. The branches of this insidious coup d'état are quite unlikely anything our generation has ever witnessed.

Al Franken warns Dems on Trump impeachment wish, says Pence 'would be worse'. Sen. Al Franken of Minnesota has a message for fellow Democrats who yearn for President Trump's impeachment: Be careful what they wish for; they just might get it. Mr. Franken told the International Business Times on Monday [6/19/2017] that those hoping that the FBI's investigation into Russia's attempts to influence the November presidential election will pave the way for impeachment should consider Vice President Mike Pence's policy preferences.

Franken: Impeaching Trump could lead to 'zealot' Pence. Sen. Al Franken (D-Minn.) is cautioning his Democratic colleagues that if President Trump is impeached, Vice President Pence would become president and he "would be worse" on domestic issues. "He's ideological, I consider him a zealot," Franken told International Business Times in an interview published Monday [6/19/2017]. "And I think that in terms of a lot of domestic policy, [Pence] certainly would be worse than Trump."

Impeaching Trump is a Heavy Lift. Suppose most Americans were to conclude that President Trump is unfit for office. How long would it take to remove him? If President Nixon's example provides any guidance, the answer is: a long time — if ever.

Democrats Warn Trump Congress Will 'Begin Impeachment Proceedings' If He Fires Mueller, Rosenstein. Several Democrats in Congress warned President Trump on Friday that he will face consequences if he fires special counsel Robert Mueller and Deputy Attorney General Rod Rosenstein. "All Americans, regardless of party, agree on the fundamental principle that no one is above the law," Rep. Ted Lieu (D-CA) told MSNBC Friday [6/16/2017]. "And if President Trump were to fire Deputy Attorney General Rosenstein, and then [get] special counsel Mueller fired, I believe Congress would begin impeachment proceedings." Rep. Adam Schiff (D-CA) echoed Lieu's sentiments, saying that Congress would come together to make sure they overrule Trump's authority on the matter. "Congress will not allow the president to so egregiously overstep his authority," Schiff said in a statement.

Impeach Trump's Impeachers. No Dem has been more honest about the real motive for impeachment than Congressman Ted Lieu. "We should not give him a chance to govern," Lieu had declared after Trump had been in office for ten days. And he predicted that, "I do believe that if we win back the House of Representatives, impeachment proceedings will be started." What was the basis for impeaching President Trump after ten days in office? Lieu made it clear that if the Democrats won, they would try to impeach Trump no matter what. That's not how things work in the United States. But the left is running America like a banana republic.

Americans Learning to Live with Treason. We are watching, in real-time, a palace revolution, an overt effort to remove the president of the United States. Just as James Comey proudly admitted he leaked privileged communication to the press, so these insurgents brazenly brag that they want to harm the president, to impeach him, to overthrow our government. The American people seem shockingly oblivious to the looming danger. How did we get here? Well, let's give credit where credit's due: the left has its ducks in a row. Leftists are carrying out a carefully planned, well executed plot to take control of our government.

Democrats Trot Out Plan C In Their Never-Ending Trump Impeachment Crusade. It is merely a coincidence that just as the Trump-Russia collusion story started seriously falling apart, Democrats suddenly shifted gears to file a lawsuit against President Trump for allegedly violating an obscure provision of the Constitution involving foreign "emoluments."

The Frenzied Last Act Of The Watergate Brigade. A great deal of the emotion fueling the media war against Trump is an indestructible yearning for the bygone day on which we destroyed a sitting president. [...] You don't have to read very far to see that, for the people at those journals, candidate Trump was not simply guilty as charged; he was guilty before being charged. By the way, subsequent coverage of the Trump administration has not strayed from those previews.

If The Left Wins Their Soft Coup, Everyone Loses - But Mostly Them. The establishment has not thought this out. They sort of assume that if they squelch Trump then everything somehow just goes back to them being in unchallenged control. Wrong.

Democrat Violence was Predictable. The attempted mass murder of several Republican members of Congress by a lone Bernie Sanders Democrat was the foreseeable fruit of the "Resist!" movement. I know: I predicted it. Barring a change of approach on the anti-Trump side, more such extremism is likely. Anomalous response to President Trump has been the Democrats' strategy since election day when, contrary to custom, Hillary Clinton never made an appearance before her assembled staff and supporters to concede victory on camera. Within hours of Trump's victory, leading Democrats such as Representative Maxine Waters of California were calling for impeachment.

The Impeach-Trump Conspiracy. The snail's pace of the FBI investigation explains Trump's frustration. What explains the FBI's torpor? If J. Edgar Hoover had moved at this pace, John Dillinger would have died of old age. We hear daily on cable TV of the "Trump-Russia" scandal. Yet, no one has been charged with collusion, and every intelligence official, past or present, who has spoken out has echoed ex-acting CIA Director Mike Morrell: "On the question of the Trump campaign conspiring with the Russians here, there is smoke, but there is no fire, at all.... There's no little campfire, there's no little candle, there's no spark." Where are the criminals? Where is the crime?

Mad Maxine Waters leads 'Impeach 45' chant as Nancy Pelosi looks on. The Democrats' Summer of Rage continued on Sunday [6/11/2017] as they gathered in Los Angeles to stage a collective airing of grievances about the Trump presidency. Maxine Waters and Nancy Pelosi were on the docket at the #ResistMarch, an amalgam of leftist malcontents, and the House Minority Leader looked on as Waters attacked Trump and once again called for his impeachment.

Joe Scarborough's deranged case for Trump to go. Joe Scarborough just can't help himself when it comes to criticizing President Donald Trump. On his most recent show, the former Republican congressman suggested Trump was deranged, and that Congress ought to consider removing him — an apparent hat tip to the long-running Democratic Party's call to impeach. Say it isn't so, Joe. Are you really tossing in with the Maxine Waters of the Democratic world?

Maxine Waters: American Public 'Getting Weary' That Trump Not Impeached Yet. Sunday [5/28/2017] on MSNBC's "AM Joy," Rep. Maxine Waters (D-CA) said the public was "getting weary" that Democrats have not done enough to begin the process of impeaching President Donald Trump. [Video clip]

Keywords: Grandstanding, scrounging for relevance.
TX Dem: I'm Crafting 'Articles of Impeachment' Against Trump. The Democrat who took to the House floor to call for President Trump's impeachment said he is moving forward in the process. Congressman Al Green (D-Texas) said on C-SPAN that every member of Congress has the right to draft articles of impeachment. He said such documents must be heard during official House business within two days.

The Democrats' Second Secession & America's New Civil War. [Scroll down] So that no one would mistake their hostile intent, the Democrats' attacks were accompanied by calls for Trump's impeachment, despite the fact that he had hardly been in office. These were echoed in massive street demonstrations, organized and funded by core Democratic groups, which featured chants of "Not My President," claims by celebrity speakers that Trump's election was "worse than being raped," and addled wishes to "blow up the White House." Each protest — no matter its official organizing premise — was orchestrated to underscore the identity-driven accusations that the Trump regime was anti-woman, anti-black, anti-Muslim, and anti-immigrant. Trump and his supporters were in turn anathemized as members of a hostile tribe — "white nationalists."

Democrats in the Cesspits of Despair. Last week, revered left wing thinker Noam Chomsky said that President Trump and the Republican Party represent a worse threat to humanity than ISIS; NBC news reader Lester Holt interrupted the President of the United States nine times in three minutes; some art professor announced that Republicans in Congress should be lined up and shot; and exactly none of the mainstream media players, from the New York Times to CBS and the Huffington Post, all of which had spent weeks enthusiastically berating Sarah Palin for suggesting the Republicans target a few House districts for election purposes protested repeated calls for Trump's assassination or saw anything wrong with any of the rest of it. This behavior stands in stark contrast to what Republicans do when they lose elections: no serious conservative, for example, advocated that Obama be shot; tea party gatherings never turned into riots; and even fringe right wing sites generally talk more about issues than personalities.

MSM Began To Mention Trump's Impeachment During His First Week In Office. Based on a review of the first 200 of the 15,000 Google News results +trump+impeachment, it is estimated there were 3,750+ mentions of Trump's impeachment in mainstream vehicles. Most were not calling for impeachment, but covering others who called for or mentioned the possibility of impeachment. Some of the coverage came from conservative media generally covering impeachment talk by others. For example the one reference that was from before the inauguration was a Fox News reference to Chris Matthews and Maxine Waters discussing impeachment on January 17th. Why is any of this important? It is just one more piece of evidence that the media has been biased against President Trump from the very beginning. During the first week of any other presidency the media would have ignored calls for impeachment by others, or at the very least treated them with scorn.

Trump Presidency Takedown Effort Is Underway. Did Russia meddle in our election? Perhaps. But what exactly does that mean? They've been doing it for decades. Did President Obama meddle in Britain's election on Brexit? Did he intervene in Israel's election against the sitting prime minister? Yes, absolutely. So where was the special counsel for that? [...] Why not look into Hillary Clinton's substantial business and financial ties to the Russians? We've done that, with the heavy lifting performed by Peter Schweizer, the author of Clinton Cash. The Clintons profited through high-price speeches and donations, as even The New York Times acknowledged, that came from the principals of the Canadian company Uranium One to the tune of more than $100 million dollars to their foundations, while Hillary's State Department office was signing off on effectively giving Russia 20 percent of American uranium reserves. Clinton campaign manager John Podesta sat on the board of Joule Unlimited, which received $35 million in investments from Russia.

Look Behind The Curtain: This Is Who Is Really Behind The 'Impeachment Mania'. The left is in the midst of a major temper tantrum. The reason? They cheated, connived, and manipulated a win for Hillary Clinton and she lost anyway. It's no wonder Clinton, the woman with the gleeful full-body-he's-an-idiot shiver during one debate, nearly went ballistic on the night of the election after she realized she lost to a man liberals view as a clown with a canary-yellow pompadour. So, rather than accept the results of a fair election, and rather than submit to the will of "We the people," the "Love Trumps hate" crowd has formed a hateful resistance and is presently in the process of trying to drive Donald Trump from the White House.

The Rosenstein Doctrine. The Democrats are trying their best to mount a coup d'état based on shrieks and innuendoes and smoke and mirrors and rage. It's time for Republicans to stop running for cover and to stand up for the lawfully elected Republican President. Our Republican President in many ways is a clown. But as far as we know, he's not a lawbreaker.

The foolish fantasies of the 'Impeach Trump' crowd. To remove Trump from office via impeachment, you need a two-thirds majority of the Senate. Even if all 48 Democrats and Democratic-aligned independents voted in lockstep to impeach, you'd still need 19 Republican senators to join them. That's a fantasy — at least based on what we know now, both about Russia and about the GOP-held Senate. It probably wouldn't even happen if, as Trump himself once imagined, the president shot someone in the middle of Fifth Avenue. Remember, neither of America's impeached presidents, Andrew Johnson and Bill Clinton, was actually convicted and removed from office via such a Senate vote. Why? Because it's really, really hard to do.

Report: White House Lawyers Are Prepping For Impeachment Proceedings. White House lawyers have reportedly begun preparing for the possibility that President Donald Trump will face impeachment proceedings. CNN, citing unnamed sources, reports attorneys in the White House Counsel's office have begun researching the particulars of impeachment proceedings and consulted experts outside the administration with specialized knowledge of the process. The sources add that the White House does not currently believe impeachment is a realistic prospect. The administration has been rattled by a deluge of bombshell reports in recent days.

Witch-Hunting for Trump. There is no evidence that the Russians controlled Trump or anyone in his campaign. It's all about a fantasy. So, now we have a hunt for something that is non-existent, as far as anyone knows. In Watergate, there was at least one little crime — the break-in at the Watergate. Here, there's nothing.

It's a Coup!. This coup didn't happen in a vacuum. It is a field operation led by Barack Hussein Obama from his home in Washington, D.C. while financed by Globalist billionaire George Soros. Leading this coup with Obama is his closest adviser, Valerie Jarrett, who has moved into the Obama household. They, along with their many leftist compadres still entrenched in the hierarchy of the beltway, are at the forefront of this coup. Through leaks, false narratives, lies, and misinformation they are plotting President's Trump's demise.

We Are Watching A Slow-Motion Coup D'etat. It's nearly incontrovertible that a slow-motion coup d'etat is now taking place. Since November 9, 2016, forces within the U.S. government, media, and partisan opposition have aligned to overthrow the Electoral College winner, Donald Trump. To achieve this they have undermined the institutions of the Fourth Estate, the bureaucratic apparatus of the U.S. government, and the very nature of a contentious yet affable two-party political system. Unlike the coup d'etat that sees a military or popular figure lead a minority resistance or majority force into power over the legitimate government, this coup d'etat is leaderless and exposes some of the deepest fissures in our system of government. This coup d'etat represents not the rule of one man or even many, but by the multitude of our elites.

Pelosi: Democrats need to 'curb their enthusiasm' over Trump impeachment. House Minority Leader Nancy Pelosi, D-Calif., said Thursday [5/18/2017] that some House Democrats need to "curb their enthusiasm" over the possibility that President Trump could be impeached. "I hope some would curb their enthusiasm until we have all of the facts and have confidence that when the American people understand what is there, whether it's grounds for impeachment or grounds for disappointment, then they'll know," Pelosi told reporters.

Combating the Power of Media Lies. If the allegations against Mr. Trump made by his enemies are true, he should resign. But what should he do if they are false? How does he go on with his job of keeping the nation safe when too many of his underlings regard betraying him and U.S. national security as the highest form of patriotism? When the media will continue the witch hunt against him as long as he holds his position, in much the same fashion that the media hunted Ferguson policeman Darren Wilson, who did nothing other than his unfortunate duty when attacked by Michael Brown?

Democrats Want To Impeach A Republican President? What Else Is New? According to a list compiled by CNN, 27 Democrats have so far come out in favor of impeaching Trump. What they don't provide is context. For 36 years, Democrats have routinely called for impeaching Republican presidents at the drop of a hat.

In 1998, Maxine Waters Called Impeachment a 'Coup d'etat'. Rep. Maxine Waters (D-CA), along with her colleague Al Green (D-TX), is a leader of the impeach-Trump movement. But in 1998, Waters called impeachment a "coup d'etat." And she wasn't just upset about because she thought Bill Clinton was not guilty, she was upset at the use of the institution of impeachment. She called it an "unapologetic disregard for the voice of the people" and an "abuse of power in the collecting of so-called 'evidence' and the denial of the presumption of innocence." But isn't this exactly what she's proposing doing to President Trump?

Democratic Leaders Try to Slow Calls to Impeach Trump. When House Democratic leaders hastily called a news conference Wednesday to demonstrate their outrage at President Trump's latest dramatics, they took great pains to show they were not seeking to railroad him out of the White House. "No one ought to, in my view, rush to embrace the most extraordinary remedy that involves the removal of the president from office," said Representative Adam B. Schiff of California, the sober-minded senior Democrat on the House Intelligence Committee. He warned that Democrats should not let their actions "be perceived as an effort to nullify the election by other means." At that very moment, Representative Al Green, Democrat of Texas, was in the well of the House thundering, "The president must be impeached!"

A coup attempt, not a Constitutional crisis. Trump will not be impeached, and he will not be harried out of office. But he faces a formidable combination of media hostility — what the president today denounced as a "witch hunt" — and a divided White House staff prone to press leaks. The likely outcome will be a prolonged dirty war of words that will delay Trump's domestic agenda and tie down his loyalists with the chores of fire-fighting. One thinks of Gulliver tied down by the Lilliputians.

Bummer: Maxine Waters Forced To Again Admit There's No Evidence. A week ago we discussed Crazy Maxine Waters, who's constantly out and about doing her impeach Trump schtick, admitting she's seen zero evidence of collusion vis a vis Russia and Trump. Well, she was on friendly ground, and forced to admit it again[.]

Impeachment Propaganda Started Before Trump was Even Nominated. Really, the Democrats plans regarding Trump are going the way they wanted from a year ago. Certainly, Trump is helping them with their talking points by being a loose cannon and not staying on message, but, this was the Democrats playbook from the get-go.

The Comey memo offers no proof for impeachment of Trump. With the scandal du jour of the Comey memo, President Donald Trump's trip to Saudi Arabia looks less like a diplomatic flight as fleeing the jurisdiction. For the first time, the Comey memo pushes the litany of controversies surrounding Trump into the scope of the United States criminal code. However, if this is food for obstruction of justice, it is still an awfully thin soup.

Tag Team Creators of Trump's Physical 'Defects' Now Trying to Back Away from Them. University of Utah professor Christopher L. Peterson, was the first to call for the impeachment of Donald Trump — before he was even elected. And we all know that the Big Women's March staged the day after Trump's inauguration had to have been in the works for a very long time. Impossible to organize millions to take to the streets worldwide, overnight. The number of marchers wearing the march's symbolic pink [...] caps told the tale of long-time planning and organization.

Impeachment Fever. The same people pushing Trump's impeachment sat by silently as Barack Obama, the most despotic, overreaching president since the great proto-fascist Woodrow Wilson, committed impeachable offenses nearly every day.

More about the abundant grounds for Obama's impeachment.

Impeachment Fever. Democrats and their media allies are whipping themselves into a frenzy in their quest to impeach the duly elected 45th president of the United States and drive him from office. It is part of the Left's collective mental breakdown. These people still cannot accept that Donald Trump defeated the anointed Hillary Clinton in November so they lash out at the president and his successors, often violently, as we've seen in recent months.

There Is No Path to Impeachment! The media's narratives get even more hysterical and unhinged every day, as they lose the arguments following the fake news they invent every day, but among their echo chambers who'll believe anything.

Washington Post Goes Down The Moonbat Hole Of Impeachment. There may be some Democrats who are serious, such as Nutty Maxine Waters, but, most of this impeachment schtick is simply a cynical, and dangerous, ploy to win an election. They might find that the more they ramp up the crazy, the more people back away from the crazy, and support Trump and the Republicans. It could very well backfire.

Maxine Waters, you're embarrassing yourself. Rep. Maxine Waters — and I'm betting at this point, that's all I have to write, that you already know where the story leads. If you guessed an impeach Trump theme, you're quite right.

Democrats slam brakes on Washington business after Comey's firing, suggest impeachment. Washington ground to a halt Wednesday [5/10/2017] as Democrats exploded over the firing of FBI Director James B. Comey, laying out a list of demands they said must be met before President Trump and Congress regain a sense of normalcy. Several Democrats and liberal activists raised the prospect of impeachment, but most lawmakers set their sights lower, saying they wanted to at least preserve and protect the ongoing FBI probe into Trump campaign figures' dealings with Russia.

Oregon Man Dies Peacefully After Being Falsely Told "Donald Trump Has Been Impeached". Would you attempt to bring someone happiness in their final moments in life, knowing full well that what you just told them was a lie? Well, one Oregon woman thought this was a good idea and, because of it, her ex-husband died with a smile on his face. According to an obituary for 76-year-old Michael Garland Elliott who passed on April 6, that last thing he heard was a comment from his ex-wife and best friend, Teresa Elliot.

Rep. Maxine Waters: 'I Think It's In the Best Interest of My Constituents to Get Rid of (Trump)'. Rep. Maxine Waters (D-Calif.) said again on Friday she doesn't "honor" or "respect" President Donald Trump. "I don't think that he deserves to be president of this great country. I am very concerned about him. And I really think he's dangerous," Waters told MSNBC's "Morning Joe." Waters also said she thinks "it's in the best interest of my constituents to get rid of him." The congresswoman backed up her poor opinion of the president by pointing to a "scathing" six-part series about Trump in The Los Angeles Times, and she once again said she believes he will be impeached. In the meantime, she said, "I'm not going to be able to work with him."

Maxine Waters Now Saying That She Never Called For President Trump To Be Impeached. This is rich, don't you think? Especially the part when she says that she never called for President Trump to be impeached: [Several video clips]

Maxine Waters Falsely Denies Calling For Trump's Impeachment. California Rep. Maxine Waters is denying ever having called for Donald Trump's impeachment, a bizarre claim since she was recorded on video just this weekend leading a crowd of activists in an "Impeach 45!" chant. In an interview on Tuesday [4/18/2017] with MSNBC's Craig Melvin, Waters was asked about a tweet she sent out earlier in the day saying that she was going to fight "everyday until [Trump's] impeached." Waters said that allegations of collusion between the Trump campaign and Russian government need to be investigated.

Maxine Waters rallies Tax March crowd for Trump's impeachment. Rep. Maxine Waters (D-Calif.) renewed her call for impeaching President Trump during Saturday's Tax March in Washington. "I don't respect this president. I don't trust this president. He's not working in the best interests of the American people," Waters said. "I will fight every day until he is impeached," she added, before leading the crowd in chants of "impeach 45." Waters has been among the most vocal critics of Trump in Congress, and she has repeatedly signaled that she would be willing to impeach the president.

Can Maxine Waters Even Spell Impeachment? Some might ask why a confused Dem hack would become the voice of the "resistance". A better question might be why not. Maxine Waters has built her career on getting out there and yelling angrily about things. That makes her perfectly qualified in a political atmosphere where all the left-wing wants is angry shouting. Waters has picked up on the fact that anything involving impeachment is perfect prog-bait feeding the fantasy that President Trump will go away soon.

More about Representative Maxine Waters.

Fresno State Reports Own Professor for 'Trump Must Hang' Tweet. Virulently anti-Trump professors — by which I mean "most professors" — feel pretty invincible. After all, when a video recently surfaced of a professor comparing the election of Trump to a terrorist attack, the student filming it got punished. So imagine Fresno State professor Lars Maischak's surprise last week when his tweet demanding President Trump be hung was reported to law enforcement by Fresno State's president: [...]

The "Resistance" Democrats Are A Terrorist Party. What does #Resistance really mean? It means the overthrow of our government. [...] Leftist media outlets are feeding the faithful a fantasy that President Trump will be brought down. There is fevered speculation about the 25th Amendment, a coup or impeachment due to whatever scandal has been manufactured last. This fantasy is part clickbait. Leftist media outlets are feeding the worst impulses of their readers.

Professor: 'Trump Must Hang,' Republicans Should Be Executed For Each Immigrant Deported. A history professor at California State University, Fresno, appears to have advocated for the death of President Donald Trump on Twitter. Tweets from an account purportedly operated by Professor Lars Maischak call for Trump to "hang" in order to "save American democracy," and say the only "cure" for racist people is a bullet to their head. The account is not verified, although the bio and interactions between the user and other Twitter users indicate it belongs to the professor. "To save American democracy, Trump must hang," Professor Lars Maischak appears to have tweeted in February.

Fact Check: Fresno Bee Lies About Professor's Call To Kill Trump. There's a lot of talk about a post-truth society these days. A post-truth society kicks in when there is no respect for even the most blatantly obvious facts. Professor Lars Maischak, who teaches, among other things, Marx and Hegel, at California State University, Fresno, tweeted, calls to kill Trump and Republicans. [Tweets] Could the media possibly defend and whitewash this? Do you even need to ask. No leftist can do anything too terrible for the media to defend.

'He Needs to Be Impeached!' Joy Behar Freaks Out on the View. During a segment talking about Russia, North Korea, and Trump's relationship with these countries on The View Monday [4/3/2017], host Joy Behar threw a temper tantrum, calling on the president to be impeached. After reading out-of-context quotes from Trump about using nukes, Behar couldn't contain her rage any longer and demanded that Trump be "taken out of office," to roaring applause from the liberal audience.

Is the fall inevitable? The euphoria conservatives felt from the November election has evaporated. The left is at war with President Trump, the very left that has fully taken over the Democratic Party. We know that the establishment media are in bed with the Democrats. Even the establishment members of the Republican Party are colluding with the Democrats. There seems to be no doubt that many of the Republicans on the Hill would love to see Trump unseated, and it would not matter to them if Mike Pence or Hillary Clinton or Paul Ryan were to take the reins.

Impeach Trump? I Don't Think So. The Left continues to relentlessly promote their lie that Trump stole the election by scheming with the Russians. Their goal is to get enough people believing Trump's presidency is illegitimate that they can impeach him.

There weren't any clouds over Obama's head?
Schumer: No SCOTUS Appointment While There Is A Cloud Hanging Over Trump's Head. As Republicans hail Judge Neil Gorsuch as an "outstanding" Supreme Court nominee, Democrats are lining up against him for partisan reasons. "My view is very simple," Senate Minority Leader Chuck Schumer (D-N.Y.) told a news conference on Tuesday [3/21/2017]. "And that is, there is a cloud now hanging over the head of the president, and while that's happening, to have a lifetime appointment made by this president seems unseemly, and there ought to be delay."

Lindsey Graham questions Gorsuch about impeaching Trump. South Carolina Sen. Lindsey Graham on Tuesday [3/21/2017] questioned Supreme Court nominee Neil Gorsuch about what it would take to impeach President Trump. The Republican senator used a portion of his time for questions at the Senate Judiciary Committee's hearing to probe Gorsuch about the impeachment process. "In case President Trump is watching, which he may very well be, one you did a good job picking Judge Gorsuch," Graham said to laughs, "and number two — here's the bad part — if you start waterboarding people, you may get impeached. Is that a fair summary?"

Veil Dropped on Congress-Impeach-Trump Plans. No matter how much the Obama appointed Comey achieved in a long career with the FBI, he is now the wind-up doll sent out by the Democrats to force the impeachment of a duly elected President Donald Trump. Now that talk show radio host Rush Limbaugh has said that claims of Russian election interference are just a cover for the real game being played; that Trump either stops this reform business he's got, stops this drain-the-swamp stuff, and starts letting the Republicans run the town again, or they're gonna impeach him", I can already sense the trolls getting ready to strike this column.

Offenses to be determined later. Sounds like a lynching.
Maxine Waters tells Trump to 'get ready for impeachment'. California Democratic Rep. Maxine Waters said that she's ready to impeach President Trump on his 61st day in office. "Get ready for impeachment," Waters tweeted.

Ingraham: 'Let's Be Really Blunt, the Dems Want Trump Out of Office'. Laura Ingraham said this morning that President Donald Trump made a "mistake" when he tweeted a now-dismissed allegation that President Obama spied on Trump Tower. She said Trump must stick to facts and stay focused on working on the promises he made during the campaign, like the economy, health care and border security.

Anyone surprised Obama won't go away? Trump has NONE of the benefits Obama enjoyed[:] no political media, no sports media, no Hollywood, no print media, no Entertainment Industry. [...] We are up against the most radical lefties that have EVER been in power in America[. T]hey detest what America stands for[. T]hat's why Obama wanted to 'fundamentally change' it[,] and now they have been rejected by the American people and they've completely lost their minds. They weren't supposed to lose! These people are communists and their goal is to overthrow our president[,] and it absolutely cannot be allowed to happen.

Threat? George Takei under fire after calling Trump a 'menace' that must be gotten rid of. Actor George Takei doesn't like President Trump, and frequently attacks him on Twitter. But his latest attack on the president seems to be a bit more threatening than some of his online rants. "A citizen making claims without evidence is a nuisance. But if it's the President, it becomes a menace. And we must be rid of menaces," he wrote on Sunday [3/5/2017].

Pelosi: Why Yes — We're Looking At Ways To Impeach Trump. Yesterday [2/27/2017], House Minority Leader Nancy Pelosi (D-CA) and Senate Minority Leader Chuck Schumer (D-NY) held a prebuttal conference in the First Amendment Lounge of the National Press Club. At the presser, Pelosi was asked about impeaching Donald Trump, which is something that the progressive base of the Democratic Party is clamoring for Congress to do. With a solid Republican majority, that's not going to happen.

Democrats Come Up With a Practical Way to "Banish" Trump: Witchcraft. Tonight [2/24/2017] is the big night: all across the country, witches will gather to light candles and mutter incantations in hopes of evicting President Trump from the White House. [...] The idea is that these witchcraft events will continue until Trump is "driven from office."

Cruz: 'Do Democrats Understand They Need to Control the House to Impeach?'. Sen. Ted Cruz (R-Texas) [...] panned impeachment talk a month into President Trump's term. "Impeachment is a constitutional function. Yes, the left keeps talking about impeachment. I mean, they were talking about impeachment before the inauguration," he said. "And, you know, I think impeaching Obama in January probably would have been a mistake." "So would retroactive impeachment be unconstitutional? I don't know, but it would be fun... Do the Democrats understand they need to control the House of Representatives to impeach somebody?"

'Impeachment' talk flies at DNC chair debate. The seven candidates for chair of the Democratic National Committee laid out their plans to lead the political party, including impeaching President Trump — a rallying cry even House Minority Leader Nancy Pelosi has said is not yet warranted. One of the top contenders in the race, Rep. Keith Ellison, D-Minn., cited examples of actions Trump has taken in his first month in office that are worthy of being fired as commander in chief. "I think that Donald Trump has already done a number of things which legitimately raise the question of impeachment. On day one, he was in violation of the emoluments clause," Ellison said during a CNN town hall on Wednesday evening.

Keith Ellison at DNC Debate: Trump's Already Done Things That 'Raise the Question of Impeachment'. It didn't take long during tonight's DNC leadership CNN debate for candidates to get a question about impeachment. Congressman Keith Ellison said, "Trump has done a number of things which legitimately raise the question of impeachment." [Video clip]

Election of outsider Trump rankles federal bureaucrats. War has been declared on President Trump. It's actually a war against those of us who work for a living, pay taxes, don't collect a government handout, pay for our own health insurance and don't have lobbyists on the payroll. Since the November election, it has been a nonstop barrage of hate from the Democrats and the mainstream media. Not for one moment have they given our new president a honeymoon or one ounce of cooperation. Some of these hyper-partisans even suggested impeachment before he was sworn into office.

Lefties keep showing off their civic ignorance. Last week, cable news personality Sally Kohn tweeted what she called a "straightforward" plan that would eject Donald Trump and install Hillary Clinton into the presidency: "1. Impeach Trump Pence; 2. Constitutional crisis; 3. Call special election; 4. Ryan v Clinton; 5. President Clinton." Anyone with middle-school knowledge of the presidential chain of command should know that impeaching both Trump and his vice president would not, actually, lead to a "constitutional crisis" or a "special election." It would lead directly [...] to President Paul Ryan. Whom Clinton would be welcome to challenge in the next election. Kohn is far from alone in broadcasting her ignorance of the political process. Our so-called "elite" seems to be in desperate need of a remedial civics class.

Also posted under Liberals think you're stupid.

25th Amendment chatter: Dems, pundits mull ways to remove Trump. As President Trump finishes his fourth week in the White House, a number of opposition lawmakers, political commentators, and self-styled members of The Resistance are discussing ways in which the president might be quickly removed from office. Some have talked about impeachment for quite a while, even before the Trump inauguration. But that could take a long time, and it would require Trump to commit, and then be charged with and convicted of, "treason, bribery, or other high crimes and misdemeanors" to meet the Constitution's standard for removing the president from office.

Democrat from ultra-liberal Portland, Oregon says he's looking at the 25th amendment because he fears for Trump's mental health. A Democratic lawmaker says he's so concerned about Donald Trump's 'erratic behavior' that he wants to revise the 25th Amendment in case the president demonstrates that he does not have the 'mental and emotional capacity' to do his job. Oregon Congressman Ed Blumenauer, who represents the liberal city of Portland, Oregon, says he sees a 'glaring flaw' in the wording of the amendment that was ratified in 1967 in response to JFK's assassination. 'For a mentally unstable, paranoid or delusional president, the 25th Amendment has no guarantee of its application. In fact, it's likely that it would fail,' Blumenauer said in a speech this week on the House floor.

The Editor says...
Where was Mr. Blumenauer when the paranoid, delusional, narcissistic megalomaniac Barack H. Obama repeatedly spoke about his imaginary sons?

Notes On Flynn's Ouster. I have a few thoughts about the resignation of Ret. Gen. Michael Flynn. First, I'm calling it an "ouster" because it appears to be the result of a campaign against him. Indeed, Eli Lake calls it a "political assassination." Lake quotes Rep. Devin Nunes, chairman of the House intelligence committee, as follows: "First it's Flynn, next it will be Kellyanne Conway, then it will be Steve Bannon, then it will be Reince Priebus." "Put another way," Lake adds (melodramatically?), "Flynn is only the appetizer; Trump is the entree."

Maxine Waters: We need investigation to find evidence to impeach Trump. Shades of Alice in Wonderland's Queen: "sentence first — verdict afterwards." On Joy Reid's MSNBC show this morning, Dem Rep. Maxine Waters doubled down on her earlier statement that "my greatest desire is to lead [President Trump] right into impeachment." Asked by Reid on what grounds she would impeach the president, Waters offered no evidence but said "I believe" there's a connection between Ukraine, Trump, and Russia, and "I think" Trump "colluded" with Putin during the election. Concluded Waters: "I think that it's there, we just have to dig deeper, do the investigation and find it."

US congresswoman advocates impeaching Trump because Putin's attacking... Korea? Representative Maxine Waters has argued that US President Donald Trump will inevitably be impeached because of his alleged ties to Russian President Vladimir Putin who she claimed is "advancing in Korea." Waters, a 13-term Democrat from Los Angeles, has called for Trump's impeachment several times now, however she has yet to explicitly accuse the president of breaking the law.

Ethics-Tainted-Hater Maxine Waters, Calls For Trump Impeachment. Gotta hand it to Maxine Waters, the California Congresswoman has never met a Republican she didn't hate, or a corrupt liberal movement she didn't love, but that doesn't stop her from spewing her venom in public. Ms. Waters has been feasting on her hatred of Donald Trump ever since he won the election, even to the point of saying she would never meet with or work with the new president. Last week she tweeted that she wanted to lead trump into impeachment (I don't understand how she intends to do that without meeting with him).

Maxine Waters Wants to Impeach Trump Because She Disagrees With Him, Or Something. Democrats have been throwing temper tantrums on Capitol Hill since before President Trump was officially sworn in on January 20 and have given every indication we shouldn't expect their obstructionist behavior to end anytime soon. Speaking to reporters Monday [2/6/2017], Democrat Congresswoman Maxine Waters said she isn't calling for Trump's impeachment... yet.

Obama Pentagon official says anti-Trump military coup now possible. A former Defense Department official under the Obama administration has raised the specter of a military coup to remove President Donald Trump from power. In an editorial penned for Foreign Policy, senior Pentagon policy official Rosa Brooks publicly suggested a military insurrection against the Trump administration may be the only option to oust one of the most divisive presidents in American history.

Rep. Maxine Waters: 'I Haven't Called for the Impeachment — Yet'. "I have not called for the impeachment — yet," Rep. Maxine Waters (D-Calif.) said of President Donald Trump at a Monday [2/6/2017] press conference. "He's doing it himself." On Friday, Waters said she hoped Trump would not serve for four years: "And my greatest is to lead him right into impeachment."

Democratic Congressman: If Trump Ignores Judges' Stays On Executive Order, We Should Consider Impeachment. Rep. Joaquin Castro (D-TX) said that Congress should consider impeaching President Trump if he instructs members of federal law enforcement to ignore two stays that were issued by federal judges concerning his executive order on immigration, specifically the 120-day ban on anyone entering the U.S. from seven predominantly Muslim countries, three of which are designated by the State Department to be sponsors of terrorism. Almost all of them are considered to be failed states. Castro added that if Trump ignores these orders, it would be like living in a military junta. Okay — let's dial down the hyperbole. First, the executive order is lawful and constitutional. Second, a Republican Congress is not going to impeach Trump for trying to enact national security measures, like border security. Third, you're really stoking the liberal base for your possible 2018 run against Sen. Ted Cruz (R-TX) aren't you, Joaquin?

Democrat Rep. Joaquin Castro: Impeach Trump over Refugee Order. Texas Democratic Representative Joaquin Castro says Congress should draw up "articles of impeachment" against President Donald Trump over his executive order, which temporarily prohibits the arrival of Syrian refugees into the United States and halts entry of citizens from Somalia, Sudan, Yemen, Iran, Iraq, Syria, and Libya. Castro's concerns, he says, stem from a fear that Trump will order the Customs and Border Protection Agency (CBP) to ignore a federal judge's emergency stay, issued during the weekend, blocking the implementation of certain parts of the temporary refugee travel ban.

10 reasons why Trump should hate the media. [#2] Minutes after Mr. Trump [was] sworn in, multiple news outlets ran Trump impeachment stories.
• Washington Post headline at 12:19 p.m. on Inauguration Day: "The campaign to impeach President Trump has begun"
• Huffington Post: "Here are the current betting odds on Trump being impeached"
• Time: "There's already a campaign to impeach Donald Trump"
• New York Daily News: "Here's how President Trump may have already set himself up for impeachment"

Confidential David Brock Memo: Defeat Trump Through Impeachment. A confidential David Brock memo obtained by the Washington Free Beacon lays out the ways the Democratic operative plans to use his numerous organizations to take down President Donald Trump through impeachment. Brock is currently at the Turnberry Isle Resort in Aventura, Fla. for a weekend conference with more than 100 major liberal donors. Attendees are mapping out a course to combat the newly sworn-in president. According to the private and confidential memo, Brock plans to defeat Trump "through impeachment," using American Bridge, his liberal super PAC, as the main vehicle to do so.

Maxine Waters Calls For Impeachment If Trump Campaign Colluded With Russia. Monday on MSNBC's "Hardball," Rep. Maxine Waters (D-CA) said if President-elect Donald Trump or staff on his campaign had "collusion" or "exchanges of information," with Russian government officials about former Democratic presidential candidate Hillary Clinton, that would justify impeachment.

The Editor says...
Apparently none of this was enough to warrant Barack H. Obama's impeachment, in Ms. Waters' opinion.

The conspiracy to impeach Trump already launched. It should be crystal clear to all Americans that his political enemies are searching for any pretext to launch an impeachment effort to unseat President Trump, once they think it would have a chance of success. Given the level of animosity toward Trump in his own party, and the possibility of midterm election losses for the president's party (the normal pattern in American politics), these efforts can't be dismissed as impossible.

Confidential David Brock Memo: Defeat Trump Through Impeachment. A confidential David Brock memo obtained by the Washington Free Beacon lays out the ways the Democratic operative plans to use his numerous organizations to take down President Donald Trump through impeachment. Brock is currently at the Turnberry Isle Resort in Aventura, Fla. for a weekend conference with more than 100 major liberal donors. Attendees are mapping out a course to combat the newly sworn-in president. According to the private and confidential memo, Brock plans to defeat Trump "through impeachment," using American Bridge, his liberal super PAC, as the main vehicle to do so.


Beneficial side effects / icing on the cake / fringe benefits, etc.:

Foggy Bottom Begins Self-Draining as "Desperate" Career Diplomats Quit. A pearl-clutching op-ed in the New York Times declares the hurt sensibilities within the State Department are leading to multiple people quitting. Specifically citing the different managerial strategy of Secretary of State Rex Tillerson, and the priorities of the entire Dept. of State mission being reset, the career bureaucrats are dropping like flies hitting the T-Rex zapper. The entire Op-Ed reads like viewing an increasingly bright orb powered by the salty tears of globalists as they fret over the losses like the DoS directorate of global youth disability rights, and shrinkage within the department of international Geo-genitic gender advocacy.

LAPD: Deportation fears possibly impacting Hispanic crime reporting. The head of the Los Angeles Police Department on Tuesday warned of a "strong correlation" between dramatic drops in violent crimes being reported by Hispanics in Los Angeles and fears of being deported, suggesting that the community may be avoiding contact with local law enforcement in the wake of immigration polices favored by the Trump administration. Newly-released LAPD crime statistics for 2017 show that among Hispanics, reports of rape have dropped 25 percent while those of spousal abuse have decreased by 9.8 percent. Similar reductions from the start of this year were not found in any other ethnic group, according to the LAPD numbers.

Foreign Applications Dip at Some Colleges Amid Fear of 'Trump Effect'. The president of Portland State University, Wim Wiewel, met last week with 10 prospective students in Hyderabad, India. But what started as a get-acquainted visit quickly turned into more of a counseling session, as the students expressed fears about coming to the United States this fall. One student, who is Muslim, said his father was worried that America had an anti-Muslim attitude, Mr. Wiewel recounted. "Several others said they were concerned about the 'Trump effect,'" he said in an email. "I'd say the rhetoric and actual executive orders are definitely having a chilling effect," Mr. Wiewel wrote, referring to the Trump administration's travel ban. Like many universities across the country, the Oregon university is getting fewer international applications.

WaPo Devastated As Illegal Immigrants Ditch Food Stamps "So Trump Won't Deport Them". Caitlin Dewey of the Washington Post would like for you to know that she's super sad that "Immigrants are going hungry so Trump won't deport them." No, that's not the title of a satirical article published on The Onion, Caitlin actually published a note describing her complete devastation when she discovered that, under a Trump administration, illegal aliens may unilaterally choose to stop breaking numerous federal laws, including multiple counts of identity theft as that's the only conceivable way an illegal immigrant could get food stamps in the first place, in order to avoid being punished for other federal laws they've already broken.

Immigrants are now canceling their food stamps for fear that Trump will deport them. Luisa Fortin sometimes sits up at night, wondering what her clients are eating. She is the SNAP Outreach Coordinator for the Chattanooga Food Bank — but lately she has done less outreaching. Her families, working immigrants in northwest Georgia, are spooked by the political climate, Fortin said. Increasingly, she's being asked to explain how food stamps may impact immigration status, if not to outright cancel family food benefits. Since mid-January, five of Fortin's families have withdrawn from the SNAP program. One, the single mother of three citizen daughters, had fled to Georgia to escape an abusive husband. Another, two green-card holders with four young children, were thinking of taking on third jobs to compensate for the lost benefits. These families represent a small fraction of Fortin's caseload — she estimates she has signed 200 immigrant families up for SNAP over the past six months — but based on the calls she gets from other clients, she fears more cancellations are imminent.

Over at EPA, the Swamp Starts Draining Itself. President Trump is attempting to fire-bomb the overinflated budget over at the corruption-plagued EPA. And it looks to be having the intended effect: draining the agency of overpaid, unnecessary Swamp Things. Because at least one of them has elected to leave, rather than stick around and watch the agency he worships be chopped down to size. Mustafa Ali, the founder of the EPA's "environmental justice office" has resigned from the agency.

EPA senior staff begin to flee amid budget fears. A senior staffer at the Environmental Protection Agency resigned from the agency Thursday [3/9/2017] amid concerns that many of agency's programs will be shuttered under the forthcoming Trump budget. The founder of the EPA's environmental justice office, Mustafa Ali, resigned Thursday [3/9/2017], saying he has never seen such a concerted effort to roll back programs with a track record of helping disadvantaged and low-income communities.

EPA environmental justice leader resigns, amid White House plans to dismantle program. A key environmental justice leader at the Environmental Protection Agency has resigned, saying that a recent budget proposal to defund such work would harm the people who most rely on the EPA. Mustafa Ali, a senior adviser and assistant associate administrator for environmental justice, has served more than two decades at the agency, working to ease the burden of air and water pollution in hundreds of poor, minority communities nationwide. He helped found the EPA's environmental justice office during the early 1990s and became a key adviser to agency administrators under Republican and Democratic presidents.

Illegal border crossings decrease by 40 percent in Trump's first month, report says. The number of people illegally crossing the U.S. southern border has dropped 40 percent in President Trump's first full month in office, Homeland Security Secretary John Kelly said Wednesday. U.S. Customs and Border Patrol reported that the number of illegal border crossings dropped from 31,578 to 18,762 persons. Kelly said border agents usually see a 10 to 20 percent increase in illegal immigrant apprehensions from January to February.

Starbucks Stock Rating Drops 80 Points After Announcing Opposition to President Trump. Back in January Starbucks announced they were going to stand in opposition to President Trump; and to display their virtuous immigration bona fides they announced their intention to hire 10,000 refugees as employees in lieu of current American applicants for employment. An almost immediate backlash began as pro-USA consumers and President Trump supporters turned away from the Starbucks brand. As a consequence the Starbucks business model has been severely impacted.

Tough Trump policies credited for sharp plummet in illegal immigration. Illegal immigration across the southwest border plummeted in the weeks after President Trump took office, Homeland Security Secretary John F. Kelly said Wednesday, declaring an early victory from Mr. Trump's get-tough policies. In addition to a drop in number of illegal immigrants nabbed while attempting to cross, Mr. Kelly also said they seen a dramatic spike in the rates charged by smugglers paid to sneak people into the US — surging $3000, to $8,000, since November.

Acting Director of USCIS Lori Scialabba Resigns at Homeland Security. Lori Scialabba, the Acting Director at the United States Citizenship and Immigration Services (USCIS) in the Department of Homeland Security, "announced her coming retirement from federal service" on Tuesday, a spokesperson for the department has confirmed to Breitbart News. Scialabba was number one on the list of eight Obama holdover bureaucrats identified by Breitbart News that President Trump "can fire or remove at Homeland Security."

Anti-Trump Employees Quit Jobs at Companies with Ties to Trump. President Trump has gathered many CEOs and business leaders together since becoming president, but some of these company leaders are facing a backlash from their employees who don't support the president. Employees are quitting their jobs at some of the companies that have come out in support Trump, Bloomberg News reports.

WSJ Editor Tells Reporters Who Don't Like Objective Trump Coverage To Leave The Paper. Wall Street Journal editor in chief Gerard Baker told his reporters Monday [2/13/2017] the paper would not abandon objectivity in its coverage of President Donald Trump, and directed them to find work somewhere else if they want to adopt a more oppositional tone.

The Longest Nooooo! Maryland therapist Steven Stosny described a condition he terms "headline stress disorder", a more virulent version of the "election stress disorder" that he detected prior to November 8, 2016. Ever since he won Donald Trump's been on the brain of his patients and it's not going away soon. [...] If former vice-president candidate Tim Kaine can be believed, the condition is real. "Headline stress disorder" is particularly acute among liberals, some of whom are in a state of paroxysmal rage over Trump: over what he is, stands for, how he looks, etc.

Leftists Go Nuts at the Thought of Betsy DeVos as Education Secretary. The intolerance of the "tolerant" left has never been more evident than during the many cabinet hearings this year. The democrat vitriol has been on full display in virtual every hearing, but possibly none more contentious than that of nominee for Education Secretary, Betsy DeVos. Although it may be a toss-up between her and Jeff Sessions [...]

Morale at Homeland Security has 'skyrocketed' under Trump. When the House Subcommittee on Government Operations held a hearing in April 2015 titled "The Worst Places to Work in the Federal Government," an agency manager at the Department of Homeland Security was called in to testify. "[DHS] rests as the worst place to work among cabinet agencies," Rep. Mark Meadows, R-N.C., said at the time. The third largest federal department had just received an abysmal 44 percent score in the annual Federal Employee Viewpoint Survey. Fewer than half of its staff felt that morale, leadership and compensation deserved positive ratings.

At the Border Patrol, Trump lifts morale that was at an all-time low. Despite Mexico's pledge to stem the flow of Central American migrants entering its country from bordering Guatemala, the numbers have increased over the past year. The number of unaccompanied children apprehended at the Southwest border jumped nearly 50 percent between fiscal years 2015-2016, from 39,970 to 59,692. In the first three months of this fiscal year (Oct. 1-Dec. 31), 21,321 have already been apprehended, according to Border Patrol stats. But it is the number of family units apprehended that is staggering. Apprehensions jumped 95 percent between fiscal years 2015-2016, from 39,838 to 77,674. The numbers for the 2017 fiscal year have already surpassed the total for 2015, with 44,843 apprehended the past few months, according to Border Patrol.

Trump's Climate Plans Just Made the Media's Heads Explode. The occasion was a press conference hosted by the Global Warming Policy Foundation for Myron Ebell, head of the Trump administration's Environmental Protection Agency transition team. Satan's Emissary, as liberals prefer to think of him. Ebell had come to tell them about Trump's plans for the environment and energy, which I won't repeat here because you know them already. No, the reason I went wasn't to hear what Ebell had to say but to watch how his audience reacted. [...] They hated it.

Sore Loser Leftists Try Moving to Canada, Get Rejected for Being Deadbeats. One of the more entertaining aspects of the 2016 post-election season are the "threats" from the losing side to leave the country. Leftists are refusing to share a country with Trump, so they are packing their stuff up and making their way up to the Canadian border. That'll show everyone. Except for the fact that Canada isn't interested in these people.

President Trump's Early Policy Follow Through Propels Dow to 20,000. After a brief hiatus, the Dow Jones Industrial Average resumed its march toward 20000, crossing the elusive milestone on Wednesday [1/25/2017] as President Donald Trump demonstrates his seriousness about fulfilling campaign promises of lower taxes, less regulation, and more fiscal spending. The blue-chip index's march to the psychologically-significant level has captivated Wall Street since Trump's surprise election in November, and comes just 64 days after crossing the 19000 threshold for the first time ever.

Where Are They Now? These 23 Celebrities Said They'd Move If Trump Won. Back in September, my colleague Catherine Dunn published this nice compilation of 23 celebrities who said they would be leaving the country if Donald Trump were elected president. Given that Trump was indeed elected president and will be inaugurated on Friday, I thought it would be prudent to check in and see if any of these celebrities had stayed true to their word. It's time to find out: have they decided that America is actually already pretty great?

Good news!
28% of federal employees may quit their jobs when Trump assumes office: Poll. "More than one in four federal workers, or 28 percent, will definitely or possibly consider leaving their jobs after Jan. 20 when Trump is sworn into office and becomes leader of the executive branch," according to the survey conducted by the Government Business Council and Government Executive, which both track the trends of the field. Half said that Mr. Trump's business experience would "hinder his management of the federal government" while almost two thirds believe that his business relationships pose a conflict of interest. Both points are also popular narratives within the Democratic Party as well.

The Editor says...
Turn in your pencil, and don't let the door hit you on the way out.

"What kind of genius loses a billion dollars in a single year?"
George Soros lost nearly $1 billion in weeks after Trump win: Report. Billionaire investor George Soros lost nearly $1 billion after the stock market rallied following Donald Trump's surprise Election Day victory, The Wall Street Journalreported Thursday. Sources familiar with the hedge fund manager's trading said he remained cautious going into the November election and then made the mistake of becoming more bearish immediately after Mr. Trump's win. The stock market rallied on expectations that Mr. Trump's policies would boost the economy, causing Mr. Soros' trading positions to incur losses approaching $1 billion, sources told The Journal.

Beleaguered Small Businesses Set For Big Rebound Under Trump. Small businesses and entrepreneurs have had a rough time of it for these past eight years. New startups and entrepreneurial activity have pretty much been stagnant, weighed down by heavy regulation, high taxes and an economy that's just been stumbling along. But in recent weeks, there are signs of renewal that could mark a turnaround in the fortunes of small business.

Self-deportation begins:
Mexican Nationals Returning Home and Staying There Ahead of Trump. Fearing stiffer immigration enforcement in the coming months, approximately half of the Mexican nationals who had traveled through this city on their way to their hometowns claim they will not be returning to the United States, city officials said. In recent weeks, the Matamoros city government has been preparing logistical and security measures to accommodate not only the returning travelers, but also for a possible increase in deportations, said Matamoros Mayor Jesus "Chuchin" De La Garza. According to De La Garza, at least 50 percent of the Paisanos who have crossed through the three international bridges in Matamoros have reported to authorities that they will not be returning to the U.S. and plan on seeking jobs in Mexico.

Wealthy Obama Bundlers' Lives 'Upended' by Trump Move. A group of wealthy elites who bundled millions for Barack Obama's presidential campaigns are having their lives "upended" because their ambassadorships at plum posts will end when Obama leaves office. The New York Times reported that President-elect Donald Trump's transition staff has informed the State Department that politically appointed ambassadors must leave by Inauguration Day. The Times called it a "break with precedent" to remove political ambassadors, many of whom received their posts by fundraising for Barack Obama, on schedule by Jan. 20.

We Found 15 Celebs Who Threatened To Leave After Trump's Win — Guess Where They Are!. Dozens of celebrities threatened to leave the country if Donald Trump was elected president, but after his stunning upset on November 8, many of them rescinded their claims. Since his win, Miley Cyrus, Lena Dunham, Amy Schumer and all their cohorts have been spotted still residing in the United States.

American Optimism Over Economy Surging with Trump Presidential Win. A National Association of Home Builders/Wells Fargo Housing Market Index revealed Thursday [12/15/2016] that "Builder confidence in the market for newly-built single-family homes" rose to its highest level since July 2005. This most recent index jumped seven points to 70. "This notable rise in builder sentiment is largely attributable to a post-election bounce, as builders are hopeful that President-elect Trump will follow through on his pledge to cut burdensome regulations that are harming small businesses and housing affordability," said NAHB Chairman Ed Brady.

The Case of the Leftie Who Actually Left. We're used to the dreary quadrennial spectacle of various lefties declaring they will leave the country if this or that conservative wins the White House (even the compassionate variety of conservative puts them off, as we saw in 2000). But, as we're also used to, the bums never do it. Never follow through. Never live up to their word. They continue to hang on in what they consider to be the hateful US of A because they can't be as privileged, as plain fat, dumb, and happy, anywhere else. They know it; we do too.

These 18 Celebrities Who Promised To Move If Trump Was Elected Can Get On That Now. Like clockwork, every four years, in addition to hearing about how it's "the most important election of our lifetimes," we learn that this-or-that comedian or starlet will move elsewhere if the Republican candidate wins. This year, of course, that angst reached Trumpian proportions. [...] Yet they never leave, do they?

Still waiting for the 19 celebrities who promised to leave America if Trump was elected to get out. So far as I know, not a single celebrity, even from the D-list, has left the United States, as promised, if Donald Trump were elected. Fair is fair: Lena Dunham alone must have motivated thousands of voters to choose Trump, in order to be rid of her. Let the Canadians deal with her. I am a hard liner on getting them out of the country. Every time one of these people appear in public, they should be asked why they are still inhabiting the United States. Have they decided that Donald Trump is not so bad? Or have they decided that nobody should ever pay attention to their promises and threats?

Democratic donors tell losing party they're not giving any more after it burned through their millions with nothing to show for it. Donors to the Democratic Party burnt out after last month's catastrophic electoral losses. Democrats lost the White House and failed to take enough seats in the House and Senate to constitute a majority, and their top donors have had enough. 'I may very well be done with political giving entirely,' John Morgan, a top Clinton fundraiser in Florida told The Hill. 'My message to anyone reading this is, "Don't call me, I'll call you."

Donors on Hillary Blowing The Election: We Basically Lit Our Money on Fire. Supporters of Hillary Clinton are still licking their wounds after her epic and unexpected loss to Republican Donald Trump. In the aftermath we've seen the civil war in the Democrat Party re-emerge. Former Speaker of the House Nancy Pelosi was challenged for her House minority leader position this week. The DNC is searching for a new leader after interim Chairman Donna Brazil was allegedly screamed at during a staff meeting for losing the election and helping to rig the primary against Bernie Sanders.

Tired Dem donors feel like their money got burned. Democratic donors stung by Hillary Clinton's upset loss in the presidential race feel like they just set their money on fire. The sore feelings are a huge problem for the Democratic National Committee (DNC), which is trying to rebuild its image and reinvigorate a defeated party in time for challenging midterm elections in 2018. It's also a worry for top liberal activists as they prepare for war with President-elect Donald Trump and a GOP Congress that is hell-bent on rolling back President Obama's accomplishments.

More good news:
Teachers unions slam Trump's education secretary. Two of the nation's largest teachers unions had nothing but criticism on Wednesday for President-elect Trump's decision to pick Betsy DeVos, an outspoken school choice advocate, to lead the Department of Education in his administration. Trump announced the appointment in the early afternoon, describing DeVos as "a brilliant and passionate education advocate" who is committed to reforming the current public education system and demolishing "the bureaucracy that is holding our children back." But the unions immediately opposed her.

Attorney General Jeff Sessions is Democrats' nightmare. President-elect Trump's transition team knew that nominating Jeff Sessions for Attorney General would set off controversy. Democrats and their allies in the press have at key times in the past called Sessions a racist — they're now using the Alabama senator's full name, Jefferson Beauregard Sessions III, to heighten the Old South effect — and now, as they oppose Trump at nearly every turn, they've turned to race again. Here's why the effort to stop Sessions is likely to intensify as his confirmation hearings near. Sessions is the Senate's highest-profile, most determined, and most knowledgeable opponent of comprehensive immigration reform. Democrats are particularly anxious about immigration because of the unusually tenuous nature of President Obama's policies on the issue.

More Winning — Univision Lays Off 200 As Profits Collapse. President-Elect Donald Trump did not start the credibility decline of main stream media, he simply greased the rails to speed up their irrelevance.

EPA, DOE Workers Post-Trump Election: 'Employees Were in Tears,' 'Downright Panic'. People who work at the Environmental Protection Agency (EPA) and the Department of Energy are having a hard time coping with the election of Donald Trump as president, with many reporting depression and some being advised to take sick leave, according to an article published Friday [11/11/2016] by Environment and Energy Publishing (E&E). "U.S. EPA employees were in tears," the article stated. "Worried Energy Department staffers were offered counseling. "Some federal employees were so depressed, they took time off," it stated. "Others might retire early. "And some employees are in downright panic mode in the aftermath of Donald Trump's victory," the article said.

Hillary Clinton will never be president. In the biggest electoral upset of living memory, unlikely Republican presidential candidate Donald J. Trump will be elected president of the United States, defeating his Democratic opponent Hillary Clinton. AP, Politico, and Fox News have called the race. With victories in Florida, Ohio, North Carolina, Wisconsin, and even Pennsylvania, Trump won the key swing states to pull off the victory over the favored Clinton. His Rust Belt victories in the Midwest pierced the Democratic firewall many thought would elevate Clinton to the presidency.

Celebs who said they'd leave country if Trump won. Dozens of celebrities vowed to leave the country if Donald Trump won the White House, saying they'd flee to everywhere from Canada to Jupiter. The threat is a common one after any election outcome: Canada's immigration website crashed from heavy traffic as it looked increasingly likely that Trump would win. But after the real estate mogul clinched the presidency in a stunning victory early Wednesday morning, some of those stars will face questions about making good on their promise.

Still Waiting On Amy Schumer, Rosie O'donnell, Spike Lee to Leave the Country After Trump Win. At least twenty three so called "celebrities" promised to leave this country if Donald Trump won on Tuesday, which he did. Here's a list of who promised to leave.

Celebrity Meltdown!. One of the most gratifying aspects of this post-election morning is witnessing the (predictable) celebrity-meltdown in action. Those in the entertainment industry who vowed to leave the country should Donald Trump be elected president include: Cher (who vowed to move to Jupiter), Samuel L. Jackson, Barbara Streisand, Amy Schumer, Jon Stewart and the entire cast of The View, to name but a few.

Mexico's Slim clobbered as richest lose $41 billion on Trump victory. Mexico's wealthiest person lost $5.1 billion in the wake of Donald Trump's stunning upset over Democratic rival Hillary Clinton. Carlos Slim, who is fifth-richest in the world, shed 9.2 percent of his fortune after the peso dove as much as 12 percent on the news.

Photos: L.A. street artist 'moving sale' posters for anti-Trump celebrities. Los Angeles street artist Sabo didn't waste any time celebrating Donald Trump's victory on Tuesday night. He took to the streets to post parody Sotheby's ads for celebrity "Election Day Sales" overnight. Several leftist entertainers have vowed to move out of the country if Trump won the presidency, and Sabo is doing his part to help them keep their word.

7 celebrities who said they will leave the US if Trump is elected. On Thursday pop superstar Will.i.am announced in an interview with CNBC that if Republican nominee Donald Trump wins the election, he plans to move to London. And he is not the first celebrity to come forward with this claim. Here are 7 other celebrities who've announced they would be so bothered with President Trump that they would leave America. Trump supporters are likely willing to help them pack.

Mrs. George Stephanopoulos: We Will Move to Australia If Trump Wins. The wife of ABC News anchor George Stephanopoulos declared that if Donald Trump wins, the couple is moving to Australia. That's according to the Hollywood Reporter in a piece from Tuesday [11/1/2016] on how celebrities will react to the election. Ali Wentworth is an actress, notable for appearing on Seinfeld and marrying Stephanopoulos. She declared, "If Trump wins, we'll start looking at real estate in Sydney, Australia. No crime, no guns." The ABC anchor, it should be reminded, worked for Bill Clinton and secretly donated $75,000 to the Clinton Foundation.

George Stephanopoulos's Wife: We're Leaving America if Trump Wins. The wife of prominent ABC news anchor George Stephanopoulos, Ali Wentworth, has claimed the couple will leave the country should Donald Trump become president of the United States. Talking to The Hollywood Reporter, Wentworth said that "If Trump wins, we'll start looking at real estate in Sydney, Australia. No crime, no guns."

The Editor says...
I've never heard anyone claim that Australia is a land without crime. There are criminals, indeed, and even with fewer guns per capita, Australians have their ways of dealing with thieves caught in the act.

A Democrat's Guide to Moving to Canada. If you were one of the registered living or deceased Democratic voters who made a pledge that if Trump wins, you would be heading north of the border to escape the horrendous possibility of fewer taxes, less government intervention, and fewer handouts, this guide's for you. A few tips before you head north. First, if you do keep your promise, bundle up; 22 below zero isn't uncommon in some cities, but the frostbite scars and missing appendages will make you a living testament to your integrity and show all those people in the lower 57 states you are a person of conviction. Summer isn't that hot, although highs of 113 degrees have been recorded, but the intense humidity helps you sweat and keeps you more comfortable. Also, watch out for the state bird: it is actually a mosquito. Once you have crossed the highly secure border — if your paperwork is in order — great things await you. If you are polygamous, each one of your wives can get welfare, too.

Defeat likely spells the end of Clinton Dynasty. Hillary Clinton's second defeat in her quest for the White House — capped by a humbling concession speech Wednesday — may be the farewell for a family that has been Democrat royalty for nearly three decades. The comeback kid, now 69 years old, is unlikely to get off the mat following her knock-down, drag-out battle with Donald Trump, Democratic strategists told The [New York] Post. "Over," a party insider said of Bill and Hillary Clinton, who between them have held public office for nearly 30 years. "No one wants to see anyone named Clinton ever again."

The Editor says...
I hope that includes Chelsea.

Sorry America, we're not leaving! It is the first broken promise of the incoming Trump administration — and he didn't even make it. Celebrities who had said they would quit America if he won have abandoned their promises before President-elect Donald Trump is even inaugurated. Some dismissed what they pledged as a 'joke' and others simply went to ground when asked by DailyMail.com when they were packing up and heading to Canada or other countries.

Amy Schumer will stay in the US despite promise to leave if Trump wins election. Amy Schumer said she was just joking when she said she'd leave the country if Donald Trump was elected president. Schumer, a distant cousin of Senator Chuck Schumer, told BBC Newsnight in September she would move to Spain should Trump win. "My act will change because I will need to learn to speak Spanish because I will move to Spain or somewhere," she said. "It's beyond my comprehension if Trump won. It's too crazy." However, Tuesday morning [11/8/2016] she took to Instagram to inform fans she was staying in America.

Celebrity Meltdowns. What are all these celebrities still doing here? Didn't they promise us they were gone if Trump won? So many of them said they were heading to Canada, street artist Sabo created a fake real estate company to help them move. Now that it's time to make good on their promise they're strangely silent. Amy Schumer has been the only one to comment and she says she was "just joking."

Celebrities, Have the Grace to Fulfill Your Promises. Before any election, some celebrities threaten to leave the country if a Republican is elected. Barbara Streisand, Whoopi and Cher are perennials, but they always weasel out. Cher threatened to move to Jupiter — more dramatic, but easier to gainsay. Miley Cyrus, whose fame results from being the example usually cited when someone speaks of the decay of society and examples of bad taste and no manners. Samuel L. Jackson is famous for being in every movie ever made. Other than that, there were some comedians I've never heard of, actors in dramas I have never seen. All are welcome to depart, they will not be missed, and if they would refrain from giving their political opinions publicly, it would be deeply appreciated. We really don't care what you think.

Al Sharpton: I Was Just Kidding About Leaving The Country If Donald Trump Won. Al Sharpton said he was just kidding when he said he was leaving the country if Donald Trump became president. Just days after the Republican nominee was declared the winner, the civil rights activist said comments he made previously like that "he was reserving his ticket to get out of here if he wins" was "all in jest."

They might have no choice.
Good News: 35% Of Government Workers Might Quit If Trump Wins. A new survey finds that more than a third of federal workers are threatening to quit their jobs should Donald Trump prevail in the presidential election. If only that were true.

The best reason yet to vote for Trump:
Will Obama leave America if Trump's elected? Aide refuses to deny rumors that the President is preparing to quit the US. A White House aide has failed to deny rumors President Barack Obama is planning to leave the United States if Donald Trump wins the election. White House press secretary Josh Earnest was asked whether Obama was planning to flee abroad if Trump, a man he has said is unfit to hold the office, is elected President.

Brace Yourselves: America is Losing 10 Celebrities. Not for the first time, many distinguished actors, performers, and otherwise notable figures promised they would do the unthinkable if the wrong candidate got elected: they'd remove themselves from America and move to Mexico. Check that, I guess it's Canada. Anyway, it's an unusual threat if for no other reason than it's palpably narcissistic. The implication, of course, is that if Americans are not careful, they'll lose the inestimable talents of these celebrities, some of whom actually have talent.

The Editor says...
Who cares if a misguided left-wing political activist knows how to sing?

23 great reasons to vote for Trump!
These 23 Celebrities Say They'll Leave The Country If Trump Is Elected. Amy Schumer recently told BBC Newsnight that anyone who doesn't like Hillary Clinton is uninformed. She went on to say that she would move to Spain if Trump was elected. "It's beyond my comprehension if Trump won. It's just too crazy," she said. Okay then. But Schumer's not alone in her anger.

The Editor says...
Yes, please do leave the country, renounce your citizenship, and agree never to return, in person or on film, on social media, on television, or other media yet to be invented.

Good News: Streisand Says If Trump Wins, She'll Move to Australia. Thanks, Babs, for reason #499 to vote for Donald Trump. And Bon Voyage!

Streisand: I'll Leave The Country If Trump Wins. Acclaimed singer Barbra Streisand is joining the list of disgruntled celebrities threatening to leave America if Donald Trump is elected president. She made the comments during an interview with Sydney-based journalist Michael Usher during an Australian news program broadcast on Sunday.

Barbra Streisand claims she will relocate to Australia if Donald Trump beats Hillary Clinton in US election. Barbra Streisand revealed during an Australian TV interview that she will move Down Under if Donald Trump is elected President of the United States in November. The 74-year-old actress, a lifelong Democrat who endorses Hilary Clinton in the US election, made the admission during an interview with 60 Minutes. Barbra told Sydney-based journalist Michael Usher on Sunday she would consider relocating to Australia or Canada in the event of a Trump presidency.

The Editor says...
So-called celebrities sometimes "threaten" to leave the country if certain conditions are not met. [1] [2] [3] [4] [5] Unfortunately they never seem to follow through.

And the award for the worst election loser goes to ... every deluded millionaire celebrity who can't deal with the fact that America couldn't care less what they think. [Scroll down] My favourite was Chelsea Handler, who broke down and wept on live television in abject misery at the result. One of the reasons for this despair may have been her pre-election pledge on Live with Kelly and Michael to go and live in Spain if Trump won. 'So all of these people that threaten to leave the country and then don't....' she clarified, emphatically, '...I WILL leave the country.' No wriggle room for any ambiguous doubt there, right Chelsea? Well, unless you're all mouth and no Hillary pantsuit, which is precisely what you turned out to be.

Lena Dunham won't move to Canada despite Trump win, blasts those calling on her to keep word. Add Lena Dunham to the list of anti-Trump celebrities who won't be moving to Canada after all. Miss Dunham, star of the HBO comedy series "Girls," took to Instagram to slam those calling for her to make good on her promise to leave the country if Republican Donald Trump won the presidency.

Irony: Liberals can't move to Canada because of their tough immigration laws. Every presidential election, liberals threaten to move to Canada if their candidate doesn't end up in the Oval Office. This year's election was no different with liberal celebrities like Raven-Symoné, Lena Dunham, and Bryan Cranston threatening to head to the Great White North if Hillary Clinton didn't take the presidency, or, rather, if Trump did. Many liberal millennials made the same claim and a surge in traffic actually knocked Canada's immigration website offline after Trump was declared the winner. There's just one problem with their plan: Canada probably doesn't want them.

That makes one: Hollywood's George Lopez insists he really will leave the country due to Trump. It looks like comedian George Lopez may go where no other anti-Trump celebrity has gone by actually leaving the United States. Unlike stars like Miley Cyrus, Lena Dunham, Chelsea Handler and Amy Schumer, who have since reneged on their vows to exit the country if Republican Donald Trump were elected, Mr. Lopez is doubling down, indicating he's in the process of buying a home elsewhere.

The Editor says...
I'm not a big fan of Mr. Lopez, but at least he's man enough to follow up on his promise and actually leave the country.


Flaws / disappointing decisions / flip-flops / bait-and-switch:

The Unaccountable IRS. To understand the pragmatic realities of federal governance in the 21st century, one must recognize the existence of a fourth branch of government: the administrative state. We have some two million federal bureaucrats with extraconstitutional legislative powers. Not only do they write the reams of regulations that order our lives, they have the authority to enforce them capriciously. And thanks to absurd civil service protections, it is exceedingly difficult to hold them accountable for abuses of power, even when Congress demands it. Of course, you can't censure federal bureaucrats for their crimes if you don't even try. On September 8, Donald Trump's Justice Department announced it would not be reopening an investigation into the conduct of Lois Lerner, the IRS official responsible for targeting and harassing conservative groups in the 2010 and 2012 elections.

Trump Didn't Get Rolled by Pelosi and Schumer. Trump has run into trouble, mostly as a result of the fact that he does not know what he is doing and is too lazy to learn how to do the job. He has made an ethic of willful ignorance, and as a result he failed to get some relatively easy things done: In spite of what you hear on talk radio and from the talking mouths on cable news, Republicans do want to repeal the Affordable Care Act. But that's a big piece of domestic policy that requires presidential leadership of the sort that Trump is simply unable to offer, having given no serious thought to the question other than to say that he'd prefer a "great" and "terrific" system to the current one, preferably at a lower price. How do get that done without raising taxes to fund new subsidies — while keeping the expensive and market-distorting but very popular preexisting-conditions rules — is non-obvious.

Levin on DACA: 'We Have a Little Problem'; We Don't Know Where Trump Stands. On his nationally syndicated radio talk show program Thursday [9/14/2017], host Mark Levin discussed Deferred Action for Childhood Arrivals (DACA), telling his audience "we have a little problem" because it's unclear where President Trump now stands on two key planks of his presidential primary campaign: DACA and 'The Wall.' "Well, the backbenchers, TV, the rest, they've kind of caught up where we are here, ladies and gentleman, that we have a little problem," stated Mark Levin. "We have a little problem. I'm going to pose a question to you: Where exactly does President Trump stand on DACA and 'The Wall' today?"

Right explodes in anger over Trump's immigration push. Only a week ago, Trump thrilled his base by rescinding an Obama-era order on the Deferred Action for Childhood Arrivals (DACA) program, which allows about 800,000 young people brought into the country illegally to live and work without fear of deportation. But the president quickly backtracked, reaching an agreement late Wednesday over dinner with Democratic leaders Sen. Charles Schumer (N.Y.)and Rep. Nancy Pelosi (Calif.) that would extend protection to the so-called Dreamers in exchange for promises to enhance border security.

Morning Joe: Time to Put 'Right-Wing Media' 'Out of Business' and 'Break Their Backs'. Instead of rallying the troops to curb stomp conservative media into a bloody pulp, perhaps [Steve] Schmidt and other analysts at MSNBC should take a look at a broader array of polls. For example, as Nate Silver's outfit FiveThirtyEight has recently pointed out, it was likely Trump's hardline campaign stance on immigration that propelled him to victory in the primaries last year. Across the country, Trump voters who rated immigration as their top issue consistently voted for him in huge numbers. Considering that Trump explicitly promised to end DACA, reversing course on that could well be seen as a betrayal.

Hurricane Harvey Relief Comes With an Extra-Large Side of Pork. It was just a matter of time before our ideologically flexible president started making deals across the aisle. The result is a $15 billion Harvey relief package that includes short-term debt ceiling and government funding increases, along with the promise of a messy end-of-year negotiation process. President Donald Trump most likely equates making deals with getting things done. But all deals aren't created equal, and for anyone who believes in fiscal responsibility, this deal, which passed the House and the Senate in spite of many disgruntled members, was particularly lousy.

9/11/2017: Trump, Pence, Mattis, Sessions Fail to Name 'Radical Islamic Terrorism'. On the sixteenth anniversary of the September 11, 2001, Islamic terrorist attacks, President Donald Trump did not once mention the terms "radical Islam" or "Islamic terrorism" during a commemoration ceremony at the Pentagon. Those phrases were also not mentioned in speeches today [9/11/2017] by other Trump administration senior officials, including Vice President Mike Pence, Defense Secretary James Mattis, and Attorney General Jeff Sessions. Instead of naming the enemy, Trump seemingly went out of his way to use other descriptors in his speech, including "terrorists who attacked us," "barbaric forces of evil and destruction," "horrible, horrible enemies," "enemies of all civilized people," and "enemies like we've never seen before."

The "Hillary Was Worse" Justification Grows Weaker. People whose ultimate objective is the advancement of conservatism find no joy in seeing Trump morph back into the Democrat he's always been. But make no mistake, that's precisely what is unfolding. [...] Hillary could have never pushed through amnesty like Trump is poised to do. Hillary could have never gotten Republicans to go along with repealing the debt ceiling altogether and granting the government a blank check to spend more than it has, which is precisely what Trump is poised to do.

Trump Has Always Backed Amnesty, White House Says. President Donald Trump's request that Congress protect illegal immigrants is not a change of heart, but something Trump has always supported, according to White House press secretary Sarah Sanders. Trump presented a hard-line immigration policy on the campaign trail and said during an August 2016 campaign speech that "there will be no amnesty."

Trump's DOJ won't pursue charges against Lois Lerner, former IRS senior executive. The Trump Justice Department has once again cleared former IRS senior executive Lois G. Lerner of criminal liability stemming from the tea party targeting. In a letter to top Republicans, Assistant Attorney General Stephen E. Boyd said they re-reviewed the case and concluded there isn't enough evidence to charge Ms. Lerner, who was at the center of the targeting. Mr. Boyd said the new review included lawyers who only recently joined the department and weren't part of the Obama administration's earlier decision.

Trump DOJ: No plans to charge Lois Lerner in IRS scandal. The Trump administration has no plans to charge former IRS official Lois Lerner over her role in the Tea Party targeting scandal, the Justice Department said Friday [9/8/2017] in response to calls by Republican lawmakers to revisit the case. In a letter to the lawmakers, the Justice Department said that "reopening the criminal investigation would not be appropriate based on the available evidence." This past April, House Ways and Means Committee Chairman Kevin Brady, R-Texas, and Rep. Peter Roskam, R-Ill., had asked Attorney General Jeff Sessions to take a "fresh look" at the case.

Lois Lerner: Free As A Bird — For Now. There's a name we haven't seen in the news for a while. What has former IRS honcho Lois Lerner been up to since her somewhat abrupt "retirement" in the wake of the IRS scandal? Well, having failed to secure a pardon from Barack Obama before he moved out of the Oval Office, there have been investigations going on into her department's handling of conservative non-profit groups. This may have had Ms. Lerner a bit on the nervous side for a while but now it appears that she can rest easy.

The Editor says...
Donald Trump was elected because he said he was going to go to Washington and "drain the swamp." What part of the swamp affects voters most directly? The IRS. Letting Lois Lerner skate, and leaving Rudy Koskinen in place is a betrayal of the voters.

Jeff Sessions Gives Disgraced Obama-Era IRS Official Lois Lerner Get-Out-Of-Jail Free Card. Somebody wake up Jeff Sessions and inform him he is supposed to be the Attorney General of the United States. The Sessions-led Justice Department, which has acted much like its Democratic predecessors, has denied a Congressional request to prosecute Obama-era IRS official Lois Lerner for any of her alleged illegal transgressions committed while targeting conservatives while at Treasury. Lerner is now officially the newest member of The Swamp with a get-out-of-jail free card.

Sessions welcomes restoration of asset forfeiture: "I love that program". Attorney General Jeff Sessions welcomed the restoration of the practice of asset forfeiture Friday [9/1/2017] in a speech at a law enforcement conference in Alabama. "I love that program," Sessions said. "We had so much fun doing that, taking drug dealers' money and passing it out to people trying to put drug dealers in jail. What's wrong with that?" Sessions, reviewing some of the steps the DOJ has taken recently under his watch, went off script from his prepared remarks to express his excitement about the restoration of the controversial practice.

Trump plans to lift Obama-era ban on giving local police military equipment. The Trump administration will bring back the movement of surplus military equipment to local law enforcement. Documents obtained by Fox News reveal President Trump will sign an executive order reversing an Obama-era policy which restricted local police agencies' ability to get access to gear such as armored personnel carriers, grenade launchers and other military-grade equipment. Trump's executive order will restore "The full scope of a longstanding program for recycling surplus, lifesaving gear from the Department of Defense."

President Trump Reverses Obama Executive Order Blocking Military Surplus From Police Purchase. Today President Trump has issued an executive order revoking a previous Executive Order #13688, put in place by President Obama, which blocked local and state law enforcement from purchasing military surplus gear. Effective with today's order local law enforcement will have access to U.S. military equipment. Attorney General Jeff Sessions cited two studies which concluded that the use of military-style equipment can have positive effects, reducing citizen complaints and assaults on officers.

Trump Gives Obama Project to Help Food-Stamp Recipients Eat More Fruit & Veggies $16.8 Million. The Trump administration is throwing more money at a controversial Obama-era program that dedicated tens of millions of dollars to help food-stamp recipients eat more fruits and vegetables. It was part of a project launched by the former president and his wife to provide low-income minorities — already getting free groceries from the government — with healthier foods, compliments of Uncle Sam. In the last two years alone of the Obama presidency the initiative, known as Food Insecurity Nutrition Incentive Grant Program, received an astounding $62.5 million. This month, the Trump administration announced that the cash will keep flowing via the U.S. Department of Agriculture (USDA), the agency that administers the nation's monstrous food-stamp program.

Remember that Time Trump Said "Get Out of Afghanistan"? Neither Does He. As Matt Welch and Ed Krayewski have noted, President Donald Trump's plans for a United States military presence in Afghanistan aren't just secretive and undefined. They represent a total reversal of earlier statements condemning America's longest war for its utter lack of effectiveness and unconscionable loss of life and gigantic waste of money. To date, over 2,400 U.S. military have died in the war in Afghanistan and estimates of the cost run between $840 billion and $2 trillion.

Are There Any Adults In The Room? Being elected president is an accomplishment, but it's more of a means than an end. The end should be goals for policy changes, and there haven't been any of those. None on any of the major issues on which Donald Trump campaigned, anyway. Yes, the Justice Department is enforcing immigration laws once again, but a wall isn't being built and there has been zero movement on the idea of merit-based immigration reform. Some Obamacare regulations have been rendered inactive, but the law still stands. "Tax reform" is now used interchangeably with "tax cuts" which, although they'd be nice, aren't exactly gutting the ridiculous and burdensome tax code. We were supposed to get tired of winning. Now we're just tired. Tired of the pointless bickering. Tired of the drama.

A second special counsel must investigate Clinton, Comey, Lynch and others. There was a time, not so long ago, when candidate Donald Trump vowed, if elected, to have his attorney general appoint a special counsel to reopen the Hillary Clinton investigation and, if warranted, bring criminal charges against her. It never happened, of course. And the president has only himself to blame. President-elect Trump had a change of heart after winning the election, signaling that his new administration would let bygones be bygones, explaining that Clinton had "suffered" enough.

Jeff Sessions Lets Cops Be Robbers. Donald Trump made two things abundantly clear during a meeting with county sheriffs last February: He did not know what civil asset forfeiture was, and he wanted to see more of it. The president will get his wish thanks to a directive issued last week by Attorney General Jeff Sessions, who has a clearer idea of what civil forfeiture entails but is only slightly more sensitive to its potential for abuse. That potential is built into the very concept of civil forfeiture, which allows police to take property allegedly tied to crime without charging the owner. Worse, law enforcement agencies get to keep revenue generated by forfeitures they initiate, which gives them a financial incentive to target people based on the assets they own rather than the threat they pose.

State Department Lawyers Removing References to ISIS 'Genocide' Against Christians, Other Religious Minorities. The State Department's top lawyers are systematically removing the word "genocide" to describe the Islamic State's mass slaughter of Christians, Yazidis, and other ethnic minorities in Iraq and Syria from speeches before they are delivered and other official documents, according to human rights activists and attorneys familiar with the policies. Additionally, Democratic senators are delaying confirmation of Mark Green, Trump's pick to head the U.S. Agency for International Development who has broad bipartisan support.

The New DOJ Guidelines On Asset Forfeiture Are Obscene. The Justice Department's new guidelines on civil asset forfeiture are an obscenity to our founders and the Constitution they wrote. Attorney General Jeff Sessions released the directive today he claims will actually help make sure criminals can't keep their ill-gotten gains, but are really just an affront to the Fourth Amendment. The key factor in the new guidelines is that the federal government no longer has to pay attention to state and local laws which make it harder for police to seize assets without a criminal conviction. One of the few things Attorney General Eric Holder got right during his tenure was telling federal agencies they had to follow state law with the equitable-sharing program. Sessions is undoing this policy.

Trump Recertifies Iran Nuclear Deal, but Only Reluctantly. President Trump agreed on Monday [7/17/2017] to certify again that Iran is complying with an international nuclear agreement that he has strongly criticized, but only after hours of arguing with his top national security advisers, briefly upending a planned announcement as a legal deadline loomed. Mr. Trump has repeatedly condemned the deal brokered by President Barack Obama as a dangerous capitulation to Iran, but six months into his presidency he has not abandoned it. The decision on Monday was the second time his administration certified Iran's compliance, and aides said a frustrated Mr. Trump had told his security team that he would not keep doing so indefinitely.

Jeff Sessions Announces Justice Department Will Increase Asset Forfeiture. U.S. Attorney General Jeff Sessions said the Justice Department will issue new directives to increase the federal govenment's use of civil asset forfeiture, a controversial practice that allows law enforcement to seize property from suspected criminals without charging them with a crime. Speaking at a National District Attorneys Association conference in Minneapolis Monday [7/17/2017], Sessions said state and local law enforcement could expect changes from U.S. Attorneys in several areas: increased prosecution of gun crimes, immigration offenses, gang activity, and prescription drug abuse, as well as increased asset seizure by the federal government.

24 Republicans Vote To Preserve Transgender Ideology in Military. Twenty-four Republicans banded together on Thursday [7/13/2017] to defeat an amendment which would have ended former President Barack Obama's 2016 policy of funding "gender-reassignment" surgery for soldiers who want to live as members of the opposite sex. The amendment to the 2018 National Defense Authorization Act was offered by Rep. Vicky Hartzler (R, Mo.). It would have prohibited the use of taxpayer dollars to pay for the non-military medical task of converting healthy soldiers into "transgender" soldiers who face lifelong dependence on hormones and surgery.

Trump's biggest mistake — not going after Hillary. When Donald Trump said he would not pursue legal action against Hillary Clinton after he won the election, the majority of his supporters were not happy. After all, what Hillary, her family, and the Clinton Foundation actually did, or were accused of doing through credible evidence, was obviously criminal. Fast-forward to today, and the onslaught of false Russian collusion accusations against President Trump, and it is obvious why not going after Hillary was a huge mistake.

Pentagon to keep paying for sex-change surgeries. Two-dozen House Republicans broke with their pro-defense brethren Thursday and helped Democrats kill an amendment that would have barred the military from funding transgender sex reassignment surgeries and hormone therapies. The amendment to the annual National Defense Authorization Act, which sets out policies on America's $696 billion military budget, failed 214-209, with all Democrats and 24 Republicans opposing. It means the military health care system will be called on to provide such surgeries as routine treatments for the first time, unless the Trump administration changes Obama-era policies that allow transgender troops to remain on duty.

Trump Admin Continues Obama-Era Tradition Of Giving Millions To Soros-Linked Groups. The Trump administration gave $6.3 million to a group linked to liberal mega-donor George Soros as part of an effort to to develop "independent, professional media" in Moldova, The Daily Caller has learned. The Agency for International Development (USAID) doles out millions of dollars to groups around the world, and frequently this money ends up in the hands of organizations supported by Soros. The Daily Caller has previously reported that USAID during the Obama administration gave at least $15.8 million in Macedonia to groups ran by Soros and to organizations tied to his Open Society Foundations.

Junkie Running Dry. [Donald] Trump has shown himself intellectually and emotionally incapable of making the transition from minor entertainment figure to major political figure. He is in the strange position of being a B-list celebrity who is also the most famous man in the world. His recent Twitter attack on Mika Brzezinski of MSNBC's Morning Joe exemplifies that as much as it does the president's other by-now-familiar pathologies, notably his strange psychological need to verbally abuse women in physical terms. Trump may have his problems with women, but it is his unrequited love of the media that is undoing him.

US planning to create 'Space Corps' as sixth branch of armed forces. The House Armed Services Committee has voted to create a US "Space Corps", which would become a new branch of the armed forces and incorporate the current space missions of the US Air Force. If the US Space Corps goes ahead, it would be the first new military service in the country since 1947. The move has caused consternation as committee members of the panel say they were only recently informed, giving them little time to protest against the proposal.

The Editor says...
Expansion of the federal government is exactly what we would have expected from President Hillary Clinton.

This is exactly what President Hillary Clinton would have done:
Trump to prosecute schools that fail to embrace transgender lie. Many LGBT groups considered Trump to be "the most pro-LGBT candidate" to ever be nominated by the GOP — a title he gleefully embraced during the Republican National Convention. In his acceptance speech, Trump told the crowd, "As your president, I will do everything in my power to protect LGBTQ citizens." One of his first actions as president, taken even before his nothing-burger executive order that supposedly protects religious liberty, Trump — actually Ivanka — reaffirmed an executive order first issued by Obama that required government contractors to embrace the LGBT agenda or lose their right to do business with the federal government. Many LGBT groups considered Trump to be "the most pro-LGBT candidate" to ever be nominated by the GOP — a title he gleefully embraced during the Republican National Convention. In his acceptance speech, Trump told the crowd, "As your president, I will do everything in my power to protect LGBTQ citizens."

Chaffetz: Trump's Administration Isn't Very Different Than Obama's. Departing Utah Republican Rep. Jason Chaffetz is disappointed that President Donald Trump's administration has not been responsive to congressional oversight requests. Chaffetz, the former chairman of the House Committee on Oversight and Government Reform, said that Trump's administration is almost worse than the previous one when it comes to responding to oversight requests from Congress. "The reality is, sadly, I don't see much difference between the Trump administration and the Obama administration," Chaffetz said Sunday [6/18/2017] on Full Measure with Sharyl Attkisson.

Army's transgender policy includes guidelines on male pregnancies. The Army has begun mandatory transgender sensitivity training for soldiers. The training covers everything from "transfemale" soldiers to transgender shower etiquette to dealing with a male soldier who becomes pregnant. [...] "That pregnancy scenario is beyond words," Chaplain Alliance for Religious Liberty executive director Ron Crews told me. "This is an example of how this social policy can be used simply to promote personal agendas at the expense of taxpayers with no regard for being what the military is all about."

Border Numbers Up 31 Percent in One Month as 'Catch and Release' Continues. The apprehension of illegal border crossers by Border Patrol agents jumped 31 percent in May from the previous month. The jump follows a six-month decline in apprehensions after the election of President Donald Trump. The increase comes as Border Patrol agents report "catch and release" programs are quietly continuing.

Trump's reversal allowing amnesty for Dreamers enrages conservative base. The Trump administration has approved tens of thousands of temporary amnesties for illegal immigrant Dreamers, according to numbers released Thursday [6/8/2017] that underscore a major reversal for President Trump. The decision has enraged the president's conservative base, which hoped he would make good on his promise to revoke the policy, known in governmentspeak as DACA. But immigrant rights advocates, who were harshly critical of Mr. Trump during the campaign, said he deserves some credit for defying his right wing and keeping the program intact.

DOJ Decides Not To Prosecute VA Execs Accused Of Intentionally Misleading Congress. The Department of Justice won't prosecute VA executives accused of intentionally misleading Congress about cost overruns at the new VA hospital in Denver. The House Committee on Veterans Affairs asked the DOJ for a perjury investigation in 2016, as the committee believed executives were misleading lawmakers to cover up exploding costs for the facility under construction, but the DOJ maintains there is not enough evidence to move forward with prosecution, the Associated Press reports.

Betrayal! Trump grants amnesty to 125,000 illegals in 3 months. While much of the conservative media is consumed with Comey and Russia, they are missing the irony of defending an administration without even securing some key policy outcomes. The latest betrayal to the Right is the confirmation that Trump's DHS has issued almost 125,000 "DACA" cards (per Obama's unlawful Deferred Action for Childhood Arrivals order) to illegal aliens through the second quarter of this fiscal year (January through March). According to newly published data from U.S. Citizenship and Immigration Services, the Trump administration has issued 17,275 initial amnesty cards and over 107,500 renewals of existing status. This surpasses the 122,000 level of amnesty cards issued during the final quarter of Obama's presidency (Oct. 1-Dec. 31, 2016), which means the Trump administration is not even slowing down the pace!

I guess the swamp drain must be clogged.
DOJ Decides Not To Prosecute VA Execs Accused Of Intentionally Misleading Congress. The Department of Justice won't prosecute VA executives accused of intentionally misleading Congress about cost overruns at the new VA hospital in Denver. The House Committee on Veterans Affairs asked the DOJ for a perjury investigation in 2016, as the committee believed executives were misleading lawmakers to cover up exploding costs for the facility under construction, but the DOJ maintains there is not enough evidence to move forward with prosecution, the Associated Press reports. Lawmakers wanted the DOJ to look into Glenn Haggstrom and Stella Fiortes, specifically. At the time, Haggstrom served as principal executive director of the Office of Acquisition, Logistics and Construction (OALC) and Fiortes worked as director of the VA's Office of Construction and Facilities Management.

50,000 new mining jobs thanks to Trump. President Trump is putting Americans back to work, and the Marxists are in denial. But a mining industry owner who is hiring workers to try to keep pace with demand said the mining industry is outing the Fake News liars.

DHS Secretary Kelly says he's not deporting Dreamers, suggests Congress grant full legalization. Homeland Security Secretary John F. Kelly said Wednesday that his agents are not actively trying to deport illegal immigrant Dreamers approved for tentative status President Obama's 2012 deportation amnesty, and suggested Congress should find a way to grant them full legalization. Mr. Kelly declined to take a position on whether the program is legal, saying only that he's heard from both sides of the debate over the amnesty program, known as DACA, or Deferred Action for Childhood Arrivals. "We are not, not, not targeting DACA registrants right now," Mr. Kelly told the House Homeland Security Committee.

U.S. Quietly Lifts Limit on Number of Refugees Allowed In. Despite repeated efforts by President Trump to curtail refugee resettlements, the State Department this week quietly lifted the department's restriction on the number of refugees allowed to enter the United States. The result could be a near doubling of refugees entering the country, from about 830 people a week in the first three weeks of this month to well over 1,500 people per week by next month, according to refugee advocates. Tens of thousands of refugees are waiting to come to the United States.

The Ethanol Boondoggle Will Continue. Agriculture Secretary Sonny Perdue informed reporters this past weekend that one promise Donald Trump intends to keep is his support for ethanol. At a farming event in Iowa with Republican Senator Chuck Grassley and Rep. Steve King, Perdue said, "Ethanol is here to stay, and we're going to work for new technologies to be more efficient." Unfortunately, this is one Trump campaign promise that would have been good to break. The Renewable Fuel Standard — known as the ethanol mandate — is a classic example of what happens when the government interferes in the marketplace, with an agenda to boot. Through presidential administrations both Republican and Democrat, the government has heavily subsidized the production and distribution of ethanol, as well as required a certain amount of its use, in the hopes of making renewable fuels the next great thing. That hope hasn't been realized.

The DACA Betrayal. During the presidential campaign, President Trump said he was going to end President Barack Obama's Deferred Action for Childhood Arrivals amnesty, DACA, on "day one." Then candidate Trump was also forceful in pushing back against those who constantly gave these maudlin tributes to "Dreamers," saying that it was about time Americans started talking about the dreams of their own children. Well, we are well past day one. Donald Trump has not done anything on DACA. Worse, he is now signaling that he is never going to do anything.

Trump's agriculture secretary, Sonny Perdue, declares that 'ethanol is here to stay'. For a few moments, President Trump seemed like he might back away from the country's costly ethanol mandate. First, Trump tapped an ethanol opponent to head up the Environmental Protection Agency. Then in February the president plugged market deregulation for the renewable fuel industry instead of government subsidization. But those hopes officially came crashing down this weekend when U.S. Agriculture Secretary Sonny Perdue fastened a little pin to his jacket lapel that read "Don't mess with the RFS."

More information — none of it favorable — about ethanol.

Ivanka Trump to Head Review of U.S Role in Paris Climate Change Agreement. Ivanka Trump has been tapped by her father, President Donald Trump, to review the United States' commitment to the Paris Climate Change agreement, signed by former President Barack Obama as an executive agreement in 2015 without congressional approval, the Associated Press is reporting. The agreement requires countries to cut greenhouse emissions on a country-by-country basis, with Obama committing the U.S. to reduce carbon emissions by at least 26 percent below 2005 levels by 2025. The U.S. is expected to have a representative at the United Nations' climate change meeting in Bonn, Germany, next week but Trump's advisers — including daughter Ivanka and Environmental Protection Agency Administrator Scott Pruitt — are meeting on Tuesday [5/7/2017] in Washington to decide whether to stick with or withdraw from the deal.

Unworthy Abbas Honored in the White House. As a great supporter of President Trump, I was saddened to see the leader of the free world welcome to the White House the Palestinian president, Mahmoud Abbas, who has been a tyrant, Holocaust denier and the cofounder of modern Islamic terrorism. What is the most disturbing is the fact, that this meeting has elevated the untrustworthy Abbas's prestige and credibility and made him relevant at the time when he is a weakened political figure who is unpopular among his own people and the moderate Sunni states who see the Palestinian issue as an obstacle to getting closer to Israel and America in a united front against Iran. How do you explain the fact that Trump said during the meeting that it was "an honor" to have the Palestinian president, who was the cofounder of the Palestinian Liberation Organization (PLO) and modern Islamic Terrorism, and who was second in command to the notorious Yasser Arafat, whose sole purpose was the total and complete destruction of the Jewish state?

Trump's Executive Order on Religious Liberty Is Worse Than Useless. Fresh on the heels of a budget deal that fully funds Planned Parenthood, Donald Trump has signed a religious-liberty executive order that — if reports are correct — is constitutionally dubious, dangerously misleading, and ultimately harmful to the very cause that it purports to protect.

Trump Voters: Ya Got Took. [Scroll down] No fighting China on currency, no [Mexican border] wall, no NATO reform. Add a few more items to the list: Janet Yellen was definitely out before she wasn't; our relationship with Russia was "great" during the campaign but today is a "horrible relationship" that is "at an all-time low" (he may not know about the Cuban missile crisis); the president could not make war on Syria without congressional approval ("big mistake if he does not!") until he could. The Affordable Care Act remains the law of the land.

Of Promises Broken — President Trump Signs Stop-Gap Spending Bill. Under normal fiscal year budget agreements, Trump would have had no input anyway, because this is merely the last five months of last year's budget. So he signed it. And all for what? To avert a shutdown we all know is not a shutdown, but barely a temporary slowdown. The President should have refused to sign this pig and allowed the government to go into slow-down mode. Trump and the Republicans are going to get blamed for this anyway, so why not go to the mat and fight for your principles?

Donald Trump's Mar-a-Lago trips cost taxpayers estimated $20m in 100 days — Obama's cost $97m in 8 years. President Donald Trump has racked up an historic amount of travel expenses in his first 100 days in office, by far surpassing the president who came before him. Mr Trump has made a point of repeatedly visiting his private Mar-a-Lago resort and golf course, which he and his administration have referred to as the "winter White House," on the weekends. Those Florida trips require a nearly 1,000 mile flight aboard Air Force One south from Washington. Joining the president on that journey are cargo planes carrying motorcade limousines, aircraft transporting staff for security sweeps, and the deployment of the Coast Guard in the waters near the resort.

The Unnoticed Consequences of Incompetent Governance. While the Trump administration is still trying to figure out how to fund and pass a massive infrastructure bill, at least $20 billion worth of big energy-infrastructure projects — 15 of them in 14 states, all 100 percent privately funded and all holding the potential to create thousands of new construction jobs — are sitting in front of the Federal Energy Regulatory Commission, awaiting approval. The commission isn't simply choosing to stall the projects; it can't approve them, because it needs a quorum of three commissioners to make an official decision and it's been operating with only two since the beginning of February, while three empty seats are yet to be filled by President Trump. This is an unbelievably vivid illustration of how few people around Trump understand the federal government they've been tasked with running.

PC Pentagon Caves To CAIR, Agrees To 'Review' Anti-Terror Training Program. The Pentagon has agreed to formally review an anti-terror training program taught to special forces by a private contractor for material deemed offensive to Islam and Muslims, even though the Muslim group that lodged a complaint against the allegedly "Islamophobic" program has been accused by the Justice Department of supporting terrorism and is currently banned from outreach activities by the FBI. The instructor hired to teach the program says he fears his class might not get a fair hearing, because military brass have assigned the review to a Muslim military chaplain who graduated from a radical Saudi-funded Islamic school raided by federal agents after 9/11 on suspicion of terrorist activities. He is their second choice for conducting the review. They had originally picked a more radical military chaplain to inspect the training materials before learning he has ties to an imam with a history of ministering to Muslims later convicted of terrorism.

Why did we vote for the Republican in the 2016 election, if this is the result?
US should stay in Paris climate accord says energy secretary Rick Perry. The United States should stay in the Paris climate accord but renegotiate it, energy secretary Rick Perry said on Tuesday, alleging that some European countries were not doing enough to curb emissions. A decision is expected by president Donald Trump next month on whether or not to stay in the landmark 2015 Paris Agreement limiting global carbon emissions, signed by 194 countries.

Folding like a cheap suitcase:
Trump Indicates He's Open To Delaying Border Wall Funding In Order To Avoid Government Shutdown. Donald Trump signaled that he is willing to delay funding for the border wall in order to pass a spending bill and avoid a government shutdown at the end of the week. The president said he was open to delaying funding for construction of the wall until September in a meeting with a group of reporters at the White House Monday evening [4/24/2017].

Great news — if you like Syrians:
Trump Is Resettling Syrian Refugees At A Much Quicker Pace Than Obama. President Donald Trump called Syrian refugees a "great Trojan horse" during the 2016 campaign, but his administration has resettled them in a quicker pace than President Barack Obama did. Since Trump was inaugurated, 1,401 Syrian refugees have been resettled, State Department figures as of Wednesday reveal. This is more than double the 625 Syrian refugees resettled under President Obama in the same time frame last year. The president has admitted about a third fewer refugees from all nations than Obama's State Department did in this time span, as he has resettled 10,565 refugees so far and Obama resettled 14,841. Syrian refugees, however, were a particular focus of President Trump's when he was running for office.

Trump's Failure to Fill Key Government Posts Is Stalling Key Pipeline Projects. The Federal Energy Regulatory Commission is not the country's most well-known or controversial government agency. But if you care about building natural gas and oil pipelines or expanding the American power grid, it's pretty important. FERC consists of five members who can approve or reject plans for major energy-infrastructure projects. The Trump administration has been slow to nominate candidates to some of the 600 or so significant positions in the executive branch, including the three empty spots on FERC, which has been short of a quorum since President Obama's appointed chairman, Norman Bay, resigned on February 3.

Conservatives Confused Why Koskinen Still Has Job at IRS. Current IRS Commissioner John Koskinen was not leading the agency when it was targeting conservative groups that opposed President Obama's policies, but he was pretty uncooperative during Congress's investigation into the scandal during his own tenure. It's for that reason Republicans are wondering why President Trump has not relieved him of his duties. "President Trump should fire Commissioner Koskinen and replace him with someone that will bring integrity and competence to the IRS," Rep. Bob Goodlatte (R-VA) told Fox News on Tuesday [4/4/2017]. Fifty-four of Goodlatte's colleagues also penned a letter to the White House urging the administration to remove Koskinen.

An Estimated 36,000 Illegal Immigrants Have Received Amnesty Under Trump, As He Reneges On Promise. Obama also launched Deferred Action for Parents of Americans (DAPA), which is an amnesty for illegal immigrant parents of American citizen children, however, this has been blocked from implementation by court decisions. President Trump said during an August speech in Phoenix that he will "immediately terminate" Obama's "illegal executive amnesties," but he has yet to do so.

Trump Admin to Host Convicted Palestinian Terrorist Despite Outrage. The Trump administration says it will permit a Palestinian official known for endorsing terrorism and murder to enter the United States next week for a series of high-level meetings on the Israel-Palestinian peace process, a move likely to prompt outrage in the pro-Israel community. The State Department confirmed to the Washington Free Beacon late Thursday [3/30/2017] that it intends to permit Jibril Rajoub, secretary of the Fatah Central Committee, to participate in meetings with U.S. officials next week, despite his repeated calls for terrorism against Israel and a 15-year stint in Israeli prison for committing terror acts. A State Department official who spoke to the Free Beacon acknowledged Rajoub's radical rhetoric, but maintained he can serve a positive role in peace talks set to take place between Trump administration officials and a Palestinian delegation including Mahmoud Abbas.

Ann Coulter: Trump 'starting to look like every other Republican administration'. President Trump is straying from the platform that put him in the Oval Office, rendering his administration like any other Republican White House, Ann Coulter said Tuesday [3/21/2017]. During a radio interview for the "Sean Hannity Show," the conservative pundit rebuked House GOP leaders' measure to repeal and replace ObamaCare and slammed the president for backing it, urging him to stick to the issues that helped him win the election. "Trump has got to get off this stuff and get off tax cuts and get back on the stuff that got him elected," Coulter said Tuesday.

This is exactly what President Hillary Clinton would have done.
President Trump's Proposed OMB Budget. The President's 2018 Budget [...] Provides $3.7 billion for continued development of the Orion crew vehicle, Space Launch System, and associated ground system, to send American astronauts on deep-space missions. To accommodate increasing development costs, the Budget cancels the multi-billion-dollar Asteroid Redirect Mission.

Trump Preserves the Export-Import Bank. When early drafts of the Trump budget started to circulate after the inauguration, the Export-Import Bank — one of Washington's most notorious corporate-welfare programs — was among the agencies destined for the chopping block. Now the actual budget is out, and the bank has been spared the ax. The Washington Examiner's Tim Carney reports that this "follows many reports from congressional fans of Ex-Im that Trump had been persuaded to love the agency, which primarily subsidizes Boeing sales." (Barack Obama underwent a similar transformation, denouncing the bank as "little more than a fund for corporate welfare" while he was running for president but fighting to preserve it once in office.)

Trump's White House follows Obama's lead telling court not to locate more of Clinton's emails. President Trump's new administration isn't fighting any harder to have more of former Secretary of State Hillary Clinton's emails released. In fact, based off of court proceedings this week, the Trump Justice Department is following the same playbook as President Obama's, with government lawyers saying they will continue to seek a dismissal of a Judicial Watch case that is trying to force them to locate more of Clinton's emails. 'It's incredible,' said Judicial Watch's head Tom Fitton to the Washington Post. 'They're taking the same position as the Obama administration on Clinton.'

Trump's State Department refuses to look for Hillary Clinton's emails. Judicial Watch was hoping that "Team Trump" would also mean team transparency. But the conservative watchdog group was disappointed Monday after State Department lawyers were still insisting — even under their new President Trump-appointed leadership — that they have no intention of trying to find any potential as-yet uncovered Hillary Clinton emails from her time at the department. Given that Trump once joked that Russia should find Hillary's missing emails, it's an ironic twist for Judicial Watch that it can't get Trump's own State Department to cooperate.

Stuff like this is the reason Americans voted against Hillary Clinton.
White House: Trump will enforce LGBTQ workplace protections. The White House said early Tuesday that President Trump will continue to enforce an Obama-era executive order protecting the rights of the lesbian, gay, bisexual, transgender and queer community in the workplace. "President Donald J. Trump is determined to protect the rights of all Americans, including the LGBTQ community," said a statement from his press secretary's office.

Trump to enforce Obama's LGBTQ anti-discrimination order. President Trump will continue to enforce President Obama's 2014 executive order protecting LGBTQ people from discrimination while working as federal contractors, the White House announced Tuesday [1/31/2017]. "President Donald J. Trump is determined to protect the rights of all Americans, including the LGBTQ community. President Trump continues to be respectful and supportive of LGBTQ rights, just as he was throughout the election," the White House announced in a statement.

The Editor says...
One thing this country does not need is a spineless, centrist, politically correct Uniparty that grants special rights and privileges to sacred cows because the party fears the castigation of the press or the onslaught of baseless litigation. Homosexuality is perversion, and is not something to be normalized and legitimized by the federal government.

Loose cannon:
Trump launches a Twitter rant at the New York Times, hours after promising to be restrained online. Donald Trump fired off against his enemies on Sunday in one of his trademark Twitter sprees — hours after vowing to be 'more restrained' on social media. The President-elect attacked The New York Times for its coverage of him, claiming it had cost them 'thousands of subscribers' since his election win. In a flurry of tweets on Sunday morning [11/13/2016], he slammed the publication for its 'bad, poor and inaccurate' reports. It swiftly responded to say subscriptions were up.

No It's Not Cool To Be 70 Going On 14. It's really rich to hear Democrats rail on about Trump's indefensible womanizing talk (and actions). But they have a point. If the Republican Party is aligned with Godliness, what have we done nominating this clown as the paragon of family values and virtue? They could just say "you guys are stupid" and be right.

This Is No Way To Elect A President. Trump isn't stupid. He personally may be a pig, but he's a smart man. He's just shown himself to be stubborn when it comes to taking advice, undisciplined when it comes to messaging and unprepared (and either oblivious or delusional) for the level of scrutiny he'd face when it comes to running against a Democrat.

The Biggest Blunder of the 2016 Campaign. [T]he members of the Republican National Committee had to know that the primary aspect of the Democrat' game plan was to crucify Trump with women. Certainly Trump had to know, as a forty-year tabloid headliner, a 15-year reality TV star, books and interviews in which he boasted about his female conquests, and his own upbringing in a world of male chauvinism that hours of tapes and videos existed that would be used against him.

The coming Trump vs. Clinton sex scandal showdown. Consider Trump's reaction to reports on his lewd hot mic moment. "This was locker room banter, a private conversation that took place many years ago. Bill Clinton has said far worse to me on the golf course — not even close," he said in a statement. "I apologize if anyone was offended."

The Editor says...
Incidentally, nobody on television has mentioned this, but when the offensive remarks were made, Trump was a Democrat.

The Sun Is Setting on America as Founded. The Party's current standard bearer, Donald Trump, has proposed further expansion and maintenance of the current central government as he has declared his support for 1) expanded government paid maternity leave and child care, 2) mandatory increases in the minimum wage, 3) punitive tariffs on imported goods, 4) retaliatory steps against business who relocate overseas, 5) taxpayer funding for Planned Parenthood, 6) leaving Social Security, medicare and all welfare programs in place with no reforms although all are heading for insolvency, 7) doubling the infrastructure spending as proposed by Hillary Clinton, 8) unilaterally abrogating treaties and agreements, 8[$frac12;]) the continued unfettered use of executive orders as he sees fit, and 9) limitations on free speech and changes to libel laws. The Republican Party, regardless of whether Trump wins or loses, appears irreversibly committed to cementing its status as the socialist-lite party versus the Democratic Party's staunch socialist status. There is little difference between them.

Trump Has Not Read The Constitution, Or The Bible. In Trump's America, nobody gets the benefit of the doubt, except Trump. And that's why I (like many others more important than myself) am willing to suffer losing some friendships or professional hardship to expose him as the shallow, small, corrupt man he is.

Never Trump, Now More Than Ever. [Scroll down] Ideas matter, and supporting Trump means advancing ideas I find not just wrong, but destructive. I've defended the unborn my entire career; he praises Planned Parenthood. I believe that marriage is a sacred covenant between husband and wife; he's a serial adulterer. I believe America should lead the world in defense not just of its territorial integrity but also of civilization itself; he would retreat into glorified isolationism. I believe that free trade has made America more prosperous and enriched the lives of its citizens; he threatens to start ruinous economic conflicts.


Intra-party friction:

Trump's final humiliation of the GOP. When the news hit on Tuesday that the Trump campaign has washed its hands of fund-raising efforts two weeks before the election, the humiliation of the traditional Republican Party at the hands of Donald Trump was all but complete. His refusal to help fill party coffers just as the last push for voters commences — which is an expensive process and requires cash on hand — is the perfect capper to 16 months in which Trump has gleefully terrorized weak-kneed Republican officials, forced them to comply with his wishes and then screwed them.

10 Signs That An All-Out Attempt Is Being Made To Sabotage The Trump Campaign. We always knew that politics in America is a dirty game, and that the Clintons are the dirtiest players in the game. And we always knew that the mainstream media was going to be in Clinton's corner, although it has been a shock to what degree they have completely abandoned any pretense of objectivity during this election cycle. So it was always going to be an uphill battle for Donald Trump, but what he didn't anticipate was blatant and widespread sabotage of his campaign from within his own party. In recent days it has become clear that the worst sabotage to the Trump campaign is being done by people that are supposed to be on his side. It is being called "the Republican civil war," and I don't think that is overstating the case at all.

The GOP civil war is finally here. And Trump is winning. With the release of the 2005 "Access Hollywood" tape and Donald Trump's subsequent drop in the polls, many already reluctant Republicans are now running for cover from him and his campaign. House Speaker Paul Ryan and Senator John McCain are the most prominent among them, and Trump has responded by calling them out individually on his Twitter feed. The GOP civil war so close to erupting so many times during the course of the Trump campaign is finally here. All because of a new drop in the polls that may or may not last very long. There may be no winners in the end of this intramural battle, but the only one who can win is Trump. And that's why Trump should not just continue to play up this growing rift with the establishment, he should play it up as much as possible.

Shedding Light On Years Of Terrible Blindness Among Conservatives. Republicans [...] face a boatload of challenges and divisions that arose with the nomination of Donald Trump as the GOP presidential nominee. Trump secured the nomination by being the outsider candidate who would take on the "establishment" and the political "ruling class" in Washington DC. There is considerable irony in the fact that 14 million primary voters believed a Manhattan-based real estate billionaire who aligned himself with Democratic policies and politicians for three decades is the ideal person to fight the "ruling class," but it is where the GOP found itself. Trump's nomination has created deep divisions within the party that may never be healed.

Trump's Curious Habit of Denigrating Fellow Republicans. Donald Trump, who last week accepted the presidential nomination of the Republican party, suggested in an interview Tuesday with Bill O'Reilly that Republicans don't like to help people. Trump made the claim during a discussion of the minimum wage, in which he said he'd both maintain the minimum wage and would raise it to $10 per hour.

Donald Trump Is Crazy, and So Is the GOP for Embracing Him. Both Cruz and his father have vehemently — and repeatedly — denied any suggestion that the man in the photograph is the elder Cruz or that he was an associate of Oswald, contrary to Trump's claim. That hasn't stopped Trump's innuendo. In May, when he first raised questions about the elder Cruz, Trump said: "What was he doing with Lee Harvey Oswald shortly before the shooting?" The Kennedy assassination is one of the most heavily investigated events in the past century. Cruz's father was not implicated. There is no evidence to support claims that he was ever in the presence of Lee Harvey Oswald or had a role in the Kennedy assassination. And scholars who have studied those events have said without qualification that Cruz wasn't involved. But Trump peddles his nonsense anyway.

Trump doubles down on anti-Cruz JFK assassination slander. Sen. Ted Cruz was roundly condemned for not endorsing Trump in his convention speech. But if it is true that the Texas firebrand doomed his political future, then Trump would have been wise to heed the advice of the Chinese military leader Sun Tzu, who said never to disturb your enemy when he is destroying himself. Instead, Trump proved to be a sore winner and showed why Ted Cruz was right in withholding his endorsement. There are few among us who, if someone slandered their fathers in a similar way, would not simply deck the miscreant. Methinks Trump protested his innocence too much even as he defamed his opponent's father.


President Trump's speech to the UN, September 19, 2017:

Trump's UN speech was a grand slam. On Tuesday [9/19/2017], addressing the United Nations for the first time as president, President Trump delivered a powerful message. On the peril, Trump was clear. He spared no ire in confronting the efforts of North Korean leader Kim Jong Un to acquire an intercontinental ballistic missile plus nuclear warhead capability. Trump warned that if the U.S. is "forced to defend itself or its allies, we will have no choice but to totally destroy North Korea." Referencing Kim specifically, Trump warned that "Rocket Man is on a suicide mission for him and his regime."

Netanyahu Praised Trump's UN Speech As Bold And Courageous. Israeli Prime Minister Benjamin Netanyahu said he had "never heard a bolder or more courageous speech" after hearing President Donald Trump's Tuesday address to the United National General Assembly. Netanyahu tweeted his support for Trump's speech shortly after the president's speech to the group of foreign leaders from 193 different countries at the U.N.'s 72nd annual gathering in New York City. "In over 30 years in my experience with the UN, I never heard a bolder or more courageous speech," Netanyahu tweeted, followed by some more tweets about the speech.

Bolton: Trump's U.N. Speech the Best of His Presidency. Fox News contributor John Bolton called Donald Trump's speech before the United Nations Tuesday the best of his young presidency. Bolton, who served as U.S. Ambassador to the United Nations under President George W. Bush, praised Trump for his direct denunciation of North Korea's nuclear ambitions and criticism of the Iran nuclear deal brokered by the Obama administration. "This was the best speech of the Trump presidency, in my view," Bolton said. "I think he was as clear and direct as it's possible to be."

Why Trump's UN Speech Was a Triumph. Donald Trump on Tuesday [9/19/2017] confirmed yet again why he is the most robust president since Ronald Reagan. Following up on his brilliant speeches before a joint session of Congress in February, his speech about combating Islamic terrorism before Arab leaders in Saudi Arabia, and his splendid defense of Western civilizational values in Warsaw a few months ago, Trump addressed the United Nations and articulated for the 150 delegates at that ostentatiously corrupt institution the signal lesson of successful international relations: that freedom within nations, and comity among them, is best served not by the effacement or attenuation of national sovereignty but its frank and manly embrace.

Trump's fiery UN speech earns him international praise. Despite his increasingly strong rhetoric toward North Korea, President Donald Trump once promised his former national security aid Sebastian Gorka that he did not want to go to war over the Korean peninsula. "People need to take that to heart," Gorka told FOX Business' Trish Regan on 'The Intelligence Report' on Tuesday. "Nevertheless, if you threaten us, if you threaten our territory with nuclear weapons, with ballistic missiles, look at that team he's got. Secretary [of Defense James] Mattis is not going to take that lying down."

Trump at the U.N.. The headline obviously was the threat to destroy North Korea if we are forced to defend ourselves. If the point of the speech was to get the world to take notice, this surely succeeded. But it's still an open question of what exactly the administration's North Korea policy is — a rhetorically forceful version of the usual hope that we can get China to pressure North Korea and eventually sit down to negotiate again with Pyongyang, or something different? Also, Trump called the Iran nuclear deal an embarrassment to our country, which is a pretty strong indication that he wants to get out of the agreement and probably will (even if this continues to be an internal battle in the administration). It's very safe to say that the reference to Kim Jong-un as "rocket man" aside (which will occasion twelve hours of intense cable debate), we've never heard such direct, undiplomatic language from a U.S. president at Turtle Bay.

Trump Hits Home Run for America in UN Speech. What's relatively rare [at the UN] is plain-spoken truth. So, by UN standards, Trump's speech certainly did not fit in. But by American standards, he told some extremely important truths, including his observation that "America does more than speak for the values expressed in the United Nations Charter. Our citizens have paid the ultimate price to defend our freedom and the freedom of many nations represented in this great hall." He spelled out, quite accurately, that "the scourge of our planet today is a small group of rogue regimes that violate every principle on which the United Nations is based." In particular, and in detail, Trump called out the rogue states of North Korea and Iran.


Accomplishments:

White House confirms Trump's plans to withdraw from Paris climate deal. White House officials told foreign energy ministers Monday that President Trump still intends to withdraw from the Paris climate agreement unless the U.S. obtains "more favorable" terms. At a breakfast meeting on the sidelines of the annual United Nations general assembly in New York, White House economic adviser Gary Cohn and other officials emphasized that Mr. Trump's position hasn't changed, the White House said.

President Trump Sets Record for Most Stock Market Closing Highs in First Year — Obama Had None His Entire First Term. President Trump is already the only President in US history to oversee two stock market rallies of nine days or more where the markets set new highs each and every day. On February 28th President Trump matched President Reagan's 1987 record for most continuous closing high trading days when the DOW reached a new high for its 12th day in a row! [...] The stock markets under President Obama moved in nearly the exact opposite direction in the nine months after President Obama's election win in November 2008.

Betsy DeVos announces Education Department's new approach to Title IX investigations. In a highly-anticipated speech delivered Thursday [9/7/2017], Education Secretary Betsy DeVos announced the department is shifting its approach to Title IX enforcement away from that of the Obama administration, implementing a notice-and-comment process to develop an improved strategy based on feedback from the public.

Trump, in DACA decision, restores constitutional sanity to immigration laws. By executive fiat, President Obama granted amnesty to immigrants living illegally in the United States. It was an unconstitutional act, to be sure. Obama had previously admitted he had no authority to end deportations of illegal aliens when he said, "The notion that somehow I can just change the laws unilaterally is just not true." Then he went about doing it anyway, conjuring a new breadth of hypocrisy. His successor, President Trump, is now taking the first step toward restoring sanity to the rule of law as it applies to the Constitution and immigration.

Trump Immigration Crackdown Raises Middle-Class Construction Wages In America By 30%. Open borders kills the American Middle Class and replaces them with millions willing to work for less. That is an undeniable economic truth but one the Establishment media and political class refuse to admit to the American people. Regulated common-sense immigration is a benefit to all. Open borders immigration is of benefit to corporations demanding cheap labor and politicians wanting to supplement legal voters with illegal ones.

Trump's immigration policy means more jobs for Americans. A report in Politico shows President Trump's crackdown on illegal aliens has led to more jobs and better wages. And liberals are crying.

Trump schools Obama on U.S. Constitution. President Trump never took a single law class — at least not that we know of. Because if he had, Mr. Trump would surely find a way to remind us every time he wanted to strut his legal stuff. Anyway, Trump University didn't even have a law school. Yet, Mr. Trump effortlessly runs legal circles around the Great Law Lecturer Barack Obama when it comes to understanding the Constitution.

Also posted under Obama's greatly overrated intellect.

Manufacturing Sector Increased Jobs at Fastest Pace in More Than 4 Years. The manufacturing sector increased jobs at the fastest pace in the month of July than the sector had in more than four years, the New York Times reported. While the jobs report showed there were fewer jobs created than were expected overall, jobs in the manufacturing sector showed improvement. "The latest payroll data underscores the striking rebound at American factories, which lost more than two million jobs in the recession, but have clawed their way back and recovered more than one million positions since 2010," the article states.

Obama's 'pen and phone' have been trumped when it comes to DACA. Imagine a rogue president, frustrated with Congress for repeatedly failing to pass his administration's wish list on immigration, disregarding the separation of powers and unilaterally implementing his legislative prerogatives by executive fiat. No, this isn't a constitutional law hypothetical. This is the story of how the Deferred Action for Childhood Arrivals (DACA) amnesty program came into being. For nearly two decades, Congress has considered varying versions of the Development, Relief, and Education for Alien Minors (DREAM) Act, a legislative amnesty for certain illegal aliens who claimed to have entered the country unlawfully as minors, while meeting other criteria. Every time the DREAM Act was brought up for a vote, it failed to pass both chambers of Congress to become law.

President Donald Trump Serves Meals to Hurricane Victims at Houston Relief Center. President Donald Trump spent time meeting with Hurricane Harvey victims at the Houston NRG hurricane relief center on Saturday before serving meals from the Red Cross. Gov. Greg Abbott, the state's first lady Cecilia Abbott, and Houston Mayor Sylvester Turner met Trump and first lady Melania Trump upon their arrival at Ellington Field in Houston. The Texas governor and Houston Mayor continued on with Trump to the relief center.

Trump Administration Slashes Funds For Health Care Sign-Ups. Affirming its disdain for "Obamacare," the Trump administration on Thursday [8/31/2017] announced sharp cuts in programs promoting health care enrollment under the Affordable Care Act for next year.

Looks like Andrew Jackson will stay on the $20 bill. Currently, as you might know if you just got paid, it's Andrew Jackson, an early Democrat, on the $20. He was a hero of the War of 1812 and a rough-hewn two-term president. He was also a successful military leader in battles against native Americans during his era. Last year, another two-term president, Barack Obama, approved a change that would delete Old Hickory's visage from the front and substituted it with Harriet Tubman's face. The Bureau of Engraving and Printing says it has received no instructions yet to implement the changes, which candidate Donald Trump criticized as "pure political correctness."

Trump Administration Won't Commit To Putting Harriet Tubman On $20 Bill. Anyone expecting to someday see Harriet Tubman's image grace the front of the $20 bill may be in for a long wait. In a new interview, Treasury Secretary Steve Mnuchin hinted that the Trump administration may back off the planned change that would have had Tubman take Andrew Jackson's place on the bill. Speaking to CNBC today [8/31/2017], Mnuchin would only say that the Treasury will "consider" whether or not to move forward with the change from Jackson to Tubman. The $20 bill is up for a scheduled redesign in 2020, regardless of whose face is on the front.

Trump Reverses Obama Plan to Collect Wage Information Based on Gender, Race, Ethnicity. A year before leaving office, President Barack Obama announced new steps to narrow what was described as a gender pay gap. Obama directed the Equal Employment Opportunity Commission (EEOC), in partnership with the Department of Labor, to annually collect pay data by gender, race and ethnicity from businesses with 100 or more employees. On Wednesday [8/30/2017], the Trump administration put that Obama-era order on hold. In a memo to the EEOC, the White House Office of Management and Budget (OMB) said it is launching a review of the effectiveness of the equal pay data collection initiative. (Companies are still required to annually file information on the race/ethnicity and gender of their employees, but the wage information sought by Obama will not be included.)

Mexico Economy Minister Ildefonso Guajardo Now Fears NAFTA Collapse. Mexico's Economy Minister Ildefonso Guajardo has a different perspective today than prior to the beginning of NAFTA renegotiation. Before NAFTA round #1 began Minister Guajardo stated angrily if the U.S. did not concede to the demands of Mexico his government would flood the U.S. with drugs and illegal aliens. However, in the face of actually seeing NAFTA discussions possibly leading to collapse, Mr. Guajardo has a change in tone.

Trump just nuked the Mueller Inquisition. The pardon of Joe Arpaio was about justice. The government refused his God-given right to a trial by a jury of his peers over a criminal contempt of court charge. President Trump ended that railroading of an 85-year-old man whose only crime was upholding federal law. Congress may wish to seek impeachment of the judges involved for denying Arpaio his civil rights.

Levin: If Exposing Media Is Only Thing Trump Does, He Will Have Been a Successful President. On his nationally syndicated radio talk show Wednesday, host Mark Levin lambasted the media and praised Donald Trump, saying if exposing the media is the only thing Trump does, he will have been a successful president. "I honestly believe if this is the only thing President Trump succeeds in doing he will have been a successful president — that is, exposing the media," said Mark Levin. "For decade, after decade, after decade, and now it's worse than ever, the media have fraudulently presented themselves to the American people — to you — as some kind of objective nonpartisan entity just reporting the news. Now they're all out of the closet, and it's not very pretty."

Trump signs directive banning transgender military recruits. President Donald Trump on Friday [8/25/2017] directed the military not to move forward with an Obama-era plan that would have allowed transgender individuals to be recruited into the armed forces, following through on his intentions announced a month earlier to ban transgender people from serving. The presidential memorandum also bans the Department of Defense from using its resources to provide medical treatment regimens for transgender individuals currently serving in the military.

Trump pardons controversial Arizona sheriff Joe Arpaio. President Donald Trump has granted a pardon to controversial former Arizona sheriff and political ally Joe Arpaio less than a month after he was convicted of criminal contempt in a case involving racial profiling. Trump signed the pardon for the 85-year-old Arpaio on Friday night [8/25/2017] citing his long history of public service.

Trump pardons former Sheriff Joe Arpaio. President Donald Trump pardoned Joe Arpaio on Friday [8/25/2017], sparing the controversial former Arizona sheriff a jail sentence after he was convicted of criminal contempt related to his hard-line tactics going after undocumented immigrants. The move drew outcry from civil rights groups, which accuse Arpaio of violating the Constitution in his crackdown on illegal immigration. During last year's presidential campaign, Arpaio was a vocal proponent of Trump's candidacy, and used his national notoriety to advocate for Trump's similarly aggressive stance on border security and deportations.

Sheriff Joe Arpaio — yes, let him go. President Donald Trump hinted — well, more than hinted, really — during his Phoenix rally he was going to pardon former Maricopa County Sheriff Joe Arpaio soon. And well he should. What happened to Arpaio was a political hit job.

White House Has Reportedly Prepared Paperwork For Trump's Sheriff Arpaio Pardon. During President Trump's campaign style rally in Phoenix last night [8/22/2017], he strongly hinted a presidential pardon will be coming for former Maricopa County Sheriff Joe Arpaio. [...] It was heavily speculated Trump would pardon Arpaio while he was in Arizona. Although he telegraphed the move during his remarks, he didn't make an official announcement.

Trump Lops Off Another of the Green Blob's Tentacles. President Trump has disbanded something called the Advisory Committee for the Sustained National Climate Assessment (ACSNCA). Good. That shrieking you can hear is the sound of the Green Blob, mourning the loss of another of its tentacles. If you believe the liberal media, the ACSNCA — as probably no one ever called it — was a vital organization established by President Obama in 2015 as part of his career-defining mission to combat climate change.

New Gov't Regulations Absolutely Plummet Under Trump. The pace of new government regulations has plunged in President Donald Trump's first seven months in office, a welcome relief to businesses and banks that have long pushed for less interference in the economy. In the first half of 2017, the Office of Information and Regulatory Affairs has processed some 67 regulatory actions, ranging from notices to final rules. During the first six months of former President Barack Obama's first term, the department coursed through three times as many, processing 216 regulatory actions.

Trump Ends Obama's 'Water Bottle Ban'. The Trump administration is ending a policy implemented by former president Barack Obama that attempted to ban water bottles at national parks. The National Park Service announced last week it was ending the so-called Water Bottle Ban, which the Obama administration implemented in 2011 to "reduce our carbon footprint."

In January, President Trump vowed to hire 5,000 new Border Patrol agents. It never happened. Five days after President Donald Trump took office, he signed an executive order that promised a swift, sharp crackdown on illegal immigration — immediate construction of a massive border wall, quick hiring of 5,000 new Border Patrol agents and stepped-up deportation of undocumented migrants. [...] Seven months later, construction of the wall has yet to begin, the number of Border Patrol officers has actually dropped by 220, and immigration agents are on track to deport 10,000 fewer people this year than in President Barack Obama's last year in office, the latest figures show.

Why I Wouldn't Change a Word of Trump's Statement. "Egregious" displays of "hatred, bigotry and violence" have no place in America he told us, with stunning clarity. No exceptions. No qualifications. Whoever you are, whatever you are, whatever your grievance, there shall be one law, one standard. The first thing to be done was "a swift restoration of law and order and the protection of innocent lives... [for] no citizen should ever fear for their safety and security in our society." Had Trump stopped there, it would have been enough. It would have been more than Barack Obama had said in eight years. Obama was on the wrong side of violence. He sympathized with the rioters in Ferguson, Missouri, and made excuses for the riots in Baltimore. Worse still, he failed even to mention the need to establish law and order and protect the lives and property of innocent people. And he put lives in danger by blaming the violence on the police.

Trump's Pershing Tweet in Response to Barcelona Was More Than Just Genius Trolling. One of the big mistakes Trump's critics make is to assume he is very stupid. Hence the liberal media's delight in his Pershing tweet in the aftermath of the Barcelona massacre. They think it shows the president to be an historically illiterate and gullible fool because — or so they claim — he is repeating a debunked myth that General Pershing used bullets dipped in pig blood when fighting Muslim terrorists in the Philippines. [...] Trump was telling it as a "story" to illustrate an important point about the psychology of war. When your enemy fights dirty, you don't cower and apologize and ask what we have done to deserve such punishment. You give as good as you get.

Whose Side Is He On? I see that, as of late Tuesday night [8/15/2017], [the] media is going berserk with rage about President Trump saying there were lawbreakers on both sides in [Charlottesville]. But clearly, Mr. Trump was right. The pro-statue people were strange looking, but they had a permit and they had the First Amendment. The ones who attacked them with clubs were the instigators. Yes, of course I hate anyone who even hints at sympathy for the Nazis. The monstrous evil of those demons is unmatched. But they have the right to speak when not inciting violence and when not committing violence. Otherwise, the Constitution is trash. For Trump to point out that while the KKK and the Nazis are nauseating, they have free speech rights, is not only correct, but actually brave of him.

Delighted with Trump. Normal Americans have watched our politics turn to mud for a quarter-century, since Bill Clinton, the Arkansas corruptocrat. We've watched it and watched it while the media turned into a copycat Soviet propaganda ministry, and now, finally, somebody is acting like an adult and talking without having to explain every single word.

Stand with President Trump. The commander in chief is undaunted, and determined to do what he promised during the campaign. He seated a solidly conservative Supreme Court justice. He has reduced regulations and increased jobs — another 209,000 in July; caused a dramatic drop in the number of illegal immigrants entering our country and taking jobs from Americans. Criminal illegal aliens like MS-13 members and convicted felons are being hunted down and thrown out. The President is restoring the strength of our military; making sure that our veterans receive the medical care and services they need; stopping the transgender and sex reassignment policies that have damaged morale and distracted our armed forces from their core mission; waging aggressive war against ISIS; and warning North Korea and other adversaries that American might is back.

Trump takes action: 9,000 federal employees slashed in first six months. President Trump's hiring freeze helped cut the size of federal government by about 9,000 employees in his first six months in office, but that is just a drop in the bucket of a workforce of more than 2.8 million, and the administration has ended the freeze to fill mission-critical positions at agencies. Mr. Trump ordered the hiring freeze on his first day in office and embarked on the most ambitious agenda to shrink government since Ronald Reagan. His early success, although modest, is a testament to the president's tenacity and to the daunting task he has undertaken. Reagan also imposed a hiring freeze on his first day in office, but the federal workforce grew by more than 100,000 employees by the time he left office eight years later.

Food Stamp Enrollments Down in 46 Out of 50 States. Food stamp enrollment went down over the past year in 46 out of 50 states, according to the latest U.S. Department of Agriculture (USDA) statistics on food stamp enrollment. The states of Connecticut, North Carolina, and the District of Columbia saw the biggest drops in Supplemental Nutrition Assistance Program (SNAP) enrollment. Connecticut saw the largest drop, with SNAP enrollment dropping 25.4 percent from May 2016 to May 2017. The state also saw a pretty hefty drop in enrollment over one month — Connecticut's enrollment in the food stamp program dropped 14.2 percent from April 2017 to May 2017.

Regulation revolution: 'Historic' Trump cuts, 1/20th of Obama's deluge, $23B slashed. The Trump administration is making good on its promise to limit new regulations and kill old ones, setting a record low for issuing rules, a pace at just one-twentieth of former President Obama. What's more, a new regulatory report card said that the administration has proposed 6 million fewer hours of regulatory paperwork than the Obama administration did in its first 200 days.

Swamp Drainage Update: Guess How Many Federal Jobs We've Cut In Six Months? The public workers unions are powerful and entrenched, and they have many allies in Congress, making Trump's job on par with cleaning King Augeas' stables. So how's that going so far? Government Executive reports that despite all expectations and opposition, the ax has already fallen and more than 10,000 positions have been cut.

Trump Immigration Crackdown Leads to Higher Construction Wages. President Donald Trump's crackdown on illegal immigration is already having a positive impact on American workers through increased wages in the construction industry. In a new report by Fox News, Texas construction companies admitted that Trump's increased enforcement of immigration was forcing them to pay higher wages to U.S. construction workers.

Resisting the Tranny State. It's absolutely none of my business how any adult decides to express him/her/itself sexually. But the thing is, these days trannies are not content to just go be trannies; they insist that we become accomplices to their fantasy. We have to pretend to see what they see. We have to use pronouns that we know are misapplied. We have to allow dudes [...] to shower, change, and go to the bathroom alongside our daughters. We have to foot the bill for sex change surgeries. To even suggest that sex change operations are elective and not a "medical necessity" is to challenge the tranny illusion. This is at the heart of the controversy surrounding President Trump's announcement that trans folk will no longer be allowed to serve in the military. Trannies, their leftist allies, and "moderate Republicans" think soldiers are as entitled to state-funded sex change operations as they are to first aid on the battlefront.

Someone Just Noticed That Trump Is Getting Stuff Done. Border crossings, for example, have plummeted, even though all Trump has done so far is promise to enforce existing laws. The Supreme Court approved parts of Trump's travel ban, a success made possible by Trump's appointment of Neil Gorsuch to the bench. Trump is busy filling lower court positions with conservative justices. Ron Klain, a White House aide to Bill Clinton and Barack Obama, said that Trump "is proving wildly successful in one respect: naming youthful conservative nominees to the federal bench in record-setting numbers." What else? Well, Trump pulled out of the Paris climate change deal, which as we noted in this space is a yuuuge win for the economy. The EPA, meanwhile, is dismantling Obama's coal-killing, growth-choking Clean Power Plan, and draining the heavy-handed Waters of the United States rule. [...] Trump promised to kill two regulations for every new one enacted, but in his first six months the ratio was 16-to-1. Trump also approved the Keystone XL and other pipeline projects held up by Obama. He's also rolled back a ban on coal mining on public lands.

Record 153,513,000 Employed in July; 62.9% Labor Force Participation. President Trump was awake early on this "employment report" Friday [8/4/2017], tweeting about jobs, regulation-busting, and consumer confidence, among other things. A few hours later, the Labor Department's Bureau of Labor Statistics said the economy added 209,000 jobs in July; the number of employed people jumped by 345,000 to 153,513,000 in July, setting a third straight monthly record; the number of Americans counted as not in the labor force, meaning they don't have a job and are not looking for one, dropped for a third straight month to 94,657,000; and the nation's unemployment rate also dropped a tenth of a point, to 4.3 percent. The labor force participation rate, held down in part by a wave of Baby Boomer retirements, was 62.9 percent in July, slightly better than it has been in recent months, but still close to its 38-year low of 62.4 percent in September 2015.

U.S. Has Crushed Expectations In Creating Jobs- 200,000+ In July Alone! Where is this new employment coming from? Employment stats are rising in the areas of restaurants and bars, meaning that Americans are feeling confident enough to spend money on entertainment, and also in the white collar office job arena and in health care. So far, employment in the mining and manufacturing sectors are unchanged. Mining and manufacturing were some of Trump's major areas of focus during the campaign, and an unchanged number of jobs in these areas could easily indicate that the job losses that have been feared over years are being held back.

Trump Economy BOOMS Despite Political & Media Establishment Fighting Against Him. For Middle Class America, the chart above is a beautiful thing to behold. It represents more retirement account earnings, more job opportunities, more home values, more freedom to purchase goods and services, and more choice. While the Establishment Media and politicians have been wasting time with fabricated Russian conspiracies and personal taunts against POTUS Trump and his administration, just the thought of some of Mr. Trump's policies becoming reality is enough to send the U.S. economy into a growth spurt not seen in years.

Yes, we needed a transgender military ban. Ed Morrissey wrote about this subject this morning, but there are a couple of other points I wanted to hit. Now, of course, Politico is reporting that the only reason Trump announced the ban was because it was a trade-off to get funding for the border wall in the next spending bill. [...] Is it true? Who knows anymore? It's coming from yet more of the infamous "anonymous sources" inside the Beltway.

Former Transgender: Trump 'Made Right Decision,' 'Military Is a Fighting Force, Not a Gender Clinic'. A man who lived for eight years as a transgender female says President Donald Trump did the right thing for the U.S. military, as well as for all Americans, by banning transgenders from serving in the military. Walt Heyer, who has transitioned back to his birth gender, writes in a commentary that his personal experience leads him to support Trump's announcement.

Let the Dems Be the Transgender Party. Trump's uncomplicated defense of common sense is nothing if not conservative. He doesn't need "commissions" to tell him whether or not enlisting men who pretend to be women and women who pretend to be men hurts military readiness. Anyone with five senses and a functioning intellect can see that it does. It is only under the vast experiment against common sense that is liberalism could such obvious truths fall into disfavor. Of course, the stupid party is joining the evil party in this experiment against common sense.

Treasury Department Ending Ineffective Obama Retirement Program. The Treasury Department is ending an ineffective Obama program that promised to help millions of Americans save for retirement, the government announced Friday [7/28/2017]. Treasury announced the myRA program would be phased out, after costing taxpayers $70 million though few Americans used the program. Former president Barack Obama used his 2014 State of the Union address to launch the myRA program, with a promise to "help millions" to save for retirement. Two years later, only 20,000 had signed up.

Ten Accomplishments By John Kelly At Homeland Security. [#1] He sidelined most of the top staff picked by Obama and allowed the department's border and enforcement agents to actually enforce the nation's immigration law. The result is that more than 70,000 illegals have been sent home by motivated agents, including many of the MS-13 gang members invited by Obama to live in the United States since 2011.

Army Was Preparing Women To Shower With Men As Part of Transgender Training. Have you heard of the Pentagon's "Transgender Inclusion" agenda, first launched by President Obama? Near the end of Obama's second term, his Secretary of Defense Ash Carter set out "transgender inclusive" military policies that were supposed to be put in effect a few weeks ago on July 1st, 2017. Right now, this policy has not been completely removed, it has only been "delayed" for another six months.

An attack by Trump "on the whole LGBT community"? The question of whether transgender people should serve in the military is first and foremost a decision about how best to defend America militarily. The purpose of our armed forces is not to promote or reject the LGBT agenda. Its purpose is not to serve as a model for tolerance of transgender and other LGBT people, or to afford them employment opportunities, or even to treat them fairly as individuals. The purpose of our armed forces is to defend the country from its enemies.

Combat Veteran: War Is No Place For The Gender Confused. Combat veteran J.R. Salzman said Wednesday morning [7/26/2017] in the wake of President Donald Trump's military transgender ban that a war theater is no place for the gender confused. In a tweet series, Salzman recounted his experiences in Iraq in 2006, when he was stationed at an isolated firebase in the blazing heat and experienced constant stress from the intense nature of his job.

Transgender Surgeries Would Cost Pentagon $1.3 Billion. Taxpayer-funded sex-change surgeries would cost the Pentagon $1.3 billion over 10 years. President Donald Trump announced Wednesday [7/26/2017] that transgender individuals will not be eligible to serve in the military, with the White House citing cost and military readiness concerns. Internal data provided to the Washington Free Beacon from Rep. Vicky Hartzler (R., Mo.), a leading opponent of taxpayer-funded sex changes, show that even by using a conservative estimate, the costs associated with 0.7 percent of the military population is great.

Trump Donating $100K Quarterly Salary to Education Department. The White House announced Wednesday [7/26/2017] that President Donald Trump is donating his quarterly salary to the Education Department. "Last quarter, the president's salary went toward the restoration of two projects at a national battlefield. After his donation, additional donors quickly stepped up to bring the total gift to over $260,000," White House Press Secretary Sarah Huckabee Sanders said.

President Trump Ends President Obama Transgender Military Policy. President Donald Trump announced Wednesday [7/26/2017] he does not plan to plans to continue with President Obama's transgender military policy. The previous policy from President Obama, which was still under final review, would have allowed transgender individuals to openly serve in the military.

Donald Trump's 'Transgender' Declaration Preserves Americans' Two-Sex Society. President Donald Trump's dramatic decision to exclude so-called "transgender" people from the military is a direct rejection of the progressives' revolutionary demand that Americans' society should be remade to eliminate all civic recognition of the two different-and-complementary male and female sexes.

Trump BANS transgender people from joining the military after 'consulting with generals and experts'. President Donald Trump sent out a series of tweets Wednesday morning saying that transgender people wouldn't be allowed to serve in the U.S. military 'in any capacity.' Trump fired off the tweets without warning, injecting a contentious social issue into the debate on a day after the Senate GOP's health care bill suffered a bad defeat and when a Senate panel was set to hold a public hearing that would touch on Russian foreign nationals' influence efforts.

Trump announces ban on transgender people in the military. President Trump tweeted on Wednesday [7/26/2017] that "transgender individuals" should not be allowed to serve in "any capacity" in the US military. "After consultation with my Generals and military experts, please be advised that the United States Government will not accept or allow ...," he wrote on Twitter. "Transgender individuals to serve in any capacity in the U.S. Military. Our military must be focused on decisive and overwhelming ..." He finished up by writing: "victory and cannot be burdened with the tremendous medical costs and disruption that transgender in the military would entail. Thank you."

Trump: Transgender people will not be allowed to serve in US military. President Donald Trump said Wednesday [7/26/2017] he wants transgender people barred from serving in the U.S. military "in any capacity," citing "tremendous medical costs and disruption." Trump's announcement on Twitter would reverse the effort under President Barack Obama to open the armed services to transgender people. He did not say what would happen to transgender troops already in the military.

Trump calls Obama a liar. "Obamacare was a big lie," Mr. Trump said in a White House meeting [7/19/2017] with Republican senators seeking to craft a new health care plan. He went on. "You can keep your doctor? Lie." "You can keep your plan? Lie." "It was a lie, directly from the president," Mr. Trump said.

I'm glad somebody finally said it -- other than me, of course. Obama lied about almost everything.

President Trump Reverses Obama's Anti-Christian Refugee Policy. After declaring that Christians have "been horribly treated" by the refugee program under former President Barack Obama, President Donald Trump has reversed the Obama administration's disgraceful discrimination against Christian refugees. According to a Pew Research Center analysis of U.S. State Department refugee data, during the period from January 21, 2017 — President Trump's first full day in office — through June 30, "9,598 Christian refugees arrived in the U.S., compared with 7,250 Muslim refugees. Christians made up 50% of all refugee arrivals in this period, compared with 38% who are Muslim."

Border Patrol union chief praises 'miraculous' drop in illegal immigration under Trump. The significant downturn in the number of illegal border crossers between the U.S. and Mexico is "nothing short of miraculous," National Border Patrol Council President Brandon Judd said on C-SPAN Monday [7/17/2017]. "As far as the Trump administration's efforts on immigration, this is something they campaigned heavily on," he said. "At six months, where we are on meeting those promises, we are seeing nothing short of miraculous. If you look at the rhetoric that President Trump has given, it has caused a number of illegal border crossings to go down. We have never seen such a drop that we currently have."

Trump's Powerful Speech in Poland. President Trump landed in Poland to an enthusiastic welcome, and he responded in kind. In the best statement yet of his foreign policy, Trump showed a clear-eyed recognition of the threats from Russia and radical Islam, promised continued U.S. engagement in Europe, offered to support Poland against Moscow, and wrapped it all in a full-throated defense of Western civilization and its achievements.

Our President Is a Street Fighter. President Trump is naturally combative, having honed his skills on construction sites among hard-hat workers. He knows the common man and he believes that if you don't stand up to a bully, he'll run over you and enjoy doing it. He does not back off from a fight, and that's exactly why working class and middle-America elected him President.

Trumps Spend $5 Million Less Than Obamas On White House Salaries. An analysis of White House salary data reveals that President Donald Trump's administration is spending $5 million less of taxpayer money on his staff than his predecessor. Trump employs 377 people at the White House, with a total of $35.8 million, while former President Barack Obama paid $40.9 million for 476 employees in 2015, according to data analyzed by Open The Books.

EPA moves to kill Waters of the U.S. rule. The Trump administration on Tuesday began the process of formally rescinding the highly controversial "Waters of the U.S." rule, an Obama-era regulation that gave Washington broad powers over streams and other small bodies of water across the country. The rule, put forth in 2015 but subsequently stayed by the Supreme Court before going into effect, was one of EPA Administrator Scott Pruitt's top targets when he took the helm at the agency. President Trump earlier this year signed an executive order directing Mr. Pruitt to review the rule, and with Tuesday's [6/27/2017] action, the EPA says it's finalized that review and will move to permanently strike the regulation from the books.

The annual Ramadan 'Iftar' dinner for Muslims at the White House isn't the only thing the Trump Administration has axed. Administration officials also have eliminated plans to use millions of hard-earned taxpayer dollars to fund Islamic organizations and alleged Muslim charities allied with former President Barack Obama, including anti-American Muslim individuals like sharia-proponent Linda Sarsour. Also eliminated are Muslim government employees from the Obama team who were linked to these nefarious Islamic organizations.

US coal mining surges in 2017 following last year's record decline. The United States, China and India, the world's largest coal users, have increased coal mining this year by 6 percent following 2016's record global decline. Among the three counties, production through May is up by at least 121 million tons compared to the same period last year, according to data reviewed by The Associated Press. The change is most dramatic in the United States where production is up 19 percent within just the first five months of 2017, according to the U.S. Department of Energy.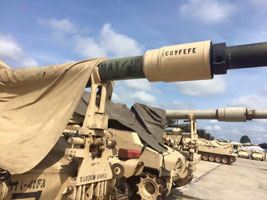 Army Howitzer Has 'Covfefe' Stamped On The Gun. A U.S. Army howitzer is trolling the world thanks to a Trump-related message one soldier stamped on the gun. A photo provided to The Daily Caller shows the word "Covfefe' stamped on the gun of an M109 Paladin. A source told TheDC that an individual made the stamp, not the U.S. Army.
What does 'COVFEFE' mean? Try rising military morale. COVFEFE was the subject of much speculation, mostly on the left, as to what it might have meant. In this case, one of the troops has helpfully given the answer: rising military morale. You never saw such repetitions of presidential words during the Obama administration. Did anyone ever stamp 'You didn't build that' or 'If you like your health care' on one of the barrels of a howitzer? It comes against the backdrop of two things. One, military morale has been disastrously low, with the military rating the legacy of Commander in Chief Obama in acidic terms across every service.
Trump administration removes protections for Yellowstone grizzly bears. The Trump administration is removing Endangered Species Act protections for Yellowstone grizzly bears, after they spent more than four decades on the threatened list. The Interior Department's Fish and Wildlife Service announced the delisting decision Thursday [6/22/2017], which immediately drew rebukes from conservationists and Democrats. Officials said that conservation efforts for the bear, a more than fourfold increase in its population and state policies designed to protect the bears show that the delisting is warranted.
Trump scraps Obama policy that protected immigrant parents from deportation. An Obama-era immigration program intended to protect parents of U.S. citizens and legal residents from deportation has been formally cancelled, fulfilling a key campaign promise from President Trump, the Homeland Security Department announced late Thursday [6/15/2017]. Homeland Security John Kelly formally revoked a policy memo that created the Deferred Action for Parents of Americans program. The revocation came on the fifth anniversary of another effort that has protected hundreds of thousands of young immigrants from deportation.
Trump: Opening of New Pennsylvania Coal Mine Is Due to "Less Regulation". In a videotaped message played during the opening ceremony of a new coal mine in Friedens, Pennsylvania, on June 1 President Trump celebrated the opening as an example of what can be accomplished when government eliminates the regulations that have stifled the coal industry. "One by one, we're eliminating the regulations that threaten your jobs, and that's one of the big reasons you're opening today: Less regulation," Trump said. "We have withdrawn the United States from the horrendous Paris Climate Accord, something that would have put our country back decades and decades; we would have never allowed ourselves to be great again."
Media ignore another Trump diplomatic triumph yesterday. President Trump is delivering on his promise to end the role of America as "Uncle Sugar" for its allies, bearing the major burden of collective defense. American taxpayers and American military personnel have ponied up money and lives for more than 70 years, while allies have devoted their resources elsewhere, freed up by the generosity of the superpower created by victory in World War 2. Yesterday [6/9/2017], an extraordinary thing happened: The president of Romania, the former Soviet-era puppet enslaved by Stalin's troops, came to the White House, and stood up during [a] Rose Garden press conference with President Trump, and stated that his country will start paying up its share of the burden for NATO — because of President Trump.
Romanian President: We're Increasing Our NATO Contribution Because of Trump. Romanian President Klaus Iohannis said Friday that his country is increasing its contribution to NATO after hearing President Donald Trump's speech last month at NATO headquarters in Brussels. During a joint press conference at the White House, Trump praised Iohannis for committing to increase Romania's defense spending to NATO from 1.4 percent to two percent, as Trump called for during his speech in Brussels on May 25. Trump said other nations are also starting to "realize that it's time to pay up."
Good News: Illegal Aliens With Old Deportation Orders Are Being Detained. Of course, this is terrifying people who are unlawfully present in the United States. [...] They should be terrified. Better yet, they should simply leave. They were ordered deported, and Obama and his administration allowed these people who are unlawfully present to remain in the country.
DOJ ends Holder-era 'slush fund' payouts to outside groups. The Justice Department announced Wednesday [6/7/2017] it will no longer allow prosecutors to strike settlement agreements with big companies directing them to make payouts to outside groups, ending an Obama-era practice that Republicans decried as a "slush fund" that padded the accounts of liberal interest groups. In a memo sent to 94 U.S. attorneys' offices early Wednesday, Attorney General Jeff Sessions said he would end the practice that allowed companies to meet settlement burdens by giving money to groups that were neither victims nor parties to the case. Sessions said the money should, instead, go to the Treasury Department or victims.
Fear of deportation drives people off food stamps in US. A crackdown on illegal immigration under President Donald Trump has driven some poor people to take a drastic step: opt out of federal food assistance because they are fearful of deportation, activists and immigrants say.
Trump Is More Transparent Than Obama Ever Was. President Trump's administration has decided not to invoke executive privilege to keep former FBI Director James Comey from testifying under oath before Congress. [...] Obama used executive privilege to keep the White House out of then-Attorney General Eric Holder and his Justice Department's "Fast & Furious" gun-walking debacle. Obama's defense was "George W. Bush did it."
Proof that Trump Is Right About Paris. [Scroll down] Note that while the Germans are willing to incur inefficiency as long as other countries go along — or at least pretend to go along — if they have to choose between their economy and the purported threat of global climate catastrophe, they will choose their economy. Which means that they don't believe in the reality of the supposed climate calamity any more than we do.
You're Fired, Paris Climate Accord. [President] Trump is taking on all of this global warming poppycock that rests on the utterly ridiculous notion that carbon dioxide, the natural gas humans and other earthly life forms constantly produce and expel, the same gas that promotes plant growth, is a pollutant. It is a truly insane idea that has no support in science but leftists are running with it because they hope to browbeat and intimidate Americans into accepting shrinking the economy by drastically reducing carbon emissions.
Germany's car industry association officially confirms the truth of President Trump's reasons for withdrawal from Paris Climate Accord. President Trump complained that the "unfair" terms of the Paris Climate Accord made it difficult for American manufacturers to compete globally. Protecting and expanding those jobs was the primary reason offered for his withdrawal. He should now write a thank-you note to Germany's powerful auto industry lobby, the VBA (Verband der Autoindustrie), which just validated his argument.
The case for nixing the Paris Agreement. Real pollutants from fossil fuel combustion, such as oxides of sulfur, nitrogen and fly ash, are rightly controlled, and by cost-effective technology. But more CO2 is not a pollutant but is a benefit to humanity. The "social cost of carbon," aka CO2, is negative. It is immoral to prevent developing countries from using reliable, inexpensive fossil fuels to escape centuries of poverty. Most developing countries have offered no plans to limit CO2 emissions any time soon, rhetoric about Paris' universal inclusivity notwithstanding. Without their cooperation, stabilizing atmospheric levels of CO2 is not possible, nor would this stop climate change if it could be done.
Trump pulls plug on global warming scam — Environmentalists, globalists go nuts! Today [6/1/2017], Donald Trump pulled the plug on the global warming scam — not just the junk science, but more importantly, the entire industry built up around it. Bureaucrats, diplomats, politicians, lobbyists and people seeking grants for this and taxes for that. But did he go far enough? Either it's a scam or it isn't, and you can't Make America Great Again if you believe economic decisions should be made by the UN — and that's what the global warming agreement is. It's an economic plan of taxes and penalties and subsidies that doesn't have anything to do with the weather and anyone who thinks a carbon tax will change the weather, doesn't believe in science, they believe in superstition. Not even the UN's own IPCC argues their plans will change the weather.
Trump Has Dirt on Comey: Strategic Firing of Swamp Rat James Comey. The narrative of the Left is that former FBI Director James Comey is a good guy caught in bad circumstances. Nothing could be further from the truth. Comey was a leftist plant, and President Trump knew it. [...] He is a deep-water Swamp Denizen who has been highly paid to deliberately provide cover for high-level corruption by the Clintons and Obama. He has been central to trying to destroy the Trump campaign and then the Trump administration from the start. He is as dirty as they come in DC. Comey had highest-level cover (the FBI no less) and was deep into an effort to eliminate Trump. Trump had to move hard, fast, and at exactly the right time to cut the head off the snake without getting bitten by the snake or being finished by the other swamp denizens. Notice that the President fired Comey when Comey was 3,000 miles away from his office. Comey had no inkling he was being cut, and that all his files, computers, and everything in his office were seized by his boss Sessions and the justice department. This was not a violation of protocol, it was tactical. Notice how Prez Trump compartmentalized the strike and did not inform any of his White House "staff" to prevent leaks. [...] In one masterstroke, Trump has eliminated a truly toxic and dangerous enemy to his administration and our country, dealt a horrendous blow to the Clinton/Obama and deep state machines, begun the restoration of the integrity of the FBI and the DOJ, and gained incredible ammunition to begin hunting the foul creatures in the swamp.
Trump Steps on the Paris Agreement, Stands for Sovereignty. President Donald J. Trump has announced the U.S. withdrawal from the Paris Agreement, "an agreement within the United Nations Framework Convention on Climate Change (UNFCCC) dealing with greenhouse gas emissions mitigation," signed originally during the presidency of Barack Obama with 194 other countries. Trump's speech, despite some redundancies, was one of the most defining moments in U.S. history.
A path forward after the Paris climate agreement. [Scroll down] So, even if Hillary Clinton had beaten Mr. Trump and had kept the United States in the treaty, and even if every single national leader on the planet (and their successors) had unflinchingly stood by every single treaty promise for year after year, regardless of economic downturn or political crisis, the Paris Treaty would have left 99 percent of the problem in place. Before Mr. Trump axed the treaty, many environmentalists quietly acknowledged this. They praised the agreement regardless, because of the political value of world leaders focusing on climate change and because they believed that much larger carbon-cutting promises would come later. That foolhardy assumption flew in the face of history.
Paris Can Wait — It Was A Bad Deal. Supporters of the Paris climate deal present a false choice. You either (a) believe in the scientific consensus about climate change (in which case, you support Paris), or (b) you are a denier. But they are missing a third option, which is that (c) this is simply a bad deal in terms of the cost-benefit analysis. Why is it a bad deal? There are no consistent standards for participation. Countries unilaterally decided what voluntary and non-binding commitment they wanted to pledge. [...] Here's where the deal really falls apart. According to another study, the Paris deal would shave about 0.2 degrees off warming by 2100. You heard me right. Assuming everything works perfectly according to plan, we could plausibly be trading 6.5 million jobs for a 0.2-degree payoff. But remember, there is no enforcement mechanism.
The Non-Existent Case for the Paris Accord. For a bull in the china shop, President Donald Trump has so far gingerly stepped around the Paris climate accord. That dance could end as soon as this week, with Trump deciding whether to stay in or opt out. "Out" should be the obvious answer. No U.S. interest is served by remaining part of the accord, which even its supporters say is mostly an exercise in window dressing — that is, when they aren't insisting that the fate of the planet depends on it.
Memorial Day Was Marked by a POTUS Who Actually Cares About Our Military. On Memorial Day, President Donald Trump and Vice President Mike Pence made a special trip to the graves of our soldiers who fell in Iraq and Afghanistan. Most touching, was the impromptu meeting our president shared with two mothers of fallen soldiers during ceremonies at Arlington National Cemetery.
President Trump Has Perfectly Positioned Angela Merkel as The De Facto Head of The EU. President Trump has strategically positioned Angela Merkel to own the downside of consequences for the EU's predicable problems which are just over the horizon. When the U.K is finally out of the EU, Germany will have to try and fill the financial void. Great Britain currently provides more than £1.5 billion per month to the EU. The U.K. is most likely going to close the gates to open-EU migration. This means that not only will the EU lose the biggest source of financing for their socialist systems, but also that North African and Mid-East refugees are going to bottleneck within the social systems of the EU financially. This will enhance the severity and simultaneously speed-up the politically correct economic collapse.
66 more reasons to love President Trump. The Hill just posted, "66 programs eliminated in Trump's budget." They are a mass of boondoggles Congresses (mainly Democratic, but Republicans are almost as bad) created to use social problems to employ political operatives back home. Bobby Byrd's Appalachian Regional Commission is the best example. It was supposed to close the gap in education, income, and the like in West Virginia and parts of 12 other states. In the 50-plus years of the commission's existence, the gap widened. The 66 programs waste "only" $26.7 billion a year, but they help re-elect rejects like Maxine Waters, Patrick Leahy, and the detestable Nancy Pelosi.
Donald Trump Declines to Endorse Paris Climate Agreement. Despite heavy lobbying from G7 leaders, President Donald Trump declined to endorse the Paris Climate Agreement in a joint pledge of support for one of former President Barack Obama's signature achievements in office. Trump's decision upset world leaders like German Chancellor Angela Merkel, desperate to convince the president of the agreement's merits.
Tillerson declines to host Ramadan event at State Department. Secretary of State Rex Tillerson has declined a request to host an event to mark Islam's holy month of Ramadan, two U.S. officials said, apparently breaking with a bipartisan tradition in place with few exceptions for nearly 20 years. Since 1999, Republican and Democratic secretaries of state have nearly always hosted either an iftar dinner to break the day's fast during Ramadan or a reception marking the Eid al-Fitr holiday at the end of the month, at the State Department.
Trump Budget Stops Cash Payments to Illegal Immigrants. The president's proposed 2018 budget would put a stop to a government program that has paid out more than $35 billion over the past ten years to illegal immigrants in lump-sum payments, disguised as a "tax credit." The use of the credit by illegal immigrants, which has allowed them to get up to $1,000 for each child they claim, including children who are not theirs and who don't live in the United States, has been referred to as "a multi-billion-dollar fraud scheme" that has taken money out of the hands of hard-working Americans.
Here are the 66 programs eliminated in Trump's budget. President Trump's fiscal 2018 budget proposal would completely eliminate 66 federal programs, for a savings of $26.7 billion. Some of the programs would receive funding for 2018 as part of a phasing-out plan. Here are the programs the administration wants on the chopping block.
Trump Effect? Household Income Hits 15-Year High. In April, real median household income reached $59,361, according to the latest report from Sentier Research. That's up 2% since January, and is as high as it's been since February 2002. Expressed as an index, median household income was 100.9 in April, which is the first time this index has topped 100 since December 2008.
Strong Enough. Trump voters are far greater in diversity of class, background, and concerns than the left believes. Most Trump voters decided their vote for a host of reasons, but high among them was given to his being strong enough. The one thing the Democratic/media collusion is misjudging is this: they aren't changing the minds of Trump voters. Polls show this conclusively. MSNBC just did a piece in North Carolina and were shocked to learn Trump voters haven't been swayed. For all the breathless daily Trump gotchas, the ones where they think they have Trump in full retreat, they aren't changing the electorates' mind. Trump voters are staying the course.
Trump budget saves taxpayer money by weeding out welfare freeloaders. Office of Management and Budget director Mick Mulvaney delivered a tough message on Tuesday [5/23/2017] as he explained the cornerstone of the Trump administration's budget blueprint for fiscal year 2018; ween capable, low income Americans off of welfare programs and put them back to work.
Forget What You Hear: Our Narcissist President Is Winning. He restarted the Keystone and Dakota Access pipelines, a surefire signal to the fossil fuel industry that they are no longer the enemy. Reversing another of Barry's foolish policies, he has opened the Atlantic and Pacific coasts as well as the Arctic Ocean to fossil fuel exploration. In addition, he has shown rightful skepticism for global warming religious cultism, which demands we destroy our economy today to prevent something that may or may not happen in a hundred years. He appointed Neil Gorsuch to the Supreme Court and deftly allowed the Democrats to burn themselves to the ground, negating any possibility they might have ever had of stopping his next Supreme appointment. Just as Obama talked up illegal immigration, Trump has talked it down, resulting in an astounding reduction in illegal border crossing.
Trump Is POTUS, and Leftist Hysteria Is Noise. It's helpful to watch the SecDef press conference on YouTube, if you want to see how Trump's troops are taking charge. Obama's limp-wristed and arguably pro-jihad policies, which had some of our military in despair about the crimes against children they were forced to witness in places like Syria, are being replaced by solid, competent, humane but forceful military actions.
Trump's flight from Saudi Arabia to Israel possibly first direct flight between countries. President Donald Trump's trip to Israel on Monday may have already made history even before Air Force One touched down in Tel Aviv. Trump took a direct flight from Riyadh to Tel Aviv, believed to be the first direct flight between Saudi Arabia and Israel. The two countries do not have diplomatic relations and Saudi Arabia does not recognize Israel as a state. Trump arrived at Ben-Gurion International Airport to start the second leg of his first foreign trip since taking office. Trump will also be visiting the Palestinian territories during his two-day trip in Israel.
Donald Trump's Invigorating Speech in Riyadh. Compare, if you will, Barack Obama's 2009 speech in Cairo to the Muslim world with Donald Trump's speech today [5/21/2017] in Riyadh, Saudi Arabia. There was some overlap: both indulged heartily in the usual political boilerplate and délicatesse: honored to be here, working together, Islam's great contribution to culture, how splendid is the Middle East, terrorism is not coterminous with Islam, etc., etc. But that's where the similarity ended. Trump's speech was a forthright, America First, speech, Obama's an accommodationist's dream.
The Underreported Success of the Trump Presidency. While the Democrat/media complex tries to whip their base, and the country into a frenzy, this administration is putting good things in place. First and foremost for our culture is the restoration of law and order. That begins with giving the respect due to our law enforcement officials, which has been a hallmark of this administration. The outrageous demonization of law enforcement by the previous administration is gone. [...] The existing border laws are being enforced. Illegal crossings are down 70%. ICE agents have been reenergized, rounding up criminals and deporting them.
Immigration Arrests Jump Nearly 40% Under Trump. Immigration arrests climbed yet again in April as federal agents continued to track down both criminal and noncriminal aliens in far greater numbers over the first 100 days of the Trump administration than they did under former President Barack Obama a year ago. Immigration and Customs Enforcement's Enforcement and Removal Operations deportation officers administratively arrested 41,318 illegal immigrants on civil immigration charges between Jan. 22 and April 29, according to agency data released Wednesday. That was a 38 percent jump over the 30,028 arrests made in the same time period in 2016, the final year of the Obama administration.
Trump KOs State-Run Retirement Accounts for Private Sector Workers. President Donald Trump reversed another eleventh-hour Obama administration regulation, rolling back Democrats' effort to push private sector workers into state government retirement plans. Trump signed House Resolution 66 on Wednesday [5/17/2017], undoing a regulation adopted by the Department of Labor on October 31, 2016. The department's rule would have allowed state and local governments to create IRA accounts for private sector workers and automatically deduct contributions from their paychecks without the protections savers enjoy under the Employee Retirement Income Security Act.
Report: Illegal Aliens Forego Food Stamps to Stay off Trump's Radar. Illegal aliens in San Francisco have reportedly begun abstaining from food stamps in the belief it will help them avoid being detecting by the Trump administration. In fact, so many residents have turned against food stamps that "the city is concerned." According to the San Francisco Chronicle, local Human Services Agency director Trent Rhorer has noted that "households with one illegal" are wondering how much information will reach administration officials if they use food stamps, also known as CalFresh. Eligible families also wonder "whether the administration will cut food stamp benefits to immigrants."
After Trump Executive Orders, ICE Making 400 Arrests Per Day. Immigration and Customs Enforcement announced Wednesday [5/17/2017] that it has arrested more than 400 individuals per day since President Trump signed executive orders calling for tougher immigration policies. Between Jan. 22 and April 29, the immigration enforcement agency arrested 41,318 individuals on civil immigration charges, 75 percent of whom were convicted criminals, after Trump signed immigration-related executive orders in January. That number represents a 37.6 percent increase from the same period in 2016.
Trump administration encourages states to ask for Obamacare waivers. The Trump administration on Tuesday [5/16/2017] encouraged states to ask for Obamacare waivers to set up high-risk pools, creating a pathway for interested states to begin to adopt key parts of the GOP's repeal plans even before they pass a bill through Congress. Officials said the flexibility is needed to save Obamacare from its own shortcomings, saying states need to start experimenting with what works for them, rather than being bound to the top-down model of the Affordable Care Act.
Trump cuts all health care aid to international groups performing or promoting abortion. The Trump administration announced a massive expansion Monday of the pro-life Mexico City Policy, issuing guidelines that will strip billions of dollars in aid from international groups that perform or promote abortion. Originally a ban covering roughly $600 million in family planning money, the Trump policy now applies to all international health care aid doled out by the U.S. government — nearly $9 billion.
Professor: Trump's Refusal to Feel Guilty Stole Liberals' Main Weapon. For years, conservatives have been told that just by existing, we're wrong. We've been told to "check our privilege," so we have. We've been told that American exceptionalism is rude to other countries, so we've tempered it. We've been told that everything we've been brought up to believe is somehow racist, patriarchal, and bigoted, so we've paused and evaluated our beliefs. Then came Donald Trump who absolutely obliterated the way the Left tries to make the Right feel.
Trump Brings Back Half of Lost Mining Jobs — Already! Remember when liberals said there was NO WAY Donald Trump could or would ever revive the coal industry? He was called a liar and a charlatan for going to West Virginia and Pennsylvania and other parts of economically depressed Appalachia promising that he would bring back coal jobs. "Coal is dead," the Sierra Club declared triumphantly to its donors last year. The standard refrain from the left was that Trump is "lying" when he said coal jobs will can be resurrected. Well, coal is back.
Trump's immigration enforcement helps slow illegal border crossings by 76%. Illegal immigration across the southwestern border is down a stunning 76 percent since President Trump was elected, with the flow of children and families dropping even faster as analysts say the administration's commitment to enforcing the law has changed the reality along the border. Overall apprehensions by the Border Patrol dropped to just 11,129 in April, according to numbers released Tuesday [5/9/2017], marking the lowest monthly total for any month in decades.
Trump's Quiet Victories. In office, the fallback position of the irreconcilables has been that he could not get anything done. Yet he has dismantled the entire self-garrote apparatus promoting global warming and impeding off-shore and shale-oil production, and is dismantling and reversing the welter of financial regulation designed to promote the Dodd-Frank myth that Congress had lacked the authority to prevent the economic calamities created by official inflation of the housing bubble up to 2008, (with the full approval of the Congress). There is steady promotion of charter schools over the ignorance factories of the state school systems reduced to mockery by the teachers' unions to which the Democratic Party is bound from sandal to mortarboard.
Trump to sign executive order lifting ban on political activity by churches. President Trump will sign an executive order Thursday to make it easier for churches to actively participate in politics without risking their tax-exempt status, and to protect faith-based groups from being forced to pay for abortion services under Obamacare, the White House said. A senior White House official confirmed Wednesday night that Mr. Trump will take the action at a National Day of Prayer event as he hosts conservative religious leaders at the White House. The official said the order is "another example of the president fulfilling his campaign promises." The order is aimed at easing an IRS provision that prohibits churches from directly opposing or endorsing political candidates. Mr. Trump has been promising to get rid of the measure.
Trump signs order aimed at allowing churches to engage in more political activity. The order, which Trump unveiled with great fanfare in a Rose Garden ceremony, was cheered by some conservative Christians but seen as a disappointment by others, who said it fell short of the broader changes they wanted as part of a highly anticipated measure on religious liberties. The order, Trump said, removes the financial threat faced by tax-exempt churches from the Internal Revenue Service when pastors speak out on behalf of political candidates. But some experts said it amounts to a mostly symbolic gesture with little likelihood of changing how the agency polices the issue.
50,000 Haitians face being deported by Trump back to their country. More than 50,000 Haitians are at risk of being deported to a country still reeling from a series of natural disasters, after Donald Trump's immigration agency recommended ending their temporary right to live in the US. Up to 55,000 Haitians are living in America under so-called temporary protected status (TPS), initially granted to them after the 2010 earthquake, that killed an estimated 150,000 people. The status has been updated every 18 months, as Haiti has confronted the challenges of a cholera epidemic triggered by UN peacekeepers, a sexual abuse scandal involving those peacekeepers and political uncertainty following the postponing of elections that eventually saw Jovenel Moïse become president.
Tillerson Cuts 2,300 Jobs From Bloated State Department. Secretary of State Rex Tillerson has begun fulfilling President Donald Trump's mission to reduce the size of government and save taxpayers a boatload of money by proposing to eliminate 2,300 jobs at the State Department. If implemented, the plan would trim the State Department's budget by more than a quarter and its staff by approximately 3 percent, according to The Associated Press.
Study: Obama Imposed $4B More in Regulations Than Trump Did During First 100 Days. President Donald Trump imposed less than one percent of the regulatory burdens that former President Barack Obama did during his first 100 days, according to a new study from the American Action Forum. The conservative think tank tracked regulatory costs created by each administration during their first 100 days. AAF found that Obama imposed $4 billion in regulatory costs while Trump imposed less than one percent of that at $28 million. Trump, whose deregulatory actions AAF suggested were a "success," didn't approve any major new regulations during his first 100 days but was able to slash regulatory costs. The Market Stabilization Rule, enacted under Trump to regulate health care markets, did not impose any new burdens. Trump's other regulatory change, a delay in the Fiduciary Rule, resulted in a $78 billion drop in regulatory costs.
13 Ways Trump Has Rolled Back Government Regulations in His First 100 Days. As President Donald Trump reaches his 100th day in the White House on April 29, he will have worked with Congress to rescind more regulations using the Congressional Review Act than any other president. "We're excited about what we're doing so far. We've done more than that's ever been done in the history of Congress with the CRA," Rep. Doug Collins, R-Ga., told The Daily Signal in an interview, referring to the law called the Congressional Review Act. The Congressional Review Act, the tool Trump and lawmakers are using to undo these regulations, allows Congress to repeal executive branch regulations in a certain window of time.
Report: Trump Rolls Back $60 Billion More in Regulatory Savings. President Donald Trump and Congress have saved an additional $60 billion in regulatory costs by rolling back Obama administration rules, according to a new report. The American Action Forum, a center-right policy institute, released a report Tuesday documenting the most recent ways the administration and Congress have used the Congressional Review Act to repeal regulations. The report found the recent repeal and delay of regulations could lead to $86 billion in net fiscal effects for taxpayers from deregulation.
Coal's Colossal Comeback. Liberals have been saying that Donald Trump was lying to the American people when he said that he could bring coal jobs back. Well, so far, he has delivered on his promise. There's more good news for the coal industry. Earlier this month, Peabody Energy — America's largest coal producer — moved out of bankruptcy, and its stock is actively trading again. Its market cap had sunk by almost 90% during Barack Obama's years in office. Arch Coal is also out of bankruptcy. It turns out that, after all, elections do have consequences. The Obama administration and its allies, such as the Sierra Club, tried to kill coal because of their obsession with global warming. Regime change in Washington has brought King Coal back to life.
Trump Has All the Right Enemies. Signing bills into law requires two branches of government; therefore, it isn't exactly fair to blame the Trump administration for a Republican-controlled Congress divided against itself. Though Trump lacks a signature legislative accomplishment in his first 100 days [...] Trump has signed several meaningful pieces of legislation that thrilled different parts of his political base — a pro-life bill allowing states to strip money from Planned Parenthood; a bill repealing Obama-era anti-coal regulations; and a bill scrapping anti-gun rules signed by Obama. These were core promises to conservative Republicans kept by President Trump. And along the way, he nominated, and saw confirmed, Neil Gorsuch to the U.S. Supreme Court.
21,362 Illegal Aliens Arrested Under Trump So Far. Immigration and Customs Enforcement has ramped-up arrests of illegal aliens during the first weeks of President Trump's term. According to newly released statistics by Immigration and Customs Enforcement (ICE), originally requested by The Washington Post, arrests of illegal aliens increased 32.6 percent during the first several weeks of the Trump Administration. Immigration and Customs Enforcement arrested 21,362 illegal aliens from January 20 through March 13, an increase of 5,258 from the same period in 2016.
Trump is reviving the energy industry Obama tried to kill. Buried in an otherwise humdrum jobs report for March was the jaw-dropping pronouncement by the Labor Department that mining jobs in America were up by 11,000 in March. Since the low point in October 2016 and following years of painful layoffs in the mining industry, the mining sector has added 35,000 jobs. What a turnaround. It comes at a time when liberals have been saying that Donald Trump has been lying to the American people when he has said that he can bring coal jobs back. Well, so far he has.
Trump Won't Be Punked By Foreign Dirtbags Like Obama Was. Donald Trump is in the process of doing what Barack Obama never did and what he and his coterie of pompous twits and political hacks masquerading as a foreign policy brain trust could never do. Trump is establishing a successful foreign policy doctrine. It's not precisely old school Republican doctrine. [...] Trump's policy is "America First." Obama's policy was "Blame America First." Obama employed force only after extensive agonizing and never in the amount required to actually win. The Obama Doctrine was about staving off defeat just long enough so the next sucker would get stuck dealing with the resulting mess [...]
Trump Revokes Obama's Parting Gift to Planned Parenthood. States will once again be able to defund Planned Parenthood after President Trump overturned an 11th-hour Obama administration regulation protecting funding for the nation's biggest abortion provider. Trump signed into law on Thursday [4/13/2017] a bill reversing a Department of Health and Human Services regulation signed in December that prevented states from blocking funding for Planned Parenthood. Obama's regulation reversed the policies of more than a dozen states that had prevented federal Medicaid dollars or other federal reimbursements from going to clinics that perform abortions. Trump signed the legislation one month after he said that he would continue to direct taxpayer dollars to Planned Parenthood if it stopped performing abortions. The organization performs more than 300,000 abortions each year — about one-third of the national total.
Trump Signs Resolution Overturning Obama Planned Parenthood State Funding Mandate. President Donald Trump signed a resolution Thursday that overturns former President Barack Obama's rule that forced states to provide family planning grants under Title X to Planned Parenthood and other abortion providers. In a signing ceremony that was closed to the press, Trump signed H.J. Res. 43, which allows states to withhold federal funds from facilities that provide abortions. In attendance were Centers for Medicare and Medicaid Services (CMS) administrator Seema Verma, Susan B. Anthony president Marjorie Dannenfelser, and Penny Nance, CEO of Concerned Women for America.
American Resurrection. The statistics on illegal immigration are in. Apparently, the wave of illegals has been cut by 70% since Trump's inauguration. And the Wall doesn't even exist yet. So much for all those who said we couldn't halt this illegal flood. ICE is deporting criminals (and leftists are squealing), sanctuary cities are going to lose a lot of funds, Lansing, Michigan, just voted to stop being a sanctuary city, overcoming their foolish mayor.
Ex-Obama officials say hesitation to use force in Syria, elsewhere, emboldened adversaries. News of President Trump's response to the Syrian chemical attack left several Obama administration officials with a sense of frustration and a reluctant feeling of vindication. Trump's decision to act swiftly and decisively, with an airstrike, was what they had wanted to see Barack Obama do in 2013 when he was president and the world learned of the Syrian government's chemical attack that killed some 1,400 people, including hundreds of children. But Obama, they say, was too hesitant and too guided by a belief that dialogue was the way to deal with rogue leaders. He preferred the olive branch to the stick in his efforts to appeal to leaders with dangerous instincts, they say.
Illegal Aliens Caught Committing "Minor" Crimes Are Now Getting... Arrested. [Scroll down] Perhaps they aren't the ones that Trump said he would go after, but, he's not sitting their approving each and every illegal who ICE goes to detain. Furthermore, ICE typically picks up the low and no crime illegals because they have outstanding deportation orders already on the books. Double furthermore, this same thing happened under Obama. Because Obama was only going to micro-manage ICE operations so much. Just because Trump said he would "prioritize" does not mean ICE won't pick up those with other crimes or no crimes. And, really, is DUI not a serious crime? When you drive under the influence, usually alcohol, you are drastically increasing the danger to other people. Fraud usually involves stealing legal citizen's information, which can ruin their lives. Oh, and none should be here in the first place.
Fear of Trump Makes Migrants Disappear From Mexican Border. [President] Trump hasn't yet made good on his bombastic campaign trail promises. The wall is still just a twinkle in his eye, and the deportation force hiring sprees haven't happened yet. ICE agents have conducted raids targeting undocumented immigrants, but they aren't actually that different in scale from raids that happened during the early years of the Obama administration. But the symbolism of Trump in the Oval Office and the threat of extended detention has already deterred many migrants. Migrants are scared, explained Jose, a young Honduran man staying at the San Bosco shelter in hopes of getting to the U.S. They might be less scared in the future, he said, but for now they're waiting.
Arrests of illegal criminals jumps 250% in one week. As promised, immigration police have expanded their campaign to deport illegals with criminal records, announcing the seizure of 368 illegals in seven states and Washington, D.C. That nearly a 250 percent increase over the 106 announced a week earlier. The biggest seizures by Immigration and Customs Enforcement agents were in Texas, but they made arrests as far north as Wyoming.
Trump Blows Up Obama's Foreign Policy Straw Men. President Trump did more than retaliate for Bashar al-Assad's illegal and inhumane use of nerve agents against civilians when he ordered the launch of 59 Tomahawk missiles to destroy al-Shayrat airbase in Syria. He also detonated a few shibboleths of his predecessor's foreign policy. First is the idea that President Obama's 2013 deal to remove Assad's weapons of mass destruction was a success.
President Trump's military strike against Syria is perfectly legal. Senator Rand Paul may be a fine doctor, but his knowledge of the law and Constitution appears misguided. He proved it when he accused President Trump of acting unconstitutionally by launching a military strike against a Syrian airbase without congressional approval. Senator Paul is mistaken. It is true that under Article 1, Section 8 of the Constitutional [sic], only Congress has the power to declare war. But a singular strike against a limited asset hardly constitutes war. It is a military action intended to confront hostilities which does not rise to the level of a declared war as the Founders envisioned.
Trump administration revokes Obama-era directive blocking controversial water project. The Trump administration issued a memo late last week revoking two federal directives implemented under President Obama that had blocked a controversial water project in California's Mojave Desert. An acting assistant director at the U.S. Bureau of Land Management (BLM) rescinded two legal guidances that reinforced the agency's 2015 decision that Cadiz Inc. could not use an existing federal railroad right-of-way in its long-standing project to pump groundwater from the project's planned well field in the Mojave Desert and sell it to urban areas throughout Southern California that rely on the Colorado River Aqueduct.
Illegal immigration down 67 percent under Trump. Illegal immigration across the southwest border is down more than 60 percent so far under President Trump, officials revealed Tuesday [4/4/2017], even before the first new agent is hired or the first mile of his promised border wall is constructed. Mr. Trump took a victory lap over the "record reductions" in illegal crossers, saying he is already saving Americans' jobs by preventing them from having to compete with unauthorized workers.
Bit by bit, Trump methodically undoing Obama policies. Amid the turmoil over staff shake-ups, blocked travel bans and the Russia cloud hanging overhead, President Donald Trump is steadily plugging away at a major piece of his agenda: Undoing Obama.
Sessions says border crossings down 60 percent due to Trump's leadership. Attorney General Jeff Sessions told Fox News' "The O'Reilly Factor" Thursday that illegal border crossings "are down 60 percent due to President Trump's strong leadership." Sessions gave a wide-ranging interview and said that the administration would look at other possible actions against so-called "sanctuary cities" after he announced this week that federal funds would be cut off to locales that refuse to work with Immigration and Customs Enforcement agents after detaining illegal immigrants.
Team Trump is already [effective] at the United Nations. As US Ambassador to the UN Nikki Haley pointed out Monday [3/20/2017], only one country is subjected to regular scrutiny and condemnation in each of the three annual sessions of the 47-member Geneva-based human-rights body. Guess which one. "It's not Syria, where the regime has systematically slaughtered and tortured its own people," Haley said. "It's not Iran, where public hangings are a regular occurrence. It's not North Korea, where the regime uses forced labor camps to crush its people into submission. "It's Israel, the only democracy in the Middle East."
Trump was right to fire Preet Bharara. Fake News outlets portray Preet Bharara as a "storied prosecutor" who went after Wall Street and political corruption. [...] Obama appointed him as United States Attorney for the Southern District of New York, taking office on August 13, 2009. His turf included Wall Street. Under Bush 43, that office successfully prosecuted a score of CEOs. Topping the list of those convicted was Ken Lay, CEO of Enron, who died before he could be sent to prison. The rest did prison time. But Obama changed that. Through Preet Bharara, Barack Obama sold Get Out Of Jail Free cards to corrupt CEOs on Wall Street.
Preet Bharara 'fired': A phony scandal created by an Obama appointee. In 2009, President Barack Obama asked for the resignation of George W. Bush-appointed U.S. Attorneys. When he replaced virtually all of them, it was treated as nothing out of the ordinary. That's because it wasn't. In March 1993 President Bill Clinton had Attorney General Janet Reno fire 93 of the 94 U.S. Attorneys appointed by the prior administration. (Only Michael Chertoff was retained, apparently at the request of Sen. Bill Bradley, D-N.J.) Again, there was no outrage over these firings. Yet today, Preet Bharara, Obama's U.S. Attorney for the Southern District of New York, is being portrayed by some as a political martyr because he was "fired" after he refused the Trump administration's request to resign along with the remaining 45 Obama appointees in the U.S. Attorney slots.
Saint Preet. President Trump axed 46 Democratic political appointees this weekend whom Barack Obama had appointed as U.S. attorneys. He asked for their resignations, but the guy in Manhattan refused to do the honorable thing. So Trump fired Preet Bharara — whom the press immediately lionized.
Trump's Wall Is Already Paid For. Critics of the border wall proposed by President Trump have said the cost is prohibitive under current budget and economic conditions, that no way is Mexico going to pay for it, and shifting funds away from the TSA, Coast Guard, and FEMA are counterproductive in terms of national security. These criticisms ignore the costs to the U.S. in terms other than money — increased crime, overtaxed law enforcement, the drain on public resources such as education, medical care, etc., and the driving down of real wages through an endless supply of cheap labor. In fact, thanks in large part to the mere threat of the wall, the sudden enforcement of existing law, and the stripping of funding from sanctuary cities by President Trump, illegal immigration has plummeted by 40 percent in February, a trend that if continued will reduce the costs and burdens of illegal immigration to the point that the benefits of enhanced border security, including the wall, will be more than paid for.
Repealing Obama. Repealing and replacing Obamacare is nice. But President Trump is doing so much more. He is repealing and replacing Obama legacy of Obama's failure to improve the economy, of Obama's failure to balance the books, and of Obama's failure to protect the border. President Trump rolled back jobless claims to their lowest since 1973, added 473,000 jobs, overseen double-digit improvements in the stock market since his election, collected $60 billion more in tax revenue than he has spent, and has seen new illegal immigration drop 40% in his first full-month in office.
Don't Look Now, But Trump Is Already Winning On Border Security. Just by saying that he would strictly enforce immigration laws already on the books, President Trump is already on his way to solving the illegal immigration problem. Imagine if previous presidents had done the same. In February, border agents apprehended just 18,762 people at the U.S./Mexican border, a 40% drop from January, which was itself a 27% decline from December. In fact, illegal border crossings have fallen every month since Trump won the election. And February's number was lower than any month in the previous five years, according to data from the U.S. Customs and Border Protection.
BUMMER: Did President Trump Just Nuke Obamacare with a Single Executive Order? Earlier this month, the IRS made a seemingly insignificant change to its policy, undermining the Obamacare mandate in a very significant way. For the last several years, individual filers were required by law to fill out line 61 of form 1040, which indicates whether you have maintained coverage or paid the penalty. This is otherwise known as a "shared responsibility statement." Taxpayers could also claim exemption by filing a 8965 form. Tax returns that don't indicate coverage status (silent returns) were to be automatically rejected. However, due to an executive order issued by President Trump, that line is now optional, making it incredibly difficult to enforce the Obamacare mandate.
America Is Safer, in Less Than a Month. During the campaign, many who were slow to embrace Trump saw him as a mere showman, largely because he was already known for that. I subscribed for a time to this view myself. But there is more to Trump than this. As any comedian or jazz musician can attest, good improvisation indicates fully rounded virtuosity. The political showman who regards his TelePrompTer as essential is the one who deserves the word "mere."
State Dept. carries out layoffs under Rex Tillerson. While Rex Tillerson is on his first overseas trip as Secretary of State, his aides laid off staff at the State Department on Thursday. Much of seventh-floor staff, who work for the Deputy Secretary of State for Management and Resources and the Counselor offices, were told today that their services were no longer needed. These staffers in particular are often the conduit between the secretary's office to the country bureaus, where the regional expertise is centered. Inside the State Department, some officials fear that this is a politically-minded purge that cuts out much-needed expertise from the policy-making, rather than simply reorganizing the bureaucracy. There are clear signals being sent that many key foreign policy portfolios will be controlled directly by the White House, rather than through the professional diplomats.
It's a bloodbath at the State Department. Secretary of State Rex Tillerson is cleaning house at the State Department, according to a report. Staffers in the offices of deputy secretary of state for management and resources as well as counselor were shown the door Thursday [2/16/2017], according to CBS News. Many of those let go were on the building's seventh floor — top-floor bigs — a symbolically important sign to the rest of the diplomatic corps that their new boss has different priorities than the last one. The staffing changes came as Tillerson was on his first foreign trip — attending a G-20 meeting in Bonn, Germany.
Trump has kept his promise: Health insurance mandate is history. President Trump has kept at least one of his campaign promises, effectively ending the mandate that required people to buy health insurance. While approved by the Supreme Court, this mandate was unconstitutional because Americans cannot be compelled to buy health insurance, or to buy anything. President Trump did not actually terminate the requirement to buy health insurance, but he tweaked the rules so enforcement is very unlikely to occur.
Trump, GOP Congress have already cut $2.8 billion in regulations. Nearly $3 billion in Obama-era federal regulations have already been slashed by President Trump and Republicans in Congress, a benefit that also saves Americans 41 million hours of paperwork. A new report from the regulation watchdog American Action Forum said that Trump's executive orders and congressional passage of cuts to regulation via the Congressional Review Act have saved $2.8 billion in potential costs.
Union Leaders Praise President Trump After Meeting — Cheer for Removal of TPP. Union leadership met today [1/23/2017] with a pro-jobs, pro-growth, pro-USA president. Leadership from construction/manufacturing, pipe fitters, steel workers and industrial machinist unions met today with President Trump and exit the meeting with incredible praise for the respect he showed them.
Trump Wins Praise From Democrats on TPP Withdrawal. One of President Trump's first moves as president is getting a big thumbs up from some of our more liberal members of Congress. Senators Bernie Sanders (I., Vt.), Bob Casey (D., Penn.), and Tammy Baldwin (D., Wis.) praised Trump today for signing an executive action to withdraw from the Trans-Pacific Partnership.
Carrier Announces Deal With Trump To Keep 1,000 Jobs In Indiana. The bigger story here is that: A.) A U.S. President-Elect actually cares about blue collar jobs, and B.) United Technologies, ie. Carrier's parent company, recognizes their best interests are now to focus on "America First".
Trump to reveal deal to keep nearly 1,000 Carrier jobs in Indiana. Carrier had planned to move production from a key factory in that state to Mexico, taking with it the roughly 1,400 jobs of those who work at the Indiana plant. But shortly after CNBC revealed that Donald Trump was expected to travel to Indiana on Thursday to announce that a deal had been reached, Carrier itself confirmed the agreement.
Trump Cuts Another Deal to Keep Jobs in America. Earlier this month, Ford Chairman Bill Ford notified Trump that Lincoln scrapped a plan to move production of the MKC crossover south of the border, a decision that Ford acknowledged was influenced by the Republican's victory on Election Day. On Tuesday evening, another target of criticism during Trump's run to the White House announced that an Indianapolis factory will remain open for business. Carrier, maker of air conditioners and commercial refrigeration products, revealed on Twitter that it "reached a deal" with Trump and Vice President-elect Mike Pence to "keep close to 1,000 jobs" in Indiana.
Flashback June 2016: Obama Says Trump's Plan To Keep Carrier In U.S. Is Unrealistic. At a town hall event hosted by PBS in June 2016, President Obama said it was unrealistic to try to neogtiate with companies to keep jobs in the U.S. Obama was responding to a question from an empoyee of Carrier Air Conditioners, who had announced months earlier that they were closing a factory in the U.S. and moving to Mexico. Six months later, President-elect Donald Trump announced a deal with Carrier's parent company to keep the factory open.

Lies about President Trump:
Apology, apology, who's got an apology? ESPN, the sports network, is part of Disney entertainment enterprises, and last week one of its "anchors," a $1.98 cent [sic] word for "announcer," or "reader," had to be disciplined by the network for telling her semi-vast following that "Donald Trump is a white supremacist who has largely surrounded himself w/other white supremacists." She said it in a tweet, naturally, the preferred communication of those unable to speak words of more than one syllable. She offended a lot of people, or at least some people. How could she not? Taking offense is the great American pastime. Ms. Hill is, of course, entitled to her opinion, however ill-informed by liberal group-think, but she should have known that even as a commentator, entitled to pop off about whatever pops into her mind, she should beware of making a fool of herself.
NEA Says Trump "Creates Fear in Children". Lily Garcia, president of the NEA — the largest, most progressive, and most activist teacher's union in the country — just used her bully pulpit to address America's foremost educational issue. According to Garcia, that issue is not our failing government schools, the exploding cost and shrinking results of our classrooms, or the developmentally inappropriate leftist social engineering that has replaced genuine education. No, the key issue facing our government schools is that Donald Trump is upsetting teachers and making school children cry because of his evil Trump ways. Specifically, Trump's policies towards Muslims, Mexicans, and transgender students are allegedly causing classroom meltdowns in elementary and middle schools across the nation. So much so, that teachers are forced to take valuable classroom time to "comfort crying children because they are afraid of their president." All of which brings up the question: why are very young children being exposed to such adult issues — topics way beyond their ability to process and comprehend — in the first place?
UN Human Rights Chief: Trump's Criticisms of Media Could Amount to 'Incitement' of Violence. United Nations Human Rights Chief Zeid Ra'ad al-Hussein expressed concern Wednesday over President Trump's "repeated attacks" on the media. Zeid brought up Trump's criticism of CNN, the New York Times and Washington Post. "To call these news organizations 'fake' does tremendous damage and to refer to individual journalists in this way," he said, "I have to ask the question, is this not an incitement for others to attack journalists?" "And let's assume a journalist is harmed from one of these organizations, does the president not bear responsibility for this, for having fanned this?" Zeid asked reporters in a Geneva press conference.
Media & Politicians Admitting They Lied About Russia. It has been nearly three weeks since The Nation pushed an explosive memo from the Veteran Intelligence Professionals for Sanity into mainstream consciousness with an article detailing the evidence that the DNC leaks last year could not have been the result of a Russian hack. By continuing to ignore it, the US intelligence community and all the pundits and politicians who have advanced the Russian hacking narrative are tacitly admitting that they lied.
Black Lives Matter Founder Claims Trump Is Trying To Commit Hitler-Like Genocide. The co-founder of Black Lives Matter believes President Trump is "literally" trying to "kill our communities" on a scale comparable to Adolf Hitler. "We wouldn't as a movement take a seat at the table with Trump because we wouldn't have done that with Hitler. Trump is literally the epitome of evil, all the evils of this country, be it racism, capitalism, sexism, homophobia and he has set out the most dangerous policies not just that impacts this country but that impacts the globe," Patrisse Cullors, one of BLM's three co-founders, told the Los Angeles Times in a Friday [8/25/2017] interview.
The Racist Attacks on America and Trump. Let's start by noticing the obvious. The biggest hate group in America — by a wide margin — is the anti-Trump chorus, which has advanced from calling him "unfit to be president" to accusing him (in the words of CNN's Ana Navarro) of being "unfit to be human." In between are malignant accusations that he is a "neo-Nazi," a "white nationalist" and a "white supremacist" — all revelations about Trump's character that somehow remained hidden during the thirty years he was a public figure and before he ran against Hillary Clinton. Nor is the hate confined to Trump alone but includes his aides and supporters. Congressman Jerrold Nadler and other House Democrats have even attacked Trump's policy adviser Stephen Miller as a "white supremacist" for defending a merit-based immigration reform. The attacks from the anti-Trump left also include the charge that America itself is a "white supremacist" country.
Nazi-Hunting Fantasies Have Unhinged The Left. I'm worried that the Charlottesville riots are making the Left psychologically unhinged in the same way that they have been unhinged by the election of Donald Trump, only more so. The problem with their reaction to Donald Trump is that he seems to so totally vindicate all of their political prejudices that he justifies an even more vicious vilification of anyone who opposes their agenda.
If Nazis and KKK are Trump's base, how did he win the election? [Scroll down] CNN contributor, presidential historian, and left-wing Democrat Douglas Brinkley supplies an actual number, saying "10 to 15 percent of Trump's base are KKK white nationalists and alt-right racists." Really? Given that Trump received about 63 million votes, that would mean close to 10 million are KKK members or racists. The broader implication is that those of us who voted for Donald Trump and still support him are all racists. Not in the abstract, either. A friend of over 40 years who despises Donald Trump called me "a white racist" over my continued support of the president. As if calling me names will make me change my mind.
ACLU Warns Trump: Pardoning Arpaio Would Be 'Presidential Endorsement of Racism'. If President Trump pardons former Maricopa County Sheriff Joe Arpaio, it "would be an official presidential endorsement of racism," the American Civil Liberties Union said on Monday [8/14/2017]. Arpaio, now 85 years old, is famous for his tough stand on illegal immigration. He was convicted two weeks ago of criminal contempt for violating a court order instructing him to stop detaining people suspected of being in the country illegally.
Mayor of Charlottesville: Trump Intentionally Courted White Supremacists. Sunday [8/13/2017] on CNN's "State of the Union," Charlottesville, VA Mayor Michael Signer reacted to the violence Saturday at in his city at a protest, which left three dead and 19 injured. Signer said President Donald Trump contributed to the violence with his "intentional courting" of "white supremacists."
Rep. Ruben Gallego: 'We Just Have to Admit' Donald Trump Is an 'Absolute Racist'. Ruben Gallego (D-AZ) made it clear he has no intention to stop reminding people that President Trump is bigoted against Muslims. The congressman spoke with radio host and Mediaite contributor Dean Obeidallah, where they discussed the fallout from the recent bomb attack against a mosque in Minnesota. The Trump Administration has been noticeably reluctant to comment about the matter, and Gallego slammed the president for marginalizing Muslims around the country with his rhetoric instead of promising to protect them as citizens.
JK Rowling Apologizes to Trump for Falsely Accusing Him. Well, sort of. J.K. Rowling actually apologized to the little boy and his family, not President Trump. But whatever. She says she is apologizing 'unreservedly' over tweeting out in anger at Trump after viewing a selectively edited clip showing Trump snubbing a disabled child. Except that is not what happened at all. The originator of the tweet deleted it fairly quickly, but liberals had already pounced on it and it went viral.
J.K. Rowling Lies About Donald Trump And Apologizes — To Someone Else. Yesterday [7/31/2017], apparently somebody finally informed J.K. Rowling that her wildly popular public criticism of Donald Trump was actually based on a falsehood. Over the weekend, Rowling had issued a series of mega-viral tweets in which she lambasted the president for refusing to shake a disabled boy's hand at a White House event, calling Trump's behavior "stunning" and "horrible." Surprise: Rowling was 100 percent wrong. Trump had actually spent a long moment engaging with the boy in a friendly manner. It is not too much to assume, in the age of instant communication and 24/7 social media, that Rowling might have taken fewer than three days to fix her flatly untrue and vicious slander of Trump, but better late than never, I suppose. Nevertheless, her mea culpa on the matter falls somewhat short of an actual admittance of guilt, in a way that should be rather embarrassing, at least for anyone who stopped to think before writing it.
J.K. Rowling's Disappointing Non-Apology To Trump. Last year I wrote about a speech J.K. Rowling gave at the PEN literary awards gala on the importance of free speech. Rowling took the classical liberal line saying the answer to speech that offends you is not a safe space but more speech. She went even further, warning that anyone who attempts to silence speech they disagree with is traveling the path of tyrants. Rowling even used the example of a petition to keep Trump out the the UK, saying it was a mistake to try to silence him even though she considered him a "bigot."
Trump Boy Scout Speech Is Nazi Hitler Youth Rally, Left Says. President Donald Trump brought his bombastic politics to a Boy Scouts event Monday [7/24/2017] in West Virginia, drawing cheers from the children gathered at the event and prompting comparisons between his rousing rhetoric and Nazi youth rallies from some liberal activists and journalists.
Trump's Defense of Universal Truths in Poland. Had Donald Trump given the Gettysburg Address, liberals would have called it insultingly brief. No matter how eloquently and sensibly he speaks, they stand ready to snipe at him. No sooner had he finished his stellar remarks in Poland than they grabbed for their wet blankets.
Leftist 'Intellectuals': It's Racist for Trump to Defend the West. Left-wing pundits reacted angrily to President Donald Trump's speech in Warsaw, Poland, on Thursday [7/6/2017], accusing him of racism for defending the "West." Peter Beinart, writing in The Atlantic, asserted: "The West is a racial and religious term." He added: "To be considered Western, a country must be largely Christian (preferably Protestant or Catholic) and largely white." Therefore, he said, Trump's speech was racist, because some Europeans are Muslim, and some nations that have embraced democracy or modernity are outside the West's geographic boundaries. "India is the world's largest democracy. Japan is among its most economically advanced nations. No one considers them part of the West," he noted.
MSNBC's Joan Walsh: 'Really Good Research' Proves Trump Voters Motivated By 'Fears Of Brown People. The idea of liberals doing any sort of research, let alone "really good research," is nothing short of absolutely laughable. The fact that Joan Walsh had the gall to get up and say that she researched something (or someone else researched it and she's just parroting it without taking a gander into the facts) is humorous enough. Yet more hilarious is the idea that "really good research shows" that Trump voters only elected the Republican President because of their "fear of brown people."
Joe Scarborough Calls President Trump 'Greatest Liar That's Ever Sat In The White House'. MSNBC "Morning Joe" co-hosts Joe Scarborough and Mika Brzezinski bashed President Donald Trump Wednesday, calling him worse than former President Richard Nixon and the "greatest liar that's ever sat in the white house." Scarborough played a clip of Brian Karem, executive editor of The Sentinel Newspapers, at Tuesday's [6/27/2017] White House briefing challenging Deputy Press Secretary Sarah Huckabee Sanders, saying her criticism of the media was inflaming the American people. Sanders responded at the briefing by citing a debunked Washington Post story stating reporters were not being thorough enough in their critiques of the president.
The Editor says...
Mr. Scarborough should spend some time reading my partial catalog of Obama's lies.
The Antithesis of Obstruction. The "collusion" narrative was a fraud, plain and simple. We know that now. Hopefully, it won't take another six months to grasp a second plain and simple truth: Collusion's successor, the "obstruction" narrative, is a perversion. The Left loves narrative. The ever-expanding story manipulates time, space, and detail to fit a thematic framework. Political narrative has some surface appeal, but it is deeply flawed. It obscures plain and simple truth. So let's stick with the plain and simple: The essence of obstruction is to frustrate the search for truth. Its antithesis is to demand the exposure of fraud.
D.C. firm behind the Trump 'dirty dossier' refusing to cooperate with Congress. The Washington firm that commissioned the dirty dossier on President Trump is stonewalling congressional investigators. In a piece for the New York Post, conservative author Paul Sperry writes that the firm, Fusion GPS, which was started by three former Wall Street Journal reporters, is not cooperating with Congress in order to cover up an allegiance to the Democratic party. Sen. Chuck Grassley, R-Iowa, the chairman of the Senate Judiciary Committee, is spearheading an investigation into the dossier, and wants to know the identities of the people who paid Fusion to dig up dirt on Trump.
Urine trouble, Washington. Five months after the once-respected Jake Tapper and Carl Bernstein at CNN reported on a dodgy dossier about President Trump hiring hookers to whiz on a bed Obama slept in, we find out from whence that cockamamie collection of claptrap came. Camp Hillary. That's correct. The billion-dollar loser hired a staff of weirdos who came up with this urinal joke.
Sketchy Firm behind Trump dossier is stalling investigation. A secretive Washington firm that commissioned the dubious intelligence dossier on Donald Trump is stonewalling congressional investigators trying to learn more about its connections to the Democratic Party. The Senate Judiciary Committee earlier this month threatened to subpoena the firm, Fusion GPS, after it refused to answer questions and provide records to the panel identifying who financed the error-ridden dossier, which was circulated during the election and has sparked much of the Russia scandal now engulfing the White House.
It's all Trump's fault — even Scalise shooting, beatings and traffic deaths. A crazed leftist attempts to kill Republicans on a baseball field, a congressional candidate beats up a reporter, and an increase in traffic deaths. What do these all have in common? Liberal journalists managed to blame all of these incidents on President Donald Trump. In the days after the baseball field shooting of Congressional Republicans there was much talk about violent political rhetoric inciting the Bernie Sanders-supporting shooter, but former New York Times Executive Editor Jill Abramson, perversely blamed Trump and the GOP because they benefit from "a kind of rage machine."
The Big Collusion Narrative Keeps Melting Down. After two days and almost six hours of high-stakes public testimony, I'm struck by the total lack of any compelling claims supporting the "big" collusion narrative, that Russia conspired with Trump or Trump officials to "hack" election. While we certainly aren't privy to all the relevant information or all the relevant testimony, nothing that James Comey said last week or that Jeff Sessions said today (much less any of the questions directed his way) contained so much as a meaningful hint that the Committee was on the verge of uncovering the political scandal of the century. Rather, the focus keeps shifting to much narrower questions regarding Trump's decision to fire James Comey — questions that are important but far less historically consequential than any claim that a president or his attorney general are traitors to their country.
Gay Muslim still blames Trump for "racism" after Pulse nightclub shooting. While most college graduates are settling in for the summer and basking in their recent accomplishments with family and friends, one newly-minted graduate is blaming President Trump for anti-Muslim sentiment one year following the terrorist attack in Pulse nightclub in Orlando. In a New York Times opinion piece, "A night of terror, a year of racism," Adam Manno — a gay American man whose father is from Pakistan — says Trump's language is scaring American Muslims because it supposedly fosters Islamophobia among the general population.
The Real Collusion. Maybe it will be remembered as the weekend when, at long last, the media-Democrat complex overplayed its hand on the "Collusion with Russia" narrative. They are still having so much fun with the new "Jared back-channel to the Kremlin" angle, they appear not to realize it destroys their collusion yarn. Their giddiness is understandable. The new story is irresistible: President Trump's son-in-law, Jared Kushner, in a December 2016 Trump Tower meeting with the ubiquitous Russian ambassador, Sergey Kislyak, discussed setting up a communications "back-channel" between the incoming administration and the Kremlin.
The vast right-wing conspiracy 2.0, Russia edition. Hillary Clinton did something more interesting Wednesday [5/31/2017] than blame others for her loss in last year's presidential election. She has done that many times before, though her dig at the Democratic National Committee was a new and interesting twist. Clinton publicly stitched together a comprehensive theory of how Russian interference into the 2016 campaign led to her defeat at the hands of President Trump. That theory may prove to be conspiratorial nonsense or the dominant storyline of the Russia probe. But Clinton spelled it out more clearly and succinctly than ever before, laying it all out in the public eye.
Hillary launches astonishing conspiracy claim that Trump won the election because he 'colluded' with 1,000 Russian agents. Hillary Clinton launched an all-out assault on Donald Trump Wednesday [5/31/2017], claiming he must have 'guided' Russian efforts to keep her out of the White House. Openly saying that she believed he had 'colluded' with Russia, she made an astonishing series of claims about the presidential election, including claiming that the 'vast majority' of news about her on Facebook was 'fake'. She even cited 'Pizzagate', claiming that claims she was involved in a child sex-trafficking network in a Washington D.C. restaurant had helped swing 'low information voters'.
The Democrats' Second Secession & America's New Civil War. [Scroll down] According to the Gallup organization, the normal duration of a presidential honeymoon in recent times has been seven months. The Democrats didn't give Trump seven seconds. While he was president-elect, they were already attacking him as a racist, a "white nationalist," anti-immigrant, and anti-Muslim; also an anti-democratic "fascist" — a would-be dictator. His election was called illegitimate, the alleged agent of a Russian conspiracy. This meme swiftly metastasized into one of the most bizarre witch-hunts in our political history, a "red scare" without actual reds, in which Democrat after Democrat stepped forward to allege that Trump had colluded with Vladimir Putin to steal the election.
Liberals Say John Podesta, Robby Mook Wrote the Russia Narrative 24 Hours After Hillary Lost. Two days after the election, Hillary Clinton blamed her loss on the FBI (James Comey), the KGB, and the KKK who supported Donald Trump according to her. Liberal Jonathan Allen who is a Politico editor, and Amy Parnes who writes for the left-leaning The Hill wrote in their new book, Shattered that the Clinton Campaign (John Podesta and Robby Mook) hatched the Russia narrative 24 hours after her loss as an excuse for their campaign failure. These reporters were embedded with the campaign.
The Vast Left-Wing Russia Conspiracy Exposed. First, observers should note that none of these conspiracy theorists have ever spelled out what they think occurred between Trump and Putin. They throw around the term "collusion" without ever specifying any other details. There's a good reason for this: They know that if they actually specified what they are thinking — or, more precisely, what they want for Americans to think — they would be exposed for the shameless, deceitful partisan hacks they are. After all, the Democrats and the GOP NeverTrumpers expect for the rest of us to believe that, together, Trump and Putin "colluded" to enable the former — a man ridiculed and mocked by his enemies as a buffoon and clown right up until election night — to prevail over Hillary Clinton in a decisive Electoral College win.
Democratic senators blame Trump for rise in hate crimes during hearing. There was a recurring accusation from Democrats during Tuesday's [5/2/2017] Senate Judiciary Committee hearing: President Trump is to blame for a rise in hate crimes. "It's no accident that there is a rise in hate crimes because we're in an environment where the president targets Muslims with his language," said Sen. Mazie Hirono, D-Hawaii during a hearing on hate crimes, referring to Trump's travel ban. Sen. Al Franken, D-Minn., also attempted to correlate having Steve Bannon in the White House as chief strategist to the rise in hate crimes.
Maddow: Trump 'Wants to Kill Us' — 'It's a Dangerous Time for the First Amendment'. On Tuesday's [5/2/2017] broadcast of NBC's "Late Night With Seth Meyers," MSNBC anchor Rachel Maddow stated that there's a "tension" in the news media where it's both "a dangerous time for the First Amendment" and the press is "oddly influential with" President Trump, "who wants to kill us."
Trump Is Bad at Being a Tyrant. To be sure, Trump manipulated the media in much the same way savvy dictators do. Also, he is loud and he loves gold. And he doesn't tolerate nonsense from the "lying press." Where I was raised, though, what Trump has been doing with the media is called standing up for yourself. To the media, however, a Republican that stands up for himself is "dangerous."
Sorry, But Calling Weak Q1 GDP a 'Report Card' On Trump Is Absurd. The economy's weak 0.7% growth in the first quarter was disappointing, to say the least, the worst gain in three years. But to the Trump-despising big media, it seems, it's really a sign of his failure.
Ex-spy admits anti-Trump dossier's sensational charge unverified, says Clinton backer betrayed him. Christopher Steele, the former British spy who wrote the infamous anti-Donald Trump dossier, acknowledges that a sensational charge his sources made about a tech company CEO and Democratic Party hacking is unverified. In a court filing, Mr. Steele also says his accusations against the president and his aides about a supposed Russian hacking conspiracy were never supposed to be made public, much less posted in full on a website for the world to see on Jan. 10.
Democrat tells child that Trump is more dangerous than a terrorist: report. Rep. Mark DeSaulnier, D-Calif., told a sixth grader last week that she should be worried because President Trump is more dangerous than a terrorist. During the Q&A portion of a town hall event held at Stanley Middle School in Lafayette, Calif., DeSaulnier took a final question from 11-year-old Eden, according to a report published Saturday [4/22/2017].
'Shattered' Revelation: Clinton Campaign Hatched Russian Hacking Narrative 24 Hours After Hillary's Loss. The new Clinton campaign tell-all, Shattered: Inside Hillary Clinton's Doomed Campaign, reveals how Hillary Clinton personally placed blame for her bruising defeat on Russian meddling "within twenty-four hours of her concession speech." The blistering behind-the-scenes book, by Jonathan Allen and Amie Parnes, illustrates how Hillary Clinton furiously blamed her defeat on the FBI investigation into her private emails, Russian interference, and Trump's supposed support from "white nationalists."
How the Media Try to Lay Waste to the Trump Administration. According to Barack Obama's Director of National Intelligence James Clapper, there is "no evidence" that the Russians colluded with President Trump to swing the election. And there is no evidence that the Russians interfered with election tallies. Yet allegations of Russian connections have become an article of faith for the mainstream media and liberal comedy hosts. But as we've pointed out on many occasions, Hillary Clinton's financial and business relations with the Russians far exceeded anything that could be attributed to Trump.
Liberal Pollster Tweets, Falsely, That Trump Didn't Go to Church on Easter Sunday. He claims the tweet, which was factually inaccurate, wasn't factually inaccurate. Because even though Trump did go to Easter service in Palm Beach, it wasn't on Trump's official Sunday schedule as released at around 8am. But he did go.
CNN's Fareed Zakaria: Were Obama Still President, He Would Have Ordered "Similar If Not Identical" Strike In Syria. CNN's Fareed Zakaria discusses his experience with "Trump derangement syndrome," where people's hatred and anger towards the president is so intense that it impairs their judgment. He talks about Obama speechwriters attacking Trump for doing exactly what President Obama would have done in Syria.
The Russiagate Scam Will Blow Up In The Democrats' Smug Faces. As Hugh Hewitt says, this scandal has three silos. The first silo is the question of whether the Russians somehow "hacked our election." The second silo is whether any Trump people "colluded" with the Russians. The third silo, the one patriots care most about since it's the one that isn't a ridiculous fantasy, is whether anyone in Obama's administration used our intelligence apparatus to spy on his and Hillary's political opponents. The answers are "No," "No," and "Yes."
Obliterating the "Russia Meddled in the Election". Last week The Duran's Alexander Mercouris thoroughly debunked the Russiagate narrative being spewed out by the Hillary aristocracy, Democrats, mainstream media, and anyone else with less than half a brain and zero deductive reasoning skills. We strongly recommend you read the post, "Here's why the whole Russiagate scenario set out in Trump Dossier is totally absurd" to get a big picture explanation as to why the Russia election meddling story is fiction even too ridiculous for Hollywood.
Here's why the whole Russiagate scenario set out in Trump Dossier is totally absurd. It has become increasingly clear over the last two weeks that the amateur sleuths who are driving Russiagate are taking the Trump Dossier prepared by the British ex-MI6 officer Christopher Steele as their starting point. This is despite the fact that the Trump Dossier is still "uncorroborated", and has been trashed by seasoned intelligence professionals like former CIA Acting Assistant Director Michael Morell. Right from the first moment the Trump Dossier was first published I speculated that it might be the original source of the 'Russiagate' story. Here is what I wrote about it on 11th January 2017, immediately after it was published
Grassley pressing FBI's McCabe in Trump-Russia dossier case. The chairman of the Senate Judiciary Committee is poking around for more information on the spurious dossier leaked to the media ahead of President Trump's inauguration — this time, homing in on Andrew McCabe, the second in command at the FBI. In a March 28 letter, Sen. Charles Grassley, R-Iowa, told FBI Director James Comey he wants a detailed description on the involvement of Deputy Director McCabe in the investigation of Russian ties to Trump associates.
The Burgeoning Market For Anti-Trump Hoaxes. The insatiable demand for tales that embarrass the president is creating its own supply. Case in point is the most recent KittenFeed story. On Tuesday [3/21/2017], the New York Observer ran an exclusive piece with the headline: "Trump Sics Lawyers on Teen for Making Silly Site Where Kittens Punch Him." It claimed that a 17-year-old girl in San Francisco had received two cease-and-desist letters from the Trump Organization. A multitude of other news sites, bloggers and social networks immediately ran with the story, which now appears to be a hoax. Why would someone do this? A clue is in the traffic to KittenFeed.com, which exploded once the story hit the web.
Susan Rice is the Wrong Person to Attack Trump's Credibility. In a recent opinion column for The Washington Post, former United Nations ambassador and national security advisor to Barack Obama, Susan Rice, had the temerity to lecture President Donald Trump about telling the truth. She writes that "our friends must be able to trust the word of the U.S. president." This extends far beyond hypocrisy coming from a person who visited five Sunday talk shows to peddle administration falsehoods about the 2012 terror attacks in Benghazi, Libya. In addition, she served in those positions during a period of other disastrous foreign policy decisions — deceptively sold to the American people — such as the Iran nuclear deal and the entire Libyan debacle.
Four Major Holes In Rep. Adam Schiff's Trump-Russia Conspiracy Theory. On Monday, Rep. Adam Schiff, the ranking Democrat on a House intelligence committee, delivered his opening statements at a hearing where he laid out the case for alleged Russian meddling in the 2016 presidential election. Schiff repeatedly raised questions about alleged collusion between Moscow and members of Donald Trump's presidential campaign. Here are four serious problems with Schiff's charges, which include wild conspiracy theories and heavy reliance on a questionable source: [...]
Senate Intelligence Dems Admit There May Be ZERO Evidence Of Collusion Between Russians And Trump Campaign. As Guy wrote last week, Sen. Chris Coons (D-DE) has retreated from his claim that there's solid evidence of collusion between the Trump campaign and Russian intelligence agencies. Now, his colleagues on the Senate Intelligence Committee also concede that there may be zero evidence of such activity after a month into their investigation.
Rep. Maxine Waters Walks Back Claim Russia Dossier Is 'Absolutely True'. Rep. Maxine Waters, a Democrat from California, walked back her claim on Thursday that seemed to confirm the existence of compromising tapes of President Donald Trump with Russian prostitutes without providing any evidence. The congresswoman's office released a clarification on Thursday [3/9/2017] after she said on MSNBC earlier in the day that the sex allegations in an unverified dossier claiming that Russia has compromising information about Trump were "absolutely true." An aide to Waters said that she had not leaked any classified or new information.
The Beltway Conspiracy to Break Trump. At the heart of the case against Trump is what appears to be a Big Lie. It is that Vladimir Putin and Russian intelligence hacked the DNC and John Podesta's email account, then colluded with Trump's friends or associates to systematically sabotage Hillary Clinton's campaign. Therefore, Trump stole the election and is an illegitimate president. In this city, Trump is looked upon as a border-jumper, an illegal alien. Yet let us consider the constituent components of the charge.
MSNBC's Tur: Like Putin, Trump Might Kill Journalists. [Scroll down] It is Tur who is heading down a "dangerous path." I guess because Trump has a "distaste" for negative news coverage, he is going to start murdering journalists? I guess she sorta forgot Obama's railing against Fox News for eight years. Trump "has made no secret" of "going after" journalists because, as far as I know, he hasn't ordered an attack on any of them.
Political Correctness as a Tool of the Liberal Inquisition. We hear from liberals that when President Trump and his followers speak of making America Great Again we mean Make America White Again. This is a malicious falsehood. It is specious and malevolent. What we mean, as does Mr. Trump, is that America should once again be prosperous; that the middle class be revived and that good, manufacturing jobs be available so families can live with dignity; that family life and wholesomeness be once again exalted; that America be crime-free; that Americans be protected from terrorism and inhere a sense of confidence; and that our elected leaders, a president, love America instead of constantly castigating her. No one I know wants an America where our African-American brothers and sisters are denied an iota of civil rights.
Liberals Suddenly Have Newfound Respect For The CIA. Critics of President-elect Donald Trump appear to have found a new respect for the Central Intelligence Agency, after years of heated criticism. Journalists highlighted the "insanity" of CIA Director John Brennan's rebuke of Trump's disparaging accusation of the intelligence agency's possible role in leaking a salacious dossier on his personal conduct.
Think Tank Appears To Cut Ties With Oppo Researcher Behind Trump Dossier. A national security think tank appears to have cut ties with the head of the opposition research firm that is behind the unsubstantiated Donald Trump dossier published last week. Glenn Simpson, who heads Fusion GPS, was listed on the website for the International Assessment and Strategy Center (IASC) as recently as this weekend. He joined the Virginia-based think tank in 2009, at around the same time he quit as a reporter at The Wall Street Journal to start his own private intelligence firm.
The Assassination of Donald Trump. In a way it's pitiful. John Lewis, d. Ga. Still nursing a head wound from 1966 or '67. Saying Trump is not a legitimate President because the Russians uncovered that the DNC sabotaged Bernie Sanders' campaign. Crazy. So Trump fires back that Lewis is a loser. That's schoolyard nothings except for the following. The almighty New York Times calls Trump a racist for defending himself against a smear. A black reporter at the Times writes an angry article about Trump as racist... not one fact in it. But no one cares.

Other signals and noise:
End nears for Hillary's Russian excuse. In short, the president will pardon [Julian] Assange if Assange names the DNC staffer who leaked the emails that showed the Democrats were in cahoots with the media — or produces the thumbnail drive used to leak the emails. This is where Bradley (aka Chelsea) Manning comes into play. In granting clemency to a spy who leaked military secrets, Barack Obama enabled President Trump to pardon a man who leaked political information. You see how that works?
Gowdy Wonders If Democrats Are 'Fearful' Trump Dossier Is 'A Piece Of Fiction'. Democrats are "fearful" that the Trump dossier is "a piece of fiction," one that the FBI used to form the basis of its investigation into whether the Trump campaign colluded with the Russian government. That's one theory that South Carolina Rep. Trey Gowdy is proposing for why Democrats are pushing back so hard against a GOP effort to get answers about the dossier from the FBI and Justice Department. In an interview with The Daily Caller, the House Intelligence Committee member addressed claims from his Democratic colleagues and some in the media that he and his fellow Republicans are attempting to discredit the dossier and its author, former British spy Christopher Steele, in order to help Trump.
House committee subpoenas FBI, Justice over Trump dossier. In the most significant escalation yet in the wrangling between Congress and the FBI over the Trump dossier, the House Intelligence Committee has subpoenaed the bureau and the Justice Department for documents relating to the dossier, the FBI's relationship with dossier author Christopher Steele, and the bureau's possible role in supporting what began as an opposition research project against candidate Donald Trump in the final months of last year's presidential campaign. The subpoenas are an indication of growing frustration inside the committee over the FBI and Justice Department's lack of cooperation in the Trump-Russia investigation.
Fortunately, Jesse Jackson is not the one who decides.
Jesse Jackson: Trump 'Would Not Qualify to Get Into Jesus' Kingdom'. President Donald Trump may want to tighten requirements on who can immigrate to the United States, but Rev. Jesse Jackson thinks he should instead worry about his own citizenship in heaven. "Trump says you must be able to speak the language of English, [be] qualified, and have a job skill," Jackson said Monday [8/28/2017]. "Jesus would not qualify to come in Trump's country — he would not qualify to get into Jesus' kingdom." Jackson made the comment Monday at the "Ministers March for Justice," which was spearheaded by Rev. Al Sharpton and featured ministers from various traditions united in opposing the Trump administration.
Trump has friendly meeting with two Texas Democrats who called for his removal. President Trump had a friendly meeting with two of his biggest critics in the House after visiting with victims of Hurricane Harvey in Texas on Saturday. Reps. Al Green, D-Texas, and Sheila Jackson Lee, D-Texas, both met with Trump on the steps at Air Force One at Ellington Field in Houston as the president departed to visit flood victims in Louisiana. Both Green and Lee have advocated for Trump's impeachment in the past. Green has actually filed articles of impeachment; while Jackson has also supported the notion of using the 25th Amendment to remove Trump.
Standoff brews between Senate, FBI over Trump dossier. Senate Judiciary Committee chairman Charles Grassley and the committee's ranking Democrat, Dianne Feinstein, want to interview two high-ranking FBI officials about some key aspects of the bureau's role in the Trump-Russia investigation — the Trump dossier, the firing of James Comey, and more. But the FBI doesn't want those officials to talk — even though the Judiciary Committee has oversight responsibility for the FBI, and even though the request is bipartisan, and even though there appears to be no conflict with the ongoing Trump-Russia investigation conducted by special prosecutor Robert Mueller. A standoff could be developing.
FBI fights public release of Trump dossier info. Senate investigators have had problems getting the FBI to reveal information about the Trump dossier. They're not the only ones. Outside groups filing Freedom of Information Act requests are running up against a stone wall when it comes to the dossier. On March 8, Judicial Watch filed a FOIA request for documents regarding the bureau's contacts with Christopher Steele, the former British spy who dug for dirt in Russia on candidate Donald Trump in the months before the 2016 presidential election. Steele's effort was commissioned by the oppo research firm Fusion GPS, which at the time was being paid by still-unidentified Democrats who supported Hillary Clinton. Just weeks before the election, the FBI reportedly agreed to support Steele's oppo project — an extraordinary action in the midst of a campaign which Senate Judiciary Committee Chairman Chuck Grassley said raised "questions about the FBI's independence from politics."
Trump attorney delivers point-by-point rebuttal of 'totally false' dossier. One of the key figures named in the unverified anti-Trump dossier has delivered a point-by-point rebuttal shooting down more than a dozen allegations contained in its pages. Fox News obtained a letter to the House Intelligence Committee sent Aug. 14 by the attorney representing Michael Cohen, who has served as President Trump's personal attorney. In it, he discredits the 35-page dossier, noting that without the "sensational allegations" contained in the document, Cohen "would not be involved" in the committee's Russia probe. "We have not uncovered a single document that would in any way corroborate the Dossier's allegations regarding Mr. Cohen, nor do we believe that any such document exists," Cohen's attorney, Stephen Ryan, wrote in the letter.
Next stop for Trump dossier probe: the FBI. In late July, the Justice Department refused a request from the Senate Judiciary Committee — a bipartisan, joint request from Chairman Charles Grassley and Ranking Democrat Dianne Feinstein — to make two top FBI officials available for an interview in the committee's investigation of the Trump dossier and other matters related to the Trump-Russia affair. Citing the Mueller special prosecutor investigation, Justice stated "confidentiality" and the "sensitivity of information relating to pending matters" made it impossible for the two officials, Carl Ghattas and James Rybicki, to talk to the Senate committee that oversees the FBI. Grassley and Feinstein are still trying — they sent another, more strongly worded, request last Friday [8/25/2017].
Professor Says, Texans 'Deserve' Harvey Because They Voted For Trump, Gets Fired. A sociology professor at the University of Tampa published a tweet on Sunday afternoon [8/27/2017] suggesting that Texas residents deserve the death, destruction and suffering caused by Hurricane Harvey because a majority of Texas voters supported Donald Trump in the 2016 presidential election.
Trump dossier mystery deepens. On Wednesday, not long after I posted the story, "Republicans skeptical about origin of Trump dossier," I got a note from a friend who had been thinking about the claim that a wealthy GOP donor started the infamous Trump dossier. I had reported that the Republican operatives who ran against Donald Trump — the managers of the Ted Cruz, Marco Rubio, Jeb Bush, and John Kasich campaigns — had not only not heard of any GOP-funded oppo project but did not believe one existed. Neither did some of the NeverTrump activists working outside the campaigns to try to stop the GOP front-runner.
Ex-British spy behind Trump dossier hands sources to feds. The former British spy behind a salacious dossier linking President Trump to Russia has reportedly handed over the names of his sources to the FBI. Christopher Steele, a former MI6 agent, met with federal agents to disclose how he obtained the unconfirmed information included in his report, according to ABC News.
Fusion GPS On The Hot Seat In Closed Senate Judiciary Hearing. Too bad C-SPAN won't carry the testimony of Glenn Simpson, the former Wall Street Journal reporter who launched the oppo research firm Fusion GPS. Simpson finds himself at the center of the Russia scandal, thanks to a discredited dossier about Donald Trump that got floated after the election. Now Chuck Grassley wants to get to the bottom of the dossier, who ordered it, who paid for it, and what its purpose was, and he'll get his chance in a closed session today [8/22/2017].
Republicans skeptical about origin of Trump dossier. The Trump dossier is one of the most important and least understood elements of the Trump-Russia affair. It is important not just because its allegations are, as former FBI director James Comey said, "salacious and unverified," but because it:
[1] appeared to offer evidence for some of the most sensational accusations that the Trump campaign colluded with Russians;
[2] involved a pro-Clinton organization paying investigators who paid Kremlin-linked Russians for allegations about Trump; and
[3] set Comey and Trump on a collision course when Comey chose to brief Trump about the dossier in a one-on-one meeting when Trump was president-elect.
The story of the dossier, if it is ever learned, could greatly affect the way we think about the Trump-Russia matter.
James Clapper Questions Trump's 'Fitness' For Office: 'I Just Find This Extremely Disturbing'. Shortly after President Donald Trump wrapped up his off-the-rails rally speech in Phoenix Tuesday night, the former Director of National Intelligence straight-up questioned the president's fitness for office and ability to carry out his duties. Speaking to CNN anchor Don Lemon, ex-DNI and current CNN commentator James Clapper said that the speech was "objectionable on so many levels."
The Editor says...
I guess if you find President Trump to be "extremely disturbing," you should vote for the lying baby-killing socialist Democrat instead.
Federal judge rules Trump's personal tax returns cannot be compelled through FOIA. A federal judge ruled said Friday [8/18/2017] that President Trump's personal tax returns could not be released through the Freedom of Information Act (FOIA), reports The Hill. The Electronic Privacy Information Center launched a lawsuit against the IRS earlier this year after the group requested the records, citing FOIA. The group sought Mr. Trump's personal tax returns from 2010 to now, but the court said personal tax forms are confidential and can only be obtained if Mr. Trump gave his permission.
The DNC 'hack' might have been an inside job. You should read a story in the Aug. 9 issue of The Nation magazine entitled, "A New Report Raises Big Questions About Last Year's DNC Hack." The first thing you need to know is that The Nation is a liberal/progressive publication. So if there is any bias there it's in favor of the Democrats. The magazine's conclusion: there wasn't a computer "hack" at all. Hard evidence, it says, shows that the DNC e-mails — including those of Hillary Clinton adviser John Podesta — were leaked by someone inside the party. That would change everything, of course, especially since numerous other investigations concluded that the Russians did it.
WaPo: Documents Show Russians Sought Meetings With Trump Campaign, and Team Trump Declined. [Scroll down] These freshly-revealed emails look like a conscientious campaign doing the right thing and expressing appropriate skepticism when approached about opportunities to huddle with the Russians. You can argue that maybe they turned down these contacts because they were involved with the Kremlin at a higher level elsewhere, but there's no proof of that. You can also contend, as WaPo's story does, that this further demonstrates Moscow's keen interest in establishing ties with the Trump camp. That's fine, but that Russian interest would need to have been improperly reciprocated and acted upon to be a scandal. Collusion requires at least two parties, by definition. So this strand of evidence cuts in Trump's favor.
Mueller Raids Manafort's Home — Because He Has Nothing. All the king's horses and all the king's men have not found Russian collusion with Trump. Even Mueller likely knows it, because he is now investigating everything but Russian collusion. You do not expand an investigation's scope because you have found a deep vein of criminality tied to prima facie Russian collusion — if you did, you would be going deep into that vein. Every week, more evidence comes out that the Democratic Party computers were not hacked — something vital to the concept of the Russians stealing those emails and giving to them to WikiLeaks. The fundamental requirement that the Russians stole Democratic emails might have been overturned if the FBI looked at the servers — which they chose not to do. Who among us would be able to tell the FBI that we do not choose to give them our servers for an investigation?
How Obama Handled An Attack By A Racial Nationalist. In July of 2016, an avowed black nationalist murdered five police officers during a Black Lives Matter demonstration in Dallas, Texas. The act of violence was well-planned and was motivated entirely by the hate-filled ideology of the shooter, Micah Xavier Johnson. With several officers dead by the hand of a committed black nationalist, one might think the Obama administration may have considered the assassinations domestic terror and launched an investigation into groups associated with this ideology. Not at all. Barack Obama condemned the shootings, but he did not call out or even allude to Johnson's hateful views. He did, however, blame "powerful weapons" for the violence.
Breaking News: Donald Trump Is President. Donald J Trump is president. Really. He won it fair and square, he was inaugurated seven — almost eight — months ago, and he very probably is going to be president for another three and a half years. Minimum. So, now, children, let's calm down. All of you people over there saying Trump is unqualified and should be removed? Give it up. He's qualified by the only qualification that matters: he is over 35, he is a native U.S. citizen, and he won the [...] election. The Constitution doesn't have a clause in it for removal by vote of the media, or because his political opponents don't like him. The only reason he can be removed constitutionally is if someone finds high crimes and misdemeanors.
Trump Criticized For 'Fire and Fury' Rhetoric But Bill Clinton Said Basically The Same Thing. For days now the media and regular Trump critics on Capitol Hill have berated the President for his rhetoric about North Korea. Specifically, they've said his words about "fire and fury" were particularly incendiary. But back in the 1990s when North Korea was causing problems and issuing threats about atomic bombs, President Bill Clinton essentially said the same thing.
Choose Sides in This Civil War. [Scroll down] There is yet to emerge any serious evidence that anyone committed a crime in this area. The entire confection of Russian collusion arose immediately after the election, despite the fact that Democratic officials such as John Podesta had a great deal more to do with the Russians than the Republicans did, and that by historic criteria, there was no justification for a special counsel to be named at all.
Why Some U.S. Ex-Spies Don't Buy the Russia Story. In 2003, when a number of former intelligence professionals formed a group to protest the way intelligence was bent to accuse Iraq of producing weapons of mass destruction, New York Times columnist Nicholas Kristof wrote a sympathetic column quoting the group's members. In 2017, you won't read about this same group's latest campaign in the big U.S. newspapers. The Veteran Intelligence Professionals for Sanity (VIPS) have been investigating the now conventional wisdom that last year's leaks of Democratic National Committee files were the result of Russian hacks. What they found instead is evidence to the contrary.
Russian election interference: Where, oh, where is the evidence? We are bombarded daily by the Democrats and the Destroy Trump Media screeching about Russian "meddling" and "interference" regarding our 2016 election. "Meddling" and "interference" are vague charges unless one specifies the concrete evidence. Since Mueller is authorized to investigate this "meddling," the lawyerly questions are, what is the evidence, and what did the evidence cause, if anything? Never mind that the Obama intelligence agencies and FBI investigated this before Mueller was appointed and found no concrete evidence.
Attorney Plans to Call President Trump to Testify in Seth Rich Lawsuit. Investigator Rod Wheeler is suing Fox News over a story that indicated that former Democratic National Committee staffer Seth Rich was killed as a result of communications he had with WikiLeaks, and now Wheeler's attorney says he wants key White House figures to testify. Wheeler, one of the main sources for the article which was later retracted, claims that Fox News fabricated quotes that they attributed to him to support their story, and that they allegedly ran the story at the behest of the Trump administration. Now, Wheeler's attorney says he wants to depose President Donald Trump and former White House Press Secretary Sean Spicer. Fox News has vigorously denied many of the allegations in the lawsuit. Wigdor confirmed to LawNewz.com that Trump and Spicer are among witnesses he wants to testify at depositions for the case. The complaint Wigdor filed on Tuesday [8/1/2017] alleges that Fox News reporter Malia Zimmerman and contributor Ed Butowski met with Spicer to discuss the story, and that President Trump himself had a hand in the editing process.
What if the Trump-Russia collusion narrative was actually a Russian disinformation campaign? What if the discredited Fusion GPS dossier that was used against then-candidate for president Donald Trump in 2016 to tie him to Russia was actually an elaborate disinformation campaign whose roots lie none other than in Moscow? That's what the Wall Street Journal's Kim Strassel wants to know in light of testimony last week by William Browder, CEO of Hermitage Capital Management, who says his work on Russian sanctions in 2012 resulted in a similar disinformation campaign against him by Fusion GPS. Browder suggested that Fusion's work violated the Foreign Agents Registration Act, although he stopped short of suggesting that the Trump-Russia collusion dossier — penned by former Mi6 agent Christopher Steele — was the work of Russia as well.
Time for the GOP to teach the Democrats a scandal lesson. The only way the Democrats will become reluctant to use investigations as a means to harass President Trump is if they experience the weapon themselves and come to the conclusion that it ought to be used only in genuine scandals, as in crimes. There has never been any crime alleged in the "Russia collusion" narrative, which is why a special counsel request should never have been entertained, much less the A.G. recused over the matter. (Yes, it was a "matter," not an "investigation" — because there was no crime alleged.) That is why Robert Mueller's investigation is by its charter a witch hunt, seeking to find a crime, not investigating evidence of a crime that already has been identified.
Full of Schiff. Democratic Rep. Adam Schiff has made himself a leading purveyor of the "collusion" hysteria with which we have been inundated since the election. [...] Every day it becomes clearer that the "collusion" hysteria is more a function of the Democrats' "collusion" with the mainstream media than anything else.
Trump's Transgender Ban Is a Legal Land Mine. President Donald Trump's Wednesday announcement on Twitter that transgender men and women will not be allowed to serve in the military "in any capacity" was not a complete surprise: Last month, Defense Secretary James Mattis announced that the military was hitting the pause button on an Obama-era plan to welcome openly transgender people into the military. But the announcement was a legal land mine. The Trump administration may soon learn that singling out a class of people for exclusion violates the constitutional guarantee of equal protection under the law. And as to those transgender soldiers already serving openly, any effort to expel them would face even more profound difficulties.
Poll: 3-in-4 White Democrats Find It 'Stressful' to Talk to Trump Supporters. Three-in-four white Democrats and left-leaning Americans find it "frustrating" and "stressful" to talk politics with people who have a different opinion of President Trump, according to a Pew Research poll released Thursday [7/27/2017]. While more than half of Americans find it stressful talking to people they disagree with on Trump, white Democrats were the most likely to find it uncomfortable — much more than Republicans of any race.
The quest to prove collusion is crumbling. While everyone is fixated on President Trump's unbecoming and inexplicable assault on Attorney General Jeff Sessions, the media has been trying to sneak away from the "Russian collusion" story. That's right. For all the breathless hype, the on-air furrowed brows and the not-so-veiled hopes that this could be Watergate, Jared Kushner's statement and testimony before Congress have made Democrats and many in the media come to the realization that the collusion they were counting on just isn't there.
Yes, a President May Be Indicted, and May Pardon Himself. As we've pointed out many times, collusion is not a crime; conspiracy is. To prove a conspiracy, you need more than mere association and collaborative action; you need an agreement to commit a specific statutory violation of penal law. Thus far, there is no indication that an actual crime has been committed. Under the regulations for special-counsel appointments, there is supposed to be cause to believe a crime has been committed before a prosecutor is appointed. Yet, we have a prosecutor assigned to the case even though there is, as yet, no crime.
Don't Tread on Me You Trump-Hating Traitors! The Left has become absolutely unhinged over the allegations of collusion with the Russians. Allegations, by the way — in spite of everything that you've read, everything you have heard on the radio, everything you have seen on television — that are still unfounded. Based on the reporting by The New York Times there is still no hard evidence that Donald Trump Junior broke any laws. Now, his meetings with the Russians may have been ill advised, maybe even downright idiotic, stupid. But as near as I can tell, it's not illegal in this country to be stupid.
President Trump sued for blocking people on Twitter. President Donald Trump has been party to an eye-watering 4,000 lawsuits over the last 30 years, US media say. And now the mogul turned commander-in-chief has attracted one more, after seven people sued him for blocking them on Twitter. Mr Trump is an avid user of the social media forum, which he deploys to praise allies and lambast critics. The lawsuit was filed by the Knight First Amendment Institute, a free speech group at Columbia University. The seven Twitter users involved claim their accounts were blocked by the president, or his aides, after they replied to his tweets with mocking or critical comments. People on Twitter are unable to see or respond to tweets from accounts that block them.
How Hermitage Capital, Ziff Brothers And The Clinton Global Initiative Prompted The Trump Jr. Meeting. So what "information" was Veselnitskaya peddling that could be used as a political weapon in the 2016 presidential election? According to a note from Bloomberg this morning, the answer to that question is a very sordid tale that involves Hermitage Capital, Ziff Brothers Investments, The Clinton Global Initiative, a decade-old story on an international tax evasion scandal and a new film Veselnitskaya had been eagerly promoting called "The Magnitsky Act — Behind the Scenes"... all of which probably helps explain why a British publicist was involved in setting up the original meeting, why Trump Jr. was confused by Veselnitskaya's "inane nonsense" and why Jared Kushner decided to leave the meeting after 5-10 minutes.
Liberal Legal Scholar Scoffs At Claims Donald Trump Jr. Guilty Of Treason. Liberal constitutional scholar Jonathan Turley laid to rest many of the claims Tuesday [7/11/2017] from the media and politicos of illegality and collusion surrounding Donald Trump Jr.'s meeting with a "Kremlin-connected" lawyer. Turley, a legal scholar at George Washington University, batted away claims of criminality, asking "does any of this constitute a clear crime or even a vague inkblot image of a crime?" His answer: no, not on the facts.
Democrats intentionally used disinformation from Russia to attack Trump, campaign aides. While the liberal news media hunts for evidence of Trump-Russia collusion, the public record shows that Democrats have willfully used Moscow disinformation to influence the presidential election against Donald Trump and attack his administration. The disinformation came in the form of a Russian-fed dossier written by former British intelligence agent Christopher Steele. It contains a series of unverified criminal charges against Mr. Trump's campaign aides, such as coordinating Moscow's hacking of Democratic Party computers. Some Democrats have widely circulated the discredited information. Mr. Steele was paid by the Democrat-funded opposition research firm Fusion GPS with money from a Hillary Clinton backer. Fusion GPS distributed the dossier among Democrats and journalists.
Trump Jr. Dared to Talk to a Russian Woman. From the fever swamps of the Left, the unsubstantiated, over-the-top Russian electoral collusion conspiracy theory now includes President Trump's son who now stands accused of a 20-minute meeting with a Russian lawyer who allegedly has Kremlin ties. This is merely the latest part of the Left's rolling coup attempt against President Trump.
Trump Jr.'s Emails Undermine Collusion Conspiracy Theory. The emails do not indicate any knowledge of Russian government wrongdoing, such as hacking, or Trump campaign involvement in such activities. Yet the mainstream media is going berserk, hyping the overheated ravings of leftist idiots like Sen. Tim Kaine (D-Va.) whose disastrous performance in the vice presidential debate against Republican Mike Pence may have helped to sink the Democrat ticket last year.
Donald Trump Jr. was within his rights to meet with Russian lawyer. This story is hardly as inane as the collective furor that has been generated around the Russia issue writ large. Although four (or, according to the Clinton camp, 17) intelligence agencies concluded the Russian government attempted to influence the 2016 election, there is no evidence that any of these attempts succeeded. Donald Trump won fair and square, unless you want to assert that somehow Russia hacked Michigan's paper ballot system. But those who are dead-set on invalidating the election results by other means still persisted. Lacking evidence of actual crimes, they have been forced to drum up narratives around more nebulous, subjective offenses like "obstruction," "misleading conduct," and of course "collusion," which this email chain supposedly points to. However, the case is pathetically weak.
Soros-Funded Protest at White House Demands Prosecution for Donald Trump Jr.. [Scroll down] Protesters could be seen holding placards produced by the progressive PAC MoveOn.org with the phrases "Resist" and "Investigate Trump," with substantial funding from left-wing billionaire George Soros. [...] Other participating organizations included the Center for American Progress Action Fund, People For the American Way, Public Citizen, Common Cause, UltraViolet, Democracy for America, Common Defense, and the Daily Kos.
Don Jr.'s Russia meeting wasn't collusion — just amateur hour. Washington began its week again with its collective Rorschach test: another Russian-related meeting that was immediately declared to be the "smoking gun" of criminal collusion or even "treason." In the 1960s when Swiss psychologist Hermann Rorschach created his projective test, he found that people could reveal their motivations and perceptions in describing what they saw in amorphous inkblots. In the continuing Russia Rorschach test, it turns out that every amorphous blob looks like a crime to media and many legal experts.
Lawsuit says Trump commission has no legal authority' to collect voter data. President Trump's voter integrity commission has "no legal authority" to collect information from states about their voter rolls, a privacy group said in a new court filing Thursday [7/6/2017], escalating a legal clash with the panel. The Electronic Privacy Information Center, which has filed an emergency lawsuit to try to derail the Trump commission, says that it doesn't matter what sort of information states will allow, the mere act of the panel requesting data, without having safeguards in place, violates federal privacy and electronic records laws.
Linda Sarsour: Resisting Trump Is a 'Form of Jihad'. Anti-Israel activist Linda Sarsour said that resisting President Donald Trump is a "form of jihad" at the Islamic Society of North America's 54th annual convention on Saturday [7/1/2017]. Sarsour, who has vocally expressed sympathy towards terrorists, was the keynote speaker at a community service recognition luncheon during the convention. "I hope that when we stand up to those who oppress our communities, that Allah accepts from us that as a form of jihad," Sarsour said of Trump's administration.
'Collusion' as Farce: The Hunt for Hillary's Hackers. [Scroll down] The embarrassing information in question (emails hacked from the Democratic National Committee and Clinton campaign chairman John Podesta), while interesting to political wonks, had no impact on the public, the vast majority of whom have no idea what a John Podesta is. More importantly, there is neither evidence nor commonsense reason to believe that Putin involved Trump in his shenanigans. Thus, the narrative is morphing from "collusion" into "obstruction" — a half-baked accusation based on actions that were within Trump's lawful discretion and defensible on the merits (viz., recommending against the prosecution of former National Security Adviser Michael Flynn, and dismissing FBI Director James Comey).
Americans Need To Know More About Fusion GPS, Stat. For nearly five months, the firm Fusion GPS, hired by Democrats to research and write an "intelligence report" that the most senior members of the Obama administration circulated widely last summer and fall, has been stonewalling a U.S. Senate committee investigation. That "report," many believe, was the basis for charges of Russian collusion with the Trump campaign. So why are they being allowed to stonewall? In February, Sen. Chuck Grassley sent questions to Fusion GPS about the dossier and the firm's role in the scandal, and was rebuffed. The firm claimed it would not answer questions due to attorney-client privilege and First Amendment rights. He later asked the Department of Justice to investigate the firm's ties to Russian clients.
Nearly 200 Democrats sue Trump citing emoluments clause violation. Democratic members of Congress on Wednesday [6/14/2017] sued President Trump in federal court, claiming he had violated the emoluments clause of the Constitution by accepting foreign funds through the Trump Organization without Congressional approval. The Washington Post broke the news early Wednesday morning, reporting that 196 lawmakers had joined the complaint, more than any lawmakers ever to sign on to sue a president. Sen. Richard Blumenthal (D-Conn.) led the filing in federal district court and said Tuesday that while no Republicans had joined the lawsuit, they were welcome to do so. Rep. John Conyers Jr. (D-Mich.) led the legal effort in the House.
An Investigation of Nothing. [Attorney General Jeff] Sessions must have wondered, at times, why in the world he was there. He testified that he knew nothing about the alleged Russian spear phishing of the RNC's and DNC's email accounts. [...] Sessions also elaborated on why he concurred with Rod Rosenstein's recommendation that Comey be fired as FBI Director. It was a good reminder of what a terrible job Comey did, and how badly he departed from traditional standards of the Department of Justice and the FBI in connection with the criminal investigation of Hillary Clinton.
Taxpayers Give $30 Million so NYC's Shakespeare Festival can Assassinate Trump Onstage. After learning that an actor dressed to look just like his father gets brutally murdered on stage in a production of William Shakespeare's Julius Caesar, Donald Trump, Jr. asked, "I wonder how much of this 'art' is funded by taxpayers?" Well, thanks to some digging by Adam Andrzejewski, founder of the federal watchdog OpenTheBooks.com, we now know the answer: [...]
Despite not knowing a anything about it, 66% of millennials oppose Trump budget. Just like Congress passes bills before they know what's in them, millennials are passing judgement on President Donald Trump's budget before the full details are known and understood. Millennials, which mostly get their news from Facebook, couldn't possibly understand the impacts of Trump's budget overhaul, but in a GenForward poll, 66 percent of young Americans say they oppose the budget because it helps the rich. How exactly does the Trump budget help the rich?
COVFEFE Act would preserve Trump's tweets as official statements. From the incomprehensible "covfefe" to a post labeling fired FBI director James Comey a "leaker," President Donald Trump's tweets would be preserved as presidential records if a Democratic lawmaker's proposed COVFEFE Act becomes law.
Dem Sen Manchin: No Evidence 'Whatsoever' of Collusion. Sunday [6/11/2017] on ABC's "This Week," Senate Intelligence Committee member Sen. Joe Manchin (D-WV) said that he had seen no evidence of collusion "whatsoever" between the Trump campaign and Russian during their investigation into Russia's role in the 2016 presidential election.
D.C. and Maryland to sue President Trump, alleging breach of constitutional oath. Attorneys general for the District of Columbia and the state of Maryland sued President Trump on Monday [6/12/2017], alleging that he has violated anti-corruption clauses in the Constitution by accepting millions in payments and benefits from foreign governments since moving into the White House. The lawsuit, the first of its kind brought by government entities, centers on the fact that Trump chose to retain ownership of his company when he became president. Trump said in January that he was shifting his business assets into a trust managed by his sons to eliminate potential conflicts of interests.
Carlson: Trump-Russia 'Hoax' an Effort to Topple a Democratically Elected Government. Friday [6/9/2017] during the opening monologue of "Tucker Carlson Tonight," host Tucker Carlson sounded off on the effect of former FBI Director James Comey's testimony before the Senate Intelligence Committee a day earlier. Carlson argued Comey's testimony did not further the Trump-Russia conspiracy narrative, which many had hoped would bring the beginning of the end to the Donald Trump presidency.
Drivers in at Least 21 States Claim 'Covfefe' Vanity Plates. Drivers across the country are racing to their local Department of Motor Vehicles offices to claim "covfefe" vanity license plates just days following President Trump's tweet, where he meant to type "negative press coverage" and instead wrote "covfefe." Drivers have already claimed their "covfefe" vanity plate in at least 21 states, including California, North Carolina, Maine, and Nebraska since Trump sent out his tweet early Wednesday morning, CNN reported.
When No One Knows the Answer. Liberal commenters reacted with amusement and glee after Donald Trump misspelled a word in a tweet. He typed "covfefe" instead of the possibly intended "coverage." Hillary Clinton "mocked the President's made-up word, joking to a Code Conference in California that she 'thought it was a hidden message to the Russians', according to The Hill." It pointed up, if that were still necessary, how deficient in literacy and elocution The Donald is. But inevitably, every Trump malapropism and gaffe raises the invidious comparison: if he's so stupid, then how about the people he beat? One can always explain a loss to Napoleon. But how does one justify a loss to a person regarded as a moron? One can lose to a genius without shame; it's harder to avoid mortification at being worsted by covfefe. And Hillary lost to covfefe.
The Real Russia-Gate Scandal. The real Russian disinformation has been the notorious "Trump Dossier," which has been serving as the "roadmap" for the FBI. Weeks after Accuracy in Media exposed the nature of this phony document in a three-part series, "The Final Truth About the Trump Dossier," Wall Street Journal columnist Holman W. Jenkins, Jr., has stumbled upon the truth, saying the dossier smells like a Russian plant. Our verdict was that the dossier compiled by former British intelligence agent Christopher Steele was part of a Russian effort, financed by Hillary Clinton donors, to smear Trump. That's what the evidence shows. In his column, "The Trump-Russia Story Starts Making Sense," Jenkins writes that it is likely that Steele "was the semi-witting vehicle for Russian rumors designed expressly to undermine Mr. Trump..." Thank you, Mr. Jenkins, for confirming what we have been saying all along.
Has Anyone Ever Leaked So Much To So Little Effect? [Scroll down] First, as the world's leading nuclear powers, we have an interest in avoiding nuclear proliferation and catastrophic war. Second, Islamic terrorism poses a problem for both us and the Russians; it is actually worse for them. In principle, we should be able to work together, to some degree, on this issue. Third, China is aggressive and expansionist in the Far East. Russia shares our interest in containing Chinese ambitions. So it is entirely appropriate that our leaders should seek common ground with the Russians, where possible, in pursuit of our national interests. George W. Bush did it, Barack Obama did it, and Donald Trump is doing it. The main difference between Obama and Trump is that Obama was a pushover for Putin, and Trump isn't.
In the 'Russia' Investigation, Democrats, Spooks and Media Have Most to Fear. The notion that Russia "hacked" the American election — to the extent that it changed the outcome — never made any sense. A fever dream cooked up by Sore Loser Hillary and her malignant consigliere, John Podesta, it began its demonic life as a way to explain Mrs. Clinton's astonishment and anger at losing an election all her media buddies told her was in the bag, and for which she felt sure the fix was in. It wasn't until the day of the vote, when the New York Times and Nate Silver got the spanking of their lives, that the roof finally conked her on the noggin. Those of us who habitually smell rats knew right off that there was nothing to it. But from that night forward, the Clintons, the Leftist media and the Democrats have been pounding the notion that, somehow, the Russians affected the election and that Trump is corrupt, morally unfit, an imbecile and an embarrassment to America.
Forget What You Hear: Our Narcissist President Is Winning. I first became aware of Donald Trump in the late seventies. I was not impressed. In fact, I didn't like him. I thought he was a braggart and a man who went out of his way to disrespect women. I wouldn't have said so at the time, but he was clearly a narcissist. Growing up in an Italian neighborhood in the Bronx, I have been around men like him all my life. They're going to do this; they're going to do that. They have this; they have that. I took him to be a person so full of himself that his company would be unbearable. I didn't give him much hope of winning the presidency, either, but as election day neared, friends would ask what I thought a Trump presidency would look like. [...] In any case, while I didn't hold out much hope of Trump winning the election, I wasn't exactly terrified of a Trump presidency.
Chris Cuomo to GOP Rep Sean Duffy: There Is No Proof of No Evidence of Trump-Russia Collusion. Friday [5/19/2017] on CNN's "New Day," host Chris Cuomo and Rep. Sean Duffy (R-WI) went back and forth on whether or not there was the existence of evidence that President Donald Trump's 2016 presidential campaign and Russia. While Duffy maintained there was no evidence of collusion, Cuomo insisted Duffy offer proof there was no evidence of collusion.
Trump under attack (from all sides). For lots of Trump backers, absolutely every single thing he has done since occupying the Oval Office is understandable. Those millions who voted for him never expected or wanted him to behave like any other candidate, or president. He was expected to break some glass, and turn convention on its head. That was his appeal. They knew he'd make mistakes. Polling shows they really don't care when he does. [...] Absolutely none of his voters care about his tax returns; they're delighted he might even be able to hold off the feds and they wish they could, too.
Guess Who Barack Obama Idolized When He Attended Harvard. [T]he Left worshiped Donald Trump. Then they didn't. All Donald Trump needed to do to get the Left to turn on him is not be a Democrat.
What Crime Would a 'Special Prosecutor' Prosecute? Readers of these columns will recall that I am a naysayer on the constitutional chimera interchangeably called a "special prosecutor" or an "independent counsel." I won't rehash all the arguments yet again. Suffice it to say there is no such thing as a prosecutor who exercises prosecutorial power independent of the executive branch. Were the Trump administration to cave in to media-Democrat pressure and appoint a "special prosecutor," that lawyer would be chosen by the Trump Justice Department and answer to the president. As night follows day, the next line of politicized attack would be that President Trump had rigged the investigation by choosing a crony to make the scandal disappear.
Democrat Ivanka Trump to determine the fate of U.S. Global Warming policy. El Presidente Trumpo is leaning towards getting the U.S. out of our global warming treaties, BUT he might reconsider after he hears from his favorite Democrat in the world — his daughter Ivanka Trump. [...] What's odd is that he promised he would stop all Global Warming schemes during the campaign, but he's putting the policy in the hands of a woman he knows believes in Global Warming, AND met with Al Gore about it!!
Report: Jared Kushner Didn't Disclose $1 Billion in Loans, Investment Ties to Goldman Sachs and George Soros. President Trump's son-in-law and senior adviser Jared Kushner didn't disclose his part ownership of a real-estate finance startup known as Cadre, according to a Wall Street Journal review of Kushner's securities and other filings. The Journal notes that Kushner's Cadre stake "means the senior White House official is currently a business partner of Goldman Sachs Group and billionaires including George Soros and Peter Thiel." The Journal also reports that Kushner didn't disclose a number of loans "totaling at least $1 billion, from more than 20 lenders," on properties and companies he co-owns; and Kushner "has also provided personal guarantees on more than $300 million of the debt." An analysis of the debt on these assets "found ties to a broad swath of U.S. and foreign banks, private-equity firms, real-estate companies and government-owned lenders."
Jared Kushner left a lot off his financial disclosure. Jared Kushner failed to disclose his ownership of a real estate startup linked to Goldman Sachs and George Soros, according to a report Tuesday [5/2/2017]. Kushner, President Trump's son-in-law and top adviser, didn't note on his government financial disclosure form that he is a part-owner of real estate finance firm Cadre, which matches investors with real estate projects, the Wall Street Journal reported. Cadre's other investors include Goldman Sachs, billionaire and top Democratic donor Soros and PayPal co-founder Peter Thiel. Kushner also didn't disclose at least $1 billion in loans from more than 20 lenders, as well as various properties and companies he partly owns, according to the Journal, which reviewed securities and other filings.
Trump has been sued 134 times in federal court since inauguration. President Trump, who has struggled to press his agenda in Washington but has shown a knack for unsettling opponents and triggering protests, has also become an unprecedented lightning rod for federal lawsuits filed by plaintiffs across the country seeking court relief on an unusually broad array of issues. Trump has been sued 134 times in federal court since he was sworn into office, according to a Globe tally based on federal court databases, nearly three times the number of his three predecessors in their early months combined.
Ivanka Trump's uncomfortable embrace of refugees. Ivanka Trump, already under growing fire from some in the conservative camps who think she's exerting too much influence over dad Donald, is now calling for the White House to open doors to Syrian refugees. Conservatives and border control advocates are quite right to be concerned. Ivanka's soft stance on refugees would seem a direct conflict with President Donald Trump's campaign promises to crack down on borders — and particularly, on the entrance of refugees from terror-tied nations who could prove a national security danger to American citizens.
Left-Leaning Ivanka Becoming Donald Trump's Problem Child. Ivanka Trump's left-of-center positions are causing trouble for President Trump. Many passionate supporters of Trump didn't like it one bit when he gave her a prominent advisory role in his government. Both the "alt-right" and actual conservatives feared she would push her farther left on a host of pivotal issues, including on the Planned Parenthood funding battle and the Syrian migrant security issue.
Shep Smith: 'Fox News Cannot Confirm Judge Napolitano's Commentary'. With all the attention on Fox News right now because of a report from Judge Andrew Napolitano about surveillance on Trump being conducted by British intel agency GCHQ, it didn't take long after President Trump's presser for Shep Smith to respond on Fox. GCHQ is outraged that the White House shared this report, and when the president was confronted about his tweets today, he said, "You shouldn't be talking to me, you should be talking to Fox." When Sean Spicer was asked about whether the White House apologized today, he indicated there was no apology and said, "I don't think we regret anything."
Russian Bank Claims Trump Server Story May Have Been a Hoax. Shortly before the 2016 election, the anti-Trump media treated as a political bombshell a story that a Russian bank purportedly had communications with an email server tied to Trump's business empire. The FBI concluded last fall that there was likely an innocuous reason for the "odd stream of activity," but some in the media kept clinging to the narrative, in hopes that a smoking gun would emerge to blow their RussiaGate conspiracy theory wide open. As recently as last week, CNN reported that federal investigators and computer scientists were still examining whether there was a server connection between the Trump Organization and Alfa Bank. According to a new report in Circa News, Alfa Bank has told authorities that the mysterious communications have resumed — and that they have evidence it could be "the work of a hacker trying to create a political hoax." They have asked the Justice Department to investigate, and have pledged to cooperate fully.
DOJ sends wiretap materials to congressional investigators. Justice Department officials delivered materials to the House and Senate Intelligence Committees on Friday in connection to President Trump's claim that the Obama administration had his campaign headquarters wiretapped. "The Department of Justice has complied with the request from leaders of the House and Senate Intelligence Committees and Judiciary Committees seeking information related to surveillance during the 2016 election," Justice Department spokeswoman Sarah Isgur Flores told CNN. Investigators on both committees are currently working to determine whether evidence exists to substantiate Trump's claim. The chairmen of both committees said separately earlier this week that they have yet to find proof that would corroborate the allegations coming from the White House.
Did Obama spy on Trump? Sources have told me that the British foreign surveillance service, the Government Communications Headquarters, known as GCHQ, most likely provided Obama with transcripts of Trump's calls. The NSA has given GCHQ full 24/7 access to its computers, so GCHQ — a foreign intelligence agency that, like the NSA, operates outside our constitutional norms — has the digital versions of all electronic communications made in America in 2016, including Trump's. So by bypassing all American intelligence services, Obama would have had access to what he wanted with no Obama administration fingerprints. Thus, when senior American intelligence officials denied that their agencies knew about this, they were probably being truthful. Adding to this ominous scenario is the fact that three days after Trump's inauguration, the head of GCHQ, Robert Hannigan, abruptly resigned, stating that he wished to spend more time with his family.
Judge Napolitano: Three sources tell Fox News that Obama used the British NSA to secretly surveil Trump. Via the Daily Wire, that's quite a claim. The president of the United States using a foreign intelligence agency to spy on the other party's presidential candidate, for the obviously illicit purpose of erasing any domestic paper trail of his actions? "Scandal of the decade" material. And yet it falls not to the Fox News investigative team to break the story but to legal commentator Andrew Napolitano — and not on one of Fox's marquee shows like O'Reilly or Tucker but on Fox & Friends and Martha MacCallum's program.
The Russia Insinuation Collapses. he ignominious collapse of the Democratic claims and insinuations that Donald Trump was improperly connected to the Russian government has de-escalated the Democrats' campaign against the president — from a frenzied assault seeking impeachment and removal for a cause to be named later, to guerrilla war. Russian collusion has vanished down the same deep hole as the charges of sexism, racism, and a will to autocracy.
How John Brennan and Some Brits Tried to Tip the Election to Hillary. Christopher Steele is the former British spy who compiled the "garbage" dossier on Trump-Russia ties, as Bob Woodward put it. That garbage dossier was cravenly and opaquely hyped by the American press until BuzzFeed released it, at which point the public could see its transparently ludicrous and uncorroborated contents. The release of the dossier exposed the vague, heavy-breathing allusions to it by CNN and the "intelligence community" as nothing more than an idiotic smear against Trump. Steele had been zealously working to blow up Trump's candidacy. Such was his anti-Trump fervor that he furnished his late-hit services to the Democrats for free. According to a story planted in the United Kingdom's Independent, "at the end he was working without pay."
Judge Napolitano: Obama used British spy agency to spy on Trump. Ok this is a pretty incredible story from Judge Napolitano on Fox News. He alleges, via three intelligence sources who've come forward to Fox News, that Obama actually used the GCHQ — the British Intelligence Agency who he says has 24/7 access to the NSA's database — to get spy on Trump's phone calls during the campaign and his transition period to president. [Video clip]
Judge Nap: Obama 'Went Outside Chain of Command,' Used British Spy Agency to Surveil Trump. The Justice Department on Monday asked lawmakers for more time to gather evidence related to President Trump's claim that former President Obama ordered wiretaps on Trump Tower's phones during last year's presidential campaign. The House Intelligence Committee said it would give the Justice Department until March 20 to comply. Current and former administration officials have been unable to provide any evidence of the Obama administration wiretapping Trump Tower, yet the president's aides have been reluctant to publicly contradict their boss.
Judge Napolitano says that British Intelligence provided Obama admin with surveillance data on Trump Tower phone conversations. In a startling segment on the Fox News program The First 100 Days, Judge Andrew Napolitano told viewers that there will be no paper trail linking President Obama to any surveillance of telephone calls in Trump Tower during the presidential transition period. (President Obama called it "wiretapping" even though no wires were involved.) The reason is that British intelligence had access to NSA surveillance data — which captures every phone call in the United States — and were able to provide such intelligence to President Obama without a FISA court warrant or any other paper trail that would expose an American intelligence agency that used the same NSA data.
Former Democrat Congressman on Trump Wiretap Claims: 'It Happened to Me'. Former Ohio Democrat Congressman Dennis Kucinich defended President Donald Trump's claims about being wiretapped by the Obama administration during the 2016 presidential election. "It's important because there are people who are saying about President Trump's claim, 'Oh, it could never happen.' Well, frankly, it happened to me," Kucinich told Fox News on Friday [3/10/2017]. Also on Friday, the former congressman penned an article on Fox News describing the incident — a phone call in his congressional office from a foreign leader had been tapped in 2011, and he listened to a recording of it in 2015.
Where Does FISAgate End Up? Probably Nowhere. If, as Democrats suggest, the Russian interference was significant and there was evidence of Trump-campaign collusion in it, it would have been irresponsible for the Justice Department and the FBI not to investigate, including by monitoring communications under the Foreign Intelligence Surveillance Act (FISA). But if, as Republicans counter, Russian interference was immaterial (some say nonexistent), and there was no real proof of Trump-campaign collusion in anything nefarious, then the "hacking conspiracy" was just a pretext for the incumbent administration to investigate the opposition party's political campaign, a stunning abuse of power. Where does this all end up? I suspect it goes nowhere.
Trump accuses Obama administration of wiretapping Trump Tower phones. President Trump made a startling claim Saturday [3/4/2017] that former President Barack Obama had Trump Tower phones tapped in the weeks before the November 2016 election. In early Saturday morning tweets that began at 6:35 a.m., the president said the alleged wiretapping was "McCarthyism" and "Nixon/Watergate." "Terrible! Just found out that Obama had my 'wires tapped' in Trump Tower just before the victory. Nothing found. This is McCarthyism," Trump wrote.
Is There More to the Flynn Story? The American media is ignoring a story from London about the abrupt resignation of Robert Hannigan, the head of Britain's highly secretive Government Communications Headquarters (GCHQ), which is the codebreaking equivalent of the U.S. National Security Agency (NSA). Hannigan's resignation on January 23 surprised everyone, with only a few hours' notice provided to his staff. [...] The Hannigan resignation is not occurring in a vacuum, and some in the large and highly networked retired intelligence community have come to believe that it is connected to the investigation and downfall of Trump's first national-security advisor, Lt. Gen. Michael Flynn.
Why accusations about Trump and the Russians will go nowhere. The recent controversy surrounding President Trump and his supposed ties to Moscow has always been a non-starter for me. We are supposed to believe the word of unnamed intelligence officials ensconced in the Beltway suburbs without a drop of firsthand experience, busy leaking to reporters because they are upset about the result of the last election? Already there's a motivation problem right there. But I have my own experience that makes me think the whole thing is nonsense except as a partisan setup.
White House Pushes Back on Issa: A Special Prosecutor For What? Over the weekend former House Oversight Committee Chairman Darrell Issa, who aggressively investigated the Obama administration on a number of issues, called for a special prosecutor to look into alleged ties between the Russian government and the Trump campaign. [...] Monday [2/27/2017] the White House hit back on that assertion, saying months of media reports have turned up nothing substantial and therefore an outside investigation in unnecessary.
Rand Paul: Stop 'Hysteria of a Special Prosecutor' on Trump-Russia Probe. Monday [2/27/2017] on the "The Mike Gallagher Show," while discussing the investigations into Russia's hacking during last year's presidential election, Sen. Rand Paul (R-KY) said, [...] "Law enforcement ought to look into whether it happened. I wouldn't really want a special investigator if all we're hearing is gossip in the media and nobody's presented any proof that there have been connections or that any law has been broken for that matter."
House Intelligence chairman says he hasn't found evidence of Trump team's ties to Russia. Congressional Republicans are divided over how aggressively to pursue the allegations that President Trump's associates had contact with Russia, with some lawmakers calling for a full-scale look at the former national security adviser's communication with Russia while others say there is no evidence of such contacts. House Intelligence Committee Chairman Devin Nunes (R-Calif.) made clear that he was more interested in nefarious reports published in the news media than in alleged contacts between the Trump team and Russian officials, saying the focus of the House's probe would be on information leaks — which he called "major crimes."
Leaked Audio Reveals Anti-Trump Forces Manufacturing Hostile Town Hall. Leaked audio from an anti-Trump protest group meeting reveals activists with anti-Trump group Indivisible plotting how to best manufacture a hostile environment at a town hall with Republican Sen. Bill Cassidy in Breaux Bridge, Louisiana on Friday [2/24/2017]. The audio, obtained by local radio station KPEL, reveals a coordinated effort to create the public impression that Cassidy's support for Trump is unpopular with his constituents. The activists, who describe themselves as liberals in the audio, can be heard strategizing how to best turn a local town hall into a political victory.
Obama Lawyers Unite to Launch Legal Attacks Against Trump Administration. Lawyers who worked with former President Barack Obama have formed a nonprofit called United to Protect Democracy, which aims at filing lawsuits against President Donald Trump's administration. The group plans to investigate Trump, give information to the press to build the pressure for Congressional investigations, and eventually file lawsuits, Politico reported on Thursday [2/23/2017]. The leader of the group and former associate White House counsel Ian Bassin warned that democracies don't end quickly. He said they often "decline over a period of years that happen through a series of much smaller steps," in an apparent suggestion that the Trump administration would contribute to that decline.
Why Are Trump's Approval Numbers Low? Ask The Haters. There several conflicting polls out about President Trump's approval rating. But one thing is clear in all of them: The only reason his numbers are low is because Democrats despise him. The latest approval numbers come from the Pew Research Center, which found that Trump's overall approval rating in his first month in office is just 39%. That's far below every other president since Reagan.
Senate Dems want details on Trump's use of personal smartphone. A pair of Senate Democrats voiced concerns about reports that President Trump is using a unsecured personal smartphone, arguing it's a security risk. Sens. Claire McCaskill (Mo.) and Tom Carper (Del.) — two Democrats on the Senate Homeland Security and Governmental Affairs Committee — released a letter on Monday to Defense Secretary James Mattis asking for details on the president's phone. "The national security risks of compromising a smartphone used by a senior government official, such as the President of the United States, are considerable," they wrote in the letter.
The Threat to the Integrity of an Independent Judiciary. President Trump's executive order on refugees was temporarily halted by a federal judge in Seattle without much in the way of legal reasoning, and it will shortly be ruled on again by a three-judge panel of the Ninth Circuit, one of whom is an Obama appointee, another a Carter appointee. If the rule of written law is the point of judicial independence, it shouldn't matter who appointed the judges, since their independence should produce uniform results regardless of their political leanings. And if you believe this is the way courts actually work, then naturally it is outrageously improper for prominent political figures to harangue the courts in an effort to influence their decisions. Trump has been doing a lot of haranguing.
Trump ally: Reince Priebus in over his head, should be canned. An ally to President Trump said the White House chief of staff is "in way over his head" and should be dumped. Christopher Ruddy, CEO of Newsmax Media and a member of Trump's Mar-a-Lago resort in Florida, said Sunday that Reince Priebus is the "problem." "I think there's a lot of weakness coming out of chief of staff," Ruddy told CNN's "Reliable Sources." "I think Reince Priebus [is a] good guy, well-intentioned, but he clearly doesn't know how the federal agencies work."
The Consequences of Trump's Bungled Immigration Order. On Thursday [2/9/2017], the Ninth Circuit federal appeals court upheld a restraining order against Donald Trump's executive order temporarily halting refugee processing and travel from seven Muslim-majority countries. The Ninth Circuit is notoriously liberal, and its decisions are overturned 80 percent of the time by the Supreme Court, post-certiorari. This latest decision is particularly egregious. The court's reasoning is unsound, the authority it has arrogated to itself is unprecedented, and the consequences to national security are potentially serious. The Supreme Court has good reason to overturn the Ninth Circuit's ruling. But the fact that the White House finds itself requiring rescue by the high court demonstrates just how badly the administration fumbled its opening gambit.
CNN mocks Trump's list of terror attacks the media is hiding. Earlier Trump said that the media was hiding a bunch of terror attacks because of their left-wing bias, and afterward Sean Spicer promised that they would supply the media with a list of these attacks. Not surprisingly, the list includes attacks widely reported for days and days, and multiple spelling errors, because they take their job seriously. The Muslim collaborators at CNN mocked the list, thereby clearly revealing themselves to be secret ISIS operatives: [...] There's always a kernel of truth, but Trump has to exaggerate wildly, delegitimize the honest criticism, and make us all look stupid in the process.
Mr. Trump doesn't seem to understand that stuff like this is why we voted against Hillary Clinton.
Vice-President Mike Pence says anti-LGBT discrimination has 'no place' in Donald Trump's administration. [Vice-President Mike] Pence told ABC News anchor George Stephanopoulos during an interview aired Sunday that 'in the patriot's heart, there's no room for prejudice'. The White House on Tuesday [1/31/2017] released a statement saying an executive order signed by Barack Obama to protect LGBT federal workers against discrimination would remain in place.
Ivanka Trump Promotes Gay and Transgender Rights. She's been labeled the "Daughter-in-Chief" by the tabloids and, in this case, it appears to be the truth. According to several news accounts that have not been denied or debunked, Ivanka Trump and her husband, Jared Kushner, persuaded President Donald Trump to retain an executive order from the Obama administration that prohibits companies from doing business with the federal government unless they hire and promote open homosexuals and transgendered people. The so-called "transgendered" are people confused about their "gender identity" who may be in various phases of transition to the opposite sex, in some cases involving gender mutilation and surgery. In short, they are DNA deniers, a category of people considered to be engaged in immoral and perverted conduct by the standards of traditional morality and religion.
Trump Keeps Obama's Top Gay Rights Envoy at State Department. The Trump administration has decided to keep President Barack Obama's top advocate for gay rights issues at the State Department in defiance of evangelical groups who called for his immediate expulsion, Foreign Policy has learned. Randy Berry, the Special Envoy for the Human Rights of LGBTI Persons, is continuing "in his role under the current administration," a State Department spokesperson said on Monday [2/13/2017].
Judge Who Will Rule on Trump Travel Order Won ACLU 'LGBT Award'. Judge Michelle T. Friedland, who is on the three-judge panel that will rule on President Donald Trump's executive order aimed at stopping terrorists from traveling to the United States, won the ACLU of Southern California's LGBT Award in 2009, according to the Democratic Sen. Patrick Leahy of Vermont. "She received the President's Pro Bono Service Award in 2013 from the State Bar of California and the LGBT Award from the American Civil Liberties Union of Southern California in 2009," Leahy said in the U.S. Senate on April 10, 2014, stating his approval of Friedland's confirmation to the U.S. Court of Appeals for the 9th Circuit.
Stay Alert, America: The Worst Is Yet To Come. It's early days yet, but President-elect Trump — like his predecessors — has already begun to dial back many of the campaign promises that pledged to reform a broken system of government. The candidate who railed against big government and vowed to "drain the swamp" of lobbyists and special interest donors has already given lobbyists, corporate donors and members of the governmental elite starring roles in his new administration. America, you've been played.
Trump Says White House Leaks Coming From Obama Admin Holdovers. President Donald Trump pointed the finger at Obama administration holdovers at the White House and National Security Council for leaking information about private phone conversations he had with leaders of Australia and Mexico.
Report: About 900 State Dept. Officials Sign Dissent Memo on Executive Order. About 900 State Department officials have reportedly signed on to a memo disagreeing with the Trump administration's refugee ban and block of people entering the country from a handful of Muslim-majority nations despite White House warnings that they should fall in line.
Should Sally Yates Be Indicted? No matter what your attitude about the substance of Donald Trump's executive order temporarily suspending visas from seven countries involved in terrorism, that an acting attorney general took it upon herself to disobey it is nothing less than the deliberate subversion of the rule of law in the United States of America. She deserves to be indicted — or at least be disbarred. Not only did Sally Yates announce she would not enforce the order, she gave absolutely no legal justification for her inaction.
Judicial Watch Statement on the Firing of Acting Attorney General Sally Yates. President Trump is to be commended for upholding the rule of law in firing Yates for her politicization of the Justice Department.
Trump fires acting AG for refusing to defend travel ban. President Trump fired acting Attorney General Sally Yates on Monday just hours after she defied him by refusing to have the Justice Department defend his controversial executive order blocking people from seven Muslim-majority countries from entering the United States. The White House acted swiftly, issuing a statement declaring that Yates, who was appointed by former President Obama, had "betrayed" the U.S. government. Trump selected Dana Boente, U.S. attorney for the Eastern District of Virginia, to replace Yates until his attorney general nominee, Sen. Jeff Sessions (R-Ala.), is confirmed by the Senate. That vote could occur this week.
Why Yates Had to Go. Like most Democrats, Yates objects to the president's executive order. Fair enough. But she is not a political operative, she was a Justice Department official — the highest such official. If her opposition to the president's policy was as deeply held as she says, her choice was clear: enforce the president's policy or quit. Instead, she chose insubordination: Knowing she would be out the moment Senator Sessions is confirmed, she announced on Monday night that the Justice Department would not enforce the president's order. She did not issue this statement on the grounds that the order is illegal. She declined to take a definitive position on that question. She rested her decision, rather, on her disagreement with the justice of the order.
Trump's PATCO Moment. President Donald Trump's firing of a politically motivated official — now-former Acting Attorney General Sally Yates, for her refusal to enforce the laws of the nation and carry out the administration's policy — harkens back to a previous president who faced a similar crisis at the beginning of his administration. CNN has been framing this in its lower-third chyron throughout the evening as "the Monday Night Massacre" — a reference to President Richard Nixon's firing of both his Attorney General and Deputy Attorney General when they refused to get rid of a special prosecutor who was investigating him — with the intent to paint Trump as an off-the-rails tyrant. But even Watergate journalist Carl Bernstein, appearing on CNN late Monday night [1/30/2017], rejected the comparison his own network CNN was making to the Nixon administration's "Saturday Night Massacre."
High school teacher stages mock assassination of Trump. A Texas high school art teacher has been placed on administrative leave after video surfaced showing her "shooting" President Donald Trump inside a classroom while screaming, "Die!" The Secret Service field office in Irving tells me they are aware of the incident, but declined further comment.
Fears of diplomatic row as Donald Trump 'won't be lectured' by Prince Charles on climate change during visit. Palace aides have been warned Donald Trump will not be "lectured" by Prince Charles about climate change during his visit to Britain, according to reports. The President is due to visit the UK in June and be welcomed by members of the royal family. But according to the Sunday Times, fears of a diplomatic row during the trip are mounting.
Secret Service spouses circulate petition calling for agent's firing. The spouses of several Secret Service agents are circulating a petition calling for the immediate removal of the special agent who wrote on Facebook that she would rather face "jail time" than take "a bullet" for President Trump. The spouses, who requested anonymity out of fear of retribution against their husbands and wives, are speaking out against the special agent in question, Kerry O'Grady, because they say they no longer have faith that she can lead the Denver district office where their spouses work.
Secret Service agent who suggested she won't take bullet for Trump on paid leave, report says. A Denver-based Secret Service agent who reportedly suggested that she would rather go to jail than take a bullet for President Trump has been placed on administrative leave. The Washington Examiner reported Friday that Kerry O'Grady, the special agent in charge of the Secret Service's Denver district, was placed on paid leave during an investigation.
Secret Service agent who suggested she wouldn't take 'a bullet' for Trump expelled from group for retired agents. The premier association for former U.S. Secret Service agents Wednesday expelled the special agent who suggested she wouldn't take "a bullet" to defend President Trump because she considered him "a disaster" for the country.
Secret Service vague on action taken against agent who suggested she wouldn't take 'a bullet' for Trump. The Secret Service is weighing how far to take its disciplinary action against a senior special agent who suggested she would rather do jail time than take "a bullet" for President Trump. The agency on Tuesday said it has taken "appropriate action" against Kerry O'Grady, who is the special agent in charge of the Denver office, but has not indicated whether she has been placed on administrative leave, which would be forced leave with pay, a common first disciplinary step when the Secret Service is taking a behavioral incident seriously.
Senior Secret Service Agent Says She Would Allow Trump's Assassination. Since when does a Secret Service agent refuse to protect the president which is their chief duty? She needs to be fired immediately so she can start a new career [...]
Secret Service Agent Implies She Wouldn't 'Take a Bullet' for Trump. It's Now Backfiring, Big-Time. A senior U.S. Secret Service agent is under scrutiny after she shared several controversial Facebook posts excoriating President Donald Trump, at one point implying she would rather go to jail than "take a bullet" for Trump. The Secret Service told The Washington Examiner that they are "looking into" the posts made by Kerry O'Grady, the special agent in charge of the USSS Denver district. In an October Facebook post, O'Grady appeared to openly defy the Hatch Act, which bars some federal employees from advocating for a partisan political party, group or candidate, and proclaimed her support for Hillary Clinton.
Senior Secret Service agent suggests she wouldn't take 'a bullet' for Trump. A senior U.S. Secret Service agent posted Facebook condemnations of President Trump during the past seven months, including one in which she said she wouldn't want to "take a bullet" for him. She explained herself saying she viewed his presidential candidacy as a "disaster" for the country, and especially for women and minorities.
The Editor says...
The men and women of the Secret Service are supposed to be anonymous and apolitical. And in any event, the President's bodyguards should all be men, because a man who hides behind a girl when the bullets start flying is not a man at all.
The first (and frivolous) lawsuit against President Trump. If you're in the mood for a good chuckle, try reading the first lawsuit filed against the new president since he was sworn in. The man hasn't even unpacked his collection of red silk ties... and already he stands accused of corruption while in office. Predictably, the plaintiffs are a clique of law professors serving as "arm candy" for a liberal group called Citizens for Responsibility and Ethics in Washington (an oxymoron, to be sure). Their pleadings read like a dime novel. Or a comic book.
Enough already: Back-of-the-napkin inaugural crowd analysis. I had the privilege of attending the Trump inauguration, and I can assure you that there was no shortage of attendees. While the MSM, spearheaded by The New York Times, attempts to spread half-truths and even full lies, they will also debunk their own garbage from time to time. CNN was kind enough to release a gigapixel of the crowd, which shows a sea of humanity in the non-ticketed area as far back as allowed. [... But] Hillary Clinton eked out an 86.8% margin of victory in the District of Columbia to take its three electoral votes on election night. [...] Had she won, it is likely that a vast majority of those 282,830 bloated government-dependent voters would have spilled into the National Mall to see her ceremony, just as they did for Barack Obama on two occasions.
Notice the Transparently Absent — It's Who Was Not at The White House That Also Tells a Story. Yesterday [1/23/2017] President Trump held a day of meetings with corporate business titans, CEO's, and also skilled labor union officials. However, two men were transparently absent from both group meetings: U.S. CoC President Tom Donohue, and AFL-CIO President Richard Trumka. The reasoning for their absence is more sunlight upon the UniParty swamp. Insofar as politics in DC is a false choice assembly of two political parties sharing the same goals and ideology, the uniparty, so too are Donohue and Trumka two sides of the same coin.
A Smithsonian Gift Shop Sells Anti-Trump and Pro-Hillary Paper Dolls. The museum strives for an 'equal opportunity' apolitical approach. Maybe it should strive harder.
Trump told leaders 'illegals' cost him popular vote. President Trump's first White House meeting with congressional leaders was, by all accounts, a cordial affair. But Trump apparently couldn't resist taking a jab across the aisle, telling the gathering of bipartisan leaders that he'd lost the popular vote only because of rampant voter fraud by "illegals," according to a pair of sources familiar with the conversation.
Ethics Group To Sue Trump, Claiming Constitutional Violations. A group of ethics experts and constitutional scholars plans to file a lawsuit against President Donald Trump on Monday morning, claiming that Trump is breaking the law by allowing his hotels and other businesses to profit from foreign governments. Trump was pressed to divest his business holdings before he took office, but did not, instead passing day-to-day operations to his two adult sons. The group, the Citizens for Responsibility and Ethics in Washington, claims that Trump is breaking the Constitution's foreign emoluments clause.
Interior Department told to stop tweeting after unflattering retweets about Trump. The Interior Department reactivated its official Twitter accounts early Saturday after an abrupt shutdown following shares of two tweets during the inauguration the agency considered unsympathetic to President Trump. National Park Service spokesman Thomas Crosson, whose agency retweeted the offending tweets, apologized on Twitter for the "mistaken RT's from our account," referring to retweets.
President Donald Trump's Inauguration Speech Was A Declaration Of War. President Donald J. Trump did not walk to the microphone in front of the Capitol today to salve wounds or mend hurt feelings. There were no calls for unity or attempts to bridge the political divide. After being sworn in as the 45th President of the United States, Trump issued a call to arms and declared war on the ruling class.
Bill O'Reilly: Efforts to 'Delegitimize' Donald Trump 'Border on Sedition'. On Wednesday night [1/18/2017], Fox News' Bill O'Reilly condemned the Democratic politicians who argue that Donald Trump is not a "legitimate" president, saying their comments bordered on seditious conspiracy.
Judge Dismisses Cheri Jacobus "Dummy" Lawsuit Against Trump. In a decision made public Tuesday [1/10/2017], a New York judge dismissed a lawsuit filed last year against the Republican president-elect by a political strategist who said her reputation was trashed when he called her a "dummy" on Twitter.
Anti-Trump Derangement in Los Angeles Schools. As Inauguration Day nears, "Post-Traumatic Trump Disorder" is ubiquitous. Many of the president-elect's supporters "suffer" from excessive jubilance, bordering on ecstasy, while many of his detractors are wallowing in angst, panic, and rage, and the latter, PTTD group is making life miserable for children across the country. Los Angeles may be ground zero for the disorder. The United Teachers of Los Angeles — or, more aptly, the United Trump-Loathers Association — led by its radical, agenda-driven president, Alex Caputo-Pearl, is planning a major demonstration before school on January 19, the day before the new president is sworn in. The demonstrators are being instructed to launch a tweetstorm to Trump (#schooltrump) and hold symbolic shields at school sites, to show that "educators are united with our students and our communities against Trump's racially charged and anti-immigrant proposals and that we will continue to fight attempts to privatize public education."
Why Trump is spot-on about the Russians and the election. President-elect Donald Trump has recently questioned President Barack Obama's finger pointing at the Russians for election-related cyberattacks; and the current media and pundit frenzy alleging a Russian cyber-strike targeting Secretary Hillary Clinton in order to assure a Trump presidency. President-elect Trump plans to press U.S. intelligence agencies to defend their conclusions, stating, "I know a lot about hacking. And hacking is a very hard thing to prove. So it could be somebody else. And I also know things that other people don't know, and so they cannot be sure of the situation." Having worked since 1995 as a first-responder to cyber-attacks, including serving 11 years as Chief of the SEC's Office of Internet Enforcement, I whole-heartedly agree with President-elect Trump. His skepticism is not only appropriate and warranted — it's spot-on.
Hayden: Intelligence report a 'brick short of a load'. Michael Hayden, a former head of the CIA and National Security Agency, said Saturday that the newly-released intelligence report describing Russia's efforts to undermine the US election was "a brick short of a load." The report, released Friday [1/6/2017], outlines how Russian President Vladimir Putin aimed to hurt Hillary Clinton and help President-elect Donald Trump by using by "an influence campaign" which included hacking Democratic groups and figures.
Ford cancels Mexico plant. Will create 700 U.S. jobs in 'vote of confidence' in Trump. Ford is canceling plans to build a new plant in Mexico. It will invest $700 million in Michigan instead, creating 700 new U.S. jobs. Ford CEO Mark Fields said the investment is a "vote of confidence" in the pro-business environment being created by Donald Trump. However, he stressed Ford did not do any sort of special deal with the president-elect. "We didn't cut a deal with Trump. We did it for our business," Fields told CNN's Poppy Harlow in an exclusive interview Tuesday [1/3/2017].
Eichenwald: My Trump Mental Hospital Accusation Was A Joke And A "Signal" To A Source To Contact Me. In his interview with George Stephanopoulos this morning [12/20/2016] [Newsweek senior writer Kurt] Eichenwald said his accusation that Trump was in a mental hospital was really a way to respond, in a joking matter, to FOX News Channel's coverage of Hillary Clinton's health. Clinton was the 2016 Democratic nominee for president. However, he did say there was a "reporting purpose for that tweet going out." Eichenwald also said his joke, made on national cable news, was a "signal" to a source to contact him.
The Editor says...
This is a very common Democrat tactic: They will say something outrageous, and if there are any objections, follow up a few days later with, "Can't you take a joke?" Examples: [1] [2] [3] [4] [5] [6] [7] [8] [9] [10] [11] [12] [13] [14] [15] [16] [17] [18] [19] [20] [21]
Trump Is Already Ditching His Movement. Beyond Capitol Hill, Trump has stocked his staff and his cabinet with establishment fixtures and billionaires. His chief of staff is Reince Priebus, the former head of the RNC. His cabinet nominees include long-serving generals, the longest-serving governor in the history of Texas, the CEO of ExxonMobil, and a former Goldman Sachs partner. Sure, he has a sprinkling of insurgents in the ranks, but his early supporters — insiders in outsiders' clothing, such as Newt Gingrich, Rick Santorum, Mike Huckabee, Rudy Giuliani, and Chris Christie — are notable mainly for their absence. Not one has yet earned a significant place by his side. They hitched a ride on the Trump Train and were ushered off before the last stop. If Trump didn't "burn it down," he sure didn't "drain the swamp." In fact, just today Gingrich, interviewed by NPR, said, "I'm told he now just disclaims that. He now says it was cute, but he doesn't want to use it anymore." Well, how could he? Government by Goldman Sachs and ExxonMobil is government by the swamp, of the swamp, and for the swamp. This isn't a revolution, it's a thoroughly conventional changing of the guard.
Update:
Gingrich says he 'goofed' by saying Trump discarded 'drain the swamp'. Newt Gingrich on Thursday [12/22/2016] said he "goofed" by saying a day earlier that President-elect Trump had discarded his "drain the swamp" mentality. "I want to report that I made a big boo boo," the former speaker said in a video he posted online. "I talked this morning with President-elect Donald Trump. He reminded me he likes draining the swamp. I mischaracterized it the other day. He intends to drain the swamp. He even describes it as 'DTS.'"
The NeverTrump crowd is still a nuisance, and still wrong. On issue after issue, for the last 20 years or so, the bipartisan Establishment has delivered policies that were not moderate, or even safe. No rallying around the White House, or lectures about unity, for [Peter] Wehner. Instead, in a column in The New York Times, he continues his attacks on the president-elect while celebrating what he calls the "ancient virtue" of moderation. He fears that moderation is "out of step with the times, which are characterized by populist anger and widespread anxiety." He's right about the anger and anxiety. But, as usual, he's wrong in his diagnosis. The voters didn't turn on the Clinton/Bush Establishment because it was too moderate — instead, they turned on it because it was too radical.
Obama warns Trump not to overuse executive orders. With about one month to go before he leaves office, President Barack Obama gave some exit interview-type advice to his successor Donald Trump: Don't rely too heavily on executive orders. In an interview with NPR's Steve Inskeep on Thursday [12/15/2016] that aired in its entirety Monday on Morning Edition, Obama said it's preferable to work with Congress.
Psychiatric Professors Wonder If Trump Is Mentally Ill, Call For Neuropsychiatric Evaluation. Judith Herman, M.D. is a professor of psychiatry at Harvard Medical School. Nanette Gartrell, M.D., was once at Harvard Medical School, too, in an assistant professor of psychiatry role. Dee Mosbacher, M.D., Ph.D., on the other hand (read: coast), was an assistant clinical professor at the University of California San Francisco. What do they have in common? Well, these high-ranking professors in the psychiatric field have all banded together to write a letter to President Barack Obama about their concerns that President-elect Donald Trump might have a mental illness that should preclude him from the office.
The Editor says...
Where was their concern when Barack H. Obama was nominated for the presidency? Obama admits to years of marijuana and cocaine use, which could permanently impair his judgment, and he shows signs of being a raging narcissist.
Obama was never criticized for this, but...
Ex-CIA chief says Trump risks blame for an attack if he skips briefings. Former CIA director Leon Panetta said on Wednesday [12/14/2016] that President-elect Donald Trump risked being blamed after any potential attack on the United States if he refused to receive more regular intelligence briefings. U.S. officials told Reuters that Trump is receiving an average of one presidential intelligence briefing a week — far fewer than most of his recent predecessors — but that his deputy Mike Pence gets briefings around six days a week.
Obama warns Trump on briefings: 'It doesn't matter how smart you are'. President Obama urged President-elect Trump on Monday night to take as many security briefings as he can, no matter how smart he is. On Sunday [12/11/2016], Trump dismissed criticism that he gets intelligence briefings only once a week, and said he only needs to be briefed when the situation changes. "I'm, like, a smart person," he said. "I don't have to be told the same thing in the same words every single day for the next eight years."
Suddenly Obama cares about Intel Briefings. Am I to understand that the President who avoided intel briefings at an alarming rate for eight years suddenly cares about intel briefings? [...] In case you've forgotten, let me remind you. The Government Accountability Institute reported back in September 2014 that Barack Obama attended only 42.09% of his daily briefings since the day he was inaugurated. The GAI also pointed out that in 2014 alone, Obama missed 62.5% of his Presidential Daily Briefings.
Donald Trump sold all stockholdings in June, spokesman says. A spokesman for Donald Trump said the president-elect sold all of his stockholdings in June, which could help him avoid potential conflicts of interest. The announcement comes after Trump on Tuesday morning said he wants to cancel the government's order for the development of a new Air Force One, citing a $4 billion cost.
Trump sells his stake in Dakota Access Pipeline developer. Donald Trump has sold his entire stake in Energy Transfer Partners (ETP), the company overseeing construction of the controversial Dakota Access Pipeline, a Trump spokeswoman told NBC News. Trump's shares of the company created a possible conflict of interest for the president-elect, as his administration may determine the project's fate amid ongoing protests from Native Americans and climate activists. Trump has supported the 1,172-mile pipeline and broader efforts to produce more fossil fuels in the United States.
'Panic in Progressive Park' — What If Trump Is Actually Good? Reason for the panic — the dawning realization, repressed and often unrecognized though it may be, that Donald Trump may even a be a good president, possibly a great one. Then what? If anything could cause panic among liberals, progressives, and the media (apologies for the redundancy), that's it.
The latest parlour game — what will Trump do with his business? In the 19th century, "parlour games" (yes, that's how it was spelled) were a popular way for gentlemen and ladies of leisure to amuse themselves. The games often involved suspense, intrigue and a healthy dose of conjecture. And so it remains today among the Washington elite as they speculate on what President-elect Donald Trump will do on December 15 when he reveals how he intends to avoid conflicts of interest by "leaving my great business."
Where are Trump Foundation Funds Actually Going? A new 2015 IRS filing calls into question just how charitable the Donald J. Trump Foundation really is. The forms, posted late Monday [11/21/2016] on nonprofit tracking site GuideStar and first discovered by the Washington Post, reveal the foundation has admitted to violating the legal ban on "self-dealing," meaning the charity's funds were improperly used by an insider, their friends or family members. Representatives for the foundation checked "yes" on the section of the form asking whether assets had been transferred "to a disqualified person" in 2015 and in previous years. In the case of the Trump Foundation, a disqualified person could include Trump himself, people close to him or even his businesses.
Experts: Trump's Conflict-of-Interest With His D.C. Hotel Raises Impeachment Concerns. Steven Schooner, a law professor at George Washington University, raised serious legal concerns about Donald Trump and his ongoing interest in Trump International Hotel in Washington D.C., especially after a report in The Washington Post that said foreign diplomats felt pressure to stay there. He's not the only legal expert to raise constitutional questions. "Why wouldn't I stay at his hotel blocks from the White House, so I can tell the new president, 'I love your new hotel!' Isn't it rude to come to his city and say, 'I am staying at your competitor?"one Asian diplomat told The Post. During an appearance on MSNBC Monday morning, Schooner not only raised issues about the ethics of the situation, but also said that Trump could have an "impeachment issue because you have foreign states basically paying money to the Trump Organization by using their hotels."
The Editor says...
Can a president be impeached for perceived rudeness? Or because he owns a business? Who was the last president who owned a business at the time he was sworn in?
The president's hesitance to live in his residence: Where's Dr. Seuss when we need him?
Will Donald Trump live in the White House? Donald Trump is planning to spend as little time in the White House as possible, according to reports. The president-elect's preference for his $100 million New York penthouse has called into question who will pay for the 90-minute commute to the capital by helicopter. During the campaign trail, the businessman would often fly back late at night to his gold-bedecked luxury home in Trump Tower so he could wake up in his own bed. The New York Times claimed that Trump is already having discussions with advisers about how many days of the week he is required to spend in the White House.
---


Back to the Home page