Vice-President Joe Biden may yet run for the office of President. Here is some background information about him.

On this page:

Gaffes and baggage

Gaffes and baggage while Vice President.

Vice-President Biden debates Congressman Paul Ryan.


---
News and commentary about former Vice-President Joe Biden
Overview:
Hunter Biden: The Most Comprehensive Timeline. [Scroll down] Up until that time, Hunter Biden had been employed as a consultant to the Delaware bank MBNA, with a $100,000-a-year retainer, according to the New York Times. The bank hired him fresh out of law school and in less than two years promoted him to senior vice president. Biden also separately worked as a lobbyist, founding the firm Oldaker Biden & Belair and working as a lobbyist until 2008, where he represented mostly universities and hospitals but also drug companies such as Achaogen Inc. and Pulmatrix Inc., and the music-sharing company Napster and online gambling sites. Hunter says he has never lobbied his father on any client matter. But the potential for the appearance of a conflict of interest allegedly troubled the senator at one point. According to court records in a lawsuit filed by former business partner Joseph Lotito, Joe Biden wanted Hunter Biden to find a different line of work because his presidential campaign would be greatly complicated if he remained the father of a Washington lobbyist.
Documents Released by Ukrainian General Prosecutor's Office Reveal Millions Funneled to Hunter Biden and the John Kerry Family. Documents released this evening [11/13/2019] tie millions from foreign sources to the Hunter Biden, Devon Archer and John Kerry and his family! Documents reportedly leaked from the Ukrainian General Prosecutor's office show complex money transfers from foreign sources into former President Obama's Vice President and Secretary of State's families[.] [...] According to counter intelligence in Latvia around $4 million was obtained by Burisma Holdings Limited which was then transferred to Hunter Biden and Devon Archer[.]
Ukrainian Officials Release Records of 46 Payments to Hunter Biden from Burisma Holdings, 38 Payments were for $83,333 Totaling Over $3.1 Million. New memos released last week reveal Burisma Holdings, Hunter Biden's Ukrainian natural gas company, pressured the Obama State Department to help end the corruption investigation during the 2016 election cycle just one month before then-Vice President Joe Biden forced Ukraine to fire Viktor Shokin, the prosecutor probing his son Hunter. Joe Biden bragged about getting Viktor Shokin fired during a 2018 speech to the Council on Foreign Relations. The media immediately covered for Biden and said his targeting of Mr. Shokin was totally unrelated to the prosecutor's corruption investigation into Hunter and Burisma Holdings. New memos released because of a FOIA lawsuit filed by award-winning investigative reporter John Solomon show Burisma Holdings contacted the Obama State Department several times during the 2016 election to discuss ending the probe.
The Impeachment Pantomime. There is another half to this burlesque. While Schiff and his House colleagues chicken-scratch for something, anything that may justify a formal impeachment, a clear, documented record emerges of Joe Biden's official interventions in Ukraine in behalf of Burisma Holdings, the gas company that named Hunter Biden to its board in March 2014 — a month, it is worth noting, after the U.S.-cultivated coup in Kiev. There is no thought of scrutinizing Biden's activities by way of an official inquiry. In its way, this, too, reflects upon the pantomime of the impeachment probe. Are there sufficient grounds to open an investigation? Emphatically there are. Two reports published last week make this plain by any reasonable measure.
The Death Throes Of A Party. Is it possible that Rep. Adam Schiff was hung out to dry by the devious Ms. Pelosi, feeding his vanity to be a one-man impeachment wrecking crew, knowing that the congressman from Hollywood would utterly blow it? [...] Why allow this nitwit to stage an ersatz impeachment only to see it fail? Perhaps to cancel the Jacobin menace metastasizing in the Democratic Party and get on with the business of winning the 2020 elections — with old-school candidates hand-picked to end-run the gang of fantasists currently on display. The House Speaker must sniff the odor of failure in the wind. Joe Biden, smiling cretinously, blunders through the primary venues with a big red "L" plastered on his forehead, often uncertain of what state he's landed in, or what direction to face the camera. Everybody over twelve in this land knows that his kid Hunter was on the grift in Ukraine, plain and simple, and that Joe assisted in the operation. Color him toast.
Moving to the left:
Joe Biden Rejects the 'Moderate' Label, Calls for 'Fundamental Change'. Joe Biden, sometimes cast as the "moderate" in the crowded field of Democrat presidential candidates, says it isn't so: "My proposals on education, climate change, health care are as radical and change-driven enough as anybody else's plan — anybody else's plan," Biden told a CNN-hosted town hall in Iowa on Monday night.
MacCallum Slaughters Swalwell Over Blatant Hypocrisy: Would You Investigate Eric Trump if the Roles Were Reversed? Fox News' Martha MacCallum asked Congressman Eric Swalwell (D-CA), point blank, if he would be interested in investigating Eric Trump if his situation mirrored that of Hunter Biden's. "Let me ask you this. If Eric Trump got a job on the board of a company in Turkey, would you be okay with that?" MacCallum asked. "Would you think that should be something that would be looked into?" Naturally, Swalwell tried to deflect and say the Trump kids are benefiting business wise from their father's presidency. MacCallum quickly shut that down and reminded him of the question at hand.
Joe diGenova: Whistleblower Eric Ciaramella Is John Wilkes Booth — He Is Part of a Political Assassination. Former US Attorney Joe diGenova joined Mornings on the Mall with Mary Walter and Vince Coglianese on Veteran's Day to discuss the ongoing Democratic coup in Washington DC. Joe was asked about the Democrat Party's decision to deny Republican request for Hunter Biden to come testify before Congress on his pay-for-play scandals with Ukraine and China. The former vice president's son pocketed over a billion dollars from foreign governments during his father's tenure as VP. Hunter Biden even famously traveled with his father to China where he made an historic deal with the communist regime of over one billion dollars. Democrats will not allow Hunter Biden to testify in their sham impeachment show trials.
Yes, a fair impeachment inquiry would question Hunter Biden. After weeks of conducting hearings in private, the House impeachment inquiry is going public this week. But if the Democrats stage-managing this affair have their way, there will be one element of their presidential-misconduct allegations that won't be part of the show: Hunter Biden. Democrats believe that the vice-presidential son's Ukraine shenanigans are irrelevant to impeachment. [...] They say that questions about what Hunter did or didn't do, and what his father knew and when he knew it, are just a conspiracy theory floated by Trump and his followers to confuse the American people.
Joe Biden aides reportedly worry their meetings are too congratulatory. Former Vice President Joe Biden seems to feel his 2020 run may be faltering. His campaign aides still reportedly don't want to tell him that.
The Ukraine Scandal Spreads. I take it as a given that Ukrainian natural gas company Burisma paid the Biden family a $3 million bribe. That follows from the facts that [#1] Hunter Biden doesn't speak Ukrainian or have any experience in Ukrainian business, [#2] Hunter Biden has no experience in the natural gas industry, [#3] Burisma nevertheless paid Biden more than $83,000 a month (!) for three years to serve on its board of directors, a role that usually is only nominally compensated, and [4] Joe Biden at the time was responsible for Ukraine policy in the Obama administration. But there may be even more to the scandal than that.
The Bonfire of the Democrats. [Joe] Biden appears to be both personally corrupt and senile. He has several times made errors with crowds (small crowds) by not knowing what state he was in. He is an aggressive, mean old man. (I know that from personal encounters). His behavior toward reporters who press him is nasty. [...] And then there is Hunter who seems to be the ne'er do well family bagman. Do the Democrats really believe that most people are going to think that his appointments to well paid board positions were connected to anything but his father's positions? And then there was the 1.5 billion dollar credit for Hunter's "business" from the Bank of China. Come On! Americans are not stupid.
Journalistic standards have had nothing to do with the truth for a long time. The media does not want any investigation into the massive corruption and collusion by the Obama Administration and other Democrats in 2016 as they sought to take out Trump and elect the corrupt Hillary. Instead of media outlets wanting the public to learn the truth, they seek to impeach Trump for investigating the criminal activity. The media absolutely hides the truth about the massive kickbacks by foreign entities and others to the Clintons and Bidens as they pretend that no one is above the law. The media knows that Trump gave aid to Ukraine with nothing in return and Obama/Biden withheld aid and only gave a loan to Ukraine after they demanded and got a prosecutor fired, but they say Biden/Obama did nothing wrong and Trump should be impeached.
Grassley, Johnson Call on State Dept to Release Documents Pertaining to Hunter Biden and Burisma. Republican senators Chuck Grassley and Ron Johnson sent a letter to Secretary of State Mike Pompeo on Wednesday asking the State Department to disclose any internal documents involving Hunter Biden and his Ukrainian firm Burisma Holdings. The letter follows the release of documents by investigative journalist John Solomon, who revealed that Biden and his business partner Devon Archer joined Burisma despite the warnings of colleague Christopher Heinz, the stepson to former secretary of state John Kerry. Later, both Biden and Archer scheduled meetings with senior State Department officials, according to email records obtained by Solomon.
Explaining the Weird Persistence and Stunning Weakness of Biden, Putative Front-Runner. On the ground his campaign is scuffling, with modest crowds at rallies and mediocre fundraising. He has been losing altitude over the past several months, and some analysts are pessimistic. [...] Yet right now, more voters still favor Biden as the best option against Trump. He remains the best-known Democrat in the field, and the other contenders have significant flaws. There is also a gap between political-class opinions of Biden and how he's viewed by rank-and-file voters. And Trump, recently and perversely, has boosted Biden as much as he's damaged him, by attacking Biden and his son Hunter over their dealings with Ukraine.
Senate Probing if Burisma Leveraged Hunter Biden Ties for Access to State Department. The United States Senate is probing whether a lobbying firm working on the behalf of Burisma Holdings, a Ukrainian oil and gas conglomerate, leveraged the company's ties to Hunter Biden for access to the State Department. Sen. Chuck Grassley (R-IA), the chairman of the Senate Finance Committee, sent a letter to Secretary of State Mike Pompeo on Wednesday [11/6/2019] asking his department to provide all records pertaining to Hunter Biden, Burisma, and any intermediaries.
Alleged whistleblower Eric Ciaramella was Biden guest at State Department banquet. Eric Ciaramella, the alleged Ukraine whistleblower, was a guest of Vice President Joe Biden at a glitzy lunch in October 2016 to honor the prime minister of Italy. Biden co-hosted the banquet with former Secretary of State John Kerry for then-Italian Prime Minister Matteo Renzi. Ciaramella, who is of Italian heritage, was among the U.S. officials who accepted an invitation. This week, the Washington Examiner reported that Ciaramella is now a deputy national intelligence officer for Russia and Eurasia on the National Intelligence Council, reporting to the director of national intelligence.
In midst of 2016 election, State Department saw Burisma as Joe Biden's issue, memos show. In recent interviews, Joe Biden has distanced himself from his son's work at a Ukrainian gas company that was under investigation during the Obama years, with the former vice president suggesting he didn't even know Hunter Biden served on the board of Burisma Holdings. There is plenty of evidence that conflicts with the former vice president's account, including Hunter Biden's own story that he discussed the company once with his famous father. There also was a December 2015 New York Times story that raised the question of whether Hunter Biden's role at Burisma posed a conflict of interest for the vice president, especially when Joe Biden was leading the fight against Ukrainian corruption while Hunter Biden's firm was under investigation by Ukrainian prosecutors.
Senate Republicans consider including Bidens in Trump impeachment trial. Senate Republicans are privately debating whether they should use an impeachment trial of President Trump to scrutinize former vice president Joe Biden and his son Hunter as some Trump allies push to call them as witnesses while others dismiss the suggestion as a risky political ploy. The ongoing discussions are a revealing glimpse into the fault lines in the GOP ahead of a possible trial of Trump in the Senate, where there are varying appetites among Republicans for the type of political combat relished by the president and his most ardent defenders. Among a group of Trump's allies inside and outside Congress, there is intense and growing interest in countering the House Democrats' impeachment inquiry by delving into Hunter Biden's business dealings in Ukraine and China.
Joe Biden pulls rank on little priest who denied him Communion. In response to a little priest in South Carolina denying him Holy Communion for advocating pro-abortion positions inconsistent with Church teaching, the former vice president and Democratic Party presidential frontrunner made it clear he didn't deal with pipsqueaks. [...] So instead of thinking about the priest's position and offering some kind of contemplative thought, Biden declared it was all O.K. to be advocating for abortion from his position, complete with public funding, because the pope gave him Communion. Despite the fact that even the pope is a priest and Communion is dispensed by priests with equal weight, even if a priest is tainted, Biden seems to be saying that because the pope gave him Communion instead of the priest, that proves the righteousness of his position.
Impeachment Drama Is Fraught with Traps for Sane Observers. [Scroll down] In fact, there is no evidence that there was a direct connection between Ukraine investigating Biden and the assistance involved. There is no evidence that Trump was asking for more than the facts of Biden and his son's exposure in Ukraine — if the Bidens' conduct was unexceptionable that finding would have fully satisfied Trump's request to know what happened. The entire United States should want to know if Biden's son was influence-peddling in Ukraine, China, and Romania — as has been alleged — and it should equally wish to know if the charges are unfounded.
Biden Lied — Emails Show Burisma Executives Leveraging Hunter Biden Membership. [E]verything Joe Biden and the Obama administration previously denied taking place is now documented as having taken place. Newly discovered emails between Ukrainian energy company Burisma and State Dept. officials show the company was leveraging Biden's affiliation with the company to get U.S. govt assistance.
Hunter Biden's Ukraine Gas Firm Urged Obama Admin To End Corruption Allegations, Report Says. A new report released on Monday night alleges that the Ukrainian gas company, Burisma, that employed Democratic presidential candidate Joe Biden's son, Hunter Biden, pressed the Obama administration to end the corruption allegations against them during the 2016 election year. In February 2016, a representative from Burisma sought to meet with Undersecretary of State Catherine A. Novelli to discuss the allegations of corruption that the U.S. government was making toward the company, according to memos obtained by award-winning investigative reporter John Solomon.
Joe Biden Needs an Intervention. Joe Biden speaking in an arena in Iowa gets confused where the camera is and keeps talking to a screen. CSPAN keeps cutting away to try and help him out. [Video clip]
This is — By Far — the best Joe Biden gaffe we've seen yet. At a campaign event in Iowa over the weekend, 2020 Dem frontrunner Joe Biden apparently got confused about the camera's location and ended up talking to a giant screen behind him instead of to the audience. [Video clip]
Business Records Show Hunter Biden Remains On [the] Board Of [a] Chinese Equity Firm. Business records accessed Friday [11/1/2019] show that Hunter Biden remains listed as a board member of a Chinese private equity firm, a position the son of former Vice President Joe Biden said he'd relinquish by the end of October. Hunter Biden's lawyer said he had resigned his seat on the board of BHR Partners; however, the lawyer did not provide the Daily Caller News Foundation any evidence of his departure.
Joe Biden's Catholic Problem. John F. Kennedy was a checkered Catholic, to say the least. But most Catholics didn't know that or didn't care, and they voted enthusiastically for him. The checkered Catholics in today's Democratic Party don't have it so easy. The useless bishops are still in the tank for them, but members of the laity and a few brave priests have wised up to their lies. In recent years, ironically, the non-Catholic Obama won the Catholic vote while crappy, albeit baptized, Catholics such as John Kerry lost it. Hillary Clinton added Tim Kaine, who wore his "social justice" Catholicism on his sleeve, to the ticket, and she ended up losing the Catholic vote to Trump and Pence, a Catholic turned Evangelical. Joe Biden, of course, has a Catholic problem too. Witness his recent troubles in the Communion line. Denied the Eucharist at a parish down in South Carolina last Sunday, Biden had hoped the incident would go unreported. It didn't.
Pro-Abortion Joe Biden: Pope Francis Gives Me Holy Communion. Despite being a pro-abortion Democrat who now wishes to fund the practice with taxpayer dollars, former Vice President Joe Biden said that Pope Francis has given him Holy Communion, and that he had never encountered a priest or bishop who would refuse him. Speaking with PBS News Hour, Joe Biden said that the issue of receiving Holy Communion as a pro-abortion politician has never come up in his life until just recently.
Biden: The Economy Isn't Booming But 'I Don't Look at the Numbers'. Arguably one of President Donald Trump's biggest successes since he took the office in 2017 is the record low unemployment rate, which currently sits at 3.6 percent. More people are back to work than ever before and yet former Vice President Joe Biden refuses to give Trump praise. During an interview with "PBS News Hour" host Judy Woodruff, Biden attempted to buck the narrative that Trump's economic policies are working for average Americans.
Joe Biden Claims He Was Not Aware of Son's Service on Burisma's Board. Joe Biden claimed on Friday [11/1/2019] he was unaware his youngest son, Hunter, was serving on the board of directors of a Ukrainian oil and gas giant while Biden was responsible for Obama administration policy towards the country. The former vice president made the claim during an interview with PBS News Hour in which he was asked why a recent campaign pledge to not have children "involved" with foreign countries did not apply to his eight year tenure in the Obama White House.
Also posted under Liberals think you're stupid.
Poll: Majority say Hunter Biden's role on Ukrainian energy board was bad judgment. A majority of Americans say Hunter Biden's role on the board of a Ukrainian energy company was the result of bad judgment, according to a new Harvard CAPS/Harris poll. Fifty-eight percent of respondents said that Hunter Biden's role on the board of Burisma Holdings between 2014 and 2019 was a result of "bad judgment." Twenty-seven percent of those polled said they thought it was illegal for former Vice President Joe Biden's son to serve on the board. Hunter Biden is not accused of any crimes for being a board member on Burisma.
Nets Skip Joe Biden Being Denied Communion for Abortion Views. While trying to receive holy communion at South Carolina's St. Anthony Catholic Church, former Vice President and 2020 hopeful Joe Biden was denied by the priest, citing Biden's support for abortion. The liberal media were once floored by Biden's support for the Hyde Amendment but welcomed his buckle to political pressure and their radical demands. So, it's no wonder ABC, CBS, and NBC ignored the religious rebuke of Biden on their morning and evening newscasts. During Tuesday evening's [10/29/2019] Special Report on Fox News Channel, correspondent Peter Doocy noted the incident in his report on the state of the Democratic primary.
Pompeo Raises Possibility Obama Didn't Give Weapons to Ukraine Because of Hunter Biden. On Wednesday's [10/30/2019] broadcast of Fox News Channel's "The Story," Secretary of State Mike Pompeo suggested there was a reason why the Obama administration "didn't give defensive weapons systems to Ukraine." One possibility he raised was tied to Hunter Biden, son of 2020 Democratic presidential candidate former Vice President Joe Biden. Pompeo said, "We're now reporting on leaks from Democrats who have a mission set here to take down President Trump. What I know is I was on the call, I listened to the call. I thought the way the president handled it was appropriate. We were incredibly focused on a couple of simple things with respect to Ukraine strategy. We've executed on that."
Joe Biden Repeatedly Asked Federal Agencies To Do What His Son's Lobbying Clients Wanted. News of Hunter Biden profiting from his father's political activity is becoming an endless saga that has yet to genuinely interest our media who claim "democracy dies in darkness." The latest set of coincidences, uncovered by Alana Goodman of The Washington Examiner, reveal more unseemly connections between Hunter's business adventures and his father's political maneuvers. Whether it be China, Ukraine, or China again, we have heard this pattern before. While serving as senator of Delaware, Joe Biden reached out discreetly to the Department of Homeland Security (DHS) and the Department of Justice (DOJ) to discuss matters his son Hunter Biden's firm was then lobbying for, according to government records Goodman gathered. The latest revelations further buttress accusations that Joe Biden's work as senator and vice president frequently converged with and assisted Hunter Biden's business interests.
The head of Joe Biden's new Super PAC is a foreign government agent. Democratic presidential candidate Joe Biden has a brand new Super PAC in his corner, and it's being run by a registered foreign agent for the government of Azerbaijan. Larry Rasky, a lobbyist who previously worked as a top campaign operative for Biden, is listed as the treasurer of the PAC, according to records filed with the Federal Election Commission (FEC). "A former Joe Biden aide has filed paperwork to form a super PAC, called Unite the Country, that is set to boost the former vice president with millions of dollars in spending in the 2020 Democratic presidential primary," Politico reported on Tuesday [10/29/2019].
Joe Biden Denied Communion. [Scroll down] Biden's target in 2020 is President Donald J. Trump, who has publicly professed that he believes that every human life is a gift from God. Elizabeth Warren, who supports abortion to the moment of birth, denies the humanity of the unborn and their right to life. [...] Biden's faith is very selective. [...] Joe Biden has the moral spine and religious convictions of a jellyfish.
White House official says transcript of Ukraine call omitted key phrases: report. A White House official who testified in front of the House on Tuesday [10/29/2019] as part of its impeachment investigation reportedly said the White House's rough transcript of a July phone call between President Trump and Ukrainian President Volodymyr Zelensky left out key words and phrases. Three people familiar with the situation told The New York Times that Lt. Col. Alexander Vindman testified to congressional investigators that among the omissions were Trump's assertions that there were recordings of former Vice President Joe Biden discussing Ukrainian corruption and a reference by Zelensky to Burisma Holdings, the energy company on whose board Biden's son sat.
Impeachment Witness Bill Taylor Led Ukraine Delegation for Group Advised by Hunter Biden. Acting U.S. Ambassador to Ukraine Bill Taylor, who provided key testimony to the Democrats' controversial impeachment inquiry last week, led an election observation delegation in Ukraine earlier this year for a George Soros-funded organization that at the time boasted Hunter Biden on its small chairman's council. Two months before he came out of retirement to serve as the highest ranking U.S. official in Ukraine, Taylor led an election observer delegation to Ukraine's April 21, 2019 second round presidential election for the National Democratic Institute (NDI) organization.
Biden's Wealth Tax? Tax Investors 40% on Capital Gains. Former Vice President Joe Biden says he would tax investors by raising the capital gains tax, now 15 percent or 20 percent on the sale of most assets, to 40 percent. The money raised would go to programs for the middle class. "I don't oppose a wealth tax," Biden told CBS's "60 Minutes" in an interview that aired Sunday night [10/27/2019]. (Democrat Sen. Elizabeth Warren has proposed a 2 percent tax on people with a net worth of $50 million to $1 billion and a 3 percent annual tax on households with a net worth over $1 billion.)
Joe Biden: Cops Don't Pull Over White Girls. During the Second Step Presidential Justice Forum at Benedict College, a historically black college, on Saturday, Joe Biden was asked by an African American woman in the audience, "If I were your daughter, what advice would you give me the next time I am stopped by the police?" "If you were my daughter, you'd be a Caucasian girl and you wouldn't be pulled over," he said. Biden failed to realize how insulting and racist his comment was because he even tweeted a video of the exchange: [Video clip]
Why Is the Left So Incurious About Ukrainian Election Hacking? Democrats and liberal journalists now resemble those world-famous Chinese monkeys: See No Evil and Hear No Evil. (Their similarity to Speak No Evil is less convincing.) The Left clearly prefers that Joe and Hunter Biden's unusual connections to Ukraine remain unscrutinized. But what if a Ukrainian probe — especially under President Volodymyr Zelensky, who ran and won on anti-corruption promises — confirms that the Bidens are total crooks? Should Americans elect Joe Biden absent that knowledge? Conversely, what if Kiev's inquiry demonstrated, beyond a reasonable doubt, that the Bidens' Ukrainian ties were even more legal than a bar exam? Should U.S. voters not know that? And, perhaps more important, what about reports that Ukrainians hacked the Democrat National Committee's server in 2016? What if this suspicion is not "debunked," as the Left now insists?
12 facts about the IG investigation. [#9] Biden is expendable. He always was. If he meant anything to Obama, he would have been the candidate in 2016. Remember, it is all about Obama when it comes to Democrats these days. The ship will go down with the captain.
So Hunter Biden followed his dad around to Romania, too? Hunter Biden was quite the devoted little sproutling, following his dad around wherever he went. [...] Hunter Biden followed his dad around — to China, Ukraine, and now Romania — and somehow always came away with big-dollar business deals. Kind of the way then-secretary of state Hillary Clinton used Bill Clinton as her bagman to scarf up donations to the Clinton Foundation after Hillary made some foreign policy decision.
Joe Biden in Danger of Humiliating Loss in Iowa, Top Democrats Warn. Joe Biden risks a humiliating third or fourth-place finish in Iowa early next year, according to nearly a dozen senior Democrats in the state who attribute it to what they see as a poorly organized operation that has failed to engage with voters and party leaders. With fewer than 100 days until the Feb. 3 caucuses, Biden is failing to spend the time with small groups of voters and party officials that Iowans expect and his campaign's outreach has been largely ineffective, according to 11 senior Democrats in the state.
Hunter Biden's China Entanglements Spark Concern in Senate. It wasn't just Ukraine. A U.S. senator is now investigating whether Hunter Biden improperly benefited from his business ties to a Chinese investment firm that has partnered with a Chinese-backed aviation company keen on stealing U.S. national security secrets. Senate Finance Committee chairman Chuck Grassley (R., Iowa) received a classified briefing about the foreign investment deal on Friday, the Washington Free Beacon has learned. The Aviation Industry Corporation of China had raised national security concern in the U.S. before. American national security officials and independent analysts strongly suspected that the company, a major supplier of military jets in China, had hacked U.S. networks to steal the design of the F-35 jet and used the design to build its own stealth jet fighters.
Joe Biden denied communion at mass because of abortion stance. Democratic front-runner Joe Biden was reportedly denied communion by a priest at a South Carolina Catholic church over the weekend. Biden, a lifelong Catholic, stopped by Saint Anthony Catholic Church in Florence on Sunday, but was denied Holy Communion by Father Robert E. Morey, local newspaper the South Carolina Morning News reported. "Sadly, this past Sunday, I had to refuse Holy Communion to former Vice President Joe Biden," Father Morey told the newspaper in a statement.
Joe Biden Denied Communion at South Carolina Church Over Abortion Stance. Former Vice President Joe Biden was denied communion at a Catholic Church in South Carolina Sunday because of his staunch position in favor of abortion. Biden, who earlier this year reversed course on his long held stance in favor of the Hyde Amendment, was attending a worship service at Saint Anthony Catholic Church in Florence, South Carolina, when he attempted to receive the sacrament. The former vice president, however, was rebuffed by the church's pastor, Father Robert E. Morey, because of his support for abortion.
Our Bankrupt Nomenklatura. At times, former Vice President Joe Biden is unaware of which town, indeed which state, he is in. He slurs his words often. Biden strings together unconnected thoughts that result in utter incoherence — not alleviated by his near shouting emphatics or fits of pique at reporters. Sometimes, Biden forgets names, and referents, and appears befuddled generally. His biography is mythical. He cannot address Ukraine and the role of his son, Hunter Biden, because, after all, what would a truthful person say? That the vice president of the United States allowed his wastrel son to become a multimillionaire by leveraging his father's office with foreign corrupt governments? And was Biden's moral lapse atypical, or rather reflective of prior ethical laxities that destroyed his two earlier presidential bids when he variously lied about his bio, plagiarized, and used a variety of racially insensitive remarks of the sort that would have characterized most others as racists.
The Zombie Campaign: Joe Biden is the least formidable front-runner ever. [Scroll down] The pitch goes like this: Joe Biden ought to be the nominee because he's electable, a meaningless concept if recent history is any guide, and presidential, that wonderful word — the thing Donald Trump could never be even though he literally is president — despite the fact that Biden, who appears by almost any measure to be a good man, a man whose lone sin in life is ego (and does that even count anymore?), has spent a half-century grasping for this position and watching it slip through his fingers. To anyone paying attention — the army of political professionals more wired to observe shortcomings than are those likely to actually vote for him or for anyone else — it looks, unmistakably, like it's happening again. His vulnerabilities are close to the surface. There's the basic fact of his oldness and the concerns, explicit or implicit, about his ability to stay agile and alive for four more years.
Black accent? Joe Biden goes Hillary Clinton one better and claims he went to black college. Democratic presidential frontrunner Joe Biden is taking pandering to new heights, all in pursuit of black votes. Instead of just slapping on a black accent like a set of false teeth, the way Hillary Clinton did last week for a significantly black audience, Biden decided to claim he actually went to a historically black college, which he didn't.
Joe Biden Falsely Claims He 'Got Started Out' at a Historically Black University. Former Vice President Joe Biden inaccurately claimed on Saturday [10/26/2019] to have received his start at a historically black college or university (HBCU), despite never having attended such an institution. Biden, who has history of exaggerating his civil rights involvement, made the claim during a campaign town hall in South Carolina, while talking about his plan for education.
If Biden wanted to 'earn' the nomination without Obama's endorsement, he wouldn't be using Obama as a shield. Joe Biden made the absurd claim in a Sunday [10/27/2019] "60 Minutes' interview that he told Barack Obama not to endorse him in the 2020 Democratic presidential primary because he wanted to "earn" the nomination on his own. [...] Back on planet earth, where Biden is running as an elderly white man who has taken many positions over his nearly half-century long political career that are at odds with a vocal segment of the modern Democratic Party, he has gone out of his way to associate himself with Obama at every opportunity. Weeks before he ran for president, he declared, "I'm an Obama-Biden Democrat, man, and I'm proud of it."
Biden campaign on 'life support'. Former Vice President Joe Biden's campaign, it's on life support after spending a million dollars on private jets shuttling in between fundraisers... only to end up with 9 million dollars in the bank[.] Biden's cash on hand totals rank him fourth in the Democratic field despite the candidate doing almost no national media and sparsely holding rallies. Literally the only thing he does is fundraise.
Hunter Biden's Legal Work in Romania Now Raises Eyebrows of Ethics Experts. Here we go again — there's another new Hunter Biden story being reported and this one's a doozy, as I see it. We're now heading to Romania, where Hunter Biden (shown above) apparently did some work with a real estate tycoon who cooked up corrupt land deals. The individual was eventually convicted and sentenced to prison for seven years, but is said to be hiding out in London, avoiding extradition to Romania. The Biden family reportedly has "deep ties" to the country of Romania — just as they have "deep ties" to Ukraine and China. Ethics experts are suggesting we're likely looking at yet another "inappropriate, conflict-of-interest" situation with former Vice President Joe Biden, just as we have in Ukraine and China.
Stop Claiming 'No Quid Pro Quo'. [Scroll down] There is no known Justice Department probe of Biden influence-peddling in potential violation of American law. Instead, the president is said to have pressured Ukraine to open an investigation of the Ukrainian company for violations of Ukrainian law. Generally, U.S. requests for investigative assistance involve the foreign power's provision to the Justice Department of evidence relevant to violations of American law. While not attacking Taylor's credibility, the president's backers are adamant that there was no quid pro quo. This refrain returns us to the argument I urged when this controversy emerged a few weeks back: It should have been taken as a given that there was a quid pro quo and that the president was squeezing Ukraine for accommodations, some of which were legitimate (even if unwise), and others harder to defend. To repeat, quid pro quo just means "this for that." It's an exchange, and it is a feature of all commerce.
Revealed: Joe Biden twice used his position as Senator to intervene to boost son Hunter's lobbying. Joe Biden privately contacted the Department of Homeland Security and the Department of Justice when he was a senior and influential U.S. Senator to discuss issues that his son Hunter's firm was being paid to lobby on, according to government records. On at least two occasions, Biden contacted federal departments to discuss issues related to Hunter's firm's lobbying clients, according to records reviewed by the Washington Examiner. Biden's behind-the-scenes outreach illustrates how his Senate work overlapped with his son's business interests.
Biden: My Kids Won't Have White House Offices or Sit in on Cabinet Meetings. During a portion of an interview with CBS released on Thursday, 2020 Democratic presidential candidate former Vice President Joe Biden vowed that his children won't have offices in the White House or sit in on Cabinet meetings. Biden stated, "[I]f I'm president — get elected president, my children are not going to have offices in the White House. My children are not going to sit in on Cabinet meetings."
Hunter Biden's legal work in Romania raises new questions about his overseas dealings. In the final year of the Obama administration, an American lawyer traveled to Romania to meet with a businessman accused of orchestrating a corrupt land deal. The businessman was Gabriel "Puiu" Popoviciu, a wealthy Romanian real estate tycoon. The lawyer brought in to advise him was Hunter Biden, the son of then-Vice President Joe Biden, according to two people familiar with the matter. Hunter Biden's work for Popoviciu in 2016 went unreported at the time, but Joe Biden's involvement in Romania was very much public. The vice president was among the leading voices pushing the government to crack down on corruption.
Trump Campaign Owns Web Address For Biden's Newly Announced Latino Outreach Campaign. The 2020 Trump campaign trolled Democratic candidate Joe Biden Wednesday [10/23/2019] by purchasing the web domain for Biden's new Latino outreach campaign. The former vice president announced the outreach campaign called "Todos Con Biden," or "Everyone With Biden," Wednesday, but the campaign did not purchase the web address todosconbiden.com before the Trump campaign got its hands on it.
Joe Biden's Latino Outreach Campaign Forgot To Register Their Domain Name. Yesterday, to some fanfare Joe Biden kicked off his Latino outreach effort. [...] Today it became obvious that his campaign isn't savvy about a lot of other things.
Trump campaign scoops up Biden's Latino voter web address, trolls his voter outreach. [Joe] Biden, who spent the day campaigning across Pennsylvania and Iowa, announced "Todos Con Biden," a "national network of Latino supporters" working to help elect the former vice president earlier on Wednesday [10/23/2019]. But there's one problem. The Biden campaign failed to purchase www.todosconbiden.com, or even lock down the @TodosConBiden Twitter handle before announcing the new effort — prompting the president's reelection team to do what it does best: troll.
Joe Biden apologizes after footage of him blasting the 1998 Clinton impeachment probe as a 'partisan lynching' is unearthed. Joe Biden has apologized for using the word 'lynching' when describing the impeachment of President Bill Clinton in 1998. His apology comes after the former Vice President lambasted President Donald Trump for also using the exact same word as he described his current impeachment process. 'This wasn't the right word to use and I'm sorry about that,' Biden wrote in a tweet late on Tuesday night [10/22/2019]. Biden used the word during a 1998 CNN interview as he defended then President Clinton on-air.
Joe Biden is called out after he slams Trump for calling the impeachment inquiry 'a lynching'. Joe Biden has apologized for using the word 'lynching' when describing the impeachment of President Bill Clinton in 1998. His apology comes after the former Vice President lambasted President Donald Trump for also using the exact same word as he described his current impeachment process. 'This wasn't the right word to use and I'm sorry about that,' Biden wrote in a tweet late on Tuesday night [10/22/2019]. Biden used the word during a 1998 CNN interview as he defended then President Clinton on-air.
Voting Is a Complex Calculus. Take Joe Biden's frontrunner status in the Democratic race for several months, for instance. There are a dozen reasons why Biden shouldn't be the Democratic frontrunner to today's hyper-woke left: he is a white male, a much older one to boot, and one seemingly stuck in the past. Plus, he has undeniably lost a step and often has memory-and-cognition lapses that are only politely called "gaffes." Yet, many Democratic primary voters, especially African-American voters, are sticking with him, no matter what. Again, the reasons for that are all over the place: Biden is a known entity to many older voters; he is perceived to be electable; most importantly, he is the moderate, centrist candidate against candidates that've veered into far-left, crazy territory on many issues.
Two people showed up to Biden debate watch party in Philadelphia. Several debate watch parties registered with Joe Biden's campaign had paltry attendance in Philadelphia, where his 2020 presidential campaign is headquartered. At one party blocks from Biden's national campaign headquarters, just two people attended, including David Bradford, who hosted the gathering, the Philadelphia Inquirer reported.
The Seedy History of Joe Biden and Russia. Things are not always as they seem in international geopolitics. The first-glance and facile explanation that this was a simple pay-to-play scheme between Ukraine and Biden doesn't hold up. Biden has had a long and public career. If he were an ardent advocate for Ukraine, it would be clear for all to see. But he has not been. In fact, he has consistently sided with Ukraine's arch-nemesis, Russia. Biden was the vice president in an administration that pushed for a "reset" with Russia and oversaw Russia's entry into the WTO.
'You Don't Get More Politically Connected': Participants In Securities Fraud Scam Touted Links To Hunter Biden. Participants in a multi-million dollar scheme to defraud an American Indian tribe touted links to Hunter Biden and his business associate, Devon Archer, according to court documents the Daily Caller News Foundation reviewed. Biden is not accused of wrongdoing in the case, which centered on a fraudulent $60 million bond offering involving the Wakpamni Lake Community Association, an affiliate of the Oglala Sioux Tribe. But the documents, reported here for the first time, shed light on how associates saw Biden during a period when his father, Joe Biden, served as vice president.
Hunter Biden Never Worked in Ukraine, Was Only Hired to 'Protect the Company'. A report from Reuters paints a very unflattering picture of Hunter Biden's time while on the board of Ukrainian energy company Burisma Holdings. During his five-year stint on the board, where he was making what is now believed to be $83,333 a month, he was regarded as "a helpful non-executive director with a powerful name," according to several sources in Ukraine. During the entire time he was on the board, Hunter Biden never even visited Ukraine for company business.
Hunter Likely Made $83K+ a Month to "Protect" Burisma. A career State Department official told House impeachment investigators that he raised concerns with a senior White House official in 2015 about the vice president's son serving on the board of a Ukrainian company, but was ignored. The White House official told Mr. Kent that the elder Mr. Biden did not have the "bandwidth" to address the concerns while his older son, Beau, was undergoing cancer treatment, according to the people, who were not authorized to discuss the private deposition. Now is a good time to add the video of Joe bragging about extorting the Ukrainians. [Video clip]
A nation governed by princelings. [Scroll down] In Hunter Biden's case, his father was the vice president of the United States. Even though the vice president officially has very little power, he wields enough influence to steer large amounts of money. In recent weeks, the more you heard about the Trump impeachment scandal, the more you heard about Joe Biden manipulating $1 billion to get his son Hunter out of legal trouble. Today, the former vice president still wields power because he has a chance to become the next president. Even though his chance is small, campaign contributors want to cover all of the bases, including his.
'Moderate' Joe Biden Bragged About the Political Hit Job on Robert Bork. While Democrats often blame House Speaker Newt Gingrich for coarsening America's political rhetoric, the character assassination of Robert Bork first ignited the partisan political warfare that hit a fever pitch with Trump. Biden is campaigning on a platform of "restoring the soul" of America, aiming to reverse the influence of Trump, whom he blames for the white nationalist riots in Charlottesville, Va. Yet the former VP played a key role in the political declaration of war that turned Bork's last name into a verb. On Tuesday [10/15/2019], he bragged about that.
Diplomat: I tried to warn the Obama administration about Hunter Biden and Ukraine in 2015, but no one would listen. A diplomat who served in the State Department under former President Barack Obama testified Tuesday that he sounded the alarm about Hunter Biden's appointment to Ukrainian energy company Burisma in early 2015, but no one seemed to care, according to the Washington Post. George Kent, who still works in the State Department as deputy assistant secretary of state, testified as a part of the House impeachment inquiry that he was concerned about the conflict of interest with Hunter Biden joining the company at the same time that then-Vice President Joe Biden was heavily involved in the administration's Ukraine policy.
Reuters: Hunter Biden never worked in Ukraine in five years on Burisma's board. No one has yet provided an adequate answer as to how Hunter Biden got a job on Burisma's board, having absolutely no experience in either energy or Ukraine, apart from having a father serving as Vice President of the US. Reuters tries to unravel another mystery today — just what did Biden fils do on the board once he got the job? "He was a ceremonial figure," one of their sources at Burisma tells their reporting team, one who never bothered to come to Ukraine at all in the five years he worked as a director for the Ukrainian energy company.
Hunter Biden Received $700,000 From Company That Held Stake In Chinese Investment Firm. Hunter Biden received over $700,000 from a New York-based capital management company that held equity in a Chinese investment firm with close ties to the Bank of China, a Daily Caller News Foundation review of Hunter Biden's Chinese, Ukrainian and American business dealings has found. And despite the deluge of media reports saying Hunter Biden received $50,000 a month for his work on the board of the Ukranian natural gas company Burisma Holdings, the records tell a much different story.
Hunter Biden on new wife he married after 6 days, matching 'shalom' tattoos. Hunter Biden, the son of former Vice President Joe Biden, said in an interview that aired Friday that he met, married and got matching "shalom" tattoos in less than a week after laying eyes on his current wife Melissa Cohen Biden, a filmmaker from South Africa. "I instantly fell in love with her. And then I've fallen in love with her more every day," he told ABC News. Their wedding at Melissa's apartment six days later was so hastily thrown together that neither had their families in attendance and their wedding photos were taken by a friend on his cellphone.
Joe Biden lands 51 endorsements in Massachusetts. Former Vice President Joe Biden has rolled out a list of 51 endorsements from current and former elected officials in rival U.S. Sen. Elizabeth Warren's home state.
On the other hand...
Poll finds support for Biden is fading. Polls taken after the September debate, then before and after this week's debate, showed a sharp decline in support for Joe Biden among all Americans. He previously was the clear leader among the candidates. His numbers fell the most between the September and October debates, but he had little luck in raising his support in the latest debate. Biden had 30 percent support after the September debate, falling 10 percentage points by late last week.
A Lie Is Not Just a Lie. [Scroll down] In the same sentence in which he insisted President Trump be impeached, Joe Biden said he never spoke to his son about his overseas business dealings. What kind of father wouldn't talk to his son about such big deals? Did he really think anyone would believe him, after his son went overseas with him on Air Force 2? His own son contradicted him and now, following Trump's call-out, has stepped down from the board of the Chinese-backed equity company and promised not to do any more foreign work if his father is elected president. How big of him — after nearly six years, and while still owning 10% of a company managing $2.1B in investments.
Hunter Biden Cashed In to Fuel His Drug and Sex Habits. ay what you want about the Trump kids, none of them have been found with a crack pipe on them. The same can't be said for Hunter Biden. I picked up the New York Post yesterday morning [10/16/2019] and found an informative reprint from The Intercept by Ryan Grim, who details Hunter's dirtbaggery, including this revealing tidbit: "One particularly out-of-control bender, which included a crack pipe found in a rental car, took place while Biden was making $50,000 a month serving on the board of [the Ukrainian company] Burisma." Therein lies one of the obvious motives for his shameless cashing in on his last name. For years he has had a very expensive drug habit. Drugs aren't cheap, and neither are loose women — two of Hunter's favorite pastimes.
Democratic Party presidential candidate are unqualified... and weird. Joe Biden is out of it. He said "coupon-clippers in the stock market" should pay the same tax rates as teachers and firefighters. The "coupon-clippers" are primarily those who buy municipal bonds that are tax-free. The interest is tax-free to induce investors to buy bonds floated by cities, school districts, and states to fund public projects. Maybe Biden doesn't know this. And he doesn't know that the tax rate on taxable dividends and interest is the income tax rate and not the capital gains tax. Maybe Biden should ask his son Hunter, who is such a savvy investor that the Chinese gave him $1.5 billion to invest.
Hunter becomes the prey. The Biden campaign selected ABC News — run by Bill Clinton spokesman George Stephanopoulos — as the designated whitewasher of 49-year-old Hunter Biden's slippery career in which he landed high-paying no-show jobs because his daddy held public office. This is bribery by proxy. And the old man finally joined in the fray by accepting $900,000 to lobby for the Ukrainian company that paid his son $600,000 a year to do nothing while daddy was vice president. This is Biden Inc. Two decades ago MNBA, the largest employer in Delaware (Biden's home state), hired Hunter to lobby for it for $100,000 a year. MNBA is a credit card company. Then-Senator Biden was involved in re-writing bankruptcy law, which greatly affects a credit card company's ability to collect debts. Basically, Joe Biden is a professional troll who uses elected office to shakedown companies and now countries. Red China invested $1.5 billion in Hunter's investment firm.
Joe Biden's campaign blew $924K on private jets. Joe Biden burned through campaign funds at a fast clip over the past three months, ending the final quarter in 2019 with less than $9 million — after his team shelled out over $924,000 on private jets. The former vice president's war chest of $8.9 million was a small fraction of what his leading rivals have on hand, according to newly released filings on how much each of the 12 Democratic candidates raised, spent and have left in coffers. Among his biggest expenses were $924,000 spent on EJCR LLC Dba Advanced Aviation Team, a company that offers private jet charter services, Federal Election Commission data shows.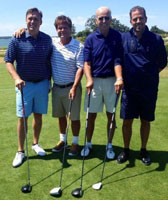 CNN and ABC News Terrified to Confront Bidens with Smoking Gun Golf Photo. Far-left CNN and ABC News did not have the moral courage to confront the Bidens with a damning photograph that shows Joe and Hunter Biden enjoying an afternoon of golf with Devon Archer, a board member on the Ukrainian energy firm Burisma Holdings. With the help of the crooked media, former Vice President Joe Biden has been allowed to act outraged while not answering legitimate questions about his son Hunter getting filthy rich by trading in on his father's name and influence, and doing so while Joe was still vice president.
Top Diplomat Testified That Obama Admin, Not International Community, Orchestrated Ukraine Prosecutor's Firing. A top U.S. diplomat and expert on Ukraine testified to Congress yesterday that the Obama administration — with former Vice President Joe Biden as its point man — orchestrated the firing of the Ukrainian prosecutor who was investigating a company connected to the Biden family, sources familiar with the testimony told The Federalist. The testimony of George Kent, a State Department official who works on the agency's Ukraine portfolio, directly contradicts claims that the Obama administration was merely following the lead of the so-called international community in demanding the firing of Viktor Shokin, a controversial Ukrainian prosecutor who was reportedly investigating Burisma, a global energy company long suspected of corruption and money laundering. In 2014, Burisma paid Hunter Biden, Joe Biden's son, tens of thousands of dollars to sit on its board despite the younger Biden's complete lack of expertise or professional experience running a multi-national oil and gas concern.
Here are five questions that need to be asked. [#1] There are two simple points about the Hunter Biden-Ukraine issue. What was his unique qualification to get that much money, which has added up to more than $3,000,000? Did his father really not know about it? Hunter has said he did tell his father, but his father has said he did not know. Given former Vice President Joe Biden's routinely faulty memory, both could be true. However, most parents would know if their child was making $600,000 a year from a foreign company.
Anderson Cooper Casually Vindicates Hunter Biden. I realize the task of checking bias at CNN is a Sisyphian one, but moderator Anderson Cooper kicked off the Democratic primary debate on Tuesday with a particularly laughable sleight of hand. Setting up a question to Joe Biden, Cooper said, "President Trump has falsely accused your son of doing something wrong while serving on a company board in Ukraine. I want to point out there is no evidence of wrongdoing by either one of you." Cooper effectively vindicated both Bidens before even asking the question. Perhaps he thought it was clever to say Trump falsely accused the junior Biden of wrongdoing "while serving" on the board. Serving on the board was, of course, the wrongdoing in and of itself.
Who is Fiona Hill and why did Joe Biden give her such a glowing book blurb in 2012? [Scroll down] Authors often get prominent people to do their blurbs to ensure sales, and it's pretty reasonable to see someone from the Financial Times and U.K.'s MI-6 chief doing such blurbs, given that Hill is a British native and those are foreign-policy oriented entities. But Biden? Who's not exactly an academic, and stranger still, who was making the pitch in the pages of Rolling Stone, a real hotbed of Kremlinology readership? Strange indeed. Stranger still, Biden's effusive praise for the book, with its many blasts at corruption and dour picture of the Russians, stands at weird odds to Biden's own record of crony deals with Putin-friendly oligarchs, via his son, in Ukraine. Not only would Biden have been unlikely to have plodded through such a heavy piece of lumber as Hill's book, he'd probably not like what was exposed in the content either, given that he himself was at the Russia/Ukraine hog wallow himself.
Obama WH corruption: Rampant pay to play by Clinton, Kerry, and Biden. Pay to Play corruption in the Obama administration was widespread among top officials, especially Hillary Clinton, John Kerry, and Vice President Joe Biden. Sweetheart deals. Board positions on energy companies. Contributions to "foundations" and overt bribery were the currency of foreign governments and would-be policy influencers alike. They found rich terrain in the Obama Administration. Usually funneling money through family members or lobbyists. The Hunter Biden scandal involving Burisma Holdings and the Rosemont Seneca equity fund is just the tip of an ever-growing and horribly corrupt iceberg.
Seven Joe Biden Gaffes During the Fourth Democrat Debate. Former Vice President Joe Biden frequently became tongue-tied during the Democrat debate on Tuesday night, continuing his gaffe-ridden campaign for president.
Biden In Decline. I never thought Joe Biden had a serious shot at the Democratic nomination. Even when he was in his prime, he wasn't up to the task. And that was a long time ago. But it is the Ukraine scandal that is putting Biden's candidacy to a perhaps-premature end.
Hunter Biden's pathetic 'defense'. Hunter Biden came out of hiding for a long ABC News interview Tuesday morning to try to lay to rest the questions about his foreign profiteering. He failed. The main controversy centers on his $50,000-a-month position on the board of Burisma Holdings, a Ukrainian natural gas company that's been under investigation for corruption for a decade, on and off. Why did it bring on a 44-year-old lawyer who had no experience with Ukraine or natural gas — but happened to be the son of the US vice president who was serving as administration point man on Ukraine?
'Dude. You are 49 years old!': Hunter Biden mocked for describing himself as a 'kid'. In an attempt to jab at Trump, Hunter Biden told ABC on Tuesday, "As it relates to whether he can take on Donald Trump, absolutely. But my dad doesn't go after other people's kids. He just doesn't. Never has." Biden's attempt to equate himself to "other people's kids" was quickly leveled online, with the Hill's Krystal Ball tweeting, "Dude. You are 49 years old!"
Flashback: Hunter Biden's One Qualification for Amtrak Board Was Taking Trains. Hunter Biden's only qualification for obtaining a seat on the Amtrak board of directors in 2006 was that he often rode trains. That's according to his father Joe Biden's Delaware colleague in the Senate, Tom Carper, who offered the sole nomination speech for the younger Biden when his name was presented in the Senate Commerce Committee. In his prepared remarks, Carper said Biden would be an "excellent addition" to the board, but was unable to list any reason beyond his frequent use of trains.
Why Pelosi should heed the Rodino precedent on impeachment. In Joe Biden's statement on the Clinton impeachment released to the Congressional Record on Feb. 12, 1999, he cautioned his fellow senators, calling impeachment "the most obviously anti-democratic act the Senate can engage in — overturning an election by convicting the president." He also said that impeachment had "no place in our system of constitutional democracy except as an extreme measure ... reserved for breaches of the public trust by a president who so violates his official duties, misuses his official powers or places our system of government at such risk that our constitutional government is put in immediate danger by his continuing to serve out the term to which the people of the United States elected him." And finally, "Only a president is chosen by the people in a national election. ... To remove a duly elected president clashes with democratic principles in a way that simply has no constitutional parallel."
'Hiding in plain sight': Hunter Biden defends foreign ventures but concedes political 'mistake'. As President Donald Trump continues to fill his Twitter feed and campaign speeches with attacks on Hunter Biden over his foreign business deals, the former vice president's son defended the ethical implications of his private ventures in an interview with ABC News, but conceded taking a misstep in failing to foresee the political implications on his father's career.
Joe Biden needs to be asked these 8 questions. [#1] Your son Hunter took a position with a Ukrainian natural gas company, Burisma, just before you visited Kiev and urged Ukraine to increase its natural gas production. He was paid as much as $50,000 a month despite having no experience in Ukraine or the natural gas industry. Why do you think Burisma hired your son and paid him such massive sums? [...] [#4] You recently said that you have "never spoken to my son about his overseas business dealings." But your son told the New Yorker that you did. Why did you say you never discussed it with him when you had? And why would you say to him "I hope you know what you are doing" if he was doing nothing wrong?
Joe Biden calls for a constitutional amendment [...] to 'ensure no future president can ever abuse the office for personal gain'. Joe Biden has called for a constitutional amendment to publicly finance elections as he unveils an ethics plan pointed at President Donald Trump. These proposals are to 'ensure that no future president can ever abuse the office for personal gain,' the Biden campaign told NBC News ahead of its formal announcement of reforms on Monday [10/14/2019]. The ban on private dollars, reminiscent of Biden's first days as a Senator nearly 50 years ago, comes as he has been lambasted by Democrat rivals for his leaning on lucrative fundraising events.
Hunter Biden swears no more corruption if Dad wins. News broke yesterday morning [10/13/2019] that Hunter Biden has officially stepped down from the board of directors of a Chinese-backed private equity company. Additionally, he made a public promise that if his father, Joe Biden, wins the presidency, he will "forego all foreign work." Quite a lot to unpack here. Firstly, he's missing the point entirely. While President Trump's Ukraine phone call shined a bright light on Joe and Hunter Biden's corruption, the outrage was never about him working for a foreign company. It was about how he got those positions in the first place — with his father's power and status in the U.S. government. Questions were raised about what was promised in return for giving the former vice president's drug-addicted child an extremely lucrative career with virtually no experience. Next, stepping down only brings more attention to the scandal.
GOP lawmaker introduces bill to investigate Biden family's dealings with Ukraine. Amid House Democrats' push for an impeachment inquiry against President Trump, a Republican lawmaker plans to introduce legislation to turn the spotlight on the Biden family's dealings with Ukraine. "I'm not asking for a foreign government to investigate him, I want the United States Congress to investigate him," Rep. Bradley Byrne, of Alabama, told "Fox & Friends" on Monday [10/14/2019]. The resolution, expected to be filed Tuesday, calls for several House committees to formally investigate Hunter Biden's dealings with Ukrainian firm Burisma Holdings during the period in which his father served as vice president.
Hunter Biden Was a Paid Consultant to MBNA Starting at Age 21 — As Joe Biden Pushed Legislation to Promote Credit Card Industry. Hunter Biden was paid an undisclosed amount of money as a consultant by MBNA as his father pushed legislation to help the credit card industry. Hunter Biden was 21 in 2001 when MBNA started paying the US Senator's son as a consultant. Hunter Biden at 31 was well on his way making a career for himself as a top Democrat Senator's son.
Is China Orchestrating the Democrats' Faux Impeachment Scheme? Last Thursday [10/10/2019], a caller into the Mark Levin Show made a brilliant point: Joe Biden has been completely compromised by Red China, and perhaps other foreign interests. His family members, and perhaps Biden himself, have significant personal wealth now controlled by Beijing. While his troubled son Hunter may have forfeited his "board seat" (as an aside, how many no-show jobs does this clown have?), his ownership stake in the $1.5 billion "hedge fund" appears to remain in force. The typical fee that managers would charge for these assets would be typically be between $15 and $30 million a year. Nice work if you can get it. And you can't, because your last name isn't that of a powerful Democrat politician. Biden isn't the only one beholden to China. John Kerry's stepson is a partner in Rosemont Seneca, the investment firm that "partnered" with the Bank of China to create a $1 billion investment fund called Bohai Harvest RST (BHR).
Biden Believes He Can 'Build On' The So-Called 'Squeaky Clean' Environment Obama Had. [Scroll down] Interestingly enough, Biden seems to believe he can build upon the so-called "squeaky clean transparent environment" that existed during the Obama administration. "And I can tell you now, if I am your president, next president, I'm going to build on the squeaky clean transparent environment we had in the Obama-Biden White House and no one in my family or associated with me will be involved in any foreign operation whatsoever. Period. End of story," the 2020 candidate said. Where was Joe Biden during the Obama years? Was he unaware of the scandals that plagued the Obama administration or is he simply trying to forget them? In case you need a reminder, Uncle Joe, here are a couple not-so-squeaky-clean instances you should really re-examine: [...]
Also posted under Lists of Obama scandals.
Hunter Biden Steps Down from Chinese Board. Hunter Biden is stepping down from the board of a Chinese-backed private equity company and promising to forgo all foreign work if his father, former U.S. Vice President Joe Biden, is elected president in 2020. After months of keeping a relatively low-profile as President Donald Trump leveled a barrage of unsubstantiated accusations of corruption at him, the younger Biden is publicly vowing to avoid any conflict of interest. According to a statement released on his behalf by his lawyer George Mesires, Biden said he'll resign at the end of the month from the management company of a private equity fund that's backed by Chinese state-owned entities.
Peggy Noonan: Hunter Biden Is the 'Story of the Swamp' — 'American People Don't Like It'. Sunday, during the roundtable portion of NBC's "Meet the Press," Wall Street Journal columnist Peggy Noonan warned the Hunter Biden side of the Trump impeachment story, which she called "the story of the swamp," puts the younger Biden on the wrong side of the American people. [Video clip]
The Last Desperate Effort to Protect "The Chosen One" Will Likely Fail (Perhaps by Design). [Scroll down] However, there is a more likely argument to be made that Biden's failure was planned. Coordinated by members who planned to push the Moonbattery of their useful idiots (their base) to the furthest reaches of left-wing policy; thereby creating a void that none of the current candidates could ever fill. If that Machiavellian scheme is correct, and I wouldn't put it past the DNC/Club to create such a design, into this DNC/Club created void another "chosen one" would be inserted at the opportune moment. This basic premise is a modification of the Democrat's favorite rule book: (1) manufacture a crisis; and then (2) don't let the crisis go to waste.
2020 Democrats Won't Attack Biden Over Ukraine Scandal. I recently noted the bizarre observation that 2020 Democrats aren't launching any substantive attacks on the frontrunners for the nomination. Biden, Warren, and Sanders have, generally speaking, gotten off pretty easy with their single-digit-polling rivals. If you think they're waiting for the next debate to unload, you'd be wrong. [...] According to Beto O'Rourke, "There is no reason [to look] into Joe Biden or his son Hunter Biden. They have been cleared of any wrongdoing whatsoever." [...] Beto is not the only one pulling punches.
Turns out Biden's family not the only one to benefit from Ukrainian fossil fuels. On Sept. 24, 2019, Speaker Nancy Pelosi announced the official impeachment inquiry that would be led by the Intelligence Committee and Rep. Adam Schiff (D-Calif.). At first, this was a curious decision to objective persons, since the Judiciary Committee has the authority over this type of procedure. At the time, Pelosi indicated a threat by President Donald Trump to our national security during the July 25 conversation between him and President Zelensky of Ukraine. She did this without the benefit of the transcript, but she doubtless already knew much of the CIA "whistleblower's" complaint. Further, the Ukrainian president disputes her version. But this is not the rationale for her haste to convene the investigation. It appears that the D.C. swamp benefits another powerful family. The Biden family has gotten special treatment from Ukrainian oil interests, and the Pelosi family has a similar advantage.
Joe AND Hunter Biden Were Both Paid By Burisma. House Democrats have pulled the trigger on their grand plan to impeach President Trump for simply winning the 2016 election. They couldn't get him on impeachment for "Russian collusion," but they're now using some inaccurate whistleblower report that alleged that President Trump tried to shakedown Ukrainian President Volodymyr Zelensky, threatening to withhold military aid unless he opened a corruption investigation into Hunter Biden. Hunter was being paid $50,000/month at his position at Burisma Group, an energy company and a sector of the economy that Biden has zero experience.
Joe Biden's campaign could have been made into a good Leslie Nielsen movie.
Biden brings town hall to standstill, reminisces on 'gay bathhouses' and 'round-the-clock sex'. Former Vice President Joe Biden's performance at CNN's LGBTQ Town Hall may not have been filled with his usual gaffes, but there were plenty of head-scratching and simply awkward moments. The Democratic presidential candidate was one of nine 2020 contenders who spoke on LGBTQ issues with CNN's Anderson Cooper at Thursday's Democratic presidential town hall, making several cringe-worthy impressions with viewers as he joked about coming out and reminiscing about "gay bathhouses and 'round the clock sex."
Biden's bogus buffoonery. Joe Biden's rhetoric grows more inflammatory with every new Democratic presidential poll, as rival Elizabeth Warren has surpassed him in the national polling averages and he realizes pretend moderation won't sell. In surveying his multitudinous rivals, Biden doubtlessly sees himself as a man of superior wisdom, experience and gravitas. [Indeed], he's wanted this job a lot longer than some of these upstarts have even been involved in politics, and he's paid his dues with scandal-ridden, failed efforts and an eight-year deferential stint as Barack Obama's vice president. In short, he's paid his dues just like Hillary Clinton did, and it's his time.
Dear Democrats: Hunter Biden Is No Ivanka Trump. Joe Biden's campaign can best be summed up as a game of dodgeball. Lately, he's tried to "dodge, duck, dip, dive and dodge" questions about why entities in two foreign countries funneled millions of dollars to his son, despite Hunter's lack of relevant experience for those "jobs." Worse yet are the efforts by Democrats and many in media to provide cover for the Bidens by absurdly comparing Hunter to Ivanka Trump. When it comes to business background and resume: Plain and simple, there is no comparison. Hunter Biden is no Ivanka Trump.
Buffoon: In May Joe Biden Said China's Not A Threat — Now Says Trump Too Weak On China. If the Democrats nominate Joe Biden, they are not only going to lose in 2020, they are going to look stupid doing it. In May of this year, Joe Biden told America that China represents no threat to the United States. Now he is calling them human rights abusers and saying that Trump is weak for not standing up to them.
Biden Campaign Warns Democrat Candidates: Do Not Repeat 'Discredited Lies' About Hunter. The Biden campaign is warning any presidential candidate who "calls themselves a Democrat" to refrain from repeating "discredited lies" about Joe Biden (D) and his son Hunter during the next presidential debate. The Biden campaign is taking an aggressive stance in an effort to dismiss the mounting questions and concerns surrounding the Bidens' business dealings in both China and Ukraine. The latter has become a particular point of interest in recent weeks, following President Trump's phone call with Ukrainian President Volodymyr Zelensky.
Who's Afraid Of Whom? Despite the lack of scrutiny, both from the DOJ and the media, we do know that Hunter Biden was paid $50,000 a month by Ukrainian energy company Burisma for not knowing anything about gas, oil or Ukraine. And we know from a Ukrainian MP that Joe Biden himself was paid $900,000 by Burisma. Those are not unproven allegations, as almost every outlet calls them. And they sure [...] ain't unfounded. Plus, Trump has every right to ask questions about this, whether in the US or elsewhere. Where he won't be able to ask questions, if Pelosi and Schiff have their way, is in the fake impeachment inquiry. There he may not even be able to bring a lawyer. Who's afraid of whom exactly, and of what?
6 facts about Hunter Biden's business dealings in China. The furor over Trump's call for Ukraine to investigate Hunter Biden's business has brought the spotlight back to the former second family's international dealings. While his Ukrainian business is currently receiving most of the attention, Hunter's dealings in China deserve at least as much scrutiny. Trained as a lawyer at Yale, Hunter had primarily worked as a lobbyist and consultant. His previous foray into financial services, Paradigm Global Advisors, was linked to Stanford Financial, a multibillion dollar Ponzi scheme. In 2009, Hunter co-founded a new venture, Rosemont Seneca Partners. Rosemont and Hunter were given extraordinary opportunities in China while his father was vice president.
There's stupidity, and then there's the Democrats. Since the days of the Clintons, Democratic crimes never seem to come as single spies, or even in battalions, but it something like divisions or army corps. That certainly seems to be the case with Joe Biden, as several stories that have bubbled up over the past few days attest:
• Hunter Biden was caught trying to run interference in Congress for corrupt Romanian land baron Gabriel Popoviciu without bothering to register as a foreign agent. Popoviciu later went to prison over a corrupt land deal. (This story first appeared last May, but is only now gaining traction thanks to Rudy Giuliani's interest.)
• It turns out that Papa Joe himself was paid $900,000 for lobbying on behalf of Burisma, the exact same outfit that Hunter was entangled with. (This was revealed by Ukrainian Rada member Andriy Derkach. I suppose Trump called him too.)
• It has also developed that the 2020 candidate that the whistleblower had a relationship with was none other than Joe himself. The whistleblower not only briefed Biden about Ukraine, but also accompanied him there on Air Force Two, which suggests more than a casual relationship.
Clearly, we've only scratched the surface as far as this little affair goes. Hunter had his finger in many pies, it seems, while Dad is entangled up to his neck with the same crew of corrupt reprobates as junior.
Biden Campaign Throws Temper Tantrum over Peter Schweizer NYT Op-ed. Joe Biden's presidential campaign sent a scathing letter to New York Times executive editor Dean Baquet for running an op-ed by author and Breitbart senior contributor Peter Schweizer, which laid out the former vice president's pattern of corruption and calling for the federal government to investigate his dealings in both China and Ukraine. The Biden campaign sent its letter to Baquet Wednesday [10/9/2019], expressing outrage for printing "a baseless conspiracy theory" and calling Schweizer, author of the book Secret Empires, a "right wing polemicist." While half of Schweizer's op-ed in the Times addressed Senate Majority Leader Mitch McConnell (R-KY) and Transportation Secretary Elaine Chao's China ties, the Biden campaign did not seem to take issue with that particular coverage.
Ukraine Fallout Turns Tough Guy Joe Biden into a Big Crybaby. Because he has no good answers for why his ne'er-do-well son Hunter was paid a sweet $50,000 a month — a month! — by a Ukrainian energy company, former-tough guy Joe Biden is going the full-crybaby to kill the story. [...] What happened to the tough guy who was going to beat President Trump like a drum? What happened to the sunglasses and swagger?
Are all Dems above the law? As the chief law-enforcement officer of the United States, Donald Trump has a constitutional obligation to investigate illegal behavior, especially when committed at the highest level of our government. Hence, a more-than-plausible alternative to the subjective and partisan attack device is conspicuously present, truly an elephant in the room — that somehow remains inscrutable to the chattering class. Lawful obligation trumps unwarranted and inadmissible assumption, as it were. And what evidence of illegality is there to justify the constitutional basis for Trump's request that Ukraine investigate Joe Biden? Merely objective evidence, both direct and circumstantial, that Biden has been running an international influence peddling (China) and extortion (Ukraine) operation.
Flashback: Tom Brokaw called out Biden corruption — in 2008!. Former vice president Joe Biden faces increased scrutiny on his son Hunter's shady business deals in the Ukraine and China, but it's not the first time the Bidens' conflict of interest has caused problems in a presidential campaign. More than a decade ago, Tom Brokaw asked Biden to his face about a different arrangement with a Delaware credit company called MBNA, which hired Hunter on a six-figure salary and paid then Sen. Joe Biden hundreds of thousands more in campaign contributions to win his favor.
Biden Spokeswoman says Hunter Was Cleared by Obama White House to Serve on Burisma Board. Earlier this week, Biden campaign spokeswoman Kate Bedingfield attempted to defend the Biden family's shady business dealings in Ukraine while Joe was vice president, and ended up implicating Barack Obama instead. While his father was vice president and handling U.S. relations with Ukraine, Hunter Biden got a lucrative position on the board of Burisma Holdings. Despite having no experience in the field, Hunter Biden was making as much a $166,000 a month, sparking allegations that he was selling access to the White House. "Every single independent outlet that's looked into this has said there's no issue of wrongdoing here," Bedingfield claimed, before adding, "In 2014 the White House cleared Hunter Biden serving on that board."
Senator Who Employed Chinese Spy Endorses Joe Biden for President. A high-profile U.S. senator with professional and personal ties to China — including once employing one of its spies — is backing former Vice President Joe Biden amid mounting questions over his son's business dealings with the communist regime. Sen. Dianne Feinstein (D-CA), a former chairwoman of the Senate Intelligence Committee, announced her endorsement of the former vice president on Tuesday [10/8/2019], claiming to have witnessed Biden's "fortitude" and leadership during their overlapping tenures in Congress.
Burisma paid Joe Biden $900,000 for lobbying — Ukrainian MP. Former U.S. Vice President Joe Biden received $900,000 for lobbying activities from Burisma Group, Ukraine's Verkhovna Rada member Andriy Derkach said citing investigation materials. Derkach publicized documents which, as he said, "describe the mechanism of getting money by Biden Sr." at a press conference at Interfax-Ukraine's press center in Kyiv on Wednesday [10/9/2019]. "This was the transfer of Burisma Group's funds for lobbying activities, as investigators believe, personally to Joe Biden through a lobbying company. Funds in the amount of $900,000 were transferred to the U.S.-based company Rosemont Seneca Partners, which according to open sources, in particular, the New York Times, is affiliated with Biden. The payment reference was payment for consultative services," Derkach said.
Facebook Rejects Biden Campaign's Request to Ban Trump Ad. Facebook has rejected a request from former Vice President Joe Biden's 2020 campaign to remove a video advertisement by President Donald Trump's re-election campaign that highlights allegations of corruption against Biden and his son, according to a report. CNN on Wednesday [10/9/2019] published Facebook's response to the Biden campaign in which it explains its decision is "grounded in Facebook's fundamental belief in free expression, respect for the democratic process, and belief that in mature democracies with a free press, political speech is already arguably the most scrutinized speech there is."
Solomon Reports: Ukraine Investigation into Burisma/Biden Was Re-Opened in February 2019. Journalist John Solomon appeared on Fox News with Sean Hannity last night to drop a considerably important revelation. According to Solomon's reporting the White House has open-sourced evidence that Ukraine re-opened their investigation into Burisma Holdings and Hunter Biden in February 2019; several months before President Trump spoke to President Zelenskyy.
Trump's exaggerations stand in stark contrast to Democrats' actual lies. Joe Biden was found to plagiarize a speech from a British politician years ago. This is his third try for the presidency. With lack-luster effort his name recognition and support from African-Americans helped him become the front-runner. At 76 years of age now, his energy is lacking, but his anger is pronounced when fending off questions concerning his son's dealings with Ukraine and China. But what about his son's efforts to trade on his political influence? Is there any hypocrisy when he accuses Trump of nefarious activities? Where is the media and their curiosity? They act more like the publicity arm of the Democratic Party.
The Curious Case of the Incurious Press. Instead of expressing curiosity about why the Bidens had been the subject of a criminal investigation in Ukraine, reporters fell into lockstep with the Democrats' impeachment narrative. Everywhere you turned for the last two weeks, whenever a reporter was talking about Biden at all, it was to talk about how he was being maligned by Trump, that he had been cleared of any wrongdoing, that the claim that he had gotten a prosecutor fired to protect his son was a "debunked conspiracy theory." When you asked who cleared Biden, you got no answer except the news media themselves.
How the Hobbs Act Could Sink Joe Biden. To say the drive-by media have circled the wagons for Joe Biden is putting it mildly. Every day, in print and on their TV broadcasts, they thunder that there is no evidence! He broke no laws when his son raked off millions of dollars from China and Ukraine for no-show jobs. Even New Jersey's most famous traffic judge seems to be confused. A guy in Ukraine also posits that Biden broke no laws there, either, as if there were really any laws to break in that wild West corruption show. But as an American lawyer, who often has to advise public officials on state and federal ethics laws, I can say yes, just by the public record we already have, Joe Biden, his son, their bag-man Devon Archer, and possibly John Kerry likely violated 18 USC 1951, the dreaded Hobbs Act, the federal anti-extortion law. Hobbs has a really nasty bite to it for public officials, because it prohibits not just bribery, but merely the collecting of political tribute under color of official right.
How Biden is Bungling His Ukraine Response — And Does the New Whistleblower Matter? Yesterday morning [10/6/2019], CNN's Jeff Zeleny reported that Joe Biden's presidential campaign has been deliberately shielding the candidate from interviews throughout the Ukraine ordeal because they don't want him confronted with numerous questions on the topic. [...] That can't last. The man is seeking the White House. He doesn't get to duck and dodge uncomfortable questions indefinitely, especially when they're connected to a massive story involving an impeachment inquiry into the sitting president.
Hunter Biden Apparently Gets Around, Caught Doing Shady Deals In Yet Another Country. It's amazing how a guy with zero experience in certain fields kept getting jobs in certain fields. And I'm sure it's just a coincidence that his father was conducting foreign policy in the same places, right? [...] We've already heard about Hunter Biden's lucrative dealings in Ukraine. Then there was the bribery scheme in China involving a guy under indictment. Now, we are finding out that he advised a guy headed to prison in Romania while not being registered as a foreign agent. [...] In other words, Biden likely broke the law here by even being involved with this dealing in Romania. He was not registered properly and was clearly advising in a foreign country. Of course, nothing will happen to him because FARA laws only apply to Trump associates.
We need to talk about Hunter Biden. [Scroll down] What's harder to shake is the fact that Hunter Biden's career is undeniably shady in the way that only the son of a longtime Washington insider could muster, failing upwards into positions of influence and power on the merits of his last name. And that should be considered a huge liability to Joe Biden, for months now considered heir apparent for the Democratic party's presidential nomination. [...] Indeed, his entire appeal is premised on his ties to that political establishment, namely his having been Barack Obama's vice-president. That's his biggest and perhaps only selling point in a run that's been defined by fumbling debate performances, scant appearances on the campaign trail and awkward defenses of a record that includes support for the Iraq war and pitiful treatment of Anita Hill.
Poll: 57% Americans Support Probe of Biden and Son's Ukraine, China Actions. A new poll showed that 57 percent of respondents support a Justice Department probe on former Vice President Joe Biden and his son Hunter Biden regarding their actions in Ukraine and China. Only 37 percent of respondents were against investigating them, according to the new poll by Investor's Business Daily/TIPP, published on Friday [10/4/2019].
Joe Biden Donors Gather for Emergency Closed-Door Meeting as Campaign Loses Steam. Joe Biden's top political donors gathered for an emergency closed-door meeting this weekend in Philadelphia, Pennsylvania, as his campaign falls behind rivals in both funds and polling. The New York Times was first to report the meeting on Sunday, noting the financiers were treated to a behind-the-scenes view of the campaign's headquarters and strategy, including a private address by the former vice president.
Rudy Giuliani: Media "Deliberately" Covering-Up Joe Biden Selling Public Office. Rudy Giuliani appears on Media Buzz [10/6/2019] to discuss how the U.S. media has refused to dig into the details of Joe Biden's corrupt activities. [Video clip]
It's in the public's interest to know if Joe Biden is corrupt, even if it's also in Trump's interest. Almost every poll showed that the Russia investigations ranked dead last among voter concerns. The whole point of Democrats egging on the special counsel, while conducting their own investigations, was to hamstring Trump's presidency. And then, after the special counsel produced its report without having found any collusion, House Democrats called for yet more investigations. But when President Trump asked the leader of Ukraine to continue looking into whether there was any corruption involved with the 2016 election and Joe Biden on his country's behalf, Democrats and the national media put on a straight face and accused him of ... looking out for his own political interests!
Joe Biden snaps at another reporter over question about his family's 'conflicts of interest' in the Ukraine. Joe Biden has lashed out at a reporter in response to a question about his family's potential conflicts of interest in the Ukraine, insisting that press should focus on allegations against President Donald Trump. At a Service Employees International Union forum in Los Angeles on Friday, Biden was asked about his work overseeing foreign policy for Ukraine as vice president while his son Hunter served on the board of a major Ukrainian company. 'It's not a conflict of interest. There's been no indication of any conflict of interest, in Ukraine or anywhere else. Period,' Biden snapped.
Joe Biden Explodes Over Question About Son's Ties to Ukraine: 'I'm Not Going to Respond to That'. Former Vice President Joe Biden exploded at the media on Friday when asked about his youngest son's shadowy business dealings in Ukraine. The tense altercation occurred during a campaign stop in Los Angeles, California, where the former vice president was asked if Hunter Biden's service on the board of directors of Burisma Holdings, a Ukrainian oil and gas giant, had posed a conflict of interest during his time in the White House.
Joe Biden is no longer a front-runner. Back in May of this year, Biden had an enormous 26.8 percentage point lead over the second-place Democrat, Sen. Bernie Sanders, in the RealClearPolitics average of national polls. By late June, that lead had shrunk to 15.6 points. By Sept. 1, it was 13.5 points. By mid-September, it was 9.7 points. Now, Biden's lead is 2.2 points, which is essentially no lead at all.
Joe Biden's Fundraising Craters amid Doubts over Candidacy. Biden's campaign announced on Thursday [10/3/2019] it only raised $15.2 million in the third quarter, significantly less than expected. The sum was less than what was raised by competitors polling below Biden, such as Sen. Bernie Sanders and South Bend Mayor Pete Buttigieg — who raised $25.3 million and $19.1 million, respectively, in the same period.
Ukraine to Review Criminal Case on Owner of Firm Linked to Biden's Son. Ukraine's top prosecutor said on Friday that he would review several important cases previously handled by his predecessors, including a criminal case involving the owner of a natural gas company that employed a son of former Vice President Joseph R. Biden Jr. The development came amid an impeachment inquiry against President Trump connected to a request he made to the Ukrainian president asking him to investigate Mr. Biden, a Democratic presidential candidate, and his son's work in Ukraine. The timing raised questions about whether Ukraine was, in effect, bowing to public and private pressure from the president of the United States, on which it has depended on for millions of dollars in aid.
Joe Biden: Mediocrity Personified. Everyone's religion is a personal matter, but Joe Biden is an ostentatious Roman Catholic who appears to disbelieve practically every tenet of his church except, presumably, that God exists, Jesus Christ was divine, and he told St. Peter to found a church. Apart from that, it's open house. That there was a creation, that all life is sacred, that abortions, whether a matter of right or not, are the extinction of life, the notion that marriage was created as an institution between a man and a woman: Whenever anything touching on these or similarly important issues arises, he emits a damp little mantra about "I don't believe in imposing my views in others." That's commendable, but legislators are expected and preferred to have beliefs and act on them. With Joe Biden, there has always been the unpleasant feeling that he doesn't believe in much, what he believes in one day could change tomorrow, and when he takes a stand, he's often mistaken.
Documents heighten scrutiny on Biden-Ukraine dealings, indicate Hunter may have made 'millions'. A batch of newly released documents, including court filings as well as notes from interviews conducted by Rudy Giuliani, have put the spotlight back on Biden family dealings in Ukraine — even as House Democrats' impeachment probe zeroes in on President Trump's push to convince Kiev to investigate them. And they've raised more questions about how much money Joe Biden's son Hunter made while serving on the board of a Ukrainian natural gas firm at the center of the controversy, with one estimate putting the figure in the "millions."
Biden Fundraising Plummets From Last Quarter, Below Buttigieg, Bernie, Trump. Joe Biden's third quarter fundraising numbers are out. And they are an ominous sign for the former vice president's 2020 candidacy.
Watch the Trump campaign ad CNN is refusing to air. CNN is refusing to air a new Trump reelection campaign ad that attacks the network's prime-time anchors Don Lemon and Chris Cuomo as "lapdogs" for the Democratic Party. The 30-second ad, titled "Biden Corruption," highlights the controversy surrounding former Vice President Joseph R. Biden and his son Hunter Biden's business dealings in Ukraine.
Biden duped senators into helping his corrupt son. Biden has admitted that he held up a billion bucks in a loan guarantee unless it fired the prosecutor who was going after his son, a self-admitted coke addict. After his drug use snuffed his Navy career, Hunter Biden landed a $600,000-a-year no-show job by a corrupt Ukraine company with ties to Putin. Ukraine fired the prosecutor and got its money. Ukrainians got rid of that government this summer. President Donald John Trump asked the new president about the prosecution of the company. He said it is on-going. Democrats now want to impeach President Trump because Biden is a crook.
The Party of 'Impeach!' [Scroll down] Meanwhile, all this Ukraine business just places attention on Joe's Biden's son. Hunter Biden received a lucrative monthly fee to sit on the board of director a Ukrainian energy company, despite his lack of energy expertise or his inability to speak the local language. Joe Biden's candidacy will be irreparably harmed, increasing the odds that hard-left Elizabeth Warren will win the Democratic nomination. Trump, post-impeachment, can credibly call himself a victim of a political vendetta and ride that narrative to victory in 2020.
Democrats Have Given Up on the Common Good. Joe Biden has had a hard few weeks. [...] Speaking recently at an LGBT event, the former vice president told the audience, "In prison the determination should be that your sexual identity is defined by what you say it is, not what in fact the prison says it is." Put another way, Biden came out in favor of housing male convicts with women. Watching Biden grovel before the woke mob is rather sad, but it's also telling about the evolving priorities of his party. With practically the sole exception being healthcare, Democrats have given up on even trying to look like they care about issues that touch on the national interest or broadly shared concerns of ordinary Americans. The liberal elite that funds their campaigns and televises their phony "debates" has lost all connection with the common good.
Flashback, 2018: Joe Biden Brags At CFR Meeting About Withholding Aid To Ukraine To Force Firing Of Prosecutor. In this clip from a January 2018 appearance at the Council on Foreign Relations, former Vice President Joe Biden seems to brag about threatening to withhold military aid to Ukraine as a pressure tactic to force the firing of a prosecutor he did not like. In September 2019, House Democrats launched a formal impeachment inquiry into President Trump over a whistleblower's accusation that he threatened to withhold aid to Ukraine as a pressure tactic to force the Ukrainian government to investigate allegations that Joe Biden's son Hunter benefited financially from the firing of that same Ukrainian prosecutor. [Video clip]
How Trump wins. [Scroll down] Also, notice the timing of this. This came out just as Biden began to fall in the polls, and Warren started picking up steam. Biden is malleable, morally fungible, with a weak, vulnerable, and problematic family. The Democrats can handle him. He'll do as he's told if he can just get across the finish line. That began to look less and less likely over recent weeks with more of his signature gaffes, not missed by the populace or the mainstream media, thus Warren's rise. [...] No one is safe. No one is off limits. Even Joe Biden, a 40+ year loyalist, a man willing to compromise what soul he has remaining for the party, is being sacrificed for this effort to get Trump. He will be forced to disappear in shame and disgrace after more than half his life in government, rather than retire as a respected elder statesman.
Photo: Joe, Hunter Biden Golf with Ukraine Energy Company Board Member in 2014. A newly-unearthed photo shows former Vice President Joe Biden and son Hunter sharing a round of golf with Devon Archer, who sat on the board of Ukrainian energy firm Burisma Holdings alongside Hunter. The photo, first obtained by the Fox News Channel's Tucker Carlson Tonight, is believed to have been taken at the Sebonack Golf Club in Southampton, New York in 2014. Both Hunter Biden and Archer joined Burisma Holdings as board members in April 2014.
Hillary Clinton to voters upset about Joe Biden's unwanted touching: 'Get over it'. Former Secretary of State Hillary Clinton in a new interview scoffed at the unwanted touching allegations against Vice President Joseph R. Biden, saying voters need to "get over it" and vote President Trump out of office. Sitting down with People magazine in a joint interview with daughter Chelsea Clinton, Mrs. Clinton dismissed speculation that women might be less than enthusiastic about voting for Mr. Biden after several women came forward this spring and accused him of unwanted touching. The former vice president has since apologized for putting people in uncomfortable situations.
Juanita Broaddrick Slams Hillary For Saying Women Groped by Biden Need to 'Get Over It'. We asked Juanita Broaddrick what she thought about Hillary Clinton's recent comments suggesting women upset with being groped by Joe Biden need to "get over it," and she had the perfect response. In an interview with People Magazine, Clinton, who recently boasted that her 'gutsiest' life move was to stick it out with her womanizing husband, brushed off concerns that Biden is unable to contain his creepy behavior. This past year, several women accused Biden, one of the frontrunners for the Democrat nomination, of inappropriately touching them and making them feel uncomfortable.
The Editor says...
Apparently Hillary wants the women to "get over it" so that they can forget about all the things Bill Clinton did to defile the Oval Office. If all of America can forget about that, Hillary can run for president. If Americans do not forget, Hillary is finished, assuming that her political opponents aren't afraid to discuss Hillary's enormous pile of dirty baggage.
Ukraine Mystery: Schiff Staffer Made August Visit for Think Tank Backed by Hunter Biden's Old Employer. A staffer for Rep. Adam Schiff's House Permanent Select Committee on Intelligence took a trip to Ukraine last month sponsored and organized by the Atlantic Council think tank. The Atlantic Council is funded by and routinely works in partnership with Burisma, the natural gas company at the center of allegations regarding Joe Biden and his son, Hunter Biden. The Schiff staffer, Thomas Eager, is also currently one of 19 fellows at the Atlantic Council's Eurasia Congressional Fellowship, a bipartisan program that says it "educates congressional staff on current events in the Eurasia region."
Bring On the Biggest Nothingburger of Them All. There has not in modern American history been such a preposterous excuse for a threat to the presidency as the Ukraine affair. The "favor" the president sought from President Zelinsky of Ukraine was that he reopen his inquiry into corruption so there would be more support in Washington for aid to Ukraine's self-defense against Russian territorial intrusion. About 500 words later in the transcript, President Trump asked that the question of the Bidens' involvement in Ukraine be scrutinized too, without indicating a desired response, (though he said, correctly, that it looked "horrible"). If, as they claim, the Bidens are innocent of any wrongdoing or impropriety, the Ukrainians presumably will say so and the Bidens should then thank President Trump for eliciting that answer. If the Bidens, or at least Hunter Biden, were taking bribes, the United States, and the Democratic Party first of all, should wish to know that also.
Biden crime family tries to muzzle mob prosecutor Rudy Giuliani. We now know that as Trump's personal attorney, Giuliani has been investigating Biden's successful 2014 campaign to pressure Ukraine's government to sack its Prosecutor General Viktor Shokin. The prosecutor was investigating Burisma Holdings, an oil and natural gas company on whose board Biden's son Hunter served. A position that paid the vice president's son $50,000 a month. Capitol Hill Democrats and their media propagandists imply that President Trump's July conversation with Ukrainian President Volodymyr Zelenskiy was intended to strong-arm the leader. That "mafia-style" suggestions were to manufacture dirt on Democratic presidential front-runner Joe Biden. The president must rely on Giuliani to serve as his private investigator. A corrupt FBI is far too busy helping the CIA run one failed coup attempt after another. And even if they did investigate, the FBI would more than likely exonerate Joe and Hunter Biden. Much in the same manner, they did Hillary Clinton of her many violations of the Espionage Act of 1917.
Five Times Hunter Biden's Business Dealings Presented a Conflict of Interest for Joe Biden. Joe Biden's youngest son, Hunter, has a long and muddled history of profiting from business interests tied to the former vice president's political influence. The younger Biden, who has a storied history of personal and professional issues, is at the center of controversy after President Donald Trump suggested the Ukrainian government look into his business dealings in the country. Although the Bidens are denying any wrongdoing, even going to the extent of accusing Trump of abusing his power, the situation only underscores the shadowy nature of Hunter Biden's professional life.
Schweizer: Biden Family 'Cashing in Through' 'Corruption by Proxy'. On Monday's [9/30/2019]broadcast of the Fox News Channel's "Tucker Carlson Tonight," Breitbart News Senior Contributor and Secret Empires author Peter Schweizer stated that the Biden family has cashed in through "corruption by proxy." Schweizer said, "What I think it adds up to is the Biden family cashing in through — by corruption by proxy. ... Joe Biden, as Vice President, or his wife Jill Biden can't take payments from foreign entities. That would have to be disclosed. That would be easy to catch. But you set up your adult kids."
Why China thinks it's got a future President Biden in its pocket. [Scroll down] Had China's trade negotiators been acting in bad faith all along? Perhaps. After all, Beijing has a long history of duplicitous behavior. But I think the real reason that China backtracked is named "Joe Biden." The former vice president had just ended months of speculation over his political future by announcing he was running for president on April 25. The Chinese blew up the negotiations a few days later. They had decided to run out the clock on President Trump's first term, convinced that they would get a much better deal from a future President Biden.
Hunter Biden's China dealings — approved by Obama — are drawing new scrutiny amid Joe Biden's run. Scrutiny of business deals by former Vice President Joseph R. Biden's son Hunter now includes his joint venture with a Chinese government entity to buy a U.S. automotive technology company with potential military applications. The ease with which the 2015 transaction was approved by the Obama administration alarmed Senate Finance Committee Chairman Chuck Grassley, who is looking into whether the Obama-Biden White House intervened in the process. One of the companies in the 2015 deal was Bohai Harvest RST (BHR), a billion-dollar investment fund backed by China that was formed by Hunter Biden and Chris Heinz, the stepson of then-Secretary of State John Kerry.
Author Peter Schweizer: We Are Releasing Documents Today Related to Hunter Biden's $1.5 Billion China Scandal. Author Peter Schweizer from the Government Accountability Institute joined FOX and Friends on Monday morning [9/30/2019] to discuss the Biden Family's massive pay-for-play scandal. Schweizer is author of the book Secret Empires detailing the vast corruption of the Washington DC elites. Schweizer is an expert on the Biden family billion dollar pay for play scandals with Ukraine and China. Peter Schweizer told the FOX and Friends hosts he is releasing new documents today on Joe Biden's pay-for-play scandal with China.
Schiff Staffer Made August Visit for Think Tank Backed by Hunter Biden's Old Employer. A staffer for Rep. Adam Schiff's House Permanent Select Committee on Intelligence took a trip to Ukraine last month sponsored and organized by the Atlantic Council think tank. The Atlantic Council is funded by and routinely works in partnership with Burisma, the natural gas company at the center of allegations regarding Joe Biden and his son, Hunter Biden.
Biden should drop out to make way for a moderate not tainted by corruption. Joe Biden's corrupt dealings in Ukraine and those of his son must be investigated, and the time has come for him to drop out of the presidential race. While Biden served as vice president, his son Hunter was unaccountably making $50,000 a month "consulting" in an industry with which he was totally unfamiliar (energy), in a notoriously graft-prone country where he didn't speak the language (Ukraine). Hunter made similarly sketchy deals with China. President Trump's phone call this summer with his Ukrainian counterpart may have been ill-advised, but it simply didn't rise to an impeachable offense. Meanwhile, the American people deserve to know the truth about the Biden family's lucrative dealings with other countries during the Obama administration. Indeed, in 2016, Biden oversaw a seriously salacious project in Ukraine that included attempting to get the nation to fire its top prosecutor.
The Editor says...
Let's talk about "mak[ing] way for a moderate not tainted by corruption." Who would that candidate be? How many Democrats are "moderate?" Not many, and certainly not many under the age of 65. Of those few, how many are interested in having their entire lives sifted for any evidence of flaws? Of the remainder, how many could actually win an election against a popular incumbent with a long list of accomplishments while the economy is doing well? It's not going to happen.
Carl Bernstein: Sources say William Barr preparing to deliver 'evidence' of a 'deep state conspiracy'. Veteran investigative journalist Carl Bernstein said his sources are telling him that Attorney General William Barr is preparing to push a "deep state" conspiracy to protect President Trump. During an appearance Thursday on CNN, the famed Watergate sleuth reacted to controversy about an intelligence community whistleblower who filed a complaint alleging Trump improperly leveraged military aid to encourage Ukrainian President Volodymyr Zelensky to investigate former Vice President Joe Biden and his son, Hunter.
Joe Biden's Parenting Is the Real Problem, Not Impeachment. DNA undoubtedly has influence, but so does parenting. And that's what we control. When your son is bounced out of the Navy for cocaine, when he has long had a drug and prostitution problem (the man also dumped his wife for his dead brother's widow), do you allow him to use your influence to get a $50K-a-month job with a Ukrainian natural gas company? Do you reward repeated mistakes with riches in an Eastern European country? Don't you try instead to help your son make his life better, help him deal with his obvious emotional problems first? Joe Biden himself has had considerable pain in his personal life, the deaths of a spouse and a child, but one would hope that would make him yet more attentive to those remaining children, less centered in the self. It appears not to have been so.
Schweizer: Joe Biden 'Was Steering Billions of Dollars of Western Money to Ukraine' for Access, Influence. [Peter] Schweizer told host Mark Levin that the former vice president's son was being paid by Ukraine despite not having expertise in the energy sector while Joe Biden was the "point-person" on former President Barack Obama's administration in dealing with Ukraine. "The key question here that nobody seems to want to ask in the media is: What was he being paid for? He wasn't being paid for his expertise. What was he being paid for? And what were the Ukrainians expecting to get in return?" Schweizer stated.
Swamp Elites Toss Biden To The Wolves To Get Trump. There seems to be a narrative that already-tottering 2020 leading Democratic presidential candidate Joe Biden may be sacrificed to take President Trump down. [...] But why would it stop at Biden? So many leading establishment political figures from the golden heyday of Swamp rule (1988-2016) have been tainted by the whiff of scandal involving dirty foreign money — especially Chinese money. If Trump and his tens of millions of supporters turn this latest impeachment crusade into a forum on foreign money influencing US politics, a lot of prominent Swamp figures are in big trouble. Yet by using Ukraine as a vehicle for their efforts, that is exactly the opportunity they are providing the president and his backers.
Busting Biden myths on Ukraine — Conduct of Joe and Hunter raises troubling questions. Amid the furor over President Trump's July 25 phone call with Ukrainian President Volodymyr Zelensky, which has prompted House Democrats to move forward with a Trump impeachment inquiry, serious underlying questions about the Biden family's involvement in Ukraine persist. With evidence suggesting that Hunter Biden's dealings in Ukraine posed a conflict of interest for his father, then-Vice President Joe Biden, some Biden defenders are deploying talking points meant to deflect from the troubling facts. But some of these talking points — regularly repeated in the news media — do not hold up to a fact check.
Biden campaign demands news channels stop booking Giuliani. Former Vice President Joe Biden's presidential campaign called on news executives to stop booking Donald Trump's personal lawyer Rudy Giuliani as a guest on news programs. Two top Biden campaign advisers in a letter addressed the leaders of news and cable networks and some anchors, saying that Giuliani's appearances on news networks are giving the lawyer and his "false, debunked conspiracy theories" undeserved credibility, The Daily Beast first reported. The letter has since been shared on social media.
Schiff, Pelosi and lawless Democrats may get the civil war they want. As they continue to trample the constitution in their efforts to destroy President Trump, Democrats are on the verge of triggering a Civil War in America. [...] If you are a democrat, it is OK for Joe Biden to enrich Hunter Biden with $3 million from Ukraine, and a $1.5 billion dollar investment from the government-run Bank of China. Interesting to note is that the payments from Ukraine only stopped last April, just before Biden announced his candidacy.
Watters presents Bill Clinton-signed treaty allowing Trump to request assistance from Ukraine on Biden. A 1999 treaty with Ukraine, signed by Bill Clinton, provides a rock-solid basis for President Trump's request for Ukrainian President Zelensky to investigate former Vice President Joe Biden and his son Hunter Biden for alleged corruption. The Bidens are in up to their armpits with regard to a potential renewed Burisma Holdings natural gas probe[,] an overdue investigation that was in fact initially stopped by VP Biden while he was in office[,] a fact that he subsequently bragged about.
Hunter Biden's Ex Claims [...] Two Months After Navy Dumped Him for Drugs He Was Put on Board of Burisma Holdings. The Wall Street Journal reported in October of 2014 that the Vice President's son, Hunter Biden, was released from the Navy for cocaine use. There was no stopping the Biden's however. A couple months later, young Biden was on the Board of the largest gas and oil company in the Ukraine making $50,000 a month, an exorbitant amount for a Board member at any company.
Ruling Class vs. 'The Others'. Should any of us violate the laws, we can expect to have the book thrown at us. But for them, it's more a slap on the wrist, if anything at all. We see this in the behavior of the Clintons, deep state actors, and even the Bidens. No one seriously thinks that Hunter Biden's Ukrainian and Chinese business "activities" are above board. But even more troubling, consider that a sitting vice president of the United States was potentially involved in pay-to-play with foreign nations. The ruling class apparently believes the law is whatever it says it is. It is whatever is convenient for them.
Obama, the Bidens, the Clintons, the IMF and Others Pillaged Ukraine. President Obama, his Vice President Biden and his son, Hillary Clinton, the Clinton Foundation, Mueller, the Podestas, the IMF and others all pillaged the Ukraine and then delayed loans to the country before forcing Ukrainians to pay grossly inflated natural gas prices. Now these vultures claim they are innocent.
Heckler Disrupts Joe Biden Rally in Las Vegas: 'He's a Predator'. Joe Biden had a campaign rally in Las Vegas, Nevada, disrupted on Saturday by a heckler noting the former vice president's record of touching women unsolicited. "Joe Biden is a predator; the media is covering it up," a man waving a #MeToo sign interrupted Biden as he spoke at the East Las Vegas Community Center.
Maher: If Don Jr. Did What Hunter Biden Did, 'It Would Be all Rachel Maddow Was Talking About'. On Friday's [9/27/2019] broadcast of HBO's "Real Time," host Bill Maher stated that while he doesn't think 2020 Democratic presidential candidate former Vice President Joe Biden was "doing something terrible in Ukraine," Hunter Biden's behavior in Ukraine "does sound like something Don Jr. would do. And if Don Jr. did it, it would be all Rachel Maddow was talking about." Maher began by saying, "I don't think he was doing something terrible in Ukraine, but [...] this kid was paid $600,000 because his name is Biden, by a gas company in Ukraine, this super corrupt country that just had a revolution to get rid of corruption. It just looks bad. [...]"
Joy Behar: Biden Family Should Be Off Limits; 'People Feel Sorry for Joe!' The View host Joy Behar made a weird argument on Friday's [9/27/2019] show about the whole Hunter Biden, Ukraine controversy. The liberal host suggested that because the 2020 presidential candidate and veteran politician suffered a family tragedy decades ago, he should be immune from any Republican attacks which involved his 49-year-old son. While the show opened with Abby Huntsman literally shaming anyone who didn't agree the Ukraine phone call was an "abuse of power" and declaring that it was "clear" cut case for impeachment, the conversation drifted to the controversy behind that phone call. Co-host Joy Behar suggested it was "dumb" for Republicans to go after Joe Biden's family, because he'd been through enough, losing his first wife and daughter in a car accident in the 1970s, and one of his sons in 2015: [Video clip]
I Want to See Obama's Transcripts. It's clear Pelosi and the Democrats just committed mass political suicide. Radical Democrats suffering from Trump Derangement Syndrome persuaded Pelosi to jump off a cliff ... and the entire Democratic Congress followed like sheep. [...] Democrats haven't just overreached. They've walked into a big trap. No normal person cares that Trump had a phone call with a world leader and asked him to look into massive alleged corruption by an American politician on foreign soil. Most normal Americans are saying, "It's about time."
Former Ukranian Prosecutor Viktor Shokin Sworn Affidavit Outlining Joe Biden Shakedown. John Solomon is reporting on a myriad of documents that highlight how Vice-President Joe Biden engaged in a pressure and influence campaign upon the government of Ukraine to financially benefit his son Hunter Biden. One of those documents is a sworn affidavit by former Ukrainian Prosecutor Viktor Shokin: [...]
Wherever Joe Biden went, son Hunter cashed in. In a now notorious July 25 conversation, President Trump asked Ukrainian President Volodymyr Zelensky to "look into" Ukraine's role in efforts to interfere in the 2016 election as well as the dealings of Joe Biden and his son Hunter with the notoriously corrupt country. Whether or not Trump's ham-fisted conversation with Zelensky rises to an impeachable offense, the American people have legitimate reasons to be curious about both issues — and especially the Biden family's blatant conflicts of interest abroad as Joe Biden seeks the presidency.


Funk & Wagnall's Standard Dictionary of the English Language,
1964 International Edition, Volume One, page 548.

These once-secret memos cast doubt on Joe Biden's Ukraine story. Former Vice President Joe Biden, now a 2020 Democratic presidential contender, has locked into a specific story about the controversy in Ukraine. He insists that, in spring 2016, he strong-armed Ukraine to fire its chief prosecutor solely because Biden believed that official was corrupt and inept, not because the Ukrainian was investigating a natural gas company, Burisma Holdings, that hired Biden's son, Hunter, into a lucrative job. There's just one problem. Hundreds of pages of never-released memos and documents — many from inside the American team helping Burisma to stave off its legal troubles — conflict with Biden's narrative.
GOP senators float Biden probe as Ukraine controversy escalates. A pair of GOP chairmen are floating the idea of investigating former Vice President Joe Biden as Democratic calls grow for President Trump to be impeached over his communications with Ukraine's leader. Sens. Ron Johnson (R-Wis.) and Lindsey Graham (R-S.C.) both raised the possibility of an investigation into Biden after the White House released a record of a July 25 phone call that showed Trump asking Ukrainian President Volodymyr Zelensky to look into Biden. Democrats have reacted to the records released by the White House by saying they make the case for impeachment, but Republicans are countering with calls for Biden to be investigated.
Sen. Tom Cotton accuses Hunter Biden of dodging DNA test in Arkansas paternity case. Arkansas Republican Sen. Tom Cotton lambasted Hunter Biden Thursday by describing a paternity suit in his home state that has been filed against the former vice president's son. "There is a young woman in her 20s in Arkansas who has filed a paternity suit in Arkansas state court against Hunter Biden. And he is dodging process, and has done so for months. He is literally hiding out from process servers so he doesn't have to submit to a DNA test," Cotton told radio host Hugh Hewitt during an interview Thursday morning [9/26/2019].
NYT Journalist: How Dare Media Report Bad Things About Joe Biden's 'Child,' 49-Year Old Hunter? An Arkansas woman is suing Joe Biden's son, Hunter Biden, claiming that he is the father of her child. But she's encountered problems in the effort because he has been ducking service of process, she says. Basic news item, right, especially given Hunter being so much in the news? Hugh Hewitt thought so, when he reported Sen. Tom Cotton (R-AR) commenting on the lawsuit.
Fox News' Jesse Watters OWNS Juan Williams:. 'Trump's sons stopped doing international business after dad became president, Biden's son STARTED after dad became VP' [Video clip]
Ukraine furor makes Hunter Biden the political liability Democrats long feared. Joe Biden has never been shy about using his family as a campaign asset. But escalation of the scandal surrounding work by the former vice president's son Hunter Biden with a Ukrainian gas company might once again turn into the liability that many Democrats have long feared. Jobs held by Hunter Biden, 49, have complicated the political life of his father going back at least to 2008, when the then-Delaware senator was chosen as running mate for Democratic presidential nominee-to-be Barack Obama. Campaign officials were forced to address questions over Hunter Biden having been hired by credit card company MBNA for consulting work, earning him a $100,000 annual retainer. While with MBNA, he helped pass legislation making it more difficult for individuals to declare bankruptcy.
What Is Joe Biden Hiding? Suddenly, with his presidential campaign about to begin, Biden's Senate papers are now being deliberately hidden from public view. In the Watergate scandal, hiding documents — audio tapes in that case — was quickly and accurately labeled as "stonewalling." Today, Joe Biden is stonewalling.
Sleepy Joe and Hunter: The criminals in the Trump impeachment inquiry. Democratic Speaker Nancy Pelosi announced that "the House of Representatives is moving forward with an official impeachment inquiry." Translation: Joe Biden — the great white hope of the Democratic Party — is fading.
Ukraine Whistleblower's Lead Attorney Donated to Biden. The lead counsel representing the Ukraine whistleblower donated to Joe Biden's presidential campaign earlier this year, records show. Andrew Bakaj, founder and managing partner of D.C.-based law firm Compass Rose Legal Group, is the lead counsel working on behalf of the Ukraine whistleblower. Bakaj earmarked a $100 donation on April 26 through ActBlue, a fundraising nonprofit that helps facilitate contributions for Democrats, to Biden's presidential campaign, the Federal Election Commission's website shows. Biden appears to be the only recipient of campaign cash from Bakaj this year.
'No one is above the law,' unless you're a Democrat running against Trump in the 2020 election. For absolutely no identifiable reason at all, it's taken for granted by Democrats and liberals in the media that because we're only 14 months away from a presidential election, it was inappropriate for President Trump to ask the leader of Ukraine to look into potentially corrupt conduct by Joe Biden and his son Hunter. That's quite a grace period for any high-profile Democrat who might be interested in enriching his or her family by pulling some strings within the federal government. We still don't know if Joe Biden ever did anything like that, though it looks like he might have.
Carlson: Dems to Explain Why It Was Fair for Biden's 'Ne'er-Do-Well Son' to Get $600k a Year. Tuesday [9/24/2019] on his Fox News Channel program "Tucker Carlson Tonight" opening monologue, host Tucker Carlson reacted to congressional Democrats moving forward with efforts to impeach President Donald Trump. Carlson scoffed at the seriousness of the effort and questioned why Democrats were choosing to pursue impeachment with so many other problems plaguing the country.
Burisma 'Clearly' Paid Hunter Biden to Sell Influence, Says CNN Contributor. Joe Biden's family ties to an influence peddling scheme at a Ukrainian gas company could hurt the former vice president's 2020 campaign, political scientist Ian Bremmer told CNN on Tuesday [9/24/2019]. "[Joe] Biden does have a problem here. I have to say $50,000 a month for Hunter Biden — clearly to be selling influence because otherwise, no one would ever pay him that kind of money — for a company that, frankly, was pretty corrupt and has been before and has been since under investigation," Bremmer said. Bremmer is president of Eurasia Group and Time magazine editor at large.
Biden Ukraine dealings — 7 essential facts. [#1] Joe Biden's son, Hunter Biden, joined the board of Ukrainian energy company Burisma in April 2014, according to RSB bank records. Hunter Biden had little background in energy. Over a 16-month period, Burisma paid $3.1 million to a bank account associated with Hunter's business. [#2] Joe Biden led the Obama administration's policy toward Ukraine when he served as vice president. Biden helped shape Ukraine's energy and anti-corruption policies, issues that directly impact Burisma. [#3] Burisma sought to capitalize Hunter Biden's name and relationships.
Why the Democrats have gone insane. The only hope for Democrats to defeat Trump is, remote and quixotic as it may be, impeachment. In the midst of the current brouhaha, Joe Biden — their great (alas white male) hope — is being exposed as not just a senile plagiarist, but a senile, corrupt plagiarist with a freaky family out of a Southern gothic novel with tentacles reaching into China and Ukraine. Again, not good.
Ukraine controversy and impeachment inquiry potentially politically perilous for Biden: Experts. [Scroll down] Biden's messaging on impeachment might seem a shrewd political move for the Democratic presidential front-runner. However, Biden may now have to carefully navigate the possible fallout as impeachment hearings will likely delve more deeply into conversations about his son, Hunter and his work in Ukraine as members of Congress mull whether Trump made aid to Ukraine contingent on that country agreeing to investigate Joe Biden and his son.
Levin: 'There's not a single Democrat who's interested' in Hunter Biden's suspicious business history. Monday night [9/23/2019] on the radio, Levin TV host Mark Levin pointed out that, while Democrats and the legacy media continue to focus on President Trump's July phone call with the president of the Ukraine, they're overlooking some very suspicious facts about former Vice President Joe Biden's son's past business dealings. The most recent controversy surrounding President Trump is the result of a July phone call in which he requested that Ukrainian President Volodymyr Zelensky look into Hunter Biden's ties to Ukrainian natural gas company Burisma and the past investigation into it that Joe Biden bragged about shutting down in 2018 while threatening to withhold foreign aid to the country.
Biden's Real Foreign Election Interference: Russiagate. It looks as though Joe Biden is about to bumble and babble and bluster his way to a third failed run for president. Even before President Trump took aim at Hunter Biden for his shady financial ties to the Ukraine while his father was vice president, Biden was struggling with basic facts and weird stories about confronting a disobedient black teen with a chain in the 1960s. Now it looks like Biden might be forced to answer serious questions about how his children capitalized on the former vice president's international political connections and how Biden himself ran interference when his family's grift was jeopardized.
Watch Joe Biden Brag About Bribing Ukraine To Fire The Prosecutor Investigating His Son's Company. The media has had a field day over new hearsay accusations that President Trump was wrong to ask Ukranian leaders to investigate political corruption related to Joe Biden. Predictably, several House Democrats have used this news cycle to again demand Trump's impeachment. While the whistleblower complaint is based on hearsay, we do know that Joe Biden, while serving as vice president, pressured the Ukrainian government to fire the prosecutor who was investigating his son's company. Hunter Biden joined the board of Ukrainian national gas company Burisma in 2014 while his father was managing the United States' Ukraine policy and despite zero personal experience in the field. At the time Hunter Biden joined its board, Burisma was embroiled in allegations of corruption, allegations serious enough that Ukraine's prosecutor general launched an investigation into the company.
The Democrats' Ukraine hoax. President Obama had made Biden his point man on Ukraine and any informed political junkie knows that family man Biden took financial advantage of the opportunity to enrich his son. Never mind that the President can say whatever he wants to the leader of any foreign nation, in private, or that Biden is on the record bragging that he demanded the prosecutor investigating his son be fired or US funds would be withheld from Ukraine. As usual, the Democrats have accused Trump of what Democrats have themselves been doing for decades, getting rich in office by any and all means that present themselves.
Report: VP Joe Biden Specifically Set Up Scenario for Meeting Between Top Ukrainian Officials and His Son Hunter Biden's Company. Investigative reporter John Solomon joined Sean Hannity on Monday night [9/23/2019] to break a shocking update on the Biden Family Ukrainian scandal. According to his sources John Solomon says Joe Biden set up the meeting between Ukrainian officials and his son's company three weeks before the met in 2014. Hunter Biden was then paid at least $166,000 a month following the lucrative deal set up by his daddy with the Ukrainian leaders.
Joe Biden's Folly. Joe Biden's now famous run-in with notorious gangster "Corn Pop" was a scene right out of West Side Story, The Outsiders, or some other overrated movie that hasn't aged well. Speaking of things not aging well, Biden's brain is not having a good decade. From his claims of intimate involvement with the civil rights movement to his opposition to the Iraq War from its start, Joe is very creative with his own history. [...] Biden's moment has passed. As has been the case throughout his entire career, he brought it down himself. Like many of the Democrats running, it's unclear what he truly believes; the only thing that's clear is he will do or say anything to win.
Dem Rep González: Biden Needs to Explain His False Claim About Never Talking Overseas Business with Son. Monday [9/23/2019] on CNN's "Newsroom," Rep. Vicente González (D-TX) said 2020 presidential hopeful former Vice President Joe Biden should explain why he falsely claimed he has "never spoken" to his son Hunter Biden "about his overseas business dealings."
Is President Trump's sleuthing in Ukraine a crime? It seems President Donald Trump is in trouble for emulating McGruff the Crime Dog. Like the trench coat and fedora-donning bloodhound, he'd like to "take a bite out of crime." Especially from the rump of Democratic Party presidential front-runner, Joe Biden. You see, Trump allegedly asked Ukrainian President Volodymyr Zelenskiy to do what the US Justice Department and America's mainstream media won't: look into the shady business dealings of Hunter Biden, "Sleepy" Joe Biden's son.
Ilhan Omar refuses to back Biden, says former vice president isn't right person to lead Dems in 2020. Rep. Ilhan Omar, D-Minn., said she doesn't think former Vice President Joe Biden can be the progressive leader she believes the party needs heading into the 2020 presidential election, against President Trump. Omar addressed her concerns about Biden in a new interview with The Guardian, after appearing at the Iowa People's Presidential Forum on Saturday. She said the former vice president lacked the excitement necessary to inspire long-lasting change.
The Editor says...
The American people don't just want change. They want improvement. It would be nearly impossible for the next (non-Trump) president to improve on the current president's accomplishments, with or without enthusiasm.
Biden Asked To Make His Case For President, Responds: 'I'm Not Going To'. Speaking in Iowa, former Vice President Joe Biden was confronted by a reporter who wanted to know why Iowans, with their current low unemployment rate, should shift from voting strongly for President Trump in 2016 to voting for Biden in 2020. When she asked Biden to make his case for why he should be elected, he answered, "I'm not going to."
Biden Refuses To Explain Why Iowans Should Vote For Him. While in Iowa last week, former Vice President Joe Biden refused to explain in a video interview why Iowans should bother voting for him if they are experiencing a booming economy. During an interview Friday [9/20/2019] with Denise Hnytka, a news anchor for local news station WQAD, Biden said "I'm not going to," when asked to make his case on why Iowa voters should vote for him over President Donald Trump given the president's record on the economy.
Why is most of the media circling the wagons to protect Hunter Biden? A foreign natural gas company brings a top US politician's son onto its board, even though he has no relevant expertise, for $50,000 a month. The politician travels to that country and demands the removal of a prosecutor who's investigating the company. That prosecutor then gets axed, and the investigation shut down. Imagine the son was Eric Trump, and the politician Donald Trump. Would the media be dismissing it as nothing worth looking at, a "debunked" issue?
Joe Biden's 2020 Ukrainian nightmare: A closed probe is revived. Two years after leaving office, Joe Biden couldn't resist the temptation last year to brag to an audience of foreign policy specialists about the time as vice president that he strong-armed Ukraine into firing its top prosecutor. In his own words, with video cameras rolling, Biden described how he threatened Ukrainian President Petro Poroshenko in March 2016 that the Obama administration would pull $1 billion in U.S. loan guarantees, sending the former Soviet republic toward insolvency, if it didn't immediately fire Prosecutor General Viktor Shokin.
President Trump Ratchets Up The Pressure On Joe Biden's Involvement In Hunter Biden's Rampant Grifting. Yesterday [9/21/2019], I predicted that the whole "whistleblower" kerfuffle is likely to end up damaging Joe Biden much more than it will Donald Trump. The reasons for that are simple. The whole allegation is nonsense as we now know the whistleblower had neither heard the phone call nor even seen transcripts. In fact, by legal definition he's not really a whistleblower he's what's called a "rumormonger" and there is no statute that protects those. Secondly, even if it is true, it is hard to see the foul play as the allegation of Hunter Biden's grift has been the subject of media attention on the past and the Obama administration had leaned on Ukraine to stop their investigation. This, alone, merits asking the Ukrainians to reopen the case. Third, as the left told us about Trump during the Russia Hoax, if he's not guilty he not only has nothing to fear but should welcome the opportunity to clear his name.
Joe Biden Sure Seems Terrified To Talk About His Ukraine Dealings. If you've been alive and paying attention to the news the last two days, you've heard of the "scandal" involving Trump and a phone call with Ukraine's new President. At first, Trump was accused of extortion via anonymous sources, claiming he had threatened on the call to withhold $250 million in military aid unless Joe Biden was investigated. As I predicted when the story broke, that story end up blowing up into a million pieces. What we are left with is a lot of questions about Biden and he seems to be really on edge every time he's asked about his extortion of Ukraine, which he admitted to on tape, and his son's dealings in the country.
Ukraine 'Bombshell' Will Explode in Democratic Faces. The erstwhile VP is extraordinarily foolish to draw further attention to a son who has long been suspected of improperly leveraging his father's prominent role in Ukrainian relations with the United States. [...] In 2018, Biden spoke to a meeting of the Council on Foreign Relations and boasted that he had threatened to withhold $1 billion in U.S. loan guarantees from Ukraine if Prosecutor General Viktor Shokin wasn't immediately canned: "I looked at them and said: 'I'm leaving in six hours. If the prosecutor is not fired, you're not getting the money.'" The ostensible reason for this heavy-handed pressure to get rid of Shokin was the man's corruption. Presumably, it was just a coincidence that this particular prosecutor was planning an investigation into Burisma Holdings, a Ukrainian company for which Hunter Biden worked as a "consultant."
Latest Fake MSM Scandal Tries to Pin Biden's Possible Corruption on Trump. The latest fake scandal out of the MSM is that Trump needs to be impeached because he allegedly told a Ukraine leader to handle the corruption Joe Biden's son Hunter might be involved in since it affects the U.S. On the other hand, the media believes Joe Biden, who boasted of bribing Ukraine to fire a prosecutor investigating his son's company, should be president. If all is as it appears, it is very serious. A presidential candidate could be very corrupt.
Is Hysteria Over Whistleblower A Distraction From Biden's Ukraine Policy? Much of the discussion of the whistblower complaint has been centered on amplifying and condemning Trump's behavior without much mention of what Joe Biden's son was doing in Ukraine. That's likely on purpose.
U.S. Embassy Pressured Ukrainian Officials To End Investigation Of Soros Group In 2016. We've reached the point where old information that once seemed disconnected and meaningless now makes sense based on new developments. Unless you've been on Mars for the last few days, you know that former Vice President Joe Biden threatened to withhold U.S. aid unless the Ukrainian government fired then-Prosecutor General Viktor Shokin in March 2016. He was about to question Biden's son, Hunter, about his involvement in Burisma Holdings, a natural gas company.
'Ask The Right Questions!': Biden Snaps At Fox News Reporter Peter Doocy. Former Vice President Joe Biden snapped at Fox News reporter Peter Doocy, challenging him Saturday to "ask the right questions." Biden, who was in Des Moines with a number of other 2020 Democratic hopefuls for the steak fry, told Doocy that he had never spoken to his son Hunter Biden about his work in the Ukraine. But then the exchange got testy. [...] "Here is what I know," a visibly frustrated Biden responded. "I know Trump deserves to be investigated. He is violating every basic norm of a president. You should be asking him the question: why is he on the phone with a foreign leader? Trying to intimidate a foreign leader. If that's what happened ... that appears what happened."
The Editor says...
"Why is he on the phone with a foreign leader?" That's part of his job!
In a crazy rant, Joe Biden tells reporters what kinds of questions they can ask. Falling in the polls in Iowa, looking at that indirect political backlight on his son Hunter's sleazy Ukrainian business dealings as Democrats desperatedly scramble to make a new scandal about Trump, he's now reduced to yelling at reporters. [...] Apparently, Joe's so used to the press sucking up from his Obama days he can't help himself now that he's not drawing the same adoring treatment.
Trump lawyer Rudy Giuliani will 'lay out evidence' on Biden and Ukraine. Donald Trump, his aides and allies went on the offensive on Sunday, over what the president claims is un-investigated corruption involving Joe Biden and his son in Ukraine. In return, the Democratic chair of the House intelligence committee said the president's reported conduct in the matter may make impeachment "the only remedy that is coequal to the evil".
Joe Biden's 'Gaffes' Are Much Bigger Problem for Democrats Than Embarrassment. Joe Biden's off-the-cuff comments aren't playing well to audiences any more. Is this an indication of a too-long political career finally declining, or is this a sign of a much bigger problem for the Democratic Party in 2020?
Joe Biden and his son Hunter can't keep their Ukraine story straight. Did Joe Biden discuss his son's Ukraine business deal with him? Joe said "No" Friday [9/20/2019] when Fox News Channel's Peter Doocy caught up with him at an appearance in Iowa. [...] A flat denial followed by going on the offense and then switching subjects. Why is Biden so testy? The answer is not hard to find.
Touchy Joe Biden FLIPS OUT on Fox's Doocy for daring to ask about son's Ukraine business. As part of his many freakouts, he flipped [...] out on Fox's Peter Doocy for the audacity to ask whether he talks to his son about his overseas business. Complete with finger-jabbing and shouting, he took extreme offense at even being asked, and insisted that the only person reporters should ask questions of or about is Trump. It's a proposition the media mostly agrees with. They don't want to challenge Biden and won't dare to.
Pompeo Defends Giuliani Call for Investigation: We Should Know If There Was 'Election Interference' from Biden. Secretary of State Mike Pompeo gave the green light to Rudy Giuliani's efforts to pressure the Ukrainian government into investigating former vice president and possible Trump 2020 rival, Joe Biden. On Face the Nation, Margaret Brennan asked Pompeo if it is "appropriate" for Giuliani to publicly call for the Ukrainian government to investigate Biden.
New York Times reporter says Ukraine story [is] a 'significant liability' for Joe Biden. A New York Times reporter says Democratic presidential candidate Joe Biden faces a "significant liability" in a developing story about allegations that the former vice president may have pressured the Ukrainian government on behalf of his lobbyist son Hunter. Potentially damaging details have yet to be reported, journalist Ken Vogel said during a cable news appearance Friday [9/20/2019] in which he additionally warned that President Trump and his personal attorney Rudy Giuliani, who want Biden to be investigated for potential conflicts of interest, have gotten some of the facts wrong.
Biden's campaign likely coming to an end, thanks to Clinton-linked Ukraine bombshell, Nunes says. California Rep. Devin Nunes predicted on Fox News' "Sunday Morning Futures" that Joe Biden's campaign is likely coming to an end — all because of newly resurfaced reports about his possible misconduct in Ukraine that "first originated back when Hillary Clinton was trying to make sure Biden didn't get in the race." The top Republican on the House Intelligence Committee made the claim as The Des Moines Register/CNN/Mediacom poll showed Sen. Elizabeth Warren surging ahead of Biden as the first choice of 22 percent of the voters surveyed, while Biden was the first choice of 20 percent of the voters. Biden held a 9-point lead over Warren in the poll as recently as June.
Joe Biden Says Male Prisoners Should Be Allowed to Demand Access to Female Prisons, This Is a Dangerously Stupid Idea. On Friday night [9/20/2019], Joe Biden was at LGBTQIA+ (add more letters, numbers and special characters as needed) Forum in Iowa. He spent some time trying to explain away his previously held, and imminently logical, positions on homosexual marriage and homosexuals in the military and condescend just a bit to organizers. No word if any arms were squeezed or hair sniffed. But there was one interesting segment which is not going to get the attention that it should.
Biden Says If Male Identifies As Woman He Should Be Housed With Female Inmates In Prison. What could possibly go wrong? [Video clip]
Joe Biden and Ukraine is "Hillary's Emails" all over again. Lack of actual facts has not stopped Democrat candidates and various pundits from declaring that this is further ground for impeachment. The initial claim was that Trump threatened to withhold aid to Ukraine if it didn't investigate the business dealings of Joe Biden's son, Hunter Biden, while Joe was Vice President. Then the story changed, and maybe there wasn't a quid pro quo, and maybe the whistleblower never actually heard the conversation. And so on and so on, a classic case of how the media tries and convicts Trump based on anonymous, shifting, and usually misinformed leaks. The foreign minister of Ukraine is now on record that there was no pressure put on the Ukrainian president in the conversation.
Biden Says He Never Discussed Hunter Biden's Ukraine Deal. Hunter Says He Did. Former Vice President Joe Biden claimed he never discussed Hunter Biden's business dealings in Ukraine. However, a July article from The New Yorker belies that contention. "I have never spoken to my son about his overseas business dealings," Biden told Fox News reporter Peter Doocy on Saturday [9/21/2019] in Iowa before calling on President Donald Trump to be investigated over a phone call he made to Ukraine's president.
Ukraine and Biden: Deep State "Whistleblower" stages Russia Hoax II. A Deep State "whistleblower" has unleashed a left-wing media firestorm about private conversations President Trump had with a series of foreign leaders. In doing so he has exposed the entire issue of Joe and Hunter Biden's corrupt relationship with Ukraine. However, the "whistleblower" has no first-hand knowledge of the conversation. It is nothing more than yet another baseless acquisition by democrats seeking any avenue to impeach the president.
Biden sidesteps questions about his son's foreign business dealings but promises ethics pledge. Democratic presidential candidate Joe Biden declined to answer questions on the campaign trail this week about his son's overseas business dealings in countries where the then-vice president was conducting diplomatic work, an issue his political opponents have already begun to wield against him as he wades into the 2020 presidential campaign.
The Editor says...
Mr. Biden is not (just now) wading into the 2020 presidential campaign. He has been in it up to his neck for months already.
Whistleblower Complaint Now Looks Like Democrat Effort to Protect Joe Biden from Investigation. The mysterious "whistleblower" case now looks like a coordinated Democrat effort to block any investigation of presidential candidate Joe Biden for corrupt pressure on Ukraine to drop the investigation of Burisma, an energy company operating in the country, on which his son Hunter Biden was a board member. In March 2016, then Vice-President Joe Biden warned Ukraine that $1 billion in loan guarantees would be withheld by the U.S. unless they replaced Viktor Shokin, the prosecutor general who was investigating Hunter Biden. Ukraine did remove Shokin, and the prosecution was dropped. It looks like a clear case of a quid-pro-quo.
Peter Schweizer says Hunter Biden worked in Ukraine despite lacking credentials: 'What is he being paid for?'. Author Peter Schweizer on Friday night addressed the questions surrounding Hunter Biden's involvement with a Ukrainian natural gas company while his father, former Vice President Joe Biden, oversaw America's Ukraine policy. "The underlying story here involves Hunter Biden going around the world really collecting large payments from foreign governments and foreign oligarchs in the case of Ukraine," Schweizer, the author of "Secret Empires," said on Fox News' "The Ingraham Angle."
Why Trump Will Trounce Biden or Warren. It's still early in the 2020 campaign cycle, so political predictions are risky. Nonetheless, it appears that the race for the Democratic presidential nomination has already become a two-person contest. Elizabeth Warren has replaced Bernie Sanders as the most formidable challenger to front-runner Joe Biden according to the most recent YouGov, SurveyUSA, and NBC/WSJ polls. [...] This is very good news for President Trump, who will have little difficulty beating Biden or Warren.
Biden promises more jobs for women than there are U.S. citizens. The more candidate Joe Biden hits the stump, the more President Donald Trump hopes he prevails. Fresh off the bizarre tale of a young Biden facing down a gang leader named "Corn Pop," besting the thug's switchblade with a 6-foot length of chain, the Democratic front-runner spoke about putting American women back to work. To be exact, 720 million women. The problem is, that figure is about 400 million more than the entire population of the United States.
Biden Promises Tax Credits Would Put 720 Million Women Back to Work Out of 330 Million Americans. [Video clip only]
How Old Is Too Old (to Be President)? According to Vanity Fair, when Jimmy Carter, about to turn 95, was asked at a recent event at the Carter Center if he would consider running again — he only served one term, although it felt longer to some of us — the ex-president gave a definitive no, acknowledging he could hardly walk, and said we should set a limit at 80. That sounds about right, at least for now before we are all cyborgs. The behavior of Biden, who would already be months into his 79th year on Inauguration Day, should more than ratify that conclusion.
Jimmy Carter says he couldn't have managed presidency at 80. Weeks shy of his 95th birthday, former President Jimmy Carter said he doesn't believe he could have managed the most powerful office in the world at 80 years old.
Is Joe Biden too old to be president? Joe Biden has many of the collective qualifications Americans have liked in a president. A childhood with family financial struggles that a determined father overcame. A law degree. Experience in local government. Enduring family tragedies. Experience in the U.S. Senate. Experience in the executive branch. Biden would be only the fourth of 13 postwar presidents with no military experience. But he does have a lot of money now, a pair of homes and a photogenic rescue dog. However, the former vice president does have one unusual trait for someone who wants to become commander in chief. He's old, very old. Biden would be 78 on Inauguration Day 2021, making him by far the oldest incoming president ever.
Biden Talks Racism On Anniversary Of Klu Klux Klan Bombing: 'Hate Is On The Rise Again'. 2020 Democratic presidential candidate Joe Biden warned against racism and white supremacy Sunday [9/15/2019], saying that "hate is on the rise again." The former vice president spoke Sunday to a largely black congregation in memory of the 56th anniversary of the bombing at 16th Street Baptist Church in Birmingham, Alabama, according to CNN.
The Editor says...
Every day of the year is the aniversary of some long-forgotten event in the distant past that can be dug up and used as political leverage.
It's time for Joe Biden to drop out of the race. Yes, yes, I'm aware that he's the front-runner for the Democrats' nomination and that front-runners never exit voluntarily. But I'm also aware that Biden knows something else, too: that growing concerns about his mental and physical capacity are legitimate. He also must know that he and his team are not fooling anyone with claims that all is well. His rivals, initially reticent to go there, are now willing to raise the fitness issue.
Trump [is] the real winner as Biden again proves he's not cut out to be [the] nominee. The Democrats' third presidential debate was a long-winded, platitude-filled disaster where no single candidate could claim a clear victory. Instead, the seven men and three women took turns displaying why they are all probably unelectable. Start with Joe Biden's incoherence. The nominal front-runner, the former vice president had a 40-year reputation for never shutting up. Now he can't manage to finish a sentence without interrupting himself. Nearly all his efforts to make a point were swamped by a sudden change of direction mid-sentence, and then another change a few words later as a random thought popped into his head and out his mouth. None of his rivals needed to interrupt him — he did it to himself. Most of the time I had no idea what he was trying to say, let alone what he actually said.
Joe Biden Delivers 9 Gaffes, Lies, and Awkward Moments in Third Primary Debate. Former Vice President Joe Biden added nine embarrassing moments to his ever-expanding list of campaign gaffes and blunders during the third Democrat primary debate in Houston, Texas, Thursday evening [9/12/2019]. [This article includes] a list of moments where the 76-year-old Biden misspoke, went off on bizarre tangents, or seemingly lost control of his body.
Former Dem Senator: People Don't Want a 'Third Obama Term'. Former Democratic senator Bob Torricelli said during a discussion of the Thursday's Democratic primary debate that voters will not support former Vice President Joe Biden because people don't want a "third Obama term." "We will not beat Donald Trump by playing it safe, in the margins, offering more of the same, or, to my friend Joe Biden, a third Barack Obama term," Torricelli said Friday on MSNBC. "People don't want — no matter how much they admire him — a third Obama term. They want something bold and different."
The Editor says...
The American people don't "want something bold and different" unless it is an improvement. With Trump in the White House, the U.S. economy is roaring, because common sense prevails once again. There's no reason to tamper with success. Moreover, the very last thing any stockholder or anyone with a 401(k) account wants is a repeat of the Obama disaster.
Biden Gaffe: Former VP Calls to Release All Nonviolent Criminals from Prison. 2020 presidential frontrunner Joe Biden stated forcefully that no one who commits a nonviolent crime should go to jail — in what was either a wildly progressive change of stance or another gaffe. "The fact of the matter is that what's happened is that we're in a situation now where there are so many people who are in jail and shouldn't be in jail. The whole means by which this should change is toll — the model has to change. Nobody should be in jail for a nonviolent crime," Biden said at Thursday night's debate on ABC.
Joe Biden Says 'Nobody Should Be In Jail For A Non-Violent Crime'. During Thursday night's debate, Joe Biden proved once again just how out of touch he really is. He said that nobody should be in jail for a non-violent crime. What about car theft? How about not paying taxes? Has Joe really thought this through?
Slow Joe's Incoherent Rambling About Record Players, Phonographs, and $740 Million To Keep Venezuelans Oppressed. Slow Joe steps in it yet again, this time with his nonsensical rambling about schools, more taxes, encouraging children to listen to record players (or phonographs, as he started to say), and a completely off topic rant about spending $740 Million so people can't leave Latin American countries where governments are oppressing the citizens.
Joe Biden's Platform Illustrates The Breakneck Speed Democrats Are Lurching Left. A Tuesday [9/10/2019] report in McClatchy compared Biden's 2020 platform to Hillary Clinton's 2016 platform, finding the former vice president's policy prescriptions have drifted leftward from the former secretary of state's. "From health care to climate change to criminal justice, Biden has proposed ideas more ambitious and liberal than policies supported by Hillary Clinton in the 2016 campaign," the article declared. It even went so far as to correctly note that "Biden's current set of policy prescriptions would likely be considered radical if they had been proposed in any previous Democratic presidential primary." Examples include his health care plan, his climate change plan, his criminal justice reform plan, and his position on the death penalty.
'Hillary Clinton, part two': Democrats fear that Biden could be a ghost of losers past. Democratic activists in the first primary state worry that if Joe Biden is the party's presidential nominee, he could lose the 2020 election for some of the same reasons Hillary Clinton was defeated in 2016.
Criticism from the Left:
A Joe Biden presidency would be a climate catastrophe. Biden is trudging through the campaign, constantly screwing up and lying about his record, winning almost entirely thanks to the Pundit Brain-induced learned helplessness that has been carefully instilled into the Democratic base over the years. Biden may yet win the primary, of course, and sheer backlash to President Trump could easily boost him into the White House. But it is simply beyond question that he is one of the worst candidates in the field — unequipped especially to deal with climate change, the biggest threat by far facing the American people.
The Editor says...
The article above is a great example of media bias. There is no extraordinary climate change underway. There certainly is no "climate emergency." There are many actual threats "facing the American people," and the weather is not one of them. Make another selection: Sharia Law replacing the Constitution, homeless bums defecating in the streets, North Korean missiles, greater than $22 trillion national debt, wholesale voting fraud, unchecked illegal immigration, dumbed-down schools, black lives matter but all others don't, or drag queens reading children's stories at the public library. Each of these is a far greater threat to America than the weather.
Biden or Bust? Pundits and politicos play the current parlor game of counting Joe Biden's daily bloopers, signs of debility, or embarrassments. [...] Biden remains what he always was — a deep state fixture. And his brand is mainstream Democrat left-liberal orthodoxy, which supposedly does not include weird and wild La La Land pronouncements.
Eye-popping Joe Biden among CNN's climate-change dinosaurs. Chicken Little Democratic Representative Alexandria Ocasio-Cortez says we Earthlings have a mere twelve years before man-made climate change renders us extinct. But former Vice President Eye-Popping Joe Biden has done her one better. The front runner for the Democratic Party's nomination for president told Americans we have a little more than a year before the curtain falls on humankind.
Biden Is The New Hillary. Joe Biden is the 2020 Hillary Clinton in so many remarkable ways. Like Hillary, Biden seems to have a palpable lifelong desire to be president and, well past his prime political years, he can't let go. [...] Clinton and Biden are entrenched veteran Dems whose campaigns share a similar aspect of inevitability in large part because neither would be able to garner the popular support of voters on personal merit alone. Biden argues Dems must back him because he is the only "acceptable" figure in a progressive-dominated field who can attract moderate and undecided voters. It doesn't matter if you like him or not; he's the only path to victory. Hillary's aura of inevitability was far more cynical. She used all the weapons of machine politics to guarantee the nomination from the moment she announced and then dared Dems not to get behind her as the party's only choice. Neither approach is the hallmark of a strong general-election candidate.
Biden has near-coughing fit and calls Trump 'President Hump' at New Hampshire Democratic Party Convention. Former Vice President Joe Biden fell into a near-coughing fit and called President Trump "President Hump" during his address to the New Hampshire Democratic Party Convention Saturday morning [9/7/2019]. The sporadic coughs came between remarks the former vice president made criticizing President Trump over the administration's immigration policies.
Joe Biden in New Hampshire: "I guarantee you we're going to end fossil fuel"; Idiot Leftists Clap Like Monkeys. It's a cult. Democrat Joe Biden stumped in New Hampshire: "I guarantee you we're going to end fossil fuel." The liberal audience clapped like monkeys. As Zach Parkinson reported 80 percent of the households in the Granite State are heated by oil, gas, and propane. The others are burning something else.
Weird, at best:
Joe's Green New Feel: Biden, 76, holds left-wing protester's hand, 24, as he tells her he WILL get rid of fossil fuels. Joe Biden took the hand of a young female protester at his New Hampshire town hall on Friday evening [9/6/2019] to ask her to look into his eyes as he promised her he would end the use of fossil fuels.
The Hashtag-Me-Too people are all completely silent.
Hands To Yourself: Biden Gets Scolded For Grabbing Woman's Hands Without Her Consent. Former Vice President Joe Biden is known to be a bit handsy at times. There are the biker chick photo and the various allegations of downright odd behavior, like reportedly smelling a lieutenant governor candidate's hair, which created some controversy at the outset of his 2020 candidacy. Yet, there was never going to be any accountability. He's the Democrats' best hope to beat Trump in 2020, and even his past accusers said that his actions, while creepy, shouldn't disqualify him from running. So, that's the Democratic Party for you. Weaponize sexual assault/misconduct allegations, but only for use against your political enemies. Yet, at a campaign stop in Iowa, Biden also got handsy with a teacher who asked him a question about collective bargaining rights. There was no groping or anything. Yes, that should be made crystal clear; the allegations against Biden aren't nearly as serious as those facing Harvey Weinstein, but when a woman is made uncomfortable — you need to respect the space. Biden is horrendous at that. In this incident, he grabbed a teacher's hands and she was not having any of it.
Woman Chastises Biden For Grabbing Her Hands 'You Need to Ask First'. During a campaign stop in Iowa, Biden was speaking to an Iowa teacher, when he grabbed her hands without asking, and she was not impressed.
Biden: Trump is becoming more 'erratic'. Former Vice President Joseph R. Biden on Friday said President Trump is becoming more "erratic" and predicted that the president will double down on his "worst instincts" if the economy moves closer to a recession. Mr. Biden, who has faced questions over his own series of recent verbal misfires on the presidential campaign trail, said the current president's behavior is cause for concern.
The Editor says...
There is someone in the national spotlight every day whose "behavior is cause for concern," and his name is Joe Biden.
Former Obama Adviser: Biden 'Serially' Distorts Own Record. Former Obama White House adviser David Axelrod said in a tweet Thursday [9/5/2019] that Joe Biden was distorting his own record to a damaging degree. Linking to a Slate article about Biden's misleading remarks about when he began opposing the Iraq War, Axelrod wrote Biden was "in danger" of creating a harmful meme about his candidacy.
Joe Biden's Bloody Eye on CNN Somehow Spiked by Everyone But Fox. On Thursday [9/5/2019], we noted CNN's New Day skipped over Joe Biden's bloody eyeball during the seven-hour CNN Town Hall on climate change, despite it being an all-day Drudge Report item. But then something happened that we didn't expect: CNN never reported it. Neither did MSNBC. Neither did ABC, CBS, NBC, or PBS. Even The New York Times and The Washington Post skipped it. Fox News covered it, but not obsessively. The Bloody Eye wasn't Earth-shattering news. But some wondered if it suggested a health problem for Biden.
Pressure grows on Biden to release health records as campaign stonewalls on bloody eye mishap. Democratic front-runner Joe Biden was speaking at a televised town hall Wednesday when the corner of his left eye appeared to fill with blood, bringing attention away from the issue of climate change at a time when his campaign is already batting back scrutiny about his age and health. The eye issue likely isn't serious and will go away on its own after a few days, but it came after reporters have been asking Biden about whether his age will get in the way of his pursuit for the White House and following a string of verbal miscues. Biden is 76, and if elected he would be the oldest person ever to occupy the Oval Office, older than Ronald Reagan at the end of his second four-year term. By the time any second Biden term ended, he would be 86, uncharted territory for the presidency.
Joe Biden Just Lost Any Claim To Being A Moderate With His Embrace Of The Green New Deal. We hear a lot about former VP and 2020 candidate Joe Biden's "electability." This so-called electability stems from the idea that Biden is a return to a more moderate Democratic party, and away from the infection of radicalism that has seized it. But anyone who was leaning on Biden for centrism is gravely mistaken, and it's proven with his nod toward Rep. Alexandria Ocasio-Cortez's "Green New Deal." In fact, Biden not only thinks it doesn't go too far, it doesn't go far enough, according to the Daily Wire.
Biden: I Would Appoint Barack Obama to the Supreme Court. 2020 Democrat hopeful Joe Biden told "The Late Show" host Stephen Colbert Wednesday night that he would nominate his former 'boss' Barack Obama to the US Supreme Court. "Would you appoint him [Obama] to the Supreme Court?" Colbert asked Biden. "H***... yes!" Biden said with a creepy grin on his face. "I don't think he'd do it but... he's fully qualified."
The Editor says...
Barack Obama would leap at the chance to sit on the Supreme Court, even for one day. His nomination would almost be worth the immense risk, just to let the public see Obama get interrogated in his Senate confirmation hearings about his phony Social Security number, his dubious birth certificate, his invisible attendance at Columbia University, his Indonesian citizenship, his long lists of lies and scandals, and many other aspects of his life that are highly suspect. Unfortunately, the risk is too great, because the Republicans would probably let him skate, rather than be accused of racism and Islamophobia. As for Mr. Obama's qualifications, his record speaks for itself.
Biden: 'We Can Take Millions of Vehicles Off the Road...'. Former Vice President Joe Biden told a CNN town hall on climate change Wednesday night that he endorses high-speed rail as a way to "take millions of vehicles off the road." "Everything is incremental," Biden said.
Biden: 'We Can Take Millions of Vehicles Off the Road...'. [Scroll down] Host Anderson Cooper asked Biden, "Will there be a point, or would you like there to be a point — and if so, when — that everybody drives an electric car or has to drive an electric car?" Biden responded, "Well, I think, look — that's going to be based upon whether or not we can make it economically feasible. And it is economically feasible, because guess what? Everybody knows where the world is going. "You're not — just like, you know — we set out the rules for what kind of plant, you know, coal-burning plants. No one is going to build another coal-burning — we've got to shut down the ones down we have, but no one is going to build a new one. Guess what? They're not efficient relative to what else is available to be done. [...]"
The Editor says...
When was the last time you heard a statement so replete with fillers, crutch words, self-interrupted rhetoric, and verbal tics that add nothing of substance? Not since the last time Obama's teleprompter quit working.
Sleepy Joe Biden Says That The 'Green New Deal' Doesn't Go FAR ENOUGH. [Scroll down] You remember the Green New Deal, don't you? It was cooked up by AOC and her Democratic Socialist buddies — like the guy on her team who eventually became a liability for one-too-many scandals. That same Saikat Chakrabarti, who was her Chief-of-Staff, accidentally let the cat out of the bag on the REAL intention of the Green New Deal.
Biden's eye fills with blood during CNN climate town hall. Former Vice President Joe Biden appeared to have a blood vessel burst in his left eye while participating in CNN's town hall on climate change. A broken blood vessel in the eye, also known as a subconjuctival hemorrhage, can be caused by several things, including high blood pressure, bleeding disorders, blood thinners, or even excessive straining. Biden, 76, has long been plagued by health issues. In 1988, he suffered an aneurysm that burst and required him to undergo emergency surgery. The then-senator was so close to death that a Catholic priest began preparing to administer the sacrament of last rites. Months later, surgeons clipped a second aneurysm before it burst.
Biden: 'We'll Be Telling People, Don't Build in These Places'. Former Vice President Joe Biden, now running for the Democrat presidential nomination, told a CNN town hall Wednesday night [9/4/2019] that the government will tell people in areas vulnerable to fire and flooding, "don't build in these places." "The people who are already there are going to be in real trouble," he added, as insurance companies refuse to do business with them.
The Editor says...
The free market is a foreign concept to people like Joe Biden. In the free market, investors decide what to build and where to build it. Insurance companies decide whether (or not) to sell their products based on calculated risks. In the good old days, the government stayed out of this process.
An Excusing Frenzy for Biden's Fact Mangling. The Washington Post caused an uproar inside the media when it reported that former Vice President Joe Biden told a "moving but false" war story at a campaign stop in Hanover, New Hampshire, on Aug. 23. [...] It was a fabrication. [...] This was no "gaffe." It was either (a) a trail of gaffes indicating Biden has lost his marbles or (b) a lie. Which is it, and how serious is this?
Joe Biden Calls for Ban on Magazines Holding 'Multiple Bullets'. On Labor Day, Democrat presidential hopeful Joe Biden called for a ban on magazines holding "multiple bullets," which is essentially a ban on magazines holding more than one round. He said magazines that "can hold multiple bullets" should not be allowed, and this is a giant departure from Democrats' decades old push for a ban on magazines holding more than 10 rounds.
Biden Vows to Destroy Most Guns and Limit Magazines to 1 Round. Joe Biden just became the most extreme anti-gun candidate in the democratic party field. Not only did he vow to "eliminate" all semi-automatic guns, but he would also limit magazine capacity to 1 round. [...] Biden was on the campaign trail in Iowa and his handlers were crossing their fingers that he could get through one single appearance without saying something insane or stupid. He let them down in a big way by doing both.
Biden's Vacuous Pitch. The frontrunner in the Democratic presidential race seems to have made a key decision on how to win the nomination. Joe Biden has decided to trash any real discussion of actual issues in favor of touting the single issue of his electability. The former Vice President launched a full-frontal assault on how he's the only one who can beat Trump ... first by sending his wife, Dr. Jill, out to New Hampshire to say her guy is the one. [...] Yeah, forget about the issues. This guy can win, don't worry about what he says about your favorite issues.
Are Biden's Lies Catching Up to Him? Democrat presidential hopeful Joe Biden is wearing out his welcome, even among his friends. His latest lie — a war story some version of which he has been telling for years — has finally caught up to him. [...] But, as the Washington Post reluctantly pointed out, Biden got nearly every detail wrong: "Almost every detail in the story appears to be incorrect. Based on interviews with more than a dozen U.S. troops, their commanders and Biden campaign officials, it appears as though the former vice president has jumbled elements of at least three actual events into one story of bravery, compassion and regret that never happened."
Snopes Rates Biden's Claim That 2+2=5 As 'Mostly True'. Joe Biden recently made a strange claim: that 2+2=5. He was ridiculed for his gaffe after making the statement while speaking at an elementary school. The kids all said, "Hey, dummy! The answer is 4, not 5!" But the crack squad of fact-checkers at Snopes quickly got to work on Biden's incredulous claim. Their findings? Biden's statement was actually "mostly true."
Biden Defends False War Story: 'I Wasn't Trying to Mislead Anybody'. 2020 frontrunner Joe Biden has claimed he wasn't trying to mislead voters by telling them a war story which turned out to be false. Reporters asked the former vice president in Iowa whether details matter after he conflated his contacts with several different military service members. "They matter in terms of whether or not you're trying to mislead people," Biden began. "And I wasn't trying to mislead anybody," Biden added.
Joe Biden is Going Nuts. "I want to be clear — I'm not going nuts," Joe Biden assured a crowd in New Hampshire last Friday [8/30/2019]. It was merely the latest in a lifetime of lies this serial fabulist has told. ALL of the available evidence proves that he is clearly going nuts. Perhaps part of it is due to the pressure of being an old white man who's posing as the standard-bearer of a political party whose sole agenda these days is the extermination and debasement of old white men. [...] But most of it is due to the fact that he has always been a liar who jumbled the facts, compounded by a septuagenarian brain that is rapidly fermenting.
We Need to Talk about Joe Biden. There are two possible explanations of Joe Biden's inability to tell the truth about things: One is that his mind is failing him, the other is that his honor is. In neither case is Biden fit to hold the office of president of the United States of America, and Democrats would discredit themselves and endanger the nation to nominate him.
Joe Biden Needs An Intervention. Joe Biden leads the Democrat pack and he's a catastrophe, meaning that we have to weigh the human kindness that compels us to seek to end his humiliation against the practical reality that this doddering establishment weirdo will get squashed by Donald Trump like a dung beetle under a steamroller. Or even like an ex-Beatle under a steamroller — Biden is the Pete Best of American politics, the guy who never quite made it. Except Pete Best wasn't a gropey, senile, corrupt Democrat plagiarist with delusions of adequacy.
Donna Brazile Defends Biden Fabricating War Story: Sometimes There's 'A lot of Information in Your Brain'. Donna Brazile, former Democratic National Committee (DNC) Chairwoman and Fox News Channel contributor, offered a head-scratching defense on Friday [8/30/2019] of former Vice President Joe Biden badly mistelling an emotional story regarding the war in Afghanistan. Appearing on The Five, Brazile argued Biden's latest blunder was caused by an overload of information.
Brooks: Biden Might 'Embellish' for 'Dramatic Effect' — 'But He's Not Mendacious'. On Friday's "PBS NewsHour," New York Times columnist David Brooks stated 2020 Democratic presidential candidate former Vice President Joe Biden might "embellish" stories to make them more dramatic, "But he's not mendacious. He's not irresponsible."
ABC Panel Defends Joe Biden Telling False War Story. Apparently, the truth and the accuracy of details meant little to the so-called "powerhouse roundtable" on ABC's This Week. During the latter half of the Sunday [9/1/2019] show, the panel defended former Vice President Joe Biden after The Washington Post exposed that a war story Biden had been telling for years was actually a tall tale. But it wasn't entirely false. As The Post explained and ABC rationalized on Thursday, Biden created the story by conflating several real events into a, sort of, Frankenstein's monster designed to tug on the heartstrings of listeners. According to The Post, "Biden got the time period, the location, the heroic act, the type of medal, the military branch and the rank of the recipient wrong, as well as his own role in the ceremony." But the facts [are apparently immaterial] on ABC News.
Biden Stands Alone. According to the latest Quinnipiac poll, only 10 percent of Democratic voters below the age of 34 are backing Biden, putting him in a distant third behind Bernie Sanders's 31 percent and Elizabeth Warren's 25 percent. The former vice president has maintained his frontrunner status thanks to the strength of his support among older voters like the ones in this Rock Hill audience. He dominates the over-65 demographic, for example, with 48 percent support compared with Warren's 20 percent. No other candidate reached double digits among the AARP crowd.
South Carolina Democrats [are] not bothered by Joe Biden's gaffes. The string of summer slip-ups would seem to reinforce Biden's gaffe-prone reputation and raise questions about his central pitch of electability. But for many voters who came to see him during a campaign swing through early voting state South Carolina, the former vice president's slips of the tongue made him all the more endearing. "He's always made them! I don't think he is doing anything differently than he's always done," said Polly Iyer, a writer from Spartanburg. "He always has his foot in his mouth."
The Editor says...
None of Joe Biden's lies should be brushed off as endearing quirks. If he demonstrates before election day that he is dishonest and/or mentally unfit, make another selection.
Joe Biden Undercuts [His] Own Electability Strategy: 'Almost Anybody' Could Beat Trump. Joe Biden undercut the "electability" strategy his campaign team has been pushing rigorously in recent weeks, claiming on Thursday [8/29/2019] that "almost anybody" could beat President Donald Trump in 2020.
Biden Has No Chance. Despite everything, Biden remains on top of polls for their presidential nomination. Other candidates — Elizabeth Warren, Bernie Sanders, Kamala Harris — have gained a certain amount of traction. But it is extraordinary that they haven't yet been able to surpass a candidate who, to put it politely, is no longer capable of appearing and speaking in public. This attests to the weakness of the Democrats' presidential field. I think there is zero chance that Joe Biden will be the Democrats' 2020 presidential nominee. He is obviously not up to the task, and Democratic primary voters are not in the mood to select a deeply confused, 76-year-old white man to run for president.
As He Campaigns for President, Joe Biden Tells a Moving But False War Story. Joe Biden painted a vivid scene for the 400 people packed into a college meeting hall. A four-star general had asked the then-vice president to travel to Kunar province in Afghanistan, a dangerous foray into "godforsaken country" to recognize the remarkable heroism of a Navy captain. [...] The room was silent. "This is the God's truth," Biden had said as he told the story. "My word as a Biden." Except almost every detail in the story appears to be incorrect. Based on interviews with more than a dozen U.S. troops, their commanders and Biden campaign officials, it appears as though the former vice president has jumbled elements of at least three actual events into one story of bravery, compassion and regret that never happened.
Joe Biden [is] Unapologetic for Fabricating Afghan War Story. Former Vice President Joe Biden is unapologetic for fabricating an emotional story about the war in Afghanistan, claiming its "essence" is true. Biden, who is under fire after The Washington Post exposed a story he told about pinning a medal on a reluctant Navy officer as inaccurate, defended his conduct while campaigning in South Carolina on Thursday [8/29/2019].
Biden: 'Essence' of false wartime story was true. Former Vice President Joe Biden defended the inaccurate war story he told during a rally last Friday in New Hampshire, saying the "central point" of it was true. Biden said he had traveled to Afghanistan's Kunar province to award the Silver Star to a Navy captain who had rappelled down a cliff to retrieve the body of a fellow service member. When Biden went to pin the medal onto the captain, he begged him not to because the person had died.
Joe Biden: DACA Illegals 'Become American Before a Lot of Americans'. Joe Biden praised young 'DACA' illegal migrants as more American than Americans during a Thursday campaign event in Rock Hill, South Carolina. "We have to find a [amnesty] pathway for dreamers ... These kids who come, and they end up doing well. They become American before a lot of Americans become Americans — No, I'm serious, they get in school, they do well, they contribute to the community, they contribute to the country," he said.
Biden on Detention Facilities: 'We Don't Need Them'. Former vice president and 2020 Democratic presidential candidate Joe Biden told a town hall audience Thursday that the United States does not need migrant detention facilities. Biden was taking questions in Rockville, S.C., when an attendee asked him for the justification for holding migrants and expanding detention facilities if those facilities could not ensure their safety. She also asked Biden what he would do to help reunite separated families. "Close them down," Biden answered, to cheers from the crowd.
Joe Biden Can't Remember Obama's Name at Recent Campaign Stop. As each day goes by on the campaign trail, it's clear that Grandpa Joe is way out of his element.
The media refuses to face the fact that Joe Biden isn't close to collapsing. Dear Fellow Members of the Media: We need to talk about the way you're covering the Democratic race for president. Consider this an intervention. You all went crazy on Monday [8/26/2019] when a single poll showed a national tie between Joe Biden, Elizabeth Warren and Bernie Sanders. It was like a ticker-tape parade through the Canyon of Heroes; articles suggesting a historic shakeup in the Democratic race rained down upon America like ticker tape. Huzzah! We have a whole new race!
Joe Biden Calls Obama 'President My Boss' in Another Brain Freeze Moment. Former Vice president Joe Biden (D) suffered yet another mental glitch on the campaign trail in South Carolina, forgetting former President Barack Obama's name and instead referring to him as "president my boss," according to a video that surfaced Wednesday [8/28/2019]. Donald Trump Jr. retweeted the video, which shows Biden referring to Obama as "president," before pausing and adding "my boss," seemingly due to a failure to recall his name.
Keep talking, Joe. Don't ever stop.
Joe Biden: Japanese Women Are Only Employed Because of 'Xenophobia'. Former Vice President Joe Biden seemed to suggest Japanese women are only employed because of "xenophobia" while campaigning on Wednesday [8/28/2019]. Biden made the bizarre remark to a room full of voters in Spartanburg, South Carolina when discussing the "economic laws of physics."
Joe Biden says he'd prefer a running mate who is 'of color and/or a different gender'. Former vice president Joe Biden has been leading the Democratic field in most polls since he entered the race, but even he acknowledges that he's a long way from winning the nomination. If he does, Biden said it would be ideal for his ticket to reflect the diversity of the American population. The presidential hopeful told a small group of black journalists Tuesday [8/27/2019] that if he wins the nomination, he'd prefer that his vice presidential candidate not be a white male.
The Editor says...
That sounds like race-based discrimination to me.
Joe Biden Says Racism a 'White Man's Problem,' Will Not Promise Black Running Mate. Joe Biden claimed racism is institutional in America on Tuesday [8/27/2019], but would not commit wholeheartedly to picking a person of color as his running mate if he were to win the Democrat presidential nomination. [...] Biden, who leads his fellow 2020 Democrats substantially among black voters, claimed that President Donald Trump had only furthered those divisions by using rhetoric that appeals "to the worst d*** instincts of human nature." Along similar lines, the former vice president has accused Trump of fanning the "flames of white supremacy" in recent weeks, as he attempts to portray the next election as a referendum on the nation's soul.
The Editor says...
The nation does not have a soul, nor is the next presidential election a referendum on anything so abstract.
Joe Biden's Great Disappearing Act. No Republican candidate could have escaped being savaged by the liberal mainstream media as being either totally incompetent or inexcusably offensive the way Biden has slipped by, but that is a function of the media environment we live in now. However, the gaffes are not the issue. What is becoming blatantly apparent to even the most casual political observer is Biden's complete lack of any inspiring ideological vision for the country. He has no core beliefs. [...] Every utterance from Biden on energy, climate change, the economy, taxes, social policy, immigration, international relations, whatever, is made in response to what the other candidates are saying, to what Biden feels will net him the greatest political yield at that moment.
Biden: Racism in US is institutional, 'white man's problem'. Racism in America is an institutional "white man's problem visited on people of color," Vice President Joe Biden said Tuesday, arguing that the way to attack the issue is to defeat President Donald Trump and hold him responsible for deepening the nation's racial divide.
'Unfair standard': Top Biden adviser blames media for covering his flubs. A top adviser to Joe Biden, the 2020 Democratic front-runner, has said he is being held to a higher standard than his rivals. MSNBC's Andrea Mitchell played a video of a recent flub in which Biden, 76, said he was happy to be in the state of Vermont when he was actually in neighboring New Hampshire. "So I know it's just a mistake, but it's Vermont and New Hampshire, he's running in the New Hampshire primary. Does he have to be more careful to prove that he hasn't lost his fastball?" Mitchell asked.
The Editor says...
Imagine the media coverage if Dan Quayle or Sarah Palin or Ted Cruz were running for president and saying exactly the same things. That's the kind of scrutiny Joe Biden deserves.
Biden's Mental Condition Isn't a Joke. At what point is it no longer the Biden Gaffe Machine on display, but a man whose mental acuity and faculties are slowing down immensely? The latter is certainly not something to joke about, to make into a punchline, or to promote for political gain.
If Joe Biden Is Elected, Who Will Really Be in Charge? For those who actually want a meaningful election in which power is allocated by the ballot box, not over cocktails in a swanky private club in D.C., the lesson of Mueller's spectacular failure to exercise any leadership over the probe should cause even the most partisan Democrat to ask: Who am I really voting for? [...] Biden's gaffes would be funny except they are so obviously an indication of his weakness. One man's "bug" is another man's feature which is why it should cause concern that the "establishment" finds him so appealing.
Biden Claims He's 'Not Going Nuts' After Another Blunder on the Campaign Trail. Democratic presidential candidate Joe Biden claimed that he's "not going nuts," despite yet another gaffe at a campaign stop in New Hampshire. Biden, 76, was at his second campaign stop of the day, after speaking at Dartmouth College.
Joe Biden's Turn Left Will Cost Him The Nomination. Biden lost support among moderate and conservative Democrats, who switched their allegiance to the more overtly socialist septuagenarians. A likely explanation for this shift is that those moderates don't see Biden as substantially different from Warren and Sanders anymore, because thus far he has basically presented himself as a progressive. Not only has Biden apologized for half the things he achieved in his decades-long career, he has embraced ideas that 1990's Joe Biden, or even 2008's Barack Obama, would have derided as absurd. One clear example is one of the most telling and talked about moments of the Democratic primary debates thus far. During one of the Democratic police line-ups, all of the candidates were asked if they support government-provided, cost-free health care for illegal immigrants.
Legitimate concerns about Joe Biden's state of mind. Most Democrat primary polls, as summarized by Real Clear Politics, show former Vice-President Joe Biden with a healthy lead over the rest of the pack of socialist wannabes. Many of the polls show Slow Joe with a double-digit lead over his nearest competitor, in the case of most polls Comrade Bernie Sanders. Democrats are banking on Joe's "electability," above and beyond all else, since he is a familiar name with a long history in Washington, DC. Kind of like how Jeb Bush was viewed by the Republican establishment before Donald Trump came down the escalator at Trump Tower. The fact that Biden is the most "electable" says more about the rest of the field than it does about Biden.
Exploding cigar: Biden invites Americans who think he's too old and addled to ...not vote for him. History is well-littered with the political corpses of leaders who imagine that the invitations they throw out are certain to be turned down by the public. Which brings us to Joe Biden, Democratic presidential frontrunner, whose advanced age (78 now) is giving voters the willies.
ABC Reports About Biden's "Overflow Crowd" of About 30 People at New Hampshire Event. About 30 supporters of Joe Biden gathered at the Portland Pie Co. Stuffed in a small room with six tables, munching on several types of pizza, campaign members discussed Biden's qualities with interested voters. Still the mainstream media refuse to concede that Liberals can get people on their rally. It seems that Biden's rally in New Hampshire itself was a huge disaster. Still ABC news wanted to report about some sort of "Overflow Crowd". ABC posted video of the "overflow crowd" at the event — there were a few dozen people in the room and most were probably media.
Joe Biden's brain: the missing hamster in the wheel. The gaff-prone Democratic candidate for president, former Vice President Joe Biden, is doing just fine where his brain is concerned, according to his surgeon. As you may recall, Biden had two — that's right — two surgeries for brain aneurysms in the late 1980s. [...] This, of course, has caused many to wonder if the rigors of the campaign trail have taxed the mental wherewithal of the 76-year-old Biden. Like the time he insisted he was still vice president during the mass shooting at Marjory Stoneman Douglas High School in February of 2018. He wasn't. Or that Rev. Martin Luther King Jr. and Robert Kennedy were assassinated in the 1970s. They weren't.
Joe Biden Sure Has Had A Lot Of 'Gaffes' Lately. Former Vice President Joe Biden had another 'gaffe' yet again on the campaign trail on Saturday. This time the 76-year-old told media how much he loved being in the state of Vermont... except, he was actually in New Hampshire.
Biden on voters worried about his age: 'I say if they're concerned, don't vote for me'. Democratic presidential front-runner Joe Biden responded to concerns from voters about his age during a brief press gathering on Saturday in New Hampshire. "I say if they're concerned, don't vote for me," Biden, 76, said to reporters.
Assassination dog whistle:
Joe Biden Asks Audience to Imagine Obama's Assassination. Former Vice President Joseph R. Biden Jr. on Friday [8/23/2019] took a series of unusual rhetorical detours at the end of a town-hall-style campaign event nominally dedicated to health care, speculating about how a political assassination of Barack Obama might have affected the country in 2008 and recalling that he was accused of being gay because of his support of women's rights in the 1970s.
Uncle Joe asks college kids to imagine if Obama had been assassinated. What is he talking about and what's the point? Imagine if Obama had been shot? According to the New York Times, the 76-year-old was trying to make a point about becoming politically aware in the turbulent times of the late 1960s and 1970s, moving on to mention the deadly Kent State shootings during a Vietnam War protest in 1970. Biden was elected to the Senate in 1972. Point not made. In the clip from New Hampshire, he also talks about how he believed in gay marriage since he was a child and his father explained two men kissing are in love. That was another one of Biden's prevarications. In May 2012, he came out for the first time for gay marriage. He also said 40 kids were shot at Kent State.
Joe Biden: 'If There's Anything I Can't Stand It's the Abuse of Power'. Former Vice President Joe Biden said in a speech at Urbandale, Iowa, on Tuesday [8/20/2019] that President Donald Trump is "engaging in a gigantic abuse of power" as president. "If there's anything I can't stand it's the abuse of power," said Biden. "And he is abusing it every single day." "He wants to build his wall by executive order. He wants to change the appropriation process by executive order. He wants to abuse the power that's there," said Biden.
By all means, let's talk about abuse of power.
Biden Wrongly Claims 40 Students Were Killed at Kent State in 1970. The problem with Joe Biden isn't that he's a leftist. Every single Democrat is. No, the real problem with this guy is that he clearly has no idea what he's talking about. Politics, history, race relations... it doesn't matter. Imagine a subject and realize: Biden has little to no knowledge about it. That would be perfectly fine if he was, say, a truck driver. Sadly, however, Biden is a) a former senator, b) a former vice president and c) the frontrunner for the Democratic presidential nomination.
Democrat Dilemma — Base Disconnected From Front-Runner Biden. What could better illustrate the floundering chaos of the Democratic Party than a new national poll showing Joe Biden as the clear front-runner? The party's got nothing else besides this fumbling faux pas factory. You know the base doesn't want Biden, yet he's leading the party's polls.
Biden says 40 were shot at Kent State in 1970, when four students were killed. Democratic presidential front-runner Joe Biden added to his recent pile of gaffes on Friday [8/23/2019] when he claimed that over 40 students were shot during a 1970 Vietnam War protest at Kent State. The former vice president was making a point about when he first became politically aware in the 1960s and 1970s, comparing the hypothetical assassination of former President Barack Obama to the very real murders of Sen. Robert F. Kennedy and Martin Luther King Jr.
Why Obama dropped Biden. [Scroll down] Obama won't be there for Biden. His internal friendship has ended and didn't make it through the next presidential term. Instead of helping his trusted friend run for the presidency, Obama has refused to endorse Biden. According to some reports, Obama repeatedly urged Biden not to run. "You don't have to do this," he warned Biden. Obama, it turns out, cares about one thing: himself. He is obsessed with his political legacy. Every day that Joe Biden stays on the campaign trail, he detracts from that.
More about Obama's narcissism.
Watch: Biden Makes Disastrous Gaffes While Speaking On Healthcare. Democrat presidential candidate Joe Biden repeatedly fumbled over himself on Friday [8/23/2019] while attempting to talk to a crowd about his healthcare plan, saying that he would make sure that it was "not quality" and ensuring people that their premiums would go up. [Video clip]
Joe Biden Thanks His "Longfriend Timefriend and She's a Friend Who's Been a Friend...". It doesn't get much worse than this latest gaffe from Democrat frontrunner Joe Biden. He was trying to thank a friend during a speech in Iowa and mangled the words into a classic gaffe. It's hard to believe he's the frontrunner for Democrats.
The Biden Campaign is Collapsing Under the Weight of all the Gaffes. In what can only be described as an act of pure desperation in the wake of their candidate's neverending string of inexplicable gaffes, Joe Biden's campaign on Tuesday rolled out the neurosurgeon who performed two surgical procedures to correct brain aneurysms on the former Vice President back in 1988. Unfortunately for Biden, the surgeon, Dr. Neal Kassell, was able to only offer faint praise for his elderly patient, telling Politico that "He is every bit as sharp as he was 31 years ago. I haven't seen any change." Um, you'll have to excuse us if that doesn't give us much comfort, given that the nation's official Unfrozen Caveman Senator has been running round the country blurting out embarrassing and disturbing statements that must make his staff cringe in horror on pretty much a daily basis.
Jill Biden's Attempt to Campaign For Her Husband Backfires. Campaign trail spouses want to support their husband or wife who's running for higher office, but sometimes they do more harm than good. The latest example of this is Jill Biden's attempt to explain why voters should choose her husband in the 2020 presidential election. She admitted on Monday in front of a group of New Hampshire teachers that some of his opponents may have better ideas, but in the end it's all about electability, and Biden's got it. Meaning, you may have to "swallow a little bit" and vote for him.
Another Gaffe: Joe Biden Claims MLK [and] RFK [were] Assassinated in the 'Late '70s'. Joe Biden continued his string of public gaffes while campaigning in Iowa Tuesday, inaccurately claiming that Robert F. Kennedy and Martin Luther King, Jr. were assassinated in the 1970s. The former vice president, who has worried even his staunchest allies in recent weeks for often confusing times and places, made the slip-up during a campaign appearance in Urbandale, Iowa.
Joe Biden's long goodbye. Joe Biden's presidential campaign is dead, but he doesn't realize it yet. His growing list of incidents of mental lapses demonstrate that he is well past his sell-by date. Yesterday, his wife Jill delivered what ought to be the death blow. Mrs. Biden, constantly identified by the MSM as "Dr. Jill Biden" owing to her doctorate in education (a far cry from the implied medical degree), inadvertently acknowledged the problems that trouble all who are paying close attention. Watch this cringeworthy appeal for support that she delivered yesterday [8/19/2019] in New Hampshire.
Politico Wants Us to Deny Evidence of Joe Biden's Cognitive Decline. Yes, the very same Politico that told us in 2008 that Republican John McCain's age — he was 71 when he ran against Politico's precious Barack Obama — was a "legitimate issue" and "presents his campaign a problem" and "it is a disservice to try to sweep it under the table and pretend like he is just another middle-aged white Republican male running for president" is now wrist-flicking two freakin' brain aneurysms and an ever-growing pile of troubling gaffes. According to Politico's own experts, one of whom actually said that Biden "is every bit as sharp as he was 31 years ago," the Democrat frontrunner's chances of surviving his first term are just 79 percent.
Report: Biden Told Obama He Was Too Old to Run for President Again. A recent New York Times report on the brotherly bond between Barack Obama and Joe Biden contains some interesting details about how Obama ultimately arrived at the decision to select Biden as his running mate in 2008. Unlike Hillary Clinton, among others, Biden was seen as a safe choice in part because he lacked presidential ambitions and was unlikely to exploit the vice presidency to maneuver for a future White House run.
Jill Biden to voters: You may have to 'swallow a little bit' with my husband so we can beat Trump. Speaking at a bookstore in Manchester, N.H., Dr. Jill Biden urged voters on Monday to consider the "electability" of her husband, former Vice President Joe Biden, ahead of the 2020 Democratic primaries, and how they may have to "swallow a little bit" with the Democratic front-runner in order to defeat President Trump. "I know that not all of you are committed to my husband, and I respect that, but I want you to think about your candidate, his or her electability, and who's going to win this race," Dr. Biden said.
Jill Biden: 'You may like another candidate better' but [her] husband is most 'electable'. [Scroll down] "So yes, you know, your candidate might be better on, I don't know, healthcare than Joe is, but you've got to look at who's going to win this election, and maybe you have to swallow a little bit and say, 'Okay, I personally like so and so better,' but your bottom line has to be that we have to beat Trump," Biden said.
Joe Biden won't win. Joe Biden has led Democratic polls since day one, holding the kind of consistent lead within his party that Donald Trump held heading into the 2016 primaries. The numbers say he will be the nominee. They also say he will beat Trump. They're wrong: you should still bet against Biden getting the nomination or getting into the White House.
Six times Biden described major events in his life that never happened. Joe Biden claimed twice recently that he met with Parkland, Florida, shooting survivors when he was vice president, despite the fact that he was already out of office when the attack took place. His campaign said Biden misspoke and was referring to a different meeting he had after the Sandy Hook shooting. But the flub was reminiscent of Biden's past misstatements and his tendency to embellish biographical details. In 1988, Biden was forced to drop out of the presidential race after he was found to have exaggerated his academic record, plagiarized a law school essay, and used quotes from other politicians in his speeches without attribution. But these are not the only questionable claims Biden has made.
Joe Biden has bigger problems than just gaffes. Joe Biden, 76, has been getting heaps of attention for his verbal gaffes. Alas, voters should worry about a far bigger problem: It's impossible to know what he stands for. Yes, some of his slip-ups can be head-scratching. Democrats choose "truth over facts," he said. Huh? The kids from the Parkland high-school shooting — which happened after he left office — "came to see me when I was vice president." He lamented "the tragic events in Houston" and "Michigan" rather than El Paso and Dayton. He warned against giving President Trump "eight more years" and told backers to "go to Joe 30330," instead of texting him. And that's just recently.
Joe Biden's Achilles Heel: Age, gaffes, and Foreign Policy. Former President Obama and his BFF, told Joe Biden "You don't have to do this." An attempt to keep Biden off the stage and offer some protection his dwindling legacy? Perhaps. A recognition that an unchained Biden, without Valerie Jarret to reign him in, might just be an embarrassment not only to the DNC but to the former President? Likely.
Hey, Dems — If You Tank Biden, Who Else Wins the Middle? In the week after earning plaudits for a powerful speech calling on the nation's better angels to combat racism and hate and fight for the soul of America, former Vice President Joe Biden has stumbled into a danger zone with gaffes and misstatements that could cost him the Democratic nomination. Questions about his fitness to prevail in the grueling next nine months — let alone the 14 till the general election — have given progressives a huge opening, with Sen. Elizabeth Warren surging in popularity and momentum. And that is grim news for the Democratic Party.
Joe Biden confuses Burlington, Iowa, with Burlington, Vt., in latest gaffe. Gaffe-prone Democratic 2020 frontrunner Joe Biden reportedly added another factual blunder to his list Friday [8/16/2019]. During a campaign fundraiser in his home state of Delaware, the former vice president was referencing a speech he had made to a group of 275 people, in which he accused President Trump of "fueling a literal carnage" in the country through his rhetoric. But Biden mistakenly recalled the location of the speech as Burlington, Vt., instead of Burlington, Iowa, according to The Washington Examiner. Whether Biden had Democratic rival Bernie Sanders — a former mayor of Burlington, Vt. — on his mind was not immediately known.
Joe Biden Drew Only 30 Supporters in New Hampshire During Trump Rally. Joe Biden drew only 30 supporters to an event held at the same time as President Donald Trump's massive rally in New Hampshire on Thursday [8/15/2019]. The Eagle-Tribune, a local Massachusetts newspaper, reported the former vice president's campaign only enticed "about 30 supporters" to attend an event held in Manchester, New Hampshire at the same time Trump was hosting his rally in the state.
Obama told Biden advisers not to let the former Veep 'damage his legacy' in his 2020 presidential run. Former President Barack Obama and Joe Biden have an extremely close relationship, but that reportedly hasn't alleviated concerns Obama has about the former vice president's 2020 campaign. [...] A person familiar with the exchange told The Times that Obama said to Biden, "You don't have to do this, Joe, you really don't." But Biden responded that he felt he had an obligation to take on President Donald Trump and that he wouldn't be able to forgive himself if he didn't give it a shot.
Report: Obama Told Joe Biden's Campaign Staff Not To Let Him 'Embarrass Himself'. Obama has been awfully quiet about Joe Biden's 2020 campaign, at least in public. Behind the scenes, it's a different story. Obama apparently offered some advice to Biden's staff.
Biden Retreats for Lengthy Rest After Gaffes Consume Campaign. The former vice president's staff announced Wednesday [8/14/2019] that the 76-year-old Biden had been vacationing since Sunday [8/11/2019] in his home state of Delaware. Biden's sojourn from the campaign trail is the longest since he announced his candidacy back in April. It also comes directly after a hellish week of high-profile gaffes in Iowa that reignited concerns over the former vice president's fitness for elective office.
Biden's Gaffes, Verbal Blunders Make Trump Look Like Churchill. [Joe] Biden's record of serial wrongheaded statements, verbal blunders and confusing comments makes him the wrong guy to mock Trump and take advantage of the president's verbal miscues. About his 2008 running mate, an exasperated Sen. Barack Obama reportedly said, "How many times is Biden going to say something stupid?" The answer is often. Here's just a sampling: [...]
We Need a Red Flag Law for Joe Biden. Let's do a Biden review. He still thinks Margaret Thatcher is Britain's prime minister (not the first time he's recently gaffed on this), believes there are at least three genders, believes he was vice president in 2018, grabbed a woman by the arm to tell her he was the first to support gay "marriage," and believes firearms are like Star Trek ray guns. And this is the frontrunner candidate for president of one of our two major parties, who will get tens of millions of votes when he's the Democrat nominee. (I'm on public record having predicted a Biden/Elizabeth Warren ticket.) We're going to put my theory to the test: that Democrats would elect Genghis Khan if a "D" followed his name.
What will it take for the Democratic establishment to abandon Biden? These days, Biden is confused about everything and everyone virtually all the time. He doesn't know the difference between Theresa May and Margaret Thatcher — or between the latter and Angela Merkel. He routinely says things that are absolute gibberish — "truth over facts," "the nation that Barack Obama proved toward bends toward justice." The broad strokes of his biography — tough childhood, long time in the Senate, then vice president — are clear enough but begin to blur around the edges: Was I still in the administration when those kiddos came to see me? These are not ordinary slips of the tongue. They are signs of cognitive decline that will be familiar to anyone who, like me, spends a good deal of time in the company of people who are roughly Biden's age.
Joe Biden's Campaign Attacks Media for Covering Gaffes: It's a 'Press Narrative'. Joe Biden's campaign is lashing out at the media for covering the former vice president's persistent gaffes. Symone Sanders, the campaign's spokeswoman, appeared on CNN Monday to discuss the numerous verbal missteps that have plagued Biden over the past week. In particular, Sanders was asked if voters cared about the gaffes or if Biden's standing would be diminished by them, as polling seems to suggest. Sanders responded by accusing the media of playing up the gaffes to further their own "narrative" at the expense of voters.
Something Is Seriously Wrong With Joe Biden. Former Vice President Joe Biden, the 76 year old leading the Democrat pack of candidates to become the Democrat nominee for President in every poll, since well before he even officially announced his candidacy, has always been known as a "gaffe machine" with his constant, often inappropriate, comments on a variety of issues, but lately his "mistakes," have had a different "feel" to them.
Joe Biden Is Wrong. There Is No Compelling Evidence That Assault-Weapon Bans Work. The U.S. had a ban on "assault weapons" — semiautomatic guns with certain combinations of "tactical" cosmetic features, including pistol grips and folding stocks — from 1994 to 2004. The existing guns were not confiscated; it was just illegal to sell new ones. The same law banned "high-capacity" magazines, setting the threshold at ten rounds, which is actually below the standard capacity of many modern handguns. (Both of my own handguns come standard with 15-round magazines, for example.) After the ban was allowed to expire, experts were more or less unanimous that it hadn't had a strong effect on overall homicides.
Joe Biden Pledges To Eliminate All Trump Tax Cuts. Joe Biden pledged to eliminate all of President Donald Trump's tax cuts when campaigning in Iowa over the weekend. Biden, who has made no effort to hide his ambition to raise taxes if elected in 2020, told a crowd in the Hawkeye State that by eliminating the tax cuts Trump passed during his first year in office, the country could spend more on healthcare and other items. The former vice president, however, did not just promise to roll back some of the cuts for the wealthy, like his other 2020 competitors, but he pledged to "eliminate" all of them.
Is Biden The Manchurian Candidate? Biden manages to say something stupid, offensive, or just flat-out untruthful every time he opens his mouth. If he is the best the Democrats can do for a presidential candidate, then the fat lady is already singing a lament for the party's demise. Just type Biden's name into any online search engine, and one will find an extensive list of articles detailing the former senator's many verbal gaffes — which range from puzzling flubs to outrageous distortions of reality. [...] At this point, it is just plain embarrassing for many Democrats that Biden is the leading contender.
Biden camp says verbal stumbles are just 'Joe being Joe'. "Joe's always been gaffe-prone — it's just a piece of who he is." That's the excuse coming from the Joe Biden camp as to why the former vice president and 2020 Democratic front-runner keeps having to put his foot in his mouth while on the campaign trail, with multiple verbal stumbles coming in recent days. "Joe Biden has spoken his mind his entire life, which voters know and love about him," said Kate Bedingfield, Biden's communications director and deputy campaign manager, in an interview with the New York Times.
The Editor says...
Did George W. Bush or Dan Quayle get the same consideration?
If Joe Biden is the best Democrats can offer, party is in trouble. Former Vice President Joseph R. Biden is hopping around Iowa these days on one foot — the other being permanently lodged in his mouth. Poor guy can't get through a speech without slandering someone, slurring a people or simply saying something incredibly stupid. Still, Mr. Biden's support in polls nearly doubles his next-nearest rivals. The rest of the endless Democratic field is 30 points behind him. You know your party is in trouble when "Joe Biden" is the best it's got.
Biden's 'gaffe machine' revs up in Iowa. Months before launching his 2020 presidential campaign, Joe Biden acknowledged that he is a "gaffe machine," prone to misstatements and embarrassing mistakes. He lived up to that reputation this past weekend on a campaign swing in Iowa, renewing fears among some Democrats that the 76-year-old former vice president and current frontrunner in the race for the Democratic nomination may not have the stamina for what would likely be a brutal campaign against President Trump.
Biden Urges 'Assault Weapons' Ban, Says Anyone Who Disagrees Should Not Be President. "We have a huge problem with guns," former Vice President Joe Biden wrote in a New York Times op-ed published on Sunday [8/11/2019]. "Assault weapons — military-style firearms designed to fire rapidly — are a threat to our national security, and we should treat them as such. Anyone who pretends there's nothing we can do is lying," he said, "and holding that view should be disqualifying for anyone seeking to lead our country." Biden took partial credit for enacting the 1994 law that banned a variety of semiautomatic weapons and high-capacity magazines for 10 years.
Another Splendiferous, Gafftastic Day for Joe Biden. Joe Biden is on a roll. A gafftastic roll. The near-octogenarian, former vice president and front runner for the Democratic Party nomination for president, is causing his supporters and Democrats across the country to pull their hair out in worry and trepidation. The whispering campaign has become a dull roar; is Joe Biden too old to be president?
Much worse than a gaffe: Biden boasts of a fantasy meeting that couldn't have happened. Joe Biden's mental state has so seriously deteriorated that he cannot separate fantasy and reality. That makes him too dangerous to be considered as a possible President of the United States. That is the only conclusion possible in the wake of what is incorrectly being characterized as a "gaffe."
Joe Biden on the Second Amendment: No amendment is 'absolute'. Joe Biden is calling for a cultural shift around how the country thinks about gun ownership. "The Second Amendment — no amendment is in fact absolute," Biden told the Everytown for Gun Safety Action Fund's Presidential Gun Sense Forum Saturday in Des Moines, Iowa.
Joe Biden's Grandpa Smurf routine won't beat Trump. Joe Biden possesses the elixir of ordinariness, despite the appearance of having picked his hair and teeth out of a catalog. One of the traits of ordinariness is inconsistency. Another is hypocrisy. These are pardonable flaws among the ordinary, but we expect our leaders to at least remember their lines. Biden's performance this week shows why he might win the Democratic nomination, but still lose the 2020 election.
Biden Says He Was Vice President During Parkland Shooting. Joe Biden said he was vice president when the deadly high school shooting in Parkland, Florida, took place. Except, it happened in 2018, more than a year after he left office — the latest gaffe by the Democratic presidential front-runner.
Joe Biden: No More ICE Workplace Enforcement, Deportations. The Democrats' leading 2020 candidate, Joe Biden, posted a tweet suggesting he would bar the arrests and deportation of illegal migrants who are hired by companies in place of Americans. "This is who Donald Trump is: a president determined to terrorize immigrant communities and rip apart families — at the border and across our country," Biden tweeted images of migrants' upset children in Morton, Mississippi. The photos were taken as enforcement agencies arrested hundreds of foreign migrants who were working in local slaughterhouses.
Joe Biden Says There Are Three Genders; Grabs Student's Arm When She Asks 'What Are They?'. In answer to a student's question at the Iowa State Fair on Friday [8/9/2019], former Vice President Joe Biden proclaimed that there are "at least three" genders. When asked to explain what they were, Biden dismissed the young woman's question. "Don't play games with me, kid," he said irritably. Then he grabbed her arm forcefully and added "by the way, the first one to come out for marriage was me."
Joe Biden: There are at least three genders. I confess that I can't hear the question being asked amid the din of the crowd, although Biden's answer is clear enough. But in any event, it's a question that should be asked at one of the upcoming debates. [Video clip] Older, more traditional, working-class Dems — Biden voters, essentially — would likely seem puzzled by the question and say, "Two, of course." Progressive answers would be more nuanced, aimed at reassuring trans activists that they believe gender is more fluid. So why not get everyone on record? Let the centrists in the field try to convince the left that gender is a binary thing.
Gaffes Renew Doubts from the Left About Joe Biden's Capabilities. A string of high-profile gaffes within the past 24-hours have renewed doubts, especially on the left, over former Vice President Joe Biden's capabilities as a candidate. When Biden first appeared in Iowa this week, it was as a returning champion. [...] The high, however, proved to be short lived. On Thursday, the 76-year-old Biden made three high-profile gaffes on the campaign trail that quickly renewed all of the old doubts about his candidacy. The gaffes began innocuously enough, with Biden telling voters at the Iowa State Fair that "we choose truth over facts."
Biden's Off Base on Trump and George Wallace. Vice President Biden is way off base, in our view, with his suggestion that President Trump has more in common with George Wallace than George Washington. The Democratic primary front-runner unleashed that libel in a speech Wednesday at Iowa. We're not intending to defend Mr. Trump's own errors. Mr. Biden, though, leaves out a lot, starting with the fact that George Wallace was a Democrat. That was in the era when all too many Democrats were defending Jim Crow. One would think that Mr. Biden would have at least acknowledged that fact. The former veep, after all, has himself just been under fire for boasting of working together in the Senate with some of the most notorious Democratic Party segregationists, like James Eastland and Herman Talmadge.
Biden Communications Director Hides Trump's Charlottesville Condemnation of White Nationalists. Former Vice President Joe Biden's press team hid President Donald Trump's post-Charlottesville condemnation of white nationalists in a tweet of a partial transcript of the president's remarks after the 2017 incident. [...] All of this is in response to a question that Breitbart News' Joel Pollak asked Biden at the Iowa State Fair on Thursday, where Pollak confronted Biden about how he has been misquoting President Trump about Charlottesville. An indignant Biden doubled down on his misquoting of the president and stormed off.
Biden says 'poor kids' just as bright as 'white kids' in latest gaffe. Former Vice President Joe Biden, the 2020 Democratic primary frontrunner, made another gaffe Thursday when he told a crowd in Iowa that "poor kids are just as bright and talented as white kids." Biden, who famously directed supporters to a wrong number during last month's debate — and recently misidentified the sites of recent mass shootings — quickly corrected himself after some applause from the crowd at the Asian & Latino Coalition PAC, and finished, "wealthy kids, black kids, Asian kids."
The Editor says...
I wonder how many people attending Joe Biden speeches find themselves applauding without really knowing what he just said.
Biden: 'We Choose Truth Over Facts'. Democratic presidential candidate Joe Biden told a crowd of supporters on Tuesday [8/6/2019] that "we choose truth over facts," apparently referring to the Democratic Party. [...] The former vice president has a history of tripping over his words.
The Editor says...
This is a confused old man who will be a continual embarrassment to the United States if he is ever elected President.
Biden on America under Trump: 'It's about hate, hate, hate'. Joe Biden continued to tear into President Trump at a Tuesday [8/6/2019] fundraiser in Aspen, Colorado, accusing him of fomenting a culture of hate. "I never had the expectation that President Trump would be a good president, but I had no idea that he would be as banal, mean and as bad as he is," Biden, 76, said during a 26-minute speech at the dinner, where donors paid between $1,000 and $2,800 to attend, according to pool reports. "It's about hate, hate, hate," Biden continued.
Brain Surgeon Told Biden He Had Less Than 50% Chance of 'Being Completely Normal'. Speaking at the White House National Conference on Mental Health on Monday [8/5/2019], Vice President Joe Biden told a sometimes serious and sometimes jocular story about the two brain surgeries he needed in 1988 to deal with cranial aneurysms. Biden told the White House audience "they take a saw and they cut your head off" and "they literally had to take the top of my head off." He also recounted that as he was being wheeled into surgery he asked the neurosurgeon, "What are my chances of getting off this table completely normal?" The surgeon told Biden he had a better chance of living — and that that chance was in the 35 to 50 percent range.
What Would It Take to Topple Biden in the Primary? In a recent poll of Ohio, he [Biden] was the only Democrat to lead President Trump in a hypothetical matchup, and for a lot of Democratic voters, that's the most important qualification for a potential nominee. Primary voters who prefer a more left-wing option, meanwhile, are splitting their support among the several other politicians in the race offering more-progressive proposals.
Biden Says As President He Would Come For 'Assault Weapons'. Democrats want to come for your guns and they aren't hiding it anymore. Former Vice President Joe Biden said as much on CNN Monday with Anderson Cooper. Discussing his support for a national buyback program of "assault weapons," the Democratic presidential candidate said that if elected, he is "going to come" for them. "So to gun owners out there who say well, a Biden administration means they're going to come for my guns," Cooper said to Biden, who interjected: "Bingo. You're right if you have an assault weapon."
Joe Biden compares Donald Trump to the Ku Klux Klan. Former Vice President Joe Biden claimed Monday [8/5/2019] that Donald Trump's use of a 'dog whistle' to subtly support racists makes him an heir to the Ku Klux Klan, the infamous white supremacist hate group. Biden is the Democratic Party's front-runner to challenge Trump for the White House next year; he said in a brief interview clip aired by CNN that the president is trying 'to divide people — divide them, pit them against one another.'
The Editor says...
Isn't this the same Joe Biden who cordially worked for many years, side-by-side in the Senate, with a former KKK officer, Robert Byrd?
Joe Biden's Brother Scored Generous Loans During Banking Committee Tenure. Joe Biden's younger brother James received a series of "unusually generous" bank loans during the 1970s, while the former vice president served on the Senate Banking Committee. Politico reported on Friday [8/2/2019] that James Biden, who has a history of murky financial dealings, was able to parlay his role as the chief fundraiser for his brother's 1972 Senate run into the startup capital required to open a nightclub.
Confusion: Biden offers sympathy for the 'tragic events in Houston today and also in Michigan'. Former Vice President Joe Biden misstated the locations of mass shootings in El Paso, Texas, and Dayton, Ohio, while speaking to donors at a high-dollar fundraiser in San Diego on Sunday night [8/4/2019]. Biden, 76, mistakenly referred to the shootings as "the tragic events in Houston today and also in Michigan the day before," but later corrected himself, according to a pool report. Biden seemingly confused Houston for El Paso and Michigan for Ohio when speaking to donors about the shootings.
Joe Biden's brother and hedge fund manager accused of fraud. A federal lawsuit accuses the brother of former Vice President Joe Biden, hedge fund manager Michael Lewitt and others of attempting to defraud a Tennessee business.
Joe Biden Claims The Economy Is Collapsing Because Of The Trump Presidency. Sometimes Joe Biden says things that are in not grounded in reality in any way. Now is one of those times. While speaking to some reporters this week, Biden said that the economy is collapsing because of Trump's presidency. That's ridiculous and completely untrue. Even the most left wing people who work at MSNBC know this isn't true.
Biden: Drug Companies Will Have to 'Come to Us' and 'We Will Set the Price'. Companies that develop drugs will have to go to the Health and Human Services Department (HHS) to be told what they'll be allowed to charge for their products if Joe Biden is elected president, the former vice president declared Wednesday during the Democrat presidential debate. Biden made the claim while defending his health care plan against the charge that it would not cover everyone in America, adding that his administration would also dictate any price increases.
Biden Inc.. The day the Bidens took over Paradigm Global Advisors was a memorable one. In the late summer of 2006 Joe Biden's son Hunter and Joe's younger brother, James, purchased the firm. On their first day on the job, they showed up with Joe's other son, Beau, and two large men and ordered the hedge fund's chief of compliance to fire its president, according to a Paradigm executive who was present. After the firing, the two large men escorted the fund's president out of the firm's midtown Manhattan office, and James Biden laid out his vision for the fund's future. "Don't worry about investors," he said, according to the executive, who spoke on the condition of anonymity, citing fear of retaliation. "We've got people all around the world who want to invest in Joe Biden."
Joe Biden Dodges on Obama's Deportations: Those Conversations Were Private. Former Vice President Joe Biden dodged questions from debate challenger Mayor Bill de Blasio of New York City on deportations during the second day of CNN's Democrat debates on Wednesday, saying those conversations were private. The two were debating comprehensive immigration reform when De Blasio was seeking answers from the former vice president on the issue of deportations under the Obama administration.
Biden's Corruption Problem. Joe Biden is being portrayed as the Democrats' safest potential presidential nominee, despite his obvious flaws as a candidate. But one wonders how Biden's history of swamp corruption will play if he actually faces the scrutiny of a national run. Biden's family has gotten wealthy, like those of so many low-paid "public servants" — Tom Daschle and Harry Reid are obvious examples. How does that happen?
Joe Biden's Brother Scored Generous Loans During Banking Committee Tenure. Joe Biden's younger brother James received a series of "unusually generous" bank loans during the 1970s, while the former vice president served on the Senate Banking Committee. Politico reported on Friday that James Biden, who has a history of murky financial dealings, was able to parlay his role as the chief fundraiser for his brother's 1972 Senate run into the startup capital required to open a nightclub.
Joe Biden laughs off his text flub where he directed millions of viewers to a web site that doesn't exist. Joe Biden on Thursday [8/1/2019] laughed off his flub at the end of the second Democratic debate, saying he should have said the word 'text' in his closing statement. 'Instead of saying "Joe," I would have said "text." I was so focused on making the case for Joe, I said "Joe" and I gave the number. It was text so I would have changed that,' he told reporters at an event in Detroit. He also thanked the media for covering his mistake and said the gaffe was giving his campaign 'great results.'
Biden stumbles over statistics, phrases, and titles in 2020 debate. Joe Biden, 76, repeatedly stumbled over numbers and phrases throughout his second Democratic presidential primary appearance Wednesday night, at one point accidentally endorsing one of his primary rivals. Biden told viewers that if they agree with him, "go to Joe 3-0-3-3-0." He likely meant to tell them to text the number 30330, which subscribes supporters to text message Biden campaign updates. Near the beginning of the Detroit debate, Biden said that California Sen. Kamala Harris' plan on "Medicare for all" single-payer healthcare "in 10 years will cost $3 trillion," misstating estimates that find "Medicare for all" would cost $32 trillion over a decade.
Biden Survives, So Biden Wins. All night long, almost every candidate on stage aimed their attacks at Joe Biden. Early on, Kamala Harris referred to him as "Senator Biden," a perhaps not-so-accidental demotion. Julian Castro, Bill de Blasio, and Cory Booker all went after him in rapid succession. Even Kirsten Gillibrand claimed that Biden opposed women working outside the home, a particularly implausible accusation. Here's the good news for Biden: If tonight doesn't do any damage to his numbers, he will probably cruise to the nomination.
Democrats turn on Obama legacy as they hit out at Biden in debate. When Democratic National Committee Chairman Tom Perez asked the audience gathered for the last night of the second Democratic presidential primary debate in Detroit whether they missed former President Barack Obama, many suspected it wouldn't be the last time Obama's name was evoked that evening. Obama's two-term No. 2, Joe Biden, took the stage moments later and was repeatedly forced to defend his political record, eight years of which he amassed under the country's first African American president.
Joe Biden is running for president on an 'I'm not Trump' platform, which spectacularly failed for Hillary Clinton in 2016. Former Vice President Joe Biden was on his third campaign swing through New Hampshire earlier this month when he spoke at the state's annual Young Democrats barbecue in Portsmouth. It was an opportunity for the 76-year-old Democratic presidential candidate to connect with young voters — a key bloc pushing the party to the left with its embrace of sweeping policy reforms like the Green New Deal.
Biden 'looked frail' during Miami debate, Obama's former doctor says. A doctor who served former President Obama for more than 20 years before his presidency said this week he thought former Vice President Joe Biden "looked frail" during the first Democratic debate in Miami, when he was attacked by Sen. Kamala Harris. Dr. David Scheiner told the Washington Examiner that Biden's appearance during the debate made him nervous. "Harris started attacking him and he looked frail to me," Scheiner said.
Are Democrats Sure Biden Is Different Enough from Hillary Clinton? Think about all of the factors that contributed to Hillary Clinton's defeat in 2016. She was a figure who had been around a long time, among the best-known names in the party establishment.
The Editor says...
The article goes on to list a number of remarkable parallels between Mrs. Clinton and Mr. Biden.
Democrats take Trump's bait and once again look pathetic and crazy ahead of 2020. If Democrats become the victims of a massive electoral defeat next year, it's doubtful that they will understand why. Not one of them seems to have any awareness of how ridiculous they can be. Case in point, former Vice President Joe Biden, in earnest, just said he would challenge President Trump to a push-up contest as a way to measure his own manliness.
Joe Biden once warned that without 'orderly integration,' his children would 'grow up in a racial jungle'. [Scroll down] Biden has tied his long civil rights record into his presidential campaign, and some black leaders in Wilmington, Delaware praised Biden for it. Yet he also "promoted nearly a dozen pieces of legislation" aimed at limiting federal busing programs, and despite his claims otherwise, outright said "I oppose busing" in 1975, the [New York] Times reports. And in 1977, Biden made a particularly questionable argument against using busing to achieve integration.
Biden Renews The 'Keep Your Plan' Lie With Obamacare 2.0. Wait, have we heard this before? Oh, right, it was President Obama pitching the original version of Obamacare, with a lie so egregious PolitiFact named it "Lie of the Year." Biden's lie is worse, since his Obamacare 2.0 would result in tens of millions forced off employer plans they like and into the Obamacare exchanges, where the only choice would soon be government-run Medicare-style insurance. The only difference between Biden's proposal and the more openly radical "Medicare for All" scheme is that Biden's would take a little longer to get to single payer. Two elements of Biden's plan, in particular, ensure this end result.
Buttigieg Draws Larger Crowd in New Hampshire than Frontrunner Biden. Both men hosted rallies in Dover, New Hampshire to discuss their presidential ambitions and court supporters ahead of the state's first in the nation primary. Although Biden supposedly leads the mayor among New Hampshire voters in the polls, Buttigieg was the one who pulled exponentially more attendees to his event in the state.
The only thing making Biden look 'electable' is his rivals' extremism. A Washington Post-ABC News poll finds that a 45% plurality of voters believe Biden has the best chance of beating President Trump. No other candidate comes even close. But what if those voters are wrong? To win back the presidency, Democrats must retake states such as Pennsylvania, Michigan, Wisconsin and Ohio, where once-reliable working-class Democrats opted for Trump in 2016. The rationale for Biden's campaign is that he is the candidate best positioned to win back these "forgotten Americans" who voted twice for him and President Barack Obama. In fact, he may be the worst candidate to try to do that.
Delaware university has sealed Joe Biden's Senate records for as long as he is in 'public life'. Biden donated a trove of his Senate records to the University of Delaware eight years ago. Had he retired and ended his career, scholars might now be sifting through them. But the school appears to have modified the terms of release this year, as Biden jumped into the presidential race. Under an initial agreement, the records were to remain sealed 'for two years after Biden retires from public office.'
MSNBC's Jason Johnson: Biden Trying to Win Nom with 'Obama Mask'. MSNBC pundit Jason Johnson said this week that former Vice President Joe Biden cannot win the nomination by just putting on "this Obama mask" and think that will be enough to win party's critical black voters. The Root's political editor noticed that Biden did not attend last weekend's Essence Fest — "one of the largest collections of African-American women of all classes, levels, and education sizes" — and argued that he cannot take the black vote for granted.
Biden's Cringeworthy Backpedal on Race Signals Weakness. Despite his leadership on women's issues and standing on the forefront of bringing LGBTQ rights to the mainstream, he is seen among his own party as being personally out of touch. It all came to the fore earlier this year when Biden got caught up in a truly absurd #MeToo debacle. As proof of his supposedly lecherous behavior towards women, a photo of him grasping hands and touching heads with rape survivor and women's rights activist Sophie Karasek made its rounds around the internet — again. It was such an innocuous and obvious attempt at empathy that, at the time it was first revealed, the photo went viral — not as proof of Biden's "creepiness" but of his ability to connect with others' pain and actually do something to help the plight of rape survivors. But leave it up to liberals to create revisionist history, if necessary, to find a male rapist in power around every corner.
Joe Biden stumbles, slurs, coughs through speech — Wonders 'What am I doing?'. Perhaps "Sleepy" Joe Biden's new nickname should be "Shaky". The Democrat frontrunner — according to polls — delivered what was billed as a foreign policy speech, and delivered what he likely thought was going to be an applause line. Except no one clapped, only responding with silence. [Video clip]
Who needs opposition research with Joe Biden declaring: 'I respect no borders'? [Scroll down] "I respect no borders." A perfect sound bite for Trump, and one can almost hear the video clips getting their snips and edits for the upcoming television ads. You'd think he'd be smarter than that, but well, this is Joe Biden. No borders? None at all? [...] That's not gonna go down well with the U.S. public, based on polls showing repeated support for a rational expectation of rule of the law at the border. The actual context of the speech isn't precisely on the matter of illegals, but rest assured, Democratic lockstep opposition to any rule of law at the border makes it clear that this is one thing that Joe's vision includes.
Middle-Class Joe Cashes In. The American middle class just got a lot richer. Joe Biden, who invariably and tiresomely refers to himself as "Middle-Class Joe," made $15 million the first two years after the end of the Obama administration. This hardly qualifies as a rounding error in the portfolio of any billionaire mogul, but for the average American, a million here, a million there, and pretty soon you're talking about real money.
Middle Class Joe Biden becomes Very Rich Joe Biden in just 2 years. For his entire political career of nearly a half-century Joe Biden has cultivated an image of Middle Class Joe from Scranton, the kind of guy who rides the train to work like millions of other workers. To scrape up extra income in those days, Biden even charged the Secret Service rent on a cottage that agents used while protecting him in his Delaware home, though he spent much time at the vice president's free residence in Washington.
Biden and wife made more than $15 million after leaving office. Former U.S. Vice President Joe Biden and his wife, Jill, earned more than $15 million in the two years after Biden left government in early 2017, according to tax records released by his campaign on Tuesday [7/9/2019].
Biden releases financial info, made more than $15.5M before taxes over past two years. Former Vice President Joe Biden, who has raked in millions since leaving office, released his financial disclosure form as well as three years of tax returns Tuesday [7/9/2019]. The documents showed that Biden and his wife, Jill, made more than $11 million in 2017 before taxes and made more than $4.5 million in 2018 before taxes. Biden's campaign said that the vast majority of that income ($10,048,739 in 2017 and $3,236,764 in 2018) derived from payments to the couple for the writing of two books: Joe's "Promise Me, Dad" and Jill's "Where the Light Enters," as well as paid speaking engagements.
The lynching of the only Democratic hope. Joe Biden got it right, it's just that he said it in the wrong country. In Joe's country, getting it right is wrong, and the unwary pay for it. In Joe's country, a sucker never gets an even break, and everybody's a sucker. Joe's country is the modern Democratic Party, where the grown-ups looked at the field of dwarfs, concluded that not even Snow White could find a credible candidate for president among that motley crew of 25, and figured that Joe, who might not scare the horses, was the man they needed. He would be the wise, avuncular graybeard needed to steady the mayhem in the nursery.
Biden Claims Russia Wouldn't Have Interfered During His Watch — But Alleged Interference Occurred During His Watch. Former Vice President Joe Biden, a 2020 hopeful, claimed alleged Russian interference in the U.S. presidential election would not have transpired under the administration of Barack Obama and Biden's own watchful eyes. Unfortunately for Biden, Russia's alleged interference related to the 2016 presidential campaign took place under the Obama administration.
Joe Biden wanted to shut the door to Southeast Asian boat people? Joe Biden likes to blow with the wind with whatever the cause du jour is, and probably the most obnoxious and disgusting of all his twists are in his past effort to keep our allies, the South Vietnamese and other Southeast Asian refugees and boat people out of our country in the 1970s.
Joe Biden explains. Mark Hemingway caught Joe Biden's "especially combative" interview with Chris Cuomo on CNN yesterday [7/7/2019]. Hemingway reports that when Cuomo shifted the topic from mandatory school busing to Russian election meddling in Europe and America, "Biden bizarrely asserted that the Obama administration never let that happen." Biden's catchphrase in this short interview is "C'mon, man." Count the times he resorts to it. If Biden remains a serious candidate, I'm afraid the interview is worth watching. It put me in mind of Robert Gates's observation that Biden has "been wrong on nearly every major foreign policy and national security issue over the past four decades." [Video clip]
Democrats' chances, and their issues, [are] in the toilet. [Joe] Biden is rambling on and on and on about how Russia is meddling in everybody's elections. "You think that would happen on my watch, on Barack [Obama]'s watch?" he asks one sympathetic interviewer. "You can't answer that, but I promise you it wouldn't have and didn't." Okaaaaaaaay. Only problem being that, well, the entire purpose of existence for the Democratic Party these past two years is that Russia supposedly DID meddle in U.S. elections under Mr. Obama and Mr. Biden's watch. In fact, according to all Democrats and most of the media, that is the only reason former Secretary of State Hillary Clinton lost the 2016 election.
Would President Joe Biden Become 25th Amendment Material? I speculate only because since January 2017 our popular culture and intelligentsia have suggested President Trump is crazy and should be removed under the 25th Amendment. Apparently, accusations about the mental health of presidents and would-be presidents are now legitimate political attack strategies under the new progressive rules. [...] Biden once suggested that George Bush get on TV after the 2008 meltdown in the manner that President Roosevelt had addressed the nation after the 1929 market crash: "When the stock market crashed, Franklin D. Roosevelt got on the television and didn't just talk about the, you know, the princes of greed." Biden was referring to a time when neither FDR was president nor was television commercially available.
Biden's Sister Souljah Non-Moment. The USS Biden is sinking. With the first Democratic presidential primary debate over, the torpedoes have struck, the crew has reporters on speed dial, and as the ship is leaking like mad, the ship's captain doesn't have a clue what happened. As the bulkhead compartments flood, Joe Biden, in a time-honored desperate tactic, is attempting the only thing he can think to resuscitate his foundering campaign: a Sister Souljah moment.
Biden in Iowa sticks to light schedule and tries to remain above the primary despite polling slump. Despite a sharp drop in the polls, Biden showed few signs of trying to up his game in the Democratic primary battle. During a visit to first-voting Iowa, Biden kept his schedule light, with only four events over two days, two of them a parade and a baseball game. Also in Iowa, his rival California Sen. Kamala Harris held five stops, all of which had intimate interactions with Iowa voters, while Vermont Sen. Bernie Sanders attended nine events over three days.
Biden baggage sparks fear, loathing on campaign trail. This new moniker is of course in homage to the late writer Hunter S. Thompson, who wrote several great books, among them "Fear and Loathing in Las Vegas," a quasi-fictional account of his drug-crazed adventures. By way of coincidence, the new issue of The New Yorker has what is I presume a fairly accurate account of Hunter S. Biden's drug-crazed adventures almost a half-century later. [...] In the new magazine story, Hunter S. Biden trashes his rental car, much like his namesake in the Vegas book. He then gets a new one, again like Thompson, after which Biden likewise takes off across the desert, stoned out of his mind, beyond Palm Springs. "Later, on a sharp bend on a mountainous road, Hunter recalled, a large barn owl flew over the hood of the car and then seemed to follow him, dropping in front of the headlights. He said that he has no idea whether the owl was real or a hallucination."
Sloppy Joe tries so hard. Does anyone take Joe Biden seriously? The man made monkey shines during the president's State of the Union address. Biden could not hold it together for one hour. Then there was the signing of Obamacare. Biden burst out loud in the middle of it, exclaiming, "This is a big [vulgarity] deal." Finally, there was his weirdness around women and children — sniffing their hair, touching them, and making inappropriate comments. I get the feeling they kept him out of the loop. He was the comic relief in the Obama administration, a throwback Democrat who served as protection from impeachment. The greatest fear Republicans had was Biden becoming president.
Biden warns Democratic rivals he's got 'all this information about other people's pasts'. Joe Biden let slip that his campaign was collecting dirt on his rivals for the 2020 Democratic presidential nomination. "I mean, I get all this information about other people's pasts, and what they've done and not done. And you know, I'm just not going to go there. If we keep doing that — I mean, we should be debating what we do from here," Biden told CNN in a Friday interview, referring to the crowded field of two dozen White House hopefuls.
Joe Biden keeps making things worse for himself. In an especially combative interview Friday with CNN's Chris Cuomo, Joe Biden was hoping to rebound from his dismal debate performance. Instead, he kept making it worse. Most notably, the former vice president stumbled trying to explain his positions on mandatory school busing from more than 40 years ago. As Cuomo even reminded him in the interview, Biden was so bad that at one point in the debate, he voluntarily pointed out he was out of time so he wouldn't have to keep talking. Biden still didn't have a good answer. He repeatedly used arcane legal terms and made awkward and defensive statements to establish his racial bona fides such as, "My state is the eighth-largest black population in the country as a percent of population."
Biden vows to bring back Obamacare's individual mandate penalty for not having insurance. Joe Biden, former vice president and 2020 Democratic presidential hopeful, said Friday [7/5/2019] he would bring back the individual mandate, the penalty for not having health insurance, which was a pillar of the Affordable Care Act. "Yes, I'd bring back the individual mandate," Biden said in an interview on CNN. The individual mandate would be popular now, "compared to what's being offered," he added.
Polls Show Biden Plummeting to Third Place Nationally and In Iowa. Former Vice President Creepy Joe Biden has collapsed to third place in Iowa and nationally, according to two polls. Just a few days prior to last week's debate, a national Change Research poll showed Biden leading the pack among his fellow 2020 Democrat presidential hopefuls with 24 percent support. Socialist Sanders and Cherokee Warren were not far behind with 22 percent.
Biden Losing It — 2015/2016 Russian Meddling "wouldn't have happened under my watch". This is sad. Hopefully those around him who care will stop this soon; before it gets embarrassing for him. Former Vice-President Joe Biden appears on CNN for a friendly interview about his current candidacy. Unfortunately what follows is an exhibition in Biden's growing cognition issues. Mr. Biden, referencing his position that Russia was meddling in the Brexit, U.S. and EU elections in 2015 and 2016, says those examples would not have happened under his watch: [Video clip]
Biden Makes Disastrous Claim During Interview, Gets Mocked In Response. Democratic presidential candidate Joe Biden falsely claimed during a CNN interview on Friday [7/5/2019] that Russian election interference did not happen during the Obama-Biden administration which led to the 76-year-old being mocked online. [...] Biden also claimed without evidence that if Trump is re-elected that "there will be no NATO in four years or five years."
Biden fought to keep Vietnamese refugees out of the US. Joe Biden, the 2020 Democratic presidential front-runner and advocate of large-scale immigration, once tried to block the evacuation of tens of thousands of South Vietnamese refugees who had helped the United States during the Vietnam War. As a senator, the future vice president, now 76, was adamant that the U.S. had "no obligation, moral or otherwise, to evacuate foreign nationals," dismissing concerns for their safety as the North Vietnamese Army and Viet Cong swept south toward Saigon in 1975.
It Looks Like Joe Biden's Son Took A Bribe From A Chinese Businessman. On Monday [7/1/2019], The New Yorker published a lengthy article detailing the various scandals involving former Vice President Joe Biden's son, Hunter. The article asked the question: "Will Hunter Biden Jeopardize His Father's Campaign?" The answer is fairly obvious: No. Democrats and their families are treated differently than Republicans and their families. If these scandals involved Jared Kushner or President Donald Trump's children, every media outlet would be covering them.
Democratic shakeout: Biden losing altitude, Harris surging, field dividing, bottom stuck at bottom. There have now been five national polls since the first Democratic presidential primary debate. Together, the surveys, conducted by ABC News/Washington Post, Quinnipiac, CNN, The Hill/Harris, and Politico/Morning Consult, show the debate has shaken up the race. The field has separated into three clearly definable tiers, all atop a large group at the bottom made up of candidates with virtually no support.
Report: Bad-Tempered Biden Has 'Screamed At' Every Staffer. Former Vice President Joe Biden may appear to promote an easy-going public image, but it's reportedly a front to hide an explosive temper that frequently manifests itself in emotional outbursts. In a New Yorker article that focuses on the political problems that Biden's son Hunter poses for the campaign, anonymous staff members reportedly told the magazine that they are often too "intimidated" to offer their opinions to Biden, fearing a verbal assault from the Democratic presidential front-runner.
Biden's support from black voters cut in half after debate: poll. Former Vice President Joe Biden, the early front-runner for the 2020 Democratic presidential nomination, has lost support among African-Americans after taking heat on racial issues during the party's first debate, according to a Reuters/Ipsos poll.
2020 Democrat Candidates' 21 Most Insanely Scary Proposals. [#1] Government Gun Confiscation: Joe Biden: "Folks, look, and I would buy back [assault] weapons. We already started talking about that. We tried to get it done. I think it can be done. And it should be demanded that we do it. And that's a good expenditure of money." As soon as Biden said, "it should be demanded that we do it," his "buy back" program was revealed as a mandatory confiscation of the guns we law abiding Americans already own. And can you imagine how far the government will stretch the definition of an "assault weapon" to justify this confiscation?
This Is What Insanity Looks Like. I went to a Joe Biden debate watch house party. Yes, for real. While everyone there was very pleasant, friendly and gracious, the Biden campaign organizational aspect of it was decidedly underwhelming. I am in a deep blue suburban part of Maryland, and yet the nearest Biden party was 40 miles away — one of only three in the entire state. No Biden campaign organization is evident in my state, possibly because it is late on the primary calendar, or maybe because the Biden camp figures it will all be over, one way or another, by the time the primaries get to Maryland. The number of people who showed up could be counted on the fingers of one hand. [...] But I wasn't there to watch the debate. I was there because I wanted to know what genuine Biden supporters thought of it. And from a few casual questions about what the group thought of Biden's performance, and from their less-than-cheerful answers, my suspicion is they knew in their hearts that the USS Biden was destined to run aground.
CNN Poll: Harris and Warren rise and Biden slides after first Democratic debates. Sens. Kamala Harris and Elizabeth Warren have made steep gains after the first Democratic presidential debate, a new CNN poll conducted by SSRS. shows, with former Vice President Joe Biden's lead over the field shrinking to a narrow 5 points.
Panic in Bidenville: Big bundler jumps ship. Is Joe Biden in a panic these days? There was a report that his staff are "freaking out" after his shaky, old-man-nattering-on performance in the second debate the other night. But what's got to be even worse is the news that his bundlers are jumping ship. And the one in the news at least didn't even wait for the debate disaster to cut loose. A good rat knows a sinking ship before it goes down.
Biden Proposes Ban on Gun Sales Other Than Theoretical 'Smart Guns'. During the first Democratic debate on Thursday night, front runner Joe Biden proposed banning the sale of any firearm that doesn't include theoretical biometric locks. "We should have smart guns," Biden said. "No gun should be able to be sold unless your biometric measure could pull that trigger. It's within our right to do that. We can do that. Our enemy is the gun manufacturers, not the NRA." While prototypes of guns with integrated biometric locks exist, none are currently for sale on the American market. Biden's proposal would effectively outlaw the sale of every firearm on store shelves in the United States.
'Not in Seattle!': Wealthy donors shout down Biden after 'gay waiter' comment. Joe Biden drew jeers from a group of his wealthy donors Saturday evening after he asserted that public displays of homophobia were acceptable as recently as 2014. Addressing 50 guests at the Seattle home of public relations executive Roger Nyhus, the former vice president claimed businessmen making "fun of a gay waiter" was routinely acceptable. Those remarks sparked outcries from the audience, who yelled "Not in Seattle!" Others disputed that casual acts of bigotry such as the kind Biden described would not be met with objections.
Joe Biden looks to clarify [his] position on busing after [a] tense exchange with Kamala Harris. Former Vice President Joe Biden on Friday [6/28/2019] tried to clarify his views on forced school busing after his tense exchange with Sen. Kamala Harris at Thursday night's Democratic debate in Miami. Harris had confronted Biden about his comments about working with segregationist senators, and statements he's made about opposing busing in the 1970s.
All Joe Biden Had to Do Was Look Moderate, and He Blew It. Biden had a lane all to himself in the debate Thursday night, but he couldn't stay in it. He blew it, as we all knew he would, because he's Joe Biden. The last time there was an open field for the Democratic nomination, he achieved all of 1 percent in Iowa. Holding Barack Obama's coat for eight years is his most impressive achievement. It's just about the only thing he brags about, unless you count being friends with racist Democratic senators. A half-smart Biden would continue doing what the voters think he's been doing, which is being moderate and reasonable.
The wheels are falling off.
Top Biden fundraiser ditches him and warns others may too. A fundraiser for Joe Biden's 2020 campaign said he is no longer supporting the former vice president's White House bid — and predicted that others may follow suit. Tom McInerney, a San Francisco-based attorney who was a lead bundler for former President Barack Obama, told CNBC he informed Biden's team of his decision on June 20.
WaPo: Biden's Had 'An Explosion of Wealth' Since Leaving White House. Biden's newfound wealth since leaving public office has mostly come from paid speeches, some of which earned him as much as $200,000, and book deals. The book deal for his 2017 memoir Promise Me, Dad was reportedly worth $8 million and covered three books from Biden and his wife, of which two have been published. The former vice president's campaign said he has given fewer than 50 paid speeches in the years since serving alongside President Obama but declined to give further details to the [Washington] Post about how much he made from these speeches. Four contracts unearthed by the Post show Biden making between $150,000 to $200,000 per speaking appearance.
Joe Biden keeps stepping in it — and voters couldn't care less. Joe Biden's all-too-friendly touching of women in the MeToo era was supposed to be toxic to his presidential campaign. Critics thought his flip flop on subsidized abortions would show how deeply out of touch he was with the modern Democratic Party. The latest controversy buffeting his campaign — his statements about his working relationships with Dixiecrat segregationists when they served in the U.S. Senate together more than 40 years ago — has chewed through news cycles for the past week.
Joe Biden got demolished. When one candidate enjoys an enormous lead in the polls in a field of two dozen, he's bound to be a target on the debate stage — the one person everyone has an incentive to take down a peg. And so it was that in Miami on Thursday night [6/27/2019], in the second half of the first Democratic debate, former vice president Joe Biden became a punching bag. It started with Rep. Eric Swalwell taking a dig at the 76-year-old Biden's age by calling on him to "pass the torch" to a younger generation. [...] But most stunning of all was the extended clash between Biden and Sen. Kamala Harris over Biden's recent remarks harking back to the good old days of senatorial deal-making with segregationists — an exchange that quickly evolved, at Harris' direction, into an argument about Biden's opposition to busing during the 1970s.
Poll: Biden leads Democratic field by 6 points, Warren in second place. Former Vice President Joe Biden remains a top choice in the 2020 presidential primary among Democratic voters, but top tier candidates are narrowing his lead according to a new poll. Biden maintains a 6 point advantage, with 24 percent of Democrats surveyed saying they would vote for him if the primary were held today, according to an Economist/YouGov poll. The web-based poll was conducted between June 22 and June 25, and included 1,500 U.S. adults. There is a margin of error of plus or minus 3 percent.
'Middle class Joe' Biden is renting a $20,000-a-month Virginia home from a venture capitalist. Joe Biden has raked in the cash since he's left the vice presidency, making speeches at up to $200,000 a pop, signing a seven-figure book deal, and renting a 12,000-square-foot home in Northern Virginia from a wealthy venture capitalist. He even has demands in his contract for raspberry sorbet and chartered flights for his speeches. The details about the new life of the man who calls himself 'Middle Class Joe' were revealed Tuesday [6/25/2019] by the Washington Post, which used public records to track down Biden's new lifestyles of the rich and famous.
Joe Biden Demands 'Angel Hair Pomodoro, Caprese Salad, Raspberry Sorbet' Before $150,000 Speaking 'Performance'. [Joe] Biden's thinking about running for president for a third time. And there's good reason for the 76-year-old to jump into the 2020 race: Money. Candidates live the high life, jetting around the country in private planes, lounging in five-star hotels, eating like a king — all while hauling in millions from contributors who end up footing the bill. Nice work if you can find it (just ask socialist Sen. Bernie Sanders, who owns three houses). But Biden's already living the rock star life, giving paid speeches at colleges and theaters all across the country (he even hit Proctor's Theatre, a former vaudeville house, in Schenectady, New York, recently, not your usual stop). And throughout his tour, he had some heavy demands, just like any bona fide rock star.
Trump hammers Biden, questions if 'big secret' is behind why Obama hasn't endorsed his ex-VP. President Trump has renewed his attacks on Joe Biden, this time questioning why former President Barack Obama hasn't endorsed his former vice president. In a new interview, Trump wondered if there was a "big secret" as to why Obama has not backed Biden. "How he doesn't get President Obama to endorse him, there has to be some reason why he's not endorsing him," Trump told The Hill.
The Editor says...
Joe Biden is just a placeholder, and he has been put in place to get everyone nostalgic for the Obama years. The real nominee has been pre-ordained by the Democratic Party elite, and it isn't the elderly Joe Biden. Just between you and me, I suspect the nominee will be Michelle Obama, who will serve as the figurehead for Valerie Jarrett's third term. After Michelle Obama gets the nomination, the voters will be backed into a corner once again: You will have to choose between Donald Trump and a black female, and if you choose Trump, you're a racist. The news media will eat it up. Race-based political opportunism is the most powerful tool the Democrats have. Their second most powerful tool is news media bias.
The Donald has dirt on Biden. The Donald knows things. My hunch is he has FBI informants. I suspect he knew everything Mueller was doing as it happened. [...] President Trump knows something the rest of us do not know. An aside, remember the post-speakership interview with John Boehner in which he said Obama is scared to death of Michelle? She wants Democrats to nominate a woman of color. That would be Kamala Harris.
Joe Biden Doesn't Look So Electable in Person. On Saturday, Joe Biden was one of 20 presidential candidates to speak at a Planned Parenthood forum in Columbia, S.C., held right next door to the state's Democratic convention. It was just a couple of weeks after he'd reversed his longtime support for the Hyde Amendment, which bans federal funding for abortion. One of the moderators asked him what he'd say to pro-choice voters who have concerns about his mixed record on the issue. This was part of his answer: "The fact of the matter is that we're in a situation where mortality rate for poor women and black women, here in this state, 26.5 percent of the, 24, 25.6 people, who of 100,000 who need, who end up dying as a consequence of birth, it's absolutely absurd." (He was referring to South Carolina's maternal mortality rate, which is 26.5 maternal deaths per 100,000 births.) Seeing Biden on the stump often feels like watching an actor who can't quite remember his lines.
Biden: Congress should immediately make 'Dreamers' citizens. Democratic presidential candidate Joe Biden, unveiling his immigration policy outline ahead of the first 2020 debates, is calling for Congress to grant citizenship immediately to more than 800,000 U.S. residents who were brought to the country illegally as children. The former vice president and Democratic polling leader unveiled some of his immigration priorities on Monday [6/24/2019] in a newspaper op-ed that blisters President Donald Trump for an "assault on the dignity" of the Latino community through policies and rhetoric designed to "scare voters" in 2020.
Bookies: Trump-Biden race seen, president 'odds on favorite to win'. Bookies taking bets on the 2020 presidential election are predicting a Trump-Biden race, with President Trump a 1-1 favorite to win reelection. Current wagers indicate that former Vice President Joe Biden would take the nomination and stands at a 4-1 chance to beat Trump. In a surprise, BetOnline.ag said that the odds for Sen. Bernie Sanders, long the first or second choice in the Democratic primary race, has sunk to sixth in the general election, while Sen. Elizabeth Warren is second behind Biden.
Biden unwittingly reveals the scope of the Democratic Party's racism. As the old geezer praises 'civility' and other virtues of the men of his party, the hair-raising specter is rising: Segregationists were pretty much the heart and soul of the Democratic Party. It wasn't a fringe or regional group. It wasn't a few outliers. It was the main thrust of the Democratic Party and recently enough that Biden knew its proponents. Republicans have known this for a long time — just the history of the civil rights movement, with the Bull Connor Democrats who tried to stop it every step of the way, often violently, pretty well shows how intensely the Democratic Party was the party of racism.
Saved by the glitch? Mic cuts as Joe Biden defends abortion record. The microphone gave out Saturday [6/22/2019] as Democratic presidential candidate Joe Biden prepared to defend his record on abortion rights. Biden, the vice president under former President Barack Obama, was responding to a question from Kelley Robinson, national organizing director for Planned Parenthood, who asked how he could convince voters that he was sincere about his commitment to abortion rights "given your mixed record" on sexual and reproductive health. "First of all, I'm not sure about the mixed record part," Biden said. "I've had, I have had 100% voting record — " before the mic dropped.
The Editor says...
I haven't heard the audio, but if I were to guess, based on 48 years in broadcasting, I'd say one of Biden's people backstage unplugged Biden's mike, jammed his wireless mike, or pulled the power on some piece of equipment in that circuit. On the other hand, if the TV production was under the control of Biden's team, it is very likely that the order was given to cut his mike and have the moderator claim "technical difficulties." It isn't hard to imagine that the Biden team has people on the lookout for touchy subjects and upcoming gaffes, who will give the signal to cut his mike, or just do it themselves.
Biden Likens Cultural Effects Of Trump's 2016 Victory To RFK's Assassination. Former Vice President Joe Biden compared President Donald Trump's 2016 election victory to the assassinations of former Attorney General Robert F. Kennedy and civil rights leader Martin Luther King. Trump's victory awakened the millennial generation to the importance of getting involved in politics, Biden said in an interview Saturday [6/22/2019]. The former vice president is one of 25 prominent Democrats running against Trump in 2020.
The Editor says...
There are not "25 prominent Democrats" running in the 2020 election. There are about six or eight who have any reasonable chance of being nominated (and then soundly defeated by Trump), followed by various party insiders, mayors and miscellaneous bureaucrats that nobody outside of his or her home state has ever heard of. The chaff and the dregs are just adding background noise. And the whole process, in my opinion, is a charade, because the Democratic Party machine has already selected the nominee.
With 'help' from his rivals, Joe Biden's endless gaffes are making him un-electable. This is what you get when you turn to a candidate who has been in Washington for 46 years. Biden was first elected to the Senate in 1972, when the Democratic Party was very different than it is today. As a freshman senator, he had to get along with the senior leadership of his party — which included segregationists James Eastland of Mississippi and Herman Talmadge of Georgia. You may be thinking: Who in the world are James Eastland and Herman Talmadge? You're not alone. Ninety-nine-point-nine percent of living Americans had either forgotten their names or never heard of them in the first place, until Biden decided to dredge them up from the fever swamps of the Democratic Party's sordid racial past.
Biden Was More Than 'Civil' With Segregationists. He Was An Ally. [I]t's fair to point out that the historic record shows Biden was far more than merely "civil" with segregationists. His early interactions can be more accurately described as obsequious. Biden hadn't negotiated with political rivals to push bipartisan policy. He had worked with members of his own party — run by men who placed him in positions of power — on issues they agreed on. Judging from the Senate transcripts and interviews of the time, it's clear that Biden was an all-star opportunist. After watching the former Delaware senator shed 50 years of positions in the past few years, this should come as no surprise.
Media Buried Biden's Love of Segregationists to Protect Obama. Joe Biden spent eight years as vice president, and thanks to our useless, partisan, deceitful, fake news media, we are only now learning about Biden's abiding love for Democrat segregationists. [...] Look at everything our fake news media chose not to tell us in 2008 when Biden was running for vice president — and don't forget we are talking about the same fake news media that sent legions of fake journalists to Alaska to find out which library books Biden's rival, then-Gov. Sarah Palin, checked out. Only now are we learning that in 1975 Biden said his party needed a "liberal George Wallace," that he believed segregation was a good thing as a "matter of black pride," and that he voted to restore the American citizenship of confederate president Jefferson Davis. Did you know that as recently as 1988, Biden praised a Democrat segregationist as a "man of character and courage?" All of this is coming to light now for only one reason: the media were not interested in 2008 because in 2008 the media were only interested in protecting Barack Obama.
Joe Biden has told opposite stories about his advice on Osama bin Laden raid. Joe Biden has offered two starkly different and contradictory accounts of his role in the 2011 raid that killed Osama bin Laden. After initially saying that he opposed the operation and told President Barack Obama not to do it, the 2020 Democratic front-runner changed his account to say he hedged in front of other official but privately told Obama to go ahead.
Inside Joe Biden's chaotic campaign. Joe Biden's two days of off-message musings about his long-ago work with some of the most notorious segregationists of their era has staffers calling for an intervention to save his 2020 presidential campaign. The former vice president's reminiscences about collaborating on legislation with Sens. James O. Eastland of Mississippi and Herman Talmadge of Georgia has campaign veterans wondering whether he has what it takes to win the right to challenge President Trump in 2020.
Liberal citizen journalist finds 'thousands' of fake Twitter accounts are boosting Biden. A self-proclaimed "technology activist" is calling out former vice president Joe Biden for attempting to dupe the American public into believing he has a lot more support online than he really does. Terrence Daniels, a social media strategist at Real Progressives, posted a video to Twitter on Wednesday [6/19/2019] that exposes thousands of fake Twitter accounts bought to boost re-tweets and comments, a strategy designed to make it appear as though Biden's message is resonating with Democrats.
Lyin' Biden: Not a 'hint of a scandal' during Obama administration? Please! "Know what I was most proud of?" former Vice President Joseph R. Biden Jr. said last week during a campaign event. "For eight years, there wasn't one single hint of a scandal or a lie." Maybe his memory is going (he is 76 years old, after all). But I can think of a bunch of scandals — right off the top of my head — that occurred during the two terms in office for the Obama-Biden administration. Here are a few of the biggest, in no particular order: [...]
The Editor says...
Many writers have made long lists of Obama scandals. And here is a partial list of Obama's lies.
Hunter Biden Still Active in Chinese-Sponsored Investment Fund. Former Vice President Joe Biden's son Hunter continues to play an active role in a Chinese-sponsored investment fund, according to ABC News. [...] Hunter Biden traveled to China with his father in 2013, and his firm formed a $1.5 billion joint venture with the Chinese government called Bohai Harvest RST. Hunter serves on the board of the company.
Hunter Biden's alleged love child debacle just the latest in string of suspicious incidents. Hunter Biden's got some explaining to do to his new bride. President wannabe Joe Biden's son — who recently married a South African beauty just 10 days after they first met — has been hit with a paternity suit by a woman in Arkansas. Lunden Alexis Roberts, 28, filed a petition for child support against Hunter Biden, claiming that she gave birth to "Baby Doe" last August, according to court papers filed last month.
Joe Biden, 76, wants a violent civil war. Ryan Saavedra reports for the Daily Wire that on Monday, June 17, at the Moral Action Congress of the Poor People's Campaign in Washington, D.C., Demonrat 2020 presidential candidate Joe Biden was asked by MSNBC's Joy Reid: "How would you get past either a majority Republican Senate in which Mitch McConnell was determined to kill all of these ideas or even a Mitch McConnell in the minority who repeated the consistent filibustering when you were vice president and anything that came from the Obama-Biden administration Mitch McConnell considered dead on arrival?" Biden replied: "Joy, I know you're one of the ones who thinks it's naive to think we have to work together. The fact of the matter is if we can't get a consensus, nothing happens except the abuse of power by the executive. There are certain things where it just takes a brass knuckle fight. Let's start a real physical revolution if you're talking about it."
Joe Biden refuses to apologize, getting in his own way on race. Joe Biden can't seem to get out of his own way. His campaign started the day by defending his nostalgia for a more civil Washington — when getting things done meant working with segregationists on occasion. His comments at a campaign fundraiser in New York Tuesday night drew swift rebukes from his Democratic rivals for president, drawing the controversy into the next news cycle.
Democrats embrace their segregationist past. From the Civil War through the 1990s, Democrats controlled the 11 Confederate states. Not until 1994 did Republicans have a majority of the congressmen from those states, and that was 30 years after passage of the 1964 Civil Rights Act. State legislatures fell later. For years, though, Democrats have peddled the lie that the segregationists flipped parties in 1964. They remained loyal Democrats. Now Joe Biden is embracing his inner white supremacist. News One reported, "Joe Biden Fondly Recalls The 'Civility' Of Pro-Segregation Senators." Sure, they denied black people the vote, forced them to sit in the back of the bus, and would not let them in their restaurants, bathrooms, or hotels, but by golly those klansmen in the Senate were gentlemen. Biden joined the Senate in 1973.
Racial uproar explodes among 2020 Democrats as rivals attack Biden for comments about segregationists. Joe Biden on Wednesday [6/19/2019] doubled down on his statements about working with segregationist senators, telling reporters that he has nothing to be sorry for. Biden dismissed criticism of the comments, including from fellow Democratic presidential candidates such as Sen. Cory Booker of New Jersey, who called on Biden to apologize.
Democratic senator's wife to Biden: 'You are not who we need to succeed the racist in the White House'. Connie Schultz, a Pulitzer Prize-winning liberal journalist married to Democratic Sen. Sherrod Brown, slammed Joe Biden for hailing his relationships with segregationist senators as examples of "civility." Schultz said Biden's comments show he should not replace President Trump in the White House.
Yeah, those were the good old days. Right, Joe?
Joe Biden Shares Fond Memories of Working With Segregationist Senators in the 1970s. Former Vice President Joe Biden has highlighted his ability to do business with people all political persuasions, citing how he had worked with two prominent segregationists. The frontrunner for the 2020 Democrat ticket was speaking at a fundraiser in New York's Carlyle Hotel where he referred to Senators James Eastland of Mississippi and Herman Talmadge of Georgia, whom he worked with during a 36-year Senate stint. Eastland, who died in 1986 aged 81, vehemently opposed integration and thought black people belonged to "an inferior race."
Joe Biden threatens the Democratic Party's multicultural future. Let's rewind to Tuesday night [6/18/2019]. Biden, the former vice president and current Democratic presidential candidate, caught flack after he decided to profess nostalgia for the early 1970s, a time when he could work side-by-side in the Senate with notorious segregationists like Sens. James O. Eastland of Mississippi and Herman Talmadge of Georgia and still get stuff done. "I was in a caucus with James O. Eastland. He never called me 'boy,' he always called me 'son,'" Biden said Tuesday at a New York fundraiser, adding: "You go down the list of all these guys. Well guess what? At least there was some civility."
The Editor says...
Hey, Joe, why don't you ask Brett Kavanaugh, Steve Scalise, and Rand Paul about civility? Be sure to take Maxine Waters and Sheila Jackson-Lee with you. They could offer some pointers. Then go ask Kathy Griffin about civility. Go talk to your old pal, Barack H. Obama, who — while running for president, just like you — said, if "they bring a knife, we bring a gun." If there's no civility in America, it's because of Democrats like you.
Joe Biden Holds Fundraiser In $34 million NYC Penthouse. Democratic presidential candidate Joe Biden held a fundraiser Monday night [6/17/2019] in a $34 million New York City penthouse. Close to 200 wealthy supporters of Biden drank wine and took in the Central Park view from investment billionaire Jim Chanos's three-story, 7,800 sq. ft. home, reported The Washington Examiner. They were apparently unfazed by liberal protesters gathered outside, chanting about global warming and the need to ban fracking.
Joe Biden Has 85 at Big Iowa Rally, Trump Has 100,000 Sign Up. The liberal media wants you to believe Joe Biden is leading President Trump by 10 points. Joe Biden had 85 people at his big rally in Iowa last Tuesday. Joe is the top Democrat running for president.
What Happens When Joe Stops Being Joe? In an era when voters were able to look at Trump and understand exactly what sort of man he was yet vote for him anyway, a less-than-genuine Biden hardly seems to be in demand. Voters want you to be who you are, rather than a creation of staffers, special interest groups and Washingtonians.
Biden Suggests Starting 'Physical Revolution' To Deal With Republicans. Democratic presidential candidate Joe Biden appeared to suggest using violence against Republicans on Monday in response to a question about how he as president would deal with opposition to his agenda in the Senate from Senate Majority Leader Mitch McConnell. [...] "There are certain things where it just takes a brass knuckle fight," Biden continued, later adding: "Let's start a real physical revolution if you're talking about it." [Video clip]
Joe Biden says his campaign has raised nearly $20M. Former Vice President Joe Biden said at a Manhattan fundraiser on Monday that his campaign has raised nearly $20 million — mostly from small donors. Biden made the statement during a fundraiser at the Upper East Side home of Jim Chanos, an investment manager who is the president of Kynikos Associates. At the end of the event, where about 180 people attended, Biden said his campaign has taken money from about 360,000 donors, with an average contribution of $55.
The Editor says...
Doodad Pro [1] [2] [3] [4] [5] was unavailable for comment.
Students Slam Trump's 'Pretty Racist' Quotes, Then Learn They're From Biden. In a new man-on-the-street video, Campus Reform's Cabot Phillips asks a few pro-Joe Biden college students to guess which presidential candidate — Donald Trump or Biden — was the source of some racially charged quotes, all of which were infamously stated by Biden. Phillips finds that even though some of the lines have been widely reported, the students all guess Trump for each quote. When they are informed that in fact Biden said all of the "pretty racist" comments, the students express genuine surprise and say the revelation will likely impact their support for the former vice president.
Giuliani claims media 'covered up' Chinese deal by Biden's son. President Trump's lawyer Rudy Giuliani tweeted Sunday that the news media had "covered up" the fact that Hunter Biden, son of Democratic presidential front-runner Joe Biden, had financial dealings with the Chinese government. Arguing that his son's dealings influenced Biden's views on China, Giuliani wrote, "A Fox poll shows that Dems view ethics as critical and prefer Biden. That's because warped media has covered up how he brought his son to China, and while he was caving in to China, his son got $1.5 billion investment from China. Corrupt media can't hide it forever."
Joe Biden and the Democrats' Racist Abortion Position. Last week in Atlanta, Joe Biden, Democrat presidential frontrunner for 2020, said: "For many years as a U.S. senator, I have supported the Hyde amendment as many, many others have because there was sufficient monies and circumstances where women were able to exercise that right [to abortion], women of color, poor women, women were not able to have access.... But circumstances have changed." Thus, said Biden, "I can't justify leaving millions of women without access to the care they need and their ability to exercise their constitutionally protected right. If I believe healthcare is a right as I do, I can no longer support an amendment that makes that right dependent on someone's zip code." In response, the crowd of liberal women went wild, applauding ecstatically. It was an incredible moment. A sick moment. Think about what Joe Biden said, to liberals' roaring approval: He's reversing his long-held position so "women of color, poor women" can get abortions — that is, have their abortions publicly paid for. He's changing specifically because of women of color and poor women. He wants them to be able to have their abortions. He wants to make sure money isn't an issue. He wants no obstacles to them securing their desire to abort their child.
A Grotesque Political Party. The lineup of Democrat presidential candidates currently stands at 25 and growing. Conrad Black has aptly described them as "unelectable non-entities." The long and growing list is more like a tower of babel than a collection of credible leaders. Evidence of that is that leading the race currently is former senator and vice president Joe Biden. Beyond the confines of the Democrat Party the reaction to Biden's candidacy is typically, "Is this a joke?" Joe Biden? The guy is a goof. He is known primarily for his gaffes, flip-flops, plagiarism, and unwelcome advances toward women. The very fact he is leading the race is a sad indictment on all the other candidates. The unreality of all the candidates' policy positions, e.g. the Green New Deal, sanctuary cities, open borders, unlimited taxpayer-funded abortions, should be obvious to all sentient beings. Democrats label all Trump supporters as racists, just as Hillary Clinton labeled them all "deplorables."
Democrats: The 'Post-Truth' Party. In September of 2008, U.S. senator, vice presidential candidate, and Democrat Joe Biden was asked his thoughts — "as a Roman Catholic" — on when life begins. Demonstrating a vast ignorance of science, along with an unflattering display of faith, he told NBC's Tom Brokaw, "Look, I know when it begins for me." [...] Likewise, biology-denying Joe Biden, more than once, has recently called "transgender equality" the "civil rights issue of our time." [...] Thus, no one should be surprised that Joe Biden has now flip-flopped on the Hyde Amendment. In addition to subsidizing abortion through the federal funding of Planned Parenthood, this new position by Biden would force further taxpayer investment in the killing of unborn human beings.
Is Joe Biden losing it? It sounds like Trump is going to bat Biden around like a chew toy on the Democratic campaign trail. And this doesn't even get into the live matter of Biden's handsiness on the little girls at assorted campaign rallies in the past, something Joe says he's a reformed man on. Yet amazingly, Biden is the best the Democrats have to offer, the frontrunner, the guy who seems pegged for the number-one spot.
Resurfaced Video Shows Biden's Treacherous Goal to Transform the USA. A video from 2015 has resurfaced at 100 Percent Fed Up in which Joe Biden says he wants an "unrelenting stream of immigration" that will make "Caucasians like me" the minority. And that's a "good thing." This is important because at the same time an activist in Maryland Sue Payne called into Mark Levin to tell him about a conversation she was party to with Barack Obama's officials. They discussed the plan for a "country within a country" of [illegal] immigrants who would eventually take over the citizens. [Video clip]
Are you tired yet of how DC works? The people in Washington don't really care about you or me. Yes, they care, but about different things — such as getting re-elected, and hanging on to power, and making money. It's an ego trip, basically, and a handsome source of collateral income along the way. They work for it, what with their endless calls to donors and lobbyists, plus the added leverage of their political influence. And their efforts are not in vain. Just ask Joe Biden and his son Hunter. They made out quite well.
Joe Biden: A 'Good Guy' Without Principle or Backbone. Joe Biden, the crazy uncle that many people try to hide in the attic, so to speak, is a "good guy," even if he didn't have enough backbone to defend his use of that phrase to describe Vice President Mike Pence. When the left-wing mobs came calling, Uncle Joe scurried for the exit. Of course, the former senator already had run from his record in the Anita Hill hearings, during which he apparently privately acknowledged the inconsistencies of her story. Now, seeking the Democratic presidential nomination in an era when truth and consequences are of no account, he apologized for not arming the anti-Clarence Thomas mob with pitchforks and torches. His latest craven surrender is on abortion funding.
Obama plays starring role in Biden's presidential campaign. During a campaign swing through Iowa this week, Joe Biden mentioned that his family recently dined with former President Barack Obama's family. At a Houston fundraiser, Biden joked about the infamous expletive he deployed in congratulating Obama's health care victory.
Biden: No 'Single Hint of a Scandal or a Lie' When I Was VP. Joe Biden touted what he believes was his scandal-free tenure as vice president during an Iowa campaign speech on Wednesday [6/12/2019]. "Know what I was most proud of?" he said, in reference to former president Barack Obama's presidency. "For eight years, there wasn't one single hint of a scandal or a lie," he told a cheering crowd. Biden has made this claim before on the campaign trail, when speaking about his proudest accomplishments as Obama's vice president.
Hey Joe Biden, Here Are Some Scandals You Forgot. [Scroll down] Then again, Obama could secretly send planes filled with cash to pay ransom to an Islamist terror state responsible for the deaths of hundreds of American servicemen (using money that had been earmarked for terror victims), and most reporters would still regurgitate echo-chamber talking points. You remember Ben Rhodes bragging about how the Obama administration could trick 27-years-olds whose "only reporting experience consists of being around political campaigns" because they "literally know nothing?" Politico's Josh Meyer, who did know something, would write a deeply sourced piece — featuring numerous real-life, on-the-record administration officials — about the Obama administration's efforts to undermine investigations into a drug-trafficking ring run by Hezbollah operating in the United States, and most major news organizations never even mentioned it.
Joe Biden: 'Wasn't One Single Hint of a Scandal or a Lie' in Obama Years. Former Vice President Joe Biden claimed Wednesday that there were no scandals or lies in the Obama-Biden administration. "Know what I was most proud of?" he asked voters in Iowa. "For eight years, there wasn't one single hint of a scandal or a lie."
The Editor says...
In a way he's right. There was no mention of Obama's scandals and lies in the news media. Joe Biden is apparently hoping you get all of your information from television.
'Foolish insult': Biden blasted for promising to 'cure cancer'. Democratic presidential candidate Joe Biden has received a wave of backlash for promising to finding a cure to cancer if he is elected in 2020. "I've worked so hard in my career, that I promise you, if I'm elected president you're gonna see single most important thing that changes America, we're gonna cure cancer," Biden said in Iowa on Tuesday [6/11/2019]. When Biden was vice president to President Barack Obama, he had led the "Cancer Moonshot," which resulted in a report outlining recommendations for funding and areas to focus research. Biden also lost one of his sons, Beau, to cancer in 2015.
Joe Biden slobbers all over himself at sad Iowa campaign event. In one of the worst staged campaign appearances ever seen, former Vice President Joe Biden stammered and crawled his way through a rambling incoherent speech. The badly stilted opening appearance in Iowa follows a series of missteps by the Biden campaign. Biden repeatedly attacked Donald Trump with a treasure trove of smears and insults, labeling him an "existential threat" to democracy.
"China Joe" Biden Will Reverse [his position] and Call China [a] Geopolitical Threat. According to two media reports democrat presidential candidate Joe Biden is scheduled to completely reverse his position on China, and outline the Asian nation as a global geopolitical threat in an Iowa speech today. That's not a reversal or a flip-flop, that would be a triple-lindy. Since the first day he announced his candidacy Joe Biden has been saying China does not pose a threat to the U.S. or our global allies. He has consistently down-played any talk of China as an economic or geopolitical threat to the U.S. The Biden family has also made millions from their financial relationships with China, assisted by the family patriarch selling policy influence.
Joe Biden's Brain: An Empty Vessel Waiting to be Filled by the Ideas of Others. The simple fact of the matter is that Joe Biden has precious few original thoughts, and the few he does have invariably end up blurting out of his gaping mouth at inconvenient moments. Like the time he said that all 7/11 stores are run by immigrants from India. Or the time he said that Barack Obama was a rare clean and articulate black guy. Or all the times he took the wrong position on every foreign policy issue of the last 45 years. So it's always been safer for our nation's creepy uncle to ignore his own impulses and latch onto the ideas of others. It is no accident that Biden's crowning achievement in life has been spending 8 long years parroting talking points handed to him by Barack Obama's evil minions.
Biden promises he'll cure cancer if elected president. Joe Biden told an audience in Ottumwa, Iowa Tuesday that his White House would "cure" cancer should he beat President Trump in 2020. "I've worked so hard in my career, that I promise you, if I'm elected president you're gonna see single most important thing that changes America, we're gonna cure cancer," Biden said to applause.
The Editor says...
If Mr. Biden is able to cure cancer (but only if you elect him), why didn't he do so when he was Vice President?
If Joe Biden Could Cure Cancer as President, We Should Elect Him. If any candidate had the ability to cure cancer as president, well then we should elect that person. If Joe Biden could cure cancer as president, he'd have my vote. But he can't. There's a difference between "wanting" something, "working so hard" for it, and being able to have it. Politicians frequently say things that are beyond the pale; they make promises nobody should believe. That's what slogans are for.
Unprincipled Biden Plays Hyde and Seek. Joe Biden is a political shape-shifter with a spine of gelatin whose triple-Axelrod was performed to pass muster with the new Democratic dogma to get him past the Lilliputian-elimination primaries to become the Democratic nominee. The Democrats have moved from "the right to choose" to the obligation to kill up to the moment of birth, sometimes even afterward. Dr. Kermit Gosnell, the baby butcher of Philadelphia, is suddenly the patron saint of the full-blown abortion Democrat Party. Joe Biden didn't want to suffer the plight of pro-life-Illinois Dem. Cong. Dan Lipinski, fighting attempts from the national Democrats to purge him. Those who believe life begins at conception and ends at natural death are not welcome in the Democratic Party, neither are those who believe, okay, you can have your "right" to an abortion, just don't ask taxpayers to pay for it.
In the 1990s, Joe Biden said William Barr was "one of the best" attorneys general. In 1995, Sen. Joe Biden offered high praise for William Barr, the once and future attorney general who has been roundly criticized by Democrats for his handling of special counsel Robert Mueller's report on the 2016 election. "As I know you know, but others should know, too, I truly enjoyed working with you when you were attorney general," Biden told Barr, who had served as President George H.W. Bush's attorney general in the early 1990s. "You were one of the best I have ever worked with, and there have been a lot of attorneys general since I have been here, and I mean that sincerely."
Joe Biden Lied in 1987 with Claim He Marched in Civil Rights Movement. Former Vice President Joe Biden, the 2020 Democrat frontrunner for president, lied in 1987 during his first of many runs for the Oval Office by claiming he marched in the Civil Rights Movement — something he never did. The New York Times' Matt Flegenheimer, in a Monday [6/10/2019] report, resurfaced the 1987 lie by Biden before an audience in New Hampshire, where he was campaigning for the Democrat nomination for president for the first time in his long political career.
Joe Biden, 1973: Nixon Must Be Seen as 'Innocent' Until Proven Guilty. Joe Biden delivered an impassioned plea for the public to presume then-President Richard Nixon "innocent until proven guilty" at the height of the Watergate scandal in 1973. On Friday [6/7/2019], Breitbart News reported on a speech then-Senator Biden made to the City Club of Cleveland, Ohio on May 18, 1973. In his remarks, Biden made comments women might find offensive and used racially insensitive language, especially when lecturing on what he thought "was good for the Negro." Although portions of the speech initially surfaced in a book by a leftist journalist and the full audio was published by the City Club, no media outlet provided an in-depth account prior to Breitbart News.
Are Abortion & Gay Rights American Values? "My religion defines who I am. And I've been a practicing Catholic my whole life," said Vice President Joe Biden in 2012. "I accept my church's position on abortion as ... doctrine. Life begins at conception. ... I just refuse to impose that on others." For four decades, Biden backed the Hyde Amendment, which prohibits the use of the tax dollars of Joe's fellow Catholics to pay for what they view as the killing of the innocent unborn. Last week, Joe flipped. He now backs the repeal of the Hyde Amendment.
Joe Biden: The Evitable Nominee. If anything could change the perceptions of Democratic primary voters, it would be weakness on the party's sole sacrosanct issue: Abortion. Pro-life candidates and elected officials have all but been hounded from the party. The slow process began more than 30 years ago when Missouri Congressman Dick Gephardt, a pro-life politician for his entire career, felt it necessary to do a complete flip-flop in order to pursue his presidential hopes in 1988. Coincidentally, that was the same year Biden made his first stab at the Oval Office. Democrat primary voters didn't go for Gebhardt's schtick then, but what about Biden and the now?
Joe Biden 1974: 'Politicians Can Take Away' First Amendment 'If We Want'. The current 2020 Democrat frontrunner made the comments to Washingtonian magazine while being interviewed for a profile published in June 1974. Biden, then only 31-years-old, came to regret the interview, as his penchant for gaffes and insensitive remarks — traits defining later portions of his career — heavily colored the piece. At the time, however, Biden appeared eager to discuss his life as the nation's youngest senator.
Did the DNC Reject a Climate Change Debate to 'Protect' Joe Biden? The Democratic National Committee's decision not to hold a climate debate upset environmentalists and has some wondering if it was an effort to help former Vice President Joe Biden's candidacy. Democrats in favor of such a debate criticized the DNC for going against the wishes of primary voters. Republicans, on the other hand, wondered if the DNC is trying to protect Joe Biden's status as the front runner of the 2020 Democratic presidential primary.
Why Joe Biden Gets Away With It. Joe Biden, the Democratic front-runner, has had a peculiar couple of weeks: The points on which he's been historically weak — women's rights, mass incarceration, and plagiarism — have surfaced again, as weak points are bound to do, but if his responses on all three fronts have muddied his record, they haven't done much damage to his vaunted "electability." He's reiterated his support (before retracting it) of the Hyde Amendment, which prevents federal funds like Medicaid from paying for abortions. He's defended his 1994 crime bill, which contributed (many believe) to America's mass incarceration problem. Asked at a recent event whether he'd "commit to reducing the prison population by half," Biden claimed that the woman asking — whom he addressed as "kiddo" — had been "conditioned" to say it was a bad bill. But "we should not be putting people in prison for drug offenses," he added, omitting that he was one of the architects of the war on drugs and had specifically criticized then-President Bush's plan because it didn't "hold every drug user accountable." Finally, his campaign was found to have plagiarized some policy language.
Nineteen Democrats descend on the same Iowa stage, but Joe Biden is not there. Nineteen presidents-in-waiting got five minutes apiece to address Iowa Democrats from a single stage on Sunday [6/9/2019], seizing the chance to make a splash and stand out from a pack of two dozen who want their party's nomination. The front-runner is marching to his own cadence, however: Former Vice President Joe Biden wasn't in the eastern Iowa town of Cedar Rapids to lock horns with the other polling leaders. He chose to attend his granddaughter's high school graduation instead.
Report Shows Joe Biden Has Big Vietnam Draft Evasion Problem. On top of his old, white plagiarism and serial young-girl-touching problems, Creepy Joe Biden also has a draft evasion problem, according to an InsideSources report. Naturally, the outlet also attacks President Trump over his own Vietnam-era deferment, but comparing Trump to Biden in this regard, as you will see, is like comparing a gun to a tomato. According the report, after he graduated college in 1968, Biden became eligible for the draft, which could have landed him in combat in Vietnam. What saved him, what earned him a 1-Y draft deferment, was asthma.
Joe Biden's Spygate-Linked Top Aide Hoped for Resistance Within Trump's Cabinet, 'Purging' Nationalists'. In social media remarks that got little attention, Colin Kahl, who served as Vice President Joe Biden's national security adviser, called for "purging or marginalizing the 'Axis of Ideologues' in the West Wing" in order to ensure what he described as "any hope of a sane foreign policy" during the Trump administration. Kahl took to Twitter to make those little noticed remarks on March 11, 2017, two months after he departed the White House along with the rest of the Obama administration for the incoming Trump team.
Biden has a strange advisor: Alyssa Milano helped persuade him to flip-flop on support for Hyde Amendment. Joe Biden's flip-flop on his support of the Hyde Amendment this week was based on a variety of talks with the former vice president's advisors and one of those advisors happens to be actress Alyssa Milano. After previously supporting a long-standing ban on using federal tax money to help pay for abortions, Biden switched his support on Thursday [6/6/2019].
Biden Says His Infanticide U-Turn Republicans' Fault. It's official, the main Democrat platform going into the 2020 election is Infanticide. According to the Washington Post: 'Joe Biden asked for a pen. Then he reversed a position he'd held for four decades'. Former Vice President Joe Biden's U-Turn on the Hyde Amendment on Thursday [6/6/2019] makes the coast clear: All 24 main contenders in the DNC primary race are, down to the last one, solidly pro-abortion. For 40 years, Biden, a Catholic, was on board with the Hyde Amendment. That all changed because he purportedly faced "intense backlash" within his own party.
'Old man schedule': Biden holding half the events of his rivals. Joe Biden no longer holds public office and entered the 2020 Democratic race nearly four months after some of his rivals. But his campaign schedule is remarkably light and he is less than half as active as his main rivals. Since announcing his presidential run on April 25, the former vice president has held 10 total public events in five states. In the same period, Bernie Sanders has held 25 in eight states and Elizabeth Warren has held 23 in seven states.
Biden [is] Not Alone: All Dem Climate Policies Are Plagiarized. Besides his obvious affinity for plagiarism, it should be no surprise that Joe Biden stole his ideas for dealing with climate change. He couldn't possibly have any of his own. He doesn't have anywhere near the background or, to be honest, the intelligence to comprehend the necessary physics and chemistry. He could barely make it through law school (without plagiarizing). And, all apologies to attorneys, a Ph.D. in physics or chemistry is somewhat more of a heavy lift than an LLD. Undoubtedly it was the former vice president's staff that placed the stolen material in the unwitting candidate's hands. (One can only wonder how long this clueless crew will last.) But they weren't alone, I would wager.
Joe Biden asked for a pen. Then he reversed a position he'd held for four decades. Joe Biden was in the car on the way to a Democratic gala in Atlanta on Thursday night when he turned to an aide and asked for a pen. The former vice president began scrawling his evolving thoughts on the Hyde Amendment, preparing to make one of the biggest shifts of his 2020 presidential campaign. Later that night, reading from those notes and diverting from the prepared teleprompter text, he would reverse a position he had held for nearly four decades and for the first time call for repealing the federal law that sharply restricts the use of taxpayer money for abortion. It was the culmination of days of debate within his campaign and external criticism over an issue that has become fundamentally important for the Democratic Party.
Watch: Biden Communications Director Struggles to Explain Timing of Hyde Amendment Flip-Flop-Flip. Friday [6/7/2019] on CNN's "Right Now," former Vice President Joe Biden's deputy campaign manager Kate Bedingfield battled with host Briana Keilar over Biden's flip-flop on supporting the Hyde Amendment. Bedingfield repeatedly insisted Biden's change of heart is about health care, not politics.
The Pathetic Joe Biden. I suppose the headline for this entry might need to become a regular Power Line series between now and election day. It was as predictable as the sunrise that Biden's long-time support of the Hyde Amendment, which bans federal funding for elective abortion, would crumple under pressure from the Abortion Absolutists who now control Democratic Party dogma. I suppose we shouldn't be surprised that he crumpled so quickly. Get used to this. But I suppose that when you're as wrinkled up as Joe is now, it is less noticeable when he crumples up under political pressure.
Grandpa Joe, the Stealth Geriatric Frontrunner. Despite leading in the polls, and raising lots of cash from corporate billionaires and Hollywood celebrities, Biden is almost invisible. [...] Consider Biden's campaign events in Texas. There is Joe Biden himself, in Houston, on May 28. Big crowds in attendance? Not quite — the event was at a union hall. How many people can possibly squeeze into a single union hall? 100? Where would they even park? They called it a "town hall event." So, fine, 150 people. The next day, Biden held an event in Dallas. Like Houston, Dallas is a solidly blue island in a sea of Texas red. Did big mobs of enthusiastic supporters turn up in Dallas? Not exactly. Biden spoke to "a few dozen students." It's not clear what "a few" means — two dozen? Three-dozen tops? Let's figure he might have spoken to 30 people.
Bernie & Joe: Two Old White Males Take the Lead. In 2018, a record turnout of women, minorities and young added 40 House seats to Democratic ranks and made Nancy Pelosi speaker. This, we were told, is the new diversity coalition — women, people of color, millennials — that will take down The Donald in 2020. So, how has the Democratic field sorted itself out half a year later? According to the Real Clear Politics average of polls, two old white guys, Joe Biden, 76, and Bernie Sanders, 77, are setting the pace and have together corralled more than half of all Democrats.
Has Biden Made His First Mistake? Joe Biden is now officially Causing Trouble for the Democrats. It's about abortion. The former vice president made clear on Wednesday that (at least as of now) he still supports the Hyde Amendment, a standard rider included for years on annual spending bills that prohibits using federal money to fund abortion. This isn't going to blow over: Biden may be the only one of the hundreds of Democrats — okay, sorry, the two dozen Democrats — running for president to hold that position. So it's an easy way for his rivals to attack him, and something that both voters and organized groups will likely hold against him. There's no question that within the party, solid pro-choice positioning is where the majorities are and where the intensity is.
Abortion is a vital component of the Democratic Party platform.
Joe Biden accused of plagiarizing parts of new climate platform. Presidential candidate and former Vice President Joe Biden is facing claims that his campaign plagiarized at least five parts of the climate platform released on Tuesday [6/4/2019]. The apparent similarities were first flagged on Twitter by a progressive activist. By Tuesday afternoon, most of the examples in the Biden campaign platform had been updated online to include attribution to a third party.
Joe Biden is too stupid to win the nomination. The purported frontrunner of the Democrats' presidential field is certain to self-destruct before the Democratic National Convention votes on a nominee more than a year from now, because he loves to talk and is too stupid to avoid making fatal mistakes. Exactly a month ago, I predicted he would not get the party's nod, and I stand by that. But secretly, I hope I am wrong, because he would fall apart when faced with Donald Trump. The latest example of Biden's stupidity: downplaying China's threat to us on the 30th anniversary of the Tiananmen massacre. No, I am not kidding! Only 30 seconds of your life are required to savor the stupidity. Biden ends with "What are we worried about?" That's uncomfortably close to "What, me worry?" [Video clip]
CNN's John King Goes Off on Biden for Plagiarism: It's Either 'Lazy' or 'Arrogant'. CNN anchor John King blasted former Vice President Joe Biden today after his campaign was called out for lifting full quotes on climate policy without any attribution. A plagiarism scandal infamously helped tank Biden's 1988 presidential campaign. A spokesperson for his 2020 campaign said they updated their proposal with "the proper citations." King said this is a "pretty amateur mistake for the frontrunner's campaign to make," especially considering this is in Biden's past.
Joe Biden's New Hampshire Trip Had Some Very Joe Biden Moments. Joe Biden had fun on his second campaign trip to New Hampshire. The same could not be said for his campaign staff, nervously watching from the sidelines. On several occasions, the former vice president signaled that he was going to ignore the advice of his large and experienced staff, make needlessly risky jokes and go on conversational detours far away from the message of the day onto any of a half-dozen topics. It was a technique at odds with the carefully laid-out campaign strategy of maintaining the frontrunner's aura of invincibility, avoiding contentious subjects and glossing over problem areas. But it was the essence of Joe Biden himself, the core of campaign instincts forged well before he became a national figure.
Biden Present at Russia Collusion Briefing Documented in 'Odd' Susan Rice Email. Vice President Joe Biden was documented as being present in the Oval Office for a conversation about the controversial Russia probe between President Obama, disgraced ex-FBI chief James Comey, Deputy Attorney General Sally Yates and other senior officials including Obama's national security advisor Susan Rice. In an action characterized as "odd" last year by then-Senate Judiciary Committee Chairman Chuck Grassley, Rice memorialized the confab in an email to herself describing Obama as starting "the conversation by stressing his continued commitment to ensuring that every aspect of this issue is handled by the Intelligence and law enforcement communities 'by the book.'"
Biden's Problem Is Not That He's Old and White. Joe Biden is the Democratic frontrunner for president. The big money donors say so. The pollsters all say so. The 95 percent of the media outlets that are little more than a public relations arm of the Democratic Party say so, too. So where is he? It is a mystery. The former vice president has no other job. Nothing distracts him from getting out there and maintaining a full campaign schedule. He has no Senate votes to attend, no committee hearings to yawn through, no international trips to make, no drone strikes to authorize, no congressional investigations to battle, no foreign dignitaries to host. According to Biden, the 2020 election is a battle for the soul of the nation. One would expect him to focus all his time and energy on the campaign. And yet ... Biden is virtually invisible.
The Editor says...
Joe Biden is being kept out of sight because he would be unable to withstand the scrutiny of even the most sympathetic news coverage, let alone the kind of press treatment that Donald Trump has had to endure. Every time Joe Biden makes a speech, he will almost certainly read it from a teleprompter and refrain from extemporaneous sidetracks, because that's where he will reveal himself as a buffoon. Sound familiar?
Joe Biden Lied in 1987 with Claim He Marched in Civil Rights Movement. Former Vice President Joe Biden, the 2020 Democrat frontrunner for president, lied in 1987 during his first of many runs for the Oval Office by claiming he marched in the Civil Rights Movement — something he never did. The New York Times' Matt Flegenheimer, in a Monday [6/3/2019] report, resurfaced the 1987 lie by Biden before an audience in New Hampshire, where he was campaigning for the Democrat nomination for president for the first time in his long political career.
Christians Beware: Biden Declares His #1 Priority Will Be the Anti-Christian LGBTQ 'Equality Act'. Get ready for more attacks on people of faith if Joe Biden is elected president. Biden announced at an event in Ohio on Saturday that his number one priority, if elected, will be to enshrine LGBTQ rights into federal law via the Equality Act, a contentious, Orwellian effort by left-wing bullies to silence Christians who believe biblical teachings on marriage and reject the view that boys can be girls and girls can be boys. During a half-hour speech at the Human Rights Campaign's annual gala in Columbus, Ohio, Biden said, "It's wrong and it is immoral what [the Trump administration] is doing," citing efforts to bar transgender troops from the U.S. military and protect medical providers from being forced to violate their consciences. "Just like with racial justice and women's rights, we are seeing pushback against all the progress we've made toward equality," Biden added.
The Editor says...
Homosexuals, transvestites, and pedophiles will never be the same as normal people. There can be no "progress toward equality" because we will never be equal to sex perverts. Comparisons to racial justice and women's rights are incompetent, irrelevant, and immaterial.
Biden declares LGBTQ rights his No. 1 legislative priority. Democratic presidential candidate Joe Biden declared Saturday [6/1/2019] that the Equality Act would be his top legislative priority, an effort to enshrine LGBTQ protections into the nation's labor and civil rights laws.
Power in the Democratic Party has shifted upstarts like AOC - and Biden is trying to mimic her. Officially, the Democratic Party is led by people old enough to remember the Korean War, Chuck Schumer and Nancy Pelosi. But in reality, power has shifted. The real leaders of the party today are young pioneers, radicals like Congresswoman Alexandria Ocasio-Cortez. They're the ones who determine the agenda in the party. For example, six months ago, nobody had ever heard of the Green New Deal. And now Joe Biden feels obligated to mimic it. On Tuesday, Biden revealed his own climate plan.
Biden embraces [his] own version of Green New Deal to please AOC and radical left. Not wanting to be left behind as Democratic presidential hopefuls move further and further left and seek to outdo each other with ever-more radical, expensive and impractical policies, former Vice President Joe Biden announced a fantasy plan Tuesday to combat climate change. The immediate goal of the plan seems to be to curry the favor of self-described democratic socialist Rep. Alexandria Ocasio-Cortez, D-N.Y. and supporters of her "pie-in-the-sky" (Michael Bloomberg's words, not mine) Green New Deal.
Joe Biden's Climate Platform Appears to Plagiarize From Nonprofits. he similarity in language was first spotted online by Josh Nelson, the vice president of progressive and environmentalist cell phone company CREDO Mobile. "The paragraph in Joe Biden's climate plan about carbon capture and sequestration includes language that is remarkably similar to items published previously by the Blue Green Alliance and the Carbon Capture Coalition," he tweeted Tuesday morning [6/4/2019]. Nelson cited two example of apparently copied language. "Biden's goal is to make CCUS a widely available, cost-effective, and rapidly scalable solution to reduce carbon emissions to meet mid-century climate goals," reads the Biden website. Meanwhile, the website for the Carbon Capture Coalition states, "[our] goal is to make carbon capture, use and storage (CCUS) a widely available, cost-effective, and rapidly scalable solution to reduce carbon emissions to meet mid-century climate goals."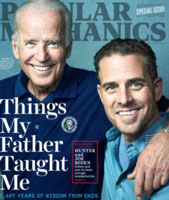 The Beltway Bidens: Creepy, crooked, and NOT just like us. Now that Creepy Joe Biden thinks he has put to rest all the cringy questions about his grabby hands, he has reverted to one of his old-time shticks: middle-class Joe. Champion of the masses. Hero of the hoi polloi. A six-term U.S. senator and two-term vice president, which equates to 44 back-slapping, log-rolling, favor-trading years in Washington, this decrepit Beltway swamp-dweller wants flyover Americans to believe that he's really just like you and me. To which I can only reply with one hearty syllable: HA! Reality-based reporting and informed commentary since the rollout of Biden 2020 has rightly focused on the Biden family's ideological and interest-conflicted dalliances with Ukraine and China. But let's first start with a reminder about elite Biden privilege closer to home. [...]
Biden Declares War On Second Amendment Rights, Pushes Semi-Auto Ban. 2020 presidential hopeful Joe Biden announced on his campaign website his intentions to wage war against guns as part of his "education" plan for America. Biden said that the National Rifle Association (NRA) must be defeated "in order to make our schools safer," with a ban on semi-autos, Second Amendment columnist AWR Hawkins noted.The former Vice President argued that arming school faculty members do not make schools safer, insisting the only solution is more gun policies, the opposite to what experts across the country are finding.
Uncle Joe Falls Off the Creep Wagon. Former vice president and 2020 frontrunner Joe Biden is a male feminist icon who has done more to eliminate the scourge of manspreading than most "real feminists" could ever hope to achieve in their lifetimes. And yet he's struggled to shed his notorious reputation as a handsy, feely creep. Biden has already apologized for his decades-long track record of squeezing and fondling men and women of all ages. "So I invaded your space, and I'm sorry this happened, but I'm not sorry in the sense that I think I did anything that was intentionally designed to do anything wrong or be inappropriate," Biden said during an appearance on The View in April.
Mike Gravel: 'Joe Biden's creepiness around young girls not something to be dismissed'. Mike Gravel, the former Alaska senator running an unlikely presidential campaign, accused fellow White House candidate Joe Biden of "creepiness" around young girls Wednesday, saying the former vice president did not represent "meaningful improvement" over President Trump. "Not only is Joe Biden's creepiness around young girls not something to be dismissed lightly, his refusal to fully apologize and change his ways is indicative of how little he cares about sexual assault," Gravel tweeted. "We deserve a meaningful improvement over Donald Trump: Joe ain't it."
She's 10, Joe. Felicia Sonmez is a reporter for the Washington Post. Joe Biden creeped her out last night at the American Federation of Teachers rally by stopping proceedings to pick out a 10-year-old girl from the crowd to give her a back rub. Sonmez tweeted, "In a somewhat odd moment at tonight's AFT town hall, Biden tells a 10-year-old girl, 'I'll bet you're as bright as you are good-looking.' He takes her over to the assembled reporters, then stands behind her and puts his hands on her shoulders while he's talking." Somewhat odd. Politico buried this oddity in Paragraphs 13 and 14 of its story on the event, "Biden rolls out plan to hike teacher pay in low-income schools."
Jill Biden praises the 'courage' of the women who have come forward over husband Joe's creepy behavior. Former second lady Jill Biden has praised the women who called out husband Joe Biden's creepy behavior, saying 'it won't happen again'. Mr Biden, the 2020 Democratic front-runner and former vice president, has been roundly accused of inappropriately touching a number of women, for which he has apologized. In a video posted on Twitter last month, Mr Biden, 76, promised to be 'more mindful' about physical contact.
The Editor says...
If the Democratic Party wants to select Harvey Weinstein as the 2020 nominee, your only option is to re-elect Donald Trump. Decisions are made at the top of the Democratic Party and handed down to the voters. If the Super-delegates select Joe Biden, it's a done deal.
This is an immediate disqualification! Unless you're a Democrat, and the Deep State has already selected you.
Book: Senator Biden Lectured City on What's 'Good for the Negro'. Former Vice President Joe Biden lectured the City Club in Cleveland, Ohio, in 1973 about what he thought was "good for the Negro," according to a new book from a prominent left-wing journalist. The racially insensitive comments from Biden, a white man from Delaware who was at the time newly elected to the U.S. Senate, resurfaced, thanks to a new book from leftist journalist Ryan Grim of the Intercept. The book, We've Got People: From Jesse Jackson to AOC, the End of Big Money and the Rise of a Movement, has already landed a few other major blows, including on former President Barack Obama, regarding his "don't ask, don't tell" repeal legacy, but this revelation about Biden's torrid history with race — as told from the left — is particularly damning for the current Democrat 2020 presidential primary front runner.
Is the Biden Campaign Trying to Hide the Real Joe Biden? Right now, the vast majority of Democrats still harbor warm, fuzzy feelings about Obama's No. 2, forgetting, perhaps, that Biden has a long and complicated record of his own that predates Obama's by several decades. It's also easy to forget, with Biden taking a light touch to campaigning, how liable he is to put his foot in his mouth. While everyone loves Biden, it's not clear how deeply their affection runs.
Is Biden the New Hillary? President Trump isn't subtle about his strategy to defeat Joe Biden if the former vice president becomes the Democratic nominee. Trump plans to wage the same sort of campaign against Biden that he did against Hillary Clinton in 2016. Back then, Trump defined Hillary as the candidate of entrenched interests who used a long career in politics for familial gain. He highlighted Clinton's support for the 1994 crime bill and for NAFTA and TPP, driving wedges between the former secretary of state and important Democratic constituencies. And he went after Hillary's foreign-policy credentials, painting her as an interventionist who had weakened America's standing in the world. It's Biden's turn. Biden's close to a half century in American politics hasn't exactly made him rich, but that hasn't stopped Trump from drawing attention to the murky relationship between Biden's diplomacy and his son Hunter's business practices. Trump says that Biden, like Hillary, has been around for a long time, but what has he accomplished? Biden represents the ancient regime that Trump overthrew.
The Deep State Wants Joe Biden to Win in 2020. Call it a hunch, but it looks like the intel agencies won't be targeting Biden's 2020 campaign for surveillance and sabotage like they did to Donald Trump in 2016.
Joe Rodham Biden. Gropey Joe is now Sleepy Joe as people have begun noticing his campaign events are like grandpa's teeth: few and far between. His schedule makes Low Energy Jeb! look like a house afire. The Washington Post reported this weekend. "Here's former Vice President Joe Biden's agenda for the holiday weekend, according to his campaign: 'Joe Biden has no public events scheduled.'" Those seven words are becoming familiar for the Biden team. Aside from a campaign swing right after announcing his candidacy, Biden has kept his head down while his rivals rush from state to state to state. Even when he has held public events, they have included only a handful of questions from voters or reporters.
Joe Biden Was Hiding This Past Memorial Day Weekend. Why? Does he think he has the nomination all wrapped up? While most of the Democrats who are running for the "honor" of their party's nomination for President in 2020 were out and about this Memorial Day weekend, front runner Joe Biden was nowhere to be found. What was he doing? Working on his acceptance speech?
Sleepy Joe Goes Missing on Memorial Day Rather Than Appear to Support the Military. Yesterday [5/27/2019] on Memorial Day, Americans who have any sense of history or patriotism took a bit of time to solemnly reflect on the sacrifices of those military veterans who fought to protect their way of life and to keep America free. While the nation is currently under an unprecedented assault by those who have embraced updated variations of the same ideological characteristics as the Nazis and the communists, those sacrifices may ultimately be for nothing if the socialists are allowed to wrest control of the system and impose their totalitarianism wrapped in the guise of diversity and saving the planet.
The Editor says...
This is exactly what Barack H. Obama would have done. We've already had one America-hating left-wing president; we don't need another one.
Joe Biden is the front-runner by every measure — except big crowds. He's dominating in the polls, his fundraising is going gangbusters and he's showing broad support from key political players in the early presidential states. So where are the big energetic crowds, the lines around the block to get into Joe Biden's events?
Joe Biden M.I.A. on Memorial Day. Former Vice President Joe Biden is running for president in 2020, but he did not appear for any Memorial Day events on Monday [5/27/2019]. There were no events on Biden's public schedule the entire Memorial Day weekend, at a time when presidential candidates typically march in Memorial Day parades, meet with the troops, or visit a cemetery to honor the fallen. The former vice president has not held a campaign rally since last Saturday in Philadelphia.
Joe Biden Reportedly [was] Involved in Controversial Early Stages of 2016 Russia Probe. Former Vice President Joe Biden was reportedly one of the few Obama administration officials who participated in secretive meetings during the early stages of the Obama-era intelligence community's initial operations regarding suspected Russian interference in the 2016 presidential campaign. That tidbit was contained deep inside a 7,700-plus word Washington Post article published June 23, 2017 in which the newspaper also detailed the highly compartmentalized nature of the original Russia interference investigation and the manner in which other U.S. intelligence agencies were deliberately kept in the dark. Part of the efforts eventually involved unsubstantiated and ultimately discredited charges made by the Christopher Steele dossier that Trump campaign officials were colluding with Russia.
The Democrat Puff Piece Challenge. [Scroll down] Never mind for a moment that the front-running Dem is sinking deeper into scandal by the day, or that he is nearly as old as Bernie. Never mind that this is his third presidential campaign, or fourth if you count his incumbent VPOTUS work in 2012. Joe has been in the public eye so long, he can't possibly become more relatable. There is no puff piece that will soften the edges of Anita Hill questioning, his paternal errors with his son Hunter, or in what appear to be weighty scandals in both the Ukraine and China. Joe has only two options now: maintain present course and hope for the best, or scuttle the ship. What he thought was an ace in the hole — saying "my buddy Barack" every ten sentences or so — isn't cutting the mustard.
Obama Was Islam's Manchurian Candidate, Biden Is China's. [Scroll down] Just listen to his own words. "China is going to eat our lunch? Come on, man," Biden reportedly said. "They're not bad folks, folks. But guess what? They're not competition for us," the former VP declared during a political event in early May in Iowa. We need to listen to Biden's words this time as well. Biden is saying this about an evil, totalitarian regime that is Hell-bent on domination over these United States. The Chicoms have over one million of their own citizens in concentration camps, you think they give a damn about us? They have hundreds of thousands of spies in America, sending our secrets back to Beijing. They are milititarizing the South China Sea, a critical global shipping lane. They are aiding our enemies. They have been ripping us off for decades in our trading relationship. The Democrat Party has long been in bed with China. It started with the Clintons renting out the Lincoln Bedroom in The White House to Chinese spies for money. Bill sold missile technology to the Chicoms, allowing them to better their nuclear arsenal. Obama and Biden just continued business as usual. It has been extensively reported how Hunter Biden received a $1.5 billion contract from Beijing, enriching the Biden family. No wonder Sleepy Joe doesn't think China is a threat; he's been bought and paid for.
Biden's campaign begins not with a bang, but a whimper. [Scroll down] The crowd [in Philadelphia, 5/18/2019] was similarly wan. Attempts at starting a "We Want Joe!" cheer petered out after no more than five chants. A woman in front of me remarked that she came out of curiosity, but was really interested in Pete Buttigieg, the wunderkind mayor of South Bend, Indiana. Another recounted how Obama rallies felt like "rock concerts." This, not so much. [...] What was audible was less than impressive. Mr. Biden stumbled over his teleprompter-delivered words, at one point suggesting that the Constitution was ratified in 1887. He delivered policy-free peans to "unity," punctuated with an overabundance of the word "folks." He also has an odd habit of, every now and again, stressing that he actually means what he just said. "Really, guys!" Or, "I'm not joking!" This has the odd implication that the vice president doesn't mean much of what he says.
Divide the country, promise unity. His sales pitch is to be practical. Actually telling people the crazy thing that you will do won't win the election. You have to pretend to be moderate. [...] Sleepy Creepy Joe has been doing that for nearly 50 years. He believes in incremental communism just like his mentor, Obama. This is what Democrats have done all my life. His job is to convince President Trump supporters that he is no threat to them and he will calm the waters.
Washington Post Gives Biden 4 Pinocchios for Claiming Only the Rich Got Trump Tax Cuts. One of the misperceptions of the tax cut is that because tax refunds have been relatively flat when compared to last year that most people didn't get a tax cut without taking into consideration the adjustment in the tax withholding tables which added roughly $25 per week to the average paycheck. A point the media rarely mentions. The Post contacted the Biden campaign and received the standard line about the tax cuts being a giveaway for the wealthy and big corporations and gave Biden the maximum four Pinocchios for misstating the facts.
Biden Was Projecting When He Called Trump 'Divider-in-Chief'. Was Joe Biden projecting when he called Donald Trump the "divider-in-chief" in his big campaign speech in Philadelphia Saturday? The former Veep proposed — in imitation of his one-time boss and apparent idol Barack Obama — that he would be the man to unite our riven country. Remember "There is not a liberal America and a conservative America — there is the United States of America" from Obama's keynote at the 2004 Democratic National Convention, the speech that ignited his march to the presidency? How far did that go? Just about as far as Barack dismissing Republicans as those who cling to their guns and religion and Hillary calling Trump supporters a "basket of deplorables." Very uniting stuff, no? But more to the point, Biden represents a political party that could not accept the 2016 election of Donald Trump on any level, before or after his victory.
Democrats were said to be furious and hungry for change. Then Biden jumped in. Former vice president Joe Biden defends his support for the 1994 crime bill that many blame for mass incarceration of blacks. He declares that most Americans are "satisfied" with a private insurance system reviled by the left. He justifies the North American Free Trade Agreement as a pact that "made sense at the moment."
Lyin' Joe Biden Jumps On The Dem/Socialist Caravan of Crazies. Aside from expecting to deliver President Donald Trump's head on a silver platter to slobbering Democrats, former vice president Joe Biden is in the 2020 presidential race because most people who voted for Barack Obama in 2008 and 2012, will now vote for Biden. The DNC, who know this, see Biden as their only chance to regain control of the power they lost in 2016. In a speech Saturday afternoon [5/18/2019] in Philadelphia, Biden offered his "unity" as an alternative to "Trump's hatred".
The Media at Their Lowest. On any number of subjects, building a wall between Mexico and the United States being a current topic of the day, there are literally dozens of video recordings of Democrats contradicting themselves from the position they took even a decade ago. Joe Biden once pounded the pulpit demanding that we build a wall. With Joe Biden as the Democratic frontrunner for U.S. president, you've seen that contradiction reported all over the national mainstream media, haven't you? Contrast that with anything and everything Donald Trump says. The media are quick to pull any quote, any tweet out of context or bend it out of shape to promote the narrative that the president is an unhinged liar.
Billion dollar China deals, cocaine pipes, Joe Biden's son Hunter always has this way of skating. Joe Biden's son Hunter certainly lives a life of privilege. How [would] the cops treat one of us if they found a cocaine pipe in our car during a traffic pullover or a rental car return?
2016 Arizona Police Report: Cocaine Pipe Found in Car Rented by Joe Biden's Son Hunter Biden, Authorities Declined to Prosecute. Breitbart News has exclusively obtained a heretofore unreported-on police report from days before the 2016 presidential election that describes how a cocaine pipe that authorities determined was used to smoke cocaine was found in a rental car returned to an Arizona Hertz location in the middle of the night. Also found in the vehicle were several personal effects of Hunter Biden, then-Vice President Joe Biden's son, like two of his DC driver's licenses, multiple credit cards, and personally identifying information like a Delaware Attorney General badge and a U.S. Secret Service business card that police said bore his name.
Biden is Red China's boy. Sleepy Creepy Joe is running for president for the emoluments. Oh the payoffs from foreign governments do not go to him. No, no, no. It's for the children. His rat son, Hunter, became a multi-millionaire thanks to his Hair Sniffing Father's vice presidency. [...] The New York Post reported that when Sleepy Creepy Joe became vice president his son and John Kerry's stepson went into business.
Joe Biden: 'Not a Single Bit of Evidence' Son Asked Me to Help Him in Ukraine. Former Vice President Joe Biden denied Monday that his son Hunter Biden asked him for a favor in Ukraine while serving on the energy board of a Ukrainian energy company. "We never once discussed it when he was there," Biden told the Associated Press. "There's not a single bit of evidence that's been shown in any reporting that's been done that he ever talked about it with me or asked any government official for a favor."
Joe Biden's Denial About Ukraine Investigating His Son Is a Total Dodge. Former Vice President Joe Biden issued a painfully careful, hair-splitting denial about the allegations surrounding his son Hunter Biden's lucrative dealings in Ukraine. [...] So, basically the allegation is this: To protect his son's company and that sweet, sweet $50,000 per month salary, as vice president, Biden abused his position by threatening to kill a billion dollars in aid to one of our allies if that country's prosecutor, who was looking into corruption surrounding Hunter's company, was not fired.
Blowhard Democrats Are Green Phonies. [T]he Democratic Party at the moment seems to be in a knockdown, drag-out fight for who can be the greenest of the green and push us forward to a brave new world propelled exclusively by solar and wind energy. Only the strongest (i. e. most slavishly devoted to renewable energy at all costs) will survive. Bernie and AOC are currently beating Joe Biden over the head about this. Poor Joe is frantically shoring up his "environmental" credentials.
Joe Biden and restoring the old (pre-Trump) order. Polls do not tell us who will win an election months from now. But they do tell us what is happening at this moment. And at this moment, Democratic voters, who are sometimes said to be moving left and itching to transform the United States with a "Green New Deal," "Medicare for All," and through-the-roof taxes on the rich, are in fact responding to a decidedly more centrist appeal. That appeal, from Biden, is a promise not to fundamentally remake American society but to restore things to the way they used to be. And "the way they used to be" means before President Trump.
Biden enlists teleprompter as ally in anti-gaffe strategy. Campaigning for president in the small states with early primaries is supposed to be retail politicking, but gaffe-prone 2020 front-runner Joe Biden's handlers are leaving nothing to chance, deploying a teleprompter to help him stay on message. Appearing in here in Manchester, N.H., before a crowd of 400, Biden's people rolled out a teleprompter despite the relative intimacy of the gathering.
Related topic: Obama's teleprompter addiction.
Joe Biden to Woman Who Says Trump is 'An Illegitimate President': 'I Absolutely Agree'. Former Vice President and current Democratic presidential primary frontrunner Joe Biden said "I absolutely agree" with a woman who described herself as having a "very severe case of Trump Derangement Syndrome," and said that Trump "is an illegitimate president." Biden took questions from audience members at a campaign event in Nashua, NH n Tuesday, after delivering a fire-up speech about why he's running for president. The third audience member to address Biden didn't really have a question, but rather a lengthy message about how Democrats should oppose Donald Trump.
The Editor says...
Was Barack H. Obama "an Illegitimate President?" There are valid un-answered questions about his citizenship, his legal name, and his Social Security number. But anyone who dares to raise these questions is smeared as a "truther." There are no such questions about Donald Trump. He was legally and properly elected, and just as it was under Obama, the people who voted for somebody else have to get over it.
AOC, at Green New Deal rally, puts Joe Biden and other Democratic climate moderates on notice. Speaking at a crowded auditorium at Howard University, Rep. Alexandria Ocasio-Cortez, D-N.Y., and other proponents of the Green New Deal — an ambitious plan to rid the U.S. economy of a reliance on fossil fuels — affirmed their progressive ideals while striking out at both conservative Republicans and moderate Democrats who have, according to her and other critics, done too little about global warming for too long. In particular, Ocasio-Cortez, who is in her first term as a congresswoman representing the Bronx and Queens, seemed to criticize Joe Biden, who entered the U.S. Senate in 1973, 16 years before she was born.
Obama's Defense Secretary questions Biden's 'intellectual acuity': He's been wrong for past 40 years. Former Vice President Joe Biden's "intellectual acuity" in potentially leading the nation seemed a cause of concern for a former Obama administration official. Former Secretary of Defense Robert Gates did not exactly give the 2020 Democratic contender a glowing reference as he simply said he "didn't know" if Biden would make an effective commander-in-chief, telling CBS News' Margaret Brennan on "Face The Nation" that he stood by his view that Biden has "been wrong on nearly every major foreign policy and national security issue" in the last 40 years.
Biden: 'I'm Running for Three Basic Reasons'. Former Vice President Joe Biden, now running for the Democrat presidential nomination, told a gathering in New Hampshire on Monday that the 2020 election is "bigger than politics" and "bigger than any you've been engaged in" because of "who occupies the office." "The fact of the matter is that I'm running for three basic reasons, and I'm going to be very clear about it as I move along and go into great detail as we get down the road here, because this is a marathon," Biden said. He then listed his three reasons for running: [#1] I want to restore the soul of this country. [...]
The Editor says...
The country has a soul that needs restoration? What does that mean? His other two points are just as vapid and insipid. His whole platform is a pile of meaningless, hypothetical pie in the sky. Joe Biden is depending on your unwillingness or inability to think about what he says.
'Does that seem accurate?': Donna Brazile pressed on Biden declaring Obama administration scandal-free. Former Democratic National Committee chair Donna Brazile was pressed by the "Fox & Friends" hosts Tuesday on whether the Obama administration was truly scandal-free. Speaking on the campaign trail in New Hampshire Monday [5/13/2019], former Vice President Joe Biden said Barack Obama was an "incredible president" and during his two terms "there wasn't one single, solitary hint of scandal." Biden warned that if Trump is given eight years in office, he will "forever and fundamentally change the character of this nation."
The Editor says...
Yes Barack H. Obama was an incredible president, in the strictest sense of the word; to wit, he was not credible. And neither is Joe Biden.
Joe Biden in 2013: 'Overwhelmingly' in America's Interest for China to 'Prosper'. Leading Democrat presidential primary candidate Joe Biden said in a 2013 speech that China's economic dominance is "overwhelmingly" in the United States' interests. In a 2013 speech at the Export-Import Bank's 2013 Annual Conference, Biden touted the need for the multilateral free trade deal known as the Trans-Pacific Partnership (TPP) as a necessity to creating a "new world order."
Biden in 2006: U.S. Needs Border Fence to Stop 'Tons' of Drugs From Mexico. Democratic presidential candidate Joe Biden, who has been critical of President Donald Trump's immigration policies, previously expressed similar views, saying a barrier at the southern border was needed to stop "tons" of drugs from coming into the United States. Speaking to a South Carolina rotary club in November 2006, then-Sen. Joe Biden (D., Del.) touted his support for the Secure Fence Act, a bill that authorized "700 miles of double-layered fence on the border through more than a billion dollars in appropriations," CNN reported Friday [5/10/2019]. Biden made the comments in the run-up to his failed presidential bid in 2008.
Biden Gets New York Times Headline For Not Saying Anything Stupid. The New York Times gave Democratic presidential candidate Joe Biden free press Sunday [5/12/2019] because he hasn't said anything stupid recently. Biden is praised in the story, which was featured on the paper's app Sunday night, for making it a few weeks into his presidential bid without going off message.
Rand Paul: Americans Will Be 'Shocked' to Know What Biden's Son Was Up To. Sunday [5/12/2019] on ABC's "Meet the Press," Sen. Rand Paul (R-KY) discussed a report from The New York Times on questions of former vice president Joe Biden's potential conflict of interest.
Democrats Look Past Female Candidates to Arranged Marriage With Uncle Joe Biden. Where's Sen. Amy Klobuchar? Last time I saw her, she was covered in snow like Nanook of the North announcing she was running for president. She's one of a critical mass of would-be female presidents, too many for the Hillary brush-off of "I'm all for a woman president, just not this woman." What will the excuse be this time? "There are so [...] many, I can't keep them straight." Klobuchar is, of course, in plain sight but not so you'd know it. She surfaced on Wednesday evening at Fox News' second town hall, where she performed so well she'd be above her 2-3 percent if only more people could hear her.
Joe Biden parrots laughable falsehood that the Obama administration was scandal-free. Joe Biden, who launched his 2020 presidential campaign this week, boasted Friday that there was "not one single whisper of scandal" during the Obama administration. "That's Barack," he beamed. There it is again, that damned, dishonest attempt by Obama acolytes to rewrite the pre-Trump history of Washington corruption. To claim the previous administration — or any previous administration for that matter — was scandal-free is to engage in a falsehood that would be laughable, were it not so breathtakingly shameless.
Joe Biden: U.S. Has 'Obligation' To Give Healthcare To 'Undocumented' Immigrants. Democrat presidential candidate Joe Biden said during a campaign stop in California on Wednesday that the United States has an "obligation" to give healthcare to illegal aliens. "I think that anyone who is in a situation where they're in need of healthcare, regardless of whether they are documented or undocumented, we have an obligation to see that they are cared for," Biden said in Los Angeles. "That's why I think we need more clinics around the country."
Joe Biden Makes An Insane Comment About Illegal Immigrants. Joe Biden is currently dominating the Democratic primary. He's entered the race and promptly doubled up Bernie Sanders, who was supposed to be performing much better than he has. This led Sanders to team up with Alexandria Ocasio-Cortez to let us know that post offices should now give up subprime loans, because what could possibly go wrong? While Biden has an easy path to victory against his fellow Democrats if he just monopolizes the "moderate" lane, he apparently thinks he needs to out-crazy his opponents, which admittedly is tough to do.
Peter Schweizer: Unlike Don Jr., Hunter Biden 'Actually Had Foreign Deals'. Peter Schweizer, president of the Government Accountability Institute and senior editor-at-large at Breitbart News, described the news media and political establishment's disinterest in Hunter Biden's business deals with foreign states "stunning." Schweizer contrasted this disinterest with the treatment of Donald Trump Jr.'s "deal that actually never happened" in the Trump Organization's contemplated construction of a skyscraper in Moscow, Russia.
Joe Biden's fatal weakness if he gets the Dems' nomination. In addition to his other weaknesses as a candidate — low intelligence, gaffe-proneness, advanced age, his scandals in Ukraine and China enriching his family, and his brand-new advocacy of taxpayer-funded health care for illegals — there is a sleeper issue that could fatally weaken him if gets the party's nod and runs against President Trump.
Biden Flashback: D.C. Schools Worse Than Iowa Because Of High Black Population. Declared 2020 presidential candidate Joe Biden's lengthy record bit him in the behind again on Thursday, as racially charged comments from Biden back in 2007 began to recirculate online.
Biden's staff faces renewed accusations of mistreating reporters. It has been less than two weeks since former Vice President Joe Biden launched his 2020 bid, but numerous reporters have already voiced their concerns about the treatment they have received from his staff. Freelance journalist Marcus DiPaola was covering the Biden campaign in Iowa last week where he tweeted the accounts of different reporters, including himself, of their interactions with campaign staffers, which he described to Fox News as "out of line, totally."
Biden: "First thing I'd do is repeal those Trump tax cuts." A repeal of the Tax Cuts and Jobs Act would impose a large tax increase on the American people. Thanks to the tax cuts, a typical family of four earning the median family income of $73,000 saw a tax cut of over $2,000 — a 58% reduction in federal taxes. A single parent with one child with annual income of $41,000 saw a tax cut of $1,304 — a 73% reduction in federal taxes. As noted by the New York Times: "Most people got a tax cut."
Reporter: [The] Biden Campaign [is] Physically Blocking [the] Press from Asking Questions. A freelance reporter covering Joe Biden's presidential campaign launch says the campaign has gotten physical in its attempts to block the press from questioning the former vice president. Marcus DiPaola, a videographer who was on the trail with Biden Wednesday night in Iowa, used his Twitter account to voice complaints from multiple members of the press regarding poor treatment from campaign staff, which was reportedly blocking reporters from asking questions and taking photographs of anyone who objected.
Joe Biden Refers to 'Buddy' Barack Obama Seven Times in 1/2 Hour Speech. Former Vice President Joe Biden leaned heavily on the legacy of his old running mate, President Barack Obama, during a campaign appearance on Saturday [5/4/2019]. Prior to the rally, the campaign aired a video of Obama praising Biden in 2017 and awarding his own vice president a Presidential Medal of Freedom.
Good Old Joe Is a Peking Duck. Former vice president Joe Biden's declaration for the Democratic presidential nomination seems to have back-footed his twenty-some opponents. It's so bad that Bernie Sanders has endorsed President Trump's negotiations with Kim Jong-Un. How long that will last is problematic. Joe — at seventy-six years of age — is not too old to be president and is supposed to be more electable than most of the others. But let's not forget that Ol' Joe is a gaffe-o-matic machine. He's tossed out so many verbal boners over the years (who can forget his telling a wheelchair-bound man to stand up?) that he's bound to fumble and stumble repeatedly. His opponents — and the media — aren't going to let him get away with that stuff anymore.
A parody website with embarrassing photos of Joe Biden is outranking his official campaign page on Google. Joe Biden's presidential campaign is already sunk — at least on Google. Users are reporting that the former vice president's official 2020 campaign page is nowhere to be found on the first page of results for the search term "Joe Biden." Even worse for the Democratic front-runner: A realistic-looking parody site featuring images of Biden touching women and children appears to be doing quite well on Google and other major search engines, particularly for the search "Joe Biden website."
Biden mixes up British PM Theresa May with Margaret Thatcher, who left office in 1990. Joe Biden flubbed the name of British Prime Minister Theresa May at a fundraiser Saturday night, calling her by former Prime Minister Margaret Thatcher's name. Thatcher left office in 1990 and died in 2013. The mistake by Biden, 76, comes amid worries about his age after he slurred his words during his campaign announcement speech. Aides have shielded him from reporters.
Why Biden won't get the Dem nomination. Yes, he's really, really old, thus removing the opportunity to attack President Trump on the basis of his age. And yes, he says really stupid stuff [...] But the real reason why Biden won't get the nomination is that he and his family are corrupt, enriching themselves courtesy of foreign governments. Normally, that would not be a problem for a Democrat because the dominant mainstream media is not interested in scandals affecting powerful Democrats. But with 22 Democrats running for president, some of them with MSM allies, and with grave doubts about Biden's ability to defeat Trump (their overriding goal), these scandals will not be suppressed. Especially because they involve collusion with a foreign power.
Biden blasts Donald Trump for allowing 'Jim Crow to sneak back in' by attempting to introduce tougher voting laws. Former Vice President Joe Biden charged Saturday that Jim Crow is 'sneaking back in' as he emphasized the need to ensure voting rights are protected, which he said is lacking under the Trump administration. Biden drew several hundred people to a community center in Columbia as he opened his presidential campaign in South Carolina, home of the first-in-the-South primary and where black voters play a major role in the Democratic nominating process.
Joe Biden: 'Jim Crow Is Sneaking Back' Under 'Clown' Donald Trump. Former Vice President Joe Biden took shots at President Donald Trump on Saturday, calling him a "clown" who was allowing "Jim Crow" racism to return to the United States. Biden kicked off his rally in Columbia, South Carolina with a string of warnings about racism and hatred rising under Trump's presidency, in an effort to win support from African-Americans Democrats in the state.
Vanity Fair: Hunter Biden's $1.5 Billion Bank of China Deal 'Looming on the Horizon' as Campaign Scandal. A $1.5 billion sweetheart deal Hunter Biden's private equity firm secured from the state-owned Bank of China is "looming on the horizon" as a potential line of attack against his father's 2020 presidential campaign, according to Vanity Fair's Tina Nguyen. This comes days after a New York Times article renewed interest in the revelations exposed in Peter Schweizer's 2018 bestseller Secret Empires concerning the sweetheart deals Hunter Biden's private equity firm secured while his father, Joe Biden, was vice president.
NYT Finally Admits Biden's Strong-Arming Ukraine — and Whether His Son Benefitted — Is a Story. The New York Times has finally decided that former former Vice President Joe Biden's successful push to fire a prosecutor in Ukraine, who just happened to be investigating a company in which Biden's son was a key player, might be newsworthy. On Thursday [5/1/2019], [the] newspaper finally caught up to The Hill's John Solomon, who reported on April 1 that the Ukrainians had reopened probe into the company, Burisma Holdings. So the question is whether Biden acted to benefit his son.
Joe Biden Physically Blocking Reporters at Campaign Rallies, Then Says China is Not in Competition with U.S.A. Not only has Joe Biden's campaign already started blocking reporters from talking to him at campaign events, but now ol' slow Joe is cluelessly saying that China is not in competition with the U.S. on the international scene. This old codger has definitely gone senile. According to a report from the Washington Free Beacon, a reporter who has been covering the Biden campaign was physically blocked from attending a Biden event in Iowa this week.
Joe Biden's son invested in Chinese app that spies on Muslims, as US condemns China over 'concentration camps'. An investment fund backed by Hunter Biden, son of 2020 presidential candidate Joe Biden, invested in a surveillance system used to spy on Muslims in China, a new report claims. The former vice president has been facing scrutiny over his son's business dealings in Ukraine and other countries, with reports focusing on Hunter Biden's role in the Ukrainian energy company Burisma Holdings.
Does Joe Biden have any idea about what it is to learn to code? [Scroll down] The Examiner and the Detroit Metro Times earlier focused on the improbable — and patronizing — spectacle of Old Joe going into 'the Hood' and somehow getting hold of black female gear-turners laid off from the auto industry to enroll in the program, a variant on the 'learn to code' trope for displaced workers. And if you look at the Wayne County School of Continuing Education's website, it's likely that that the program he was talking about was this. "It's not rocket science," he cheesily assured. Since I am enrolled in one of these programs in the San Diego Continuing Education program, all I can say is, It's [very] close.
Trump's Effort to Take Back the Constitution and Self-Government. The federal leviathan is awash in trillions of dollars in cash. Countless lawyers, lobbyists, and public officials, by their control of or access to our government, have grown rich. Hillary and Bill Clinton notoriously are Exhibit A, but we are in the process of learning that the current front-runner in the Democratic sweepstakes for the 2020 nomination, Joe Biden, also managed successfully to siphon off a few million for himself and his family.
Impeachment as Political Panic Button. Joe Biden ran for president twice before, garnering zero primary victories and never reaching one percent in any contest. Caught presenting British Labour leader Neil Kinnock's life story as his own, Biden dropped out of the race for the 1988 nomination in 1987. In 2016, he pursued a vanity presidential campaign, running for secretary of state or vice president but not for the office he purported to seek. As such, he came in fifth in the Iowa caucuses, losing to the likes of John Edwards and Bill Richardson, before dropping out. He couldn't beat Bill Richardson but at 78 he runs ahead of the pack to succeed Donald Trump?
Biden goes light on policy, heavy on emotion. Joe Biden has a healthcare plan, but doesn't "have the time to completely lay out all the details." He also has a proposal for college debt, but no specifics on that either because "I don't have time; I don't want to keep you standing any longer." The former vice president's ideas on climate change and foreign policy? Also works in progress. Yet there's time for relatively lengthy anecdotes about how his dad long ago was unable to secure a loan to help send him to a school he wanted to attend.
8 Times Barack Obama Abused His Power To Appease His Base. President Trump has spent much of the past two years trying to undo Obama's abuses of power — which Obama did, not in the best interests of the whole country, but for the benefit of his base. Has Biden forgotten Obama's presidency or is he just a bad liar? Many of these abuses should have resulted in Obama's impeachment. Unfortunately, Republicans in Congress didn't have the guts to impeach him, but they tried everything they could to reign in his pseudo-dictatorship. Two pieces of legislation were drafted in order to stop his abuses and force him to follow the law. Obama threatened to veto both bills rather than risk any limits on his ever-expanding legislative authority.
Steve Hilton: China Is 'Funding Biden Family Businesses' with 'Billions of Dollars'. On Sunday, Fox News Channel's Steve Hilton reported on Peter Schweizer's investigation of former vice president Joe Biden's family's business dealings with China's government, concluding that Biden was "compromised by a foreign power and unfit to be president." Hunter Biden — Biden's second son — secured $1 billion in financing from the Bank of China — an arm of the Chinese government — for a private equity firm founded by himself and Christopher Heinz, the stepson of former Secretary of State John Kerry. That private equity firm was named Bohai-Harvest RST (BHR). Joe Biden "is the very definition of a corrupt insider," said Hilton, rejecting left-wing and partisan Democrat marketing of Joe Biden as "a man of the working people."
Biden's apology to Anita Hill is all about forgetting history. [Scroll down] Biden's an expert panderer. He is already expressing contrition for how he, as chairman, handled the Senate Judiciary Committee's hearing on Hill's accusations. "I believed her from the very beginning," Biden told ABC Tuesday, "but I was chairman. She did not get a fair hearing. She did not get treated well. That's my responsibility." Sorry, Joe. That's rewriting history. The hearing was fair. Hill's testimony was full of holes and devoid of evidence to back up her claim that Thomas harassed her by talking about porn and other vulgar subjects at work. Thomas categorically denied it. When testifying, she flip-flopped on a key question between her morning and afternoon testimony. She had to backtrack on repeated statements that Thomas asked her to his apartment to watch porn, finally admitting it was an "inference" she drew.
Biden must answer for the lies sold to the American people by Team Obama. "Sleepy" Joe Biden is counting on his eight years as President Obama's vice president to provide some sort of nostalgic boost for his third run for the White House in the past 32 years. But "the problem with nostalgia" — to quote former Sen. John Edwards as he described the presidential candidacy of Hillary Clinton in 2007 — "is what we tend to do is only remember what you like and you forget the parts you didn't like." The disgraced former Democratic senator from North Carolina was, of course, referring to the scandal-plagued administration of President Bill Clinton, which paved the way for the launch of seven independent counsel investigations by then-Attorney General Janet Reno.
Is Joe okay? Biden Mumbles Through His First Speech as 2020 Presidential Candidate. Former Vice President Joe Biden gave his first speech as a Democrat presidential candidate in Pennsylvania on Monday, but it didn't go that well as the 77-year-old man stumbled through the speech. [Video clip]
The Dems Don't Even Believe Themselves. The random element in the Democratic candidate sweepstakes is the recent entry of former V.P. Joe Biden into the mix. While the Democrats who preceded him into the race are demonstrably more radically leftist in their views — as risibly transparent as those views may be — Biden appears to be attempting to stake out a more "reasonable" position along the political continuum. The question about Biden, of course, is this: Does he actually have any heartfelt core beliefs? Other than being a backslapping good old guy politician who gets a bit too friendly with the girls on occasion, are there any defining philosophies that anchor his vision for the country? [...] Biden's early leading position in the polls among Democrats can be chalked up to simple name recognition more than anything else. That will fade quickly enough.
Only Biden Can Save the Democrats from Total Embarrassment. Joe Biden's announcement of his candidacy for president must be seen as the last stand of forces trying to prevent the Democratic party from descending in a power dive into a mighty bonfire of the far Left. That party's only plan of action since Election Day 2016 has been to attempt to destroy Trump, and that tactic survived even the complete dismissal of the Trump-Russia collusion canard and the declination of leaders of the Justice Department to accuse the president of obstruction of justice (for the reason that no ingredients for a prosecution existed).
New Joe Biden Ad Features Past Barack Obama Praise. Former Vice President Joe Biden released a campaign video on Tuesday featuring old praise from former President Barack Obama. Obama has not endorsed Biden for president, but the former Vice President has years of positive Obama footage to draw on for campaign ads.
Biden's first campaign rally raises doubts more than enthusiasm. For the frontrunner in the polls, Joe Biden wasn't able to attract a very impressive crowd for his campaign's kickoff rally. Speaking to crowd of "hundreds" (not the many thousands who turned out for President Trump in much smaller Green Bay Saturday, or the 20 thousand who allegedly attended Kamala Harris's kickoff rally), Biden looked really good for a 77-year-old. But of course, makeup and plastic surgery can accomplish wonders. But when it came to speaking, there were some worrisome lapses.
Let's Deep-Six Touchy Joe's Anti-Whitism. There was a clunkiness about Touchy Joe's invocation of Charlottesville on his presidential announcement day. [...] I have a question. Why haven't we trained up a slugger to hit this stuff right out of the ballpark? As in: "Hey Joe, why don't you hit on someone your own size? How about you bravely take out after the real threat to peace and domestic tranquillity, the thugs of AntiFa? "Let's see, Joe. Back in the day, the street thugs of the Democratic Party wore white flowing robes. Today they come all arrayed in artistic black. Yeah, Joe-ker, riddle me this: how come artists just love wearing artistic black? "Back in the day, Joe, the street thugs of the Democratic Party wore white hoods. Now they wear black masks and helmets. Where were you, Joe, expressing your outrage at this illegal and hateful behavior? Back in the day, Joe, the street thugs of the Democratic Party terrified people with burning crosses. Now they do it with bike locks. Hey Joe! When are you gonna call for bike-lock control!"
Biden the Liar. Harold Schaitberger, president of the AFL-CIO-affiliated International Association of Firefighters, declared at a campaign rally for Joe Biden today that "Joe Biden is genuine. There's nothing phony or artificial about Joe Biden." This is a spectacularly audacious claim about one of Washington's most notorious BS artists. A few days ago, Biden declared on The View, "We were asked, what are you proudest of from your administration? You know what I said — he said the same thing as I did. No[t] one single whisper of scandal. That's because of Barack Obama." Perhaps Biden believes there was no whisper of scandal because there was so much shouting about veterans dying while waiting for care at the Department of Veterans Affairs; the "Fast and Furious" gunwalking operation at the ATF; the dysfunctional launch of Healthcare.gov; the Syrian "red line"; Benghazi; the hacking of Office of Personnel Management records; the IRS targeting of conservative and Tea Party groups; other government agencies harassing and targeting the president's critics; drunkenness and reckless behavior at the U.S. Secret Service....
Five Obama-Era Foreign Policy Failures Joe Biden Will Have to Answer For. The eight years of the Obama-Biden administration were plagued by endless foreign policy failures that certainly raises questions as to what good Biden's foreign policy credentials were as Obama's vice president — especially since it took Donald Trump being elected president to clean up their messes. Five of these Obama-Biden foreign policy failures are mentioned below, but there are plenty more. To Biden's credit, he has been publicly critical of Obama's mishandling of Syria — a major foreign policy blunder of their administration. But there are plenty of other failures Biden hasn't separated himself from yet.
Poor Joe Biden: Out to 'rebuild' the middle class Trump has already rebuilt. Democratic presidential frontrunner Joe Biden says he got a new something to offer us — a promise to "rebuild" the middle class. [...] Umm, that train left the station two years ago, Joe. President Trump has taken care of the problem.
The Editor says...
The biggest problem that Trump has solved (so far) was Obama and Biden's strangulation of the American economy.
Also posted under Lists of Obama scandals.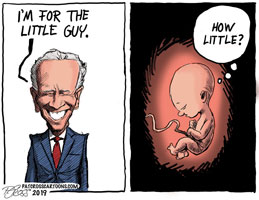 Biden and the little guy. Source: Pat Cross Cartoons
Joe Biden says he wants to 'make America moral again'. Days after jumping into the 2020 race, former Vice President Joe Biden is giving his own MAGA slogan a spin. Biden was asked what his version of President Trump's "make America great again" slogan would be in a Good Morning America interview that aired Tuesday [4/30/2019]. "Make America moral again," Biden told Robin Roberts. He continued, "Make America return to the essence of who we are, the dignity of the country, the dignity of the people, treating our people with dignity." Biden sat down with Good Morning America shortly before his first campaign rally on Monday. He said he's running for president to restore the "soul" and "backbone" of America and to unite the country.
The Editor says...
The Democratic Party is the party of humanism, feminism, lying, political violence, voting fraud, corruption, condescension, fearmongering, and abortion. Mr. Biden, while speaking to a homosexual, says he wants to be elected President so he can "make America moral again." The lying, godless, baby-killing Democrats are not going to make America moral again.
Joe Biden On Anita Hill In 1998: 'She Was Lying'. Former vice president Joe Biden repeatedly said on The View on Friday [4/26/2019] that he believed Anita Hill from the moment he heard her tale of sexual harassment by Clarence Thomas. But he previously told Sen. Arlen Specter that it was clear her testimony before the Senate Judiciary Committee included lies. "Not only didn't I vote for Clarence Thomas, I believed her from the beginning. I was against Clarence Thomas, I did everything in my power to defeat Clarence Thomas and he won by the smallest margin anyone ever won going on the Supreme Court," Biden told "The View's" Joy Behar. But in 1998, Biden admitted to Specter that "It was clear to me from the way she was answering the questions, [Hill] was lying" about a key part of her testimony.
The Gray Race for the White House. For decades, the Democrats' path to the presidency has been about offering something new. But the two front-runners are among the oldest candidates ever.
Stand by for Valerie Jarrett's third and FOURTH terms in the White House!
Joe Biden, 76, says he has no plans to limit himself to one-term in the White House. Former Vice President Joe Biden, who is looking to become the oldest candidate elected president, said Friday that he wasn't interested in pledging to serve only one term in office. Biden, who would be 78 on Inauguration Day 2021, said in an interview on ABC's "The View" that it is fair for voters to ask questions about his age as they weigh his candidacy. Asked if he would only serve a single term if elected, Biden said, "No."
Why Are the McCains Able Forgive Biden But Not Trump? A month ago, John McCain's daughter Meghan defended Joe Biden by saying, "With all due respect, I know Joe Biden very well. He's a very classy man. And I'm so sorry, but I cannot sit here and let his record or his character in any way being taken down." Joe Biden is a lot of things, but a classy man he is not. I, for one, will never forget that despicable moment when Joe Biden was campaigning in 2012 and said to a group of mostly African-Americans that Mitt Romney and the Republican Party would "put you all back in chains." So, no, Meghan, that is not something a man of class and character would say. But, what is perhaps more shocking is that according to sources close to the McCain family, they will back Biden's presidential bid.
Joe Biden is running on the media's Charlottesville lie about Trump. If Joe Biden was going to pick anything in the world as his reason to run for the Democratic presidential nomination, you would think he'd get creative. But no, he chose a well-known lie the media have been spreading since 2017. In his campaign launch video posted Thursday [4/256/2019] on YouTube, the former vice president said it was President Trump's comments on the Charlottesville, Va., protests that served as his personal bat signal.
Creepy Joe and the Social Justice Worriers. There's one faction in the Democrat Party that's very small and very loud and seemingly wants to return us to those halcyon days of the pre-internal combustion engine age with their silly Green New Deal. [...] The other faction of the Democrat Party is substantially larger and a whole lot quieter. Except they want to take us back to those wonderful days when America was in decline, unemployment ran rampant, poverty was up, labor participation the lowest in history, etc. [...] In the end the Democrats will do what they always do. They'll rig the primaries so the preferred candidate of the DNC leadership will get the nomination.
Biden's Latest Malarkey: Obama Administration Had 'Not One Single Whisper of Scandal'. If you're gonna tell a lie, make it a big one. Make it so astonishing, so blatant, that you cause the listener to question his own grasp on reality. Turn down the gaslight, and when he notices, say the light was always that dim. Is he going to believe the evidence of his own senses, or is he gonna go along to get along? All politicians do it, including our current commander-in-chief, but few do it with as much gusto as Joe Biden. He just really digs lying, almost as much as his old boss does.
Biden, Entire Senate Once Voted in Favor of Restoring General Lee's Citizenship. Former Vice President Joe Biden was a part of the 94th Congress that voted to restore Confederate General Robert E. Lee's citizenship over 100 years after his death, and yet Biden attacked President Donald Trump's support of the general in his campaign announcement video earlier this week. On Thursday [4/25/2019], Biden entered the presidential race, and he used Trump's words about a statue of Lee and the people who attended the Unite the Right rally in August 2017 as the focal point for his announcement video.
Six Reasons Creepy Uncle Joe Biden is Not Fit to be President. [#2] He lied about his first wife's death. Neilia and Naomi Biden — Joe's first wife and their baby daughter, respectively — were killed in a car accident in 1972. The late Mrs. Biden drove into a busy intersection, into the path of an oncoming truck driven by a man named Curtis Dunn. An investigation found Dunn was not at fault for the crash, but that didn't stop Joe from telling some pretty blatant lies about the man, as Jack Fowler explains [...]
New Biden Press Secretary Formerly Served as NBC News Communications Director. TJ Ducklo, who formerly served as the senior communications director for NBC News, has been tapped as the national press secretary for Joe Biden's presidential campaign. Democrats have repeatedly been critical of media personalities transitioning from Fox News to the Trump administration and vice versa. Ducklo also formerly served as the communications director of Bloomberg Politics before joining the Biden campaign.
Biden is Wrong: America is a Reality, Not an Idea. "America is an idea," Joe Biden gravely intoned, as he threw the 21st hat onto the overcrowded hat rack of the Democrat primaries already groaning under the weight of all the trilbys, clown caps and hijabs. Biden is a compulsive plagiarist and the idea that America is an idea, like his hair, isn't his own. It's also wrong. America as an idea has lately been bandied about by John Kasich, Senator Chris Coons, Senator Lindsey Graham, and even Bono. Biden not only showed up late to the primaries, but late to the idea of an idea. America isn't an idea. It's a place.
Sloppy Joe wants to bow to foreigners. Sloppy Joe bragged, "I get calls from people all over the world. World leaders are calling me, and they're almost begging me to do this, to save the country, save the world." No thank you, foreign politicians. We just spent $30 million investigating Russian interference in the last presidential election. Now Sloppy Joe is bragging about how foreigners will help his campaign — as if Americans want to go back to bowing to them.
Biden: The Democrats' Flavor of the Week. This week's person-whose-definitely-going-to beat-the President is Obama's former vice president, Joe Biden. He postponed the big announcement several times, and finally, the big day arrived this week. His party's theme for some time now has been straight white men bad, and it's difficult to see how he'll garner the nomination. But shrewd Joe has a plan: He hired Symone Sanders as his campaign manager just weeks after she'd contributed to another wannabe contender, Pete Buttigieg, the gay mayor of a failing Indiana city. Previously, she was the spokesperson for Bernie Sanders 2016 campaign. After leaving that position, she announced on CNN "We Don't Need White People Leading The Democratic Party Right Now."
18 Major Scandals in Obama's 'Scandal-Free' Presidency. President Obama and his mouthpieces have embarked on a bizarre scheme to hypnotize America into forgetting the many scandals of his presidency. They seem to think that intoning "this administration hasn't had a scandal" over and over again will make history disappear.
Joe Biden says his proudest moment of Obama's presidency was 'not one whisper of scandal'. Former vice president and newly-minted 2020 Democratic presidential hopeful Joe Biden appeared on "The View" on Friday morning [4/26/2019] and told hosts that his proudest moment of serving with President Barack Obama was that there was "not one whisper" of scandal during the time they served together in the White House. Biden said that, coincidentally, he and Obama both told press on the same day while in different parts of the country that the thing they were most proud of while in the White House was that there was "not one whisper of a scandal." "Not one," Biden said. "And that's because of Barack."
The Editor says...
If any of you believe this claim, please see this page.
Joe Biden's First Mistake. Vice President Biden is making a mistake, in our view, in trying to run for president on the idea that America is full of deplorables. He's launched his campaign with a video featuring neo-Nazis marching at Charlottesville. He's suggesting that President Trump — and his millions of followers — are racists and anti-Semites. That libel backfired on Secretary Clinton. What can Mr. Biden be thinking? It may be that the ex-veep wants to deflect attention from the Democrats' own problems. Mr. Biden's party hasn't been able to condemn the anti-Semitism surging in the Democrats' own caucus. Even Mr. Biden himself, supposedly a centrist, shrank from taking on Congresswoman Ilhan Omar and her ilk. Mrs. Pelosi at least tried to get a statement, though she backed down.
Biden Opens Campaign with Attack on Trump Charlottesville Statements. So, the same guy who said during the 2012 campaign that Mitt Romney would put black people back in chains has decided on a race-baiting campaign to get himself elected. Biden said in a video released Thursday morning that President Trump had assigned moral equivalence to the white supremacists at Charlottesville in 2017 and the protestors. "In that moment, I knew the threat to this nation was unlike any I had ever seen in my lifetime," Biden said. "I wrote at the time that we're in a battle for the soul of this nation. Well, that's even more true to today."
Surgeon who operated on Biden: He's better now than before brain surgery. Joe Biden almost died after suffering an aneurysm while serving in the Senate, but the surgeon who operated on his brain says that the incident shouldn't hold him back in his pursuit of the presidency. Dr. Neal Kassell, the renowned neurosurgeon who operated on Biden, said he's confident that Biden is "totally in the clear," and joked that he believed the surgery had even "made him better than how he was." "Joe Biden of all of the politicians in Washington is the only one that I'm certain has a brain, because I have seen it," Kassell said. "That's more than I can say about all the other candidates or the incumbents."
Biden Pushed Secretary of State Hillary Clinton To Form Closer Ties With Russia. In the aftermath of the Mueller report and former Vice President Joe Biden's announcement Thursday he intends to run for president in 2020, several news outlets began reporting on Biden's desire during his tenure in the Obama administration to develop closer ties to Russia. The Washington Free Beacon published a piece Thursday morning reminding readers of Biden's defense of Russia following then-candidate Mitt Romney's concern over Russia's apparent moves toward geopolitical domination in 2012.
Joe Biden Launches Campaign Based on Charlottesville 'Very Fine People' Hoax. Former Vice Preisdent Joe Biden launched his third presidential campaign on Thursday by referring to a debunked claim that President Donald Trump referred to neo-Nazis in Charlottesville, Virginia, in 2017 as "very fine people." In a three-and-a-half minute YouTube video, Biden cited the August 2017 riots as his primary motivation for running against Trump, presenting a version of events that even a CNN contributor has declared to be fraudulent.
'Racism and sexism': Women of color slam white male tilt of Dem primary. The women of color who packed into a university auditorium here Wednesday for a first-of-its-kind presidential forum delighted in the rhetoric of candidates who vowed to make Donald Trump a one-term president. But their frustration was just as palpable — over the heavy media attention being paid to white male candidates in the early days of the Democratic primary, and over polling they contended is feeding a misleading narrative that only a white man can defeat Trump.
Women of color frustrated with white males in Democratic primary. Women of color at the She the People presidential forum say they're frustrated with the attention given to Democratic primary front-runners, former Vice President Joe Biden and Sen. Bernie Sanders of Vermont, and other white males. She the People co-founder Aimee Allison said Wednesday [4/24/2019] she's also frustrated with polling numbers that indicate Biden and Sanders are in the lead in the Democratic primary, and said it's up in the air whether Biden will attract support from women of color. "He's going to enter a really different world," Allison told Politico. "It's a world in which we've woken up as women of color and we're not just going along to get along for a Democratic Party insider."
Union Buster: Joe Biden's First 2020 Fundraiser Co-Hosted by Top Anti-Worker Lawyer. Former Vice President Joe Biden's first presidential campaign fundraiser on Thursday [4/25/2019] will be co-hosted by a top union busting attorney, undercutting the leading Democrat candidate's message that he is somehow in favor of American workers while incumbent GOP President Donald Trump is not.
Ex-Vice President Biden launches 2020 presidential campaign. Declaring the "soul of this nation" at stake, former Vice President Joe Biden pushed into the crowded 2020 presidential contest Thursday and quickly sparked a fierce debate over the direction of the modern-day Democratic Party.
Joe Biden Hires Harvey Weinstein 'Damage Control' Adviser Anita Dunn. Former Vice President Joe Biden continues to make a splash in the 2020 Democratic primary. Hours after formally declaring his candidacy for president on Thursday, Biden picked up a coveted endorsement from celebrity attorney Michael Avenatti. The former veep also announced a series of campaign hires, including former Bernie Sanders campaign press secretary Symone Sanders, as well as Anita Dunn, the former Obama adviser who helped provide "damage control" guidance to disgraced Hollywood executive Harvey Weinstein.
Mr. Biden seems to forget that he was Obama's "impeachment insurance."
Joe Biden Echoes Trump MAGA Slogan: 'America's Coming Back Like We Used To Be'. Former Vice President Joe Biden, fresh off his presidential announcement Thursday [4/25/2019], addressed reporters in Wilmington, Deleware, declaring that "America's coming back like we used to be." "America's coming back like we used to be: ethical, straight, tell 'em the truth... supporting our allies, all those good things," Biden said when asked if he has a message for the world following his campaign kickoff.
Campaign Claims Joe Biden Asked Obama Not to Endorse Him. Appearing Thursday [4/25/2019] on MSNBC, former Vice President Joe Biden's 2020 deputy campaign manager Kate Bedingfield claimed Biden asked former President Barack Obama not to endorse him in the Democratic primary. Earlier Thursday, Obama offered praise after Biden launched his campaign — but noticeably stopped short of endorsing him as a candidate.
Twitter erupts with mockery over former vice president Biden's new branding. When Joe Biden launched his presidential campaign on Thursday, professional and amateur graphic designers tore his new logo apart on Twitter. And while some criticized the typeface and colors, others snarked that parts of the design looked like parts of the female anatomy. Among the 76-year-old former vice president's campaign hurdles is a series of accusations from women that he improperly touched them during public events.
Joy Behar Gets Emotional Over Biden: Remember When People Didn't Look at America 'in Horror?'. Joy Behar might as well have been wearing a Make America Great Again hat on Thursday's [4/25/2019] The View, as she passionately hailed Joe Biden's "patriotic" 2020 presidential video announcement. Not to support President Trump of course, but because of her wistful longing to get America "back" to when "we were the good guys." The View co-host couldn't stop gushing at Biden's video announcement, in which he claimed he would be the one to bring America back to its Constitutional ideals, unlike Trump who was taking us away from them.
Politicizing other people's misfortune:
Biden abandons plan to launch 2020 bid in Charlottesville. Former Vice President Joe Biden has canceled plans to launch his 2020 bid for the White House in Charlottesville, Va., where a woman protesting a white nationalist rally was murdered when a car was driven into a crowd of activists in 2017. The last-minute change of plan could be an indication of disorganization in the Biden campaign organization, despite the many months it has had to prepare as the former 36-year senator from Delaware procrastinated over his announcement.
Must be really embarrassing.
University of Delaware Won't Commit to Opening Biden Archive Before Election. The University of Delaware library is in possession of nearly 2,000 boxes of archival records covering Joe Biden's 36 years as a senator but has not committed to releasing them before the presidential election, which the former vice president is expected to enter on Thursday [4/25/2019]. The records were donated by Biden to his alma mater during his first term as vice president in 2011. Biden stipulated when he donated the papers that their release could come "no sooner than two years after [Biden] retires from any public office," according to the library. Biden left office more than two years ago on January 20, 2017, but the library now says an updated agreement with Biden was made to keep the archive closed until at least the end of the year.
"Middle Class Joe" Biden Should Really Be Called "Big Banks Joe". Biden's attempt to brand himself as "one of us" or a man of the people is no accident. All of the allegations that have emerged this week of Biden's inappropriately touching, kissing and hair sniffing of women and young girls has turned a lot of voters off. Biden has such a reputation for his "over-familiar style" that some people were calling him Creepy Veep as far back as 2015. But the most important reason that Biden wants to keep calling himself Middle Class Joe is that it creates an image that hides the truth — Biden often utilized his power as a senator from Delaware from 1973 to 2009 to help banks and other financial institutions make more money at the expense of tens of millions of ordinary Americans, many of whom were precisely the middle-class residents he keeps saying he has helped throughout his career.
Joe Biden was Trump before Trump. Joe Biden, on the evening of Oct. 11, 2012, delivered the most extraordinary, most ambitious, and most undignified performance in the history of televised vice presidential debates. Biden snickered and guffawed his way through the debate, interrupting his opponent repeatedly for the sake of interrupting, and firing irrelevant juvenile comebacks at his opponent's sober points. Surely, this boorishness would hurt Biden. Surely, laughing at dead servicemen in a war his administration started, and at the insolvency of entitlements, would look bad to the press and the public. Or so I thought. I was wrong.
The media need to investigate Joe Biden and his Ukraine dealings. For the past 12 days, the political media has been focused on "handsy" and "creepy" former Vice President Joe Biden and his penchant for making unwanted contact with women seemingly wherever he is. While these allegations deserve their fair share of attention, the mainstream media may be missing — or more likely ignoring — the real Biden story that's staring them in the face.
What's Worse Than 'Creepy Uncle Joe'. It turns out that handsy Ol' Uncle Joe really is a bit "creepy" after all. We can all say that, now that enough Democrats have told us this is the case. At least this is the current take of certain presidential-minded Democrats who have decided that they no longer want or need Joe Biden. If these Democrats were in their right minds, they would realize that loveable Ol' Joe — with his hair sniffing and back rubbing and face pecking — is among the least of their problems. Nevertheless, right now many in the Democratic party simply want to be done with Biden because of "inappropriate touching." This is the man who served in their party as vice president for eight years and as a U.S. senator for 36 years. By inappropriate touching, they mean things like hand-holding, forehead-to-forehead conversations, holding women "for a beat too long" at receptions, and the like. No one is alleging anything criminal, nor is anyone using the phrase "sexual harassment." What's more, very little we are hearing from Biden's accusers and their accomplices is new information. It seems clear that these accusations against Biden are little more than a political ploy by some Democrats who hope to rid themselves of what they see as an old straight white man who doesn't seem quite hip or radical enough to be their presidential nominee.
Joe Biden's campaign nearly imploded before it began. Wanting to be president is not something that White House wannabes ever really get over. Remember Richard Nixon? John McCain? Hillary Clinton? Now comes Joe Biden — again. Most likely. He's late starting his third bid, which should launch shortly after Easter, a good time, symbolically speaking, to attempt political resurrection.
Joe Biden Needs A Hug. For all his goofiness, gaffeiness, and gropiness, Crazy Uncle Joe had a way of hiding his unabashed and unrestrained liberalism behind this easy-going, sure-let's-crack-open-a-couple-of-Budweisers façade. For reasons that many of us find utterly inexplicable, he seems to connect with normal Americans in a way most of his smug and smarmy comrades don't. It's not that he's not smug and smarmy — if you remember the Clarence Thomas lynching you aren't fooled by his dopey regular guy act. It's that he is probably the only one of the Democrats who can fake it well enough to threaten Donald Trump's midwestern electoral power base.
Former Top Obama Adviser: The Democrats Are Totally Unprepared For Trump's Social Media War. CNN actually had a decent segment (sort of) about the 2020 Democratic field and their unpreparedness for the onslaught that is about to be unleashed against them by Donald Trump and the Republicans. So far, there is not one candidate who poses a serious threat. Yes, Joe Biden, but he's navigating through some Me Too drama, which he made worse by making jokes about it at a union conference last week. The former vice president is being accused of inappropriate touching, one of which included smelling an accuser's hair, which is super, super creepy. These things were well known. We've seen the memes and the photos of creepy Joe Biden. This was an open secret, but now — it's problematic.
Russian Collusion? Look To Joe Biden. An investigation into Biden's Russian ties is long overdue and urgent, as he is likely to declare his campaign for the Democratic Party presidential nomination sometime soon. While widely regarded as the moderate face of the Democratic Party, that perception might change quickly if more people were aware of his past work to further the interests of the former Soviet Union and Russia. Biden visited the Soviet Union several times during his early Senate career and was well known to Soviet leaders. The appalling Soviet treatment of dissidents was a big issue at the time, and then-Sen. Biden would sometimes express concern at their plight.
Biden: 'I'm not sorry for anything that I have ever done'. Former Vice President Joe Biden said Friday [4/5/2019] that he's not sorry for his past actions that some women have said made them uncomfortable, but that he's sorry he didn't understand more at the time. "The fact of the matter is I made it clear that if I made anyone feel [uncomfortable], I feel badly about that. It was never my intention. Ever," Biden said. Asked again if he was sorry, Biden did not apologize for his actions.
Three More Joe Biden Accusers Come Forward. Three more women on Wednesday [4/3/2019] came forward to accuse former Vice President Joe Biden of inappropriate touching after the potential 2020 Democrat contender released a two-minute video vowing to be "more mindful about respecting personal space." In interviews with the Washington Post, each of the three women detailed how Biden had made them feel uncomfortable during instances which occurred over the past several years.
Joe Biden Is Not Moderate. He's Far, Far Left. Joe Biden is the frontrunner for the Democrat Party nomination for president of the United States in the 2020 presidential election. Out of a field of eighteen Democrat candidates so far, Biden is polling at between 26 percent and 33 percent. That is a commanding lead. When voter preferences are divided 18 ways, it is an even more significant lead. Laughably, Biden is talked about as the "moderate" Democrat candidate for president. To be sure, Biden has a far better persona than any of the other candidates. Biden is the far-left extremist you can take home to meet your tradition-minded grandparents. Biden will charm your neighborhood backyard party while flipping steaks on the grill. Biden is the national Democrat you would most like to have a few beers and pizza with, regardless of political beliefs. In other words, Biden is the best fake.
Creepy Joe Jokes about Touching Children During Union Speech. Former Vice-President Joe Biden isn't just creepy with his inappropriate mannerisms, he's also tone-deaf about it. During a speech today at a construction workers conference, Biden brings kids on stage and then makes jokes about touching them. this guy is creepy. Everything about this is stunningly wrong. Making a joke about touching a child, while the children are hoisted on stage as props for political benefit is jaw-droppingly tone deaf, and quite frankly, sick, to anyone with common sense watching this display.
The Most Disturbing Thing about Joe Biden. For some reason, the evidence shows, in the early 2000s, Joe Biden began to remark in public that his wife had died at the hands of someone who "allegedly ... drank his lunch instead of eating his lunch." That Curtis Dunn "was an errant driver who stopped to drink." That drunk-driver story spread into news accounts. The Dunn family, who had strong sympathy for Biden, was shocked by the sullying of their now-dead father. [...] This says so much more about Biden the man than any too-close shoulder grasp ever could. It also says plenty about the contrition junkies who influence America's news cycle, and, as Jim Geraghty pointed out recently, about the media who for many years had dutifully served as Joe Biden's reputational bodyguard.
Joe Biden has no shame. Joe Biden may have picked the wrong moment to make his third run at the presidency. In late 2015, when the then-vice president demurred on a challenge for the Democratic nomination, the #MeToo movement was still two years away from its breakout over numerous accusations against Harvey Weinstein. Now, 18 months after that exposé, Biden's public handsiness has become a major scandal as he contemplates whether to enter the 2020 presidential sweepstakes. But this scandal won't bring Biden down. Why? Because he is utterly shameless, and America will eat it up.
Biden says he'll adjust his physical behavior as three more women come forward. Former vice president Joe Biden promised on Wednesday to adjust his physical behavior toward women, an effort to quell controversy over whether his intimate style is appropriate in the era of the #MeToo movement. Biden addressed critics in a video posted to Twitter as three additional women told The Washington Post on Wednesday about encounters with him that made them feel uncomfortable. Their stories bring the total number of people who have expressed concerns about alleged interactions with Biden to seven. Other women defended Biden, who has been seen by many women as an advocate for them.
Joe Biden Opens the Door. It's suddenly commonplace for feminists to say of Joe Biden that "he doesn't get it." [...] Biden has opened the door to scrutiny of his high school days. Now, Biden has no right to complain if some women he doesn't remember alleges that he stole a kiss from her, or worse, 60 years ago. Clearly, Biden hasn't been paying attention. It's questionable whether Biden's conduct of 60 years passes full muster under the feminist standards of today. But even if it does, what's to prevent a Kamala Harris or Elizabeth Warren supporter from "remembering" misconduct by Biden?
Beto praises 'courage' of Biden accusers, questions whether former VP should enter 2020 race. Former Texas Rep. Beto O'Rourke became the latest 2020 Democratic presidential hopeful to weigh in on the allegations of unwanted touching and kissing leveled against former Vice President Joe Biden. O'Rourke, who currently sits third in the polls alongside Sen. Kamala Harris of California and behind Biden and Sen. Bernie Sanders of Vermont, praised the "courage" of the women who have come forward to accuse the former vice president of inappropriate behavior.
Biden jokes about hugging in 1st appearance since improper contact allegations, later voices remorse. In his first public appearance since allegations of improper contact with women threatened his yet-to-be-announced White House bid, former Vice President Joe Biden appeared to make light of the controversy surrounding his well-publicized past getting too close for comfort with fellow politicians, their family members and others. Yet minutes later, talking with reporters, a more somber Biden emphasized that "I'm sorry I didn't understand more." And referring to his likely presidential campaign announcement, Biden said, "I am very close to making a decision to stand before you all relatively soon." Asked why the hold-up, Biden quickly answered, "The hold-up is to put everything together."
Will Penn Rename Biden Center Following Allegations Against the Former VP? It's a fair question, considering the fact that they scrubbed another man's name based on accusations of sexual harassment.
Social Justice for Creepy Joe. It appears that the leftist mob has now come for Joe Biden, the nominal frontrunner in the overloaded clown car that is the 2020 Democrat presidential primary. Biden, a longstanding barnacle on American politics who has never had much of a career away from the government teat — he was elected to the Senate in Delaware in 1972 at the tender age of 29, and served in that body while attempting failed presidential runs in 1988 and 2008, and then spent eight years as Barack Obama's Vice President from 2009-2017 — hasn't even declared himself a candidate for next year's presidential campaign and he's already in the crosshairs of the radicals in his own party.
Report: Joe Biden 'Seething' Behind the Scenes Despite Contrite Video. Fox Business Network reporter Charles Gasparino said Wednesday that former Vice President and potential 2020 candidate Joe Biden is "seething" behind the scenes at Sen. Bernie Sanders (I-VT), whose campaign he believes is behind media scrutiny of him getting too close for comfort with myriad women.
Peter Schweizer: Joe Biden 'Steered $1.8 Billion' to Ukraine While His Son Bagged 'Sweetheart Deal' from Their Government. Peter Schweizer, president of the Government Accountability Institute and senior editor-at-large at Breitbart News, recalled how Hunter Biden, Joe Biden's second son, received millions of dollars from Ukrainian energy company Burisma Holdings while his father directed $1.8 billion in aid money to Ukraine as vice president during the Obama administration.
Democrats in 2020: Unelectable Nonentities. The last and not the best hope of sane Democratic contenders is that very tired old plough-horse Joe Biden. With all his malapropisms and foolish ideas, the amiable survivor whose first run for the White House failed 31 years ago because he was caught plagiarizing from one of Britain's most unsuccessful opposition leaders, Neil Kinnock, is at least not a terrifying radical. And now, he is being sandbagged because he allegedly touched two or more women many years ago, perfectly legally, with no discreditable intent, out of affection with no claimed sexual aspect. [...] Biden is a memorably unprepossessing candidate for the headship of the American government. Putting tired, banal, stale, but oddly equable old Joe up against the rampaging lion who is the incumbent would be like sending Frederick the Mouse of the children's bedtime stories to do battle with my late Siamese wondercat, Sidney.
Biden's Problem Is His Ego. Joe Biden wants us to believe that all his touching speaks to how deeply he cares about other people. It's really a testament to how much regard he has for himself.
The purging of Biden is instructive. After the first shoe dropped on groping, I said Joe Biden should drop out of the race because someone powerful wanted him out of the race. A second woman came forward yesterday. The bombshell fell today [4/2/2019] as The Hill reported, "Joe Biden's 2020 Ukrainian nightmare: A closed probe is revived." His opponents have the goods on him. Of course they do. He spent 42 years in the Senate (the last eight as vice president, who is the president of the Senate). I am convinced now that everyone in Washington has secret baggage that is known by someone. This is why they are frustrated with President Donald John Trump because he is an outsider no one seems to have the secret baggage that would destroy him.
Nancy Pelosi's Perv Problem. If you're a sleazy male Democrat, you can always count on Nancy Pelosi to run interference for you and your pervy proclivities. While she has soaked up plaudits as a champion for women (most recently as the VH1 Trailblazer Honors recipient last month for International Women's Day), what she really deserves is Cheerleader of the Year Award from the Democratic Bad Boys Club. The latest beneficiary of her soft-glove treatment is former Vice President and potential 2020 Democratic presidential aspirant Joe Biden — a.k.a. the veep creep. She gently advised him to "pretend you have a cold" and joked during a Politico interview that he should emulate her "straight-arm" policy of keeping distance from others. Giggle, giggle, blink, blink. Reporters laughed along. (And these are the same people who mock straight-arrow Vice President Mike Pence of taking extra precaution around women!)
Further claims of inappropriate behavior put Joe Biden's 2020 presidential bid in doubt. Two more women have claimed that Joe Biden inappropriately touched them, in a further blow to the former US Vice President said to be considering a bid for the White House. Caitlyn Caruso, 22, told the New York Times on Tuesday [4/2/2019] that Mr Biden hugged her "just a little bit too long" when she was 19 at a University of Nevada event on sexual harassment.
That Joe Biden's touching is only becoming an issue now confirms liberal media bias. As the press gives more attention to the mounting accusations against former Vice President Joe Biden for inappropriate touching, it is only doing more to confirm all of the suspicions that conservatives have about liberal media bias. The New York Times quoted two more women as saying they felt uncomfortable by the way Biden touched them, which follows two other accusations of a similar nature. However, there is nothing particularly new about the idea that Biden is handsy. The fact was well known for years and demonstrated in many photos and videos. A number of conservatives tried to argue that his creepy behavior shouldn't simply be dismissed as just a cuddly Biden being Biden. At the time, though, the matter was largely ignored by the media, treated as a joke, or waved off as "faux outrage."
The roll-out of 'inappropriate touching' accusations against Creepy Uncle Joe continues. Somebody is kneecapping Creepy Joe. Call me obsessive and paranoid, but I have a long shot theory. [...] The list of suspects is potentially anyone interested in running for the 2020 nomination, of course. But it would have to be someone with sufficient deviousness, resources, media contacts, and skill to pull off a campaign. Michelle Obama certainly could be the puppeteer. But among declared candidates, Kamala Harris tops my list in terms of deviousness, and she clearly has significant financial and organizational support. Bernie Sanders, who currently polls just behind Biden is another old white guy who potentially could pick up support that is not committed to intersectionality (i.e., discrimination against white males). Feel free to call me obsessive and paranoid, but I have to wonder if the fine hand of Hillary Clinton is not behind this phenomenon. It would be perfectly in character for her. But is she really thinking that she has a chance? Is she willing to make another run?
Pelosi: Biden's Inappropriate Behavior with Women is Not Disqualifying. Lt. Gov Justin Fairfax, over in Virginia, has been accused of rape by two women. He hasn't been disqualified. Talk of an Al Franken comeback is ubiquitous. Biden's allegations haven't yet reached that stage. So why not have Bad Touch Biden in the big White House?
Good thing his name isn't Kavanaugh.
Whoopi Goldberg Defends Biden. Monday on ABC's "The View," co-hosts Whoopi Goldberg, Meghan McCain and Joy Behar defended former Vice President Joe Biden in the wake of former Nevada lawmaker Lucy Flores' claim he inappropriately touched and kissed her in 2014 at a campaign rally.
Biden spokesperson criticizes 'cottage industry of lies'. A spokesperson for Joe Biden pushed back forcefully on Monday at a "cottage industry of lies" he said has formed about the former vice president supposedly crossing a line between affectionate or supportive behavior with women to something inappropriate. [...] Biden is widely expected to enter the Democratic race for the White House, where allegations of inappropriate touching and kissing could torpedo his campaign.
Joe Biden's 2020 Ukrainian nightmare: A closed probe is revived. Two years after leaving office, Joe Biden couldn't resist the temptation last year to brag to an audience of foreign policy specialists about the time as vice president that he strong-armed Ukraine into firing its top prosecutor. In his own words, with video cameras rolling, Biden described how he threatened Ukrainian President Petro Poroshenko in March 2016 that the Obama administration would pull $1 billion in U.S. loan guarantees, sending the former Soviet republic toward insolvency, if it didn't immediately fire Prosecutor General Viktor Shokin.
Laura Ingraham Shares Her Own "Creepy Joe" Me Too Moment. Former VP Joe Biden is known for touching and kissing women inappropriately. There are many accounts that show he is infamous for this. By doing a simple google search, it is apparent that this is something that he does all the time. However, in the era of the "me too" movement, is it safe to assume that Joe Biden isn't fit to run the office of president in the United States? Most people say "no."
'The View' hosts say they want Joe Biden to continue smelling women's hair and kissing them. The women of "The View" don't think much of the accusations made against Joe Biden of inappropriate behavior with women, and several said they wanted him to continue smelling women's hair and kissing them without asking. "Joe is a hands on kind of guy!" said Whoopi Goldberg, who asked why the accuser couldn't have simply asked him to stop touching her. Biden was accused by a former Nevada lawmaker of smelling her hair and kissing her in a way that made her very uncomfortable. She cited other examples of inappropriate behavior from Biden in her statement.
Washington Post springs to the defense of serial groper Joe Biden. Joe Biden is in a lot of trouble, as editor Lifson points out today. Biden apparently kissed a woman without her permission, which is a serious offense in #MeToo land. There are also several photos of Biden with his arms around women, kissing them, kneading their shoulders — shouldn't he be arrested or something? But never fear, Uncle Joe. The Washington Post is riding to your rescue.
Biden His Time. My sense is that Biden is the Ed Muskie of this election cycle — the early front runner because of name recognition and general stature, but doomed to fade once the campaign starts in earnest. At this point in 1971, Muskie was leading in Nixon in some head-to-head polls ahead of the 1972 election. But then Muskie exposed himself as the prototype of the snowflake generation, and his campaign went kaput. He would likely have faded anyway, as the Democratic Party base in 1972 wanted someone much more fully anti-war and anti-American than Muskie (or Hubert Humphrey), and coughed up the hairball of George McGovern.
Connecticut woman says then-Vice President Joe Biden touched her inappropriately at a Greenwich fundraiser in 2009. A Connecticut woman says Joe Biden touched her inappropriately and rubbed noses with her during a 2009 political fundraiser in Greenwich when he was vice president, drawing further scrutiny to the Democrat and his history of unwanted contact with women as he ponders a presidential run.
Who kneecapped Biden? Five years after the fact, Nevada Democrat Lucy Flores came forward with a story that Joe Biden gave her an unwanted kiss. [...] How odd that she chose to tell her story now. Democrats have known about Biden's improper behavior for decades and were silent about it. But 32 years after his first run for president, Biden actually has a shot because he was Obama's veep. Somebody wants Biden out of the race. Hence, Flores told her tale and Matt Drudge linked it. I am guessing this is the work of the Obamas. They saw Plugs up close for eight years. They know him. They know he is too impulsive to be president, which would stain Obama's legacy. That was why the Obamas supported their arch-enemies, the Clintons, last time. Michelle has made it plain that she wants a Woman of Color as the nominee. And John Boehner made it clear that Barack does what she wants him to do.
Time's Up! As a prominent Bernie Sanders supporter in 2016 who seems eager to back a non-Biden candidate in 2020, [Lucy] Flores might have a political motive to exaggerate her recollection. Going on the evidence that now exists, her charge is hard to evaluate. According to the standards of culpability that Biden has articulated in similarly conflicted situations, however, it's an open-and-shut case. Perhaps no major American political figure has so consistently championed the erosion of due process for those accused of sexual misconduct. Even if Flores's claims might be unprovable, distorted, or simply wrong, changing the culture about sexual misconduct and mistreatment of women requires that we accept her version of events. Biden will now learn firsthand how the mantra of "believe all survivors" has the effect of presuming the guilt of the accused.
Joe Biden's Stale Postmodernism. [Scroll down] A normal person would flatly deny the allegation if he didn't believe it. If he did believe it, he would either deny the allegation anyway or apologize. If he wasn't sure (i.e., he didn't recall doing what he's accused of but knew he was capable of it — which is probably the case with Biden), a normal person would either deny the allegation or simply say he doesn't remember inappropriately touching Flores. He would not add the obligatory salute to the "Me Too" movement. Unfortunately, the modern Democratic party is post-normal.
The Absurd Destruction of Joe Biden is a Huge Boost to Trump. Because the 2020 presidential election is a year and a half away, it is very easy to get lulled into the false presumption that the outcome cannot possibly be currently determined, especially after the shocking result we all witnessed in 2016. However, there is an extremely strong argument to be made that the emerging destruction of Joe Biden, by both his own hands and those of his rivals, could very well end up allowing President Trump to be re-elected. While I am no fan of Joe Biden the politician, there is absolutely no doubt in my mind that, if the Democratic Party got behind him early in this process and allowed him to emerge from their primaries unscathed, that, barring a "black swan" event, he would defeat Trump. There is no one else currently likely to run for the Democratic nomination about whom a remotely similar statement could be rationally made.
Joe Biden's Al Franken problem. Joe Biden has an Al Franken problem. Though he hasn't even officially announced he's running for president, on Friday Biden was hit with the first of what could be more #MeToo accusations. Lucy Flores, a former Nevada assemblywoman, wrote that in 2014, when she was seeking office and Biden was still vice president, he smelled her hair and then planted an unwanted kiss on the back of her head. The problem for Biden is similar to the one faced by Franken when he was forced to resign from the Senate: Descriptions of misconduct are more believable when consistent with visual evidence.
A history of Joe Biden's most touchy-feely moments. He's the Democratic Party's hands-on favorite for 2020. The revelation last week of Joe Biden's creepy encounter with a young female politician was is hardly the first time the 76-year-old has been accused of being too touchy-feely with women. Topping the Post's Gallery of Biden's Greatest Hit-ons was the time he grabbed the shoulders of Stephanie Carter from behind and whispered in her ear while her hubby Ash Carter gave his 2015 Secretary of Defense acceptance speech. He awkwardly groped the waist of The Hill's Amie Parnes at a 2013 holiday party. During a 2012 campaign stop in Ohio he sat so close to a biker chick his forehead touched her temple.
'It's so easy to Google "Creepy Biden"'. The former Nevada lawmaker who accused Joe Biden of giving her an "awkward kiss" in 2014 said Sunday she decided to go public because she wanted to force Democrats to confront his inappropriate behavior as the former vice president decides to run for the White House. "It's so easy to Google 'Creepy Biden' and you get all these compilations of pictures and video evidence of young women and women looking very, very uncomfortable," Lucy Flores, a former Nevada assemblywoman and 2014 candidate for lieutenant governor, told POLITICO.
Lucy Flores Speaks Out, Eviscerates Biden's Ridiculous Defense Against Her Accusation. Lucy Flores, the Democrat lawmaker who just revealed that Joe Biden inappropriately touched her during her 2014 campaign for Lieutenant Governor of Nevada appeared on CNN's "State of the Union" on Sunday [3/31/2019]. [Video clip]
Joe Biden Is Done. Joe Biden is a creepy old goat. Everyone knows this. There is much photographic evidence of him crossing the line with women. He's also a liar and a buffoon. But the Democratic party's public-relations arm, aka the mainstream media, has never before had any incentive to hold Biden up to scrutiny. Why bother? When he became veep, any attack on Biden risked looking like casting aspersions on the man who made him his number two, and the media could not countenance any naysaying about the judgment of the Precious. For the next few months, though, we're in an amusing interstitial period when the media actually has a reason to attack their fellow Democrats: any hacks out there who think their party can do better than Biden (or Sanders, or Warren, or Harris, or etc.) can rip into their disfavored candidates in order to give an assist to their preferred picks.
Complicit Media Failed to Protect Lucy Flores from Joe Biden. ormer Nevada Assemblywoman Lucy Flores was not just a victim of Joe Biden, but of a complicit media who deliberately looked the other way for decades. Serial Young Girl-Toucher (nickname stolen from Ace of Spades) Joe Biden denies the incident with Flores, but the whole world knows he has been caught countless times on video and in photographs behaving inappropriately not only with women, but with young girls — very young girls.
Joe Biden's endless gaffe-riddled apology tour. Actual Candidate Joe Biden is going to be a lot less popular than Potential Candidate Joe Biden. To begin with, there's his record, which couldn't be further out of step with the party he aims to lead. He's been steadfastly pro-corporate in his instincts and preferences, as one might expect from a senator representing the state of Delaware, home to the country's credit card industry. His racial views in the 1970s placed him on the rightward fringe of his party. He was hard on Anita Hill during Clarence Thomas's confirmation hearings. He campaigns for Republicans. And he has a long history of handsy behavior, and downright sleazy off-color statements, toward women.
'Creepy Uncle Joe' Gets Busted by #MeToo (Hint: She's a Bernie Supporter). After years of inappropriate public contact with women and girls, Joe Biden has finally been called out by a fellow Democrat. [...] Of course, the obvious political motive of Biden's accuser does not mean that his "Creepy Uncle Joe" act isn't genuinely offensive. But why is it that this behavior, which conservatives have been pointing out for years, seemed to go unnoticed by Democrats and the media (but I repeat myself) until a fellow Democrat called out Biden?
CBS Highlights Joe Biden's Apology to Anita Hill Ahead of Expected 2020 Run. Former Vice President Joe Biden is expected to announce a run for president some time in April and has been testing the waters and smoothing over rough spots from his past. As part of that effort Tuesday night [3/26/2019], he made yet another public apology to Anita Hill, the law clerk who falsely accused Justice Clarence Thomas of sexual harassment. The apology drew the attention of the CBS Evening News, who highlighted it Wednesday. "Former Vice President Joe Biden is trying to clear up some past issues ahead of his expected announcement that he's joining 14 other Democrats in a run for the White House. Last night he brought us his role in a controversial Senate confirmation hearing from 28 years ago," announced anchor Jeff Glor.
CNN, MSNBC Ignore Inappropriate Kissing Allegations Against Biden. CNN and MSNBC have not covered the allegations a former Democratic lawmaker levied against former Vice President Joe Biden in the 12 hours after the allegations surfaced on Friday afternoon [3/29/2019].
CNN, MSNBC ignore explosive misconduct allegation against Biden. Two prominent cable news networks offered zero coverage to the breaking misconduct allegation made against former Vice President and potential 2020 candidate Joe Biden on Friday night. A former Democratic candidate from Nevada alleged in an op-ed published in New York Magazine's The Cut that Biden inappropriately touched her at a 2014 campaign event.
Democrat Makes #MeToo Claim Against Joe Biden: He Smelled Me and Kissed My Head. Former Nevada Assemblywoman Lucy Flores, now a Social Justice Activist, revealed that Vice President Joe Biden was "creepy" with her during a campaign event. She said in an essay for The Cut that the incident occurred during her campaign for lieutenant governor in Nevada in 2014, when Biden came to the state to help the campaign.
Here's why Beto, Biden and Bernie are peaking. Much has been written about the supposed frontrunners for the Democratic nomination for president: Joe Biden, Sen. Bernie Sanders (I-Vt.) and former Rep. Beto O'Rourke (D-Texas). For the past several months, the first two have been comfortably leading the pack in national, Iowa and New Hampshire polls, while O'Rourke has been at or near the front of the remaining group. There has been an unmistakable (and highly mistaken) air of inevitability surrounding these three. But the calculus that has gone into their decisions — or in Biden's case, the expected decision — to enter this increasingly crowded field is laden with landmines that likely will doom each of their candidacies.
Report: Biden Being Asked to Consider One-Term Pledge. Former Vice President Joe Biden's advisers are reportedly asking him to consider pledging to just serve one term in office if he wins his party's nomination and faces off against President Donald Trump in the general election. According to a Thursday New York Times report, Biden's advisers are discussing "a possible pledge to serve only one term" and framing Biden's 2020 campaign "as a one-time rescue mission for a beleaguered country."
The Editor says...
I thought that was what Trump's presidency was for.
A Brief Survey of 2020's Psychotic Democratic Roster. That anyone thinks Joe Biden has a chance [...] of being elected is mystifying. The man has so many skeletons in the closet that he can't remember them all — plagiarism; racism; corruption; and a penchant for fondling young girls, even in public on camera. Like Bernie Sanders, he is too old.
Top Dem Donors Tell Joe Biden They Won't Raise Money for him. A handful of leading Democrat donors recently told former Vice President Joe Biden that they would not raise early-stage campaign funds for him if he were to run for president in 2020, according to a report. According to CNBC, several donors declined Biden's request to bundle campaign contributions due to their skepticism regarding whether the 76-year-old establishmentarian could survive a bruising Democrat primary.
Impeachment insurance:
Report: Biden Advisers Consider Stacey Abrams as Running Mate. Advisers for former Vice President Joe Biden's 2020 presidential campaign-in-waiting are debating whether to name failed gubernatorial candidate Stacey Abrams as his running mate, a Thursday report says. According to Axios, Biden aides believe adding Abrams to the ticket would send a strong signal to voters that he's not "just another old white guy."
Joe Biden's video problem. For the same reason that he is the Democrat most likely to run successfully against Donald Trump in 2020, Joe Biden is the most problematic choice for the Democrats' presidential nomination. Slow Joe, you see, spent decades as a prominent officeholder before the Democrats embraced crazy leftism as dogma. And in the age of online video clips, social media, and email, his previous speeches contradicting the leftism currently demanded by the party's base are available for all to see. A case in point is the current Democrat desperation measure: packing the Supreme Court.
Hamlet on the Potomac: Biden's long history of public indecision over presidential run. Despite leading a dozen announced Democratic 2020 presidential candidates in the polls, former Vice President Joe Biden is again dragging out a decision on a presidential run, repeatedly teasing that he is close to making up his mind. [...] At the start of January, members of his inner circle intimated that he would "most likely make a decision within the next two weeks." A month later he said he was "70 percent there." At the end February, he said he was "very close" to making a decision. Last week he told supporters he would decide "in a few weeks." Then it was reported that Biden was telling family and friends that there was a 95 percent chance of his running.
'Middle-Class Joe' rakes in millions. "Middle-Class Joe" Biden has a $2.7 million vacation home. He charges more than $100,000 per speaking gig and has inked a book deal likely worth seven figures. Since leaving office in 2017, the 76-year-old former vice president has watched his bank account swell as he continues to cultivate the image of a regular, Amtrak-riding guy. He's repeatedly referred to himself as "Middle-Class Joe" on the campaign trail and in speaking engagements as he publicly mulls whether to run for president.
Blue-Collar Hero Joe Biden Is Actually Super-Duper Rich, A Bona Fide 1 Percenter. Joe Biden likes to call himself "Middle Class Joe," but nowadays, he's anything but that. Biden is a bona fide member of the "1 Percent," which according to the Economic Policy Institute means you make more than $421,926 a year.
Is Diversity a Root Cause of Dual Loyalty? "We can't be divided by race, religion, by tribe. We're defined by those enduring principles in the Constitution, even though we don't necessarily all know them." So Joe Biden told the firefighters union this week. But does Joe really believe that? Or does that not sound more like a plea, a wistful hope, rather than a deep conviction? For Biden surely had in mind the debate that exploded last week in the House Democratic caucus on how to punish Somali-American and Muslim Congresswoman Ilhan Omar for raising the specter of dual loyalty. Rebutting accusations of anti-Semitism lodged against her, Omar had fired back: "I want to talk about the political influence in this country that says it is OK to push for allegiance to a foreign country." Omar was talking about Israel.
Why Uncle Joe Biden will be America's next president. He's a career politician (he only held a "real" job for a few years in his 20s, and he's been living off the public dole for nearly half a century). He's run for president twice, in 1988 and again 20 years later, so he knows the game inside and out. And after a decade of political sniping, 2020 is tailor-made for a middle-of-the-road candidate, which fits Mr. Biden to a T. Here's the simple scenario: The entire Democratic field runs hard left, as they are now, embracing full-blown socialism. Mr. Biden will then roll up in a yellow Corvette — maybe wearing aviator sunglasses — and say "whoa, whoa, whoa, people, let's not get crazy here." The mainstream media will embrace him, voters is the middle will go, "yeah, I can see him as president," and that's all she wrote.
Has the Democratic Party Passed Joe Biden By? A new poll is out in Iowa that shows former Vice President Joe Biden leading socialist Senator Bernie Sanders. [...] Biden is dithering about making a run, and who can blame him? With 30 percent of Iowans believing his time has passed and he shouldn't run, you have to wonder if that percentage is even higher in more liberal states. There was a time when Biden was seen as a liberal lion — about as far left a Democrat as there was in the 1980s. But times change and so has the Democratic Party. In fact, the party is unrecognizable compared to what it looked like in 2008 when Biden was chosen as Barack Obama's running mate. Many on the far-left see Biden as "too conservative," if you can believe that. The media sees him as a "centrist."
Good thing there are no statues of Joe Biden. The Washington Post reports on an interview a Delaware newspaper conducted with Joe Biden in 1975. On the subject of race, Biden stated: ["]I do not buy the concept, popular in the '60s, which said, 'We have suppressed the black man for 300 years and the white man is now far ahead in the race for everything our society offers. In order to even the score, we must now give the black man a head start, or even hold the white man back, to even the race.' I don't buy that.["] Putting an even finer point on it, Biden added: ["]I don't feel responsible for the sins of my father and grandfather. I feel responsible for what the situation is today, for the sins of my own generation.[..."]
Joe Biden in the final stages of preparing for a 2020 presidential bid. Former Vice President Joe Biden is in the final stages of preparing for a 2020 presidential campaign that is expected to launch next month, according to multiple people familiar with his planning. A formal kickoff is expected by mid-April and would all but cement the size and scope of the Democratic presidential field that currently stands at 12 formally declared candidates, two still in the formal exploratory stage and others still mulling a bid but waiting to see what the former veep might do. Biden sits atop various surveys of Democrats nationally and in the key early primary states and is seen by supporters as one of the contenders best-equipped to unite factions that are squabbling over the ideological future of the party and where and who exactly it should target in a bid to retake the White House. While the 76-year old can likely expect to find support in suburban swing districts and Midwestern states key to previous Democratic presidential victories, he faces doubts about whether he can win over minority and younger voters that are fueling much of the party's current energy and success.
These Democratic voters were asked if they want Biden to run for president. Not one raised their hands. A handful of voters who say they backed Hillary Clinton in the 2016 presidential election say they are unexcited by the prospect of former Vice President Joe Biden entering the 2020 field. "How many of you would like to see Joe Biden get in? Show of hands," CNN's Alisyn Camerota asked the panel of six Democrats, selected from Ohio, New York, New Jersey and Pennsylvania, on "New Day" Tuesday morning [3/5/2019]. No one raised their hands.
The Editor says...
It doesn't matter. From where I'm sitting, it appears that the Democratic Party is run from the top down. The platform is written at the uppermost levels and handed down to the grassroots as an edict. The elite power players in the Party select their candidate, and then make the necessary arrangements, before their national convention if possible, to install the pre-ordained candidate. That's now Hillary got the nomination last time instead of Bernie Sanders. The Republican Party works in the opposite way: The party platform is developed at the lowest levels and is compiled and refined as it works its way up to the national convention.
Valerie Jarrett's third term?
Joe Biden's Potential Bid and an Obama Restoration. In today's [3/7/2019] New York Times, Democratic Representative Cedric Richmond of Louisiana, the former head of the Congressional Black Caucus, said he believes that former vice president Joe Biden is the party's "best candidate to beat Trump." Much of the discussion around Biden has focused on how much of love from Democrats that he enjoyed as Obama's vice president will continue when he's flying solo. Biden's age is obvious, his gaffes are legendary, and today's Democrats aren't big fans of his old stances on crime, the death penalty, abortion, and handling of the Anita Hill case.
Biden's Betrayal of SEALs should Doom His Presidential Run. [W]hile critics of President Trump's foreign policy accuse him of a degree of recklessness and immaturity that place the nation's security at risk, Biden's service in an administration that gave us the criminal negligence and incompetence of Benghazi, provides us with an example of why he should not be trusted with the nation's security or the lives of its heroes.
Did someone mention Benghazi?
The return of Big Ego Politics: Joe Biden gets the backstage rock star treatment on the road. For all his claims to being "everyman," the great grassroots candidate, fumblin' Uncle Joe all full of malapropisms, or Amtrak Joe who rides the train, news is getting out about potential Democratic presidential candidate, Joe Biden, and he doesn't quite look like the everyman he projects himself to be.
Michael Bloomberg Patiently Waits As Biden Considers A Potential WH Bid. Former Vice President Joe Biden has yet to enter the 2020 race for president. Some recent media reports have suggested that his son's checkered private life could be part of the reason for the Democrat's hesitation. [...] The hesitation on Biden's part is holding up process for other potential Democratic candidates. Former New York City Mayor Michael Bloomberg, for one, is considering a run at the White House but not if he has to challenge Biden in a stacked primary.
If Biden enters 2020 race, Trump-like support is expected by Democrats. Former Vice President Joseph R. Biden has yet to declare his presidential intentions, but if he does run, he's looking at a Trump-like coalition of support within the Democratic Party, with backing from men, the less-educated and older voters. Mr. Biden would enter the race as the most well-known and most well-liked option, with polls consistently putting the 76-year-old first in the Democratic nomination race.
Biden's polling lead shaky ahead of 2020 decision. Joe Biden's big lead in early Democratic 2020 polling might be a bunch of malarkey. While most polls show the former vice president hovering around 30 percent of the Democratic primary vote, well ahead of second-place Sen. Bernie Sanders, two recent surveys paint a starkly different picture — raising the question of whether Biden is a real front-runner or just has big name-recognition. Those polls show far more Democratic voters undecided about which candidate to support, and they pegged Biden's backing at a much less intimidating 9 to 12 percent.
Biden tells Europeans in Munich that America is 'an embarrassment'. Speaking on German soil 75 years after the U.S. and its allies prepared for D-Day, Joe Biden described America as "an embarrassment" and its trade policies "self-defeating." [...] Biden, 76, speaking at the annual gathering of foreign policy leaders, didn't mention Trump by name. But, despite a longstanding tradition of politics "stopping at the water's edge" and refraining from criticizing a commander-in-chief while on foreign soil, Biden took the opportunity to blast him, even veering into criticism of domestic policy as he launched into what sounded like a stump speech.
The Feeling is Mutual, Joe. I don't think we have commented on Joe Biden's disgraceful performance at the Munich Security Conference yesterday. I haven't seen a full transcript of his remarks, but he delivered a partisan stump speech to an audience of European leaders. It consisted largely of an attack on the President of the United States. I'm so old, I can remember when that was considered bad form.
Joe Biden criticizes Trump's policies in Munich speech saying they have undermined America's moral leadership. Joe Biden isn't in the 2020 presidential race yet, but he's making clear at an international gathering that he thinks President Trump has undermined America's ability to claim moral leadership. The former vice president says the US doesn't want to turn its back on its closest allies and cherishes democracy, the rule of law and a free press. Biden tells the Munich Security Conference that the America he sees 'stands up to the aggression of dictators and against strongmen who rule by coercion, corruption and violence.'
Some Dem strategists think Joe Biden's time as a POTUS candidate has likely expired. Three things you should know about Joe Biden's qualifications to run for the Democrats' presidential nomination this time:
[#1] He and his entourage once ran up a Paris hotel bill in excess of $500,000 — for one night. So, Joe definitely knows how to spend other peoples' money.
[#2] As vice president, Biden charged the Secret Service rent for staying on his property to protect him. So, he also knows how to raise money.
[#3] Joe once declared that John McCain was too old to become president of the United States at 72. Joe turns 77 this year.
Democrats are in a fret right now because Joe is reported to be leaning toward a third run for the White House. And he's not only way ahead of all other party wannabes in early polls, he's ahead of the Oval Office incumbent.
The Mythologies of 'Joe Being Joe' Biden. Some polls put 76-year-old Joe Biden as the Democratic front-runner for the 2020 presidential election. There is certainly some logic to that reckoning. Biden has far more experience than any of his likely party rivals — 36 years in the Senate, eight years as Barack Obama's vice president, and two past presidential runs. He may be the only Democratic candidate who could likely win back some of the "deplorables," "irredeemables," and "clingers" of the critical Midwestern swing states. But all of that said, the folksy Biden is hardly the sober and judicious alternative to a supposedly reckless Donald Trump. In many ways, Biden has been far wilder in his speech and decorum — despite nearly a half-century in politics.
Joe Biden once said Democrats needed 'a liberal George Wallace'. Former Vice President Joe Biden, who has been emphasizing his civil rights record as he considers a 2020 White House bid, once praised notorious segregationist George Wallace and later claimed to have received an award from him. "I think the Democratic Party could stand a liberal George Wallace — someone who's not afraid to stand up and offend people, someone who wouldn't pander but would say what the American people know in their gut is right," Biden told the Philadelphia Enquirer on Oct. 12, 1975, referring to the racist then-Alabama governor.
Democrats cast deep doubt on Biden's 2020 value. Joe Biden is everything a Democratic political consultant should love: He's experienced, well-liked, and his poll numbers look great against Donald Trump. And yet many party strategists have a bleak assessment of his potential 2020 campaign: It's a bad, bad idea.
Democrats Are Just Too Smart. [Scroll down] And no discussion of "smart" Democrats is complete without some mention of former VP Joe Biden. His gaffes got so bad during the 2008 presidential campaign that candidate Obama asked his staff, "How many times is Biden going to say something stupid?" And his braying frequently combines brainlessness with offensive racist slurs. Take, for example, his famous racial stereotyping of his state's convenience store employees: "In Delaware, the largest growth population is Indian-Americans, moving from India. You cannot go to a 7-Eleven or a Dunkin' Donuts unless you have a slight Indian accent." Even more terrifying than the apparent vacuum between Biden's ears is how little thought rank-and-file party members give to his catalogue of verbal pratfalls. In a recent Morning Consult poll, registered Democrats ranked him as their top preference for their 2020 presidential nomination. These people would give this guy access to our nuclear arsenal. Nor have Democrats Johnson and Ocasio-Cortez sustained any reduction in their support pursuant to their inert gray matter.
A Biden-Trump race is shaping up for 2020: Wall Street sources. Former Vice President Joe Biden is indicating to possible campaign contributors he is seriously considering running for president in 2020 — but only if it's against the current president, Donald Trump, because of the relatively small age difference between the two men, FOX Business has learned. Biden has made these remarks recently in private meetings with possible Democratic contributors, many of them Wall Street executives with long ties to the former vice president under Barack Obama, according to people with direct knowledge of the matter.
And this guy claims Donald Trump isn't fit to be president?
Idiot Joe Biden Gives Away "Agent" Holding Nuclear Codes During Hillary's "Rally". Uncle Joe may have been hitting the sauce before he spoke at Hillary's low-turnout "rally." He was bashing Trump, when he foolishly said, "Donald Trump... He cannot be trusted. There's a guy that follows me, has the nuclear codes. So, God forbid anything happen to the president and I had to make a decision the codes are with me... He is not qualified."
Biden, in public and private, tiptoes toward a 2020 run. Former Vice President Joe Biden is tiptoeing toward a potential presidential run in 2020, even broaching the possibility during a recent gathering of longtime foreign policy aides.
The Obama Years: A Legacy Of Scandal and Deception. On December 13, former vice president, Joe Biden, appeared on CBS with the hosts of "This Morning" where he peddled his new book and showered his former boss with praise. During the course of the interview, he was asked about his relationship with Obama and responded with the following; "I've served with eight presidents and I've gotten to know four of them very well. I've never met any president that has more character, more integrity, and more backbone than this guy does." Then he went completely off the rails when he absurdly added; "And eight years, not a hint — not a hint — of a scandal. What was perhaps even more outrageous than the statement itself was the fact that none of This Morning's hosts challenged the veracity of that statement and allowed it to pass without a scintilla of scrutiny, exposing yet again an extreme bias existing within elements of the establishment media.
Watch: Joe Biden Claims Obama Never Had Any Scandals, Ignores These 11 Major Scandals. During a recent appearance on CBS' "This Morning," former Vice President Joe Biden declared that Barack Obama's presidency didn't have "a hint of a scandal." Biden made the claim in response to a question by the show's hosts about his friendship with the former president. After praising Obama as the most virtuous president he's met in his decades of serving the people, Biden said that not only was the former president spotless, so was his presidency.
Moore, Franken, creepy Biden and other horrendous media fiascos. Former Vice President Joe Biden had some of the worst timing possible this week. The creepy-grabby Biden dropped promotion of his new book, "Promise Me, Dad: A Year of Hope, Hardship, and Purpose" to push his presidential hopes right in the midst of the sex harassment allegations. It highlighted how journalism has downplayed or completely ignored Biden's creepy side for many years. It didn't take long for conservatives to float images and a video around showing all sorts of nausea-inducing Biden scenes.
Al Franken is just the beginning. How many senators and House members and elected and appointed officials at the federal, state, and local levels will be forced to resign? And how many men will remain in these positions when it is all over? It's far too early to say, because the floodgates have only just been thrown open. But the possibilities are mindboggling. Consider Joe Biden. A few short weeks ago, the former senator and vice president seemed like he would be a leading contender to win the Democratic nomination for president in 2020 and then the favorite to challenge President Trump's bid for re-election. But now? Biden's polling may look good, but he has a history of wandering hands that is simply incompatible with the new normal. He's a political dead man.
Claim: Joe Biden Likes To Swim Nude in Front of Female Secret Service Agents. Apparently Vice President Joe Biden, who is reportedly readying a campaign against Hillary Clinton for the White House, has even creepier habits than we previously thought. According to Secret Service expert and best selling author Ronald Kessler, Biden likes to skinny dip in front of female Secret Service agents assigned to protect him. Naturally, they find this offensive. "Talk about a war on women. Biden likes to swim nude both at his Vice President's residence in Washington and also at his home in Wilmington which he goes back to several times a week, all at our expense. By the way, a million dollars in Air Force 2 expenses, and this offends female Secret Service agents," Kessler said to Fox News' Sean Hannity Thursday night. "You know, they signed up to take a bullet for the President as you said but they didn't sign up to...they certainly didn't sign up to see Biden naked. It is offensive, it's abusive."
Doctor: Joe Biden Probably Has Brain Damage. Perhaps this doctor is being tongue-in-cheek, but if anyone's paid attention to the nonstop idiocy of Joe Biden the past several years, it appears he's spot on.
'Arrogant, insensitive, wrong': US VP Biden causes uproar with remark on Japan's constitution. US Vice-President Joe Biden made a remark slamming Donald Trump, but ended up in deep water with Japan instead, saying that the US "wrote Japan's constitution." His comment was slammed as "arrogant", "wrong", and "insensitive" in Japan and beyond.
Biden Embarrasses Himself, Calls Serbia 'Croatia' On Diplomatic Visit. Vice President Joe Biden made an embarrassing flub Tuesday [8/16/2016] while at a press conference with Serbian Prime Minister Aleksandar Vucic in Belgrade, referring to Serbia as "Croatia." "This is not the first time we've met ... I think we've become friends," Biden said, according to InSerbia. "My visit today is much too short but I believe we've accomplished a great deal. The Prime Minister [of Serbia Vucic] and I have got to know each other over the past several years and I mean it sincerely, I along with President Obama respect the leadership you've shown in some very tough challenging moments, Mr Prime Minister, and your positive vision for the future of Croatia."
Biden's very awkward hug with Clinton as she tries to get out of his arms. Hillary Clinton and Joe Biden shared an awkward hug this morning as they greeted each other at the Scranton airport. 'Hello my dear,' she said as he walked off his plane. They locked in a friendly embrace, Clinton laughing for a moment, before she tried to wriggle free. Not picking up on her cues — repeated pats on the arm — Biden continued to hold her by the waist. The VP finally let Clinton go and they walked to his limo, entering from opposite sides.
Biden Says Trump Can't Be Trusted With Nuclear Codes, Then Tells Crowd He Has the Codes 'Right Back Here'. Vice President Joe Biden, campaigning with Hillary Clinton in Scranton, Pa. on Monday, tried to make the case that Republican Donald Trump is temperamentally and intellectually unfit to be president. "I have worked with eight presidents of the United States. I have served with hundreds of senators... dozens of secretaries of state and secretaries of defense of both parties. And I can say without hesitation, my word as a Biden, no major party nominee in the history of the United States of America, has — now, don't cheer or — quiet, just listen — has known less or been less prepared to deal with our national security than Donald Trump."
Joe Biden Exposes Military Aide with Nuclear Codes During Campaign Rally for Hillary. Vice President Joe Biden revealed during a campaign rally that he had a military aide with the nuclear codes present at the event. "There's a guy that follows me right back here, has the nuclear codes," Biden said, turning and pointing.
Biden: Trump 'Not Qualified to Know' Nuclear Codes. Republican presidential nominee Donald Trump cannot be trusted with the codes that would unleash the American nuclear arsenal, Vice President Joseph R. Biden, Jr., said Monday [8/15/2016]. Biden's debut on the campaign trail alongside Democratic nominee Hillary Clinton turned into a forceful attack on her GOP opponent, whom the vice president said is already hurting America's national security.
Biden Puts Nuclear Codes At Risk, Media Laugh It Off. For those who don't know, it's rather risky to point out the exact agent holding the nuclear football. But this isn't the first time Biden has done this sort of thing. In May 2011, while speaking with reporters, Biden revealed that the Navy SEALs had killed Osama Bin Laden. The Washington Times immediately reported that Navy SEALs began warning family members to remove personal information from their Facebook accounts to avoid targeting.
Joe Biden Exposes His Military Aid Carrying Nuclear Codes At Hillary Rally. During a campaign rally for Hillary Clinton on Monday, Vice President Joe Biden treated the audience to a master class in irony by claiming Donald Trump is unfit to have access to the nuclear codes while at the same time proving he himself is unfit to have access to nuclear codes. The moment came when Biden pointed out the military aid who carries the closely guarded codes — also known as the Nuclear Football — to the audience.
Joe Biden: The Three Dollar Bill of American Politics. Once I took a crisis communications course under a nationally recognized authority on the subject. During a break I was talking to him about the power of anecdotes. He was, he said, against manufacturing anecdotes out of whole cloth but he believed that someone of even moderate intelligence could create anecdotes by steering a conversation in a certain direction. There is at least as good a chance of that happening as a fatally ill Beau Biden encouraging his father to run for president. Of course, given the way Joe Biden makes stuff up, now we really have to question if this anecdote is true... or if this just the Neil Kinnock speech being recycled.
Biden's failed presidential bids, penchant for gaffes threaten campaign. As Vice President Joseph R. Biden spends this week vacationing in South Carolina and mulling whether to get into the presidential race, he's got to be thinking about the humiliating beatings he took in his two previous bids for the top job. It's a painful memory of campaigns that went off the rails early in the 1988 and 2008 presidential races and a poor track record mostly overlooked by unhappy Democrats clamoring for Mr. Biden to provide them an alternative to Hillary Rodham Clinton.
Biden cheers end of white majority, 'that's a good thing'. Vice President Joe Biden welcomed a top Latin American leader to Washington by declaring that "those of us of European stock" will be the minority in less than two years, and, he added, "that's a good thing." Biden made the comments during a State Department luncheon for Brazilian President Dilma Rousseff.
Exposing Warren and Biden. Electing Biden would effectively be Obama's third term. Regarding Obama's reign, Biden said, "I call it sticking with what works." "Run on what we have done. Own what we have done. Stand for what we have done. Acknowledge what we have done." "Are we going to continue this resurgence or are we going to return to policies I would argue have failed the country in the past?" He actually said "resurgence." Biden wants to continue all of Obama's disastrous economic policies.
Handsy Joe's Veep Creep and the Media. One of the clearest signs of media bias is when reporters are made more uncomfortable by the act of criticizing the Obama administration than by the behavior they're criticizing. Case in point: yesterday's piece in the Washington Post by Nia-Malika Henderson, in which she struggles mightily with the fact that, thanks to conservative objections, Joe Biden's incredibly creepy behavior toward women in public is getting tougher to ignore. Handsy Joe's veep creep is by now a staple of the Obama administration's public events.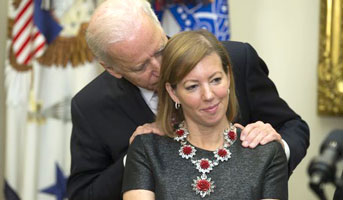 Joe Biden, the crazy uncle we never wanted. Channeling his inner Ted Kennedy, ole Joe got a little too handsy with Stephanie Carter, the wife of incoming Secretary of Defense, Ash Carter. He slid behind her, grabbed her shoulders and pressed his face against the side of her head. If I didn't know better (and I don't), I'd swear he's sniffing her hair. Or perhaps he was just innocently whispering the gate code for Number One Observatory Circle into her ear. In any other world, this man would be a walking, talking, sexual harassment lawsuit waiting to happen. Fellas, conduct this experiment — go to work tomorrow and creep up behind a female coworker, then grab her shoulders and press your face against her head. See how that works for you.




The Week in Pictures: Harfing Biden Edition. And what's up with Vice Groper Joe Biden? Is he planning on a post-Obama career in the TSA or something?

Time for Joe Biden to creep on another woman. The victim this time is Stephanie Carter, wife of incoming defense secretary Ashton Carter, seen here holding forth on ISIS while his better half suffers the ritual indignity of the vice presidential droit de seigneur at swearings-in. Silver lining: Unlike most of the females whom Biden creeped on at last month's oath-taking for the new Congress, Mrs. Carter is of age.

Joe Biden caught 'snuggling' with Defense chief's wife. In a move straight out of the stalker handbook, Biden appeared to be sniffing Stephanie Carter's hair at a swearing-in ceremony for her husband in Washington. Biden, who kept his hands on Mrs. Carter's shoulders for 10 seconds, looked as if he was whispering sweet nothings in her ear. Hands folded in front of her, she gazed stiffly in the direction of her husband during the grope.

Joe Biden's Hands Across America. Vice President Joe Biden can't keep his hands to himself when women are around. The latest woman to fall into the Biden snare was Stephanie Carter, wife of new Defense Secretary Ashton Carter. Biden laid hands on her shoulders and whispered in her ear as Carter spoke about his new job Tuesday [2/17/2015], and the moment went viral. Biden also made bad headlines for himself in January when, during a day of trying to charm incoming members of the U.S. Senate and their families, he bestowed a rather unwanted kiss on the head of Sen. Christopher Coons' (D., Del.) daughter.

Joe Biden's woman-touching habit. Vice President Joe Biden left some observers in and out of Washington aghast with his whisper-in-ear embrace of new Secretary of Defense Ashton Carter's wife Stephanie at Carter's swearing-in Tuesday [2/17/2015]. As Carter was delivering his first speech as Pentagon chief, Biden, standing in the background, put his arms on Stephanie Carter's shoulders and his face to her ear, apparently telling her something in what could reasonably be interpreted as an intimate embrace.

Biden is a VERY hands-on Vee-Pee. Vice President Joe Biden has become well known for his love of close talking, and he was at it again on Tuesday [2/17/2015]. Biden was at the swearing in ceremony of new Defense Secretary Ash Carter, and as Carter delivered his speech, Biden could be seen in the background with his arms on the shoulders of the man's wife, Stephanie, and whispering into her ear.

Joe Biden in 2000: No man has the right to touch a woman without her consent. Vice President Joe Biden has made news — again — with his surprisingly intimate embrace of a woman not his wife in a public setting. The incident occurred Tuesday at the Washington swearing-in of new Secretary of Defense Ashton Carter. As Carter spoke, Biden, standing behind Carter's wife Stephanie, put his hands on her shoulders for an extended period of time and briefly buried his face in her hair. Some critics noted that such behavior might earn a sexual harassment complaint if it were in a business setting. And it turns out Biden himself, in his many years as a senator, supported legislation to get tough on men who touch women in inappropriate ways.

Biden gets smackdown after claiming he knows 'an awful lot' of Somali cab drivers in Delaware home town. Vice President Joe Biden ran afoul of the nation's two most prominent fact-checkers on Thursday [2/19/2015] by claiming there's a 'large, very identifiable Somali community' in his home town, and many of them drive cabs. He said Wednesday during the White House's 'Countering Violent Extremism' conference that riding in so many Somalis' cabs after train trips home helped him understand efforts by Minnesota officials to help Somali-American Muslims avoid turning into violent extremists. 'If you ever come to the train station,' he said of Wilmington, Delaware, 'you may notice that I have great relations with them, because an awful lot of them are driving cabs, and are friends of mine.'

Media Covers Up Biden's Latest Racist Gaffe. Democrats sure got it good. Louisiana Republican Governor Bobby Jindal dares to agree with CNN's own reporting about European no-go zones, and the left-wing network brands him an anti-Muslim racist. On the other hand, when Vice President Joe Biden stereotypes Somali immigrants as nothing more than a bunch of cab drivers, the media pretends it didn't happen. The slur is left completely out of their reporting.

'There's An Awful Lot' Of Somalis Driving Cabs, Says Joe Biden. Vice President Joe Biden told an audience on Tuesday [2/17/2015] that he has great relationships with Somalis living in America since many of them have driven him around in taxi cabs. The latest "Bidenism" — the name given to the Democrat's many gaffes and candid remarks — came during the opening day of a three-day White House summit on extremism and terrorism.

The Editor asks...
On what date was Joe Biden's most recent trip in a taxi?

Can we talk about how Vice President Joe Biden is being inappropriate? I know he's crazy ol' Uncle Joe. I know he's loveable and of a different generation, blah, blah. I know he wears aviators. I know he has a voting record and a party identification that make this kind of behavior suddenly charming and eccentric instead of creepy. But while the online feminist community is fighting the scourge of men who don't cross their ankles on the subway with all it's got, the Vice President of the United States is making teenage girls actively uncomfortable by nuzzling and touching them on national TV. This is not charming.

Holy Hell Would Be Unleashed On 'Handsy' Joe Biden If He Were Conservative. Julia Louis-Dreyfus plays a bumbling (but certainly more competent than Joe Biden) vice president in HBO's "Veep." There's an episode in season two where it's January 6 and she is supposed to swear in senators but just can't get her act together. She messes up small talk and doesn't have her head in the game. Yesterday, January 6, was sort of a real-life version of this. While the man who in real life is a heartbeat away from the presidency also messed up small talk, he was almost too locked in. He was extremely attentive. Particularly to underage girls. And, well, it's not that big of a deal, I guess, but it got kind of creepy.

Joe Biden: Extremists Commit Violence 'In The Name Of The Bible'. According to tweet by participants in the recent White House Countering Violent Extremism (CVE) Summit, Vice President Joe Biden spoke about violent extremism carried out "in the name of the Bible." The tweet was sent out by the Muslim Public Affairs Council, which also tweeted that they pushed the White House to say so.

How do you aim this thing? Biden has become a laughing-stock and staple of late-night comedians as a dim light-bulb who can't stop spouting gaffes. Did you know Joe was surprised by the ending of the Lincoln movie? And he's such a team player that Biden charges the Secret Service rent to protect him at home in Delaware. Biden held a meeting on the administration's vaunted government transparency promise — but it was closed — two times.

Controversial book skewers Biden but is ignored by media. Imagine a scathing look at a vice presidential candidate. Put a "R" after that candidate's name, like Sarah Palin, and you get big-name books, a controversial film and lots of news coverage. Put a "D" after that candidate's name, even when he's still the sitting vice president, and it gets almost no attention.

Biden Asks for Web Site's 'Number'. Vice President Joe Biden, tasked with overseeing the $787 billion stimulus package, has been having a little trouble with his "numbers." ... "You know, I'm embarrassed. Do you know the Web site number?" he asked an aide standing out of view. "I should have it in front of me and I don't. I'm actually embarrassed." Biden, who seemed to indicate that he thought the Internet worked like a giant telephone, sounded an unusually Luddite note inside an administration often heralded for its mastery of the Web.

The Editor says...
Obviouly the press would have had a field day with a comment like that, if it had come from Dan Quayle.

Joe Biden is lying about his college football career, in that he claims he had one. Does it really count as a lie if a fellow simply can't tell the difference between fantasy and reality? Yes. Yes, it does. Insanity is no excuse.

Two More Brutal Biden Gaffes on Campaign Trail. Two epic gaffes at one campaign stop. First, Vice President Joe Biden told a group of supporters that Paul Ryan "has written a book called The Young Guns with two other members of the House, no these are Republican leaders in the House. You had, unfortunately, the bullets are aimed at you." Then he lost track of which version of planet Earth he's on and wondered who in the audience had served in our war with Iran.

"What's He Doing Back There?" A woman was warming up the crowd, talking about breast cancer — a serious topic, one would think. But Biden couldn't stand to go for more than a few moments without playing the buffoon. So, growing impatient, he sidled over to Nelson, whispered something to him, and then started making goofy squatting motions to encourage the crowd to sit down.

In VP Debate, Biden Seemed to Overstate His Role in Social Security Reform. Asked about Medicare reform, the vice president said, "Look, I was there when we did that with Social Security in 1983. I was one of eight people sitting in the room that included Tip O'Neill negotiating with President Reagan. We all got together and everybody said, as long as everybody's in the deal, everybody's in the deal, and everybody is making some sacrifice, we can find a way." [...] But according to the historical record, Biden was not one of the small group of people in "the room," or in "the meeting" — nor was he even a key player in reforms.

List of Biden's Political Blunders. [For example,] On July 16, 2009, Biden gave a blunt summation of the administration's approach to stimulus spending. "People, when I say that, look at me and say, 'What are you talking about, Joe? You're telling me we have to go spend money to keep from going bankrupt?" he said at a stop in Virginia. "The answer is yes."

Biden Reveals Classified Information? Biden told his dinnermates about the existence of a secret bunker under the Vice President's Residence at the U.S. Naval Observatory. ... Despite more than fifteen trips to the VPR over the past five years, and despite having conducted dozens of interviews about security precautions taken for Cheney and his staff after 9/11, I was never told such a bunker existed. ... The obvious conclusion: Its existence was highly classified. So what was Joe Biden doing talking about it at the Gridiron Dinner?

Biden Reveals Location of Secret VP Bunker. Vice President Joe Biden, well-known for his verbal gaffes, may have finally outdone himself, divulging potentially classified information meant to save the life of a sitting vice president.

Biden Aide Denies Vice President Leaked Classified Location of Cheney Bunker. Vice President Joe Biden did not leak classified information when he reportedly described to dinner guests the location of a "hideaway" his predecessor, Dick Cheney, used in the days following the Sept. 11, 2001, attacks, an aide to Biden said Monday. "There was no disclosure of classified information," spokeswoman Elizabeth Alexander said.

Spoken down to by dimwits. The world trembled last year as a terrible prospect loomed: The next vice-president of the US might be a complete moron. ... Did Dan Quayle ever deliver a speech this incoherent? "You are the possible. That is not hyperbole. You are the possible." It isn't hyperbole. It also isn't anything close to making sense.

Biden gaffe: New rail tunnel being built for cars? Biden said Amtrak was getting its share of stimulus money and more projects would be announced in a few days. Then he offered this: "Look, this is designed, this totally new tunnel, is designed to provide for automobile traffic," Biden said. "It's something, as you know, up your way, that's been in the works and people have been clamoring for for a long time." For the record, the tunnel is for trains, and its completion would allow for more NJ Transit trains during peak hours and "one-seat" rides into Midtown Manhattan on lines serving Bergen and Passaic counties. Currently riders on those lines must switch trains.

Palin Vs. Biden: At the Washington press corps' Gridiron Dinner last month, Biden may have compromised national security by revealing the location of the secret underground protective facility built for the vice president's protection during an enemy attack or other emergency. And after Louisiana Gov. Bobby Jindal delivered the GOP response to Obama's first speech to Congress in February, the vice president claimed that "in Louisiana there's 400 people a day losing their jobs. What's he doing?" Louisiana, in fact, was the only state in the union adding jobs. ... At a ball for Obama staff the day after he was sworn in by Supreme Court Justice John Paul Stevens, Biden seemed to think his oath was administered by Justice Potter Stewart, who died in 1985.

John Boehner: Joe Biden's lying about stimulus. Vice President Joe Biden is invading House Minority Leader John Boehner's back yard tomorrow to tout the success of the stimulus package, but Boehner is redoubling his attacks, accusing the vice president of lying about the economy. "I found it ... interesting over the last couple of days to hear Vice President Biden and the president mention the fact that they didn't realize how difficult an economic circumstance we were in," Boehner said. "Now this is the greatest fabrication I have seen since I've been in Congress."

Dead Cows and Other Biden Health Care Whoppers. Biden said he wanted to make sure people understood the health care debate in plain language, without the kind of wonky jargon that dominates discussions of such subjects. In the course of doing so, he made some bizarre analogies and never allowed the facts to get in the way.

Joe Biden: 'We Have to Go Spend Money to Keep From Going Bankrupt'. Vice President Joe Biden told people attending an AARP town hall meeting that unless the Democrat-supported health care plan becomes law the nation will go bankrupt and that the only way to avoid that fate is for the government to spend more money.

Joe Biden's Terrible Truths. The "gaffes," as we call unscripted thoughts, come delightfully often with Biden. ... Let's take a quick review. ... Swine Flu. Should we panic? "I would tell members of my family — and I have — I wouldn't go anywhere in confined places now," Biden said, adding, "When one person sneezes, it goes all the way through the aircraft." This statement was so true it was retracted by the end of the day.

Will Biden apologize for using Christ's name as a curse word? Can you imagine the uproar that would ensue if the Vice President of the United States used the name of Islam's supreme being as a curse word? ... How many more stupid comments does it take before his handlers in the White House realize it's time for this dunce to retire?

Biden's gaffes undercut Obama. The Obama White House's vaunted message machine has been thrown off-track with increasing regularity by Vice President Joseph R. Biden Jr., whose five verbal missteps in the past three months have created obstacles at home and abroad. Secretary of State Hillary Rodham Clinton was forced Sunday [7/26/2009] to correct publicly Mr. Biden's characterization of Russia as a crumbling country, a description that infuriated Russian officials and contradicted President Obama's efforts to "reset" relations with the world power.

Biden's Big Mouth Bites Russia. Obama cannot afford his second in command making unpredictable and disparaging remarks.

Where's Joe Biden's "Reset" Button? Republicans in my view failed last fall to point out Biden's train wreck of a record. They allowed the American people to be told that Joe Biden has foreign policy credentials. They never pointed out that Joe Biden spent 26 years in the U.S. Senate and that his fellow Democrats never considered him for Majority Leader. Over the past few weeks, we've all learned why.

Joe Biden Said That? Indeed he did.

The Gaffe Czar. Obama has already been forced to publicly chide his vice president. In fact, a frequent refrain from the White House has become, "What Joe really meant to say..." Can the president can rein in his veep before Biden actually does cause an international incident?

Loose lips sink ships.
Biden Spills Beans on Automaker's Full Line of New Vehicles. Vice President Joe Biden, during a visit Tuesday to a Delaware automotive assembly plant, unwittingly revealed startup manufacturer Fisker Automotive's undisclosed plans to produce a full line of plug-in hybrid vehicles at the facility.

Biden Strikes Again. Joe Biden says many dumb things, but this, on Elena Kagan's opposition to military recruiters on campus, is up there with the worst of them.

Joe Biden update: Off to Africa now for some reason. Because of the ongoing crisis of the gulf oil spill, the stubborn reluctance of the private sector to create many new jobs after 15 months of billion-dollar stimulus spendings and the emotional and political volatility surrounding the Arizona illegal immigrant law, Vice President Joe Biden has been dispatched to Africa for a while.

He Must Be Joking: Biden Says 'Iranian Influence in Iraq Is Minimal'. The entire idea behind Iran's proxy warfare is to have deniability so the regime can escape retribution and still position itself as the power broker that all must cater to. If the Iranians needed any reassurance that their strategy is working, they got it from Vice President Joe Biden on August 23.

VP Biden Says that 'The Taliban, Per Se, Is Not Our Enemy'. The ongoing reconciliation process has long included bringing in forces who have taken up arms against the U.S. and against the Afghan government, but Biden might face criticism for stating that as an organization the Taliban is not the enemy of the U.S., when its leadership and members have devoted so much time, resources and energy towards killing American soldiers.

The New "Potatoe?" Biden to Visit "Road Island". Dan Quayle is actually an exceptionally bright man who had an unfortunate mishap at the chalkboard with an unnecessary vowel. Joe Biden, the fun Homer Simpson of the Obama Administration, has suffered far greater gaffes; the latest from the administration on his behalf. Two words: "Road Island."

Oops! Joe Biden heading to 'Road Island'. Joe Biden's camp might be overly-reliant on spell-check. The White House recently announced that the Vice President would be attending campaign events in "Road Island." The glaring misspelling of the Ocean State showed up in a widely-distributed press release detailing Biden's upcoming travel plans.

The Editor says...
While I disagree with everything Joe Biden stands for, I still have to point out that this error surely wasn't Biden's fault. The culprit is probably some secretary, with a lower-case "s". It just goes to show that spell checkers cannot make up for poor education.

Biden's speeches are boring!
Man Literally Struggles to Stay Awake During Biden Speech. "Americans are tired of being tired," Joe Biden said.

Biden Claims He Voted Against Afghanistan, Iraq Wars. Then Sen. Biden voted for the Afghanistan resolution on Sept. 14, 2001 which authorized "the use of United States Armed Forces against those responsible for the recent attacks launched against the United States." And on Oct. 11, 2002, Biden voted for a resolution authorizing unilateral military action in Iraq, according to the Washington Post.



Why is Joe Biden a Moron? It almost seems impossible. Giving Americans advice to step out their door and fire warning shots from a double barrel shotgun when they're afraid?

Pro-Abort Biden on Election of Pope: 'Catholic Church Plays an Essential Role in My Life'. After the election of Pope Francis I on Wednesday [3/13/2013], Vice President Joe Biden issued a statement talking about the importance of Catholicism to him personally and how much he is looking forward to working with the pope. As vice president, Biden has advanced causes directly contrary to the teachings of the Catholic Church — favoring, for example, the legalized killing of children in the womb and legalized same-sex marriage.

Another Biden gaffe. Vice President Biden misspoke on Tuesday [3/18/2014], claiming he had led the fight for Poland to join NATO when he served as chairman of the Senate Foreign Relations Committee. Biden, whose tendancy [sic] toward gaffes is well known, served as chairman from 2001 to 2003; Poland joined NATO in 1999. "Fifteen years ago, I was honored, as the chairman of the Foreign Relations Committee, to lead the fight for Poland's admission into NATO," Biden said in Warsaw, Poland, on Tuesday during a visit to reassure allies as Russia moved to annex Crimea. Bloomberg News first reported the gaffe.

Joe Biden jokes that he would nominate Obama for 'sainthood'. Vice President Joe Biden in a speech Friday [3/21/2014] joked that he should have nominated President Obama for "sainthood" after seeing his patience during the rocky rollout of the health law's new insurance exchanges.

The Editor says...
Mr. Biden apparently mistakes incompetence and narcissistic detachment for patience.

Gaffe-tastic Joe Biden thinks 'Africa' is a country, not a continent. Vice President Joe Biden wants everyone to know that he has high hopes for the 'nation' of Africa. Biden isn't just a walking gaffe machine — he's a walking gaffe top-ten list. So when he goofed at Tuesday's U.S.-Africa Business Forum, and there was no F-bomb involved, it didn't make headlines. But gaffe he did, in front of 50 world leaders and their entourages at the event held on the sidelines of President Barack Obama's U.S.-Africa Leaders Summit.





Joe Biden gaffes while Vice President

Senator Biden was Barack Obama's running mate in 2008, and he got away with a lot of blunders that would have sent Dan Quayle into political oblivion. His voting record in the Senate was that of a statist, and back in 2008 some commentators said Joe Biden balanced the ticket (meaning he's older and has lighter skin), but I think the real reason for his selection is that he was one of the few people Obama could overshadow, at least in the press.




Joe Biden confuses Poland with Portugal. Biden has a well-earned reputation as a gaffe-maker extraordinaire, and this speech was no exception.

Biden: 'I'm Proud To Be President'. Joe Biden the gaffe machine was at it again Saturday [1/19/2013]. Speaking at the Iowa State Society inauguration ball, the Vice President said, "I'm proud to be President of the United States".

Joe Biden Escapes from the Attic ... Again. Last Friday [9/28/2012], the Obama re-election campaign allowed America's crazy uncle to get in front of a group of Florida seniors and frighten the bejabbers out of them with horror stories about the evil designs Mitt Romney and Paul Ryan have on Medicare and Social Security. As his entourage cringed in the background, Biden brayed as only he can bray.

Trash-talking veep's Tampa tantrum. "Are you going to Florida?" Biden joked to reporters during a campaign stop in Minneapolis the other day. "I'm going to be the speaker at the convention." Such trash talk is typical of the increasingly deracinated veep, whose motor mouth now seems beyond the control of even campaign consigliere David Axelrod's well-oiled media machine. But what's really behind this stunning example of in-your-face poor sportsmanship?

Biden dangerously detached from reality. Vice President Joseph R. Biden is mentally unstable, and it's time for Republicans to point it out. For years, Mr. Biden has been making outrageous comments that reveal not only his low intelligence, but also a dangerous detachment from reality. Yet the liberal media refuse to hold him accountable. Instead, their rationalization boils down to one excuse: Joe will be Joe. He may make bizarre, even ludicrous, statements, but the press corps believes Mr. Biden is on the side of the angels. His heart is in the right place. He is a trendy progressive. In their view, this is all that matters.

Win One for the Fibber: Biden Misleads Ohio on College Football Career. During a speech at Ohio University in Athens, OH on September 8, Vice President Joe Biden led his audience to believe he had been a college football player for his alma mater — Delaware University — and had played against Ohio University in a 1963 football game. His words contradicted his own memoir, in which he wrote he gave up playing football while at Delaware, and Internet records of past Delaware football team rosters, on which he is not listed.



More advice from Joe Biden: 'Just fire the shotgun through the door'. In an interview with Field & Stream magazine on Monday [2/25/2013], Vice President Joe Biden once again touted shotguns as the best weapon for self-defense, offering advice similar to the questionable instructions he gave during a Facebook town hall last week.

Every single bit of gun advice Biden gives will get you arrested. These are the people who think they know better than you and should dictate your firearms choices.

New Biden brag: He desegregated movie theaters. Vice President Biden is amazed when whites try to act like they know what blacks have been through, but given a chance this week to brag on his part to end Jim Crow laws, he offered up that he helped to desegregate movie theaters as a kid.

Biden misspeaks again: Gabby Giffords was 'mortally wounded'. Vice President Joseph R. Biden added to his long list of verbal flubs Thursday [3/21/2013] when he said former Rep. Gabrielle Giffords had been "shot and mortally wounded." The Arizona Democrat was critically injured by a gunshot wound to the head during an assignation attempt on her life in early 2011.

Biden Mocks the Basis of Second Amendment. This guy is the vice president, the former chairman of the Judiciary Committee, and supposedly a leading Democratic expert on gun issues. And yet, he doesn't understand the Second Amendment.

Joe Biden: Al Gore 'was elected president'. In remarks made on Tuesday night [6/11/2013] at a fundraiser for Massachusetts Senate candidate Ed Markey in front of an audience of donating (doting?) Democrats, Biden went for the jugular. In a reference to Al Gore, who introduced Biden at the Washington, D.C., event, Biden said, "This man was elected president of the United States of America," according to the pool report. "But for the good of the nation, when the bad decision, in my view, was made, he did the right thing for the nation," Biden continued.

Says he understands 'the Senate better than any man or women who's ever served in there.'
Biden Calls Republicans 'Neanderthals'. Vice President Joe Biden said Repulican opposition to the Violence Against Women Act (VAWA) in the House of Representatives came from the "Neanderthal crowd." And he gave himself credit for coming up with the law almost 20 years ago.

Should Joe Biden Step Down? Vice President Biden is being urged by liberal activists to "brush up his Shakespeare." His friends are trying desperately to clean up the latest mess that Joe Biden has caused. He recently told a group at a Legal Services Corporation event that his son, Beau Biden, had worked to protect our soldiers from "Shylocks" — whom he described as unscrupulous lenders. This is only one of the oldest anti-Semitic slurs in our language.

Biden Overstates Deaths in Joplin, Missouri Tornado By 160,839. "161,000 brothers, sisters, mothers, fathers, sons, daughters, grandparents lost," said the vice president. But as Reuters reported in 2011, the death toll was in fact 161.

Joe Biden Tells Harvard Students China a Part of North America. Speaking at Harvard's Kennedy School of Government, Biden made yet another blunder after saying that "North America is literally — not figuratively — the epicenter of energy in the world today." "North America will account — meaning Mexico, China and Canada — for two-thirds of the growth of global energy supply over the next 20 years," Biden said.

Biden issues second apology of weekend, after offending US allies in fight to destroy Islamic State. Vice President Biden on Sunday [10/5/2014] issued his second apology of the weekend for remarks that offended allies that the U.S. needs in the fight to destroy the Islamic State. Biden apologized by phone Sunday to Crown Prince of Abu Dhabi Mohammed bin Zayed Al Nahyan, saying he never meant to imply that his country was supporting Al Qaeda fighters in Syria.

Now, a rattled Obama and Biden need help explaining what they really mean. Remember, Obama was supposed to be the golden-tongued orator whose words would woo the masses and hold back the tides of time. As long as he could rely on a teleprompter, that was true for a while. Now, his mis-steps with those of Pancho Biden resemble circus clowns running into each other. Biden has said so many stupid things so often, you'd think he should have been replaced in 2012. But he may be Obama's best insurance against impeachment.

Obama still has confidence in Biden despite gaffes. The White House said Monday [10/6/2014] that President Obama still has confidence in Vice President Joseph R. Biden despite an escalating series of public gaffes that forced Mr. Biden to apologize to key Arab allies in the fragile U.S. coalition fighting Islamic State terrorists. Mr. Biden "continues to be a core member of the president's national security team," said White House press secretary Josh Earnest. "The president is pleased to be able to rely on his advice."

Nine Apologies Biden Owes Americans. In recent days, Vice President Biden has issued apologies to the no doubt unimpeachably honorable and suitably aggrieved leaders of Turkey and the United Arab Emirates for insulting them by saying they had supported Islamists. While Biden expressing serial regrets, I wonder, what if the thought occurred to him to apologize to the American people? Not for silly gaffes or little blunders, but for professional-league, first-class outrages that are unacceptable coming from a vice president, even this one.

Biden Misstates Troops Wounded in Iraq and Afghanistan By 47,000. Vice President Joe Biden misstated the number of troops wounded in Iraq and Afghanistan by 47,000 at a Veterans Day event today at Arlington National Cemetary [sic].

Biden quotes Communist China's official propoganda outlet to hit Romney. Vice President turned to an admittedly-incredible source of information to attack Republican Mitt Romney, as he quoted the state-run media outlet in Communist China during a campaign stop in Iowa. "I'm not the only one who thinks it's laughable," Biden said of Romney's position on President Obama's handling of China and economic issues. "We're not the only ones who think it's laughable. Look, I seldom ever quote the Chinese — official government Chinese news agency." (For some reason, the audience laughed at that comment, not at the part that Biden said was "laughable.")

Biden's Green Bay Gaffe: Claims Only 1,980 Troops Have Died in Afghanistan. Biden somehow subtracted from the Defense Department count, ignoring three civilian casualties and 118 soldiers who died in other countries after medical evacuation. Did they not deserve to be recognized?

The Editor says...
If you're a Catholic, you should be highly offended by the rest of Biden's comments, which I will not quote here.

Biden: Back on the chain gang. Vice President Joe Biden told a racially mixed audience Wednesday [sic - Tuesday 8/14/2012] that if Republicans take back the White House, "They're going to put y'all back in chains." [...] There's no reason for the Obama campaign to apologize because hacking at the raw wound of racism is critical to the Democrats' reelection strategy. This race is about race because if it were about issues, Democrats would lose. Mr. Obama's moribund economic record would guarantee that.

Ex-Obama pal decodes Joe Biden's racial-speak for other Americans. [Scroll down] He's talking to a significantly black crowd and he warns what Gov. Romney is going to do to help those evil banks: "Romney wants to let the — he said in the first 100 days he's going to let the big banks once again write their own rules, unnnn-chain Wall Street. They're going to put y'all back in chains." A guy from Scranton living in Delaware on the public payroll since Obama was in grade school suddenly talking like a faux Southern preacher. [...] The campaign reacted to the public shock in typical Obama fashion. It's the country's fault for hearing anything racial in that. Just like the lousy economy and poor job growth is always somebody else's fault.

Biden Beclowns Himself With Cynical Racist Pandering. Looks like Vice President Joe Biden has been taking extracurricular Democratic jive-talking lessons. The results of condescending liberals' cynical racial pandering attempts are, as always, seismically cringe-inducing. At a campaign event in Danville, Va., the gaffetastic veep dropped his g's and picked up a bizarre twang in front of an audience of black voters. Middle-Class Joe swapped his Home Depot apron for an A.M.E. preacher's robe and sermonized about the big, bad GOP.

Artur Davis: 'Every black person in the room knew who y'all was'. Former Rep. Artur Davis, a one-time President Obama supporter who campaigned for Mitt Romney earlier today [8/15/2012], slammed VP Joe Biden in an interview with CNN's Wolf Blitzer earlier, keeping the controversy over his "chains" comment going.

Is Joe Biden Too Dumb To Be On a National Ticket? As you have probably heard, Joe Biden did it again today [8/15/2012]: he forgot what century we are living in. This follows a bad day yesterday, when Biden forgot what state he was in, and then told a Virginia audience that the Republicans are "going to put y'all back in chains." Oh, today Biden also referred to Paul Ryan as "Governor Ryan." Such blunders are conventionally referred to as gaffes, but with Biden they come so fast and furiously that one wonders whether something else is at work.

The Trouble with Joe. [Scroll down] Willie Geist, a co-host of MSNBC's Morning Joe, was blunt: "If Paul Ryan, the Republican candidate, said that to an African-American audience, there would be calls this morning for him to get out of the race, for Mitt Romney to withdraw from the race. There's a double standard." But there has been a double standard for Joe Biden for decades, and almost every reporter in Washington knows it. Last night, a frustrated Rudy Giuliani acknowledged it on CNBC. "I've never seen a vice president that has made as many mistakes, said as many stupid things," he told Larry Kudlow.

Biden: 'Folks, Where's it Written We Cannot Lead the World in the 20th Century in Making Automobiles?' In a speech today in Virginia, Vice President Joe Biden seemed to forget we're in the 21st century. [Video clip] 'Folks, where's it written we cannot lead the world in the 20th century in making automobiles?," said Biden.

Biden has a record with slave-themed remarks. Vice President Joseph R. Biden's incendiary comment to a largely black audience Tuesday [8/14/2012] about Republican Mitt Romney wanting to put voters "back in chains" isn't the first time he has used slavery imagery in a political appeal. In 2006, when then-Delaware senator was campaigning in South Carolina for the 2008 Democratic presidential nomination, he reminded people that he represented a former slave state.

Biden Won't Back Down on "Chains" Gaffe. Outrageous? Yes, that's a fair description when a vice president tells a largely black audience that the GOP policies will "put y'all back in chains." Biden is trying to defend this as another quote taken out of context, but once again the context is perfectly clear.

Obama Campaign Sending Gaffe-Prone Biden to Solid Blue States. The Obama campaign will send Joe Biden to three safe blue states next week, a move indicating the campaign may fear the effect of the vice president's increasingly frequent gaffes.

Spinning Furiously: Obama Camp, Allies Emerge To Defend Joe Biden Claim That GOP Will Enslave You. It has become a sadly predictable routine in recent weeks: a prominent member of the Obama campaign, reaching for a rhetorical flourish or a memorable sound bite, says something rather impolitic about their Republican opponents. When the comment blows up into a furor, President Barack Obama's allies — and even members of the campaign — emerge to defend the remark. Now, spinning at several hundred RPMs, the President and his supporters in the media are making sure to cover up for Vice President Joe Biden's assertion that Republican politicians are devoted to putting minorities "back in chains."

Why Did Biden Play the Race Card? What to make of Joe Biden's apparent racial demagoguery this week in Danville, Virginia? Team Obama dismissed it as having nothing to do with race, but this is likely wrong: Biden certainly seemed to be referencing slavery, was doing so in a Southern dialect, and speaking in a city that is roughly split between whites and African Americans.

Biden's unscripted moments keep campaign on its toes. A Joe Biden campaign event can at times have the feel of a high-wire act. Sure, there's a prompter in place, and a message of the day he's been tasked to deliver. But the vice president's freelancing can begin almost immediately.

White House defends Biden, says remarks not racist. The White House launched into damage control mode Thursday to deal with the growing chorus of Republicans and at least one Democrat accusing Vice President Biden of race-baiting after Biden told a mostly black crowd in Virginia that Republicans want to "put y'all back in chains." Biden's comments were "without question" a racial appeal, said former Virginia Gov. Doug Wilder, a Democrat and the nation's first elected African-American governor.

Who's Smarter: Joe Biden or Yogi Berra? Cranking it up at a roaring campaign rally, Biden says: "With you we can win North Carolina." He was in Virginia at the time. Earlier, he told the crowd, ""Romney wants to, he said in the first 100 days, he's going to let the big banks once again write their own rules. Unchain Wall Street." Then slipping into a southern accent, he finished with, "They're going to put y'all back in chains." Nice move, Joe — except the many black folks in the crowd weren't laughing.

Former Gov. Wilder questions Biden's value to Obama campaign. Since yesterday afternoon, former Virginia Gov. Douglas Wilder and the Obama White House have been engaged in a back-and-forth spat that began with Wilder criticizing Vice President Joe Biden for seemingly dragging slavery into the current political debate. [...] Wilder said that the "chains" remark and the gaffe mixing up North Carolina and Virginia suggesting that the vice president doesn't have his "act together."

Gaffe Alert Level Three: Joe Biden Press Shop Literally Trying to Edit Media Reports. The controversy surrounding Vice President Joe Biden's offensive claim that Republicans want to enslave black Americans has become such a concern to the Obama White House that the veep's staff have resorted to trying to directly censor the news coverage about him. In what is widely believed to be an unprecedented move, the Biden press shop has severely restricted access to vice president and begun telling journalists what they should write about his activities as they write them up.

Joe Biden's Moral Illiteracy. Vice President Joe Biden has made a long career out of saying crude and stupid things, and now he has outdone himself by affecting a southern accent and telling a substantially black audience in Virginia (he seemed to think he was in North Carolina) that if Romney has his way "he gonna put y'all back in chains." The Obama campaign already has established its reputation as a lowlife operation, trafficking in risibly and plainly untrue statements — Mitt Romney killed my wife! — but the latest from Biden is so grotesque and morally illiterate that it deserves a special mention.

Biden sent home to Delaware to start weekend early. Biden's retreat home during the increasingly frenetic 2012 race comes amid increased criticism for his campaign-trail performance. Biden was slated to share an uncomfortable lunch with President Barack Obama on Thursday, following his disastrous week on the campaign trail, which culminated with a racially inflammatory warning to African-American supporters that Mitt Romney will "put y'all back in chains."

WH blows off first black governor's rebuke of Joe Biden. White House Press Secretary Jay Carney dismissed a rebuke of Joe Biden offered by former Gov. Doug Wilder, D-Va., in response to Biden's "chains" comment. Wilder, the first black governor elected in the country, faulted Biden for saying "they're going to put y'all back in chains" during a recent campaign stop. "Slavery is nothing to joke about!" Wilder said yesterday [8/15/2012].

The incredible lightness of Biden. The vice president isn't just terrible at speaking — he's awful at his job.

Biden should apologize for "back in chains" remark. When Vice President Joe Biden warned a Virginia rally of hundreds of African Americans that Republican efforts to loosen bank regulations meant "They're going to put y'all back in chains," Stephanie Cutter, Team Obama's deputy campaign manager, said the president would have "no problem with those comments."

Media Rushing Out White Guilt Political Campaign Again — To Criticize Obama Is Racist. If you don't support Barack Obama, you are racist. So says MSNBC and Obama White House guest Touré who goes on to classify Republicans as the "all white party" that has been programmed to hate Black people. These comments come after it was Obama Vice President Joe Biden's now infamous "back in chains" gaffe that has even Black Americans shaking their heads wondering what is going on with the Obama campaign.

From Hope and Change to Dope and Chains. As everyone in the galaxy has by now learned, our esteemed Vice President spoke before a group of Barack Obama's remaining supporters last week and included the following in his observations about Mitt Romney and Paul Ryan: "Look at what they value, and look at their budget. And look what they're proposing ... unchain Wall Street. They're gonna put y'all back in chains." This was no slip of the tongue. It was in a prepared speech delivered with the aid of a teleprompter, and it is part of the trifecta of fear on which he and his boss are betting in the hope that a majority of the electorate can be frightened into voting for them in November.

America's lying eyes. President Obama's answer on Wednesday to a question about his running mate claiming Republicans are going to put "y'all back in chains" was a classic bit of soothing presidential palaver. "I don't think you or anybody who's been watching the campaign would say that in any way we have tried to divide the country," he said about a moment in which Joe Biden had done precisely that.

Biden's Tourrette Problem. Joseph Biden's career is chock-full of career-threatening gaffes — had they been committed by a conservative. But last week was exceptional, even for Joe. [...] This dufus has bumbled for decades in a praised senate career and become Vice President of the United States, while the professional media looked respectfully away from his stream of idiocy. Only now, under the glare of ubiquitous scrutiny, social media and a hotly contested presidential race, they can't quite keep him under wraps.

Liberals exploiting blacks is a tired trend. Black history hasn't taught us much, or so it seems when we see it continually reduced to a self-serving prop by those who regard it as a tool for advancement. Joe Biden telling a Virginia crowd of blacks that GOP policies are "gonna put y'all back in chains" is just any echo of shameless exploitations we've all heard before.

Joe Biden's Gaffes Call For A Thorough Neurological Examination. [Scroll down] Biden should submit to a thorough neurological and psychiatric examination, with special attention to whether he is experiencing "transient ischemic attacks" — marked by impaired blood flow to the brain — small strokes, seizures, or suffers from a brain tumor. After all, we often demand to know whether a candidate has recovered from open-heart surgery, cancer or a stroke, and many states require elderly drivers to be re-licensed. Aren't the vice-president's highest-level security clearance and his influence on public policy as important as the ability to drive a car?

Will Hillary Save The White House For Obama? According to the press and political talk show hosts who are usually "in the know", it appears that the major players in the vice presidential chats are President Barack Obama, Michelle Obama, former President Bill Clinton, Secretary of State Hillary Clinton, and the President and First Lady's good friend and White House Senior Advisor Valerie Jarrett. As far as Vice President Joe Biden is concerned, he will probably find out if his White House status has changed just moments before the rest of us do. When it comes to winning this election, loyalty has no place in the alleged-friendship between the President and the Vice President. Obama wants to win this thing at any and all costs.

Biden and the Black Talented Tenth. In a statement to a predominately black audience, Vice President Joe Biden, while attacking Gov. Romney, uttered these words: "He's going to let the big banks once again write their own rules — unchain Wall Street! They gawn' put y'all back in chains. You would think it remarkable that in the year 2012, a powerful politician who is one heartbeat away from being the president of the United States could show such insensitivity for over 40 million black Americans and get away with it.

If Biden Were Republican... Following in former New York City mayor Rudy Giuliani's footsteps, the Wall Street Journal's Peggy Noonan on Sunday [8/19/2012] made a strong comment about the media's handling of Vice President Joe Biden's recent miscues. Appearing on NBC's Meet the Press, Noonan said, "If it had been a Republican vice presidential candidate who had made those gaffes... the subject today of the panel would be how stupid is this person, can this person possibly govern?"

Joe Biden — The Gift You Can't Get Rid Of. The more he speaks in public the more fuel he provides for the Republican electoral effort. And the question that just has to be asked is "how did we end up with this guy?" There are probably a lot of answers that will make the rounds, if it is truly made the subject of debate. At the risk of commiting heresy, this writer would like to suggest one that is unlikely to get much attention elsewhere; that Obama picked Biden precisely because he is a buffoon, and Obama's image benefits from the contrast.

Joe Biden's Asinine Comments Aren't Cute Anymore. The fact that Joe Biden is only a heartbeat away from the presidency should not only scare the hell out of every American, it should be reason enough for the Romney-Ryan ticket to win the 2012 election by a landslide. Once again, Vice President Joe Biden has been explained, re-explained, and even embarrassingly apologized for from the "left" while the Vice President tries to explain what he claims he really meant when he blurted out his latest horrendous comment.

The Scarecrow of 1600 Pennsylvania Avenue. It is not completely impossible that in a moment of electoral desperation, Joseph Robinette Biden Jr will be called into a private meeting with Valerie Jarrett and David Axelrod and told that it's time for him to announce that he wants to spend more time with his family. But it's not very likely. The chief function of a Vice President is making the President look good, and by that measure Joe Biden is one of the best vice presidents who ever lived.

Joe Biden 'considers $379,000 income middle class'. Joe Biden considers himself to be part of America's middle class, despite his $379,000 income. Speaking to the National Council of La Raza in Las Vegas about home ownership, the vice president said that the upper class 'doesn't get it — for middle class folks like me and you, owning a home is the single most consequential element to our existence.' President Obama has been heavily campaigning his $250,000 threshold that would cause income taxes to rise for the wealthy.

Biden's Jurassic Ideas About How Jobs Are Created. On a day when unemployment topped 8% for the 41st month in a row, it's worth noting Vice President Joe Biden told Ohioans Tuesday that "so-called job creators" don't build the economy. It explains a lot.

Biden: 'So-called job creators' don't build economy. Vice President Joe Biden faulted Mitt Romney for believing that "so-called job creators" build the economy, as he suggested that government spending and increased taxes on the wealthy would provide long-term economic strength. "[Romney believes] somehow, that those so-called job creators will make everything okay for the rest of us," Biden said at the National Education Association conference.

Biden: 'Imagine a World in Which Hunger Is Vanquished by Crops That Don't Depend on Soil, Water or Fertilizer'. Vice President Joe Biden told the graduating seniors of Cypress Bay High School in Florida today [6/4/2012] that they should imagine a world where hunger no longer exists because crops grow without the need of soil, water or fertilizer. That world will soon be here, Biden told the students. The vice president also said to dream of charging stations for electric cars at local high schools, "solar shingles" on the roofs of their homes — and an end to nuclear weapons.

Jill and Michelle 'Would Not Have Any Chance' Without Govt.. Vice President Joe Biden said Tuesday [6/5/2012] that his wife, as well as the wife of President Barack Obama, would have had "no chance" in life had it not been for government help.

The Never-Ending List of Vice President Joe Biden's Verbal Gaffes. [Scroll down] But if he hadn't made these cringeworthy gaffes, he wouldn't be the off-the-cuff, straight-shooting, error-prone vice president we know.

Dos de Mayo with Biden. Vice President Joe Biden rang in Cinco de Mayo on Dos de Mayo with a breakfast at the Naval Observatory and a joke about the Mexican ambassador being a waiter.

Biden: Obama agenda like 'legalizing rattlesnakes'. Vice President Joe Biden turned to a counter-productive metaphor yesterday [4/19/2012], as he likened President Obama's policies to "legalizing rattlesnakes" in a hotel during an attempt to praise the president. Biden was trying to praise Obama for courageous decisions.

The Motley Fool. [Vice President Biden] is a walking pratfall, a clown of the tongue-tied, stumbling kind, and only the media's determined effort to shield the Obama administration from laughter has kept Joe Biden's miscues, misunderstandings, and mispronouncements from becoming our long-running national joke.

Biden: Al Franken is a 'leading legal scholar'. Vice President Joe Biden described former Saturday Night Live comedian, Sen. Al Franken, D-Minn., as a "leading legal scholar," presumably in the Senate, today. "He has been one of the leading legal scholars," Biden said of Franken today [4/11/2012], according to the pool report. He also said that Franken "is deadly serious" as a senator.

Top 10 Joe Bidenisms. [#4] Obama "articulate" and "clean": During the 2008 presidential election, Biden seemingly discovered that blacks can have sound hygiene. Imagine the howls of racism if a conservative had uttered this statement: "I mean, you got the first mainstream African-American who is articulate and bright and clean and a nice-looking guy. I mean, that's a storybook, man."

Joe who? When a presidential nominee chooses a running mate as a gimmick, not to accentuate his strengths but to mask his weaknesses, he is asking for trouble. And when that running mate becomes a laughingstock and a liability, it doesn't just hurt the ticket but also reflects poorly on the person who did the choosing because it shows he bungled a major decision.

Hanging On to Biden's Every Word. This is the fellow who nearly derailed his nascent presidential campaign last year by calling Mr. Obama "articulate and bright and clean," … The man who, on the day Mr. Obama announced him as his running mate, referred to his party's presidential nominee as "Barack America" … The man who has said he is running for president (not vice president) and who confused Army brigades with battalions. Who referred to Ms. Palin as the lieutenant governor of Alaska.

It's economy with the truth, stupid. Just imagine what the sneering left intelligentsia, in the United States and elsewhere, would have said if a Republican vice-presidential candidate had told CBS News that "when the stockmarket crashed [in 1929], Franklin Roosevelt got on television" and informed Americans what had happened. ... Yet the Democrat Joe Biden made these howlers in an interview with Katie Couric. She did not correct the vice-presidential candidate. This is the same Couric who grilled Sarah Palin in an interview which aired a few days later.

Biden the bumbler. Sen. Joe Biden is proving to be a disastrous pick — threatening to bring down the Democratic ticket. The vice presidential candidate said this week that national leaders should follow the example of President Franklin Roosevelt's response to a financial crisis. "When the stock market crashed, Franklin D. Roosevelt got on the television and didn't just talk about the, you know, the princes of greed. He said, 'Look, here's what happened,'" Mr. Biden told "CBS Evening News." But Herbert Hoover, not Roosevelt, was president when the stock market crashed in 1929 — a fact commonly known to many high-school students (but apparently not to Mr. Biden). Moreover, television was barely in existence in those days.

Biden Secret Service Code Name: 'Assassination Insurance'. Being interviewed by Katie Couric on the "CBS Evening News," Biden said: "When the stock market crashed, Franklin D. Roosevelt got on the television and didn't just talk about the, you know, the princes of greed. He said, 'Look, here's what happened.'" For those of you who aren't hard-core history buffs, Biden not only named the wrong president during the 1929 stock market crash, he also claimed a president who wasn't president during the stock market crash went on TV before Americans had TVs.

Why should anyone trust Joe Biden? Joseph Robinette Biden — known to all as "Joe" — was once the most talked about American politician in Britain. Unfortunately for the senior Delaware Senator, all the talk was accompanied by incredulous laughter. ... but it wasn't just [plagiarism] which left his run for the Presidency buried under an avalanche of ridicule.

Biden spins a helicopter tale. When Joe Biden tells voters he understands the threat posed by Afghan extremists, he dramatically illustrates one reason why: His helicopter was "forced down" on "the superhighway of terror." Actually, snow, not the enemy, persuaded the helicopter pilot to land and wait out a storm. The Democratic vice presidential candidate has repeatedly left that part out, in an episode that Republicans hope will become an echo of Hillary Rodham Clinton's errant tale during the primaries of landing in Bosnia under sniper fire.

Why Is Media Allowing Joe Biden to Lie About Drunk Driver Killing His First Wife? Along with the claim that Joe Biden had a "blue-collar" upbringing — he had a decidedly upper class (though not "rich") childhood — Joe Biden has for years claimed that his first wife and his daughter were killed by a "drunk driver" in 1972. However, closer examination of the records proves that the man driving the truck that slammed into the Biden family car was never charged with drunken driving.

Why does Joe Biden lie about a 'drunk driver' killing his 1st wife? It is terrible to lose family members to a traffic accident. But why on earth would a United States Senator fabricate an embellishment and claim that it was a drunk driver's fault, when the record clearly indicates it was not?

Doomed to defeat. The choice of Mr. Biden undercuts the moral legitimacy of Mr. Obama's candidacy. Mr. Biden is a Democratic stalwart who is part of the political status quo Mr. Obama supposedly vows to overturn. There is nothing new, fresh, post-ideological or post-partisan about Mr. Biden. Hence, Mr. Obama has lost the compelling rationale for his movement. He is no longer the anti-establishment candidate. He has quickly become conventional.

Obama's Selection of Biden Outrages Many Gunowners. If there were any question about how the majority of American gunowners would come down on the candidacy of Barrack Obama for president, the doubts vanished in a flash when Obama picked veteran anti-gun Sen. Joe Biden from Delaware as his running mate. Biden proudly recalled during a July 23, 2007 Democrat candidates' debate how he was "the guy who originally wrote the assault weapons ban." Where Obama is on record as opposing concealed carry, and favoring other restrictions, Biden has a long history of supporting gun control.

Biden Tells 14 Lies During VP Debate. Senator Joe Biden lied at least 14 times during the vice presidential debate according to those counting at John McCain's presidential headquarters. Tucker Bounds, a spokesman from GOP presidential candidate John McCain's campaign said in a statement, ""Joe Biden graduated from his trademark verbal gaffe to outright lie in tonight's debate."

Joe Biden's 14 Lies: [1.] TAX VOTE: Biden said McCain voted "the exact same way" as Obama to increase taxes on Americans earning just $42,000, but McCain DID NOT VOTE THAT WAY. [2.] AHMEDINIJAD MEETING: Joe Biden lied when he said that Barack Obama never said that he would sit down unconditionally with Mahmoud Ahmedinijad of Iran. Barack Obama did say specifically, and Joe Biden attacked him for it.

The Biden Error/Lie/Hallucination List. Not just 14 — updated to 22.

Truthless Joe. Neither [Jimmy] Carter nor Bill Clinton, whose twists and turns before a grand jury led to his impeachment, ever stared into the camera and spouted such a string of outright fabrications as if they were gospel truths the way Barack Obama's running mate did last week. Thankfully, the blogosphere has been having a field day cataloguing Joe's whoppers.

The Lies Biden Told: It's "simply not true" that Barack Obama said he'd meet Iran's president without preconditions, Biden insisted. ... Biden said he's "always supported" clean-coal technology — after stating emphatically only last month, "We're not supporting clean coal."

Did Biden Get It Wrong? You Betcha. When you interview for a job, here is a hint: make sure you know what the job is. Joe Biden failed that test last Thursday [10/2/2008]. He couldn't even get right what a vice president does, but the media didn't notice.

Bozo Biden's Bizarre Hezbollah Fantasy: Had Palin spoken as irresponsibly and inaccurately as Bozo Biden did, she would have faced renewed demands for her withdrawal from the ticket. The double standard when it comes to candidate accountability remains the most outrageous current example of prevalent media bias.

The Clown of Campaign '08: How is it that an attractive woman who has been involved in state and local government since the early 1990s without much controversy is now passed off in the media as an airhead? Yet her opponent, long known as an airhead, a braggart, and even a plagiarist, is now passed off as a statesman?

Biden Benefits From Trial-Lawyer Donations, Backs Them in Votes. Joe Biden has been an ally of trial lawyers throughout his tenure in the U.S. Senate, opposing every effort to curb lawsuits against businesses and doctors. The lawyers are returning the favor.

Liberals Lie, Conservatives Die... Laughing. For openers, Biden is not in favor of clean coal as an alternate fuel. He has voted against its use every chance he's had during his 36 years in the Senate. And while I don't know in what cave Biden has been hiding, he must be the only person in America who didn't hear Barack Obama state that, without any preconditions, he would sit down with Mahmud Ahmadinejad. But that was only after he informed us that Iran was a small country and in no way a dangerous one.

Obama Campaign Tries to Soften Biden's Warning — About Obama. On Sunday [10/19/2008], Sen. Joe Biden warned that Barack Obama will be tested by an "international crisis" if he's elected president. By Tuesday, the Obama campaign was in damage-control mode, sending out surrogates to explain what Obama's running mate really meant.

Joe the Bumbler. So what happens when a vice-presidential candidate makes the gaffe to end all gaffes and declares that his own running mate will trigger an international crisis? In the Year of The One, it's yet another controversy that is virtually ignored by a national press corps that has become an institutional embarrassment.

McCain Won't Need Training Wheels. Biden's warning that Obama's lack of experience will prompt tyrants and terrorists to "test" him within the first six months can only be seen one way — as a confirmation of our worst fears.

Media Deserve Low Ratings They Receive. Contrasting McCain with his hero, Joe declared a few weeks back, "When the stock market crashed, Franklin D. Roosevelt got on the television and ... said, 'Look, here's what happened.'" Nice historical reference. Except when the market crashed in 1929, Hoover was president, and there was no television. Can one imagine what the press would have done to Sarah Palin had she exhibited such ignorance of history. Or Dan Quayle? Joe gets a pass because everybody likes Joe.

Is the Obama Campaign Trying to Keep Joe Biden Under Wraps? Time Magazine writes that one of the few things that could derail the Barack Obama campaign is his running mate, so it says the campaign is "hidin' Biden." Karen Tumulty compares traveling with Joe Biden to "reporting on a politician packaged in shrink-wrap" and that he is "leashed to a teleprompter even when he is talking in a high school gym that is three-quarters empty."

A Brighter and Righter Future. Contrast the elite media's refusal to ask about Gov. Palin's genuine achievements with their equally clear refusal to pursue Sen. Joe Biden when he has been just plain wrong. The most comical example was Biden's claim that we could go with him to Katie's restaurant to learn about the problems of the middle class. Barely any attention was given to the fact that Katie's restaurant closed in 1986. No elite reporter asked whether Biden had not learned about the middle class since 1986 or whether he is simply out of touch with reality. Between Biden and Palin, I would take Palin any day.

Democrats are hypocrites when it comes to paying taxes. When asked whether he might be questioning the patriotism of people who don't want higher taxes, [Joe] Biden, as is his wont, took things to the next rhetorical level. Forget patriotism, insisted Joe, paying higher taxes is a religious obligation. The man who gave an average of $369 a year to charity over the previous decade fulfills his religious obligations by cutting a tax check — a check he's required to cut by law.

When Conservative Felonies Become Liberal Misdemeanors. Vice president Joe Biden as a presidential candidate once characterized Barack Obama as "the first mainstream African-American who is articulate and bright and clean and a nice-looking guy." What exactly did Biden mean by "clean?" The press, of course, didn't bother to probe too deeply, instead seeming to think that good old Joe Biden was running off his mouth again.

Joe Biden, 'Practicing Catholic'. Like many liberals, whether it's a game of constitutional Twister or flexible religious creed, Joe fashions his faith to accommodate his personal beliefs. Therefore, the vice president and the enthusiastically pro-abortion Barack Obama both feel comfortable calling themselves Christian. Mr. Biden identifies with Roman Catholicism but doesn't let that identity get in the way of his support of policy that directly contradicts church teaching on the sanctity of life.



Biden's description of Obama draws scrutiny. His remarks about Obama, the only African-American serving in the Senate, drew the most scrutiny. "I mean, you got the first mainstream African-American who is articulate and bright and clean and a nice-looking guy," Biden said. "I mean, that's a storybook, man."

The Editor says...
CNN is apparently proud to call Obama "African-American," but they are quick to deny that he was born in Africa.

This is an original compilation, Copyright © 2019 by Andrew K. Dart



---

Vice-President Biden debates Congressman Paul Ryan
October 11, 2012

Joe Biden Makes History. For starters, try to imagine being Paul Ryan last Thursday: a young politician in the hot seat, the eyes of the world pressing upon him, as he tries to make careful and succinct statements in a most-intense environment, while all along, literally nearly every minute — Biden interrupted Ryan 80-plus times — his opponent smirks, scoffs, laughs uncontrollably, flaps his arms, and, generally, acts like a petulant child. I ask readers: Could you have endured what Paul Ryan handled? Given what he was up against, Paul Ryan's debate performance was truly remarkable.

The new Middle East coverup: Biden caught in Syria debate falsehood. [Scroll down] Biden denied it, declaring: "We are in the process now — and have been for months — in making sure that help, humanitarian aid, as well as other aid and training is getting to those forces that we believe, the Turks believe, the Jordanians believe, the Saudis believe are the free forces inside of Syria. That is underway." Well, according to a report in this morning's [10/15/2012] New York Times, Biden's statement was not true.

Bolton From the Blue. "The attack on Benghazi Sept. 11 was known to be a terrorist attack within one day. Intelligence officials who briefed members of Congress on Sept. 12 told them so clearly. In last week's Congressional hearings, State Department officials testified truthfully they were in cell phone contact with the diplomatic staff throughout the entire episode. Yet they went around for days blaming the attacks on some silly trailer for a video, and Hillary Clinton has been sticking to that line up until very recently. What Biden said during the debate that the intelligence community had not known the facts right away was blatantly false. [..."]

Green stimulus profiteer comes under IRS scrutiny. Vice President Biden snickered during last week's debate at the suggestion there was waste, inefficiency or cronyism in the 2009 stimulus bill. If he can stop cackling for long enough, Biden, the self-proclaimed "stimulus sheriff" should sit down with the IRS officials and the federal inspector general who are investigating a solar company owned by leading Obama donor and subsidy recipient Elon Musk.

What Biden Doesn't Want You to Know. Current veep Joe Biden certainly sought to play last Thursday's vice-presidential debate for laughs. Embarrassingly for Democrats, the laughs were mainly his own. [...] His opponent, by contrast, was more like the earnest young parish priest who has been sent to coax wicked Uncle Joe out of the pub and into the church.

Fox's Dr. Keith Ablow Diagnoses VP Biden. Fox News' go-to psychiatrist, Keith Ablow, appeared on Fox & Friends Weekend to discuss Joe Biden's debate performance. Given that Biden's laughter, smirks, and malarkeyisms had been dissected pretty thoroughly by the time Sunday rolled around, Ablow had his work cut out for him.

The Democratic Party has lost its mind and its way. [Scroll down] Then there is Joe Biden. As I predicted, his manic behavior at the veep debate won the approval of Dems despondent over Obama's flop at his debate. Biden's rude laughs, snorts and sneers, combined with hectoring accusations of Paul Ryan, were catnip for those who see Republicans as unworthy and illegitimate. They actually applaud that Biden's interruptions — more than 100 of them — prevented any sustained, serious discussion.

Fact Check: Top Ten Worst Lies by Joe Biden in VP Debate. Once again, Joe Biden lied his way through a Vice Presidential debate — just as he did in his contest with Sarah Palin in 2008. This time, the media caught a few of Biden's worst "malarkey" moments — as did his opponent, Paul Ryan, when he could get a word in edgewise.

Laughing at the Issues: The Astounding Obama/Biden Miscalculation. Both Obama and Biden were dismissive, disrespectful, smug, 'superior,' contemptuous and condescending. Obama did it with body language, Biden did it with smirks and laughter. Biden's antics last night may make the damaged left happy, but the folks do not like that kind of juvenile disrespect. Ryan has proven himself a remarkable congressman. Biden has proven himself a fool.

Joe Biden's laugh-filled debate wasn't so funny on national security. The heat generated by Joe Biden at Thursday night's vice presidential debate cooled into object lessons in the danger of bombast by a top United States government official. Biden's smirking theatricality while facing Republican Paul Ryan included exasperated putdowns and, at times, broad factual assertions whose grounding in truth was tenuous. So it goes in skewering an opponent's record.

Sports bar Biden vs. seminar Ryan. The two men looked like they were taking part in separate discussions. Ryan was speaking in the economics seminar at some obscure think tank. Biden was shouting answers in the middle of a loud sports bar.

Cheney "Disturbed" by Biden's Debate Performance. Former vice president Dick Cheney said he found Vice President Joe Biden's behavior at the debate Thursday night "very disturbing," adding that it was "the most emotionally unstable debate performance in modern American politics," reports Mediaite.

Ryan's Reason Contrasts Biden's Buffoonery. Over the next few days, news media and Republicans will share video snippets of Thursday night's vice presidential debate. Voters will get an extra helping of Vice President Joe Biden chuckling, interrupting, laughing, mugging, smirking and otherwise behaving completely inappropriately. What Team Obama described as "just Joe being Joe" steadily devolved into Joe just being creepy.

Biden Bombed. You don't win a nationally televised debate by being rude and obnoxious. You don't win by interrupting your opponent time after time after time or by being a blowhard. You don't win with facial expressions, especially smirks or fake laughs, or by pretending to be utterly exasperated with what your opponent is saying.

Biden Loses by a Smirk. That smirk was everywhere tonight in the debate with Paul Ryan — and one finds it impossible to believe that was anything but bad news for the Obama campaign.

A Letter to Joe Biden. Watching Congressman Ryan try to respectfully engage you in thoughtful discourse was like watching Emily Post try to take a gorilla to tea. You reminded me of people I've had the misfortune of trying to rationalize with in the past ... people with whom I couldn't fit an uninterrupted word in with a shoe horn, and with whom I eventually abandoned all hope of ever being able to complete a sentence.

The I-Can't-Post-Mortem For The VP Debate. Paul Ryan is a better man than me, and it's the reason he came out the winner. I have to admit: I would have taken the bait. I would have lashed back at both Biden and Raddatz for their arrogance and their overall rude behavior. Ryan did what I never would have been able to do: he was diplomatic, yet remained firm. He was by all measure Presidential.

Really Watch For Over The Next 72 Hours.... The Benghazi Massacre scandal is really taking root within even the Mainstream Media now — due in great part to Vice President Joe Biden's oddly phrased throw-the-State Department-under-the-bus remarks during Thursday's debate.

Are Budget Cuts to Blame for Benghazi Attack, as Biden Suggested? Fact checkers take note: Biden's suggestion that funding cuts may have undermined security at the consulate has been disproven — by his own administration.

Dr. Strangelaugh. In addition to the vice president's boorishness, a lot of observers noted that he frequently smiled and chuckled at inappropriate times — even during a discussion of Iran's pursuit of nuclear weapons. The Republican National Committee quickly put out an ad consisting of nearly a minute of such clips followed by the caption: "Vice President Biden is laughing ... Are you?"

On Libya, Biden was full of 'malarkey'. Vice President Biden didn't just double down on the administration's story of the attack in Benghazi, Libya. He emptied the bank account and put the deed to the house on the table. Asked why the administration initially claimed for more than a week that the incident grew out of a street protest over a YouTube video, Biden said that's what they knew at the time.

More about the Benghazi attack.

Intelligence Community Responds to Biden 'Bloviations'. Vice President Joe Biden laughed mirthlessly during the debate as Republican vice presidential candidate Rep. Paul Ryan (R-Wis.) coolly unbraided the Obama Administration's foreign policy — but the joke is probably on Joe.

Mr. Malarkey, full of Baloney. BIDEN: Asked about the administration's denial of requests from the U.S. mission to Libya for increased security prior to the September 11 terrorist attack on the consulate in Benghazi — which resulted in the assassination of Ambassador Christopher Stevens and three other Americans — Biden answered, "we weren't told they wanted more security ... We did not know they wanted more security." FACT: The U.S. Embassy in Libya requested "an increase in the number of our permanently assigned RSO [Resident Security Officer] staff," as well as "five TDY DS [Temporary Duty Diplomatic Security] agents for 45-60 days rotations in Benghazi."

Joe Biden's Rude Debate Laughter: The Joke's on Him. What's so funny, Biden? Why the veep's rude chortles during last night's faceoff constituted a new low in debate etiquette — and will only hurt his boss.

Joe Biden laughs at tax increases, nuclear war, and other delights. It didn't take the Republican National Committee long to produce a video compilation of Joe Biden's inappropriate grins and laughter from Thursday night's vice-presidential debate. The nuclear destruction of Israel is particularly hilarious to the Gaffemaster.

Biden Proposed Social Security Freeze in 1984. The year was 1984 and Senator Joe Biden was sounding the alarm over Ronald Reagan's budget deficits. His proposal, which was co-sponsored by Sens. Chuck Grassley, R-Iowa, and Nancy Kassebaum, R-Kan., included a one-year freeze of all federal spending including Social Security (no cost of living increase) and defense (no pay increase for the troops).

Damage Control: Obama Campaign Tries to Spin Biden's Bizarre Debate Behavior. The Obama campaign is struggling to respond to mounting criticism of Vice President Joe Biden's bizarre behavior during last night's debate with Rep. Paul Ryan. Biden not only interrupted Ryan frequently — 82 times, according to Republican National Committee chair Reince Priebus — but frequently laughed, smirked, and snorted at serious moments, showing contempt for his opponent and disturbing even friendly observers.

White House Serial Lies About Libya Extend to VP Debate. Biden made the patently false and outrageous claim that no one in the Obama administration knew that requests for extra security had been made by our Libyan ambassador, Christopher Stevens, and other members of our consulate in Benghazi. To emphasize his lie, Biden actually said it twice.

Biden: 'My Religion Defines My Life'. Vice President Joe Biden said in Thursday night's [10/11/2012] vice presidential debate that life begins at conception, that he accepts the Catholic Church's position on abortion, and that he believes abortion must be legal. The Catholic Church's teaching is not only that abortion is always wrong, but also that Catholics in public office have a grave duty to oppose legalizing it while speaking out clearly against it.

Thoughts on the vice presidential debate. Joe Biden appealed to Democratic partisans, firing them up by attacking and, even more often, smirking at Paul Ryan's arguments. But smirks only work when your audience starts off agreeing with you. That would be the case with strong Democratic partisans, but it's not at all that clear that it appeals to Independents, or to those who are undecided or moveable. He was trying to dismiss Ryan's arguments as ridiculous, in line with Democratic talking points that no rational person could possibly agree with him, but I think that only works with people who are already convinced.

BFD: Biden's Failed Debate. This administration does not lend itself well to the split screen and the VP might very well need psychiatric care. His smile was frightening. For most of the night Joe Biden looked like the Joker — Nicholson not Ledger. After 3½ years of Biden's playing the fool, it is hard to remember he was once considered a serious man, a serious politician.

Chris Wallace: I've Never Seen A Candidate As Disrespectful As Joe Biden Was Tonight. Fox News anchor Chris Wallace hammered Vice President Joe Biden's excessive smiling and laughing during the debate, saying that he's never seen anyone be so disrespectful in a presidential or vice presidential debate. And Wallace said that he'd seen most of them — all but the first four in 1960. He called his demeanor "unprecedented."

Last night, Joe Biden was a three-letter word: J-E-R-K. I could scarcely even pay attention to whatever lies Biden was telling, so distracting was all his laughing and interrupting and flailing about. As Christopher Bedford puts it, he swapped out "hope and change" for "interrupt and laugh." He was so obnoxious, I became convinced he was trying to goad Ryan into taking a swing at him.

Biden adds to the Libya lies. Vice President Joe Biden served up the worst gaffe of any of the 2012 debates, in a moment that will harm not only him but also his boss. Sure, the obnoxious grimacing and the mannerisms will be mocked relentlessly, but it was his egregious misstatement on Benghazi that will now plague the Obama-Biden ticket.

Biden Loses It. Biden's demeanor was the story of the evening: smirking, laughing, snorting, shaking his head. The strategy seems to have been to laugh off America's problems, since the Obama administration has done nothing to solve them. The debate itself was secondary to the demeanor of Biden. Biden had nothing to run on, so he decided to distract.

Joe Biden goes off his meds, but Paul Ryan persevered at sole VP debate. With no real economic record to run on, the old vice president, who has so often promised hundreds of thousands of new jobs every month, resorted to the Al Gore School of Advanced Debate Histrionics. He laughed often and loudly. He rolled his eyes. He sighed. He chortled. He shook his head. He leaned back and crossed his arms with exaggerated exasperation, each time, of course, drawing the cameras' attention off Ryan and onto the emptiness of Biden's performance. Oh, did we mention how often Biden interrupted?

Biden Only Mentions Obama Once in Debate. Rep. Paul Ryan won a tough debate on Thursday evening against Vice President Joe Biden — but Biden was not the biggest loser — who was, once again, President Barack Obama. Biden, in fact, surpassed (low) expectations and played to his Democratic base — though not to independent voters — by interrupting, smirking, and chuckling.

The Bully vs. the Wonk. So now we know what Team Obama's comeback plan was following last week's defeat in the Presidential debate. Unleash Joe Biden to interrupt, filibuster, snarl, smirk and otherwise show contempt for Paul Ryan. The carnival act contributed to the least illuminating presidential or vice presidential debate of our lifetimes.

Joe Biden may not have the last laugh. Vice President Joe Biden did give the president what he needed last night — a jolt of energy and a strong defense — but his constant smiling and guffawing could overshadow his performance and turn off undecided voters.

Biden Throws Intel Community Under Bus. The vice presidential debate opened with a question about the Libyan consulate attack. While that section of the evening probably didn't figure heavily in forming opinions about whether Vice President Biden or Paul Ryan prevailed, it did provide an interesting twist in the unfolding tale of administration prevarications about the murders in Benghazi.

Biden [...] was caught fibbing about the U.S. intelligence community. [Scroll down] Perhaps the even bigger problem the Obama campaign will have in the coming days is that Biden, again just like Gore in 2000, repeatedly exaggerated and mischaracterised for effect. And worse than Gore — who was caught in a series of small lies in 2000 — Biden was demonstrably untruthful in some big respects. Most seriously, Biden blamed the intelligence community for the debacle that led to and followed the killing of ambassador Chris Stevens and three other Americans in last month's terror attacks on the U.S. consulate in Benghazi.

Chris Wallace Shocked By Biden's 'Disrespectful,' 'Openly Contemptuous' Debate Treatment Of Ryan. Fox News Sunday host Chris Wallace slammed Vice President Joe Biden's demeanor at Thursday night's [10/11/2012] vice presidential debate against GOP vice presidential nominee Paul Ryan. Wallace said that he was shocked by how "openly contemptuous" Biden appeared to act towards Ryan and that he thought Biden's behavior lacked historical precedent.

Biden's debate 'facts' prompt White House clarifications. While Vice President Biden stressed the importance of "facts" a total of 26 times on the debate stage, those facts required considerable clarification Friday [10/12/2012] from the White House.

Libya Attack Gains Steam as Issue in Race for President. The dispute over the episode escalated after Vice President Joseph R. Biden Jr. said during the debate on Thursday night that "we weren't told" that Americans in Libya wanted security bolstered, despite Congressional testimony that the administration had turned down requests. Mitt Romney's campaign on Friday [10/12/2012] accused the vice president of trying "to mislead the American public."

Biden, Obama and the Politics of Personal Destruction. Throughout the debate, Biden treated Rep. Paul Ryan with contempt. He never responded to any of Ryan's reasoned, substantive criticisms of Obama's policies. He simply called him a liar, repeatedly. With no justification. He sneered. He guffawed. And he maligned Ryan for 90 minutes. I watched the debate on Fox News. I suppose the commentators hadn't read Henninger's article. They were all expressing shock at Biden's nastiness. They didn't seem to recognize that it is part of the Obama campaign's strategy.

Raddatz favored Biden 40% to Ryan 25%. A vice presidential debate analysis from a conservative media watchdog group found that debate moderator and ABC correspondent Martha Raddatz asked 19 pro-Obama questions Thursday night, but just 12 skewed Republican, a 40 percent to 25 percent margin. "Any moderator whose weighted questions favor liberals over conservatives by a 19-12 margin is biased," charged Brent Bozell, president of the Media Research Center.

By the Numbers: Moderator Raddatz Attacked Ryan 9 Times, Biden Once. Liberals are more pleased with moderator Martha Raddatz than conservatives are disappointed. And it's easy to see why. Raddatz allowed Joe Biden to interrupt Paul Ryan repeatedly during the Vice Presidential debate, and interrupted Ryan herself, while posing questions that were radically in favor of the Obama team. Ryan overcame Raddatz's bias and won the debate regardless, leaving less for conservatives to complain about.

Raddatz Visited Biden at His Residence in March. White House records reveal that the moderator of last night's vice presidential debate, Martha Raddatz, visited Vice President Joe Biden at his official residence on March 26, 2012. Raddatz is an employee of ABC News.

Obama: 'Could Not Be Prouder' of Joe Biden. President Barack Obama says he "could not be prouder" of Vice President Joe Biden's debate performance.



By all means, Barry, let him get started today!
Obama: Biden would make 'superb' president. President Barack Obama said Joe Biden would make a "superb" president, but questioned whether his vice president or potential rival Hillary Clinton would want to endure another campaign for the White House, a media report Monday said. Obama, in an interview with the New Yorker, said Biden "has seen the job up close, he knows what the job entails. He understands how to separate what's really important from what's less important. I think he's got great people skills. He enjoys politics, and he's got important relationships up on the Hill (in Congress) that would serve him well."



---

Back to the Barack Obama index page
Back to the Home page