Vice-President Joe Biden may yet run for the office of President. Here is some background information about him.

On this page:

Gaffes and baggage

Gaffes and baggage while Vice President.

Vice-President Biden debates Congressman Paul Ryan.


---
News and commentary about former Vice-President Joe Biden
Biden's campaign begins not with a bang, but a whimper. [Scroll down] The crowd [in Philadelphia, 5/18/2019] was similarly wan. Attempts at starting a "We Want Joe!" cheer petered out after no more than five chants. A woman in front of me remarked that she came out of curiosity, but was really interested in Pete Buttigieg, the wunderkind mayor of South Bend, Indiana. Another recounted how Obama rallies felt like "rock concerts." This, not so much. [...] What was audible was less than impressive. Mr. Biden stumbled over his teleprompter-delivered words, at one point suggesting that the Constitution was ratified in 1887. He delivered policy-free peans to "unity," punctuated with an overabundance of the word "folks." He also has an odd habit of, every now and again, stressing that he actually means what he just said. "Really, guys!" Or, "I'm not joking!" This has the odd implication that the vice president doesn't mean much of what he says.
Divide the country, promise unity. His sales pitch is to be practical. Actually telling people the crazy thing that you will do won't win the election. You have to pretend to be moderate. [...] Sleepy Creepy Joe has been doing that for nearly 50 years. He believes in incremental communism just like his mentor, Obama. This is what Democrats have done all my life. His job is to convince President Trump supporters that he is no threat to them and he will calm the waters.
Washington Post Gives Biden 4 Pinocchios for Claiming Only the Rich Got Trump Tax Cuts. One of the misperceptions of the tax cut is that because tax refunds have been relatively flat when compared to last year that most people didn't get a tax cut without taking into consideration the adjustment in the tax withholding tables which added roughly $25 per week to the average paycheck. A point the media rarely mentions. The Post contacted the Biden campaign and received the standard line about the tax cuts being a giveaway for the wealthy and big corporations and gave Biden the maximum four Pinocchios for misstating the facts.
Biden Was Projecting When He Called Trump 'Divider-in-Chief'. Was Joe Biden projecting when he called Donald Trump the "divider-in-chief" in his big campaign speech in Philadelphia Saturday? The former Veep proposed — in imitation of his one-time boss and apparent idol Barack Obama — that he would be the man to unite our riven country. Remember "There is not a liberal America and a conservative America — there is the United States of America" from Obama's keynote at the 2004 Democratic National Convention, the speech that ignited his march to the presidency? How far did that go? Just about as far as Barack dismissing Republicans as those who cling to their guns and religion and Hillary calling Trump supporters a "basket of deplorables." Very uniting stuff, no? But more to the point, Biden represents a political party that could not accept the 2016 election of Donald Trump on any level, before or after his victory.
Democrats were said to be furious and hungry for change. Then Biden jumped in. Former vice president Joe Biden defends his support for the 1994 crime bill that many blame for mass incarceration of blacks. He declares that most Americans are "satisfied" with a private insurance system reviled by the left. He justifies the North American Free Trade Agreement as a pact that "made sense at the moment."
Lyin' Joe Biden Jumps On The Dem/Socialist Caravan of Crazies. Aside from expecting to deliver President Donald Trump's head on a silver platter to slobbering Democrats, former vice president Joe Biden is in the 2020 presidential race because most people who voted for Barack Obama in 2008 and 2012, will now vote for Biden. The DNC, who know this, see Biden as their only chance to regain control of the power they lost in 2016. In a speech Saturday afternoon [5/18/2019] in Philadelphia, Biden offered his "unity" as an alternative to "Trump's hatred".
The Media at Their Lowest. On any number of subjects, building a wall between Mexico and the United States being a current topic of the day, there are literally dozens of video recordings of Democrats contradicting themselves from the position they took even a decade ago. Joe Biden once pounded the pulpit demanding that we build a wall. With Joe Biden as the Democratic frontrunner for U.S. president, you've seen that contradiction reported all over the national mainstream media, haven't you? Contrast that with anything and everything Donald Trump says. The media are quick to pull any quote, any tweet out of context or bend it out of shape to promote the narrative that the president is an unhinged liar.
Billion dollar China deals, cocaine pipes, Joe Biden's son Hunter always has this way of skating. Joe Biden's son Hunter certainly lives a life of privilege. How [would] the cops treat one of us if they found a cocaine pipe in our car during a traffic pullover or a rental car return?
2016 Arizona Police Report: Cocaine Pipe Found in Car Rented by Joe Biden's Son Hunter Biden, Authorities Declined to Prosecute. Breitbart News has exclusively obtained a heretofore unreported-on police report from days before the 2016 presidential election that describes how a cocaine pipe that authorities determined was used to smoke cocaine was found in a rental car returned to an Arizona Hertz location in the middle of the night. Also found in the vehicle were several personal effects of Hunter Biden, then-Vice President Joe Biden's son, like two of his DC driver's licenses, multiple credit cards, and personally identifying information like a Delaware Attorney General badge and a U.S. Secret Service business card that police said bore his name.
Biden is Red China's boy. Sleepy Creepy Joe is running for president for the emoluments. Oh the payoffs from foreign governments do not go to him. No, no, no. It's for the children. His rat son, Hunter, became a multi-millionaire thanks to his Hair Sniffing Father's vice presidency. [...] The New York Post reported that when Sleepy Creepy Joe became vice president his son and John Kerry's stepson went into business.
Joe Biden: 'Not a Single Bit of Evidence' Son Asked Me to Help Him in Ukraine. Former Vice President Joe Biden denied Monday that his son Hunter Biden asked him for a favor in Ukraine while serving on the energy board of a Ukrainian energy company. "We never once discussed it when he was there," Biden told the Associated Press. "There's not a single bit of evidence that's been shown in any reporting that's been done that he ever talked about it with me or asked any government official for a favor."
Joe Biden's Denial About Ukraine Investigating His Son Is a Total Dodge. Former Vice President Joe Biden issued a painfully careful, hair-splitting denial about the allegations surrounding his son Hunter Biden's lucrative dealings in Ukraine. [...] So, basically the allegation is this: To protect his son's company and that sweet, sweet $50,000 per month salary, as vice president, Biden abused his position by threatening to kill a billion dollars in aid to one of our allies if that country's prosecutor, who was looking into corruption surrounding Hunter's company, was not fired.
Blowhard Democrats Are Green Phonies. [T]he Democratic Party at the moment seems to be in a knockdown, drag-out fight for who can be the greenest of the green and push us forward to a brave new world propelled exclusively by solar and wind energy. Only the strongest (i. e. most slavishly devoted to renewable energy at all costs) will survive. Bernie and AOC are currently beating Joe Biden over the head about this. Poor Joe is frantically shoring up his "environmental" credentials.
Joe Biden and restoring the old (pre-Trump) order. Polls do not tell us who will win an election months from now. But they do tell us what is happening at this moment. And at this moment, Democratic voters, who are sometimes said to be moving left and itching to transform the United States with a "Green New Deal," "Medicare for All," and through-the-roof taxes on the rich, are in fact responding to a decidedly more centrist appeal. That appeal, from Biden, is a promise not to fundamentally remake American society but to restore things to the way they used to be. And "the way they used to be" means before President Trump.
Biden enlists teleprompter as ally in anti-gaffe strategy. Campaigning for president in the small states with early primaries is supposed to be retail politicking, but gaffe-prone 2020 front-runner Joe Biden's handlers are leaving nothing to chance, deploying a teleprompter to help him stay on message. Appearing in here in Manchester, N.H., before a crowd of 400, Biden's people rolled out a teleprompter despite the relative intimacy of the gathering.
Related topic: Obama's teleprompter addiction.
Joe Biden to Woman Who Says Trump is 'An Illegitimate President': 'I Absolutely Agree'. Former Vice President and current Democratic presidential primary frontrunner Joe Biden said "I absolutely agree" with a woman who described herself as having a "very severe case of Trump Derangement Syndrome," and said that Trump "is an illegitimate president." Biden took questions from audience members at a campaign event in Nashua, NH n Tuesday, after delivering a fire-up speech about why he's running for president. The third audience member to address Biden didn't really have a question, but rather a lengthy message about how Democrats should oppose Donald Trump.
The Editor says...
Was Barack H. Obama "an Illegitimate President?" There are valid un-answered questions about his citizenship, his legal name, and his Social Security number. But anyone who dares to raise these questions is smeared as a "truther." There are no such questions about Donald Trump. He was legally and properly elected, and just as it was under Obama, the people who voted for somebody else have to get over it.
AOC, at Green New Deal rally, puts Joe Biden and other Democratic climate moderates on notice. Speaking at a crowded auditorium at Howard University, Rep. Alexandria Ocasio-Cortez, D-N.Y., and other proponents of the Green New Deal — an ambitious plan to rid the U.S. economy of a reliance on fossil fuels — affirmed their progressive ideals while striking out at both conservative Republicans and moderate Democrats who have, according to her and other critics, done too little about global warming for too long. In particular, Ocasio-Cortez, who is in her first term as a congresswoman representing the Bronx and Queens, seemed to criticize Joe Biden, who entered the U.S. Senate in 1973, 16 years before she was born.
Obama's Defense Secretary questions Biden's 'intellectual acuity': He's been wrong for past 40 years. Former Vice President Joe Biden's "intellectual acuity" in potentially leading the nation seemed a cause of concern for a former Obama administration official. Former Secretary of Defense Robert Gates did not exactly give the 2020 Democratic contender a glowing reference as he simply said he "didn't know" if Biden would make an effective commander-in-chief, telling CBS News' Margaret Brennan on "Face The Nation" that he stood by his view that Biden has "been wrong on nearly every major foreign policy and national security issue" in the last 40 years.
Biden: 'I'm Running for Three Basic Reasons'. Former Vice President Joe Biden, now running for the Democrat presidential nomination, told a gathering in New Hampshire on Monday that the 2020 election is "bigger than politics" and "bigger than any you've been engaged in" because of "who occupies the office." "The fact of the matter is that I'm running for three basic reasons, and I'm going to be very clear about it as I move along and go into great detail as we get down the road here, because this is a marathon," Biden said. He then listed his three reasons for running: [#1] I want to restore the soul of this country. [...]
The Editor says...
The country has a soul that needs restoration? What does that mean? His other two points are just as vapid and insipid. His whole platform is a pile of meaningless, hypothetical pie in the sky. Joe Biden is depending on your unwillingness or inability to think about what he says.
'Does that seem accurate?': Donna Brazile pressed on Biden declaring Obama administration scandal-free. Former Democratic National Committee chair Donna Brazile was pressed by the "Fox & Friends" hosts Tuesday on whether the Obama administration was truly scandal-free. Speaking on the campaign trail in New Hampshire Monday [5/13/2019], former Vice President Joe Biden said Barack Obama was an "incredible president" and during his two terms "there wasn't one single, solitary hint of scandal." Biden warned that if Trump is given eight years in office, he will "forever and fundamentally change the character of this nation."
The Editor says...
Yes Barack H. Obama was an incredible president, in the strictest sense of the word; to wit, he was not credible. And neither is Joe Biden.
Joe Biden in 2013: 'Overwhelmingly' in America's Interest for China to 'Prosper'. Leading Democrat presidential primary candidate Joe Biden said in a 2013 speech that China's economic dominance is "overwhelmingly" in the United States' interests. In a 2013 speech at the Export-Import Bank's 2013 Annual Conference, Biden touted the need for the multilateral free trade deal known as the Trans-Pacific Partnership (TPP) as a necessity to creating a "new world order."
Biden in 2006: U.S. Needs Border Fence to Stop 'Tons' of Drugs From Mexico. Democratic presidential candidate Joe Biden, who has been critical of President Donald Trump's immigration policies, previously expressed similar views, saying a barrier at the southern border was needed to stop "tons" of drugs from coming into the United States. Speaking to a South Carolina rotary club in November 2006, then-Sen. Joe Biden (D., Del.) touted his support for the Secure Fence Act, a bill that authorized "700 miles of double-layered fence on the border through more than a billion dollars in appropriations," CNN reported Friday [5/10/2019]. Biden made the comments in the run-up to his failed presidential bid in 2008.
Biden Gets New York Times Headline For Not Saying Anything Stupid. The New York Times gave Democratic presidential candidate Joe Biden free press Sunday [5/12/2019] because he hasn't said anything stupid recently. Biden is praised in the story, which was featured on the paper's app Sunday night, for making it a few weeks into his presidential bid without going off message.
Rand Paul: Americans Will Be 'Shocked' to Know What Biden's Son Was Up To. Sunday [5/12/2019] on ABC's "Meet the Press," Sen. Rand Paul (R-KY) discussed a report from The New York Times on questions of former vice president Joe Biden's potential conflict of interest.
Democrats Look Past Female Candidates to Arranged Marriage With Uncle Joe Biden. Where's Sen. Amy Klobuchar? Last time I saw her, she was covered in snow like Nanook of the North announcing she was running for president. She's one of a critical mass of would-be female presidents, too many for the Hillary brush-off of "I'm all for a woman president, just not this woman." What will the excuse be this time? "There are so [...] many, I can't keep them straight." Klobuchar is, of course, in plain sight but not so you'd know it. She surfaced on Wednesday evening at Fox News' second town hall, where she performed so well she'd be above her 2-3 percent if only more people could hear her.
Joe Biden parrots laughable falsehood that the Obama administration was scandal-free. Joe Biden, who launched his 2020 presidential campaign this week, boasted Friday that there was "not one single whisper of scandal" during the Obama administration. "That's Barack," he beamed. There it is again, that damned, dishonest attempt by Obama acolytes to rewrite the pre-Trump history of Washington corruption. To claim the previous administration — or any previous administration for that matter — was scandal-free is to engage in a falsehood that would be laughable, were it not so breathtakingly shameless.
Joe Biden: U.S. Has 'Obligation' To Give Healthcare To 'Undocumented' Immigrants. Democrat presidential candidate Joe Biden said during a campaign stop in California on Wednesday that the United States has an "obligation" to give healthcare to illegal aliens. "I think that anyone who is in a situation where they're in need of healthcare, regardless of whether they are documented or undocumented, we have an obligation to see that they are cared for," Biden said in Los Angeles. "That's why I think we need more clinics around the country."
Joe Biden Makes An Insane Comment About Illegal Immigrants. Joe Biden is currently dominating the Democratic primary. He's entered the race and promptly doubled up Bernie Sanders, who was supposed to be performing much better than he has. This led Sanders to team up with Alexandria Ocasio-Cortez to let us know that post offices should now give up subprime loans, because what could possibly go wrong? While Biden has an easy path to victory against his fellow Democrats if he just monopolizes the "moderate" lane, he apparently thinks he needs to out-crazy his opponents, which admittedly is tough to do.
Peter Schweizer: Unlike Don Jr., Hunter Biden 'Actually Had Foreign Deals'. Peter Schweizer, president of the Government Accountability Institute and senior editor-at-large at Breitbart News, described the news media and political establishment's disinterest in Hunter Biden's business deals with foreign states "stunning." Schweizer contrasted this disinterest with the treatment of Donald Trump Jr.'s "deal that actually never happened" in the Trump Organization's contemplated construction of a skyscraper in Moscow, Russia.
Joe Biden's fatal weakness if he gets the Dems' nomination. In addition to his other weaknesses as a candidate — low intelligence, gaffe-proneness, advanced age, his scandals in Ukraine and China enriching his family, and his brand-new advocacy of taxpayer-funded health care for illegals — there is a sleeper issue that could fatally weaken him if gets the party's nod and runs against President Trump.
Biden Flashback: D.C. Schools Worse Than Iowa Because Of High Black Population. Declared 2020 presidential candidate Joe Biden's lengthy record bit him in the behind again on Thursday, as racially charged comments from Biden back in 2007 began to recirculate online.
Biden's staff faces renewed accusations of mistreating reporters. It has been less than two weeks since former Vice President Joe Biden launched his 2020 bid, but numerous reporters have already voiced their concerns about the treatment they have received from his staff. Freelance journalist Marcus DiPaola was covering the Biden campaign in Iowa last week where he tweeted the accounts of different reporters, including himself, of their interactions with campaign staffers, which he described to Fox News as "out of line, totally."
Biden: "First thing I'd do is repeal those Trump tax cuts." A repeal of the Tax Cuts and Jobs Act would impose a large tax increase on the American people. Thanks to the tax cuts, a typical family of four earning the median family income of $73,000 saw a tax cut of over $2,000 — a 58% reduction in federal taxes. A single parent with one child with annual income of $41,000 saw a tax cut of $1,304 — a 73% reduction in federal taxes. As noted by the New York Times: "Most people got a tax cut."
Reporter: [The] Biden Campaign [is] Physically Blocking [the] Press from Asking Questions. A freelance reporter covering Joe Biden's presidential campaign launch says the campaign has gotten physical in its attempts to block the press from questioning the former vice president. Marcus DiPaola, a videographer who was on the trail with Biden Wednesday night in Iowa, used his Twitter account to voice complaints from multiple members of the press regarding poor treatment from campaign staff, which was reportedly blocking reporters from asking questions and taking photographs of anyone who objected.
Joe Biden Refers to 'Buddy' Barack Obama Seven Times in 1/2 Hour Speech. Former Vice President Joe Biden leaned heavily on the legacy of his old running mate, President Barack Obama, during a campaign appearance on Saturday [5/4/2019]. Prior to the rally, the campaign aired a video of Obama praising Biden in 2017 and awarding his own vice president a Presidential Medal of Freedom.
Good Old Joe Is a Peking Duck. Former vice president Joe Biden's declaration for the Democratic presidential nomination seems to have back-footed his twenty-some opponents. It's so bad that Bernie Sanders has endorsed President Trump's negotiations with Kim Jong-Un. How long that will last is problematic. Joe — at seventy-six years of age — is not too old to be president and is supposed to be more electable than most of the others. But let's not forget that Ol' Joe is a gaffe-o-matic machine. He's tossed out so many verbal boners over the years (who can forget his telling a wheelchair-bound man to stand up?) that he's bound to fumble and stumble repeatedly. His opponents — and the media — aren't going to let him get away with that stuff anymore.
A parody website with embarrassing photos of Joe Biden is outranking his official campaign page on Google. Joe Biden's presidential campaign is already sunk — at least on Google. Users are reporting that the former vice president's official 2020 campaign page is nowhere to be found on the first page of results for the search term "Joe Biden." Even worse for the Democratic front-runner: A realistic-looking parody site featuring images of Biden touching women and children appears to be doing quite well on Google and other major search engines, particularly for the search "Joe Biden website."
Biden mixes up British PM Theresa May with Margaret Thatcher, who left office in 1990. Joe Biden flubbed the name of British Prime Minister Theresa May at a fundraiser Saturday night, calling her by former Prime Minister Margaret Thatcher's name. Thatcher left office in 1990 and died in 2013. The mistake by Biden, 76, comes amid worries about his age after he slurred his words during his campaign announcement speech. Aides have shielded him from reporters.
Why Biden won't get the Dem nomination. Yes, he's really, really old, thus removing the opportunity to attack President Trump on the basis of his age. And yes, he says really stupid stuff [...] But the real reason why Biden won't get the nomination is that he and his family are corrupt, enriching themselves courtesy of foreign governments. Normally, that would not be a problem for a Democrat because the dominant mainstream media is not interested in scandals affecting powerful Democrats. But with 22 Democrats running for president, some of them with MSM allies, and with grave doubts about Biden's ability to defeat Trump (their overriding goal), these scandals will not be suppressed. Especially because they involve collusion with a foreign power.
Biden blasts Donald Trump for allowing 'Jim Crow to sneak back in' by attempting to introduce tougher voting laws. Former Vice President Joe Biden charged Saturday that Jim Crow is 'sneaking back in' as he emphasized the need to ensure voting rights are protected, which he said is lacking under the Trump administration. Biden drew several hundred people to a community center in Columbia as he opened his presidential campaign in South Carolina, home of the first-in-the-South primary and where black voters play a major role in the Democratic nominating process.
Joe Biden: 'Jim Crow Is Sneaking Back' Under 'Clown' Donald Trump. Former Vice President Joe Biden took shots at President Donald Trump on Saturday, calling him a "clown" who was allowing "Jim Crow" racism to return to the United States. Biden kicked off his rally in Columbia, South Carolina with a string of warnings about racism and hatred rising under Trump's presidency, in an effort to win support from African-Americans Democrats in the state.
Vanity Fair: Hunter Biden's $1.5 Billion Bank of China Deal 'Looming on the Horizon' as Campaign Scandal. A $1.5 billion sweetheart deal Hunter Biden's private equity firm secured from the state-owned Bank of China is "looming on the horizon" as a potential line of attack against his father's 2020 presidential campaign, according to Vanity Fair's Tina Nguyen. This comes days after a New York Times article renewed interest in the revelations exposed in Peter Schweizer's 2018 bestseller Secret Empires concerning the sweetheart deals Hunter Biden's private equity firm secured while his father, Joe Biden, was vice president.
NYT Finally Admits Biden's Strong-Arming Ukraine — and Whether His Son Benefitted — Is a Story. The New York Times has finally decided that former former Vice President Joe Biden's successful push to fire a prosecutor in Ukraine, who just happened to be investigating a company in which Biden's son was a key player, might be newsworthy. On Thursday [5/1/2019], [the] newspaper finally caught up to The Hill's John Solomon, who reported on April 1 that the Ukrainians had reopened probe into the company, Burisma Holdings. So the question is whether Biden acted to benefit his son.
Joe Biden Physically Blocking Reporters at Campaign Rallies, Then Says China is Not in Competition with U.S.A. Not only has Joe Biden's campaign already started blocking reporters from talking to him at campaign events, but now ol' slow Joe is cluelessly saying that China is not in competition with the U.S. on the international scene. This old codger has definitely gone senile. According to a report from the Washington Free Beacon, a reporter who has been covering the Biden campaign was physically blocked from attending a Biden event in Iowa this week.
Joe Biden's son invested in Chinese app that spies on Muslims, as US condemns China over 'concentration camps'. An investment fund backed by Hunter Biden, son of 2020 presidential candidate Joe Biden, invested in a surveillance system used to spy on Muslims in China, a new report claims. The former vice president has been facing scrutiny over his son's business dealings in Ukraine and other countries, with reports focusing on Hunter Biden's role in the Ukrainian energy company Burisma Holdings.
Does Joe Biden have any idea about what it is to learn to code? [Scroll down] The Examiner and the Detroit Metro Times earlier focused on the improbable — and patronizing — spectacle of Old Joe going into 'the Hood' and somehow getting hold of black female gear-turners laid off from the auto industry to enroll in the program, a variant on the 'learn to code' trope for displaced workers. And if you look at the Wayne County School of Continuing Education's website, it's likely that that the program he was talking about was this. "It's not rocket science," he cheesily assured. Since I am enrolled in one of these programs in the San Diego Continuing Education program, all I can say is, It's [very] close.
Trump's Effort to Take Back the Constitution and Self-Government. The federal leviathan is awash in trillions of dollars in cash. Countless lawyers, lobbyists, and public officials, by their control of or access to our government, have grown rich. Hillary and Bill Clinton notoriously are Exhibit A, but we are in the process of learning that the current front-runner in the Democratic sweepstakes for the 2020 nomination, Joe Biden, also managed successfully to siphon off a few million for himself and his family.
Impeachment as Political Panic Button. Joe Biden ran for president twice before, garnering zero primary victories and never reaching one percent in any contest. Caught presenting British Labour leader Neil Kinnock's life story as his own, Biden dropped out of the race for the 1988 nomination in 1987. In 2016, he pursued a vanity presidential campaign, running for secretary of state or vice president but not for the office he purported to seek. As such, he came in fifth in the Iowa caucuses, losing to the likes of John Edwards and Bill Richardson, before dropping out. He couldn't beat Bill Richardson but at 78 he runs ahead of the pack to succeed Donald Trump?
Biden goes light on policy, heavy on emotion. Joe Biden has a healthcare plan, but doesn't "have the time to completely lay out all the details." He also has a proposal for college debt, but no specifics on that either because "I don't have time; I don't want to keep you standing any longer." The former vice president's ideas on climate change and foreign policy? Also works in progress. Yet there's time for relatively lengthy anecdotes about how his dad long ago was unable to secure a loan to help send him to a school he wanted to attend.
8 Times Barack Obama Abused His Power To Appease His Base. President Trump has spent much of the past two years trying to undo Obama's abuses of power — which Obama did, not in the best interests of the whole country, but for the benefit of his base. Has Biden forgotten Obama's presidency or is he just a bad liar? Many of these abuses should have resulted in Obama's impeachment. Unfortunately, Republicans in Congress didn't have the guts to impeach him, but they tried everything they could to reign in his pseudo-dictatorship. Two pieces of legislation were drafted in order to stop his abuses and force him to follow the law. Obama threatened to veto both bills rather than risk any limits on his ever-expanding legislative authority.
Steve Hilton: China Is 'Funding Biden Family Businesses' with 'Billions of Dollars'. On Sunday, Fox News Channel's Steve Hilton reported on Peter Schweizer's investigation of former vice president Joe Biden's family's business dealings with China's government, concluding that Biden was "compromised by a foreign power and unfit to be president." Hunter Biden — Biden's second son — secured $1 billion in financing from the Bank of China — an arm of the Chinese government — for a private equity firm founded by himself and Christopher Heinz, the stepson of former Secretary of State John Kerry. That private equity firm was named Bohai-Harvest RST (BHR). Joe Biden "is the very definition of a corrupt insider," said Hilton, rejecting left-wing and partisan Democrat marketing of Joe Biden as "a man of the working people."
Biden's apology to Anita Hill is all about forgetting history. [Scroll down] Biden's an expert panderer. He is already expressing contrition for how he, as chairman, handled the Senate Judiciary Committee's hearing on Hill's accusations. "I believed her from the very beginning," Biden told ABC Tuesday, "but I was chairman. She did not get a fair hearing. She did not get treated well. That's my responsibility." Sorry, Joe. That's rewriting history. The hearing was fair. Hill's testimony was full of holes and devoid of evidence to back up her claim that Thomas harassed her by talking about porn and other vulgar subjects at work. Thomas categorically denied it. When testifying, she flip-flopped on a key question between her morning and afternoon testimony. She had to backtrack on repeated statements that Thomas asked her to his apartment to watch porn, finally admitting it was an "inference" she drew.
Biden must answer for the lies sold to the American people by Team Obama. "Sleepy" Joe Biden is counting on his eight years as President Obama's vice president to provide some sort of nostalgic boost for his third run for the White House in the past 32 years. But "the problem with nostalgia" — to quote former Sen. John Edwards as he described the presidential candidacy of Hillary Clinton in 2007 — "is what we tend to do is only remember what you like and you forget the parts you didn't like." The disgraced former Democratic senator from North Carolina was, of course, referring to the scandal-plagued administration of President Bill Clinton, which paved the way for the launch of seven independent counsel investigations by then-Attorney General Janet Reno.
Is Joe okay? Biden Mumbles Through His First Speech as 2020 Presidential Candidate. Former Vice President Joe Biden gave his first speech as a Democrat presidential candidate in Pennsylvania on Monday, but it didn't go that well as the 77-year-old man stumbled through the speech. [Video clip]
The Dems Don't Even Believe Themselves. The random element in the Democratic candidate sweepstakes is the recent entry of former V.P. Joe Biden into the mix. While the Democrats who preceded him into the race are demonstrably more radically leftist in their views — as risibly transparent as those views may be — Biden appears to be attempting to stake out a more "reasonable" position along the political continuum. The question about Biden, of course, is this: Does he actually have any heartfelt core beliefs? Other than being a backslapping good old guy politician who gets a bit too friendly with the girls on occasion, are there any defining philosophies that anchor his vision for the country? [...] Biden's early leading position in the polls among Democrats can be chalked up to simple name recognition more than anything else. That will fade quickly enough.
Only Biden Can Save the Democrats from Total Embarrassment. Joe Biden's announcement of his candidacy for president must be seen as the last stand of forces trying to prevent the Democratic party from descending in a power dive into a mighty bonfire of the far Left. That party's only plan of action since Election Day 2016 has been to attempt to destroy Trump, and that tactic survived even the complete dismissal of the Trump-Russia collusion canard and the declination of leaders of the Justice Department to accuse the president of obstruction of justice (for the reason that no ingredients for a prosecution existed).
New Joe Biden Ad Features Past Barack Obama Praise. Former Vice President Joe Biden released a campaign video on Tuesday featuring old praise from former President Barack Obama. Obama has not endorsed Biden for president, but the former Vice President has years of positive Obama footage to draw on for campaign ads.
Biden's first campaign rally raises doubts more than enthusiasm. For the frontrunner in the polls, Joe Biden wasn't able to attract a very impressive crowd for his campaign's kickoff rally. Speaking to crowd of "hundreds" (not the many thousands who turned out for President Trump in much smaller Green Bay Saturday, or the 20 thousand who allegedly attended Kamala Harris's kickoff rally), Biden looked really good for a 77-year-old. But of course, makeup and plastic surgery can accomplish wonders. But when it came to speaking, there were some worrisome lapses.
Let's Deep-Six Touchy Joe's Anti-Whitism. There was a clunkiness about Touchy Joe's invocation of Charlottesville on his presidential announcement day. [...] I have a question. Why haven't we trained up a slugger to hit this stuff right out of the ballpark? As in: "Hey Joe, why don't you hit on someone your own size? How about you bravely take out after the real threat to peace and domestic tranquillity, the thugs of AntiFa? "Let's see, Joe. Back in the day, the street thugs of the Democratic Party wore white flowing robes. Today they come all arrayed in artistic black. Yeah, Joe-ker, riddle me this: how come artists just love wearing artistic black? "Back in the day, Joe, the street thugs of the Democratic Party wore white hoods. Now they wear black masks and helmets. Where were you, Joe, expressing your outrage at this illegal and hateful behavior? Back in the day, Joe, the street thugs of the Democratic Party terrified people with burning crosses. Now they do it with bike locks. Hey Joe! When are you gonna call for bike-lock control!"
Biden the Liar. Harold Schaitberger, president of the AFL-CIO-affiliated International Association of Firefighters, declared at a campaign rally for Joe Biden today that "Joe Biden is genuine. There's nothing phony or artificial about Joe Biden." This is a spectacularly audacious claim about one of Washington's most notorious BS artists. A few days ago, Biden declared on The View, "We were asked, what are you proudest of from your administration? You know what I said — he said the same thing as I did. No[t] one single whisper of scandal. That's because of Barack Obama." Perhaps Biden believes there was no whisper of scandal because there was so much shouting about veterans dying while waiting for care at the Department of Veterans Affairs; the "Fast and Furious" gunwalking operation at the ATF; the dysfunctional launch of Healthcare.gov; the Syrian "red line"; Benghazi; the hacking of Office of Personnel Management records; the IRS targeting of conservative and Tea Party groups; other government agencies harassing and targeting the president's critics; drunkenness and reckless behavior at the U.S. Secret Service....
Five Obama-Era Foreign Policy Failures Joe Biden Will Have to Answer For. The eight years of the Obama-Biden administration were plagued by endless foreign policy failures that certainly raises questions as to what good Biden's foreign policy credentials were as Obama's vice president — especially since it took Donald Trump being elected president to clean up their messes. Five of these Obama-Biden foreign policy failures are mentioned below, but there are plenty more. To Biden's credit, he has been publicly critical of Obama's mishandling of Syria — a major foreign policy blunder of their administration. But there are plenty of other failures Biden hasn't separated himself from yet.
Poor Joe Biden: Out to 'rebuild' the middle class Trump has already rebuilt. Democratic presidential frontrunner Joe Biden says he got a new something to offer us — a promise to "rebuild" the middle class. [...] Umm, that train left the station two years ago, Joe. President Trump has taken care of the problem.
The Editor says...
The biggest problem that Trump has solved (so far) was Obama and Biden's strangulation of the American economy.
Also posted under Lists of Obama scandals.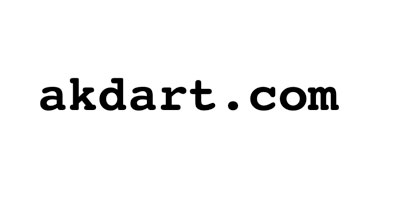 Biden and the little guy. Source: Pat Cross Cartoons
Joe Biden says he wants to 'make America moral again'. Days after jumping into the 2020 race, former Vice President Joe Biden is giving his own MAGA slogan a spin. Biden was asked what his version of President Trump's "make America great again" slogan would be in a Good Morning America interview that aired Tuesday [4/30/2019]. "Make America moral again," Biden told Robin Roberts. He continued, "Make America return to the essence of who we are, the dignity of the country, the dignity of the people, treating our people with dignity." Biden sat down with Good Morning America shortly before his first campaign rally on Monday. He said he's running for president to restore the "soul" and "backbone" of America and to unite the country.
The Editor says...
The Democratic Party is the party of humanism, feminism, lying, political violence, voting fraud, corruption, condescension, fearmongering, and abortion. Mr. Biden, while speaking to a homosexual, says he wants to be elected President so he can "make America moral again." The lying, godless, baby-killing Democrats are not going to make America moral again.
Joe Biden On Anita Hill In 1998: 'She Was Lying'. Former vice president Joe Biden repeatedly said on The View on Friday [4/26/2019] that he believed Anita Hill from the moment he heard her tale of sexual harassment by Clarence Thomas. But he previously told Sen. Arlen Specter that it was clear her testimony before the Senate Judiciary Committee included lies. "Not only didn't I vote for Clarence Thomas, I believed her from the beginning. I was against Clarence Thomas, I did everything in my power to defeat Clarence Thomas and he won by the smallest margin anyone ever won going on the Supreme Court," Biden told "The View's" Joy Behar. But in 1998, Biden admitted to Specter that "It was clear to me from the way she was answering the questions, [Hill] was lying" about a key part of her testimony.
The Gray Race for the White House. For decades, the Democrats' path to the presidency has been about offering something new. But the two front-runners are among the oldest candidates ever.
Stand by for Valerie Jarrett's third and FOURTH terms in the White House!
Joe Biden, 76, says he has no plans to limit himself to one-term in the White House. Former Vice President Joe Biden, who is looking to become the oldest candidate elected president, said Friday that he wasn't interested in pledging to serve only one term in office. Biden, who would be 78 on Inauguration Day 2021, said in an interview on ABC's "The View" that it is fair for voters to ask questions about his age as they weigh his candidacy. Asked if he would only serve a single term if elected, Biden said, "No."
Why Are the McCains Able Forgive Biden But Not Trump? A month ago, John McCain's daughter Meghan defended Joe Biden by saying, "With all due respect, I know Joe Biden very well. He's a very classy man. And I'm so sorry, but I cannot sit here and let his record or his character in any way being taken down." Joe Biden is a lot of things, but a classy man he is not. I, for one, will never forget that despicable moment when Joe Biden was campaigning in 2012 and said to a group of mostly African-Americans that Mitt Romney and the Republican Party would "put you all back in chains." So, no, Meghan, that is not something a man of class and character would say. But, what is perhaps more shocking is that according to sources close to the McCain family, they will back Biden's presidential bid.
Joe Biden is running on the media's Charlottesville lie about Trump. If Joe Biden was going to pick anything in the world as his reason to run for the Democratic presidential nomination, you would think he'd get creative. But no, he chose a well-known lie the media have been spreading since 2017. In his campaign launch video posted Thursday [4/256/2019] on YouTube, the former vice president said it was President Trump's comments on the Charlottesville, Va., protests that served as his personal bat signal.
Creepy Joe and the Social Justice Worriers. There's one faction in the Democrat Party that's very small and very loud and seemingly wants to return us to those halcyon days of the pre-internal combustion engine age with their silly Green New Deal. [...] The other faction of the Democrat Party is substantially larger and a whole lot quieter. Except they want to take us back to those wonderful days when America was in decline, unemployment ran rampant, poverty was up, labor participation the lowest in history, etc. [...] In the end the Democrats will do what they always do. They'll rig the primaries so the preferred candidate of the DNC leadership will get the nomination.
Biden's Latest Malarkey: Obama Administration Had 'Not One Single Whisper of Scandal'. If you're gonna tell a lie, make it a big one. Make it so astonishing, so blatant, that you cause the listener to question his own grasp on reality. Turn down the gaslight, and when he notices, say the light was always that dim. Is he going to believe the evidence of his own senses, or is he gonna go along to get along? All politicians do it, including our current commander-in-chief, but few do it with as much gusto as Joe Biden. He just really digs lying, almost as much as his old boss does.
Biden, Entire Senate Once Voted in Favor of Restoring General Lee's Citizenship. Former Vice President Joe Biden was a part of the 94th Congress that voted to restore Confederate General Robert E. Lee's citizenship over 100 years after his death, and yet Biden attacked President Donald Trump's support of the general in his campaign announcement video earlier this week. On Thursday [4/25/2019], Biden entered the presidential race, and he used Trump's words about a statue of Lee and the people who attended the Unite the Right rally in August 2017 as the focal point for his announcement video.
Six Reasons Creepy Uncle Joe Biden is Not Fit to be President. [#2] He lied about his first wife's death. Neilia and Naomi Biden — Joe's first wife and their baby daughter, respectively — were killed in a car accident in 1972. The late Mrs. Biden drove into a busy intersection, into the path of an oncoming truck driven by a man named Curtis Dunn. An investigation found Dunn was not at fault for the crash, but that didn't stop Joe from telling some pretty blatant lies about the man, as Jack Fowler explains [...]
New Biden Press Secretary Formerly Served as NBC News Communications Director. TJ Ducklo, who formerly served as the senior communications director for NBC News, has been tapped as the national press secretary for Joe Biden's presidential campaign. Democrats have repeatedly been critical of media personalities transitioning from Fox News to the Trump administration and vice versa. Ducklo also formerly served as the communications director of Bloomberg Politics before joining the Biden campaign.
Biden is Wrong: America is a Reality, Not an Idea. "America is an idea," Joe Biden gravely intoned, as he threw the 21st hat onto the overcrowded hat rack of the Democrat primaries already groaning under the weight of all the trilbys, clown caps and hijabs. Biden is a compulsive plagiarist and the idea that America is an idea, like his hair, isn't his own. It's also wrong. America as an idea has lately been bandied about by John Kasich, Senator Chris Coons, Senator Lindsey Graham, and even Bono. Biden not only showed up late to the primaries, but late to the idea of an idea. America isn't an idea. It's a place.
Sloppy Joe wants to bow to foreigners. Sloppy Joe bragged, "I get calls from people all over the world. World leaders are calling me, and they're almost begging me to do this, to save the country, save the world." No thank you, foreign politicians. We just spent $30 million investigating Russian interference in the last presidential election. Now Sloppy Joe is bragging about how foreigners will help his campaign — as if Americans want to go back to bowing to them.
Biden: The Democrats' Flavor of the Week. This week's person-whose-definitely-going-to beat-the President is Obama's former vice president, Joe Biden. He postponed the big announcement several times, and finally, the big day arrived this week. His party's theme for some time now has been straight white men bad, and it's difficult to see how he'll garner the nomination. But shrewd Joe has a plan: He hired Symone Sanders as his campaign manager just weeks after she'd contributed to another wannabe contender, Pete Buttigieg, the gay mayor of a failing Indiana city. Previously, she was the spokesperson for Bernie Sanders 2016 campaign. After leaving that position, she announced on CNN "We Don't Need White People Leading The Democratic Party Right Now."
18 Major Scandals in Obama's 'Scandal-Free' Presidency. President Obama and his mouthpieces have embarked on a bizarre scheme to hypnotize America into forgetting the many scandals of his presidency. They seem to think that intoning "this administration hasn't had a scandal" over and over again will make history disappear.
Joe Biden says his proudest moment of Obama's presidency was 'not one whisper of scandal'. Former vice president and newly-minted 2020 Democratic presidential hopeful Joe Biden appeared on "The View" on Friday morning [4/26/2019] and told hosts that his proudest moment of serving with President Barack Obama was that there was "not one whisper" of scandal during the time they served together in the White House. Biden said that, coincidentally, he and Obama both told press on the same day while in different parts of the country that the thing they were most proud of while in the White House was that there was "not one whisper of a scandal." "Not one," Biden said. "And that's because of Barack."
The Editor says...
If any of you believe this claim, please see this page.
Joe Biden's First Mistake. Vice President Biden is making a mistake, in our view, in trying to run for president on the idea that America is full of deplorables. He's launched his campaign with a video featuring neo-Nazis marching at Charlottesville. He's suggesting that President Trump — and his millions of followers — are racists and anti-Semites. That libel backfired on Secretary Clinton. What can Mr. Biden be thinking? It may be that the ex-veep wants to deflect attention from the Democrats' own problems. Mr. Biden's party hasn't been able to condemn the anti-Semitism surging in the Democrats' own caucus. Even Mr. Biden himself, supposedly a centrist, shrank from taking on Congresswoman Ilhan Omar and her ilk. Mrs. Pelosi at least tried to get a statement, though she backed down.
Biden Opens Campaign with Attack on Trump Charlottesville Statements. So, the same guy who said during the 2012 campaign that Mitt Romney would put black people back in chains has decided on a race-baiting campaign to get himself elected. Biden said in a video released Thursday morning that President Trump had assigned moral equivalence to the white supremacists at Charlottesville in 2017 and the protestors. "In that moment, I knew the threat to this nation was unlike any I had ever seen in my lifetime," Biden said. "I wrote at the time that we're in a battle for the soul of this nation. Well, that's even more true to today."
Surgeon who operated on Biden: He's better now than before brain surgery. Joe Biden almost died after suffering an aneurysm while serving in the Senate, but the surgeon who operated on his brain says that the incident shouldn't hold him back in his pursuit of the presidency. Dr. Neal Kassell, the renowned neurosurgeon who operated on Biden, said he's confident that Biden is "totally in the clear," and joked that he believed the surgery had even "made him better than how he was." "Joe Biden of all of the politicians in Washington is the only one that I'm certain has a brain, because I have seen it," Kassell said. "That's more than I can say about all the other candidates or the incumbents."
Biden Pushed Secretary of State Hillary Clinton To Form Closer Ties With Russia. In the aftermath of the Mueller report and former Vice President Joe Biden's announcement Thursday he intends to run for president in 2020, several news outlets began reporting on Biden's desire during his tenure in the Obama administration to develop closer ties to Russia. The Washington Free Beacon published a piece Thursday morning reminding readers of Biden's defense of Russia following then-candidate Mitt Romney's concern over Russia's apparent moves toward geopolitical domination in 2012.
Joe Biden Launches Campaign Based on Charlottesville 'Very Fine People' Hoax. Former Vice Preisdent Joe Biden launched his third presidential campaign on Thursday by referring to a debunked claim that President Donald Trump referred to neo-Nazis in Charlottesville, Virginia, in 2017 as "very fine people." In a three-and-a-half minute YouTube video, Biden cited the August 2017 riots as his primary motivation for running against Trump, presenting a version of events that even a CNN contributor has declared to be fraudulent.
'Racism and sexism': Women of color slam white male tilt of Dem primary. The women of color who packed into a university auditorium here Wednesday for a first-of-its-kind presidential forum delighted in the rhetoric of candidates who vowed to make Donald Trump a one-term president. But their frustration was just as palpable — over the heavy media attention being paid to white male candidates in the early days of the Democratic primary, and over polling they contended is feeding a misleading narrative that only a white man can defeat Trump.
Women of color frustrated with white males in Democratic primary. Women of color at the She the People presidential forum say they're frustrated with the attention given to Democratic primary front-runners, former Vice President Joe Biden and Sen. Bernie Sanders of Vermont, and other white males. She the People co-founder Aimee Allison said Wednesday [4/24/2019] she's also frustrated with polling numbers that indicate Biden and Sanders are in the lead in the Democratic primary, and said it's up in the air whether Biden will attract support from women of color. "He's going to enter a really different world," Allison told Politico. "It's a world in which we've woken up as women of color and we're not just going along to get along for a Democratic Party insider."
Union Buster: Joe Biden's First 2020 Fundraiser Co-Hosted by Top Anti-Worker Lawyer. Former Vice President Joe Biden's first presidential campaign fundraiser on Thursday [4/25/2019] will be co-hosted by a top union busting attorney, undercutting the leading Democrat candidate's message that he is somehow in favor of American workers while incumbent GOP President Donald Trump is not.
Ex-Vice President Biden launches 2020 presidential campaign. Declaring the "soul of this nation" at stake, former Vice President Joe Biden pushed into the crowded 2020 presidential contest Thursday and quickly sparked a fierce debate over the direction of the modern-day Democratic Party.
Joe Biden Hires Harvey Weinstein 'Damage Control' Adviser Anita Dunn. Former Vice President Joe Biden continues to make a splash in the 2020 Democratic primary. Hours after formally declaring his candidacy for president on Thursday, Biden picked up a coveted endorsement from celebrity attorney Michael Avenatti. The former veep also announced a series of campaign hires, including former Bernie Sanders campaign press secretary Symone Sanders, as well as Anita Dunn, the former Obama adviser who helped provide "damage control" guidance to disgraced Hollywood executive Harvey Weinstein.
Mr. Biden seems to forget that he was Obama's "impeachment insurance."
Joe Biden Echoes Trump MAGA Slogan: 'America's Coming Back Like We Used To Be'. Former Vice President Joe Biden, fresh off his presidential announcement Thursday [4/25/2019], addressed reporters in Wilmington, Deleware, declaring that "America's coming back like we used to be." "America's coming back like we used to be: ethical, straight, tell 'em the truth... supporting our allies, all those good things," Biden said when asked if he has a message for the world following his campaign kickoff.
Campaign Claims Joe Biden Asked Obama Not to Endorse Him. Appearing Thursday [4/25/2019] on MSNBC, former Vice President Joe Biden's 2020 deputy campaign manager Kate Bedingfield claimed Biden asked former President Barack Obama not to endorse him in the Democratic primary. Earlier Thursday, Obama offered praise after Biden launched his campaign — but noticeably stopped short of endorsing him as a candidate.
Twitter erupts with mockery over former vice president Biden's new branding. When Joe Biden launched his presidential campaign on Thursday, professional and amateur graphic designers tore his new logo apart on Twitter. And while some criticized the typeface and colors, others snarked that parts of the design looked like parts of the female anatomy. Among the 76-year-old former vice president's campaign hurdles is a series of accusations from women that he improperly touched them during public events.
Joy Behar Gets Emotional Over Biden: Remember When People Didn't Look at America 'in Horror?'. Joy Behar might as well have been wearing a Make America Great Again hat on Thursday's [4/25/2019] The View, as she passionately hailed Joe Biden's "patriotic" 2020 presidential video announcement. Not to support President Trump of course, but because of her wistful longing to get America "back" to when "we were the good guys." The View co-host couldn't stop gushing at Biden's video announcement, in which he claimed he would be the one to bring America back to its Constitutional ideals, unlike Trump who was taking us away from them.
Politicizing other people's misfortune:
Biden abandons plan to launch 2020 bid in Charlottesville. Former Vice President Joe Biden has canceled plans to launch his 2020 bid for the White House in Charlottesville, Va., where a woman protesting a white nationalist rally was murdered when a car was driven into a crowd of activists in 2017. The last-minute change of plan could be an indication of disorganization in the Biden campaign organization, despite the many months it has had to prepare as the former 36-year senator from Delaware procrastinated over his announcement.
Must be really embarrassing.
University of Delaware Won't Commit to Opening Biden Archive Before Election. The University of Delaware library is in possession of nearly 2,000 boxes of archival records covering Joe Biden's 36 years as a senator but has not committed to releasing them before the presidential election, which the former vice president is expected to enter on Thursday [4/25/2019]. The records were donated by Biden to his alma mater during his first term as vice president in 2011. Biden stipulated when he donated the papers that their release could come "no sooner than two years after [Biden] retires from any public office," according to the library. Biden left office more than two years ago on January 20, 2017, but the library now says an updated agreement with Biden was made to keep the archive closed until at least the end of the year.
"Middle Class Joe" Biden Should Really Be Called "Big Banks Joe". Biden's attempt to brand himself as "one of us" or a man of the people is no accident. All of the allegations that have emerged this week of Biden's inappropriately touching, kissing and hair sniffing of women and young girls has turned a lot of voters off. Biden has such a reputation for his "over-familiar style" that some people were calling him Creepy Veep as far back as 2015. But the most important reason that Biden wants to keep calling himself Middle Class Joe is that it creates an image that hides the truth — Biden often utilized his power as a senator from Delaware from 1973 to 2009 to help banks and other financial institutions make more money at the expense of tens of millions of ordinary Americans, many of whom were precisely the middle-class residents he keeps saying he has helped throughout his career.
Joe Biden was Trump before Trump. Joe Biden, on the evening of Oct. 11, 2012, delivered the most extraordinary, most ambitious, and most undignified performance in the history of televised vice presidential debates. Biden snickered and guffawed his way through the debate, interrupting his opponent repeatedly for the sake of interrupting, and firing irrelevant juvenile comebacks at his opponent's sober points. Surely, this boorishness would hurt Biden. Surely, laughing at dead servicemen in a war his administration started, and at the insolvency of entitlements, would look bad to the press and the public. Or so I thought. I was wrong.
The media need to investigate Joe Biden and his Ukraine dealings. For the past 12 days, the political media has been focused on "handsy" and "creepy" former Vice President Joe Biden and his penchant for making unwanted contact with women seemingly wherever he is. While these allegations deserve their fair share of attention, the mainstream media may be missing — or more likely ignoring — the real Biden story that's staring them in the face.
What's Worse Than 'Creepy Uncle Joe'. It turns out that handsy Ol' Uncle Joe really is a bit "creepy" after all. We can all say that, now that enough Democrats have told us this is the case. At least this is the current take of certain presidential-minded Democrats who have decided that they no longer want or need Joe Biden. If these Democrats were in their right minds, they would realize that loveable Ol' Joe — with his hair sniffing and back rubbing and face pecking — is among the least of their problems. Nevertheless, right now many in the Democratic party simply want to be done with Biden because of "inappropriate touching." This is the man who served in their party as vice president for eight years and as a U.S. senator for 36 years. By inappropriate touching, they mean things like hand-holding, forehead-to-forehead conversations, holding women "for a beat too long" at receptions, and the like. No one is alleging anything criminal, nor is anyone using the phrase "sexual harassment." What's more, very little we are hearing from Biden's accusers and their accomplices is new information. It seems clear that these accusations against Biden are little more than a political ploy by some Democrats who hope to rid themselves of what they see as an old straight white man who doesn't seem quite hip or radical enough to be their presidential nominee.
Joe Biden's campaign nearly imploded before it began. Wanting to be president is not something that White House wannabes ever really get over. Remember Richard Nixon? John McCain? Hillary Clinton? Now comes Joe Biden — again. Most likely. He's late starting his third bid, which should launch shortly after Easter, a good time, symbolically speaking, to attempt political resurrection.
Joe Biden Needs A Hug. For all his goofiness, gaffeiness, and gropiness, Crazy Uncle Joe had a way of hiding his unabashed and unrestrained liberalism behind this easy-going, sure-let's-crack-open-a-couple-of-Budweisers façade. For reasons that many of us find utterly inexplicable, he seems to connect with normal Americans in a way most of his smug and smarmy comrades don't. It's not that he's not smug and smarmy — if you remember the Clarence Thomas lynching you aren't fooled by his dopey regular guy act. It's that he is probably the only one of the Democrats who can fake it well enough to threaten Donald Trump's midwestern electoral power base.
Former Top Obama Adviser: The Democrats Are Totally Unprepared For Trump's Social Media War. CNN actually had a decent segment (sort of) about the 2020 Democratic field and their unpreparedness for the onslaught that is about to be unleashed against them by Donald Trump and the Republicans. So far, there is not one candidate who poses a serious threat. Yes, Joe Biden, but he's navigating through some Me Too drama, which he made worse by making jokes about it at a union conference last week. The former vice president is being accused of inappropriate touching, one of which included smelling an accuser's hair, which is super, super creepy. These things were well known. We've seen the memes and the photos of creepy Joe Biden. This was an open secret, but now — it's problematic.
Russian Collusion? Look To Joe Biden. An investigation into Biden's Russian ties is long overdue and urgent, as he is likely to declare his campaign for the Democratic Party presidential nomination sometime soon. While widely regarded as the moderate face of the Democratic Party, that perception might change quickly if more people were aware of his past work to further the interests of the former Soviet Union and Russia. Biden visited the Soviet Union several times during his early Senate career and was well known to Soviet leaders. The appalling Soviet treatment of dissidents was a big issue at the time, and then-Sen. Biden would sometimes express concern at their plight.
Biden: 'I'm not sorry for anything that I have ever done'. Former Vice President Joe Biden said Friday [4/5/2019] that he's not sorry for his past actions that some women have said made them uncomfortable, but that he's sorry he didn't understand more at the time. "The fact of the matter is I made it clear that if I made anyone feel [uncomfortable], I feel badly about that. It was never my intention. Ever," Biden said. Asked again if he was sorry, Biden did not apologize for his actions.
Three More Joe Biden Accusers Come Forward. Three more women on Wednesday [4/3/2019] came forward to accuse former Vice President Joe Biden of inappropriate touching after the potential 2020 Democrat contender released a two-minute video vowing to be "more mindful about respecting personal space." In interviews with the Washington Post, each of the three women detailed how Biden had made them feel uncomfortable during instances which occurred over the past several years.
Joe Biden Is Not Moderate. He's Far, Far Left. Joe Biden is the frontrunner for the Democrat Party nomination for president of the United States in the 2020 presidential election. Out of a field of eighteen Democrat candidates so far, Biden is polling at between 26 percent and 33 percent. That is a commanding lead. When voter preferences are divided 18 ways, it is an even more significant lead. Laughably, Biden is talked about as the "moderate" Democrat candidate for president. To be sure, Biden has a far better persona than any of the other candidates. Biden is the far-left extremist you can take home to meet your tradition-minded grandparents. Biden will charm your neighborhood backyard party while flipping steaks on the grill. Biden is the national Democrat you would most like to have a few beers and pizza with, regardless of political beliefs. In other words, Biden is the best fake.
Creepy Joe Jokes about Touching Children During Union Speech. Former Vice-President Joe Biden isn't just creepy with his inappropriate mannerisms, he's also tone-deaf about it. During a speech today at a construction workers conference, Biden brings kids on stage and then makes jokes about touching them. this guy is creepy. Everything about this is stunningly wrong. Making a joke about touching a child, while the children are hoisted on stage as props for political benefit is jaw-droppingly tone deaf, and quite frankly, sick, to anyone with common sense watching this display.
The Most Disturbing Thing about Joe Biden. For some reason, the evidence shows, in the early 2000s, Joe Biden began to remark in public that his wife had died at the hands of someone who "allegedly ... drank his lunch instead of eating his lunch." That Curtis Dunn "was an errant driver who stopped to drink." That drunk-driver story spread into news accounts. The Dunn family, who had strong sympathy for Biden, was shocked by the sullying of their now-dead father. [...] This says so much more about Biden the man than any too-close shoulder grasp ever could. It also says plenty about the contrition junkies who influence America's news cycle, and, as Jim Geraghty pointed out recently, about the media who for many years had dutifully served as Joe Biden's reputational bodyguard.
Joe Biden has no shame. Joe Biden may have picked the wrong moment to make his third run at the presidency. In late 2015, when the then-vice president demurred on a challenge for the Democratic nomination, the #MeToo movement was still two years away from its breakout over numerous accusations against Harvey Weinstein. Now, 18 months after that exposé, Biden's public handsiness has become a major scandal as he contemplates whether to enter the 2020 presidential sweepstakes. But this scandal won't bring Biden down. Why? Because he is utterly shameless, and America will eat it up.
Biden says he'll adjust his physical behavior as three more women come forward. Former vice president Joe Biden promised on Wednesday to adjust his physical behavior toward women, an effort to quell controversy over whether his intimate style is appropriate in the era of the #MeToo movement. Biden addressed critics in a video posted to Twitter as three additional women told The Washington Post on Wednesday about encounters with him that made them feel uncomfortable. Their stories bring the total number of people who have expressed concerns about alleged interactions with Biden to seven. Other women defended Biden, who has been seen by many women as an advocate for them.
Joe Biden Opens the Door. It's suddenly commonplace for feminists to say of Joe Biden that "he doesn't get it." [...] Biden has opened the door to scrutiny of his high school days. Now, Biden has no right to complain if some women he doesn't remember alleges that he stole a kiss from her, or worse, 60 years ago. Clearly, Biden hasn't been paying attention. It's questionable whether Biden's conduct of 60 years passes full muster under the feminist standards of today. But even if it does, what's to prevent a Kamala Harris or Elizabeth Warren supporter from "remembering" misconduct by Biden?
Beto praises 'courage' of Biden accusers, questions whether former VP should enter 2020 race. Former Texas Rep. Beto O'Rourke became the latest 2020 Democratic presidential hopeful to weigh in on the allegations of unwanted touching and kissing leveled against former Vice President Joe Biden. O'Rourke, who currently sits third in the polls alongside Sen. Kamala Harris of California and behind Biden and Sen. Bernie Sanders of Vermont, praised the "courage" of the women who have come forward to accuse the former vice president of inappropriate behavior.
Biden jokes about hugging in 1st appearance since improper contact allegations, later voices remorse. In his first public appearance since allegations of improper contact with women threatened his yet-to-be-announced White House bid, former Vice President Joe Biden appeared to make light of the controversy surrounding his well-publicized past getting too close for comfort with fellow politicians, their family members and others. Yet minutes later, talking with reporters, a more somber Biden emphasized that "I'm sorry I didn't understand more." And referring to his likely presidential campaign announcement, Biden said, "I am very close to making a decision to stand before you all relatively soon." Asked why the hold-up, Biden quickly answered, "The hold-up is to put everything together."
Will Penn Rename Biden Center Following Allegations Against the Former VP? It's a fair question, considering the fact that they scrubbed another man's name based on accusations of sexual harassment.
Social Justice for Creepy Joe. It appears that the leftist mob has now come for Joe Biden, the nominal frontrunner in the overloaded clown car that is the 2020 Democrat presidential primary. Biden, a longstanding barnacle on American politics who has never had much of a career away from the government teat — he was elected to the Senate in Delaware in 1972 at the tender age of 29, and served in that body while attempting failed presidential runs in 1988 and 2008, and then spent eight years as Barack Obama's Vice President from 2009-2017 — hasn't even declared himself a candidate for next year's presidential campaign and he's already in the crosshairs of the radicals in his own party.
Report: Joe Biden 'Seething' Behind the Scenes Despite Contrite Video. Fox Business Network reporter Charles Gasparino said Wednesday that former Vice President and potential 2020 candidate Joe Biden is "seething" behind the scenes at Sen. Bernie Sanders (I-VT), whose campaign he believes is behind media scrutiny of him getting too close for comfort with myriad women.
Peter Schweizer: Joe Biden 'Steered $1.8 Billion' to Ukraine While His Son Bagged 'Sweetheart Deal' from Their Government. Peter Schweizer, president of the Government Accountability Institute and senior editor-at-large at Breitbart News, recalled how Hunter Biden, Joe Biden's second son, received millions of dollars from Ukrainian energy company Burisma Holdings while his father directed $1.8 billion in aid money to Ukraine as vice president during the Obama administration.
Democrats in 2020: Unelectable Nonentities. The last and not the best hope of sane Democratic contenders is that very tired old plough-horse Joe Biden. With all his malapropisms and foolish ideas, the amiable survivor whose first run for the White House failed 31 years ago because he was caught plagiarizing from one of Britain's most unsuccessful opposition leaders, Neil Kinnock, is at least not a terrifying radical. And now, he is being sandbagged because he allegedly touched two or more women many years ago, perfectly legally, with no discreditable intent, out of affection with no claimed sexual aspect. [...] Biden is a memorably unprepossessing candidate for the headship of the American government. Putting tired, banal, stale, but oddly equable old Joe up against the rampaging lion who is the incumbent would be like sending Frederick the Mouse of the children's bedtime stories to do battle with my late Siamese wondercat, Sidney.
Biden's Problem Is His Ego. Joe Biden wants us to believe that all his touching speaks to how deeply he cares about other people. It's really a testament to how much regard he has for himself.
The purging of Biden is instructive. After the first shoe dropped on groping, I said Joe Biden should drop out of the race because someone powerful wanted him out of the race. A second woman came forward yesterday. The bombshell fell today [4/2/2019] as The Hill reported, "Joe Biden's 2020 Ukrainian nightmare: A closed probe is revived." His opponents have the goods on him. Of course they do. He spent 42 years in the Senate (the last eight as vice president, who is the president of the Senate). I am convinced now that everyone in Washington has secret baggage that is known by someone. This is why they are frustrated with President Donald John Trump because he is an outsider no one seems to have the secret baggage that would destroy him.
Nancy Pelosi's Perv Problem. If you're a sleazy male Democrat, you can always count on Nancy Pelosi to run interference for you and your pervy proclivities. While she has soaked up plaudits as a champion for women (most recently as the VH1 Trailblazer Honors recipient last month for International Women's Day), what she really deserves is Cheerleader of the Year Award from the Democratic Bad Boys Club. The latest beneficiary of her soft-glove treatment is former Vice President and potential 2020 Democratic presidential aspirant Joe Biden — a.k.a. the veep creep. She gently advised him to "pretend you have a cold" and joked during a Politico interview that he should emulate her "straight-arm" policy of keeping distance from others. Giggle, giggle, blink, blink. Reporters laughed along. (And these are the same people who mock straight-arrow Vice President Mike Pence of taking extra precaution around women!)
Further claims of inappropriate behavior put Joe Biden's 2020 presidential bid in doubt. Two more women have claimed that Joe Biden inappropriately touched them, in a further blow to the former US Vice President said to be considering a bid for the White House. Caitlyn Caruso, 22, told the New York Times on Tuesday [4/2/2019] that Mr Biden hugged her "just a little bit too long" when she was 19 at a University of Nevada event on sexual harassment.
That Joe Biden's touching is only becoming an issue now confirms liberal media bias. As the press gives more attention to the mounting accusations against former Vice President Joe Biden for inappropriate touching, it is only doing more to confirm all of the suspicions that conservatives have about liberal media bias. The New York Times quoted two more women as saying they felt uncomfortable by the way Biden touched them, which follows two other accusations of a similar nature. However, there is nothing particularly new about the idea that Biden is handsy. The fact was well known for years and demonstrated in many photos and videos. A number of conservatives tried to argue that his creepy behavior shouldn't simply be dismissed as just a cuddly Biden being Biden. At the time, though, the matter was largely ignored by the media, treated as a joke, or waved off as "faux outrage."
The roll-out of 'inappropriate touching' accusations against Creepy Uncle Joe continues. Somebody is kneecapping Creepy Joe. Call me obsessive and paranoid, but I have a long shot theory. [...] The list of suspects is potentially anyone interested in running for the 2020 nomination, of course. But it would have to be someone with sufficient deviousness, resources, media contacts, and skill to pull off a campaign. Michelle Obama certainly could be the puppeteer. But among declared candidates, Kamala Harris tops my list in terms of deviousness, and she clearly has significant financial and organizational support. Bernie Sanders, who currently polls just behind Biden is another old white guy who potentially could pick up support that is not committed to intersectionality (i.e., discrimination against white males). Feel free to call me obsessive and paranoid, but I have to wonder if the fine hand of Hillary Clinton is not behind this phenomenon. It would be perfectly in character for her. But is she really thinking that she has a chance? Is she willing to make another run?
Pelosi: Biden's Inappropriate Behavior with Women is Not Disqualifying. Lt. Gov Justin Fairfax, over in Virginia, has been accused of rape by two women. He hasn't been disqualified. Talk of an Al Franken comeback is ubiquitous. Biden's allegations haven't yet reached that stage. So why not have Bad Touch Biden in the big White House?
Good thing his name isn't Kavanaugh.
Whoopi Goldberg Defends Biden. Monday on ABC's "The View," co-hosts Whoopi Goldberg, Meghan McCain and Joy Behar defended former Vice President Joe Biden in the wake of former Nevada lawmaker Lucy Flores' claim he inappropriately touched and kissed her in 2014 at a campaign rally.
Biden spokesperson criticizes 'cottage industry of lies'. A spokesperson for Joe Biden pushed back forcefully on Monday at a "cottage industry of lies" he said has formed about the former vice president supposedly crossing a line between affectionate or supportive behavior with women to something inappropriate. [...] Biden is widely expected to enter the Democratic race for the White House, where allegations of inappropriate touching and kissing could torpedo his campaign.
Joe Biden's 2020 Ukrainian nightmare: A closed probe is revived. Two years after leaving office, Joe Biden couldn't resist the temptation last year to brag to an audience of foreign policy specialists about the time as vice president that he strong-armed Ukraine into firing its top prosecutor. In his own words, with video cameras rolling, Biden described how he threatened Ukrainian President Petro Poroshenko in March 2016 that the Obama administration would pull $1 billion in U.S. loan guarantees, sending the former Soviet republic toward insolvency, if it didn't immediately fire Prosecutor General Viktor Shokin.
Laura Ingraham Shares Her Own "Creepy Joe" Me Too Moment. Former VP Joe Biden is known for touching and kissing women inappropriately. There are many accounts that show he is infamous for this. By doing a simple google search, it is apparent that this is something that he does all the time. However, in the era of the "me too" movement, is it safe to assume that Joe Biden isn't fit to run the office of president in the United States? Most people say "no."
'The View' hosts say they want Joe Biden to continue smelling women's hair and kissing them. The women of "The View" don't think much of the accusations made against Joe Biden of inappropriate behavior with women, and several said they wanted him to continue smelling women's hair and kissing them without asking. "Joe is a hands on kind of guy!" said Whoopi Goldberg, who asked why the accuser couldn't have simply asked him to stop touching her. Biden was accused by a former Nevada lawmaker of smelling her hair and kissing her in a way that made her very uncomfortable. She cited other examples of inappropriate behavior from Biden in her statement.
Washington Post springs to the defense of serial groper Joe Biden. Joe Biden is in a lot of trouble, as editor Lifson points out today. Biden apparently kissed a woman without her permission, which is a serious offense in #MeToo land. There are also several photos of Biden with his arms around women, kissing them, kneading their shoulders — shouldn't he be arrested or something? But never fear, Uncle Joe. The Washington Post is riding to your rescue.
Biden His Time. My sense is that Biden is the Ed Muskie of this election cycle — the early front runner because of name recognition and general stature, but doomed to fade once the campaign starts in earnest. At this point in 1971, Muskie was leading in Nixon in some head-to-head polls ahead of the 1972 election. But then Muskie exposed himself as the prototype of the snowflake generation, and his campaign went kaput. He would likely have faded anyway, as the Democratic Party base in 1972 wanted someone much more fully anti-war and anti-American than Muskie (or Hubert Humphrey), and coughed up the hairball of George McGovern.
Connecticut woman says then-Vice President Joe Biden touched her inappropriately at a Greenwich fundraiser in 2009. A Connecticut woman says Joe Biden touched her inappropriately and rubbed noses with her during a 2009 political fundraiser in Greenwich when he was vice president, drawing further scrutiny to the Democrat and his history of unwanted contact with women as he ponders a presidential run.
Who kneecapped Biden? Five years after the fact, Nevada Democrat Lucy Flores came forward with a story that Joe Biden gave her an unwanted kiss. [...] How odd that she chose to tell her story now. Democrats have known about Biden's improper behavior for decades and were silent about it. But 32 years after his first run for president, Biden actually has a shot because he was Obama's veep. Somebody wants Biden out of the race. Hence, Flores told her tale and Matt Drudge linked it. I am guessing this is the work of the Obamas. They saw Plugs up close for eight years. They know him. They know he is too impulsive to be president, which would stain Obama's legacy. That was why the Obamas supported their arch-enemies, the Clintons, last time. Michelle has made it plain that she wants a Woman of Color as the nominee. And John Boehner made it clear that Barack does what she wants him to do.
Time's Up! As a prominent Bernie Sanders supporter in 2016 who seems eager to back a non-Biden candidate in 2020, [Lucy] Flores might have a political motive to exaggerate her recollection. Going on the evidence that now exists, her charge is hard to evaluate. According to the standards of culpability that Biden has articulated in similarly conflicted situations, however, it's an open-and-shut case. Perhaps no major American political figure has so consistently championed the erosion of due process for those accused of sexual misconduct. Even if Flores's claims might be unprovable, distorted, or simply wrong, changing the culture about sexual misconduct and mistreatment of women requires that we accept her version of events. Biden will now learn firsthand how the mantra of "believe all survivors" has the effect of presuming the guilt of the accused.
Joe Biden's Stale Postmodernism. [Scroll down] A normal person would flatly deny the allegation if he didn't believe it. If he did believe it, he would either deny the allegation anyway or apologize. If he wasn't sure (i.e., he didn't recall doing what he's accused of but knew he was capable of it — which is probably the case with Biden), a normal person would either deny the allegation or simply say he doesn't remember inappropriately touching Flores. He would not add the obligatory salute to the "Me Too" movement. Unfortunately, the modern Democratic party is post-normal.
The Absurd Destruction of Joe Biden is a Huge Boost to Trump. Because the 2020 presidential election is a year and a half away, it is very easy to get lulled into the false presumption that the outcome cannot possibly be currently determined, especially after the shocking result we all witnessed in 2016. However, there is an extremely strong argument to be made that the emerging destruction of Joe Biden, by both his own hands and those of his rivals, could very well end up allowing President Trump to be re-elected. While I am no fan of Joe Biden the politician, there is absolutely no doubt in my mind that, if the Democratic Party got behind him early in this process and allowed him to emerge from their primaries unscathed, that, barring a "black swan" event, he would defeat Trump. There is no one else currently likely to run for the Democratic nomination about whom a remotely similar statement could be rationally made.
Joe Biden's Al Franken problem. Joe Biden has an Al Franken problem. Though he hasn't even officially announced he's running for president, on Friday Biden was hit with the first of what could be more #MeToo accusations. Lucy Flores, a former Nevada assemblywoman, wrote that in 2014, when she was seeking office and Biden was still vice president, he smelled her hair and then planted an unwanted kiss on the back of her head. The problem for Biden is similar to the one faced by Franken when he was forced to resign from the Senate: Descriptions of misconduct are more believable when consistent with visual evidence.
A history of Joe Biden's most touchy-feely moments. He's the Democratic Party's hands-on favorite for 2020. The revelation last week of Joe Biden's creepy encounter with a young female politician was is hardly the first time the 76-year-old has been accused of being too touchy-feely with women. Topping the Post's Gallery of Biden's Greatest Hit-ons was the time he grabbed the shoulders of Stephanie Carter from behind and whispered in her ear while her hubby Ash Carter gave his 2015 Secretary of Defense acceptance speech. He awkwardly groped the waist of The Hill's Amie Parnes at a 2013 holiday party. During a 2012 campaign stop in Ohio he sat so close to a biker chick his forehead touched her temple.
'It's so easy to Google "Creepy Biden"'. The former Nevada lawmaker who accused Joe Biden of giving her an "awkward kiss" in 2014 said Sunday she decided to go public because she wanted to force Democrats to confront his inappropriate behavior as the former vice president decides to run for the White House. "It's so easy to Google 'Creepy Biden' and you get all these compilations of pictures and video evidence of young women and women looking very, very uncomfortable," Lucy Flores, a former Nevada assemblywoman and 2014 candidate for lieutenant governor, told POLITICO.
Lucy Flores Speaks Out, Eviscerates Biden's Ridiculous Defense Against Her Accusation. Lucy Flores, the Democrat lawmaker who just revealed that Joe Biden inappropriately touched her during her 2014 campaign for Lieutenant Governor of Nevada appeared on CNN's "State of the Union" on Sunday [3/31/2019]. [Video clip]
Joe Biden Is Done. Joe Biden is a creepy old goat. Everyone knows this. There is much photographic evidence of him crossing the line with women. He's also a liar and a buffoon. But the Democratic party's public-relations arm, aka the mainstream media, has never before had any incentive to hold Biden up to scrutiny. Why bother? When he became veep, any attack on Biden risked looking like casting aspersions on the man who made him his number two, and the media could not countenance any naysaying about the judgment of the Precious. For the next few months, though, we're in an amusing interstitial period when the media actually has a reason to attack their fellow Democrats: any hacks out there who think their party can do better than Biden (or Sanders, or Warren, or Harris, or etc.) can rip into their disfavored candidates in order to give an assist to their preferred picks.
Complicit Media Failed to Protect Lucy Flores from Joe Biden. ormer Nevada Assemblywoman Lucy Flores was not just a victim of Joe Biden, but of a complicit media who deliberately looked the other way for decades. Serial Young Girl-Toucher (nickname stolen from Ace of Spades) Joe Biden denies the incident with Flores, but the whole world knows he has been caught countless times on video and in photographs behaving inappropriately not only with women, but with young girls — very young girls.
Joe Biden's endless gaffe-riddled apology tour. Actual Candidate Joe Biden is going to be a lot less popular than Potential Candidate Joe Biden. To begin with, there's his record, which couldn't be further out of step with the party he aims to lead. He's been steadfastly pro-corporate in his instincts and preferences, as one might expect from a senator representing the state of Delaware, home to the country's credit card industry. His racial views in the 1970s placed him on the rightward fringe of his party. He was hard on Anita Hill during Clarence Thomas's confirmation hearings. He campaigns for Republicans. And he has a long history of handsy behavior, and downright sleazy off-color statements, toward women.
'Creepy Uncle Joe' Gets Busted by #MeToo (Hint: She's a Bernie Supporter). After years of inappropriate public contact with women and girls, Joe Biden has finally been called out by a fellow Democrat. [...] Of course, the obvious political motive of Biden's accuser does not mean that his "Creepy Uncle Joe" act isn't genuinely offensive. But why is it that this behavior, which conservatives have been pointing out for years, seemed to go unnoticed by Democrats and the media (but I repeat myself) until a fellow Democrat called out Biden?
CBS Highlights Joe Biden's Apology to Anita Hill Ahead of Expected 2020 Run. Former Vice President Joe Biden is expected to announce a run for president some time in April and has been testing the waters and smoothing over rough spots from his past. As part of that effort Tuesday night [3/26/2019], he made yet another public apology to Anita Hill, the law clerk who falsely accused Justice Clarence Thomas of sexual harassment. The apology drew the attention of the CBS Evening News, who highlighted it Wednesday. "Former Vice President Joe Biden is trying to clear up some past issues ahead of his expected announcement that he's joining 14 other Democrats in a run for the White House. Last night he brought us his role in a controversial Senate confirmation hearing from 28 years ago," announced anchor Jeff Glor.
CNN, MSNBC Ignore Inappropriate Kissing Allegations Against Biden. CNN and MSNBC have not covered the allegations a former Democratic lawmaker levied against former Vice President Joe Biden in the 12 hours after the allegations surfaced on Friday afternoon [3/29/2019].
CNN, MSNBC ignore explosive misconduct allegation against Biden. Two prominent cable news networks offered zero coverage to the breaking misconduct allegation made against former Vice President and potential 2020 candidate Joe Biden on Friday night. A former Democratic candidate from Nevada alleged in an op-ed published in New York Magazine's The Cut that Biden inappropriately touched her at a 2014 campaign event.
Democrat Makes #MeToo Claim Against Joe Biden: He Smelled Me and Kissed My Head. Former Nevada Assemblywoman Lucy Flores, now a Social Justice Activist, revealed that Vice President Joe Biden was "creepy" with her during a campaign event. She said in an essay for The Cut that the incident occurred during her campaign for lieutenant governor in Nevada in 2014, when Biden came to the state to help the campaign.
Here's why Beto, Biden and Bernie are peaking. Much has been written about the supposed frontrunners for the Democratic nomination for president: Joe Biden, Sen. Bernie Sanders (I-Vt.) and former Rep. Beto O'Rourke (D-Texas). For the past several months, the first two have been comfortably leading the pack in national, Iowa and New Hampshire polls, while O'Rourke has been at or near the front of the remaining group. There has been an unmistakable (and highly mistaken) air of inevitability surrounding these three. But the calculus that has gone into their decisions — or in Biden's case, the expected decision — to enter this increasingly crowded field is laden with landmines that likely will doom each of their candidacies.
Report: Biden Being Asked to Consider One-Term Pledge. Former Vice President Joe Biden's advisers are reportedly asking him to consider pledging to just serve one term in office if he wins his party's nomination and faces off against President Donald Trump in the general election. According to a Thursday New York Times report, Biden's advisers are discussing "a possible pledge to serve only one term" and framing Biden's 2020 campaign "as a one-time rescue mission for a beleaguered country."
The Editor says...
I thought that was what Trump's presidency was for.
A Brief Survey of 2020's Psychotic Democratic Roster. That anyone thinks Joe Biden has a chance [...] of being elected is mystifying. The man has so many skeletons in the closet that he can't remember them all — plagiarism; racism; corruption; and a penchant for fondling young girls, even in public on camera. Like Bernie Sanders, he is too old.
Top Dem Donors Tell Joe Biden They Won't Raise Money for him. A handful of leading Democrat donors recently told former Vice President Joe Biden that they would not raise early-stage campaign funds for him if he were to run for president in 2020, according to a report. According to CNBC, several donors declined Biden's request to bundle campaign contributions due to their skepticism regarding whether the 76-year-old establishmentarian could survive a bruising Democrat primary.
Impeachment insurance:
Report: Biden Advisers Consider Stacey Abrams as Running Mate. Advisers for former Vice President Joe Biden's 2020 presidential campaign-in-waiting are debating whether to name failed gubernatorial candidate Stacey Abrams as his running mate, a Thursday report says. According to Axios, Biden aides believe adding Abrams to the ticket would send a strong signal to voters that he's not "just another old white guy."
Joe Biden's video problem. For the same reason that he is the Democrat most likely to run successfully against Donald Trump in 2020, Joe Biden is the most problematic choice for the Democrats' presidential nomination. Slow Joe, you see, spent decades as a prominent officeholder before the Democrats embraced crazy leftism as dogma. And in the age of online video clips, social media, and email, his previous speeches contradicting the leftism currently demanded by the party's base are available for all to see. A case in point is the current Democrat desperation measure: packing the Supreme Court.
Hamlet on the Potomac: Biden's long history of public indecision over presidential run. Despite leading a dozen announced Democratic 2020 presidential candidates in the polls, former Vice President Joe Biden is again dragging out a decision on a presidential run, repeatedly teasing that he is close to making up his mind. [...] At the start of January, members of his inner circle intimated that he would "most likely make a decision within the next two weeks." A month later he said he was "70 percent there." At the end February, he said he was "very close" to making a decision. Last week he told supporters he would decide "in a few weeks." Then it was reported that Biden was telling family and friends that there was a 95 percent chance of his running.
'Middle-Class Joe' rakes in millions. "Middle-Class Joe" Biden has a $2.7 million vacation home. He charges more than $100,000 per speaking gig and has inked a book deal likely worth seven figures. Since leaving office in 2017, the 76-year-old former vice president has watched his bank account swell as he continues to cultivate the image of a regular, Amtrak-riding guy. He's repeatedly referred to himself as "Middle-Class Joe" on the campaign trail and in speaking engagements as he publicly mulls whether to run for president.
Blue-Collar Hero Joe Biden Is Actually Super-Duper Rich, A Bona Fide 1 Percenter. Joe Biden likes to call himself "Middle Class Joe," but nowadays, he's anything but that. Biden is a bona fide member of the "1 Percent," which according to the Economic Policy Institute means you make more than $421,926 a year.
Is Diversity a Root Cause of Dual Loyalty? "We can't be divided by race, religion, by tribe. We're defined by those enduring principles in the Constitution, even though we don't necessarily all know them." So Joe Biden told the firefighters union this week. But does Joe really believe that? Or does that not sound more like a plea, a wistful hope, rather than a deep conviction? For Biden surely had in mind the debate that exploded last week in the House Democratic caucus on how to punish Somali-American and Muslim Congresswoman Ilhan Omar for raising the specter of dual loyalty. Rebutting accusations of anti-Semitism lodged against her, Omar had fired back: "I want to talk about the political influence in this country that says it is OK to push for allegiance to a foreign country." Omar was talking about Israel.
Why Uncle Joe Biden will be America's next president. He's a career politician (he only held a "real" job for a few years in his 20s, and he's been living off the public dole for nearly half a century). He's run for president twice, in 1988 and again 20 years later, so he knows the game inside and out. And after a decade of political sniping, 2020 is tailor-made for a middle-of-the-road candidate, which fits Mr. Biden to a T. Here's the simple scenario: The entire Democratic field runs hard left, as they are now, embracing full-blown socialism. Mr. Biden will then roll up in a yellow Corvette — maybe wearing aviator sunglasses — and say "whoa, whoa, whoa, people, let's not get crazy here." The mainstream media will embrace him, voters is the middle will go, "yeah, I can see him as president," and that's all she wrote.
Has the Democratic Party Passed Joe Biden By? A new poll is out in Iowa that shows former Vice President Joe Biden leading socialist Senator Bernie Sanders. [...] Biden is dithering about making a run, and who can blame him? With 30 percent of Iowans believing his time has passed and he shouldn't run, you have to wonder if that percentage is even higher in more liberal states. There was a time when Biden was seen as a liberal lion — about as far left a Democrat as there was in the 1980s. But times change and so has the Democratic Party. In fact, the party is unrecognizable compared to what it looked like in 2008 when Biden was chosen as Barack Obama's running mate. Many on the far-left see Biden as "too conservative," if you can believe that. The media sees him as a "centrist."
Good thing there are no statues of Joe Biden. The Washington Post reports on an interview a Delaware newspaper conducted with Joe Biden in 1975. On the subject of race, Biden stated: ["]I do not buy the concept, popular in the '60s, which said, 'We have suppressed the black man for 300 years and the white man is now far ahead in the race for everything our society offers. In order to even the score, we must now give the black man a head start, or even hold the white man back, to even the race.' I don't buy that.["] Putting an even finer point on it, Biden added: ["]I don't feel responsible for the sins of my father and grandfather. I feel responsible for what the situation is today, for the sins of my own generation.[..."]
Joe Biden in the final stages of preparing for a 2020 presidential bid. Former Vice President Joe Biden is in the final stages of preparing for a 2020 presidential campaign that is expected to launch next month, according to multiple people familiar with his planning. A formal kickoff is expected by mid-April and would all but cement the size and scope of the Democratic presidential field that currently stands at 12 formally declared candidates, two still in the formal exploratory stage and others still mulling a bid but waiting to see what the former veep might do. Biden sits atop various surveys of Democrats nationally and in the key early primary states and is seen by supporters as one of the contenders best-equipped to unite factions that are squabbling over the ideological future of the party and where and who exactly it should target in a bid to retake the White House. While the 76-year old can likely expect to find support in suburban swing districts and Midwestern states key to previous Democratic presidential victories, he faces doubts about whether he can win over minority and younger voters that are fueling much of the party's current energy and success.
These Democratic voters were asked if they want Biden to run for president. Not one raised their hands. A handful of voters who say they backed Hillary Clinton in the 2016 presidential election say they are unexcited by the prospect of former Vice President Joe Biden entering the 2020 field. "How many of you would like to see Joe Biden get in? Show of hands," CNN's Alisyn Camerota asked the panel of six Democrats, selected from Ohio, New York, New Jersey and Pennsylvania, on "New Day" Tuesday morning [3/5/2019]. No one raised their hands.
The Editor says...
It doesn't matter. From where I'm sitting, it appears that the Democratic Party is run from the top down. The platform is written at the uppermost levels and handed down to the grassroots as an edict. The elite power players in the Party select their candidate, and then make the necessary arrangements, before their national convention if possible, to install the pre-ordained candidate. That's now Hillary got the nomination last time instead of Bernie Sanders. The Republican Party works in the opposite way: The party platform is developed at the lowest levels and is compiled and refined as it works its way up to the national convention.
Valerie Jarrett's third term?
Joe Biden's Potential Bid and an Obama Restoration. In today's [3/7/2019] New York Times, Democratic Representative Cedric Richmond of Louisiana, the former head of the Congressional Black Caucus, said he believes that former vice president Joe Biden is the party's "best candidate to beat Trump." Much of the discussion around Biden has focused on how much of love from Democrats that he enjoyed as Obama's vice president will continue when he's flying solo. Biden's age is obvious, his gaffes are legendary, and today's Democrats aren't big fans of his old stances on crime, the death penalty, abortion, and handling of the Anita Hill case.
Biden's Betrayal of SEALs should Doom His Presidential Run. [W]hile critics of President Trump's foreign policy accuse him of a degree of recklessness and immaturity that place the nation's security at risk, Biden's service in an administration that gave us the criminal negligence and incompetence of Benghazi, provides us with an example of why he should not be trusted with the nation's security or the lives of its heroes.
Did someone mention Benghazi?
The return of Big Ego Politics: Joe Biden gets the backstage rock star treatment on the road. For all his claims to being "everyman," the great grassroots candidate, fumblin' Uncle Joe all full of malapropisms, or Amtrak Joe who rides the train, news is getting out about potential Democratic presidential candidate, Joe Biden, and he doesn't quite look like the everyman he projects himself to be.
Michael Bloomberg Patiently Waits As Biden Considers A Potential WH Bid. Former Vice President Joe Biden has yet to enter the 2020 race for president. Some recent media reports have suggested that his son's checkered private life could be part of the reason for the Democrat's hesitation. [...] The hesitation on Biden's part is holding up process for other potential Democratic candidates. Former New York City Mayor Michael Bloomberg, for one, is considering a run at the White House but not if he has to challenge Biden in a stacked primary.
If Biden enters 2020 race, Trump-like support is expected by Democrats. Former Vice President Joseph R. Biden has yet to declare his presidential intentions, but if he does run, he's looking at a Trump-like coalition of support within the Democratic Party, with backing from men, the less-educated and older voters. Mr. Biden would enter the race as the most well-known and most well-liked option, with polls consistently putting the 76-year-old first in the Democratic nomination race.
Biden's polling lead shaky ahead of 2020 decision. Joe Biden's big lead in early Democratic 2020 polling might be a bunch of malarkey. While most polls show the former vice president hovering around 30 percent of the Democratic primary vote, well ahead of second-place Sen. Bernie Sanders, two recent surveys paint a starkly different picture — raising the question of whether Biden is a real front-runner or just has big name-recognition. Those polls show far more Democratic voters undecided about which candidate to support, and they pegged Biden's backing at a much less intimidating 9 to 12 percent.
Biden tells Europeans in Munich that America is 'an embarrassment'. Speaking on German soil 75 years after the U.S. and its allies prepared for D-Day, Joe Biden described America as "an embarrassment" and its trade policies "self-defeating." [...] Biden, 76, speaking at the annual gathering of foreign policy leaders, didn't mention Trump by name. But, despite a longstanding tradition of politics "stopping at the water's edge" and refraining from criticizing a commander-in-chief while on foreign soil, Biden took the opportunity to blast him, even veering into criticism of domestic policy as he launched into what sounded like a stump speech.
The Feeling is Mutual, Joe. I don't think we have commented on Joe Biden's disgraceful performance at the Munich Security Conference yesterday. I haven't seen a full transcript of his remarks, but he delivered a partisan stump speech to an audience of European leaders. It consisted largely of an attack on the President of the United States. I'm so old, I can remember when that was considered bad form.
Joe Biden criticizes Trump's policies in Munich speech saying they have undermined America's moral leadership. Joe Biden isn't in the 2020 presidential race yet, but he's making clear at an international gathering that he thinks President Trump has undermined America's ability to claim moral leadership. The former vice president says the US doesn't want to turn its back on its closest allies and cherishes democracy, the rule of law and a free press. Biden tells the Munich Security Conference that the America he sees 'stands up to the aggression of dictators and against strongmen who rule by coercion, corruption and violence.'
Some Dem strategists think Joe Biden's time as a POTUS candidate has likely expired. Three things you should know about Joe Biden's qualifications to run for the Democrats' presidential nomination this time:
[#1] He and his entourage once ran up a Paris hotel bill in excess of $500,000 — for one night. So, Joe definitely knows how to spend other peoples' money.
[#2] As vice president, Biden charged the Secret Service rent for staying on his property to protect him. So, he also knows how to raise money.
[#3] Joe once declared that John McCain was too old to become president of the United States at 72. Joe turns 77 this year.
Democrats are in a fret right now because Joe is reported to be leaning toward a third run for the White House. And he's not only way ahead of all other party wannabes in early polls, he's ahead of the Oval Office incumbent.
The Mythologies of 'Joe Being Joe' Biden. Some polls put 76-year-old Joe Biden as the Democratic front-runner for the 2020 presidential election. There is certainly some logic to that reckoning. Biden has far more experience than any of his likely party rivals — 36 years in the Senate, eight years as Barack Obama's vice president, and two past presidential runs. He may be the only Democratic candidate who could likely win back some of the "deplorables," "irredeemables," and "clingers" of the critical Midwestern swing states. But all of that said, the folksy Biden is hardly the sober and judicious alternative to a supposedly reckless Donald Trump. In many ways, Biden has been far wilder in his speech and decorum — despite nearly a half-century in politics.
Joe Biden once said Democrats needed 'a liberal George Wallace'. Former Vice President Joe Biden, who has been emphasizing his civil rights record as he considers a 2020 White House bid, once praised notorious segregationist George Wallace and later claimed to have received an award from him. "I think the Democratic Party could stand a liberal George Wallace — someone who's not afraid to stand up and offend people, someone who wouldn't pander but would say what the American people know in their gut is right," Biden told the Philadelphia Enquirer on Oct. 12, 1975, referring to the racist then-Alabama governor.
Democrats cast deep doubt on Biden's 2020 value. Joe Biden is everything a Democratic political consultant should love: He's experienced, well-liked, and his poll numbers look great against Donald Trump. And yet many party strategists have a bleak assessment of his potential 2020 campaign: It's a bad, bad idea.
Democrats Are Just Too Smart. [Scroll down] And no discussion of "smart" Democrats is complete without some mention of former VP Joe Biden. His gaffes got so bad during the 2008 presidential campaign that candidate Obama asked his staff, "How many times is Biden going to say something stupid?" And his braying frequently combines brainlessness with offensive racist slurs. Take, for example, his famous racial stereotyping of his state's convenience store employees: "In Delaware, the largest growth population is Indian-Americans, moving from India. You cannot go to a 7-Eleven or a Dunkin' Donuts unless you have a slight Indian accent." Even more terrifying than the apparent vacuum between Biden's ears is how little thought rank-and-file party members give to his catalogue of verbal pratfalls. In a recent Morning Consult poll, registered Democrats ranked him as their top preference for their 2020 presidential nomination. These people would give this guy access to our nuclear arsenal. Nor have Democrats Johnson and Ocasio-Cortez sustained any reduction in their support pursuant to their inert gray matter.
A Biden-Trump race is shaping up for 2020: Wall Street sources. Former Vice President Joe Biden is indicating to possible campaign contributors he is seriously considering running for president in 2020 — but only if it's against the current president, Donald Trump, because of the relatively small age difference between the two men, FOX Business has learned. Biden has made these remarks recently in private meetings with possible Democratic contributors, many of them Wall Street executives with long ties to the former vice president under Barack Obama, according to people with direct knowledge of the matter.
And this guy claims Donald Trump isn't fit to be president?
Idiot Joe Biden Gives Away "Agent" Holding Nuclear Codes During Hillary's "Rally". Uncle Joe may have been hitting the sauce before he spoke at Hillary's low-turnout "rally." He was bashing Trump, when he foolishly said, "Donald Trump... He cannot be trusted. There's a guy that follows me, has the nuclear codes. So, God forbid anything happen to the president and I had to make a decision the codes are with me... He is not qualified."
Biden, in public and private, tiptoes toward a 2020 run. Former Vice President Joe Biden is tiptoeing toward a potential presidential run in 2020, even broaching the possibility during a recent gathering of longtime foreign policy aides.
The Obama Years: A Legacy Of Scandal and Deception. On December 13, former vice president, Joe Biden, appeared on CBS with the hosts of "This Morning" where he peddled his new book and showered his former boss with praise. During the course of the interview, he was asked about his relationship with Obama and responded with the following; "I've served with eight presidents and I've gotten to know four of them very well. I've never met any president that has more character, more integrity, and more backbone than this guy does." Then he went completely off the rails when he absurdly added; "And eight years, not a hint — not a hint — of a scandal. What was perhaps even more outrageous than the statement itself was the fact that none of This Morning's hosts challenged the veracity of that statement and allowed it to pass without a scintilla of scrutiny, exposing yet again an extreme bias existing within elements of the establishment media.
Watch: Joe Biden Claims Obama Never Had Any Scandals, Ignores These 11 Major Scandals. During a recent appearance on CBS' "This Morning," former Vice President Joe Biden declared that Barack Obama's presidency didn't have "a hint of a scandal." Biden made the claim in response to a question by the show's hosts about his friendship with the former president. After praising Obama as the most virtuous president he's met in his decades of serving the people, Biden said that not only was the former president spotless, so was his presidency.
Moore, Franken, creepy Biden and other horrendous media fiascos. Former Vice President Joe Biden had some of the worst timing possible this week. The creepy-grabby Biden dropped promotion of his new book, "Promise Me, Dad: A Year of Hope, Hardship, and Purpose" to push his presidential hopes right in the midst of the sex harassment allegations. It highlighted how journalism has downplayed or completely ignored Biden's creepy side for many years. It didn't take long for conservatives to float images and a video around showing all sorts of nausea-inducing Biden scenes.
Al Franken is just the beginning. How many senators and House members and elected and appointed officials at the federal, state, and local levels will be forced to resign? And how many men will remain in these positions when it is all over? It's far too early to say, because the floodgates have only just been thrown open. But the possibilities are mindboggling. Consider Joe Biden. A few short weeks ago, the former senator and vice president seemed like he would be a leading contender to win the Democratic nomination for president in 2020 and then the favorite to challenge President Trump's bid for re-election. But now? Biden's polling may look good, but he has a history of wandering hands that is simply incompatible with the new normal. He's a political dead man.
Claim: Joe Biden Likes To Swim Nude in Front of Female Secret Service Agents. Apparently Vice President Joe Biden, who is reportedly readying a campaign against Hillary Clinton for the White House, has even creepier habits than we previously thought. According to Secret Service expert and best selling author Ronald Kessler, Biden likes to skinny dip in front of female Secret Service agents assigned to protect him. Naturally, they find this offensive. "Talk about a war on women. Biden likes to swim nude both at his Vice President's residence in Washington and also at his home in Wilmington which he goes back to several times a week, all at our expense. By the way, a million dollars in Air Force 2 expenses, and this offends female Secret Service agents," Kessler said to Fox News' Sean Hannity Thursday night. "You know, they signed up to take a bullet for the President as you said but they didn't sign up to...they certainly didn't sign up to see Biden naked. It is offensive, it's abusive."
Doctor: Joe Biden Probably Has Brain Damage. Perhaps this doctor is being tongue-in-cheek, but if anyone's paid attention to the nonstop idiocy of Joe Biden the past several years, it appears he's spot on.
'Arrogant, insensitive, wrong': US VP Biden causes uproar with remark on Japan's constitution. US Vice-President Joe Biden made a remark slamming Donald Trump, but ended up in deep water with Japan instead, saying that the US "wrote Japan's constitution." His comment was slammed as "arrogant", "wrong", and "insensitive" in Japan and beyond.
Biden Embarrasses Himself, Calls Serbia 'Croatia' On Diplomatic Visit. Vice President Joe Biden made an embarrassing flub Tuesday [8/16/2016] while at a press conference with Serbian Prime Minister Aleksandar Vucic in Belgrade, referring to Serbia as "Croatia." "This is not the first time we've met ... I think we've become friends," Biden said, according to InSerbia. "My visit today is much too short but I believe we've accomplished a great deal. The Prime Minister [of Serbia Vucic] and I have got to know each other over the past several years and I mean it sincerely, I along with President Obama respect the leadership you've shown in some very tough challenging moments, Mr Prime Minister, and your positive vision for the future of Croatia."
Biden's very awkward hug with Clinton as she tries to get out of his arms. Hillary Clinton and Joe Biden shared an awkward hug this morning as they greeted each other at the Scranton airport. 'Hello my dear,' she said as he walked off his plane. They locked in a friendly embrace, Clinton laughing for a moment, before she tried to wriggle free. Not picking up on her cues — repeated pats on the arm — Biden continued to hold her by the waist. The VP finally let Clinton go and they walked to his limo, entering from opposite sides.
Biden Says Trump Can't Be Trusted With Nuclear Codes, Then Tells Crowd He Has the Codes 'Right Back Here'. Vice President Joe Biden, campaigning with Hillary Clinton in Scranton, Pa. on Monday, tried to make the case that Republican Donald Trump is temperamentally and intellectually unfit to be president. "I have worked with eight presidents of the United States. I have served with hundreds of senators... dozens of secretaries of state and secretaries of defense of both parties. And I can say without hesitation, my word as a Biden, no major party nominee in the history of the United States of America, has — now, don't cheer or — quiet, just listen — has known less or been less prepared to deal with our national security than Donald Trump."
Joe Biden Exposes Military Aide with Nuclear Codes During Campaign Rally for Hillary. Vice President Joe Biden revealed during a campaign rally that he had a military aide with the nuclear codes present at the event. "There's a guy that follows me right back here, has the nuclear codes," Biden said, turning and pointing.
Biden: Trump 'Not Qualified to Know' Nuclear Codes. Republican presidential nominee Donald Trump cannot be trusted with the codes that would unleash the American nuclear arsenal, Vice President Joseph R. Biden, Jr., said Monday [8/15/2016]. Biden's debut on the campaign trail alongside Democratic nominee Hillary Clinton turned into a forceful attack on her GOP opponent, whom the vice president said is already hurting America's national security.
Biden Puts Nuclear Codes At Risk, Media Laugh It Off. For those who don't know, it's rather risky to point out the exact agent holding the nuclear football. But this isn't the first time Biden has done this sort of thing. In May 2011, while speaking with reporters, Biden revealed that the Navy SEALs had killed Osama Bin Laden. The Washington Times immediately reported that Navy SEALs began warning family members to remove personal information from their Facebook accounts to avoid targeting.
Joe Biden Exposes His Military Aid Carrying Nuclear Codes At Hillary Rally. During a campaign rally for Hillary Clinton on Monday, Vice President Joe Biden treated the audience to a master class in irony by claiming Donald Trump is unfit to have access to the nuclear codes while at the same time proving he himself is unfit to have access to nuclear codes. The moment came when Biden pointed out the military aid who carries the closely guarded codes — also known as the Nuclear Football — to the audience.
Joe Biden: The Three Dollar Bill of American Politics. Once I took a crisis communications course under a nationally recognized authority on the subject. During a break I was talking to him about the power of anecdotes. He was, he said, against manufacturing anecdotes out of whole cloth but he believed that someone of even moderate intelligence could create anecdotes by steering a conversation in a certain direction. There is at least as good a chance of that happening as a fatally ill Beau Biden encouraging his father to run for president. Of course, given the way Joe Biden makes stuff up, now we really have to question if this anecdote is true... or if this just the Neil Kinnock speech being recycled.
Biden's failed presidential bids, penchant for gaffes threaten campaign. As Vice President Joseph R. Biden spends this week vacationing in South Carolina and mulling whether to get into the presidential race, he's got to be thinking about the humiliating beatings he took in his two previous bids for the top job. It's a painful memory of campaigns that went off the rails early in the 1988 and 2008 presidential races and a poor track record mostly overlooked by unhappy Democrats clamoring for Mr. Biden to provide them an alternative to Hillary Rodham Clinton.
Biden cheers end of white majority, 'that's a good thing'. Vice President Joe Biden welcomed a top Latin American leader to Washington by declaring that "those of us of European stock" will be the minority in less than two years, and, he added, "that's a good thing." Biden made the comments during a State Department luncheon for Brazilian President Dilma Rousseff.
Exposing Warren and Biden. Electing Biden would effectively be Obama's third term. Regarding Obama's reign, Biden said, "I call it sticking with what works." "Run on what we have done. Own what we have done. Stand for what we have done. Acknowledge what we have done." "Are we going to continue this resurgence or are we going to return to policies I would argue have failed the country in the past?" He actually said "resurgence." Biden wants to continue all of Obama's disastrous economic policies.
Handsy Joe's Veep Creep and the Media. One of the clearest signs of media bias is when reporters are made more uncomfortable by the act of criticizing the Obama administration than by the behavior they're criticizing. Case in point: yesterday's piece in the Washington Post by Nia-Malika Henderson, in which she struggles mightily with the fact that, thanks to conservative objections, Joe Biden's incredibly creepy behavior toward women in public is getting tougher to ignore. Handsy Joe's veep creep is by now a staple of the Obama administration's public events.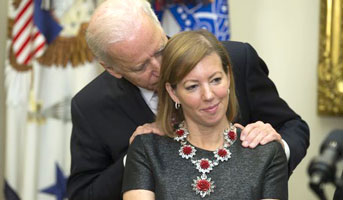 Joe Biden, the crazy uncle we never wanted. Channeling his inner Ted Kennedy, ole Joe got a little too handsy with Stephanie Carter, the wife of incoming Secretary of Defense, Ash Carter. He slid behind her, grabbed her shoulders and pressed his face against the side of her head. If I didn't know better (and I don't), I'd swear he's sniffing her hair. Or perhaps he was just innocently whispering the gate code for Number One Observatory Circle into her ear. In any other world, this man would be a walking, talking, sexual harassment lawsuit waiting to happen. Fellas, conduct this experiment — go to work tomorrow and creep up behind a female coworker, then grab her shoulders and press your face against her head. See how that works for you.




The Week in Pictures: Harfing Biden Edition. And what's up with Vice Groper Joe Biden? Is he planning on a post-Obama career in the TSA or something?

Time for Joe Biden to creep on another woman. The victim this time is Stephanie Carter, wife of incoming defense secretary Ashton Carter, seen here holding forth on ISIS while his better half suffers the ritual indignity of the vice presidential droit de seigneur at swearings-in. Silver lining: Unlike most of the females whom Biden creeped on at last month's oath-taking for the new Congress, Mrs. Carter is of age.

Joe Biden caught 'snuggling' with Defense chief's wife. In a move straight out of the stalker handbook, Biden appeared to be sniffing Stephanie Carter's hair at a swearing-in ceremony for her husband in Washington. Biden, who kept his hands on Mrs. Carter's shoulders for 10 seconds, looked as if he was whispering sweet nothings in her ear. Hands folded in front of her, she gazed stiffly in the direction of her husband during the grope.

Joe Biden's Hands Across America. Vice President Joe Biden can't keep his hands to himself when women are around. The latest woman to fall into the Biden snare was Stephanie Carter, wife of new Defense Secretary Ashton Carter. Biden laid hands on her shoulders and whispered in her ear as Carter spoke about his new job Tuesday [2/17/2015], and the moment went viral. Biden also made bad headlines for himself in January when, during a day of trying to charm incoming members of the U.S. Senate and their families, he bestowed a rather unwanted kiss on the head of Sen. Christopher Coons' (D., Del.) daughter.

Joe Biden's woman-touching habit. Vice President Joe Biden left some observers in and out of Washington aghast with his whisper-in-ear embrace of new Secretary of Defense Ashton Carter's wife Stephanie at Carter's swearing-in Tuesday [2/17/2015]. As Carter was delivering his first speech as Pentagon chief, Biden, standing in the background, put his arms on Stephanie Carter's shoulders and his face to her ear, apparently telling her something in what could reasonably be interpreted as an intimate embrace.

Biden is a VERY hands-on Vee-Pee. Vice President Joe Biden has become well known for his love of close talking, and he was at it again on Tuesday [2/17/2015]. Biden was at the swearing in ceremony of new Defense Secretary Ash Carter, and as Carter delivered his speech, Biden could be seen in the background with his arms on the shoulders of the man's wife, Stephanie, and whispering into her ear.

Joe Biden in 2000: No man has the right to touch a woman without her consent. Vice President Joe Biden has made news — again — with his surprisingly intimate embrace of a woman not his wife in a public setting. The incident occurred Tuesday at the Washington swearing-in of new Secretary of Defense Ashton Carter. As Carter spoke, Biden, standing behind Carter's wife Stephanie, put his hands on her shoulders for an extended period of time and briefly buried his face in her hair. Some critics noted that such behavior might earn a sexual harassment complaint if it were in a business setting. And it turns out Biden himself, in his many years as a senator, supported legislation to get tough on men who touch women in inappropriate ways.

Biden gets smackdown after claiming he knows 'an awful lot' of Somali cab drivers in Delaware home town. Vice President Joe Biden ran afoul of the nation's two most prominent fact-checkers on Thursday [2/19/2015] by claiming there's a 'large, very identifiable Somali community' in his home town, and many of them drive cabs. He said Wednesday during the White House's 'Countering Violent Extremism' conference that riding in so many Somalis' cabs after train trips home helped him understand efforts by Minnesota officials to help Somali-American Muslims avoid turning into violent extremists. 'If you ever come to the train station,' he said of Wilmington, Delaware, 'you may notice that I have great relations with them, because an awful lot of them are driving cabs, and are friends of mine.'

Media Covers Up Biden's Latest Racist Gaffe. Democrats sure got it good. Louisiana Republican Governor Bobby Jindal dares to agree with CNN's own reporting about European no-go zones, and the left-wing network brands him an anti-Muslim racist. On the other hand, when Vice President Joe Biden stereotypes Somali immigrants as nothing more than a bunch of cab drivers, the media pretends it didn't happen. The slur is left completely out of their reporting.

'There's An Awful Lot' Of Somalis Driving Cabs, Says Joe Biden. Vice President Joe Biden told an audience on Tuesday [2/17/2015] that he has great relationships with Somalis living in America since many of them have driven him around in taxi cabs. The latest "Bidenism" — the name given to the Democrat's many gaffes and candid remarks — came during the opening day of a three-day White House summit on extremism and terrorism.

The Editor asks...
On what date was Joe Biden's most recent trip in a taxi?

Can we talk about how Vice President Joe Biden is being inappropriate? I know he's crazy ol' Uncle Joe. I know he's loveable and of a different generation, blah, blah. I know he wears aviators. I know he has a voting record and a party identification that make this kind of behavior suddenly charming and eccentric instead of creepy. But while the online feminist community is fighting the scourge of men who don't cross their ankles on the subway with all it's got, the Vice President of the United States is making teenage girls actively uncomfortable by nuzzling and touching them on national TV. This is not charming.

Holy Hell Would Be Unleashed On 'Handsy' Joe Biden If He Were Conservative. Julia Louis-Dreyfus plays a bumbling (but certainly more competent than Joe Biden) vice president in HBO's "Veep." There's an episode in season two where it's January 6 and she is supposed to swear in senators but just can't get her act together. She messes up small talk and doesn't have her head in the game. Yesterday, January 6, was sort of a real-life version of this. While the man who in real life is a heartbeat away from the presidency also messed up small talk, he was almost too locked in. He was extremely attentive. Particularly to underage girls. And, well, it's not that big of a deal, I guess, but it got kind of creepy.

Joe Biden: Extremists Commit Violence 'In The Name Of The Bible'. According to tweet by participants in the recent White House Countering Violent Extremism (CVE) Summit, Vice President Joe Biden spoke about violent extremism carried out "in the name of the Bible." The tweet was sent out by the Muslim Public Affairs Council, which also tweeted that they pushed the White House to say so.

How do you aim this thing? Biden has become a laughing-stock and staple of late-night comedians as a dim light-bulb who can't stop spouting gaffes. Did you know Joe was surprised by the ending of the Lincoln movie? And he's such a team player that Biden charges the Secret Service rent to protect him at home in Delaware. Biden held a meeting on the administration's vaunted government transparency promise — but it was closed — two times.

Controversial book skewers Biden but is ignored by media. Imagine a scathing look at a vice presidential candidate. Put a "R" after that candidate's name, like Sarah Palin, and you get big-name books, a controversial film and lots of news coverage. Put a "D" after that candidate's name, even when he's still the sitting vice president, and it gets almost no attention.

Biden Asks for Web Site's 'Number'. Vice President Joe Biden, tasked with overseeing the $787 billion stimulus package, has been having a little trouble with his "numbers." ... "You know, I'm embarrassed. Do you know the Web site number?" he asked an aide standing out of view. "I should have it in front of me and I don't. I'm actually embarrassed." Biden, who seemed to indicate that he thought the Internet worked like a giant telephone, sounded an unusually Luddite note inside an administration often heralded for its mastery of the Web.

The Editor says...
Obviouly the press would have had a field day with a comment like that, if it had come from Dan Quayle.

Joe Biden is lying about his college football career, in that he claims he had one. Does it really count as a lie if a fellow simply can't tell the difference between fantasy and reality? Yes. Yes, it does. Insanity is no excuse.

Two More Brutal Biden Gaffes on Campaign Trail. Two epic gaffes at one campaign stop. First, Vice President Joe Biden told a group of supporters that Paul Ryan "has written a book called The Young Guns with two other members of the House, no these are Republican leaders in the House. You had, unfortunately, the bullets are aimed at you." Then he lost track of which version of planet Earth he's on and wondered who in the audience had served in our war with Iran.

"What's He Doing Back There?" A woman was warming up the crowd, talking about breast cancer — a serious topic, one would think. But Biden couldn't stand to go for more than a few moments without playing the buffoon. So, growing impatient, he sidled over to Nelson, whispered something to him, and then started making goofy squatting motions to encourage the crowd to sit down.

In VP Debate, Biden Seemed to Overstate His Role in Social Security Reform. Asked about Medicare reform, the vice president said, "Look, I was there when we did that with Social Security in 1983. I was one of eight people sitting in the room that included Tip O'Neill negotiating with President Reagan. We all got together and everybody said, as long as everybody's in the deal, everybody's in the deal, and everybody is making some sacrifice, we can find a way." [...] But according to the historical record, Biden was not one of the small group of people in "the room," or in "the meeting" — nor was he even a key player in reforms.

List of Biden's Political Blunders. [For example,] On July 16, 2009, Biden gave a blunt summation of the administration's approach to stimulus spending. "People, when I say that, look at me and say, 'What are you talking about, Joe? You're telling me we have to go spend money to keep from going bankrupt?" he said at a stop in Virginia. "The answer is yes."

Biden Reveals Classified Information? Biden told his dinnermates about the existence of a secret bunker under the Vice President's Residence at the U.S. Naval Observatory. ... Despite more than fifteen trips to the VPR over the past five years, and despite having conducted dozens of interviews about security precautions taken for Cheney and his staff after 9/11, I was never told such a bunker existed. ... The obvious conclusion: Its existence was highly classified. So what was Joe Biden doing talking about it at the Gridiron Dinner?

Biden Reveals Location of Secret VP Bunker. Vice President Joe Biden, well-known for his verbal gaffes, may have finally outdone himself, divulging potentially classified information meant to save the life of a sitting vice president.

Biden Aide Denies Vice President Leaked Classified Location of Cheney Bunker. Vice President Joe Biden did not leak classified information when he reportedly described to dinner guests the location of a "hideaway" his predecessor, Dick Cheney, used in the days following the Sept. 11, 2001, attacks, an aide to Biden said Monday. "There was no disclosure of classified information," spokeswoman Elizabeth Alexander said.

Spoken down to by dimwits. The world trembled last year as a terrible prospect loomed: The next vice-president of the US might be a complete moron. ... Did Dan Quayle ever deliver a speech this incoherent? "You are the possible. That is not hyperbole. You are the possible." It isn't hyperbole. It also isn't anything close to making sense.

Biden gaffe: New rail tunnel being built for cars? Biden said Amtrak was getting its share of stimulus money and more projects would be announced in a few days. Then he offered this: "Look, this is designed, this totally new tunnel, is designed to provide for automobile traffic," Biden said. "It's something, as you know, up your way, that's been in the works and people have been clamoring for for a long time." For the record, the tunnel is for trains, and its completion would allow for more NJ Transit trains during peak hours and "one-seat" rides into Midtown Manhattan on lines serving Bergen and Passaic counties. Currently riders on those lines must switch trains.

Palin Vs. Biden: At the Washington press corps' Gridiron Dinner last month, Biden may have compromised national security by revealing the location of the secret underground protective facility built for the vice president's protection during an enemy attack or other emergency. And after Louisiana Gov. Bobby Jindal delivered the GOP response to Obama's first speech to Congress in February, the vice president claimed that "in Louisiana there's 400 people a day losing their jobs. What's he doing?" Louisiana, in fact, was the only state in the union adding jobs. ... At a ball for Obama staff the day after he was sworn in by Supreme Court Justice John Paul Stevens, Biden seemed to think his oath was administered by Justice Potter Stewart, who died in 1985.

John Boehner: Joe Biden's lying about stimulus. Vice President Joe Biden is invading House Minority Leader John Boehner's back yard tomorrow to tout the success of the stimulus package, but Boehner is redoubling his attacks, accusing the vice president of lying about the economy. "I found it ... interesting over the last couple of days to hear Vice President Biden and the president mention the fact that they didn't realize how difficult an economic circumstance we were in," Boehner said. "Now this is the greatest fabrication I have seen since I've been in Congress."

Dead Cows and Other Biden Health Care Whoppers. Biden said he wanted to make sure people understood the health care debate in plain language, without the kind of wonky jargon that dominates discussions of such subjects. In the course of doing so, he made some bizarre analogies and never allowed the facts to get in the way.

Joe Biden: 'We Have to Go Spend Money to Keep From Going Bankrupt'. Vice President Joe Biden told people attending an AARP town hall meeting that unless the Democrat-supported health care plan becomes law the nation will go bankrupt and that the only way to avoid that fate is for the government to spend more money.

Joe Biden's Terrible Truths. The "gaffes," as we call unscripted thoughts, come delightfully often with Biden. ... Let's take a quick review. ... Swine Flu. Should we panic? "I would tell members of my family — and I have — I wouldn't go anywhere in confined places now," Biden said, adding, "When one person sneezes, it goes all the way through the aircraft." This statement was so true it was retracted by the end of the day.

Will Biden apologize for using Christ's name as a curse word? Can you imagine the uproar that would ensue if the Vice President of the United States used the name of Islam's supreme being as a curse word? ... How many more stupid comments does it take before his handlers in the White House realize it's time for this dunce to retire?

Biden's gaffes undercut Obama. The Obama White House's vaunted message machine has been thrown off-track with increasing regularity by Vice President Joseph R. Biden Jr., whose five verbal missteps in the past three months have created obstacles at home and abroad. Secretary of State Hillary Rodham Clinton was forced Sunday [7/26/2009] to correct publicly Mr. Biden's characterization of Russia as a crumbling country, a description that infuriated Russian officials and contradicted President Obama's efforts to "reset" relations with the world power.

Biden's Big Mouth Bites Russia. Obama cannot afford his second in command making unpredictable and disparaging remarks.

Where's Joe Biden's "Reset" Button? Republicans in my view failed last fall to point out Biden's train wreck of a record. They allowed the American people to be told that Joe Biden has foreign policy credentials. They never pointed out that Joe Biden spent 26 years in the U.S. Senate and that his fellow Democrats never considered him for Majority Leader. Over the past few weeks, we've all learned why.

Joe Biden Said That? Indeed he did.

The Gaffe Czar. Obama has already been forced to publicly chide his vice president. In fact, a frequent refrain from the White House has become, "What Joe really meant to say..." Can the president can rein in his veep before Biden actually does cause an international incident?

Loose lips sink ships.
Biden Spills Beans on Automaker's Full Line of New Vehicles. Vice President Joe Biden, during a visit Tuesday to a Delaware automotive assembly plant, unwittingly revealed startup manufacturer Fisker Automotive's undisclosed plans to produce a full line of plug-in hybrid vehicles at the facility.

Biden Strikes Again. Joe Biden says many dumb things, but this, on Elena Kagan's opposition to military recruiters on campus, is up there with the worst of them.

Joe Biden update: Off to Africa now for some reason. Because of the ongoing crisis of the gulf oil spill, the stubborn reluctance of the private sector to create many new jobs after 15 months of billion-dollar stimulus spendings and the emotional and political volatility surrounding the Arizona illegal immigrant law, Vice President Joe Biden has been dispatched to Africa for a while.

He Must Be Joking: Biden Says 'Iranian Influence in Iraq Is Minimal'. The entire idea behind Iran's proxy warfare is to have deniability so the regime can escape retribution and still position itself as the power broker that all must cater to. If the Iranians needed any reassurance that their strategy is working, they got it from Vice President Joe Biden on August 23.

VP Biden Says that 'The Taliban, Per Se, Is Not Our Enemy'. The ongoing reconciliation process has long included bringing in forces who have taken up arms against the U.S. and against the Afghan government, but Biden might face criticism for stating that as an organization the Taliban is not the enemy of the U.S., when its leadership and members have devoted so much time, resources and energy towards killing American soldiers.

The New "Potatoe?" Biden to Visit "Road Island". Dan Quayle is actually an exceptionally bright man who had an unfortunate mishap at the chalkboard with an unnecessary vowel. Joe Biden, the fun Homer Simpson of the Obama Administration, has suffered far greater gaffes; the latest from the administration on his behalf. Two words: "Road Island."

Oops! Joe Biden heading to 'Road Island'. Joe Biden's camp might be overly-reliant on spell-check. The White House recently announced that the Vice President would be attending campaign events in "Road Island." The glaring misspelling of the Ocean State showed up in a widely-distributed press release detailing Biden's upcoming travel plans.

The Editor says...
While I disagree with everything Joe Biden stands for, I still have to point out that this error surely wasn't Biden's fault. The culprit is probably some secretary, with a lower-case "s". It just goes to show that spell checkers cannot make up for poor education.

Biden's speeches are boring!
Man Literally Struggles to Stay Awake During Biden Speech. "Americans are tired of being tired," Joe Biden said.

Biden Claims He Voted Against Afghanistan, Iraq Wars. Then Sen. Biden voted for the Afghanistan resolution on Sept. 14, 2001 which authorized "the use of United States Armed Forces against those responsible for the recent attacks launched against the United States." And on Oct. 11, 2002, Biden voted for a resolution authorizing unilateral military action in Iraq, according to the Washington Post.



Why is Joe Biden a Moron? It almost seems impossible. Giving Americans advice to step out their door and fire warning shots from a double barrel shotgun when they're afraid?

Pro-Abort Biden on Election of Pope: 'Catholic Church Plays an Essential Role in My Life'. After the election of Pope Francis I on Wednesday [3/13/2013], Vice President Joe Biden issued a statement talking about the importance of Catholicism to him personally and how much he is looking forward to working with the pope. As vice president, Biden has advanced causes directly contrary to the teachings of the Catholic Church — favoring, for example, the legalized killing of children in the womb and legalized same-sex marriage.

Another Biden gaffe. Vice President Biden misspoke on Tuesday [3/18/2014], claiming he had led the fight for Poland to join NATO when he served as chairman of the Senate Foreign Relations Committee. Biden, whose tendancy [sic] toward gaffes is well known, served as chairman from 2001 to 2003; Poland joined NATO in 1999. "Fifteen years ago, I was honored, as the chairman of the Foreign Relations Committee, to lead the fight for Poland's admission into NATO," Biden said in Warsaw, Poland, on Tuesday during a visit to reassure allies as Russia moved to annex Crimea. Bloomberg News first reported the gaffe.

Joe Biden jokes that he would nominate Obama for 'sainthood'. Vice President Joe Biden in a speech Friday [3/21/2014] joked that he should have nominated President Obama for "sainthood" after seeing his patience during the rocky rollout of the health law's new insurance exchanges.

The Editor says...
Mr. Biden apparently mistakes incompetence and narcissistic detachment for patience.

Gaffe-tastic Joe Biden thinks 'Africa' is a country, not a continent. Vice President Joe Biden wants everyone to know that he has high hopes for the 'nation' of Africa. Biden isn't just a walking gaffe machine — he's a walking gaffe top-ten list. So when he goofed at Tuesday's U.S.-Africa Business Forum, and there was no F-bomb involved, it didn't make headlines. But gaffe he did, in front of 50 world leaders and their entourages at the event held on the sidelines of President Barack Obama's U.S.-Africa Leaders Summit.





Joe Biden gaffes while Vice President

Senator Biden was Barack Obama's running mate in 2008, and he got away with a lot of blunders that would have sent Dan Quayle into political oblivion. His voting record in the Senate was that of a statist, and back in 2008 some commentators said Joe Biden balanced the ticket (meaning he's older and has lighter skin), but I think the real reason for his selection is that he was one of the few people Obama could overshadow, at least in the press.




Joe Biden confuses Poland with Portugal. Biden has a well-earned reputation as a gaffe-maker extraordinaire, and this speech was no exception.

Biden: 'I'm Proud To Be President'. Joe Biden the gaffe machine was at it again Saturday [1/19/2013]. Speaking at the Iowa State Society inauguration ball, the Vice President said, "I'm proud to be President of the United States".

Joe Biden Escapes from the Attic ... Again. Last Friday [9/28/2012], the Obama re-election campaign allowed America's crazy uncle to get in front of a group of Florida seniors and frighten the bejabbers out of them with horror stories about the evil designs Mitt Romney and Paul Ryan have on Medicare and Social Security. As his entourage cringed in the background, Biden brayed as only he can bray.

Trash-talking veep's Tampa tantrum. "Are you going to Florida?" Biden joked to reporters during a campaign stop in Minneapolis the other day. "I'm going to be the speaker at the convention." Such trash talk is typical of the increasingly deracinated veep, whose motor mouth now seems beyond the control of even campaign consigliere David Axelrod's well-oiled media machine. But what's really behind this stunning example of in-your-face poor sportsmanship?

Biden dangerously detached from reality. Vice President Joseph R. Biden is mentally unstable, and it's time for Republicans to point it out. For years, Mr. Biden has been making outrageous comments that reveal not only his low intelligence, but also a dangerous detachment from reality. Yet the liberal media refuse to hold him accountable. Instead, their rationalization boils down to one excuse: Joe will be Joe. He may make bizarre, even ludicrous, statements, but the press corps believes Mr. Biden is on the side of the angels. His heart is in the right place. He is a trendy progressive. In their view, this is all that matters.

Win One for the Fibber: Biden Misleads Ohio on College Football Career. During a speech at Ohio University in Athens, OH on September 8, Vice President Joe Biden led his audience to believe he had been a college football player for his alma mater — Delaware University — and had played against Ohio University in a 1963 football game. His words contradicted his own memoir, in which he wrote he gave up playing football while at Delaware, and Internet records of past Delaware football team rosters, on which he is not listed.



More advice from Joe Biden: 'Just fire the shotgun through the door'. In an interview with Field & Stream magazine on Monday [2/25/2013], Vice President Joe Biden once again touted shotguns as the best weapon for self-defense, offering advice similar to the questionable instructions he gave during a Facebook town hall last week.

Every single bit of gun advice Biden gives will get you arrested. These are the people who think they know better than you and should dictate your firearms choices.

New Biden brag: He desegregated movie theaters. Vice President Biden is amazed when whites try to act like they know what blacks have been through, but given a chance this week to brag on his part to end Jim Crow laws, he offered up that he helped to desegregate movie theaters as a kid.

Biden misspeaks again: Gabby Giffords was 'mortally wounded'. Vice President Joseph R. Biden added to his long list of verbal flubs Thursday [3/21/2013] when he said former Rep. Gabrielle Giffords had been "shot and mortally wounded." The Arizona Democrat was critically injured by a gunshot wound to the head during an assignation attempt on her life in early 2011.

Biden Mocks the Basis of Second Amendment. This guy is the vice president, the former chairman of the Judiciary Committee, and supposedly a leading Democratic expert on gun issues. And yet, he doesn't understand the Second Amendment.

Joe Biden: Al Gore 'was elected president'. In remarks made on Tuesday night [6/11/2013] at a fundraiser for Massachusetts Senate candidate Ed Markey in front of an audience of donating (doting?) Democrats, Biden went for the jugular. In a reference to Al Gore, who introduced Biden at the Washington, D.C., event, Biden said, "This man was elected president of the United States of America," according to the pool report. "But for the good of the nation, when the bad decision, in my view, was made, he did the right thing for the nation," Biden continued.

Says he understands 'the Senate better than any man or women who's ever served in there.'
Biden Calls Republicans 'Neanderthals'. Vice President Joe Biden said Repulican opposition to the Violence Against Women Act (VAWA) in the House of Representatives came from the "Neanderthal crowd." And he gave himself credit for coming up with the law almost 20 years ago.

Should Joe Biden Step Down? Vice President Biden is being urged by liberal activists to "brush up his Shakespeare." His friends are trying desperately to clean up the latest mess that Joe Biden has caused. He recently told a group at a Legal Services Corporation event that his son, Beau Biden, had worked to protect our soldiers from "Shylocks" — whom he described as unscrupulous lenders. This is only one of the oldest anti-Semitic slurs in our language.

Biden Overstates Deaths in Joplin, Missouri Tornado By 160,839. "161,000 brothers, sisters, mothers, fathers, sons, daughters, grandparents lost," said the vice president. But as Reuters reported in 2011, the death toll was in fact 161.

Joe Biden Tells Harvard Students China a Part of North America. Speaking at Harvard's Kennedy School of Government, Biden made yet another blunder after saying that "North America is literally — not figuratively — the epicenter of energy in the world today." "North America will account — meaning Mexico, China and Canada — for two-thirds of the growth of global energy supply over the next 20 years," Biden said.

Biden issues second apology of weekend, after offending US allies in fight to destroy Islamic State. Vice President Biden on Sunday [10/5/2014] issued his second apology of the weekend for remarks that offended allies that the U.S. needs in the fight to destroy the Islamic State. Biden apologized by phone Sunday to Crown Prince of Abu Dhabi Mohammed bin Zayed Al Nahyan, saying he never meant to imply that his country was supporting Al Qaeda fighters in Syria.

Now, a rattled Obama and Biden need help explaining what they really mean. Remember, Obama was supposed to be the golden-tongued orator whose words would woo the masses and hold back the tides of time. As long as he could rely on a teleprompter, that was true for a while. Now, his mis-steps with those of Pancho Biden resemble circus clowns running into each other. Biden has said so many stupid things so often, you'd think he should have been replaced in 2012. But he may be Obama's best insurance against impeachment.

Obama still has confidence in Biden despite gaffes. The White House said Monday [10/6/2014] that President Obama still has confidence in Vice President Joseph R. Biden despite an escalating series of public gaffes that forced Mr. Biden to apologize to key Arab allies in the fragile U.S. coalition fighting Islamic State terrorists. Mr. Biden "continues to be a core member of the president's national security team," said White House press secretary Josh Earnest. "The president is pleased to be able to rely on his advice."

Nine Apologies Biden Owes Americans. In recent days, Vice President Biden has issued apologies to the no doubt unimpeachably honorable and suitably aggrieved leaders of Turkey and the United Arab Emirates for insulting them by saying they had supported Islamists. While Biden expressing serial regrets, I wonder, what if the thought occurred to him to apologize to the American people? Not for silly gaffes or little blunders, but for professional-league, first-class outrages that are unacceptable coming from a vice president, even this one.

Biden Misstates Troops Wounded in Iraq and Afghanistan By 47,000. Vice President Joe Biden misstated the number of troops wounded in Iraq and Afghanistan by 47,000 at a Veterans Day event today at Arlington National Cemetary [sic].

Biden quotes Communist China's official propoganda outlet to hit Romney. Vice President turned to an admittedly-incredible source of information to attack Republican Mitt Romney, as he quoted the state-run media outlet in Communist China during a campaign stop in Iowa. "I'm not the only one who thinks it's laughable," Biden said of Romney's position on President Obama's handling of China and economic issues. "We're not the only ones who think it's laughable. Look, I seldom ever quote the Chinese — official government Chinese news agency." (For some reason, the audience laughed at that comment, not at the part that Biden said was "laughable.")

Biden's Green Bay Gaffe: Claims Only 1,980 Troops Have Died in Afghanistan. Biden somehow subtracted from the Defense Department count, ignoring three civilian casualties and 118 soldiers who died in other countries after medical evacuation. Did they not deserve to be recognized?

The Editor says...
If you're a Catholic, you should be highly offended by the rest of Biden's comments, which I will not quote here.

Biden: Back on the chain gang. Vice President Joe Biden told a racially mixed audience Wednesday [sic - Tuesday 8/14/2012] that if Republicans take back the White House, "They're going to put y'all back in chains." [...] There's no reason for the Obama campaign to apologize because hacking at the raw wound of racism is critical to the Democrats' reelection strategy. This race is about race because if it were about issues, Democrats would lose. Mr. Obama's moribund economic record would guarantee that.

Ex-Obama pal decodes Joe Biden's racial-speak for other Americans. [Scroll down] He's talking to a significantly black crowd and he warns what Gov. Romney is going to do to help those evil banks: "Romney wants to let the — he said in the first 100 days he's going to let the big banks once again write their own rules, unnnn-chain Wall Street. They're going to put y'all back in chains." A guy from Scranton living in Delaware on the public payroll since Obama was in grade school suddenly talking like a faux Southern preacher. [...] The campaign reacted to the public shock in typical Obama fashion. It's the country's fault for hearing anything racial in that. Just like the lousy economy and poor job growth is always somebody else's fault.

Biden Beclowns Himself With Cynical Racist Pandering. Looks like Vice President Joe Biden has been taking extracurricular Democratic jive-talking lessons. The results of condescending liberals' cynical racial pandering attempts are, as always, seismically cringe-inducing. At a campaign event in Danville, Va., the gaffetastic veep dropped his g's and picked up a bizarre twang in front of an audience of black voters. Middle-Class Joe swapped his Home Depot apron for an A.M.E. preacher's robe and sermonized about the big, bad GOP.

Artur Davis: 'Every black person in the room knew who y'all was'. Former Rep. Artur Davis, a one-time President Obama supporter who campaigned for Mitt Romney earlier today [8/15/2012], slammed VP Joe Biden in an interview with CNN's Wolf Blitzer earlier, keeping the controversy over his "chains" comment going.

Is Joe Biden Too Dumb To Be On a National Ticket? As you have probably heard, Joe Biden did it again today [8/15/2012]: he forgot what century we are living in. This follows a bad day yesterday, when Biden forgot what state he was in, and then told a Virginia audience that the Republicans are "going to put y'all back in chains." Oh, today Biden also referred to Paul Ryan as "Governor Ryan." Such blunders are conventionally referred to as gaffes, but with Biden they come so fast and furiously that one wonders whether something else is at work.

The Trouble with Joe. [Scroll down] Willie Geist, a co-host of MSNBC's Morning Joe, was blunt: "If Paul Ryan, the Republican candidate, said that to an African-American audience, there would be calls this morning for him to get out of the race, for Mitt Romney to withdraw from the race. There's a double standard." But there has been a double standard for Joe Biden for decades, and almost every reporter in Washington knows it. Last night, a frustrated Rudy Giuliani acknowledged it on CNBC. "I've never seen a vice president that has made as many mistakes, said as many stupid things," he told Larry Kudlow.

Biden: 'Folks, Where's it Written We Cannot Lead the World in the 20th Century in Making Automobiles?' In a speech today in Virginia, Vice President Joe Biden seemed to forget we're in the 21st century. [Video clip] 'Folks, where's it written we cannot lead the world in the 20th century in making automobiles?," said Biden.

Biden has a record with slave-themed remarks. Vice President Joseph R. Biden's incendiary comment to a largely black audience Tuesday [8/14/2012] about Republican Mitt Romney wanting to put voters "back in chains" isn't the first time he has used slavery imagery in a political appeal. In 2006, when then-Delaware senator was campaigning in South Carolina for the 2008 Democratic presidential nomination, he reminded people that he represented a former slave state.

Biden Won't Back Down on "Chains" Gaffe. Outrageous? Yes, that's a fair description when a vice president tells a largely black audience that the GOP policies will "put y'all back in chains." Biden is trying to defend this as another quote taken out of context, but once again the context is perfectly clear.

Obama Campaign Sending Gaffe-Prone Biden to Solid Blue States. The Obama campaign will send Joe Biden to three safe blue states next week, a move indicating the campaign may fear the effect of the vice president's increasingly frequent gaffes.

Spinning Furiously: Obama Camp, Allies Emerge To Defend Joe Biden Claim That GOP Will Enslave You. It has become a sadly predictable routine in recent weeks: a prominent member of the Obama campaign, reaching for a rhetorical flourish or a memorable sound bite, says something rather impolitic about their Republican opponents. When the comment blows up into a furor, President Barack Obama's allies — and even members of the campaign — emerge to defend the remark. Now, spinning at several hundred RPMs, the President and his supporters in the media are making sure to cover up for Vice President Joe Biden's assertion that Republican politicians are devoted to putting minorities "back in chains."

Why Did Biden Play the Race Card? What to make of Joe Biden's apparent racial demagoguery this week in Danville, Virginia? Team Obama dismissed it as having nothing to do with race, but this is likely wrong: Biden certainly seemed to be referencing slavery, was doing so in a Southern dialect, and speaking in a city that is roughly split between whites and African Americans.

Biden's unscripted moments keep campaign on its toes. A Joe Biden campaign event can at times have the feel of a high-wire act. Sure, there's a prompter in place, and a message of the day he's been tasked to deliver. But the vice president's freelancing can begin almost immediately.

White House defends Biden, says remarks not racist. The White House launched into damage control mode Thursday to deal with the growing chorus of Republicans and at least one Democrat accusing Vice President Biden of race-baiting after Biden told a mostly black crowd in Virginia that Republicans want to "put y'all back in chains." Biden's comments were "without question" a racial appeal, said former Virginia Gov. Doug Wilder, a Democrat and the nation's first elected African-American governor.

Who's Smarter: Joe Biden or Yogi Berra? Cranking it up at a roaring campaign rally, Biden says: "With you we can win North Carolina." He was in Virginia at the time. Earlier, he told the crowd, ""Romney wants to, he said in the first 100 days, he's going to let the big banks once again write their own rules. Unchain Wall Street." Then slipping into a southern accent, he finished with, "They're going to put y'all back in chains." Nice move, Joe — except the many black folks in the crowd weren't laughing.

Former Gov. Wilder questions Biden's value to Obama campaign. Since yesterday afternoon, former Virginia Gov. Douglas Wilder and the Obama White House have been engaged in a back-and-forth spat that began with Wilder criticizing Vice President Joe Biden for seemingly dragging slavery into the current political debate. [...] Wilder said that the "chains" remark and the gaffe mixing up North Carolina and Virginia suggesting that the vice president doesn't have his "act together."

Gaffe Alert Level Three: Joe Biden Press Shop Literally Trying to Edit Media Reports. The controversy surrounding Vice President Joe Biden's offensive claim that Republicans want to enslave black Americans has become such a concern to the Obama White House that the veep's staff have resorted to trying to directly censor the news coverage about him. In what is widely believed to be an unprecedented move, the Biden press shop has severely restricted access to vice president and begun telling journalists what they should write about his activities as they write them up.

Joe Biden's Moral Illiteracy. Vice President Joe Biden has made a long career out of saying crude and stupid things, and now he has outdone himself by affecting a southern accent and telling a substantially black audience in Virginia (he seemed to think he was in North Carolina) that if Romney has his way "he gonna put y'all back in chains." The Obama campaign already has established its reputation as a lowlife operation, trafficking in risibly and plainly untrue statements — Mitt Romney killed my wife! — but the latest from Biden is so grotesque and morally illiterate that it deserves a special mention.

Biden sent home to Delaware to start weekend early. Biden's retreat home during the increasingly frenetic 2012 race comes amid increased criticism for his campaign-trail performance. Biden was slated to share an uncomfortable lunch with President Barack Obama on Thursday, following his disastrous week on the campaign trail, which culminated with a racially inflammatory warning to African-American supporters that Mitt Romney will "put y'all back in chains."

WH blows off first black governor's rebuke of Joe Biden. White House Press Secretary Jay Carney dismissed a rebuke of Joe Biden offered by former Gov. Doug Wilder, D-Va., in response to Biden's "chains" comment. Wilder, the first black governor elected in the country, faulted Biden for saying "they're going to put y'all back in chains" during a recent campaign stop. "Slavery is nothing to joke about!" Wilder said yesterday [8/15/2012].

The incredible lightness of Biden. The vice president isn't just terrible at speaking — he's awful at his job.

Biden should apologize for "back in chains" remark. When Vice President Joe Biden warned a Virginia rally of hundreds of African Americans that Republican efforts to loosen bank regulations meant "They're going to put y'all back in chains," Stephanie Cutter, Team Obama's deputy campaign manager, said the president would have "no problem with those comments."

Media Rushing Out White Guilt Political Campaign Again — To Criticize Obama Is Racist. If you don't support Barack Obama, you are racist. So says MSNBC and Obama White House guest Touré who goes on to classify Republicans as the "all white party" that has been programmed to hate Black people. These comments come after it was Obama Vice President Joe Biden's now infamous "back in chains" gaffe that has even Black Americans shaking their heads wondering what is going on with the Obama campaign.

From Hope and Change to Dope and Chains. As everyone in the galaxy has by now learned, our esteemed Vice President spoke before a group of Barack Obama's remaining supporters last week and included the following in his observations about Mitt Romney and Paul Ryan: "Look at what they value, and look at their budget. And look what they're proposing ... unchain Wall Street. They're gonna put y'all back in chains." This was no slip of the tongue. It was in a prepared speech delivered with the aid of a teleprompter, and it is part of the trifecta of fear on which he and his boss are betting in the hope that a majority of the electorate can be frightened into voting for them in November.

America's lying eyes. President Obama's answer on Wednesday to a question about his running mate claiming Republicans are going to put "y'all back in chains" was a classic bit of soothing presidential palaver. "I don't think you or anybody who's been watching the campaign would say that in any way we have tried to divide the country," he said about a moment in which Joe Biden had done precisely that.

Biden's Tourrette Problem. Joseph Biden's career is chock-full of career-threatening gaffes — had they been committed by a conservative. But last week was exceptional, even for Joe. [...] This dufus has bumbled for decades in a praised senate career and become Vice President of the United States, while the professional media looked respectfully away from his stream of idiocy. Only now, under the glare of ubiquitous scrutiny, social media and a hotly contested presidential race, they can't quite keep him under wraps.

Liberals exploiting blacks is a tired trend. Black history hasn't taught us much, or so it seems when we see it continually reduced to a self-serving prop by those who regard it as a tool for advancement. Joe Biden telling a Virginia crowd of blacks that GOP policies are "gonna put y'all back in chains" is just any echo of shameless exploitations we've all heard before.

Joe Biden's Gaffes Call For A Thorough Neurological Examination. [Scroll down] Biden should submit to a thorough neurological and psychiatric examination, with special attention to whether he is experiencing "transient ischemic attacks" — marked by impaired blood flow to the brain — small strokes, seizures, or suffers from a brain tumor. After all, we often demand to know whether a candidate has recovered from open-heart surgery, cancer or a stroke, and many states require elderly drivers to be re-licensed. Aren't the vice-president's highest-level security clearance and his influence on public policy as important as the ability to drive a car?

Will Hillary Save The White House For Obama? According to the press and political talk show hosts who are usually "in the know", it appears that the major players in the vice presidential chats are President Barack Obama, Michelle Obama, former President Bill Clinton, Secretary of State Hillary Clinton, and the President and First Lady's good friend and White House Senior Advisor Valerie Jarrett. As far as Vice President Joe Biden is concerned, he will probably find out if his White House status has changed just moments before the rest of us do. When it comes to winning this election, loyalty has no place in the alleged-friendship between the President and the Vice President. Obama wants to win this thing at any and all costs.

Biden and the Black Talented Tenth. In a statement to a predominately black audience, Vice President Joe Biden, while attacking Gov. Romney, uttered these words: "He's going to let the big banks once again write their own rules — unchain Wall Street! They gawn' put y'all back in chains. You would think it remarkable that in the year 2012, a powerful politician who is one heartbeat away from being the president of the United States could show such insensitivity for over 40 million black Americans and get away with it.

If Biden Were Republican... Following in former New York City mayor Rudy Giuliani's footsteps, the Wall Street Journal's Peggy Noonan on Sunday [8/19/2012] made a strong comment about the media's handling of Vice President Joe Biden's recent miscues. Appearing on NBC's Meet the Press, Noonan said, "If it had been a Republican vice presidential candidate who had made those gaffes... the subject today of the panel would be how stupid is this person, can this person possibly govern?"

Joe Biden — The Gift You Can't Get Rid Of. The more he speaks in public the more fuel he provides for the Republican electoral effort. And the question that just has to be asked is "how did we end up with this guy?" There are probably a lot of answers that will make the rounds, if it is truly made the subject of debate. At the risk of commiting heresy, this writer would like to suggest one that is unlikely to get much attention elsewhere; that Obama picked Biden precisely because he is a buffoon, and Obama's image benefits from the contrast.

Joe Biden's Asinine Comments Aren't Cute Anymore. The fact that Joe Biden is only a heartbeat away from the presidency should not only scare the hell out of every American, it should be reason enough for the Romney-Ryan ticket to win the 2012 election by a landslide. Once again, Vice President Joe Biden has been explained, re-explained, and even embarrassingly apologized for from the "left" while the Vice President tries to explain what he claims he really meant when he blurted out his latest horrendous comment.

The Scarecrow of 1600 Pennsylvania Avenue. It is not completely impossible that in a moment of electoral desperation, Joseph Robinette Biden Jr will be called into a private meeting with Valerie Jarrett and David Axelrod and told that it's time for him to announce that he wants to spend more time with his family. But it's not very likely. The chief function of a Vice President is making the President look good, and by that measure Joe Biden is one of the best vice presidents who ever lived.

Joe Biden 'considers $379,000 income middle class'. Joe Biden considers himself to be part of America's middle class, despite his $379,000 income. Speaking to the National Council of La Raza in Las Vegas about home ownership, the vice president said that the upper class 'doesn't get it — for middle class folks like me and you, owning a home is the single most consequential element to our existence.' President Obama has been heavily campaigning his $250,000 threshold that would cause income taxes to rise for the wealthy.

Biden's Jurassic Ideas About How Jobs Are Created. On a day when unemployment topped 8% for the 41st month in a row, it's worth noting Vice President Joe Biden told Ohioans Tuesday that "so-called job creators" don't build the economy. It explains a lot.

Biden: 'So-called job creators' don't build economy. Vice President Joe Biden faulted Mitt Romney for believing that "so-called job creators" build the economy, as he suggested that government spending and increased taxes on the wealthy would provide long-term economic strength. "[Romney believes] somehow, that those so-called job creators will make everything okay for the rest of us," Biden said at the National Education Association conference.

Biden: 'Imagine a World in Which Hunger Is Vanquished by Crops That Don't Depend on Soil, Water or Fertilizer'. Vice President Joe Biden told the graduating seniors of Cypress Bay High School in Florida today [6/4/2012] that they should imagine a world where hunger no longer exists because crops grow without the need of soil, water or fertilizer. That world will soon be here, Biden told the students. The vice president also said to dream of charging stations for electric cars at local high schools, "solar shingles" on the roofs of their homes — and an end to nuclear weapons.

Jill and Michelle 'Would Not Have Any Chance' Without Govt.. Vice President Joe Biden said Tuesday [6/5/2012] that his wife, as well as the wife of President Barack Obama, would have had "no chance" in life had it not been for government help.

The Never-Ending List of Vice President Joe Biden's Verbal Gaffes. [Scroll down] But if he hadn't made these cringeworthy gaffes, he wouldn't be the off-the-cuff, straight-shooting, error-prone vice president we know.

Dos de Mayo with Biden. Vice President Joe Biden rang in Cinco de Mayo on Dos de Mayo with a breakfast at the Naval Observatory and a joke about the Mexican ambassador being a waiter.

Biden: Obama agenda like 'legalizing rattlesnakes'. Vice President Joe Biden turned to a counter-productive metaphor yesterday [4/19/2012], as he likened President Obama's policies to "legalizing rattlesnakes" in a hotel during an attempt to praise the president. Biden was trying to praise Obama for courageous decisions.

The Motley Fool. [Vice President Biden] is a walking pratfall, a clown of the tongue-tied, stumbling kind, and only the media's determined effort to shield the Obama administration from laughter has kept Joe Biden's miscues, misunderstandings, and mispronouncements from becoming our long-running national joke.

Biden: Al Franken is a 'leading legal scholar'. Vice President Joe Biden described former Saturday Night Live comedian, Sen. Al Franken, D-Minn., as a "leading legal scholar," presumably in the Senate, today. "He has been one of the leading legal scholars," Biden said of Franken today [4/11/2012], according to the pool report. He also said that Franken "is deadly serious" as a senator.

Top 10 Joe Bidenisms. [#4] Obama "articulate" and "clean": During the 2008 presidential election, Biden seemingly discovered that blacks can have sound hygiene. Imagine the howls of racism if a conservative had uttered this statement: "I mean, you got the first mainstream African-American who is articulate and bright and clean and a nice-looking guy. I mean, that's a storybook, man."

Joe who? When a presidential nominee chooses a running mate as a gimmick, not to accentuate his strengths but to mask his weaknesses, he is asking for trouble. And when that running mate becomes a laughingstock and a liability, it doesn't just hurt the ticket but also reflects poorly on the person who did the choosing because it shows he bungled a major decision.

Hanging On to Biden's Every Word. This is the fellow who nearly derailed his nascent presidential campaign last year by calling Mr. Obama "articulate and bright and clean," … The man who, on the day Mr. Obama announced him as his running mate, referred to his party's presidential nominee as "Barack America" … The man who has said he is running for president (not vice president) and who confused Army brigades with battalions. Who referred to Ms. Palin as the lieutenant governor of Alaska.

It's economy with the truth, stupid. Just imagine what the sneering left intelligentsia, in the United States and elsewhere, would have said if a Republican vice-presidential candidate had told CBS News that "when the stockmarket crashed [in 1929], Franklin Roosevelt got on television" and informed Americans what had happened. ... Yet the Democrat Joe Biden made these howlers in an interview with Katie Couric. She did not correct the vice-presidential candidate. This is the same Couric who grilled Sarah Palin in an interview which aired a few days later.

Biden the bumbler. Sen. Joe Biden is proving to be a disastrous pick — threatening to bring down the Democratic ticket. The vice presidential candidate said this week that national leaders should follow the example of President Franklin Roosevelt's response to a financial crisis. "When the stock market crashed, Franklin D. Roosevelt got on the television and didn't just talk about the, you know, the princes of greed. He said, 'Look, here's what happened,'" Mr. Biden told "CBS Evening News." But Herbert Hoover, not Roosevelt, was president when the stock market crashed in 1929 — a fact commonly known to many high-school students (but apparently not to Mr. Biden). Moreover, television was barely in existence in those days.

Biden Secret Service Code Name: 'Assassination Insurance'. Being interviewed by Katie Couric on the "CBS Evening News," Biden said: "When the stock market crashed, Franklin D. Roosevelt got on the television and didn't just talk about the, you know, the princes of greed. He said, 'Look, here's what happened.'" For those of you who aren't hard-core history buffs, Biden not only named the wrong president during the 1929 stock market crash, he also claimed a president who wasn't president during the stock market crash went on TV before Americans had TVs.

Why should anyone trust Joe Biden? Joseph Robinette Biden — known to all as "Joe" — was once the most talked about American politician in Britain. Unfortunately for the senior Delaware Senator, all the talk was accompanied by incredulous laughter. ... but it wasn't just [plagiarism] which left his run for the Presidency buried under an avalanche of ridicule.

Biden spins a helicopter tale. When Joe Biden tells voters he understands the threat posed by Afghan extremists, he dramatically illustrates one reason why: His helicopter was "forced down" on "the superhighway of terror." Actually, snow, not the enemy, persuaded the helicopter pilot to land and wait out a storm. The Democratic vice presidential candidate has repeatedly left that part out, in an episode that Republicans hope will become an echo of Hillary Rodham Clinton's errant tale during the primaries of landing in Bosnia under sniper fire.

Why Is Media Allowing Joe Biden to Lie About Drunk Driver Killing His First Wife? Along with the claim that Joe Biden had a "blue-collar" upbringing — he had a decidedly upper class (though not "rich") childhood — Joe Biden has for years claimed that his first wife and his daughter were killed by a "drunk driver" in 1972. However, closer examination of the records proves that the man driving the truck that slammed into the Biden family car was never charged with drunken driving.

Why does Joe Biden lie about a 'drunk driver' killing his 1st wife? It is terrible to lose family members to a traffic accident. But why on earth would a United States Senator fabricate an embellishment and claim that it was a drunk driver's fault, when the record clearly indicates it was not?

Doomed to defeat. The choice of Mr. Biden undercuts the moral legitimacy of Mr. Obama's candidacy. Mr. Biden is a Democratic stalwart who is part of the political status quo Mr. Obama supposedly vows to overturn. There is nothing new, fresh, post-ideological or post-partisan about Mr. Biden. Hence, Mr. Obama has lost the compelling rationale for his movement. He is no longer the anti-establishment candidate. He has quickly become conventional.

Obama's Selection of Biden Outrages Many Gunowners. If there were any question about how the majority of American gunowners would come down on the candidacy of Barrack Obama for president, the doubts vanished in a flash when Obama picked veteran anti-gun Sen. Joe Biden from Delaware as his running mate. Biden proudly recalled during a July 23, 2007 Democrat candidates' debate how he was "the guy who originally wrote the assault weapons ban." Where Obama is on record as opposing concealed carry, and favoring other restrictions, Biden has a long history of supporting gun control.

Biden Tells 14 Lies During VP Debate. Senator Joe Biden lied at least 14 times during the vice presidential debate according to those counting at John McCain's presidential headquarters. Tucker Bounds, a spokesman from GOP presidential candidate John McCain's campaign said in a statement, ""Joe Biden graduated from his trademark verbal gaffe to outright lie in tonight's debate."

Joe Biden's 14 Lies: [1.] TAX VOTE: Biden said McCain voted "the exact same way" as Obama to increase taxes on Americans earning just $42,000, but McCain DID NOT VOTE THAT WAY. [2.] AHMEDINIJAD MEETING: Joe Biden lied when he said that Barack Obama never said that he would sit down unconditionally with Mahmoud Ahmedinijad of Iran. Barack Obama did say specifically, and Joe Biden attacked him for it.

The Biden Error/Lie/Hallucination List. Not just 14 — updated to 22.

Truthless Joe. Neither [Jimmy] Carter nor Bill Clinton, whose twists and turns before a grand jury led to his impeachment, ever stared into the camera and spouted such a string of outright fabrications as if they were gospel truths the way Barack Obama's running mate did last week. Thankfully, the blogosphere has been having a field day cataloguing Joe's whoppers.

The Lies Biden Told: It's "simply not true" that Barack Obama said he'd meet Iran's president without preconditions, Biden insisted. ... Biden said he's "always supported" clean-coal technology — after stating emphatically only last month, "We're not supporting clean coal."

Did Biden Get It Wrong? You Betcha. When you interview for a job, here is a hint: make sure you know what the job is. Joe Biden failed that test last Thursday [10/2/2008]. He couldn't even get right what a vice president does, but the media didn't notice.

Bozo Biden's Bizarre Hezbollah Fantasy: Had Palin spoken as irresponsibly and inaccurately as Bozo Biden did, she would have faced renewed demands for her withdrawal from the ticket. The double standard when it comes to candidate accountability remains the most outrageous current example of prevalent media bias.

The Clown of Campaign '08: How is it that an attractive woman who has been involved in state and local government since the early 1990s without much controversy is now passed off in the media as an airhead? Yet her opponent, long known as an airhead, a braggart, and even a plagiarist, is now passed off as a statesman?

Biden Benefits From Trial-Lawyer Donations, Backs Them in Votes. Joe Biden has been an ally of trial lawyers throughout his tenure in the U.S. Senate, opposing every effort to curb lawsuits against businesses and doctors. The lawyers are returning the favor.

Liberals Lie, Conservatives Die... Laughing. For openers, Biden is not in favor of clean coal as an alternate fuel. He has voted against its use every chance he's had during his 36 years in the Senate. And while I don't know in what cave Biden has been hiding, he must be the only person in America who didn't hear Barack Obama state that, without any preconditions, he would sit down with Mahmud Ahmadinejad. But that was only after he informed us that Iran was a small country and in no way a dangerous one.

Obama Campaign Tries to Soften Biden's Warning — About Obama. On Sunday [10/19/2008], Sen. Joe Biden warned that Barack Obama will be tested by an "international crisis" if he's elected president. By Tuesday, the Obama campaign was in damage-control mode, sending out surrogates to explain what Obama's running mate really meant.

Joe the Bumbler. So what happens when a vice-presidential candidate makes the gaffe to end all gaffes and declares that his own running mate will trigger an international crisis? In the Year of The One, it's yet another controversy that is virtually ignored by a national press corps that has become an institutional embarrassment.

McCain Won't Need Training Wheels. Biden's warning that Obama's lack of experience will prompt tyrants and terrorists to "test" him within the first six months can only be seen one way — as a confirmation of our worst fears.

Media Deserve Low Ratings They Receive. Contrasting McCain with his hero, Joe declared a few weeks back, "When the stock market crashed, Franklin D. Roosevelt got on the television and ... said, 'Look, here's what happened.'" Nice historical reference. Except when the market crashed in 1929, Hoover was president, and there was no television. Can one imagine what the press would have done to Sarah Palin had she exhibited such ignorance of history. Or Dan Quayle? Joe gets a pass because everybody likes Joe.

Is the Obama Campaign Trying to Keep Joe Biden Under Wraps? Time Magazine writes that one of the few things that could derail the Barack Obama campaign is his running mate, so it says the campaign is "hidin' Biden." Karen Tumulty compares traveling with Joe Biden to "reporting on a politician packaged in shrink-wrap" and that he is "leashed to a teleprompter even when he is talking in a high school gym that is three-quarters empty."

A Brighter and Righter Future. Contrast the elite media's refusal to ask about Gov. Palin's genuine achievements with their equally clear refusal to pursue Sen. Joe Biden when he has been just plain wrong. The most comical example was Biden's claim that we could go with him to Katie's restaurant to learn about the problems of the middle class. Barely any attention was given to the fact that Katie's restaurant closed in 1986. No elite reporter asked whether Biden had not learned about the middle class since 1986 or whether he is simply out of touch with reality. Between Biden and Palin, I would take Palin any day.

Democrats are hypocrites when it comes to paying taxes. When asked whether he might be questioning the patriotism of people who don't want higher taxes, [Joe] Biden, as is his wont, took things to the next rhetorical level. Forget patriotism, insisted Joe, paying higher taxes is a religious obligation. The man who gave an average of $369 a year to charity over the previous decade fulfills his religious obligations by cutting a tax check — a check he's required to cut by law.

When Conservative Felonies Become Liberal Misdemeanors. Vice president Joe Biden as a presidential candidate once characterized Barack Obama as "the first mainstream African-American who is articulate and bright and clean and a nice-looking guy." What exactly did Biden mean by "clean?" The press, of course, didn't bother to probe too deeply, instead seeming to think that good old Joe Biden was running off his mouth again.

Joe Biden, 'Practicing Catholic'. Like many liberals, whether it's a game of constitutional Twister or flexible religious creed, Joe fashions his faith to accommodate his personal beliefs. Therefore, the vice president and the enthusiastically pro-abortion Barack Obama both feel comfortable calling themselves Christian. Mr. Biden identifies with Roman Catholicism but doesn't let that identity get in the way of his support of policy that directly contradicts church teaching on the sanctity of life.



Biden's description of Obama draws scrutiny. His remarks about Obama, the only African-American serving in the Senate, drew the most scrutiny. "I mean, you got the first mainstream African-American who is articulate and bright and clean and a nice-looking guy," Biden said. "I mean, that's a storybook, man."

The Editor says...
CNN is apparently proud to call Obama "African-American," but they are quick to deny that he was born in Africa.

This is an original compilation, Copyright © 2019 by Andrew K. Dart



---

Vice-President Biden debates Congressman Paul Ryan
October 11, 2012

Joe Biden Makes History. For starters, try to imagine being Paul Ryan last Thursday: a young politician in the hot seat, the eyes of the world pressing upon him, as he tries to make careful and succinct statements in a most-intense environment, while all along, literally nearly every minute — Biden interrupted Ryan 80-plus times — his opponent smirks, scoffs, laughs uncontrollably, flaps his arms, and, generally, acts like a petulant child. I ask readers: Could you have endured what Paul Ryan handled? Given what he was up against, Paul Ryan's debate performance was truly remarkable.

The new Middle East coverup: Biden caught in Syria debate falsehood. [Scroll down] Biden denied it, declaring: "We are in the process now — and have been for months — in making sure that help, humanitarian aid, as well as other aid and training is getting to those forces that we believe, the Turks believe, the Jordanians believe, the Saudis believe are the free forces inside of Syria. That is underway." Well, according to a report in this morning's [10/15/2012] New York Times, Biden's statement was not true.

Bolton From the Blue. "The attack on Benghazi Sept. 11 was known to be a terrorist attack within one day. Intelligence officials who briefed members of Congress on Sept. 12 told them so clearly. In last week's Congressional hearings, State Department officials testified truthfully they were in cell phone contact with the diplomatic staff throughout the entire episode. Yet they went around for days blaming the attacks on some silly trailer for a video, and Hillary Clinton has been sticking to that line up until very recently. What Biden said during the debate that the intelligence community had not known the facts right away was blatantly false. [..."]

Green stimulus profiteer comes under IRS scrutiny. Vice President Biden snickered during last week's debate at the suggestion there was waste, inefficiency or cronyism in the 2009 stimulus bill. If he can stop cackling for long enough, Biden, the self-proclaimed "stimulus sheriff" should sit down with the IRS officials and the federal inspector general who are investigating a solar company owned by leading Obama donor and subsidy recipient Elon Musk.

What Biden Doesn't Want You to Know. Current veep Joe Biden certainly sought to play last Thursday's vice-presidential debate for laughs. Embarrassingly for Democrats, the laughs were mainly his own. [...] His opponent, by contrast, was more like the earnest young parish priest who has been sent to coax wicked Uncle Joe out of the pub and into the church.

Fox's Dr. Keith Ablow Diagnoses VP Biden. Fox News' go-to psychiatrist, Keith Ablow, appeared on Fox & Friends Weekend to discuss Joe Biden's debate performance. Given that Biden's laughter, smirks, and malarkeyisms had been dissected pretty thoroughly by the time Sunday rolled around, Ablow had his work cut out for him.

The Democratic Party has lost its mind and its way. [Scroll down] Then there is Joe Biden. As I predicted, his manic behavior at the veep debate won the approval of Dems despondent over Obama's flop at his debate. Biden's rude laughs, snorts and sneers, combined with hectoring accusations of Paul Ryan, were catnip for those who see Republicans as unworthy and illegitimate. They actually applaud that Biden's interruptions — more than 100 of them — prevented any sustained, serious discussion.

Fact Check: Top Ten Worst Lies by Joe Biden in VP Debate. Once again, Joe Biden lied his way through a Vice Presidential debate — just as he did in his contest with Sarah Palin in 2008. This time, the media caught a few of Biden's worst "malarkey" moments — as did his opponent, Paul Ryan, when he could get a word in edgewise.

Laughing at the Issues: The Astounding Obama/Biden Miscalculation. Both Obama and Biden were dismissive, disrespectful, smug, 'superior,' contemptuous and condescending. Obama did it with body language, Biden did it with smirks and laughter. Biden's antics last night may make the damaged left happy, but the folks do not like that kind of juvenile disrespect. Ryan has proven himself a remarkable congressman. Biden has proven himself a fool.

Joe Biden's laugh-filled debate wasn't so funny on national security. The heat generated by Joe Biden at Thursday night's vice presidential debate cooled into object lessons in the danger of bombast by a top United States government official. Biden's smirking theatricality while facing Republican Paul Ryan included exasperated putdowns and, at times, broad factual assertions whose grounding in truth was tenuous. So it goes in skewering an opponent's record.

Sports bar Biden vs. seminar Ryan. The two men looked like they were taking part in separate discussions. Ryan was speaking in the economics seminar at some obscure think tank. Biden was shouting answers in the middle of a loud sports bar.

Cheney "Disturbed" by Biden's Debate Performance. Former vice president Dick Cheney said he found Vice President Joe Biden's behavior at the debate Thursday night "very disturbing," adding that it was "the most emotionally unstable debate performance in modern American politics," reports Mediaite.

Ryan's Reason Contrasts Biden's Buffoonery. Over the next few days, news media and Republicans will share video snippets of Thursday night's vice presidential debate. Voters will get an extra helping of Vice President Joe Biden chuckling, interrupting, laughing, mugging, smirking and otherwise behaving completely inappropriately. What Team Obama described as "just Joe being Joe" steadily devolved into Joe just being creepy.

Biden Bombed. You don't win a nationally televised debate by being rude and obnoxious. You don't win by interrupting your opponent time after time after time or by being a blowhard. You don't win with facial expressions, especially smirks or fake laughs, or by pretending to be utterly exasperated with what your opponent is saying.

Biden Loses by a Smirk. That smirk was everywhere tonight in the debate with Paul Ryan — and one finds it impossible to believe that was anything but bad news for the Obama campaign.

A Letter to Joe Biden. Watching Congressman Ryan try to respectfully engage you in thoughtful discourse was like watching Emily Post try to take a gorilla to tea. You reminded me of people I've had the misfortune of trying to rationalize with in the past ... people with whom I couldn't fit an uninterrupted word in with a shoe horn, and with whom I eventually abandoned all hope of ever being able to complete a sentence.

The I-Can't-Post-Mortem For The VP Debate. Paul Ryan is a better man than me, and it's the reason he came out the winner. I have to admit: I would have taken the bait. I would have lashed back at both Biden and Raddatz for their arrogance and their overall rude behavior. Ryan did what I never would have been able to do: he was diplomatic, yet remained firm. He was by all measure Presidential.

Really Watch For Over The Next 72 Hours.... The Benghazi Massacre scandal is really taking root within even the Mainstream Media now — due in great part to Vice President Joe Biden's oddly phrased throw-the-State Department-under-the-bus remarks during Thursday's debate.

Are Budget Cuts to Blame for Benghazi Attack, as Biden Suggested? Fact checkers take note: Biden's suggestion that funding cuts may have undermined security at the consulate has been disproven — by his own administration.

Dr. Strangelaugh. In addition to the vice president's boorishness, a lot of observers noted that he frequently smiled and chuckled at inappropriate times — even during a discussion of Iran's pursuit of nuclear weapons. The Republican National Committee quickly put out an ad consisting of nearly a minute of such clips followed by the caption: "Vice President Biden is laughing ... Are you?"

On Libya, Biden was full of 'malarkey'. Vice President Biden didn't just double down on the administration's story of the attack in Benghazi, Libya. He emptied the bank account and put the deed to the house on the table. Asked why the administration initially claimed for more than a week that the incident grew out of a street protest over a YouTube video, Biden said that's what they knew at the time.

More about the Benghazi attack.

Intelligence Community Responds to Biden 'Bloviations'. Vice President Joe Biden laughed mirthlessly during the debate as Republican vice presidential candidate Rep. Paul Ryan (R-Wis.) coolly unbraided the Obama Administration's foreign policy — but the joke is probably on Joe.

Mr. Malarkey, full of Baloney. BIDEN: Asked about the administration's denial of requests from the U.S. mission to Libya for increased security prior to the September 11 terrorist attack on the consulate in Benghazi — which resulted in the assassination of Ambassador Christopher Stevens and three other Americans — Biden answered, "we weren't told they wanted more security ... We did not know they wanted more security." FACT: The U.S. Embassy in Libya requested "an increase in the number of our permanently assigned RSO [Resident Security Officer] staff," as well as "five TDY DS [Temporary Duty Diplomatic Security] agents for 45-60 days rotations in Benghazi."

Joe Biden's Rude Debate Laughter: The Joke's on Him. What's so funny, Biden? Why the veep's rude chortles during last night's faceoff constituted a new low in debate etiquette — and will only hurt his boss.

Joe Biden laughs at tax increases, nuclear war, and other delights. It didn't take the Republican National Committee long to produce a video compilation of Joe Biden's inappropriate grins and laughter from Thursday night's vice-presidential debate. The nuclear destruction of Israel is particularly hilarious to the Gaffemaster.

Biden Proposed Social Security Freeze in 1984. The year was 1984 and Senator Joe Biden was sounding the alarm over Ronald Reagan's budget deficits. His proposal, which was co-sponsored by Sens. Chuck Grassley, R-Iowa, and Nancy Kassebaum, R-Kan., included a one-year freeze of all federal spending including Social Security (no cost of living increase) and defense (no pay increase for the troops).

Damage Control: Obama Campaign Tries to Spin Biden's Bizarre Debate Behavior. The Obama campaign is struggling to respond to mounting criticism of Vice President Joe Biden's bizarre behavior during last night's debate with Rep. Paul Ryan. Biden not only interrupted Ryan frequently — 82 times, according to Republican National Committee chair Reince Priebus — but frequently laughed, smirked, and snorted at serious moments, showing contempt for his opponent and disturbing even friendly observers.

White House Serial Lies About Libya Extend to VP Debate. Biden made the patently false and outrageous claim that no one in the Obama administration knew that requests for extra security had been made by our Libyan ambassador, Christopher Stevens, and other members of our consulate in Benghazi. To emphasize his lie, Biden actually said it twice.

Biden: 'My Religion Defines My Life'. Vice President Joe Biden said in Thursday night's [10/11/2012] vice presidential debate that life begins at conception, that he accepts the Catholic Church's position on abortion, and that he believes abortion must be legal. The Catholic Church's teaching is not only that abortion is always wrong, but also that Catholics in public office have a grave duty to oppose legalizing it while speaking out clearly against it.

Thoughts on the vice presidential debate. Joe Biden appealed to Democratic partisans, firing them up by attacking and, even more often, smirking at Paul Ryan's arguments. But smirks only work when your audience starts off agreeing with you. That would be the case with strong Democratic partisans, but it's not at all that clear that it appeals to Independents, or to those who are undecided or moveable. He was trying to dismiss Ryan's arguments as ridiculous, in line with Democratic talking points that no rational person could possibly agree with him, but I think that only works with people who are already convinced.

BFD: Biden's Failed Debate. This administration does not lend itself well to the split screen and the VP might very well need psychiatric care. His smile was frightening. For most of the night Joe Biden looked like the Joker — Nicholson not Ledger. After 3½ years of Biden's playing the fool, it is hard to remember he was once considered a serious man, a serious politician.

Chris Wallace: I've Never Seen A Candidate As Disrespectful As Joe Biden Was Tonight. Fox News anchor Chris Wallace hammered Vice President Joe Biden's excessive smiling and laughing during the debate, saying that he's never seen anyone be so disrespectful in a presidential or vice presidential debate. And Wallace said that he'd seen most of them — all but the first four in 1960. He called his demeanor "unprecedented."

Last night, Joe Biden was a three-letter word: J-E-R-K. I could scarcely even pay attention to whatever lies Biden was telling, so distracting was all his laughing and interrupting and flailing about. As Christopher Bedford puts it, he swapped out "hope and change" for "interrupt and laugh." He was so obnoxious, I became convinced he was trying to goad Ryan into taking a swing at him.

Biden adds to the Libya lies. Vice President Joe Biden served up the worst gaffe of any of the 2012 debates, in a moment that will harm not only him but also his boss. Sure, the obnoxious grimacing and the mannerisms will be mocked relentlessly, but it was his egregious misstatement on Benghazi that will now plague the Obama-Biden ticket.

Biden Loses It. Biden's demeanor was the story of the evening: smirking, laughing, snorting, shaking his head. The strategy seems to have been to laugh off America's problems, since the Obama administration has done nothing to solve them. The debate itself was secondary to the demeanor of Biden. Biden had nothing to run on, so he decided to distract.

Joe Biden goes off his meds, but Paul Ryan persevered at sole VP debate. With no real economic record to run on, the old vice president, who has so often promised hundreds of thousands of new jobs every month, resorted to the Al Gore School of Advanced Debate Histrionics. He laughed often and loudly. He rolled his eyes. He sighed. He chortled. He shook his head. He leaned back and crossed his arms with exaggerated exasperation, each time, of course, drawing the cameras' attention off Ryan and onto the emptiness of Biden's performance. Oh, did we mention how often Biden interrupted?

Biden Only Mentions Obama Once in Debate. Rep. Paul Ryan won a tough debate on Thursday evening against Vice President Joe Biden — but Biden was not the biggest loser — who was, once again, President Barack Obama. Biden, in fact, surpassed (low) expectations and played to his Democratic base — though not to independent voters — by interrupting, smirking, and chuckling.

The Bully vs. the Wonk. So now we know what Team Obama's comeback plan was following last week's defeat in the Presidential debate. Unleash Joe Biden to interrupt, filibuster, snarl, smirk and otherwise show contempt for Paul Ryan. The carnival act contributed to the least illuminating presidential or vice presidential debate of our lifetimes.

Joe Biden may not have the last laugh. Vice President Joe Biden did give the president what he needed last night — a jolt of energy and a strong defense — but his constant smiling and guffawing could overshadow his performance and turn off undecided voters.

Biden Throws Intel Community Under Bus. The vice presidential debate opened with a question about the Libyan consulate attack. While that section of the evening probably didn't figure heavily in forming opinions about whether Vice President Biden or Paul Ryan prevailed, it did provide an interesting twist in the unfolding tale of administration prevarications about the murders in Benghazi.

Biden [...] was caught fibbing about the U.S. intelligence community. [Scroll down] Perhaps the even bigger problem the Obama campaign will have in the coming days is that Biden, again just like Gore in 2000, repeatedly exaggerated and mischaracterised for effect. And worse than Gore — who was caught in a series of small lies in 2000 — Biden was demonstrably untruthful in some big respects. Most seriously, Biden blamed the intelligence community for the debacle that led to and followed the killing of ambassador Chris Stevens and three other Americans in last month's terror attacks on the U.S. consulate in Benghazi.

Chris Wallace Shocked By Biden's 'Disrespectful,' 'Openly Contemptuous' Debate Treatment Of Ryan. Fox News Sunday host Chris Wallace slammed Vice President Joe Biden's demeanor at Thursday night's [10/11/2012] vice presidential debate against GOP vice presidential nominee Paul Ryan. Wallace said that he was shocked by how "openly contemptuous" Biden appeared to act towards Ryan and that he thought Biden's behavior lacked historical precedent.

Biden's debate 'facts' prompt White House clarifications. While Vice President Biden stressed the importance of "facts" a total of 26 times on the debate stage, those facts required considerable clarification Friday [10/12/2012] from the White House.

Libya Attack Gains Steam as Issue in Race for President. The dispute over the episode escalated after Vice President Joseph R. Biden Jr. said during the debate on Thursday night that "we weren't told" that Americans in Libya wanted security bolstered, despite Congressional testimony that the administration had turned down requests. Mitt Romney's campaign on Friday [10/12/2012] accused the vice president of trying "to mislead the American public."

Biden, Obama and the Politics of Personal Destruction. Throughout the debate, Biden treated Rep. Paul Ryan with contempt. He never responded to any of Ryan's reasoned, substantive criticisms of Obama's policies. He simply called him a liar, repeatedly. With no justification. He sneered. He guffawed. And he maligned Ryan for 90 minutes. I watched the debate on Fox News. I suppose the commentators hadn't read Henninger's article. They were all expressing shock at Biden's nastiness. They didn't seem to recognize that it is part of the Obama campaign's strategy.

Raddatz favored Biden 40% to Ryan 25%. A vice presidential debate analysis from a conservative media watchdog group found that debate moderator and ABC correspondent Martha Raddatz asked 19 pro-Obama questions Thursday night, but just 12 skewed Republican, a 40 percent to 25 percent margin. "Any moderator whose weighted questions favor liberals over conservatives by a 19-12 margin is biased," charged Brent Bozell, president of the Media Research Center.

By the Numbers: Moderator Raddatz Attacked Ryan 9 Times, Biden Once. Liberals are more pleased with moderator Martha Raddatz than conservatives are disappointed. And it's easy to see why. Raddatz allowed Joe Biden to interrupt Paul Ryan repeatedly during the Vice Presidential debate, and interrupted Ryan herself, while posing questions that were radically in favor of the Obama team. Ryan overcame Raddatz's bias and won the debate regardless, leaving less for conservatives to complain about.

Raddatz Visited Biden at His Residence in March. White House records reveal that the moderator of last night's vice presidential debate, Martha Raddatz, visited Vice President Joe Biden at his official residence on March 26, 2012. Raddatz is an employee of ABC News.

Obama: 'Could Not Be Prouder' of Joe Biden. President Barack Obama says he "could not be prouder" of Vice President Joe Biden's debate performance.



By all means, Barry, let him get started today!
Obama: Biden would make 'superb' president. President Barack Obama said Joe Biden would make a "superb" president, but questioned whether his vice president or potential rival Hillary Clinton would want to endure another campaign for the White House, a media report Monday said. Obama, in an interview with the New Yorker, said Biden "has seen the job up close, he knows what the job entails. He understands how to separate what's really important from what's less important. I think he's got great people skills. He enjoys politics, and he's got important relationships up on the Hill (in Congress) that would serve him well."



---

Back to the Barack Obama index page
Back to the Home page